I've said this time and again, but at the risk of sounding like a stuck record, I'm in continual awe of the many brilliant ways the couples we feature personalise their celebrations, and how they resonate strongly with who they are, collectively and individually.
This ultra-cool London celebration does just that, with a relaxed and intimate atmosphere, and contemporary botanical styling contrasting brilliantly with the historic backdrop of St. Paul's Cathedral and the lovely Paternoster Square. Meet Zoë, a procurement lead, and Will, head of analytics and data science. They were married on the 27 April 2019 at the fantastically named The Happenstance, a bar and restaurant overlooking St. Paul's, London.
Images by Joasis Photography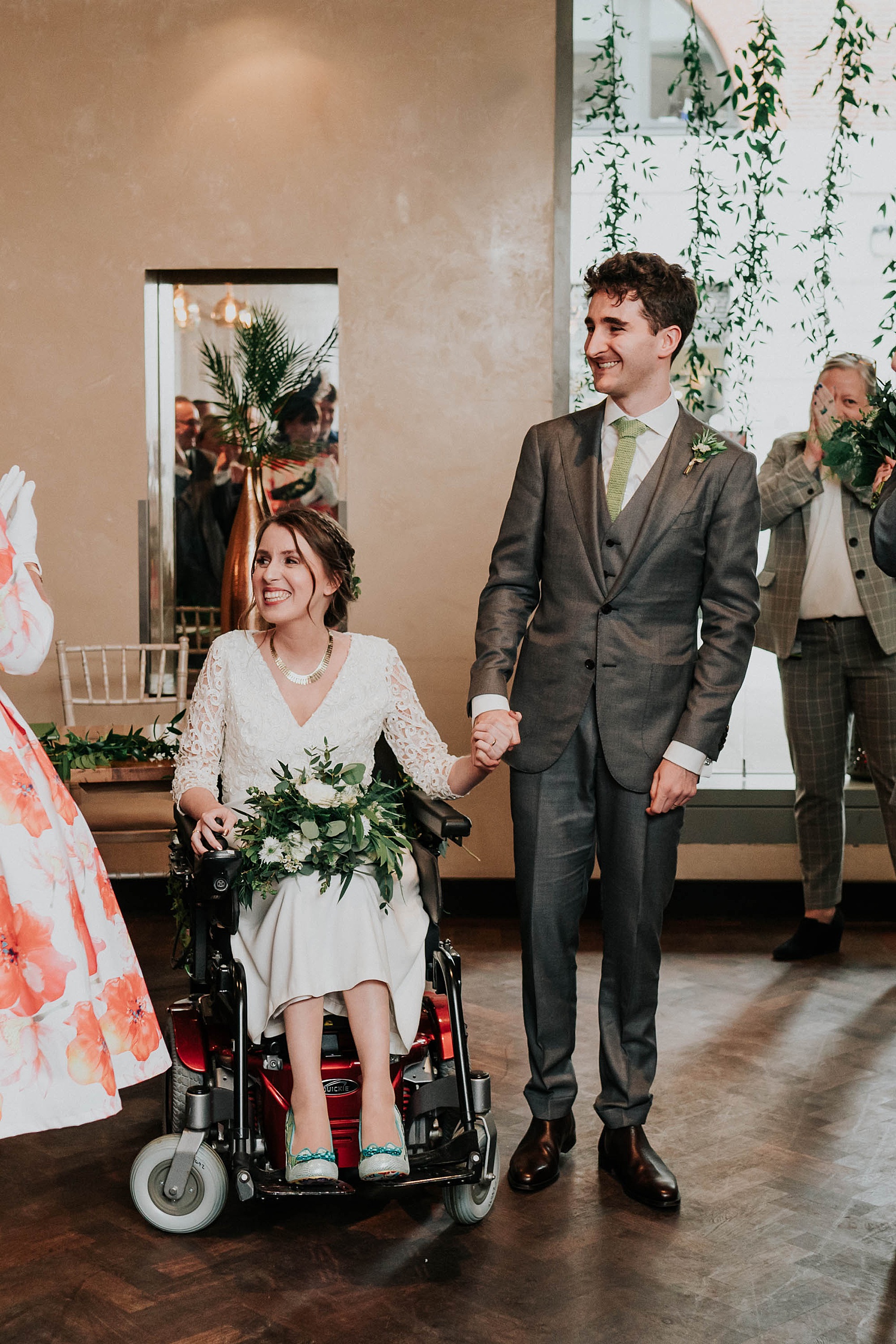 Capturing that emotional first look, and all of the glorious moments throughout the day was Joasis Photography, and what a truly lovely collection of images these are – sensitive, joyful and full of creativity.
"Jo and her partner Raf were an absolute joy to work with. They provided just the right amount of direction, which meant we got some fantastic group shots, but were able to capture the intimate moments of the day and the genuine joy that we and our guests felt. They blended in so well with our guests, and even stayed later than we asked them to so we could get a few final shots outside at night, which were totally worth it. I wouldn't hesitate to recommend them.
Zoë turned her creative talents to designing her own wedding dress, which was made by Bethany at Make & Mend Seamstress, and sourced the lace, with its modern, sinuous design herself. I love the classic tea dress style and the way the lovely lace looks against Zoë's skin.
"Bethany did a fantastic job at taking the images I sent to her and turning it into a real life dress. Due to my disability, I am a slightly awkward shape, and also needed the dress to be designed so it looked best sitting down, and Bethany took everything in her stride to create a dress which fitted perfectly. It was a great experience after a frustrating few weeks looking at hundreds of dresses online and not seeing a single one which I liked, and I would definitely recommend it to anyone who can't find something that feels exactly right."
"I was so excited when I found the lace for my dress – I love lace but find most bridal lace to be quite old-fashioned. I really wanted something contemporary and striking. I found what I was looking for at an online fabric retailer, but it wasn't until I tried the final version of the dress on a week before the wedding that I could actually see what it looked like! Slightly nerve-racking but totally worth it!"
In her beautifully braided hair, Zoë wore a gold comb from Bespoke Bridal Shop on Etsy, as well as a fresh flower comb with greenery, white waxflowers and love-in-a-mist, made by Alana at Petal and Wild, who Zoë discovered through our very own pages.
Petal and Wild created lots of lovely arrangements for the day with abundant greenery at the heart, including a brilliant white and green bouquet, which included eucalyptus, olive branches and fern together with white roses, waxflower and love-in-a-mist. Alana also made the most joyous garland with which to adorn Zoë's wheelchair.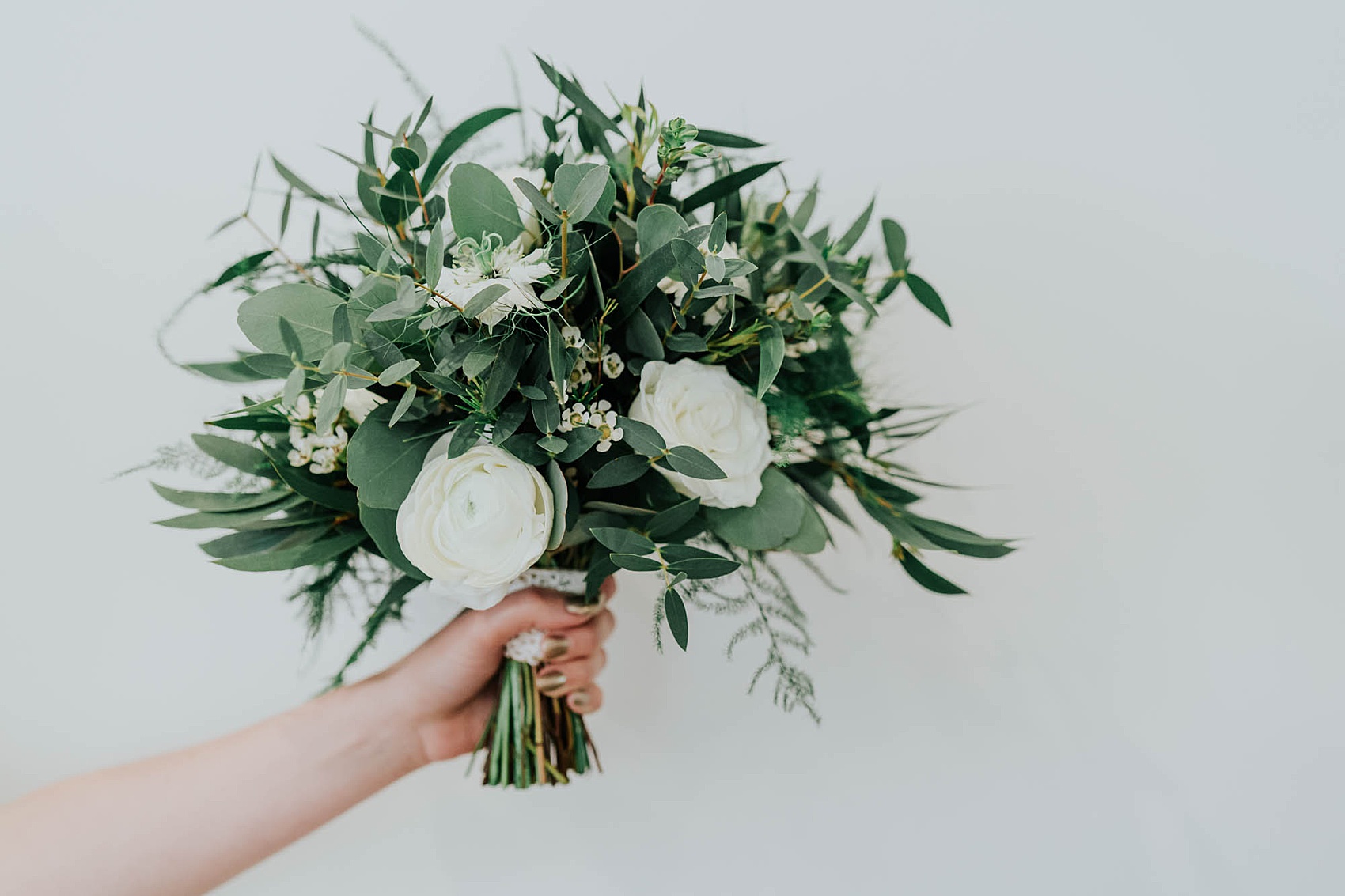 "As our wedding was right in the middle of the city, we wanted to maximise the amount of greenery we had in our floral arrangements. We gave Alana the brief that we wanted natural bouquets with lots of greenery and this is what she came up with."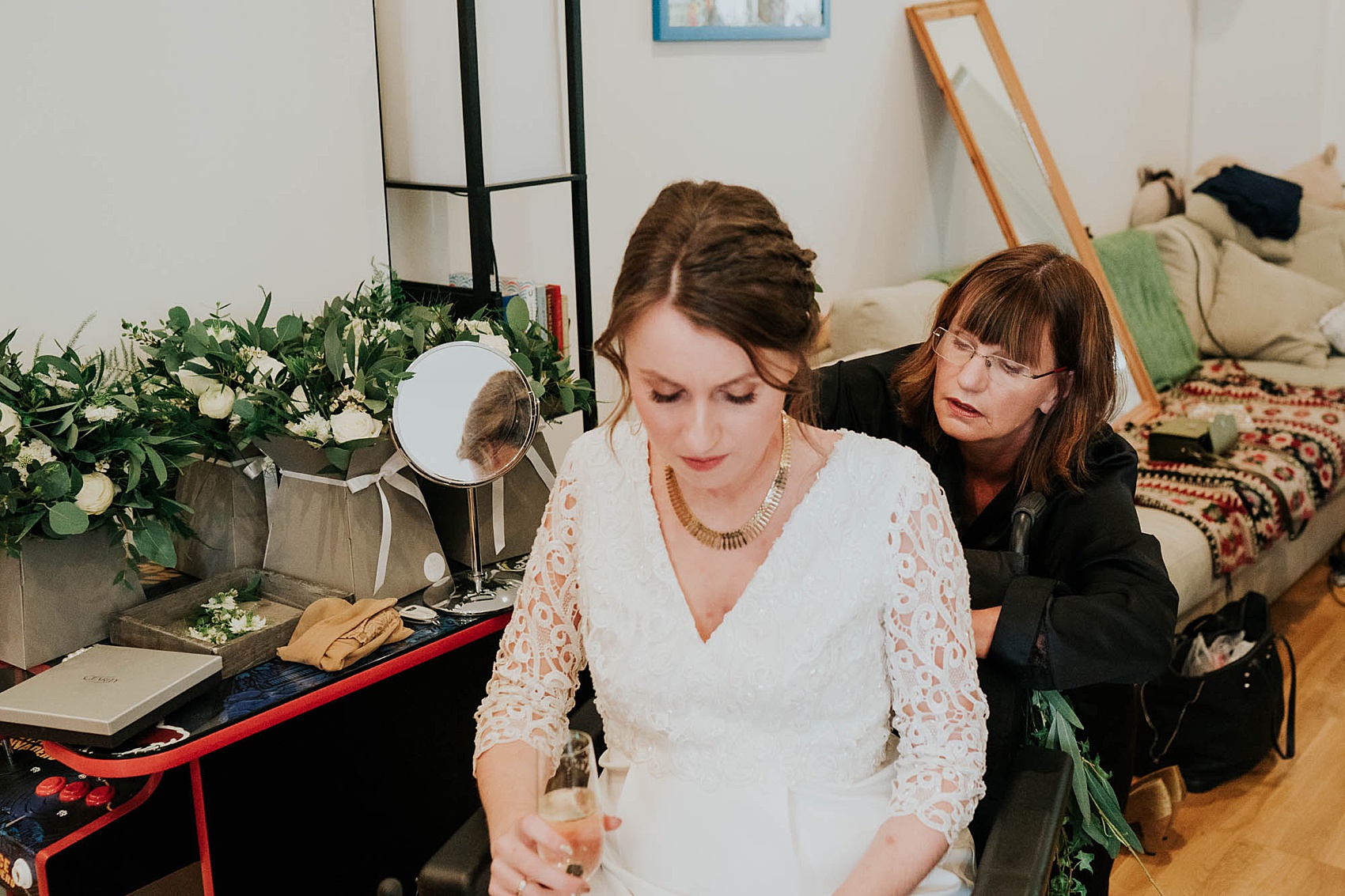 "We met at university (we both studied the same course) and moved in together after we graduated. We had been together 8 years when Will proposed on a surprise trip to New York in May 2018, and were married 11 months later."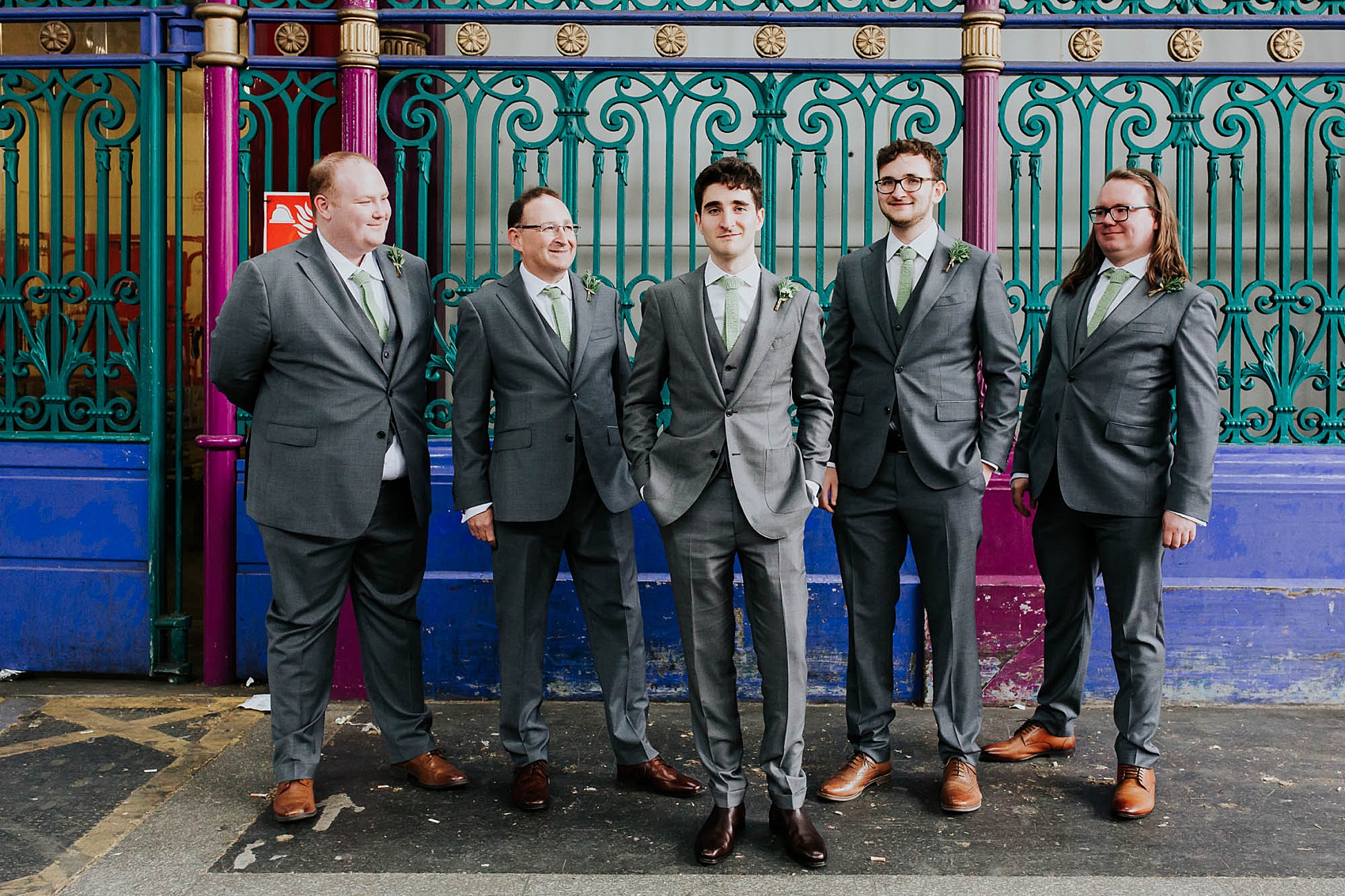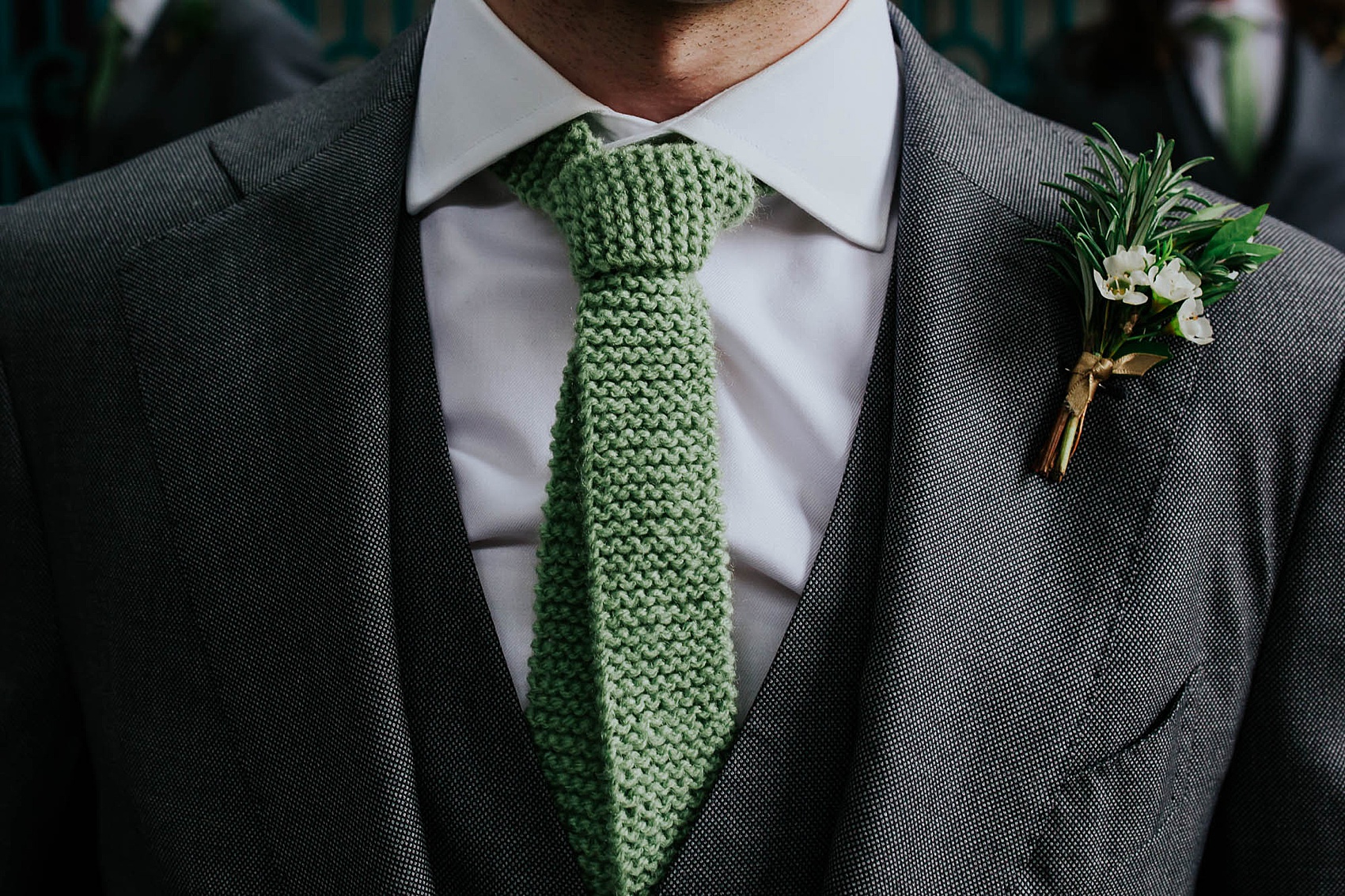 Will looked great in a grey three-piece suit from Suit Supply, which he wore with a white shirt and an amazing custom hand-knitted green tie from Etsy-based Sizana.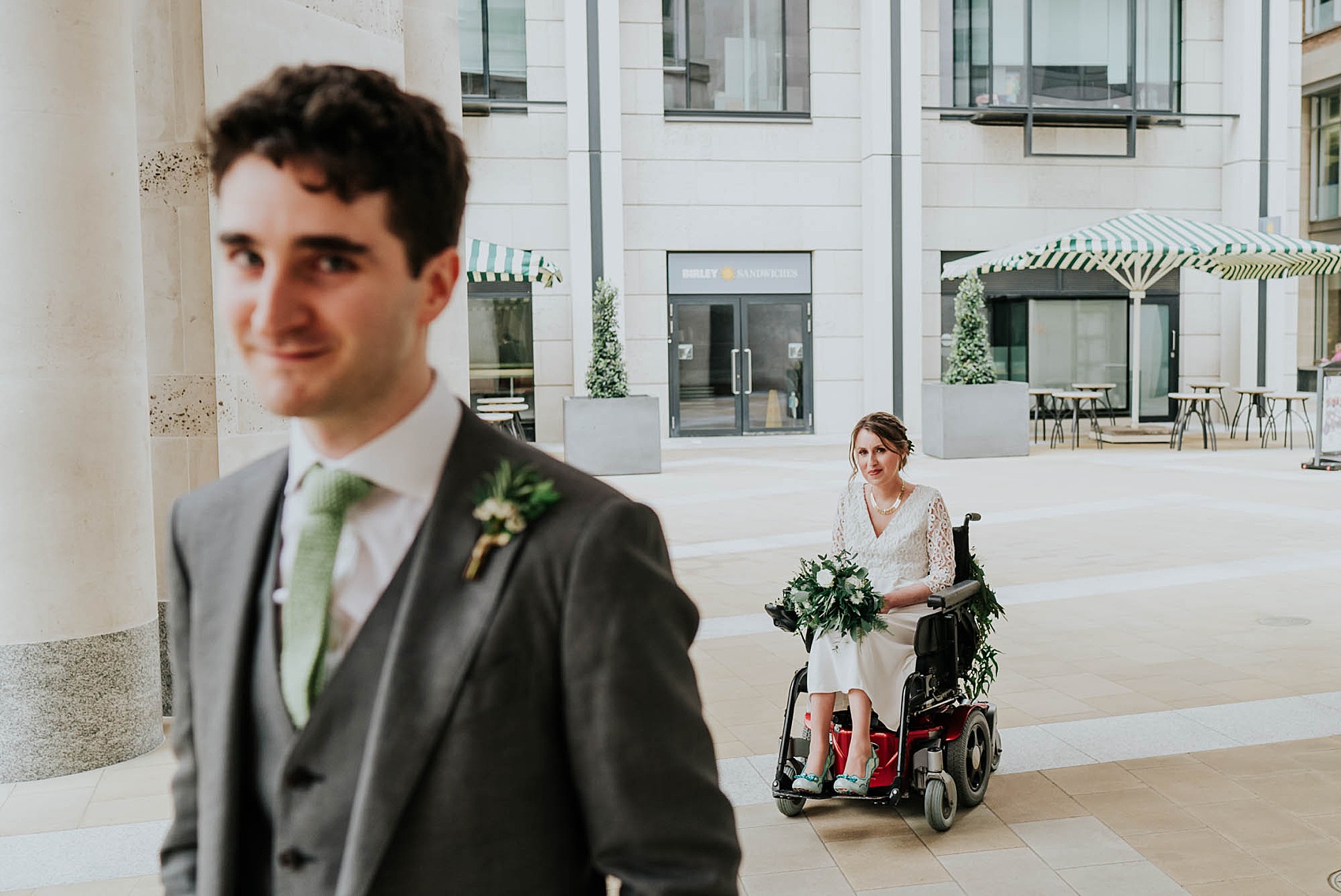 "I bought Will a pocket watch from The Greenwich Pocket Watch Co., which I had engraved with our wedding date, and included a photograph of his grandfather inside."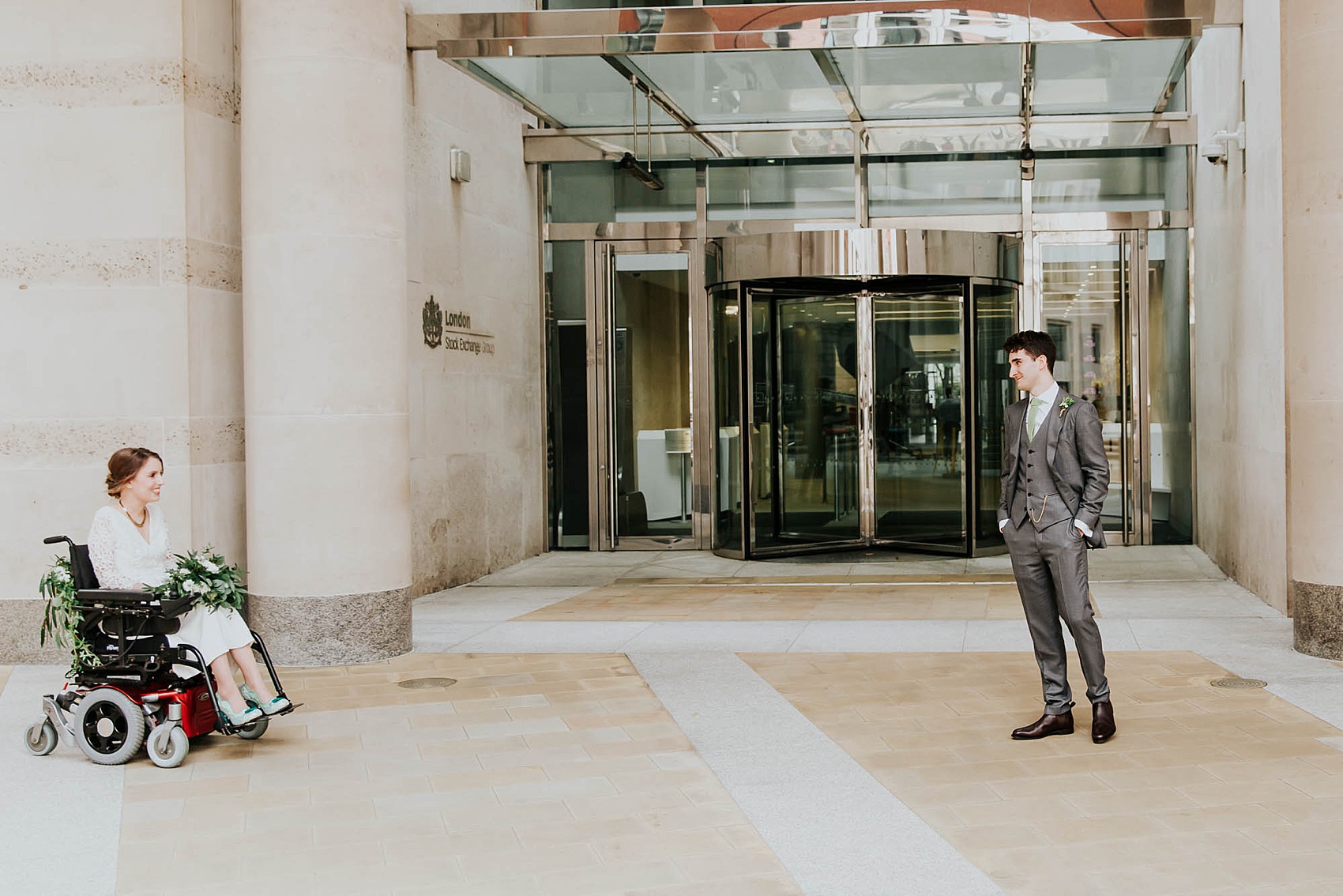 "Prior to the ceremony we had a 'first look' and photos, which are some of my favourites from the day. I'm really glad we did it this way as it allowed us to have a private moment together before the wedding to say the things we wanted to say to each other, and to calm our nerves before the official service."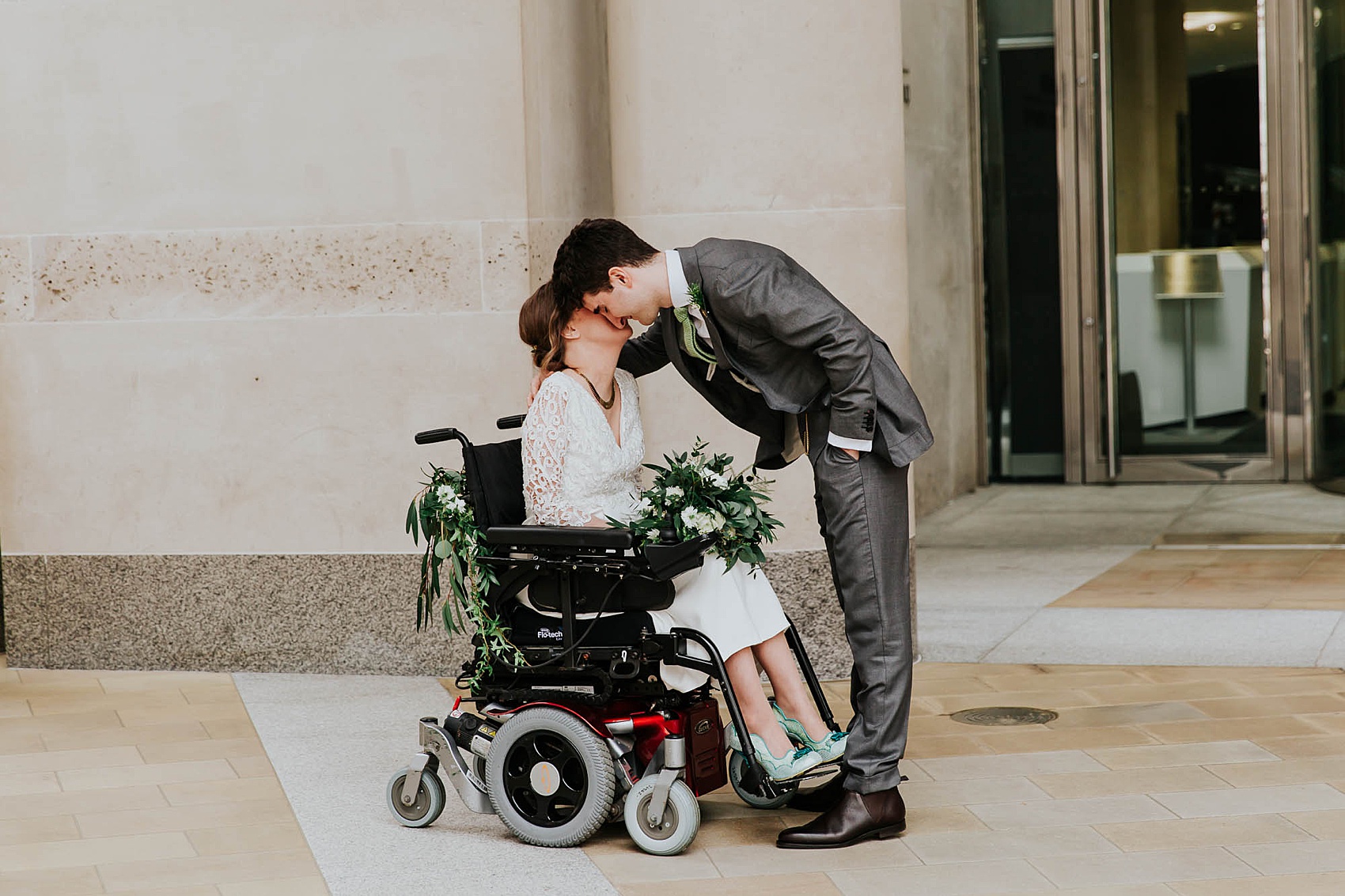 "We all ended up taking Ubers to the venue – there basically isn't any wedding transport that caters for wheelchair users, and we couldn't get close enough to the venue in a car for any kind of official entrance, so practicality won out. I originally wanted to get the bus with my mum and bridesmaids, but mum put her foot down on that one!"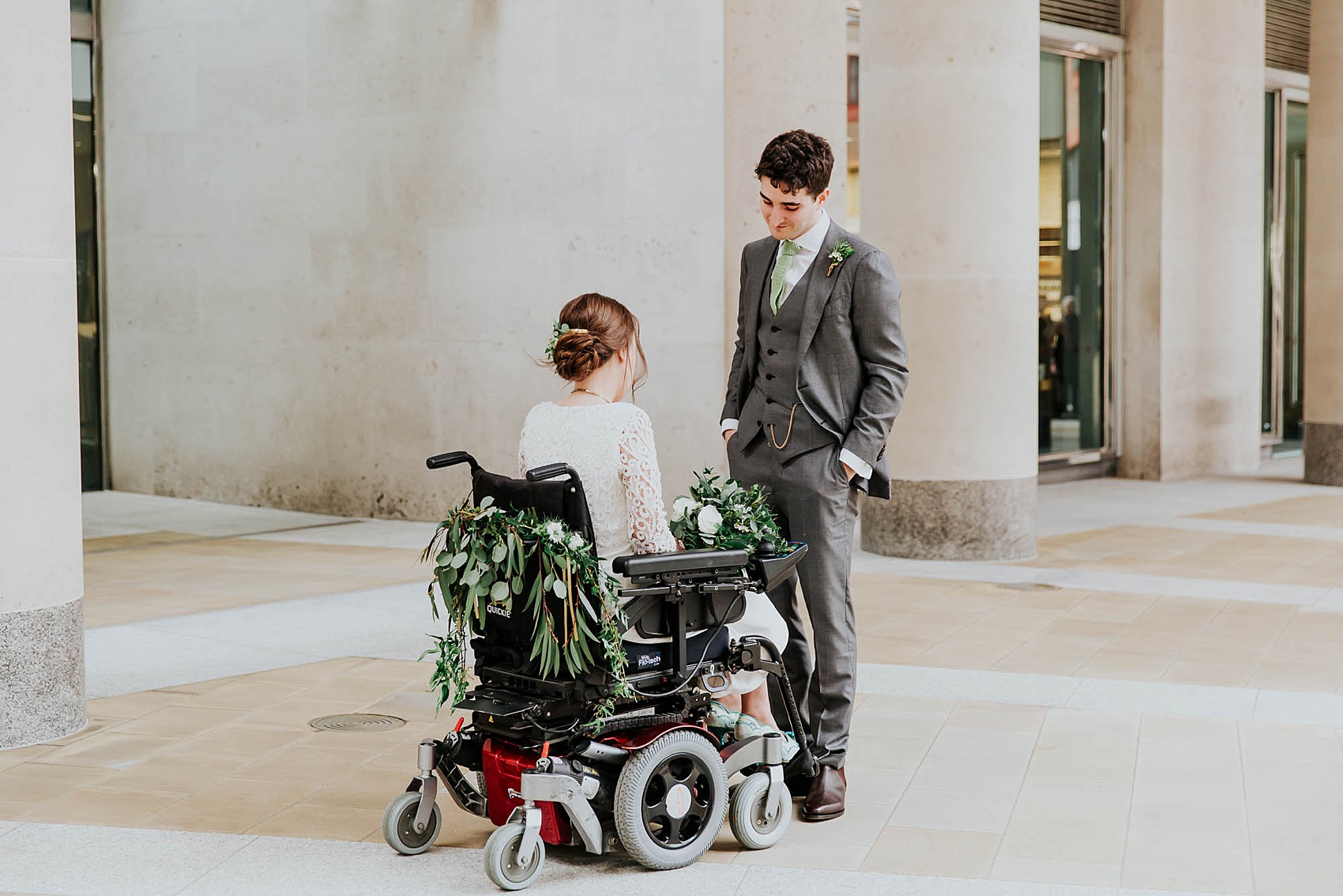 The first wedding item Zoë chose after becoming engaged were her amazing Irregular Choice shoes in a vibrant shade of teal, complete with bows and scalloped edge detailing.
"My necklace was my 'Something borrowed' – a loan from Will's mum. It was given to her by Will's grandfather on the occasion of Will's birth, so that added a nice bit of history."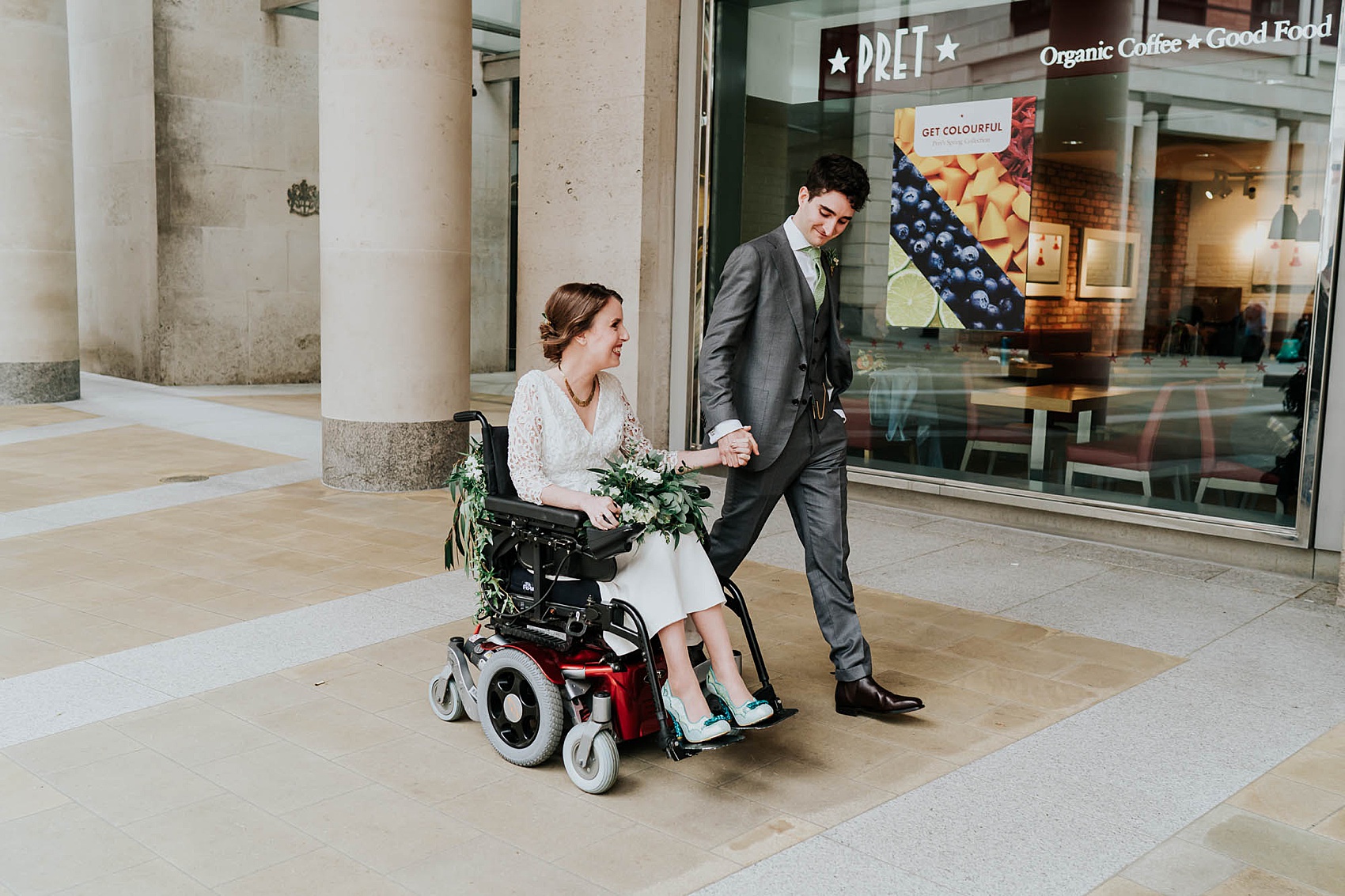 Make-up and hair was brilliantly taken care of by Portraits Bridal Hair + Make-Up, who went above and beyond to source the right make-up for Zoë.
"These ladies did a fantastic job looking after me. I have very sensitive skin and don't often wear make-up for fear of having an allergic reaction. Nadia went and spoke to a specialist and brought with her a bunch of dermatologically approved treatments for my trial, which allowed me to wear make-up all day without any of the normal problems I experience. They really made me feel looked after and listened to, and were able to translate my ideas into an amazing look for the day."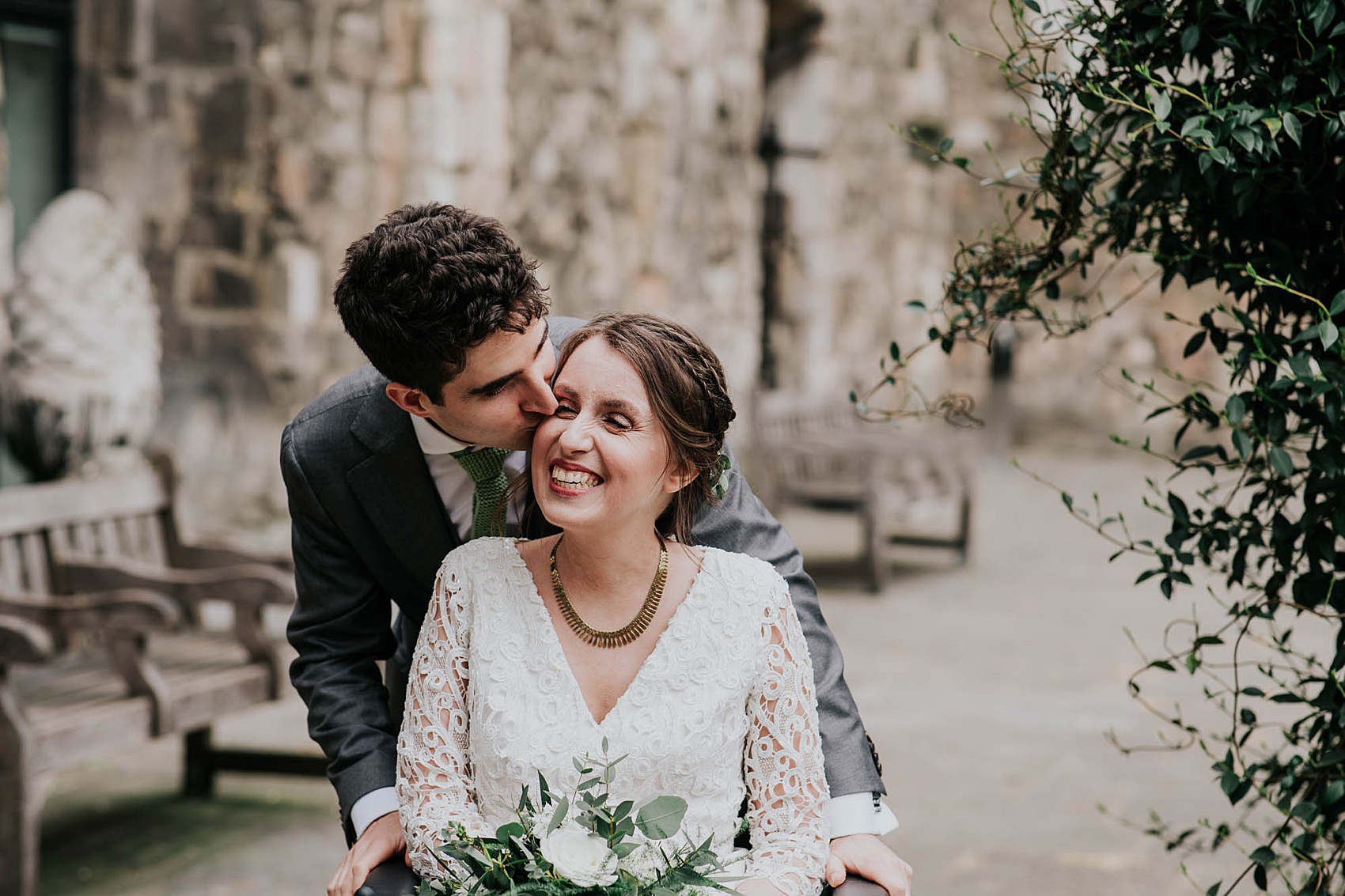 "We've lived in London for the majority of our relationship, and it's the place that most feels like home to us. We wanted a venue that was unpretentious and created a nice relaxed vibe, and looked mostly at non-traditional venues like pubs and museums."
"We're also both crap at DIY and decorating so needed a venue that would manage all the set-up for us on the day! The Happenstance ticked all these boxes, as well as being a stone's throw away from St Paul's, so we knew we'd get some great photos in the mix as well."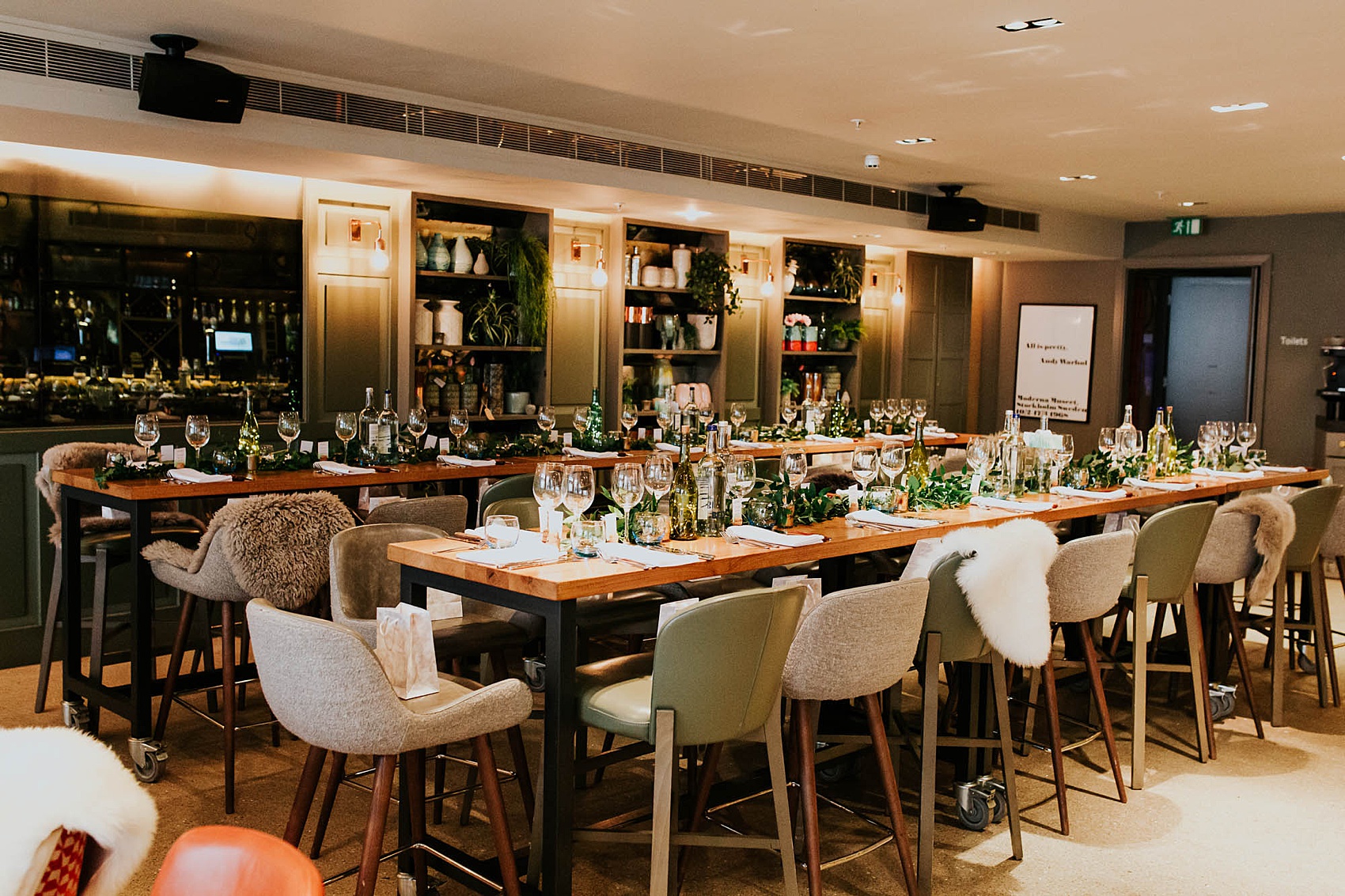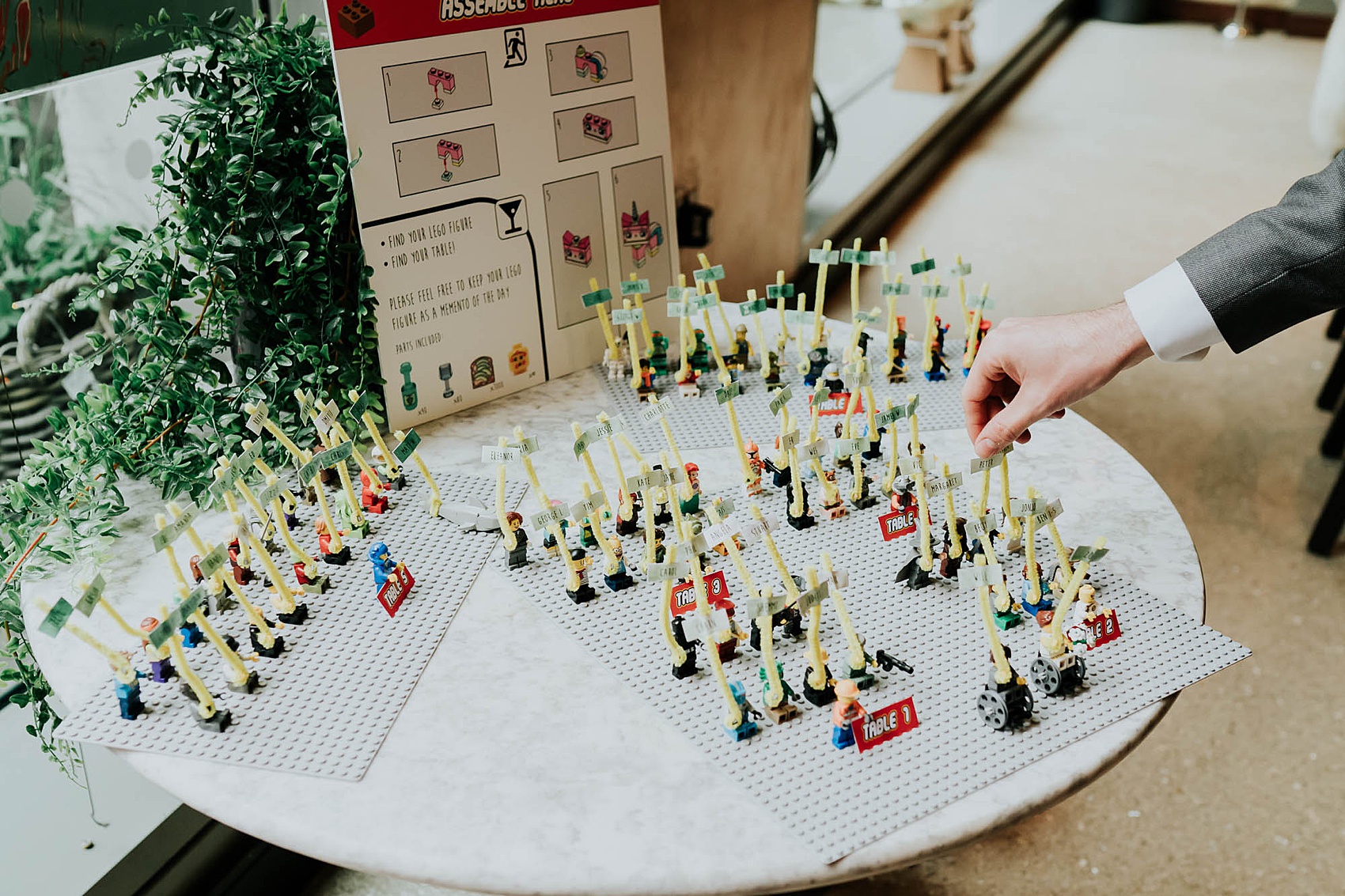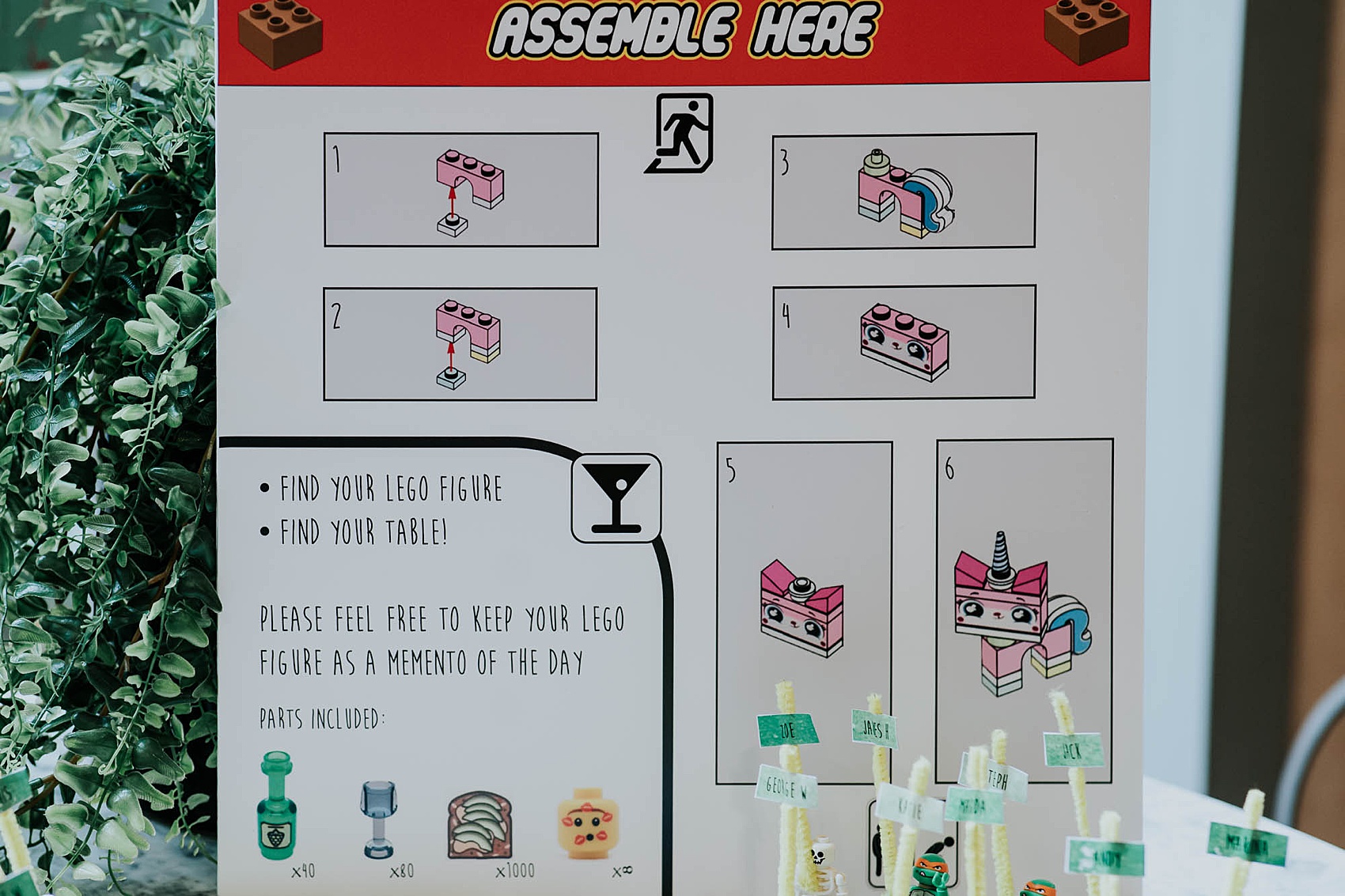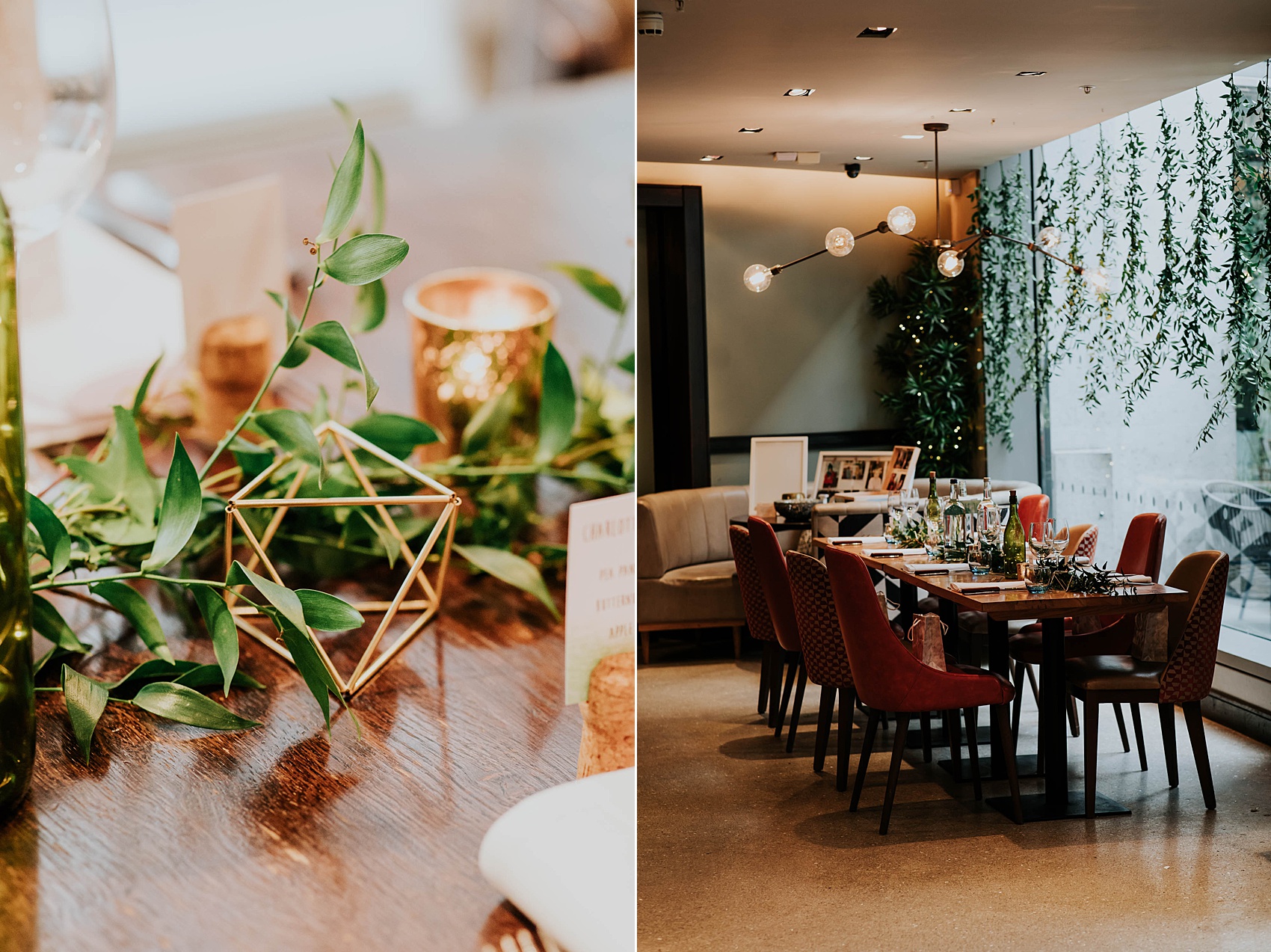 "As we'd been together so long, getting married was less about tradition and more about having the opportunity to formally commit to each other in front of all our loved ones."
"We therefore wanted to emphasise the fun side of the wedding rather than stick to a formula, so focused on making the day as happy, playful, and delicious(!) as we could. One of the reasons we chose The Happenstance was for its modern, botanical décor, and this was a big inspiration for the rest of the styling of the wedding."
Zoë's bridesmaids headed down the aisle first, each wearing their own choice of dress in complementary, sage green shades, together with gold shoes from Ruby Shoo, and floral combs in their hair.
"Will and I walked down the aisle together. This was really important to us, as we wanted to demonstrate that getting married was not some big transition, but a step in our relationship that we were entering into as a couple."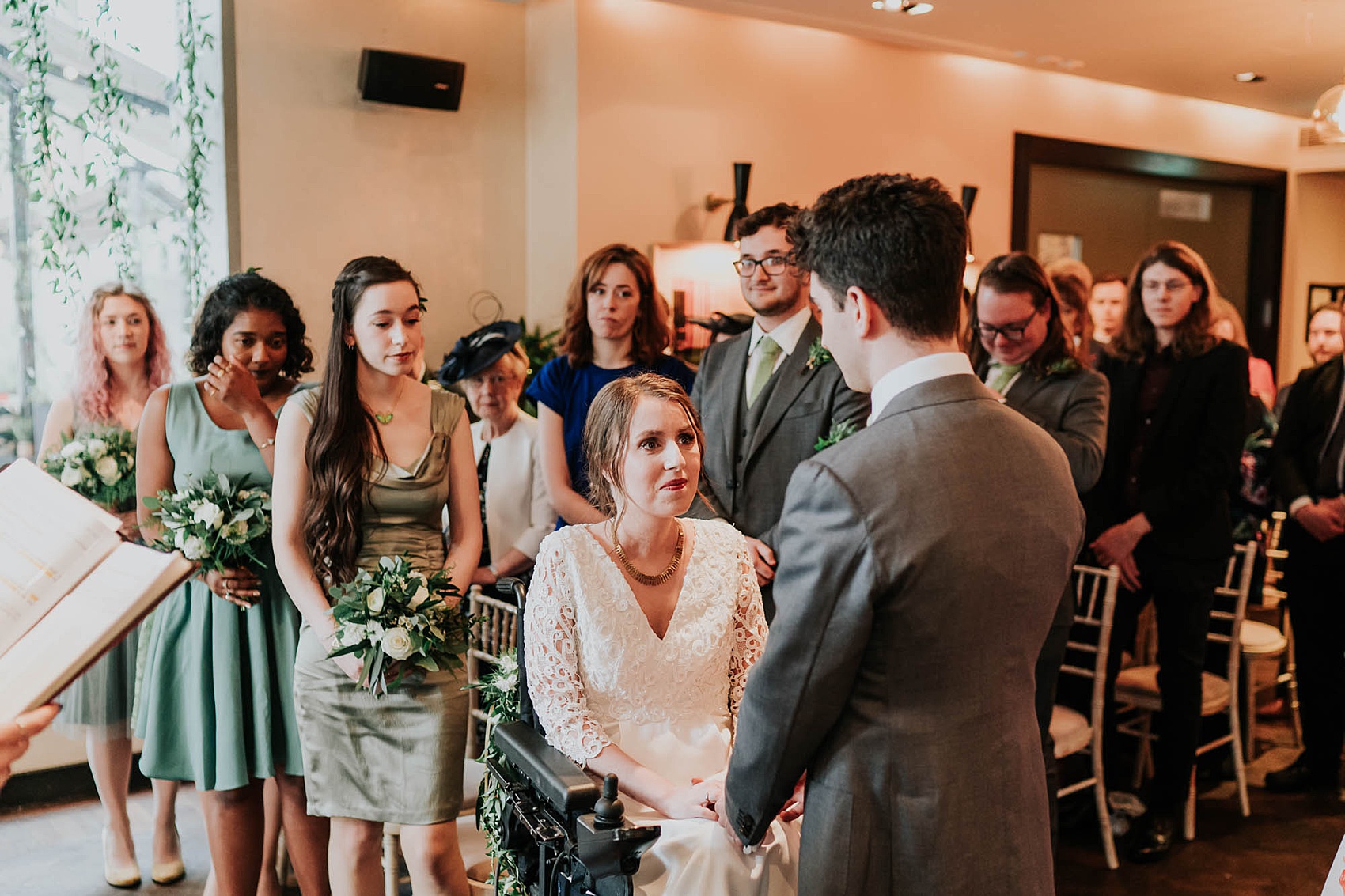 The music the couple chose had deeply held meaning for them both – Arrival of the Birds by The Cinematic Orchestra, which is such a beautiful piece.
"Will sent this to me early in our relationship when we were living in different parts of the country, as he said it reminded him of me. It's become very special to us over the years, and it was an emotional moment walking down the aisle to this song."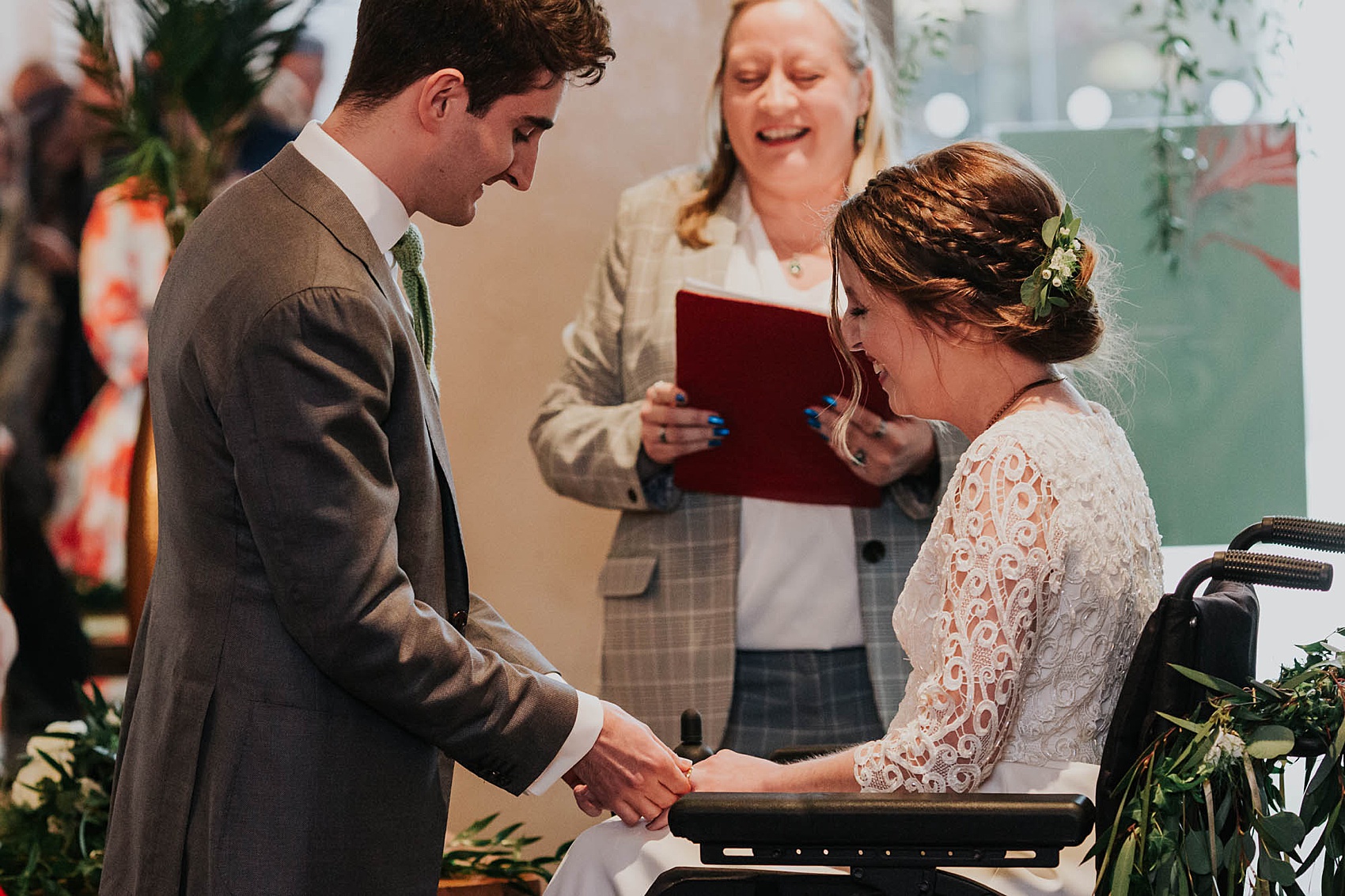 Zoë and Will wrote their own vows, which they kept as a surprise for each other until the ceremony, and they exchanged rings chosen at The Diamond Centre, in Birmingham's Jewellery Quarter.
"We got our rings from the Jewellery Quarter in Birmingham as we have a family connection there. I wanted a plain gold band which would fit around my engagement ring, and Will designed his own, which was a platinum band with gold edging and an engraved fern motif."
The couple chose three literary readings by three wonderful authors, with a piece Neil Gaiman wrote for the wedding of friends, What I Know About Love, a beautiful extract from Philip Pullman's, The Amber Spyglass, and an extract from Thief of Time, by Terry Pratchett. It's lovely to know that authors Terry Pratchett and Neil Gaiman were such good friends, also!
"We ended up using three authors completely by accident, but they all seemed to portray a version of love which resonated with us."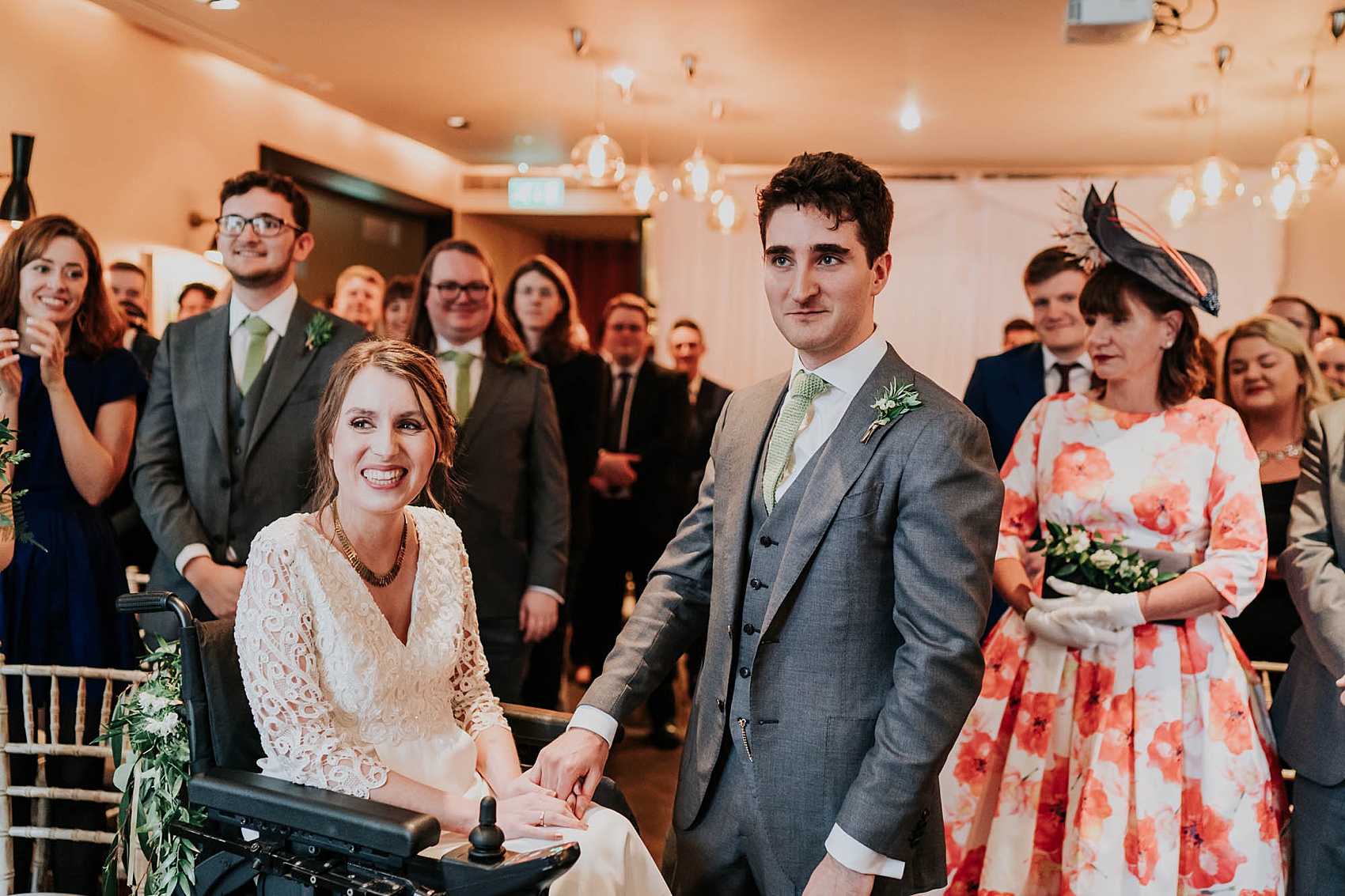 After the ceremony, there was a spot of enthusiastic confetti throwing, and time for some group shots using the striking architecture surrounding The Happenstance as a fantastic backdrop.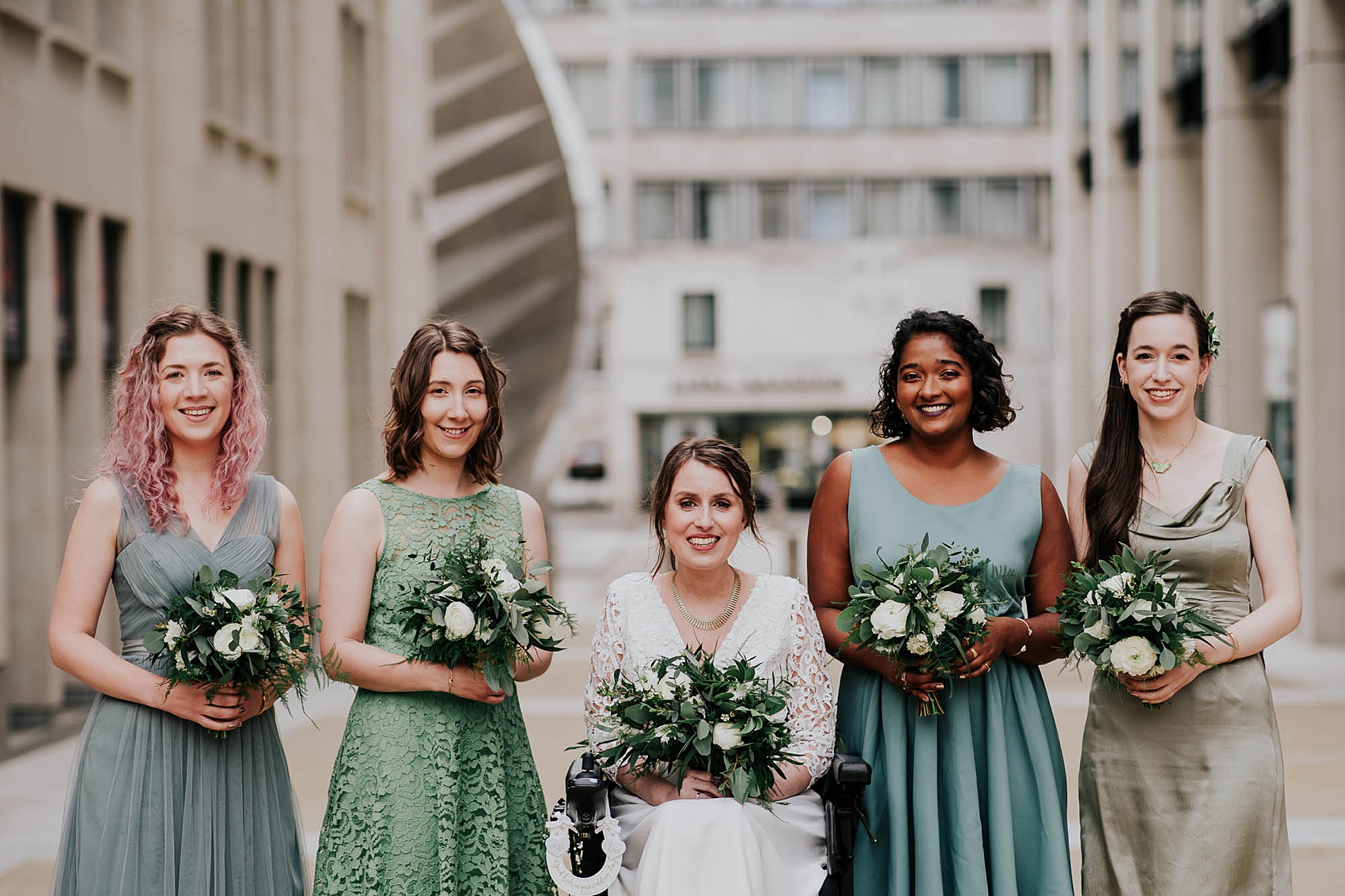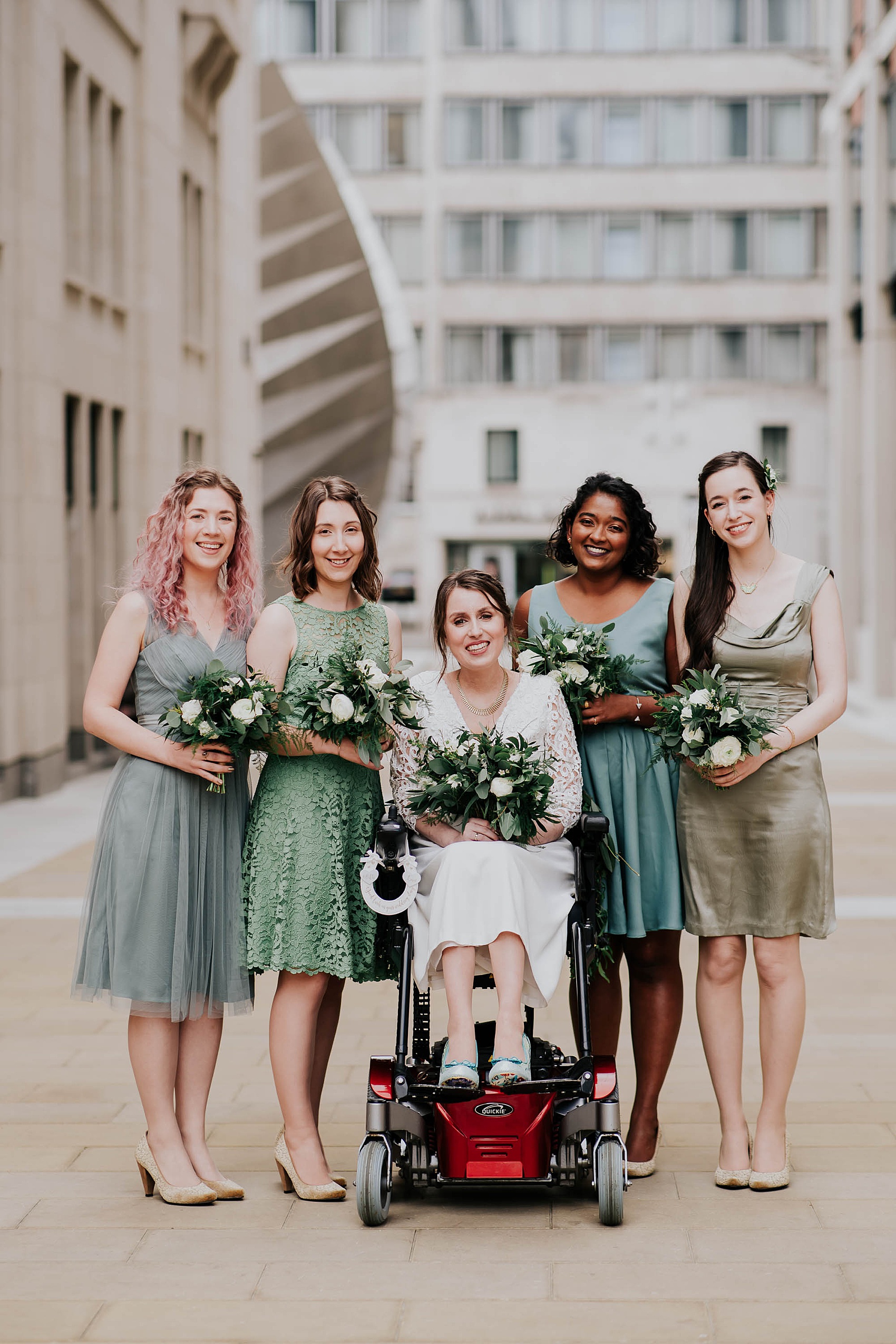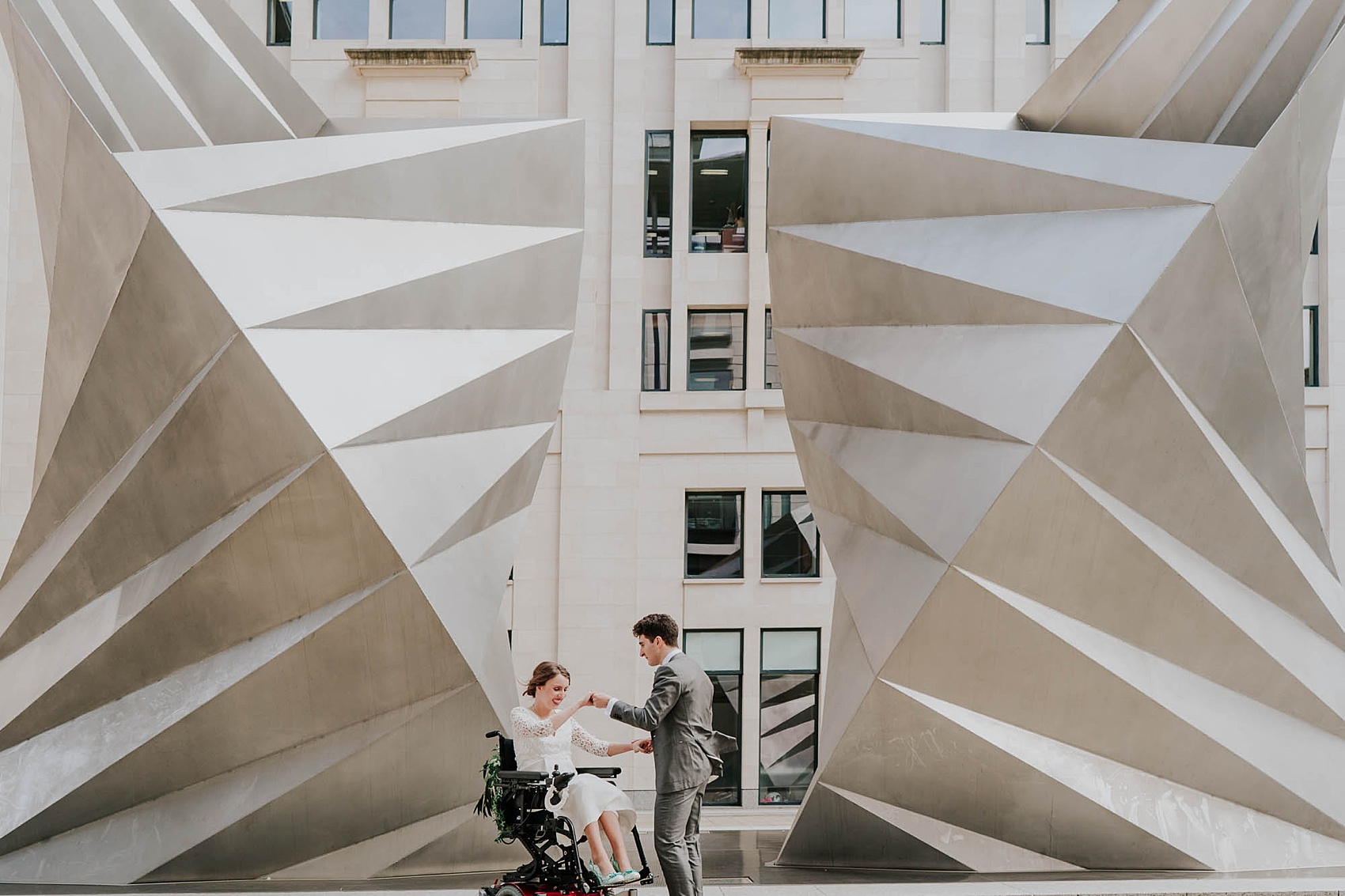 "The venue was already styled in the way we wanted for the wedding, so it was just a matter of adding finishing touches. We asked to use their standard furniture rather than their special wedding furniture as we much preferred the mismatch of colours, styles and textures this provided."
During the drinks reception, guests enjoyed music from pianist Fabio Tedde, who Zoë first heard busking at her local Tube station, and embarked on a mission to find him.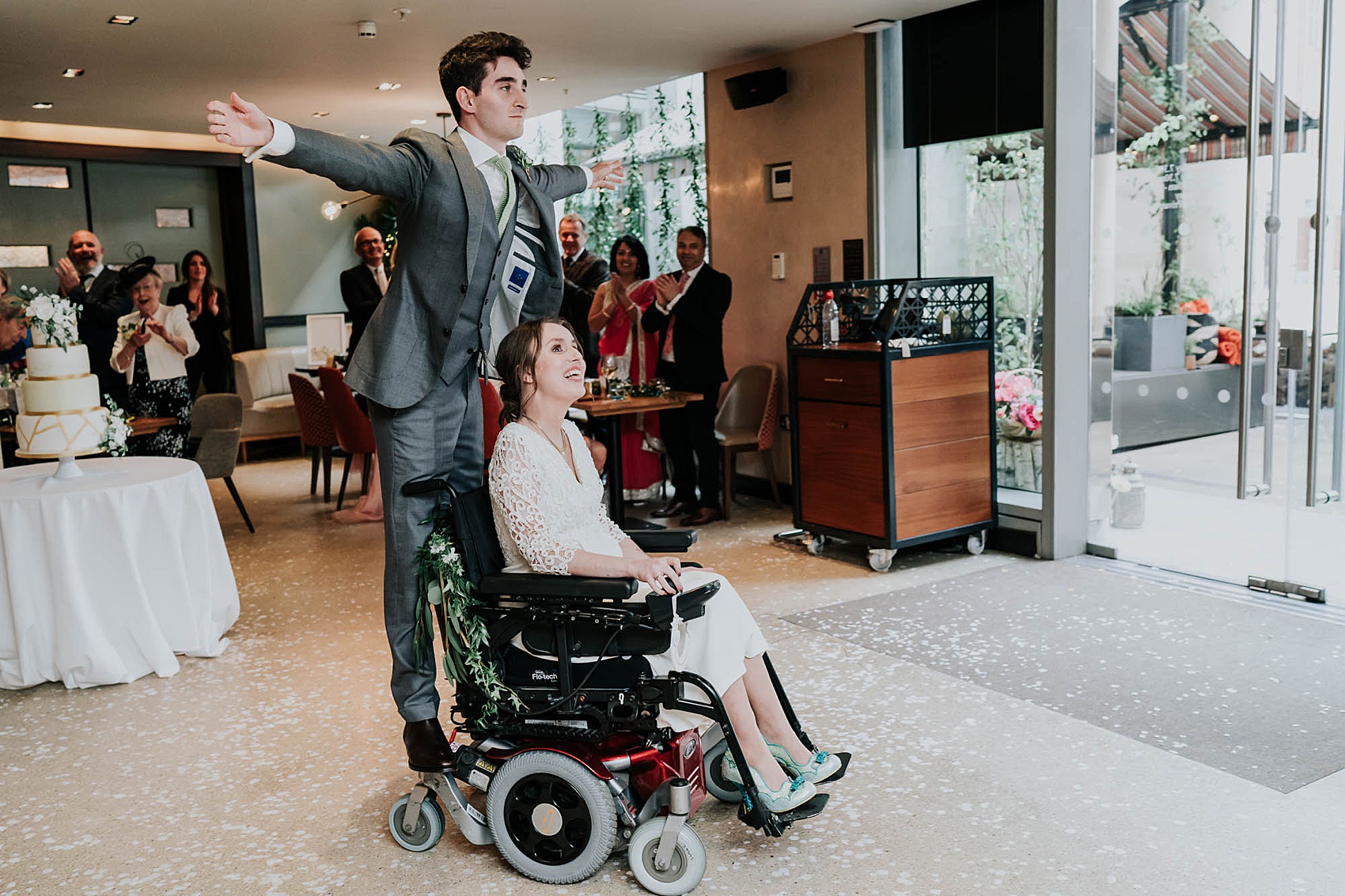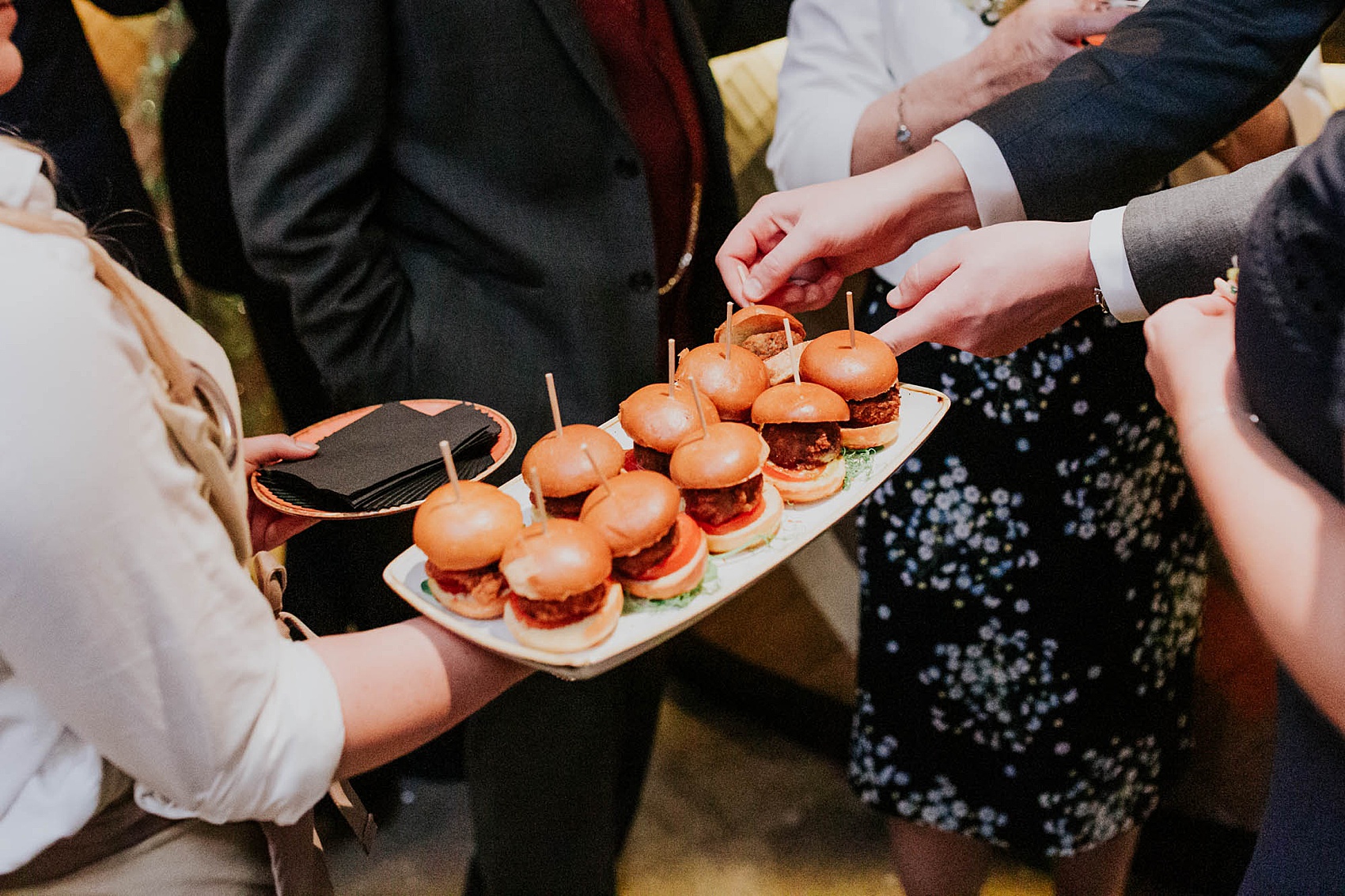 'Hearing him play always made the morning feel less terrible. I had to track him down via TfL's busking co-ordinator to find out his name so I could contact him and ask him to play at the wedding!"
Will's cousin designed the couple's invitations, which Zoë then used as the basis for the rest of their stationery, and Alana from Petal and Wild created pretty garlands to run down the centre of the dining tables.
"We added place settings made of champagne corks, and light settings made from wine and prosecco bottles (we had a little help from friends collecting these!). I also bought a collection of 'Himmeli', which are Scandinavian tree decorations, and these fitted our gold, geometric theme really well."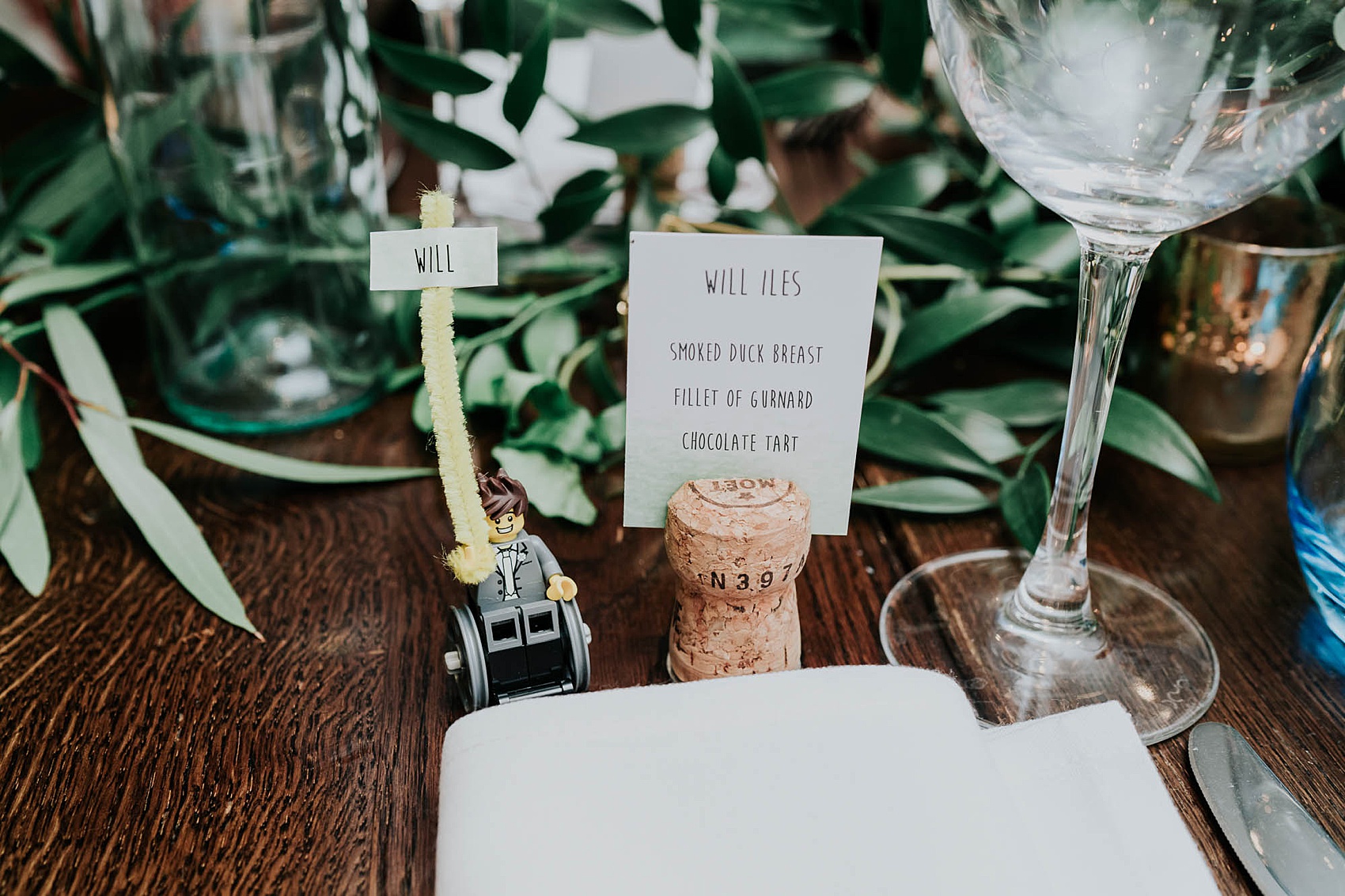 Favours were  amazing custom Lego figures from Minifigs – one for each guest placed on the table plan that they could then take home with them as a memento.
"Will and I had custom figures of ourselves made (including tiny Lego wheelchairs)! We also gave all our guests rocket balloons during dinner which you could blow up and launch across the room. This led to full-fledged warfare between tables and was probably the most fun part of the day. I've had a couple of people ask me where we got them so they could have them at their weddings too!"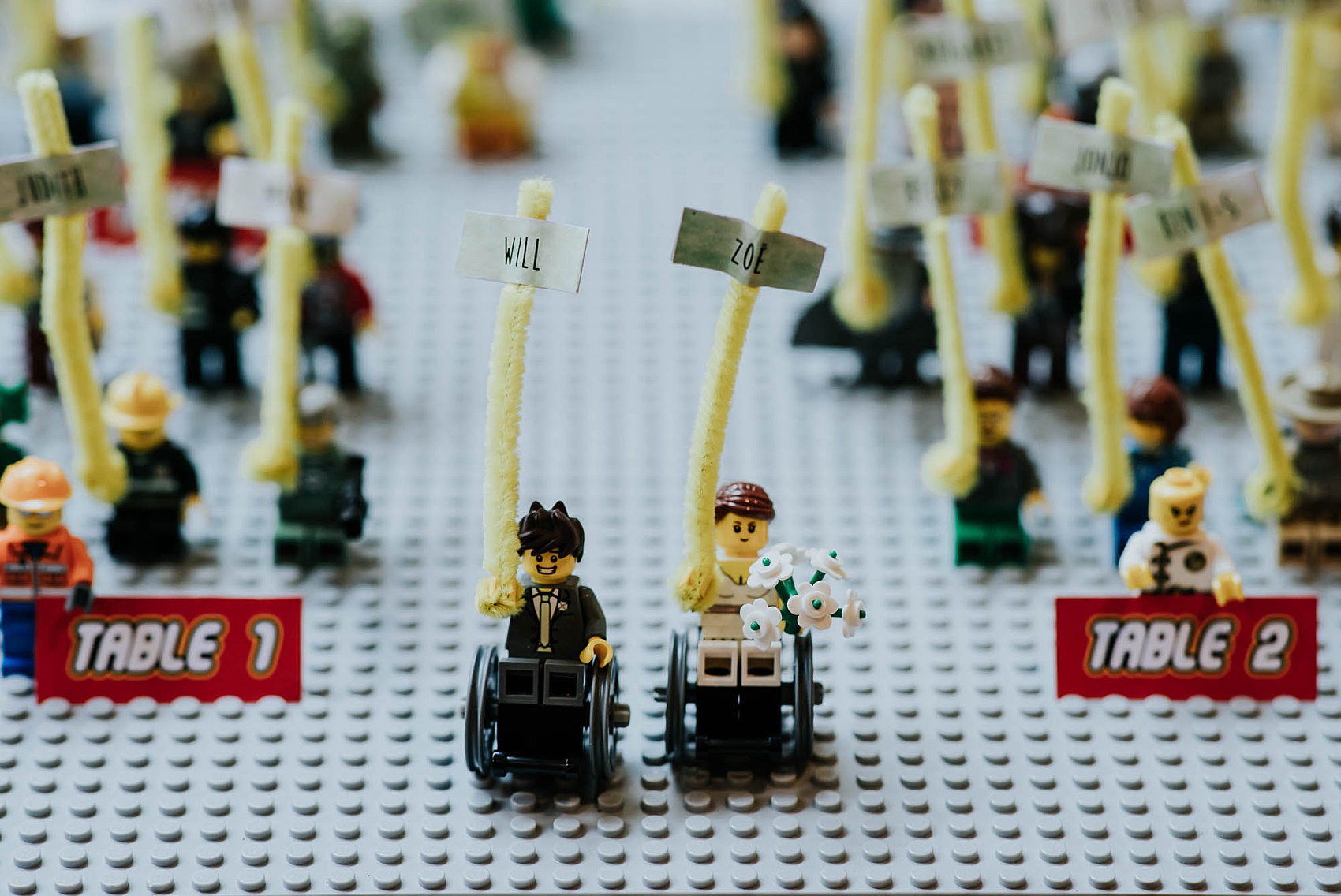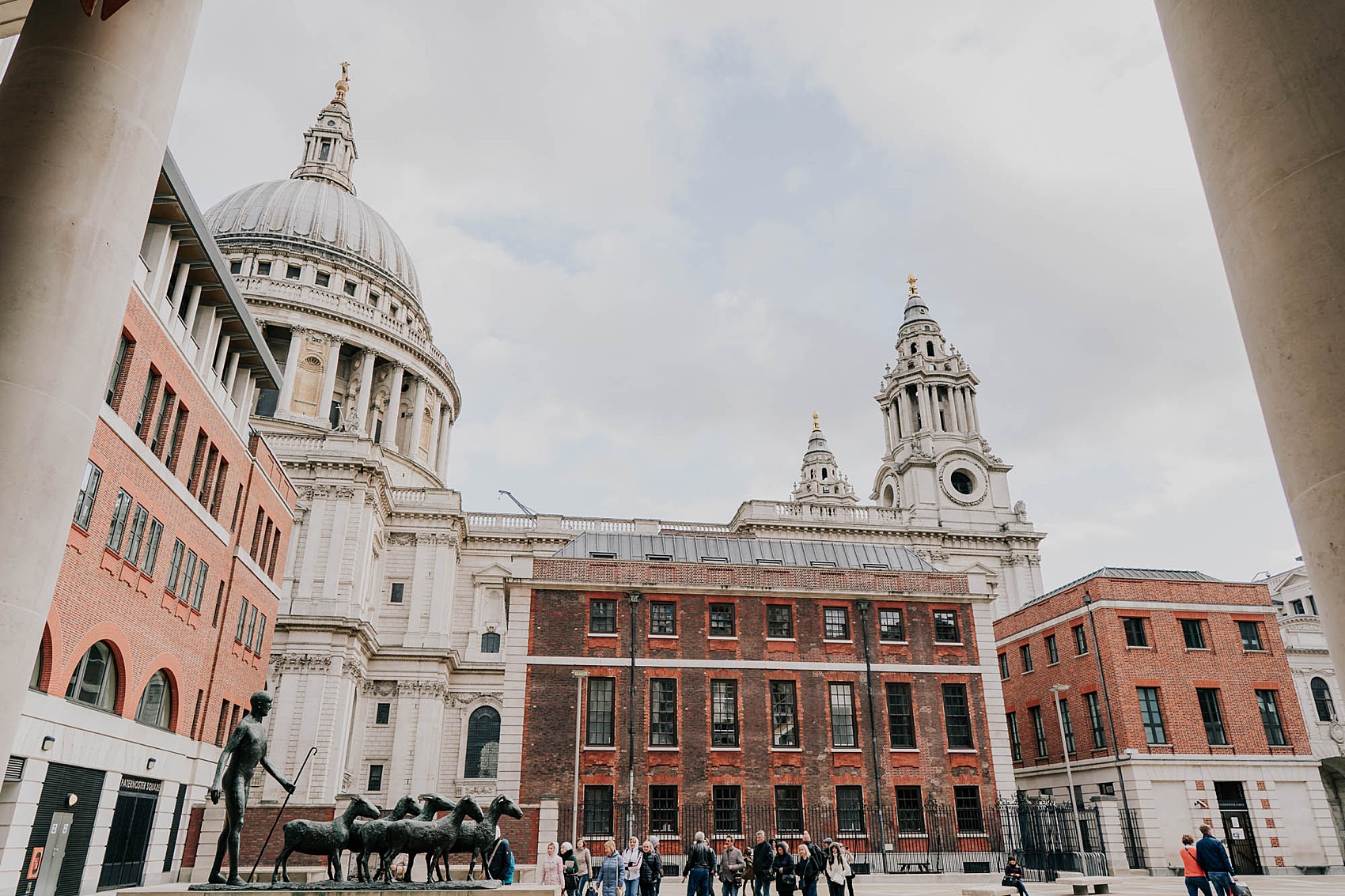 After dinner, there was cake, too – a gorgeous four-tier, geometric inspired creation by Will's Aunt Paula, who runs Stunning Cakes.
"We wanted geometric elements and green and gold detailing, and Paula worked with us to create the final result. She also created little figures of our cats and replicas of our flowers in sugar to decorate the top and sides of the cake. When she heard that we weren't providing a full meal for our evening guests she increased the size of the cake so it ended up being enormous! Definitely a showstopper!"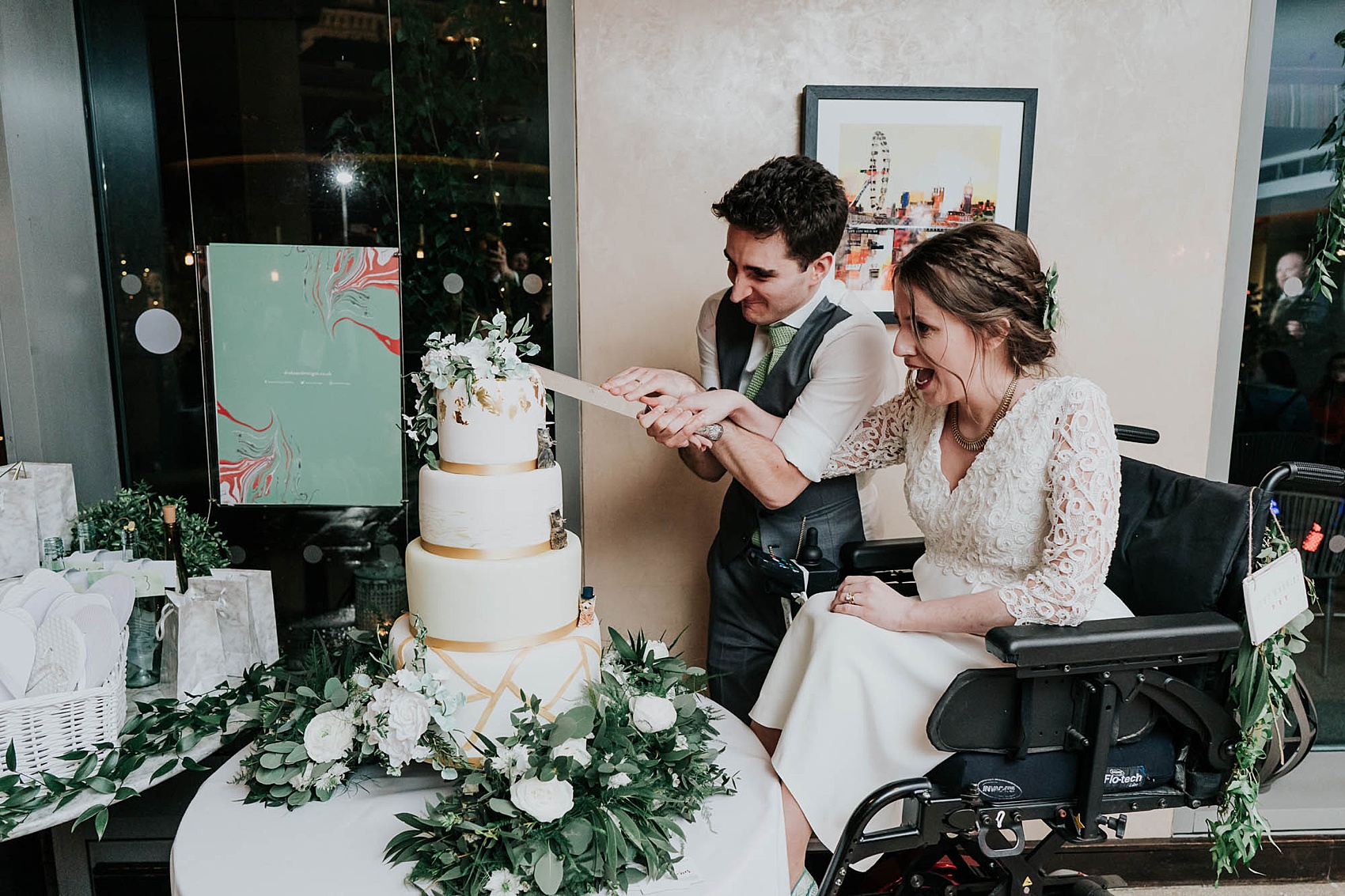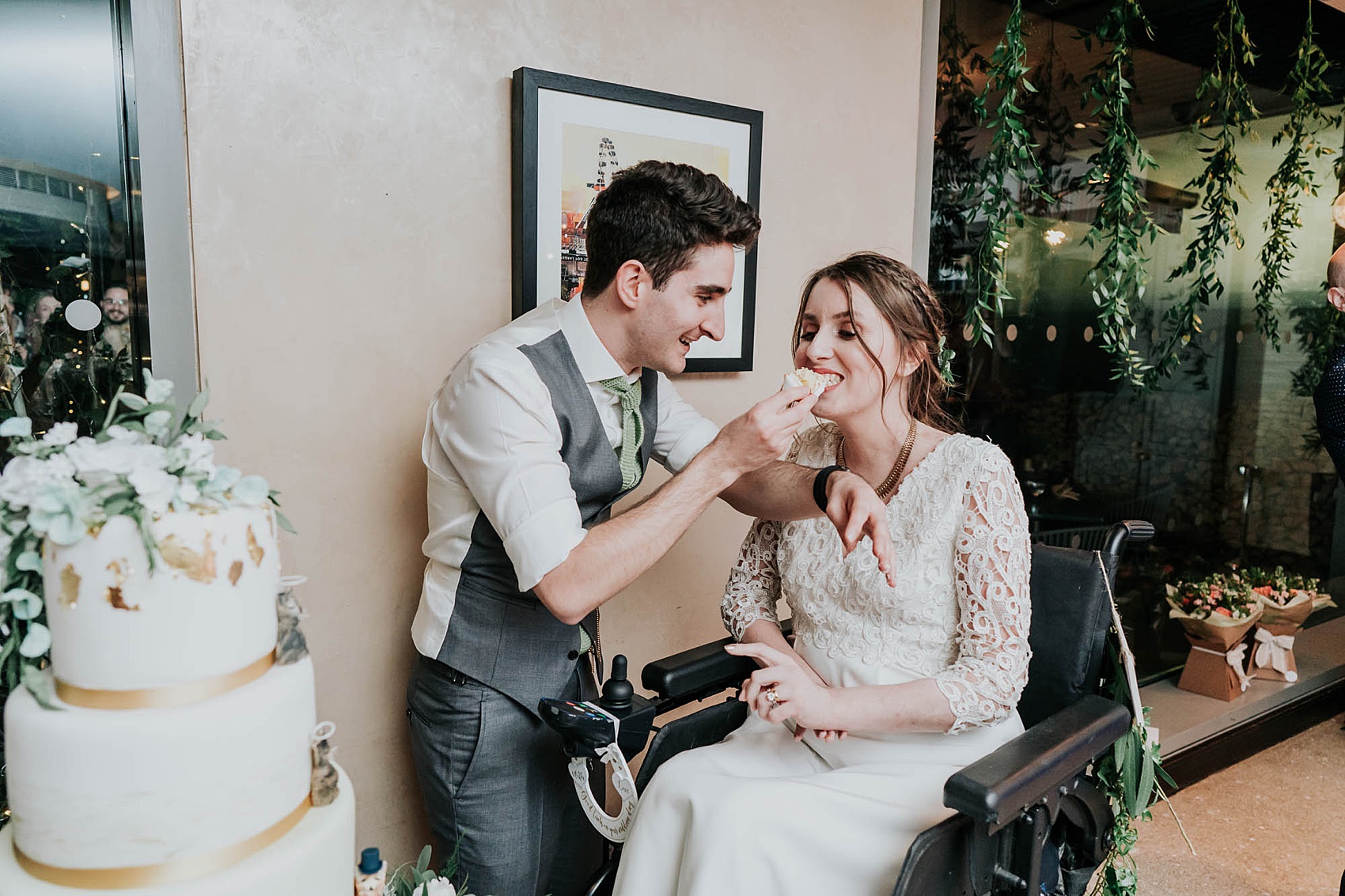 Finding just the right band for the evening entertainment was an important consideration for Zoë, and the couple settled on Truly Medley Deeply.
"They are two insanely talented musicians who put together medleys based on a theme (think 90s boybands, Ibiza, 2000s indie rock) and they kept the floor full all night! I have a lot of musical friends through my choir and they all said what a great job they did."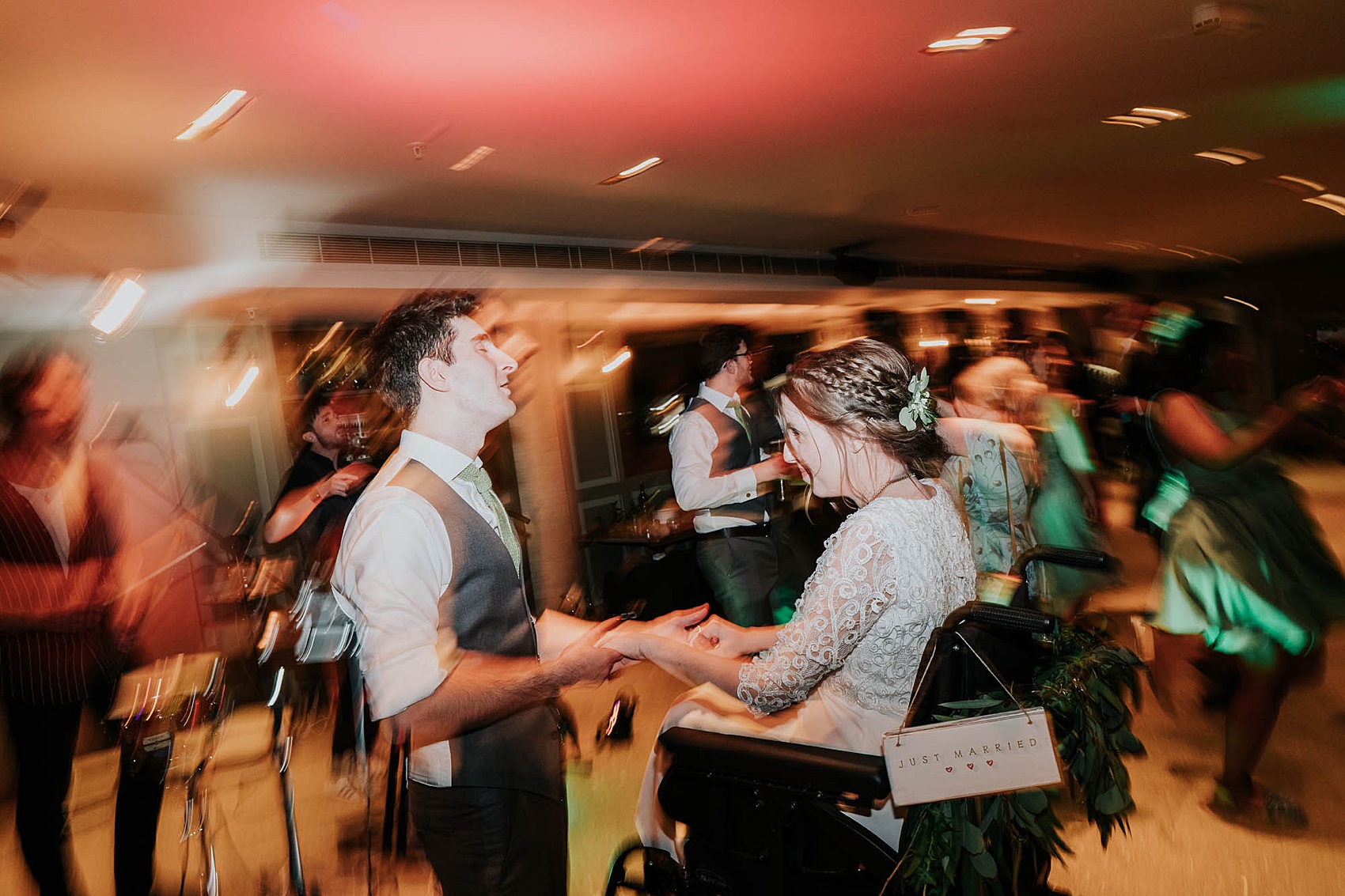 "During the evening reception, Will and I took a few minutes to go outside and walk around Paternoster Square together. Having that moment looking up at St Paul's and reflecting on the day was really special and crystallised the whole thing for me."
"I honestly don't think there's anything we would have done differently if we'd known what would happen. There were a few stressful moments, but I think there were always bound to be! The day was exactly what we both wanted."
 
Words of Wedded Wisdom
"Learn to compromise on the small stuff. Decide what's really important to you as a couple and stick to that, but let others pitch in with other bits and pieces if it makes them happy, then on the day you can relax knowing that the big things are taken care of."
"Also it doesn't matter how well you plan, the week before the wedding will always be manic!"
Zoë and Will, many congratulations, and a thousand thanks for sharing your effortlessly cool day with us. I've loved it all, from the setting and venue to the beautiful lace dress, funky shoes and magical floral creations. Huge thanks also go to Joasis Photography for their super images, and you can see more of their wonderful work on our pages, right here, and you can explore more disabled bride weddings here.
Until next time!
With love,
Laura