Today's bride is going to completely wow you with her glamorous, vintage inspired look – from her draped, 1920s style gown, to her long, satin opera gloves. Add to this a colour palette and theme inspired by her Italian heritage, and you have all the makings of an effortlessly elegant celebration.
Let me introduce you to Denise and Matt, who were married on the 1 October 2018 at the beautiful Old Kent Barn, Swingfield, Kent. The couple first met online, and saw each other for the very first time at Charing Cross Station on the 24 October 2014, before enjoying their first date together.
Images by Olegs Samsonovs Photography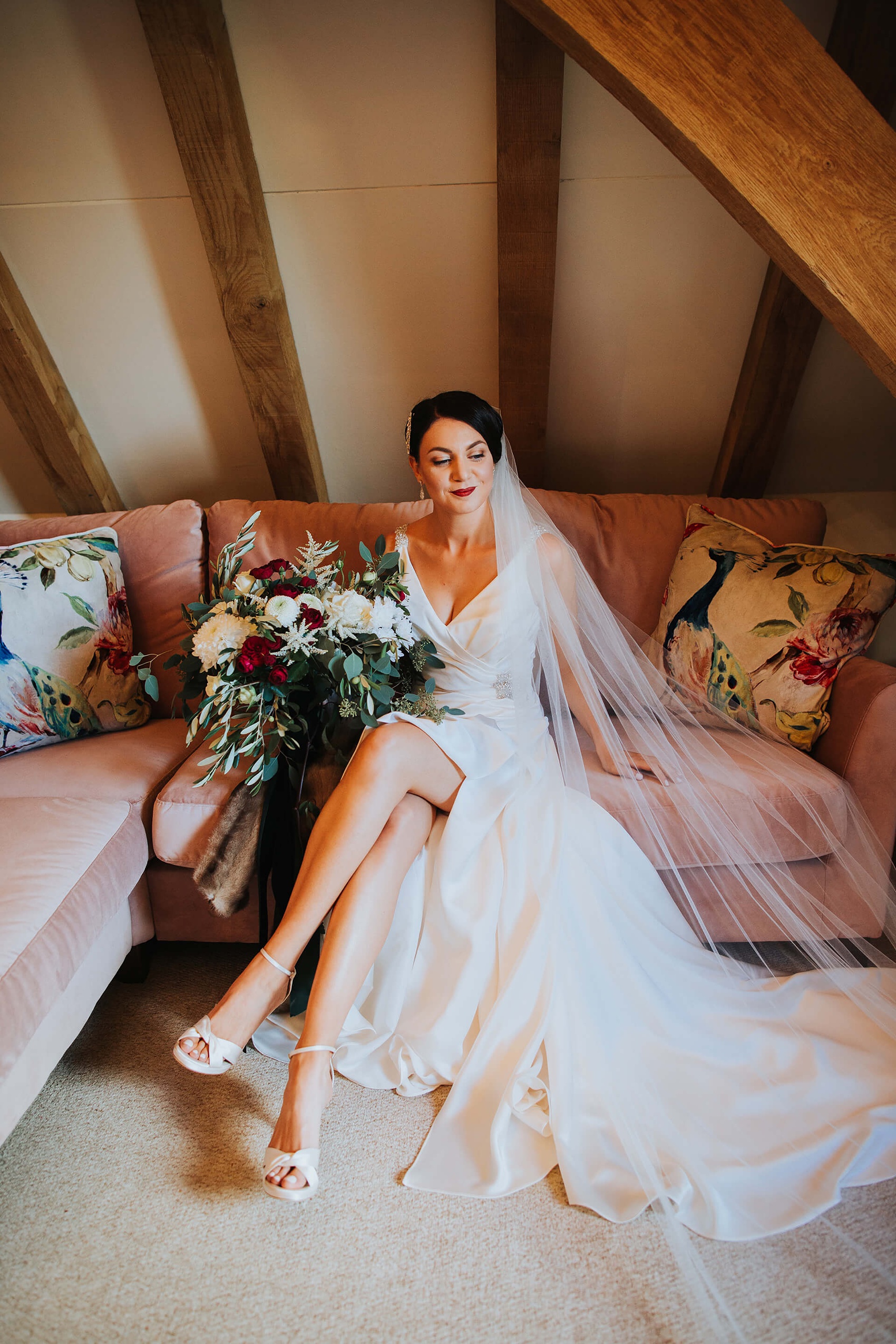 From Hayley Elizabeth Bridal, Denise chose the sleek 'Harmony' dress by Enzoani, which has more than a nod to 1920s glamour, with its beautiful beaded embellishment and softly draped back. It looked out of this world with the satin opera gloves Denise also wore (sadly no details about these).
"Denise loved the 1920s, Gatsby-esque design. I was really impressed with the dress and how beautiful she looked."
Capturing all the joy of the couple and their loved ones was photographer Olegs Samsonovs, who brings such style and elegance to his work. It's also wonderful to be able to add to the body of work Olegs already has featured here on our pages, too.
I always love it when a bride opts for a bold, red lipstick, and Denise looked sublime with her vintage inspired hair and make-up by Pretty Please by Katie.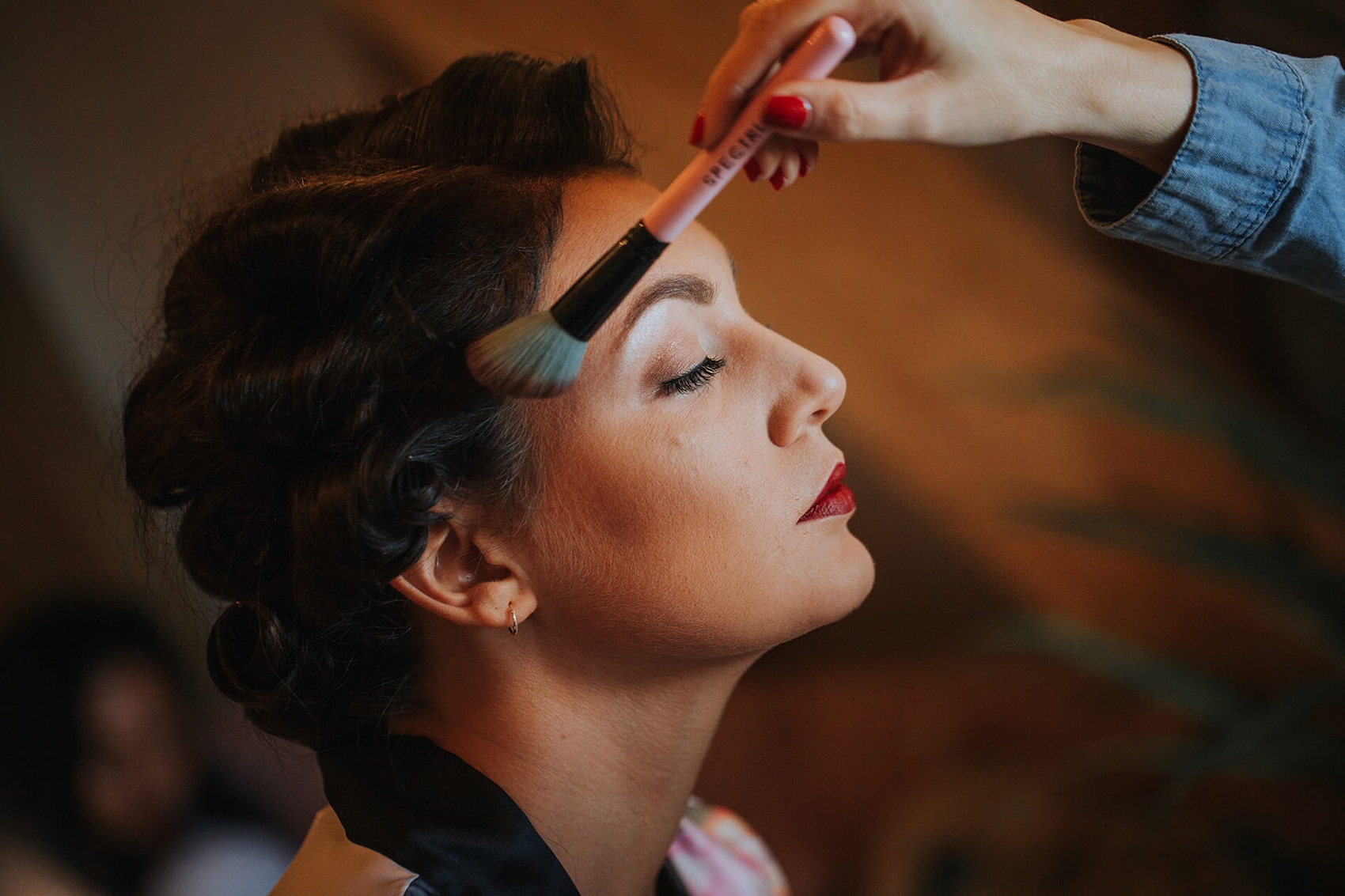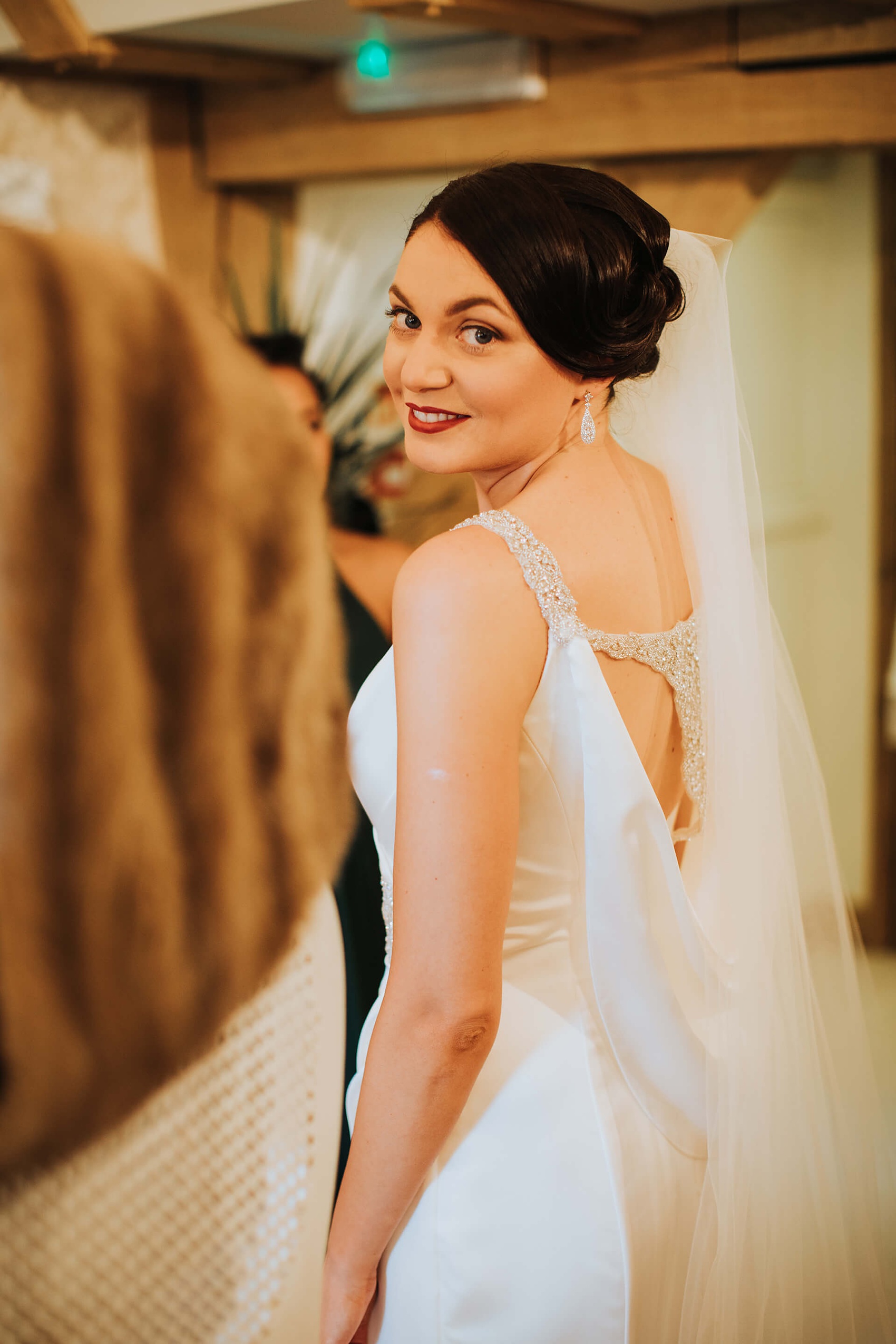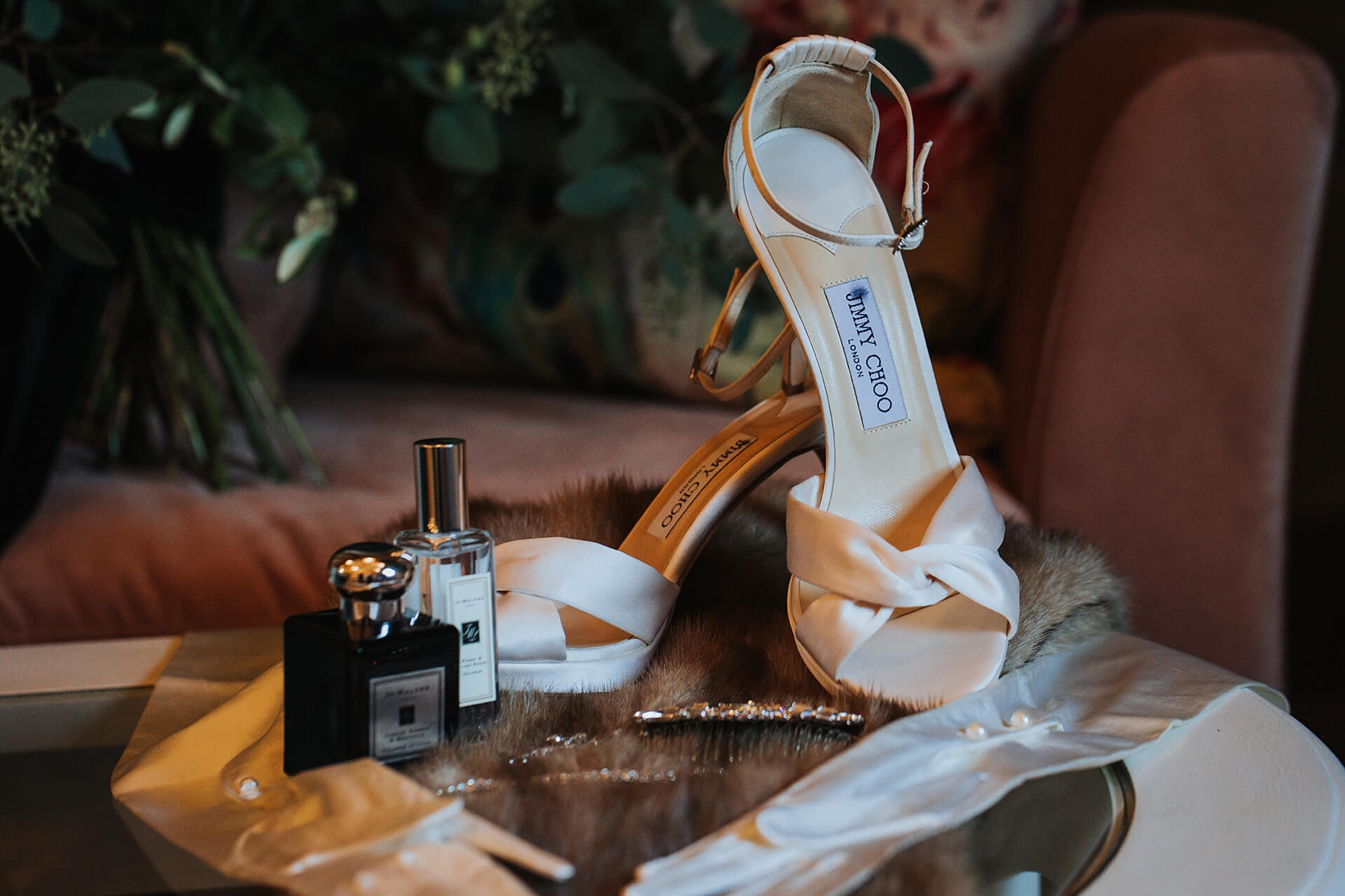 On her feet, Denise wore ivory sandals by Jimmy Choo, together with sparkling crystal drop earrings from Malis Henderson, and in her hair, a glittering hair comb from Mademoiselle Jacqui, finished off with a delicate, single tier tulle veil (sadly no details provided about this).
The inspiration behind Denise's spectacular bouquet was inspired by the green, white and red of the Italian Tricolore, and created by Emily & Me, with red and white roses, dahlias and chrysanthemums, astilbe, lisianthus and gorgeous stems of eucalyptus and olive, all tied with green velvet ribbon.
All that remained was for a mist of wedding day fragrance, and Denise chose Jasmine Sambac & Marigold cologne by Jo Malone.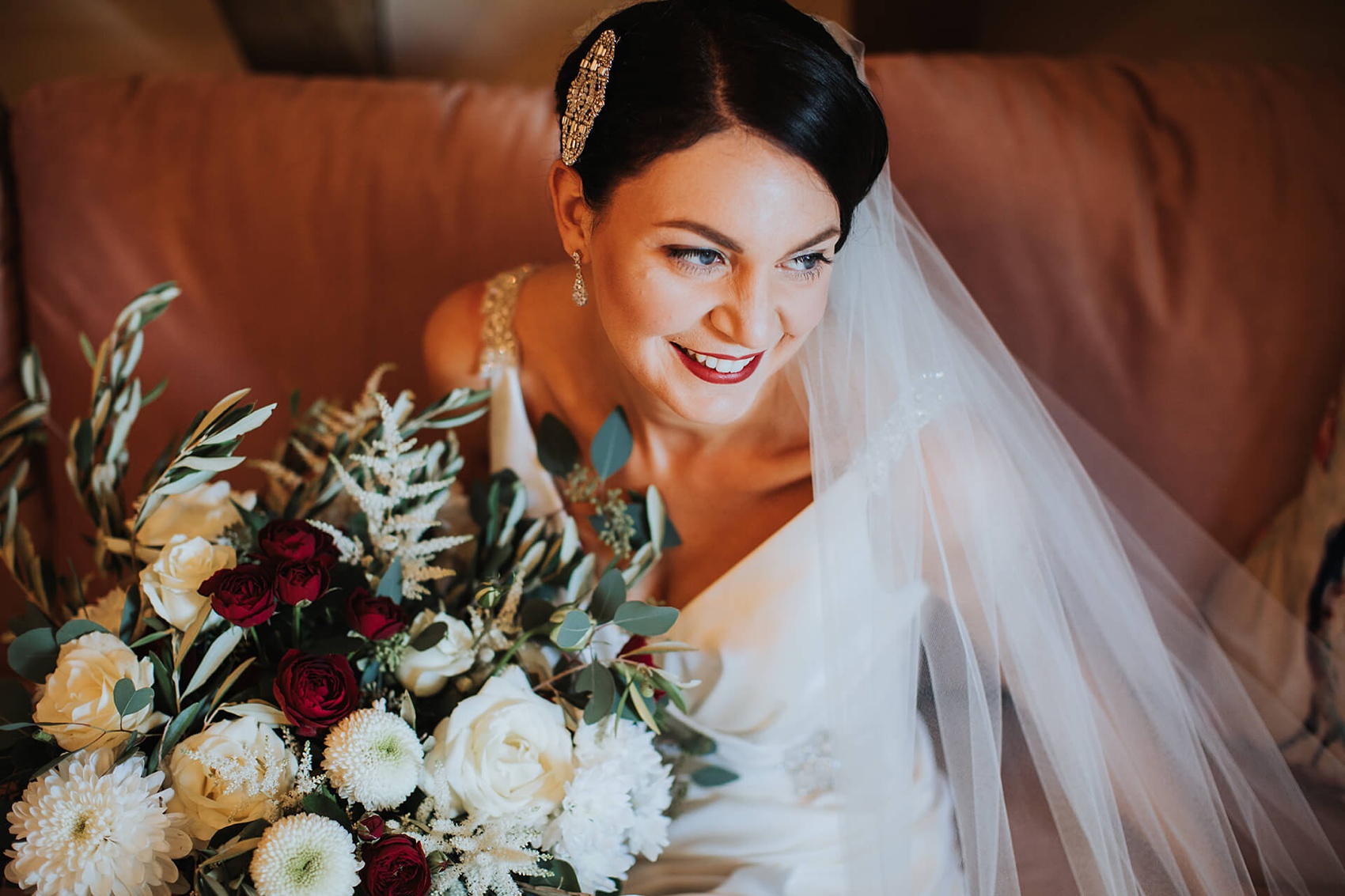 "I chose a dark green Donegal tweed suit from Red Herring as something a little different from the ever-popular blue suit, and we chose to dress the bridesmaids in green."
"We chose light grey for the groomsmen and matched their tan leather brogues, belts, green ties, with gold tie clips, white shirts and mid-grey waistcoats to mine for consistency."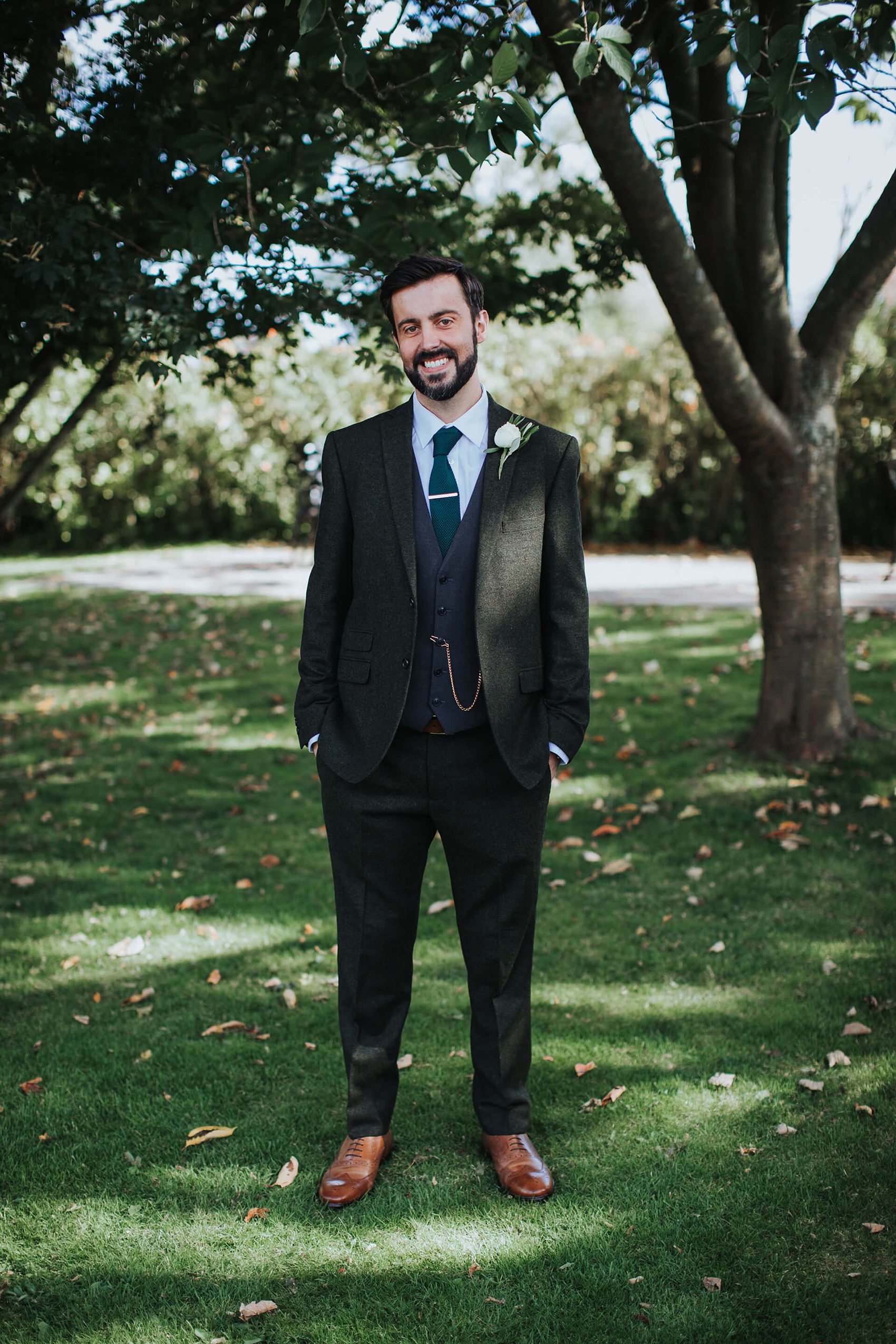 Matt's knitted tie came courtesy of Marks & Spencer, which he accessorised with a gold tie bar from eBay, and on his feet, wore brogues from Topman.
The bridesmaids looked lovely in Hunter green maxi dresses from Mix Bridal, and I absolutely love these subtle tributes to the Italian flag in this wonderful shade of green, together with Denise's mother wearing vibrant red.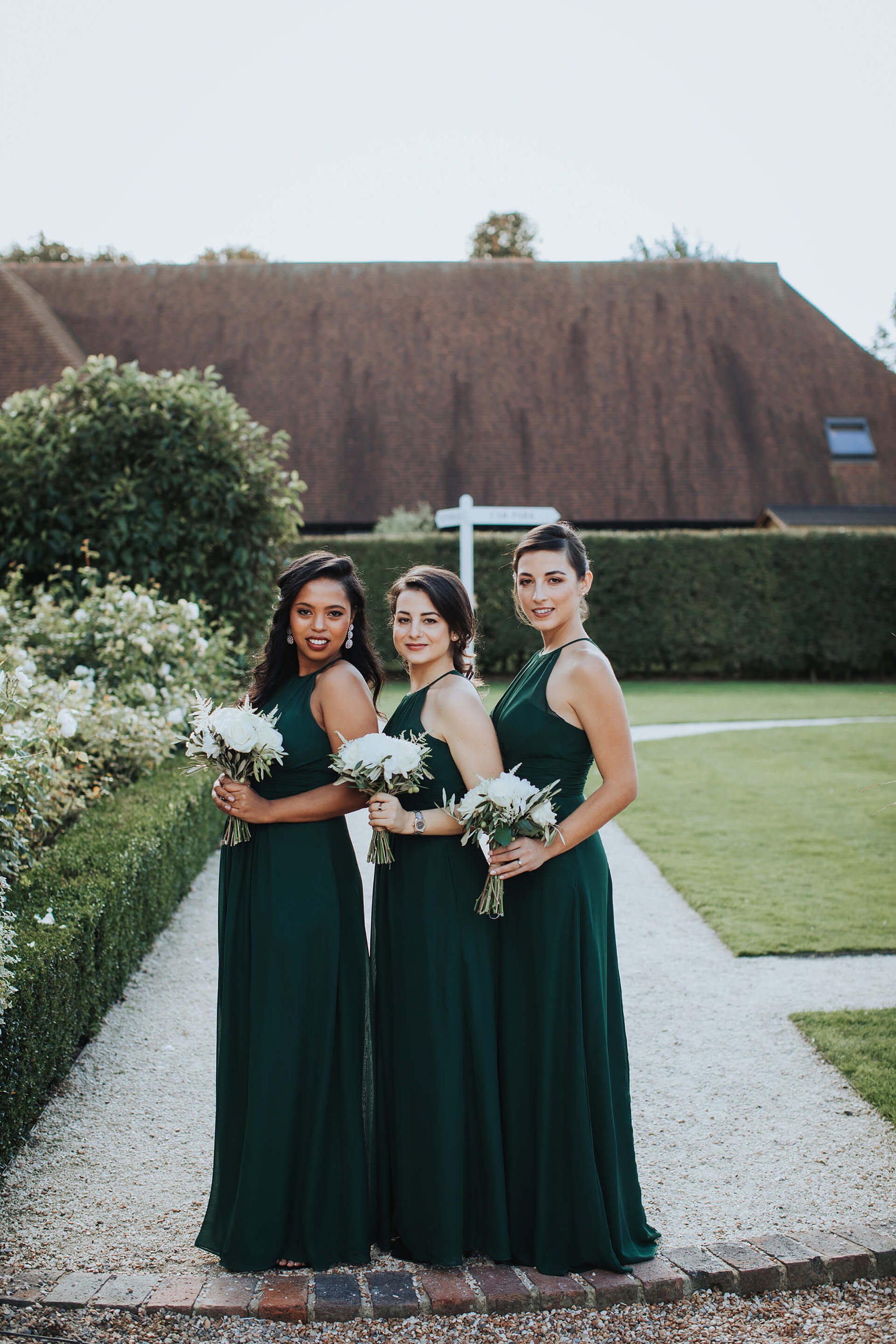 Denise and Matt decided to hold their ceremony in the beautiful gazebo in the grounds of The Old Kent Barn, and Denise was accompanied down the aisle by her father, wearing a fur wrap, to a custom edit of the song Gorecki, by Lamb.
"I proposed in December 2016 when we were on a weekend away in Amsterdam. I was planning to propose in the evening when the lights came on for some added atmosphere, but couldn't wait, so asked Denise to marry me whilst we strolled along one of the many canals."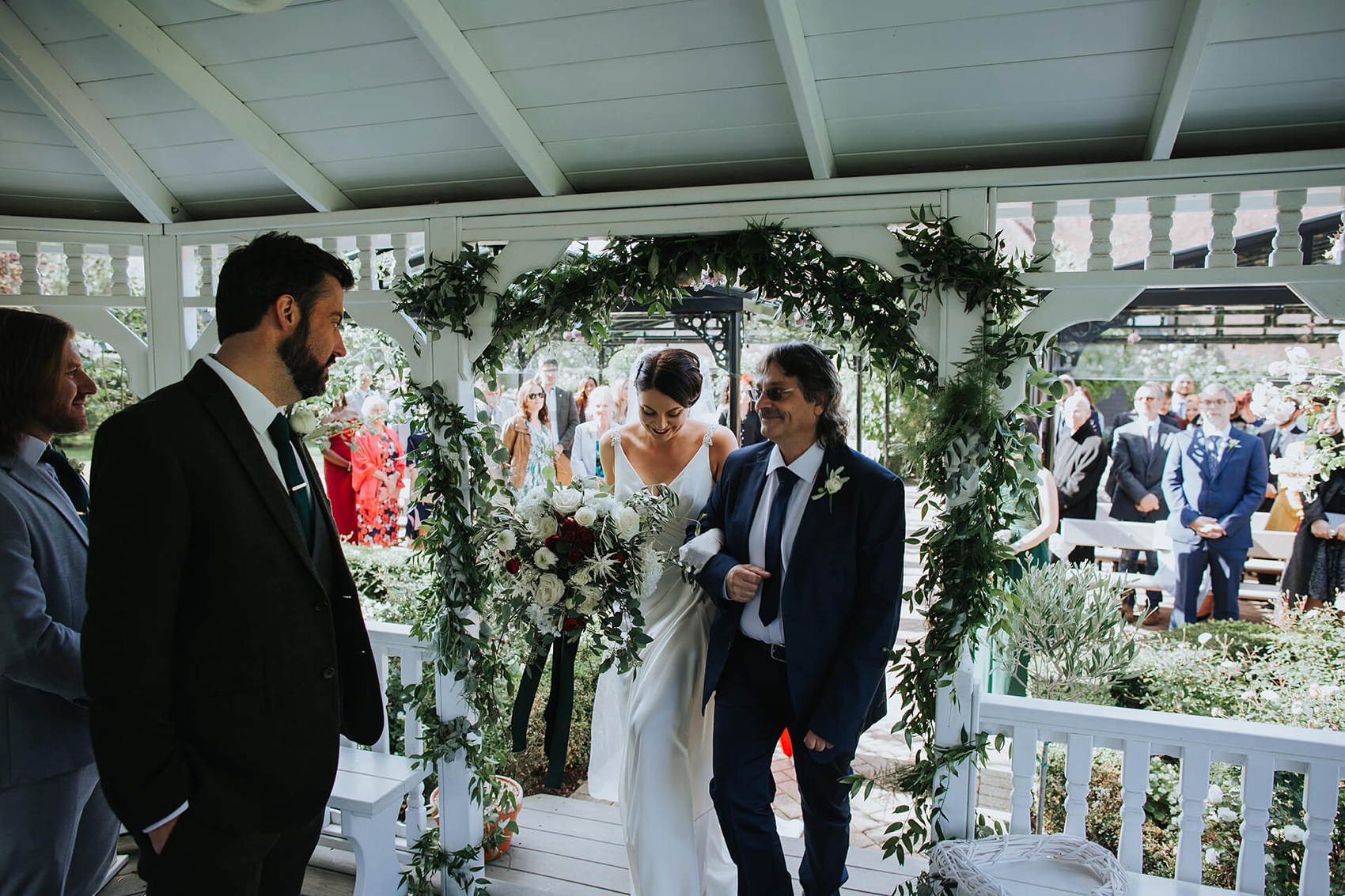 It was a glorious, golden autumn day, and Denise and Matt exchanged vows and rings, which they chose at 77 Diamonds.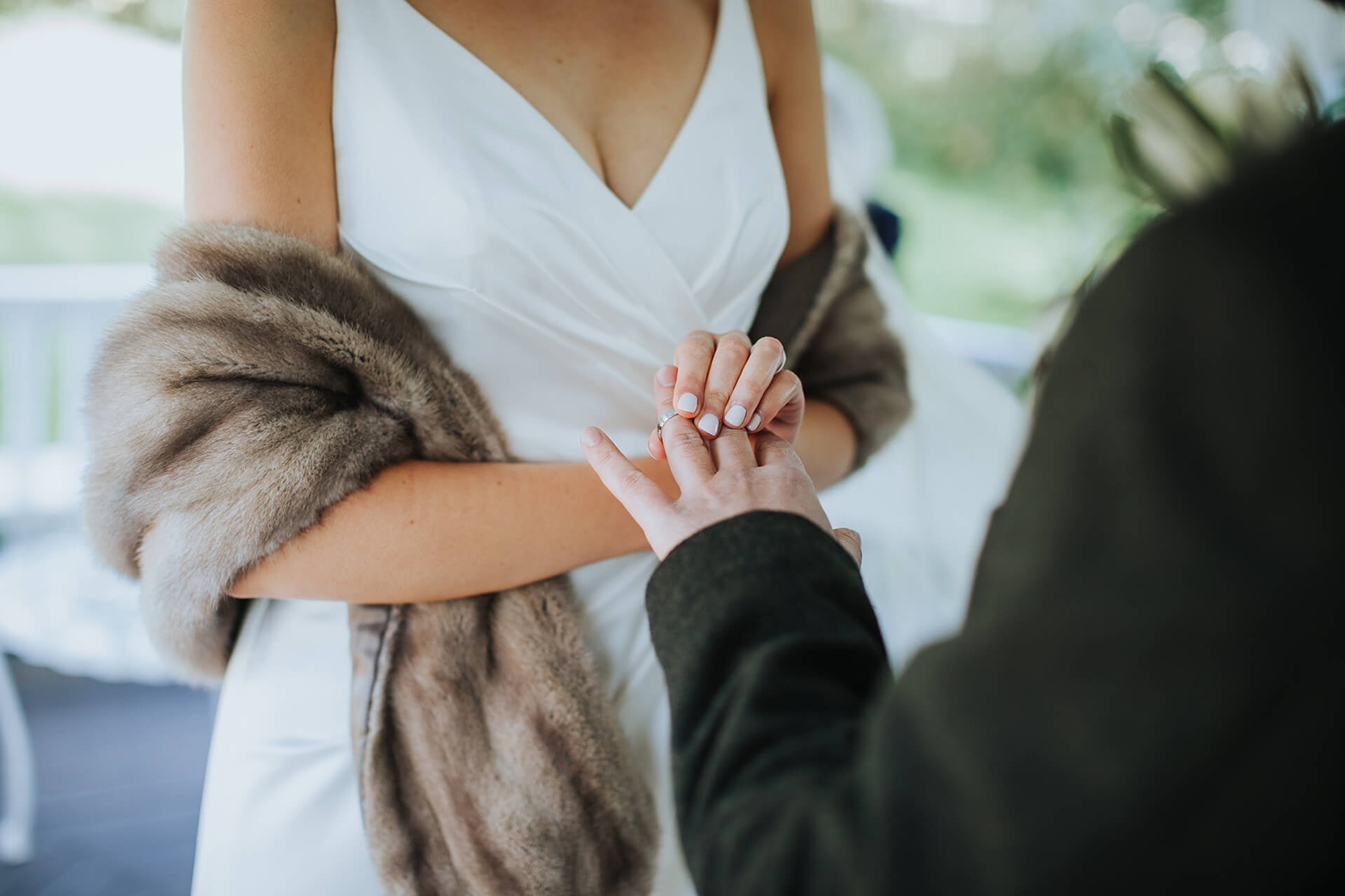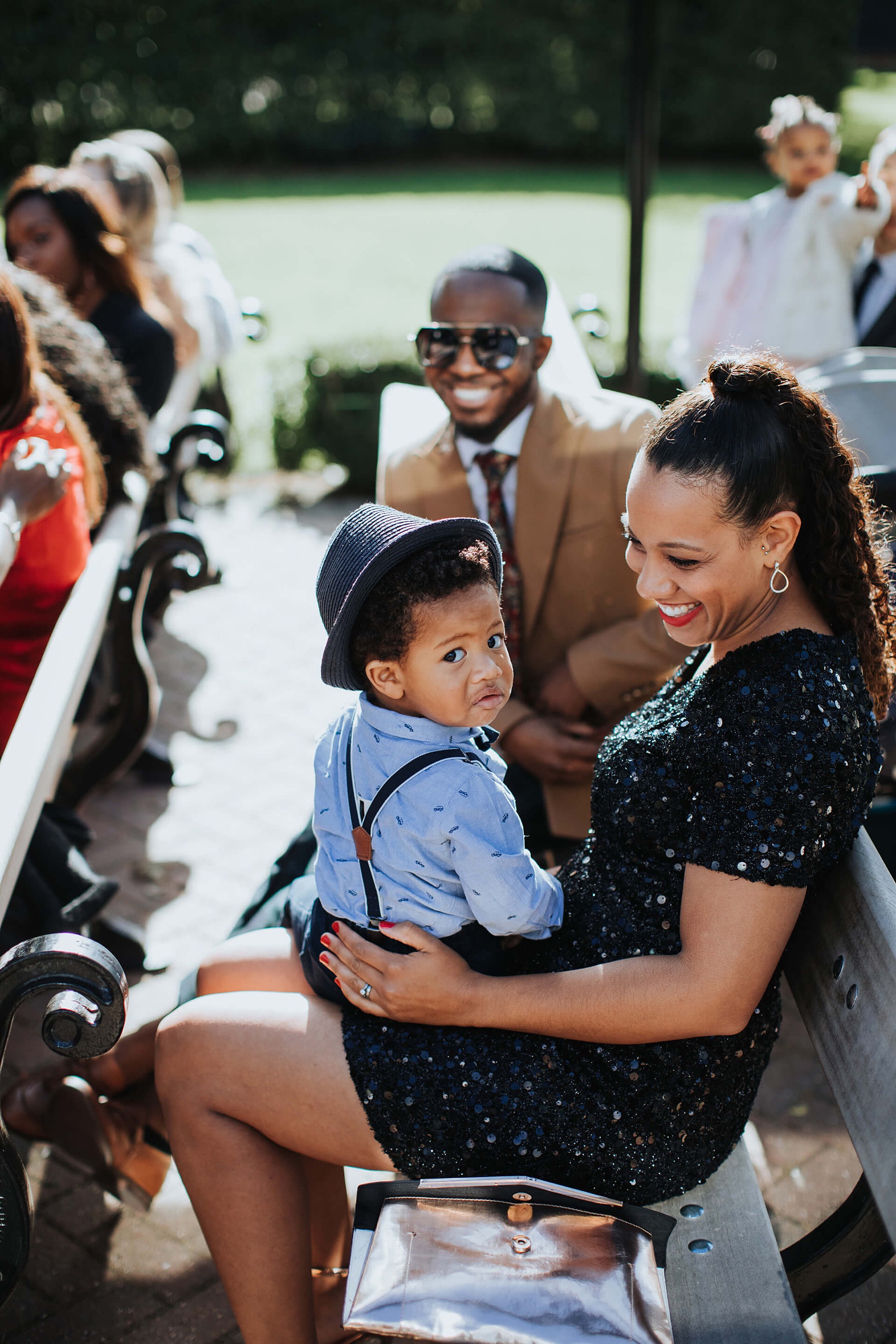 "The Italian theme continued with the 1974 Fiat 500 I bought as a surprise for Denise. I had vinyl graphics made up for the car with the M&D roundel design from our invitations."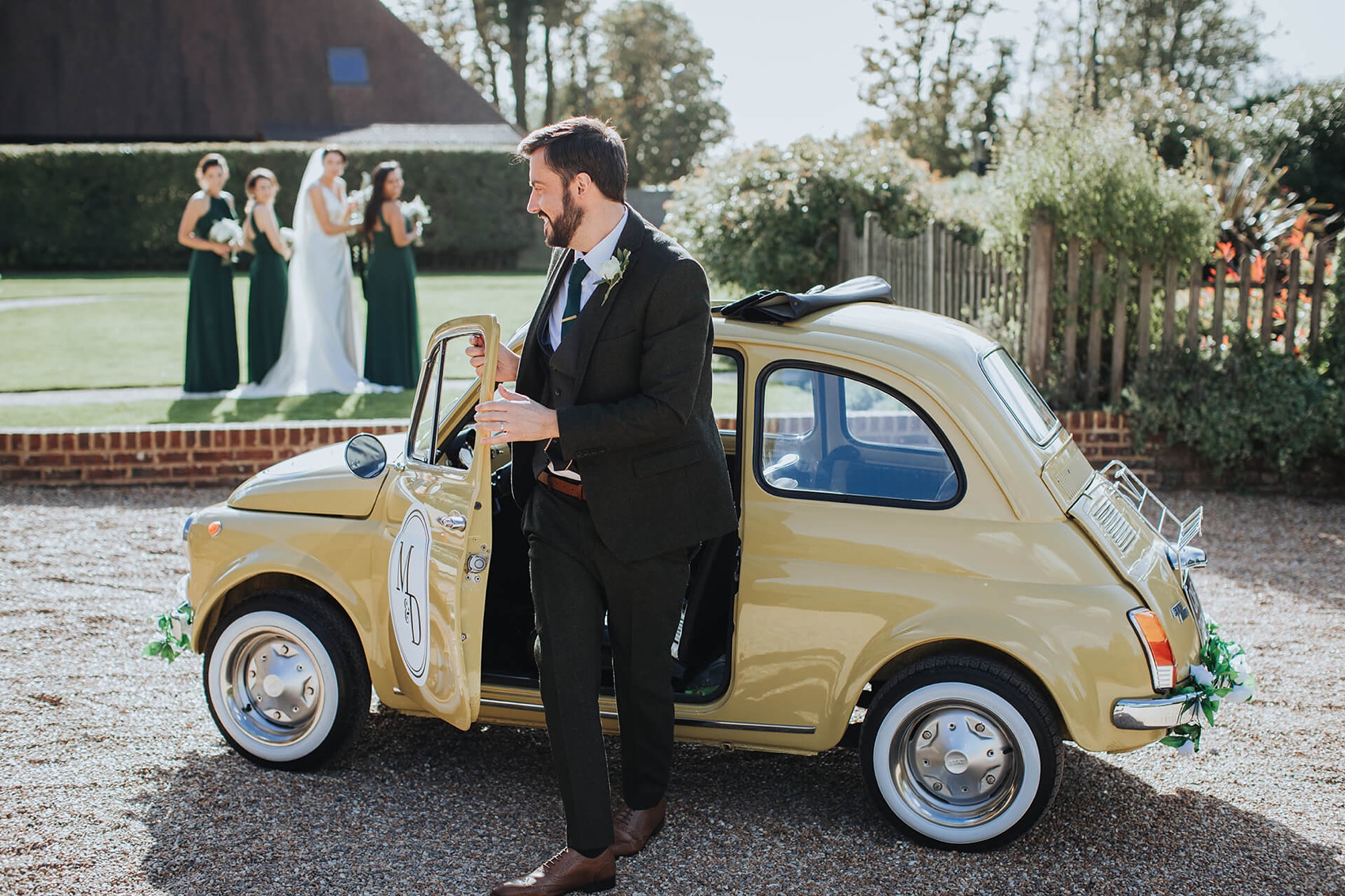 "I purchased the car in February, 9 months before the wedding, during which time I added white wall tyres, an earlier model chrome front emblem and side trim, chrome door mirrors and a chrome luggage rack. We took it to a classic car show the other day, still sporting the graphics!"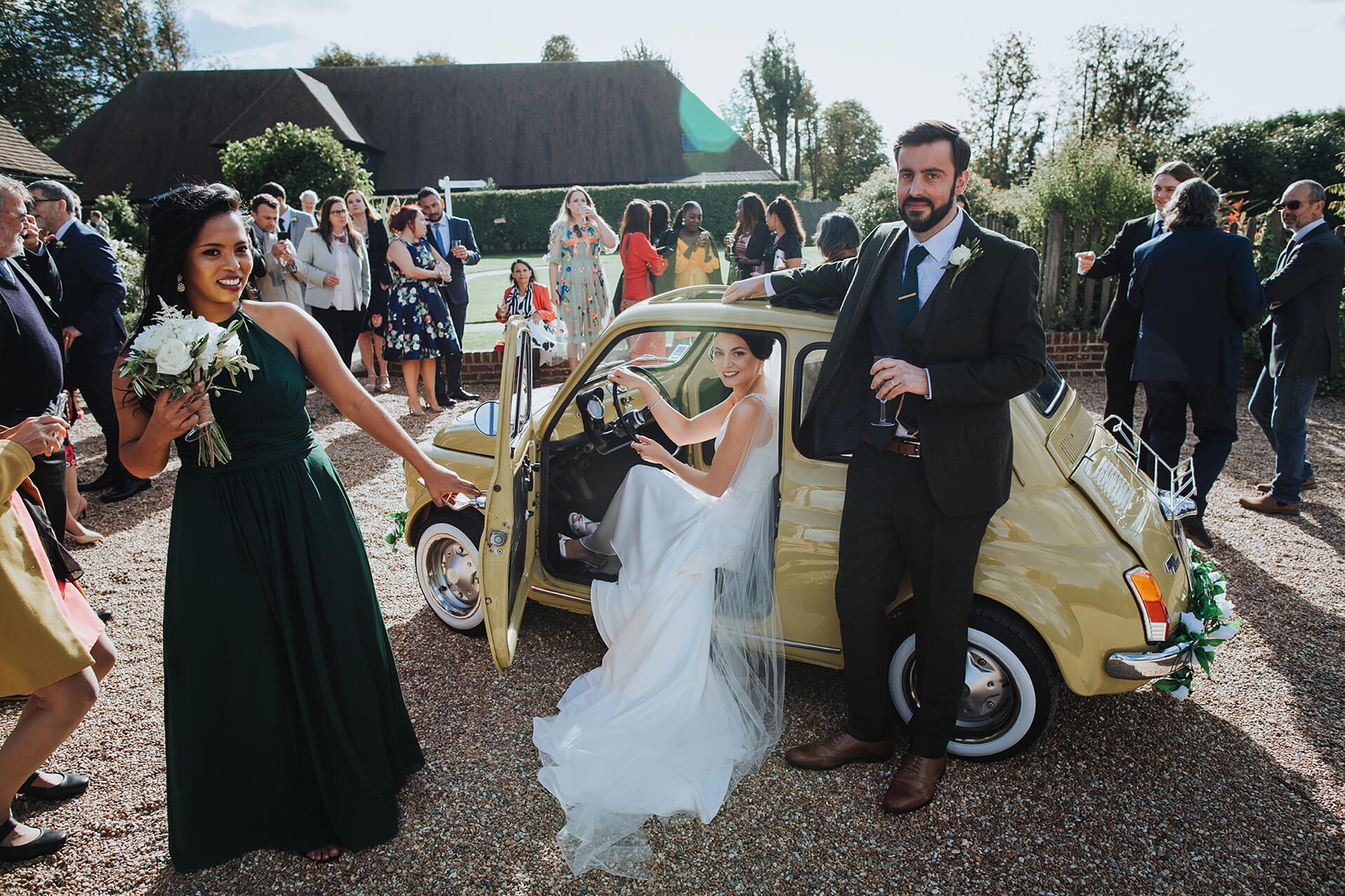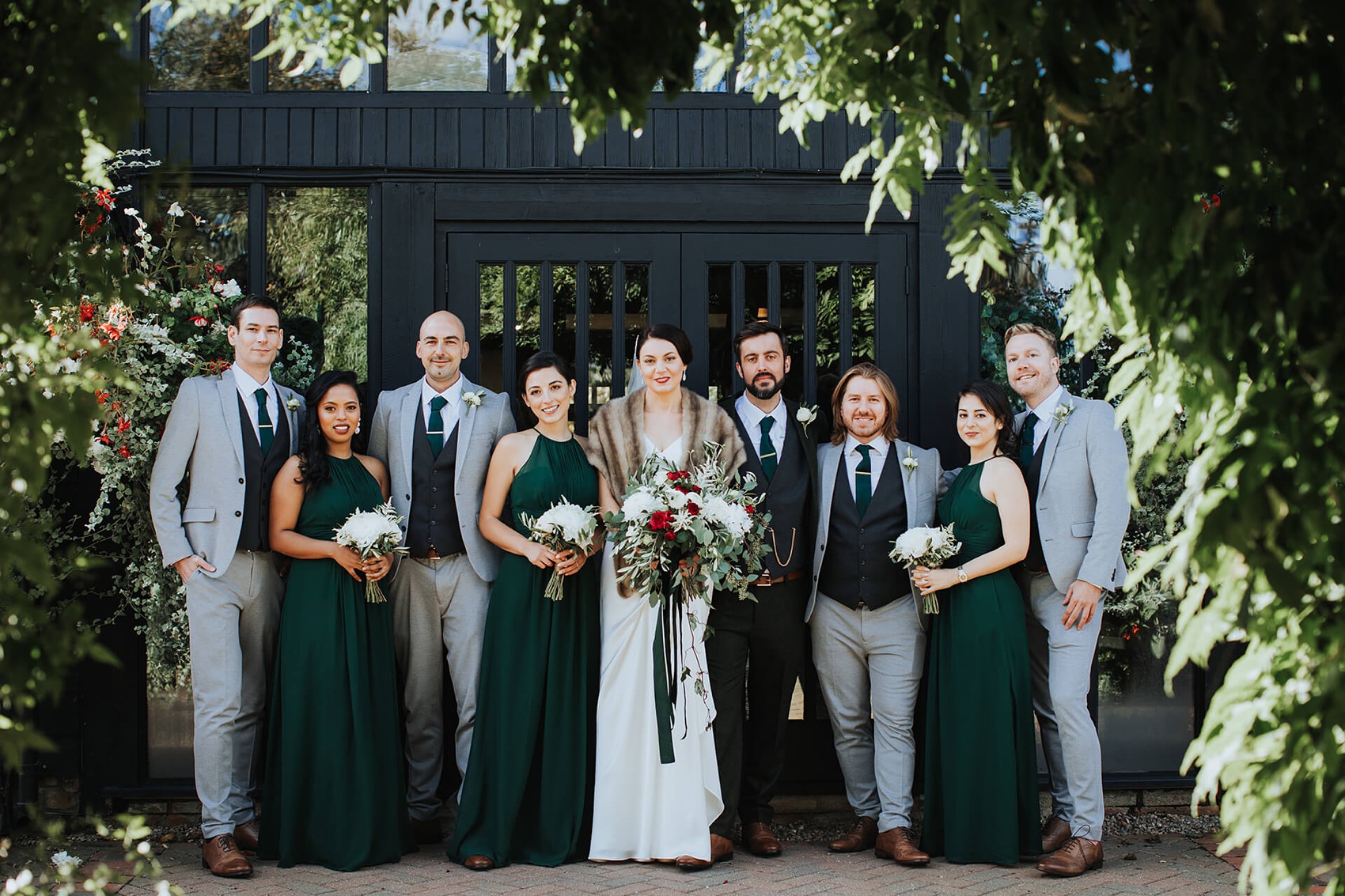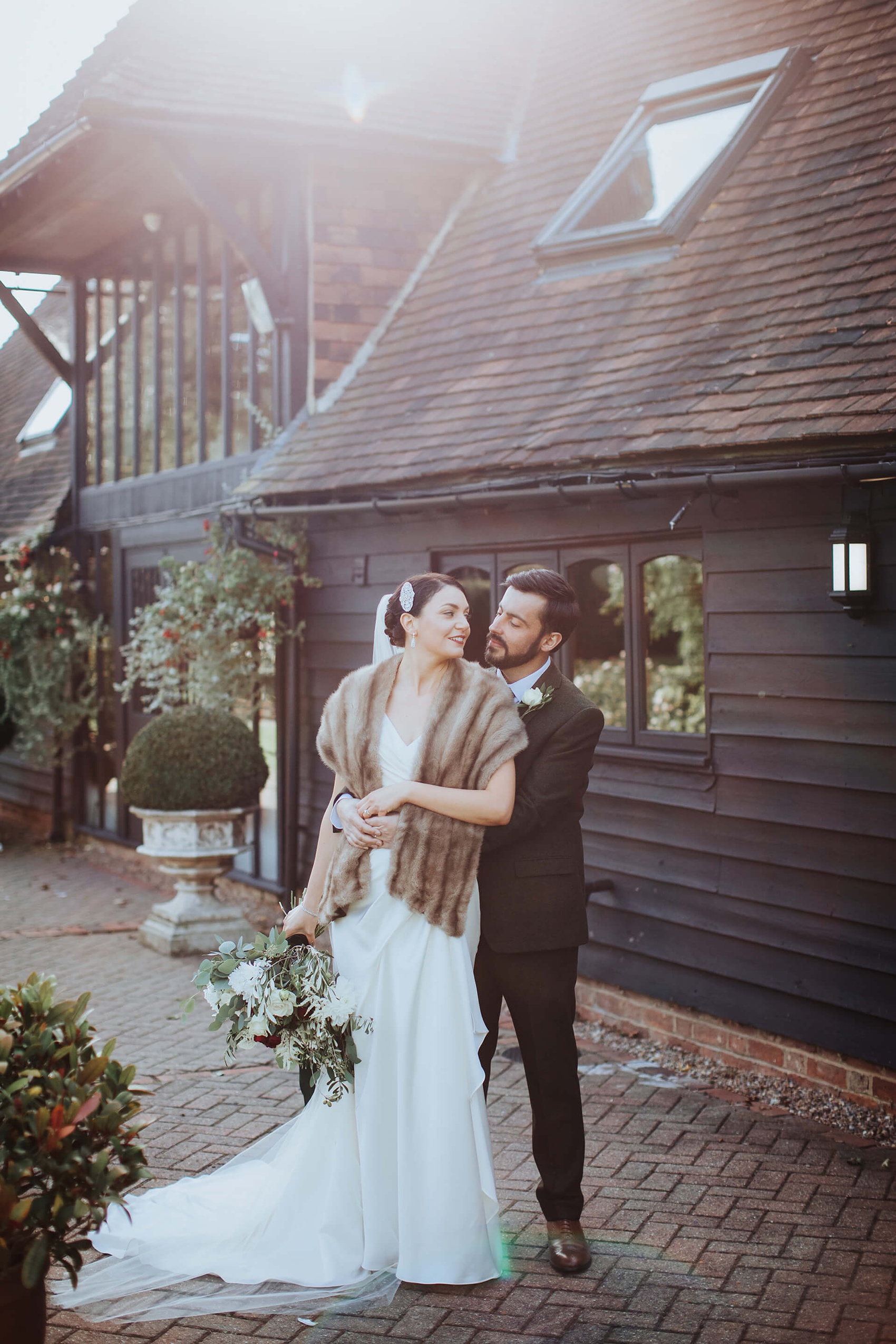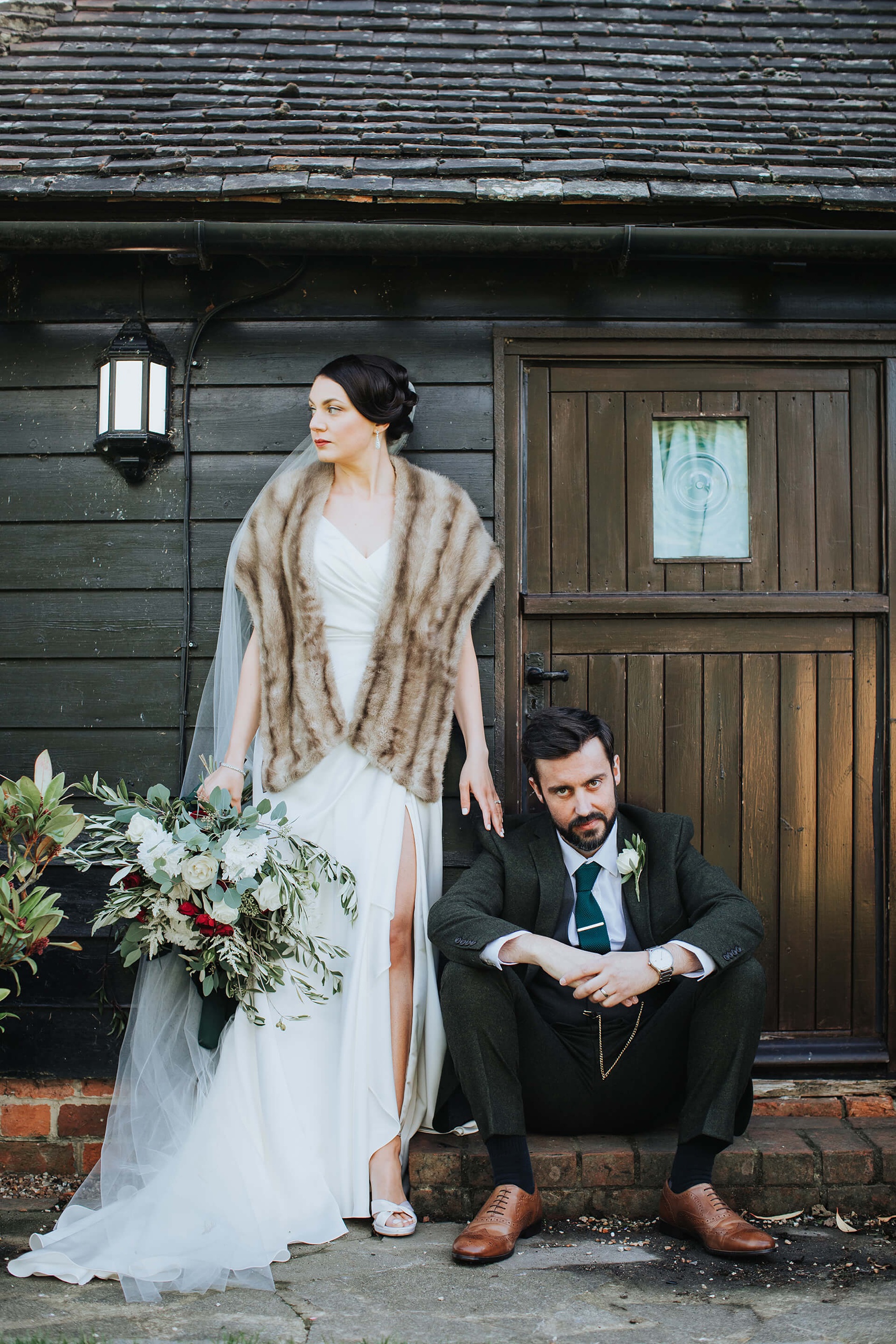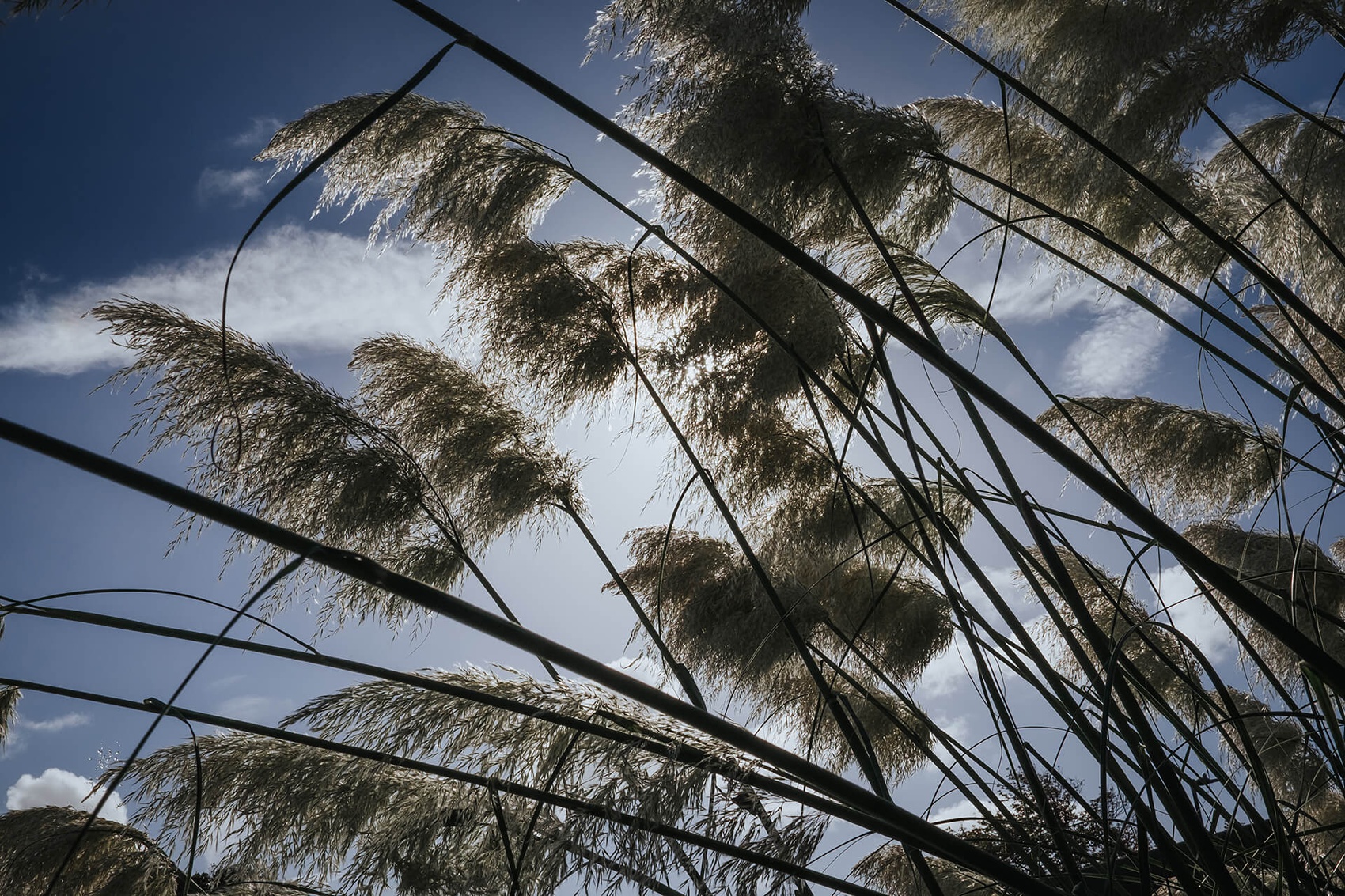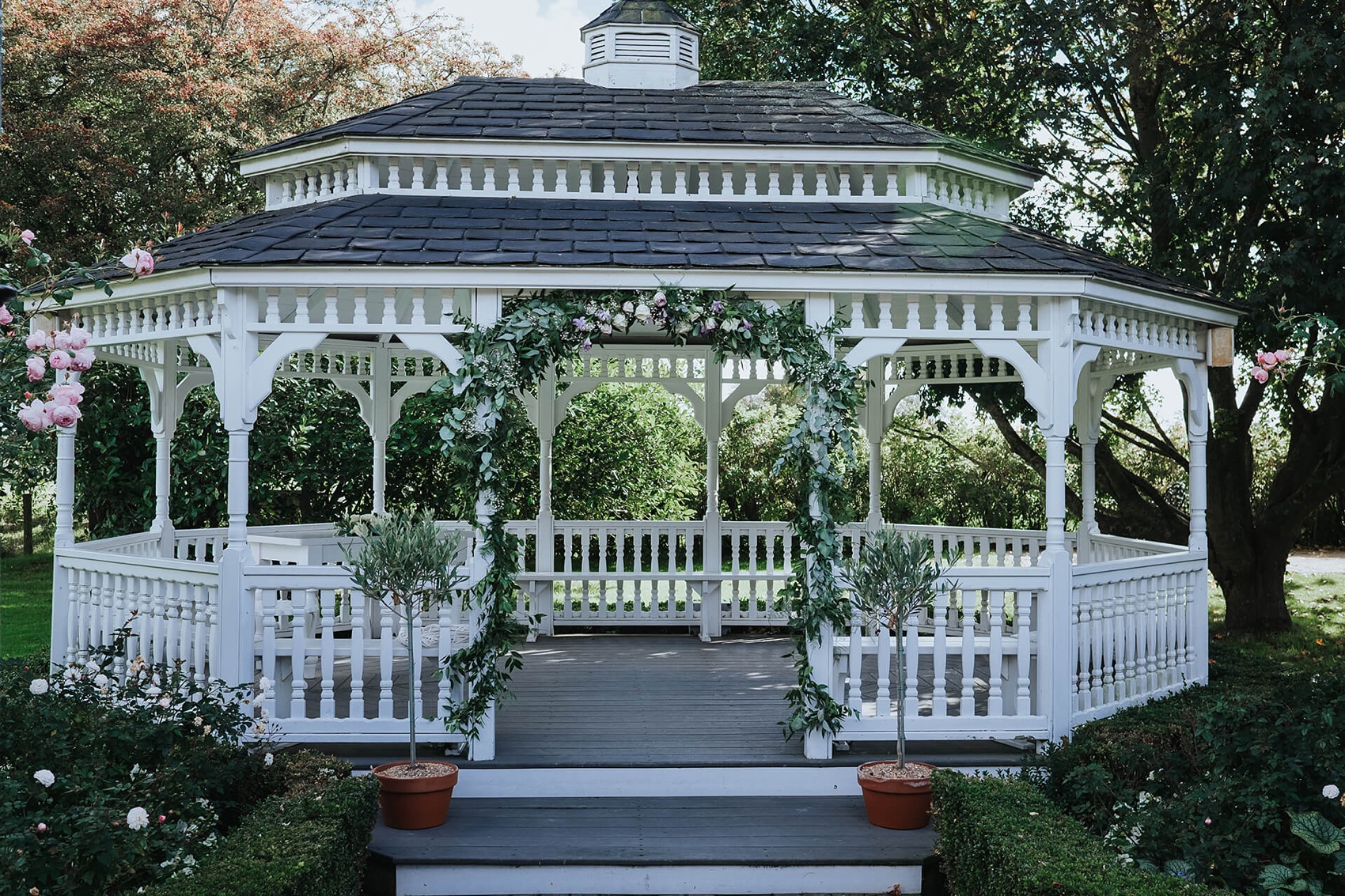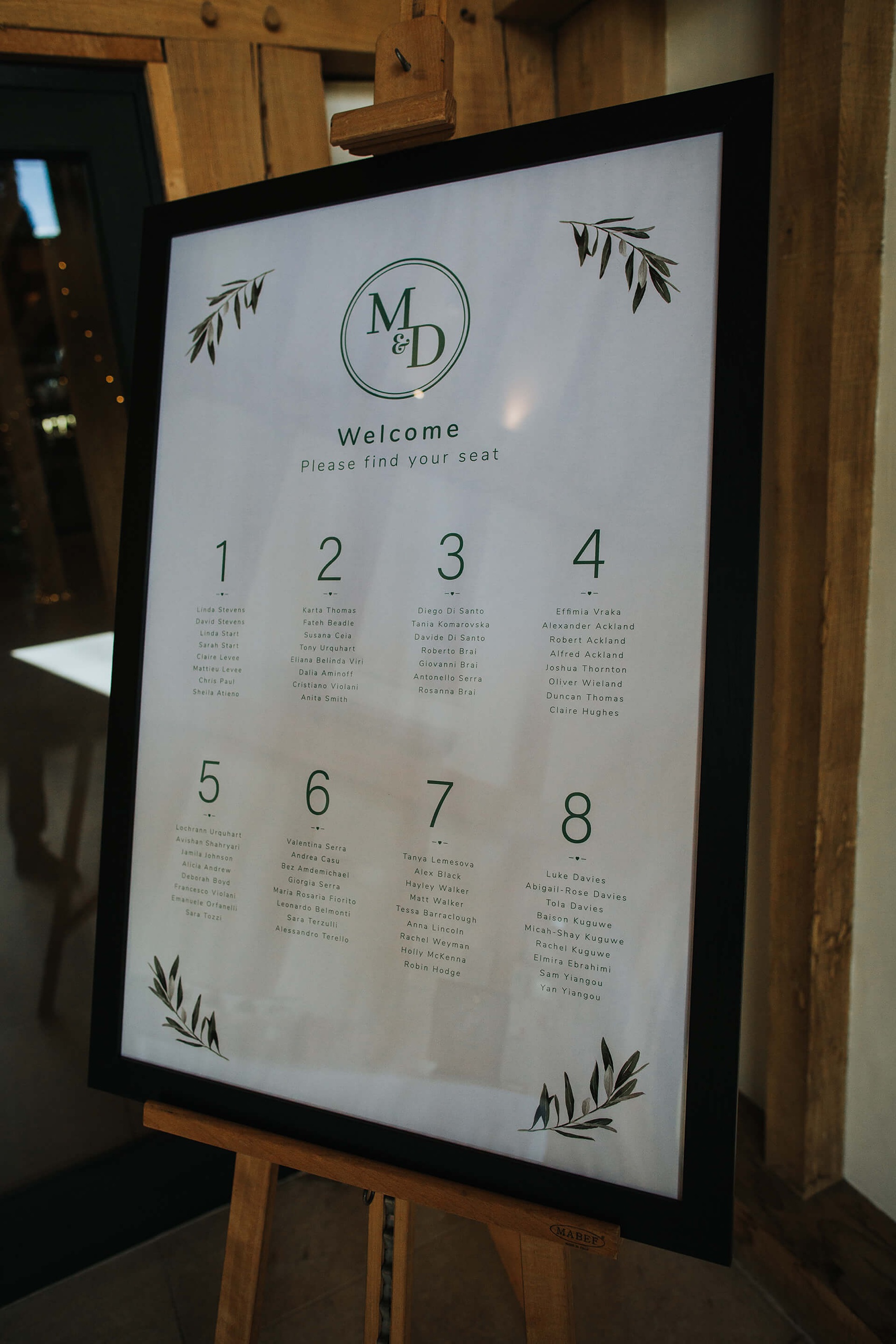 The gloriously light and bright barn was decorated with elegant white drapes from Amanda Jane, which looked fantastic against the weathered oak timbers and beautiful chandeliers.
Wrapped around the barn's wooden beams were twinkling fairylights, and the dining tables were decorated with favours of olive oil and sprigs of rosemary, and as centrepieces, olive trees from Charella Gardens, planted in terracotta pots with white violas and red chrysanthemums.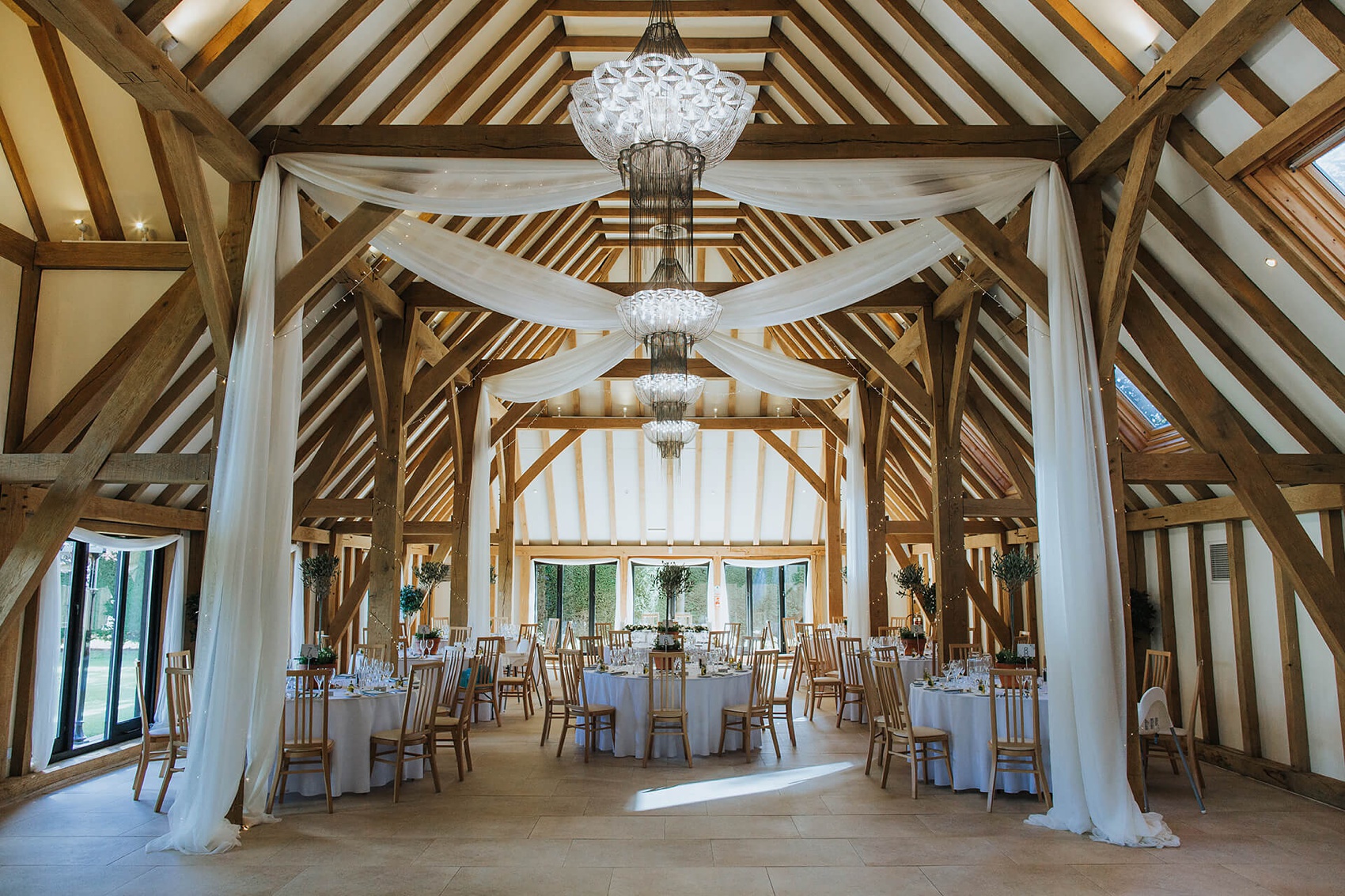 "We wanted something with more longevity than cut flowers for the tables. After the wedding, my sister and her husband had one, and Denise's mother had another. My parents will also receive one, if we remember to take it with us next time we drive down to Devon!"
"The vintage suitcase came from Denise's grandmother, from her travels, including her honeymoon. In contrast, the crates were new, from Hobbycraft, and I aged them all individually using old motor oil and satin black aerosol paint, after dragging them about on rough concrete."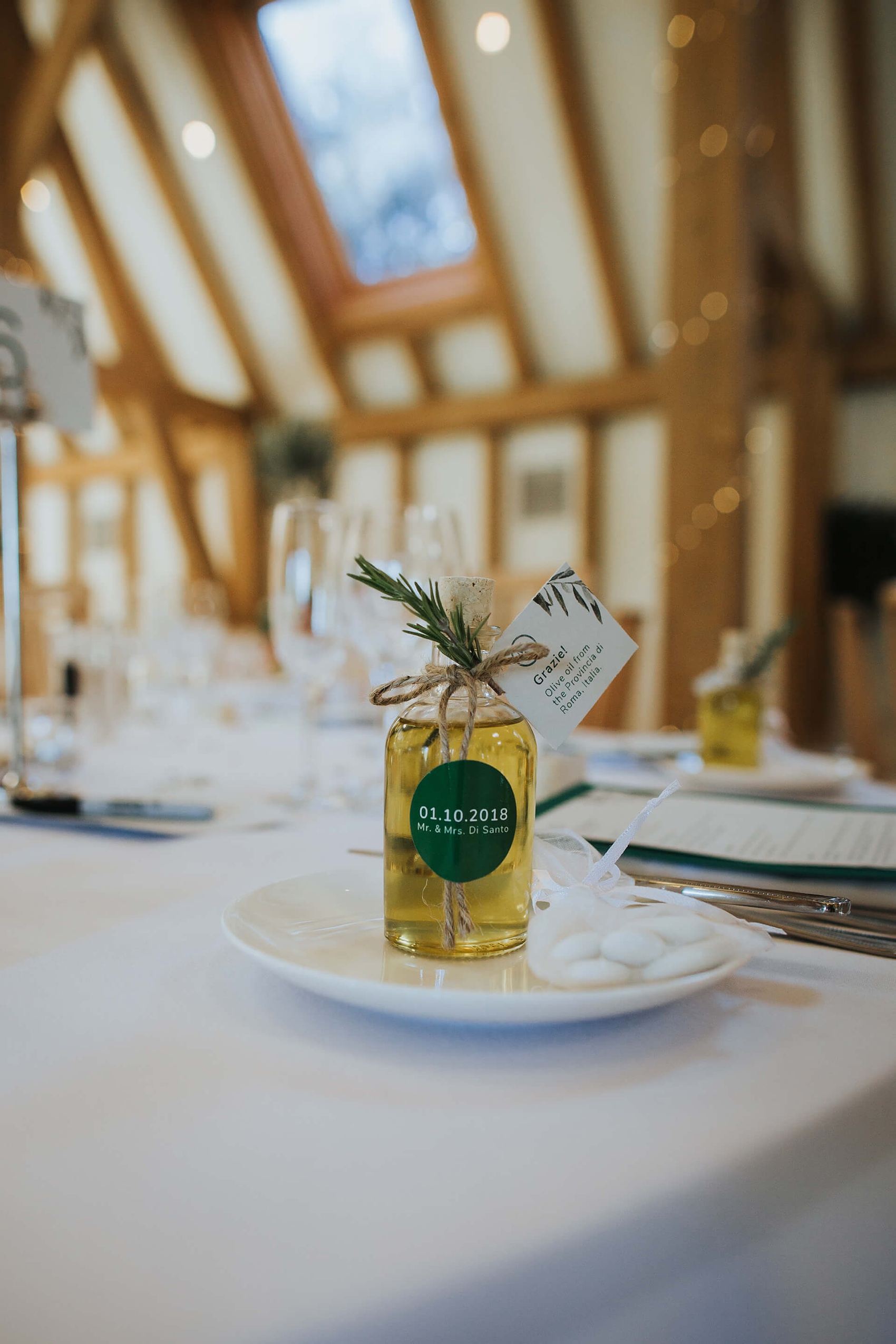 "We chose dark green card stock (from Colorplan) for our invitations, which I designed with gold hot foil print. The green card was duplexed with light grey, which had olive leaves as part of the design. I wanted the typography to be very clean and legible, choosing San Serif fonts rather than the typical ornate script that most people use for wedding stationery. The menus, signage, etc. were all designed, printed and guillotine cut at home, mostly by me, which took some time!"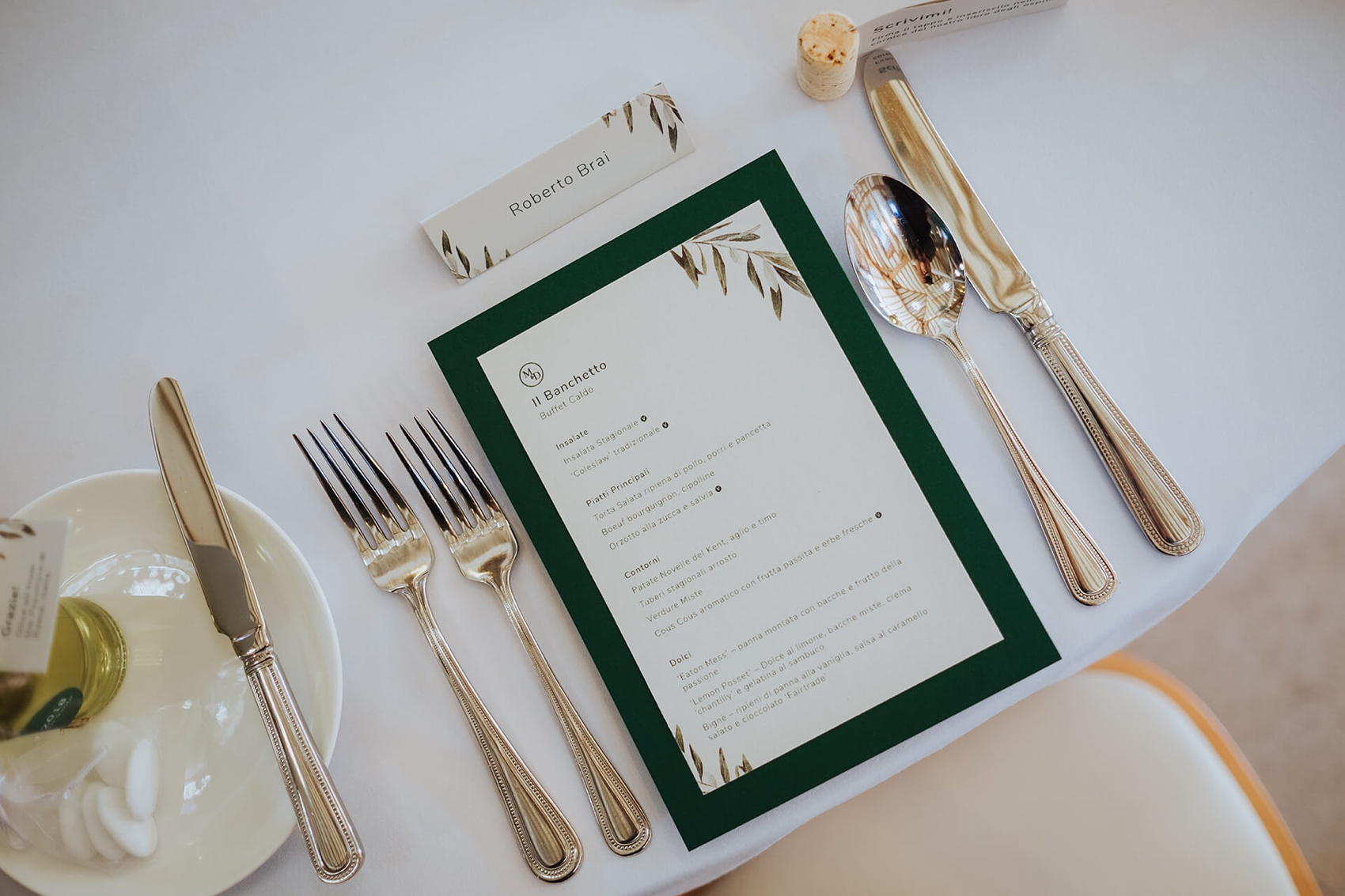 The kitchen team at the Old Kent Barn dreamed up a delicious Italian inspired wedding feast, with seasonal salad and coleslaw, chicken, bacon and leek quiche, boeuf bourguignon, squash and sage Orzetto, alongside vegetables, and to finish, Eton Mess, lemon posset and Bigne.
"Our cake was a three-tier semi-naked cake by Melissa at Fairy Dust Bakery, in lemon and elderflower. Additional olive leaf foliage was supplied by Emily & Me."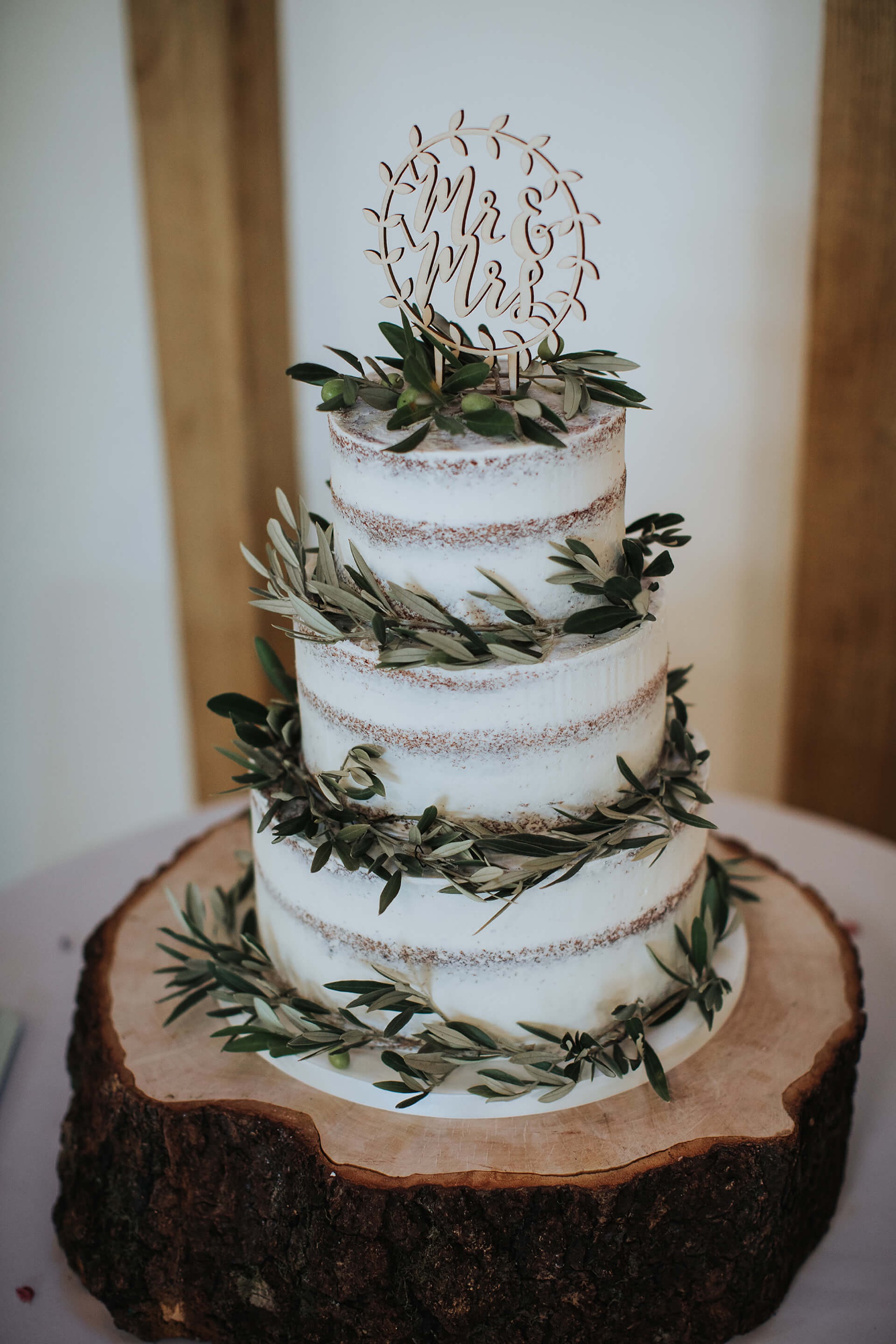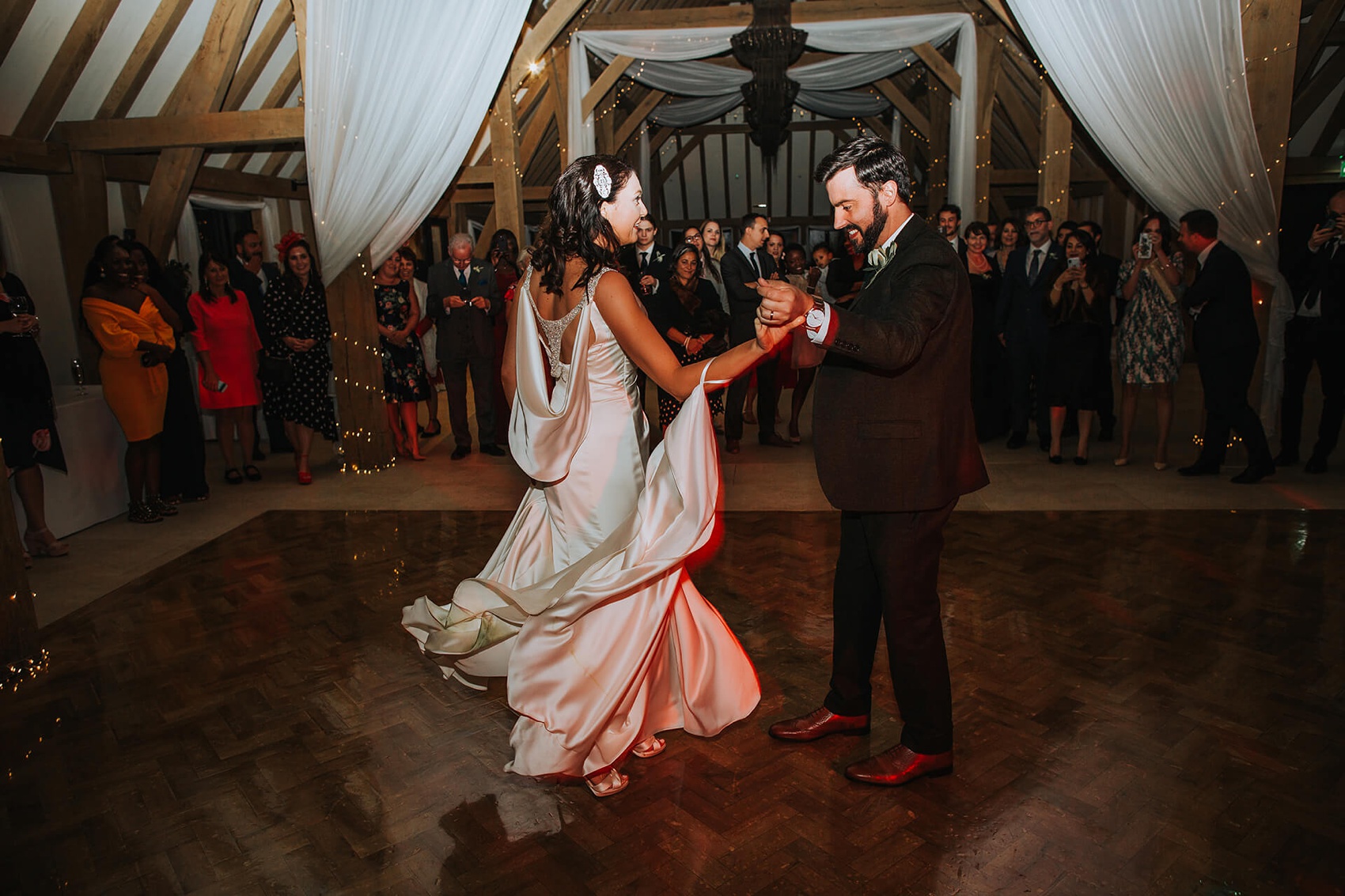 "Apart from the obvious marriage ceremony, we thoroughly enjoyed all aspects of the day. Neither of us can single out any one part of the day."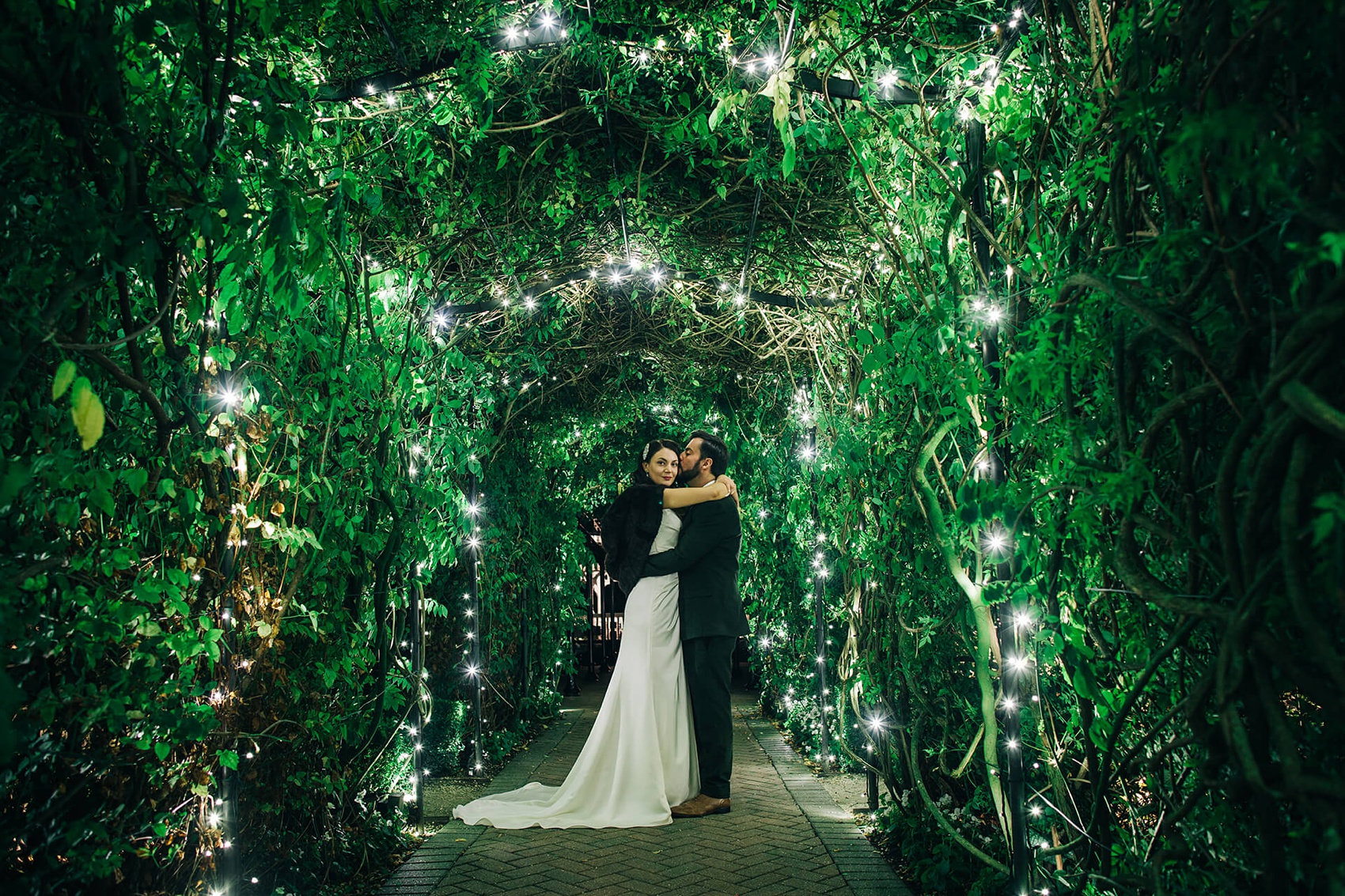 "Denise would have liked me to have attempted speaking Italian in my speech, and she would have liked to have made a speech, too. Actually, my speech would have been longer if my friend hadn't heckled me, so I wish I hadn't let that put me off!"
"We both agree that all of the suppliers we chose were exceptional, all going above and beyond to ensure our day was perfect. We can't thank them enough for all of their efforts."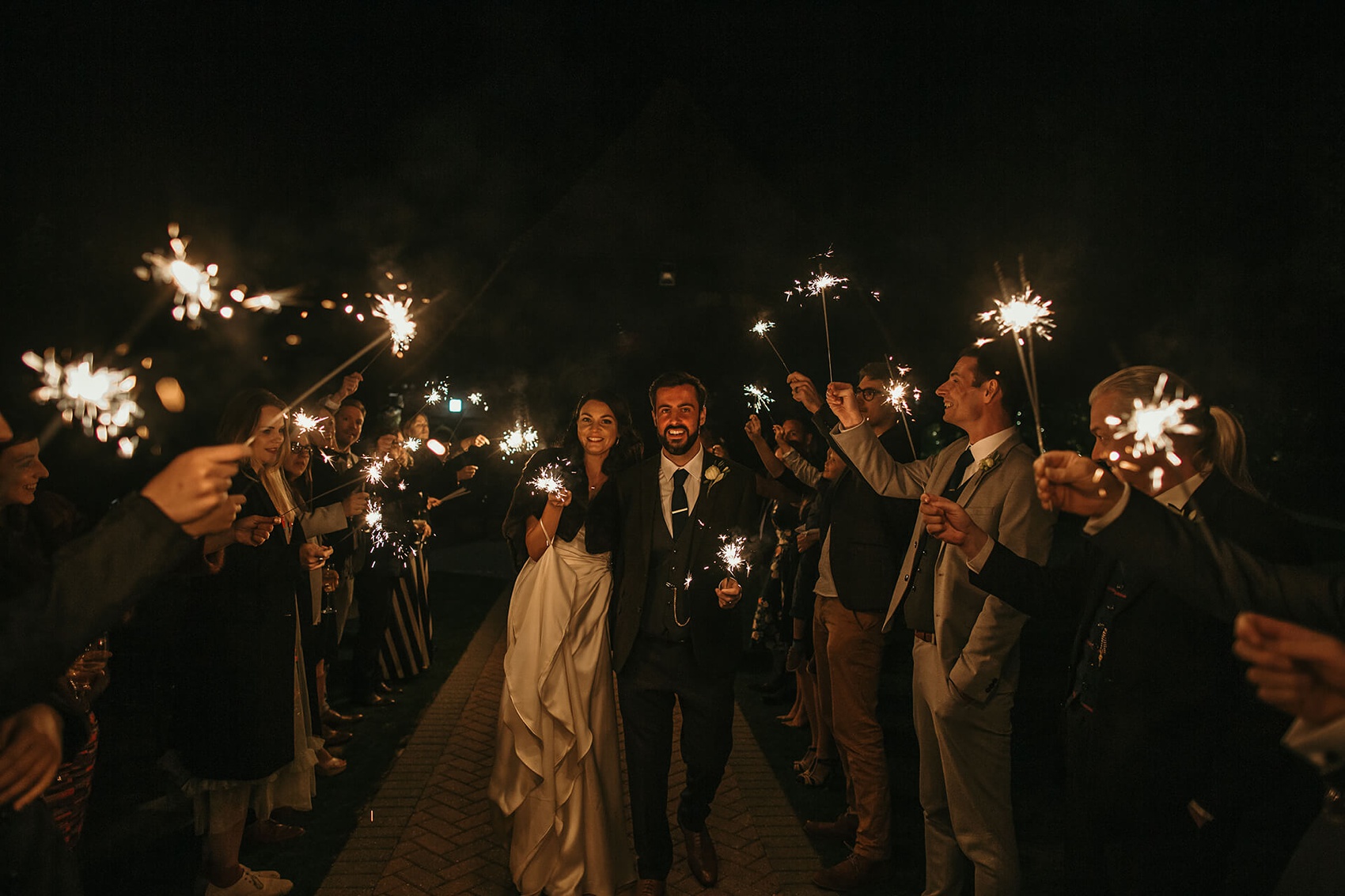 Enjoying sparklers outdoors is always such a lovely touch for any wedding, and especially magical in autumn (plus, makes for lots of amazing photos!). Back inside on the dancefloor, Denise and Matt enjoyed their first dance together to I Got The…, by Labi Siffre.
"The sound system was a nod to my DJing background and designed to look like the Jamaican reggae sound systems. I ended up DJing for a lot longer than I had intended – my friends were obviously enjoying mingling with the other guests. I definitely had fun though, watching Denise dance in her sparkling sequinned trainers. I sold all of the audio equipment afterwards on eBay, so recouped some of the funds."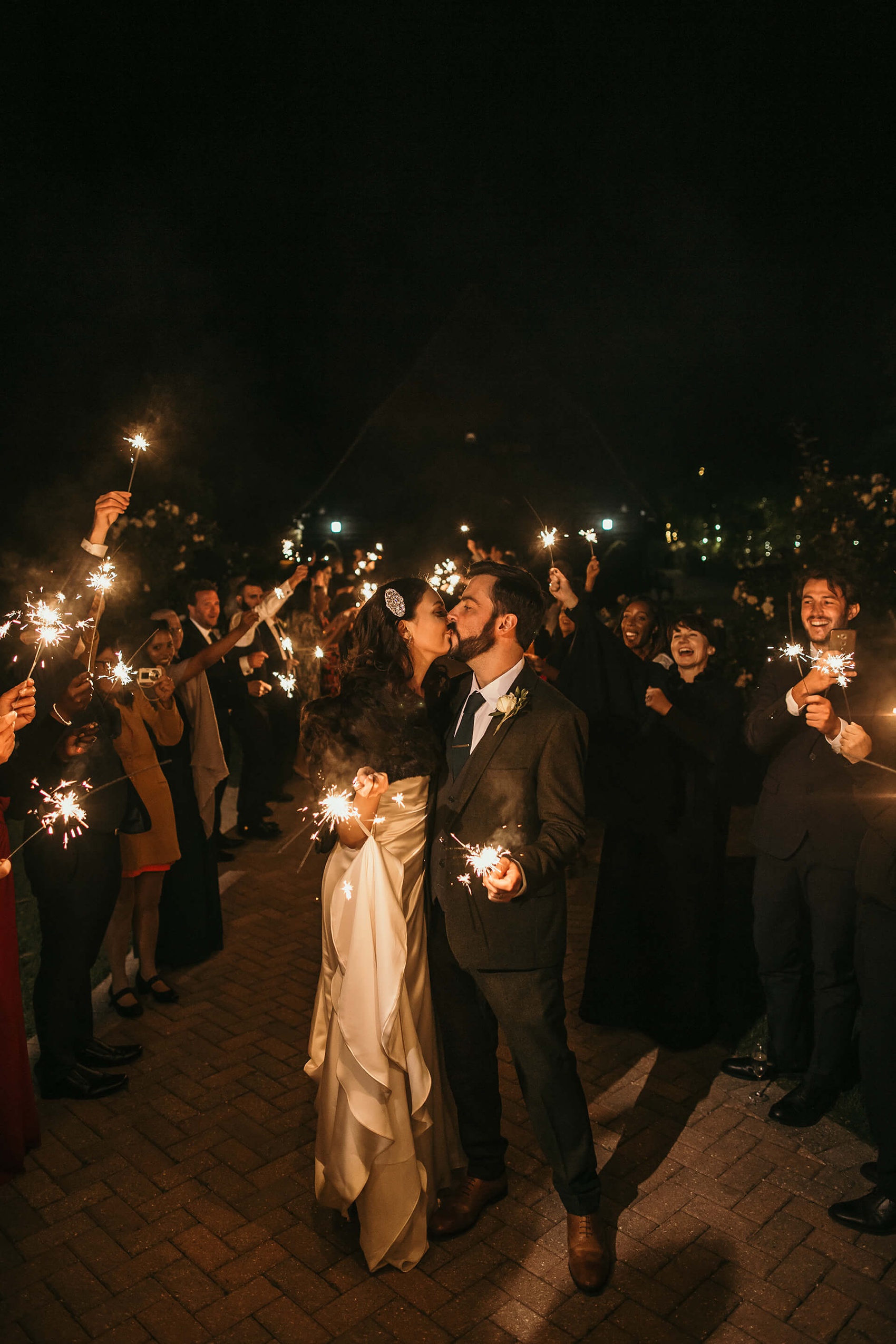 Denise and Matt, thanks a million for your words, and for giving us this glimpse into your breathtakingly beautiful day. I just love how Denise's Italian heritage was woven so thoughtfully throughout the day.
Until next time!
With love,
Laura