As someone who can sew a button and not much else, I'm in constant awe of those talented individuals who can make their own clothes, and no more so than when a bride chooses to design and make her very own wedding dress.
That's exactly what today's lovely bride did, and together with her groom and a host of excellent suppliers, came together to create a spectacular wedding day in the most incredible of surroundings.
Danielle, a wedding dress designer for The Wedding Workshop married Matthew, a buyer, on the 18 November 2018 at the magnificent Sculpture Gallery at Woburn Abbey, Bedfordshire.
Images by Michelle Wood Wedding Photographer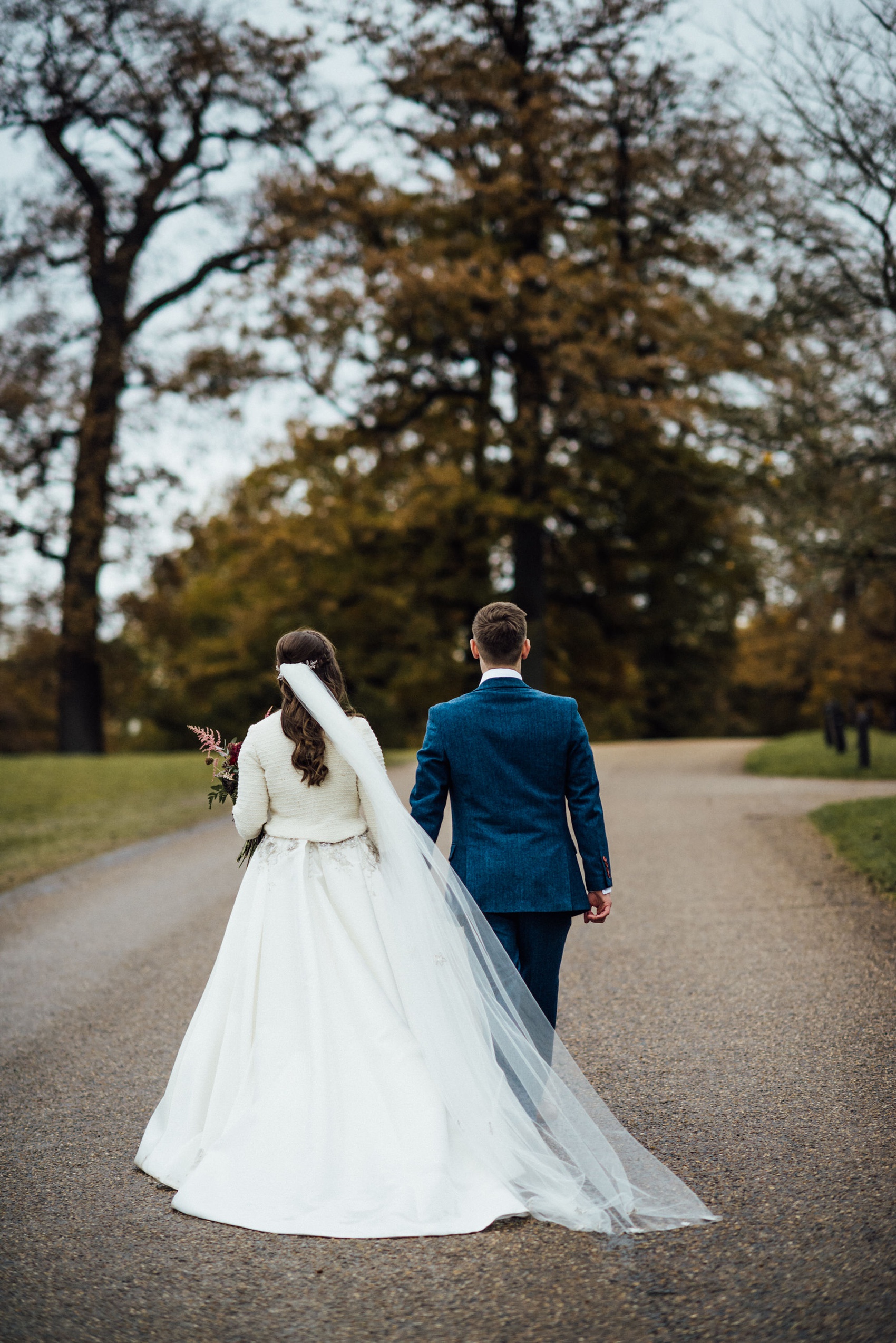 "This was a local venue only 15 mins from our home and most of our close family and friends. It was a venue that I had visited many times with my job and had always envisioned my own wedding there. It was perfect for an autumn/winter wedding as the whole venue is indoors and we didn't need to worry about travel."
"We didn't stick to a particular style; I wanted the illusion of bringing the outside in as the venue was so rural, set in a huge deer park. I also wanted the wedding to be very colourful, which was reflected in my flowers."
When it came to her gown, Danielle and the team at The Wedding Workshop did an incredible job of making an exquisite bespoke creation with a full skirt and hand beaded bodice just perfect for the grandeur of Woburn Abbey, and with a beautiful mid-Victorian inspired silhouette.
"I chose zibeline as my fabric as it had a good weight for the pleats and a slight shine. Also, as it is a stiff fabric, I was able to wear a petticoat and hoop underneath without it showing through the main fabric, which was important so I was able to walk comfortably! This fabric is also timeless, this was important to me as after seeing so many bridal dresses and how quickly trends change, I wanted something I could look back at and would always admire."
"The bodice was where I wanted something more unique, as my area of expertise within The Wedding Workshop is my hand embellishment skills, and I wanted to show my talent. The bodice was heavily embellished with embroidered flowers and beadwork. I bought this from one of our main suppliers. And of course, who doesn't love a dress with pockets!"
Danielle wore a pair of embellished platform pumps in ivory by the fantastic Harriet Wilde, who is also one of our Little Book directory members, too!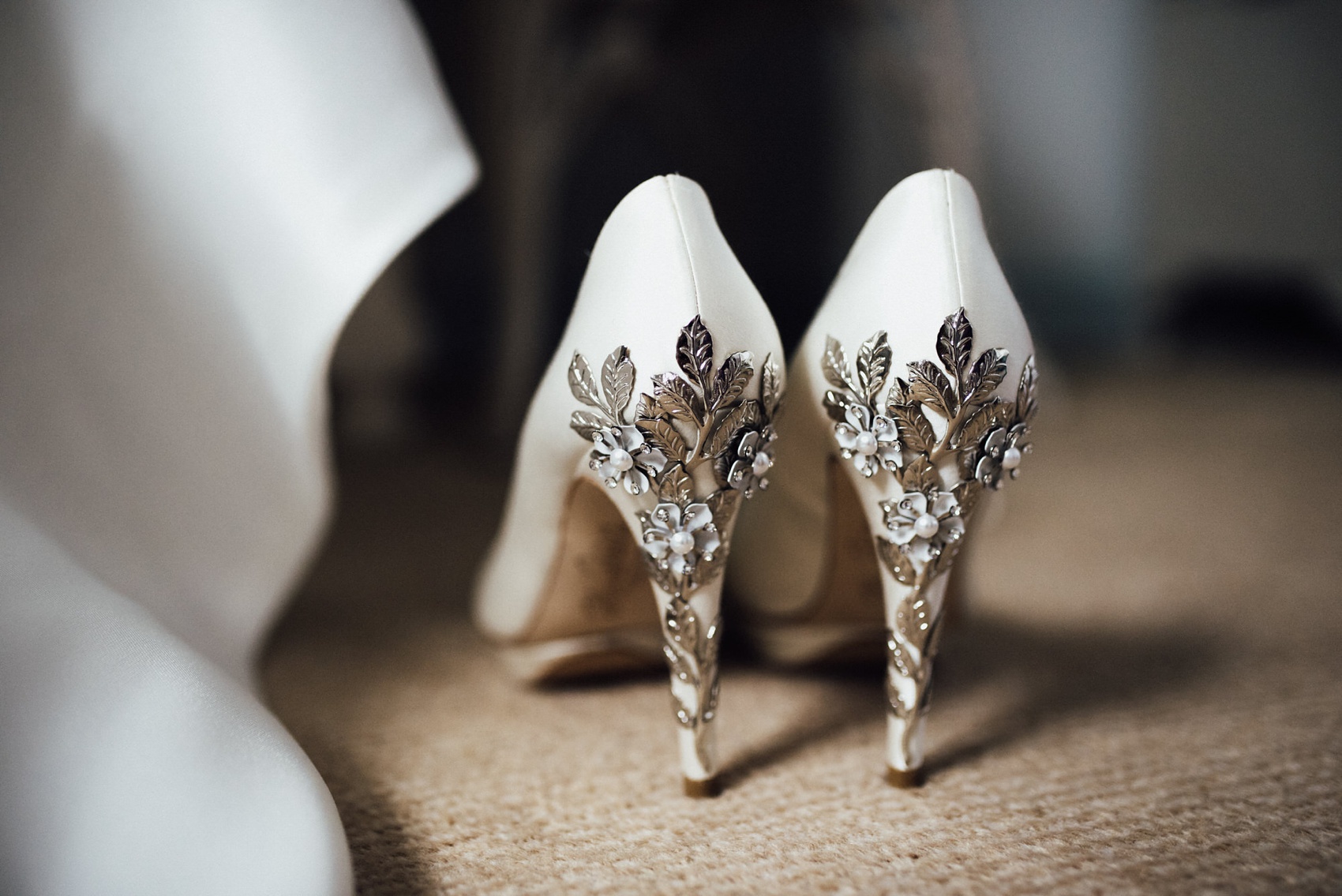 I love the subtle smoky eye on Danielle, created for her by Emma Hardware, paired with a classic half-up do with lots of volume by Danielle's hair stylist friend Amie (sorry, no further details provided). To finish off her look Danielle wore a veil and sparkly hair comb by Richard Designs via The Wedding Workshop.
For perfume, Danielle wore Coco Mademoiselle – 'something borrowed' from her mum, and for jewellery, a necklace that Matthew had gifted to her on her 21st birthday, as well as a Pandora bracelet given to her on the morning of the wedding by her sister.
"We made all the bridesmaid's dresses at The Wedding Workshop. I wanted them to all have the same skirt but they were able to design their own bodice so they had a shape they were comfortable with."
The results were a striking collection of dresses in a rich, dark purple colour, paired with shoes from New Look and their own accessories.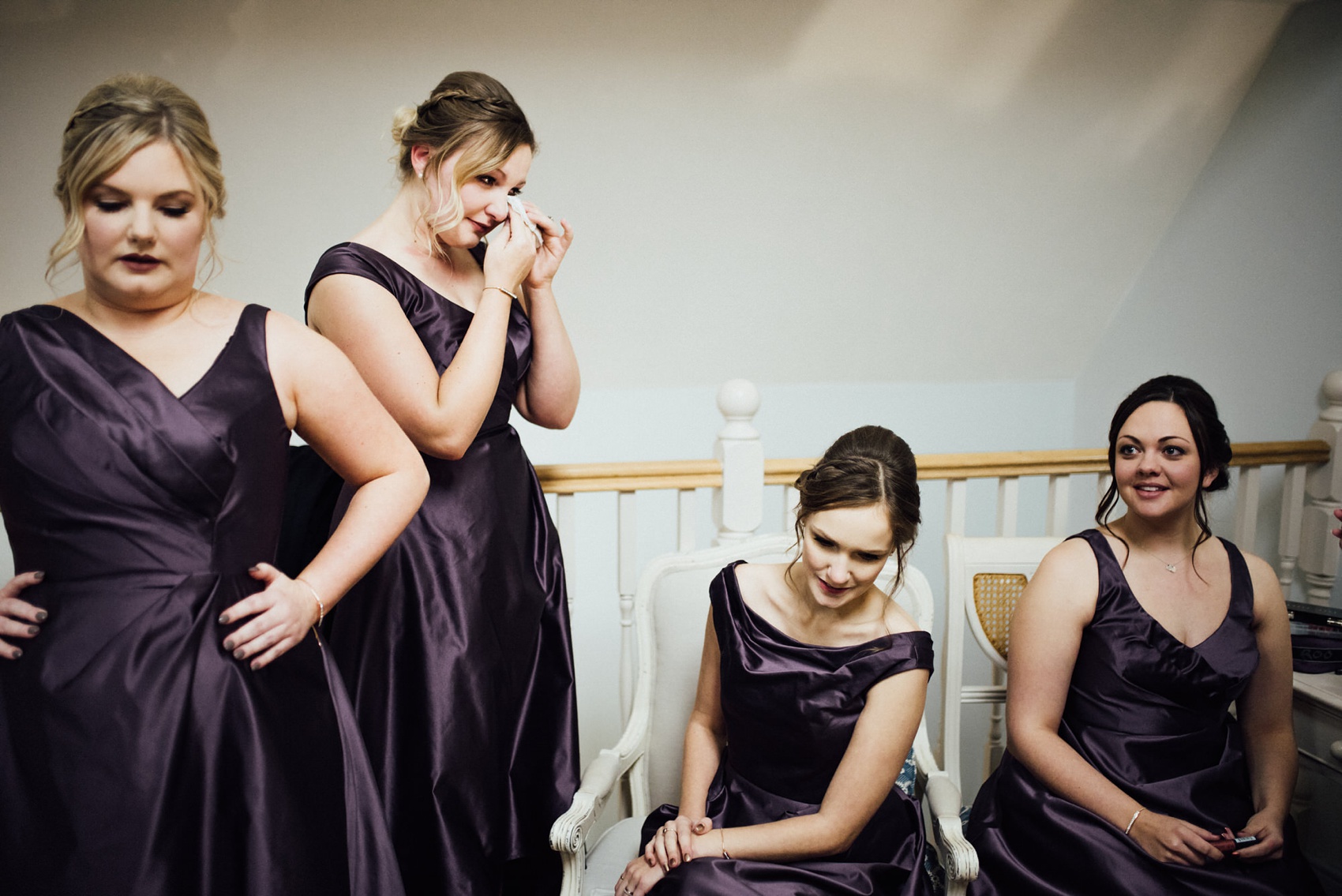 The lovely jewel tones of the wedding bouquet work wonderfully for a late autumn wedding, and florist Oonagh O'Neill worked magic, creating arrangements filled with roses, berries, ferns, lisianthus, dried lotus seed pods and lots more floral beauty.
"I don't really know a lot about flowers so when I met with Oonagh I showed her lots of photos of the type of thing I liked, we also discussed that I wanted to use flowers which were in season as much as possible. We had lots of colours in the wedding and the flowers brought the whole wedding together perfectly. They were better than I could have ever imagined and I was so glad I left it to Oonagh's creativity to design them."
Matthew wore a handsome blue tweed three-piece suit, with contrasting orange buttons and tie from The Vintage Suit Hire Co. Accessories consisted of cufflinks from John Lewis and a pocket square made from the same fabric as Danielle's dress, as well as Ted Baker shoes.
The groomsmen also wore suits from The Vintage Suit Hire Co., with purple ties in the same fabric as the bridesmaid dresses courtesy of The Wedding Workshop.
"We made Jasper, our pageboy, a waistcoat and pair of  trousers from the same fabric as the hired suits. The Vintage Suit Hire Co. were able to give us some of the fabric, which their suits were made from to make a little matching one."
"We met in 2009 when we were only 17 and 19 at a house party! Matthew asked me to marry him whilst we were in Paris, under the Eiffel Tower when it was lit up at night, back in October 2017. We were engaged for 13 months before we got married."
Danielle's bridesmaids walked down the aisle to Pachelbel's Canon in D, and Danielle and her father walked together to Wagner's Bridal Chorus.
The couple said modern vows to one another, and in keeping with their wish to have a simple ceremony, chose not to include any readings.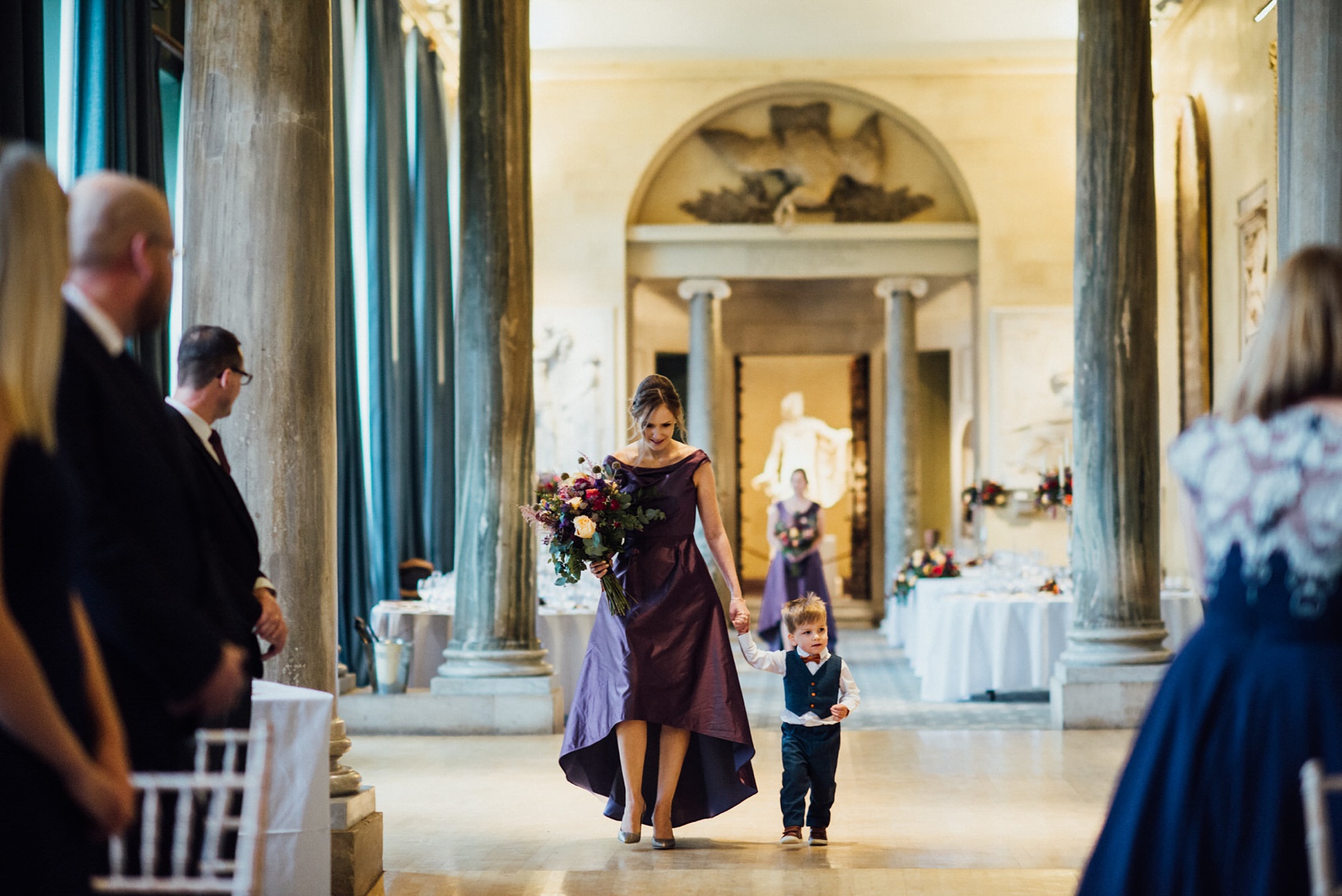 "We had a harpist perform for guests before the ceremony and during the ceremony. Elizabeth was wonderful she had such a variety of songs for us to choose from. We are big movie lovers and for a bit of fun and a personal touch we asked her if we were able to have the Jurassic Park theme song as we walked back down the aisle after the ceremony. She was more than happy to oblige and learned the song especially! It was so lovely having that personal touch instead of a generic wedding song."
They exchanged rings from Baker Brothers – Matthew had also chosen Danielle's engagement ring there and they were both impressed with their service and quality.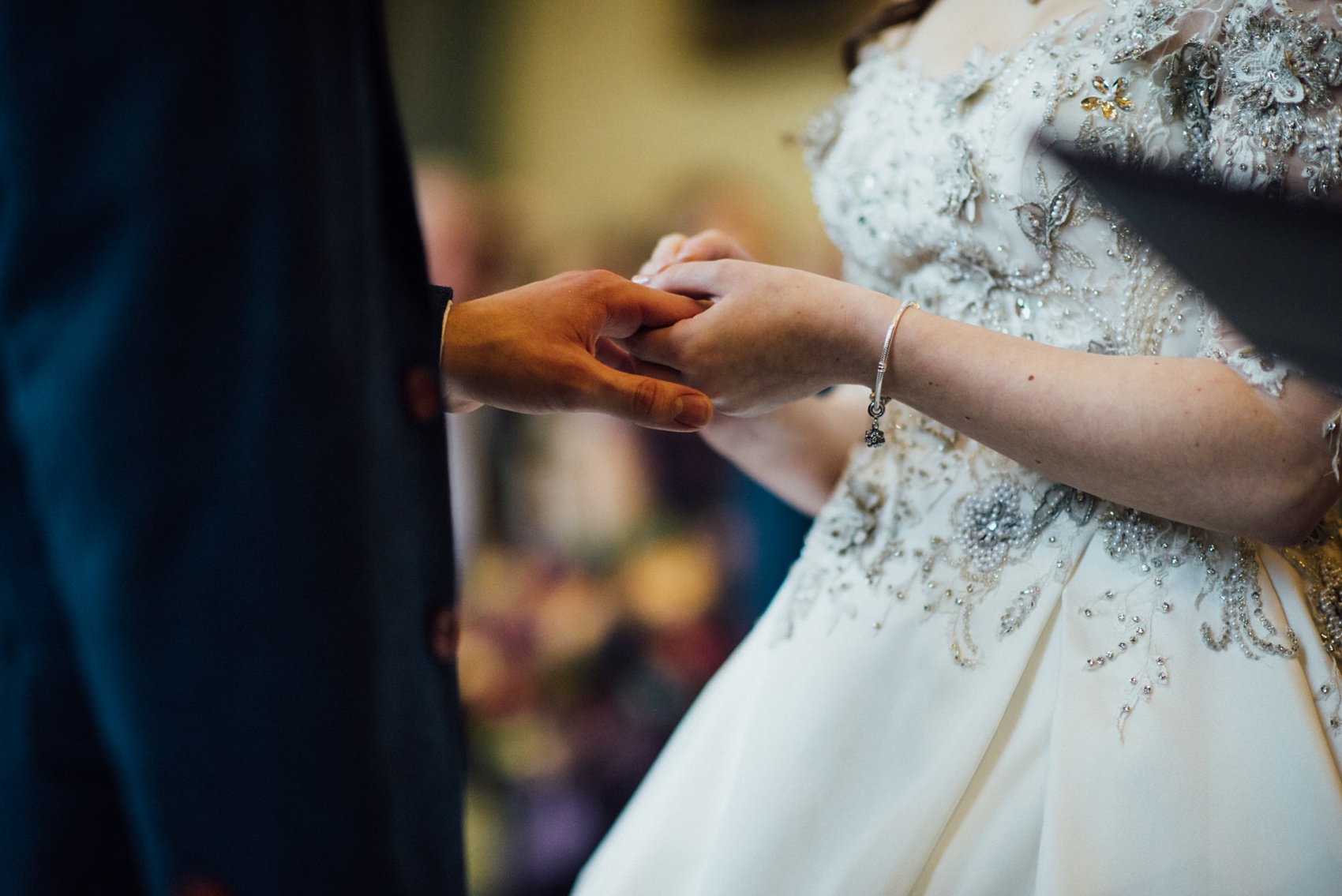 "I tried on lots of designs but ended with a simple platinum band the same width as my engagement ring. As my engagement ring features three diamonds it looked too much to go for a diamond wedding band too. Matthew's ring was a more unusual design, made from palladium – a darker metal. He tried on lots of designs but instantly loved his chosen ring."
There was the sweetest of ring bearers, too – Matthew's lovely dog, wearing a bespoke coat to match the wedding party!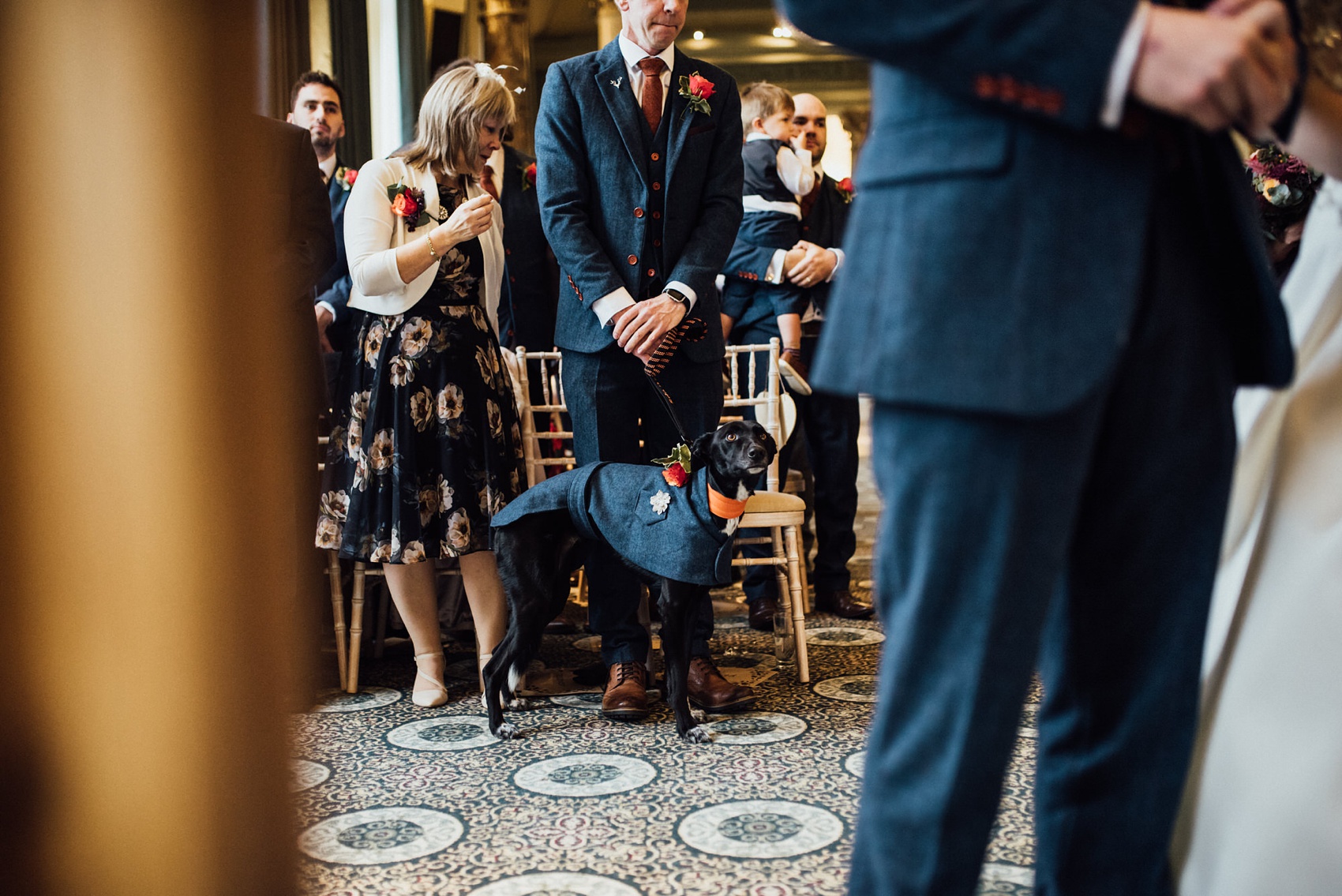 These beautiful and atmospheric images come to use courtesy of Michelle Wood, capturing Danielle and Matthew's day in all its heartfelt joy, as well as all of those wonderful details.
"I met her a while ago whilst doing a bridal photoshoot and loved her photography style. Michelle was very friendly and made me and all my bridesmaids feel relaxed on the morning of the wedding when things can get rather stressful. I loved her style of not many formal shots and how she managed to capture the whole look of the day. I cannot recommend her enough to future brides and grooms!"
"My close friend Anna is a trained illustrator so it only felt right to ask her to design our stationery. We wanted to do something unusual for our invitations and had found The Original Wedding Tea Towel. I emailed Karen… I was able to ask my friend Anna to design the tea towel and they printed them for me. Karen was happy to do this for me and I was so pleased with the result, the invite was very personal with a sketch of our venue."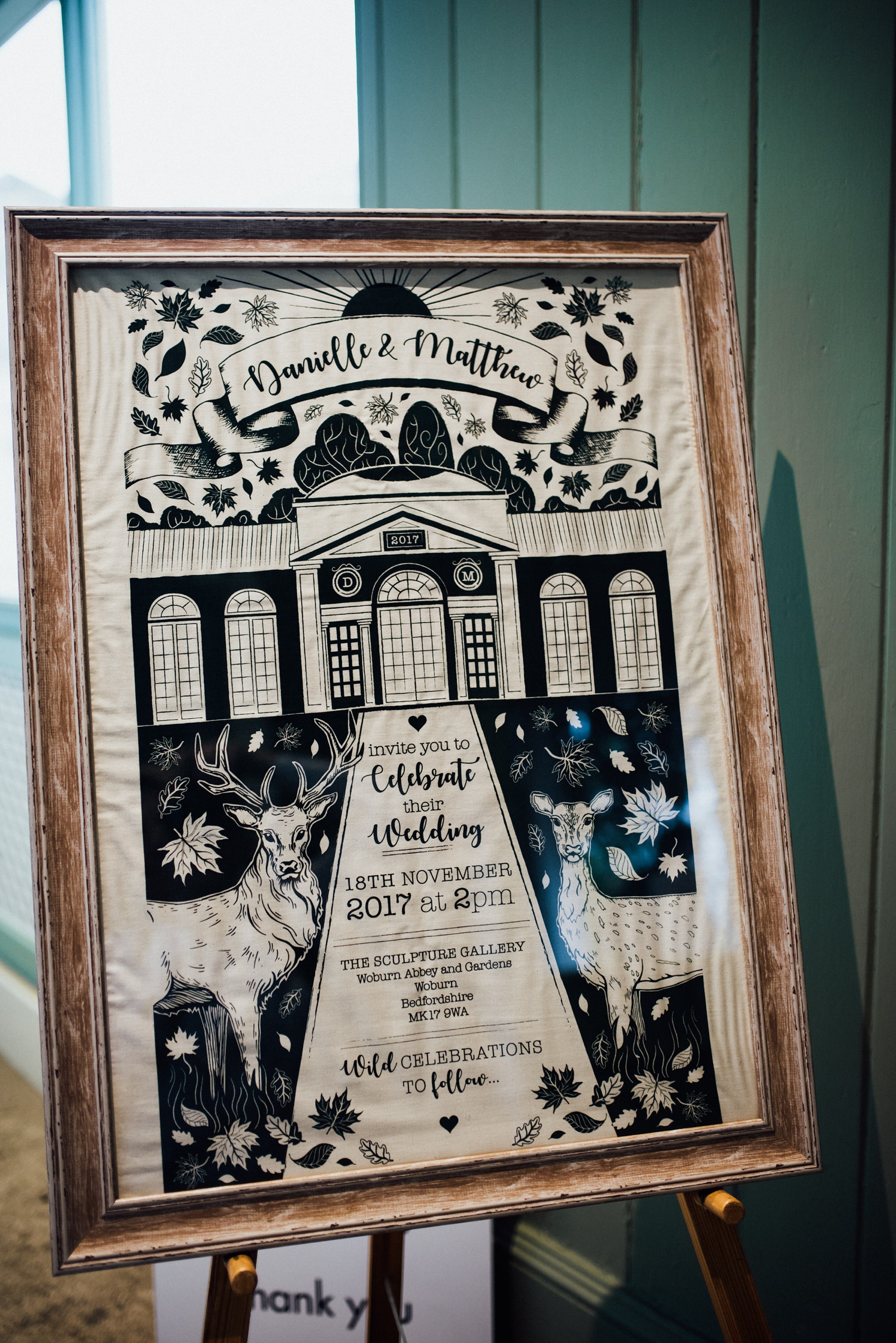 "I have known Hockleys ever since I started working in the wedding industry and had always dreamed they would make my wedding cake. It was four tiers of fruit and chocolate. I wanted to reflect the rural venue in design so featured 3D trees and deer this was all in ivory to match the cake. The top two tiers featured replicas of my flowers made from sugar, I couldn't believe how similar the sugar flowers were to my own bouquet."
With such a grand and historic setting as The Sculpture Gallery, Danielle and Matthew kept additional decor minimal, with florist Oonagh O'Neill adding tall candelabra floral arrangements to create a lovely atmosphere.
"We did small wedding favours for our guests. At the National Wedding Show in London I ordered customised Love Hearts with our names and date of the wedding on the packaging. We boxed these and put them on each person's place mat."
"There were so many great parts of the day, but my favourite part of the day would have to be when we walked into the room to sit for the wedding breakfast, it was so special to walk in with my new husband and see all my family and friends. The room looks stunning in candlelight and all the colourful flowers."
Everyone sat down to a wedding breakfast cooked by the team at Woburn Abbey, and later there was cake – a dramatic four-tier ivory creation with intricate sugar work deer, trees and even colourful flowers. The cake was made by Hockleys, who have sadly since closed their business.
Continuing the movie music from the ceremony, Danielle and Matthew created a playlist for the wedding breakfast and had great fun watching loved ones guess which films the songs were from! It served as a great ice-breaker and meant everyone was more than ready to dance to live music from band Bustin' Loose.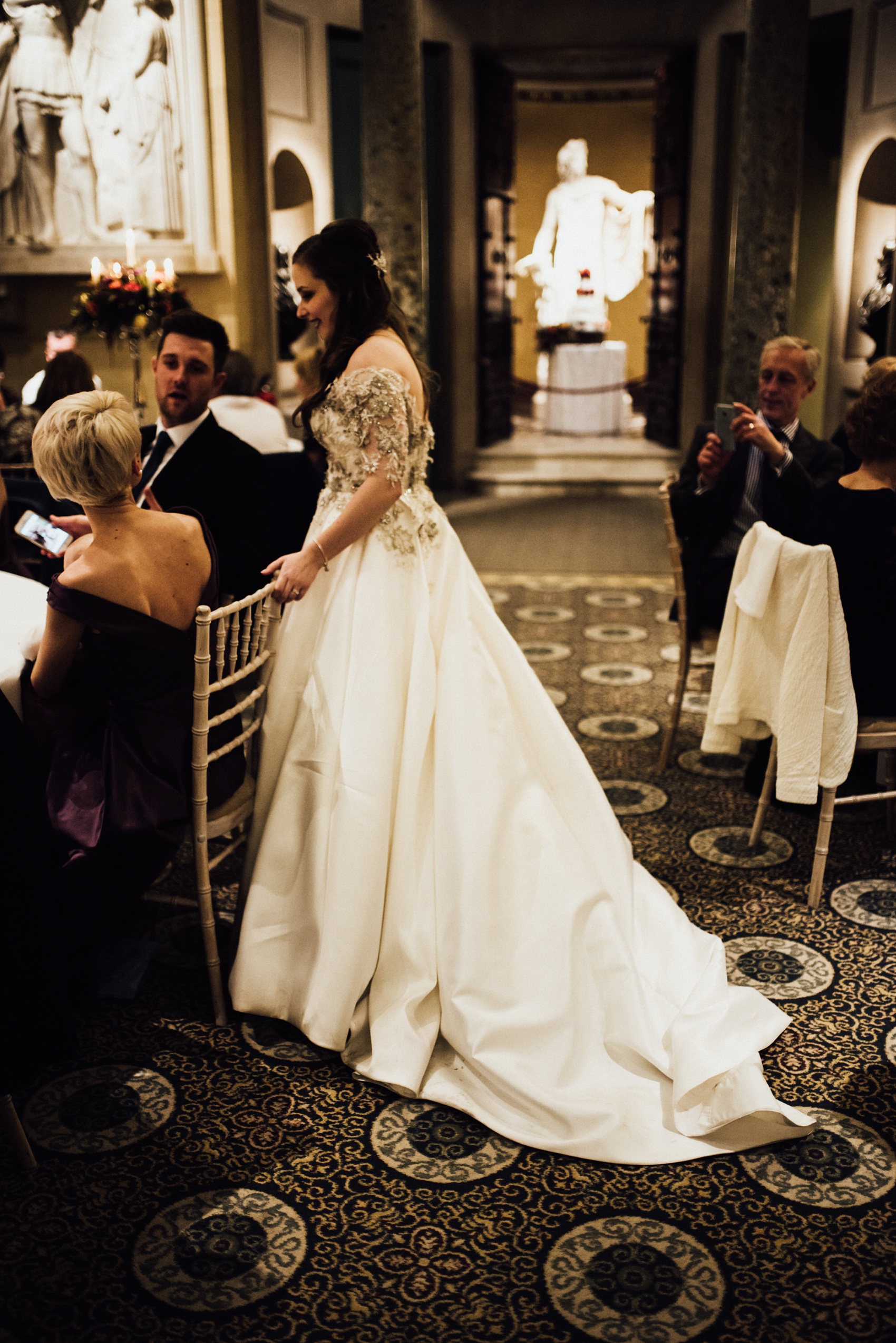 "We had a first dance track in mind from the beginning. We have been together for a long time and years ago whilst going on holiday we were listening to the Pulp Fiction soundtrack and said if we ever get married, we would have 'You Never Can Tell' by Chuck Berry."
"We decided to hire a dance teacher so we could learn the dance from the movie. We didn't tell anyone about this until the day before the wedding we told our bridesmaids and groomsmen as we wanted them to join us half way through. To the rest of guests it was a big surprise when we performed the dance on the night. It was so unexpected my mum even teared up."
Words of Wedded Wisdom
"My advice for brides to be would be don't get too stressed out about the small details of the day, remember the day is for you and your husband not pleasing every family member and friend."
"In my industry I speak to a lot of brides stressing over the small details but on the day it is so busy you won't even notice if something small isn't perfect. My other advice would be to trust your chosen suppliers. I was a chilled out bride leading up to my wedding as I trusted my suppliers to do what they thought was best and didn't try and micro-manage everything."
Danielle and Matthew, thank you so very much for sharing the joy and enchantment of your day with us. Danielle, what a breathtaking gown! Many thanks also go to Michelle Wood for these gorgeous images, too. You can see another lovely wedding captured by her right here.
Until next time!
Love, Laura