Happy Wednesday lovelies! I've got a gorgeous rustic wedding to get you over the hump and through the rest of the week.
We're off to Scotland today with a couple who flew over from Vancouver, along with their mid-Century furniture to decorate the venue with, to celebrate their union in style with all their friends and family. With the bride and groom both working within the creative industries, it was always going to be a good looking wedding, so without further ado, let's meet them! TV actress Zibby and graphic designer and photographer Adam were wed on July 29th 2018 at Airlie Castle Estate in Kirriemuir, Scotland.
Photography by Till Britze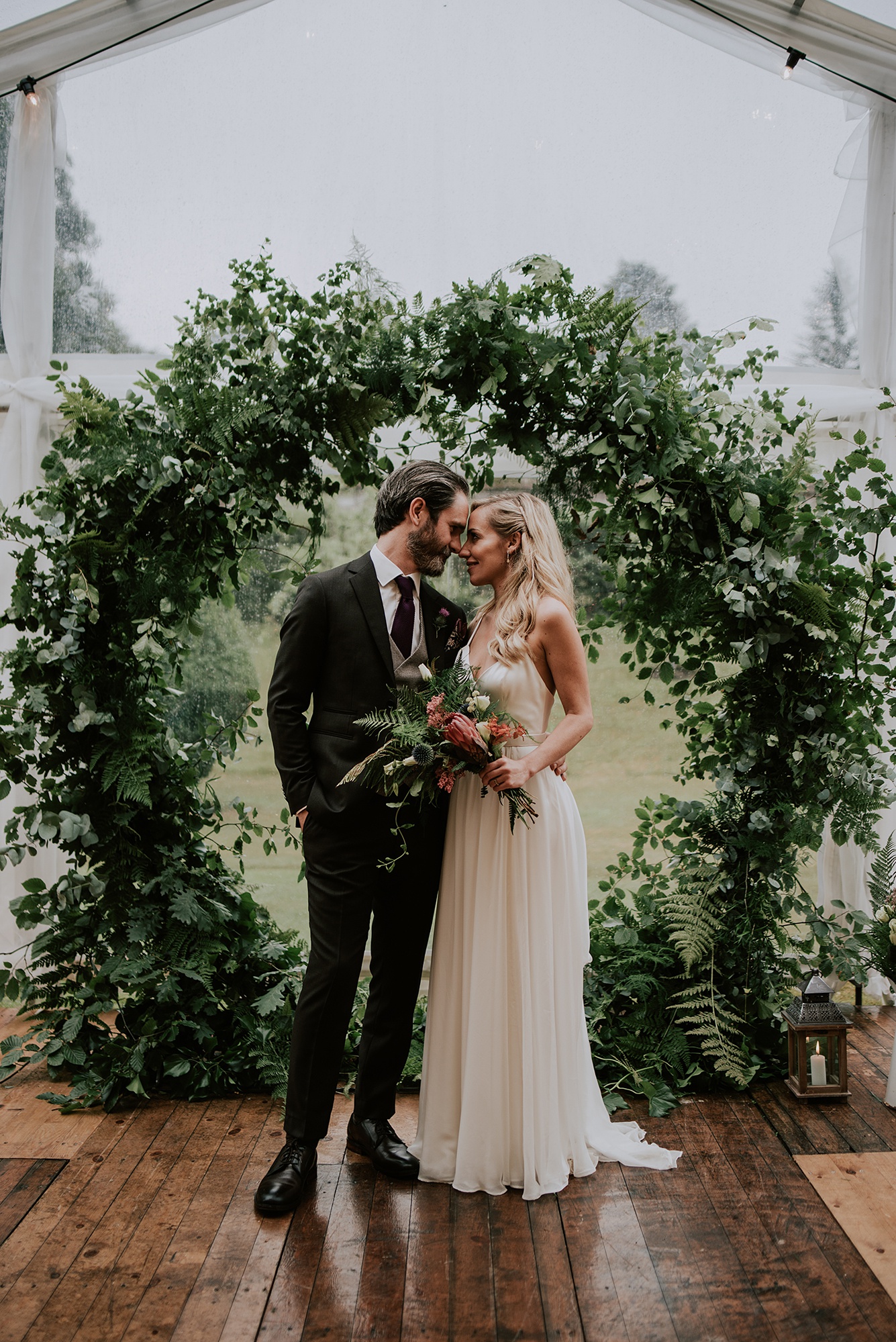 "We didn't want to follow all the wedding traditions we've all become familiar with, just for tradition's sake. We wanted a wedding celebration that felt deeply personal, honest and tailored to us. That was freeing on the one hand, but it also posed a challenge as we got deeper into the planning of it all. We realised we had no other template to work from other than the weddings we'd already been to. So, we started with the template of tradition, and then questioned every element."
"Do we need a cake and a cutting ceremony? What would it look like if we didn't have that? Do we need a first dance? Or is there something we could do that's more 'us'? As we went through each traditional element, we realised quickly that some things we actually did really love and want to keep, and other things made no sense to us personally. What was great about our process in the end was that every element of our wedding was deliberate and made sense to us as a couple."
"I picked out a pair of shoes from Nordstrom just a few days before flying to Scotland. They were comfortable, which was crucial, and something I'd wear again. For my hair I found a pretty little gold diamond hair comb for £17 on Etsy and had it sent to the castle a day before the wedding! My best friend, Yeardley Smith (the voice of Lisa Simpson!) lent me a pair of earrings as my 'something borrowed' to wear too and they were perfect; simple and elegant."
"We did all of our wedding planning from Vancouver in Canada so we hired events planner Catrina Duthie from Fin Flukra for the last 4 weeks in the lead up to the wedding. We needed boots on the ground in Scotland and Catrina was absolutely amazing, communicative, resourceful and fun to be around. We're so glad we chose to bring her on for the last and most important leg of the lead up."
"My dress was from BHLDN and I had it altered slightly to bring the back down a bit and add some satin buttons down the back for a bit of extra elegance. BHLDN has an incredible line of wedding gowns in almost every style and they're very affordable. I chose my dress because it felt clean, classic, simple and honest to me."
"I didn't want a dress that wore me, I wanted to wear IT. I always got anxious when people would ask me what dress I was going to pick. There's so much pressure on the bride to pick the best dress so I suppose as I was shopping, I rebelled a bit against that pressure and gravitated towards more simple dresses that wouldn't necessarily upstage everything else."
"We foraged a good deal of our florals from the castle grounds (with permission). Then we went through Triangle Nursery to supply the ferns, greens and a few special florals. They were delivered to the castle two days before the wedding and we decorated the tent and created the bouquets as a family. The exquisite wedding hoop that we were married in front of was created by Narcissus Flowers and Plants in Edinburgh."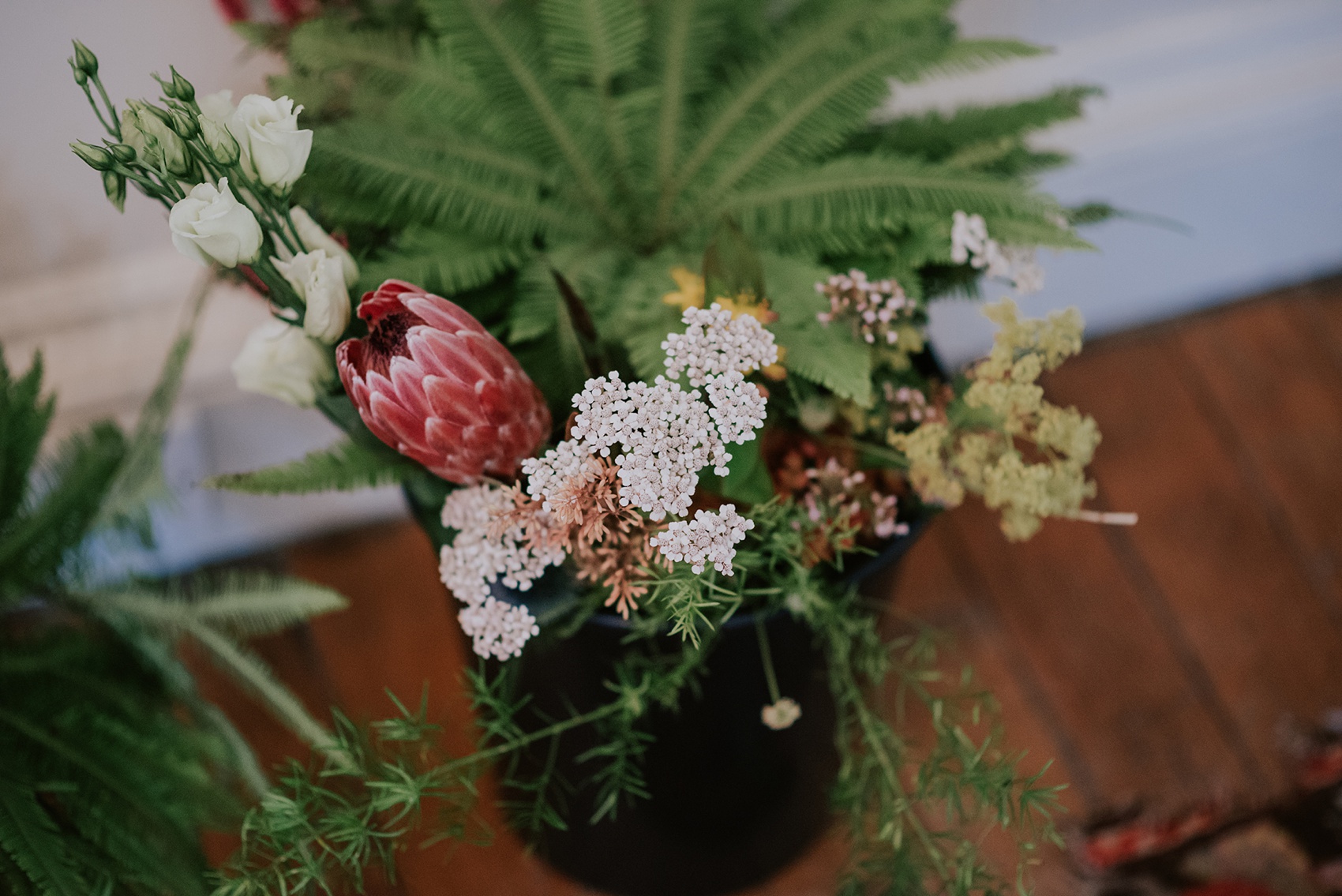 "Adam is originally from Northern Ireland but was living in Scotland when I was performing there in a stage play when we first met in 2015. Every day I would pass the restaurant where Adam was working and we would exchange flirtatious glances."
"After two weeks we managed to orchestrate a proper date. It quickly became apparent this was not a fling and that our feelings were strong, and at this point I only had two weeks left in Scotland."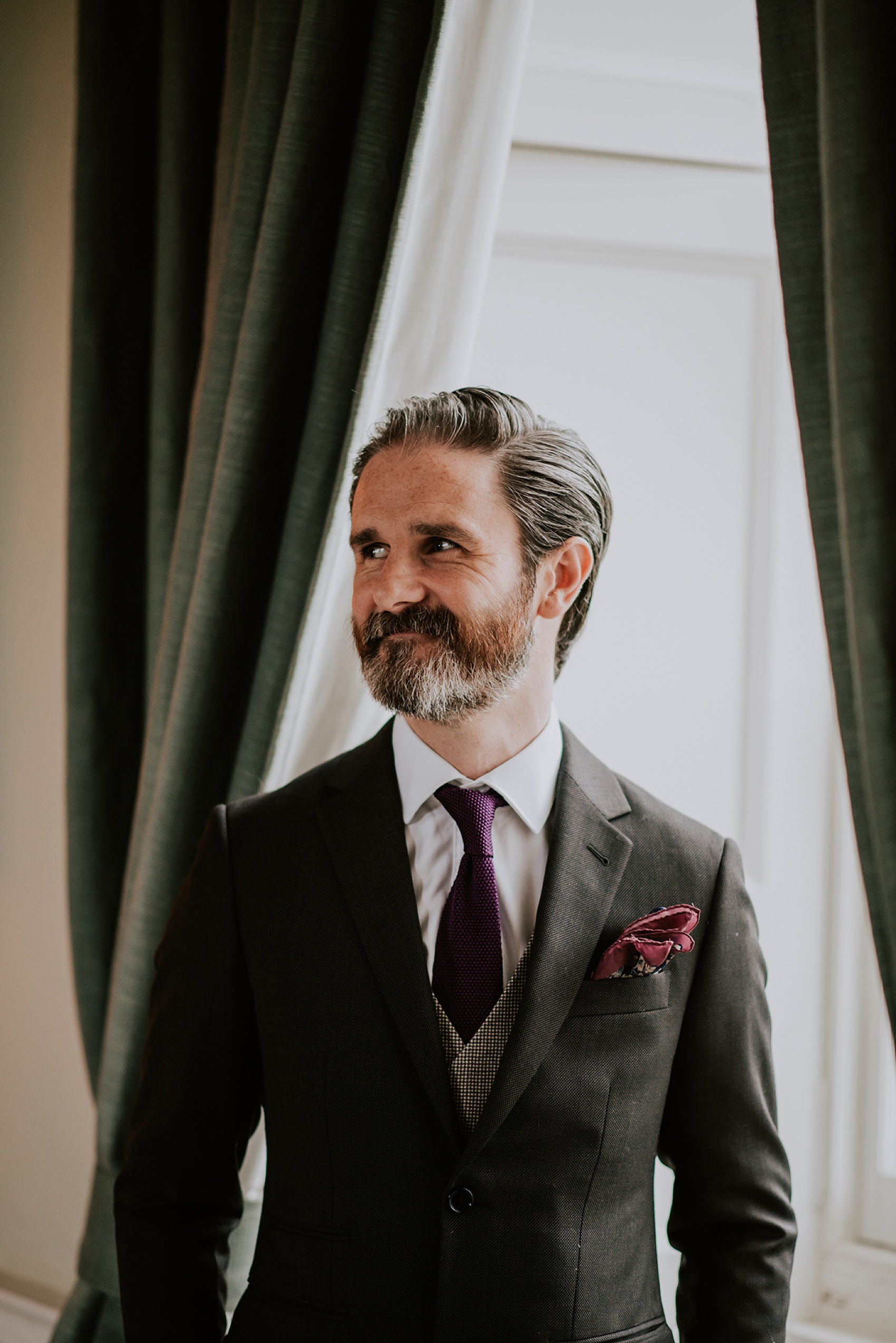 "After extending my trip by 10 days for Adam, we set off on an impromptu trip together to the Isle of Skye and it was there we really fell for each other. After 8 months of a long distance relationship between LA and Scotland, we relocated to Vancouver together and got engaged in 2017."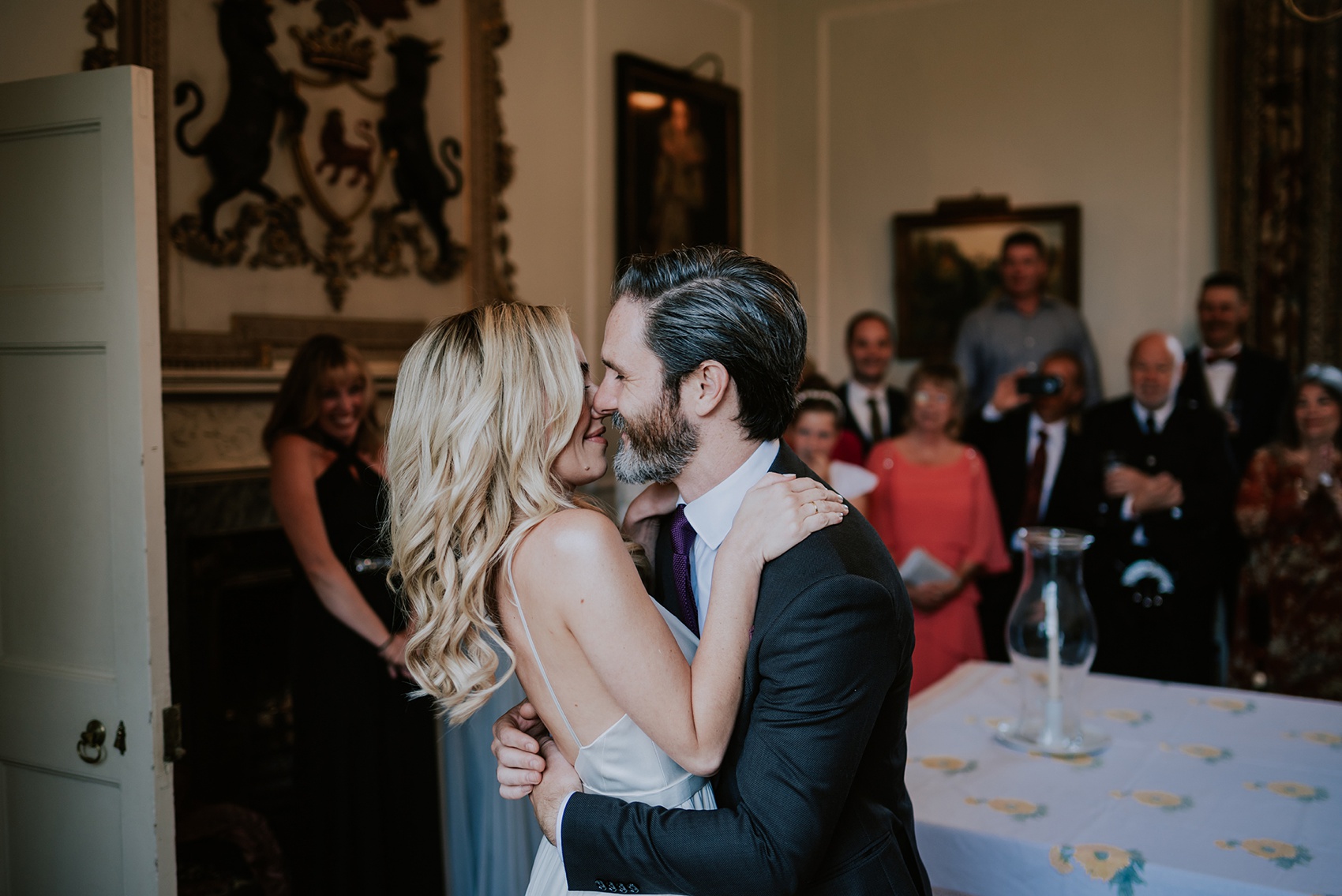 "Neither of us are religious but we do have a deep reverence for the things we don't know, such as nature and for the forces that brought us together. It was important that our ceremony was a sacred moment in time, acknowledging how profoundly grateful and humbled we are by this love we've found in one another and in our family and friends."
"My stepfather officiated the wedding and we wrote our own vows which neither of us had heard until the ceremony. It meant the ceremony was so intimate, vulnerable and honest and it was an unforgettably sweet moment we got to share in front of our close community."
"I wanted all my bridesmaids to simply wear what made them feel great. I didn't have a colour scheme or any requirements whatsoever. We wanted everyone to feel at ease, beautiful and enjoy the day."
"Our photographer, Till Britze, is a good friend of ours but isn't necessarily a wedding photographer. His work focuses primarily on editorials, however that was perfect for us as we didn't want to spend loads of time taking any posed or staged photos anyway. We much prefer candid shots of people in the moment."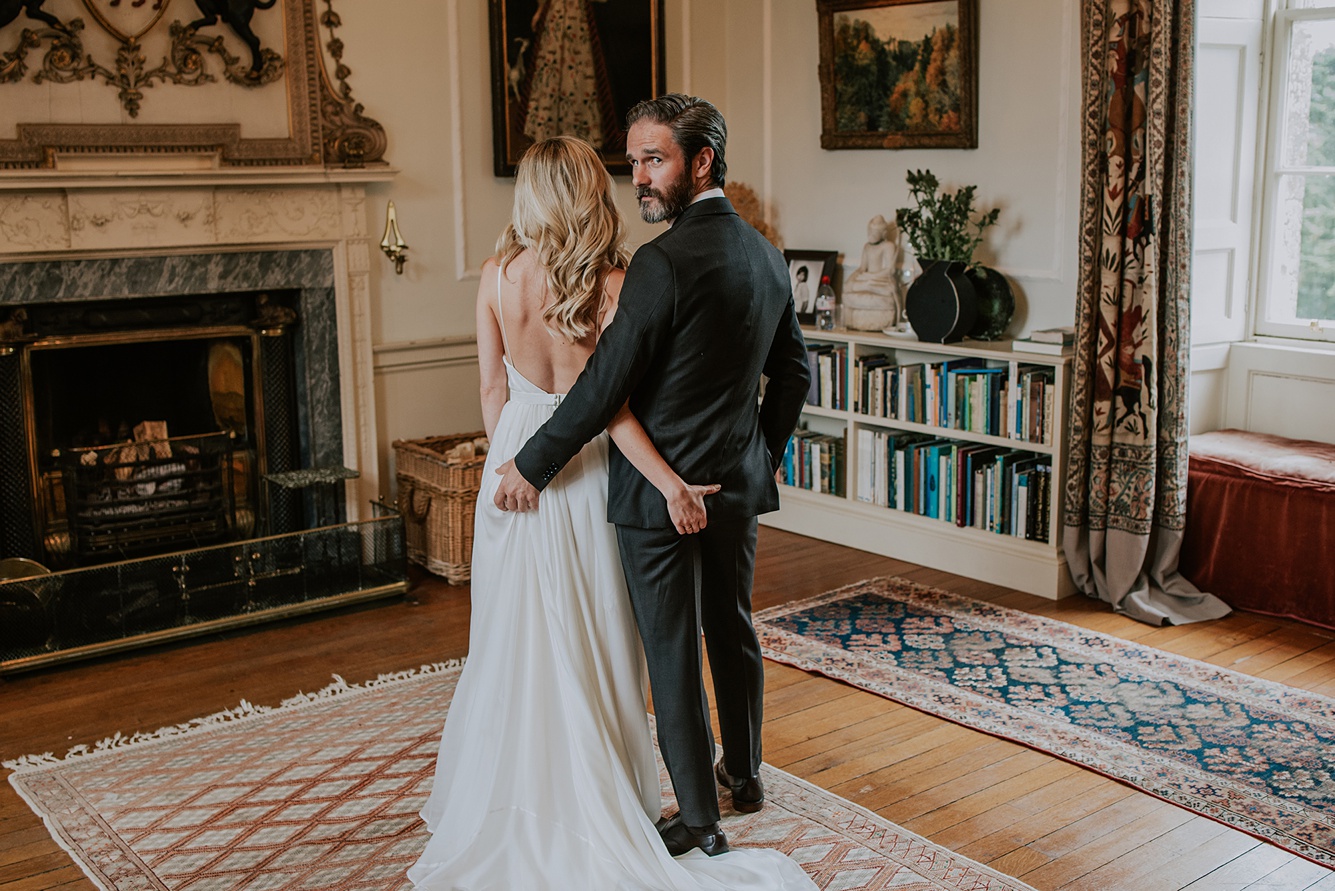 "As he knows us well, we trusted he'd be able to capture our essence without any extra guidance. We just gave him a list of 10 specific photo set ups we wanted and asked that he simply took candid photos the rest of the time."
"We think he captured the spirit perfectly. Till's photography is full of movement, feeling and story – what a talent!"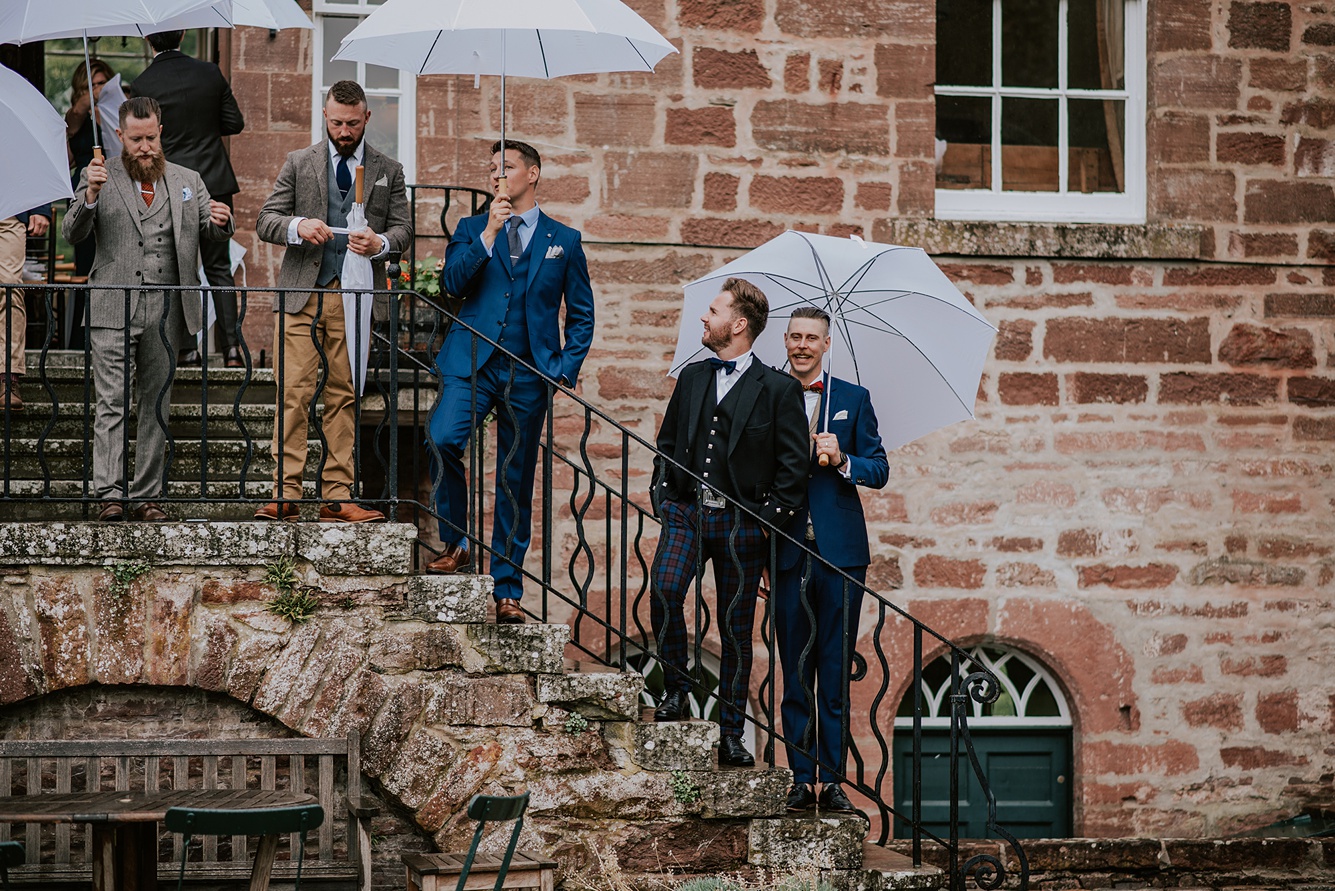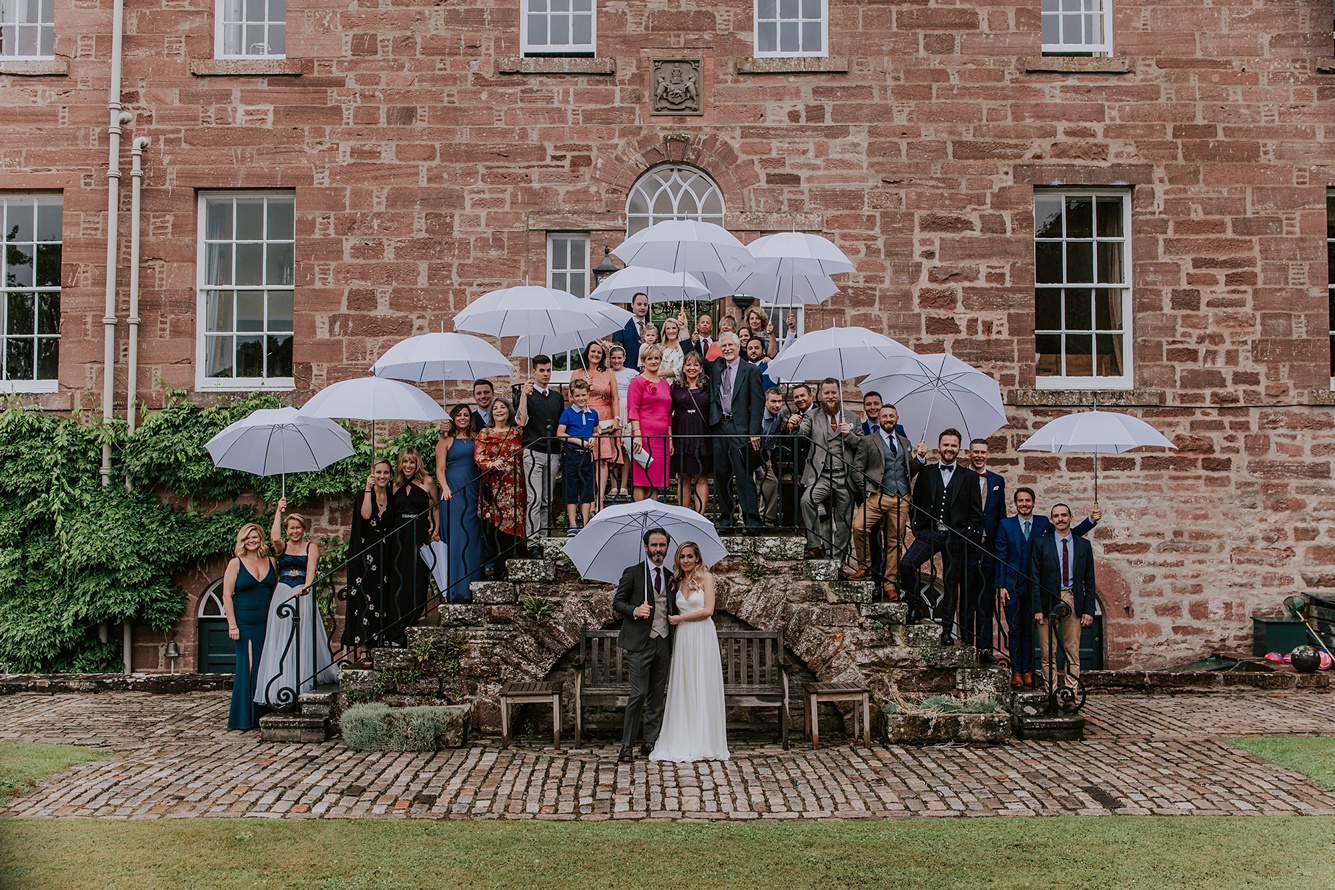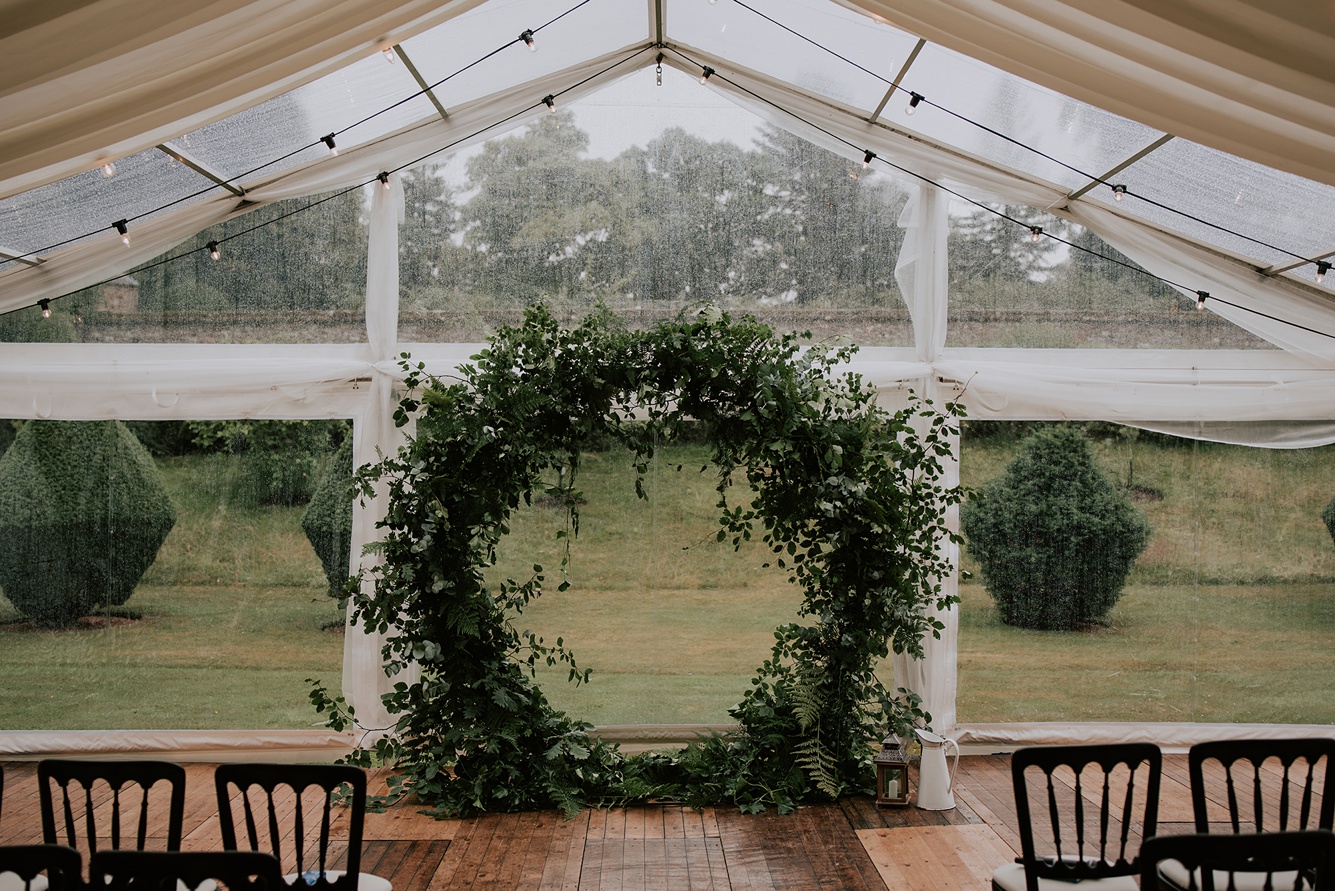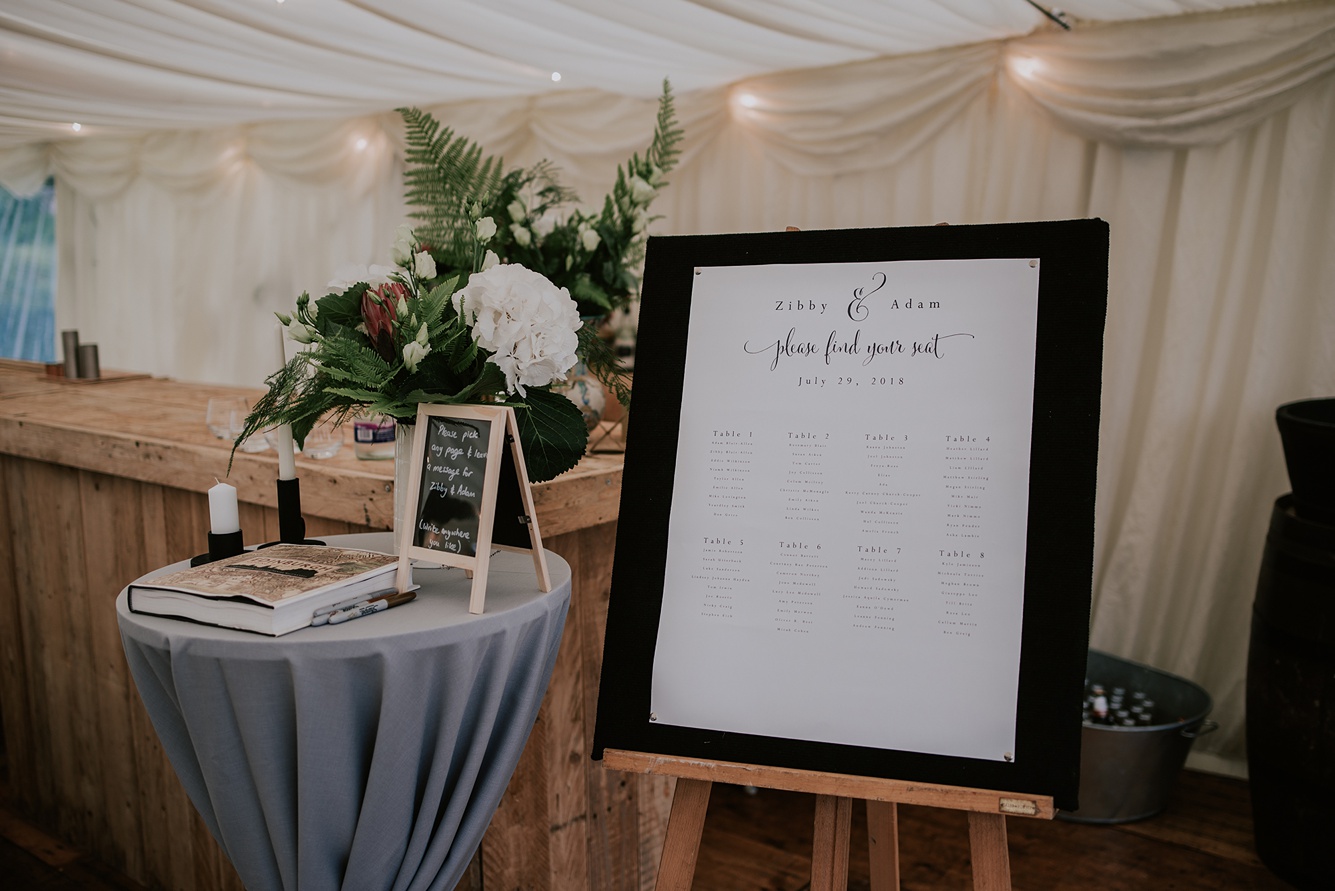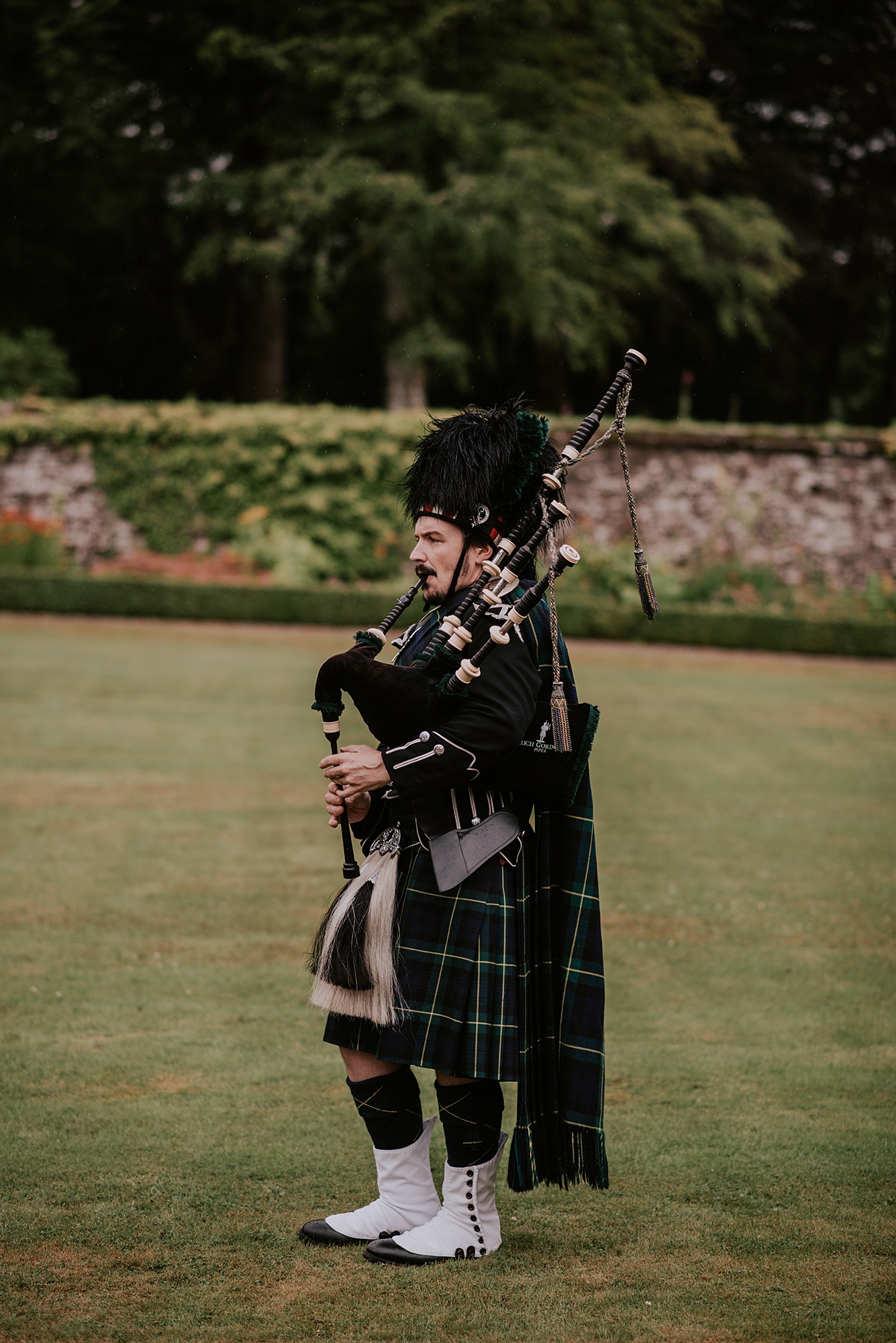 "We didn't have a flower girl. Instead our bridesmaids and groomsmen all walked down the aisle carrying either a fern or a flower and they each deposited it into a vase that sat at the alter. It was lovely."
"Adam customised his suit with the company Indochino. He even had our names and the wedding date embroidered onto the inside of his suit breast!"
"My younger brother accompanied me down the aisle to Rich Gordon playing Amazing Grace on the bagpipes. We had one reading during the ceremony by Adam's best man's wife, who read the lyrics from Into The Mystic by Van Morrison. That song and the words in it are extremely meaningful to us. We feel the words capture the timelessness of our connection perfectly."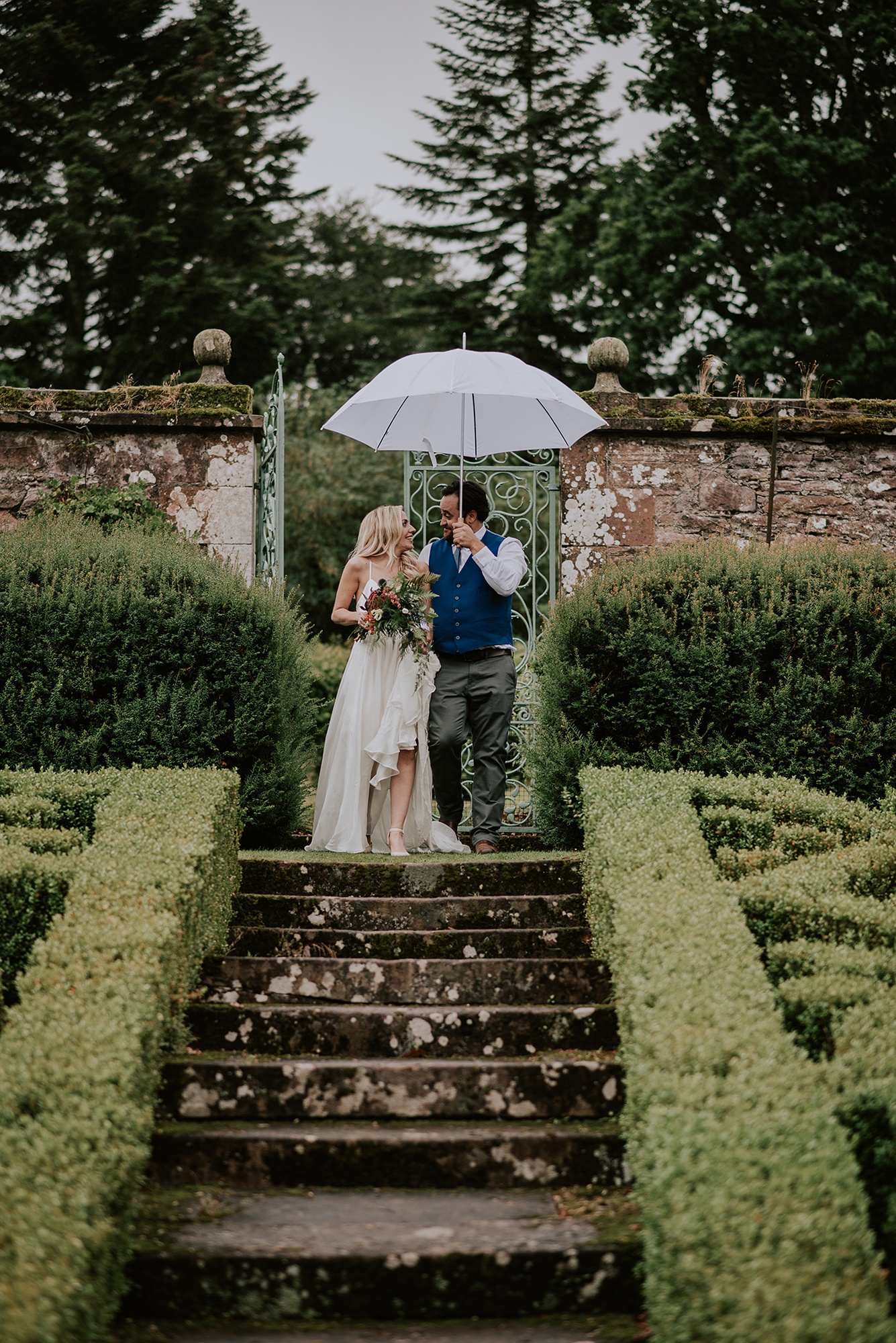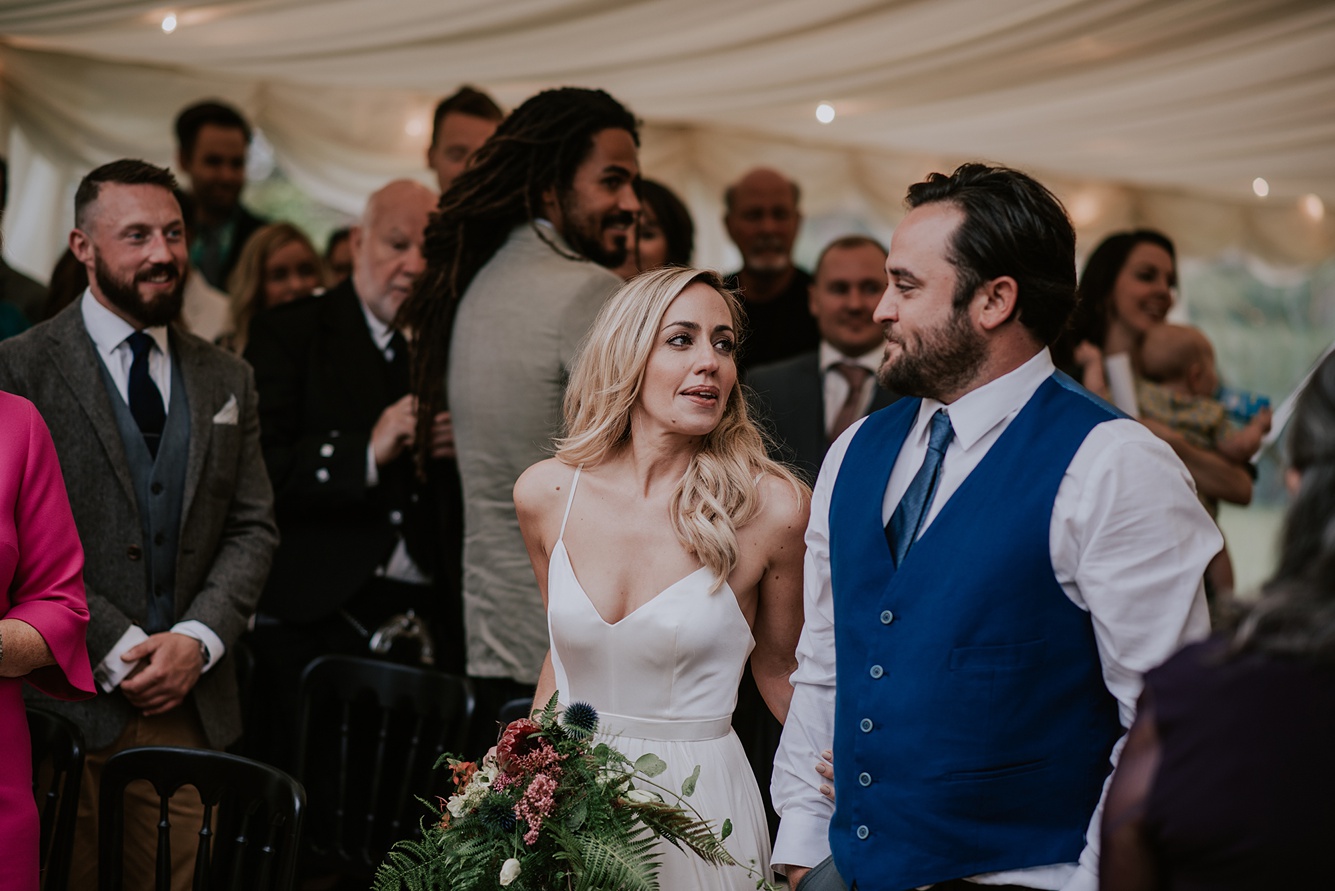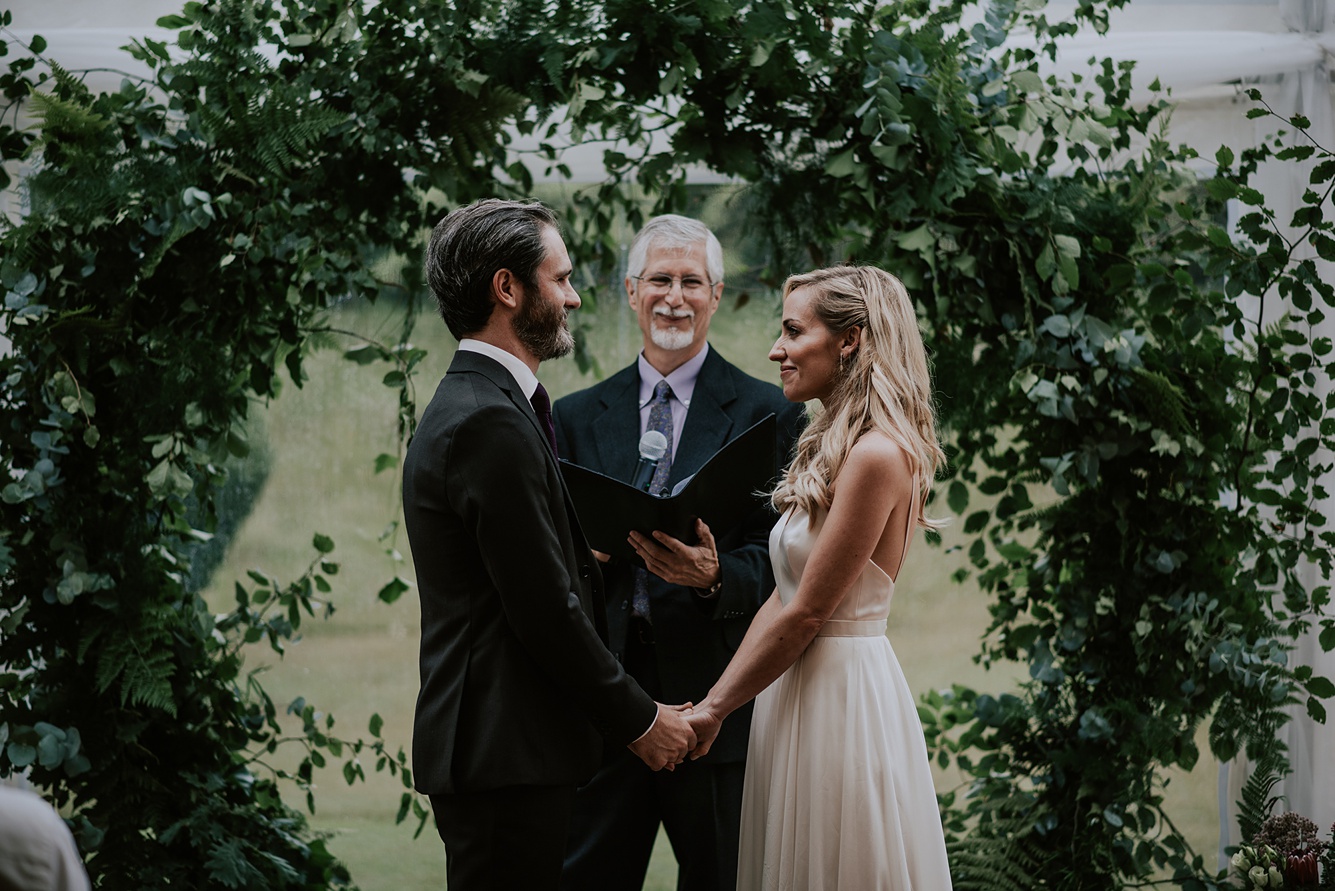 "My wedding ring was a family ring and Adam's was a beautiful and simple gold band we found in Los Angeles one day whilst walking through the jewellery district in Downtown LA."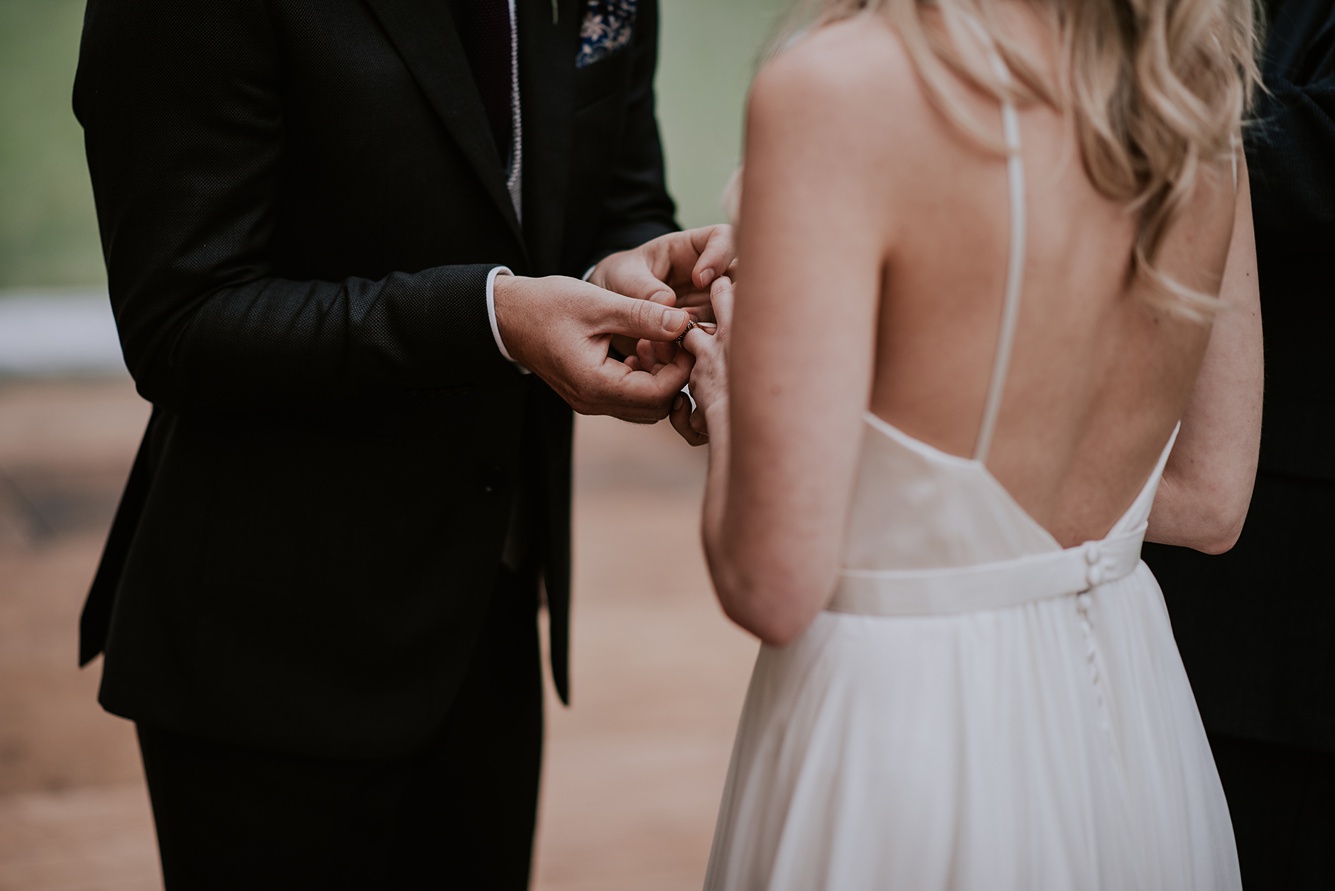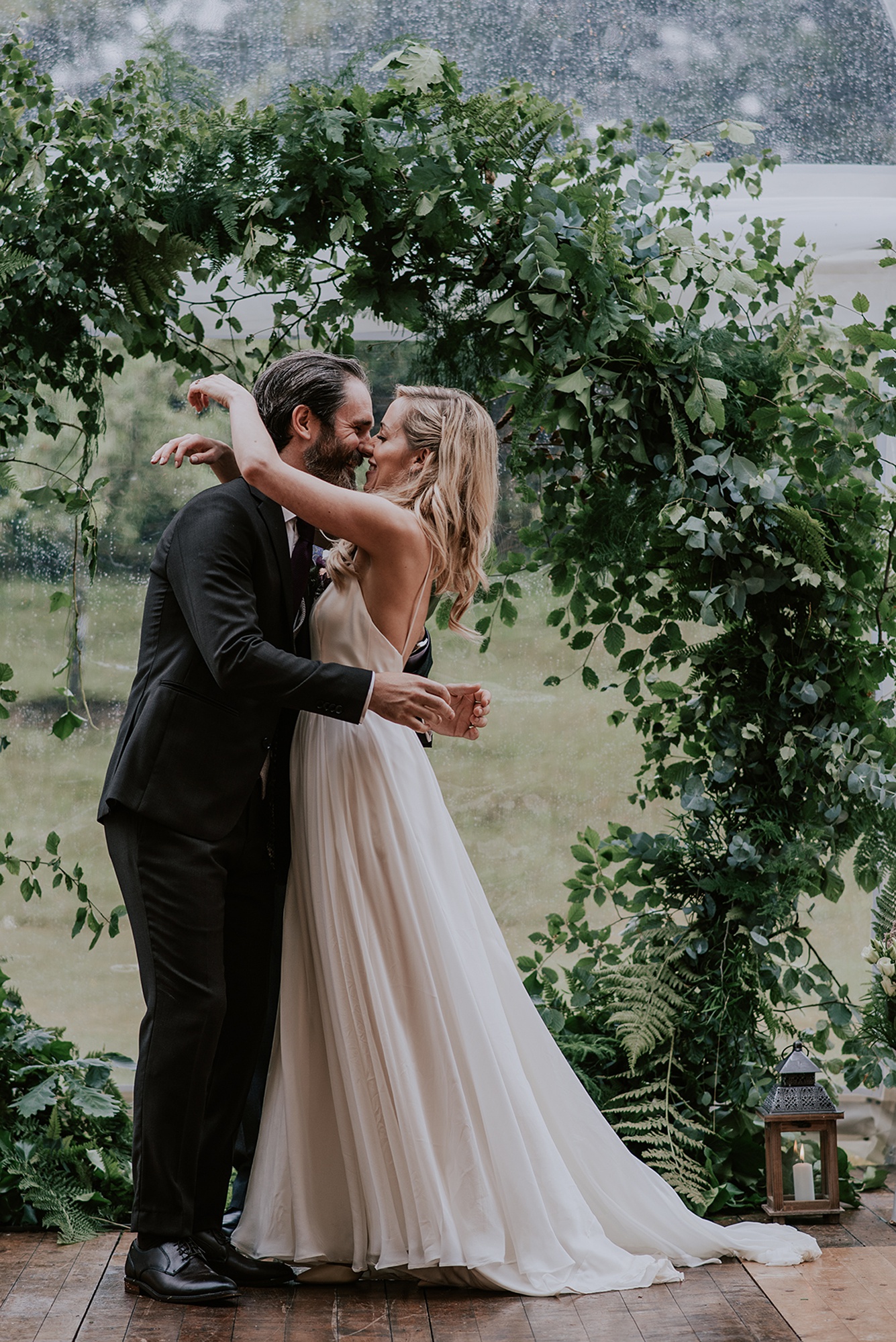 "The ceremony was our favourite part of the day. It anchored us and everyone there in why we were all there in the first place. Everyone seemed to love it and the room was so full of love and goodness."
"We weren't aiming for perfection, we were aiming for authenticity and we got that! We wanted everyone to feel the love we had for each other and to feel included, celebratory, uplifted, playful, well fed and surrounded by good music and people. Mission accomplished!"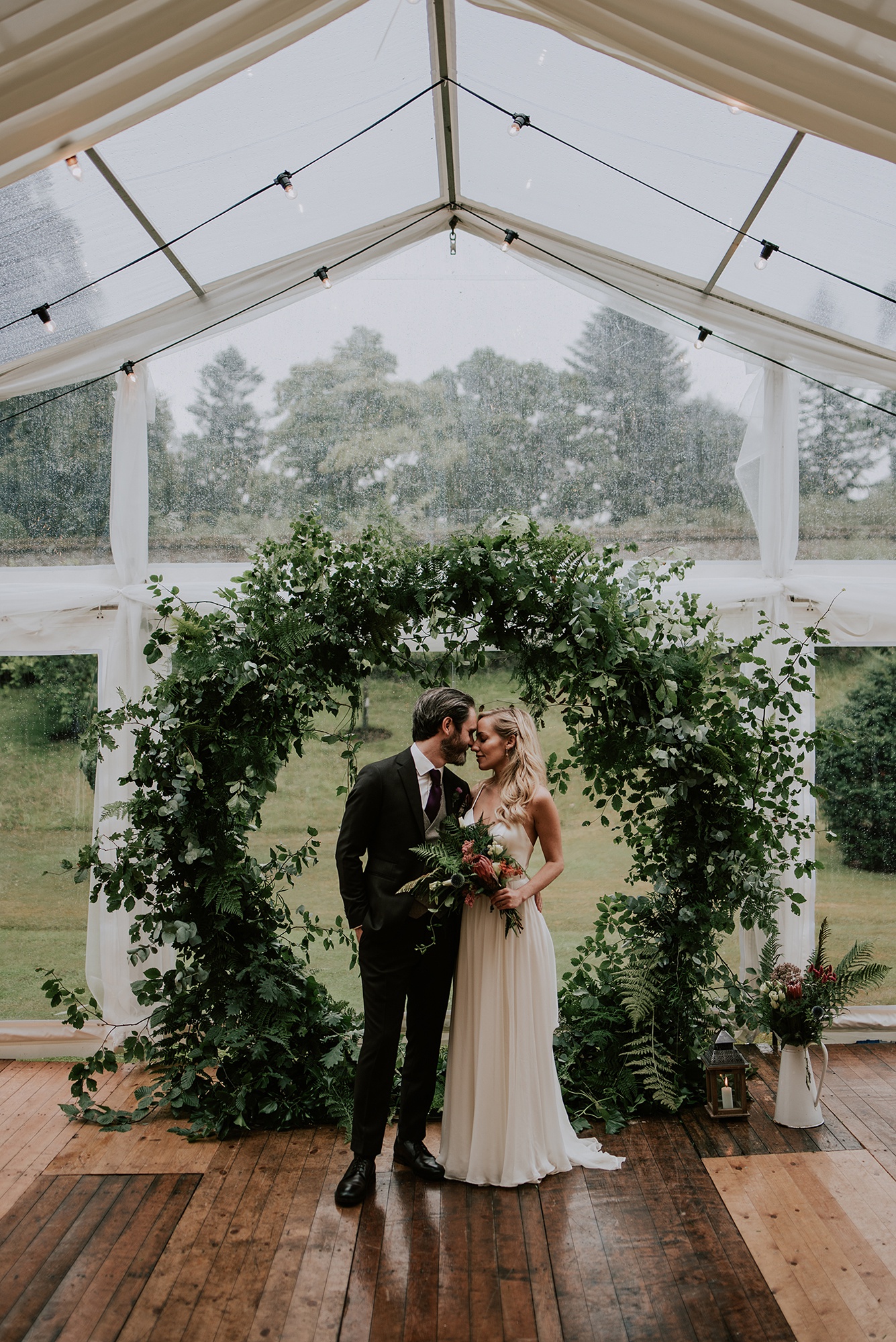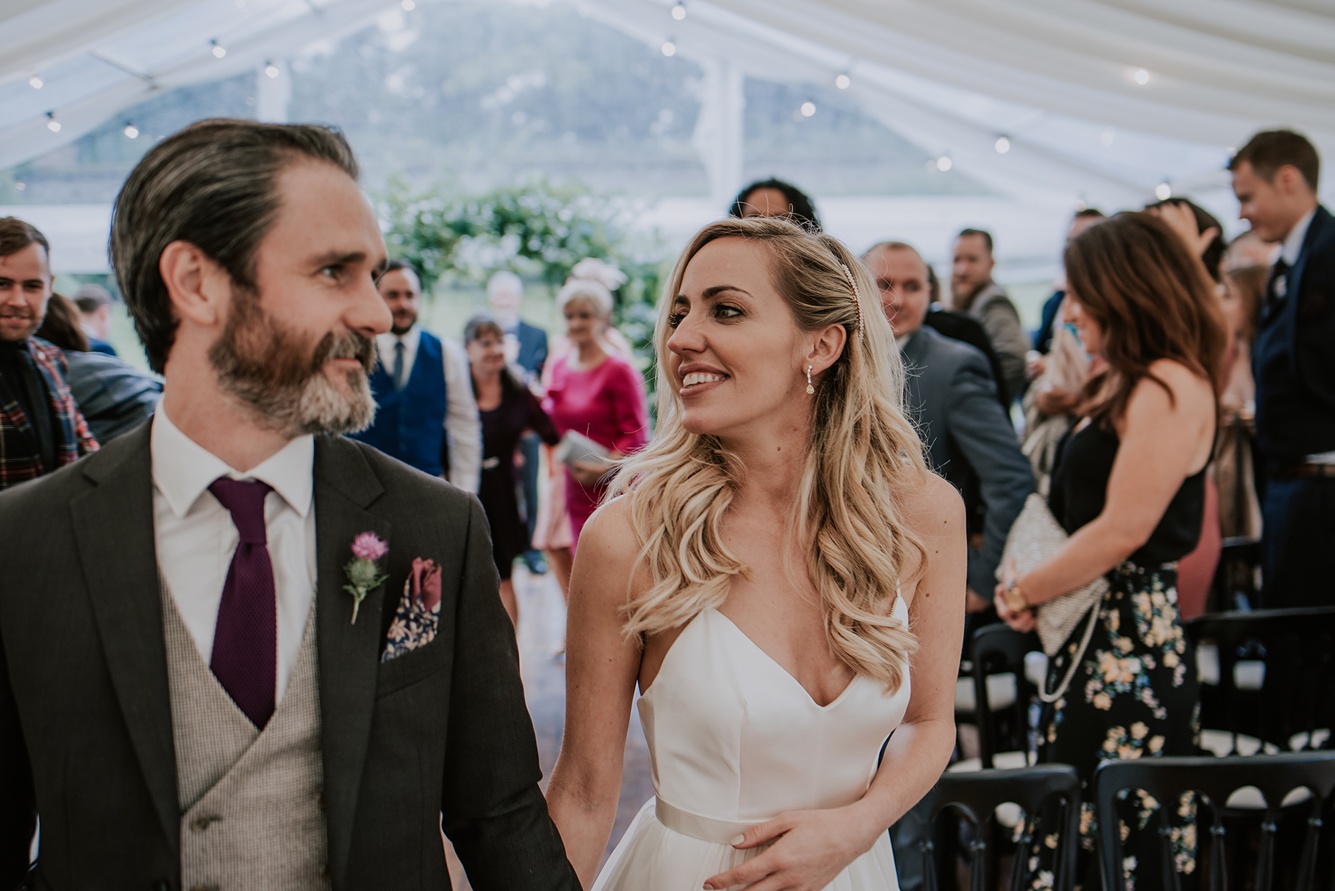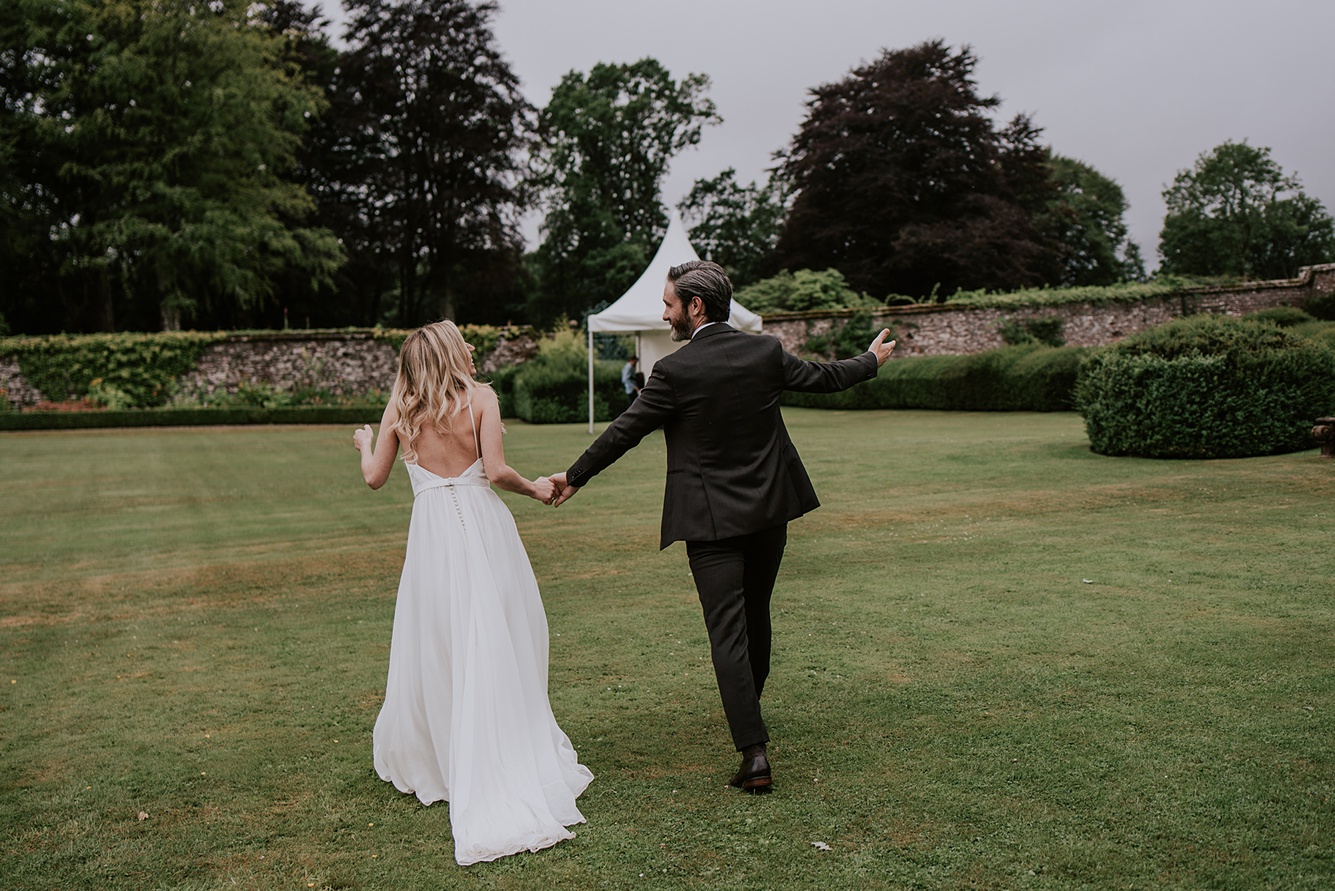 "As we wanted the look and vibe of the day to feel minimal, classic and natural, we felt it was important for the dress, setting, guest count, music and food to feel really intimate and honest. We also wanted to maintain a balance between feminine and masculine visually, so we led with greens and made sure we kept an earthy wood component."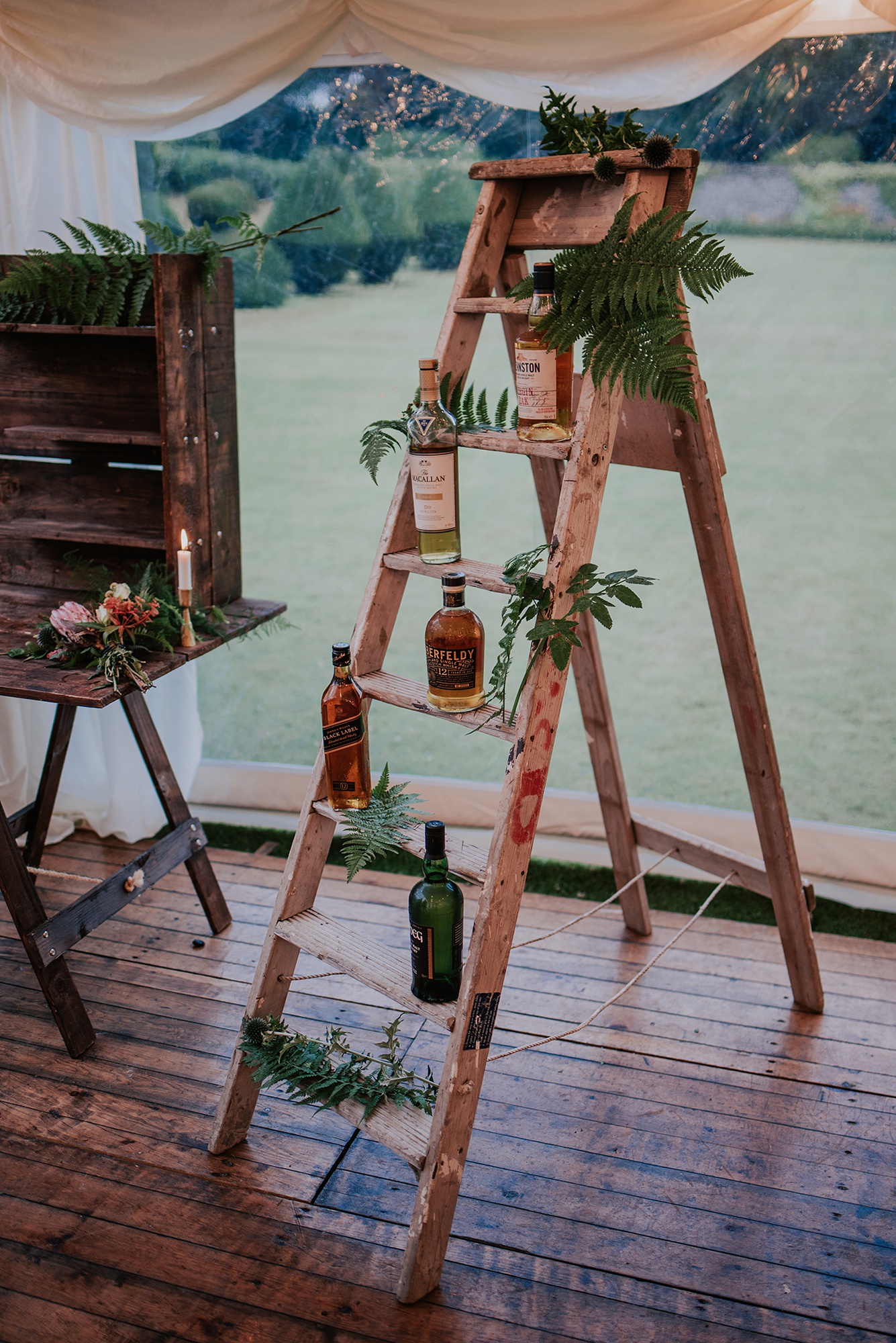 "Ferns have a special significant to us personally, and so we made the fern a staple throughout. We kept everything simple with candles, flowers, wood, grey and coconut coloured linens and then used lots of string lights to create a warm light from above."
"We loved the idea of bringing a wild, foraged and untamed vibe to the decor. Adam also occasionally works for a modern furniture and decor store called Full House Modern in Vancouver and with his discount we were able to get some mid-Century furniture, which were on clearance in the store. We packed them with us when making our way to Scotland."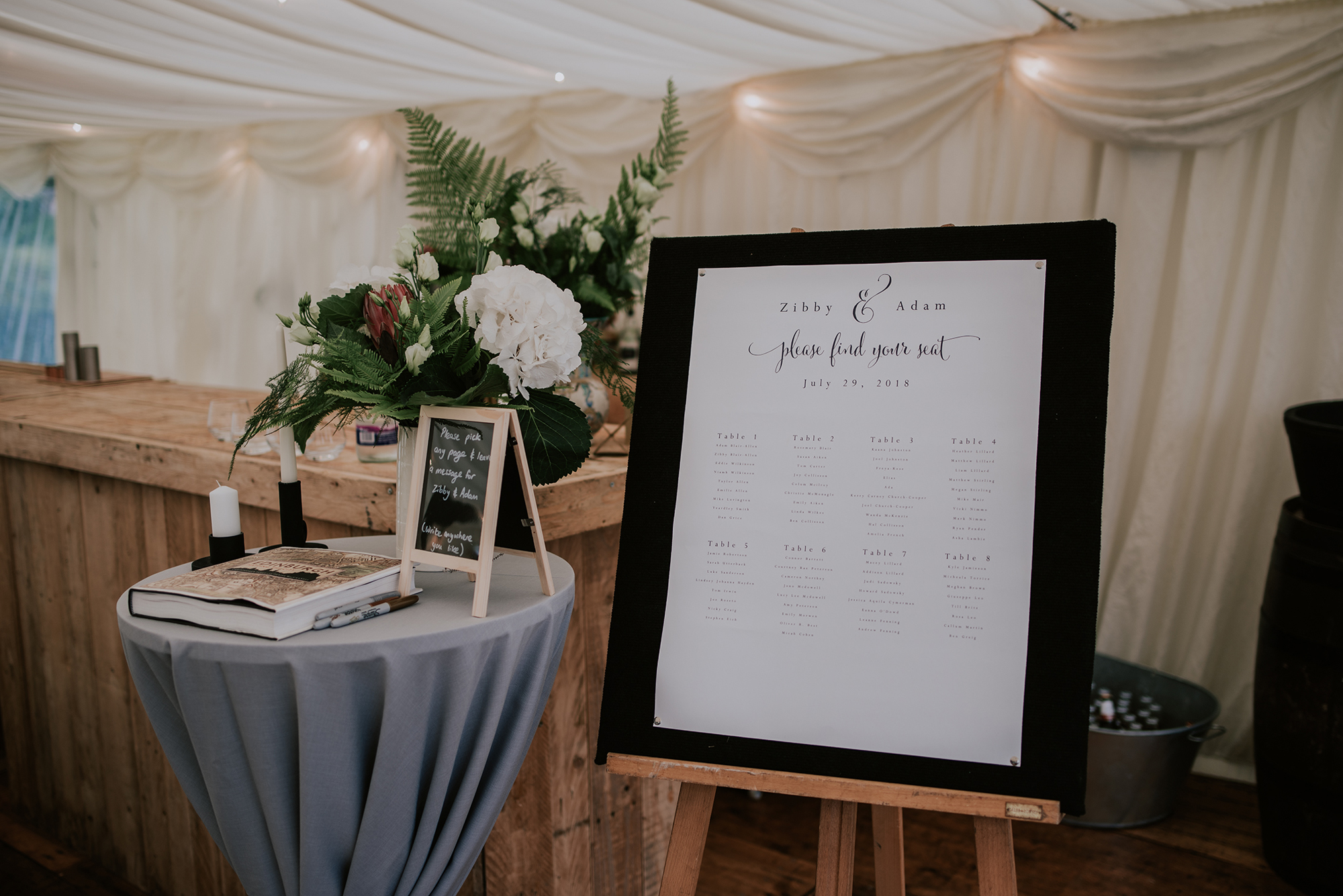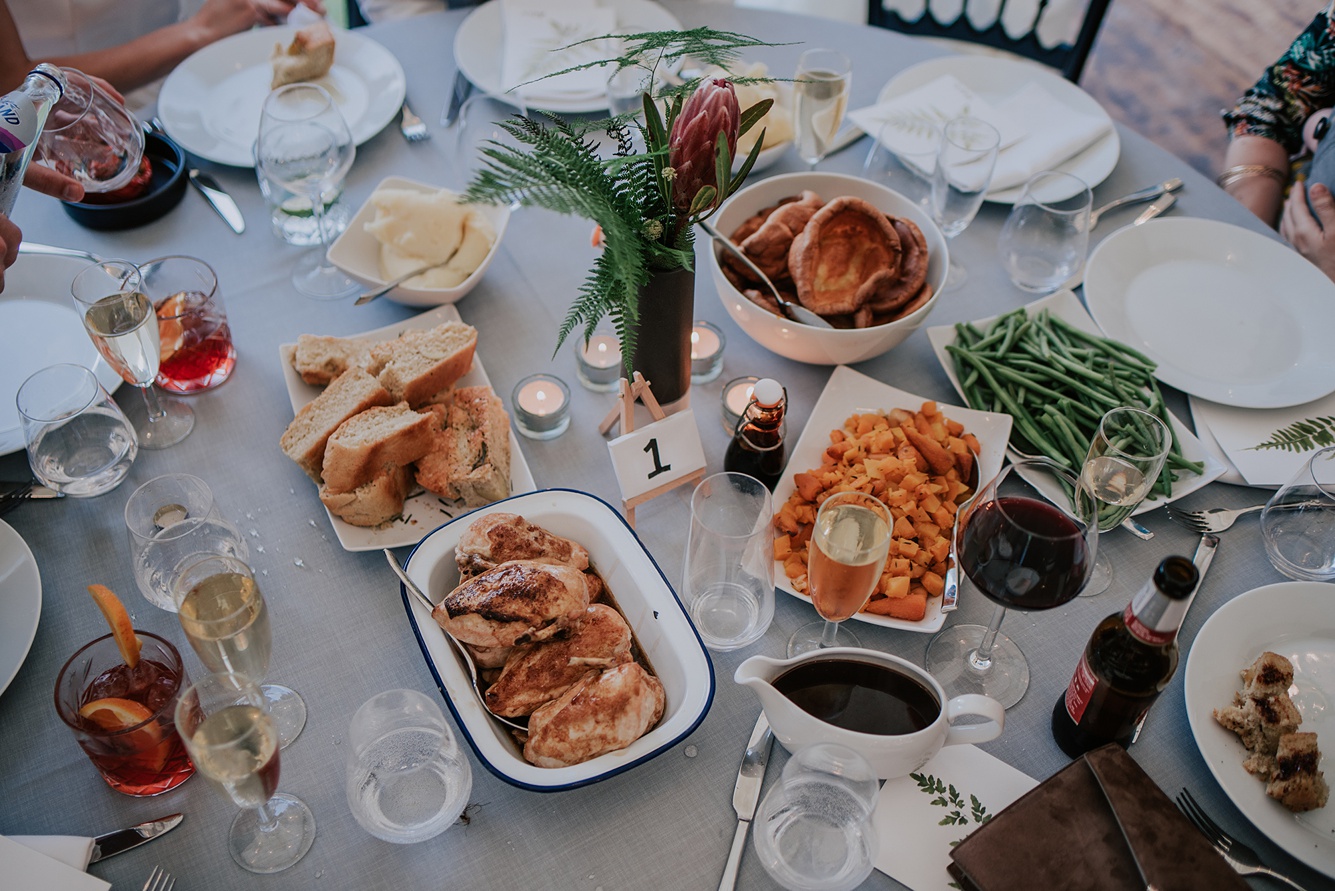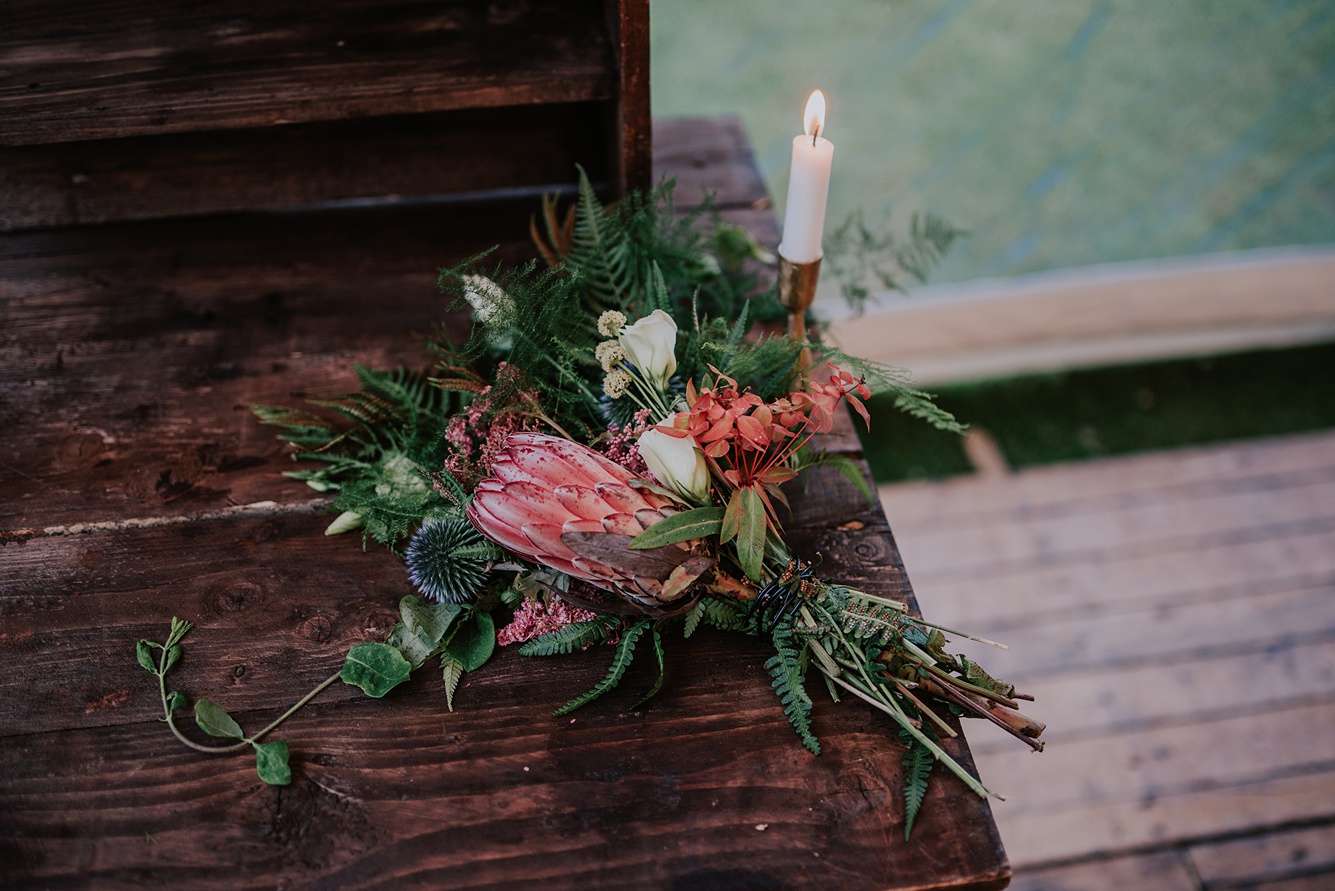 "In lieu of a cake we had Bespoke Catering, who also catered the wedding breakfast, create a dessert bar with 5 different and delicious desserts for our guests to choose from."
After devouring the desserts, there was only one thing left for the couple and their guests to do, and that was party. Hiring 3 piece folk band Homecoming String Band did the trick, followed by a DJ set by a friend, but not before a first dance as husband and wife to Sweet Thing by Van Morrison.
Words Of Wedded Wisdom
"It can be really easy to fall prey to thinking you must have this and that in order to have the wedding of your dreams. There's so much pressure to make it the most spectacular and unforgettable day, however it's super important to remember that the most amazing day doesn't equate to things like more stuff, the most expensive dress, cars etc. We constantly had to take a step back and remind ourselves what was important to us about the day."
"When we realigned with how we personally wanted the day to feel, decisions became so much easier. Even the look and aesthetic of the day came to us really clearly and organically from that mindset. Every element of the day was deliberate and that's what made it spectacular and unforgettable, nothing else mattered in the end. Challenge every component of the wedding as you go along in the planning, so that when you do decide on things one way or another, they're all personal to you."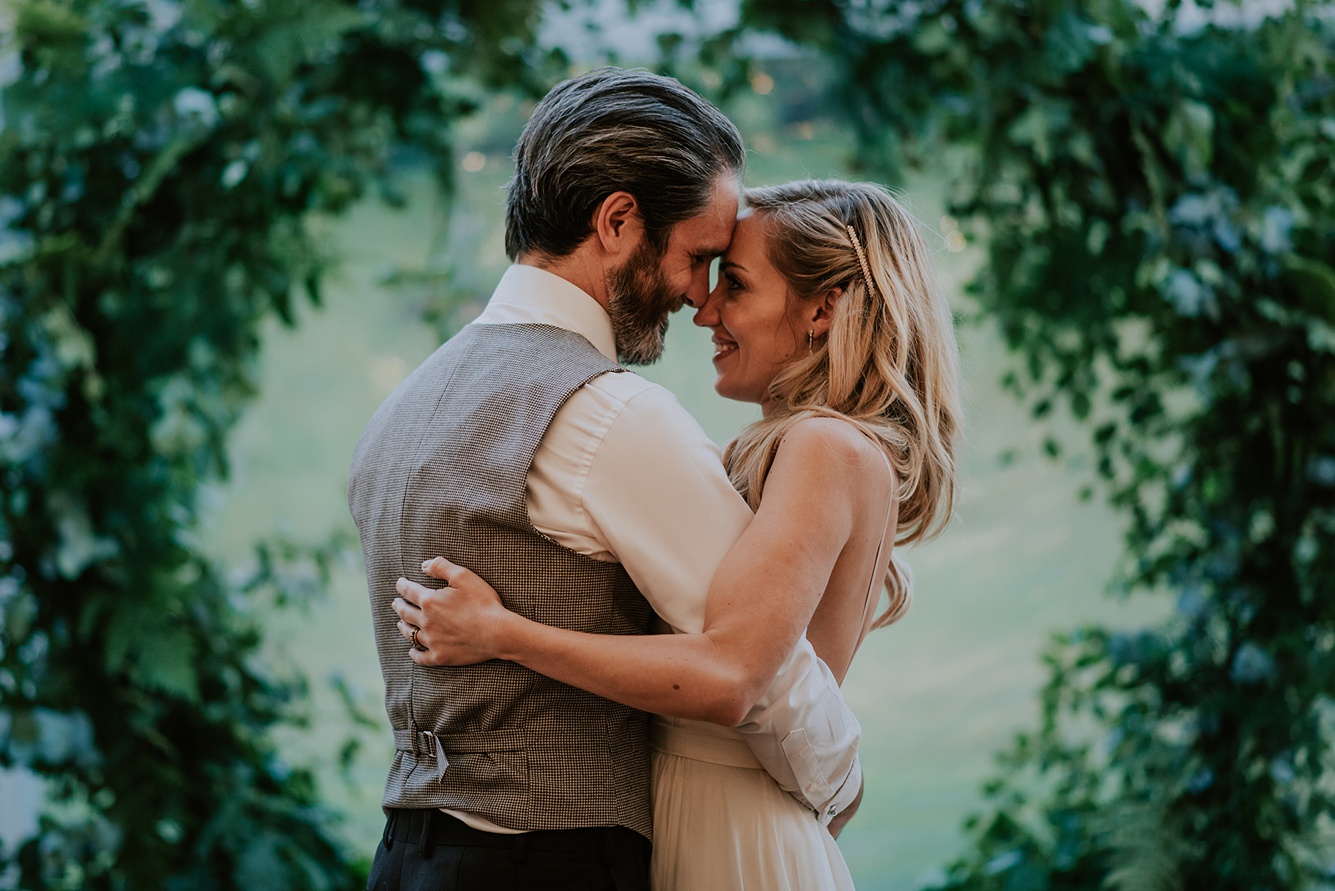 What a gorgeous day! Thank you to Zibby and Adam for sharing it with us, and to Till Britze for capturing the essence of the day so beautifully.
Until next time…
Much love,
Holly x