When the bride takes to the stage and sings at her own wedding you know it's going to be a good party. Come with me to London to have a glimpse at the nuptials of Sara and Alex.
Sara and Alex wed on 1o November 2018 in a civil ceremony in the unique and quirky setting of Asylum Chapel in Peckham, London with a reception filled with deep red roses, navy and splashes of gold at One Friendly Place in Deptford. The bride, a film producer, and groom, a voice artist and actor, created a fun and informal winter day, drawing on their own and their friends' artistic talents to style this quirky, modern celebration.
Photography We Heart Pictures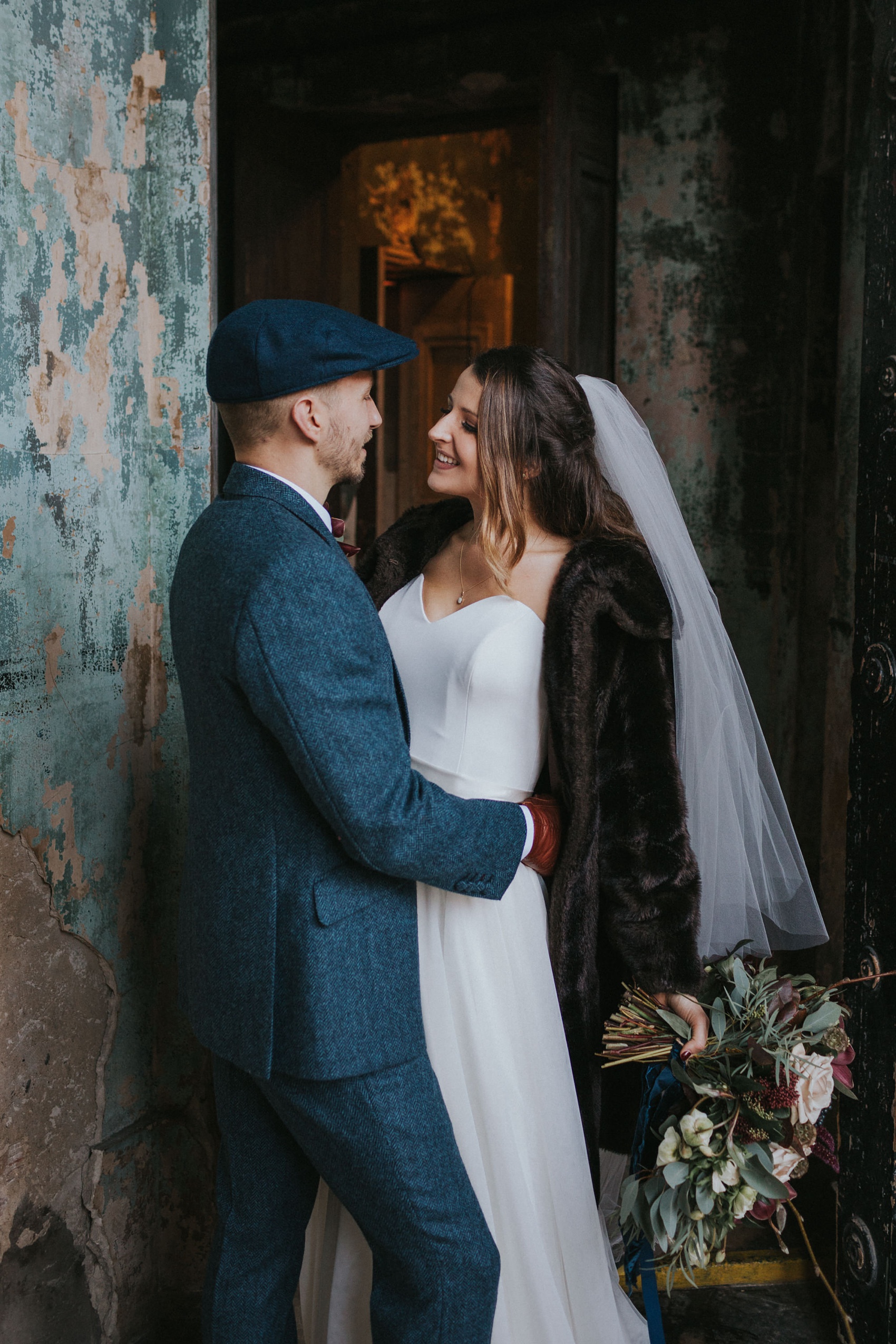 Sara opted to blend modern and classic styling in her choice of pure silk gown, which she found at Mirror Mirror London. I really love the simple, sleek silhouette and statement belt, as well as the way the light fabric ruffles towards the train.
"The dress came as a two-piece and I fell in love with it for many reasons. I have an hour-glass shape and quite big boobs so when I started to try on dresses I found that a Princess-style dress with a corset support on the waist and bust was a very flattering shape. However, I didn't want anything too generic and really didn't want a heavy dress I couldn't move in."
"When I tried this dress on at Mirror Mirror I knew it was the one. Made of pure silk, it was super-light and the skirt dropped to the ground in just the right way. The corset fitted like a glove and the tailoring was superb; it held me in all the right places. The team at Mirror Mirror worked right up until the day before to make sure it fitted perfectly and really went above and beyond to give me the dress of my dreams. It felt elegant but fun. I could move in it easily but it still felt sexy and had that 'wow' effect."
For a chic, clean look Sara's bridesmaids dressed in Debenhams multi-way gowns in navy, styled to suit heir own shapes and personal tastes. Their jewellery, gifted to them by the bride, was in rose gold; Kate Spade bangles and rose gold heart necklaces from Beaverbrooks.
"All the bridesmaids got their hair done at Myla and Davis in Herne Hill."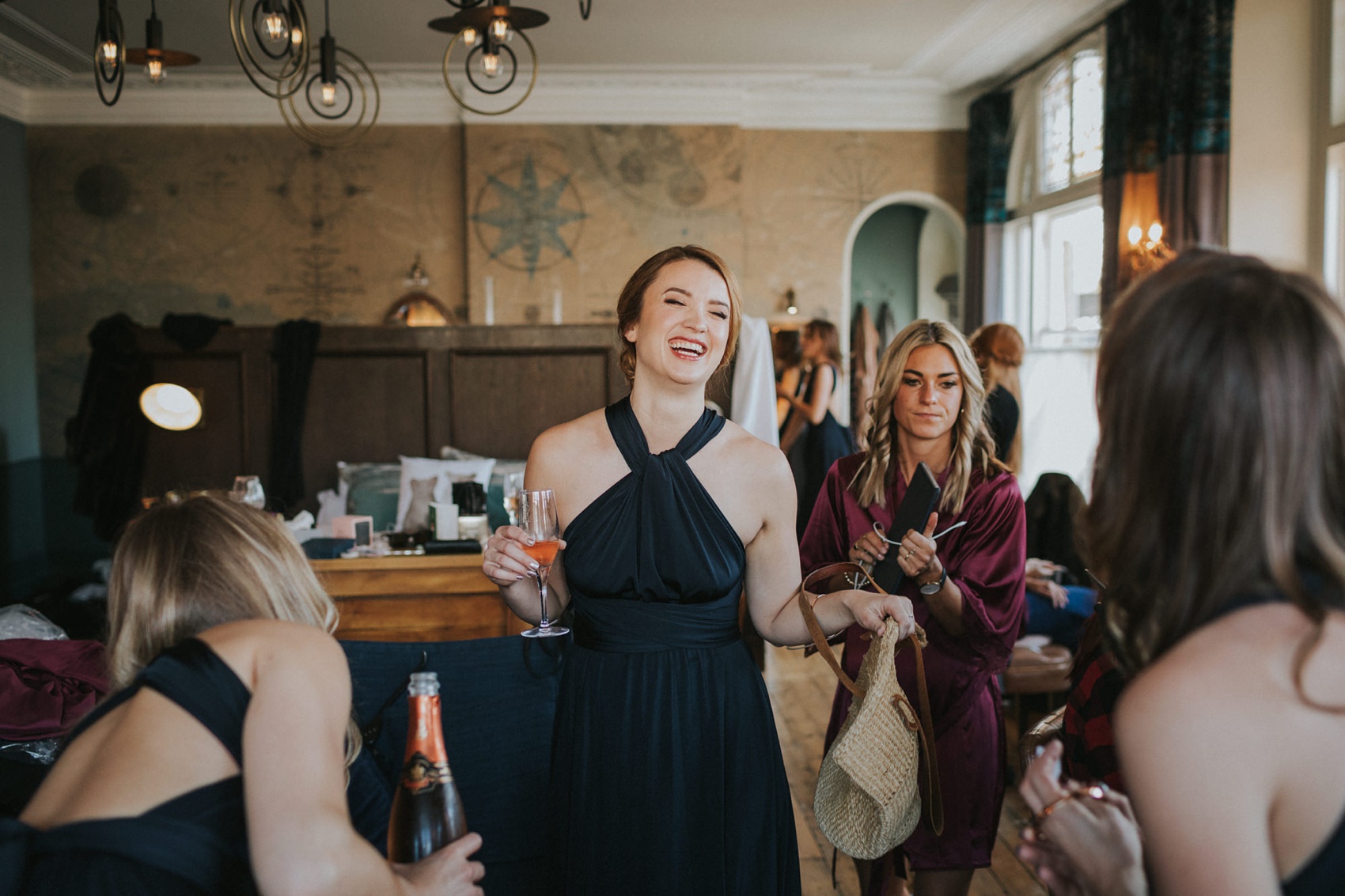 Hair and make-up artist Helena Joplin styled her hair into glamorous, free-flowing waves and Sara added a pure white Vera Wang veil, a gift from a dear friend. Show-stopping Valentino shoes in gold and a gold opal necklace, a 21st birthday gift from Sara's parents, finished her bridal look.
"I wore Paco Rabanne Lady Million – my absolute classic and the perfume Alex first bought me when we got together."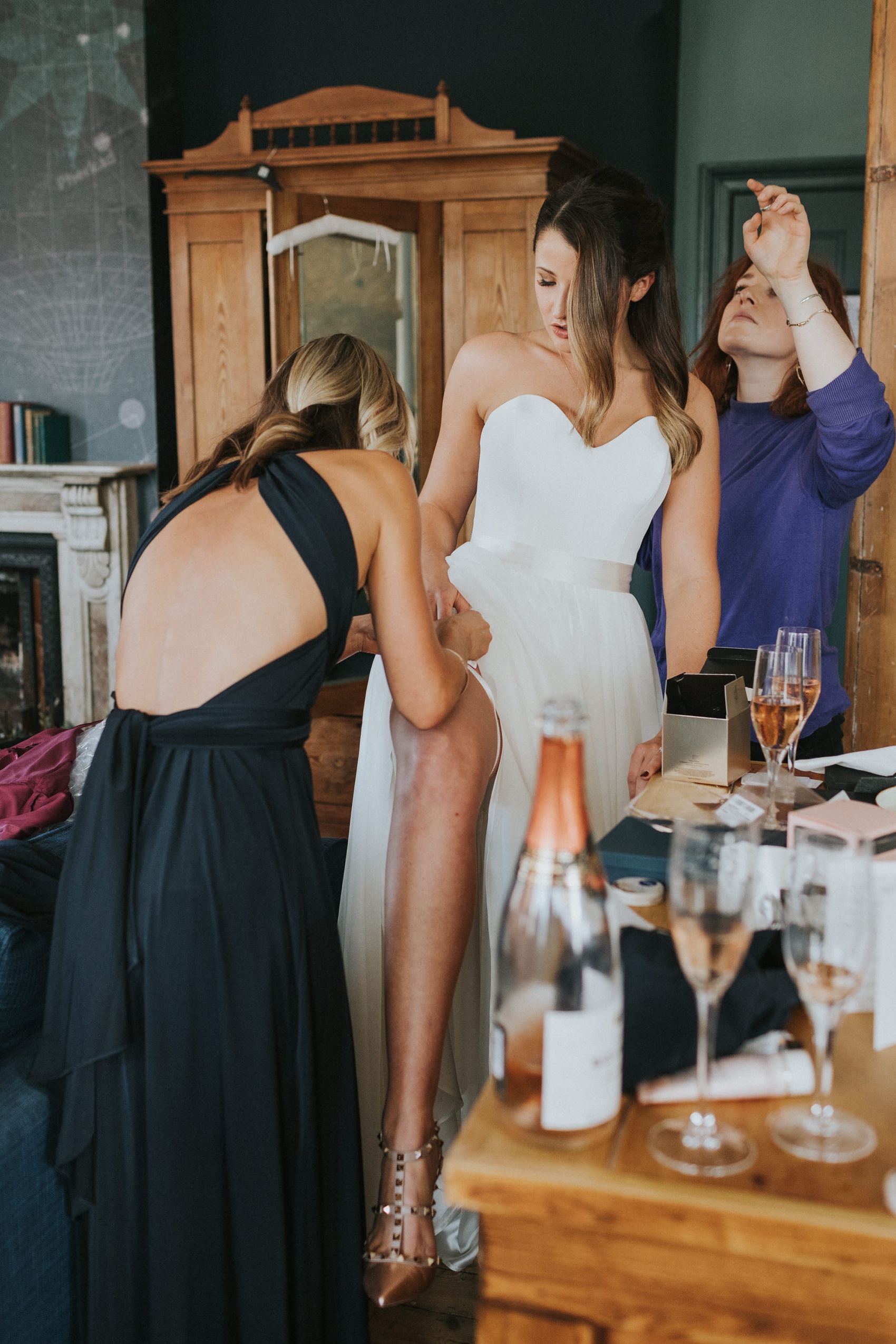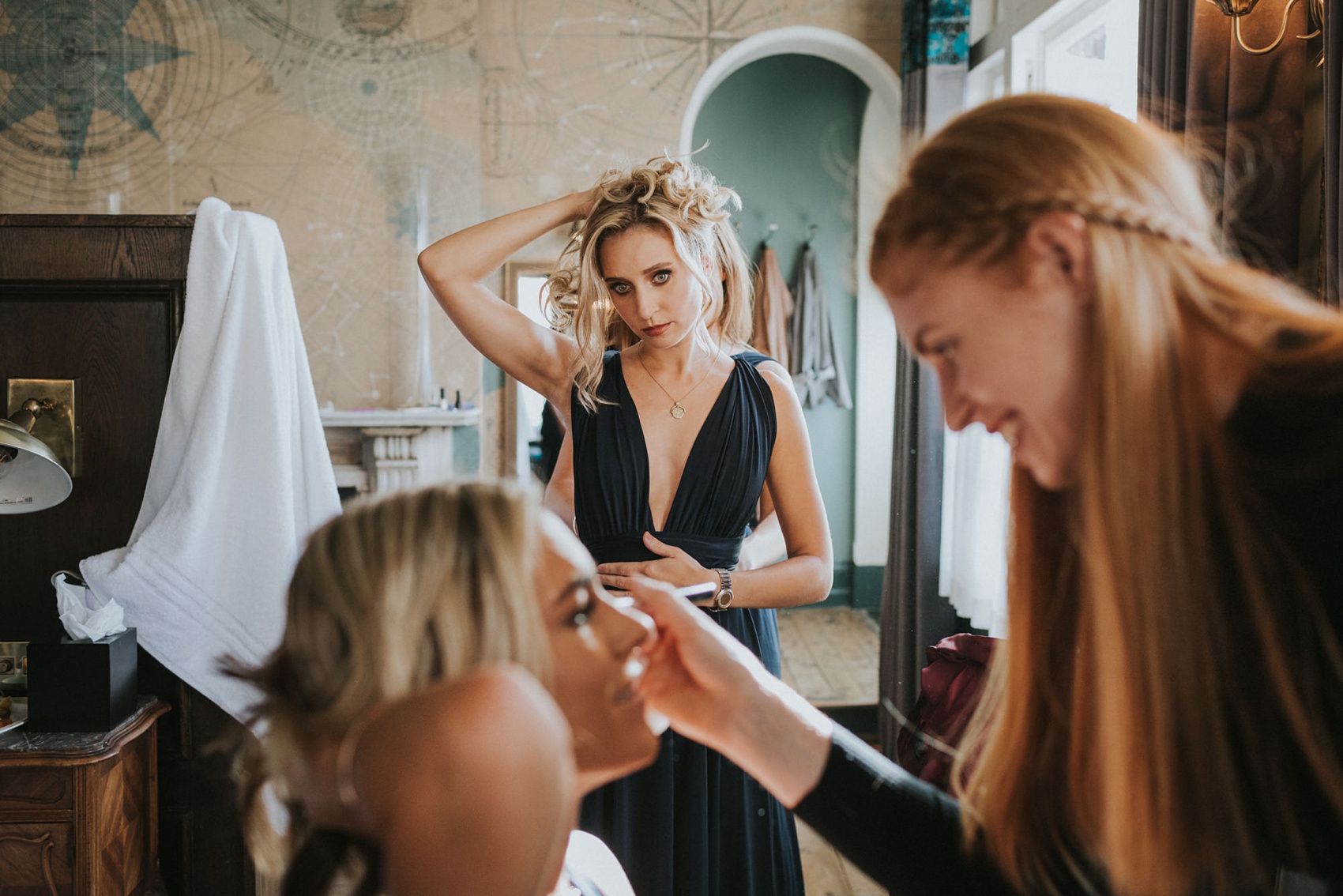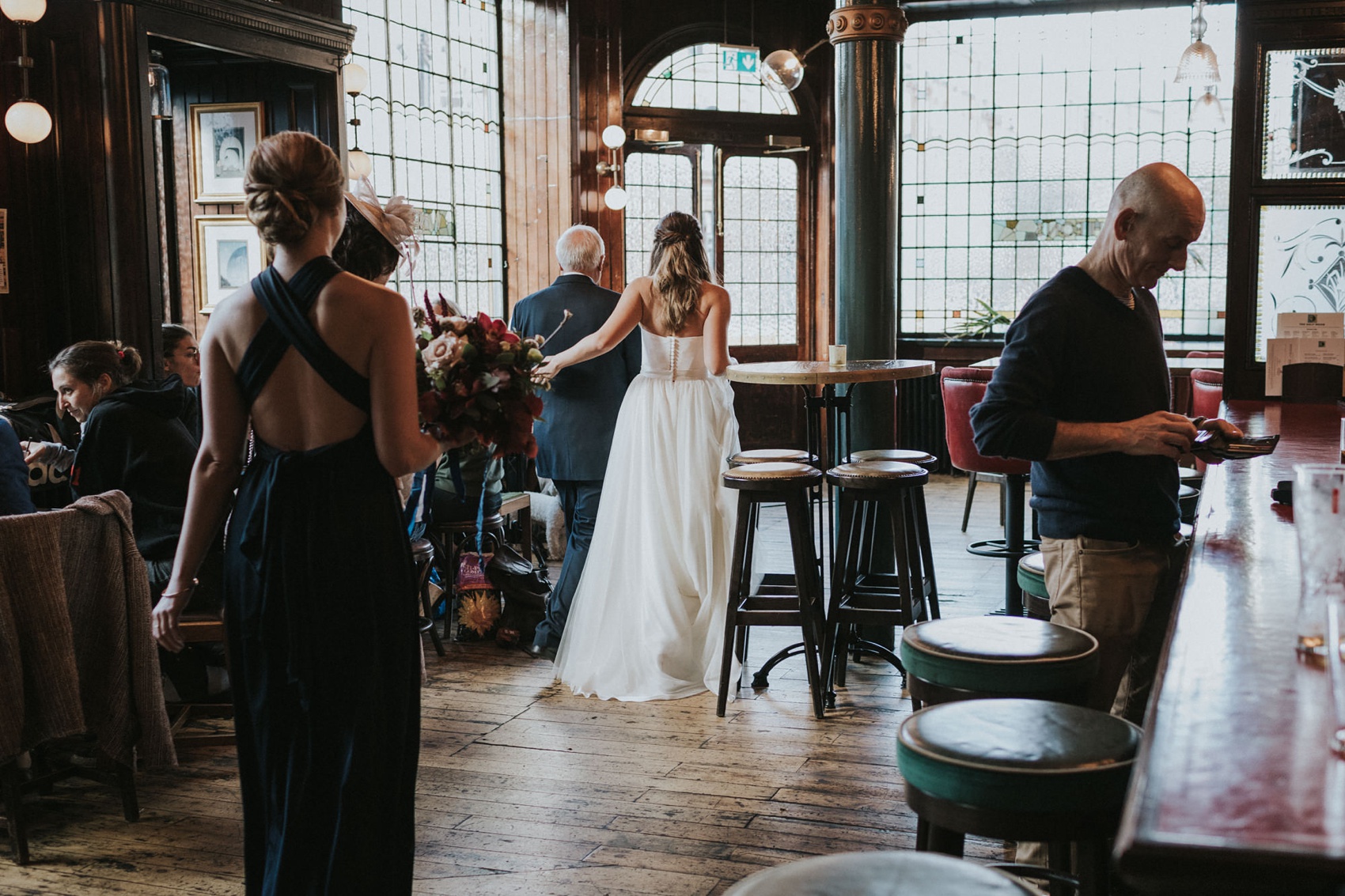 "We met at Rose Bruford Drama School on the BA Hons Acting course. I told myself that I would never date an actor, especially not someone on my course, but Alex made sure I didn't stick to that rule. After five years together, Alex proposed in a rose garden in Portland, Oregon whilst staying with my sister who has lived there for most of her life. Growing up on different sides of the world made seeing each other extra-special so Alex thought it was important for us to be able to share this big life moment together."
"The rose garden and the summer 2017 trip seemed like the perfect time and place. The proposal was on the very first day of the holiday to really surprise me and the rest of the holiday was spent celebrating! We were engaged for just over a year before our wedding day."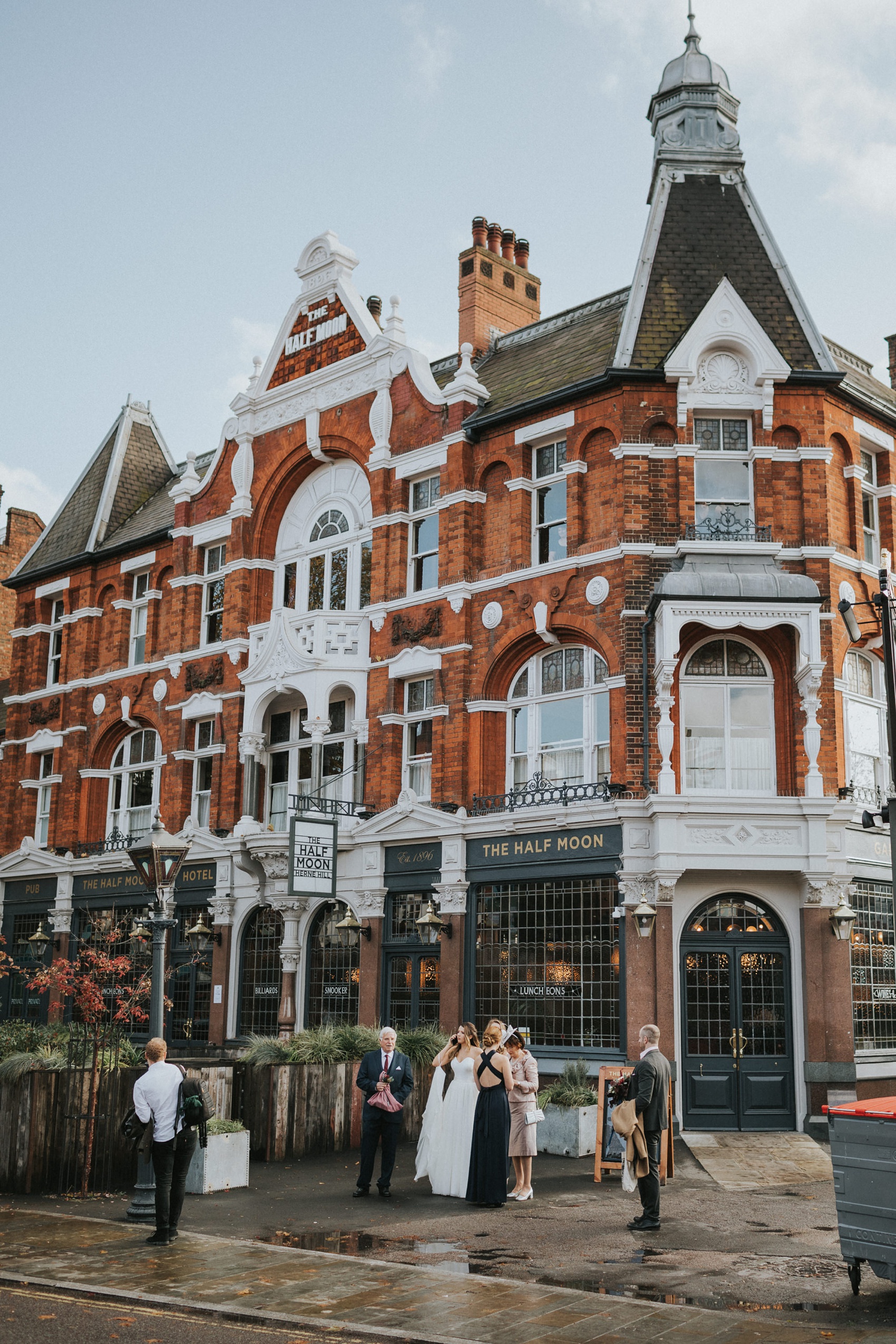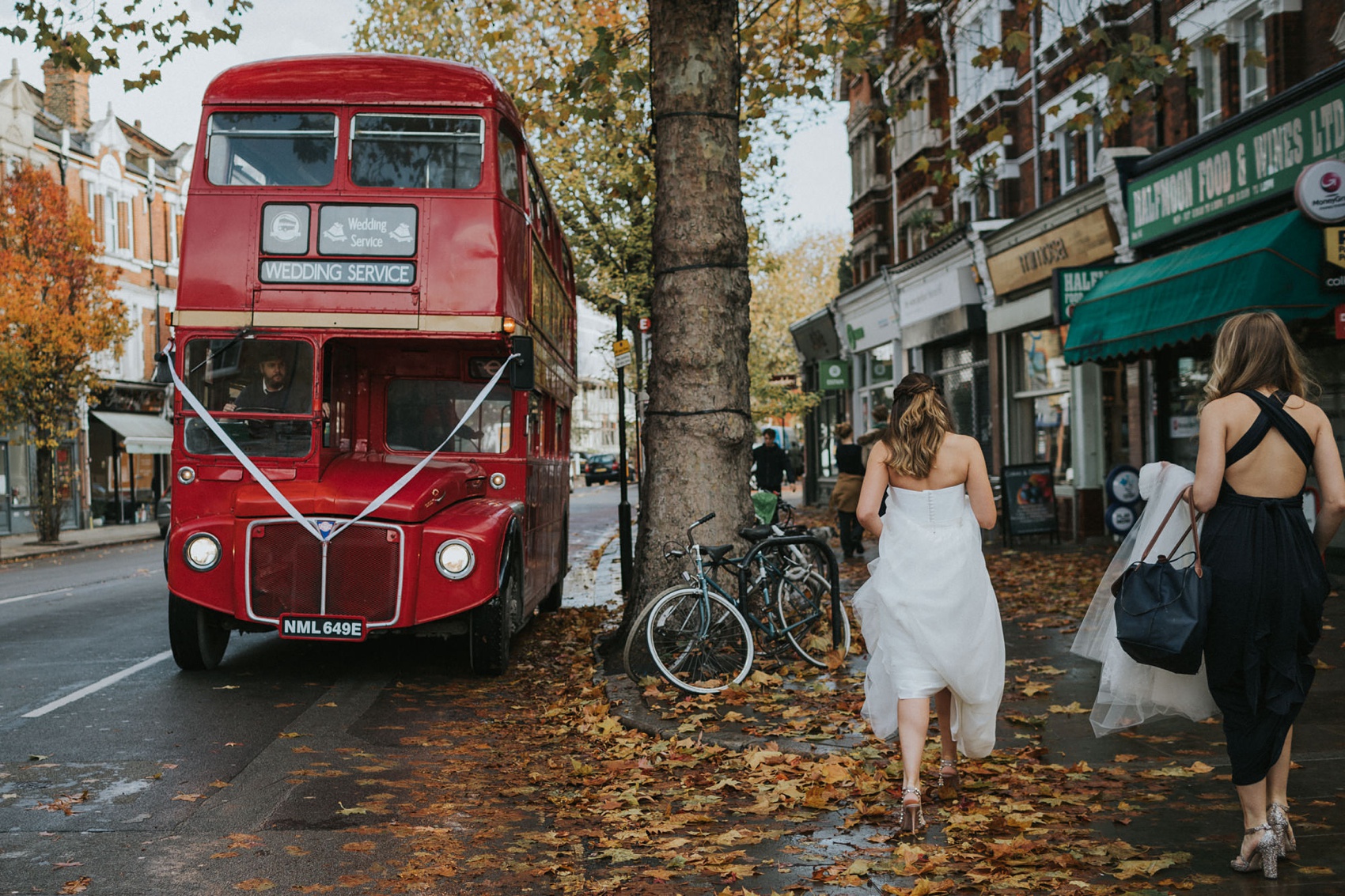 Alex is lucky enough to have an extremely talented florist for a sister and she created these dramatic yet relaxed bouquets.
"The florist was the wonderfully fantastic and extremely talented Emily Dall Flowers who also happens to be Alex's sister! She perfectly understood what we wanted and created beautifully season-appropriate flowers for the bouquets and boutonnieres, as well as amazing foliage for the reception venue. Her attention to detail is insane and she went above and beyond also creating foliage."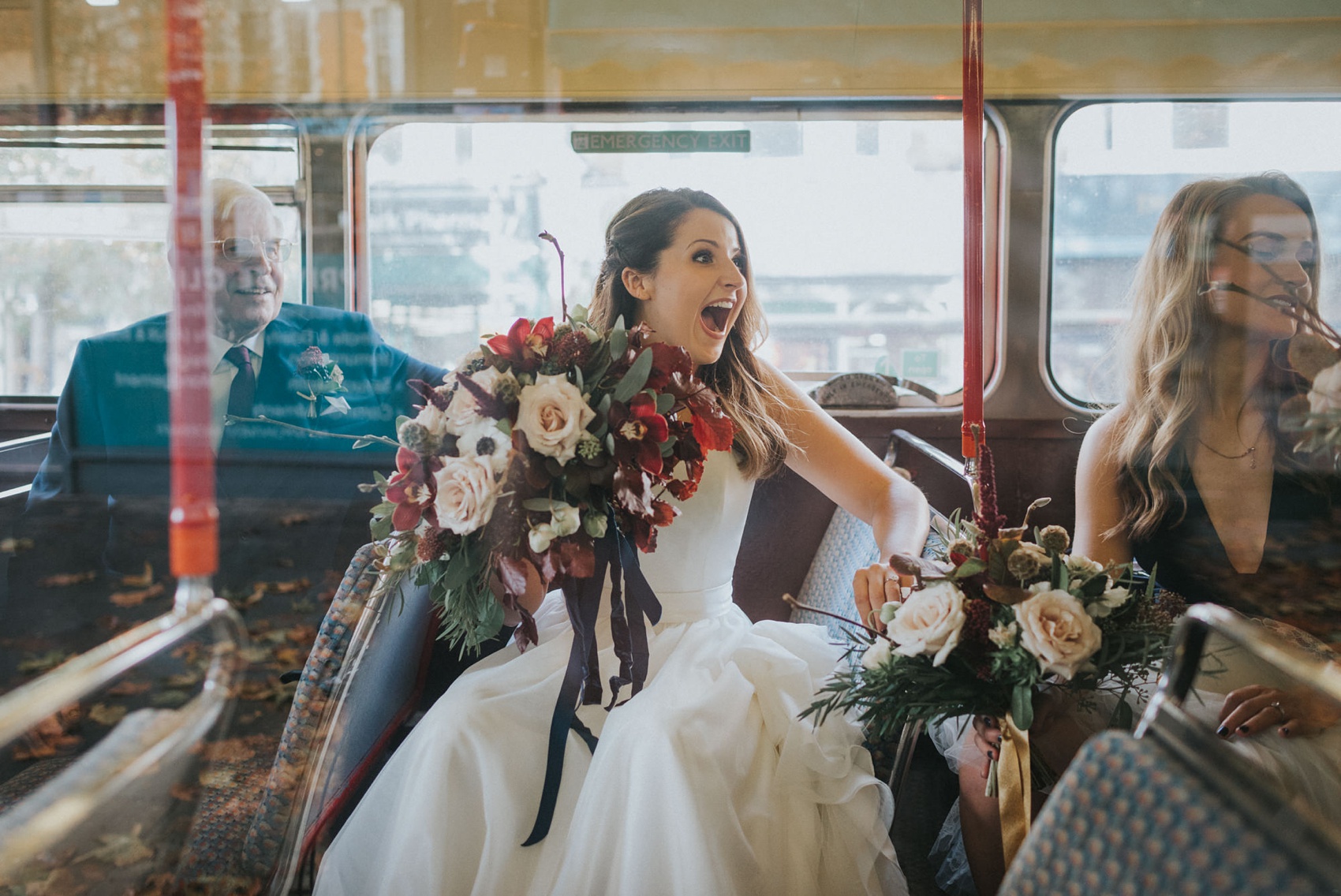 Sara travelled through the city streets to Asylum Chapel in a double decker bus before entering with her father to Aretha Franklin's 'Natural Woman'.
"We hired a double decker bus to take us and our guests between the two venues and to bring me to the chapel. Being a London wedding through and through, it just felt right."
"Before I walked in with my dad I first had my mum walk in with Alex's sister and nephew, plus my eight bridesmaids!"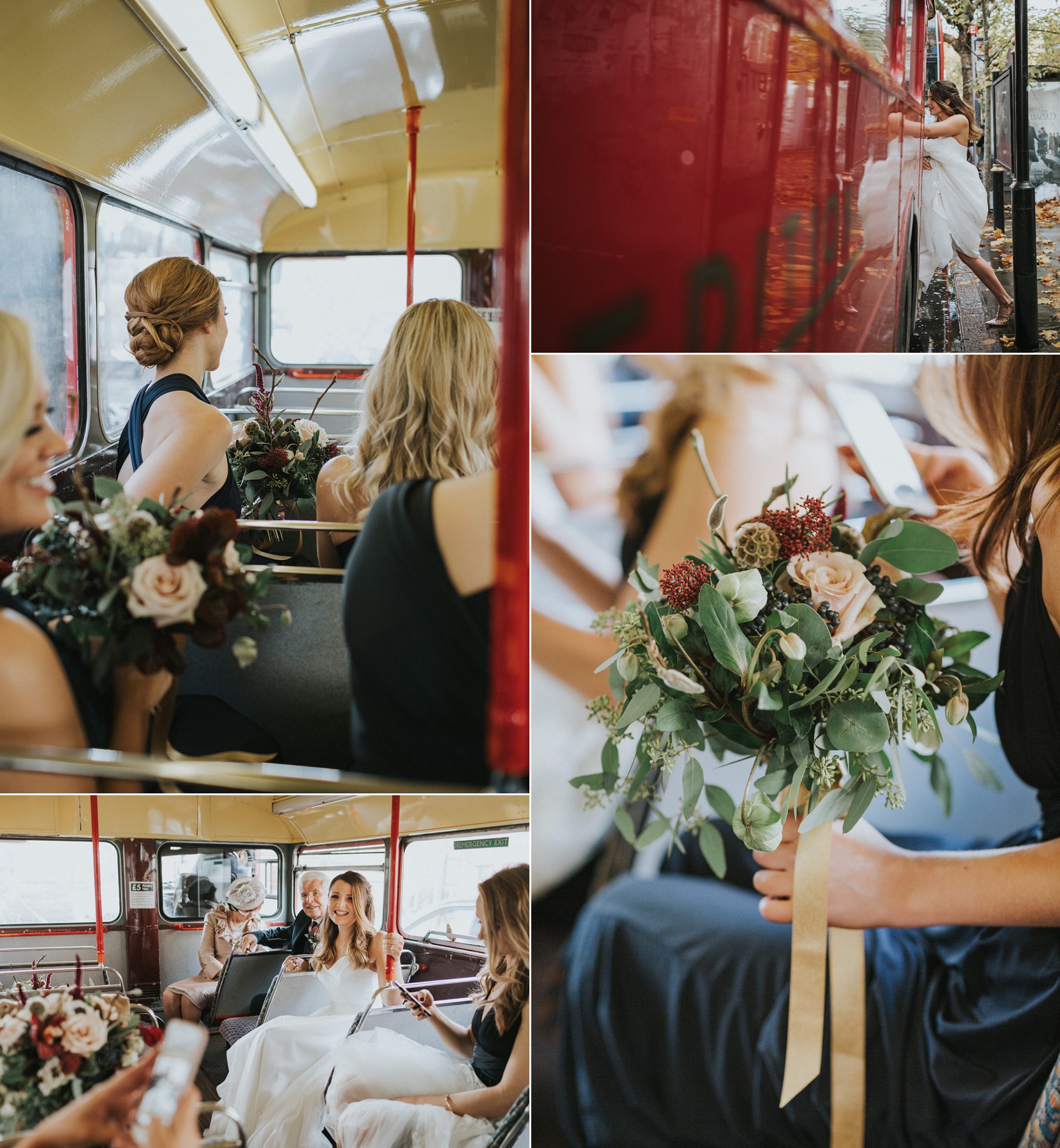 These beautiful, modern photos are the work of We Heart Pictures, whose work we've been lucky enough to feature many times on these pages.
"We absolutely LOVE We Heart Pictures. They did Alex's sister's wedding back in 2012 and his cousin's wedding in 2016. There was no question in our mind who we wanted for our wedding photographs."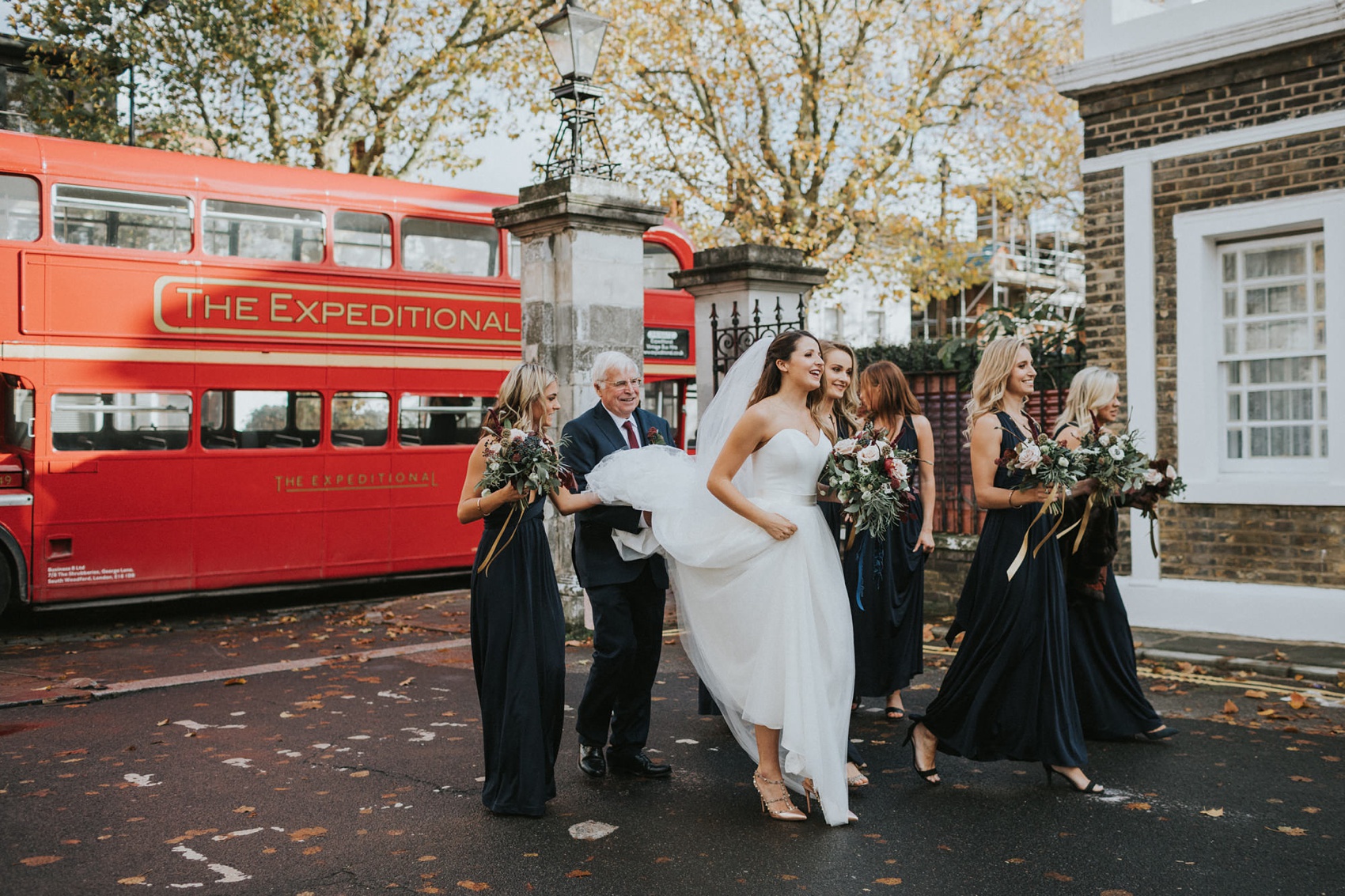 "They have mastered the art of both candid and posed photographs. So un-invasive and super-relaxed, we can't recommend them more highly."
"I pulled in my production contacts and one of my dear friends, Jonny Magowan, organised a camera team to video the wedding."
Like the bride, Alex chose traditional style with a modern twist. His bespoke three-piece suit was from Gresham Blake and he accessorised with a skull tie from Frederick Thomas.
"His seagull pin, from Etsy, attached to the boutonniere is representative of Brighton & Hove Albion Football Club, which has huge significance to his family. The football club means family to Alex. Attending matches is a family activity and has been since the dark days at the bottom of Division 3, all the way to the Premier League today."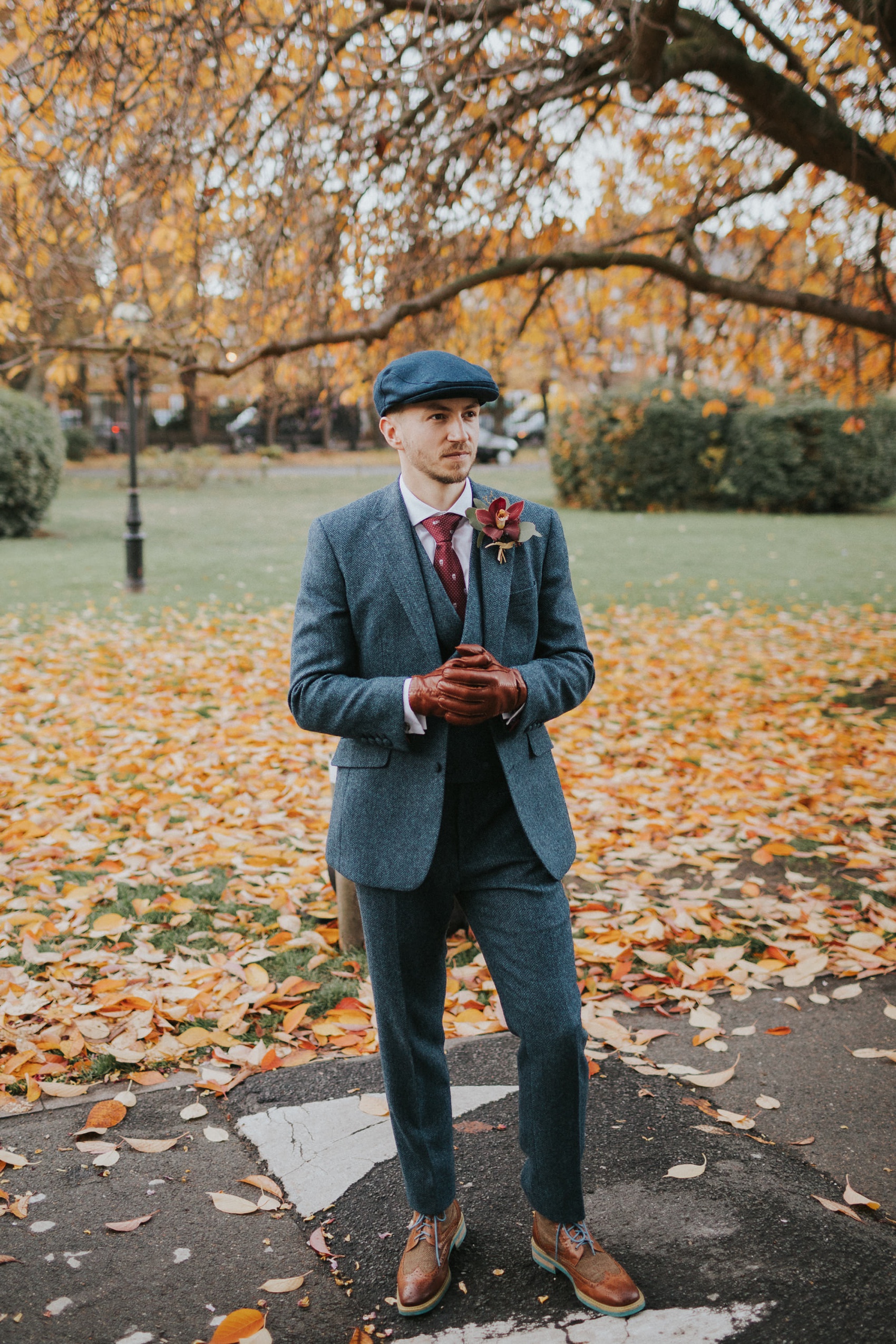 Asylum Chapel was the perfect venue for the couple to create their own personal ceremony whilst respecting the wishes of their loved ones.
"My father is religious and would have loved us to get married in a church but neither of us are religious and it felt hypocritical to have a religious ceremony. Asylum Chapel offered the perfect solution. Being a former working chapel, we got the beauty and backdrop of the architecture with a civil ceremony tailored to our own personal tastes."
"It felt like a beautiful venue to bring all the families together whilst respecting my father's desire to be married in a spiritual place. The only available Saturday in 2018 for Asylum Chapel was in November so we decided to commit to the wintery vibes without letting it feel too Christmassy."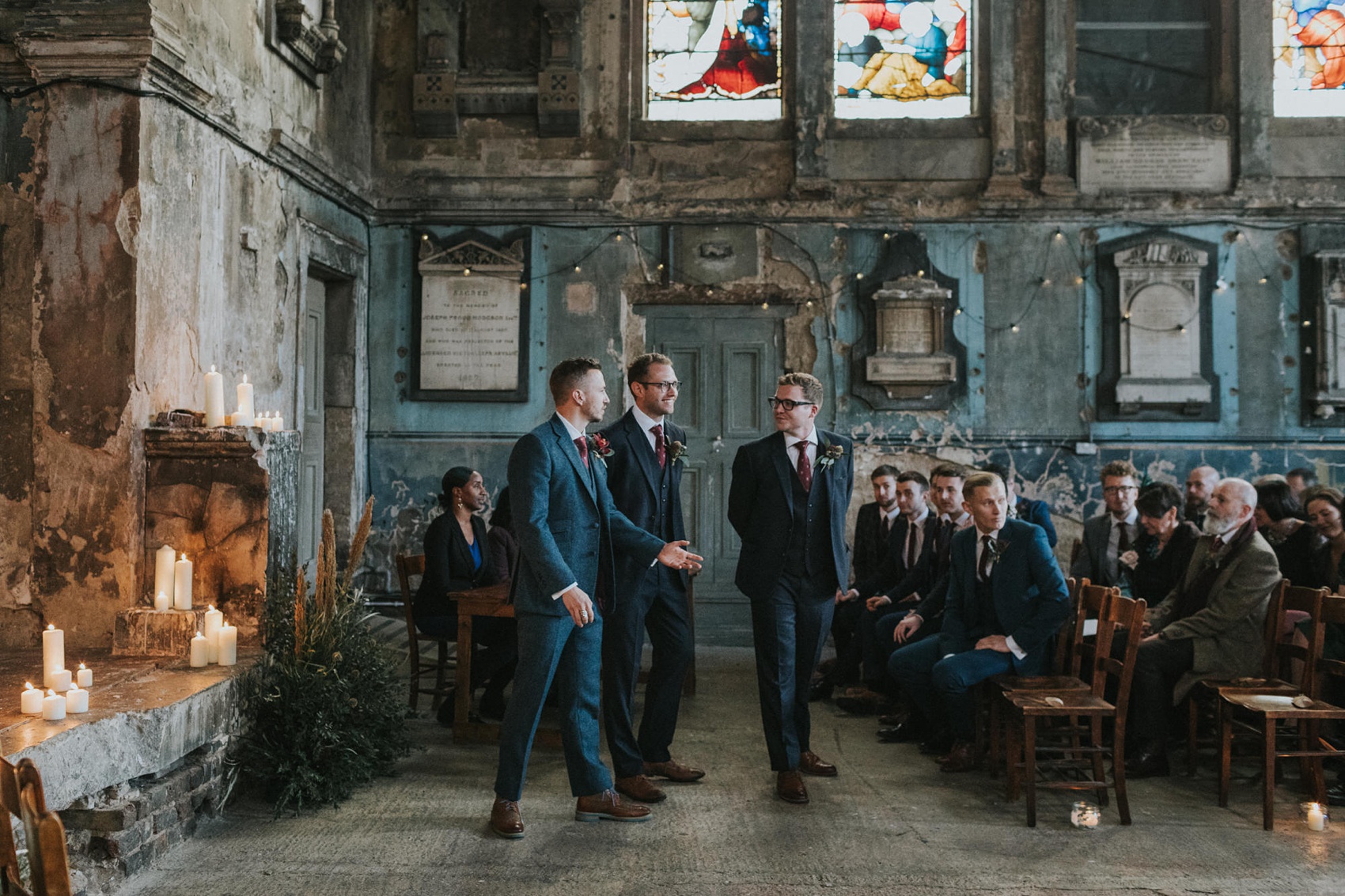 "With Alex proposing in a rose garden in Portland, which is known as the Rose City, and the reception space coming with a huge, neon rose wall, we decided to use the rose symbol as our wedding logo and build the decor around it. To avoid the roses and the foliage creating a festive feel, we went for deep reds mixed with navy and loads of foliage."
We also added some fun with splashes of golds. Free flowing, open bouquets were the way we chose to go, paired with candles for the chapel and warm gold fairy lights throughout the reception venue. We also hired a neon bar sign, hand-made large gold letters and shapes for the party room."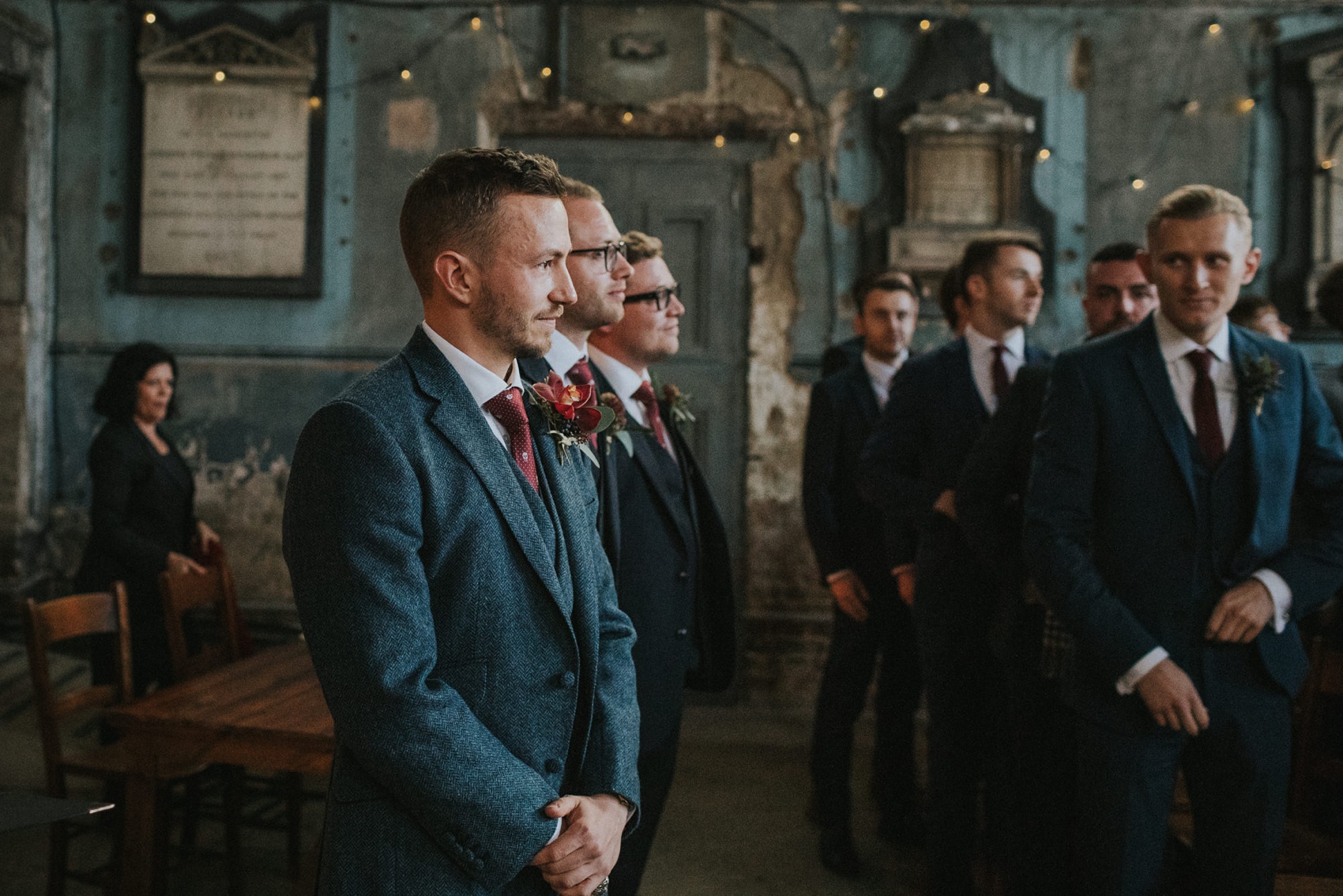 "One of our friends, a lighting technician, arranged lots of coloured uplighters in the reception venue to really make the room pop at night and bring the party vibes. We dressed the bridesmaids in navy and asked the groomsmen to wear a suit they loved. We kept the whole wedding very relaxed and fun; nothing too formal, just a big celebration."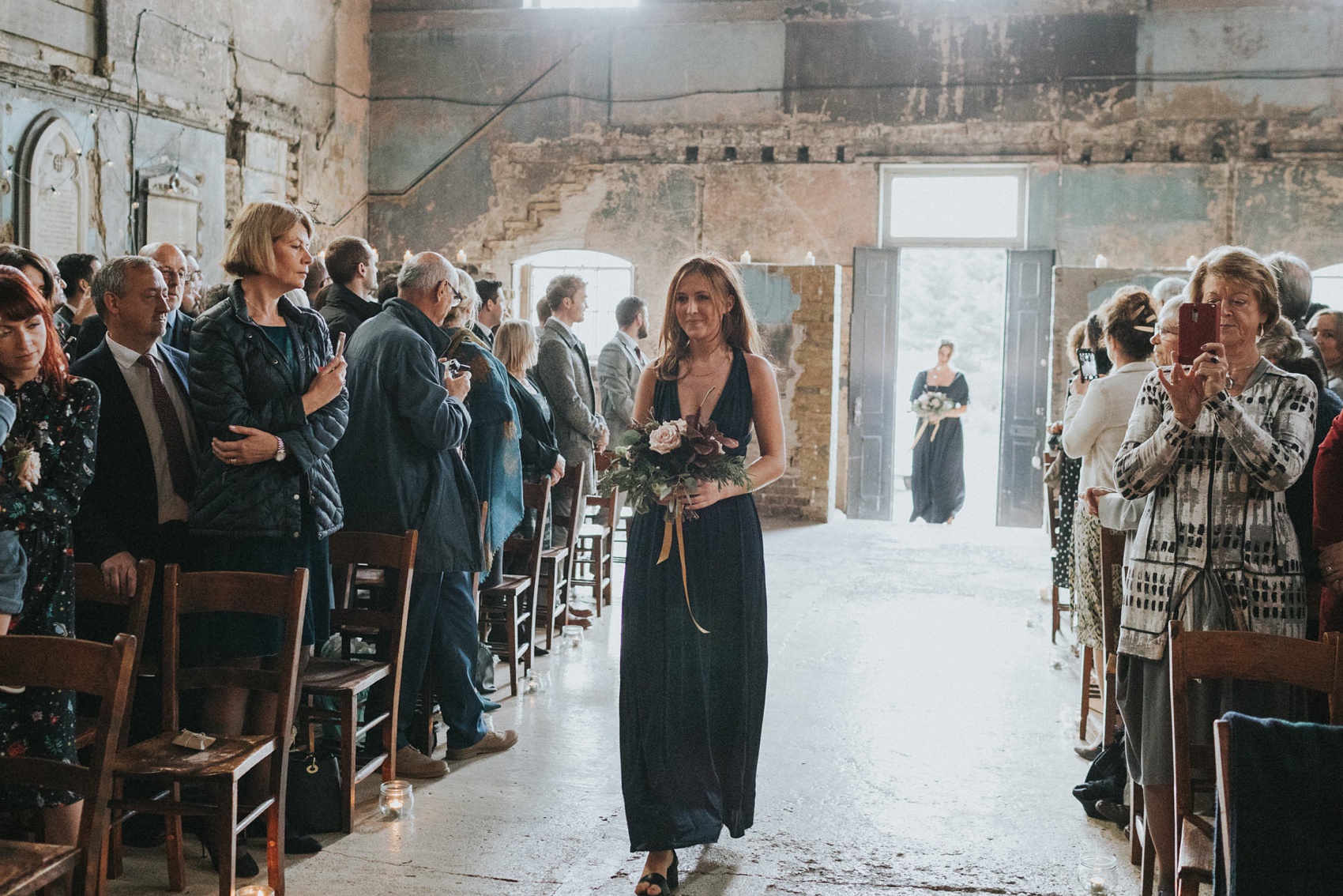 The service was a civil ceremony led by a registrar from Southwark Council.
"We both agreed we really wanted to say our own words to one another but at the same time we also still wanted to follow a traditional format. Our amazing registrar, Natalie, provided us with the vows they suggest at Southwark Council and we went off and made our own alterations in private."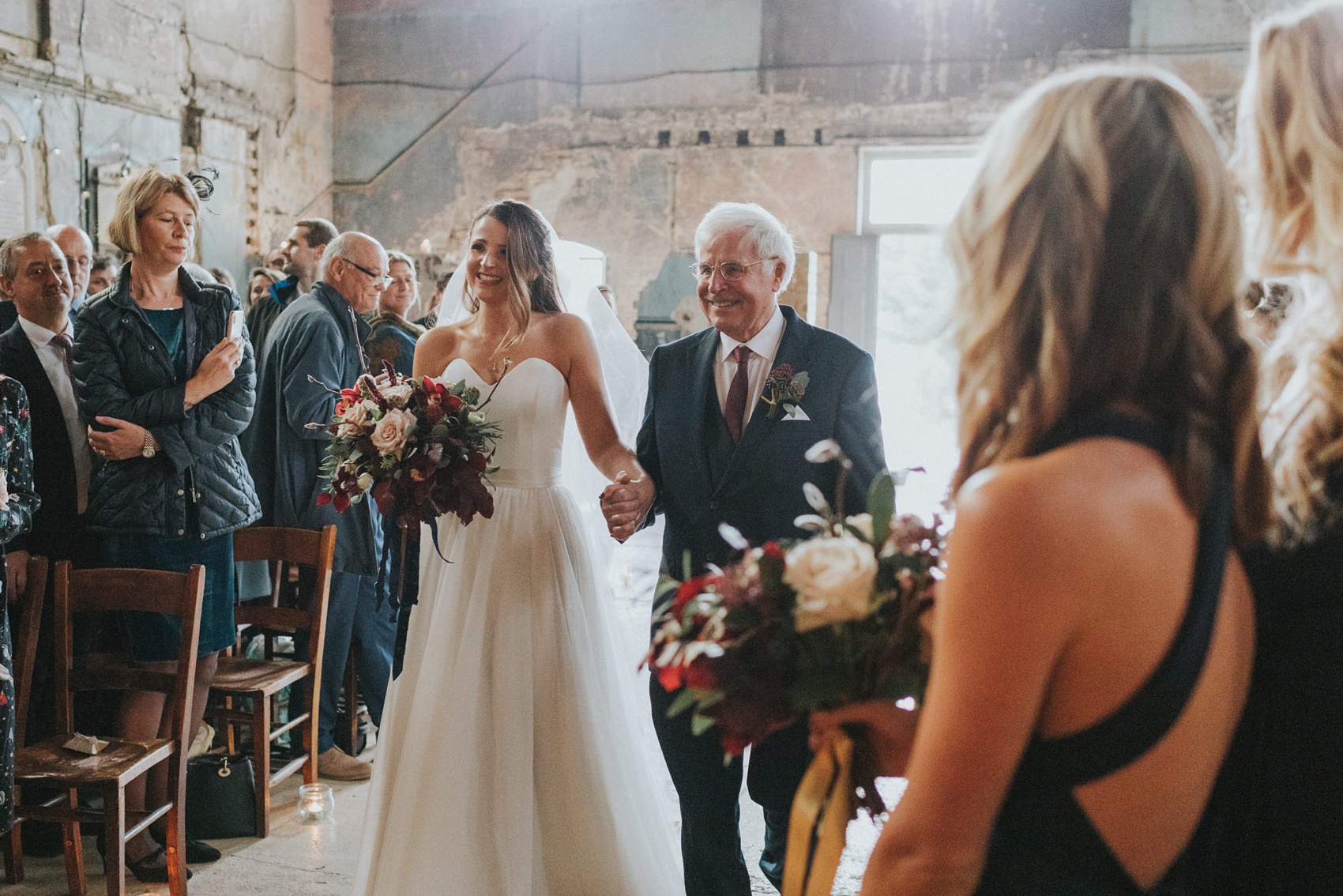 "We had a few readings at our wedding and each one was very special. Our first reading was delivered by my mum and both of Alex's parents. My dad was going to be making his Father of the Bride speech later so this was a chance for all the other parents to say what they wanted to."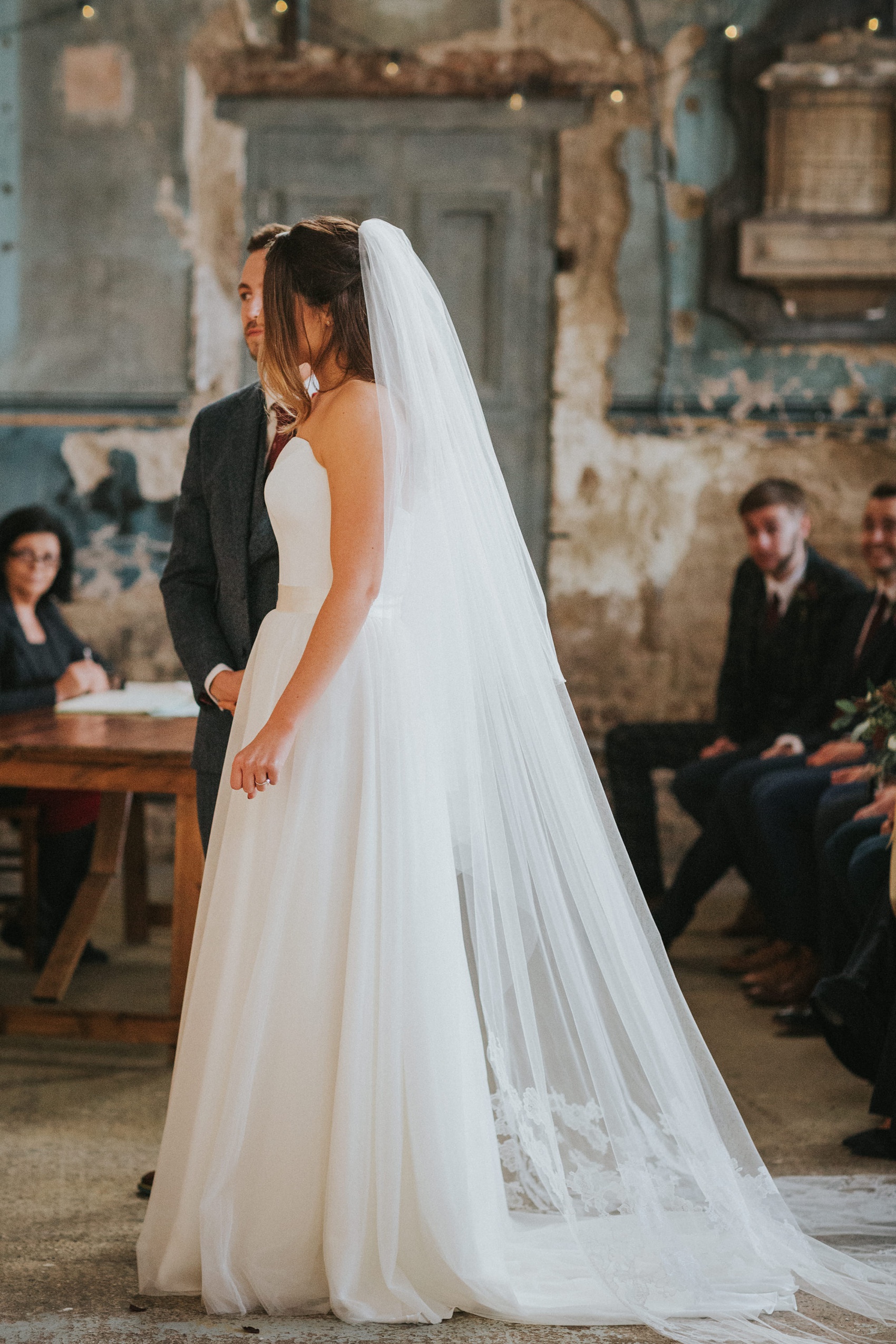 "We both love the song 'Wear Sunscreen' so our parents read that but wrote their own version, packed full of advice they wanted to pass onto us. The next reading was John Cooper Clarke's 'I Wanna Be Yours' read by Alex's ex-housemates from Rose Bruford. The poem isn't overly sentimental but still contains all the thoughts and feelings you want to say, with a solid amount of humour."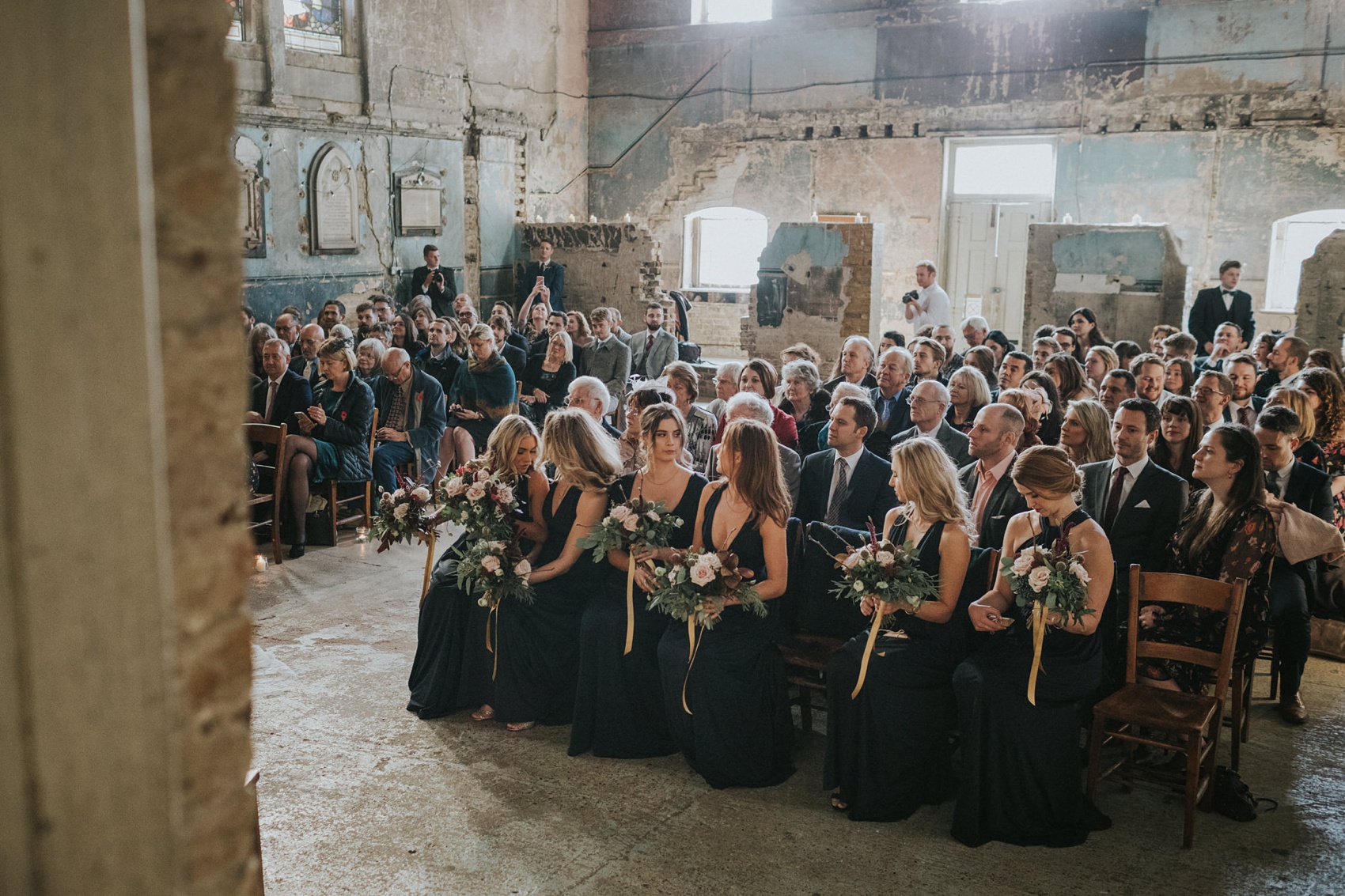 "Plus all of us are big time Arctic Monkeys fans, who took the poem and created a song with the lyrics. The final reading was from one of Sara's brothers. It was a quote from Einstein and summarises the feeling of the perception of time when spent with that special person – the idea of time passing by in the blink of an eye."
"Sara's brother David and one of our best friends James sang Etta James' 'At Last' when we signed our wedding papers. It goes without saying we were a rowdy bunch. We didn't want all our loved ones to sing or read to a silent audience, so encouraged a lot of clapping and cheering after each one which really set the pace and freaked style of the day."
"Alex's ring was from The Great Frog, just off Carnaby Street. Alex has a few rings from there so it made sense that his wedding band should also be from them. My engagement ring was from Ring in Brighton and my wedding band was a rose gold, Art Deco, handmade ring from a private jeweller on Etsy."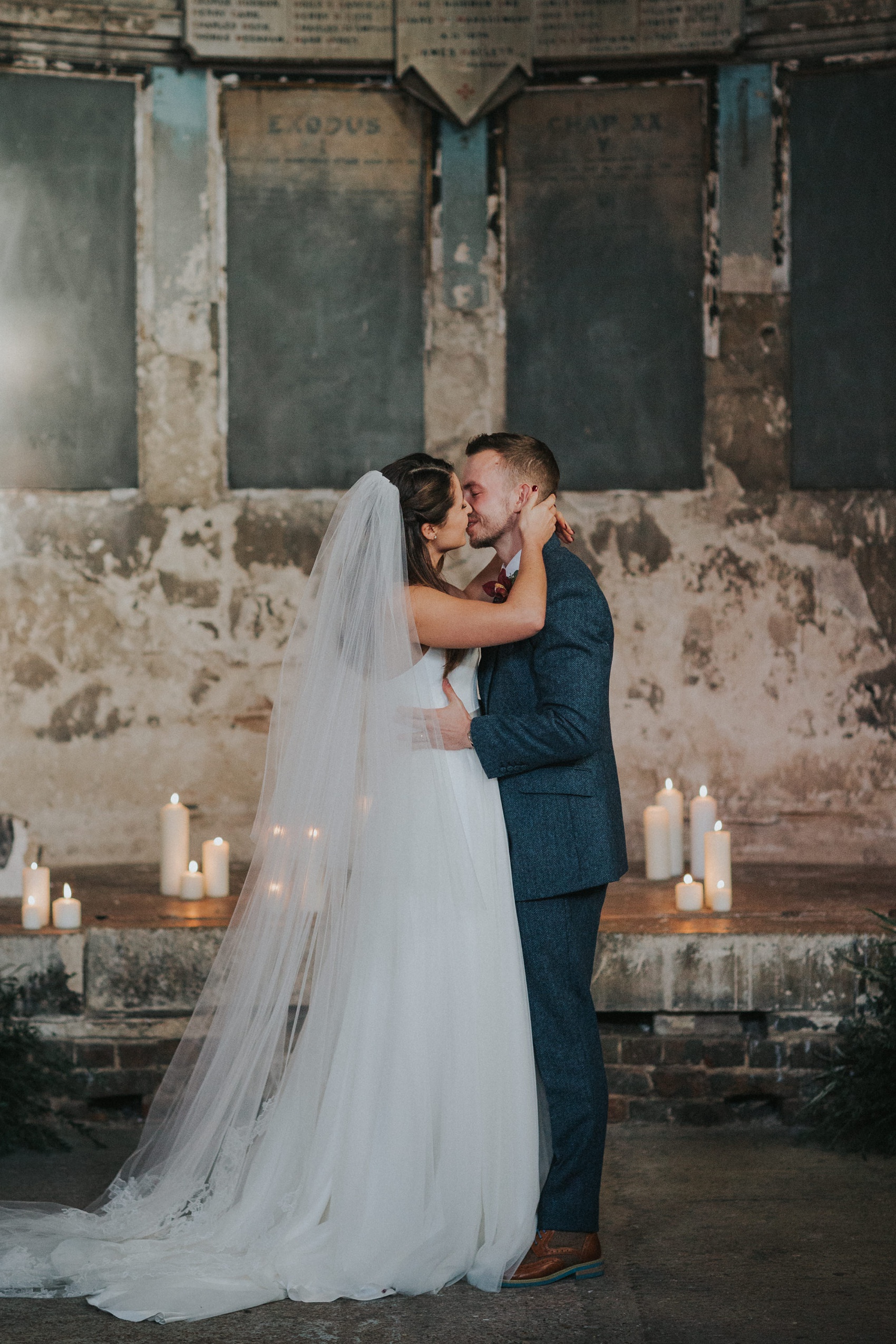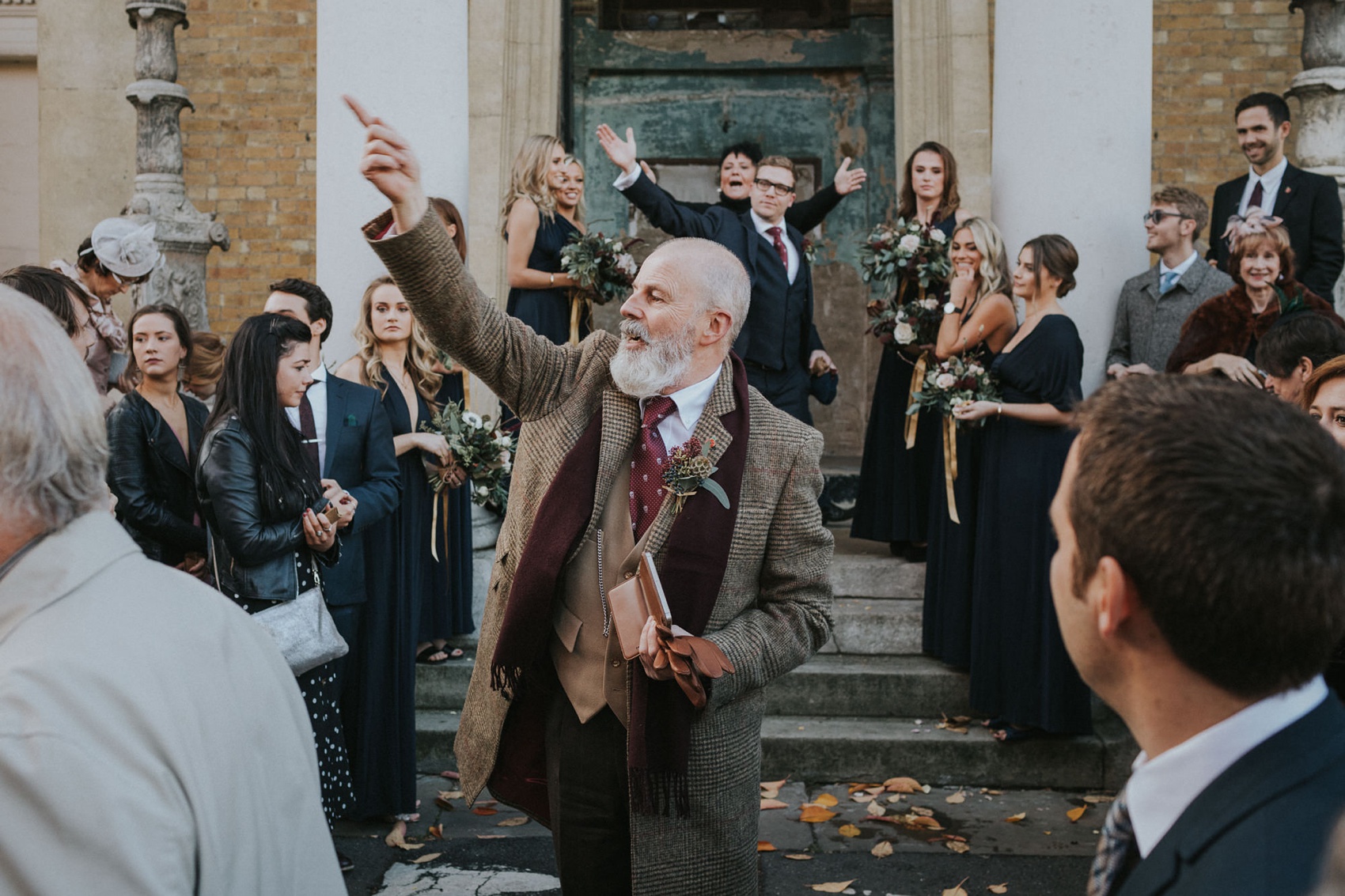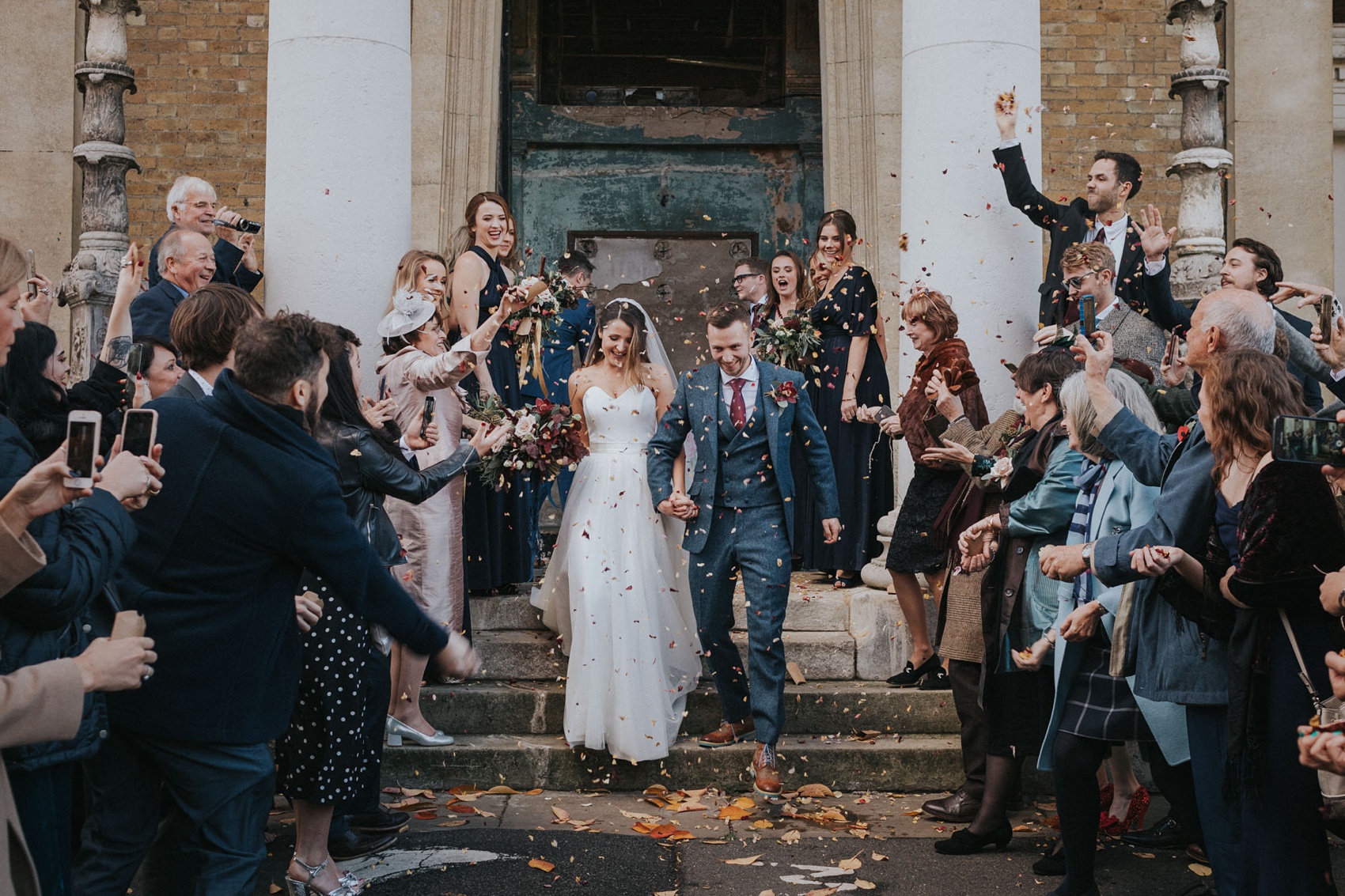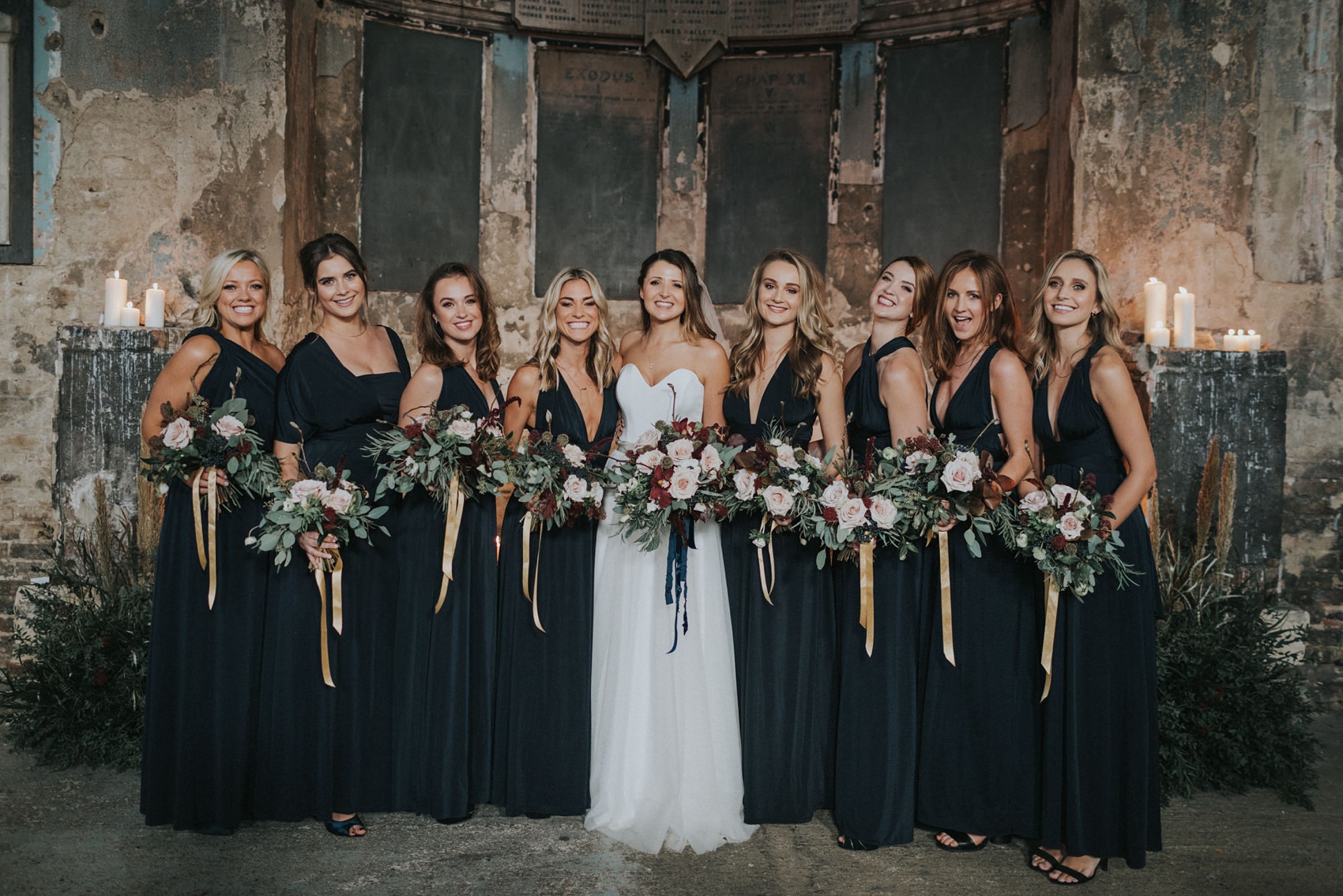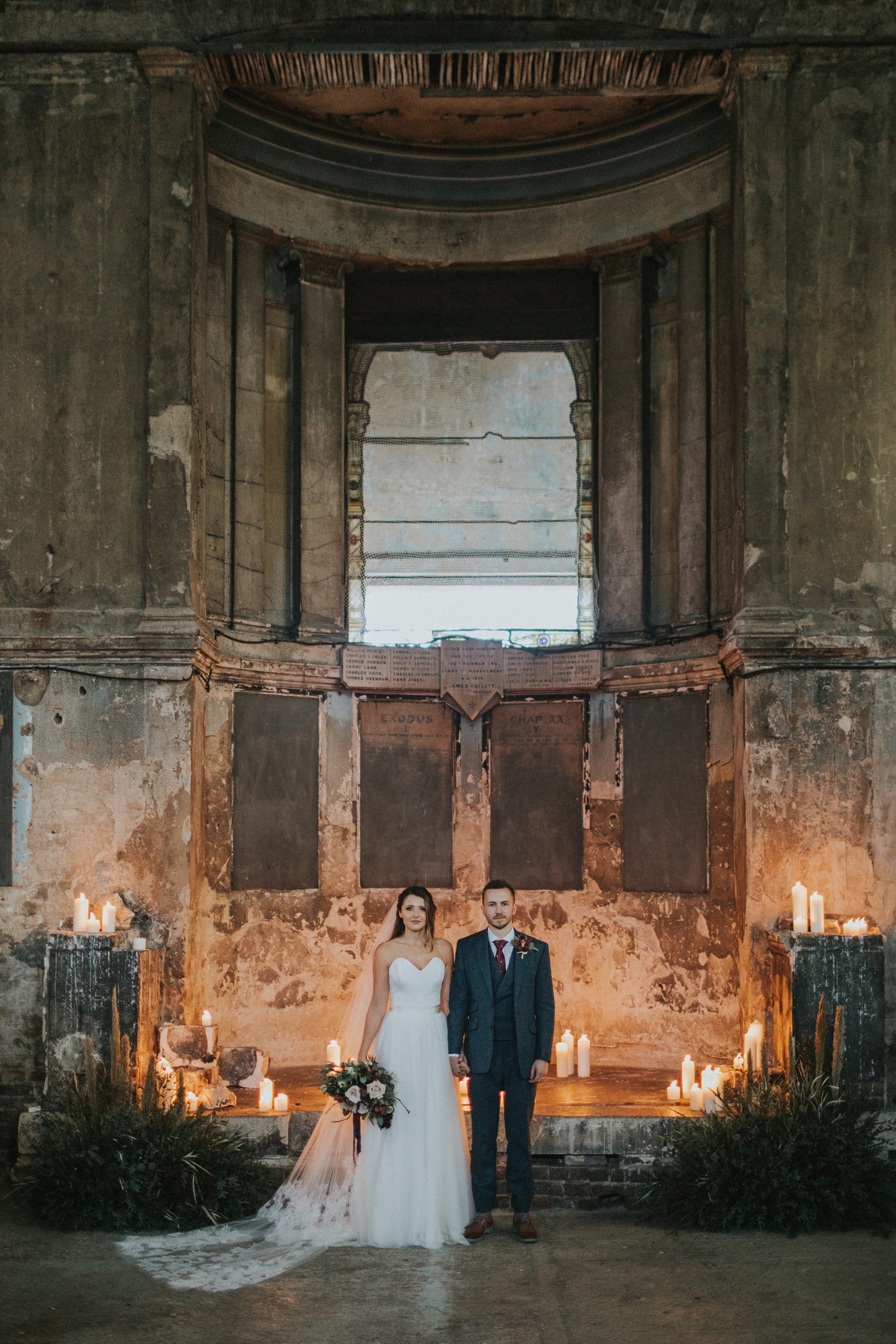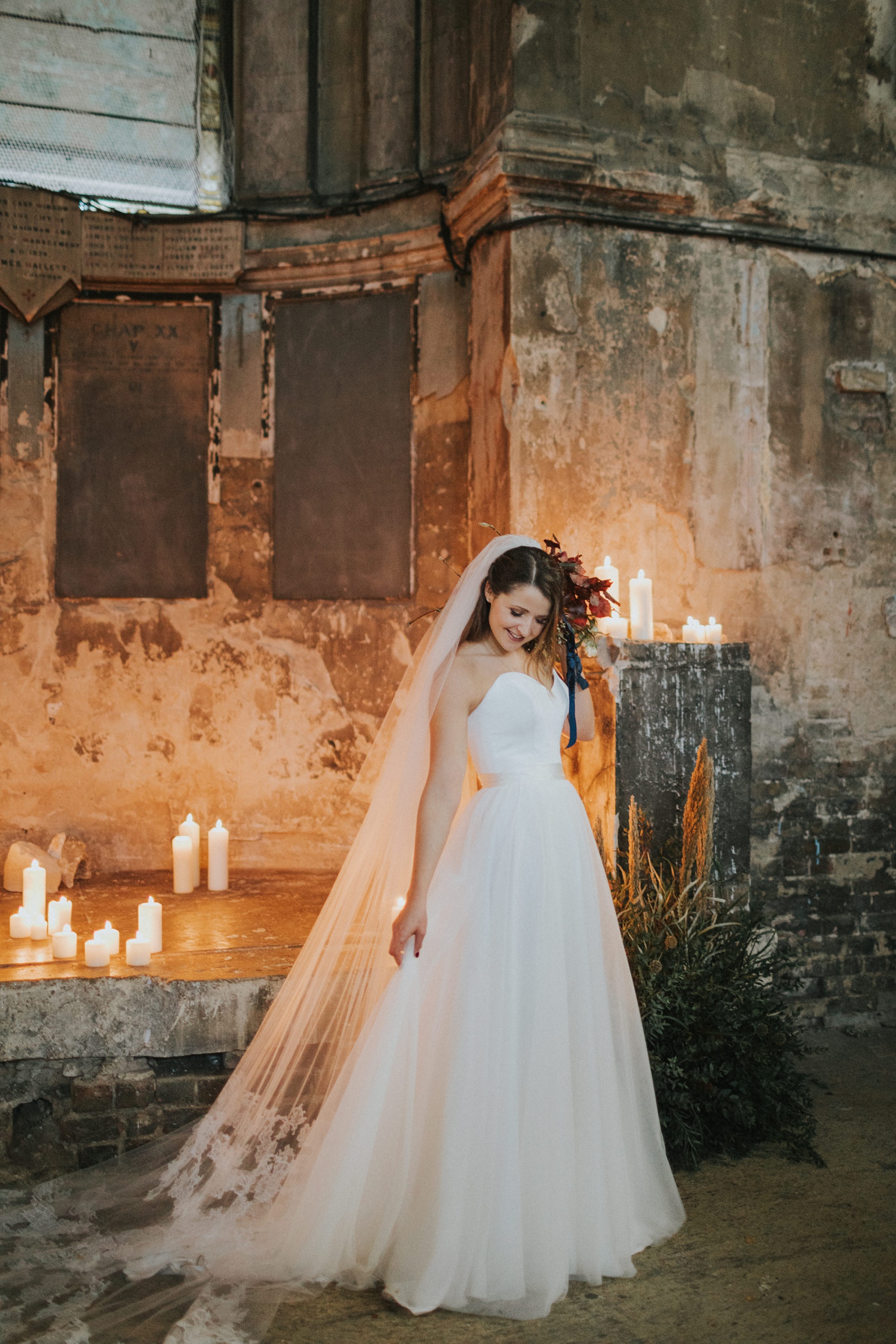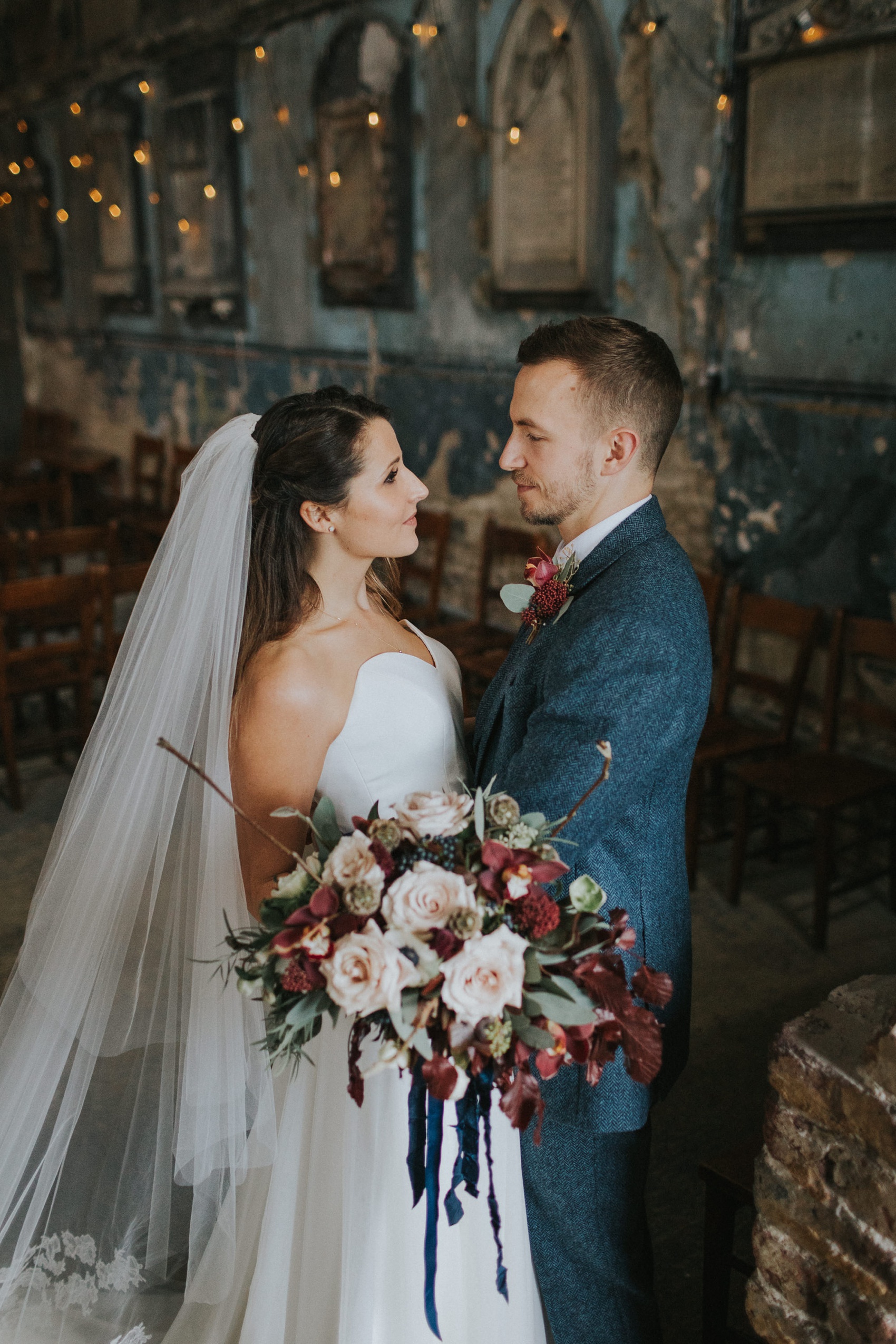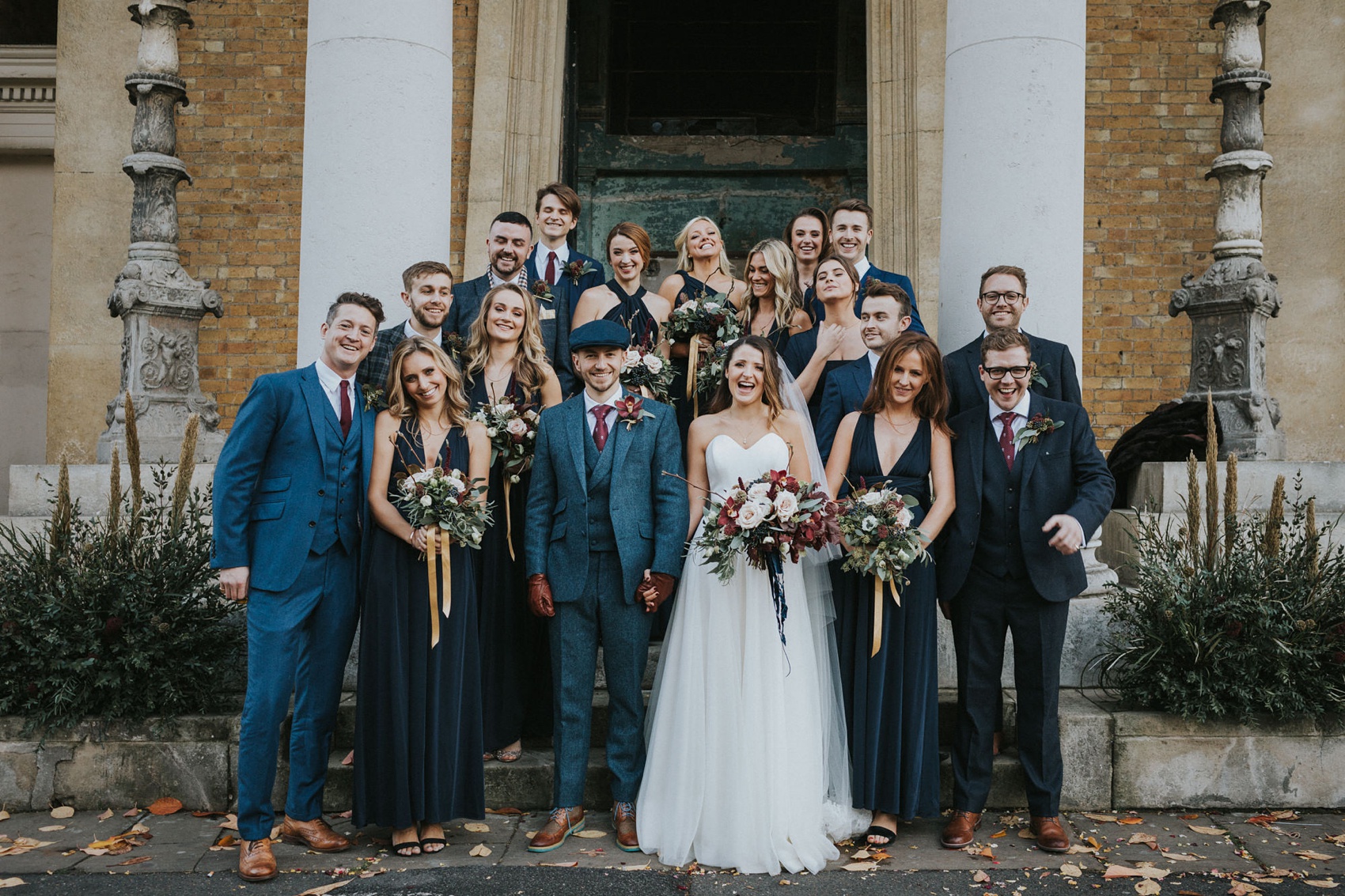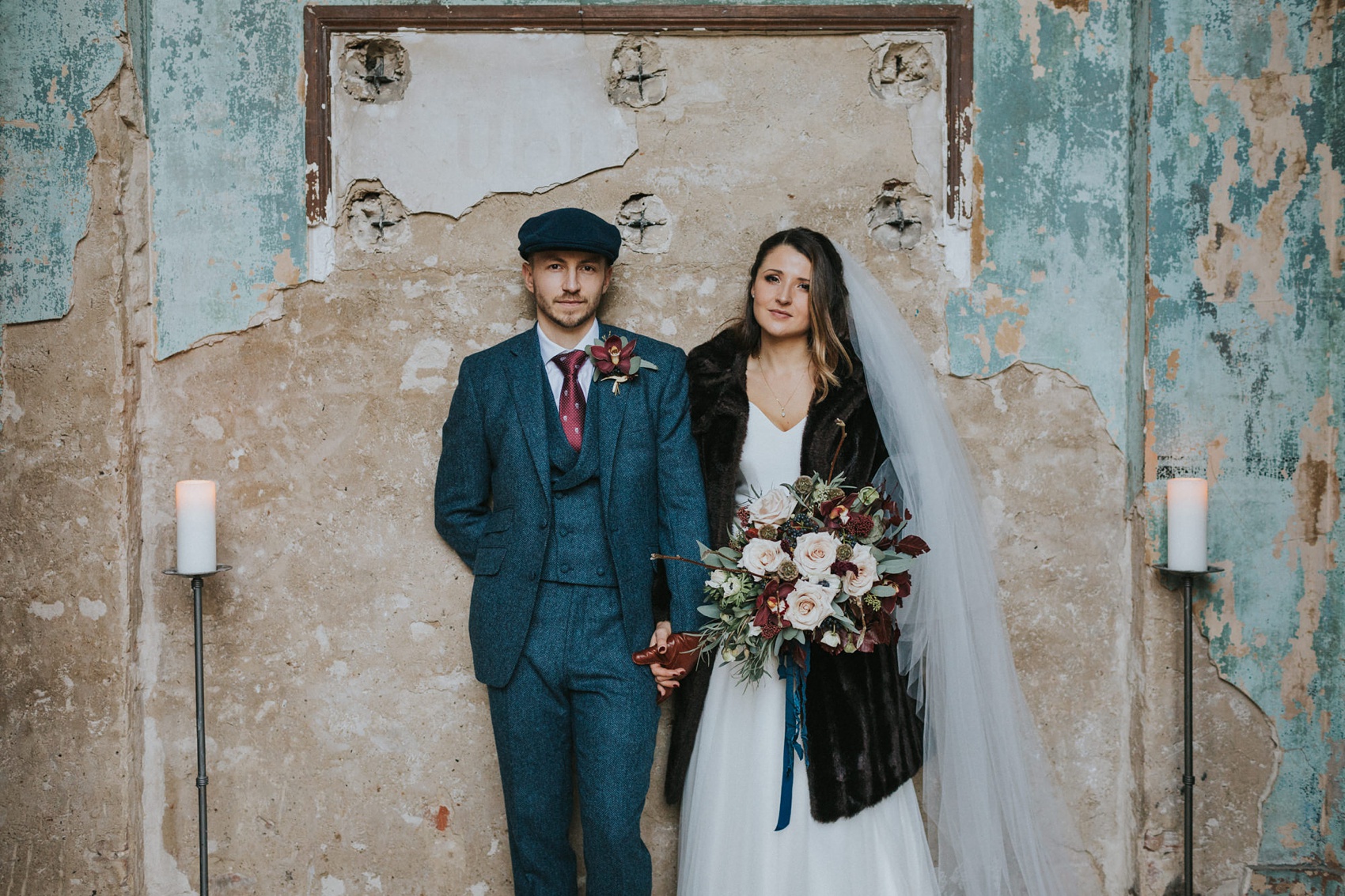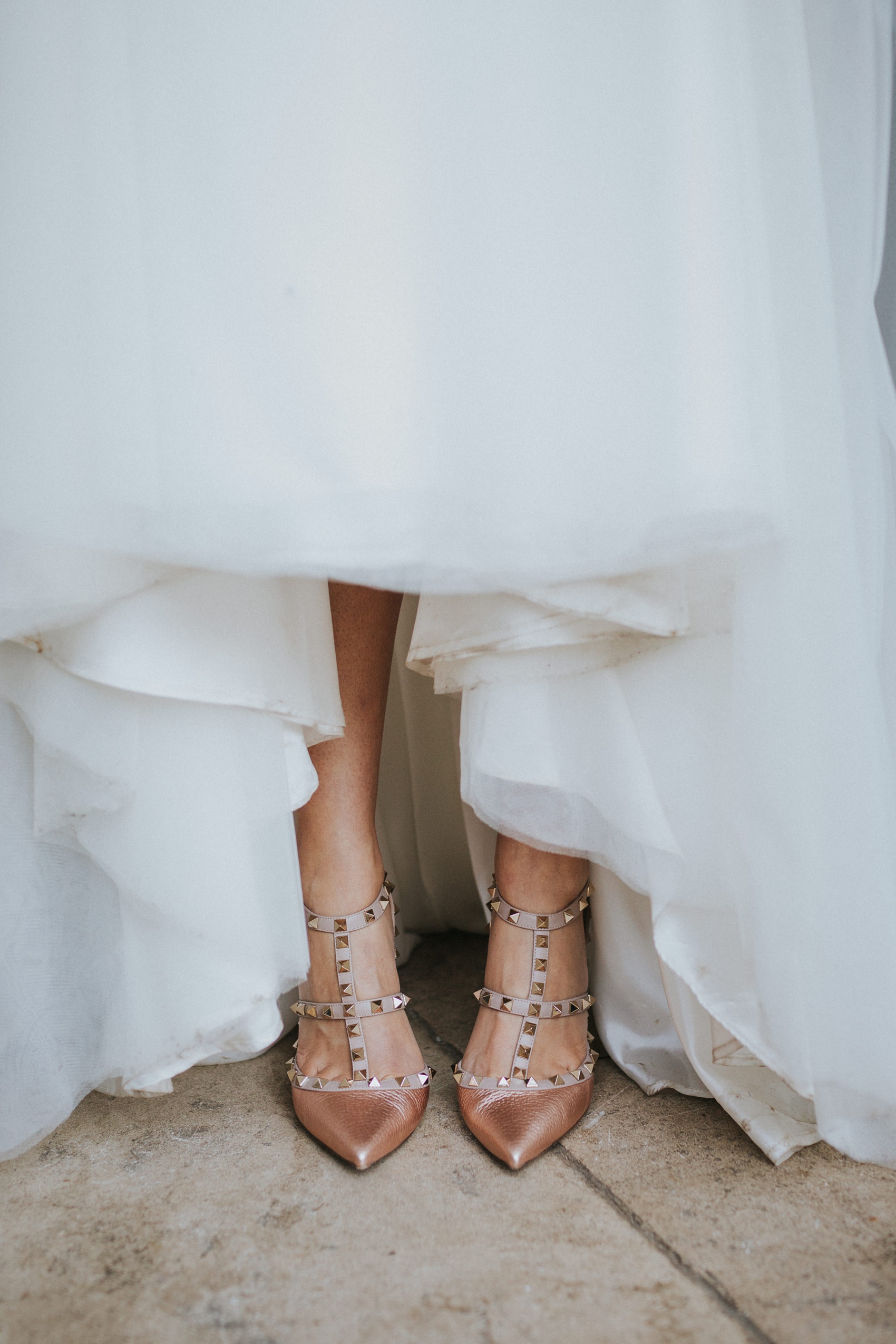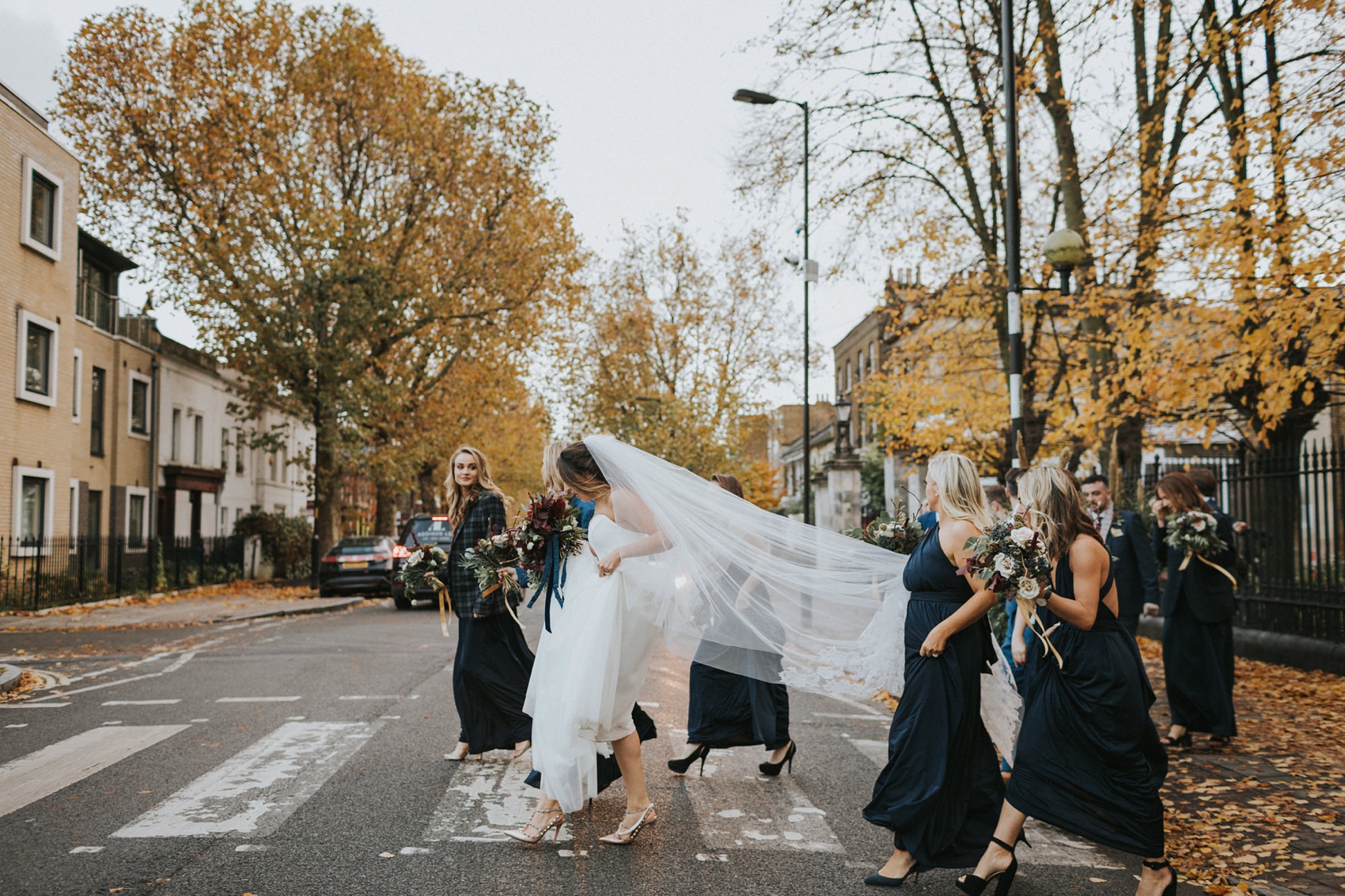 After the service, the entire party hopped back into the buses for the journey to One Friendly Place, which had been transformed by Sara, Alex and their talented friends.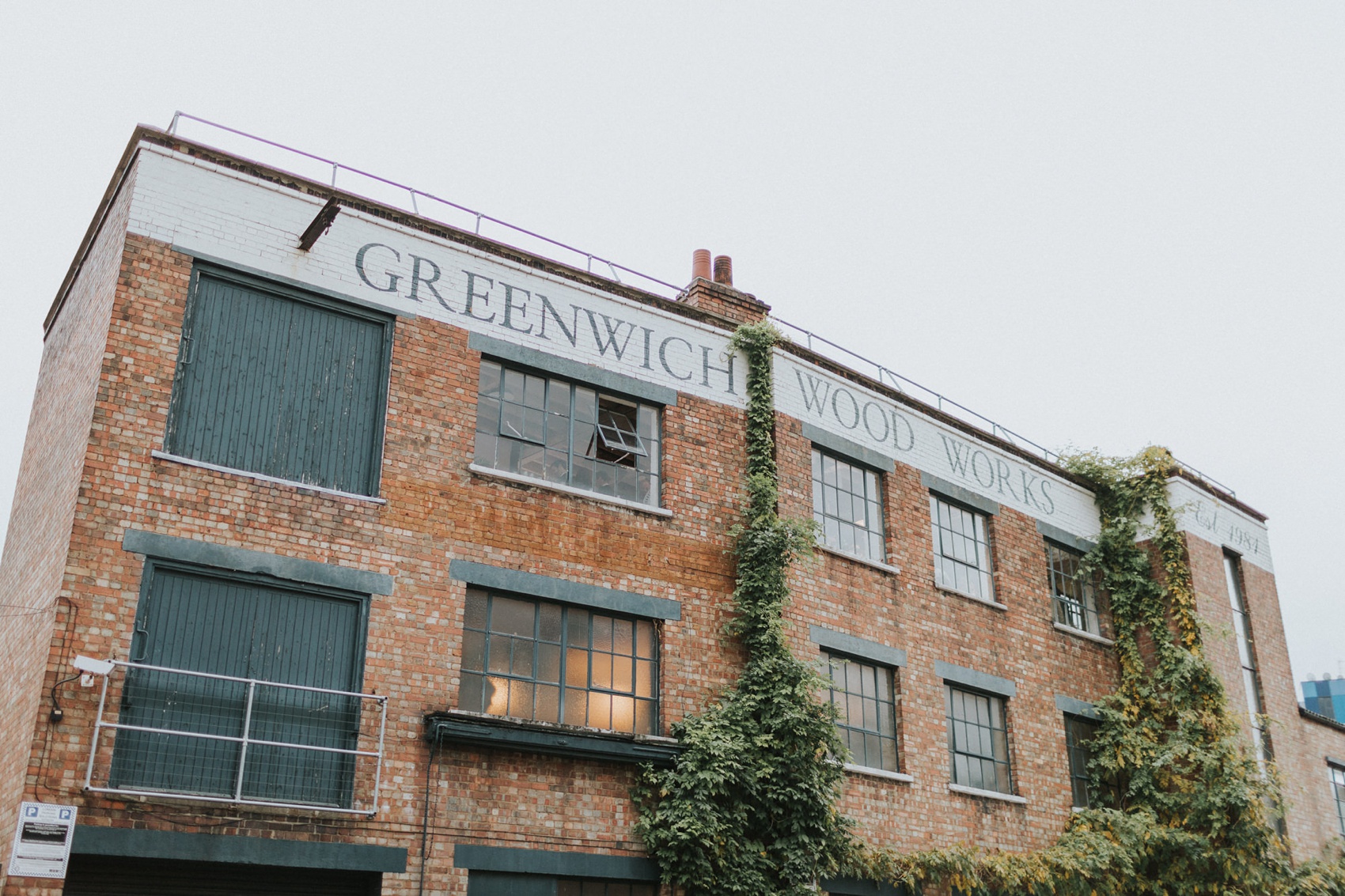 "My maid of honour Felicity works in set decoration for film and TV and had a major part in transforming the space. Her talent for dressing venues and designing decor is amazing. She got her dad to build multiple bars to put across three floors and brought in props such as frames, candles, lighting and plants."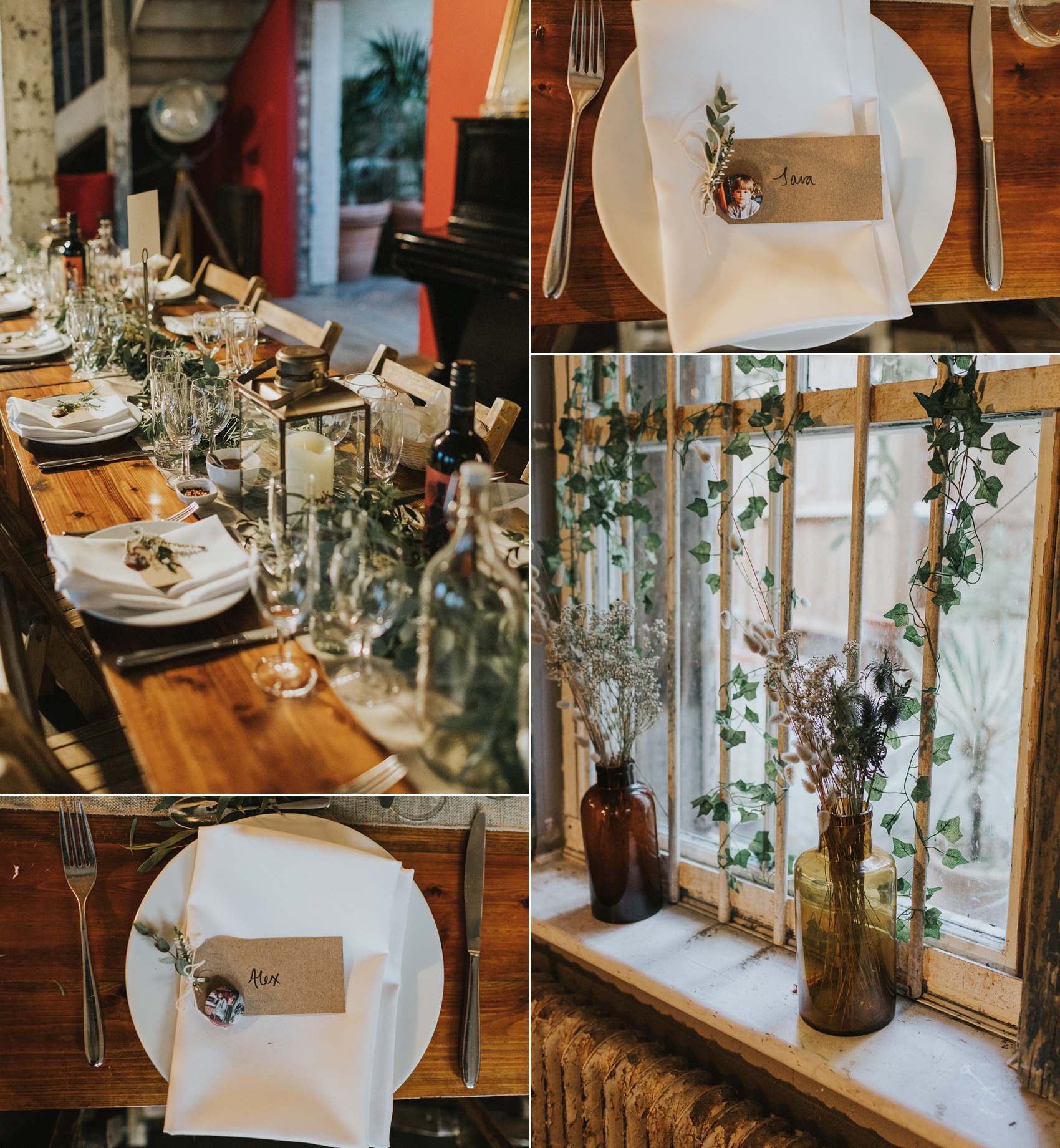 The space was almost too big in some rooms and there was some furniture that wasn't great so Felicity got flat screens custom-built and used them to divide up rooms and hide unwanted furniture. I also bought thick, gold, shimmer curtains that hid the rose wall art-piece during dinner and allowed for a reveal later on in the evening."
"We played a lot with levels; across the whole day and evening our guests were directed into different rooms that had new experiences like photo booths, bars and music, to keep the day high-energy and constantly full of surprises."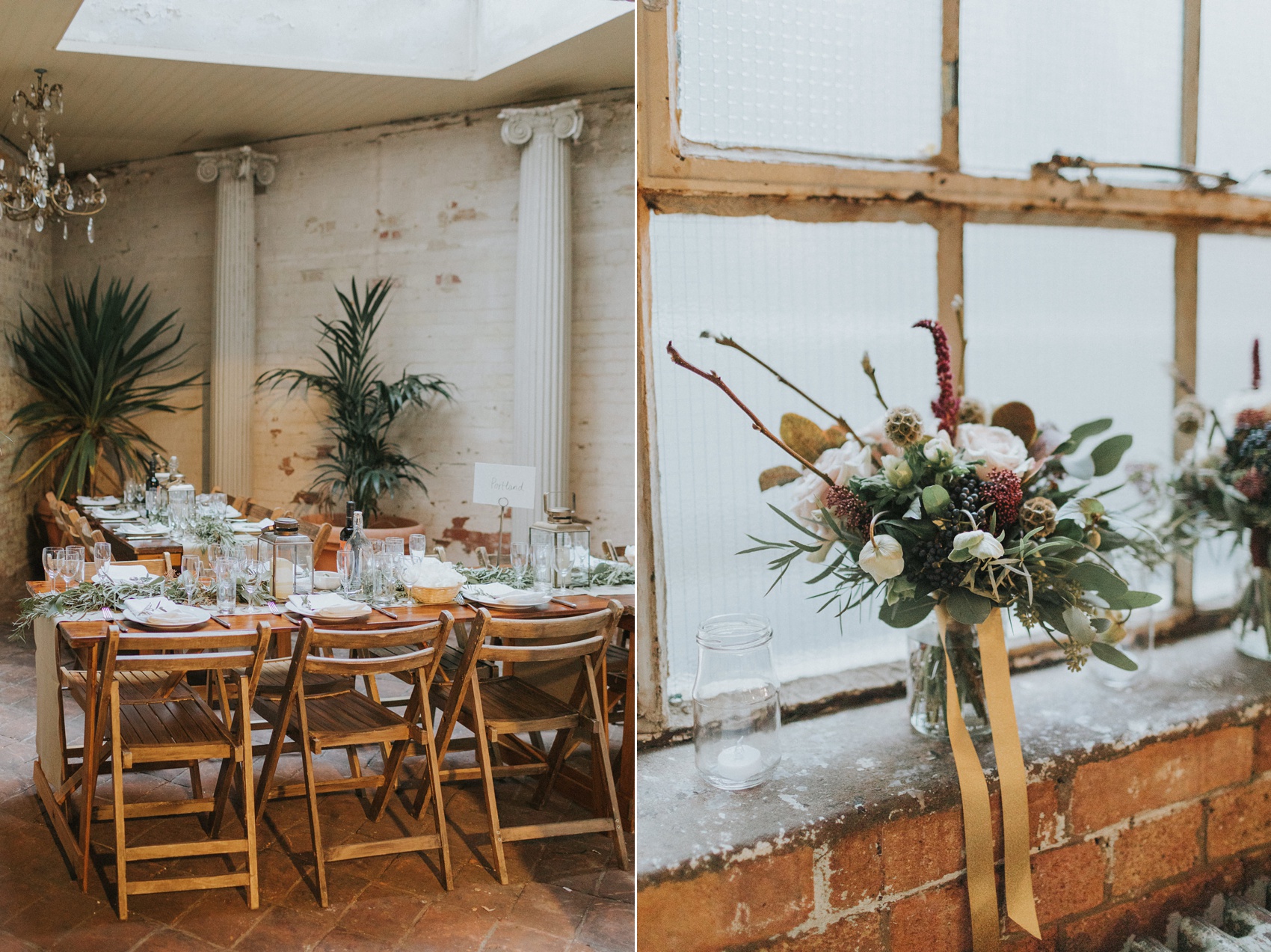 The guests sat down at long tables to enjoy the wedding breakfast, which had been simply but effectively decorated with gleaming glassware and masses of foliage.
"On each person's place setting we had a badge that was of either me aged four, sitting outside my house or Alex aged six, with a little bowl haircut."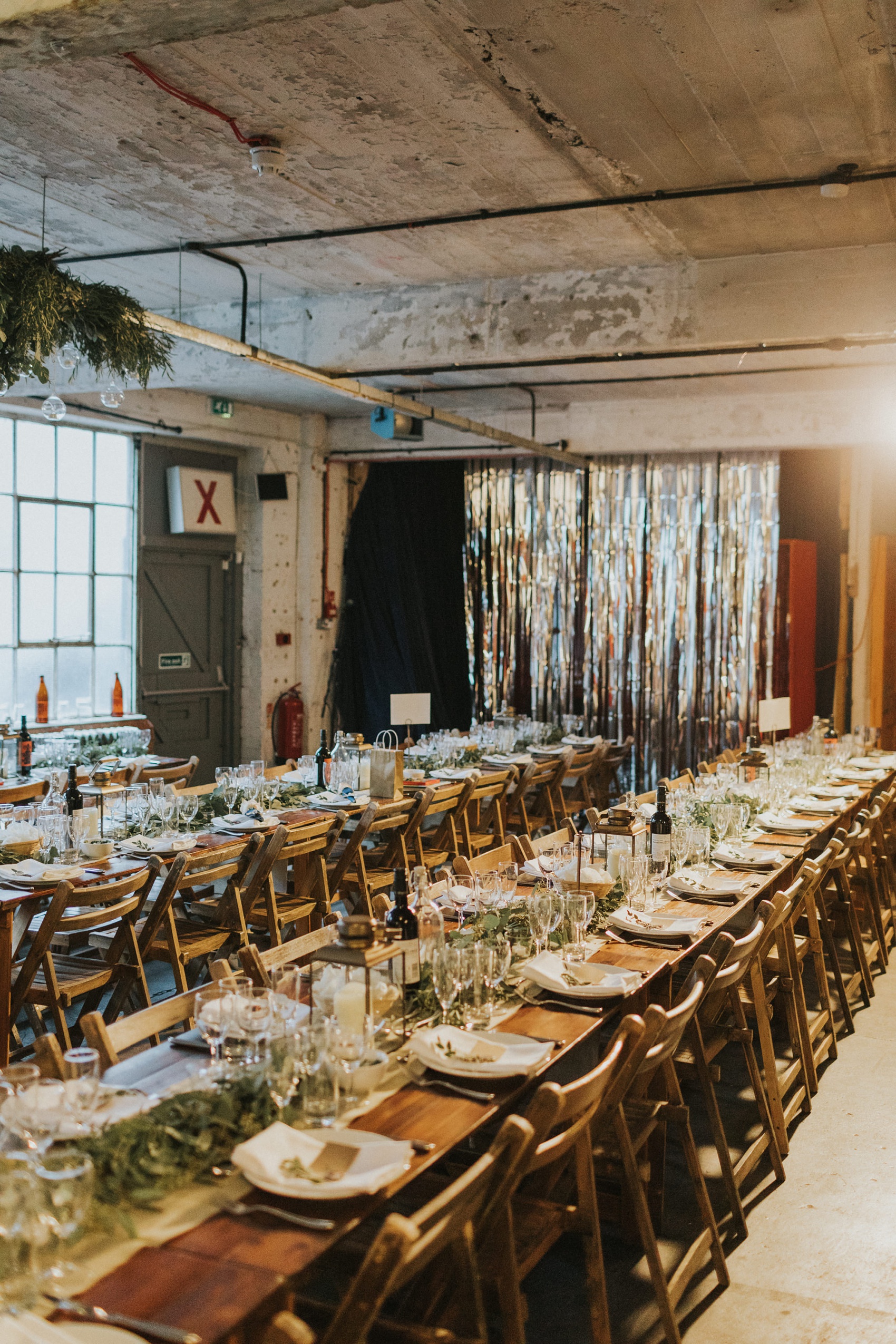 "The catering was done by Alex's best man's mum and sister, both professional caterers at Boutwoods Kitchen. Annie was Alex's second mum and immediately made it known that she would love to do our catering for us.We were delighted to have them in charge of the food on our special day."
A friend created the stationery suite.
"All designs and prints were made by one of my best friends, Lavinia Tyler, who is an illustrator."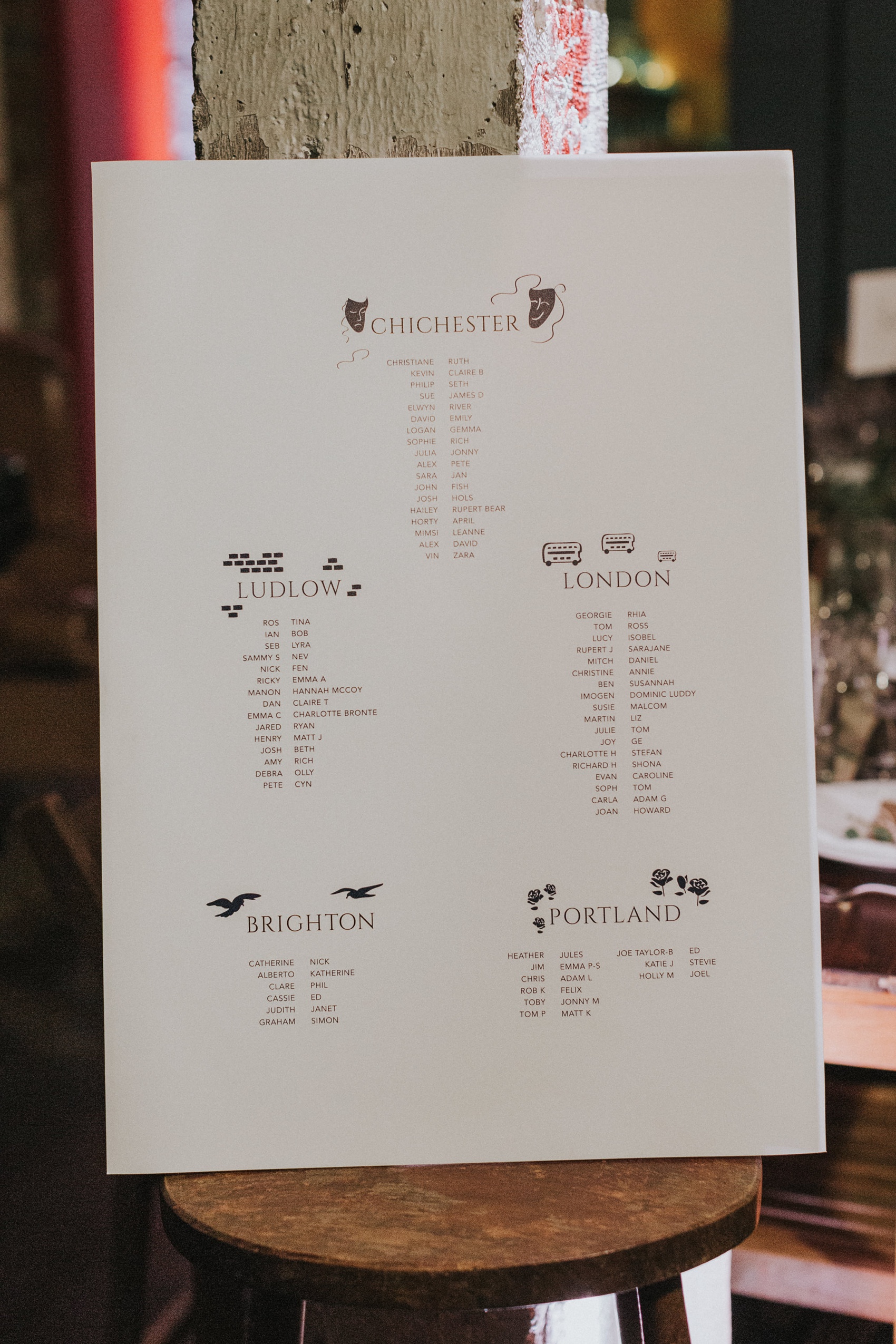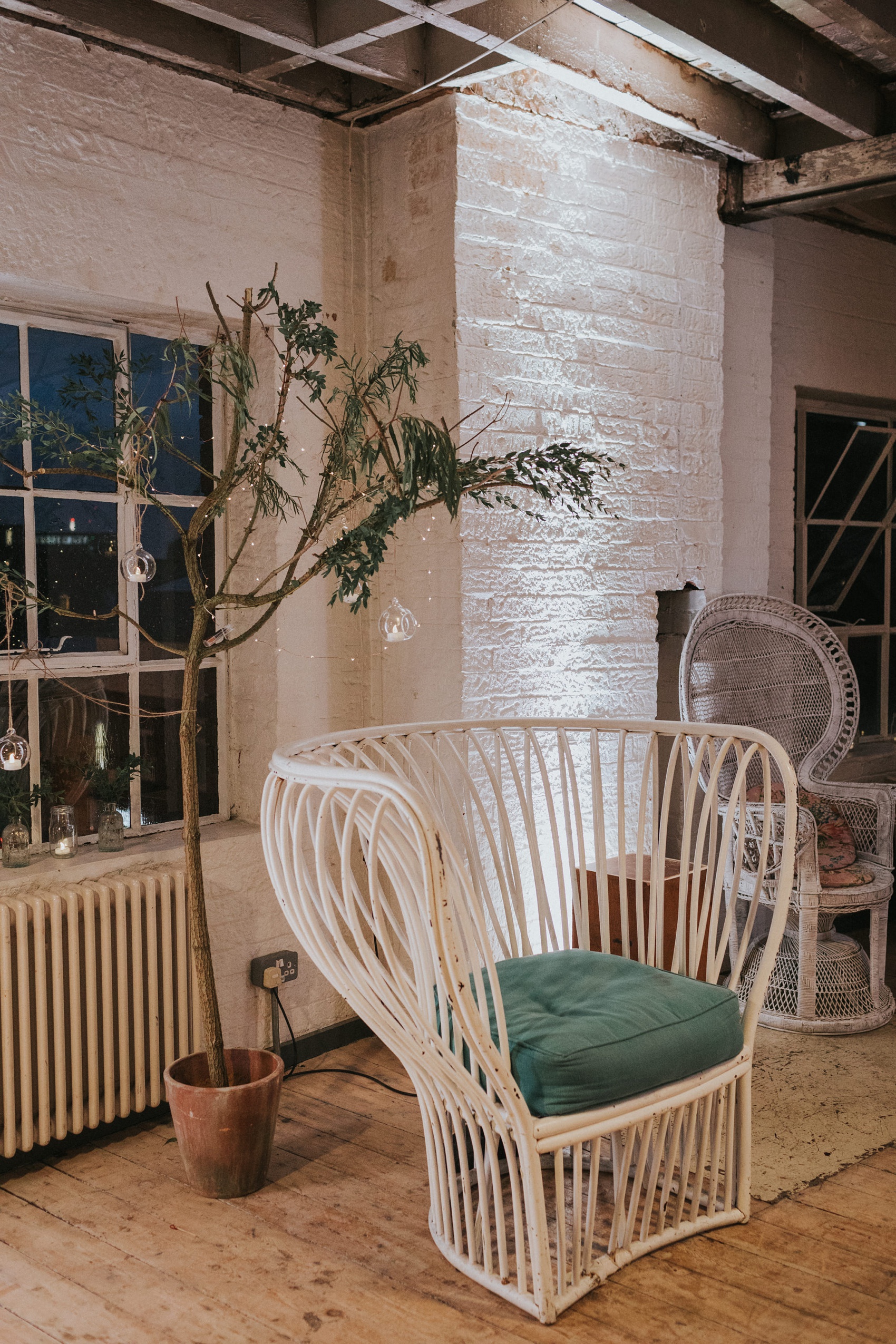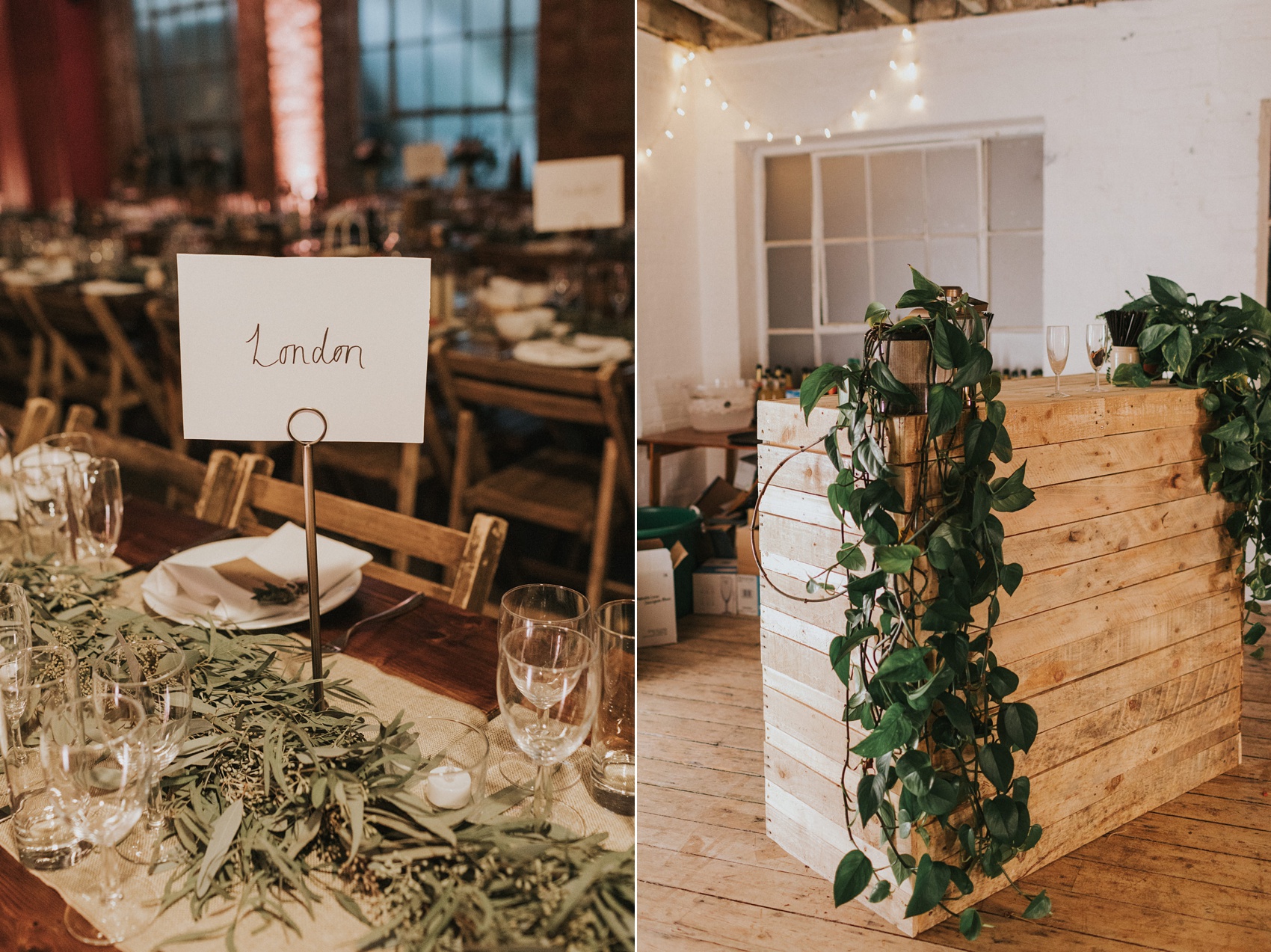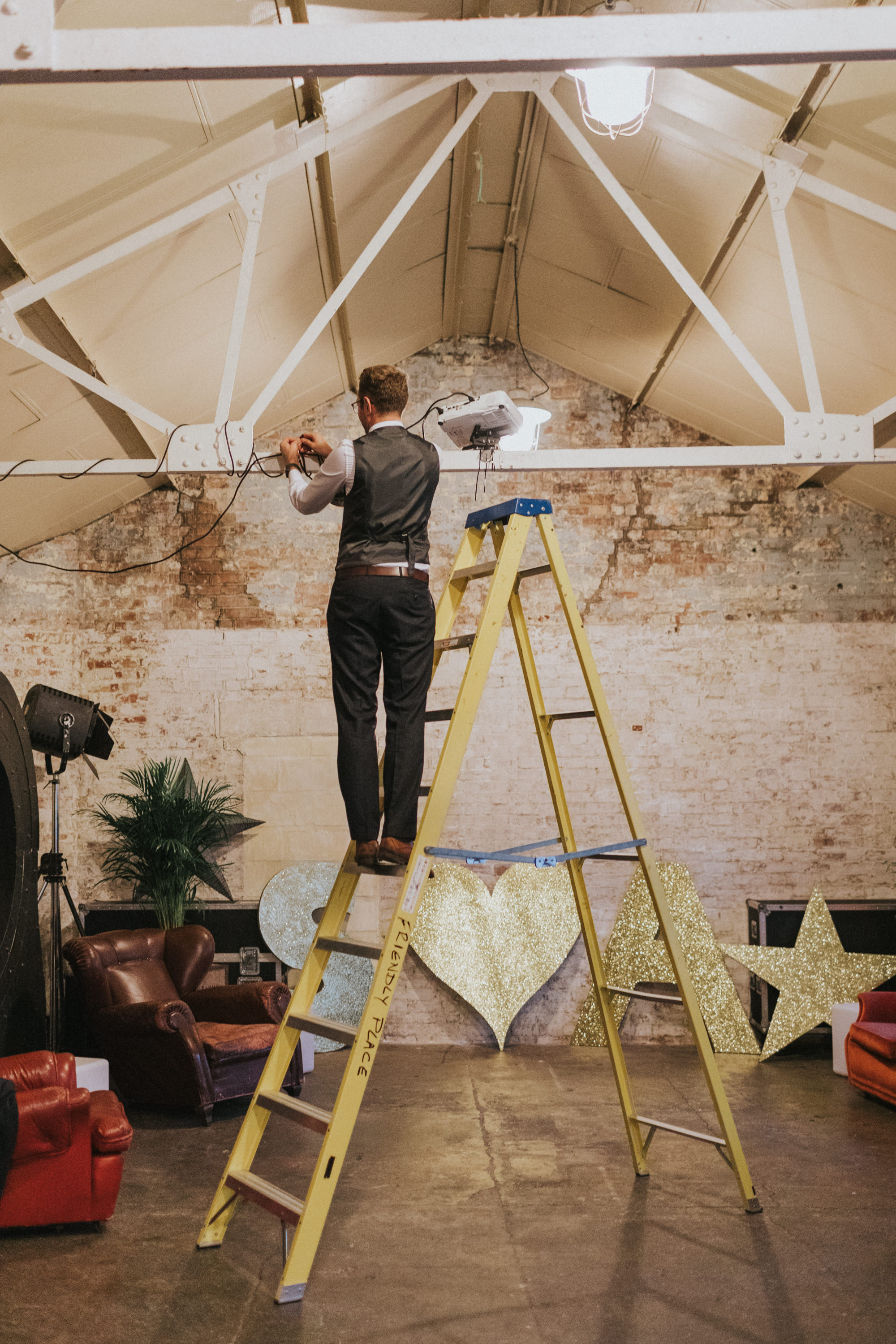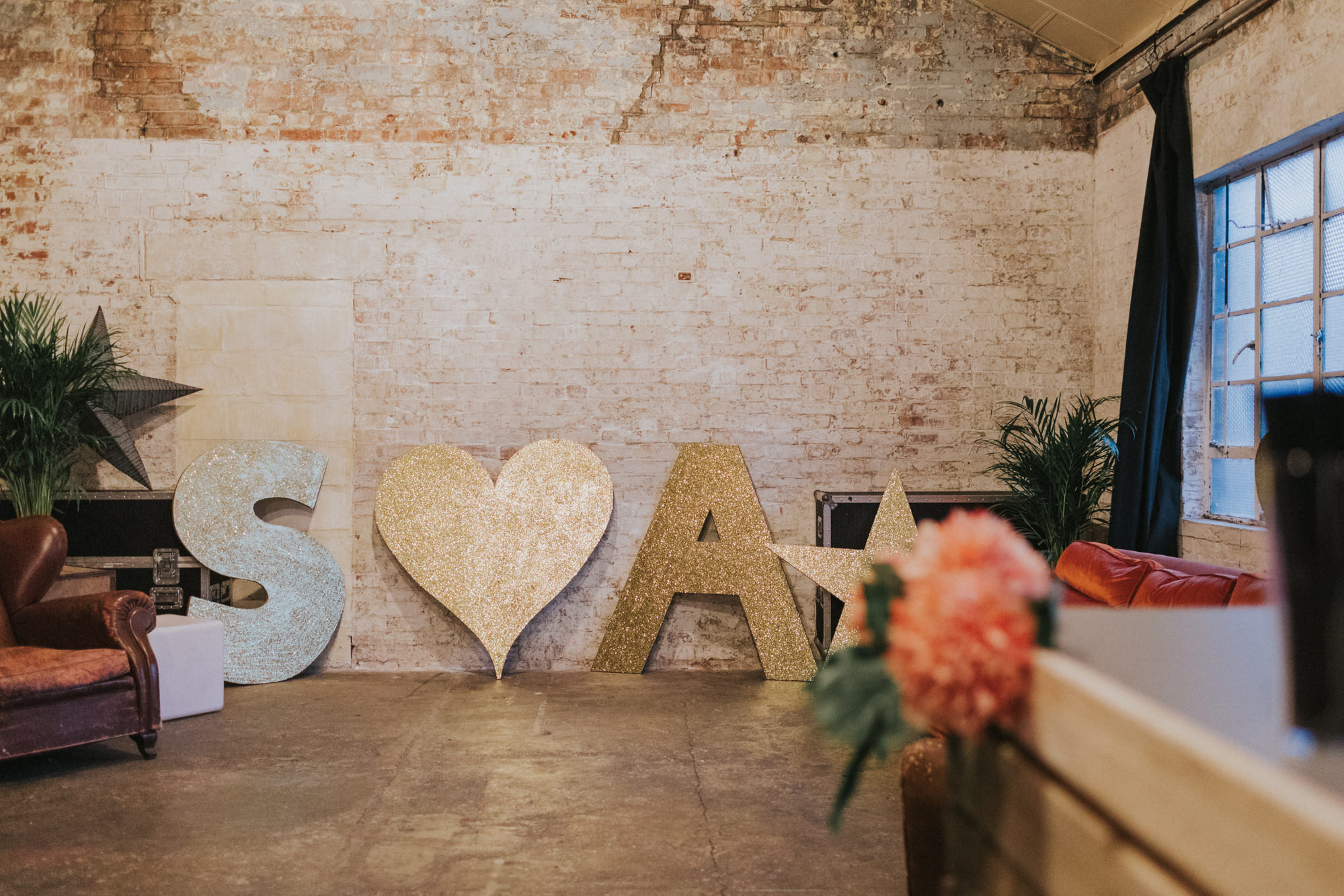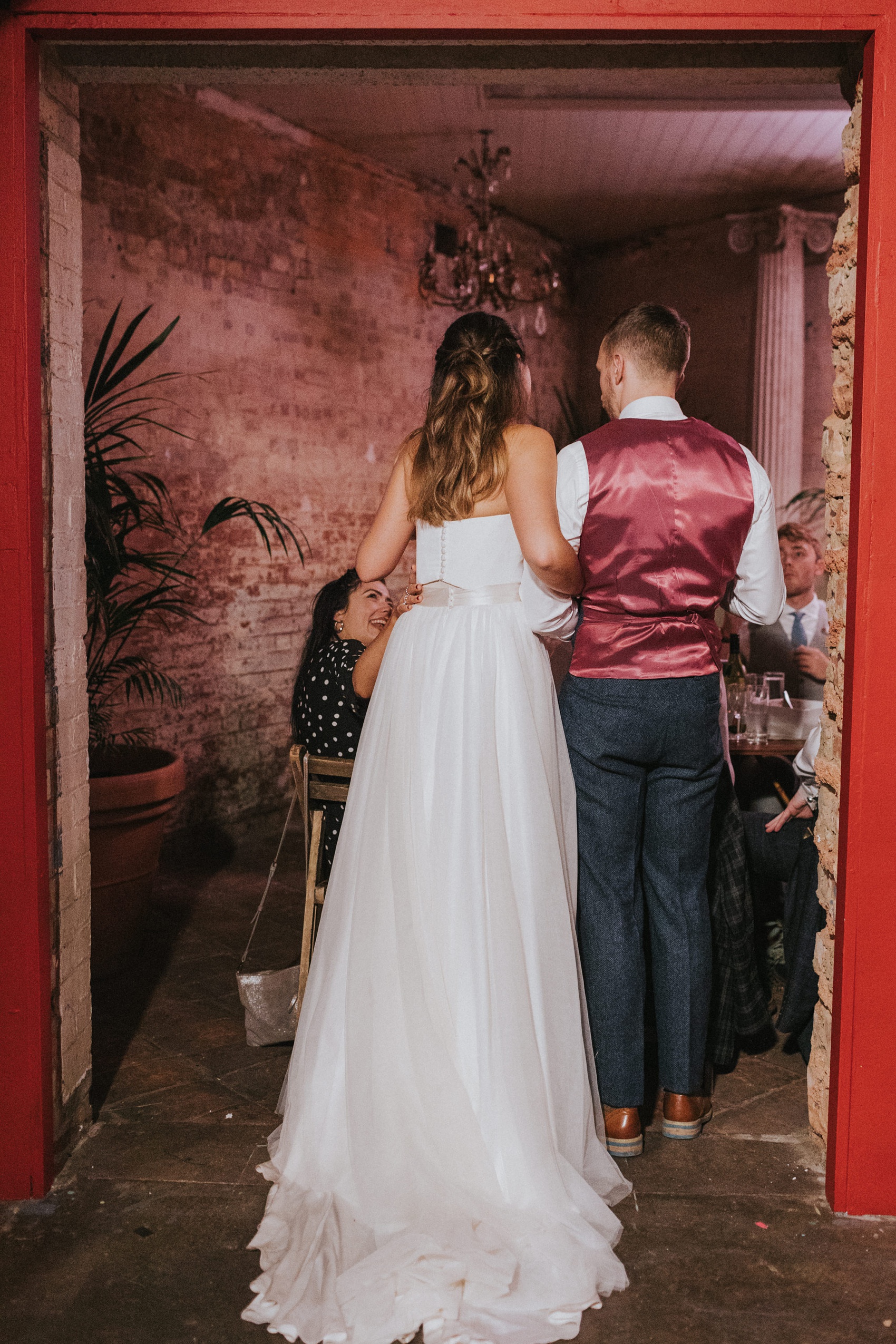 The speeches were a key part of the day and one of Alex's favourite moments.
"My favourite part of the day has to be either the moment the doors opened and the bridesmaids walked down the aisle followed by Sara or all the speeches. I love a speech at a wedding and, being a group of actors, the delivery of the speeches was absolutely on point."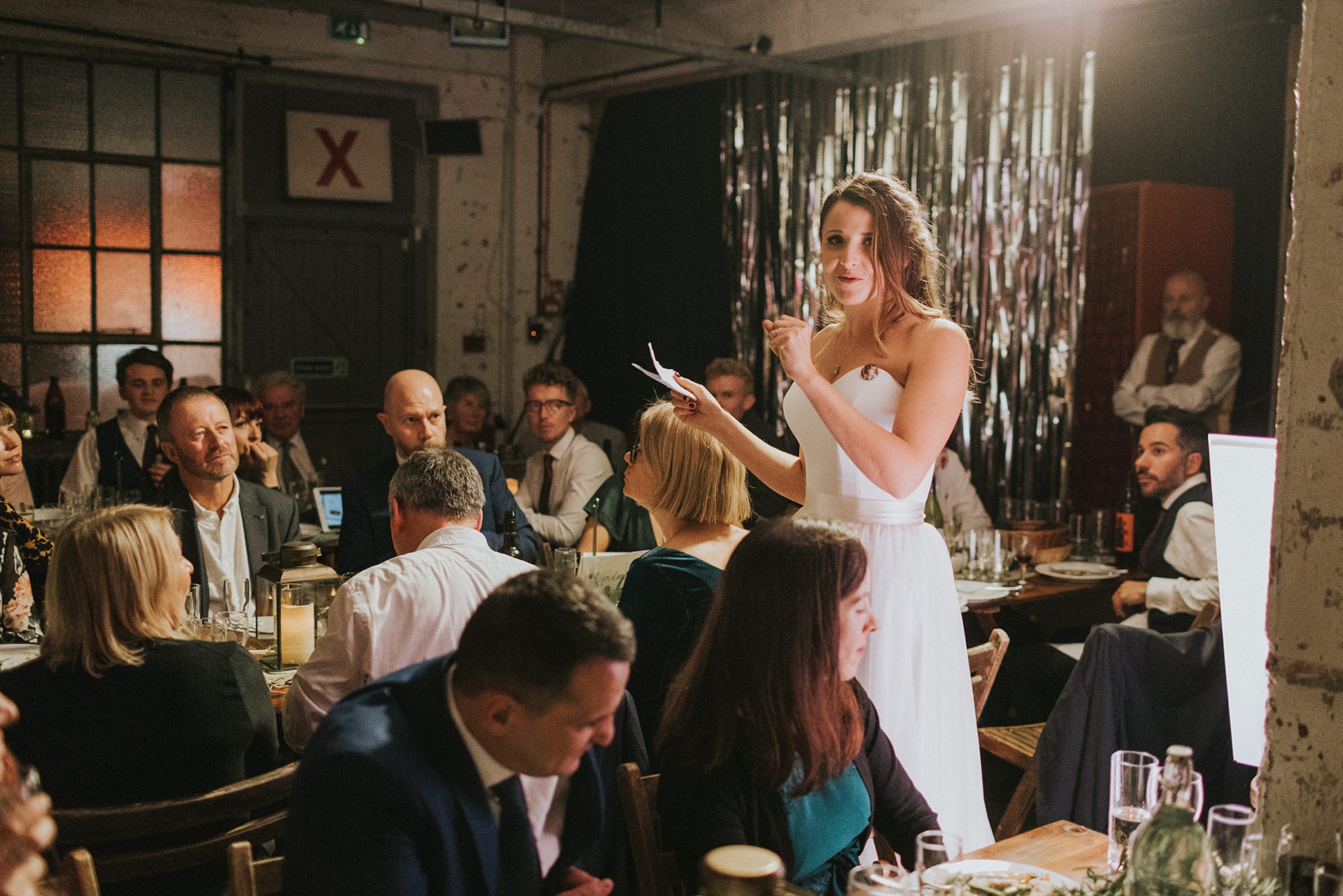 The cake was a masterpiece of naked cakes stacked with flowers.
"The cake was made by our amazing friends, Fen and Sammy. They're a whizz in the kitchen and were kind enough to offer our cake as a present. We went with three tiers of our favourite flavours: lemon drizzle for Alex, chocolate for me and carrot cake as a joint love."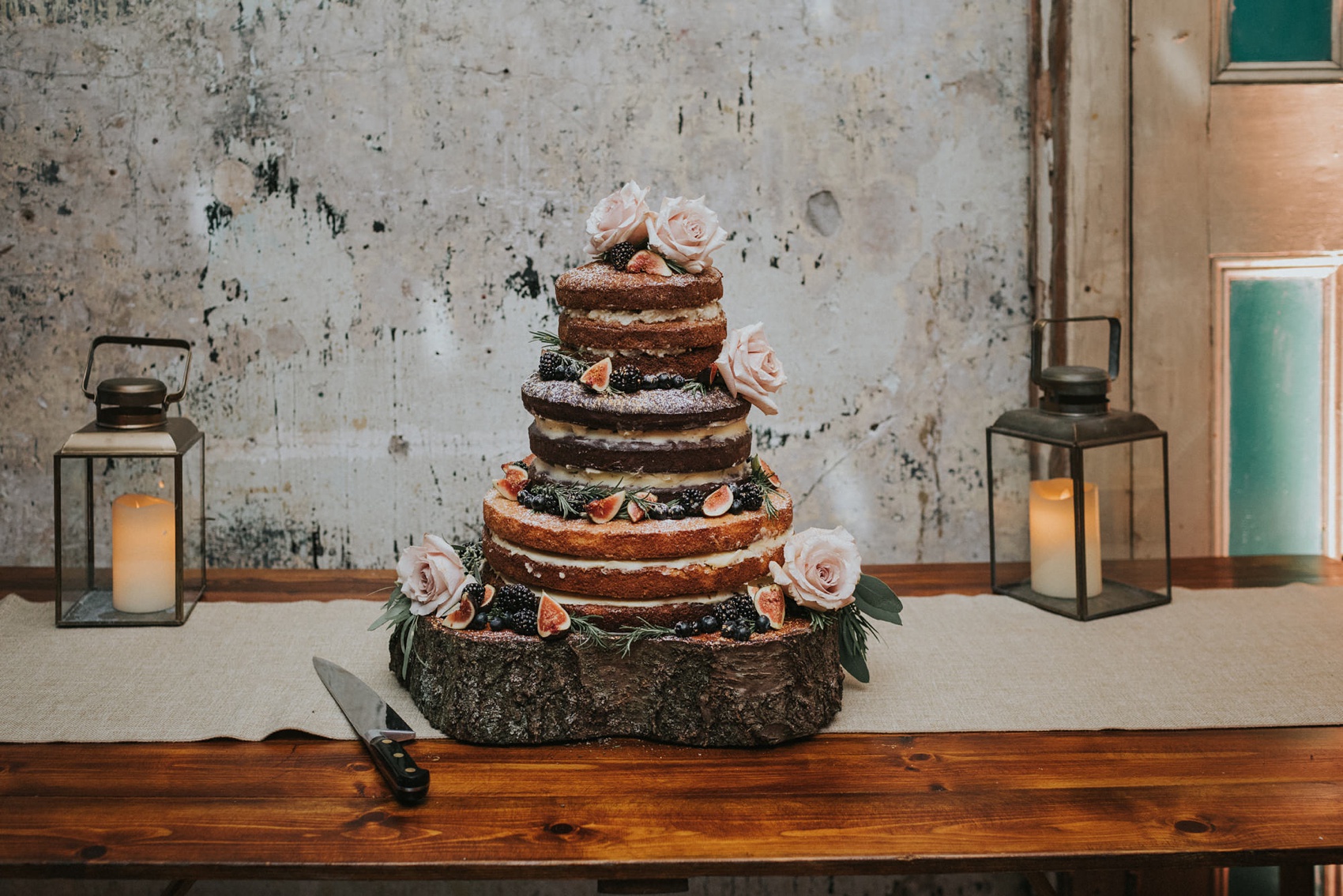 "I loved every minute. I bring events and productions together for a living so didn't find it stressful really. I took in every minute and everything was so special. From the moment I woke up on the morning with my sister and maid of honour Holly to getting ready, our bus ride there, our set up the day before, my dad walking me down the aisle, the ceremony, the food, the party, the speeches… everything was just so wonderful."
"We've lost a few family members and had some tough times in the past year so I spent my wedding day being grateful for every single person in that room and treasuring every second. All our friends and family did so much to help bring our day together and I couldn't have asked for a better day."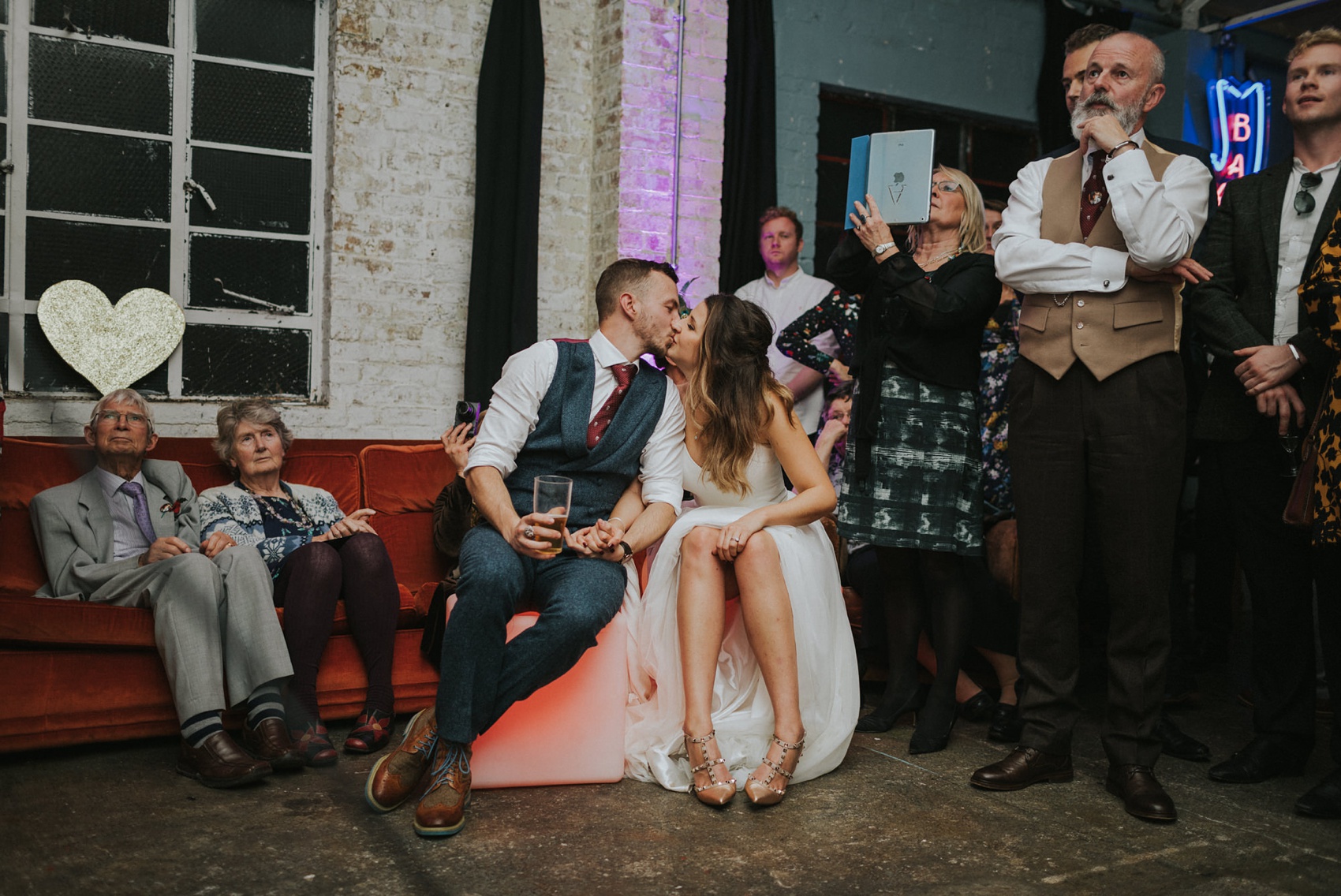 The newly-weds' first dance was to 80s classic 'It Must Be Love' by Madness.
"We were driving back to Sara's family home one day, having just had one of our many conversations about how we didn't necessarily have a song that was 'our song'. Minutes later, 'It Must Be Love' came on the radio. We listened to it without speaking. Once the song was over there was a brief silence then we looked at each other and said, 'That's it, isn't it?'. The song is fun, it says all the words you want to say but it isn't soppy. It's upbeat and it gets people dancing, which is exactly what we wanted: a massive party! By sheer coincidence, as we saw in our first New Year together with all of our best friends, 'It Must Be Love' was played on the TV alongside the fireworks display, so now it really feels like our song."
Sara sings in an eight-piece soul-funk band, J-Flat And The Sharps, so having a set from them was a simple choice.
"It was only right to have them play at the wedding! I couldn't resist singing a few tunes too. We finished the evening with a fabulous female DJ called Cherish Kaya, the ultimate babe, who played tunes long into the night."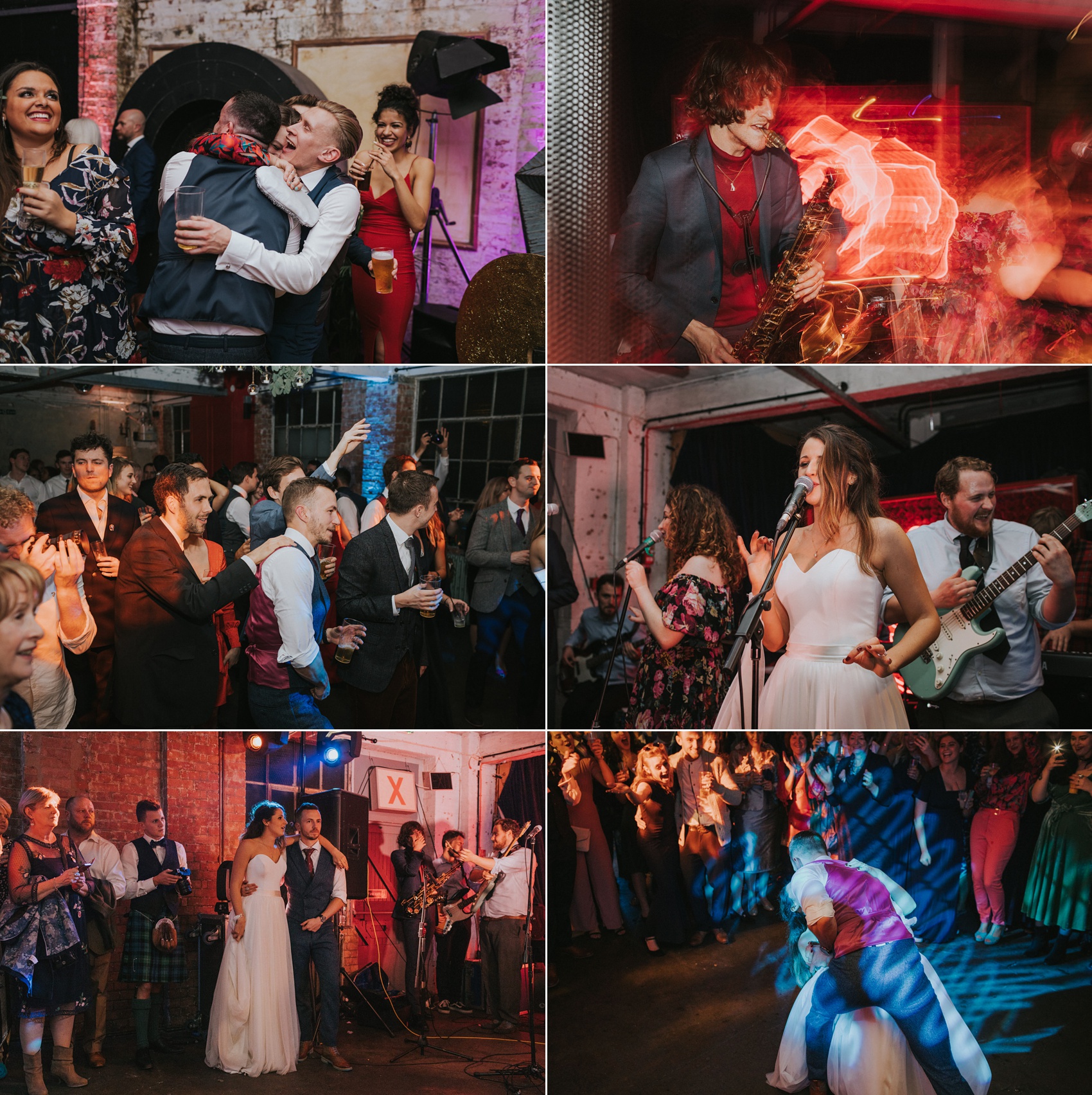 Words of Wedded Wisdom
"Careful planning is key and think about the things that really matter to you on the day. I don't care that much about small things like specific matching tableware or expensive table favours. I cared about having fun props and creating spaces that guests felt comfortable in. I have a lot of women I love and making them all feel appreciated was a big thing for me. I wanted to get my special ladies a present and a robe and do all the fun things, but they do cost. So look for bargains, especially in the January sales, and slowly collect the fun extras as you go."
"Be clever with your cashflow. I bought two bottles of spirits every month for a year so when it came to the big day I already had a load of booze. We also did the mega deals at Majestic Wine Calais; they pay for your trip there and have wine at a super-low price. It's also a really fun day trip to go on a booze cruise. If you have a small flat like ours, you can hire a lock-up cheaply and chuck all your wedding supples in there. Get more gin and rum then you think. If you have friends like ours, they will finish it. Also get ushers like ours who are savvy enough to top up the bottles when they run out from the corner shop nearby."
"For late night food I was quoted £1k for a chip van. Instead I went to the chippy next to our venue and agreed £200 for fish and chips for all our guests. We pre-bought cardboard chip holders and stamped them with some fun wedding branding then sent an usher at 9pm to collect them in a hot box. There are so many savvy ways to cut costs, so don't say yes to the first supplier you come across."
"Eat well and drink loads of water in the run-up. You will feel overwhelmed at points and there can be stressful moments. If you look after your body not only will you have great skin and feel fab, you will also sleep better and be more productive in a day. Also, I think the energy starts at the top; if you're relaxed everyone else is too. Don't struggle alone. Use your friends and family as they want to help."
Sara and Alex, it looks like you had such a wonderful day so thank you for letting us have a glimpse. Thanks you, as always, to We Heart Pictures too, for these glorious photos.
Ele xx