There's a lovely connection between the venue choice of today's wedding, and the place where our couple first met – and what a completely beautiful setting it is, too.
This is a celebration where family and friends offered their talents, help and support to all come together for a fun and relaxed country house party on a magical day in late summertime. Our brilliant couple are Mary, who owns interiors boutique Baile Home in Tarporley, Cheshire, and David, who works in finance for a barristers' chambers. They celebrated their marriage on the 1 September 2018 with a ceremony at St. Helen's Church in Tarporley, followed by a reception at the spectacular Tilstone House; a grand Victorian mansion and former hunting lodge in the Cheshire countryside.
Images by Kate McCarthy Photography
"It's a big house along the road from the village I grew up in. The house was owned by a lady called Mary Dempster in 1920, who enjoyed entertaining and hosting (so it seemed perfect for us!) She also owned Keele Hall in Staffordshire (which is where our best friends got married)."
Incidentally, Mary and David first met as students at Keele University (and Keele Hall is on the very lovely university campus – but maybe I'm biased because I'm a former Keele student, too!).
"We were always part of the same big gang of mates, and we lived just down the road from each other. After uni, our big group of friends all stayed very close, but David and I realised we meant more to each other (only took us 10 years!). We got engaged on New Year's Eve 2017 and we were married 9 months later."What a delight Mary and David's wedding flowers were, filled with summer greenery, delicate Queen Anne's Lace, asparagus fern and Love-in-a-Mist.
"Frog's creations are out of this world. I wanted wild and natural and lots of greenery. Nothing too perfect or contrived. The flowers were one of the biggest costing items of the wedding, but they looked amazing."
Mary bought her silver glitter shoes by Som-Mits from a boutique in Mallorca (sadly, no further details provided), and her jewellery was a lovely selection of heirloom pieces – earrings belonging to David's grandmother, and her mother's bracelet.
The bridesmaids wore pretty pale blue halterneck maxi dresses from ASOS, and together with Mary, carried wild and abundant bouquets, created for them by Frog Floral Artistry, who are based in Manchester's fantastic Northern Quarter.
From Love Bridal Boutique in Altrincham, Mary chose the showstopping 'Melinda' mermaid gown by Enzoani, with its delicate illusion back and bodice embellished with beaded lace and sparkling crystal buttons.
"Funnily enough, it was the opposite of what I wanted, but when I tried it on it just looked and felt truly out of this world. The detail was spectacular, and the fit of it made me feel glam."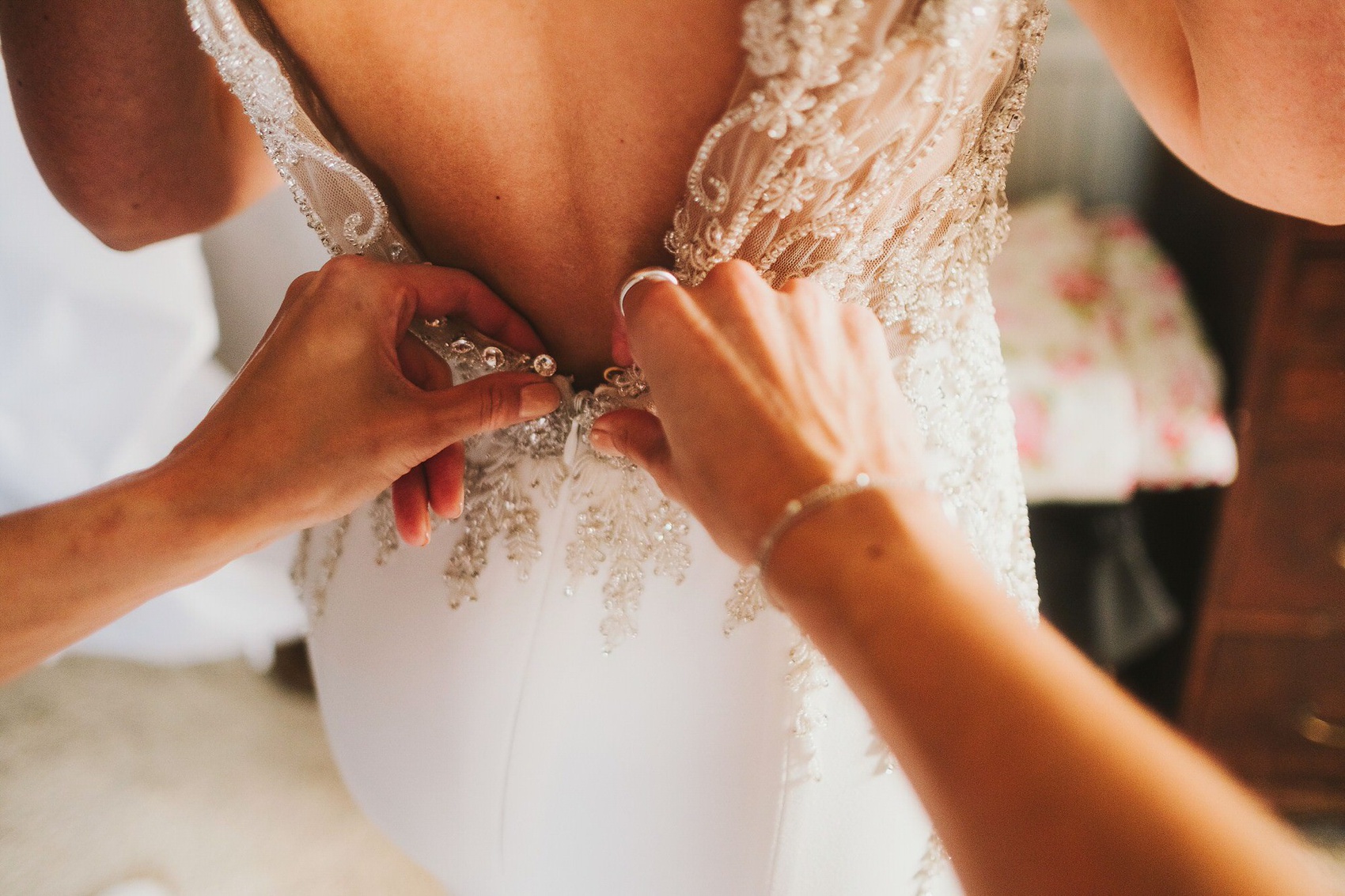 Mary's hair was styled in an elegant, curled updo by Macey at Soul Hair, and she took care of her own make-up, using products by Clarins.
To complete her look, Mary added a tiered veil from Bridal Haven in Tarporley, as well as her wedding day fragrance of choice.
"I wore Byredo Bal D'Afrique – it smells so fresh and citrussy. Perfect for a balmy, late summer day."
On hand to capture all of the details of the day was photographer Kate McCarthy, whose exquisite and brilliantly natural work we've featured on our pages before. Not only that, Kate is also part of our awesome supplier directory, Little Book.
"Kate came highly recommended to me. I looked at her previous photos and knew that they were exactly how I'd imagined mine: family focused and natural. We spoke on Skype for ages and we seemed to really hit it off. Included in the price was a pre-wedding shoot, and it was such a good idea; not only to get used to taking photos, but also to get to know Kate."
David and his groomsmen looked great in classic blue morning suits paired with Liberty floral print ties from Attire Menswear.
David made his way to the church in a Bentley Mulsanne, whilst Mary and her party were chauffeured by her brothers in her step-dad's car.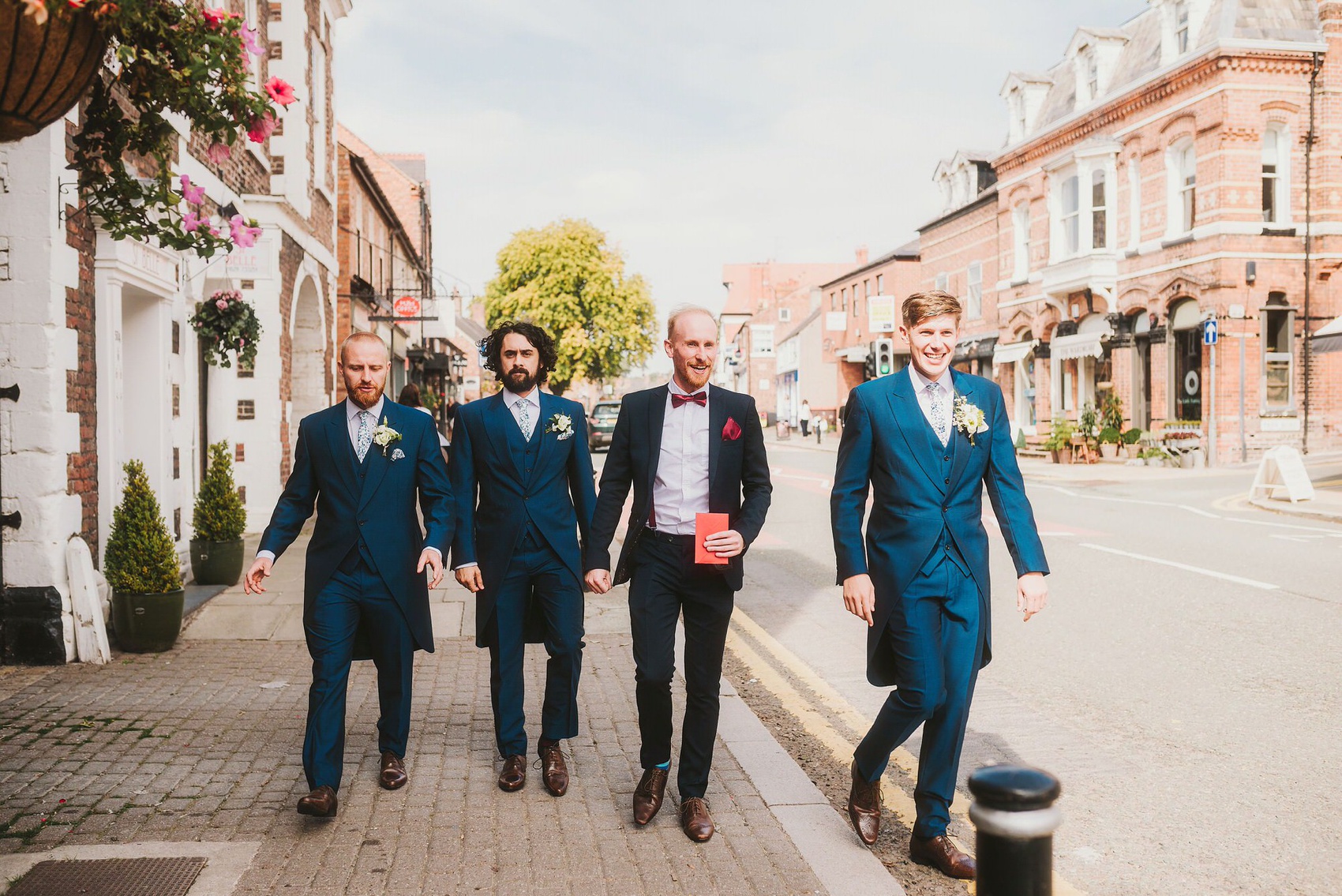 Mary and her dad walked down the aisle together, to Mendelssohn's Wedding March played on the church organ, and the couple's ceremony was conducted by the Reverend Georgina Watmore.
Together with the vows they shared with one another, Mary and David also gave rings, with Mary's belonging to her late grandmother.
"Two of our friends from university did the readings. One was from Captain Corelli's Mandolin (one of my favourite love stories) and the other was a less traditional excerpt from Romans 12: 9-16, as this, I feel is not just a lesson in marriage, but more of a general rule for life about being a good person and having respect, patience and understanding for others."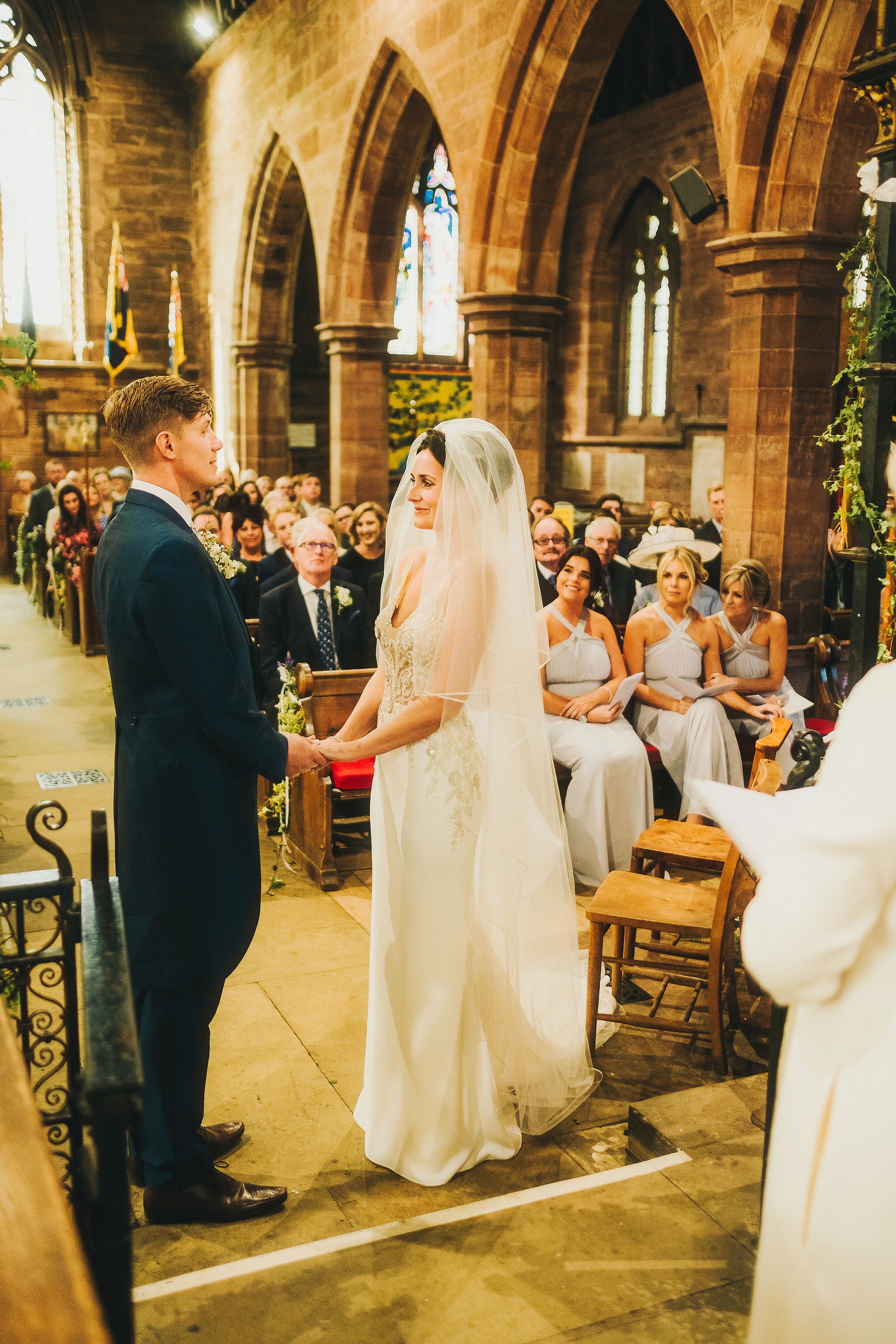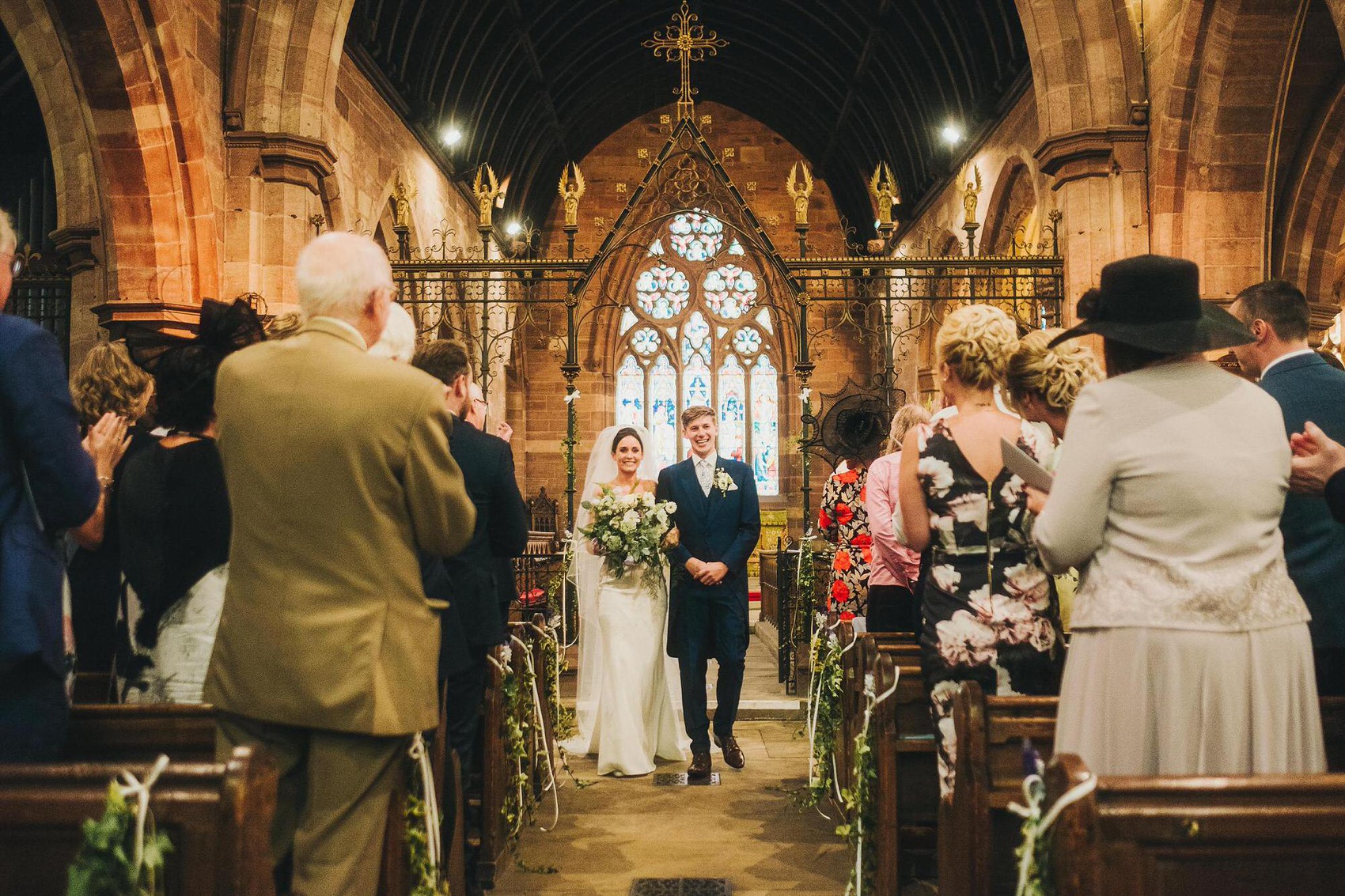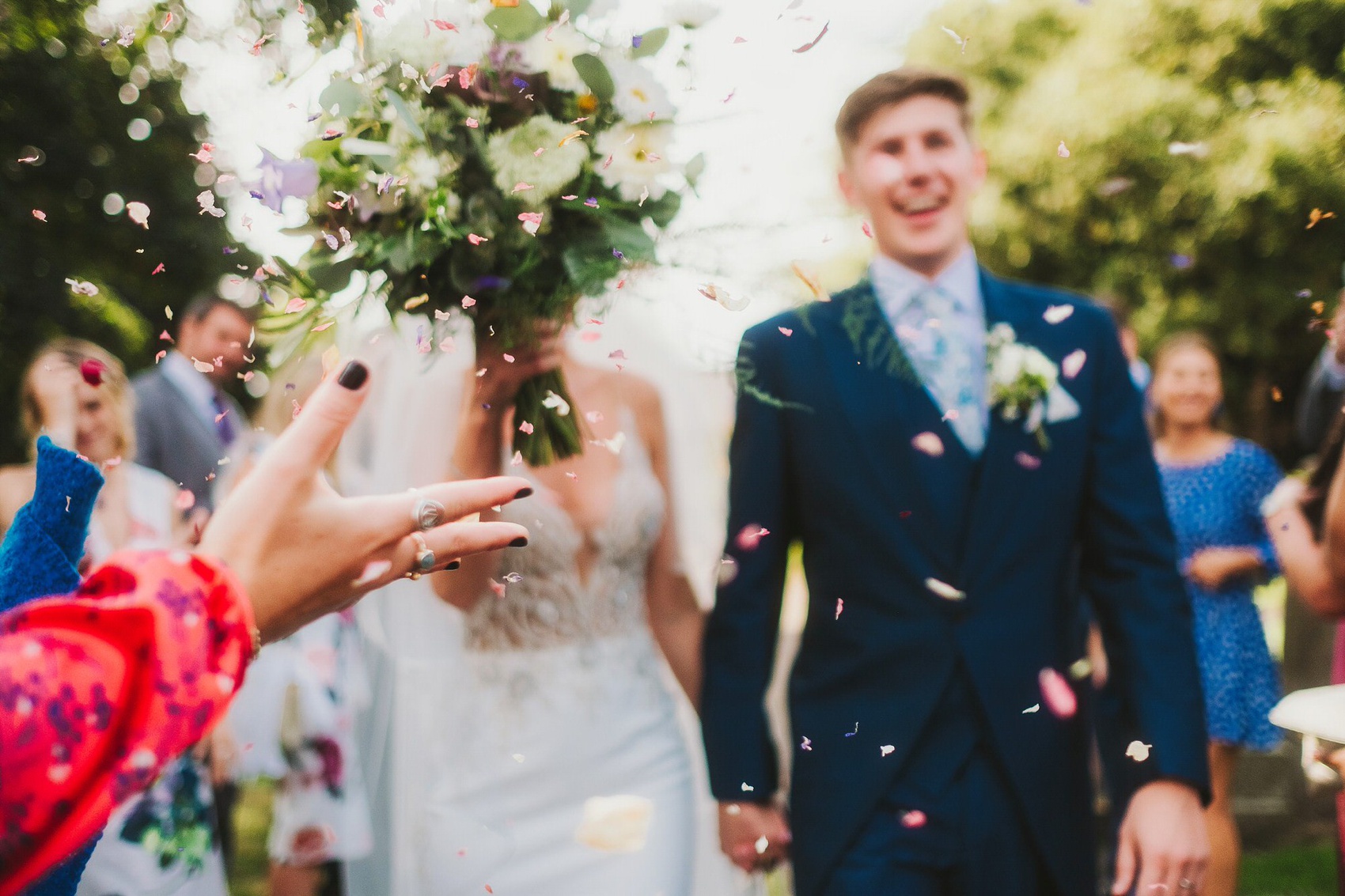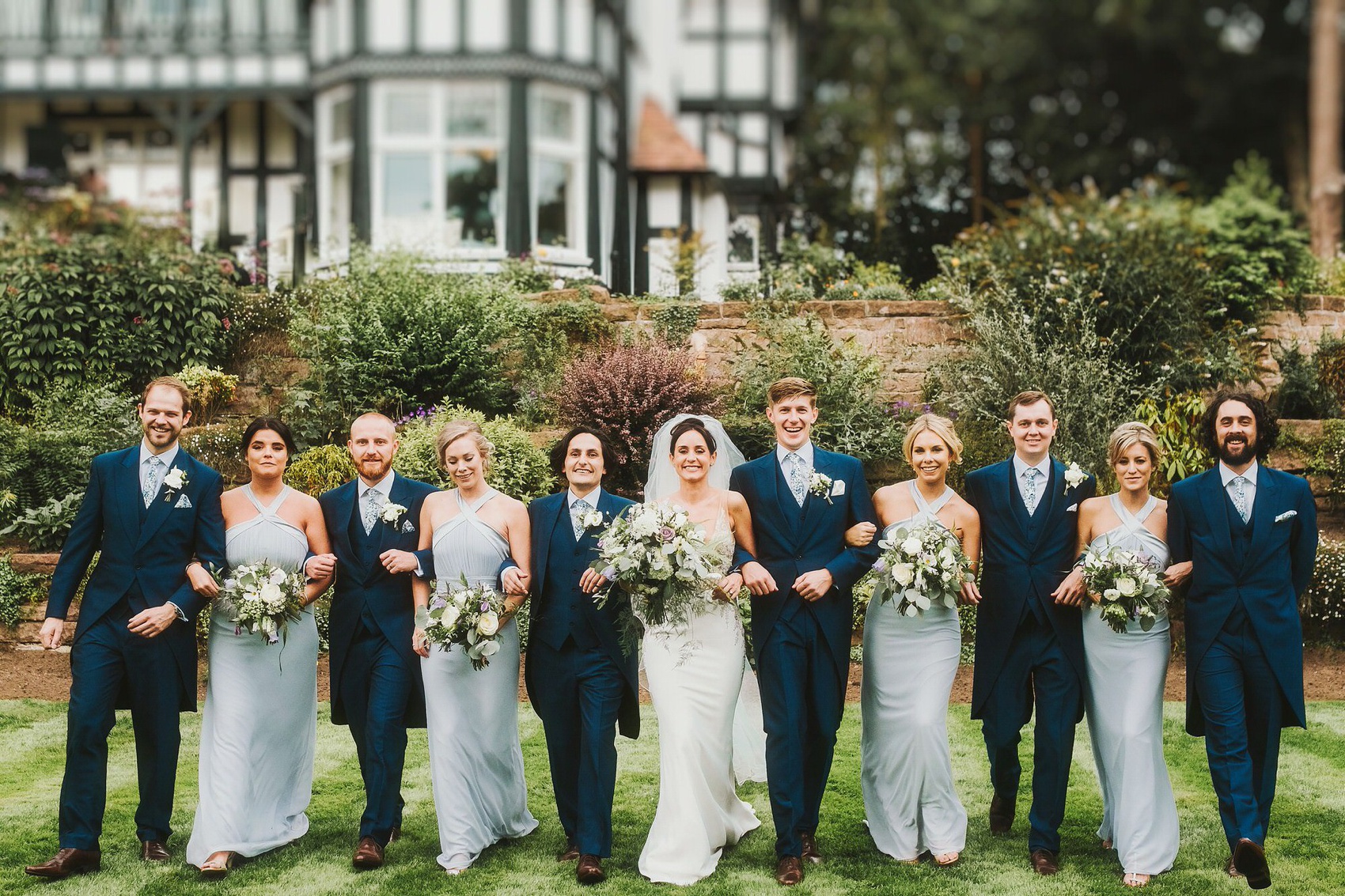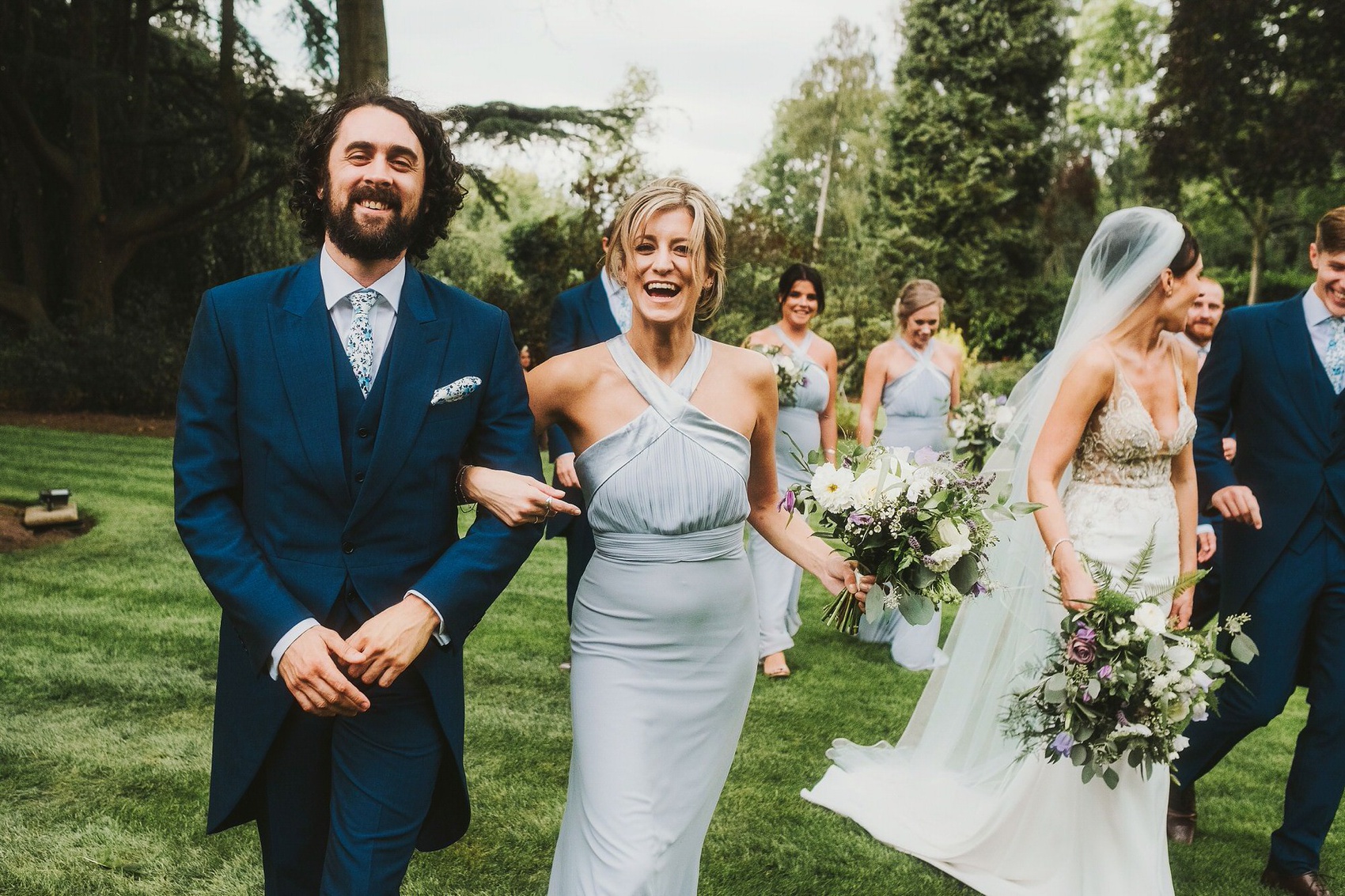 Surrounded by loved ones, the newly married couple headed outside into the sunshine before making their way over to Tilstone House for drinks and canapes on the beautifully manicured lawn. There was live music, too, from friend and musician, Heidi Browne.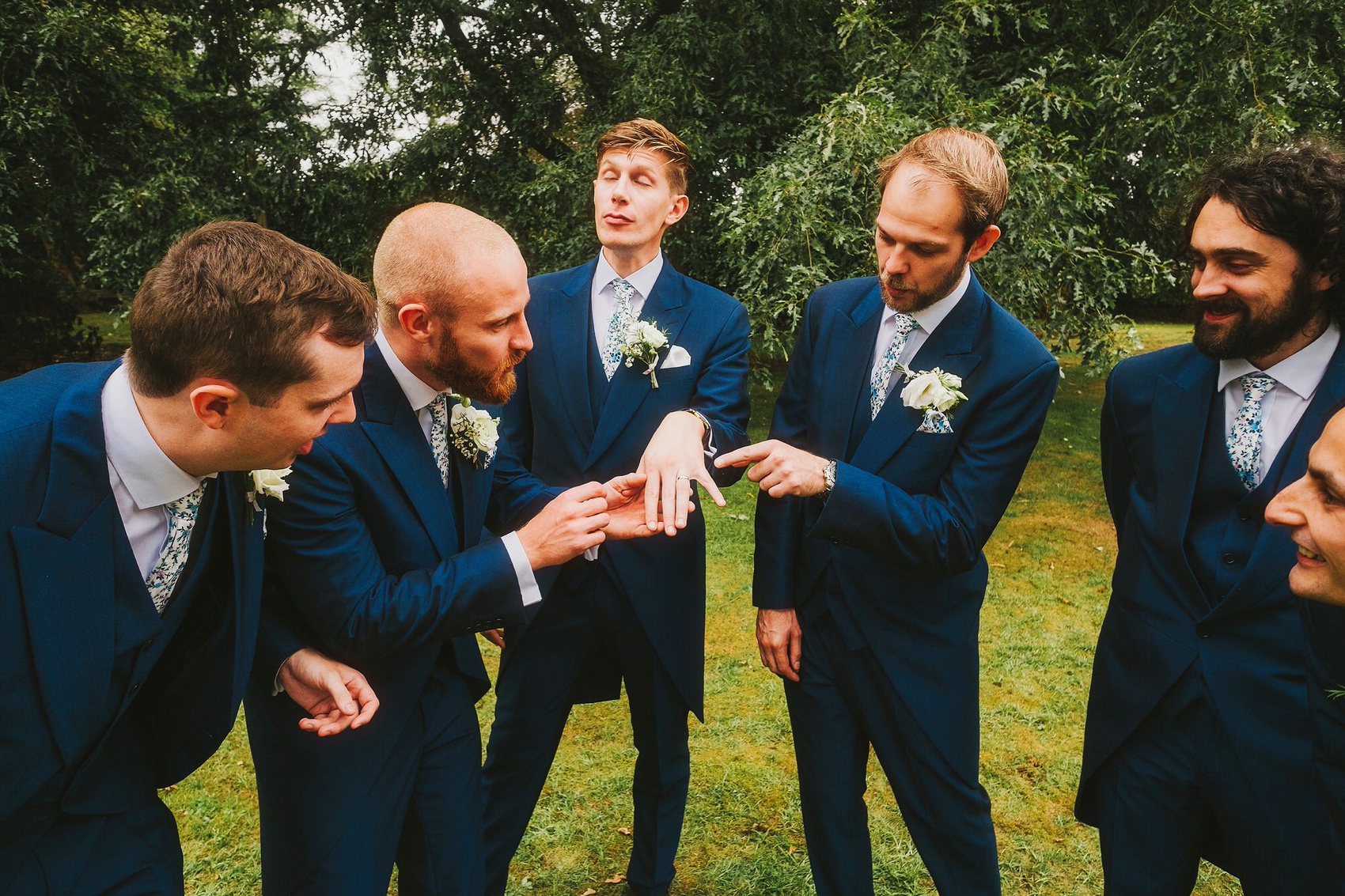 "At uni, we always threw big house parties, so we wanted our wedding to be another great big house party with all our friends and family. We wanted it to be relaxed and to have people involved where possible."
"A good friend of ours was the DJ, my brother's ex Heidi sang at the reception drinks, David's best friend was our chauffeur, our mums both made a layer of the wedding cake, my aunties made the pre-wedding food, the café opposite my shop made our wedding breakfast, my Irish relatives brought the good luck charms and helped with flowers, my brothers drove me to the church, and I made the invites myself on the computer. My aunt also bought me my garter!"
Mary made and painted the cool table plan, and the long dining tables (and even the ceiling lights) looked fantastic with trailing ferns, ivy and other lovely foliage. I love the contrast with the neutral decor and table linens and chairs, against the fresh and bright greenery (more super work by Frog Floral Artistry).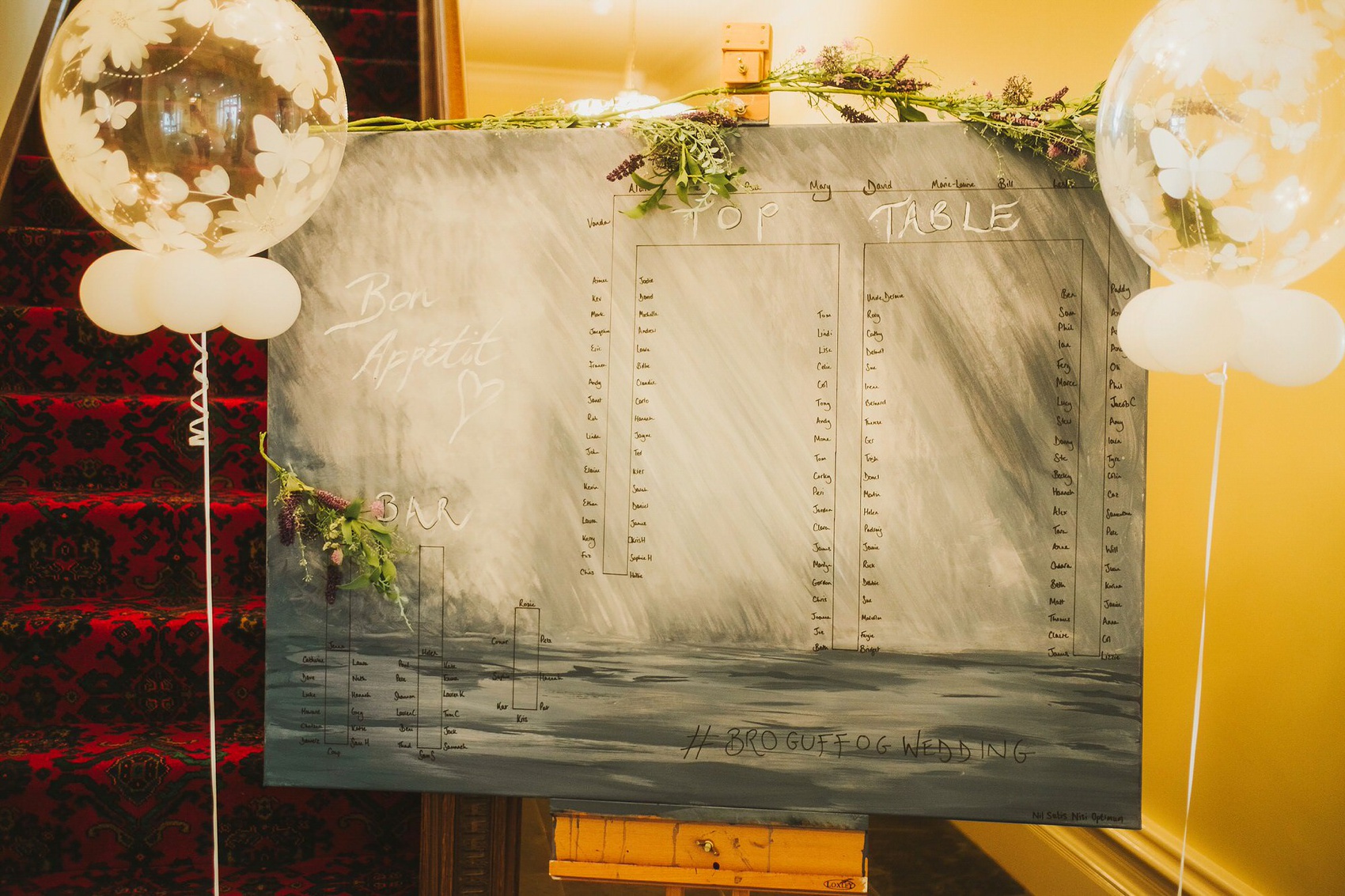 "For favours we put a Bem Casado on each place setting. It's two layers of sponge with a dollop of caramel in the middle. They're only bite sized and individually wrapped with ribbon round them."
Amazing food came courtesy of caterers Northern Fields (who are sadly no longer in business), and Mary and David chose hot smoked salmon to start, followed by curried chicken Kiev, with coffees and pavlova served at a dessert station in the Drawing Room.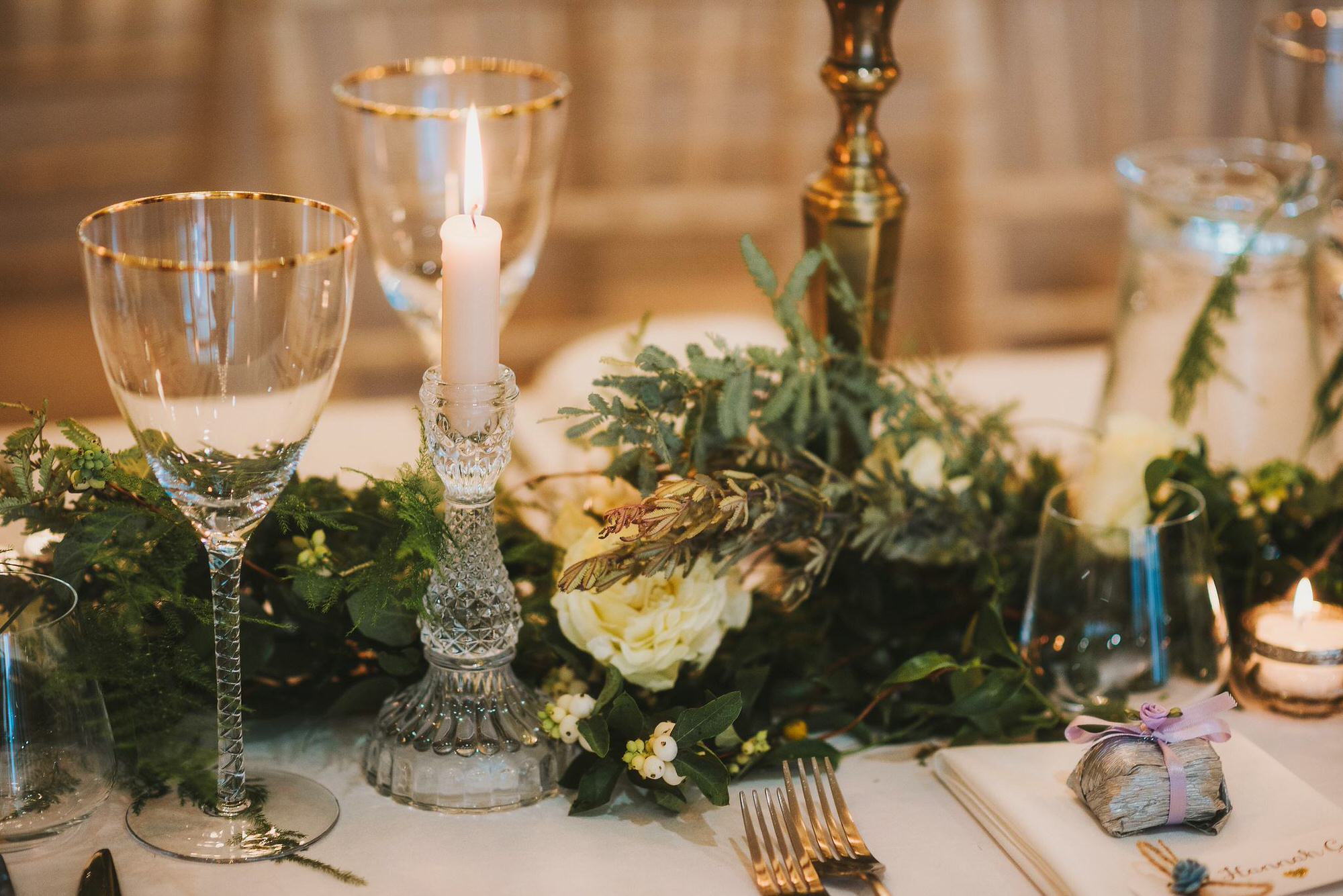 "Our cake was a joint effort by my mum and mother-in-law. It looked adorable and had two pig figurines on the top (David and I have pigs).We had an Earl Grey tea layer (for David), a red velvet layer (for me), and two fruit cake layers (also for me, and one for our christening!)."
"My mother-in-law also made Bem Casados (a traditional little Brazilian cake, which means 'Happily married') as David's family are from Brazil."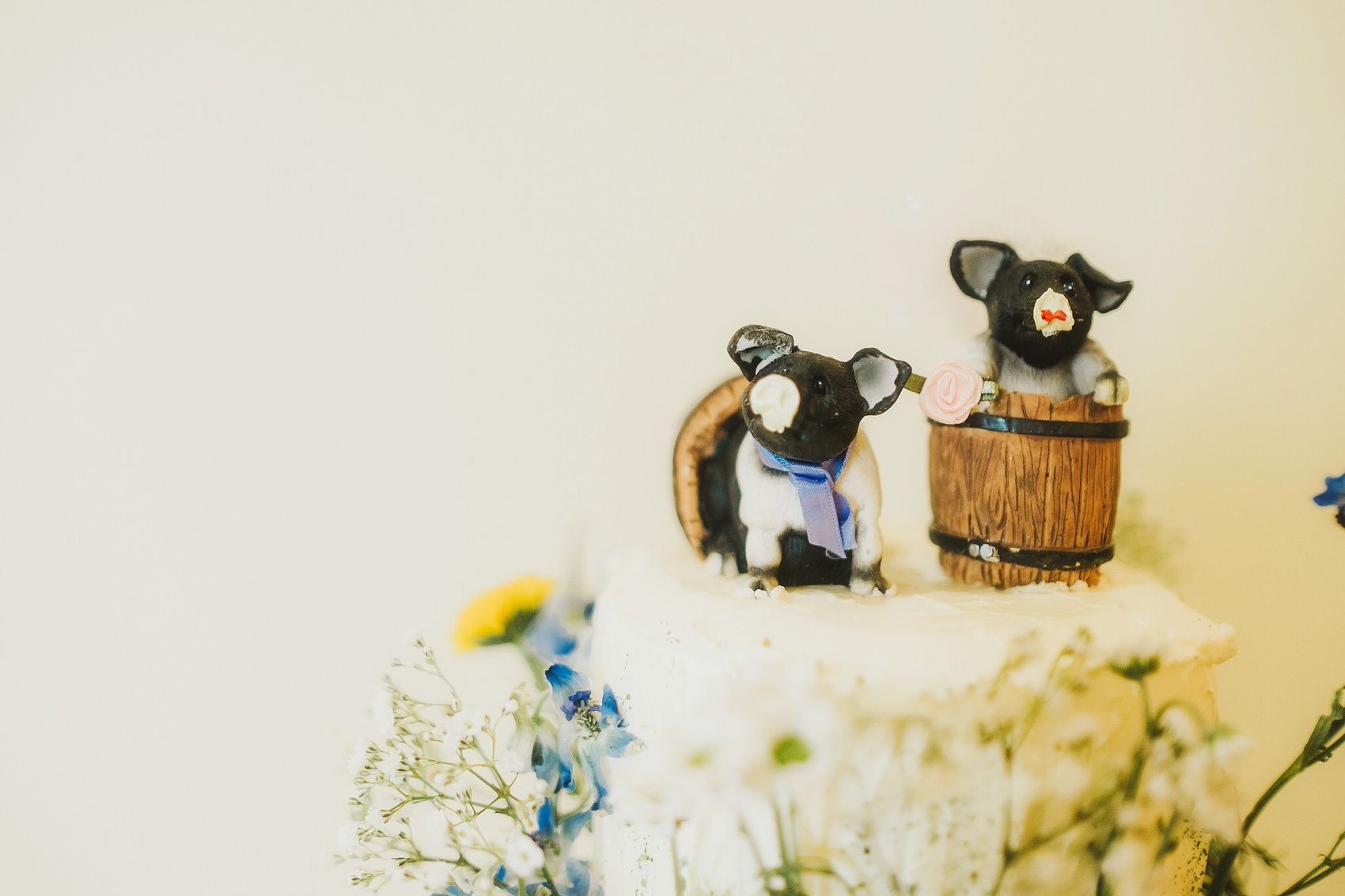 "Our favourite part of the day was looking up from our table during our wedding meal and seeing all 200+ of our friends and family laughing, talking, eating and drinking."
Joyful, heartfelt speeches were said outside on the terrace above the garden, whilst family and friends looked on from the garden below, and daytime slowly faded into a beautiful blue twilight.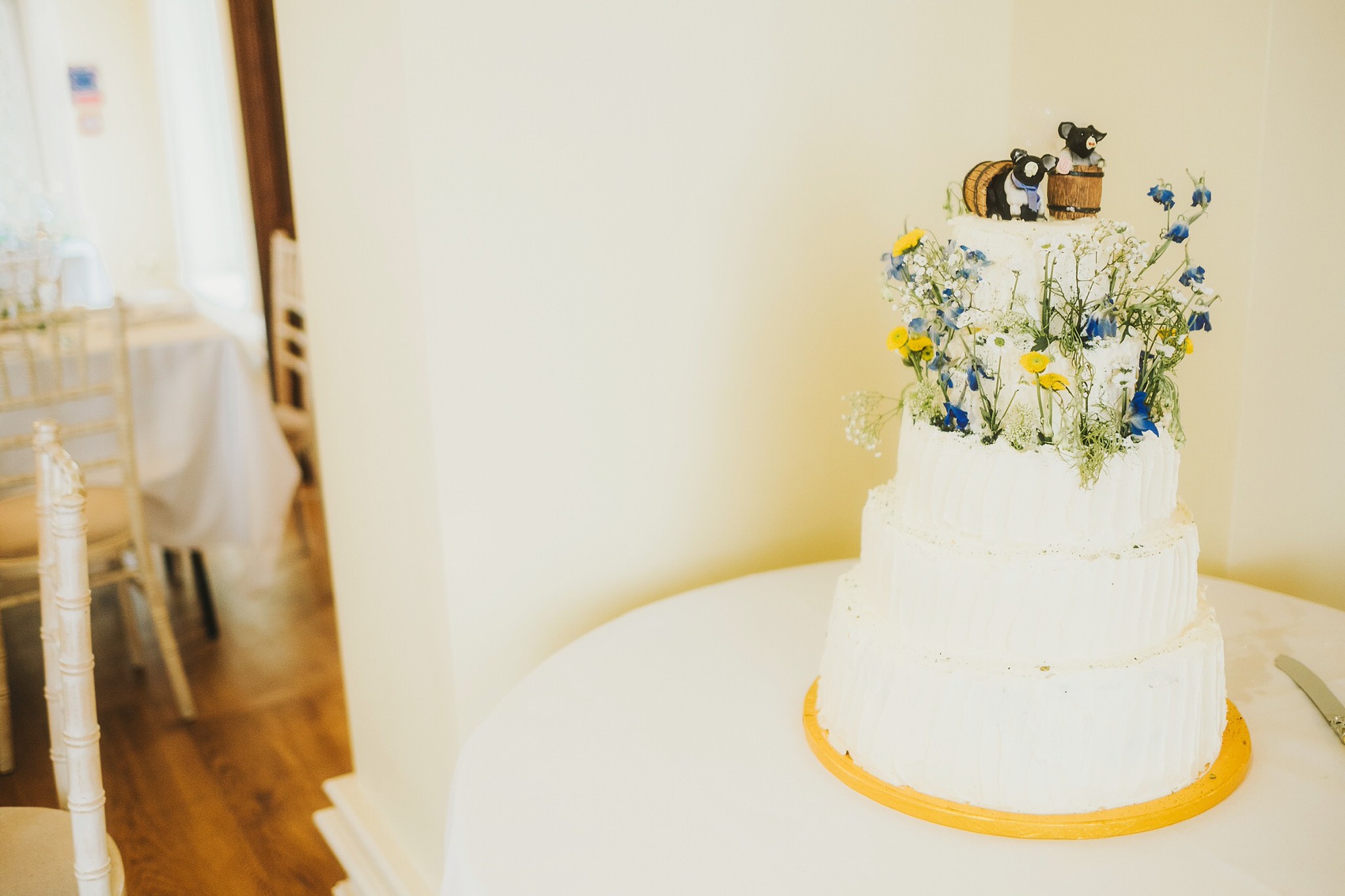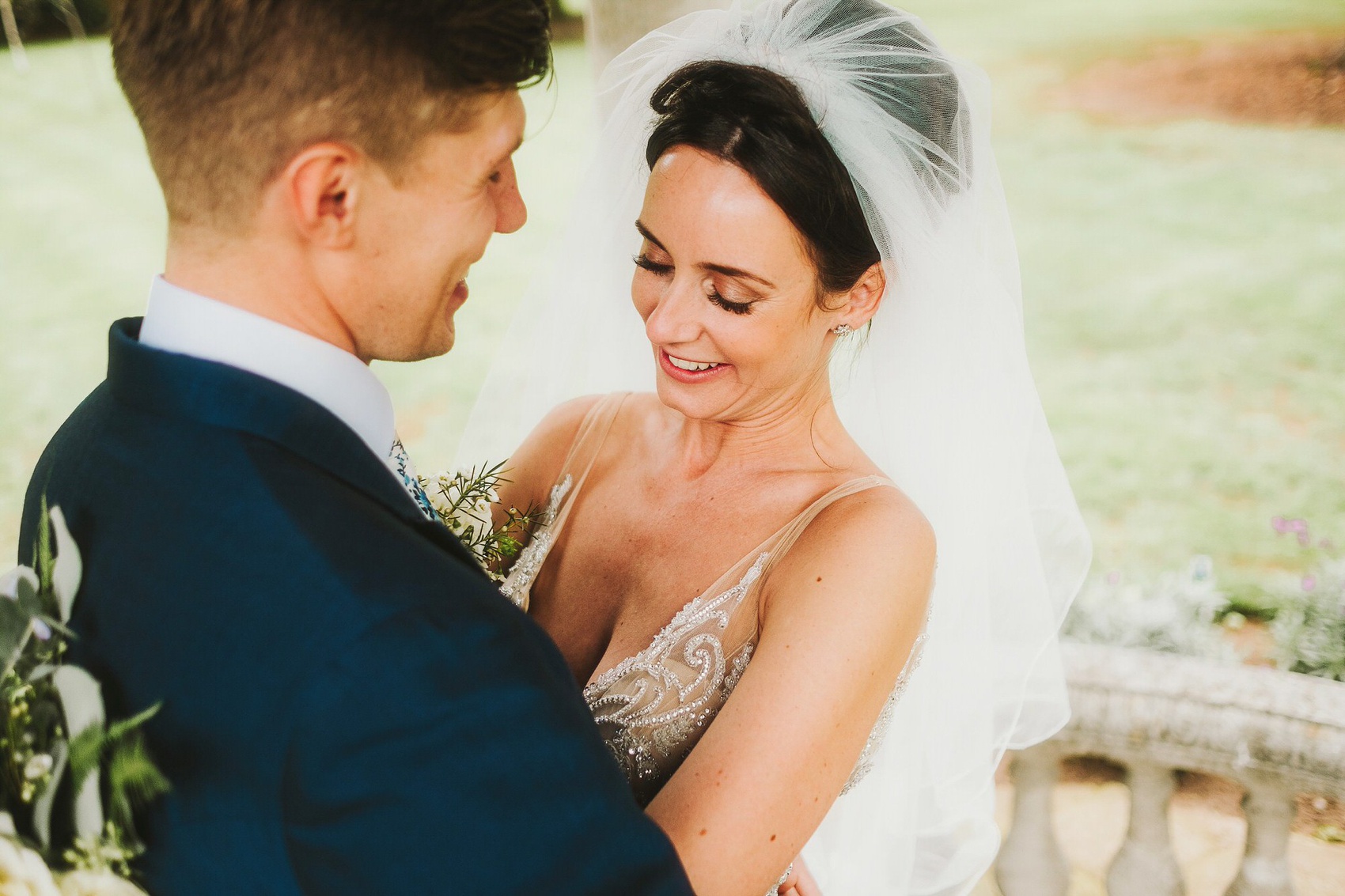 "There were lots of candles, hurricane lanterns and fairy lights (sourced through my shop). A family friend made us a big frame to act as a homemade photo booth and we bought daft props for it and left a Polaroid on the bar with lots of film."
"It was great fun looking at the photos the next day."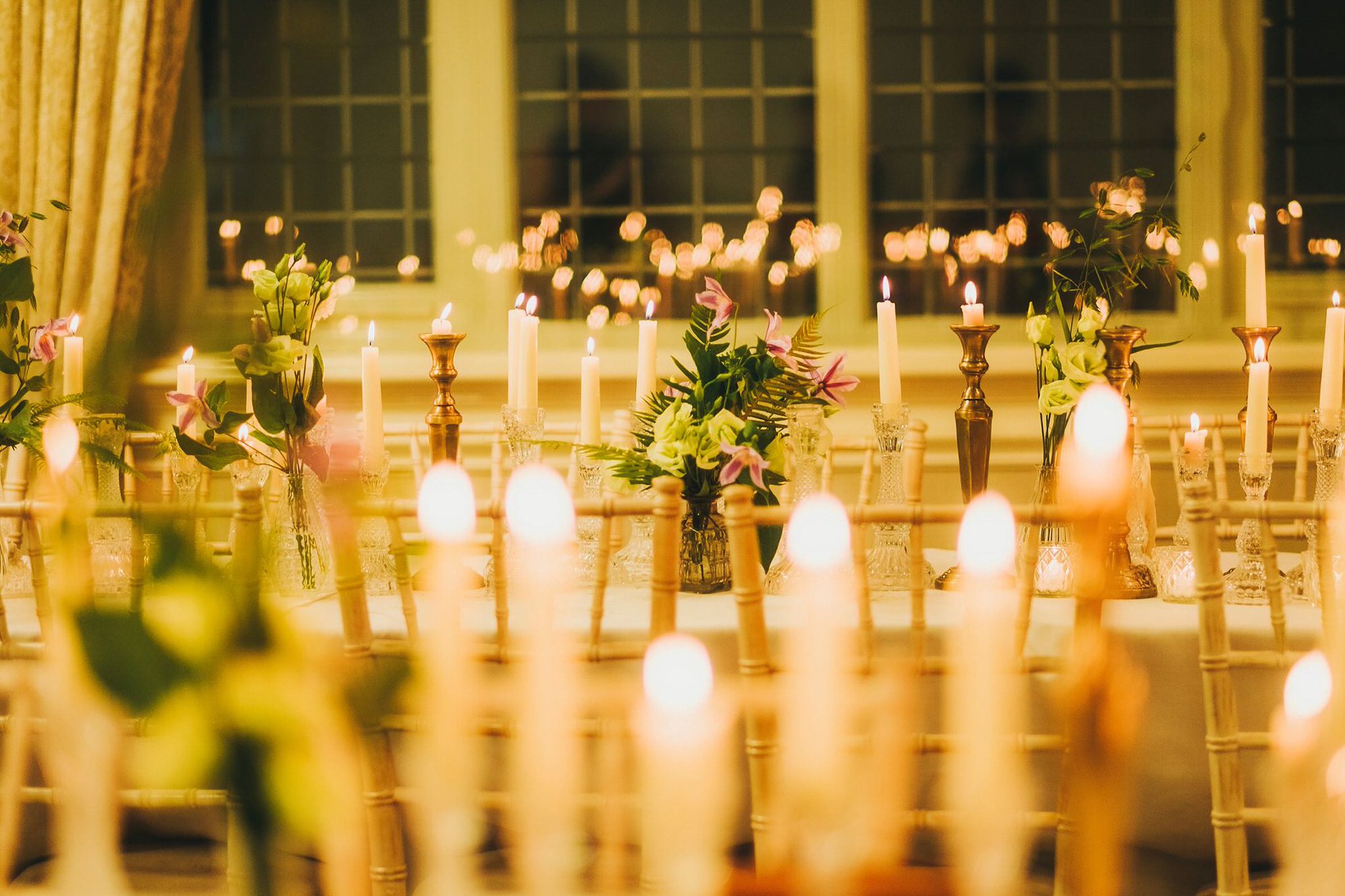 It's brilliant that so many of Mary and David's talented friends and family were part of what made their celebration so great, and this even extended to the evening entertainment, as friend Stew, from Spinback Productions was the DJ.
"Our first dance was to Al Green – Let's Stay Together. It reminds us both of a New Year's Eve house party in London years ago, singing it in the kitchen at about 3am!"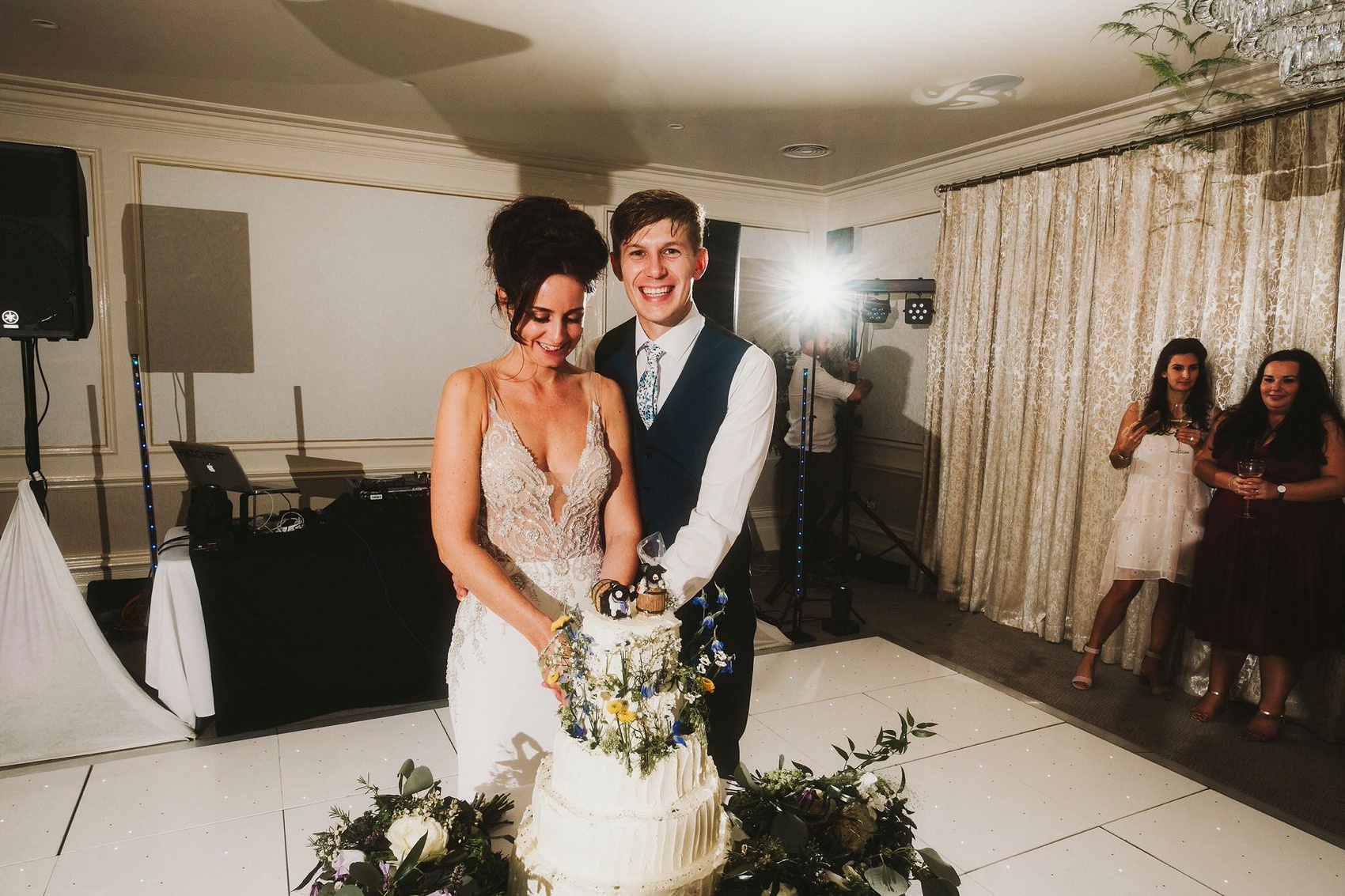 Words of Wedded Wisdom
"Pace yourself. Make sure you get some of the canapes!"
"Take 5 to go off and just have a few minutes alone, as it all goes so fast and you need a couple of moments together."
"Everything will be fine on the day."
"I found that with some suppliers there really was a 'can't do' attitude. If what you are asking is reasonable, then don't accept the first answer of no – you're paying a lot for your day.
Mary and David, many congratulations and huge thanks for this glimpse into your beautiful day. What a spectacular venue Tilstone House is, and it looked so wonderful filled with lovely, wild greenery. Many thanks also go to Kate McCarthy for her breathtaking images.
If you're searching for more Cheshire wedding inspiration, then do take a look at some of the other celebrations we've featured, right here.
With love,
Laura