Well hello again my lovelies and it's a joy to be with you on this fabulous July day. I've only got a couple of weeks until my big day and I'm now at the point of confirming the final details and finishing the last of the jobs on the to do list.
To say we're both excited is an understatement! Today, I'm thrilled to be joined by the team at the wonderful RSA House in London who are sharing a whole host of brilliant ideas with us. Having seen more marvellous weddings than we can mention, the team know a thing or two about personalising weddings so if you're looking to put your own stamp on your big day, you're sure to find some inspiration, or a little extra confidence to do your own thing, right here.
Before we start, let me tell you a little bit more about RSA House because it has to be one of my all-time favourite London venues. Back in the day when I was planning weddings myself, I had the joy of working on a number of weddings here and every single one sticks in my mind, partly because of the venue. RSA House is tucked away on John Adam Street, behind London's famous Strand and it's such an elegant space for a wedding.
Glorious Georgian architecture, stunning interiors, iconic sweeping staircases and The Vaults, the super cool space that sits underneath the historic building, give you absolutely everything you could dream of for a wedding.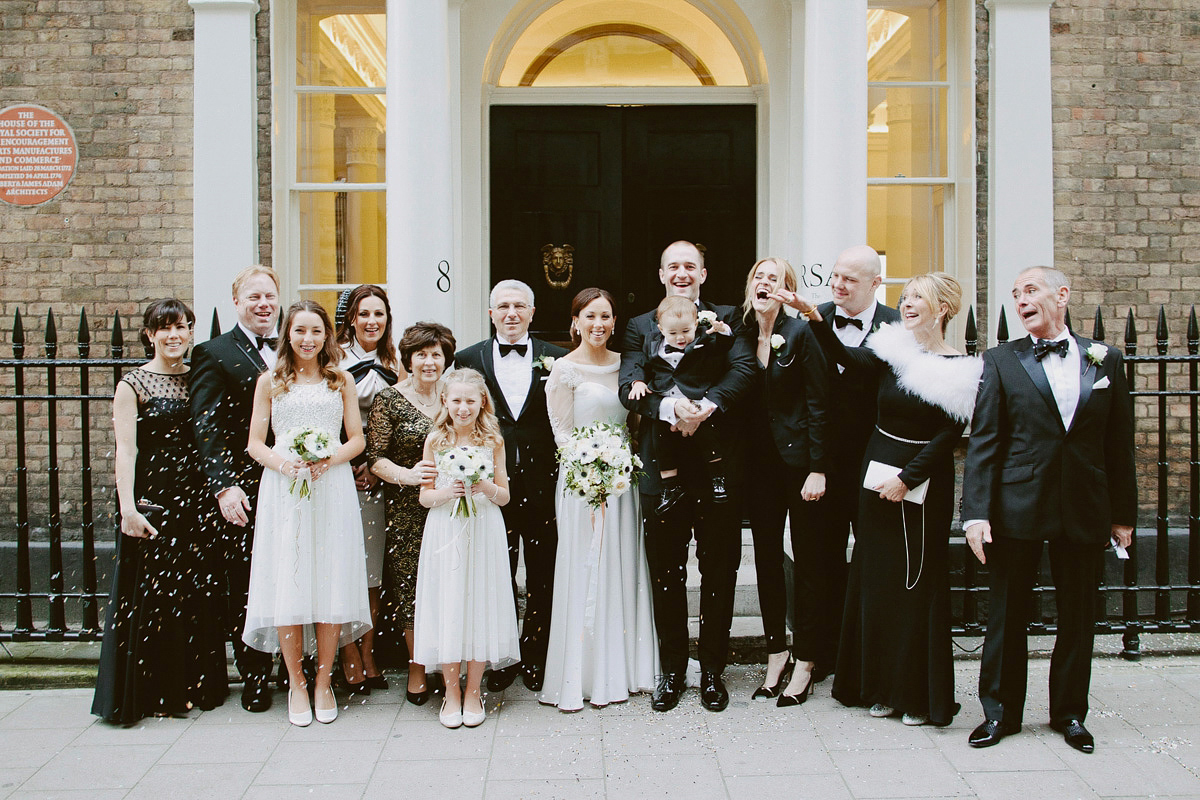 See this full wedding here
Another of the best things about RSA House is that it's so incredibly flexible. You really have got the ability to make it anything that you want and to me, that's what makes it so special. We all want to create a wedding that really reflects ourselves and our personalities and at RSA House, there really are a thousand ways to do just that. The brilliant team at the venue have worked with so many couples and they have some great ideas, plus lots of real life examples if you're wondering how these ideas translate to reality, and here are just a selection of the team's favourite ways to personalise your wedding:
1. Scent your wedding
Scent plays a huge part in the makeup of our memories  – scenting your wedding, creating a gorgeous aroma that guests will forever link with your day is a lovely way to personalise your wedding. When Antonietta and Matthew married at RSA House, they incorporated their own personal Jo Malone scent into their day with candles and cologne. They also offered personalised cigars to guests for their winter wedding.
2. Reflect Your Profession
Let's be honest, our jobs are a HUGE part of our lives and if you love what you do, why not reference it in your plans? Again, your guests will certainly link this with you and you can definitely have some fun with details. Kim and Ross combined their professions to create an amazing wedding. Kim is a scientist and Ross is a designer and everything came together for their colourful, science-themed celebration.
See this full wedding here
3. Style your day around your favourite era
Whether you love the Roaring Twenties or the Swinging Sixties, an era-themed wedding is always a good idea. Liv and Teddy's outstanding 30's inspired wedding at RSA House had it all. One of the best things about RSA House is that it works so well as a backdrop to every iconic era possible so indulge your love of history!
4. Think about the soundtrack to your love story
Oh yes, music is important to us all and if you have certain bands or tracks that have played a big part in your love story, definitely include them in your day. Mark and Frances met at Nottingham University and chose songs for their RSA House wedding that had featured during their time together and on some unforgettable nights out. 'Everybody Dance' by Chic was their choice of tune as they exited the ceremony and P. Diddy's 'Bad Boys For Life' accompanied their entrance into their wedding breakfast!
Don't be afraid to have some fun with your music choices and remember that you don't have to stick to traditional tunes if they don't mean anything to you. You can see the video of their day below…
5. Bring in symbolic touches that link to you
Every culture, and even every family, has things that are important when it comes to weddings. Whatever style of ceremony you're having, it's definitely more than OK to reference these important traditions if your day. Jo and Mo honoured the German tradition of sawing a log in half on their wedding day. This represents the first obstacle that they have to overcome as a married couple and they cleared this hurdle in fine style!
6. Work with the seasons
Weddings themed around the seasons are always brilliant and for their winter wedding, Felicity and Matt included lots of wintery details. Think about what the season you're marrying in means to you and brainstorm all the details that you associate with this time of year. From spring flowers and summery drinks to autumnal colours and wintery details, seasonal flourishes are always perfect.
Images by Ginger Snaps Photography
I absolutely LOVE these ideas! I'm all for including personal touches at your wedding (as Annabel will see when she's at my big day in a few weeks!) and all of the above could be tweaked to suit your own style. Thank you to everyone at RSA House for this ace inspiration.
To find out more about weddings at RSA House, simply visit their website.
Love,
Tamryn x