Today's wedding is a dreamy one and if a romantic vibe set in gorgeous woodland with an aisle lined with vintage Persian and Turkish rugs is up your street, you'll want to stick around.
The bride and groom completely nailed the vintage boho look and executed an outdoor wedding ceremony perfectly. The reception looked like a party I'd like to have been invited to and it was a day of personal touches, which made all the difference. Want to know more? Then down the woodland path we go. Clinical psychologist Robyn and developer Paul were married on 21st July at the 140-acre organic farm Hawthbush Farm in East Sussex.
Images by Modern Vintage Weddings
"My dress was by Daalarna but I had a bit of disaster with it as the shop I bought it from went into liquidation soon after I'd paid for it in full. I only discovered this when the suppliers found my contact details and told me they'd not been paid for the dress but had made it, so I had to pay for it twice. Luckily, we had insurance."
"I'd always wanted a dress with a relaxed boho feel to it, which wasn't too structured, as I also wanted to feel comfortable. I loved the simplicity of my dress, which went really well with the vibe of our day."
"We chose David at Modern Vintage Weddings to photograph the wedding as we loved his natural style and we wanted to have photos that would tell the story of our special day. David was fantastic to work with and really put us at ease on the day. He really captured all the funny moments and still managed to make it all look very romantic."
"My shoes were from Monsoon and I also wore a flower crown that I designed alongside our florist in between setting up the barn the day before the wedding. My mum also let me borrow her mother's sapphire ring for my 'something borrowed, old and blue'."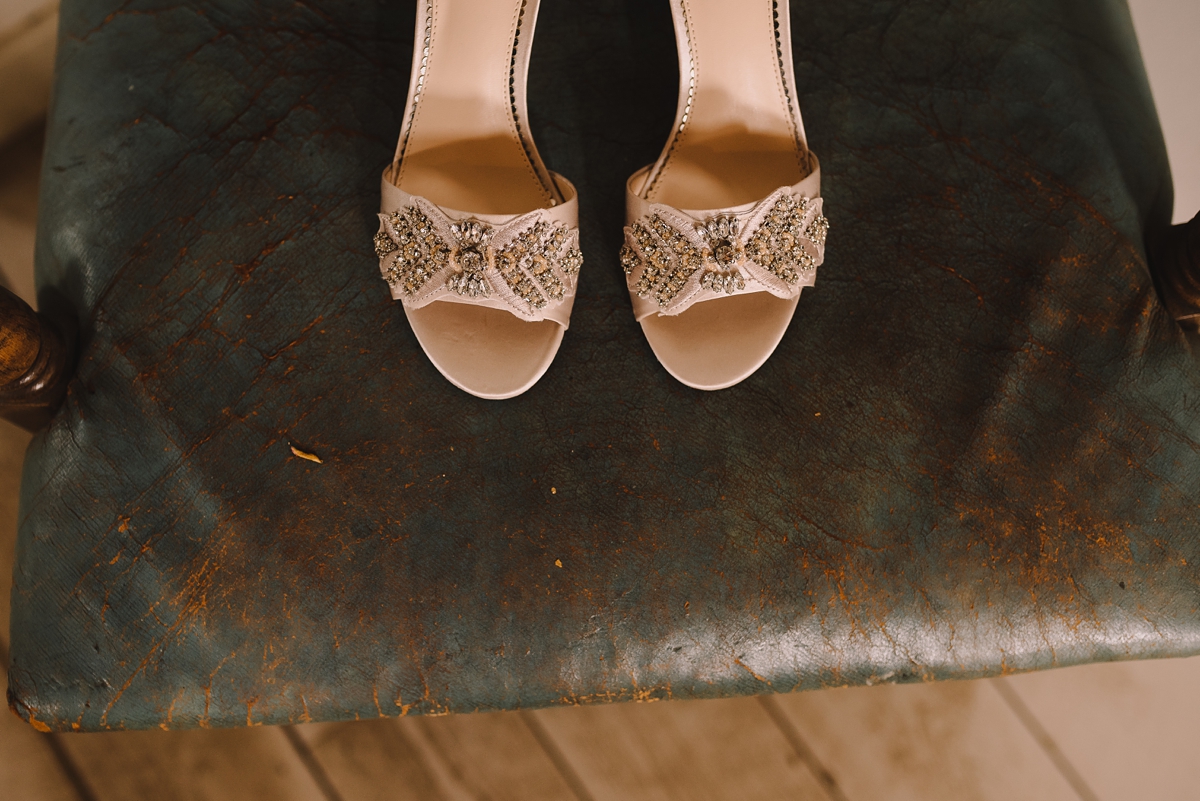 Robyn's beautiful bridesmaids each wore a navy blue mid-length dress from ASOS, accessorised with a pair of nude ASOS heels and a blooming gorgeous bouquet made up of green foliage. The groom stuck to a similar palette in a 3-piece suit from Roderick Charles in London, worn with vintage cufflinks his bride had had engraved for him.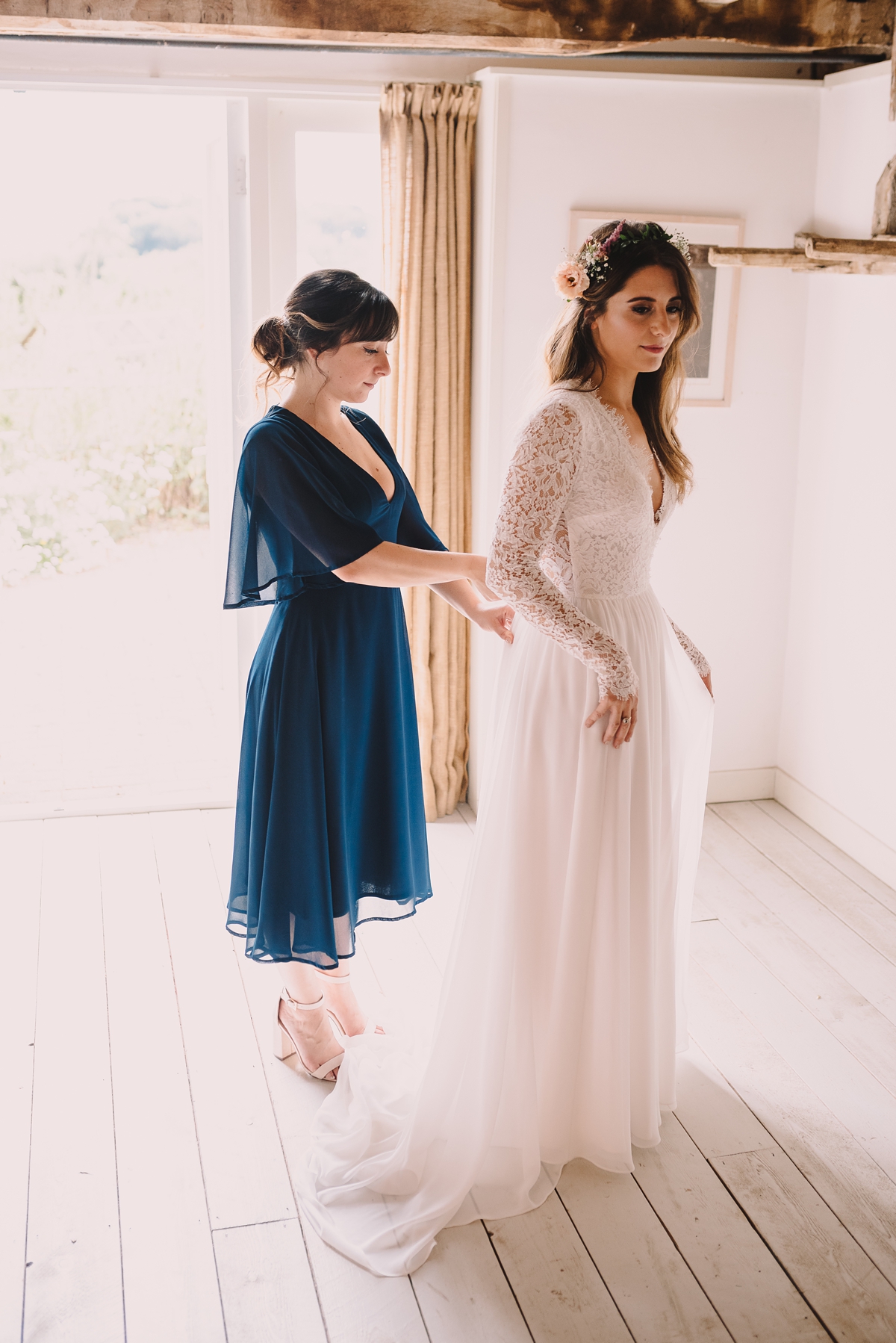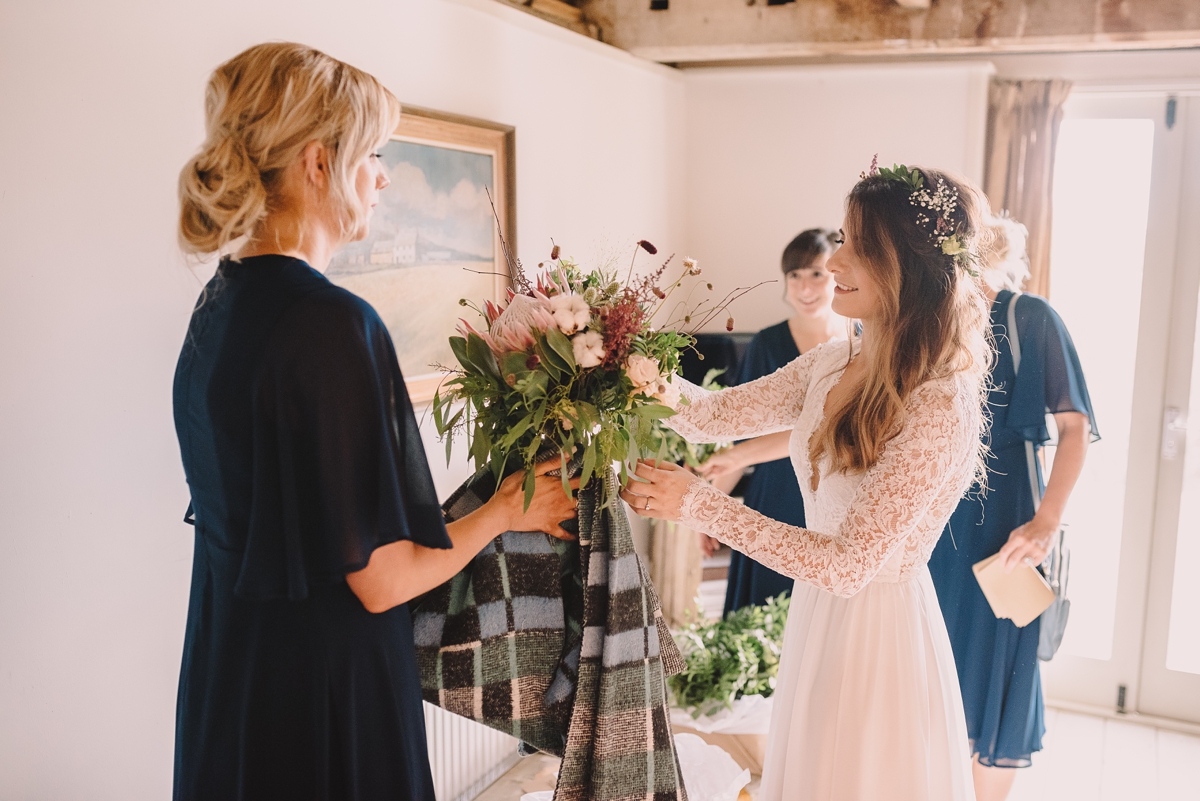 "Alex from Webb and Farrer was our florist and we chose her as she uses a lot of foliage and unusual flowers and plants (like cotton), which I loved the look of. I wanted all of the flowers on the day to look very natural and rustic rather than traditional, and her style fit perfectly for that."
"When it came to styling the wedding, Paul and I love the outdoors and so wanted to incorporate as much greenery into the day as possible. We also share a passion for reading (Paul won't go anywhere without a book in his pocket) and I like reusing old things, which is why we also chose to include lots of vintage books and second hand objects that I found and bought from charity shops local to us."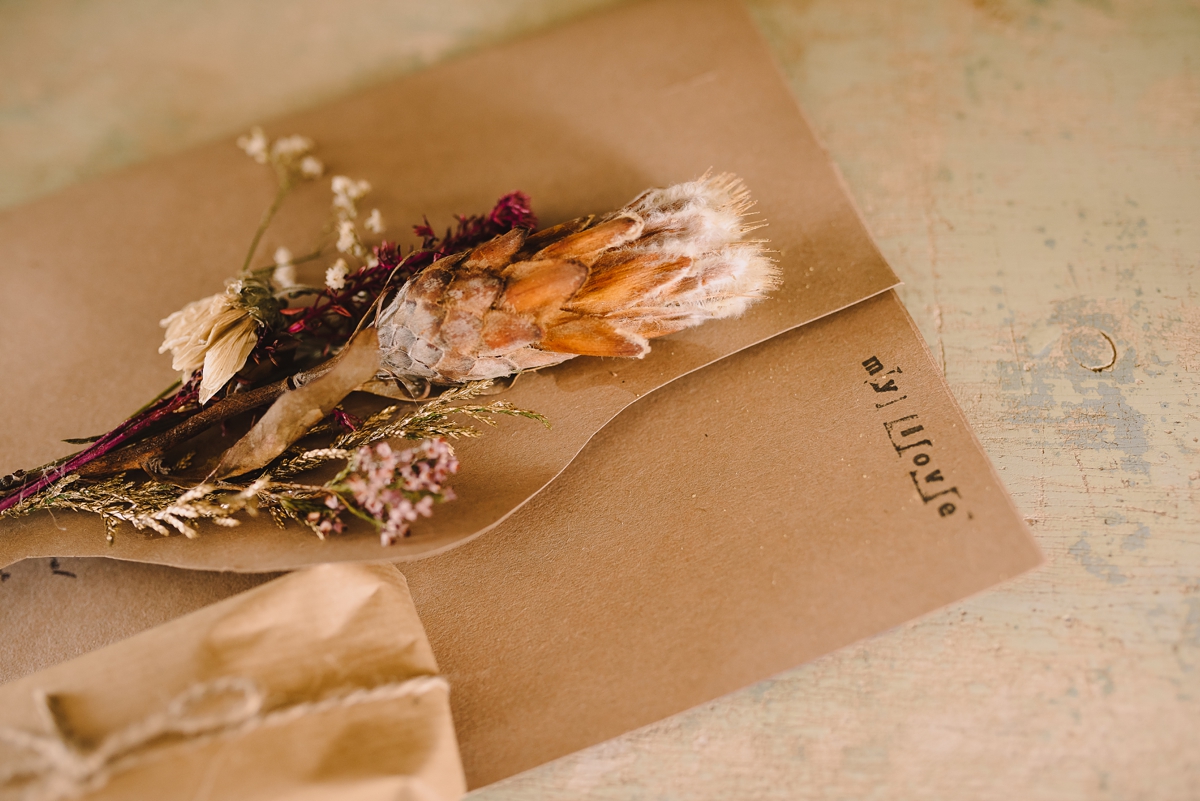 "Paul and I met in 2015 via his best friend who was studying the same doctorate course as me. We first spoke at a housewarming party that his best friend was throwing."
"I noticed Paul on his own, standing watching a conversation I was having with some friends, so I decided to go over and say hello. The rest as they say, is history."
"Paul's proposal was a complete surprise as we were in the final stages of buying our house when he came home and popped the question! He then whisked me off to Paris for the weekend to buy my engagement ring."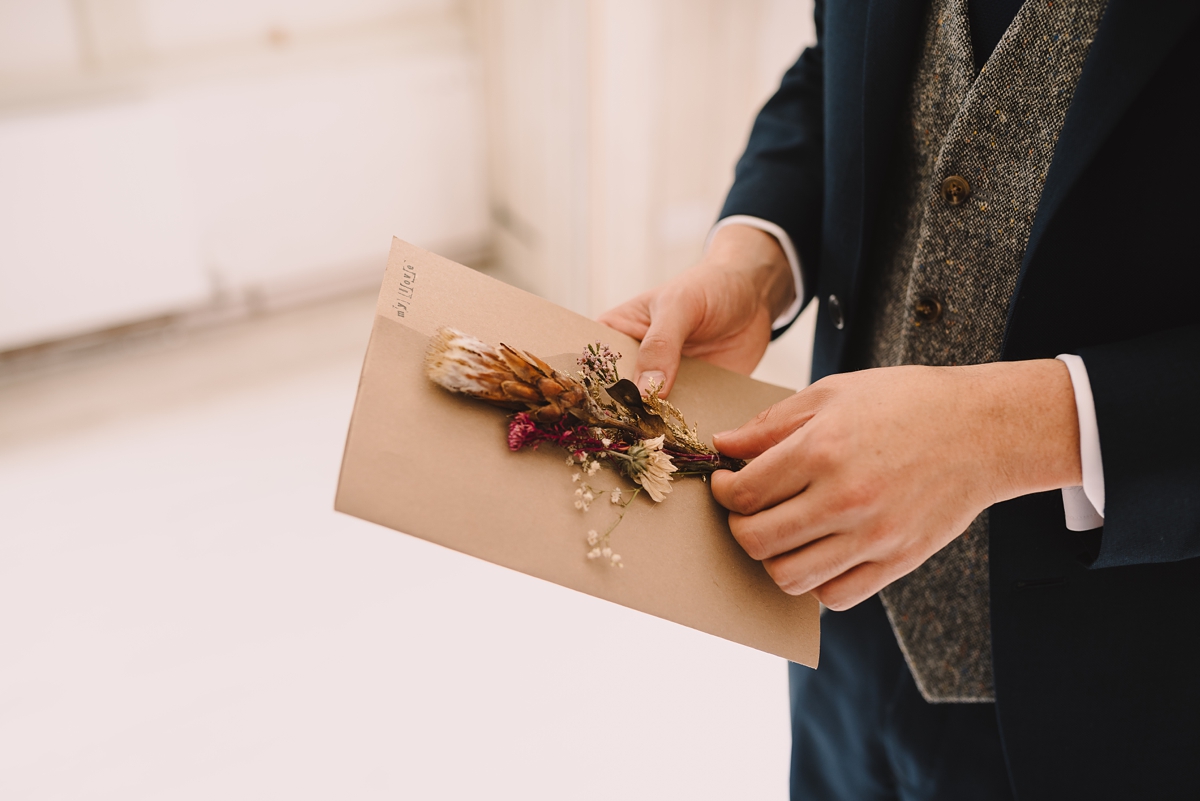 "Paris was also where he took me away for my birthday on our first holiday together, so it was lovely to go back and celebrate our engagement. We had a long engagement as we wanted to take our time planning the wedding and do as much as possible ourselves."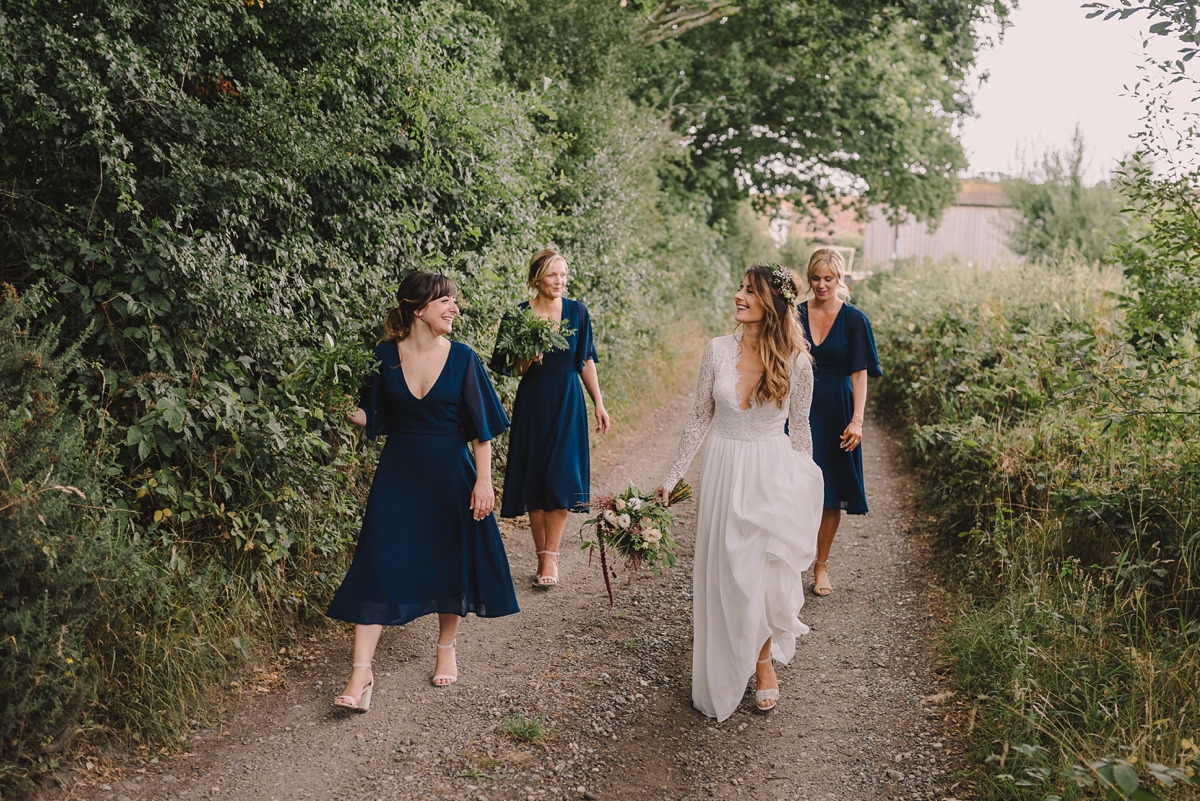 "I spent hours searching for the right colours of vintage Turkish and Persian rugs to use for the ceremony. The signs were made by Suzanne Oddy Design and she was really flexible in terms of creating designs that went with the theme."
"Paul and I also hung lots of white lantern balls to line the walk to the ceremony along the woodland path."
"For the confetti we used dried rose petals that were from our rose bush in our garden. I mixed this with some leaves I spray painted gold to add a bit of sparkle."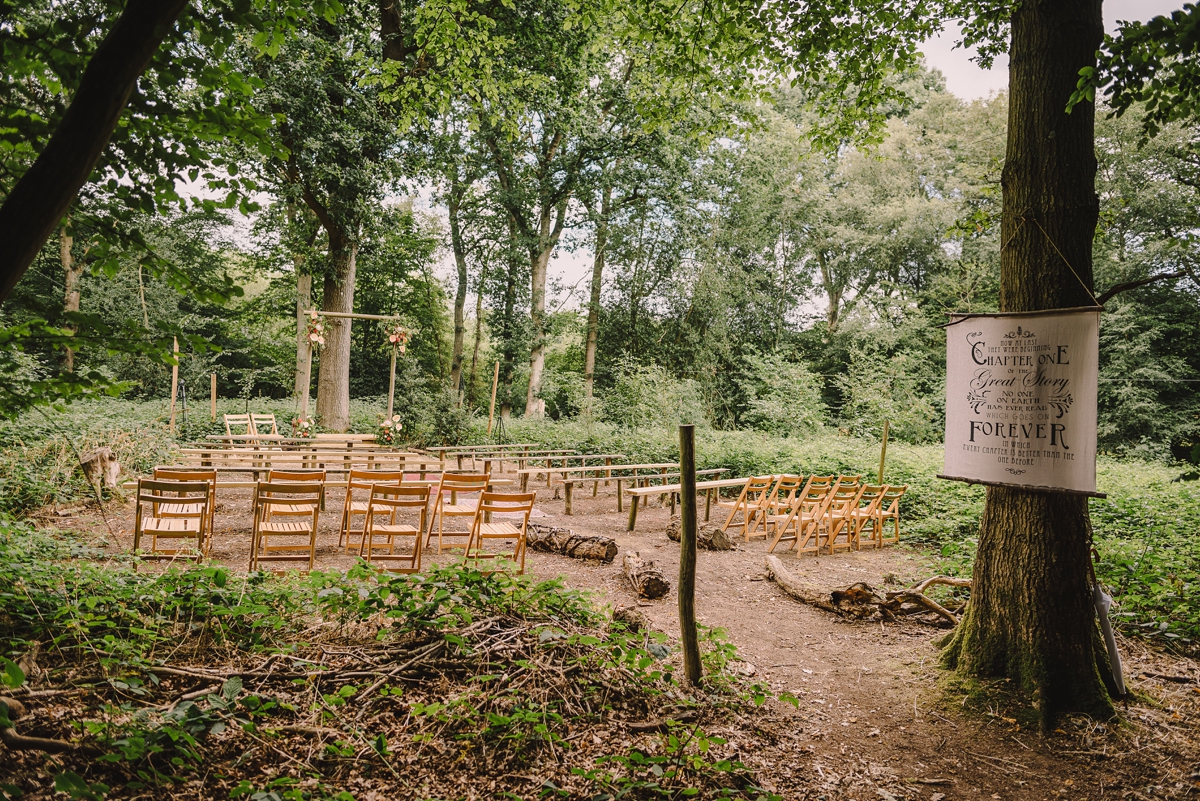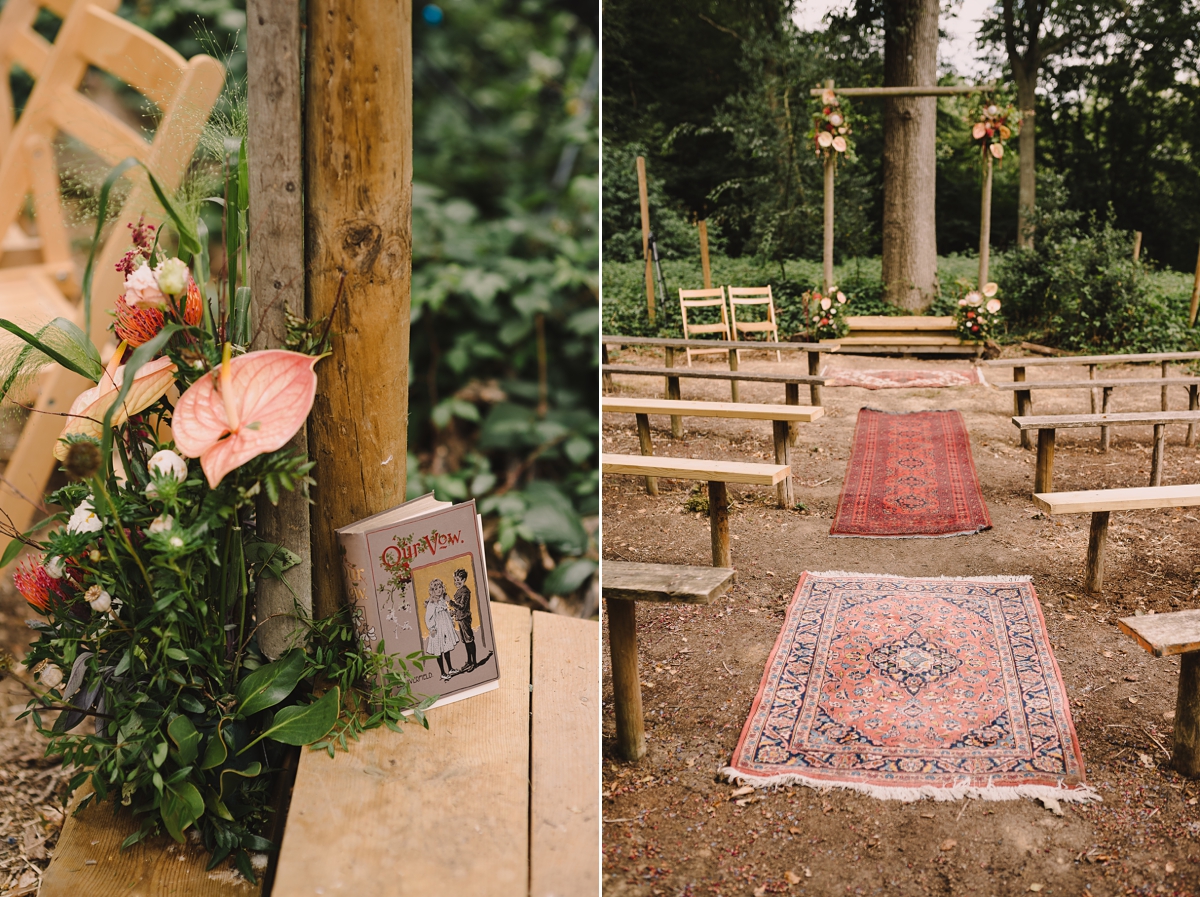 "My dad accompanied me down the aisle. We both love Ludovico Finaudi's music so I wanted to walk down the aisle with this song playing."
"Paul couldn't get it to work outside when he practised it the hour before I was due to leave for the ceremony, but after getting my younger brother Tim on the case, we managed to make it happen."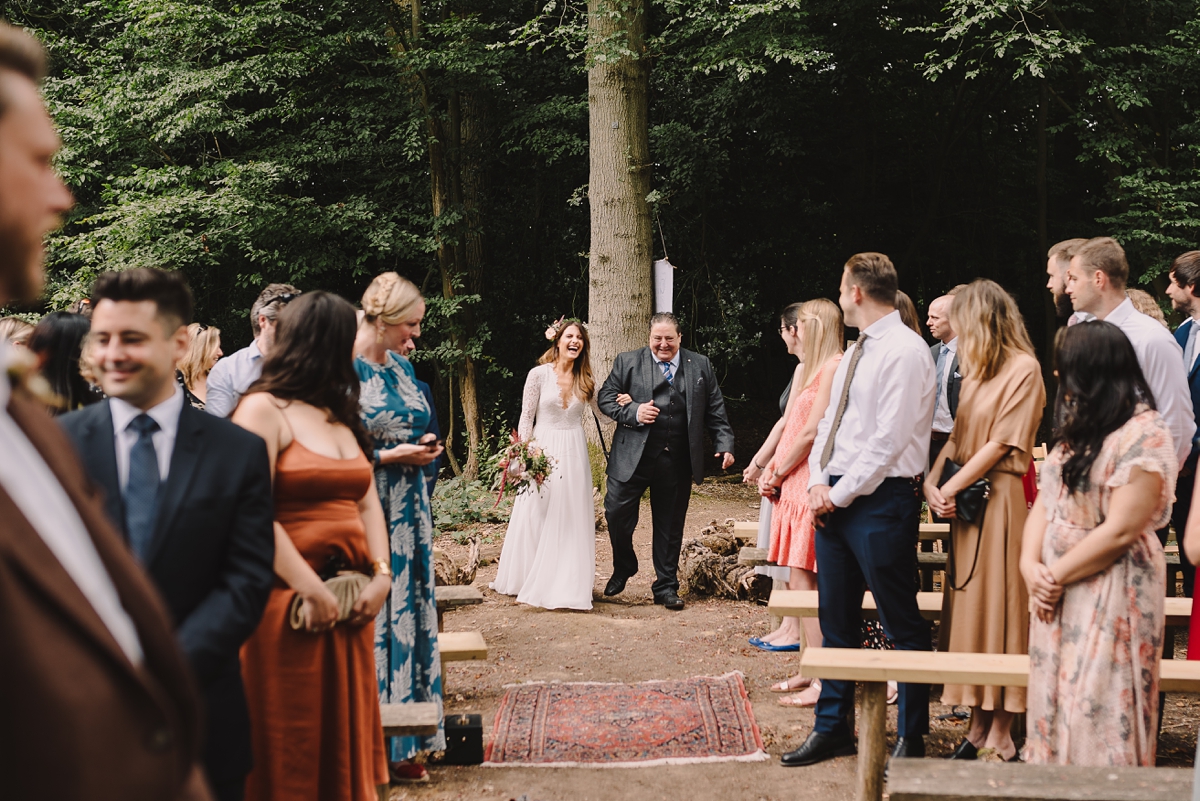 "Lisa Pope was our celebrant and she did an amazing job. She worked really closely with us in shaping what we wanted to say by finding out who we were as a couple and then suggesting ideas for the ceremony based on that. For example she found an extract we chose to include from one of our favourite books."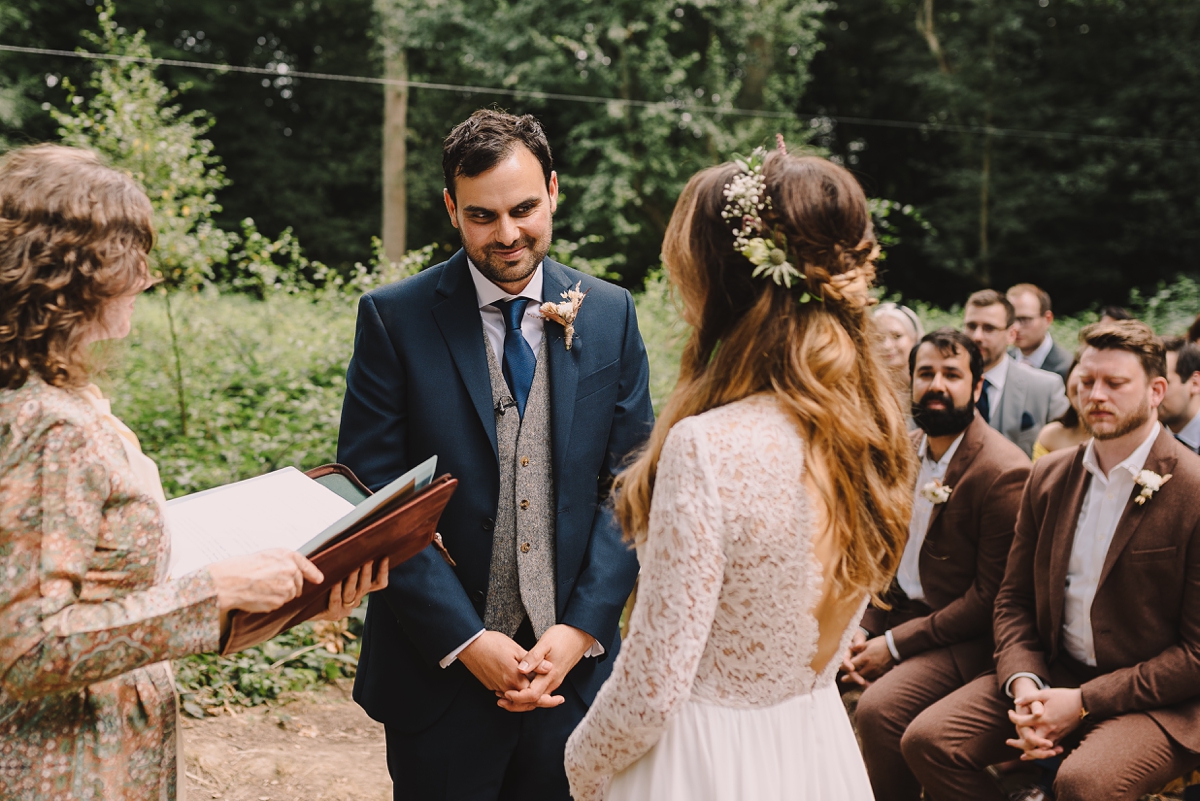 "We wanted to make sure our vows spoke to our relationship and felt meaningful to us, so we chose to write them ourselves as a series of promises to each other."
"For our readings we chose an extract from Charles Dickens Great Expectations, read by Paul's cousin Nisha. Paul read Into My Arms by Nick Cave to me, which was really special."
"My sister Lotte and one of my bridesmaids Rosa read a series of statements about what love means by a group of children and our best friends Hannah and Luke read Union by Robert Fulghum. We wanted to have readings that were personal to us and to include a mixture of readings that were romantic and funny."
The ceremony looked beautiful in the woodlands of the venue, with vintage carpets lining the aisle and wooden rustic benches seating guests.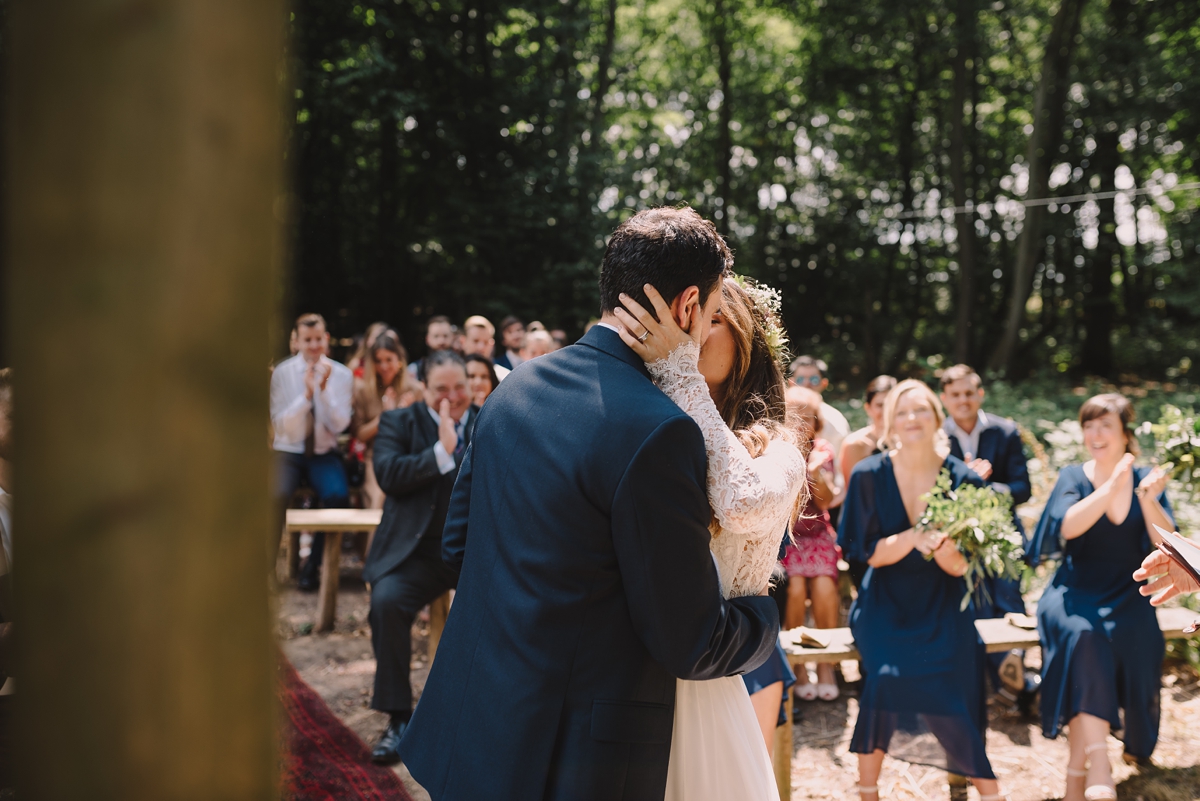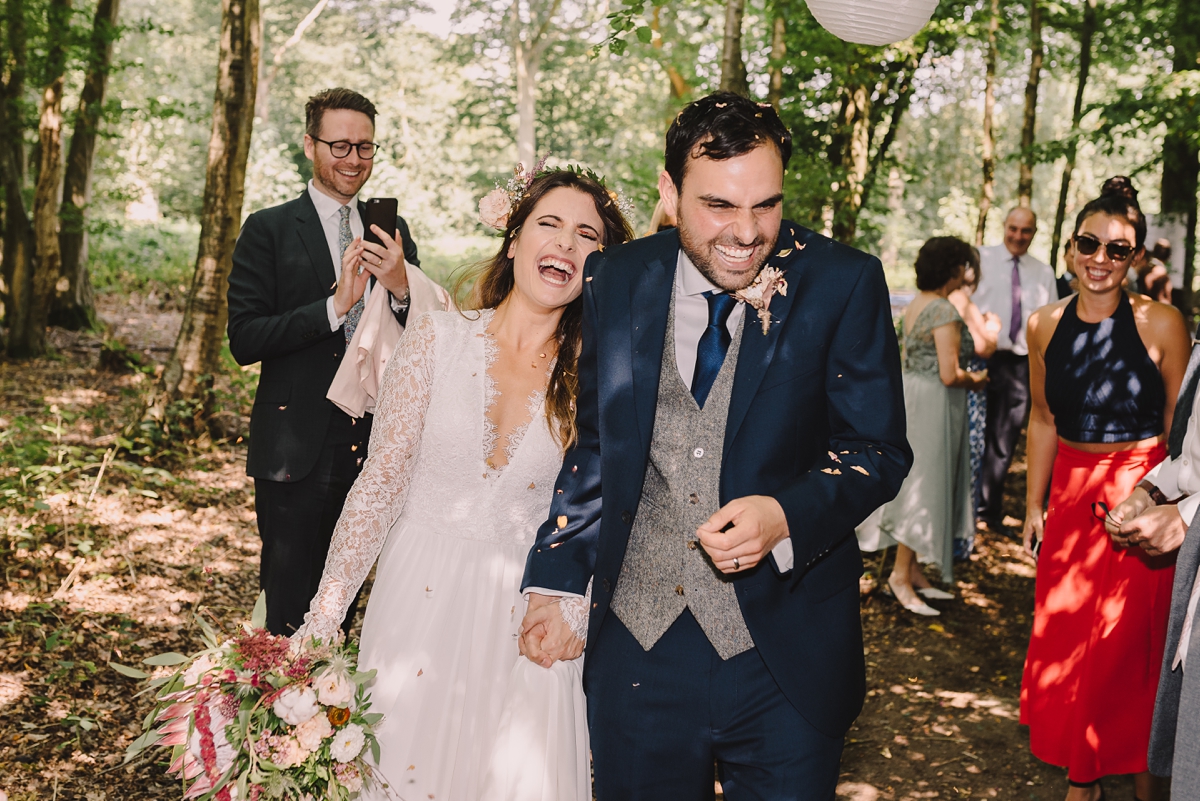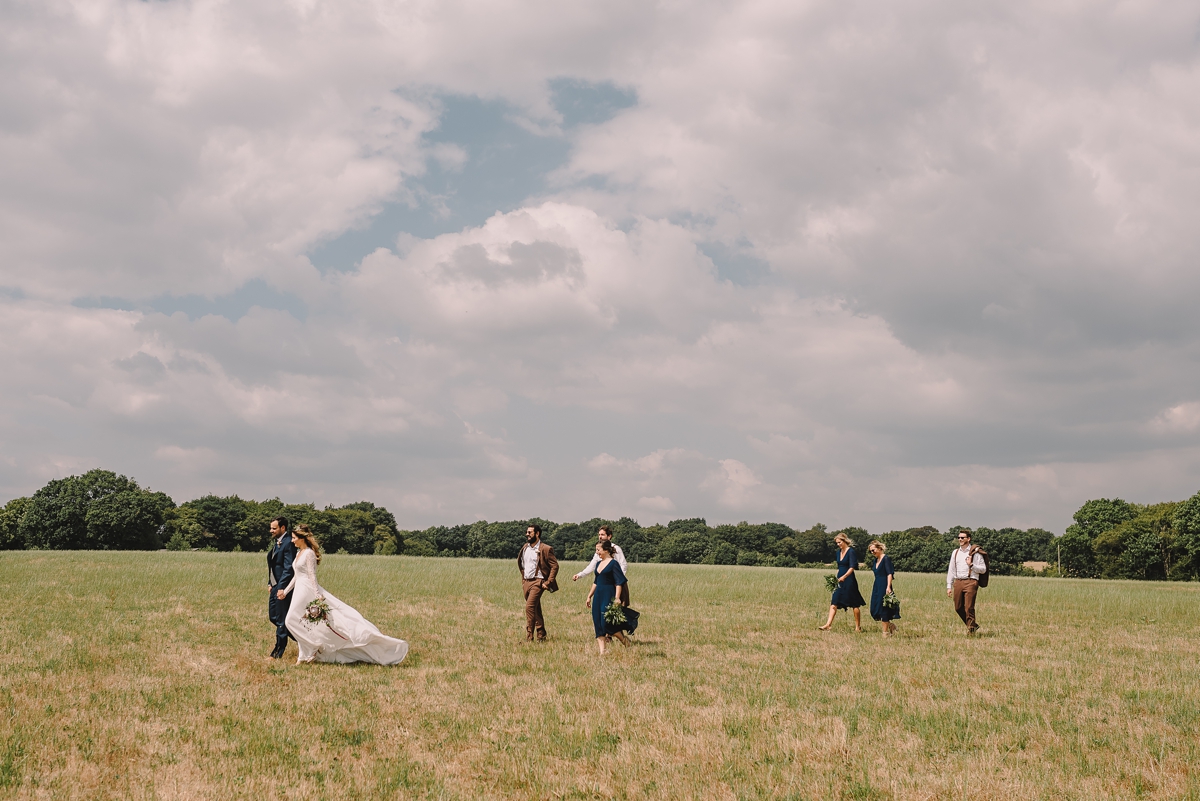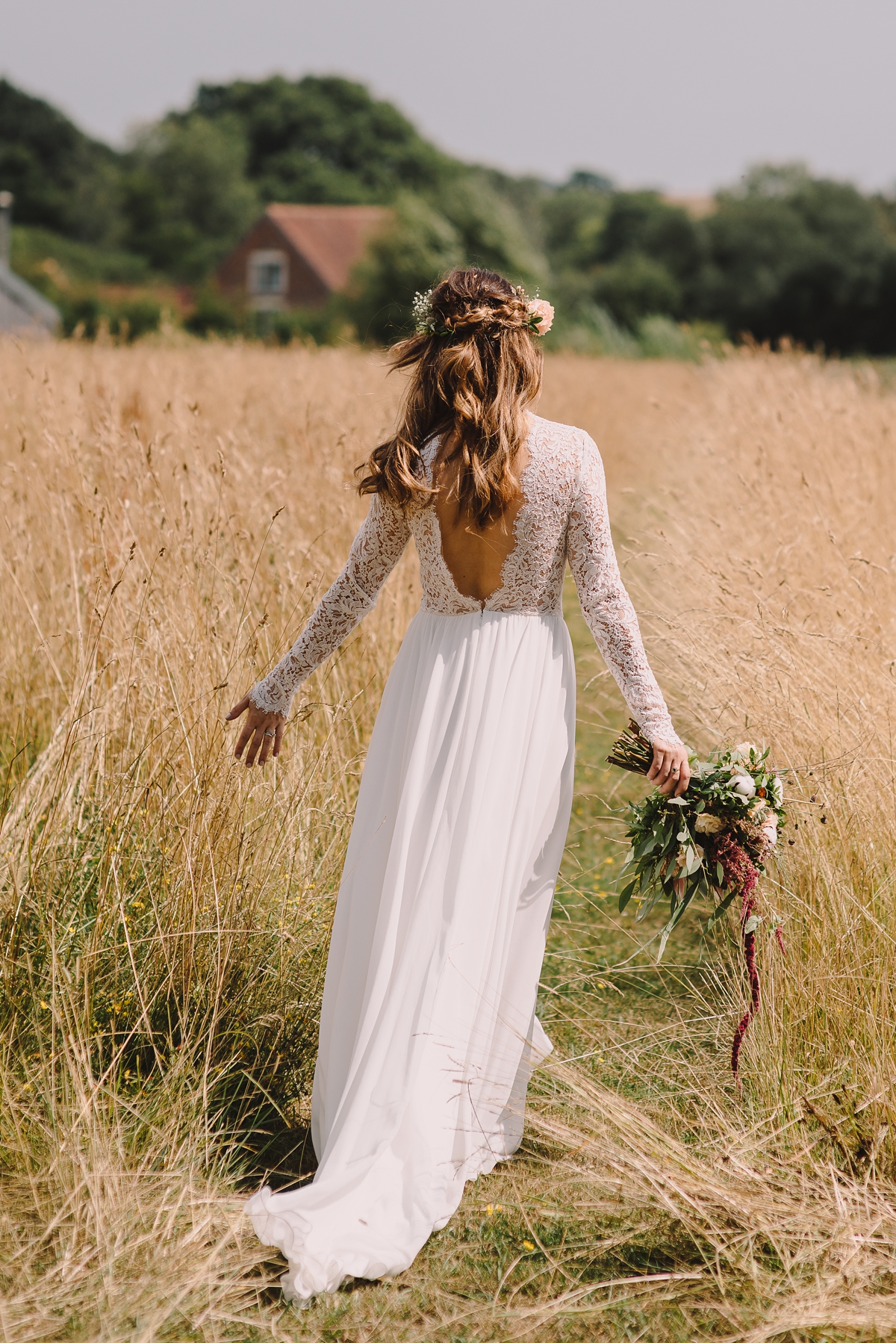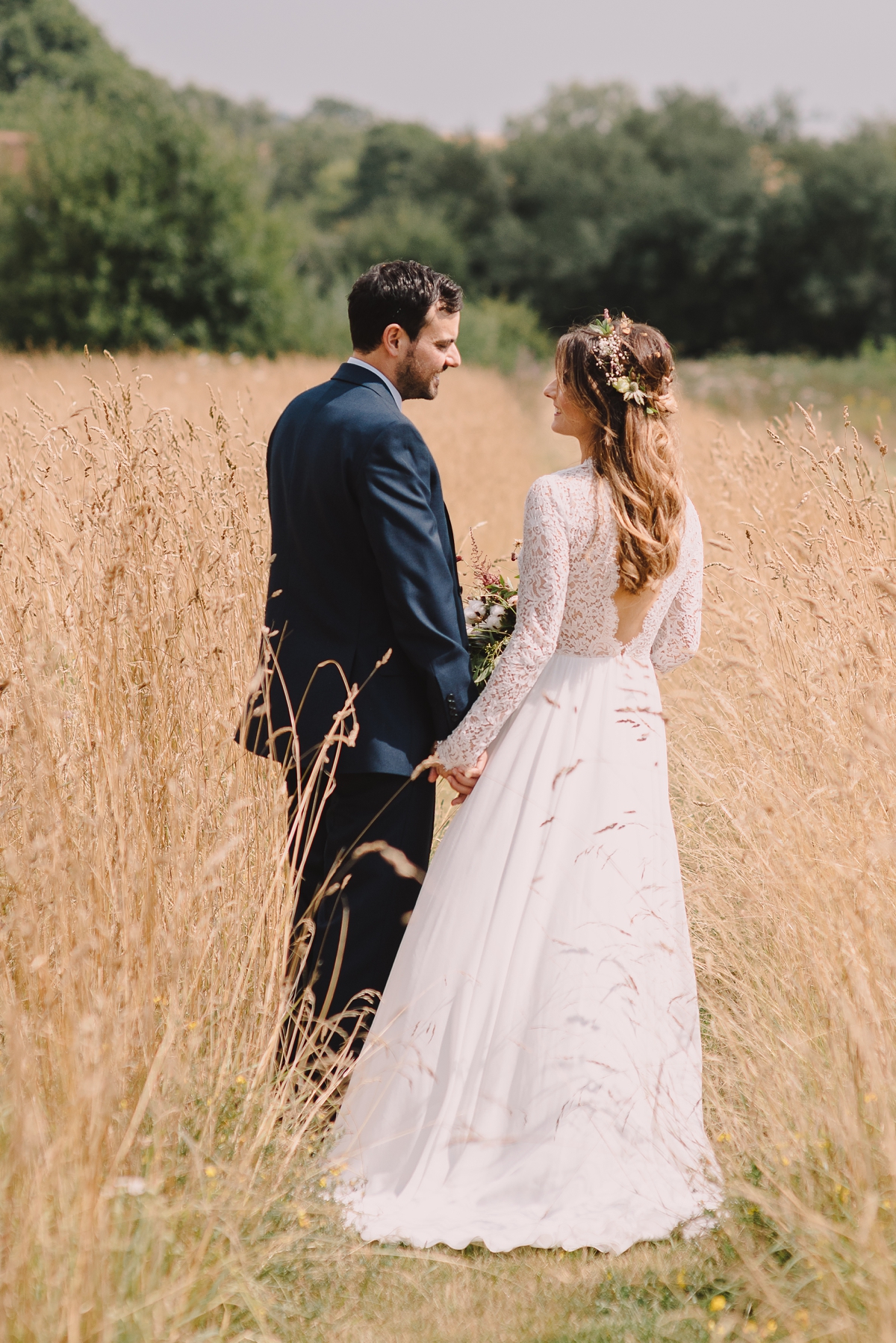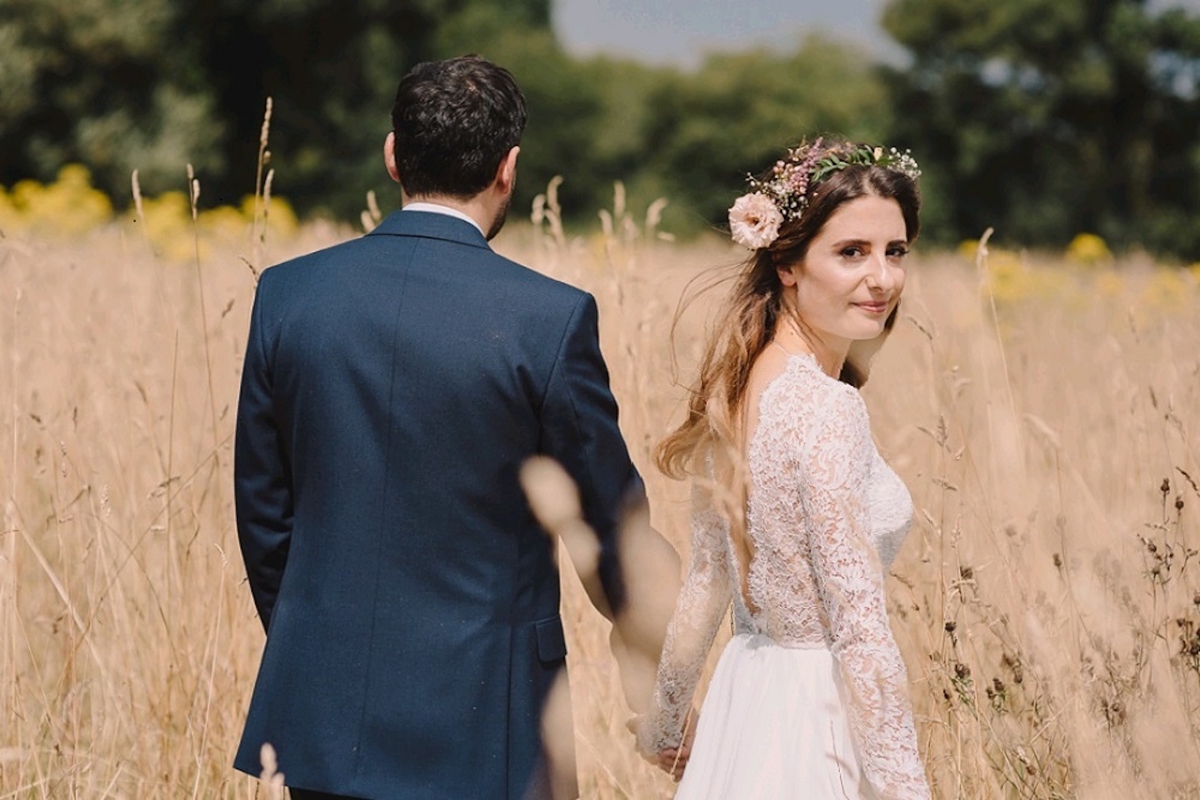 "To go with the vintage boho theme I spent many weekends trawling through second hand shops near to where we live looking for favourite old books and an old typewriter which held the quotes about love that I typed up."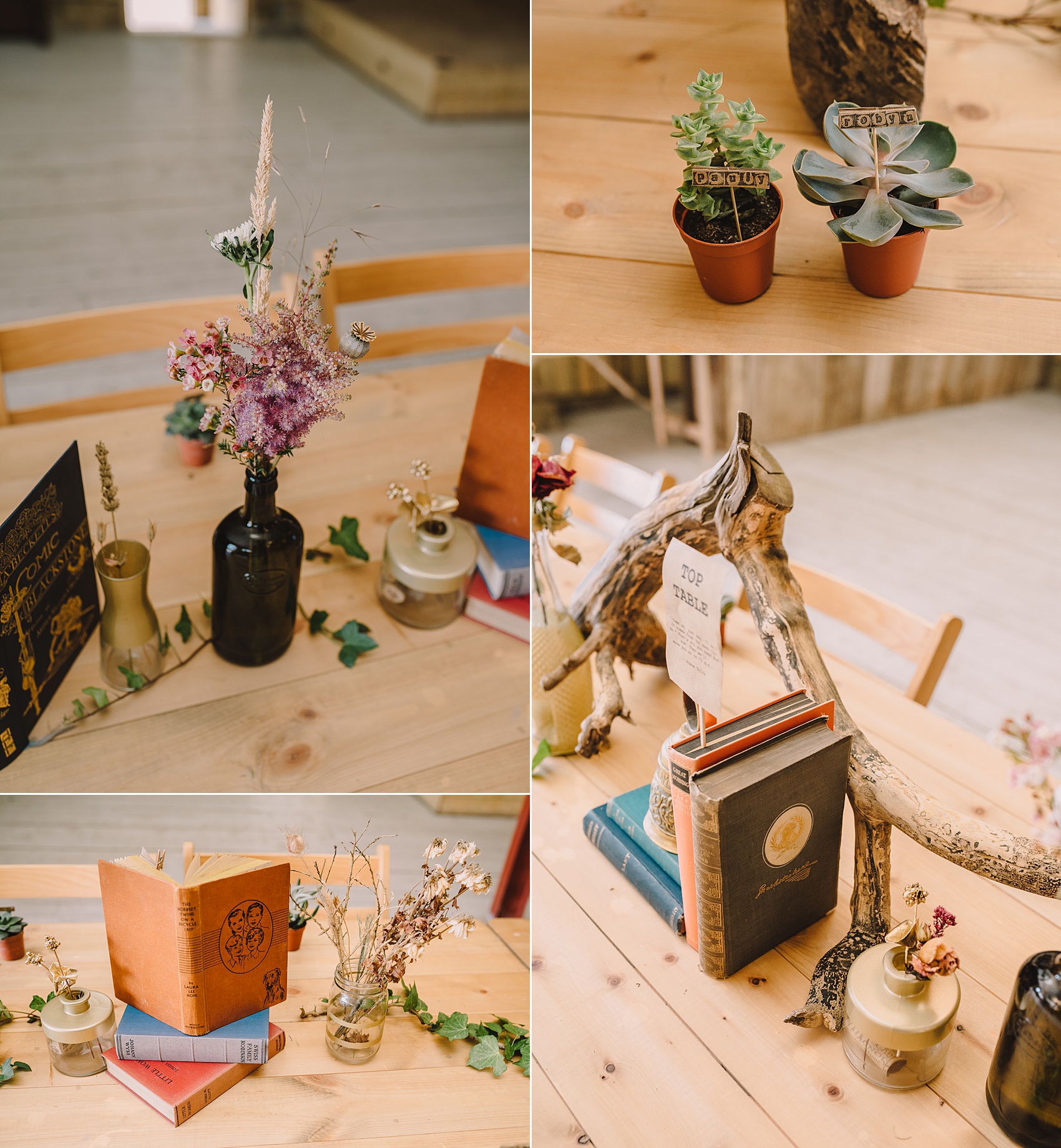 Following the ceremony the wedding breakfast was served in an outdoor marquee and catered by Sussex Spit Roast.
"I collected and hand washed a lot of brown bottles and spray painted some pretty glass bottles I had saved to put on the tables with foliage and flowers in them."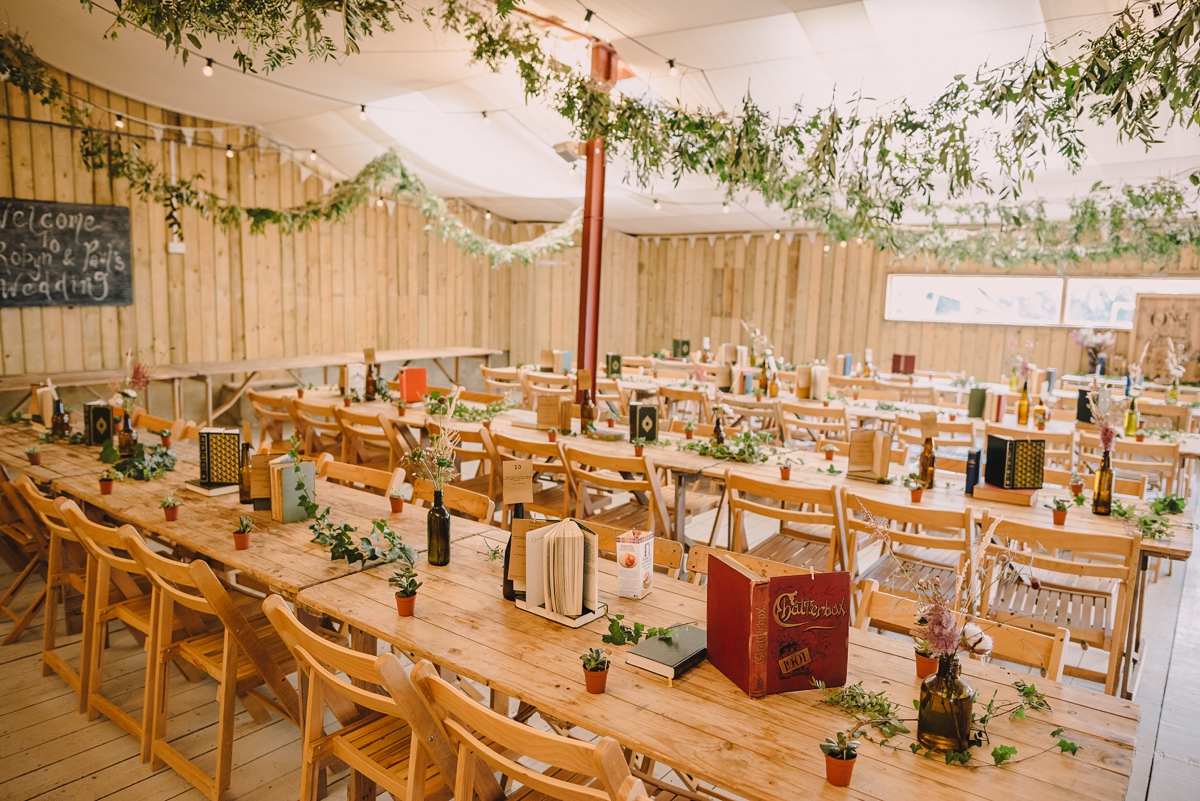 "The main decor inside the marquee was the foliage which we hung above the tables using copper wire, with a lot of help from the wedding party and our florist. For the seating plan I used books that were placed on a wooden crate I found on our street, and on the tables I used more books for the menus to be placed inside with more quotes about food and drinking."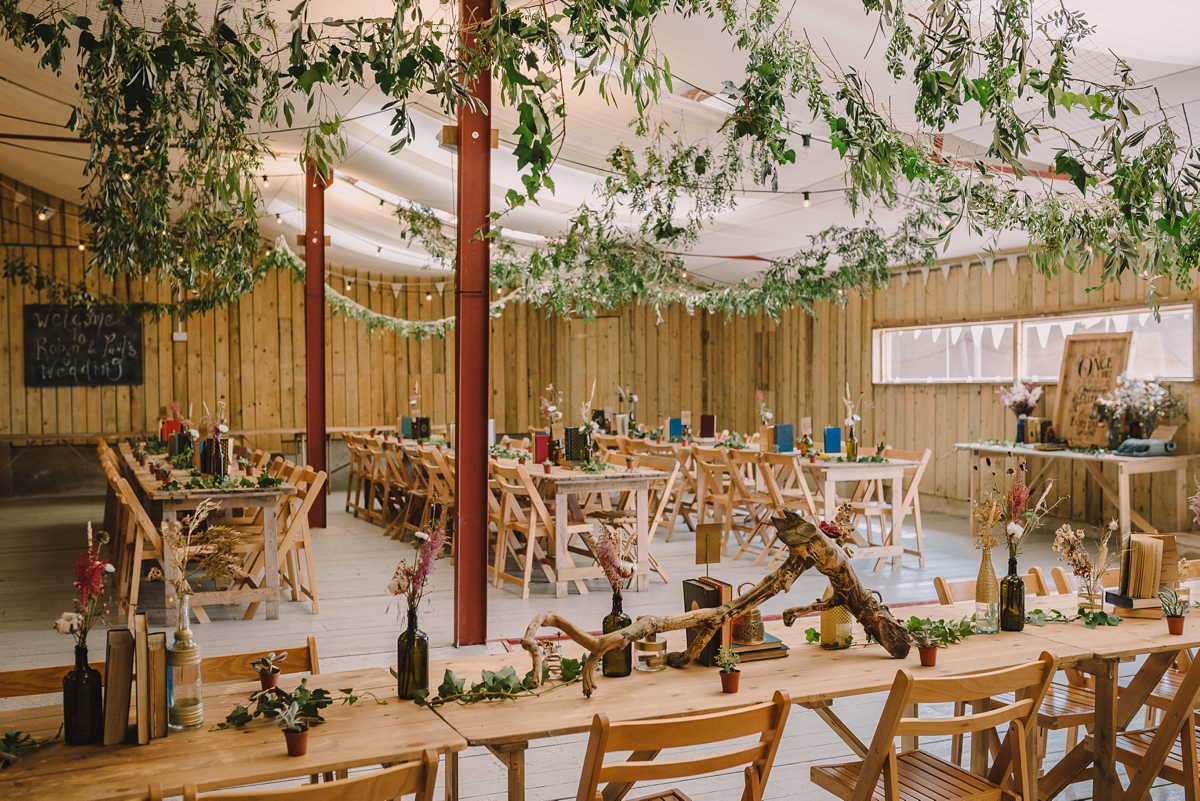 "All of our stationery was hand typed on brown paper and old cardboard by me, with help from my mum. For the favours we bought lots of succulents, which also included the guests names in that my mum and I hand stamped onto some old cardboard."
"I was slightly premature in my ordering of the plants though and hadn't really appreciated how much work it was looking after 100 different species of succulents, each with their own very specific watering and lighting needs. Sadly many didn't survive to the wedding so we had to order more a week before."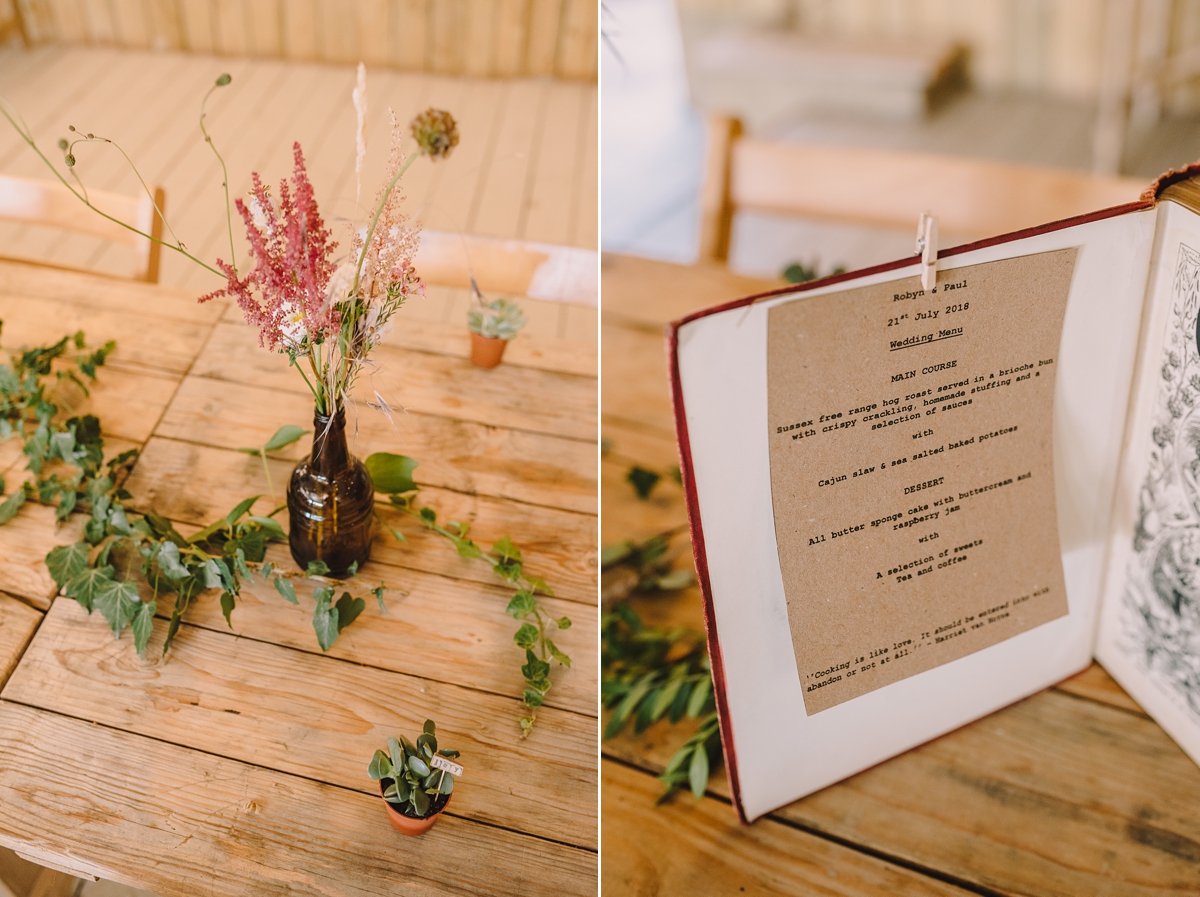 I can't stand the sight of succulents now!"
"We DIY-ed our cake and bought all the bits from Marks and Spencer, and Life In Stereo provided the evening's entertainment."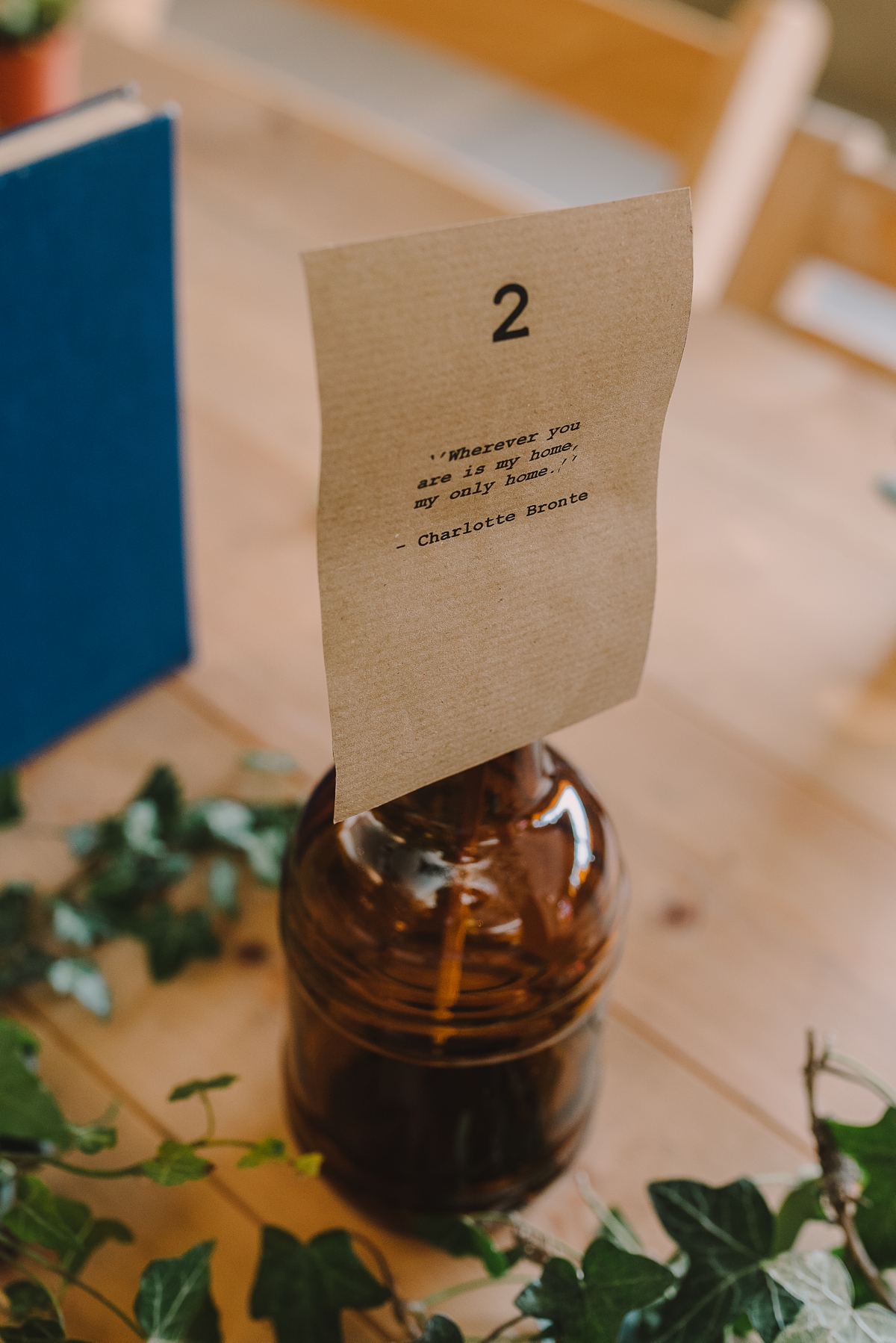 "I tried to select quotes and books that would have a personal meaning to the people sitting on those tables."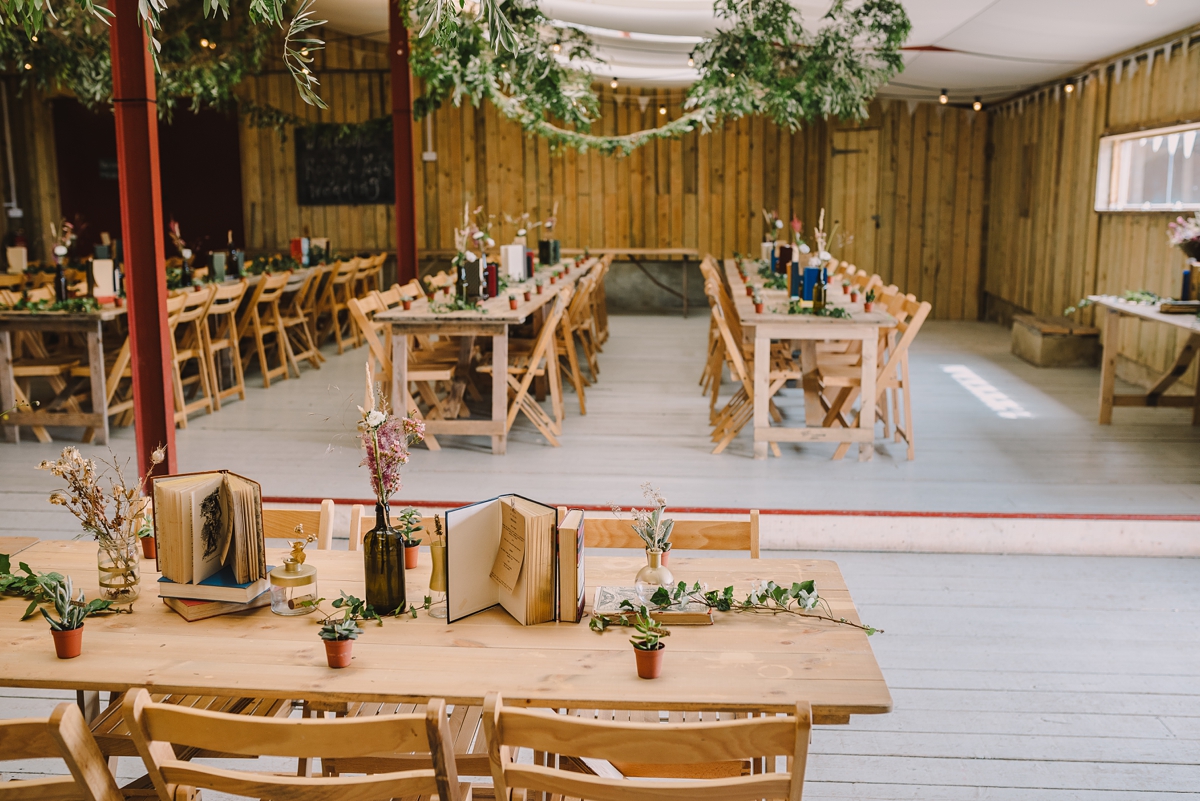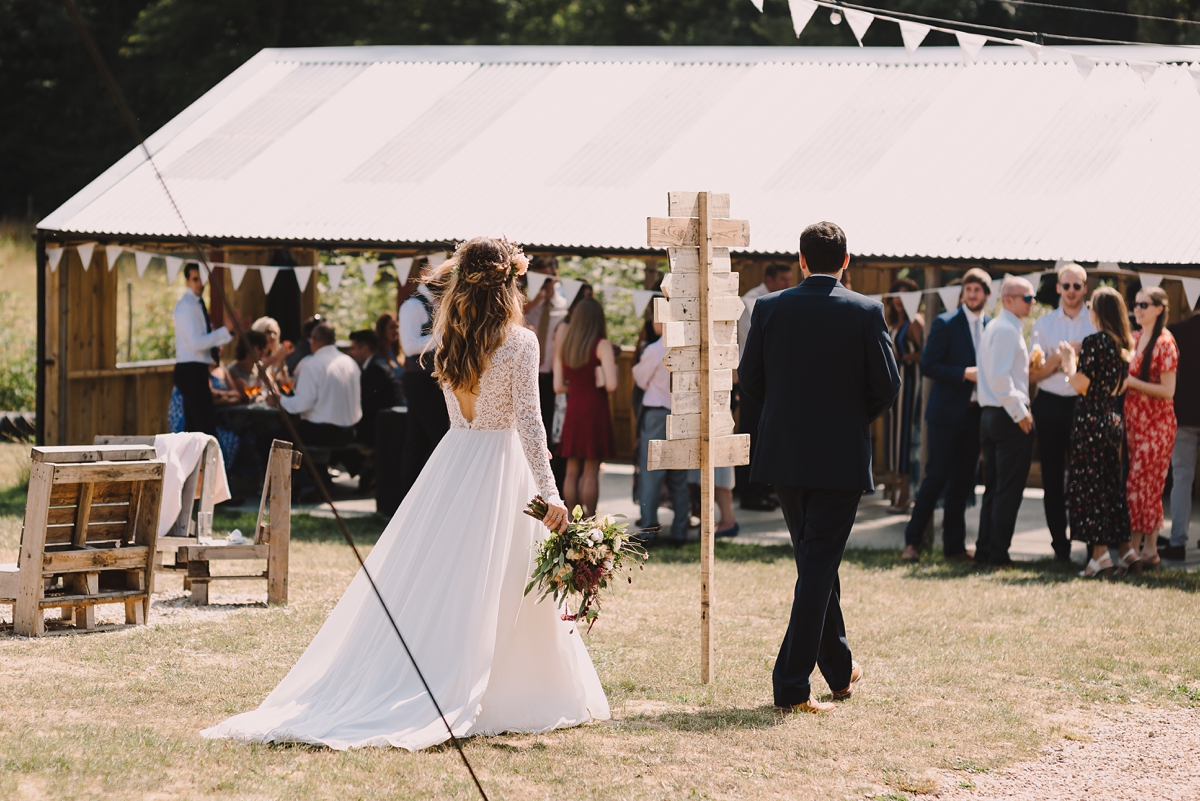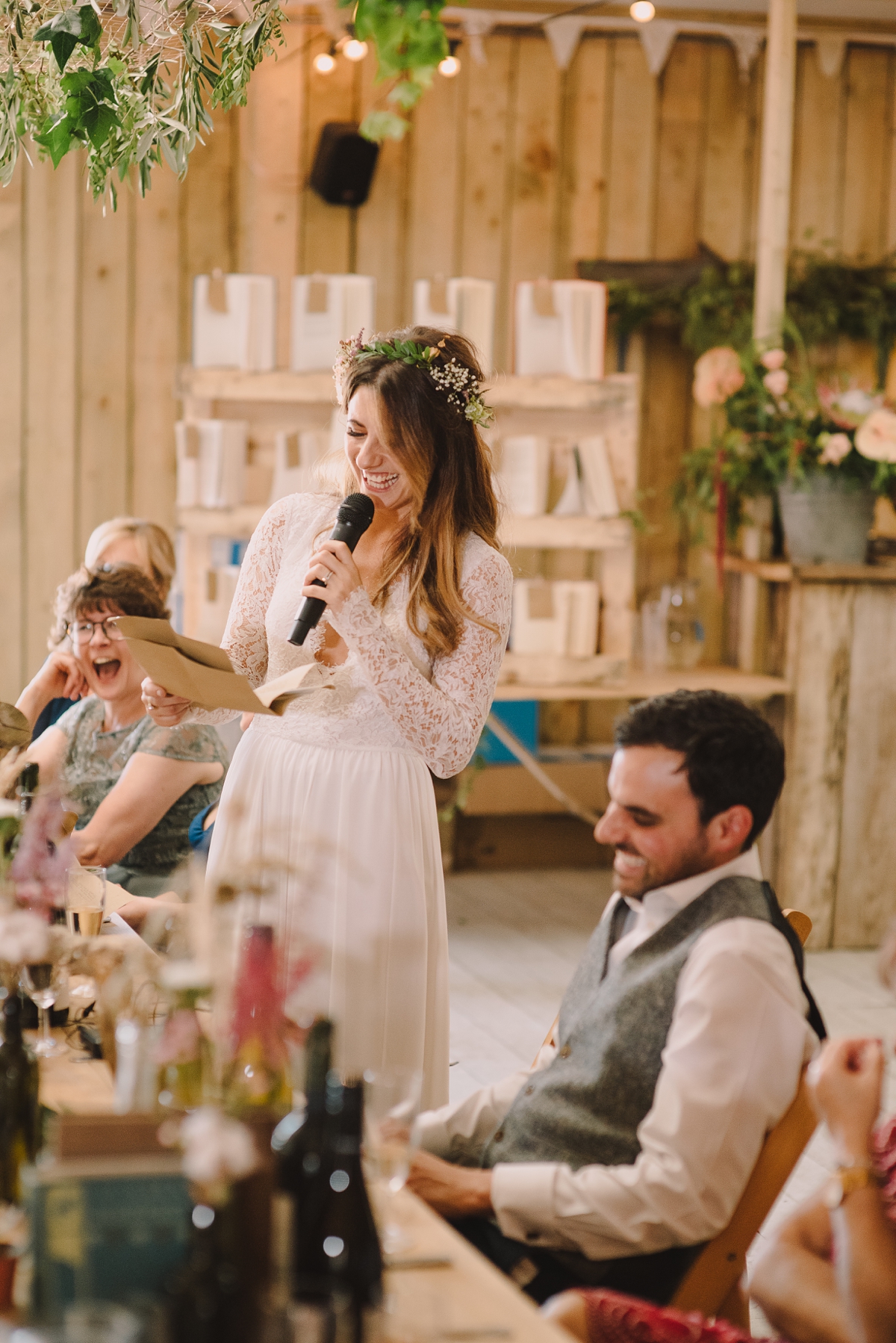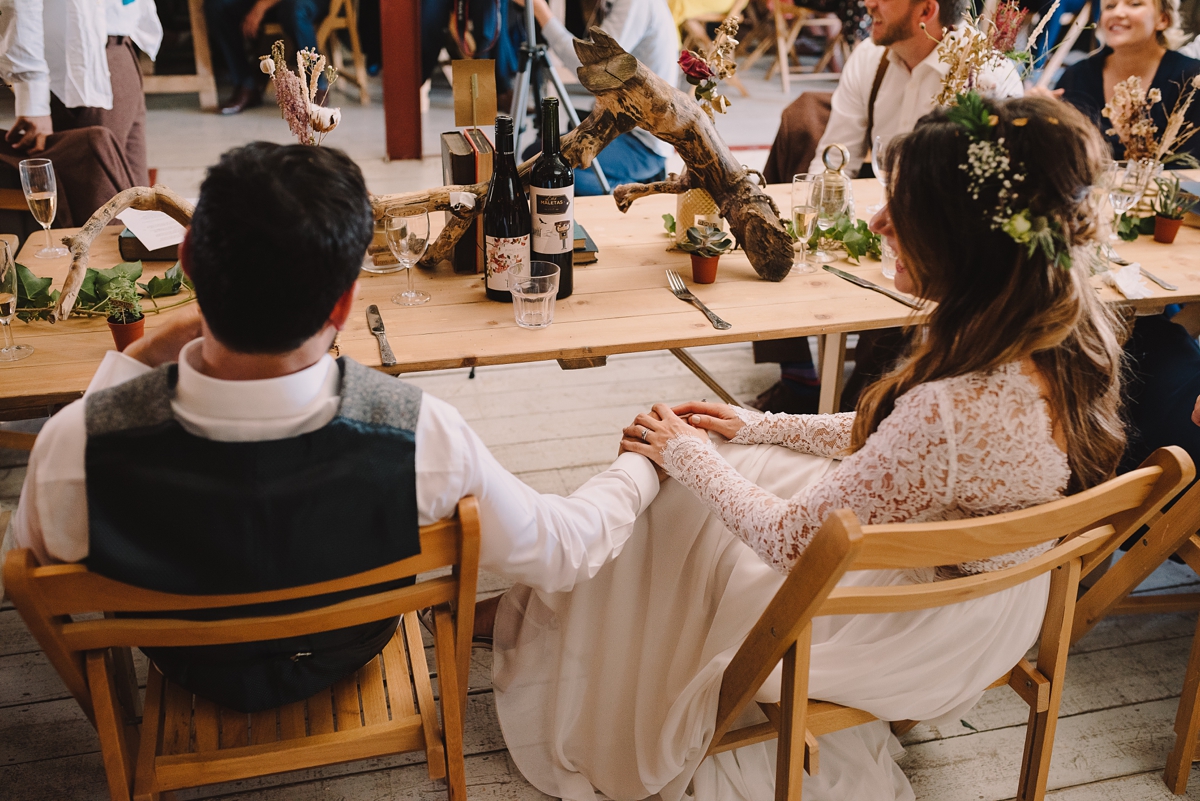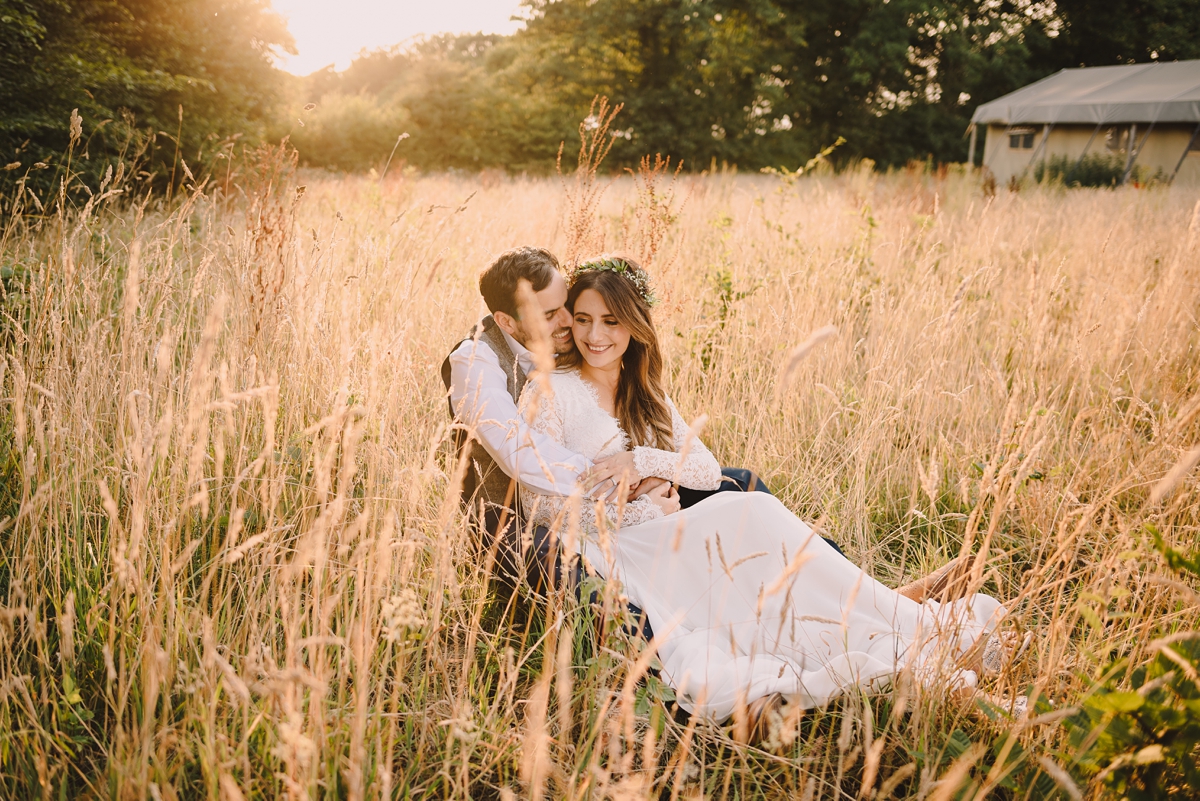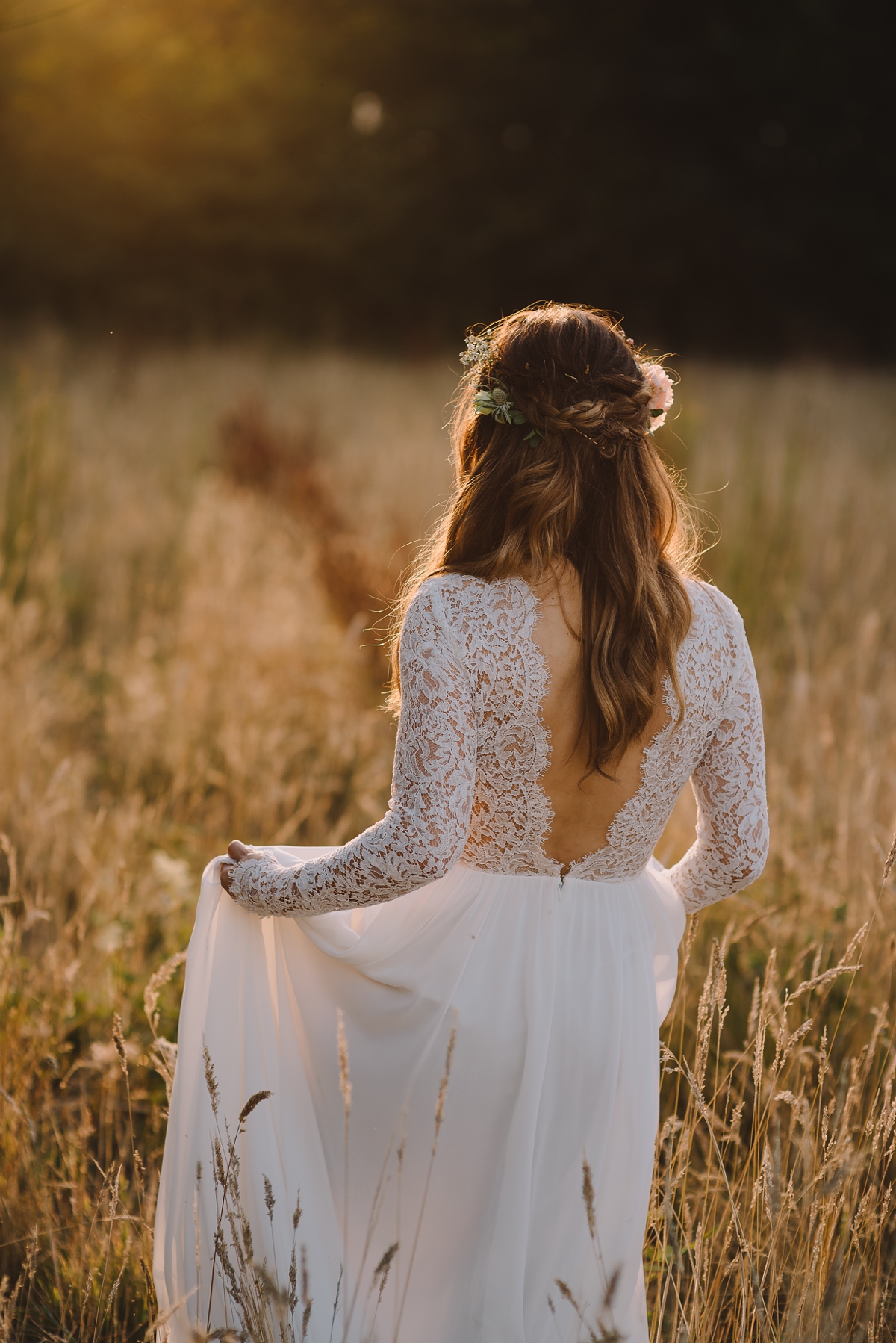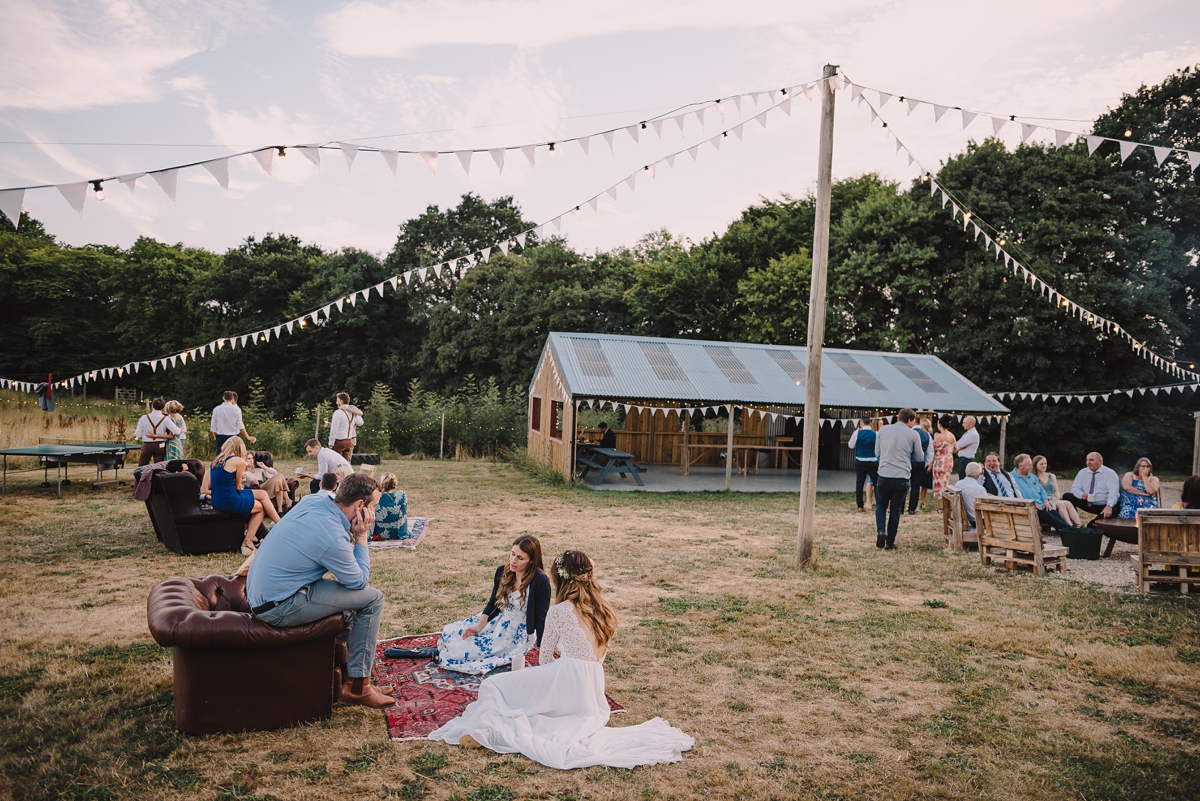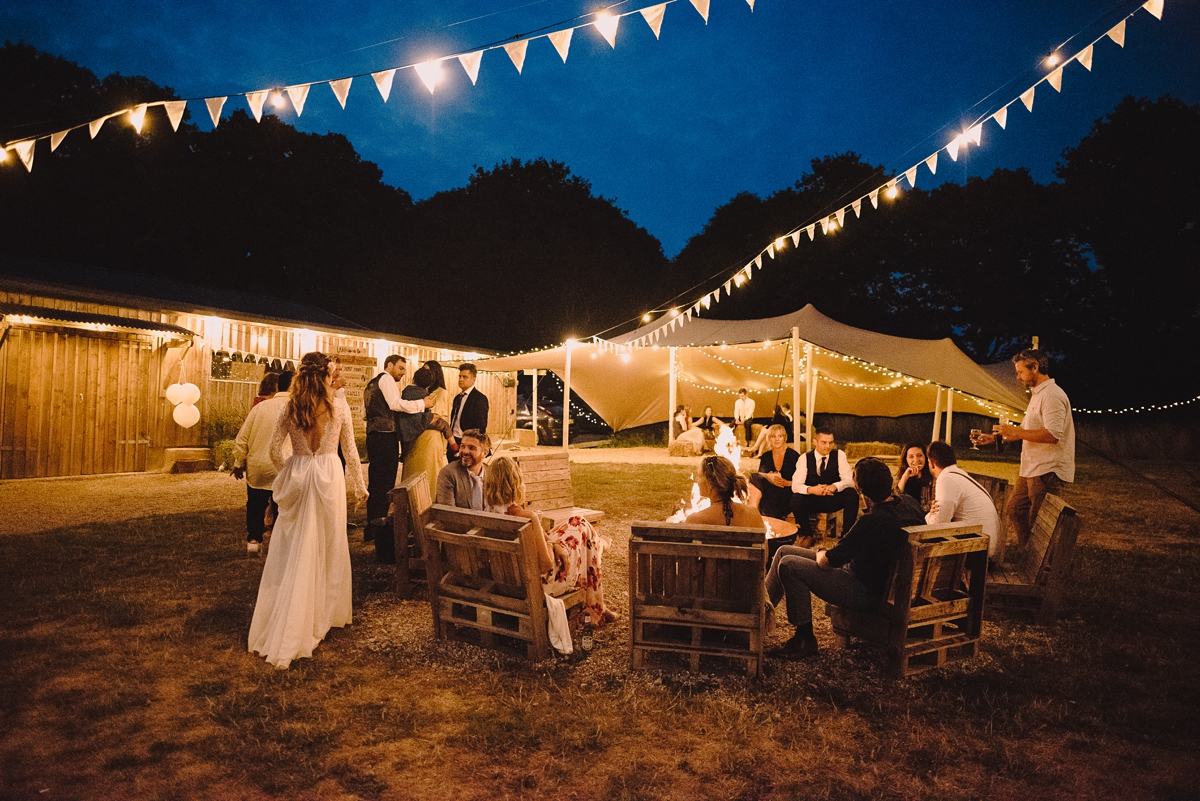 "Our first dance song was Beyond by Leon Bridges. We saw him at a gig and we fell in love with his voice and style of music."
"The speeches were all incredibly thoughtful and funny too, especially Paul's, who managed to make me completely crumple. We also made sure we had some time to ourselves, walking through the fields and soaking in all the happiness of the day, then gearing ourselves up for the evening festivities to begin."
Words Of Wedded Wisdom
"It was important to us that our wedding was reflective of us as a couple, and so we focused more on the personal touches we could incorporate, rather than trying to make it look or be a certain way."
"My main advice for doing a DIY wedding would be to make sure you give yourself plenty of time so you can enjoy the process without feeling rushed. Also, enlist the help of your family and friends, and don't forget wedding insurance!"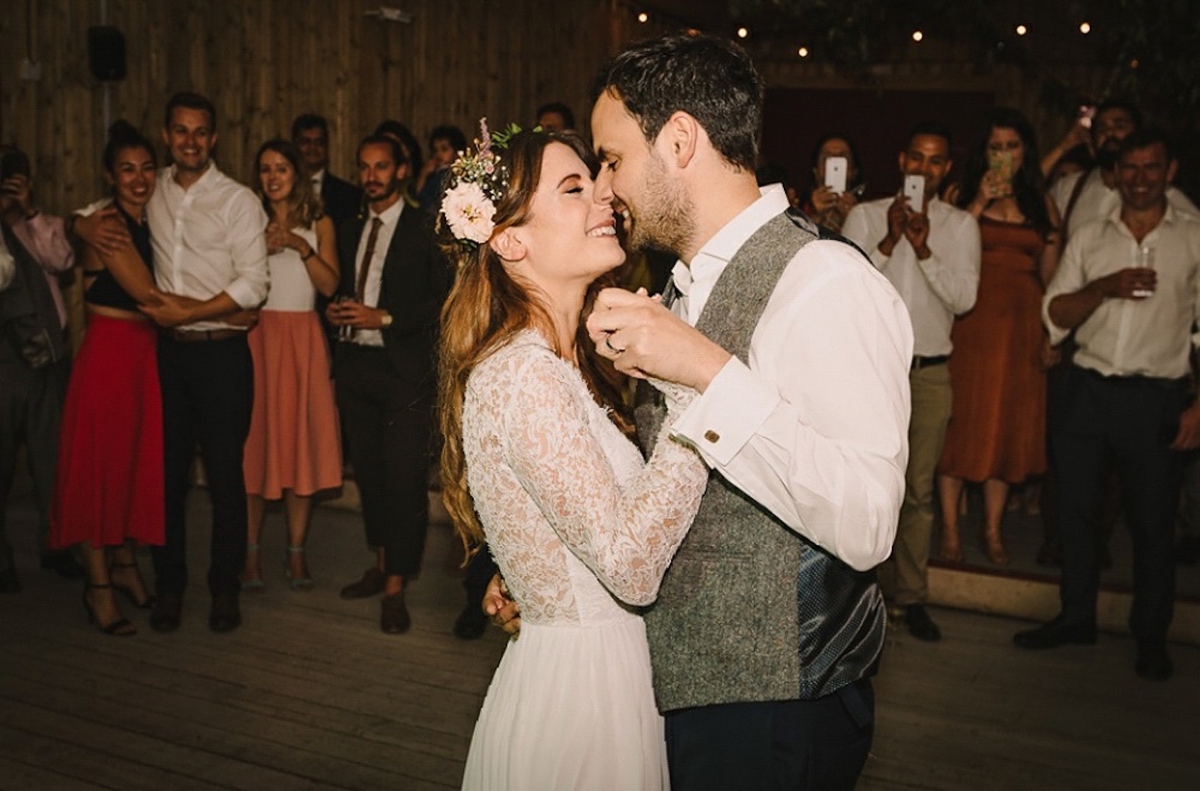 A big thank you to David atModern Vintage Weddings for the gorgeous imagery, and to the happy couple for sharing their day with us.
Until next time…
Much love,
Holly x