Indulge in a little armchair travel with me today, courtesy of this incredible destination wedding at a chateau in France.
There was an outdoor ceremony with beautiful rural views, a magical confection of a dress, and lush flowers galore, all bathed in glorious, golden light, before an evening feast under the stars. This is the wedding celebration of Lindsy and Dominic, who were married on the 23 June 2018 at Chateau de Lartigolle, Auch, near Toulouse in south west France.
Images by Nigel John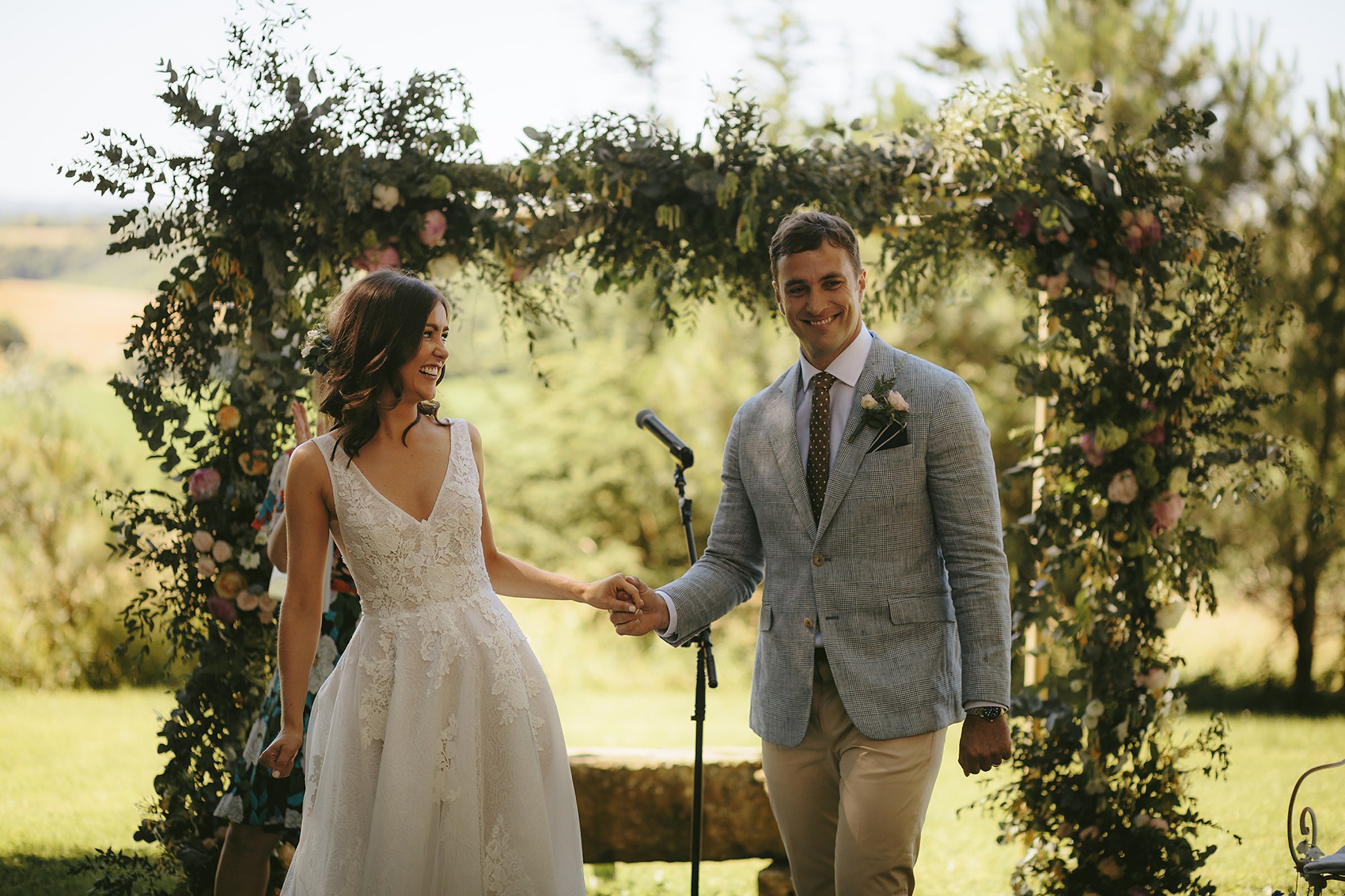 "We knew we wanted to get married abroad, and have holidayed in France a lot, so decided that was the place. After visiting a number of venues we knew that Lartigolle ticked all the boxes, but they didn't have a date available."
"Luckily we kept in touch, and managed to get a cancellation date for June. We also wanted to extend the wedding over a couple of days, and the venue had a pool, which was a great party area for the day after."
Lindsy secured the services of her old university friend Anna, of Anna Claire Weddings just two weeks before the wedding, and enjoyed having someone with her that she knew (not to mention the lovely make-up look that Anna created for her friend).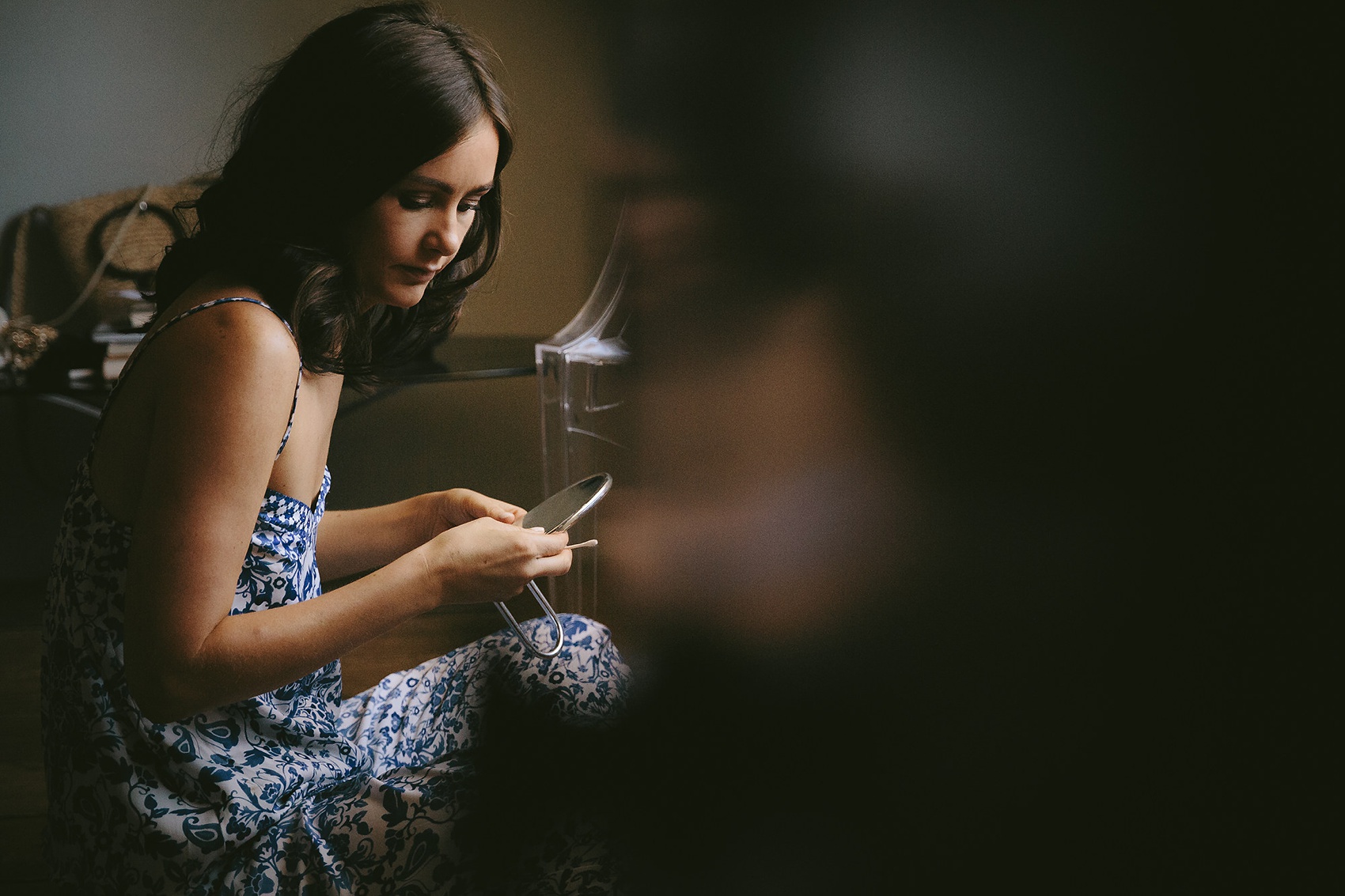 From London boutique Morgan Davies Bridal, Lindsy chose a sublime dress by Novia d'Art, with a detailed floral lace bodice and skirt with layer upon layer of tulle (with just a hint of a delicate under layer of more wonderful lace), and a beautiful train.
"I must have gone to 15 appointments and didn't find anything that stood out. This was the dress that I felt good in, and I had my sister with me who confirmed that."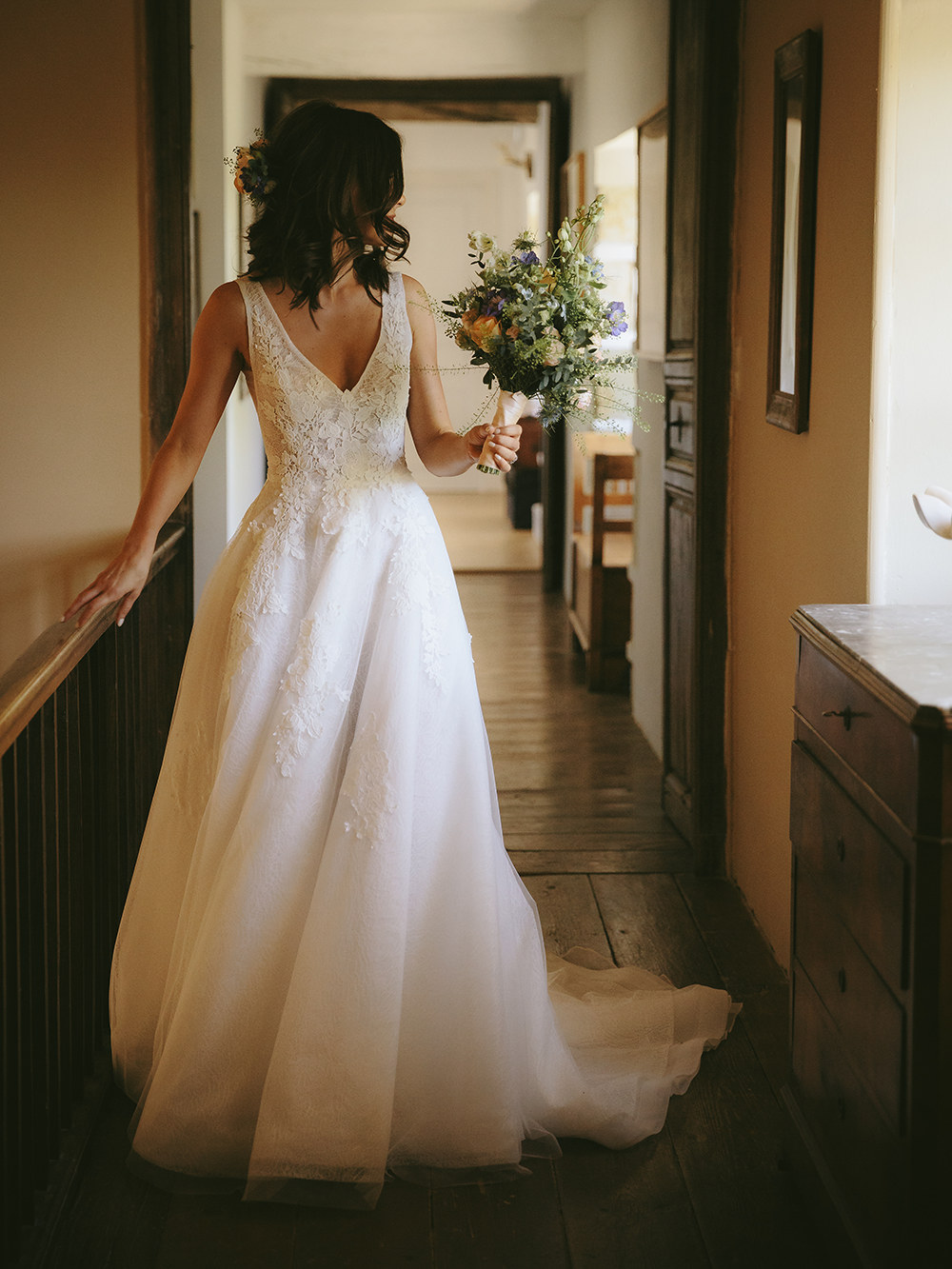 Lindsy wore a gorgeous fresh flower comb in her hair, and as well as this, carried an exquisite, unstructured bouquet made by the Lartogolle team, which included pastel-hued garden roses and frilly scabiosa blooms.
"I liked the venue as it played to my tastes, and I could see how my style would fit in well. I really don't like anything too structured and formal, and wanted wild, local flowers in a mixture of pastels with some brighter colours added in. I showed the team at Lartigolle all the floral arrangements that I liked, and they brought it to life."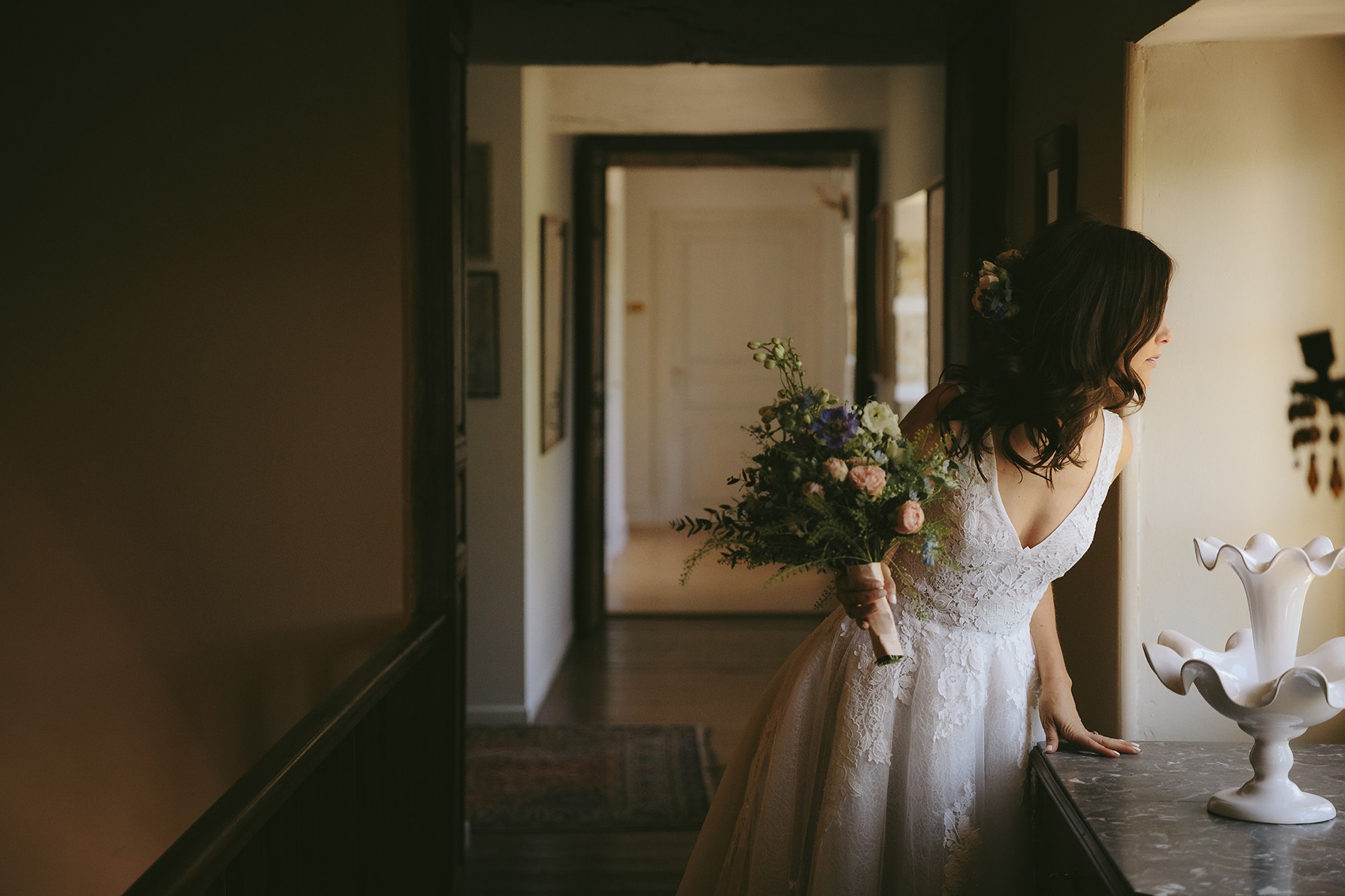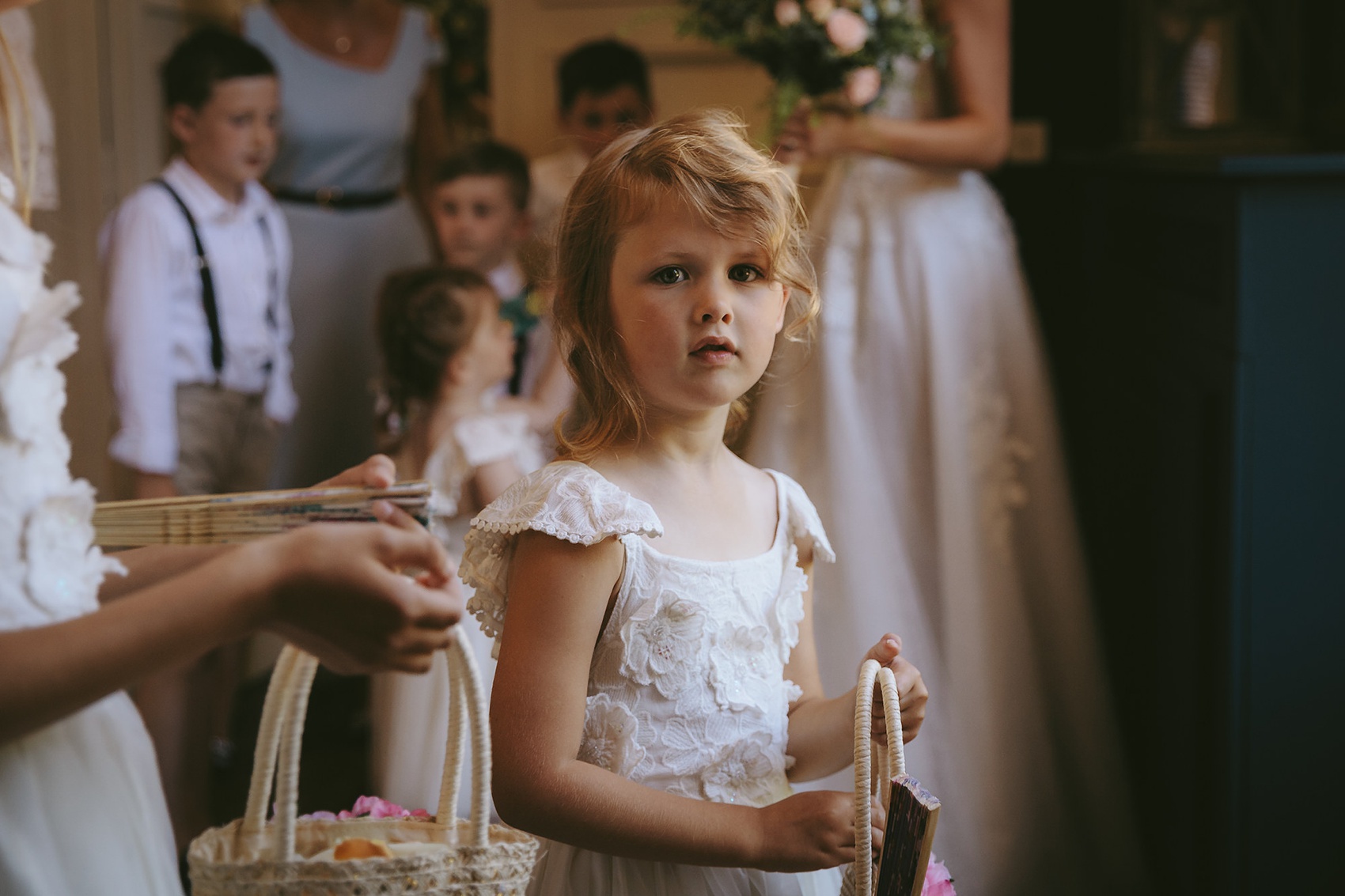 The bridesmaids looked brilliant in sleek, ivory cocktail dresses from Bec + Bridge, which they paired with Jimmy Choo pumps, diamond stud earrings and flowers in their hair.
The lovely flowergirls wore frothy tulle dresses with applique flowers from Marks & Spencer, whilst the pageboys wore chino shorts, shirts and braces from ZARA.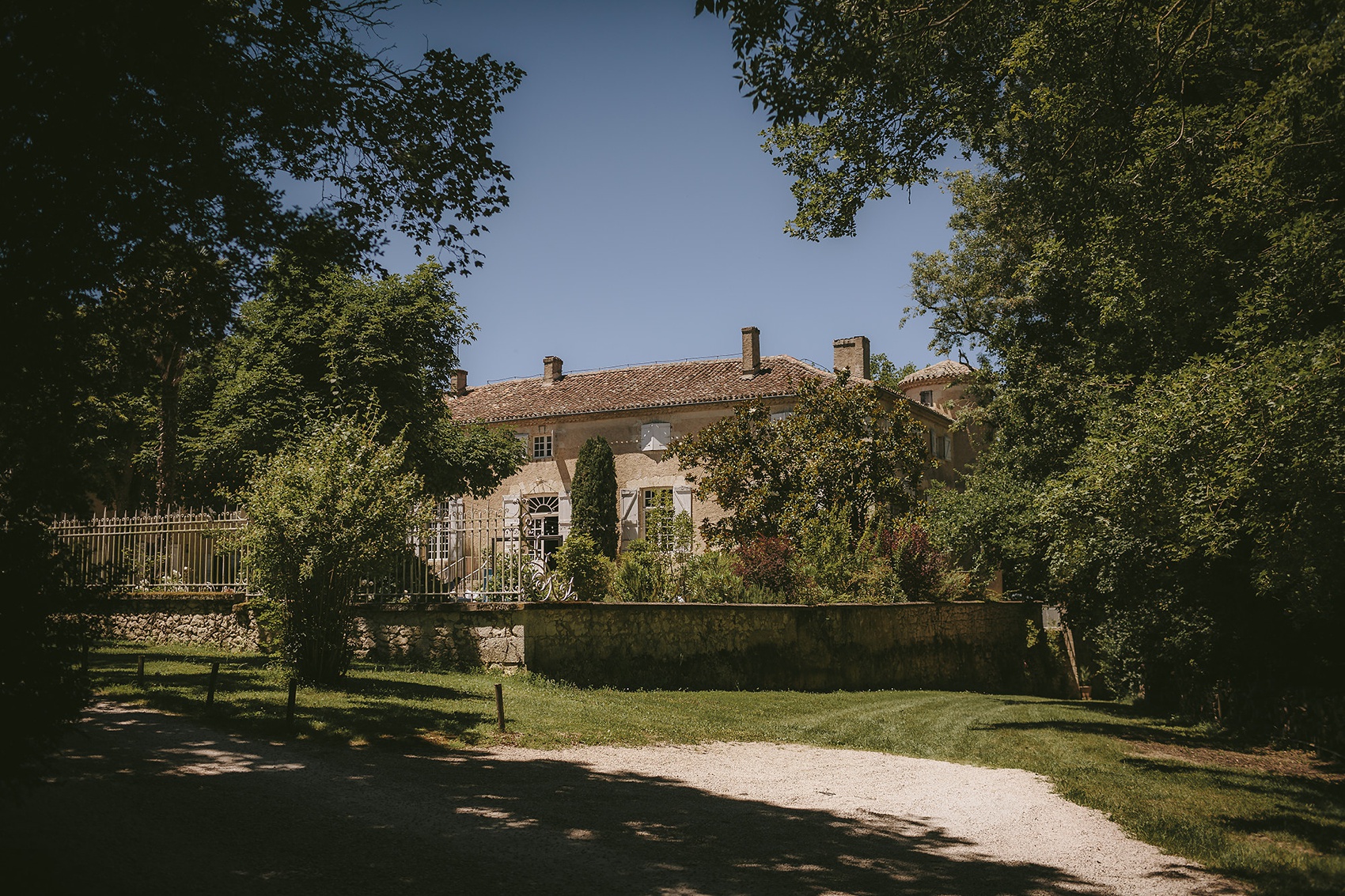 We have photographer Nigel John to thank for these glorious, intimate, sun-drenched images, and Lindsy and Dominic were thrilled with the results of his work.
"Dominic found Nigel as he was looking at good photos from the venue, and he'd done a wedding there the year before. We loved his style and the great images he had.  Nigel was amazing. He totally got our vibe and the fact we wanted all natural shots – which he absolutely nailed. A top bloke with amazing skills – I'm just thinking of when we might be able to use him again!"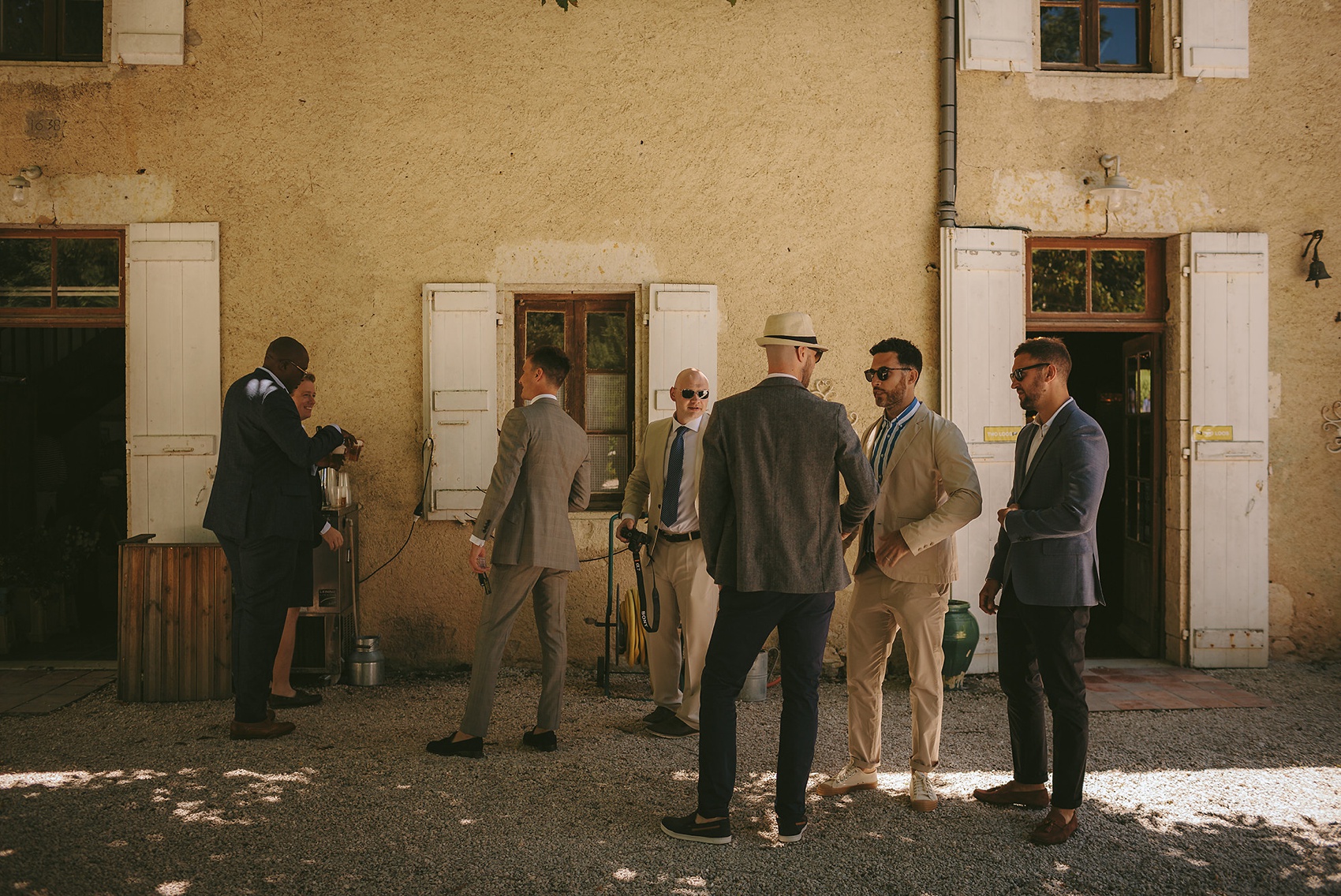 "We met at university over 16 years ago and started dating pretty quickly! Dominic asked me to marry him at the end of a lovely trip travelling around Kerala in India at the end of 2016, and we were married a year and a half later."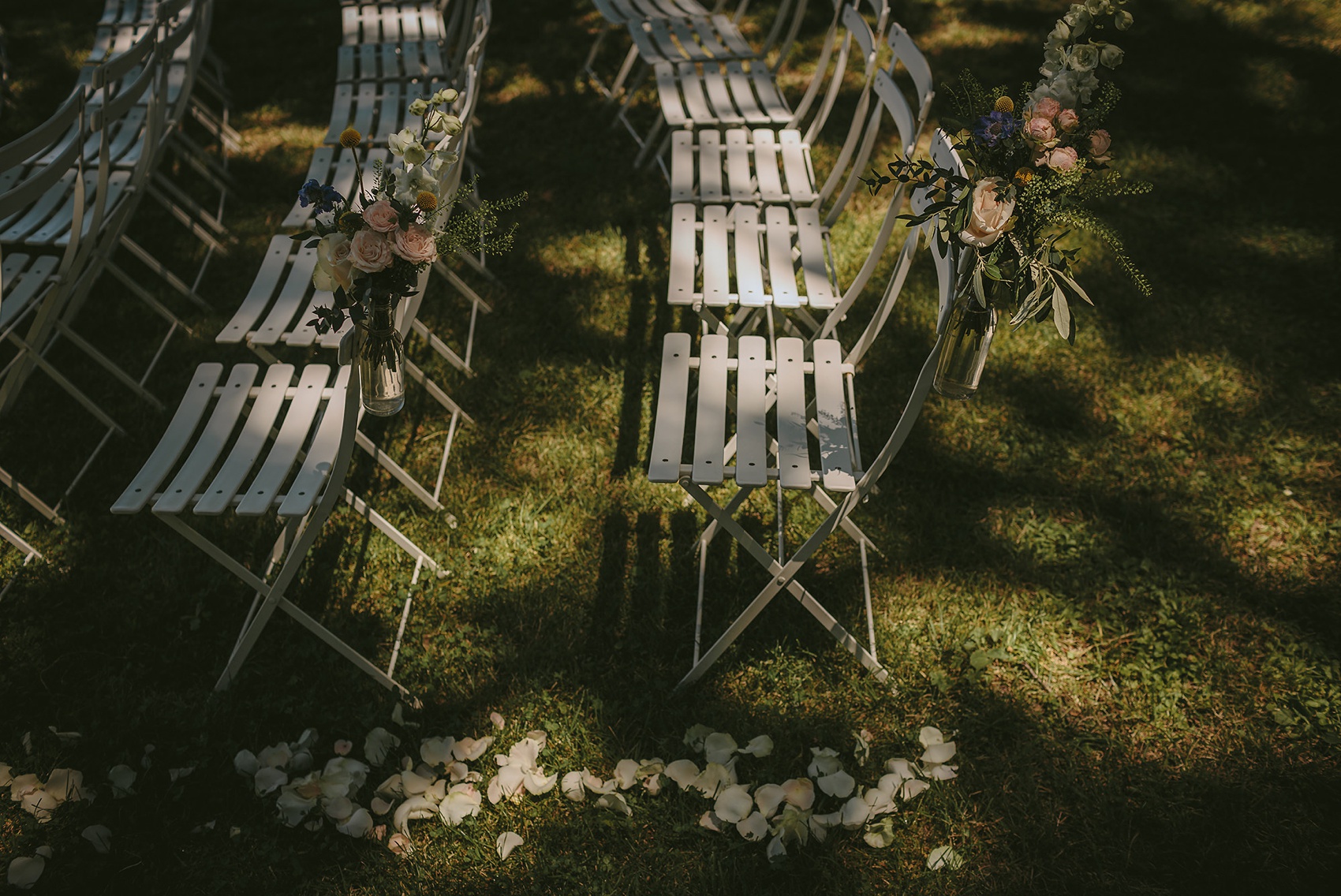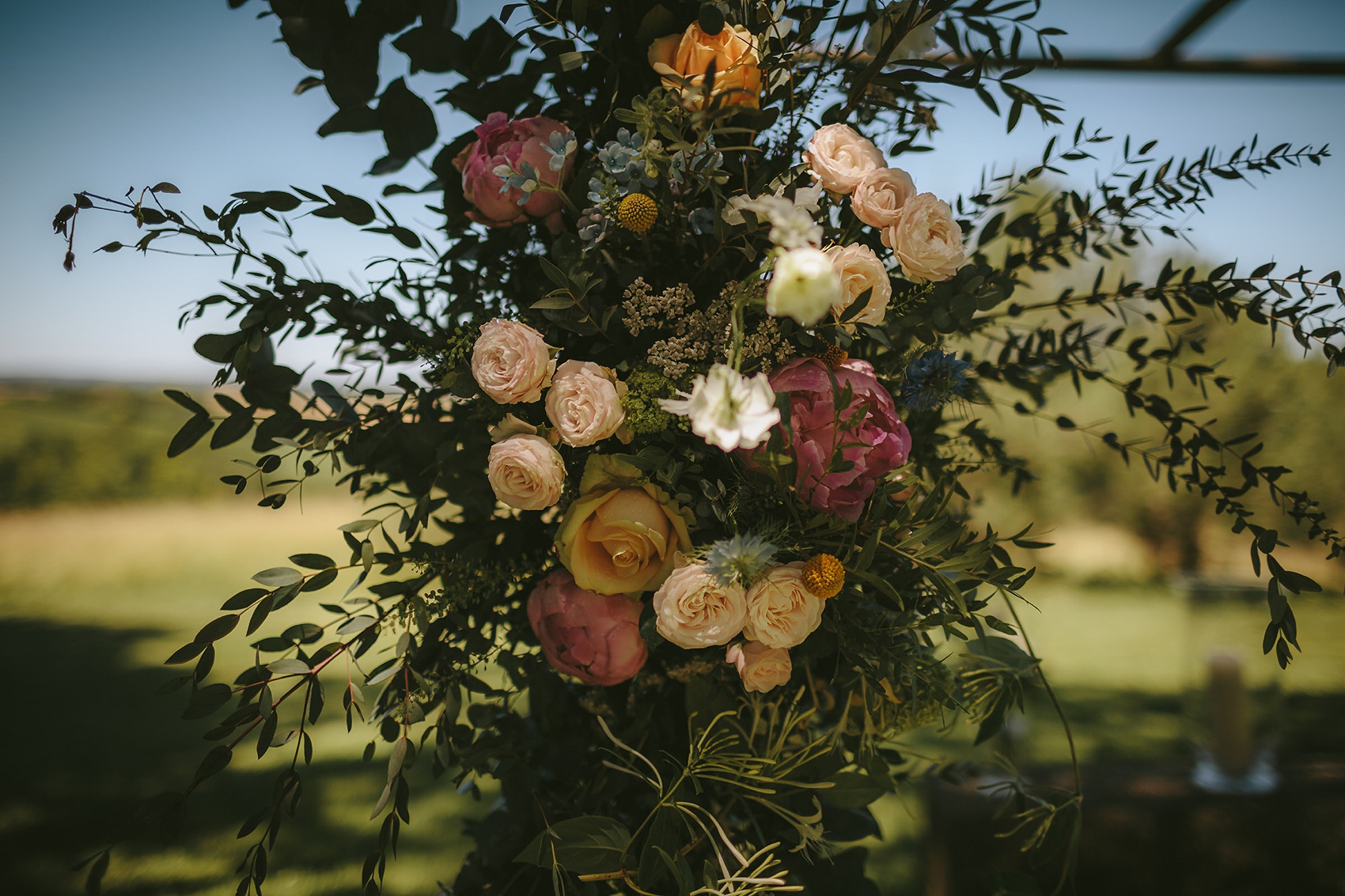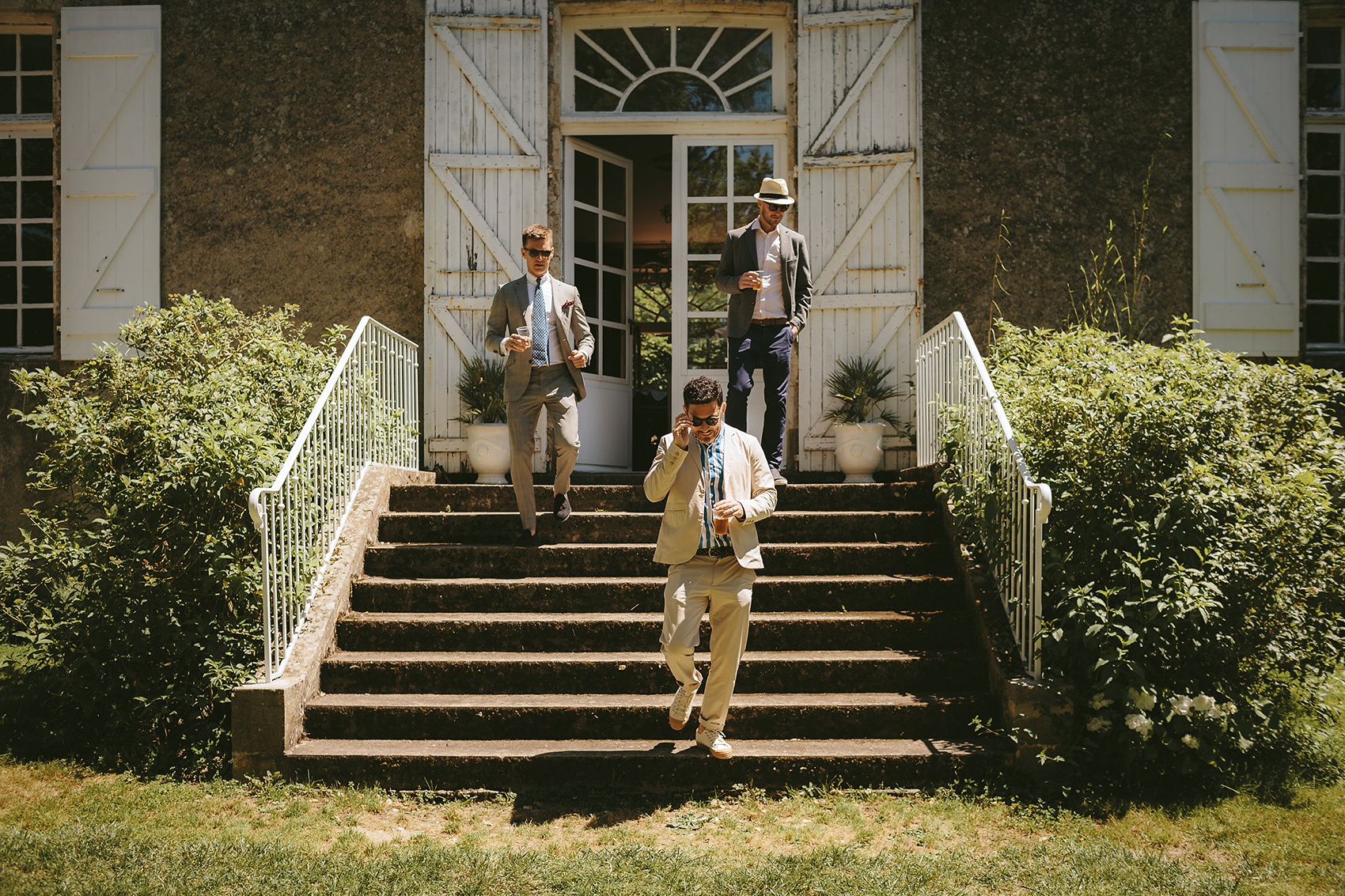 As guests gathered in the sunshine ahead of the ceremony, Dominic was the epitome of cool in sunglasses, a check jacket, shirt and polka dot tie and pocket square from Hackett, which he wore with Paul Smith chinos and shoes from Crockett & Jones.
"We had our legal ceremony with just family earlier in the year, and wanted the wedding day in France to be really personal to us. We asked one of our friends to write and perform the ceremony, and had readings and songs all performed by friends, too."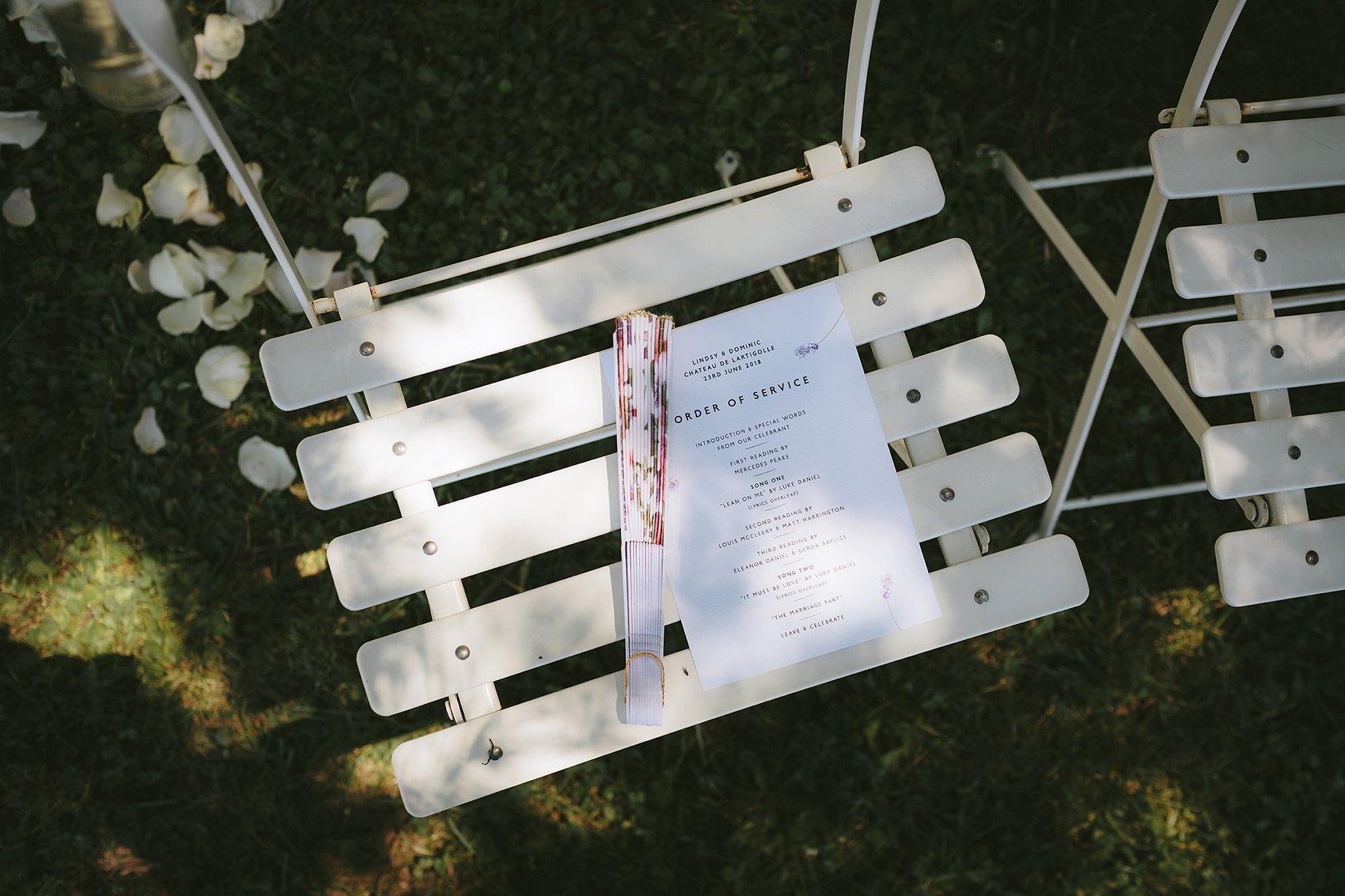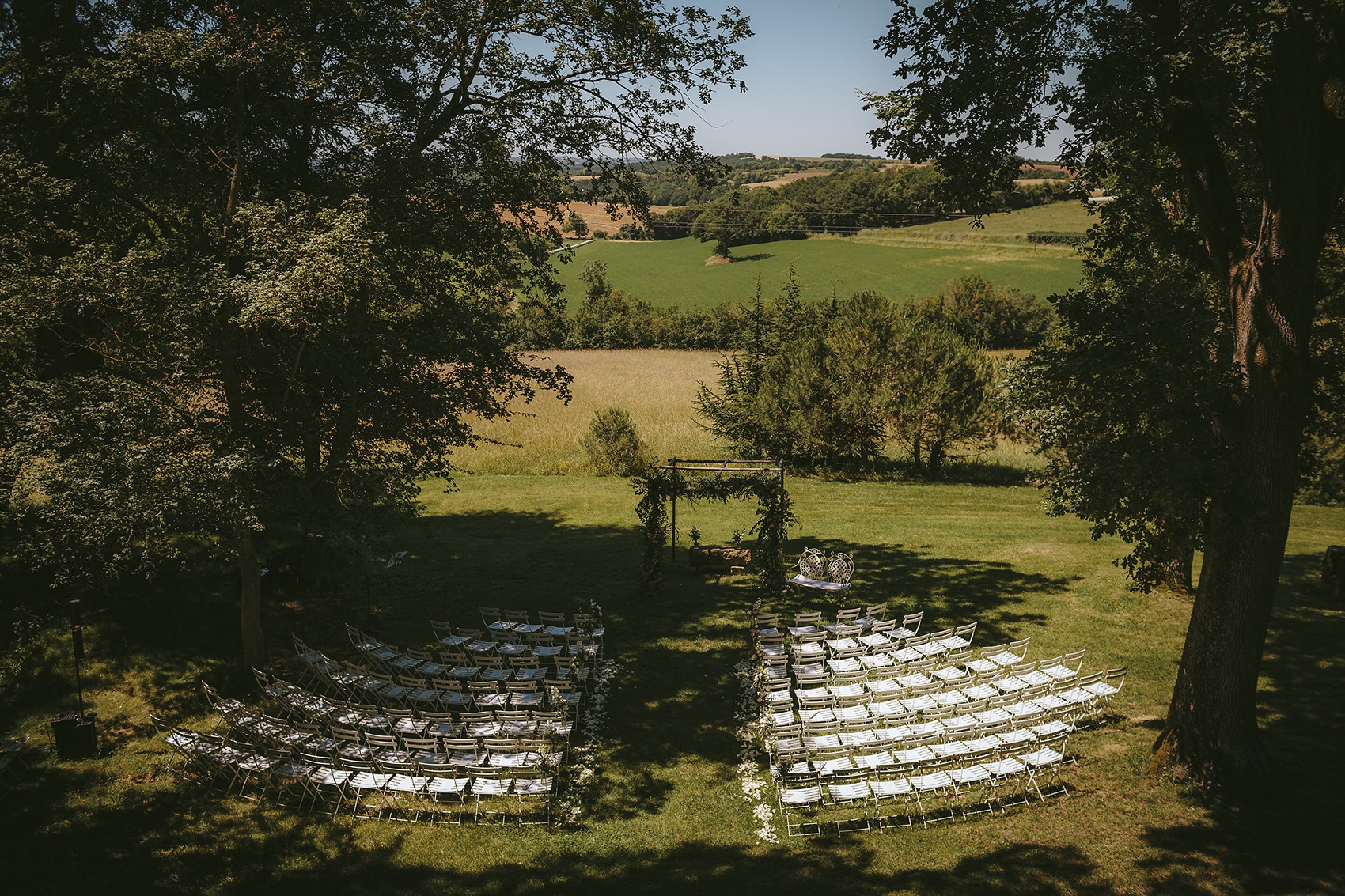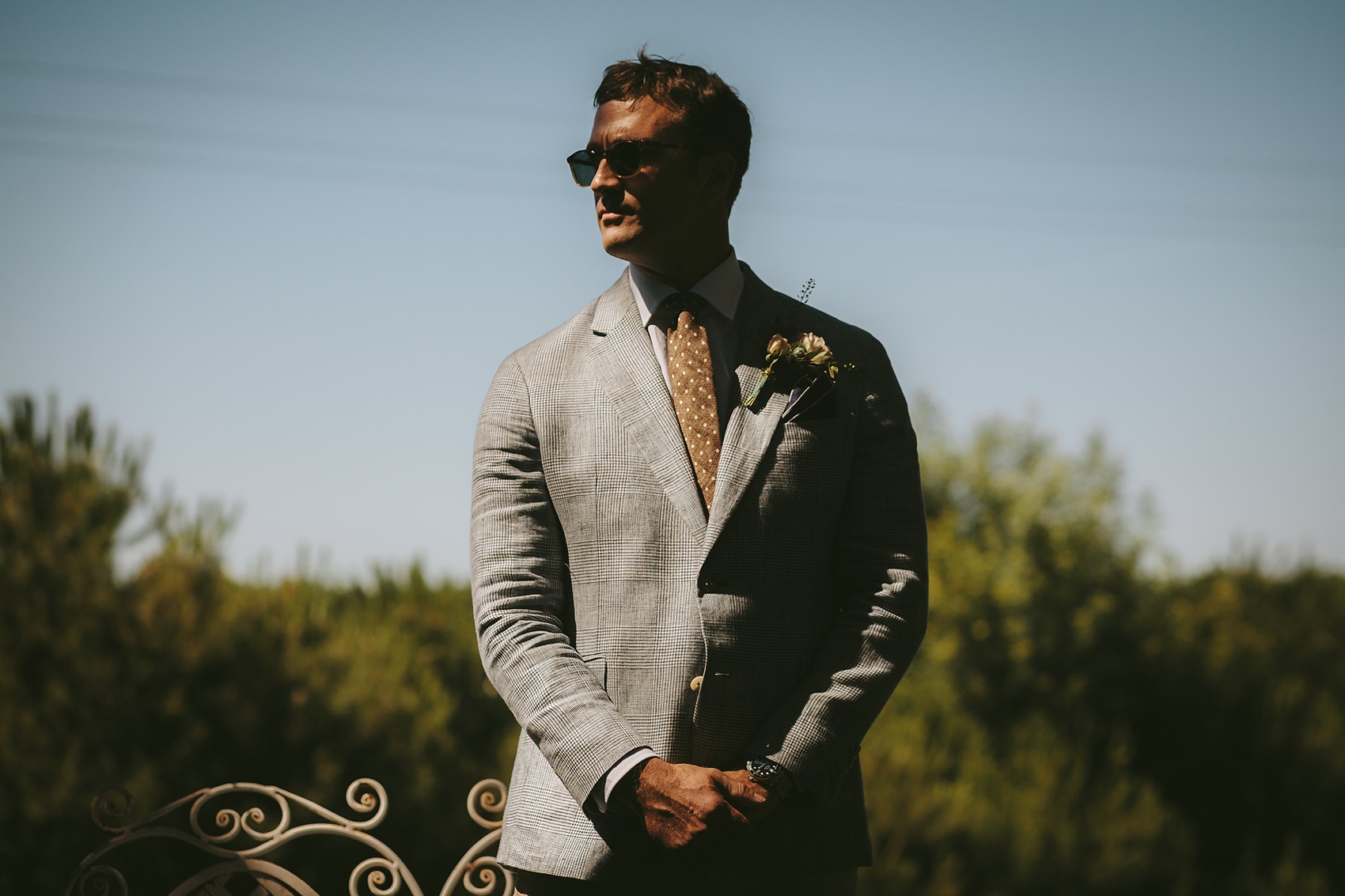 On her feet, Lindsy wore shoes from L.K. Bennett, and her earrings were diamond studs from Mappin & Webb, which were a Valentine's gift from Dominic a few years ago.
"My perfume was Maison Francis Kurkdjian, Baccarat Rouge 540. My mum wears it and I always use it when I go home and love the smell – it also lasts better than any other perfume I've ever tried."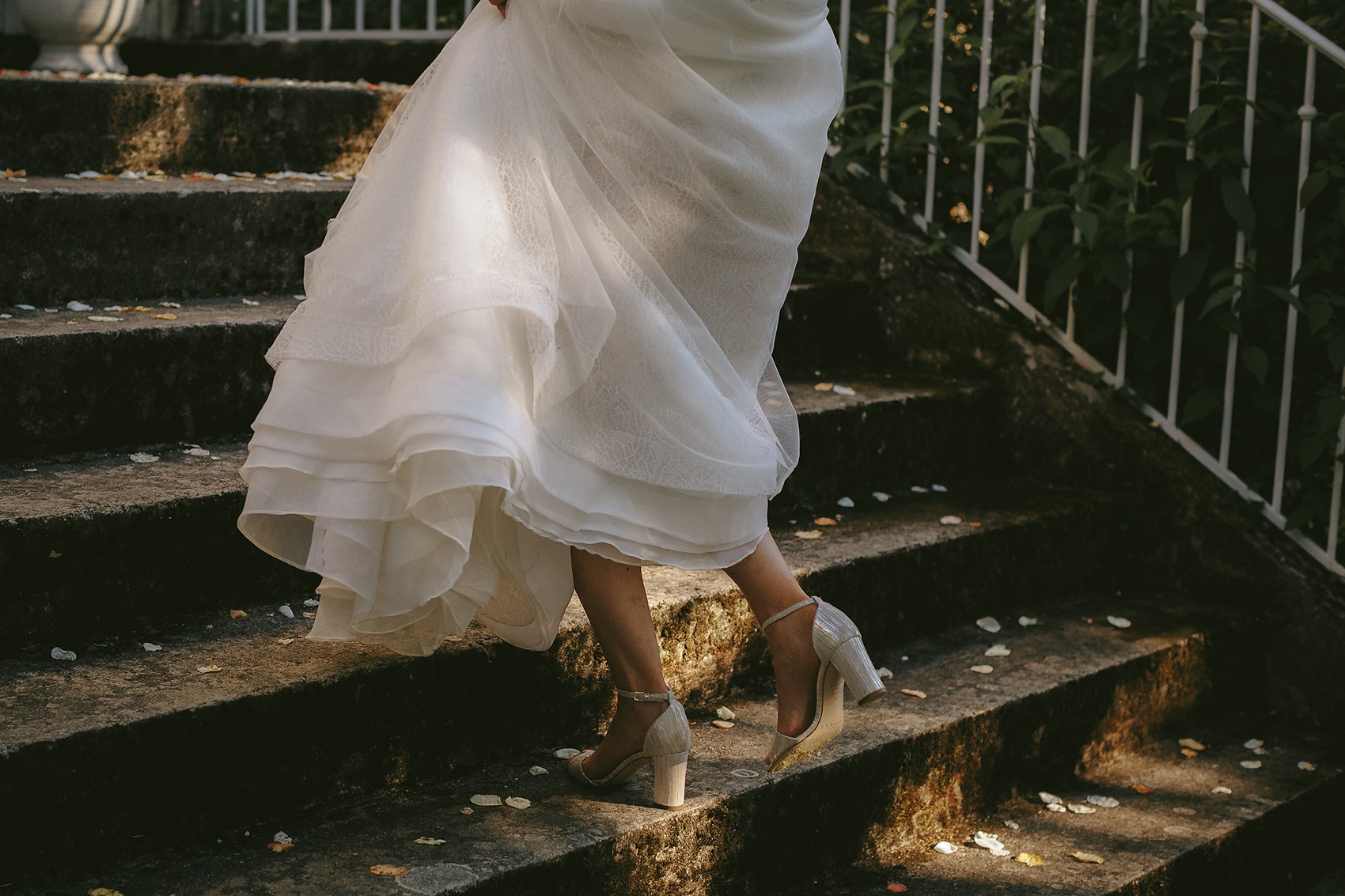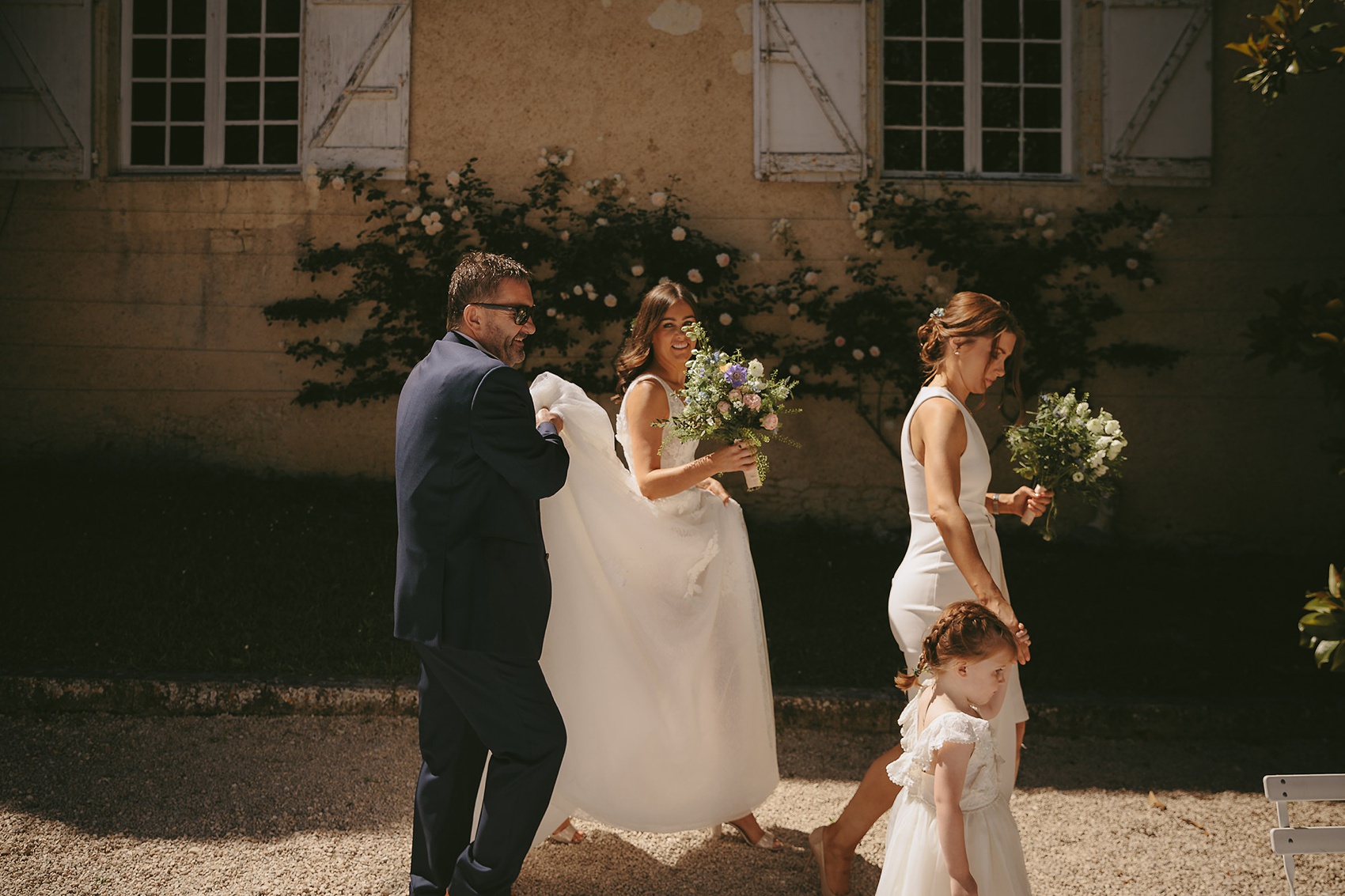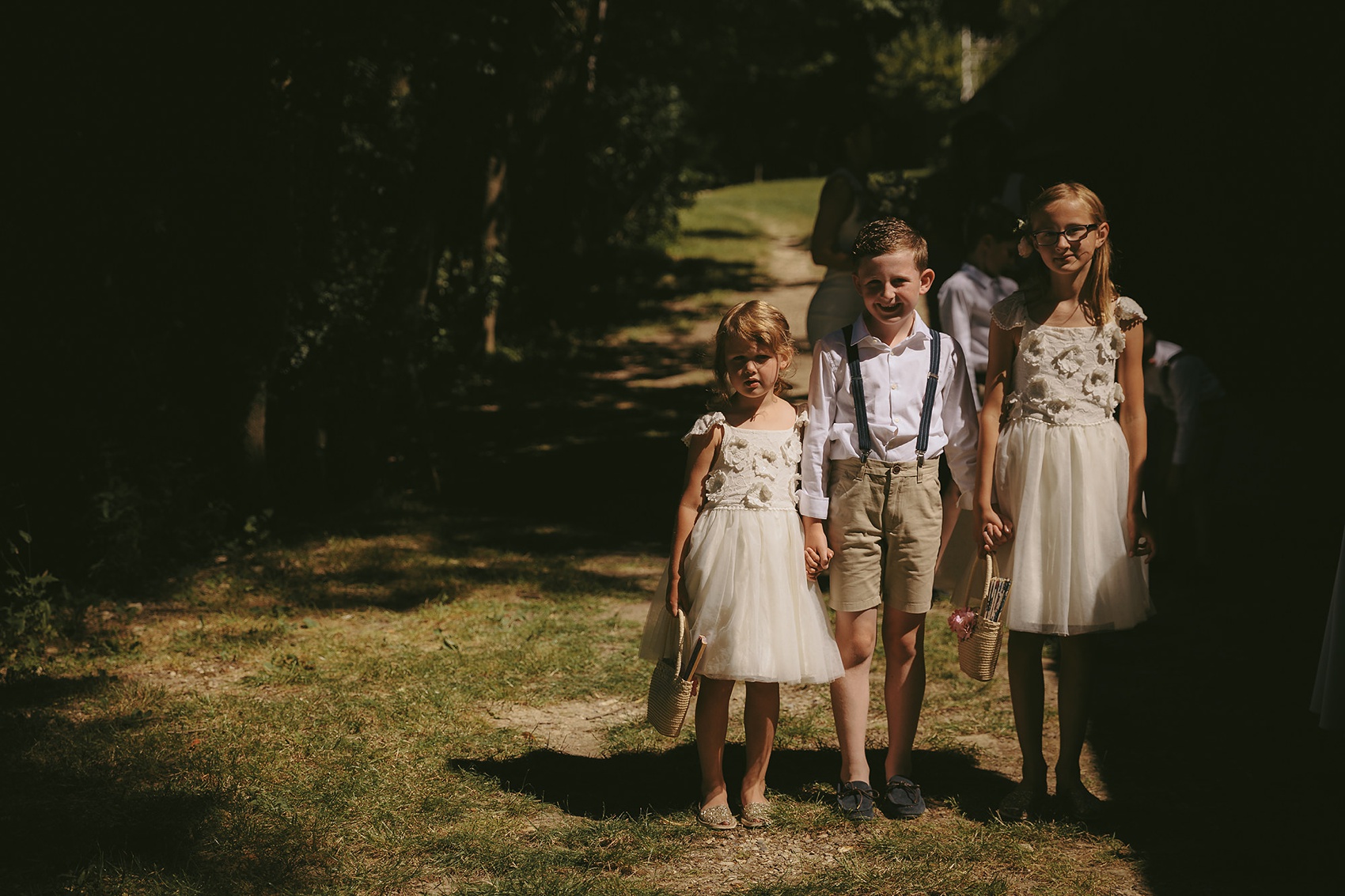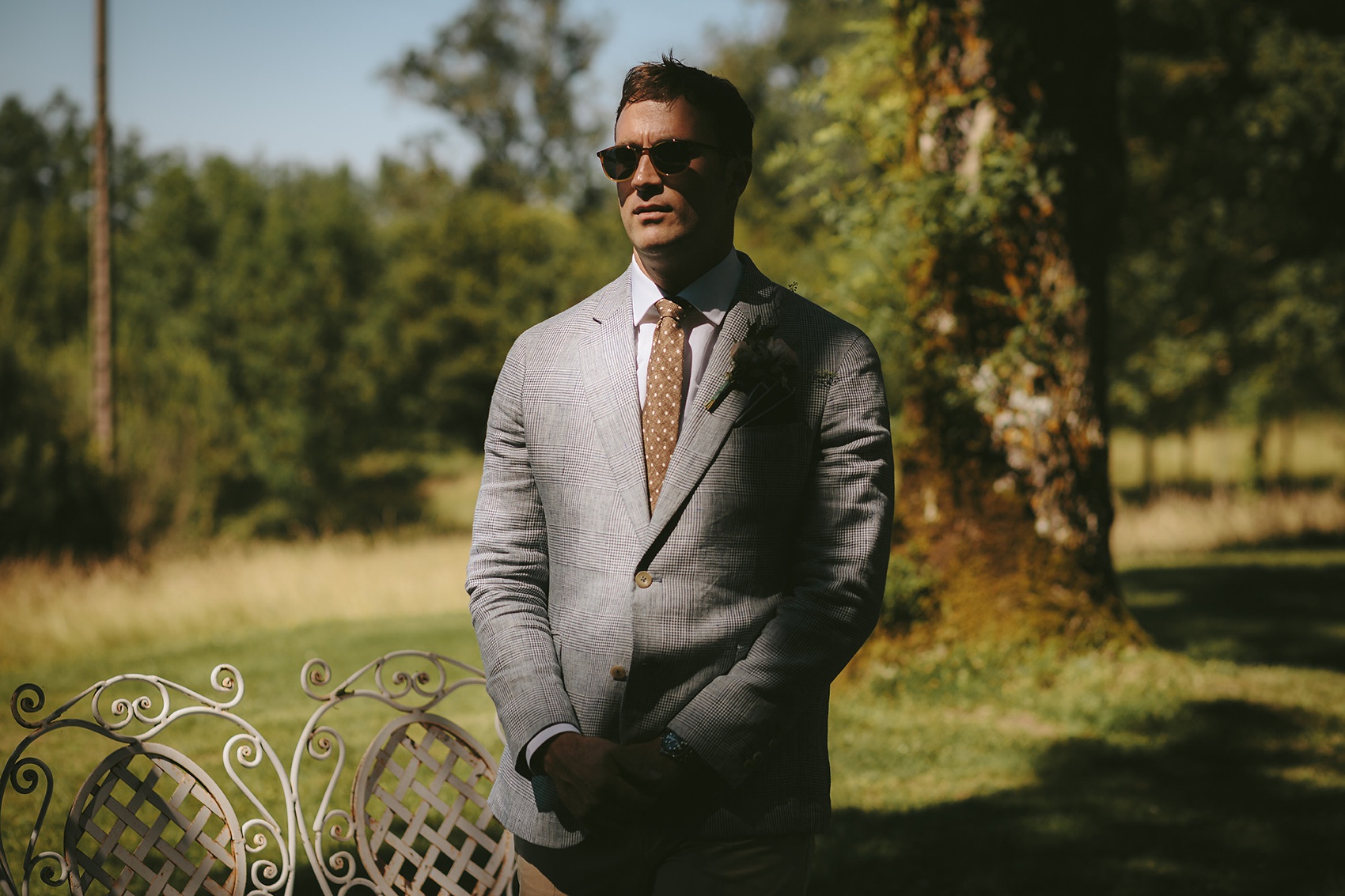 To Louis Armstrong's version of La Vie En Rose, Lindsy walked down the aisle together with her dad, meeting Dominic in front of a breathtaking flower arbour filled with scented roses, honeysuckle, and trailing greenery.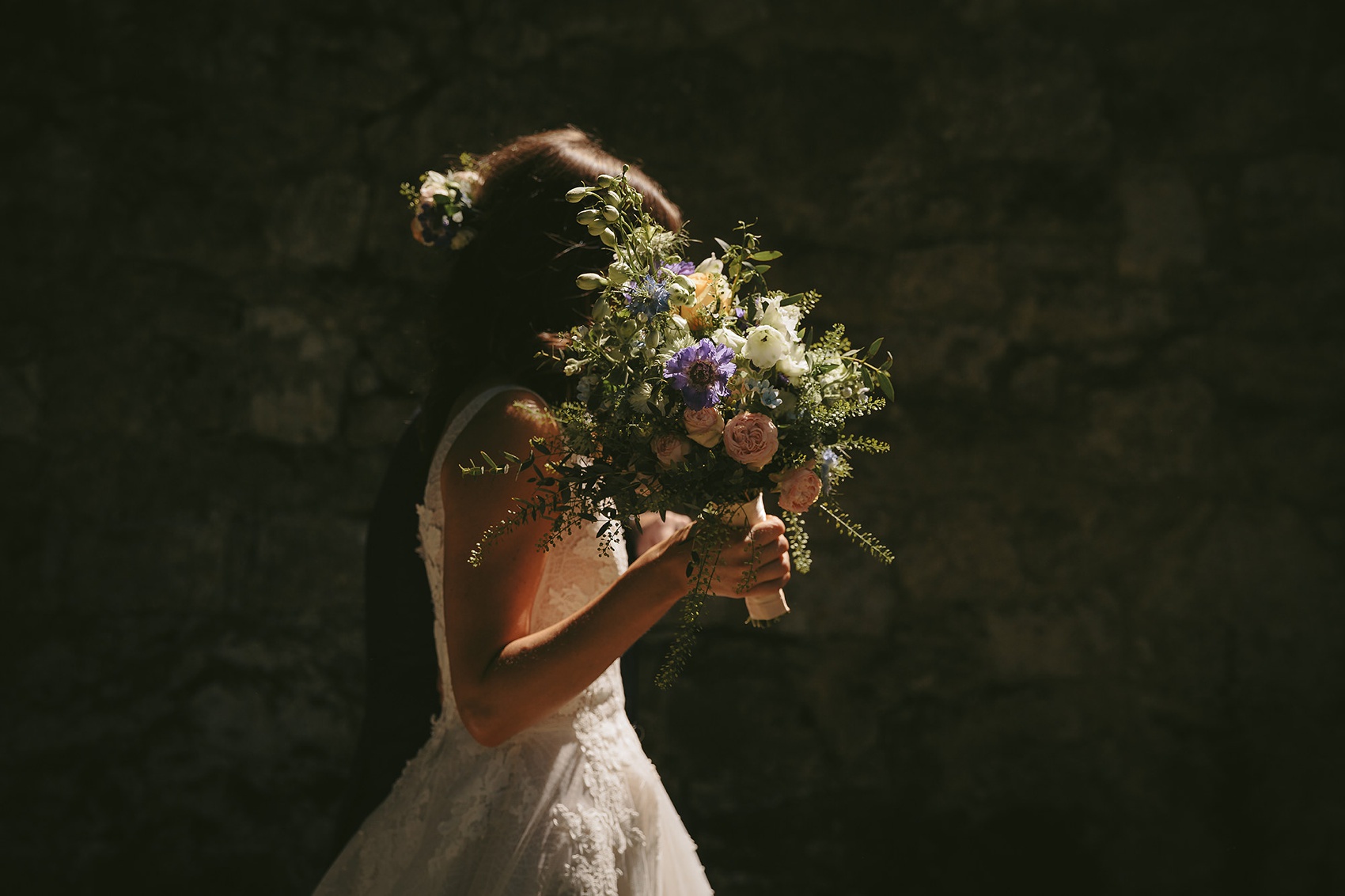 "We had one of our best friends, Kathryn, conduct the ceremony. She wrote the whole thing so it was an amazing surprise to listen to it on the day. She could be a professional if she wanted to be!"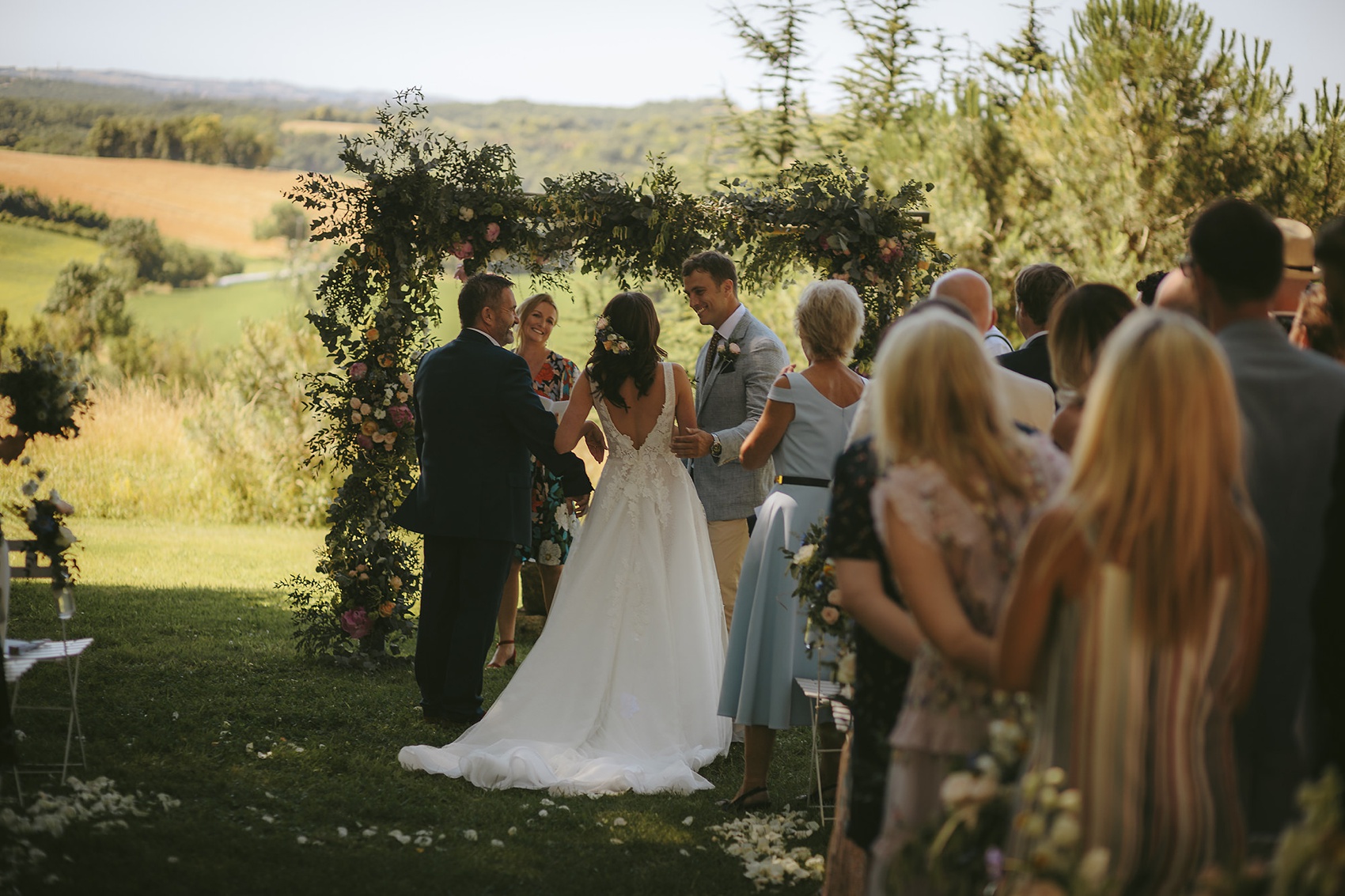 "We did write our own vows, and I think Dominic was still writing on the wedding morning (along with his speech). There were some quite serious, with a couple more humorous ones, such as Dominic promising to 'continue to keep his rig in absolute peak physical condition for the sake of our relationship.'"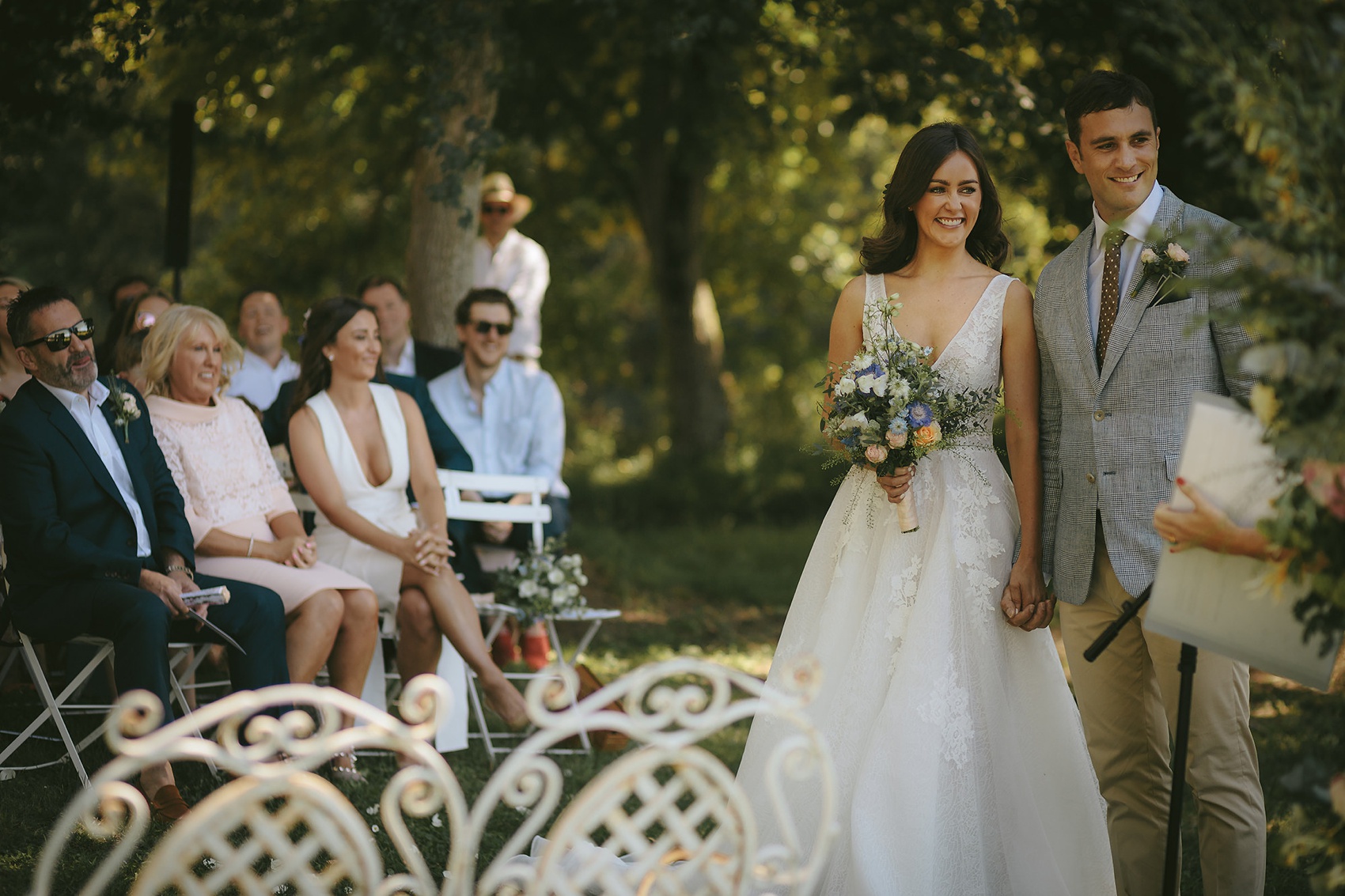 The couple also exchanged rings along with their personalised vows, although it's fair to say that these were a last minute dash ahead of travelling to France!
"I headed to Oxford Street in London the day before we left for France to try and find us some rings (slightly unorganised!). I got my band from Grays Antiques in Mayfair – which is the same place my engagement ring is from. Unfortunately for Dominic, I couldn't find anything big enough, so had to buy a pack of two stainless steel rings from Burton! I just said I got him a ring, and then surprised him with his £5 ring during the ceremony, whilst mine was a nice diamond eternity ring!"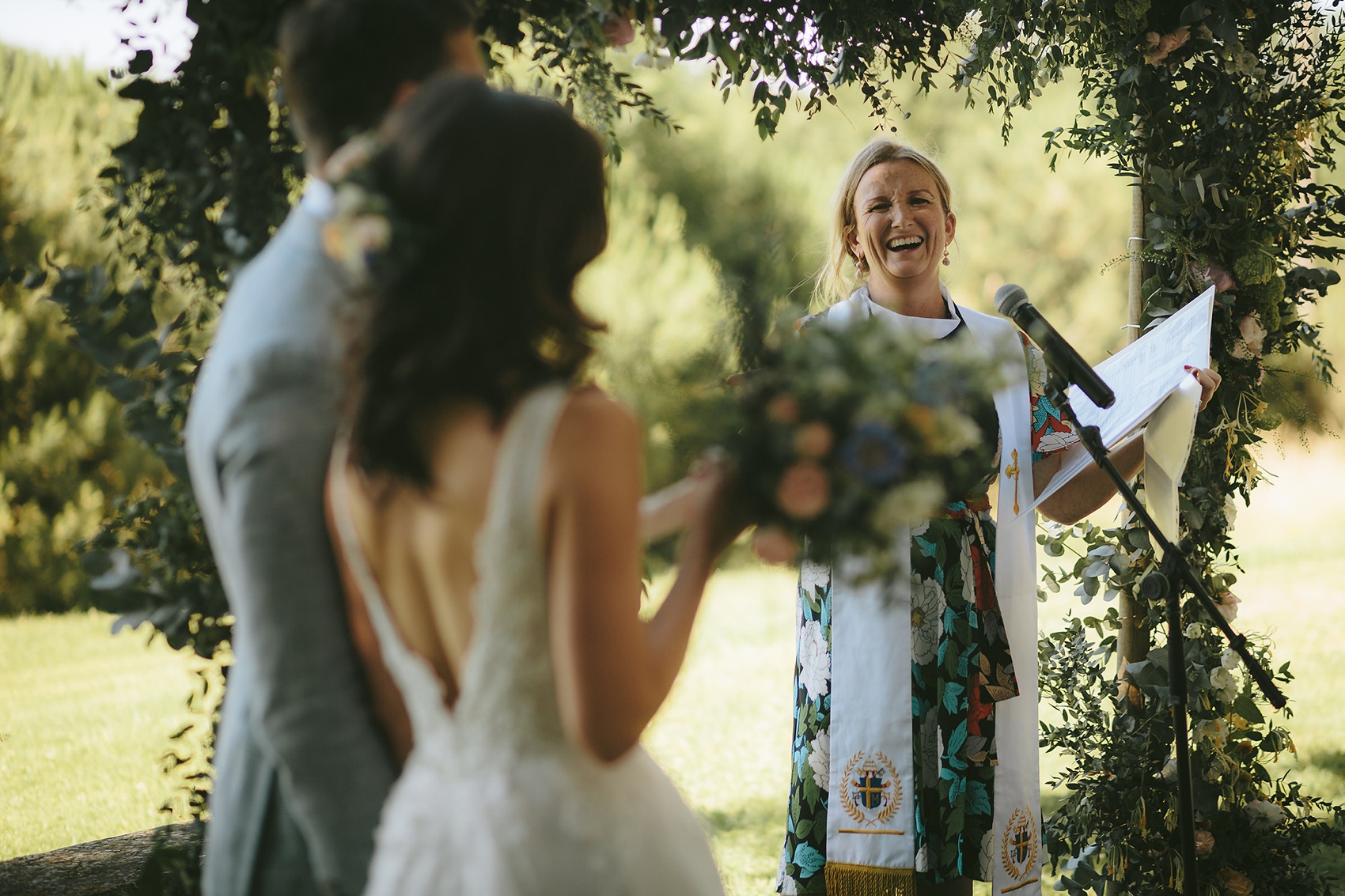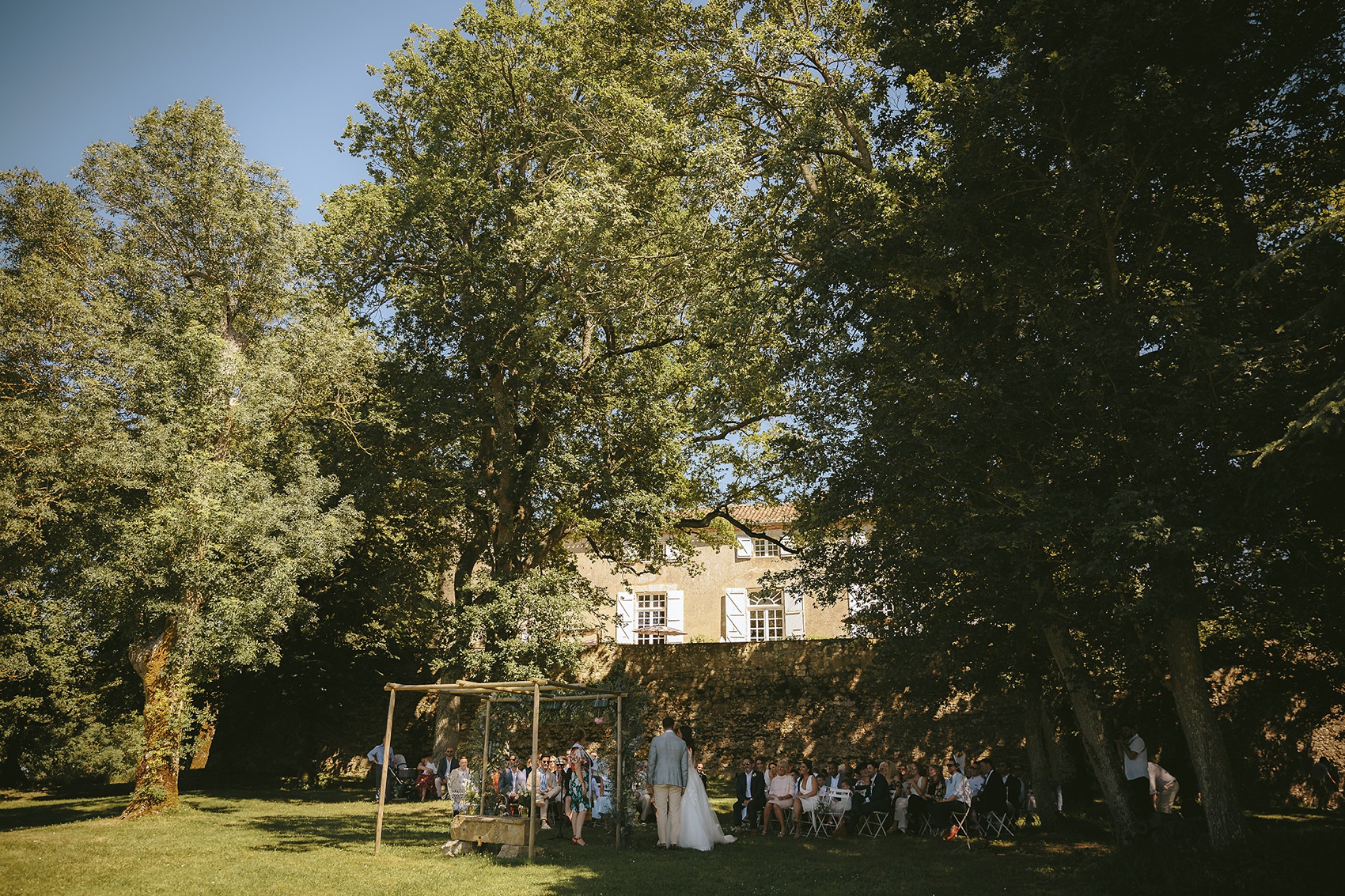 Loved ones delivered readings during the ceremony, too, with one of Lindsy's best friends, Mercedes, reading the lyrics to Elton John's song from The Lion King – Can You Feel The Love Tonight.
"I'm a massive Elton fan so this was incredible. We then had two sets of two friends create their own readings for us. Gerda and Nell did a little sketch of our relationship, and Louis and Matt changed the words of Alanis Morrisette's Ironic to fit to us."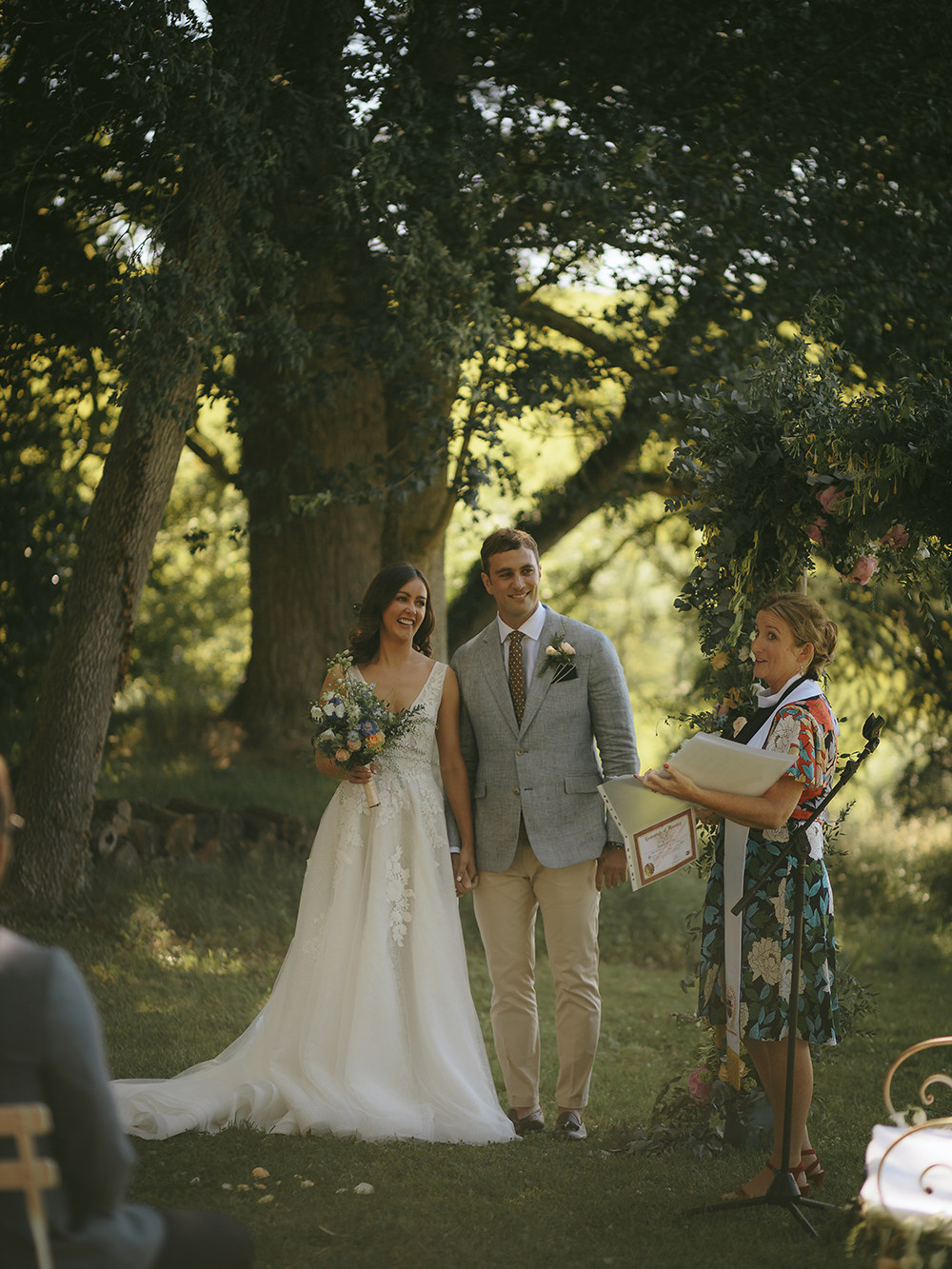 "I think our ceremony was really unique and personal, and it was so nice that we had all of our friends put so much effort in to it."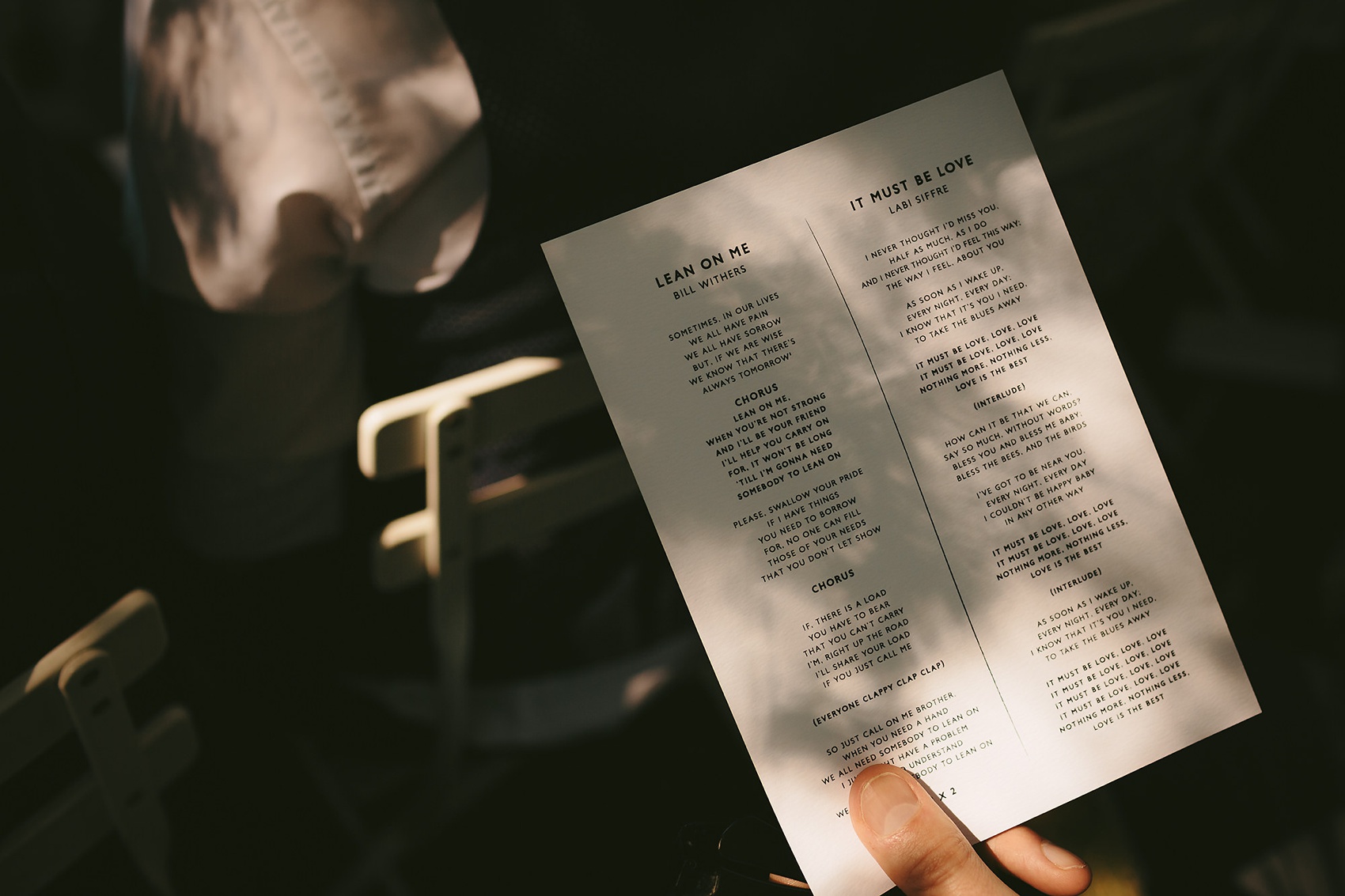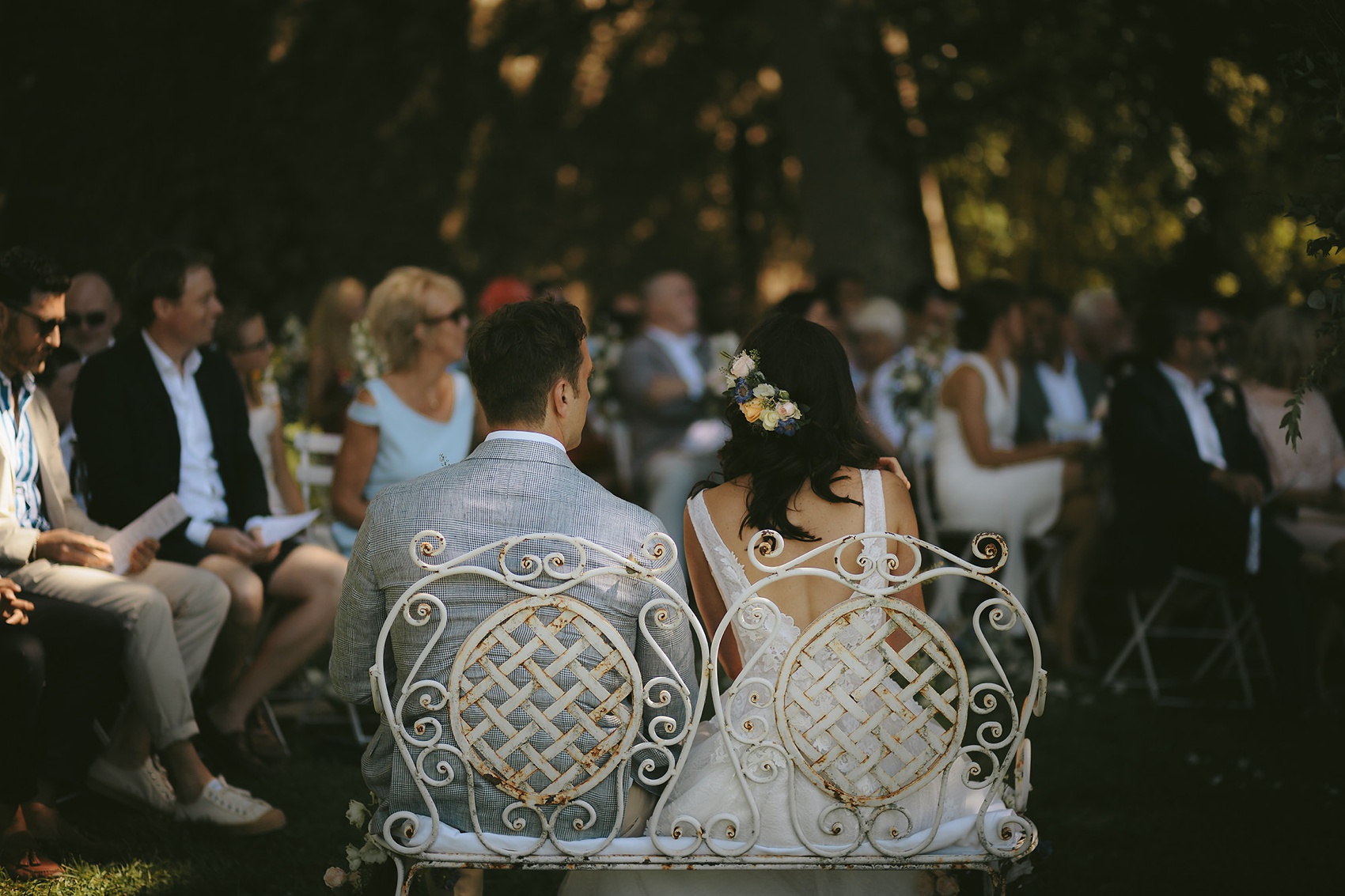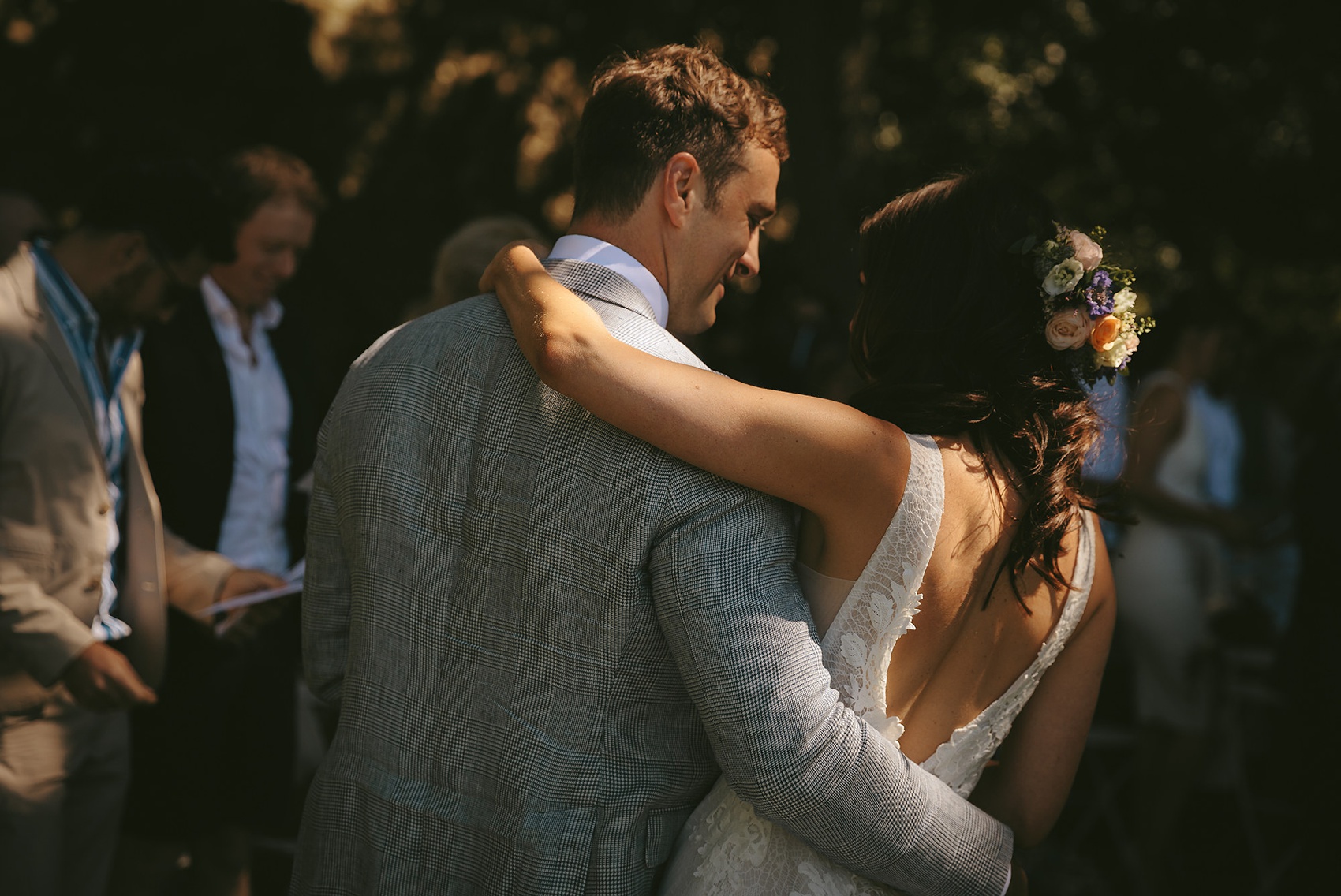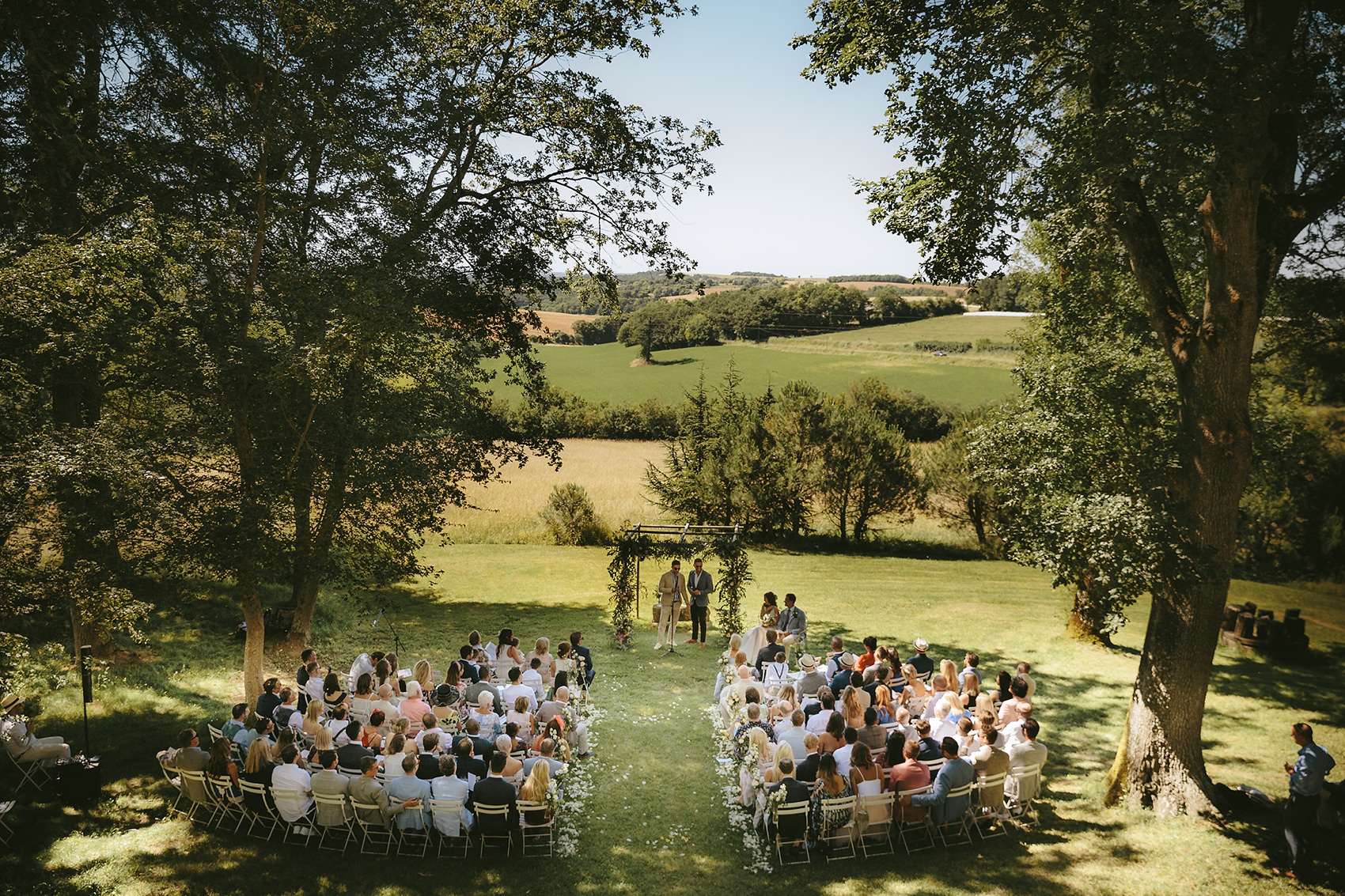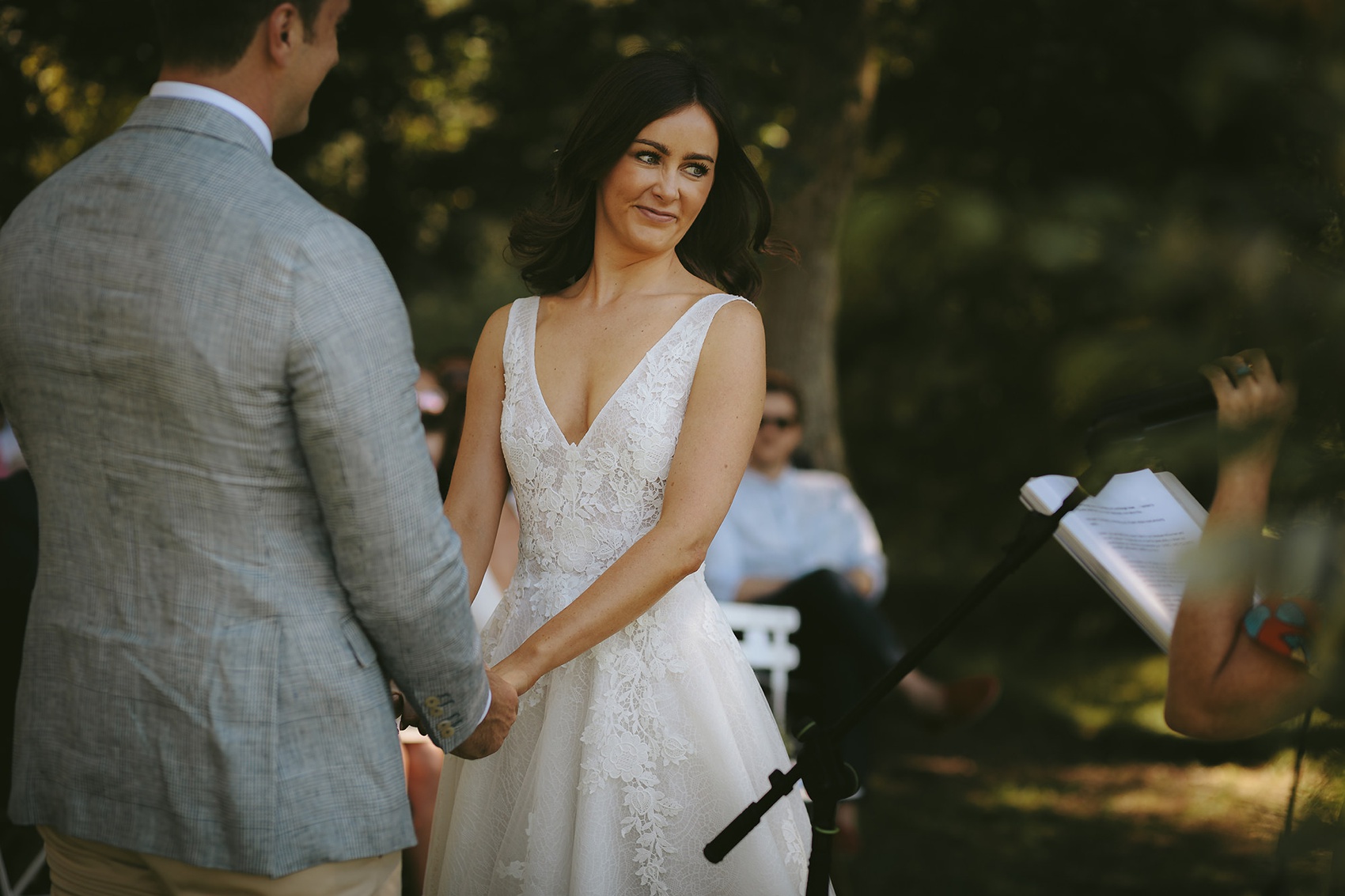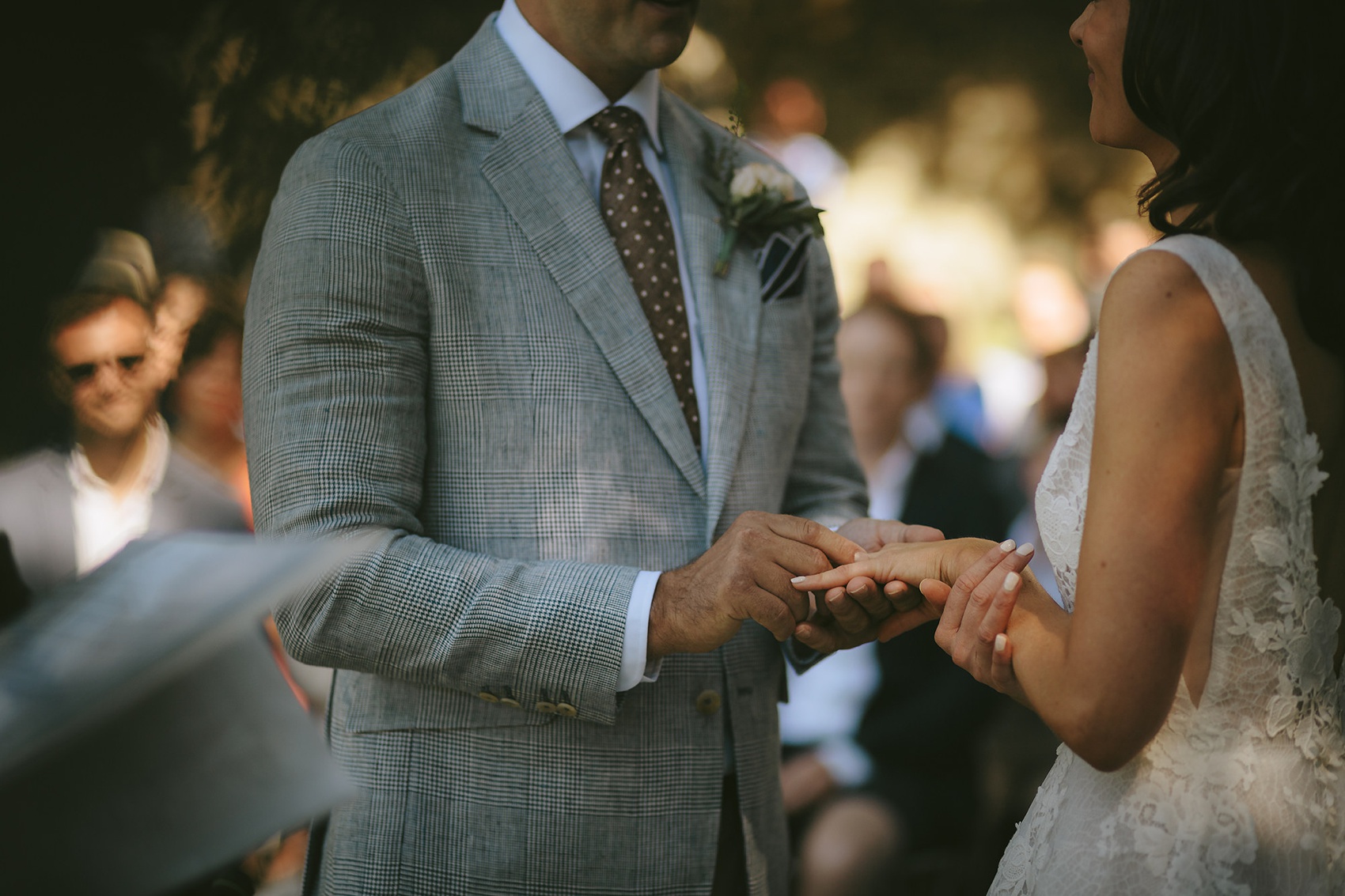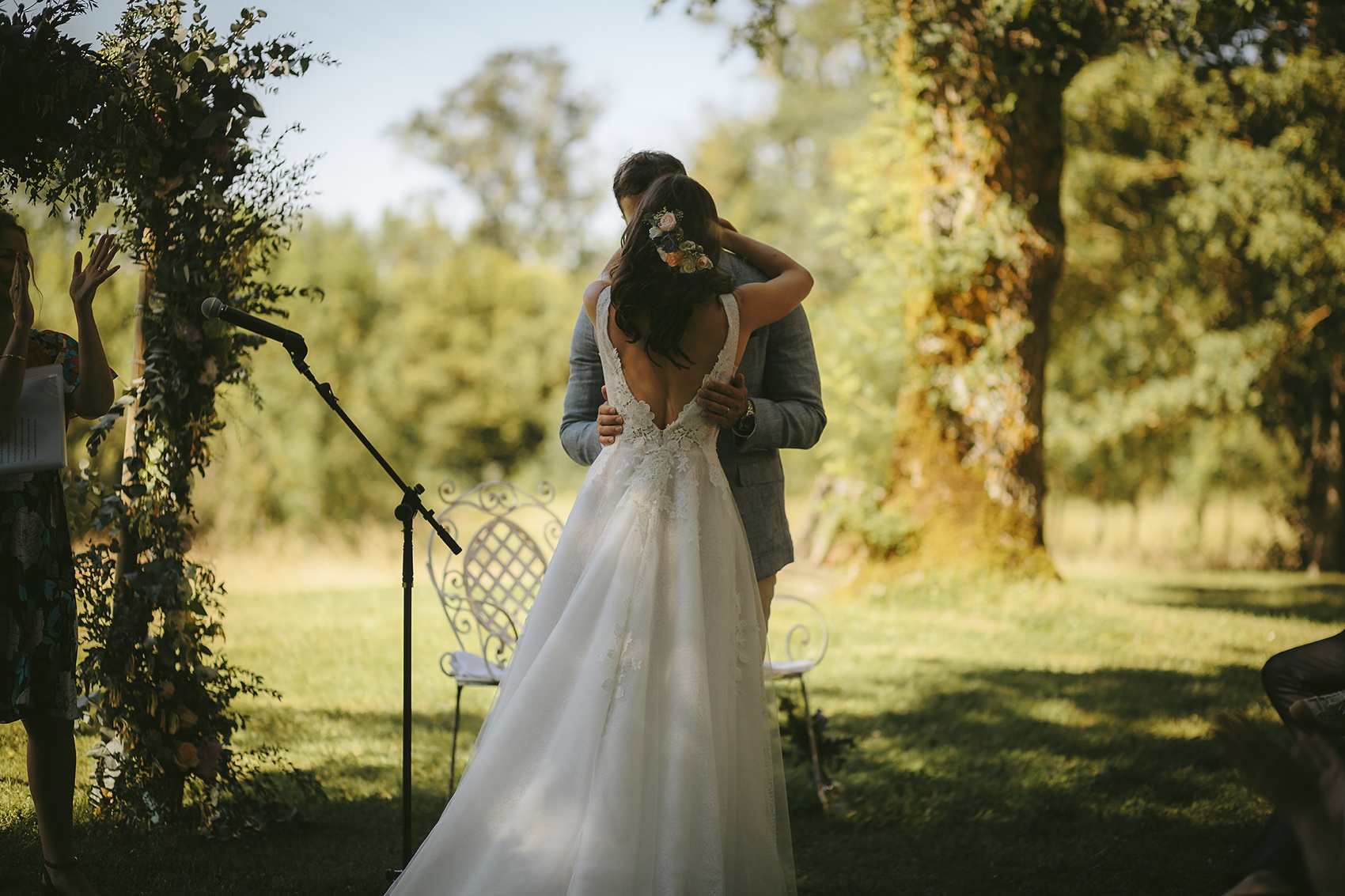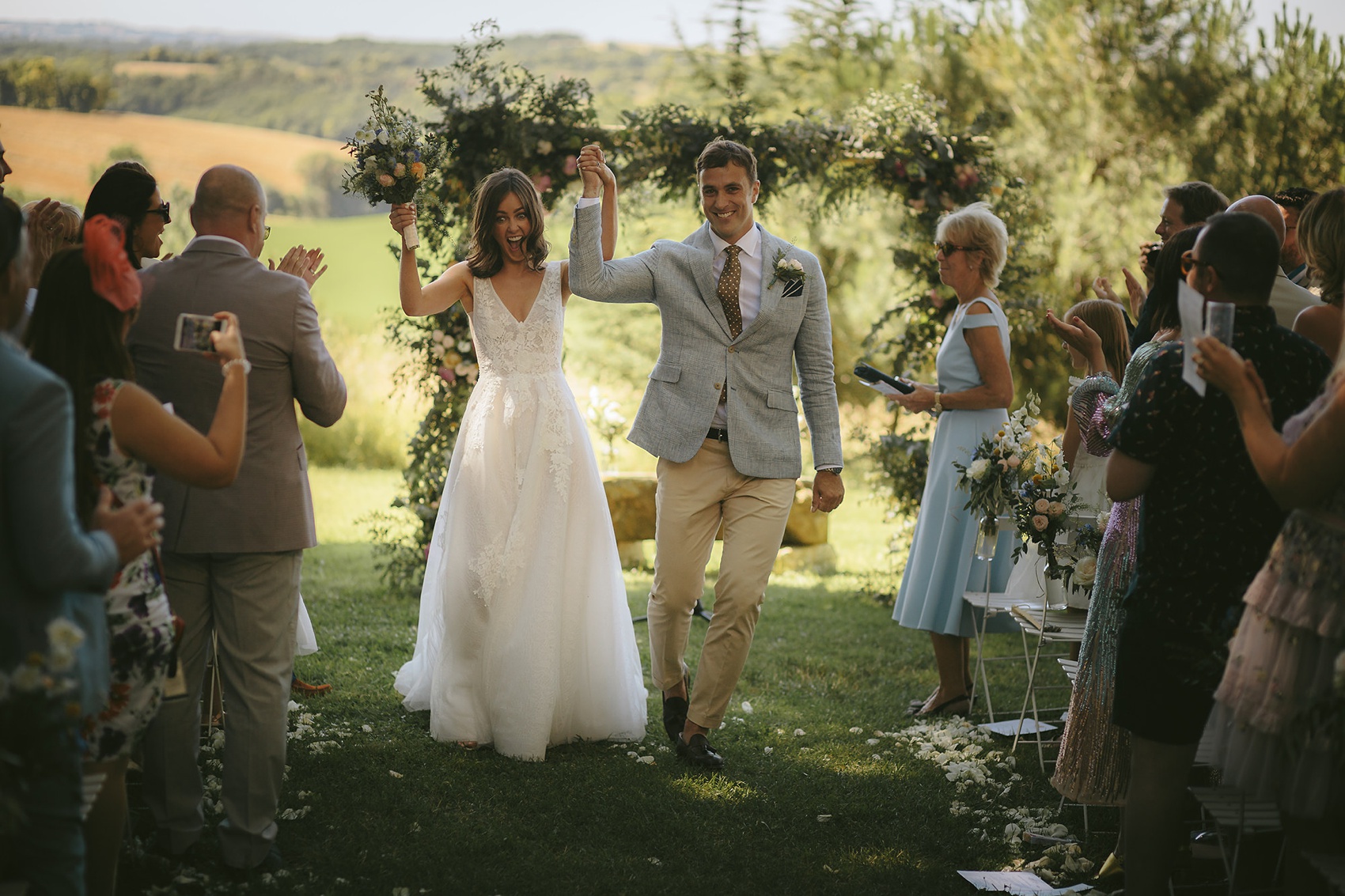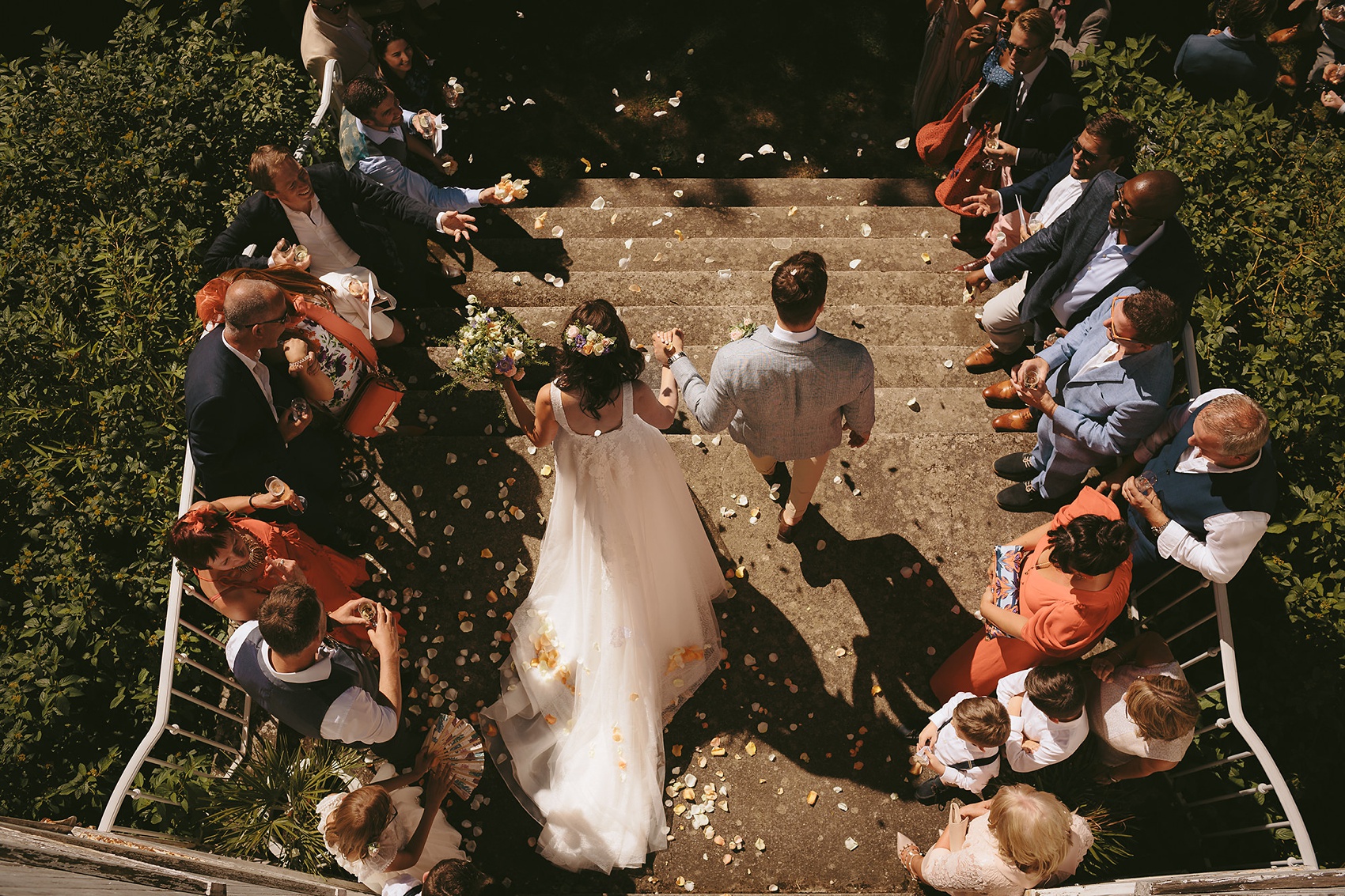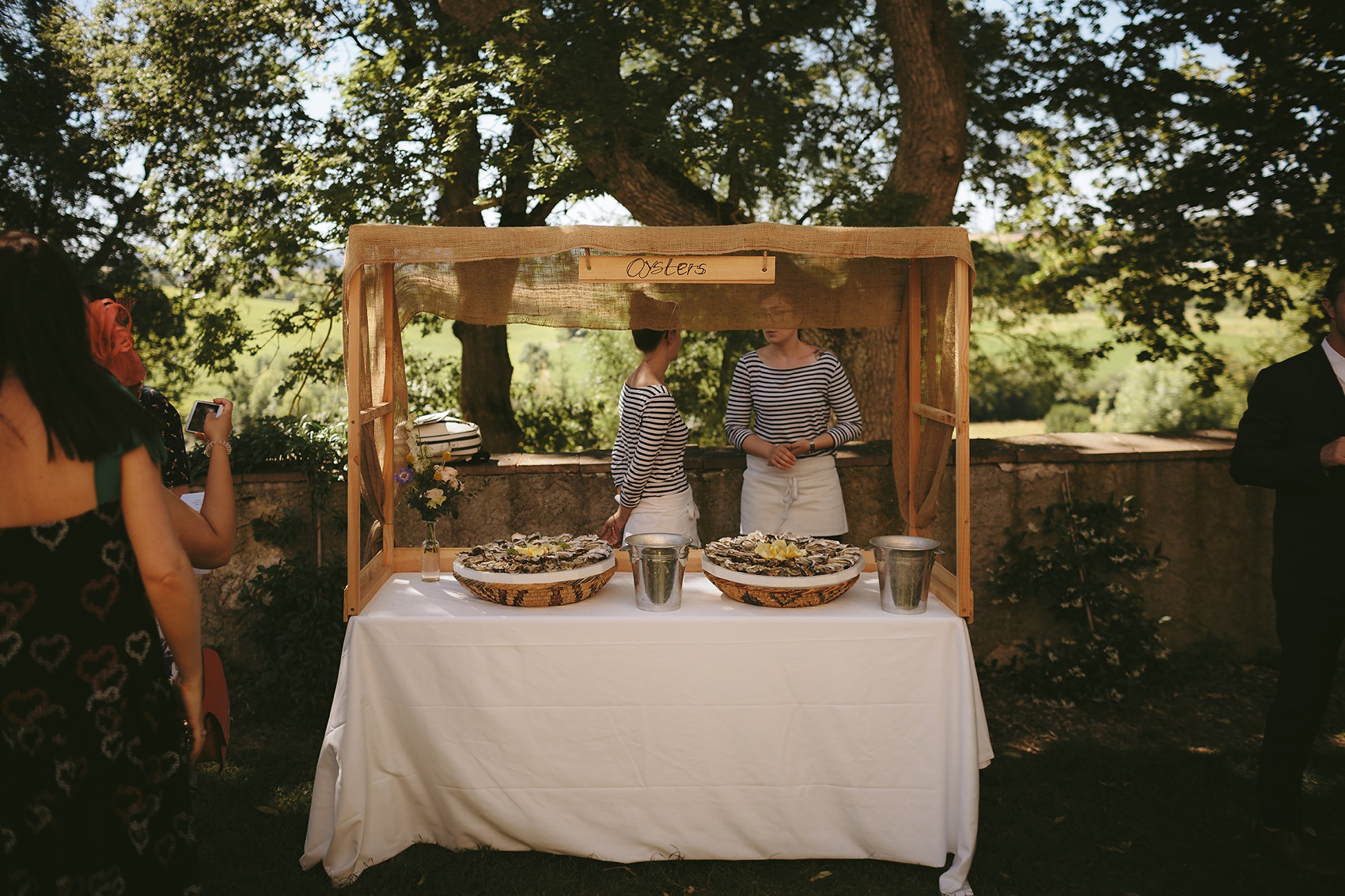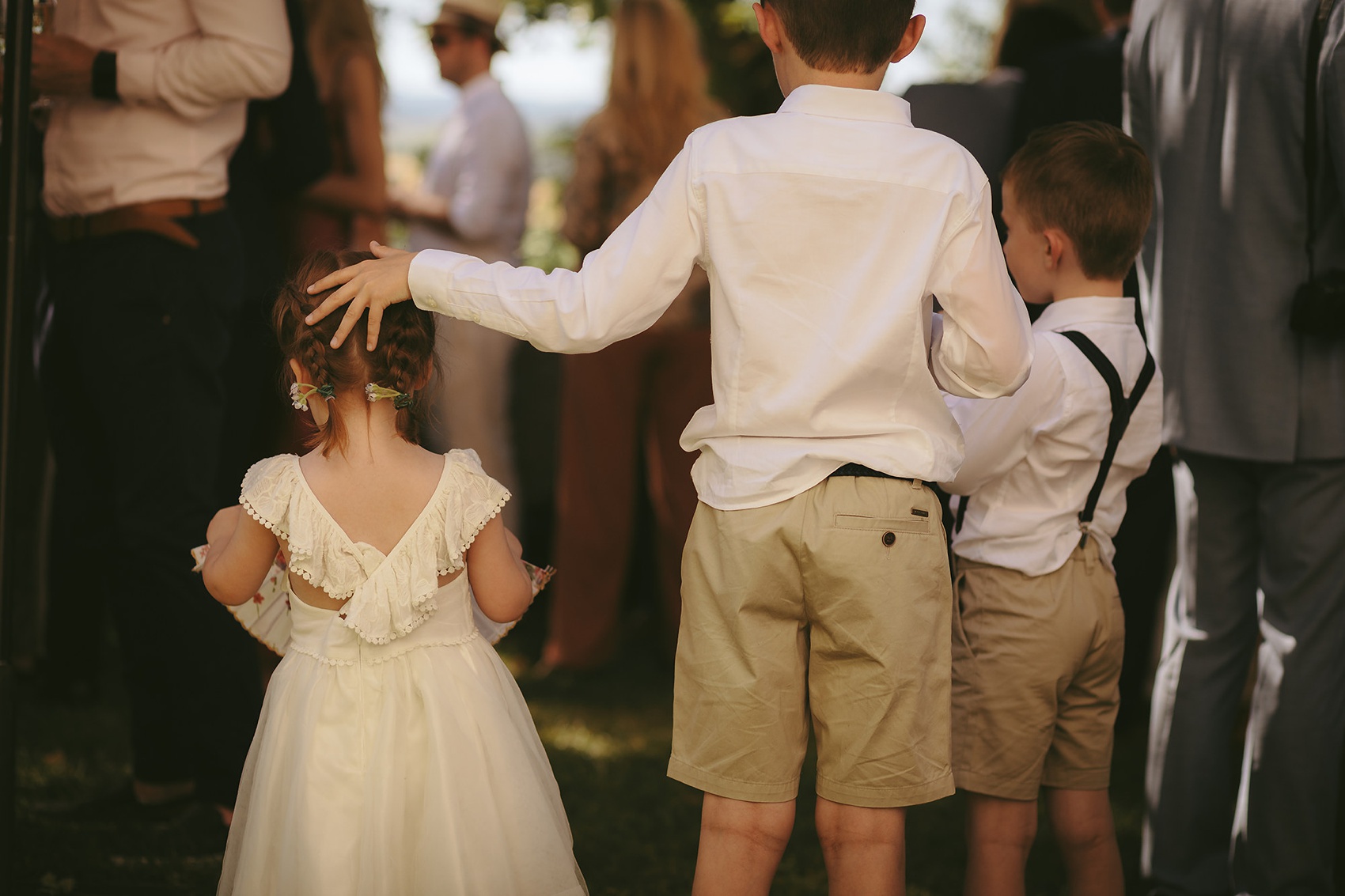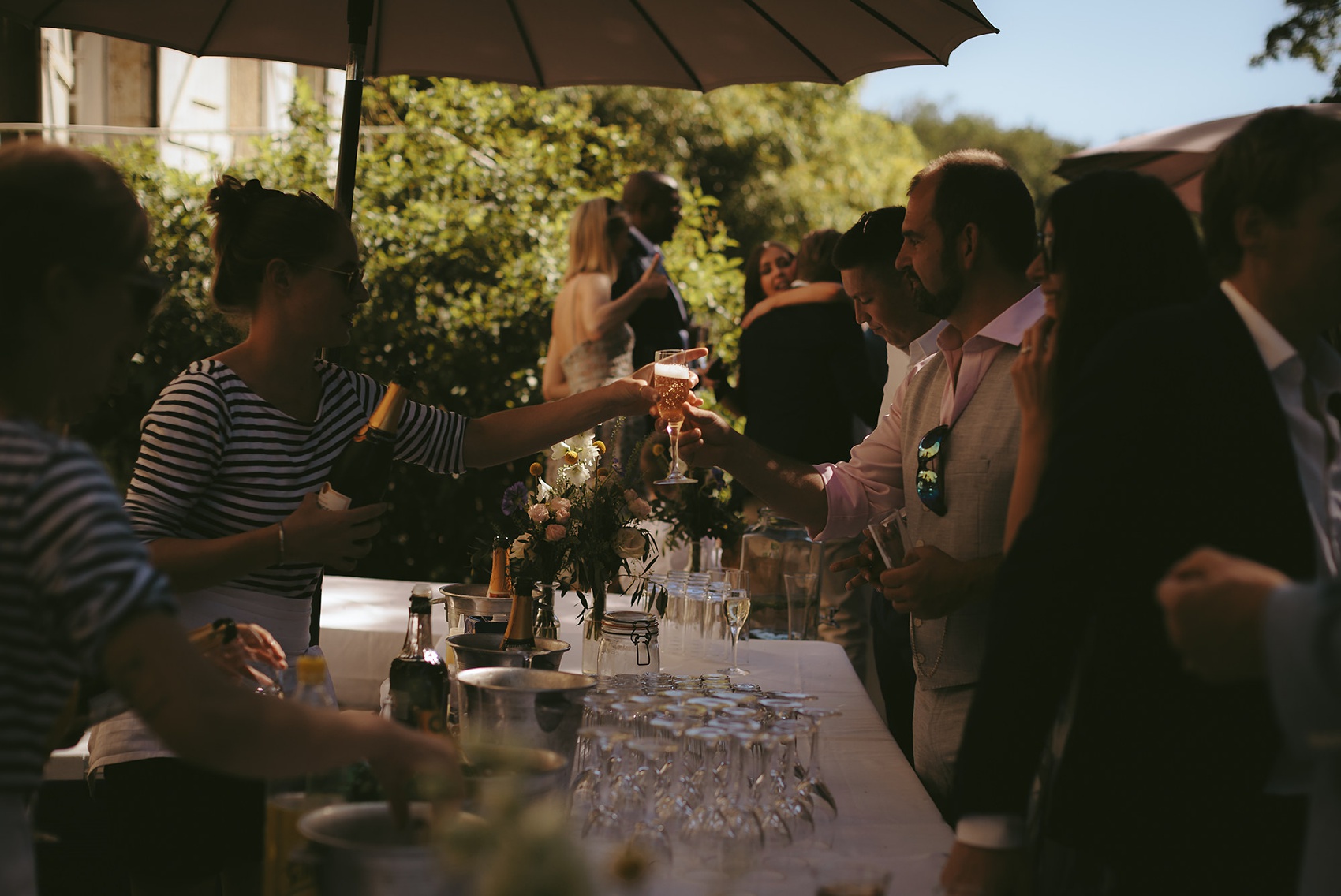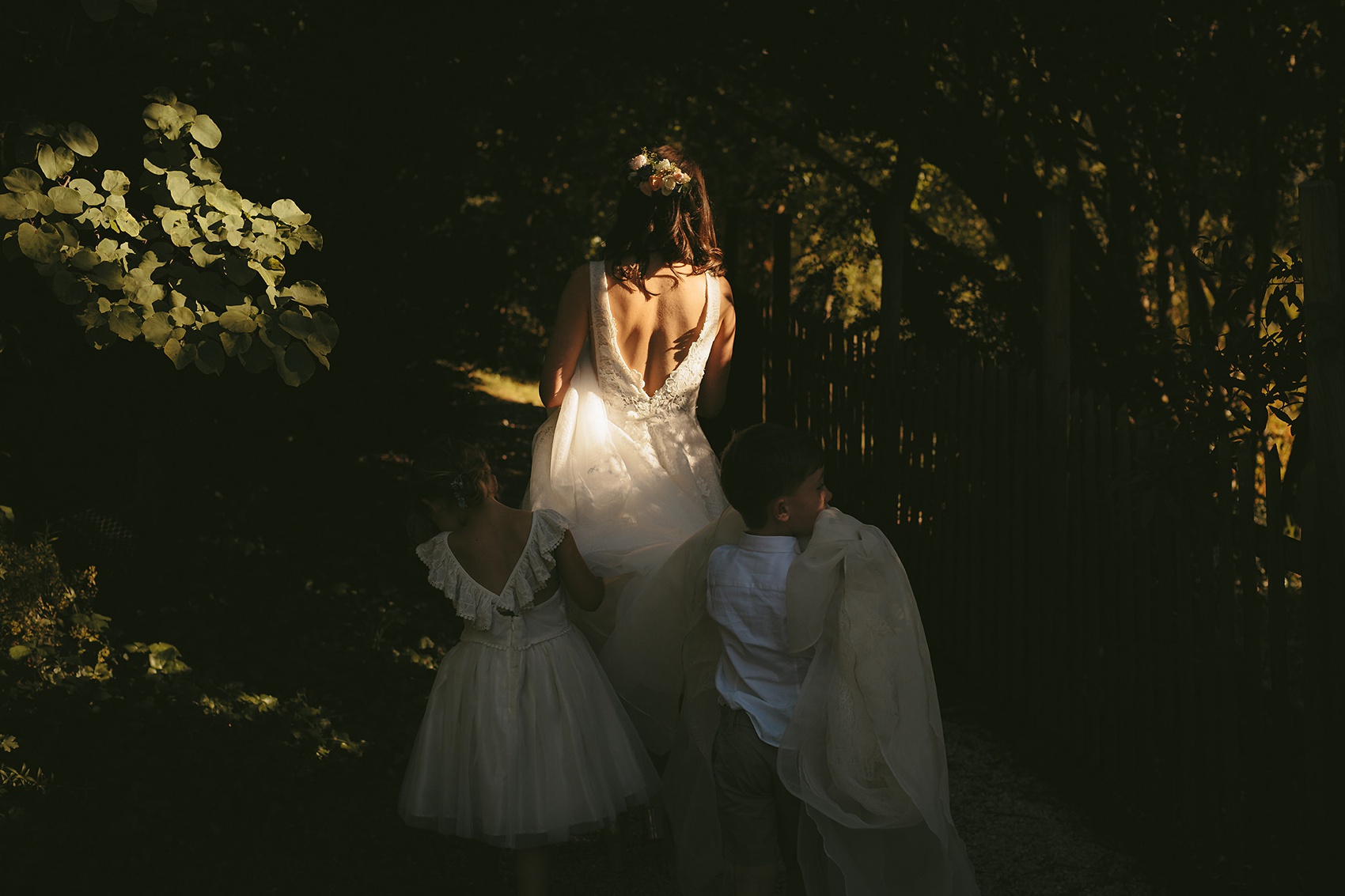 Whilst the newly married couple enjoyed some quiet time, walking by the pool, in the lovely grounds, and inside the cool of the old chateau, guests chatted, laughed and drank outside.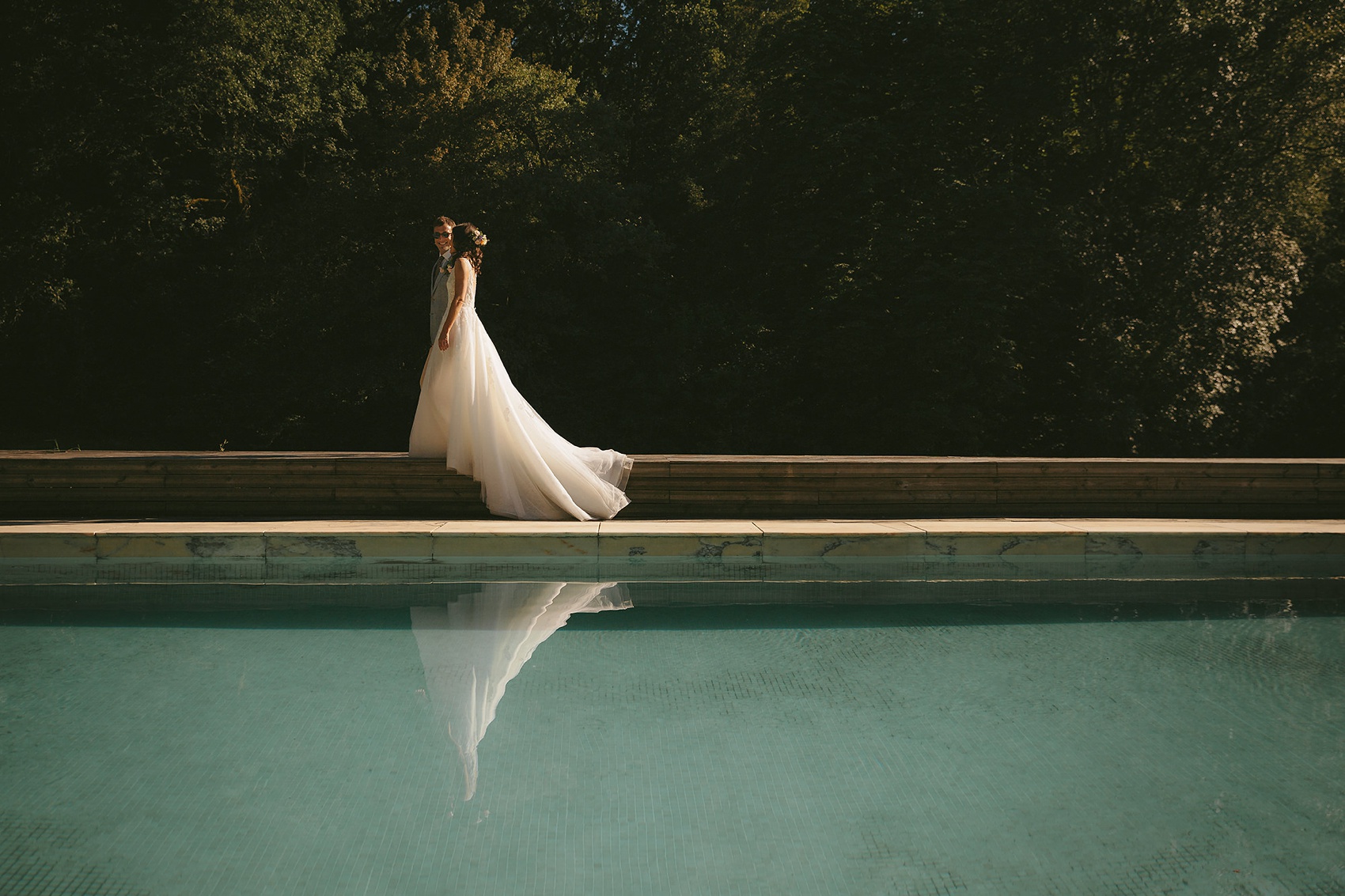 Stylish, monochrome stationery was designed for the couple by a friend of Lindsy's sister (sadly, no further details provided), which looked fantastic as a table plan inside an antique gilt frame, and on long dining tables set up outside.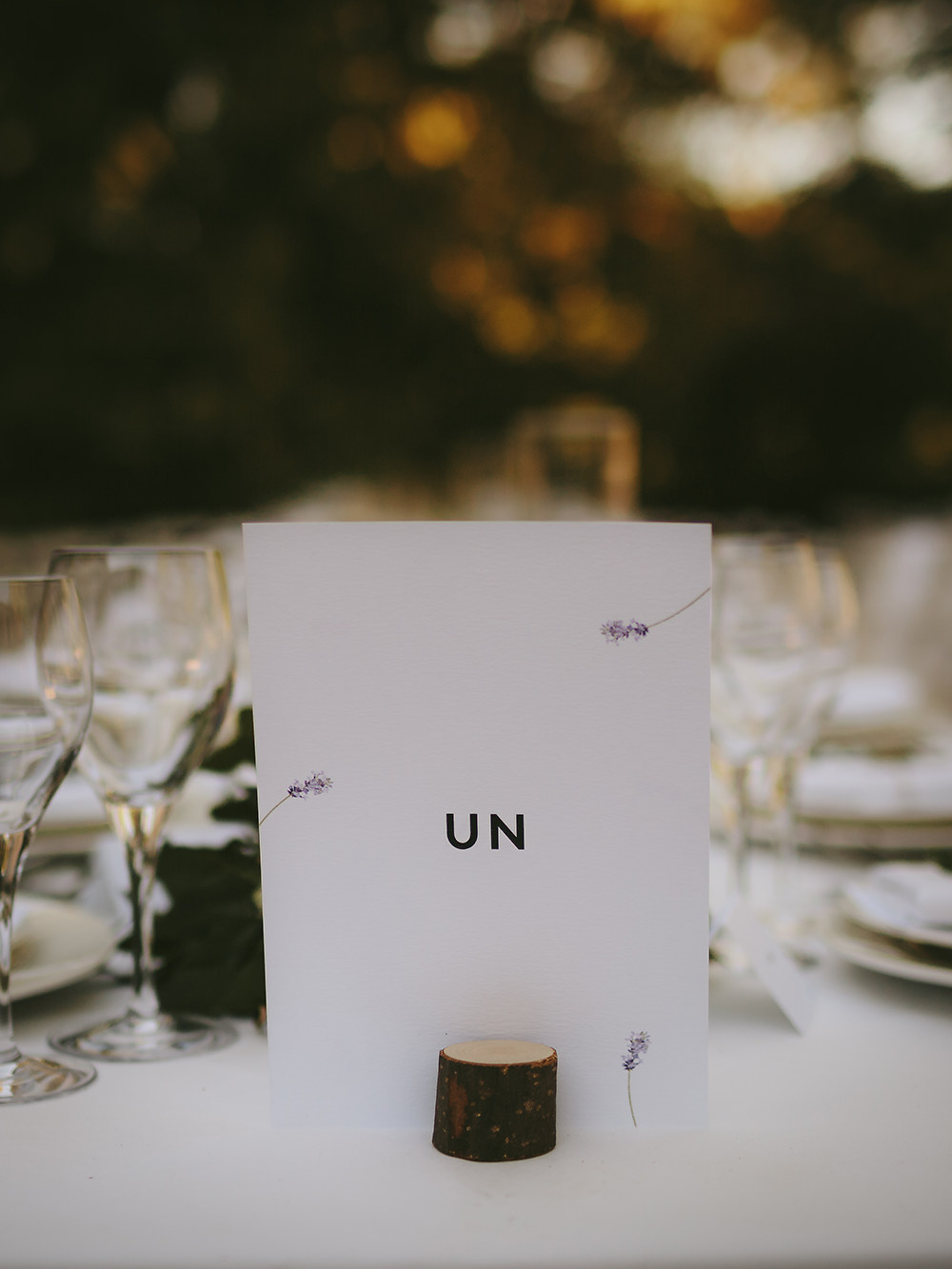 What a spectacular place to sit down to dinner, with the beautiful chateau and its shuttered windows as a backdrop, covered in rambling roses and more incredible blooms arranged by the Lartigolle team.
"Lartigolle make all of the food in-house and it's amazing. It's one of the main reasons we went with the venue."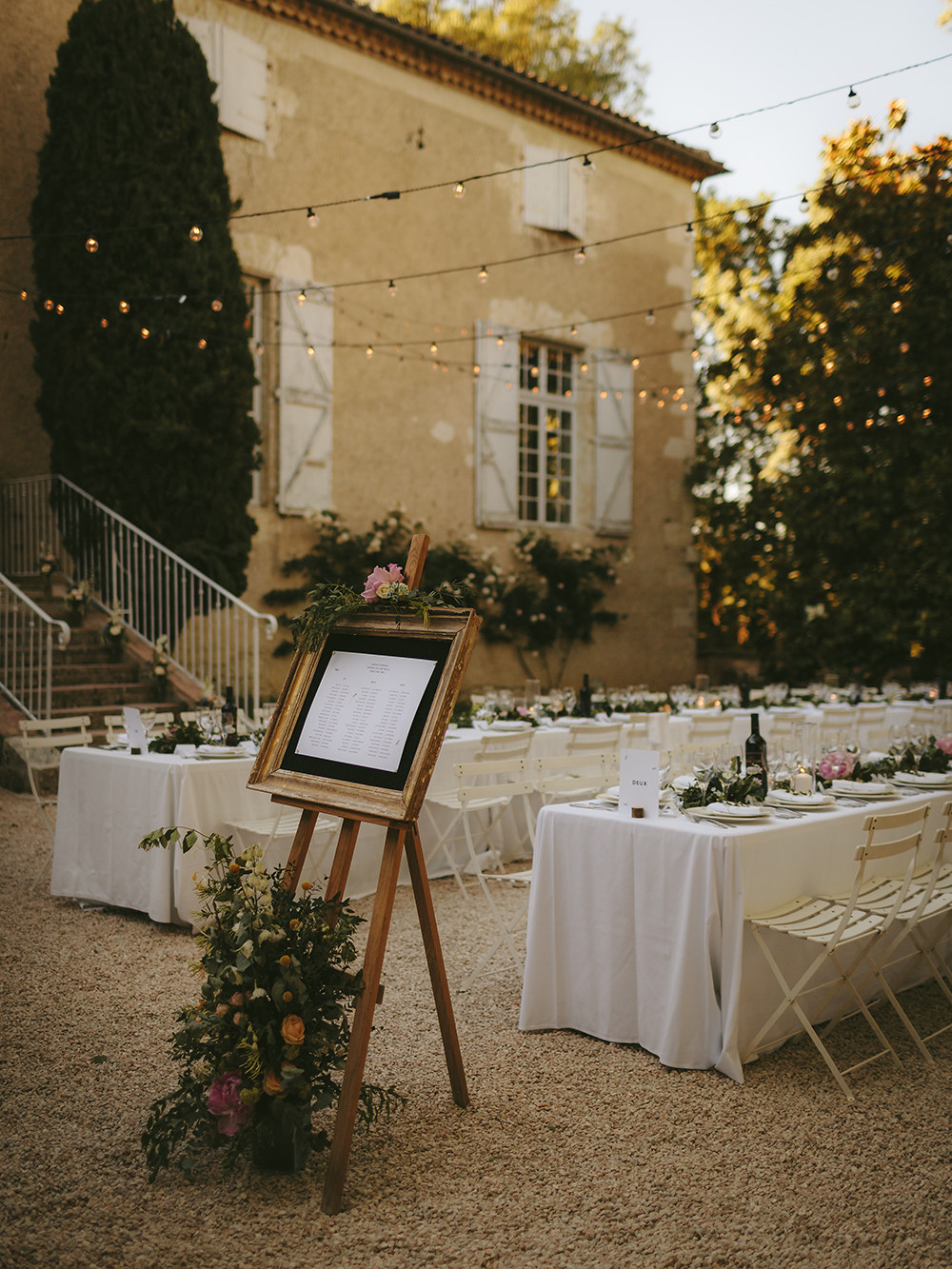 Garlands of fresh flowers and foliage were woven down the centre of tables laid with classic white linens and crockery, and candles inside hurricane jars.
During the relaxed feast, there was time for a sunset walk for Lindsy and Dominic, as well as speeches from loved ones as day became night, and the festoon lights above glowed.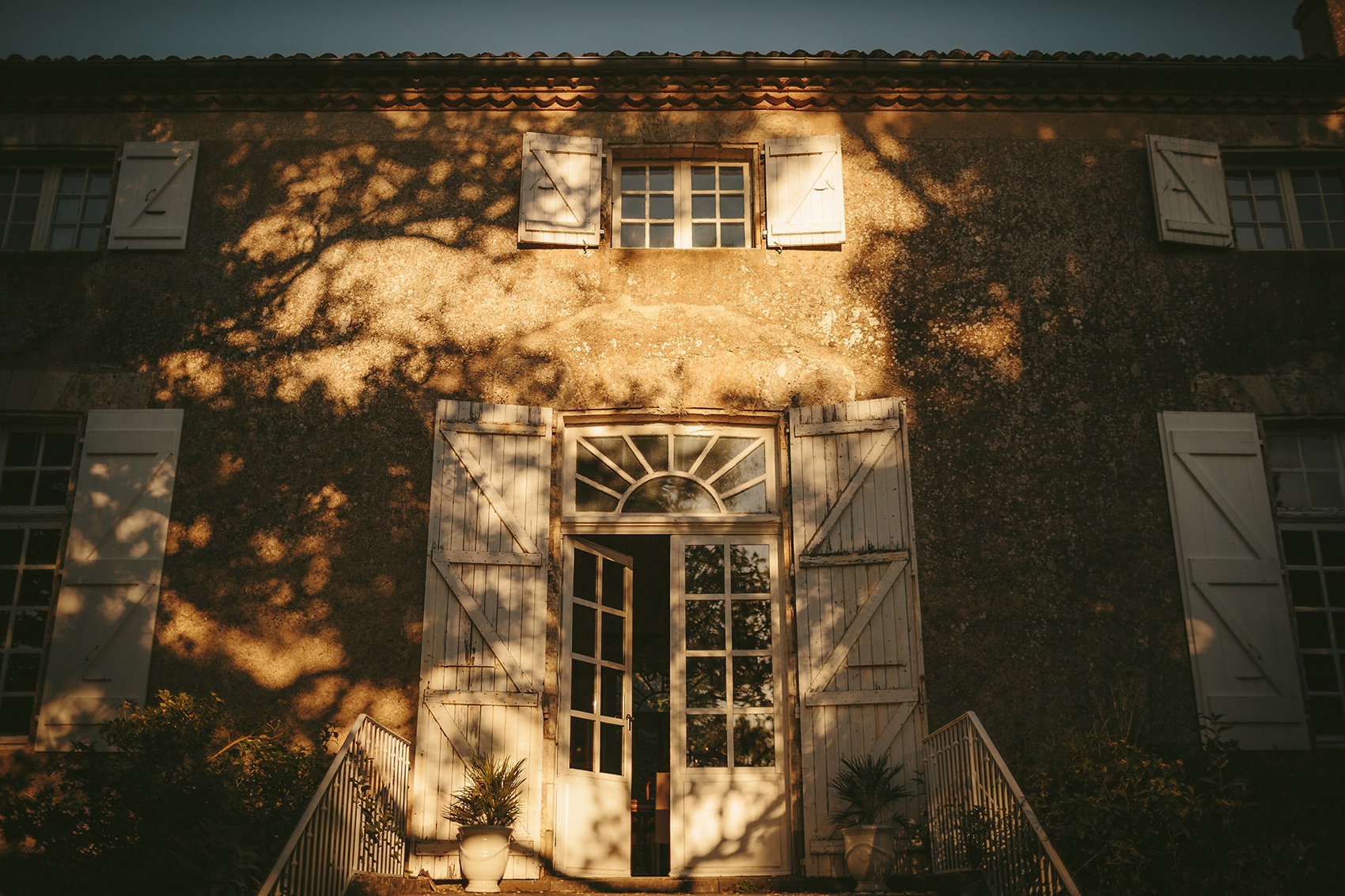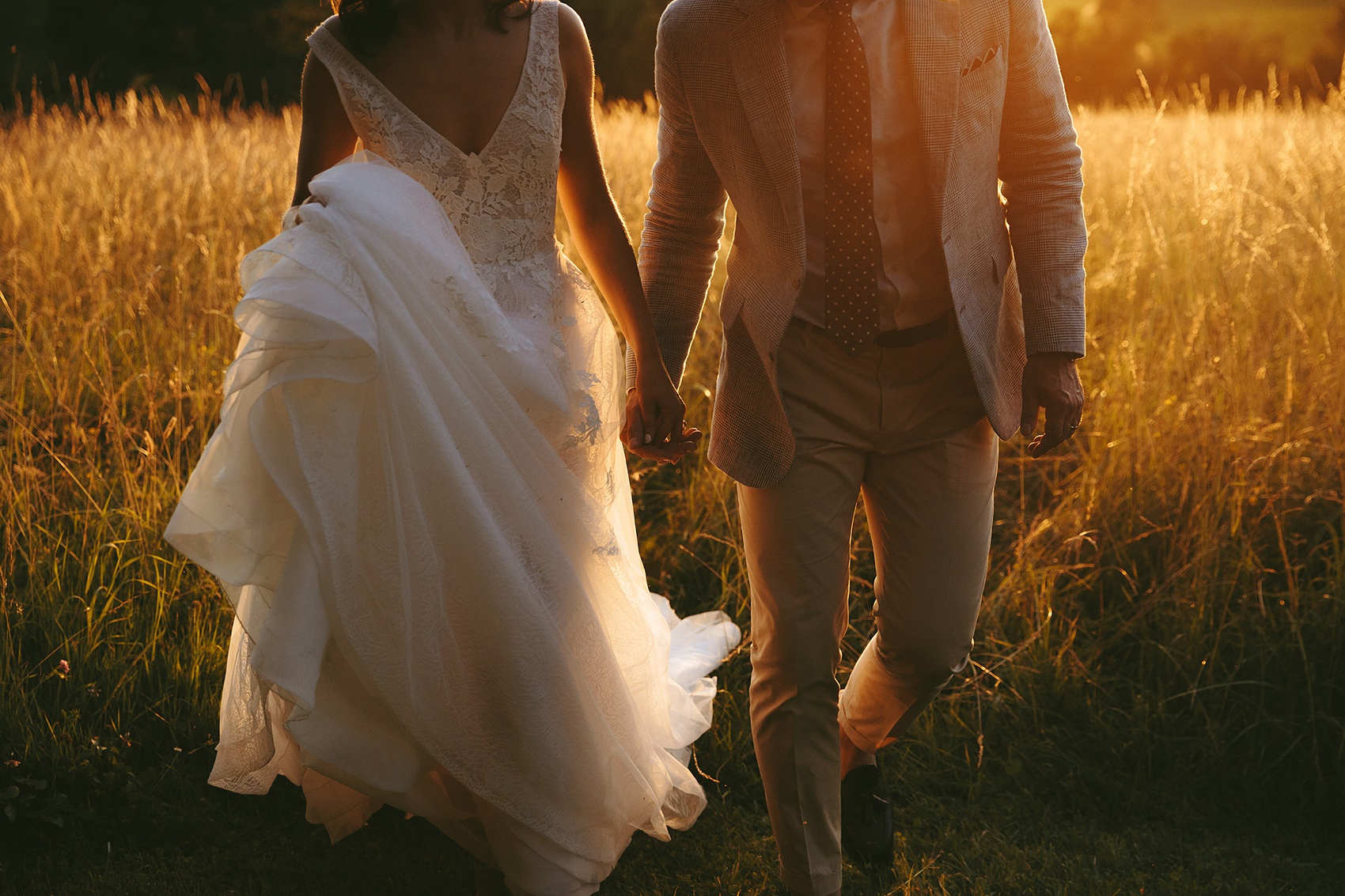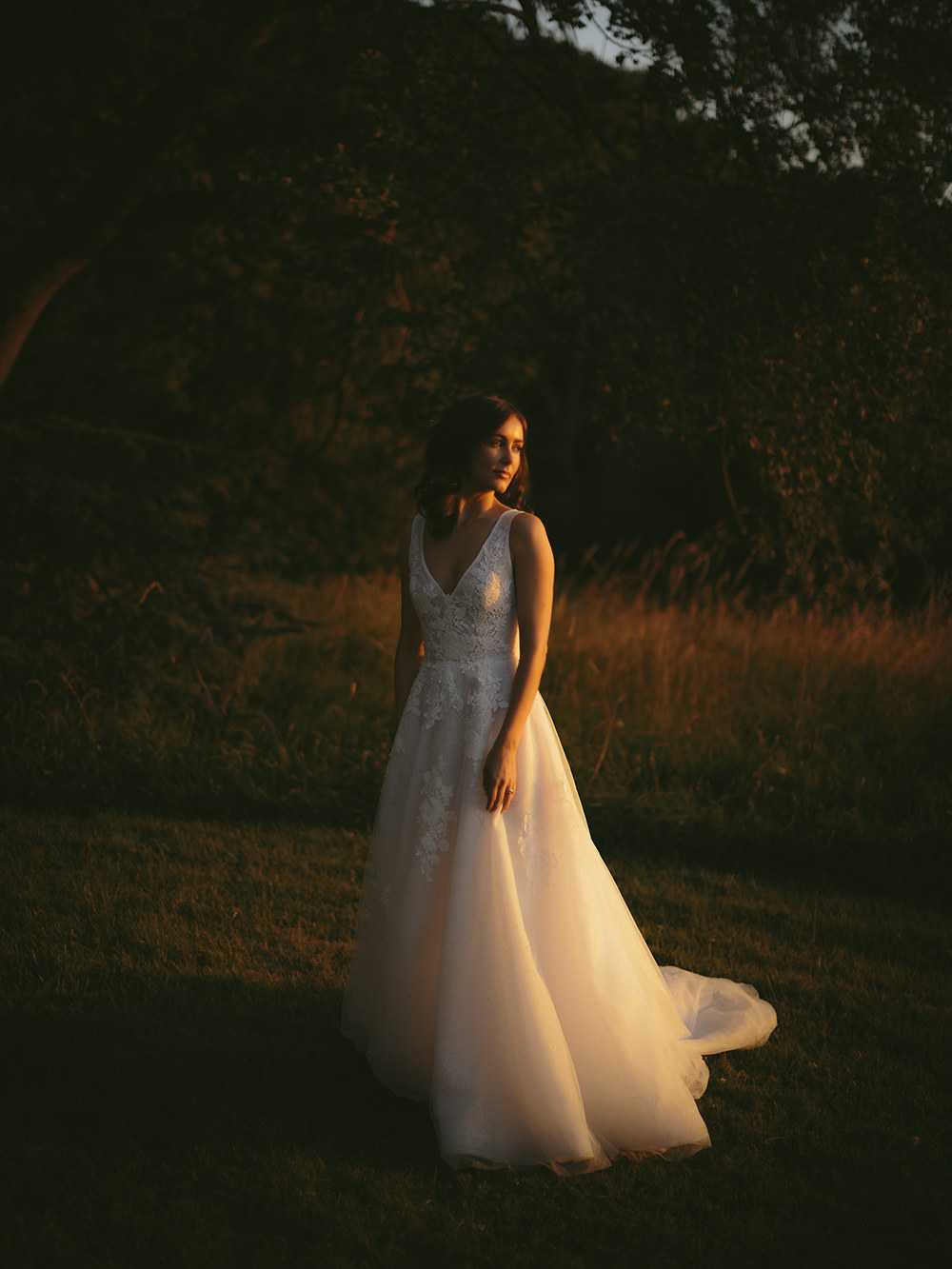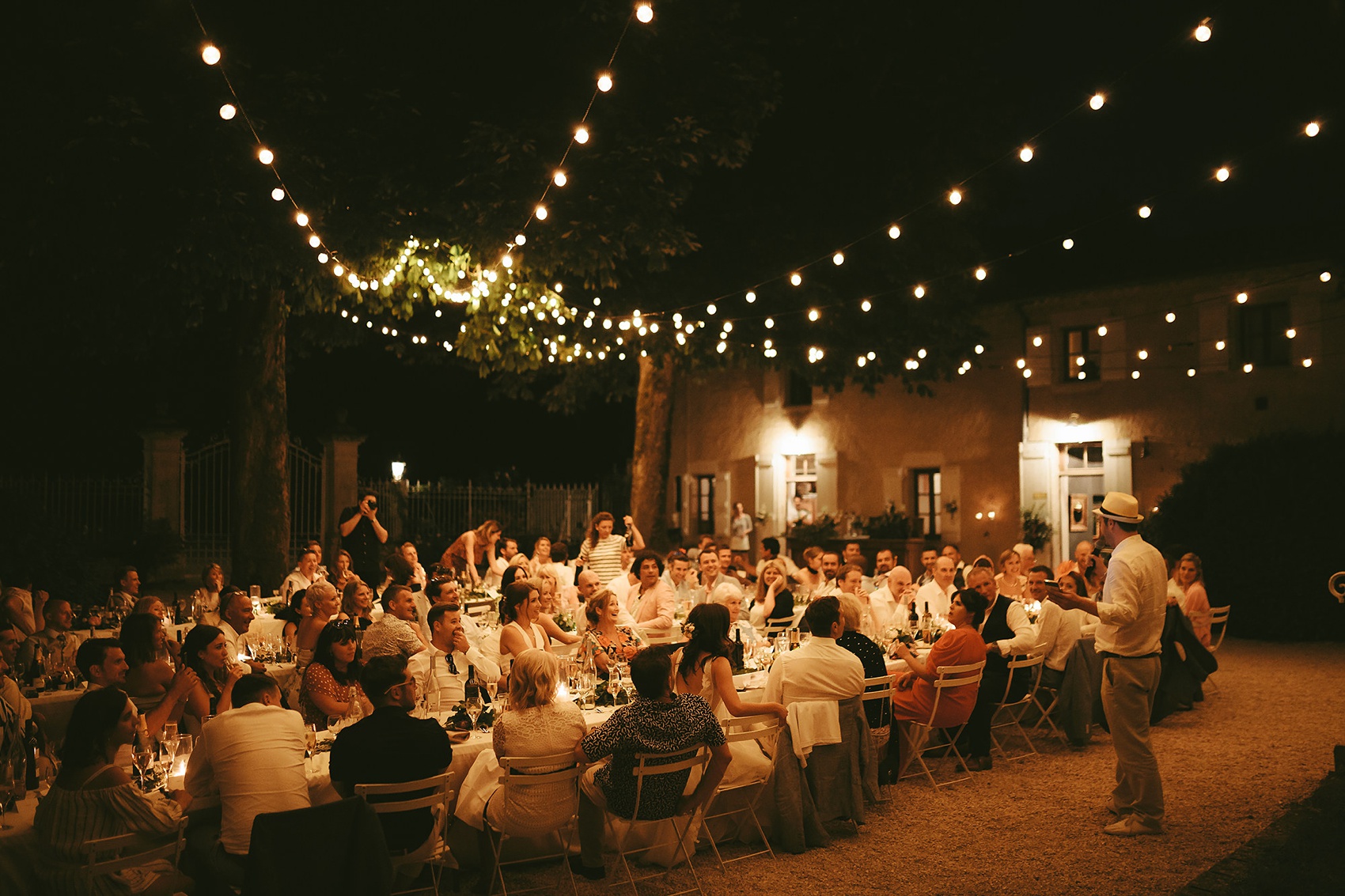 I love the DIY rug dancefloor made for the happy couple as they enjoyed their first dance together outside, surrounded by loved ones with sparklers. The song they chose was an 80s classic – I Was Made For Loving You, by Kiss.
After the first dance concluded, it was indoors to the wine cellars, which had been transformed into a subterranean club for the occasion, with live music from Manchester soul and Motown band, Downtown Underground, followed by friends DJing into the night.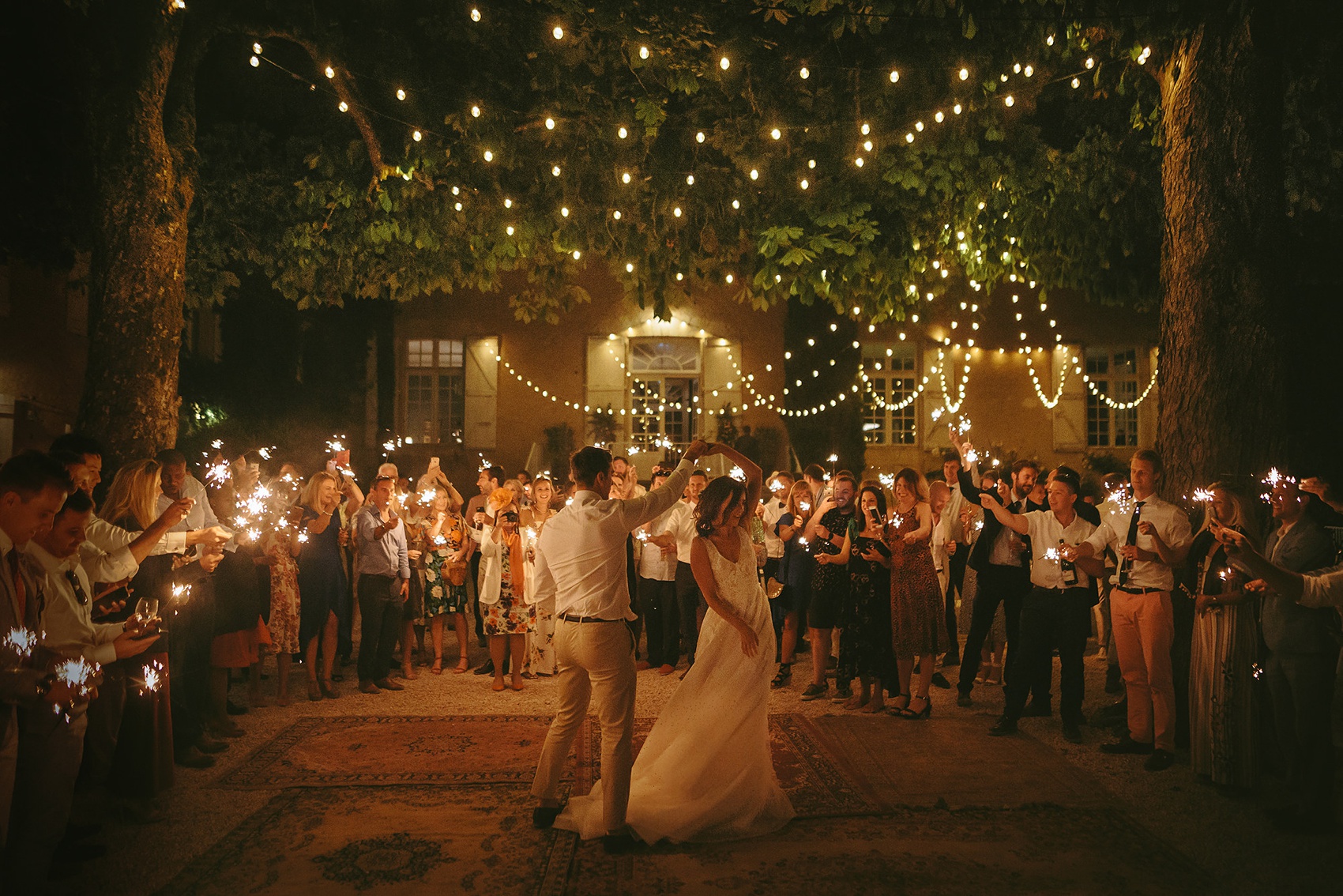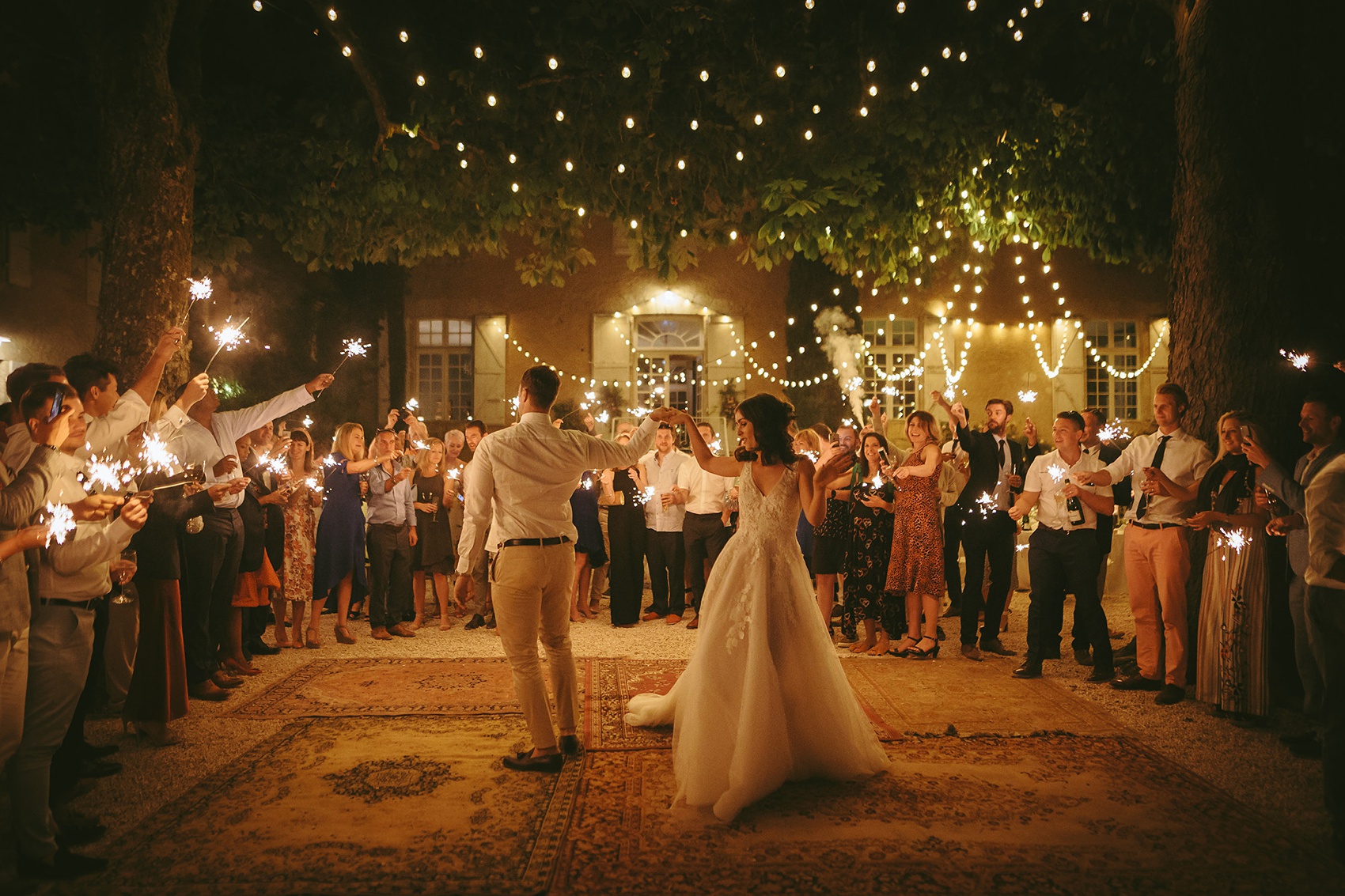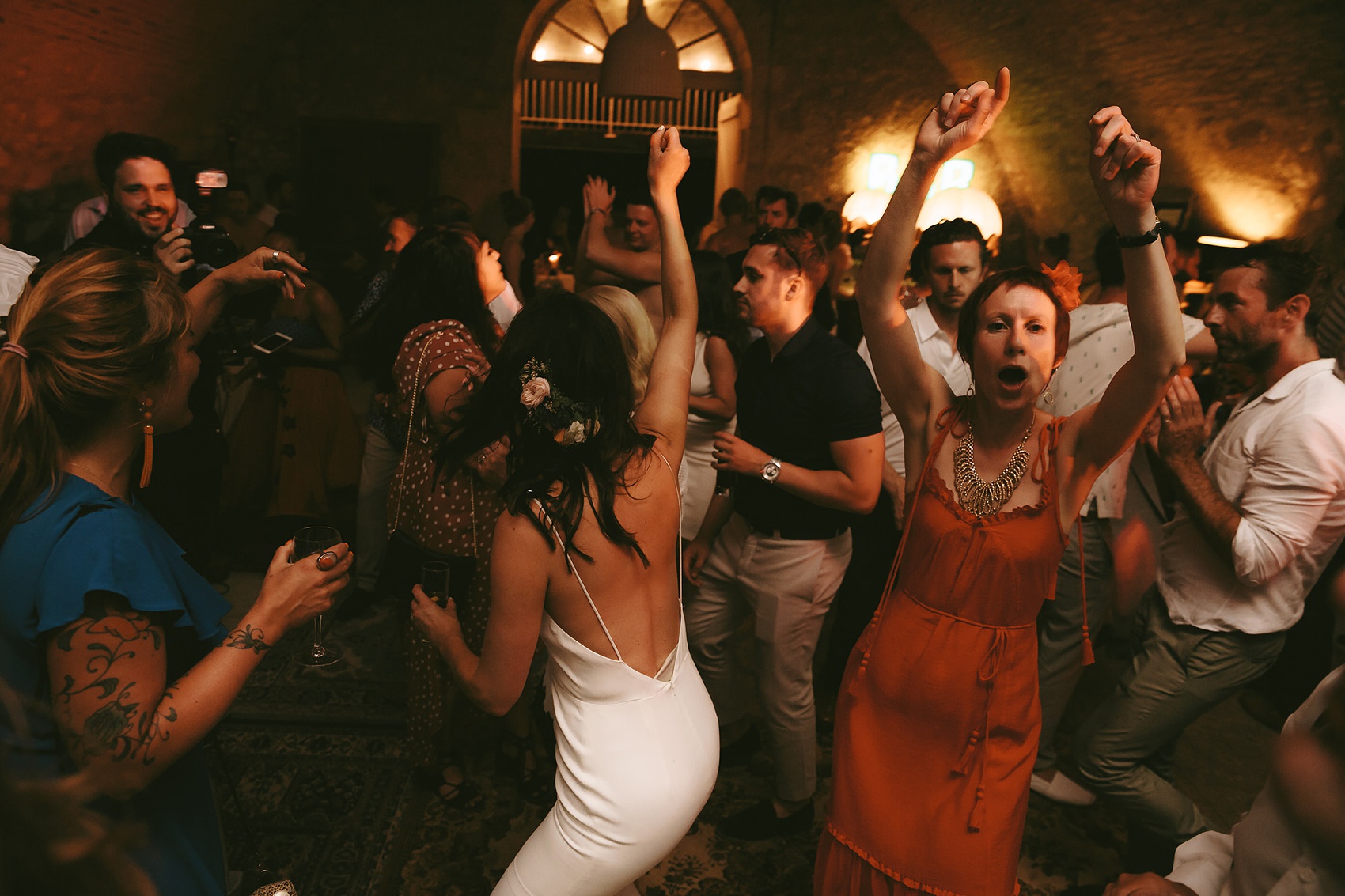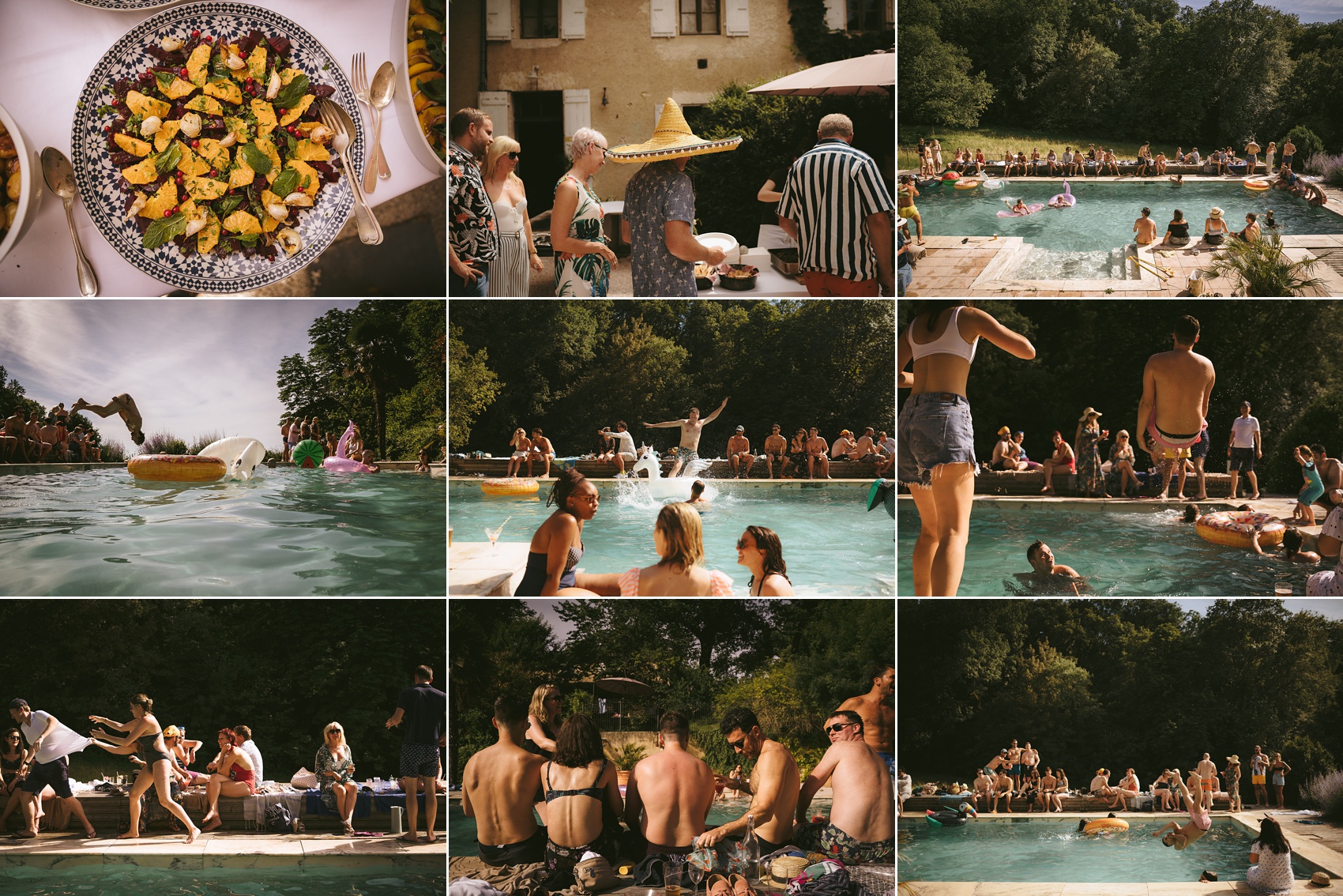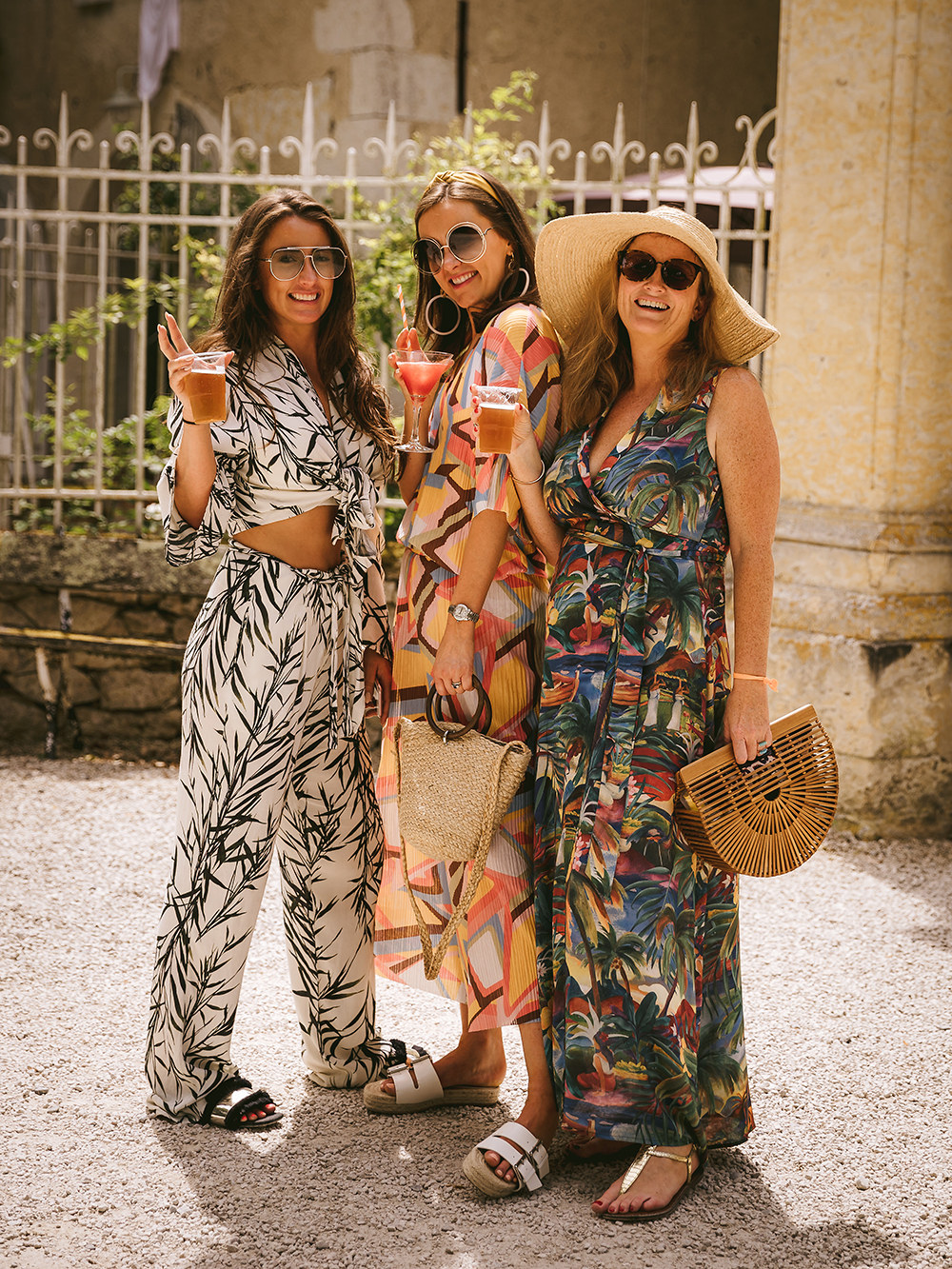 "I think our pool party the next day was a major highlight. We had guests arrive back at the chateau quite early and played the England World Cup match on a big screen under the chateau. We then had friends DJing around the pool all afternoon – and had the chateau set up a cocktail bar serving daiquiris and pina coladas in the sunshine, followed by a BBQ in the courtyard, more dancing around the pool, and then pizza vans turned up to fill us up before we got stuck in to a karaoke session! It was such a fun day."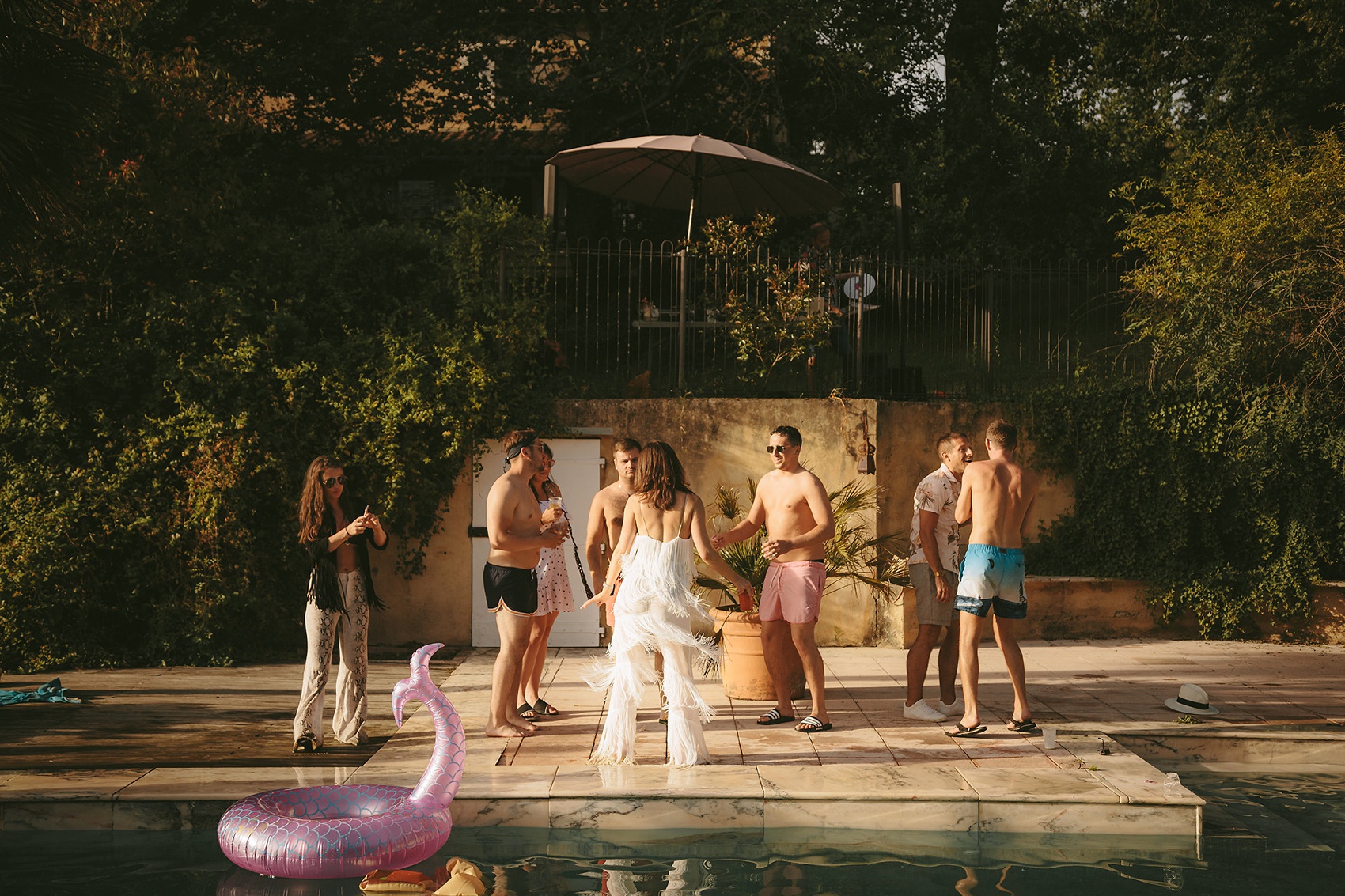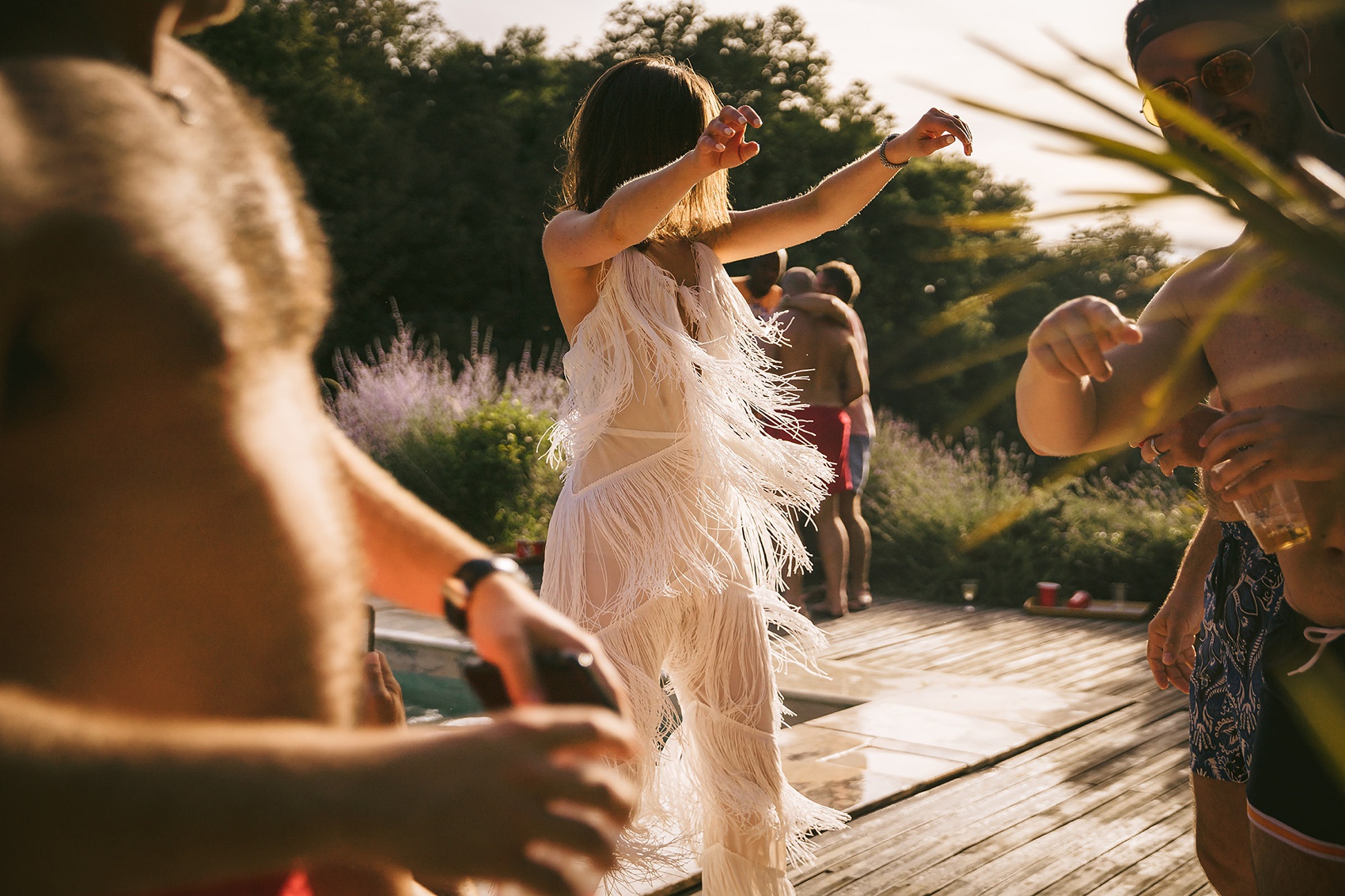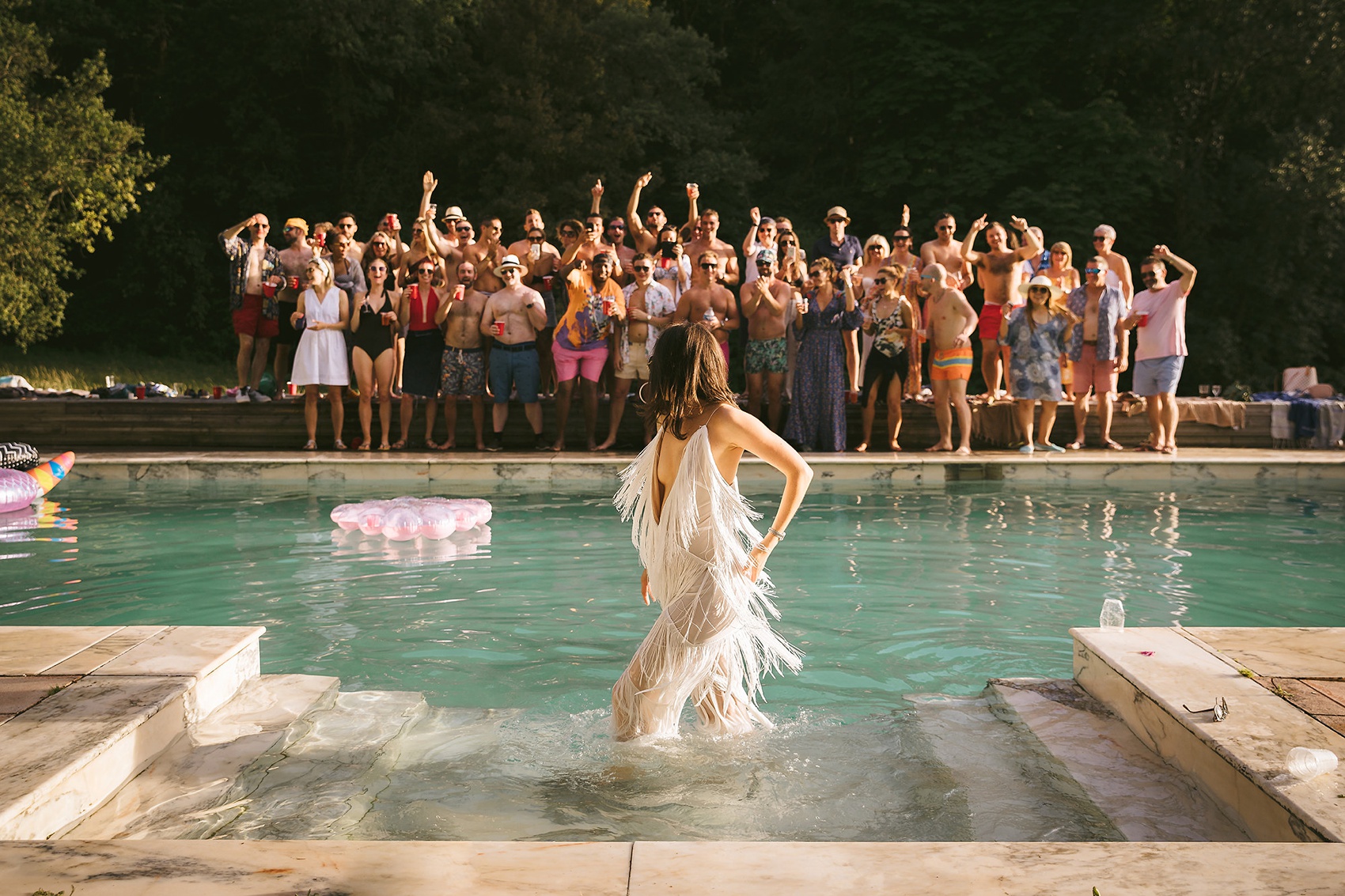 Words of Wedded Wisdom
"I would just advise to make it personal and be unique. Just because weddings have a set/traditional formula, don't think you have to keep to that."
"It also adds another major cost element, but I'm so glad that we had a meal with the wedding party on Friday night, and then a pool party for all our guests on Sunday. I think I would have struggled to speak to everyone on the wedding day without both of those. Also, the more you can do to drag the celebrations out the better!"
"We wouldn't have done anything differently – it was a perfect weekend!"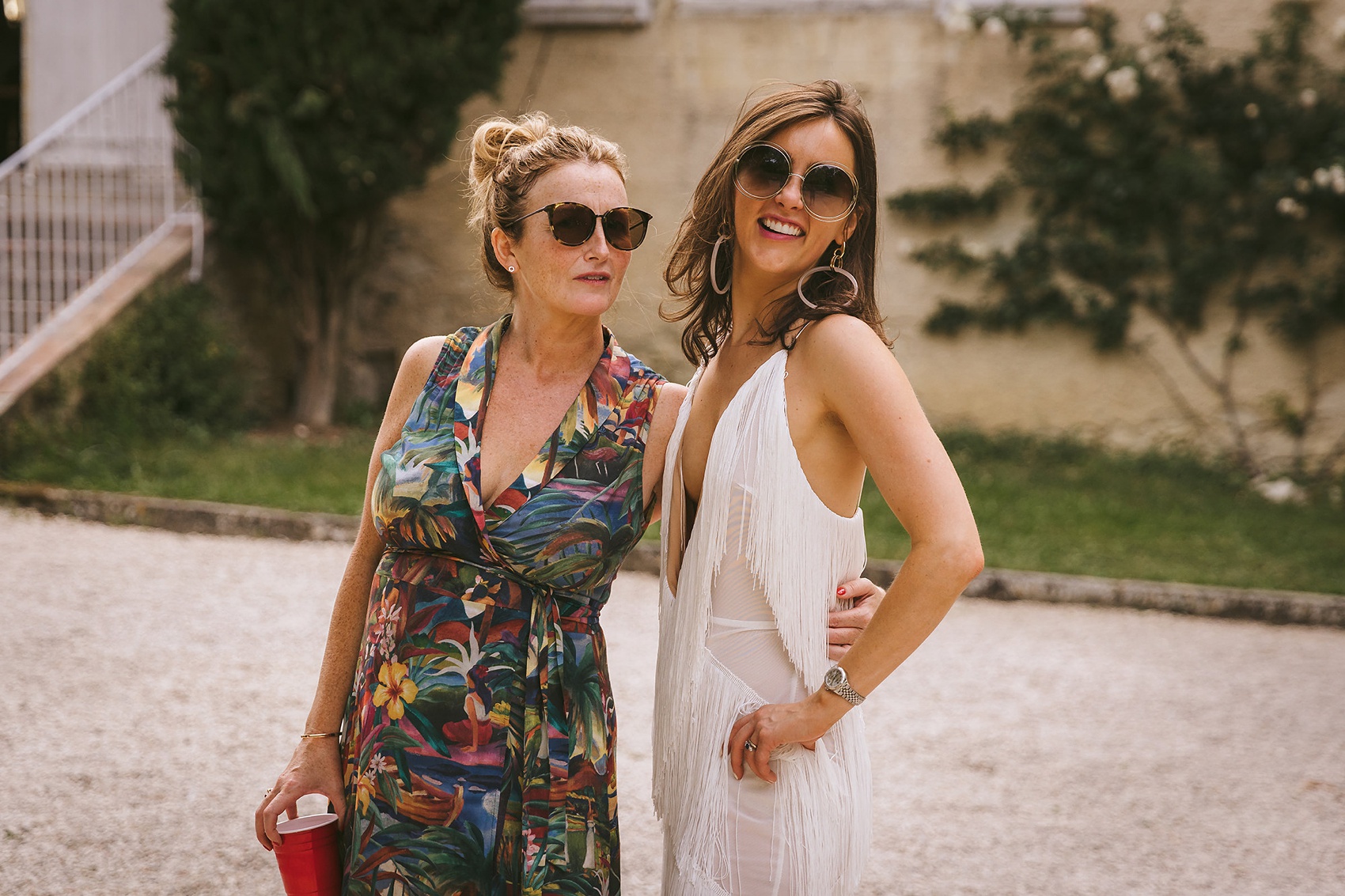 Lindsy and Dominic, thank you so much, and many congratulations (as you'll have recently celebrated your first anniversary!). What an amazing party in a beautiful venue. Huge thanks also go to Nigel John for these wonderful images. If you'd like to see more of his work, then we have more real weddings to enjoy, right here.
With love,
Laura