And how are you feeling on this fabulous day? I hope that whatever you're up to, you're having a great time.
Now, I don't know about you but at this time of year, I'm all about the sunshine. Whether you're holidaying at home or abroad this year or whether you're planning some winter sun or a glam honeymoon, we all need the perfect warm weather attire for the occasion.
Today, I'm absolutely thrilled to introduce you to Sugar Sand, a new luxury resort wear brand that provides the perfect answer to that perennial "what shall I wear?" holiday dilemma.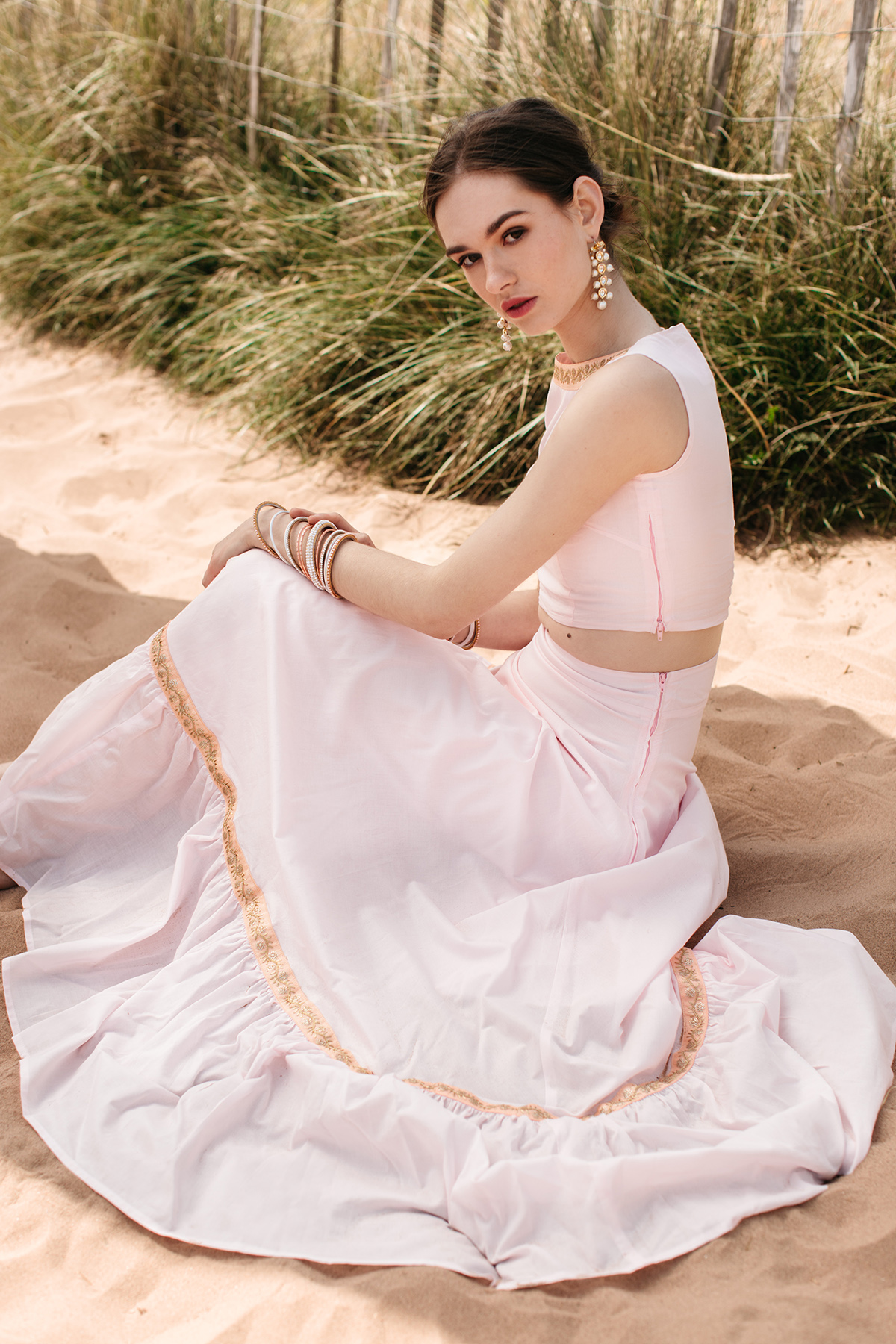 We want to feel fabulous and look great, we want to avoid fads and fast fashion and we want something that can fit in, whatever our plans might include.
Sugar Sand combines the beauty and intricacy of Indian sequinned and embroidered trims with dresses designed along clean, contemporary lines and they are just fabulous. I love the white and pastel colour palette and the super soft cotton fabric is the ultimate choice for summer cool.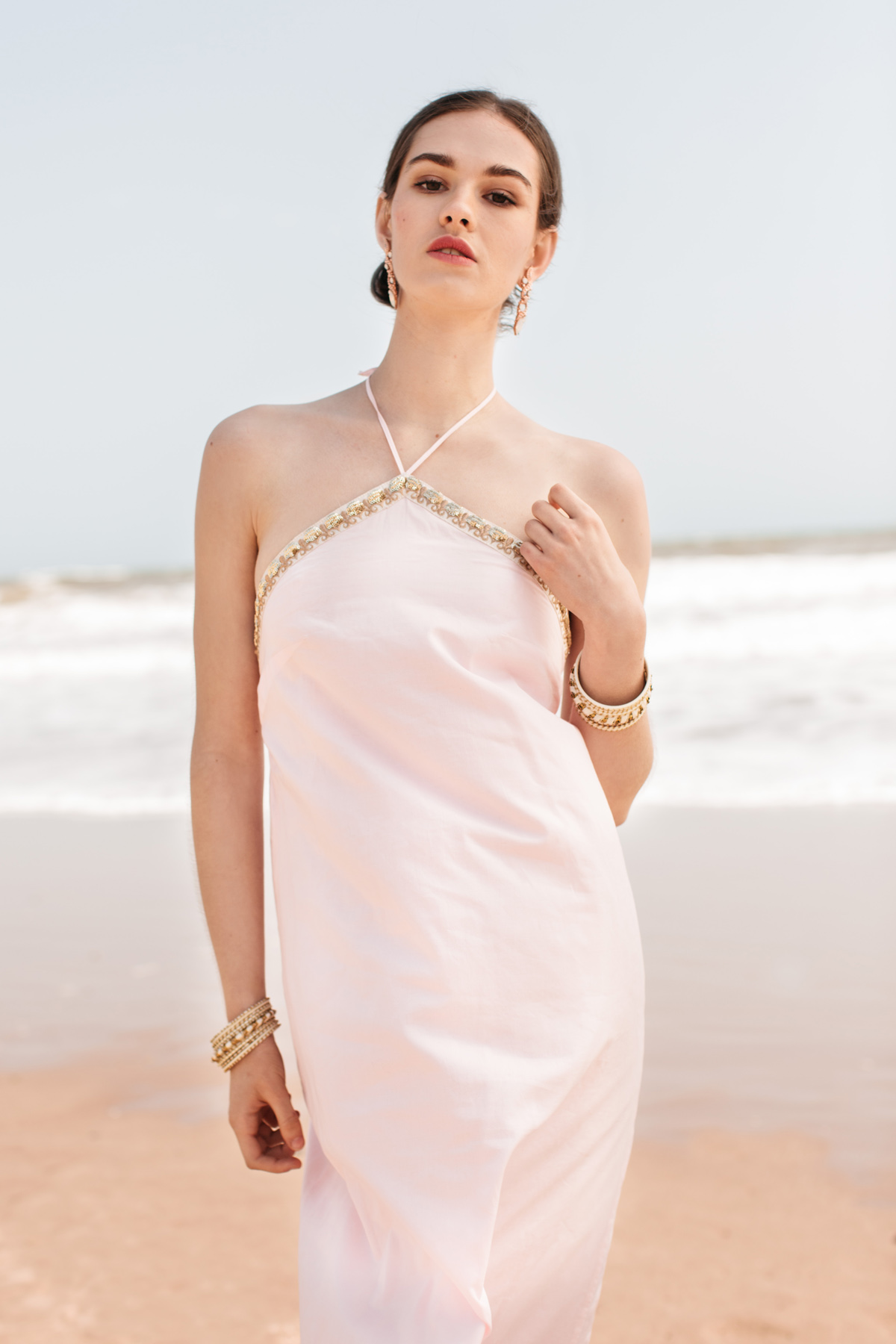 "I've always been much more interested in summer clothes than winter ones as I love white and pastels," says designer Deborah Mistry. "I've always looked to resort wear collections for inspiration during the winter months when the UK high street is full of drab things!"
"I launched Sugar Sand as I've been inspired by the current trend in Indian bridalwear for white and pastel fabrics with gold and silver embellishments."
"I wanted to bring a touch of this opulence to more casual styles that could be worn on holiday for both daytime and evening. The Sugar Sand brand is all about simple elegance with beautiful, eye-catching details."
Deborah has explored the globe in her previous role as a travel writer and the styles in the Sugar Sand collection are named after her favourite destinations. So, you'll find Jaipur, Ile de Re, Delphi and Lalibela in the current collection and Deborah has also just launched some new styles, including skirt and top sets inspired by Indian lehengas. Take a look at the Hampi top and skirt and don't miss my new favourite dress, Cefalu.
"I'm obsessed with Indian fashion, which I started discovering when I was engaged to my Gujarati husband. However, I tend to find that Western interpretations of it are a bit too bohemian and lose the original elegance of the Indian design. I wanted to try and incorporate embroidered borders, which are such a big part of Indian fashion, into the collection while using them on very simple, clean designs."
And the subtle glamour and elegance of the Sugar Sand collection absolutely jumps out at you. The stunning bespoke embroidered trims frame the necklines of the dresses and sleeves in the most wonderful ways and I love the ties that are finished with handmade pearl drops, a nod to those you'll see on sari blouses. The overall look is a unique take on the 'East meets West' vibe and it's just glorious.
What I also adore is the fact that Deborah has put sustainability at the heart of the Sugar Sand brand. Everything is made to order in London so there's little wastage and each dresses carbon footprint is as low as possible. This is the exact opposite of wasteful fast fashion, this is an investment in a dress that you'll wear time and time again, knowing that it looks and feels fabulous wear after wear.
We're smitten with Sugar Sand – the embroidery, the designs, the 'day-to-night' style of the pieces and the ethos behind the brand all speak to us and make us smile.
Just imagine how joyful you would feel wearing one of these extraordinary pieces on your honeymoon or holiday. Excuse me while I disappear to daydream for a while…
The current Sugar Sand collection is available from the website and pieces start at £95. Click here to find out more.
Love,
Tamryn x