It's always lovely to write about wedding celebrations that take place at a family home; either of the couple, or, as in this case, the family home of a parent.
How special it must be to see a place that you know transformed with flowers and beautiful decor, and filled with loved ones having a fantastic time. This is the wedding of Bella, a Funding Manager, and Rory, a Journalist. They celebrated their marriage on the 29 September 2018, with a ceremony at St. Mary's Church in Great Barrington, followed by a reception at the home of Bella's parents, in Burford, Oxfordshire, inside a beautiful marquee from Bisley Marquees & Hire Co.
Images by Olivia & Dan Photography
"Our key aim when establishing the style of our day was to keep things simple. We wanted a relaxed, convivial and unpretentious atmosphere, which is exactly what we ended up having. Our incredible round wooden bar was the centrepiece of our marquee, and was the perfect rustic style, along with the long wooden tables, which were elegantly decorated, and then enhanced by our incredibly colourful sharing style food."
With elegant, romantic make-up, and her hair styled in a classic chignon by Jules Makeup Artistry and Hair Design, Bella wore a sparkling crystal hairband by one of our brilliant Little Book members, Hermione Harbutt.
Bella's breathtaking dress was the 'Iris Honeycomb', by the wonderful Halfpenny London. The designer's meticulous attention to detail and craft is seen to full effect with this dress, with the softest of silk slip dresses, paired with a delicate overlay of floral and honeycomb patterned lace.
Bella wore shoes by Dune London, and for jewellery, pieces kindly lent to her by Rory's mum, including a pair of exquisite freshwater pearl drop earrings.
"The dress was absolutely beautiful. After a few unsuccessful shopping trips, my sister and I went to Halfpenny. I was late arriving, and my sister had already spotted the perfect dress – we both knew straightaway that it was the one!"
"The honeycomb lace skirt was so unusual but simple, with the beautiful lace edge to the train, and the shape was so elegant."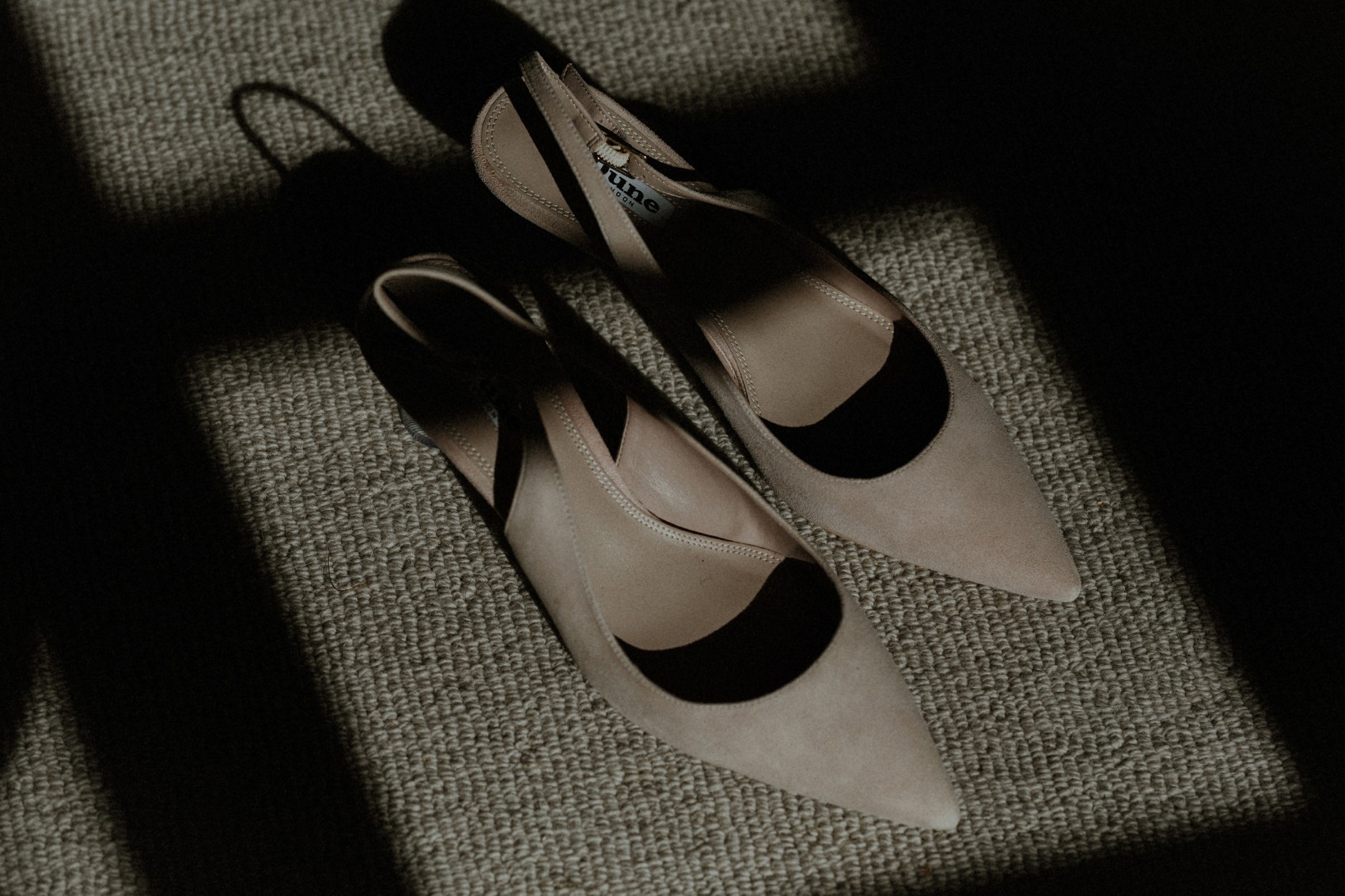 "I wanted to make a couple of adjustments to the shape of the dress so it was fitted at the waist, which was no trouble at all for the wonderful team."
"Sally from Halfpenny was without doubt the most wonderful and supportive advisor I met throughout the whole process – not only is she extremely experienced and knowledgeable about wedding dresses, but she was always so kind and helpful whenever I was feeling overwhelmed by the whole planning process."
To complete her look, Bella wore a fingertip veil of gossamer light tulle by Juliet Poyser, and a hand tied bouquet by Eden Flowers, filled with autumnal beauties like deep crimson 'Night Queen' dahlias and love-lies-bleeding, astrantia and hypericum, along with blush pink roses, ivy, skimmia berries and foliage.
"I loved choosing the flowers! I knew I wanted something a little darker and autumnal with berries for my bouquet, and there were quite a few emails back and forth finalising the details."
Inside St. Mary's Church, florist Susanna Sanford decorated the stone pillars with wild and natural wreaths, and there was a spectacular pedestal arrangement, filled to the brim with roses, greenery and autumn berries.
Bella was accompanied down the aisle by her father, Robin, choosing Stanley Myers' Cavatina as her entrance music.
"We met at Edinburgh University in September 2008. Our wedding was almost ten years to the day from when we first met. Rory proposed on a walk in Bibury, near my family home, on December 30 2017, so our engagement was nine months."
The lead celebrant was Reverend Nick Fisher, with co-celebrant Father Hugh Lewis-Vivas, and as Bella and Rory exchanged their vows, they also gave one another rings, which they chose at Hatton Garden based antique jewellers, A. R. Ullmann.
"We tried to go a little away from the norm with our readings. Song of Solomon 2:10-13; 8:6-7 are both really lovely and lesser-heard biblical passages at weddings. For our non-religious readings we had readings from very different eras. Shelley's poem, Love's Philosophy is wonderful and recognisable. The Narrow Road to the Deep North is a recent, but fantastic, book (2013) and includes a beautiful passage about love."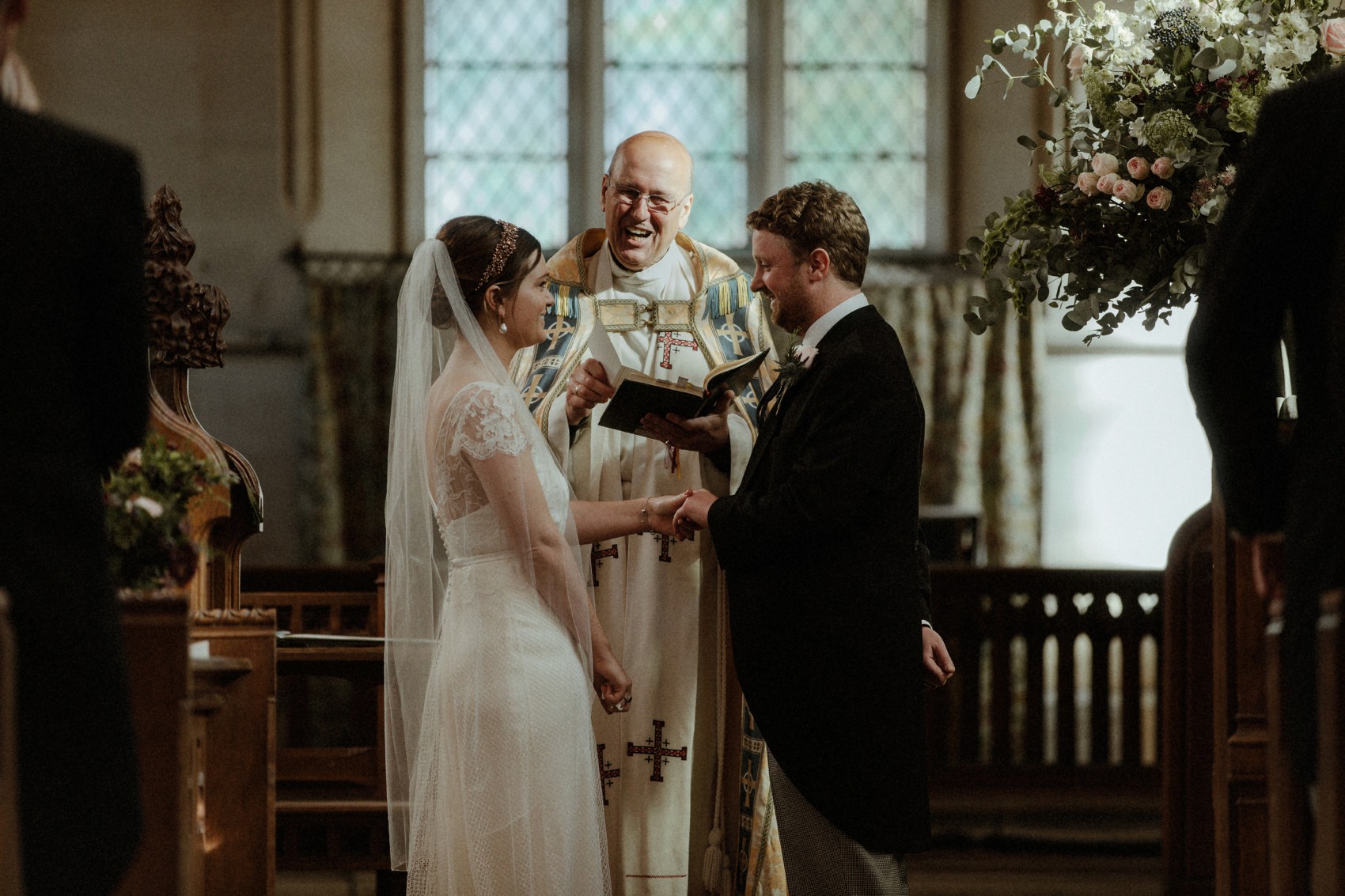 Following the ceremony, loved ones gathered outside the church for some spirited confetti throwing and the chance to congratulate the newly married couple. The bridesmaids and flowergirls wore dresses and shoes from Monsoon.
Rory wore classic morning dress, with checked trousers and a duck egg blue cutaway waistcoat and grey tie, from Mullen & Mullen.
"Bertie was the Best Man – an old friend of Rory's from Ampleforth College. The ushers were a mixture of school and university friends."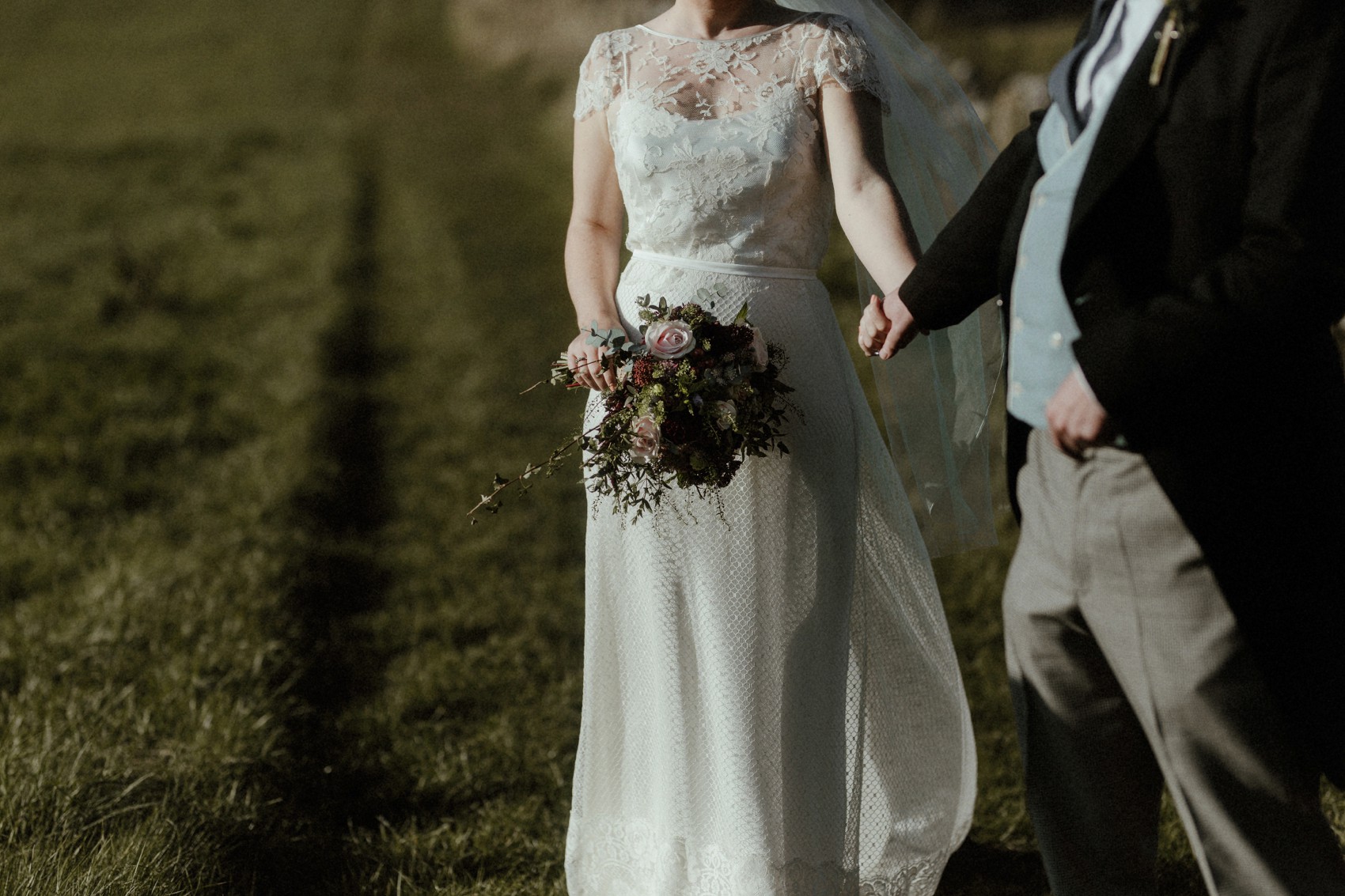 Bella and Rory took a walk in the crisp, autumn sunshine with their photographers, Olivia & Dan, whose enchanting, joy-filled images captured all of the excitement of the day.
"They were fantastic on the day, and the photos are incredibly natural, and exactly what we wanted. From the first meeting it was very clear they understood exactly what we were looking for, and their style is just beautiful. We have had so many compliments on our photographs."
"The best thing about Olivia and Dan, though, was how comfortable they made us feel on the day. They did not encroach at all throughout the day, but still managed to get the most brilliant photos of every moment. They made us feel relaxed when we were doing our portraits, which was quite the feat given neither of us are particular fans of having our picture taken."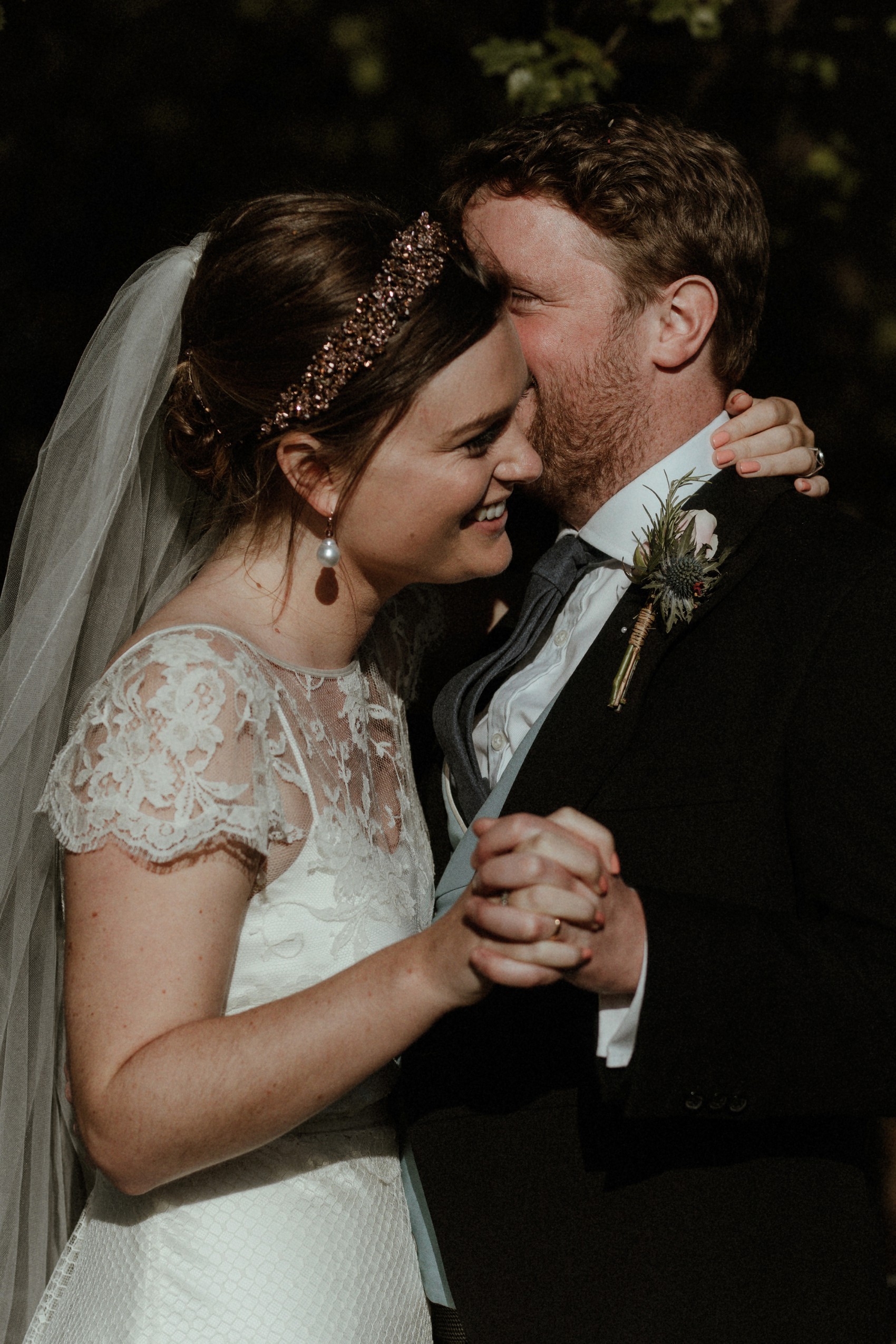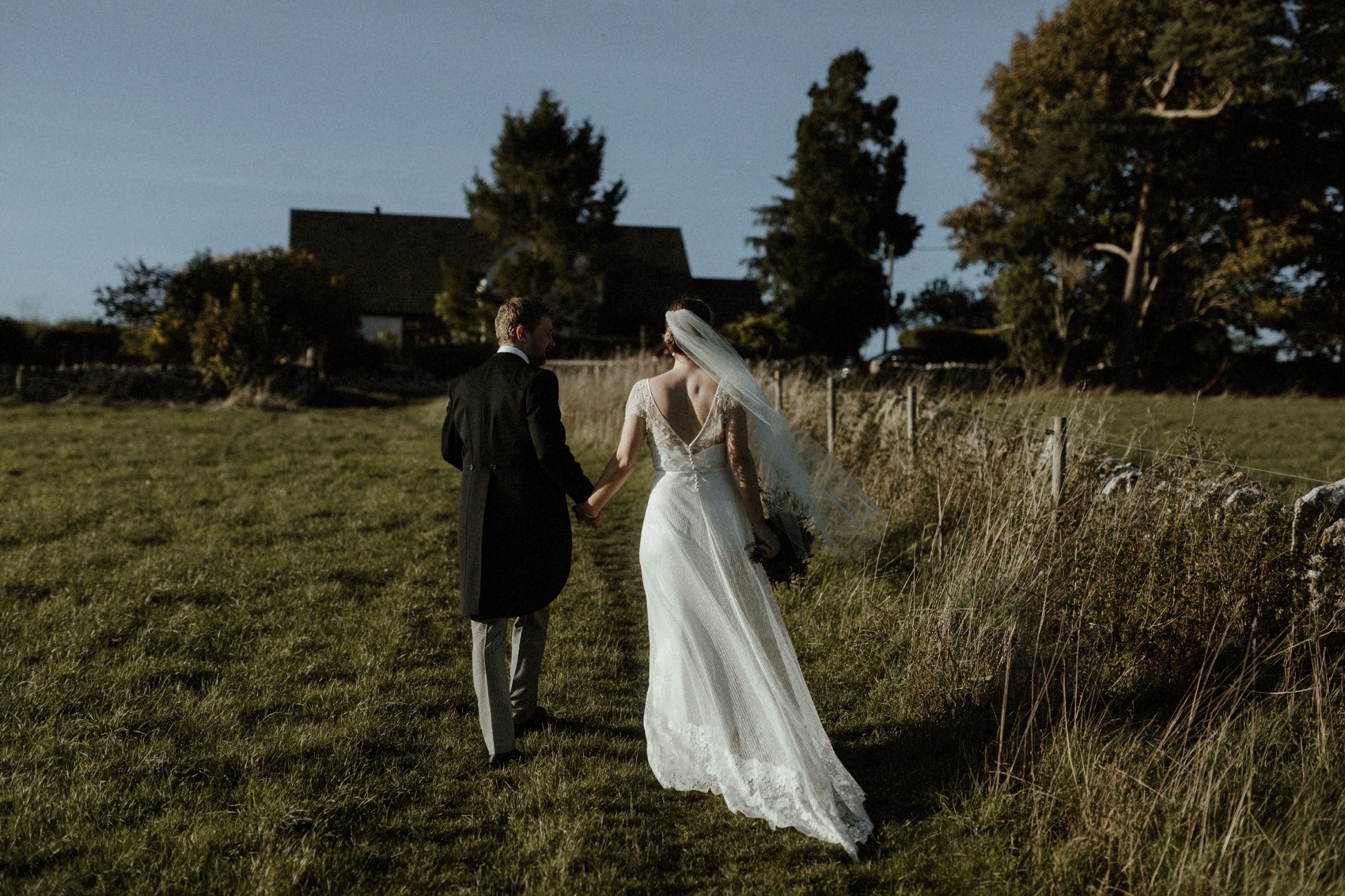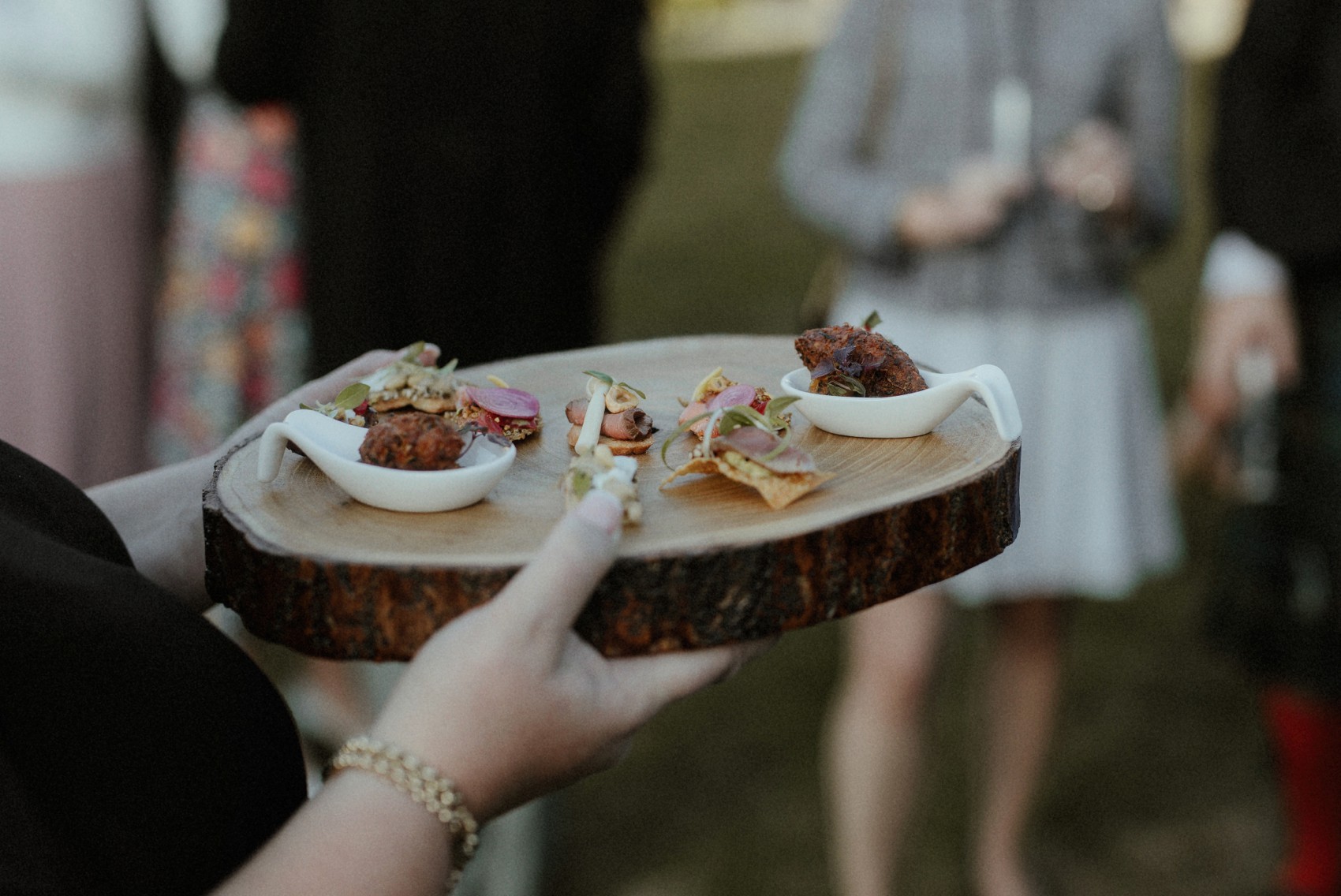 Providing invaluable on-the-day support and coordination was event manager Katie, from Sandeman Events – a thoughtful gift to the couple by Rory's mother.
"I don't know how we would have managed without her – she was incredible, and although I thought we were fairly well organised, by the end, there were so many small details we hadn't considered, and Katie certainly took so much of the pressure off those final few days and out of our hands."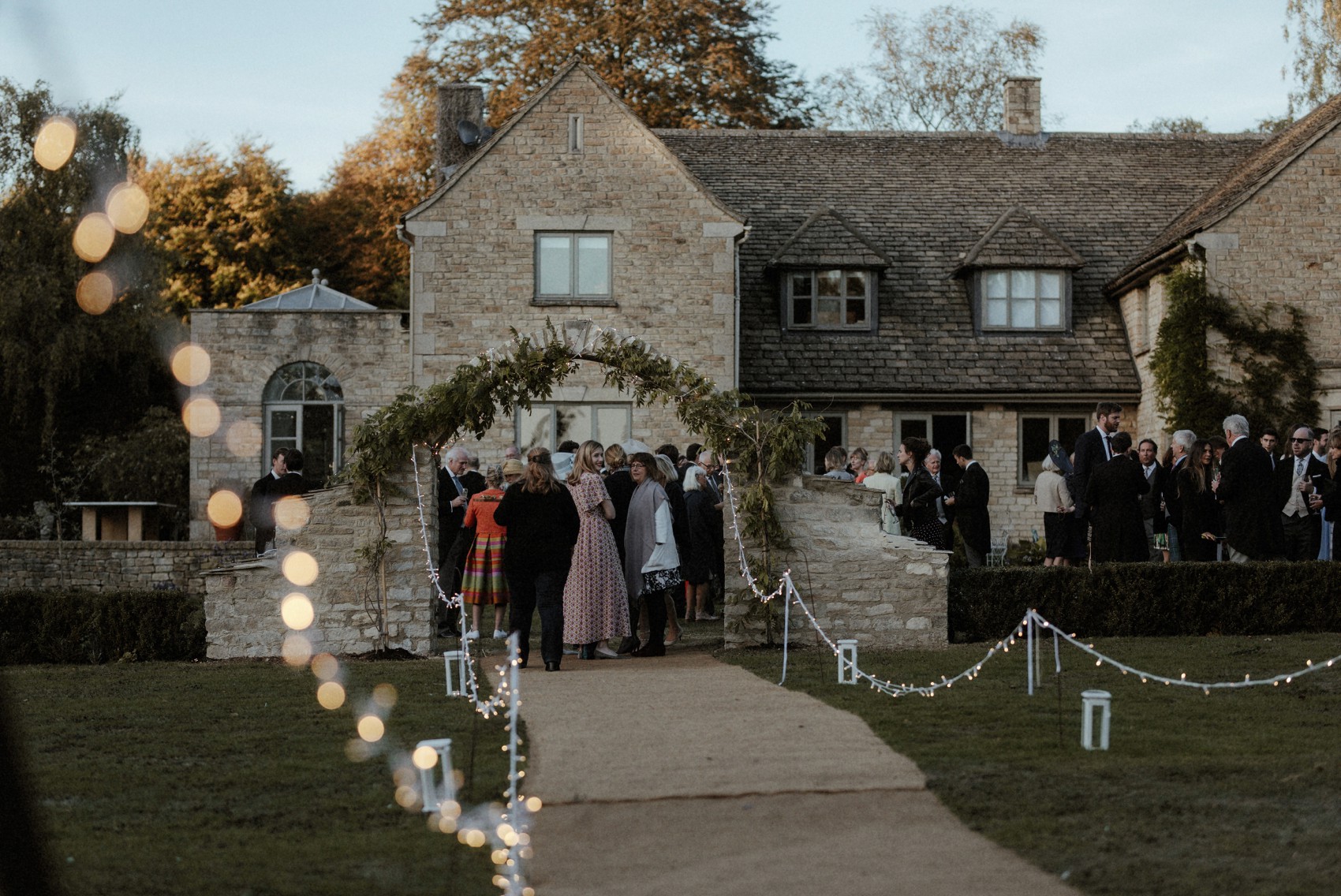 The path from the house to the marquee was lit with fairylights, with helpful signage outside, along with lovely olive trees in planters, and the beautiful floral arrangement from the church, transported over for the reception.
"We decided very quickly we wanted to get married at home. It gave us so much more flexibility with suppliers we could use, and meant there was no restrictions on music or timings. Bisley Marquees provided the marquee, which was absolutely stunning, and they built the most incredible round wooden bar for the middle of the marquee, which we were fortunate enough to be the first people to use!"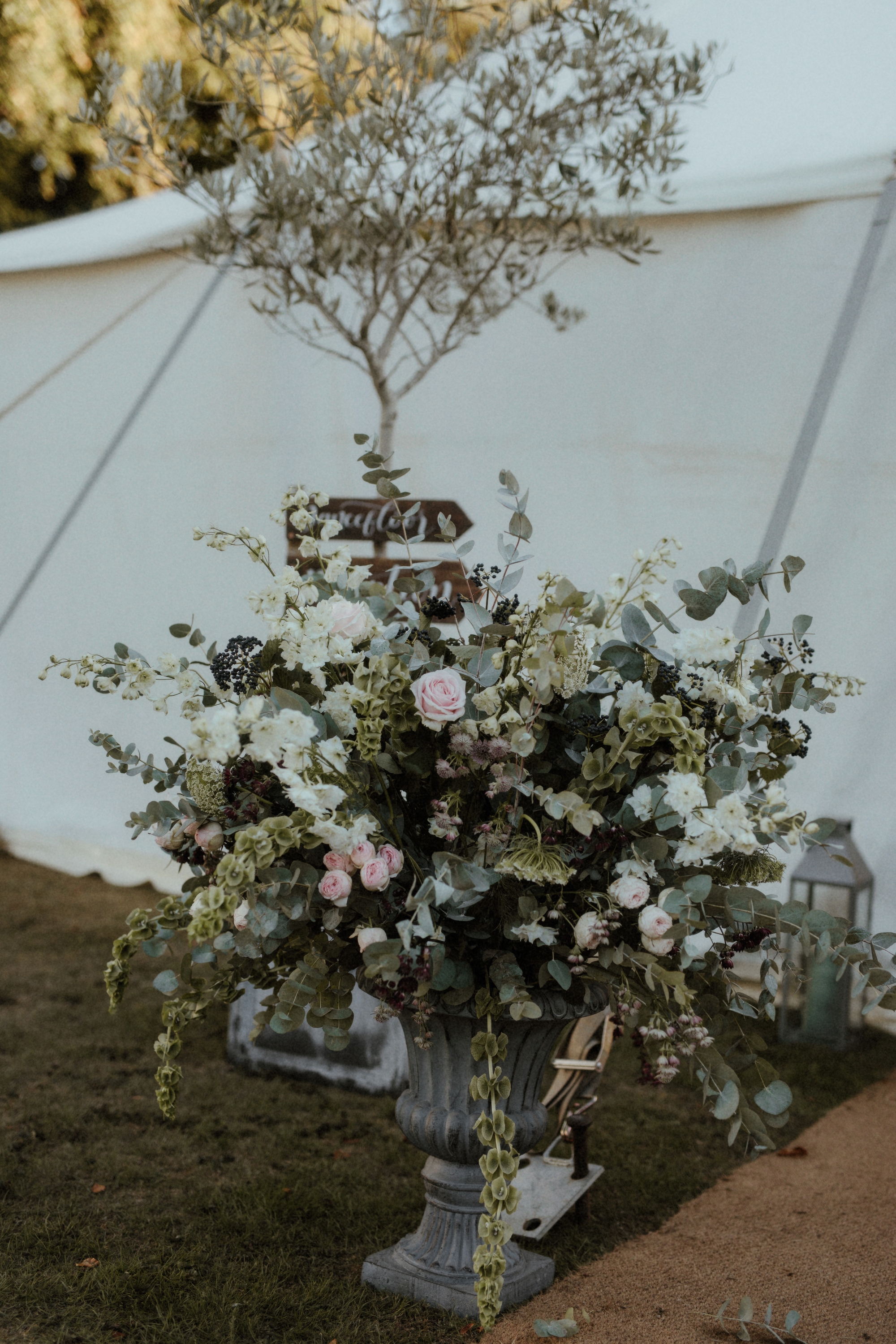 Bella and Rory made all the on-the-day stationery themselves, with a custom made stamp of St. Mary's Church from Holly's Houses used on the orders of service and the menus.
"My sister made bookmarks with quotes from all our favourite books, which were displayed during the drinks reception to help people find their way to their seats. The tables were all named after books we have both read and loved."
"We had long tables, which were quite narrow so there was very little room for decoration! We chose to have lots of candles and greenery. We hired Lauradana from Wedding Creations to decorate the marquee and the tables, who was absolutely fantastic and also provided all the lighting in the garden."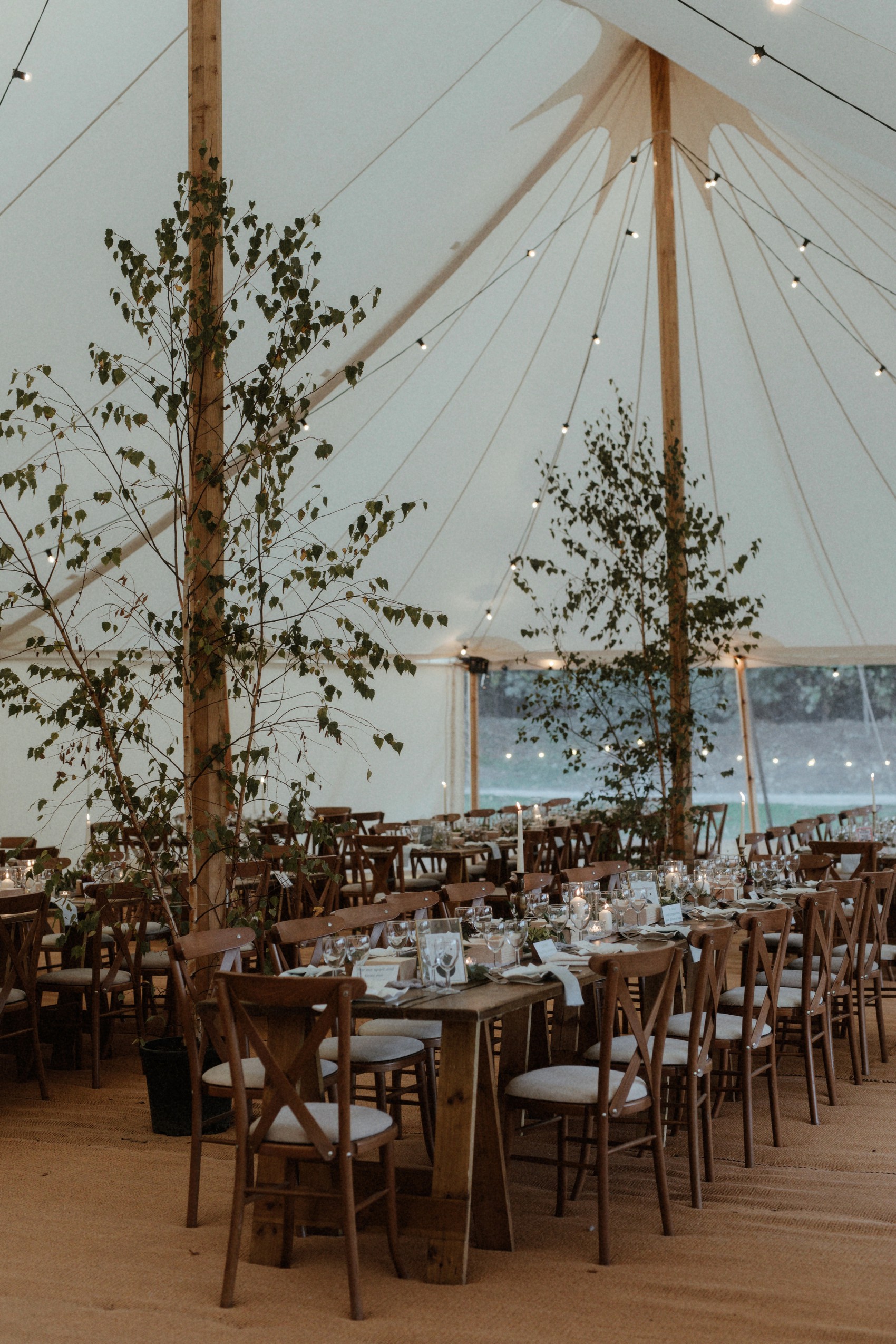 "The tables had small pots of microgreens and herbs, which was both part of the decoration, but also could be added to the food."
]
Bella and Rory worked with chef Jak, from Relaxed Jak's, to create a menu full of meaning and significance, centred around places special to them as a couple.
"Jak worked unbelievably hard in the build-up, and on the day to make it the best food at any wedding ever (completely unbiased opinion!) Both of us love food, so the meal was always going to be a big part for us, and Jak managed to exceed our very high expectations. We had incredible canapes to start with, followed by big sharing bowls of Ras el Hanout spiced lamb shoulder, with lots of different salads and grains."
"The speeches and dinner were our favourite parts of the day! That was the time we were finally able to relax and be with our friends. As everyone says, the day flies by so it was just wonderful to finally sit together and celebrate."
After the delicious dinner had ended, it was time to celebrate on the dancefloor, with live music from band, Vinyl Beats.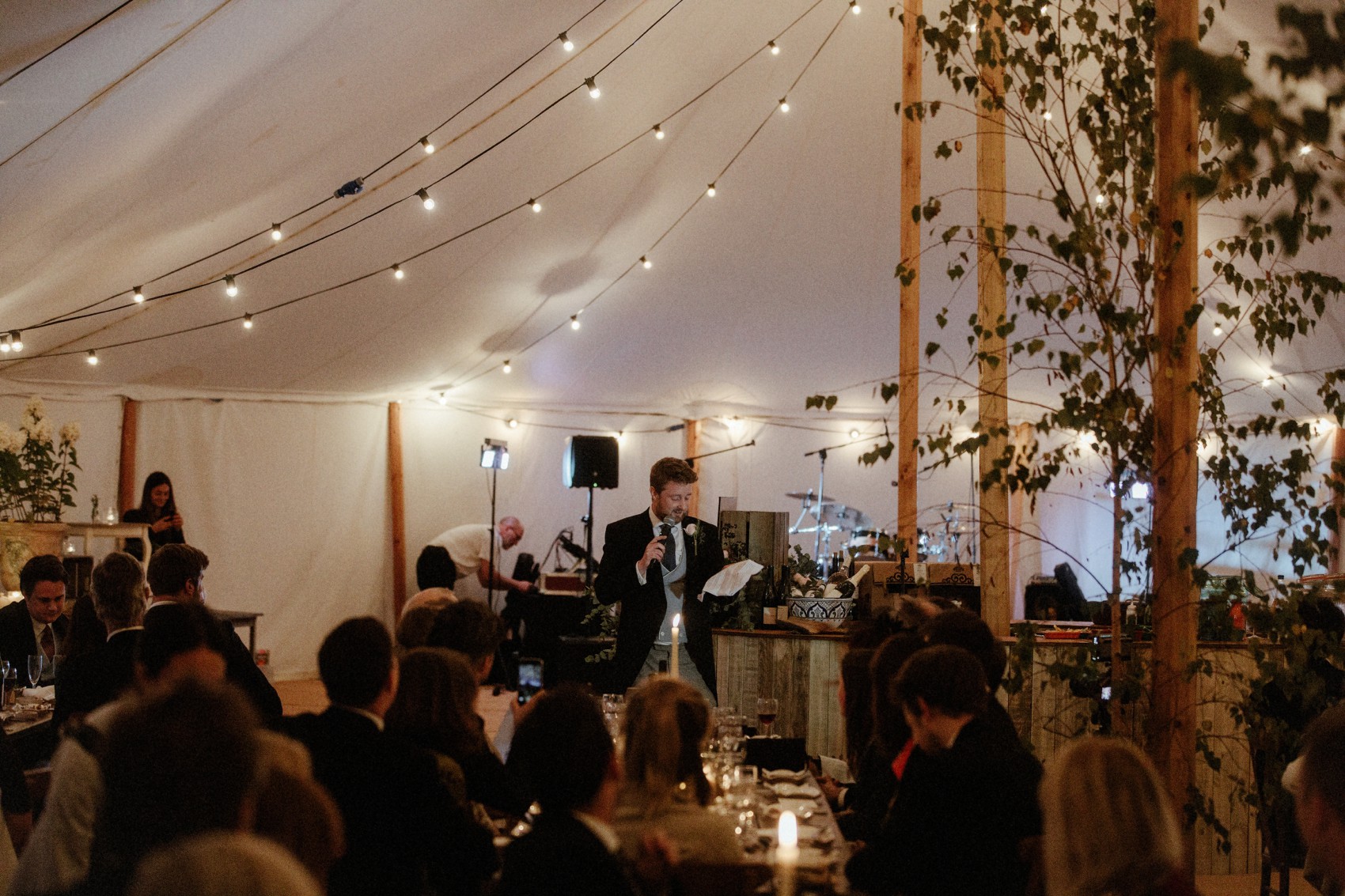 Words of Wedded Wisdom
"Don't feel as though you have to stick with traditions if they don't feel right for you. I knew I didn't want to have the traditional first dance, so we asked all our friends onto the dancefloor to start the party together!"
"Enjoy the planning process and don't sweat the small stuff. You're the only one who will notice if little things go wrong on the day and it won't be a problem by then."
"Make the time to take a few moments with your new husband or wife during the day. The day goes so quickly and it can be very overwhelming to be the centre of attention! Taking a couple of minutes just to see everyone else enjoying the day is such a joy in itself."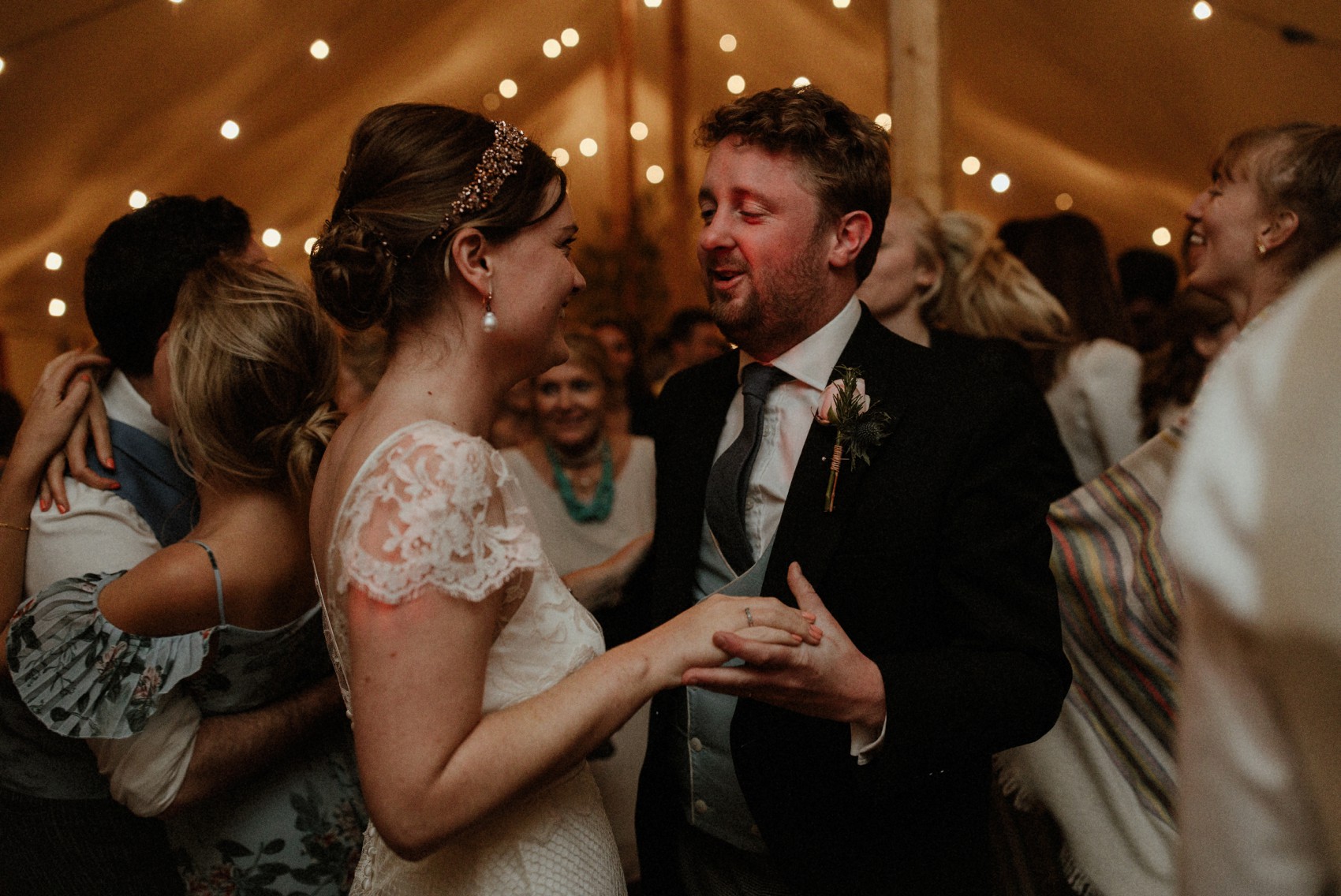 Many congratulations, Bella and Rory, and thank you so much for giving us this opportunity to share such a joyful, relaxed celebration. Thanks also go to Olivia & Dan Photography for this lovely collection of images. You can see more of their work on our pages, too, right here.
Until next time!
Love, Laura