If ever a wedding captured the essence of a season, this one is surely it. For those of you in search of springtime inspiration, this will make you very happy indeed.
Take one beautifully converted barn in the North Yorkshire countryside, fill it with elegant, Italian inspired touches and soft, seasonal, pastel blooms, and you have the makings of a wonderful day. The delicate beauty of forget-me-nots also played an emotionally significant part in this lovely day – a touching tribute to a much-missed father. Meet landlord and quantity surveyors, Mr and Mrs Walster, who were married at the Yorkshire Wedding Barn on the 26 May. The couple first met in 2013, on a night out through mutual friends, and became engaged in March 2016.
Images by Sarah Jane Ethan Photography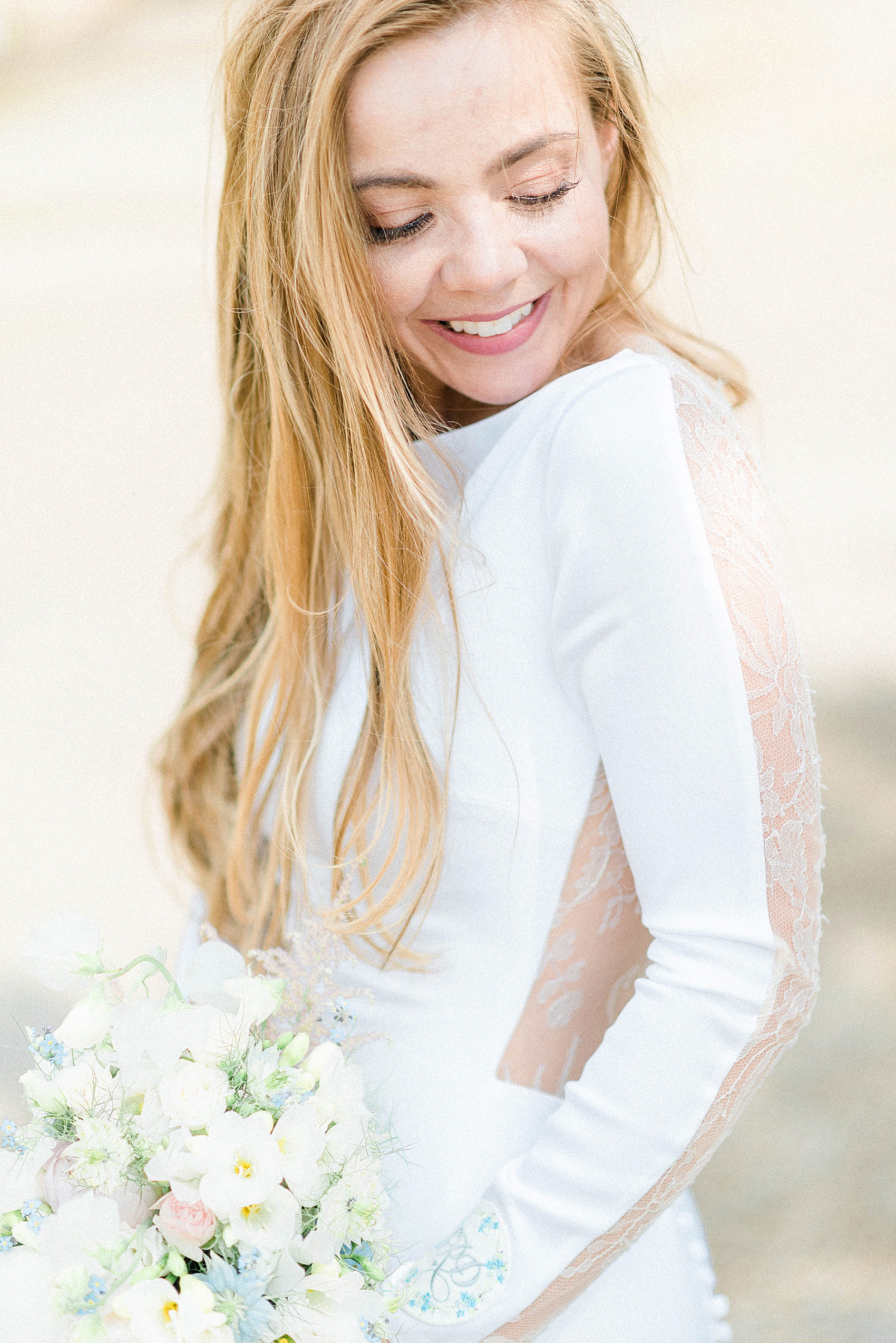 "Italy was a huge influence on our day. Having been on a two week holiday in summer 2016, it has become without doubt, our favourite place. The rustic, relaxed feel and amazing food and cocktails are things we wanted to replicate for our guests on the day, knowing it would bring back happy memories for us at the same time."
Mrs Walster chose the timeless beauty of the 'Rachel' gown by Atelier Pronovias, we she discovered at the Pronovias UK flagship boutique in London. I love the contrast between the simple, impeccably cut crepe front and skirt, with the vintage style lace and buttons running down the back, and those long sleeves – half crepe, and half lace.
"I was after a classic, simple design that still had the wow factor, and wouldn't date. I want to be able to look back at my photos in 30 years time and still love my dress."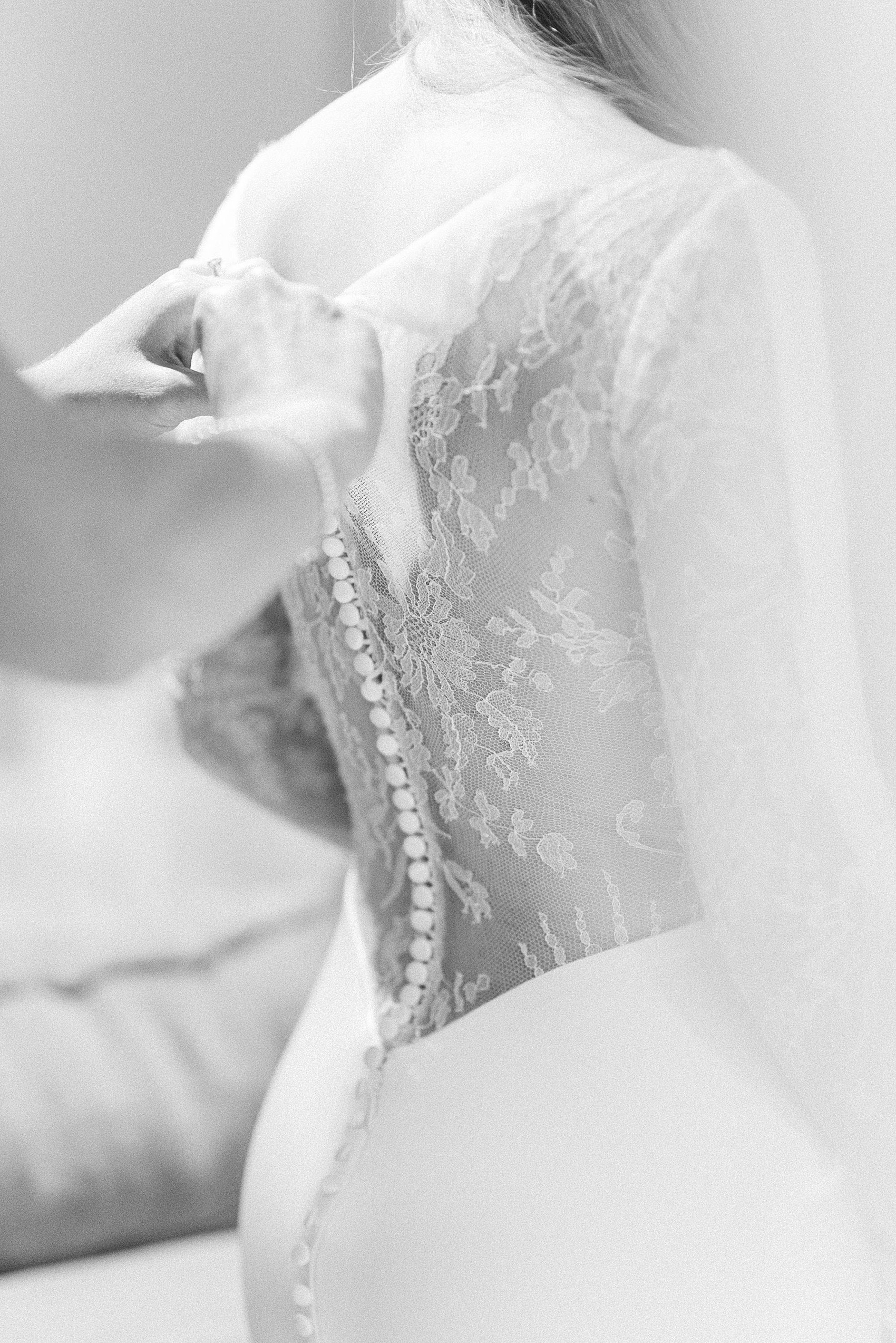 "The front of the dress had the figure hugging silhouette I dreamed of, yet was still conservative, whilst the back held the stunning detail and cheeky edge, which I felt reflected my personality well."
Joanna Leigh Couture added beautiful bespoke embroidery to the left sleeve of the dress, with forget-me-nots, and the intertwined initials of Mrs Walster's beloved dad.
"This made me feel like he was still on my arm, walking me down the aisle."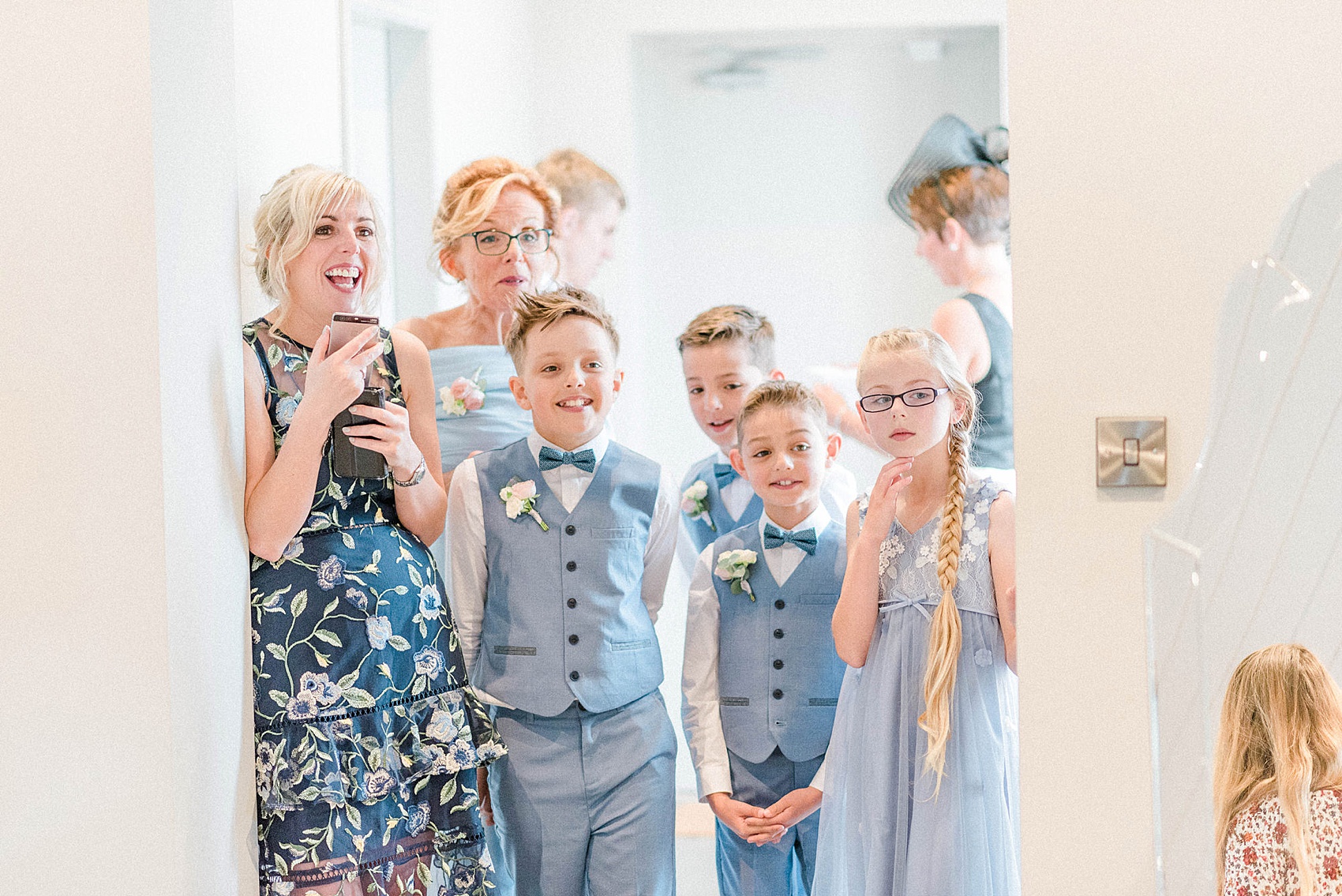 Mrs Walster's lovely, long hair was styled by Leanne Love (sadly no further details available), and she wore dove grey patent heels by Ralph & Russo, and a simple, tulle veil by Joanna Leigh Couture.
"I wore minimal accessories. For me it was the simpler the better. I wore my mum's engagement ring, which she gifted to me on the day, with diamanté initial earrings of my new wedded name. These were from Lisa Angel, via Not on the High Street."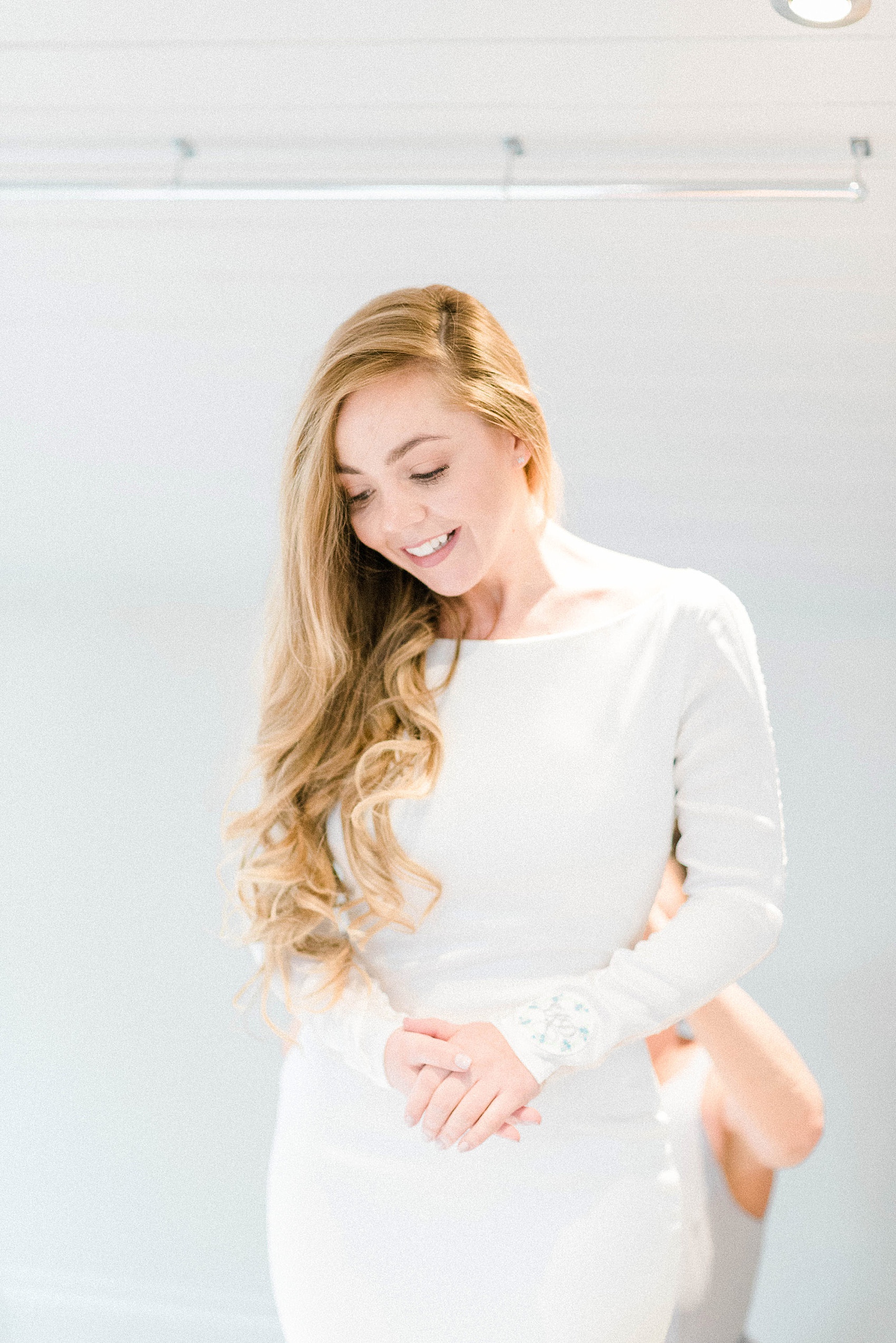 The bridesmaids wore chic pale grey high-low hem dresses from ASOS, which they wore with strappy sandals from Dorothy Perkins.
"I have a personal love for stitching and embroidery, which we brought into the day as a different way of presenting table plans and table names, made for us by Thready Pulse."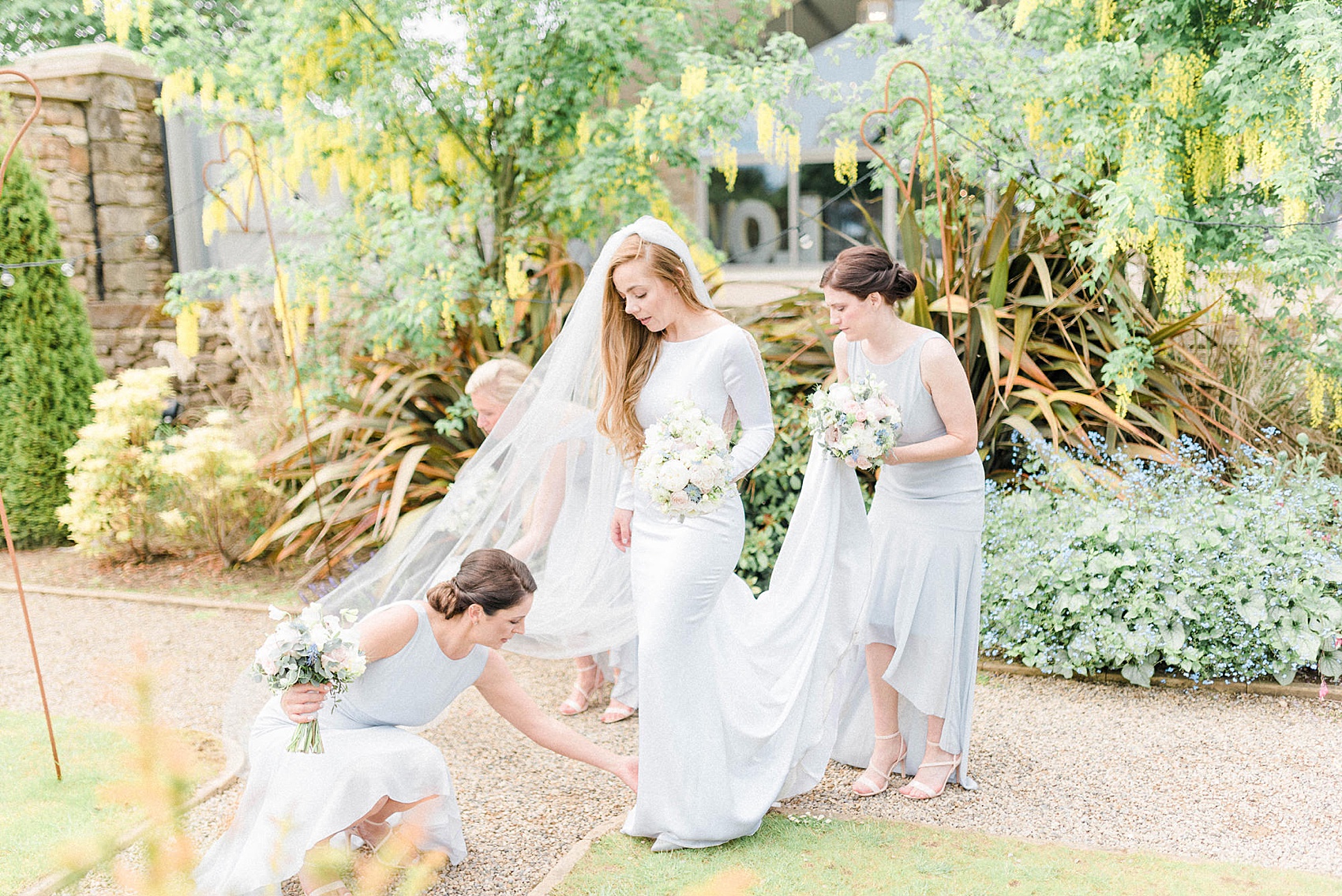 Flowers were an integral part of the couple's styling of the day, and the soaring, bright ceremony barn space was decorated with pedestal arrangements in pastel pinks, blues and whites, and long garlands along the floor. On the table set up for certificate signing, there were candles and moss, with pretty posies and flowers floating in water. All of the flowers, including Mrs Walster's bouquet, were created by Leafy Couture.
"Spring blooms, peonies and forget-me-nots were the inspiration for the florals. I was inspired by Pippa Middleton's wedding bouquet for the style of my own, opting for a petite waterfall bouquet that didn't involve me clutching to a big bouquet of stems. The style also minimised the risk of snagging to the front of my dress."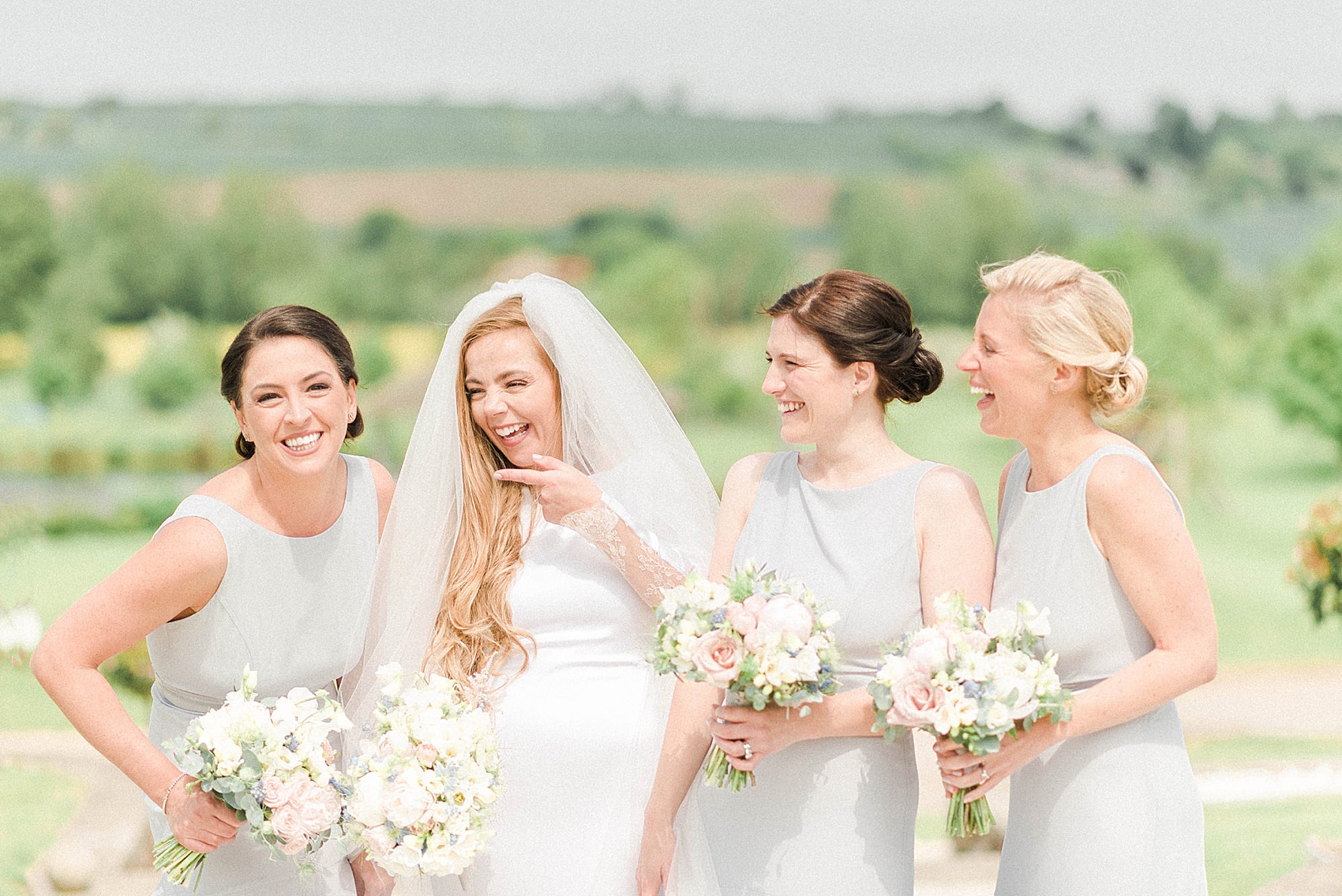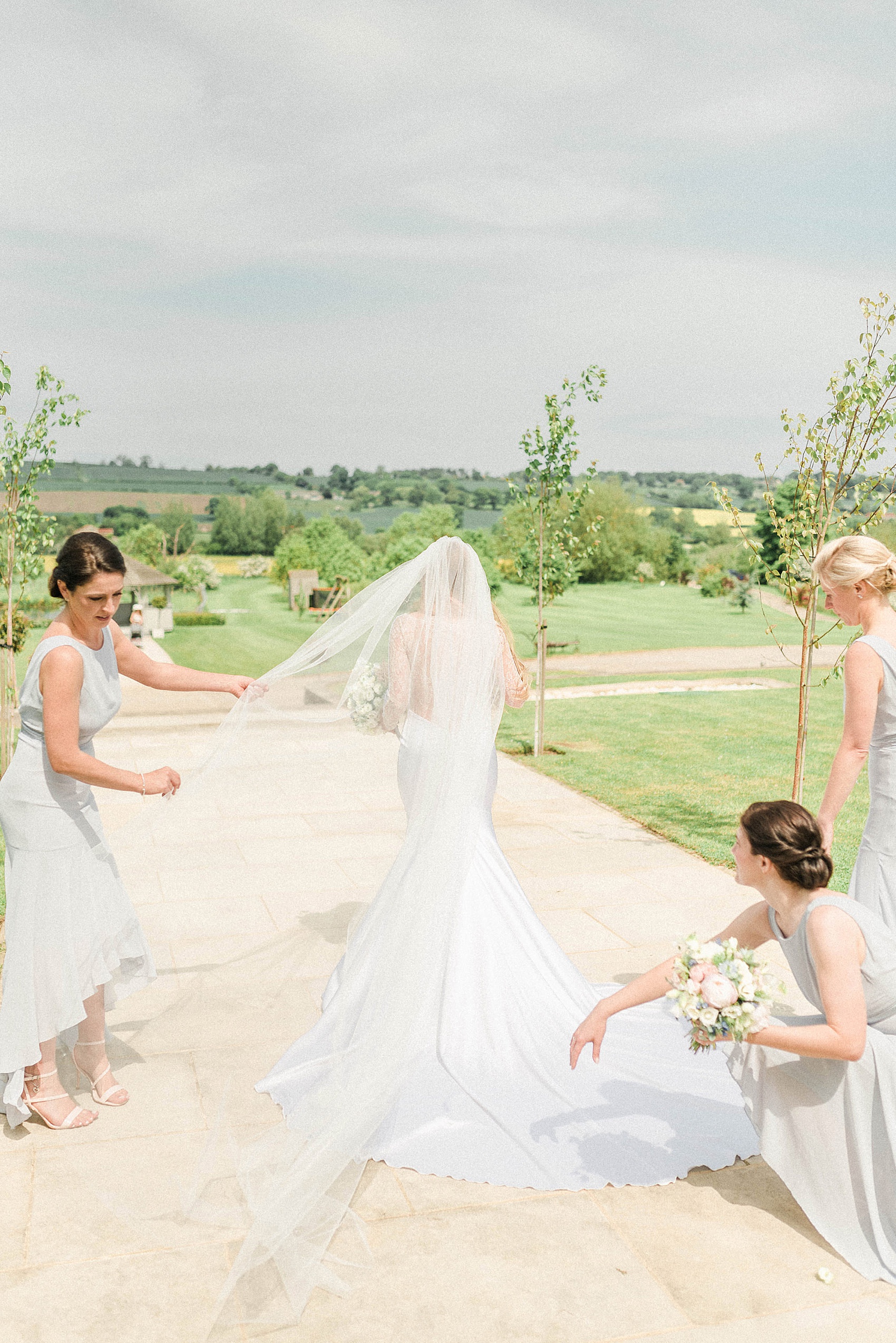 "Coco Luminaire provided a floral heart to the entrance of the ceremony. We used True Grace Seashore candles in the ceremony, and on all the tables in the reception, which is a candle that we bought on the day of our engagement."
"We brought decorative touches from our home, step ladders, and side tables to add to more rustic country feel, and to add impact."
"My nephew walked me down the aisle. We are incredibly close, and he is more like a little brother to me. We walked to lyrics written by my now husband, to Coldplay's Everglow music, played and sung by a close friend of ours. Lyrics included, 'Well they say people come, they say people go, this particular diamond was extra special."
Come stand with me now, in front of us all, start our future together. Now I hope you can see, that the feeling's so clear, that I will love you forever, so stand with me here'."
Mr Walster wore a blue suit by Ted Baker, which he paired with a white shirt, a pale blue tie from Next, and brogues from Howick.
As well as exchanging their vows with one another, Mr and Mrs Walster also gave each other rings, and to choose these, they headed to Chisholm Hunter, where the groom had also chosen his bride's engagement ring.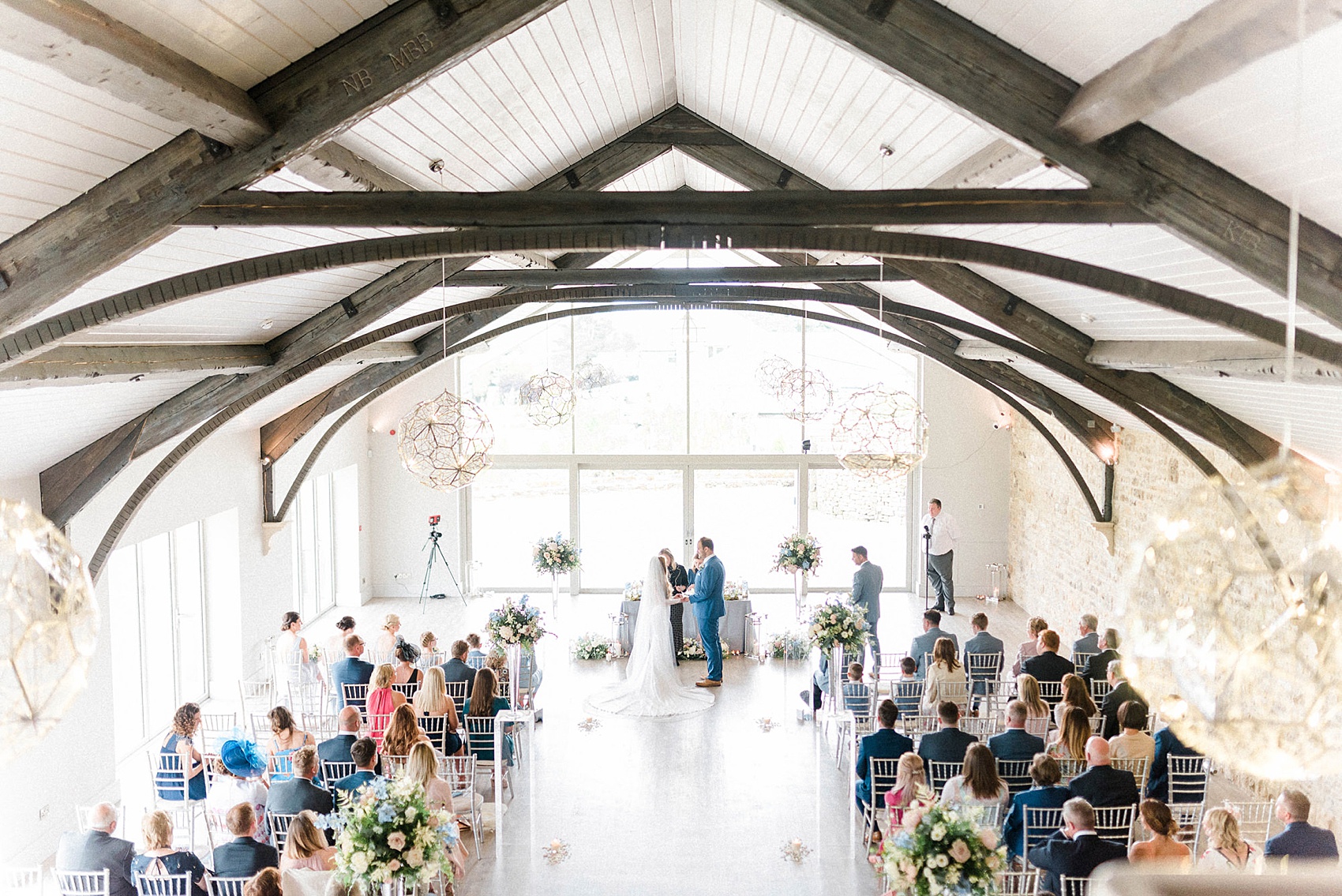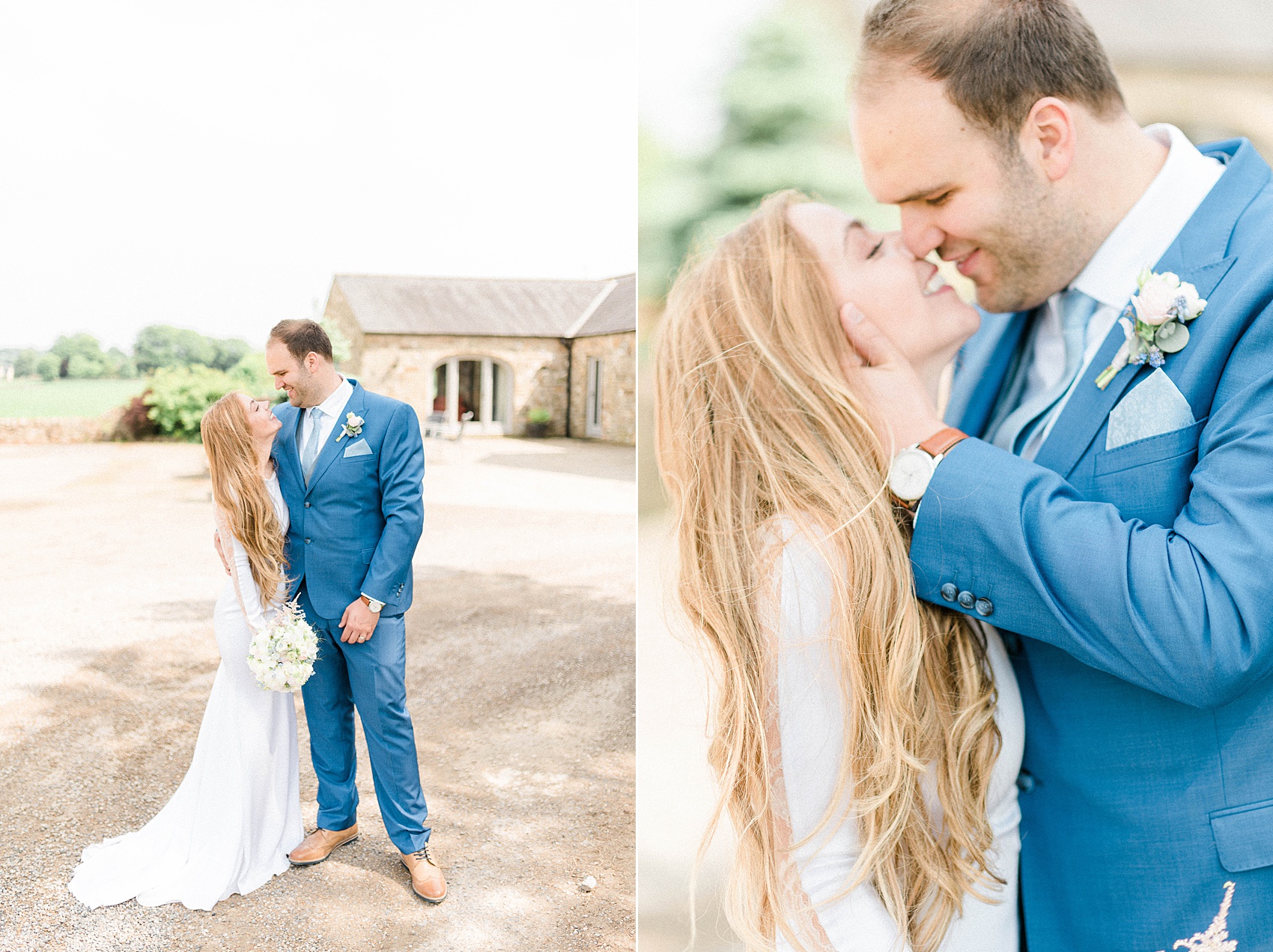 It was a fine, spring day, and guests enjoyed post-ceremony drinks outside, with live music from acoustic duo Marc and Abbey (booked through Jonny Ross Music), whilst the newly married couple and their wedding party enjoyed some time together, and some fun group shots with photographer Sarah Jane Ethan.
Sarah Jane's work has an unmistakably bright feel, and she makes exquisite use of natural light to romantic and ethereal effect. You can view more weddings featuring her work on Love My Dress right here.
"One word – perfect! It was important to us that our photos were not staged, and were just natural moments captured throughout the day. When I found Sarah's website, I knew we had found what we were looking for. What we didn't expect was for her to not only capture all our best memories, but also be part of them too."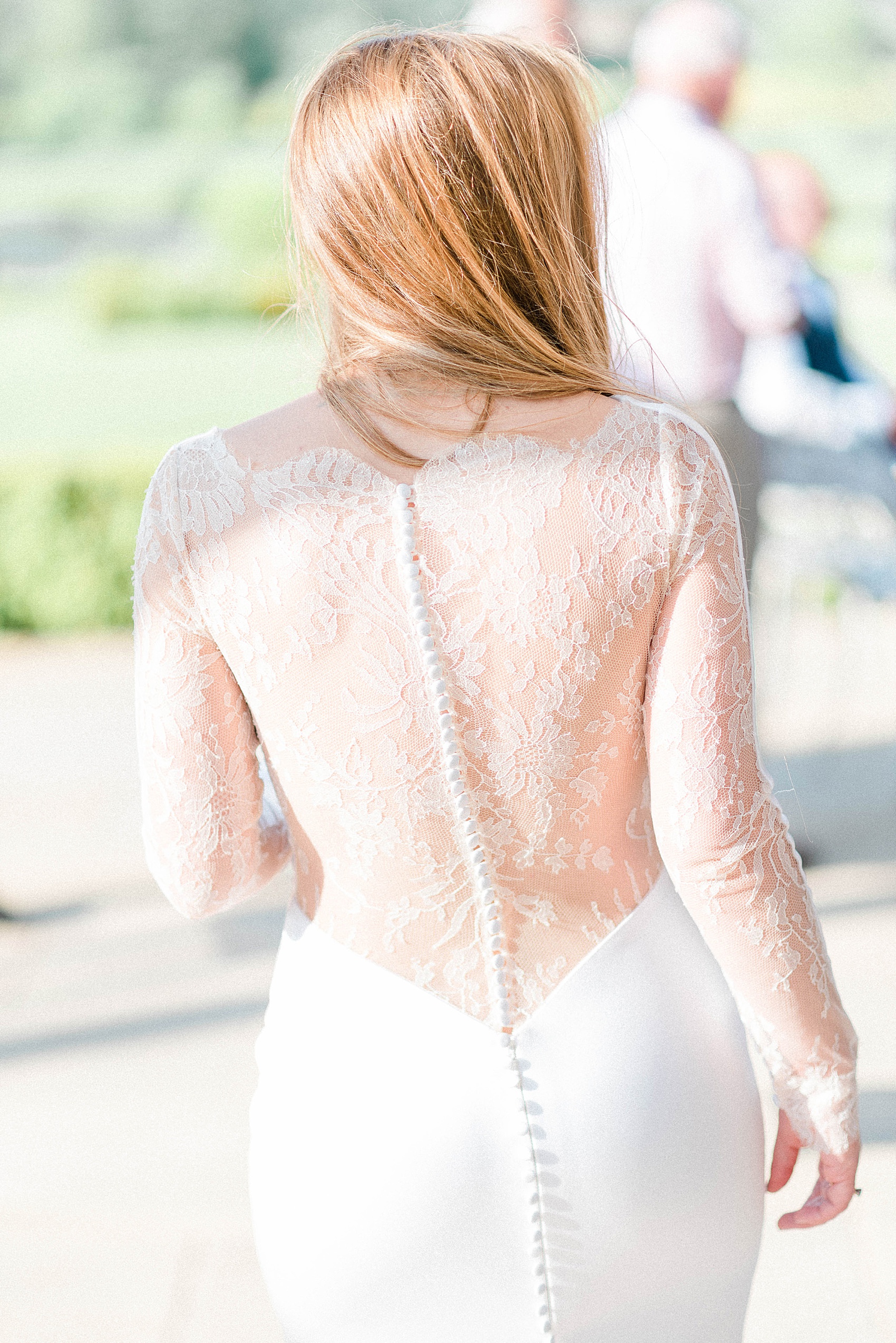 "She is extremely special, one of a kind. Having her around made us two 'photo-phobes' so at ease, comfortable, and even happy to be in front of the lens. She is an absolute treat to have around, and quite a few of our friends and family asked, 'Who is your lovely friend, and why have we not met her before?!"
How beautiful do the embroidered table names look, along with the lovingly crafted table plan, featuring more embroidery, as well as a hand-stitched map of Italy?
"Each person also had a pebble from the beach where we got engaged with their name hand painted on, as place names for the tables. For the children there was wedding themed Lego to keep them busy at the tables!"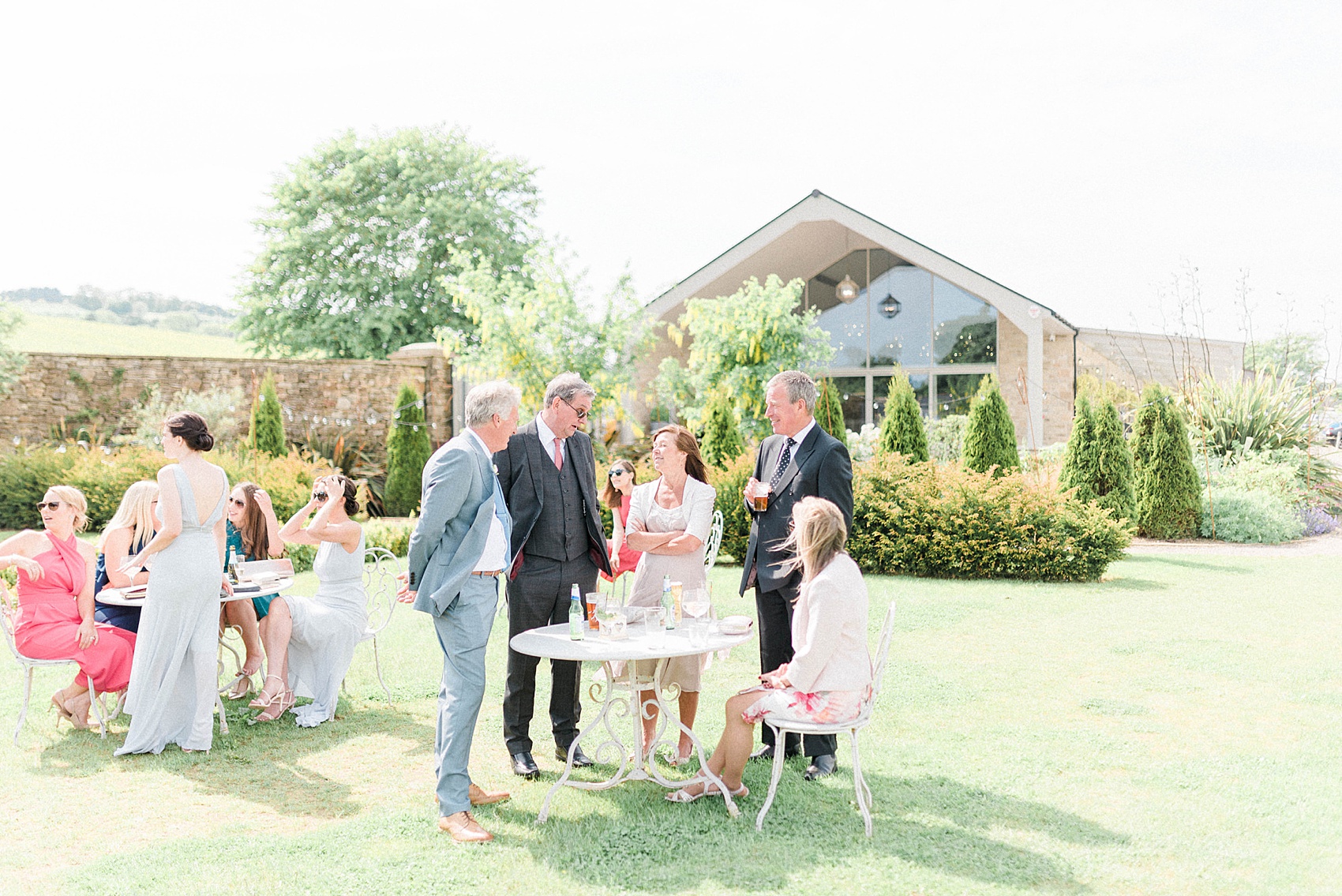 Stationery came courtesy of Rose Press, and the dining tables were decorated with gorgeous floral centrepieces, and personalised favours, too.
"For the girls  there was 'Our Gigstory'.We created a CD containing a personalised playlist of all the gigs we have been to as a couple, when, and where the gig was, and our favourite song from the band. For the boys there were personalised shot glasses, given that my husband is renowned amongst friends for buying shots on a night out."
Finding and enjoying just the right food for their day was an important consideration for Mr and Mrs Walster, and they were delighted to discover Ray Wade Catering, who dreamed up an Italian inspired tapas style feast, which reminded the couple of their road trip through the country.
"Given our Italian theme for the wedding, stumbling across the amazing Italian pastry chef, Pasticceria Lorena, on Instagram, was an amazing find. We didn't want a traditional wedding cake, and wanted a mix of miniature Italian desserts, with a cake centrepiece. Our display included 259 individual miniature pastries, along with a 12 inch wedding cake, all of which were completed to the same outstanding standard."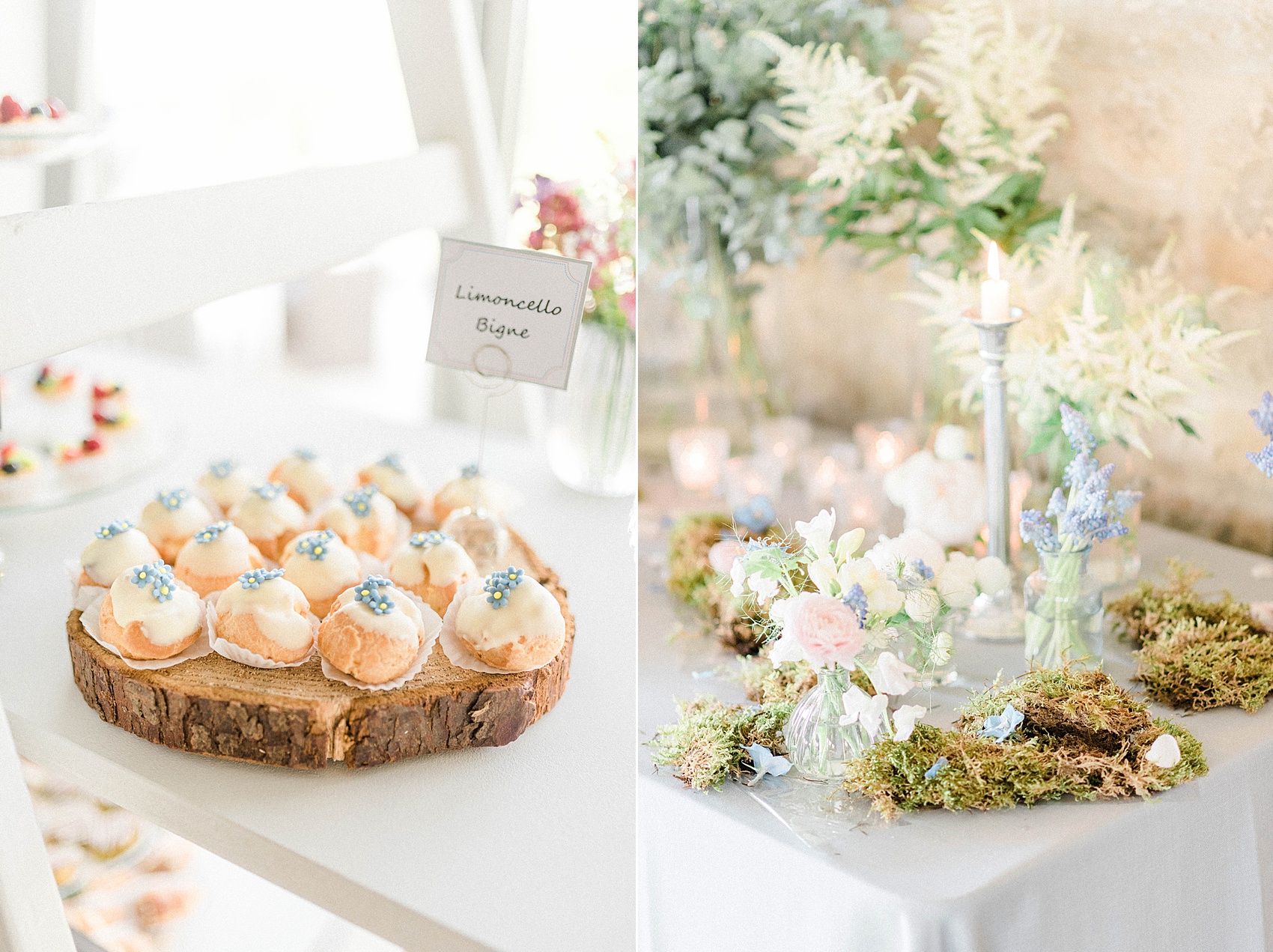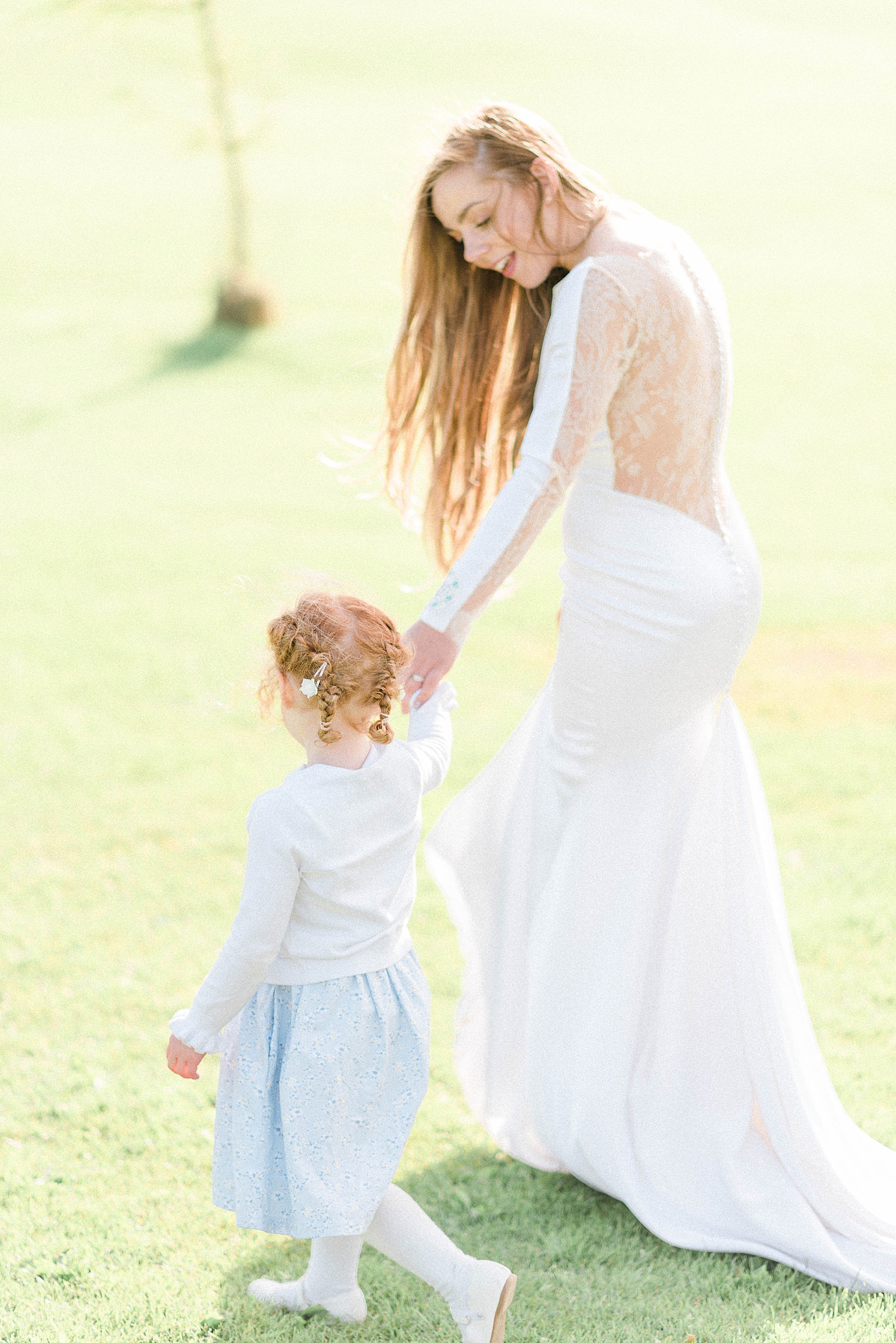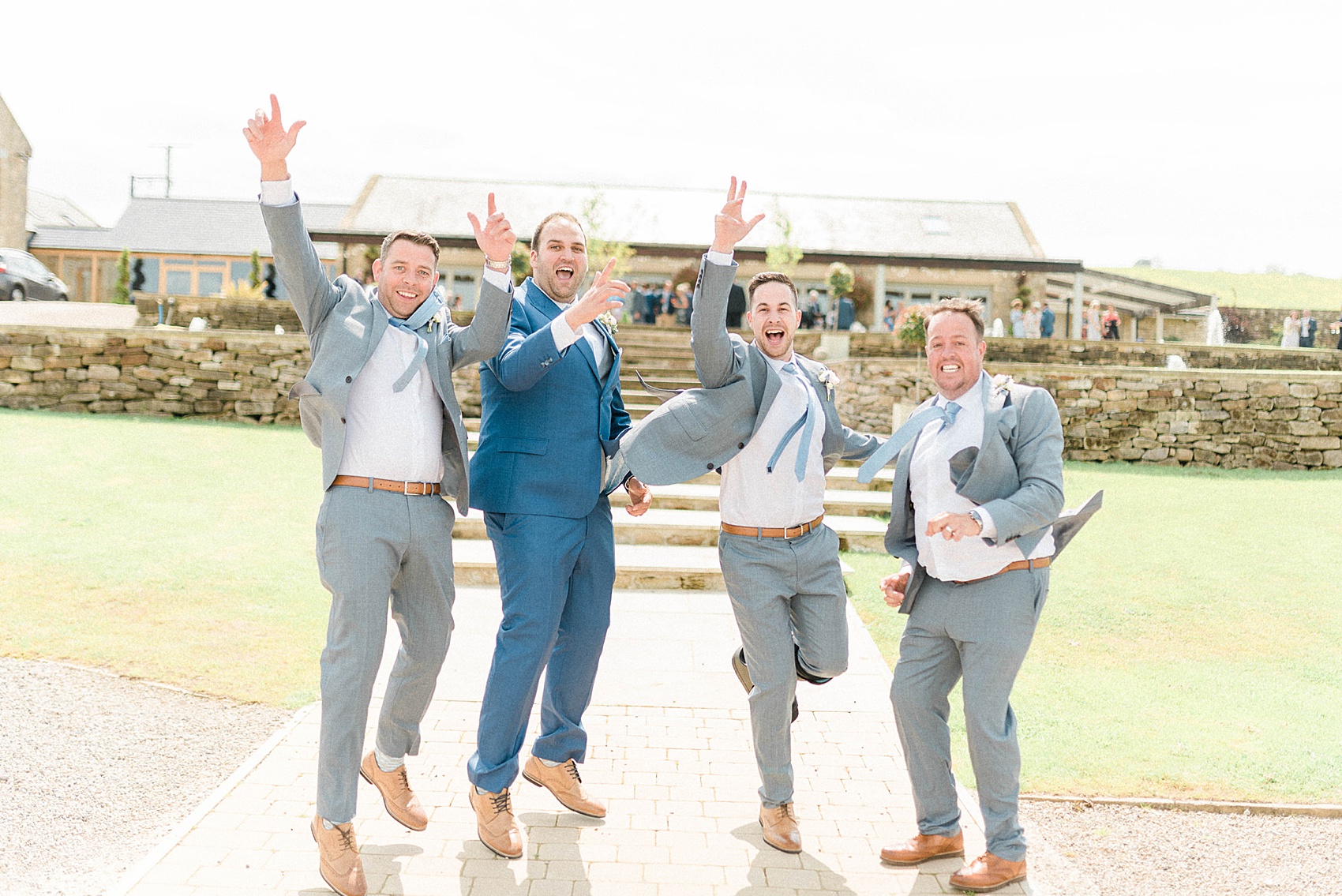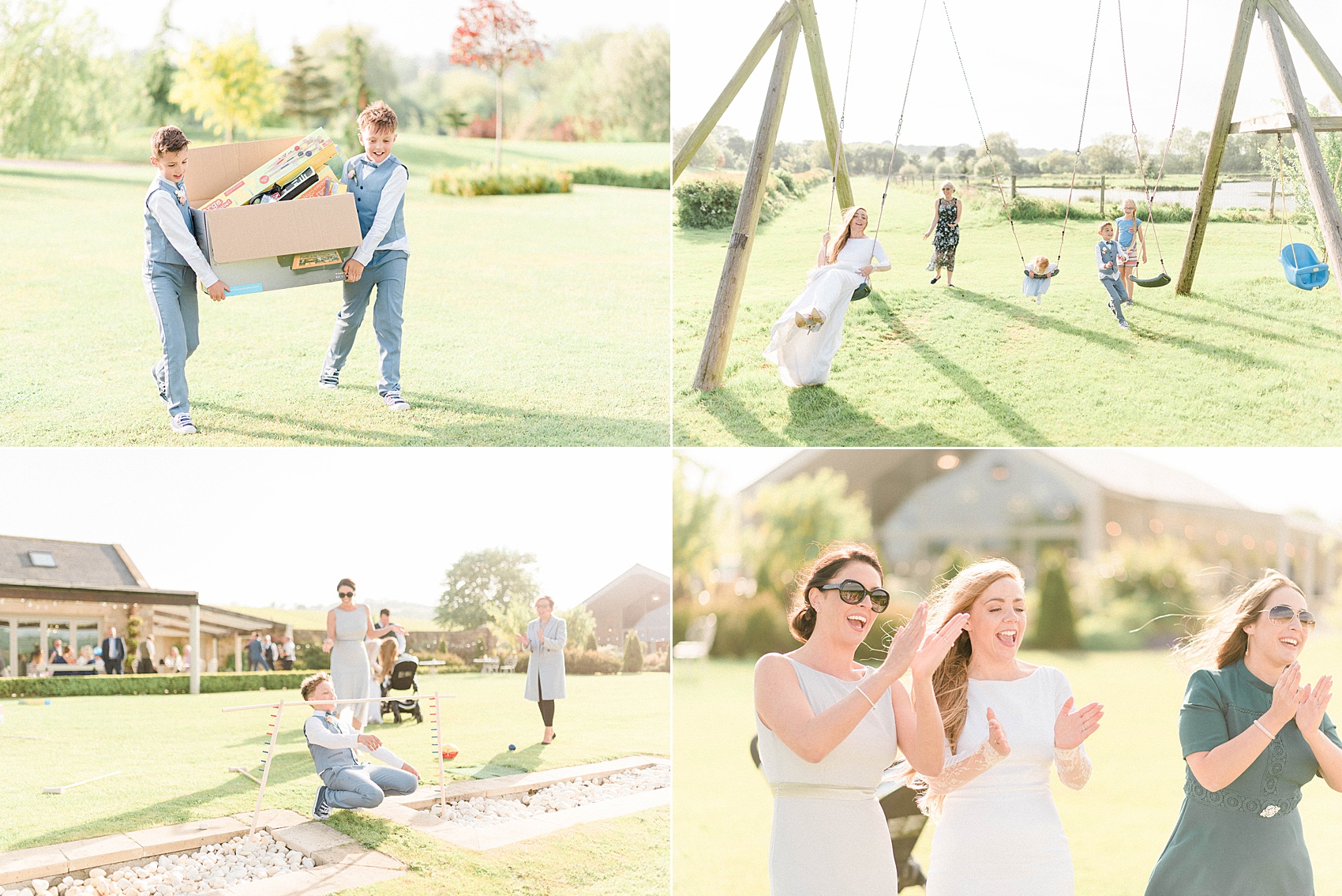 As a fantastic decor focal point for the afternoon and evening celebrations, Coco Luminaire provided lit letter initials and a love heart for the dancefloor, where Mr and Mrs Walster headed for their first dance as a married couple.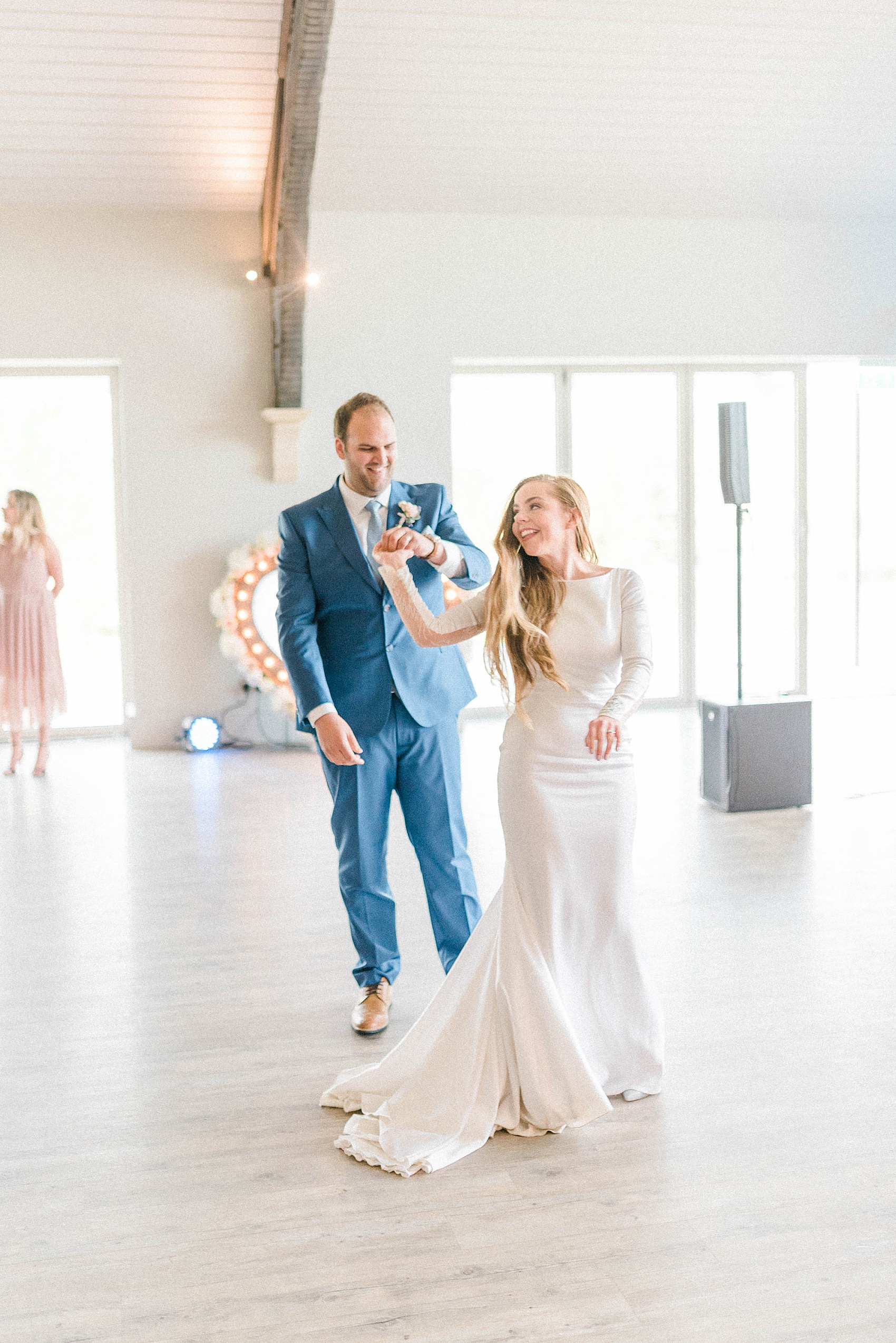 "The song was Tom Odell – Grow Old With Me, sang by a close friend of ours. Tom Odell was the first gig we went to together after a couple of months of dating. Our evening band was Something For The Weekend. Given our love for live music, and regular attendance to gigs and concerts, it was important that we had a band."
"Our favourite part of the day was every last moment, we just wish it could have lasted longer. It was great to take a bit of time away from the guests, just for us. We went for a walk around the grounds, and looked back at our family and friends, all having an amazing time."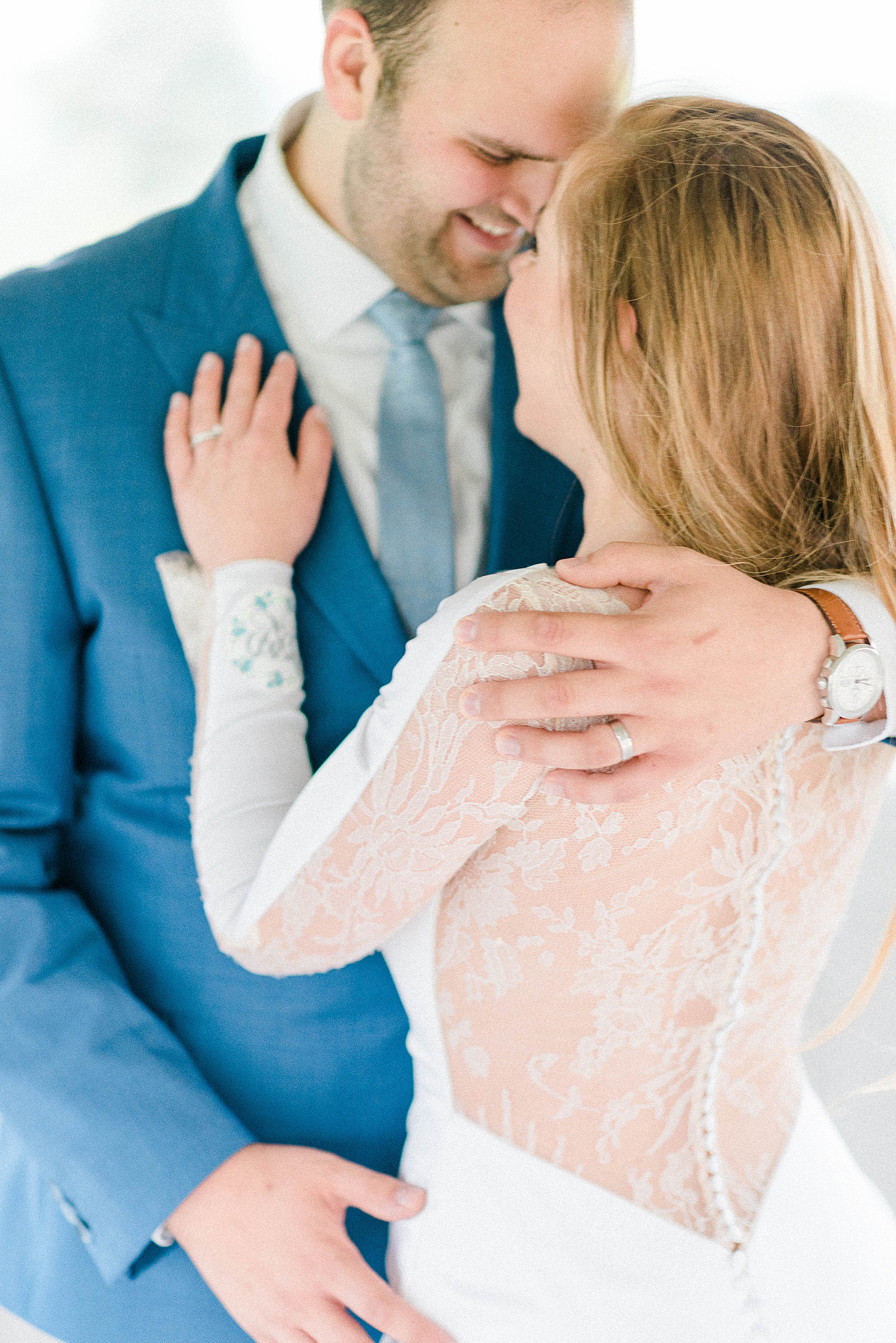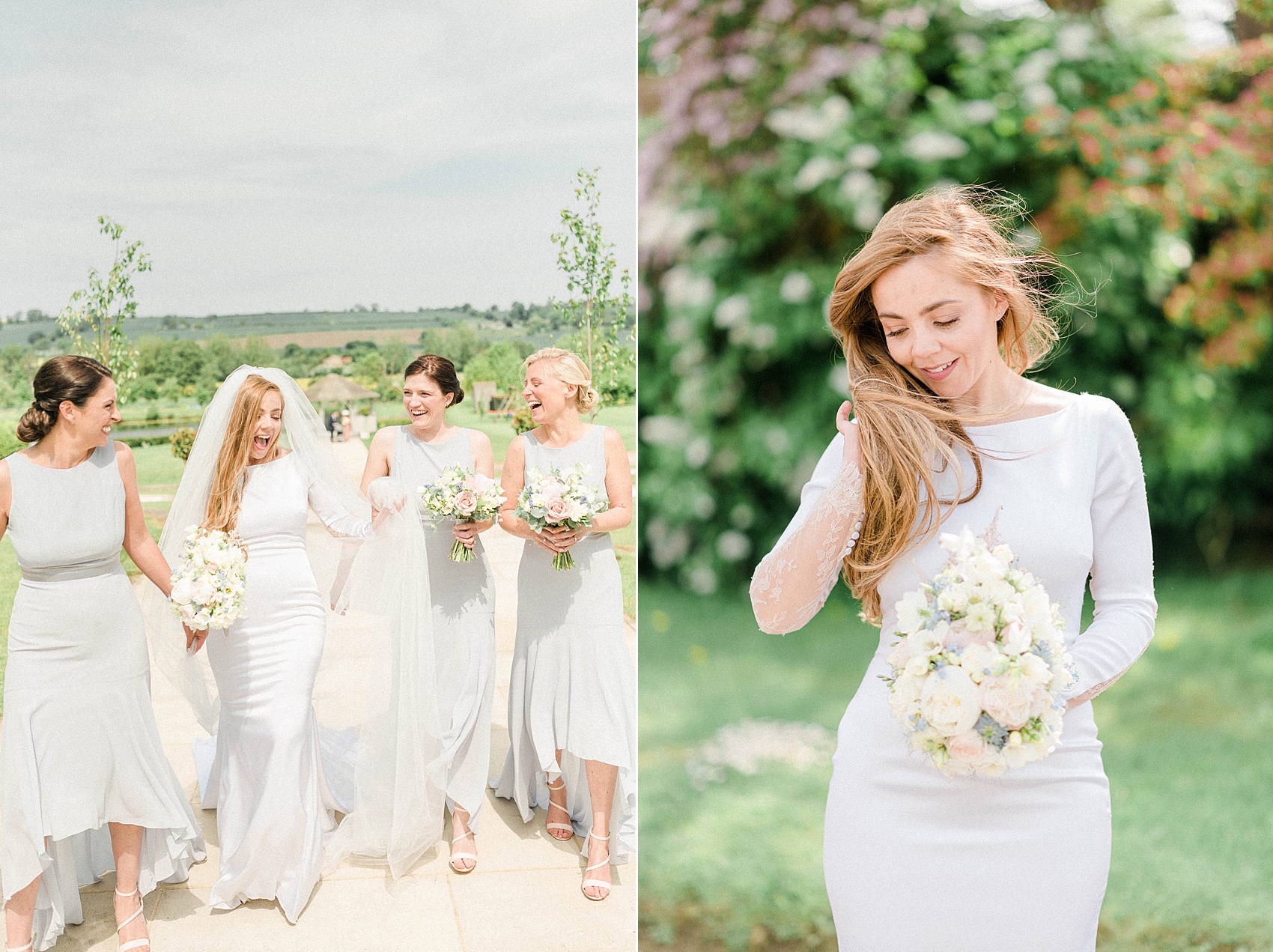 Words of Wedded Wisdom
"It's your day, make it your own as a couple, and don't be easily deterred from what you want by everyone who has an opinion. Don't give up on your amazing ideas to make it personal. Weddings are
stressful, but it is all the little extra efforts you go to that you reflect on so fondly."
"Photography, food and music are things worth spending more on. The photographer provides you with the everlasting memories of the day, and the food and music are what make a day for guests, and the overall atmosphere."
Mr and Mrs Walster, thank you so much. This has been wonderful, and I've so enjoyed writing about your beautifully personalised day. Many thanks also to Sarah Jane Ethan for bringing her magical images to all of our screens.
With love,
Laura