I think I'm a little bit in love. With one place in particular; a lush and magical forest in Ireland which is the setting for today's wedding.
It's a very special privilege for me to share this wedding too, as bride Rachael was an active member of our Love My Dress Facebook community throughout her engagement and found it an invaluable source of support. So, let's go to Ireland. On 31 May, Rachael, a primary school teacher, wed plumber CJ in a ceremony at Mount Druid, Castletown Geoghegan, County Westmeath, Ireland in the heart of the forest.
Film PigMintFilm
Their day was relaxed and natural, taking lots of elements from the natural setting and the abundance of green leaves to create an elegant yet personal celebration.
"We wanted the style of our day to reflect us. It was so relaxed but made beautiful through the finer details."
"The Love My Dress Facebook Group was AMAZING when I was planning. I got so many ideas from the other brides. There was such a community feel on there too. Everyone is going through the same emotional rollercoaster of planning a wedding and the ladies are so supportive. I think I survived the process unscathed because of that group."
Photography Kelly McAllister Photography
The talent behind these incredible, fine art photographs which capture both the intimate, loving moments and the beautiful Irish countryside is Kelly McAllister.
"We knew from the beginning of our wedding planning process that photos were a priority for us. They are one of the few things that we would still have from the day in the years to come. Kelly was one of the best choices we made. From the first phone call with her I knew that we would get on and that she would be a wonderful addition to our day. We first met in person on the actual day. She was so warm and friendly and got almost as excited about the details of our wedding as I did."
"CJ and I had done our homework and seen Kelly's many other beautifully-shot weddings so I trusted her completely. She merged into our day so seamlessly that at times you did not realised she was there, which I'm sure is how she gets such perfectly natural shots. Man, did she deliver. I could not love our wedding photos any more. She has captured some of the most beautiful and treasured moments."
The couple also opted to have a film of their day and isn't this such a beauty by PigMintFilm? So evocative of the haunting countryside and the joy of the day.
"I know that some people choose video as a bit of an add-on but having a good videographer was up there for me with the photographer. We found Clive on Instagram. His videos are just incredible and just speak for themselves. Clive and Kelly worked so well together, they fitted right in and made the whole experience relaxed. I cannot tell you how many people have messaged me, called me and even pulled me aside at work just to say how much they loved this trailer."
These gorgeous beauties, by the way, are from Boden.
The girls' natural and pretty make-up was applied by Ellie Murphy and Margaret O'Connor styled their hair into braided up-dos whilst the bride did her own.
"Ellie was a wonderful find. I wanted a quite natural look as in years to come I wanted to look back at my wedding pictures and recognise myself."
"The look I wanted was simply a polished version of myself and she really pulled that off."
"I did my own hair. It's pretty wild so I felt more confident doing it myself on the day."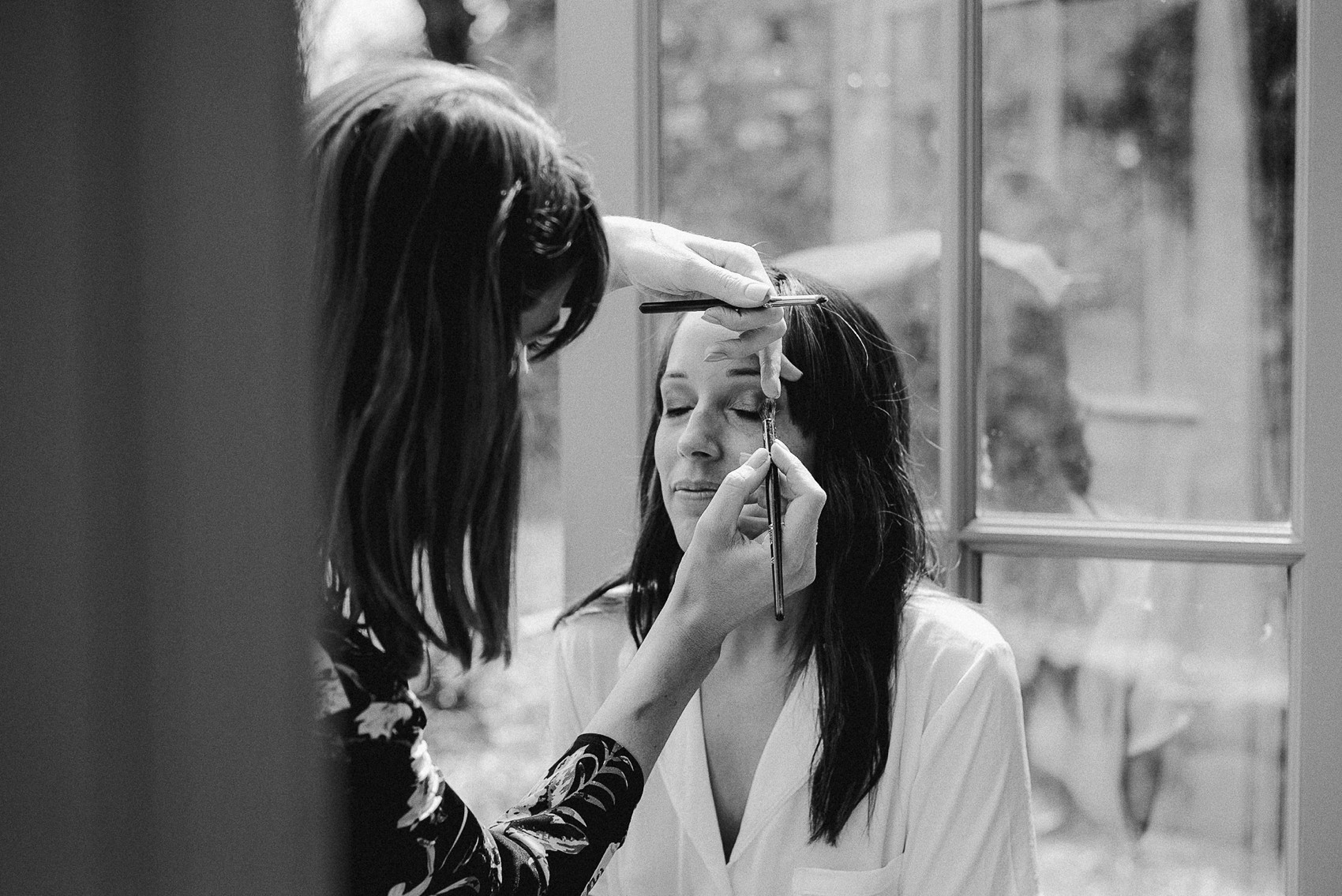 To keep the overall look relaxed and pared-back, Rachael's three bridesmaids wore pure white, layering leafy, embroidered New Look dresses over underdresses from Marks & Spencer. Their jewellery was inspired by nature; leaf earrings from Accessorize and personalised leaf bracelets from Little Nell Jewellery.
The relaxed day called for a simple yet gorgeous gown and Rachael found her Alexandra Grecco number at Blackburn Bridal in Blackheath, London. I love its vintage-inspired, boho style which looks so effortlessly elegant with the clean lines and flowing silk train yet sexy with the front slit and deep V-neck.
"Finding a dress was actually one of the hardest parts for me. I spent hours searching online for a dress that was special enough for a wedding day but that I would still feel myself in. When I found 'Edith' I fell in love. She is so classic. Somehow the gown manages to be modern and timeless at the same time. I tried on other dresses but each time my thought was, 'It's not Edith'. The design fitted so perfectly with both my style and our venue."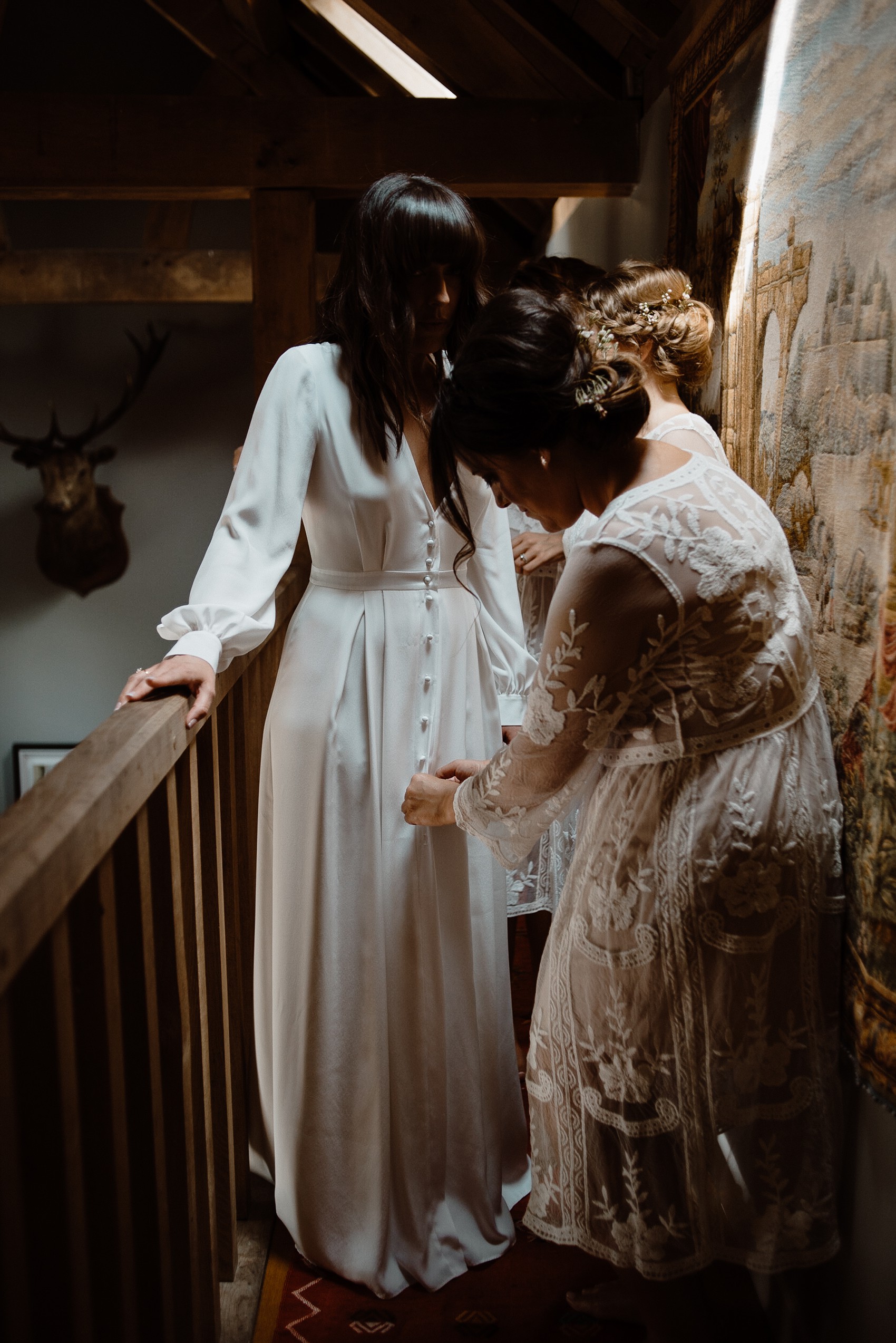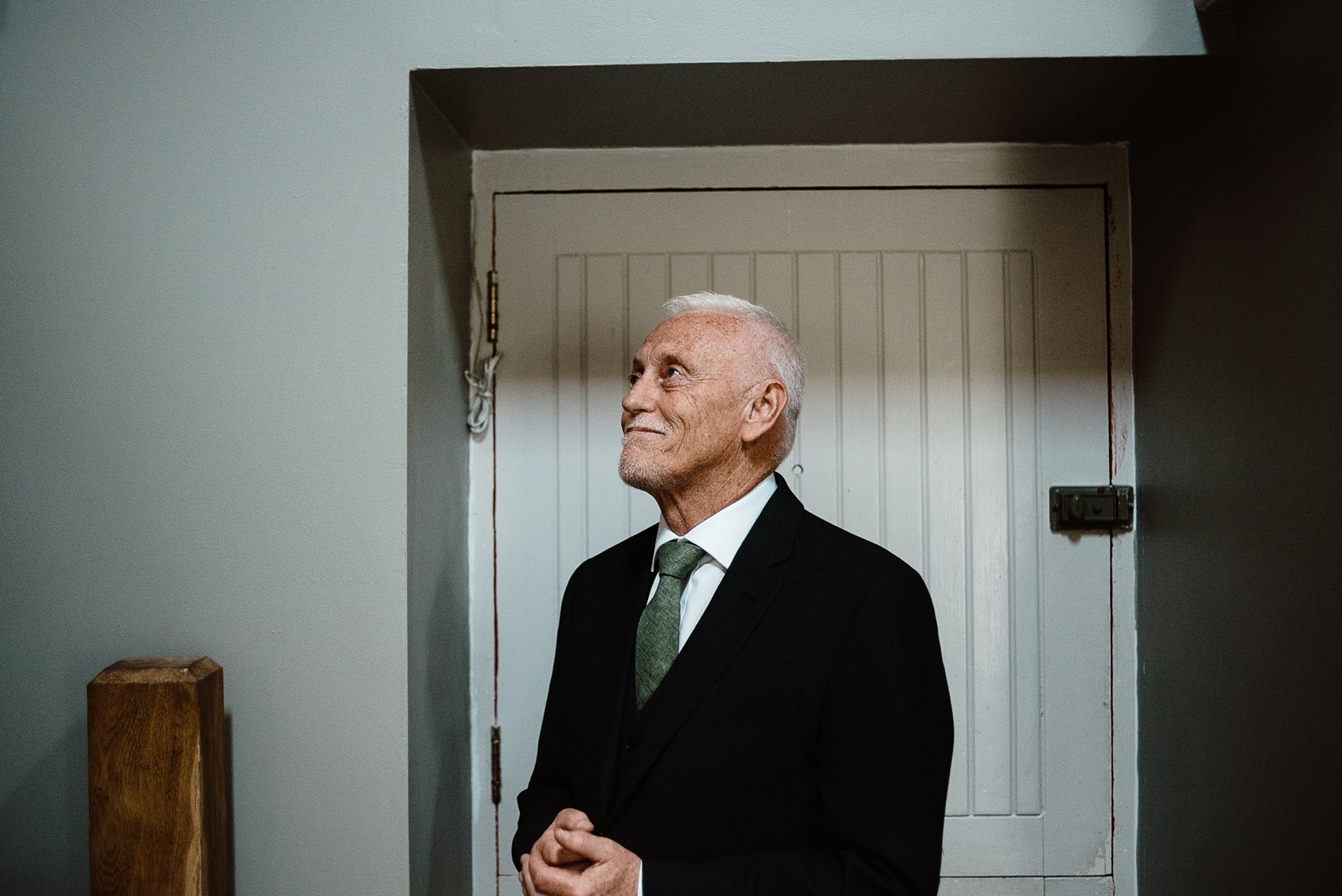 CJ's smart three-piece was from Debonair Menswear in Lisburn and made personal with a bespoke pocket square inspired by the William Morris wallpaper at Mount Druid.
"Our contact Lindsey was really knowledgeable. CJ's waistcoat actually had a collar but we all agreed that it looked too much so he had it re-tailored. They were so helpful and offered a reasonable price.
Rachael and CJ chose to have a first look before the ceremony, making for some beautiful forest photographs in the dappled sunshine.
"The whole day was incredible and I loved every minute of it. Up there was definitely the first look which we chose for a number of reasons. We wanted the first time we saw each other to be special."
"It happening with just us made it ours and we didn't have to share that with anyone. It also took away some of the nerves of walking down the aisle in front of everyone. We didn't have the added pressure of having all eyes on us and we got some extra time to spend just the two of us. Moments that on your wedding day are few and far between."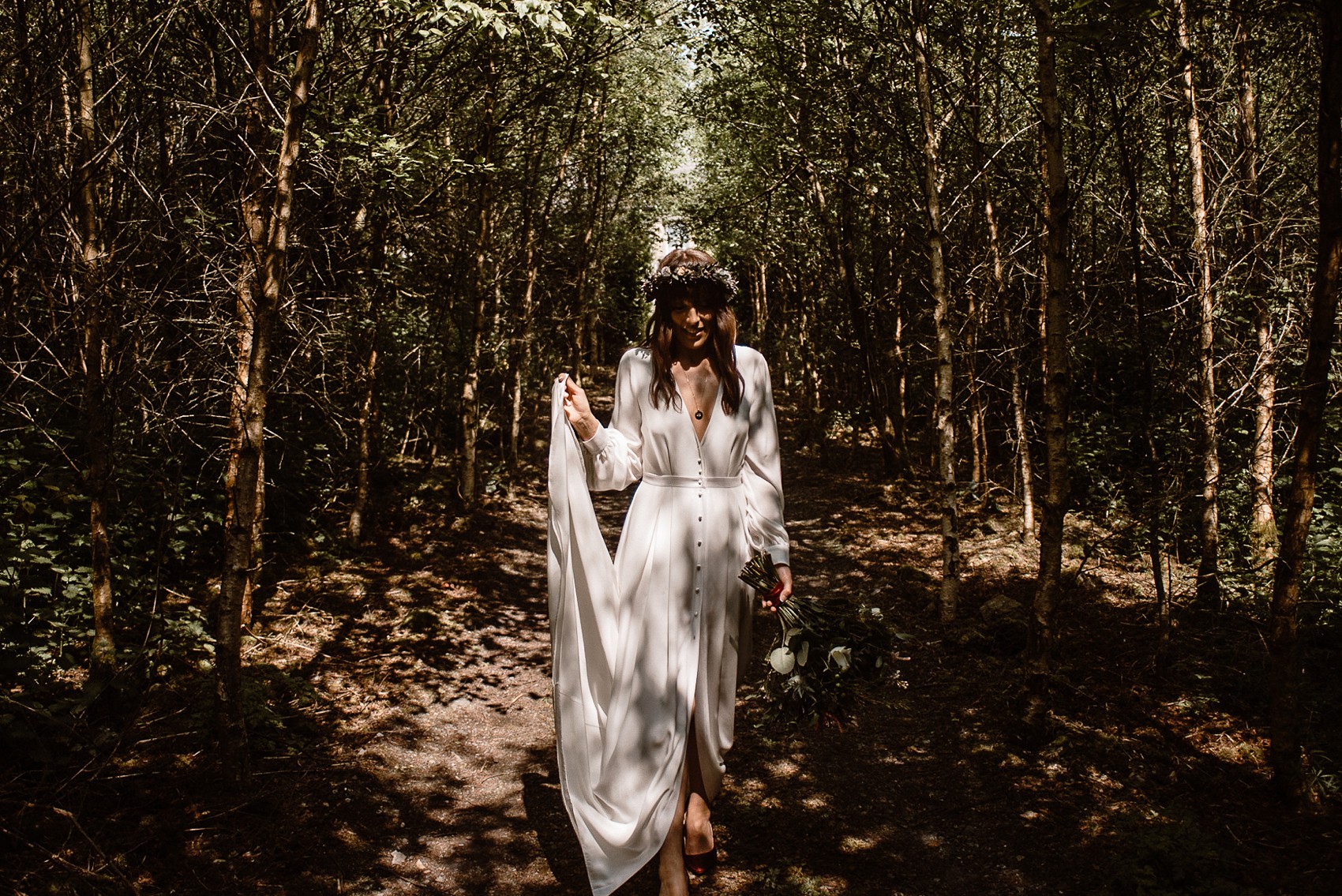 "It also meant that we didn't miss out on time with our friends and family after the ceremony. We had our couple photos taken before the ceremony so there wasn't that long period of time where guests are waiting and you are missing out."
Rachael and CJ married almost ten years to the day of their first encounter.
"We met in the summer of 2008. Both in our twenties and looking for an adventure, we applied for Camp America and met in a bar in the mountains of Upstate New York. We then spent nine months travelling the world."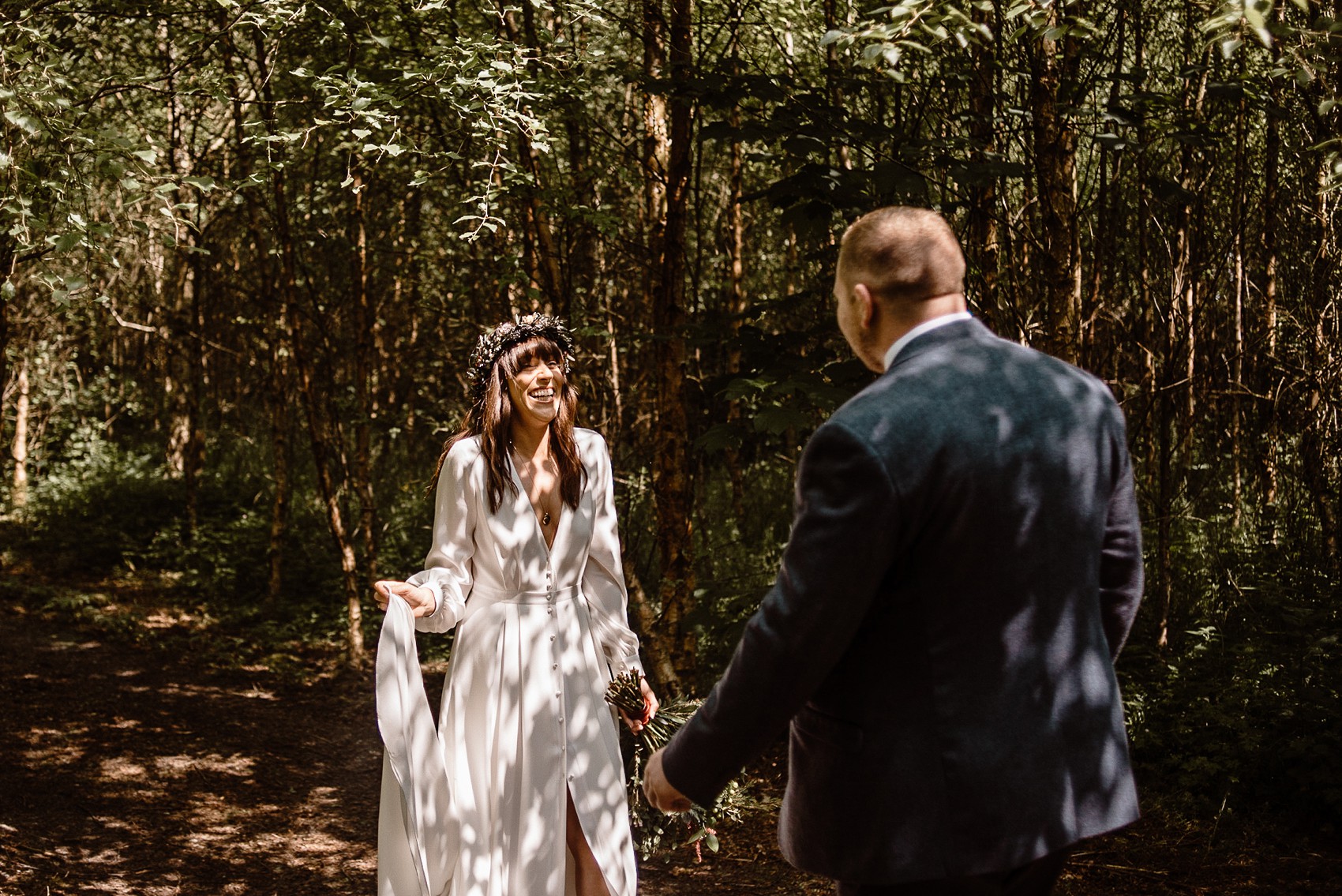 "We got engaged in December 2017. When we went to Camp America we made so many life-long friends. Two of the closest, Steve and Erin, we spent lots of the early days with until they moved back to Australia."
"In December, Steve and Erin came to London with their new additions. We spent the day in London with the girls having quality time together, whilst the boys went off on their own doing the same."
"At the end of the day we met up to head home. On the way to the station the boys took us through a 'short cut'. We walked into the secluded gardens of St Paul's Church in Covent Garden. I asked Steve, who is also a professional photographer, to take a picture of me and CJ. I sat down and Scarlett, their daughter, jumped on my lap. Each night I read her a bedtime story. It had become a routine and Steve had mentioned a few times that he wanted to take a picture of us one night to document it."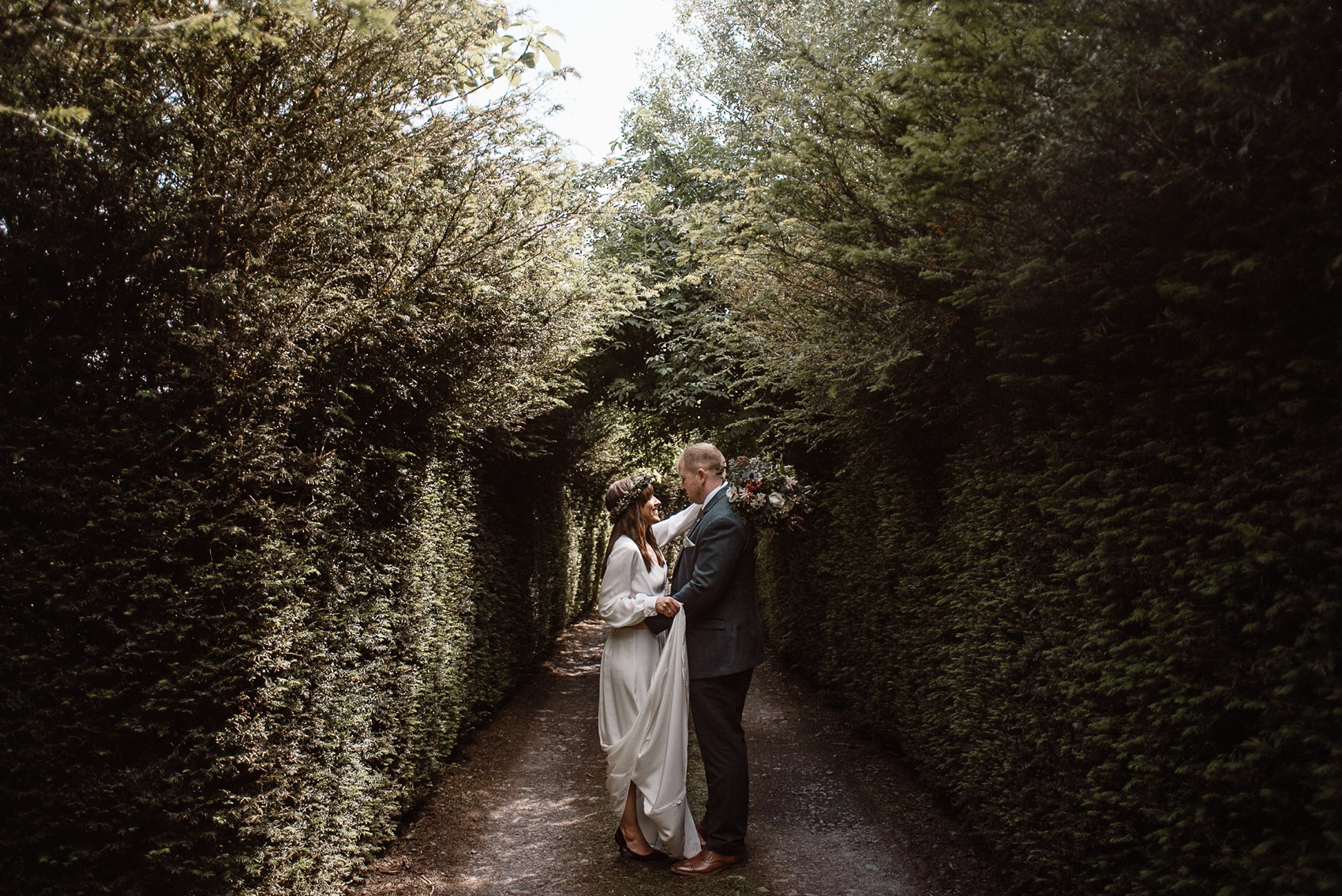 "Whilst we were sitting down Steve pulled out a book that they had 'bought earlier' for me to read to Scarlett. I didn't think it was odd that he then pulled out a camera because this was the perfect moment to document our new ritual. I began to read the little illustrated book about a couple's adventure of falling in love. Each page ending with 'She said, 'I love you SO much', 'I love you MORE' replied the boy'."
"It wasn't until halfway through that I realised it was the story of our lives together. That's when the silent tears began to fall. I got to the last page that read, 'Rachael Jenkins. You are the BEST thing that's ever happened to me! Would you please marry me?', before I looked up from the book and found CJ in front of me down on one knee holding out a beautiful diamond ring."
"I was blown away by the amount of thought and planning that went  into that moment that I will treasure forever. Unlike most couples I am lucky enough to have beautiful photos of the moment to help retell the story."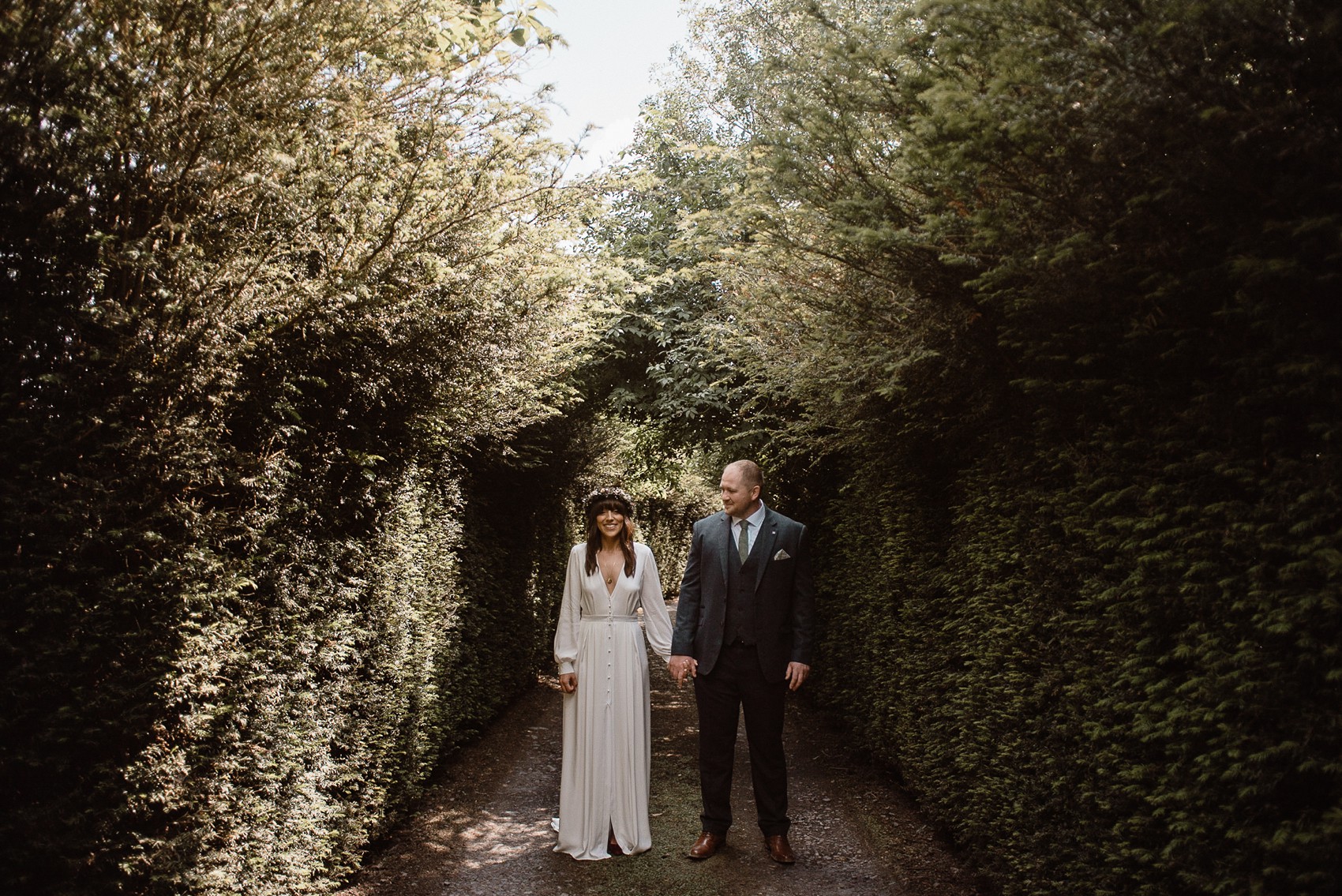 The bride paired her gown with a faded crown of dried flowers, crafted by Folky Dokey.
"I found Gez from Folky Dokey on the Love My Dress Facebook group. She was brilliant, listened to my ideas and created something just stunning."
"I put a lot of thought into the jewellery I wanted to wear on the day. I wanted to create a collection that I could carry over into my everyday. I found the perfect piece from Nouvel Amour. It's a simple disk pendant that I had engraved with my aisle song, 'Here Comes The Sun', in French. I wear it everyday. I also love the quote by E.E.Cummings, 'You are my sun, my moon and all my stars'. I subtly included it through my gold earrings of a moon and stars, also from Nouvel Amour. These have also become my everyday go-to earrings."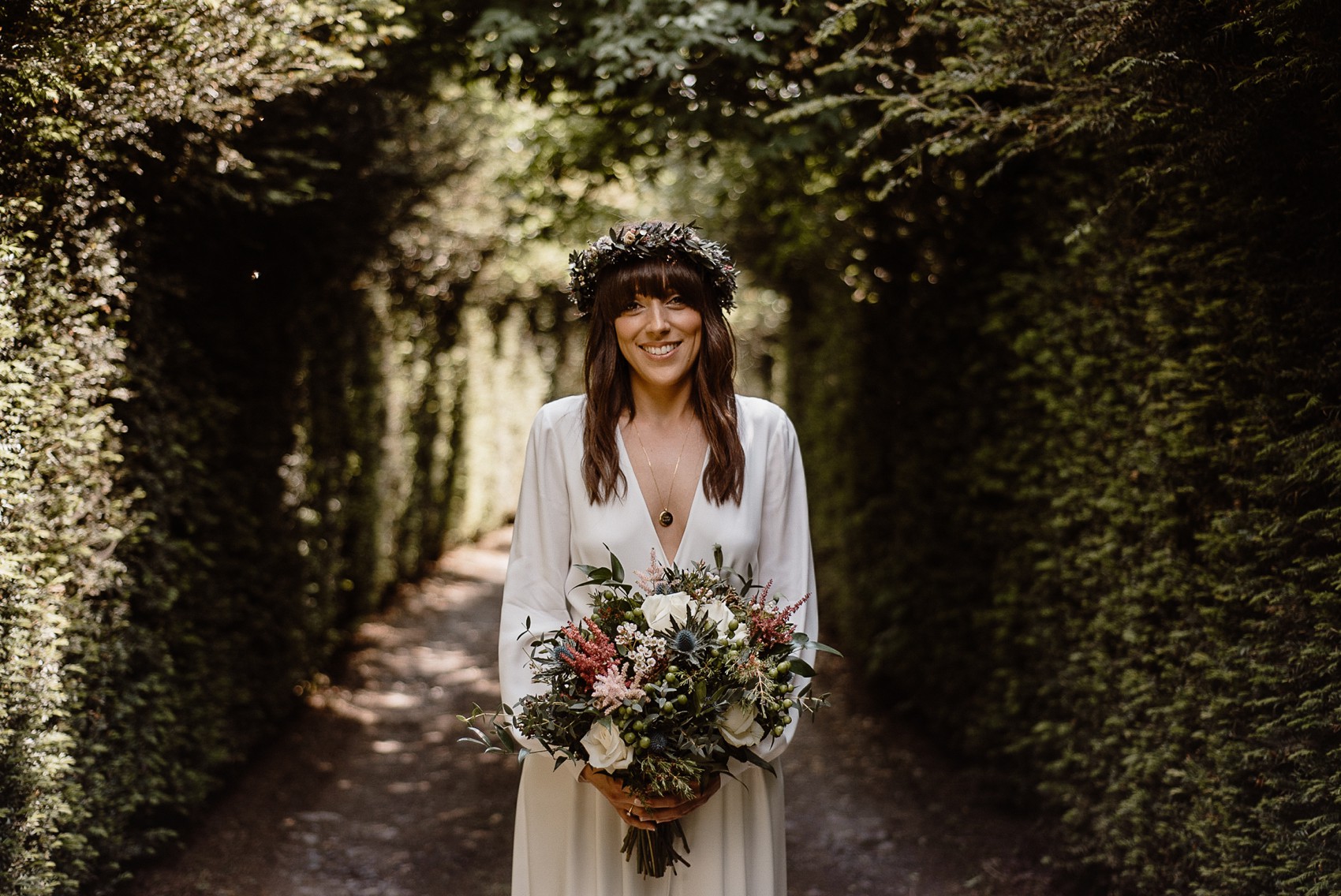 The bride's bouquet was a gorgeously abundant hand-tied piece by Hedgerows & Laneways.
"I feel like we surrounded ourselves with such incredibly talented people on our wedding day and Joanne was no exception. I wanted a bouquet that had the feel of being roughly collected from a field – lots of foliage, thistles, wax flower and white roses. Joanne really did deliver. I almost cried with happiness when I saw them. I just wished they could last forever. For the tables I wanted to keep it simple and have a running of foliage down the centre. We went for ruscus as a little goes a long way and it's pretty hardy."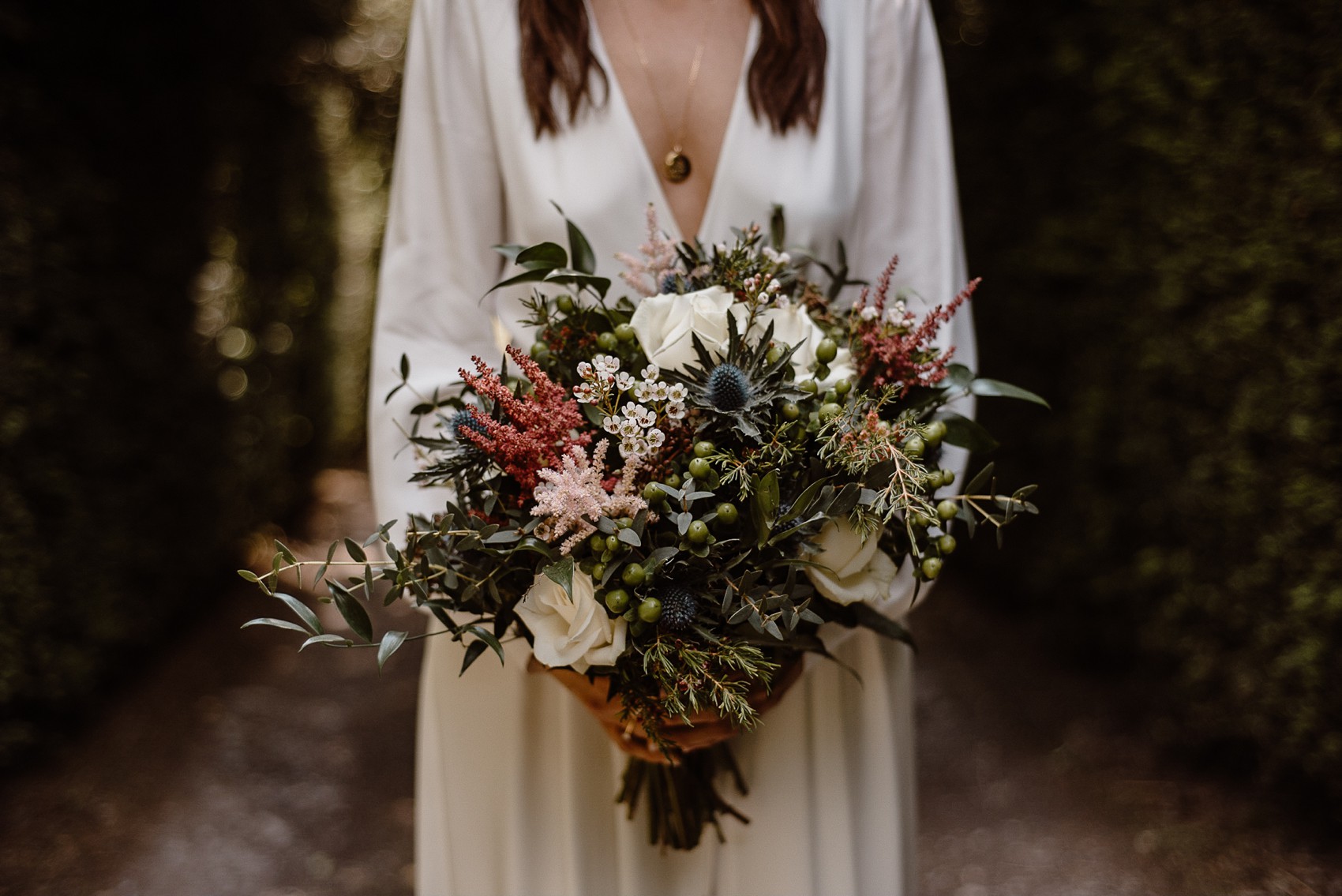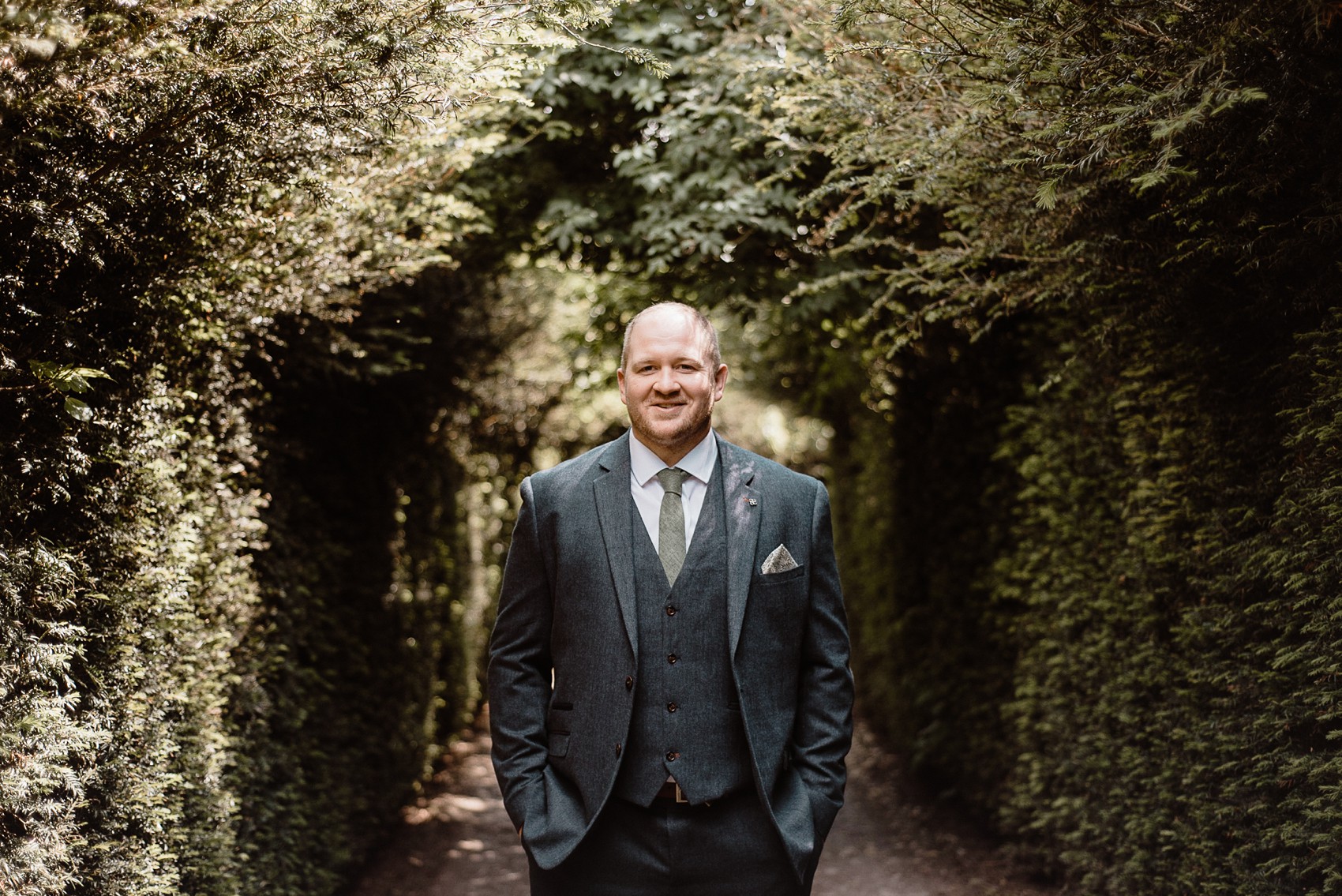 "Mount Druid has a beautiful collection of reclaimed and antique furniture and also have a signature William Morris 'Blackthorn' wallpaper. We wanted to somehow tie this into the accessories. Kaye Hannabuss created my clutch for the day and the boys' pocket squares from the William Morris iconic 'Willow Bow' print. Both were handcrafted and high quality. She's a pretty talented lady."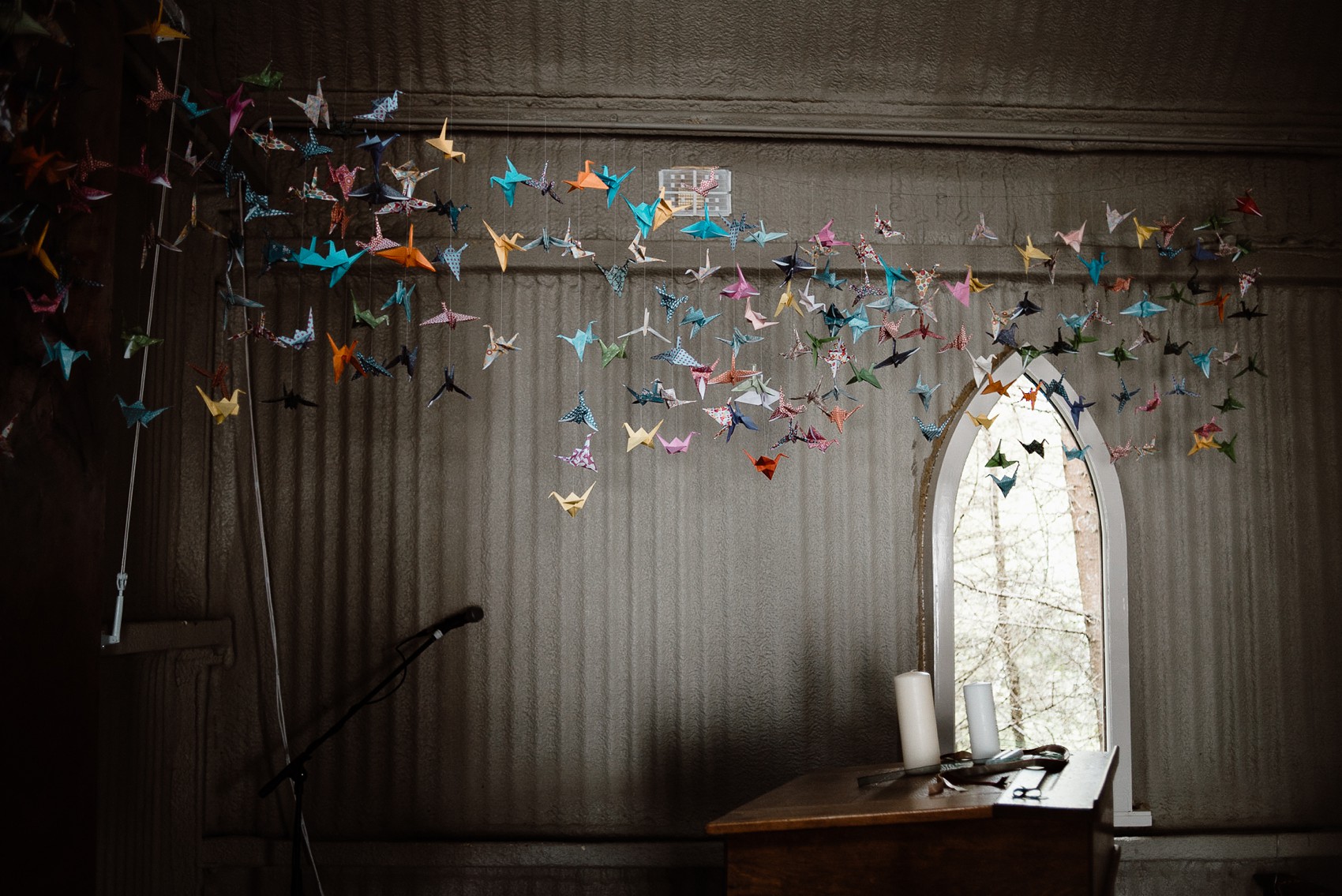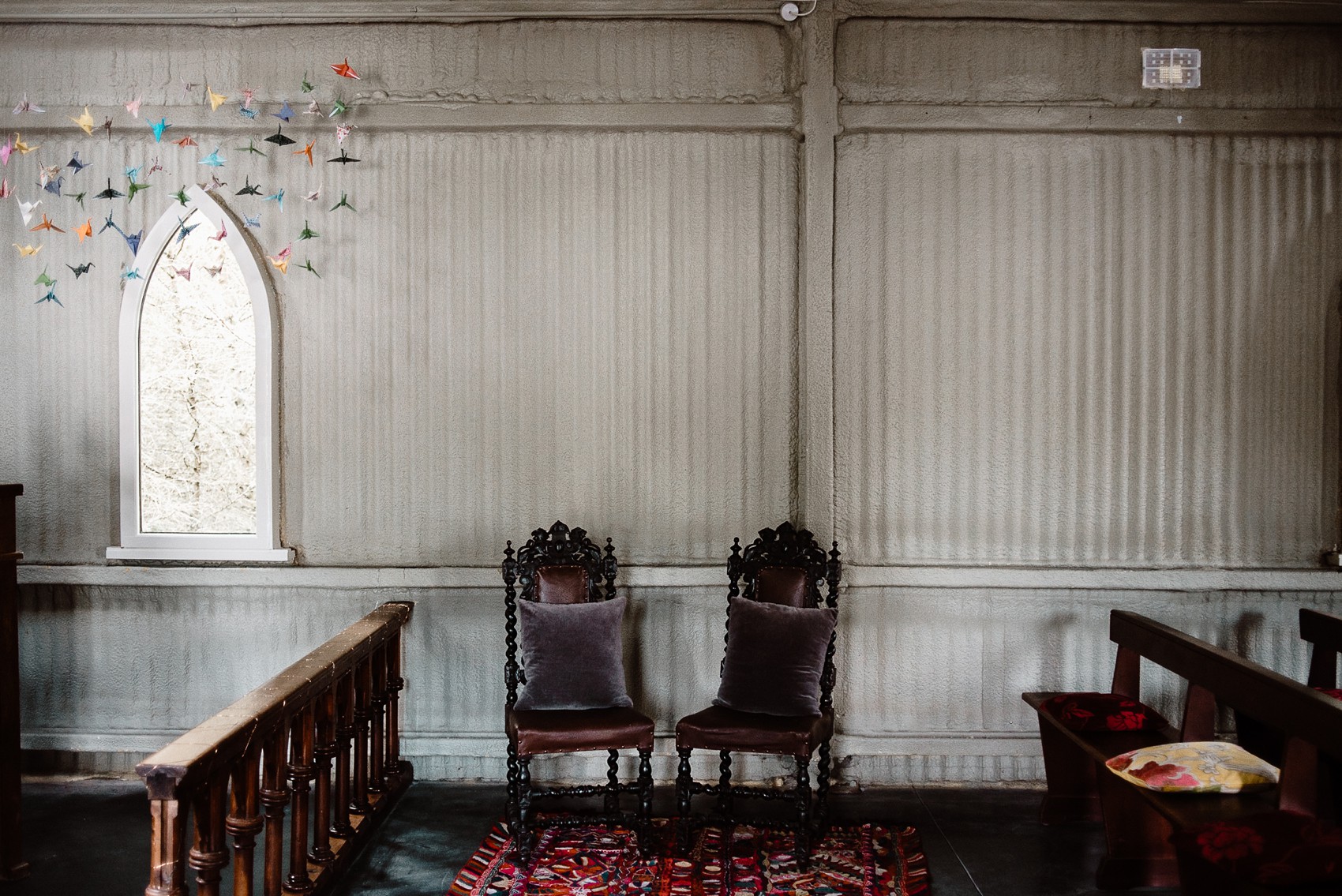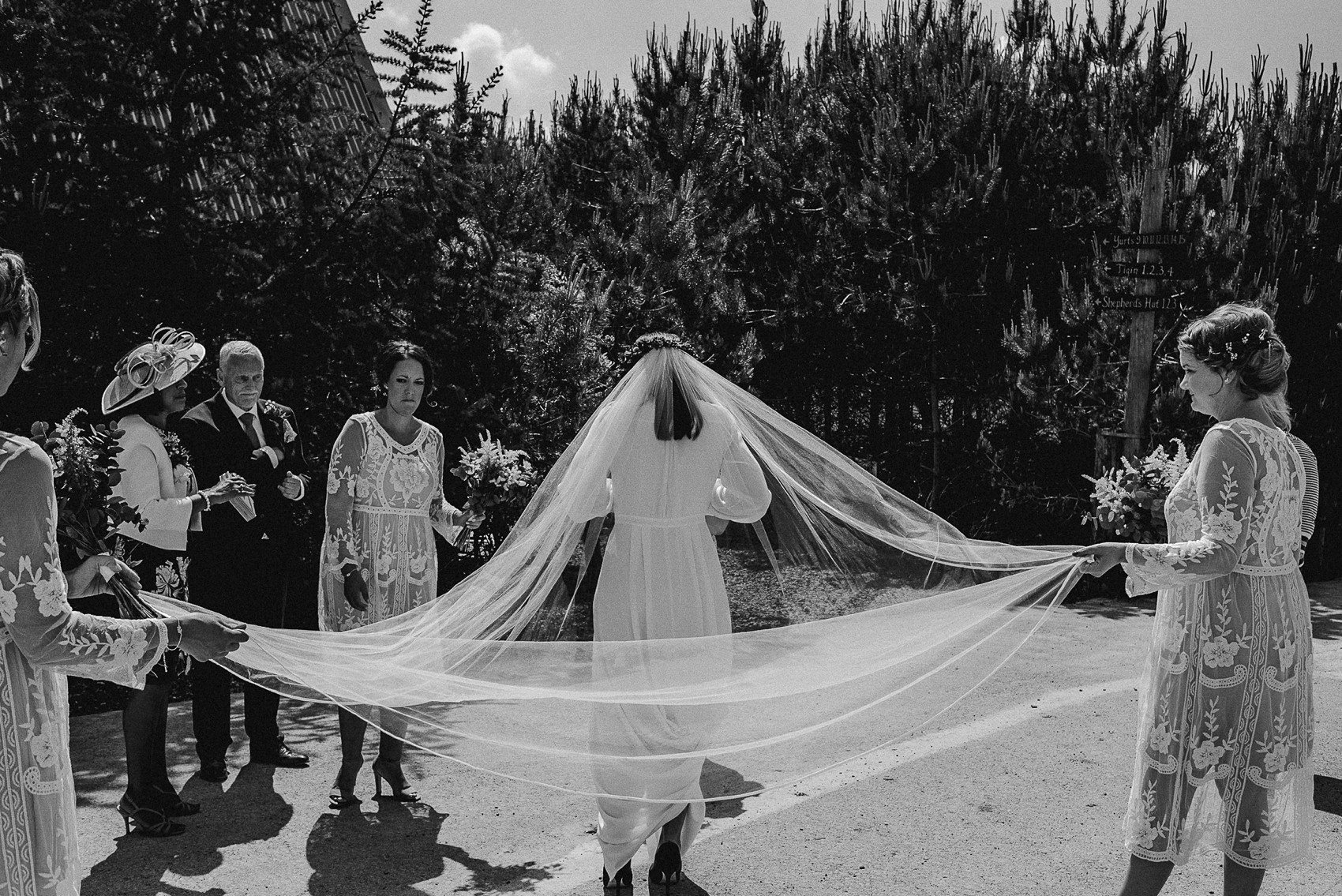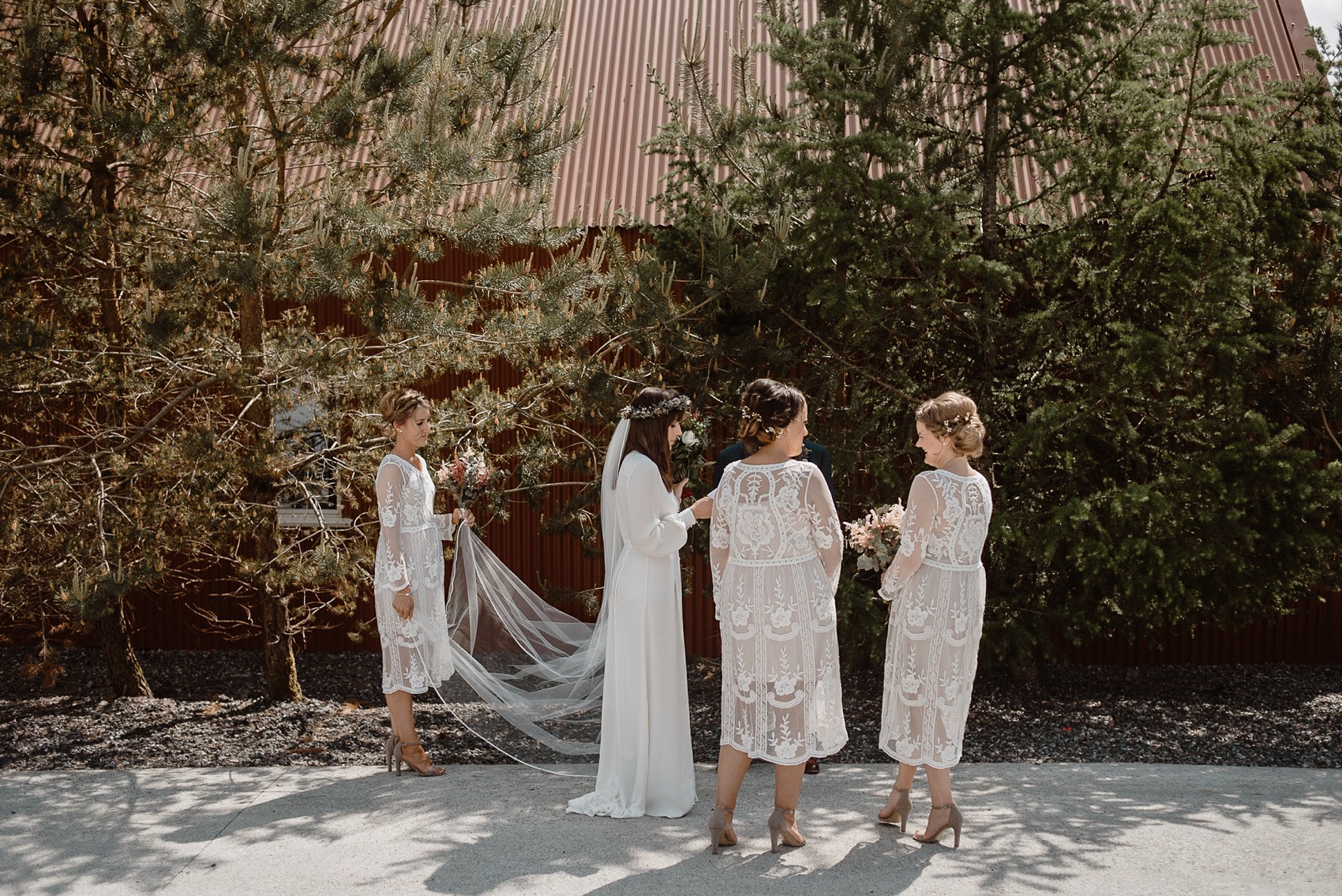 Nestled in 100 acres of parkland, Mount Druid has its own purpose-built tin chapel, boathouse, barn and accommodation, all of which has been beautifully decorated with antique finds.
"The venue really is a labour of love. The owners have beautifully curated a collection of furniture and art which meant that it really didn't need a lot of decoration. CJ chose to hang fairy lights to add the magic of the evening and I made a few bits to complement the venue. Amongst other things I hand-painted a globe to go next to the card box that I created from an IKEA greenhouse. I also painted the table numbers onto copper frames. A scattering of candles finished the look.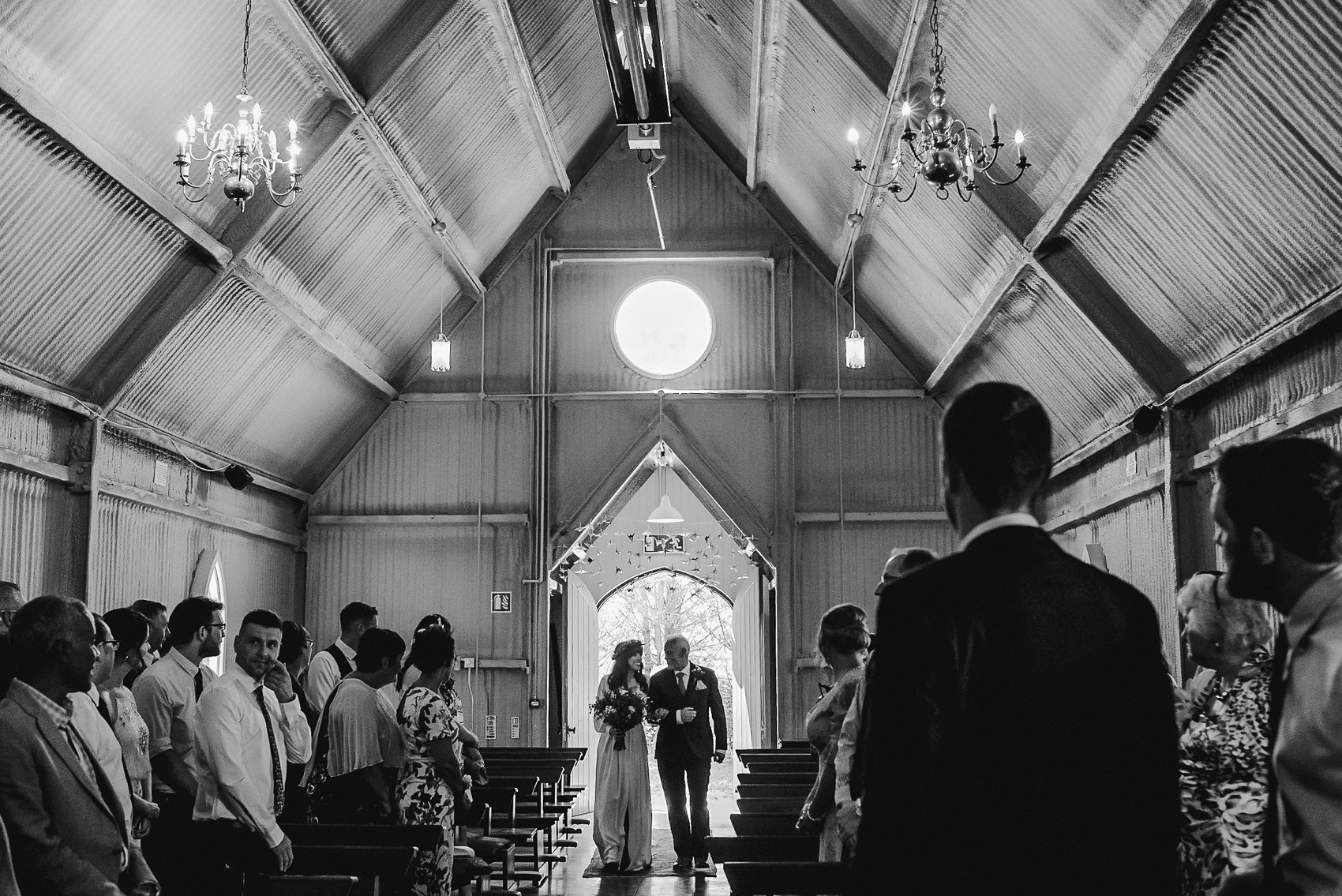 CJ and Rachael married in a spiritual ceremony which included vows they had written themselves.
"My dad walked me down the aisle and I think he saw this as a real honour. When I was younger my dad played The Beatles A LOT. We grew up to the soundtrack of 'Strawberry Fields Forever' and 'Penny Lane', so it seemed fitting to walk down the aisle to 'Here Comes The Sun'. It's a beautiful song and after a lot of research we chose to have the original Beatles version. I hadn't told my dad this and as we walked up to the entrance of the church and the vocals started his eyes welled up."
"We used Vincent Whelan from Spiritual Ceremonies. We wrote our own vows; we really wanted the wedding to reflect us and this included the ceremony. So that they had a similar vibe we used the same beginning and end lines and then made each other promises."
"We then sent them to a mutual friend to read and heard each other's vows for the first time along with everyone else. They were a wonderful mix of heartfelt and funny."
"We had two good friends read our readings; 'Aedh Wishes for the Cloths of Heaven' by William Butler Yeats (I have loved this poem forever) and 'These I Can Promise' by Mark Twain."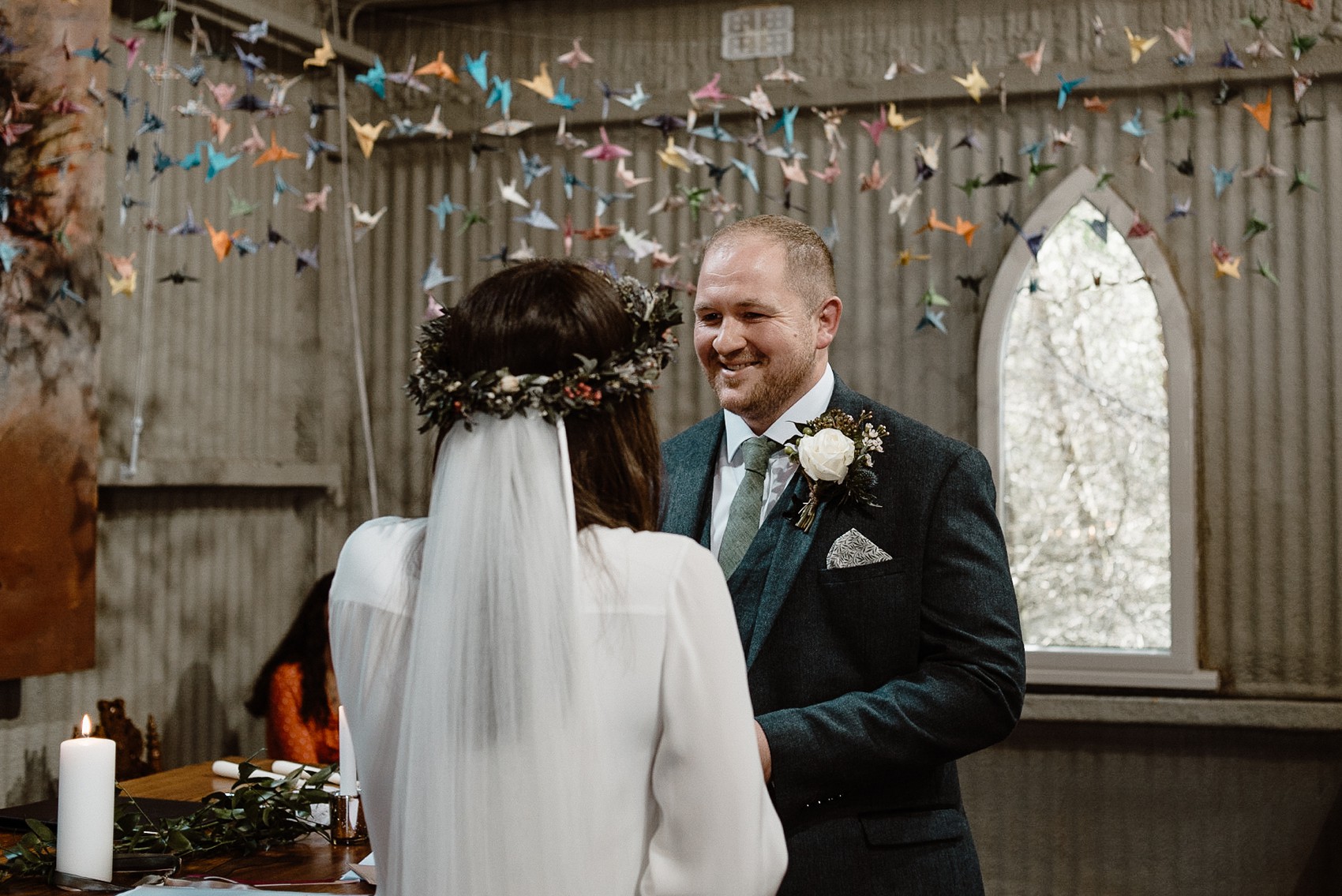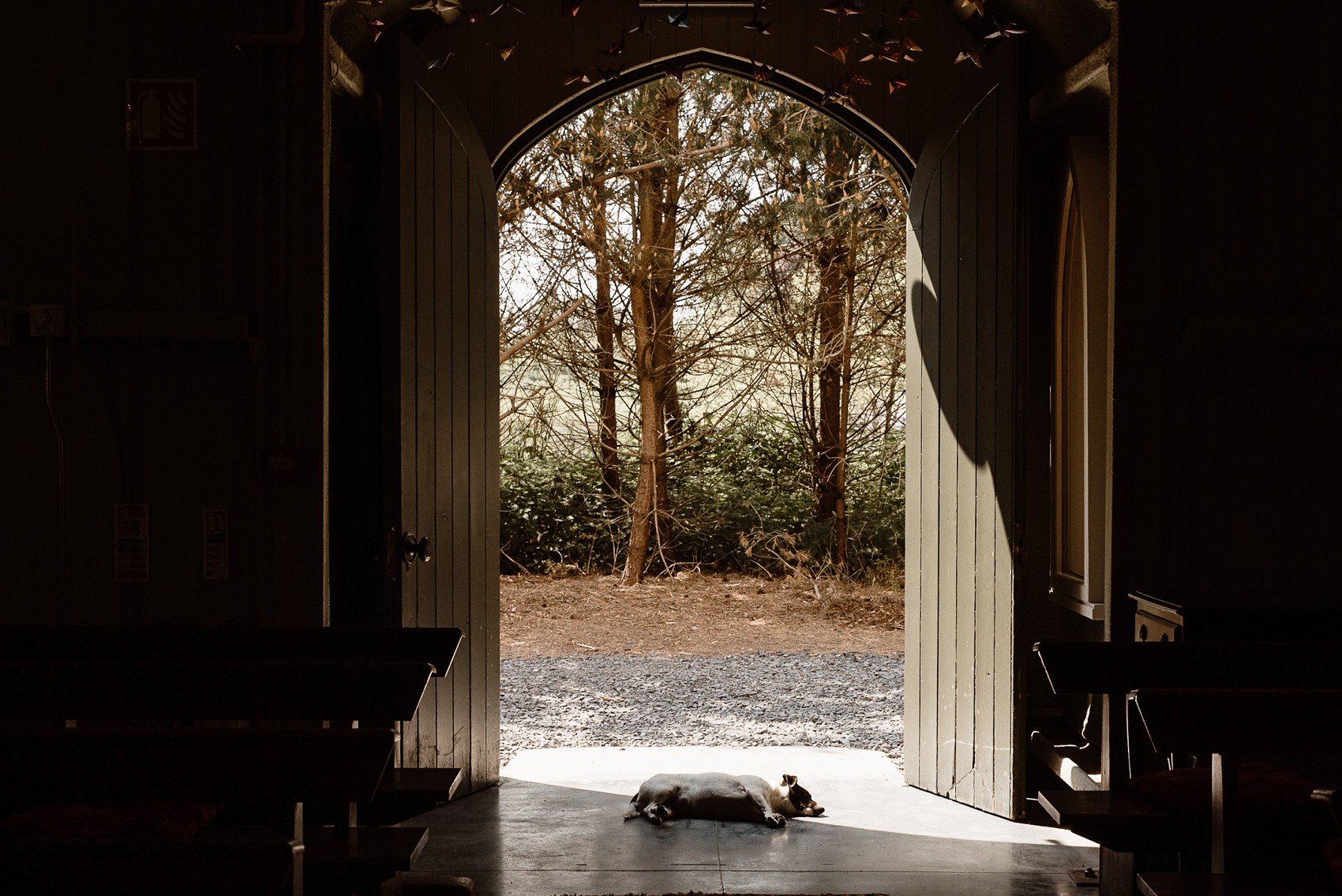 "We got our wedding rings from the same jewellers that CJ bought my engagement ring from, Campbells of Banstead. CJ doesn't wear jewellery so he went for a plain, brushed, white gold band. CJ designed my engagement ring with a rose gold band, so I chose to complement it with a rose gold band that I had engraved with a wreath of leaves. I wanted it to have the feel of a family heirloom for generations to come."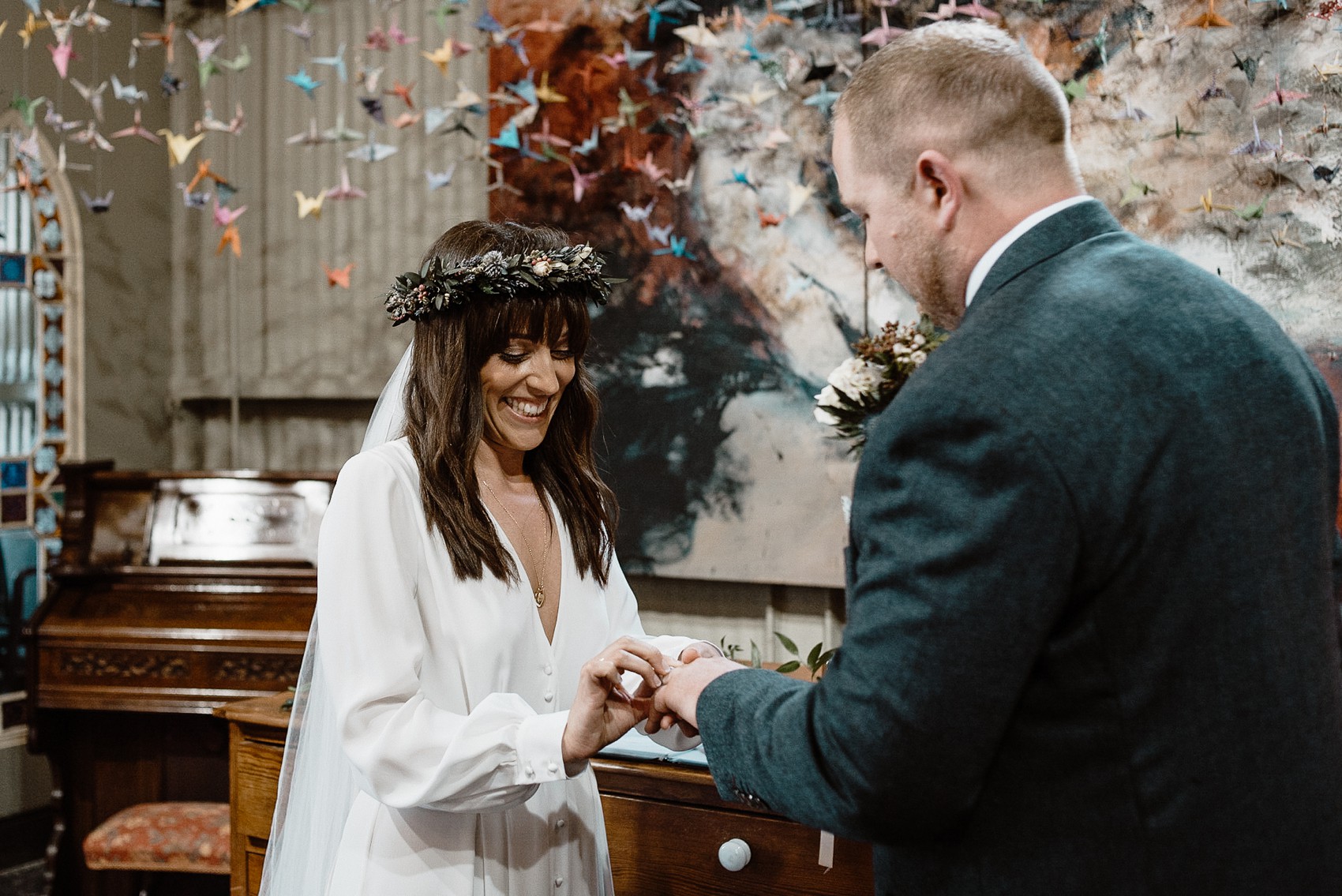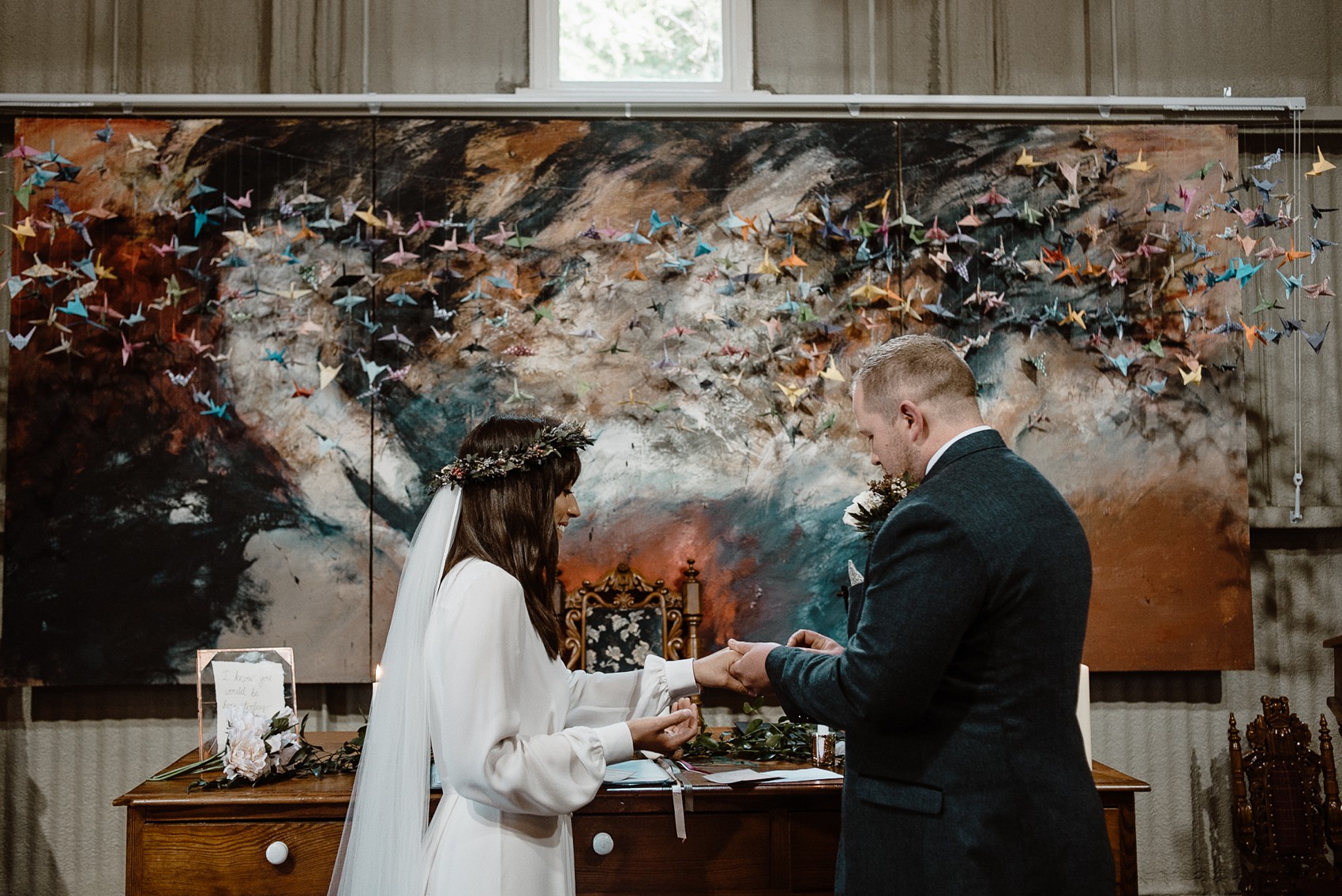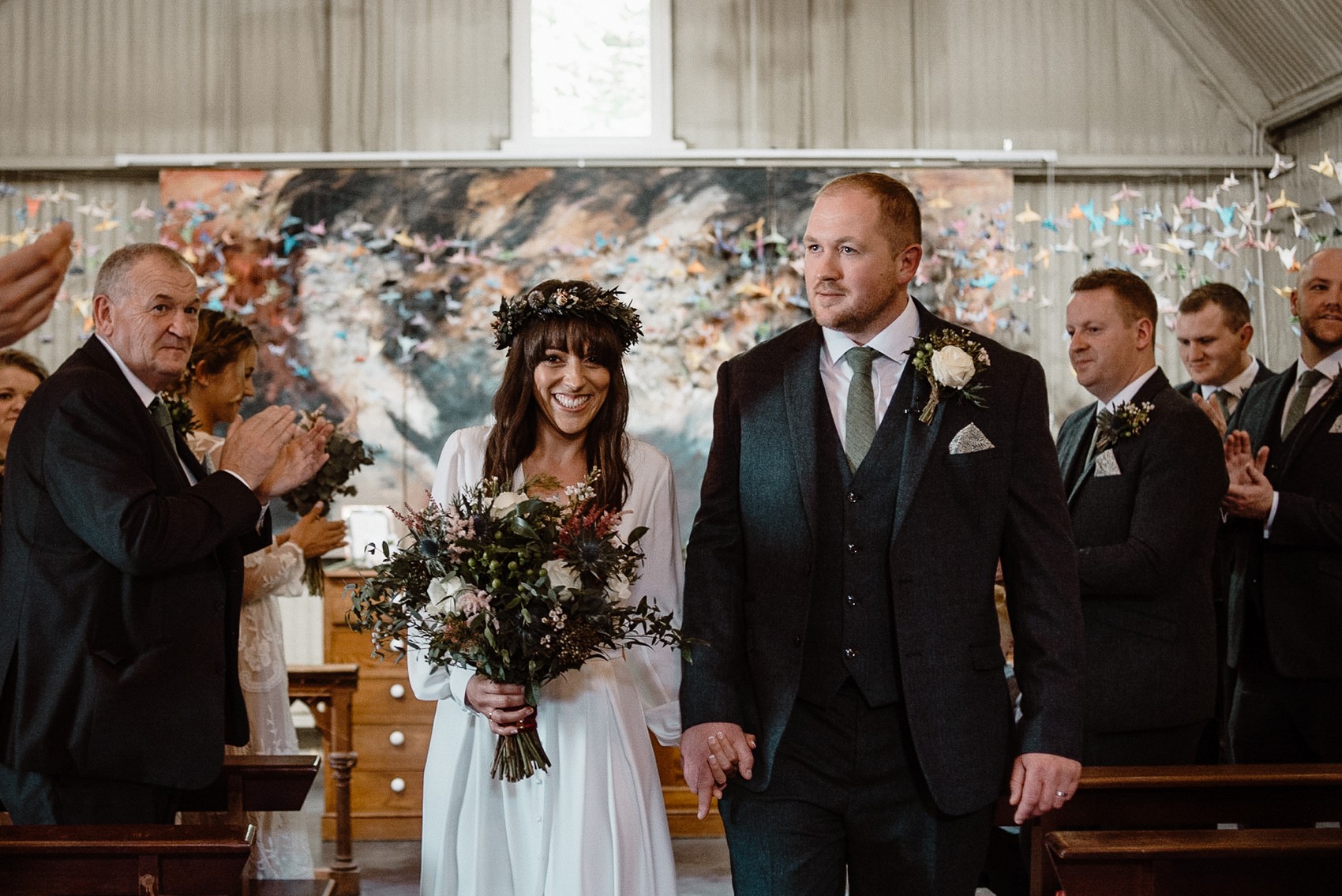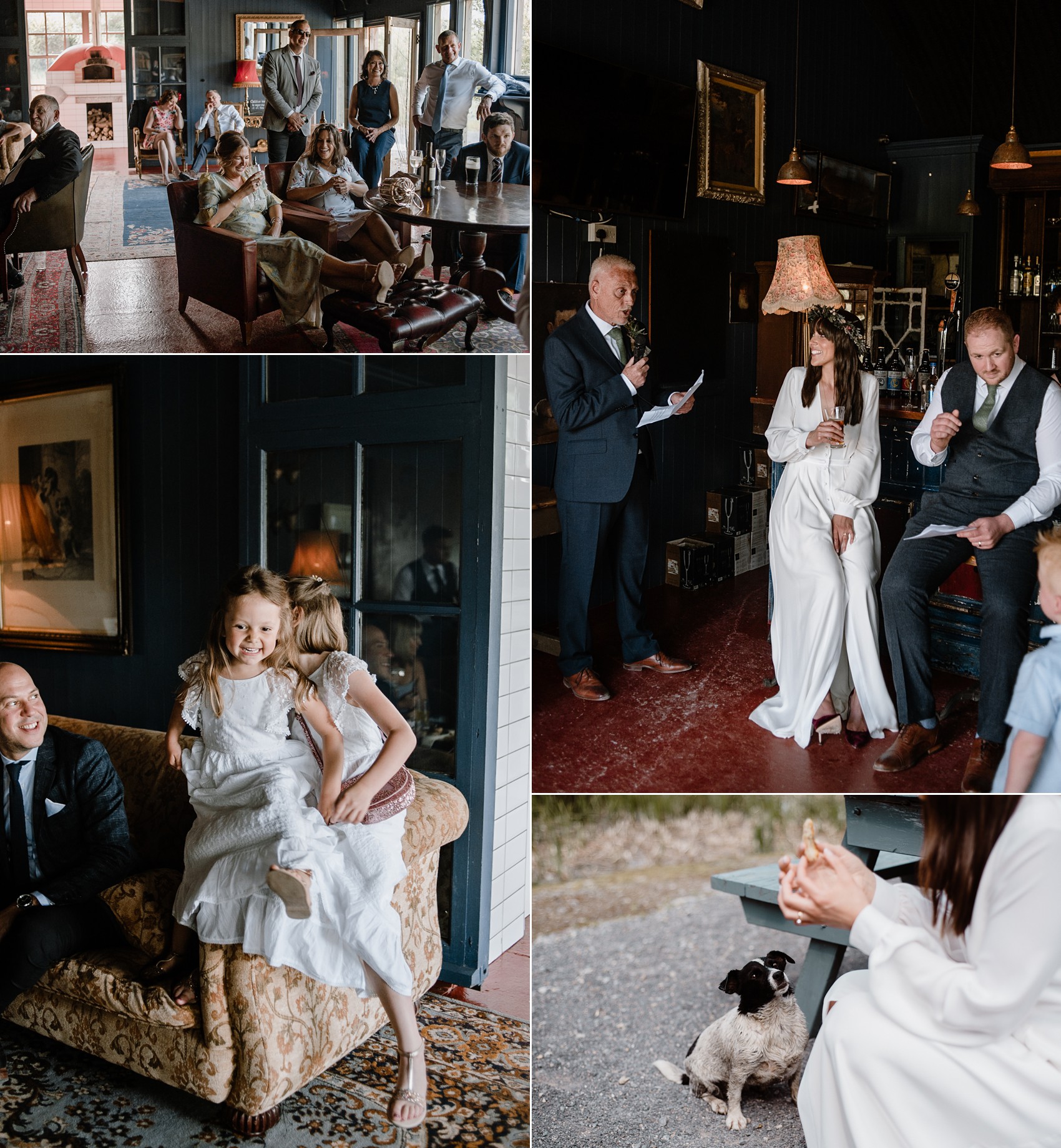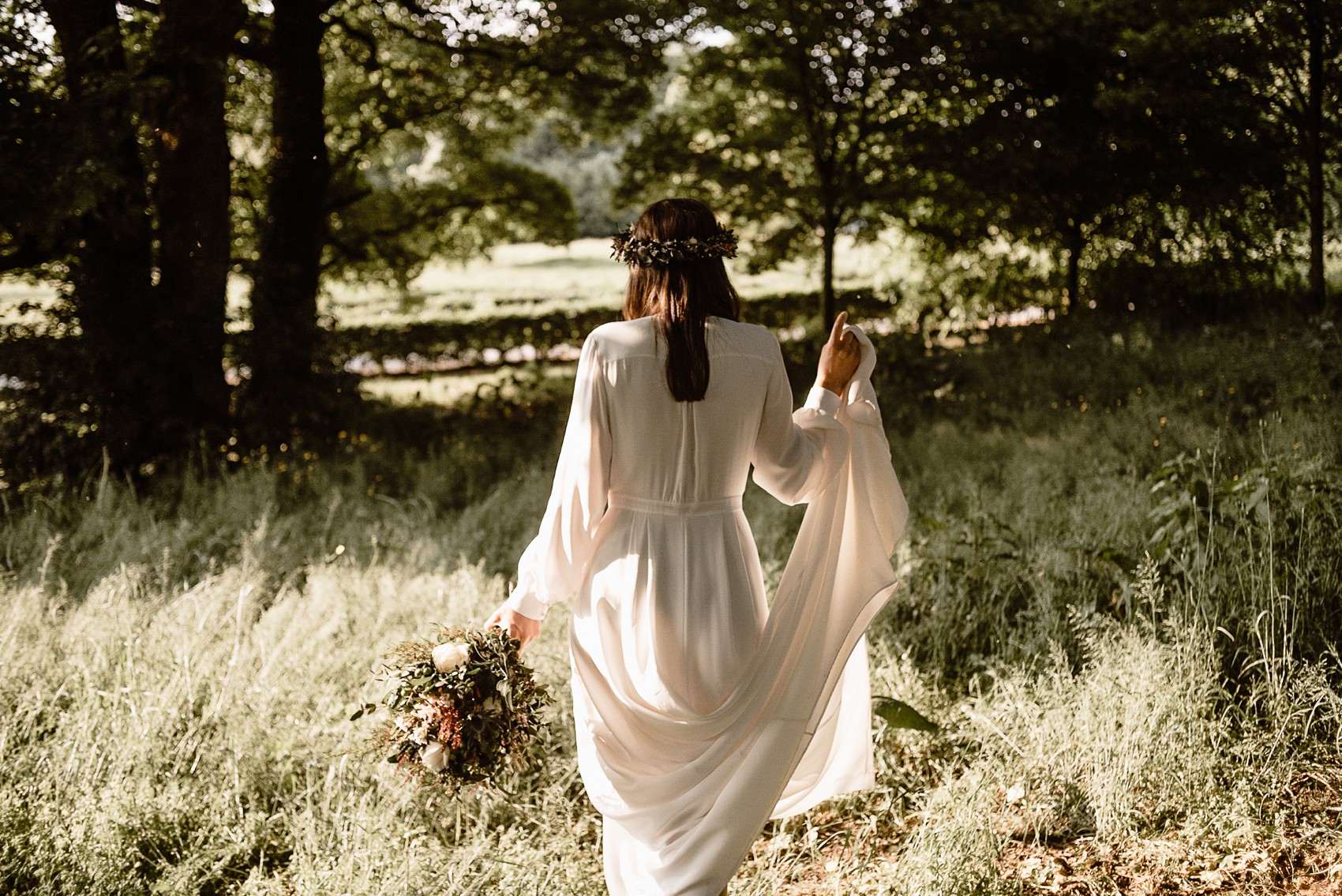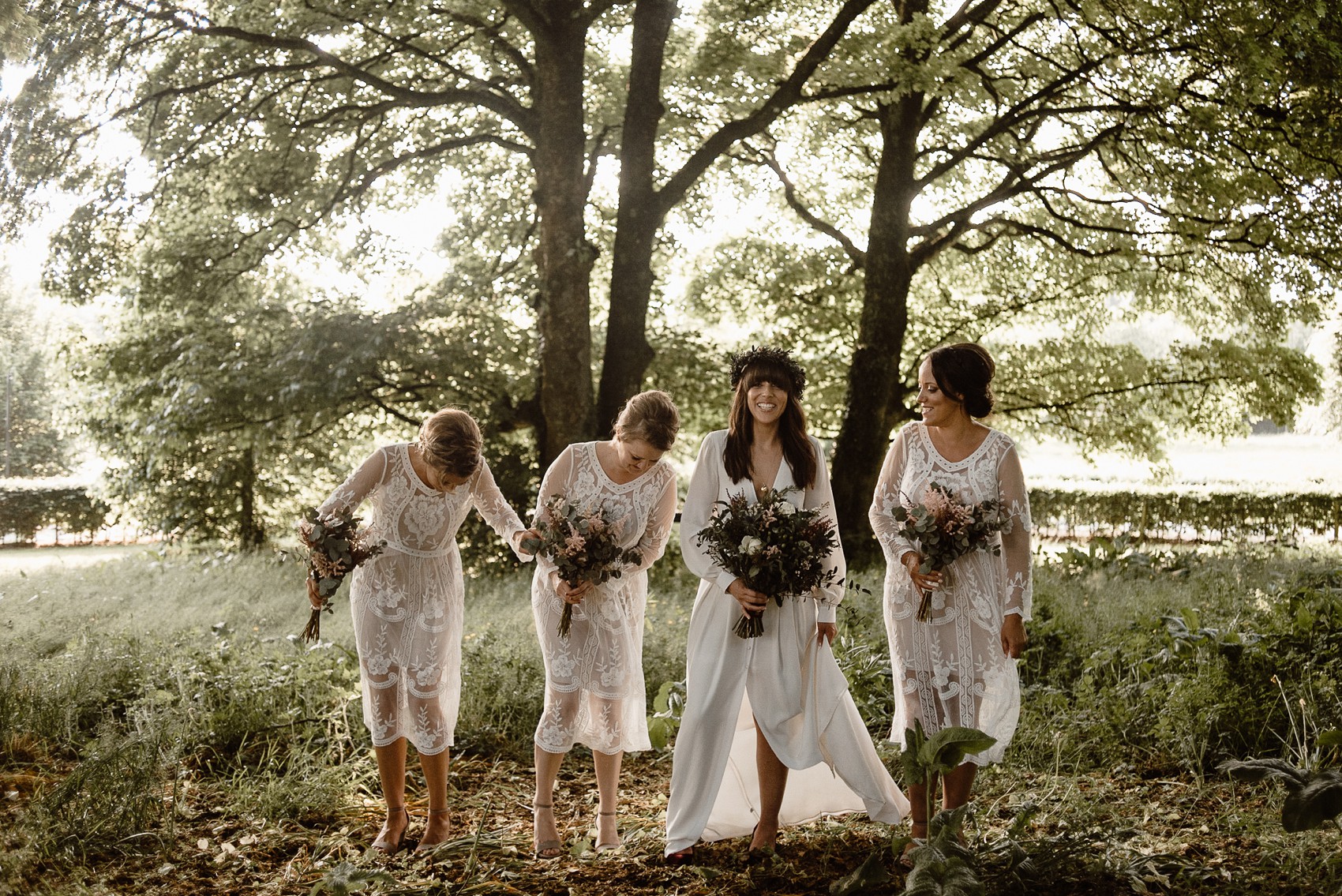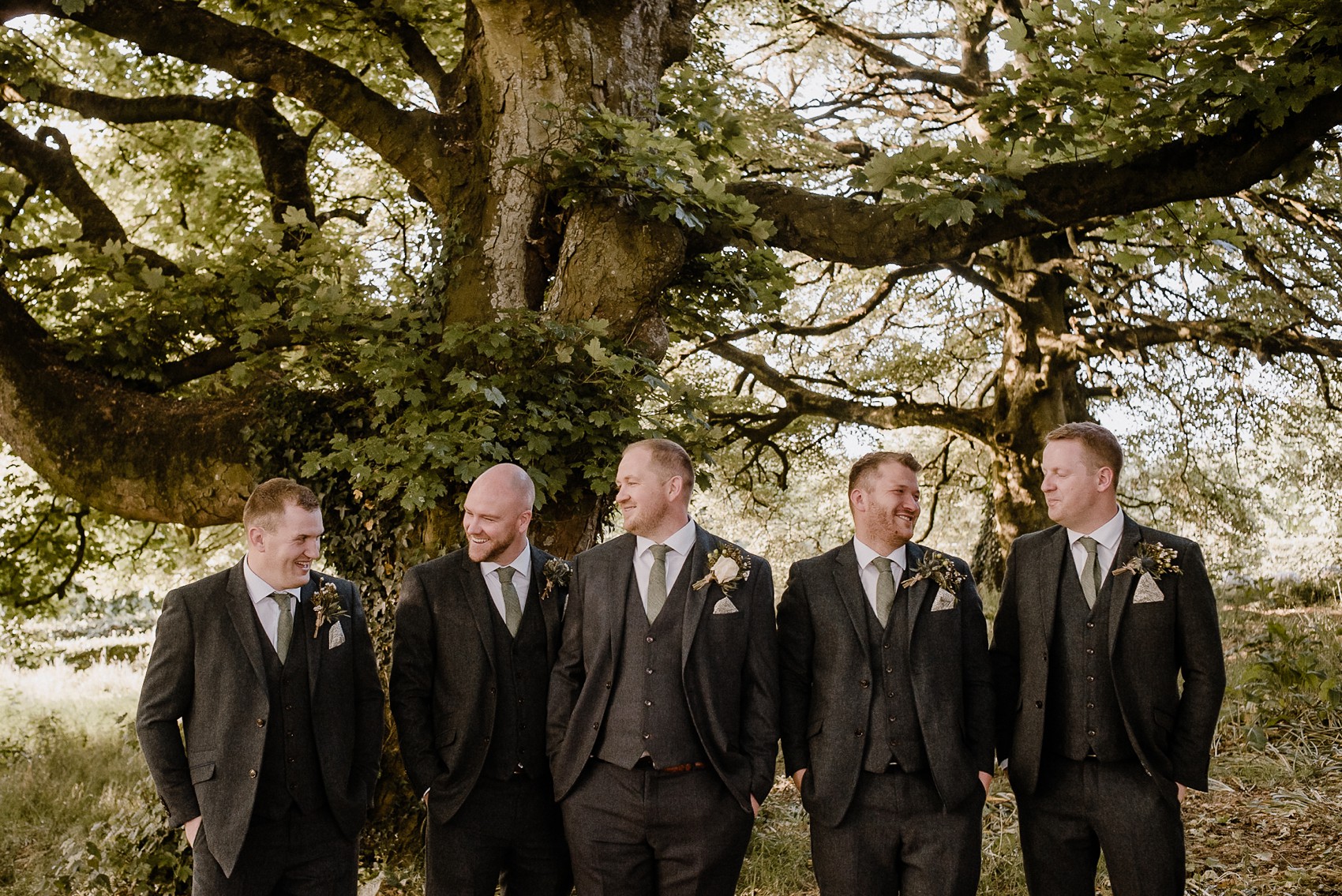 A chilled-out reception awaited the guests, with plenty of time to relax by the lake and enjoy drinks in the fresh air before heading to the barn for dinner.
"There were parts of our wedding that could be considered untraditional; having speeches in the boathouse before the meal in the main barn being one of those things. I wanted to take the pressure off the guys. None of them are natural public speakers and it was so lovely to do it in an environment where everyone was sitting around relaxed. It also meant that they could enjoy the meal without the fear of having to stand up formally in front of everyone."
The stationery was also created by the bride.
"I designed our save the dates and wedding invites and printed them on Printed.com. We used a website for all the details. I couldn't recommend appycouple.com enough. We also used the website to share a selection of Kelly's photos with our guests."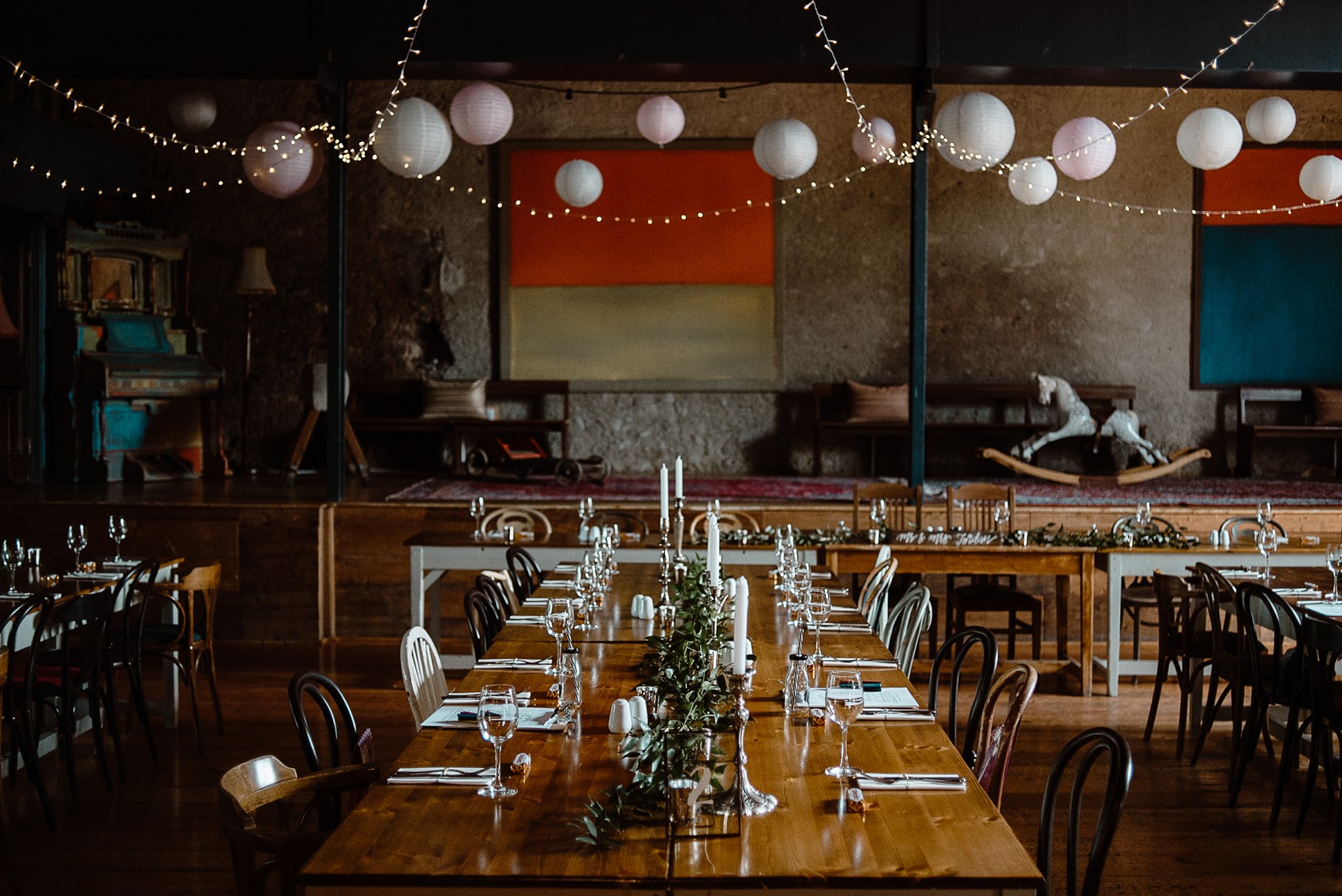 The in-house caterers provided the wedding dinner and, in place of dessert and wedding cake, the guests were treated to fresh doughnuts from Rosehip Café & Bakery and Tunnock's Caramel Wafers.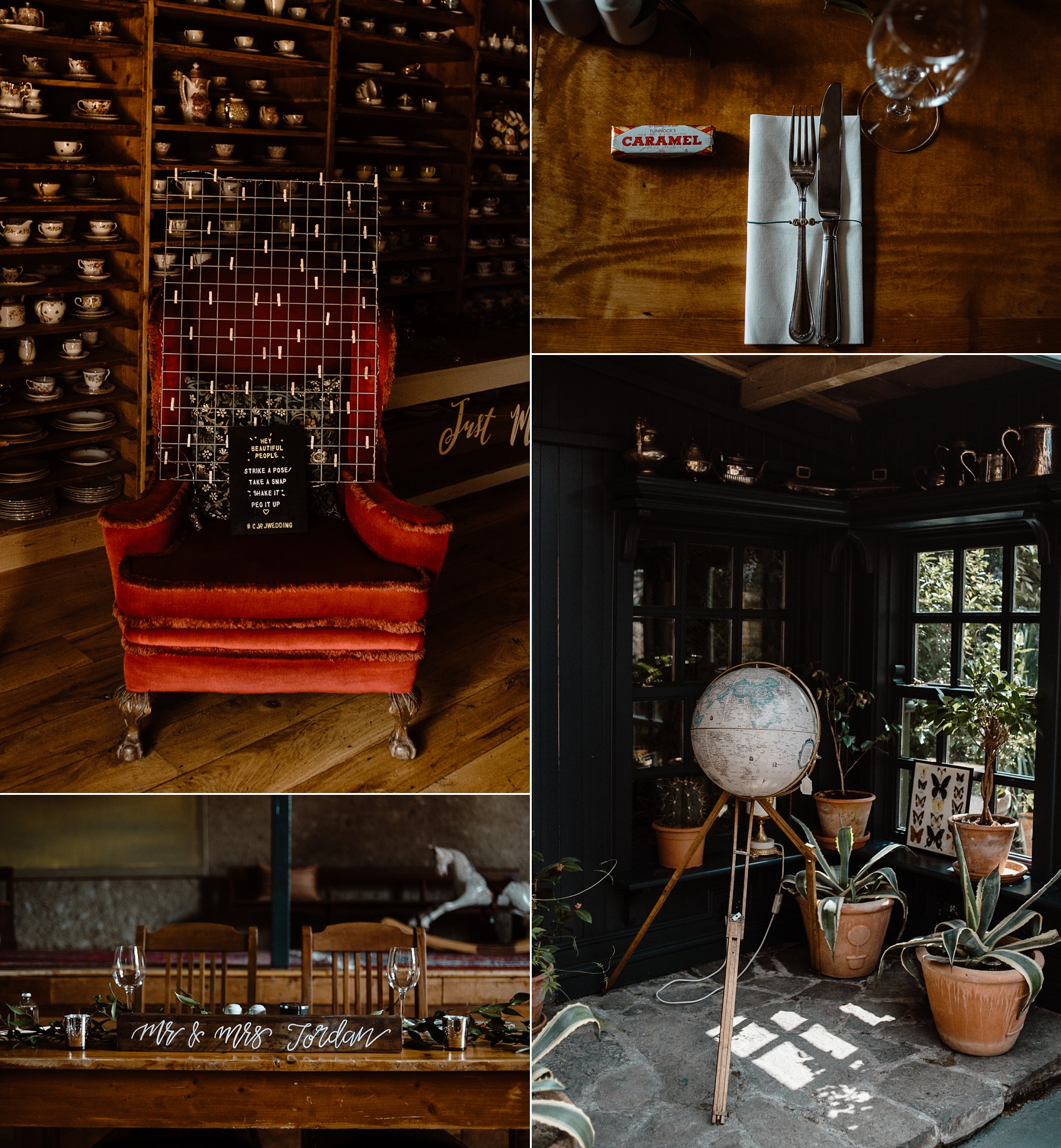 "We decided that cake was an expense we could pass on. That being said, I bloody love doughnuts. So we went to a bakers local to CJ's family in Banbridge and they arranged to cater doughnuts instead of a wedding cake. We had classic jam, apple (my favourite) and salted caramel (CJ's choice). They looked great, went down a storm and all at a fraction of the price of a traditional cake."
"For favours we had Tunnock's Caramel Wafers. I always get them when we go over to Northern Ireland. Me and one of my bridesmaids also made little letter beaded name bracelets that doubled up as a name place."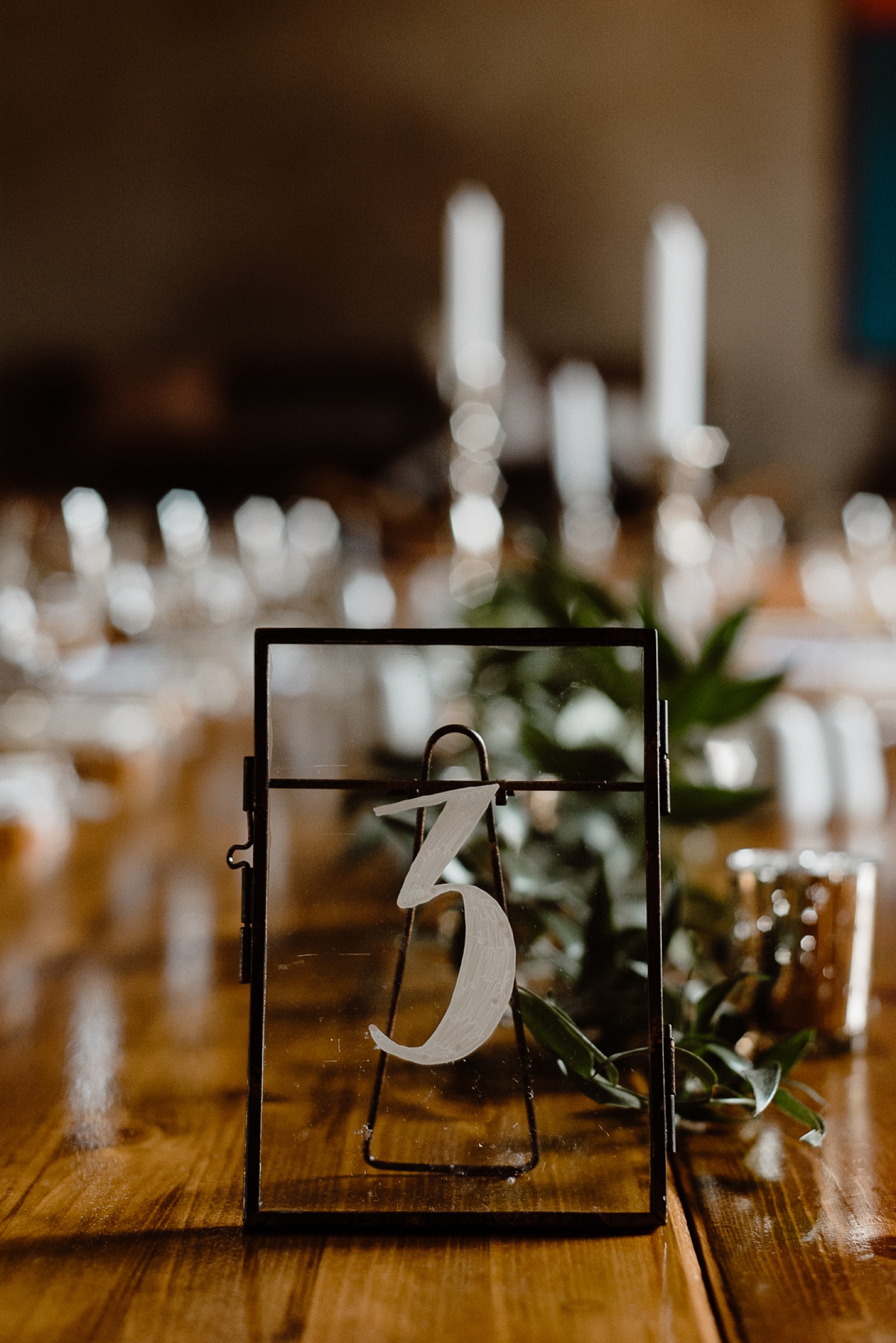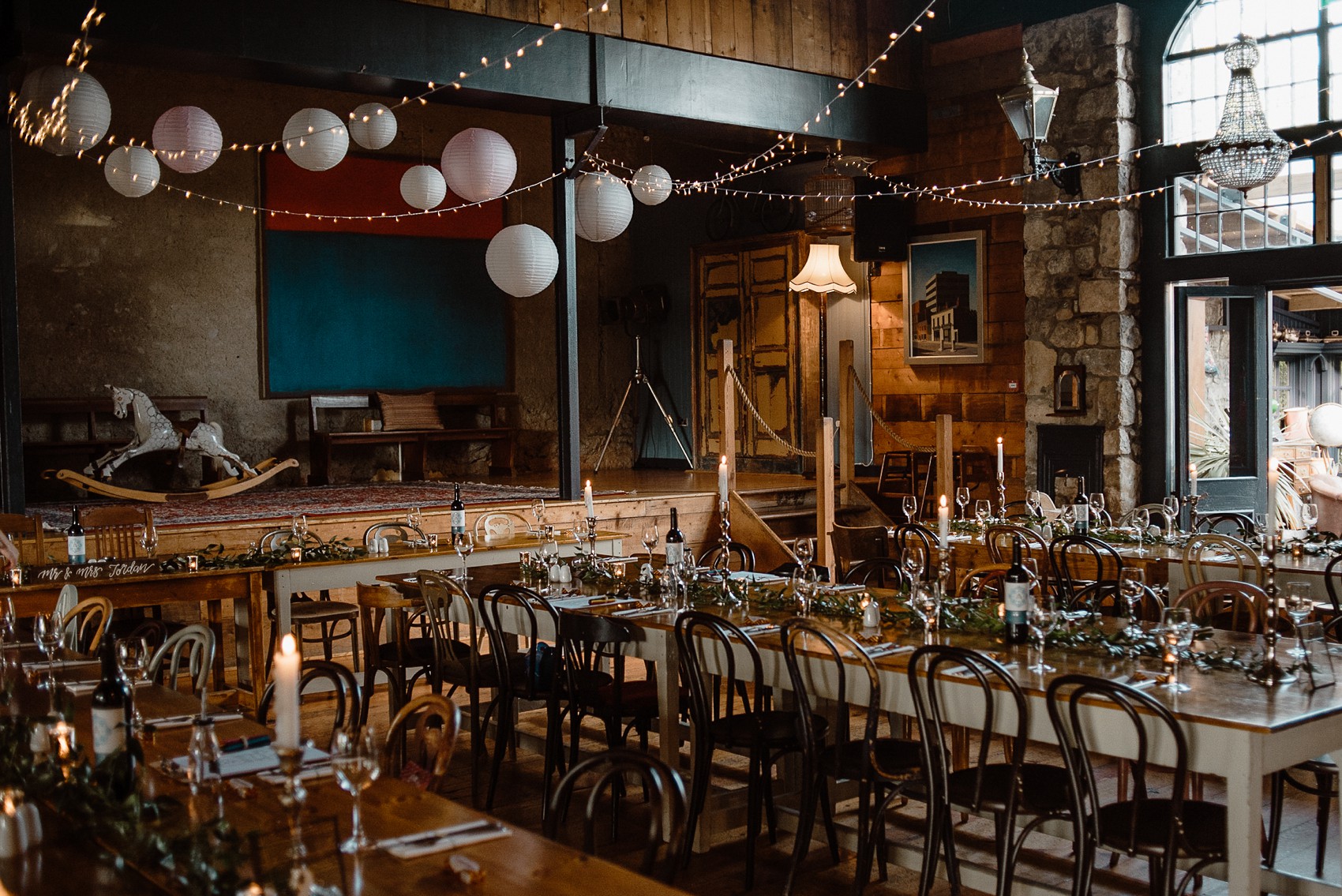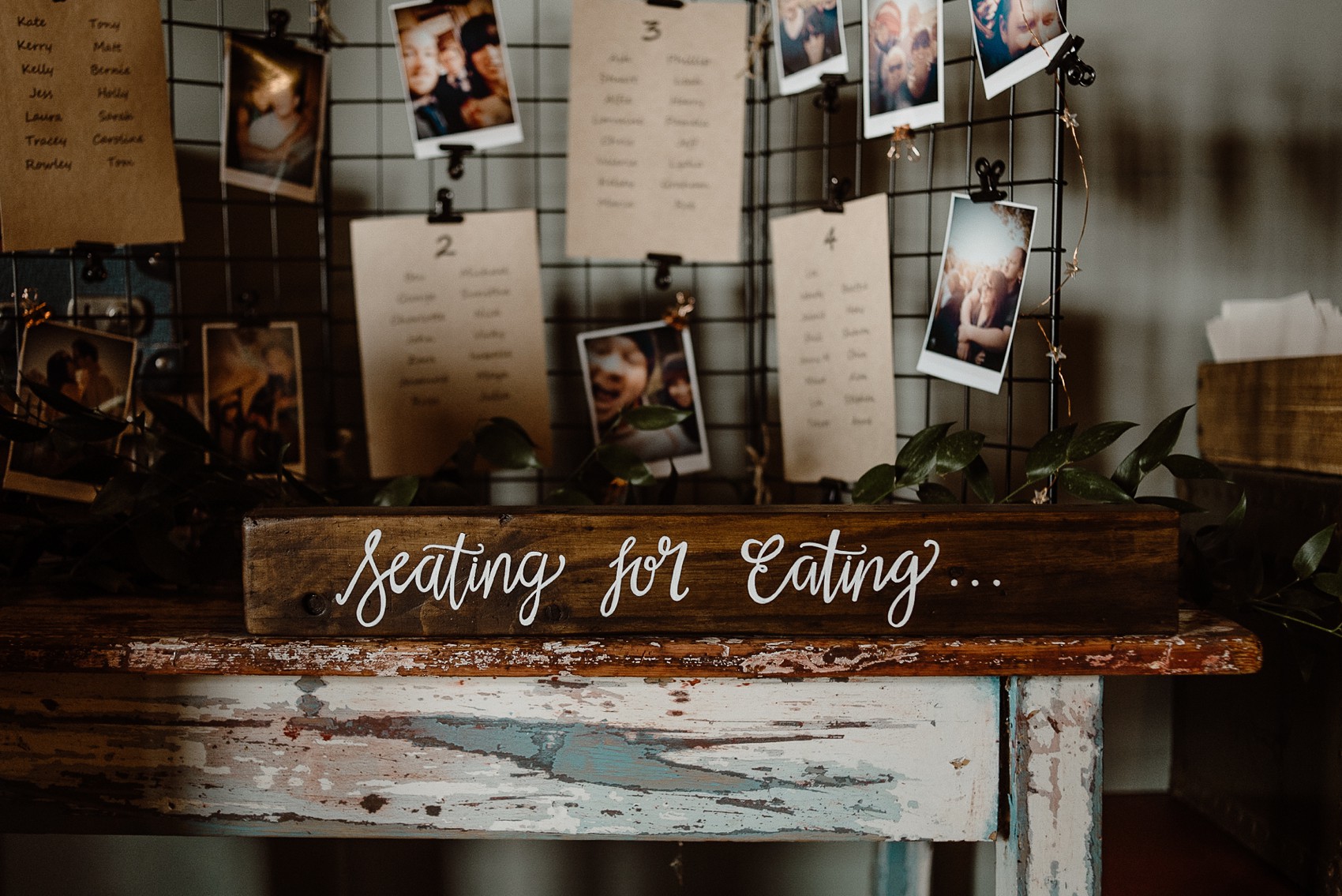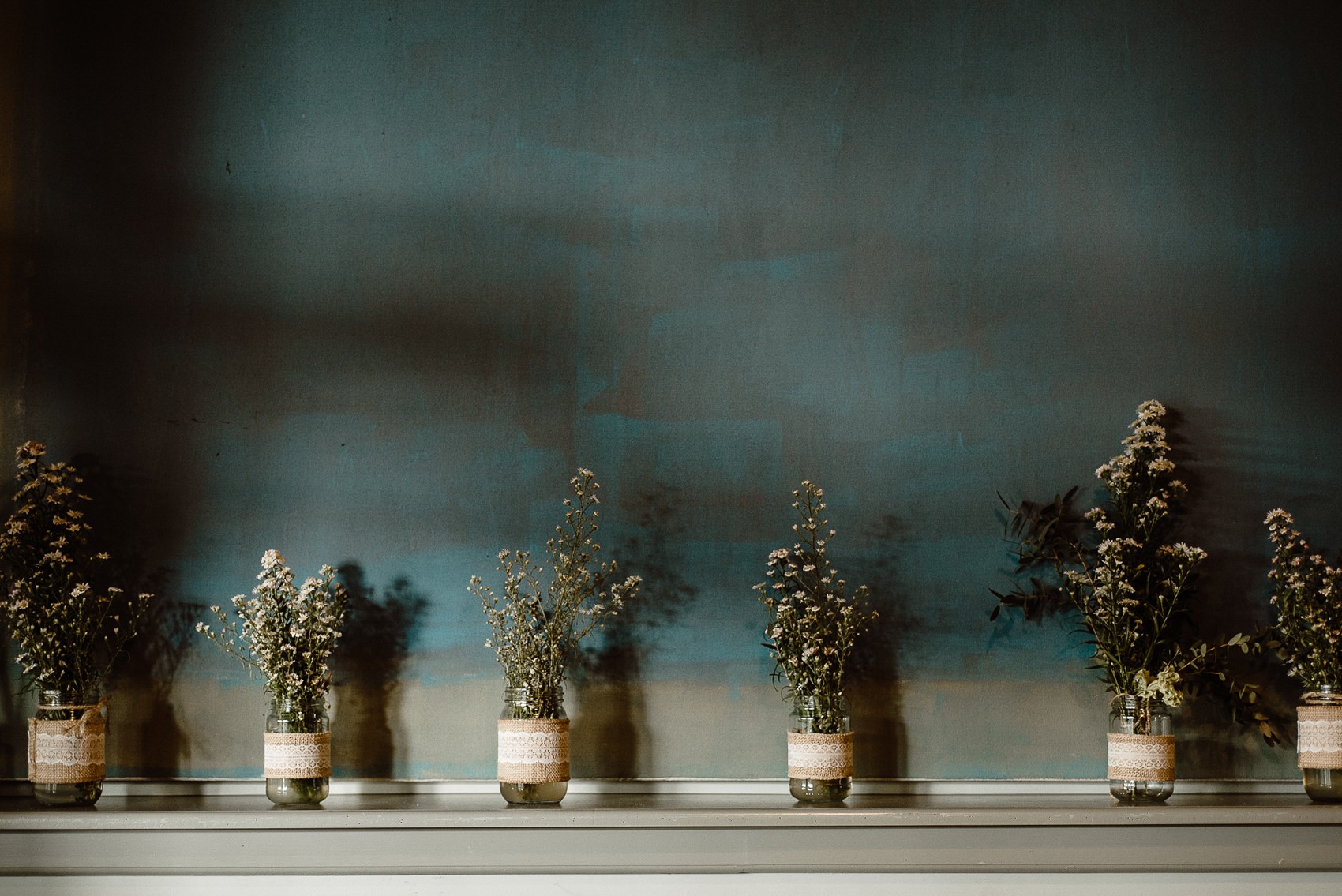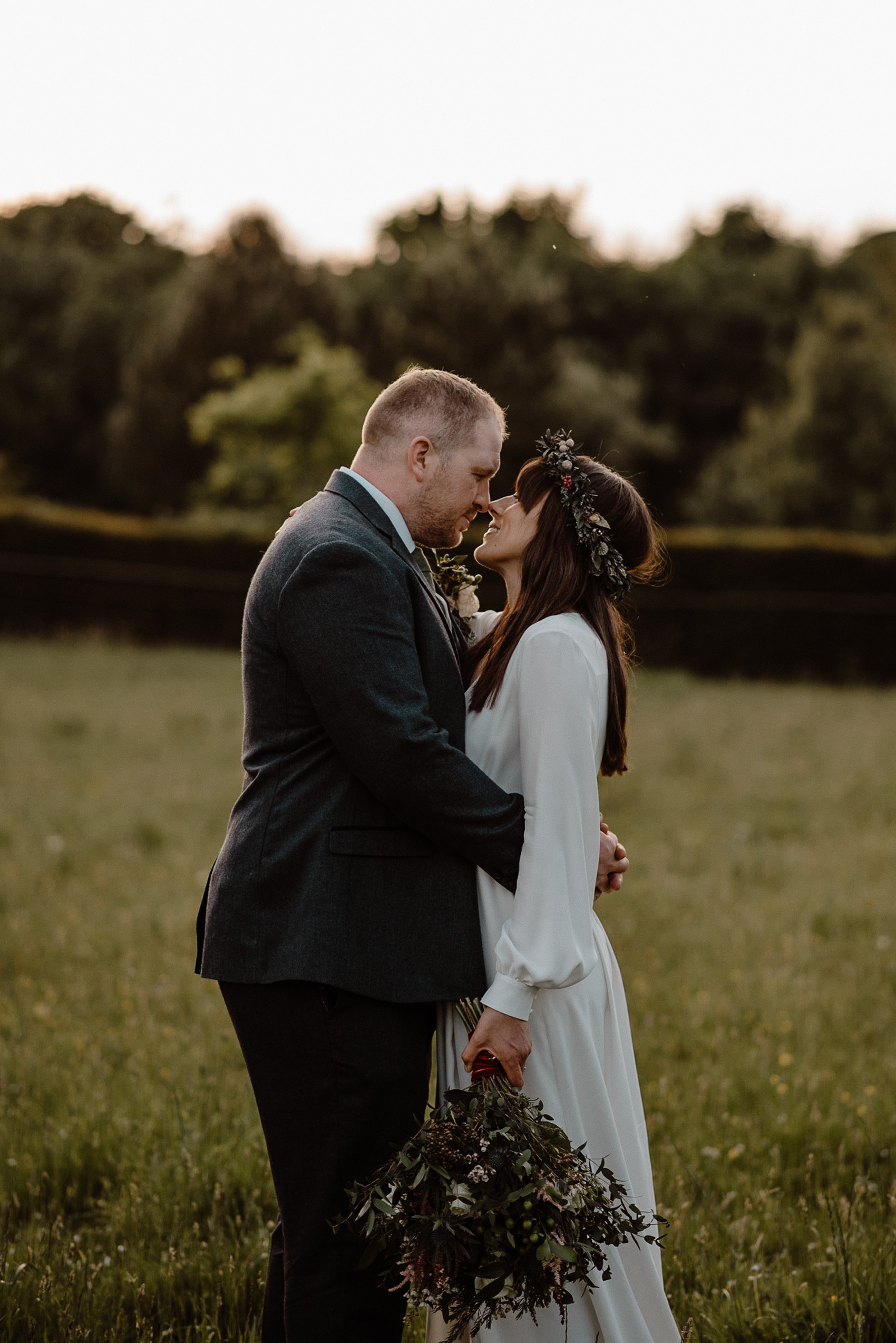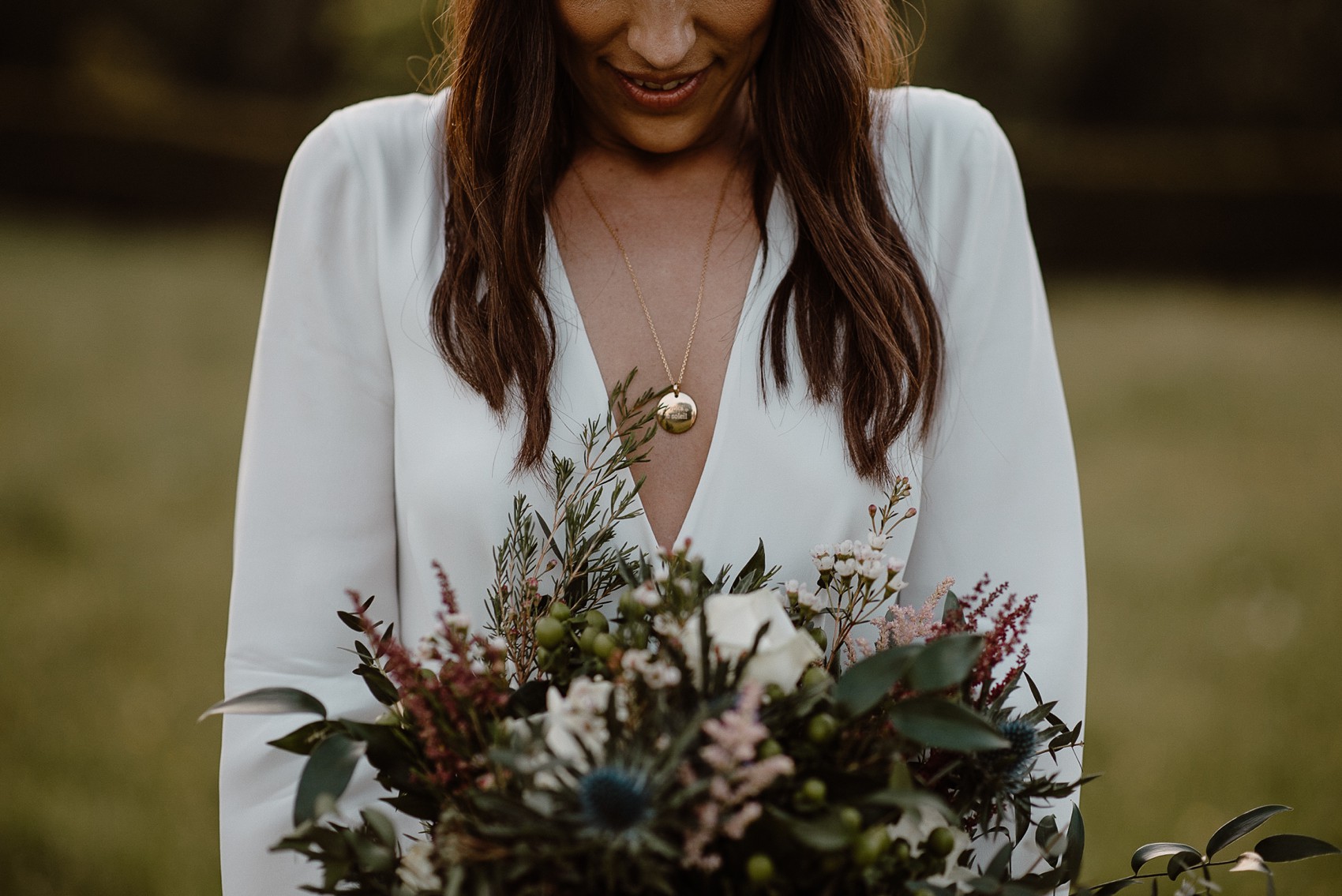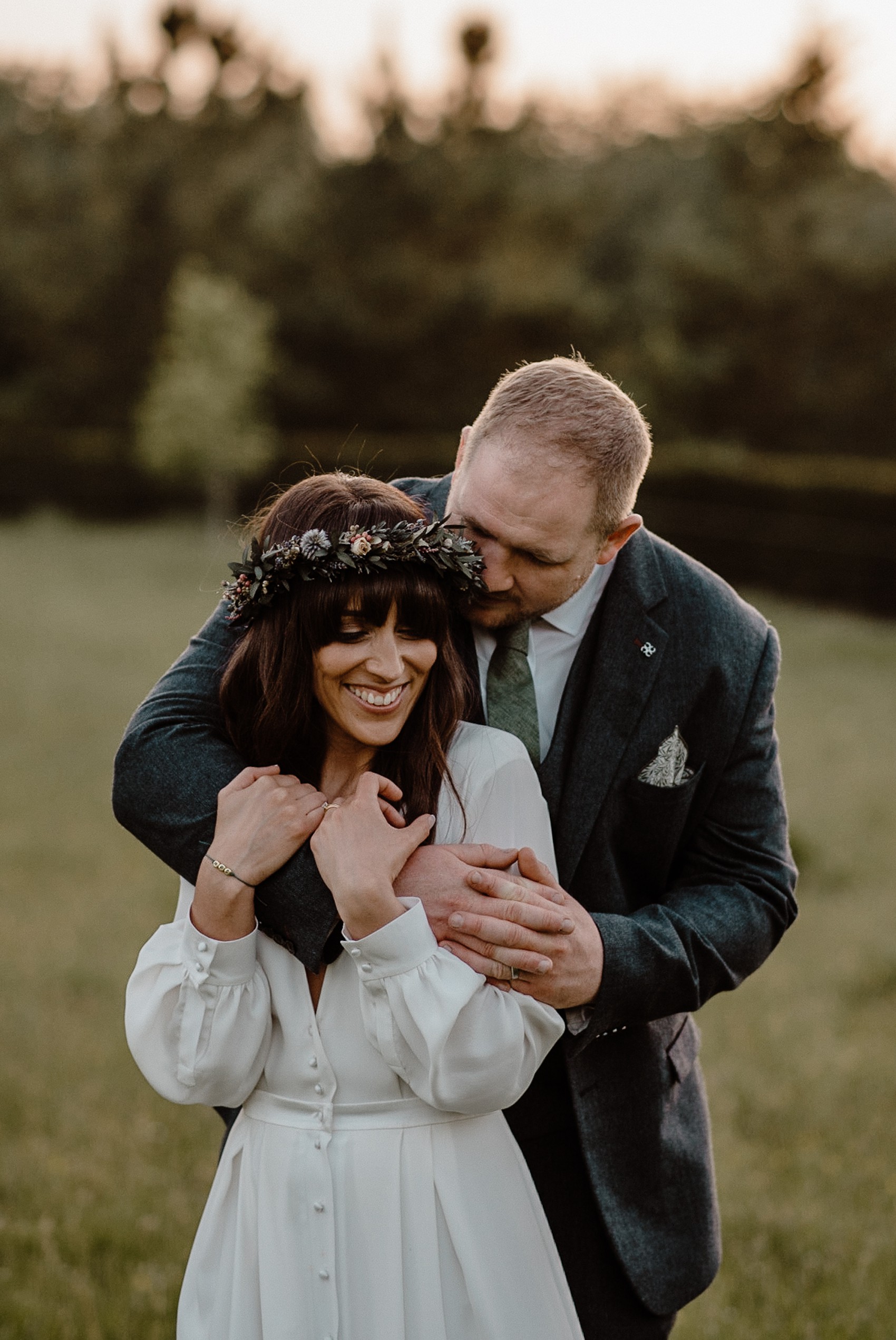 The evening party kicked off under the magical fairy lights with live music from Sugartown Road.
"We chose them because of their diversity. We wanted a band that all the wedding guests could enjoy. We didn't give them a song list they just read the room. I spent most of the night on the dancefloor!
Words of Wedded Wisdom
"It is your day. Do you! Lots of people will have an opinion on how you should or shouldn't do it but the saying 'In twenty years, you'll regret the things you didn't do, rather than the things you did' rings true here. It is your wedding and you only get to do it once so make it yours."
"Also… just relax. The night before and the day of, if something goes wrong it will be too late to change it. So just roll with the day. Enjoy every moment. Take time to just absorb it a little bit because after months of preparation it will go all too quickly."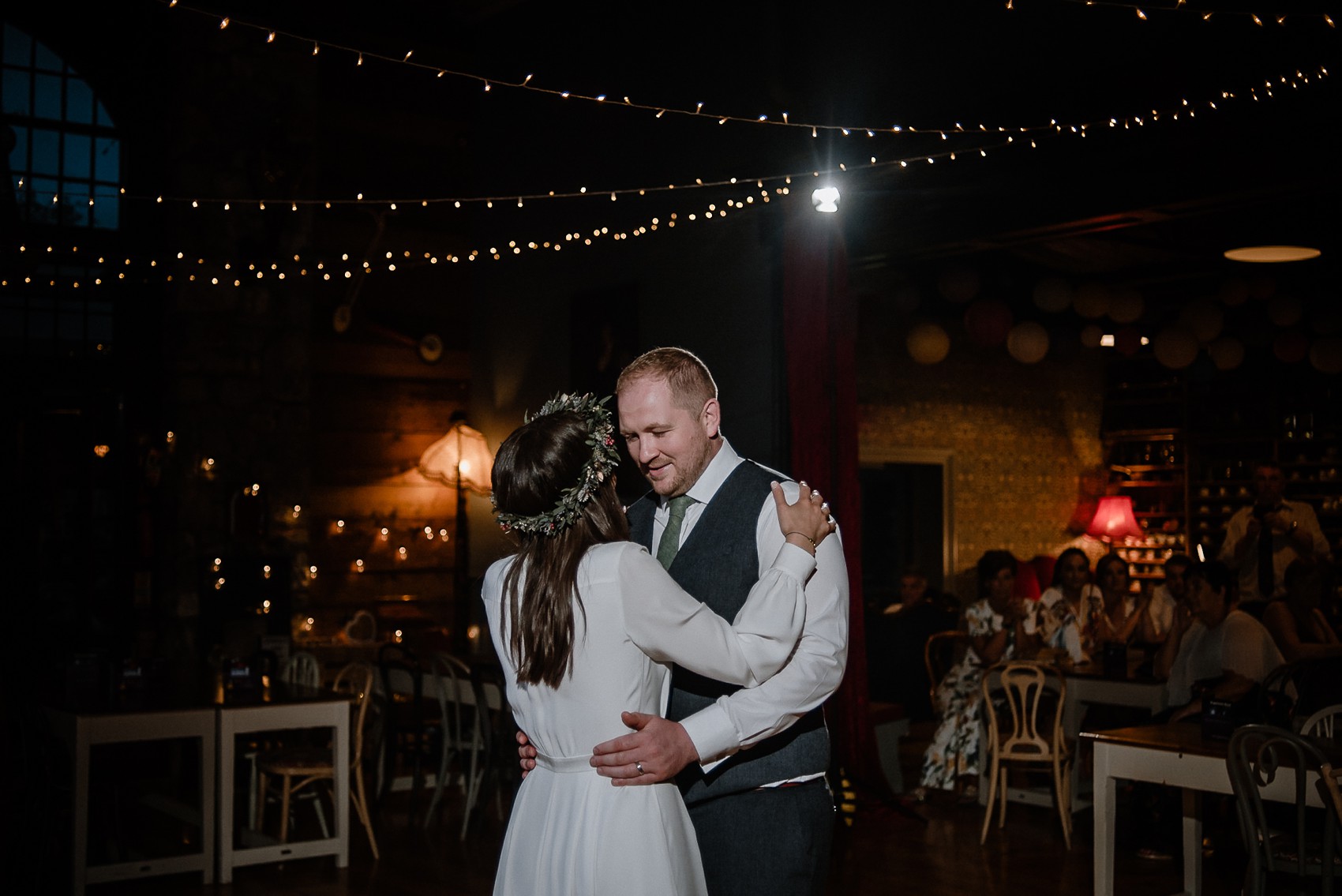 Ah, Rachael and CJ, I love every single one of these photographs and how you crafted a beautifully personal day with such elegant simplicity. Thank you for sharing it with us all, and thanks to to your photographer Kelly McAllister. For more forest wedding inspiration, sit back and enjoy these beauties on Love My Dress.
Ele xx