Not only have I been completely charmed by today's couple and their amazingly vibrant autumn wedding, I've also been equally charmed by the thoughtful, heartfelt words shared throughout by the brilliant bride.
With that said, let's get right to it and introduce you, shall we? Meet Gem, an advertising account manager for a magazine company, and Nick, an accountant. They were married on the 22 September 2018, in a ceremony held  at King Edward Street Unitarian Chapel, followed by a reception at Siddington Village Hall, both in Macclesfield, Cheshire.
Images by Stella Photography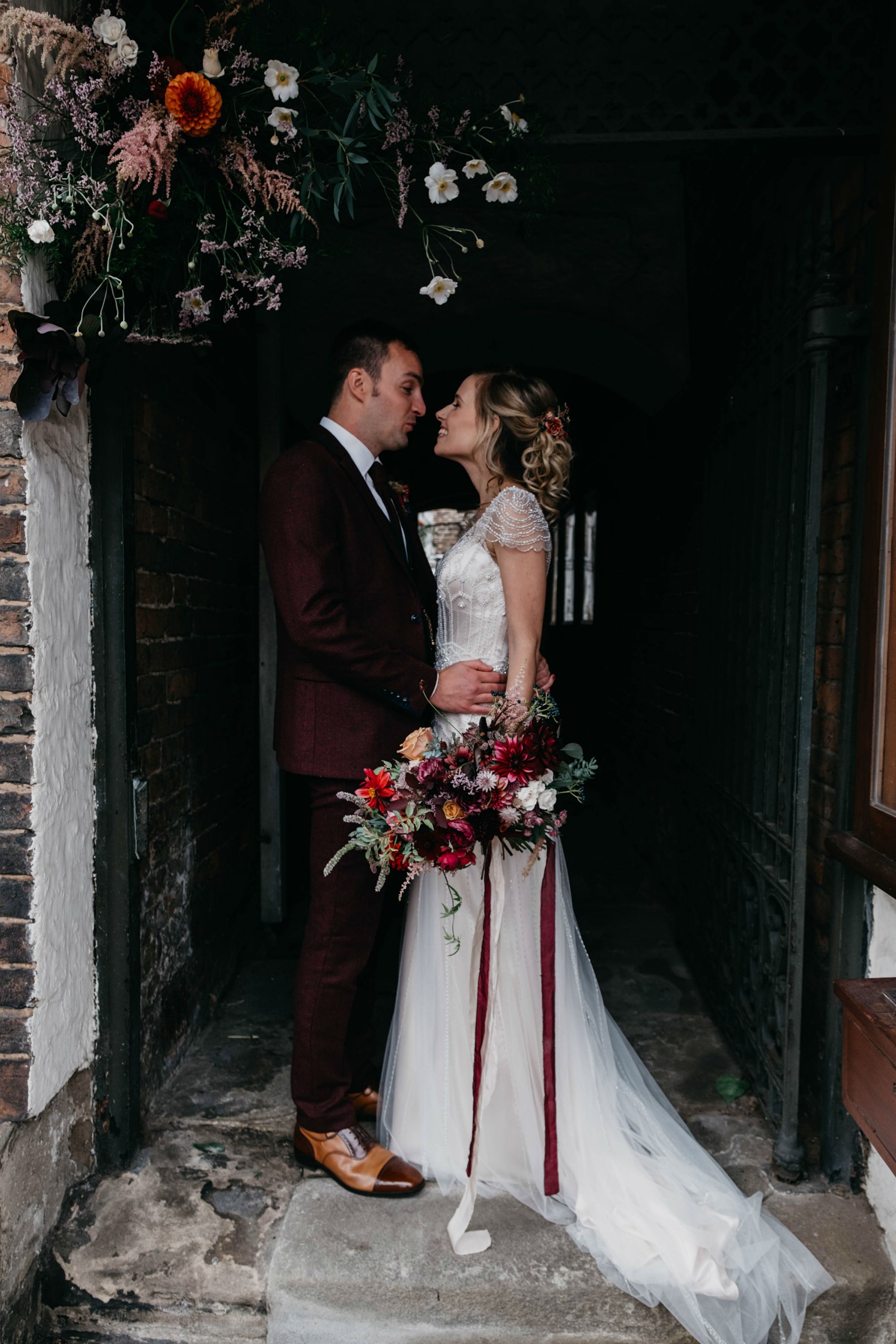 "It was very important to us to get married close to our home town – we really love the area, and also felt this made it as easy as possible for our families to get involved, very important with a DIY wedding!"
"We just wanted for the day to feel like us; we both really love strong colours, and with our wedding taking place the day before the autumn equinox, we decided to take inspiration from the season, as we really love that time of year. We started thinking about lots of deep oranges, greens, golds and berry tones, with an autumnal woodland feel, and as time went on we ended up incorporating lots of other deep jewel colours too. It ended up being a very bright wedding!"
In her hair, Gem wore an exquisitely crafted ceramic flower hair comb in beautiful autumnal colours, made by Truffle & Podge.
"Evka Modern Vintage was my hair and make-up artist, and a true wonder woman who made me feel like the best possible version of myself, and worked miracles with my naturally very straight, flat hair! Assisted by stylist Sarah Elliot MUA."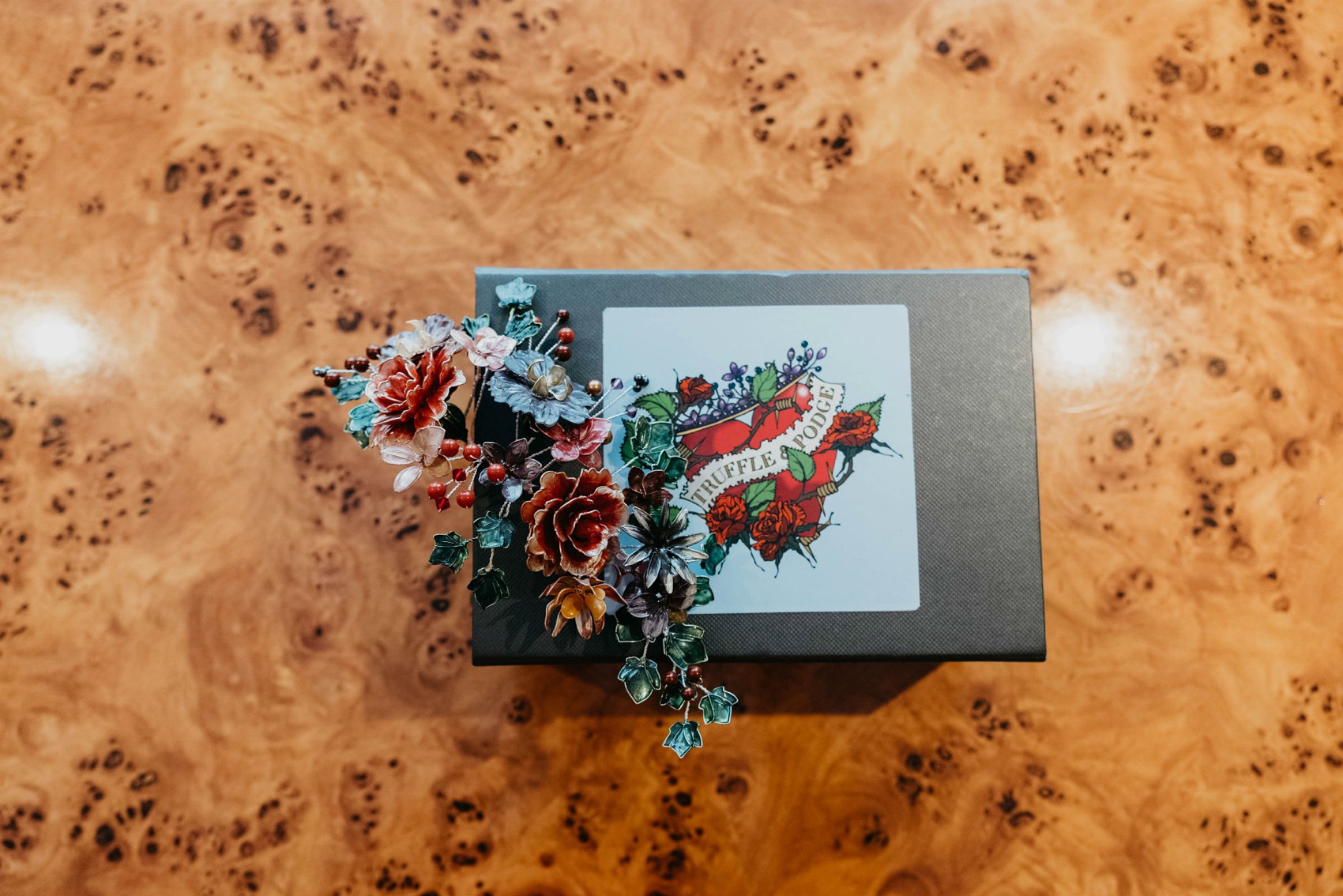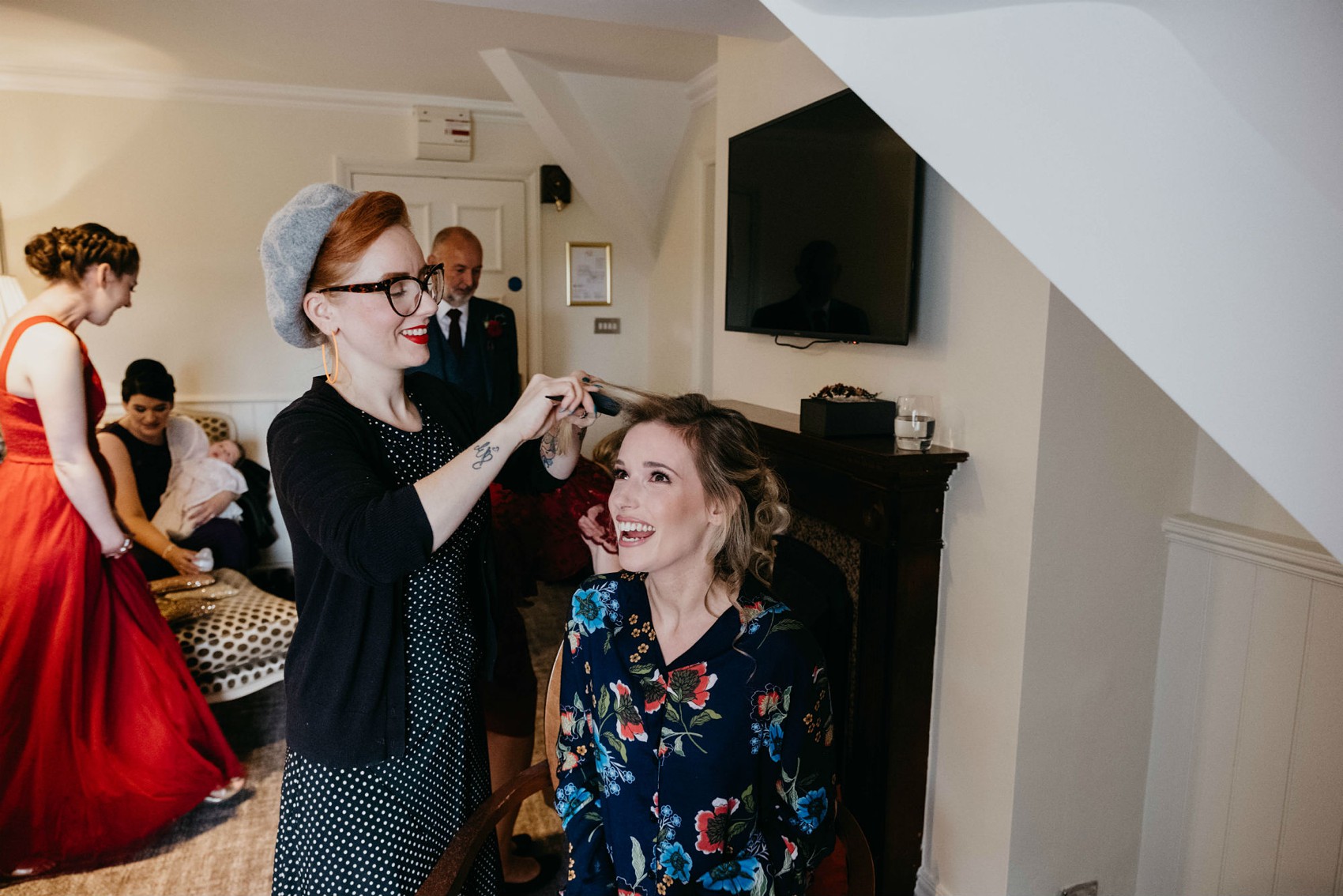 Gem's bridesmaids looked beautiful in a variety of jewel-toned dresses in deep red, green, purple and blue, which they chose at Little Mistress, Mango, ASOS, Ghost, and Issa at House of Fraser. They wore these lovely dresses with their own choice of metallic shoes, and fresh flowers in their hair.
"All the girls are so different, and I didn't want anyone to wear something they didn't like and feel uncomfortable. I wanted them to feel their most fabulous selves! As there were so many of them, I felt like a mismatched effect would work best anyway."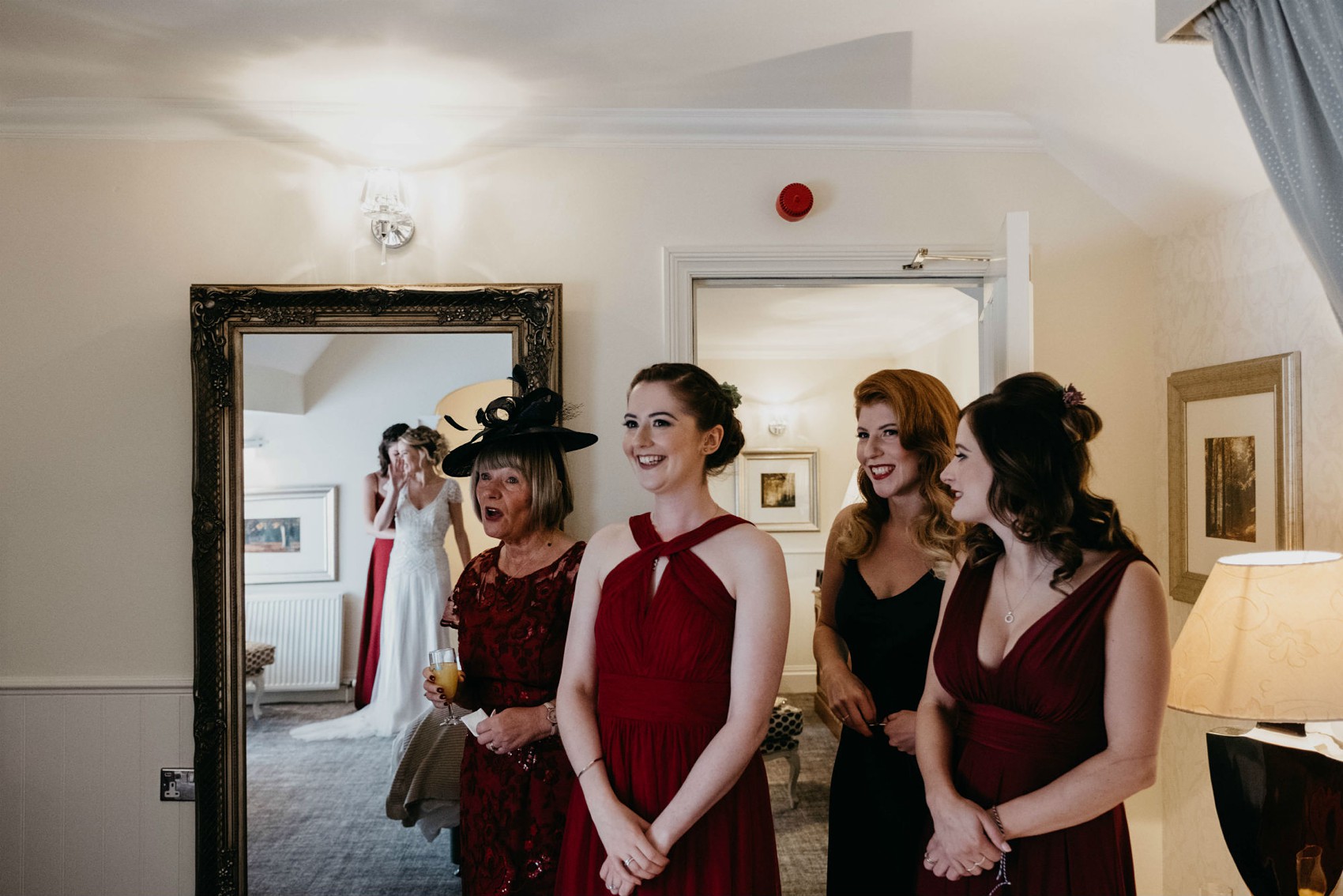 Gem struggled when it came to choosing her wedding dress, thinking she would love the experience but actually finding it overwhelming. Going on a relaxed trip with her bridesmaids helped to take the pressure off, and it was on this trip that she found just the right dress – 'Ettia' by Maggie Sottero.
"One of my oldest friends pulled 'Ettia' out for me to try, and I didn't think anything of it until I had it on, at which point I realised I really liked everything about it, and it absolutely felt like something that I would wear. I don't know if I had 'the moment' (I didn't cry and neither did anyone else!), but I just absolutely loved wearing it and felt so comfortable and happy in it. It also felt like a practical choice for our small chapel ceremony and our village hall reception."
Gem looked like a dream in this glorious, satin and tulle era-inspired dress, with its pearl and crystal embellishment and pretty capped sleeves.
"I loved the fact it was a gorgeous, warm champagne colour, and adored the sparkle and the old school glamour of it. It has a really simple silhouette, with a gorgeous beaded tulle overlay and perfect little train (which made me feel so bridal!). On the day itself, I felt like a woodland fairy princess! I was comfortable all day, and could move and dance and jump up and down to my heart's content."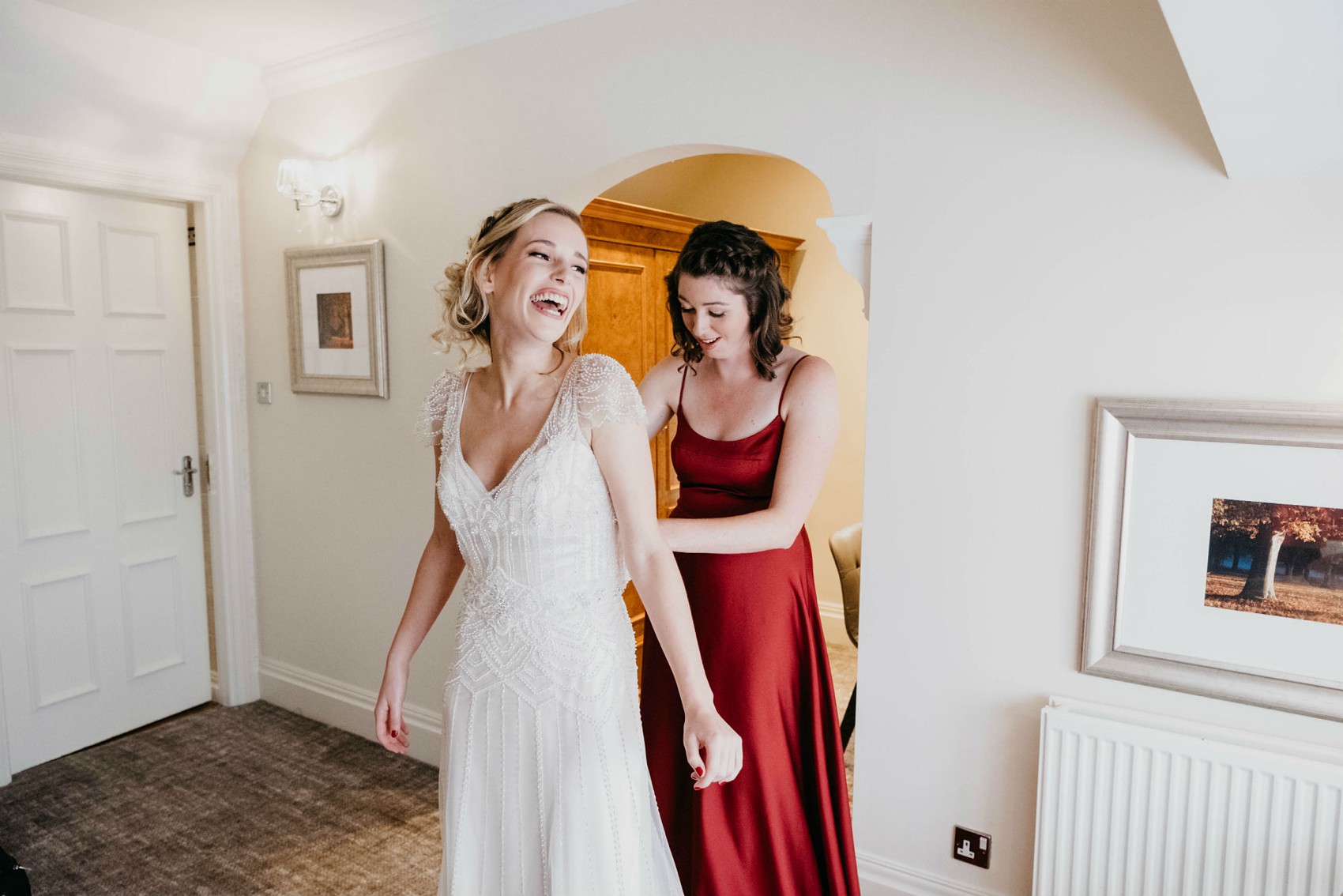 Gem's pretty shoes were by Rachel Simpson – the 'Gardenia II' design in ivory, her wedding day fragrance (a Christmas gift from her mum) was La Mia Perla perfume by La Perla, and for jewellery, she wore a very special heirloom piece.
"The only jewellery I wore aside from my wedding and engagement rings was Nick's late grandma's beautiful gold and garnet ring on my other hand. It was passed down to his mum, and she gave it to Nick to give to me when we got engaged. It's very special to me, and it meant a lot to be able to wear it on my wedding day. I also had a Threaded by Pooja glitter clutch with my new initials on."
Nick looked fantastic in his seasonally-hued three-piece suit, with contrasting waistcoat from Marc Darcy, which he wore with a burgundy tie from Dickie Bow, stylish shoes by Loake, and a pocket watch belonging to Gem's grandad, gifted to Nick by Gem's mum. Gem also presented Nick with silver and wood cufflinks by Justin Duance, to complement the wedding ring he would very soon be wearing.
"Right from the get-go Nick said that he wanted a burgundy suit. People kept thinking he was joking, but I knew he was deadly serious! He was right to stick to his guns on it whenever someone teased him about it, as on the day he looked amazing! So dapper, and I loved that it was a bit different."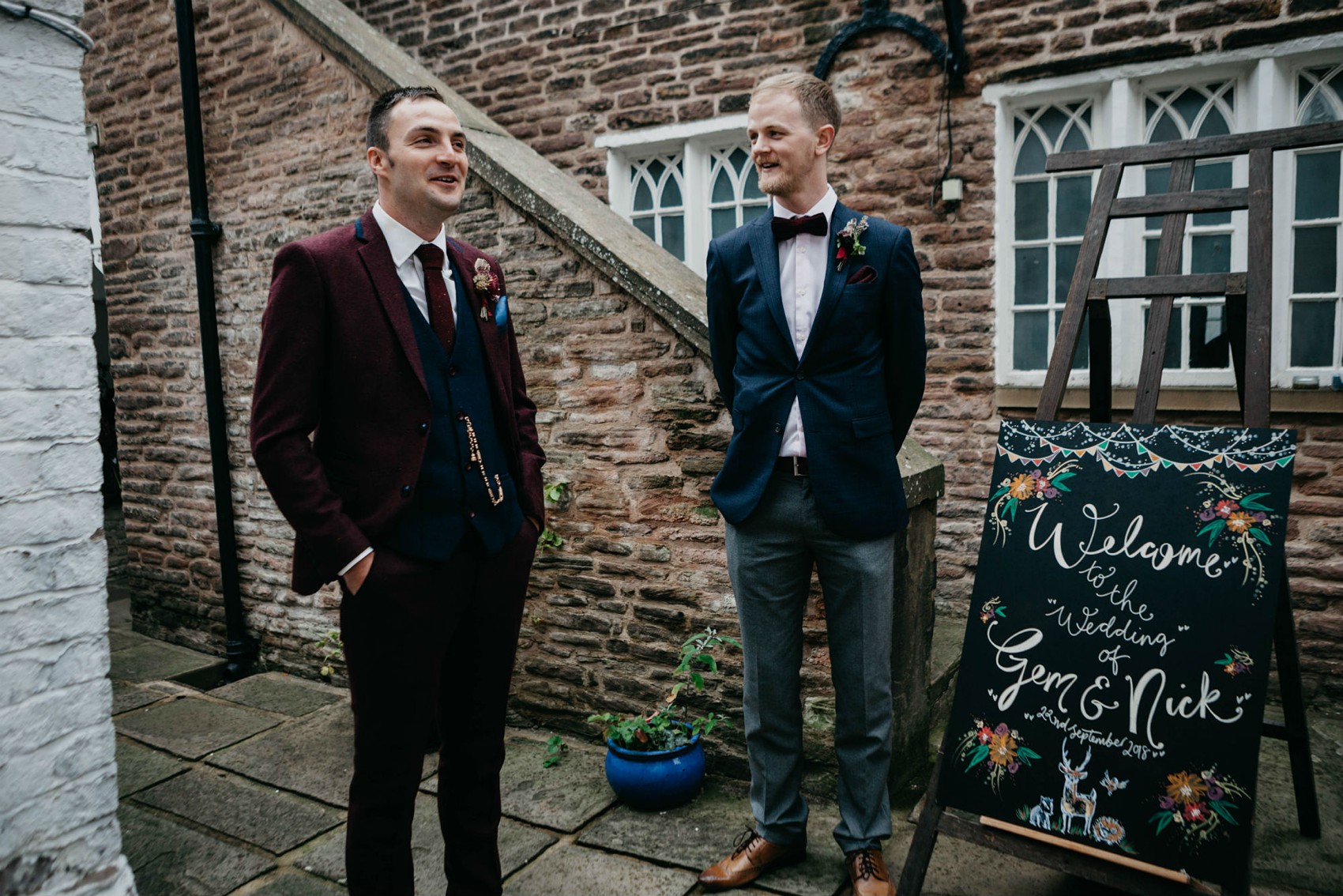 "We were pretty relaxed about the groomsmen. Our wedding wasn't at all formal or traditional, so we decided to save a bit of money by just asking them to wear their own suits (as long as they weren't black). We then bought them either bow ties or ties depending on their preference in a burgundy tweed that matched Nick's suit to tie it all together. They all really pulled it out of the bag and looked amazing, and I loved the mismatched, relaxed effect. They looked fab next to the bridesmaids too!"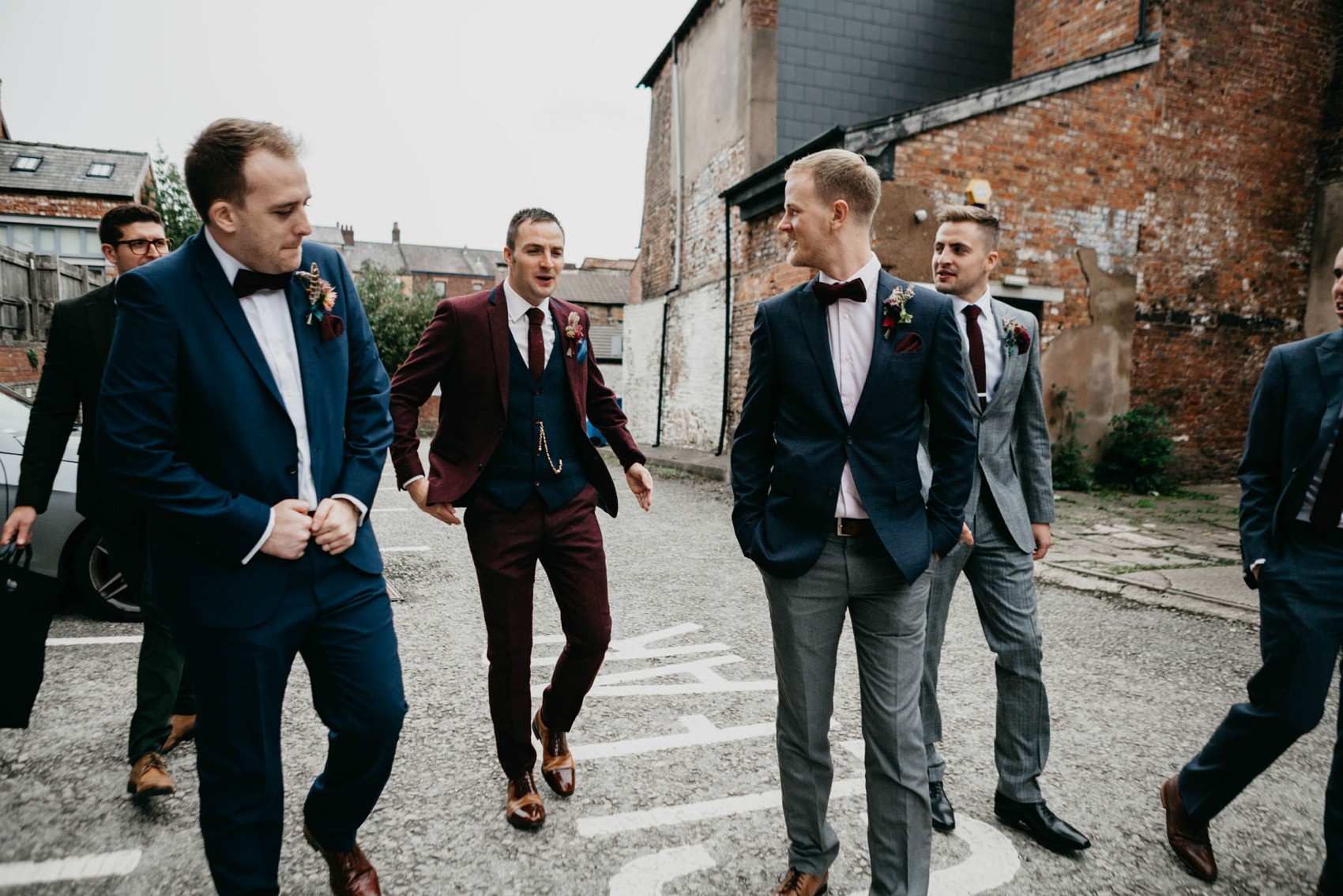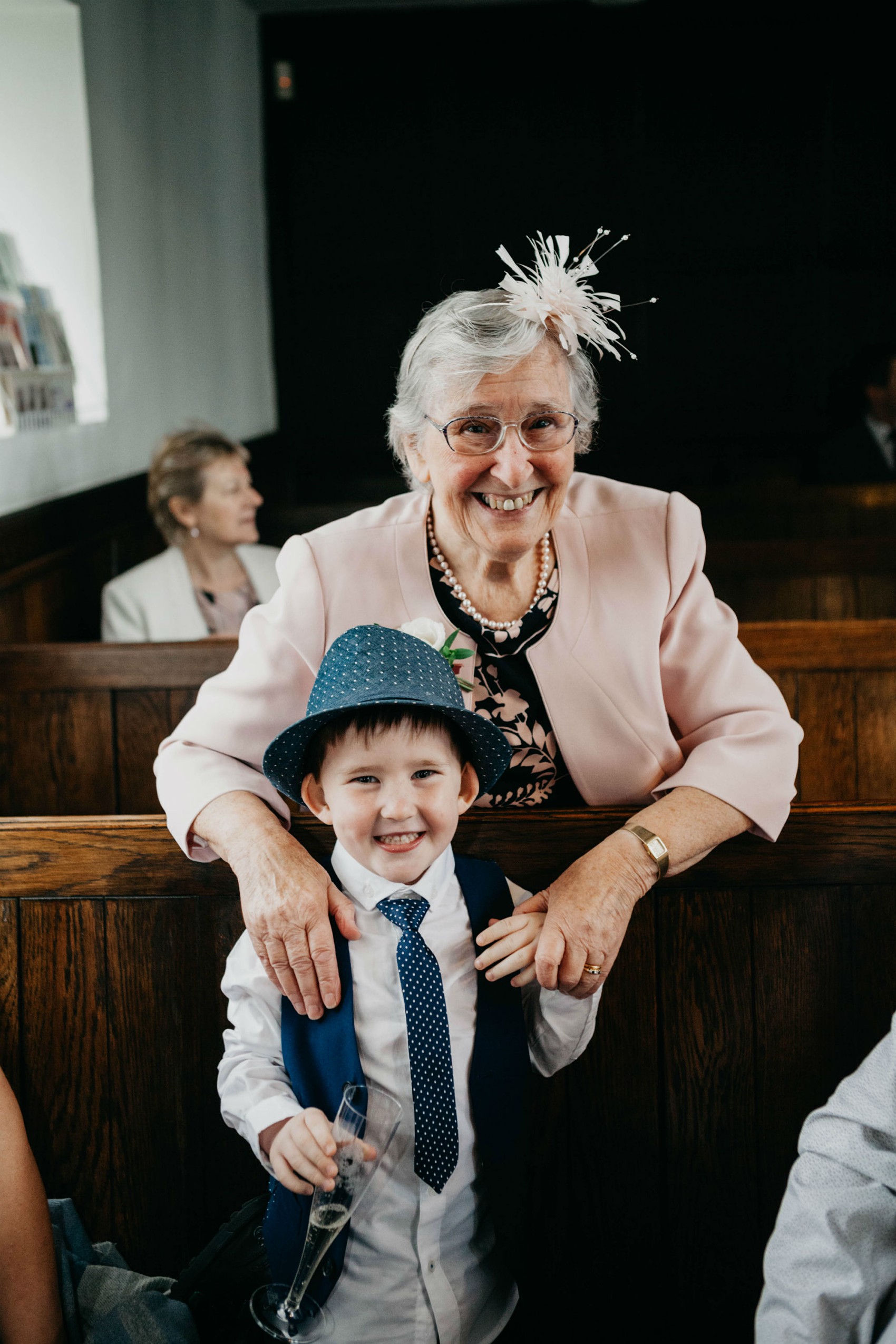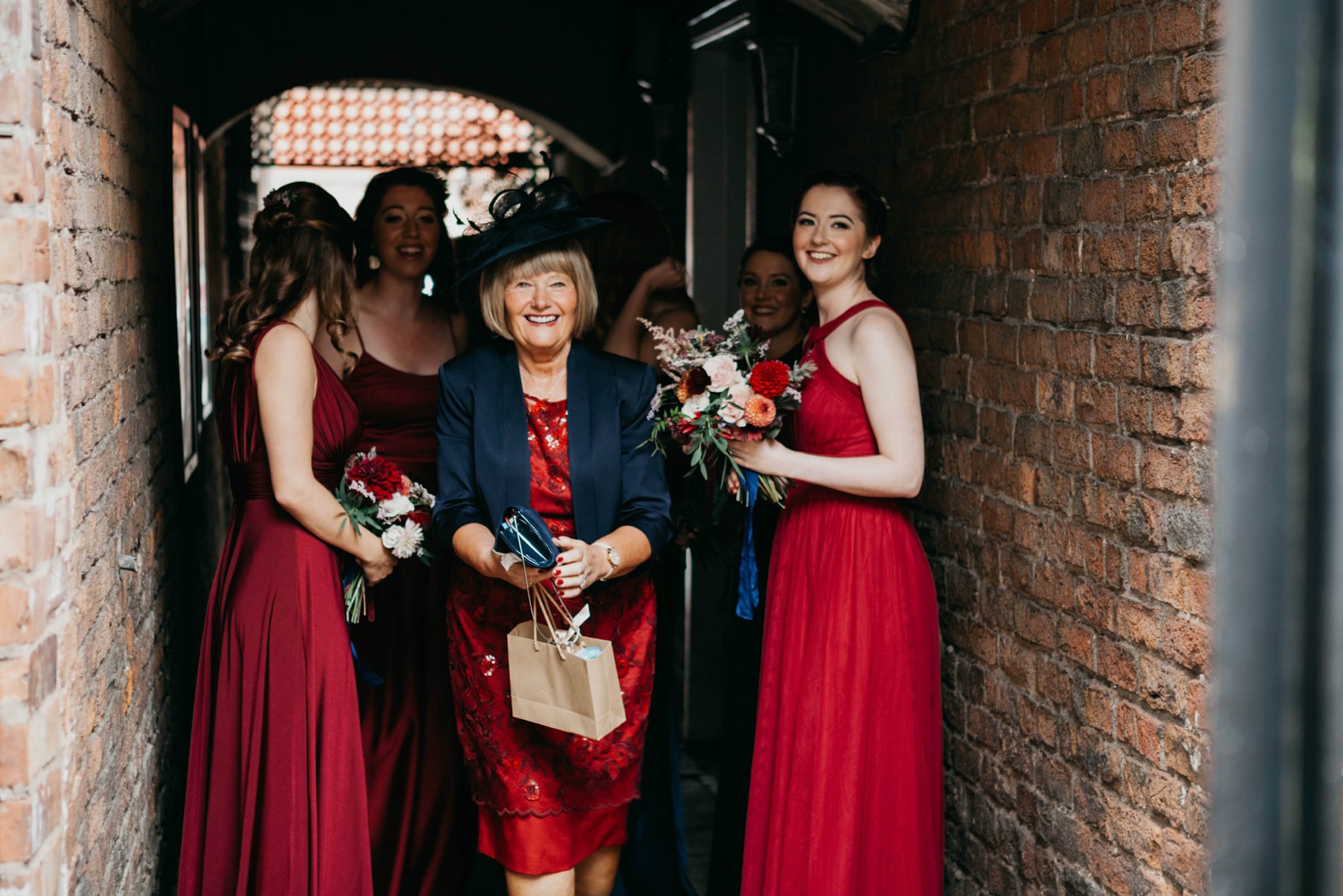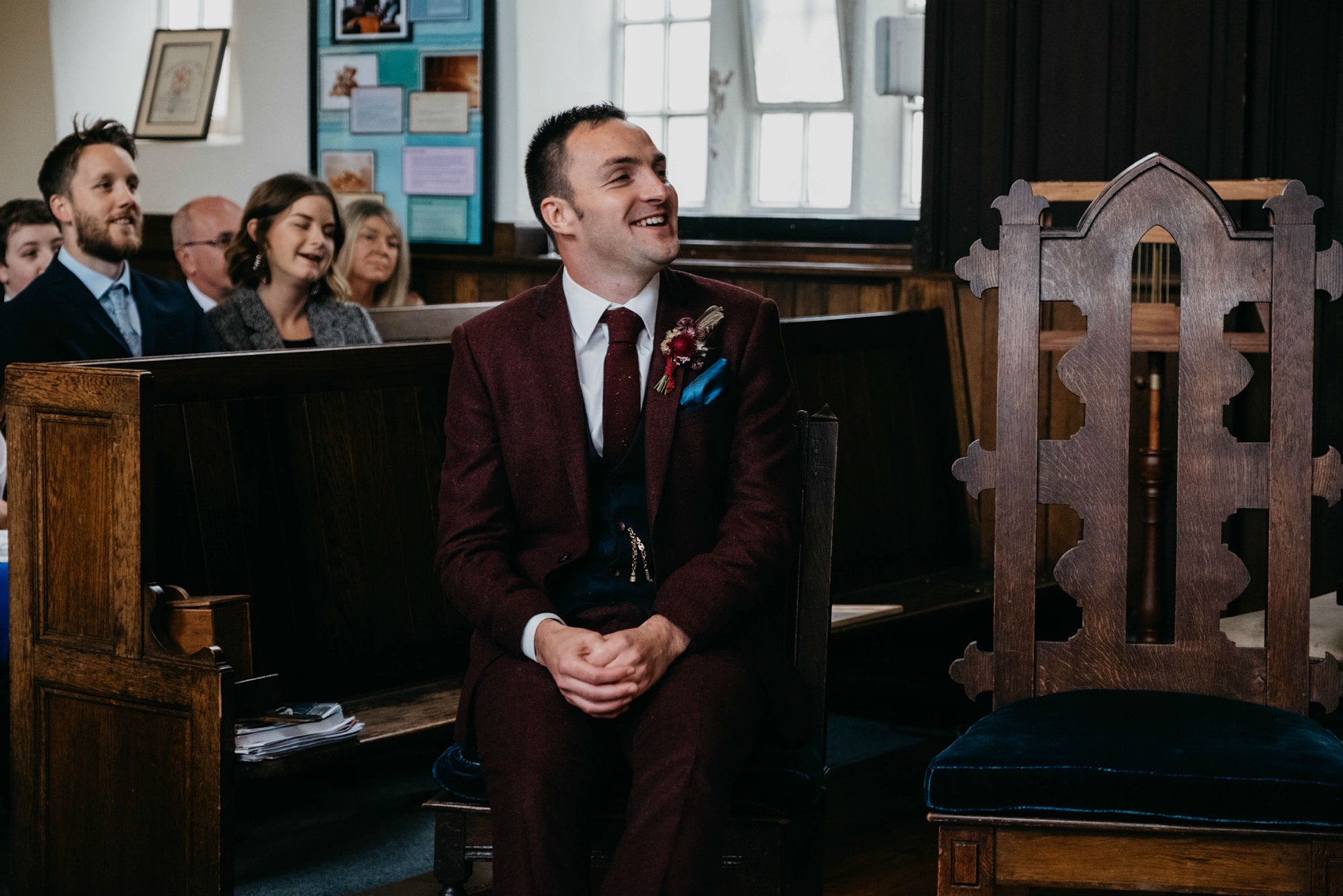 I'm awestruck by the incredible work of florist Charlotte, of Artemesia, who also happens to be Nick's sister.
"Our wedding was perfectly timed, as it coincided with Nick's sister Charlotte's career change into floristry. She offered to do our bridal bouquets for us as a wedding gift, along with all the flowers at the chapel. For our bridal flowers, Charlotte used locally grown, seasonal flowers in berry and jewel tones to compliment the bridesmaid dresses and Nick's suit."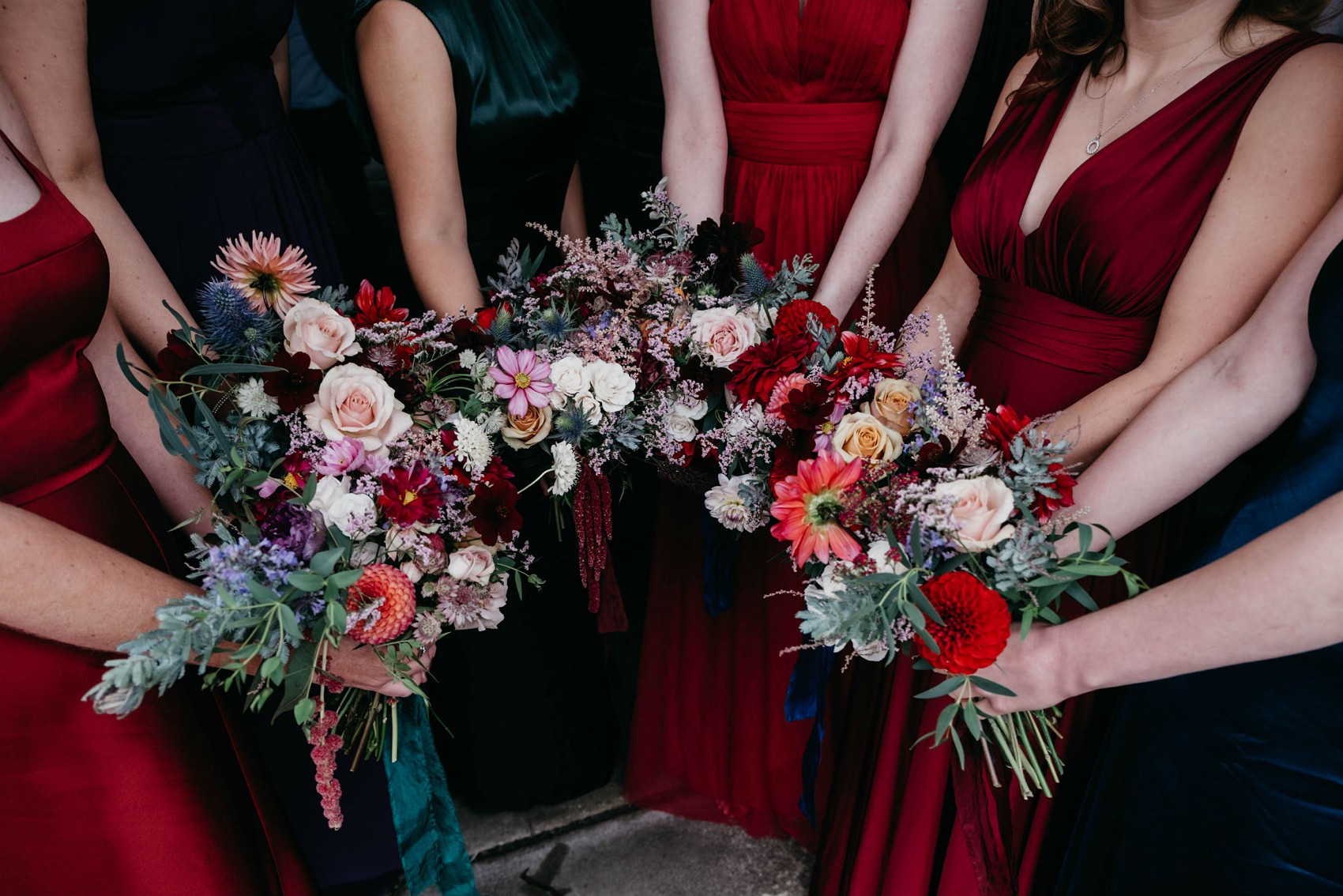 "I asked that they look quite natural and wild with lots of movement, as I didn't want anything too structured, and she more than delivered. They were just so beautiful – filled with an abundance of dahlias (my absolute favourite flower – I love how they look like little bright pom-poms!), flowering mint, jasmine, roses and amaranthus. I couldn't get over the amazing colour combinations! The deep colours looked so gorgeous against the ivory of my wedding dress."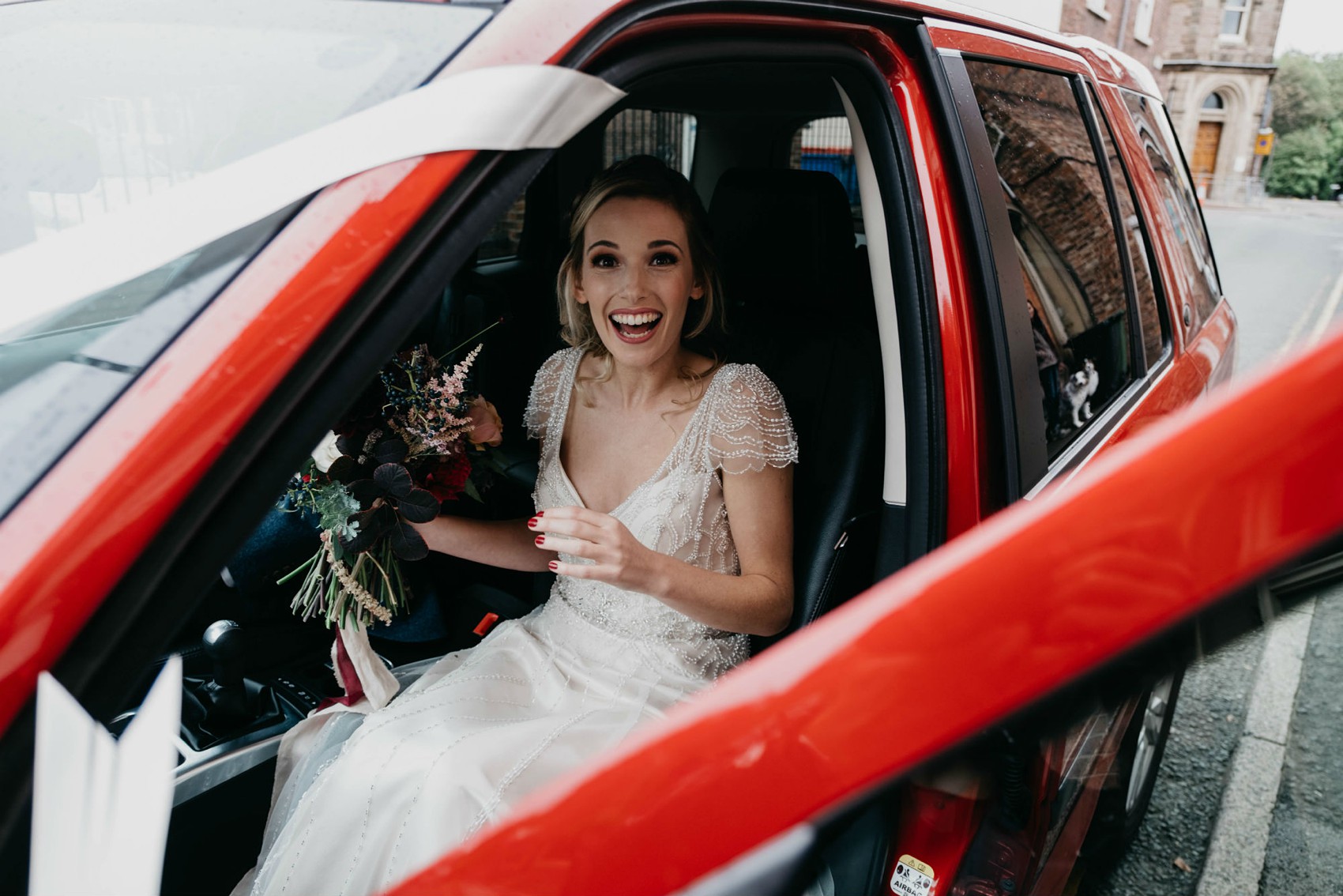 Gem was driven to the chapel by her dad, in his suitably red Land Rover, which was very special for them both.
"I've spent 30 years of my life getting lifts off him, so it seemed absolutely right that my wedding day was no exception. I loved that it was just the two of us in the car – it was really calming, and it meant a lot to both of us to have that time together before walking down the aisle."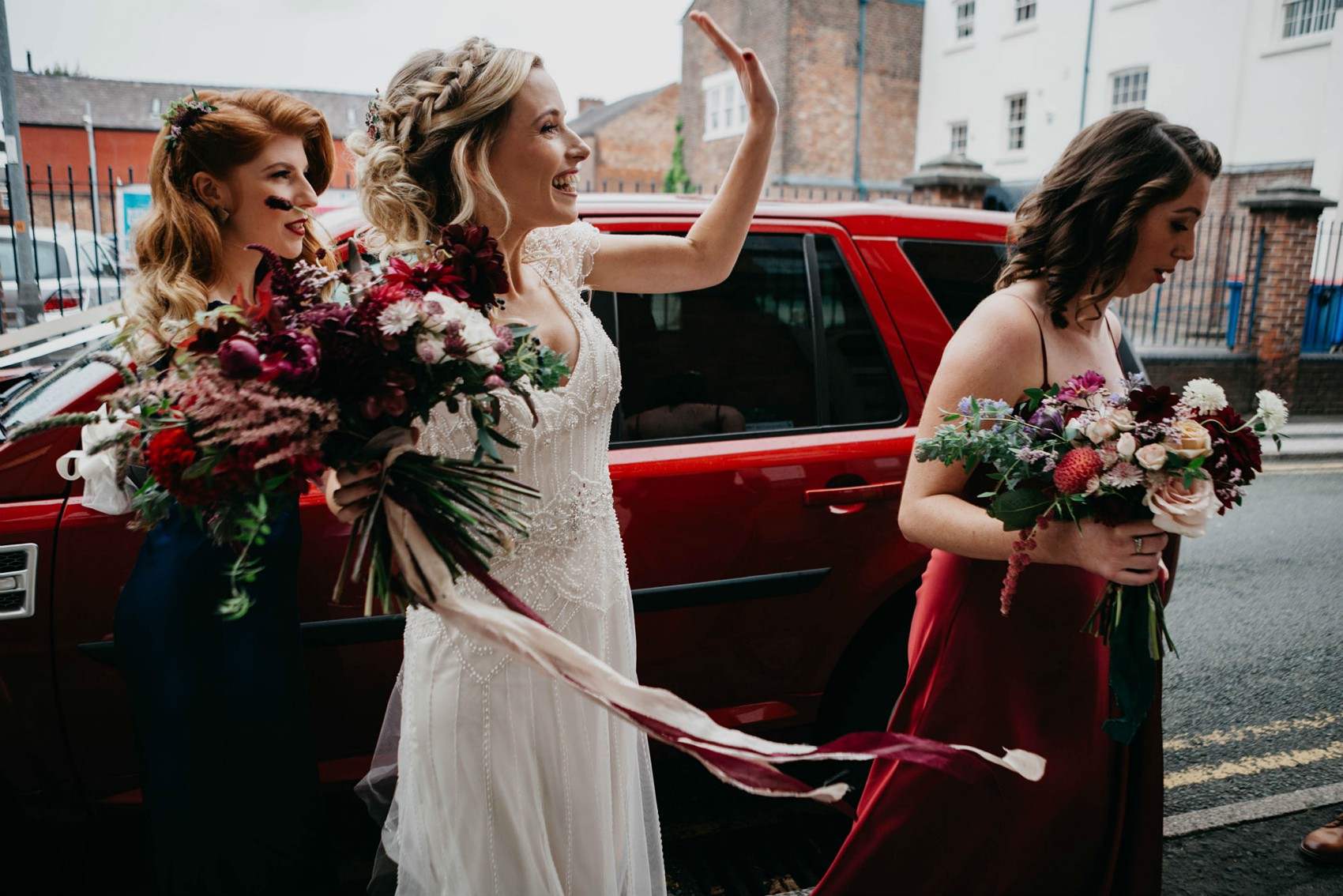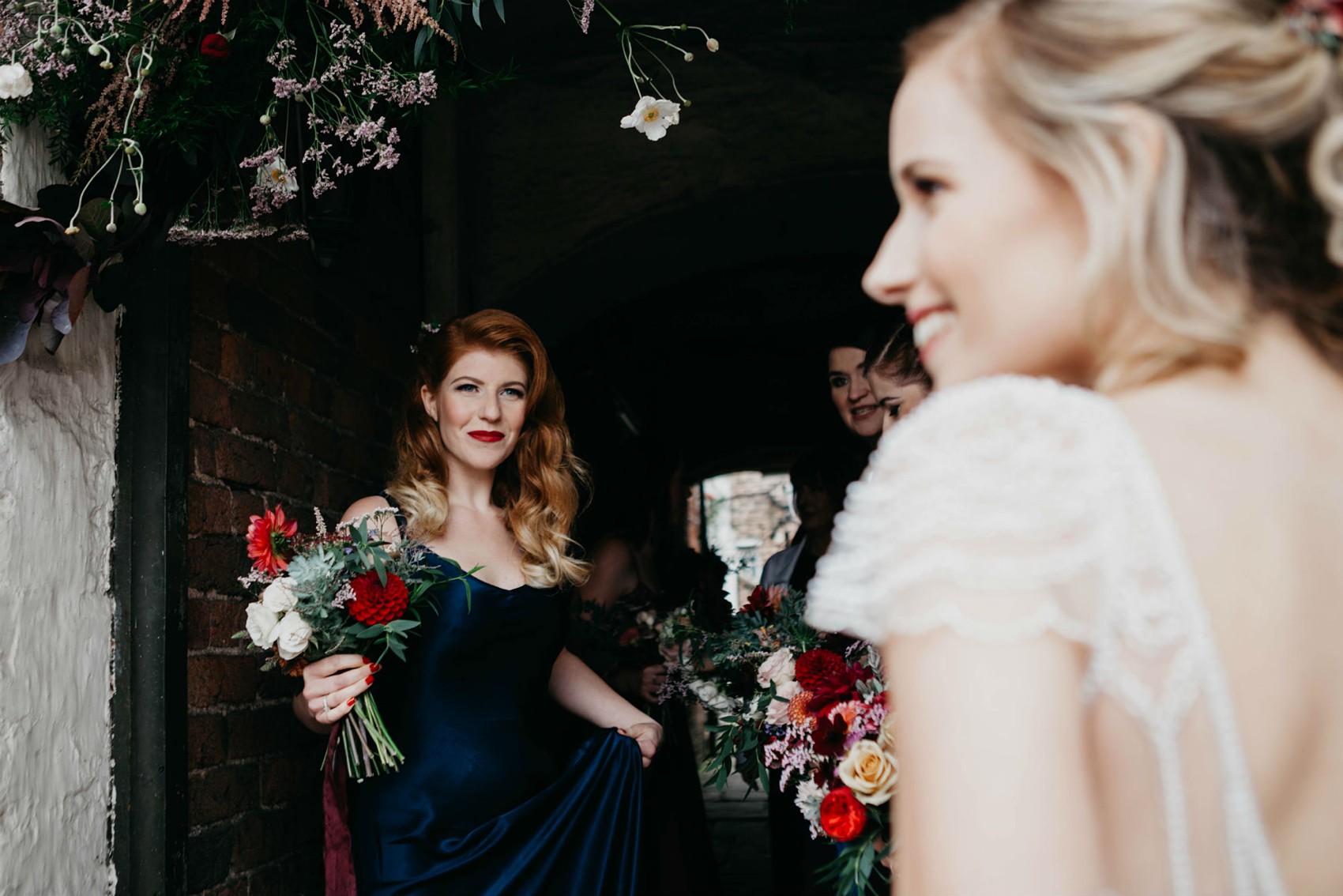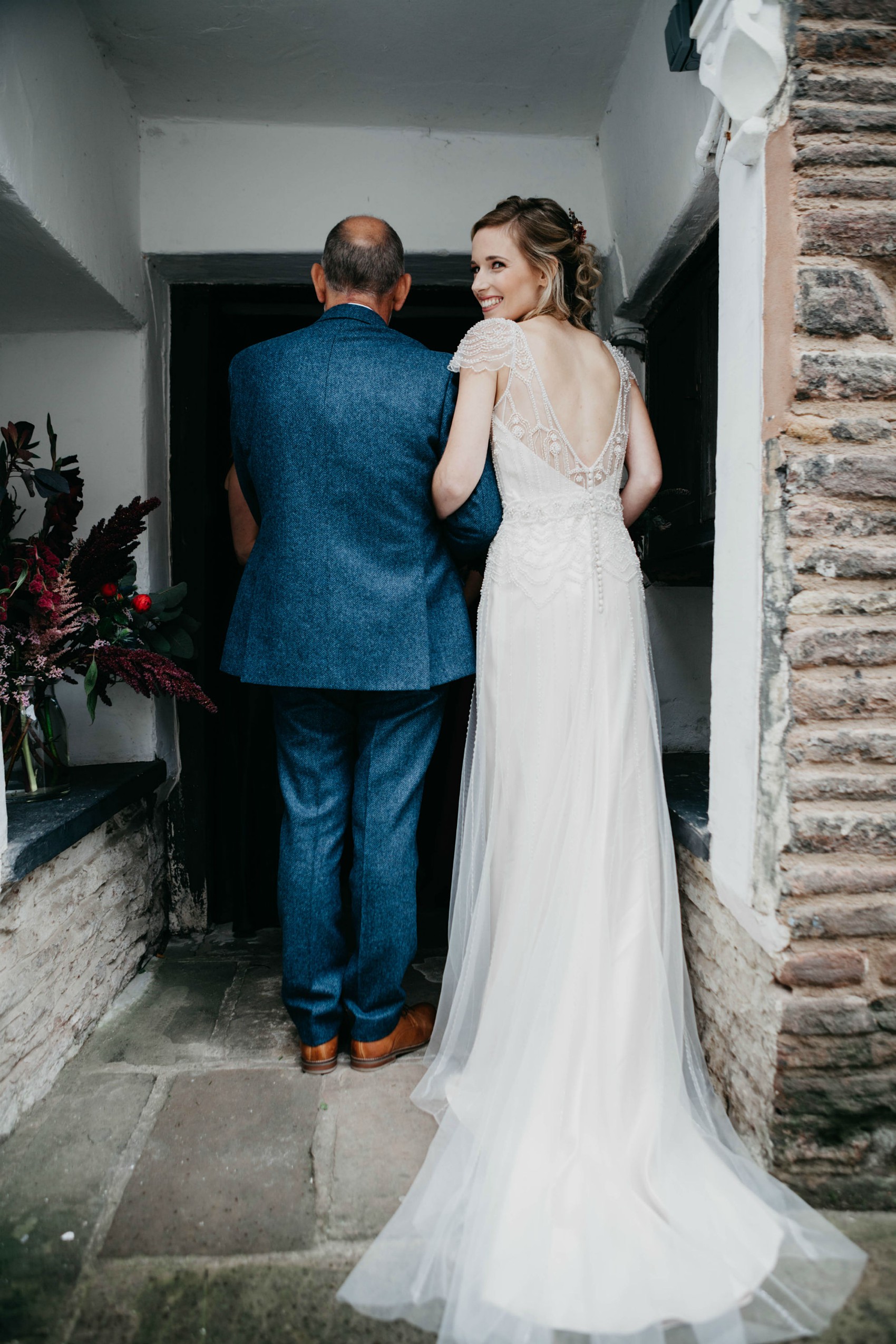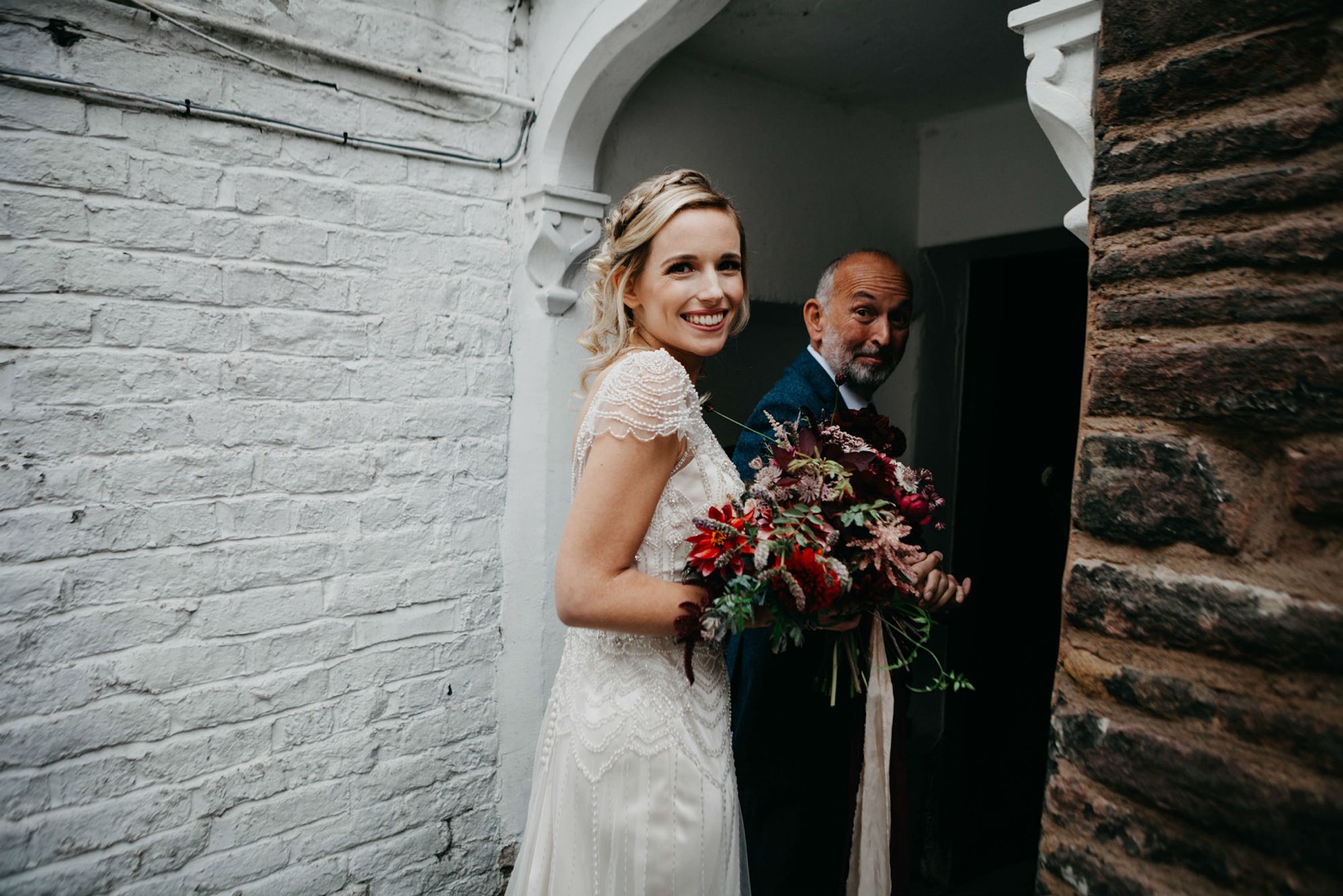 "My dad accompanied me down the aisle. I didn't even consider any other options – I'm an only child, and I knew it would mean so much to both of us. I'm so glad he was with me, because just before I walked in I was so nervous! I remember he tucked my arm under his and put his warm hand on top of mine, and was such a reassuring presence. And then we started to walk and all the nerves just disappeared, and were replaced by excitement instead."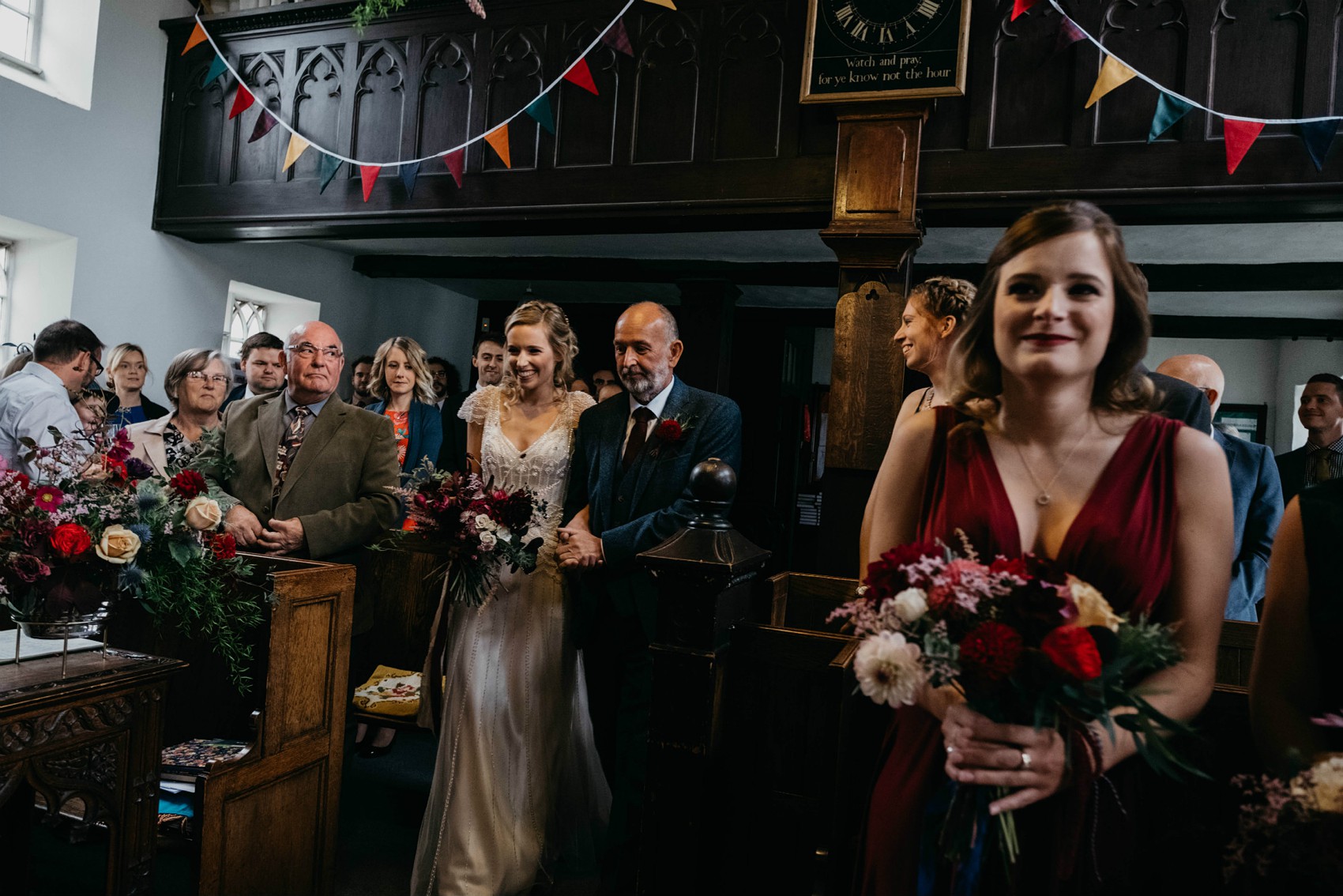 Gem's entrance music was an acoustic version of Every Thug Needs A Lady by Alkaline Trio – a song the couple both love, and which they chose even before they'd settled on a wedding venue!
"I didn't want to be 'given away', as I very strongly feel that I'm no-one's property! So I just gave him a big cuddle when we got to the end of the aisle, and Judith really kindly worked some words of recognition for all four of our parents into the ceremony. They're all such incredible people, and have given us so much in life, and we wanted to make sure that was acknowledged."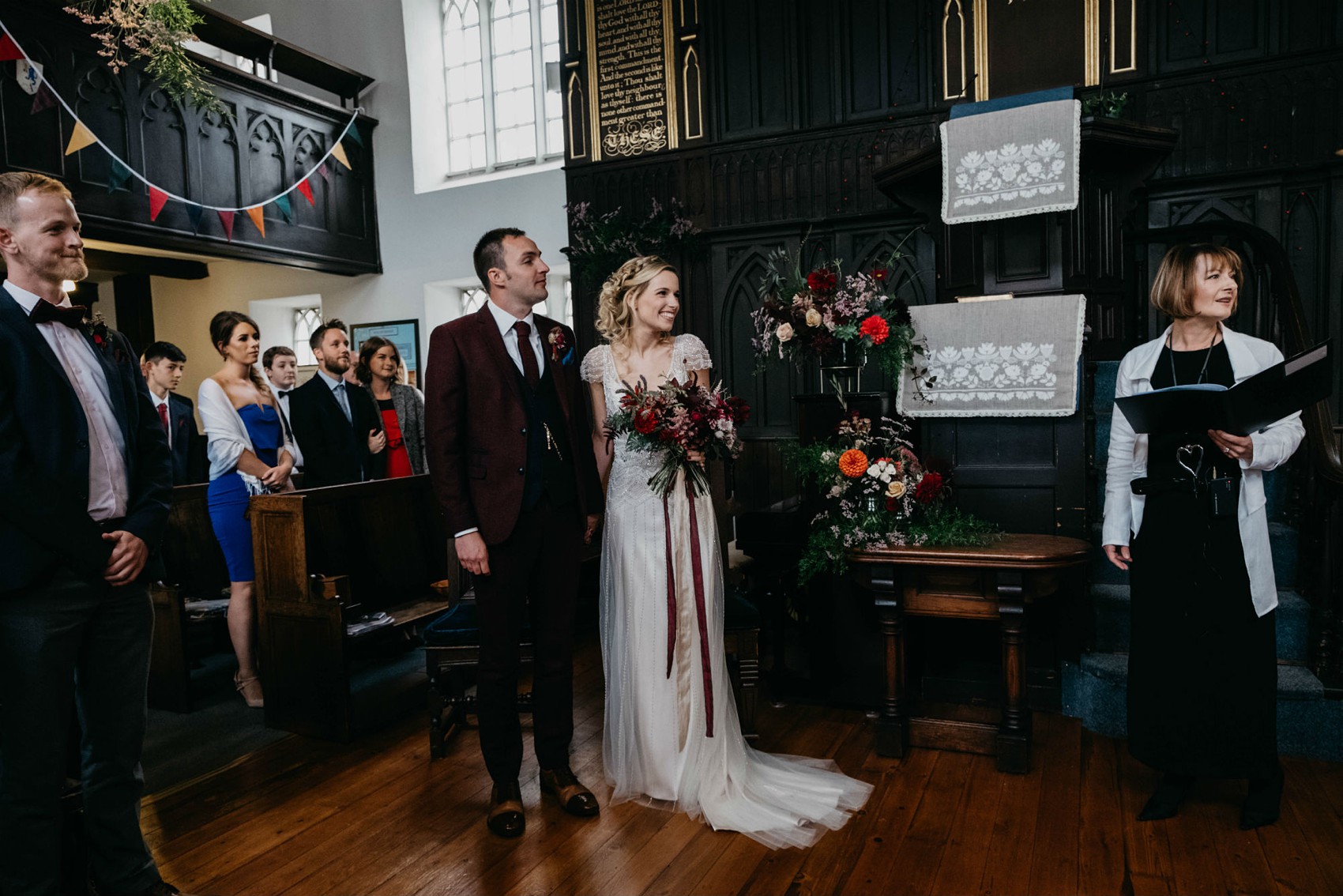 Gem and Nick are high school sweethearts, going on their first date together (aged 17) to what Gem describes as a 'surprisingly romantic' owl and otter sanctuary! They went their separate ways as they headed off to university, but remained friends, and after graduating, both moved to London and began to spend more time together.
"It felt incredibly natural to get back together in 2013 – like we'd never been apart.We'd been together for four years when Nick proposed to me on Boxing Day of 2016, after winding me up for months about not wanting to get married (his favourite line for the few months prior was 'The institution of marriage is old-fashioned and out-dated'. Little did I know he had the engagement ring in his drawer the whole time!)."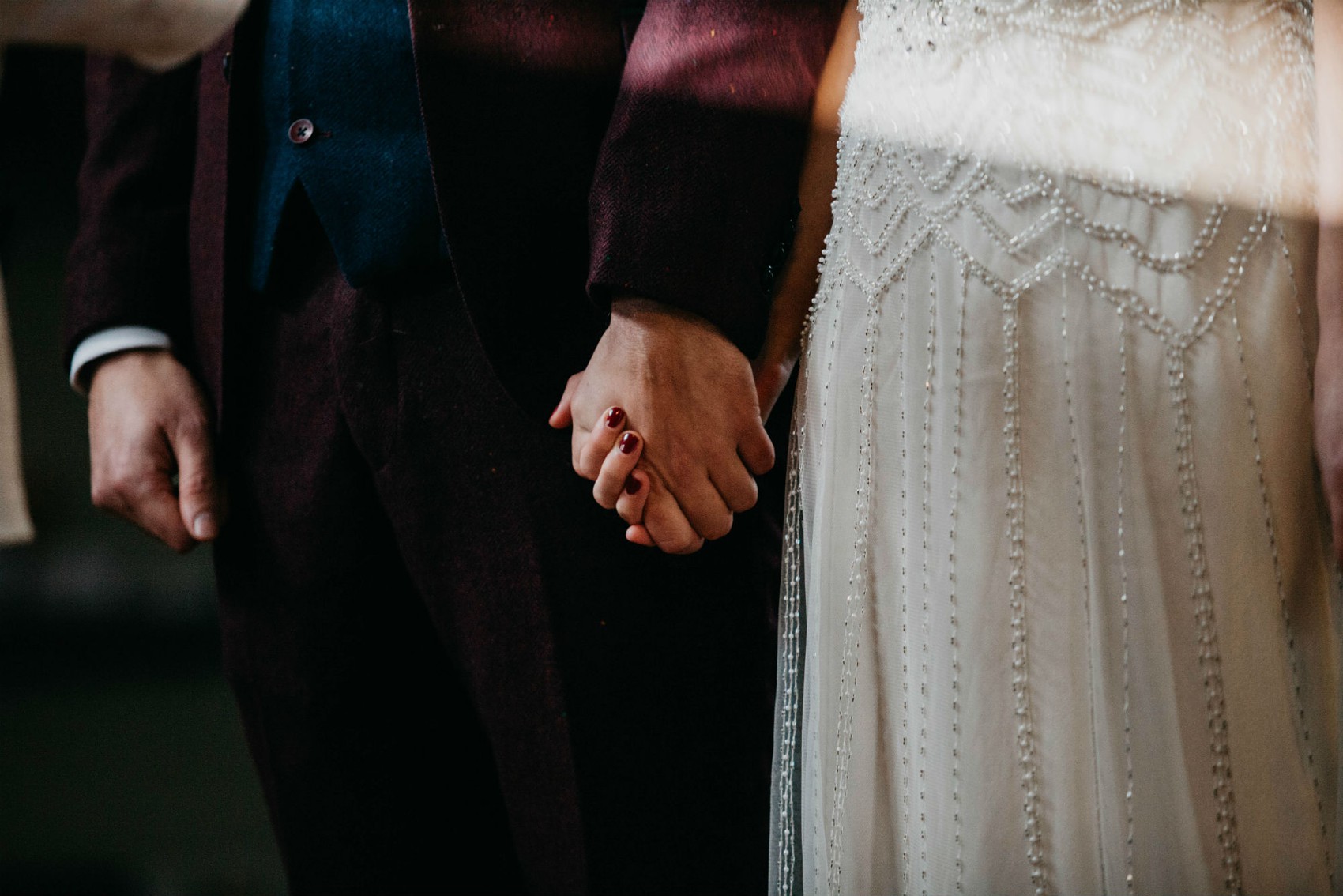 The ceremony was conducted by the chapel's minister, Judith Burrows. What a lovely place to be married, and how wonderfully the space was decorated with vibrant, seasonal blooms.
"We did tailor our own vows. We wanted them to be personal to us, and to touch on friendship and equality, both of which are incredibly important to us. However, we still wanted them to feel like wedding vows, and didn't want to go too quirky with them, so we kept the format quite traditional. We did a lot of Googling of various lines we could include, and then sort of mish-mashed our favourites and tweaked them until they felt right for us."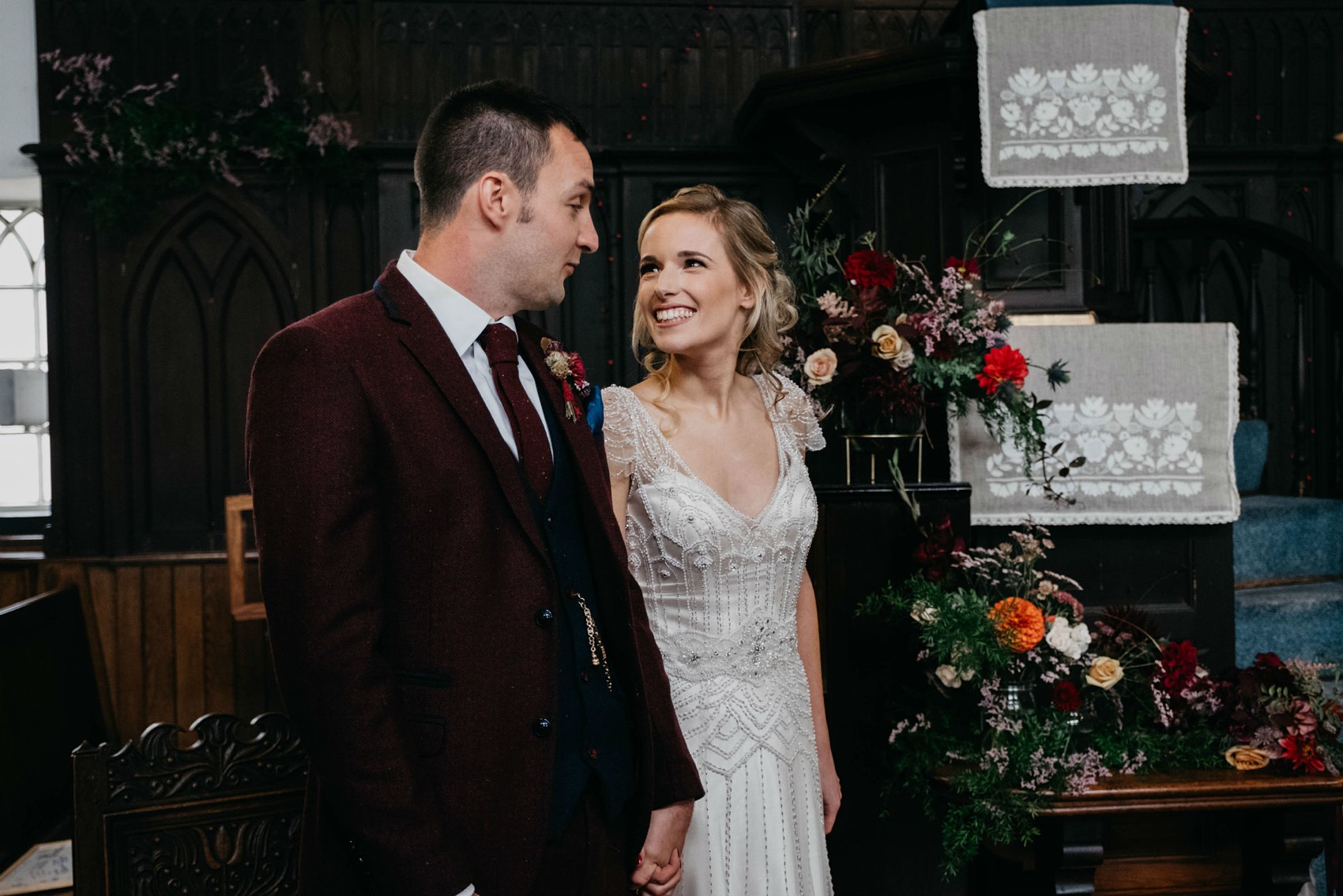 "We also had a circle of support, which was a really lovely thing to get our guests involved in. Judith acknowledged that everyone in the room had played a part in our lives, and asked everyone to stand and commit to supporting us through our next chapter with a big loud, 'We do!'. It was so lovely to see everyone's enthusiasm for this!"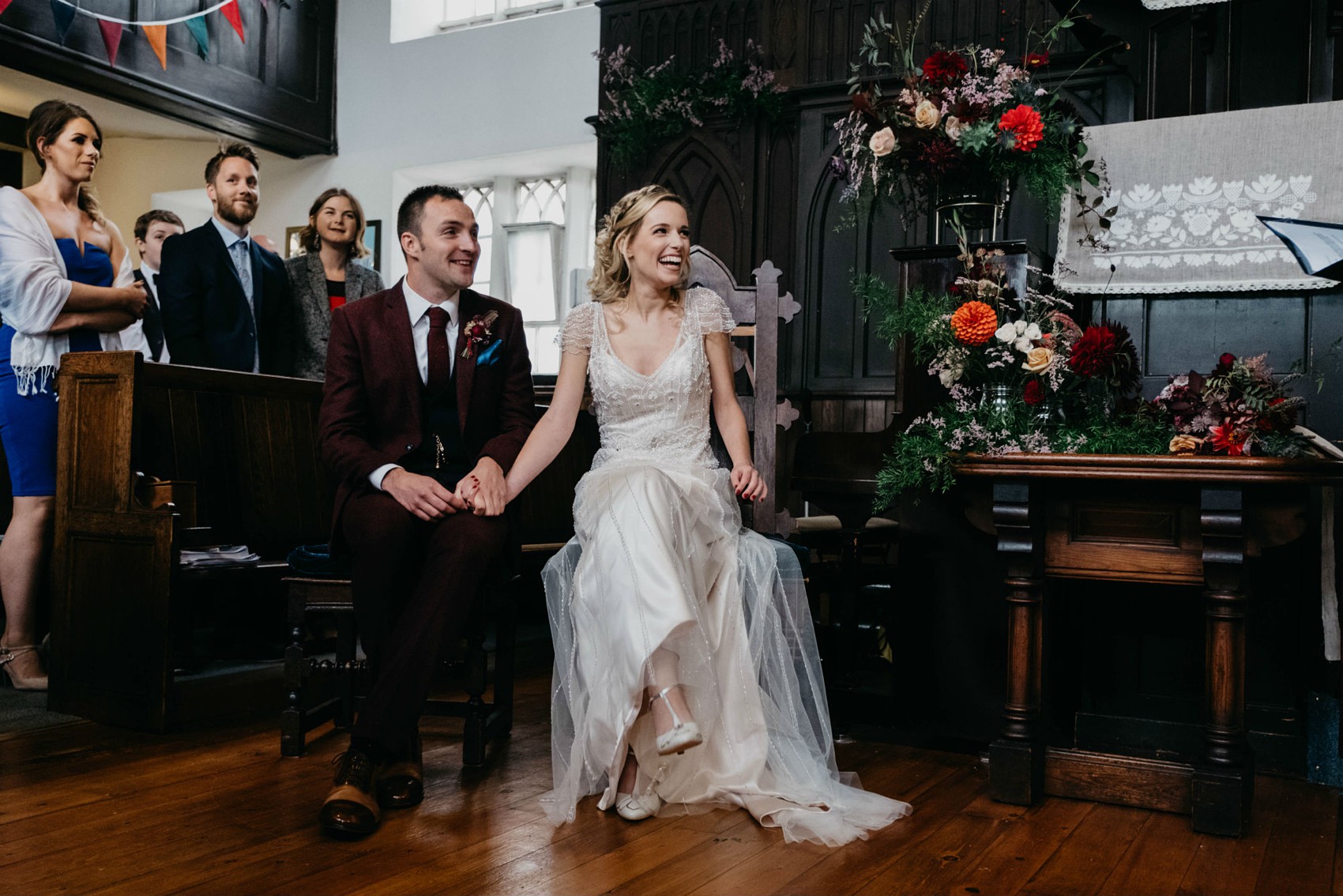 During their vows, Gem and Nick also gave one another rings, too, with Gem's chosen at Calibre Gems and Nick's from Justin Duance – a titanium and ironwood band engraved inside with 'One ring to rule them all.'
"Calibre Gems was where Nick went to get my engagement ring, and I loved it so much that I wanted to get my wedding ring from there too. Initially I thought I'd get a plain band, but when I went to try a few styles I couldn't resist the sparkle of a diamond set one!"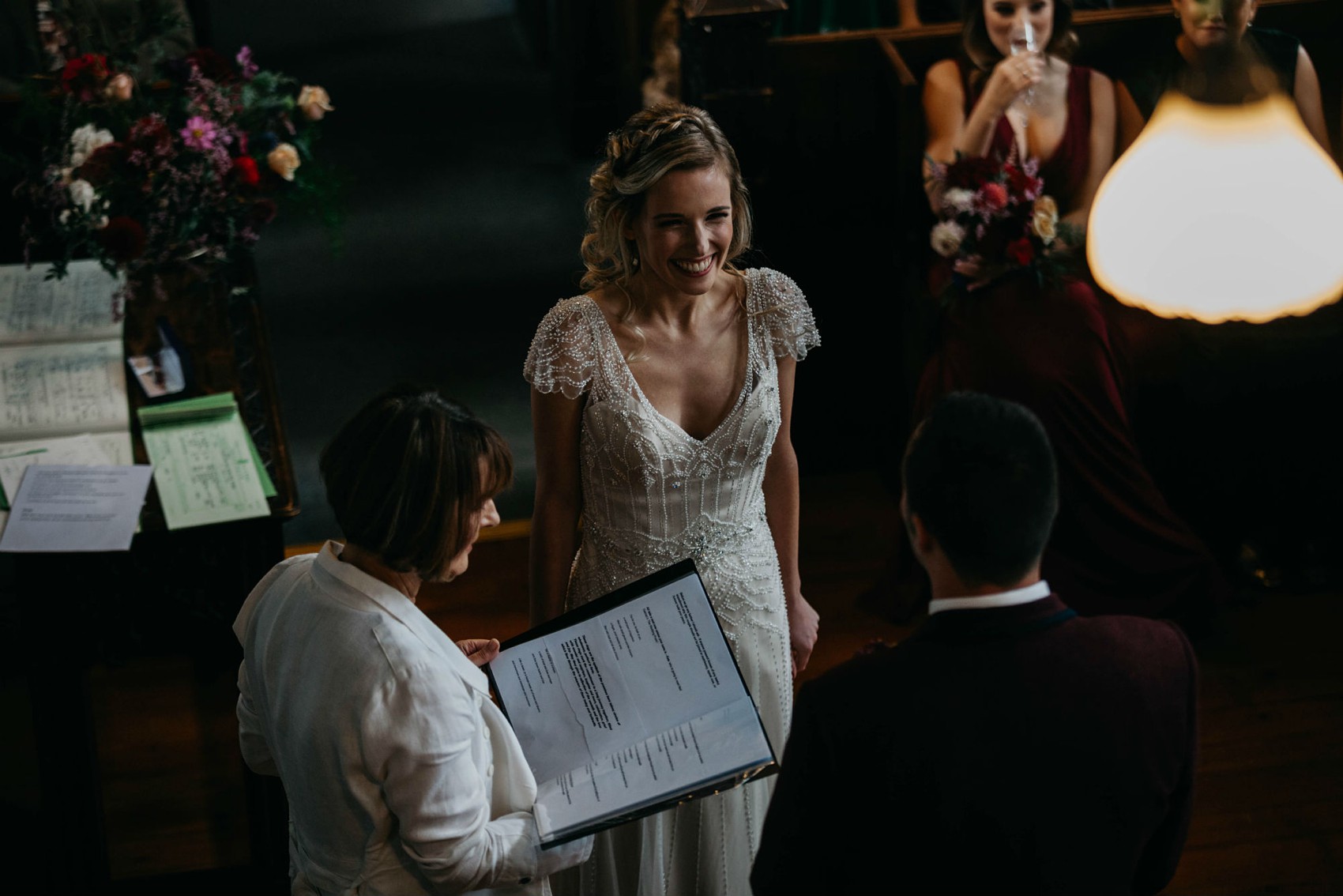 "Nick wanted something quite unique, lightweight and comfortable, and as a big fantasy geek he just thought The Lord of the Rings quote was hilarious."
"For our readings, we chose Neil Gaiman's The Wedding Poem, and then adapted Harry Baker's Dinosaur Love (the original was just a touch too long!). Our minister Judith also performed a blessing just after our vows that invoked the elements – very appropriate for an equinox wedding!"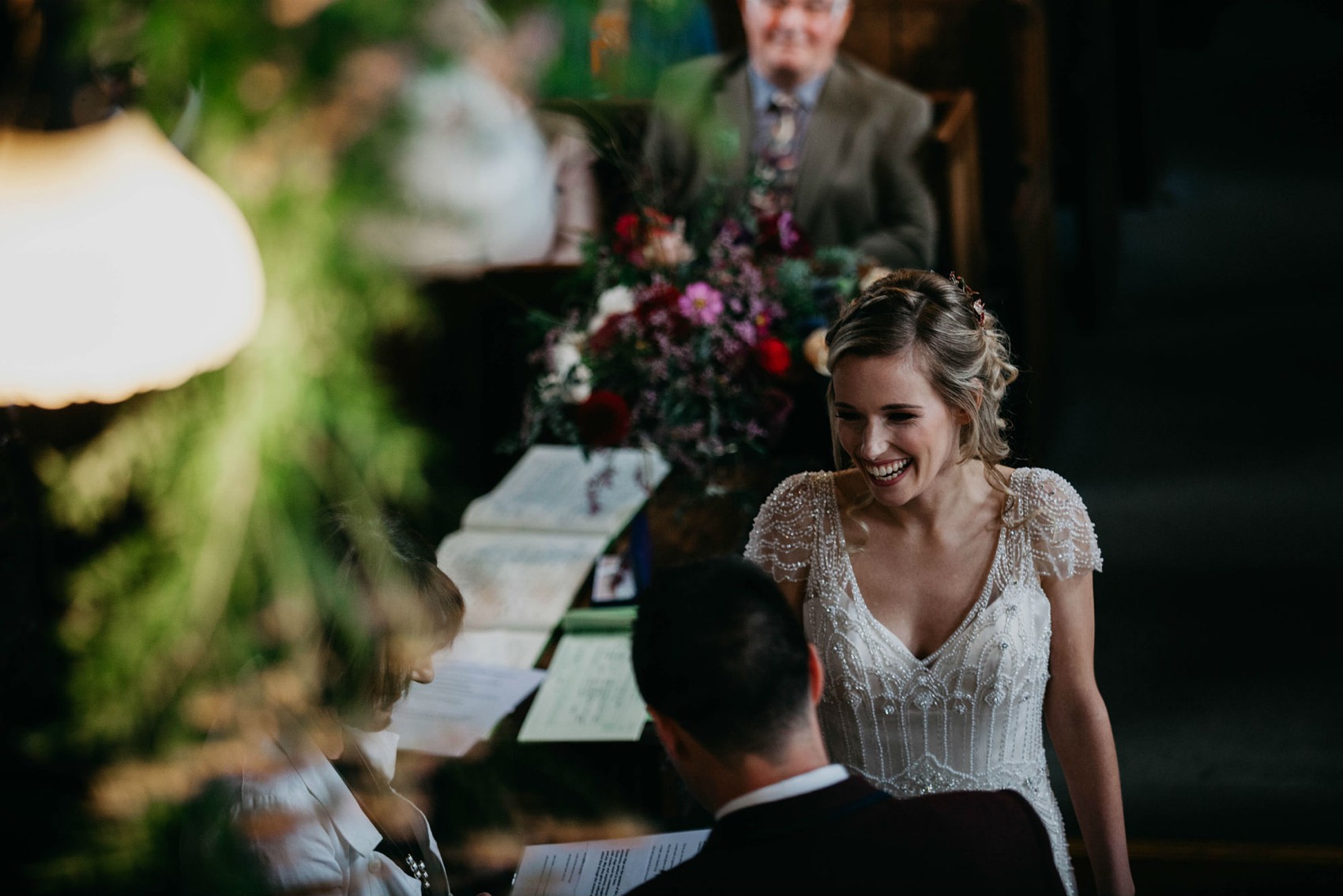 "Neil Gaiman is one of my all time favourite authors, and when I was Googling readings I stumbled across this poem and just fell in love with it. My close friend Kate read it out for us, and it was so important to her that she did a good job that she practiced at home for months! She delivered it perfectly."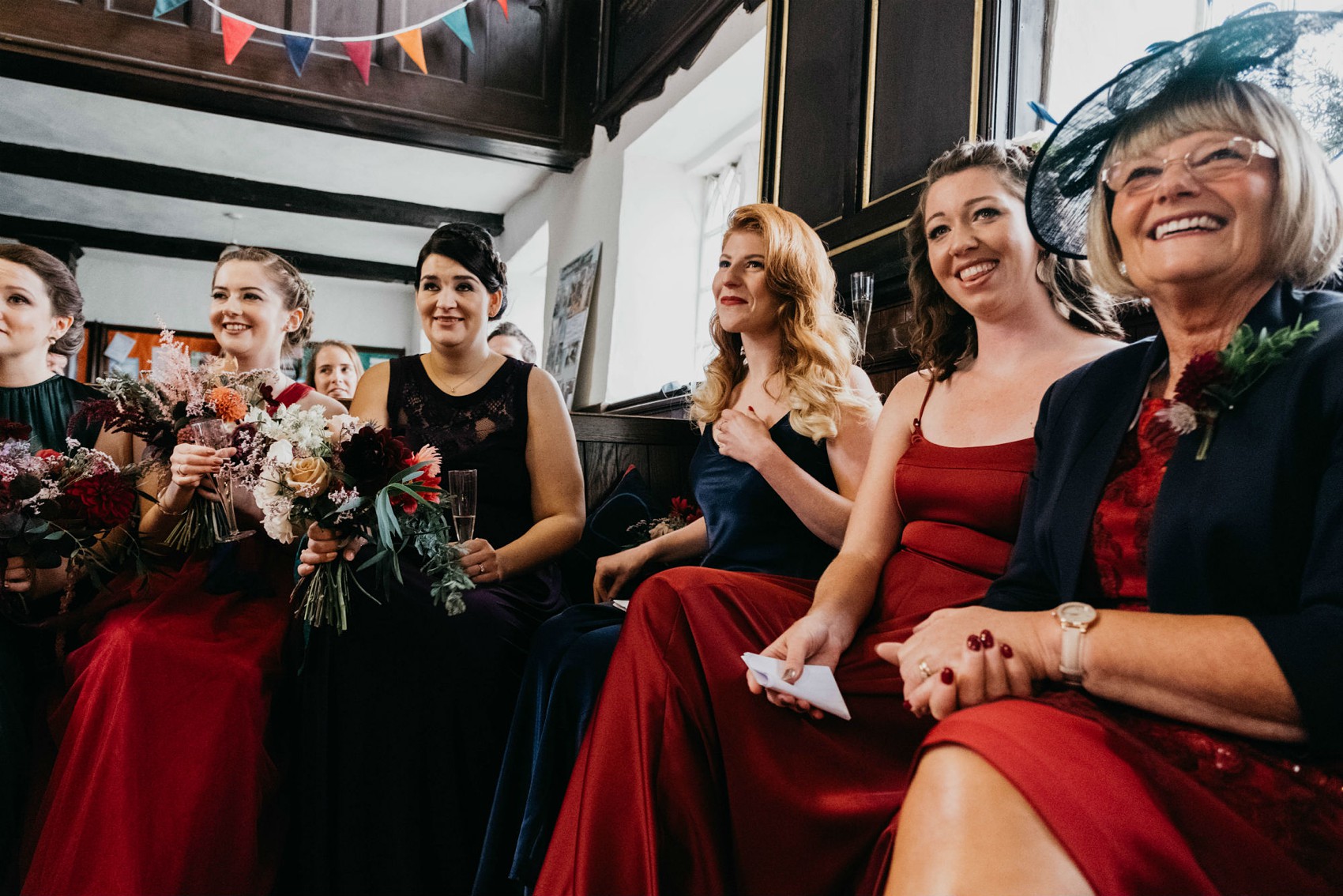 "I smiled throughout the whole thing, I don't think I have ever, ever been so happy. It just felt so special, and is one of the only parts of the day that is completely crystal clear in my memory. Everything becomes a bit of a blur later on, but I can remember everything about being in the chapel, and saying our vows. A particular high point was shortly after arriving, Nick leaned over and whispered to me that his trousers had started splitting and we both got the giggles."
"Our two maids of honour surprised us with the most thoughtful speech in the ceremony, all about their hopes and wishes for us. It was so personal, and really made the day for us."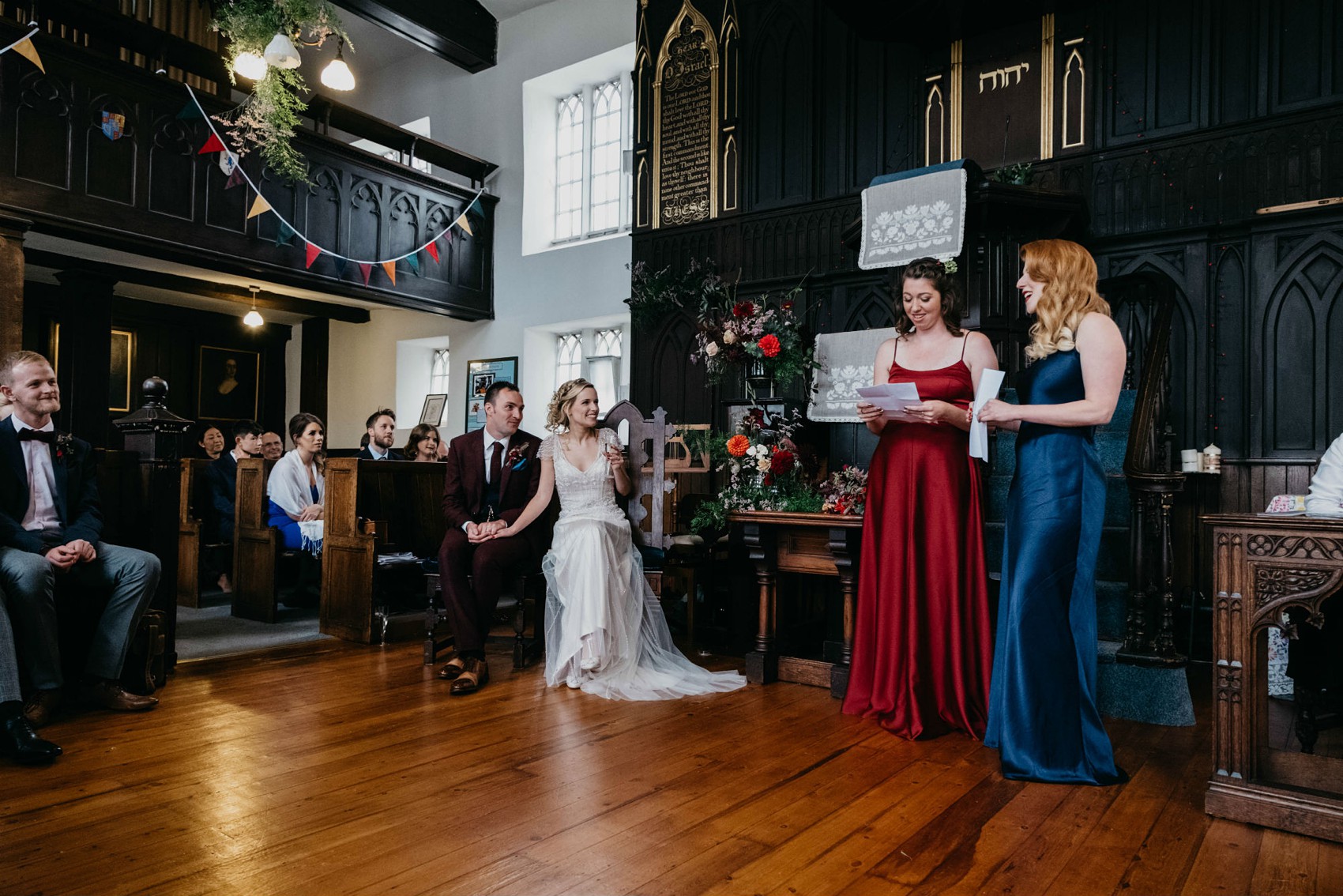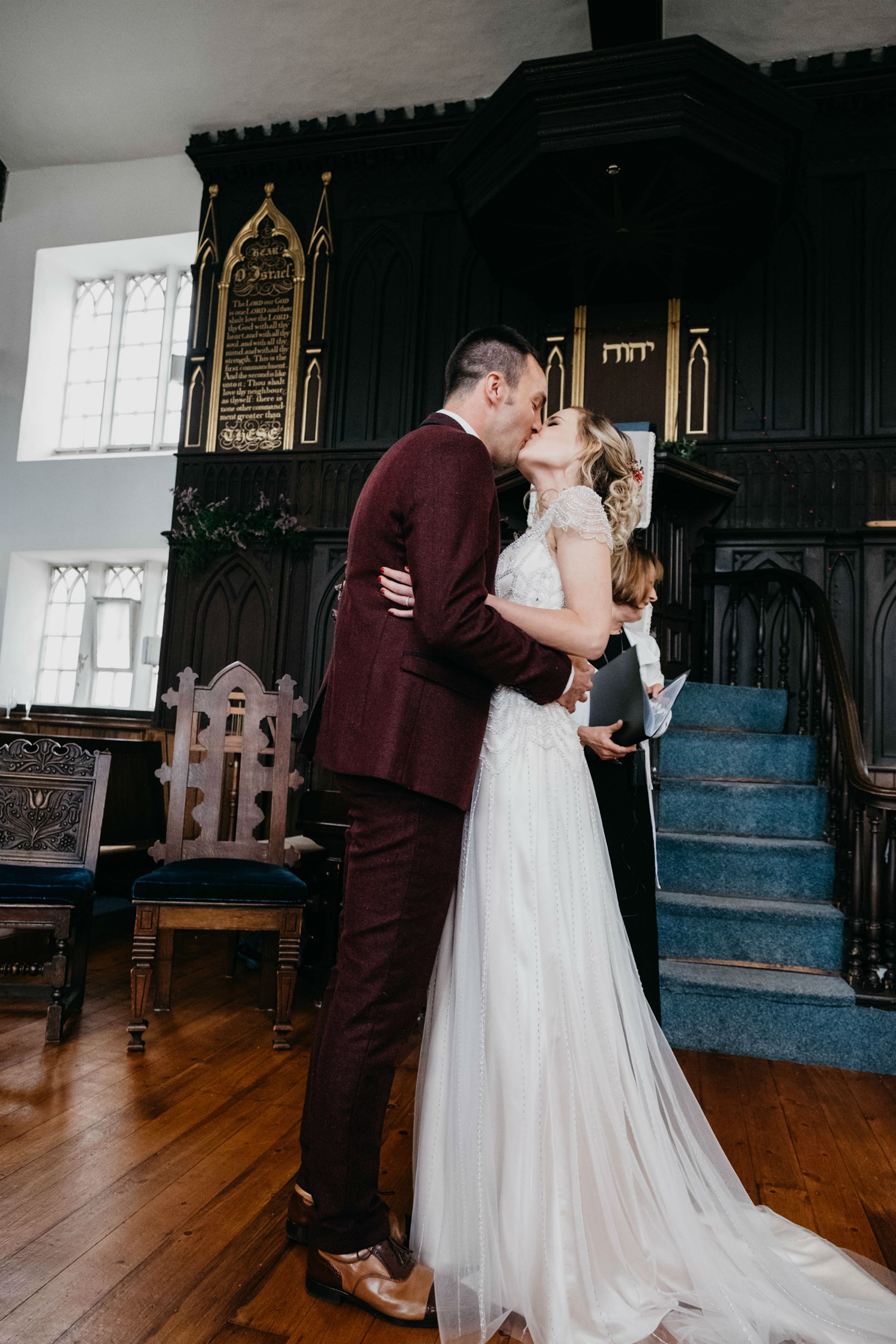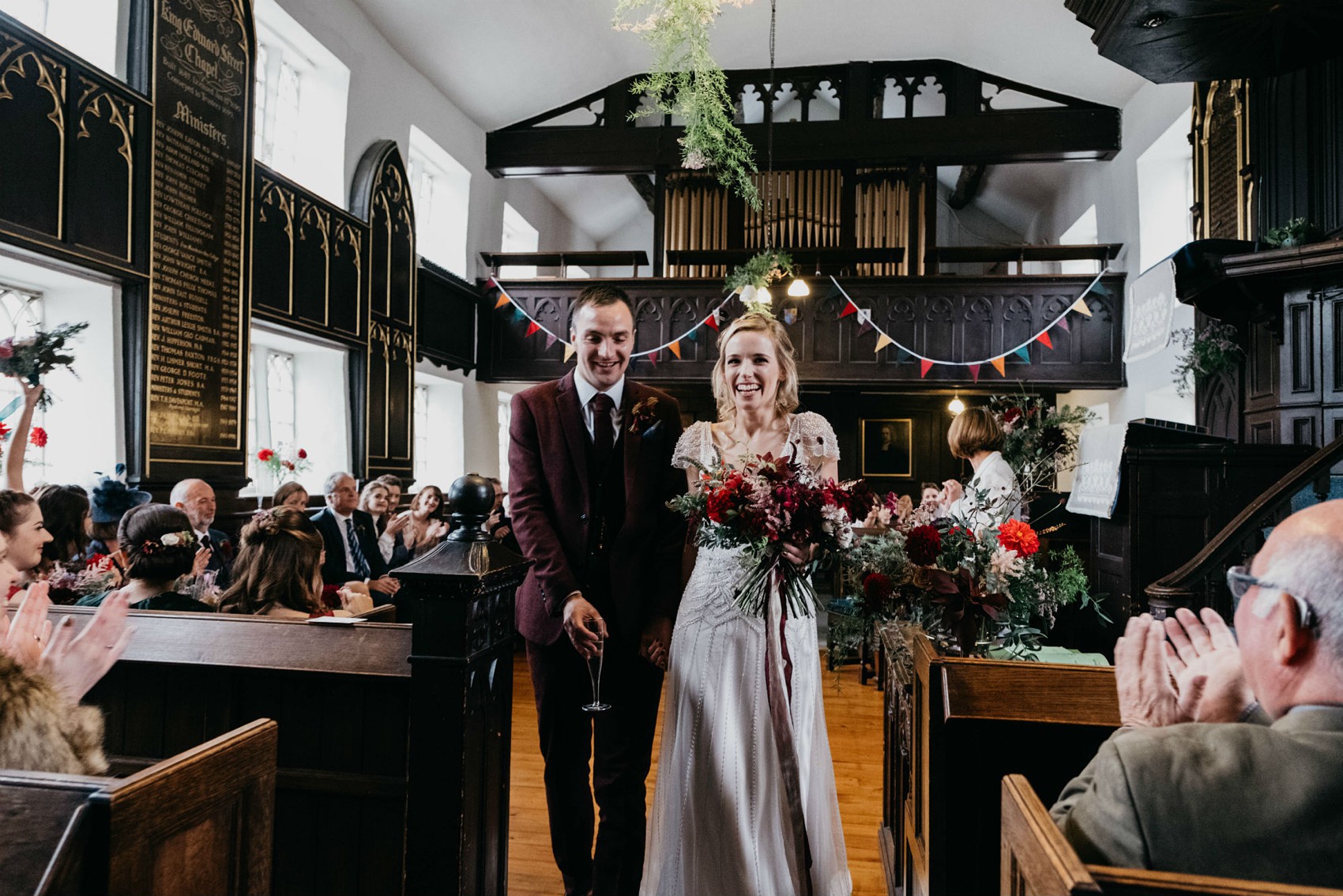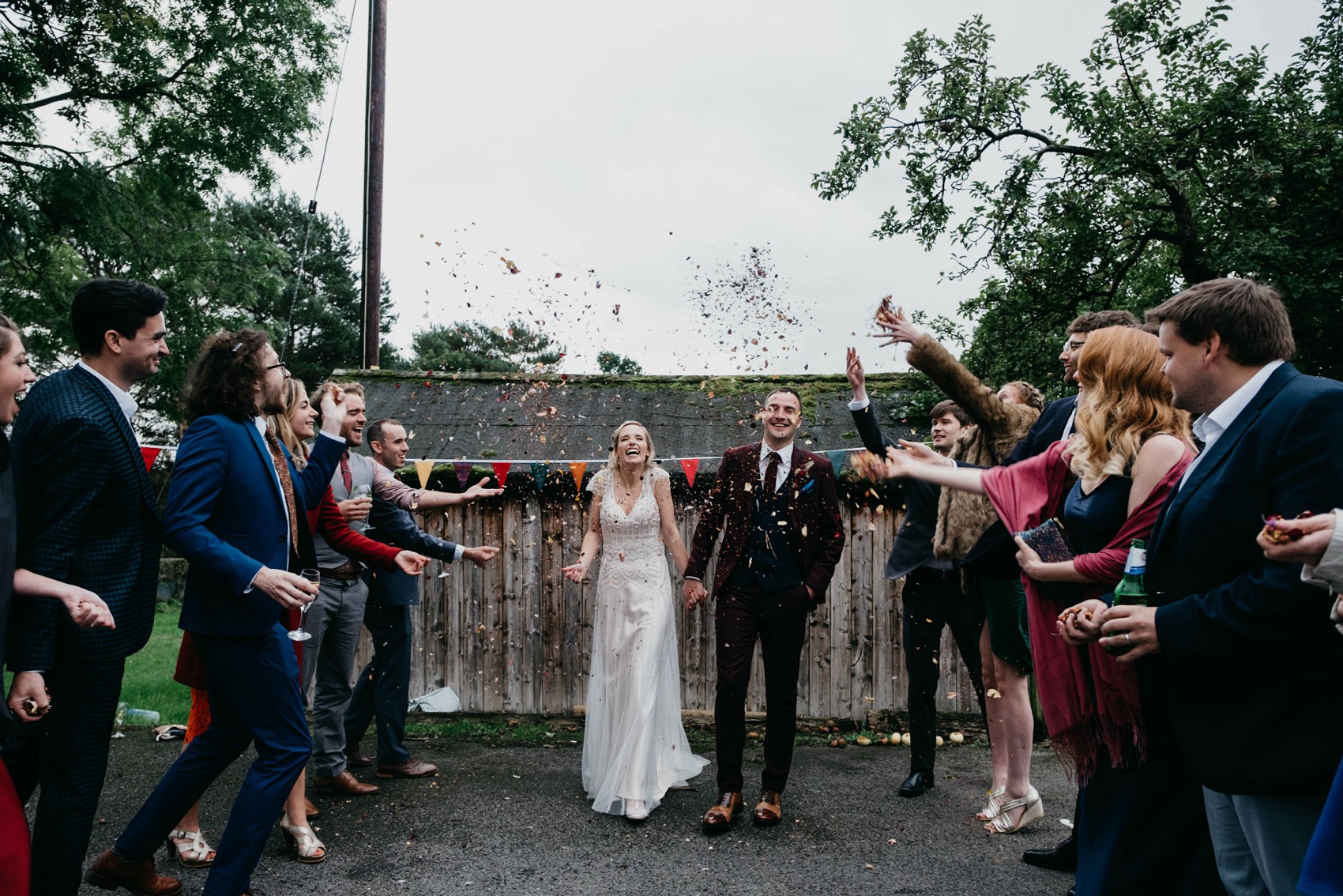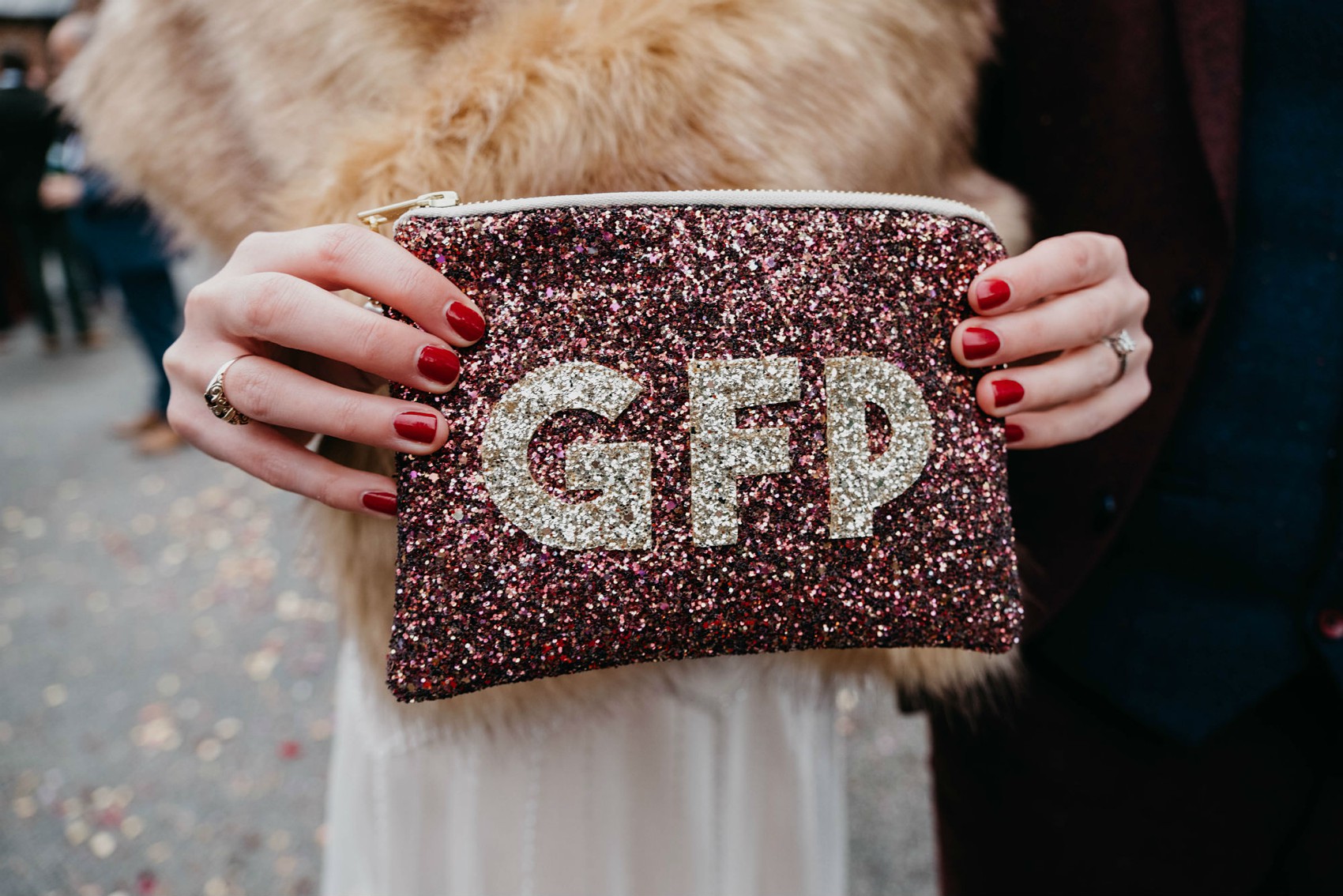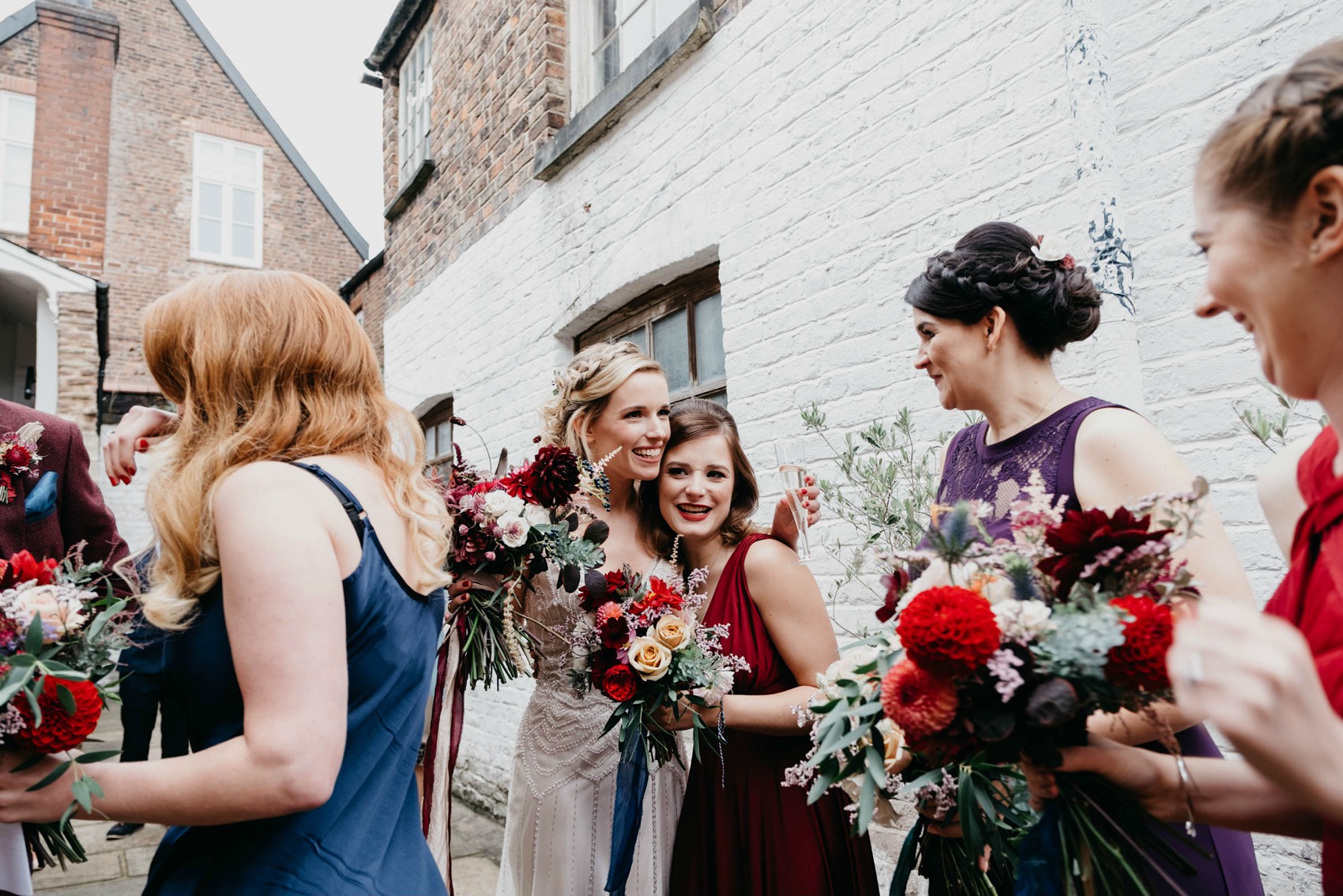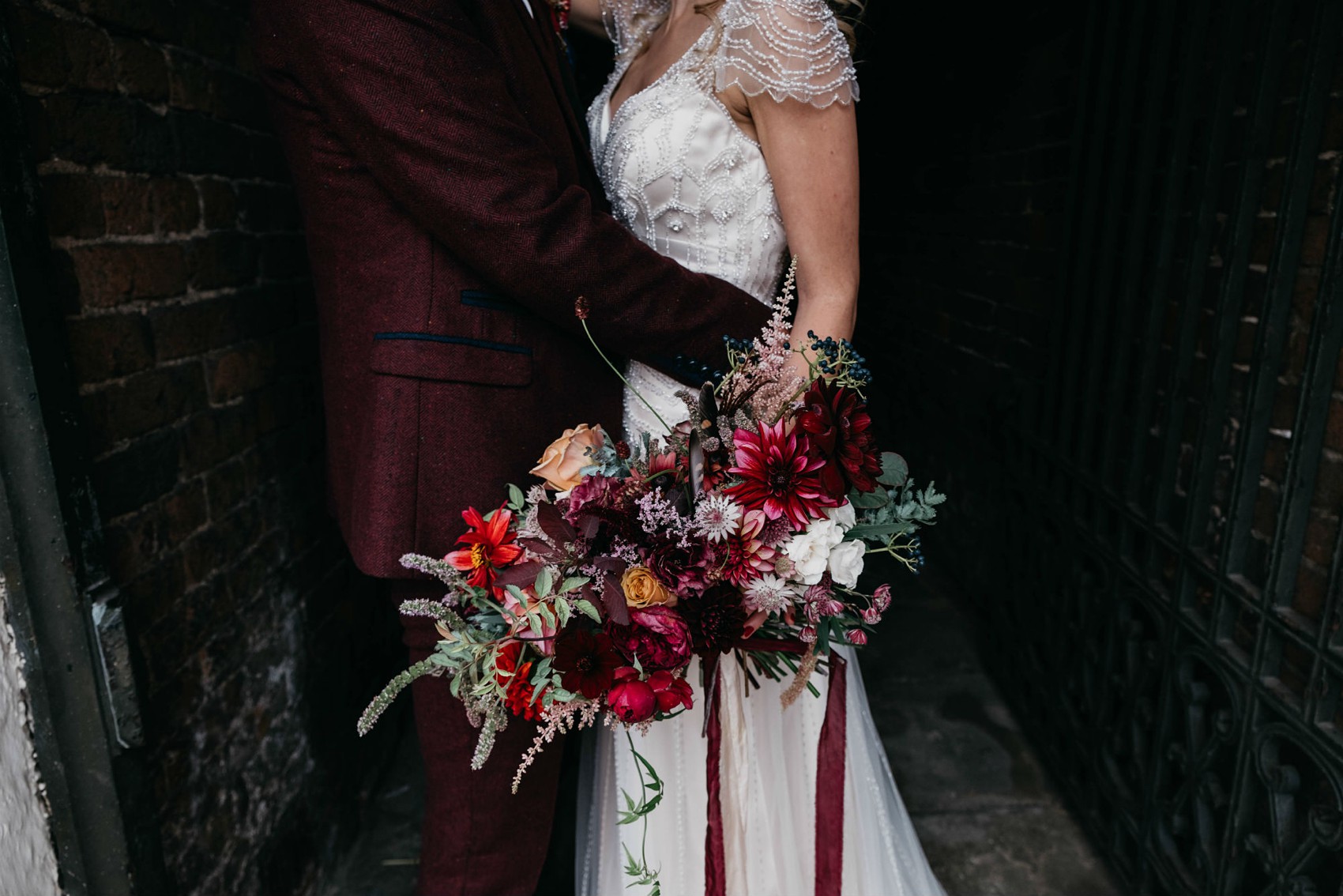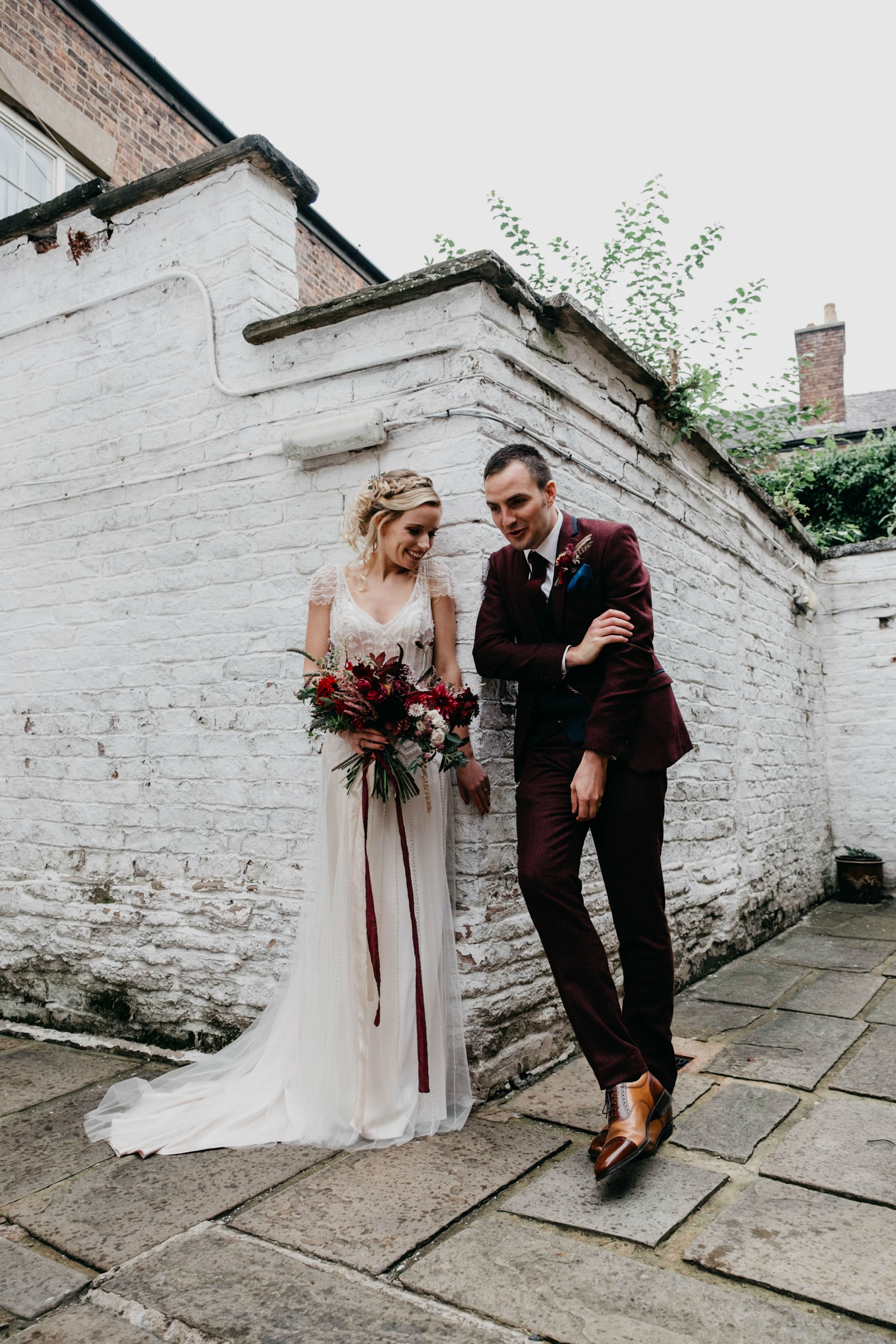 After the ceremony, guests were transported to Siddington Village Hall by coach, courtesy of Holmeswood Coaches, and enjoyed a drinks reception on arrival, with live music from The Dotted Crochets.
Gem and Nick were delighted with their choice of photographer, and what an incredible job Stella Photography did.
"I am so, so glad that we found Stella Photography! As soon as I met Zuzi at a wedding fair, I just knew I wanted her to be part of her day. She is so fun, enthusiastic and excitable, and she felt like a friend the second I met her. Knowing we had Stella Photography booked was just one thing less to think or worry about during the whole planning process – of all the things that could have gone wrong, I absolutely knew our photography was in safe hands."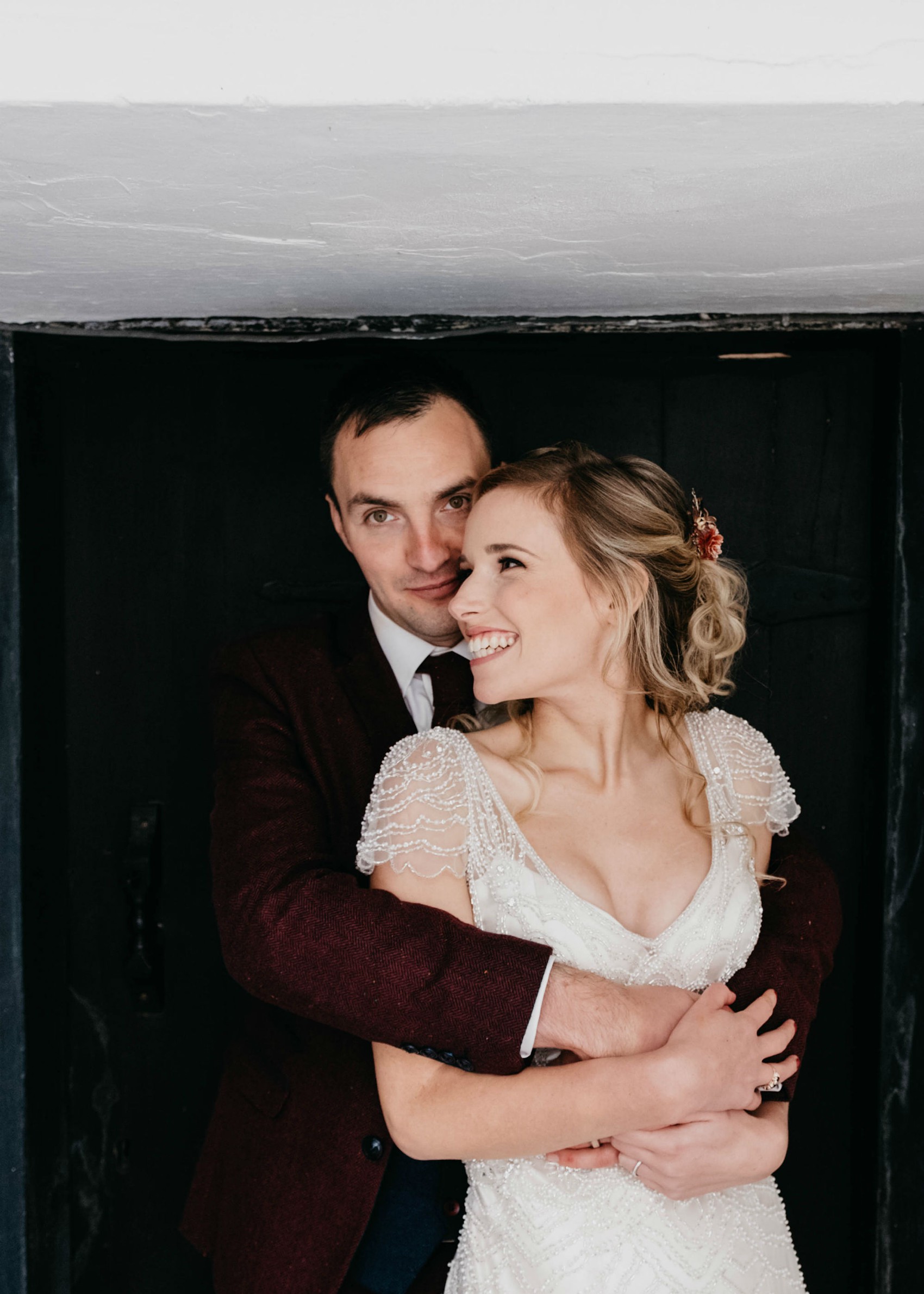 "It was really important to us that we felt comfortable with our photographers, as Nick usually hates having his photo taken, but Zuzi and Ben were fantastic – they were so warm and fun, and half the time, we didn't even know they were snapping away. We loved their bright, fun style and think that they really managed to capture the atmosphere of our day – we couldn't rate them more highly."
"We knew fairly early on that we wanted a village hall reception. When we started planning and getting ideas together, we realised very quickly that we weren't fussed about formalities or a beautiful venue – all we really wanted was a big, fun, relaxed party, where we could celebrate with our favourite people and fill them up with good food and drinks."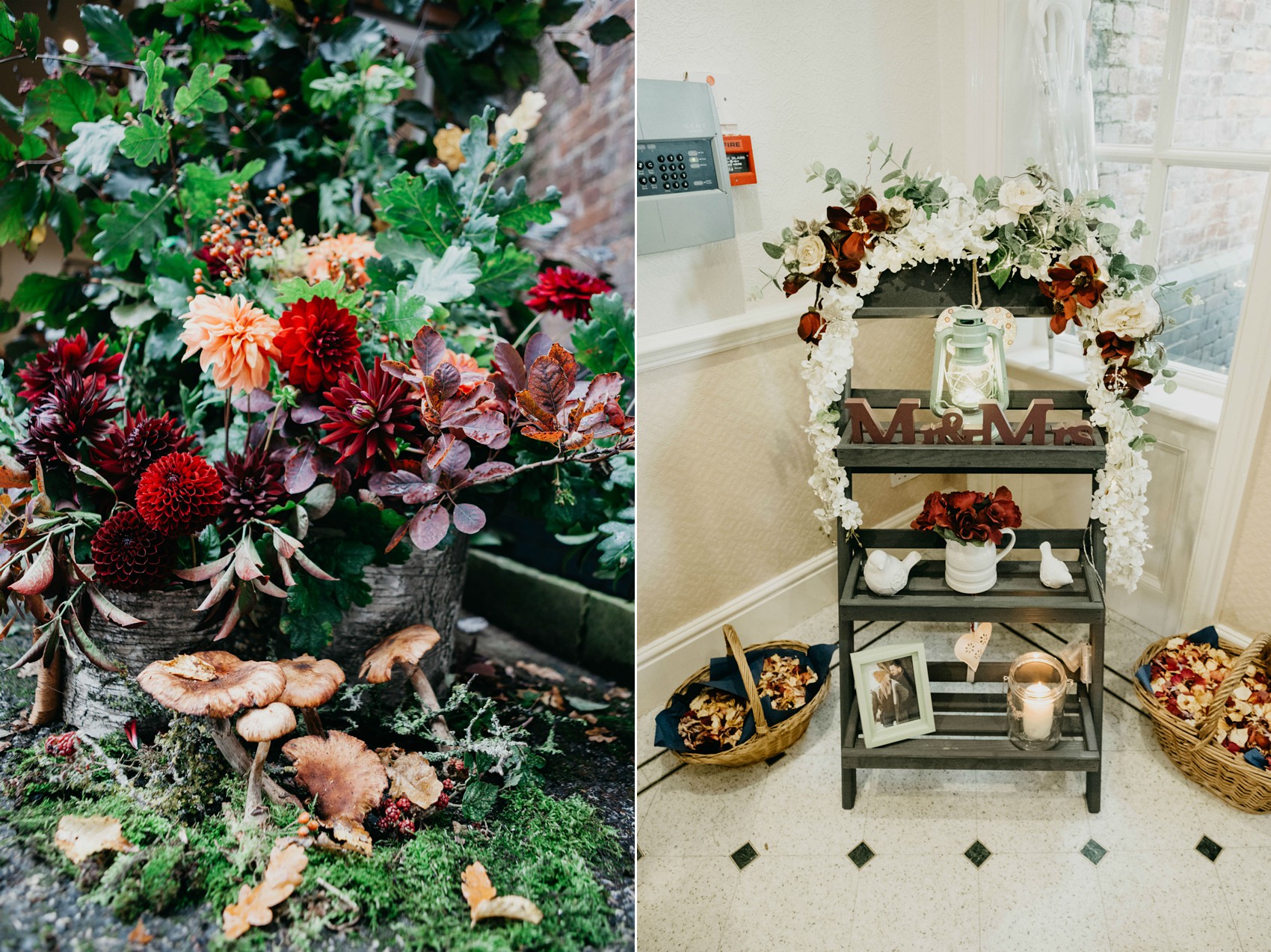 "As massive foodies, our catering was so important to us – it was the main reason for us picking a dry-hire venue. We specifically wanted a caterer who could serve something to share as a starter to get all our guests talking and having fun, and who could do us a delicious pie and mash main as it's one of our favourite teas."
"I searched through wedding blogs on the lookout for local caterers, and found Sarah at Taste the Love, who ticked all the boxes. She was just amazing!" 
The feast began with canapes and sharing mezze boards, followed by steak, ale and Stilton pies from N. Carter & Co., served with mash, mushy peas and gravy.
"We hired Those Four to run our bar for us, and they were absolutely beyond incredible. I think they may have been the biggest hit with our guests out of everything! Natasha worked really closely with us to make sure that everything was just right – she came to our home with a selection of amazing wines, and we had a brilliant day sampling them all!"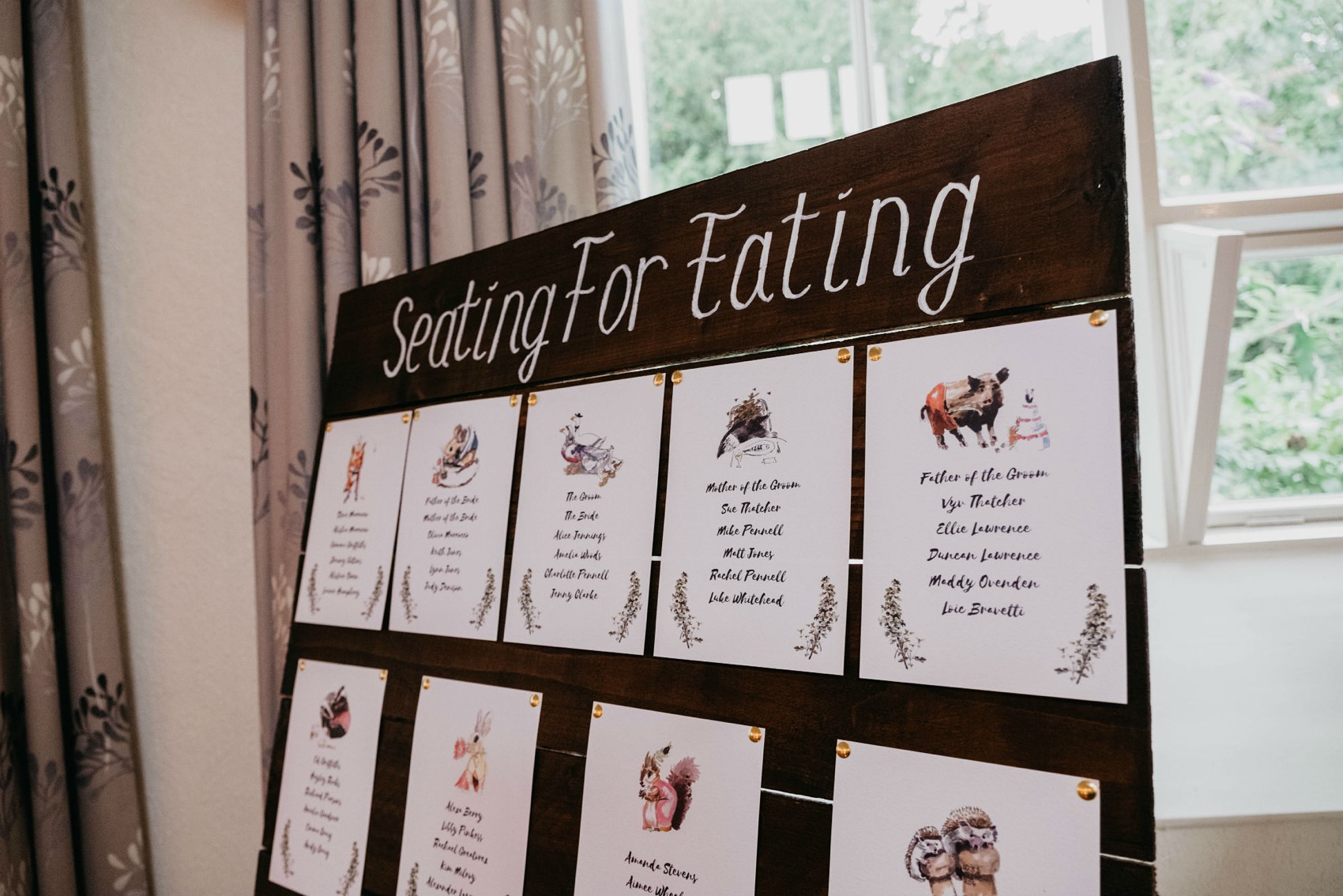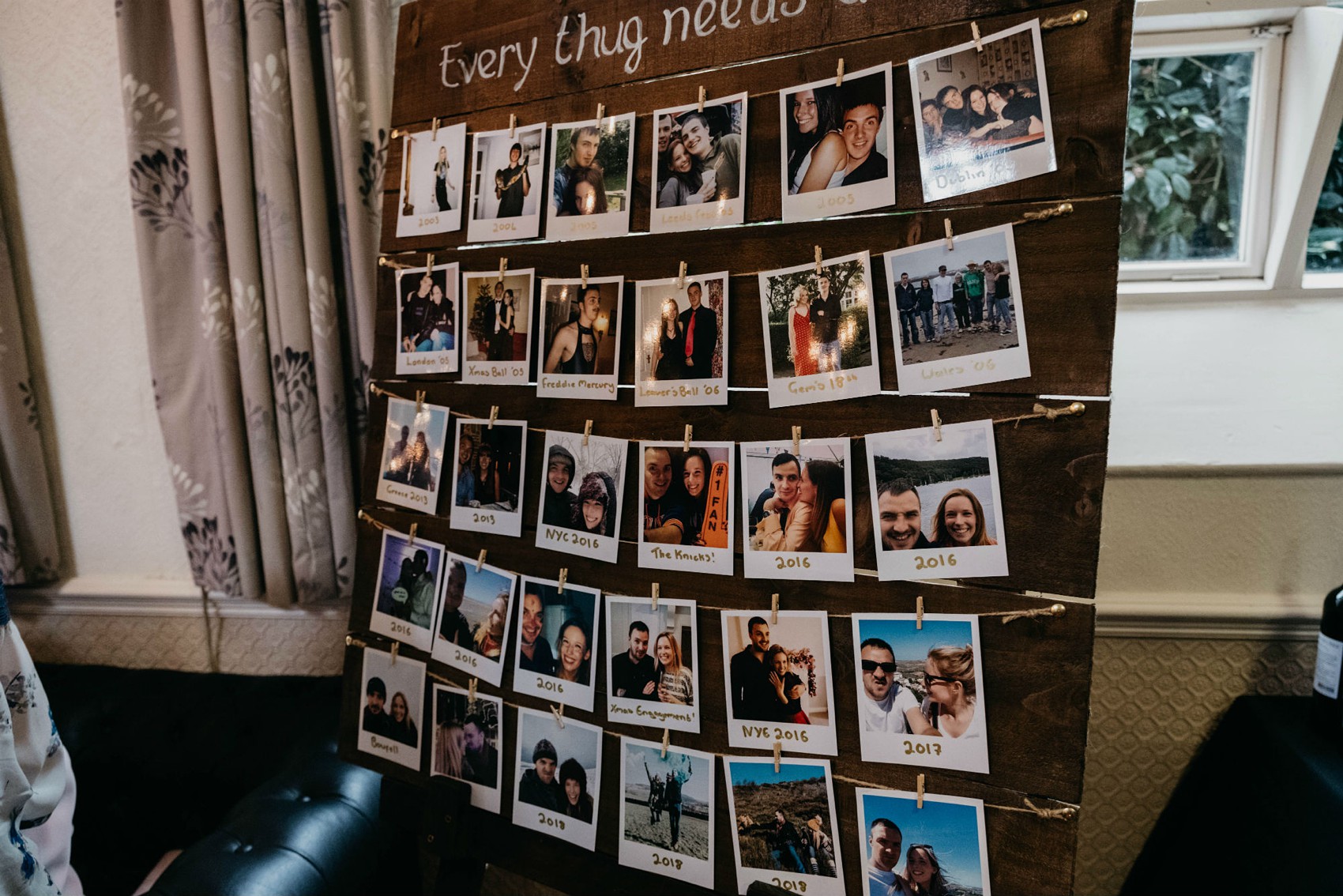 The couple were also really happy to have found Stef Fetterman, of Alternative Weddings Manchester, who provided invaluable on the day coordination and creative venue styling.
"Stef was just amazing and I am so glad we found her. Stef was the first person I found who I felt really understood what we wanted to do. She was so full of enthusiasm and ideas, and put so much time and energy into helping to make our wedding day just amazing."
"Stef herself down to Macclesfield Forest and foraged for branches, which she then hung around our staging area, and somehow turned the venues lilac curtains (not part of the colour scheme!) into trees. She also went absolutely nuts with the fairy lights, and she brought her gold glitter disco ball with her."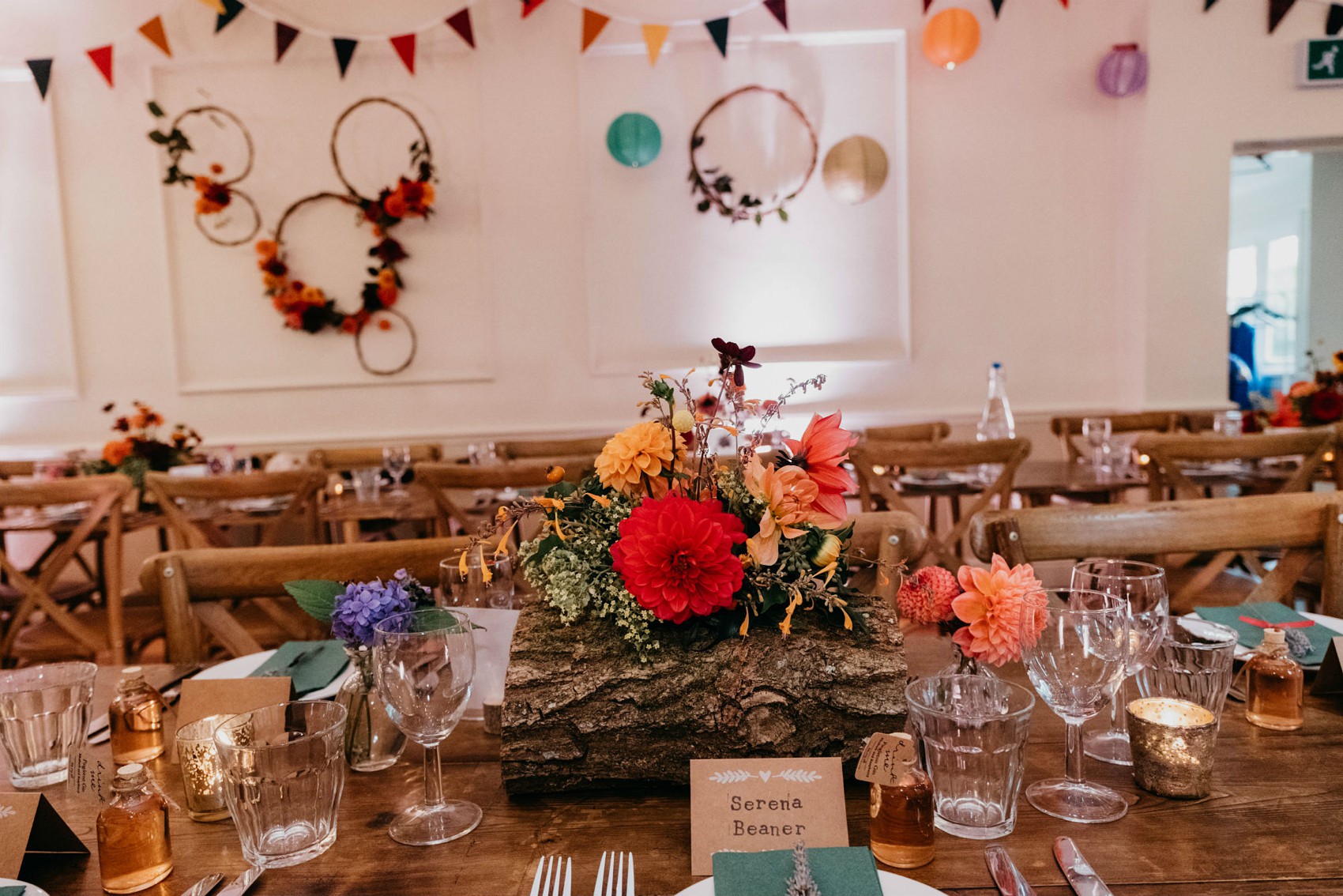 "On our wedding day, she was basically super-human. Everything happened seamlessly, and we were able to relax and let go completely. We just went with the flow knowing she had everything in hand."
"Our village hall was a total blank template, which was so lovely because we could make it whatever we wanted. I knew I wanted colour everywhere, and for it to look really bright and fun."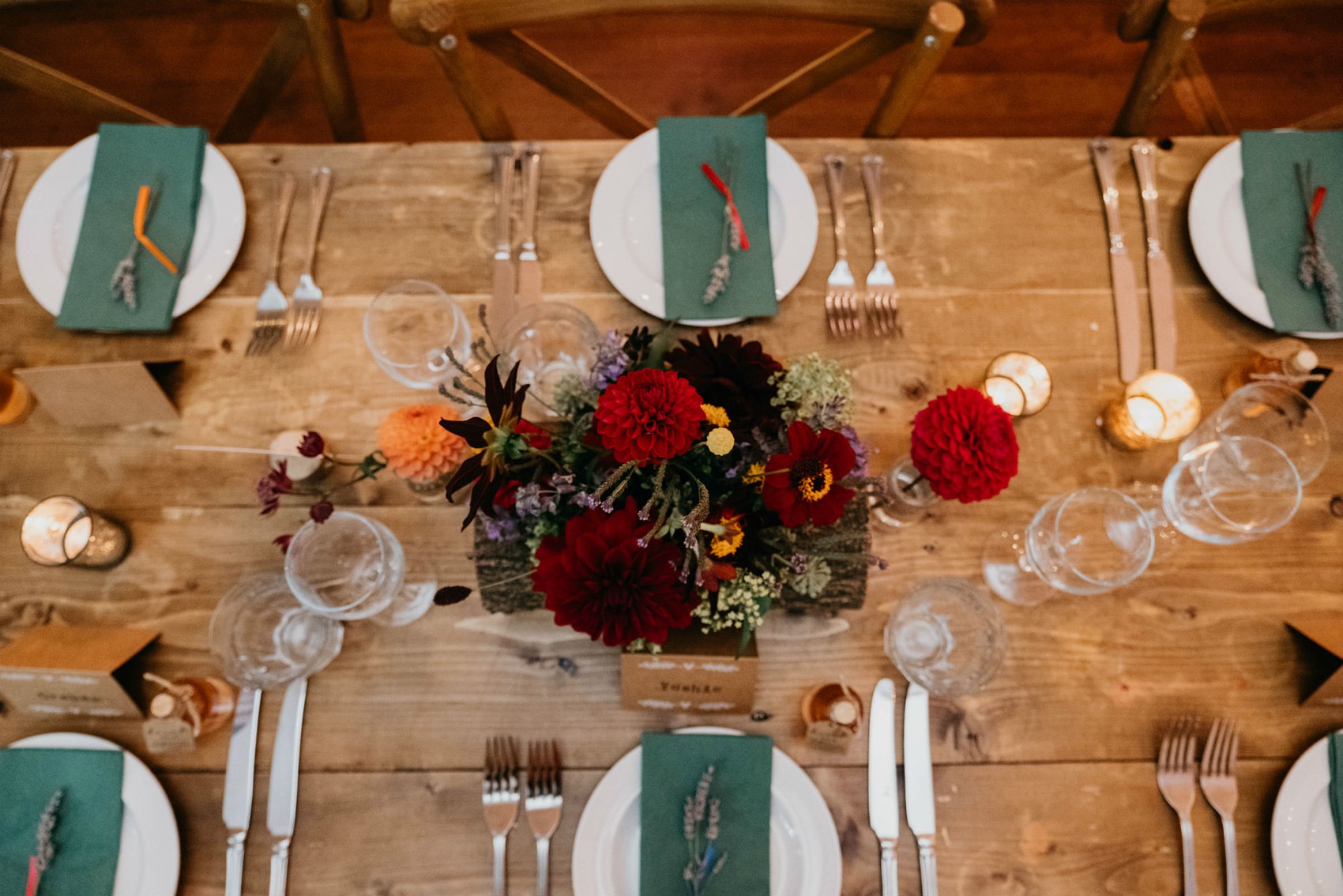 In keeping with their rustic, woodland theme, Gem and Nick hired vintage trestle tables and oak chairs from Chairman Hire, and Gem handmade place settings using Kraft card and a stamp from Hobbycraft.
"My close family friend Judy offered to do all the flowers at our village hall as a wedding gift. For both venues, we wanted locally grown, seasonal flowers with no floral foam, no plastic and no non-recyclables, with a 'mismatched jewel meets woodland' feel."
"I will always remember her kindness. She was soaking strips of bamboo in her garden for weeks, and used them to create the most fabulous floral hoops, filled with foliage and the brightest pops of orange, pink and red dahlias."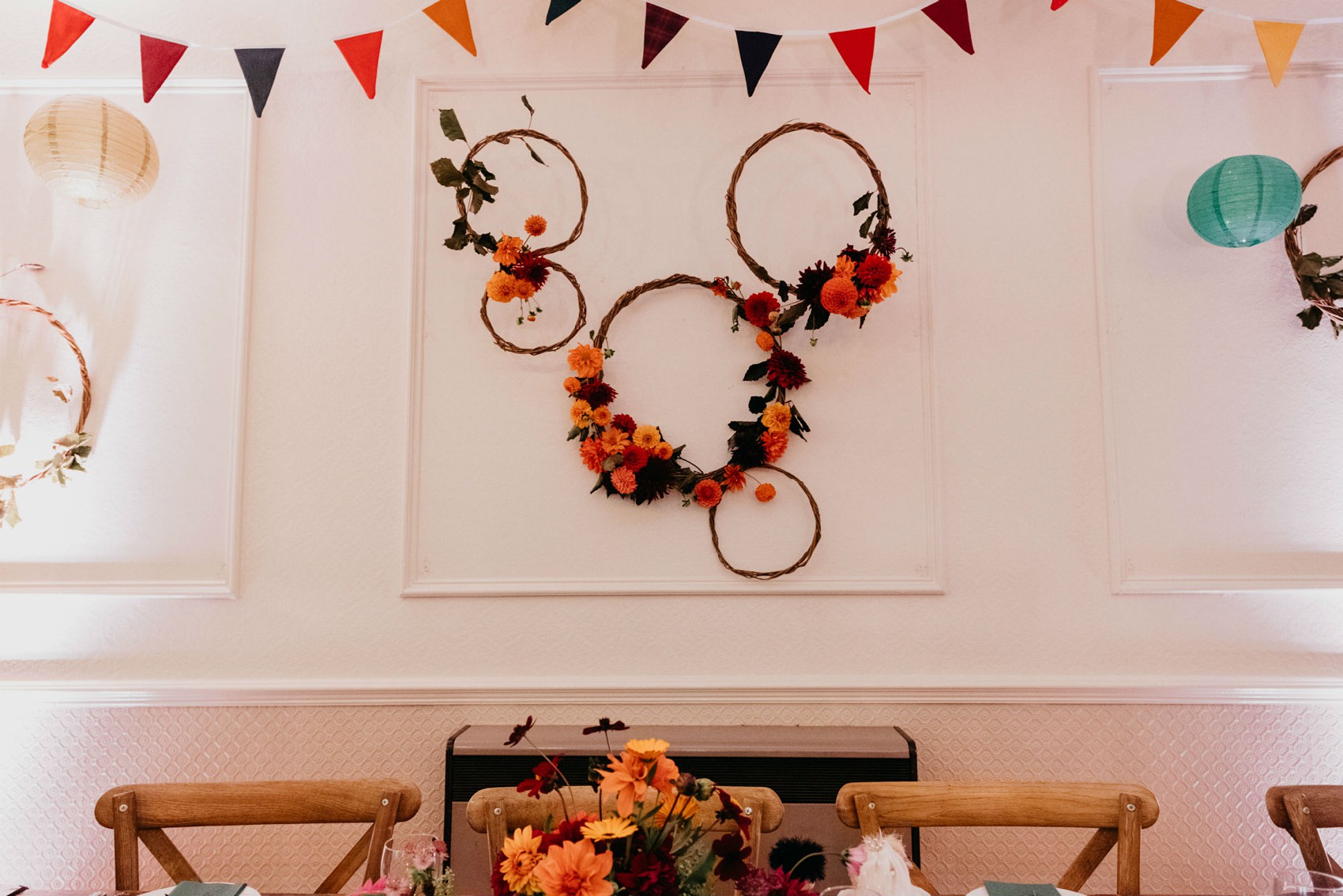 As well as being a talented florist, Nick's sister Charlotte is also brilliantly creative in other ways, and designed and illustrated the couple's invitations and table plan with a gorgeous array of woodland creatures.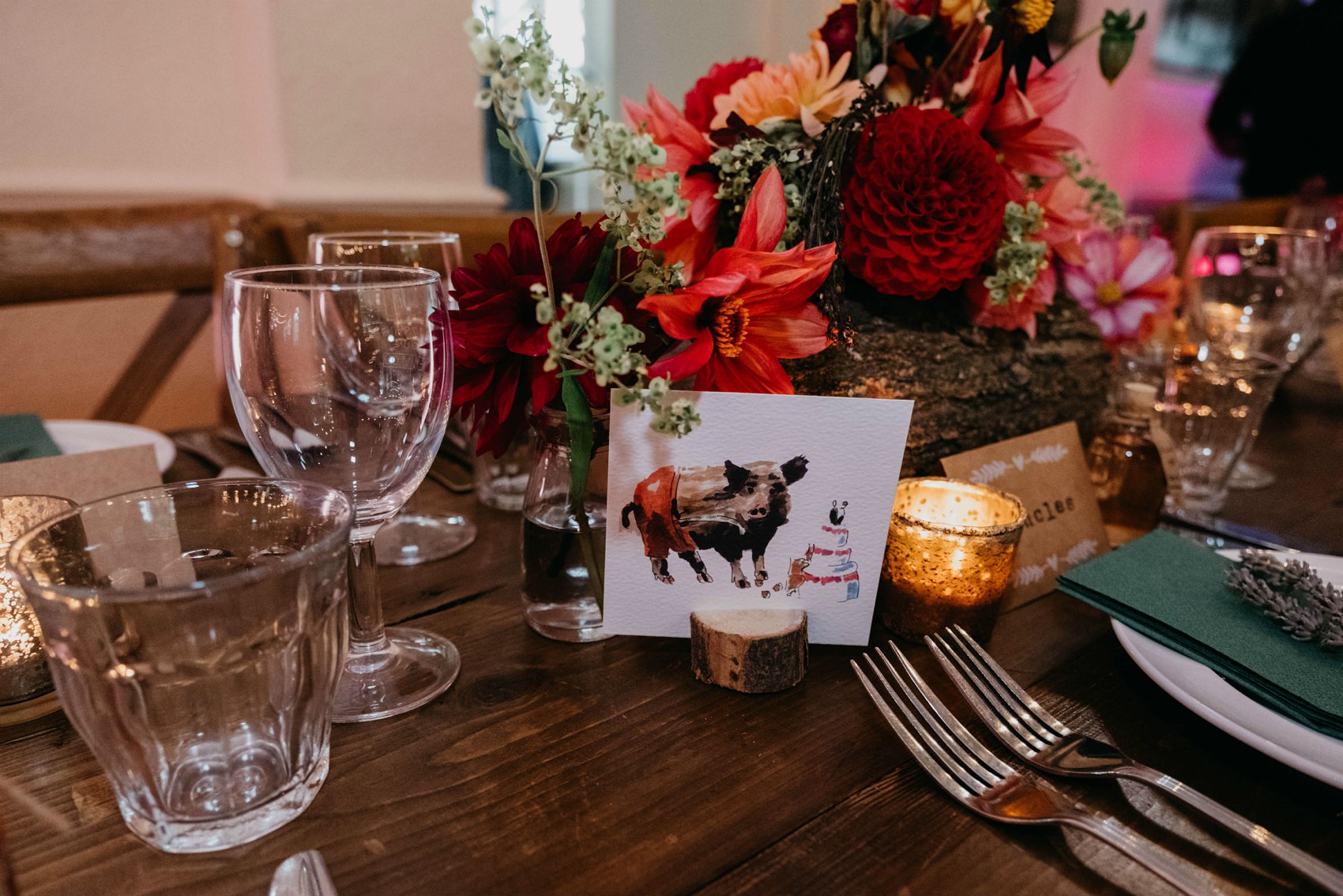 Favours were bottles of homemade rhubarb infused gin, with rhubarb grown in Gem and Nick's garden, and bottled together one rainy weekend.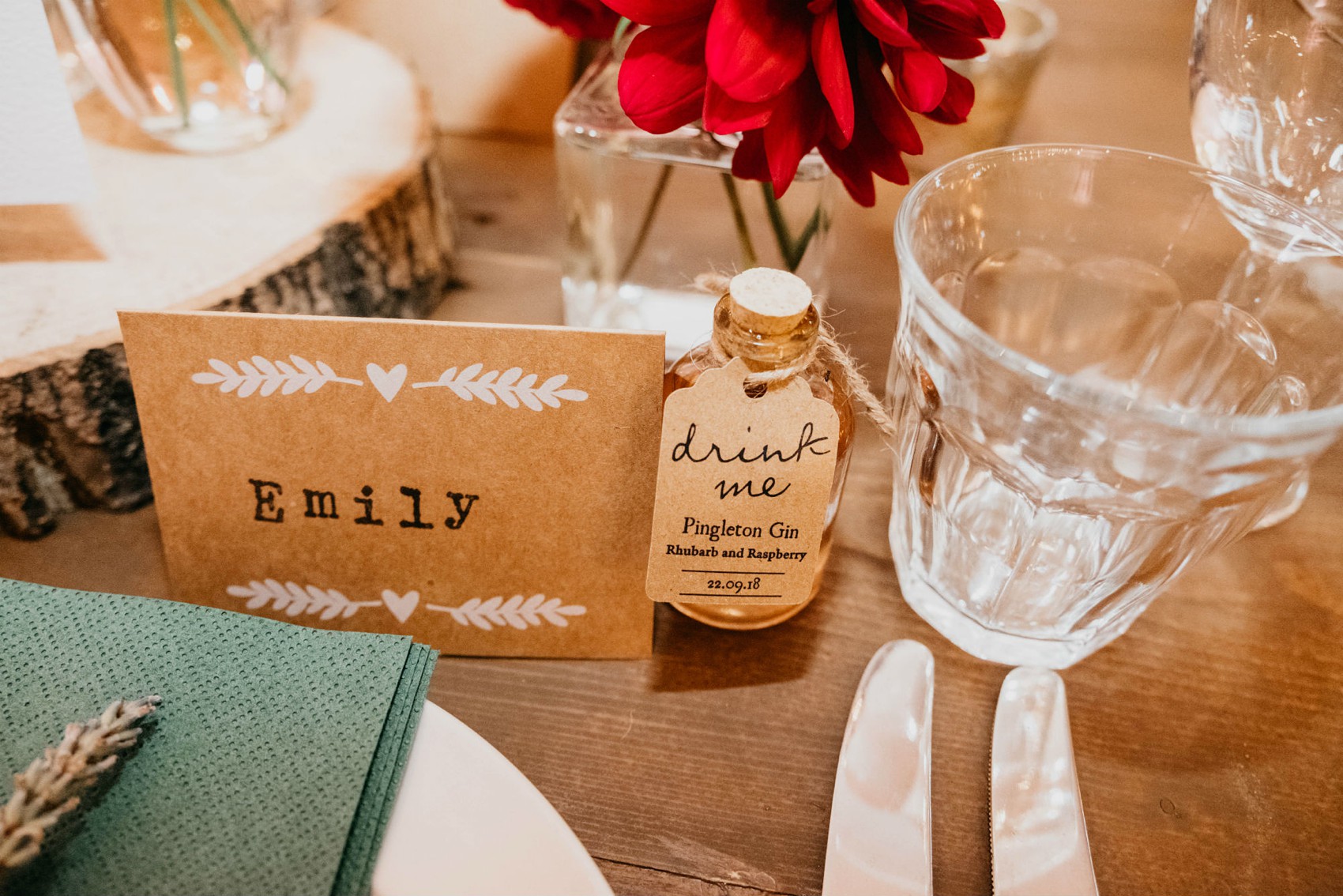 "In the end it all looked bonkers but beautiful. It was completely transformed, with bunting, multi-coloured paper lanterns, festoon lights, fairylights, woodland branches and brightly coloured flowers absolutely everywhere. A guest commented that it looked like the inside of my brain, which I loved and felt was entirely accurate!"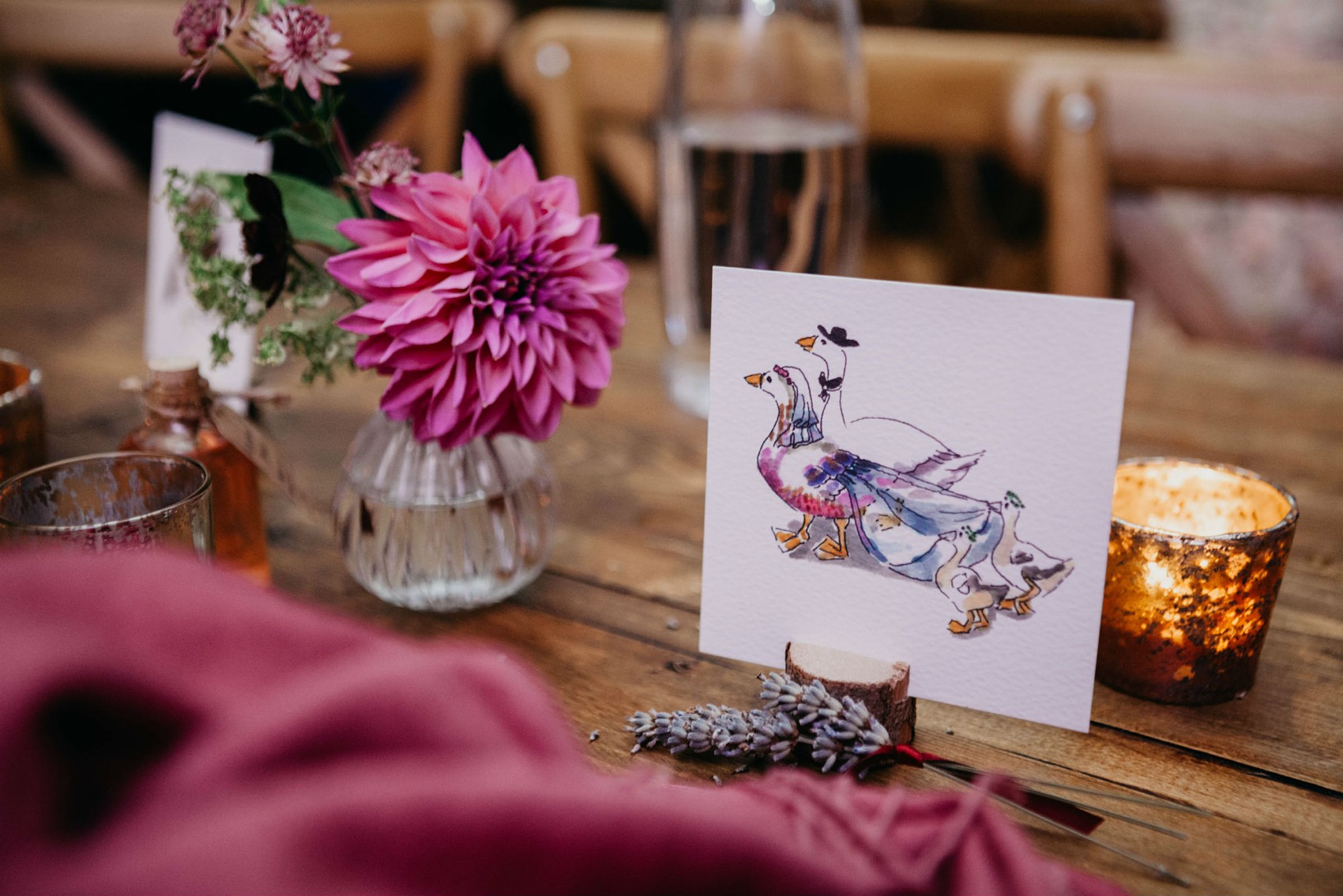 Gem and Nick decided not to have a wedding cake as such, and instead went for a buffet style dessert table full of treats, cutting one of the cakes after their wedding breakfast before everyone tucked in. In the evening, there was more incredible food – this time it was pizza courtesy of Pizza Peddlers.
"I'm so glad we picked them, as their pizzas were incredible and the service we received was phenomenal. John and the team created a delicious menu of our favourite flavours for us, and were just so smiley and friendly. They stayed for hours, and even boxed extra pizzas up for us when they left for us to eat the next day."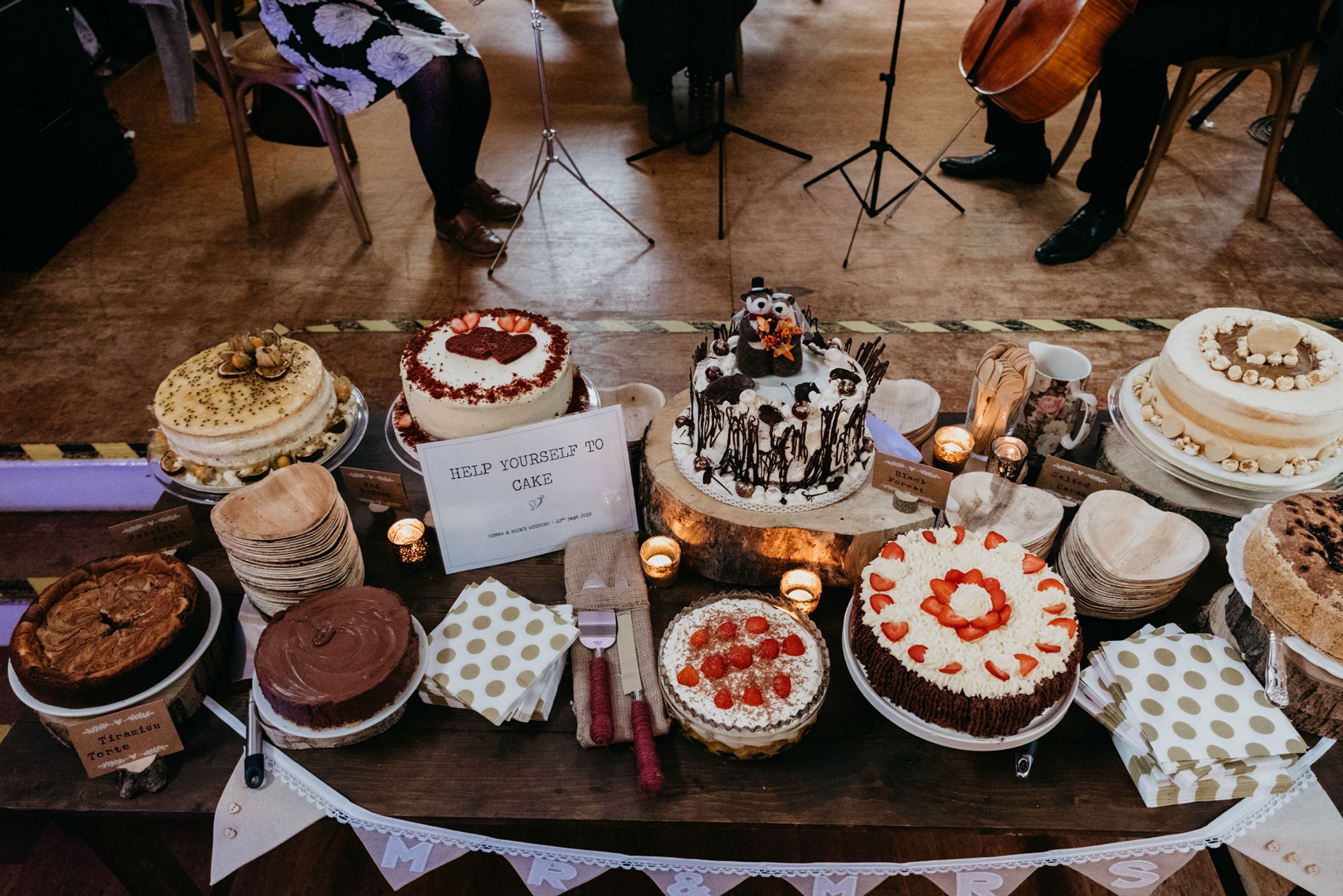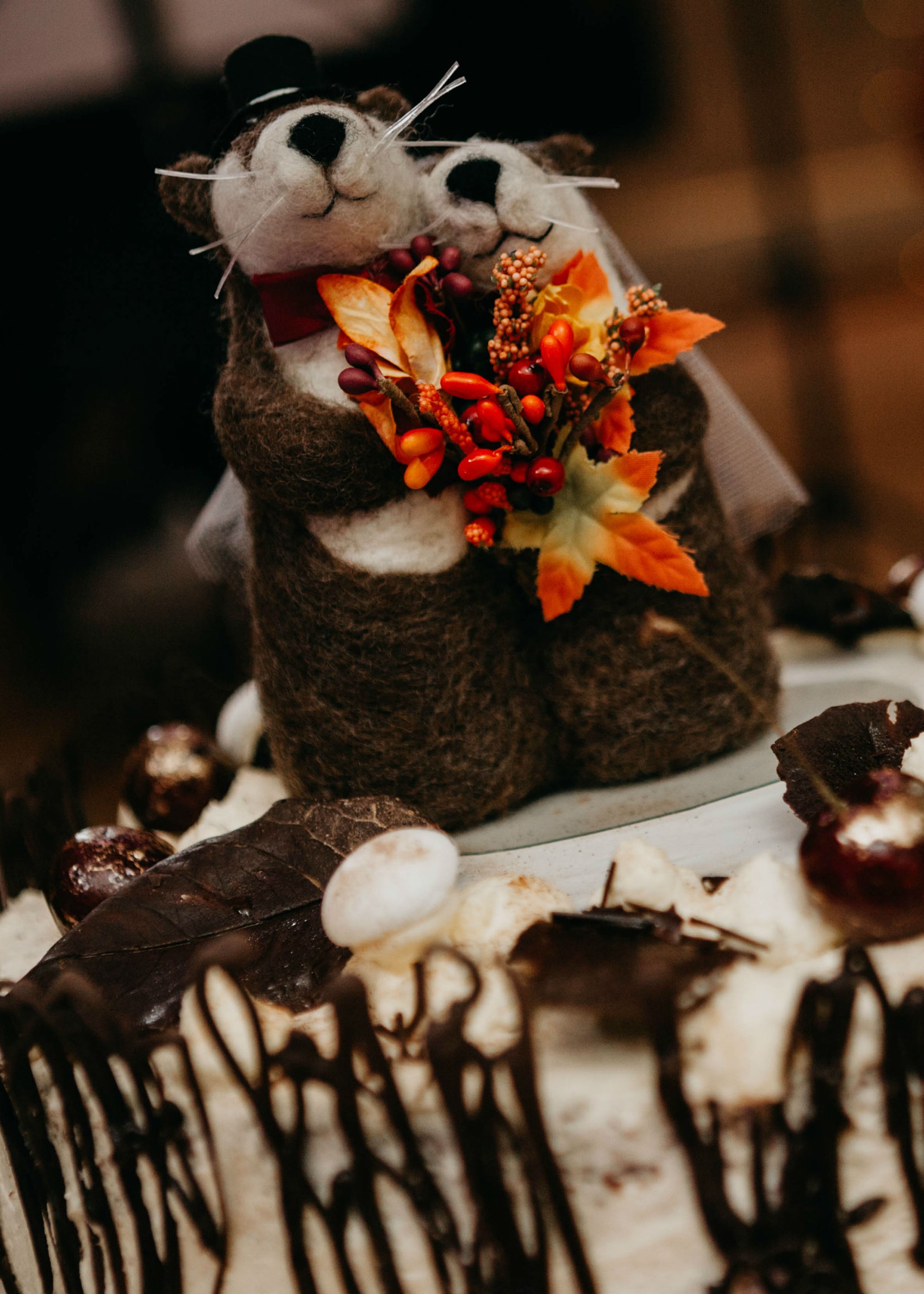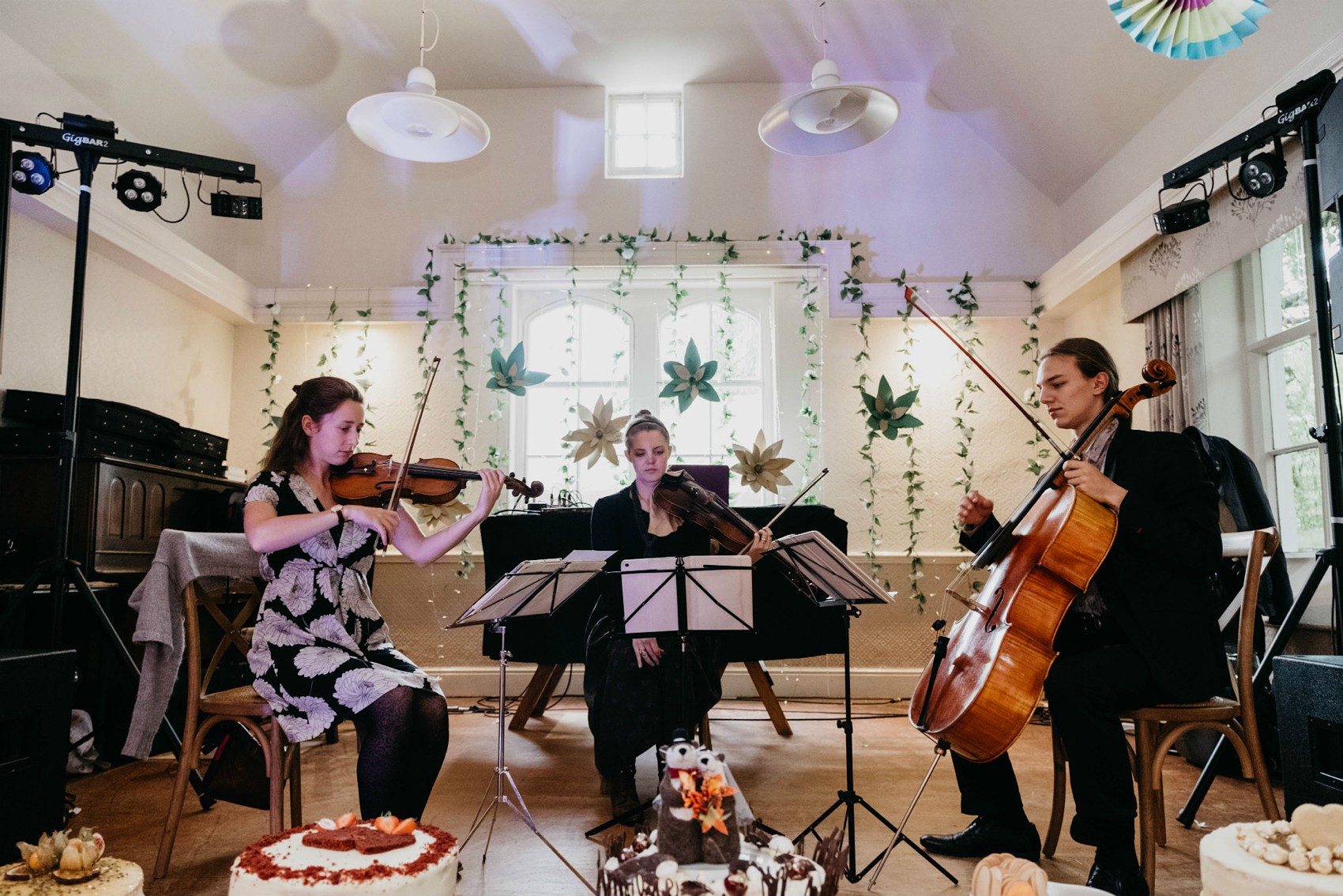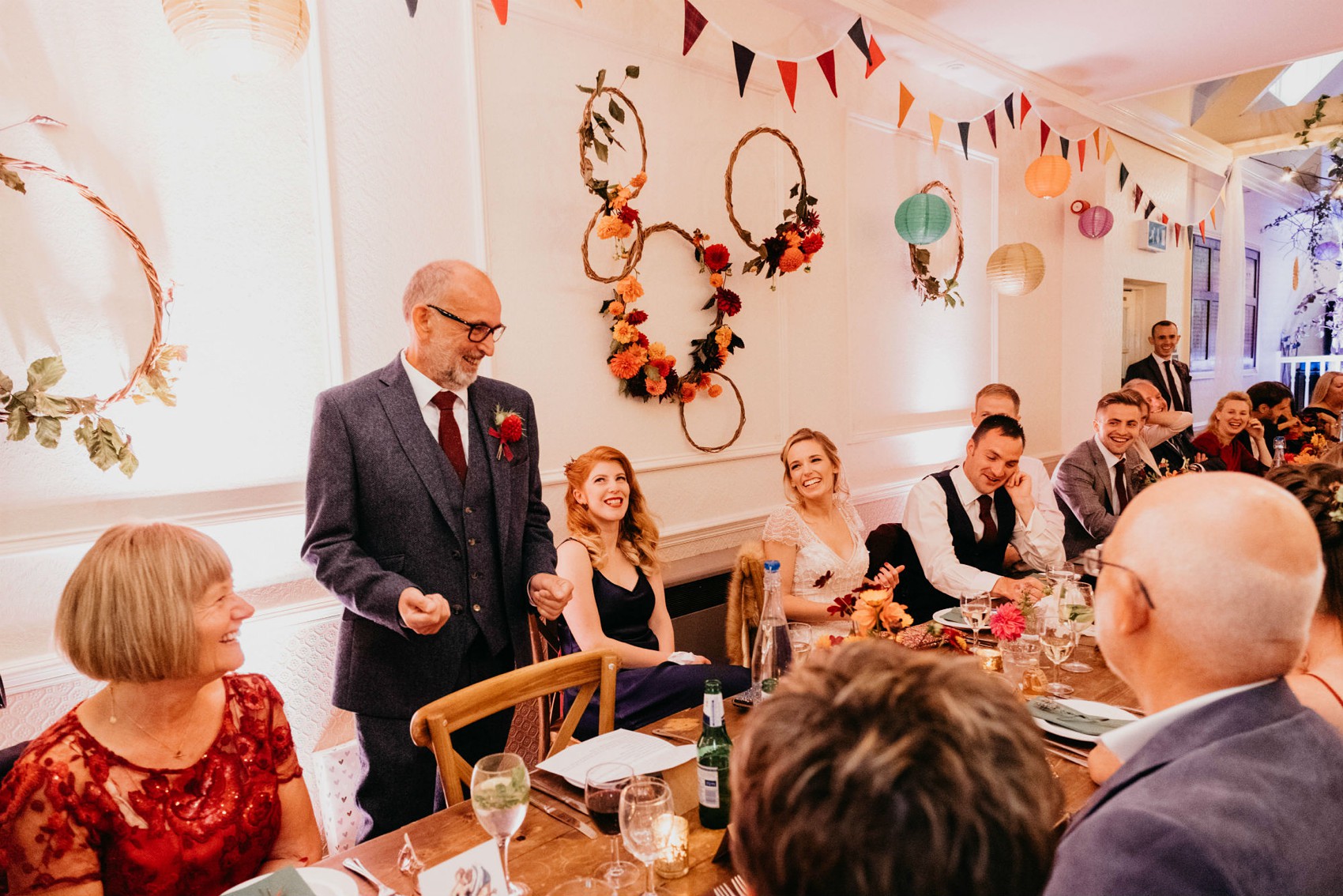 "I can still remember walking into the hall for the first time on our wedding day and just being so overwhelmed by the transformation. Everything looked even better than I ever could have imagined, and to me, it was even more beautiful than the fanciest of stately homes."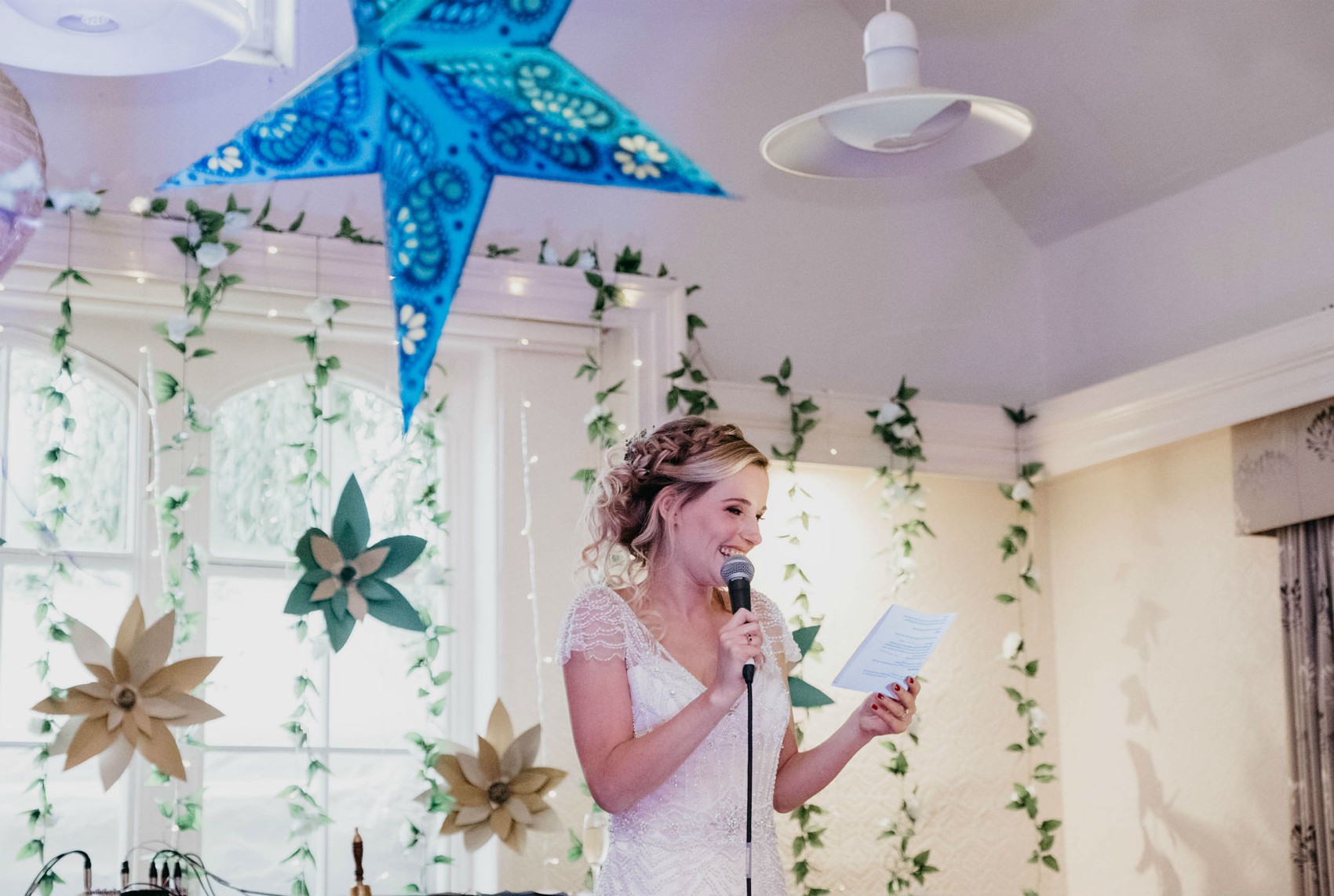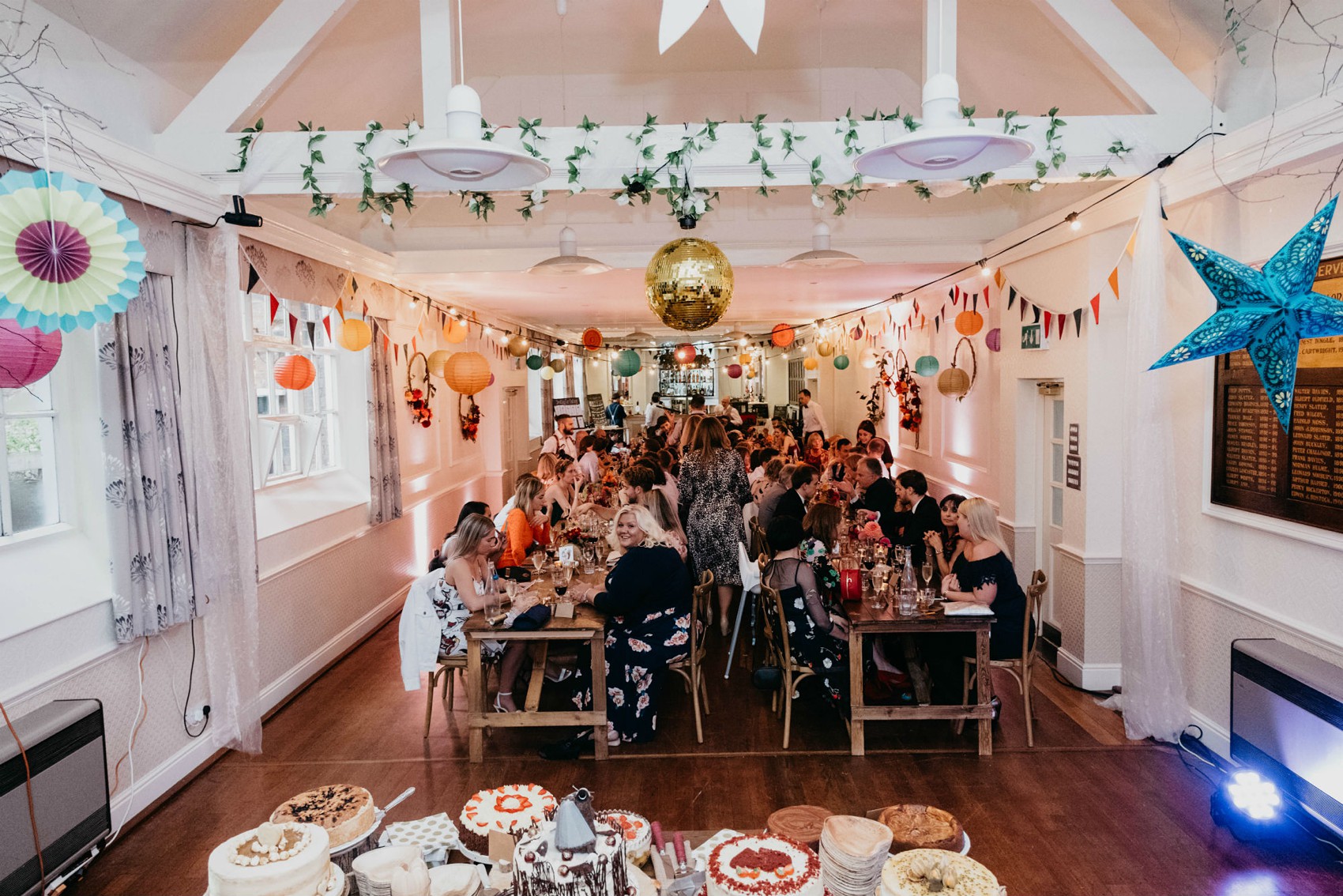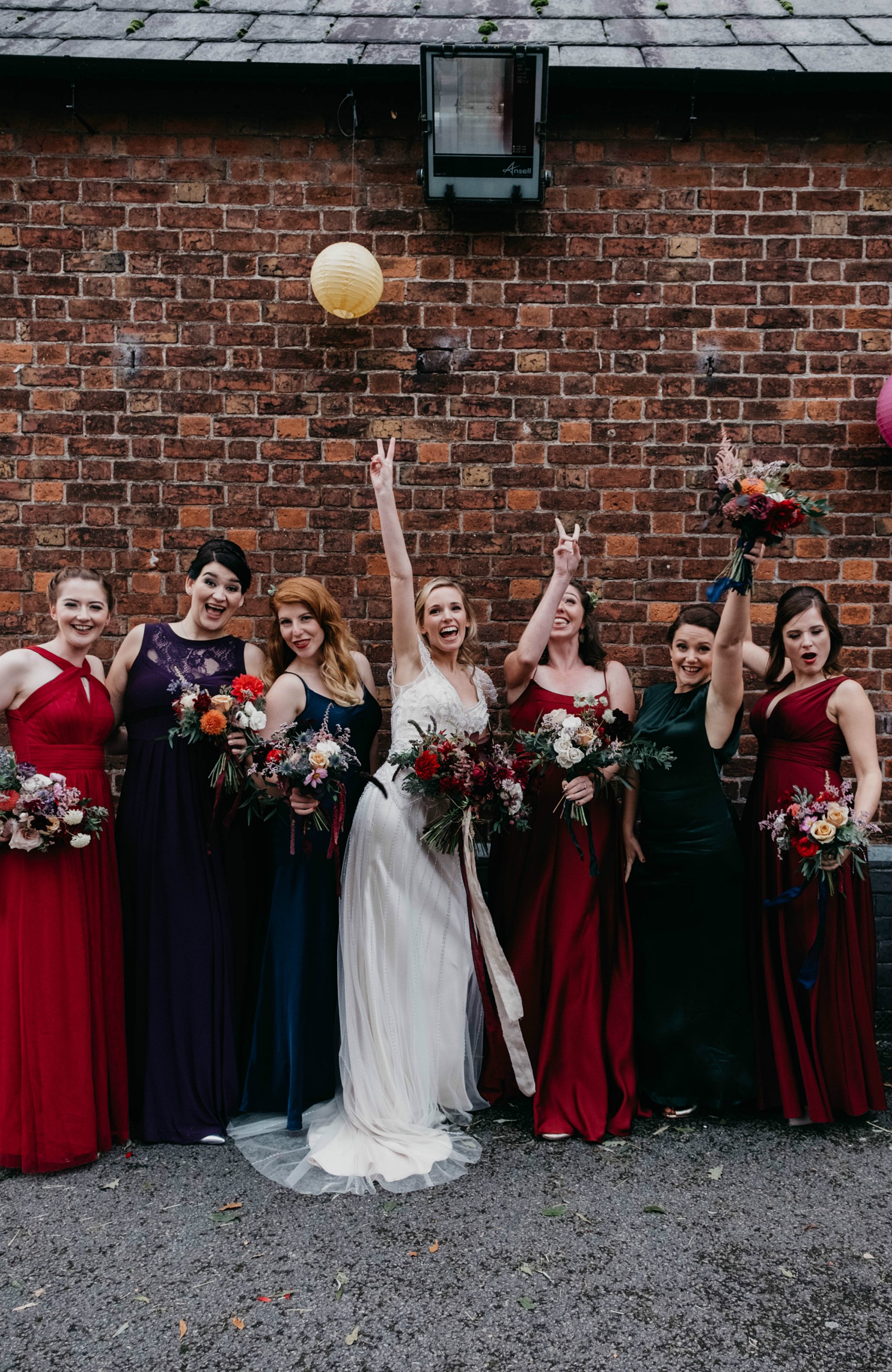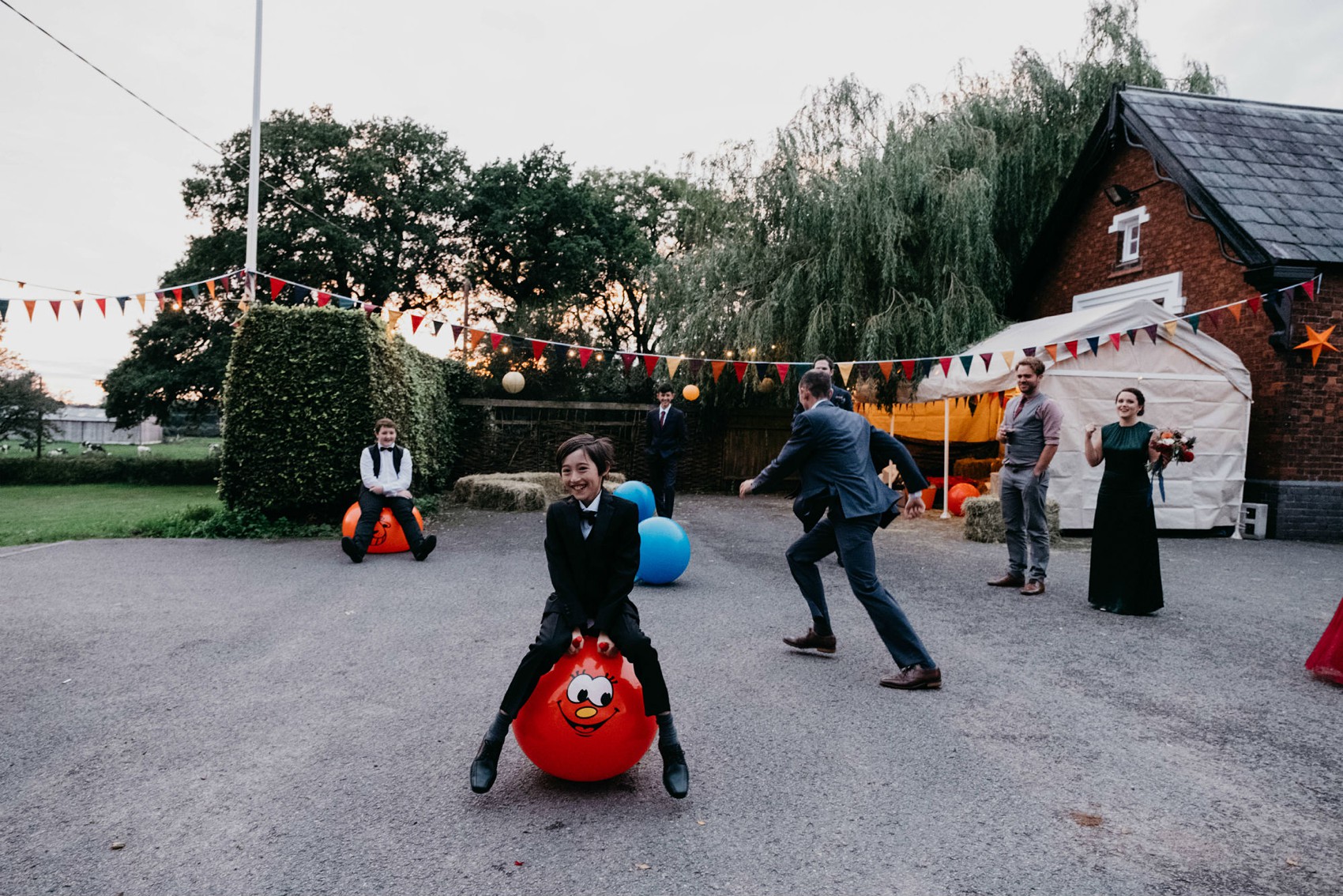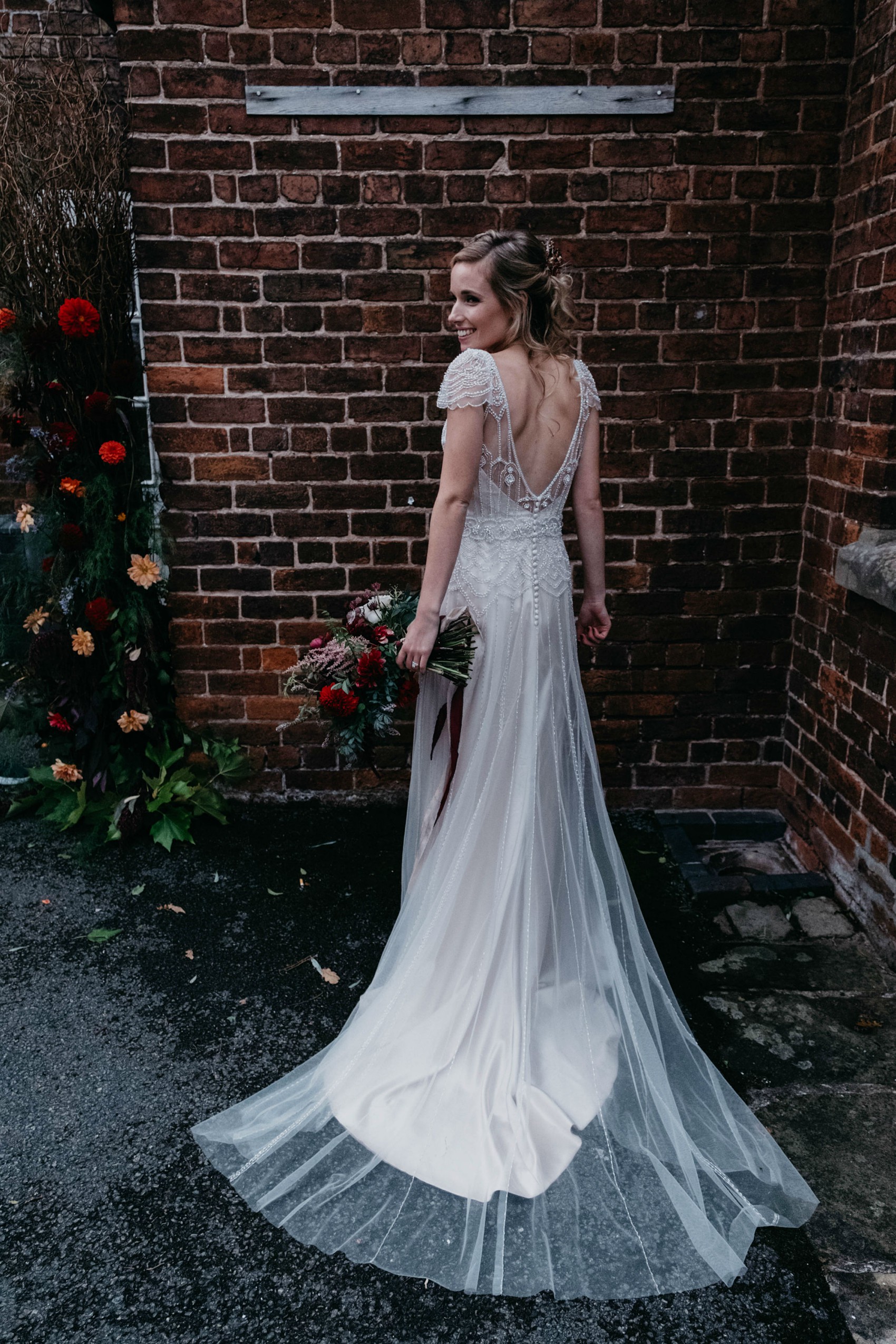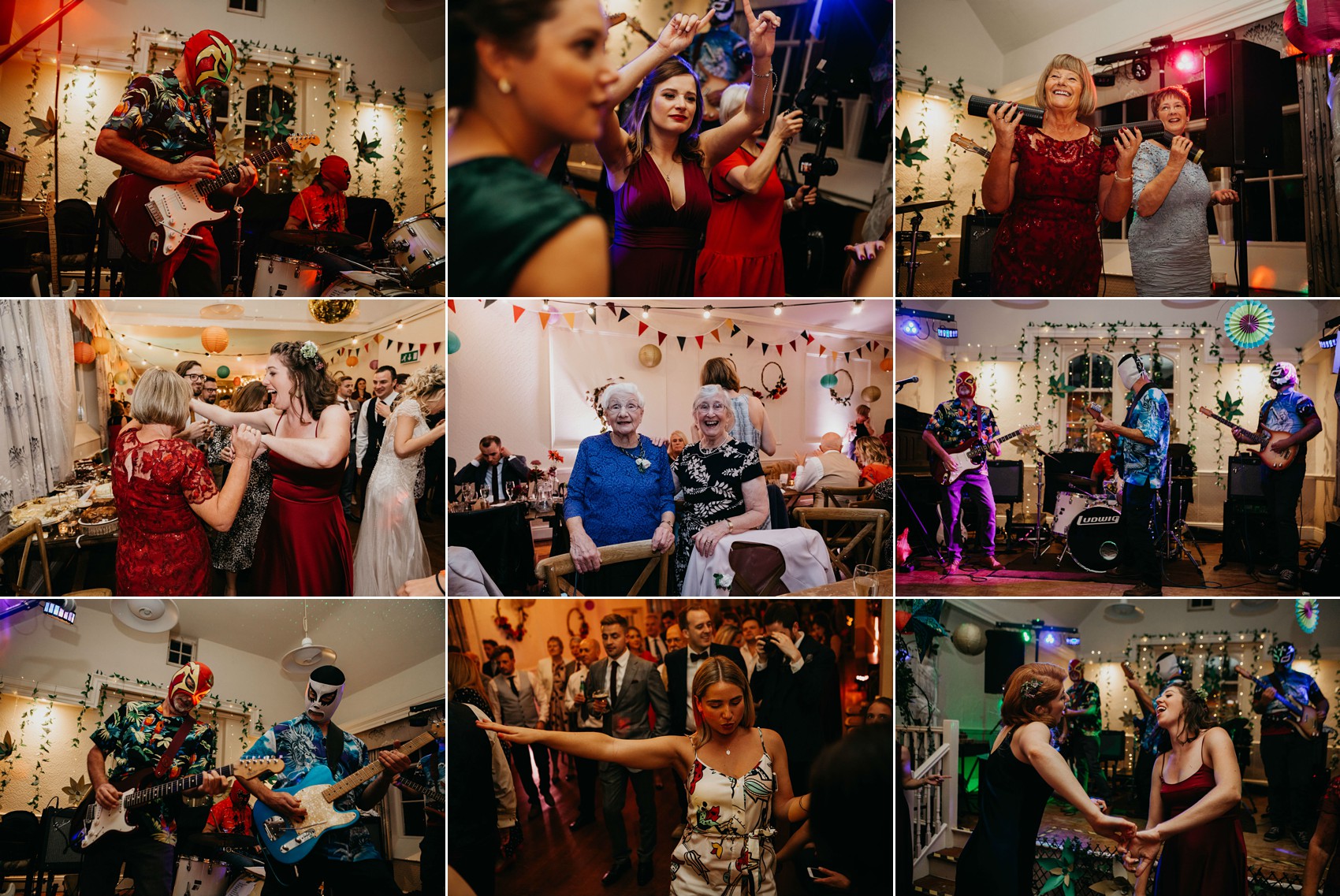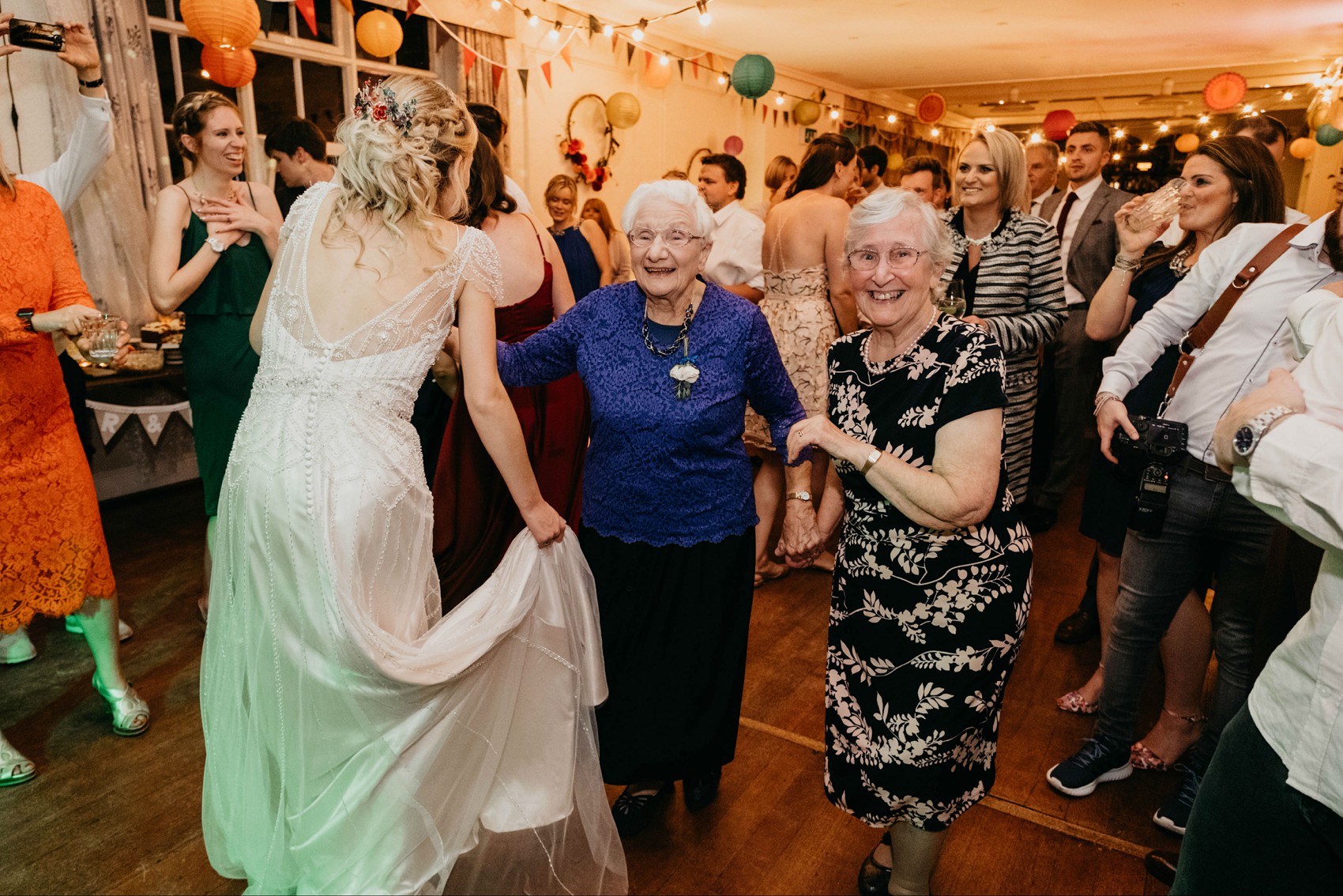 As the day came to a close, the evening entertainment got started, with music from Gem's dad's band – brilliantly named, The Unshaggables!
"We were very lucky on the live music side of things. My dad is in a surf music band (think pulp fiction soundtrack!), and they played early in the evening, complete with their costume of Mexican wrestling masks and Hawaiian shirts. No-one could quite believe their eyes, it was brilliant!"
"My mum was the absolute queen of the dancefloor – her and her friend got on stage playing some kind of shakers at one point, they had the time of their lives. Even my 86 year old grandma was up and dancing! It was so special to have my dad playing for us on our wedding day – I was very proud of him."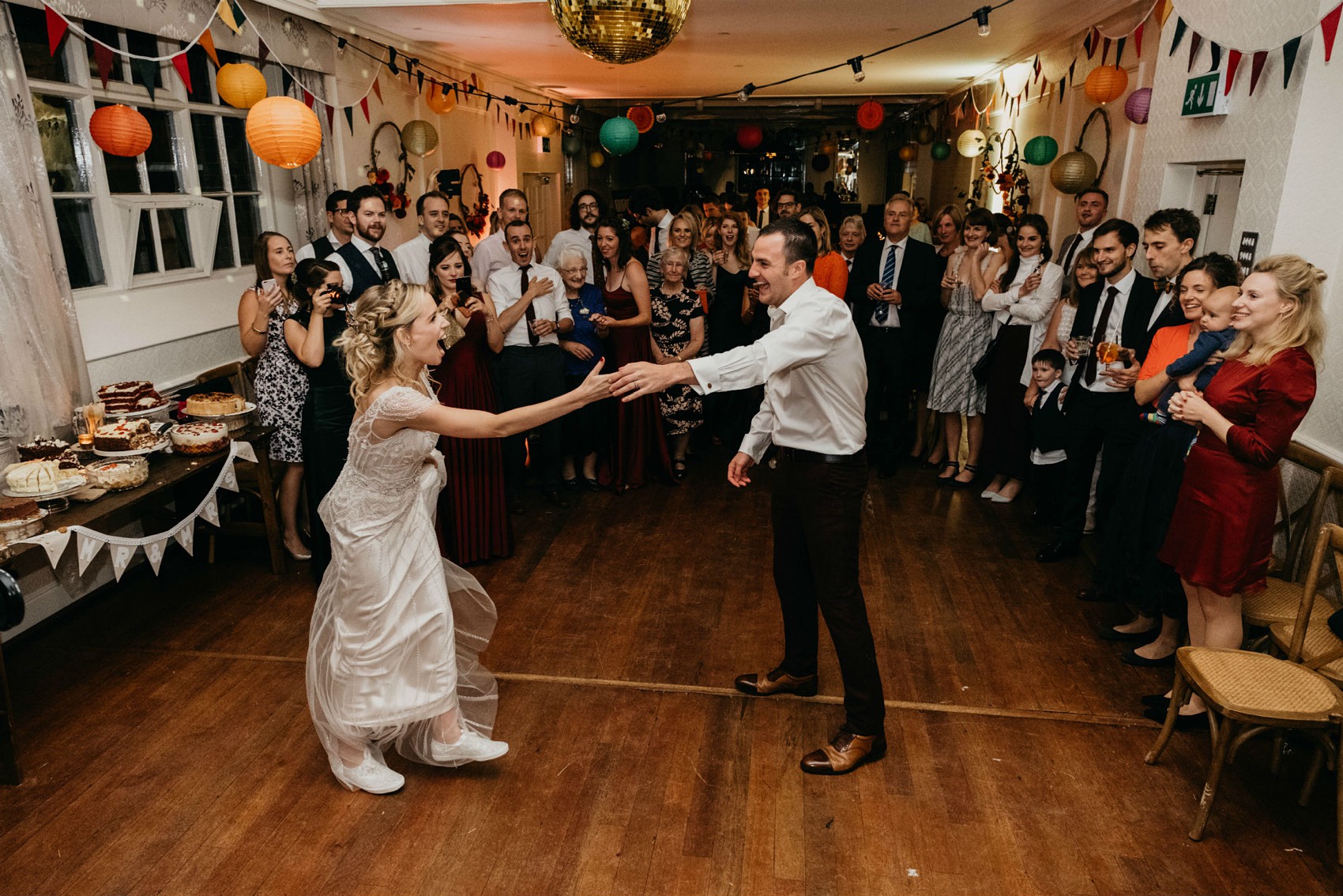 After the live set, there was a DJ – Ben from Crash The Wedding, as well as photo booth fun from Old School Booth, and even a DIY fireworks display, with fireworks from Spectacular Fireworks.
"We danced to Growing On Me by The Darkness – a brave (and silly) choice! We have literally never listened to a ballad together in our lives, much less danced to one, so we weren't going to start on our wedding day. Growing On Me is a song we have always loved, and dates back to our teen years together, so while it's a bit silly it was appropriate too. I am an absolutely terrible dancer, and Nick isn't much better, so the whole thing was a hilarious shambles – I don't think either of us stopped laughing the entire time."
Words of Wedded Wisdom
"Spend time together. I had read lots of LMD words of wisdom prior to our wedding, and the advice that came up again and again was to make sure you actually spend time together on your wedding day. It sounds like an obvious one, but it's absolutely right – it's so easy to get carried away with everything else going on!"
"Try to pick suppliers that you love, and that you strongly relate to. You will spend so much time with them, and part of the way your wedding feels will be down to them. We really got on with everyone that helped make our wedding so amazing – by the time the actual day came around, so many of them felt like friends, and I was able just to completely relax and trust them to make sure everything happened when it was supposed to."
"Also, if you're going down the DIY route, I cannot stress enough – get a day coordinator, because it will be the best money you spend! On your wedding day you honestly lose track of everything (or at least, we did). It was so wonderful to be in a relaxed, happy, loved-up bubble and to just let Stef take charge!"
"I know it's scary, but if you can, do a speech. I think it's so important that women don't just let their new husband speak for them. Personally, I really wanted to thank all my guests from the bottom of my heart for being there, and also to say a few words to Nick in front of everyone, as it's something that you so rarely get the opportunity to do."
"I was absolutely terrified at the thought of it, but I tailored my speech to me, and when I actually started speaking I just felt on top of the world, and was on such a major high throughout the whole thing. It's also a really easy crowd. Everyone there loves you and wants to hear you speak, they're not going to judge you – they'd cheer and clap whatever you said!"
"This isn't an option for everyone, but if you can involve family and friends in the day as much as possible, it really does make it so special. In addition to all the DIY our family and friends helped us with, our families and bridal party helped us set up the day beforehand – we had a small army hanging paper lanterns and lugging hay bales about in the freezing cold rain."
"Not only were they absolute heroes, but it meant we got to spend extra time with them, and the wedding felt like it was about more than just the two of us – it also included everyone that was special to us, and invested in our relationship."
"Whilst I am a very excitable person, I'm not necessarily prone to huge demonstrations of emotion. From all the rom-coms I've watched, I really thought this would change on my wedding day. It did not. I didn't cry when I found my dress, I didn't cry walking down the aisle, I didn't cry saying my vows or during my speech. What I did feel at all times was an overwhelming sense of happiness and peace, which I will take any day."
"So many of our guests have said they'd never seen a happier bride. If you're anything like me, please don't think there's anything wrong with you, despite what TV would have us believe! Our day was still just as special to me, I just spent it laughing my head off instead of sobbing (apart from when my dad first saw me in my dress – but he started it!)."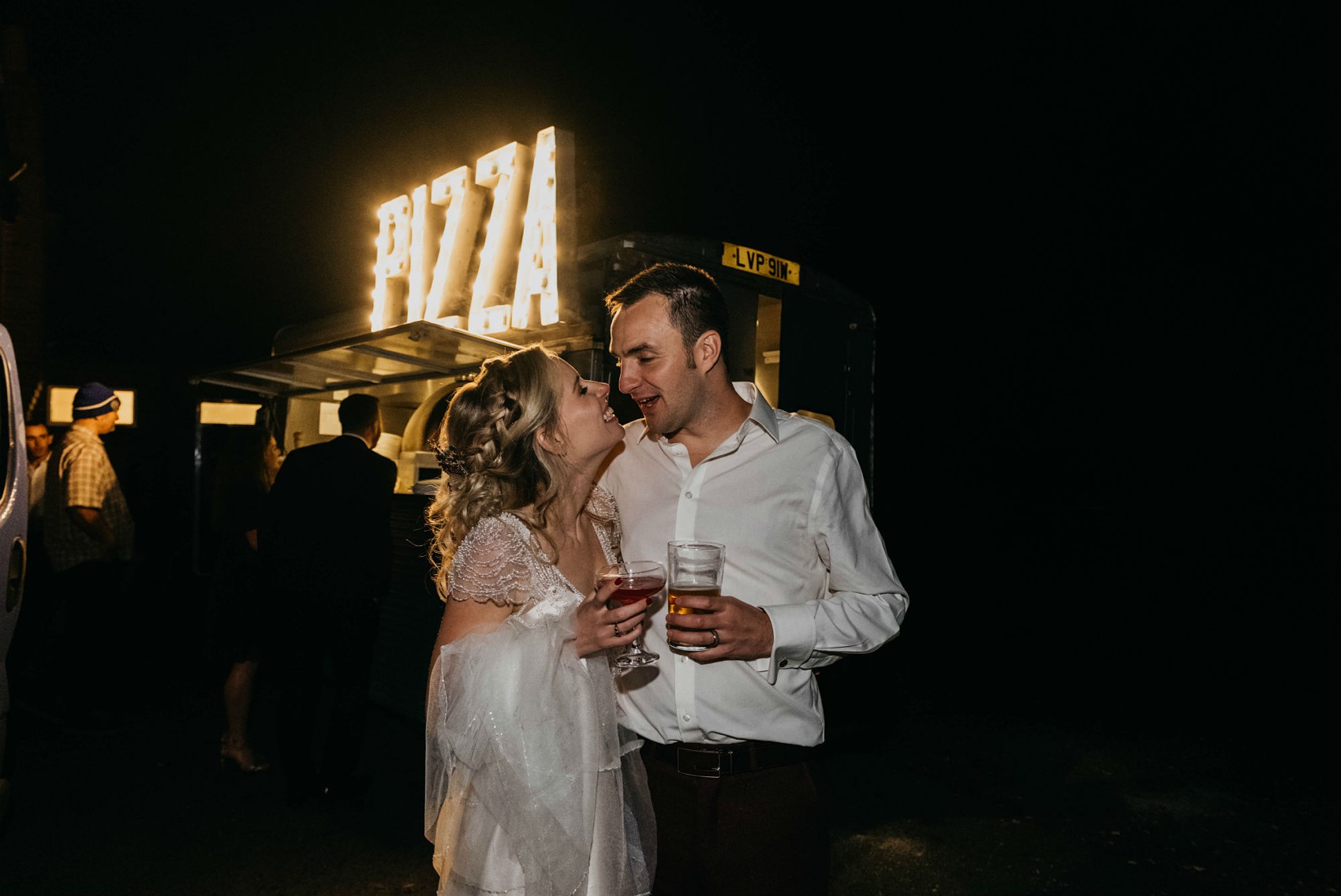 Gem and Nick, congratulations, and huge thanks, both for sharing your vibrant, joyful day with us, and for such beautiful words, too. Many thanks also go to Stella Photography for so beautifully capturing the day. We have lots more lovely village hall weddings to enjoy on our pages, so do take a look here.
With love,
Laura