Dear Readers, you're really going to want to savour every glorious detail of today's enchanting celebration, so take a break (or save this for when you can), settle in and read on for a seaside wedding with plenty of twists, and a couple who put their story at the heart of their day.
Meet Hannah, a Publishing Editor, and Nick, who is a Creative Director. They were married on the 22 September 2018, in a ceremony at Brighton Bandstand – a restored Victorian beauty right on the seafront. This was followed by a reception at Fabrica, which is a brilliant contemporary art gallery housed in a former Regency church.
Images by Kristian Leven Photography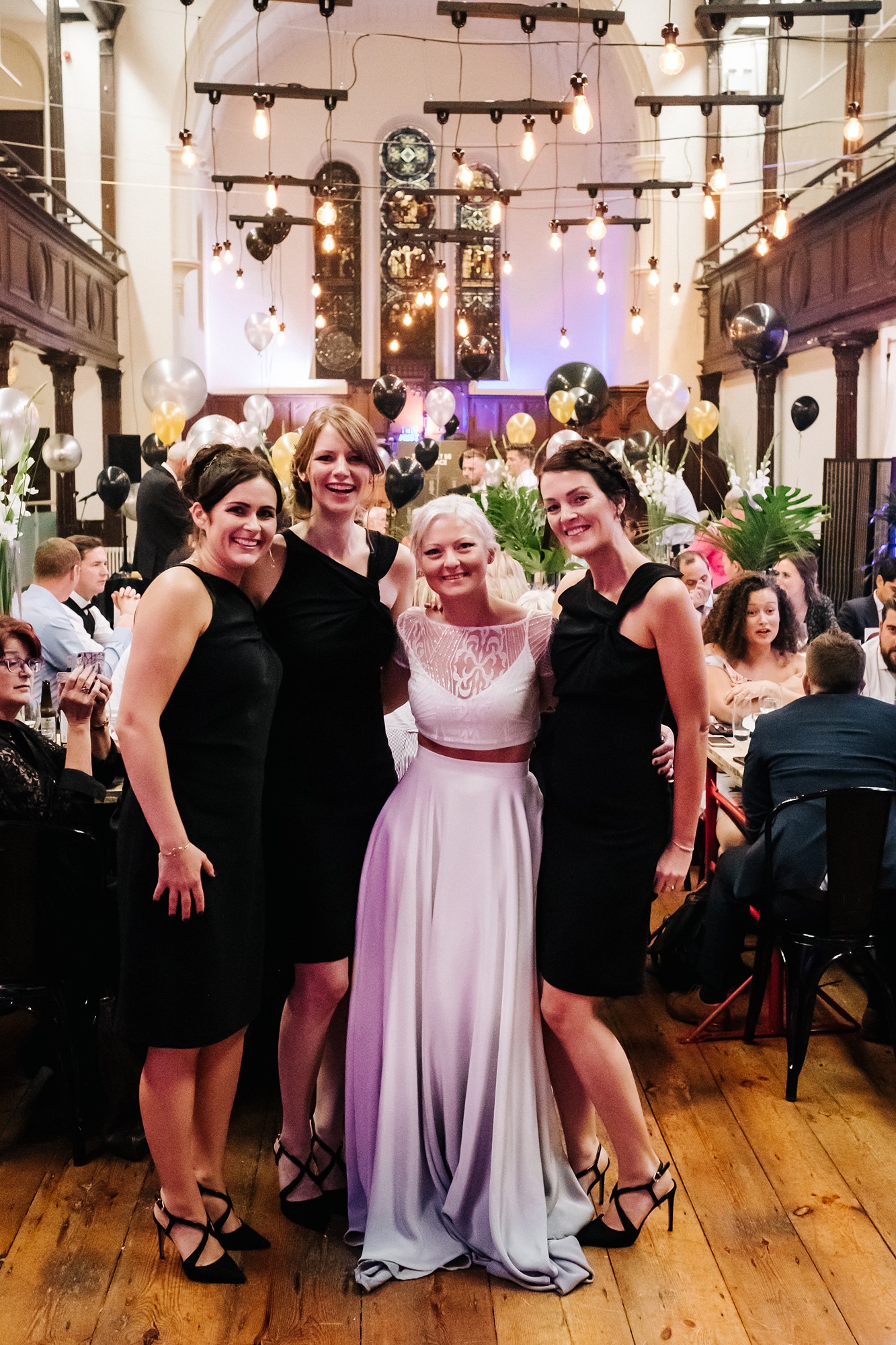 "More than anything, we wanted the wedding to be 'us'. We wanted it to reflect our style, our experiences, our story, the places we've been, the things that we love, and that our friends and family love about us. I only ever wears black, white and grey, so the core of the wedding colour palette was relatively monochrome with splashes of gold. We then added spikes of intense colour – neon lights, vibrant green statement foliage, plants – to give it life and colour."
Hannah spent the morning getting ready with her loved ones, with her make-up and sleek, braided pleat by Poppy Tallulah Hair & Make-up. In her hair, Hannah wore a moon hair clip from Anthropologie – a Christmas gift from Nick.
"I wore my great-grandmother's sapphire and diamond ring, plus two opal rings from WWAKE that Nicky had bought me as gifts. One was given to me at the New York Bar at the top of the Park Hyatt, Tokyo – the bar from Lost in Translation – and the other was my temporary engagement ring that I wore whilst my real one was being made. He also got me a diamond ear creeper from Ruberg, who made my engagement ring and both our wedding bands. Nicky is very naughty."
"We both wore Penhaligon's scents. Nicky started buying them for me as gifts, and we both have fallen in love with their range – iconic, unusual and yet somehow traditional. I bought Nicky Monsieur Beauregard and he bought me Luna."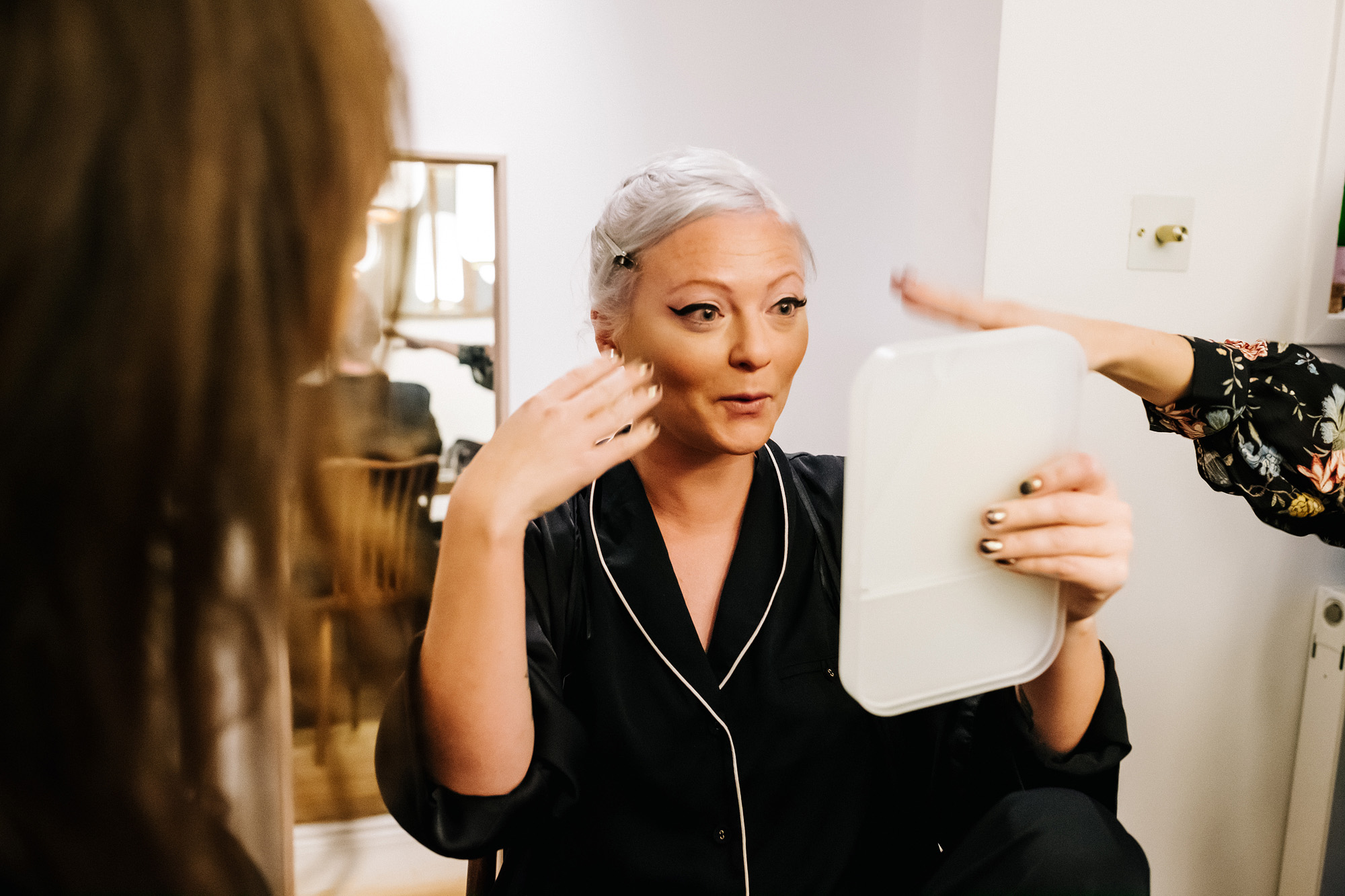 Hannah initially struggled with her wedding dress search, but a trip to Lucy Can't Dance set her on the right path, and she chose the raw silk 'Pulp Fiction' design, with a dip-dyed grey skirt and long train, which she had customised and made into a two-piece outfit, worn with an embellished lace overlay on top.
"Lucy's little jungle hidey-hole made it feel like I had found a rum-flavoured Narnia—stepping into a colourful alternate universe, and being attended by a super-cool orange-haired nymph. The colours on offer were exactly what I was looking for, in shapes and fabrics that I hadn't seen anywhere else. I knew I wanted something on the grey/silver spectrum and as soon as I saw 'Pulp Fiction', touched that beautiful, raw silk, with its simple, unfussy lines and stunning back, I knew it was what I had been looking for."
"Fast forward a few months and after my first fitting, I began to question whether there was something missing. I realised it was because what I wanted from the start was a skirt and top, rather than a dress. I was only a couple of months away from getting married, and debated whether to ask Lucy if it was possible to make it into separates, thinking that it was basically a ridiculous request at that stage. I eventually did email, thinking that she would pretty much laugh at me, but what's the harm in asking—right?"
"To my amazement and joy, she replied with a very simple, 'Of course we can!' Lucy bent over backwards to give me my perfect dress, re-making something in barely any time at all, and making me a very happy bride. Lucy's skill made me feel beautiful, and unlike every single other dress I tried on, I felt like me. Like magic, but like me."
"We were pretty set on having a Brighton, city-centre based wedding, having relatively recently moved to the city we wanted to be in the heart of our new home. Plus we're city folks; the word rustic is pretty anathema to both of us. We also wanted venues that had something a bit different, something unpredictable, something with architectural beauty, and something that would make people would go 'Wow'."
"The Bandstand was always our first choice for the ceremony. It's so magical, and just so quintessentially Brighton. It's a beautiful Victorian structure, very much a Brighton landmark and a nod to our new life in Brighton. Once we'd found Fabrica, we fell in love with the space and the possibilities that it offered."
"It's a beautiful venue – a deconsecrated church that's now an art gallery – that gave us the blank canvas we wanted to put our stamp on. Plus, it's a charity whose funding has been cut, so giving something back to the local arts community was really important to us."
Nick looked incredibly smart in a black, three-piece microdot tuxedo by Joshua Kane, which he wore with a shirt from Turnbull & Asser, a white slimline tie and silver pocket square from Joshua Kane, and black brogues from Church's.
"The groomsmen wore matching champagne with white polka-dot ties from Reiss. They all had pocket squares that were different but matched. A couple came from my own collection (not that I have loads!) and the others came from Reiss and Marks & Spencer. Nicky's dad had a matching tie in baby pink, my dad rocked the same tie in baby blue. All the boys were subtly, but nicely coordinated."
"I wasn't prescriptive with the groomsmen about anything beyond them wearing black and getting them a tie. The groomsmen are all really different, so I just wanted them to be comfortable and feel like themselves. Besides, they're a devilishly handsome bunch, and they looked awesome."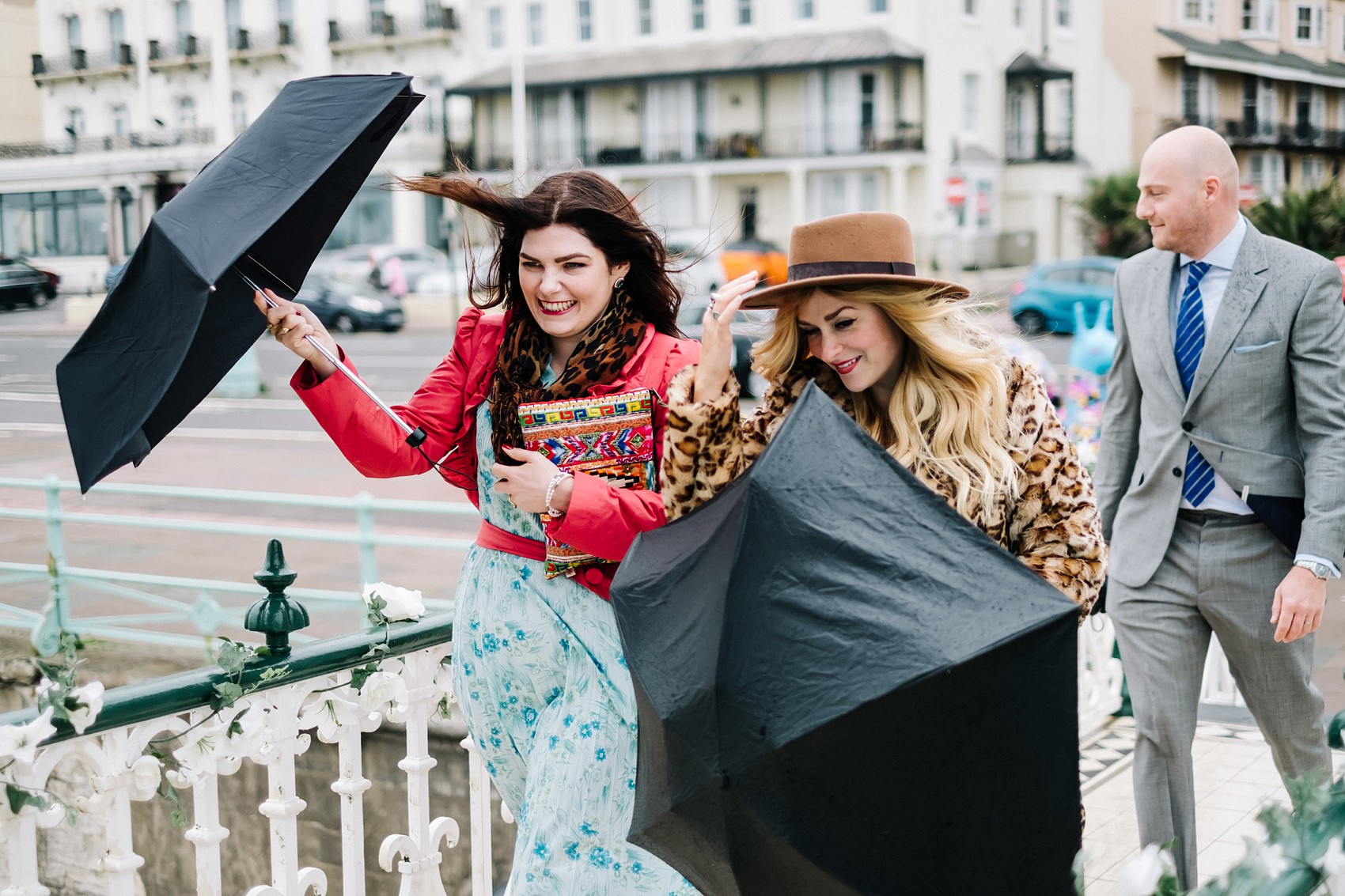 Hannah and her bridesmaids and flowergirls walked from the house they had rented to get ready, to the Bandstand, and despite the rain, they had a great time. Messages of encouragement and support were written on the pavements throughout their route by Nick's friends.
"The bridesmaid's dresses were from Reiss. My bridesmaids, Julia, Kerry and Cat did a great job of making me take an active part in choosing them. I originally asked them to choose any black dress they liked. They didn't go for that at all. Cue six months of me choosing black dresses I liked, none of which they were keen on. Eventually we found one they were all okay with!"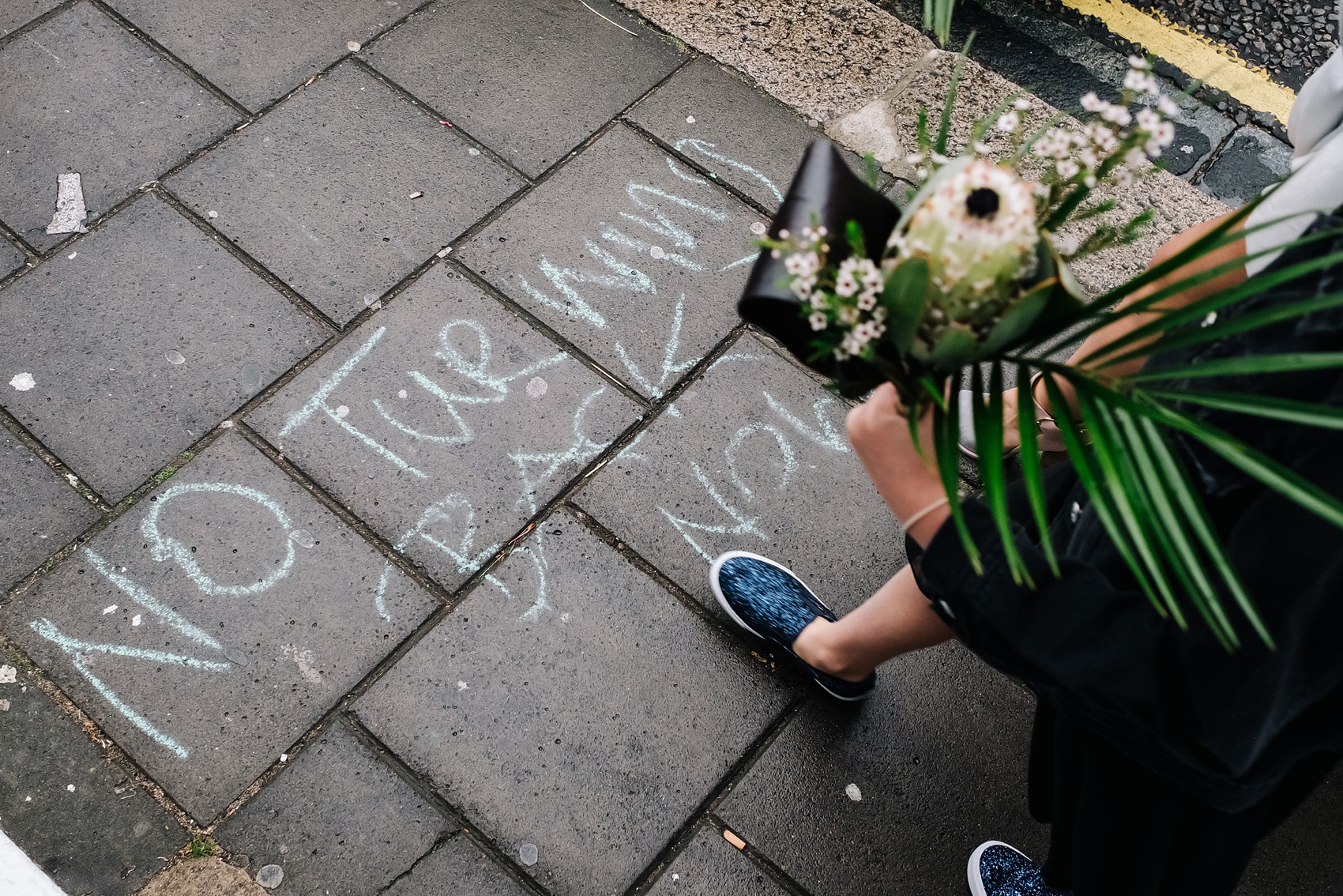 With their dresses, the bridesmaids wore black shoes from Carvela, along with Anthropologie hair clips to match Hannah's. The flowergirls wore sparkly black dresses with denim jackets (sadly no further details about these), with black glitter Converse trainers.
"We both started following Love My Dress on Instagram right after we got engaged. We used the real wedding stories as inspiration, and we used the Little Book directory several times throughout the process, but one of the key things we found on there was my bouquet. I was pretty adamant that I didn't want a bouquet. I just hadn't seen anything that really felt like me. But one of the LMD Instagram real wedding posts made me suddenly change my mind, and I am so glad I did."
The wedding that changed Hannah's mind about flowers was this ultra-cool celebration (which I had the pleasure of writing about, too!) and featured incredible, tropical inspired blooms. Gunns Florist in Brighton created gorgeous, exotic bouquets for Hannah and her bridesmaids, with giant protea flowers and palm leaves.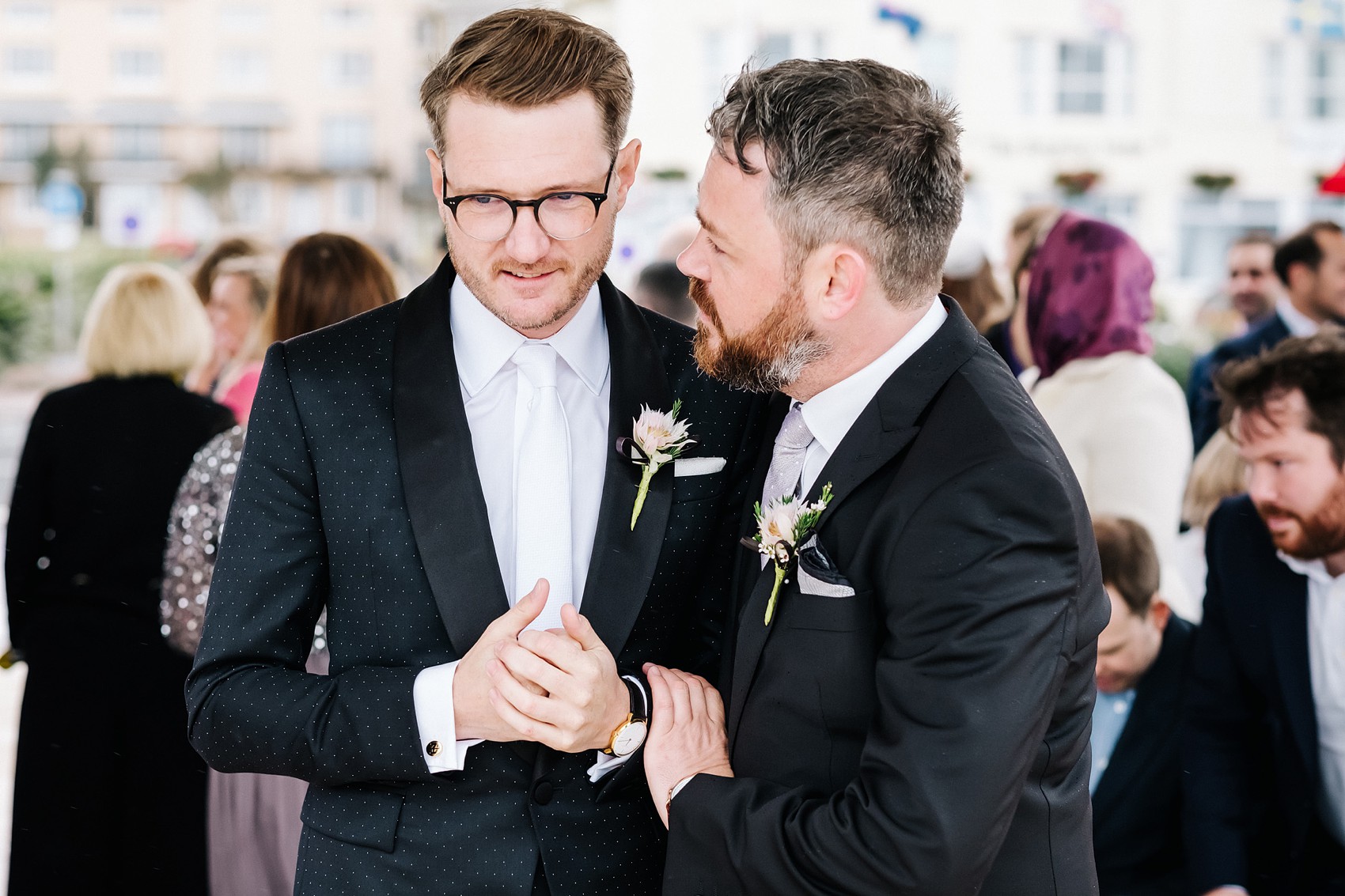 "My mum and dad both walked me down the aisle to Japanese composer Kishi Bashi's cover of This Must Be The Place (Näive Melody) by Talking Heads. I thought it was fitting, since they have both had to deal with my thirty plus years of pretty dreadful behaviour!"
"When we first met, we both instantly knew that this was it, but we let it slip away; 2009 and 2010 was a complicated time. Over the next six years, the love never went away, and frankly, it was painful! It took one of us to move to the other side of the Earth, a year of not speaking to each other, and so much distance and emotional turmoil to force the inevitable to happen."
"All it took was a one-word message from me in Australia and Nick was flying to the other side of the world to get me. The rest was easy! I came home, but not before we met in the middle for a 3 week adventure around Japan. On the first anniversary of getting back together, Nick planned a surprise trip to Iceland and while I was climbing the volcanic rock face of the mid-Atlantic trench, Nick pulled out a ring. Par for the course, he had to climb the wall to go put the ring on Hannah's finger."
During their sweet and touching ceremony, Hannah and Nick exchanged rings, which they chose at Ruberg, where Nick had earlier found the perfect engagement ring for Hannah, too.
"Finding an engagement ring that matched Hannah's style really very hard. As with everything with our wedding, I was looking for something that walked the line between traditional and unusual. Ruberg was the one that really fit the bill. The team there were amazing. Don't go there, I want it to be Hannah's secret! Hannah's wedding ring was made bespoke to fit around her engagement ring, and my wedding ring is also by Ruberg."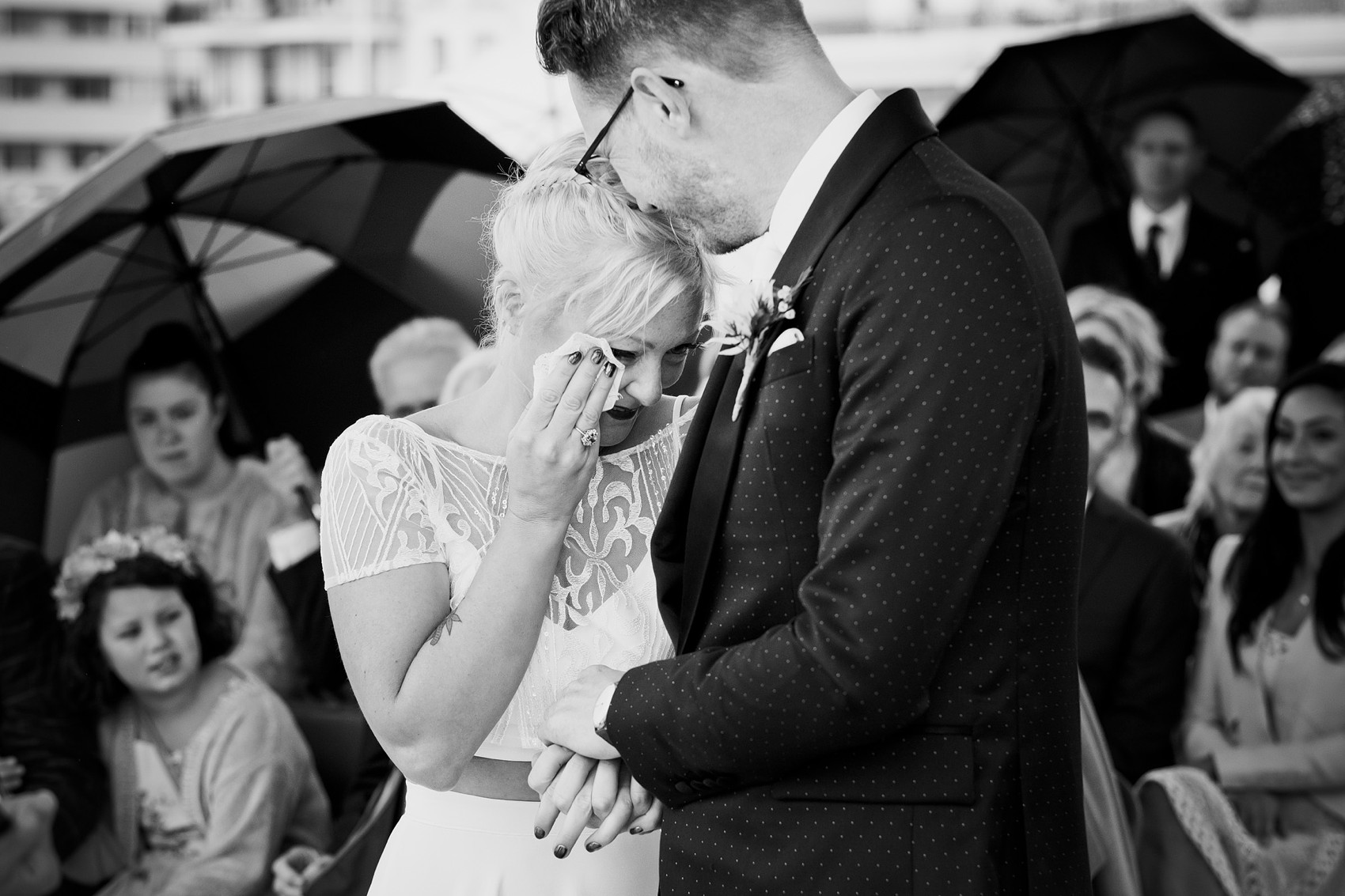 This beautiful extract from Philip Pullman's book, The Amber Spyglass, has proved to be such a popular and enduring choice for a wedding reading since the His Dark Materials trilogy was published (if you haven't read the books, I highly recommend them!), and it was the reading that Hannah and Nick selected for their ceremony, too.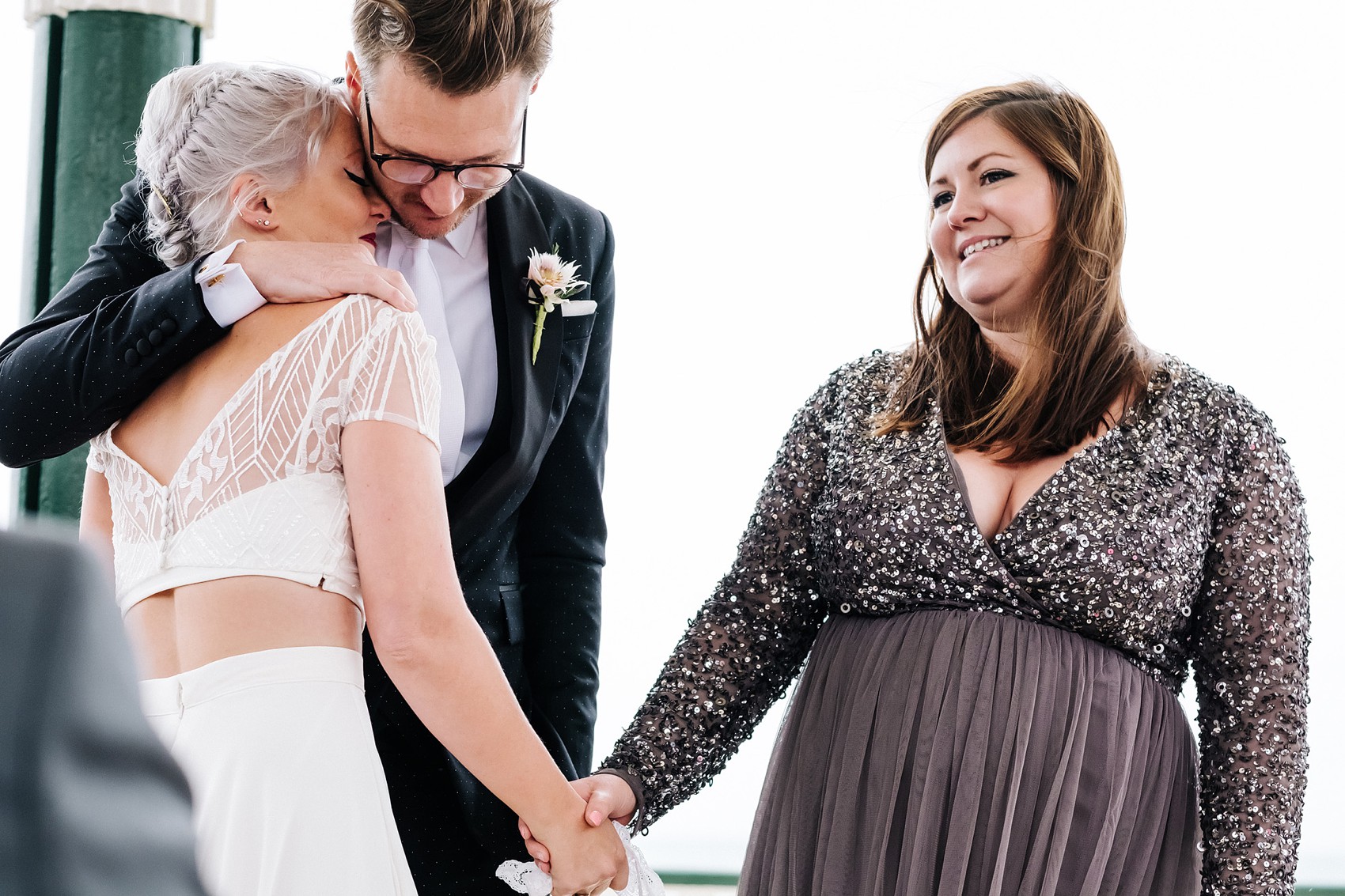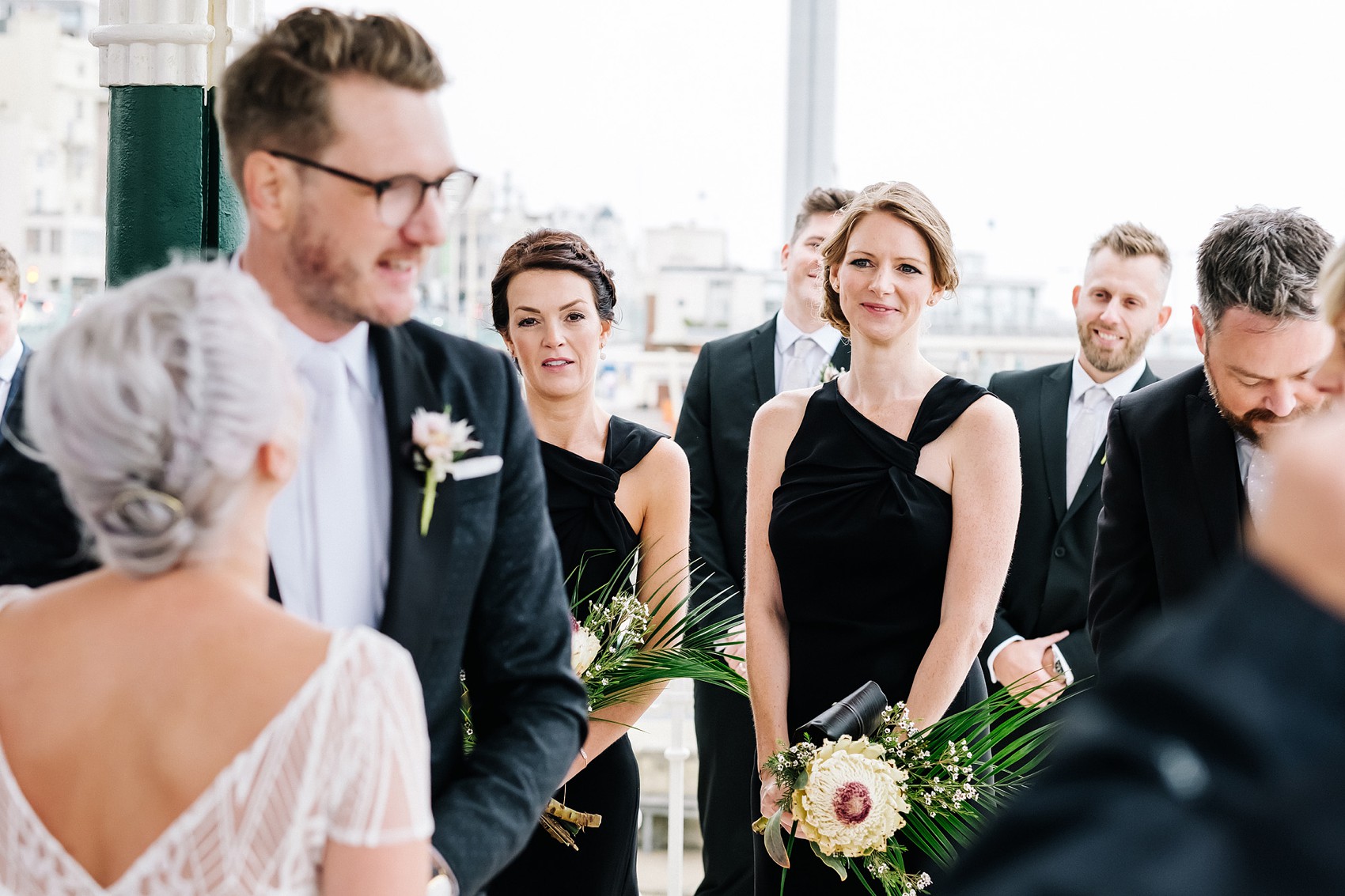 "The His Dark Materials series is one of Hannah's favourites. The passage is an incredibly moving piece between  characters Will and Lyra about love. We don't want to spoil the book for anyone who hasn't read it, but it makes Hannah cry every time she reads it."
"The ceremony was definitely my favourite part of the day. I have never understood it when other people say that, considering that the rest of the wedding is basically eating and drinking and dancing with your favourite people in the world, but I can't explain how emotional and joyful it was to stand up and join myself to the man I have loved for so many years, all in front of the most important people in our lives. It was utterly magical, and we couldn't stop crying and laughing."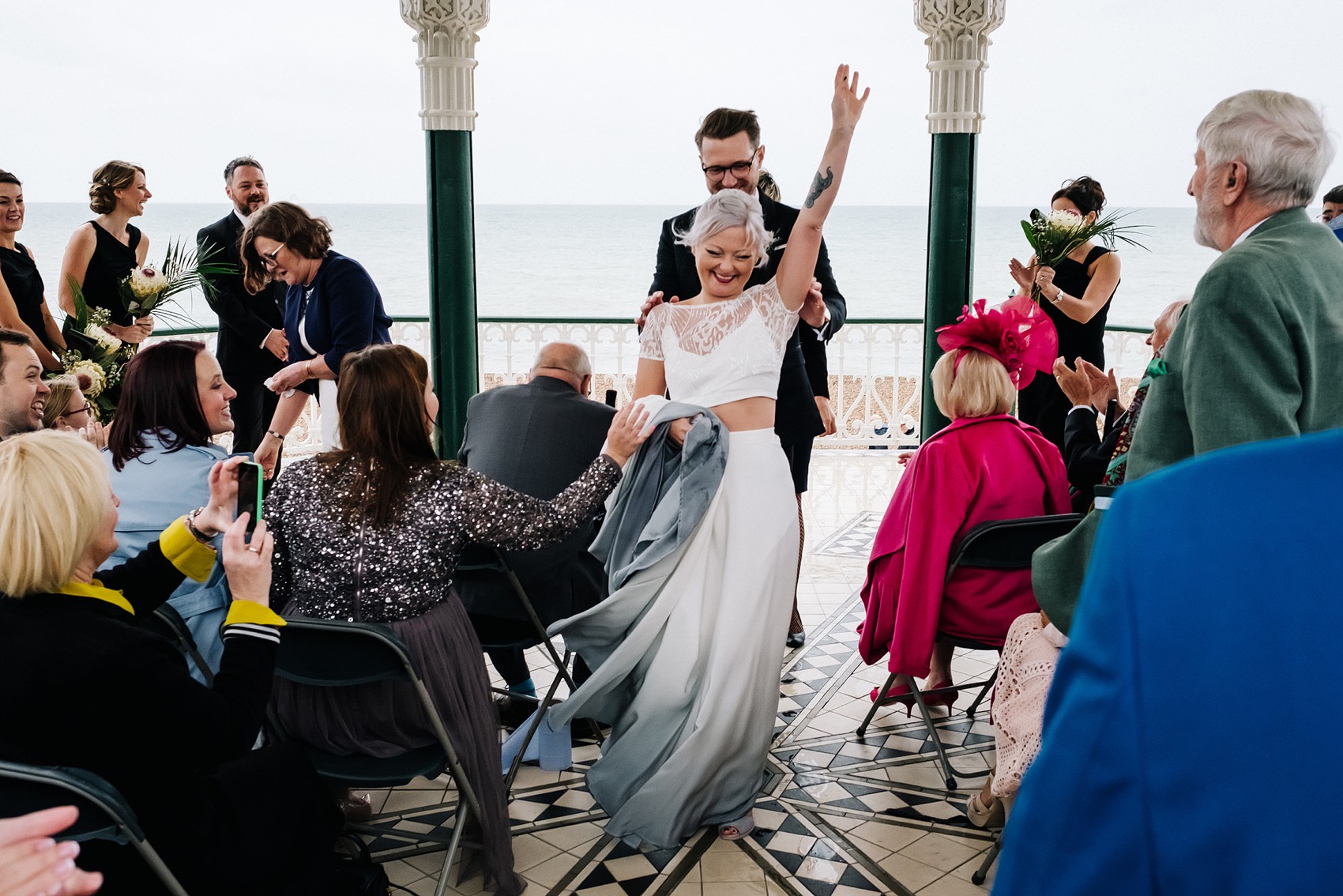 Hannah and Nick had hoped for sunny seaside photo opportunities, but on that day (the very last day of summer 2018), the weather had other ideas! The grey weather couldn't dull the lovely and genuine vibrance of the day, though, and this was wonderfully captured by photographer Kristian Leven, who was assisted by Steven Carter Hewson.
"We cannot sing their praises loudly enough. They are both utterly amazing. They really captured the mood and essence of our day. We didn't want anything formal or posed. We wanted someone who could capture the big things, but also the funny, small and quirky things that inevitably would happen at our wedding."
"We adored Kristian's style, and the care that he took to really understand us and what we were looking for. Steven was also absolute joy to be around and did us and Kristian proud. We also had a film made by the totally adorable, loveable and talented Pier Tommasso Chirico."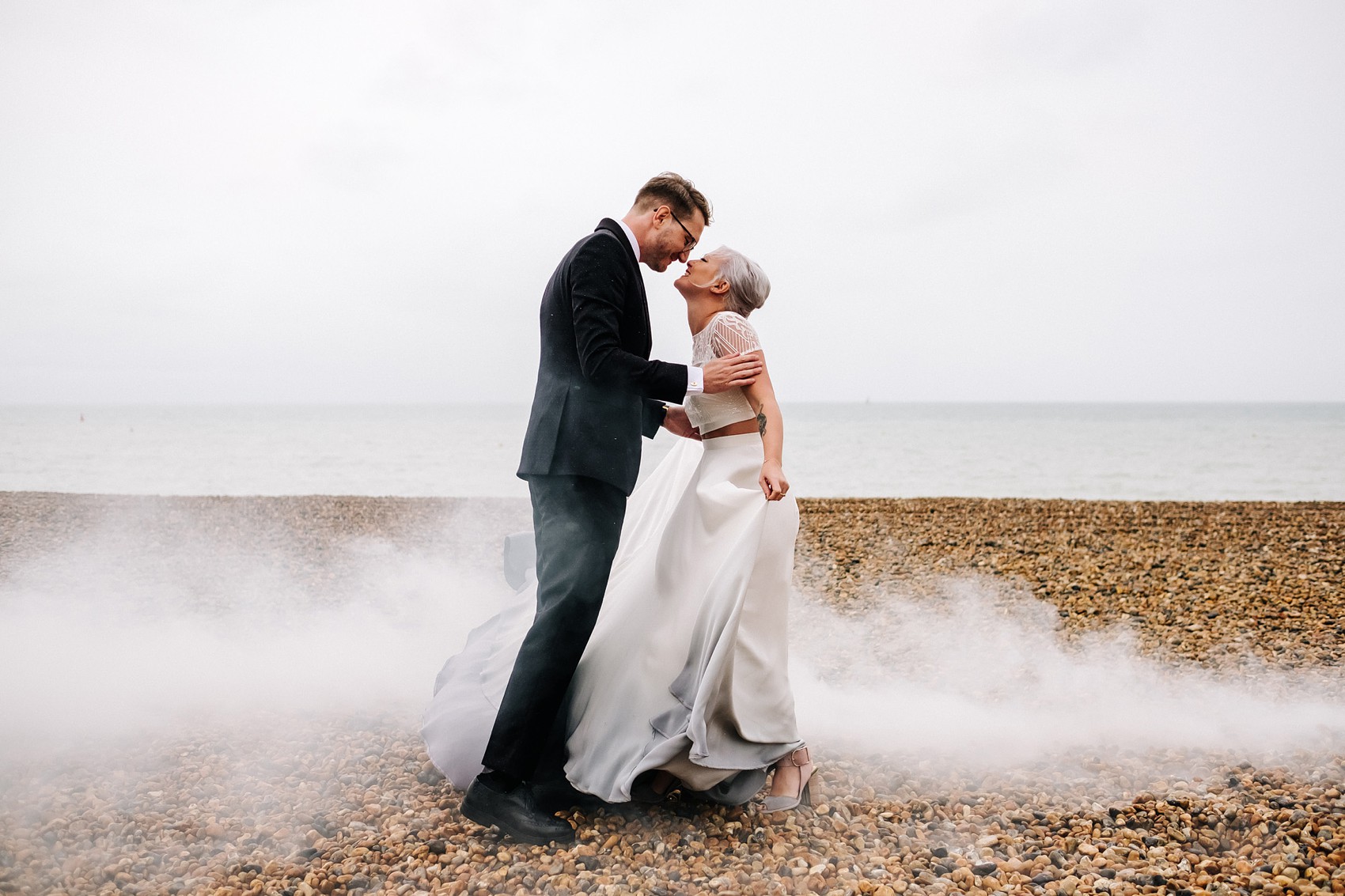 There were post-ceremony drinks overlooking the seafront, and guests were given either a black, silver or gold balloon from Peach Blossom, and a beer from Brighton Bier for their walk over to Fabrica.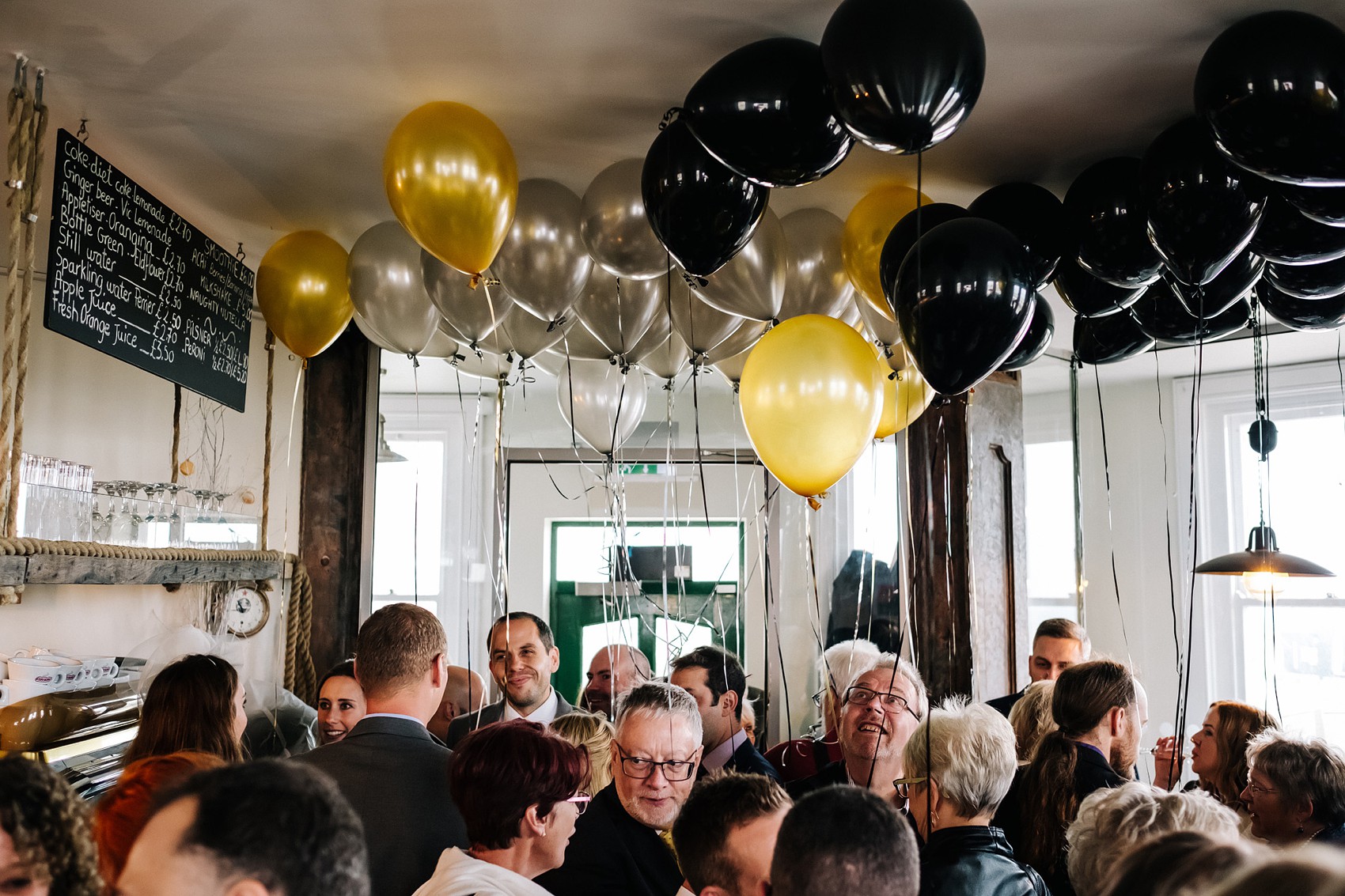 Beautifully atmospheric lighting (as well as audio) came courtesy of C3 Productions, who enhanced the inherent beauty of the Fabrica space to brilliant effect.
Tables were decorated little cacti pots, and with architectural palm and monstera leaves and black grasses, courtesy of Kate at Gunns Florist. There were white gladioli, too, which were originally going to be scattered across the stage as an homage to The Smiths, but ended up in vases instead!
"We wanted the day to be filled with memorable moments. Whether that was big gestures and landmark moments, or in the tonne of small things that we added, to reflect everything about us. So, there were elements of Japan in there, our favourite country, and where we reunited after years apart. We had beckoning cats everywhere! We had Icelandic beer at the bar. Brighton Bier, our favourite bar and brewery supplied walking beers for those of us brave enough to brave the walk in the September Brighton wind and drizzle."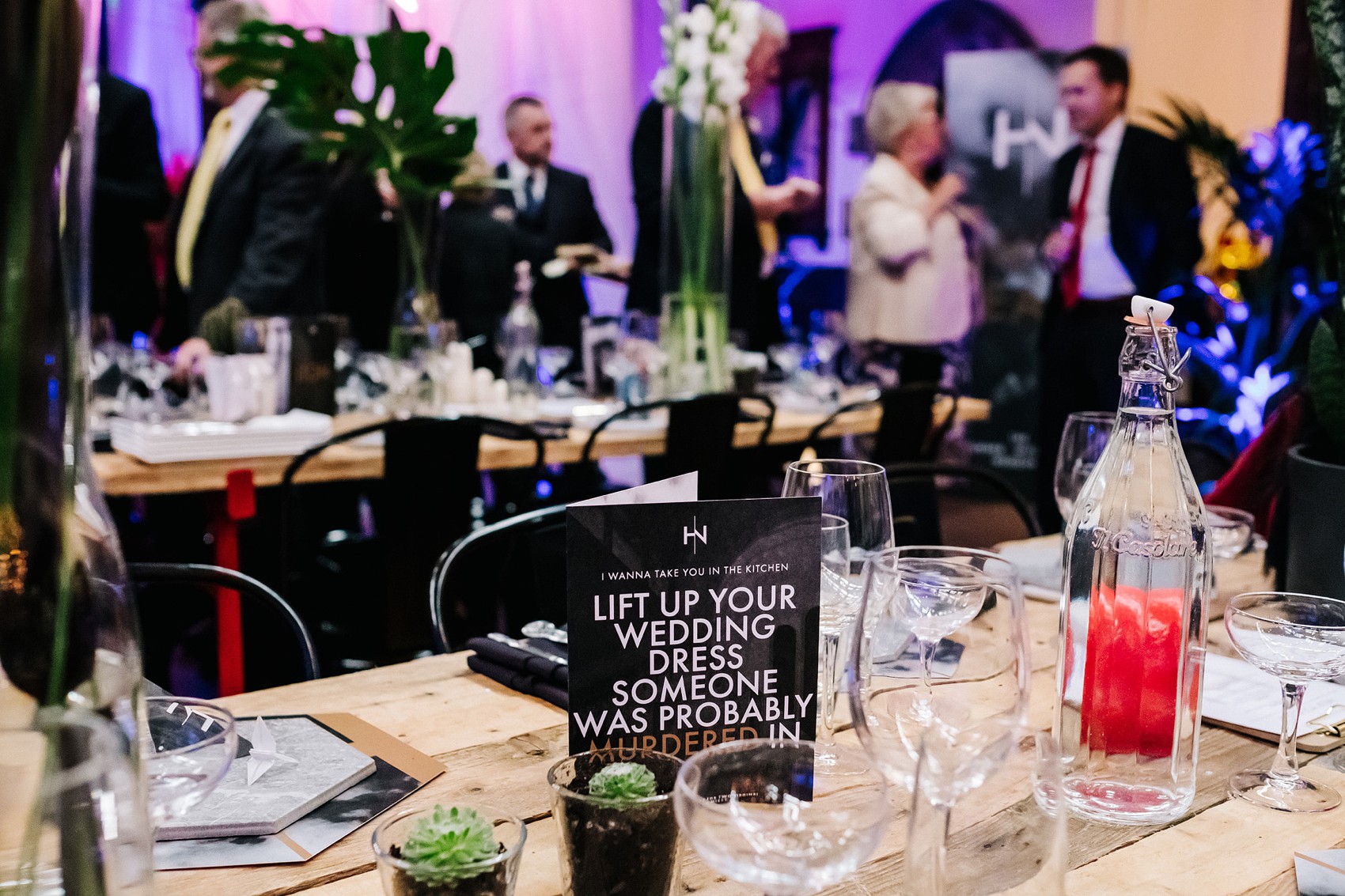 "The table names and decorations had nods to horror films, books, punk rock and the macabre. It was all very subtle and playful, colourful and bright. We wanted to have layers in the whole day, so, on the surface level you could just enjoy the experience and feast your eyes on the madness, but if you dug a bit deeper, you'd find out why tables were called what they were, or why there were white origami birds on the tables. Basically, we wanted to tell our story, and we wanted it to be a total riot of fun."
There was a delicious wedding feast prepared by The Secret Restaurant, with Italian charcuterie, breads and olives to start, followed by Cajun chicken, barbecued beef rump with gremolata, tuna with lime and coriander, or vegan or halloumi and pepper sliders, and for dessert, gelato.
"A wedding cake was way too traditional for us! We had an ice-cream truck from Boho Gelato (arranged by The Secret Restaurant), doughnuts from Krispy Kreme, and late-night pizza delivered from Pizzaface."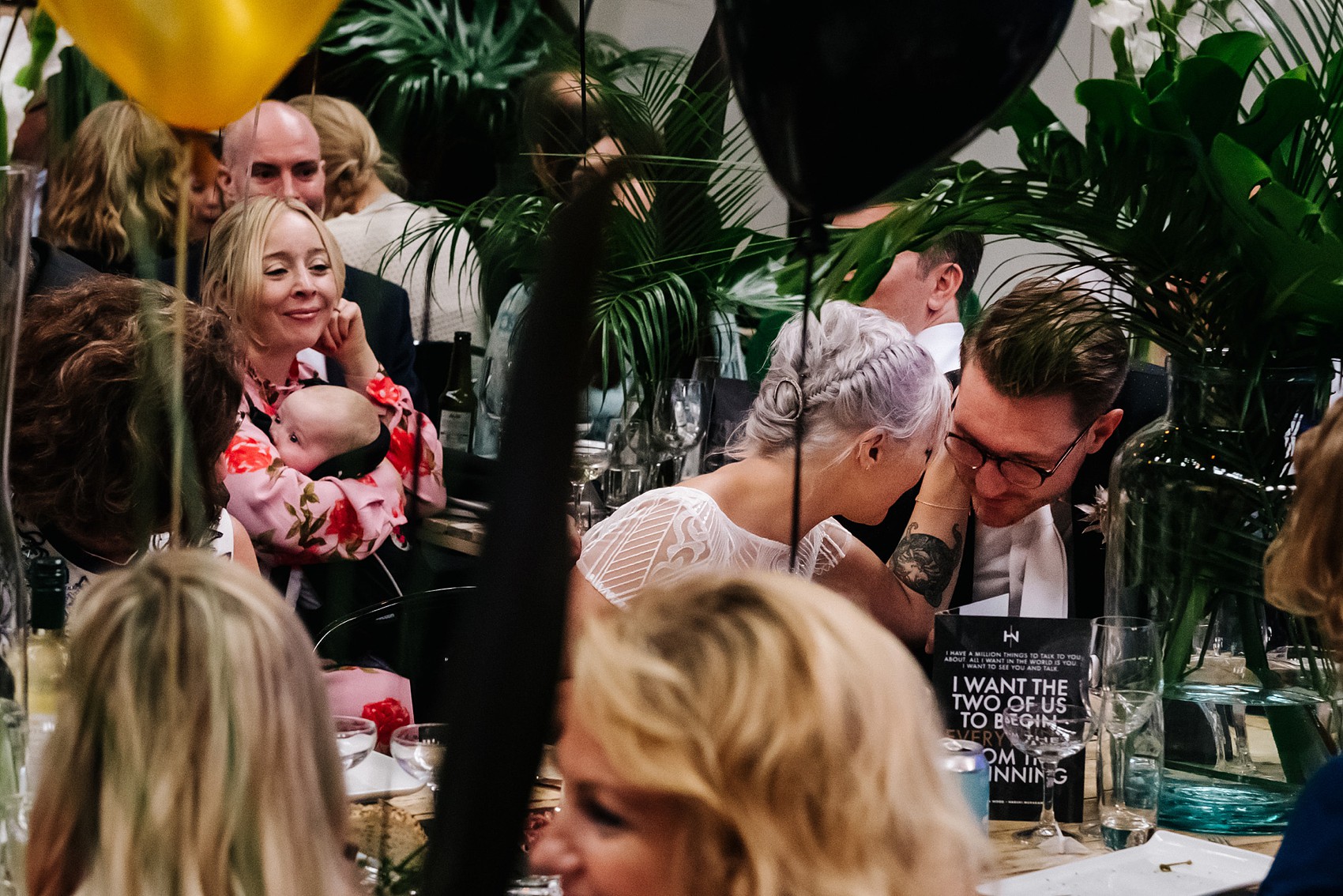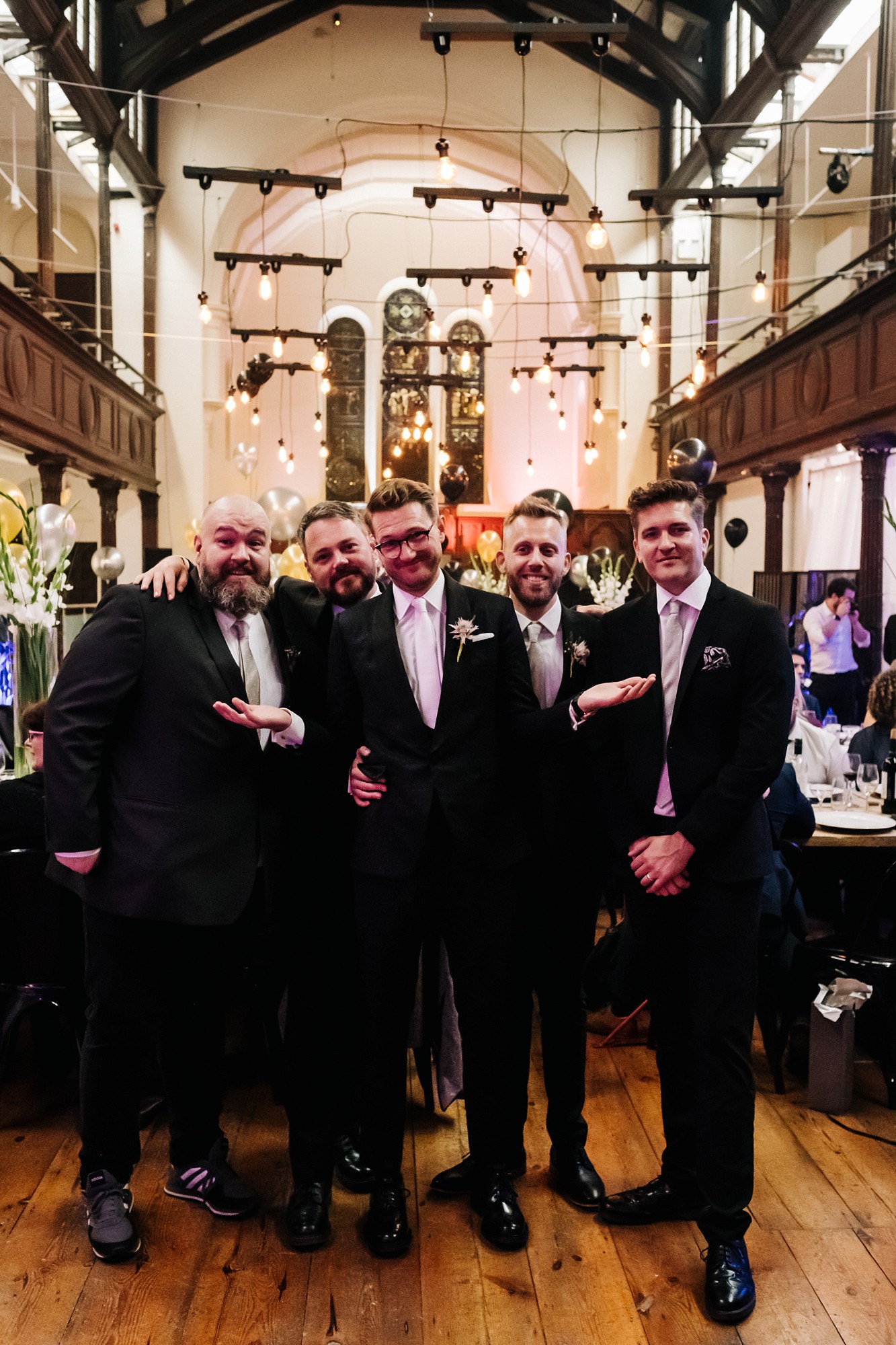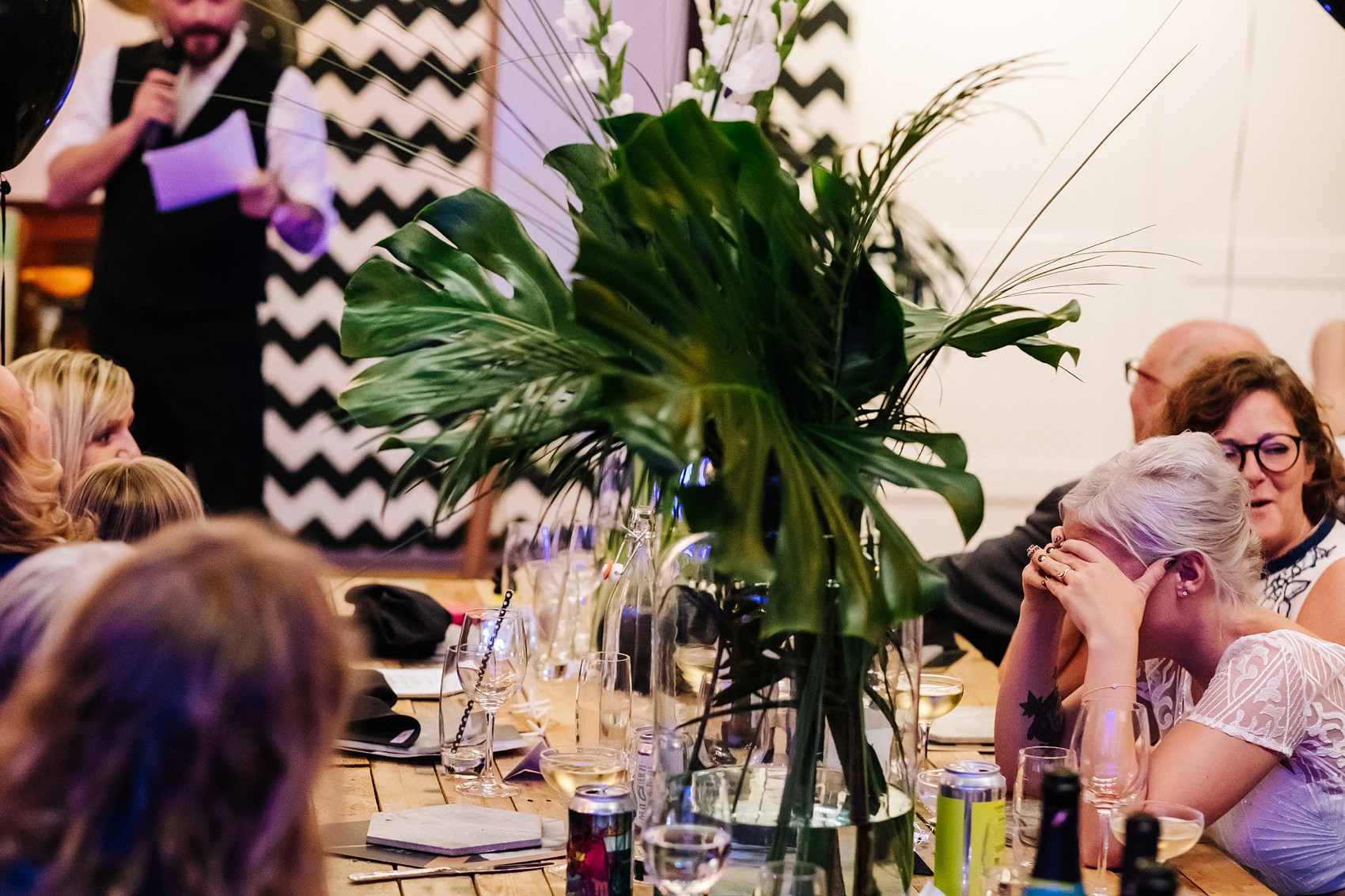 Hannah and Nick put together a Spotify playlist of their favourite songs, which they hid underneath table place settings, and later on, there was more entertainment, with a DJ set from friend Ollie, from the P Wizards. Nick's old band, Circuits, also held a ten-year reunion gig, too, and there was a fantastic photobooth courtesy of Photobot.
"Our first dance was to Absinthe Party At The Fly Honey Warehouse, by Minus The Bear. Both being really musical and music-nuts, it was really hard settling on what this would be. We have so many songs that are 'our song'. We went for this because it has a really pretty, dreamy minute-and-a-bit intro that we could dance on our own to, before it kicks off and everyone could grab their nearest and dearest, pile onto the dance floor and jump around."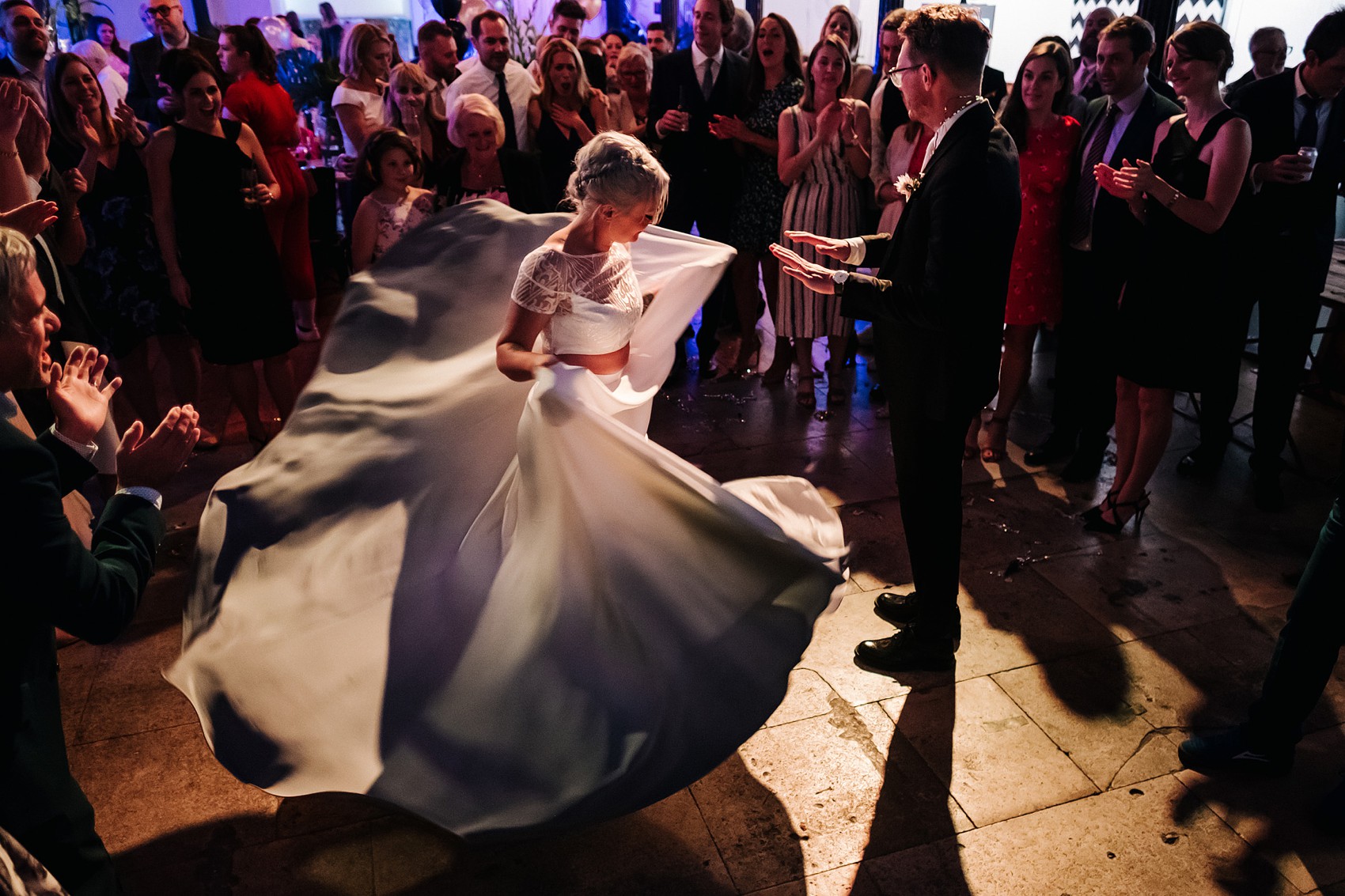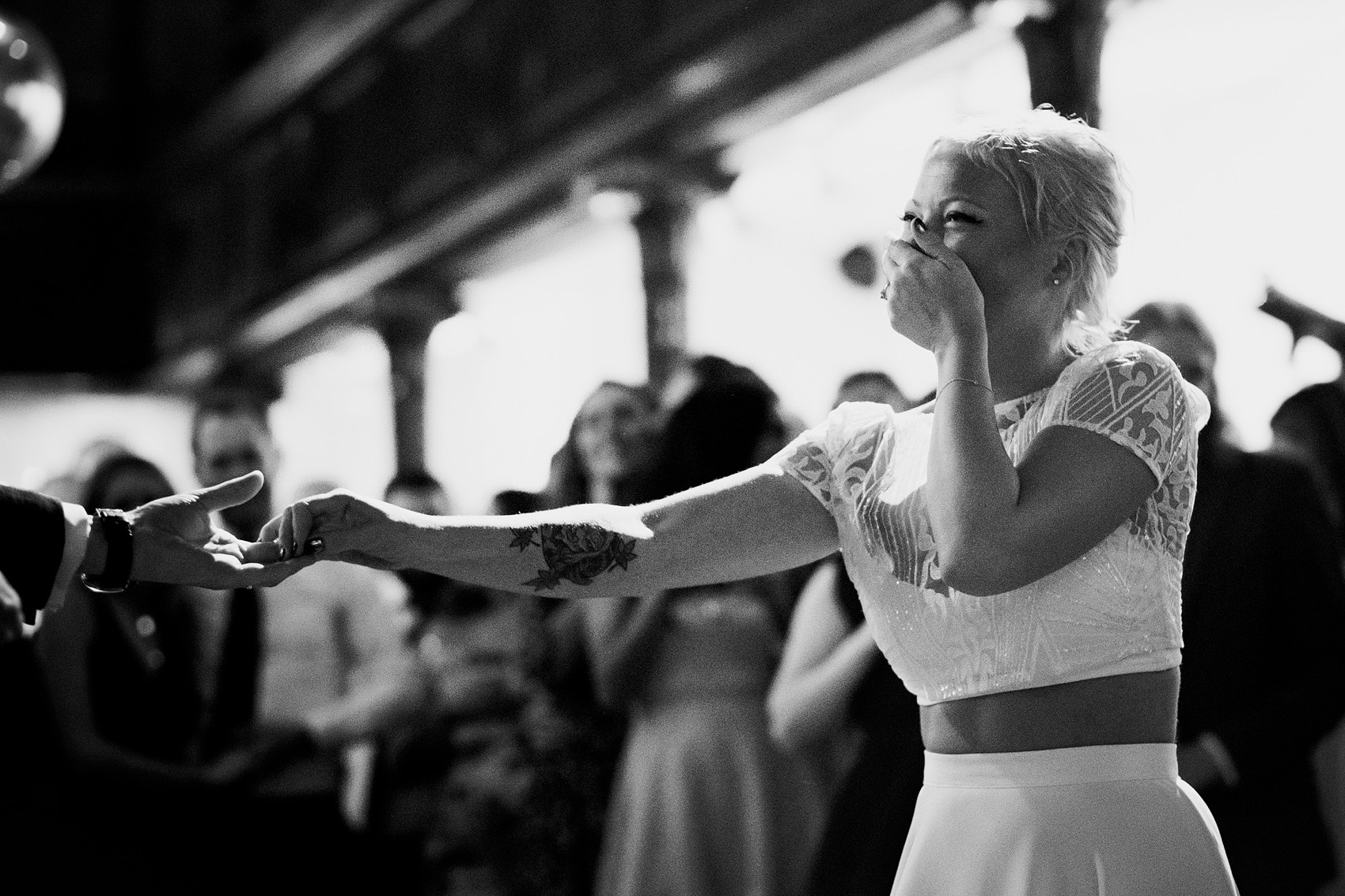 Words of Wedded Wisdom
"Don't be afraid to ask for help. We did everything by ourselves, and wouldn't have been able to get it done without help from certain wonderful people, especially setting up the venue the day before the wedding! That takes so much longer than you think it will. People love to help, so ask!"
"The other thing I would say is stick to your guns. Sometimes it felt a bit like an uphill struggle to make sure the day was what we wanted it to be. Not necessarily because it was hard, but because of external pressures, unintended though they may be. There are still a few things that I really wish I had put my size 3s down on."
"Also, the design theme of the day doesn't have to be 'wedding'. It can be whatever you want it to be. This is your day, and only the two of you know what you want. Be strong. Be yourself."
"Nicky would also say be creative! An amazing wedding can be yours if you use your imagination, think around problems to come up with things that make you smile and feel right, and then find ways to make them happen. Work with people who understand what you want and then can make it happen. Don't get lured into thinking that you need to spend a fortune to get the things you want, as long as you are willing to put in the research time and think creatively. We were able to create something really special by not being constrained by the norms and approaching things from a different, non-linear direction."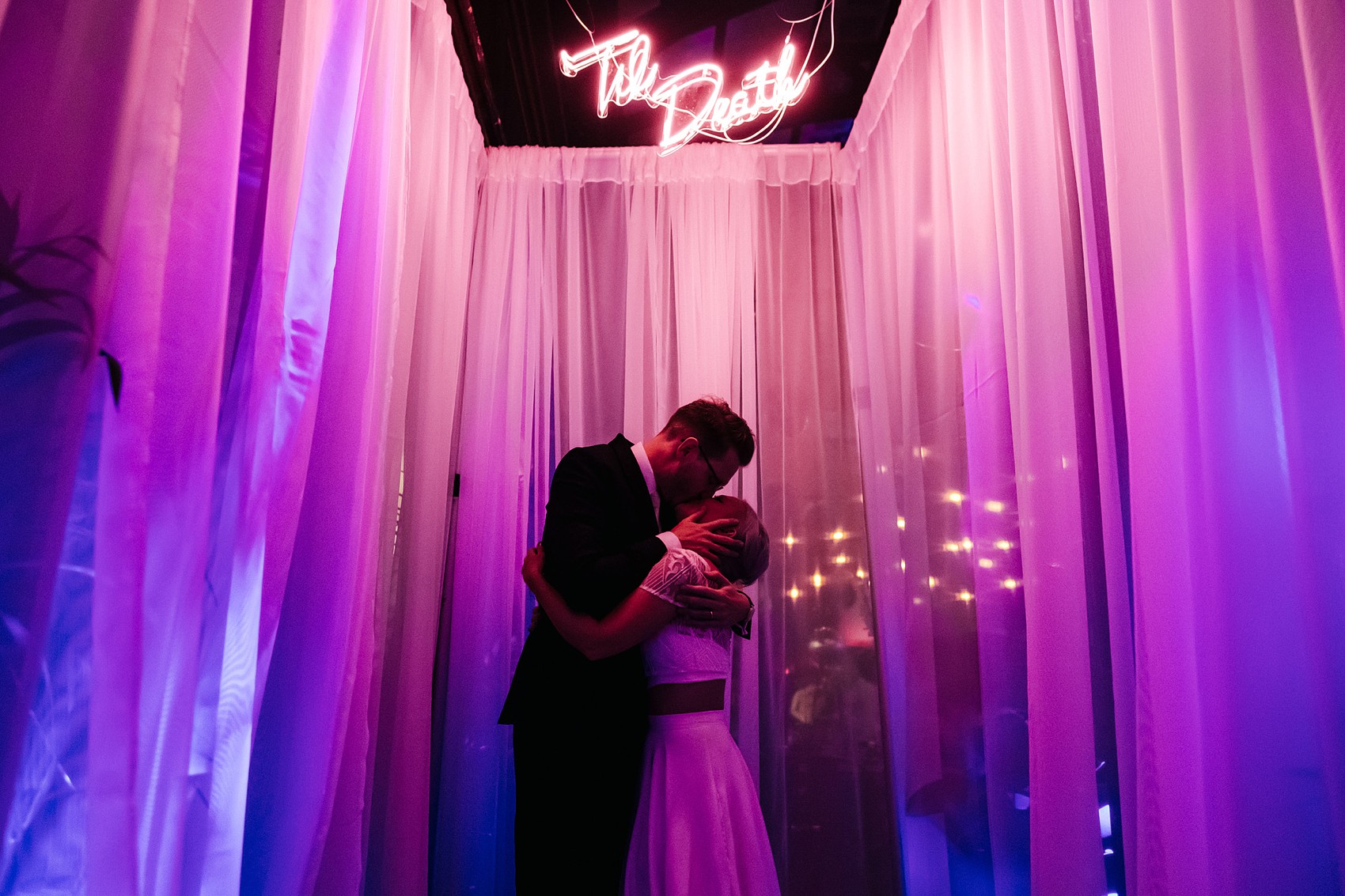 Hannah and Nick, thanks a million for sharing your absolute cracker of a day with us, it's been such a treat! Huge thanks also go to Kristian Leven and Steven Carter Hewson for this vibrant, amazing images.
Over the years, we've been lucky enough to share Brighton weddings of all kinds, and you can browse through them all right here.
With love,
Laura