We might be inching our way into the cooler temperatures and the last weeks of summer, but today we're doubling back for a June wedding in Norway, filled with free-spirited joy and bright, freshly picked flowers in an idyllic, rustic setting.
Kristine is a Research Scientist working in the field of Radiobiology, for Bayer AS, and Martin is a Tinsmith, Roofer and manager. The couple celebrated their marriage on the 8 June 2019 at Geiteberg Kulturbruk, in the village of Tomter, Norway. I was so pleased when I saw that Kristine chose her amazingly cool dress at Little Book member, Indiebride London.
I love designer Miina's ethos, approach, and effortless blending of romantic, boho and vintage styles. Kristine chose the short 'Gabrielle' dress, made from soft, silk georgette, with a relaxed, 1970s inspired fit and beautifully trimmed, billowing sleeves.
"I have seen many friends get married, and I have seen many types of weddings, and all kinds of dresses. First of all, both Martin and I agreed the wedding should be laid back, so I wanted a laid back dress, and for some reason I have always loved short dresses. So I started Googling 'Short wedding dress'. It took some time, but suddenly Indiebride popped up, and I took a look at the webpage."
Photography by Åsmund Holien Mo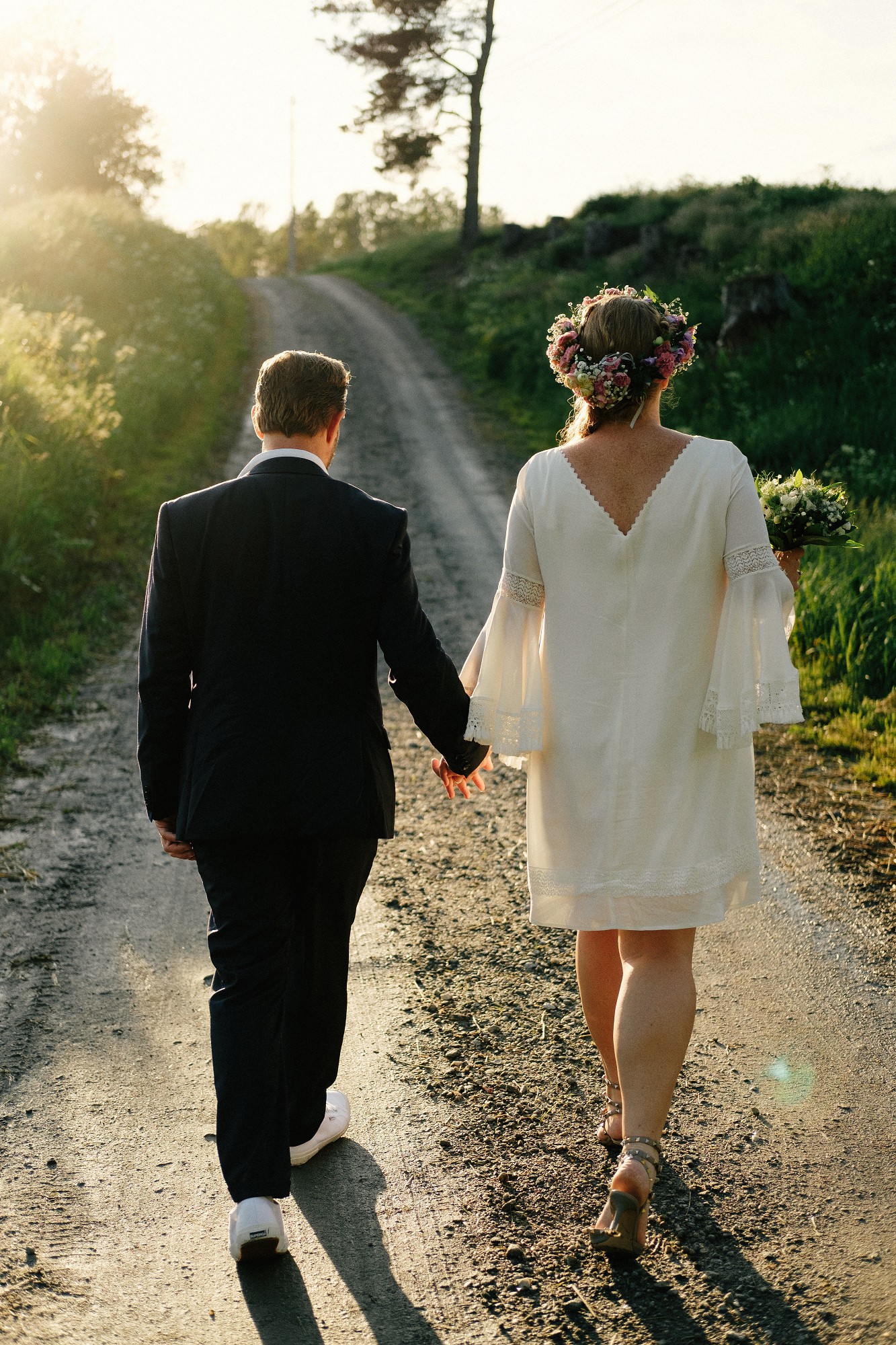 "There it was, the 'Gabrielle' dress! I looked at it once, and once more, the day after, and kept on admiring the dress whenever thinking about the wedding and what to wear (quite often actually!). I tried to find similar dresses in Norwegian wedding dress stores, but the more dresses I looked at, the more determined I was: The 'Gabrielle' dress was my wedding dress. It was something about the simplicity, but still the details on the arms. The shape and line of the dress, and the idea that it would suit our wedding idea of something simple and fun!""I sent Miina an email asking how I could realise my dream of wearing this dress without going to London for a fitting, and the response made me certain that this actually would go just fine! Miina was the sweetest ever, and made me very calm and certain that it would go smoothly, and that the dress would fit me and fulfill my expectations."
"As promised, the dress arrived, it was stunning; the fabric was so delicate, and the pattern I had only seen on pictures was even more beautiful then I could ever imagine. With some adjustments at a local seamstress, the dress sat and looked perfect on me! I felt so beautiful! Indiebride have the most beautiful dresses, they care about your wishes and they make you feel special."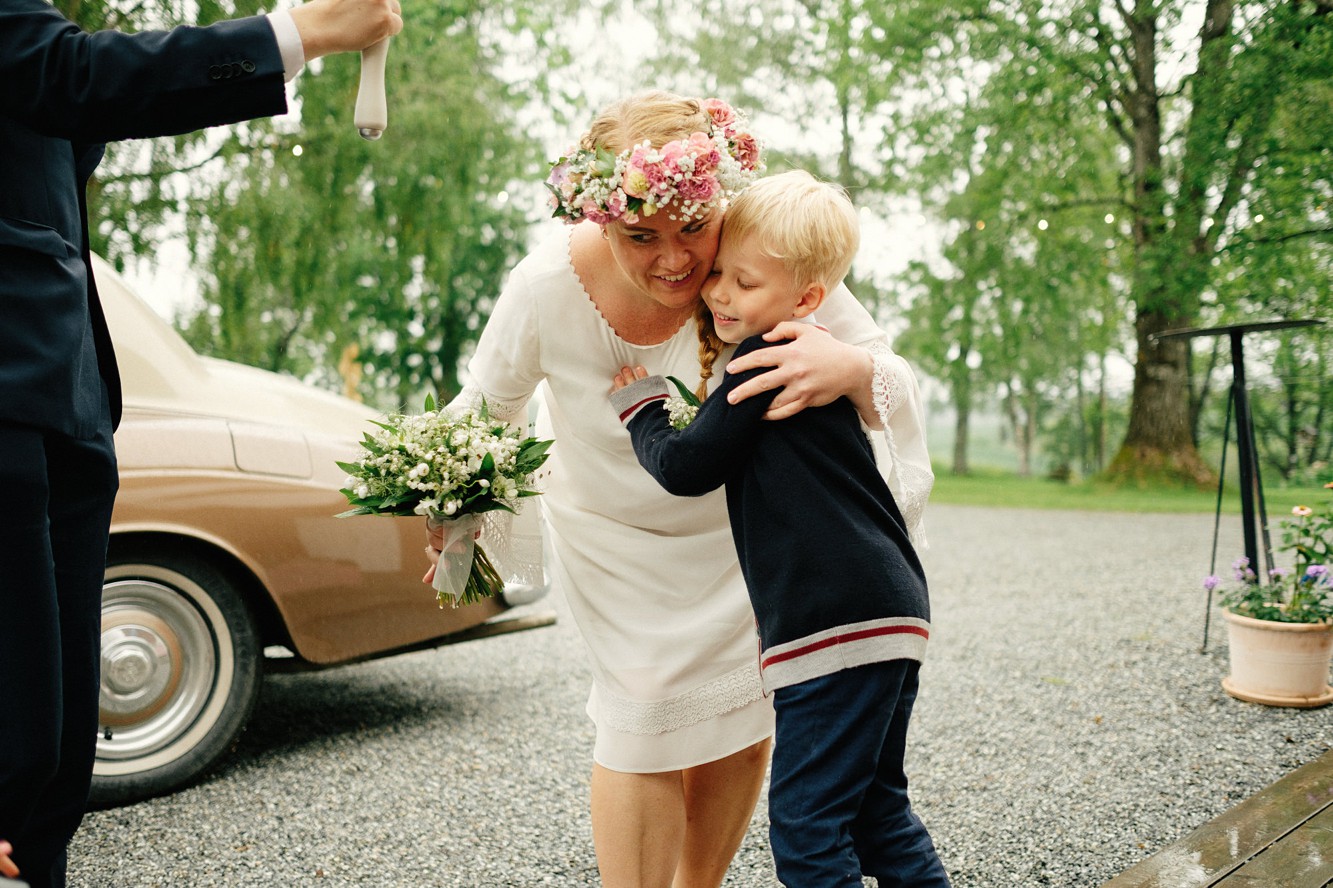 On her feet, Kristine wore taupe Valentino Garavani Rockstud heels, via Hoyer, and her other accessories stood as her 'Something old, something new, something borrowed, something blue' – family heirloom wedding rings belonging to her grandparents, and woven into a glorious crown of summer flowers made by her mother, and the 'new' being Kristine's dress and shoes. Diamond earrings were borrowed from her mother, and Kristine also wore a blue garter, gifted to her by her Maid of Honour.
"My hair and make-up was by Gullsaksen Annicken Lorentzen. Annicken had done my hair once before, when I was Maid of Honour for my Maid of Honour! She made a beautiful braid in my hair, and so I wanted a beautiful braid once more, and asked Annicken to come and work her magic! Annicken is the sweetest ever, and it felt like we had a third girlfriend with us that morning. She also did my make-up, and I was so happy that she managed to do it just like I wanted; a bit dramatic and more like party make-up – but still elegant. She nailed it!"
Kristine's Maid of Honour wore a navy blue dress of her own choosing (no further details available about this), and Kristine and Martin's daughter, Sonja, looked magical in a satin, lace and tulle dress from JJ's House, and pink studded shoes to match her mother, courtesy of Wish.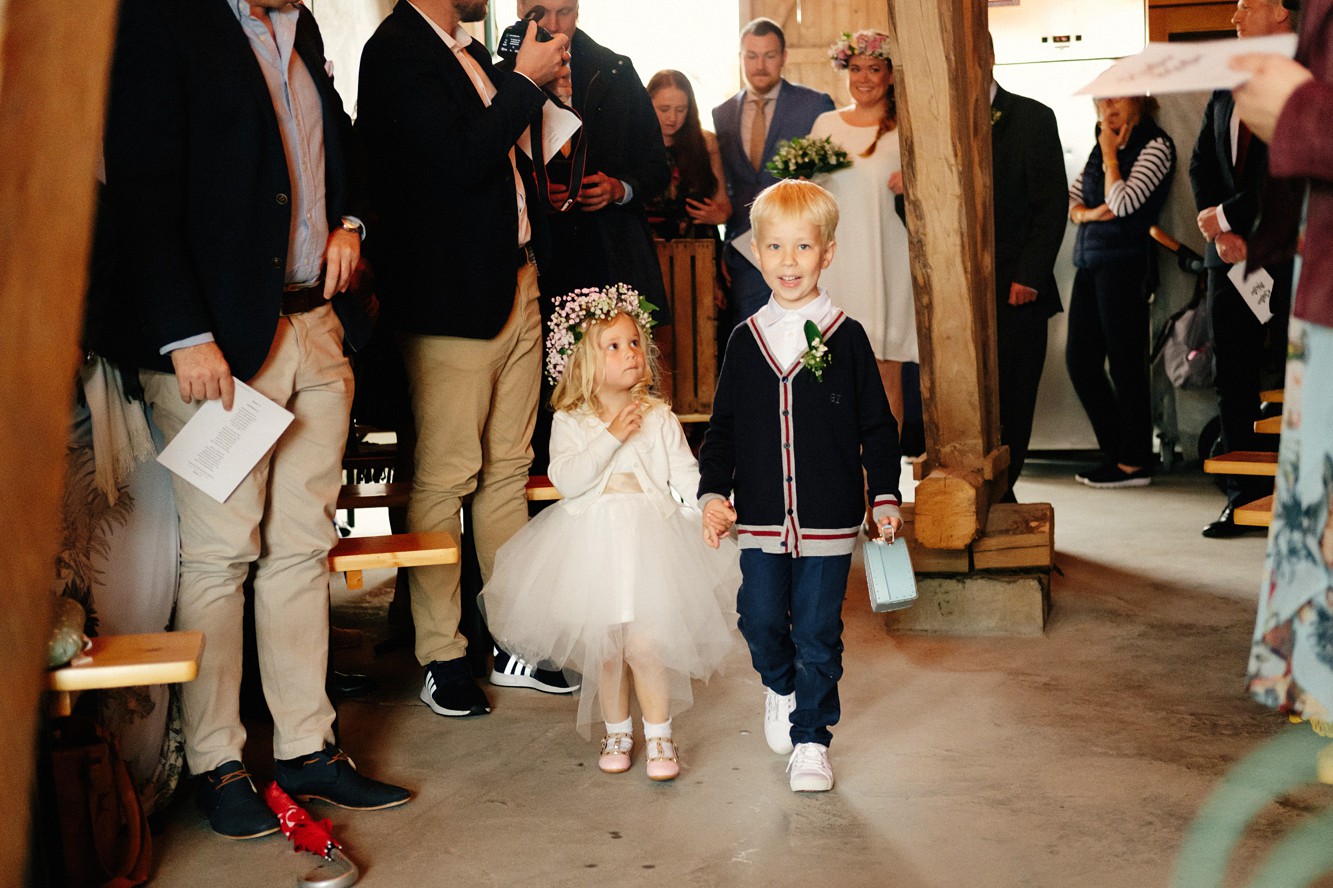 Kristine, her father and Maid of Honour made their way to the ceremony in a fantastic bronze 1960 Rolls Royce, which they hired from Norges Klenodier. Kristine and her father made their way down the aisle together, to Canon in D, by Pachelbel, which reminds Kristine of summer.
The couple's sweet ceremony was conducted by vicar Halvor Dalene, and they kept their vows to simple 'I do's', as well as exchanging rings from Heyerdahl.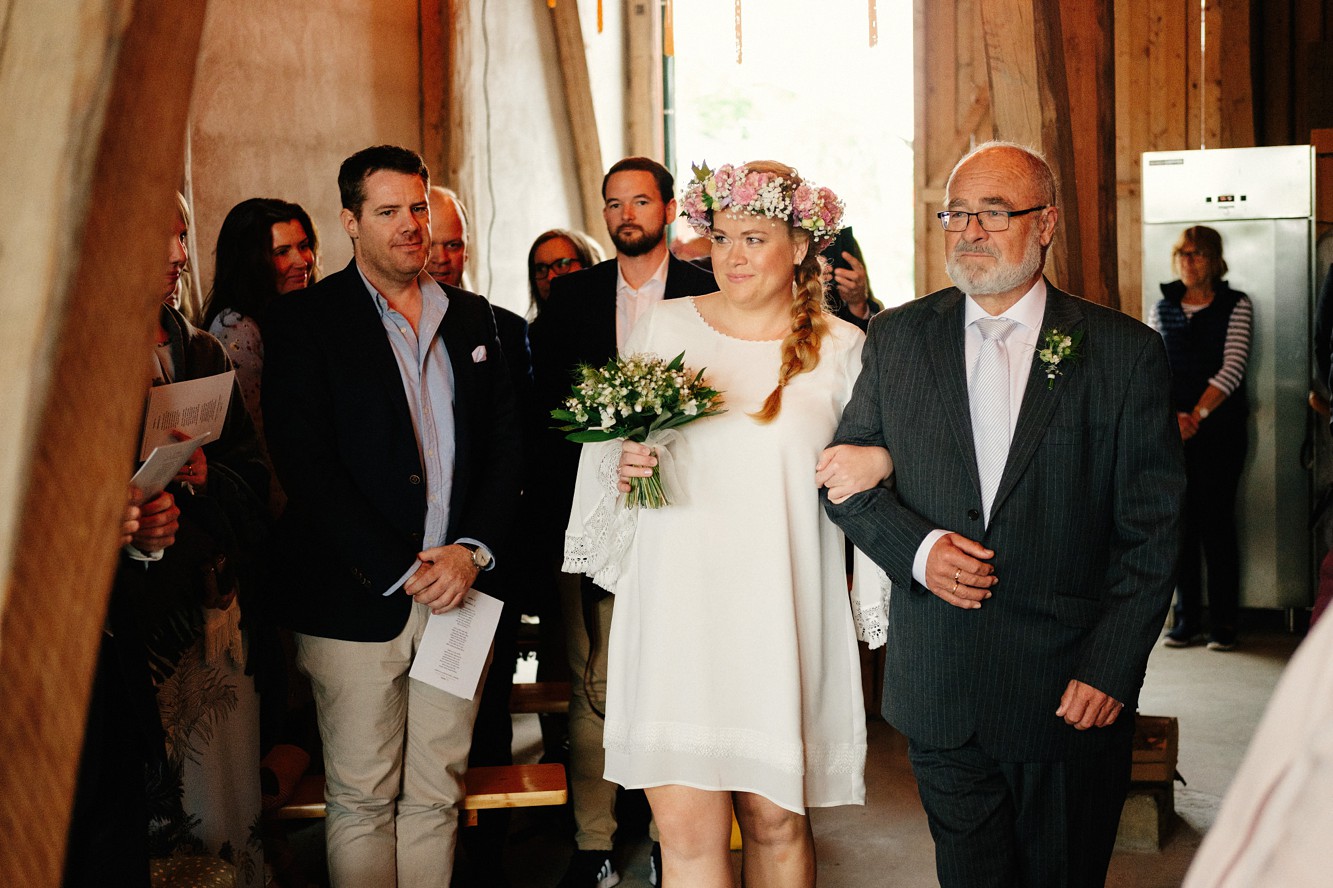 "Martin bought the ring he proposed with at Heyerdahl, and when I went in there to adjust it, I thought they were so sweet and lovely. They remembered Martin, and how he took quite some time deciding on which ring to buy. Being a fan of great service and people skills, we went back there to find our wedding rings. Both of us have a gold ring, and mine includes a small diamond (diamonds are a girl's best friend), and Martin chose a cool, light hammered gold ring."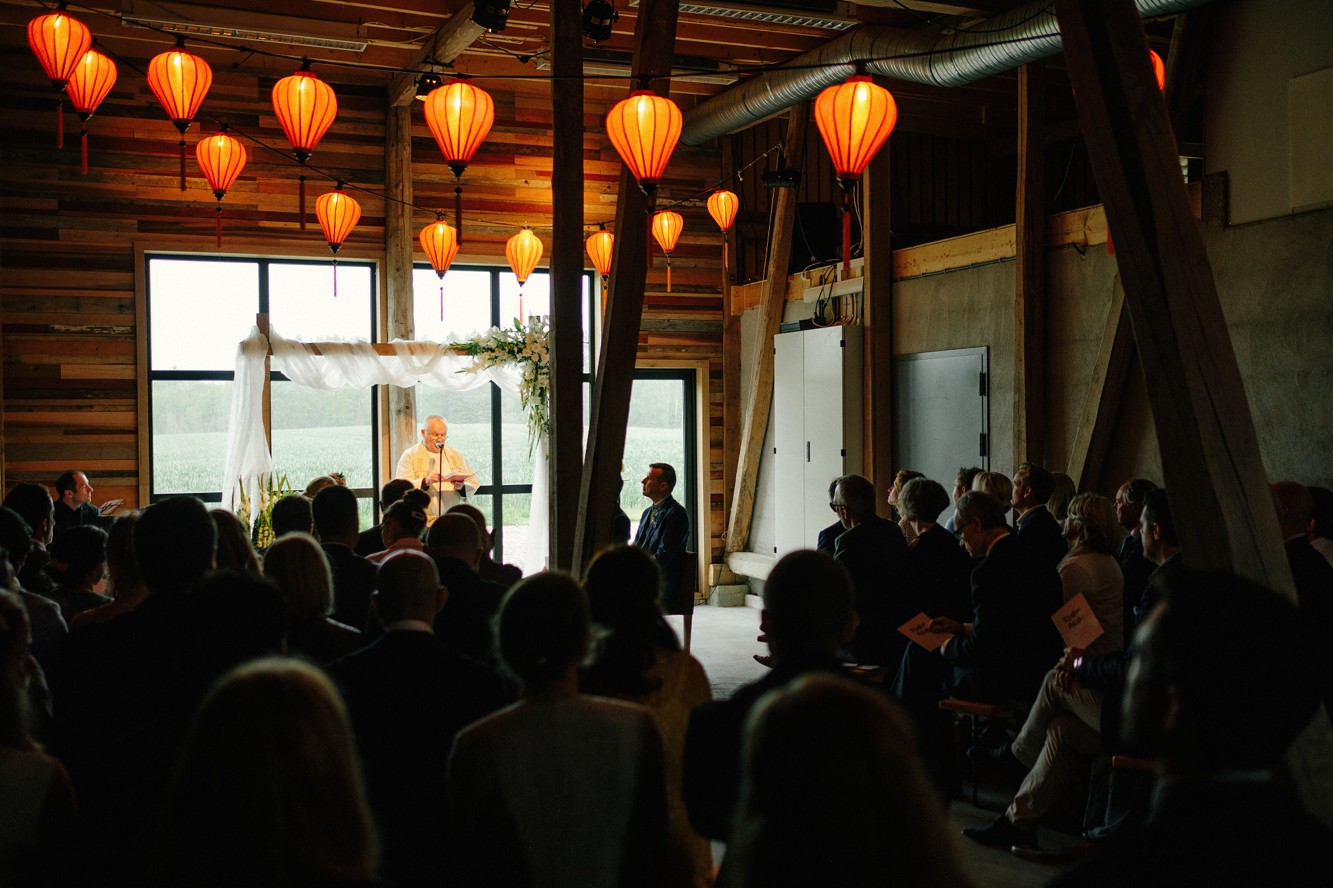 "Jacob, our son, had the task of giving us the rings, and I will never forget when he finally was allowed to step forward and hand over the rings. He was so proud and so eager! Having the opportunity to give my kids the memory of mom and dad getting married was so nice, and I am so glad we included them."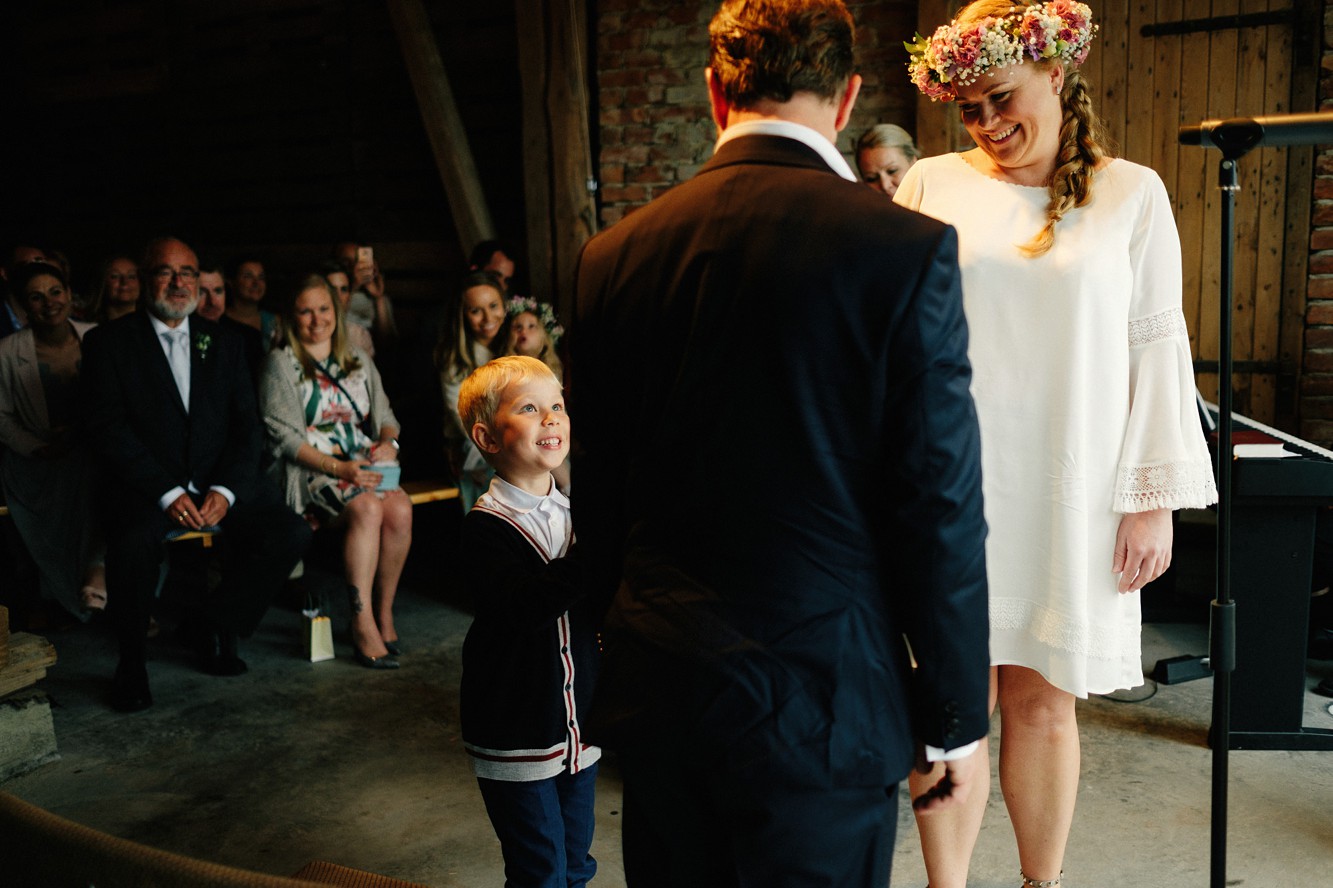 "One of my sweet girlfriends, and one of our guests, Anna Kronborg, sang at the ceremony. It was so lovely of her! She sang Thinking Out Loud by Ed Sheeran and Utan Dine Andetag by Kent. We had a pianist to accompany her, and he also played for one hour after the ceremony together with his double bassist friend."
Martin looked fantastic in his smart casual outfit of navy blue suit by Hugo Boss, which he paired with a white shirt and white Superga sneakers. Son Jacob matched his father, with blue trousers and a white shirt from Mango, and his own pair of cool, white Superga sneakers.
"Martin and I met on a Tuesday night, late October, in Andy's Sports Bar in Oslo. I had been at a Muse concert with some friends, and he was out with a buddy. Martin was very eager and gave all the cliché compliments about my hair, my perfume – all at once! I thought I would never fall for these compliments, but hey, I guess I did! The next day he texted me, we met again and things went fast. Before Christmas, he was my boyfriend."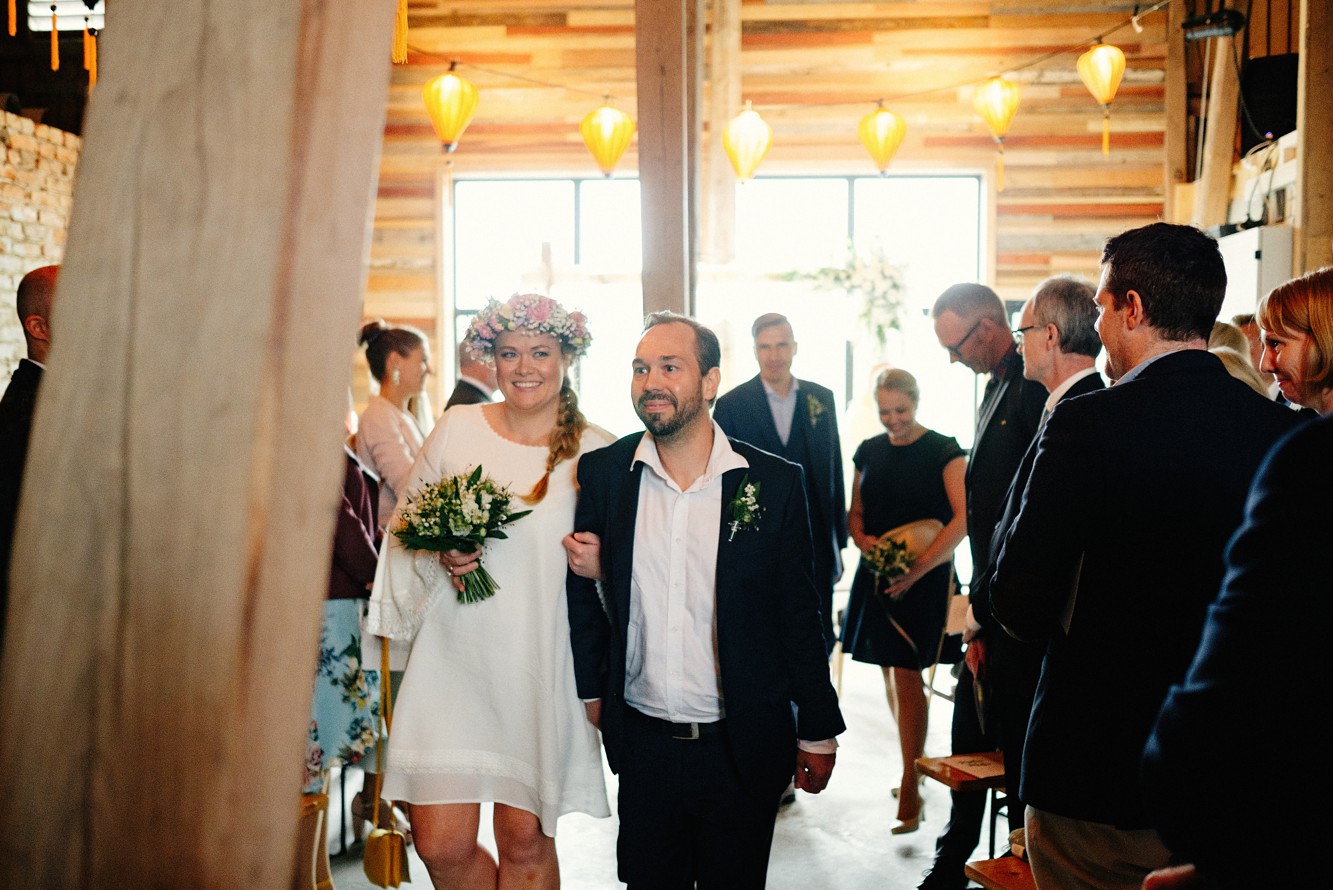 "We have been together for almost 12 years now! We have enjoyed life before kids; having the opportunity to travel when we want, eat fancy dinner late at night, drink champagne for breakfast and live life. We bought our first apartment together, and we now have two beautiful kids together, Jacob (5 years old) and Sonja (3 years old). Three years ago we bought our own house in suburbia. Life is good!"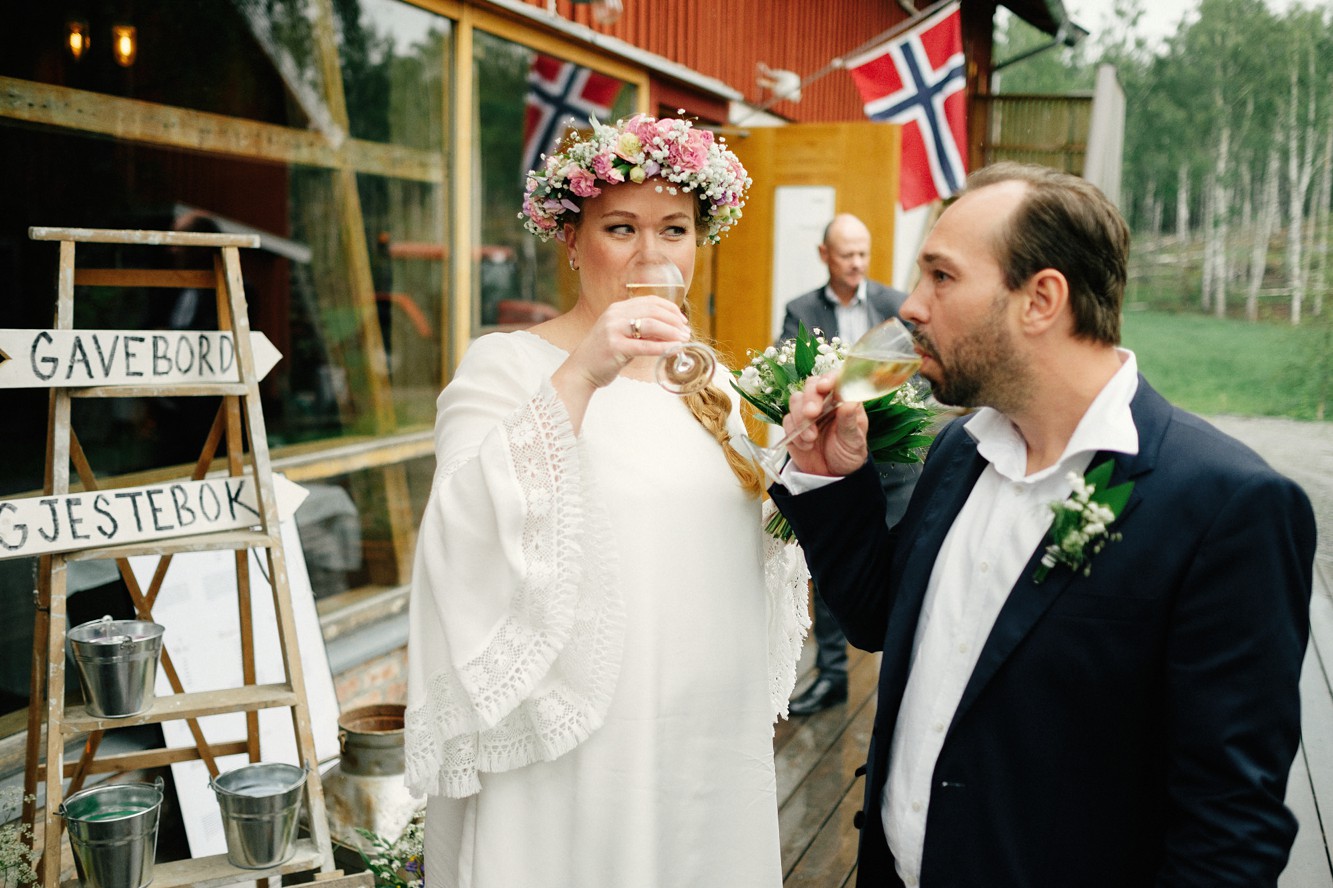 "In October 2017 we had been together for 10 years, and we decided to go for a romantic trip to Rome to celebrate. So, in March 2018 we went to Rome and decided to eat at a fancy restaurant, like the old days. Here is where it happened: Martin went down on his knees with this beautiful diamond ring, proposed, asking me to be his wife! Even though I knew it would come some day (because we have always talked about getting married one day)."
"I was shocked and surprised and actually forgot to answer him, so the poor guy had to remind me to answer the question, and of course I said yes! I'm still shocked about him getting down on his knees in this very fancy Michelin starred restaurant – brave!"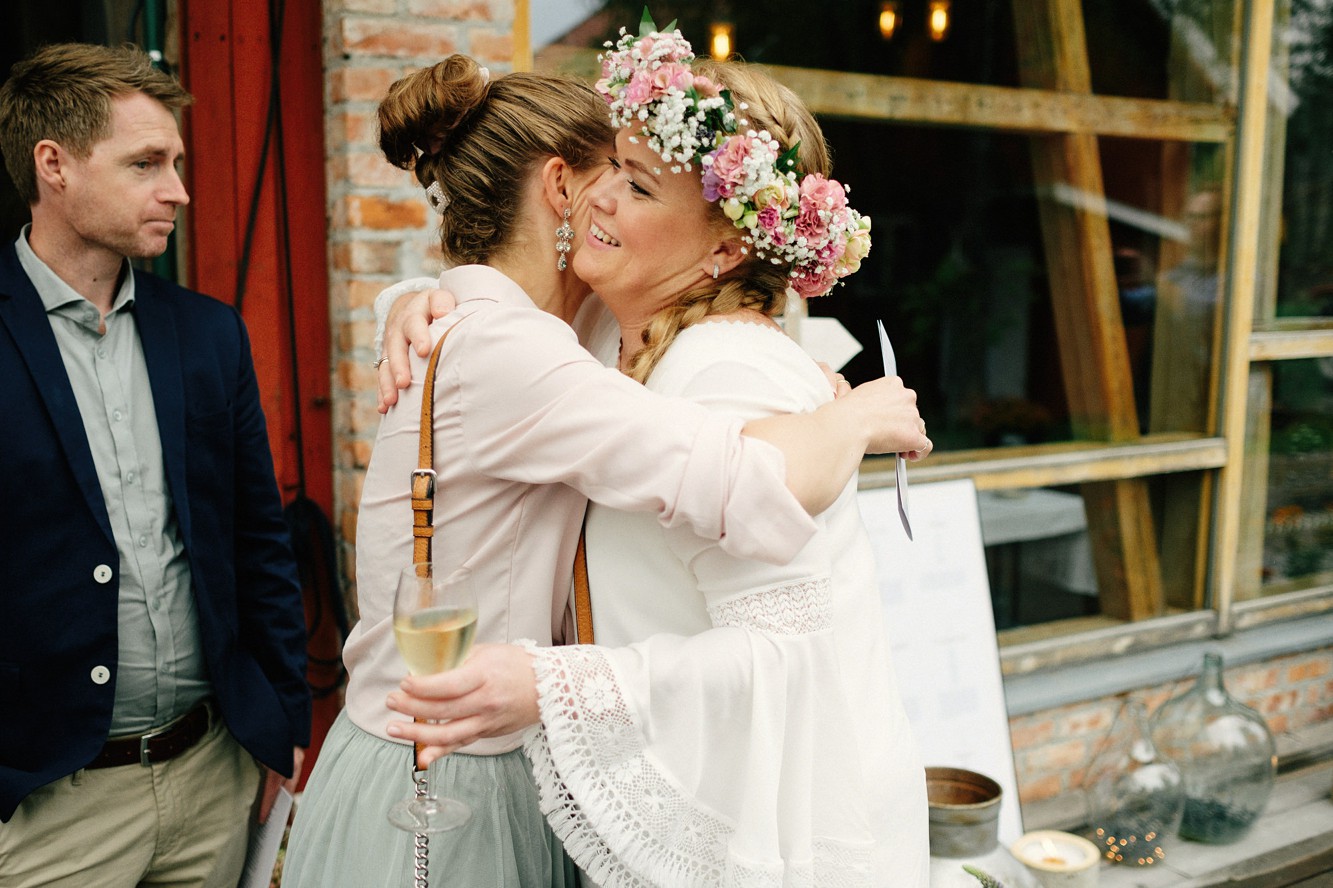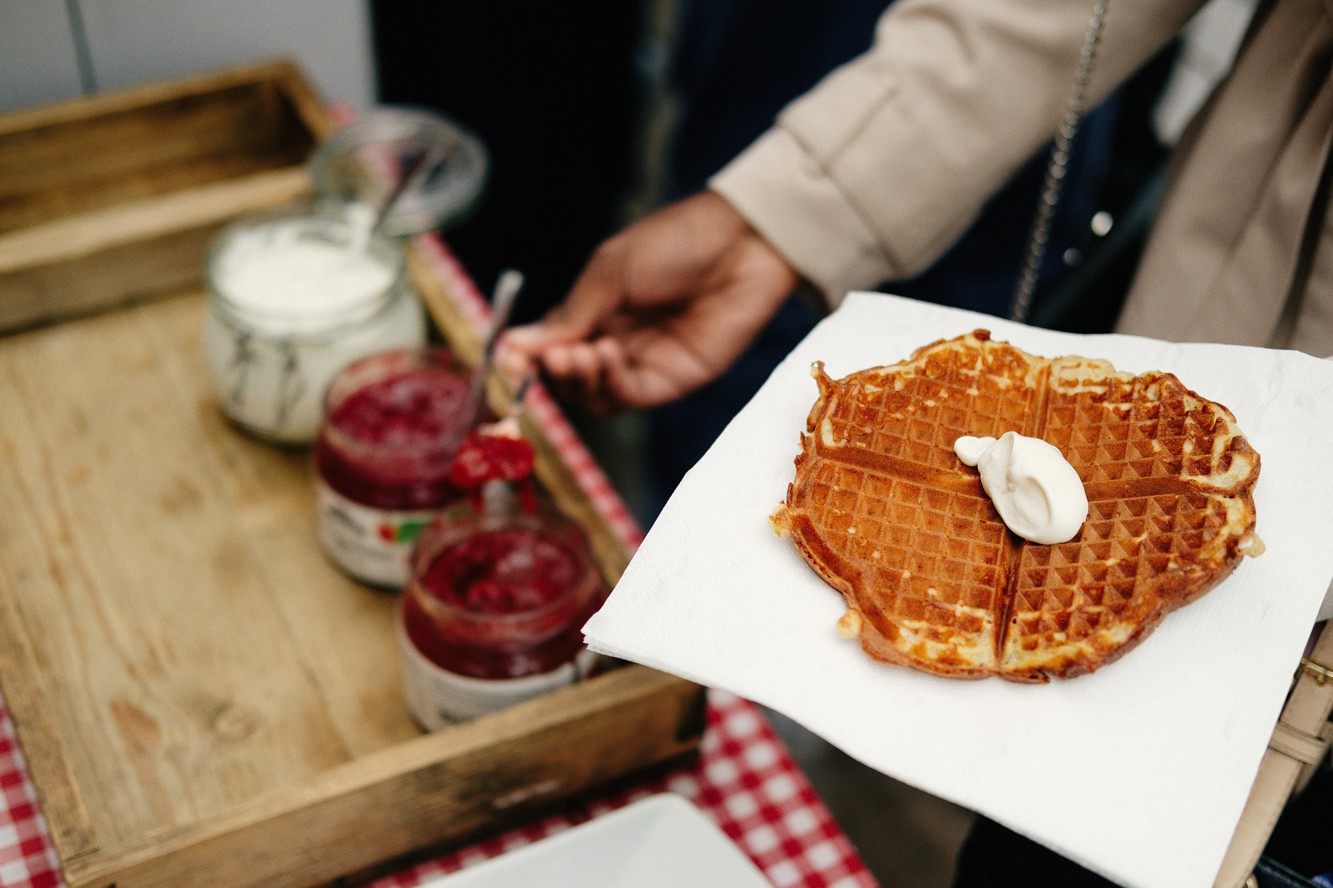 It's always brilliant to be able to share the work of photographers we've never featured before on Love My Dress, and how sensitively and beautifully photographer Åsmund Holien Mo captured Kristine and Martin's day.
"Åsmund did a splendid job. He really captured everything on the big day, but we never thought he was intrusive, or in our way at any time. Before the wedding, he was eager to hear about our wishes, and we immediately felt he understood what we meant, and that he would do a great job. He did!"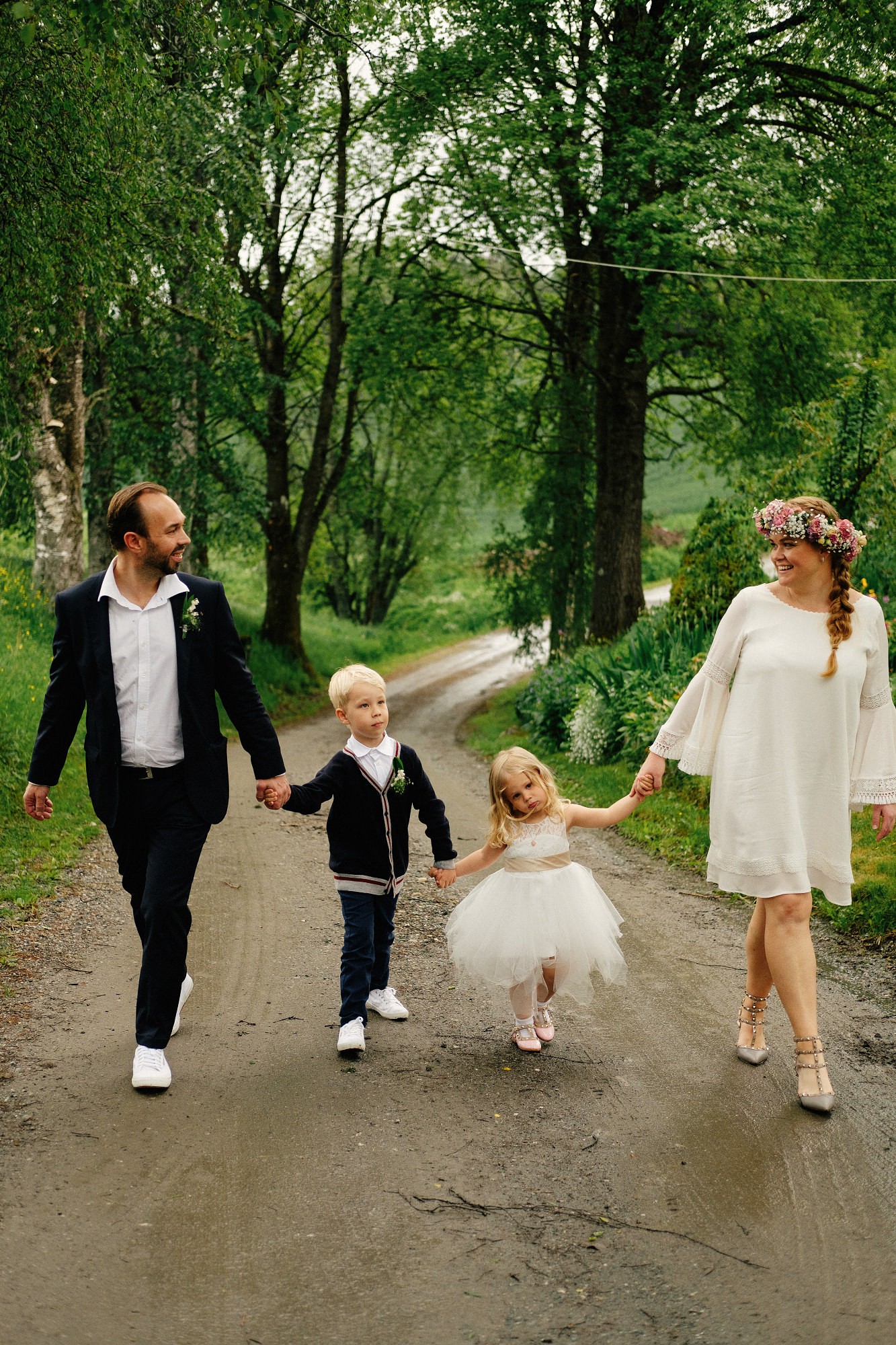 "The results were amazing: He captured the smiles on people's faces, the laughter, the tears, the fun and the love, and as a bride, I was particularly happy with his sense of details and pictures of the flowers, the shoes, the decorations, and all small things that I thought of ahead of the big day! We had Åsmund with us for 12 hours that day, and it was so worth it."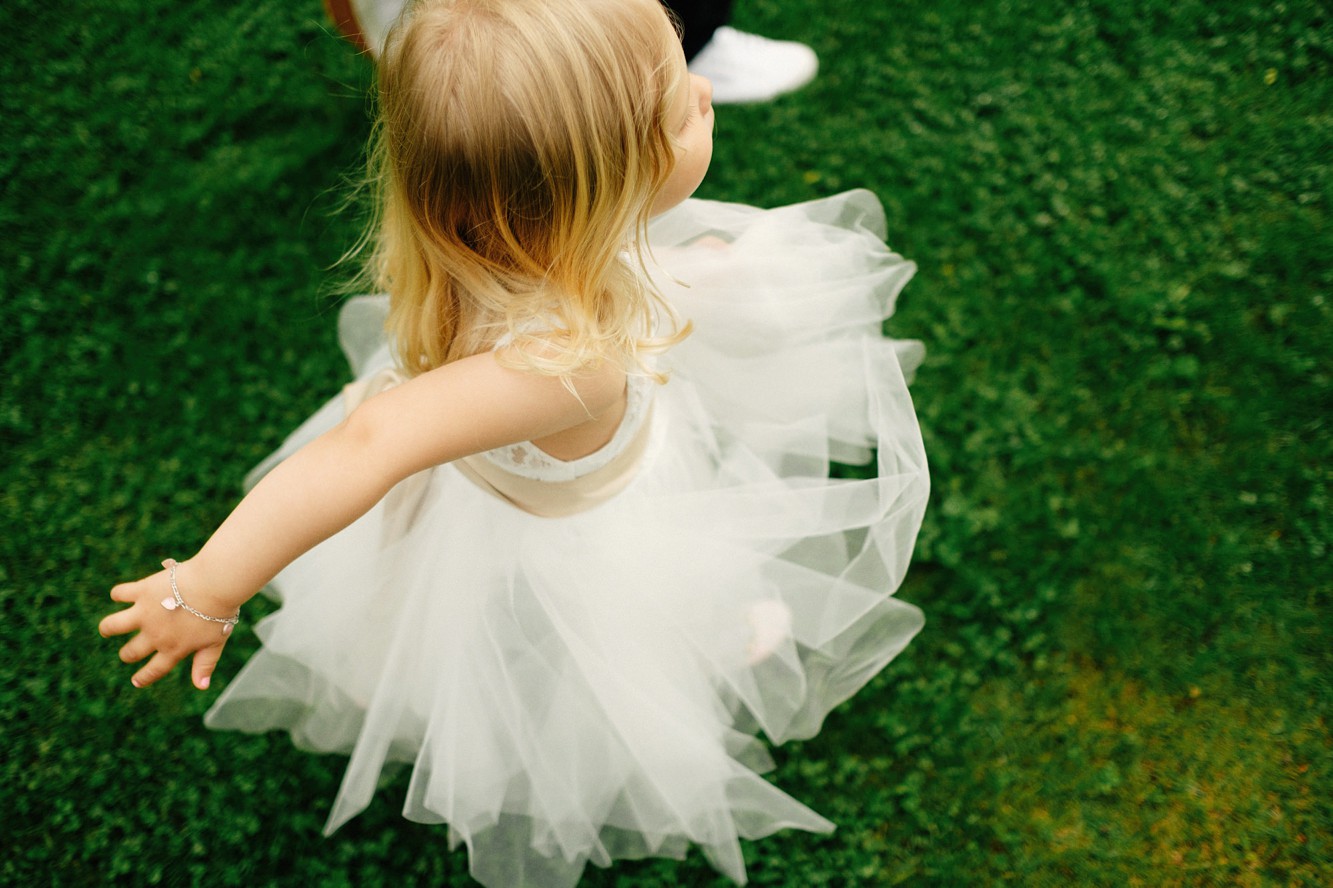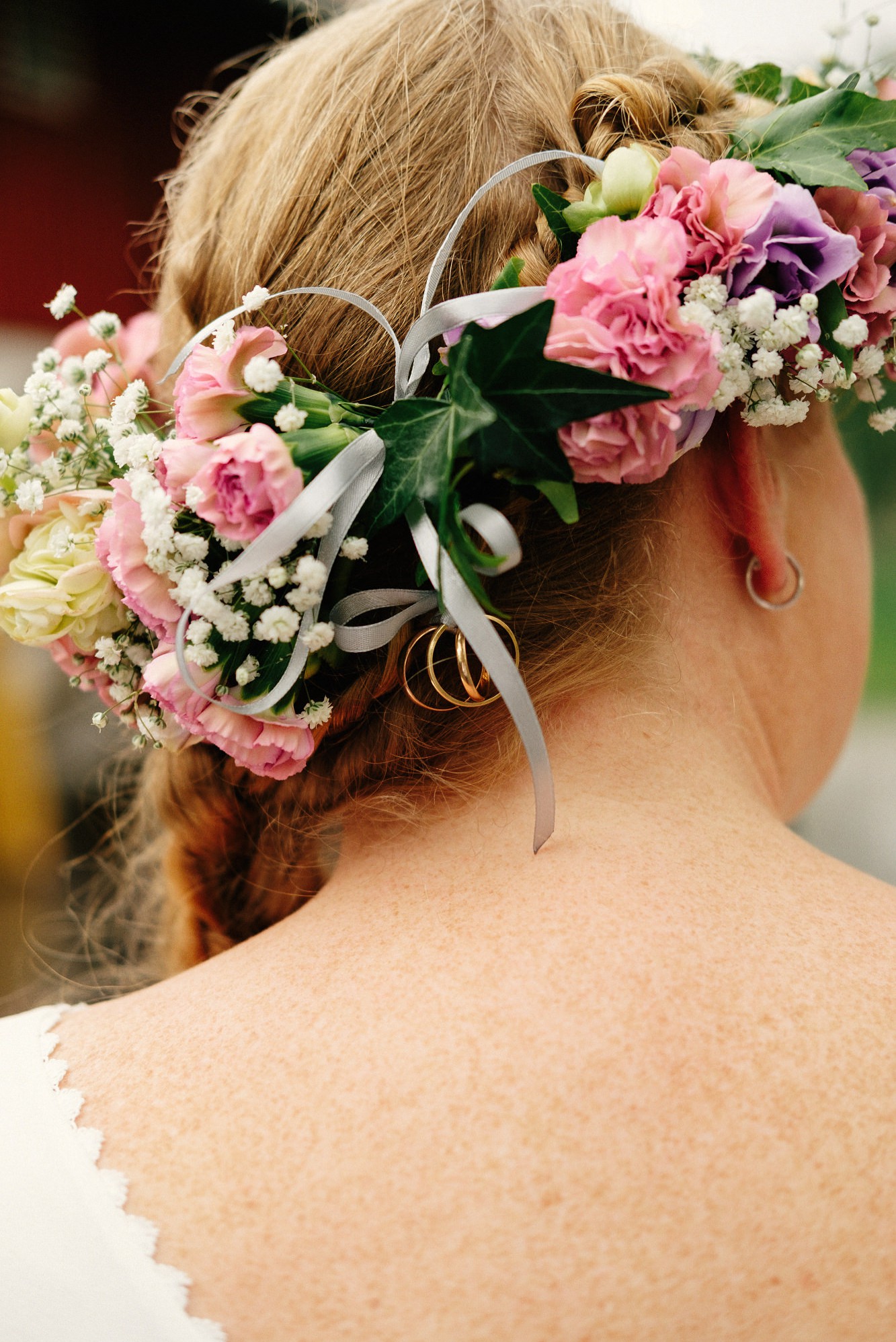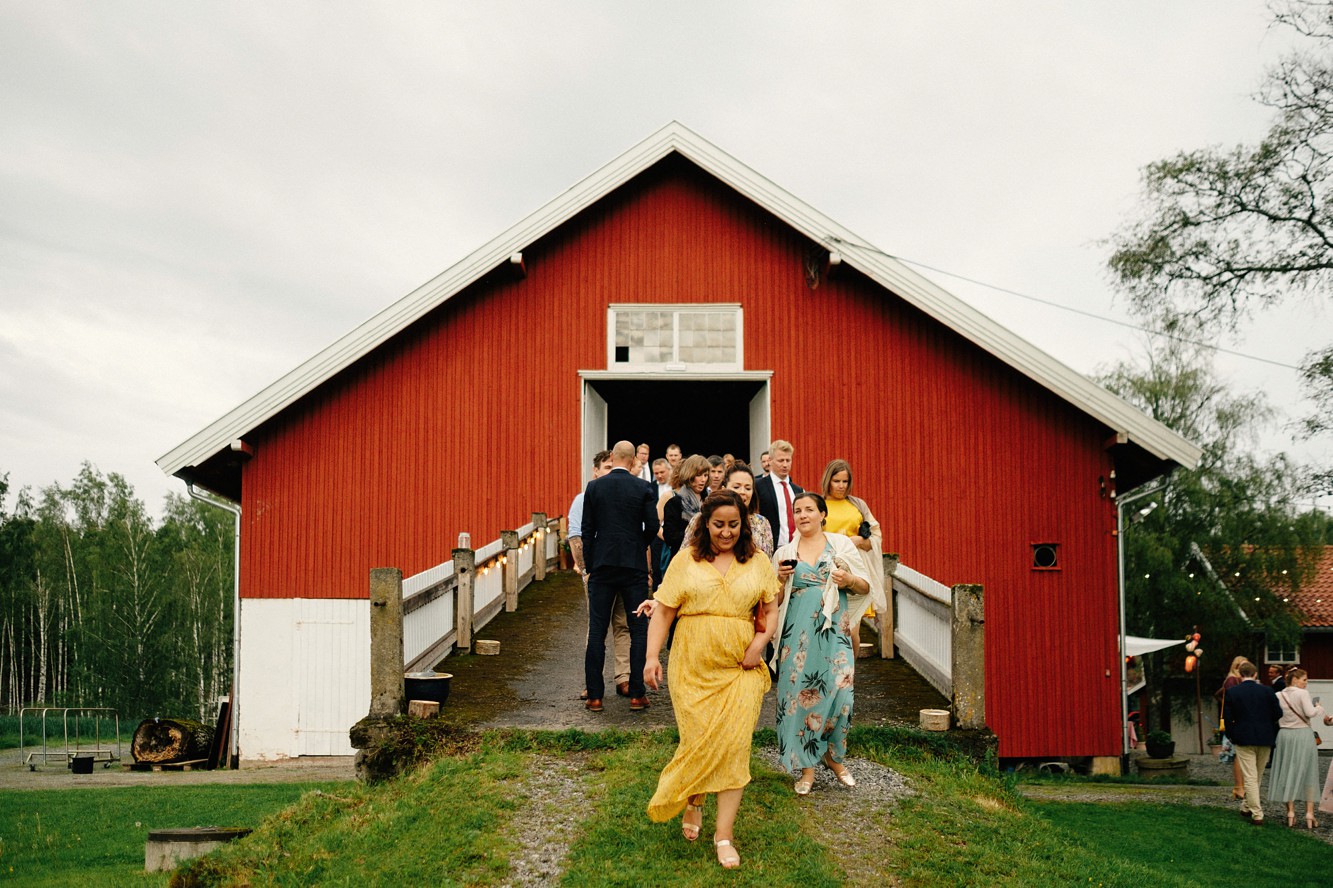 "We went to have a look at the venue and talk to Guri and Kjetil, who live there and run the whole place, and we fell in love with all of it! There was no point in looking at other venues – it was perfect. Guri and Kjetil have made the whole barn into this romantic, rustic, delicate, countryside venue. The cowshed has been refurbished, keeping some of the old details like the old drinking bowl on the wall. The actual bar is placed inside the silo, and the whole upper barn is empty and can be decorated just as you like."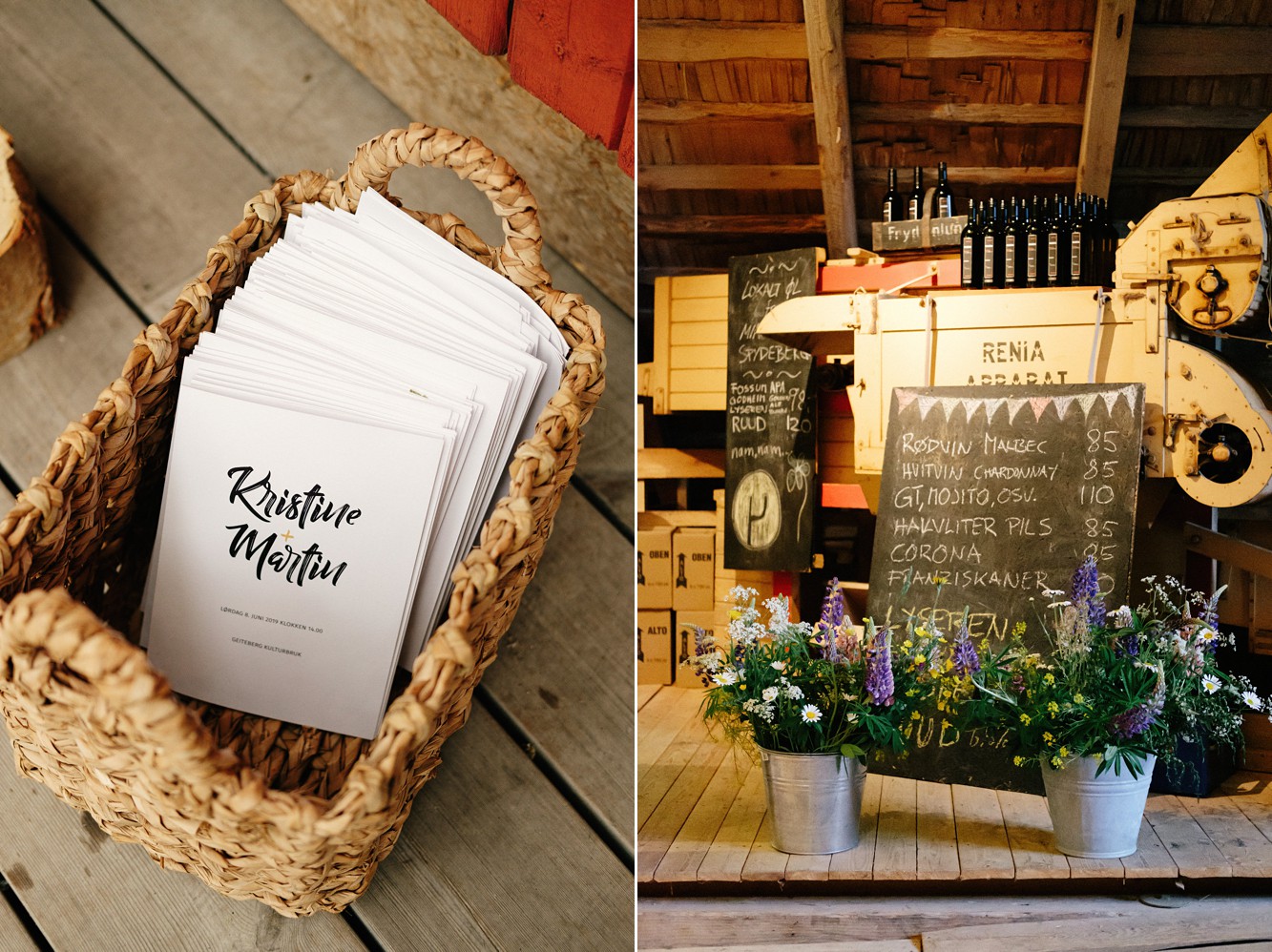 "The dealbreakers for choosing the venue were Guri and Kjetil; wonderful people, helping out with everything. They gave advice when asked, nothing was too difficult, and it felt like it was important for them that we had our wedding, and that our wishes came true. Of course, the beautiful nature and surroundings also made it the perfect venue!"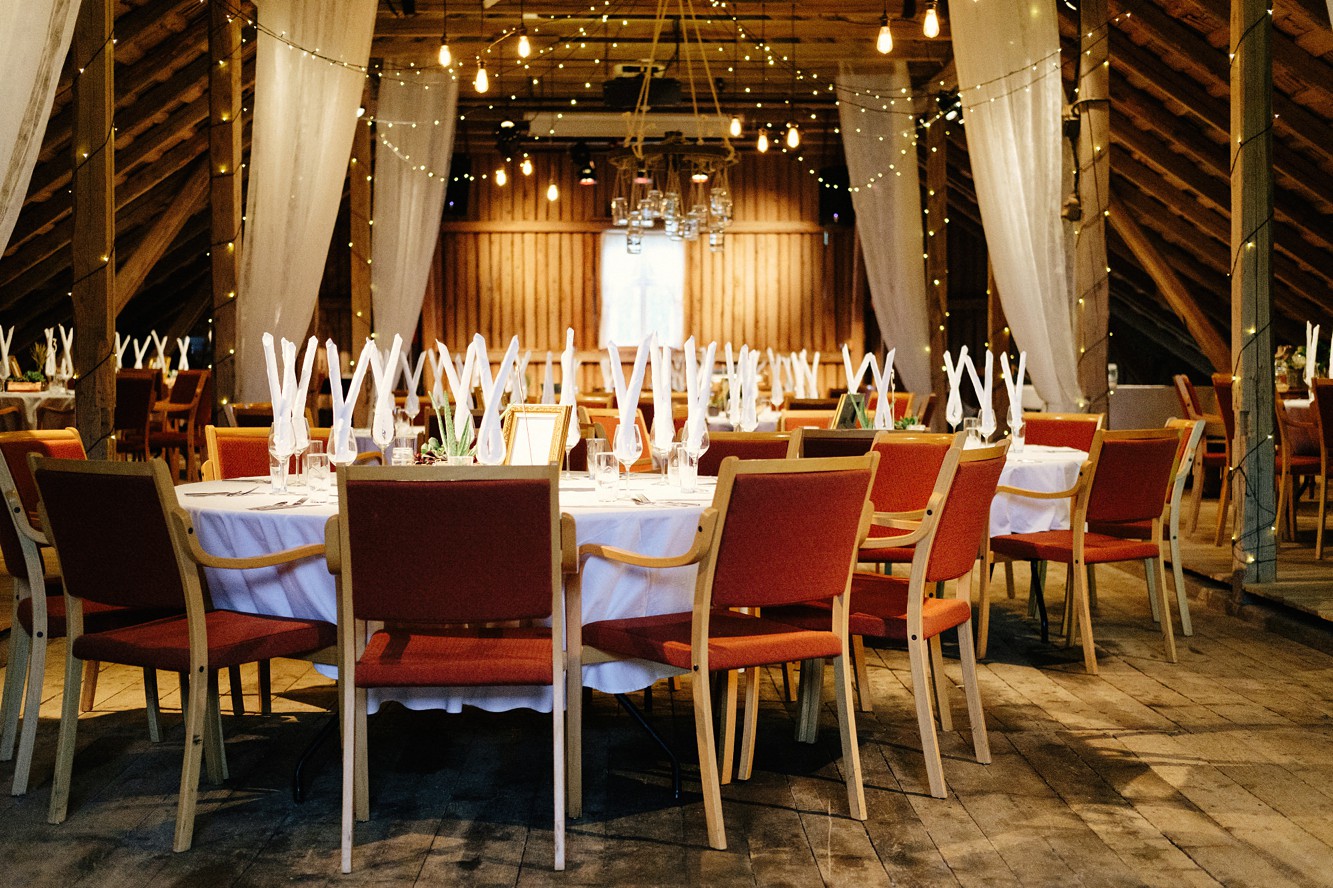 Kristine and Martin already loved the look and feel of their barn venue, and decorated it with seasonally abundant flowers, as well as rustic props such as apple crates, washboards and glass jars. They also made use of a vintage Persian rug that Kristine had inherited from her grandfather, and rented gauzy white curtains strung with festoon lights and colourful lanterns.
"One of my favourite moments before the wedding was picking flowers with my mother on the Friday, the day before. We took quite some time and drove around on the countryside, climbing around all kinds of places to get all the colours and different flowers representing June. We were so proud! We filled buckets with all the flowers, and they were placed near the entrance of the ceremony and the barn. It blended so well with the romantic feeling of the venue."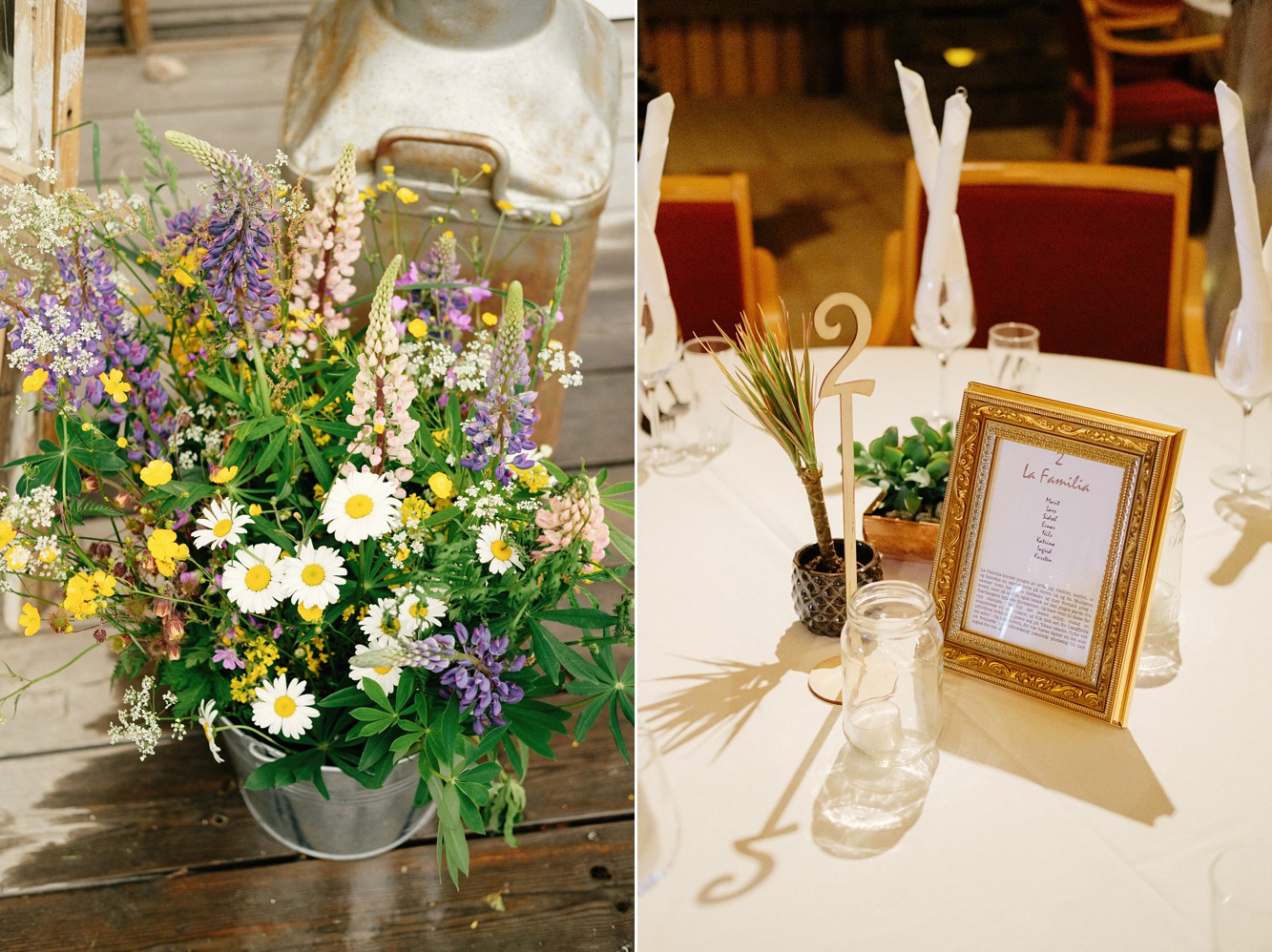 On-the-day stationery was made by Kristine, and tinsmith Martin (together with colleagues from his workshop) handmade flower pots from copper piping.
"I filled them with pebbles, and small plants and cacti for a personal touch. I also borrowed some roses made of copper, that the guys at Martin's workshop made, which normally stand on the counter in his shop."
In keeping with the convivial and relaxed feel of the couple's day, there was no seating plan, and guests sat down to enjoy a tapas feast courtesy of Kreativ Catering.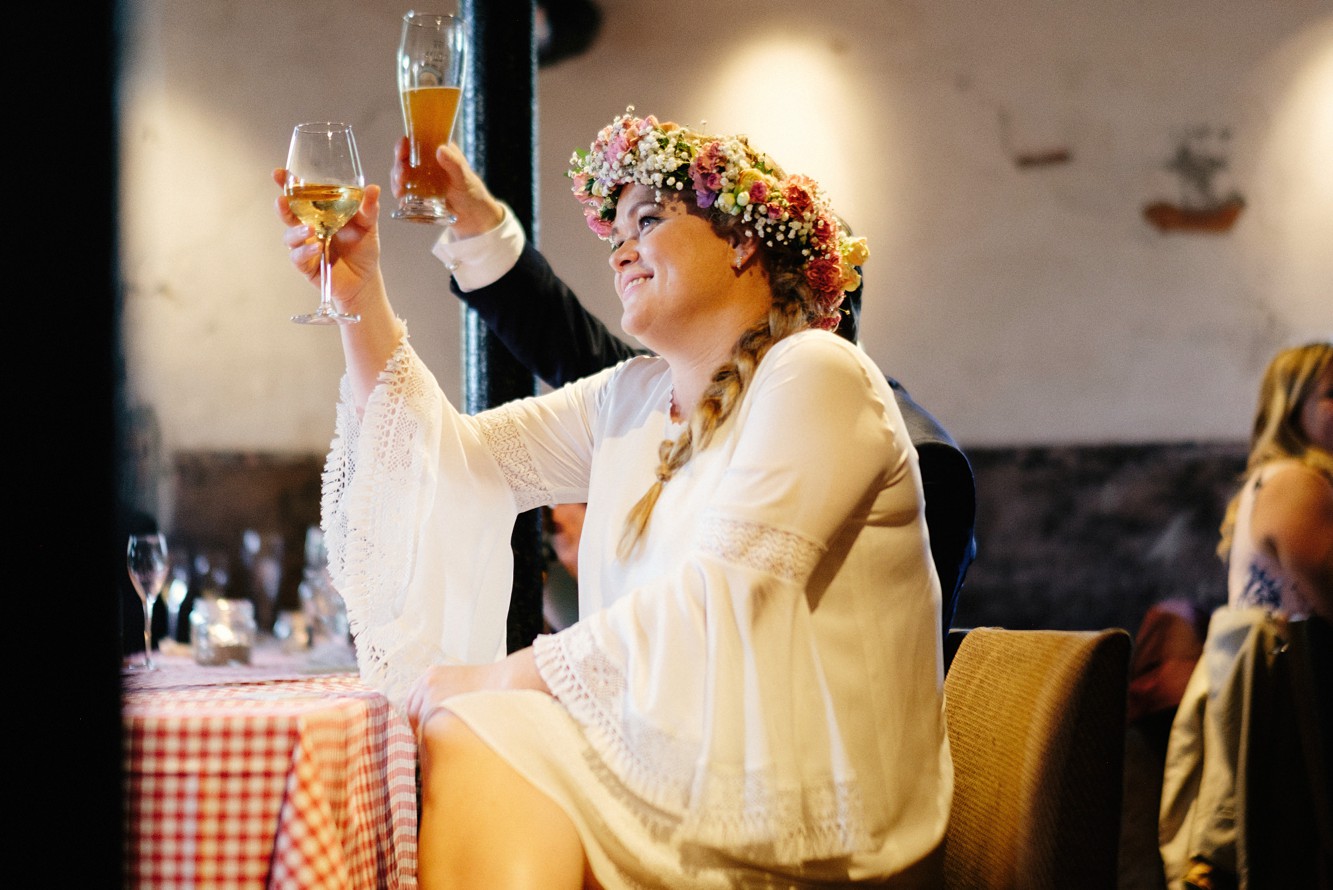 "We skipped the cake. There is something about eating a cake, often late at night because of the dinner, that we just didn't fancy. Also it makes people sit down, with their plate and their coffee, getting tired. We wanted people to dance all night long! So instead, we did give them sugar, but skipped the cake and rather had a candy buffet with lots and lots of different candies."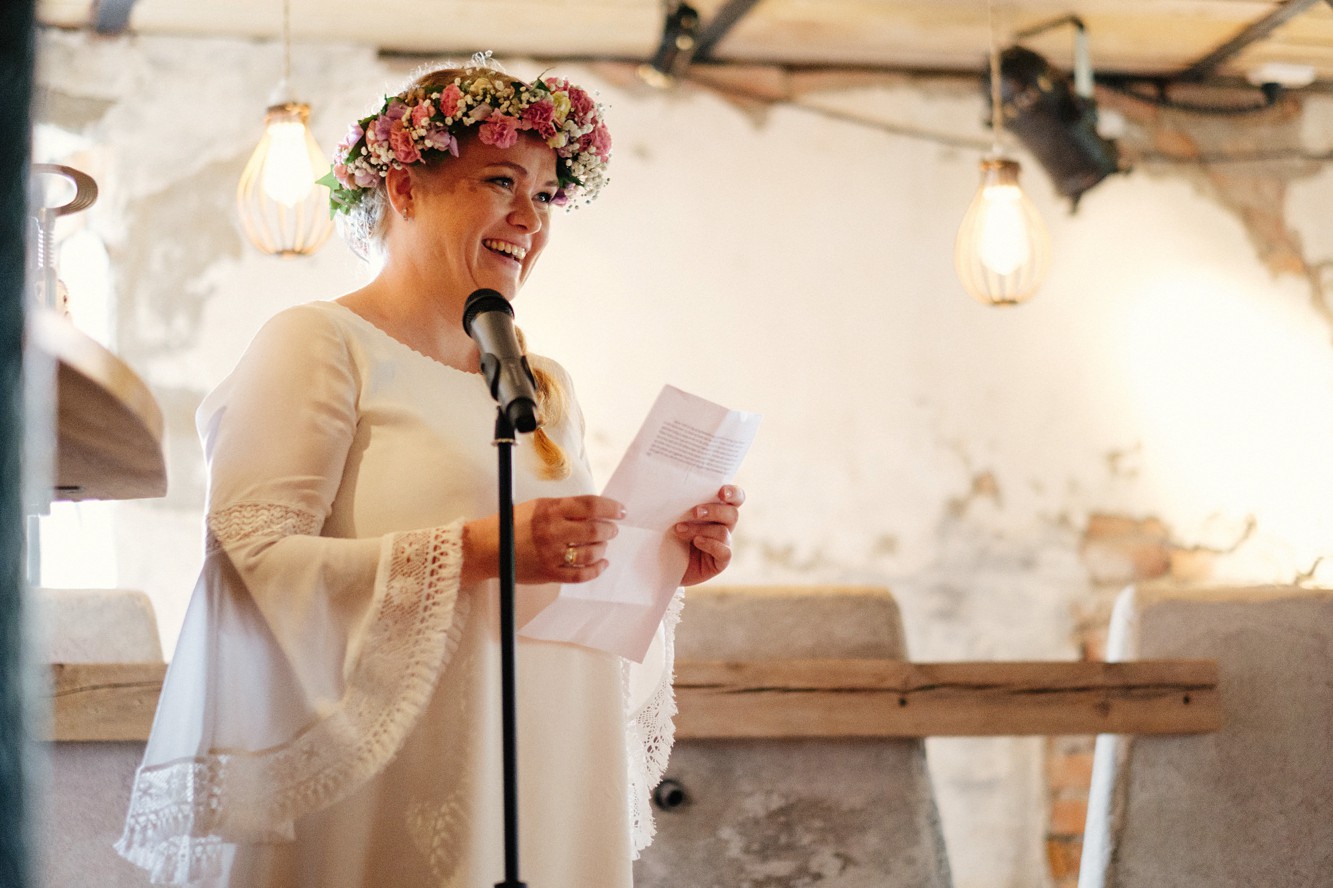 "As a replacement for the cake lovers, we had three large pyramids with macarons from Sebastien Bruno, with all kinds of flavours so, they could have their tiny cake in their hand, whilst moving towards the dance floor. Splendid!"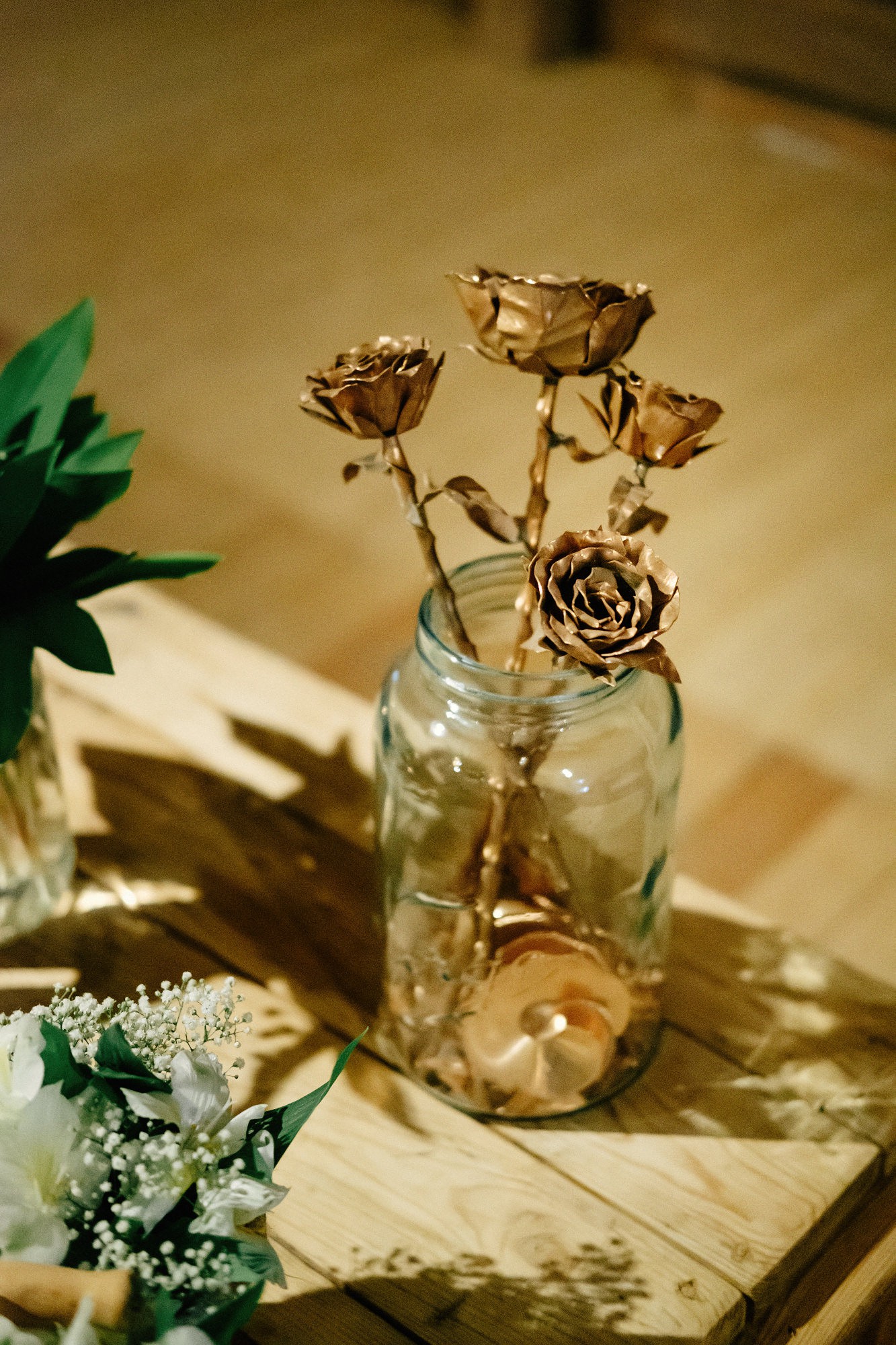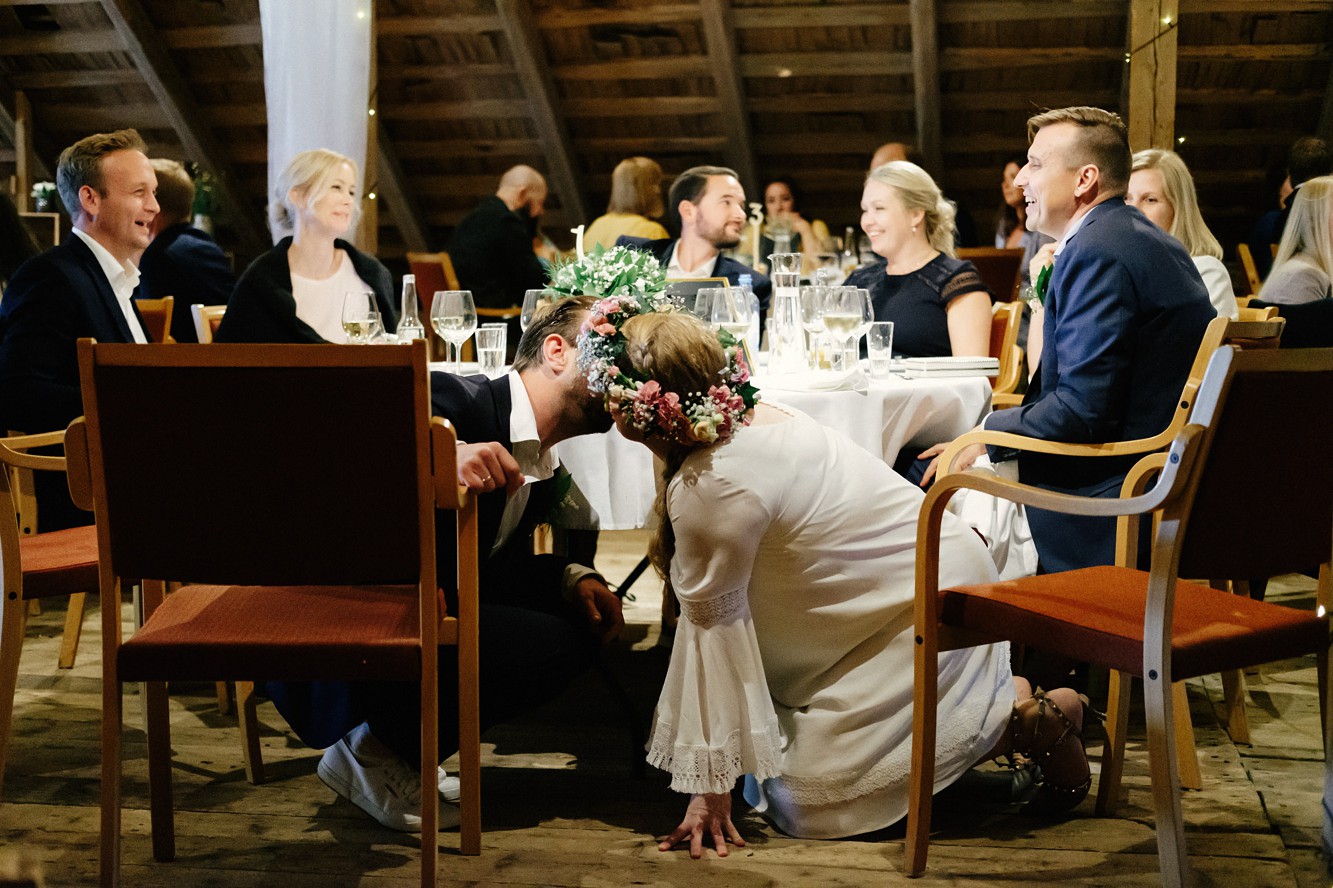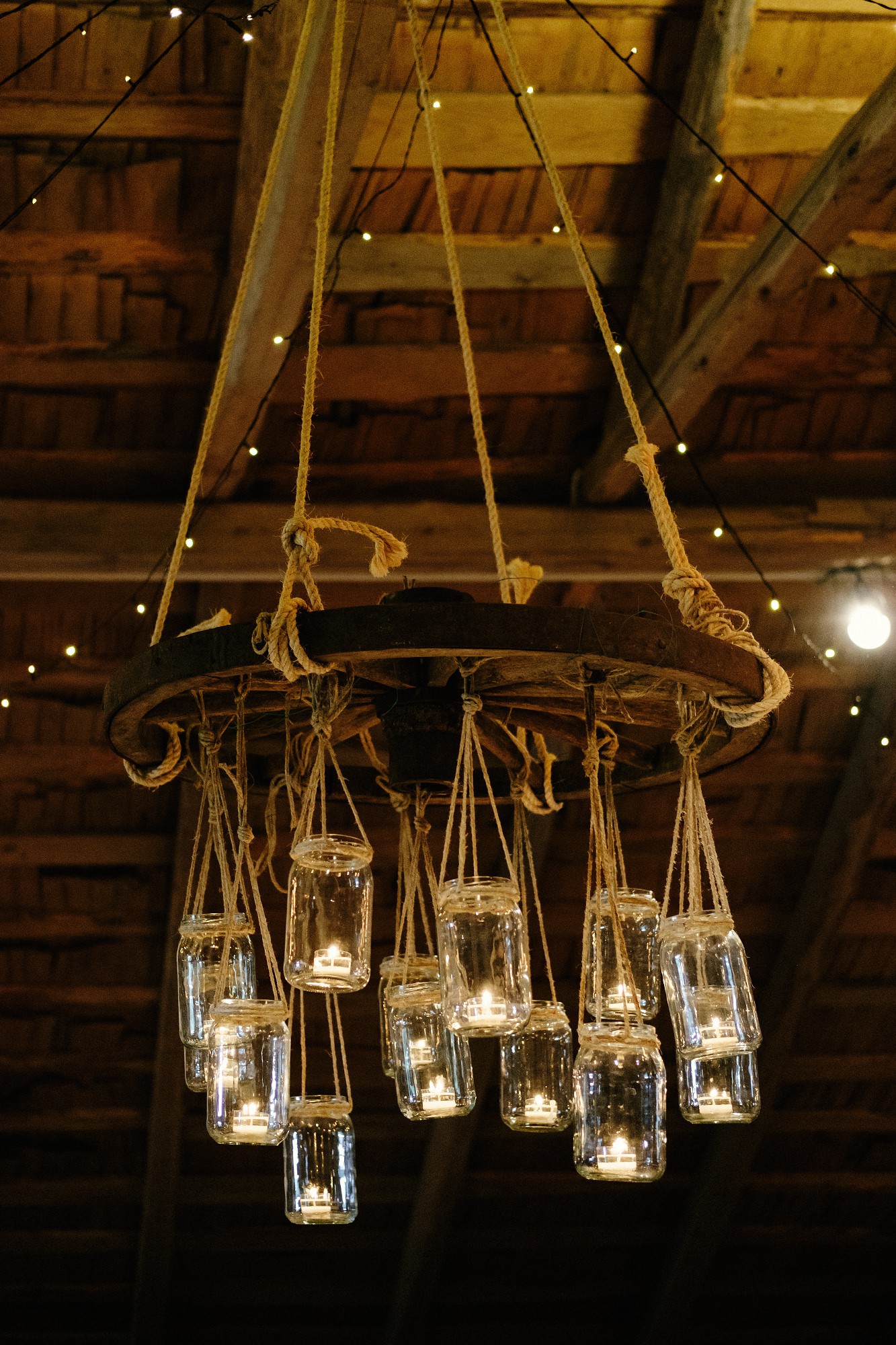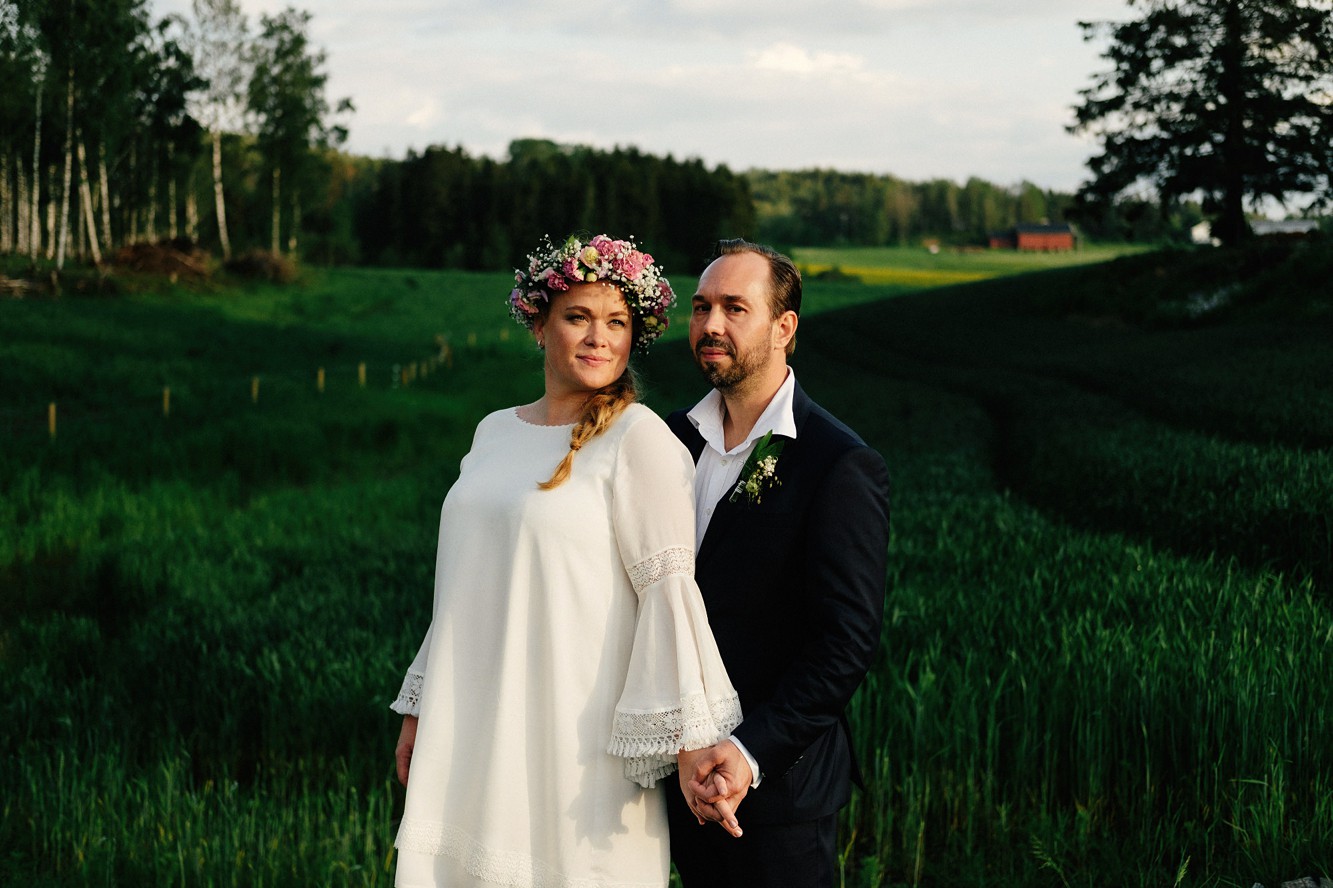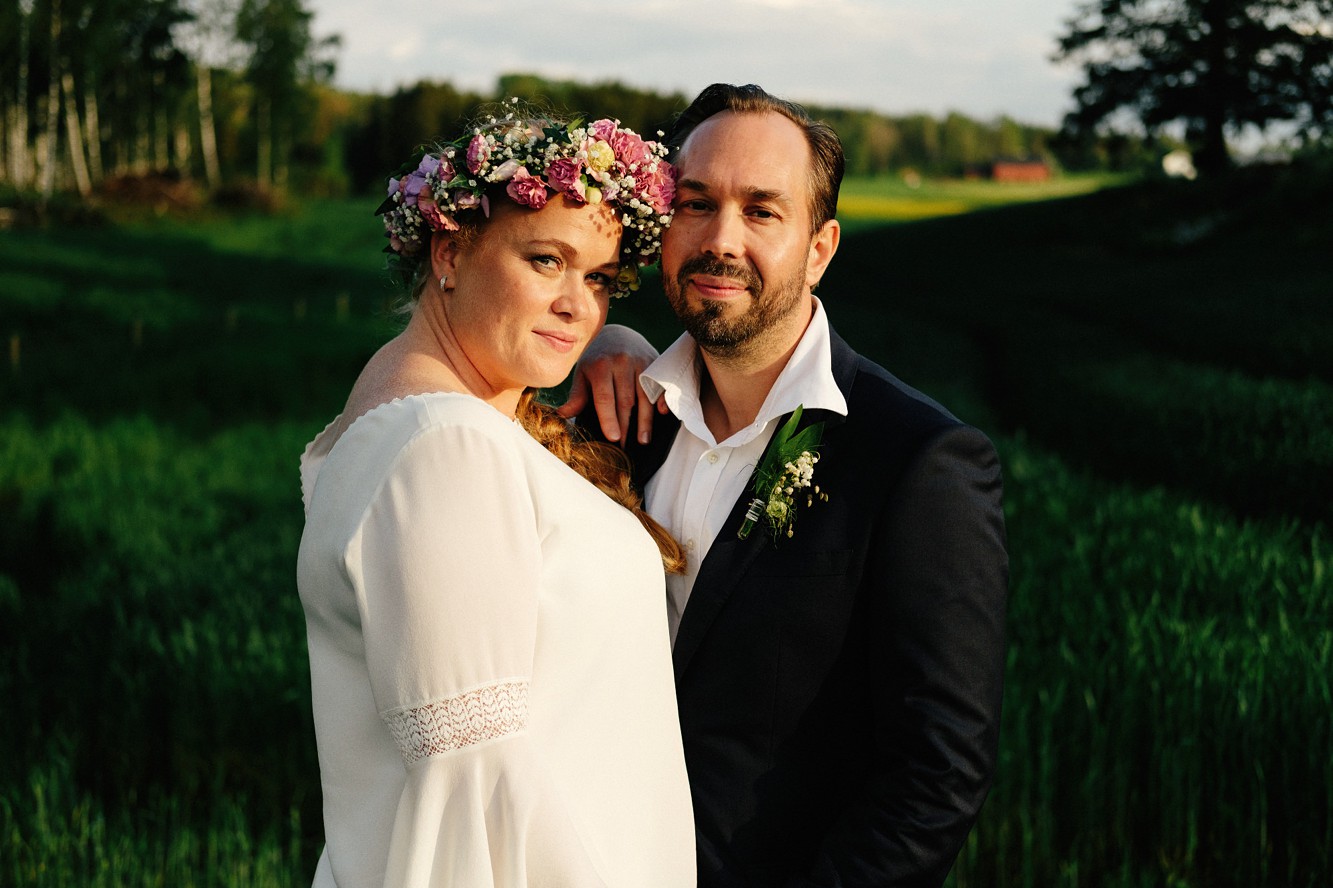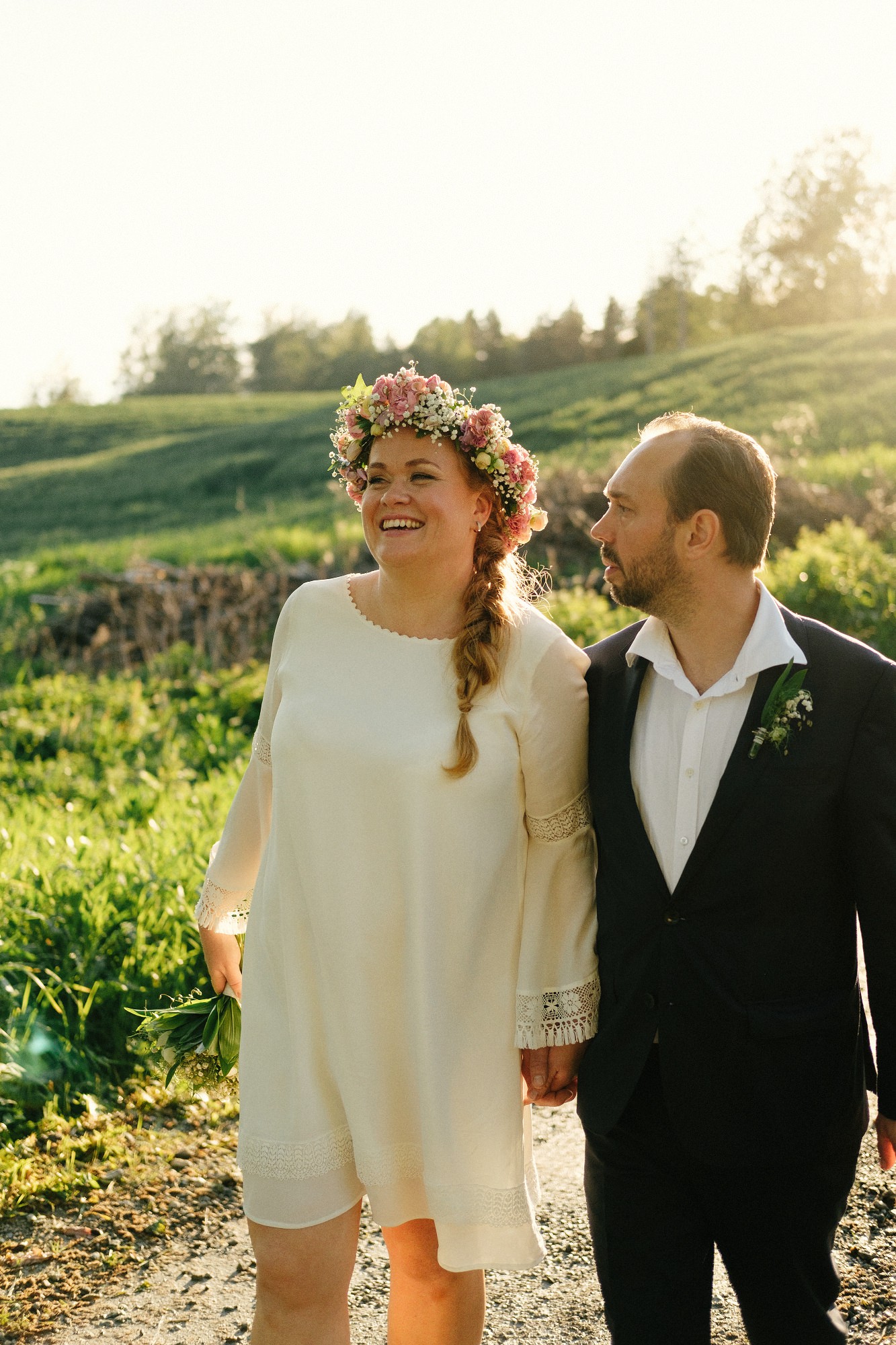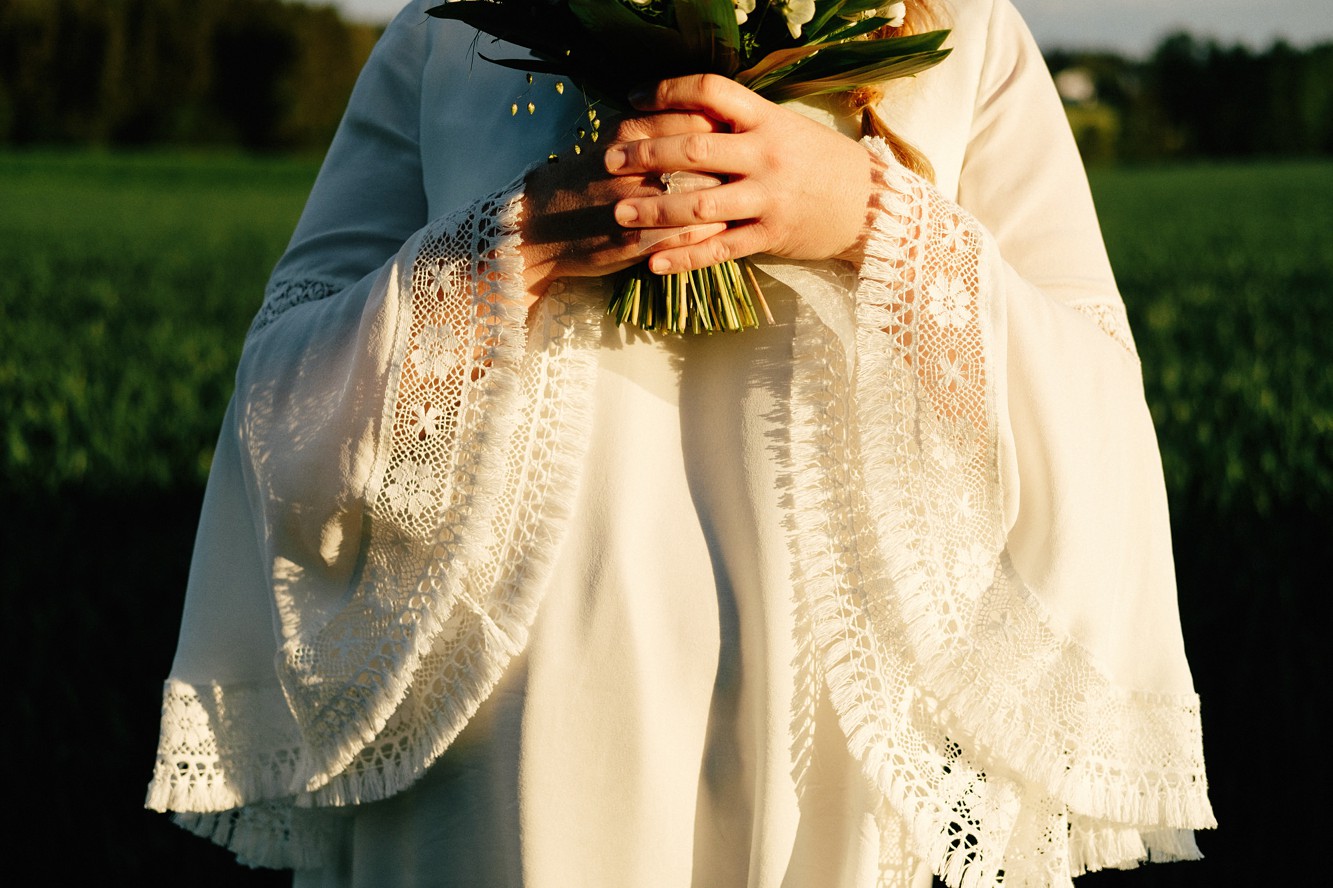 Kristine carried a gorgeous, petite posy of white blooms and greenery, including love-in-a-mist and lily of the valley, made for her by Ski Blomsterforretning.
"I placed no restrictions on what flowers to use and how to put them together. I had only two requests; to use only white flowers and green plants, and for my bridal bouquet I wanted Lily of the Valley – one of my favourite flowers. I arrived at the venue on my wedding day without a single glance at the decorations or my bridal bouquet (except one small picture on my phone of the bouquet), and as I thought it would, all of it looked stunning."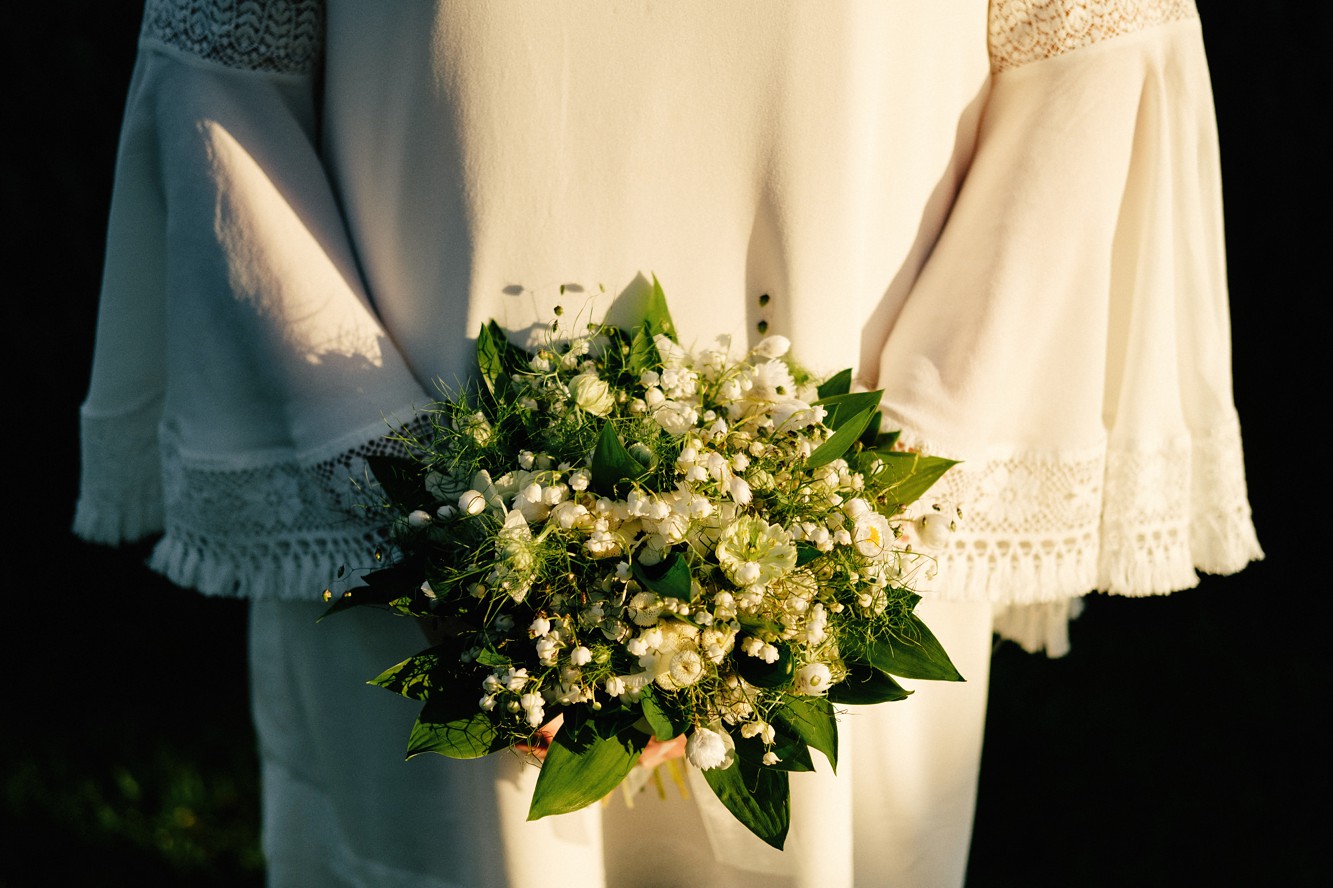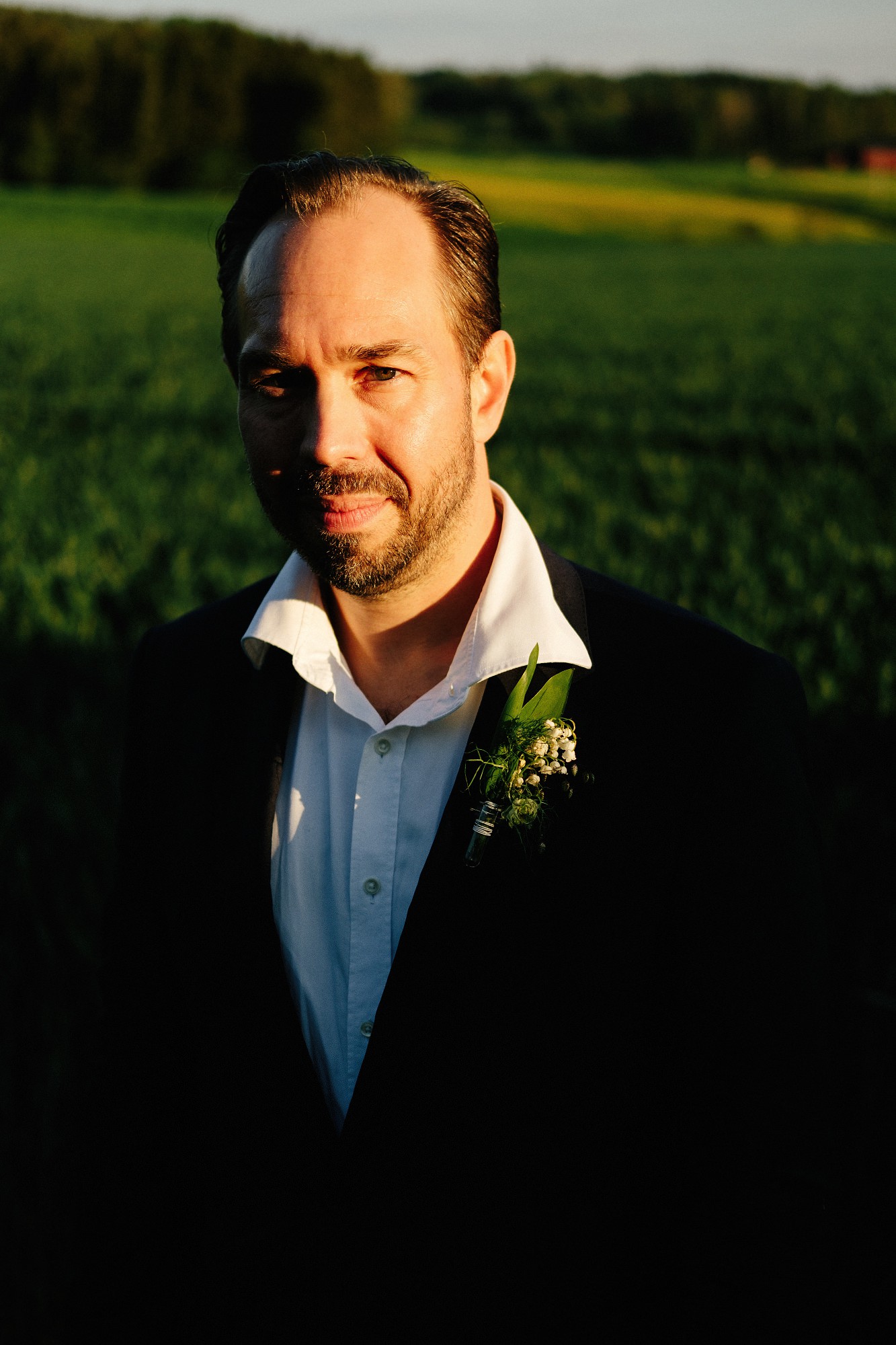 During dinner and through the night, entertainment was provided by friend, scientist and DJ (!), Dr. Alex Papple, who kept the dancefloor full all night long.
"Our first dance track was Idyll, by Postgirobygget. The night I met Martin, back in 2007, this is the song we danced to. Most people in Norway know this song, and it reminds everyone of summer and late nights (we have all sat outside, under the clear sky on a night in June, singing this song). It was important for us to have a laid back wedding, so many of our choices were decided with this idea in the back of our minds."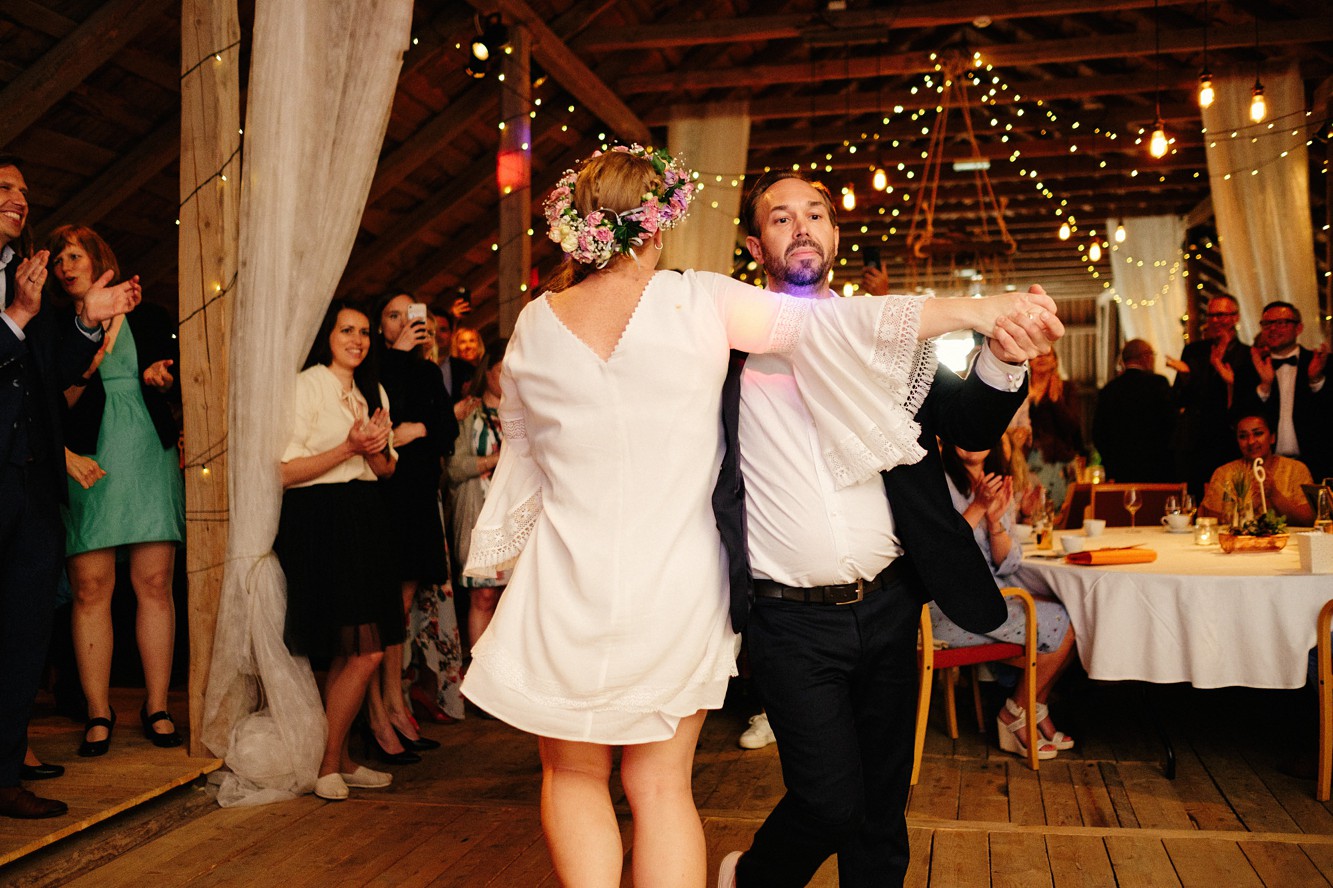 "To say 'I do' to the man of my life, my best friend, the father of my children and the handsome stud standing in front of me was my favourite part of the day – and also his speech! And all the other speeches! All the words, the cheers and the love. It's pretty overwhelming to sit there and receive it."
"But also – our kids! I knew they would be the ones to make me cry, and when I saw them on my arrival, I was blown away. They were so sweet, so lovely and so funny. My son came straight towards me when I arrived, and said, 'Mom! I'm wearing a belt! And it's so cool,  and later dad says I can have a waffle!'. My daughter just kept on dancing around in her tulle skirt, so happy with her dress (like her mother!). Nothing could have been done differently – the day was perfect! I wouldn't have done it any other way."
Words of Wedded Wisdom
"It's a cliché, but remember it's your day and nobody else's. Do it the way you want it, and don't worry about what others think and want. Nothing has to be any other way than the way you want it."
"One minor suggestion we did that was perfect: We had a speech session before dinner. All speeches were held some time after the ceremony and before dinner. Then also having the DJ playing during dinner, the dinner was laid back, people mingled across tables, they talked loudly, they took a break whenever they wanted, they came up to us and gave us a hug and the whole setting was relaxed and fun. I really recommend it!"
"We also kept friends together at the tables. We placed them at a table, but we didn't give them a seat – they could choose the seat for themselves. Since they were placed with their friends, we did a small rearrangement before the dessert. Under 4 seats at each table (each table had 8-10 seats) we placed a card with a number of another table, so the person sitting at this seat with the card had to switch seat with a person at the other table and people had to mingle. This also was a great success, and people liked the forced socialisation in the end!"
"Also, if you want people to dance, hire a DJ or a band and have a talk before the big day. Let them know what kind of music you prefer. You know your guests the best."
Kristine and Martin, congratulations and many, many thanks. What a gorgeous, vibrant and colourful day you had. Huge thanks also go to photographer Åsmund Holien Mo for his fantastic images. Do head here for more lovely Indiebride London behind the scenes features and real weddings.
Until next time!
With love,
Laura