It's my absolute pleasure to welcome our friend and Sheffield based independent wedding dress dress designer, Kate Beaumont to Love My Dress today, to showcase her exquisite new collection of wedding dresses for brides.
I have long been a fan of Kate's work; I've always been drawn to talented independent designers and have watched Kate's business and brand grow from scratch, after sharing her wedding on Love My Dress back in 2012.
Seven years on from her wedding, Kate Beaumont works from her studio designing and hand producing the most wonderful unstructured wedding dresses.  The cut of each and every one is impeccable and Kate's choice of fabrics is equally brilliant – the finest quality silks and delicate French laces all come together perfectly.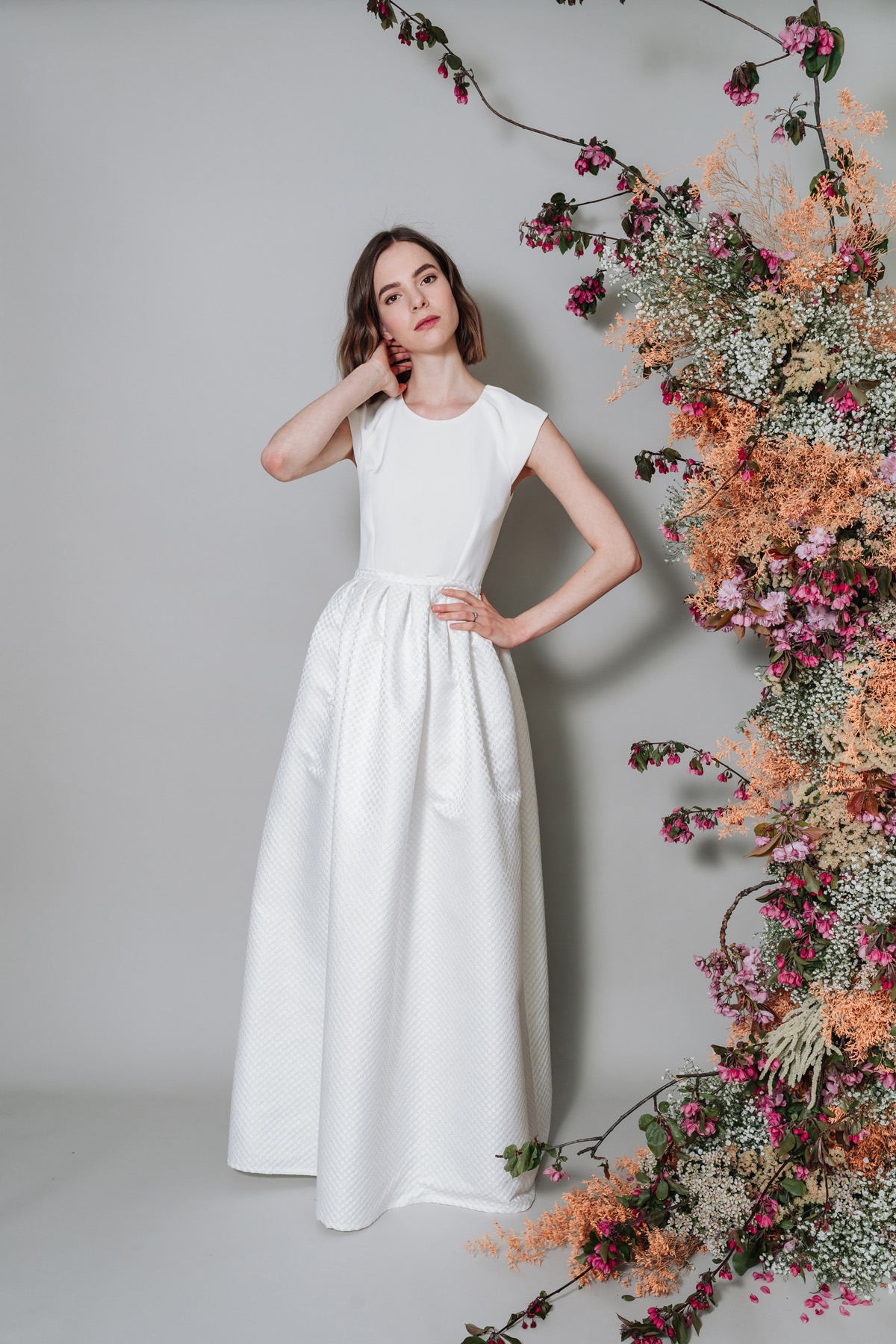 Kate's new collection is a thing of beauty and there's a real focus on texture, shape and merging era inspired shapes and silhouettes with a very modern, elegant vibe.
Kates perfect balance of deliciously soft and fluid silks alongside wonderful feminine and elegant laces that include gentle botanical motifs and bold abstract florals and geometrics, is perfect in this collection of gowns. I also love the delicate detail Kate's designs by way of rows of dainty buttons, lace trimmed veils and capes – the scallop trimmed veil and rose trimmed lace cape are personal favourites, as is the 'Lunaria' gown, pictured below.
We got chatting with Kate earlier this month about these exquisite gowns…
"This collection also sees the addition of some fuller skirted silhouettes with Zinnia, Mimosa and Hyacinth. There are new slinky styles too – Viola and Thistle, along with the elegant, slimline Geranium and Snowdrop, and the bohemian Lunaria, with its floaty hammered silk."
"The addition of the two boxy lace jackets Rosa and Freesia also offer new silhouettes for me, working beautifully over slip dresses or simple bias-cut gowns."
 "Ivory features more than usual in this collection, sitting alongside with my usual warmer palette of champagnes and oysters. I've added in two beautiful shades of sea-pearl silk-satin, plus a pale silver textured silk for Hyacinth's tiered skirt."
 "Alongside the shimmering crepe-backed satins that I often work with, this collection features more matte options: heavyweight silk marocain for Geranium and Snowdrop, mixed with a polka dot silk jacquard skirt for Zinnia, while Lunaria is made from a delightful hammered silk with just the gentlest of sheens."
As always, everything is made to order so not only is waste kept to an absolute minimum but if you'd like to change the design of your dress or personalise it in some way, that can be done to give you a gown that's super individual.
When it comes to the design process itself, Kate works in a slightly different way to mainstream designers who produce distinct collections and each design is almost an extension of what's gone before. These new designs sit alongside older ones, filling in any gaps that Kate's noticed and offering her brides as much choice as possible. She has poured her heart into these dresses and rather than replace them with new designs year after year, she evolves by added to them and refining their cut and detail.
"My brides are always a huge source of inspiration and ideas for me – we'll often come up with ideas to change an existing dress during an appointment, and that will eventually become the start of a new design for the next collection."
"I usually start with a few ideas for a full design or for specific parts of a garment – for example a lace overdress or a particular sleeve – then I begin sourcing fabrics and trimmings, and start to put everything together, refining and changing as I go."
"Sometimes a collection comes together very quickly, other times everything seems to take an age to decide, or I can be dead set on six pieces from the start and the last two come at the last minute."
"I always need to fit in design time alongside the 'day job': working with brides to create their perfect dress, so designing tends to start in earnest when wedding season slows down, and we work on the new dresses over the winter and spring."
"I don't design with a specific person in mind exactly but I'm definitely thinking about the sort of brides that come to see me when I design. I'm lucky enough to be able to meet and get to know every single bride that comes to the studio in Sheffield, as I run all appointments and fittings myself – one of my favourite parts of this wonderful job of mine."
This delightful new collection is already available to try on, exclusively at Kate's Sheffield studio so to find out more or to book your appointment with Kate Beaumont, do visit the website
Love,
Annabel x