Lovely readers, if you're already missing the long, warm days of summer then I have just the thing for you today with this Italian destination showstopper, which features a leisurely, joyful outdoor wedding feast on the terrace of a beautiful Gothic Revival castle.
This is the wedding celebration of Cecile and Mark, who were married on the 4 August in a church ceremony in Arona, Lake Maggiore, Italy, followed by a reception at the majestic Castello dal Pozzo. The couple were engaged in March 2017, with their legal ceremony taking place in Cecile's hometown in France, a few months before their Italian celebration.
"Mark's family are part Italian, and they own a house in the area where we go regularly, so we know it well. The lakes region is stunning, sunny weather in summer is nearly guaranteed and the food is fantastic, so when we got engaged, it quickly became the best choice."
Images by Matrimoni all'Italiana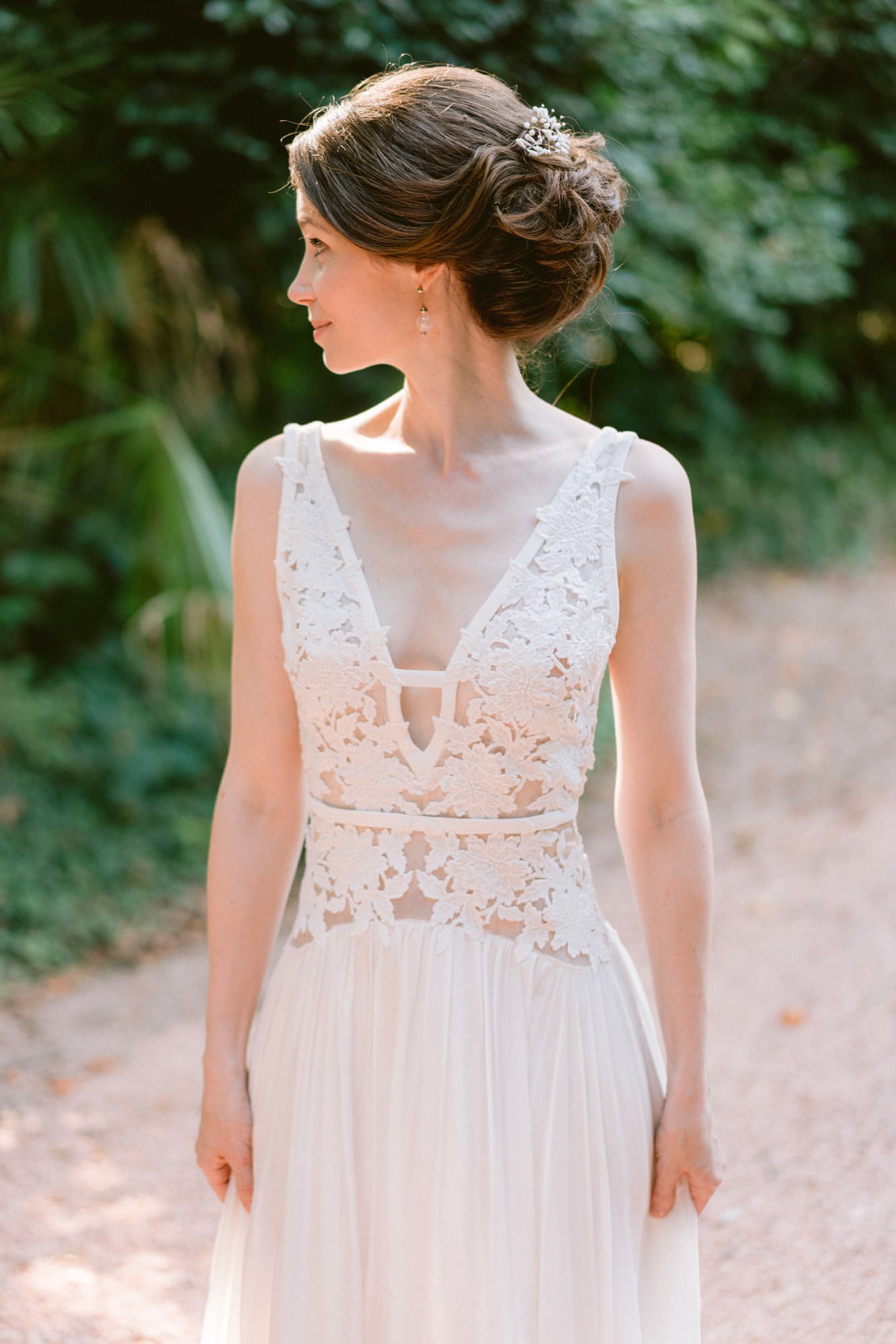 Cecile initially had a difficult and disheartening experience when trying on wedding dresses, until she visited designer Margaux Tardits' Paris atelier.
"Choosing a dress wasn't very easy for me. I'm slim, and have very fair skin, so my biggest fear was looking like a ghost on my wedding day! My first experience with some well-known wedding designers wasn't positive: I was told by friends to arrive with nude and strapless underwear and light make-up to avoid damaging the dresses. Nobody had told me that I was actually going to end up half-naked in high heels facing a woman that I'd never met before, while trying dresses way too big for me."
"Some were rushing the fittings and not really listening to my comments, or even less to my bridesmaids' comments. I had to pinch the dresses to imagine what the final result would look like. When I went to Margaux's showroom, everything changed. They really took the time to fit the dresses on me, using pins, to help me see how each dress could look on the day. Nothing was rushed, the atmosphere was lively and my bridesmaids were chatting and commenting non-stop."
Cecile tried on the ethereally beautiful 'Elvira' dress, made of softest organza, chiffon and satin, with a dropped waist and Guipure lace bodice trimmed with crepe piping.
"When I tried the 'Elvira' dress, there was a long silence. It's then that I knew it was the right one. Re-trying the dress in the cosy and reassuring environment of The Mews Bridal, Notting Hill (whom I found through Love My Dress) confirmed my choice."
"The reason why I ended up ordering my dress from Margaux directly, and not at The Mews, was because my bridesmaids were all in Paris, so it was easier to organise fittings."
"This dress makes me feel powerful, elegant and when I wear it, I feel like I could fly. Even after the wedding, wearing it at home and jumping on my bed as high as I can is still a great joy."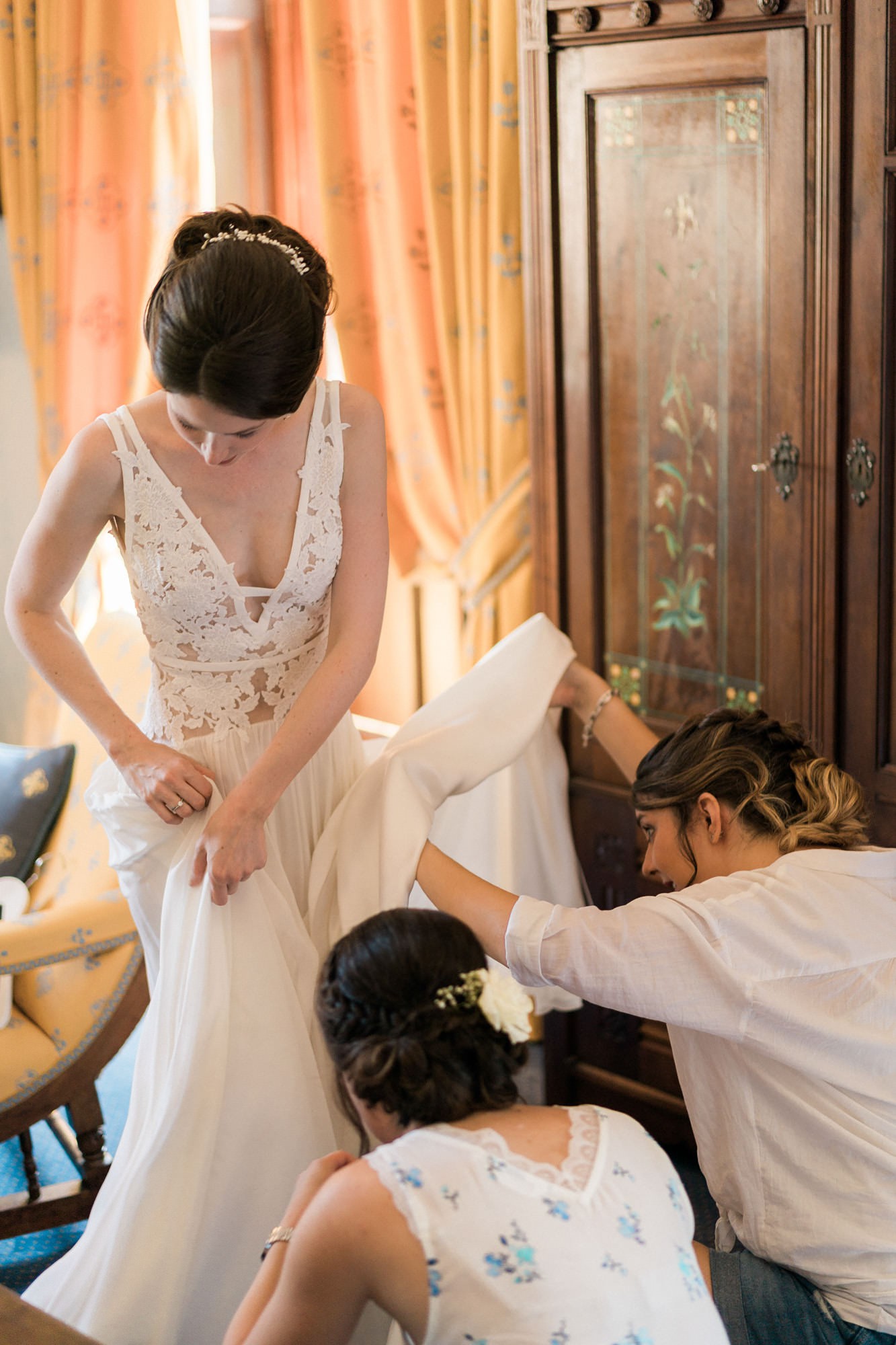 Cecile's radiant make-up and graceful chignon were styled by hair and make-up artist Paola Bianchera.
"Paola was recommended by our photographer Matteo, and she was a real star all morning. We had  test session at the Castello a few months before the wedding, and I was very happy with the results. On the day, she arrived early, helped me to prepare and relax, whilst also taking care of four other girls."
Cecile kept her other accessories minimal, opting for a pair of pretty glass drop earrings from Salomé Charly, and as her wedding day fragrance – sun cream!
"Not sexy, but very funny! As the wedding took place early August with a temperature of around 35-36C, and I have a very fair and sensitive skin, I had to cover myself with sun cream and let it dry before putting my dress on."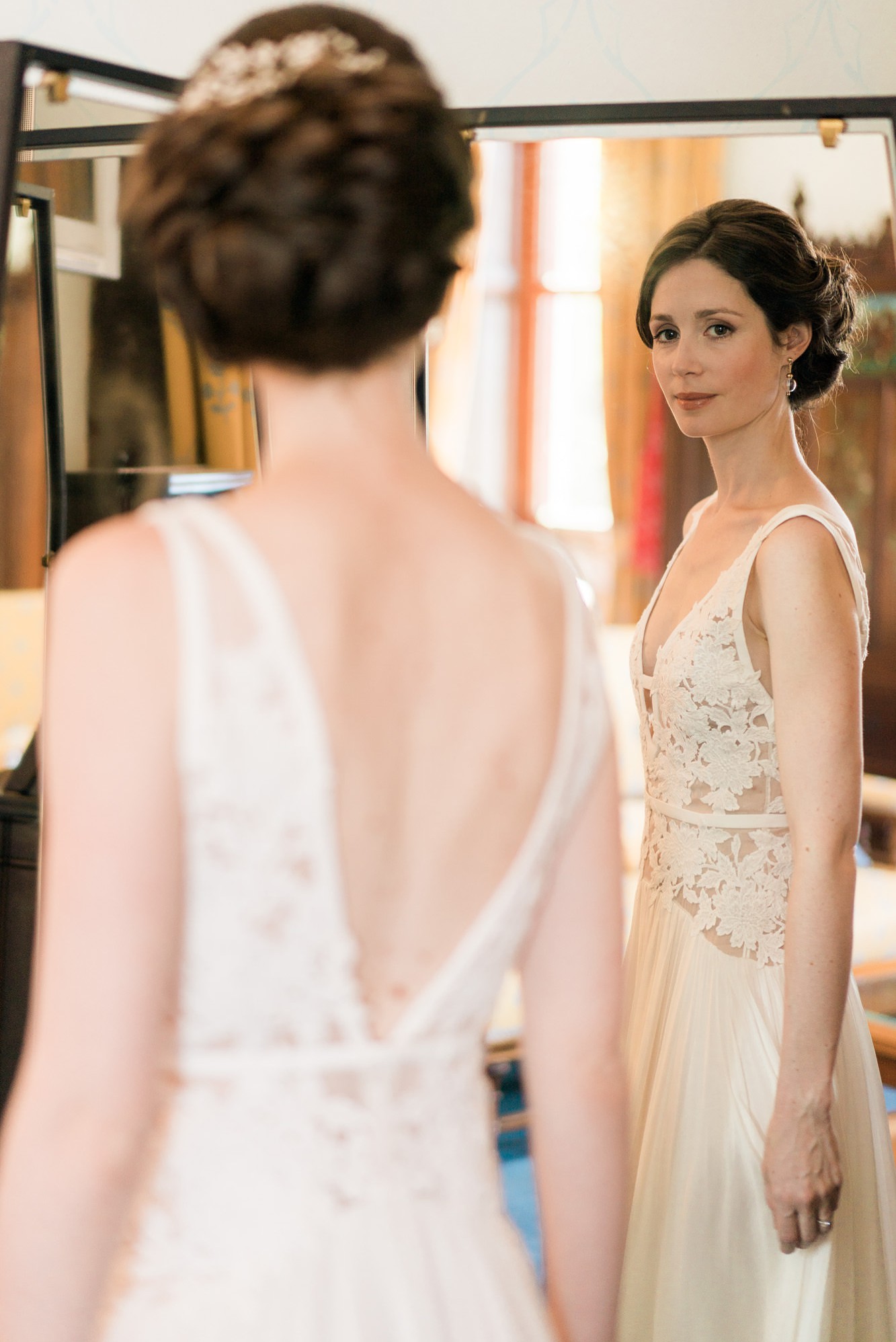 Before making their way to the church, Cecile and Mark enjoyed a lovely 'first look' moment together, which was captured in all its joy and delight by the couple's brilliant photographer Matteo, of Matrimoni all'Italiana.
"Matteo was a real superstar. He met us in London for an engagement photoshoot a few months before the wedding, and despite the fact that I usually hate pictures, Mark and I were immediately put at ease. We then stayed in touch by email."
"On the day, he was with us from the preparation in the morning, to the start of the evening (12 hours in total). He was very gentle, never intrusive and very funny when I was in complete panic mode. He works fast, and we were able to enjoy the day without knowing that he was taking photos non-stop."
"His photos, both from the engagement and the wedding day, are stunning and truly reflect the atmosphere of the day. I could not recommend him more. If you are looking to a talented and easy-going photographer, do not hesitate, he is your man!"
In her hair, Cecile wore a vine of delicate, botanical inspired wired porcelain beads from Lizeron, and on her feet, a pair of bright red block heeled sandals from Minelli.
"I'd always wanted to have coloured shoes for my wedding, but I also wanted comfy shoes, and as the Castello gardens are mainly grass and gravel, I picked a pair of red sandals with block heels to be able to walk easily. My aim for shoes was to be able to walk with them as long as possible. I found these just two days before my last dress fitting."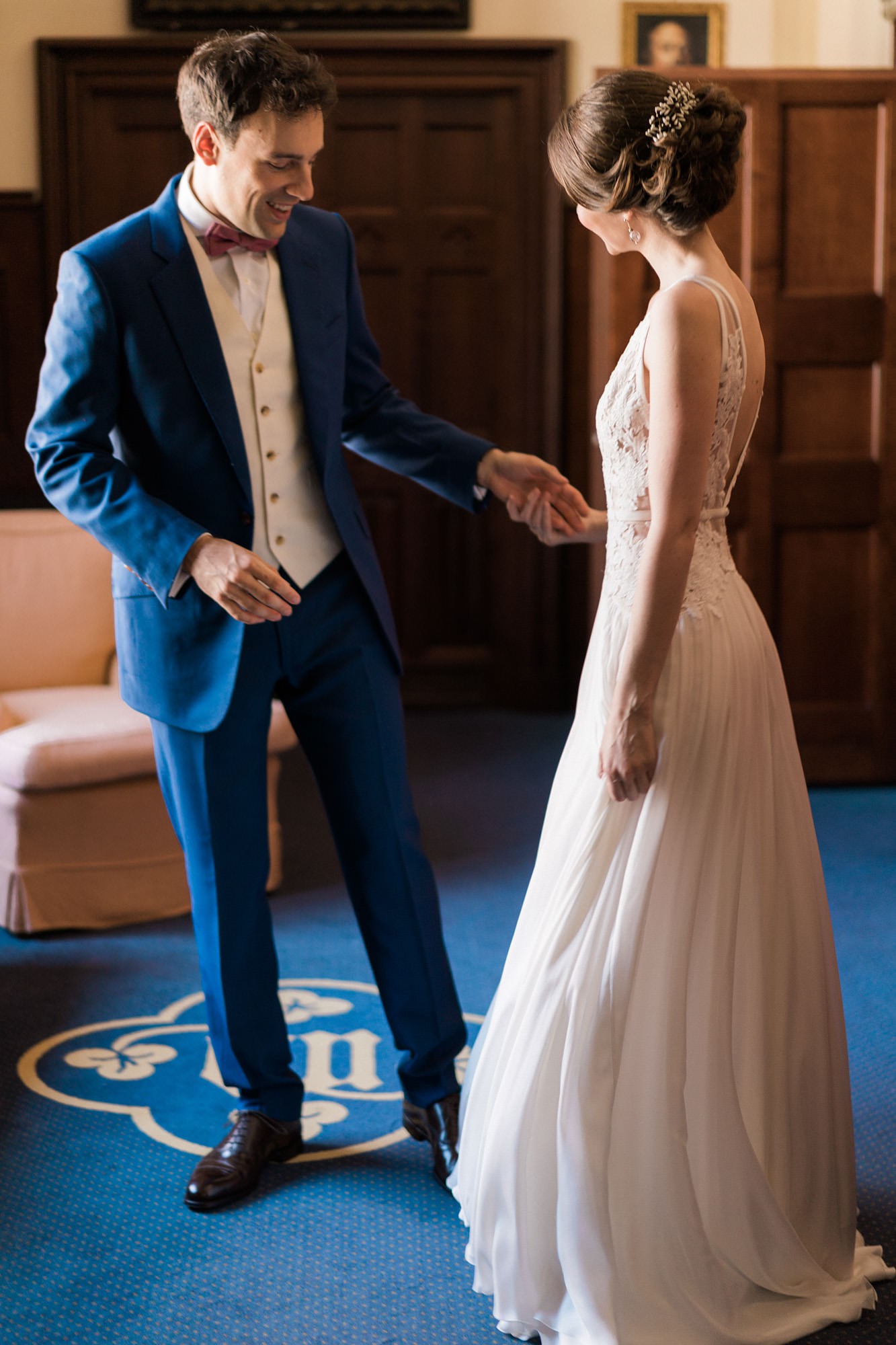 "It was easy for us to organise the wedding from London, as we had a place to stay in Italy. My Italian was non-existent so I enrolled for evening classes at King's College Modern Language Centre, and have enjoyed learning it ever since."
"We wanted our wedding to be elegant, but more importantly, we wanted our guests to feel at home, and allow them to enjoy 'La dolce vita', as they say in Italy."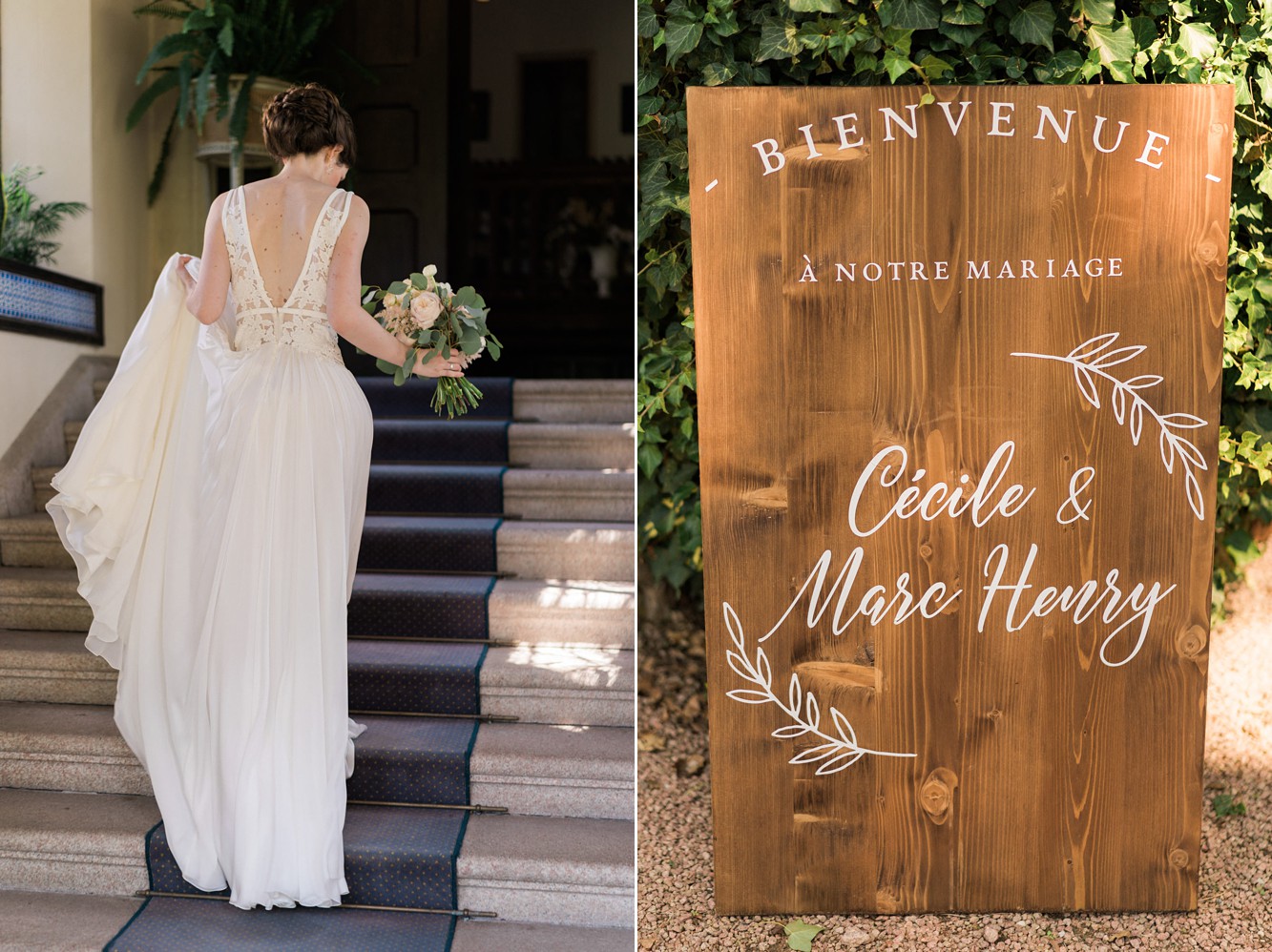 Cecile carried a dreamily romantic bouquet of blush pink garden roses, petite spray roses, ivory ranunculus, feathery pink astilbe and eucalyptus, created for her by Sofia and Cosetta from Il Profumo dei Fiori.
"Sofia and Cosetta were recommended to us by Matteo. I checked out their style online and really enjoyed the soft and delicate aspect of their designs. We had several email exchanges, and they sent an estimate that matched our requirements. We then met during one of our trips to Milan."
"I really enjoyed the 'nothing is impossible' attitude of Sofia. She had great energy and great ideas, and adapted to every single one of our requests, even preparing extra flowers for my bridesmaids' hair the day before the wedding. Their team installed everything, and were there at the end of the party to collect vases, clean everything and ensure the flowers were stored properly so we could re-use them. The family home was full of flowers for days."
The bridesmaids chose pale blush, pastel pink and coral dresses from Reformation and Karen Millen, which they wore with their own shoes, fresh flowers in their hair, and earrings from Salomé Charly.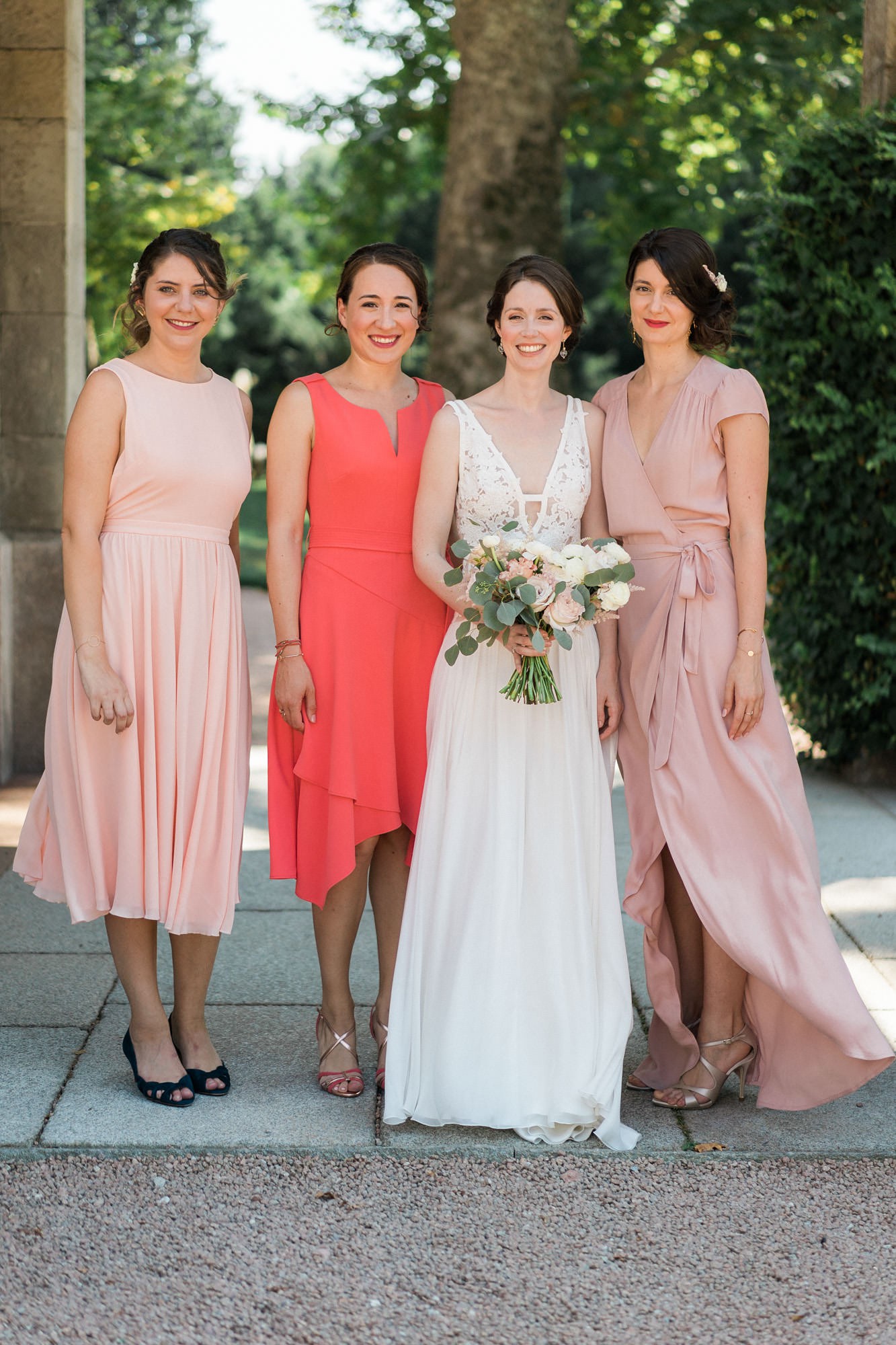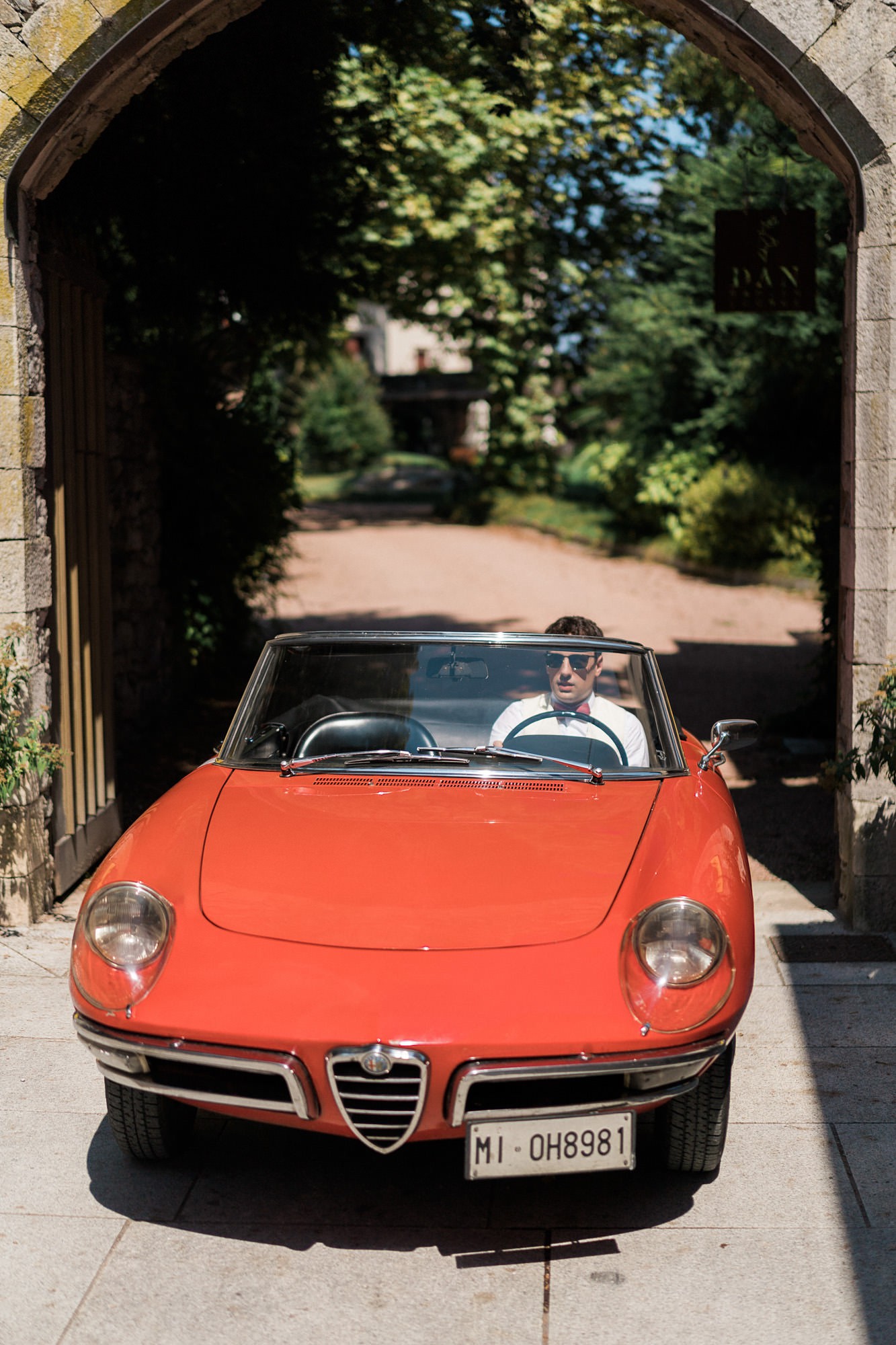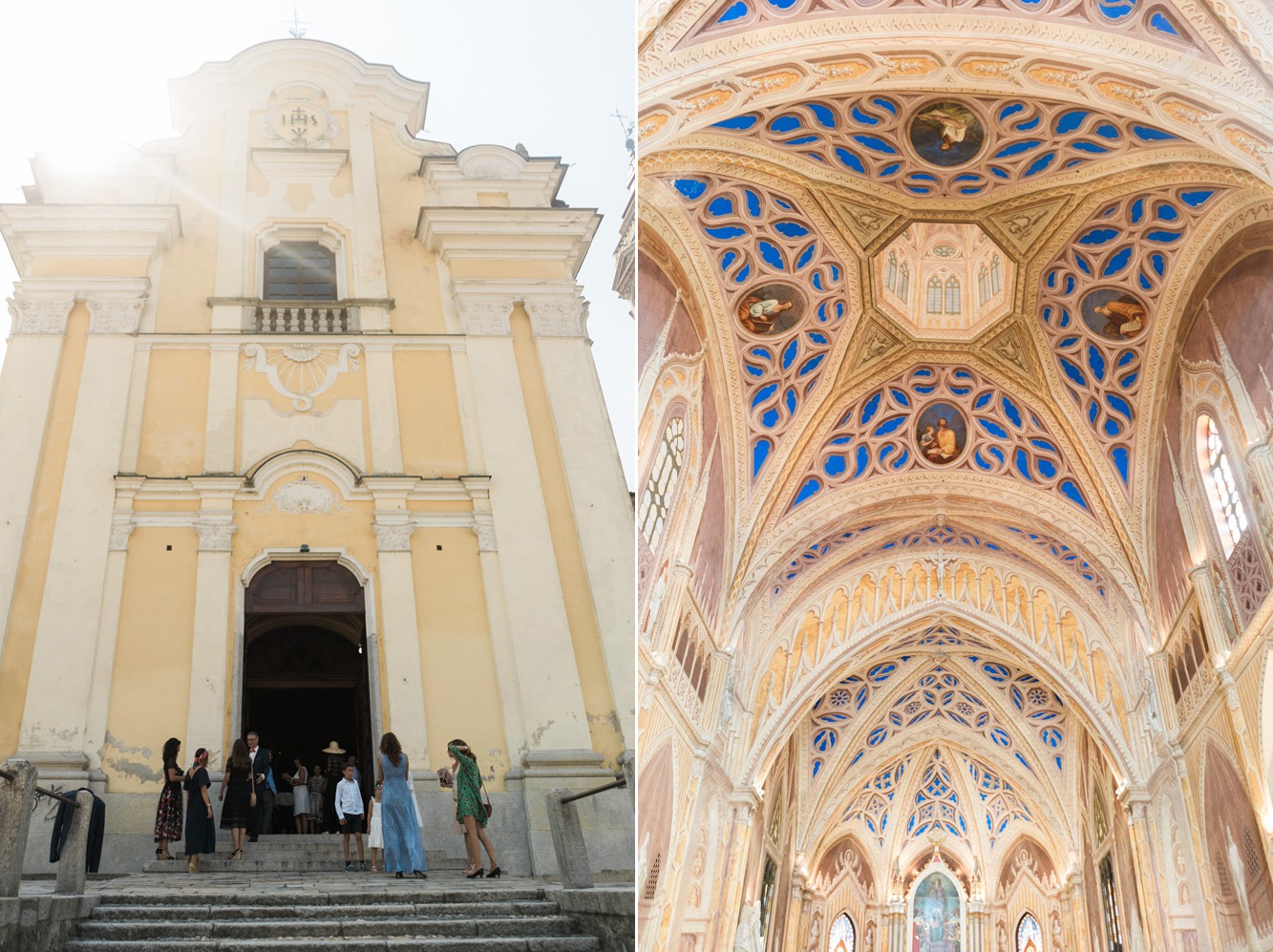 The sweetest flowergirl and page boys wore beautiful outfits by French children's wear label, Jacadi – a white ruffled summer dress with rose gold sandals and a flower crown for the flowergirl, and pale blue candy striped shirts with white shorts, braces, and straw hats for the page boys.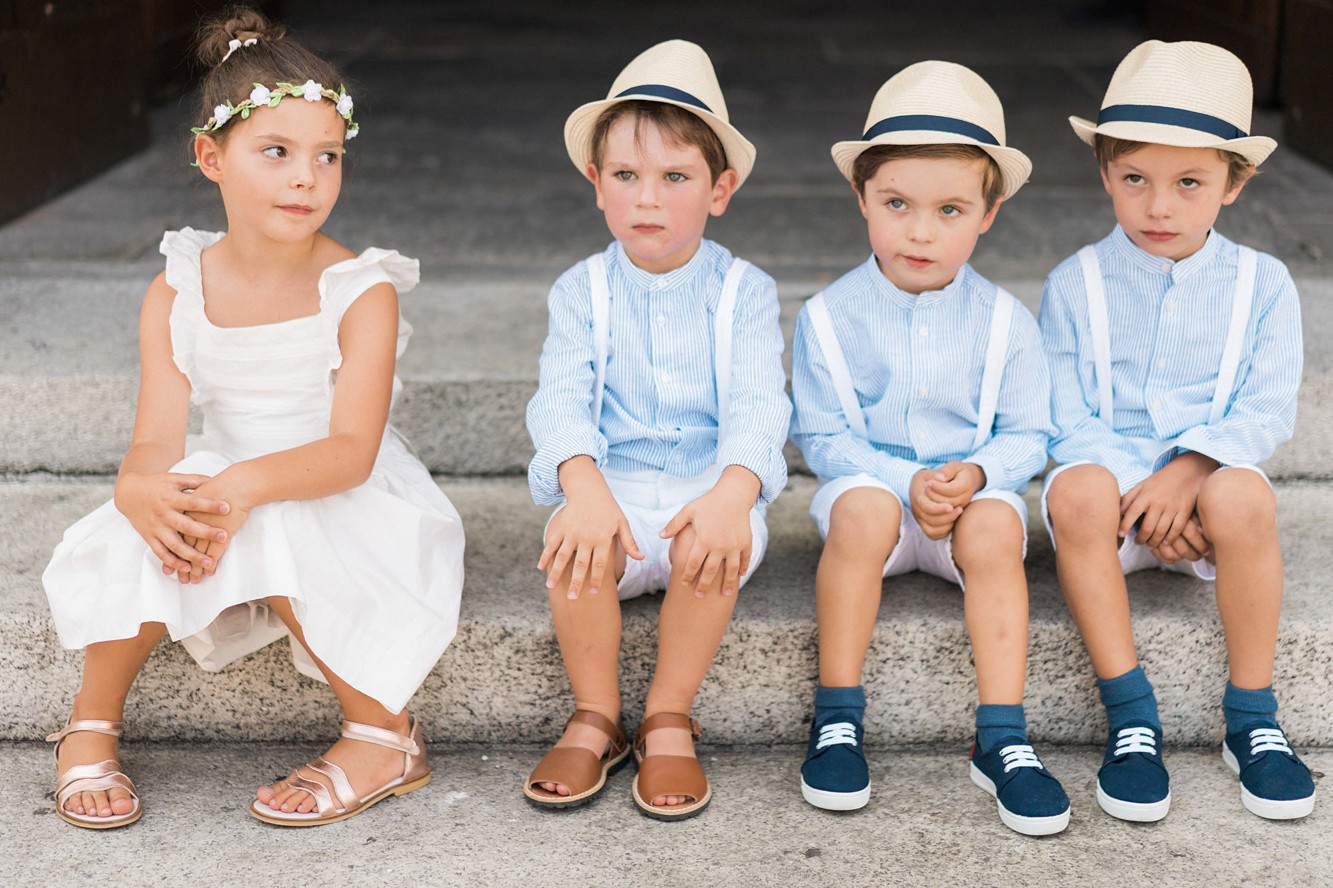 Shortly before making her church entrance, Cecile added one final touch to her look – a gossamer light elbow length veil by Margaux Tardits.
"My dad walked me down the aisle, or to be completely honest, I walked my dad down the aisle! It was the most stressful moment for me, and I did walk very fast!"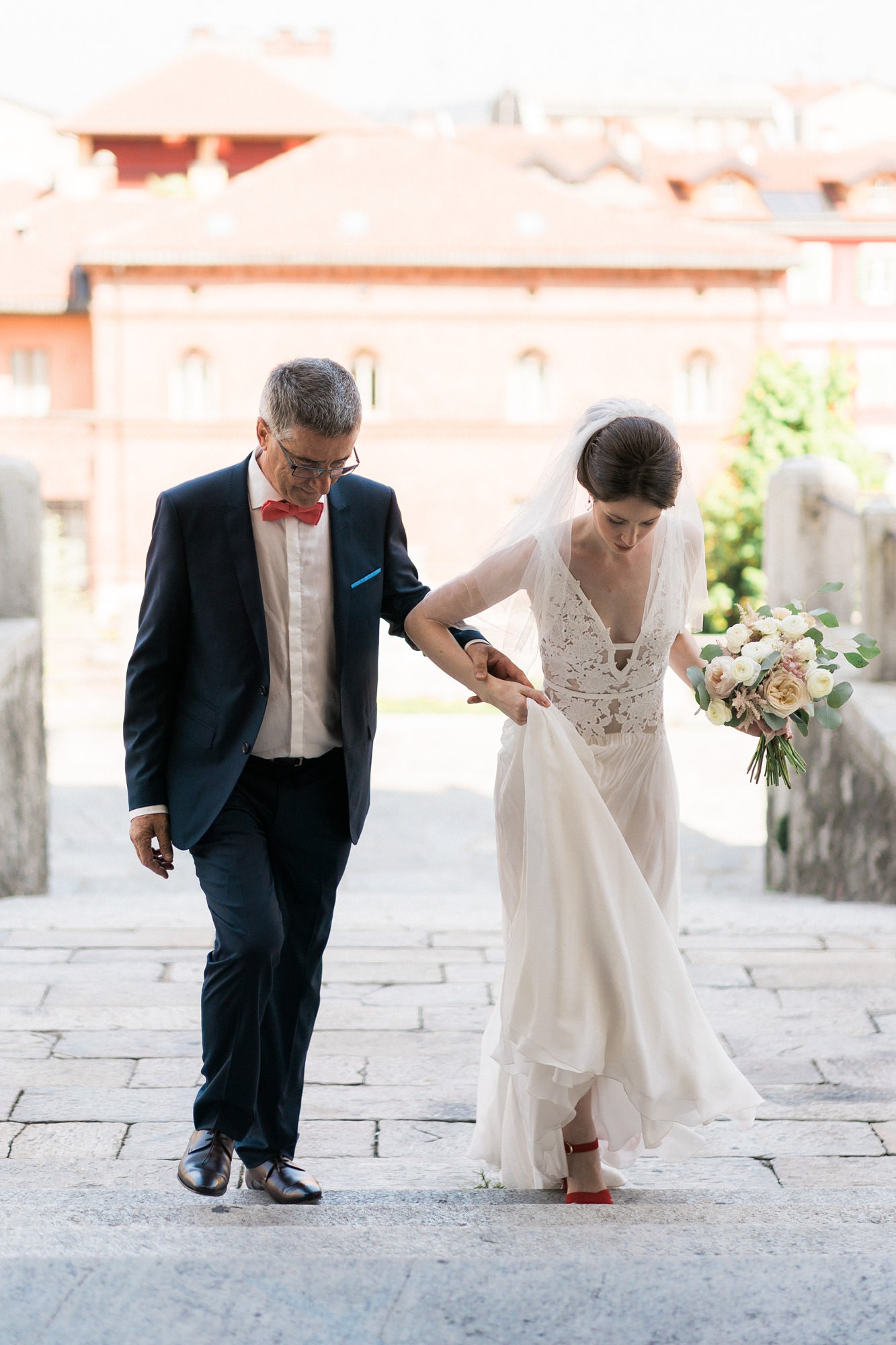 The Arona church organist played Sinfonia (Arioso) from Cantata BWV No. 156 by J.S. Bach, and the service was conducted by priest Don Claudio.
"Don Claudio was used to international couples, and was very helpful with the administrative paperwork and the translation of the church booklets. Our vows were the standard Catholic vows, as usually used during a wedding service."
Cecile and Mark first met just after high school through mutual friends, whilst both on holiday in Brittany.
"We had a mini holiday romance during those few days, and both went back to our lives once the holiday was over. We did not stay in touch at the time. Years later, I moved to Paris to study and we met again through the same group of friends."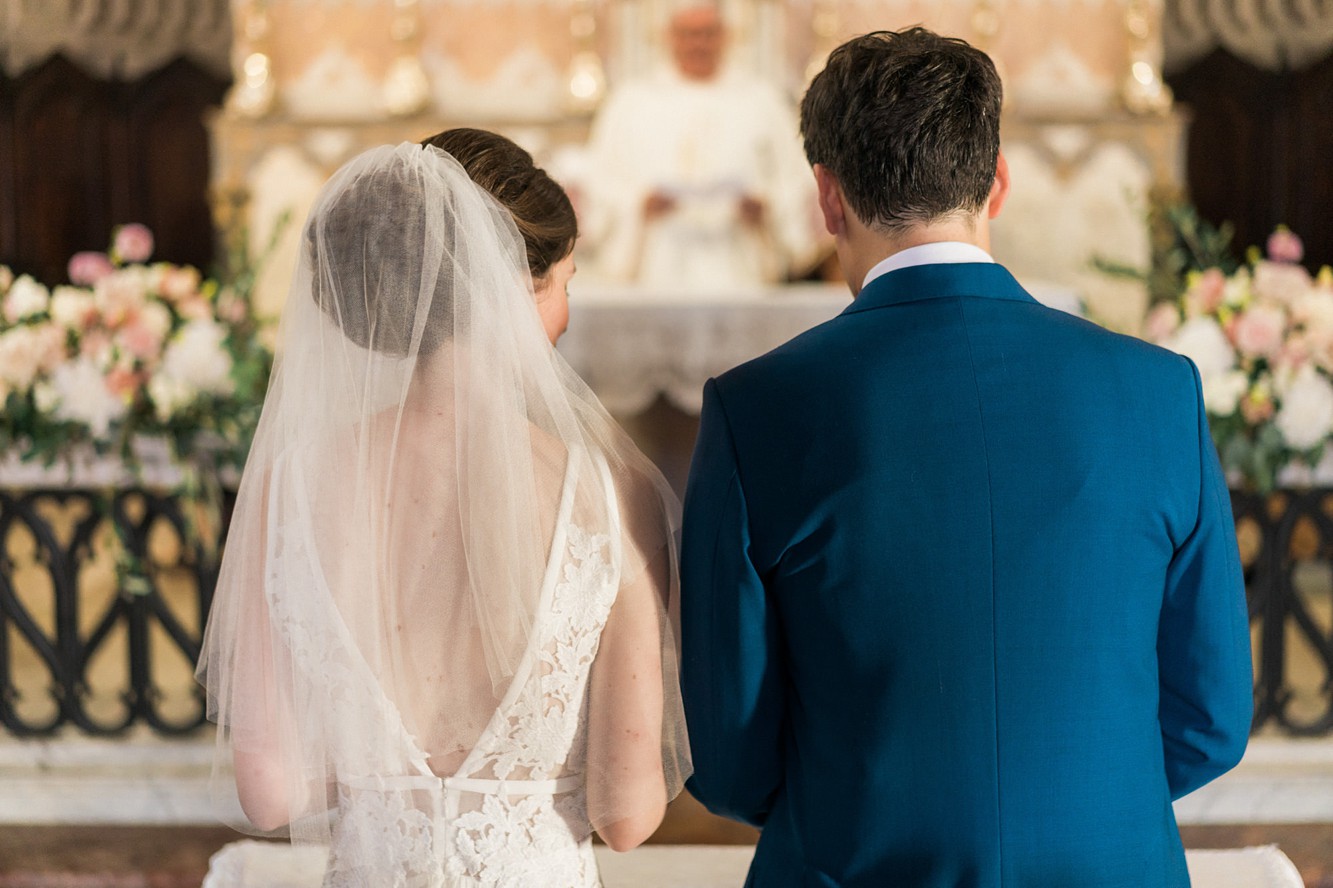 "Mark was living in London already, so we started a long-distance relationship, and a year later I moved to London to complete my Master's degree. We moved in together at that point – it was supposed to be just for a year – I never moved back!"
The couple exchanged rings during the ceremony; slim yellow gold bands from Cartier, engraved with their names and wedding date.
"Everything after the church service was my favourite part of the day. I was very nervous in the morning, it was a really hot day and I barely ate anything prior to the service. Therefore, once it was over and we were finally married, we really relaxed and enjoyed the party."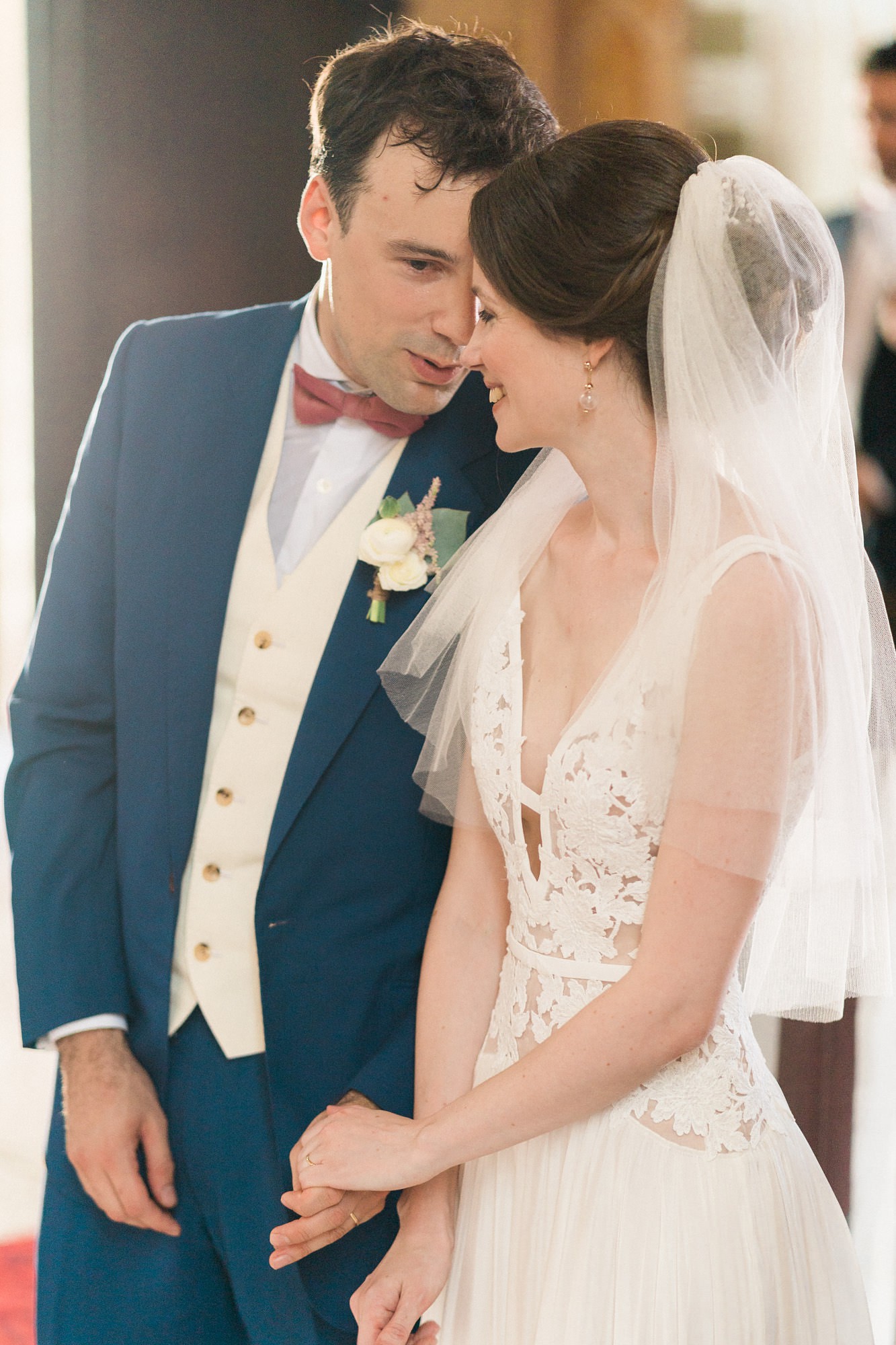 To get the party started, the newlyweds hopped into a scarlet vintage Alfa Romeo convertible and arrived at the Castello in serious style.
"It was our first moment as newlyweds alone (even if Matteo was there!) and we really enjoyed this quiet time together."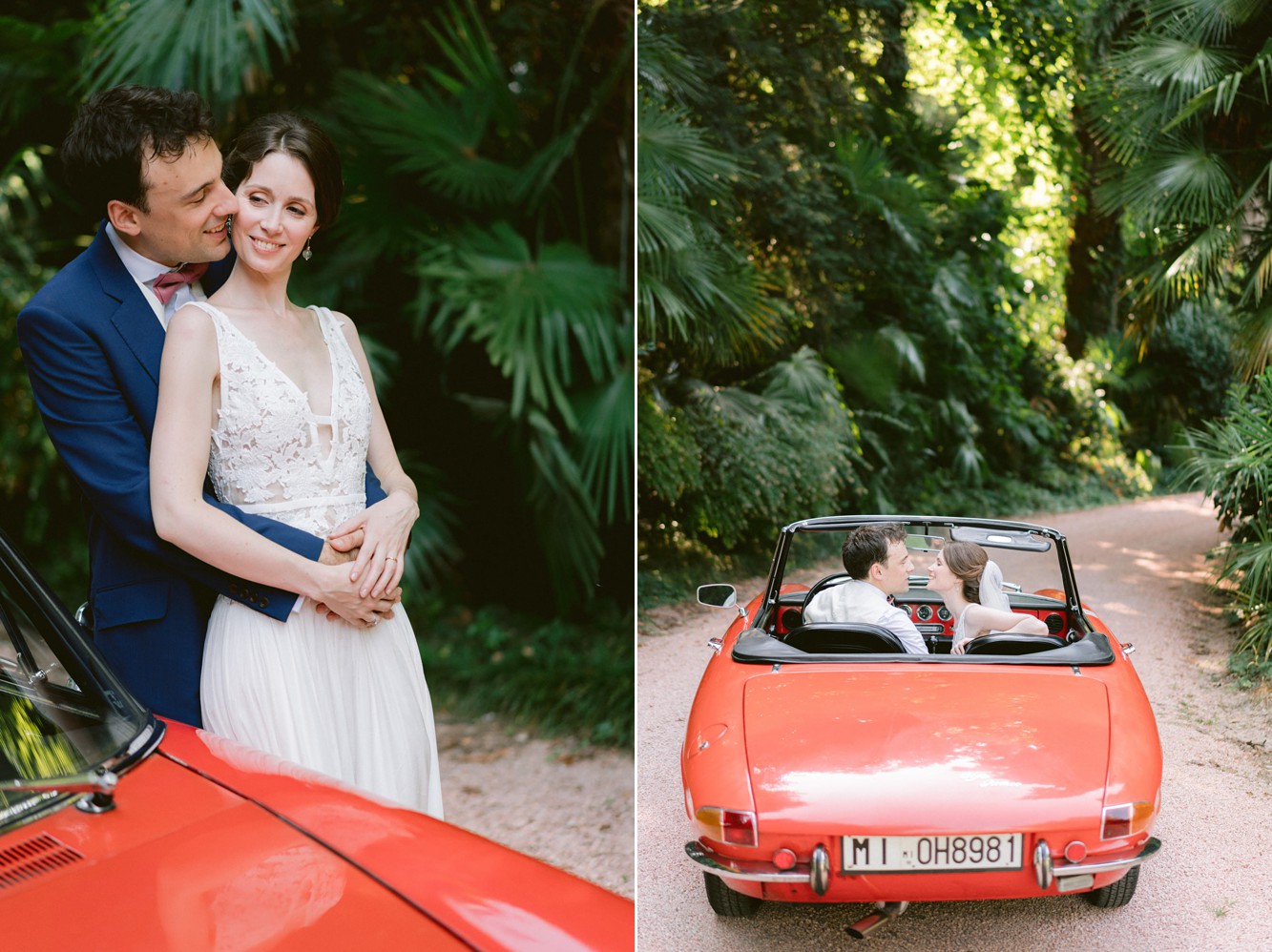 Mark wore a bespoke suit from Cad & The Dandy; a blue jacket and trousers with an ivory waistcoat, and the team at Cad & The Dandy very helpfully suggested fabrics that would work best in the summer heat. Mark also wore smart shoes from Crockett & Jones.
"The bow ties for Mark and the Best Men were made for us by our talented friend Emilie, from Les Lupins (sadly unable to find a link for this). Emilie selected different fabrics with the colours I gave her. Mark had a dusty pink bow tie, the Best Men had pale pink, and our dads had coral ones, for a summery, relaxed feeling."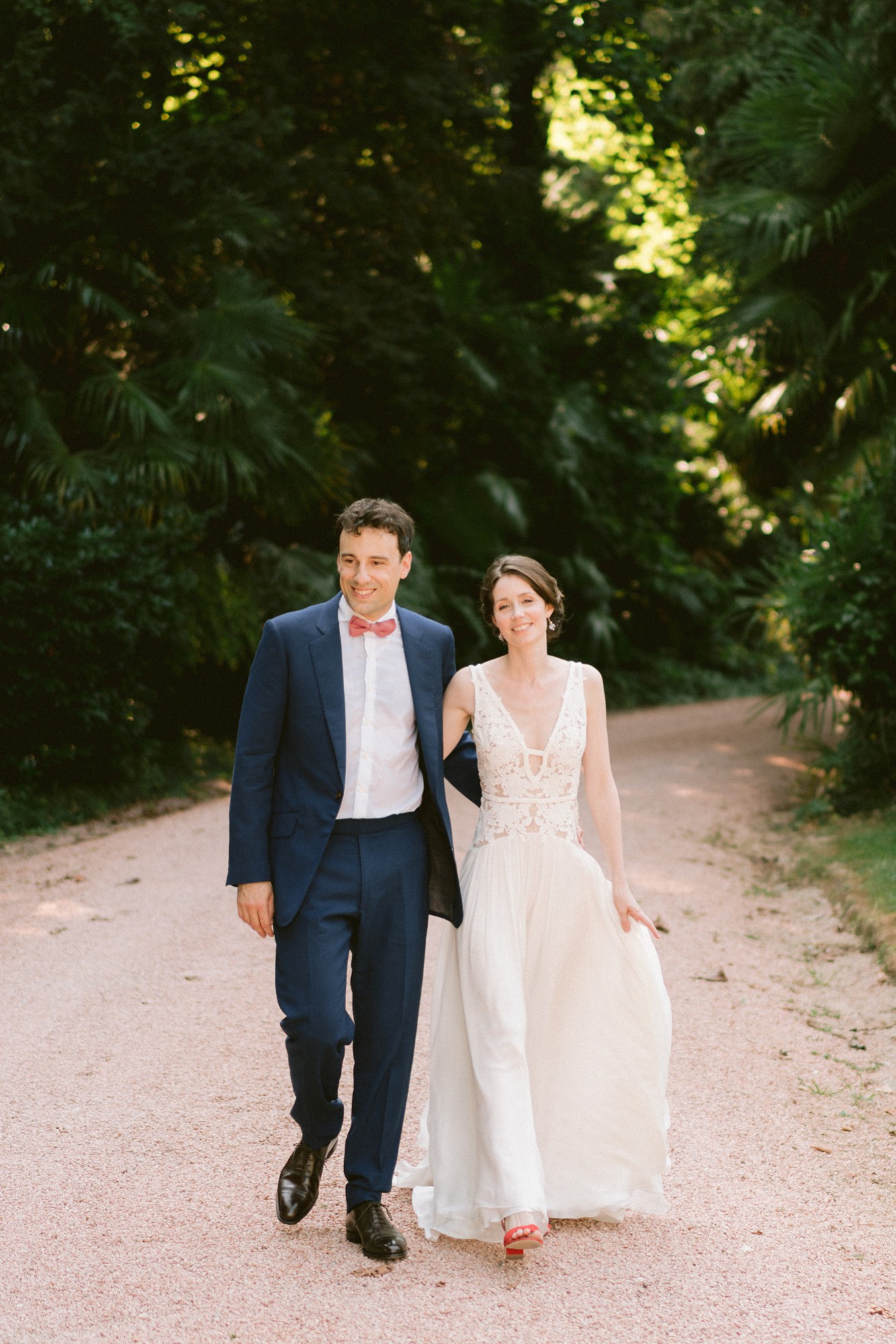 Castello dal Pozzo was a quick, 5 minute drive from the church, and Cecile and Mark chose it not only because of the views over Lake Maggoire, but because its spectacular nineteenth century Gothic Revival design gave a lovely nod to English castles, and the life the couple have together in the UK.
"Outside, guests were in Italy and inside, they were in England. The venue can host up to 220 guests and that was the perfect size for us (a large venue around the lake was not an easy thing to find)."
"We really struggled to find a theme as such, but had a clear idea of the colour and atmosphere that we wanted: copper, pale pink and white tones, and a lot a greenery. This was our starting point for the decoration – massive thanks to our florist Sofia for creating the rest of the magic."
The couple's stationery was designed by Leopoldine from Papierchic, and they made the orders of service and table plan themselves, with the plan mounted onto a wood and chicken wire frame set on top of an easel, and decorated with lots of lovely greenery.
Tables were laid on the Castello's beautiful terrace, with white linens and pastel-hued floral centrepieces surrounded by rose gold and glass tealight holders.
"Each guest had two favours next to their plates: a tiny bag of tea, and a personalised Polaroid photo. As a nod to England, each table was named after a type of tea (Earl Grey, Darjeeling, etc.) and guests were given a tiny bag of the corresponding tea. We ordered the bags from Etsy and personalised them with a custom stamp from La Pirate."
"Polaroid format photos were printed via Photobox. The back of each card was personalised with a note from one of us. With 200 guests, it was an enormous task, but it was our way to say thank you, and they loved it."
"I'm A Believer by Smash Mouth was our dinner entrance song. It always makes us dance, and it was the perfect choice for our pre-dinner napkin waving entrance."
The drinks reception in the gardens of the Castello was followed by a delicious dinner, made by the venue's in-house team.
"The service was fast, very efficient, and they took into account special diet requirements when requested. They managed to serve 200 risottos all at once, which really impressed the guests. We still hear fantastic comments from our guests about this risotto."
As the daylight began to fade over the terrace, the overhead festoon lights began to glow, and everyone enjoyed traditional Italian millefoglie wedding cake, together with miniature desserts of pannacotta and tiramisu.
"They were delicious but mille-feuilles (millefoglie) are hard to cut! My advice for future couples: pick a type of cake that you can cut easily!"
Cecile and Mark headed to the dancefloor inside the Castello for their first dance together, which was to Up Around The Bend by Creedence Clearwater Revival, before more music from DJ Diego, from Audio Video Luci.
"I started to dance with my dad and switched halfway with my husband, as is tradition in France. My dad taught me how to dance rock'n roll when I was young, so Creedence Clearwater Revival was the obvious choice and, as we had absolutely no rehearsal, there was a lot of improvisation!"
"We had also had a photobooth from Wedding Photo Booth during the party and our guests loved it! Pictures were printed on the spot, and we received a link with all the photos from the provider on the following day. It was great fun and a good complement to the photographer's work."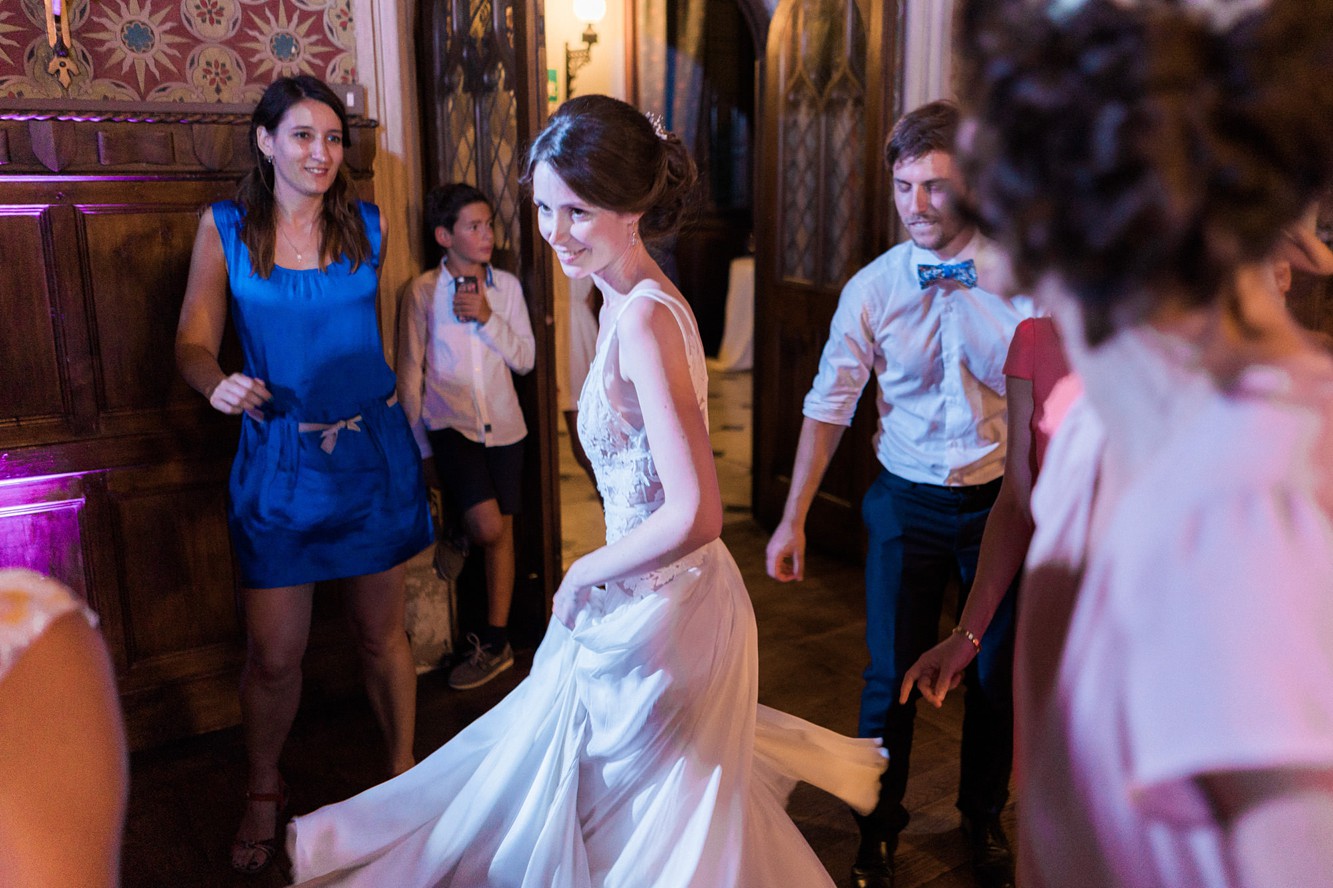 Words of Wedded Wisdom
"I really like the real wedding posts on Love My Dress. They helped me to organise my ideas and to try to imagine what our day could be. The words of wedded wisdom are always very emotional, and I am grateful to be able to add my contribution to them."
"If you really want to include something in your wedding; a colour, a tradition, a song – anything – say it early in order to have time to discuss it and organise it properly."
"Put your boundaries in place with family and close friends. If it is clear from the start what they are allowed to advise on (or not), it will make things easier and you will enjoy listening to their ideas and suggestions."
"Try to plan some time off prior to the wedding to relax. You'll need time together alone before your big day."
"Pick a dress in which you feel stunning – and comfortable. Breathing is more important than an extra layer of lace."
"If you do not have a wedding planner, learn to delegate, as there is no way you can do it all on your own. We divided the tasks between us: Mark was in charge of everything tech-related (music, lights, etc.) and I was in charge of the decoration and flowers. A huge thanks to our families who helped with the final details (like preparing 200 tea bags) the day before, and to the Castello's team for their star management on the day."
Cecile and Mark, huge congratulations and thank you so much. What a truly elegant, joyful day you had, and in such a spectacular place, too. Massive thanks also go to Matteo, of Matrimoni all'Italiana for these magical images.
Whether you're planning a wedding in Italy, considering it, or would just like to see more amazing Italian venues and celebrations, we have lots to enjoy on our pages.
With love,
Laura