Gosh it gives me the greatest pleasure to be able to share these photographs and editorial shoot concept with you.
Ever since meeting the delightful Valentina, founder of The Stars Inside, at the Most Curious Wedding Fair earlier this year, I have been smitten with her artistry.
I don't want to steal any of the glory from Valentina or her team, who must have worked so hard creating these sublime images, so am going to hand on right over. Words below have been written by stylist Valentina herself;
Photography by Carla Blain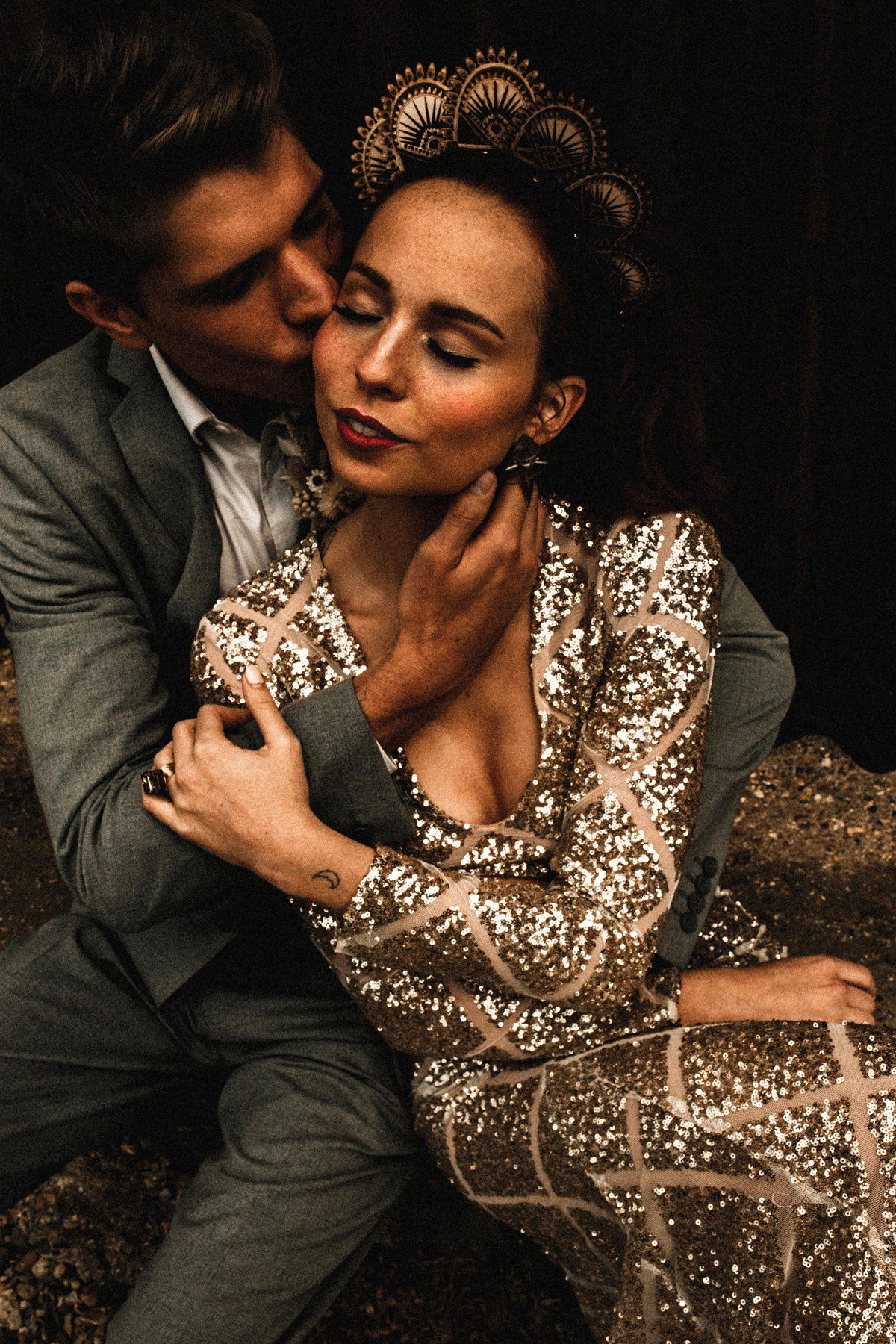 "On a windswept April's day, a team of wedding creatives came together to inspire modern couples looking to have an innovative, stylish, and experiential celebration – couples that aren't afraid to create and be something new."
"The concept at the heart of the shoot was to "Let The Light Out" – the light inside of us as humans and creatives, larger than the sum of our parts, but also in a physical sense, using rays and reflections to fill a space. The idea had originally inspired my stand design for exhibiting at Most Curious in London earlier this year, and I was excited to expand it further in the context of full wedding styling."
The captures of the day by Carla Blain are intriguing, artful, and curious – unafraid of darkness, and a reflection of how the wedding day would feel, rather than how it would look. They have the warm haze of a half-remembered dream, and the surreal twinkle of something you just glimpsed in the corner of your eye.
Veil by Ann Marie Faulkner
The venue hosting us was The Barns at Lodge Farm, a characterful new space just outside London which boldly treads the line between the wildness of the outdoors and the chic-ness of a refined, industrial warehouse. For our décor, we used projections, mirrors, and prisms to show how impactful lighting can be when creating an immersive space. Our muted colour palette of greys, nudes, and pops of black gave room to breathe to otherworldly dried florals and unexpected acrylic delights
Showcasing just how elegant and versatile dried flowers can be for weddings when used in a modern way was a central theme for us, and one we loved exploring. Rosehip & Wren created meadows, garlands, hanging clouds, and table arrangements using only dried blooms, and the result took our breath away.
Her clusters of dried florals emerged from sand, climbed along a metal arch, and peeked out from behind objects – as if the world had frozen and dried around you in just a moment. From a styling point of view, I love that dried flowers offer a wonderland of textures, from light and feathery to bold and crisp, a beautiful palette of sun-kissed and iridescent whites, pale greens and beiges, and even deep burnt oranges, and an unparalleled variety of shapes and sizes.
Beth says: "Naturally playful dried flowers were the perfect floral element to complement Valentina's concept of creating with light and reflection.  I adore the contrast of muted natural elements set against contemporary design and took the emotive 'dark vibe' as my inspiration, with pockets of light highlighting wiry stems and tactile grasses that draw you in, casting magical shadows within the modern rustic spaces of our venue."
I built a bespoke arch for the table in order to frame our couple with hundreds of suspended twinkling mirrors, like a dark sea of stars – a deconstructed disco ball to catch the gentle light dancing through the wooden panels of the barn. The stationery echoed this, with elements of transparency and reflection.
When I thought of featuring a stationery suite which played with back-to-front mirror images of words, I knew Keady Row would bring that idea to life in a simple, modern, and captivating way, and she blew us away!
We also featured an exquisite illustration of the bouquet by Charlotte Argyrou, to further evoke warmth and nostalgia. Charlotte says: "An illustration of the bouquet is deeply inspired by botanical drawings of years gone by, but also sits beautifully in a newlywed couple's modern home. Compact and discreet but loaded with emotional association, it is a subtly sentimental reminder of the wedding day and will move with them on their life's journey."
Our silk and textiles were the work of Kylie Siobhan, a natural dyer and artisan who creates and manufactures unique textile pieces, each telling a completely one-of-a-kind story. She explores the world of natural dyeing using locally foraged plant matter, food and flower waste and non-toxic metals. I loved that, as one of her bespoke services, Kylie designs and makes unique silk scarves, slip dresses, and fabrics using leftover wedding flowers – with an unwavering ethos of sustainability and eco-consciousness.
We knew that a concept like this called for modern, unconventional bridal looks – outfits for the bride who embraces who she is. Catharina from My Eden Bridal says of her gowns: "I love experimenting with fabrics and design and when Valentina said the shoot was going to play with light, I was delighted! I brought a gold sequin dress that I knew would twinkle in the sun – but I also wanted to contrast that with its opposite. I decided to make a dramatic matt grey dress that represented the shadows that always go hand in hand with light."
The dichotomy of the gowns was skilfully enhanced by gorgeous daytime and night-time hair and make-up looks by HMU Atelier, showing off a veil and headpiece by Ann Marie Faulkner, bold wooden and acrylic accessories by Anisha Parmar, and minimalist white and metallic jewellery by Deborah Tseng. Deborah says of her collections…
"My designs are inspired by repetition, by transformation, by time and the minutiae that surround us.  This inspiration led directly to the creation of my cluster rings, where my obsession with repeated patterns and fine detail has found a perfect outlet. My  Beneath collection, on the other hand, is all about subverting the tradition of colourful gemstones in fine jewellery by a subtle reimagining of pieces in white porcelain."
Our cake display featured the stunning triangular frame by Party Squared – our own little homage to the mathematics and physics of light. The cake at the center was designed by Cakes by Angela: "My inspiration came from the classic drama of light and shadow – a simple but stylish, elegant cake embracing nature."
All together, these styling choices and these suppliers represent the magic that happens when we let our creativity and our light out, rather than letting outside influences in. We hope this inspires couples to make the choices that excite them and feel meaningful to them, no matter what anybody else says.
It's your story.