We're going down to the woods today – that is, the edge of an ancient and magical bluebell wood in East Sussex, for a lovely, boho and family-focused celebration with a relaxed, festival feel, featuring multiple tents, a famous vintage Rolls and an amazing Airstream photobooth.
Meet our couple, Emma and Ollie. Emma is a make-up artist, and Ollie is farming contractor, and they were married on the 25 August at the magnificently named Heaven Farm in Uckfield, East Sussex. The couple became engaged in February 2018 after being in a relationship for a year.
Photography by Kari Bellamy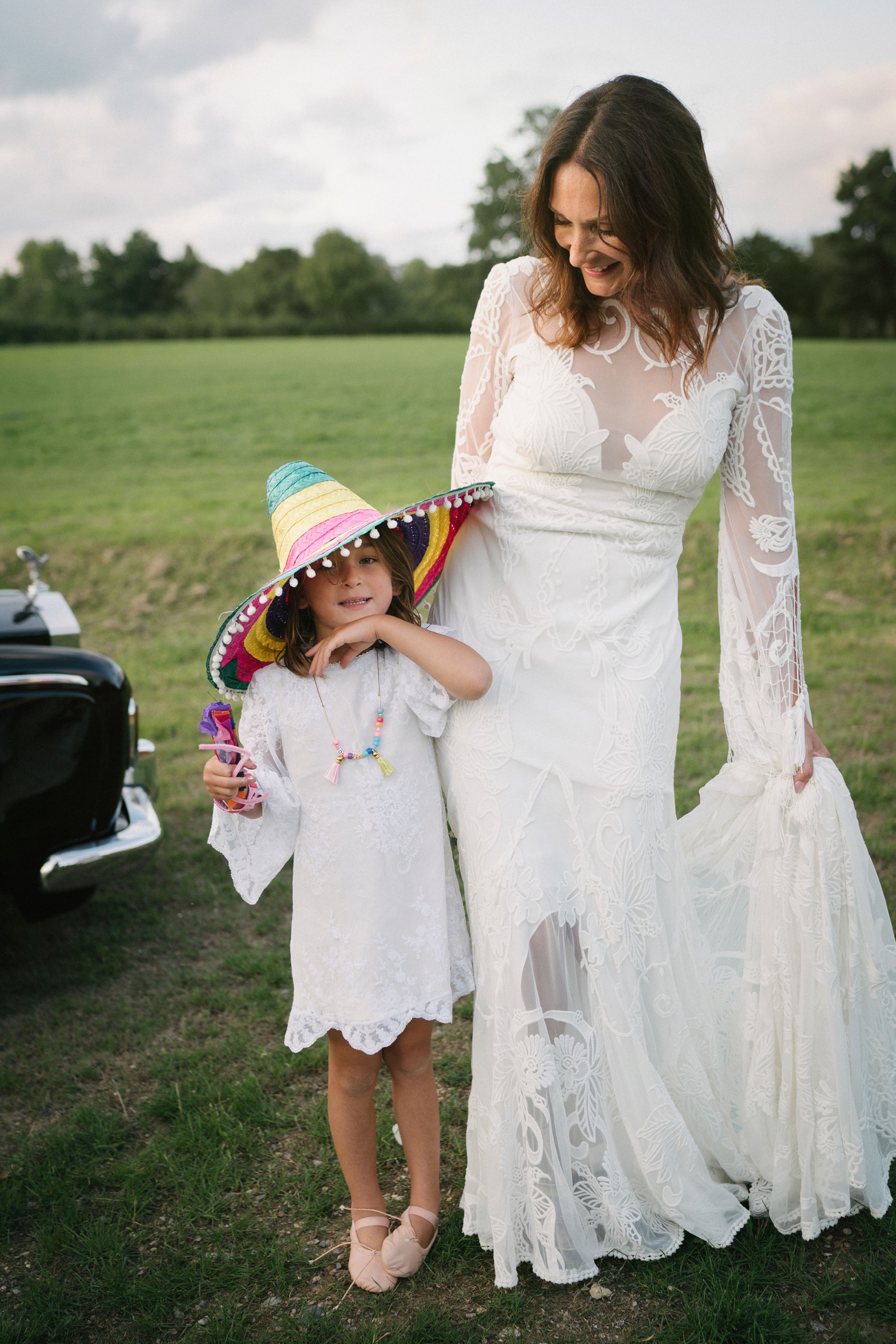 "We both love the outdoors, and so we decided early on that that's where we wanted to get married. Although risky with the weather, it was well worth it in the end! We also wanted a venue outside that we could officially get married at, rather than having a ceremony in a registry office and then a wedding in front of guests. We are both very busy, and have 4 children between us, so it made sense to do it all in one day."
Emma chose the effortless boho elegance of the 'Adelia Lune' dress by Rue de Seine, which she found at boutique Leonie Claire (who are sadly no longer in business). I love the striking lace overlay, together with the long bell sleeves with hand-knotted cotton fringe – it's just so cool!
"All their dresses are very relaxed and easy to wear, but I loved the backless style with fringed sleeves and a full skirt and train. It was everything that I was looking for, as it still looked like a wedding dress (which I wanted for Ollie – he's a bit more traditional than me!) but bohemian and different. The design in the lace is really unique too, which I loved."
On her feet, Emma wore gold Jimmy Choo sandals with a block heel (much less chance of sinking into the grass!), and to accessorise her look, a gold rope bracelet from Pandora.
"Pandora isn't my usual shopping haunt, but I saw it when out running errands and thought it was nice and plain, and suited the style of my dress. My earrings were from Silverado in Brighton by Louise Kragh, along with a Rachel Jackson 'Sunrays' ring, and another ring from Etsy."
As a make-up artist, Emma felt most comfortable creating her own make-up look for the day, and her lovely, wavy locks were styled by Sarah Chapple, to which she added a beautiful crown of ivory roses, made by florist Holly, from The Cadogan Flower Company.
Emma's wedding day fragrance was Wild Bluebell, by Jo Malone, which Ollie loves, and was bought whilst on a special trip to Copenhagen.
"It smells fresh and light, and we know from walking round our venue in the spring that Heaven Farm is carpeted in bluebells, so we thought it would be perfect for our wedding day!"
Ollie's fantastic three-piece brown tweed suit came from Gresham Blake, which he wore with a navy blue tie and white shirt, brogues, and a tie pin, which was a gift from his mum.
The couple secured the services of planner Rebecca Wilkie, who provided invaluable support, and Zoe Barker designed the wedding stationery, including a sweet illustration of Emma and Ollie for their invitations, as well as a map of the venue.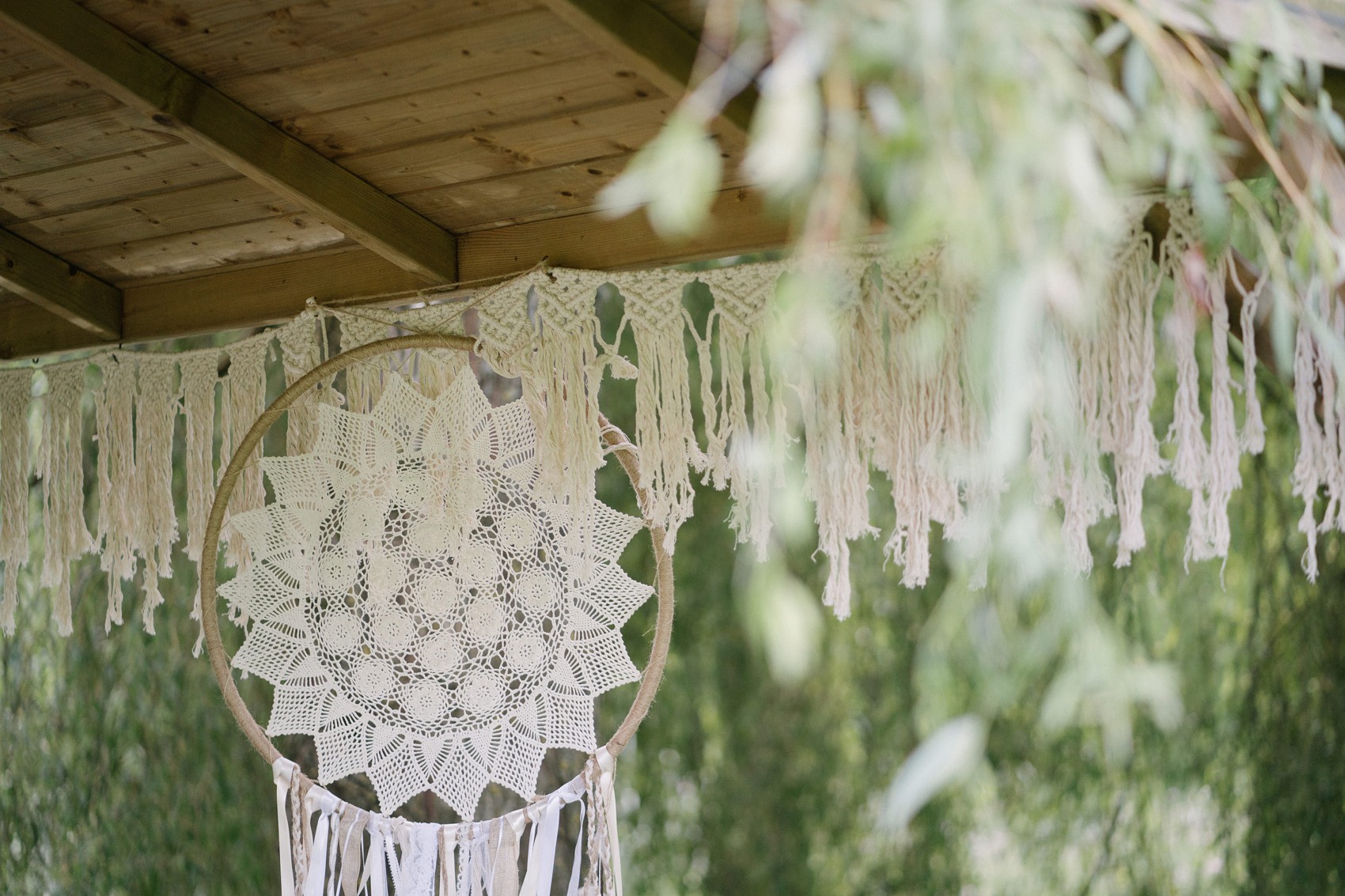 Emma had originally ordered custom-made bridesmaid's dresses from a maker in Australia, but when that didn't work out, Ollie's tailors Gresham Blake, kindly recommended the services of dressmaker Kim at Warren & Tapp in Brighton. Kim came to the rescue, and made three gorgeous, 1960s-style dresses with bell sleeves to complement Emma's.
"I decided to find a vintage pattern from Etsy, and went to our local Brighton fabric store and bought the best ivory lace fabric I could find.  With only a week to go, Kim ran up three absolutely stunning dresses from a 60's pattern that looked so perfect, and saved the day. My elder daughter Kitty wore a strapless pink bridesmaid dress with a tulle overlay from Fross Wedding Collections in Uckfield."
Emma was accompanied down the aisle by her father, and chose Cat Power's song, Sea of Love as her entrance music. The couple's ceremony was conducted by a local registrar, and they kept things simple with their vows, choosing not to include readings to make for a short but sweet and child-friendly ceremony.
The couple gave each other rings, with Emma's chosen at Brighton jewellers, RING, with Ollie opting to wear a ring that Emma had given to him when they first began dating.
"It's a plain silver band with a personal inscription inside, as it meant so much more to him than a new ring."
"The favourite part of our day was actually getting married. It was over in a flash but we loved every minute! I was so nervous beforehand, and I dreaded everyone focusing on us, but it was actually the best and most heartfelt moment. It was so special."
"We both wanted something very relaxed, and for ease, to have the ceremony and the reception in the same place. We wanted to make everything as simple as possible for guests who were travelling in from all corners of the globe. Heaven Farm fitted that bill perfectly, as it is a really stunning spot where we could have both the ceremony and reception."
The Little Top were on hand to entertain the children, and set up their own lovely tent filled with games and craft activities, as well as movie time, too.
Inside the wedding tipi hired from Tentario, florist Holly from The Cadogan Flower Company filled the space with masses of romantic, neutral-hued flowers, with garlands of greenery across the tables (with furniture courtesy of Academy Furniture Hire) and a spectacular hoop made from deer antlers adorned with trailing blooms.
"We wanted any decoration to have a bit of an edge, so we went for neutral colours and decorated the wedding arbour with deer antlers from a friend's deer farm. That same friend made us a gorgeous deer antler hoop complete with fairylights."
Place settings were personalised pieces of slate collected from a beach close to where Ollie's daughters live, and favours were miniature bottles filled with Bloom Jasmine and Rose gin, with Alice in Wonderland style 'Drink me' labels.
After drinks outside in the lovely summer sunshine, everyone headed inside the tipi for a delicious wedding feast.
"We'd like to say a special thank you, and how wonderful everyone at Gastro Catering was. The caterer that came with our venue went in to liquidation weeks before our wedding, but Gastro came in at the
last minute and did the most amazing job."
Emma and Ollie's gorgeous, rustic, four-tier naked wedding cake was dusted with icing sugar and adorned with fresh fruit and flowers, and made for them by Elizabeth, from Sylvia's Kitchen.
"Elizabeth was super professional and lovely! The cake looked absolutely brilliant, and was one of the nicest cakes we have ever tasted."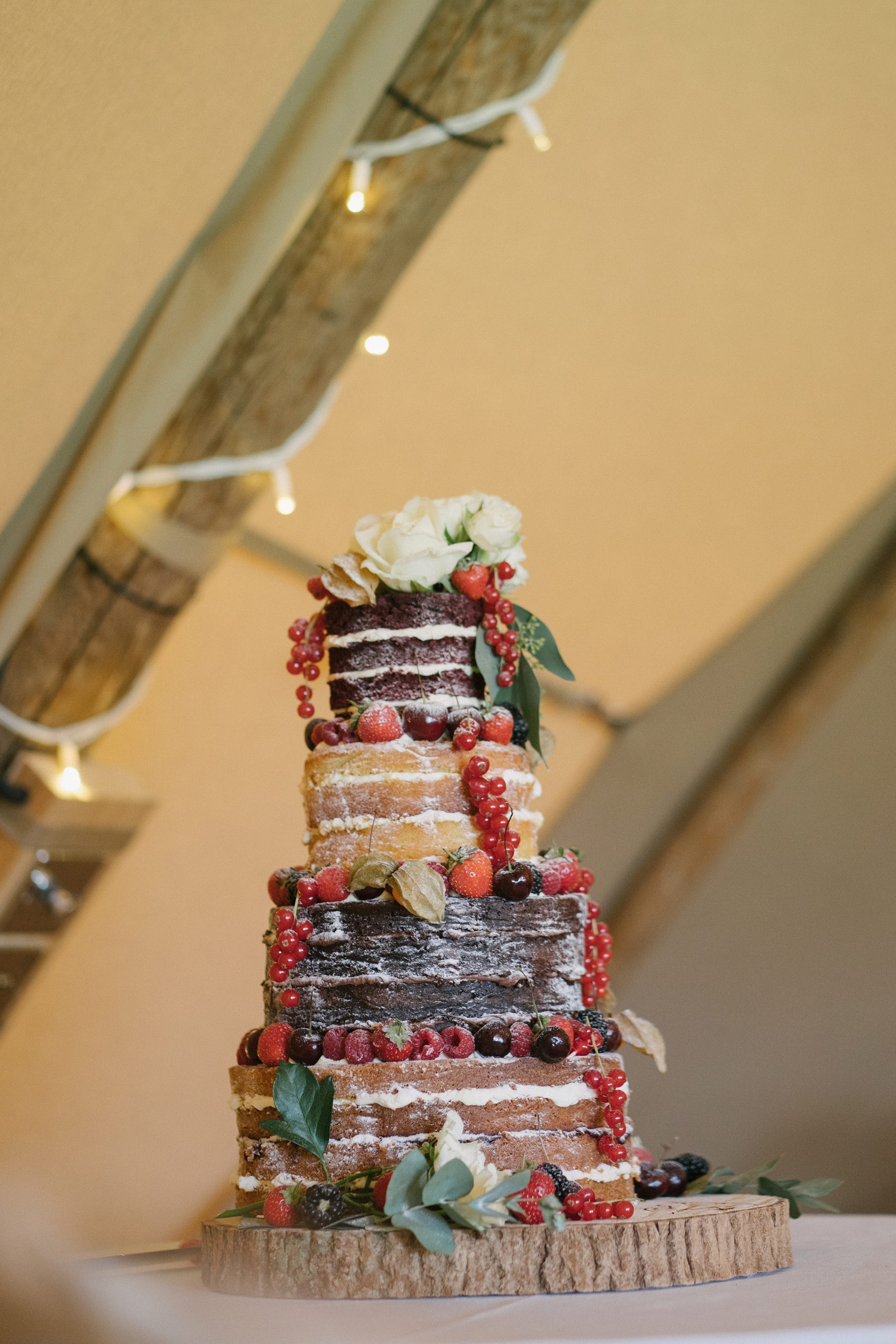 We've featured the work of photographer Kari Bellamy before on our pages, and it's wonderful to add to that with her sweet, thoughtful and natural images from Emma and Ollie's day.
"Kari did a fantastic job. She really became one of our guests, and managed to capture so many great shots. She always replies to emails really quickly, too, which is a huge bonus when you are up against time when wedding planning."
As it began to get dark, there was live music from band Victoriana (found through Tailored Entertainment), and outside, guests mingled in the wedding field by the fire pit, or made their way over to the beautiful Airstream photobooth that Emma and Ollie hired through Airstream Studio.
"I think we worked really hard to tailor our wedding to us, and it all fell in to place really well (in the end!). I would say that getting married outdoors is very nerve-racking. Counting on the British weather was a worry I wouldn't want to deal with again after working so hard to get everything just so. We missed a whole day of torrential rain, which was forecast for our day but blew over to the day after. We were very lucky, as I think our whole day would have been very different in the rain!"
Words of Wedded Wisdom
"Make your wedding about you and your partner. Don't get too sucked in with what others want – it's your day in the end. We ditched a lot of tradition – we didn't have speeches or a first dance, and I worried a lot about changing the formula, and if others would be disappointed, but I'm so glad that we stuck to our guns and went for completely what we wanted."
"So many people told us that it was the best wedding they had ever been to, and we felt comfortable rather than making ourselves uncomfortable just to conform and please others."
Emma and Ollie, thanks a million for sharing your beautifully relaxed festival day with us, and many thanks to photographer Kari Bellamy for her super images, too.
Rue de Seine dresses are a perennially popular choice for those looking for a free-spirited, boho look, and it goes without saying we have a wonderful array of articles to look through and enjoy on our pages.
With love,
Laura