As September draws to a close, it's natural for colour palettes to become richer and warmer. I think you're going to adore the rich, warm tones of the October wedding we're sharing today; it captures the very essence of autumn despite the day turning out to be unseasonably hot at 20 degrees.
Let me introduce Kate and Michael, who work as a corporate lawyer and a private equity investment professional. They married on 14 October 2017 at Somerset's Brympton House, a wonderful countryside location for them to weave together wedding traditions from Michael's Scottish background and Kate's upbringing in Bath. Think roses, thistles, a ceilidh and a boho Temperley London gown.
Throughout her engagement, Kate was a visitor to Love My Dress and our Little Book Wedding Directory, where she found her photographer, the incredibly-talented Richard Skins Photography. Take a moment to visit his listing here to find out more about him and see a showcase of his bold, natural work.
Photography Richard Skins Photography
"Richard was a fantastic photographer who made the day fly by with ease and at no point feeling like photos were a chore. He blended in perfectly to get the most amazing candid shots of the whole party without ever being overbearing."
"Our whole family loved having him with us in the morning as well as we were getting ready. The final photos are beautiful. We love his use of light and the capturing of some fantastic characters and moments throughout the day."
"Our choice of wedding location was rooted in finding somewhere which would allow us to combine Scottish and Somerset wedding traditions in one place. Brympton, in the heart of Somerset, is in a stunning rural setting and was perfect for hosting a ceilidh to incorporate Michael's Scottish roots and traditions."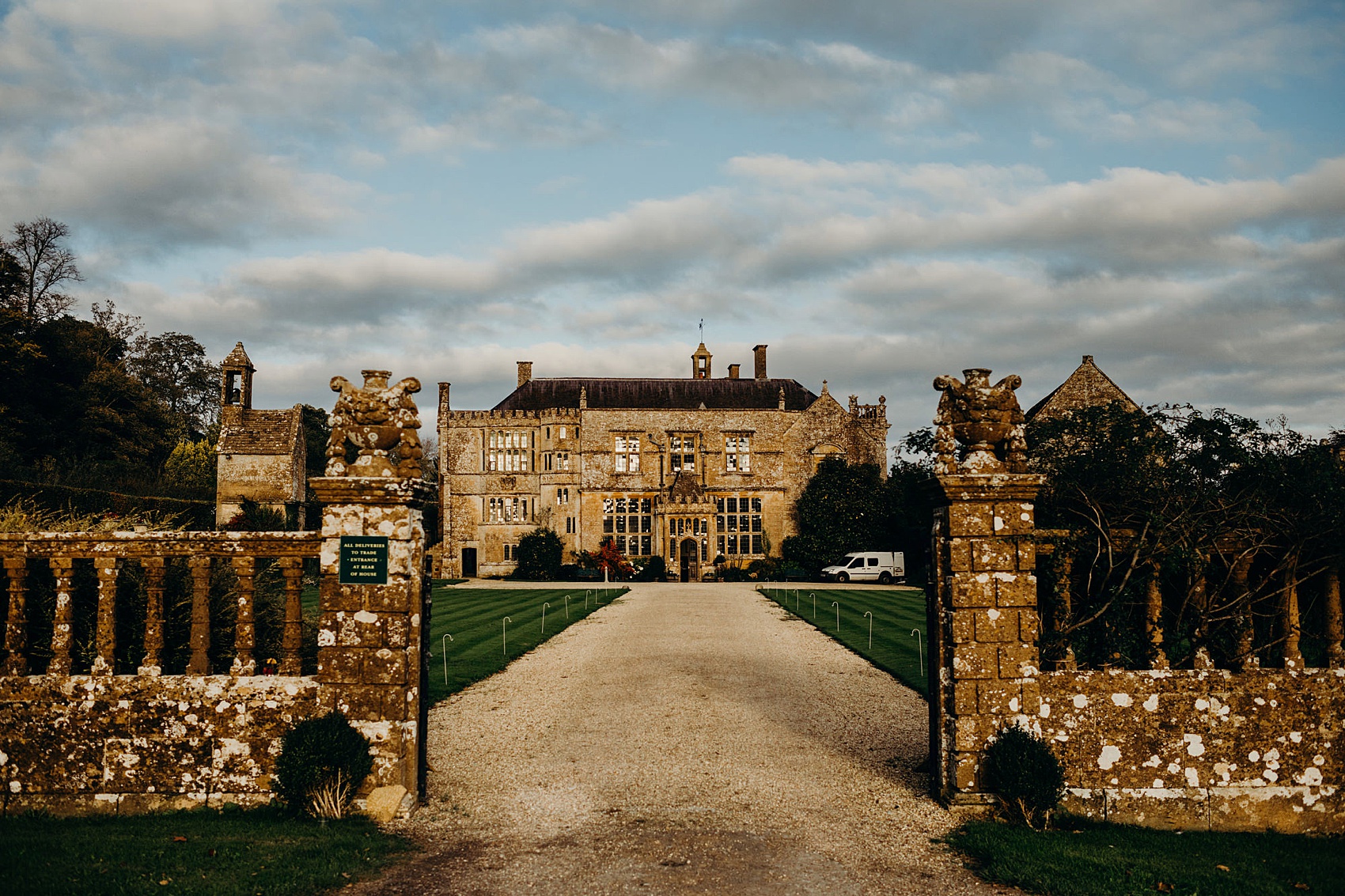 "Michael and I met over eight years ago. We had recently graduated from our respective universities and Michael interviewed me for a job in his team at a boutique strategy consultancy in Mayfair, London. Despite my attempts at lying through my teeth that I wanted to be in strategy consulting, Michael saw through it and recommended I didn't get the job!"
"Thankfully his colleague hired me instead and I lasted six months before moving on but with a great new friend, Michael. Despite having nearly never met again, at least Michael had some great material for his groom's speech from his notes from that first meeting!"
The crown was crafted by Flowers By Passion, another Little Book find for Kate.
"I chose Flowers By Passion for our bouquets and flower crowns as I had seen Michelle's beautiful creations before and knew that she would get the look I was going for.
"She was excellent at guiding me on flower choices and understanding the contrasts of flowers we wanted – an English rose with Scottish thistles to tie our respective backgrounds together."
The bride's natural, warm make-up was applied by her good friend Charlotte whilst Vicky from Number Three Hairdressing in Bath created her relaxed, boho pin-up.
"I opted to not go for a veil as it was a tradition that didn't sit well with me. Instead I chose for a fresh flower crown with a trailing ivory ribbon which worked well and didn't hide the beautiful scalloped lace on the back of my dress."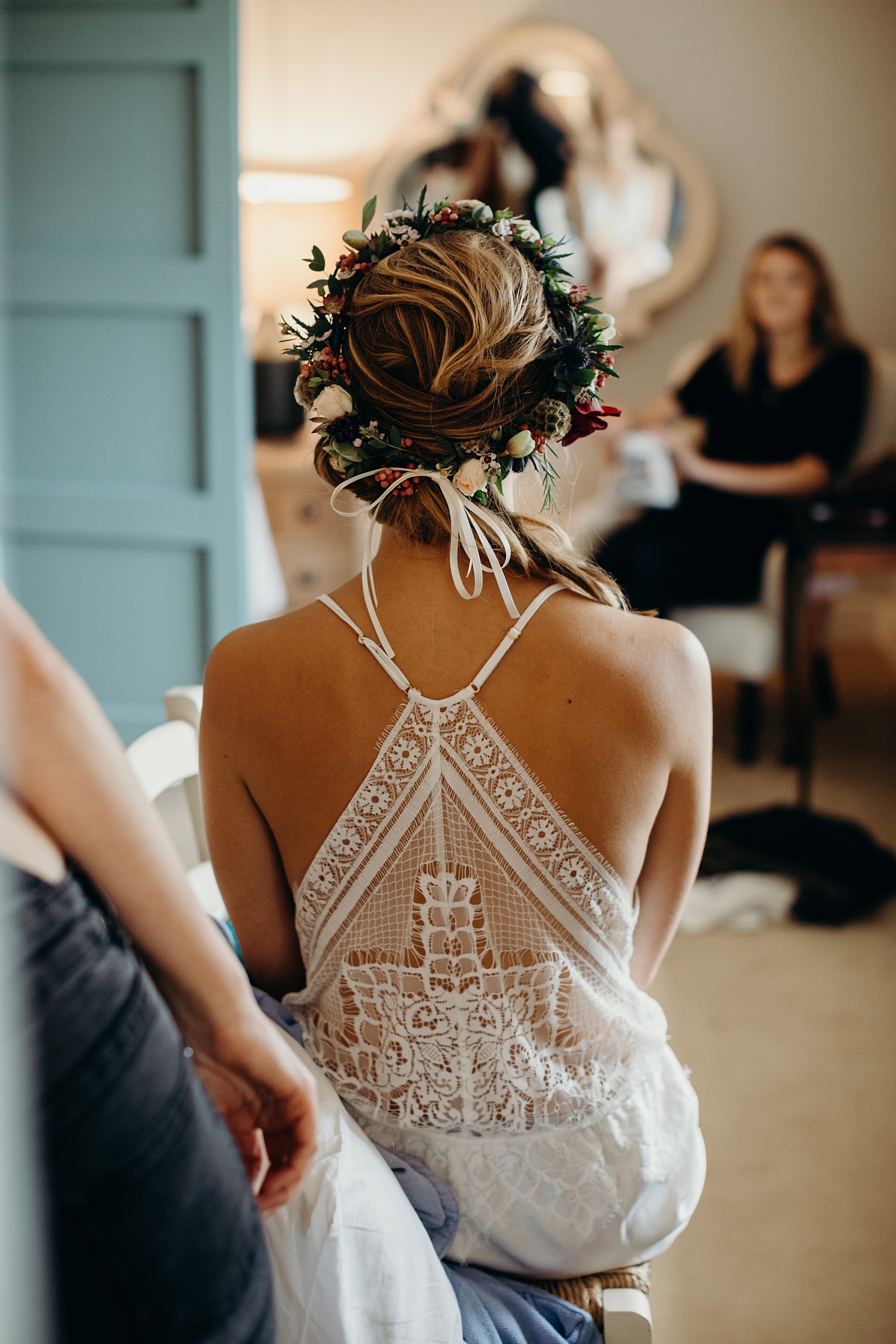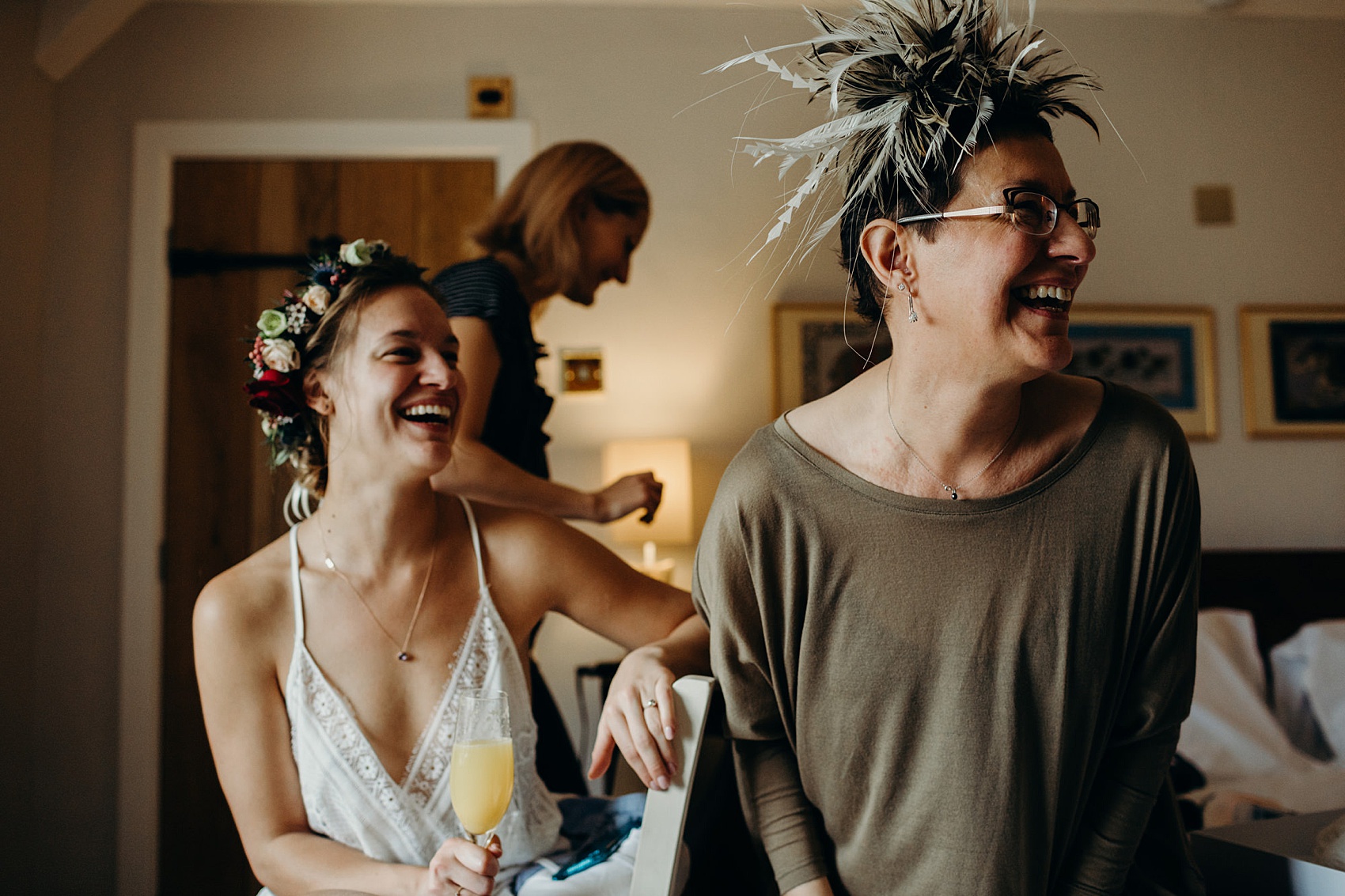 For a classic yet boho style, Kate paired an exquisite, pure white Temperley London gown with a breathtaking floral crown with romantic, trailing ribbons. I love the 3/4 length sleeves and romantic layered style – just perfect for an autumn wedding, despite this one being unexpectedly hot.
"I went dress shopping thinking I wanted something very modern, perhaps not a traditional wedding dress. Lace was a material I completely refused to try on. However, I had always loved the bohemian style of Alice Temperley's dresses so visited the Notting Hill boutique to try on some of the more boho dresses."
"It wasn't until my third visit to the boutique with both of my parents that I tried on the dress which I eventually wore. My mum picked it out and as soon as I put it on I was completely speechless. It encapsulated the boho style I wanted with a classic lace design and felt just perfect!"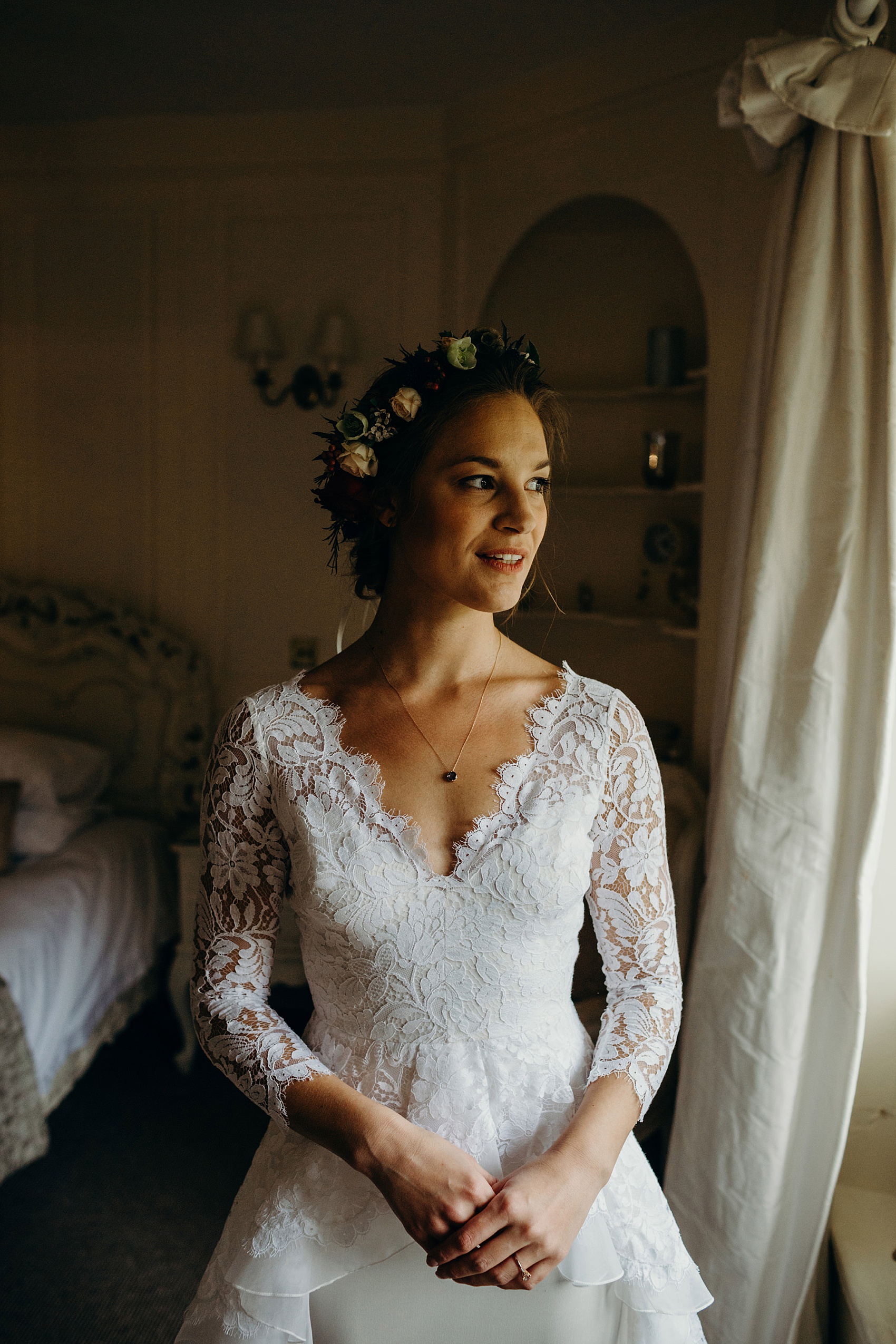 The bridesmaids wore elegant gowns in Chianti red from Rewritten, along with sprigs of wax flowers in their hair. The bride's heeled sandals were from Charlotte Olympia and she wore her favourite scent, Diptyque's L'Ombre Dans l'Eau. She also selected personal and meaningful pieces of jewellery.
"Each of my bridesmaids has a very unique sense of style so I went for a dress designer that had created different styles of dress in the same material and colours so that each of the girls would like themselves on the day. I loved the colour of the Chianti dresses and it worked well with the overall colour theme. They all looked beautiful!"
"I gave each of the girls a moon and stars necklace on the morning of the wedding, as they are the universe to me."
"My Monica Vinader bracelet was given to me by my dad on the wedding morning. My Suzanne Kalan necklace was given to me by Michael many years ago and I wear it nearly every day. It didn't seem right to take it off on my wedding day and it served as my something blue."
"My earrings were blue sapphires, a gift from my bridesmaids for my 30th birthday which I wear every day. Again, they are special to me so it didn't make sense for me to change them."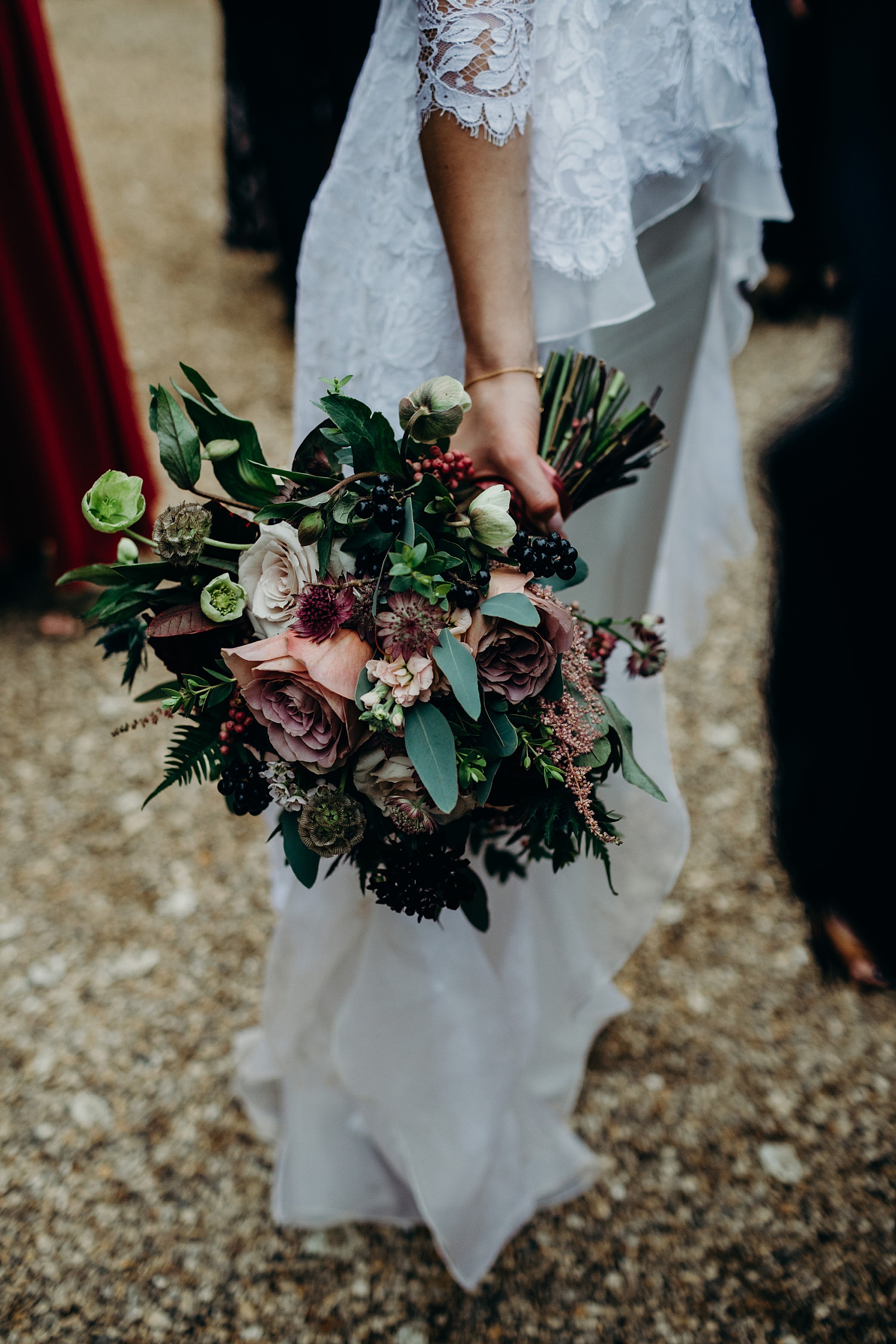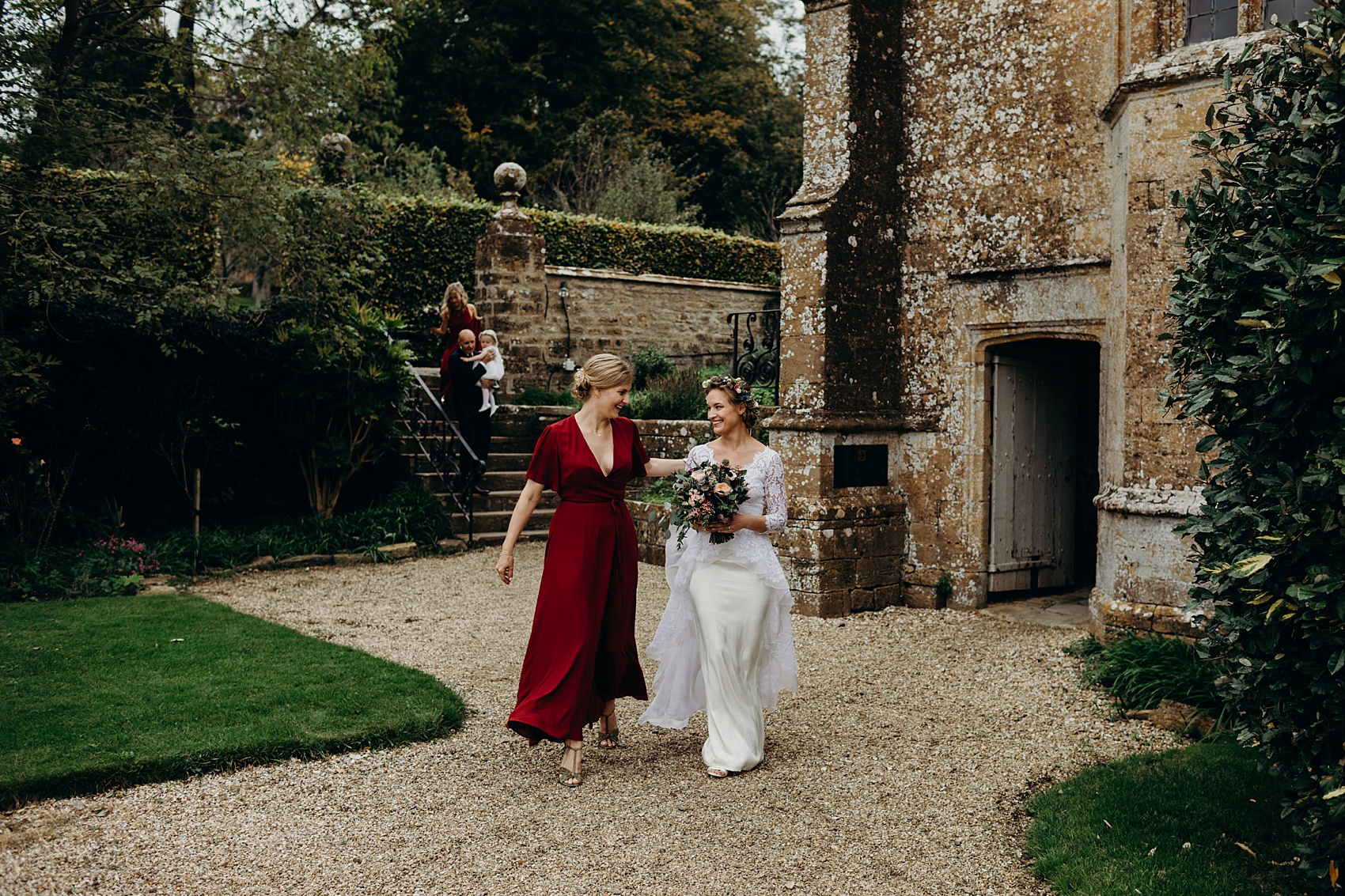 Brympton House is a naturally-beautiful venue, so little other than flowers and candles was needed to create an intimate and magical atmosphere.
"We wanted simplicity in styling. We had hundreds of candles for a magical feeling as the mid-October evening drew in early, and simple flower accents."
"Emily at Stems of Somerset and Ellie, the Brympton House stylist, had woven our flowers with hundreds of candles to create a magical autumnal/wintery warmth in the house."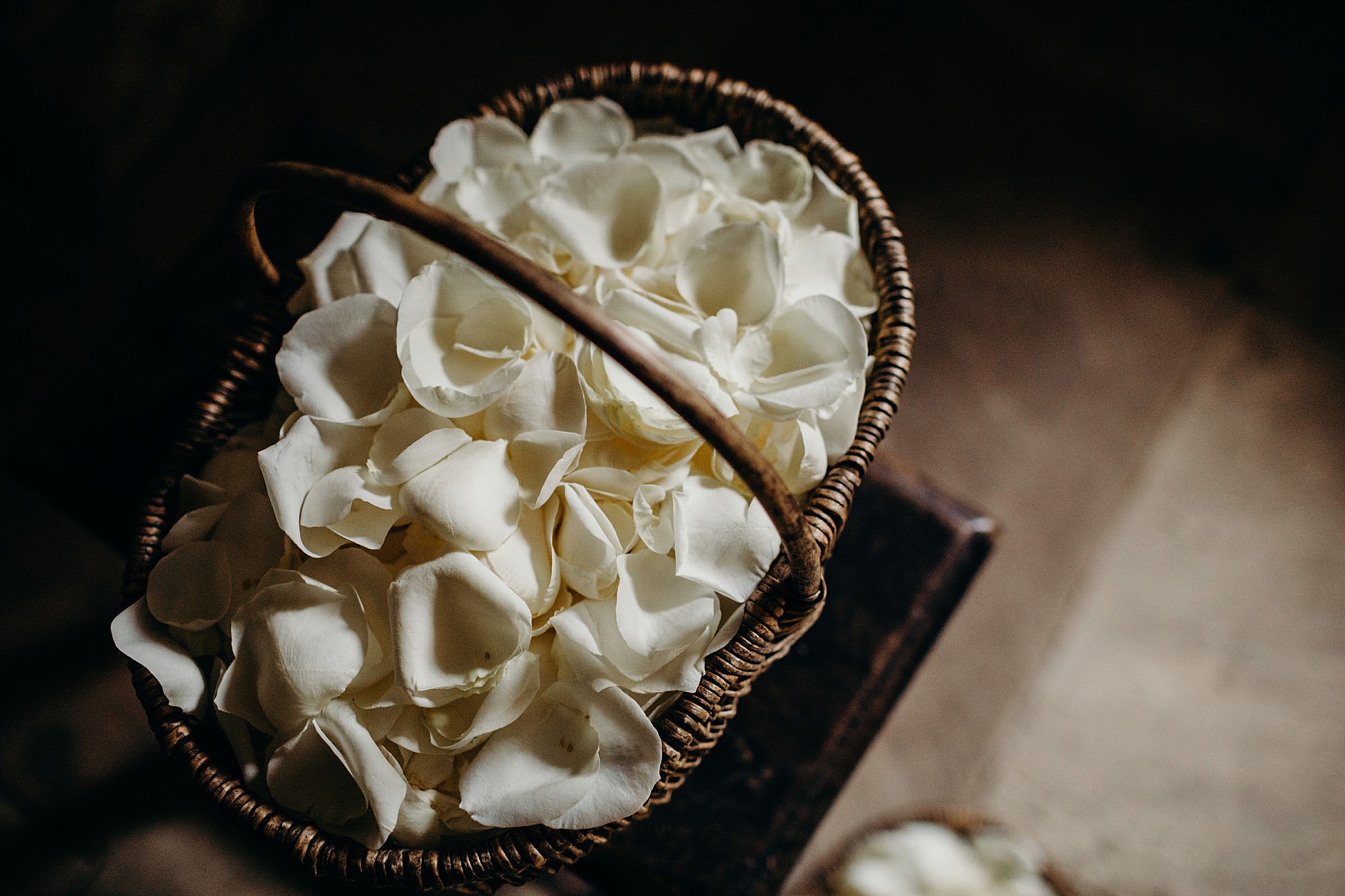 To honour his Scottish roots, Michael wore a kilt and suit jacket combination, along with a Chianti red tie, hired from Macgregor & MacDuff in Glasgow.
"Although Michael has his own kilt, his particular family tartan is hard to hire so we went with a mismatched look for the boys with him in a stronger colour."
The ceremony took place in Brympton's Castle House, which Kate entered with her father before she and Michael wed in an intimate, personal ceremony.
"We're not religious but we wanted our ceremony to be as personal to us as possible. We had readings from our favourite poems and books by our siblings, as well as one of our best friends singing."
"We walked down the aisle to 'I Need My Girl' by The National. For some time we lived apart, with Michael in Hong Kong and me in Singapore, and this was a song that meant a lot to us during that time."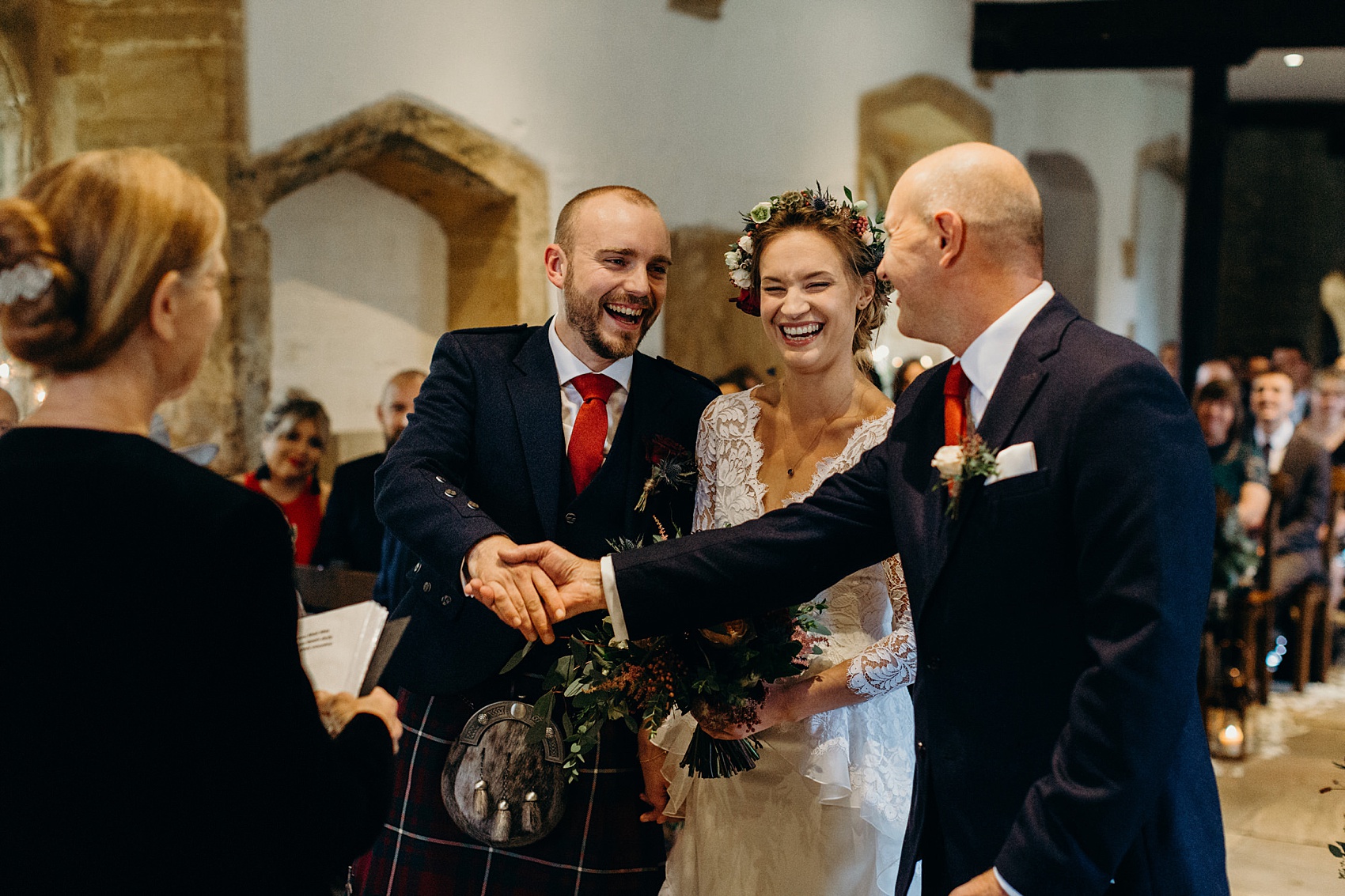 "My favourite part of the day was the ceremony, which surprised me. It was the part I had thought least about and had a sense of wanting to get it over with to stop everyone looking at me and so we could start the party! However, the atmosphere was so relaxed and intimate – it was a really special moment standing in front of our family and friends and declaring promises to each other."
"Despite neither of us being religious it was a really special moment of commitment and by far the most special part of the day – even though all the candles in the Castle House made it super-hot for an unseasonable 20 degree day in October."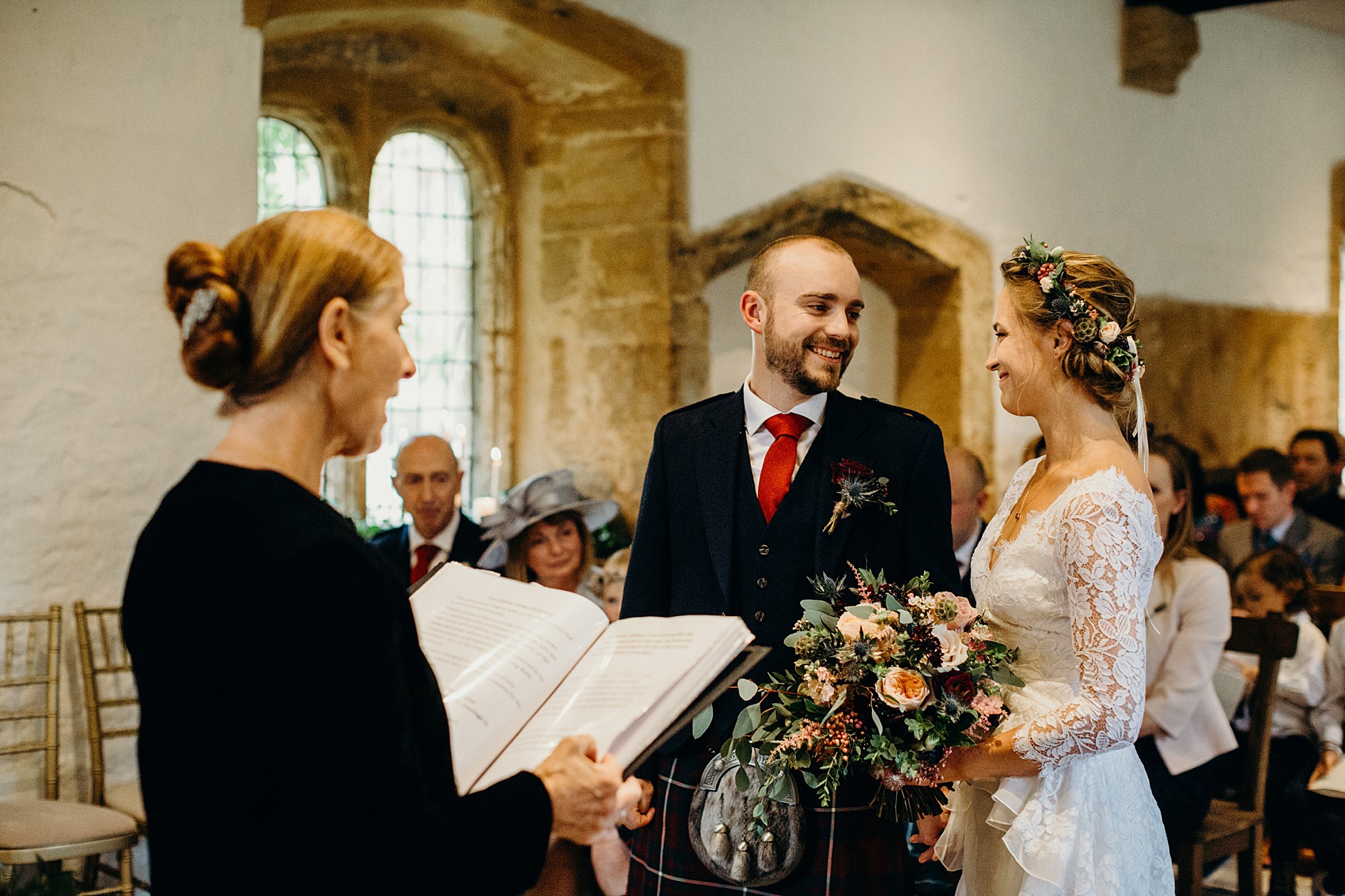 "We had two readings and a song sung by one of our best friends. The first reading, read by my sister, was 'Love' by Roy Croft. The second reading was an extract from 'The Amber Spyglass' by Philip Pullman, read by Michael's brother. The final 'reading' was a song sung by our good friend Marie-Claire – 'City of Stars' from 'La La Land'. It meant a lot to us as it's how we feel about our chosen home city, London."
The ceremony was punctuated by a surprise rendition of Madness' 'It Must Be Love' from the guests and The Magnificent Sheikhs.
"The Magnificent Sheikhs were our afternoon band and were fantastic on the terrace entertaining our guests with their jazzy take on modern tunes. They also surprised us during the ceremony by all piling in to provide musical support to 'It Must Be Love' sung by the congregation!"
"My rings were by Anna Sheffield, a New York-based designer whom I love. Michael's ring was hand-made at Liberty."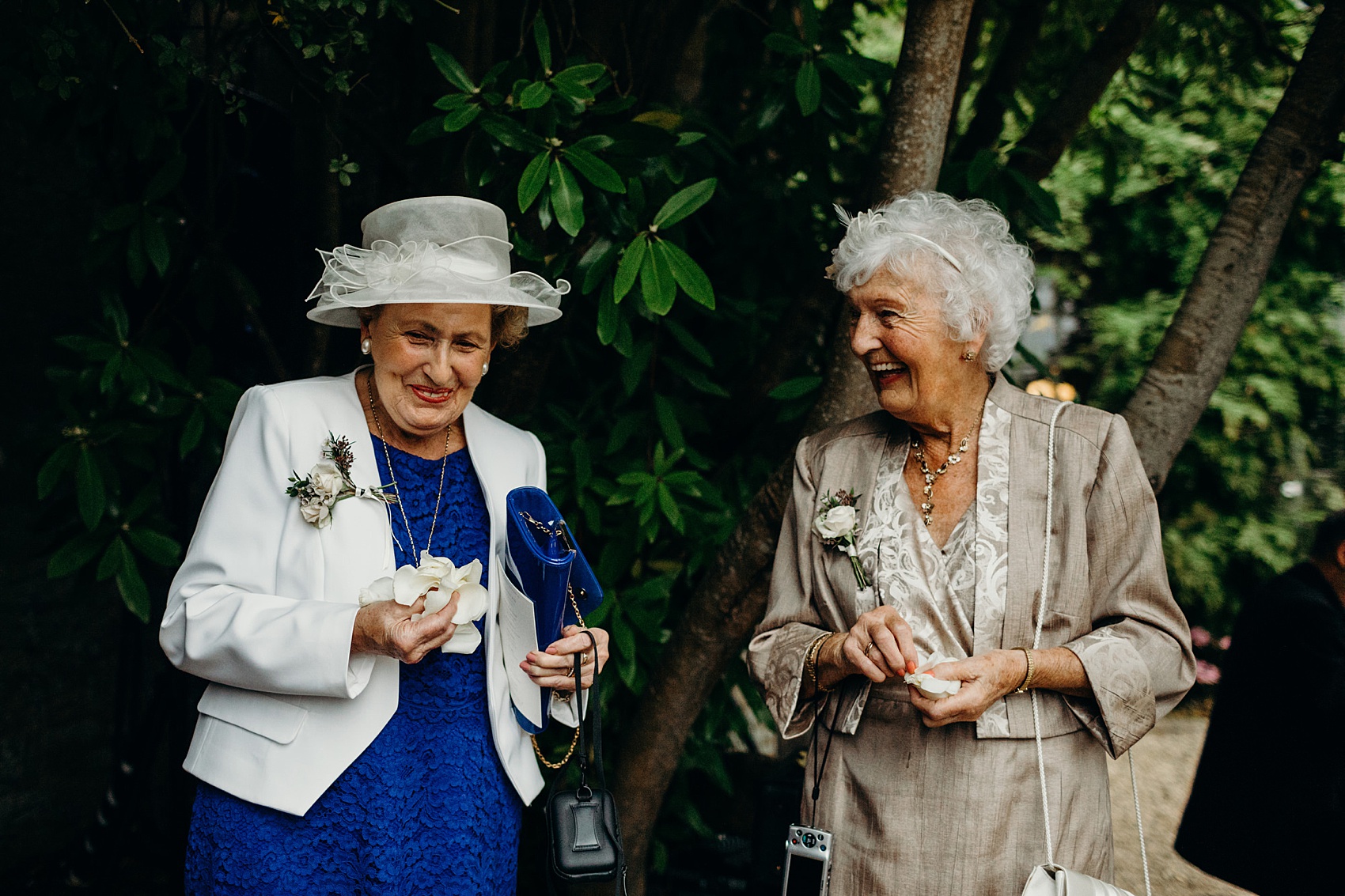 As well as drinks and canapés, there were garden games and space hoppers for good, old-fashioned fun before the guests moved inside for speeches and dinner from Eat Five Star. They also supplied the cake of cheeses, which took the place of a wedding cake.
"We opted to donate the cash we would have spent on favours to two charities close to our hearts – Alzheimer's Society and MS Society."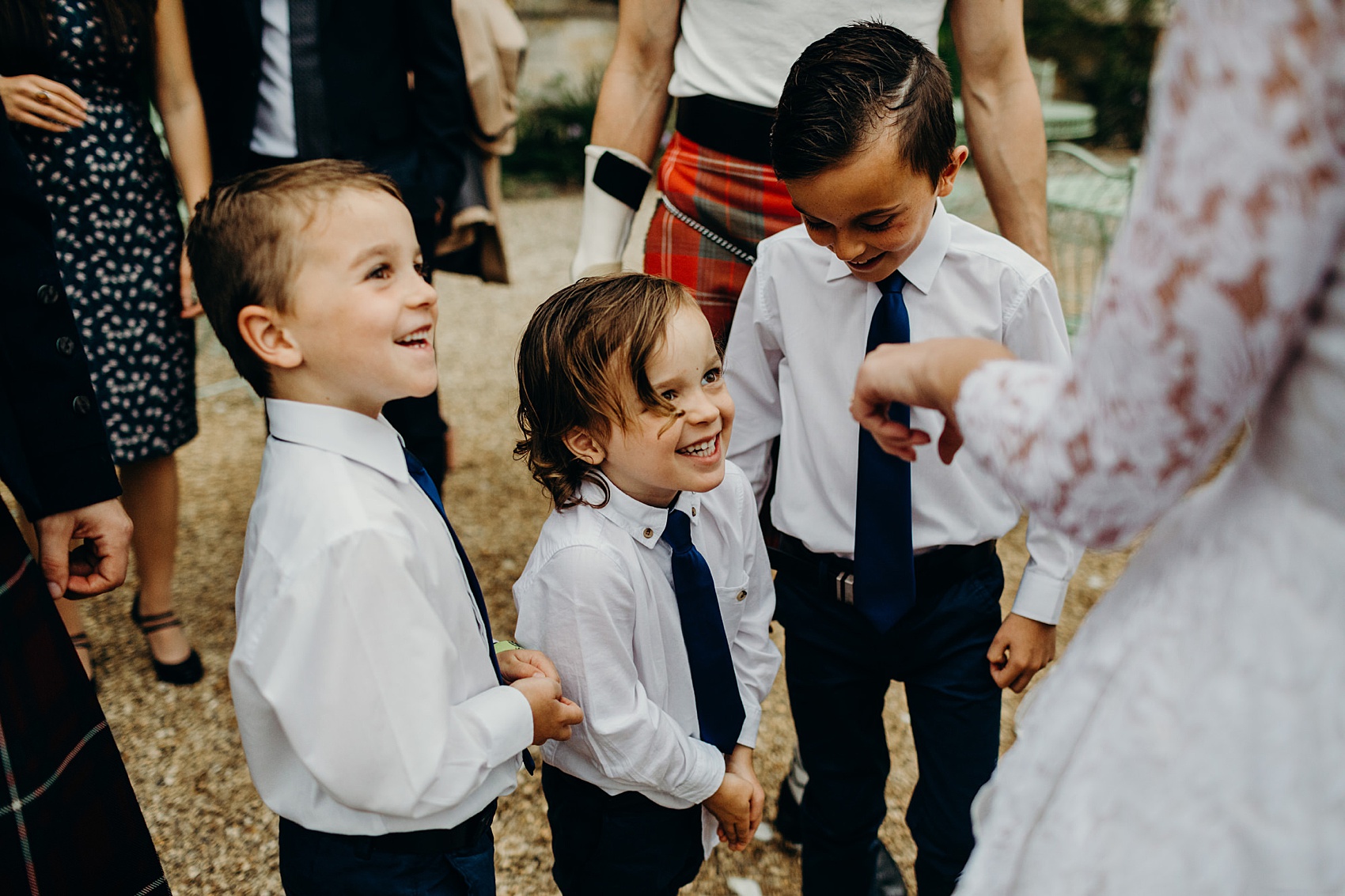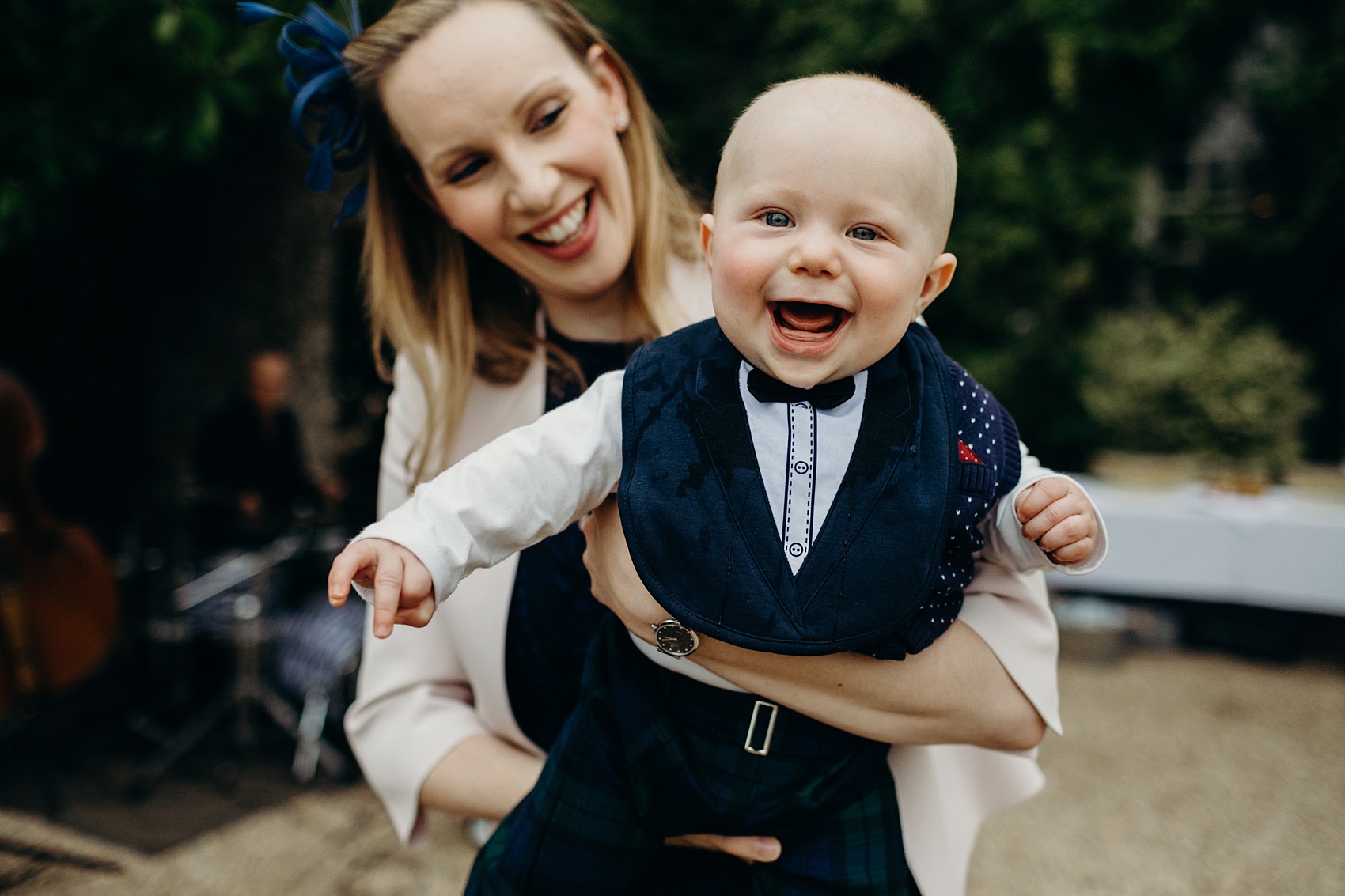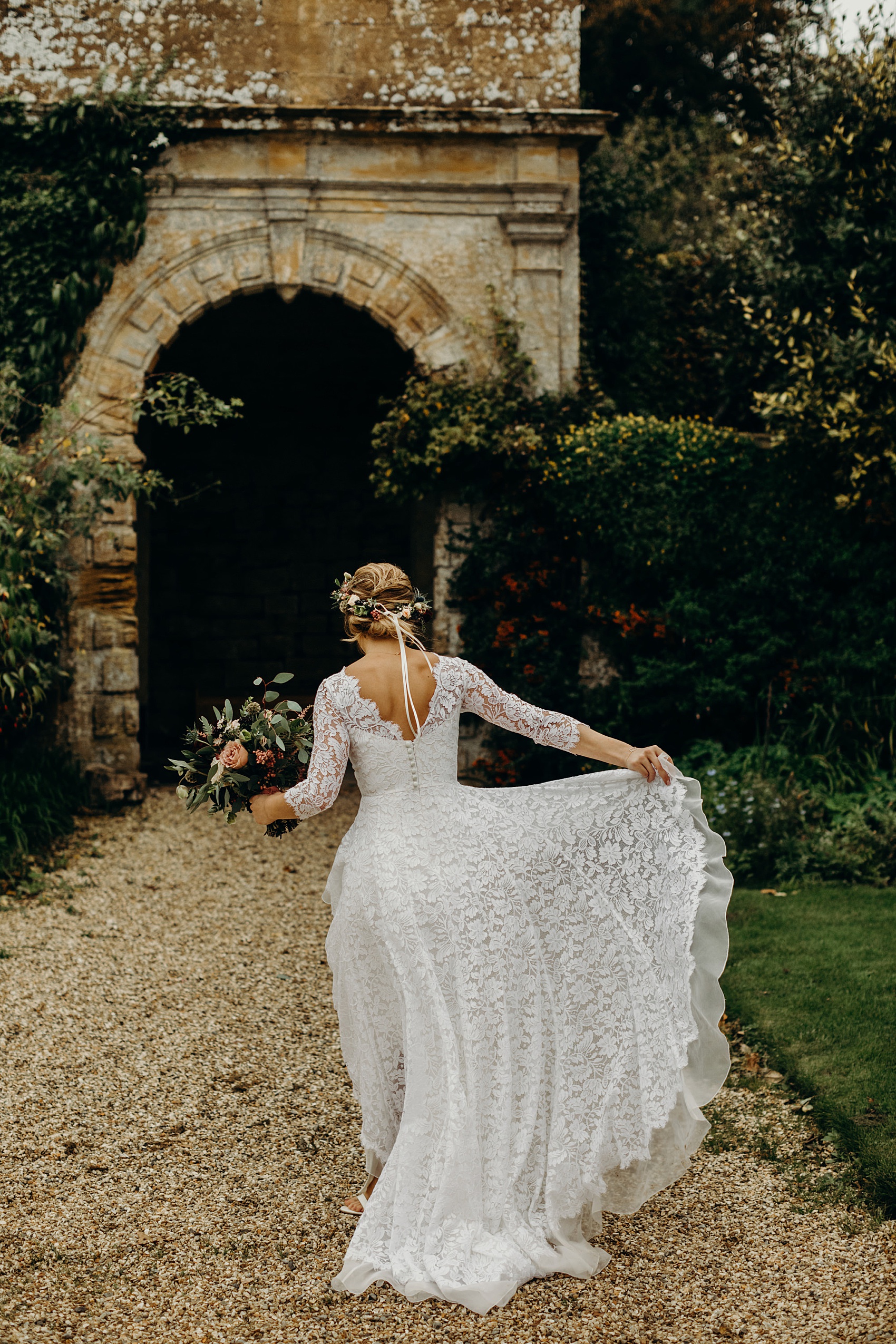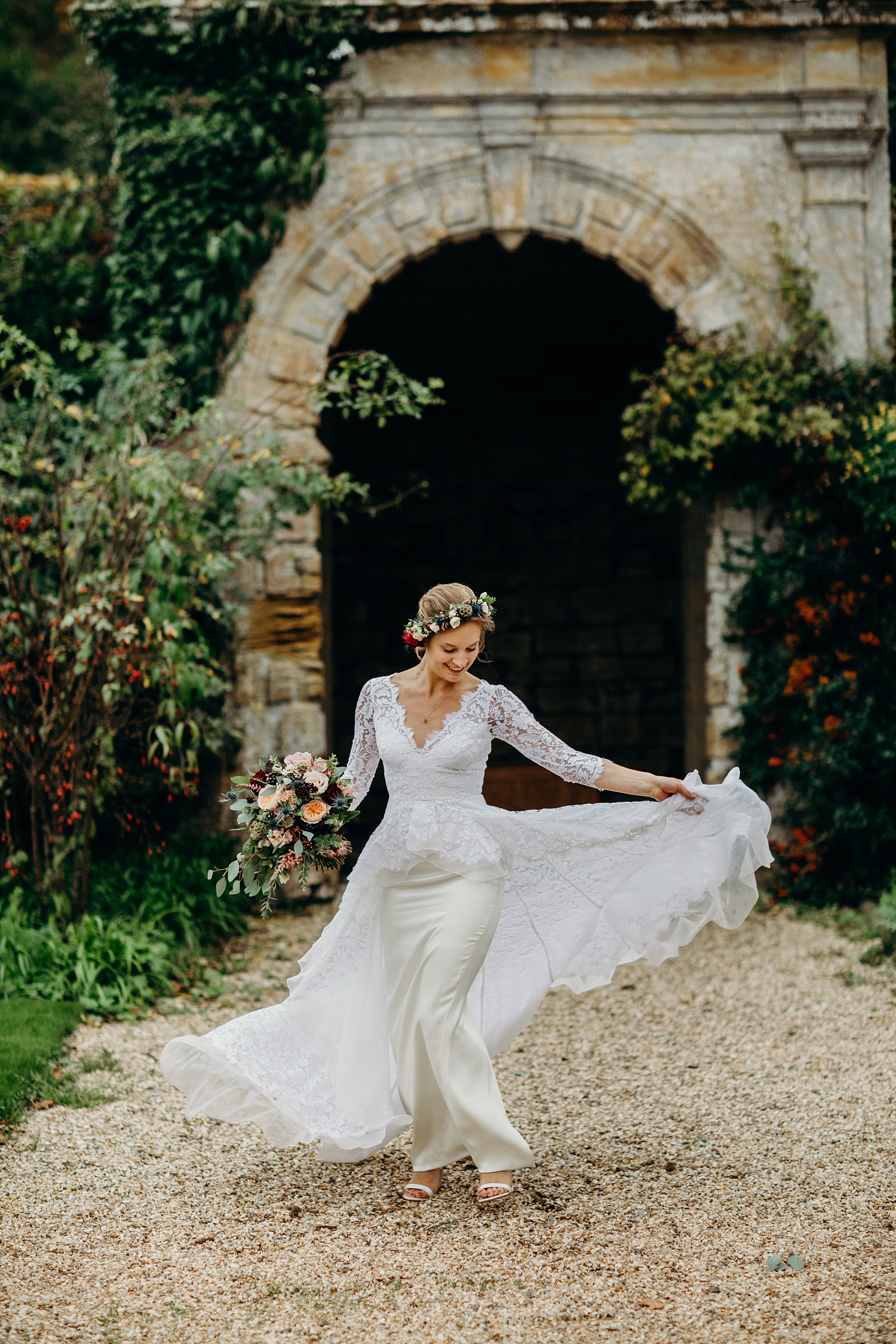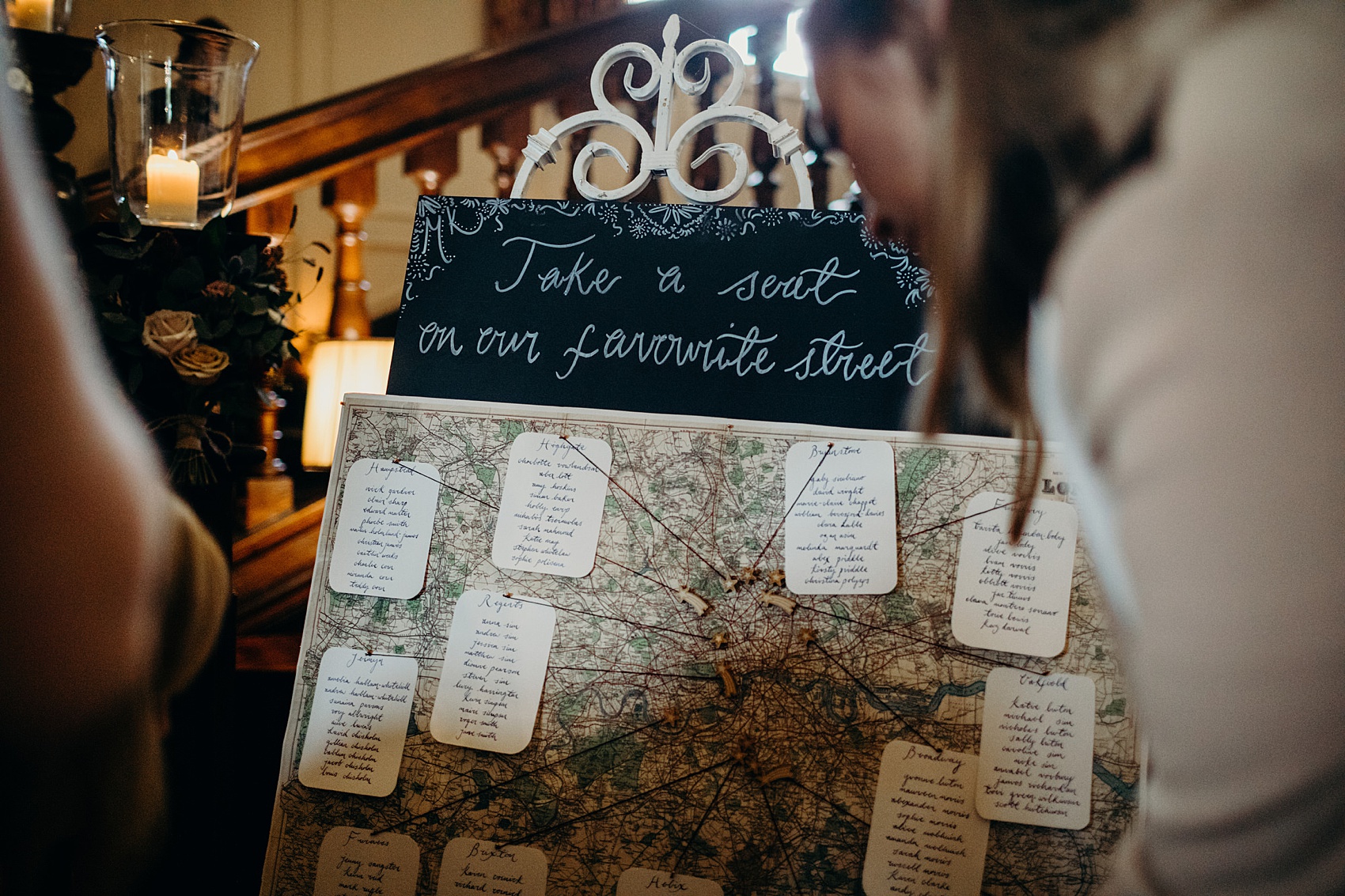 In preparation for her wedding, the bride got crafty creating her and Michael's stationery suite.
"We were keen to design as much of the stationery as possible and used Papier which was great for uploading our own images and printing. For our main invites we used Paperless Post. This allowed us to keep track of RSVPs easily and communicate with our guests online, as well as allowing a printed version to be sent to our more elderly relatives who aren't as tech-savvy as our younger guests. I made all of the place settings, table names and table plan, which were a real joy to get creative with!"
Before the ceilidh and evening party kicked off, the couple took to the floor together for a first dance to 'Old, Old Fashioned' by Frightened Rabbit.
"Frightened Rabbit were a band we both loved and used to listen to right at the beginning of our relationship, even sneaking backstage once at a concert they played on Clapham Common! The sentiment of the song and our personal experiences of it made it feel right as our first dance song, plus it was a great start to the ceilidh atmosphere!"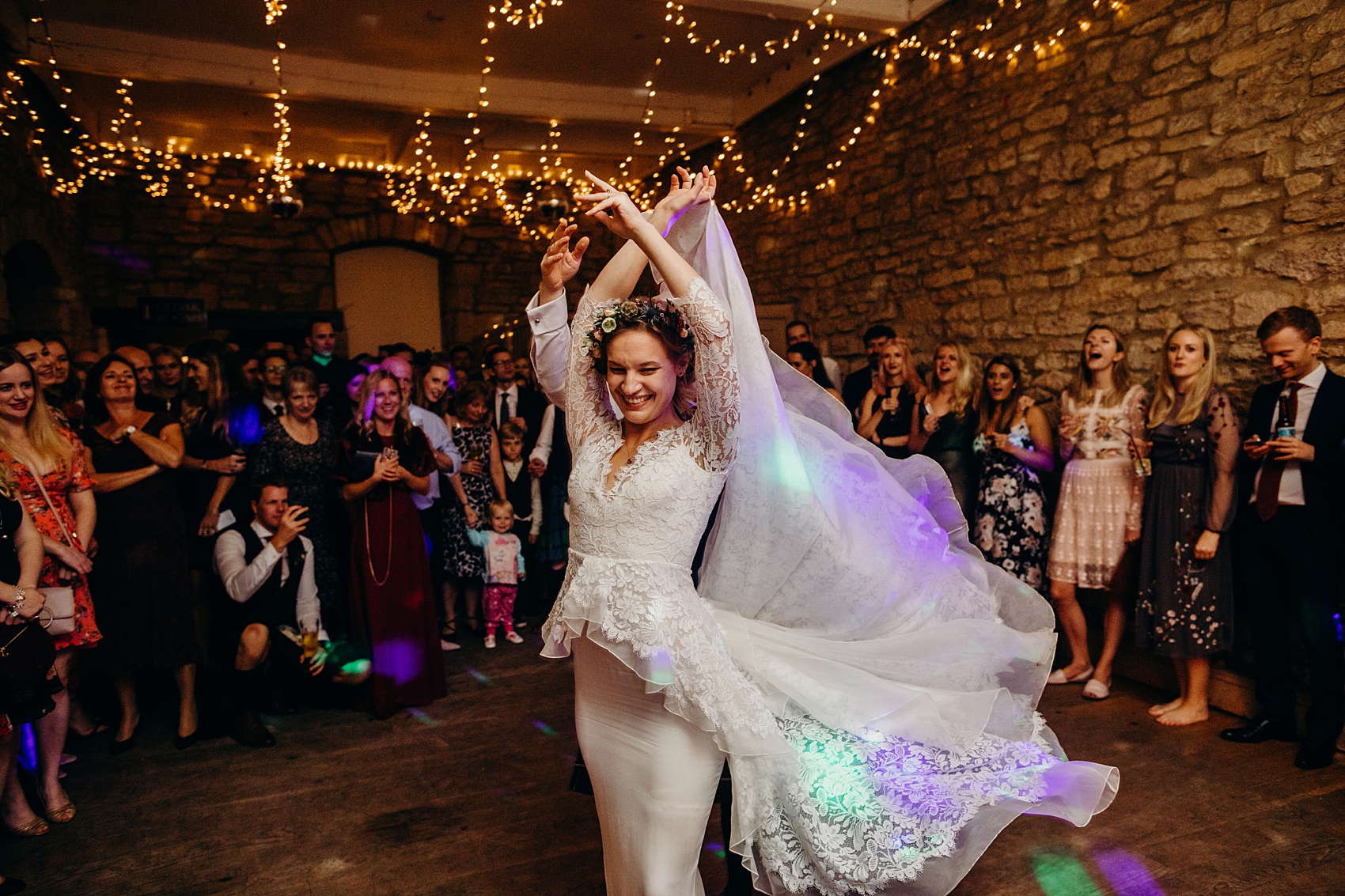 "The Newfangled Jesters were a great folk band who provided a great accompaniment to our ceilidh before breaking out into some great hits from Mumford & Sons and other, more modern music covers."
Words of Wedded Wisdom
"One of the best things I found about planning our wedding day was sharing the load with my partner. Michael had good ideas about what he wanted for his day. I think it's important to remember it's a day for both of you and should reflect your relationship. It taught me that we work well as a team and complimented each other well while we were organising the day, which was reassuring as we were entering into this marriage thing for life!"
"The most important thing is just to enjoy the day from start to finish and not to worry about anything going wrong (it definitely will), but you're surrounded by people who love you and only want to see the good and positive things happening on the day – no one will notice!"
Oh wow, Kate and Michael, what a perfectly autumnal day. I'm in love with the abundance of florals and how you wove together elements so important to you so well. On behalf of all of our readers, thank you so much, and thank you also to Richard Skins Photography for these wonderful images. For more autumnal wedding inspiration, please do browse these Love My Dress favourites.
Ele xx