Sometimes photographs take your breath away with their vivid colours and the intense emotions that they carry.
This wedding is a perfect example of this. We're heading to London for a relaxed wedding which blended pops of bright floral colour with cool urban styling in a funky creative hub, Pop Brixton. Please meet accountants Rebecca and Daniel, whose personal, relaxed wedding on 31 August 2018 was held at Asylum Chapel in Peckham with a laid-back reception afterwards at Pop Brixton.
Photography Lase Photography
The couple wanted the day to be super-personal and full of good food and music, drawing on Dan's St Lucian heritage for the food, rum punch and flowers.
"We wanted a relaxed vibe with good music and good food. Dan's St Lucian heritage inspired some of the food, rum punch and the flowers. Everything else we just tried to show our personalities."Rebecca looks breath-taking in her exquisite A-line Willowby by Watters 'Galatea' gown with its plunging neckline. I love the light, layered skirt and delicate ribboned bodice, all in a wonderful fabric smattered with over-sized, floral motifs. She found it at Helena Fortley in Surrey.
 "I wanted a low-cut dress with not a huge amount of sparkle or detail."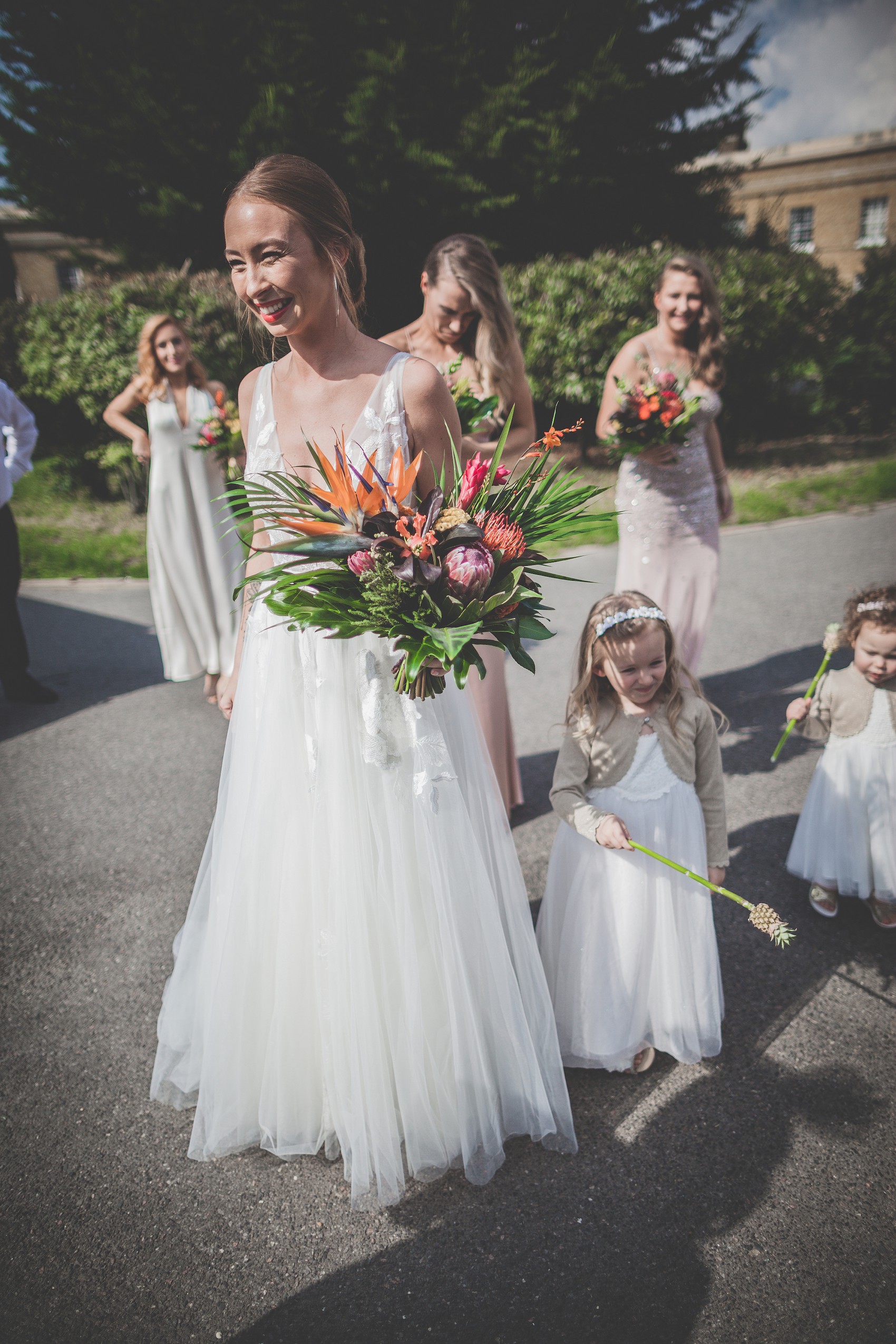 "Our florist was Floral Evolution Flowers. I found Catherine on Instagram and she is a preferred supplier of the Asylum. I couldn't have asked for more."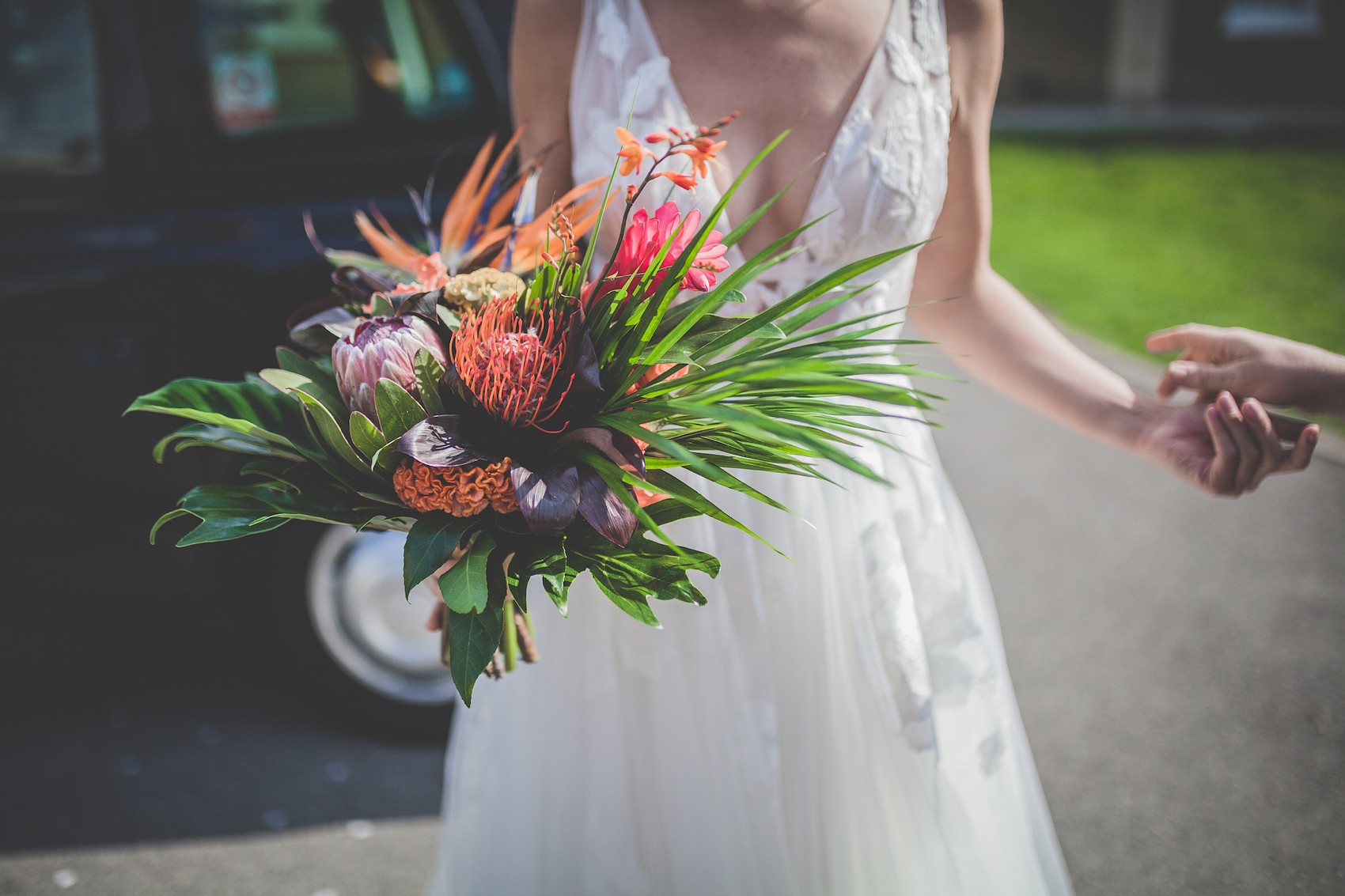 At the Asylum, Daniel was waiting with his groomsmen, whose creative talents came in very handy. He chose his smart blue suit at Reiss, adding a bright buttonhole by Floral Evolution Flowers.
"The best men and groomsmen were amazing. Two of them played live music at the Asylum before we moved on Pop and another DJd for us in the evening."
The grown-up bridesmaids wore a variety of elegant gowns from ASOS and Monsoon, along with their own shoes. They each carried a glorious armful of exotic blooms in shades of orange and pink; aren't they so joyful?
"I bought my bridesmaids a little pineapple ring from Topshop to match the tropical flowers."
Rebecca and her father Bryan took a taxi to the venue, before walking in together to 'You're So Cool' by Han Zimmer.
"This was the soundtrack to the first film we ever watched together."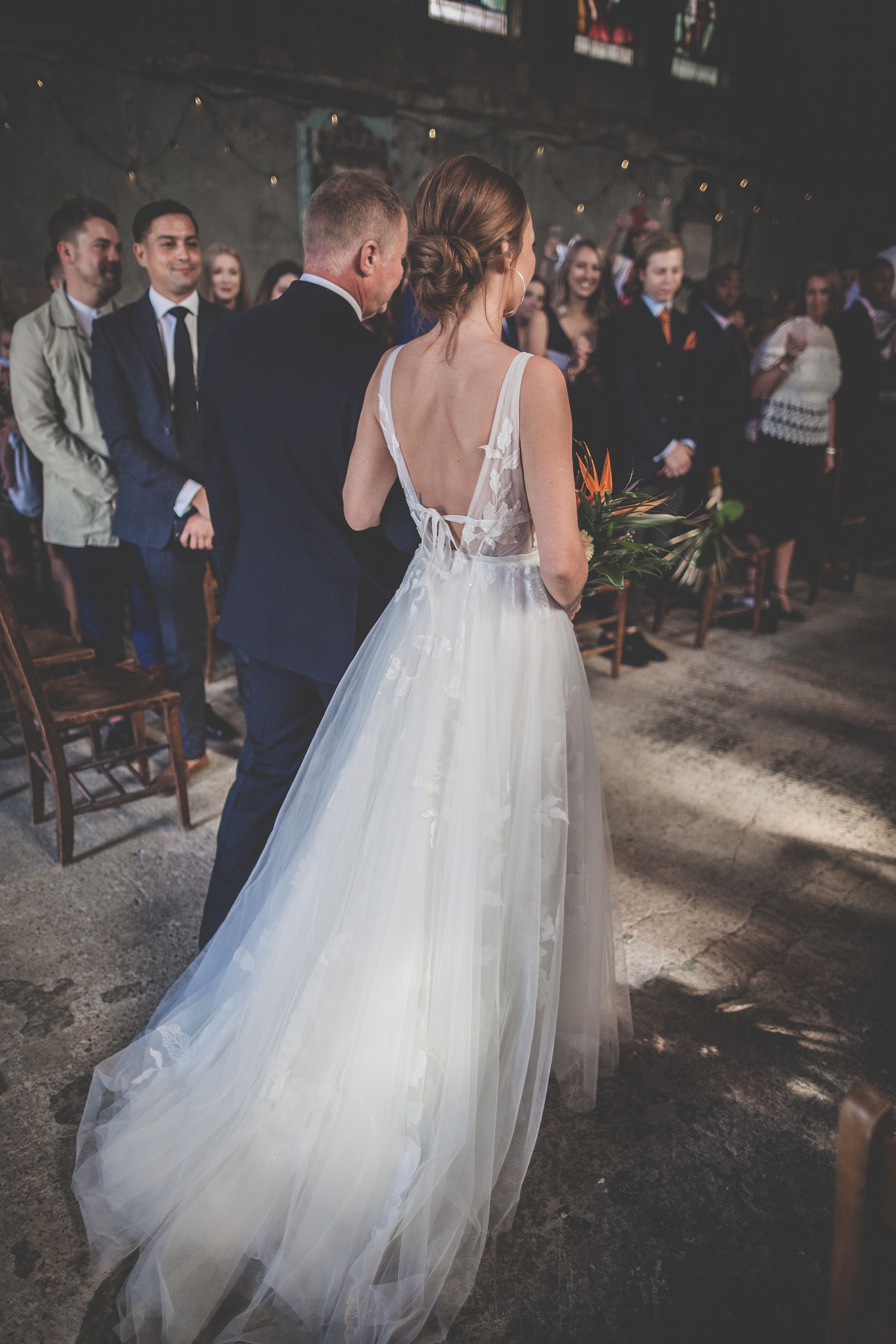 After meeting at work, the couple were inseparable and now have a baby together.
"After a drunken kiss at the Christmas party, we haven't looked back. Dan proposed to me at home which was lovely and personal. He covered the wall in pictures of us and blindfolded me into the room. We were engaged for exactly two years we as had a baby in between."
The flower-girls, the couple's daughter Amber and niece Chloe, look so lovely in their Monsoon dresses.
True to her own style, she wore a pair of Nike Air Max 90's and added personal pieces of jewellery.
"My earrings were from & Other Stories and the ring I wore was my nan's engagement ring."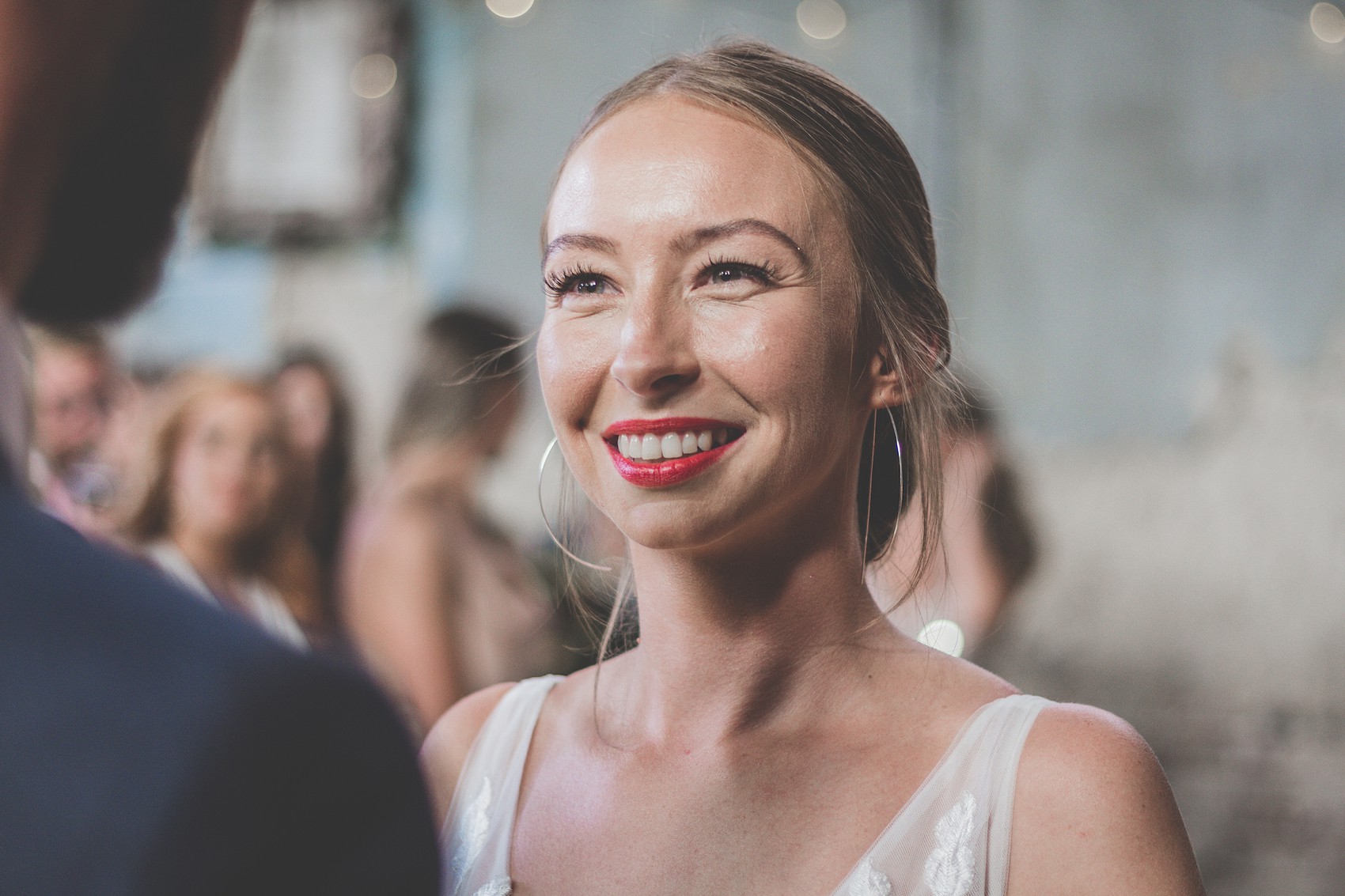 The Asylum was magically adorned with candles and fairy-lights, and Daniel and Rebecca said their vows to each other in front of their family and friends. The ceremony was made personal with some fun readings.
"'Personal Penguin' was read by my seven year old cousin, Rubie."
"Dan's sister wrote a personal message including a 'Friends' quote from Monica and Chandler's wedding about giving and receiving (Dan and I are huge 'Friends' fans). Then we had an adapted rap from 'Fresh Prince of Bel Air'."
"The ceremony was my favourite. It was so personal, fun and light hearted. Our rings were from a local supplier in Beckenham which we had made to suit."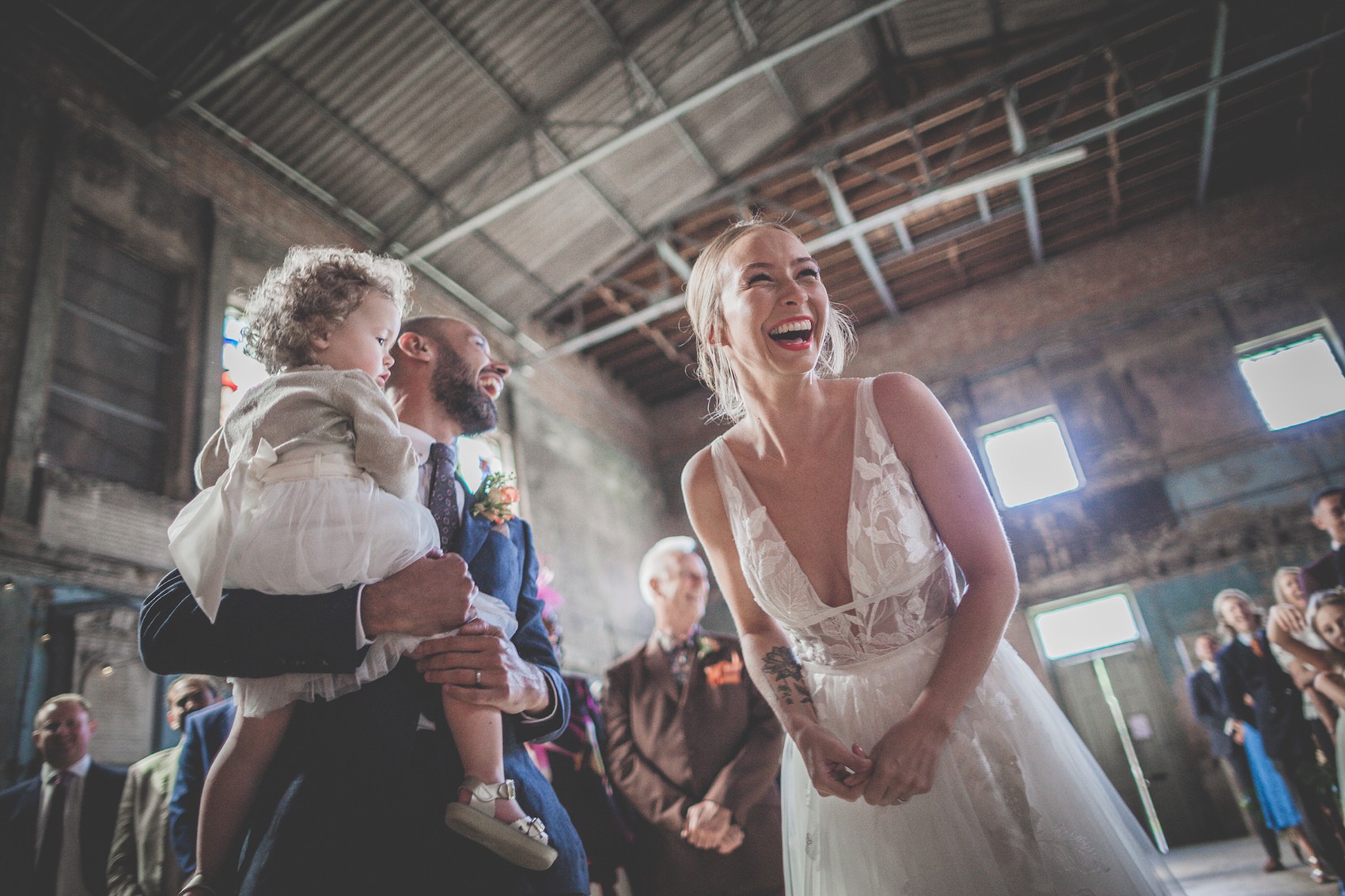 For a simple, elegant look her hair was secured into a chic bun and her make-up was natural, with a bright pop of colour from her vivid pink lipstick.
"My hair was done by my bridesmaid and session stylist Anna Chapman and my make-up by my other bridesmaid Zoe."
Daniel and Rebecca asked Lauren and Sam at Lase Photography to photograph their wedding. I love the resulting images; so colourful, they really have captured the pure joy and love of the day with their documentary style.
"They are two of the nicest girls I have ever met and are so professional. We were introduced by Dan's sister."
The newly-weds came out in to the August sunshine in a haze of confetti and had time to take in their new status as husband and wife before heading to Pop Brixton. Daniel and Rebecca jumped into Dan's dad's VW whilst the guests were taken in an open top bus from London Retro Bus Hire.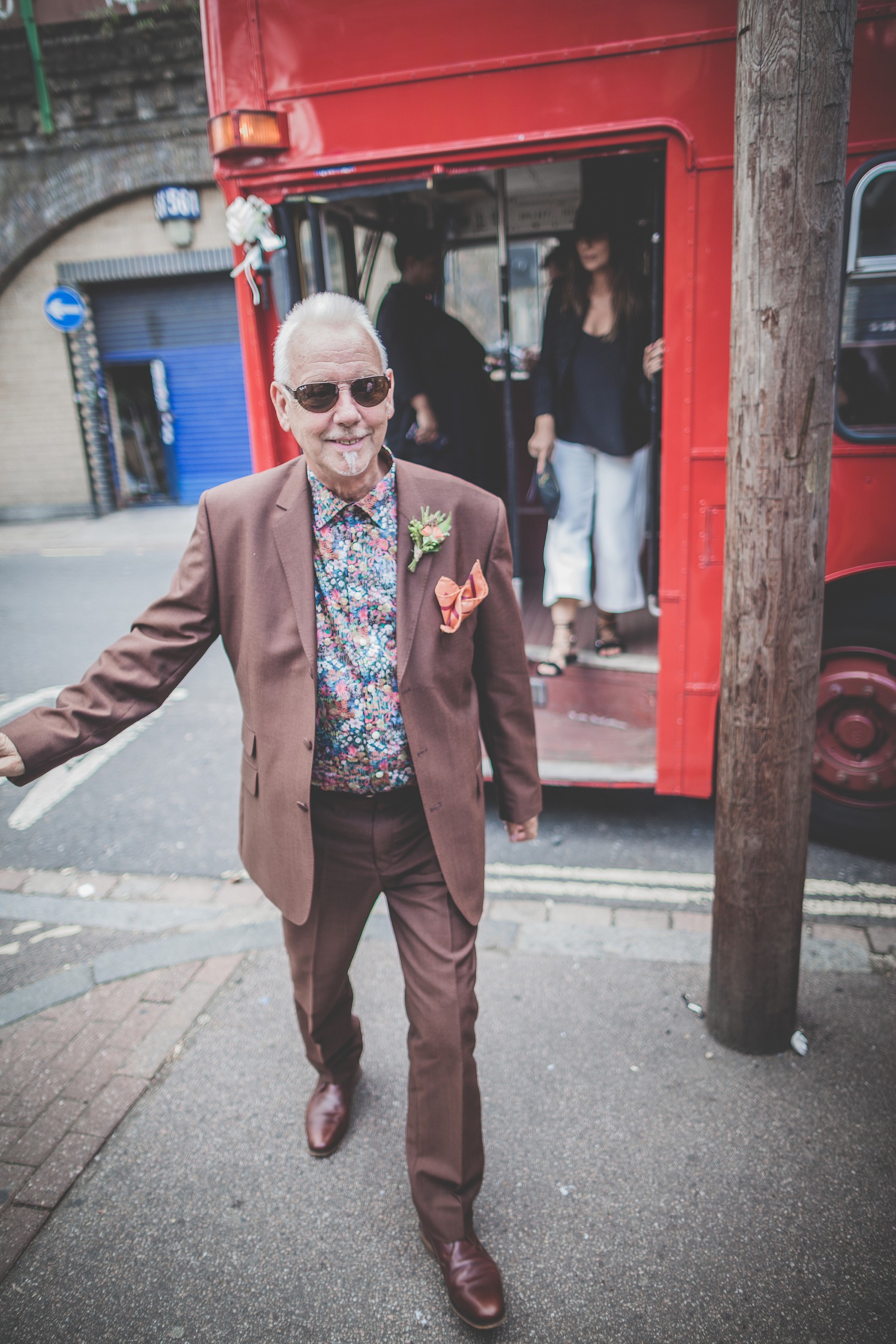 Pop Brixton is an event venue which brings together food, retail and design start-ups. The space looks so wonderful with its simple and bright decorations – masses of tropical leaves and flowers and colourful floral hoops and balloons.
"The size and layout of the venue was a priority for us as we had been to weddings where the space was too big. We wanted a packed party so we chose Pop."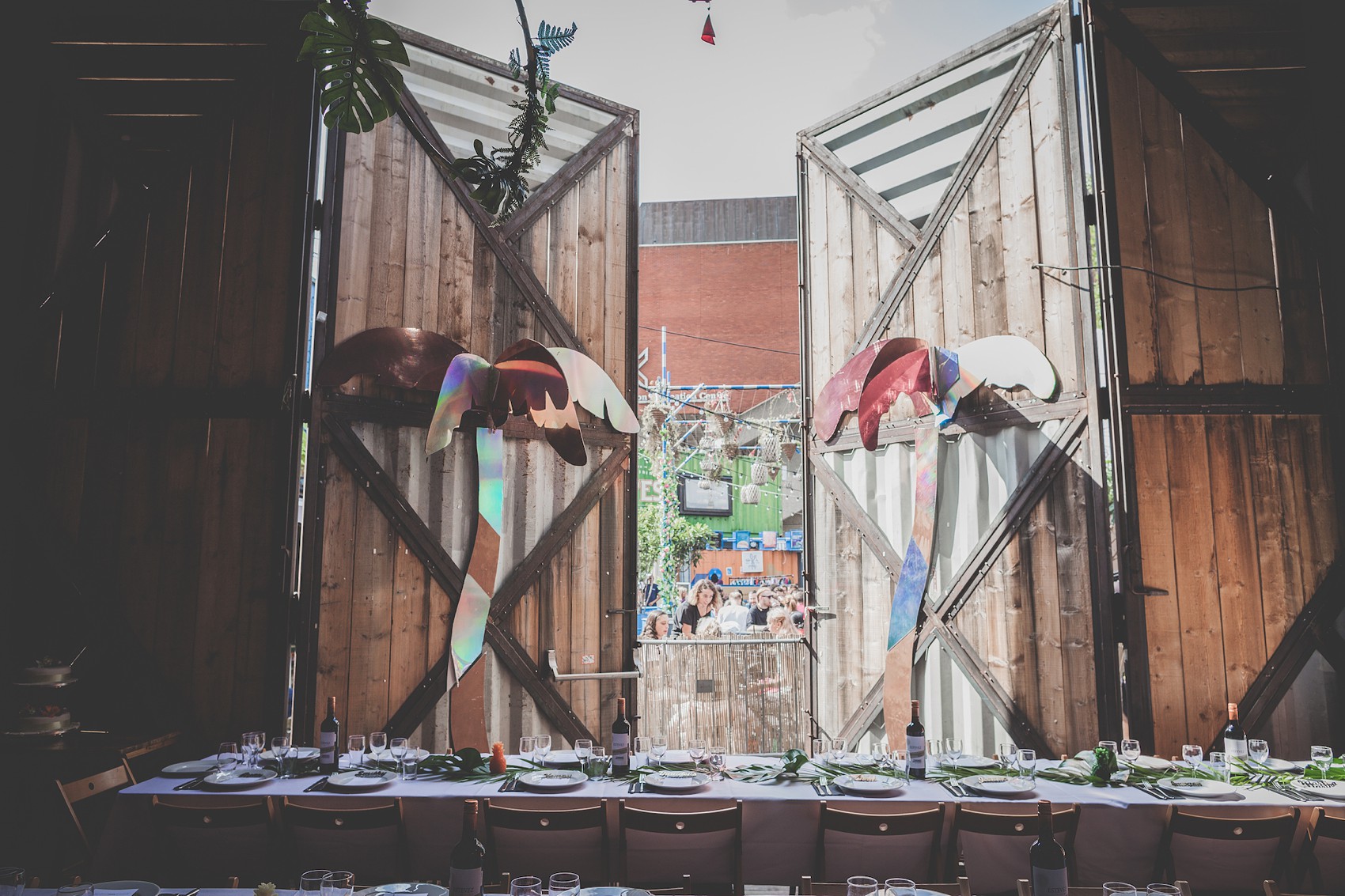 "We had acrylic gold names placements from Etsy as well as some artificial tropical leaves. Everything else was already Pop's design."
The wedding breakfast was a gorgeously relaxed feast from a number of different caterers who trade at Pop Brixton.
"We used 28 Well Hung for the steak, Mama's Jerk for the chicken and Homegrown for the salad. Our canapés were from Smoke & Salt and the dessert was Spanish Churros."
"We supplied the booze which worked out at £1,700 for 150 people. We are still drinking it now. We found that this saved us and our guests a lot of money!"
"Our cakes were two M&S bride and groom caterpillars and home-made cakes by Dan's mum and my nan."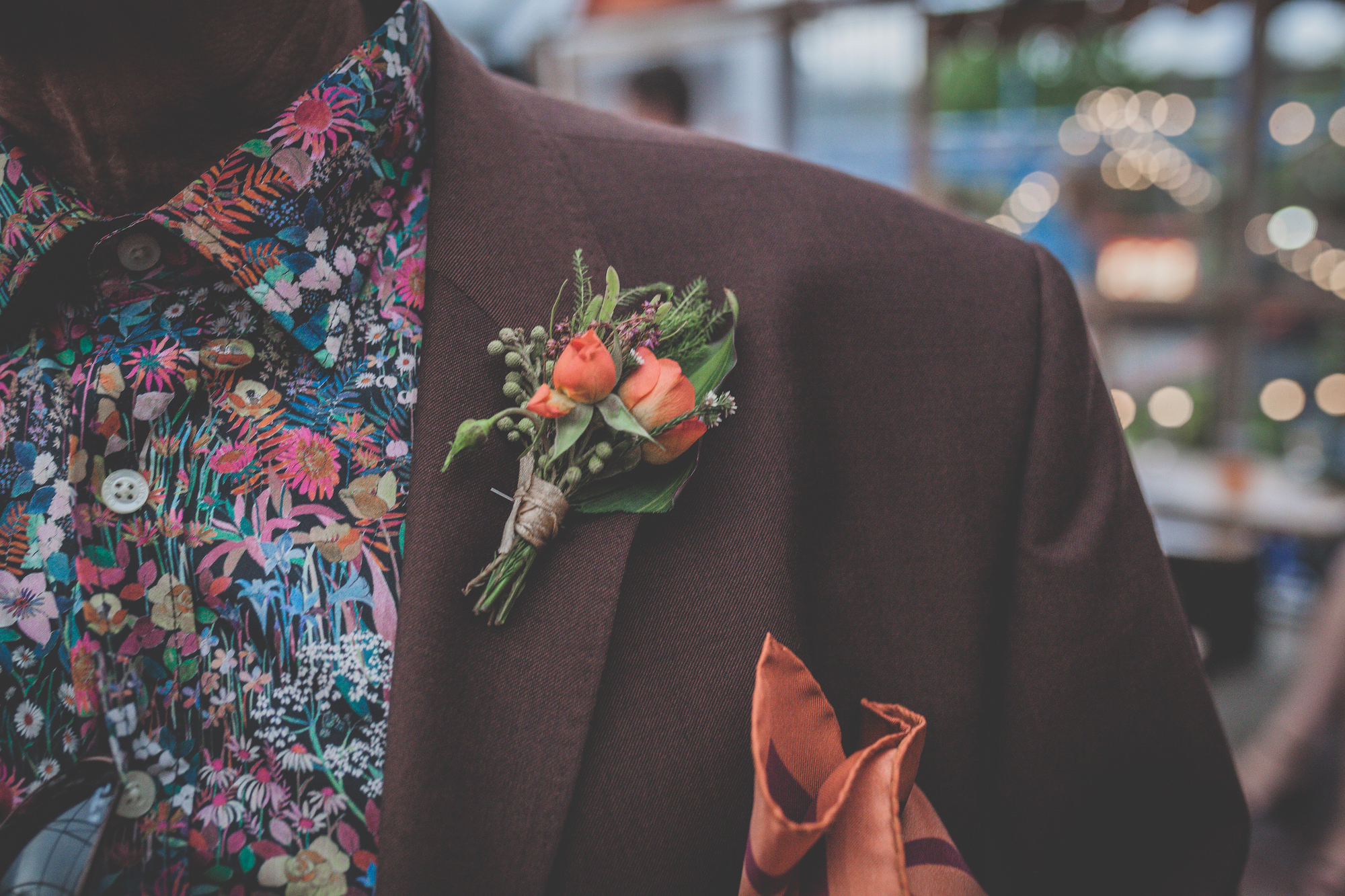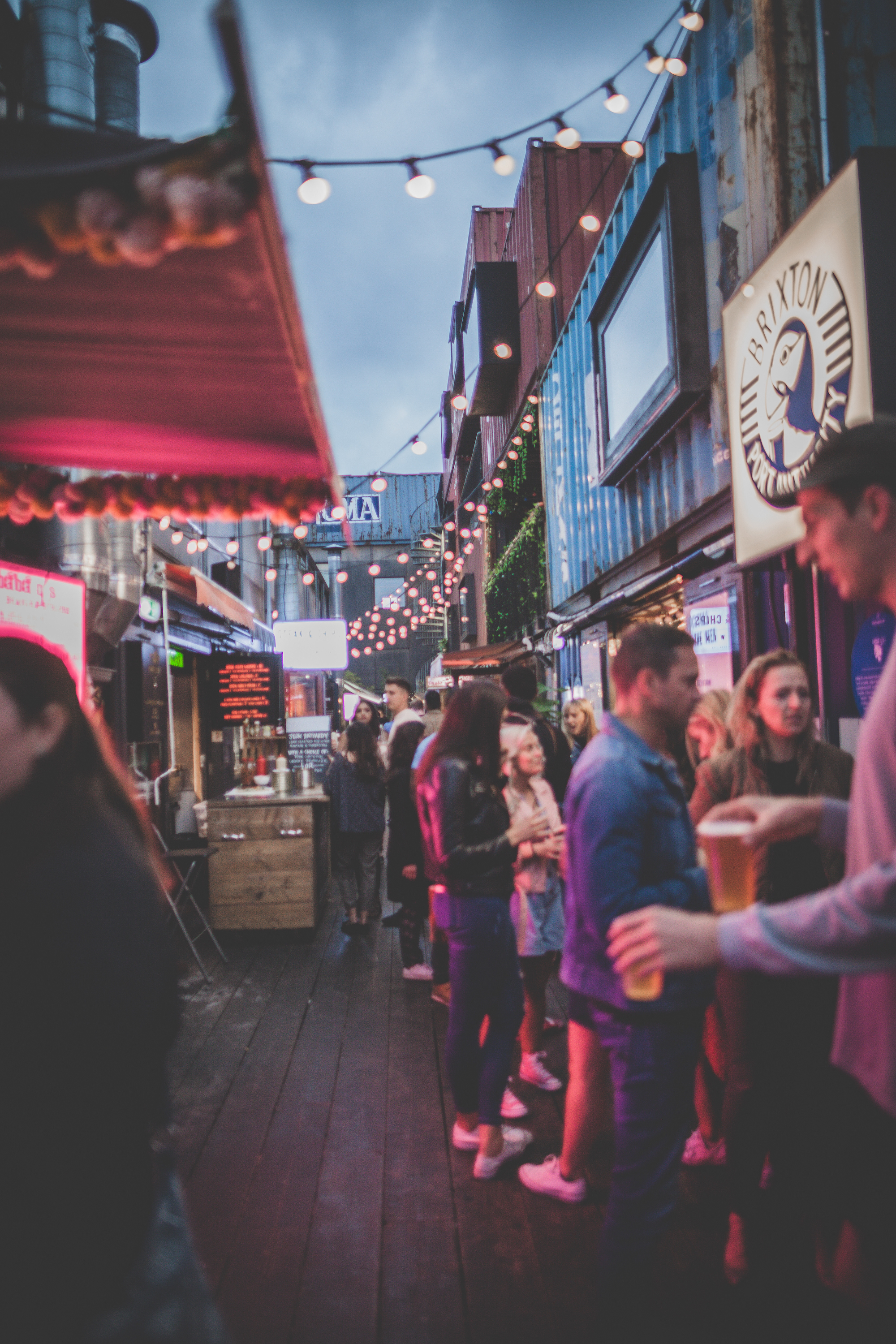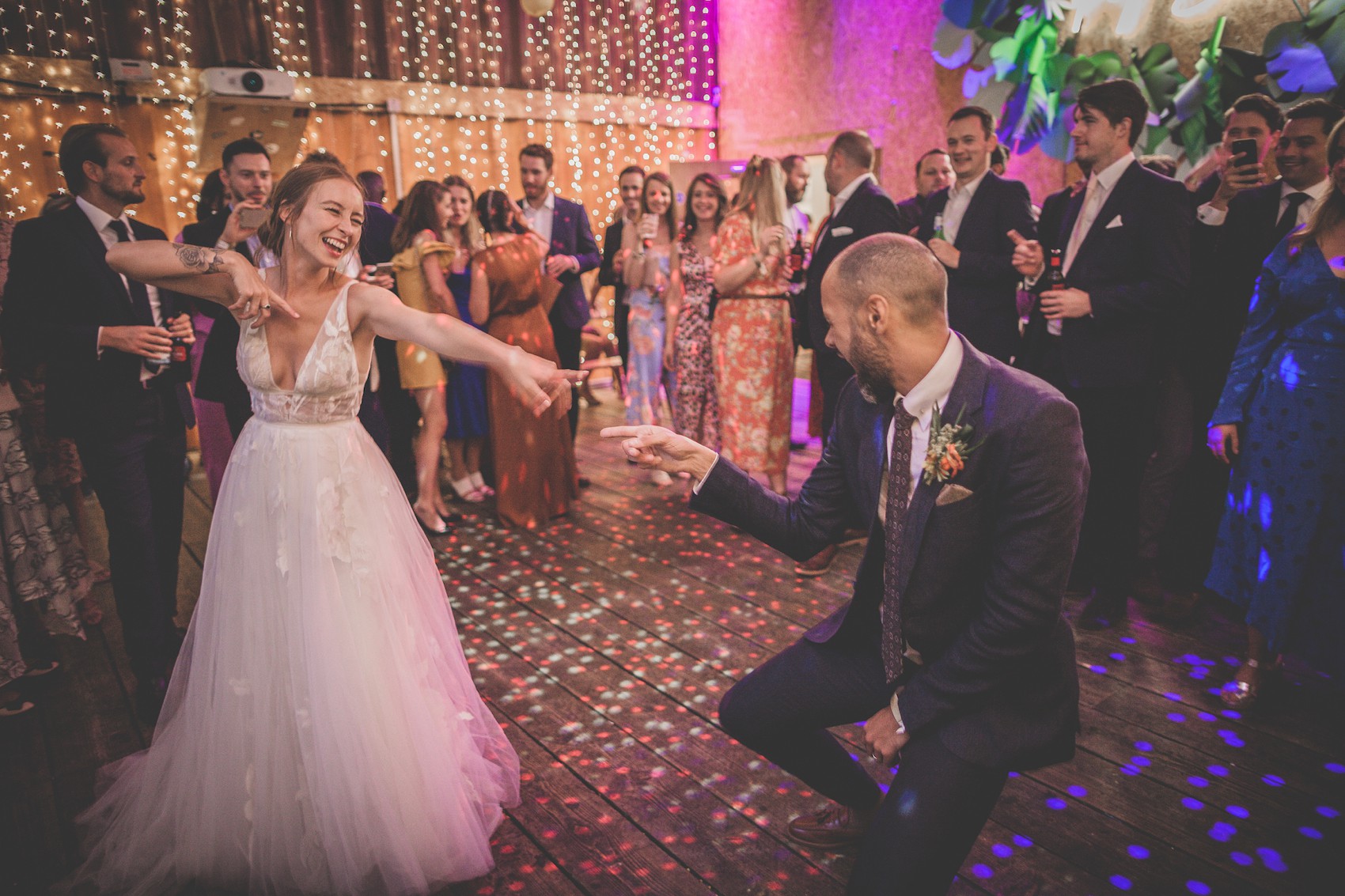 The party was DJ'd by friends of the couple, after a first dance to a Michael Jackson classic.
"We had 'Baby Be Mine'. We always dance to this at home on a Friday when sharing a bottle of wine. The lyrics are also very suited to us."
Words of Wedded Wisdom
"DELEGATE! Don't let the day stress you out and don't try to please everyone. Just have fun."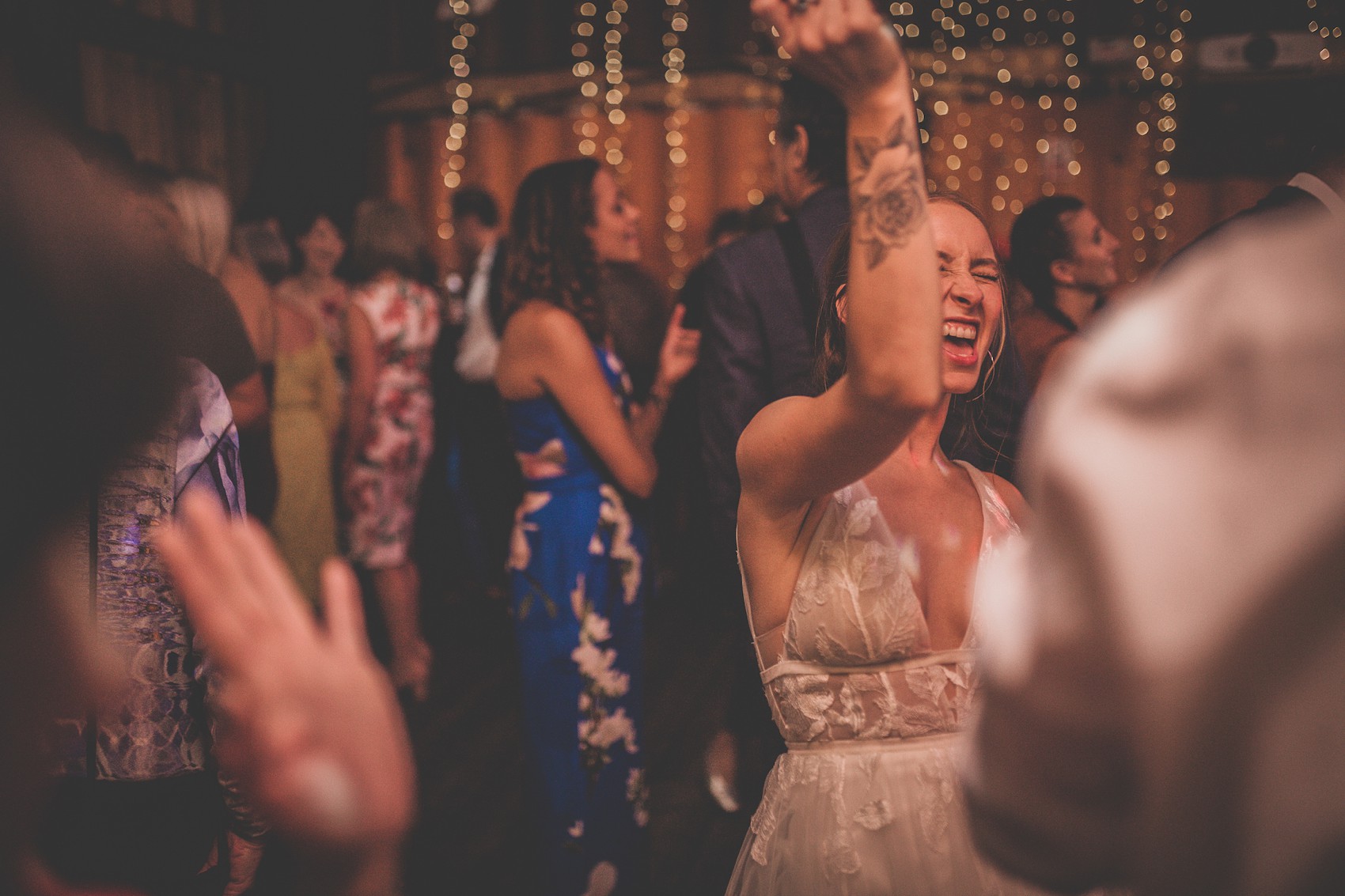 Lovelies, I've so enjoyed sharing this vibrant celebration with you. Please join me in sending thanks for Rebecca and Daniel, as well as the Lase Photography team, for this beautiful photographs. If you'd like to get more inspiration for your own colourful celebration, please take a peek at these weddings here.
Ele xx