Today's celebration is a timeless and classic beauty, with a country church ceremony and reception at a romantic, medieval castle. There's a dreamy tulle and Chantilly lace dress, too, as well as an ingeniously customised veil, exquisitely painted watercolour stationery, and even a Tiki bar (yes).
This is the wedding of Robyn, a Risk Manager, and Jack, a Chartered Surveyor, who were married on the 15 September 2018 at St. Andrew's Church, Farnham, Surrey. This was followed by a reception at the magnificent Farnham Castle.
"We didn't really have a particular style for our wedding, but we just knew we wanted it to be classic and romantic. I'm from Jersey in the Channel Islands, so that very quickly became the inspiration for our table plan. We hired an on the day coordinator from Bluebird Creative to help ensure all our styling visions came to life. They also helped coordinate our suppliers for us in the weeks leading up to the big day. They were incredible! "
Film by Blush Wedding Videos
"Jack and I met in a famous Tiki bar in London called Mahiki back in 2013. I had been dragged out by some friends (it was a Tuesday!) and Jack had dragged his friends out with him. During the night, I did a quick room scan, and our eyes caught each other's – we had our first date the following Friday, and the rest is history. I often think back to that night; had I been more stubborn and decided to have an early night (which I nearly did!) I'd never have met Jack, and that just seems crazy!"
"We were recommended Natalie and Elliot from Blush Wedding Videos, and they were the second supplier we booked up after our venue. Our video completely surpassed all our expectations – I don't even know how they captured some of the moments they did, because we didn't notice them at all throughout the day. They are magic."
Images by Ross Hurley Photography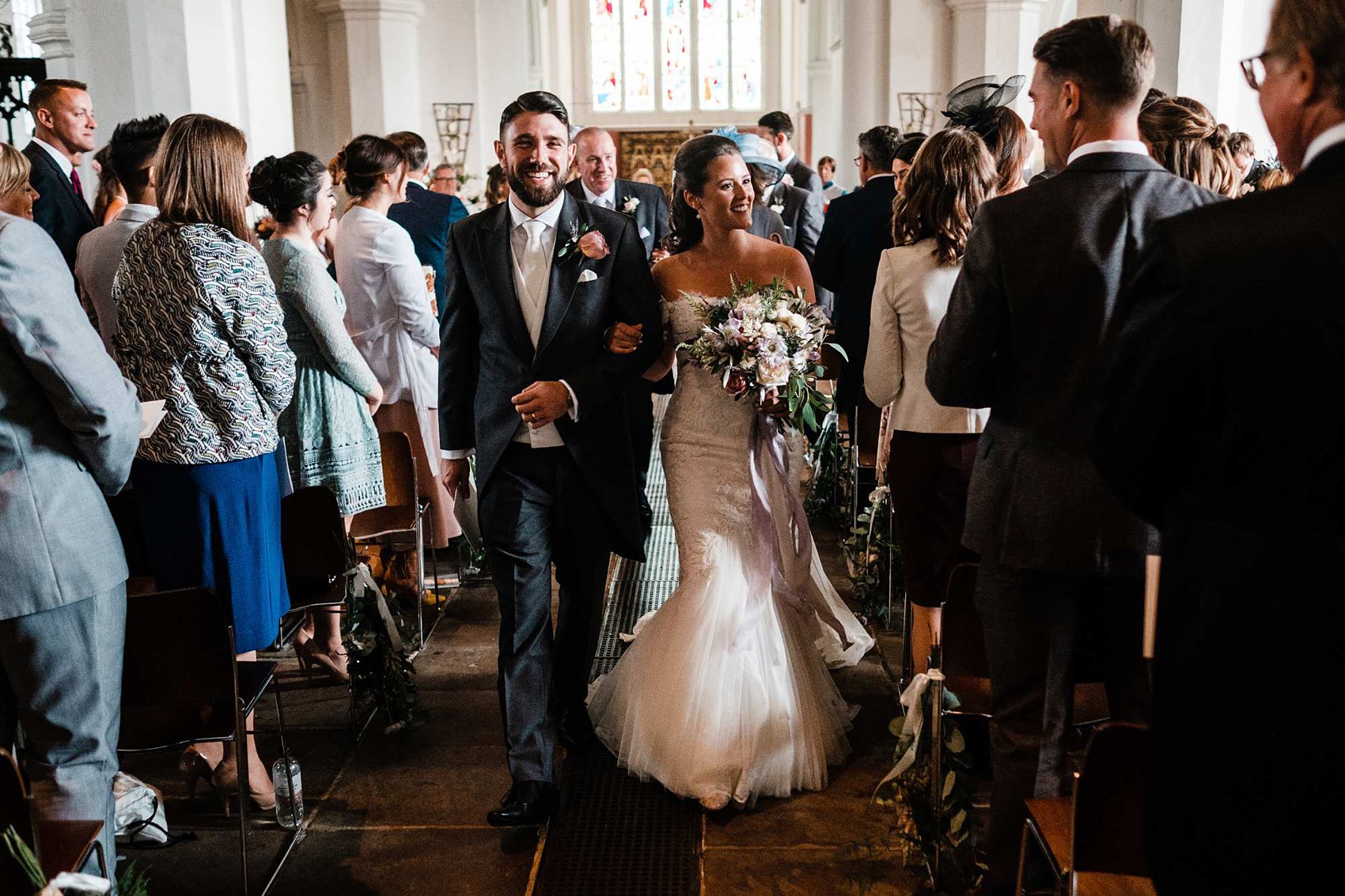 Robyn's gown – the showstopping 'Drimea' by Pronovias, was chosen at their UK flagship boutique in London. The mermaid silhouette and sweetheart neckline looked incredible on Robyn, and the tulle train and Chantilly lace added to the soft and romantic effect.
"I visited five dress shops over a weekend with my mum, and I found one dress in each of those shops that I could picture myself walking down the aisle in. That was very unexpected, because I was expecting the dress finding process to be difficult. The last shop we went to was the Pronovias boutique, and this was the third dress I tried on. I walked out of the dressing room and just kept nodding at my mum – I loved it! The shape really complemented my figure, and the lace had large appliques to it make it modern." 
The original dress design incorporated a cape fixed at the sleeves, but Robyn and her mum decided to alter and customise this in a way that worked perfectly.
"I wasn't a huge fan of the cape concept, and coupled with my name being Robyn, I just couldn't wear a cape on my wedding day! My mum came up with an idea there and then to customise the dress by using the sleeves from the cape, and loosely attaching them to the bodice to create an off-the-shoulder style, and using the rest of the cape as a cathedral length veil. Genius!"
"I would never have been able to picture that, so I was very grateful to have my mum there to come up with the idea. It made the 'Drimea' gown mine, and I love that it was customised for me."
On her feet, Robyn wore beautiful ivory lace 'Romy' pumps by Jimmy Choo, and her pretty, curled half-updo was styled for her by her trusted stylist, Sahar (no further details provided). Make-up came courtesy of Amy Roberts from Made Up Brides, whom Robyn describes as 'superwoman.'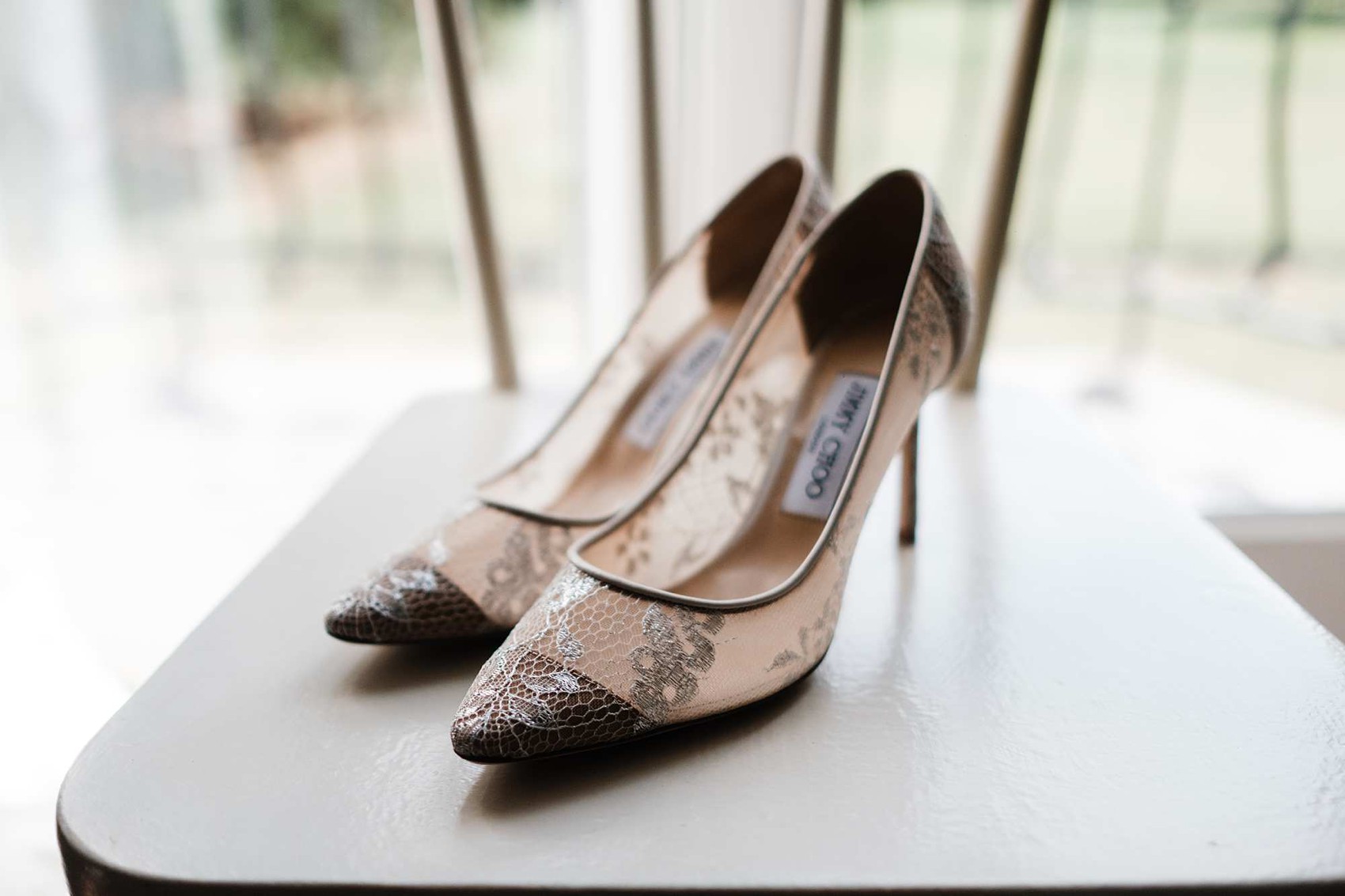 In her hair, Robyn wore the sparkling Swarovski 'Elissa' comb by Jennifer Behr, which she borrowed from her sister-in-law, who had worn it at her own wedding 9 months before.
"I wore a necklace gifted to me by Jack on our wedding morning. It was a very classic, single round solitaire diamond. I had no idea he was going to do that, so I was very emotional when I opened it! My mum lent me her diamond tennis bracelet to wear – I still can't believe she trusted me with it. I also wore a Tiffany bracelet gifted to me by my Dad on the day of the wedding."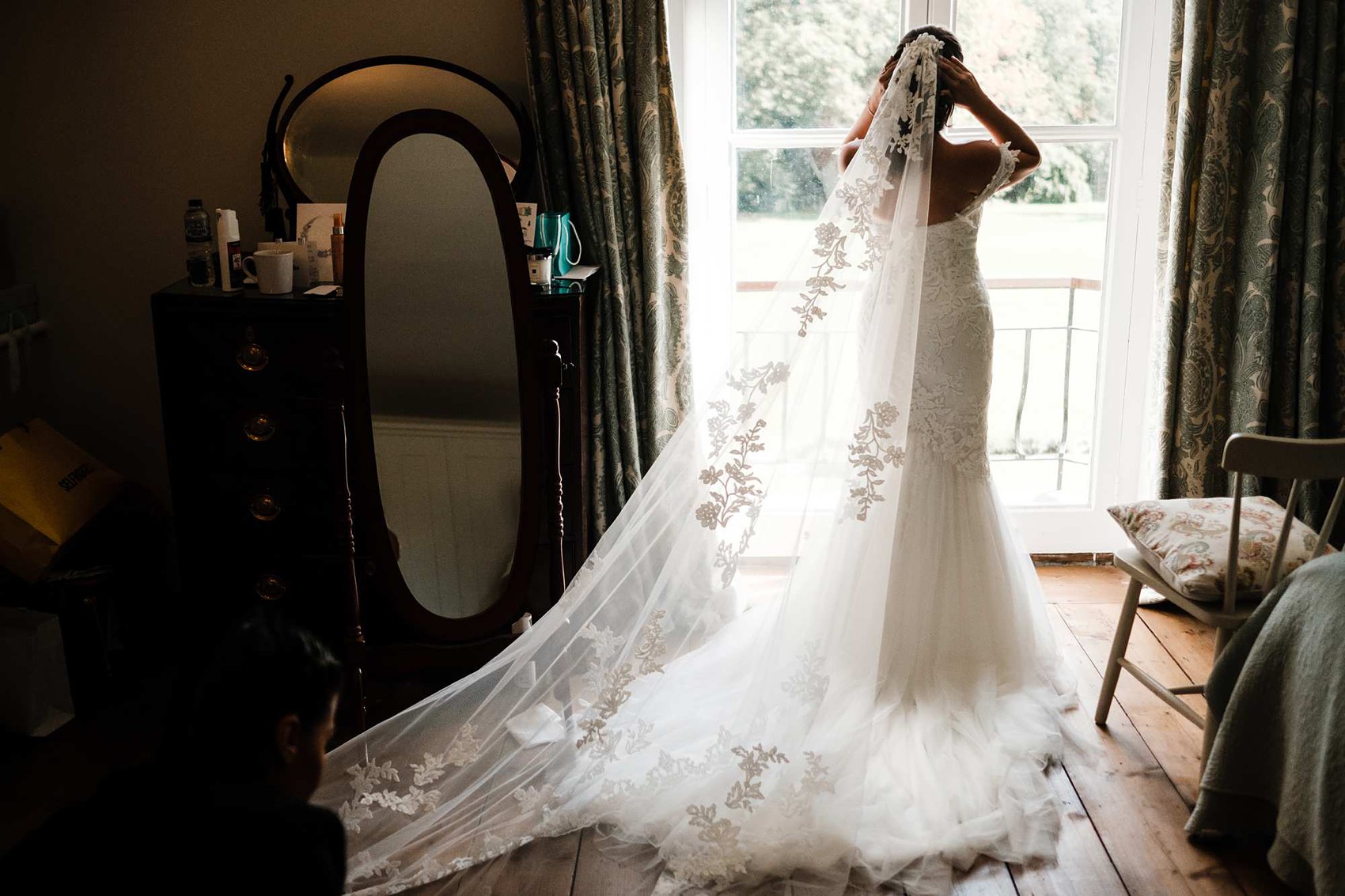 Robyn's earrings were border set diamond solitaire drops from Carat London, and her final, finishing touch was perfume, combining Jo Malone's Wild Bluebell with English Pear and Freesia.
Eden Blooms made the most magical bouquet for Robyn, in ethereal, pastel shades of pink, peach, lilac and cafe au lait, and included roses, love-in-a-mist, clematis flowers, greenery, and lots of gorgeously scented lavender, all tied with soft ribbons.
"For me the flowers were one of the most important parts of the day, but all I knew was I wanted lots of them! One of the highlights of our day, for me, was seeing and smelling them everywhere. I gave the ladies at Eden Blooms complete free rein on my flowers, and what they created was absolutely breath-taking. My only request was that I wanted lavender incorporated into them."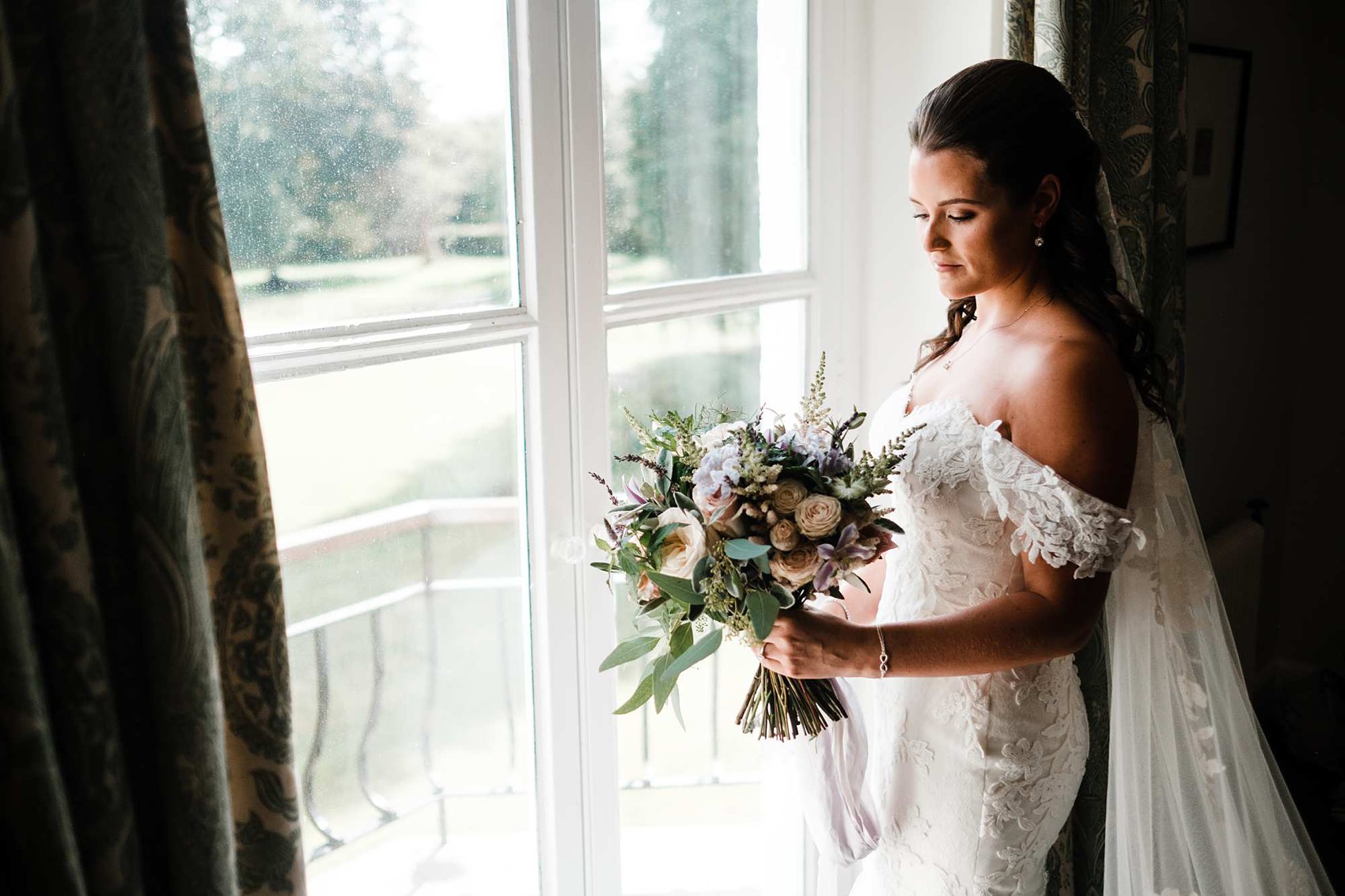 Jennifer Lo, from LoLo & Co. styled the bridesmaid's hair, and they wore soft lilac multiway maxi dresses from In One Clothing, with fresh flowers in their hair, and drop earrings from Laalee, gifted to them by Robyn.
"I gifted my bridesmaids silver and amethyst bracelets from Monica Vinader – I had their names engraved on the inside."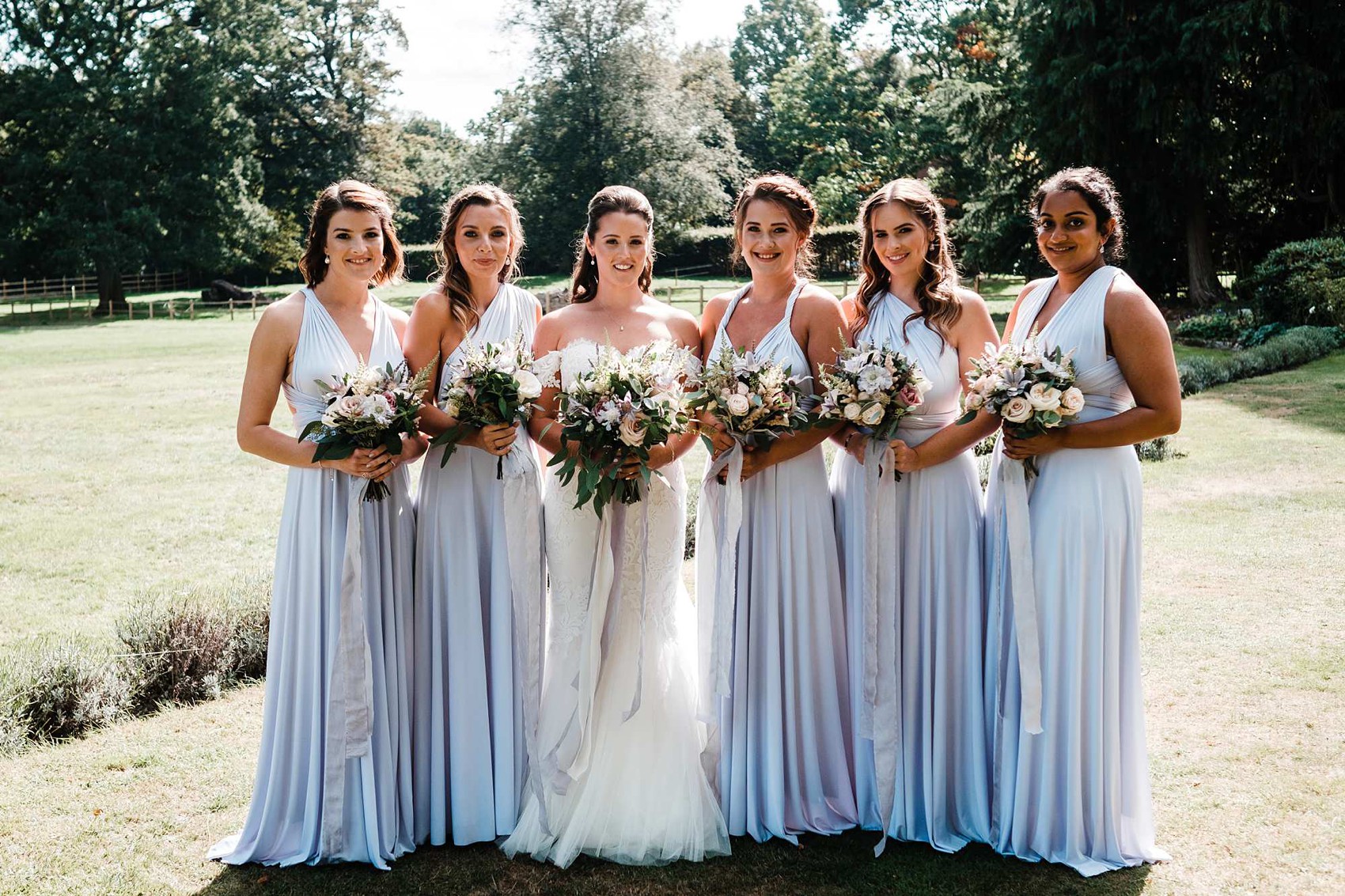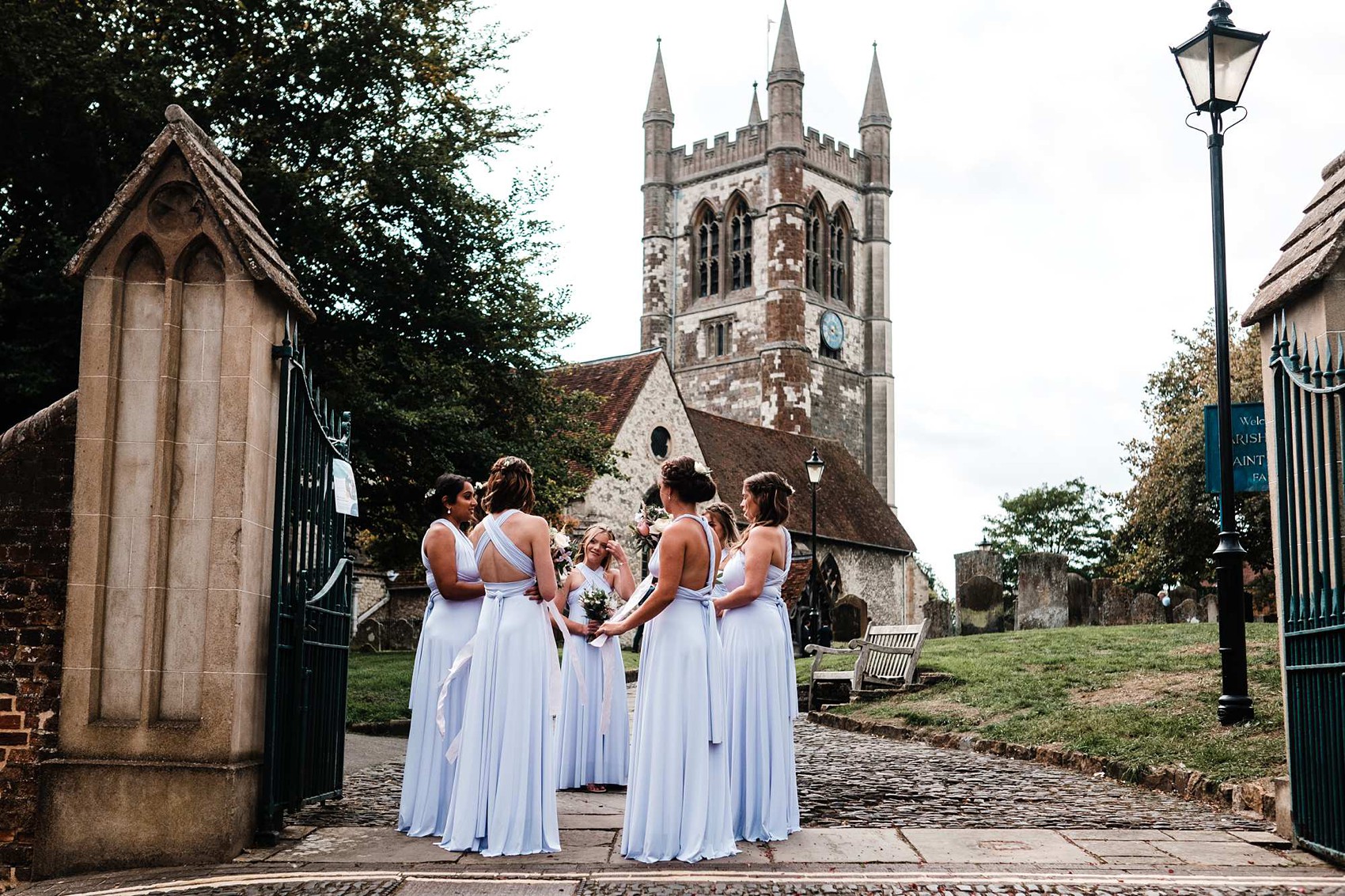 Jack wore traditional morning attire from Dapper, with a charcoal grey jacket and trousers, paired with a white shirt and ivory waistcoat and tie, whilst the groomsmen wore matching suits with contrasting light grey waistcoats.
The couple booked a Bentley Mulsanne from Kudos Cars to transport Robyn and her father to the church, as well as a white London taxi cab for the bridesmaids.
"Jack wanted a church ceremony, and so once we had the reception venue, we needed to find our ceremony location. As it so happens, the closest church to Farnham Castle is St. Andrew's Church in the centre of Farnham, which was also where Jack's parents were married over 30 years ago!"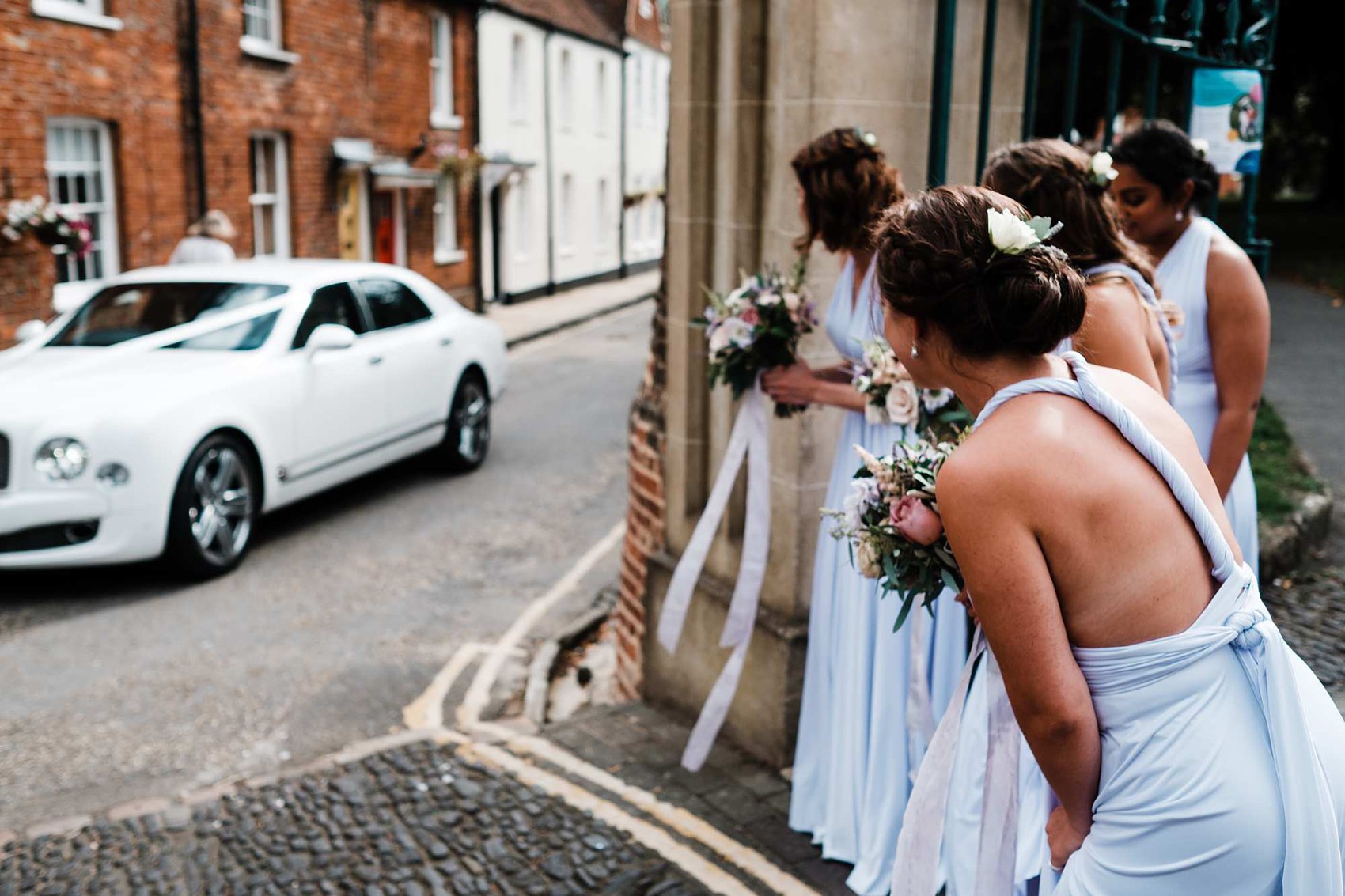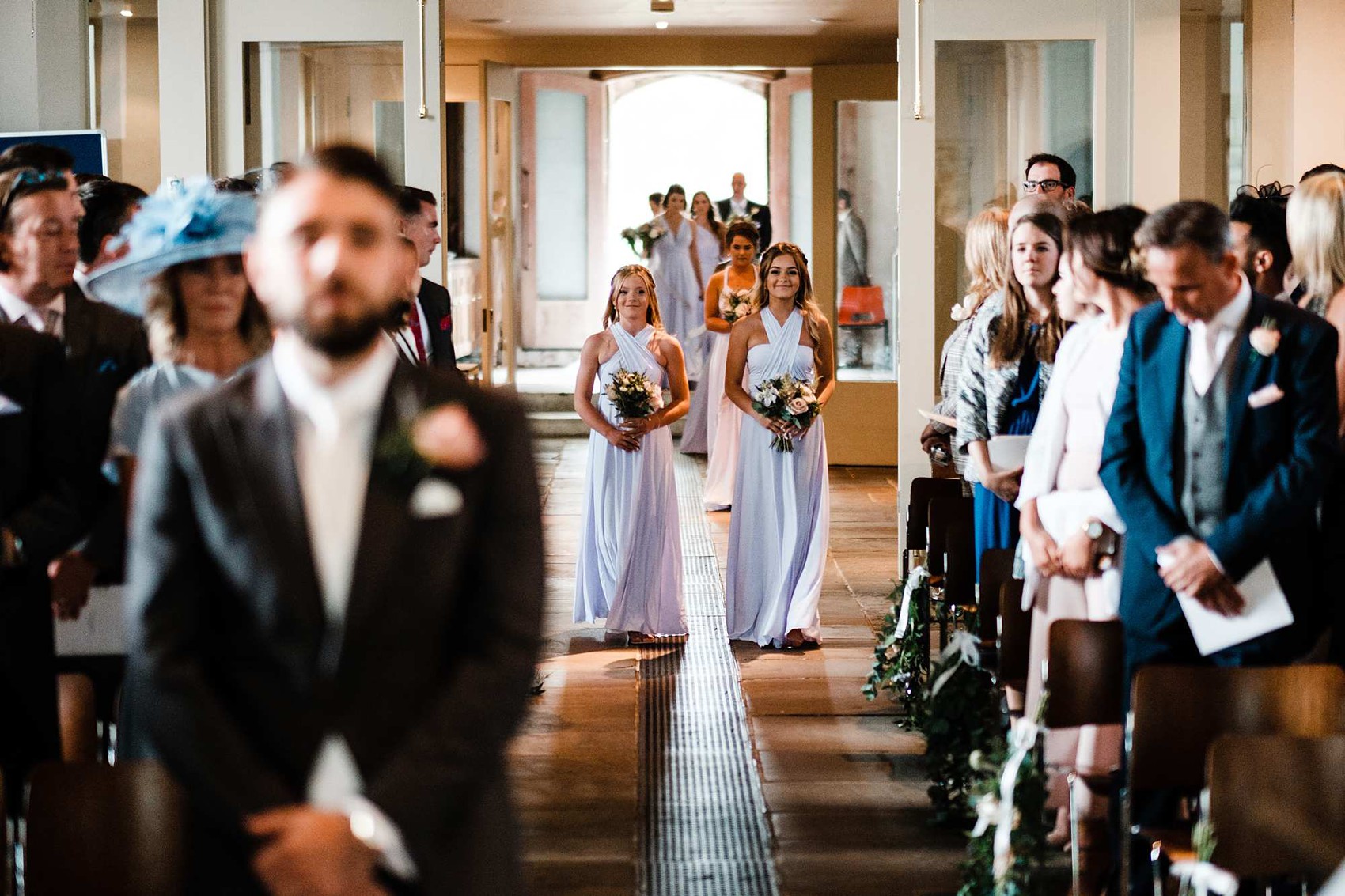 Robyn was accompanied down the aisle by her dad, to The Prince of Denmark's March (AKA the Trumpet Voluntary) by Jeremiah Clarke.
"We were together for nearly 5 years when Jack popped the question whilst we were on holiday in St. Lucia over Christmas and New Year. On one of the last nights (New Year's Day 2017) Jack arranged for us to have a private dinner on the beach. He waited until our desserts arrived, then he got up from the table, walked round to my side and put his hand down the front of his trousers – to retrieve a ring box (thank goodness!) that didn't fit in the pocket of his (very) tight chinos!"
"After saying yes, the heavens opened and a massive tropical storm started. Luckily, we were under a gazebo, and at that moment a dog came running in for cover. Everyone who knows me knows how obsessed I am with dogs, so the whole thing was perfect and very special."
"Since we had a church ceremony, we had one religious reading and one non-religious reading. Jack's godfather read Colossians 3: 12-17, and my friend read the other one, which was a poem called On Your Wedding Day."
During the ceremony and exchange of vows, Robyn and Jack also gave each other rings. Robyn chose a full diamond and platinum channel cut band at Fraser Hart (where her engagement ring was also from), and Jack opted for a simple and timeless yellow gold band from Chisholm Hunter.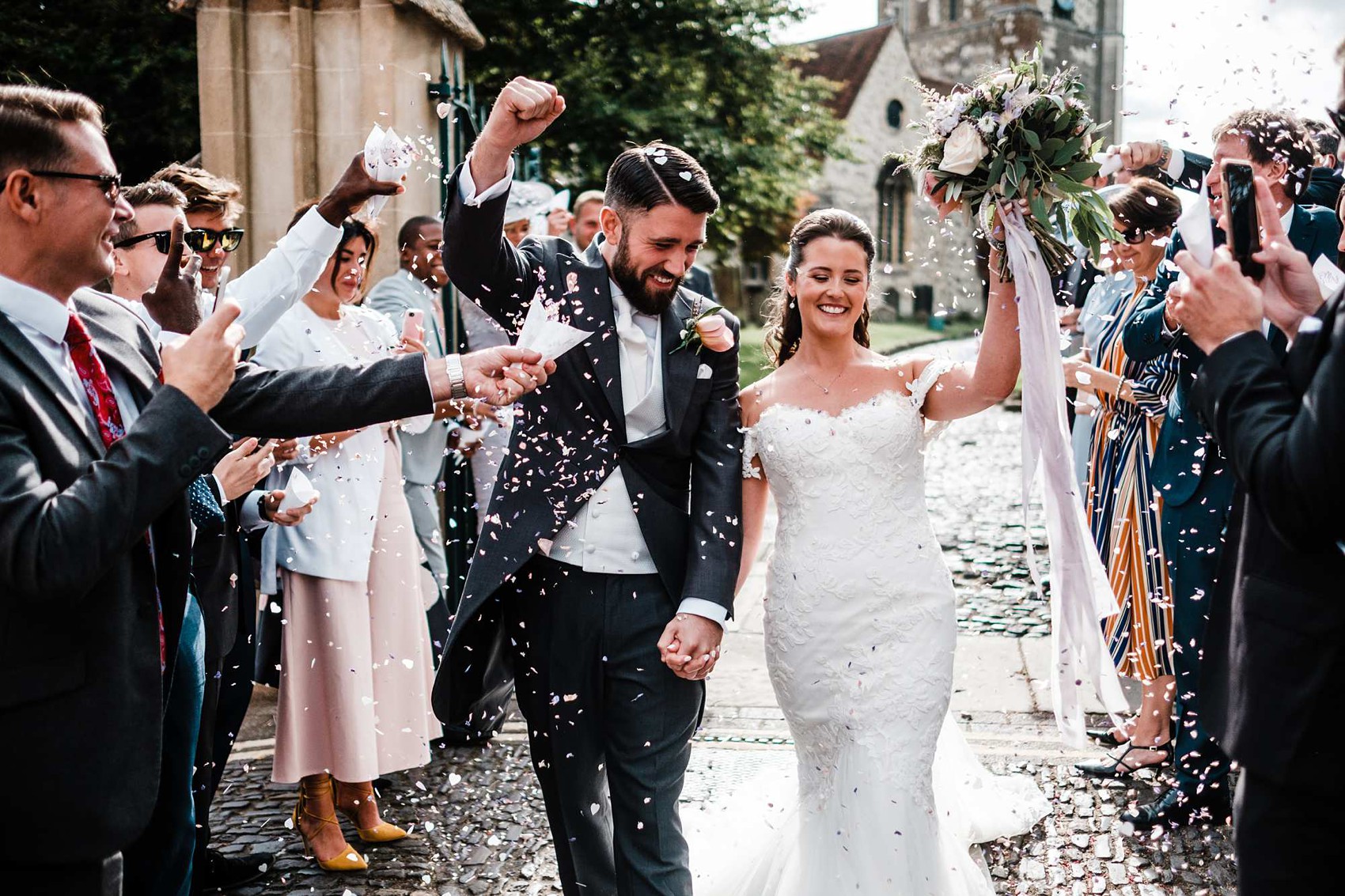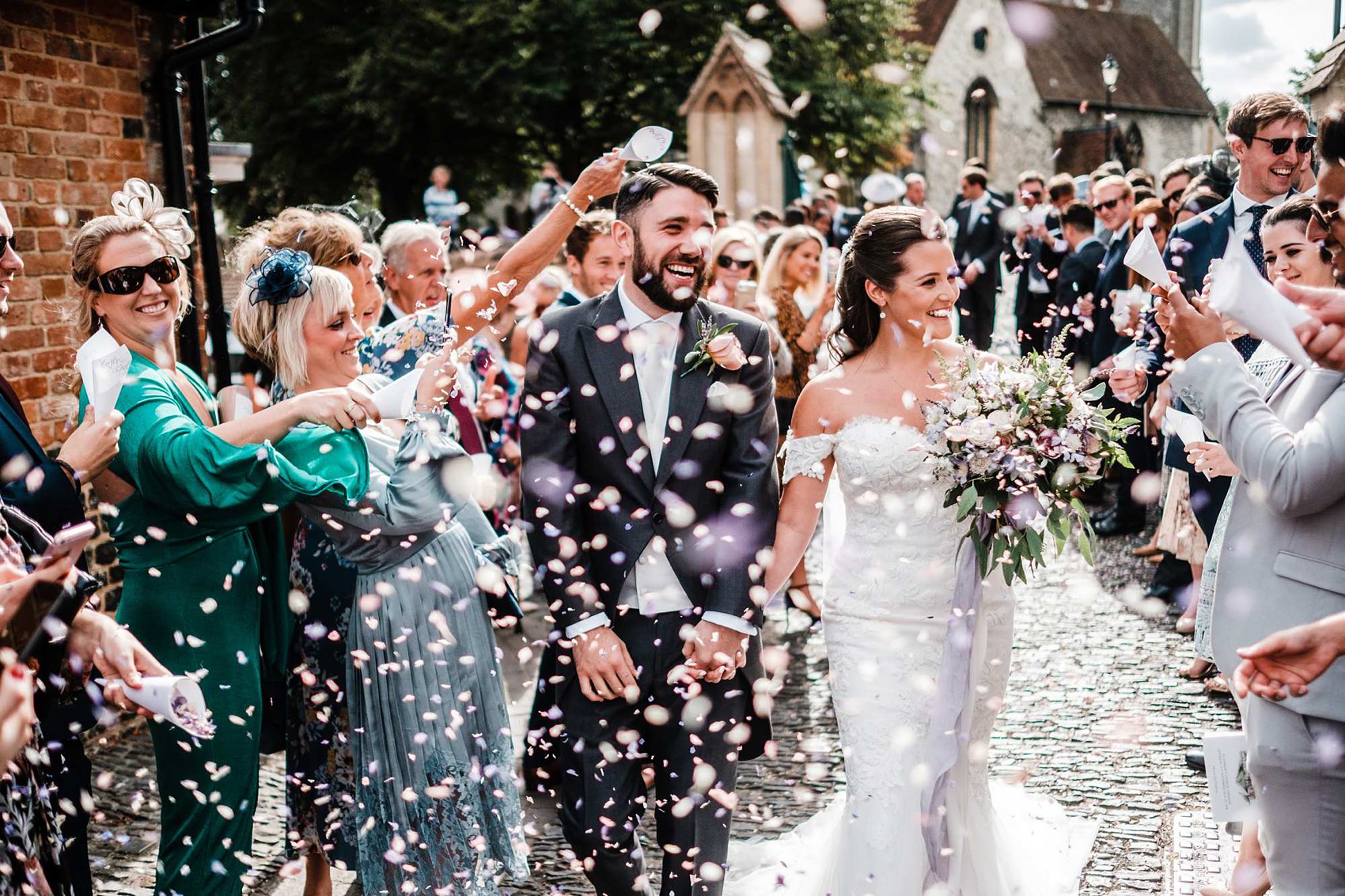 Guests were driven to Farnham Castle in a vintage Routemaster double decker bus, hired from Kudos Cars, and mingled in the grounds, enjoying post-ceremony drinks (and crazy golf, too, from CrazyGolf4u).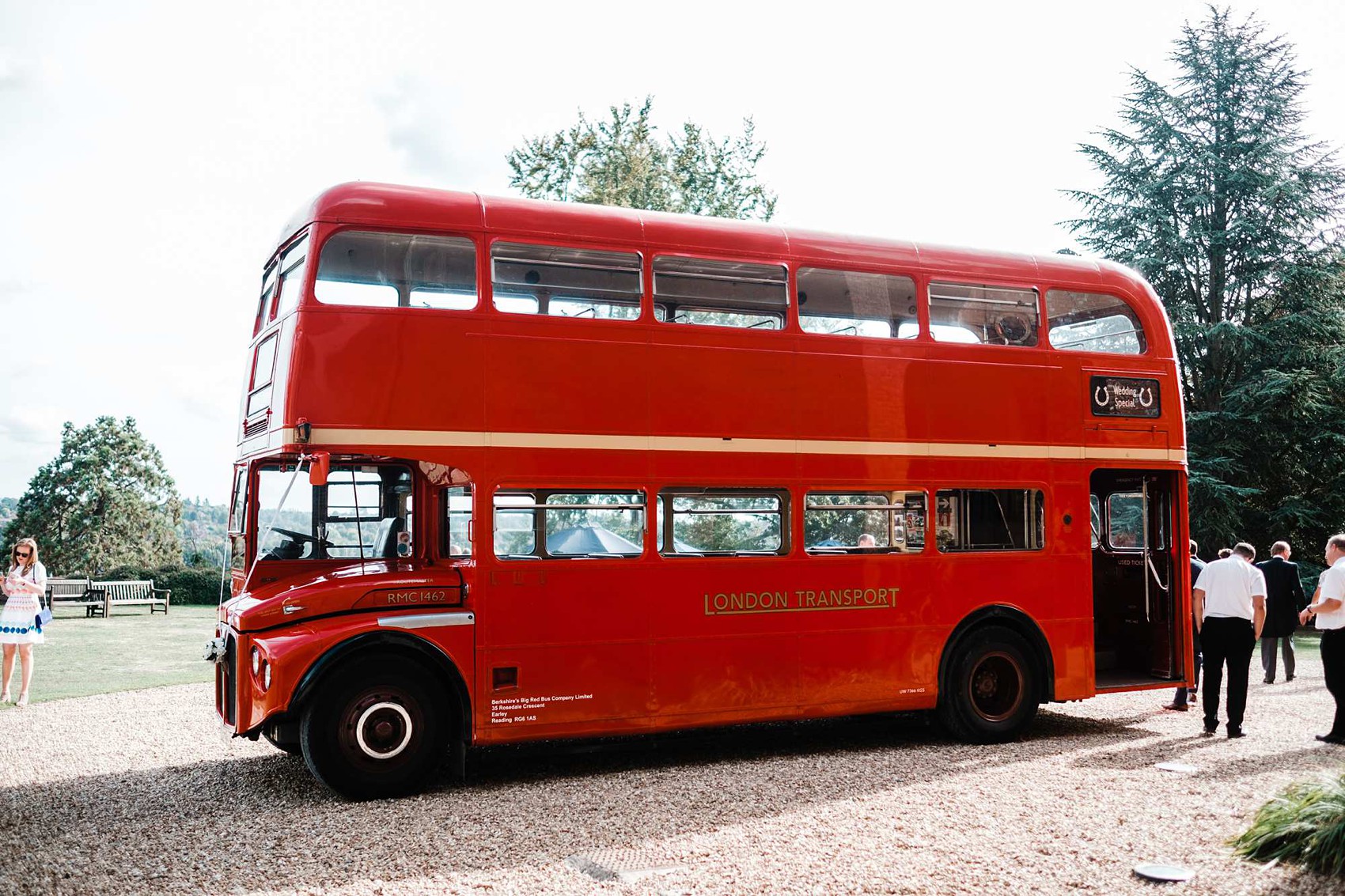 Today we're pleased to be sharing the work of Kent-based photographer Ross Hurley for the first time on our pages – and what beautiful images these are, and Robyn and Jack were delighted with the results.
"We looked at a lot of photographers, but didn't really know where to start or what we were looking for, so when we were recommended Ross (and after browsing through his photos), we knew we wanted him to capture our day. I was so excited when Ross said he was free on our date, and I booked him up right away. Our photos are better than we could ever have hoped for, Ross was amazing!"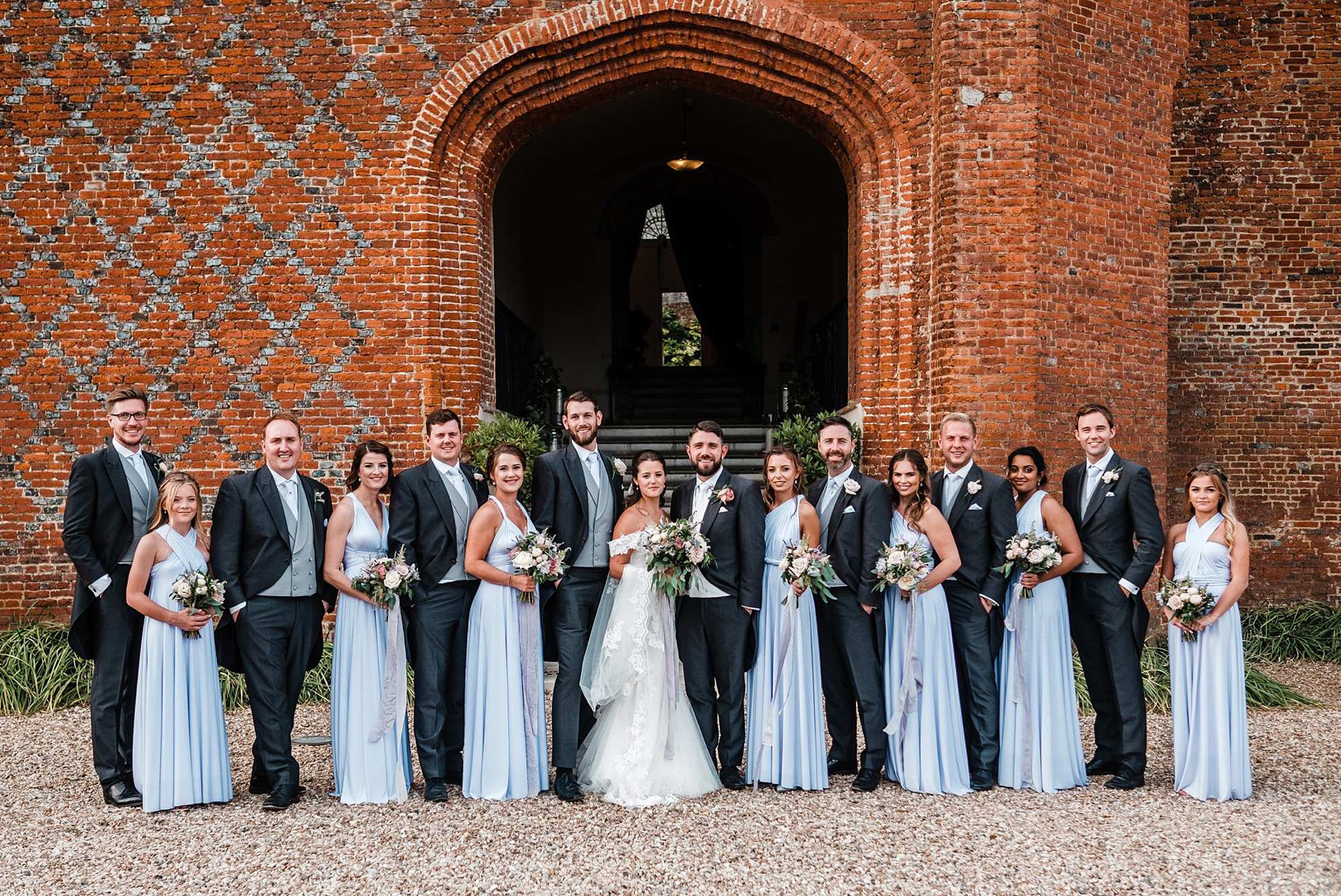 The wonderful 12th century Great Hall at Farnham Castle was just the right spot for a wedding banquet, and was decorated a ceiling canopy and drapes of cascading fairylights, courtesy of Party Lights.
"We chose Jessica Tibbits to hand paint a watercolour flower wreath and wedding map for our invites. They turned out beautifully. I then compiled them myself with vellum wraps and silver wax seals. I also used the wreath for our menus on the day. We then chose Harriet de Winton to take care of the on the day stationery. Harriet did the table plan, table name cards and order of service. Everything was hand painted in watercolour, and it came out beautifully."
"A friend and old colleague of mine made us sloe gin using sloes they picked on their home farm. We found a gin called Beckett's, which is actually distilled in Kingston, where we live, so we used that to mix with the sloes. I found out shortly after that Beckett's Gin already made a sloe gin, which I could have just bought, but the fact my friend went to all the trouble to pick the sloes and make the sloe gin for us was so special."
"Two of my bridesmaids then helped me bottle and label all 120 of them. We used 50ml glass bottles with a mini cork, and tied them all with either lilac or silver ribbon. I made the labels myself online using the flower wreath from our invites. They came out brilliantly, and were a real talking point for the guests at the wedding breakfast."
Table centrepieces were a mixture of spectacular high and low candelabra arrangements by Eden Blooms, a long and low garland across the top table, and another across the mantelpiece.
"There are too many parts of the day just to pick one but if I really had to pick one, I think my favourite part was arriving at the reception venue after the ceremony. Our guests were already there, and we got taken through the back by the staff at Farnham Castle. They had the doors closed between the Stone Hall and Foxes Steps down to where the guests were already enjoying the drinks on the Great Lawn. Our usher and MC, Ben, announced us, and we walked down the steps to all our guests clapping and cheering. It was magical!"
"All the signage was made by Mulberry Market Designs, who are actually from Florida. My parents live there part of the year, so I was constantly asking them to bring back acrylic signage with them everything they came back to London!"
As an homage to Robyn's home, tables were named after parishes in Jersey, and Harriet de Winton painted a landmark from each of them for the table plan. Place settings were delicate sprigs of lavender (lovingly dried by Robyn prior to the wedding) and laser cut wooden names by VM Bespoke. Beaded charger plates and elegant, vintage style glasses were from Crystal Hire.
Delicious food was laid on by the team at Farnham Castle, and afterwards, there was cake, which was a four-tier iced creation with sugar flowers, made by Forever Cakes.
"Vanessa did an exceptional job. It was perfect and tasted as good as it looked. The tiers were all different flavoured sponges (Victoria, red velvet, lemon and chocolate). We have frozen our top layer for another special occasion in the future!"
Cocktail hour followed the wedding breakfast, with the most amazing Tiki bar from Mix Masters Events, and furniture from Arabian Tent Company, as a sweet homage to the bar where Robyn and Jack first met.
"We served our guests a choice of two rum cocktails – Dark and Stormy and Strawberry Mojito. We bought in a huge selection of ceramic Tiki style mugs Drink Stuff to serve them in just like you would at Mahiki! It was a great touch, and although this part of the planning took a lot of time to come together (think hours and hours of Googling!), it was totally worth it as it was so personal to us."
Back inside the castle's Great Hall, the room was transformed for a party, with giant lit letters from Farnham Sound & Light, as well sparkly dancefloor, stage and uplighters. There was an open concept photobooth, too, from Openbooths.
"Openbooths was such a good concept, and I really think the fact everyone could see the photos happening, rather than being hidden away, contributed to how much it was used. We used a giant flower wall hired in from The Wedding People as the backdrop."
"For our music entertainment we went with Adam Chandler, who has packages for the full day. We had the acoustic duo for our drinks reception,  followed by a saxophone during the wedding breakfast, and Musical Orphans for the evening band. Everyone said how amazing the music was, and it felt like our party could have gone on forever!"
For their first dance as newlyweds, Robyn and Jack chose a song with special significance for them both – Bonfire Heart, by James Blunt.
"On our first anniversary, I put a little montage of pictures from our first year together for Jack and overlaid this song, so we both knew straight away it had to be that song! Jack's friend, Mike Watson, is a singer, so he recomposed the original song for us to make it slower, and he sang this for us with his acoustic guitar. This made the moment even more special."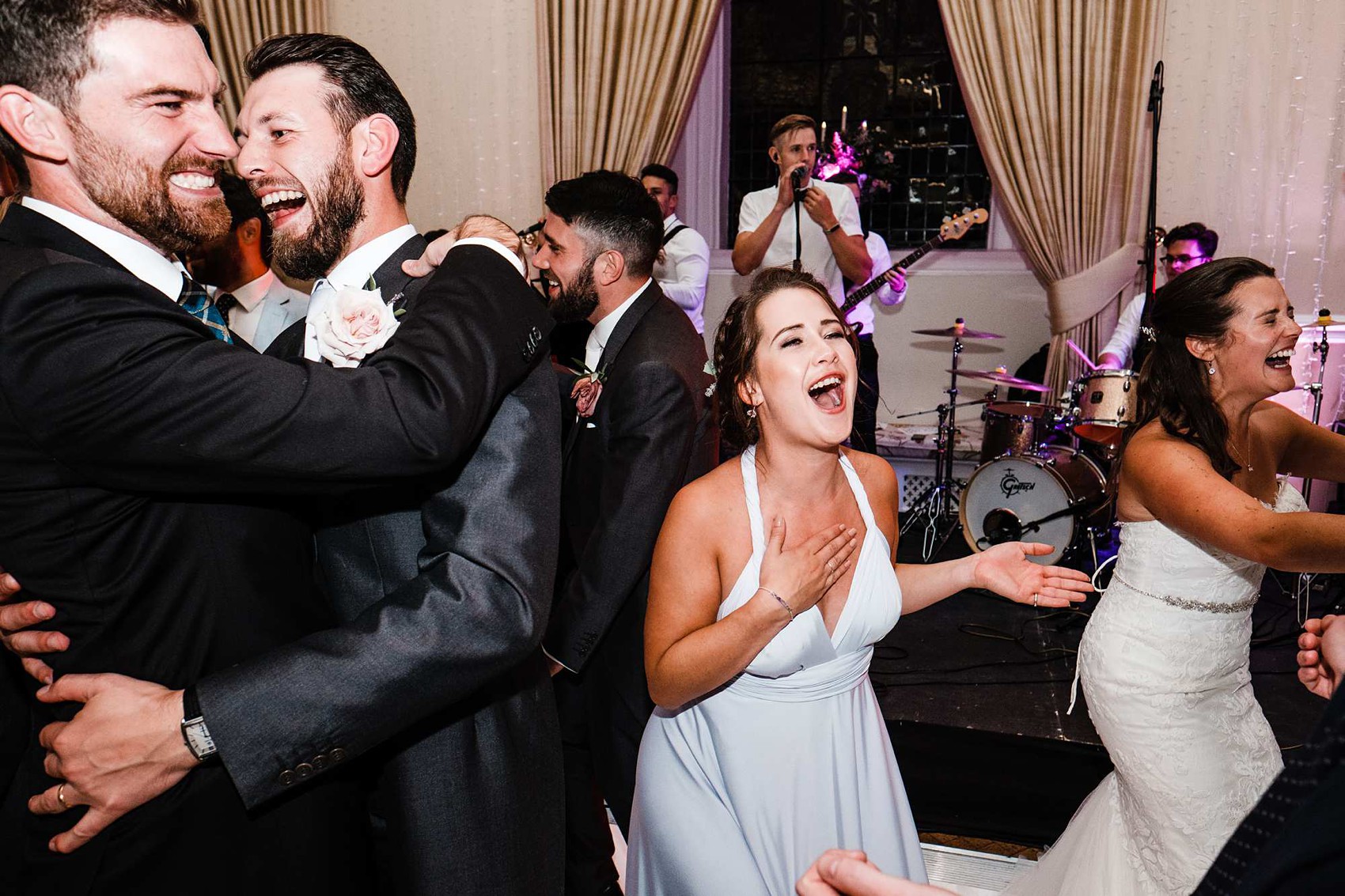 Words of Wedded Wisdom
"I wish I'd gone for a slightly shorter veil – it really was a pain and was constantly being trodden on! During our confetti line, for example, someone stood out from the side to get a picture and he trod on my veil, causing me to be flung back. I styled it out very well! My friend actually happened to get it on film and it's hilarious! Jack also trod on my veil when we got announced into the Great Hall for our wedding breakfast. To be fair that was my fault, I should have taken it off for eating!"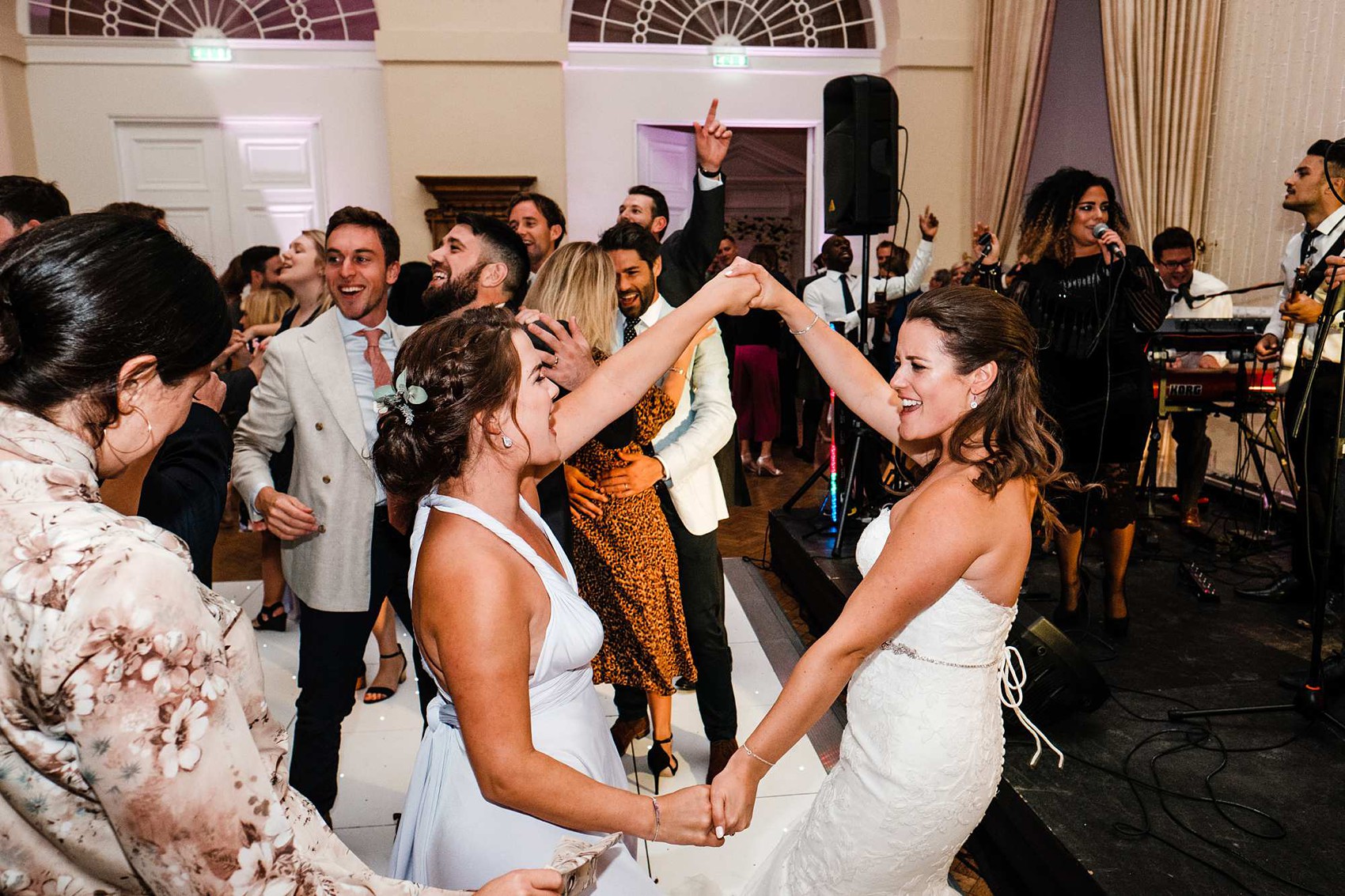 "We have two pieces of advice that we feel go hand in hand. The first is not to rush it, and give yourself plenty of time. Jack and I had over a year and a half to plan our day, and although that might seem excessive to some, we didn't really have any (major) stress throughout the planning. We genuinely didn't have to compromise on anything; we had plenty of time to book all the suppliers we really wanted, and to put all the special little touches into our day. Not to mention it also helps to spread the costs out over a longer period of time."
"The second piece of advice is to try and see your wedding day planning as a journey, rather than just a day. It's hard to justify spending that much money on just a day, but you can if you spread it over a longer period of time. Take enjoyment out of the whole wedding planning experience by creating special moments and memories together. We'll never forget the blind wine tasting evening we did with my parents to pick the wedding wine, or picking over 500 sprigs of lavender from our front garden one Sunday night."
Robyn and Jack, what amazing fun your day looked (that Tiki bar, and the crazy golf – fantastic!). Many congratulations and thanks. Many thanks also go to videographers Blush Weddings Videos, and photographer Ross Hurley for these beautiful images, too.
With love,
Laura