The wonderful historic, industrial beauty and river views of today's London Docklands venue make it one of my favourite city spaces to write about since joining the Love My Dress team.
For this celebration, our couple take inspiration from their love of music (especially disco) and from cool New York City loft parties. This is the wedding of Mr and Mrs Archer-Lee, who work in music distribution and documentary production respectively. They were married on the 16 December 2018 at Trinity Buoy Wharf, which is the site of London's only lighthouse, and now home to artist studios, small businesses and charities, as well as being a vibrant event space.
Images by Kitty Wheeler Shaw Photography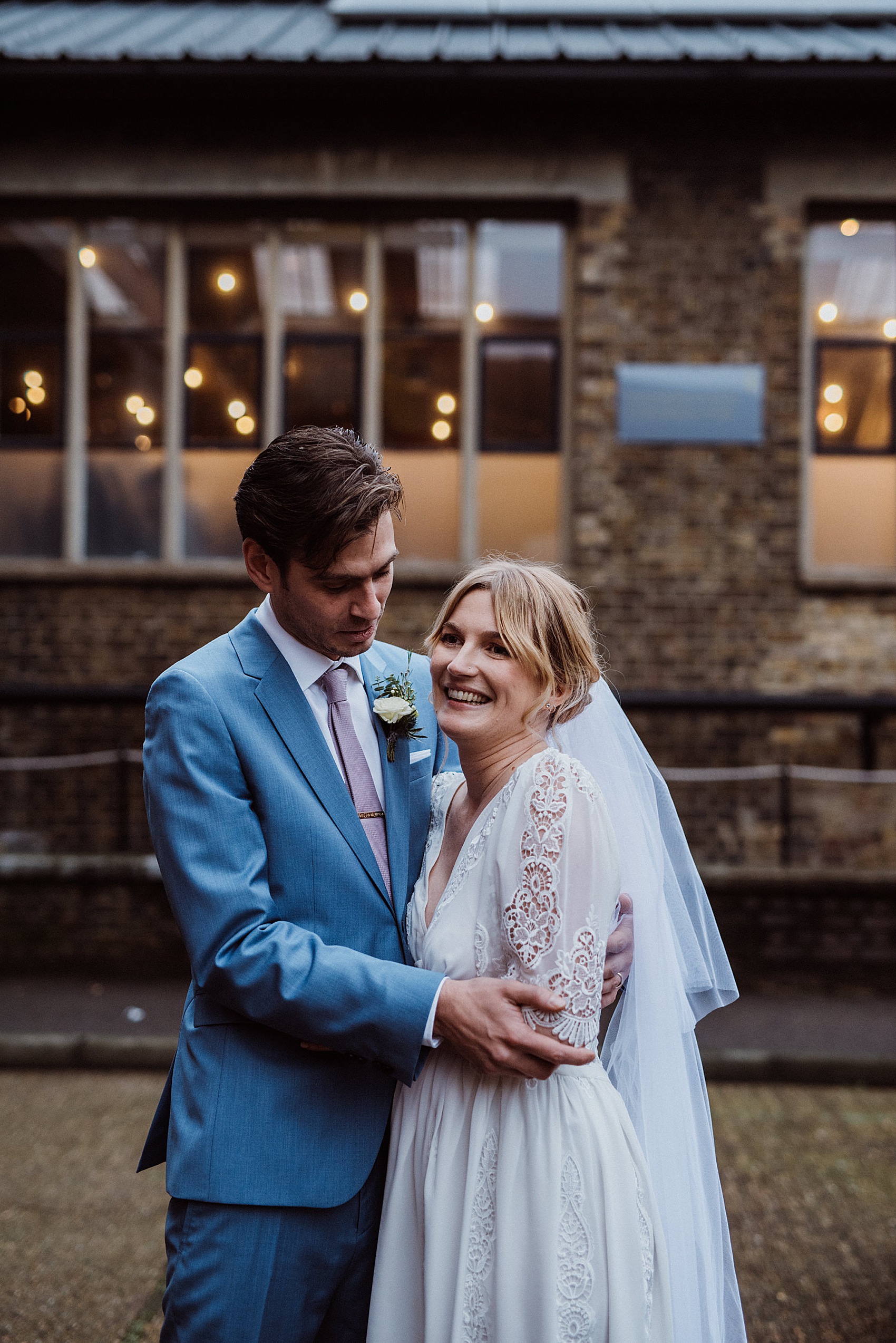 If you're a lover of all things vintage, and you ever find yourself in Brighton, I highly recommend a trip to boutique Hope & Harlequin, where a treasure trove of beautiful finds awaits. As well as vintage collections, Hope & Harlequin also make era-inspired bridal wear to order, and it's where Mrs Archer-Lee discovered the lovely, 70s boho 'Nova' dress, with its exquisite, folk style lace and fluttering sleeves.
"My style definitely nods towards the 70s. I love flowing, vintage dresses, and I wanted my dress to feel like me. My cousin Sarah and right hand woman accompanied me on my dress mission; she expertly chose the shops, and left the best until last. When I tried the sample of this dress on, I knew straight away it was the one."
"We had visions of a New York loft party, and somewhere that was a complete blank canvas and would allow us to really turn the space into something we were visualising. As soon as we saw the wood beam ceiling and giant disco ball at Trinity Buoy Wharf, we knew we could bring an NY loft party to the London Docklands."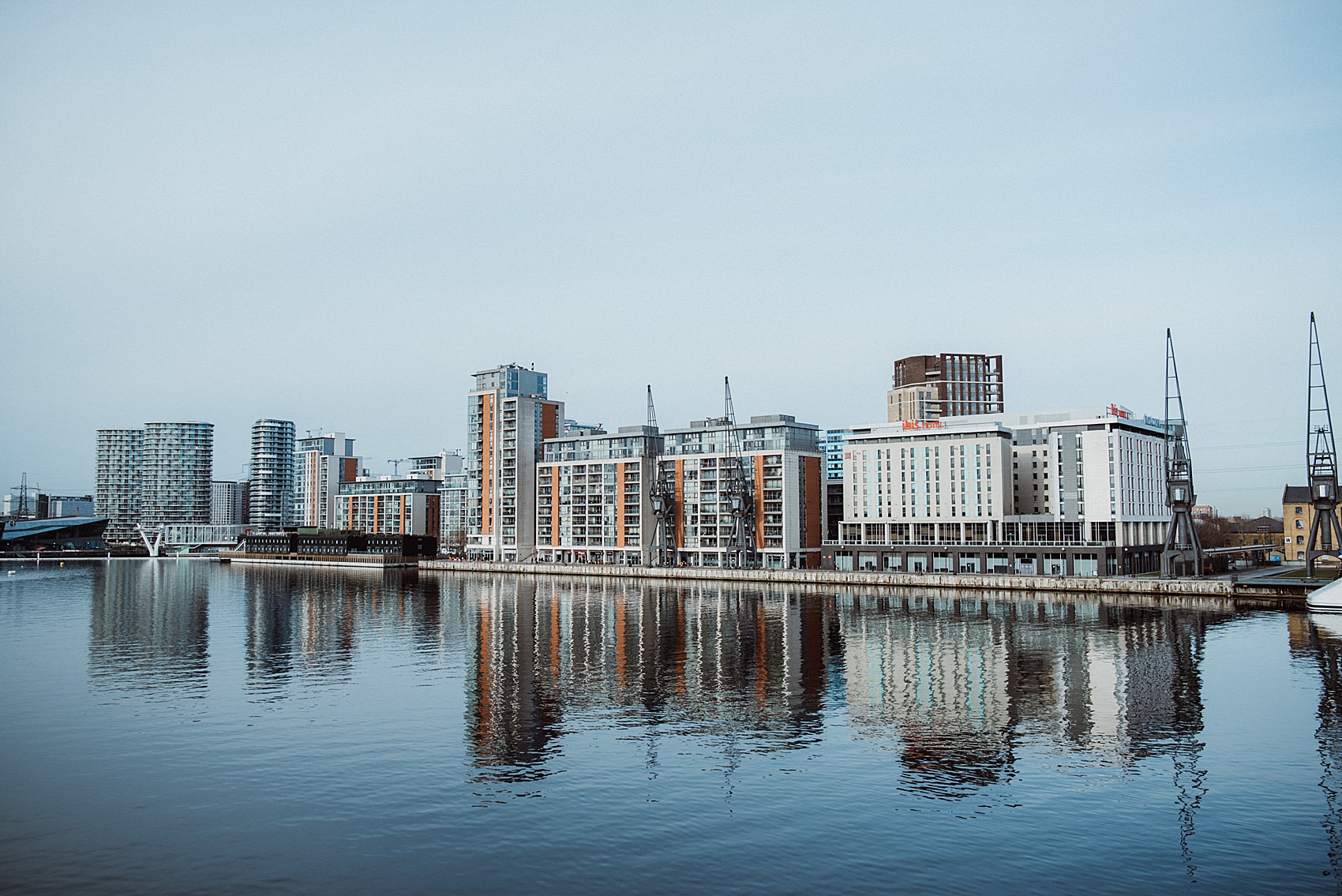 Earrings were topaz studs by Dinny Hall from Liberty London, and the night before the wedding, she was given by her dad and two aunts, a ring belonging to her grandmother to wear on the day.
Friend Rose styled the bride's hair, with loose waves caught into a pretty bun. Make-up Artist Molly Sheridan ensured Mrs Archer-Lee felt like the best version of herself, and as someone who doesn't usually wear make-up, that she also felt totally comfortable and at ease.
"Molly really understood my skin, did incredible skin prep on the day, including a facial, made me glow supernaturally, was always by my side for any touch-ups, helped me breathe before I walked down the aisle, and created a killer red lip look for the evening. I can't recommend her highly enough, and she's an absolute babe!"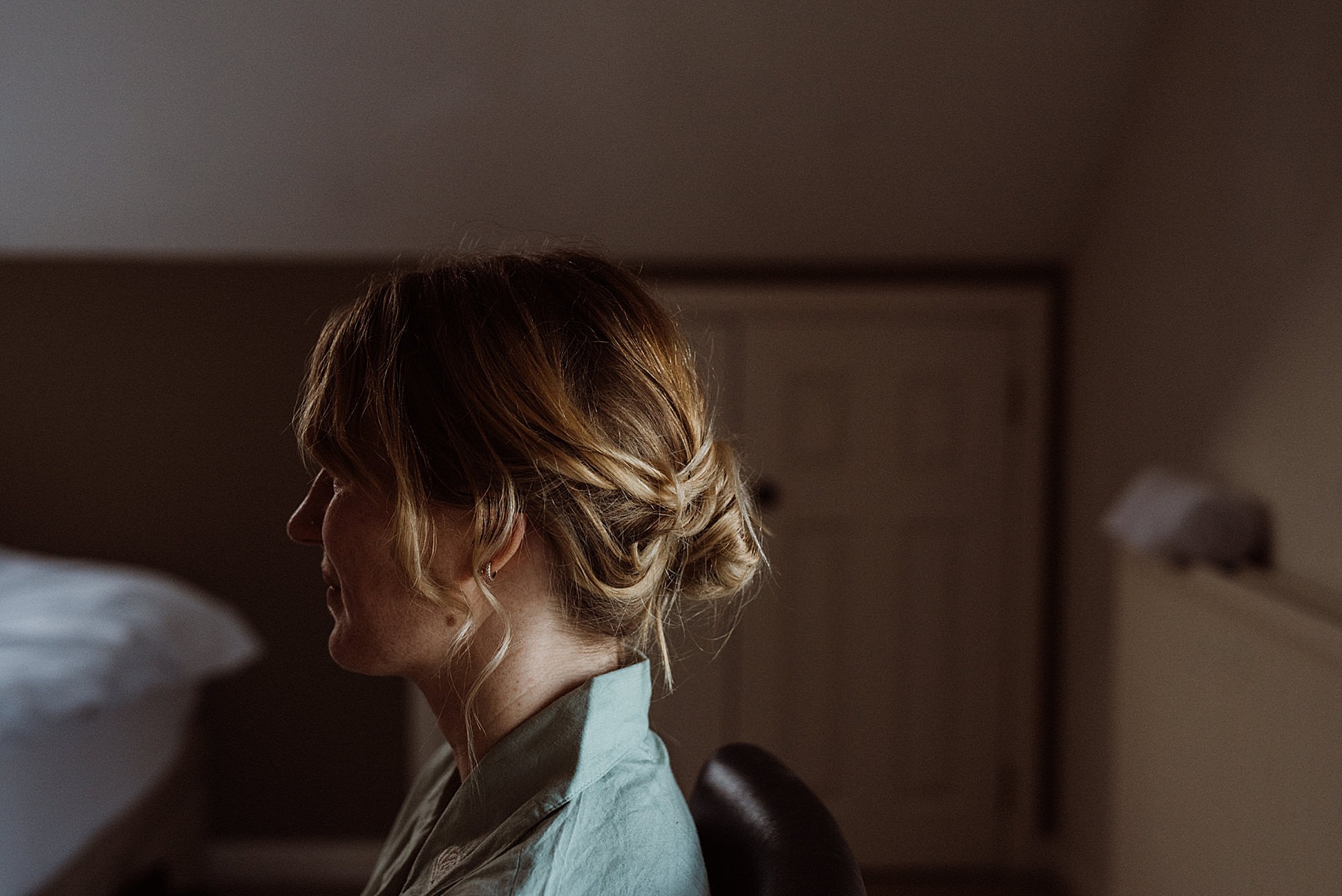 White block heels came courtesy of Kurt Geiger, and Mrs Archer-Lee added a gorgeous assortment of jewellery pieces to complete her look. As pearls are her birthstone, she wore a gold and pearl nose stud, as well as a silver and blue bracelet gifted to her by her bridesmaids, and a delicate gold bracelet, which she also bought for her bridesmaids.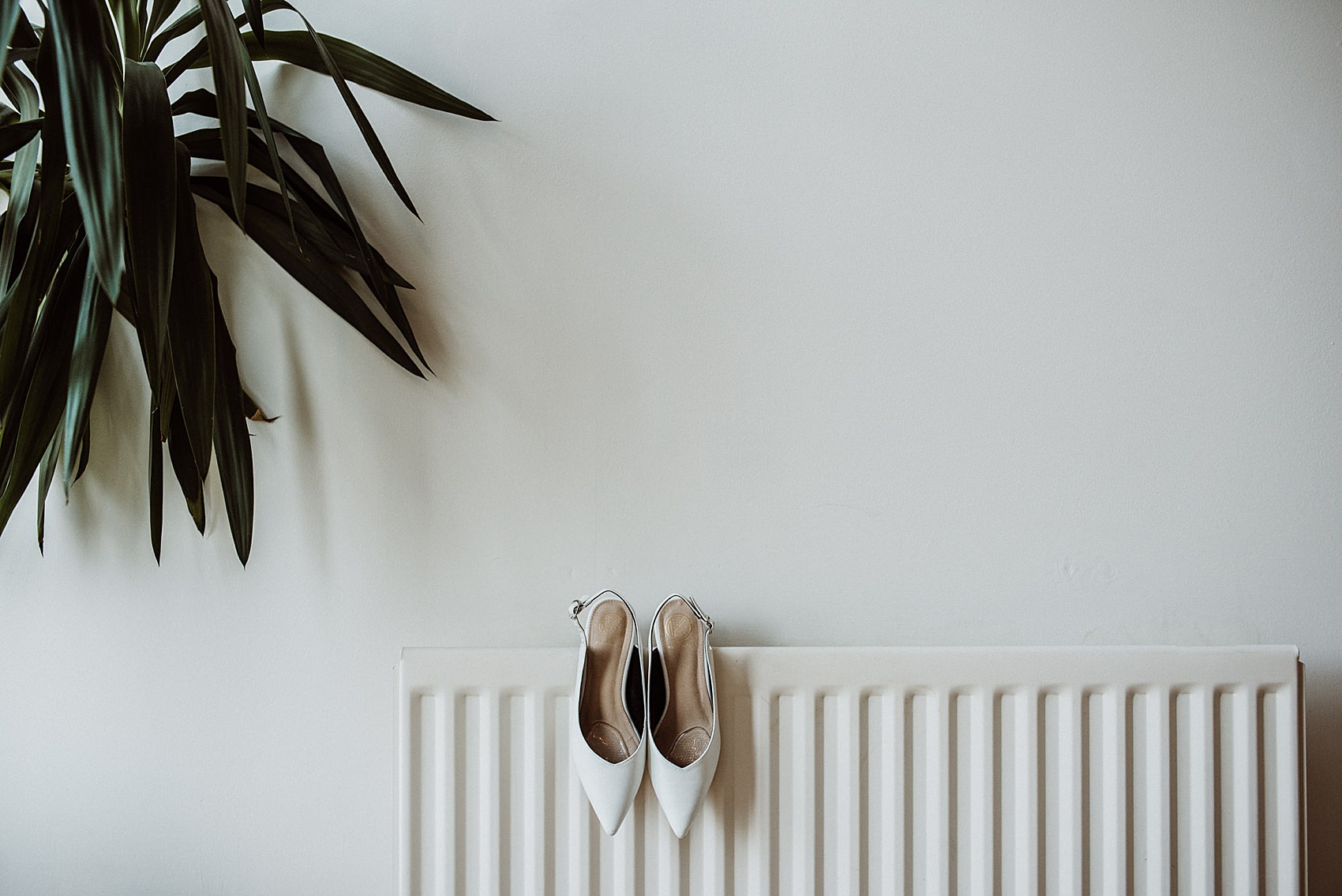 I love the different dresses chosen by the bridesmaids, in different greys, from silver to slate and pewter; some with lace, some with silk, chiffon and stripes – they all looked brilliant together, and they wore them with gold plated eternity circle bracelets, given to them by the bride to match her own.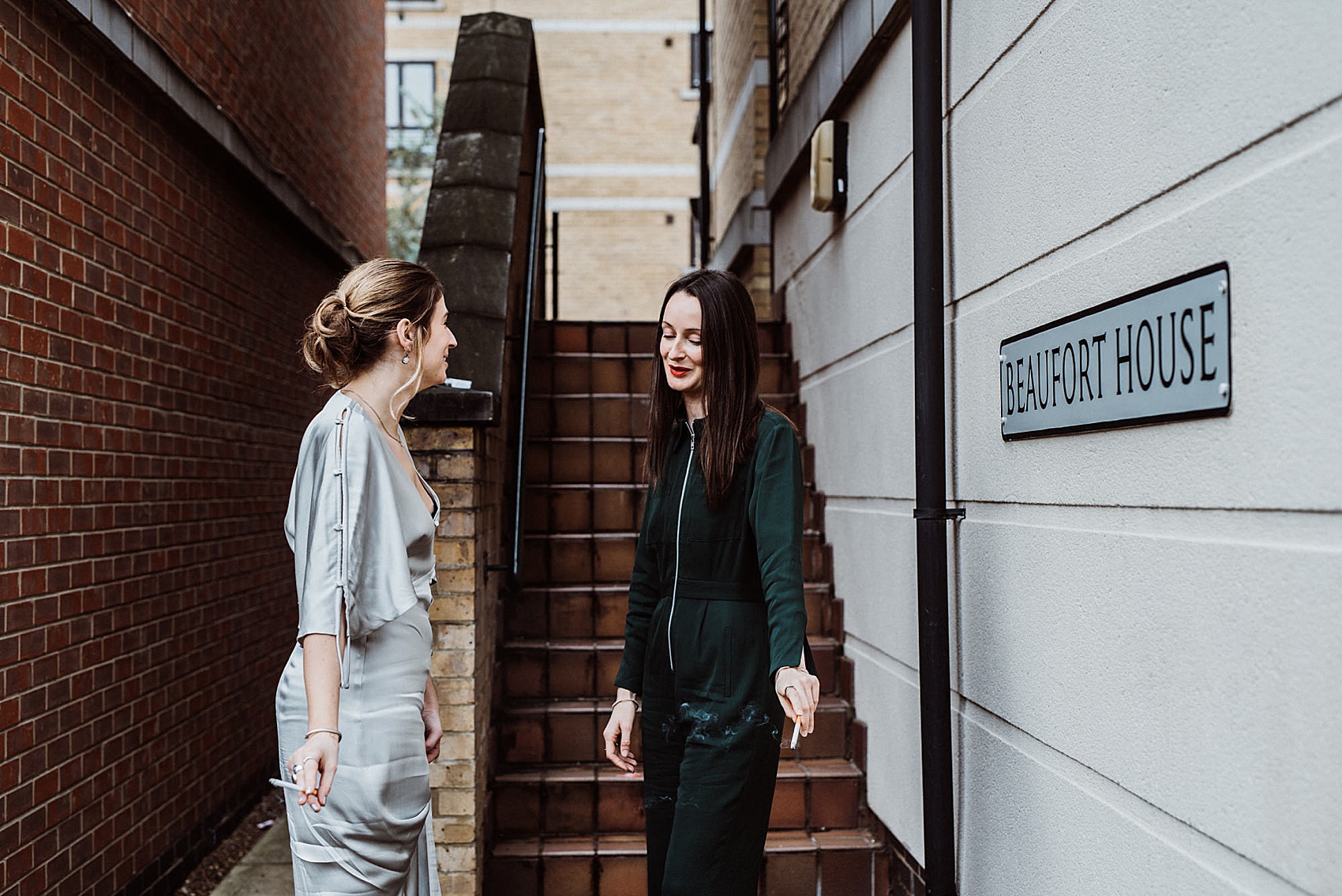 The bouquets the bridesmaids carried complemented their outfits beautifully, filled with silvery eucalyptus and other seasonal greenery, as well as roses, lisianthus and striking sea holly. These, as well as Mrs Archer-Lee's bouquet, and all of the other incredible floral arrangements were by Catherine of Floral Evolution.
"My cousin bought me the amazing book by Molly Rosen Guy – Stone Fox Bride: Love, Lust and Wedding Planning for the Wild at Heart, and I didn't know much about flowers, but the chapter on flowers in Molly's book helped me massively, I loved the look of a bouquet in it, and showed it to Catherine, who said it would be perfect for the time of year for our wedding."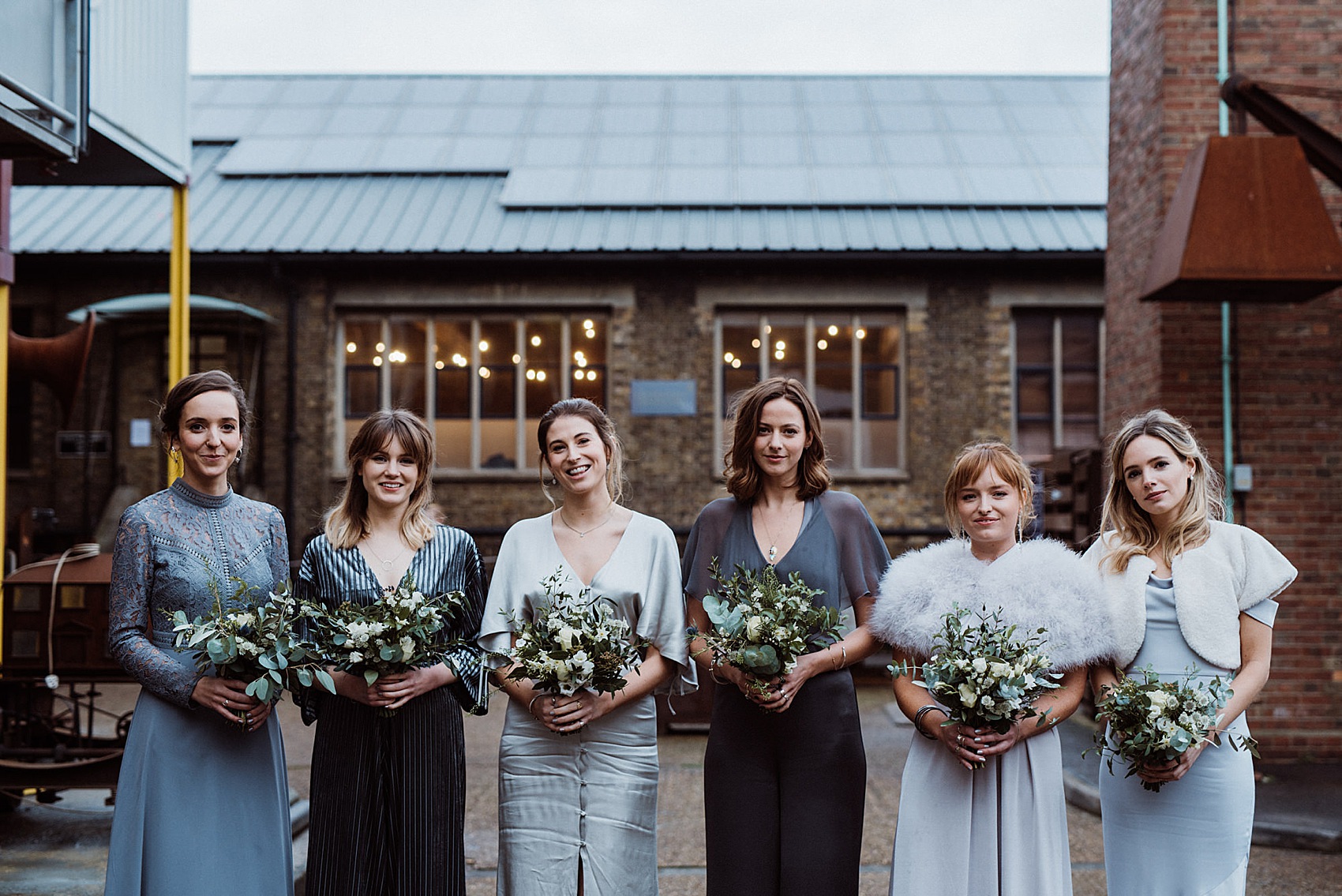 The wedding party were driven to Trinity Buoy Wharf by iChauffeur, and the trio of lovely flowergirls made their way down the aisle first, wearing festively sparkly outfits from Monsoon. To the song, My Love For You, by ESG, the bride was accompanied down the aisle by her dad.
"We first met under the disco ball at Phonox, an excellent nightclub in south London, and the rest, as they say, is history."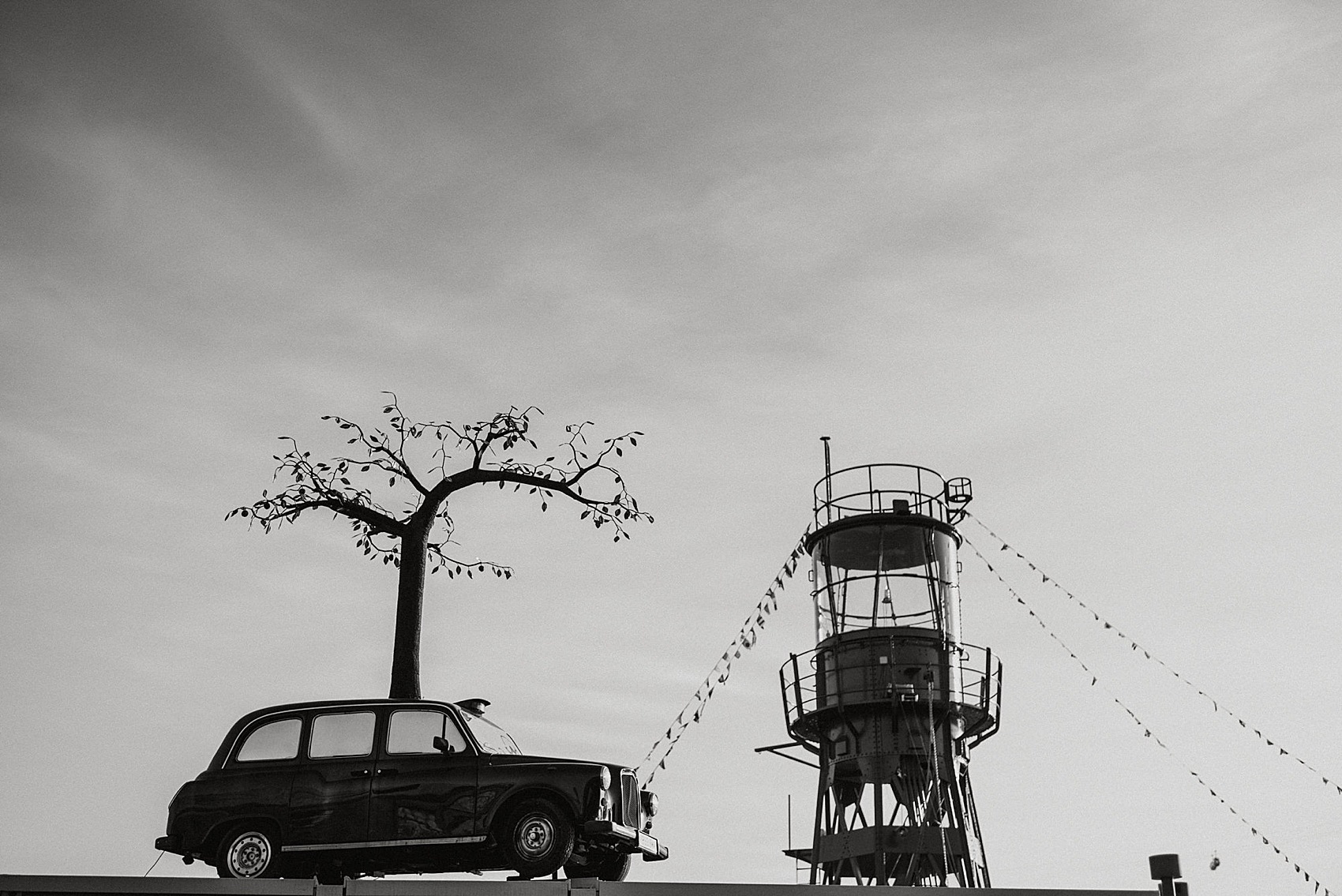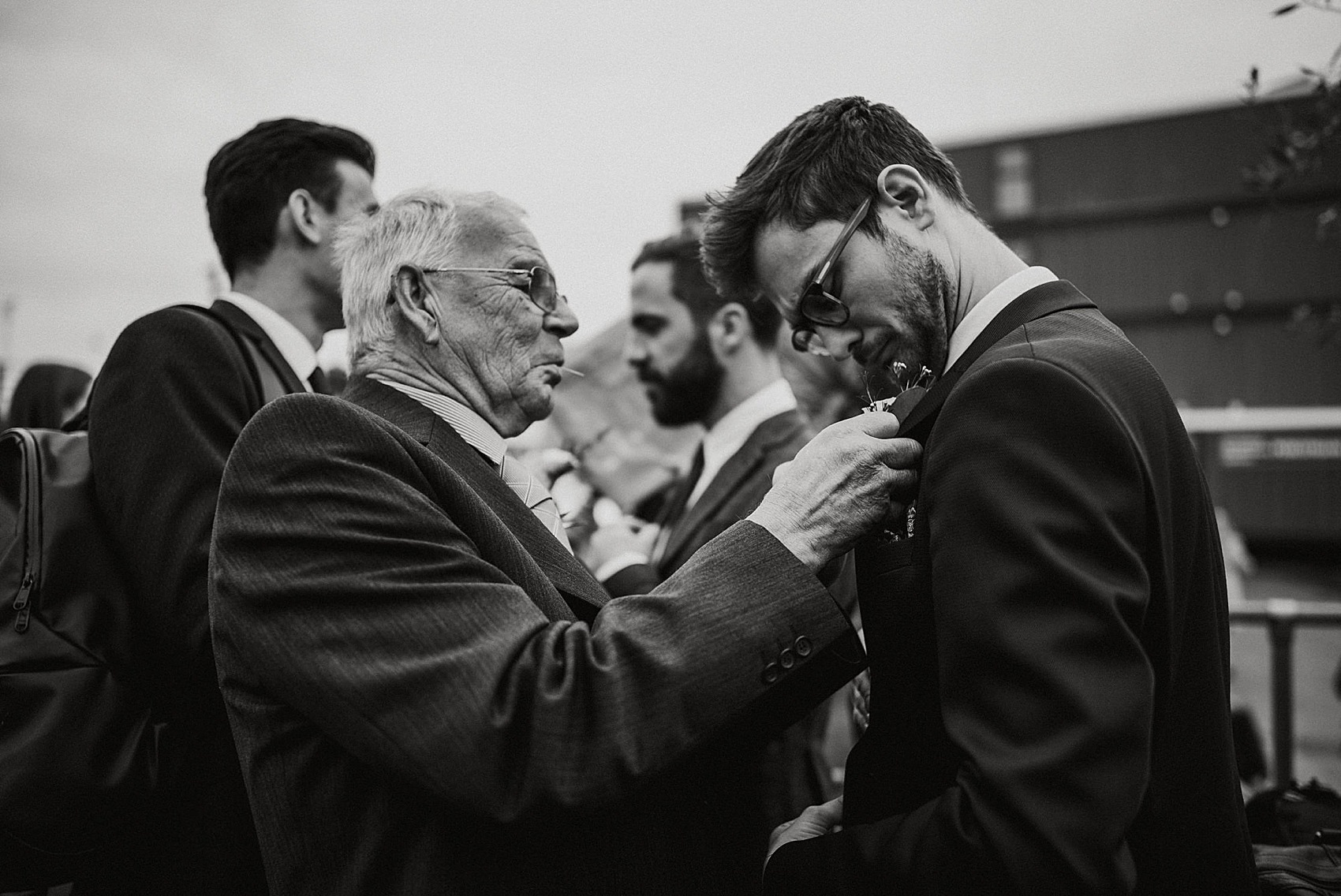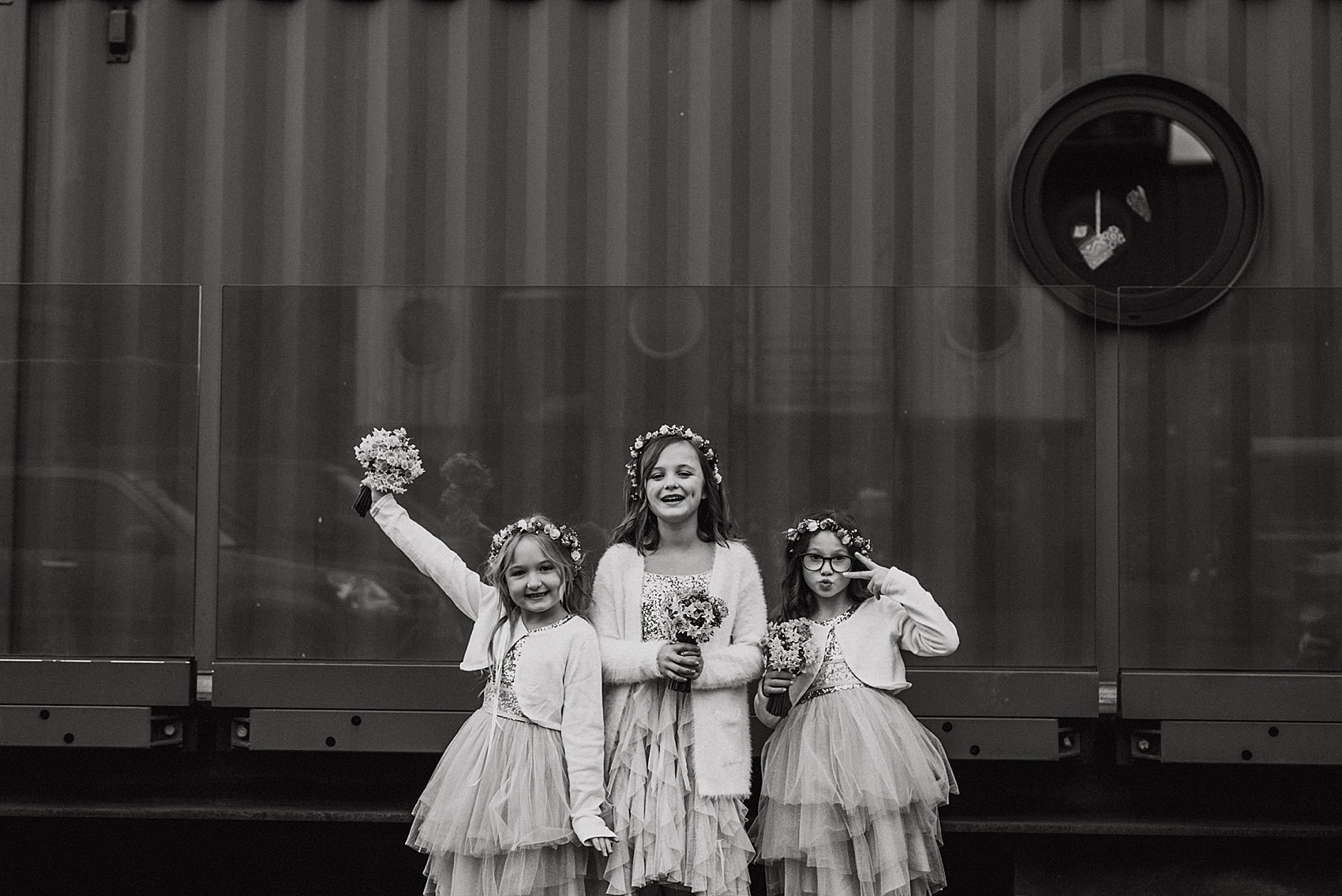 The couple chose to hold their ceremony in Trinity Buoy Wharf's Electrician's Shop, where the weathered beauty of the bare brick, steel pillars and wooden ceiling provided an industrially elegant backdrop for the glorious floral displays. Natural arrangements lined the aisle, and at the front, Floral Evolution created a magical, open-topped arbour packed with wild, winter greenery.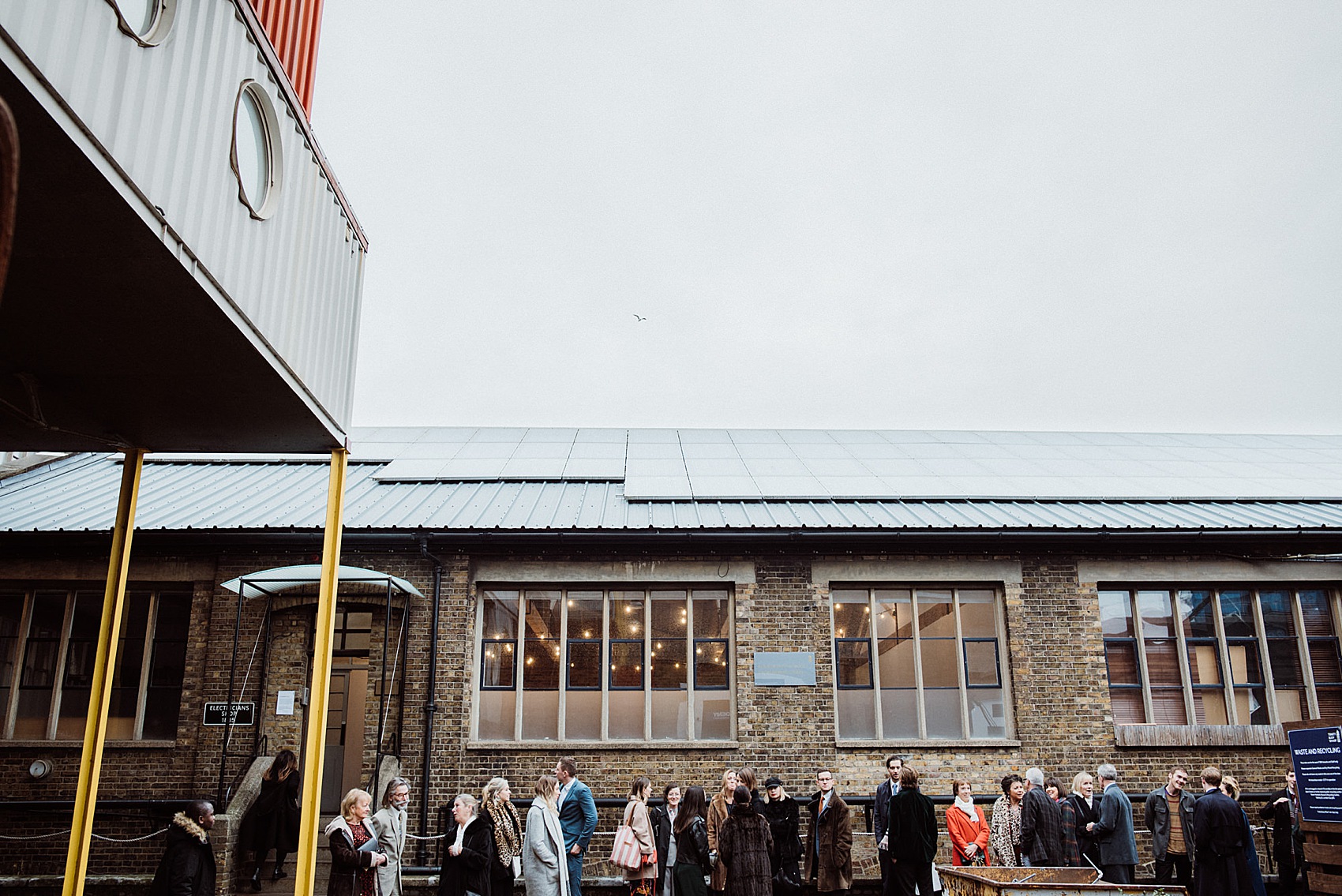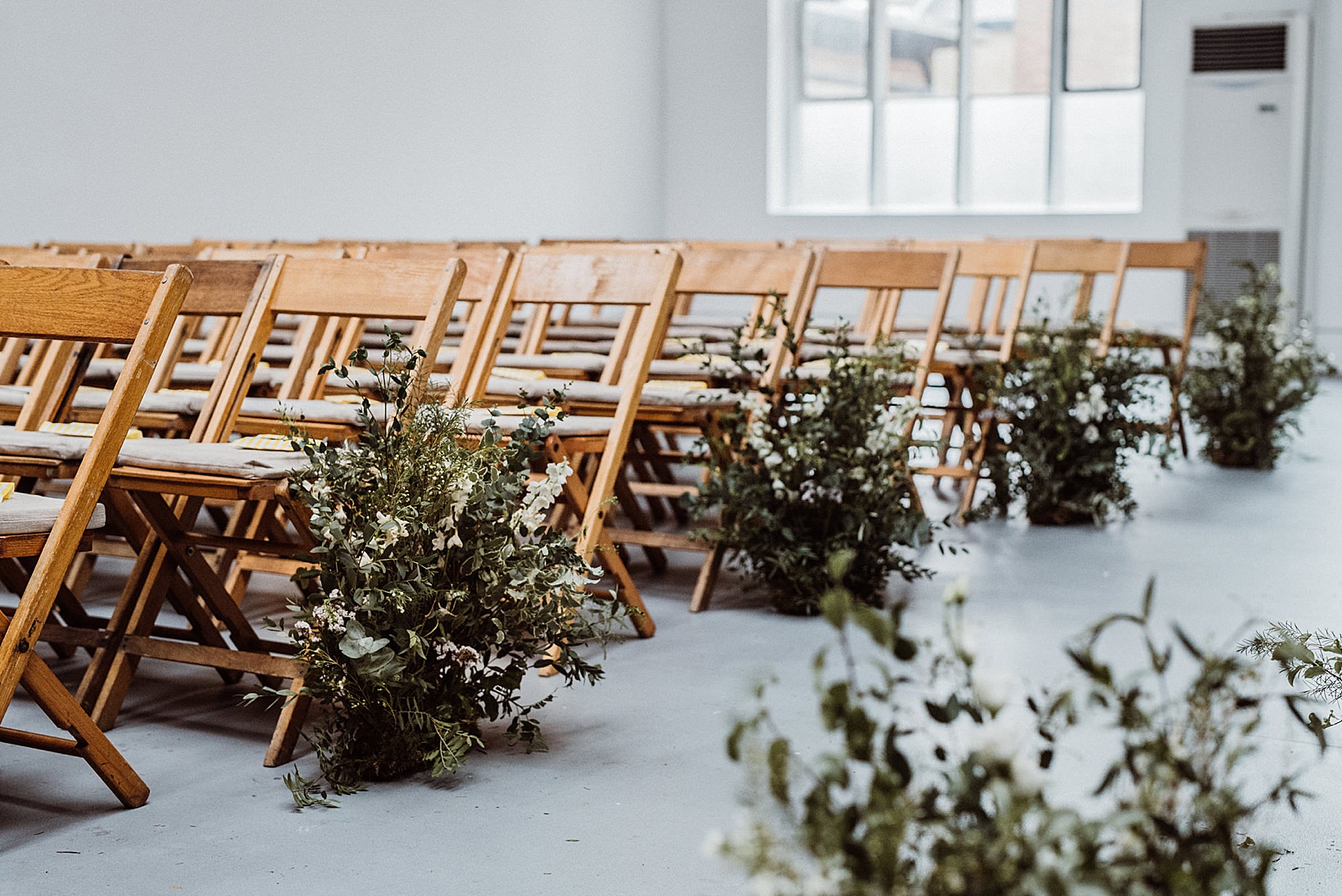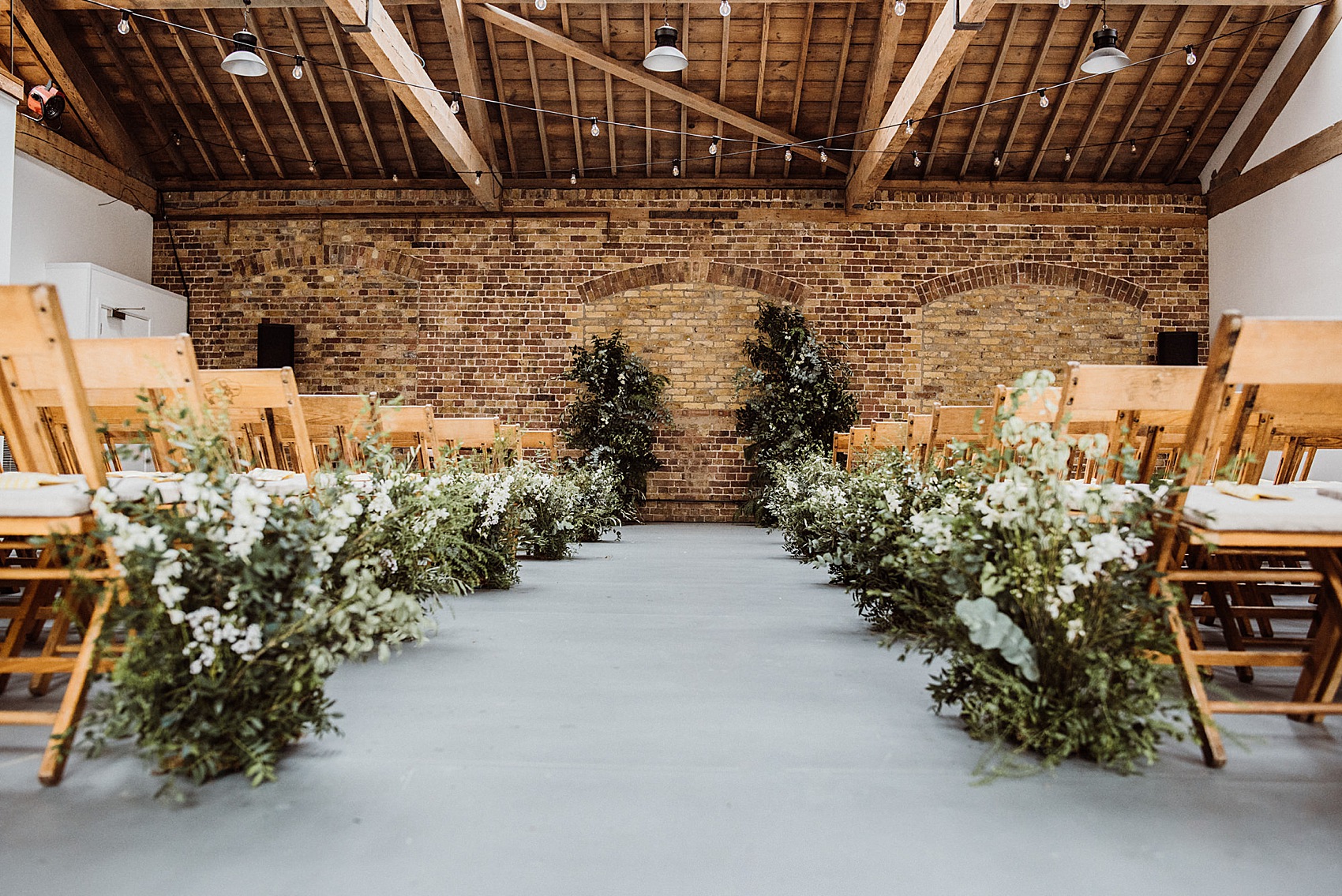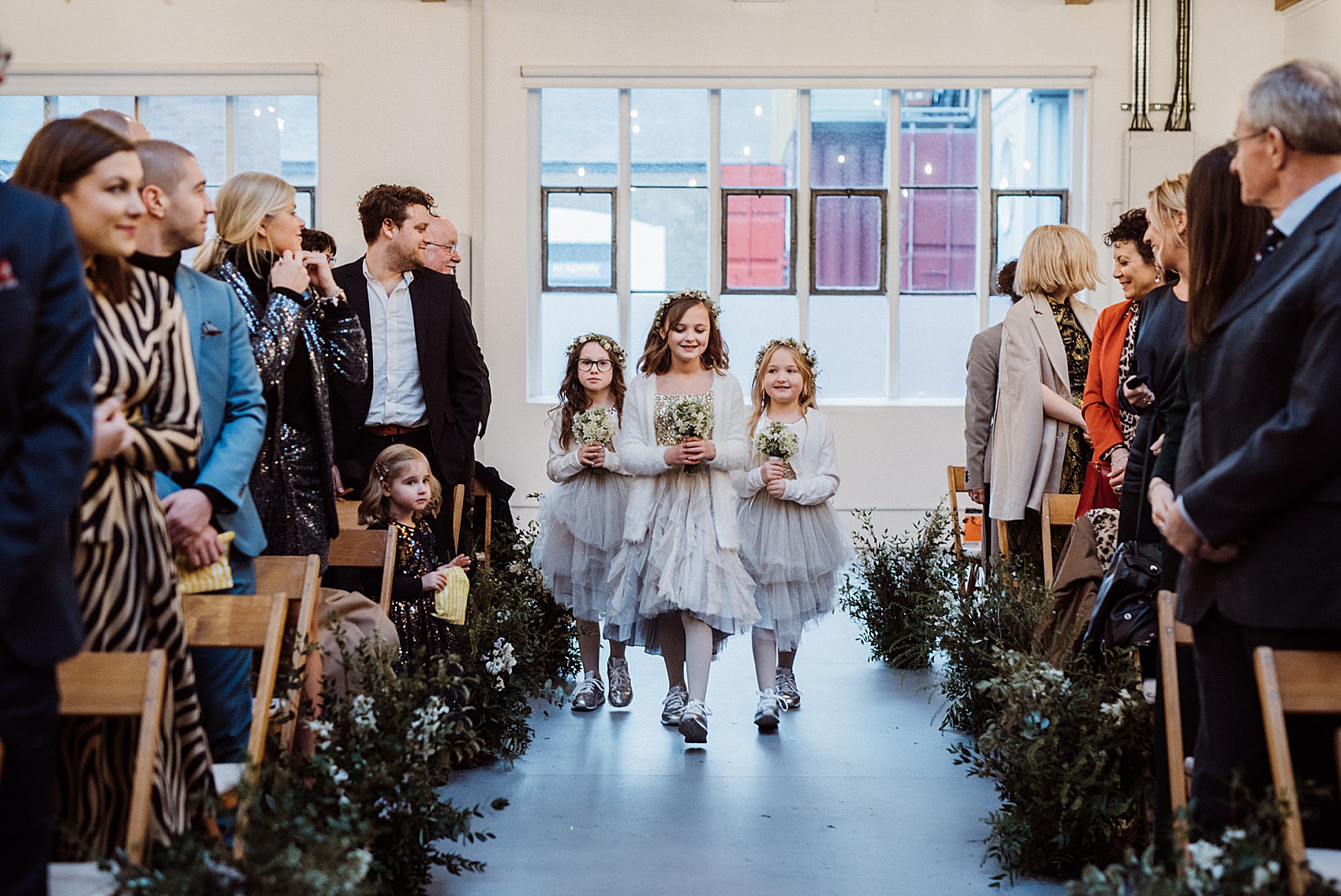 A final addition to Mrs Archer-Lee's incredible look was an ethereal veil from Hope & Harlequin, as well as a spritz of her perfume, which was the timeless Chanel No. 5.
Mr Archer-Lee wore a smart, light blue suit with a white shirt and pale pink tie by Hugo Boss, which he wore with a wonderful vintage tie bar by Yves Saint Laurent, and shoes from Kurt Geiger. The couple also gifted the groomsmen their own vintage tie bar each, which they had been collecting throughout their year of wedding planning.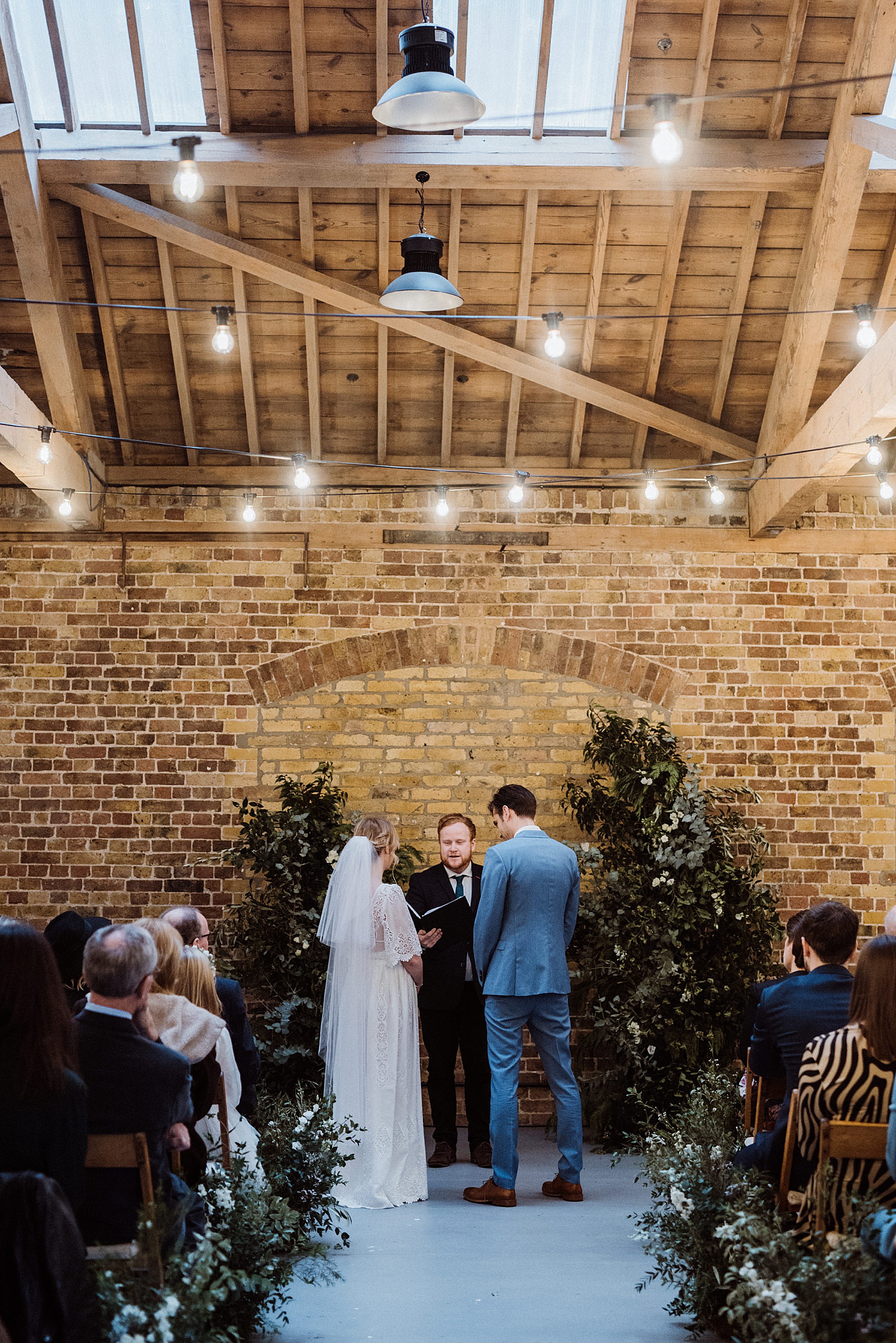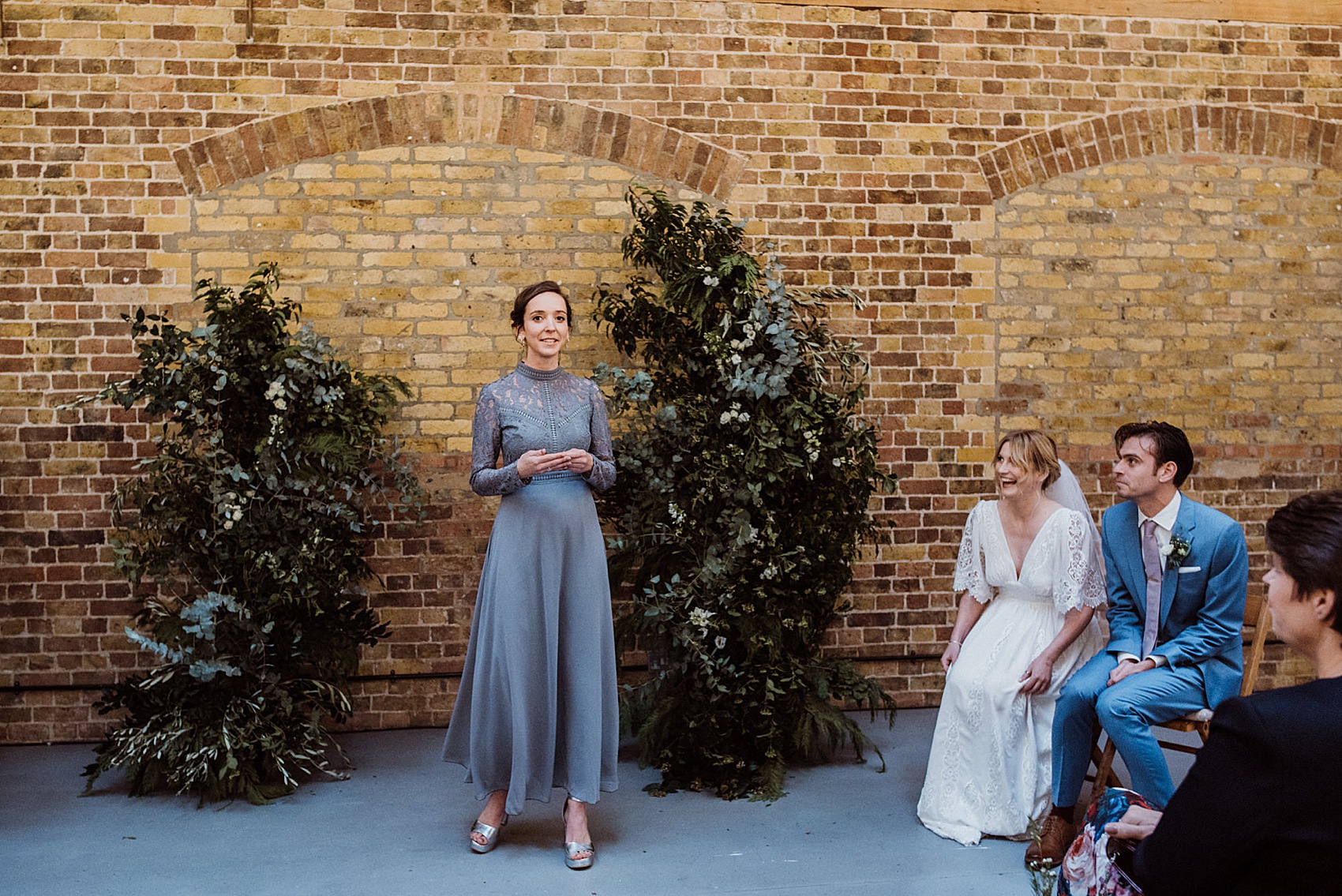 As the couple exchanged their vows, they also placed rings onto each other's hands, which they both chose from jewellery designer Anna Sheffield. Mrs Archer Lee went for a curved band, whilst Mr Archer-Lee chose a classic and simple gold band.
"We had two verses from Rupert Holmes' Escape (The Piña Colada Song), read by two bridesmaids. This is a song that Ben truly believes is the greatest love song ever written!"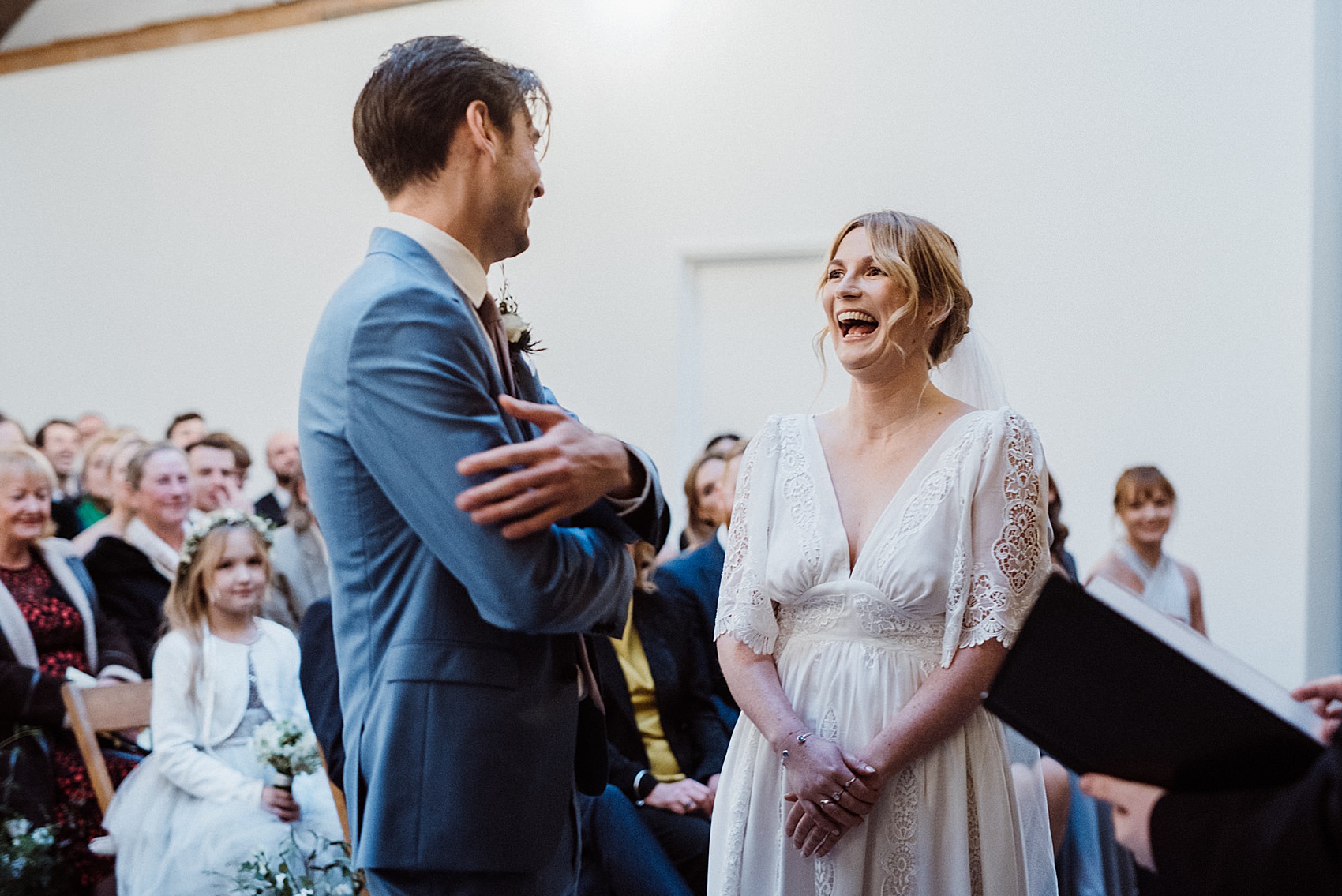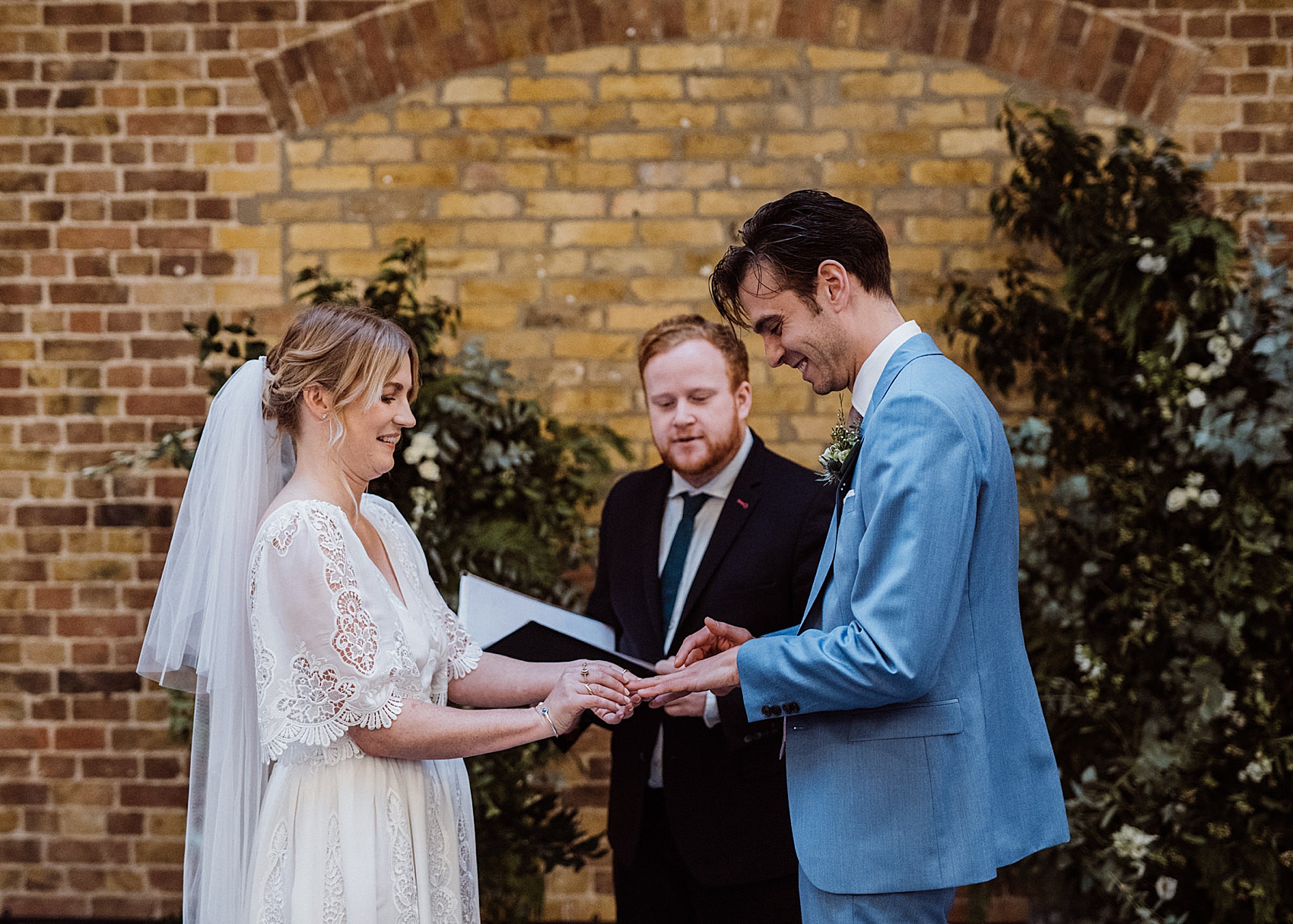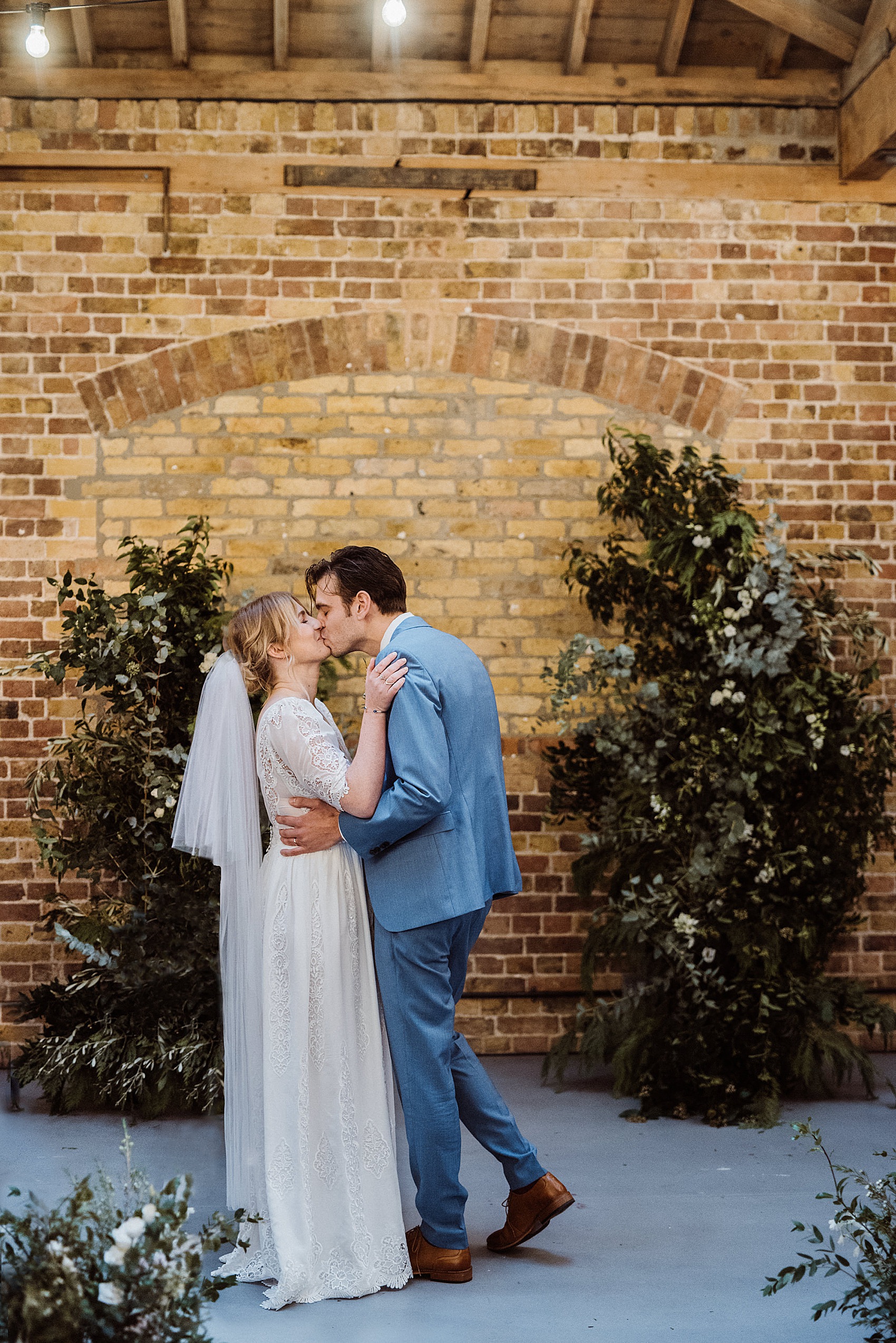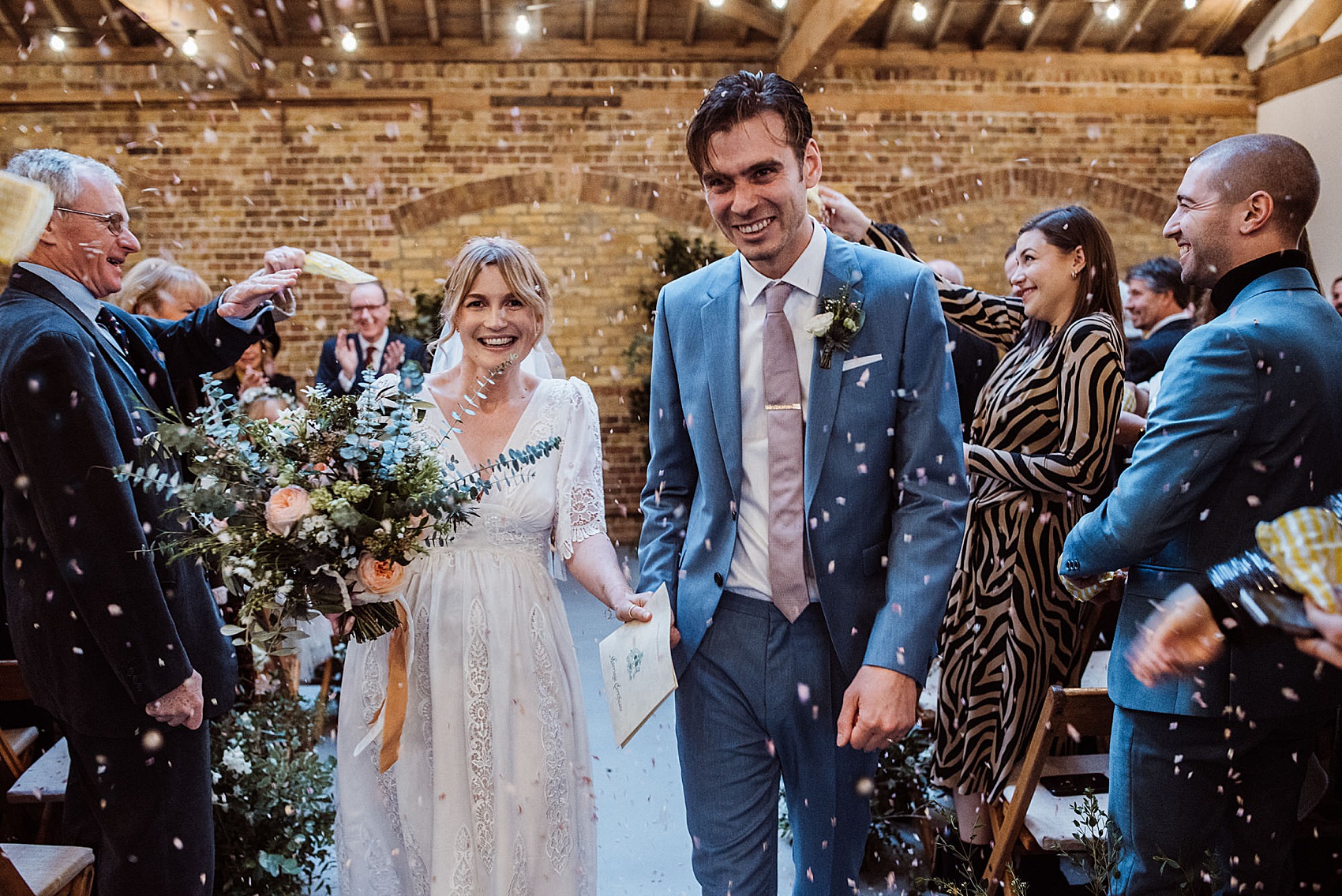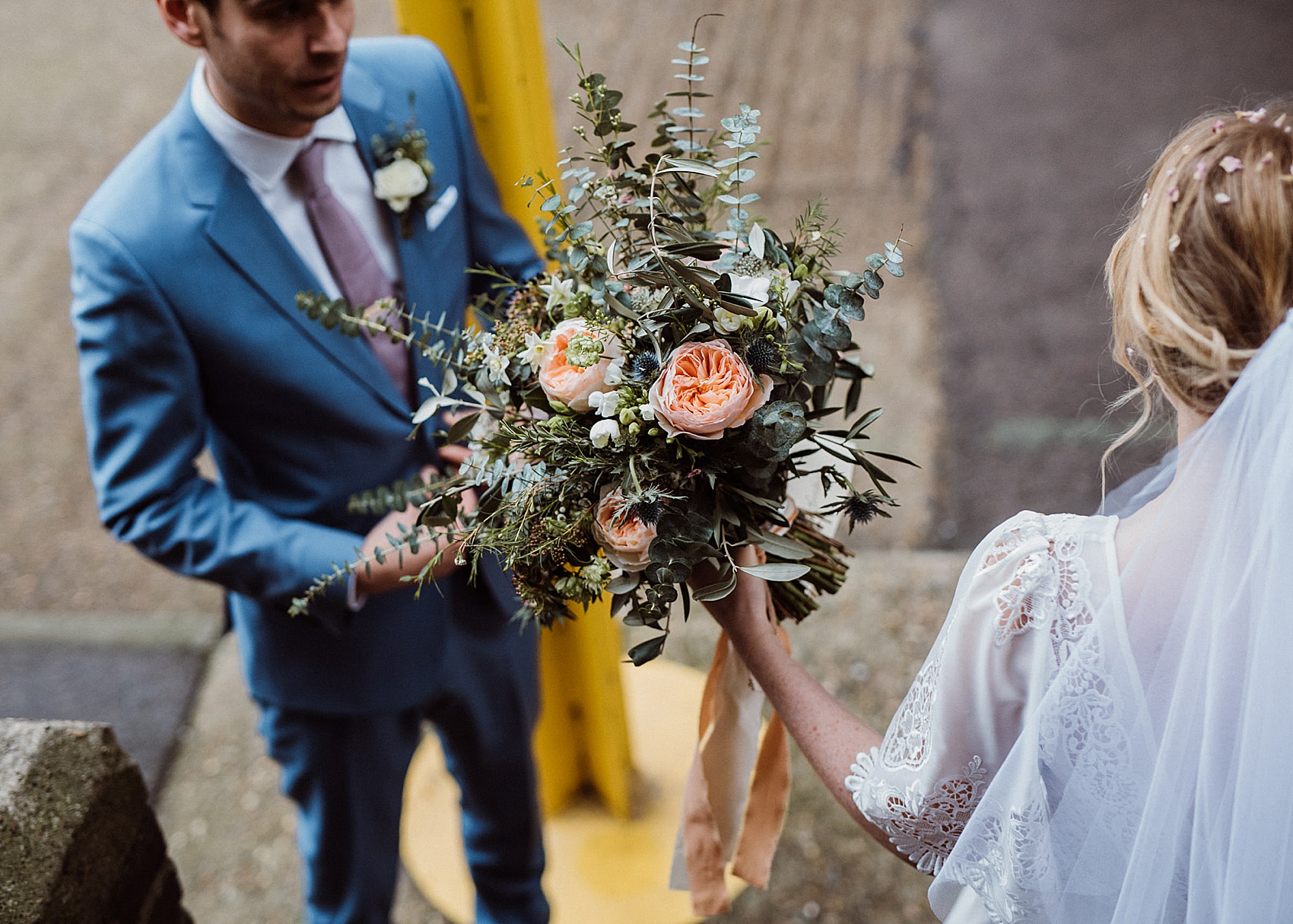 We have photographer Kitty Wheeler Shaw to thank for this collection of joyful, sharp and vibrant images, whose work we've featured before on our pages.
"Kitty was absolutely incredible. For two people who find being in front of a camera quite awkward at times, she made us feel super comfortable from the first time we met, look great (!) and really captured the essence of the day."
"It's also worth mentioning that to cover the size of the space was a mammoth task for one photographer, and for Kitty to have captured every moment whilst feeling very much part of our day, was truly amazing."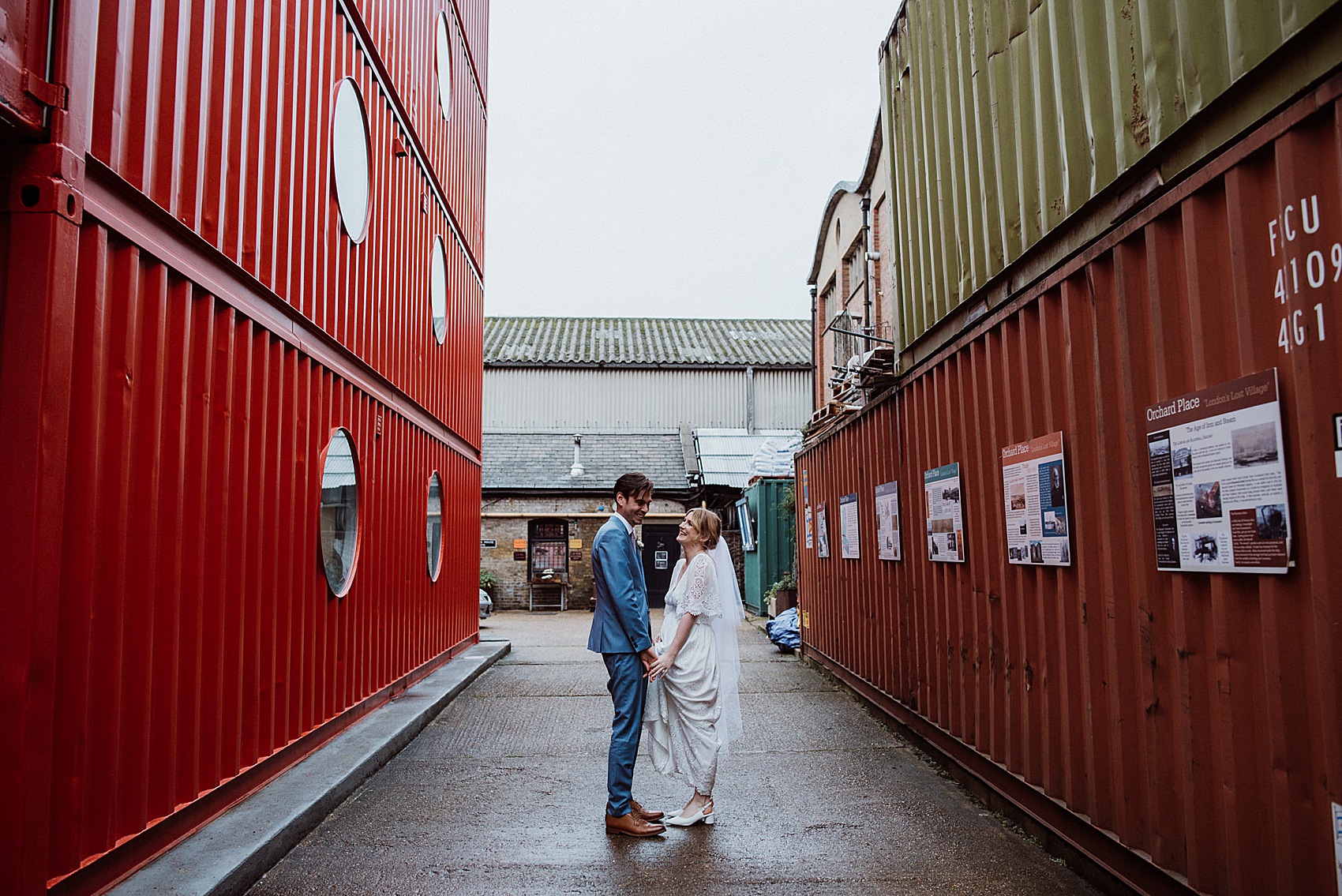 "Catherine was a florist local to me, who did the flowers for my friend's wedding. I wanted something quite big for the bouquet, that felt wild not manicured, scented, with eucalyptus, greens and pops of beautiful peach with the ranunculus. Catherine introduced me to these flowers an a seasonal alternative to roses – they were stunning."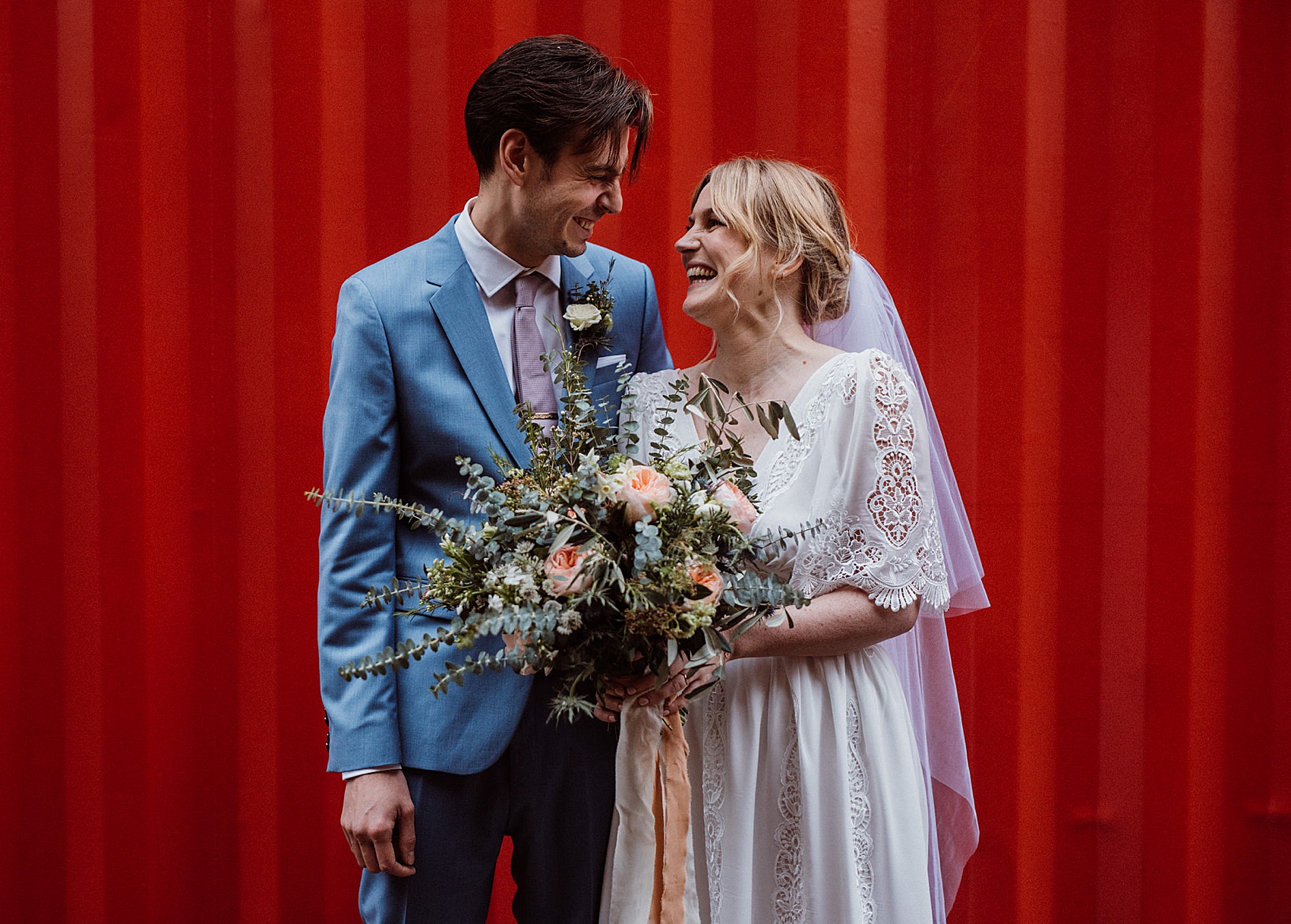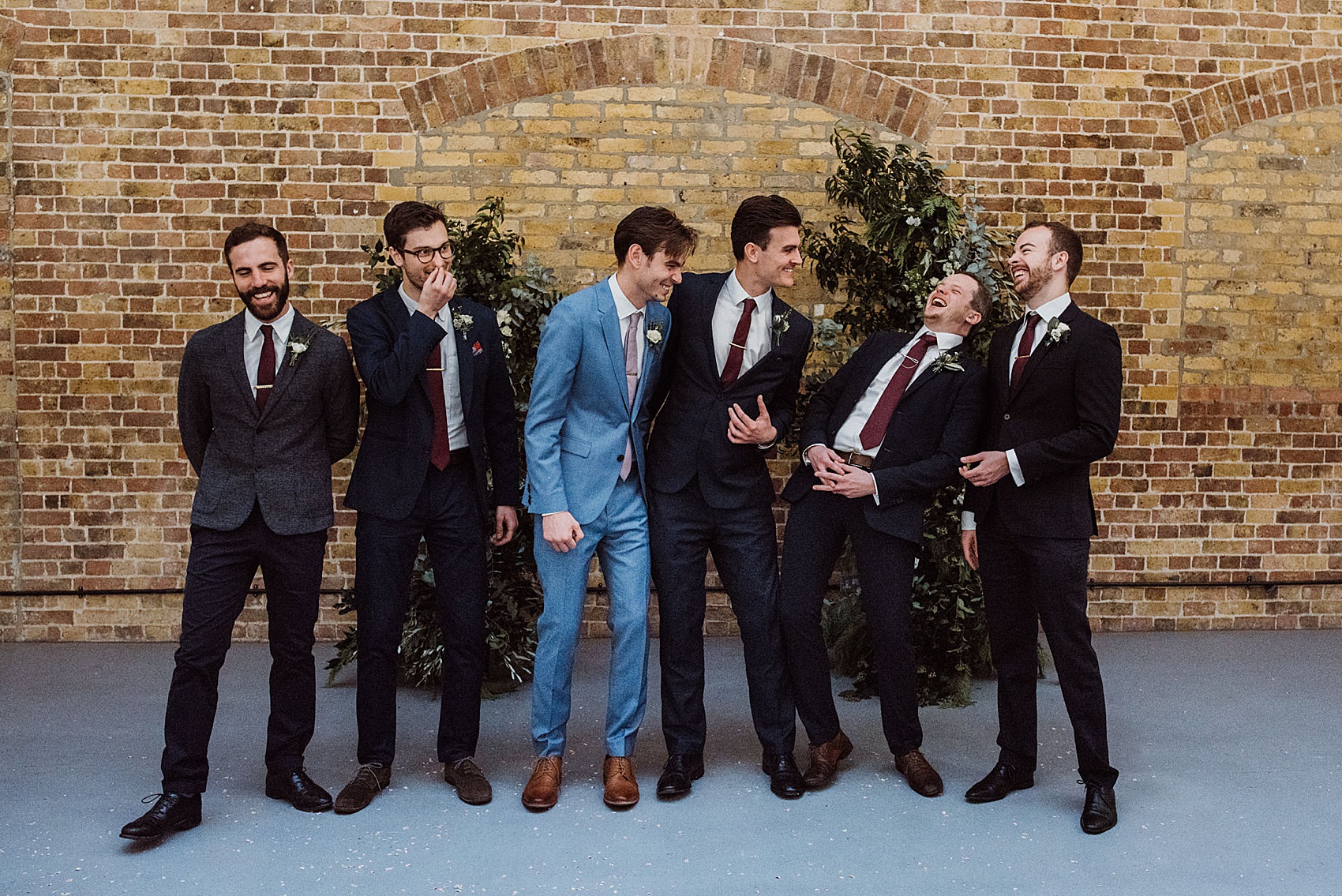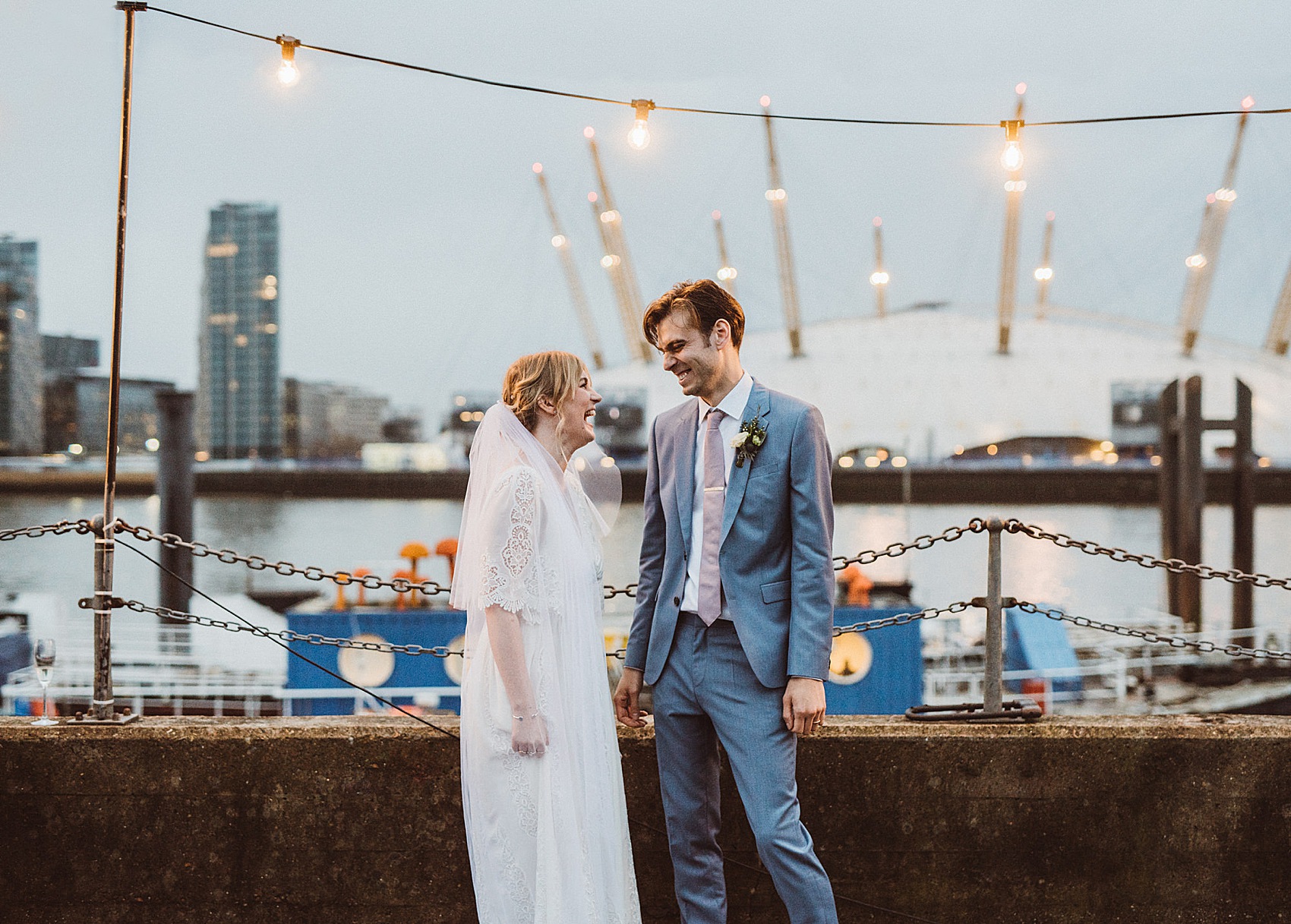 The couple's reception was held inside the Grade II listed Chainstore at Trinity Buoy Wharf, with its spectacular triple height ceiling, huge windows and painted brick. Fairylights were hung across the ceiling and cascaded down one of the walls, as well as sparkling from a Christmas tree.
"Being a Christmas wedding, Catherine our florist dressed the long feasting tables with foliage and greenery, and all the furnishings came from Rustic Hire. We wanted a mismatched feel, with bare wood, no table cloths, and really simple place settings with vintage wine glasses. Rather than hire small props, we purchased these from eBay, knowing they would have suited our house after the wedding! We wanted the seating areas to feel as relaxed as our front room."
Mr and Mrs Archer-Lee designed the cool stationery themselves, named their top table after the nightclub where they first met, and the other tables after more favourite clubs.
"The seating plans were themed around this, the invites were crisp and simple, with a web address for RSVP, which had music in the background setting a tone for the disco elements of the day."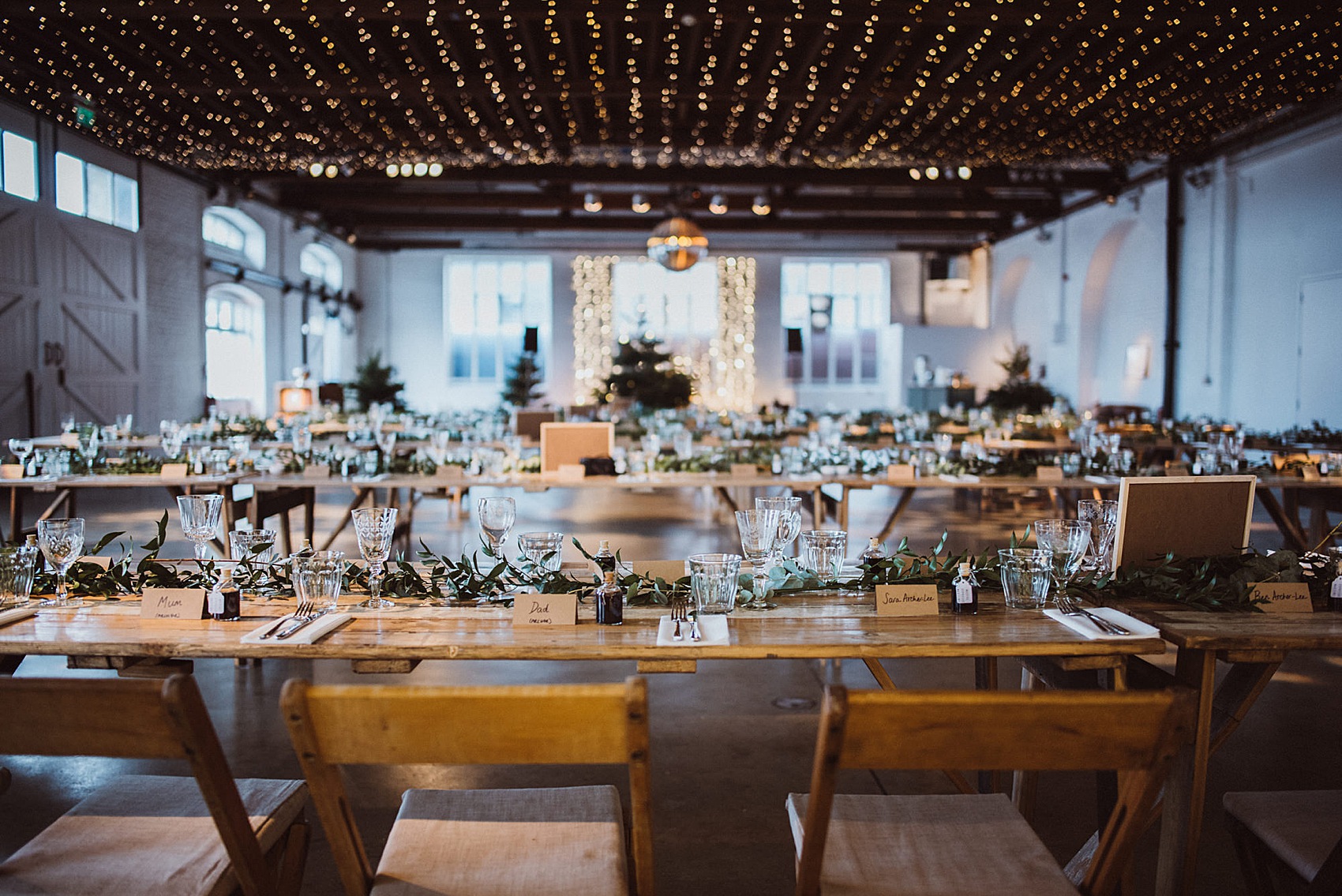 "We had a fantastic event coordinator in the weeks leading up to and, on the day (unfortunately, no details provided). She worked at the venue, and pulled all the suppliers together, organising deliveries and timings on the day. We would highly recommend this."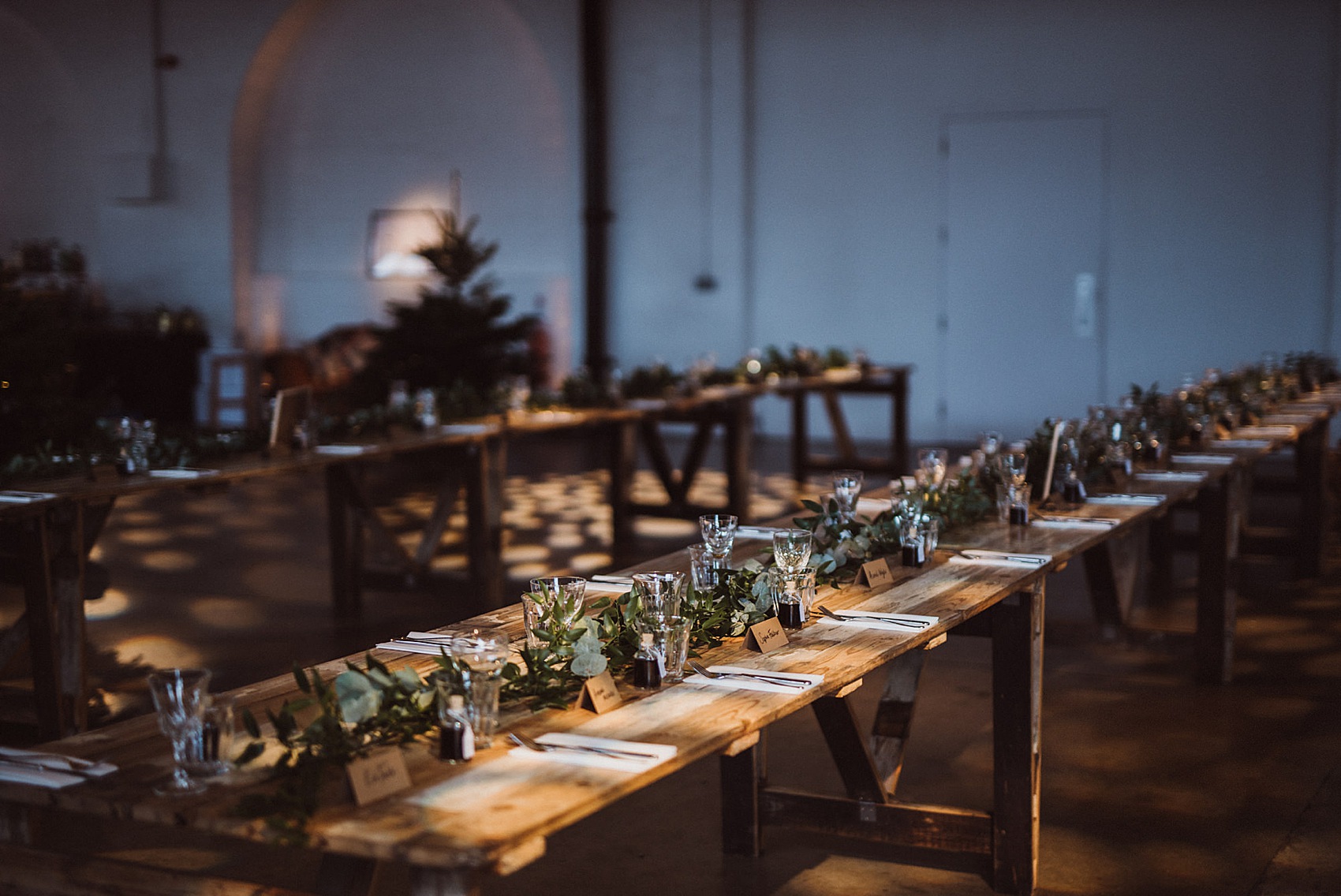 "We're both huge music fans, so it was really important for us that music tied the whole day together. As soon as we saw the venue, we knew we could pull together the glam of 1970s New York, and the grit and cool of London."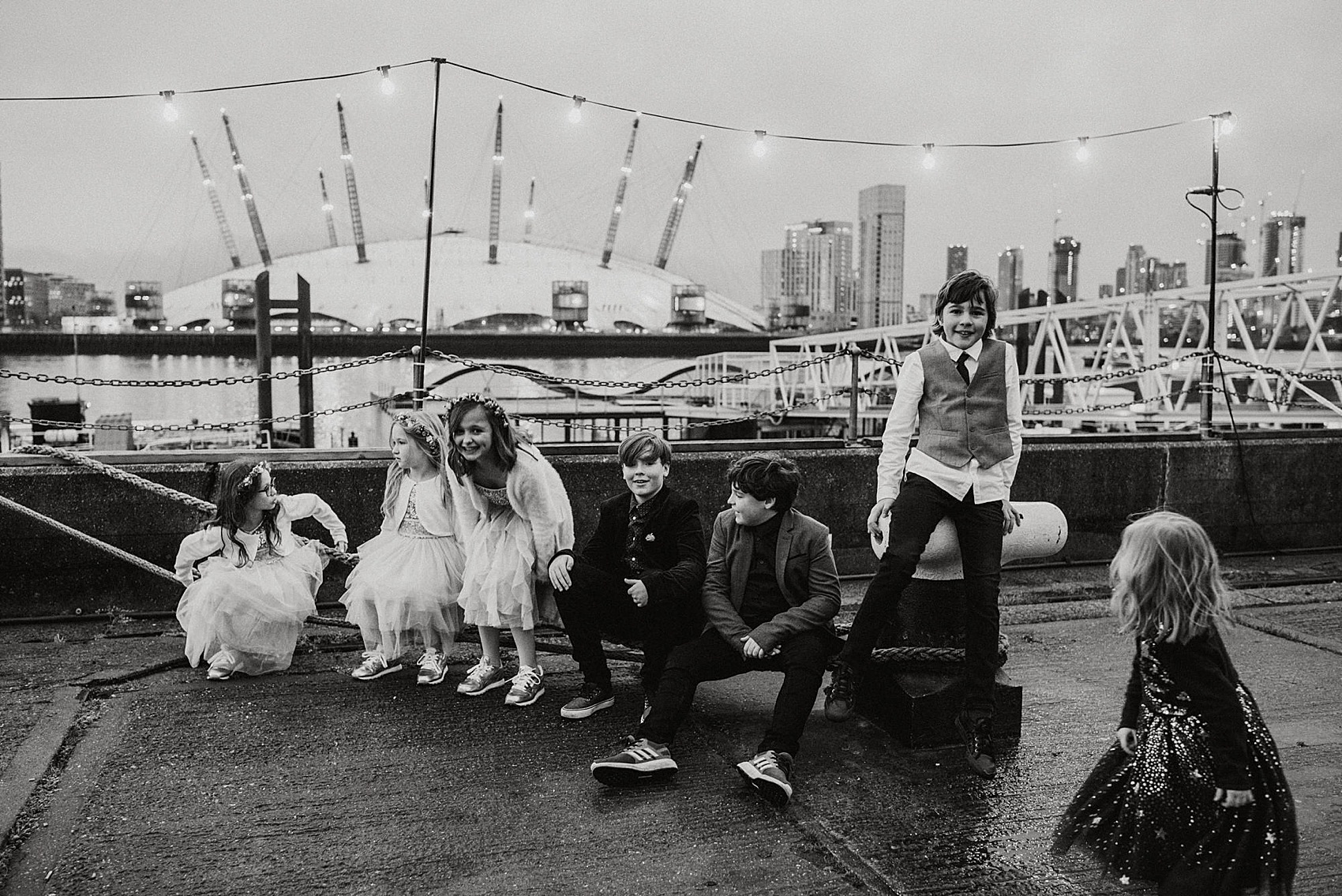 The couple's friend Thea runs her own brand of mezcal called Dangerous Don, and created a very special cocktail as guest favours.
"Thea helped us massively in terms of drink choices on the day, and made a delicious mezcal espresso martini mix that Ben and Best Man Reece decanted into bottles as our favours. As you can imagine these really helped get the party started."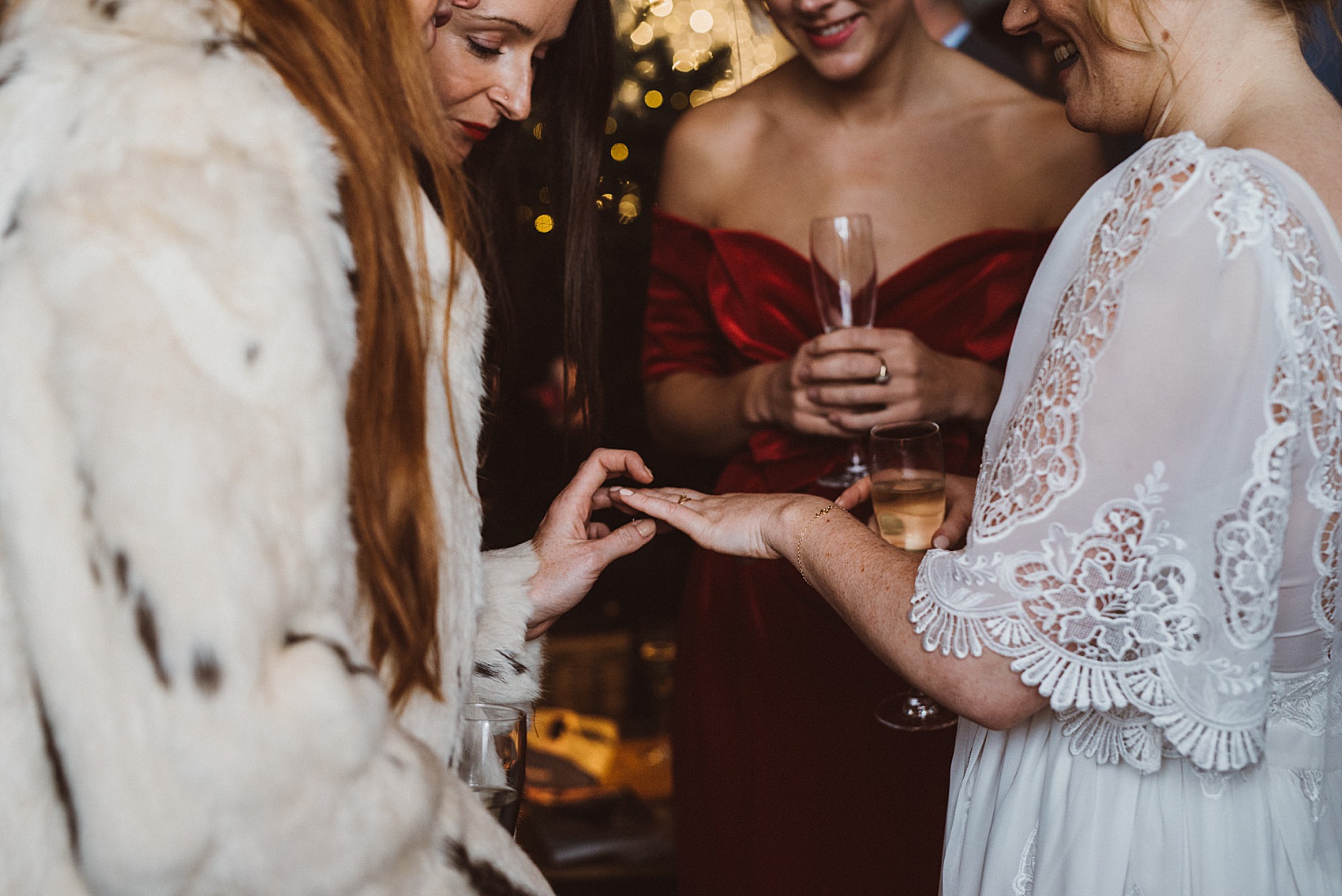 Post-ceremony drinks were followed by a delicious wedding feast with wine pairings, courtesy of caterers Wolf and Lamb.
"The whole experience was super laid back, stress free, and the trust was there from the start that they knew exactly what we wanted, and that they would be able to deliver. The passion that both Antony and Lee showed came across in the food, and people still talk about the pies 6 months later. Their wine choices they walked us through were second to none. They have a restaurant in Stoke Newington, which you can always go and check out before. We couldn't rate them higher."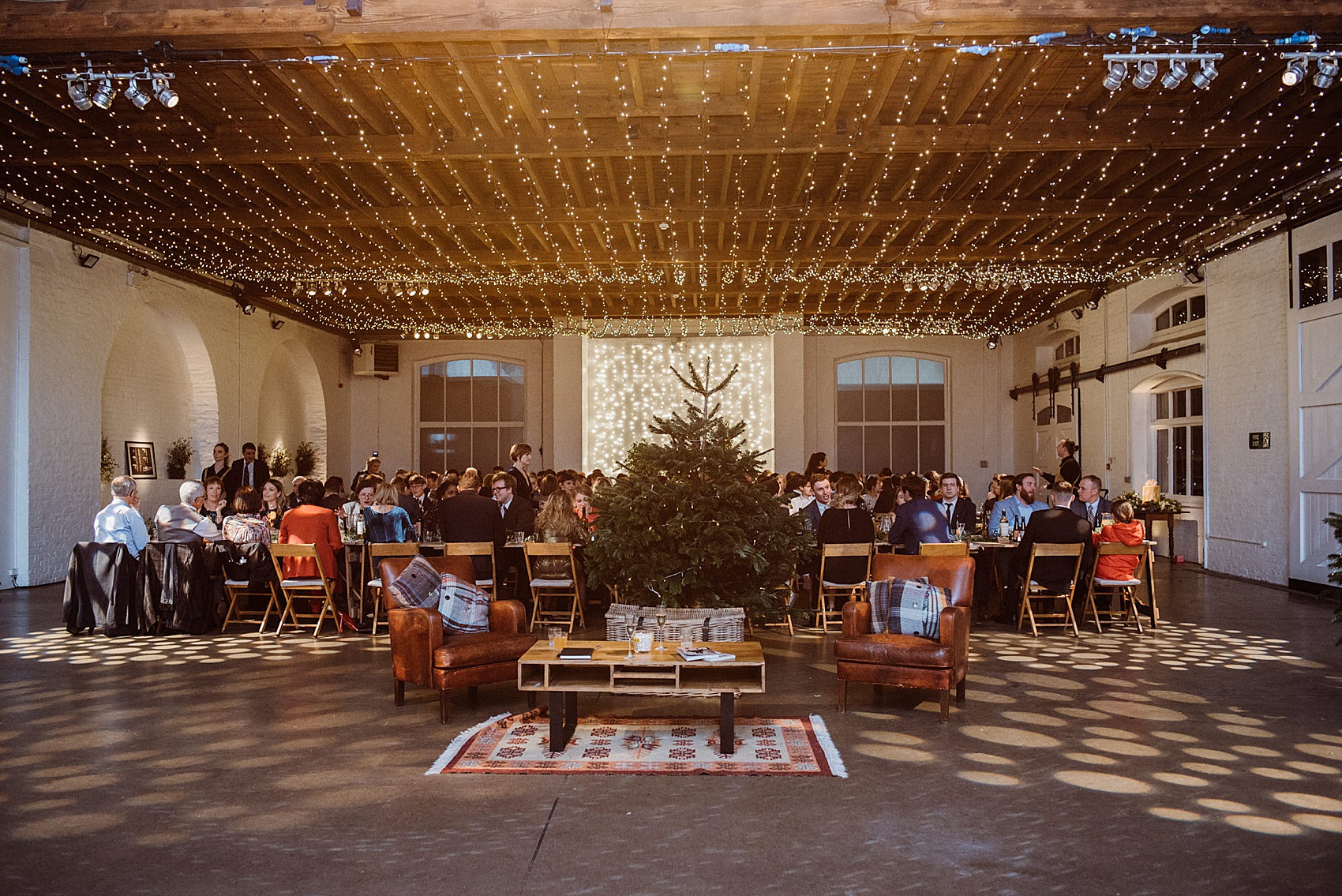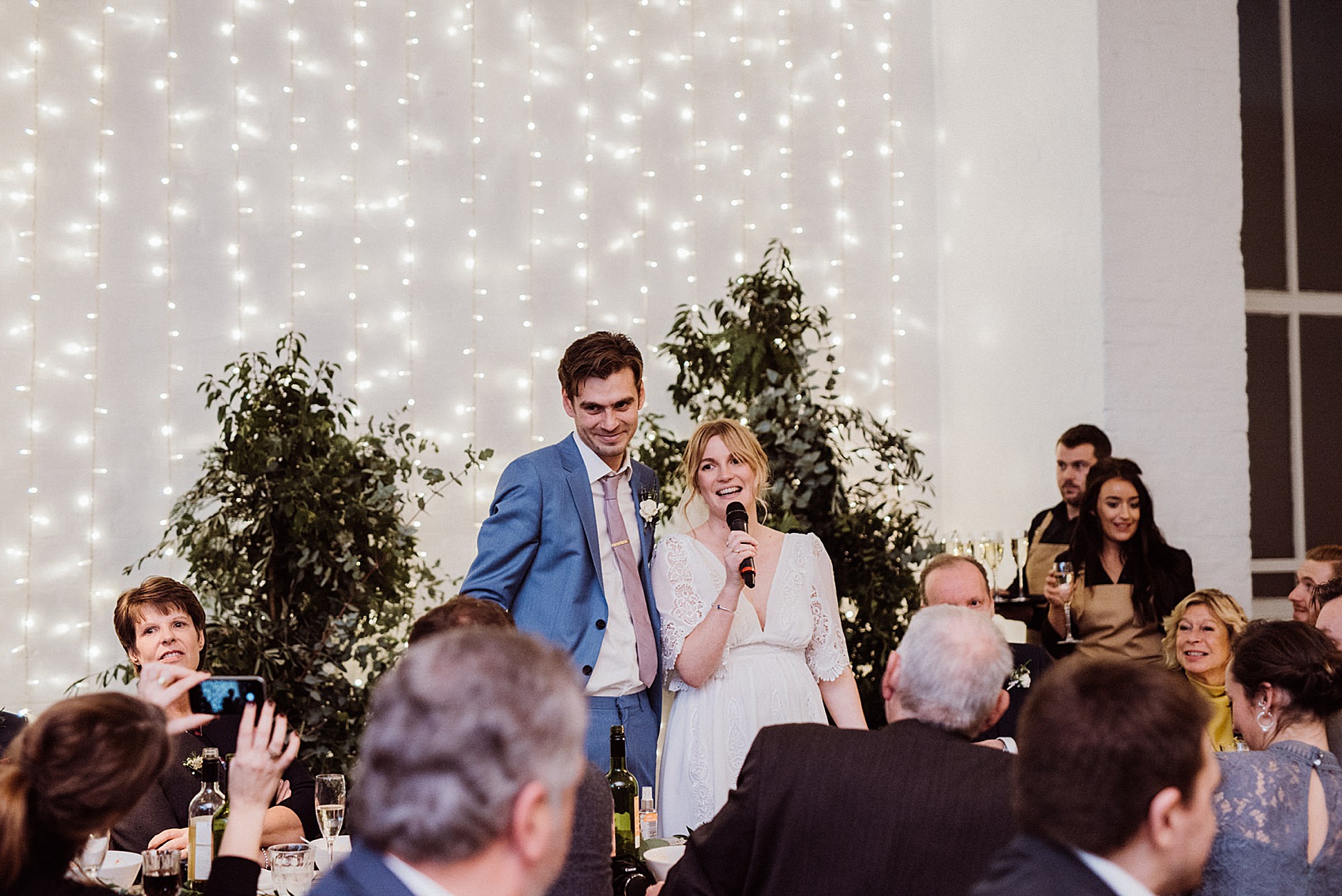 The groom's talented mum Gill made the spectacular wedding cake, and I just love the abstract paint and gold leaf decoration!
"Gill was amazing at helping us find a style we liked, and that would tie in with the rest of the day. It looked so beautiful in the space surrounded by lots of winter green foliage, we can't thank her enough."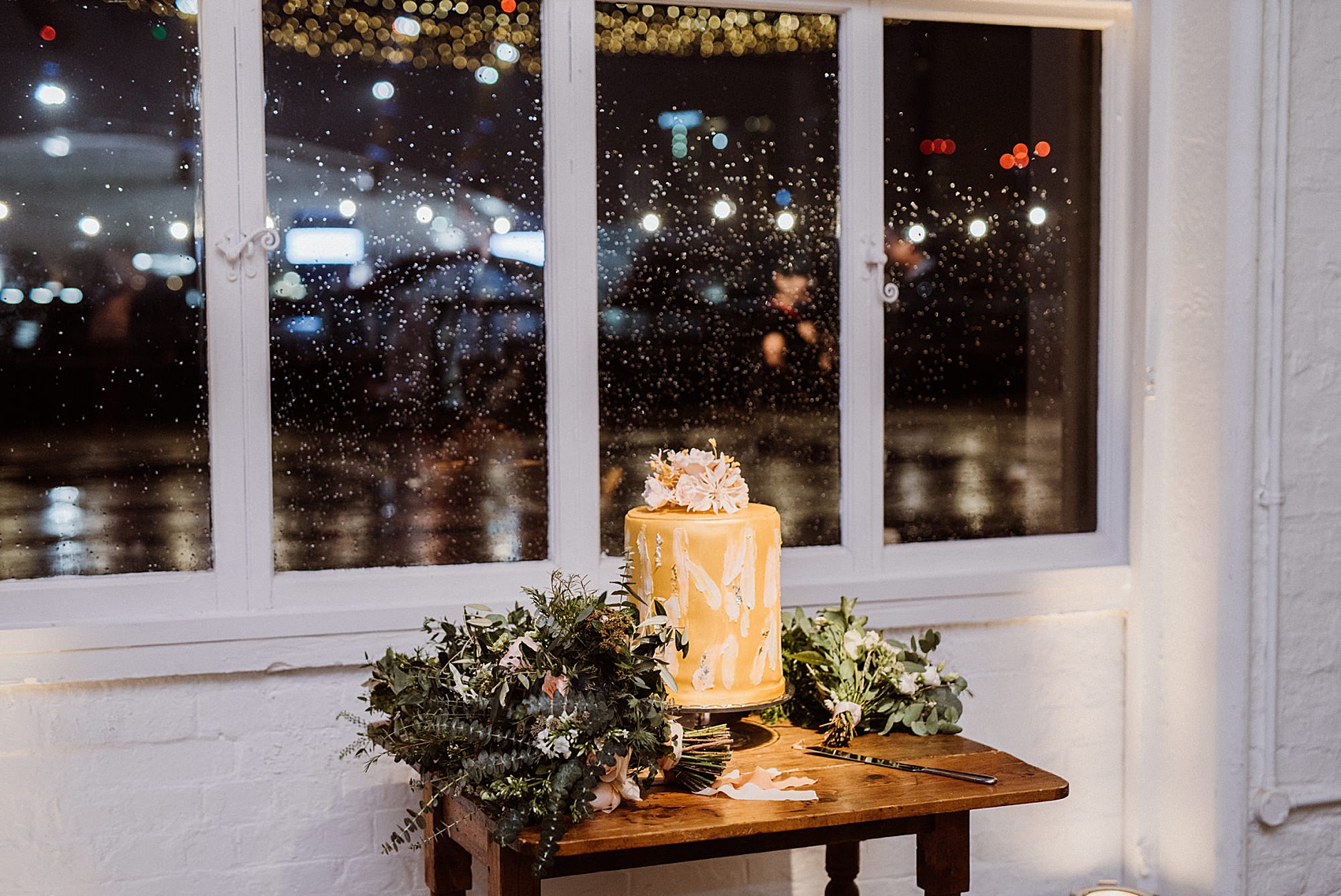 In time for a night of dancing, Mrs Archer-Lee changed into a gorgeously draped dress by Hope & Harlequin, and perfect rhinestone disco platforms by Miss L Fire.
"We dimmed the lights, turned on the disco ball and friend and DJ Matt Smith made sure people were tearing up the dancefloor until the very last moment. The sound equipment was supplied by Sound Services, who made sure everything sounded amazing. We had more of an impromptu first dance, when the dancefloor was already in full swing, and Escape (The Piña Colada Song) came on just as I was returning from getting changed into my evening dress."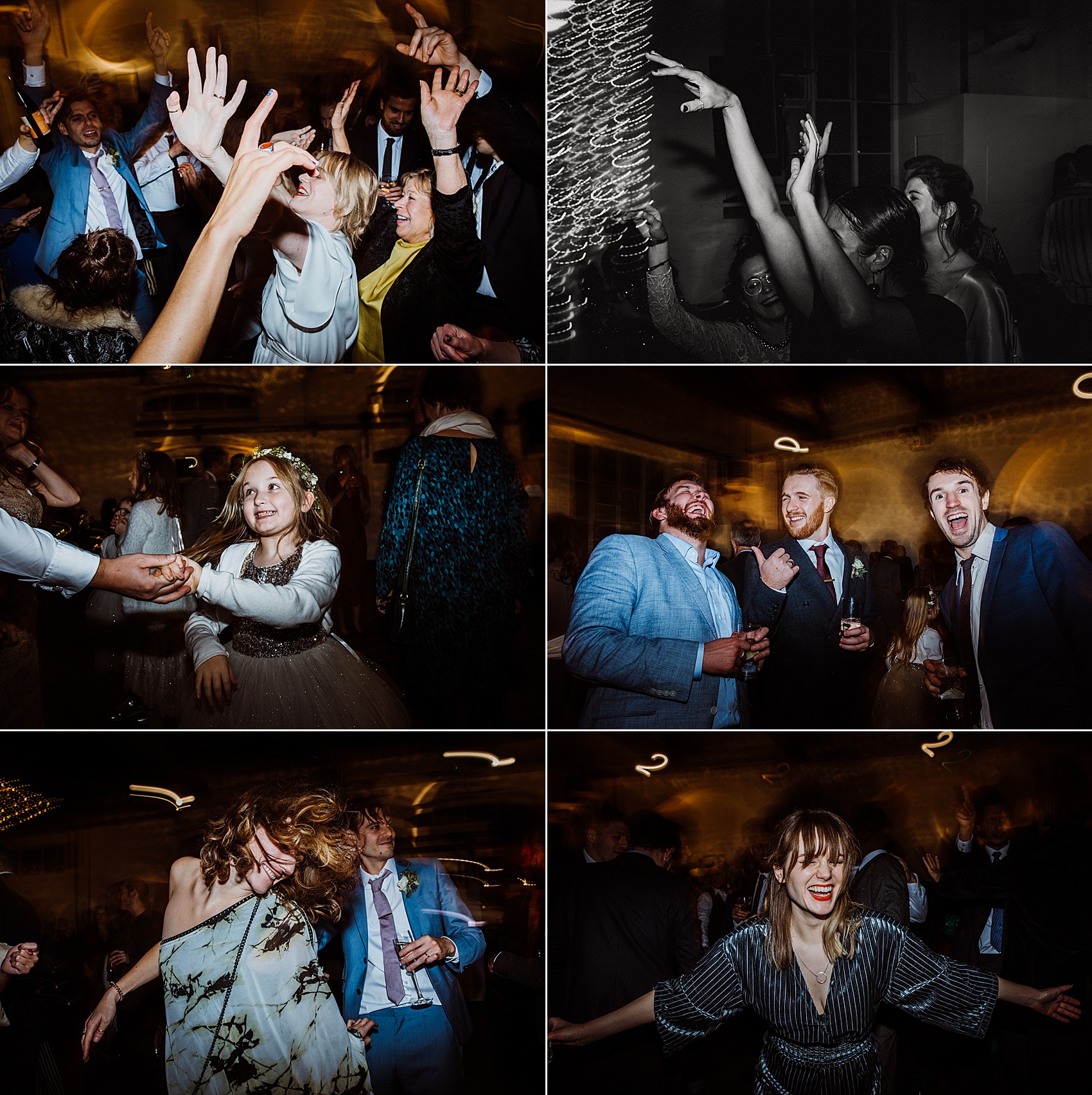 "Seeing all our friends and family of all ages in the same place, dancing and having such a good time with us was our favourite aspect of the day. It meant all the hard work and attention to detail had paid off. It was a lot of work doing all the planning ourselves, but we wouldn't have changed this – it meant it really felt like our day."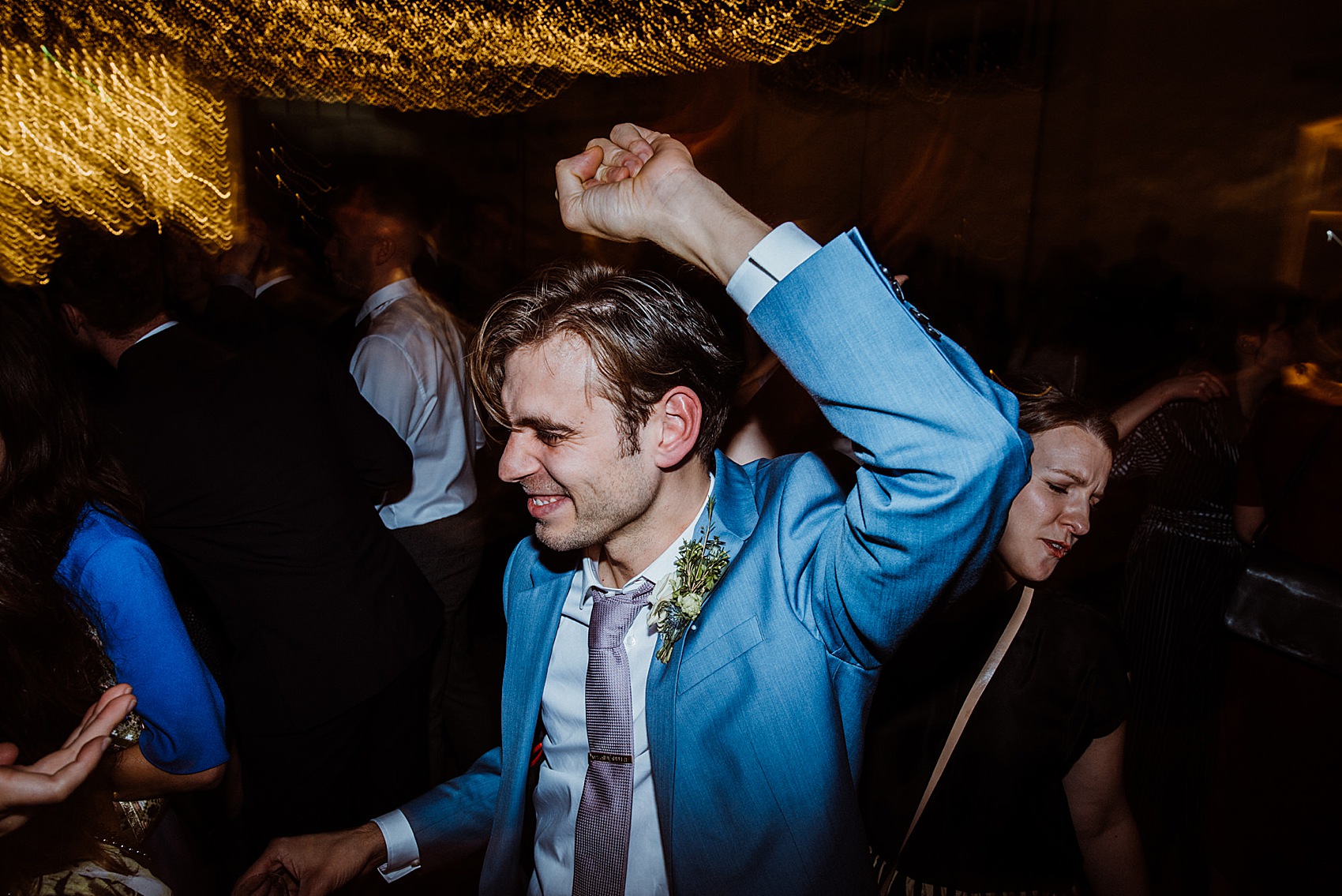 Words of Wedded Wisdom
"Don't listen to anyone else. Go with your gut. You know the day you and your partner want. For us, it was all about showing people how much fun it was being together, so if you focus on throwing a great party, you can't go far wrong."
Well, what a great party it definitely was! Thank you so much to our happy couple, Mr and Mrs Archer-Lee, for sharing it with us. Huge thanks to Kitty Wheeler Shaw for her wonderful images, too. Do make sure you take a look at our other festive, Christmastime weddings on our pages here, too.
With love,
Laura