Gorgeous Glasgow is the setting for today's autumn wedding, completely packed with incredible flowers and foliage; from bouquets to buttonholes, beautiful swag and table garlands, and in vases spilling from every surface. This is a flower lover's dream.
Meet Jacqueline and David, who both work in banking, and who celebrated their marriage on the 28 September at Cottiers in Glasgow; a former church turned restaurant, bar and theatre space, with bags of beautiful Victorian gothic revival drama.
Images by The Gibsons Photography
Jacqueline's exquisitely crafted dress was a bespoke creation by Ailsa Munro, with a lovely, clean silhouette with long, floral lace sleeves and bodice, and a sexy low back falling to a dreamy tulle skirt.
"I knew I wanted something with a classic silhouette, and loved the idea of having something made bespoke. The low back was an extra feature the designer thought of to make the dress look more modern, and I think it turned out beautifully."
Wonderful Little Book members and husband and wife photography team, Chantal and Scott of The Gibsons, were there to capture Jacqueline and David's day, and I just love these beautifully composed, vibrant images filled with natural light.
"Photography was a very important to us, so finding the perfect people to capture our day was a priority. We went with The Gibsons and felt immediately comfortable with them. Chantal is also from Canada (like me) which was a lovely surprise. We couldn't recommend them enough."
Jewellery pieces were a pair of diamond stud earrings lent to Jacqueline by her mother-in-law, Janette, and a classic string of pearls, which were a wedding day present from David. On her feet, Jacqueline wore a pair of flats with floral embellishment from Bella Belle.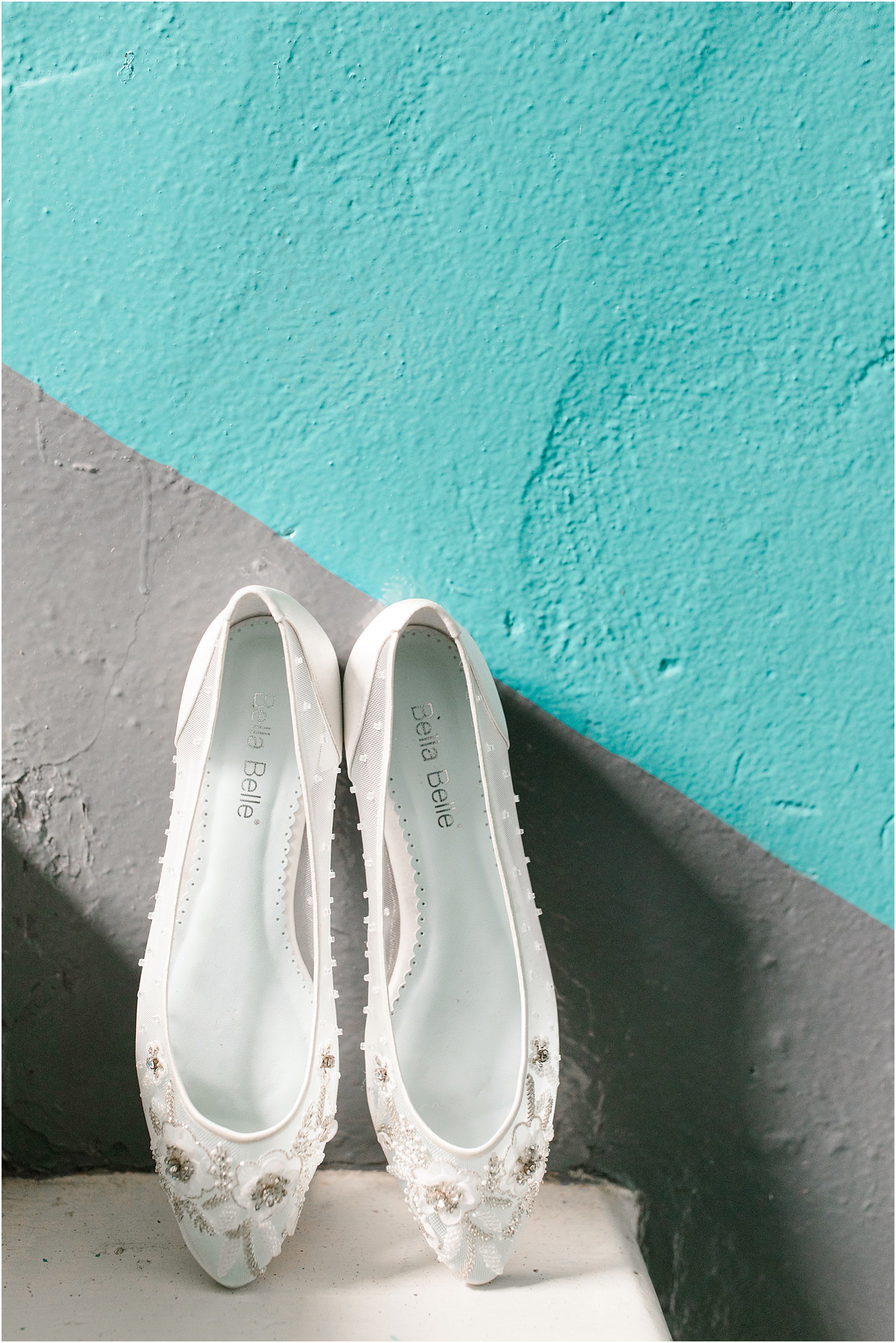 Elegant make-up with beautiful smoky eyes and bright red lips was by Mitchell & Macinnes Makeup, and Jacqueline's hair was styled by Laura Gray.
In her hair, she wore an incredibly lovely crown of delicate waxflowers and olive leaves, made by florist Sparrow & Rose, finished off with a double tiered veil of the finest tulle, by Ailsa Munro. Jacqueline's wedding day perfume was her favourite fragrance – Cleopatra, by Tocca.
Jacqueline's bridesmaids wore matching grey embellished chiffon maxi dresses by BHLDN, together with their own shoes and accessories, and fresh flowers in their hair by Sparrow & Rose.
Sparrow & Rose wove botanical magic throughout Jacqueline and David's entire day, and I just love the bursts of fiery autumn colour in the wild and unstructured bouquets, which included glorious orange South African protea, roses, dahlias and hydrangea blooms, mixed with greenery and meadow grasses, berries, waxflowers, ranunculus, love-lies-bleeding and scabiosa.
"We went with Sparrow & Rose after finding Lisa on Instagram. The wildness of some of her previous work really drew us in – it was all so natural."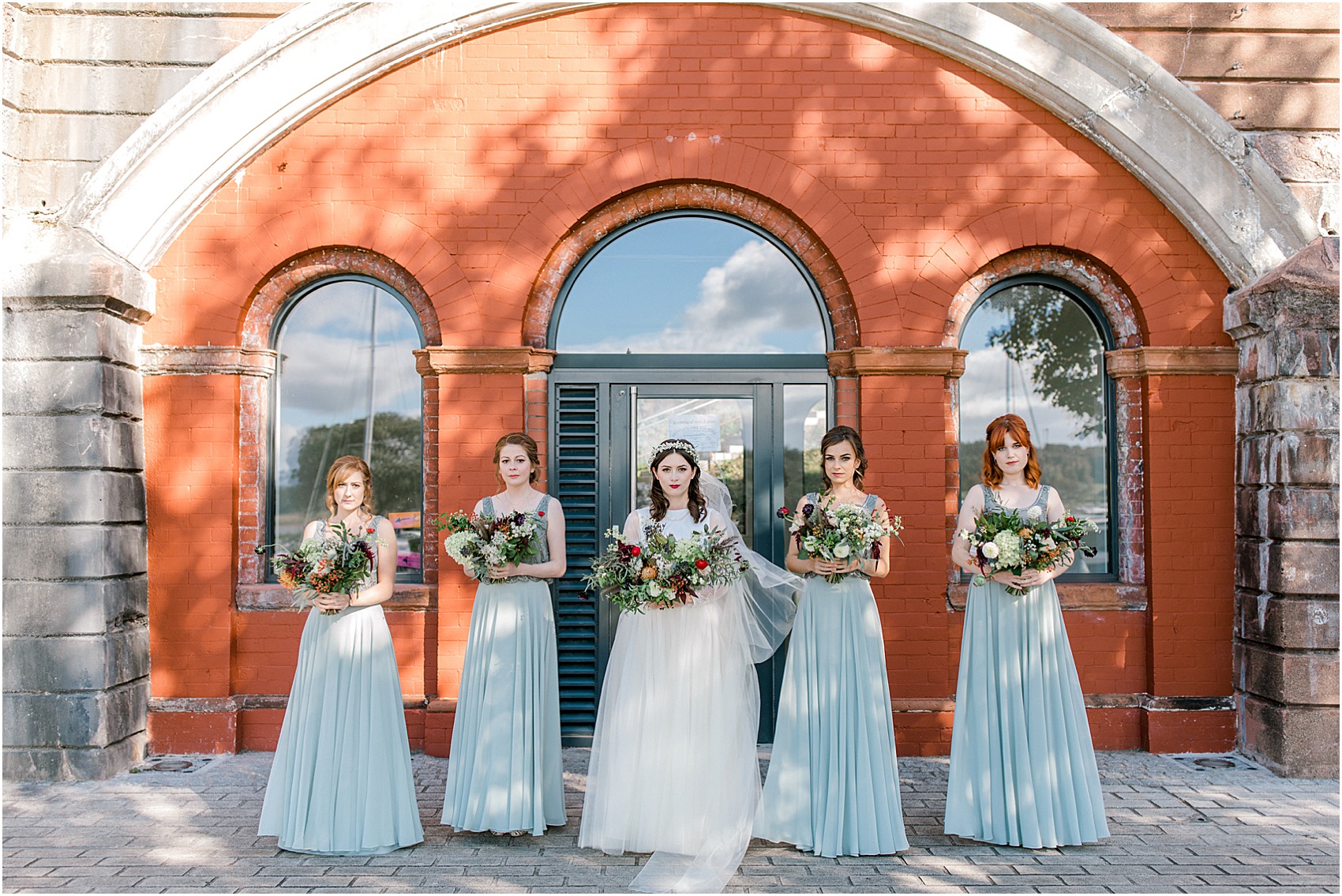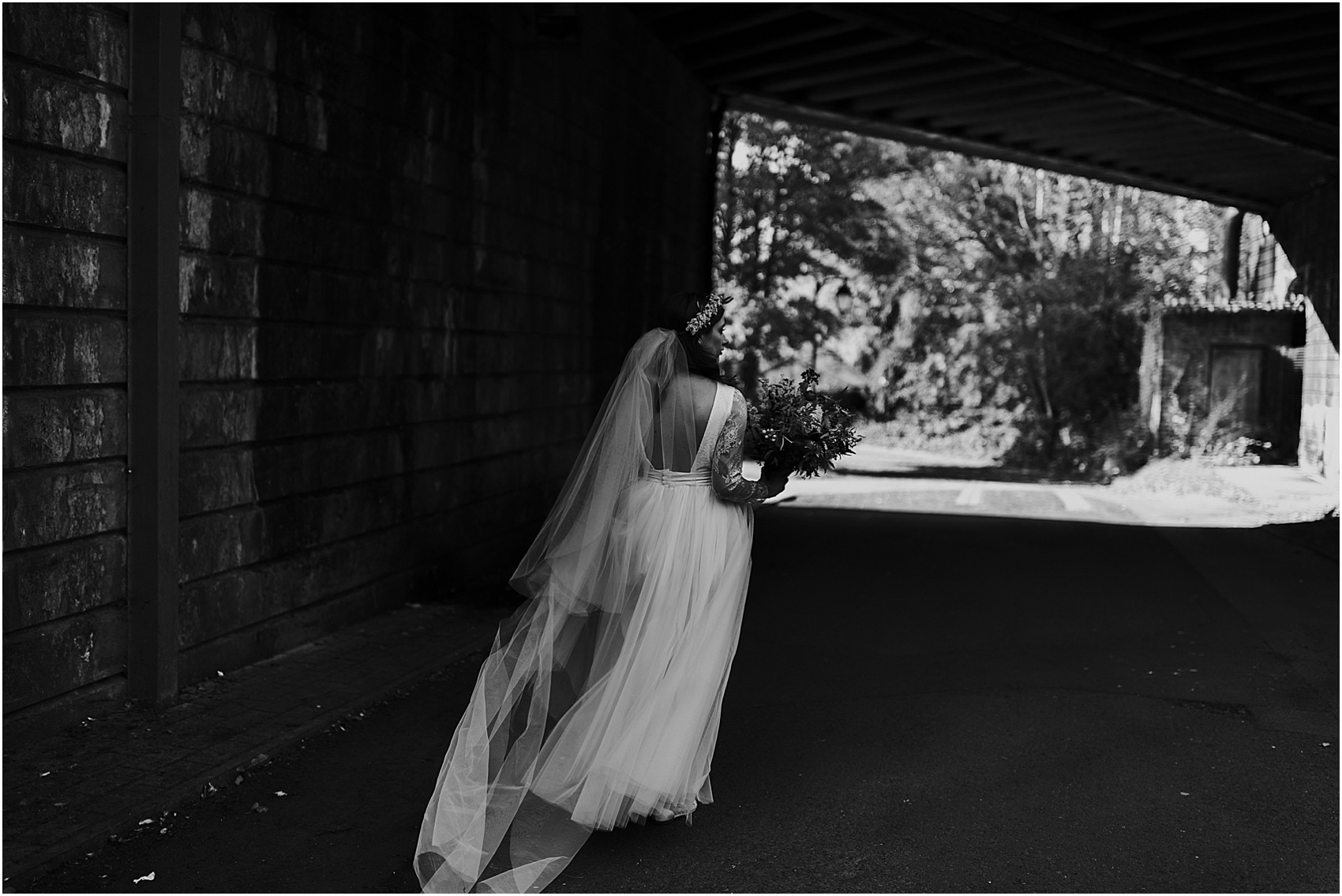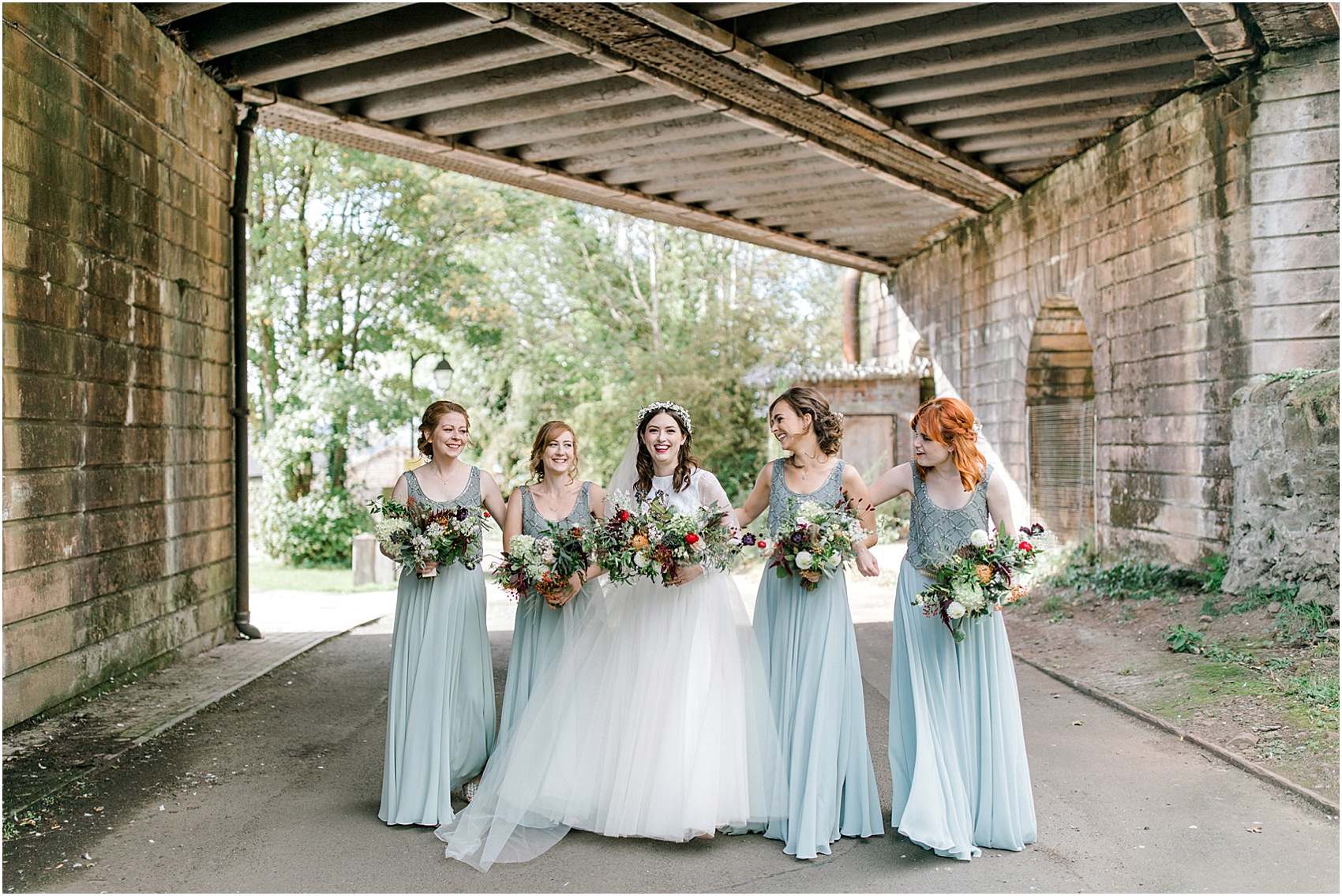 West of Scotland Wedding Cars chauffeured the bridal party to Cottiers in a vintage VW Campervan, and for Jacqueline and her father, a lovely Beauford Convertible.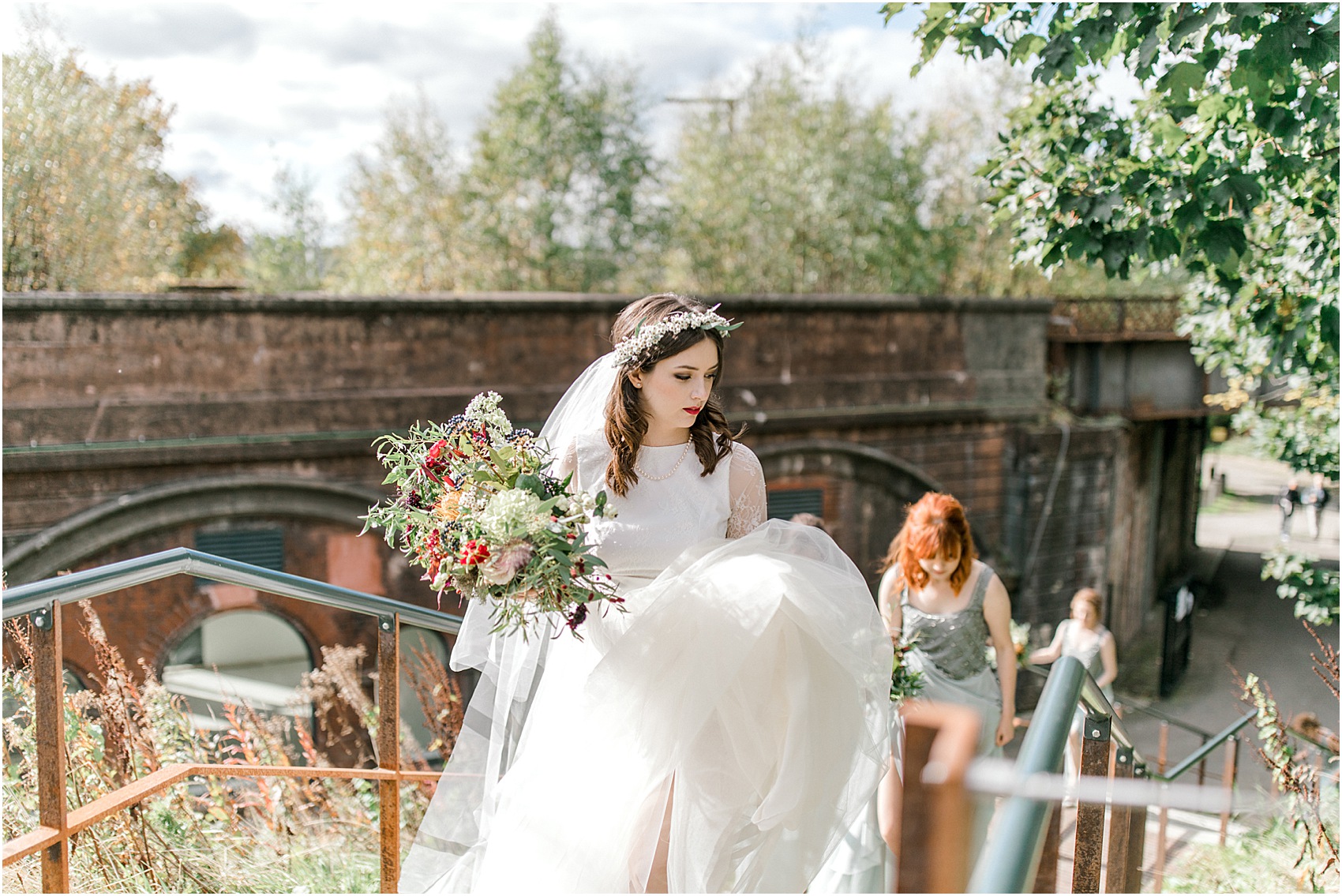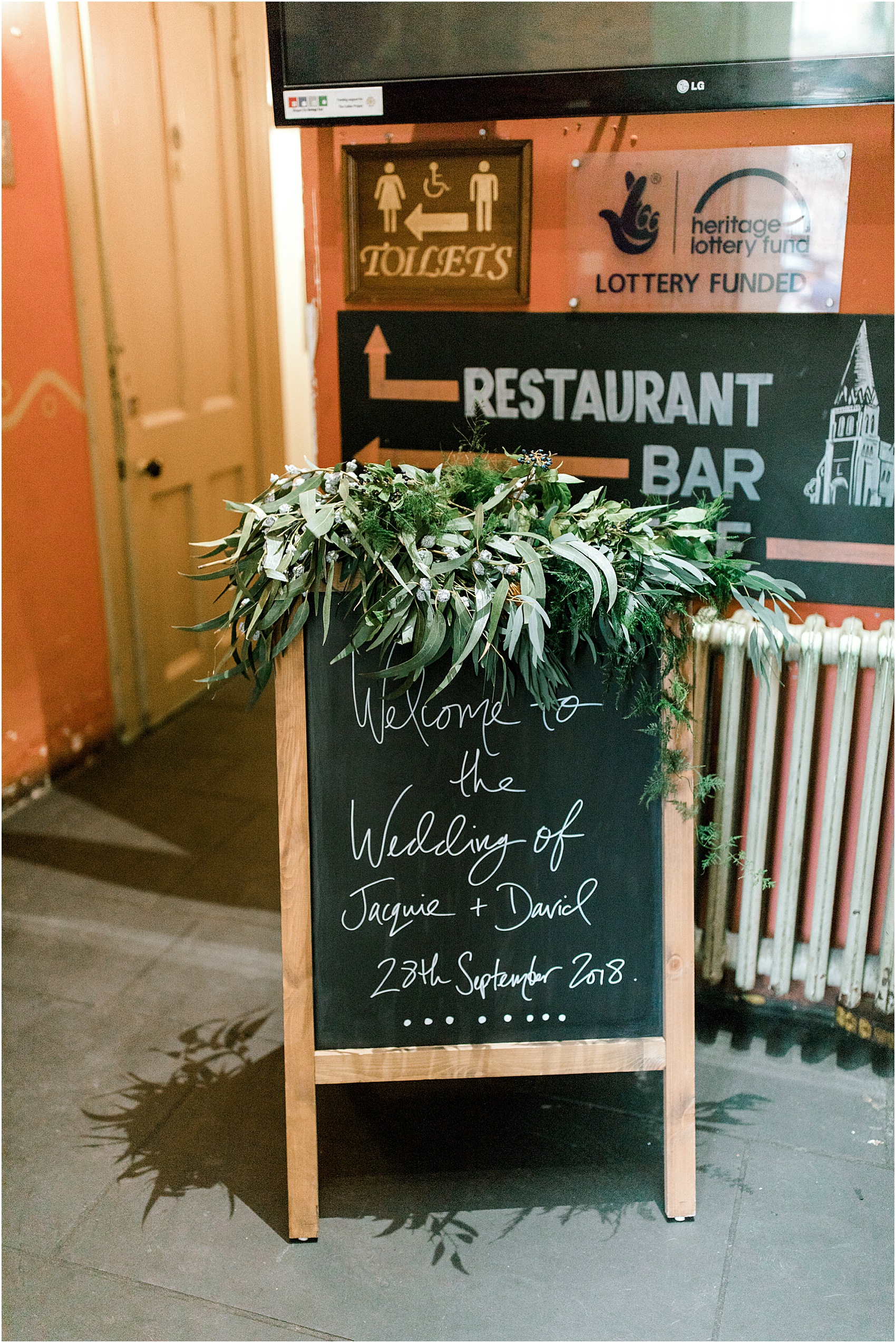 Inside Cottiers, the soaring space was lovingly decorated, with fairylights across the ceiling, and a magnificent swag garland of greenery providing a dramatic focal point, drawing the eye towards the stained glass windows.
There was more greenery on signage, and a colourful vase arrangement on the table where Jacqueline and David would sign the marriage register.
David's nephews Jake and Matt played The Skye Boat Song on acoustic guitars as Jacqueline and her father, Marc, made their way down the aisle to begin the ceremony.
"We met while I was visiting Scotland over the summer, on Tinder. He had great banter, and we kept in touch after I headed back home to Vancouver. A few months later, I made the move over. We were together for just over a year and a half before he proposed while we were visiting Canada. Our wedding was planned for a year later."
The couple's Humanist celebrant was Maggie Kinloch, and as they wrote their vows to each other, Maggie asked them to include three things they loved about each other, and three things they thought the other needed to work on.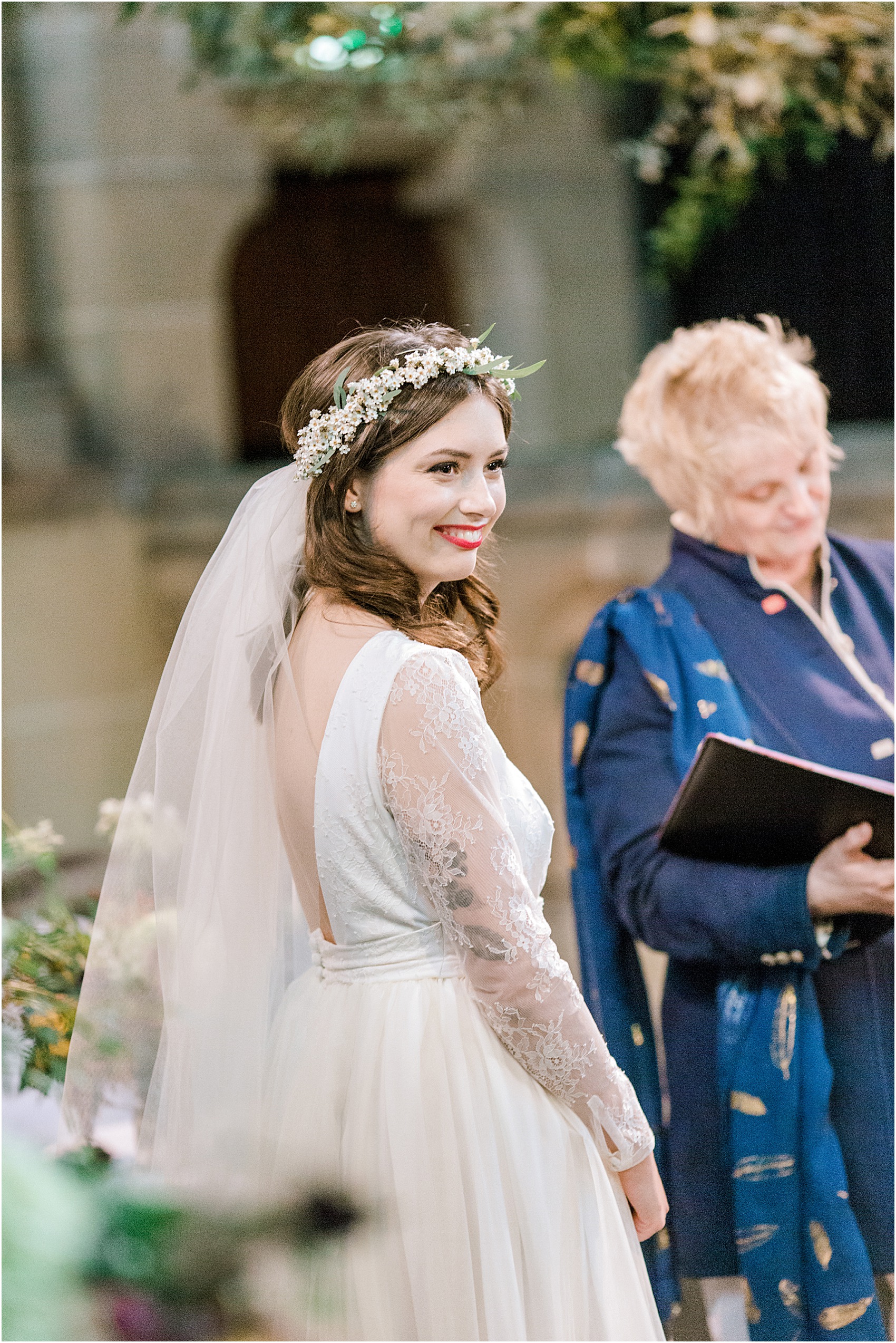 There was also a handfasting element to the ceremony, where Jacqueline and David's hands were tied together with colourful ribbons as a symbol of their union, as well as the exchanging of rings. Jacqueline chose a rose gold ring from Tiffany & Co., and David went with an etched rose gold ring from Etsy.
"I was surprised that my favourite part of the day was the ceremony. It almost felt ethereal, and incredibly important. We felt very much in love."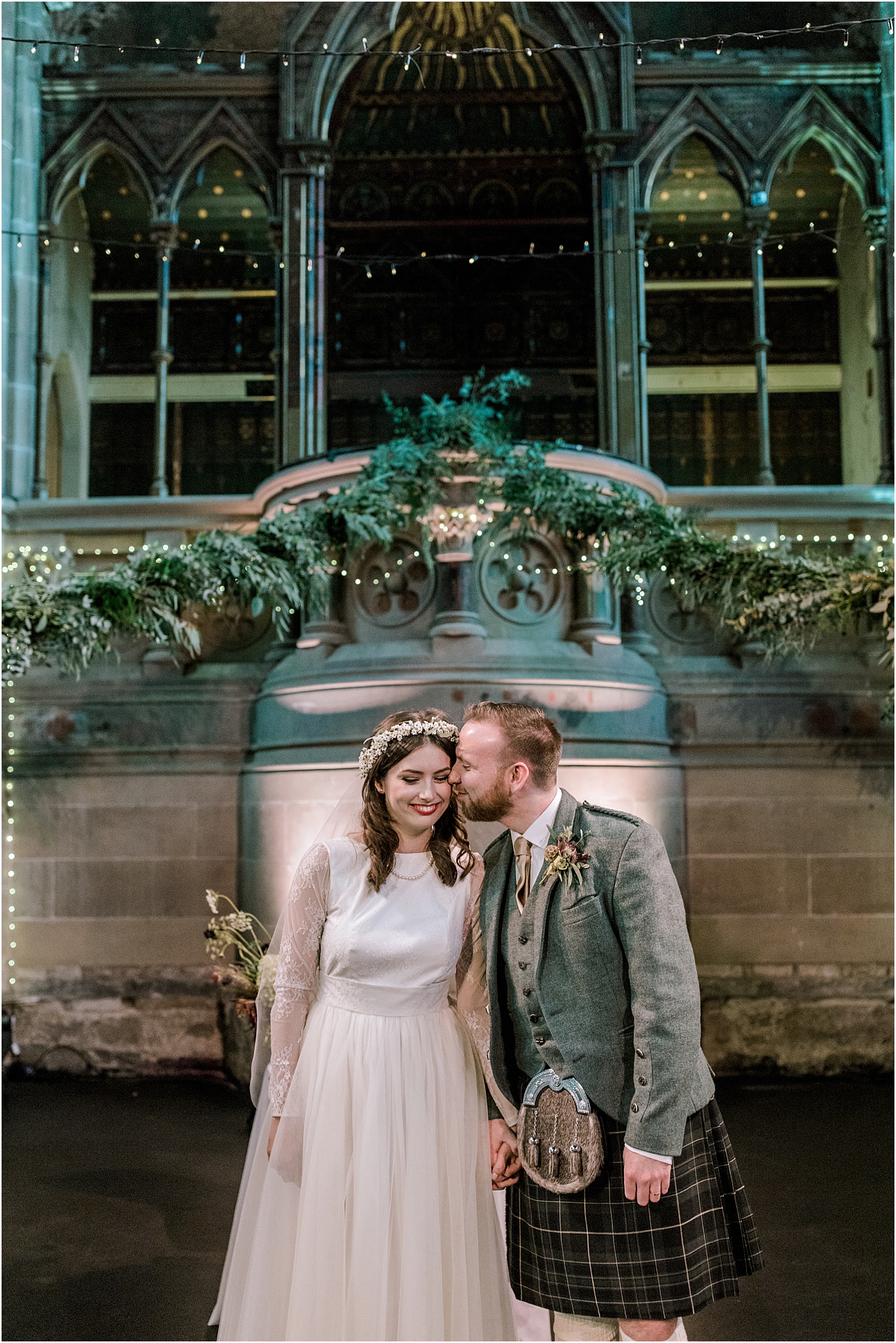 Following the ceremony, Jacqueline and David spent some time together strolling Glasgow's elegant streets, and David wore handsome highland dress with a fantastic green tweed jacket and waistcoat from McCall's Highlandwear.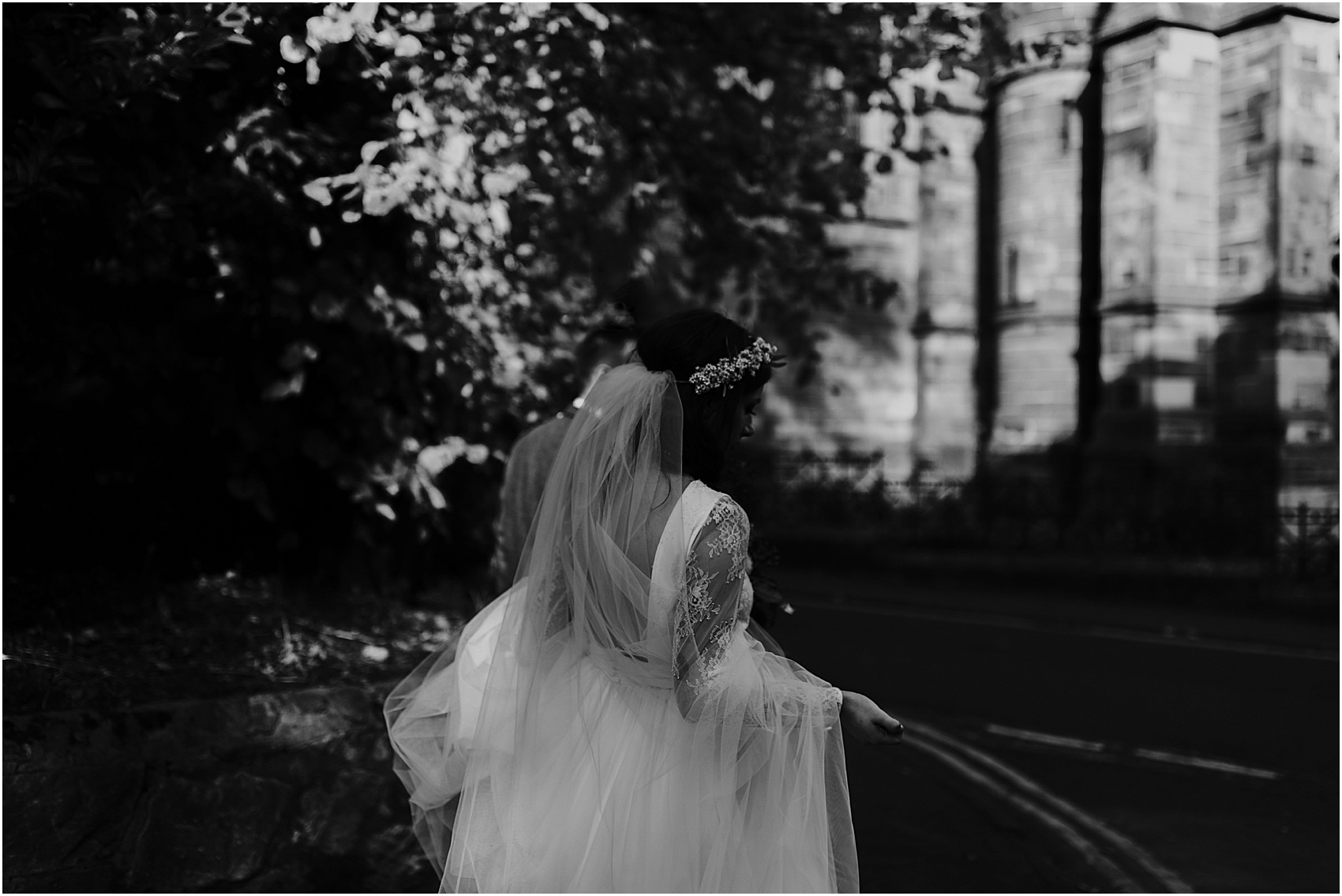 Jacqueline and David wanted their day to be inspired by nature and botany, and so the decor was all about the flowers and greenery, with the tables decorated with garlands filled with orange blooms, and dotted with candles. Favours were miniature bottles of Edinburgh Gin.
The couple chose their stationery at Papier, and their table plan was handwritten onto a re-purposed window, with their tables named after provinces in beautiful Canada. Next door was a lovely vintage suitcase for guests to deposit cards and gifts.
The team at Cottiers prepared a wedding feast for Jacqueline, David and their loved ones to enjoy in the spectacular setting, as well as delicious cake – a three-tiered, semi-naked beauty by Glasgow bakery The Little Cake Parlour.
"Cake tasting was definitely one of the highlights of wedding planning!"
I love how the venue space transformed from an elegant ceremony and dining space during the day, to a brilliant place for a night of dancing, lit atmospherically with coloured lights and fairylights.
Jacqueline and David enjoyed a first dance together to the song Northern Wind, by one of Jacqueline's favourite Canadian bands, City & Colour, with more live music afterwards from The RD's.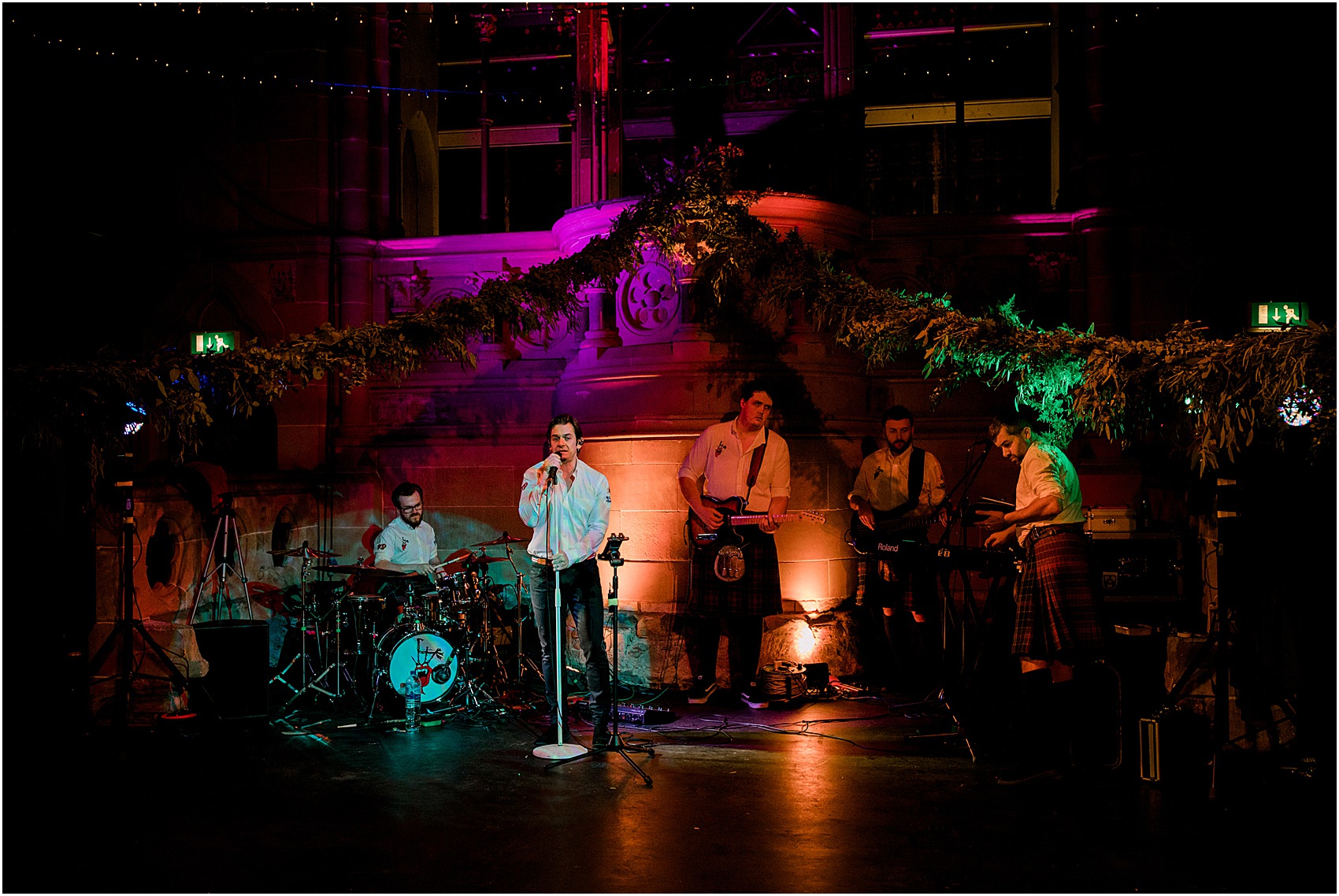 Words of Wedded Wisdom
"It will be the best day of your life so far, so don't worry about the little things. They will find a way to work themselves out in the end."
Jacqueline and David, what a treat this has been to write about. Thank you for giving us this glimpse into your day. I'm in awe of the gorgeous floral arrangements, as well as that beautifully crafted bespoke dress. We have more articles featuring Ailsa Munro's work on our pages, so do make sure you take a look. Many thanks to The Gibsons for their brilliant, sensitively rendered images, too. You can enjoy more of their work on our pages, too.
Until next time.
With love,
Laura