Regular visitors to Love My Dress may have realised just how much we love the talented British designer that is Kate Halfpenny.
We've been a supporter of hers for years on both Love My Dress and our Little Book wedding directory, and seeing her exquisite gowns made their own by brides is such a wonderful thing.
Today's wedding sees an era-inspired number for an English country wedding, and I can't wait to share it with you. On 27 April 2019 Harriet, a communications manager, and Ralph, a public affairs consultant, wed at Ramster Hall, Chiddingfold, Surrey. The historic house and its glorious gardens made an idyllic setting for their subtly-vintage inspired civil ceremony and reception, which had a loose theme of English country garden at its heart. 
Photography Katherine Yiannaki Photography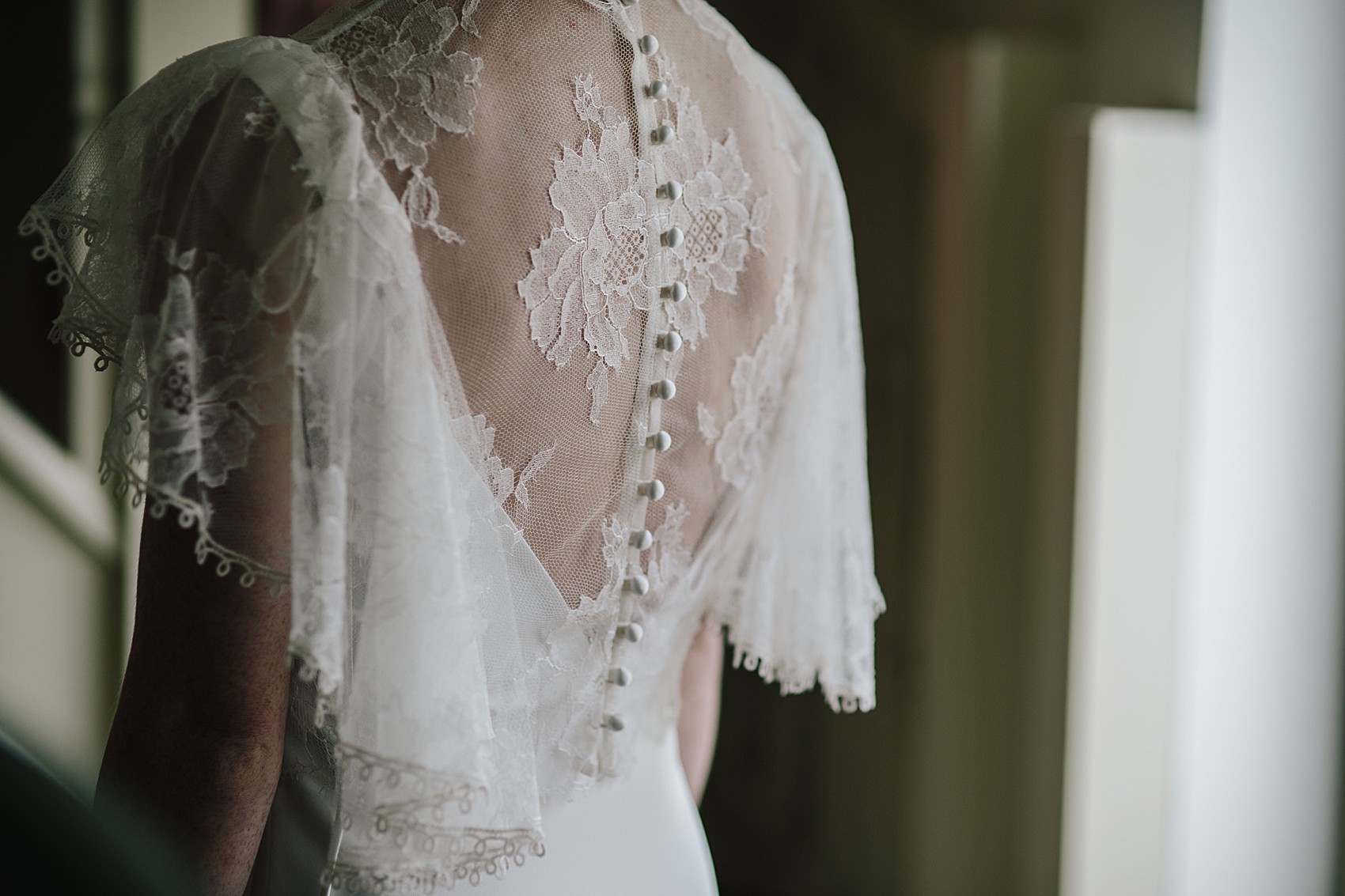 "'English Country Garden' was a loose theme but the venue really set the tone for the day. On the day, many of our friends commented on how the vintage setting was so us. We arrived to look around the venue by driving down a sweeping driveway, surrounded by trees. The halls were beautiful, inside and out, and we knew immediately this was the right place for us."
The vintage styling, beautiful spring gardens and the joy of the newly-weds have been so thoughtfully recorded by photographer Katherine Yiannaki in this exquisite set of images. She comes so highly recommended by Harriet and Ralph, too.
"Katherine captured the day absolutely perfectly; we are so thrilled! It was super-lovely having her there on the day. She has a great mix of positive energy and being in command of the situation and the shots she and you want to get, whilst also being completely unobtrusive and sensitive to the mood."
It's time to turn to my very favourite part of the day, Harriet's incredible Halfpenny London gown which features the simplest of fitted slips paired with the daintiest of lacy, batwing-sleeved jackets.
"I went to the Halfpenny boutique in London with my bridesmaids and tried on some beautiful dresses. The second fitting was with their manager but I didn't realise that at the time. She was fantastic in listening to me and helping me make the decision. I actually went on my own for this – I always shop best on my own!"
"I had actually gone to another shop a few months after my Halfpenny appointment and bought a different dress which was a bit more economical. A few weeks later I just knew it wasn't right and kept thinking about the Halfpenny dresses. I found a few online in London and went to try them on at girls' houses but none of them fitted right so I went back to the boutique. I loved the lacy Ridley jacket that went over the slip. The sleeves were so pretty, and the buttons up the back."
For an extra era-inspired touch, the bride slipped on a pair of metallic T-bar shoes from Peponita and wore her hair in a pretty, era-inspired roll, created by Alice Porter of Natasha Wiggins Makeup. She added a bespoke, leafy hair comb designed with Howling Moon UK.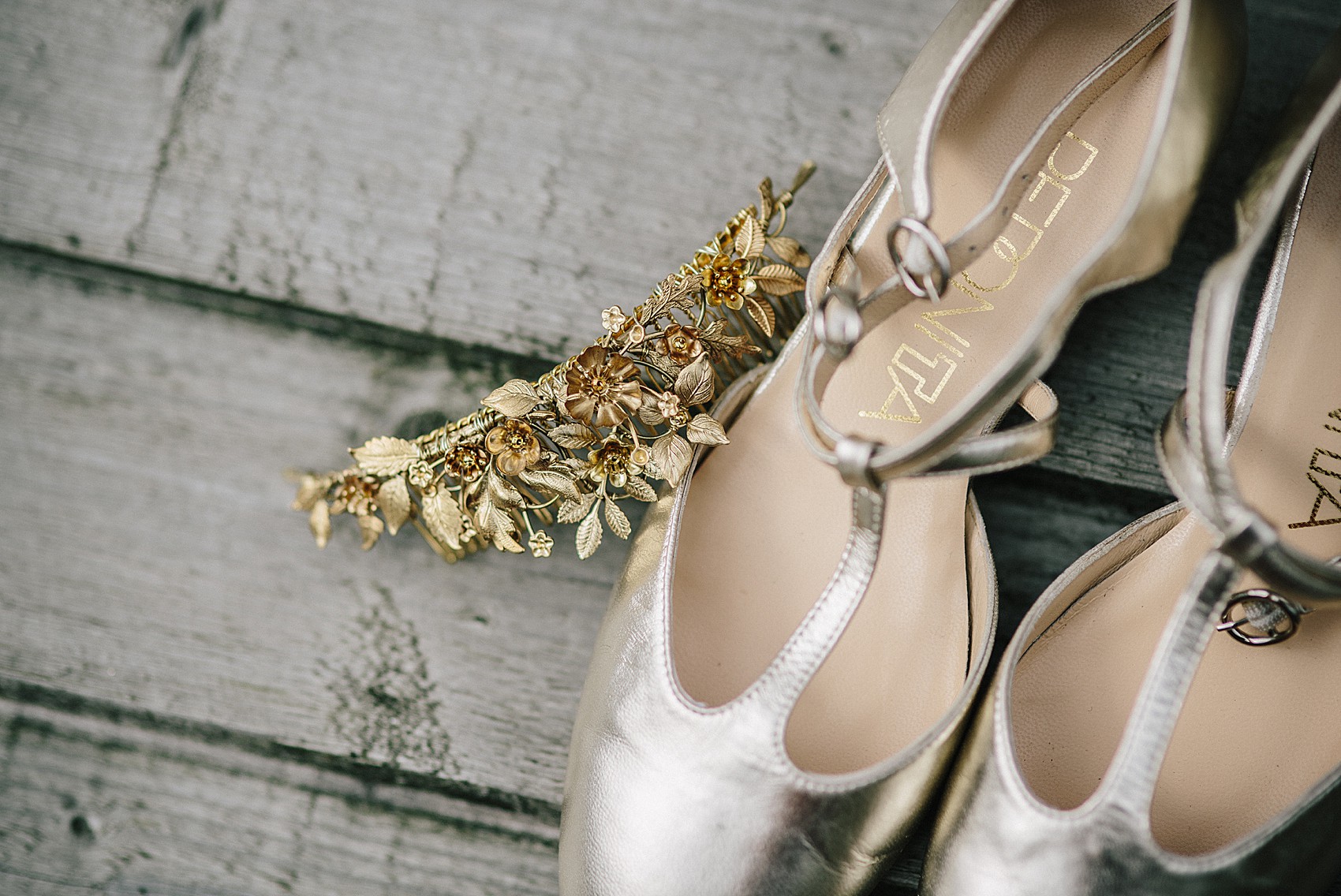 "I saw these shoes in the window of the Peponita shop on Columbia Road in Hackney and knew they were perfect. I worked with Howling Moon on a bespoke crown, which I then felt worked better as a hair comb so wired it onto a hair comb myself."
Another country touch were her statement, gold peacock feather earrings from Alex Monroe – a present from Ralph. She wore another present from him, Aqua Di Parma Iris Nobile, which he had surprised her with.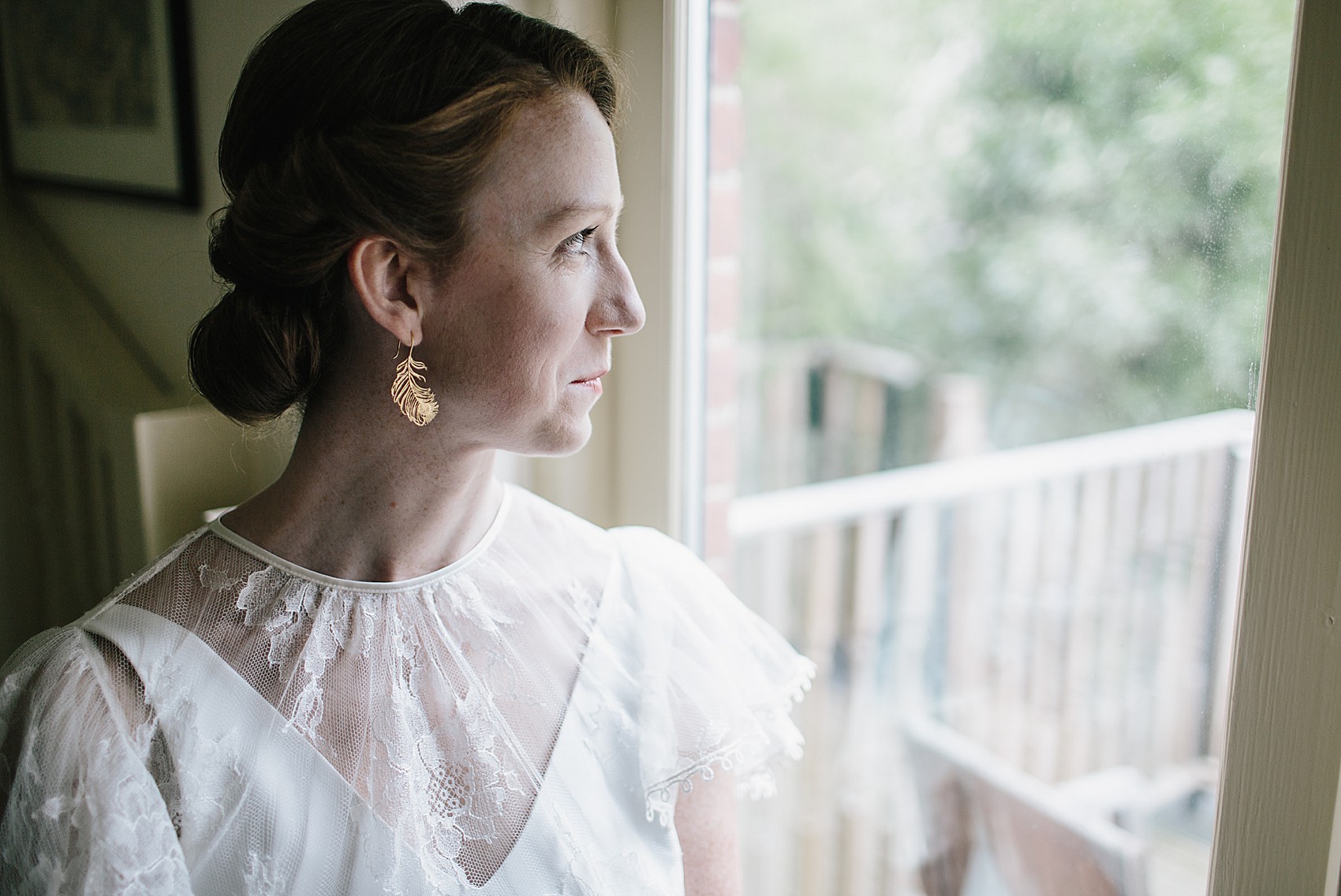 The historic house needed little other than flowers to enhance its magical atmosphere; its inherent beauty shines through so beautifully.
"The venue came with fairy lights in the rafters which were perfect. The artefacts and furniture in the halls were decoration enough in themselves."
"Lizzie Moreton Florist was recommended by the venue and I was thrilled with what she designed – exactly the right colours to match the bridesmaid dresses and the jam jars on the tables were so pretty."
Setting the English country garden tone, along with the fresh blooms, was the delicate and exquisitely-illustrated floral stationery suite which was designed by Charlie Best.
"I had worked with Charlie in my previous job at a marketing agency; she had done some beautiful countryside illustrations for a client's project. I contacted her to ask if she would be up for designing my wedding invitations and told her I'd love to incorporate bluebells and cow parsley as they are one of my favourite bits of spring and a big feature at Ramster Hall."
"Charlie developed a theme along these lines for the invitations, order of service, table plan and place cards. As we were having two long tables, rather than round ones, she also illustrated four woodland animals (badger, hedgehog, pheasant and owl) to help people find their seats. I got extra prints of these made and framed for my bridesmaids."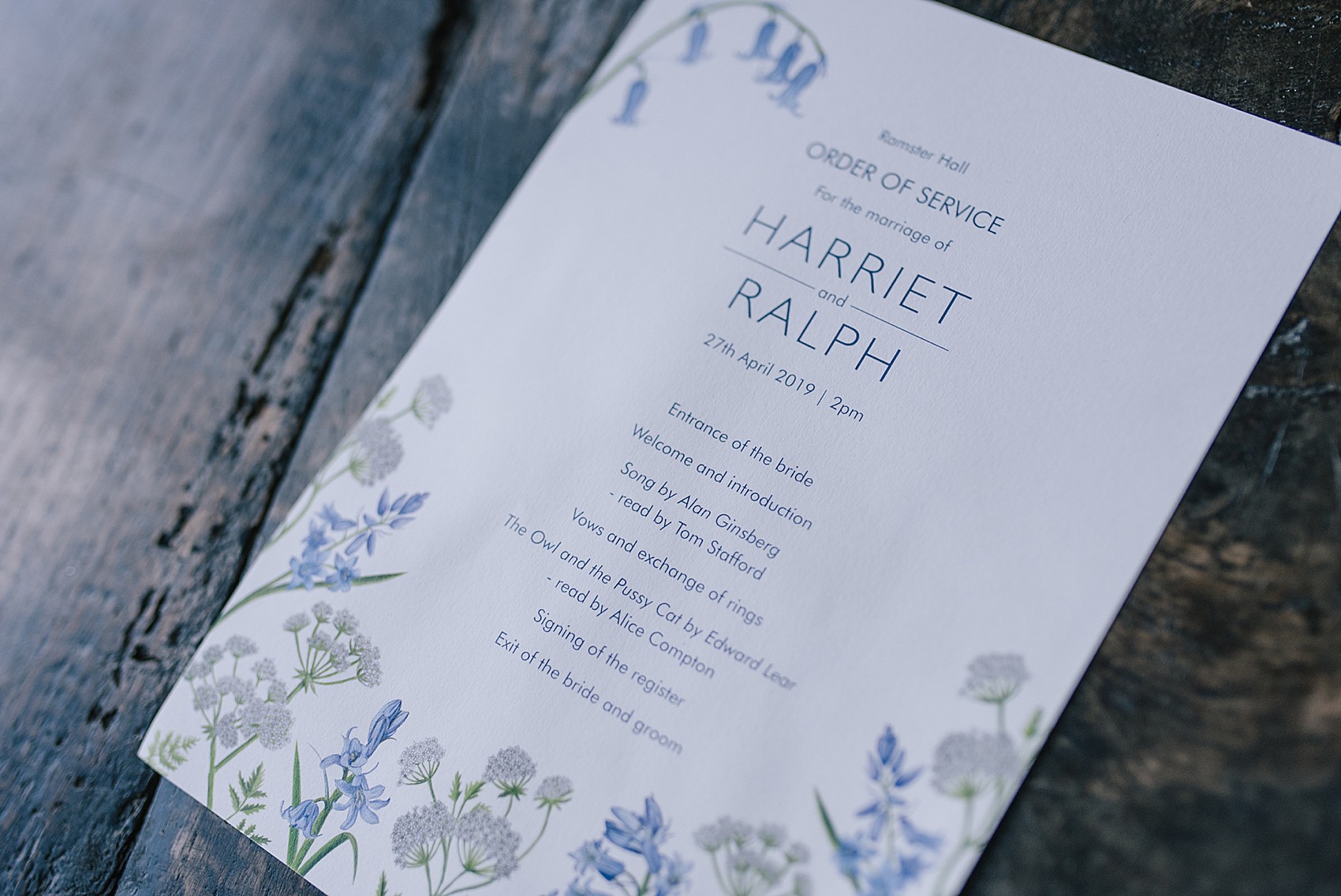 The bride and groom first met at work in 2015, and Ralph made a romantic proposal whilst the pair were trekking in Nepal.
"We were at the highest point of the trek and had got up at 6.30am to watch the sun rise over the mountains. Suddenly I realised he was patting his pocket and then getting down on one knee. It was a complete surprise as I didn't think he'd bring a ring out to Nepal in his rucksack! That was in November 2017 and we got married in April 2019."
The groom's Gieves & Hawkes suit, and those of the groomsmen, were given a vintage spin by Liberty print ties.
"We knew we wanted Liberty print ties and found Catherine of CatkinJane on Etsy. She made us nine in the fabric we wanted and nine white pocket squares. She was great and we were so pleased with the ties."
The bride, her bridesmaids and bridesman prepared in a local pub before taking the short journey to the Hall.
"Arriving at the venue and standing outside the room waiting to go in with my bridesmaids, bridesman and my dad was so exciting!"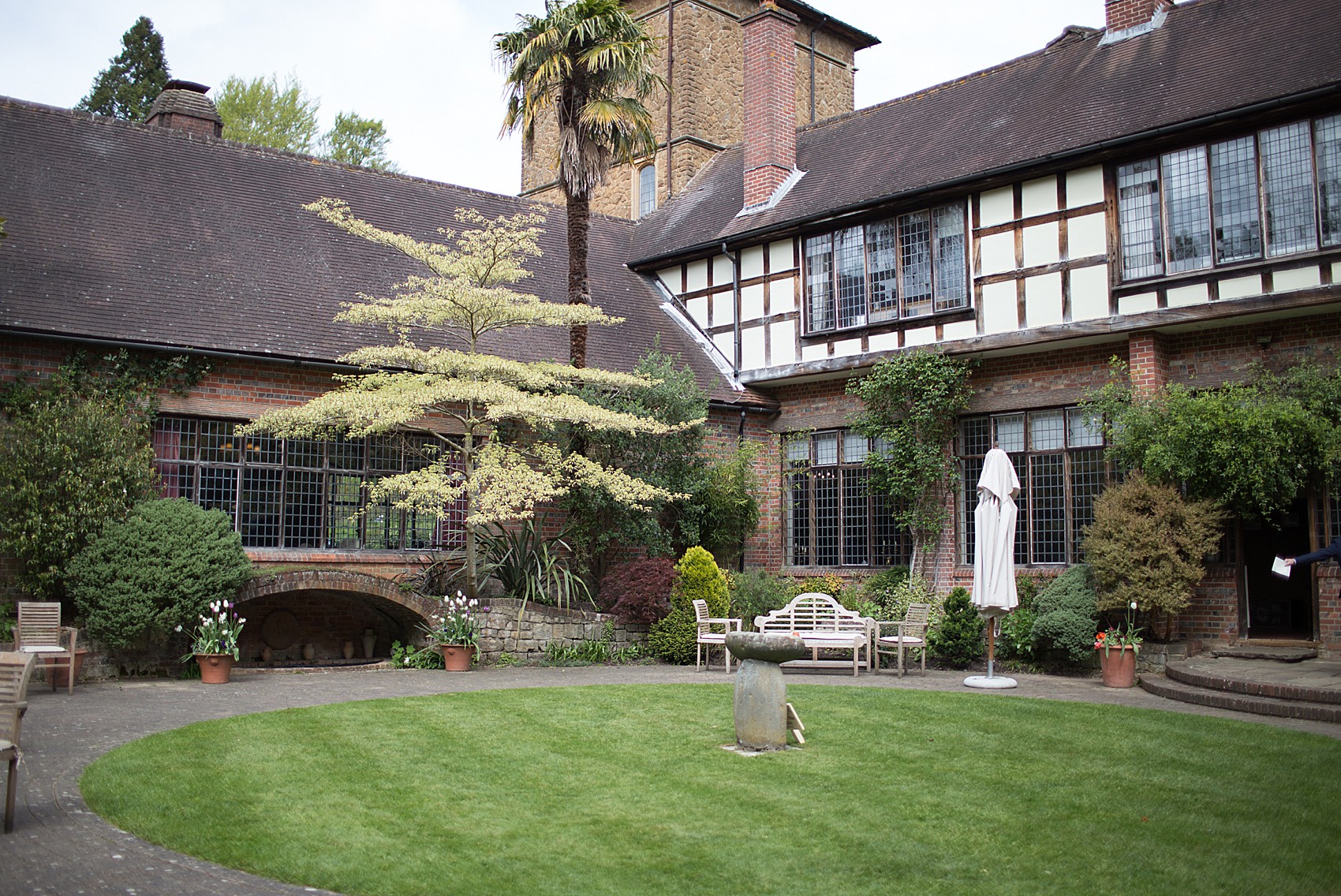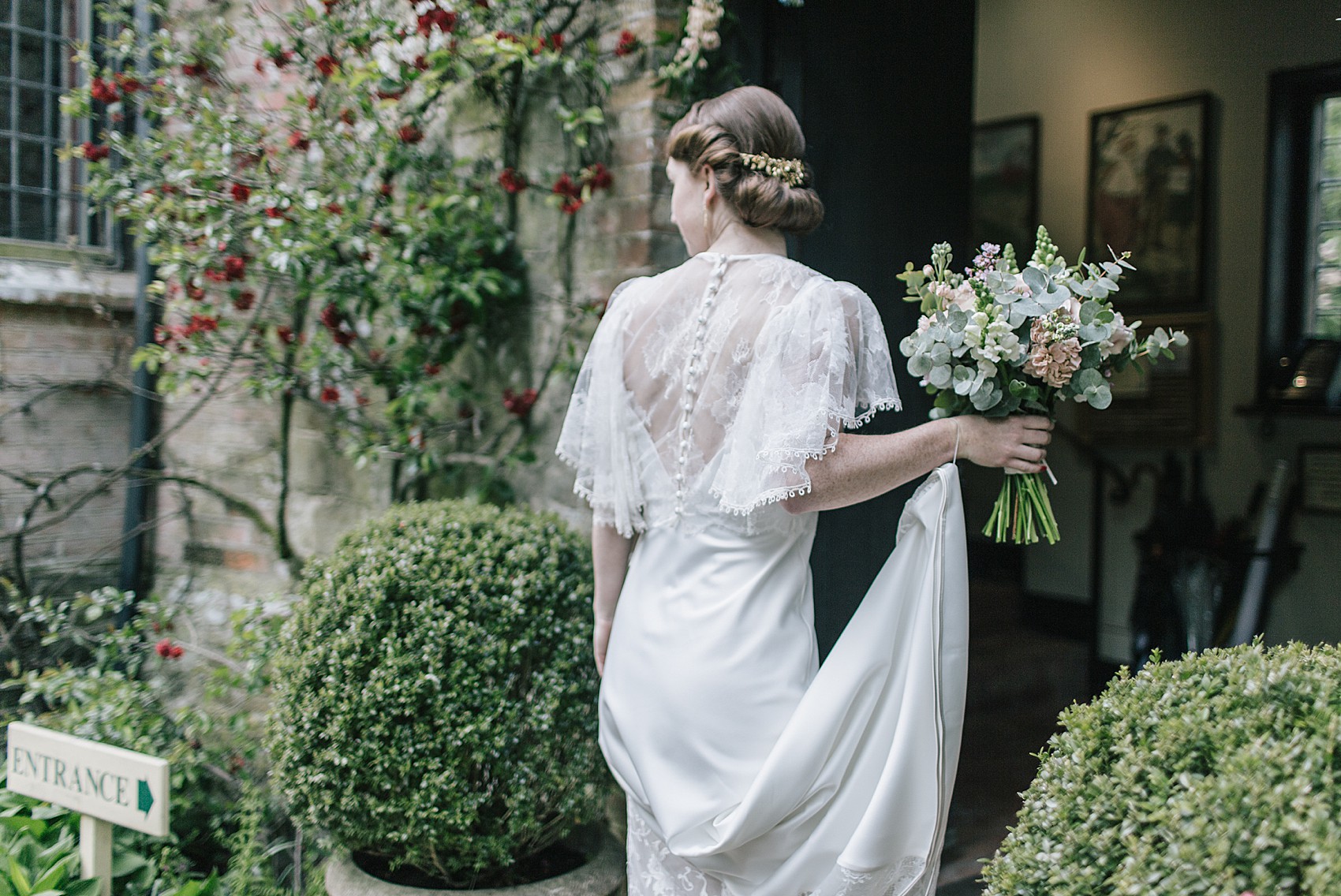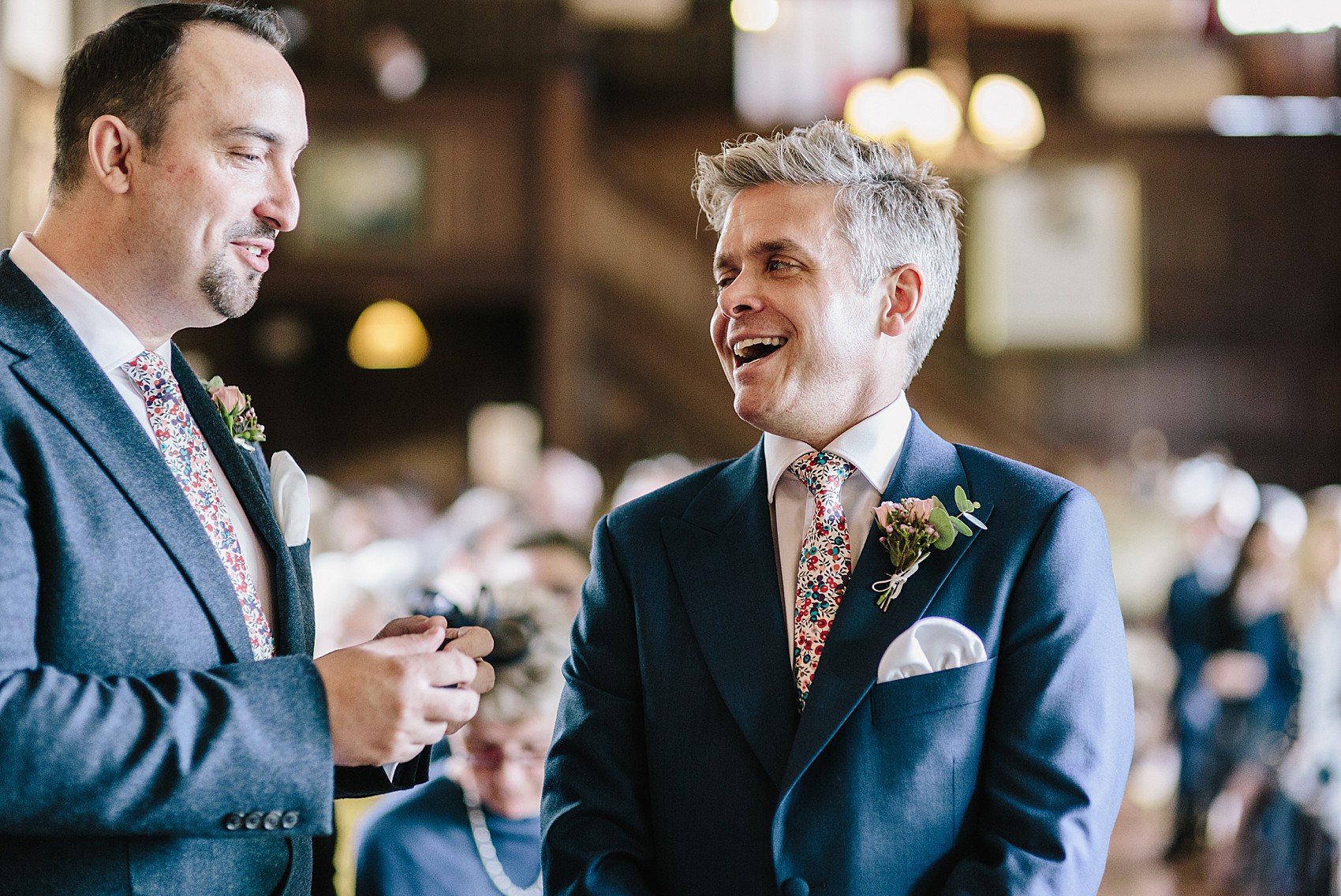 Ralph and Harriet's civil ceremony was held in Ramster Hall's ancient barn, and Harriet entered with her father to Handel's 'Arrival of The Queen of Sheba'.
The couple wrote and exchanged the same vows (which they have shared below), and the ceremony also featured two readings; 'The Owl and the Pussycat' by Edward Lear and Allen Ginsberg's 'Song'.
"I give you this ring as a sign of our marriage, and as a symbol of our love. I will be the shoulder you lay your head on. I will support, respect and cherish you. We will share our dreams and goals, standing side by side against life's challenges and sharing in one another's happiness and laughter. I will be your partner and friend in a loving, honest relationship, for the rest of our lives."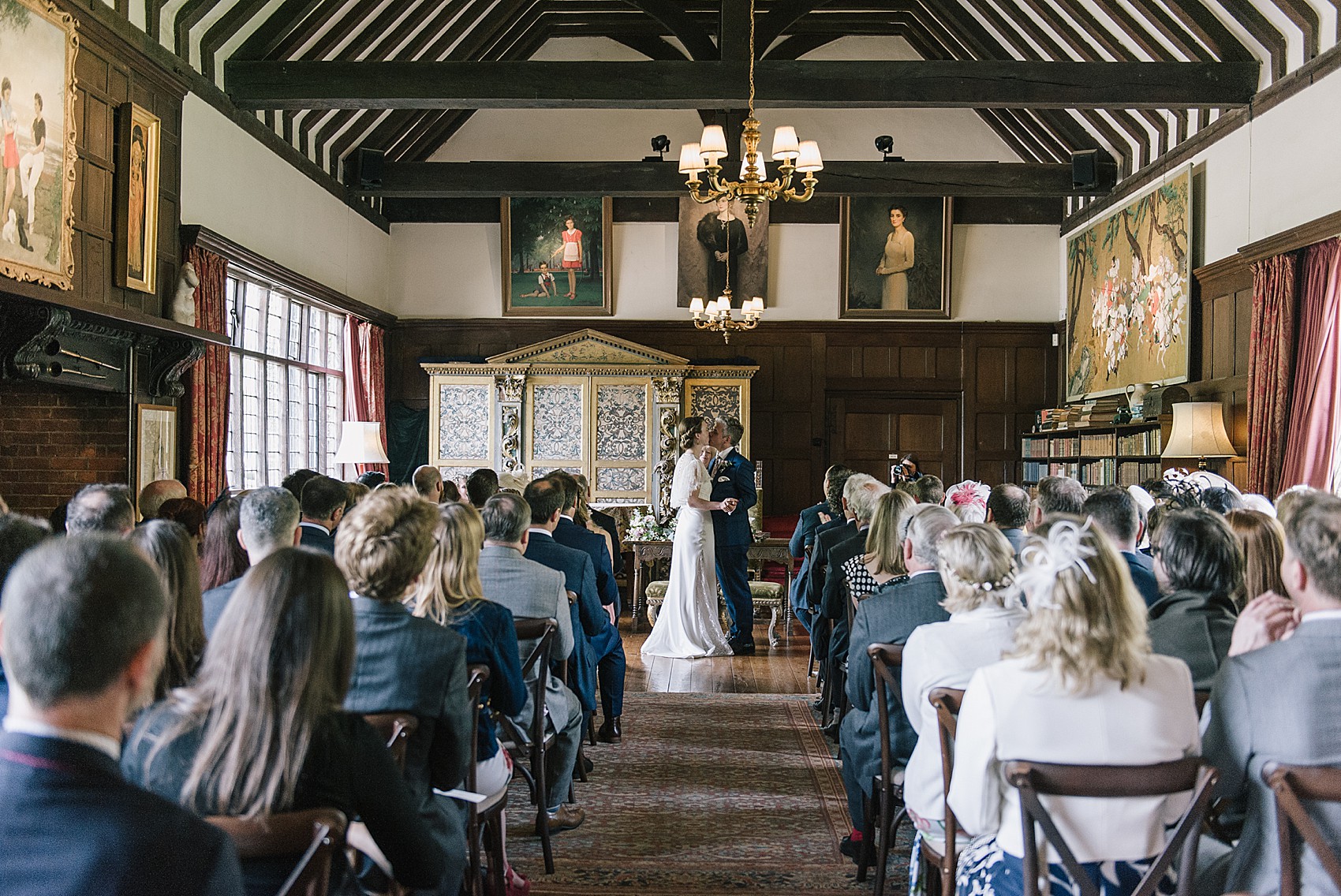 The couple's wedding bands were sourced at Berganza in Hatton Garden, where the couple had also chosen the engagement ring.
"Ralph and I chose my engagement ring from Berganza, who specialise in antique jewellery. It was so exciting. I knew I wanted something geometric and I have a beautiful sapphire and diamond Art Deco piece. We chose our wedding bands there too."
"We played one of Ralph's favourites, 'Jump In The Line' by Harry Belafonte, as we were signing the register. We walked out to Joe Stilgoe's 'Pocket Song' – a big band number and my favourite song of his."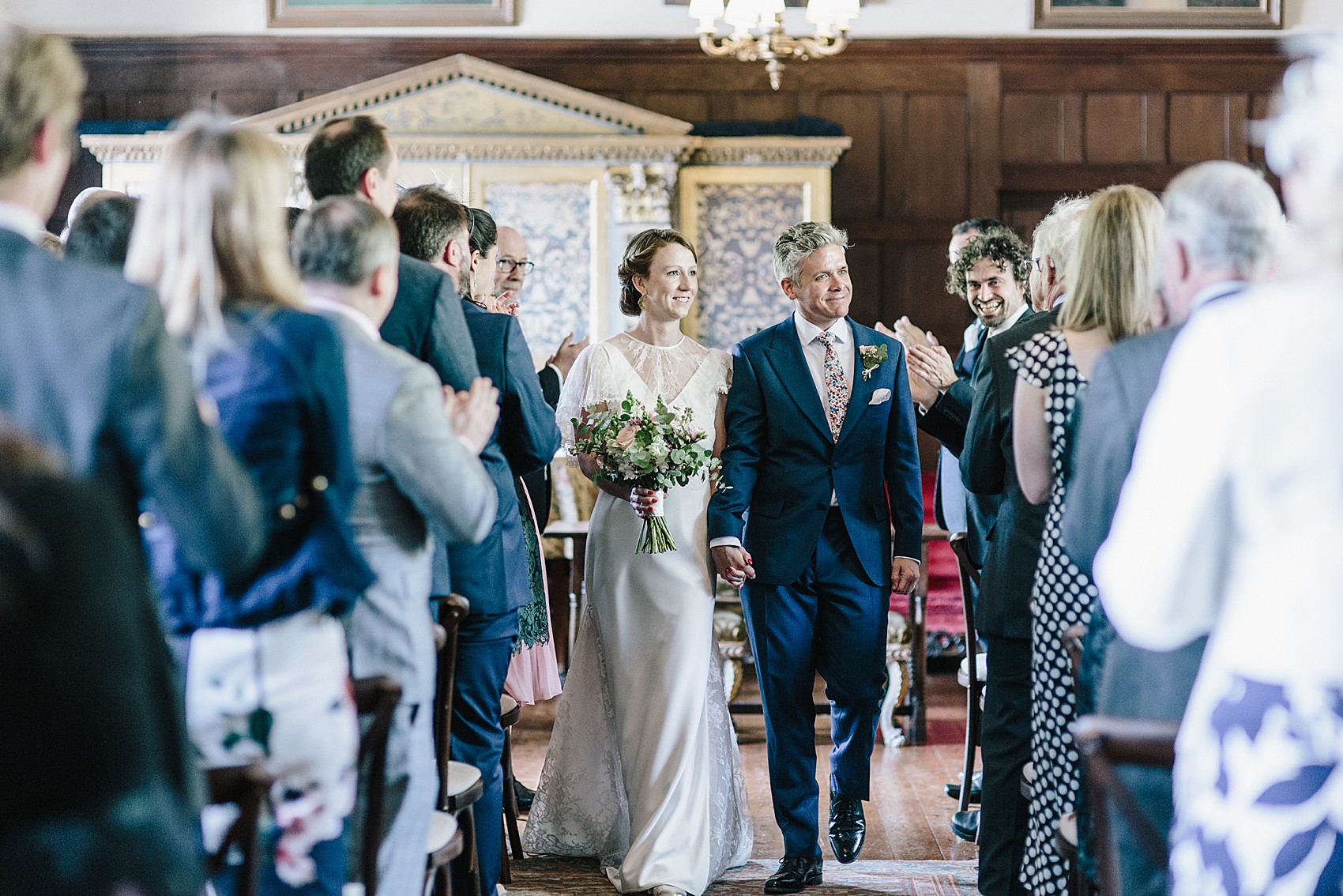 Following some exquisite photos in the Hall's grounds and the surrounding bluebell woods, the party returned inside for a wedding breakfast catered by Jacaranda Catering. This creative and elegant caterer are members of our Little Book, so you can find out plenty more about them and their delicious offerings here.
"The food was incredible and the staff so professional. We had so many guests saying to us how wonderful everything was."
In addition to her three bridesmaids, Harriet asked her best friend from university to be her bridesman, a concept that I love. The girls wore short, blush pink dresses from Oasis, along with dainty gold vermeil and rose quartz earrings from Carrie Elizabeth.
"My bridesman is my best friend from university and I knew I wanted him there with me on my wedding day. After lots of conversations around sourcing a pink suit to match the girls' dresses (it was too hard – he lives in Berlin, it just wasn't working!) he wore his own, much nicer, suit and had a special buttonhole."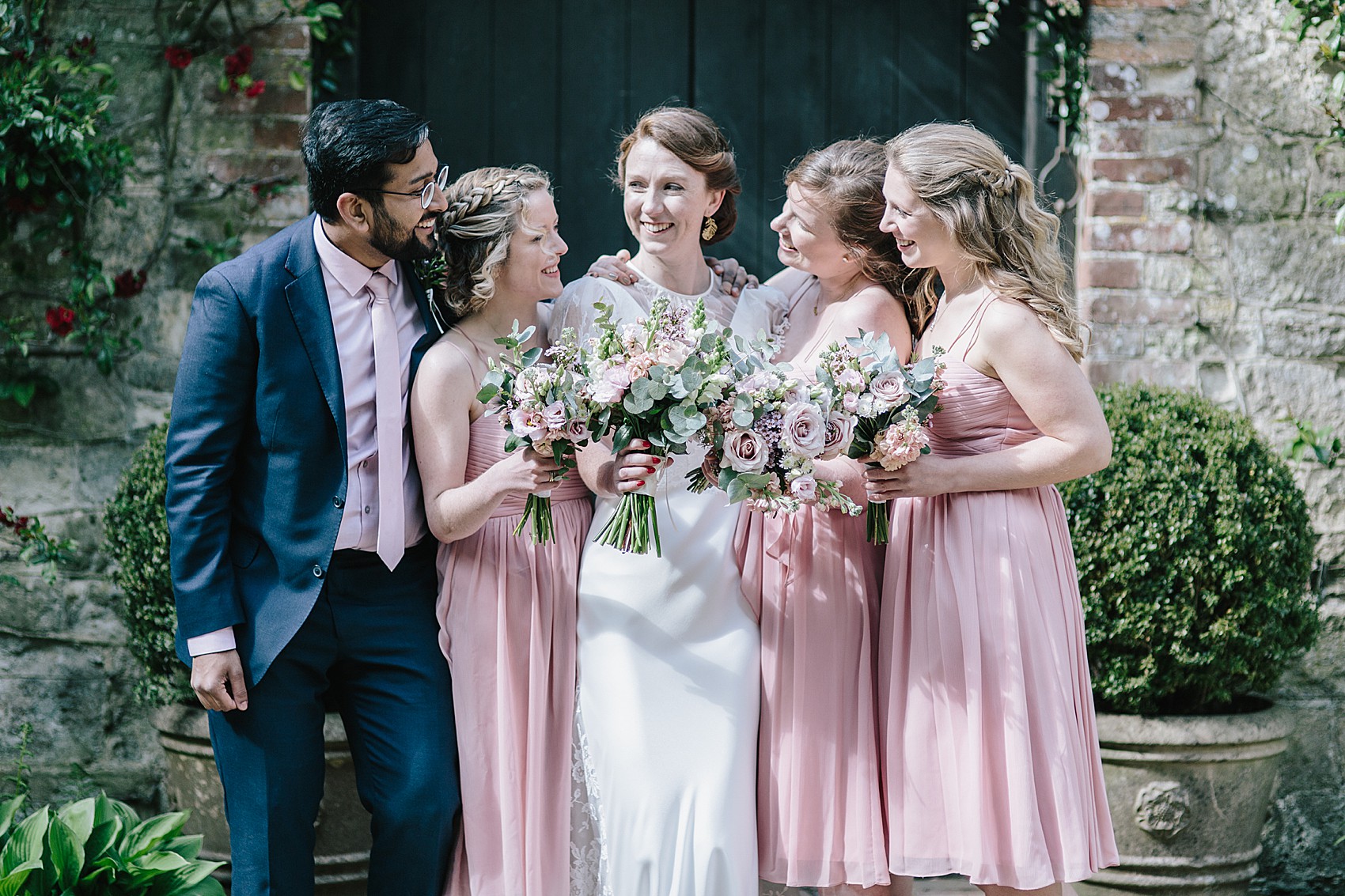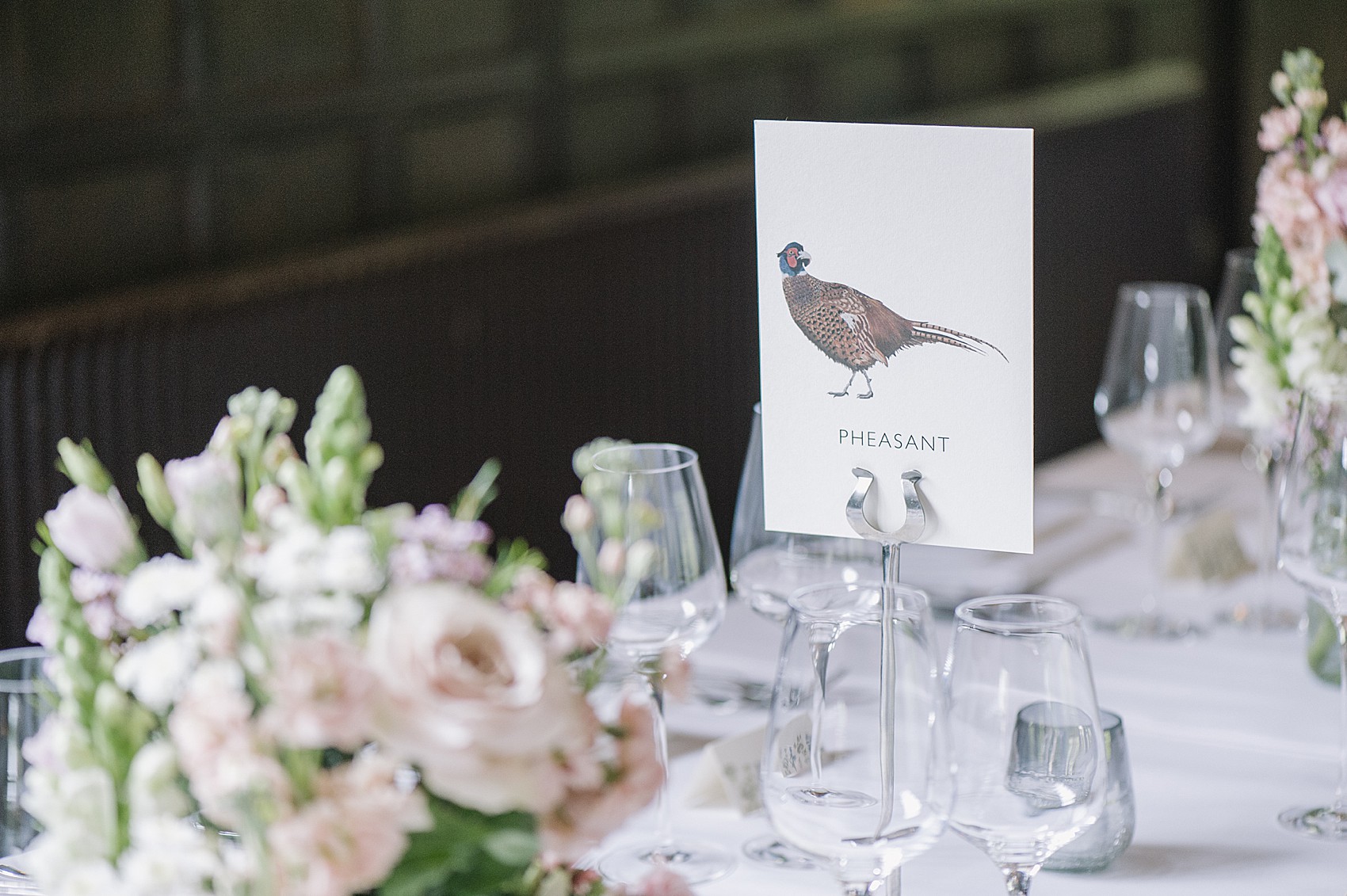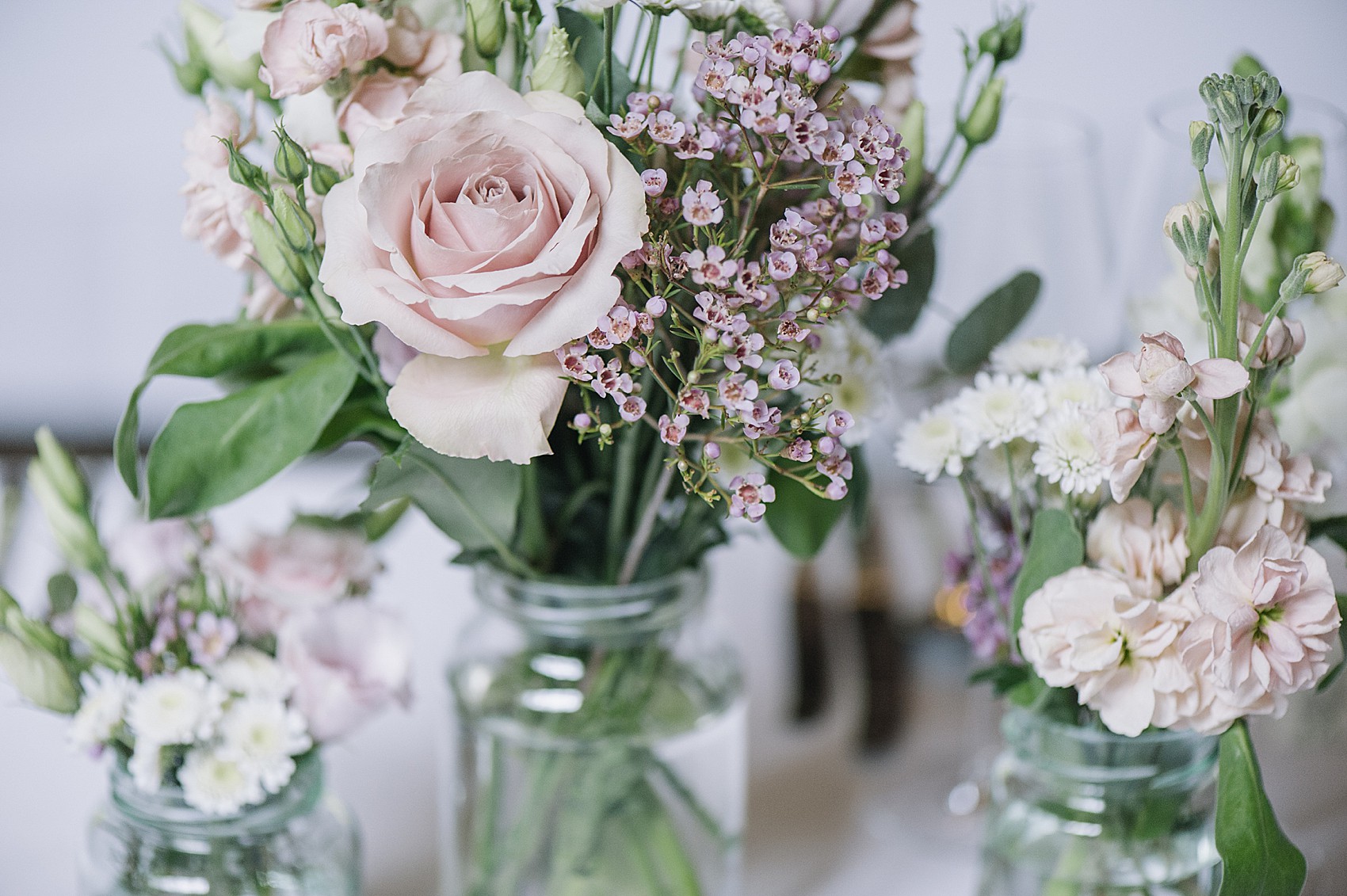 Later in the evening, there was also pizza from Coco Dining's vintage pizza van, as well as a decadent and elegant wedding cake from Laura's Pantry.
"I went to school with Laura and had heard via a friend that she was setting up her own cake making business, which I was very impressed by! Laura sent us some samples and we chose a bottom tier of traditional fruit, with two top tiers of lemon and blueberry sponge. It was amazing! We still have some of the fruit cake and I don't want it to end."
Another big band number was chosen for Harriet and Ralph's first dance, before DJ Mark Parker took to the decks for the evening party.
"We have quite different tastes in music but we both love the Bond theme songs. Not all of them are really appropriate for a first dance but 'We Have All The Time In The World' by Louis Armstrong was perfect."
"Mark the DJ managed all of our music at our wedding. We sent him over a Spotify playlist of the sort of thing we liked and he took it from there. The dance floor buzzed all evening and many of our guests said they'd never seen a dance floor so continuously busy. Mark was also a complete delight to work with and made the day so seamless and stress-free."
Words of Wedded Wisdom
"Don't be in too much of a hurry to 'tick things off the list'. Yes, get the venue and caterers sorted but I made a few mistakes, choosing the wrong dress and a few other things which was a bit costly."
"Just do whatever you want to do. It's your day so eat, wear and dance to whatever you want."
Has this vintage day got you inspired? I do hope so lovelies, and if you want more Art Deco glory then please take a few minutes to enjoy this selection of Love My Dress weddings. Harriet and Ralph, sending you both so many thank yous for letting us share your wonderful day on our pages, and many thanks of course to Katherine Yiannaki for these romantic, light-filled images.
Ele xx