There's a lot to tell you about the MOST CURIOUS 2020 shows, but we thought a good place to start might be a 'Meet the New for 2020' exhibitor crew, with a little spot light on 10 vendors who will be showcased at MOST CURIOUS 2020 for the first ever time.
Some are people who have very much been on our radar and we're chuffed to finally have them in the line up, or some are new discoveries that we sought out, or have come to us from the magical unknown!
But all are exciting and all are bringing something fresh to the proceedings – whether it's simply a wonderful idea that has been beautifully and artfully executed, or pushing important issues such as catering for curvy brides, making strides in sustainability, or embracing gender fluidity – we are so here for all of that. Let's meet our handpicked lineup….
1. Heart Aflutter – Bridal Boutique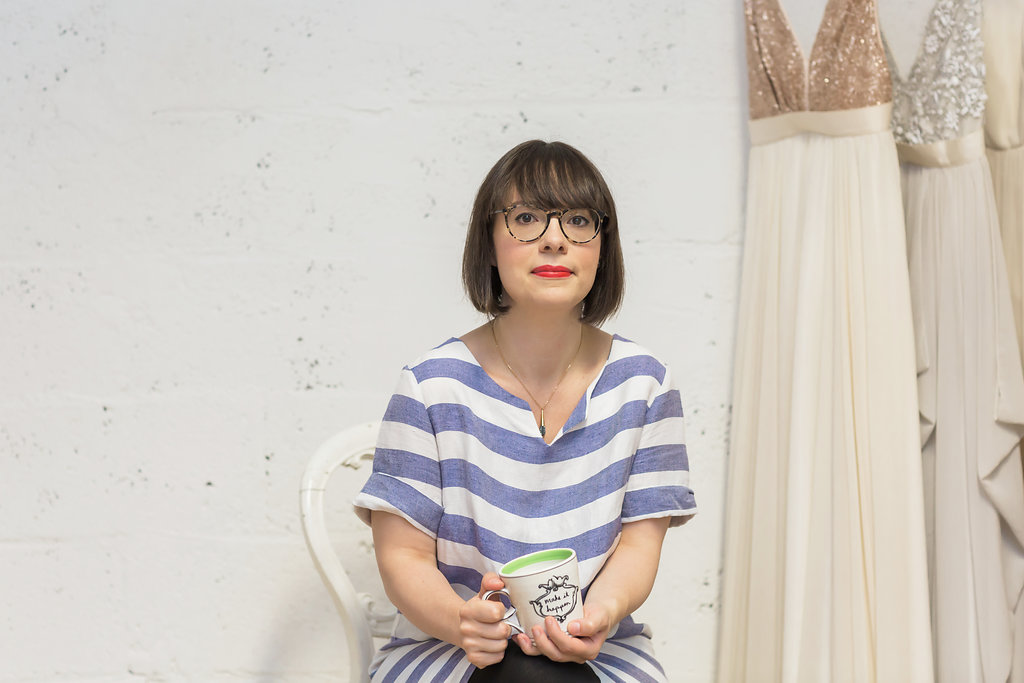 Cecilia, founder of Heart Aflutter
This East London bridal boutique was set up in 2014 by the owner and founder, Cecilia to be more of an intimate private studio set up, rather than a traditional wedding dress shop. It does not disappoint on the second floor of a beautiful historic building in Hackney, just opposite Hackney Town Hall, a venue where many of her couples get married!
Cecilia makes a concerted effort to ensure her 'fuss free glamour' type of eye brings in brands who celebrate fuller and curvier bodies and sizing within what they offer, as well being beautiful, cool and something "they can eat, dance, and party in"!
This includes international brands such as Sarah Seven, Lena Medoyeff, Rolling in Roses, Divine Atelier, Hera Couture, Laudae, Scout Bridal and the incredibly exciting and upcoming new plus size label, Halseene.
Cecilia is originally from Italy and has that unique MOST CURIOUS vibe to her background, having been a translator prior to setting up Heart Aflutter as well as holding a masters degree in Scientific, Technical and Medical Translation from Imperial College London. She worked in video-games localisation for quite some time too, notably at PlayStation. We love the randomness.
Visit the Heart Aflutter website
2. E.Y.I. Love – Luxurious Modern Stationery
The mighty E.Y.I. LOVE are finally with us for 2020! We say finally because these guys were billed to be one of the stars of the show in 2018 and devastatingly had to make the decision on the morning of the show that they could not make the trek from Scotland because the Beast from the East snow blizzard had basically shut the country down, it was a terrible time!
We are delighted to be with you finally this year! This time E.Y.I. LOVE will be there with our golden bells on! We can't wait to be there in amongst the wedding creatives and bring all of our papery good times! Lorna McGinnigal, E.Y.I. Love
"We will have all the foil goodness, pretty papers, stylish fonts and luxe cardstocks that E.Y.I. LOVE are famous for. But we're also gearing up for 2020 and we can tell you that textures, transparencies and layering are going to be BIG with us next year."
You can expect layers of tone-on-tone, acrylic, velum and maybe even a few new additions – bringing back Lorna's own textile roots. The company are well known for their gold lettering and accents but for 2020 they have revealed to us they will be bringing in some more pearlescent and iridescent foils into the mix too.
"We will not only be showcasing our invitations but swoon-worthy day stationery and show stopping wedding signage will be taking over our stand, and some exciting new collaborations too, as life is always better when we work together!"
3. Alice Gabb – Textile Banners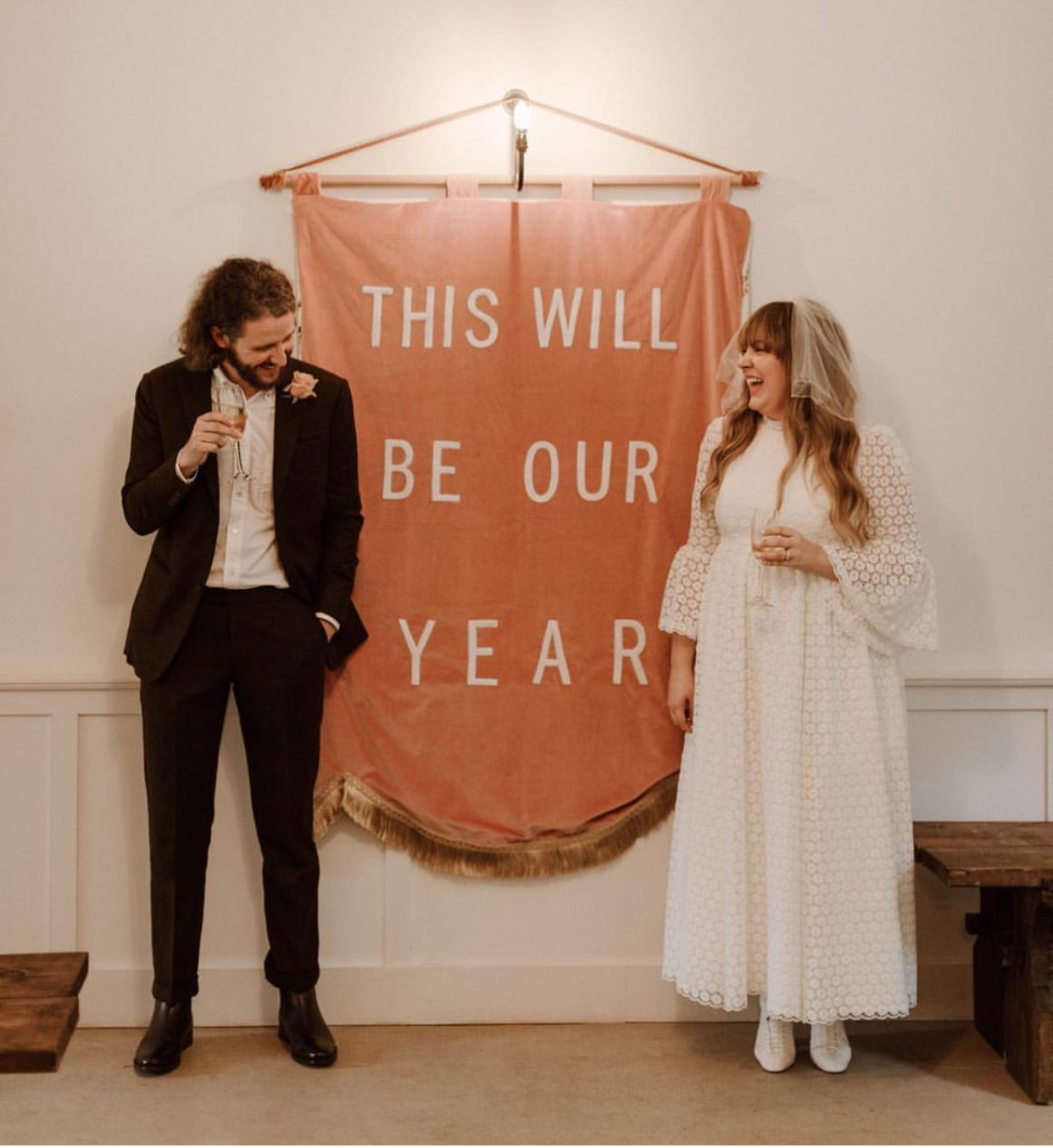 Image via The Curries, of Influencer Charlotte Jacklin on her October 2019 wedding day
Hackney creative royalty Alice Gabb will be exhibiting with a whole new branch to her business..
"I will be showcasing my lovingly-made banners for the first time," explains Alice. "These huge banners are completely custom made, so you can choose what you would like them to say, and you can choose from delicious velvets for the front, and vintage florals or a quilted satin for the reverse. All the fabrics are sourced second hand by me, then finished with trimmings and tassel cords to hang down the sides to make them look as splendid as possible."
I am already excited about matching my outfit," laughs Alice, "so I'm hoping the February weather will be gentle with the Truman Brewery! Alice Gabb
These banners are based on large church flags or trade union banners, inspired by a silk banner she came across in a bar in an old music hall in California that just said 'Universal Toleration' in 2017, a phrase from an old fraternal secret society. And Alice's interpretation has all the nostalgic Wes Anderson type feels.
She is going to be a key part of the styling of the show this year and her vibe is going to be channelling Steel Magnolias, plenty of bows, satins, ruffles, vintage florals, and maximalism as a general theme.
4. Matt Parry Photography
King of the Group Shot, Matt Parry is one of the new for 2020 photographers and we really feel we scored one of the greats here! A sense of real fun, but dedication to weddings and capturing the moments that really make them, all the while making everything look a couple of notches cooler in stills for eternity. I mean that's basically what you want, right?!
Named as one of Stylist Magazines top ten alternative wedding photographers, he is a self confessed, "hopeless romantic" and "Northern Boy with an eye for the ordinary."
"Somebody once described my photography style in terms of their favourite band – The Arctic Monkeys. When I asked them why, they put down their pint and said because it was observational, down to earth, real and full of humour BUT it also had an edgier, darker and moody side. At least that's what I think they said. We were in a pub and, well, memories can become a little hazy."
With regard to getting a spot and his show plans Matt says, "I have been searching for the perfect wedding show for me for forever and at last after 8 years I think I have found it and cannot wait to share my work and vision with everybody at MOST CURIOUS."
I want to immerse every potential couple into the energy of weddings. The emotion, the giddiness and the craziness that if captured correctly, transports you back into the beautiful chaos that is a wedding day."
5. The OWN Studio – Modern Contemporary Bridalwear
Rosie & Jess, founders of OWN Studio
OWN was founded to offer women fashion-led contemporary bridal wear, by friends Rosie and Jess who both love simple, effortless fashion and wanted to bring the same aesthetic to bridal. We stalked on them for a while on Instagram and when they applied with no prompt from us, it was smug faces all round!
"We founded the label to disrupt the conventional norms and stereotypes of the bridal industry by creating a clean, minimal aesthetic that celebrates the power of modern femininity",  describes Jess. "Expect sleek silhouettes, contemporary tailoring and exceptional fabrics for brides and bridesmaids – all at affordable price points."
Bridal wear can be the biggest culprits of fast fashion and OWN want to break this cycle, so everything is made-to-order or made-to-measure to minimise wastage. They will also be bringing their super chic and new bridesmaid collection to MOST CURIOUS 2020.
The OWN Studio offer non-traditional, non-conformist, unconventional and cool bridal wear. We are so into them.
6. Whisk and Drizzle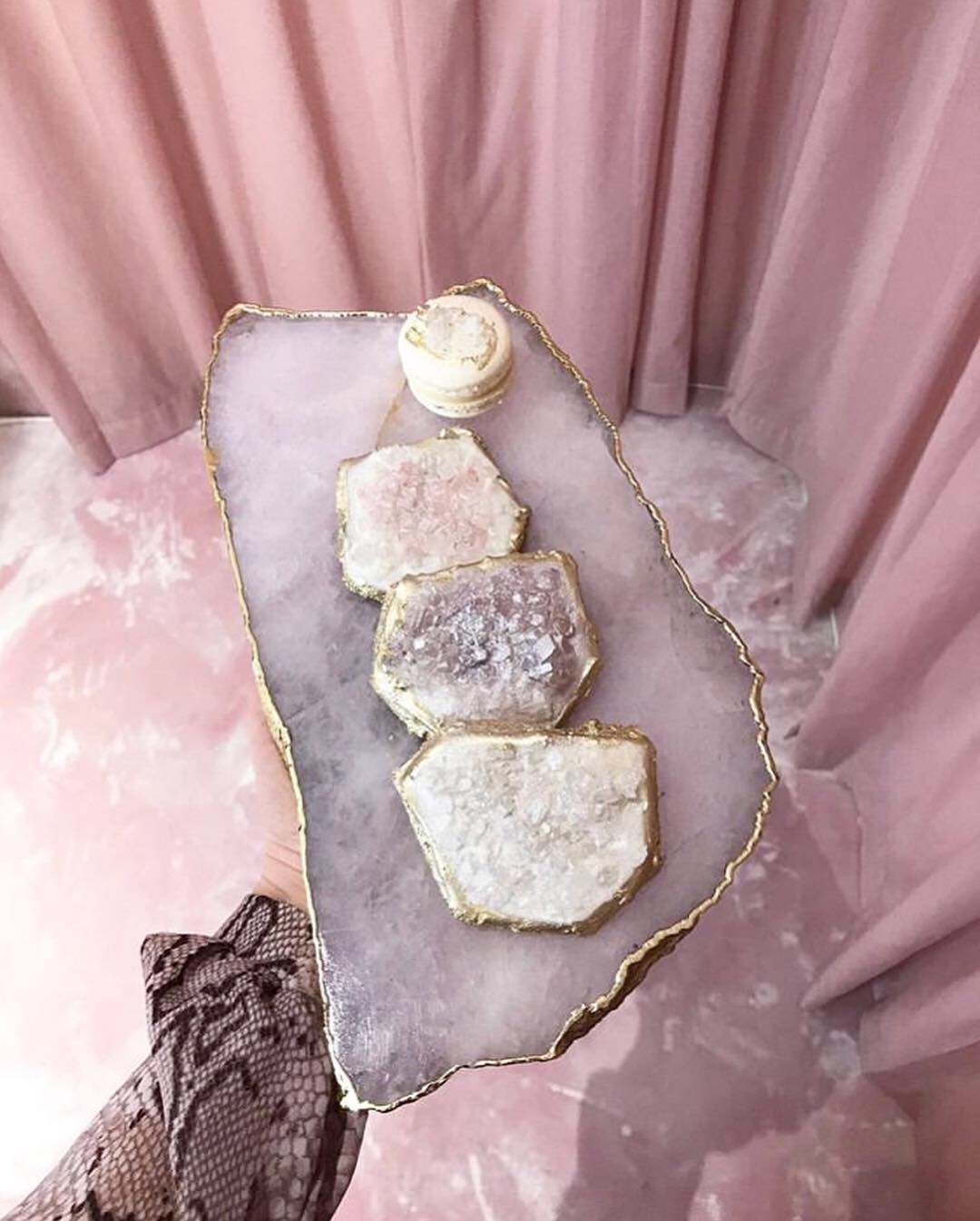 An exciting addition to the show, Whisk and Drizzle's Marianna Vaki is actually originally a neuroscientist who decided to change career paths, so went on to study at and graduate from the prestigious Cordon Bleu Culinary School and has emerged as one of London's leading independent patisserie chefs.
Whisk and Drizzle has lent this scientific outlook to her experiments with interesting nostalgic flavours like sticky date, classic banoffee and peanut butter and jelly, as well as with textures and materials, often inspired by the natural world. That science background is evident in her precision eye when it comes to her ambitious, flamboyant but ultra neat designs!
Skills that have seen her create winner of Great British Bake Off, Nadiya Hussain's wedding vow renewal cake last December, as well as some magical pink toned crystal themed sweet treats for Kora Organics, Miranda Kerr's skincare brand London event at Space NK.
Visit the Whisk and Drizzle website
7. Sam Ham Design
When Annabel saw these images for the first time this week (scroll down to the full gallery below) I think she wept tears of joy!
Sam Ham (pictured above) is a new unisex fine jewellery brand conceived to incite power and self-confidence through its designs and just recently launched its first wedding and engagement collection. Behind the brand is Dublin born, Clerkenwell trained designer Sam Hamilton. Standing at almost 6ft herself, Sam grew up trying to be 'one of the girls' but felt she wasn't quite able to conform to the role her gender prescribed her. Jewellery became the medium which gave her the power and positivity she needed.
Her whole brand looks to humorously re-appropriate traditional notions of gender as well as sexuality, and the wedding collection asserts and makes a call for equality by being truly unisex.
"It combines feminine traditions of a diamond engagement ring with a typically masculine wedding band",  describes Sam, "also bringing to life the concept that marriage sees two equal halves make a whole. The collection comprises seven individual pieces, with any two seamlessly fitting together – almost with one incomplete without the other. Anyone can wear any of the pieces no matter whether they are male or female, demonstrating that gender should not define expectations of character."
A much welcomed progressive attitude that MOST CURIOUS is absolutely stoked to be showcasing with Sam in 2020.
8. Mariel Osborn – Wedding Decor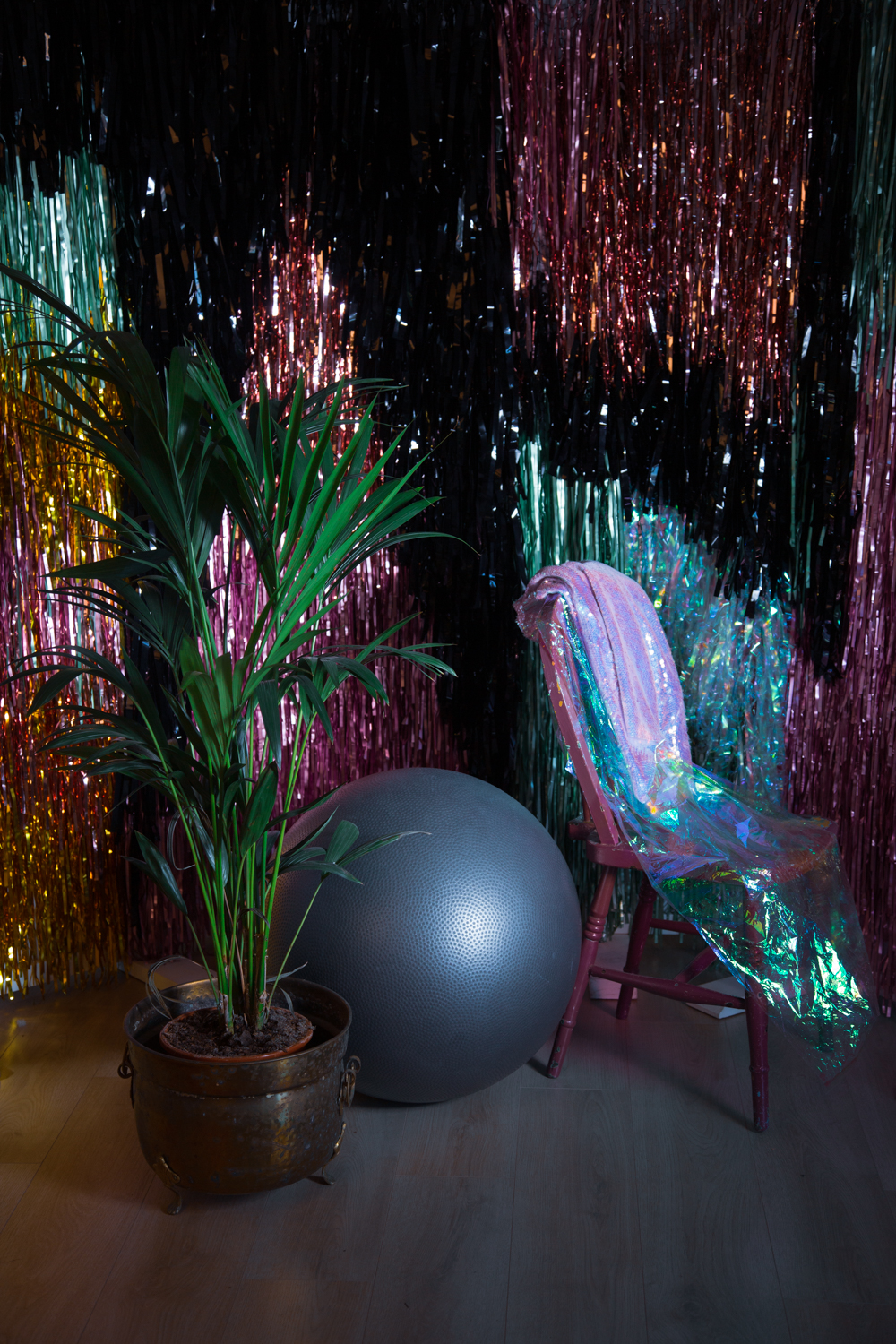 Oooo this is a good one – Mariel Osborn is a Textile artist, still life stylist, prop and accessory maker, who studied embroidery at Uni and is an all round dream for creative, design-led wedding decor needs.
"I have a playful, fun and dreamlike approach to creative projects," describes Mariel, "and I really enjoy focusing on tactile materials and processes, taking an inventive and multi-disciplinary approach to surface embellishment, prop-styling and printmaking."
At the moment she's working with the idea of large scale tassel panels and party walls. A true designer-maker, whose work is really engaging, warm and inviting as well as sparkly iridescent and bold, whose work just happens to be a wonderful match for cool weddings, rather than fitting solely into a neat wedding box. And for all these reasons (!) we are really happy to say Mariel will be creating a full on installation at the show and she's told us she is excited that the giant Truman Brewery will allow for something B.I.G.!
Visit the Mariel Osborn website
9. Lilley Studio – Handmade Accessories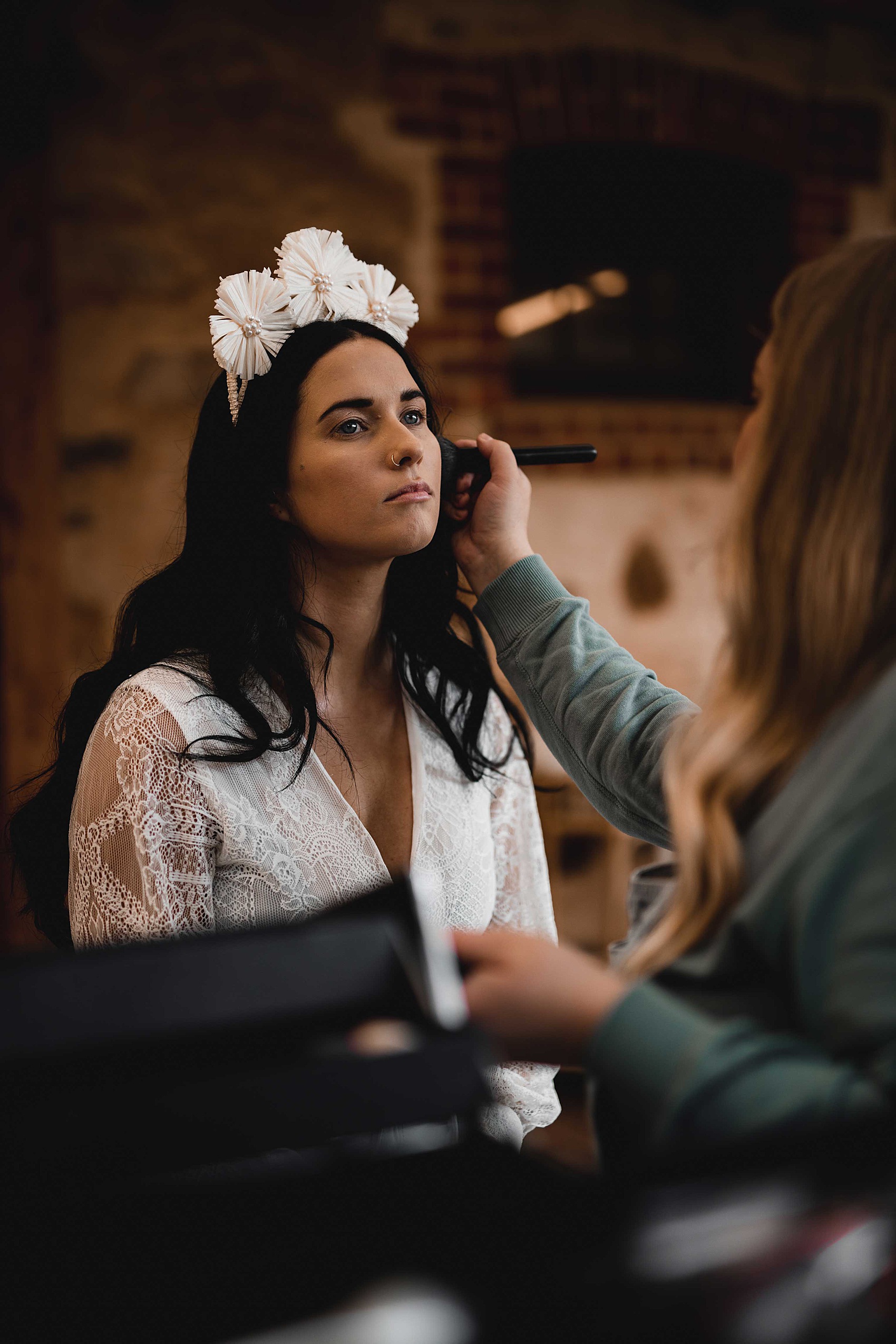 Lilley Studio is founded by Danielle Lilley, who hand crafts hair accessories with a wild, bohemian but effortless edge, often using gold leaf, rafia and responsibly sourced pearls.
"I have admired MOST CURIOUS since starting my brand Lilley and always thought it would be a business high to be able to show my pieces at the fair," says Danielle. "So I made it my 2019 goal to get my business to a place where I would be in with a chance of getting a spot at the most coveted wedding show in the UK! And guess what? I got a spot for 2020! I am totally buzzing and can not wait for February where I will be showcasing a selection of my pieces."
Lilley is prioritising sustainability for the coming year and her most popular piece of 2019, The SIENNA Headband, is 100% biodegradable and vegan. It is also water-repellent and dries fast if it does get splashed by a champagne spray or two!
Visit the Lilley Studio website
10. Fluoresse – Modern Wedding Florist
You may have heard on our guest slot on the Business Proposal Podcast, that one of our faves for applicants, and something that happens a lot with MOST CURIOUS (which is lucky!) is people who have carved out a good solid stint in some other form of the creative fashion of design worlds and then have a career change that finds them gearing and applying skills and talents to the realm of weddings. Well, Jess Runciman and her new floristry brand Fluoresse is just that!
With a background in art and design Jess came to floristry after a twelve year career in fashion industry. "I have always been passionate about people and their stories",  describes Jess, "and I believe flowers tell a story too. I also believe flowers are for everyone, and we want to make sending flowers just as exciting as receiving them, whether that's for an event, a wedding or (best of all) just because."
Since becoming a florist she has been able to explore collaborative projects with top notch brands and people, including London Fashion Week, Rixo for Paris Fashion Week – swoon! – Dermalogica and John Freida to name a few. She also uses no floral foam or single use plastic. It's a win win win win situation.
The MOST CURIOUS Shows will be taking place over
three amazing spaces in 2020, the Old Truman Brewery in London on 7-9
th
February, the exciting new Northern venue Archive at Depot, Mayfield, Manchester on 29
th
February and The Fire Pit Camp in Norwich on 29
th
March.
Get your

TICKETS NOW

and come and get curious with us!
___________________
EXHIBITOR IMAGE GALLERIES
Heart Aflutter – bridal boutique
E.Y.I. Love – luxury letterpress wedding stationery
Matt Parry – modern alternative wedding photography
The OWN Studio – modern contemporary bridalwear
Whisk and Drizzle – wedding cakes & bakes
Sam Ham – unisex fine jewellery
Mariel Osborn – wedding decor
Lilley Studio –  handcrafted boho & free spirited bridal accessories
Fluoresse – modern wedding floral design