I always enjoy seeing how couples interpret the magical feel of a garden wedding, and make it their own, by embracing the seasons and incorporating elements that they love.
This is the wedding of Jasmine, a Buying Assistant for a DIY retailer, and Tom, who is an Accountant. They celebrated their marriage on the 25 May 2019 in a church ceremony followed by a reception at Houghton Lodge Gardens, Hampshire.
Jasmine and Tom were so happy with their choice of photographer, the talented Carrie Lavers Photography, who I'm pleased to say is also part of our excellent supplier directory, Little Book. This is a lovely collection of beautifully composed, fine art images.
Images by Carrie Lavers Photography
"We met locally and instantly knew that Carrie was the relaxed photographer we'd hoped for. We are both quite shy, so knew we wanted someone who was more focussed on candid shots rather than hundreds of staged images, and that is exactly what we got. These are beautiful and stunning images focussed on the hidden moments you don't see as a couple, captured in amazing lighting that we just haven't stopped showing off to everyone who is willing to see! We honestly can't thank her enough."
"We knew we wanted to get married close to home, but nothing was very appealing. One evening I saw our venue on a local photographer's website whilst browsing, and booked in for a visit, just as a comparison to the hotel venues. When Tom and I turned up, it was pouring with rain in a typical English summer scenario, but we instantly fell in love with the quaint English countryside feel. It was right alongside the River Test and had a walled garden full of English flowers and wildlife."
Jasmine's dream of a dress, exquisitely cut with a full, ballgown skirt and added sparkle from a vintage belt, was by Wtoo by Watters, and chosen at Hannah Elizabeth Bridal Boutique in Botley Village, Hampshire.
"The experience at Hannah Elizabeth is one every bride must seek when finding their perfect dress. The boutique is beautiful, and the dresses presented so well. The boutique manager Kelly is just so lovely, relaxed and helpful. I had an idea of the dress I wanted, but she helped me explore all options just to be sure. The selection of dresses at Hannah Elizabeth are of a great variety, so I felt I'd made the right decision. It just so happened I chose the second dress I tried on."
"I wore Jimmy Choo Lance shoes in silver. Marrying someone who is 6ft 4, and only being 5ft 1, I needed a shoe with height to elevate me throughout the day. Luckily these were really comfortable, but Tom had bought me a back up pair of Adidas trainers personalised with my new married name 'Mrs James', for the evening so I could dance the night away."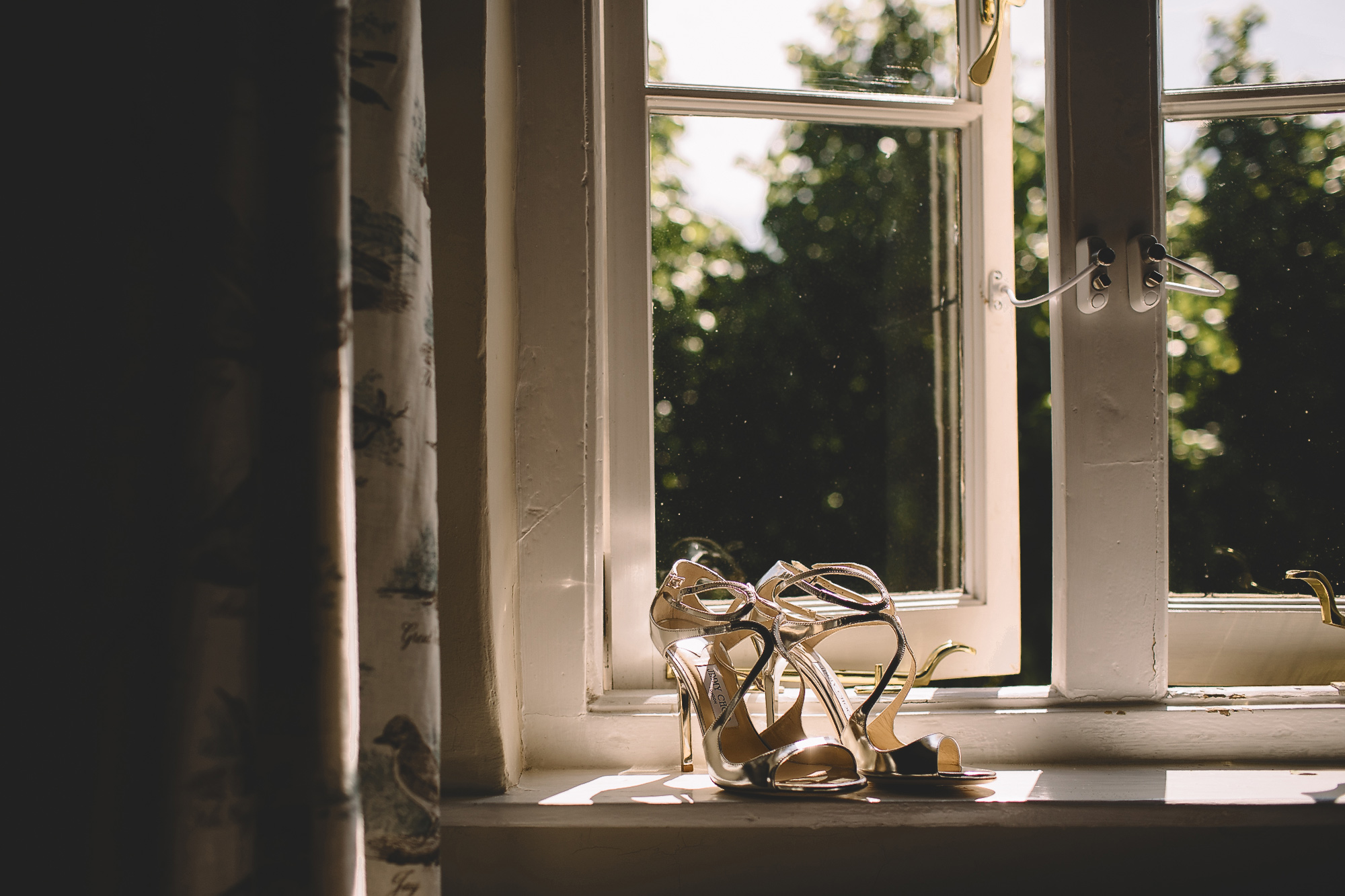 "I really had envisaged myself in a classic style dress that was timeless, and I didn't want lace or anything too fussy. Kelly at Hannah Elizabeth suggested adding the vintage style belt at the last minute to create something unique, which my seamstress hand stitched on to the dress in my alterations. On reflection it was such a great suggestion from Kelly, as I was quite stubborn in wanting something plain, but this bit of sparkle really looks amazing in photos."
To her braids, Jasmine added a cathedral length veil from Hannah Elizabeth Bridal Boutique, embellished with pearls, and as her 'something blue', the wedding date hand embroidered in blue thread by her godmother.
As her 'something borrowed', Jasmine's mum lent her a delicate pearl bracelet to complement the pearls on her veil, and her wedding day perfume was Tiffany, by Tiffany & Co.
"It's my favourite scent, so it is really lovely to have my wedding day associated with this smell forever." 
Jasmine wanted to keep the floral arrangements soft and neutral, and florists Catkin & Pussywillow made a gorgeous trio of bouquets, filled with greenery and meadow flowers, hydrangea blooms and blush roses, all tied with ribbon hand dyed to match the bridesmaids' dresses, from Etsy.
"Everything else was purchased from Dutch Masters  flower wholesaler in Winchester, topped up with greenery we scavenged from our parents' gardens. Tom's mum spent a lot of time creating the floral archway around the church door, which was simply beautiful, and we couldn't have wished for anything more. Having spent a sleepless night, she was thrilled to find it was still intact the next day, and looks beautiful in our church photos."
The bridesmaids' slinky taupe slip dresses by Ghost London were a bargain of a find, with 70% off in the sale, which they wore with shoes from Next, and in their braided hair, gold leaf pins from Accessorize.
Jasmine's pretty, braided hair was done by her trusted stylist Beth, from The White Rooms in Southampton, and her radiant make-up look created by one of her bridesmaids, after choosing new products together, and a trial run on Jasmine's hen weekend.
Jasmine and her mum and dad drove to the church together, with the bridesmaids driven by a family friend, and Jasmine was accompanied down the aisle by her parents, bridesmaids and nephew.
"I wanted it to be a real family affair, and didn't want to follow tradition, so chose my mum as well as my dad to accompany me, as they've both both supported us through our relationship, as well as me growing up in equal measure."
The couple first met at college, aged 17, and through happy coincidence, the date of their wedding was the 10th anniversary of that first meeting. Tom had proposed to Jasmine beside the Taj Mahal, whilst on holiday two years prior to the wedding.
"We didn't tailor our vows, and opted to use traditional vows, but I did make the largest faux pas by saying, 'I Thomas take thee Thomas', instead of 'I Jasmine take thee Thomas'. Not good for me, but I have been told it really helped to break the ice, and had the entire church laughing. I managed to pull myself together and get through it in the end, and certainly will never forget the moment!"
Jasmine and Tom chose their rings at Southampton jewellers Laings, with Jasmine choosing a band to complement her engagement ring, whilst Tom went for a simple palladium band.
"We chose to have three readings, but didn't specify what to our readers. We asked that they found something they thought suited us as a couple, so they were a surprise on the day. I couldn't be more thrilled we did it this way, as it was so nice to see and hear them read them for the first time at the service."
After the ceremony, the newly married couple drove themselves over to Houghton Lodge, and enjoyed some quiet time together in the beautiful walled garden.
"Our wedding really was a complete mismatch of all our favourite things. We opted to choose things we loved, rather than religiously sticking to a particular theme. I suppose our theme ended up being a traditional English country wedding with all the greenery and country flowers used, with Indian references from our engagement location.""
Tom and his groomsmen looked smart in their classic morning suits with double-breasted waistcoats from Moss Bros. Tom wore a pale blue tie with a bee print from T.M. Lewin, and the groomsmen were gifted pink elephant print ties, also from T.M. Lewin.
"We hired the suits from our local Moss store in Southampton, with the same fitter as Tom's dad had when his parents got married thirty years ago! We ended up with a total of 12 suits for all the wedding party, from ushers, Best Man to father of the bride. We then also chose to have the fathers of the ushers and Best Man in them too. Being a close-knit group, we wanted to include everyone, and it was so lovely to see on the day."
Jasmine's nephew had originally gone along to be fitted for a morning suit, but it turned out that he wasn't a fan of tails at all (fair enough!).
"We had a last-minute change to shirt, waistcoat and trousers from John Rocha at Debenhams, along with some Converse, which was much more his style. This allowed him to run around freely and enjoy himself on the day. Purchasing instead of hiring meant we didn't have to worry about him getting grass stains on his clothes from rolling down a hill all day!"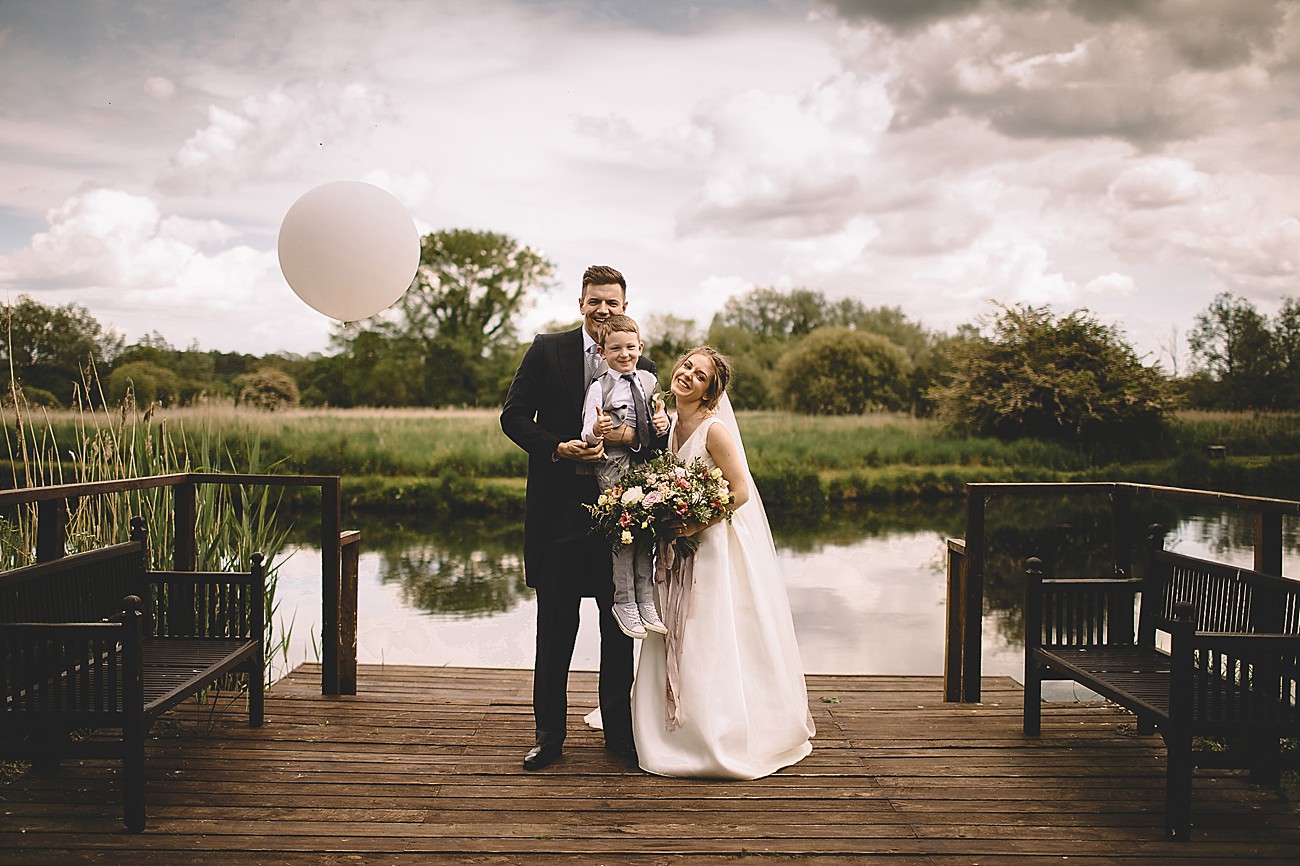 Houghton Lodge itself is a Grade II listed example of 'picturesque' late Georgian Gothic architecture, set within beautiful gardens on the banks of the River Test.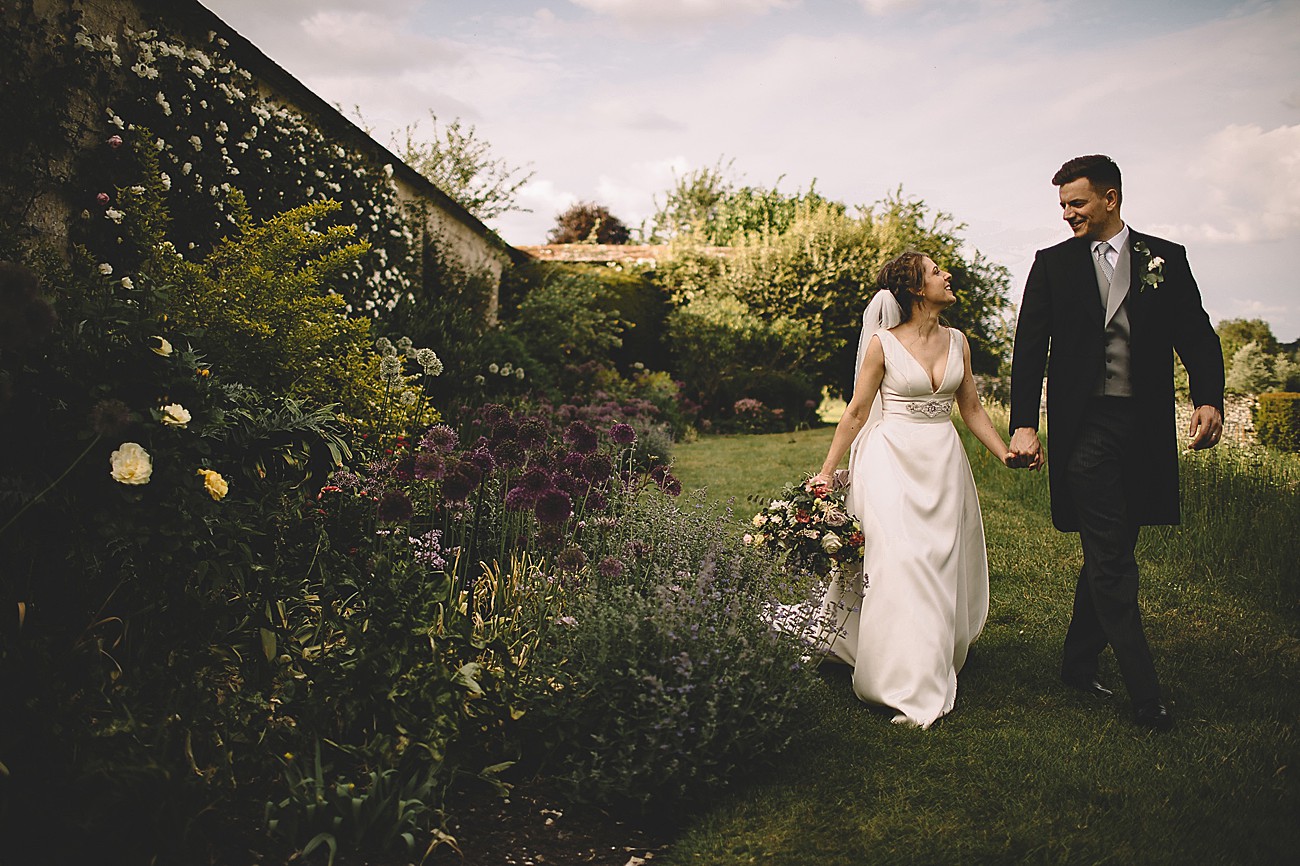 There was a brilliant, rustic bar set-up right on the riverbank, courtesy of The Three Cockerels Mobile Bar Company, surrounded by hay bales and chairs on the grass. Everyone sat down to afternoon tea from Mrs Jones Tea, which (of course) included delicious scones with jam and clotted cream.
"The food was delicious, and her service and professionalism really helped to structure and pull together our day. As we didn't have a planner or Master of Ceremonies, our biggest worry was would our guests know what was going on, but with the help of Gemma (the owner) and her team all of our worries disappeared."
Jasmine and Tom chose to hold their reception inside an unlined marquee set up on the venue's lovely expanse of lawn, with family and friends coming together to help decorate it beautifully. To disguise the marquee's metal frame, Jasmine sourced 30 feet of faux ivy, which looked wonderful alongside the floral centrepieces.
"I had this vision that our long banquet tables were just going to be covered in foliage, so with the help of our mums, we ordered oasis from Amazon and created 20 trays of foliage garlands made up of beautiful varieties of eucalyptus and deep green salal."
"We did this the day before the wedding, which kept us all very busy. Not only was this a great way to get everyone involved before the wedding, but we also believe this DIY method helped save us hundreds, which was better put to use on other decorations."
Jasmine designed all of the stationery, and used a local printers, and Tom's mum created a table plan by painting a piece of wood with chalkboard paint, which was then surrounded by pots of pretty flowers.
"We were also lucky enough to have the help of my mum's friends, who flower arrange for the WI. They helped to create the beautiful vase centrepieces of cream hydrangeas, and the eucalyptus garland behind the top table."
There was a lovely three-tiered semi-naked cake, too, made by someone who lives locally to Jasmine and Tom, and bakes in her spare time (no further details given).
"When we had got engaged and I started looking through various Etsy shops for decorations, I came across a small brand called the Letter Loft, who make beautiful wire name decorations and got them to create one with our names. We used this to decorate the cake, and it turned out lovely."
"The evening reception food was provided by Coriander Lounge in Southampton. They don't normally cater weddings, but with a few string pulls and a case of 'It's not what you know but who you know', they agreed. We opted for butter chicken and a vegetable biryani that went down a storm! We had so much left over, too."
Tables were set for afternoon tea, with napkins made from various patterned and printed fabrics sourced from India, hand sewn by Jasmine. There was vintage china and place settings were tied around miniature elephants and dinosaurs, which had been spray painted gold.
"Our guests loved the napkins, and were seen putting several in handbags and pockets as a memento from the day. I'm sure we'll spend the next few years round friends and relatives' houses spotting our napkins!"
Favours were mini bottles of Bombay Sapphire gin, and alongside lemonade, tonic water and elderflower cordial, these were used for toasting.
"We also provided every guest with a wedding day newspaper created by Tom himself, which was a great talking point to the day. We included many photos of us and all our guests for them to look through and enjoy the memories from the past 10 years of us being together.
As the sun set over the elegant Gothic rooftop of Houghton Lodge, drinks were enjoyed outside by the river, before Jasmine and Tom stepped out for their first married dance together, to My Love, by Westlife.
"Tom was sceptical at going for a Westlife song, but it's such a classic and is so apt, we knew we just had to go for it. The lyrics are so true to us, it just felt so right. The tempo is also much more on our dancing level, so had everyone up and dancing in no time."
Through Alive Network, the couple booked band, The Compilation, who proved a great hit with everyone.
"The Compilation were honestly incredible, and their vocals are second to none. This was quite a big deal to us considering Tom's family are really musical. It was important we got someone who we could all agree on. We've had so many compliments on their song choices and how they worked the guests all evening – I thoroughly enjoyed dancing all night."
"We've both said our favourite part of our wedding day was everyone we love coming together to celebrate us. It sounds strange, but for two people who usually stand in the background it was very surreal to be centre of attention. We couldn't have been more overwhelmed with everyone being there with their love and kindness. It really helped to create a relaxed atmosphere for our day. We will cherish the entire day forever."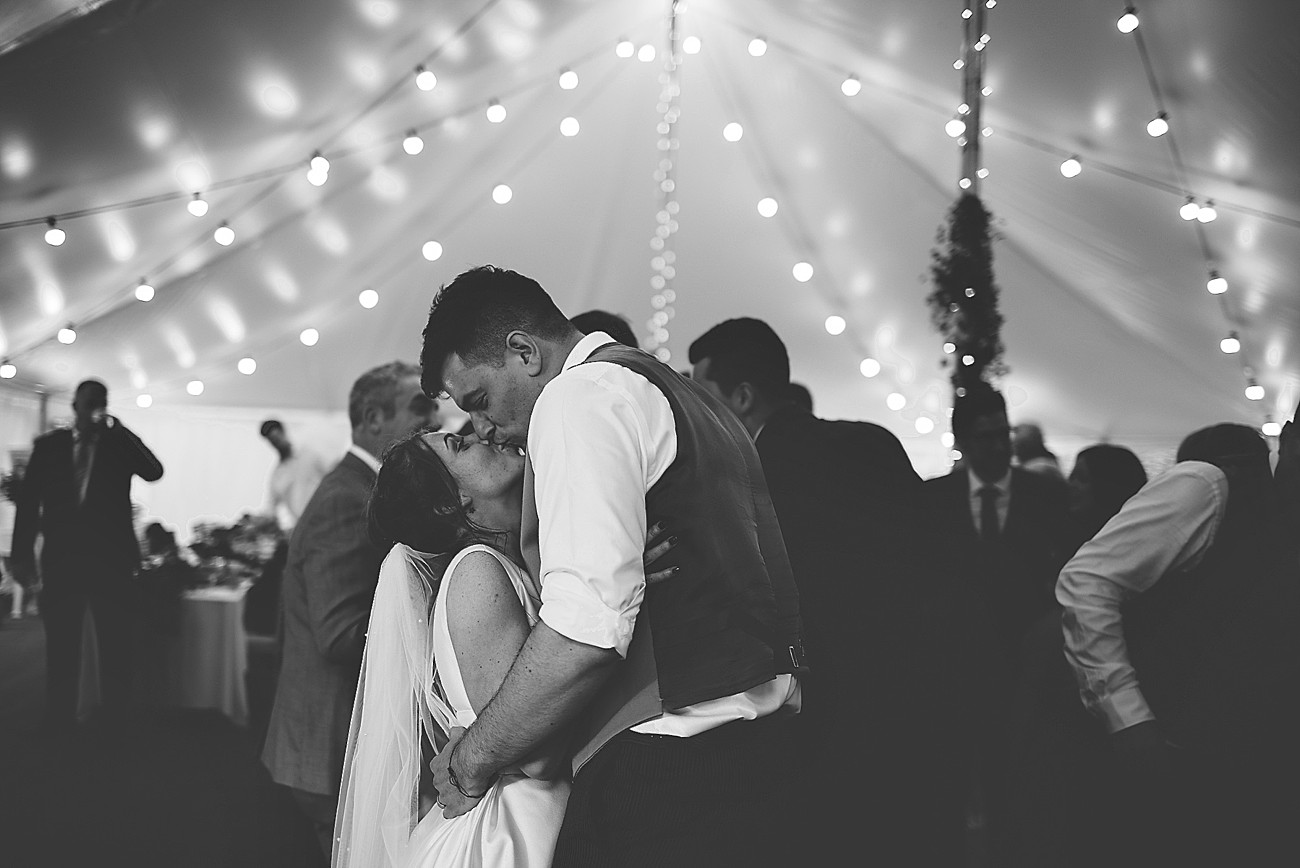 Words of Wedded Wisdom
"I don't want to disclose exactly how much our budget was, but just know you shouldn't take it on face value and assume we paid through the nose for everything to create our dream day. We were really creative in how we chose to decorate thing,s allowing us to spend much less than budgeted. I'm also extremely proud of our thriftiness. It also allowed us to include so many people in the lead up to our day, which was extremely important for us. It was so nice to see guests boasting to other guests about how they helped us pull everything together, knowing it was a team effort."
"I know this isn't for everyone, but our being quite relaxed about the 'theme' allowed us to enjoy the run up to the wedding so much more. It also allowed us to delegate tasks to others, like painting 90 elephants or potting flowers. We opted for a mix of everything, and I think our risk paid off. We had so many nice compliments on our decorations, and people were so surprised when we told them we had done it all ourselves with the help of our loved ones."
"Just enjoy it, really get stuck in and shop around for bargains because there are lots to be had if you don't rush into decisions and take time to put your own spin on things."
Jasmine and Tom, thank you so much – all of the lovingly crafted, handmade touches were so brilliant, and Houghton Lodge Gardens is such a magnificent venue. Many thanks to Carrie Lavers for her gorgeous images, too.
With love,
Laura