We have all the wedding veil goals you could possibly need in today's wedding. Think a dreamy, light-as-air, ethereal piece which is simply magical, and just perfect for a Christmas celebration.
We're now in December (where on earth did 2019 go?) so to get you into the festive spirit, and to inspire you if you're dreaming of your own Christmas nuptials, we're delighted to bring you this yuletide celebration in trendy north London. Our couple are Erin, who works for Transport for London and James, an HGV driver, whose wedding on 22 December 2018 was held at Islington Town Hall in London.
Film by Unique Visuals
The wonderful, magical vintage feel for the day was set through Erin's exquisite choice of gown, the 'Dolly' by Jenny Packham. The beading detail is so delicate and fine, with the dainty white hue perfect for the winter-time ceremony. My favourite detail, though, are those batwing sleeves leading into the deep V-back. Just so dreamy.
Erin discovered her dress via our Little Book recommended bridal boutique, The Bride, based in St Albans, Hertfordshire.
"When we first got engaged I had a little dabble on Pinterest, Instagram and Google and Jenny Packham's 'Dolly' dress was one of the first I saw. I couldn't get it out of my head. I went dress shopping in London a year before the wedding and every dress I tried just wasn't giving me the feeling I wanted. I knew it was because I needed to try that dress on!"
Photography Poppy Carter Portraits
"One of my bridesmaids searched to see if there were any Jenny Packham stockists near where I lived and The Bride in St Albans popped up."
"They didn't stock the actual dress I wanted but ordered it in for me. When I put it on I knew instantly that it was the ​one."
After their civil ceremony, the couple and their guests headed to The Lamb Tavern in the City of London's Leadenhall Market. Beautifully decked out with Christmas trees and lights, the Tavern had an intimate, magical vibe which worked well for the subtle vintage touches which Erin and James wove into their celebration.
"Although we had planned the day for just before Christmas and wanted it somewhat festive, we wanted to avoid it being a 'Christmas-themed' wedding. I love all things vintage so based a lot of outfit choices on that."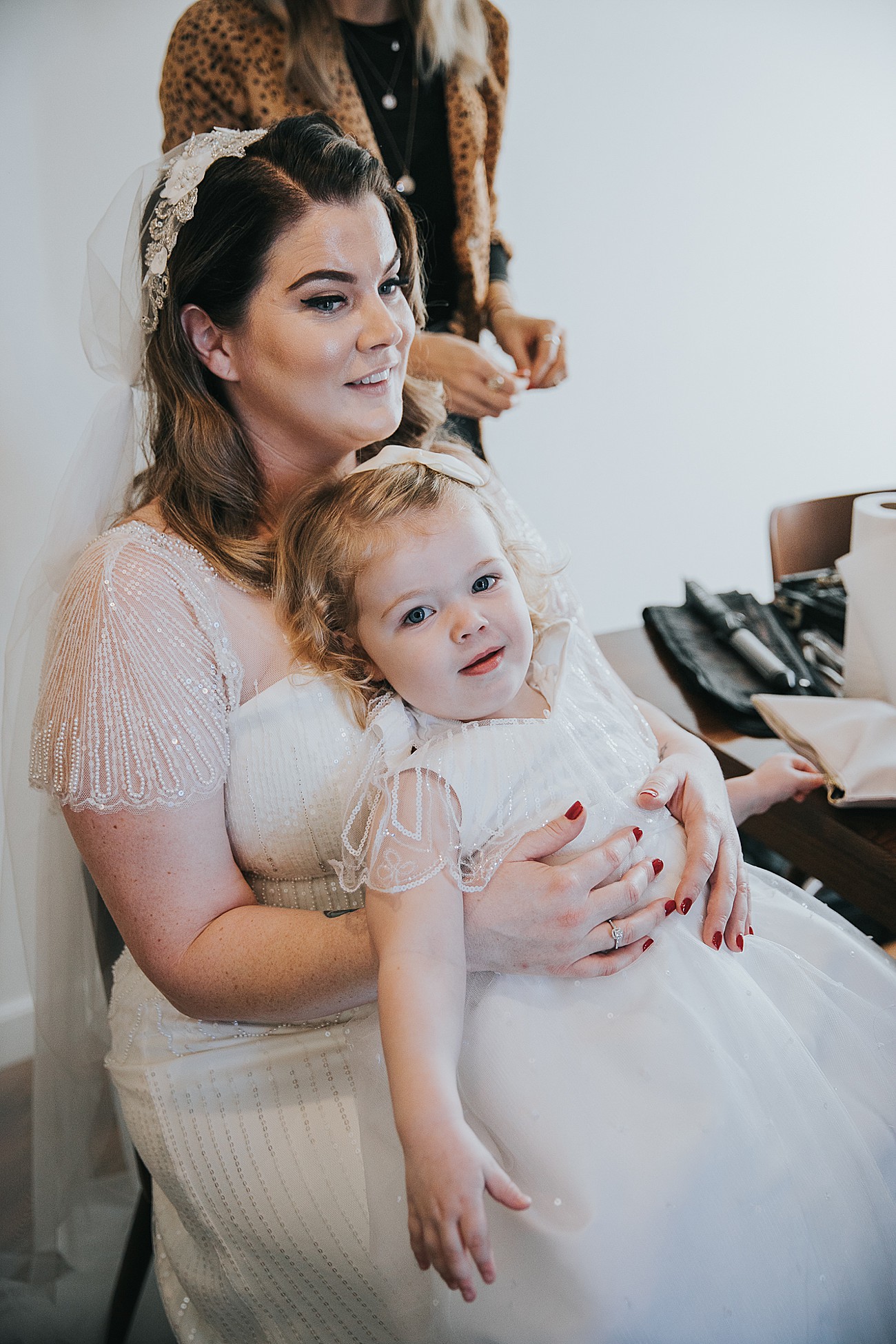 "My mum bought me a Ted Baker bangle and gave it to me the morning of my wedding."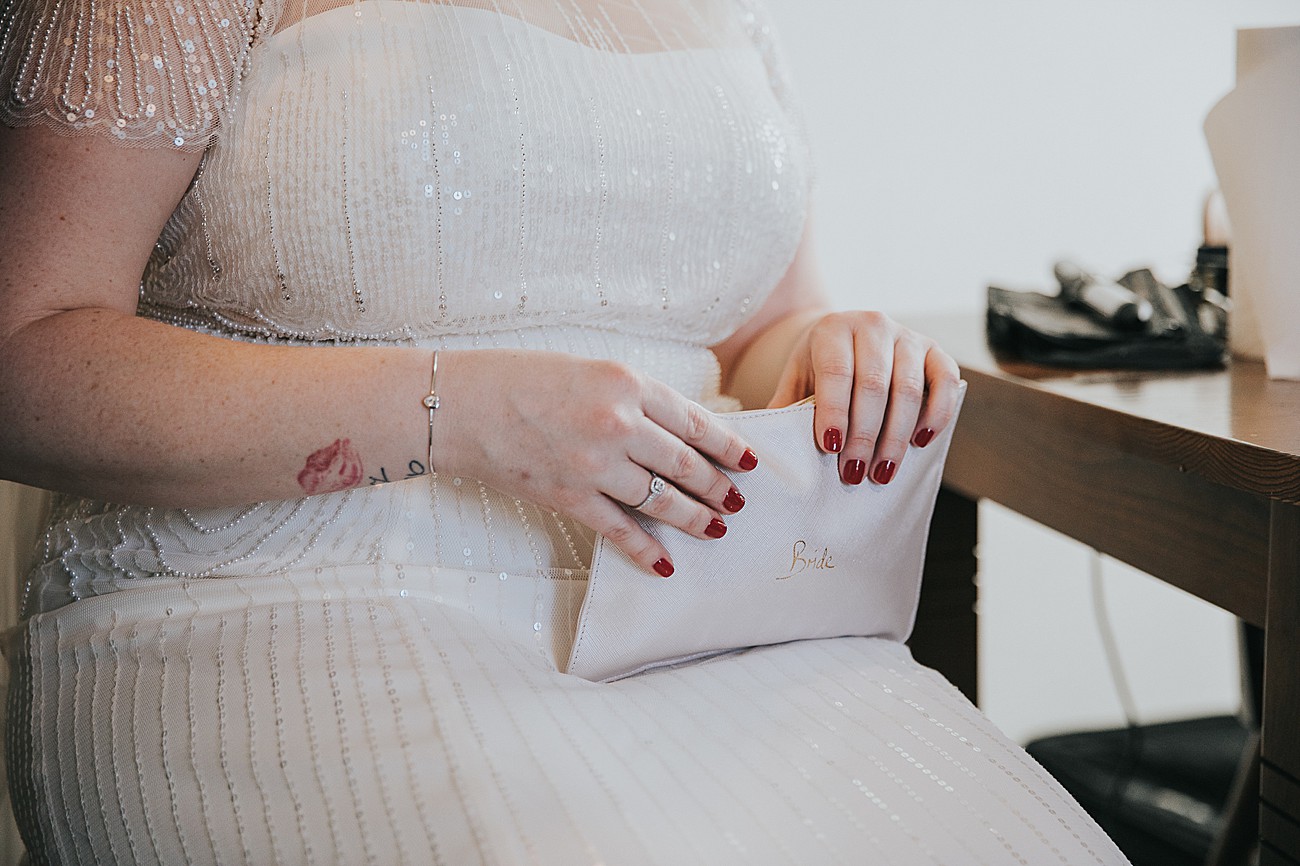 "My shoes were £21 in the ASOS sale. I'm a shoe ruiner so they just needed to be comfy and cheap." 
For an additional vintage touch, Erin chose an unusual Mantilla-style veil with delicate lace edging, also from The Bride. I love to see brides choosing elements that are just a little bit different, and I adore the look that this veil, worn to the back of Erin's head, creates. Later in the day, she replaced the veil with a sparkly Debenhams hair clip.
Victoria Ralph Hair styled her long, dark locks into vintage, film-star waves whilst a dramatic, smoky eye and red lipstick create instant era-inspired chic. Her make-up was applied by Skye Phillips Makeup.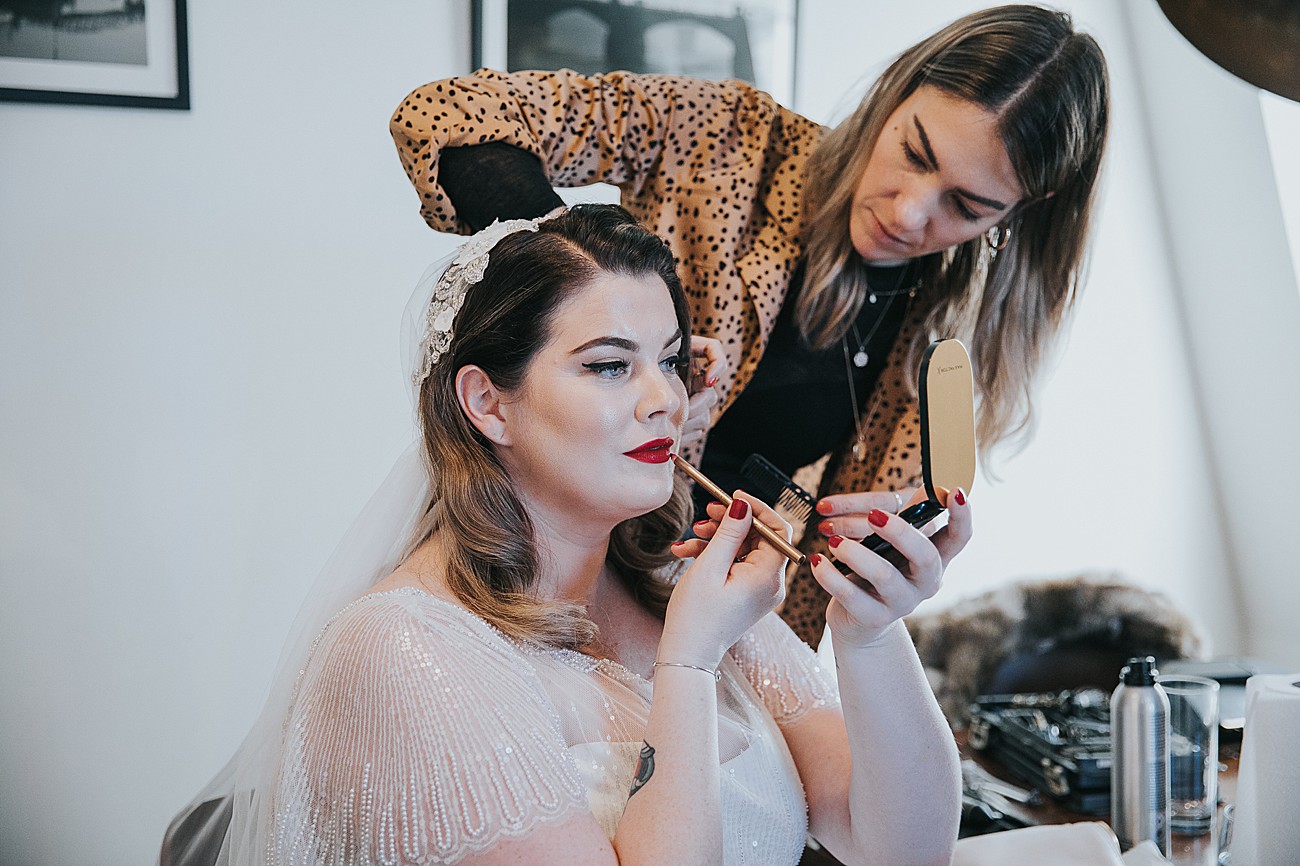 We chose the Town Hall because of how beautiful it is and James has a connection to Islington because his family lived there. We knew we wanted a pub for the reception and when James came across it online we fell in love – it's even more beautiful at Christmas-time."
James and Erin met in James' local pub in Watford in August five years ago, then had a whirl-wind romance due to Erin's travel plans. Their daughter, Primrose, plays a starring role in these wonderful images too.
"We fell in love very quickly and kind of fast tracked our relationship because I was booked to go travelling that coming December. I literally had a one-way ticket to Australia, a bar tender's licence and a year's visa so wasn't planning to be coming back anytime soon. Although madly in love I still went and James and I vowed to make it work. After all that I lasted eight weeks."
"Back in England and still madly in love, four months after I got home we had a little surprise; I was pregnant! Fast forward to 22 February 2016, our beautiful little Primrose was born. To make our family complete, on 22 August 2016 James asked me to marry him in our home by dressing our six month old in a babygro with the words 'Will you marry my daddy?' on it."
"He whisked me off to London for a day of celebrations ending with a meal in our favourite restaurant. We were engaged for just over two years."
The festive feel was intensified by the hand-tied bouquets of foliage that the girls all carried.
"Our florist was Daisy Ellen. I didn't want any flowers at all as I not a huge fan so I opted for all foliage. We had lots of green and grey foliage that looked and smelt amazing."
Meanwhile, James looked dapper in a winter-weight, tweed suit from Jennis & Warmann. To match, the couple's page boy – and nephew – wore a three-piece tweed suit from Marks & Spencer. ​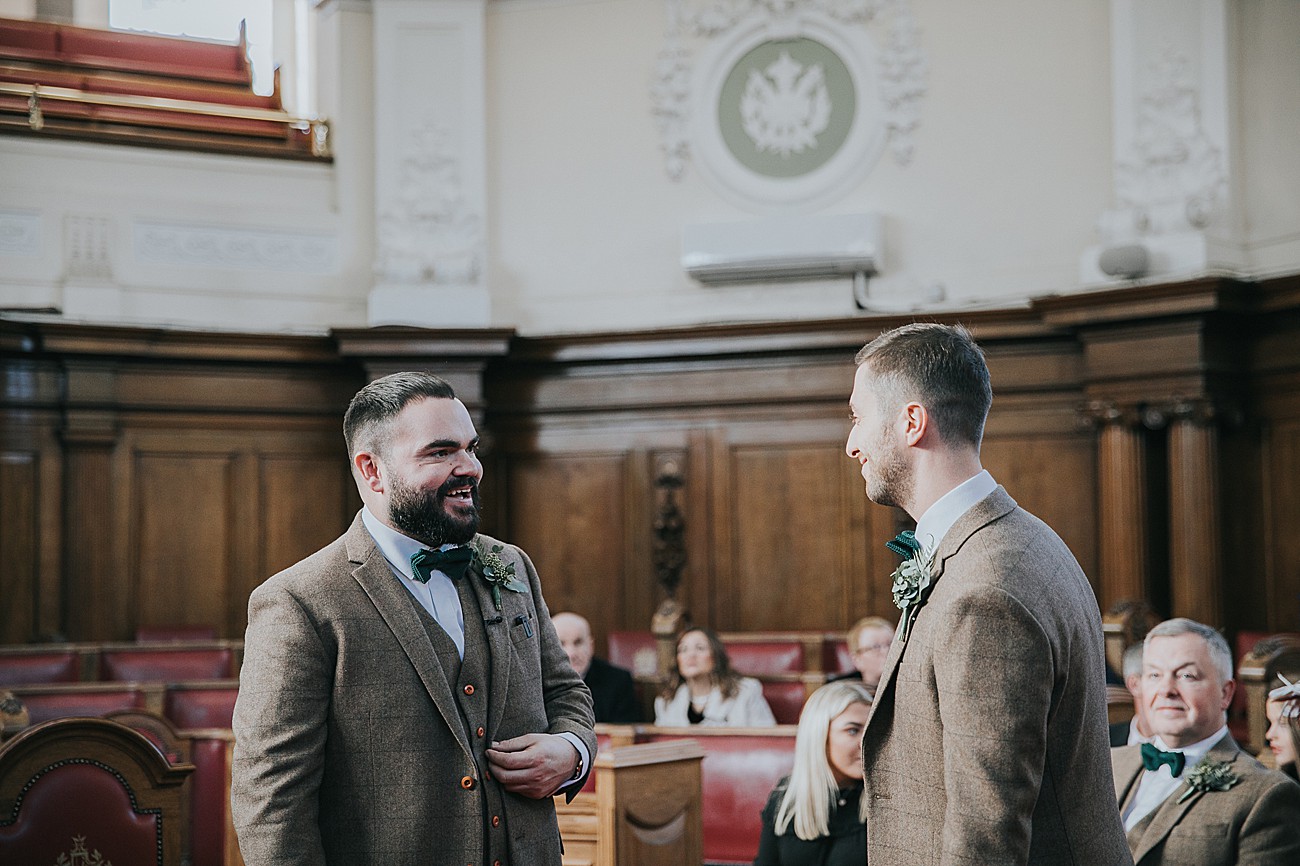 In keeping with the festive feeling and for a vintage twist, Erin's grown-up bridesmaids dressed in deep green, wide-legged jumpsuits from Quiz, for a look that I just love.
"They were our best budget find – £30 each!"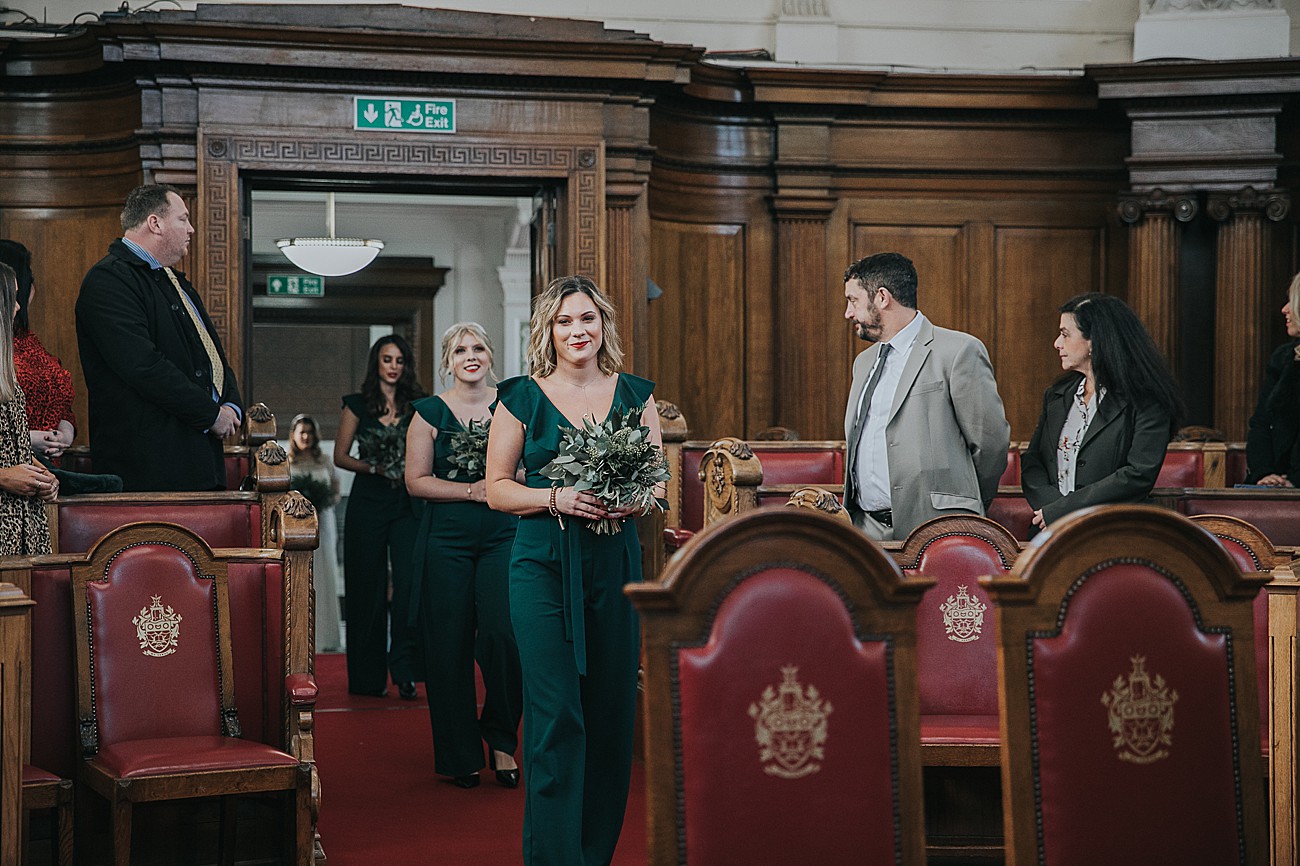 The couple's toddler daughter Primrose makes the most beautiful flower girl, dressed in pure white with a warm cape.
"She wore a John Lewis Occasion dress. We had a green velvet cape made for her to have something to match the colour of the bridesmaids' jumpsuits."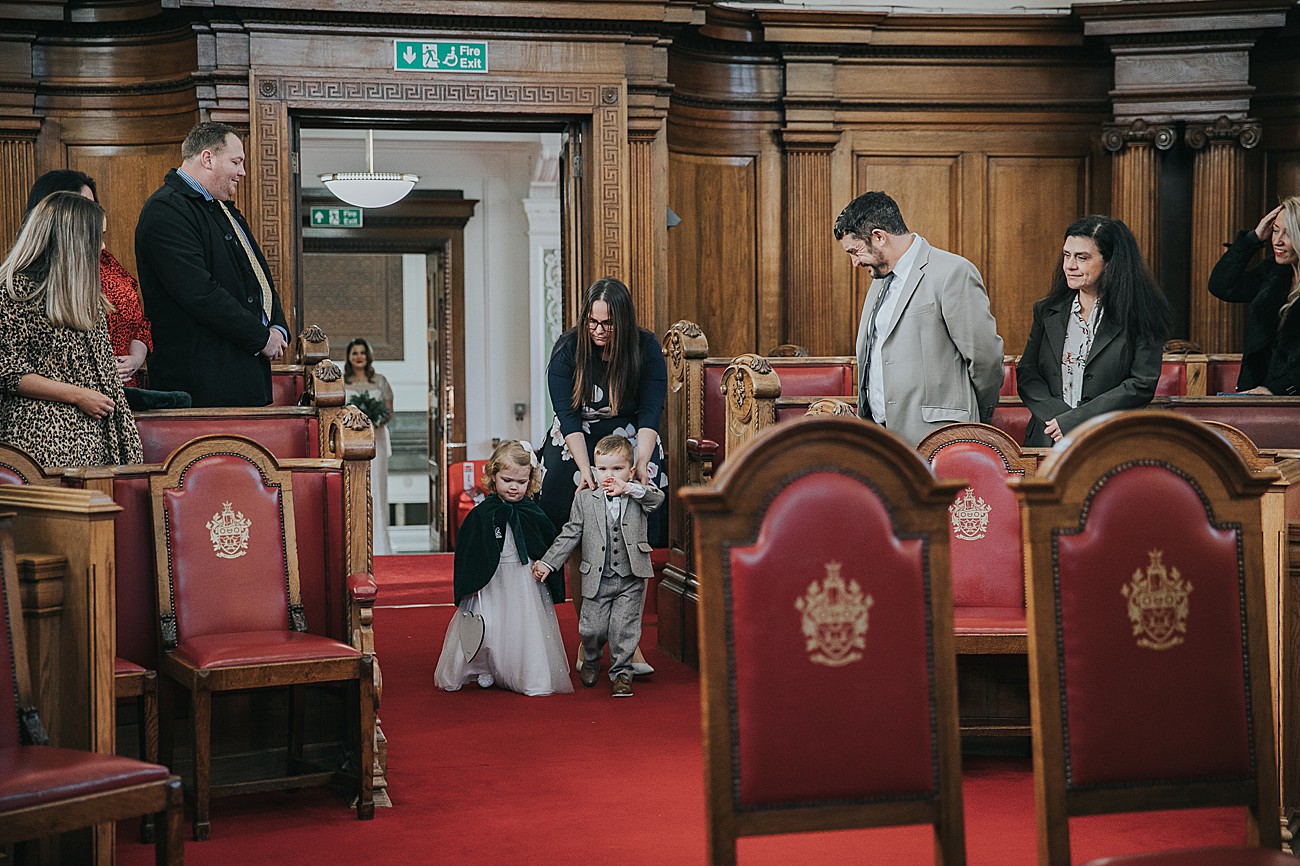 Come ceremony time, Erin was driven to Islington Town Hall in James' cousin's black cab, and she walked in with her father.
"I walked down the aisle to Des'ree's 'Kissing You' – one of James and I's favourite songs. ​We followed our flower girl (our daughter Prim) and our page boy."
"My favourite part of the day was watching Primrose walk down the aisle towards her daddy and then seeing James' face.  I could see he was welling up which also made me go. It was just so special."
The civil service included a poem read by Erin's sister, and the bride and groom exchanged rings from a Hatton Garden jeweller.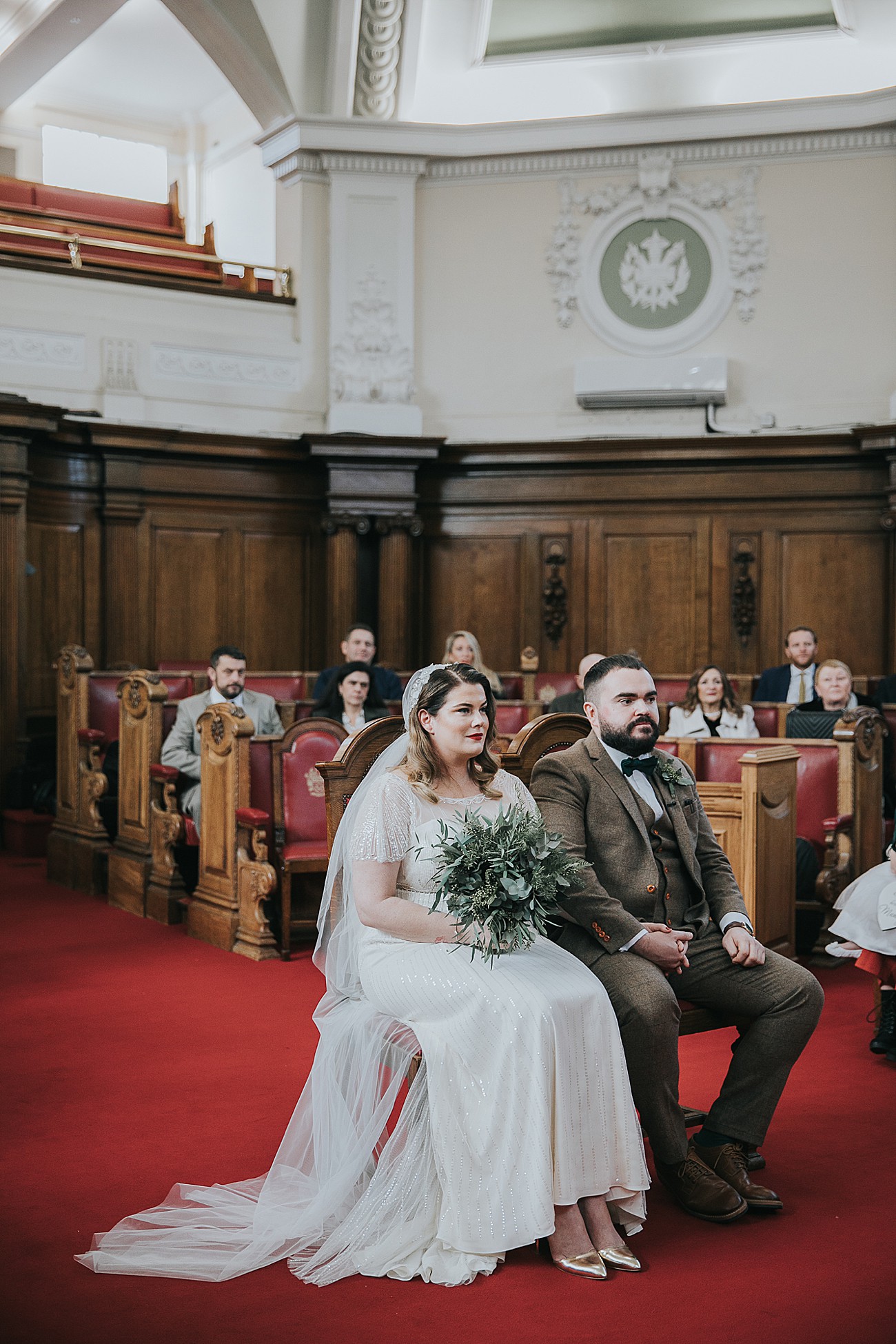 "We chose King Of Diamonds because they made my engagement ring."
"My sister did a reading at our ceremony, a personal poem she wrote herself."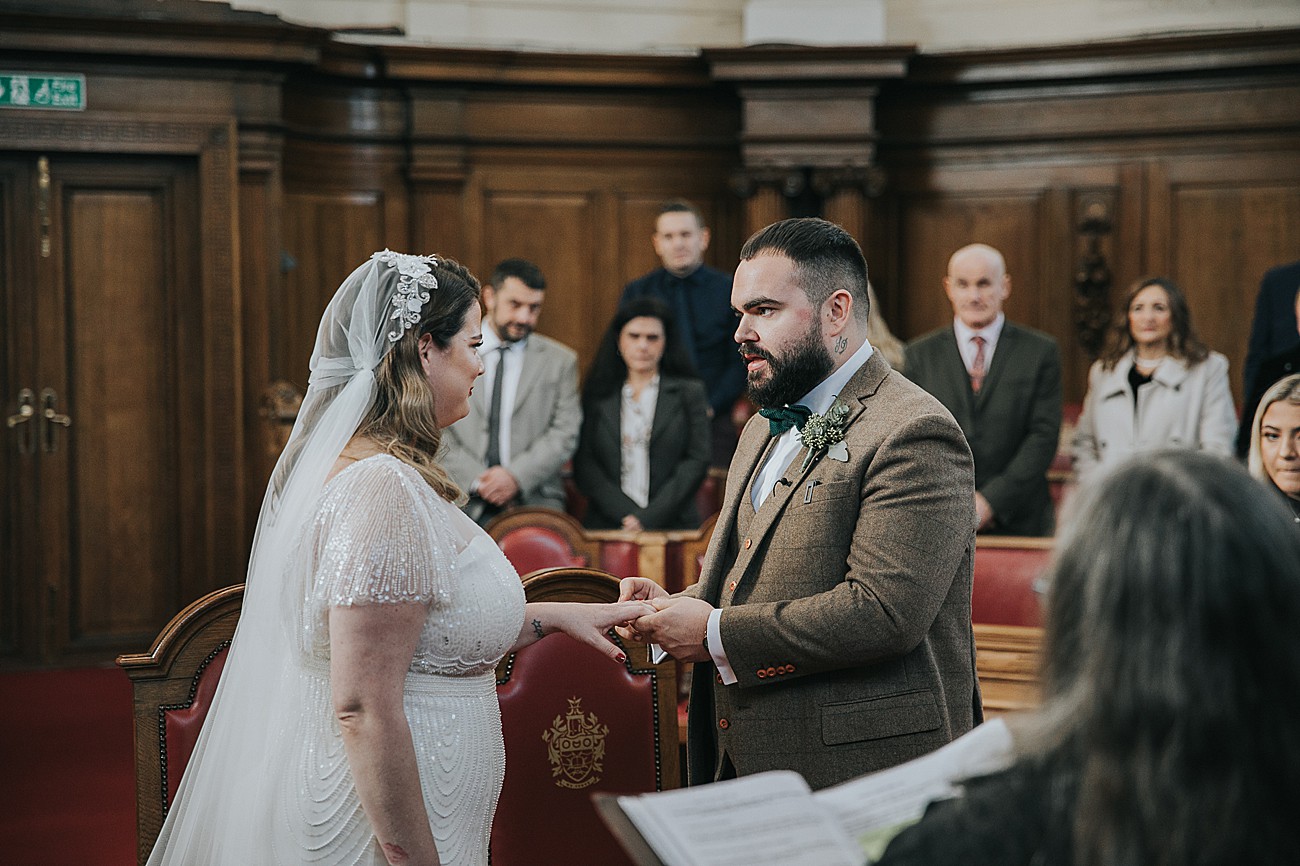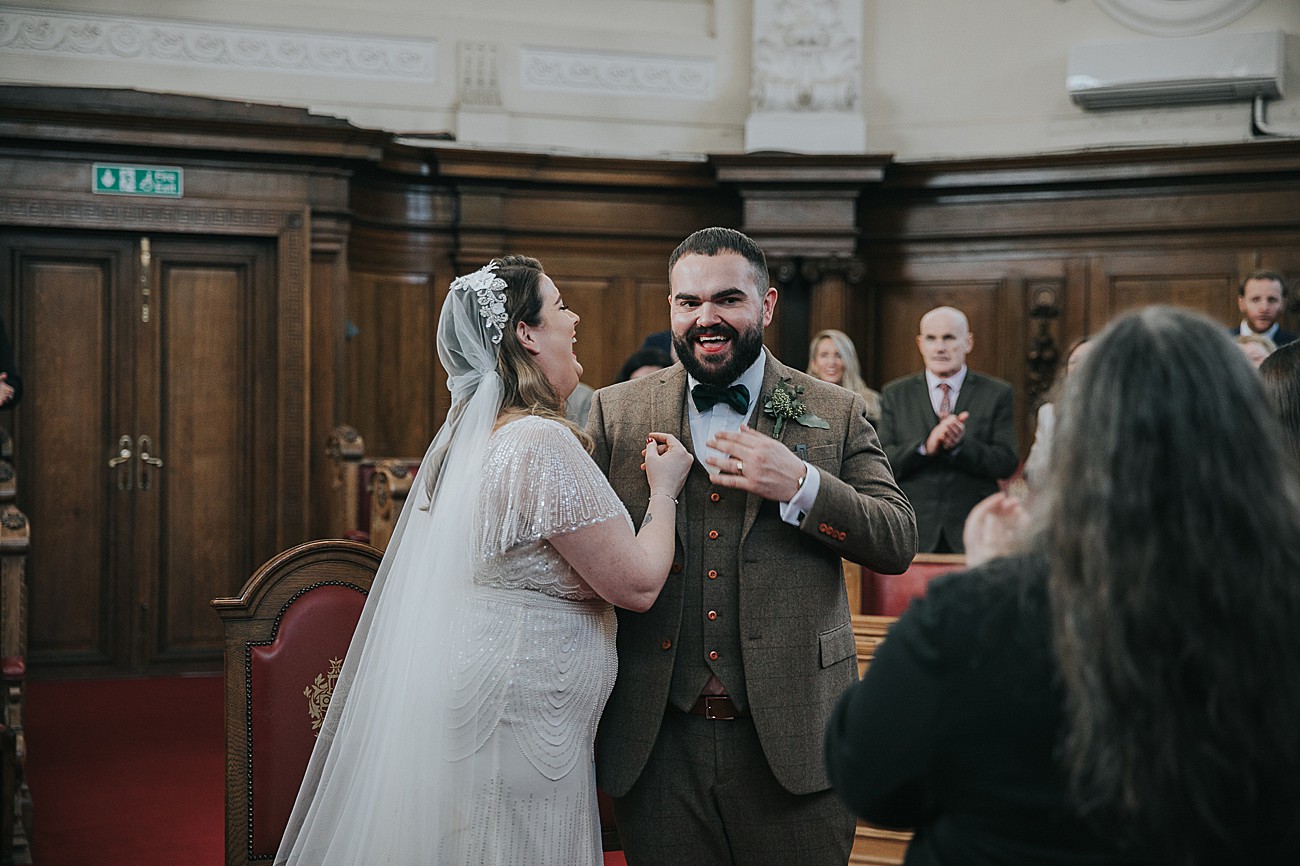 We have Poppy Carter Portraits to thank for these crisp, timeless photographs which make so much use of the cool light of December. I love her natural reportage style too which captures the movement and vibrancy of the City setting.
"Poppy is an amazing photographer as you can see from the photos. So many of our guests commented on how quickly she got the main photos done so we were able to get on and enjoy the reception drinks. We can't recommend Poppy enough. She made it such an easy and lovely experience and even helped when my two year old refused to get dressed on the morning of the wedding. So many of our guests have commented on how lovely and professional she was and the quality of photos Poppy took."
"Unique Visuals were the guys that did our wedding video. Steve and Jennie were brilliant and we can't wait to see it."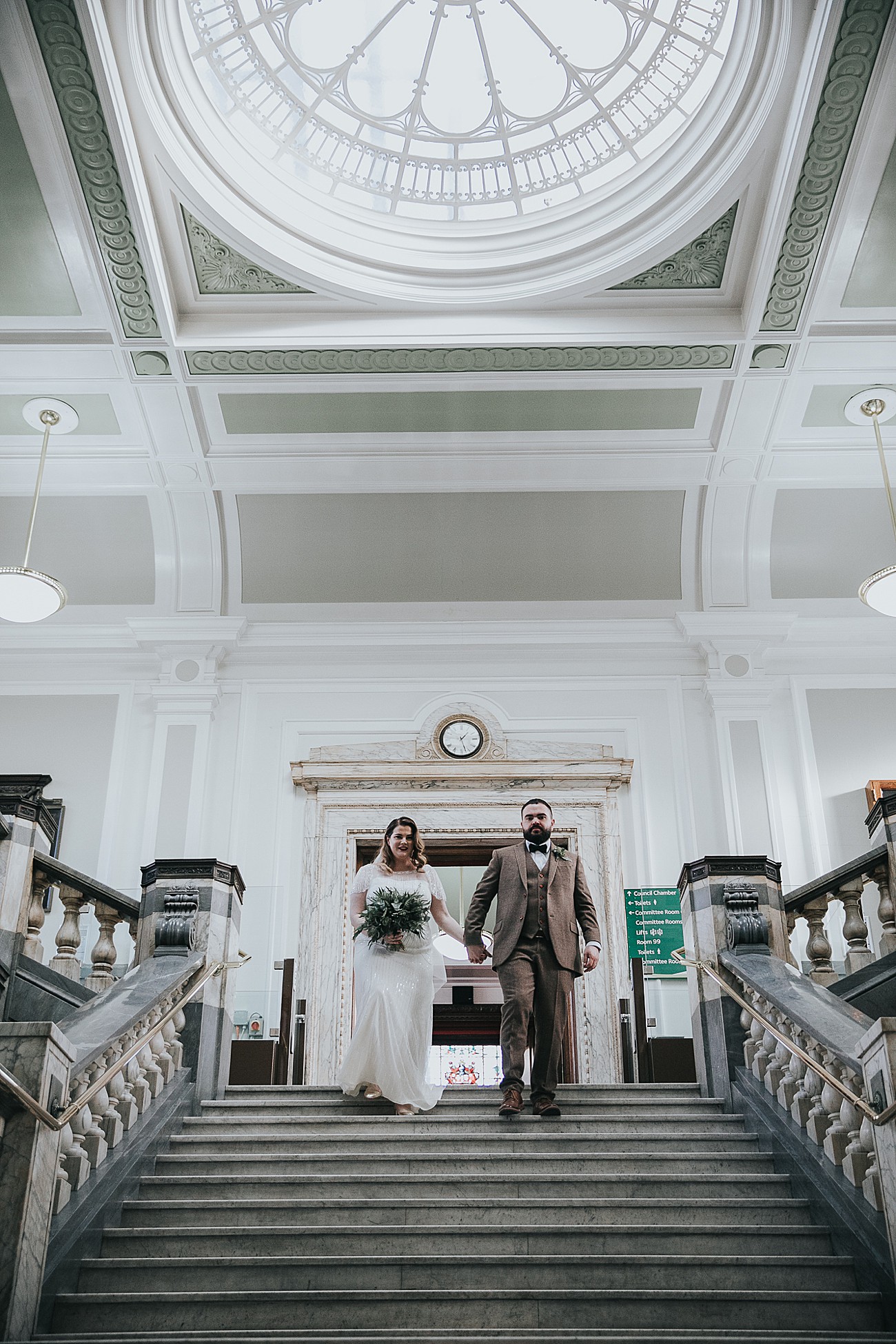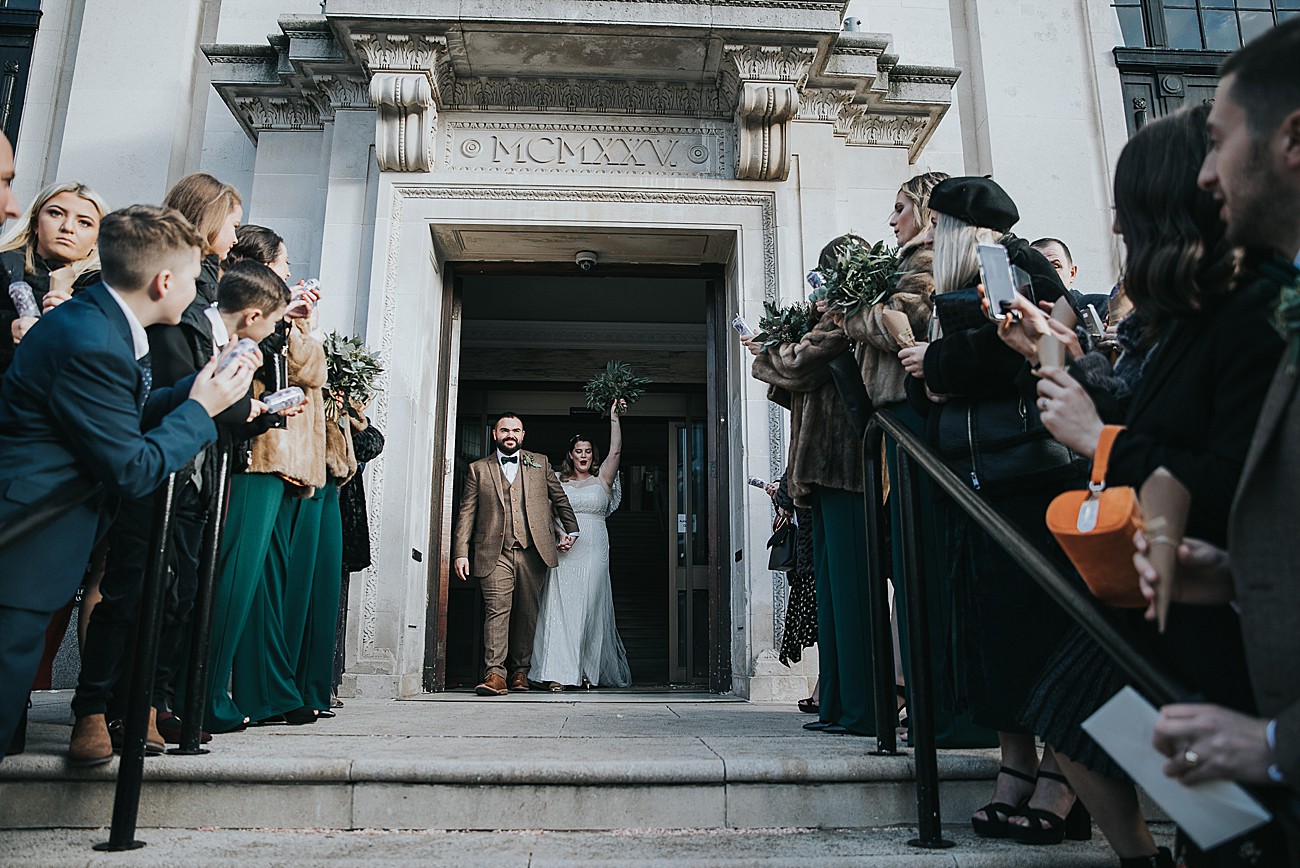 With both Erin and James being in the transport industry, what better way to travel to their reception than in an iconic red London bus?
"To transport our guests from the Town Hall to Leadenhall Market we had a vintage Routemaster from Alphabus."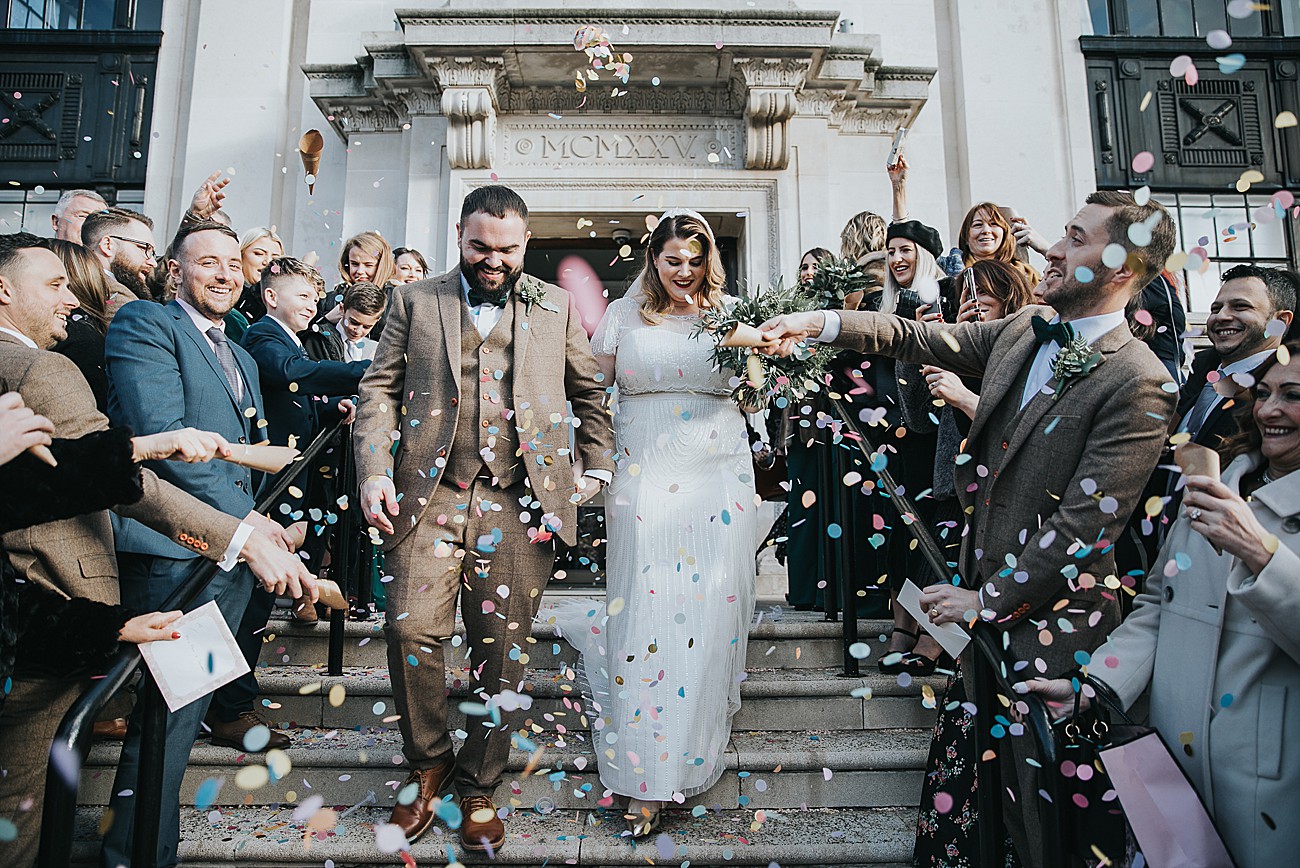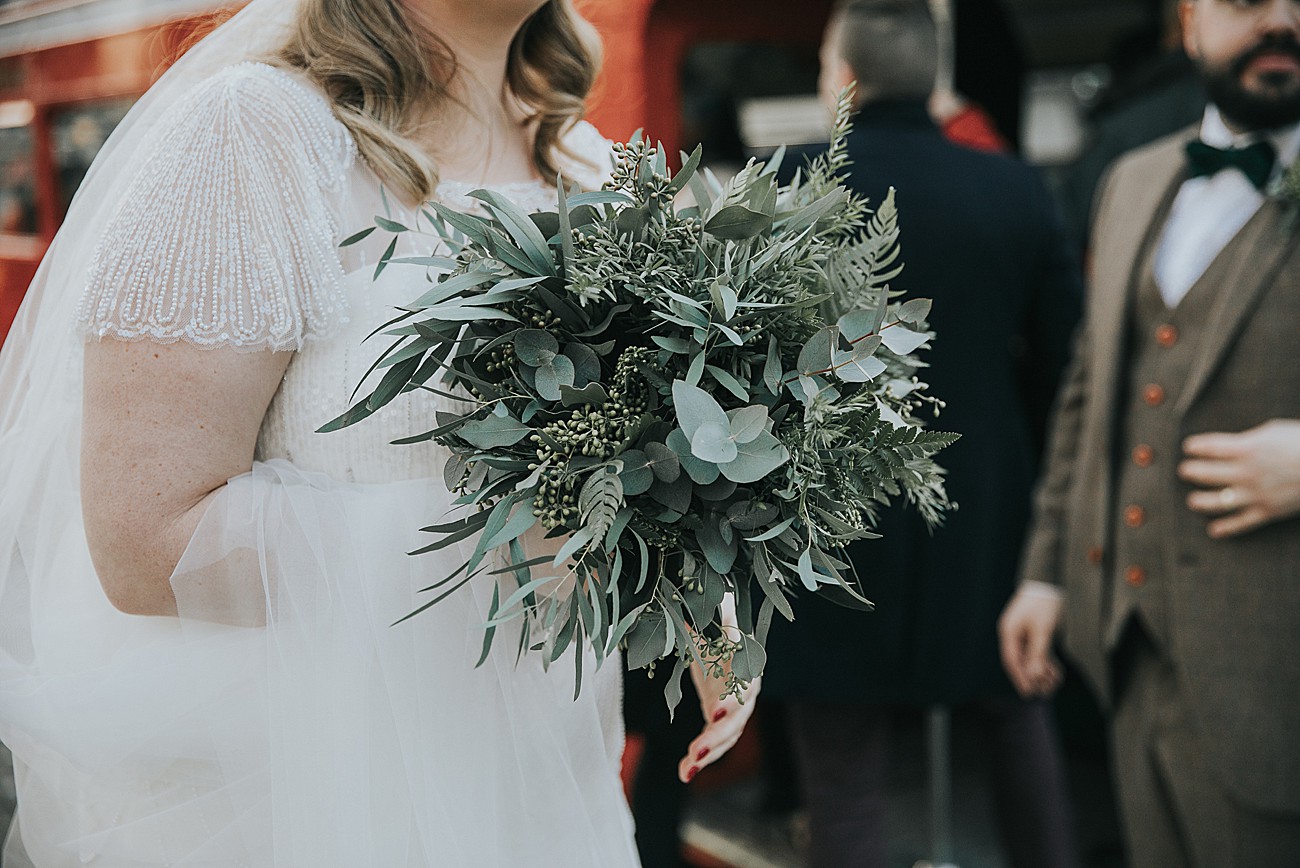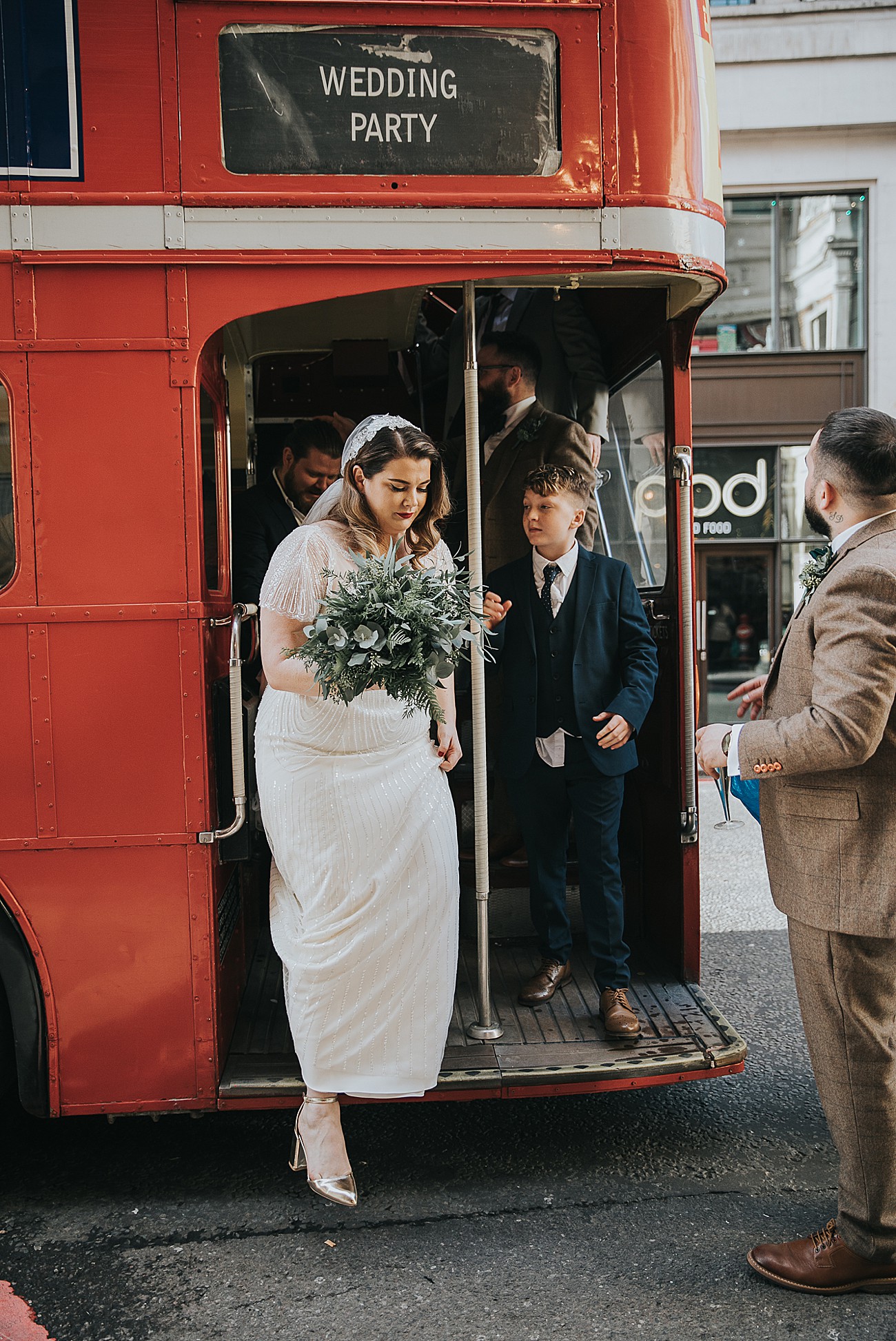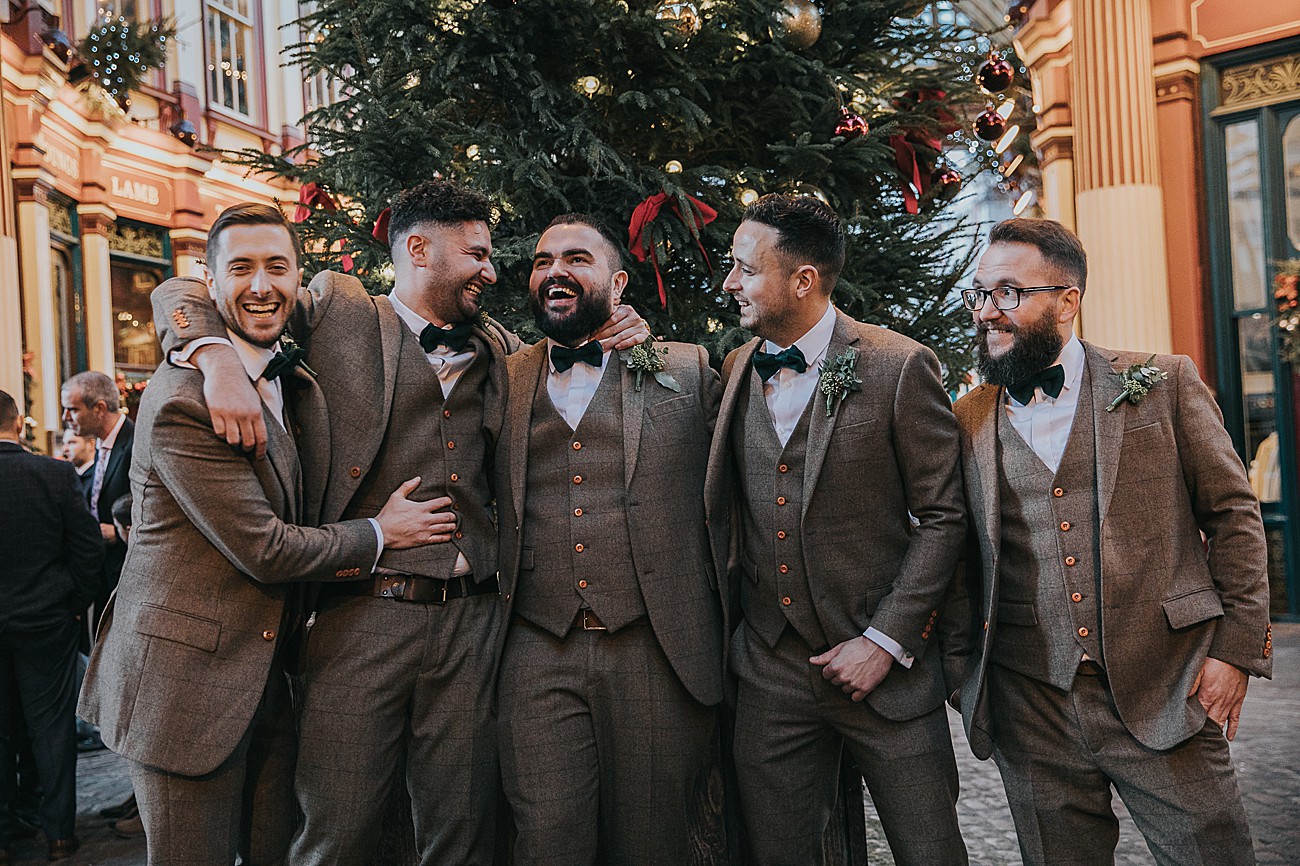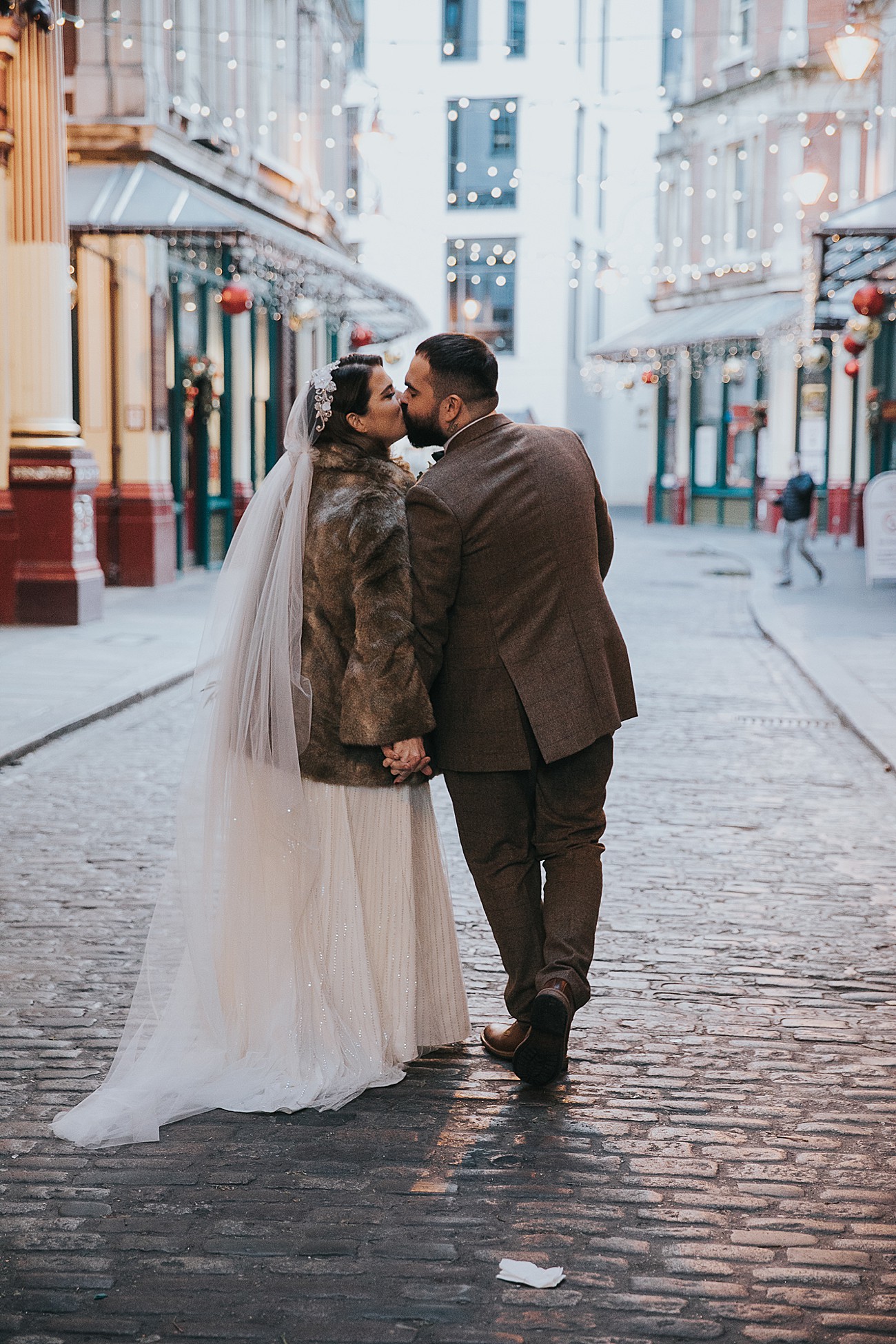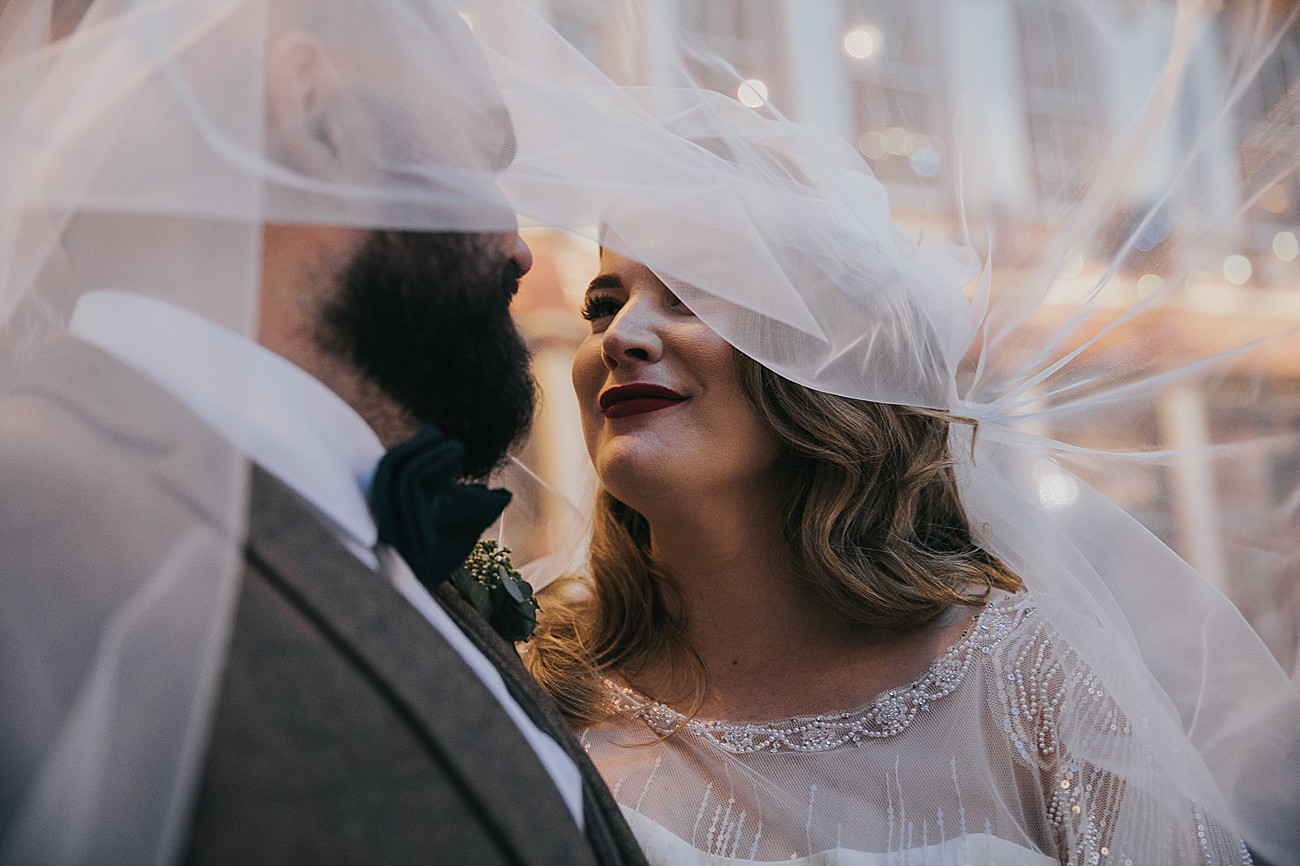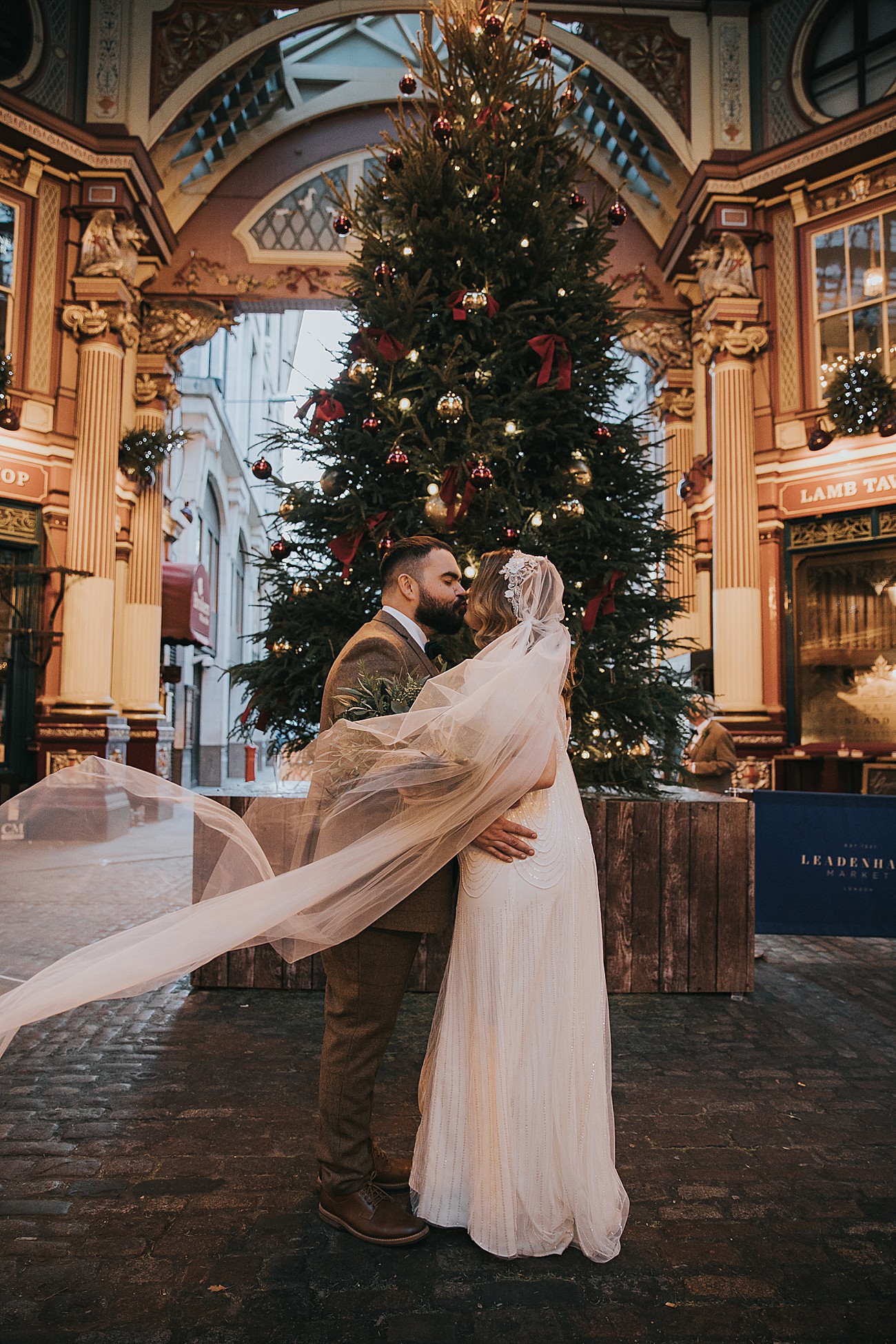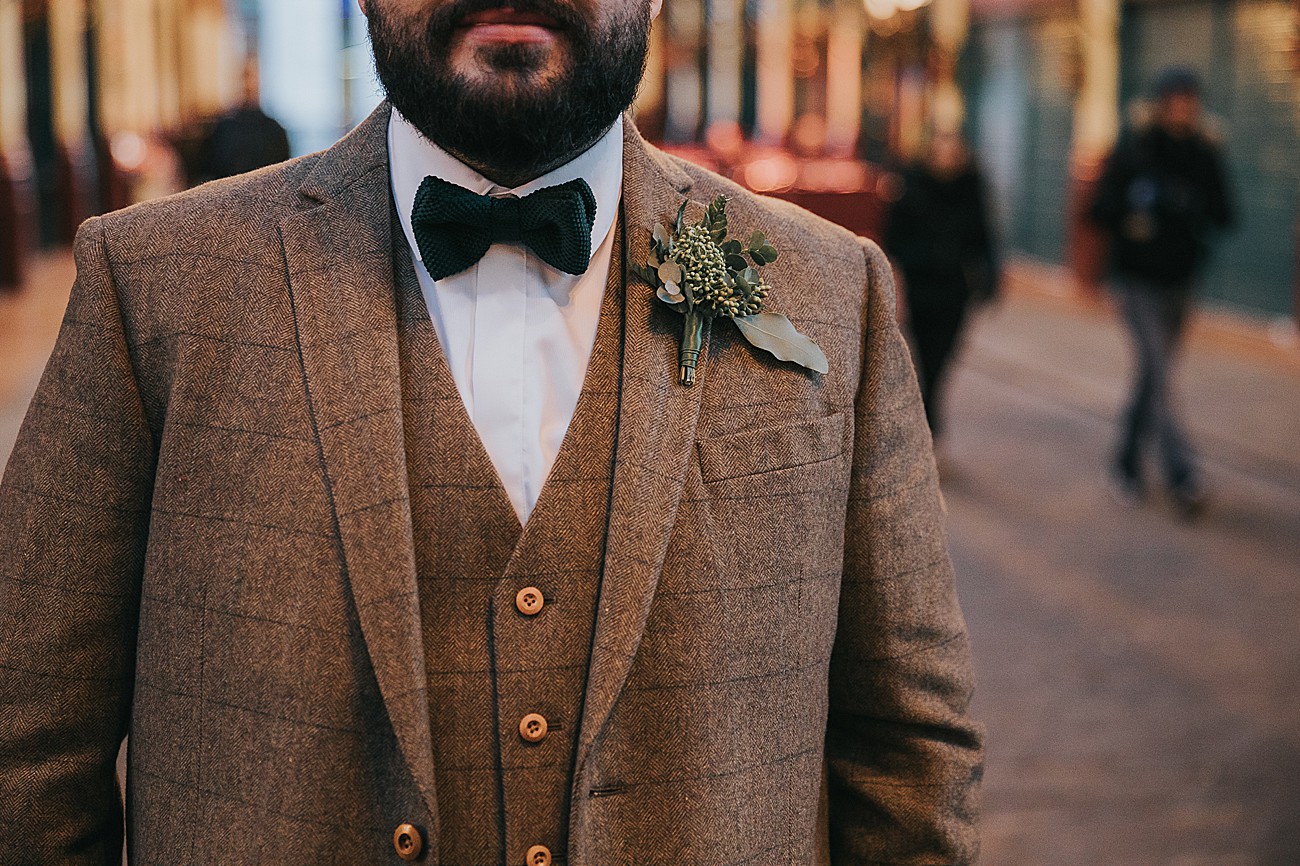 The couple and their family had got creative to style their vintage, festive reception. With reams of foliage and Christmas touches through cinnamon and orange, it must have smelt incredible, as well as look divine.
"We did the planning ourselves with the help of my mum and sister. Claire from the Lamb helped us with making it all possible. We couldn't recommend the Lamb Tavern enough."
On arrival at the pub, the guests were greeted by reception drinks along live music from singer and guitarist Jamie. The intimate reception included speeches and a sit-down wedding breakfast put on by the Tavern.
"We didn't have a cake as we didn't want one and definitely didn't want to do the cutting of the cake. ​We sourced our own cookies and Pick'n'mix as they're our favourite treats."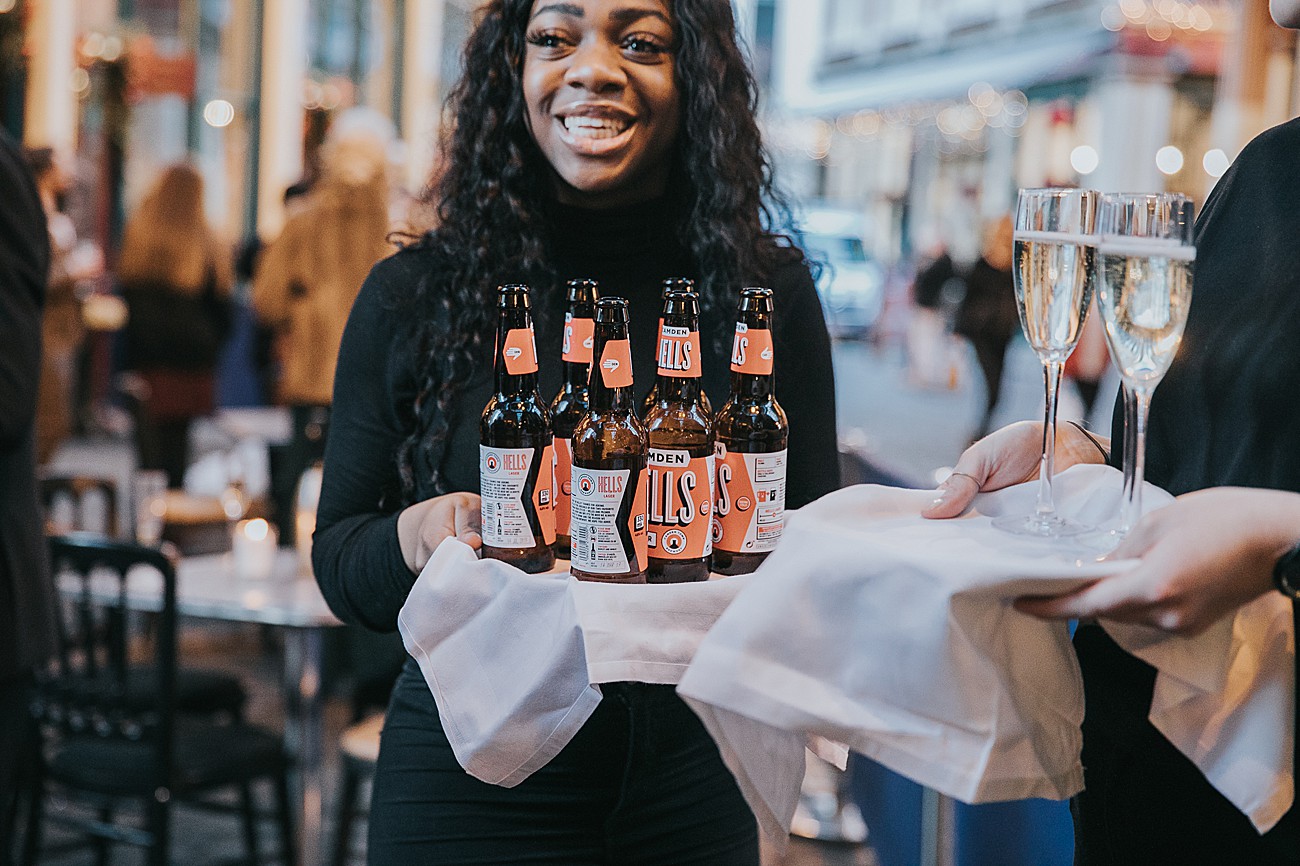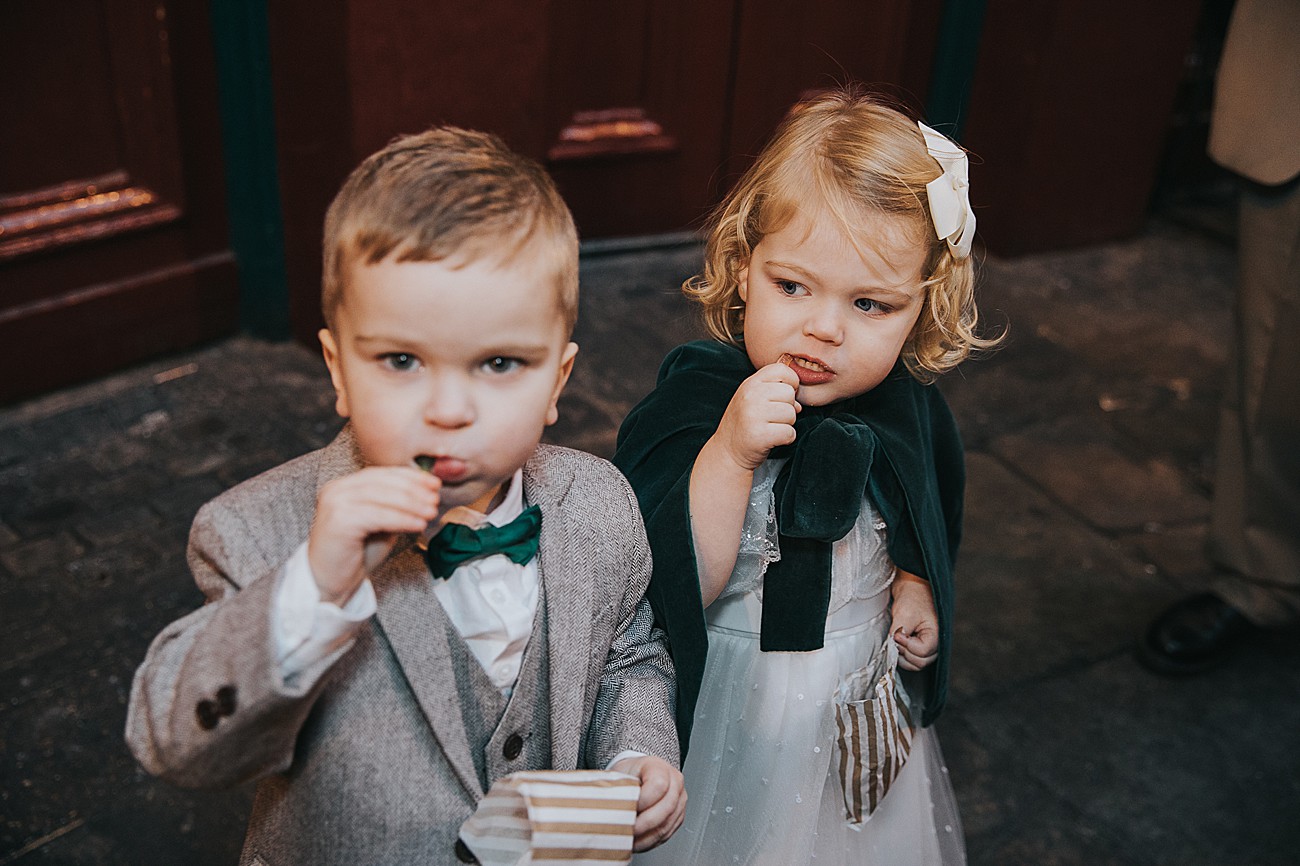 "We made our own table runners and table charger plates. The runners were conifer branches from my mum's garden that myself, my mum, my sisters and my mums' best friend all wired together the week of the wedding and added dried oranges and cinnamon to. The charger plates were bought on gumtree and we stained them ourselves."
Along with the pillar candles and twinkling fairy lights, the Tavern had an extra festive touch in the form of Christmassy favours.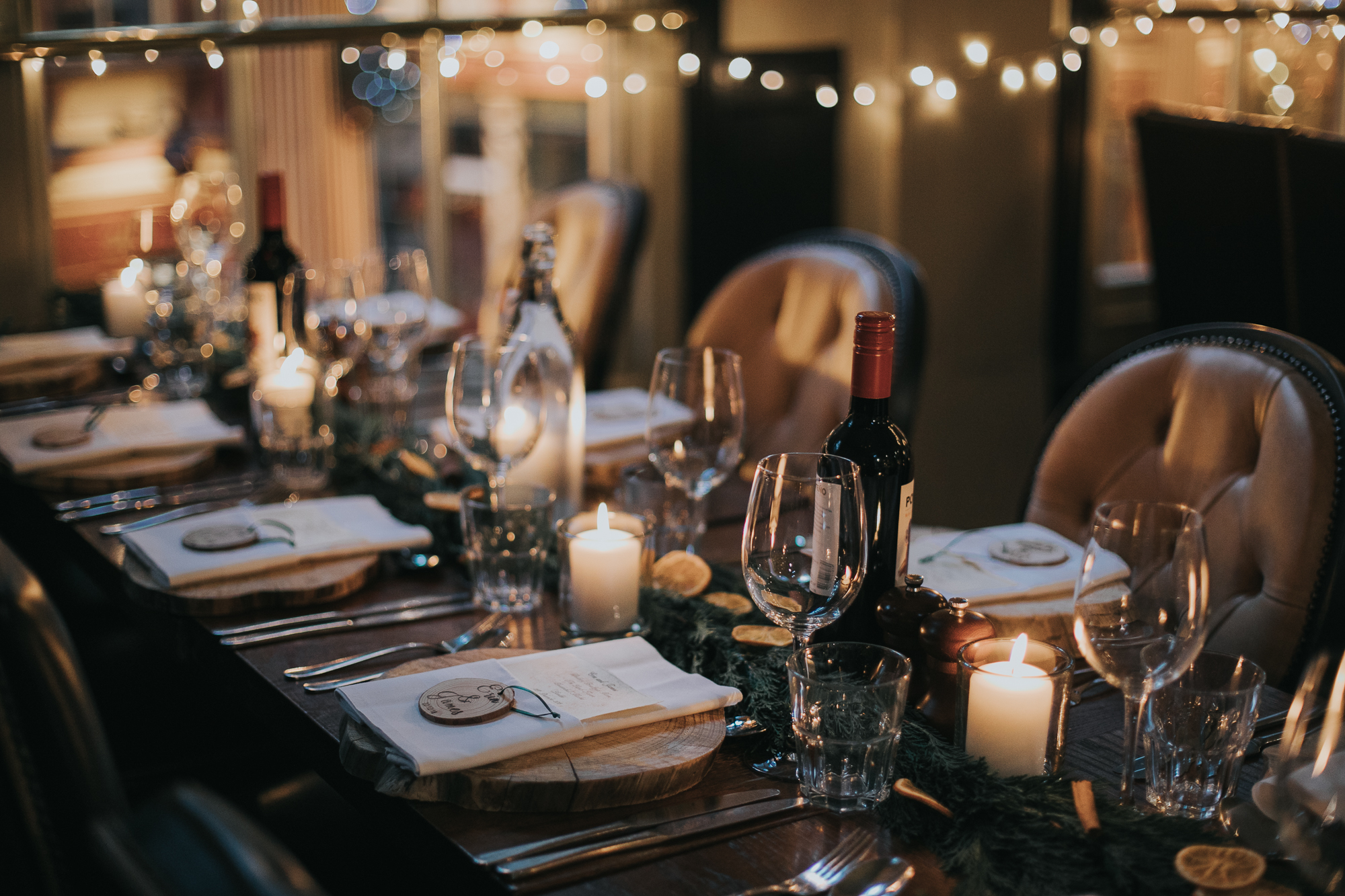 "We made our wedding favours. We bought wooden plain Christmas decorations from Amazon and a stamp from ZoeCraftSupply on Etsy. We finished the decoration/favours off with a green ribbon."
"My mum made our menus for the wedding breakfast and the table plan was a table of small bottles, filled with homemade limoncello made by my mum. On the bottles were the guests' names and what table they were on. On the table was a blackboard with the instructions 'Please take a shot and then take your seat, so you can have something nice to eat'."
"We used a photobooth company that were fabulous – Hello Tuk Tuk. I wouldn't have changed a single thing. Every single part of it was perfect and I genuinely mean that!"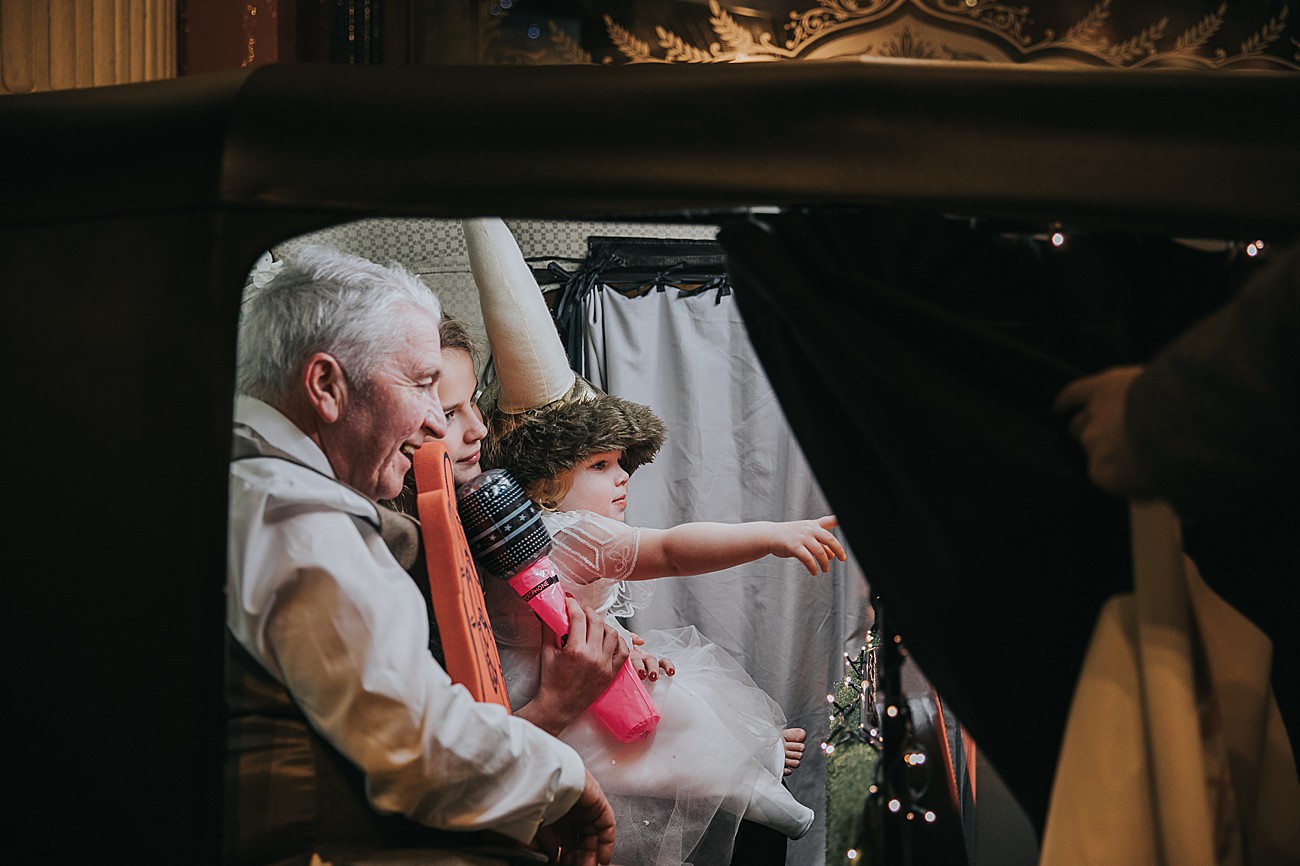 Come evening time, Watford DJ Lenny played a set after Erin and James' took to the dance floor together.
"Our first dance was James Morrison's 'You Give Me Something'. It's always been 'our song' and will always give me goosebumps."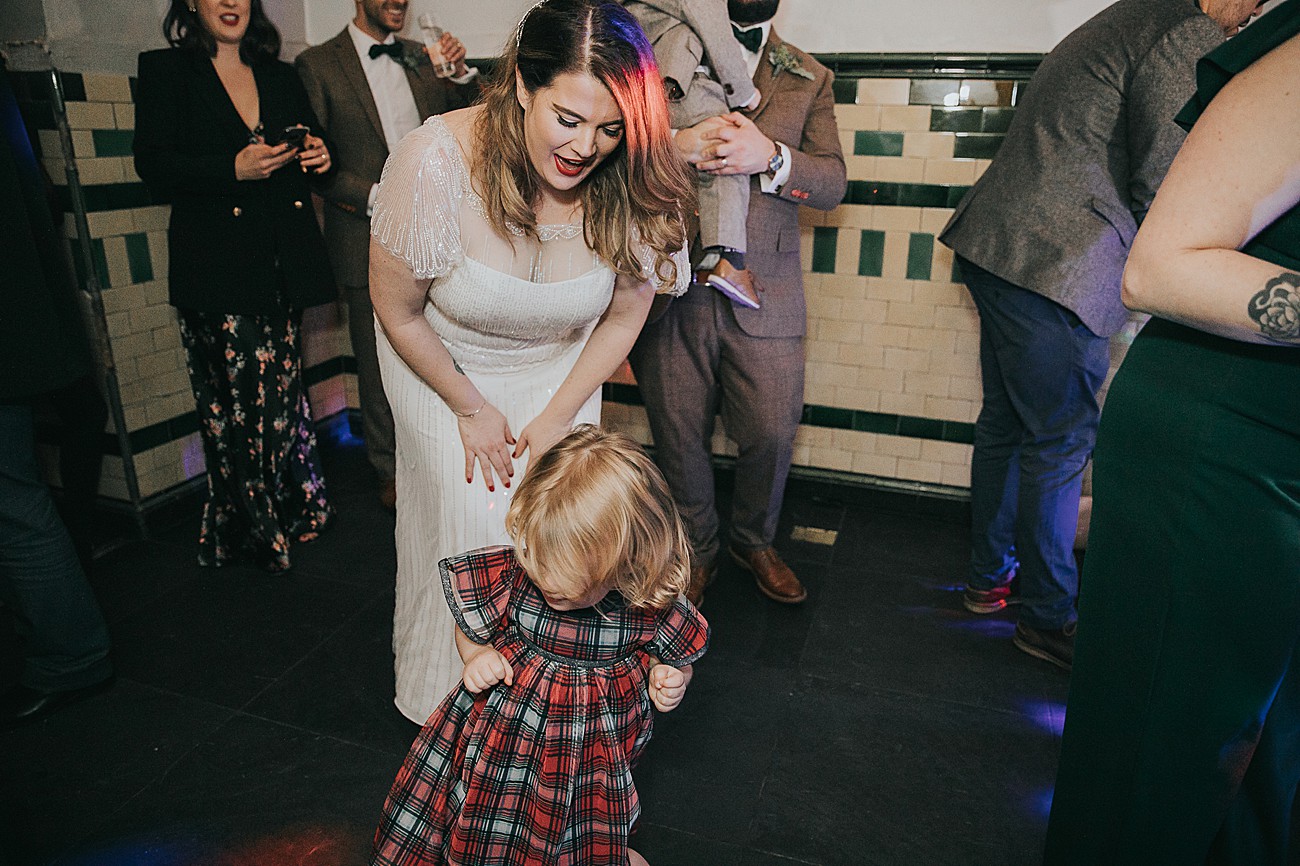 Words of Wedded Wisdom
"Do what makes you and your soon to be husband happy."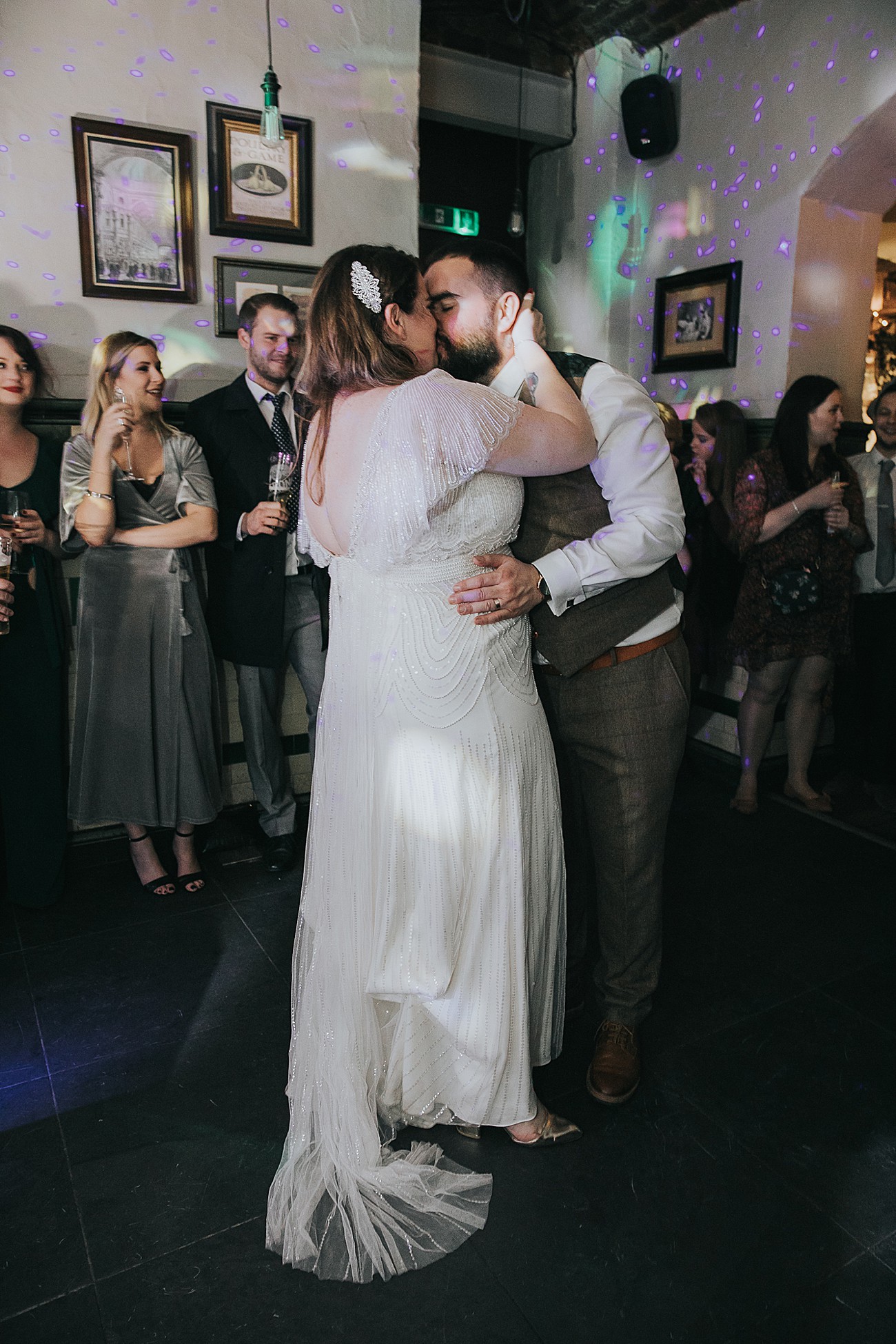 Lovelies, I hope you've loved this winter celebration as much as I have, especially the simplicity of the green foliage décor. I'm delighted to direct you to these other vintage-inspired weddings we've featured on Love My Dress, or for more festive vibes then take a look at these celebrations.
Dear Poppy Carter Portraits, it's been a joy to feature your work today so thank you so much for allowing us to do so. And Erin and James, many congratulations to you, and thank you as well. I hope you have a wonderful first anniversary.
Ele xx