As the turn of a new year approaches (and a new decade, but we're trying to ignore that existential crisis-inducing fact), we like to chat about the trends we foresee becoming big in the next few seasons.
And whilst this isn't a trend, so much as a way of life, it's undeniable that sustainability is the word on everyone's lips at the moment, it even came up as one of Pinterest's prediction of key wedding thoughts for this year. Couples and businesses alike are becoming more aware of their responsibility to choose well not just for them, but for the earth and for the future too.
But that doesn't mean you have to compromise on aesthetic – no no no. Our incredible cohort of 2020 exhibitors are here to show you how they're not only creating the most style-savvy weddings possible, but how they're doing it sustainably too. They are doing it a very real, non superficial way way, from the core outwards, with approaches and practices, and we are proud to showcase them and provide a platform for you to find wedding suppliers really trying to make a difference.
In fact, we've had such an incredible response to our suppliers on this one, that we're splitting this article into two and will share the second part later this week on Love My Dress.
First up our fashion set. Take it away…
SUSTAINABLE ACCESSORIES
AM Faulkner Bridal's sustainable credentials are solid, strong and endless! Have a look on her website about how the team are fastidious in ensuring good ethical and sustainable ways of sourcing and working.
Just some of them include working with bamboo fabrics as well as pieces sourced from a family run mill in Kolkata, India. "We know they have excellent working practices, conditions and pays their workers a fair wage,"explains Ann-Marie, "I have personally met the owner of this mill and can confirm she is an awesome female changing the face of the Indian textiles industry! They also source their sequins from the last remaining sequin factory in the UK – right around the corner from our studio in Stratford."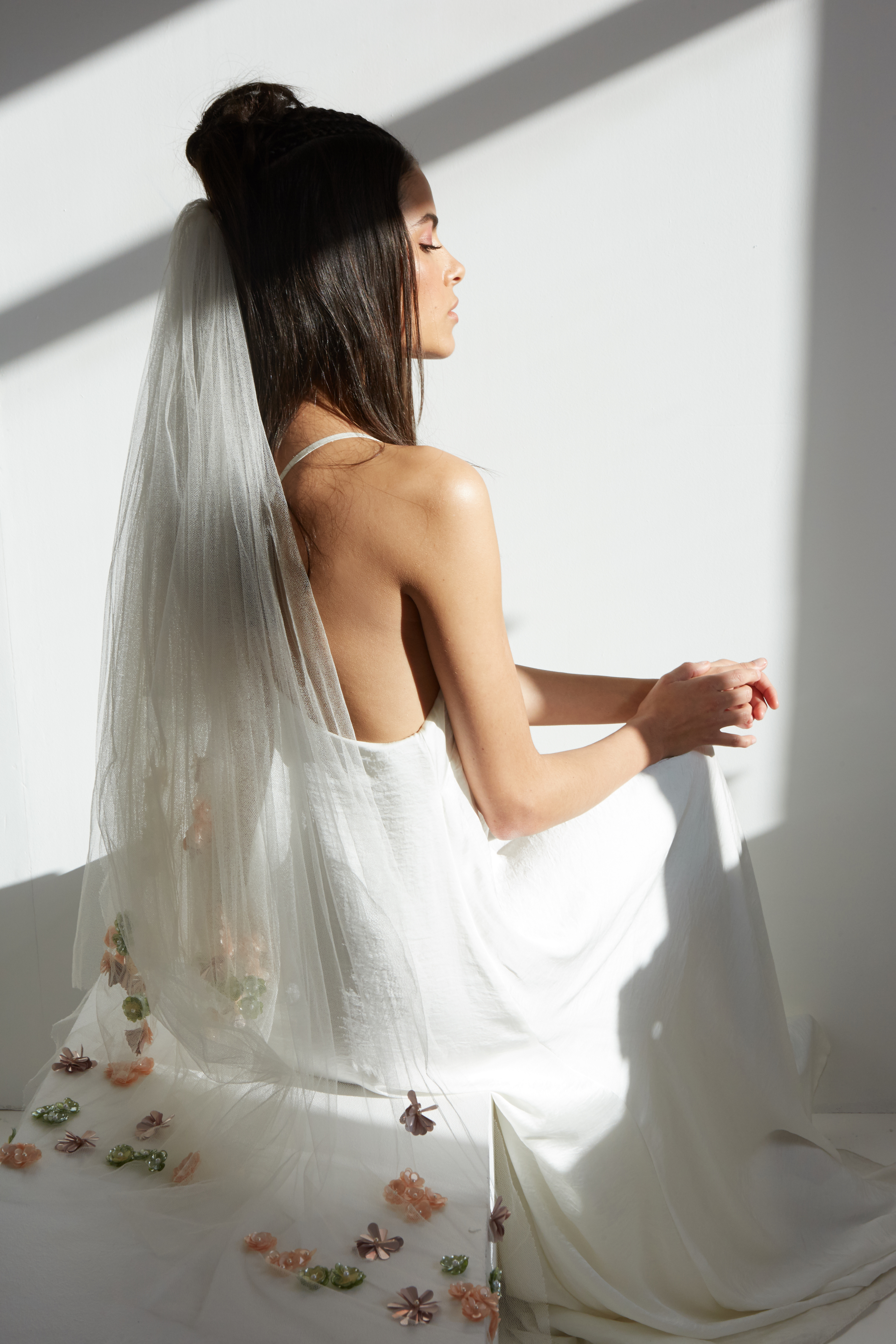 Julia from Ink & Thimble is also committed to sustainability and is operating a near zero-waste business. "As most of my work is customisation, I rely on clients to send me their items to embroider and therefore my materials are literally a needle and thread."
"The thread I purchase is from Gutermann who have high environmental standards which are open to the public for reading. I also collect any scrap pieces of thread and put them in a jar, and after almost a year it's still not full! That jar is my only thread waste."
"As for my Love Letters, I source organic cotton which has been made sustainably and ethically sourced. I know where the cotton is made and the team in Wales who source the fabric donate funds to help their workers environments, education & health. I then either keep the cotton white, or I dye it a dusky pink myself using avocado stones!"
SUSTAINABLE WEDDING DRESSES
London based Andrea Hawkes, one of the UK's coolest most contemporary designers, is helping to lead the way in terms of sustainability in bridal fashion.
"This is definitely something we are seeing more of an interest in amongst our clientele, and of course something that we see as having the utmost importance as well. We pride ourselves on the fact that we design, make and produce all of our dresses locally here in London, using all natural fibre silks and French lace. The quality of the fabrics we work with is something we are extremely clear about and deem to be integral to our brand. We will only ever work with traditionally woven silks using natural fibres and French lace, meaning that each of our designs has a naturally luxurious look and feel."
"We believe it to be extremely important to build genuine working relationships with our suppliers, and we always ensure we make the effort to meet with them personally to ensure the quality of the fabrics we work with. We are lucky enough to now have ongoing relationships directly with silk and lace mills which ensures we can ask the important questions and guarantee the quality we are renowned for. We also love nothing more than to visit various fabric exhibitions in the UK and Europe for new inspiration." (words via Love My Dress)
Film by Zach & Grace for LMD Collective
Velvet Johnstone was the creative genius responsible for the floral jumpsuit in our campaign shoot. This fabric was actually recycled vintage curtains (I'm sure you probably recognise them from your Nan's!) And now, Cheryl, VJ's founder, is offering this as a service going forward.
She explains: "I am offering and encouraging the option for me to source vintage fabric. This gives the bride a more personal service, creating an entirely bespoke piece to complement their personal colours/story/vibe etc."
Velvet Johnstone

+ Follow
"I've also partnered with 1 tree planted, meaning that for every dress, jumpsuit or ensemble I make, 8 trees will be planted. I've also created a sister brand, Rocks Dust & Diamonds to use cut-offs, which can be made to create bespoke lingerie, cushions, headdresses, and even bridesmaid or flower girl detailing, to add an even more personal touch."
Heart Aflutter Bridal stock brands who are incredibly eco-conscious too. In addition to their use of bamboo fibre and peace silks, Rolling in Roses utilises fabrics that are made out of recycled plastic bottles and orange fibre, a byproduct of the citrus industry.
Heart Aflutter Bridal Boutique

+ Follow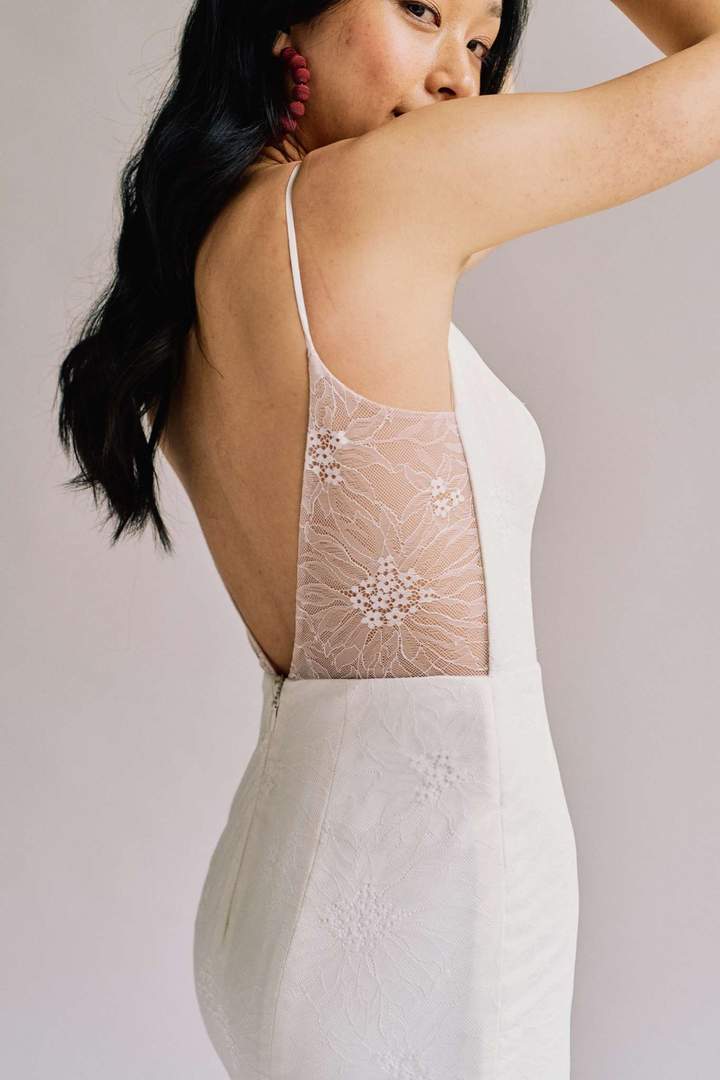 Laudae also have linings made of recycled polyester, as well as their dresses being designed so that fabric wastage is minimal. As a studio, Heart Aflutter have also gone almost paper free, and recycle all their packaging too!
Rolling in Roses

+ Follow
Film by Zach & Grace for LMD Collective
Rolling in Roses are available via Heart Aflutter
Sophie Rose Bridal has been sure to source fabrics from a factory who, alongside prioritising ethical working practices, are constantly working towards reducing their water consumption in fabric production. The fabric is also brought over by ship, rather than being flown over to reduce emissions.
Sophie Rose Bridal

+ Follow
The nature of a wedding outfit is that it's normally only worn for one day, but our exhibitors are encouraging them to be reworn again and again. As OWN Studio's co-founder Jess explains:
"We create designs with versatility – every single piece across both the bridal and bridesmaid ranges has been designed to become a much-loved wardrobe staple after the wedding, and each OWN bridal piece is delivered to brides along with tips on how to re-wear and re-style their wedding outfit after the big day, whether that's hemming a train to create a versatile midi dress or teaming bridal separates with jeans or knitwear."
Katya Katya London also offer a service where they will restyle their demi-couture dresses to be a more wearable daytime look for longevity, and the ladies at Rewritten are founder members of a sustainability fashion accelerator course with the British Fashion Council (no big deal!) and The Trampery.
Katya Katya London

+ Follow
Mia Sylvia starts from the get go with vintage wedding dresses, so this is obviously incredibly waste and production conscious at its core. She says her whole collection and indeed ethos is a celebration of all things natural and a closed-loop-system with re-using and re-generating. Each of these dresses has been hand-dyed in small-sustainable batches with ingredients such as; avocado skins, turmeric, onion skins, rose petals, dried hibiscus, rusted metals and plant roots.
Always eco-aware from its inception in vintage laces, Scandianvian brand Indiebride London set out this year starting to make small changes to how they operate to be more sustainable. "An important part of being a business with a sustainable focus is being transparent with everything we do," says owner Miina.
"We believe that consumers should be provided with as much information about the products as possible so that they can make an informed decision whether to buy the product or not. We've now made sure you can read more about the materials of each dress on our website."
"On the product page of each dress Indiebride now lists the composition of each fabric used in the dress, where the raw materials for those fabrics came from and where the fabric was made."
Indiebride London

+ Follow
"We want to challenge all brides to ask questions about the materials of the wedding dresses they are trying on and all the bridal businesses to provide this information on their website" Miina elaborates. "Remember that lace, satin and tulle are not raw materials. They are always made of cotton, silk, polyester etc."
"If someone tells you that the fabric is satin, you can ask what is the satin made of and where is it made. We set ourselves our criteria for sustainability and that includes finding suppliers with low minimum orders, as well as looking for innovations in new ecological materials, such as an organic ramie we have just found, one of the oldest fibres, used in weaving fabrics in ancient China."
Read more in this excellent article on Love My Dress.
Rewritten Bridesmaids

+ Follow
Raffia is big for the 2020 shows with Lilley Studio working with 100% biodegradable, 100% natural vegan Raffia as well as ensuring well responsibly sourced free water pearls in her head pieces. Another designer working in Raffia is Tihara Smith, as the base fabric to create unique garments, and also as a yarn to embellish and embroider with her tropical motifs and bold statements.
"As an independent designer, I would describe myself as part of the Slow Fashion movement as each of my pieces are hand-crafted and/or hand embroidered by me rather than mass-produced," describes Tihara. "My aim is to create high-quality, special pieces that people appreciate and want to keep for years to come."
This is an approach we ensure all our exhibitors live and create by, which at its essence helps the couples who commission them to have these credentials to their wedding too.
Read part two of this piece here on Love My Dress, to see how you can weave sustainability awareness into your cake, your stationery, your rings, your bar and over all wedding planning.
The MOST CURIOUS Shows will be taking place over
three amazing spaces in 2020, the Old Truman Brewery in London on 7-9
th
February, the exciting new Northern venue Archive at Depot, Mayfield, Manchester on 29
th
February and The Fire Pit Camp in Norwich on 29
th
March.