Welcome to Part 2 of the sustainability edit from our mega exciting Most Curious 2020 London exhibitors!
In Part 1, we introduced you to the amazing, inspiring outfitters we have who are paving the way for sustainable, eco-conscious bridal and groom's fashion – today, we turn to the bash itself and those little added extras.
SUSTAINABLE JEWELLERY
Keeping on the minimal waste front, Laura Nelson has a range of jewellery made entirely from 'scrap' metal she's collected from previous creations – cleverly, she's called it The Scrap Range. "Whenever I make jewellery and there is a little material left over, I don't see it as waste – I save it all." She says.
"I'm a big fan of reusing materials and reducing waste, so over the last few years I have gathered quite the collection in my studio! Most of the pieces in the new range have been created during the development of the Textured Range and the Torn Range. Each piece is one of a kind, so when they are gone, they are gone!"
Laura Nelson Design

+ Follow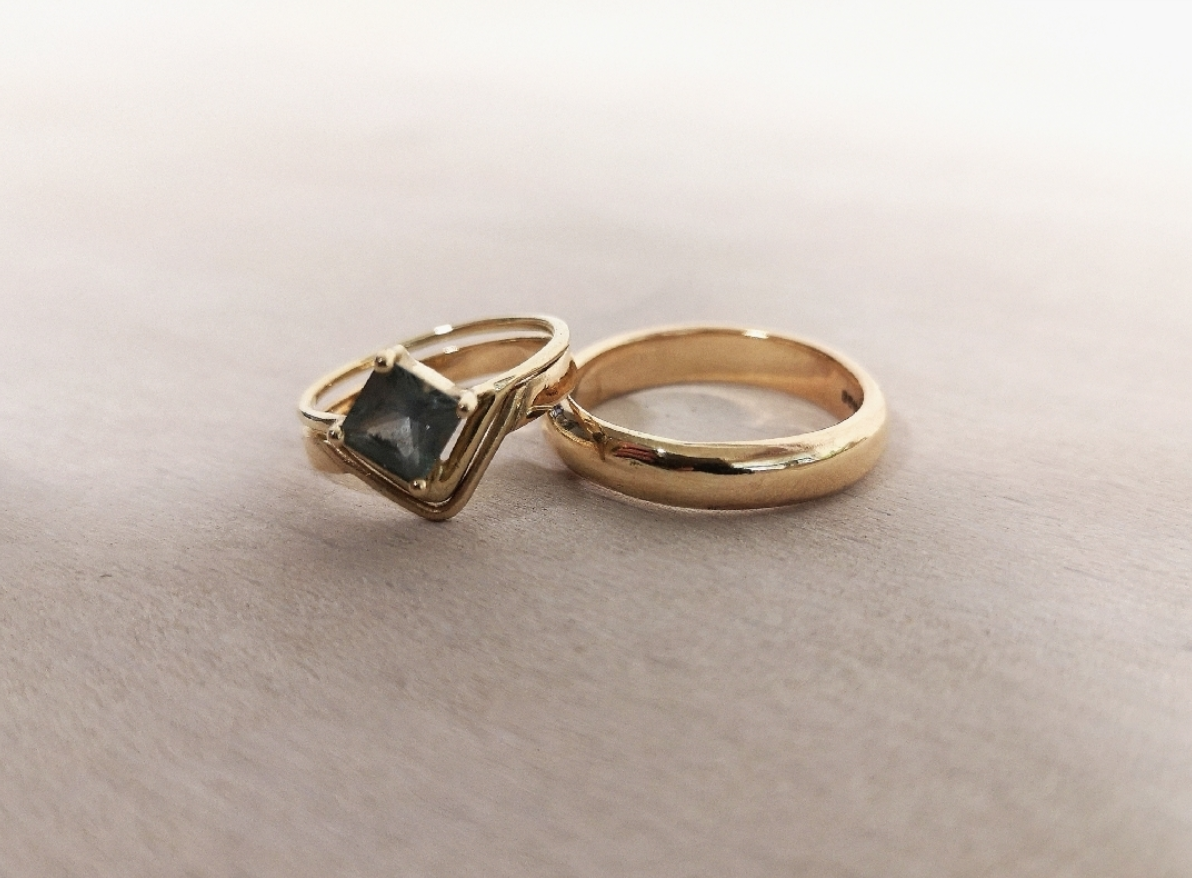 Emma Aitchison was actually voted as one of the Independent's Top 9 Sustainable Brands (no biggy!) because she aims to work within a circular economy, producing no waste whatsoever, and using nothing that can not be recycled or re-used again and again.
Emma also offers a up-cycling service using old jewellery and transforming it into something new. Every collection is a celebration of the worlds natural beauty Emma hopes her designs remind and inspires the wearer of such beauty in in turn protect and respect it.
Amanda Li Hope only offers rings made from recycled or Fairtrade metal. "At the very least, I would recommend making sure either your rings are at least made from 100% recycled metals (possibly even reusing your own family heirlooms should you be so fortunate to have any to hand). If wanting to go one step further, I would encourage couples to consider purchasing rings made from certified Fairtrade or Fairmined metals."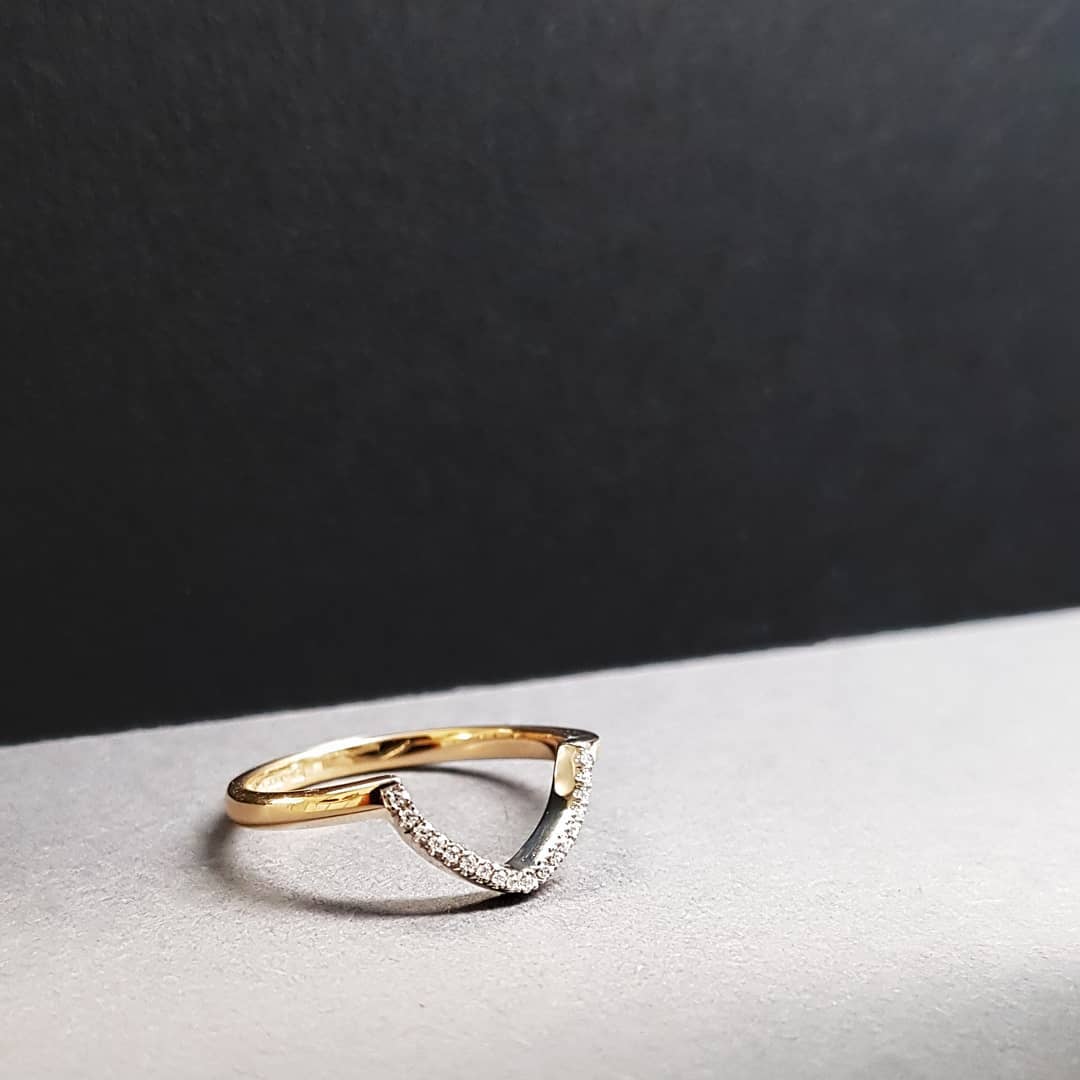 Alison MacLeod also uses fairtrade gold, and elaborates further: "All of our wedding and engagement rings are made to order in Fairtrade Gold. Fairtrade Gold has a traceable supply chain not available when using regular sources. Fairtrade certified mines operate to their high standards and receive the Fairtrade Minimum Price and a Premium to spend on improving their business or on community projects."
Another sustainable wedding jewellery route is making your own ring. As The Workbench explain, "Our process is very sustainable, because we take a mould of each ring meaning very little metal is wasted to create the rings. We used recycled chip foam in our 'ring making kits', and use recycled metal in our rings too!" 
The Workbench London

+ Follow
SUSTAINABLE FLORAL DESIGN
Shelena of Bloaum Floral Studio let us know that she tried to do as many weddings this year without any floral foam (oasis to you and me) and does her very best to source only British or Fair trade flowers and to also promote the use of dried florals that can be kept and reused. Shelena has made a promise to not use any bleached or dyed flowers in any of her designs in 2020 and maximise her use of British grown flowers.
Bloaum Floral Studio

+ Follow
SUSTAINABLE WEDDING PLANNING
Our exhibitor Capston Second specialises in green mentoring, specifically helping couples make their weddings more sustainable. Some of her top advice is being eco-smart with your flowers, whether that's by reusing them from ceremony to reception, using potted rather than cut or using seasonal flowers; using décor you can then use at home; going paperless with your stationery or using recycled paper and soy based inks; and reducing travelling for yourself and your guests – but there is PLENTY more where that came from!
(Image by The Twins Weddings)
Hackney Venues are also hyper aware of the necessity for sustainable weddings, as the London Borough of Hackney officially declared a climate emergency in 2019. "We actively encourage our accredited caterers to not use single use plastics where possible – plastic cups and disposable water bottles are discouraged at all of our weddings and events. We aso request only biodegradable confetti."
TwentySix are also on hand to make sure their bar is as eco-friendly as possible. Firstly, they're committed to not use single-use plastics. To reduce wastage, they portion fewer ingredients into their cocktails and all of their garnishes are edible.
Every pitch they submit includes at least one 'conscious' option, which is a package totally comprised of Fair Trade ingredients. They also ensure maximum green efficiency during the closedown of events.
And if you're thinking of sustainable wedding décor, makers like Isabel Dodd are perfect, as her flowers last a lifetime and are treasured forever.
Hire Love and their incredible prop hire, styling and event planning and production service runs on sustainable values. "99% of our stock is pre-loved, the timber we use to make the tables is Victorian floorboards, and pre used pallet wood and scaffold boards for our bars," says Rachel, co-founder of the company.
"All of our cleaning materials are organic, non toxic and as much as possible carbon neutral, we use Tincture products and Delphis products for cleaning and no single use plastics, secondhand hessian ties for our rugs and even reclaimed screws and hardware."
SUSTAINABLE STATIONERY
Both CuriousMe and Ink & Paper make sure their paper is of the utmost sustainable provenance – CuriousMe's is sourced from local merchants and paper mills that are FSC certificated from responsibly managed forests, and Ink & Paper's is recycled and made with natural dyes.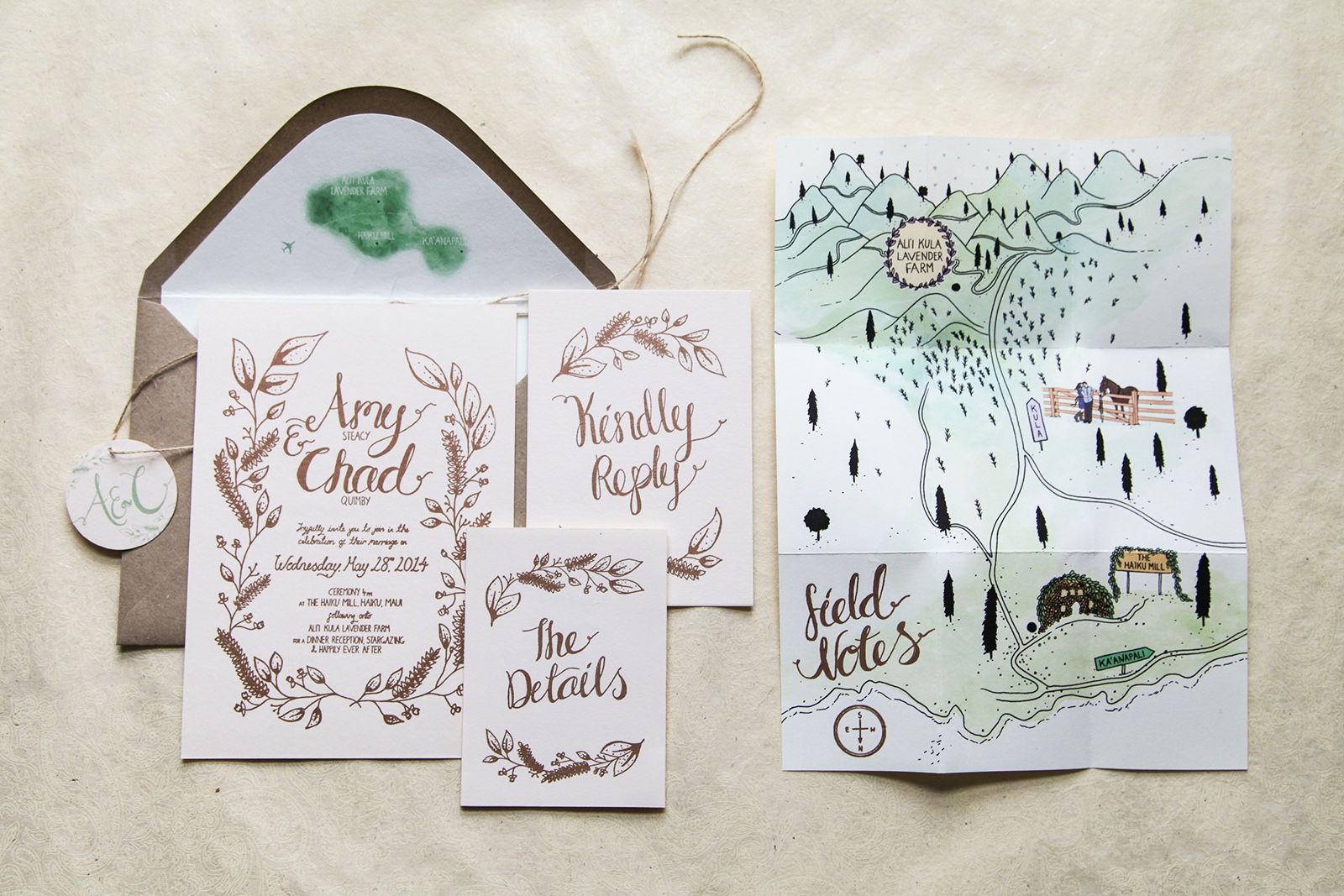 The dyes are vegetable-based and non-toxic, so there's no worries on that front, and they're all recyclable too (yep, even Ink & Paper's gorgeous hot foiled ones!) That is, if you want to recycle them at all…as Pinar from CuriousMe points out, they're designed to be much more than an invite, but a piece of art that tells a story. So if you want to keep it forever, it's totally doable.
Rachel Emma Studio has a perfect approach to sustainable wedding stationery, going one step further than recycling and re-using her waste. "Working with paper can mean a lot of offcuts, so to make use of the waste, anything that doesn't make it into a product goes into the shredder and is made into confetti."
"The confetti goes into each order as a free thank you gift in plastic free packaging, and it's always a big hit. One of my favourite things is that it means lots of tiny pieces of other people's weddings get to be thrown around as confetti at another wedding – connecting lots of love stories together! Here's another exclusive for you…these confetti pouches will be in our press and VIP bags, so get in there quick!"
Rachel Emma Studio

+ Follow
SUSTAINABLE CAKES
Sarah from Avant Garde Cakes has committed to running a sustainable wedding cake business after seeing first-hand how wasteful the industry can be otherwise. "When I worked for famous bakers in Paris, I was shocked at how wasteful the food and cake industry is. I made myself the promise that when I opened my own business, I would strive to make it as zero waste as possible – and it plays a big part in all the decisions I take. I don't use single plastic, for example – I source biodegradable film, piping bags and biodegradable cellophane to wrap the samples I send through the post, and all my packaging is recyclable, biodegradable or both."
"I buy recycled baking parchment and all my business stationery is printed on recycled paper too. I am also part of a food bank group so no cake trimmings or recipe trials is wasted! I also buy aluminium tins, and stainless steel cutters rather than silicones and plastic. Everything I buy is in bulk as I am lucky enough to work from a commercial kitchen – so no small 1kg packs of anything to see in my workplace."
Avant Garde Cakes

+ Follow
SUSTAINABLE GIFTS & GROOMS
Kerri from Francis + Louise explains how her work, for bride's and groom's is super sustainable: "All our fabrics are hand designed in our east London studio and digitally printed (so we only print what we need) in small print runs using GOTS certified inks on 100% natural fabrics."
"All our products are made in the UK and by talented artisans who have honed their craft at small sustainable factories. We don't like waste so we make use of every last bit of the printed fabric for example making headbands, scrunchies, relaxing lavender eye pillows. We value good design, quality and sustainability. We make items people will treasure forever. We only make what we need for the main collection and bespoke so we don't over produce. All our packaging is recyclable or recycled."
The MOST CURIOUS Shows will be taking place over
three amazing spaces in 2020, the Old Truman Brewery in London on 7-9
th
February, the exciting new Northern venue Archive at Depot, Mayfield, Manchester on 29
th
February and The Fire Pit Camp in Norwich on 29
th
March.