I don't just have one beautiful wedding venue to share with you today, but three, all in the North East of England. Our couple tailored their perfect day with a ceremony and drinks reception at a warm and welcoming medieval hall, followed by a wedding breakfast in the majestic setting of a former church.
And to bring the day to a brilliant close, an evening party at one of my favourite contemporary art galleries, housed within a restored and converted mill in Gateshead. Meet our couple, Kate and Dave, who are both NHS Dentists. They were married on the 26 April 2019 at Crook Hall & Gardens in Durham. This was followed by their wedding meal at St. Mary's Heritage Centre, and an evening party at the BALTIC Centre for Contemporary Art in Gateshead.
Film by We Were Here
"Each venue worked well for different sections of the day, and also we liked the idea that it allowed some fluidity to the day to keep it interesting and exciting for guests. We both like to travel, and due to all the journeying between the different venues on the day, we decided to incorporate aspects of a travel theme, from the vintage suitcase to hold guests' cards, through to the table plan, suitcase favours and geographical table names of destinations we've previously travelled to as a couple."
"Originally we were not planning on having a videographer, and only decided to book a few months before the wedding, as we were concerned about feeling under the lens all day, however this couldn't be further from Dan's style. He is so unobtrusive we barely noticed him there! He is a lovely guy to be around and so talented. We absolutely loved his style of film making; natural, unobtrusive and emotive. We are over the moon with the footage and we are so pleased we had him capture our day."
Images by Margarita Hope Photography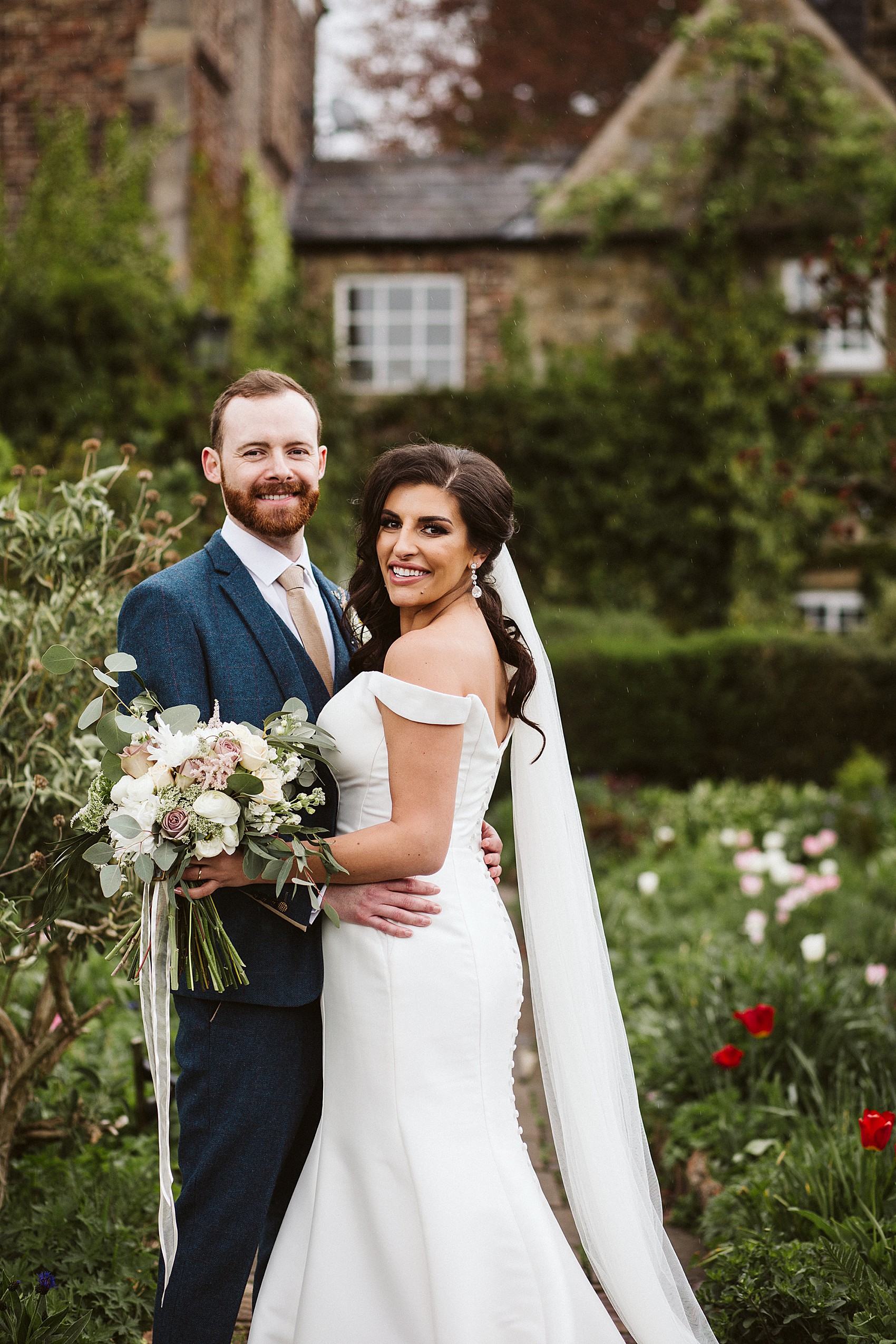 Kate looked sensational in her Essense of Australia dress, chosen at Accent Original Bridal Boutique in Newcastle, with its clean and simple lines, sexy off-the-shoulder neckline and fishtail silhouette.
"I started looking for dresses quite early on in my engagement and the luxury of having lots of time gave me the opportunity to try on lots of dresses in lots of different boutiques. In a way this was counterproductive, as I tried on so many styles I was getting confused as to what I actually wanted. One of the girls in the shop suggested I tried the dress. It looked quite underwhelming on the hanger, and I probably wouldn't have picked it to try on, but once I tried it on something just clicked and felt right."
"The simplicity was striking to me after trying on so many lacy and beaded gowns. I loved how bridal it made me feel and the hourglass shape it gave, alongside the off-the-shoulder straps and the buttons running down the back of the train. It felt classic yet modern, and sophisticated yet sexy. A bit of everything! I thought it would work well across all the different venues."
Setting the scene for the couple's enchanting day was an exquisitely illustrated, bespoke suite of botanical inspired stationery by Phoebe Wedding Design.
"Laura and Mikey made our beautiful and eco-friendly bespoke wedding invites. We sent them some ideas we liked, and wanted to feature lots of greenery and foliage. They worked their creative magic to produce a design that was simple but stunning. We received so many compliments for our invites, and now have one framed in our living room as a beautiful memento of the day."
Blush pink heels embellished with pearls and crystals were found at Very, and Kate's make-up artist was the talented Marta Make-up.
"Dave bought my earrings from Lace & Favour as a wedding gift . I knew I wanted some larger statement chandelier earrings, as I wasn't planning on wearing a necklace. I went for a vintage Hollywood glamour type pair, as I thought they worked well with the style and cut of my dress."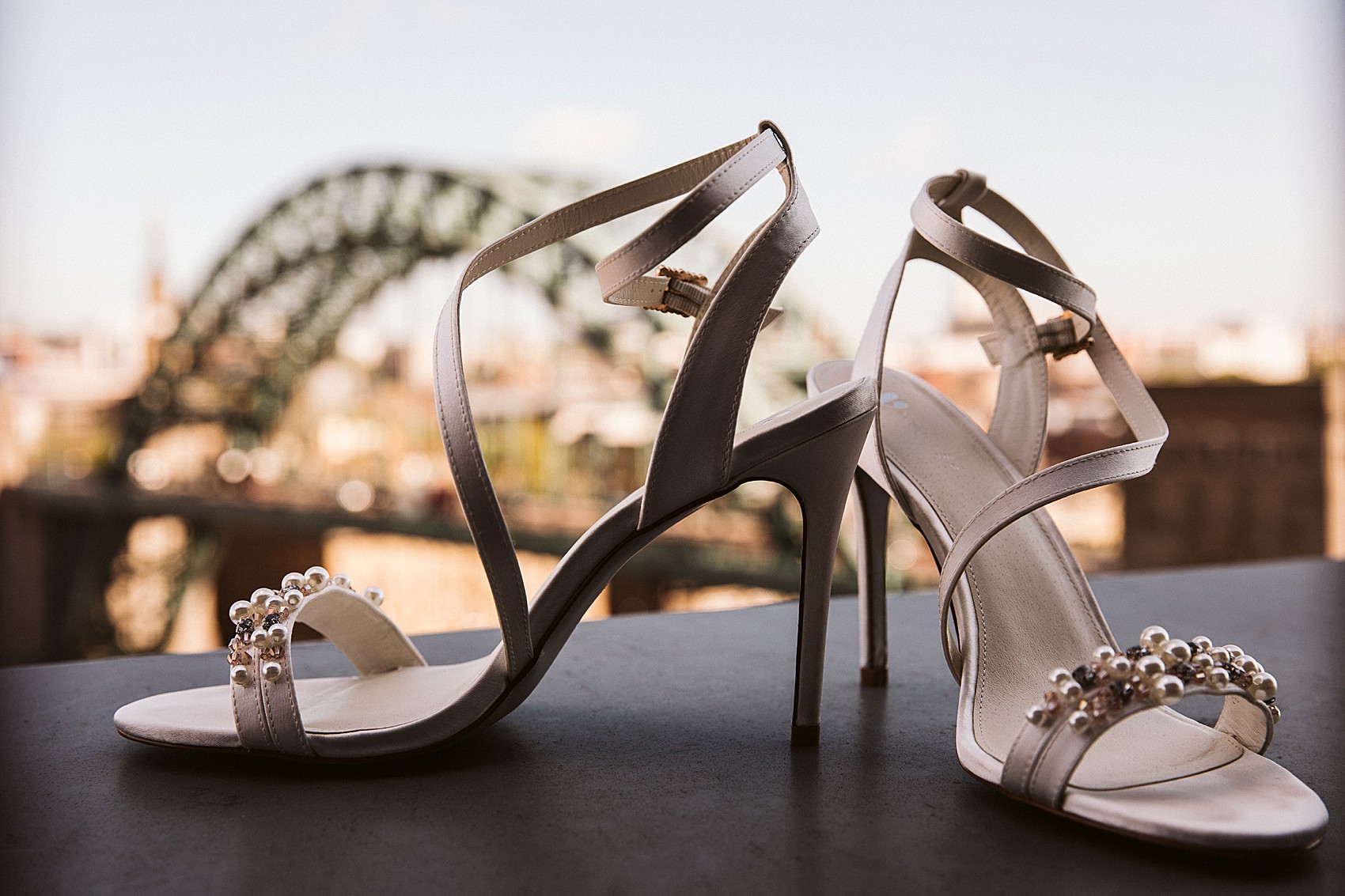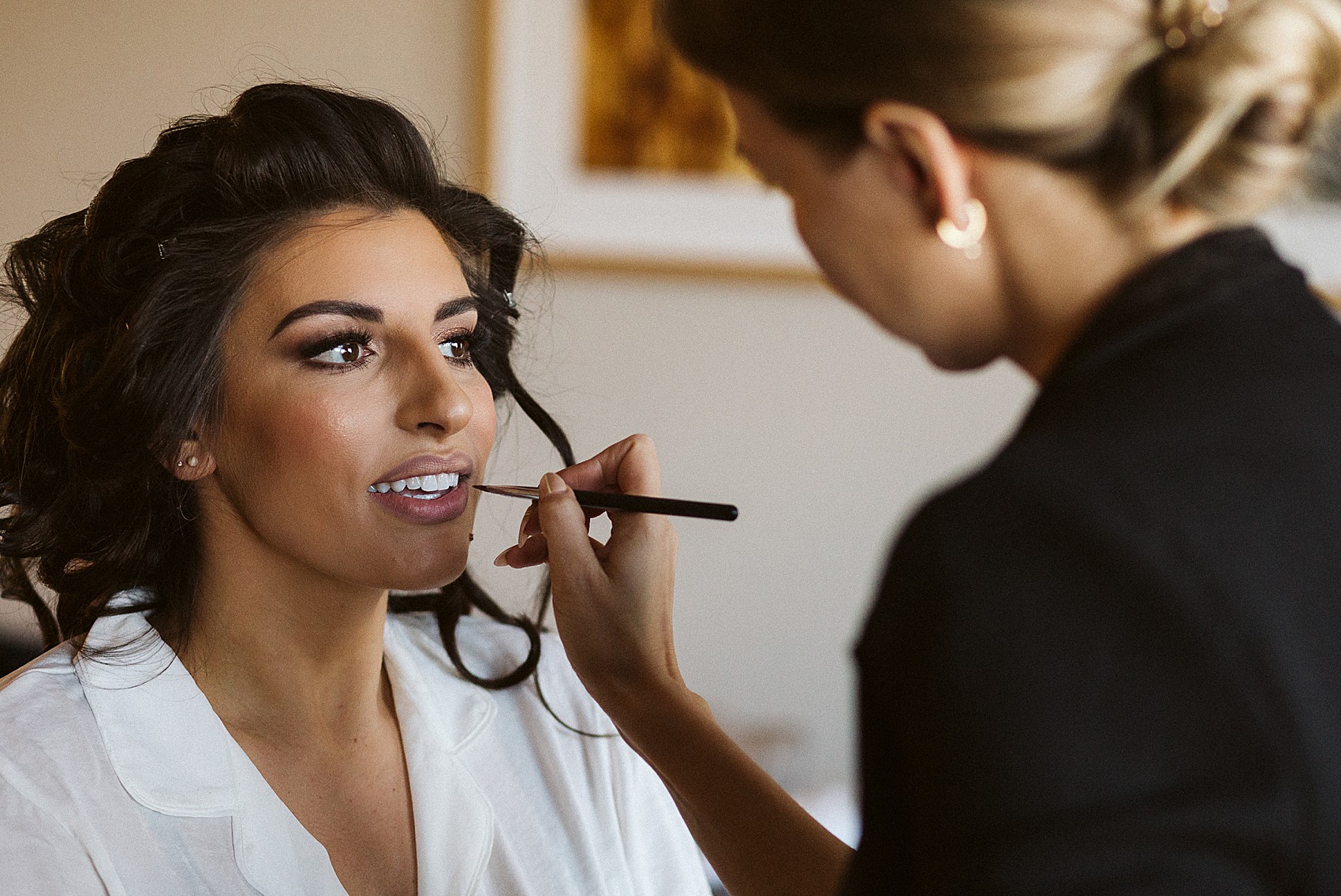 Kate had a great experience at Accent Original Bridal Boutique, and the team went out of their way to accommodate a very special request of Kate's to remember her much-missed mum.
"They have a beautiful selection of dresses, and it has a lovely relaxed feel. The girls working there are so accommodating and friendly, they really put you at ease and give helpful advice. The alterations were done so well and the dress fit perfectly on the day."
"I asked the girls to sew a piece of my mum's dress that she last wore to a family wedding into the lining of my wedding dress, as a way of keeping her with me all day. They not only placed a bit of mum's dress into mine, but they made a love heart design with a little charm. It was my something new, old, borrowed and blue."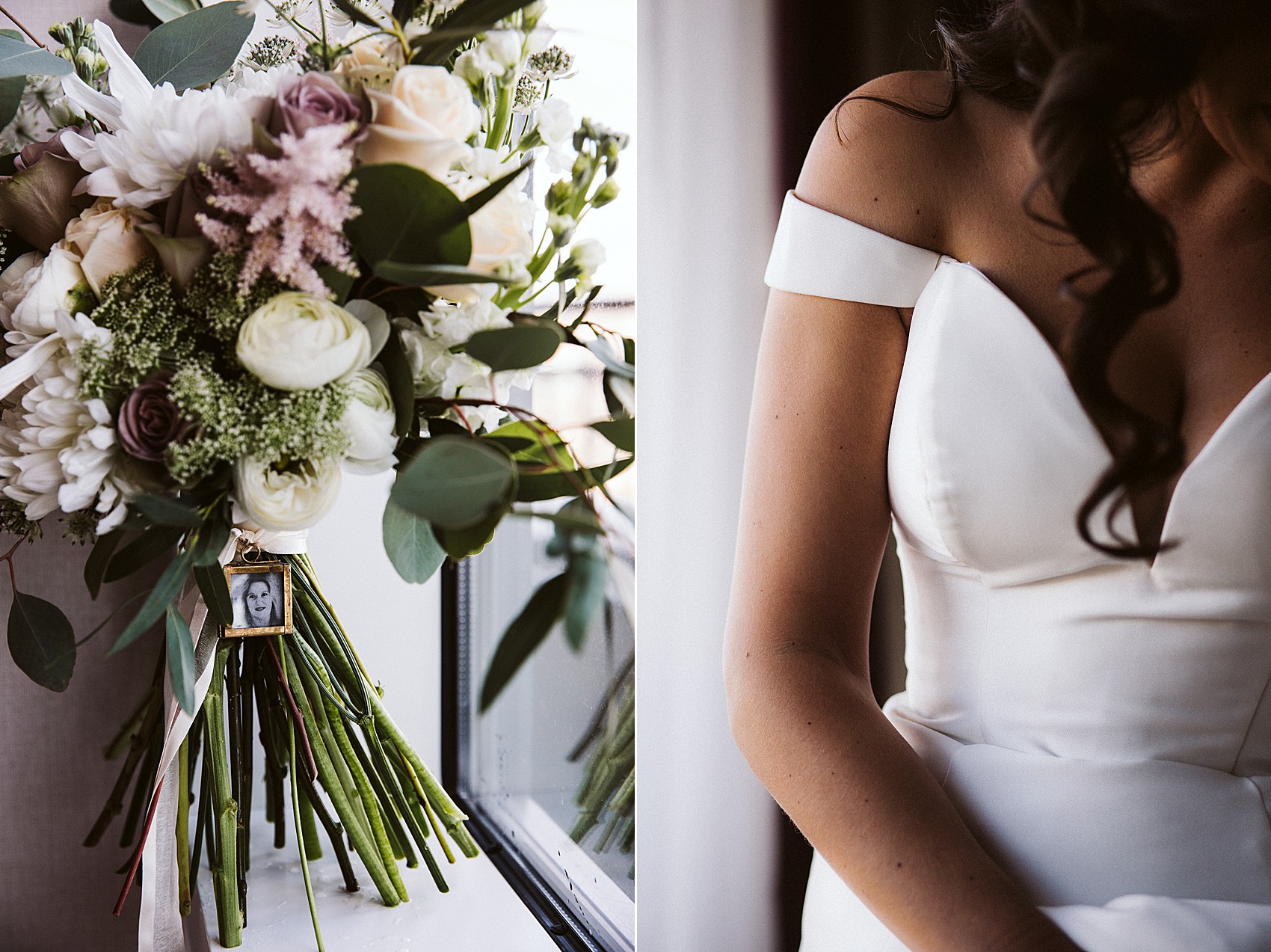 Kate found her pretty crystal link bracelet in a charity shop (a total bargain at £1!) and her crocheted garter was handmade for her by one of her Dental Nurses, Kate.
"Kate also incorporated some of my mum's blue dress (the last formal dress she wore to another family wedding) into the garter, which again was a way of including her memory on the day. It was so lovely to have this homemade gift with special significance."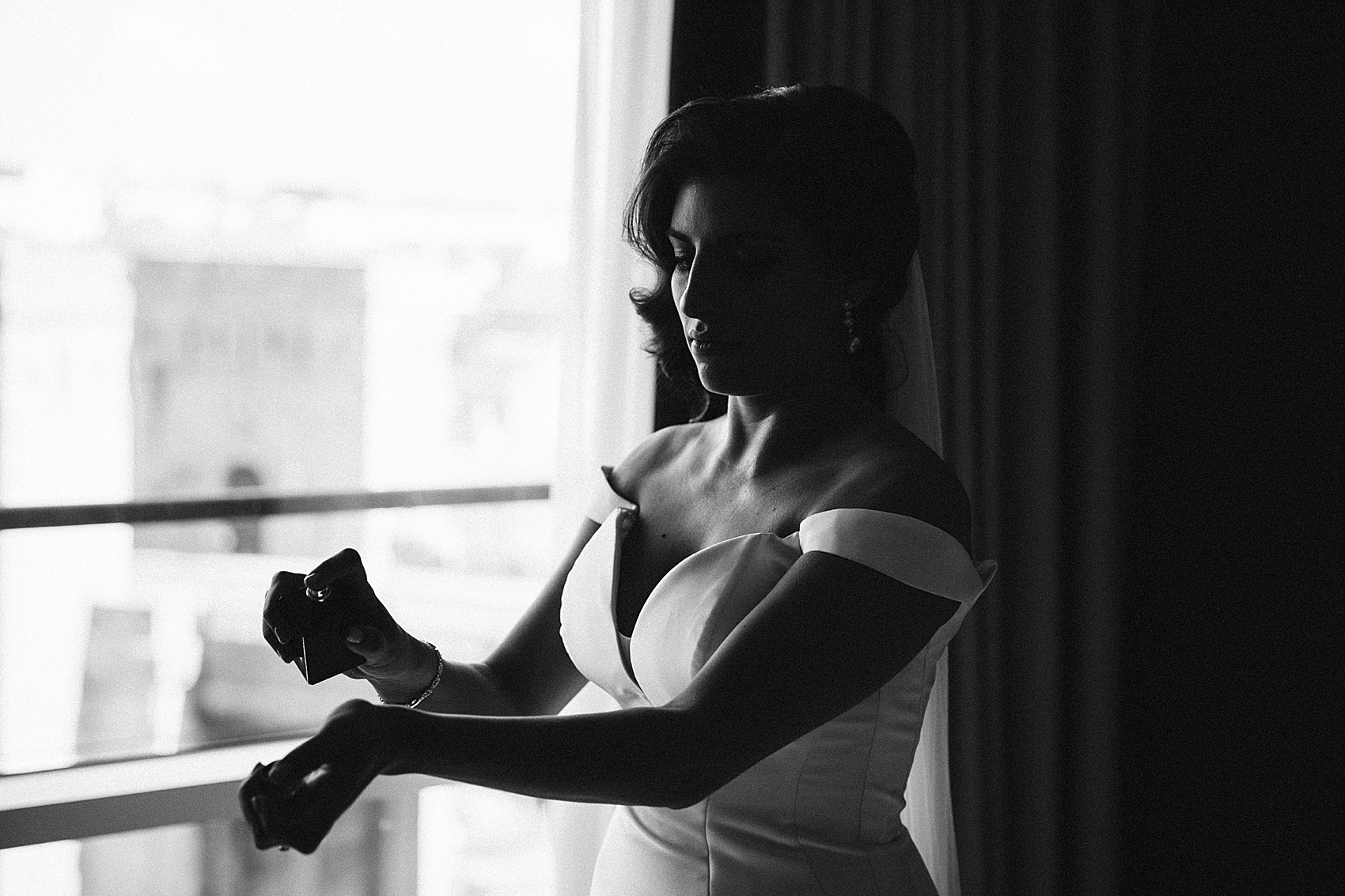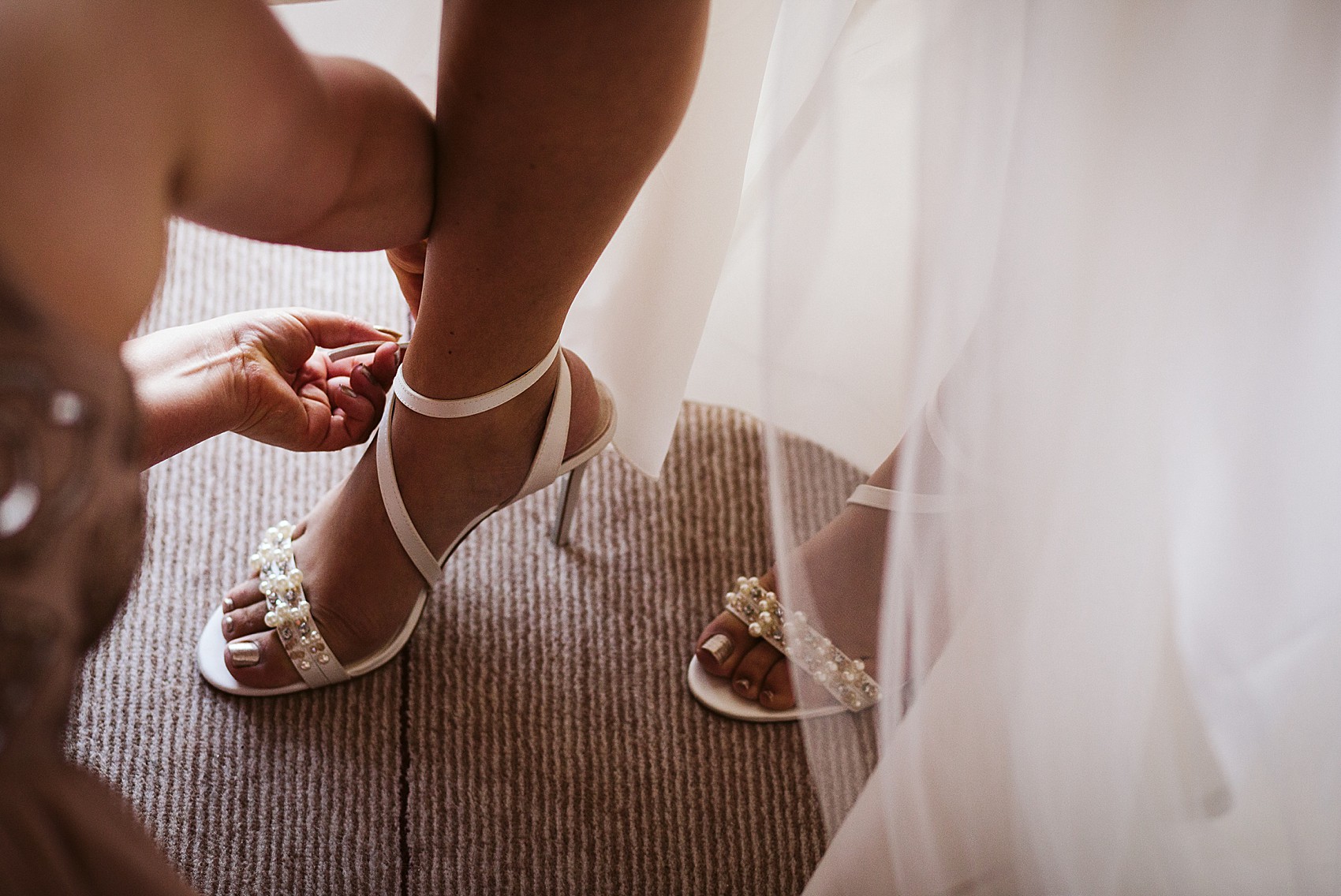 Bridal Hair by Cheryl put Kate's hair into a romantic, vintage inspired style, to which she added an embellished silver hair slide from Jon Richard at Debenhams, and a simple, long tulle veil from Etsy.
"I wanted to treat myself to a new perfume for the wedding, so when I used it in future it could invoke memories of the day. I wore Tuberose Angelica Cologne Intense from Jo Malone. I went to the Jo Malone counter in Fenwick, took one smell and was hooked! I loved it, it smelt so intoxicating, floral and sensual."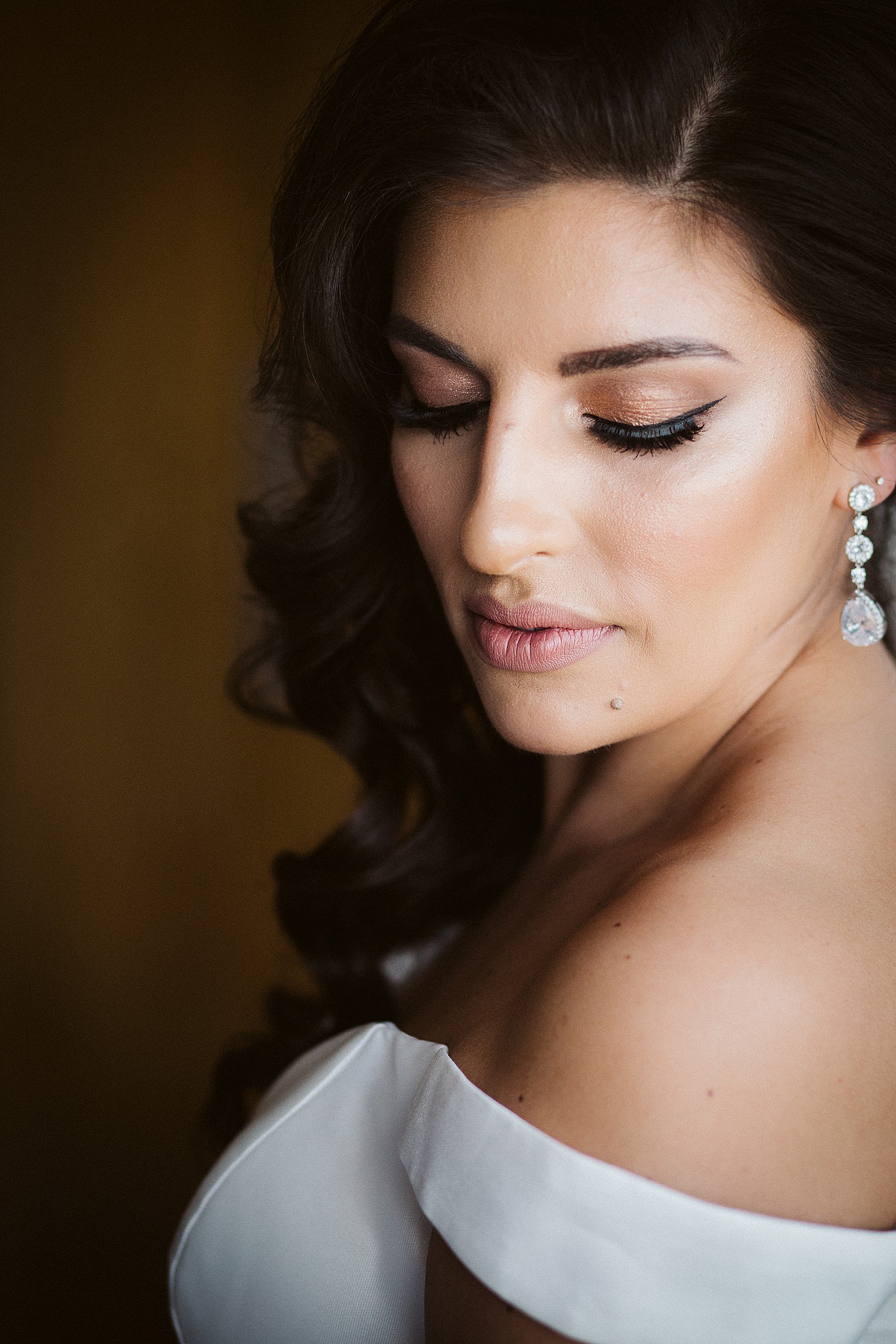 "We chose the hidden gem of Crook Hall in Durham for our ceremony and immediate post-wedding reception venue; a beautiful historical building with gorgeous gardens. When we first looked around, we knew it was the venue we wanted to say our vows in. It had a gorgeous, unique and intimate feel, and had lots of little nooks and crannies to explore. The medieval hall we married in had an almost church-like feel (which was rare to find for a non-religious venue) and looked magical when lit up with fairylights."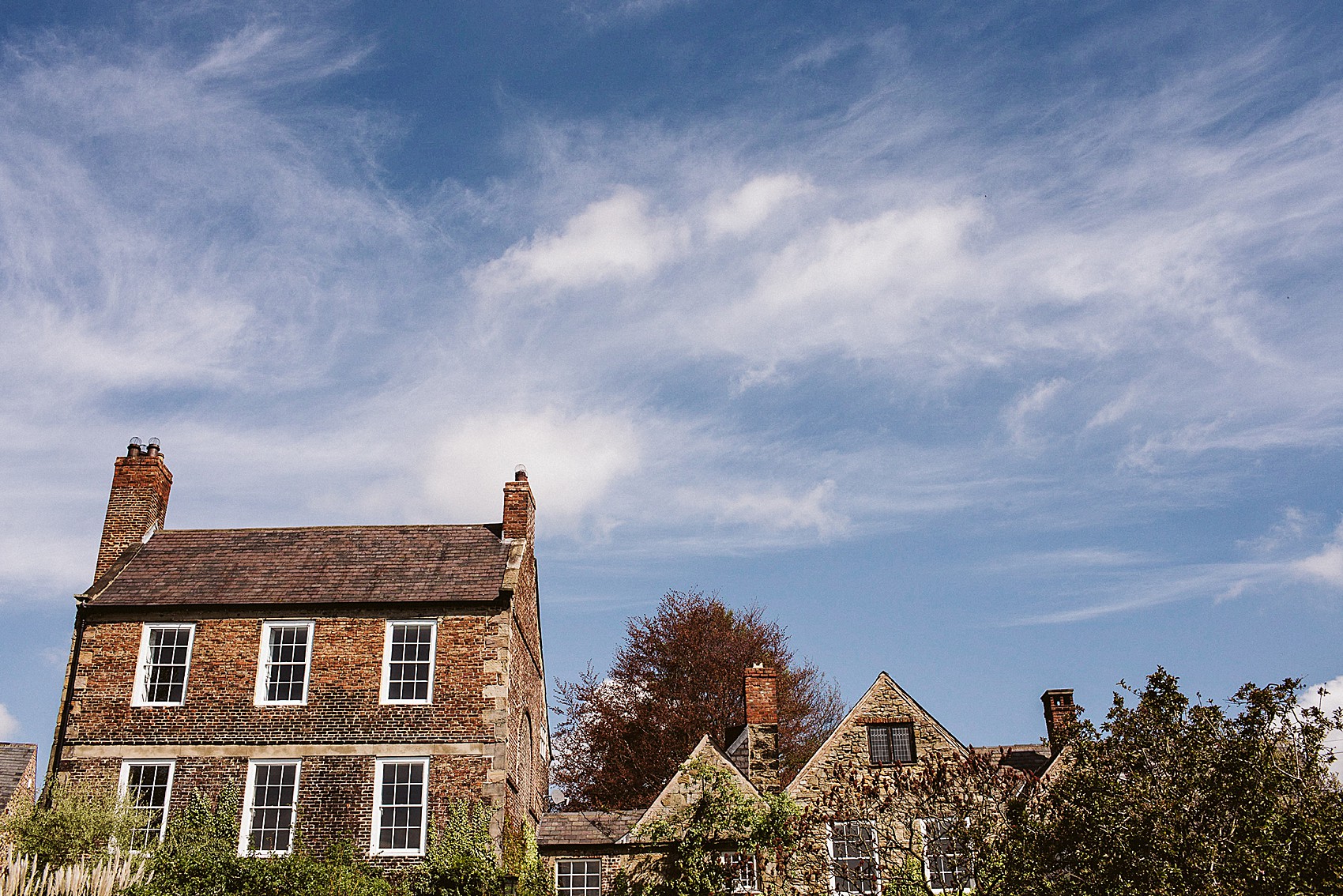 The bridesmaids wore long and pretty blush pink embellished dresses from ASOS, with their own choice of footwear and fresh gypsophila in their hair.
"I made the girls a little bridesmaid goody bag including a thank you card with chocolates, fizz and their accessories – a champagne coloured pashmina, and a pair of crystal drop earrings from Accessorize."
Dusky pink Amnesia roses, as well as ivory roses and ranunculus, astilbe, scabiosa and sweetly scented stocks filled the bridal party's beautiful bouquets, made for them by Suzie Francisco from The Bloom Society Floral Design.
"We were quite relaxed about our flowers and let Suzie take creative control , but we had a joint Pinterest board for ideas before the wedding. She took all the elements we loved and put them into our flowers and bouquets. We wanted a fusion between classic and wild, with lots of floral texture and green foliage and not too traditional or neat."
"We had champagne and Amnesia roses to match with the bridesmaids' dresses and general colour scheme. The bouquet also featured smaller wildflowers and stocks as we love their scent. We also featured a locket with a picture of my mum around my bouquet in her memory. I loved my bouquet so much I hardly put it down all day!"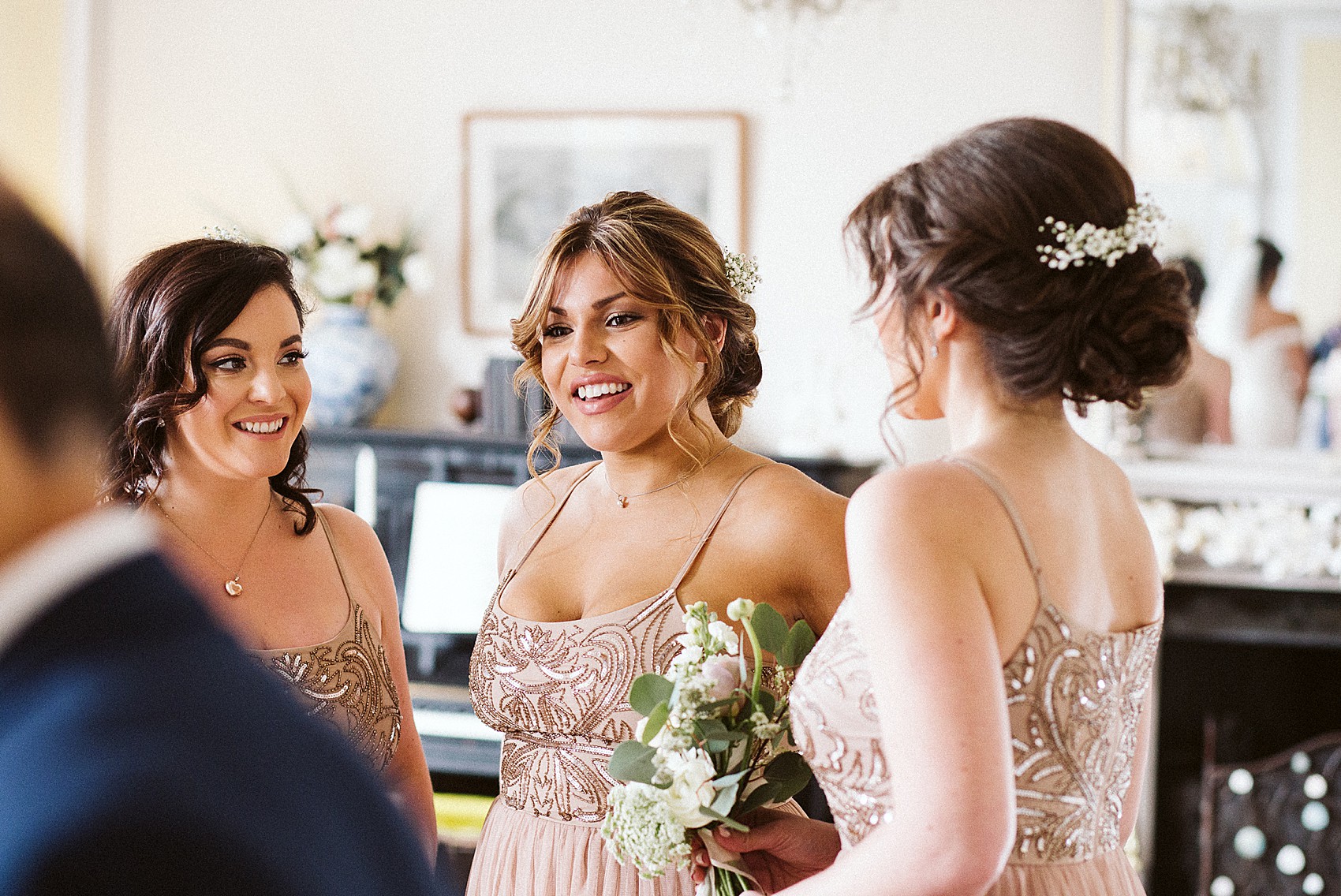 Dave wore a blue herringbone suit by Marc Darcy from Master Debonair, and he and his groomsmen and Kate's dad all wore matching champagne coloured ties, from Master Debonair.
"We met in 2007 in our first year of studying at Newcastle University. We met in a bar, aged 19, through mutual friends. Dave was studying Biology at the time and I had just finished my first year Dentistry exams. We immediately clicked. It somehow felt like we had known each other for years. We spent the entire of our twenties together; university, graduation, early work life, buying our first house together, and also through turbulent family times (I unexpectedly lost my mum in 2011 in tragic circumstances)."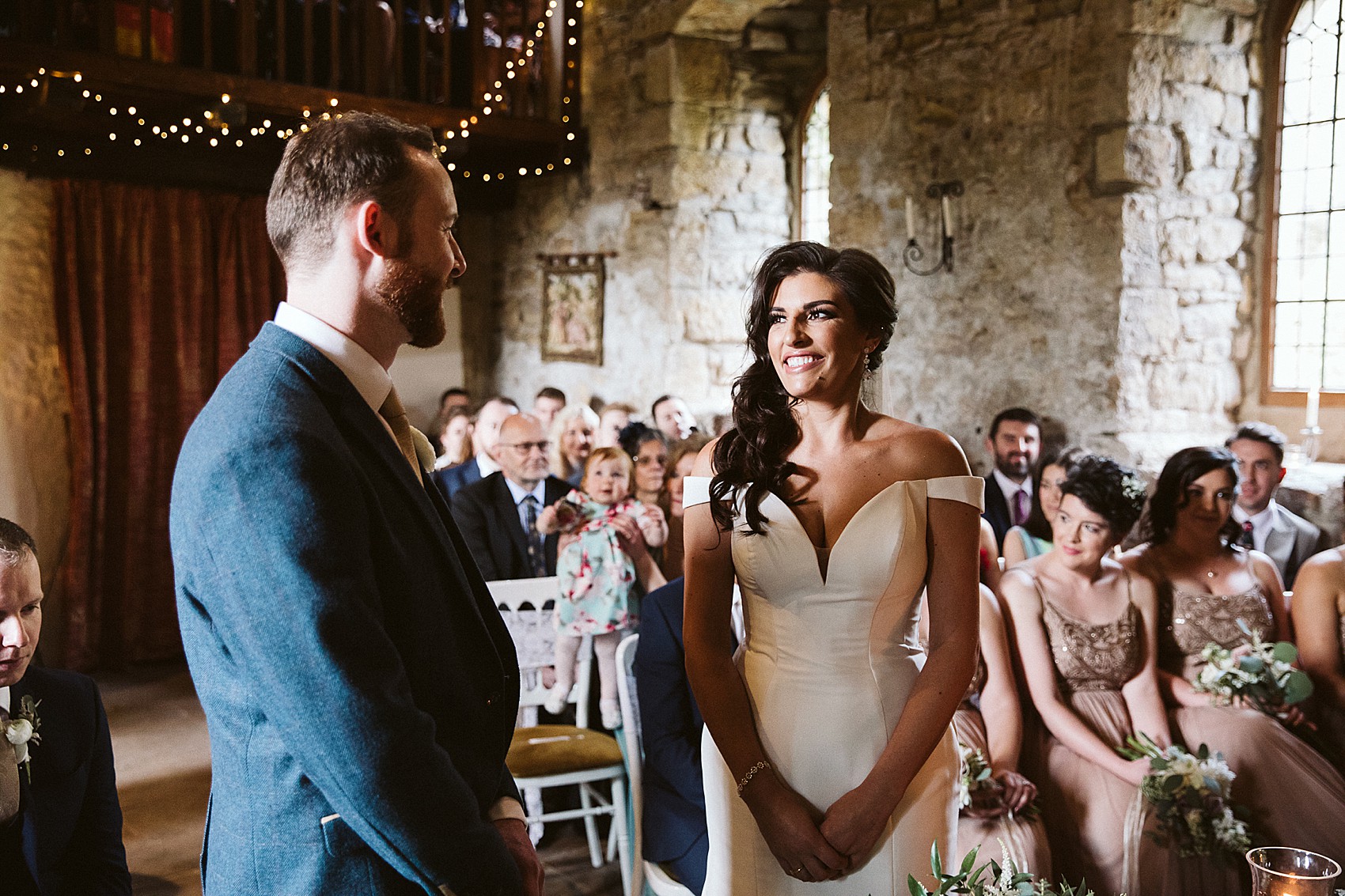 "Dave proposed on my birthday whilst on our annual festive winter break in Prague in 2016. Despite being together for so many years, it had never really crossed my mind we would get engaged, and it was a complete surprise and shock! I thought he was joking initially. When I realised he was being serious, I just burst into tears and said yes. We decided to have a fairly long engagement to give us enough time to budget, and also to minimise the wedding planning stress."
Kate walked down the aisle together with her dad, and chose Higher Love, by James Vincent McMorrow as her entrance music – a song with special significance to both her and Dave.
"Durham County Council sent us options for our vows. We chose vows that spoke to us the most and highlighted the importance of trust, love, friendship and supporting each other throughout life's adventures."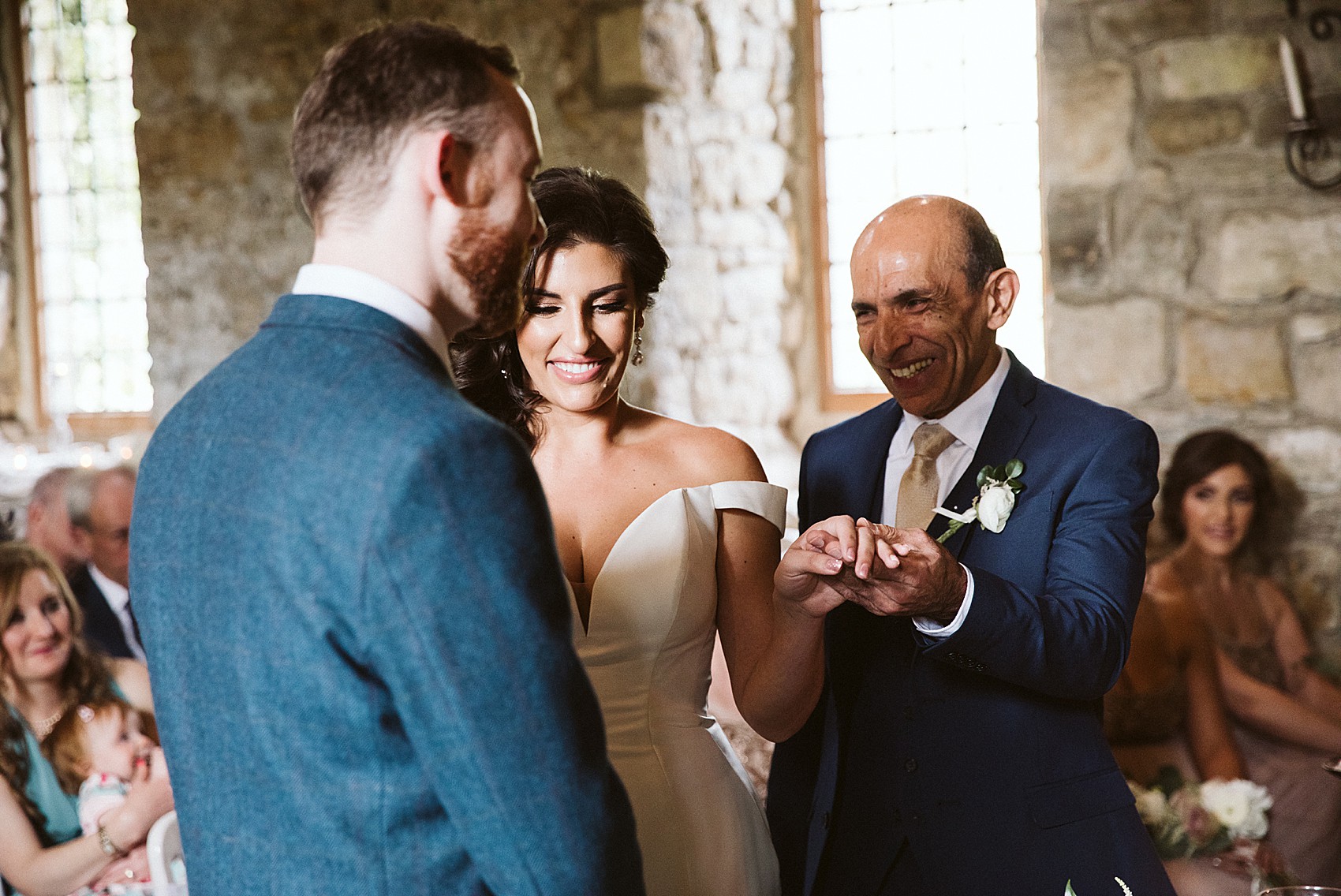 There was a wonderful synchronicity to the jewellers Dave chose Kate's engagement ring, which was at Goldsmiths in Newcastle. Unbeknownst to him, it was the same place that Kate's mum had chosen her wedding ring years before.
"My engagement ring is a gold band with solitaire diamond, so I got a classic plain gold wedding band to complement it. Dave went for a plain palladium band, and they were from Mappin & Webb in Newcastle.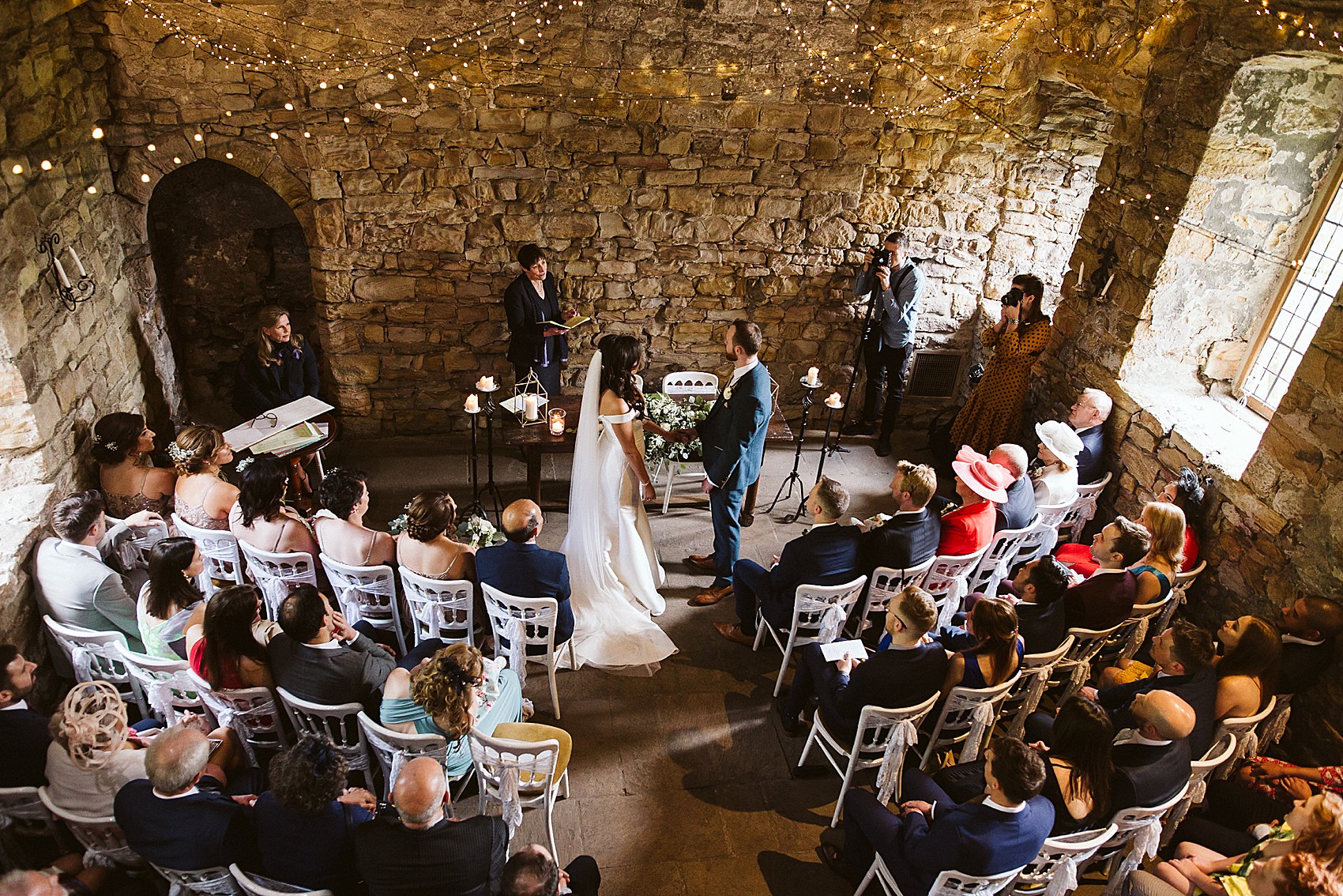 During the ceremony, Kate and Dave had two readings. The first was the beautiful extract, Love is a Temporary Madness, from Captain Corelli's Mandolin by Louis de Bernieres, read by one of Kate's bridesmaids and oldest friends. The second reading was Apache Wedding Blessing.
"We were both so nervous during the ceremony that it was all a bit of a blur, but once we had said our vows and were about to walk back down the aisle together, we saw everyone's smiling faces. It was an amazing and overwhelming feeling to be surrounded by all the people you love in one place."
The spring beauty of Kate and Dave's day was captured wonderfully by their photographer, Margarita Hope, and it's brilliant to be able to share her work for the first time on our pages today.
"We met Margarita at a wedding fair back in 2017, and we instantly got a good vibe. We loved her style of photography; relaxed, natural and beautiful. We just connected with her images, and knew we had to have her capture our day. She has a real eye for capturing emotion and moments as they happen rather than forcing anything, which was really important to us. She was really helpful with our timings on the day and helped keep us on track."v
"Most importantly, she is so lovely and easy to be around, she instantly puts you at ease, and this reflects in the gorgeous images she takes. As we had so many venues with different aspects and details to capture, we thought it would be best to include a second photographer so we had the talented Gillian Haves from Unfurl Photography to be our second shooter. We were overwhelmed when we received our gallery, the images were so amazing, Margarita captured the emotions of day perfectly."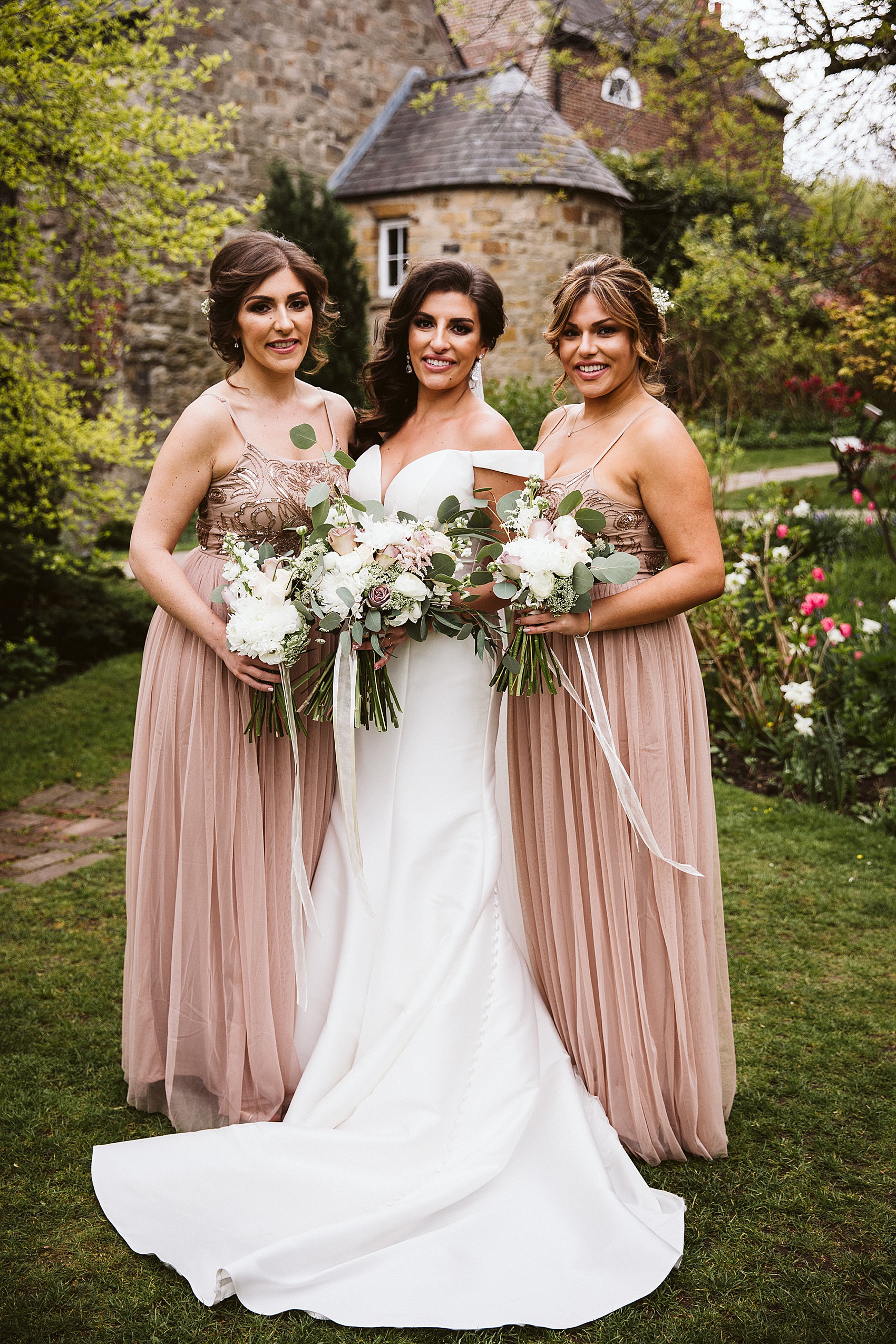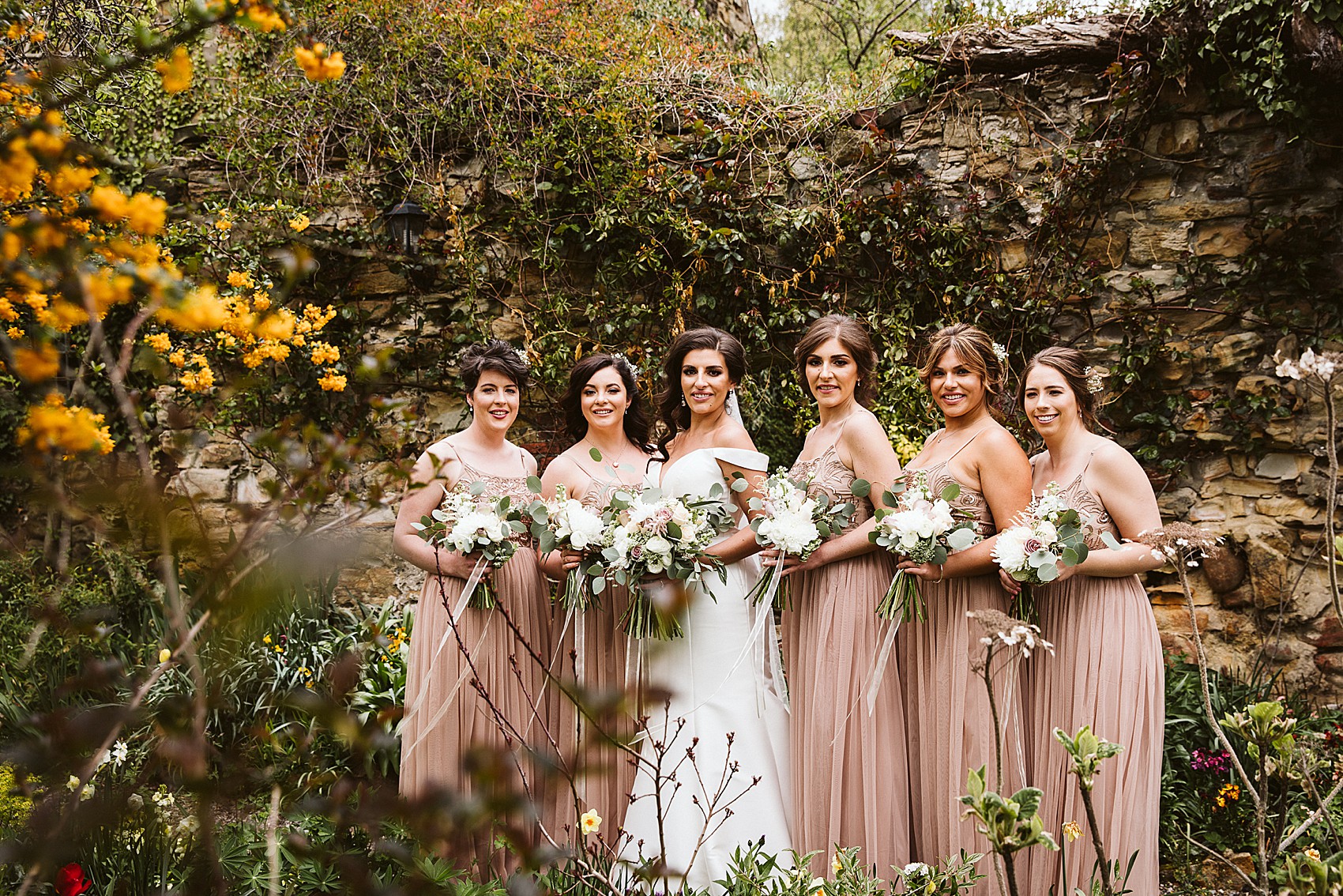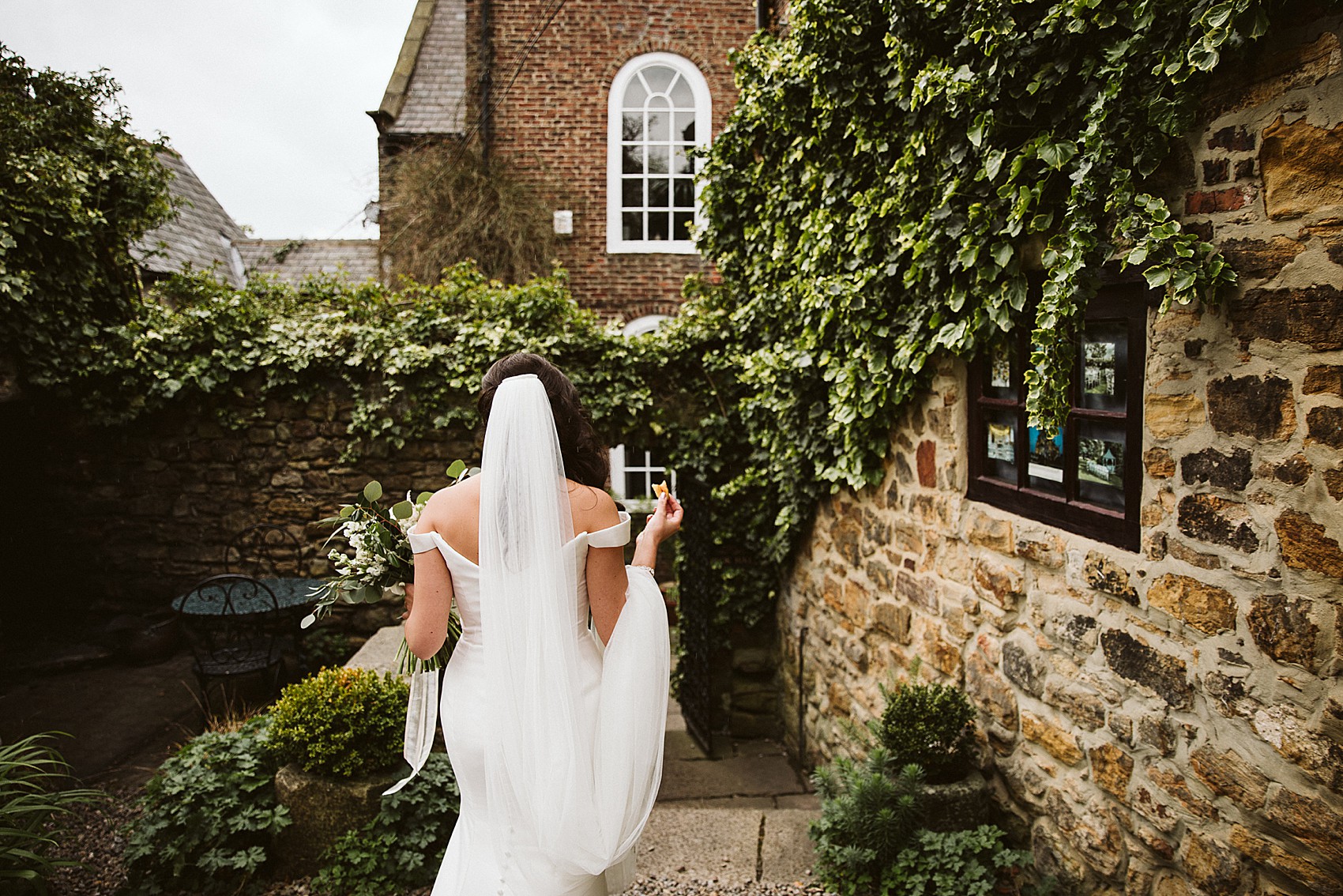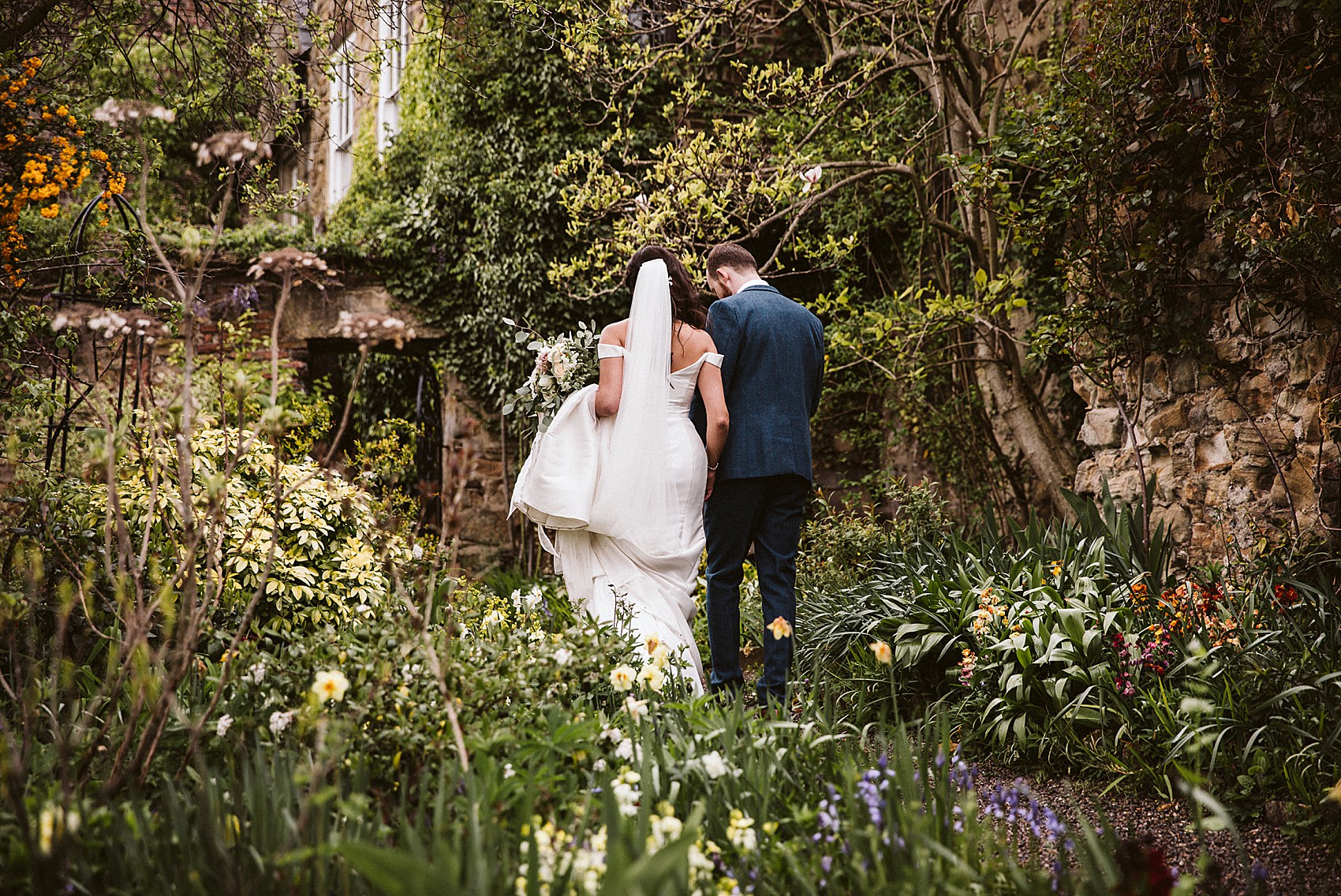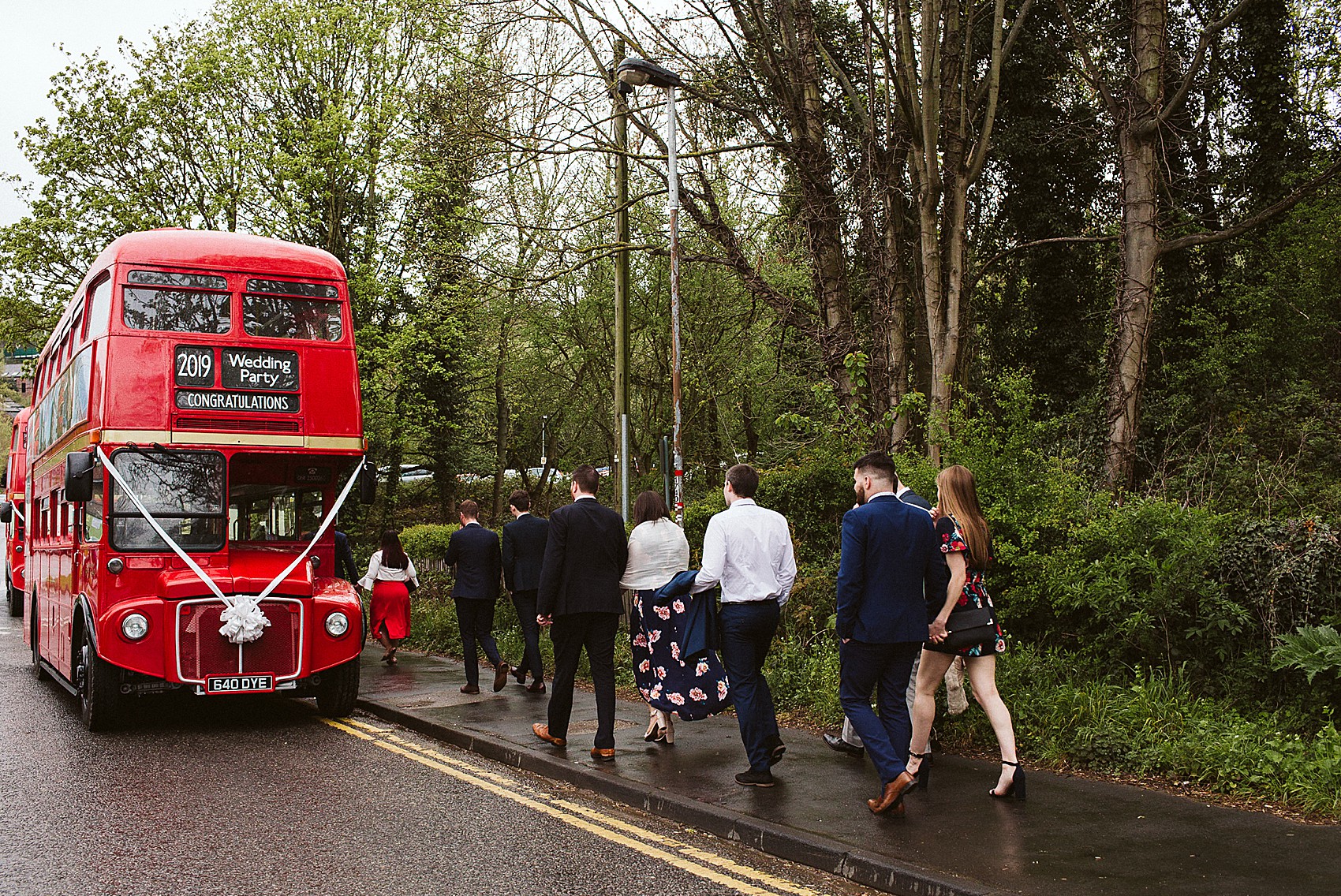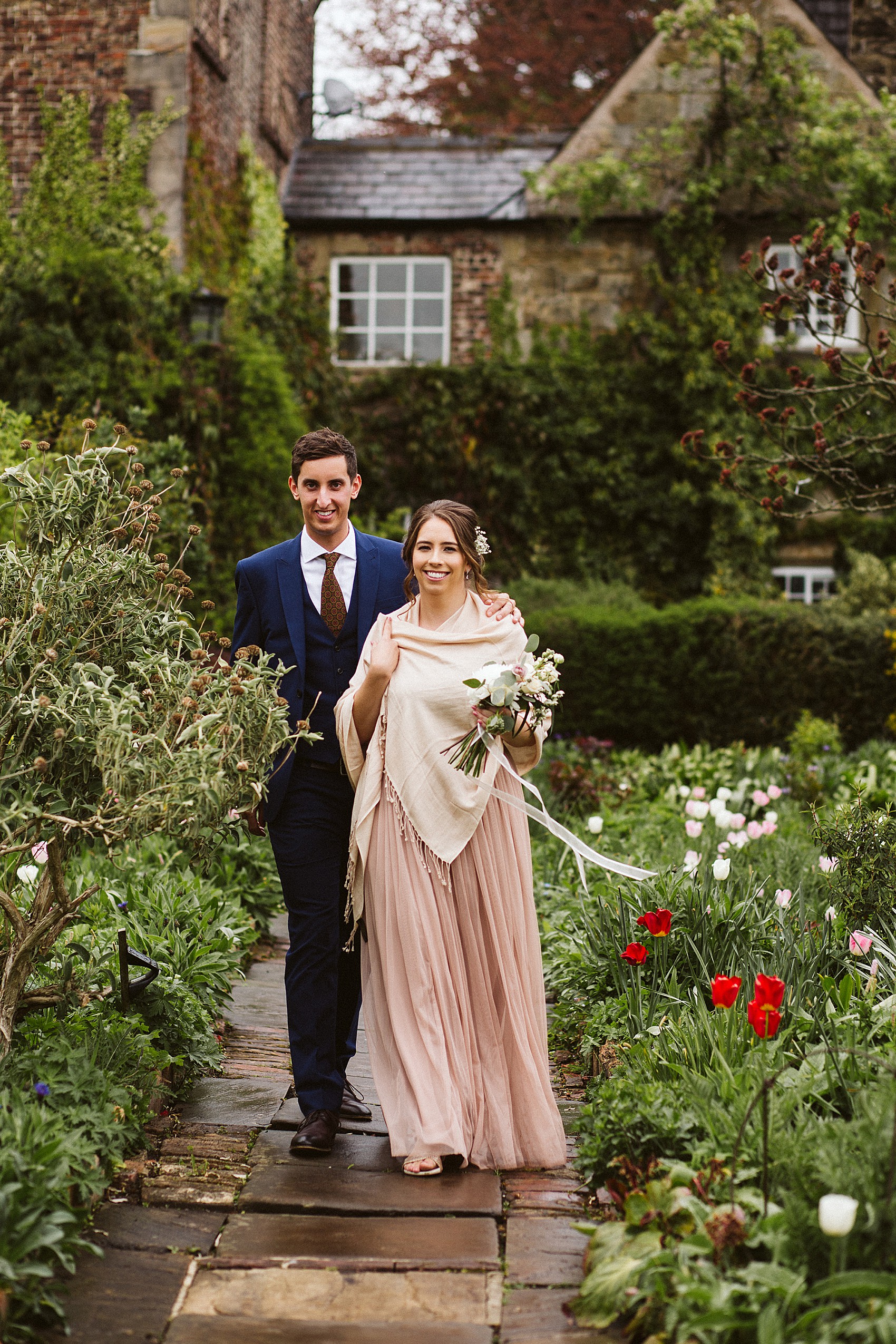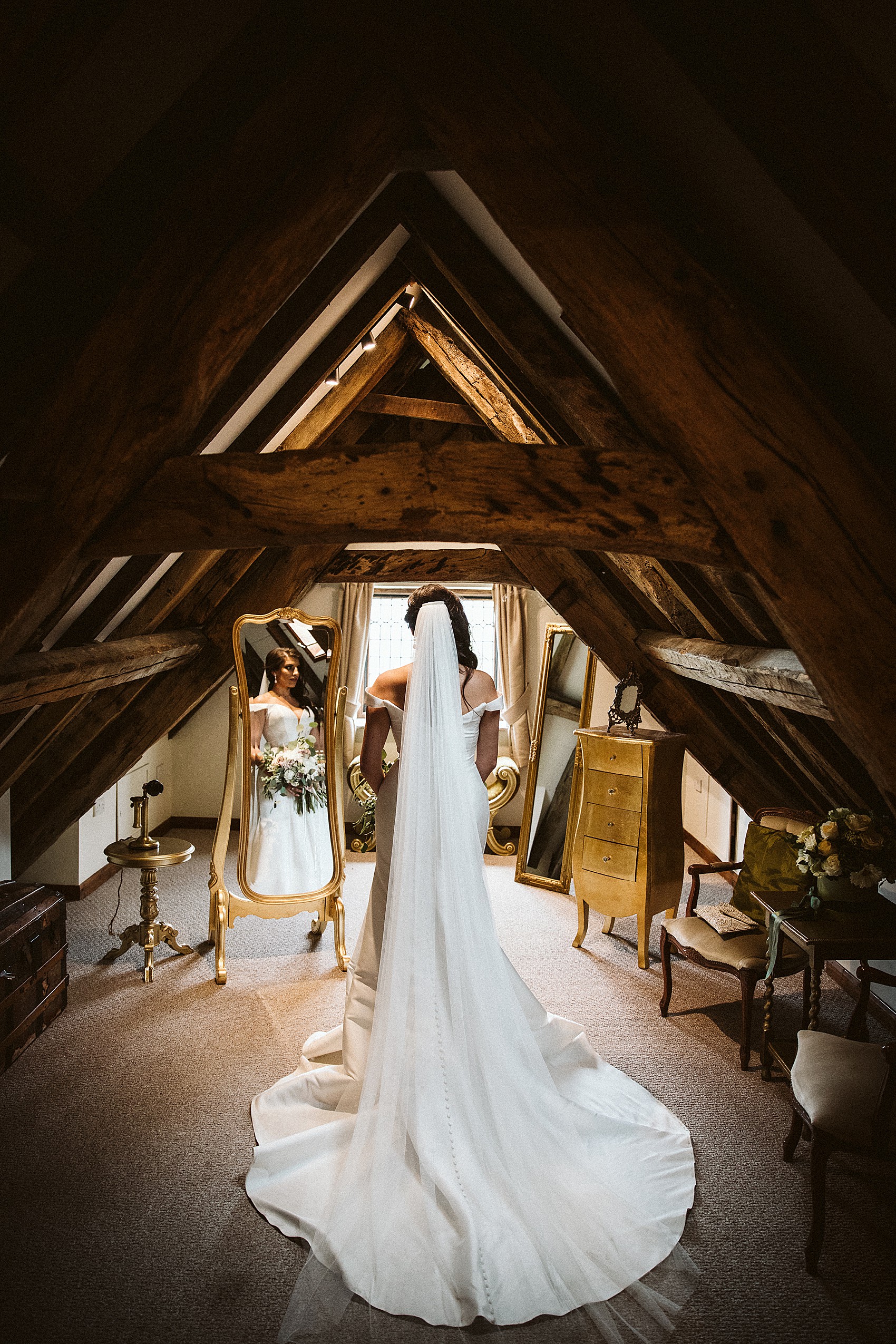 Post-ceremony drinks were served in Crook Hall's gardens, which were beautifully blooming with spring flowers. Alongside the drinks, guests were treated to mini cones of fish and chips and Halloumi fries from The Little Fishy, before getting onto vintage red Routemaster buses to transport them to the next venue, courtesy of Henry Cooper Coaches.
"One of my favourite moments was in Crook Hall , after the guests had left on the bus for the next venue, Dave and I had a few minutes to ourselves to take it all in. In one of the rooms in Crook Hall there is an old piano, and one of Dave's ushers, Phil, played a beautiful piece of classical music, and we had our own little private first dance alone as a married couple. It felt like an intimate and special moment."
Kate and Dave chose the spectacular Grade I listed medieval former church – now St. Mary's Heritage Centre – for a number of reasons. Firstly, it's located right on the banks of the Tyne, and has lovely city views, and secondly, it was a gorgeous blank canvas for them to style as they liked.
"It's a beautiful space, but is quite vast, so we wanted to add some depth and height with the decor. As well as our florist making foliage centrepieces around lanterns, we used some wisteria tree centrepieces on alternate tables for some height."
The tree centrepieces came courtesy of Magic Moment, and added a lovely springtime feel to the room, and the soaring ceiling was string with festoon lights from NorthStar Audiovisual. In keeping with their loose travel theme, the table plan was a map, and favours were mini suitcases filled with Easter treats of Cadbury's Mini Eggs and Malteaser Bunnies.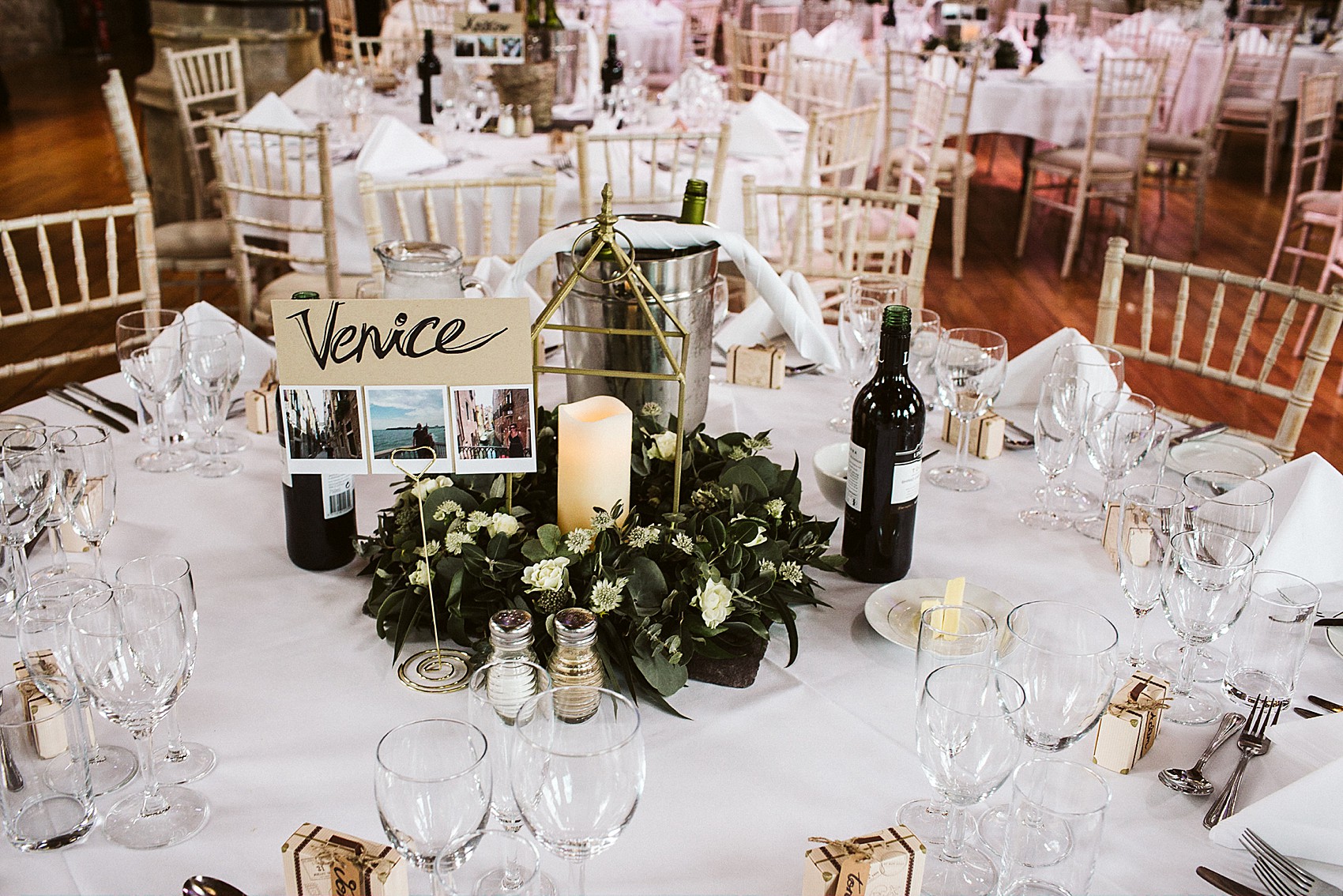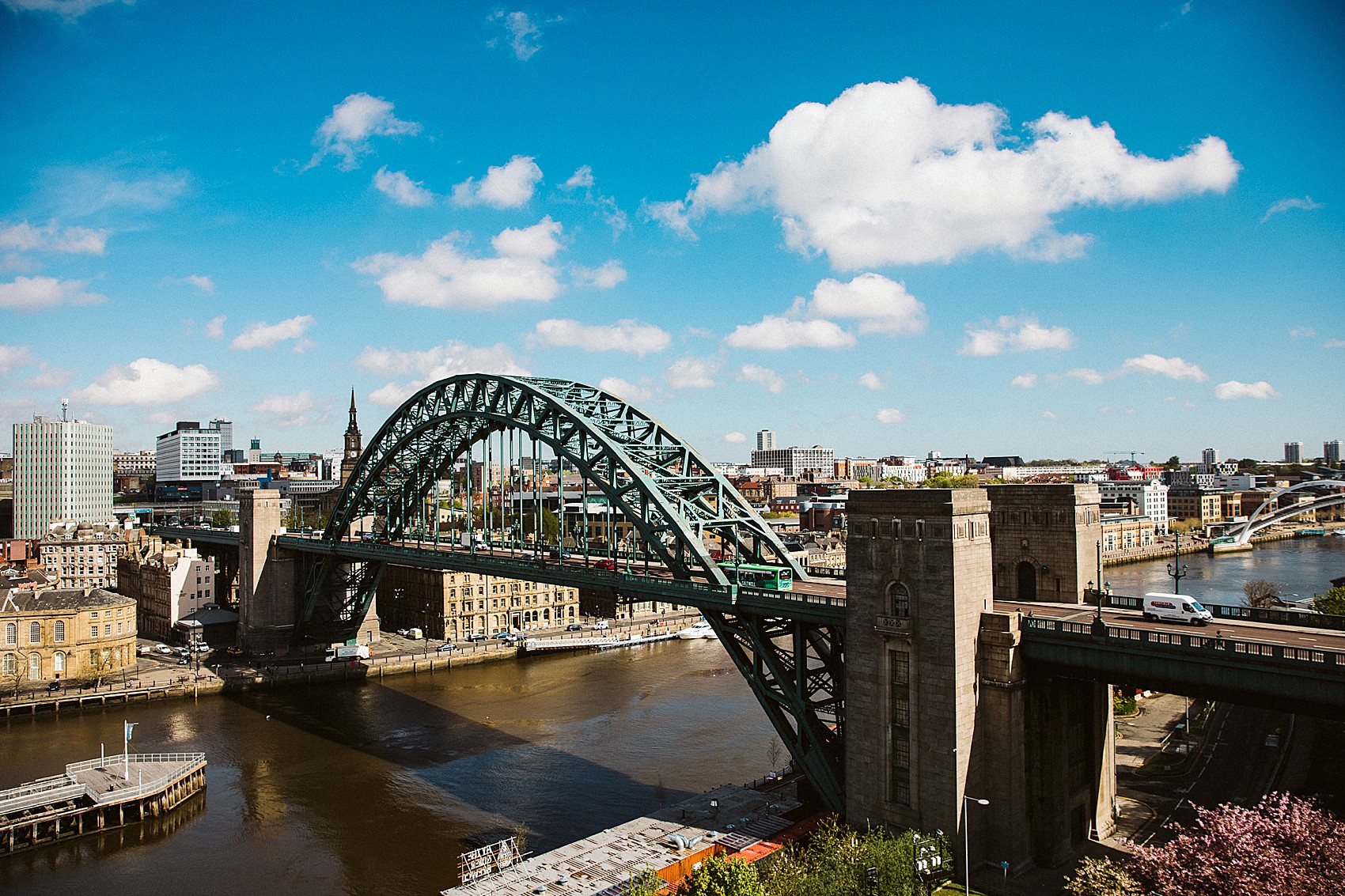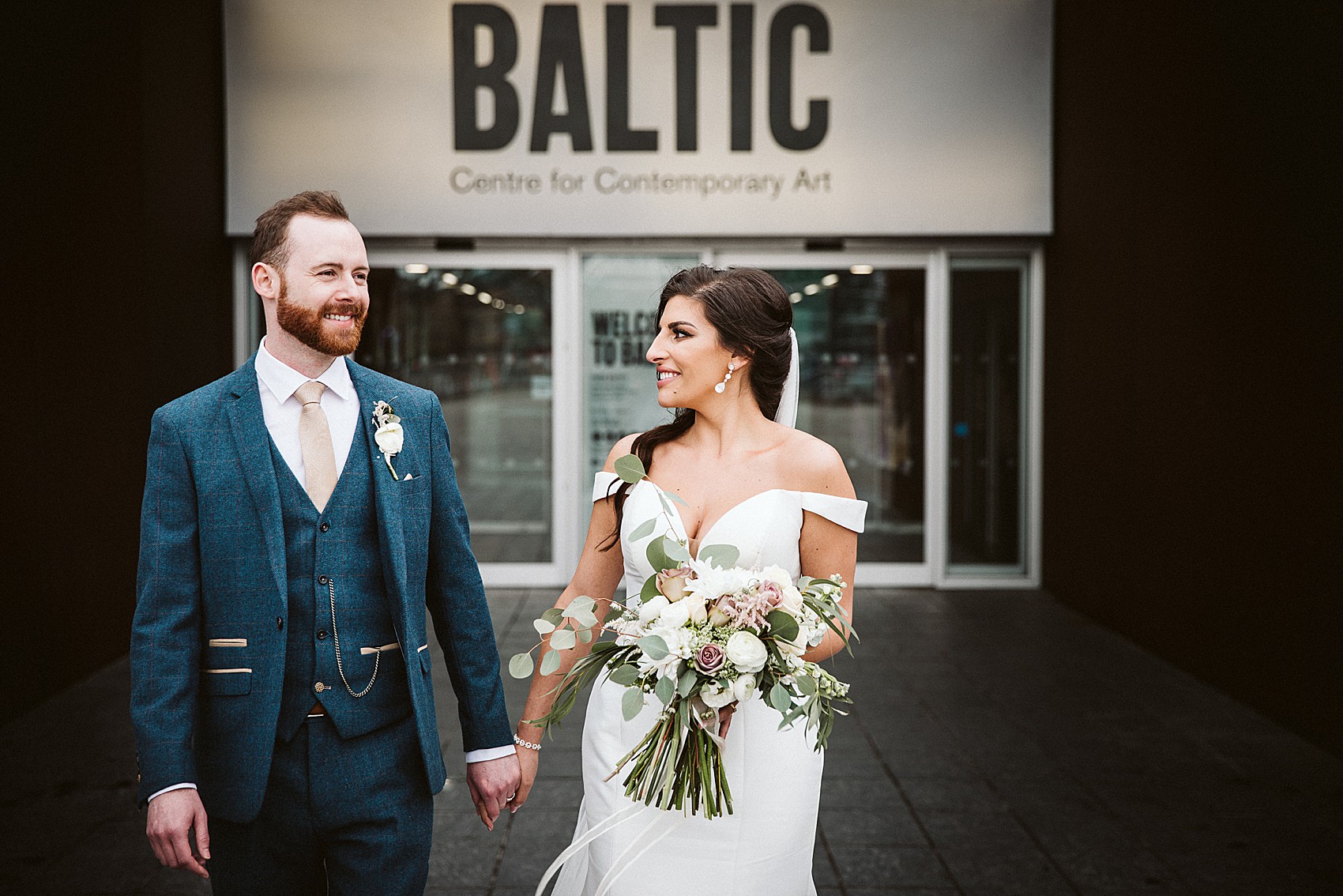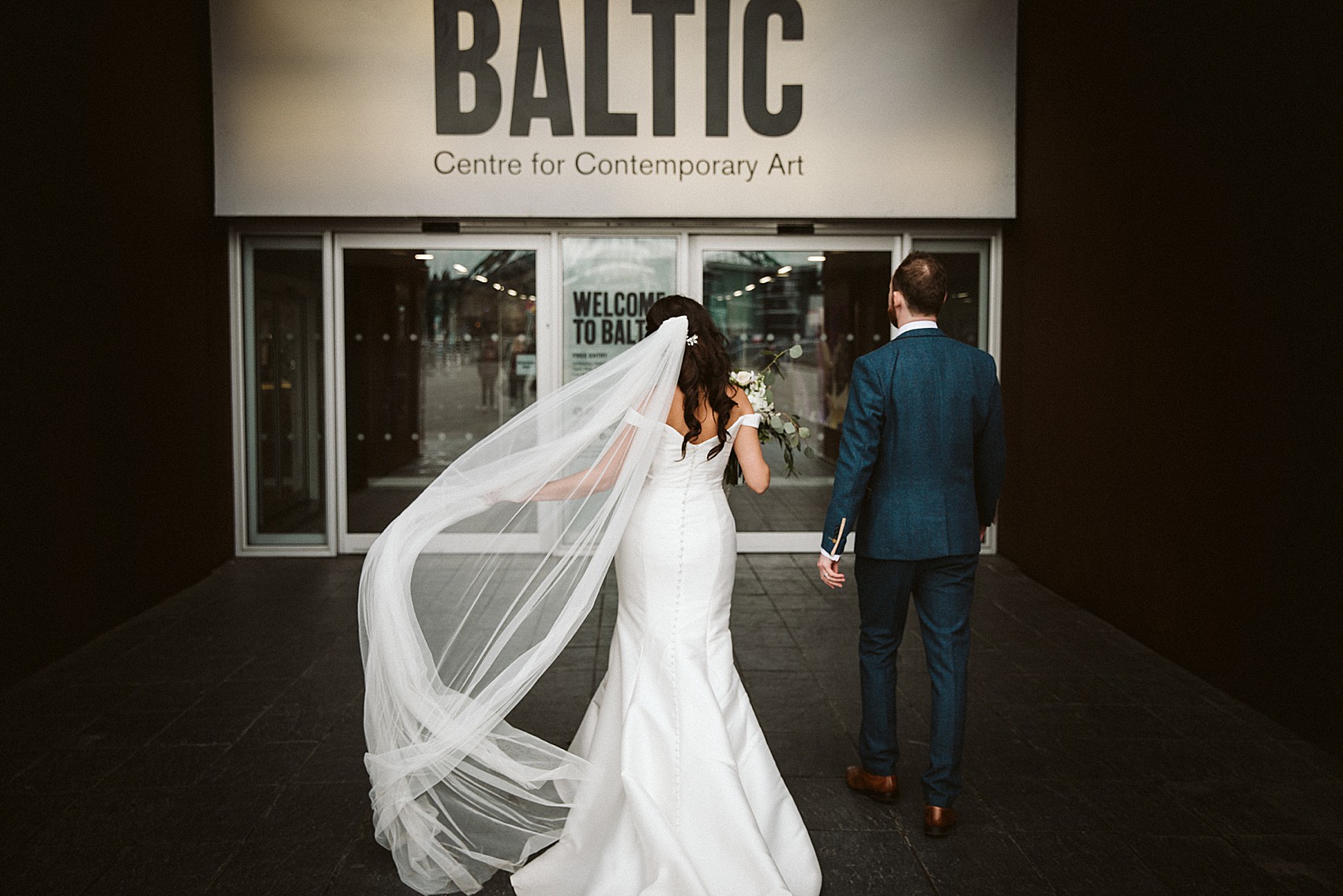 Ramside Event Catering made a delicious three-course wedding breakfast, which everyone enjoyed before speeches and toasts. Then it was over to the BALTIC Centre for Contemporary Art for the evening's festivities to begin.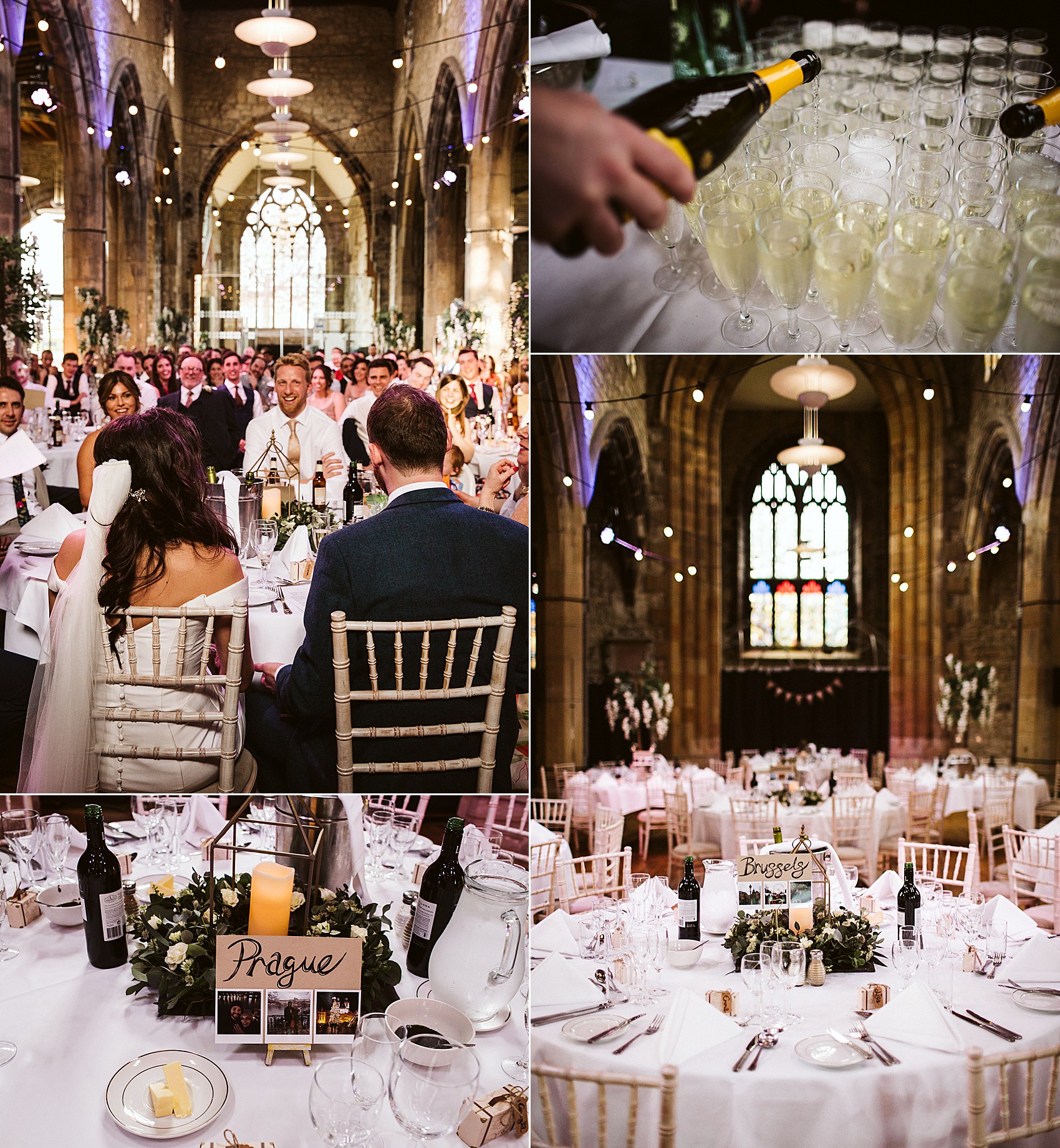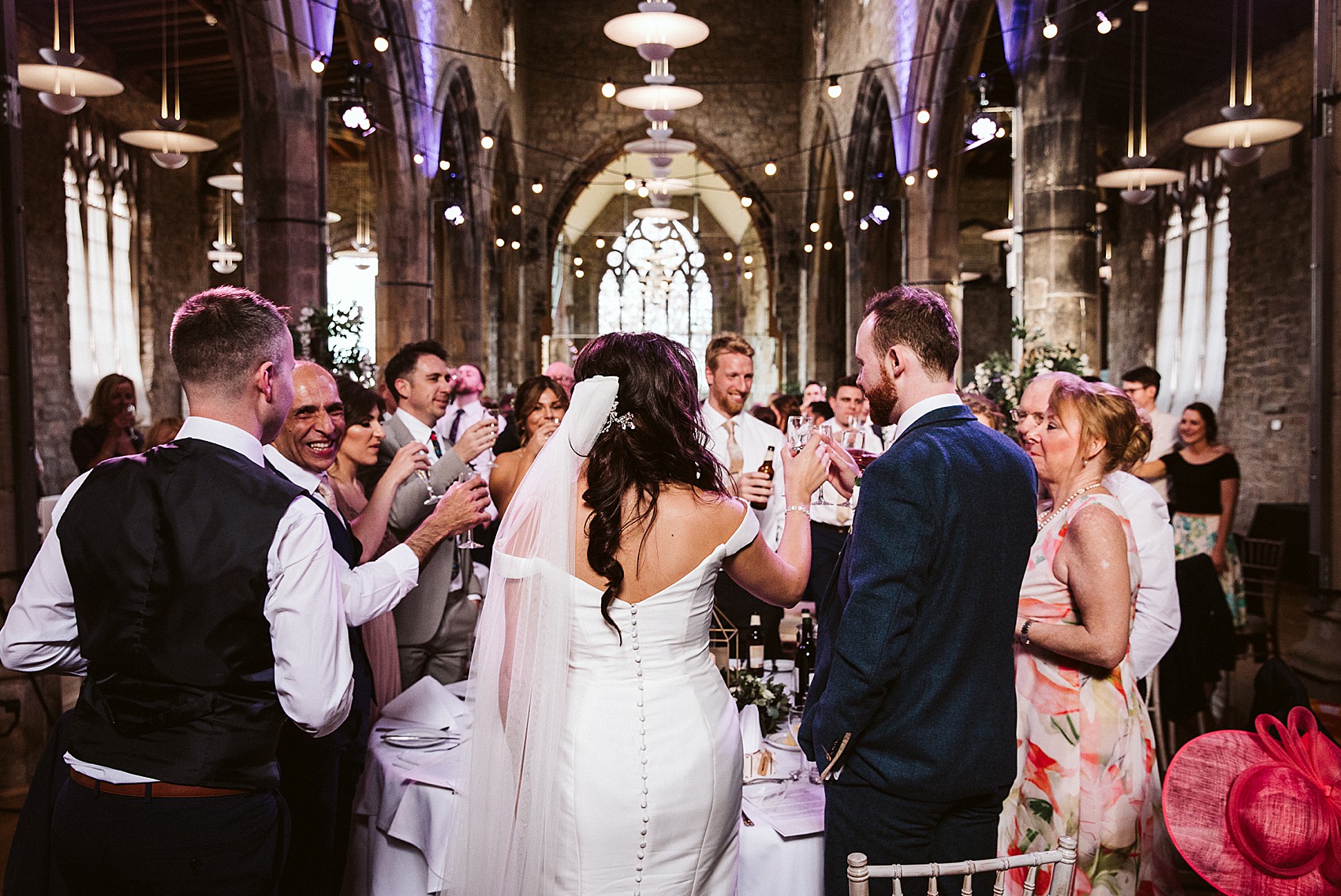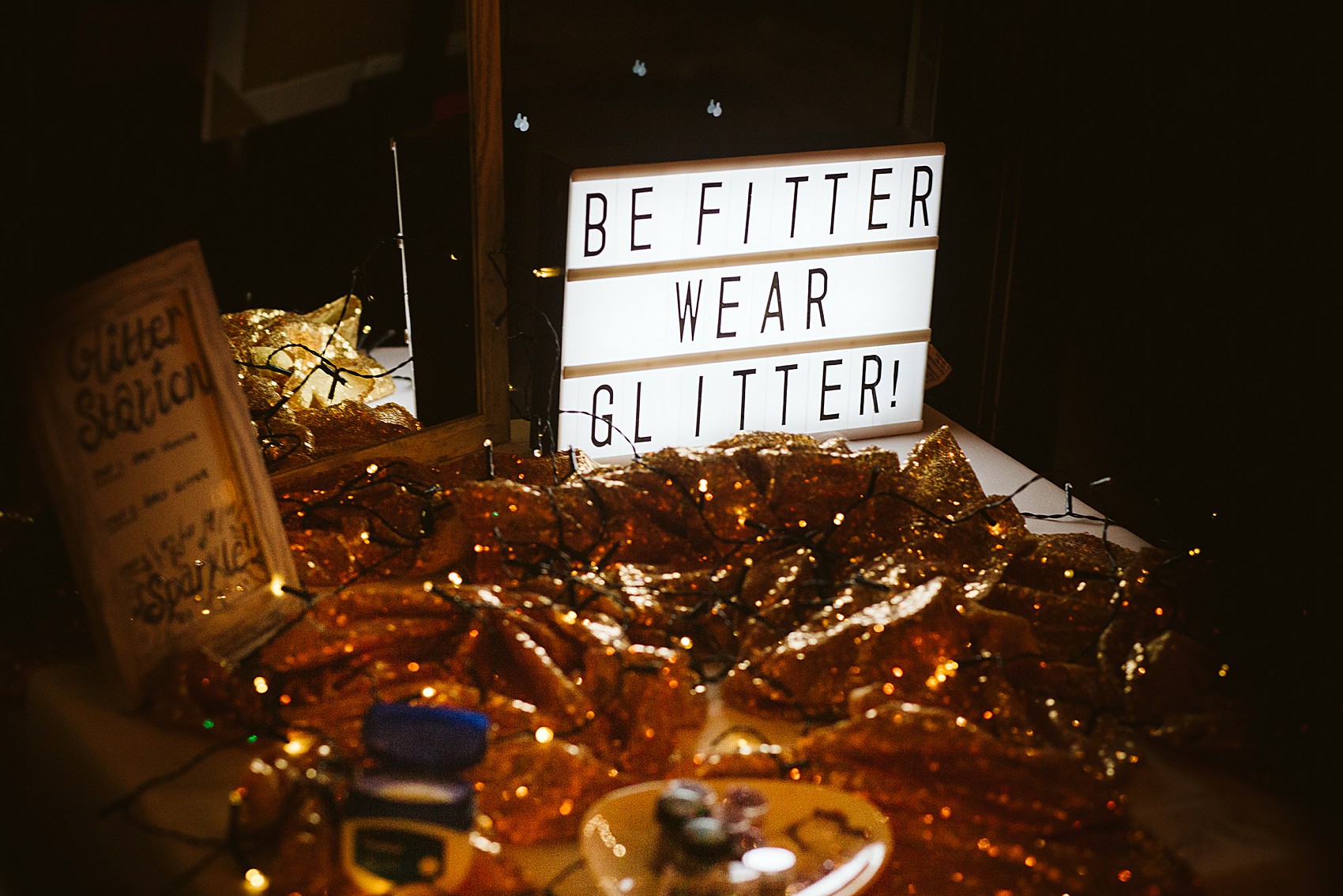 "Jess from Sprig & Thistle set up the room for the evening do in the BALTIC, and hung navy, gold and white lanterns from the ceiling, as well as picture hoops. She also arranged a glitter station. We wanted to honour past family weddings, so had a memory table with pictures of our families' weddings, as well as candles and photos of loved ones who have passed away. We felt it was a nice way to honour their memory on the day."
BALTIC's in-house caterers, Fresh Element, laid on evening food, and instead of a sweet wedding cake, Kate and Dave opted for a savoury cheese cake served with crackers and chutneys, from Matthew's Cheese Shop.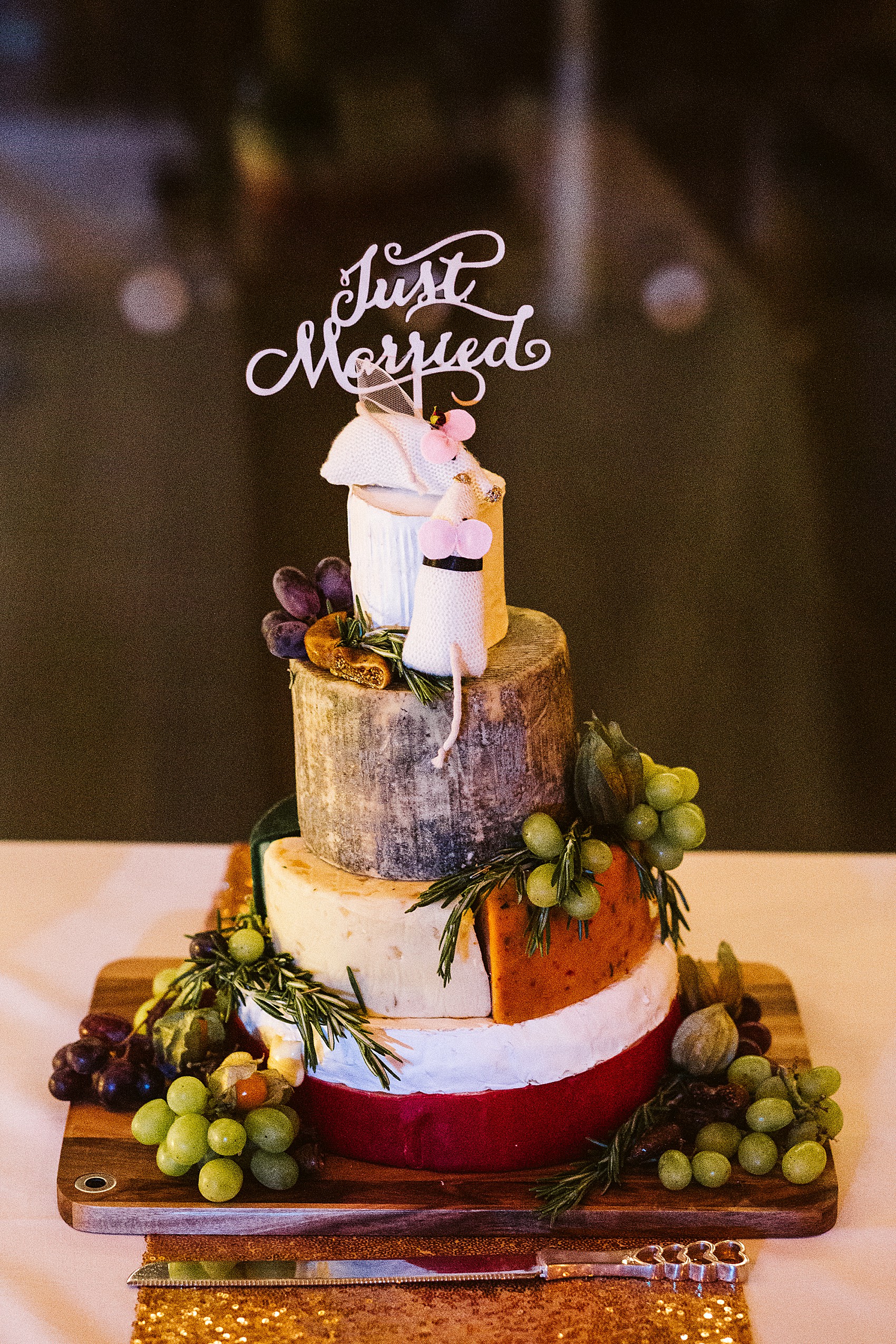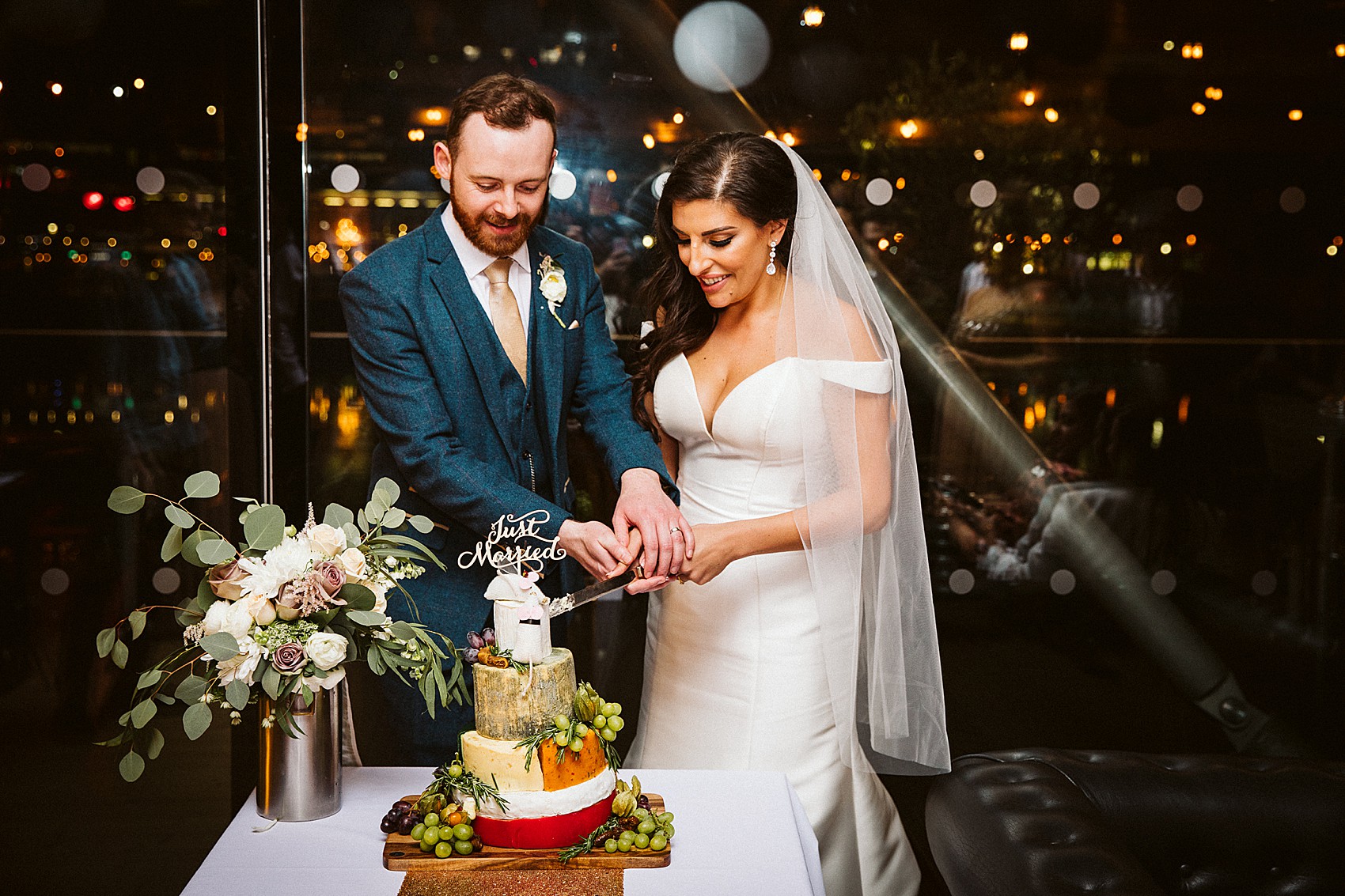 Kate and Dave wanted an upbeat song that would also get family and friends onto the floor for their joyful first dance together, and so chose Signed, Sealed, Delivered by Stevie Wonder.
"Our evening band was Groove Central Station. We saw them live before booking them, and we absolutely loved them! Their set list was a mixture of funk, soul and Motown, and got everyone up and dancing and in the party mood. At one point in the night I turned around to see Dave crowd surfing above a group of his friends!"
Words of Wedded Wisdom
"I think when we started wedding planning we were unprepared for how much the average wedding costs! We set ourselves a budget that we wanted to stick to. We found that some areas we didn't want to skimp on, i.e. food, entertainment, venues and photography/ videography, so we were more conscious in other areas i.e. clothing, homemade and borrowed decorations, favours, signs, table plans, to compromise. By being more careful in other areas, we actually came in under our proposed budget."
"Don't be afraid to tailor a day that suits you as a couple, even if other people don't initially agree with your plans. Ultimately it's your day, so do what feels right for you. Open a joint email account for wedding admin, and that way both of you can equally keep on top of the emails and to-do lists, and it's not delegated to a single person."
"If your timescale permits, take the time to make homemade details. We made our own wedding signs, favours, place names and seating plan. It helped with the budget, was loads of fun to do and having these touches made it feel extra special and personal."
"Try not to agonise over every small decision. Generally just go with your gut feeling and don't stress about the minor details. You wont really notice if these aren't absolutely perfect on the day, as you will just be overwhelmed with happiness."
"Research your suppliers, especially your photographer and videographer. They will be with you all day, so make sure you get on with them. If in doubt about hiring a videographer, get one, you won't regret it! The images and footage from your day will be the lasting memories to look back on and enjoy in years to come."
"It's a grand cliché, but enjoy every minute, it goes so quickly! And make sure you take the time to spend a few minutes alone together to savour the moment, appreciate all your hard work and planning and just to take it all in."
Kate and Dave, what a delight this has been, thank you both so much. Many thanks also go to We Were Here, and Margarita Hope for the amazing film and images. If Kate and Dave's wonderful venues have left you wanting to see more, we have more celebrations at Crook Hall & Gardens here, and more brilliant gallery festivities at BALTIC, right here.
With love,
Laura