Let's relive a beautiful summer day today, shall we? This is a joyful and fun celebration you won't want to miss, filled with lots of lovely botanical inspiration, from the botanical garden glasshouse ceremony venue, and as our bride describes, her brideshumans looking spectacular in a floral print suit and dresses.
The bride herself was resplendent in an outfit from two of our amazing Little Book directory members – a dreamy lace dress by Kate Beaumont, and gorgeous shoes by Harriet Wilde, two talented designers we absolutely adore here. Rebecca, a Primary School Teacher, and Jimmy, a Care Worker, wed on the 3 August 2019 at Sheffield Botanical Gardens, in an outdoor ceremony beside the central dome of the garden pavilion. This was followed by a reception at Trafalgar Warehouse – a stylishly converted 1930's industrial space in Sheffield city centre.
Wedding dress by Kate Beaumont

+ Follow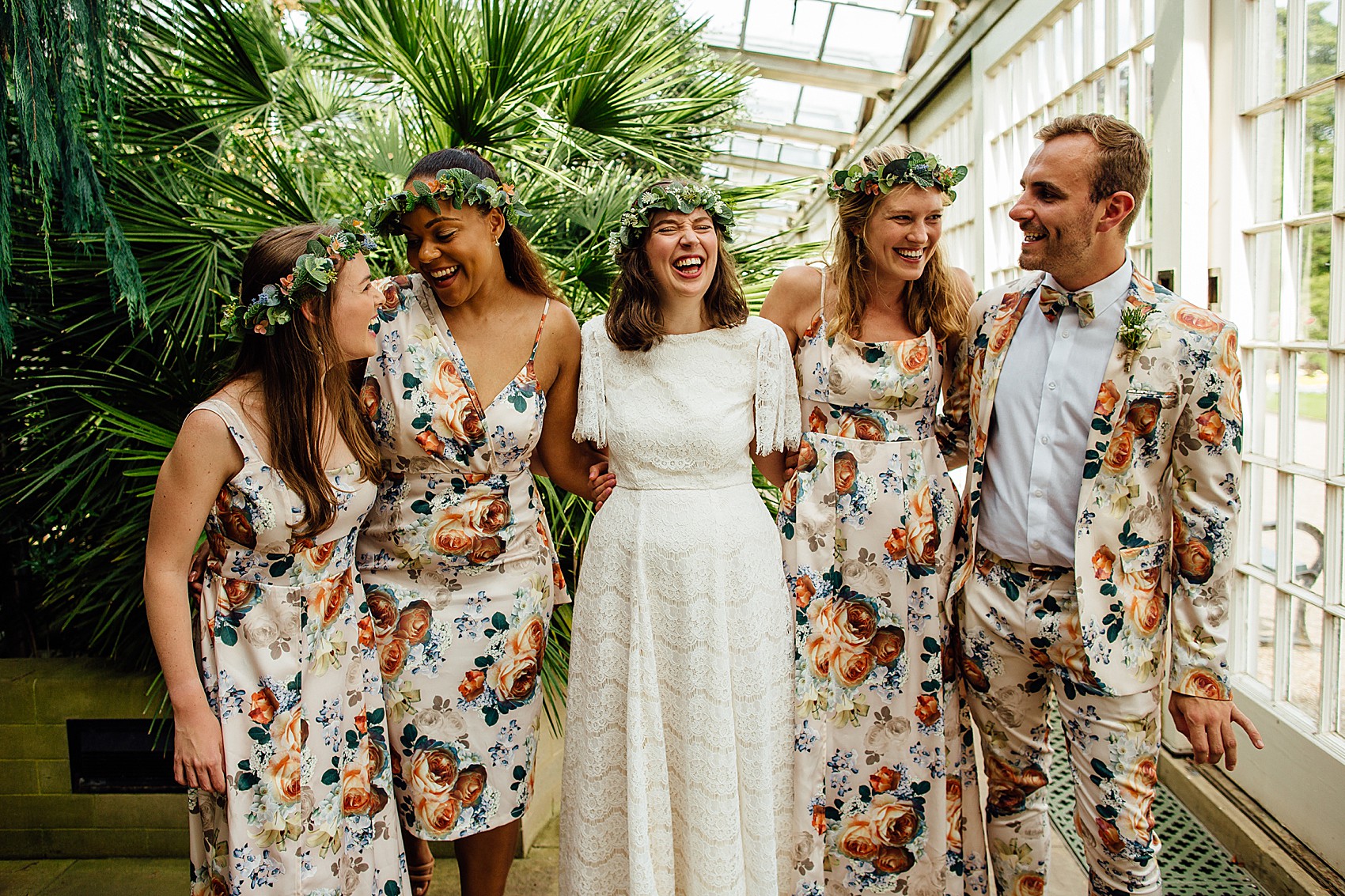 Let's talk about how awesome the bridal party outfits are, shall we? Bright and summery bold floral print dresses, as well as a suit and matching bow tie, all found at ASOS.
"By some small miracle I managed to get matching dresses and a suit from ASOS sale. The dresses were different variations of the same fabric, and there was also a suit. One girl had her dress adjusted, so we used to spare fabric cut off to make a bow tie, too."The wedding party walked through the Botanical Gardens and down the aisle, with the brideshumans walking to the song It Means Beautiful, from the Sheffield-based musical, Everyone's Talking About Jamie. This was followed by Rebecca's entrance with her dad, to Landslide, by Fleetwood Mac.
The couple exchanged their vows in the doorway of the beautiful glass pavilion bursting with tropical plants, and gave each other rings fashioned from Sheffield steel, made by Tiago Sheffield Steel.
"We spoke to the designer and loved the thought of the rings being local steel. When we went on our honeymoon, it was the first time the steel had left Sheffield, and that was really special. We had them engraved with the 'Made in Sheffield' hallmark and the date."
Images by Ellie Grace Photography

+ Follow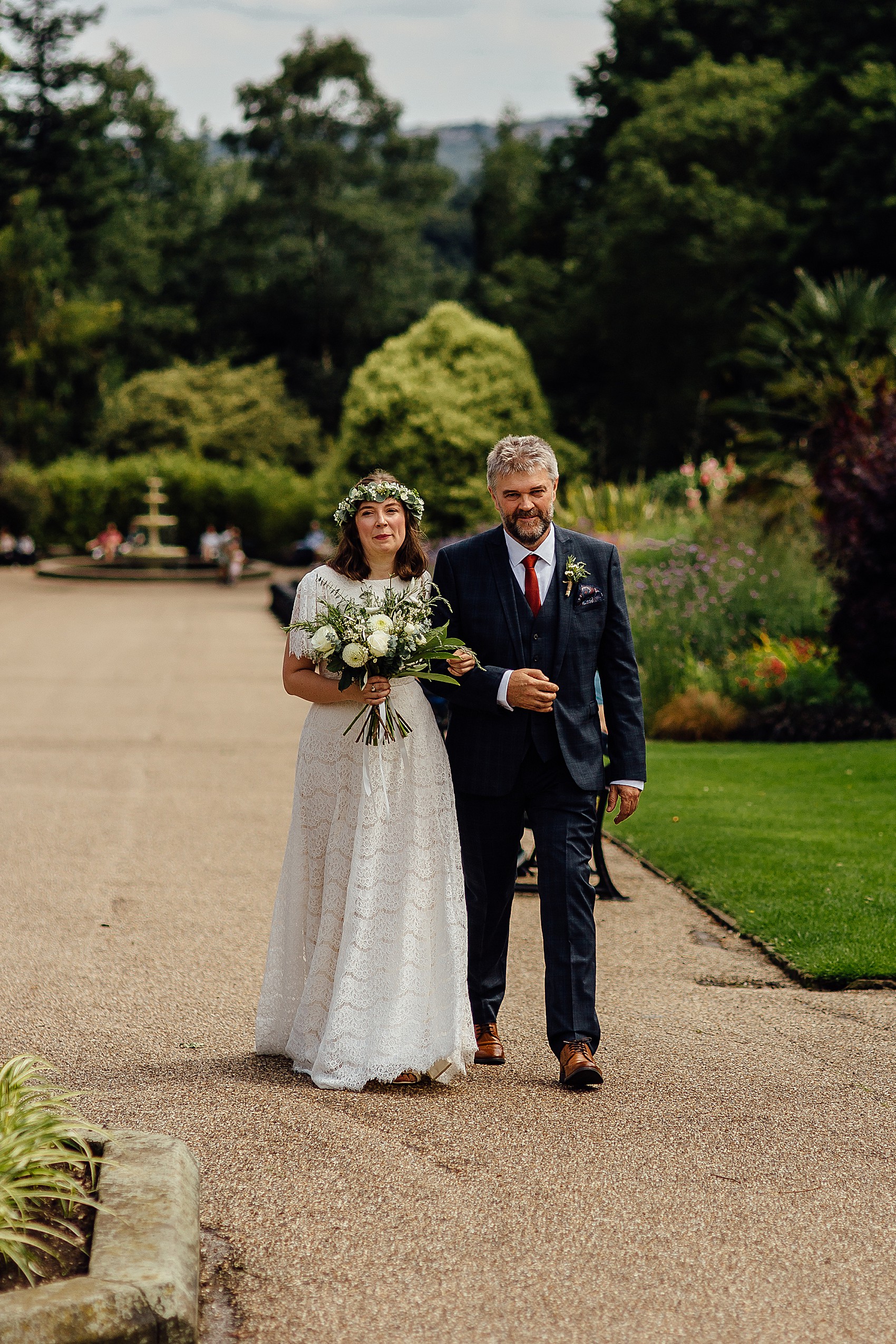 There were sweet readings, too, which summed up Rebecca and Jimmy's approach to life and love, with a selection of Roald Dahl quotes from Matilda and My Uncle read by Jimmy's sister, and the lyrics to Absolute Beginners by David Bowie, read by Rebecca's auntie.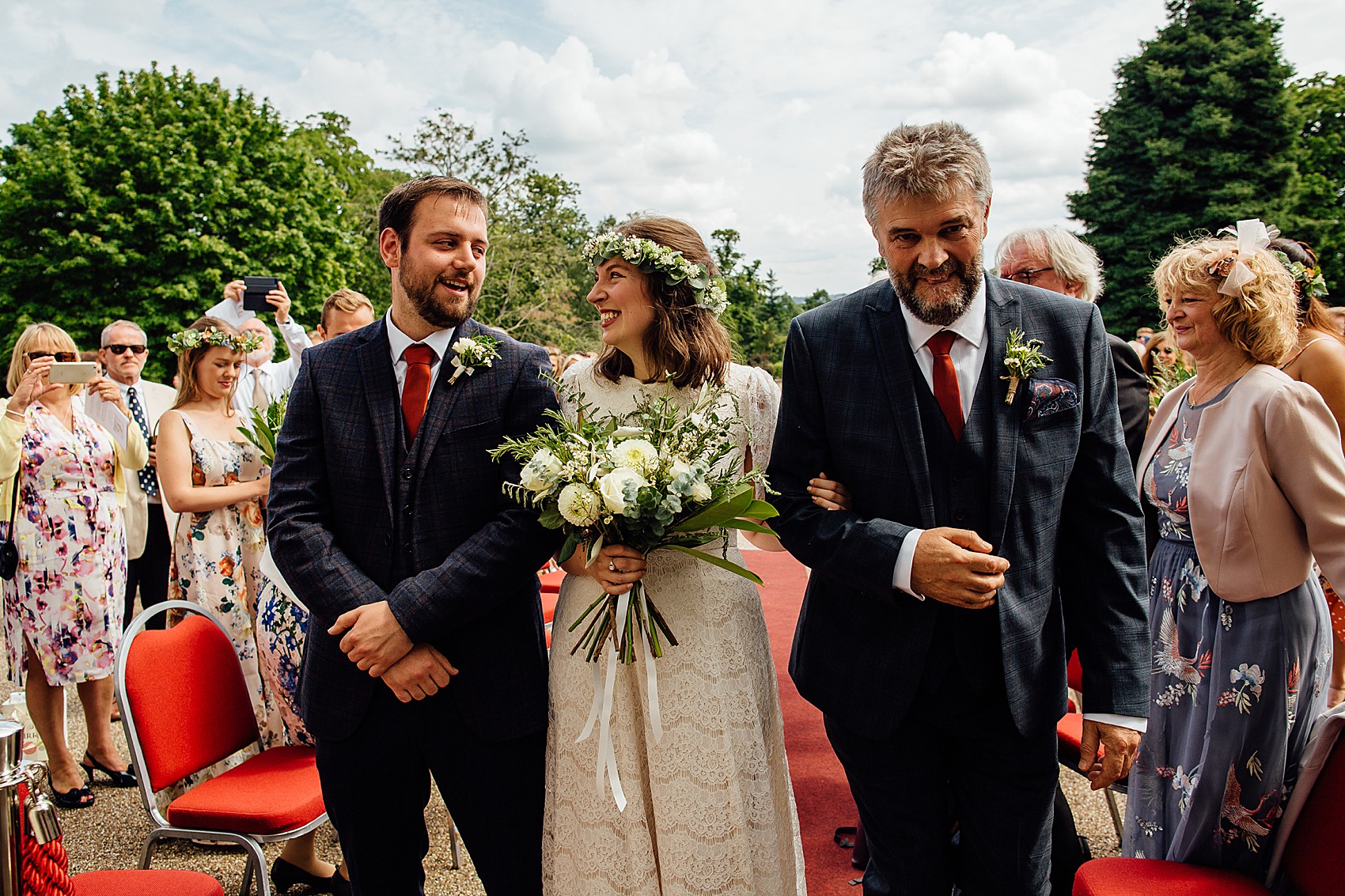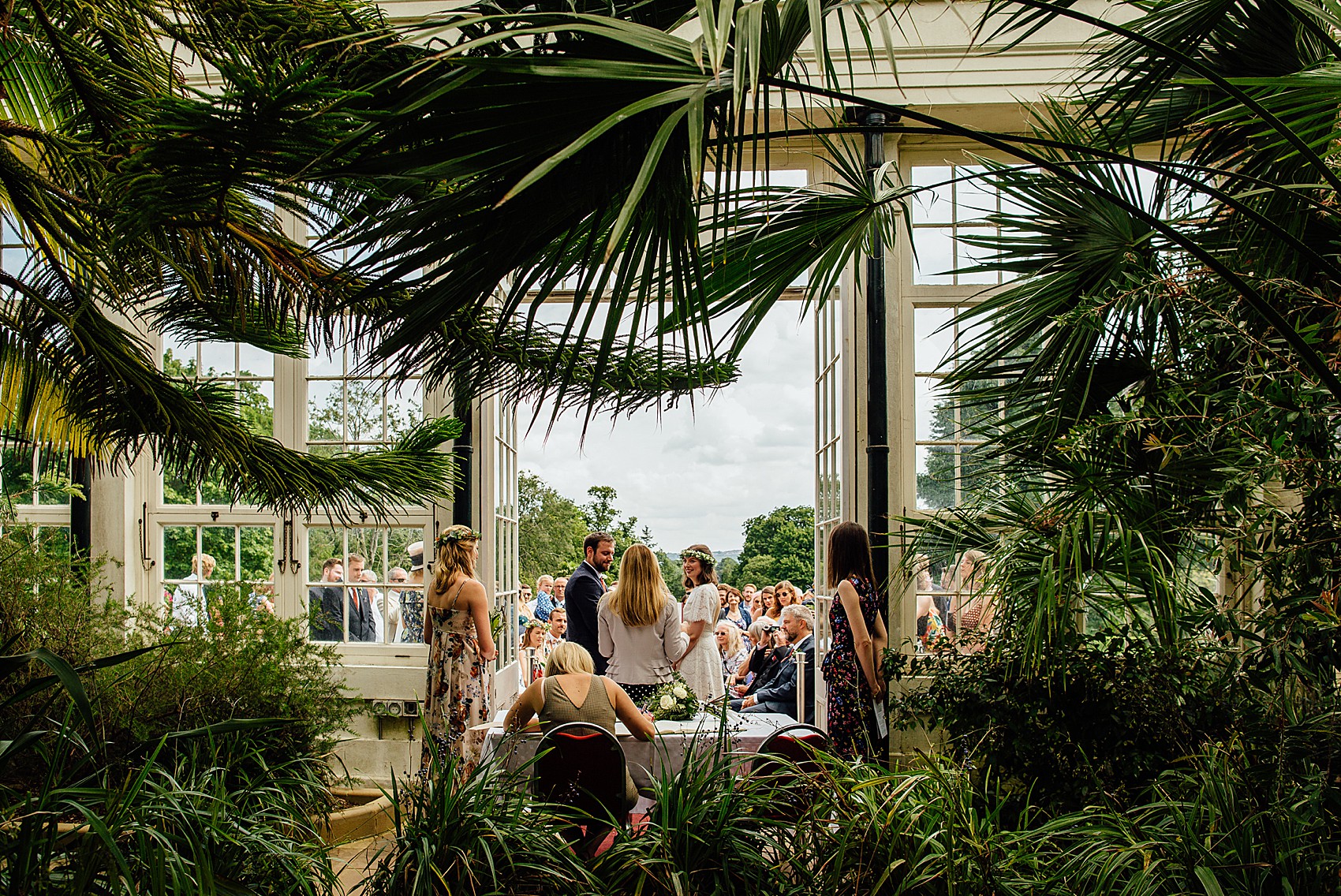 "Originally, I wasn't too fussed about a ceremony. I just wanted to get straight to the party! But Jimmy was really keen to do the 'love' bit. We wanted something a little different and Jimmy, having been born and bred in Sheffield, has always loved the Botanical Gardens."
"I can never resist a visit to a greenhouse, and my mum's side of the family have always been keen botanists, so it seemed the perfect spot."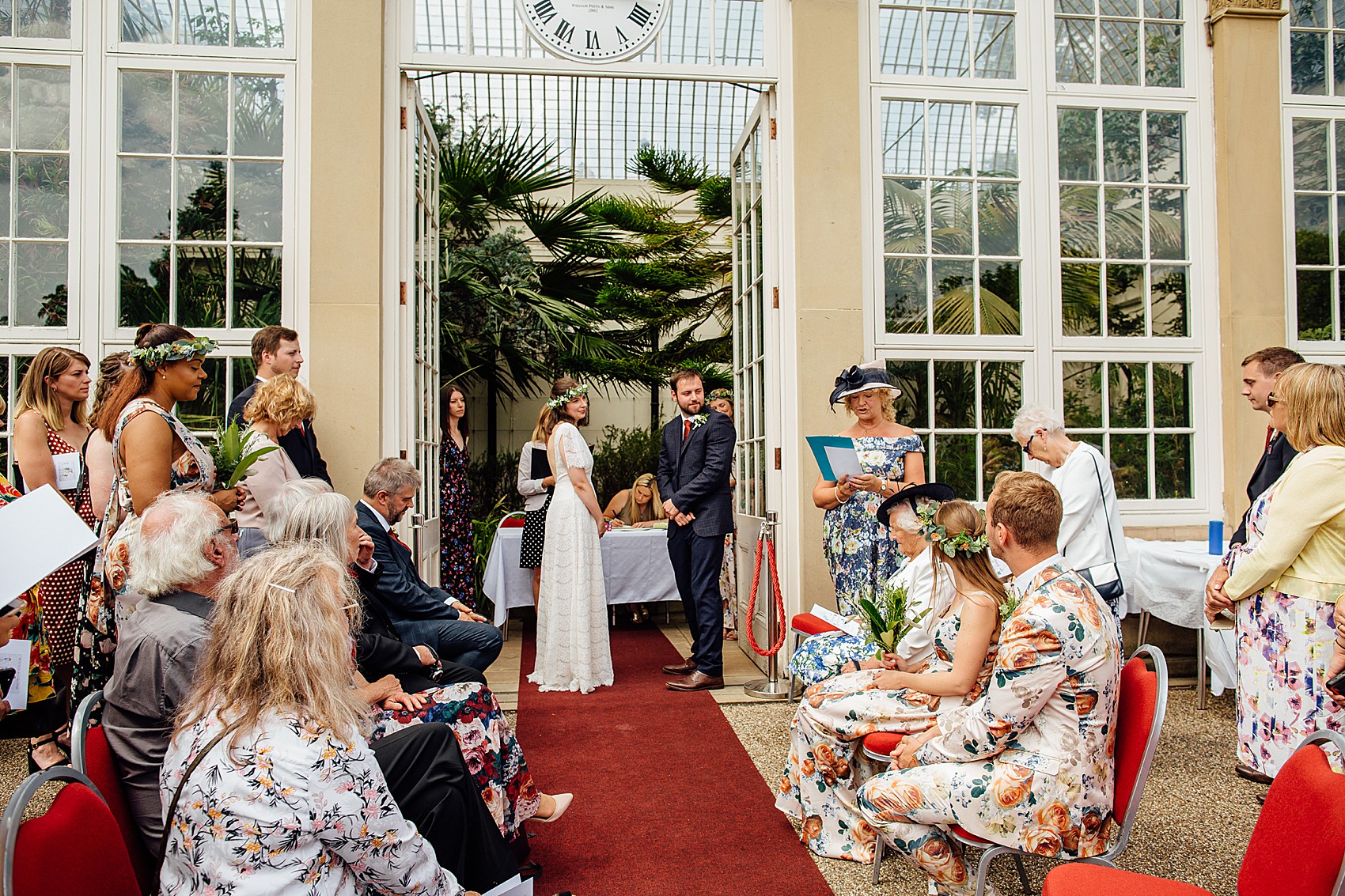 Rebecca's dress was the 'Dahlia' by Kate Beaumont, made of delicate scallop patterned lace with pretty, fluttering sleeves and a low back.
"Kate is amazing. I saw a couple of Kate's dresses on Instagram from our photographer, and I liked the idea of using someone local. I went to visit Kate with my mum and she was so welcoming and kind. She made me feel really comfortable and didn't even judge me for admitting I was wearing my mum's pants!"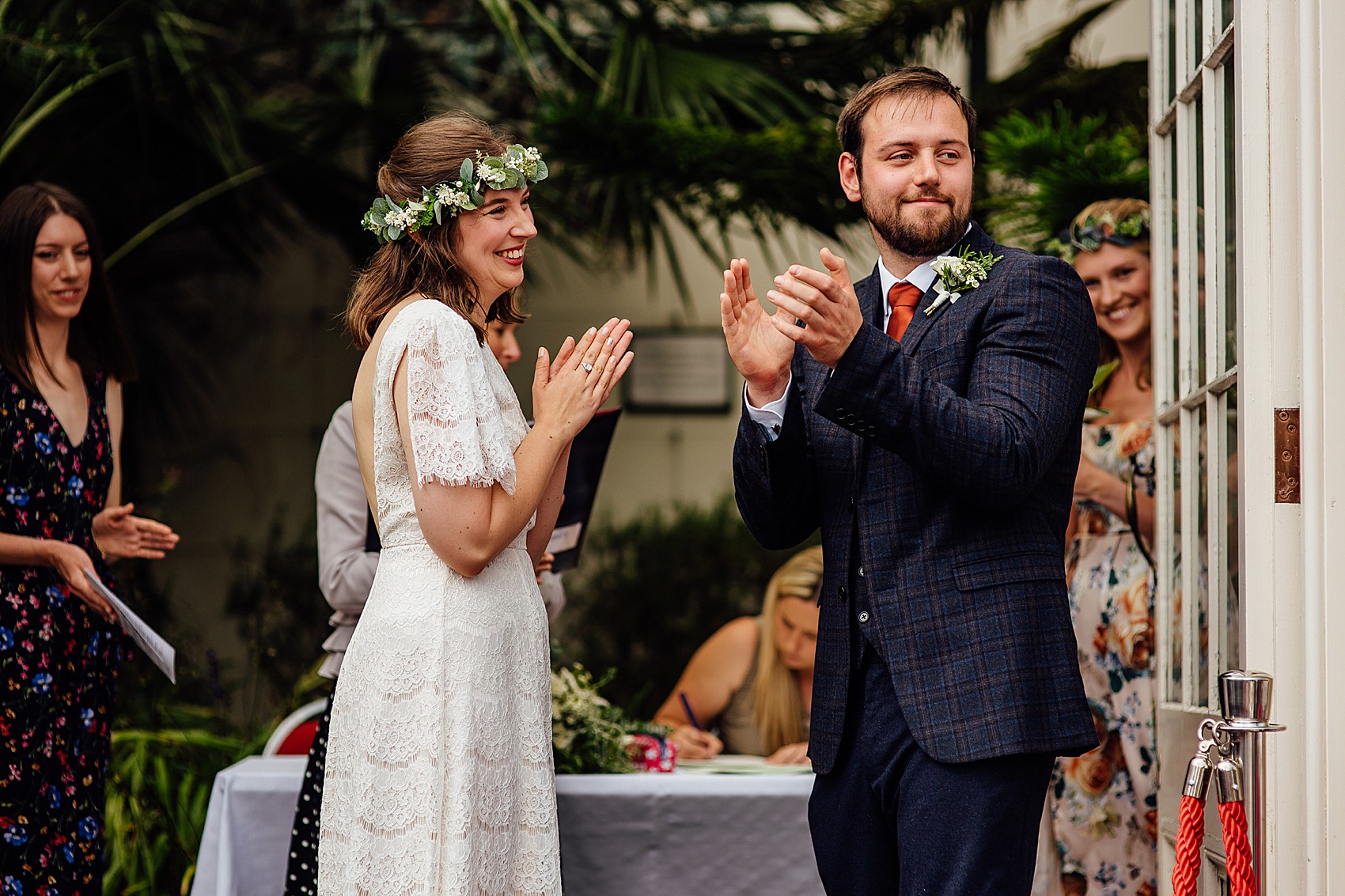 "By the end of the first meeting, I felt like I'd known her for ages. She let me rant about work, we chatted about holidays, and realised we had places and people in common. I really looked forward to going in to see her and we invited her to the wedding."
"I always rolled my eyes at people saying 'When you find the one, you know', but all the clichés came true. I loved so many of Kate's dresses, but when I put the Dahlia on it was just perfect. My mum said my posture changed completely, and I held up the skirt with a huge grin. I could barely feel it on, it was so comfortable."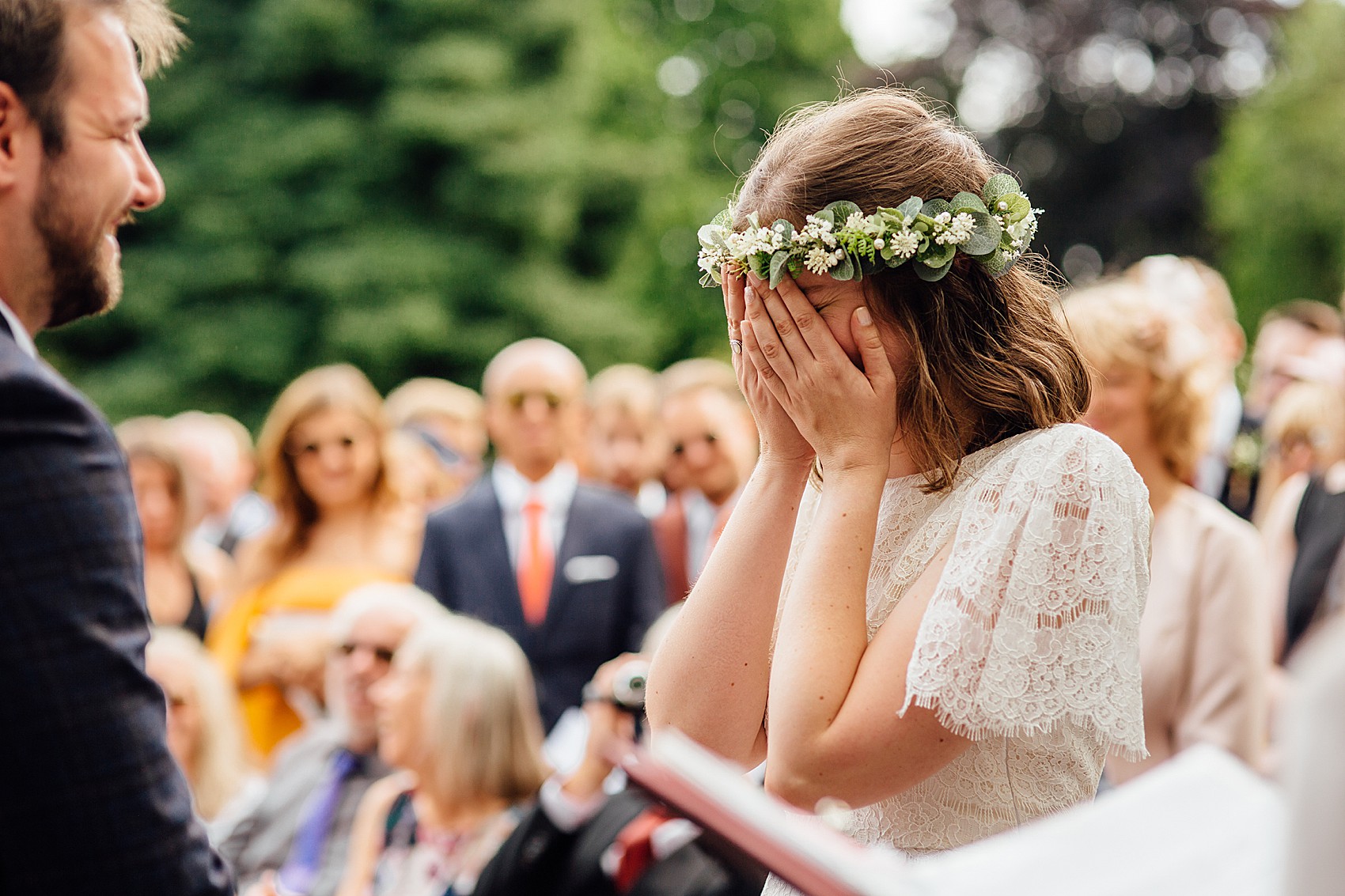 "I'd told Kate I wanted to feel like I was in Fleetwood Mac, and my priorities were being able to dance, eat lots and go to the loo by myself! The 'Dahlia' ticked all the boxes. I wore it exactly as it was designed and everybody told me how 'me' it was on the day."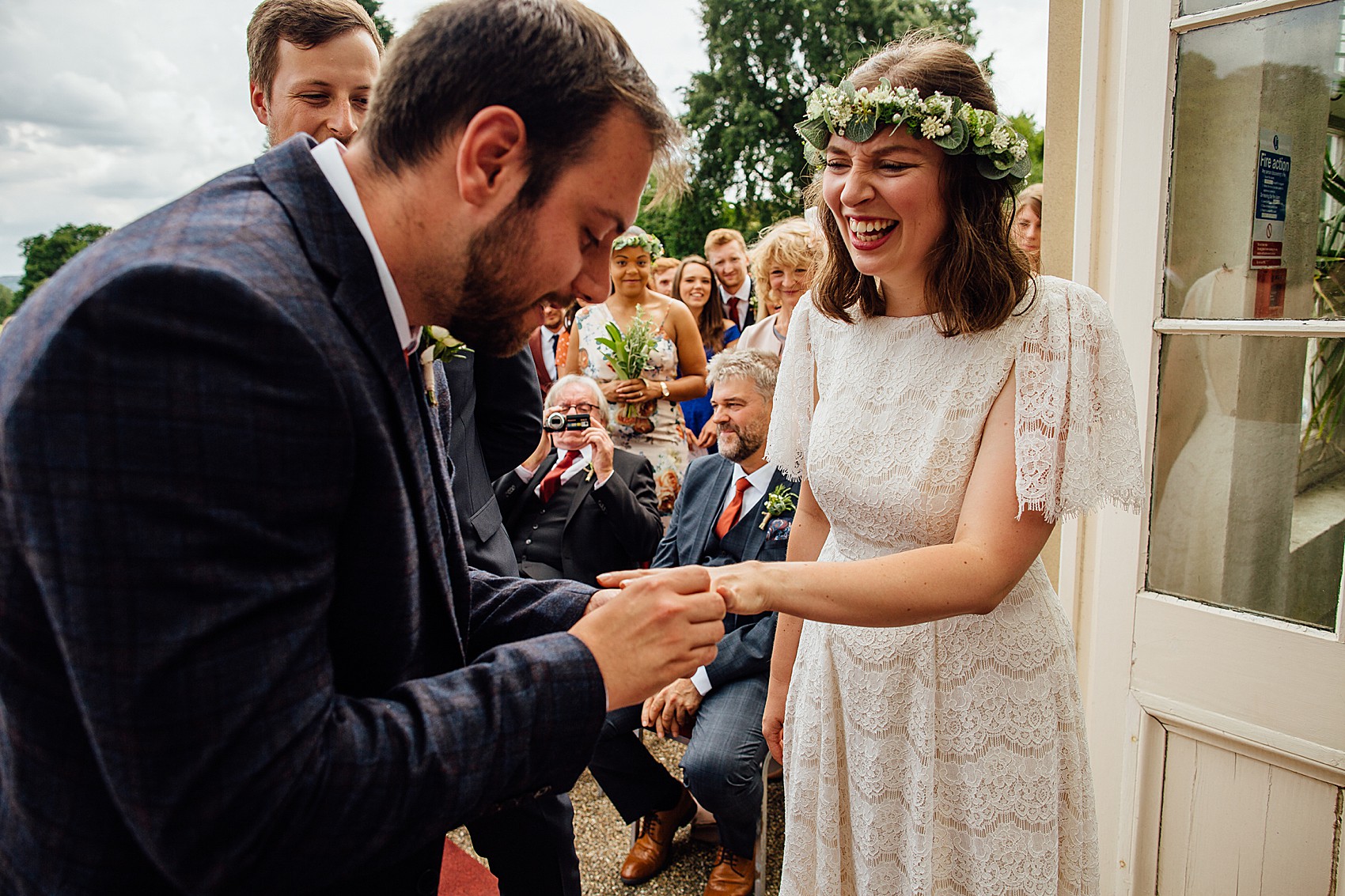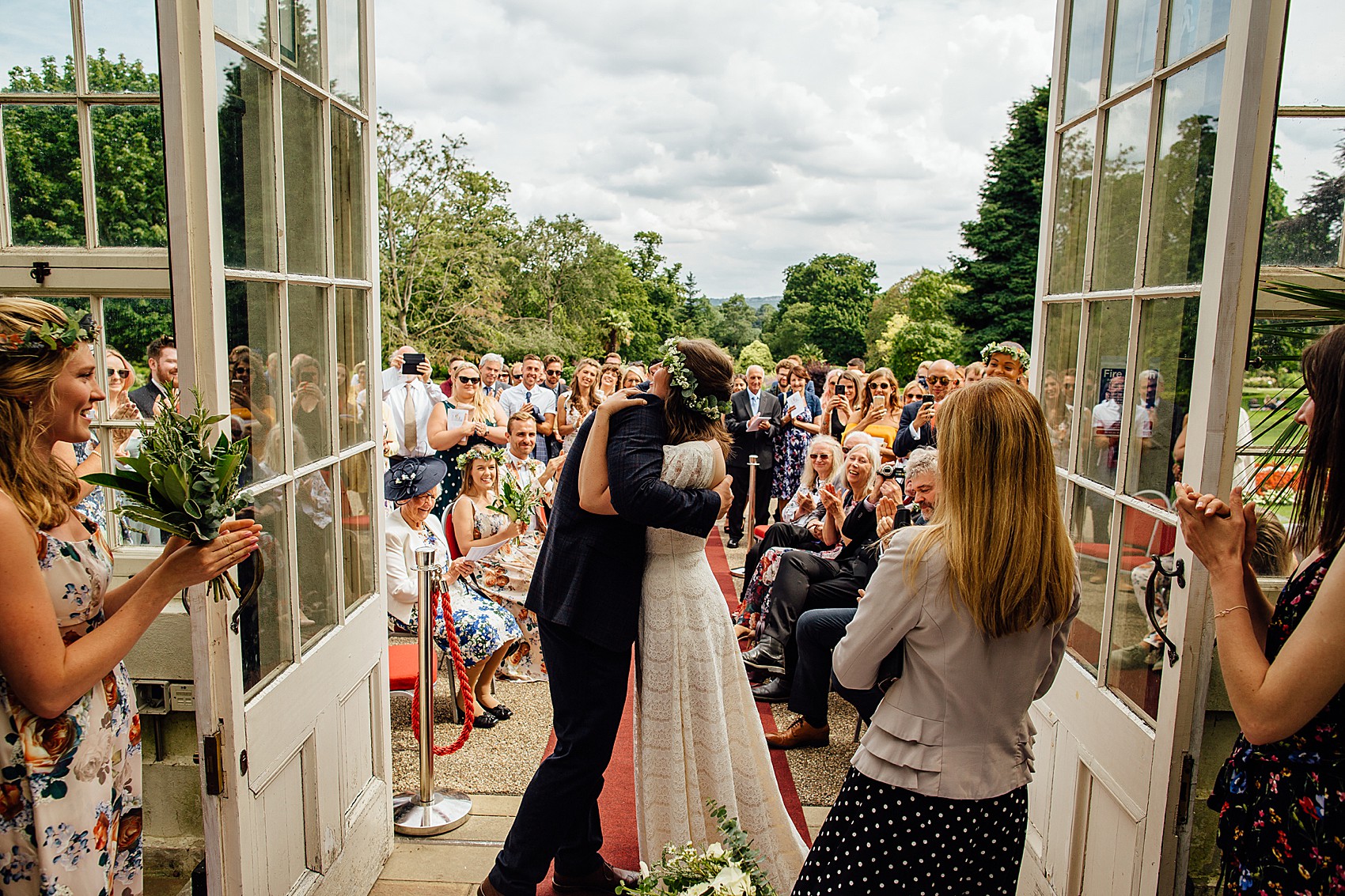 To go with the fresh white and green colour palette the couple had settled on, Rebecca's glorious bouquet was filled with white roses and dahlias, stems of waxflower and lots of greenery. This, and the other wonderful flowers for the day were made by Laila Taylor-Lauchlan, who is also the girlfriend of Jimmy's Best Man.
"Laila is an extremely talented lady. I met with her to discuss flowers, and basically said I want them to be white and green and smell nice! She was amazing and talked me through all the details."
"I said I wanted to include rosemary (a favourite of my late granddad) and, if possible, dahlias (as both my dress and shoes were named this). The rest was up to her!"
"When they arrived they were perfect. Wild but organised, a perfect fit for the whole day. They smelled amazing and lasted the whole day."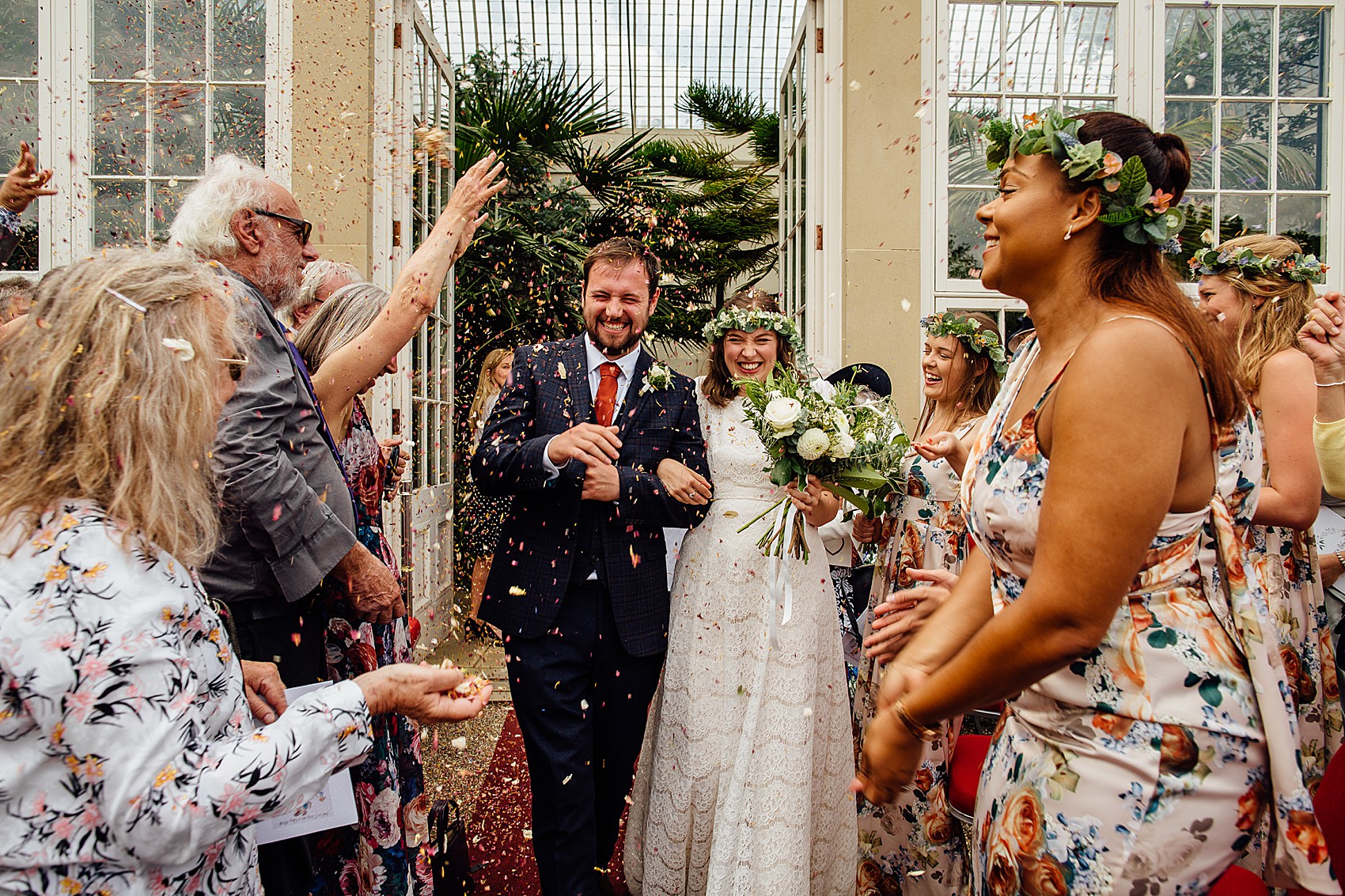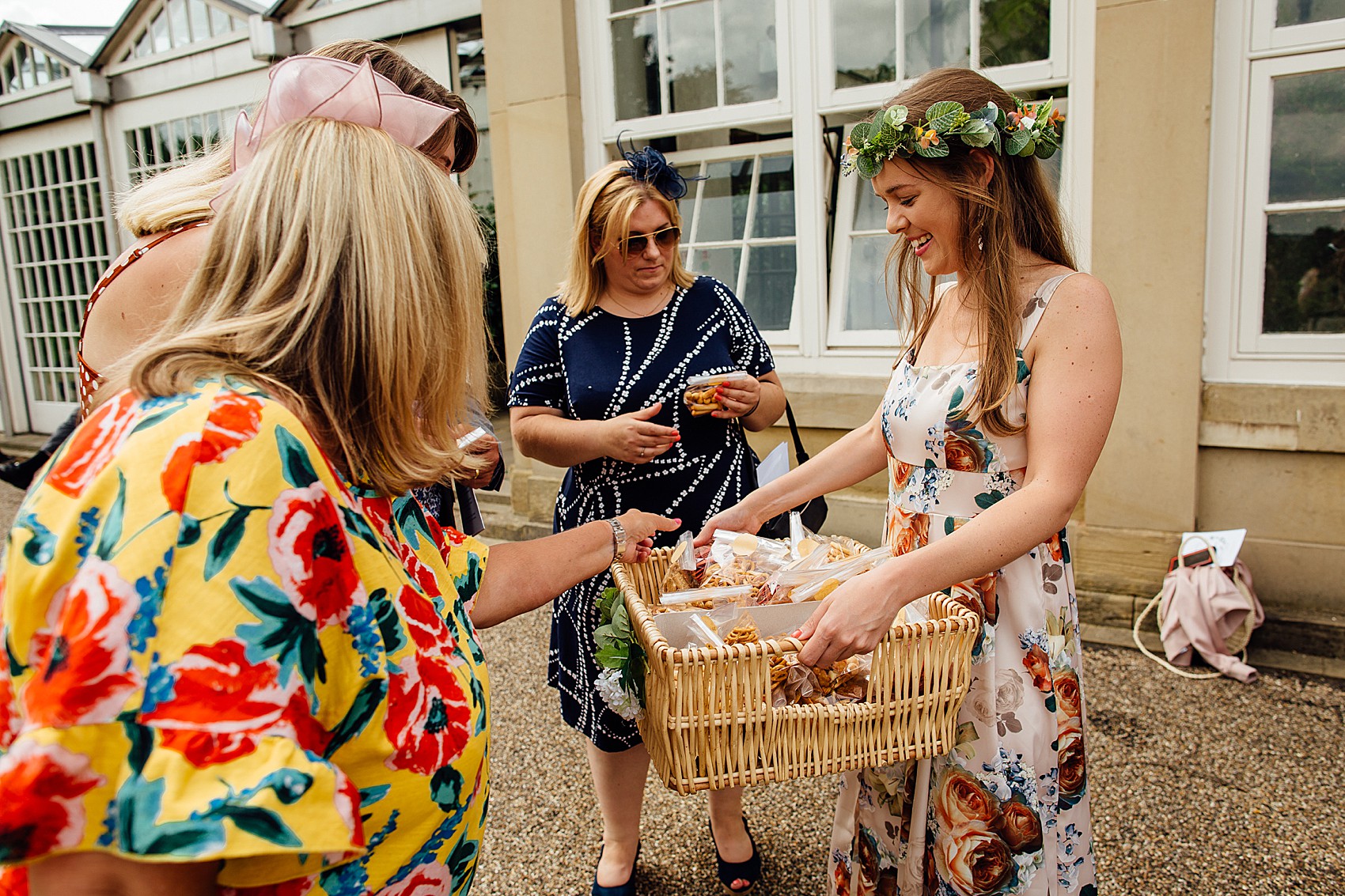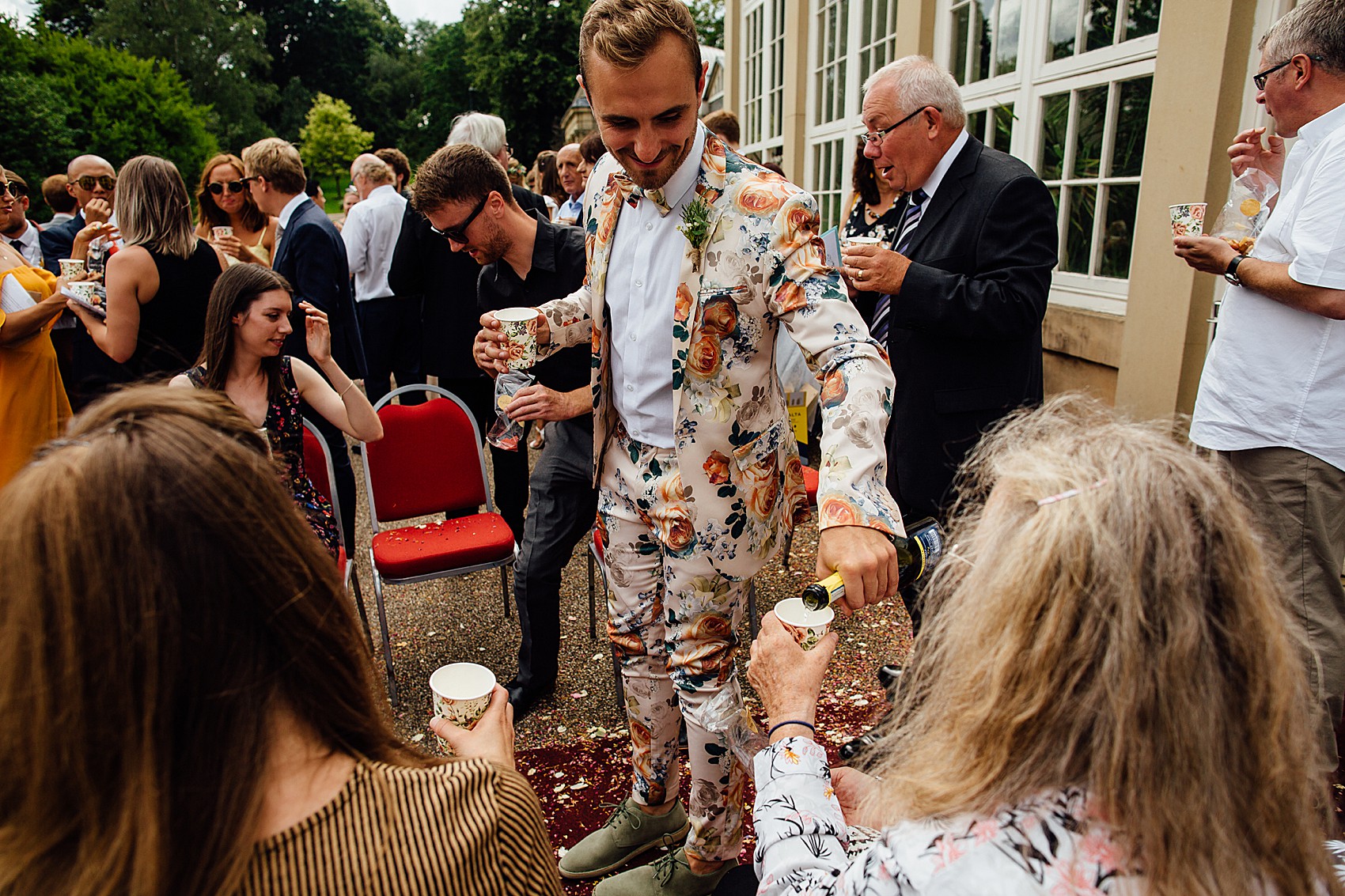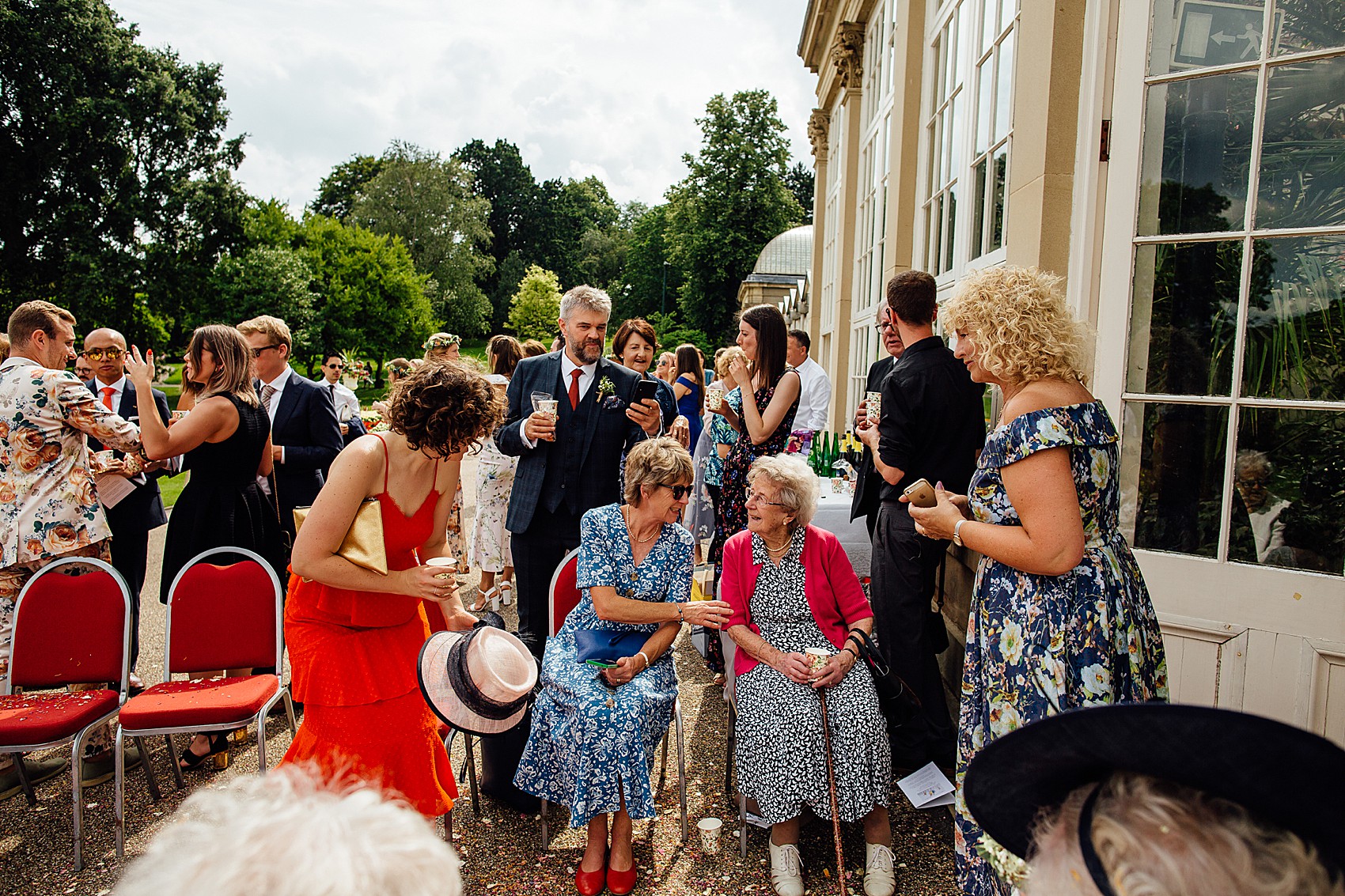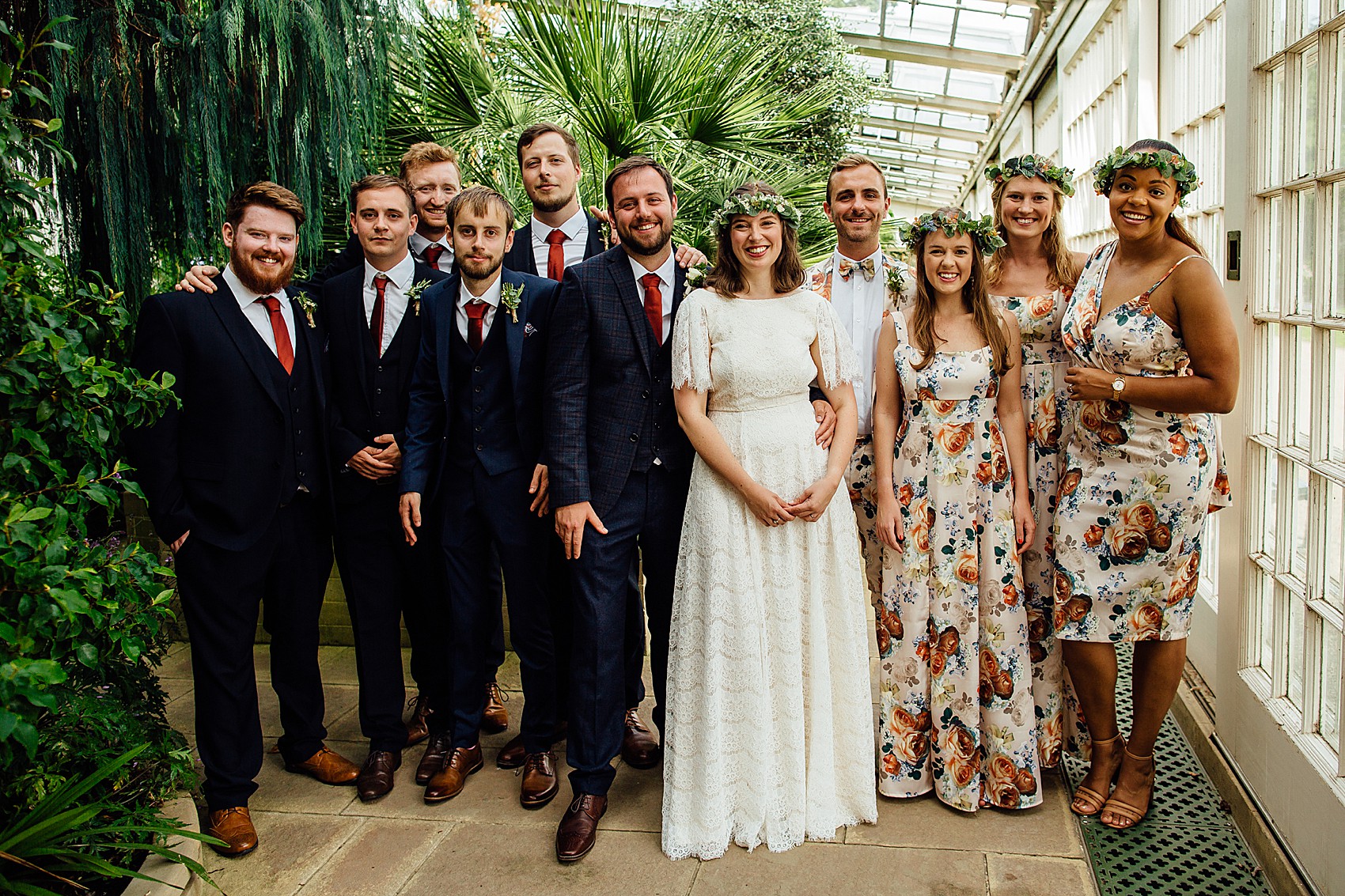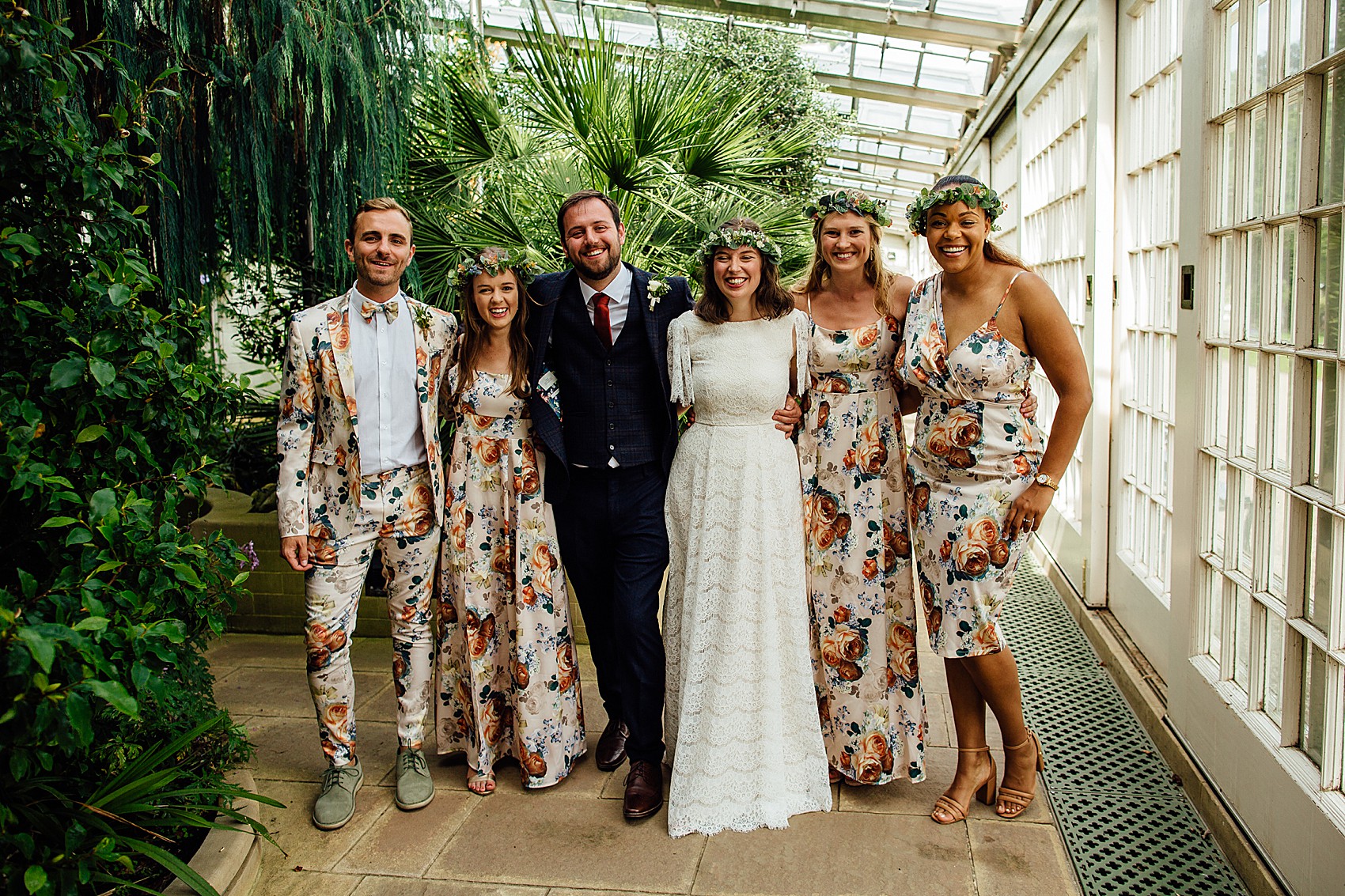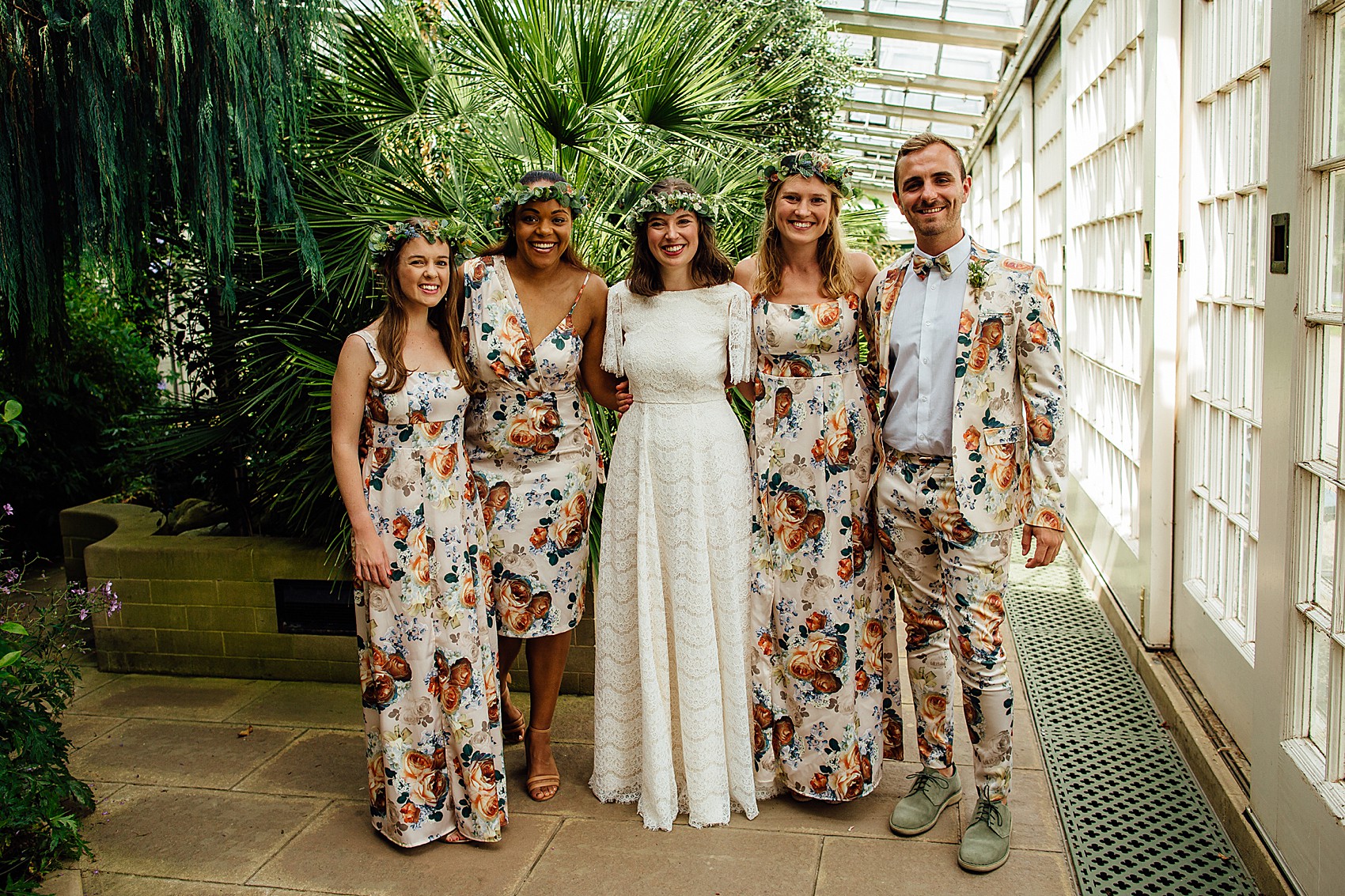 The couple first met on a night out whilst both living and teaching in Hong Kong, when Rebecca challenged Jimmy to a dance-off.
"Across a crowded dance floor while a Filipino cover band played Daft Punk – Get Lucky, I challenged a new kid on the block to a dance off. He accepted and absolutely thrashed me. We got chatting and when I told him I was planning to leave Hong Kong soon to move to Sheffield, he told me that that was where he was from."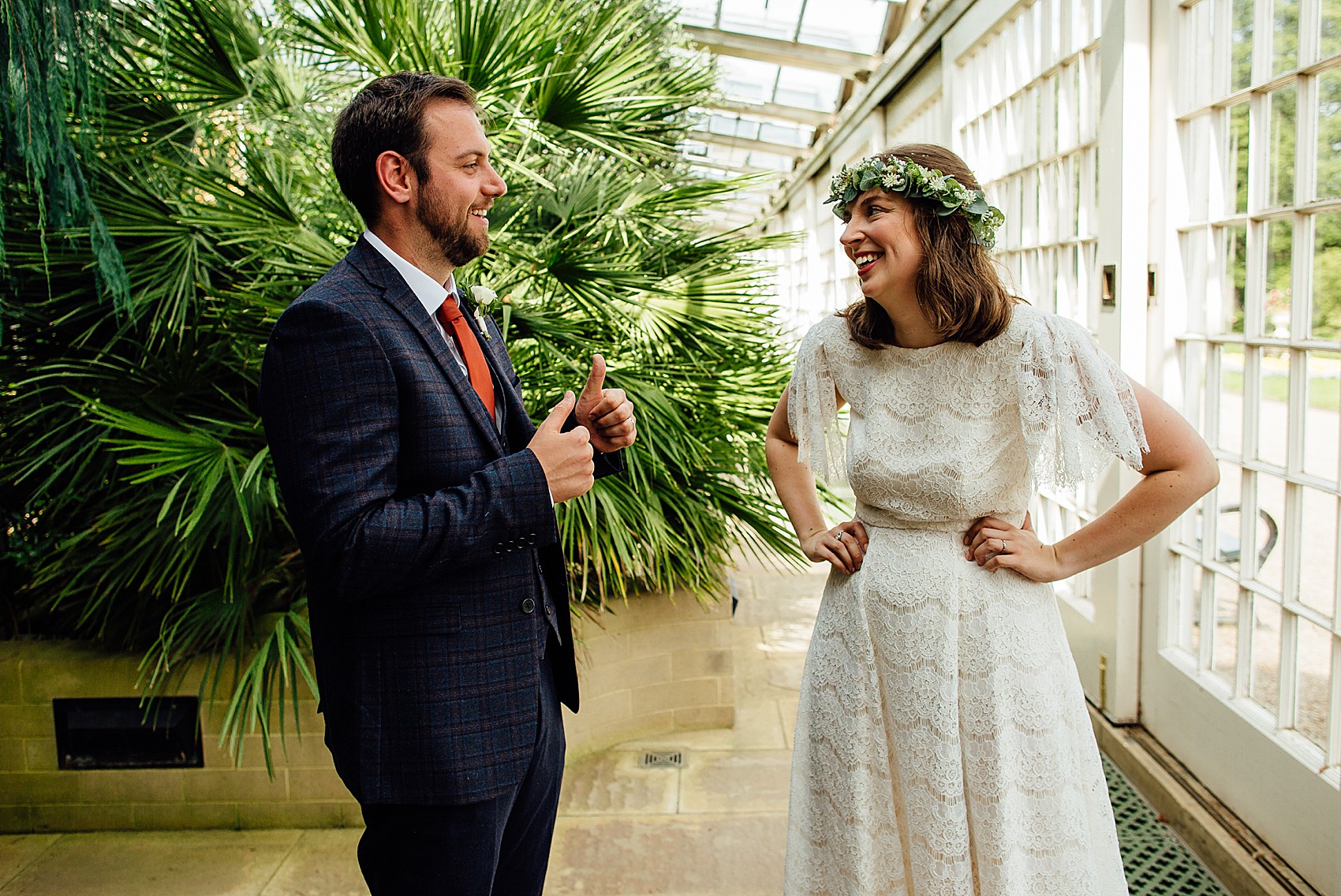 Rebecca and Jimmy kept bumping into each other, and finally hit it off properly three months after their first meeting. By this point, Rebecca had already booked her trip home, and so they agreed to a long-distance relationship whilst Jimmy worked out his remaining 6-month teaching contract.
"Jimmy moved back to Sheffield, and within weeks we were living together and adjusting to life back in England. We made a joint decision that we wanted to get engaged after an honest conversation early the next year. Jimmy told me that he wanted to propose when we were due to go on holiday, but he felt that it should be something that we both decide together. To me, this was the most romantic way to do it. He was still determined to do the full proposal though."
"He kept me waiting for a sunny day, as he wanted to take me to one of his favourite spots at Hardwick Hall. A sunny day arrived and he gave me a Harry Potter t-shirt that said 'Keeper' on it, and made me eggs for breakfast in a ring shape. He packed up a picnic and we headed there. I knew it was coming, but it didn't make it any less exciting."
"After looking round the Hall, we ended up in the orchard outside where he proposed with a vintage Chinese jade ring. We celebrated with a curry and a pint. I later found out he had chosen that spot because I once told him my mum had always wanted to get married in an orchard but wasn't able to. He wanted to make sure at least one of us got an orchard."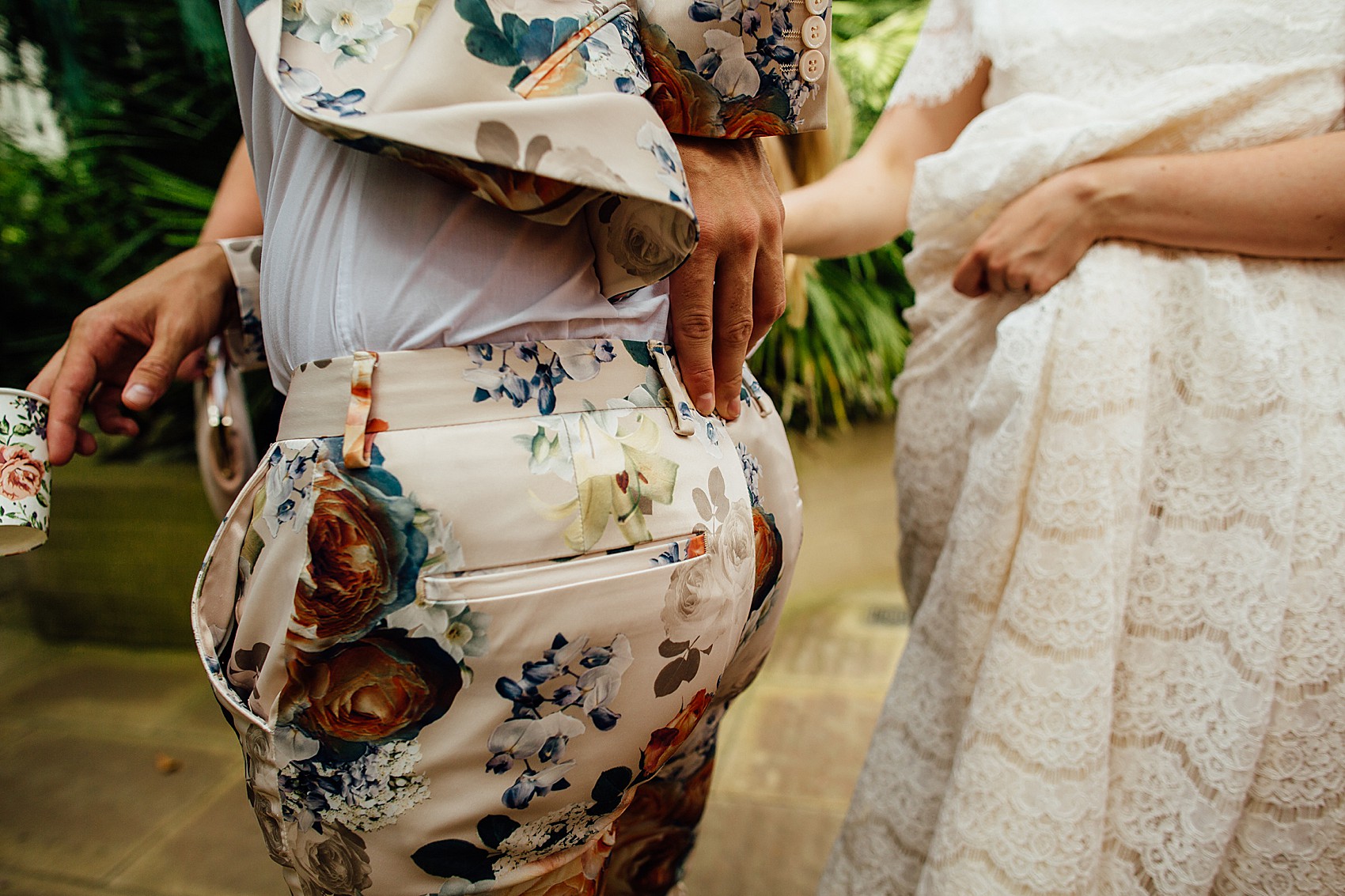 Rebecca and Jimmy spent some time together wandering the gardens before leaving for their reception, and these super-sweet, funny moments were captured beautifully by Ellie Grace Photography, whose approach and work delighted the couple.
"Ellie was one of the first photographers we spoke to (I'd seen some amazing photos of hers on Instagram) and I instantly fell in love with her. She was so down to earth and friendly, I knew we were going to be a great match. She was flexible and helpful. We booked her very early in the process when we had no idea what we were doing and she answered all our questions and guided us through."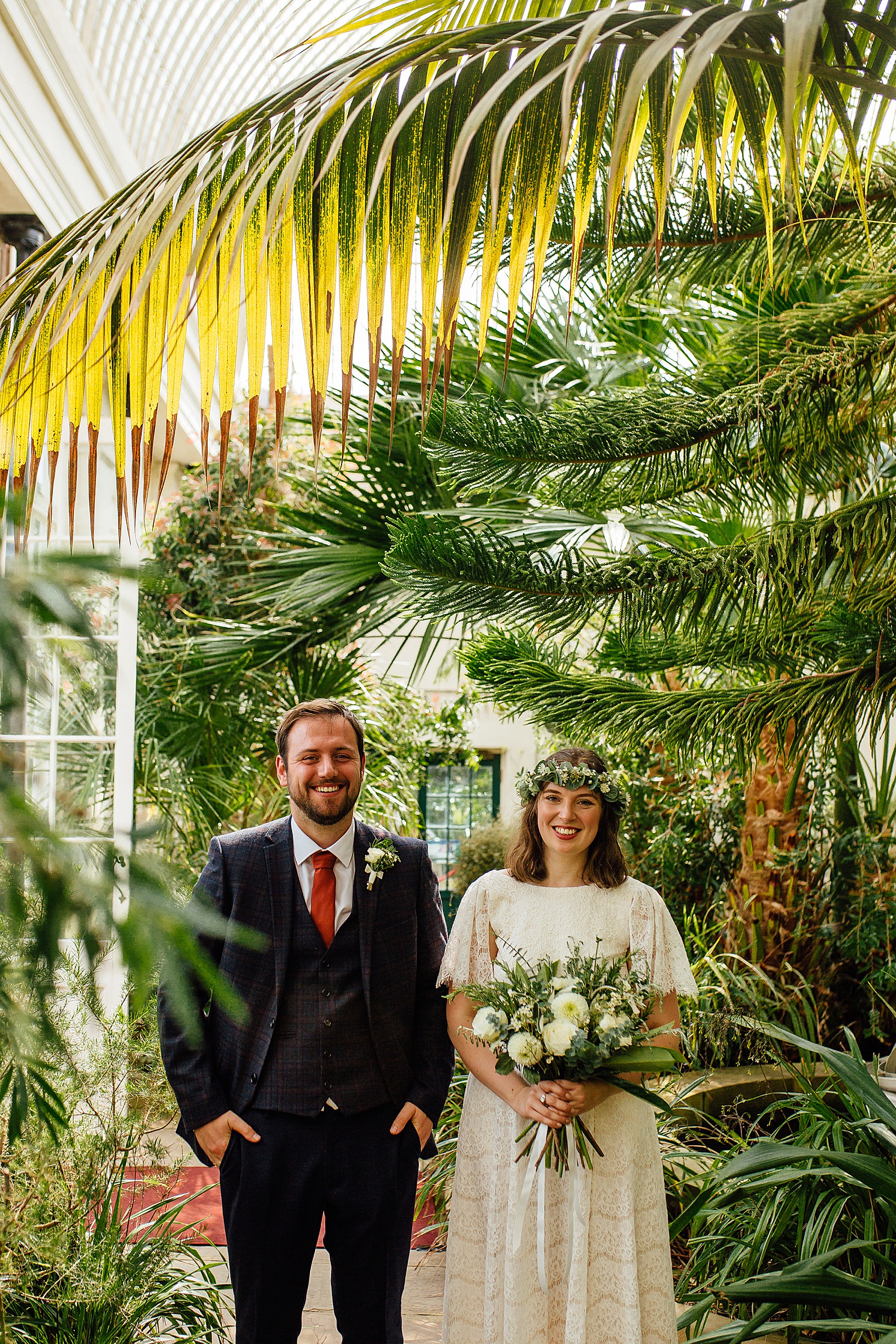 "On the day she was professional but easy going. Everyone kept asking us how she knew us. We had such a laugh with her and she fitted right in. I've bumped into her a few times since and it's been lovely to see her – my husband keeps teasing me because I want her to be my friend!"
"This is all before even talking about how amazing the photos are. She posted a sneak peek the day after the wedding and I must have looked at them over 100 times that day. When we returned from our Honeymoon three weeks later we had the full works. The rollercoaster of emotions we had looking through them was insane."
"They captured the day perfectly, and she caught so many moments that we will cherish forever. She put so much effort into making sure there was a photo of everyone, and she cottoned on to who was who and which mates had come from furthest afield so everyone had a close up."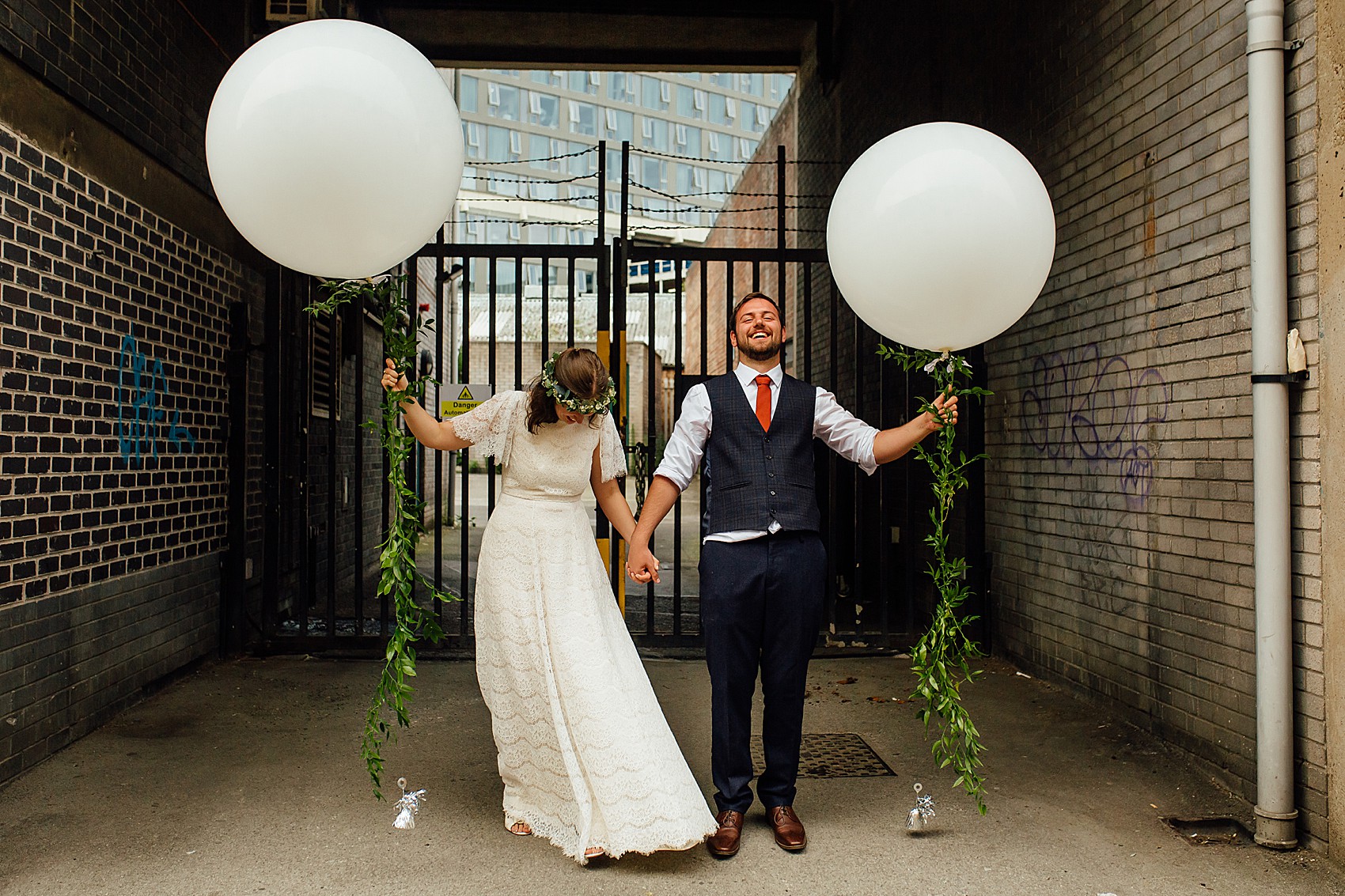 "We drove from the Botanical Gardens to Trafalgar Warehouse in Jimmy's uncle's vintage Ford. Trafalgar Warehouse has a ramp, so we were able to drive straight into the venue! It was a very grand entrance. The guests were transported by bus. Our first bus company let us down very last minute, but we were saved by Yesteryear Cars."
How great to be able to drive right into your reception venue! Guests chatted and enjoyed drinks and ice-creams as the couple arrived, along with games, too.
"We knew we wanted the evening to be a DIY affair and fancied choosing somewhere that was a stark contrast to the Botanical Gardens. After a bit of hunting, we spied Trafalgar Warehouse. The industrial look and potential to make it our own sold it to us."
"We wanted to have a good party with everyone we loved there. We wanted to take the botanical theme into the evening at Trafalgar and have a few nods to Hong Kong (as we had friends we'd met there travelling from all over the world for the day) without it being too over the top. We wanted to keep colours fairly simple – white and green. Mostly we just wanted it to be fun!"
Favours were Penguin Classics editions (each one chosen to suit a guest) sourced from Amazon and The Book People, and place setting cards were from Aldi.
For their wedding feast, Rebecca and Jimmy opted for a relaxed hot buffet, prepared and served by Percy & Lily's.
"Trudi and Justine are so much more than a catering company, they are a dream team. Everytime I felt nervous or stressed about the wedding and I met up with Trudi, I felt put at ease. She made me feel like everything was going to be okay."
"They were adaptable and thoughtful, helping us along the way and making suggestions. There was nothing more they could have done for us leading up to the wedding and on the day – I honestly felt like it all went like clockwork because of them. The food was incredible and people are still talking about it now."
Converted industrial venues have such innate, weathered beauty to them and Trafalgar Warehouse is no exception, with its steel beams, whitewashed walls and polished concrete floors. Rebecca and her mum collected items of decor in the two years between engagement and the wedding day, and these included vintage glassware for the tables, and Kowloon Dairy bottles sent over by a friend in Hong Kong.
Tealights glowed from inside recycled glass jars, and garlands of ivy and other greenery cut from Rebecca's mum's garden trailed from ceiling.
"My auntie had made these beautiful flower hoops that we also hung from the ceiling and the bar. We used postcards of book covers instead of a guestbook and decorated the tables with confetti cut from book pages. The only décor that we bought in were the giant balloons from Ultimate Balloon. They looked amazing in the space and brought down the height of the ceiling. They made great photo props later too!"
There was post-dinner cake cutting, and Rebecca and Jimmy went with Marks & Spencer's bride and groom Colin and Connie the Caterpillar chocolate log cakes.
"We chose a cheese cake to kill two birds with one stone and feed people in the evening (plus we love cheese!). We decided later on that we wanted to have something sweet to cut as well. After hunting around I spotted the Connie and Colin the Caterpillar cakes and I had to have them. It was the only time I played the 'It's my day' card!"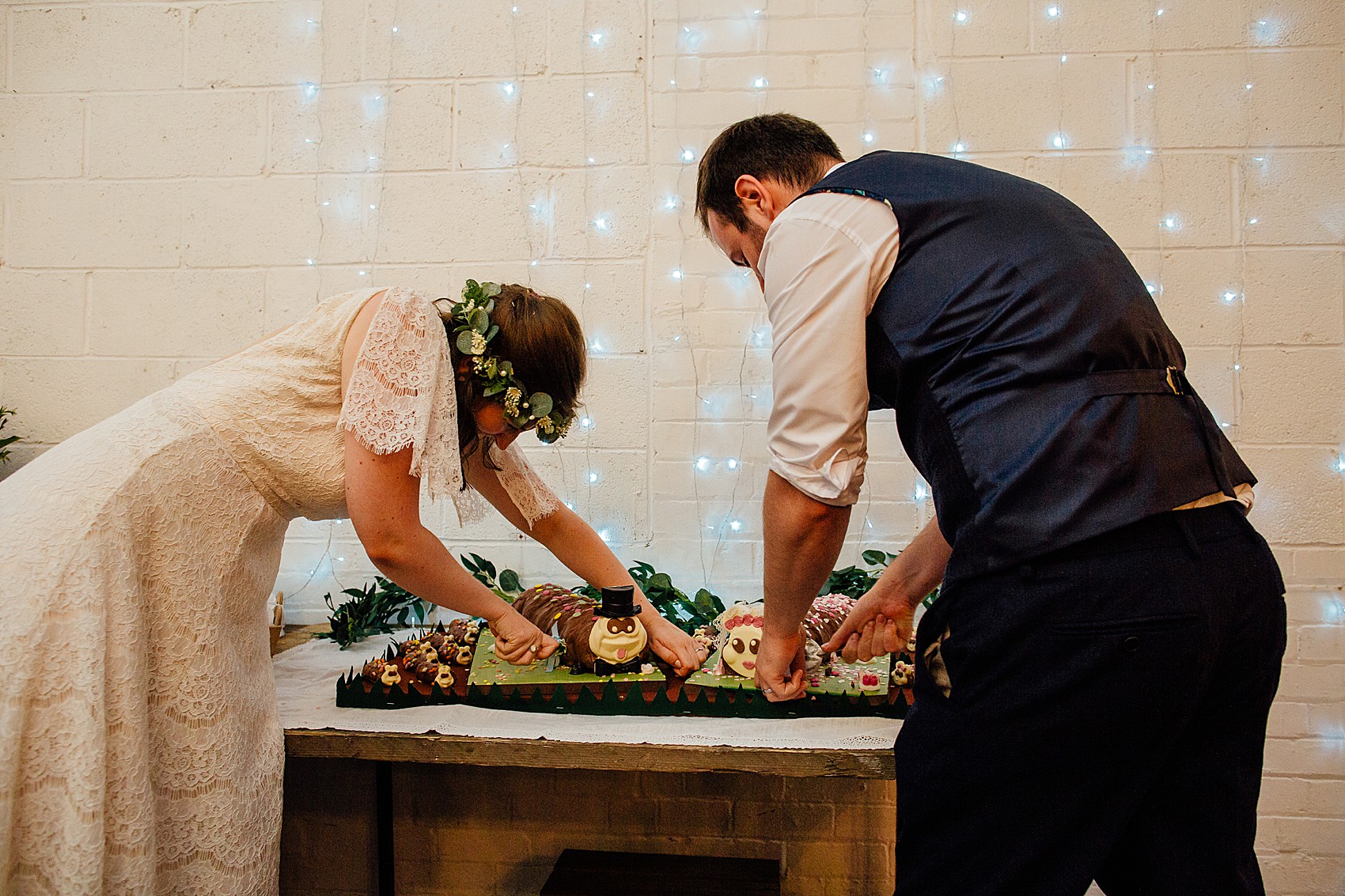 The evening party looked like brilliant fun, as loved ones took to the dance floor in fancy dress and temporary tattoos, to live music from band and family friends Hump De Bump.
"They learned our first dance especially for the night and it was spot on. We had a fab night with them and they were the perfect balance of professional and a bit silly. Our first dance was Thin Lizzy – Dancing In The Moonlight (It's Caught Me In It's Spotlight)."
"It's a track we always put on at home after a long day or week if we needed a dance party to cheer us up. When we were thinking about a first dance it was the first song we both came up with. We secretly switched into light up trainers before we went onto the dancefloor, and that went down a treat."
Favourite Moments
"I laughed so much throughout the whole day. It was perfect. There were so many moments that I will never forget. Later in the evening, I remember standing back and watching the dancefloor. The fancy dress had come out and the dancefloor looked bizarre."
"There was a surgeon, a parrot, a Christmas tree, an elephant, to name but a few! The band had nicked some of the costumes, someone's mum was up with them using an inflatable saxophone. It was the most surreal but most 'us' moment of the day. I couldn't stop smiling. The whole time we were planning the wedding all we wanted was to have all our favourite people under one roof having a good time, and that was exactly what we got."
Words of Wedded Wisdom
"It sounds cliché but it is your day. There are people that you will need to keep happy, but the most important people there are you and your partner. Make sure you are doing what you want to do."
"The one thing I was really worried about was not saying hello to everyone on the day. My friends who were coming from abroad I saw the night before so it would be less overwhelming seeing them on the day."
"We made a good effort to talk to everyone, but when it got to about 9 o'clock we said 'Right, it's our turn to have some fun now. If people want to see us they can come and say hello.'"
"It was the best plan, and when I spoke to people afterwards who I perhaps didn't see as much as I would have liked to on the day, and they all said they were fine not chatting to us all night because they were so pleased to see us having such a good time."
Rebecca and Jimmy, it's been such a treat to write about your brilliant day, thank you so much. Many thanks to Ellie Grace Photography for her lovely images, too. To enjoy more of designer Kate Beaumont's lovingly crafted, elegant work, do make sure you take a look here.
With love,
Laura
Rebecca and her bridesmaids did their own hair and make-up, using products from Benefit Cosmetics, and in her hair, Rebecca wore a floral crown made by her mum, which included beads from the wedding headpiece of her great-grandmother, too.
Rather brilliantly, Rebecca's Harriet Wilde shoes were also named 'Dahlia', prettily tied with ivory ribbon, and her earrings were mother of pearl raindrop studs from Wolf & Moon. Wedding day perfume was also Rebecca's everyday perfume, too – Karma, by Lush.
Jimmy looked handsome in a navy blue three-piece suit, with a checked jacket and red tie from Next, with his Best Man and groomsmen in matching suits, also from Next.