Lovelies, I have all the rustic, romantic wedding vibes for you today in a marriage set in the rolling dales of North Yorkshire. It's a real delight to bring you this alternative wedding that is both laid-back and magical. And, if any of you brides-to-be are embroiled in a wedding dress dilemma, I do hope you can take heart from Chloe's story.
Chloe, a tattooist and embroiderer, and Eddie exchanged their vows on 11 May 2019 in the Cruck Barn at the Craven Arms in Appletreewick, North Yorkshire. The ceremony and their magical, laid-back, barn reception afterwards were characterised by an abundance of foliage and dried flowers inspired by the spring. Childhood sweethearts, the couple were together for 13 years before Eddie proposed in September 2017, and the beauty and friendly vibes of the pub's barn suited their desire for an intimate and slightly alternative marriage to a T.
Film Mr & Mrs Wedding Photography
"We met when we were fourteen in 2004 in the skate park. Eddie was being all cool doing skateboard tricks and I thought I was Avril Lavigne so it was a match made in heaven. The setting and intimacy of The Craven Arms sold it to us."
"We wanted a laid back, rustic, barn wedding with a fresh spring feel; lots of lush greens and dried flowers that complemented the style of the barn and the surroundings."
Photography Shutter Go Click Photography
The beautiful Yorkshire countryside, as well as all the wonderful, precious memories of joy and love, were captured for the newly-weds by photographer Ryan Learoyd of Shutter Go Click Photography. His work is truly outstanding, natural and relaxed with a knack for catching unexpected moments. The couple were understandably delighted with the images he produced.
"Ryan is funny, friendly and one of the nicest people to work with. He puts you at complete ease. His style is effortlessly beautiful and he finds the magic and the essence of the day in such a special way."On the morning of the wedding, Chloe and her bridesmaids got ready at High Hall, Appletreewick. We were sad to hear that Chloe had an unhappy experience finding her dress but do feel it's important to share this experience because sometimes, well, things can and do go wrong (thankfully in our experience – rarely, and this is why we work hard to promote reputable suppliers through our Little Book Wedding Directory). In the end, Chloe found her Jesus Peiro gown on eBay, with only a couple of months to go.
"I had a pretty devastating and terrible experience when I bought my wedding dress through a trunk show. The dress took nine months to make and it arrived faulty and stained which led to me to try and find the very first dress I had tried on and loved and knew would suit me."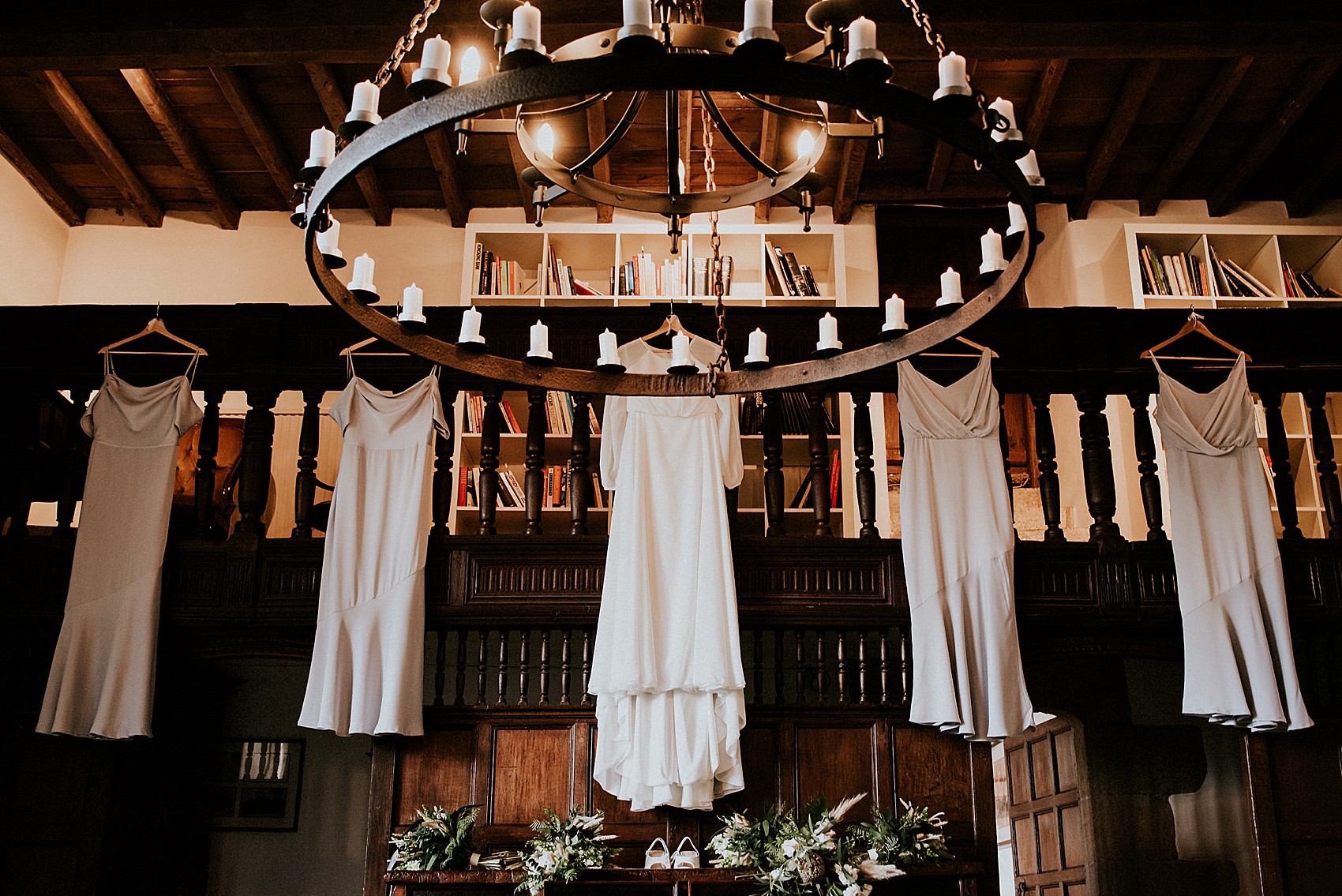 "I had around eight weeks to find another dress hence the eBay purchase. I was incredibly lucky to find it when I did and when it arrived I just had to have it dry cleaned and altered and it fit like a glove. This dress was the first dress I tried on and loved how simple and laid-back it was. It had a slight bohemian feel but with no fuss. Ultimately this is what made me search for it and buy it."
Look closely and you can see the delicate material of the full sleeves almost 'watermarked' with a dainty foliage pattern. Its full skirt looks like so much fun to swish around too, revealing Chloe's white ASOS heeled sandals.
To match her delicate lily of the valley headband, crafted by Sixpenny Bride, she hooked on a pair of pearl drop earrings from White Dove Bridal. The overall look is boho and romantic, yet still elegant and timeless.
Reflecting on the spring theme of the day, Chloe chose her wedding fragrance during a Jo Malone bridal experience.
"I had a wedding perfume appointment where they asked me about my venue, location and theme and we found the perfect scent to match the day; Jo Malone Wood Sage and Seasalt paired with English Pear and Freesia."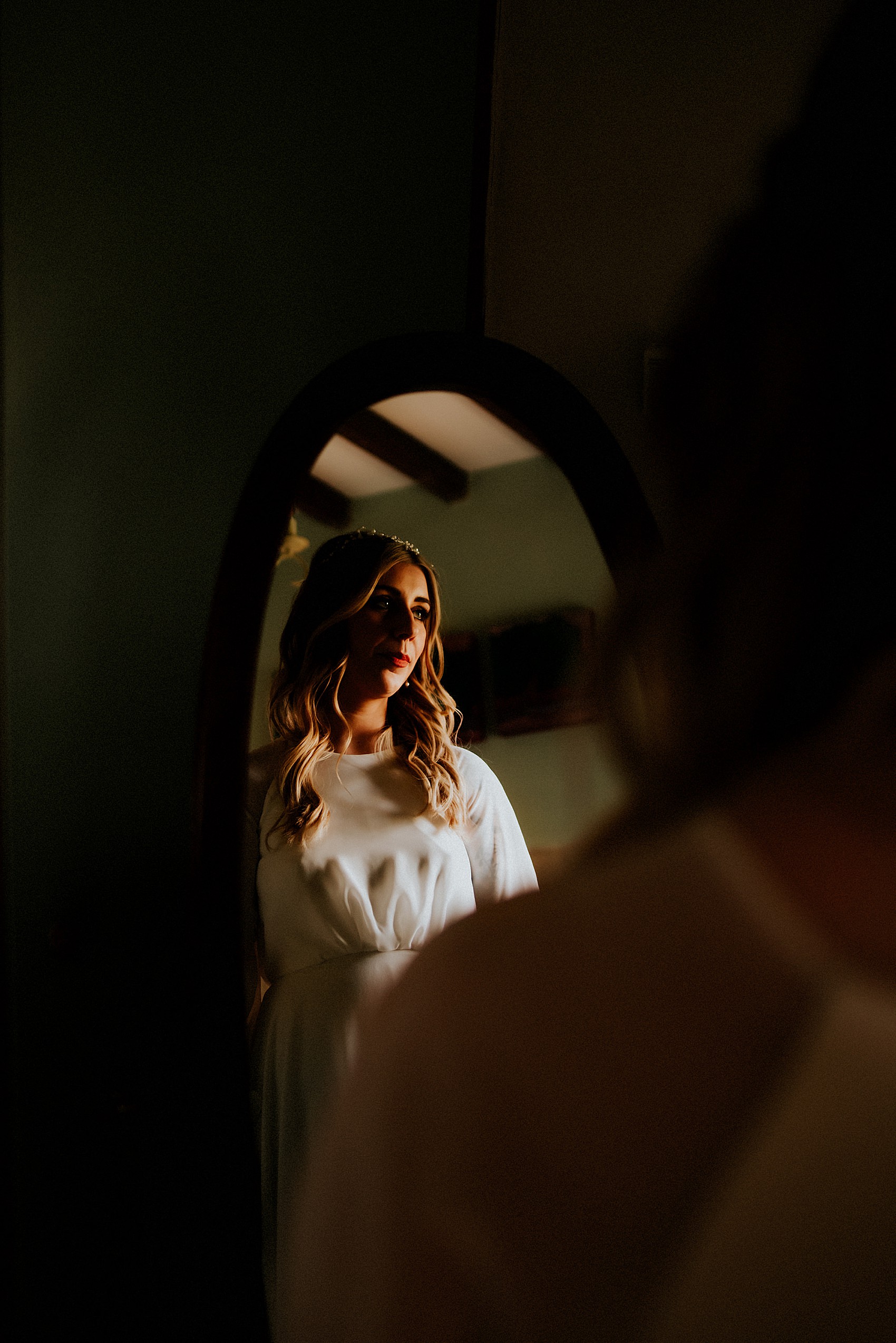 Leeds-based Gray's Salon styled the girls' hair into flowing, relaxed ringlets, and they applied their own make-up using luxurious products from Charlotte Tilbury.
Chloe's bridesmaids wore long, silky dresses in the softest of dove greys from Oasis, along with comfy but chic River Island block heels and pretty pearl headpieces, found on ASOS and pearl, choker-style necklaces from Etsy shop MyWeddingJewellery.
I'm absolutely in love with the girls' bouquets, hand-tied bunches of foliage, dried flowers and grasses created by Campbell's Flowers. They look so right in the rural location.
"I first saw Tracey's beautiful work at a wedding fair in Sheffield so I booked a meeting a few months later. She understood my ideas and made them even better. We played with different textures, dried flowers and a simple pallet of lush greens."
The wedding ceremony was held in The Craven Arms' Cruck Barn, an oak, stone and thatch structure with a seven metre-high roof. It was simply decorated with fairy lights, pillar candles and a fun 'Best Day Ever' pennant. The fine day meant that Chloe could walk down the country lanes from High Hall before entering the barn with her father. Her chosen song to walk down the aisle to was an acoustic version of 'Is This Love?' by Bob Marley, sung and played by Liam Atkinson.
The couple were married by celebrant Anna-Louise Haigh, who also helped them to craft their vows.
"We each completed a questionnaire which helped her get to know us individually and as a couple. We tweaked the vows slightly and added some personal bits and, to us, they were perfect."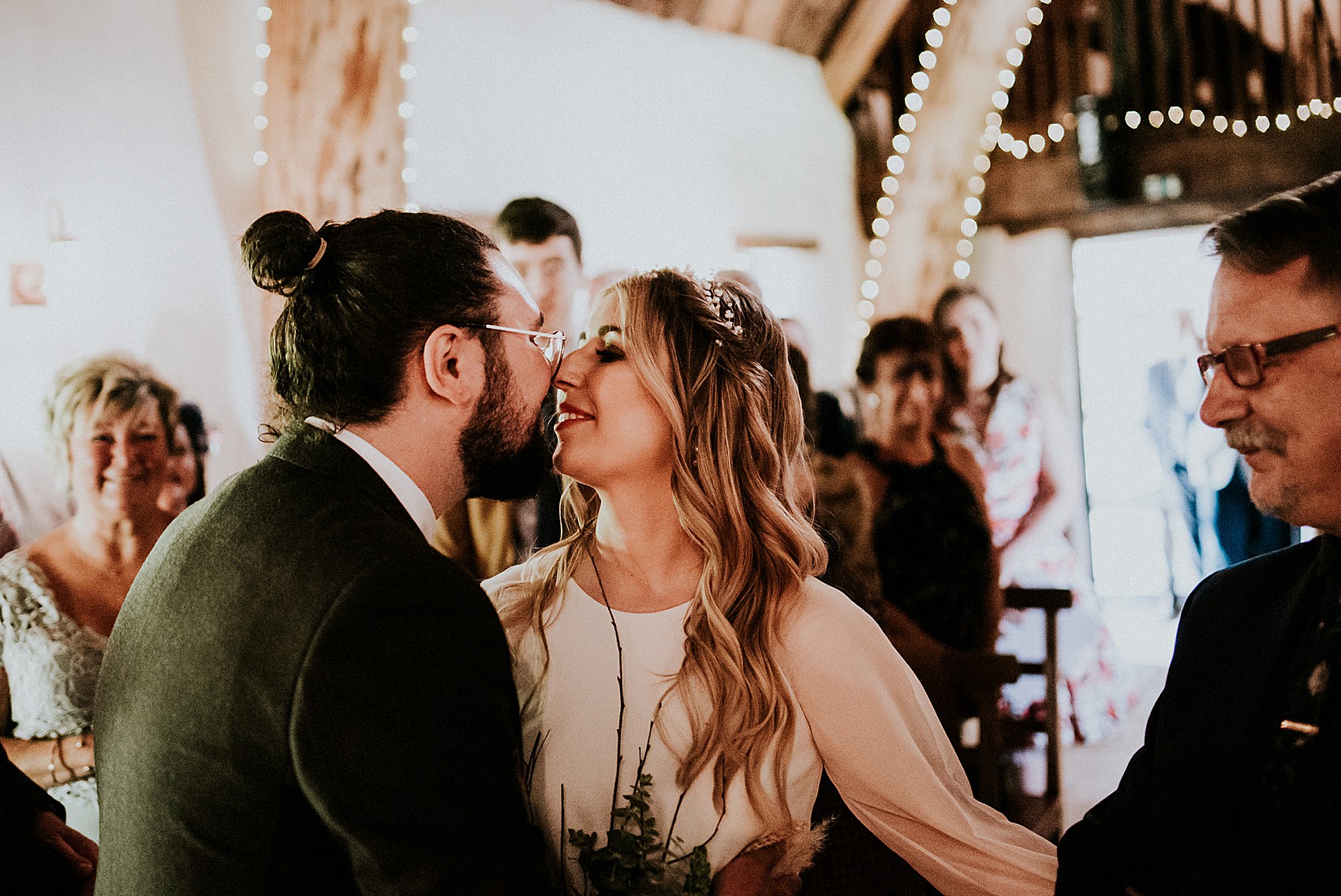 "My oldest friend, Rachael Lomax, did a lovely reading for us that was provided by Anna-Louise – 'I Will Be Here' by Steven Curtis Chapman. The words really resonated with us. It wasn't an elaborate declaration of love but we felt it was real and suited us perfectly."
Eddie visited French Connection to select his dark tweed suit, worn with a Harris Tweed waistcoat, crisp white shirt buttoned to the neck with a gold tie chain. For a quirky touch, he wore Dr Marten boots and his buttonhole was a corsage of dried flowers, grasses and fresh green leaves.
The couple were influenced by their love of nature for their wedding bands, too.
"Eddie bought my engagement ring from Sivan Lotan on Etsy. I fell in love with his choice."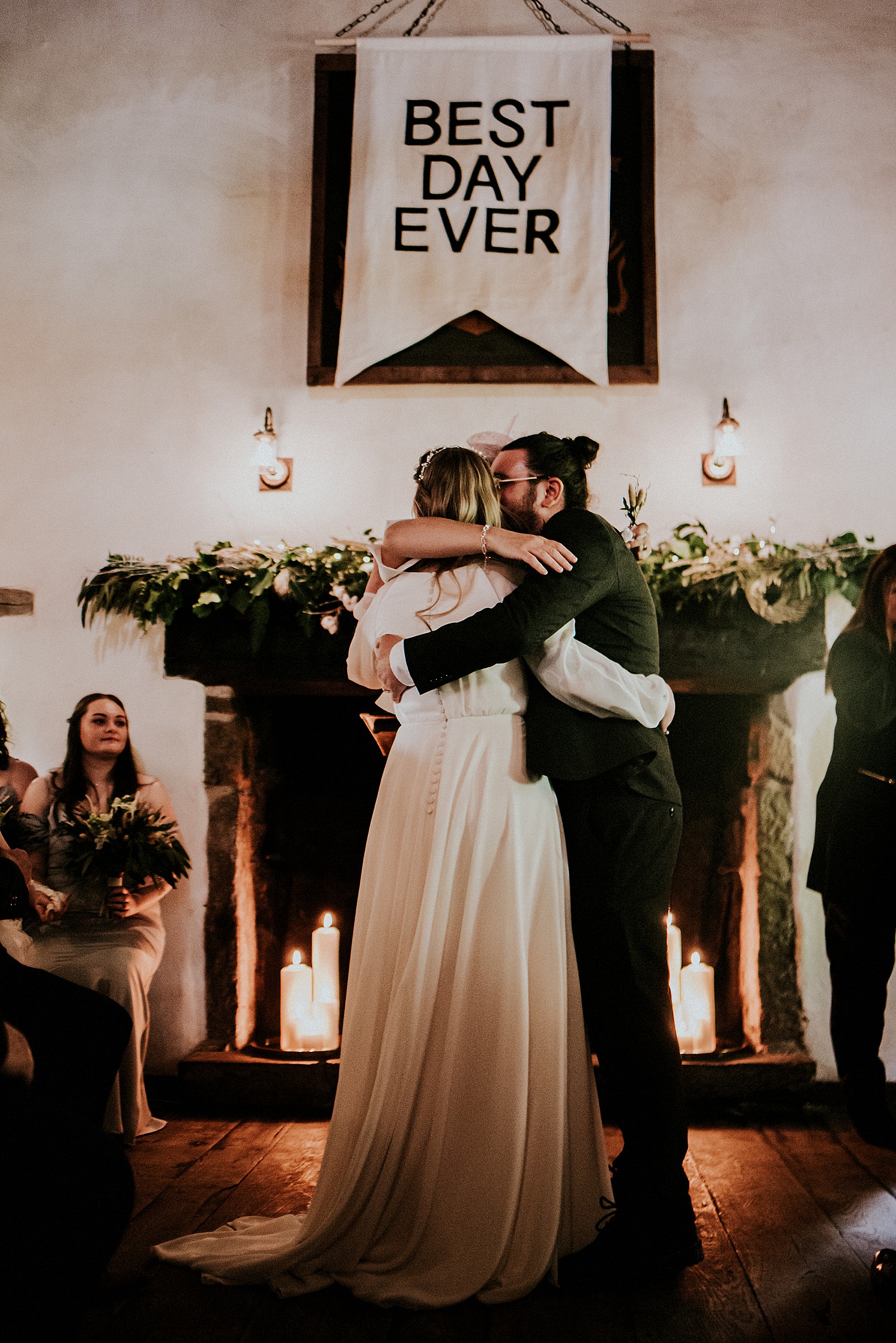 "It was simple, elegant and had a nature feel about it. The ring was a styled in an organic twig form with a moonstone wrapped in it. I loved it so much we got our wedding rings from her too. Our wedding rings were of the same style with the gold twig band."
"I loved the ceremony. I was so nervous beforehand but when I walked to Eddie the room was so quiet and peaceful, it was like time had stopped. There was definitely a special feeling in the room and it's something we will never forget."
Thankfully, the rain held off meaning that the newly-weds and their guests could relax and enjoy the wonderful scenery, chatting and getting some portrait shots together.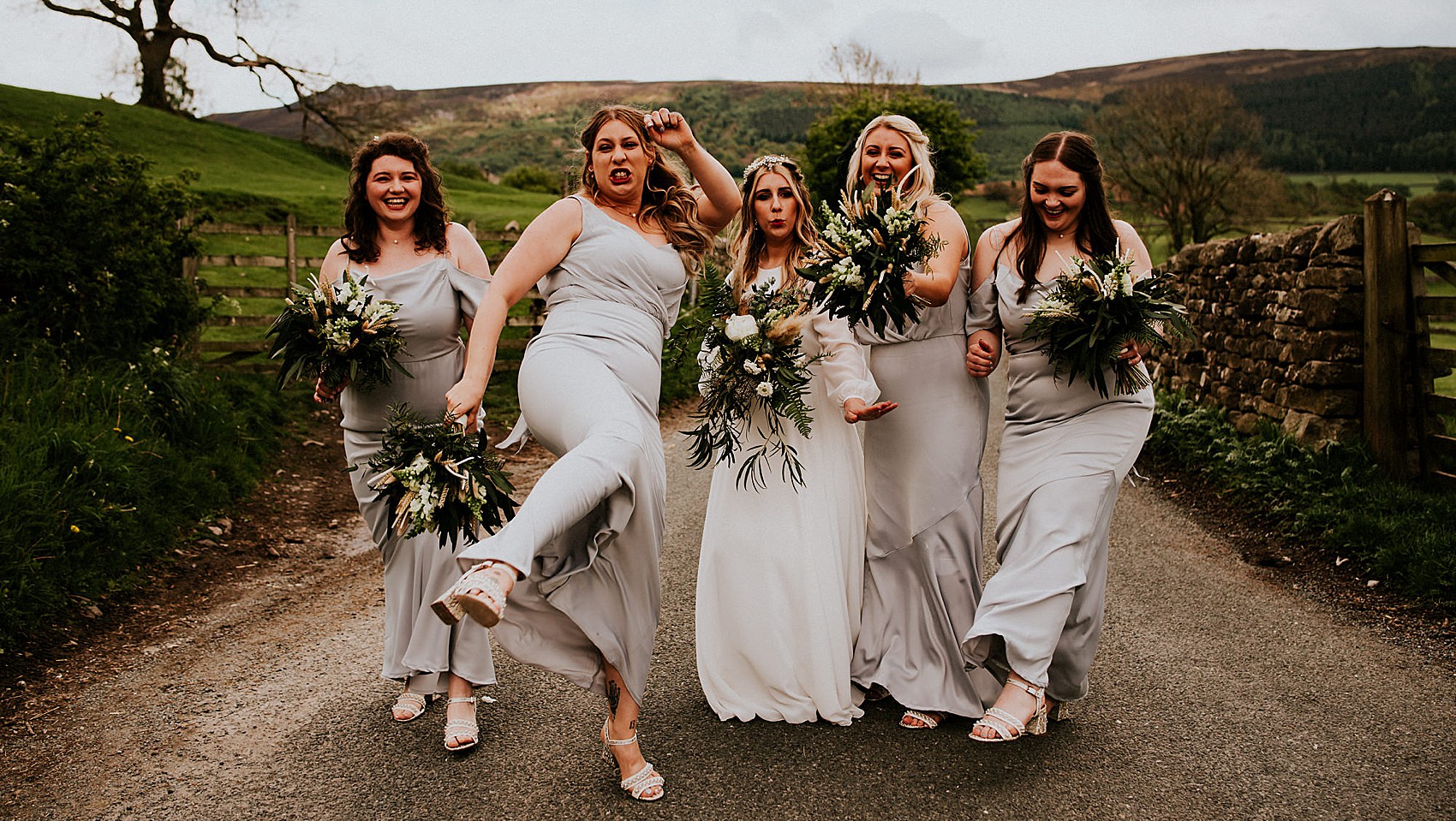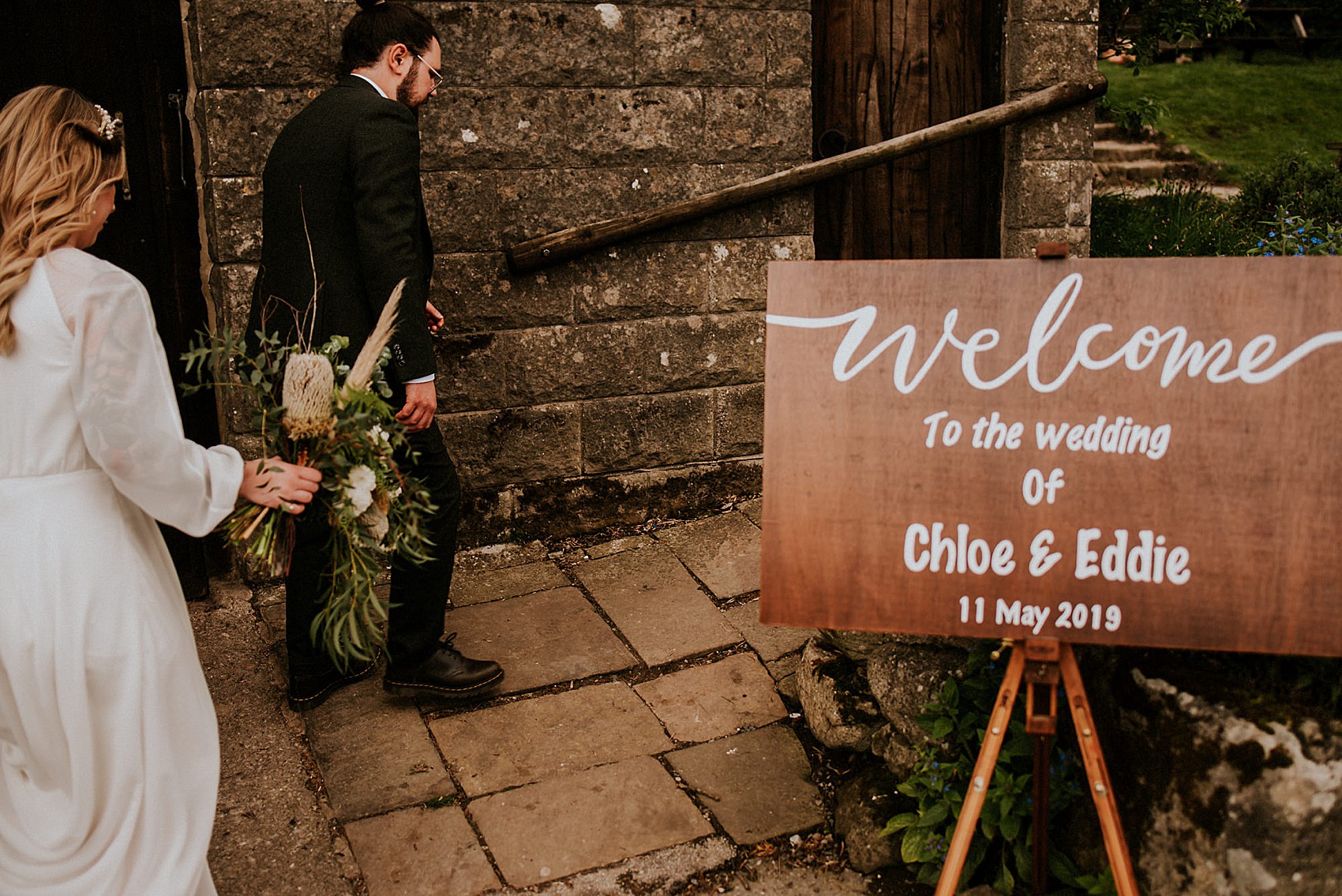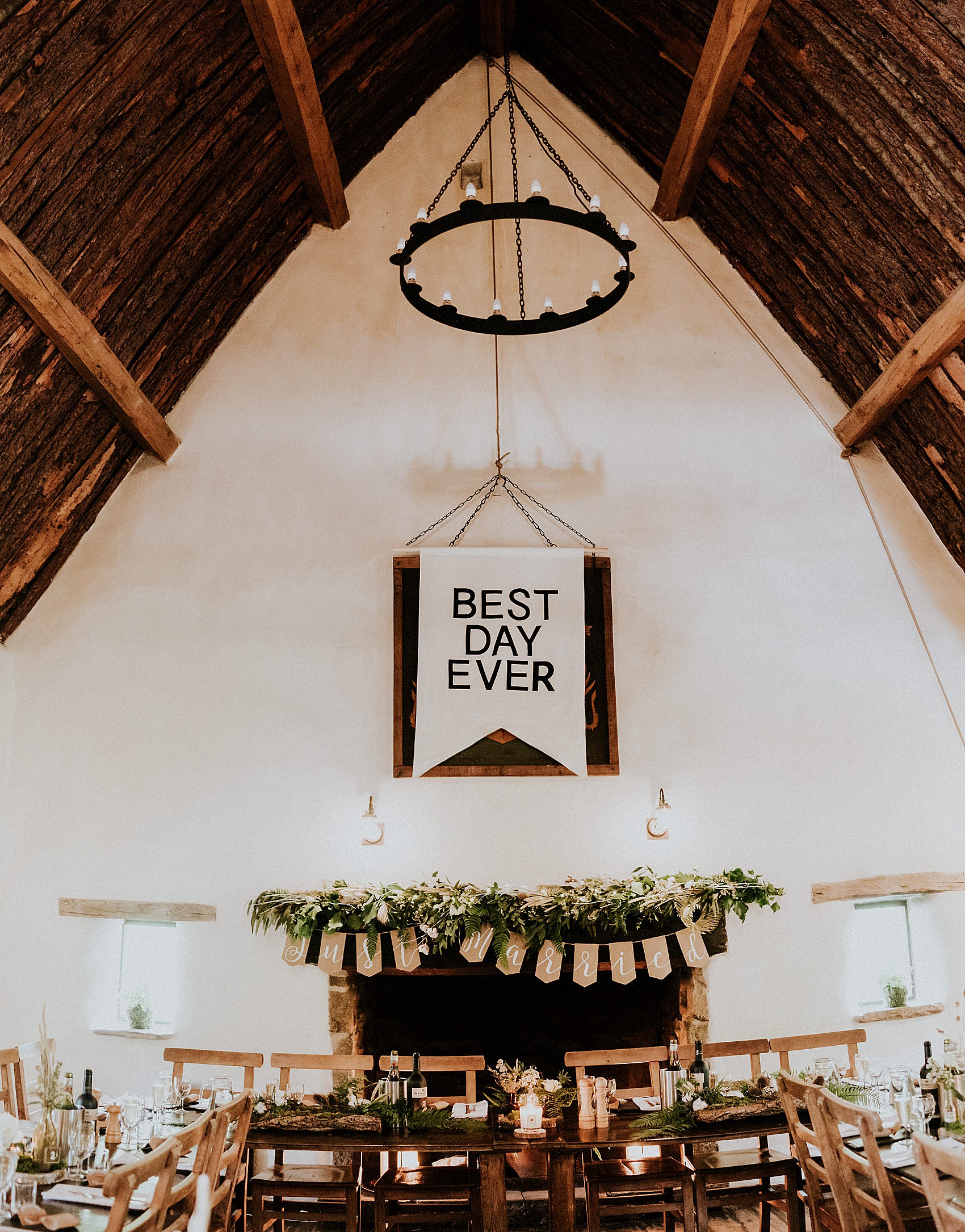 The dining tables, trestle tables housed in the barn, were decorated with masses of faux foliage and wood slices from Country Baskets, along with brass picture frames and tea light holders from The Wedding Of My Dreams, and additional signage from Ginger Ray. The overall look is intimate, cosy and romantic, perfect for a sit-down dinner from The Craven Arms. 
"We provided scratch cards for our party favours but no-one won anything!"
The elegant cake, a two-tier creation adorned with leaves, was by Sarah of The Bake Lab.
"We tried Sara's samples at the wedding fair in Sheffield and they were delicious. We knew she could create the dessert table of our dreams."
Although the rain fell later in the day, the newly-weds and their guests made the most of it for some dramatic photos against the Yorkshire landscape; these fun photos have to be amongst my personal favourites.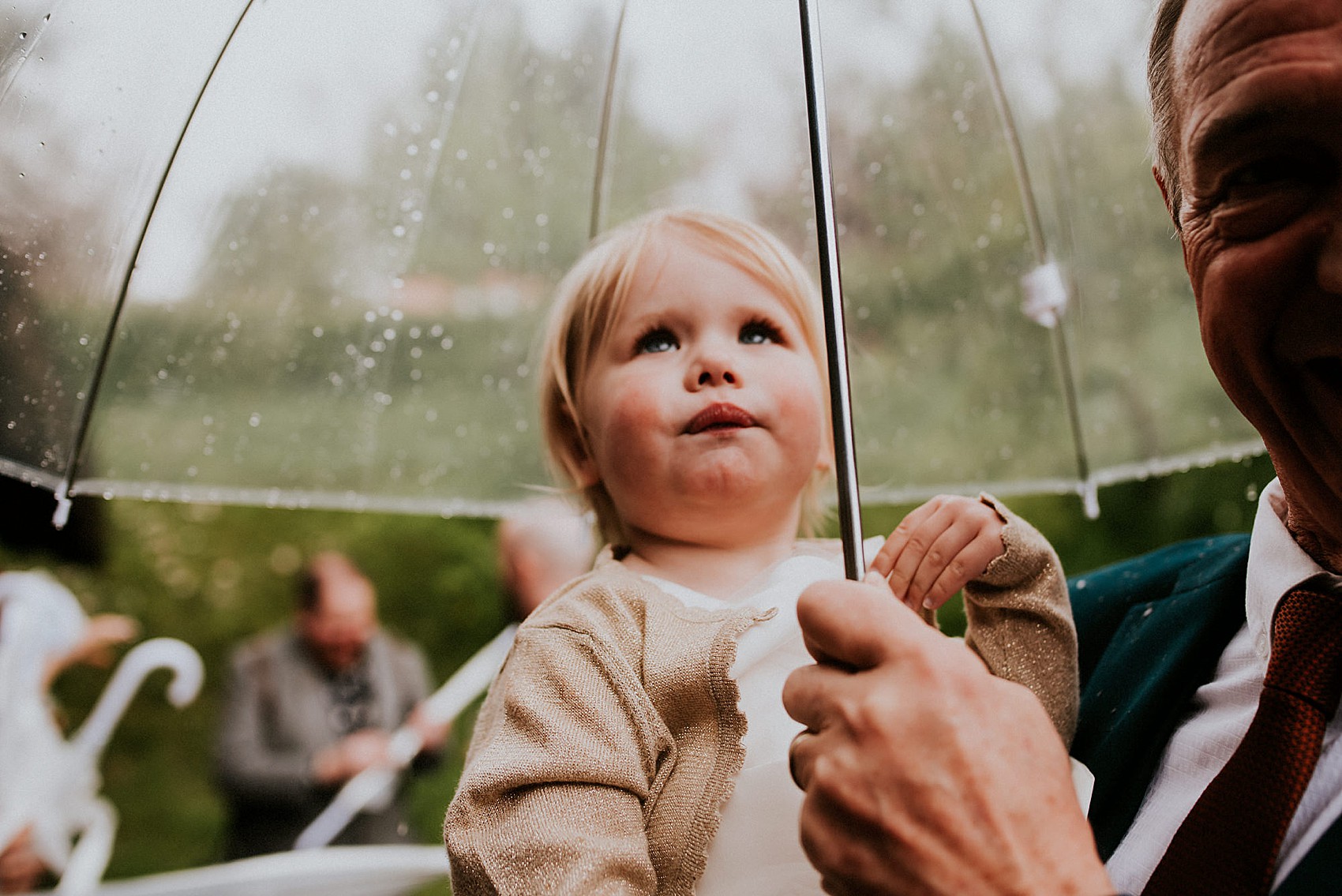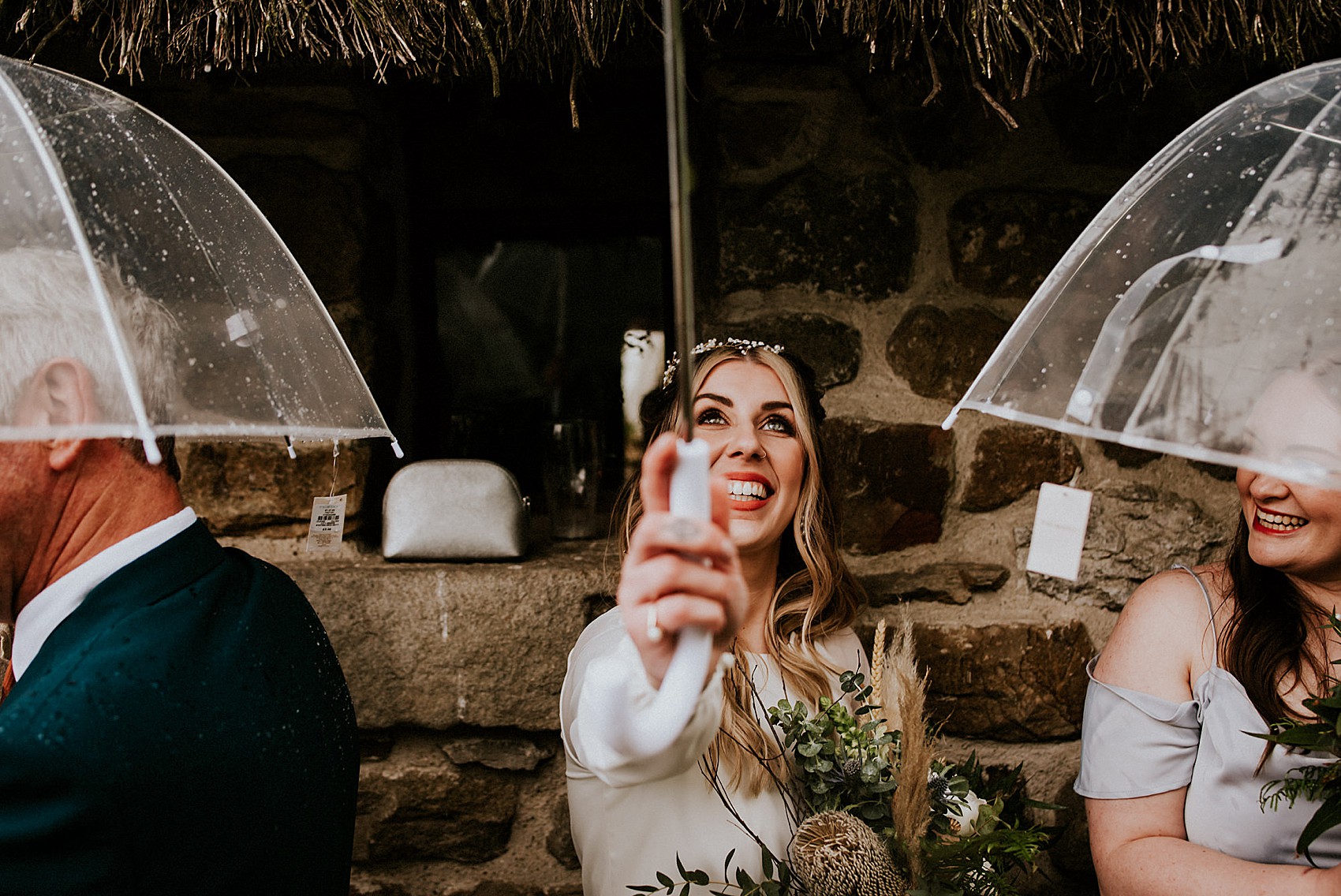 The couple's singer, Liam Atkinson, was joined for the evening party by his band, On The One. He was joined by Chloe's bridesmaid Stephanie for the first dance.
"Our first dance song was a tricky one. We didn't really know what vibe we wanted to go for until we came across an acoustic version of 'Love' by Kendrick Lamar. We were lucky enough that my friend and bridesmaid Stephanie Lewin and Liam Atkinson agreed to do their own version for us. They both sang and Liam played the guitar; it was simply beautiful!"
Eddie had planned an extra surprise for his bride, one that is so special.
"When it got dark, Eddie had bought me a poster of the night sky on our wedding day and we took a moment to look at the stars and moon that's captured in the gift he bought."
Words of Wedded Wisdom
Chloe has used her own experience to collect her words of advice for brides going through a similar dress experience to her own.
"Having experienced an absolute nightmare with my wedding dress this is probably one of the worst things that can happen to a 'bride to be' with only weeks to go. If you are unfortunate enough to go through this yourself don't panic. There are lots of different routes to go down if you need to get a dress last minute. For me it was eBay."
"Accept help from those willing to give their time and effort to make your day as stress-free as possible. Be sure to rope in your nearest and dearest."
"If things go wrong take a step back, breathe and remember what your big day is all about. You honestly won't be thinking about those small details when you see your partner smiling back at you on your wedding day."
"Last but not least, the best tip I got was remember to get your partner on your wedding day and take a moment to look at your family and friends enjoying themselves, look at each other and soak it all in. Steal some moments for yourselves to appreciate each other and all the hard work you have both done to make your day so special."
Chloe and Eddie, congratulations and thank you. It's been wonderful to feature your Yorkshire romance today and I'm so glad you were able to find a dress you loved at such short notice. Thank you to Ryan of Shutter Go Click as well for your always-beautiful work.
Ele x