Today I have the pleasure of sharing a magical woodland wedding in summertime, filled with beautiful flowers courtesy of the bride, who is a florist.
Not only that, there's a very special collaboration in the bridal outfit courtesy of brilliant designer Suzanne Neville, and Miss Bush boutique owner Emma. Florist and horticulture lover Gayle owns and runs BloominGayles, and Dave works as a large scale printer.
Images by Matilda Delves Wedding Photography
The happy couple celebrated their marriage on the 11 August, with a ceremony at the picturesque 11th century St. Margaret of Antioch Church in Lower Halstow, Kent, followed by a reception at The Oak Grove – a magical woodland venue in the North Kent countryside.
"Dave's family are from Lower Halstow. When we were dating and Dave still lived at home, we spent a lot of time walking by the church past the stream and along the Saxon Shore Way path of the estuary where the reception venue is, and it's the church where Dave was christened, too. Little fact: The creek by the church was in fact used as a film location for the blockbuster movie Wonder Woman."
Gayle's beautiful make-up and the old-Hollywood waves in her lovely, long hair were styled by hair and make-up artist, Carolanne Armstrong.
"Carolanne is a very dear friend and I couldn't have had anyone else! She did my hair and make-up, and also some of the girls' make-up, including one of my sisters."
In her hair, Gayle wore brass laser cut fern hair slides by Luna Bea, and on her feet, shoes from New Look. Her other accessories were a mixture of precious heirloom pieces, including a handkerchief embroidered with blue flowers, which her mother had gifted to her on her own wedding day.
"I was going to wear a gold bee necklace from Alex Monroe, but my mum gifted me the locket that my dad gave to her on her 18th birthday, which had a photo of him inside so he would be with me on the morning of the wedding. I was so worried about potentially losing this that I kept it in my wedding bag instead and went bare necked!"
"Years ago my mum gave me a silver sixpence that my dad used to keep in his wallet. He had a few of them, and he called them his lucky pennies. I placed this in my bra for good luck as I had open toed shoes."
Gayle's gorgeous, graceful dress and overcoat was a design and styling collaboration between Suzanne Neville and Miss Bush. Gayle chose the elegant simplicity of Suzanne's 'Coco' design in pure white crepe with a bespoke overcoat embroidered with delicate fern fronds, with bell sleeves and a puddle train.
"I'm quite a simple girl in style – almost basic some might say (!) but I'd like to think more classic. I live my life in black, grey or perhaps khaki when I'm feeling colourful, but inherently I'm a rock/goth chick, and white freaks me out somewhat."
"Emma knew this, and when I went to have my appointment with her she knew that I would love 'Coco', and I had been collating images similar to it. She herself has the dress in black, and I tried this on and fell in love. I was very tempted to go with a black dress as it's my comfort blanket, but having a church wedding it was unanimously decided that perhaps it was best to go with a traditional white."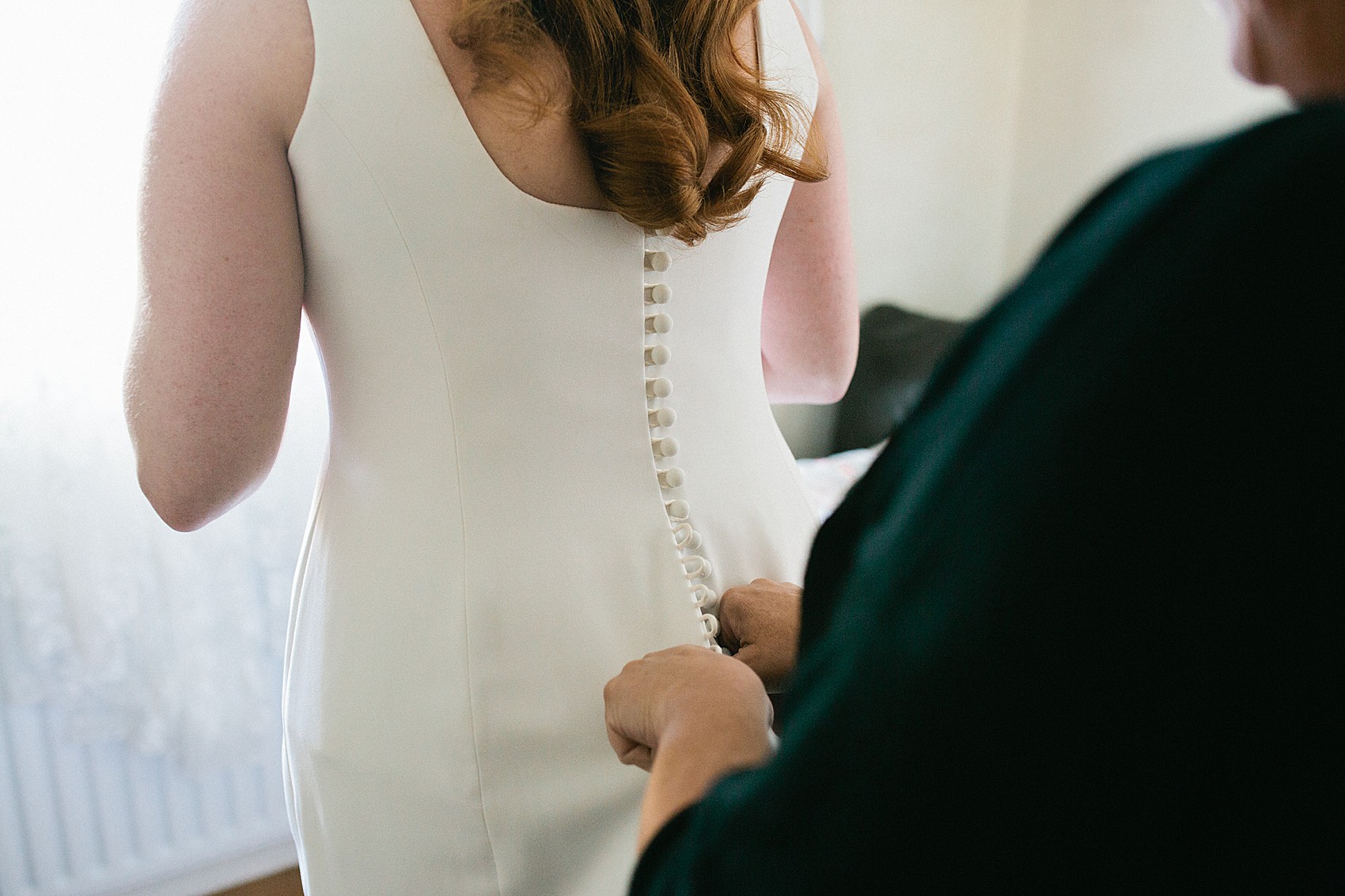 "'Coco' is a sleeveless dress though, and I have some body issues with my arms, so Emma came up with the idea to create a bespoke flowing embroidered coat to go over it, and Suzanne had the perfect fern embroidered material to do so. To have had the guidance and support of two amazing, inspiring ladies creating my wedding dress was an absolute dream come true. I've admired and worked with both, and to be able to say that I have had something tailored specifically for me is still mind blowing. I loved everything about it, it was beyond anything I'd have hoped for. It was so 'me' that everyone who saw it commented so."
Gayle created her own spectacular bouquet in a lovely, fresh colour palette of green and white, filled with flowers and foliage full of meaning and significance.
"My bouquet featured foliage and flowers cut from my parents' garden, and also from Dave's parents' garden to symbolise the merging of the two families. We had grasses to mirror the grasses along the Saxon Shore Way, and ferns – lots of ferns as I love them so."
Gayle made sure her father's presence was felt in so many lovely ways throughout the day, including the mode of transport, which was a vintage Austin black cab.
"I met Kevin at a past couple's wedding back in 2017. When I saw his old Austin black cab, I welled up with tears. When he was young, my father clubbed together with friends and bought an old Austin black cab from a scrap yard. They got it running, loaded it with tents and drove from London to Cairo in it."
"When in Cairo they sold it and used the money to have one night in the Savoy and then make their way back home to London. I knew I needed this as my wedding car. Kevin just hires his Austin cab for film and television now (it's seen in Call the Midwife, Peaky Blinders and other period dramas) but due to my story and love of the car he made an exception for me."
Gayle and Dave first met through mutual friends at a pub/music venue in 2002. At the time, Dave was working as a motorsport mechanic and travelled a lot, and Gayle worked in floristry retail.
"It was a slow start to our relationship, and in total it took us 14 years of dating, and 3 years of living together to get engaged. During those years we have weathered many storms together, including the loss of my dad to cancer in 2008, and the loss of Dave's mum to cancer in 2015. But we've had lots of happiness throughout the years, and so many amazing things have happened as well. We are each other's rock, and I would most definitely say Dave is my best friend. He's funny, loyal, protective and supportive. Just everything you could ask for in a life partner."
Dave proposed to Gayle on a highly anticipated trip to New York City on the 10 September 2016, and it took Gayle by complete surprise.
"We had just done an East coast tour starting in New York travelling all the way up to Niagara Falls and back down through Pennsylvania, Washington DC and Philadelphia to name a few places. The USA. just like Britain at that time was experiencing a record-breaking heat wave, and unbeknownst to me, Dave had sewn the engagement ring into his jeans pocket for safekeeping."
"He had planned to propose to me at Niagara, but I made a comment about how cheesy it would be to propose to someone there as we approached the town of Niagara, so he therefore thought best not to. He then wore his jeans for the whole of the holiday in blistering temperatures awaiting the right place and time to propose! How he didn't get heat stroke I don't know, but I was completely oblivious to his choice of attire."
The perfect moment presented itself on the last night of their holiday, when they went into downtown New York for drinks and dinner.
"After dinner, we walked to Washington Square Park and sat around the fountain to cool off and watch some live acts when Dave took me to one side on a bench with the Washington Square Arch in view. It was secluded and quiet, and that's when he asked me to be his wife."
Gayle walked down the aisle with her two sisters beside her, deciding that she didn't want to place any emotional strain on her mum by asking her. Gayle was also surrounded by her bridesmaids, and chose Brian Eno's An Ending as her entrance music.
During their ceremony, Gayle and Dave exchanged traditional church vows, and included two readings within the service. The first was Song of Solomon 2: 10-13, and the second was the poem A Vow, by Wendy Cope.
"We had our rings custom made by the amazing guys at Kaizen Antiques & Jewellery in Rochester. They guided us and helped design our rings to suit us. I can't praise them enough."
Dave wore a smart suit in light grey by Moss Bros., which he wore with a white shirt and a blush pink tie from Ties Planet.
Gayle was brilliantly supported on the day by her bridesmaids, who looked wonderful in black dresses from New Look and ASOS, shoes from New Look, and their own accessories.
When it came to their choice of photographer, Gayle and Dave went with Matilda Delves Wedding Photographer, who is also a good friend. I just love the way the couple's day has been captured so elegantly, with all its lovely details and fantastic fun.
"Tilly is a good friend and one that I wholeheartedly trusted without a doubt to capture our day in the most natural and unobtrusive way possible. By gosh did she do that. She was even able to handle the fact that Dave and I aren't an overly touchy, public affection kinda couple, and that I have a tendency to pull faces without knowing I do so!"
"To be honest we aren't comfortable in front of the lens at all, but this wasn't an issue with Tilly as our photographer. I adore the way that she's captured some of the naughty moments between guests, like the wheelbarrows and the horseplay on and off the dance floor between the rugby boys whilst I was dancing my feet sore. I can't recommend my dear friend enough, she's awesome."
Upon arrival at The Oak Grove, guests were treated to drinks and canapes, enjoyed outside in the dappled shade of the Grove's beautiful trees.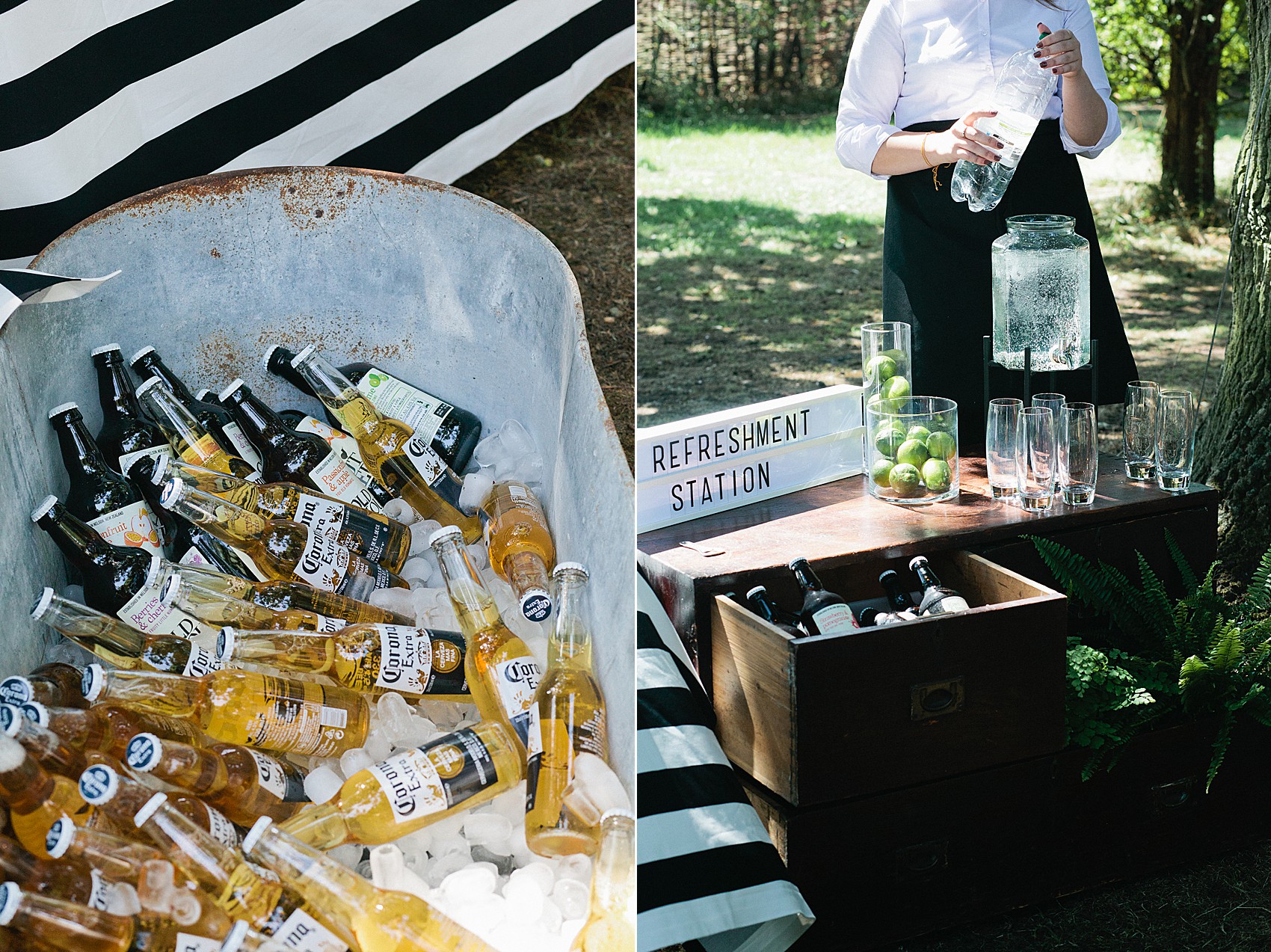 Gayle and Dave's reception was held under canvas – a magnificent stretch tent located inside a ring of magical oak trees. As a florist, horticulturalist and nature lover, Gayle took these surroundings and used them as the inspiration for the styling inside the reception tent.
"I love ferns and have a great connection to the outdoors. Dave and I spend many a Sunday walking through woods, and so we wanted a light, airy, natural, outdoors feel about the whole day. I have a natural style to my flowers as a florist, and taking the surroundings of The Oak Grove in to consideration we went for a neutral, laid back look. There were little hints of sentiment popped in, too."
"The Oak Grove was a perfect mix of outdoors and quirky. It suited us, plus I have a connection with oaks as a family thing. The best part was the proximity of the venues to each other, as our guests were able to walk along the beautiful Saxon Shore Way path, as Dave and I have done many a times as a couple."
Table centrepieces were clusters of flowers and greenery (including oak branches), some arranged together, some inside terrariums, and some as single stems inside vases. Place settings were kept simple, with washed linen napkins and water glasses giving a subtle hint of colour.
"I bought a neon sign as a gift to Dave, which is seen above the bar in our reception venue. Due to my dad having been an electrical supply engineer, I had an old transformer from his place of work from many years ago from The LEB (London Electricity Board) on our principle table. We also used festoon lights and light bulbs about the place as a reference to dad."
Chives the Caterers cooked a delicious, relaxed, seasonal feast for everyone to enjoy, which included barbecue chicken, pork belly steaks and sausages, bean burgers, halloumi kebabs and stuffed mushrooms. To end the meal, there was an array of desserts – lemon posset, mudballs and Mars cheesecake.
"I've worked along side Chives over the years, and know how excellent they are, so there was no question or doubt when it came to choosing them. Being a Kent-based caterer and using the best Kent produce, they really create an amazing menu celebrating all that's Kentish."
"My sisters were amazing at taking on the role of my dad on the day. They not only walked me down the aisle, but did a father of the bride speech, which had me in tears and fits of laughter. They also compiled a photo album of me through the years with the most hilarious and toe curling cringe worthy photos of family holidays, birthdays and celebrations that I shall treasure forever!"
All of the stationery was designed by Gayle, and all around the space there were potted ferns and copper lanterns, as well as black and white striped cushions as a nod to Gayle's love of the film Beetlejuice!
"As a nod to Dave's mum Ann, who is sadly no longer with us, there were miniature phalaenopsis orchids under cloches on some of the tables. Ann had a plethora of orchids in the conservatory and back porch. It was a plant that she struggled with, but loved nonetheless."
As favours, Gayle and Dave provided reusable metal straws, which also helped guests find their tables, and they could then choose who to sit next to on their allocated table.
"We do try to do our bit for the planet, and so our escort cards were metal straws that were labelled with our guest's names. Our guests then used these for the day, and they were taken home as favours. We didn't have a single straw left behind when clearing the next day. People still comment now about how they use them and how much they love them."
Instead of a confetti toss at the church, Gayle and Dave instead decided to have one as they were announced into their reception tent.
"We didn't have a top table as traditionally thought of. We decided due to having one parent each and also having my sisters in the role of my dad, my four wing women, and Dave having a large family and three Best Men that we would either need a ridiculously long table or have a sweet heart table, which to be honest we didn't like the idea of either."
"We didn't want anyone to feel left out, or uncomfortable. I then had the idea of having just us with our Best Men and their partners, and my wing women and their partners with us on a big table, with seating both sides, making it less formal, which was our vibe for the whole day."
"We then had three round tables close to our table which we named our family tables, so they had all our nearest and dearest family members, their partners and their children close to us. It worked really well. Something to consider if you have split families or large bridal parties to consider."
With dinner and speeches concluded, it was time to begin the evening festivities, with suitcases filled with fancy dress at the ready. Gayle and Dave's first married dance was to Need Your Love So Bad, by Fleetwood Mac, which was followed by more music from DJ Fox and Braces.
"Gary was an absolute star. We had the all day package, so he tailored a playlist for the outside drinks reception, during the meal, and then the evening dancing. He was brilliant, we couldn't have asked for a more chilled, friendly, approachable and on the ball DJ."
"Apart from the actual announcement of us being Mr and Mrs Busbridge, my favourite part would have to be in the church when our organist played a different version of the hymn All Things Bright and Beautiful, therefore completely throwing everyone off and creating absolute hilarity and rapturous laughter. I never thought I would laugh so hard at my own wedding ceremony in a church. It broke any awkward feeling or stuffiness that you would generally associate with traditional church ceremonies. It was almost serendipitous, as it made us feel more at ease in the surroundings."
Words of Wedded Wisdom
"Please don't get overwhelmed, wrapped up in perfection and what your day should be, or look like in comparison to what you see on social media. It's hard, trust me, I know. I felt a huge amount of pressure to wow and impress, and do something new or different, as I felt an expectation of it as I work in the wedding world."
"At the end of the day it's about you getting married to your other half. A cliché perhaps, and one that seems somewhat ridiculous seeing as I'm showing my wedding off here, but in all honesty our day wasn't perfect, it was fabulous and wonderful and oh so much fun, but it wasn't perfect. Things go wrong and that's okay. As Stephen Hawking once said, 'The universe doesn't allow perfection'."
Gayle, thank you for those lovely words of wisdom, and many thanks to you both for sharing your beautiful day with us all. Thanks, of course, to photographer Matilda Delves for her breathtaking images, too.
With love,
Laura