Hello loves, we're kicking off today with a wedding in a beautiful meadow surrounded by trees, reached after a short walk, and with an idyllic church nearby where our couple were married.
This is the wedding of Claire, a Programme Manager, and Nathan, who is an Aviation Consultant. They were married on the 22 June 2019, in a ceremony at St. Nicholas Church in Peper Harrow, Surrey, followed by a tipi reception and party held at Hidden Valley, looked after by Fiesta Fields.
Jamie Dunn Photography

+ Follow
"We both wanted our wedding to be relaxed, informal and fun! After visiting the field through Fiesta Fields we couldn't imagine anywhere else being quite as perfect! We wanted to get married in a church, and there was a gorgeous church within walking distance."
"The next big decision was what kind of marquee/tent we wanted. We decided on a tipi and we're so glad we did! The rest of the styling we wanted to look rustic, and most of the decor was handmade by Nathan's sister. We had an on the day coordinator, Nikki, from Fiesta Fields, who was amazing."Claire's hair was styled in romantic waves, half pinned and adorned with fresh sprigs of eucalyptus by her bridesmaid, Laura, and her make-up was done by her friend, Louise. Accessories were earrings from ASOS, a Monica Vinader bracelet, and delicate gold chain necklace gifted to her by her mum.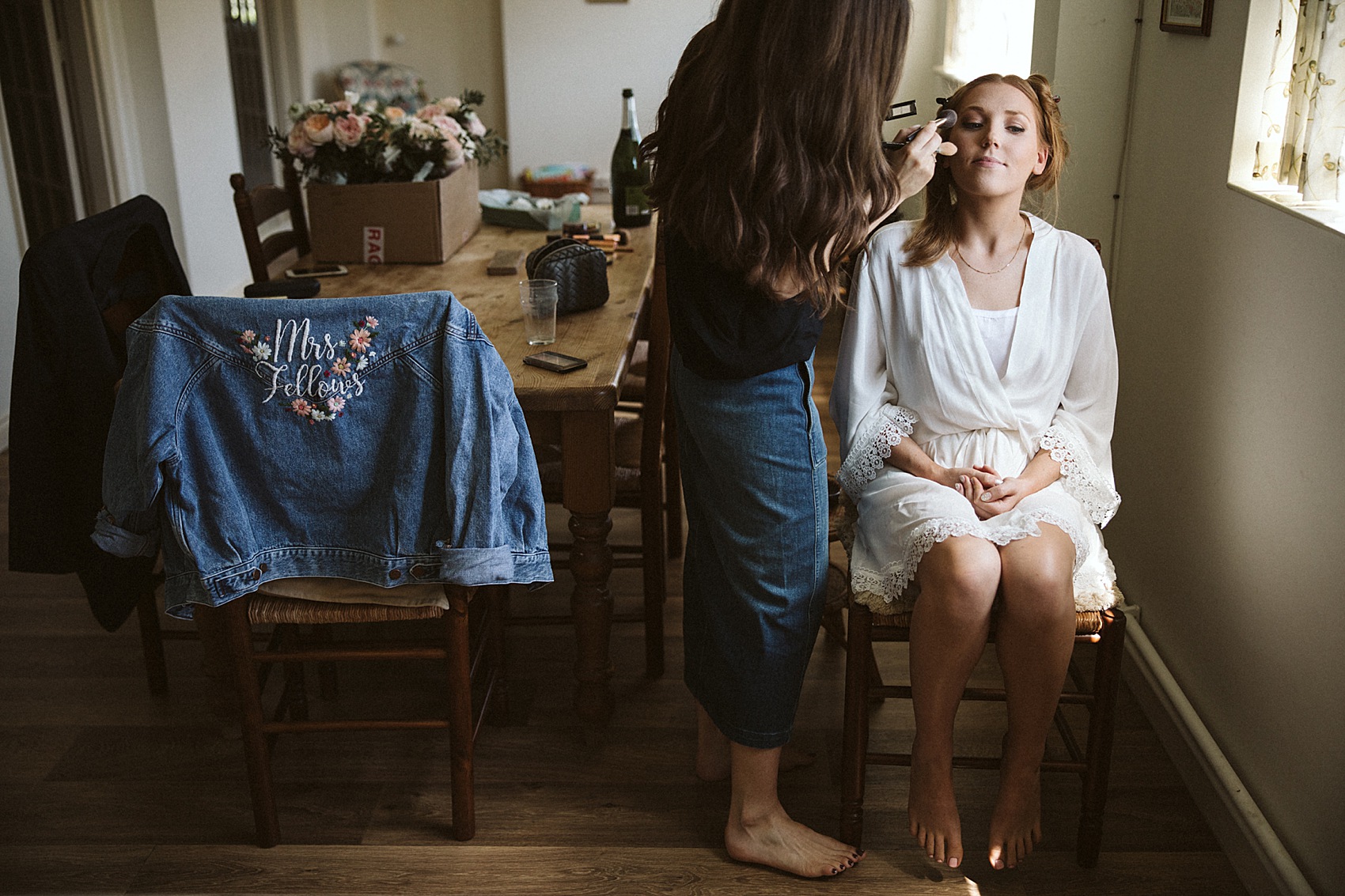 From lovely boutique Halo & Wren in Hemel Hempstead, Claire discovered her sleek, contemporary crepe dress, with its elegant train and pretty lace off-the-shoulder capelet, by Australian label, Marquise Bridal.
"There are only two boutiques in the UK that stock Marquise dresses, one in Hemel and one in Hull."
"It was a bit of a trek getting to appointments from South East London, but totally 100% worth it! Jemma (the owner) and Sarah (the seamstress) were so helpful and friendly."
"They both went above and beyond to make sure I was happy with my dress, and gave excellent expert advice on alterations and customisation. I would highly recommend both them and the boutique."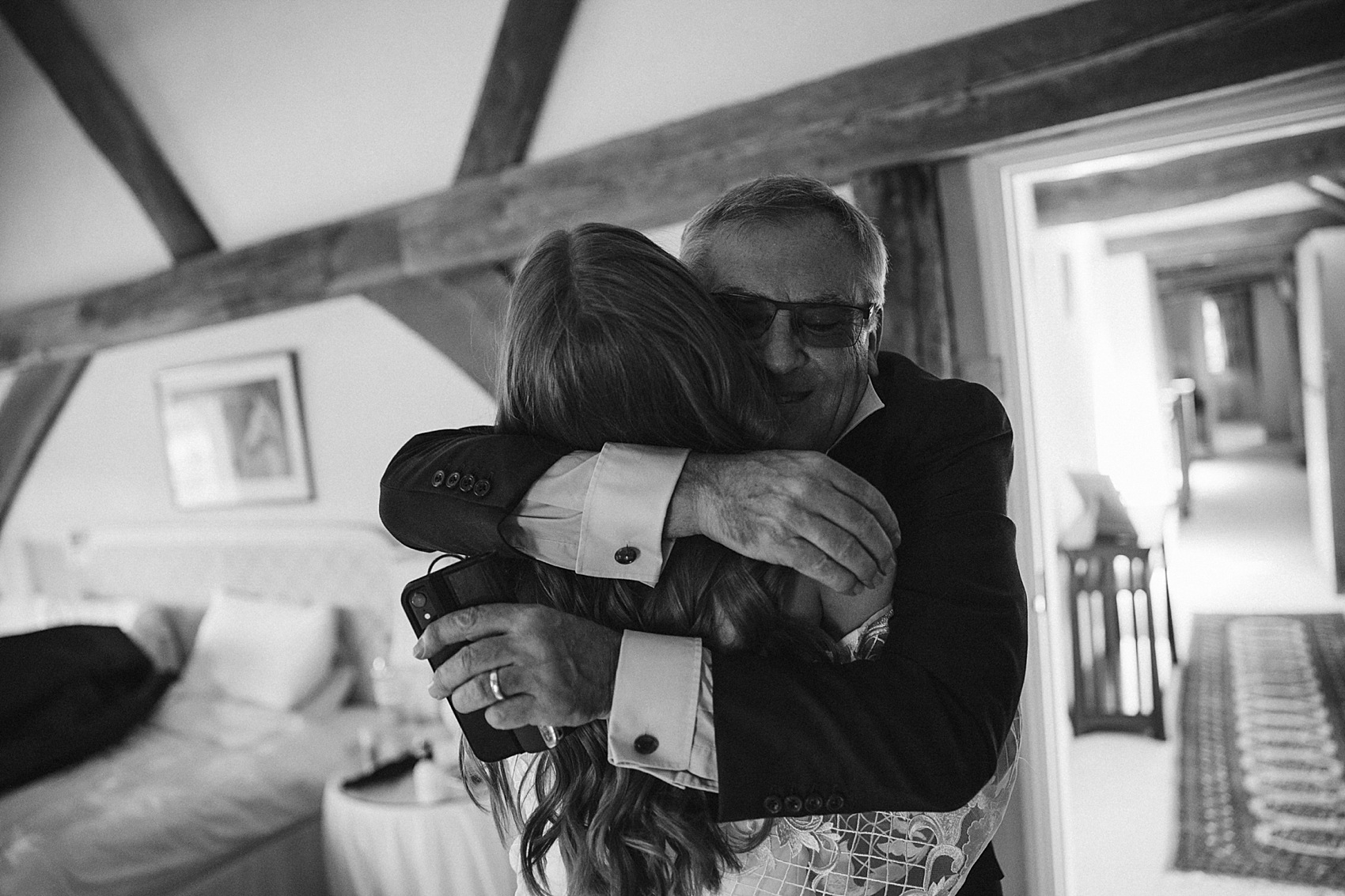 Claire wore white heeled sandals from ASOS, a classic tulle veil, which she borrowed, and as a finishing touch, perfume by Jo Malone.
"I wore a sapphire ring given to me by my grandmother. It was my something old and something blue."
"I'm a huge fan of lace, but found that fully lace dresses didn't suit me as much as other fabrics did, so the fact that this dress was mostly crepe with a bit of lace was perfect."
"After trying on a few dresses with a leg split, I fell in love with the idea of having my legs out, so that helped narrow down the search! I could talk for hours about my dress, but in a nutshell, I loved how it combined a modern and classic look."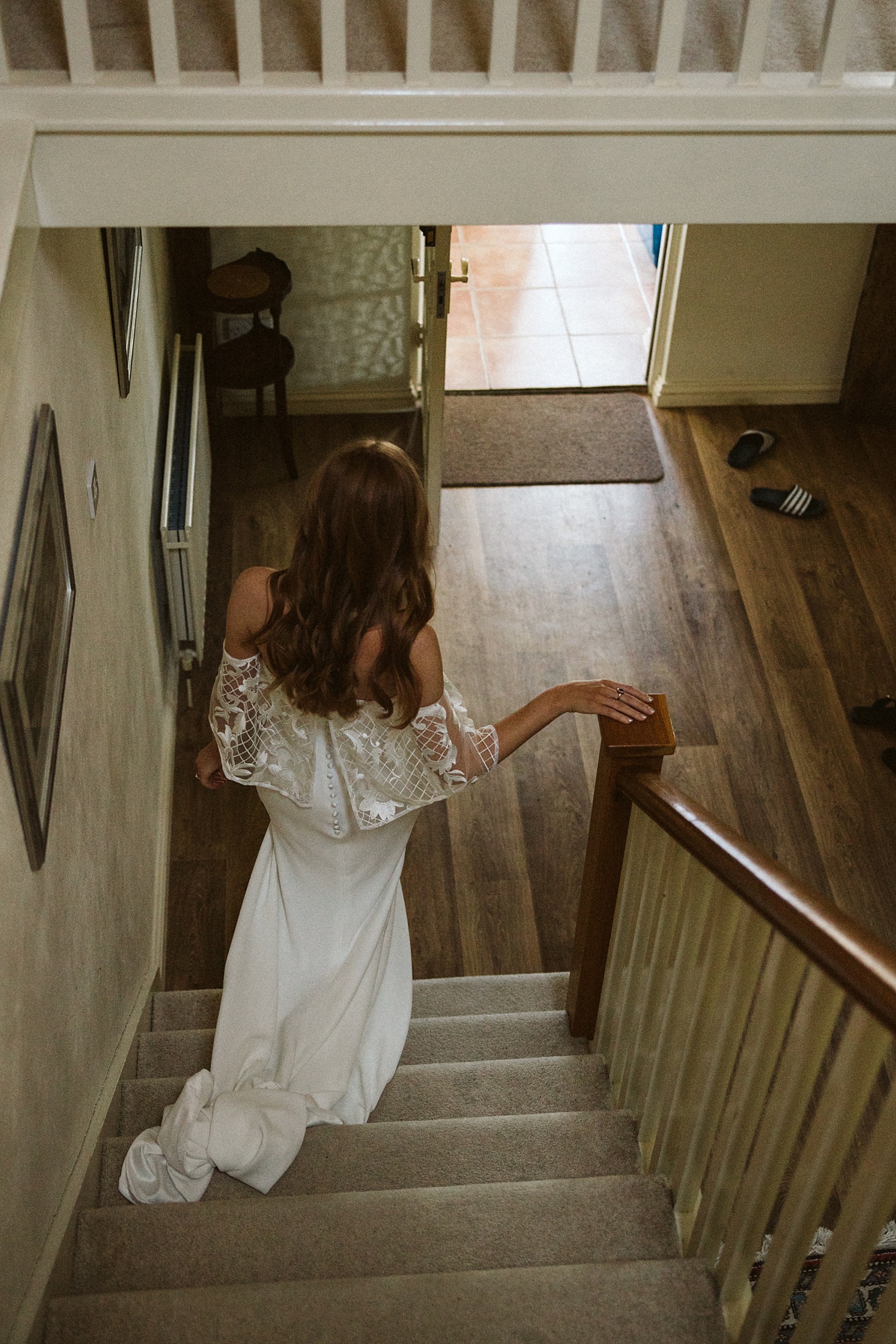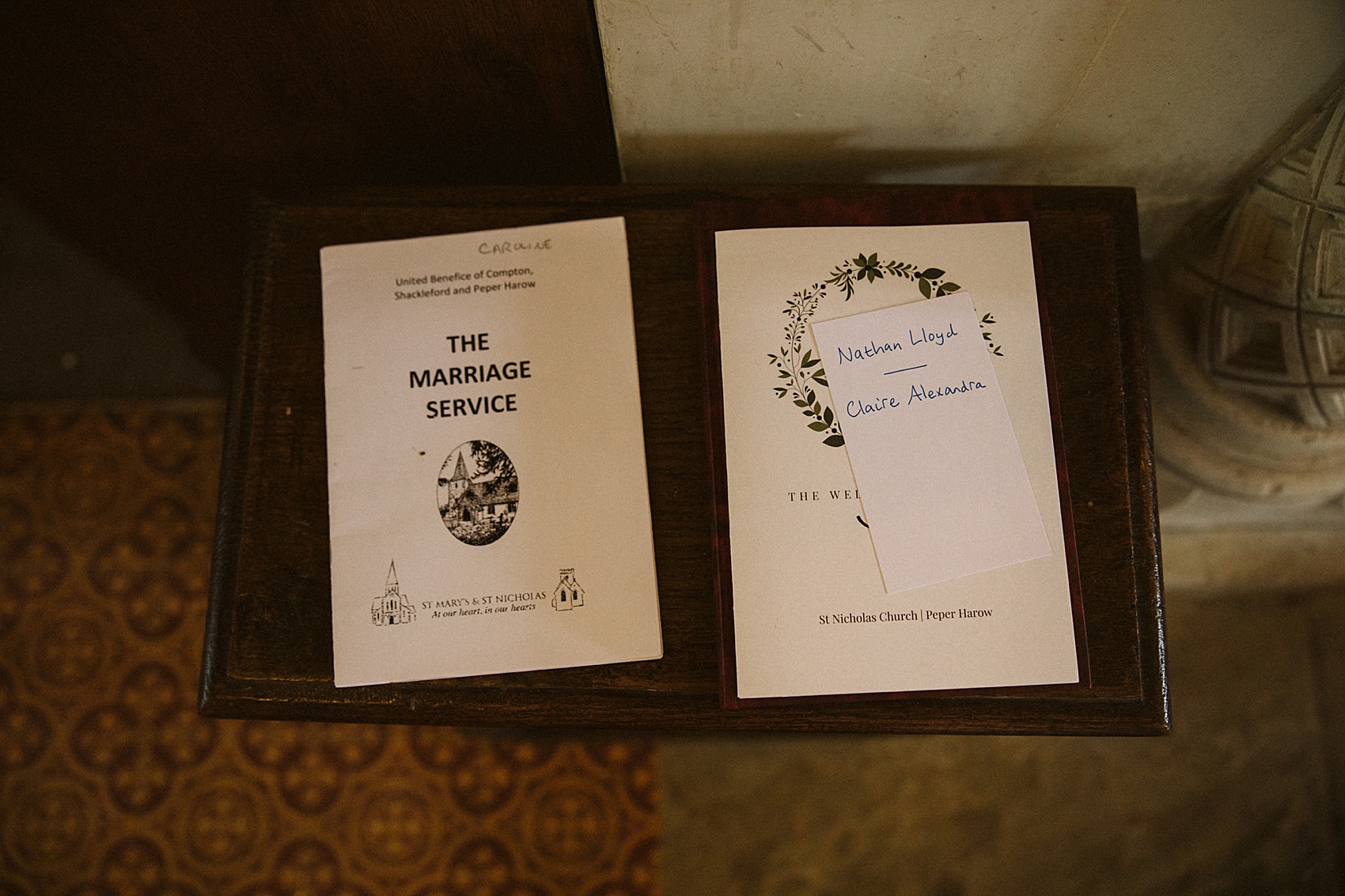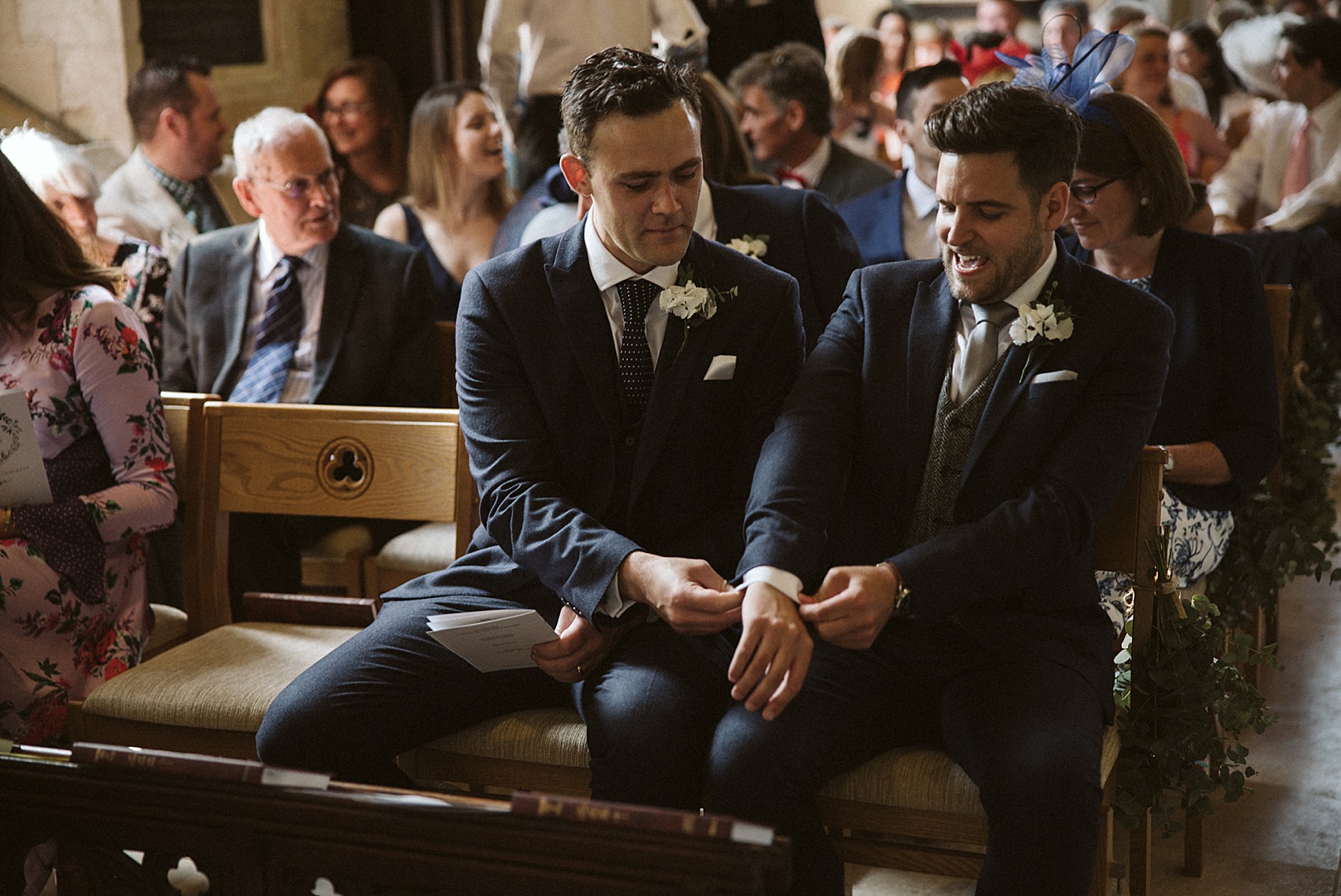 The bridesmaids wore long wrap dresses in a pretty shade of pastel pink from Mango, together with sandals from ASOS, and rings from Tai.
"I bought them each a ring as a thank you gift, with their birthstone in an ombre design."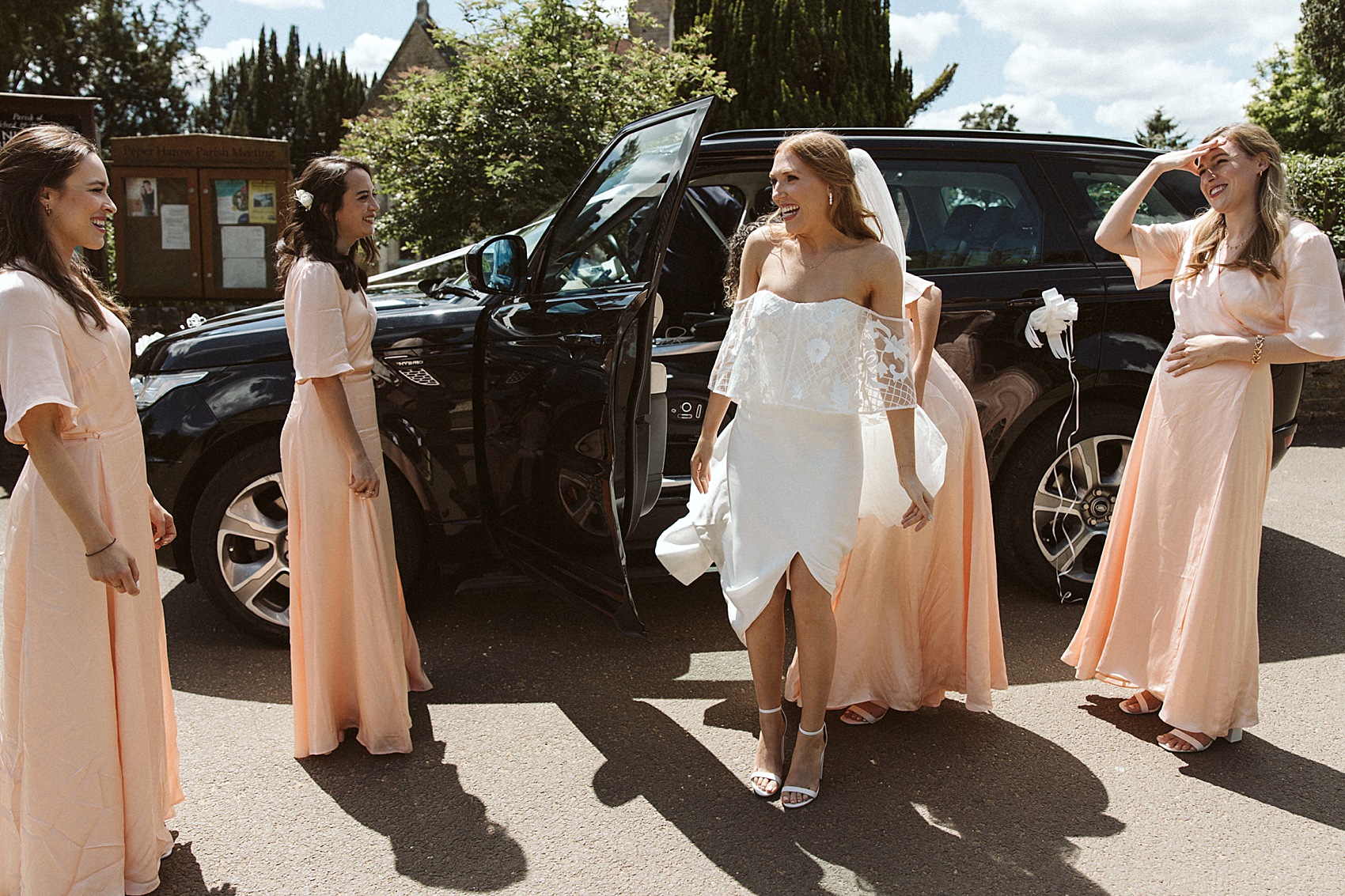 Claire and her bridesmaids carried an exquisite bouquet of sweetly scented Old English garden roses in pastel hues, along with frilly scabiosa blooms and tendrils of greenery, hand tied with lace ribbon, and made for them by family friend Barbara (AKA Boopie).
"I found a few images on Pinterest of the type of flowers and colours that I liked, and Boopie just brought them to life! They were predominantly garden roses in peachy/pinky hues. They are my absolute favourite flower, and the colours helped me choose the bridesmaids' dresses, rather than the other way round."
To You're So Cool – the theme song from the film True Romance, Claire and her dad walked together down the aisle, where vicar Caroline was ready to begin the ceremony.
"We first met online, got engaged in September 2017 whilst on holiday in Greece, and were engaged for 21 months before getting married."
The couple chose to exchange traditional church vows with each other, and their wedding rings came from Channings Jewellers in Hatton Garden.
"Channings is such a lovely little shop with the best selection. They were so friendly and helpful, and gave such great advice to us."
During the service there were three readings, too, with the first being an extract from the book Mere Christianity, by C.S. Lewis. The second was Colossians 3: 12-17, and the third was John Denver's song, Perhaps Love.
Nathan wore a smart suit from Next, which he paired with a grey waistcoat from ASOS. His shirt cuffs were secured with cufflinks with Claire's initials, which were found through Not On The High Street.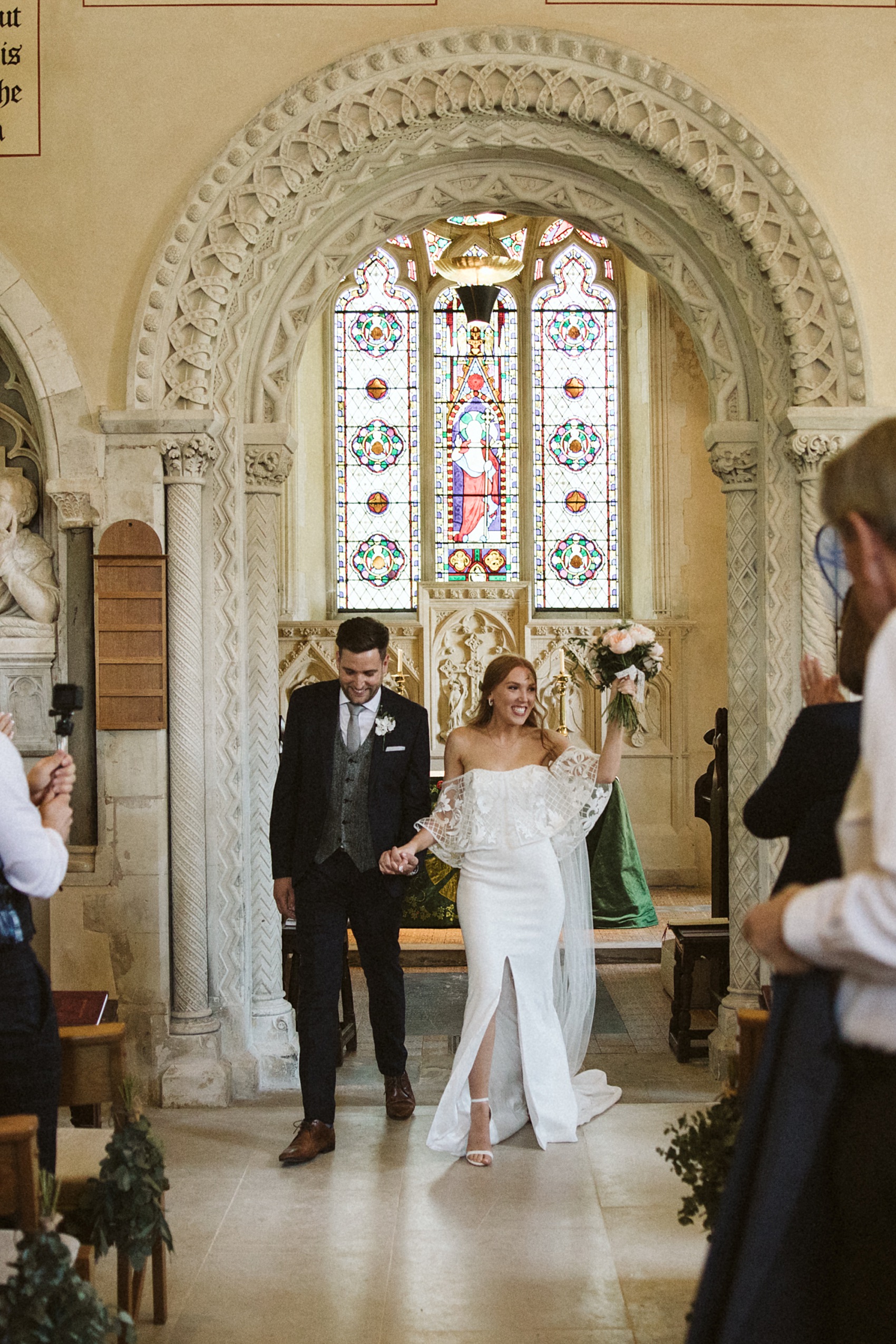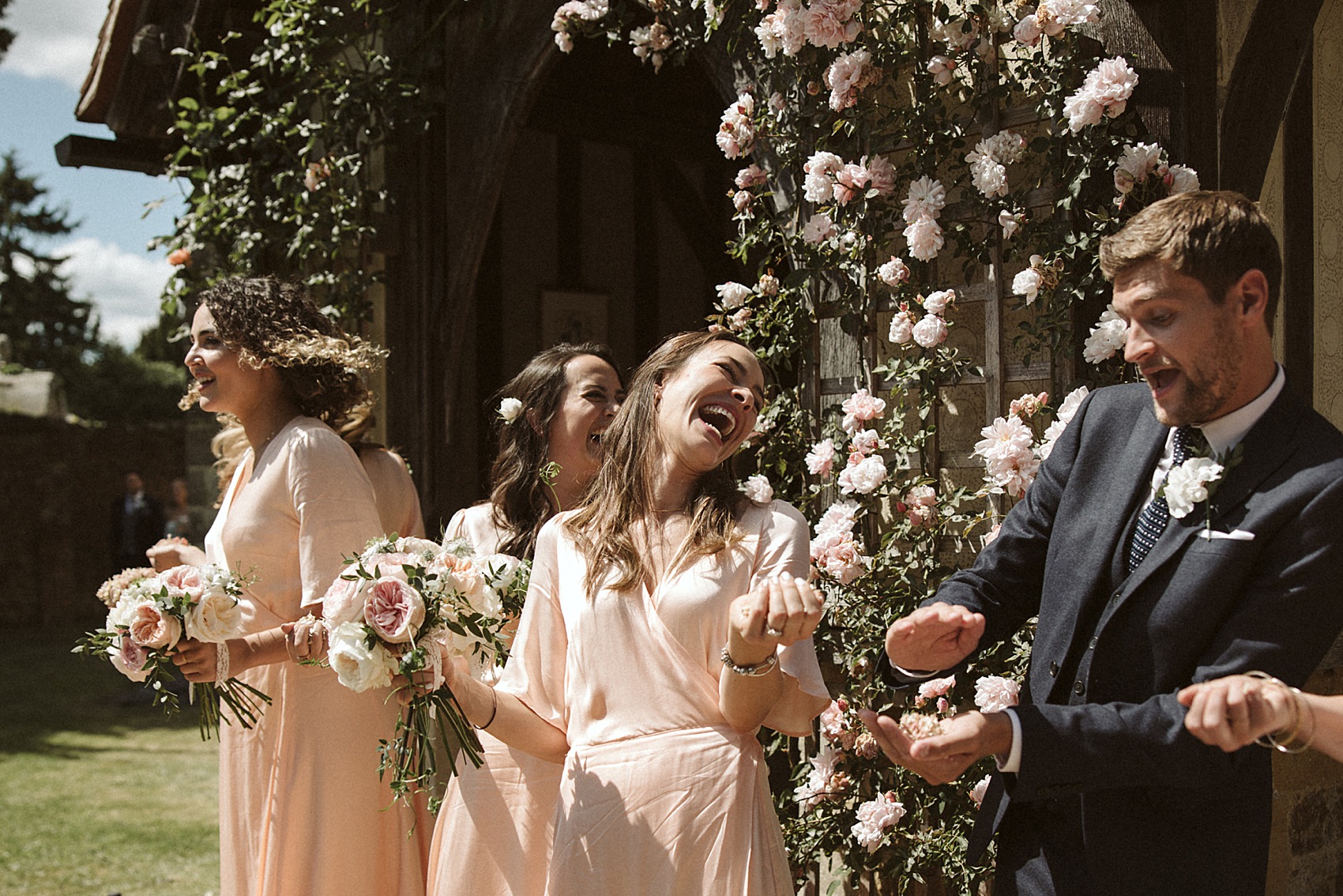 "New York Brass Band led a procession for us and our guests from the church, through the village of Peper Harow, and through the field to our tipis. This was such a highlight of our wedding, and something that our guests loved. It was so much fun having them."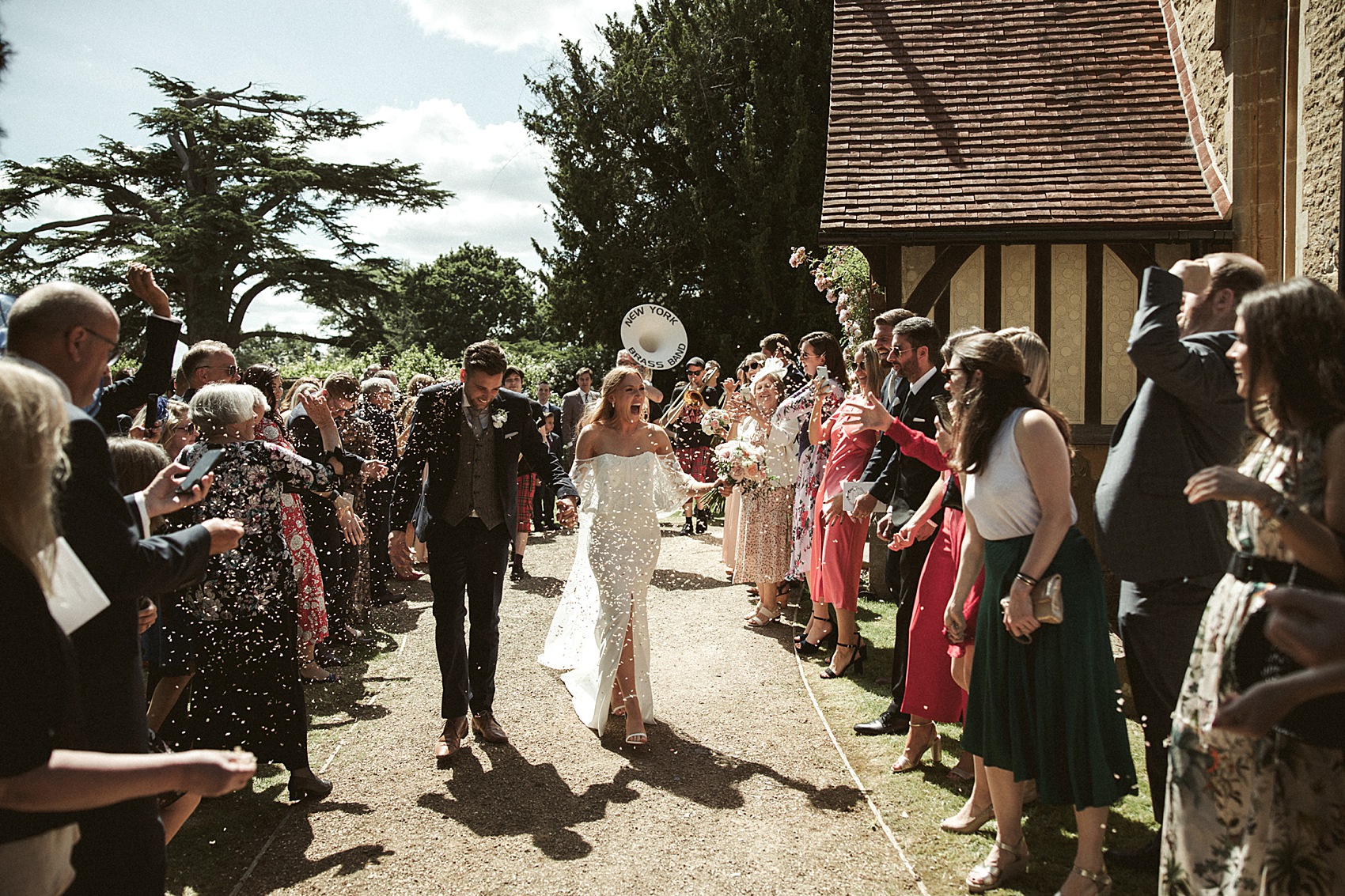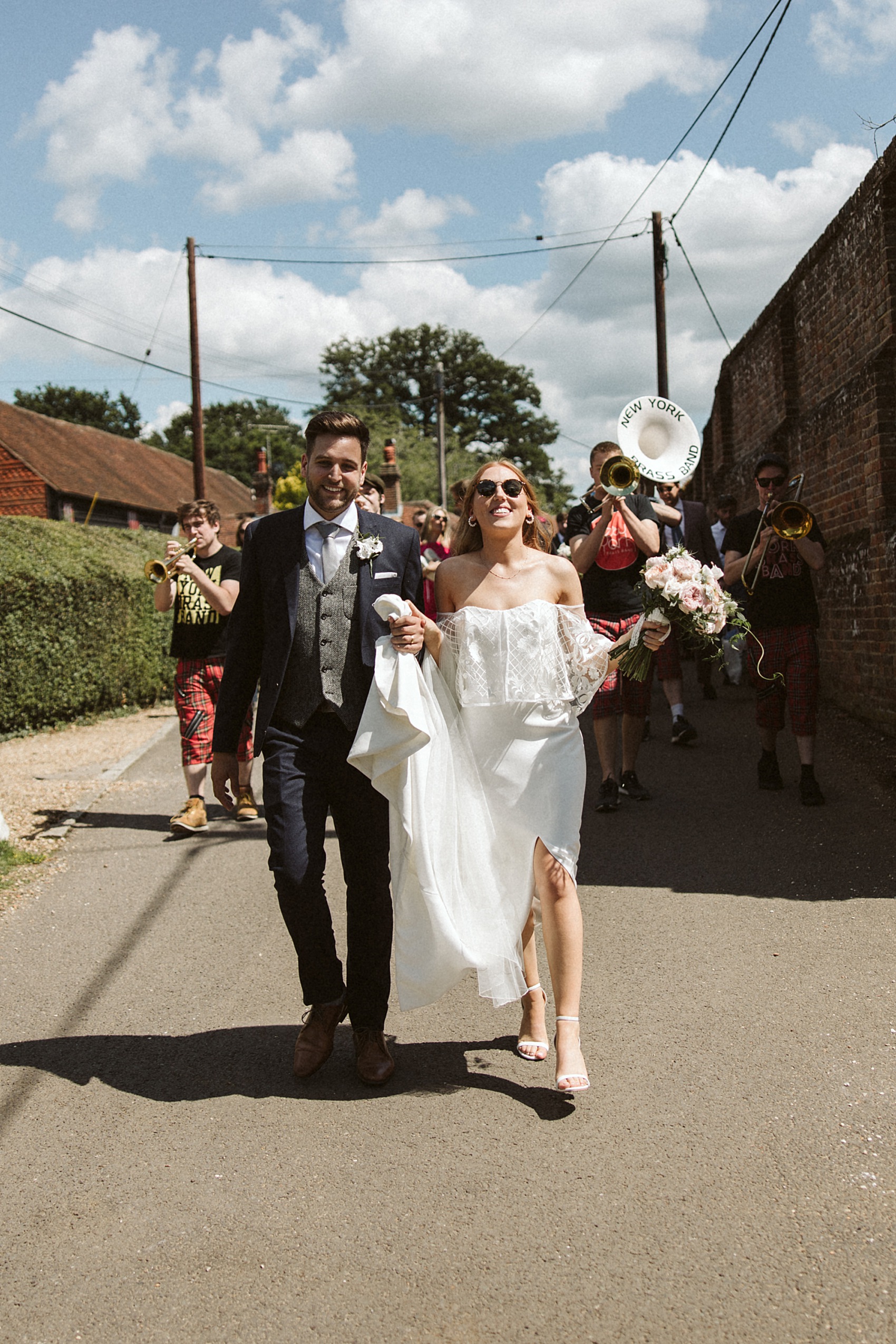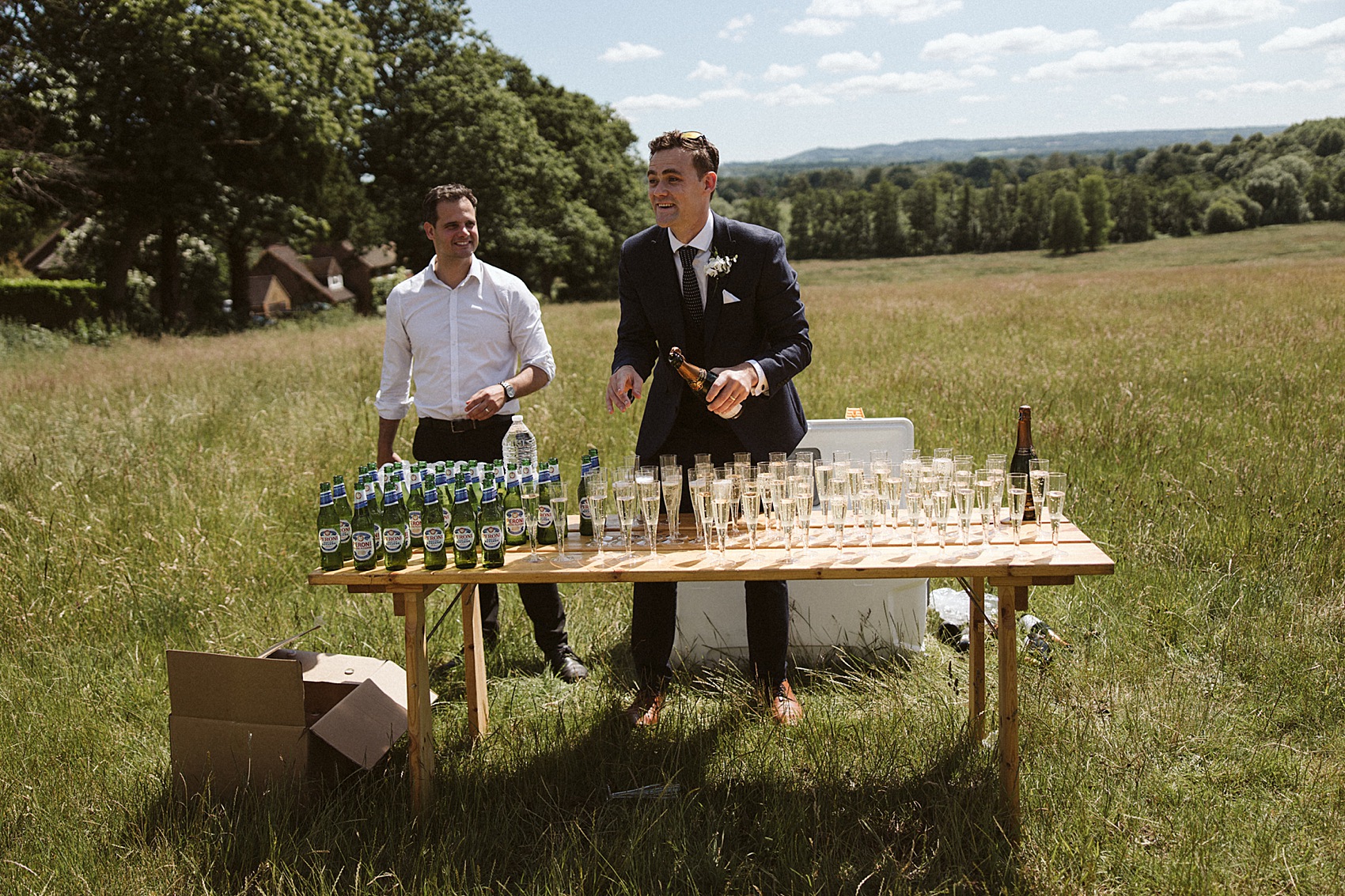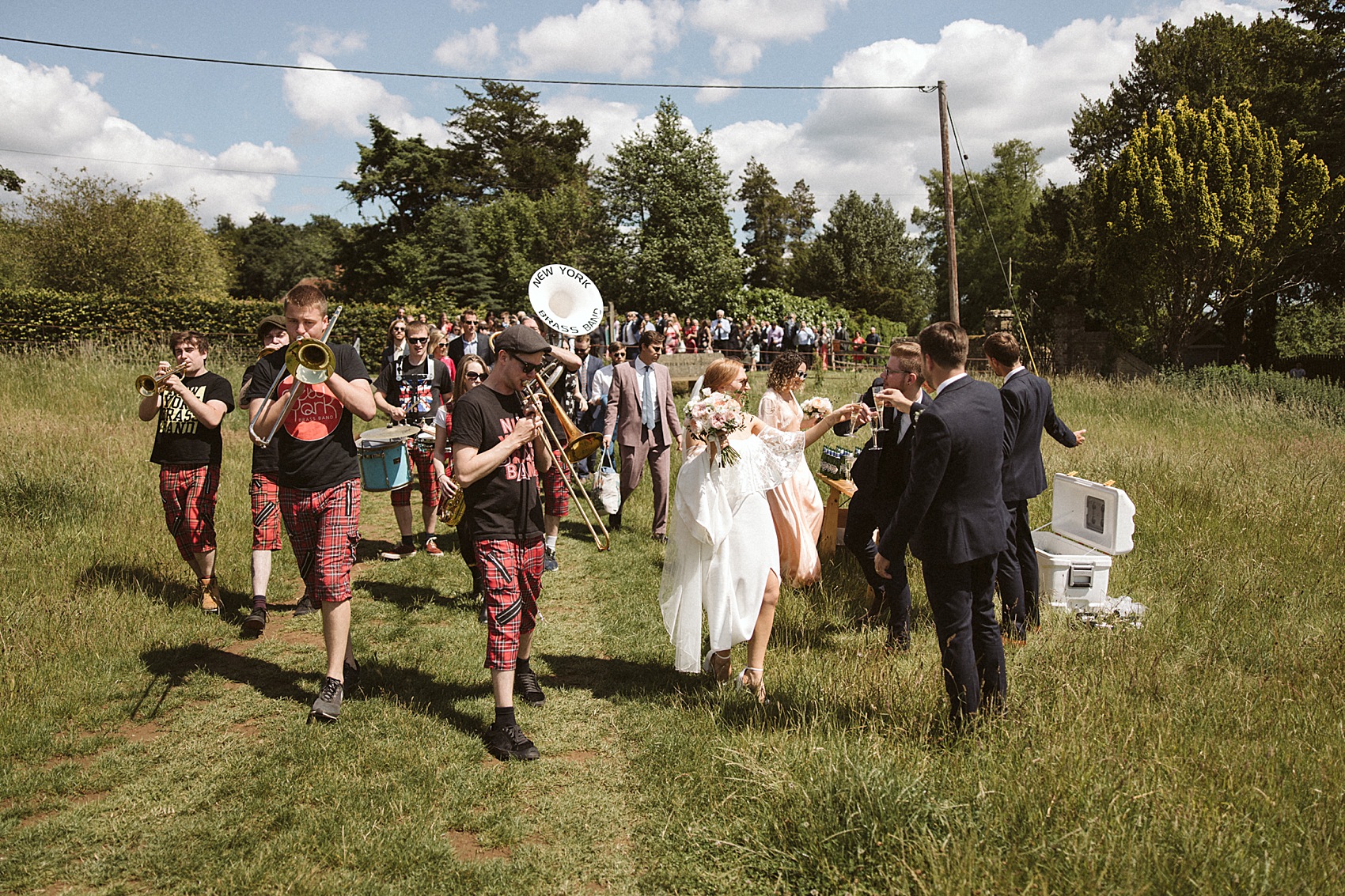 Upon arrival at the Hidden Valley, champagne corks were popped and cold beers opened, all to be enjoyed in the summer sunshine.
The lovely reception tent was strung with festoon lights outside, and inside, the space was beautifully decorated with fluttering bunting, made by Nathan's sister, Hope, who also made the cool table plan, welcome signage and place cards, too.
Paper lanterns and hoops of greenery were hung from the ceiling, suspended over long, rustic dining tables decorated with vases of lovely garden roses and branches of eucalyptus, and set with flower-sprigged vintage china.
In keeping with the relaxed, informal feel of the day, Claire and Nathan's wedding feast was a barbecue cooked and served by The Gourmet Hog Roast Company.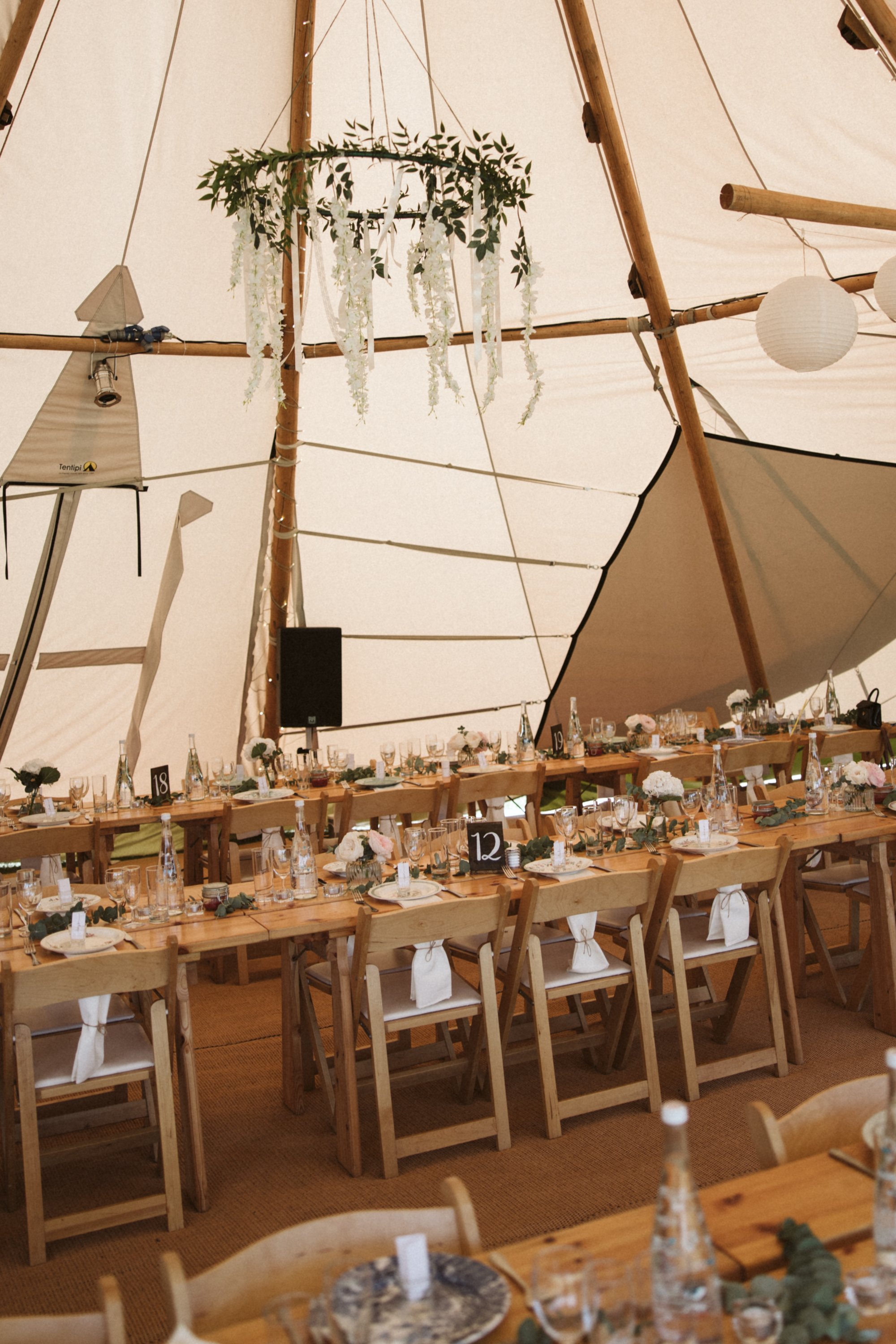 "Our cake was the best cake I have ever seen. Nathan's sister made it. We wanted a rustic looking cake and loved the idea of having three different flavours, both for visual effect, and so that people could choose their favourite. We had the cake as our dessert."
"Favours were shot glasses from IKEA. We had a Polish style vodka toast, so we thought it would be nice for our guests to be able to take their shot glasses home."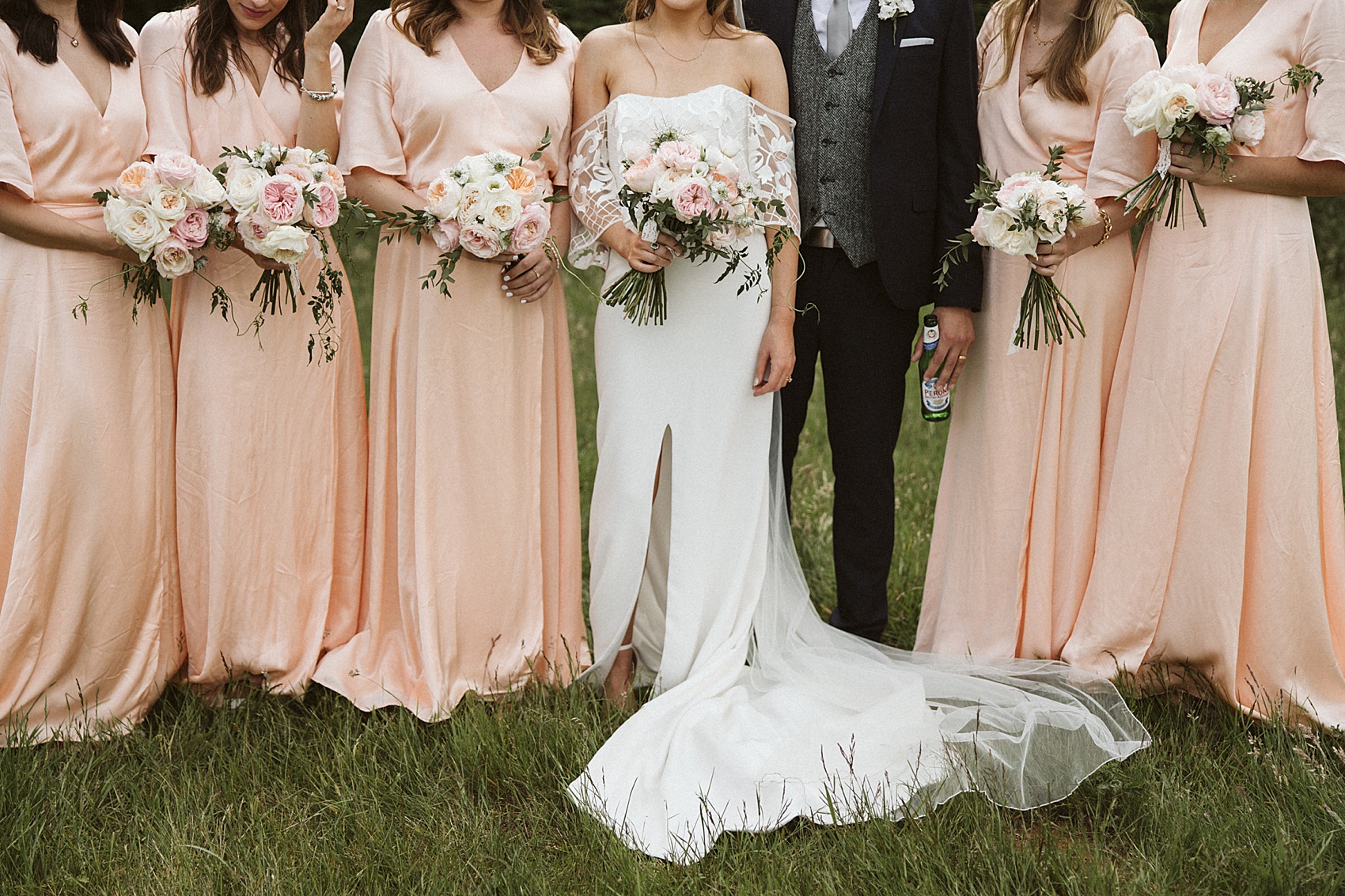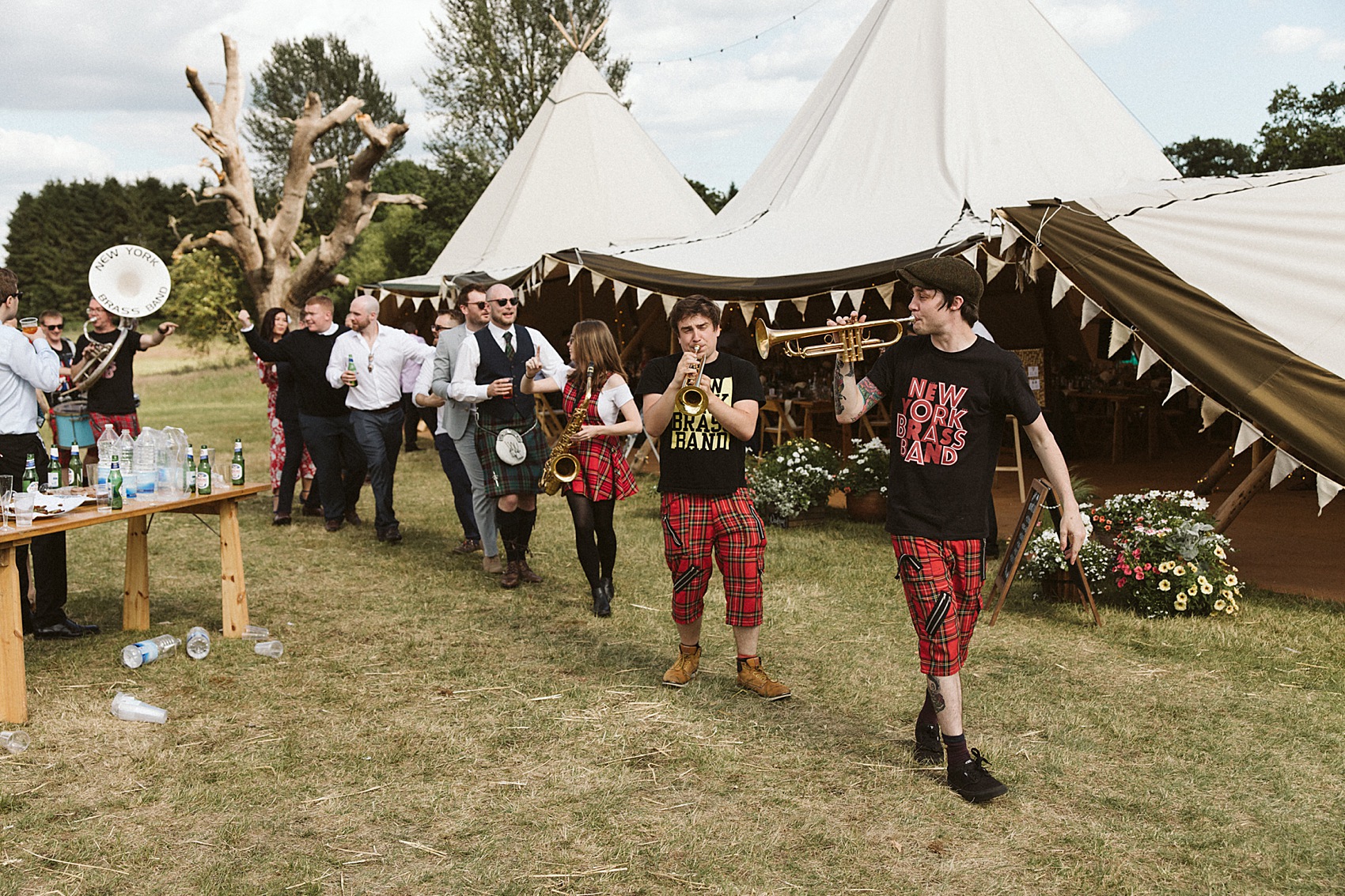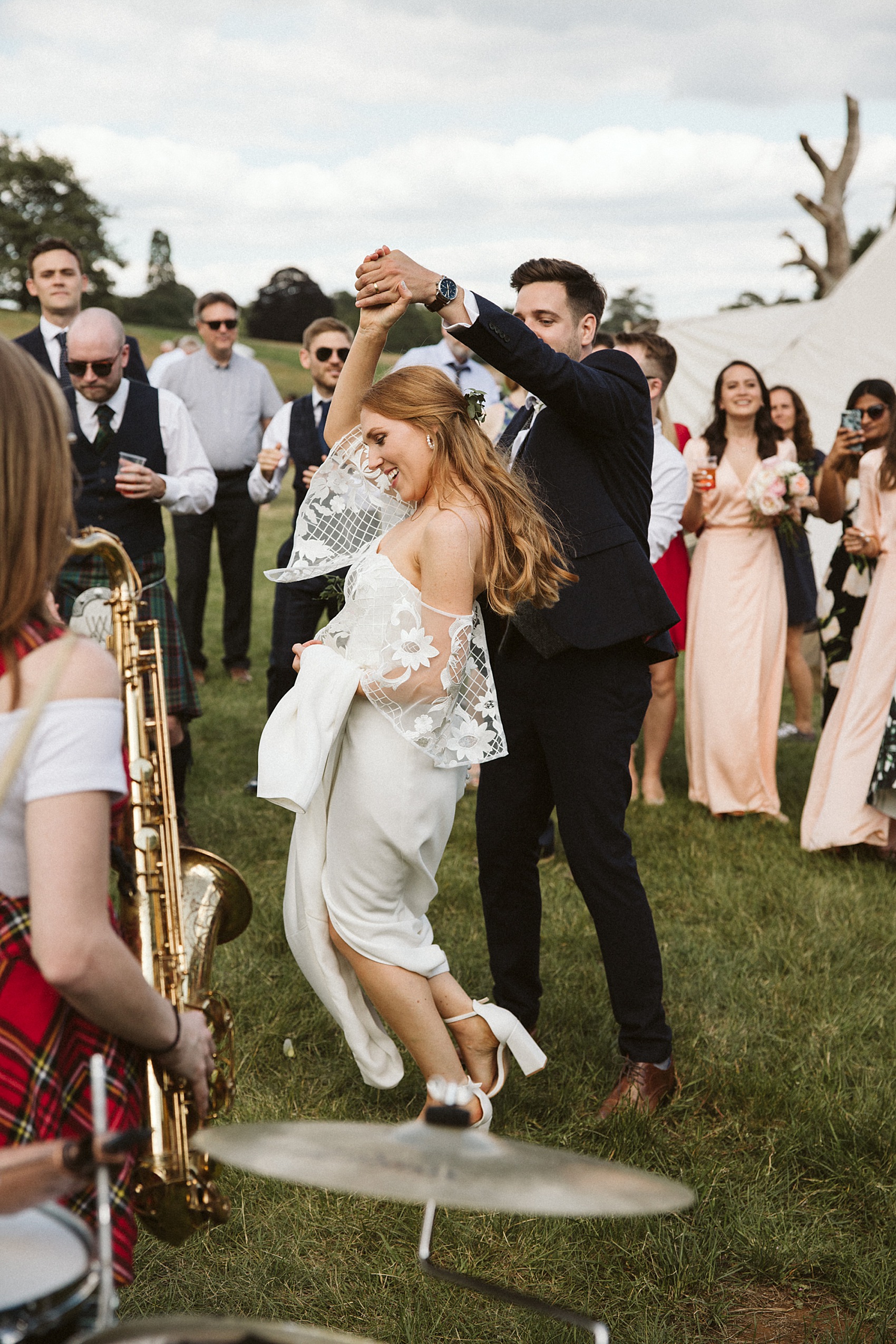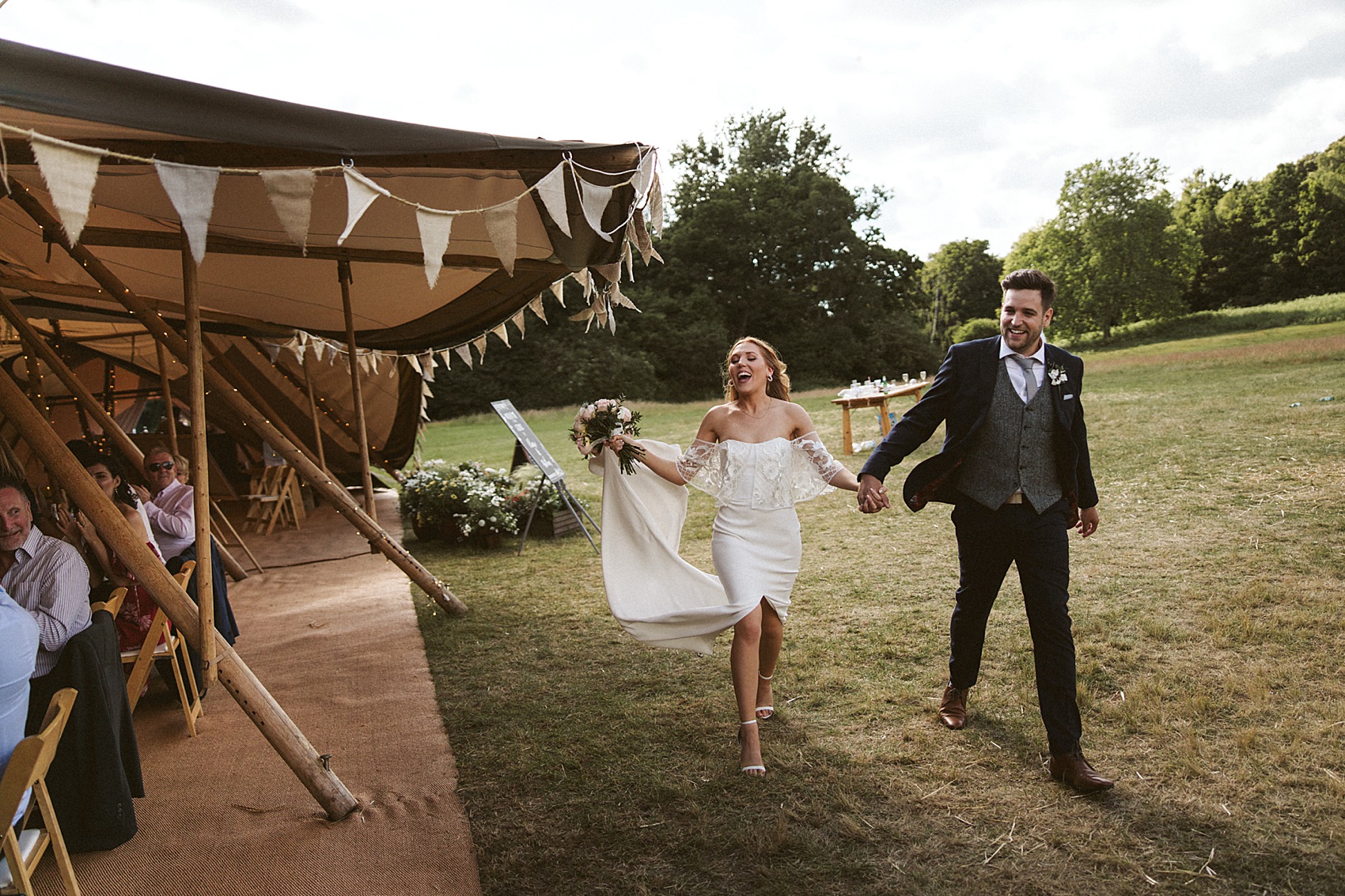 The complete joy and excitement in these images of Claire, Nathan, and their family and friends strolling to the reception field, all the while serenaded by the brass band, are some of my favourite from this brilliant collection – all captured by talented photographer, Jamie Dunn.
"Jamie was absolutely fantastic! Not only are his photos stunning and exactly what we were hoping for (and more), but he was willing to stay until the end of the night. We're so glad he stayed to capture the late evening party shots!"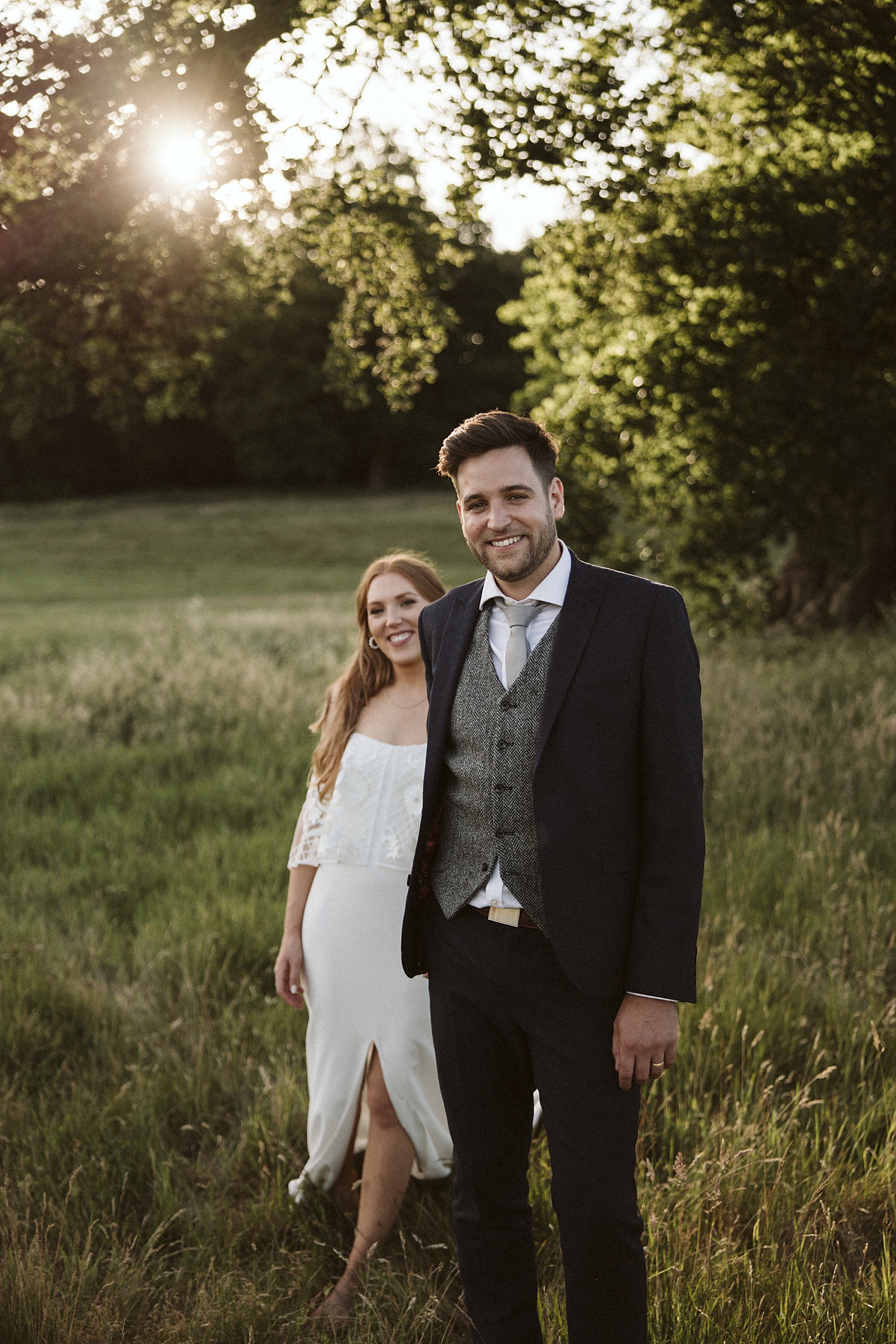 "Jamie was also very helpful in guiding us through our couples photos, as neither of us are particularly comfortable in front of the camera. Some simple direction from Jamie made it a lot easier and also pretty fun!"
"We have had so many comments from guests as to how great Jamie was on the day. He somehow managed to be everywhere all at once, and he didn't miss a single detail. We would recommend Jamie to everyone."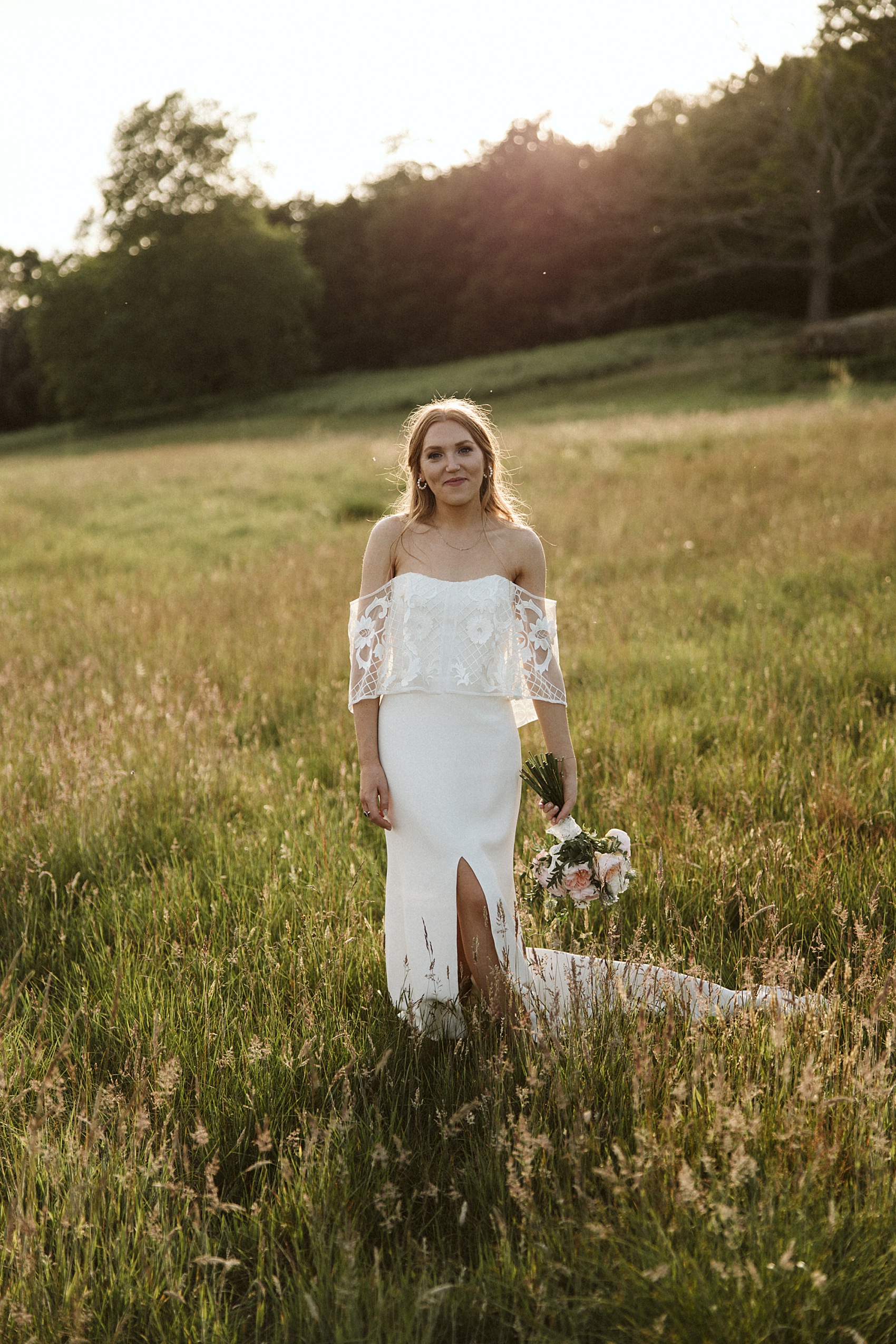 After their barbecue, cake and speeches, Claire and Nathan enjoyed their first dance together to a song Claire describes as "Pure joy": There Must Be An Angel, by the Eurythmics.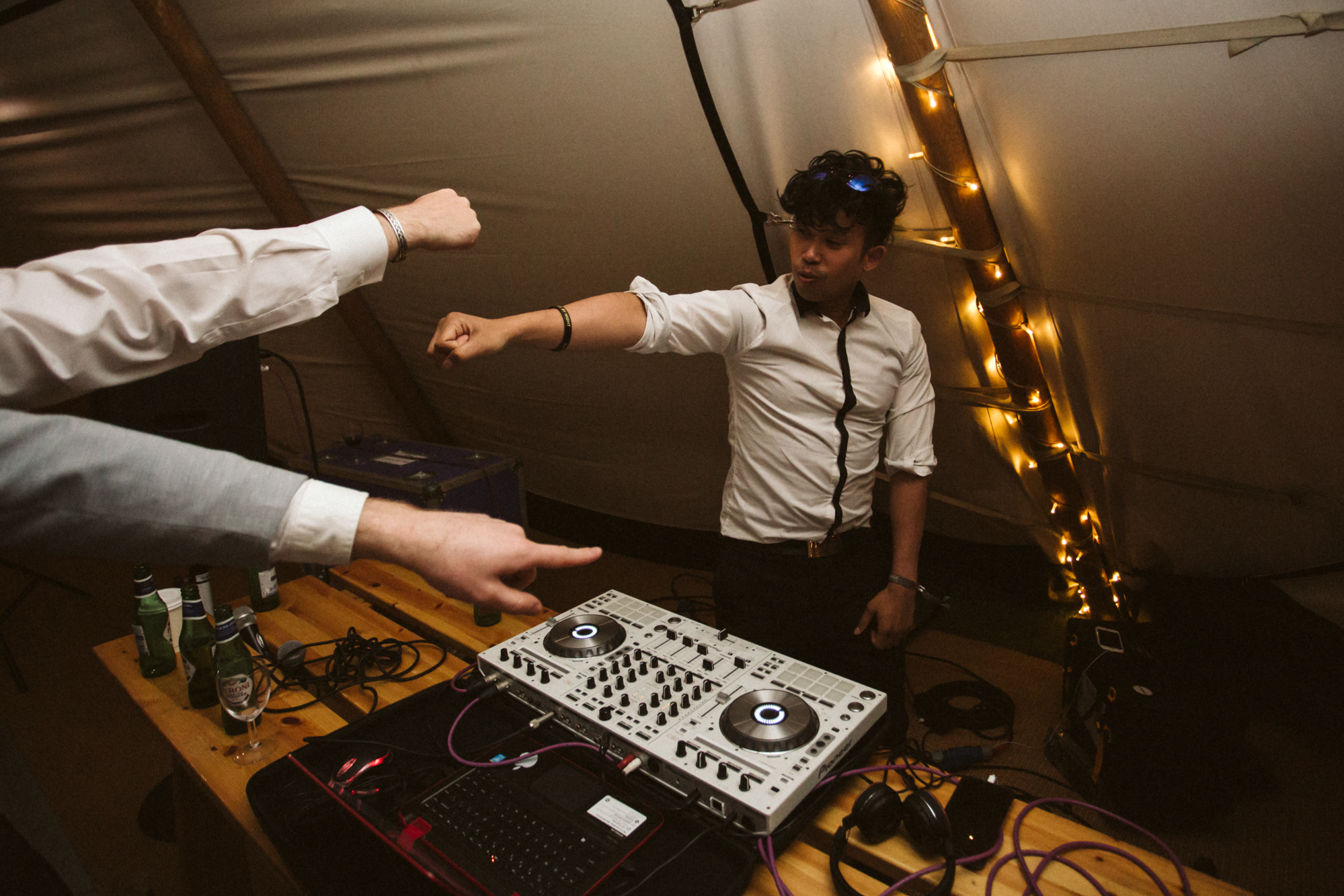 "Our favourite moment was probably the marriage ceremony and walking through the field with the band. I also really loved making a speech and listening to the other speeches, there's not much that I would have done differently. Just make sure you give people jobs if there's something important you want to remember. We forgot to get the Polaroid cameras out (because everyone was having too much fun) so we missed out on getting those photos."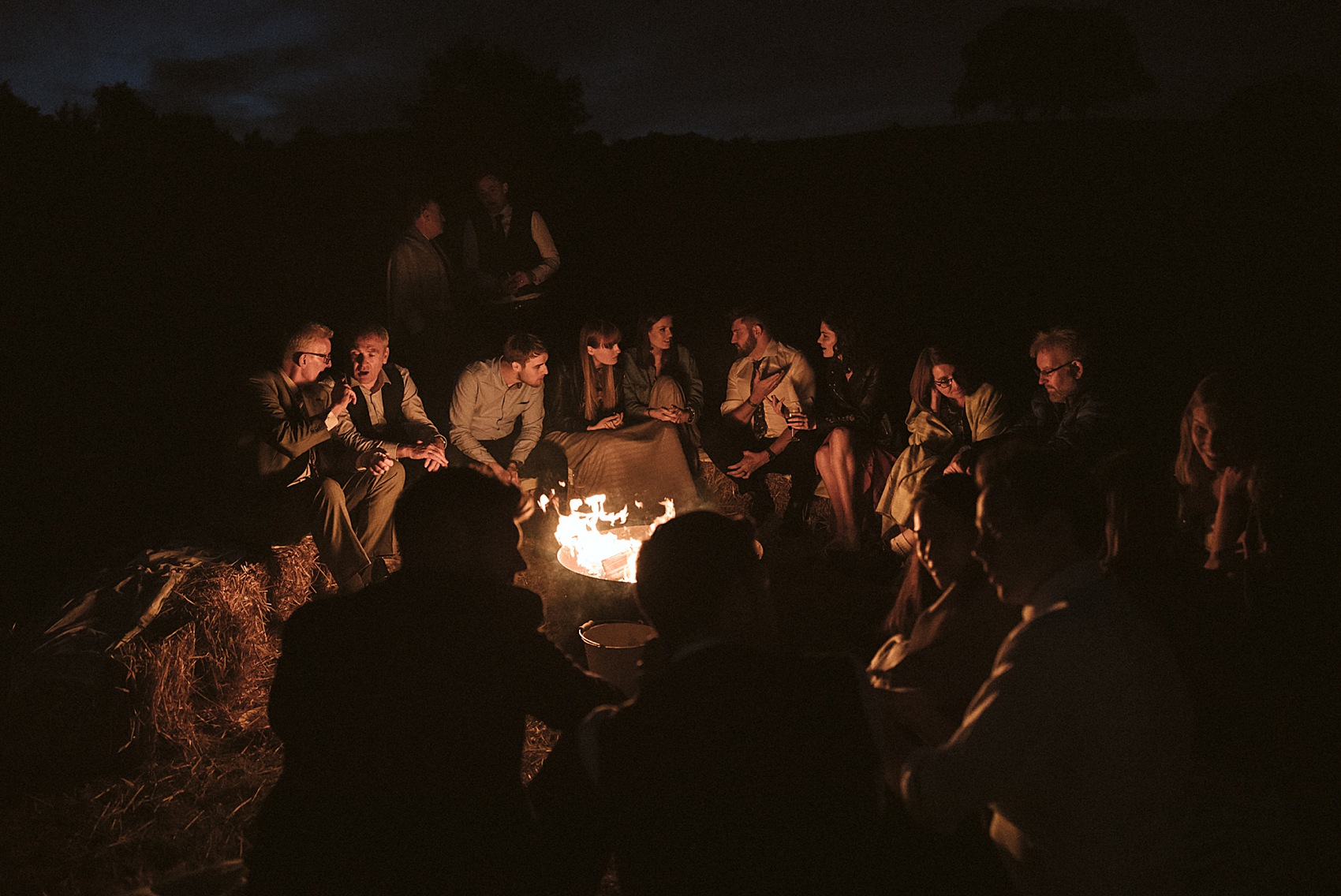 Words of Wedded Wisdom
"No matter how much time you have to plan your wedding, there will always be more that you could have done, more that you could have planned, etc."
"At some point you just have to stop and enjoy the planning process, and definitely enjoy the day, because you won't care if you've forgotten something; you probably won't even notice."
Well Claire, Nathan, congratulations and thank you so much! What a magically idyllic venue you chose – your whole day looked like so much fun. Many thanks to Jamie Dunn, too, for his beautiful photography.
Until next time!
Love,
Laura