We are revving up in anticipation of the upcoming 2020 Most Curious events and cannot believe that the London show is so close now!
This year, MOST CURIOUS, which over the past decade has become an iconic and cultural British wedding event with it's own cult following, is taking place a month earlier than usual between Friday 7th and Sunday 9th February at it's London home in the Truman Brewery.
As usual, there will be a show in Norwich too on Sunday 29th March, and this year, the show debuts in the North with a killer of a show planned in Manchester on Saturday 29th February.
And for the first time ever this year, the MOST CURIOUS team will be hosting their 'Deeper Love' panel talks – and delving a bit deeper into the issues around getting married in 2020.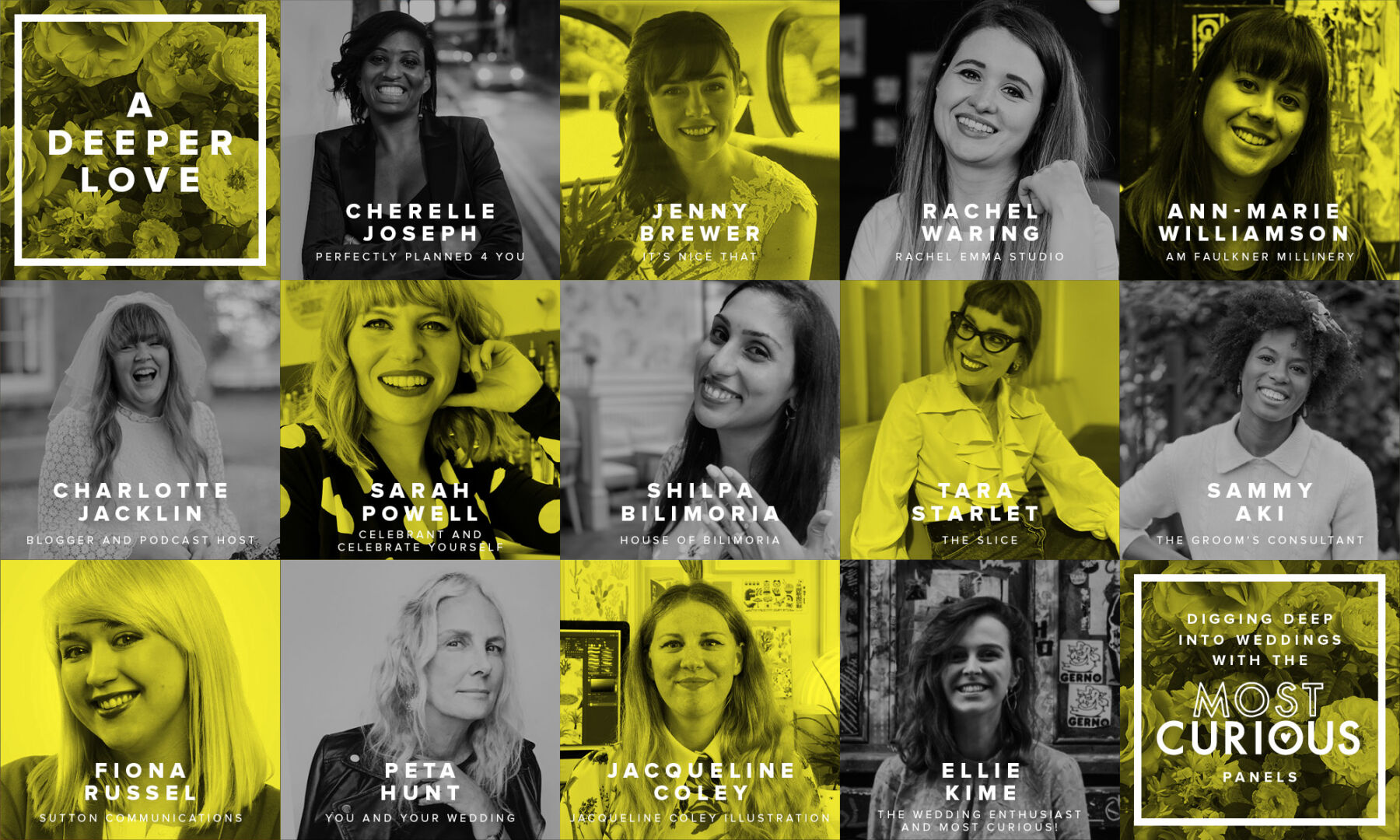 Rather than the out dated notions of 'which dress shape would suit me the most?' or 'who sits on what table?' rules and 'how to lose two stone before the big day' nonsense, we are talking positivity, pioneering, Pinterest and the planet, with some of the coolest and visionary women in the creative industries.
These talks will be hosted and chaired by our very own Most Curious team member Ellie Kime aka The Wedding Enthusiast.
Saturday 8th February, 12pm: Good Vibes Only
Anxiety, positivity, managing everyone's expectations! Feeling good, joyful and empowered about planning your wedding! The nuts and bolts of where to begin if you're feeling a little rabbit in the headlights.
The wonderful cheerleader for positivity, Sarah Powell is a speaker, accredited wedding celebrant and the founder of Celebrate Yourself, a framework which shows people how to celebrate who they are. Sarah is a columnist for Red Magazine and co hosts two hugely popular podcasts: Jules and Sarah the Podcast as well as Wobble, a podcast series about happiness and body confidence.
Charlotte Jacklin

+ Follow
Co-Founder of the seminal Betty Magazine, and now all round feminist meets florals hero, podcaster, blogger, content creator extraodinaire  Charlotte Jacklin. Her wedding at the end of last year to her beau Jack broke the internet in style and fun terms but she gave us plenty of real talk along the planning journey.
Cherelle is the founder and lead wedding planner at Perfectly Planned 4 You, based in the urban hub of Hackney . She has always been credited for her extremely organised nature, excellent attention to detail and her know-how on throwing a good party, she now has over 7 years experience of event planning under her belt and even has a section on her website on how to deal with the overwhelm of getting started with planning your wedding. YES!
Saturday 8th February, 2pm: The Design Files
Three cool, design-led women talk us through how they navigated styling their venue in a creative way as well as plenty of tips of choosing the type of styling that would suit your type of venue and practical advice on how to put your vision together.
Rachel Emma Studio

+ Follow
Rachel Waring, founder of Rachel Emma Studio, is a paper artist, wedding stylist and stationer, originally trained as a set designer at the Royal Central School of Speech and Drama. A huge part of getting her name out there in the wedding industry was Pinterest, so is something of an expert on this platform as well as generally mood boarding and distilling your ideas.
Jenny is news editor at It's Nice That, the titan of a media company championing creativity across art and design. Jenny trained as a product designer before becoming a design journalist, working on interiors and architecture magazines, she and her graphic design husband created a stylistically wonderful wedding at the Art Pavillion in Mile End.
Jacqueline Colley

+ Follow
Jacqueline Colley is an Illustrator and Pattern Designer who works out of her home studio in Hackney. In 2019 she designed her own wedding (to end all weddings!) inspired by an Enchantment under the sea meets Wes Anderson concept which led to seaweed props, embroidered crabs and a paper mache Jaguar Shark! Classic wedding details… Y'all need to hear about how she did this!
Sunday 9th February, 12pm: The Wedding Pioneers
How have these women carved themselves new wedding traditions and treaded on new wedding ground, celebrating multiple cultural identities, dealing with loss on the day, LGBTQIA+ experience, combined feminist values with getting married and and everything in between!
Tara Starlet from The Slice podcast, describes herself as "half punk, half hippy". She loves getting gobby about her passion points. After closing her cult fashion brand Tara Starlet, she has been working in community marketing strategy and hosts The Slice with PR boss-babe Megan Morass. Tara got married in 2018 in a marigold dress of dreams, is a fierce feminist and was missing her beloved mum on her wedding day.
Fiona Russell of Sutton Communications is all about the architecture, art and design, in her work life her clients include The Hayward Gallery x The Vinyl Factory, the Royal Institute of British Architects but one of her most challenging roles has been planning a wedding to her now wife, and making their own traditions in a world where traditions that haven't always included them!
Image by Zach & Grace for LMD Collective
Sammy Aki started her career on Saville Row, learning all there is to know about menswear and now has her own groom style consultancy and menswear brand. She also recently had a wedding (well weddings!) that spanned Ghana, France and the UK and plenty of places in between. Bringing in and also combining multiple cultural identity and heritages into your special moments in kind of her thing.
Sunday 9th February, 2pm: A Wedding Look That Gives a Damn
How to be ethically and sustainable aware with your wedding day outfit –  What do those terms mean when it comes to wedding dresses and accessories, what to look out for and bare in mind and how to make a difference while also looking like a slamming hottie.
Peta has been in the bridal industry for over twenty years as a Fashion Director, Editor at Large and Instagrammer. She has been around the world previewing collections for You & Your Wedding magazine, attending quite literally 1000s of catwalk shows and shot over 5000 pages of bridal fashion. There's not a lot she doesn't know about how bridal wear comes from design to your door.
Shilpa Bilimoria

+ Follow
Shilpa Bilimoria is the Creative Director and Founder of label House of Bilimoria. Born into a family of tailors, textiles and the craft of making clothes have come naturally to her, practically genetic.
The collections are inspired by heritage textiles, namely South Asian, sarees and other opulent embroideries and prints that have been discarded due to new trends. With the ethos of 'Reincarnating' these unloved treasures and giving them a new life. Luxury Upcycling or 'Luxcycling' the world through sustainability and circularity, bringing heritage and heirloom along with her.
Ann-Marie Faulkner

+ Follow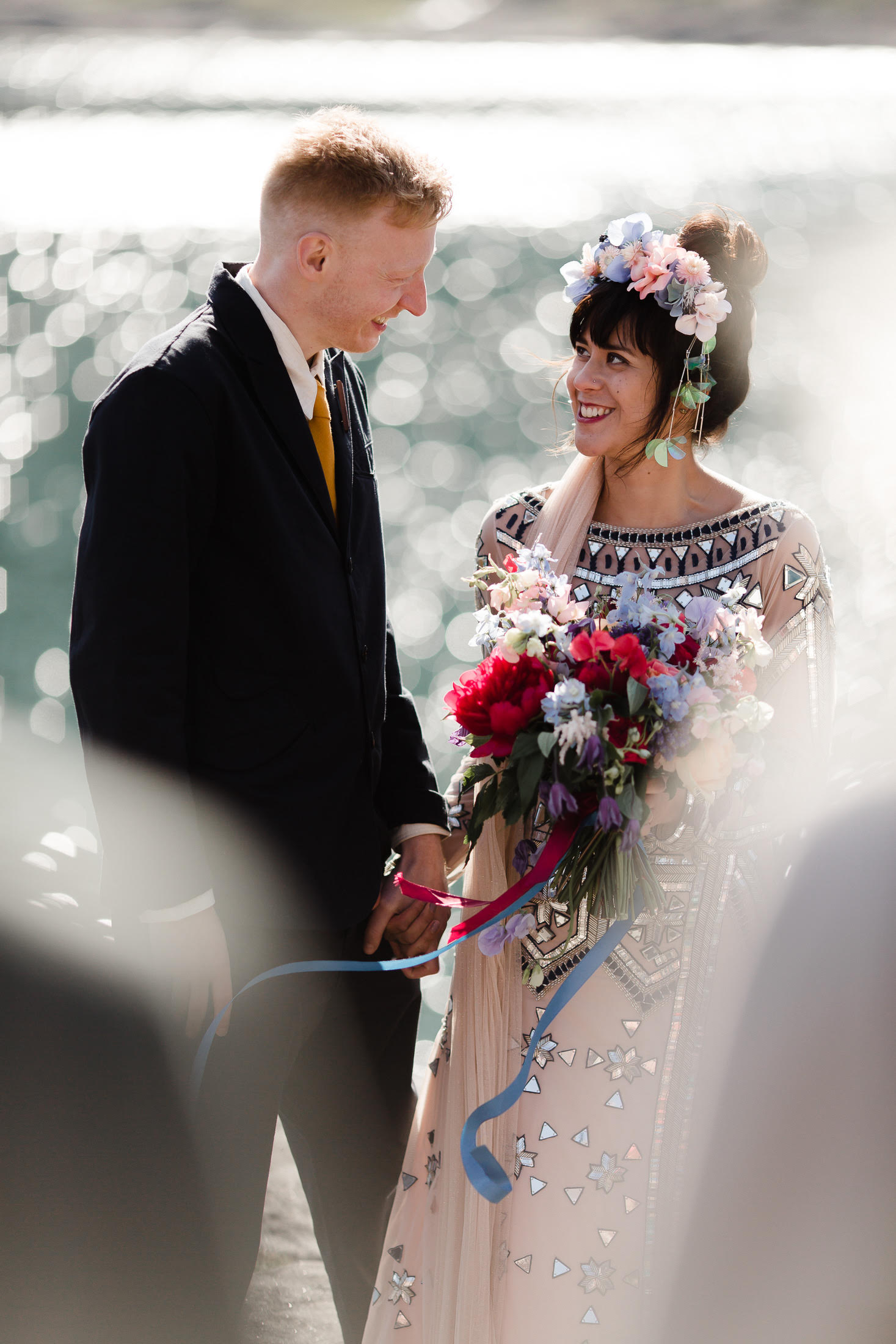 Ann-Marie Williamson of Ann-Marie Faulkner is a milliner by training and trade and is one of the coolest bridal accessories designers in the UK and beyond! She is also super passionate about treating the planet and people as ethically as possible when it comes to creating her beautiful veils and headwear and will be offering plenty of insight into the little things that make a big difference when commissioning fashion pieces.
The MOST CURIOUS Shows will be taking place over three amazing spaces in 2020, the Old Truman Brewery in London on 7-9th February, the exciting new Northern venue Archive at Depot, Mayfield, Manchester on 29th February and The Fire Pit Camp in Norwich on 29th March.