I know it's cold today but shivers shot down my spine for another reason when I opened the folder of photos for today's wedding. This set of images are so magical, so beautiful, and the bride's Rime Arodaky so breath-taking, that I think you're going to truly love the joyful celebration captured here.
Ballymagarvey Village, Co.Meath in Ireland was the scene of lawyer Carrie's wedding to quantity surveyor Adam on 26 August. Taking traditional Irish as their starting point, the couple blended elegant, minimal elements – including cherry blossom and candles – into the beautiful, historic backdrop of Ballymagarvey (complete with secret bar) to create a day full of romance, fun and magic.
Harry Michael Photography

+ Follow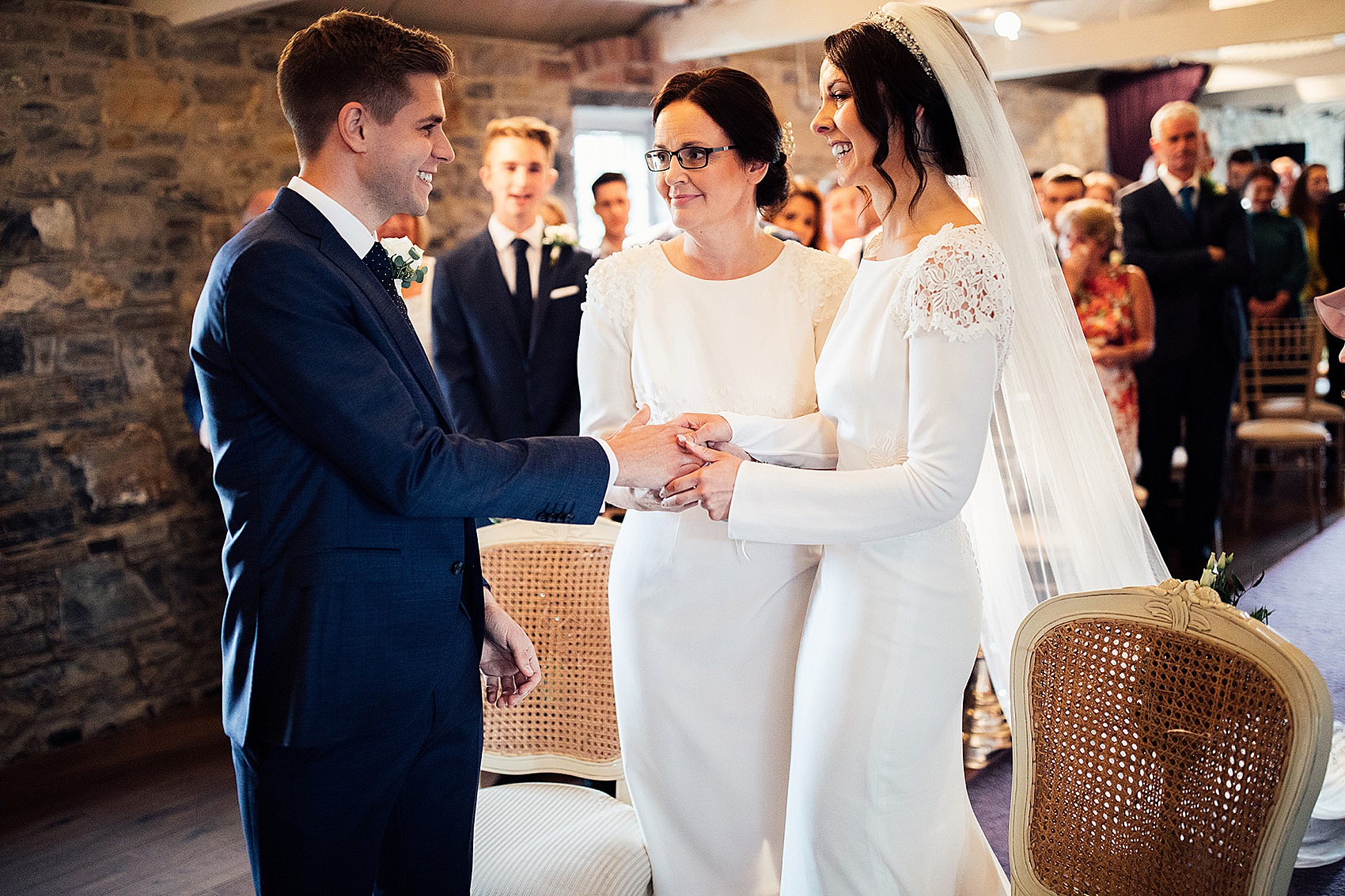 "I am from Ireland and Adam is from England but Irish weddings are just the best so Ireland had to be the destination. We fell in love with Ballymagarvey Village, the staff and the food. I remember thinking, 'This place is breath-taking'. With a banquet hall of dreams and a secret bar we knew that this was our place. We decided early on that we wanted our wedding to be romantic and chilled with a big dash of fun. Ballymagarvey Village gave us all of that."
The subtle Irish theme included shamrocks and Irish dancing, along with lots of the couple's favourite things.
"We didn't have any particular style inspiration – we just picked all of the things that caught our eye in the hope that they would all come together. Ballymagarvey assign you an event planner and she was our saviour. She guided us through the whole process to ensure that the day ran seamlessly."
I cannot get over the beauty of Carrie's sparkling silver Christian Louboutin heels, which she swopped for a Jimmy Choo pair, a wedding gift from Mark, come nightfall.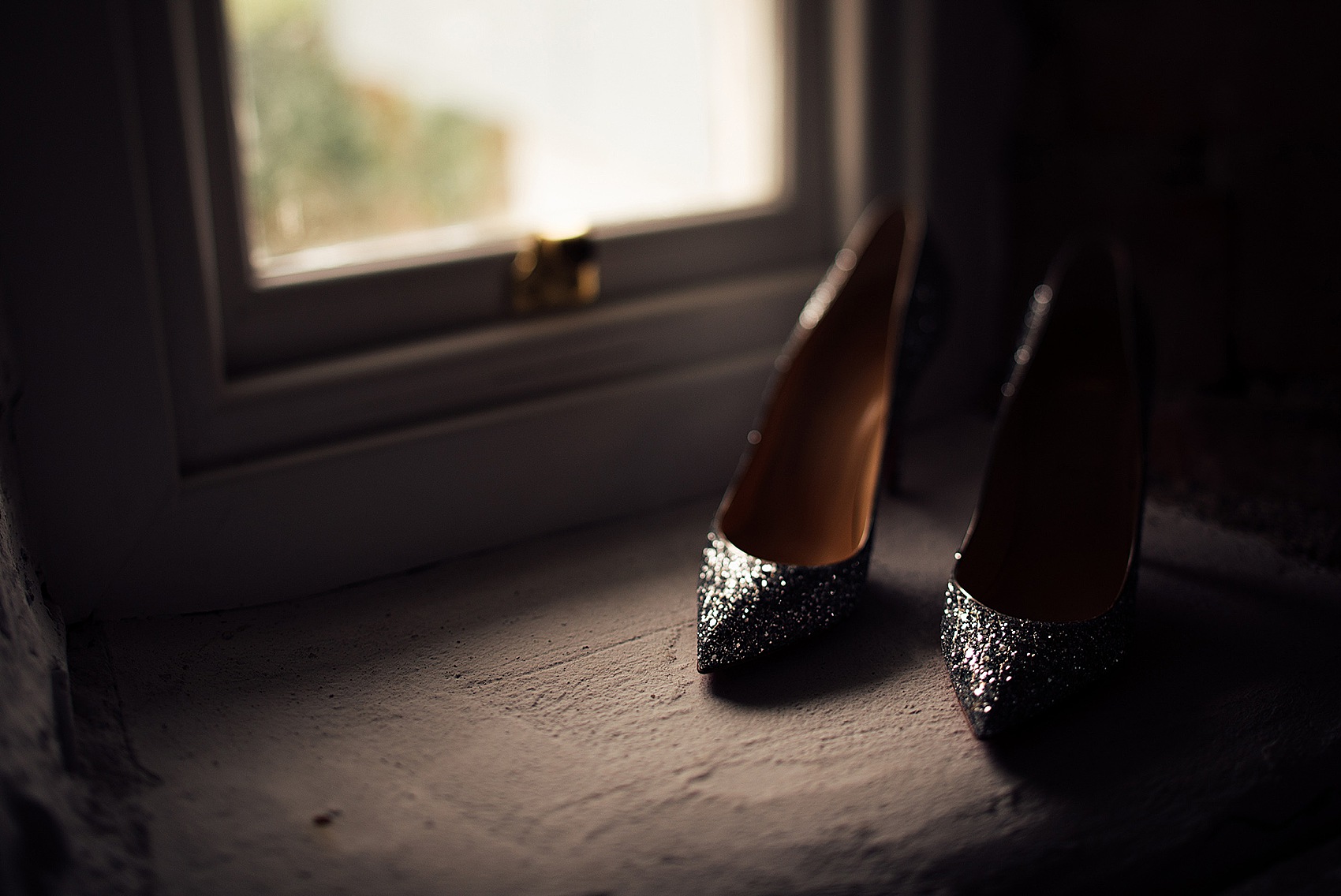 The bride's hair was styled into a sophisticated up-do by Tangled Hair Salon, was topped by the delicately twinkling 'Evangeline' tiara from What Katy Did Next, and her flawless and fresh make-up was applied by Makeup by Anne Marie and perfume was a very personal choice.
"I picked Jo Malone English Pear & Freesia because my lovely bridesmaids decided to 'scent' my hen party with Jo Malone candles. As ridiculous as that sounds, it is amazing how smells can bring back such happy memories. I had such a good hen party that every time I smelled the scent again it made me smile – I knew I just had to have it for the wedding. Every time I smell it I get a reminder of the wedding and the hen which makes me happy."
So, it's time to talk about Carrie's incredible, sexy, backless gown with the demure high neck and long sleeves. The lacy cap sleeves are so unusual, and the way they frame Carrie's back is just divine.
She visited The White Gallery Boutique in Northern Ireland to purchase this Rime Arodaky number and her bespoke, cathedral-length veil.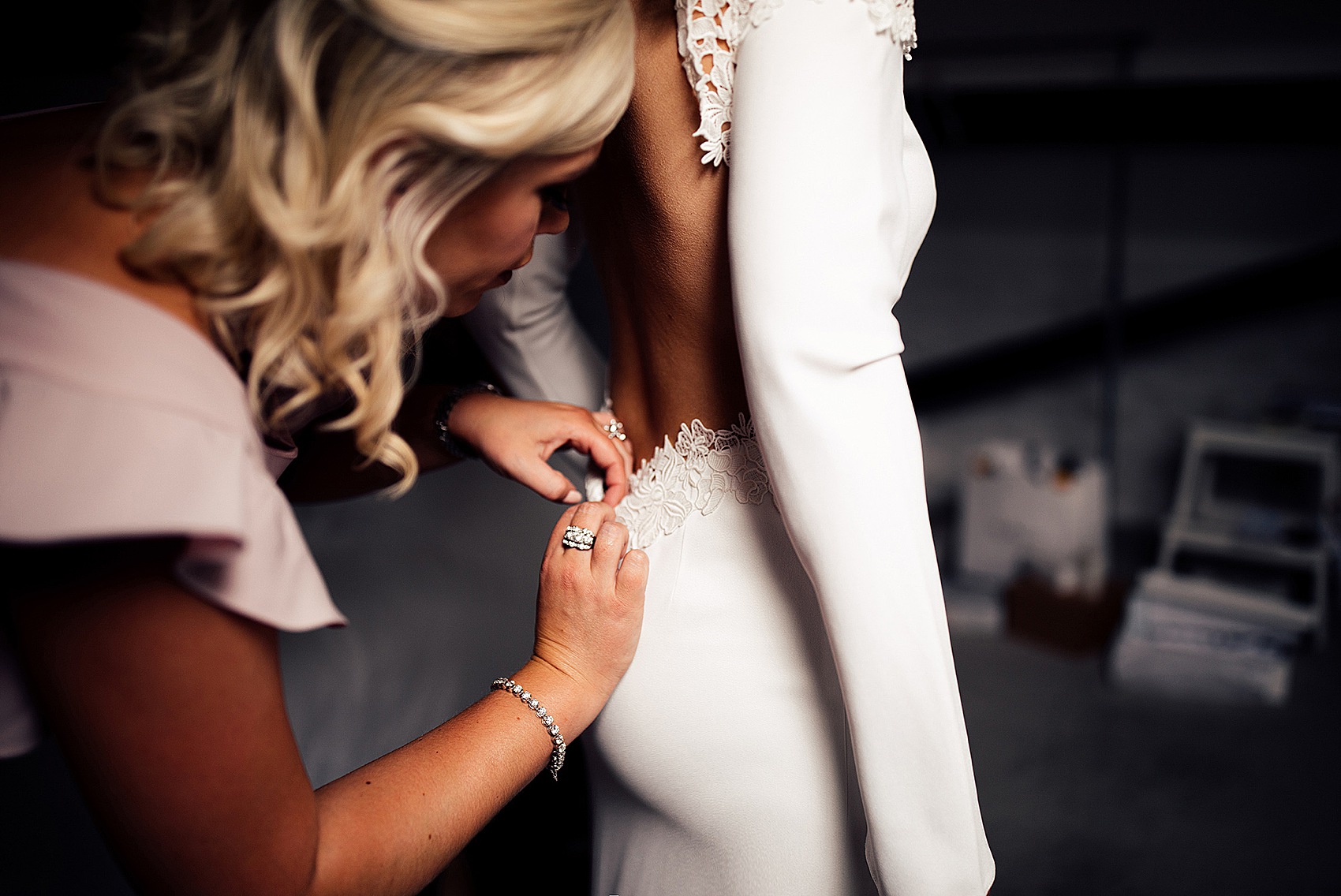 "I tried on lots of traditional wedding dresses but none of them suited me and I wanted a more modern dress. I found the 'Adele' Rime Arodaky dress in a magazine and the back was eye-catching, I always thought I wanted something plain but quirky and I found it. I loved how it was classy at the front and a little sassy at the back."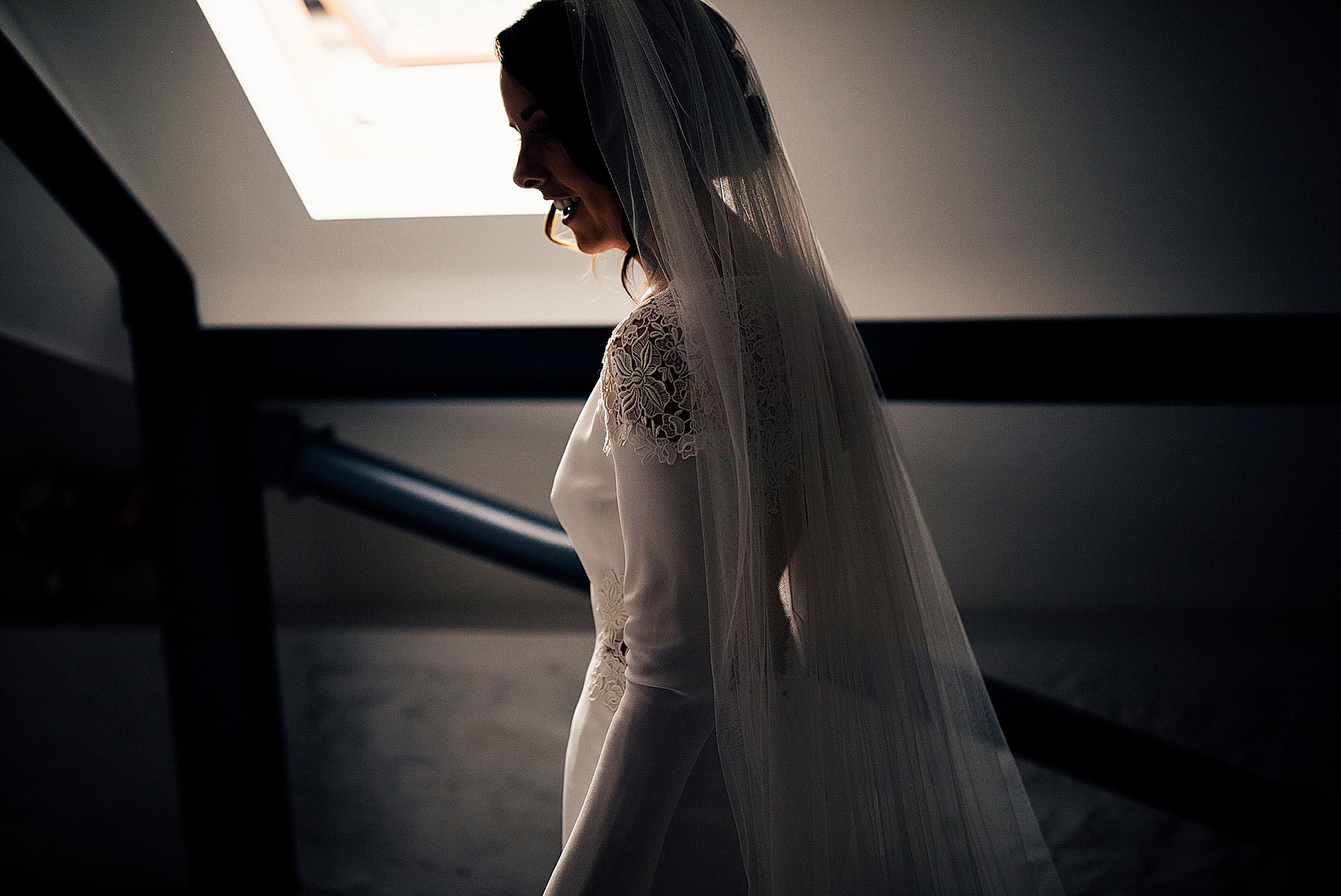 "I have always embraced my curves and this dress suited me well. I tried on a few Rime Arodaky dresses and they were all made with the most beautiful Italian material that fell in all the right places. When I put this dress on I knew it was the one. There is also something quite romantic about a sleeve!"
"I was ready a little early so my bridesmaids and I put on some music and danced around the living room before we left. It was thirty minutes of absolute fun. Looking back, this part of the day was really important because once you are surrounded by all your guests, you don't get to spend much quality time with your bridesmaids."
"They help you so much in the run-up to the wedding it's good to spend quality time with them and is also a great way to ease any nerves."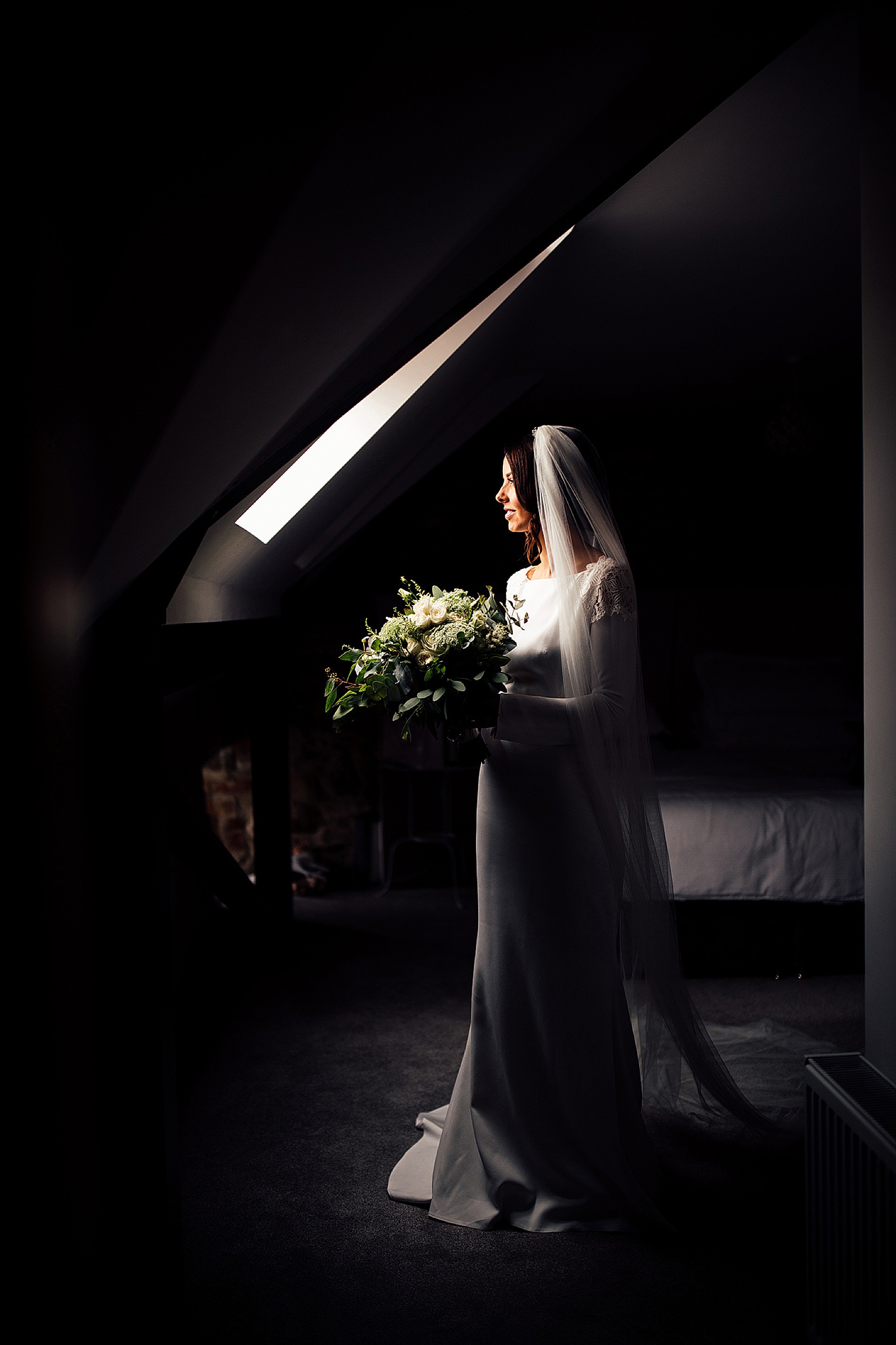 Accessories were minimal and elegant – pearl diamond drop earrings and a picture locket from Newcastle Jewellery Company and a personalised 'C' bag from Say What You C.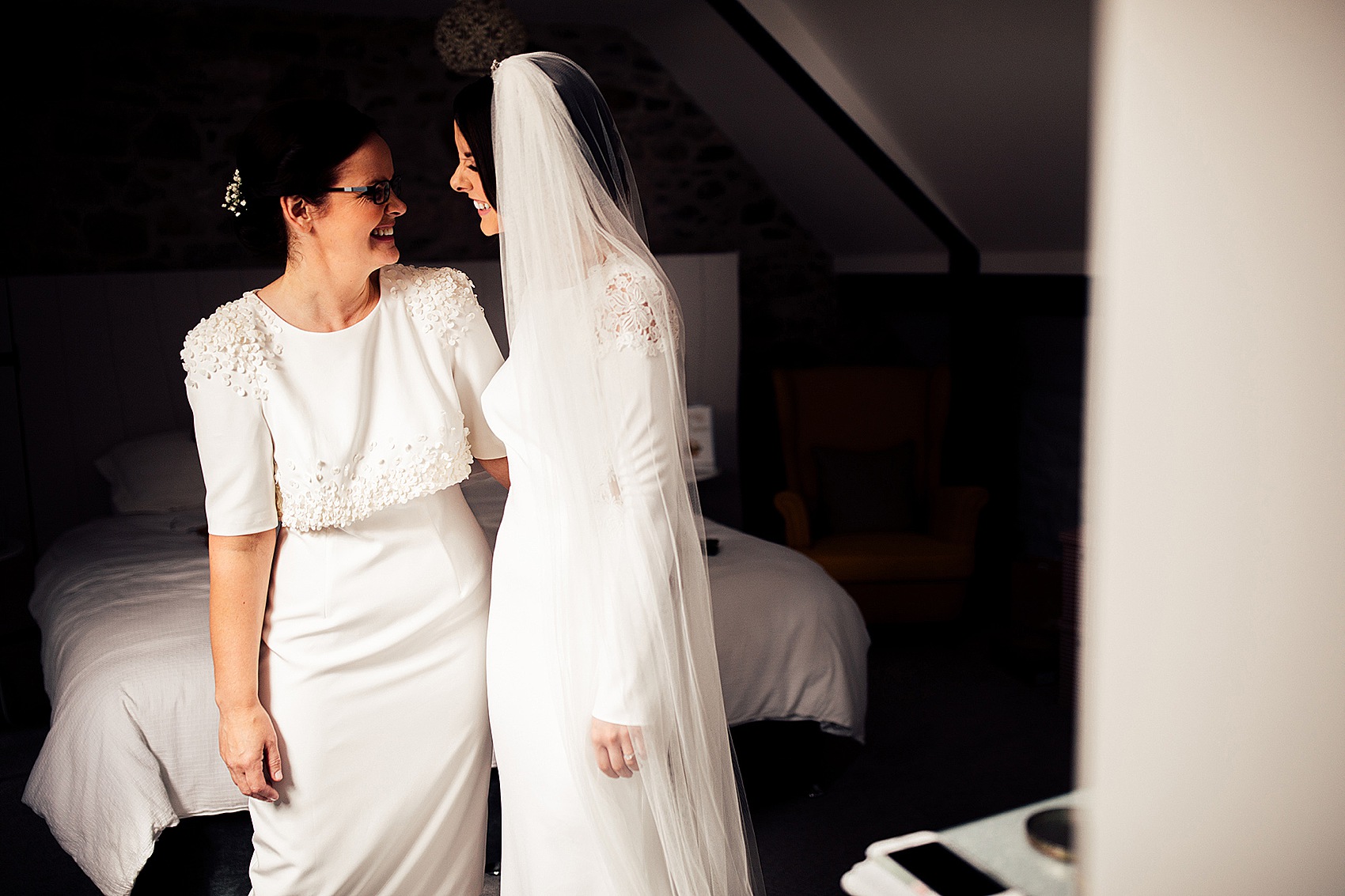 The couple's humanist ceremony was held in Ballymagarvey's stone-built Mill Loft and the bride entered to Pachelbel's 'Canon in D' played by Celticbreeze.
"The bridesmaids travelled there in a Bentley. When I was younger I loved camper vans so, as a surprise, my mum hired a VW Camper van which was my 'something old'."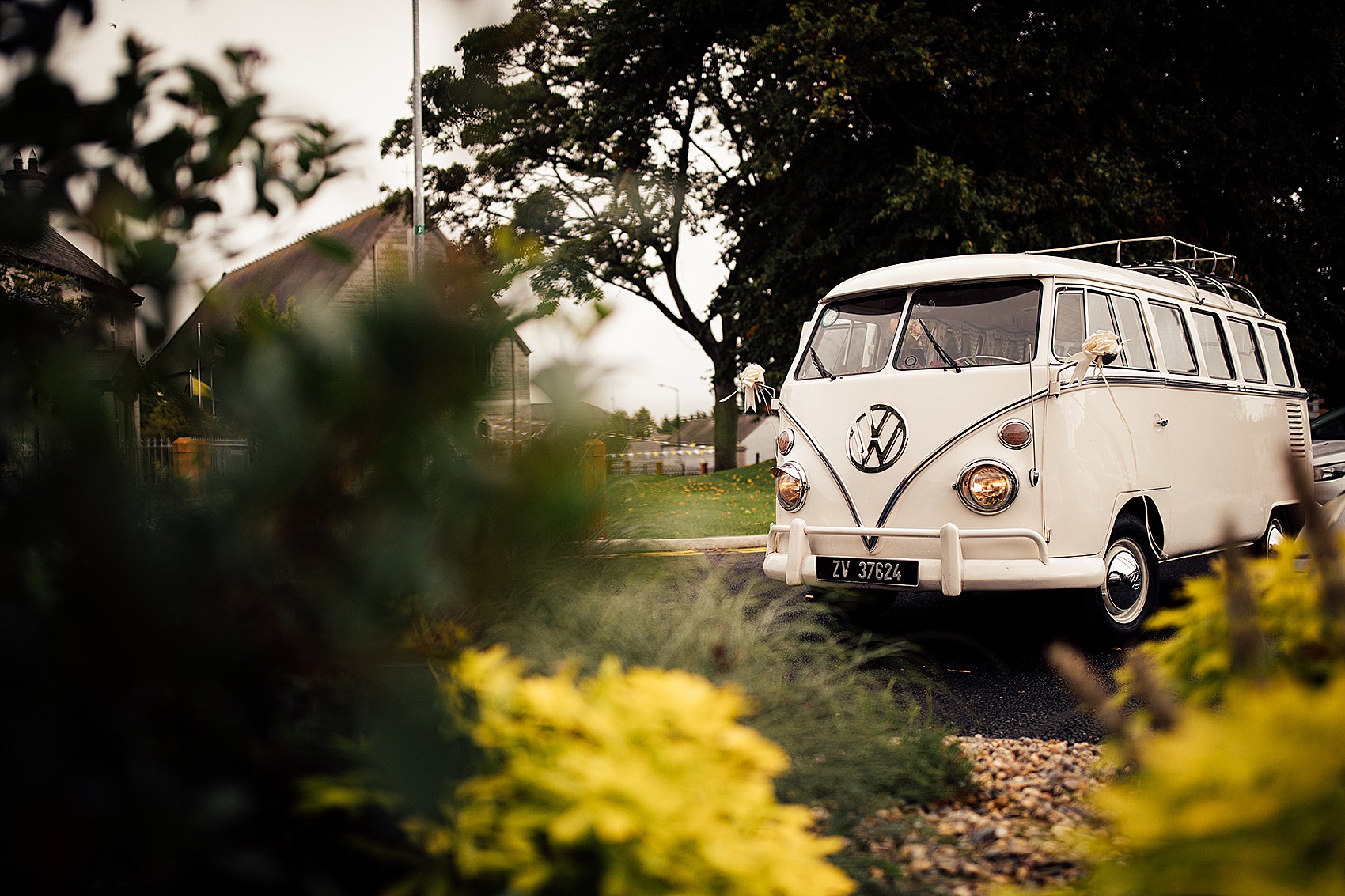 One of our own Little Book Wedding Directory members, TH&TH Bridesmaids, was the talent behind the bridesmaids' graceful gowns. These soft pink, open-backed gowns with frilly cap sleeves are so romantic and pretty, worn with Newcastle Jewellery Company earrings and personalised handbags from L.R.M Goods. To finish, fresh floral combs from Arbour Blooms were fastened in their hair.
If you love this contemporary and romantic look, please take a look at the TH&TH Bridesmaids Little Book listing here.
Carrie and Adam met at university in Newcastle and the groom proposed after nine years of coupledom.
"We met in our second year on a night out in a cheesy night club. Adam texted me the next day to see if I fancied a date to the cinema so we went to watch 'P.S. I Love You'.  I suggested the next date; rock-climbing! Needless to say, I was a much better climber and he was clearly impressed. The rest is history. In December 2016 we went to New York."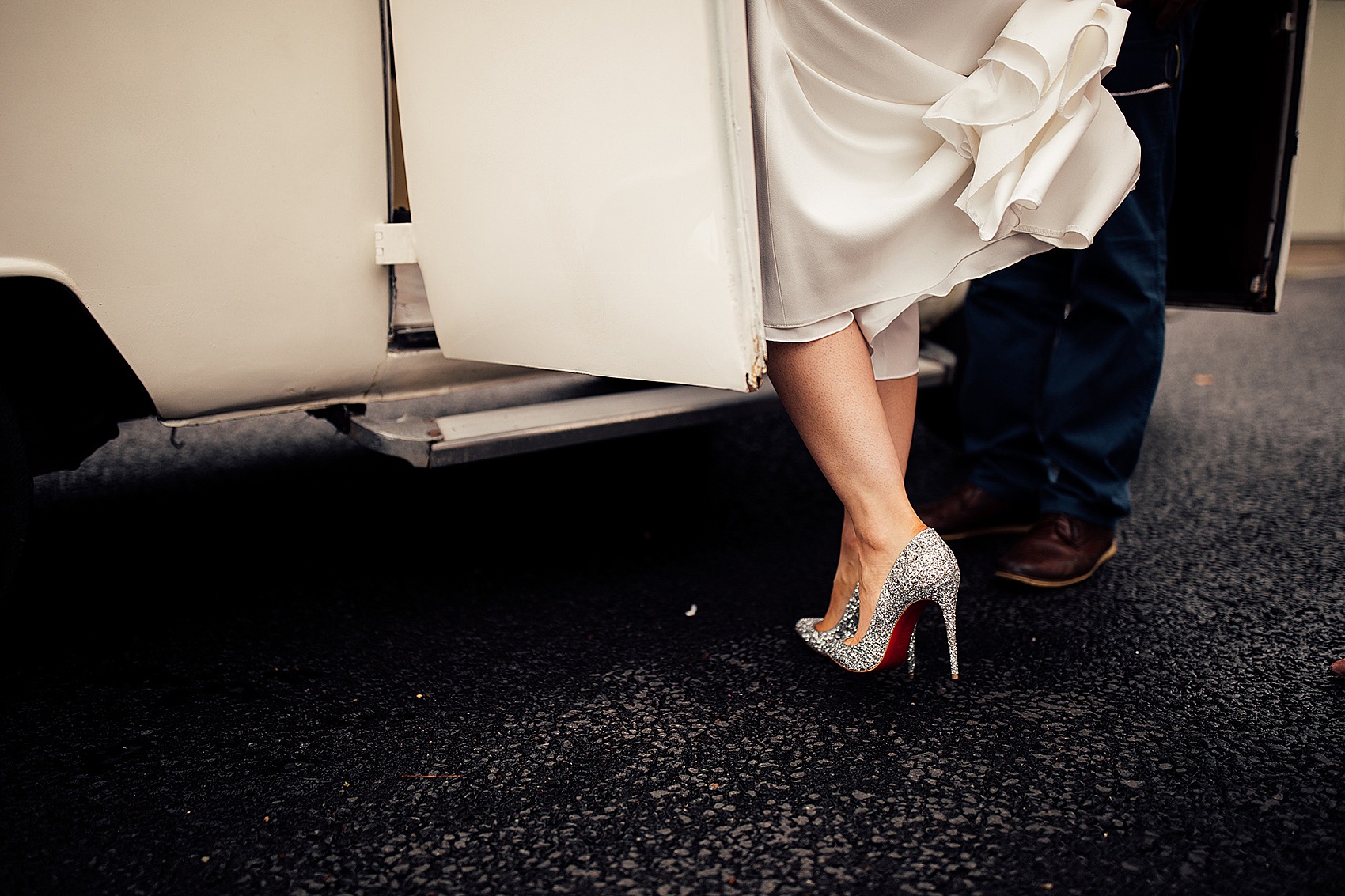 "On our first day, it snowed and we rushed to Central Park. Adam had the ring in his pocket and was planning to propose but he got too scared and spent five days walking around New York with it. Finally, on the last night, we went late night shopping to Fifth Avenue, followed by skating in Central Park."
"Afterwards, Adam wanted to go to the Bethesda Fountain where he got down on one knee in the snow and popped the question. It was very 'Miracle On 34th Street' (only I said yes!) which is my favourite childhood movie, so he did well. We celebrated with dinner and cocktails."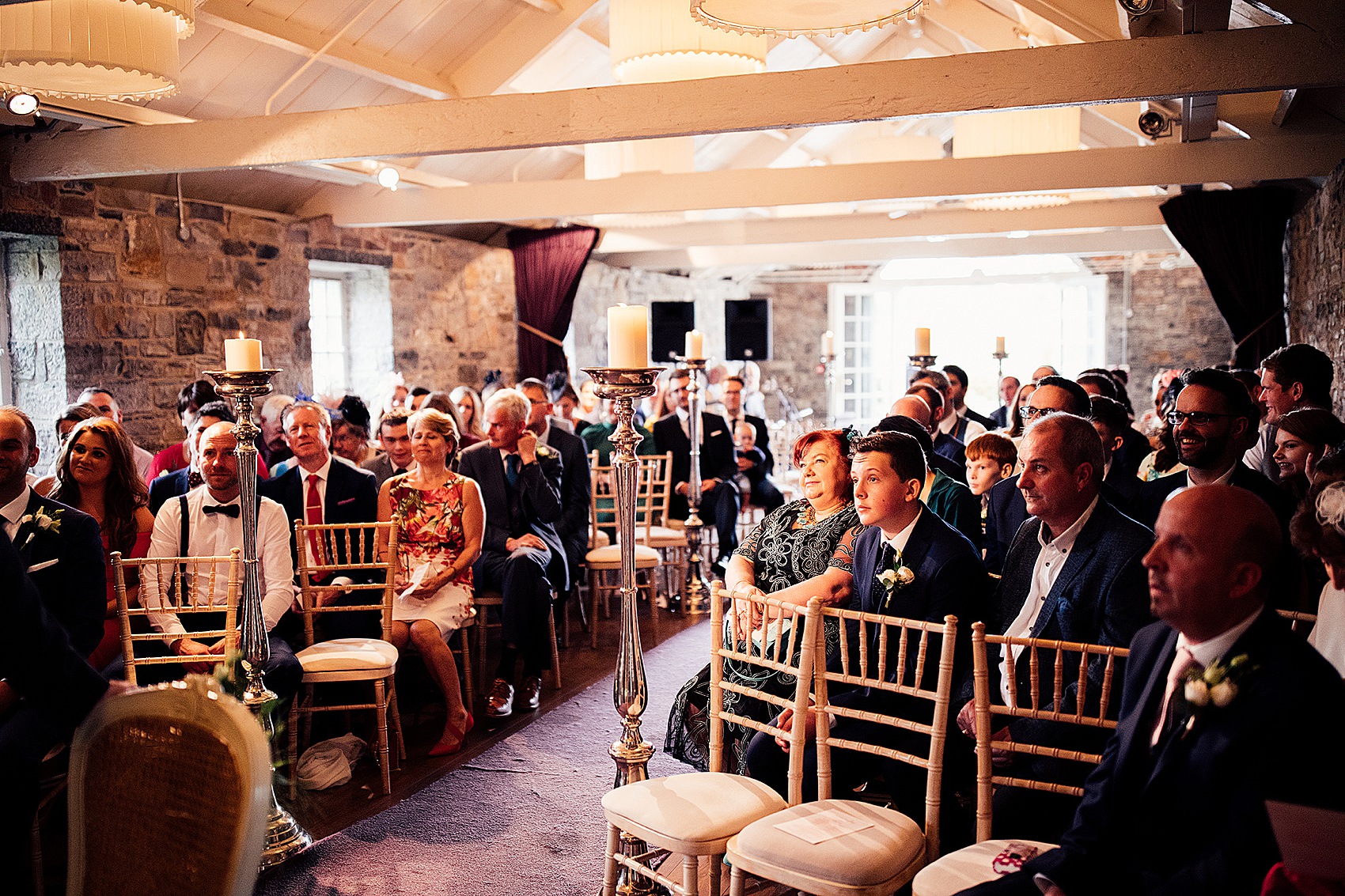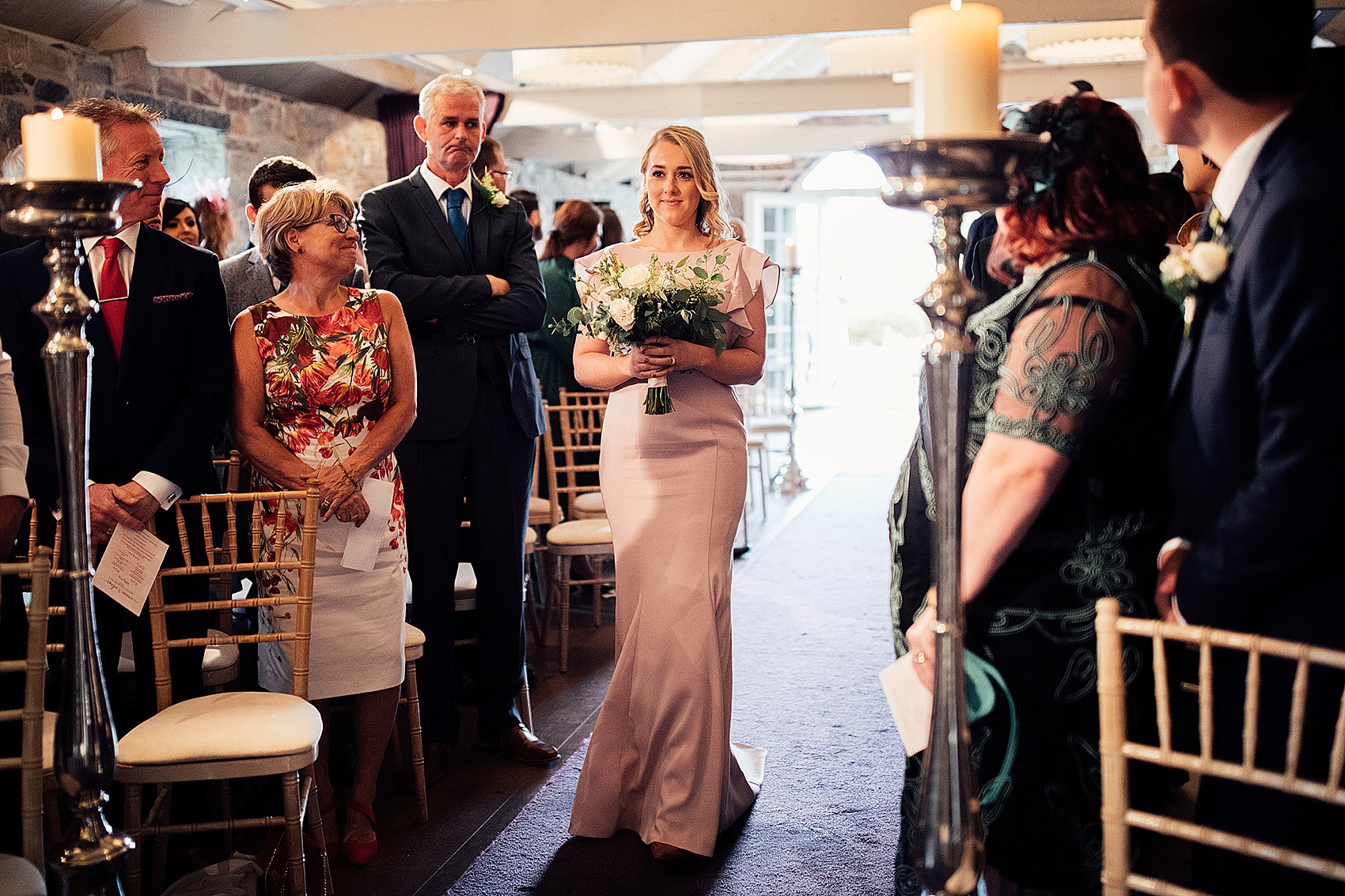 For the wedding day, Adam selected a three-piece Hugo Boss suit in dapper blue and a spotty T.M.Lewin tie, worn with an eye-catching buttonhole by Arbour Blooms.
"His Mulberry cufflinks were a present from me on the morning of the wedding."
"My mummy walked me down the aisle. It was great to have my best friend and biggest inspiration walk me down the aisle."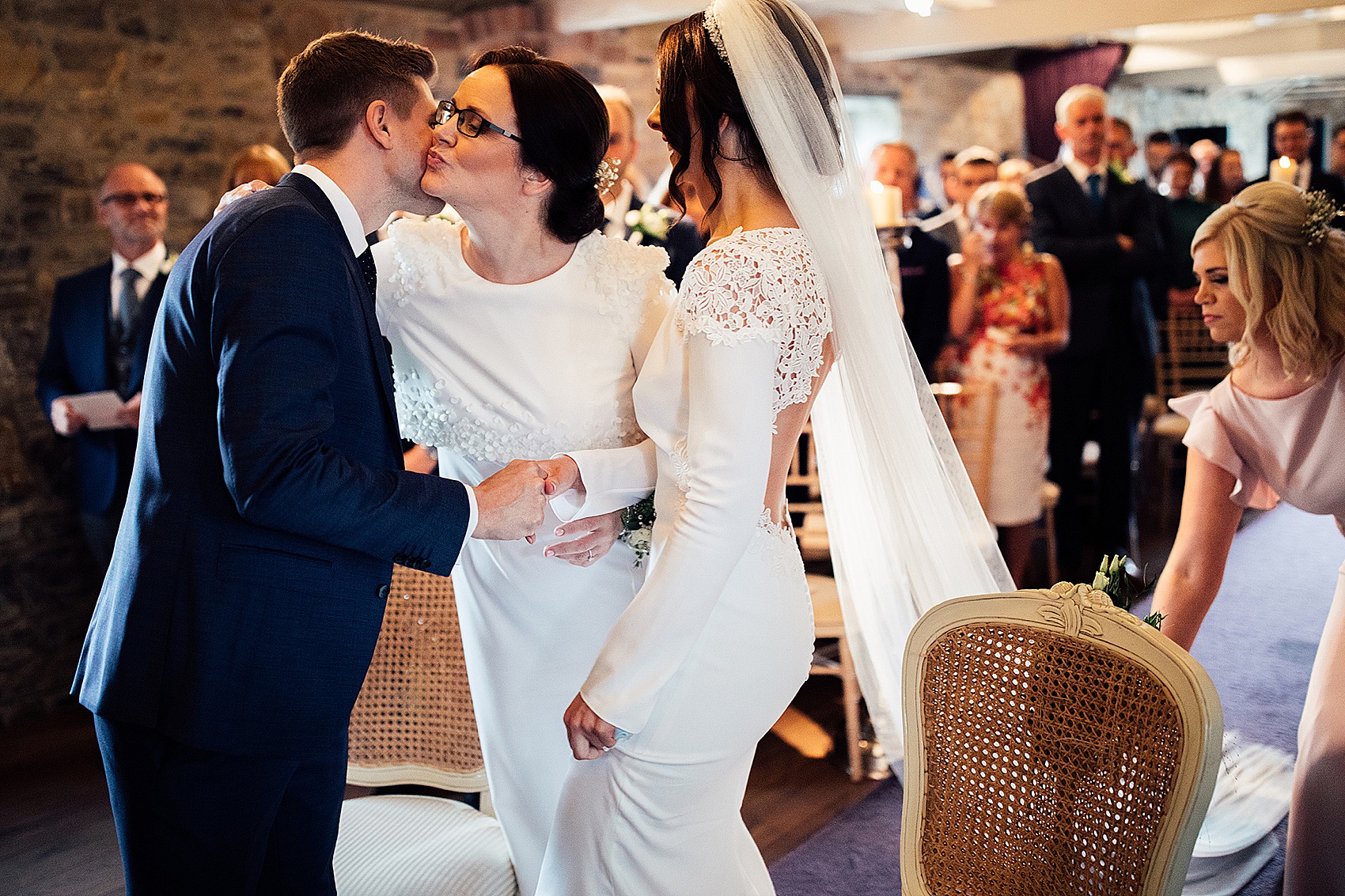 The humanist ceremony was led by celebrant Philip Byers and included three, very special readings.
"Philip was absolutely great. We worked together to create the ceremony and nothing was out of bounds. Philip gave us the freedom to create our own wedding and he was happy to go along with whatever we wanted."
"The first reading was 'Union' by Robert Fulgham. This summed up our relationship in a nutshell and the words meant a lot to us. Our second reading was 'On Your Wedding Day' and the third was 'Geallaim Iad Seo'. I can speak Gaelic and it was a big part of me growing up so it was a must that one of the readings was in the Irish language."
Mark and Carrie's rings, which were passed around their guests during the ceremony, were chosen at Newcastle Jewellery Company.
"The quality of the jewellery here is impeccable. The owner of Newcastle Jewellery really knows about diamonds, having been in the industry for over fifty years. My engagement ring was from here and he knew exactly which wedding ring would suit me and my engagement ring. I have shopped here for jewellery for over ten years and it's the only place I would ever go."
"We passed our rings around the guests before we exchanged them which was Philip's idea. It meant that everyone could wish for something different for us."
Doesn't the venue's Banqueting Hall look spectacular? Simply but stunningly decorated with blossoming trees, fairy lights, pillar candles and elegant, gold-tipped stationery by Amanda Michelle, it is an intimate and magical space for any wedding breakfast.
"We used minimal styling for the venue as it was already so beautiful. The ceremony room was decorated with cherry blossoms and candles and we had cherry blossom trees for the centre of the tables along with Jo Malone Candles in English Pear & Freesia."
"I loved walking with my new husband into the magical banquet hall full of all of our favourite and most precious people."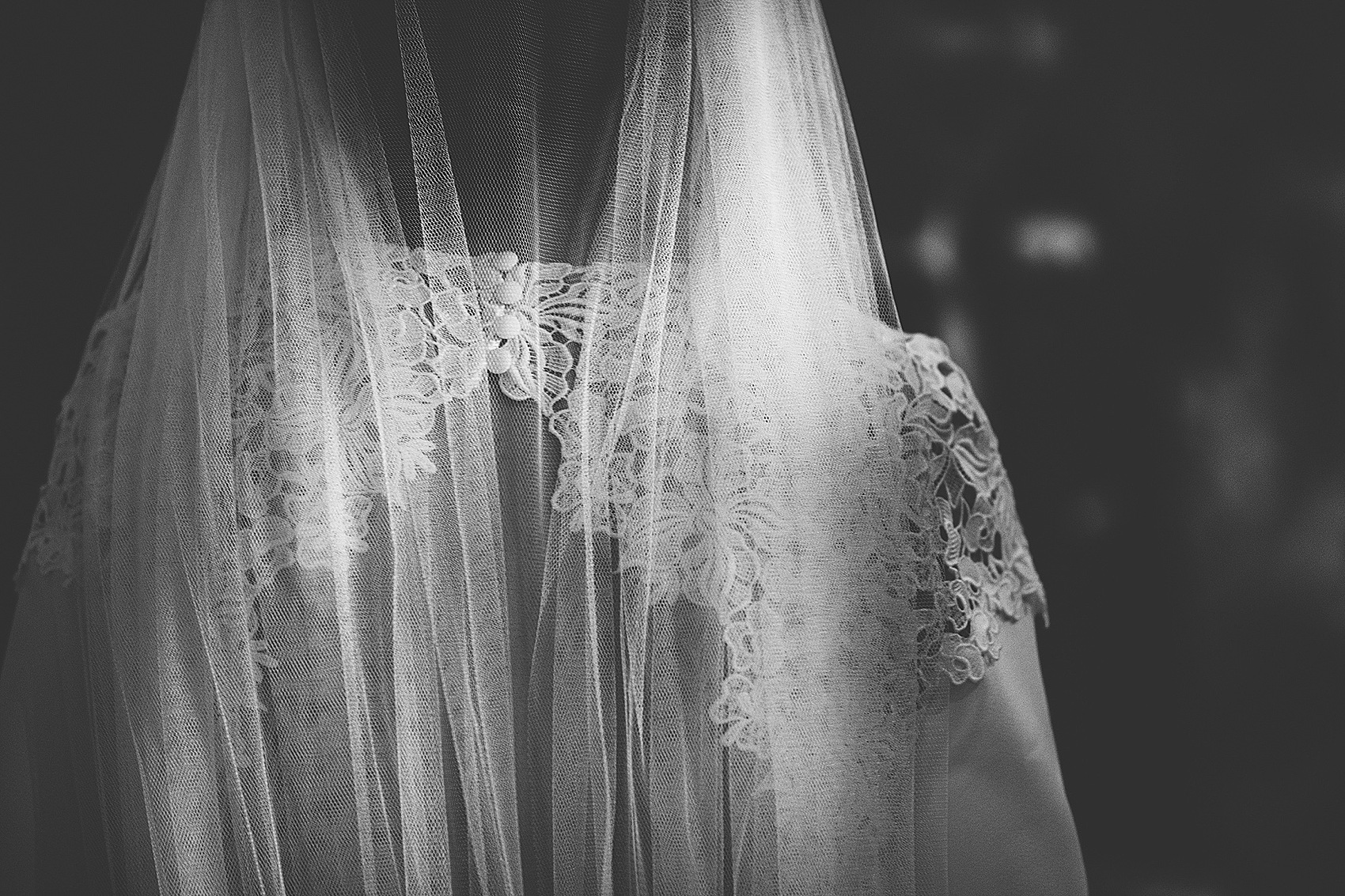 Photographer Harry Michael flew over to Dublin from Buckinghamshire to bring his documentary approach, along with a lot of artistic flare, to Ballymagarvey and the couple's wedding day. I really admire the sense of stillness and magic that runs through his images, as well as the fun and movement in his guest and newly-wed shots.
"Something about Harry's pictures caught my eye immediately. They captured real, honest moments of the day without those cringey, staged photos. Even the formal photos he did show were somehow totally relaxed and didn't look like any I'd seen before."
"On the morning of the wedding having Harry around felt like having a third bridesmaid. He was really good fun and really knows what he is doing. We have absolute nutters for friends so it was important for us to find someone who would stay longer than just up to the first dance. He captured all the dance floor madness until we were partied out… about 2 am!"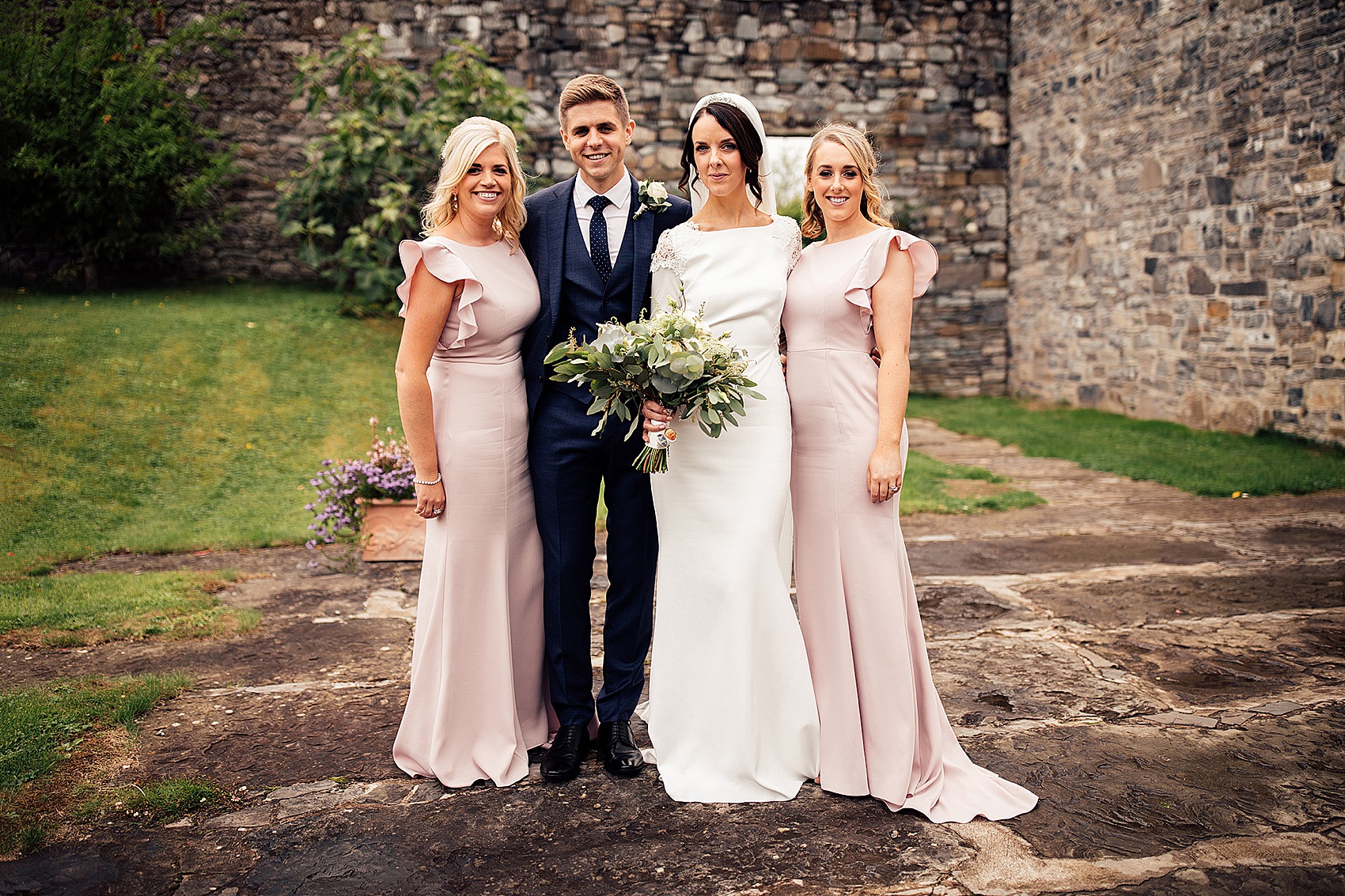 The bride's bouquet was also styled by Arbour Blooms and was a riot of leaves and full-blown roses.
"I love eucalyptus and it wasn't really in season but Jonny from Arbour Blooms told me he could get some blue eucalyptus and mix it with David Austin Roses. They just looked perfect. I wanted the bouquets to be quite big and white roses are my absolute favourite."
"We were a little nervous about standing for ages having pictures taken but Harry takes natural pictures rather than lots of staged pictures, we spent just five minutes taking portraits. Harry is really creative and captured all the moments that meant the most to us. We couldn't be more delighted with the pictures."
"I have had so many comments on the pictures and how striking and fun they are. The slideshow was just beautiful- accompanied by great music. He exceeded all expectations in every way. You can tell how much he loves his job from how happy he is and how passionate he is about his work. You cannot help but smile when Harry is around; he brings a kind of infectious fun wherever he goes."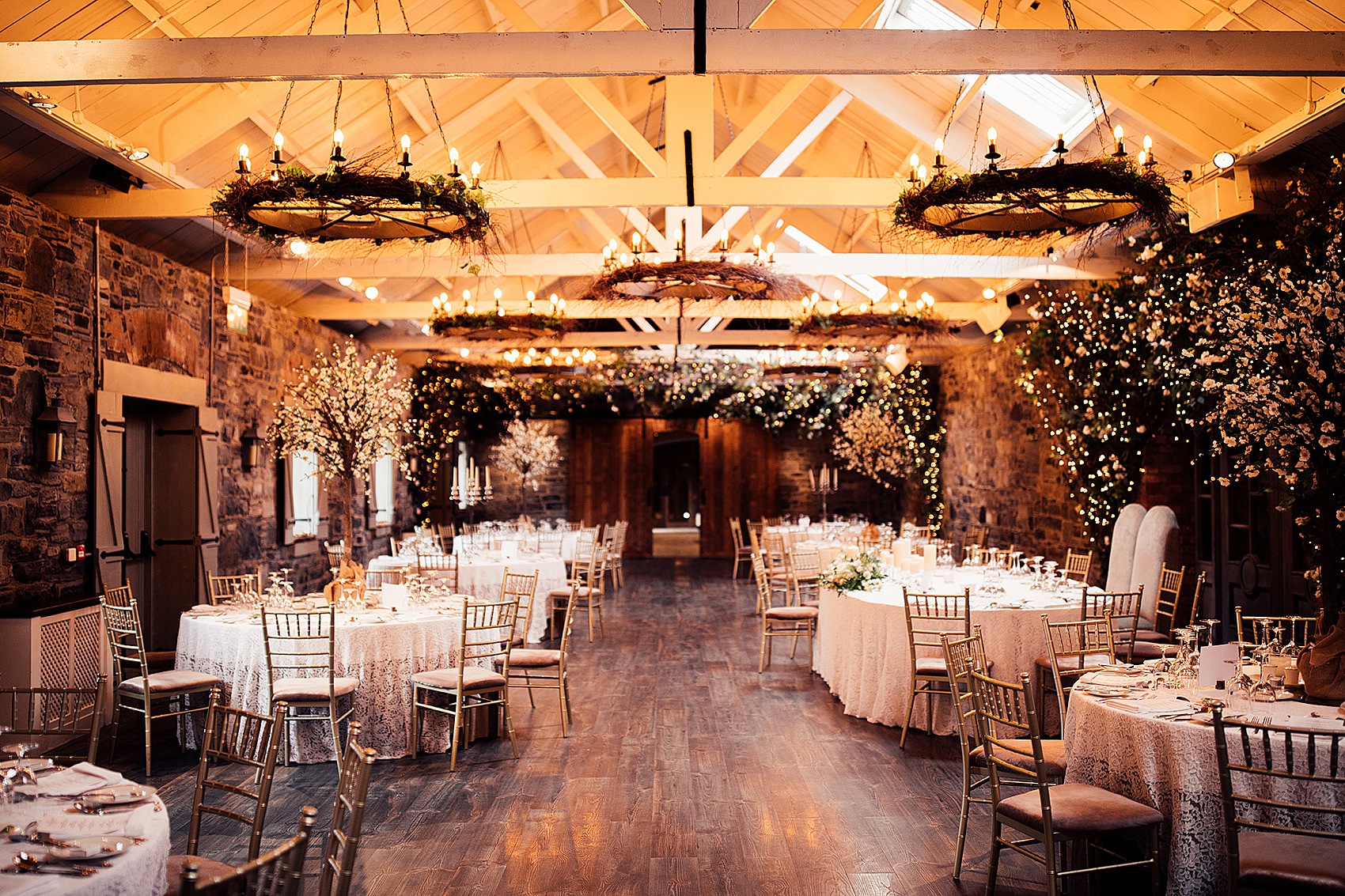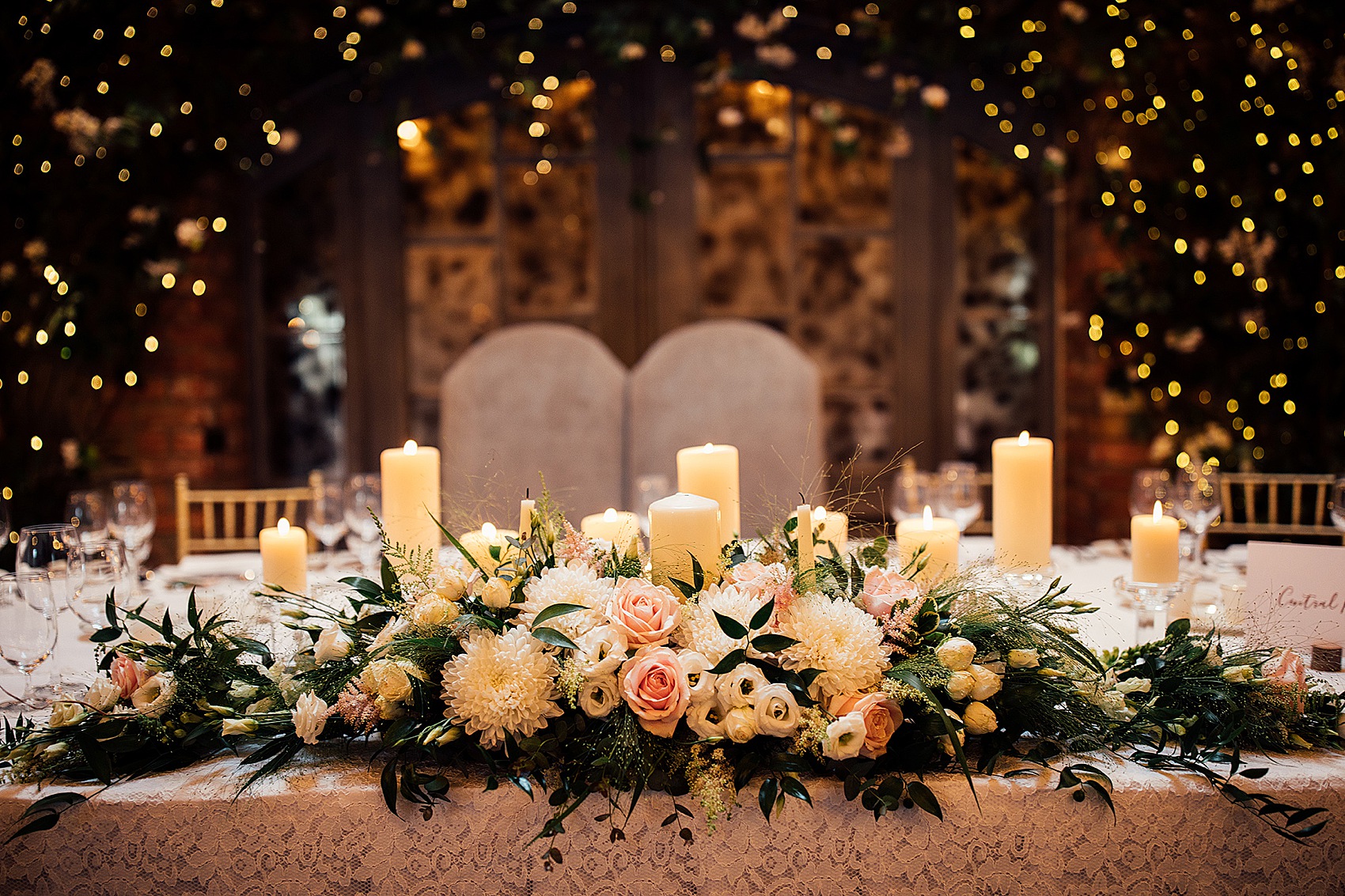 I absolutely love the story behind this beautiful Primrose Bakery wedding cake, draped with full-blown roses.
"The cake was quite special for us and I designed it with some small gold shamrocks. I wanted to tie in the Irish theme as much as I could but also wanted to keep it quite classy."
"My brother Darragh, who is just thirteen, decided he wanted to save all his pocket money and buy the cake for us as a wedding present which was just adorable. We chose this cake together. It was a three-tier cake (chocolate, lemon and red velvet) and was the nicest cake we have ever tasted."
Favours came courtesy of Mark's mum.
"We had shamrock biscuits baked by Mark's mother. I also made a card, 'How to Speak Northern Ireland', with phrases for the English guests to learn which was a little bit of fun."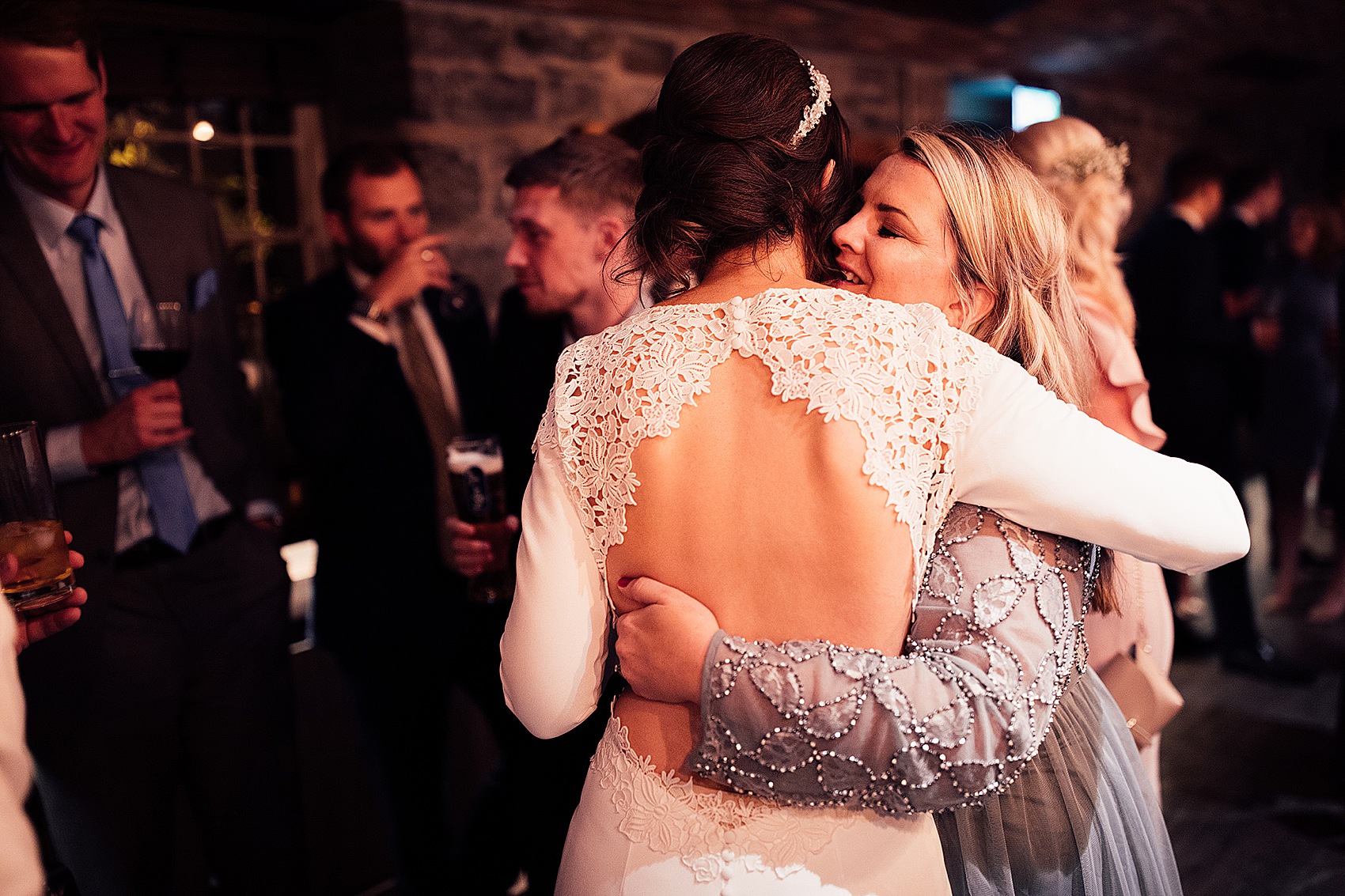 The evening reception was full-on Irish fun, with a proper Irish dance to music from The Nooks after a romantic first dance.
"Snow Patrol was the first band that we saw live together so 'Chasing Cars' was the perfect first dance song."
"Irish Dancing the night away with all of our friends and family and seeing everyone smiling and laughing was one of my favourite moments."
Words of Wedded Wisdom
"Don't lose your own personality when planning a wedding and don't get too worked up about things. Stay chilled and remember to enjoy every step of the journey. It is easy to get caught up in Pinterest and Instagram but as long as both of your personalities are reflected on the day then it will be just perfect and the rest is irrelevant."
"Never try to please anyone else other than you and your husband-to-be. It's your day after all."
"The guests will follow your lead. If you are chilled, relaxed and having fun then so will your guests. You will set the tone for the day."
"Don't underestimate the power of your photographer. You will spend some of the most intimate parts of your day with them. You don't get to spend much time with your new partner alone and the times that you do, your photographer will be there so make sure you are comfortable with him/her. The photos are the memories that you have after the wedding so ensure you hire a photographer that you are happy with."
So, lovelies, what do you think? I hope that you've enjoyed this elegant and simple celebration (not to mention the gown, the gown!) as much as I have. For more Love My Dress brides wearing Rime Arodaky's gorgeous creations, I invite you to take a look here. Thank you Carrie and Adam, and you too Harry Michael Photography, for this wonderful day of celebrations.
Ele xx