Lovers of pink, you're going to be tickled pink (sorry, I couldn't resist!) by today's East London wedding. As you'll quickly see, the colour is suffused throughout the whole day; candyfloss and pastel hues in flowers, stationery, styling and lighting.
This is pink with an edge though, inspired by California and the couple's annual trips to the Coachella Festival, with a healthy dose of Shoreditch cool for good measure. Meet our couple, Stacey and Luke (AKA Lord and Lady M).
Film by This Modern Revelry
Stacey is Buying Manager for Zalando, specialising in footwear and accessories, and Luke works in the drinks industry for premium beer brands like Peroni Nastro Azzuro and Asahi Super Dry. They were married on the 21 September 2019 at the Ace Hotel in Shoreditch, East London.
"We wanted a modern wedding and a city location. Ace Hotel Palm Springs is a fave holiday destination, and luckily the Ace London space offered a perfect canvas for our theme without asking our guests to travel too far!"
Images by A Thing Like That Photography
"We were inspired by our annual Coachella trips. We wanted to bring LA/Cali/Palm Springs vibes to London, which inspired the flowers. It progressively evolved into a pink haven after seeing Mandy Moore's wedding."
The first of three gorgeous looks worn by Stacey was a simple slip dress with a delicately patterned voile overlay with super shoulder ruffles, by Berlin-based label, Kaviar Gauche.
"I loved the simplicity, but still with that couture edge, and I loved the neckline of the slip dress, and the shoulder detail of the top layer."
Stacey spent a lovely morning at the Nobu Hotel getting ready with her bridesmaids, Man of Honour and family, and her beautiful make-up look was created for her by Jessie May, whilst her hair was styled by Sophie Sugarman (AKA The Mane Style).
Stacey finished off her look with a sweet 'Loved' charm necklace by Lola Rose, pearl drop earrings by Miu Miu, and others by Maria Tash.
The Man of Honour wore a smart white tuxedo by Reiss with a pair of Gucci loafers, whilst the bridesmaids wore incredible animal print dresses by Rixo, which they wore with shoes from Topshop.

In her hair, Stacey wore a bespoke celestial crown by Tilly Thomas Lux, and her shoes were amazing white satin, pearl covered sandals by Jimmy Choo.
"I wore a New York City signature scent by Le Labo. It felt special as the signature scents were only available worldwide during the wedding month of September."
"Thereafter, I can only get my original bottle topped up in the city of the scent. Therefore it is a necessity I visit NYC regularly!"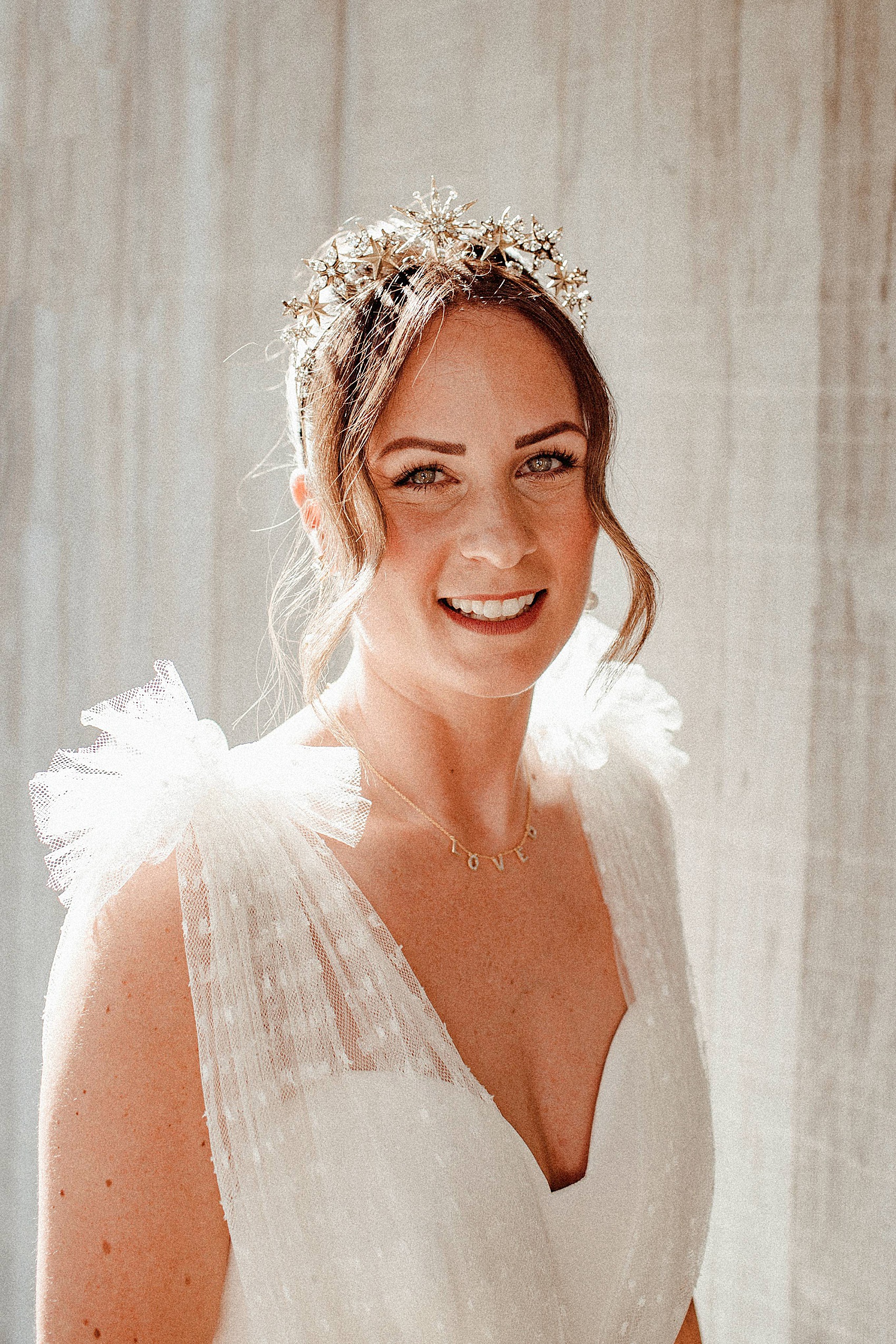 Stacey and her bridesmaids carried ethereally beautiful bouquets of pink orchids and gypsophila, made for them by florists Worm.
"The bride tribe travelled by Mercedes the short distance from the Nobu Hotel to the Ace Hotel. Cars were provided by Wheely."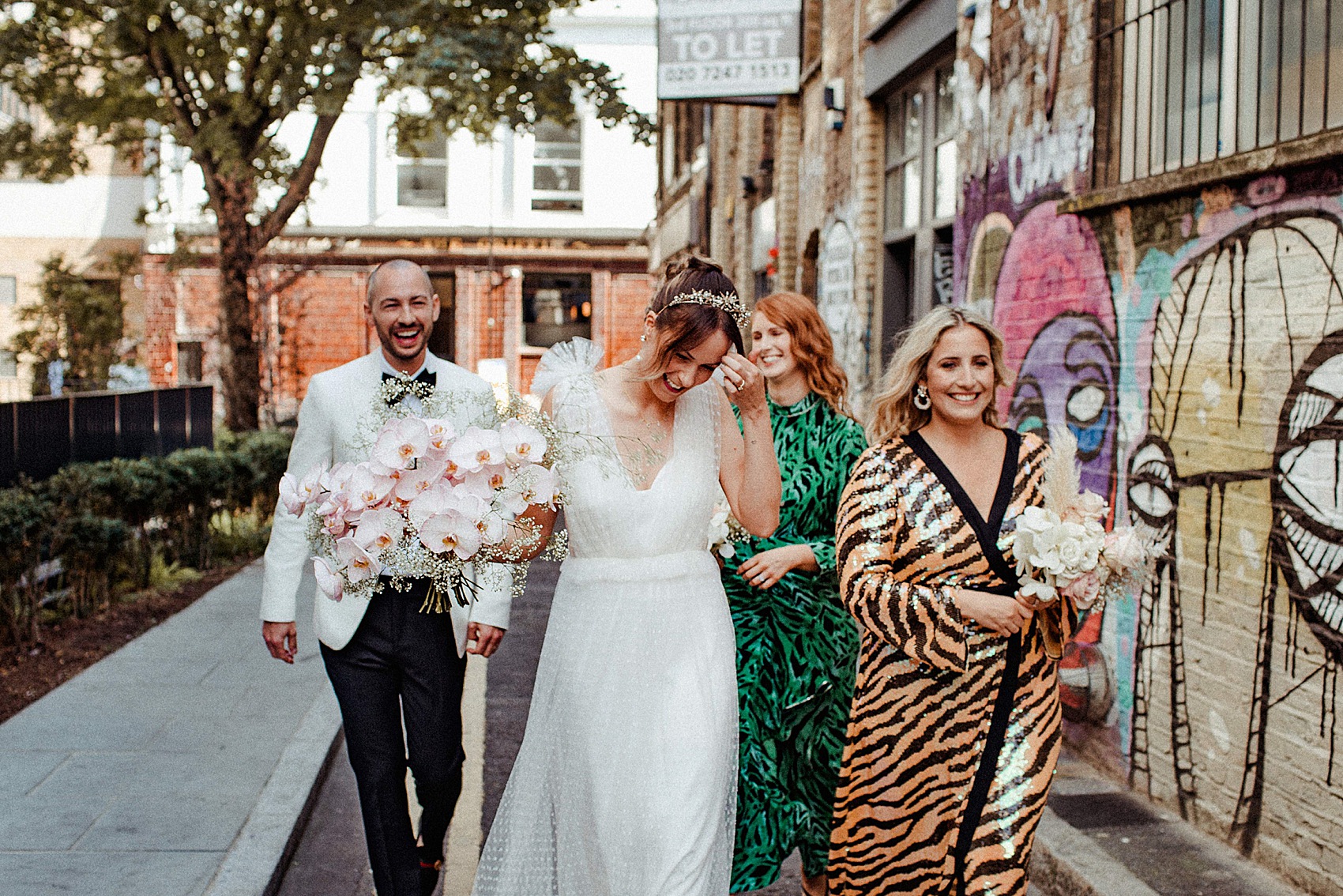 Luke wore a fantastic tuxedo with silk lapels and buttons, by Monokel Berlin, which he wore with a black bow tie by Gucci, a Burberry cummerbund, and shoes from Hugo Boss.
The flowergirls wore pretty white dresses from Next, together with gold glitter Converse high-tops.
The ceremony room at the Ace Hotel was a wonderful, light space with floor to ceiling windows looking out over Shoreditch.
The focal point for the ceremony was a corner where the windows met, which was filled with candles, scattered flower petals, and a spectacular hanging floral installation filled with gloriously textured pampas grass, gypsophila, and orchids.
The aisle was lined with more wonderful flowers, all the work of the outstandingly talented team at Worm.
"Seeing the finished venue for the first time upon arrival pre-ceremony – the flowers blew my mind!"
Stacey was accompanied down the aisle by her father, Les, to the sounds of Maybe I'm Amazed, by Jem.
"We met 15 years ago to the very weekend of the wedding, in Herefordshire where we both grew up. Luke proposed in LA on the 21 April 2018, so there were 16 months between Luke popping the question and walking down the aisle."
The ceremony was conducted by a registrar from Hackney Council, and the couple chose to write their own vows, extracts of which they've kindly allowed us to share here.
Stacey, I give you this ring as a symbol of our marriage. I promise that I will be loving and faithful to you, in good times and bad, in
happy times and in sad. Wherever we may be. You are my best friend, and I give you my hand, along with my heart for our life together. I will forever love and respect you, even more than I do already, and look forward with happiness to our ongoing adventure together. Luke's vows to Stacey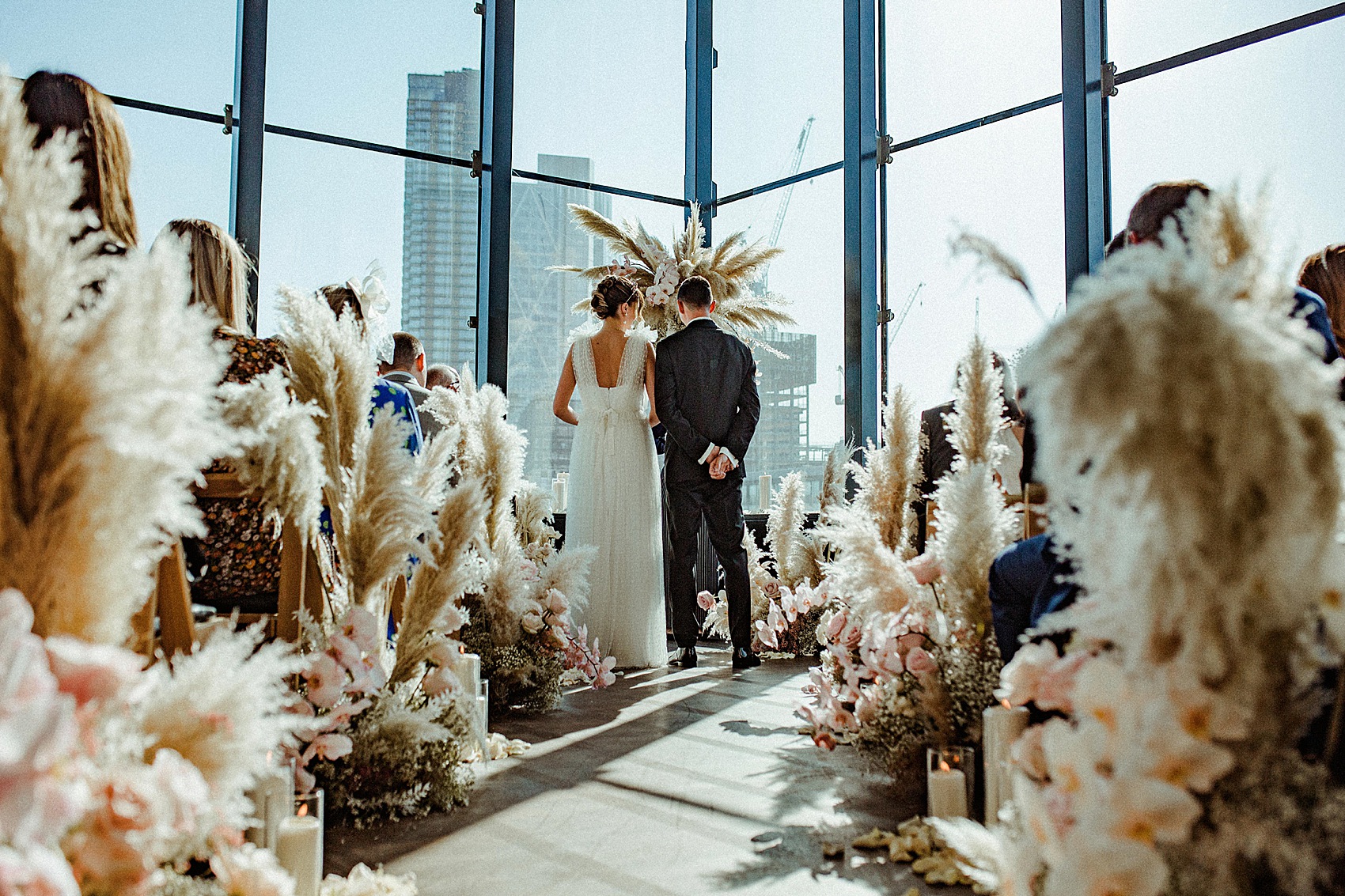 Luke, from this moment, I take you as my best friend for life.
But, I cannot promise you an easy life,
And I cannot promise you that I will be the perfect wife,
But I can promise you, that I will choose to love you every day.
Today I take you as my husband and I promise to respect you,
To be compassionate, gracious, slow to anger and forever loving,
I am proud to be your devoted wife, excited to discover what is next in our lives,
And thrilled that every day we will be together on this adventure.
We are partners in crime, always having so much fun! It might be 15 years in,
but our love remains forever young. Let's continue to solve life's mysteries together, one embrace at a time. Stacey's vows to Luke
Stacey and Luke's wedding rings were from the helpful team McCaul Goldsmiths in London's Exmouth Market. To round off the lovely ceremony, Stacey and Luke selected one humourous yet romantic reading, which was He's Not Perfect, by Bob Marley.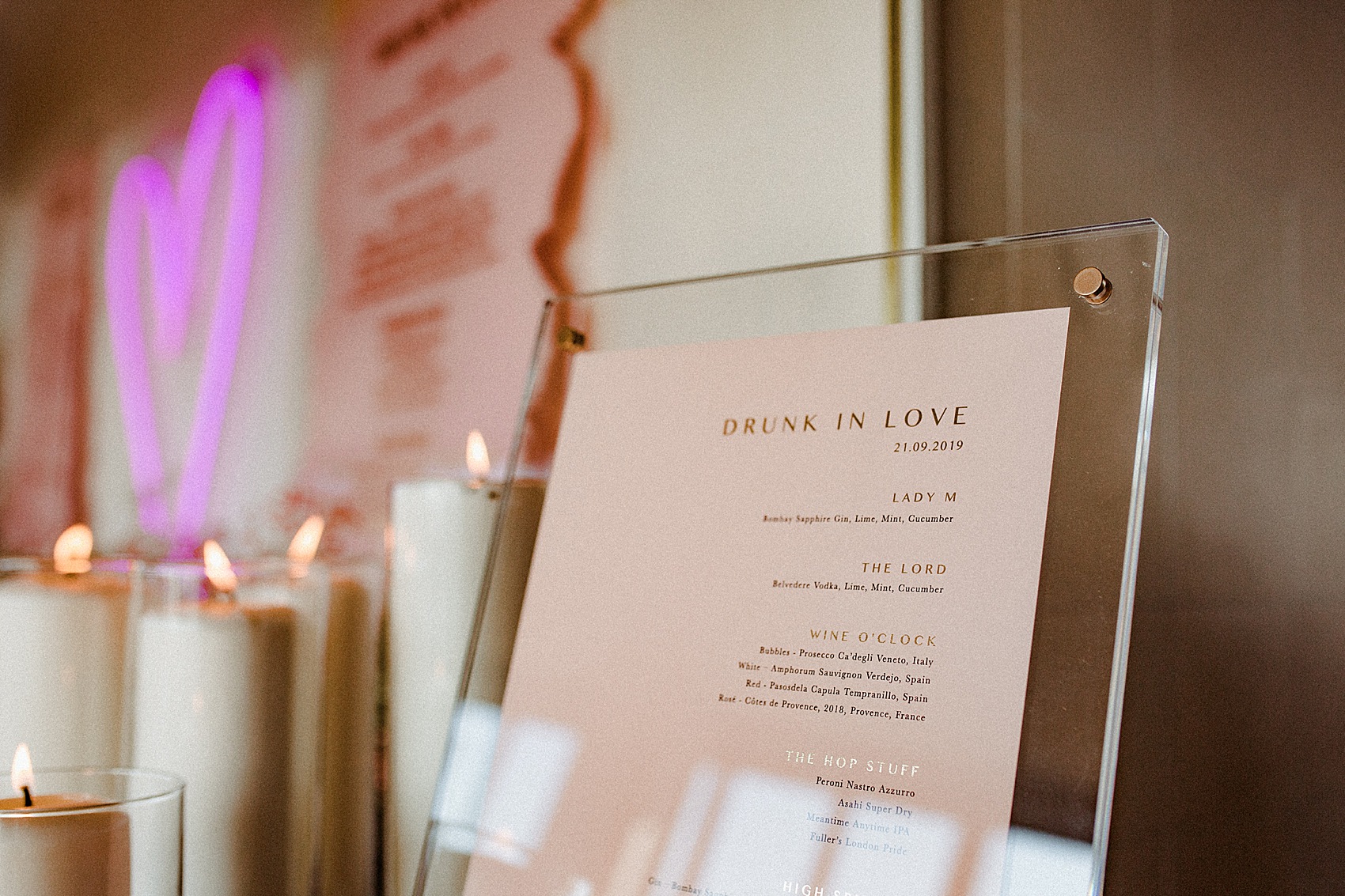 Every treasured moment was captured with style by Rebecca and Jade from super-talented photography collective, A Thing Like That.
You can see more of A Thing Like That's effortlessly cool and colourful work on our pages, and I just love the way they captured all the lovely details from Stacey and Luke's day, from the Californian inspired styling, through to the loving moments shared by the happy couple.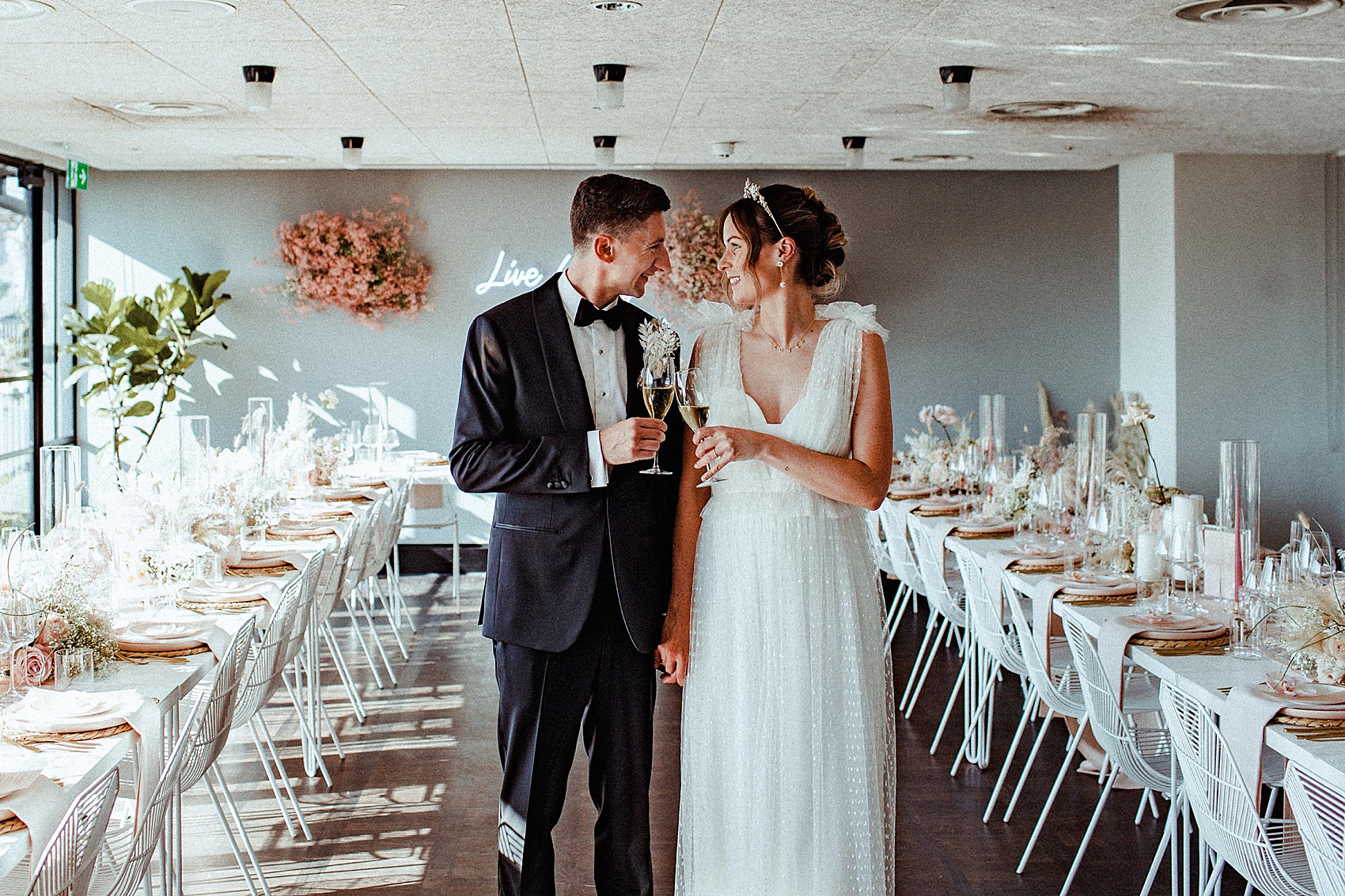 Personalised neon signage in vibrant candy pink was made by Neon Collective, and invitations, as well as perspex boards for a welcome sign, the ceremony seating plan, and later the table plan and bar menu, all came courtesy of Creative Studio Caro.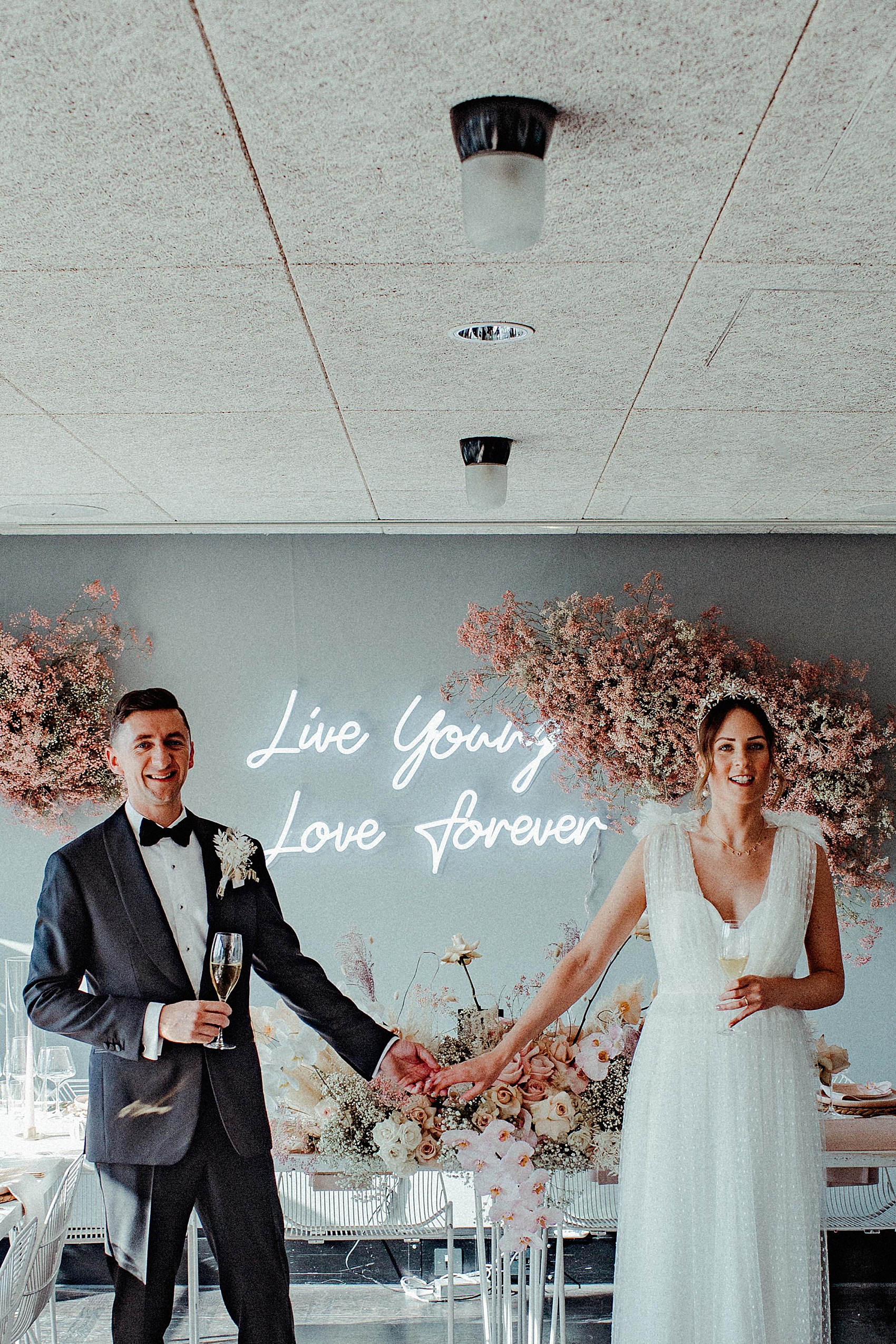 Ace Hotel's sunny terrace was the setting for post-ceremony drinks, and its pergola had been decorated with clouds of pink and white gypsophila. There were more amazing floral displays inside – gypsophila on the walls and arrangements across the dining tables.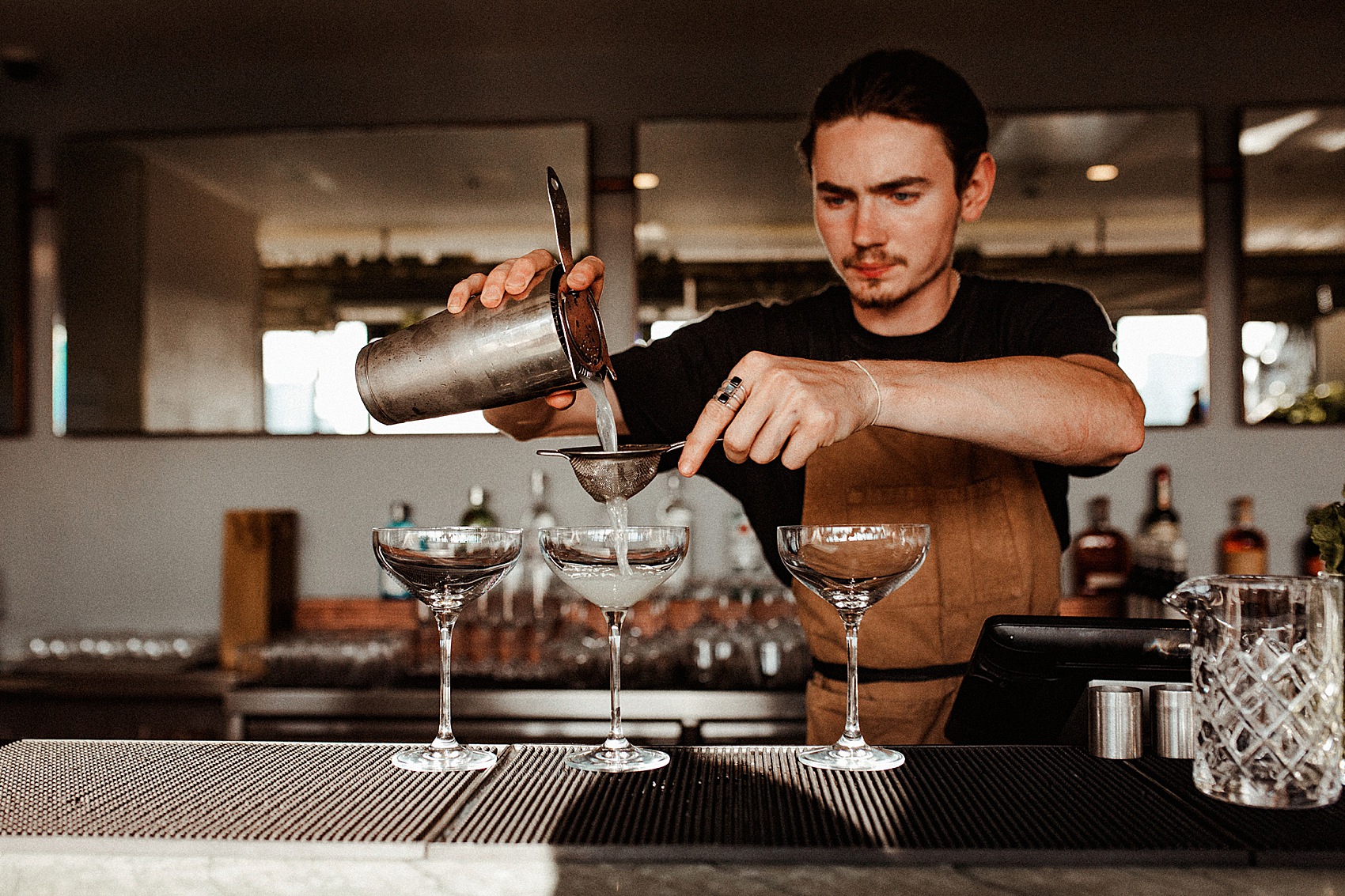 The pink theme continued with vellum stationery, bar signs and 'Do if for the Gram' signs by luxury stationery studio, E.Y.i.LOVE, who we're proud to have in our supplier directory, Little Book. They make the most exquisite stationery using the very best paper, delicate vellum and traditional foil presses.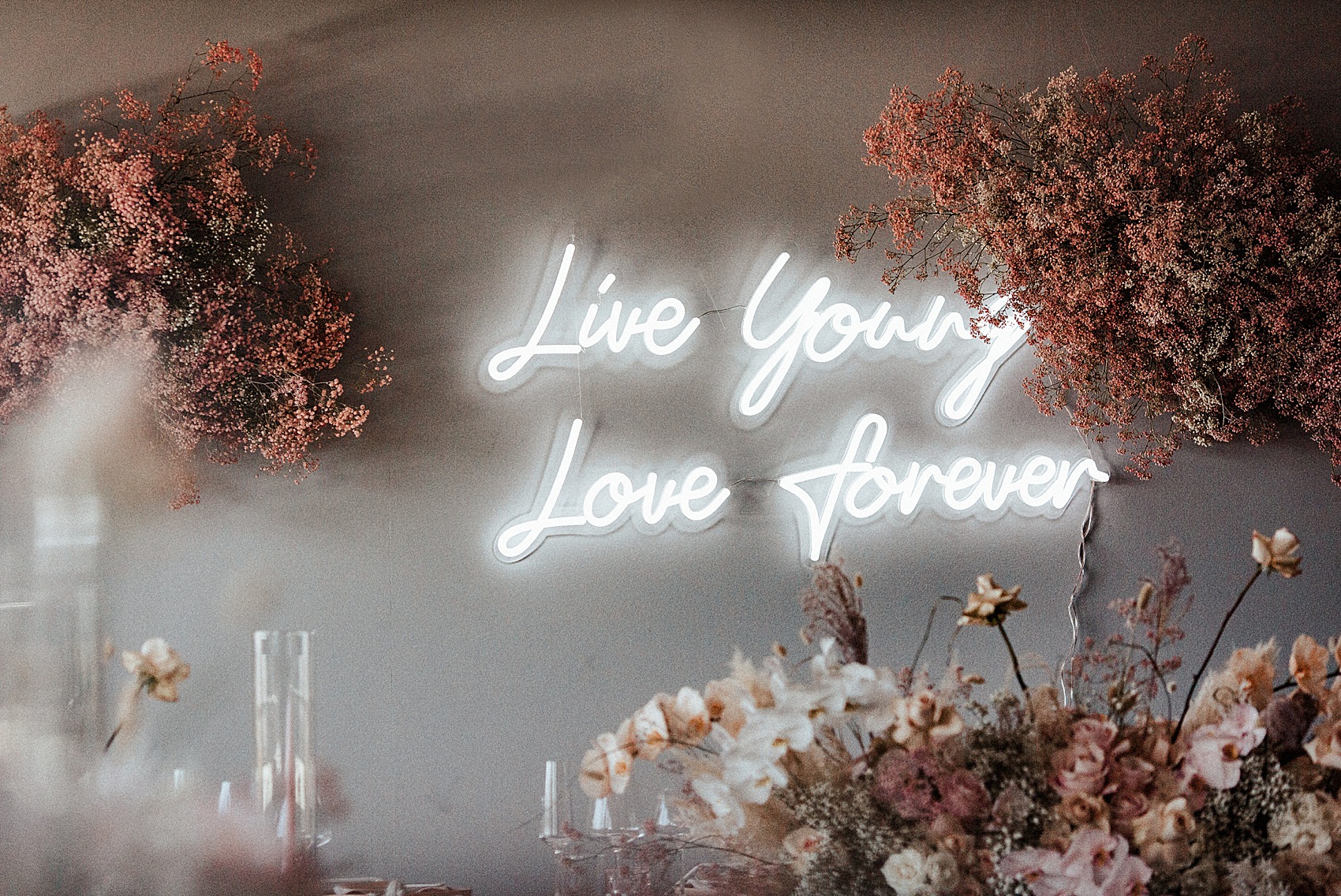 Sleek and contemporary white dining tables were custom made by Advanced Bar Solutions [sadly unable to find any details about this company]. Chairs were rented from Hire It, whilst pale pink table runners and napkins were from Just4Linen.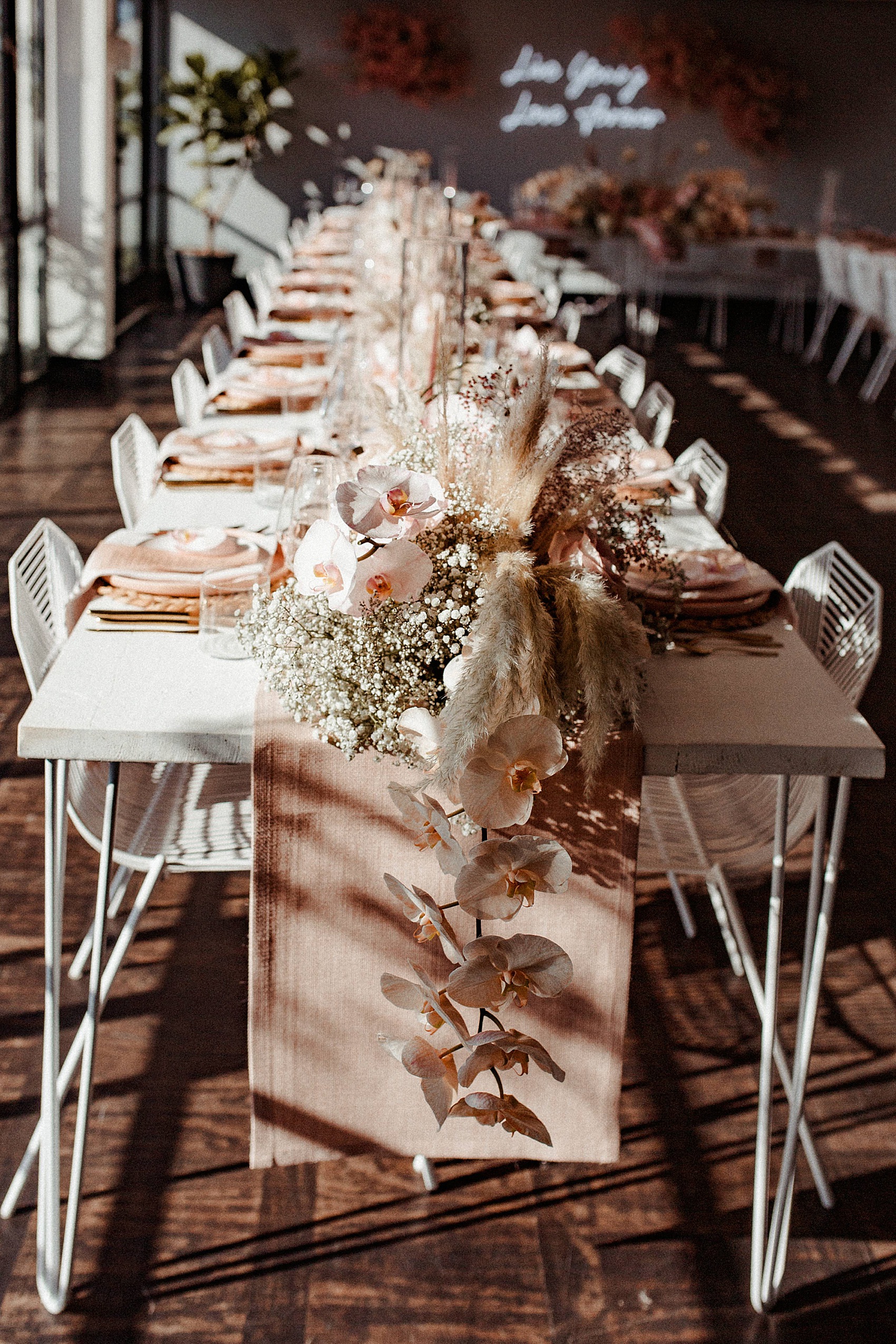 Classic Crockery Event Hire provided elegant place settings, crystal glassware and cutlery. The gilded plates looked wonderful against pink charger plates sourced by the couple, together with orchid flowers and personalised macarons made by Evelina's Patisserie, hand lettered by Creative Studio Caro.
Ace Hotel served a luxurious wedding feast, overseen by Executive Chef Peter Woods, whom Stacey and Luke say was 'amazing.' The meal began with a wild mushroom and truffle velouté, followed by seared scallops with a cauliflower puree, black pudding and bacon, or burrata with heritage tomatoes.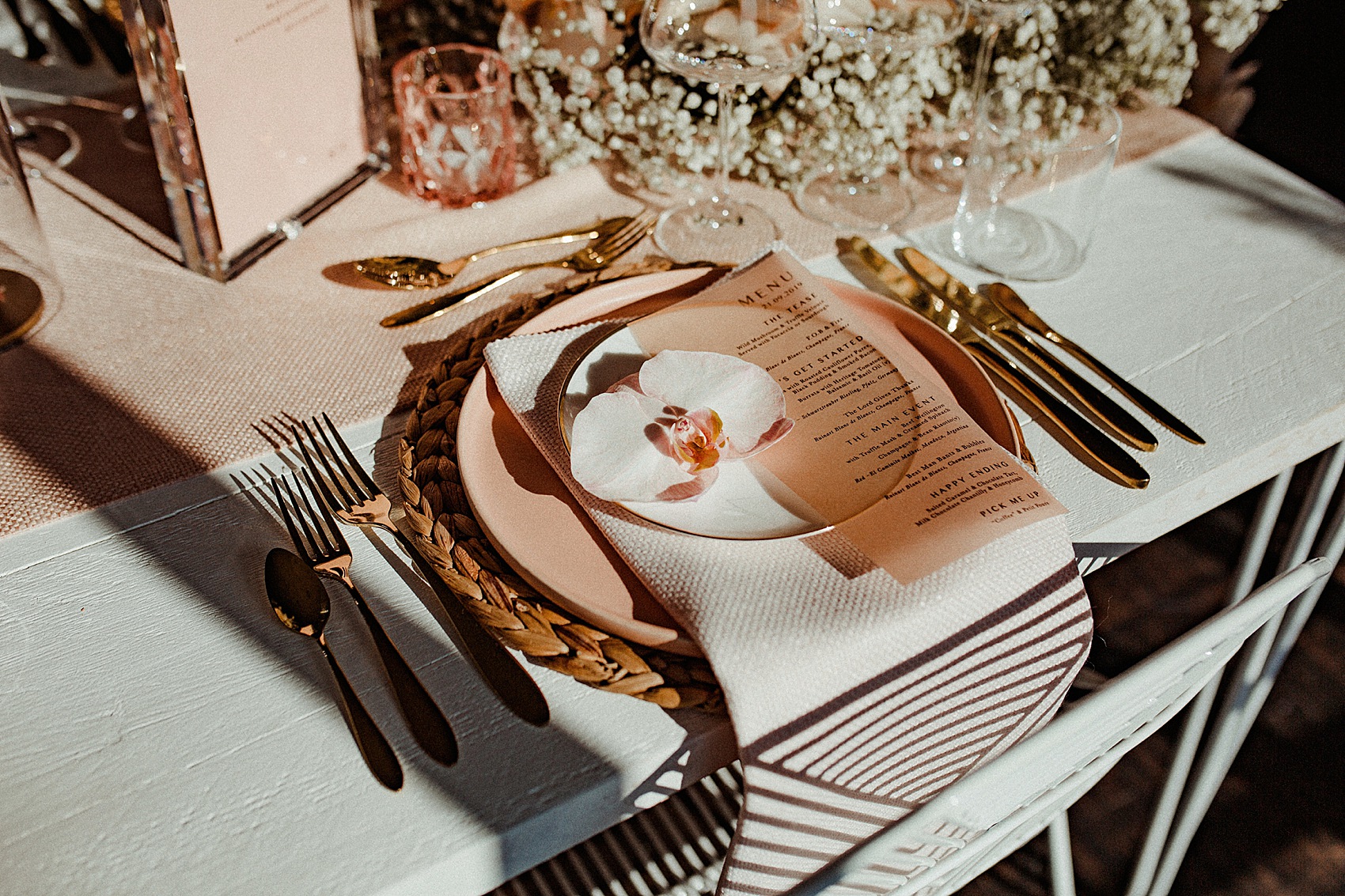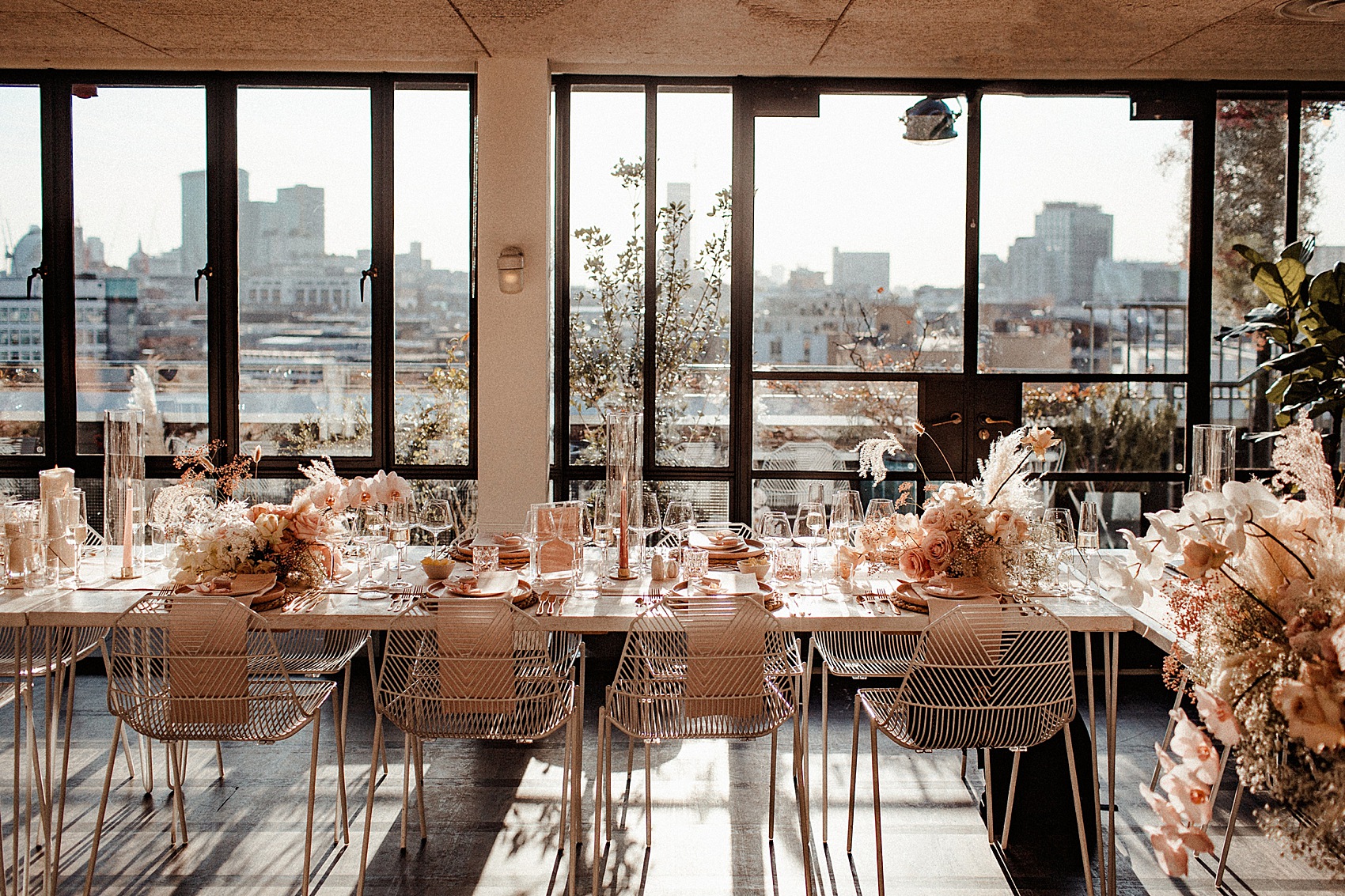 The main course was beef wellington, or a champagne and bean risotto, followed by salted caramel and chocolate tart with honeycomb, and milk chocolate chantilly cream.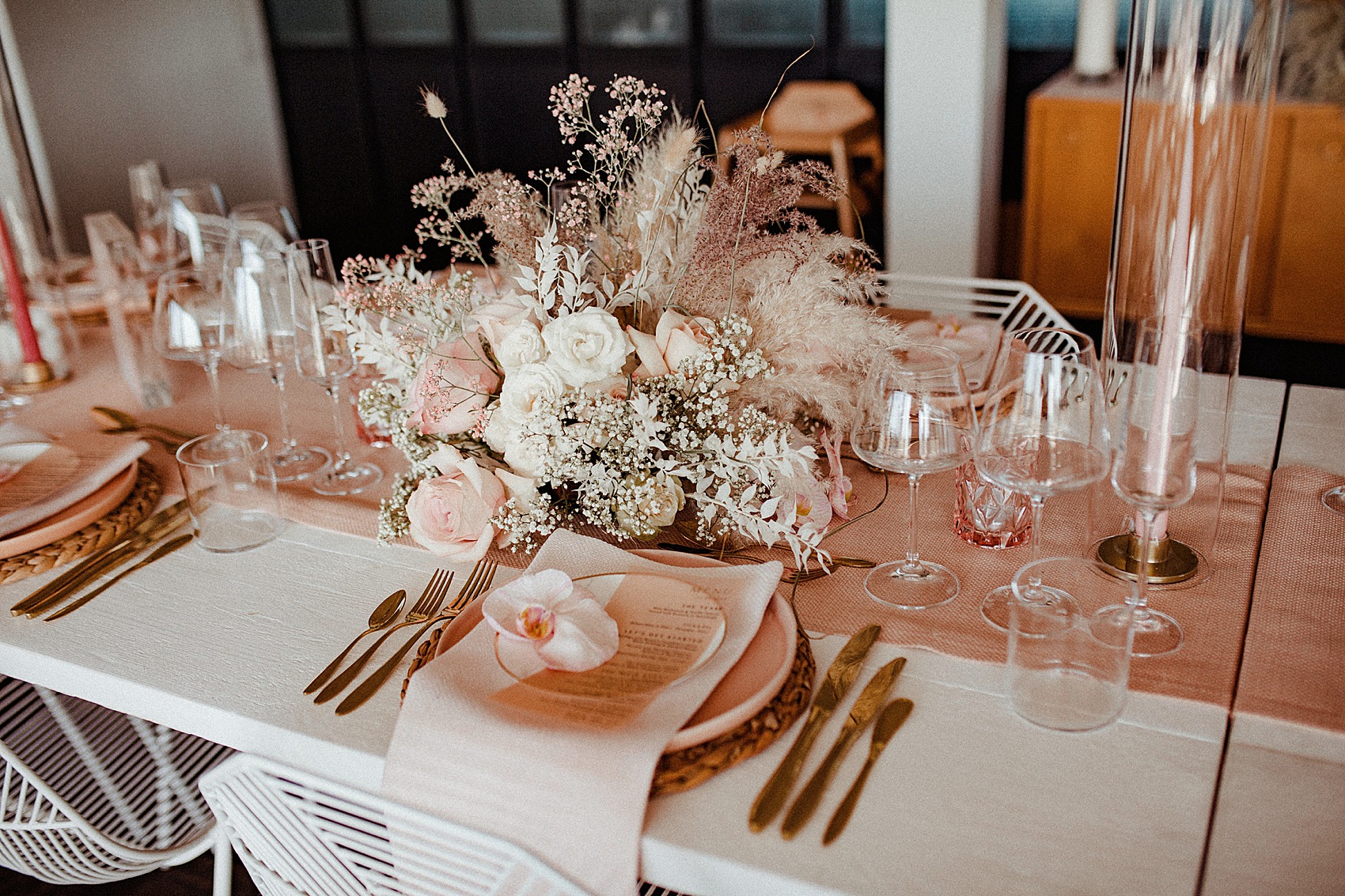 "Luke: celebrating together with our friends and family was my favourite part of the day. Some met for the first time having travelled far and wide."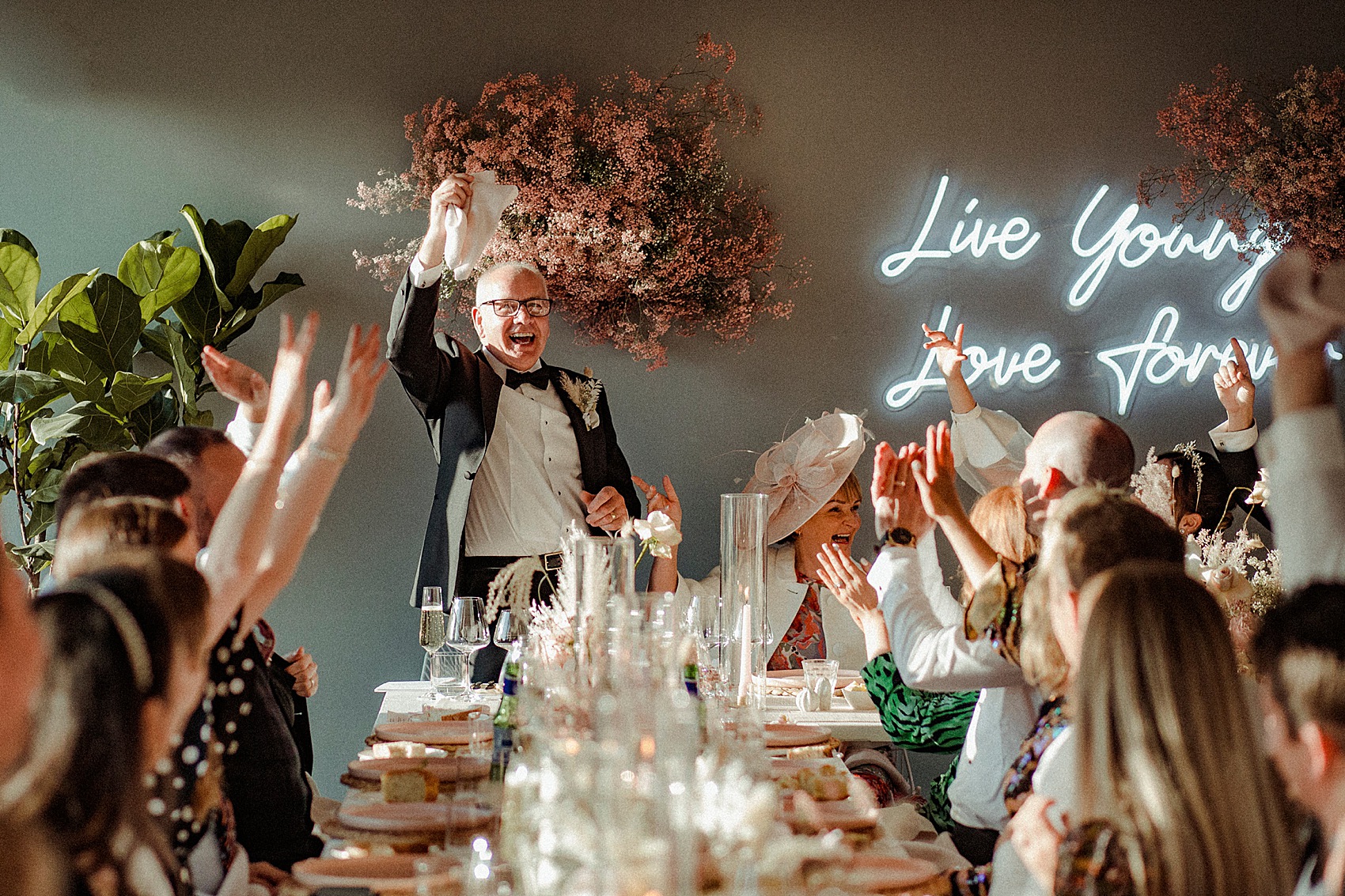 In time for dinner, Stacey changed into her second look, keeping the Kaviar Gauche slip dress, but removing the voile layer for an elegant top (the 'Daniel' design) of fine tulle, with incredible long, voluminous sleeves by Halfpenny London. Luke also changed into a new tuxedo by J. Crew.
"Our cake was from Nicky's Buttercup Bakery. It had three tiers and flavours; 'Stacey's Love On Top' – Lemon & Blueberry; 'Luke's Childhood Fave' – Marble and Caramel Cake; 'Go Big or Go Home' – White Chocolate and raspberry. Nicky was recommended to us by a friend."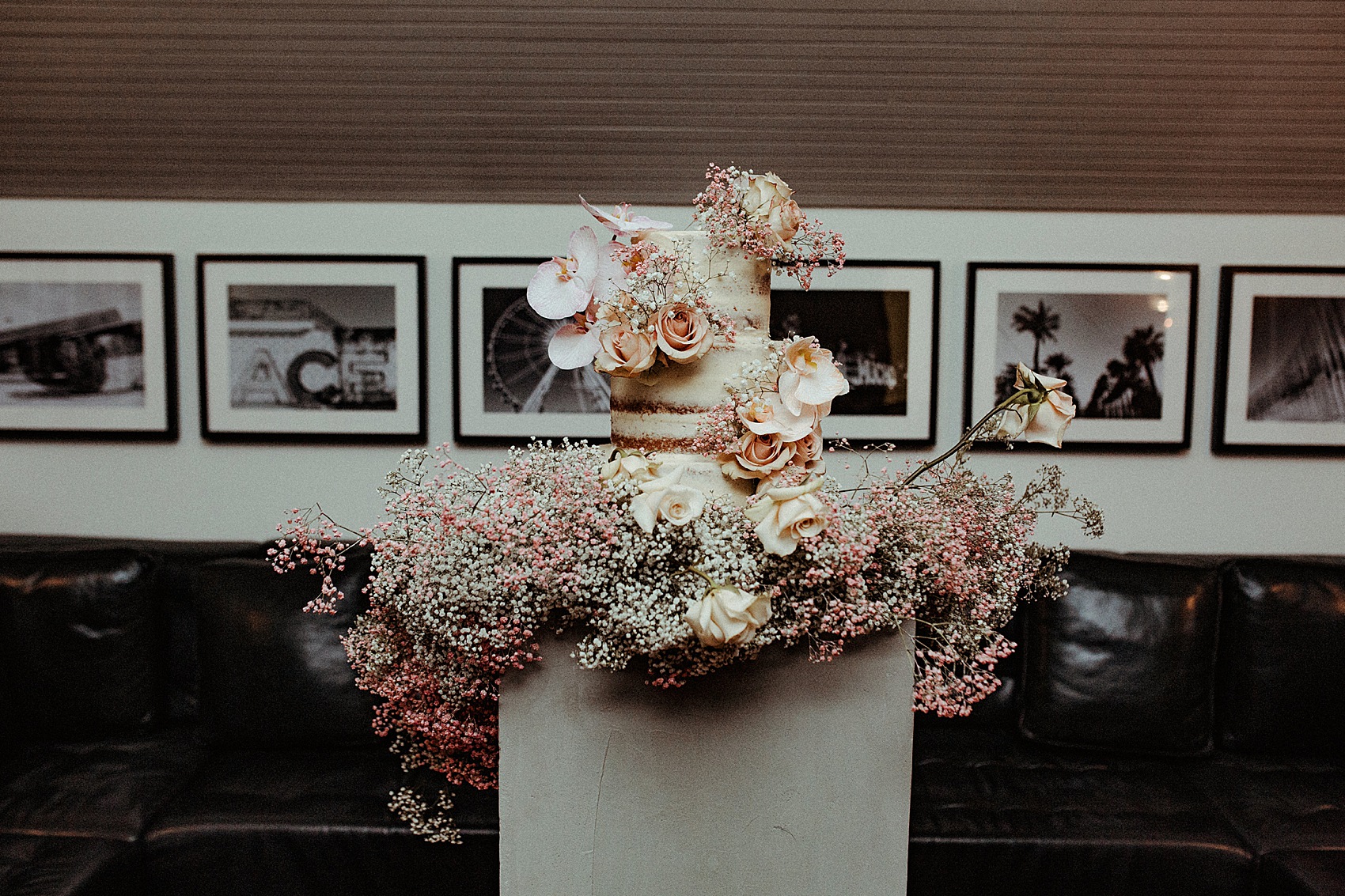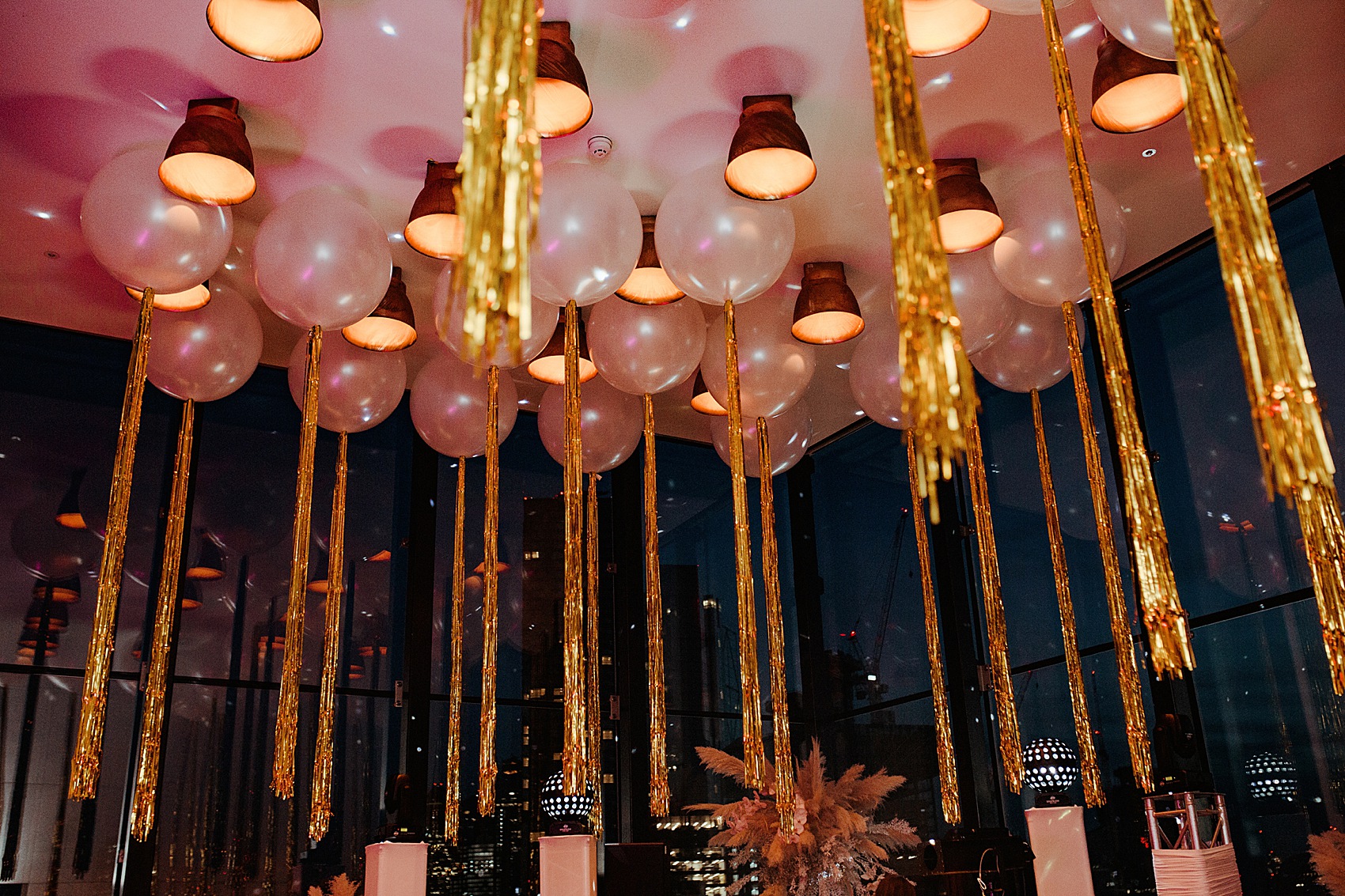 After speeches, balloons and sparklers, there was time for one more outfit change, as Stacey donned a pink tiered dress by Self Portrait, and Luke changed his black tuxedo jacket for a white one from Reiss.
There was music from DJ Harry Cromwell, and the couple's joyous first dance was to Young Forever by Jay Z feat. Mr Hudson.
"Luke is a big fan of Jay Z, I'm a big fan of The OC, so it was an easy compromise. It's also our life motto and featured in one of our bespoke neons – 'Live Young, Love Forever'."
Words of Wedded Wisdom
"Marry a someone who takes creative direction well, and will go to any length to make the dream day perfect for their love."
"Surround yourselves with like-minded, creative and determined people (friends and suppliers). Don't settle for no – often barriers will crop up, but if you truly want or believe in something, anything can be possible."
"It's who you know, not what you know, and don't be afraid to mix business with pleasure. Our bridesmaid, Caro from Creative Studio Caro, and her hubby (also the Best Man) saved the day on more than one occasion."
"Meet your photographer and videographer in advance – get to know one another – you will feel more natural in front of the camera, and those guys become like friends sharing in your day and celebrations."
"The dress – the fit process was my most stressful part of the wedding – don't let others sway your opinion and tell you it's right if you don't feel the same. Persevere and don't stop until you reach your own interpretation of perfection."
Stacey and Luke, thanks a million to you both! Readers, I hope you've enjoyed this perfectly pink escape as much as I have, all brilliantly captured by This Modern Revelry and A Thing Like That – thank you.
Until the next time.
With love,
Laura