There's sequins, satin, and bursts of brilliant colour throughout today's cool and contemporary East London celebration, which took place in a former chapel turned vibrant arts, community and events space.
If you're searching for ideas on how to plan a day filled with all the things you like best, with the minimum of faff and fuss, then look no further and enjoy. This is the wedding of television researcher Clare, who married her love, Rob, a teacher, on the 11 May 2019 at the Victorian Grade II* listed Round Chapel, Clapton, in the East London borough of Hackney.
Images by Nikki van der Molen Photography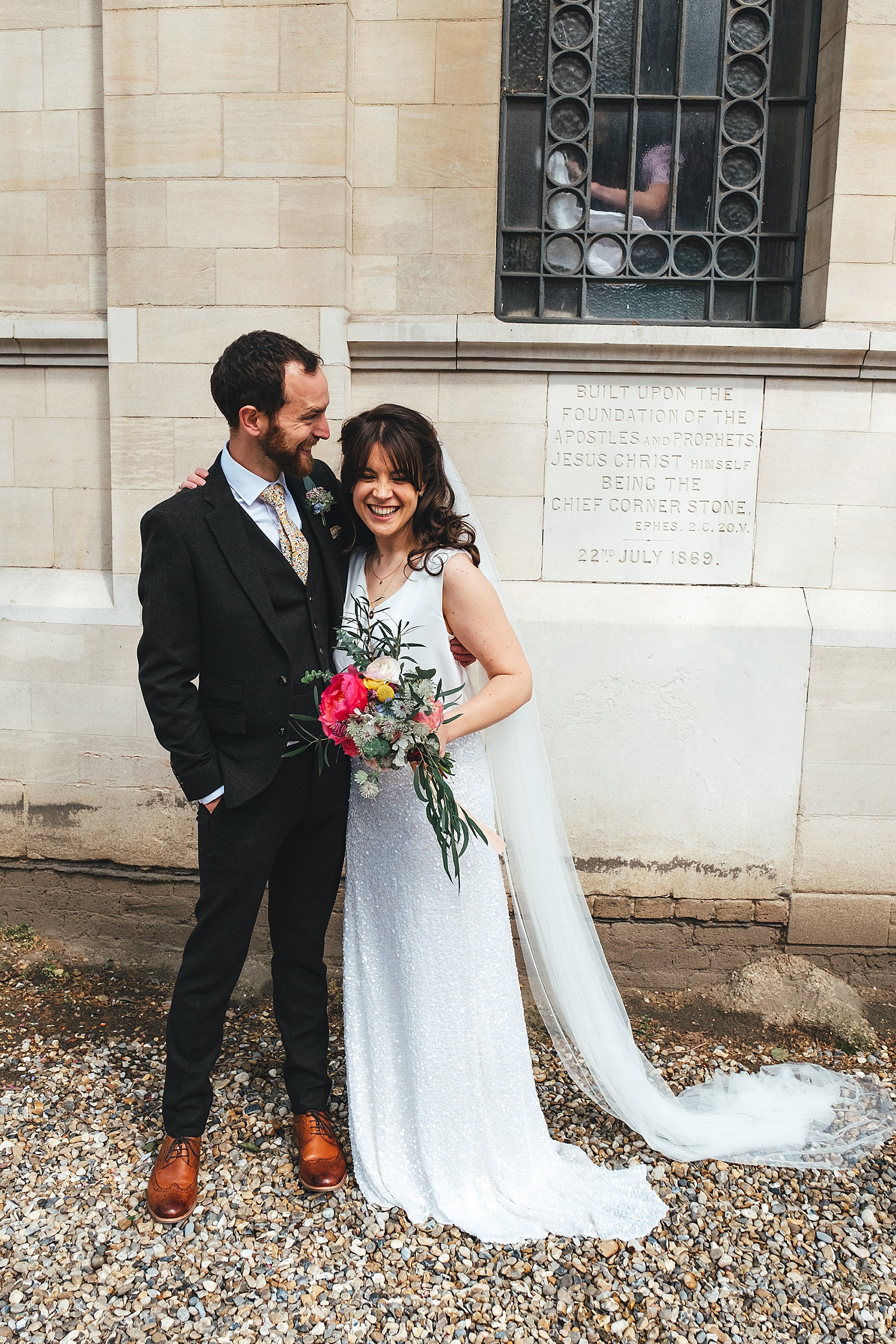 The couple first met in a bar in Angel, where they were out celebrating with their respective friends. After a chat at the bar (where Clare complimented Rob on his t-shirt!) they enjoyed their first date together one week later.
"We decided pretty quickly after getting engaged that we wanted to get married in London, as that's where we met and had lived the whole time. Plus 80% of our guests live in the South East, so we just felt like it made sense. We found that lots of venues in London weren't big enough for our 150 person guest list, but when my hairdresser suggested the Round Chapel, it all clicked into place. It's such a cool space that's a blank canvas, plus they offer dry hire."
Clare was beautifully made up by make-up artist Jessica Hawkins, and her hair was styled by Mantelle Hairdressing. In her curls, she wore the sparkling beauty that is Tilly Thomas Lux's 'Valkyrie' star clip, made from Swarovski crystals.
"I loved my bright yellow shoes from L.K. Bennett! They were the first thing I bought, before I had even looked at any dresses. I'd seen them online, but they were only available in a size 2. I went to Bicester Village that weekend, and thought I'd pop in to the outlet there."
"I showed the picture to the shop assistant, who had never seen them in that shop. When she went out the back to check, she couldn't believe that they were there, and only in my size! It was meant to be! They were just the right height to be able to wear all day, they're so fun and the best bit is, I can wear them again."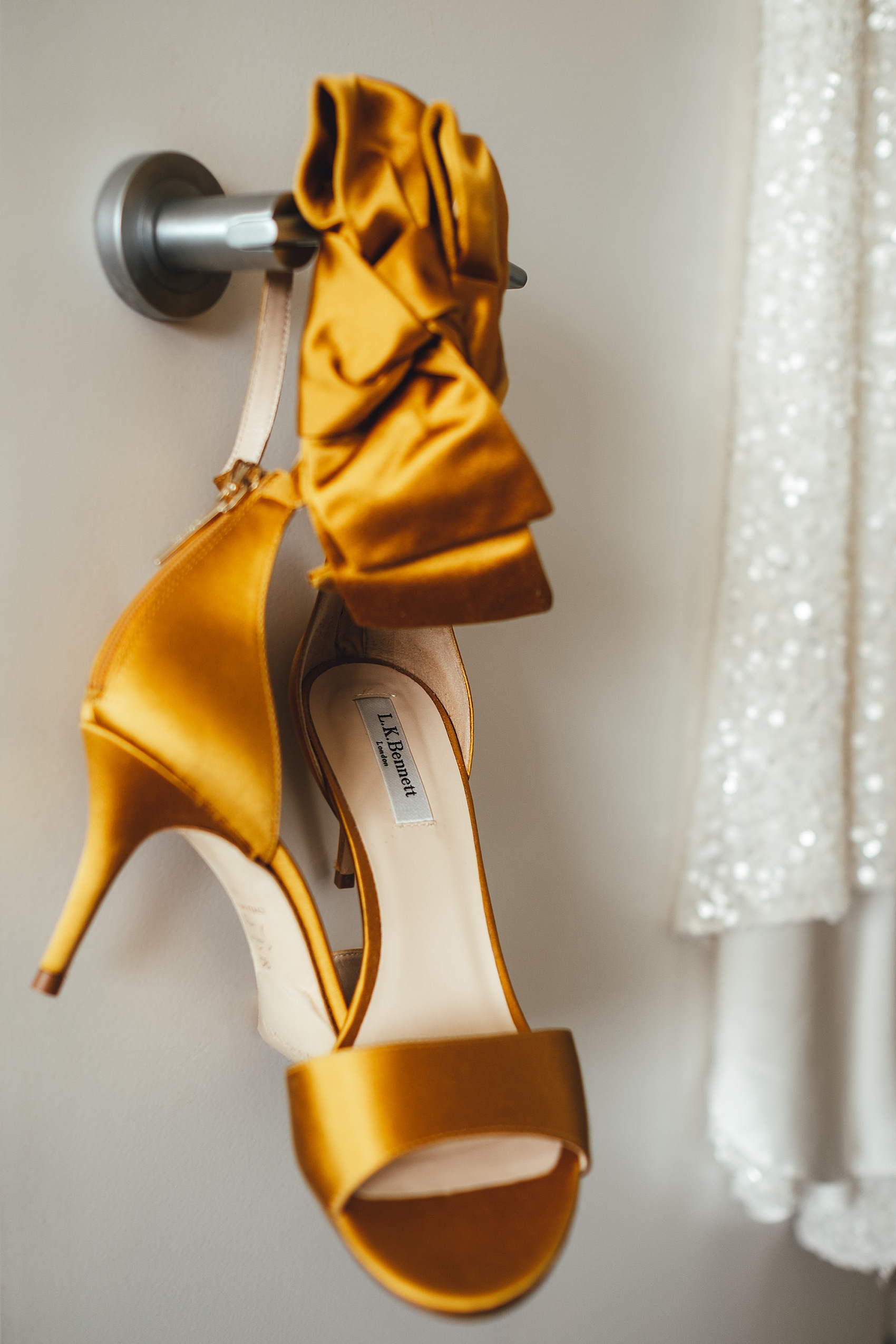 Clare had a lovely experience at Belle & Bunty, where she was able to try their beautiful, modern pieces in luxurious silks and laces, made to order in London. Clare landed upon an elegant skirt and top combination, and I love the simplicity of her beautifully cut v-neck camisole top with the sequinned drama of her skirt.
"Belle & Bunty were amazing. Their mantra of 'Bride not bridal' really spoke to me, as I wanted to look like an amazing version of myself. They were so incredibly helpful and patient, plus they really listened to what I wanted, and helped put everything together, suggesting tweaks, or how I could style my outfit with accessories. Alice and Hannah are a real class act and I couldn't recommend them enough."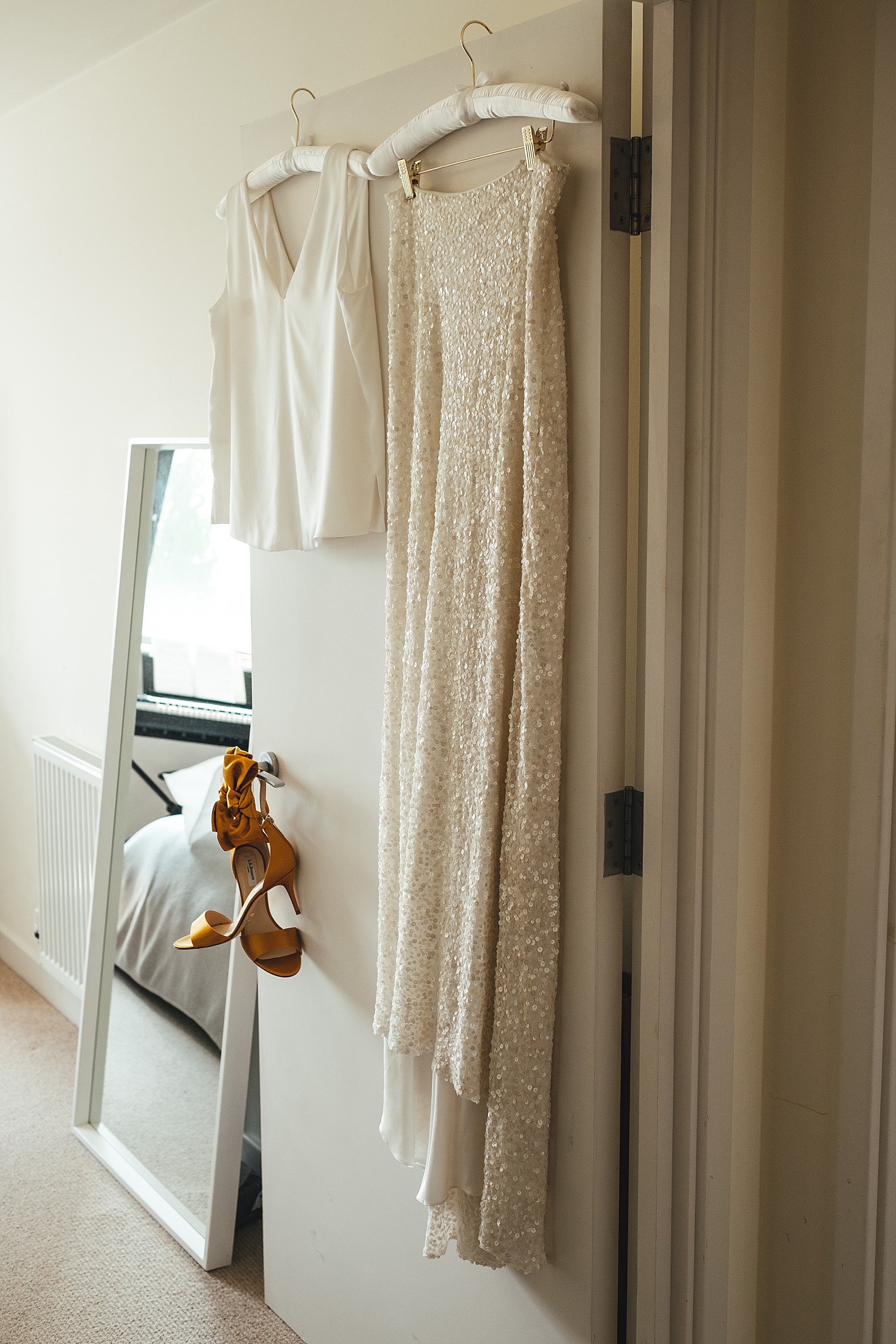 "I was so overwhelmed when I started to think about my dress. There's so much choice, I found it easier to rule out what I didn't want rather than what I actually wanted. I decided that I wanted something quite minimal, but with some texture, and so when I saw the sequin/beaded 'Bonnie' skirt, I fell in love pretty hard."
"The way it caught the light was so fab, and I loved the puddle train. The silk fabric of the top was so lovely, and I loved the little beading detail round the neckline, which Alice and Hannah suggested and added for me."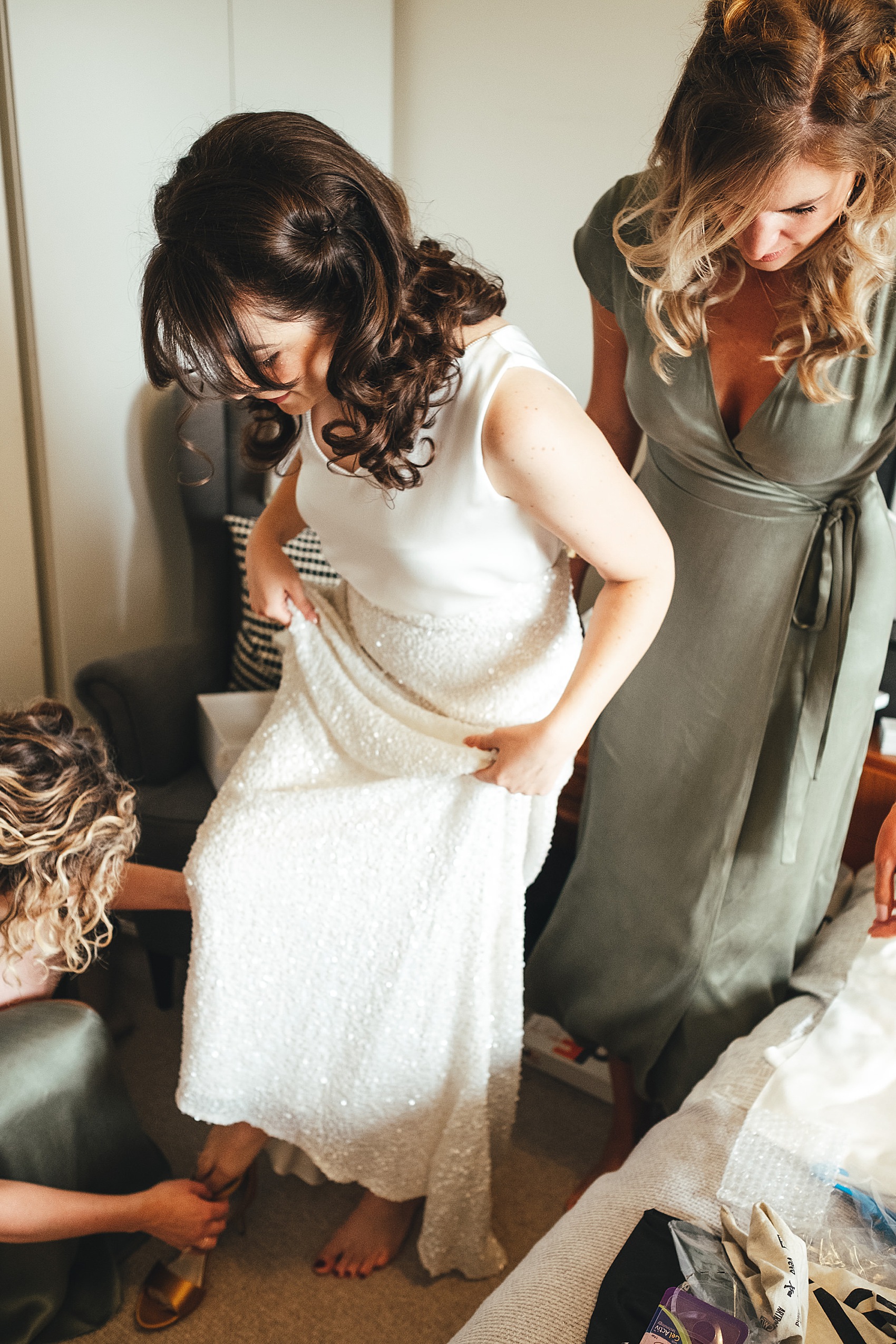 She also carried a colourful bouquet, which included gorgeous, bright pink peonies and an assortment of deep red and pale pink ranunculus, alongside scabiosa flowers and sunny yellow craspedia. The flowers were the wonderful work of florists and event designers, Luminosa.
"We knew Lucy through our sister-in-law. We actually met for the first time at a Christmas wreath making class, and I knew she was super creative, as her one was definitely the best! They are a local business to us and have a sustainable ethos, which was really important to us; we didn't want to be wasteful."
"We went for a drink in a local pub to get some initial ideas. I know next to nothing about flowers, but despite my vague brief they absolutely smashed it. The bright pink peonies blew my mind. I loved the bouquet so much that I didn't throw it in the end – I've dried it and kept it in my front room. The flowers were one of my favourite things about the day."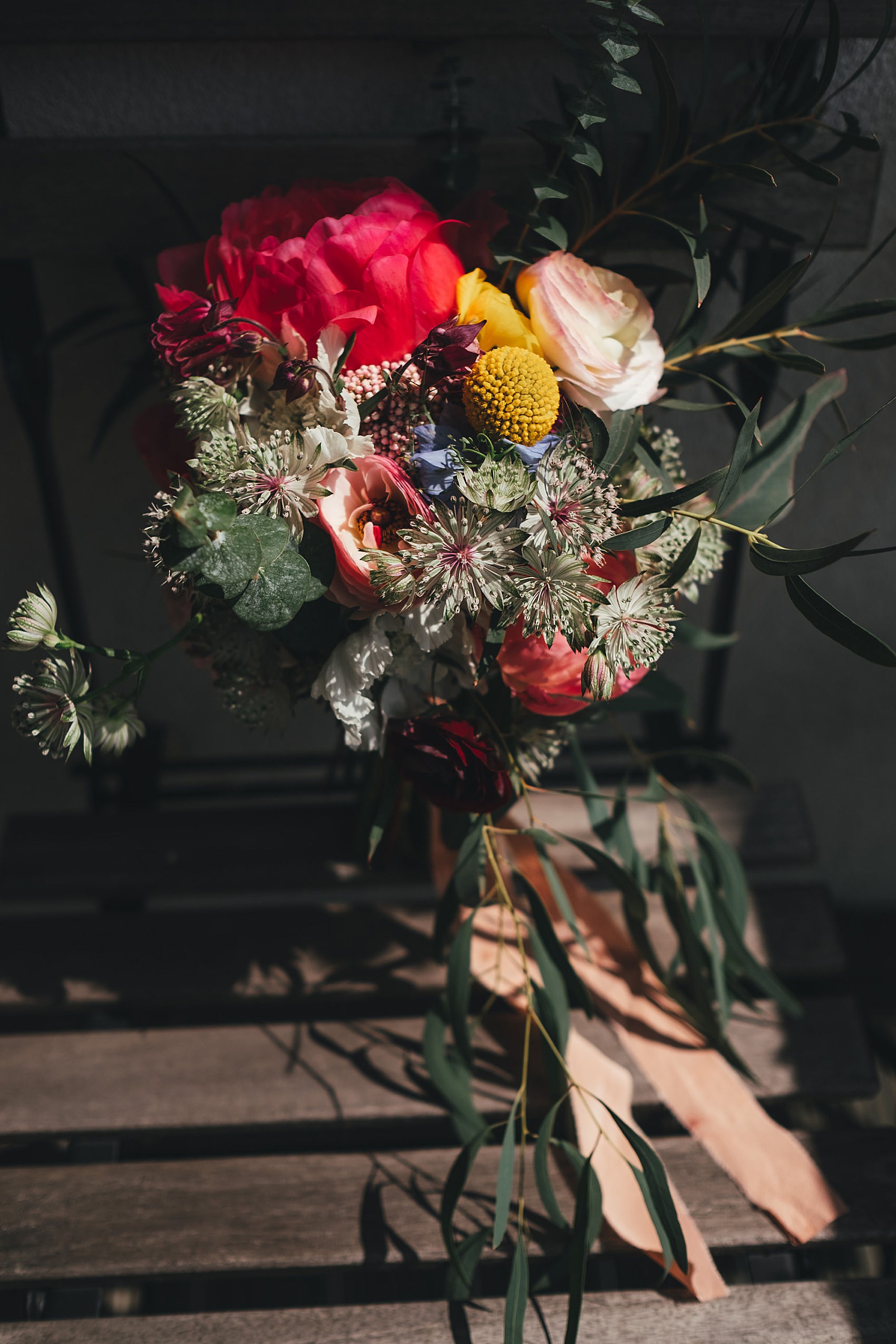 The bridesmaids wore lovely green satin wrap dresses from & Other Stories, worn with their own shoes and accessories, and Clare's talented mother-in-law made the flowergirls' dresses from fabric chosen at Walthamstow Market.
"I chose a white Swiss dot fabric, which was a lovely little nod to my late mum, as that was the fabric of her wedding dress. That meant a lot to me on the day."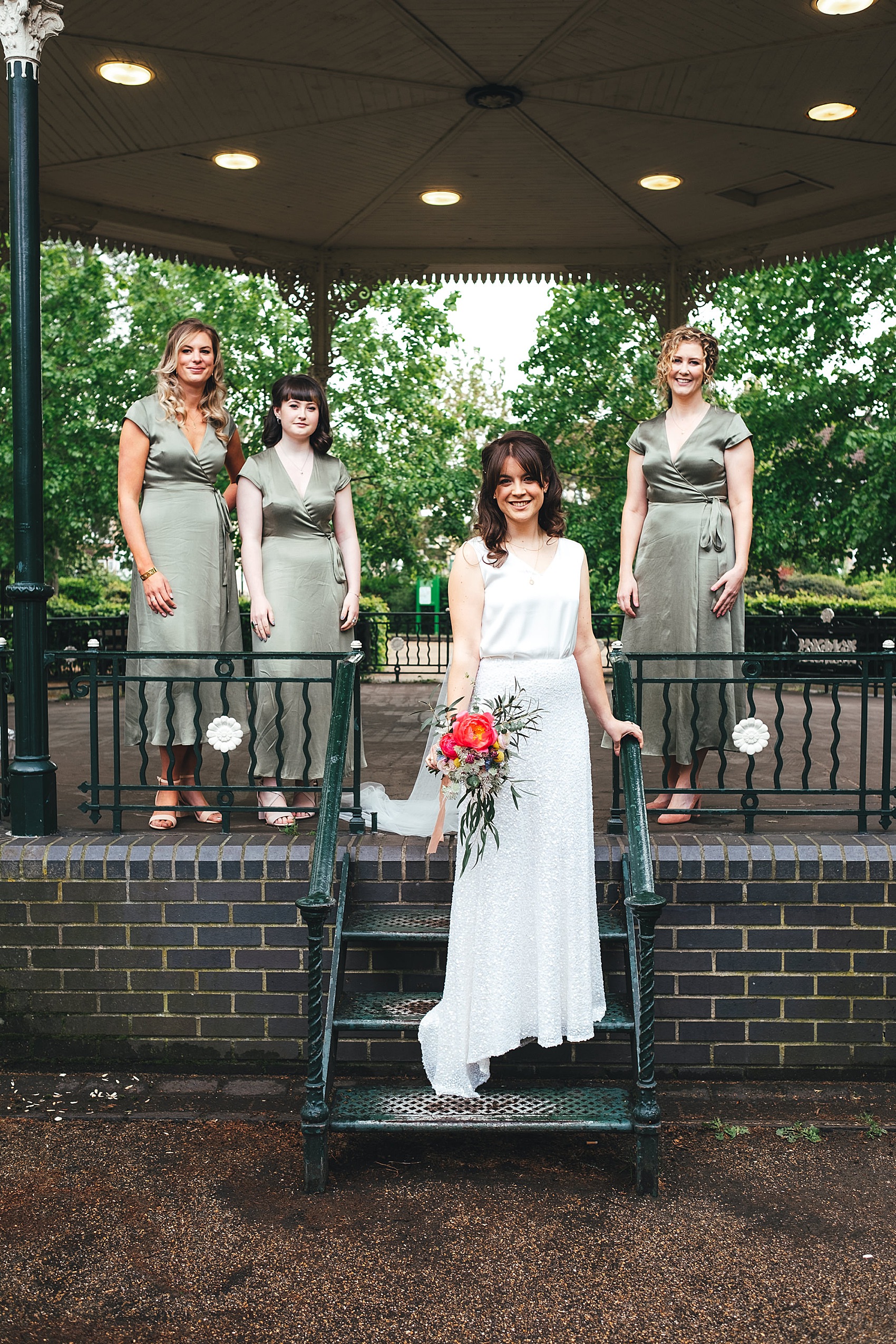 "Rob bought the first suit that he tried on, from Moss Bros. He did try on a few other more expensive ones afterwards, but they didn't look as good. The dark green tweed three-piece looked so good. Very Peaky Blinders!"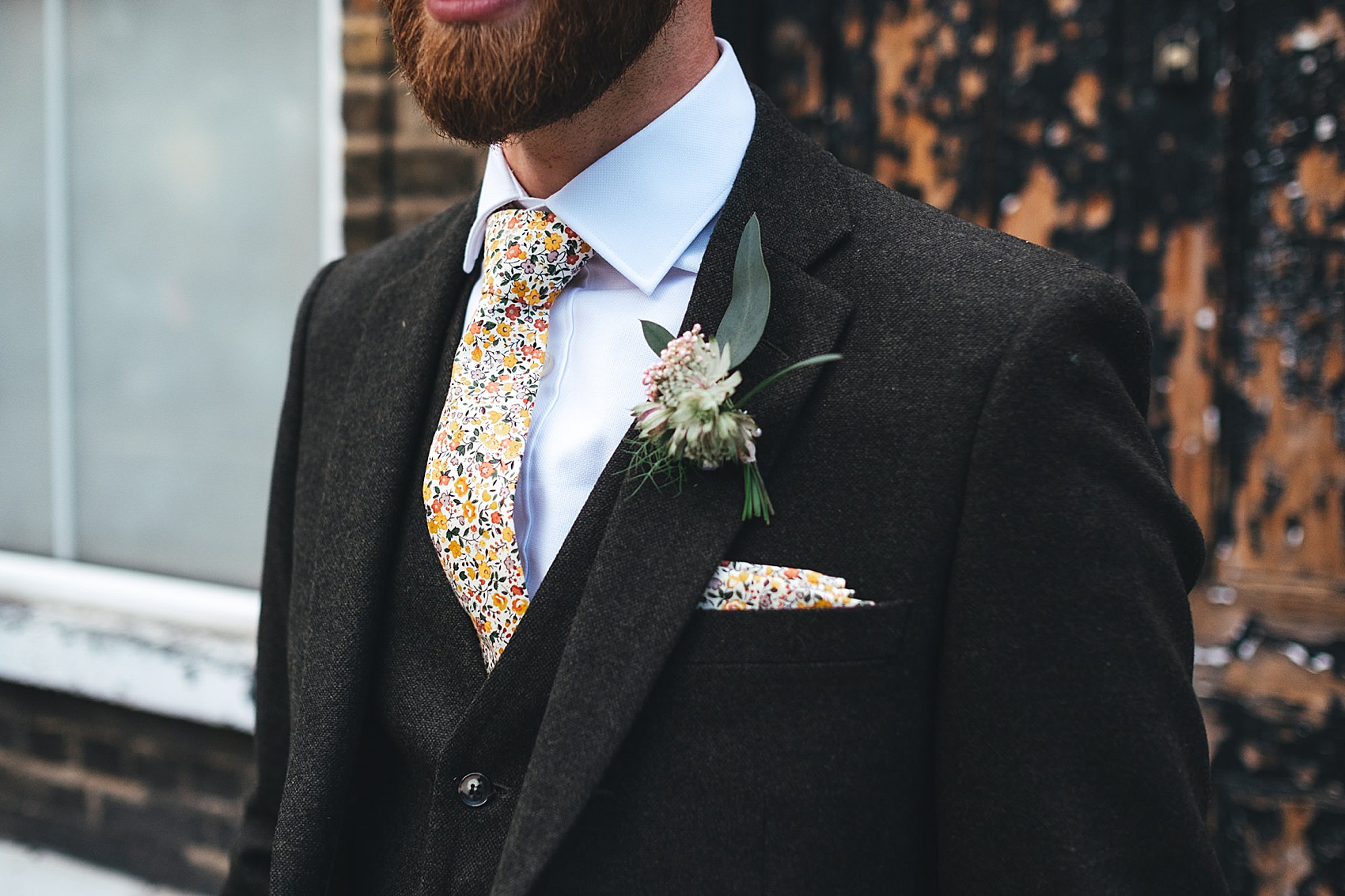 Rob's cheerful lemon yellow floral print tie and pocket square were sourced from Etsy (unfortunately no seller details provided) and the groomsmen wore green ties to complement the bridesmaids' dresses.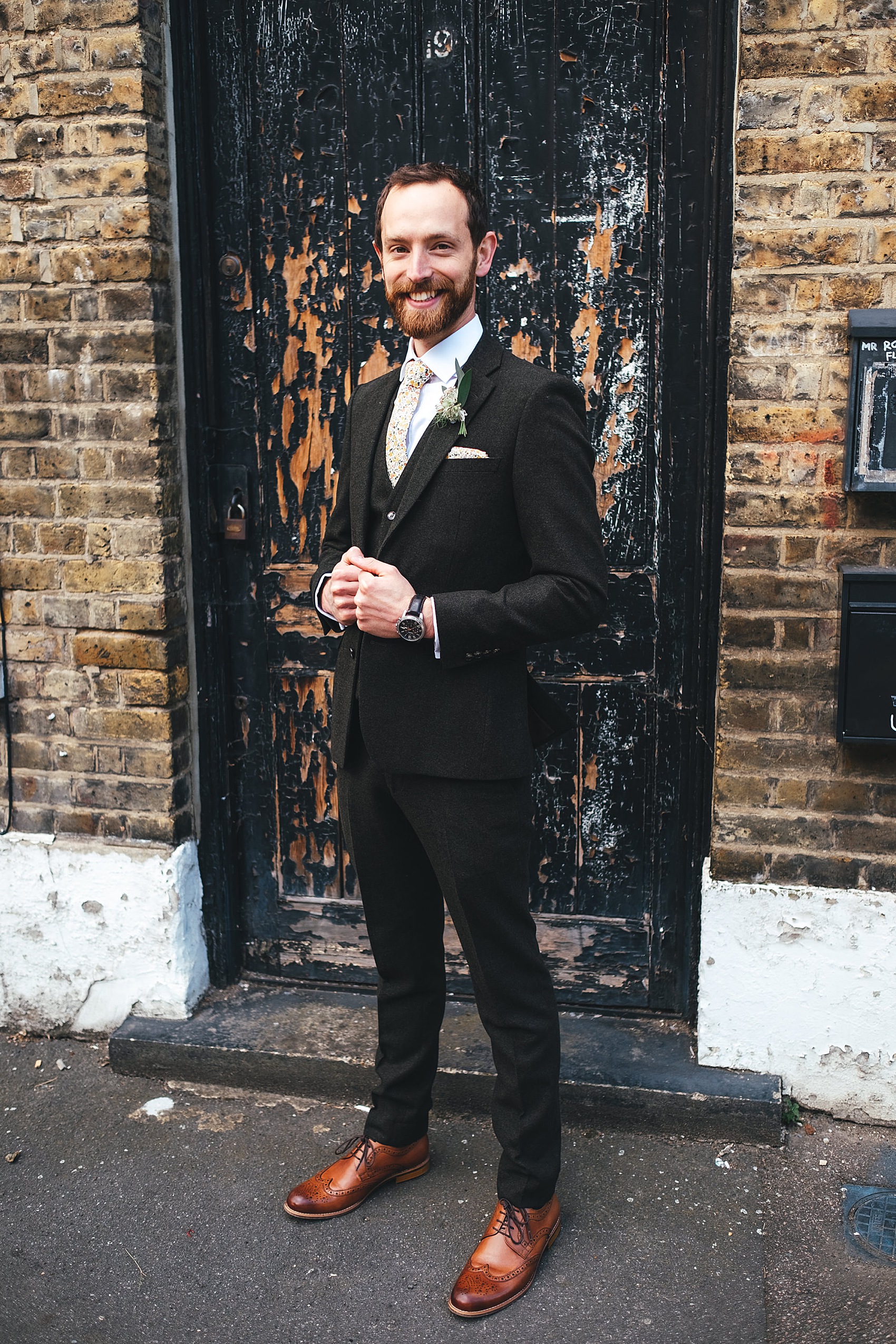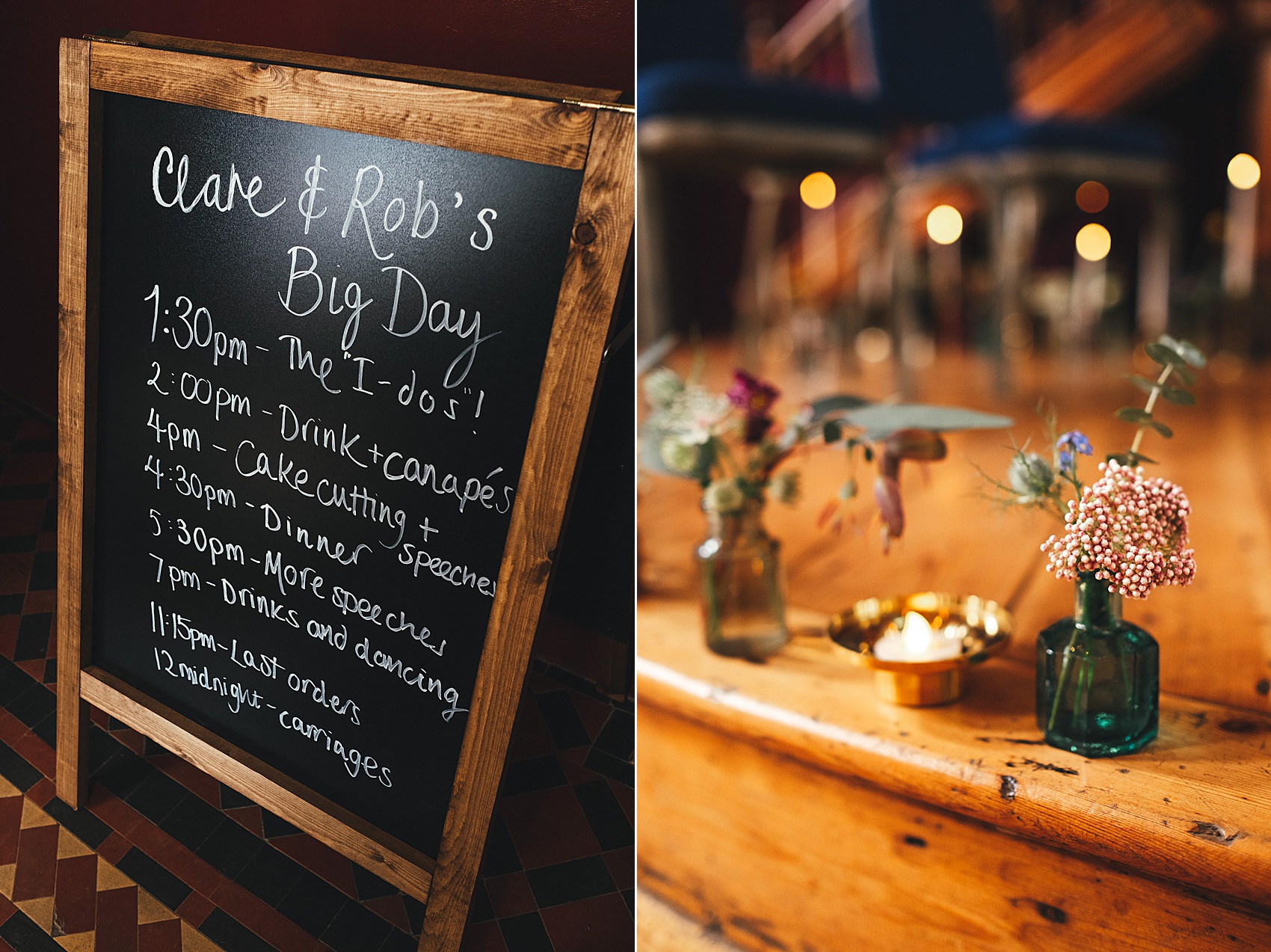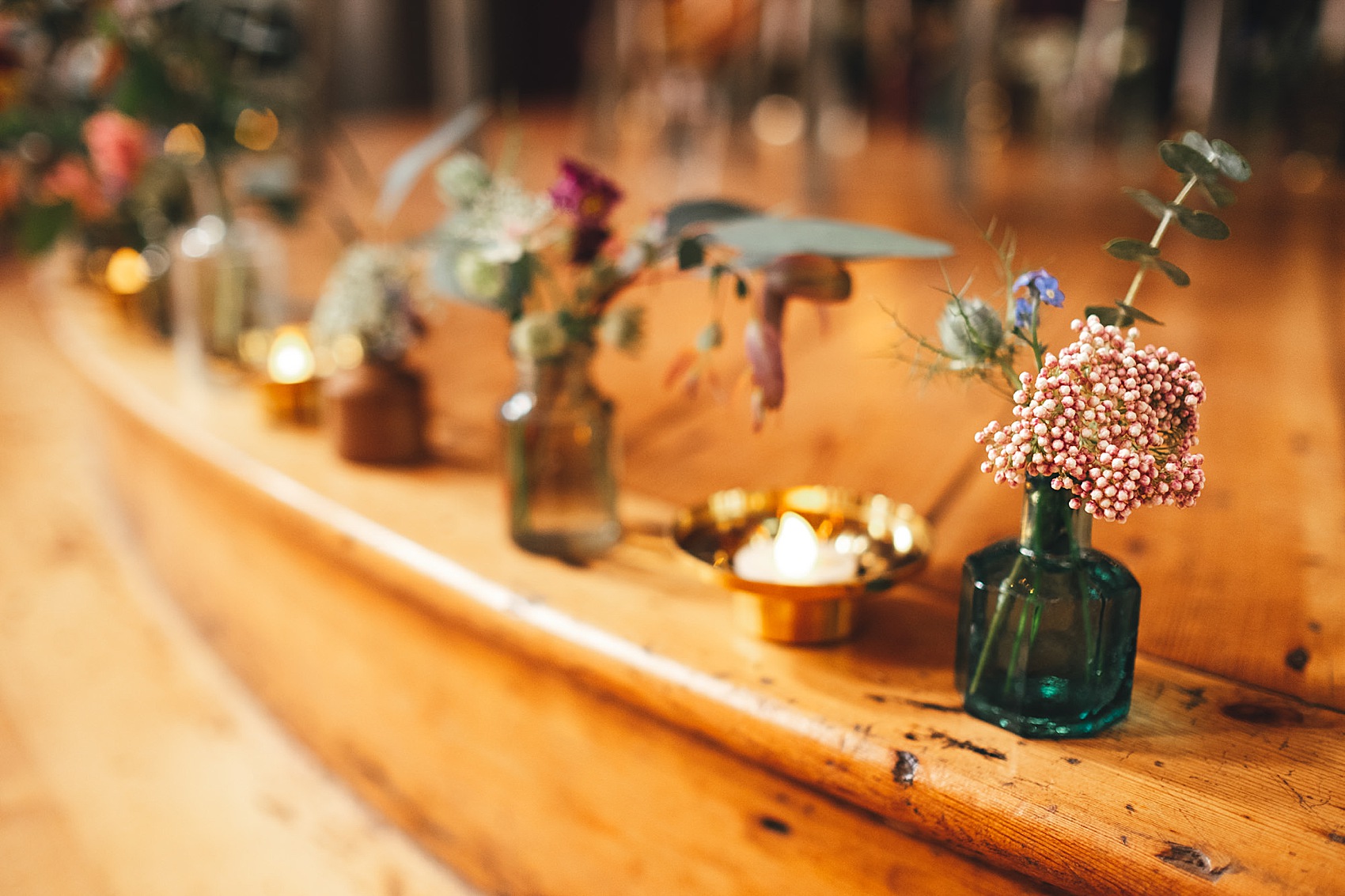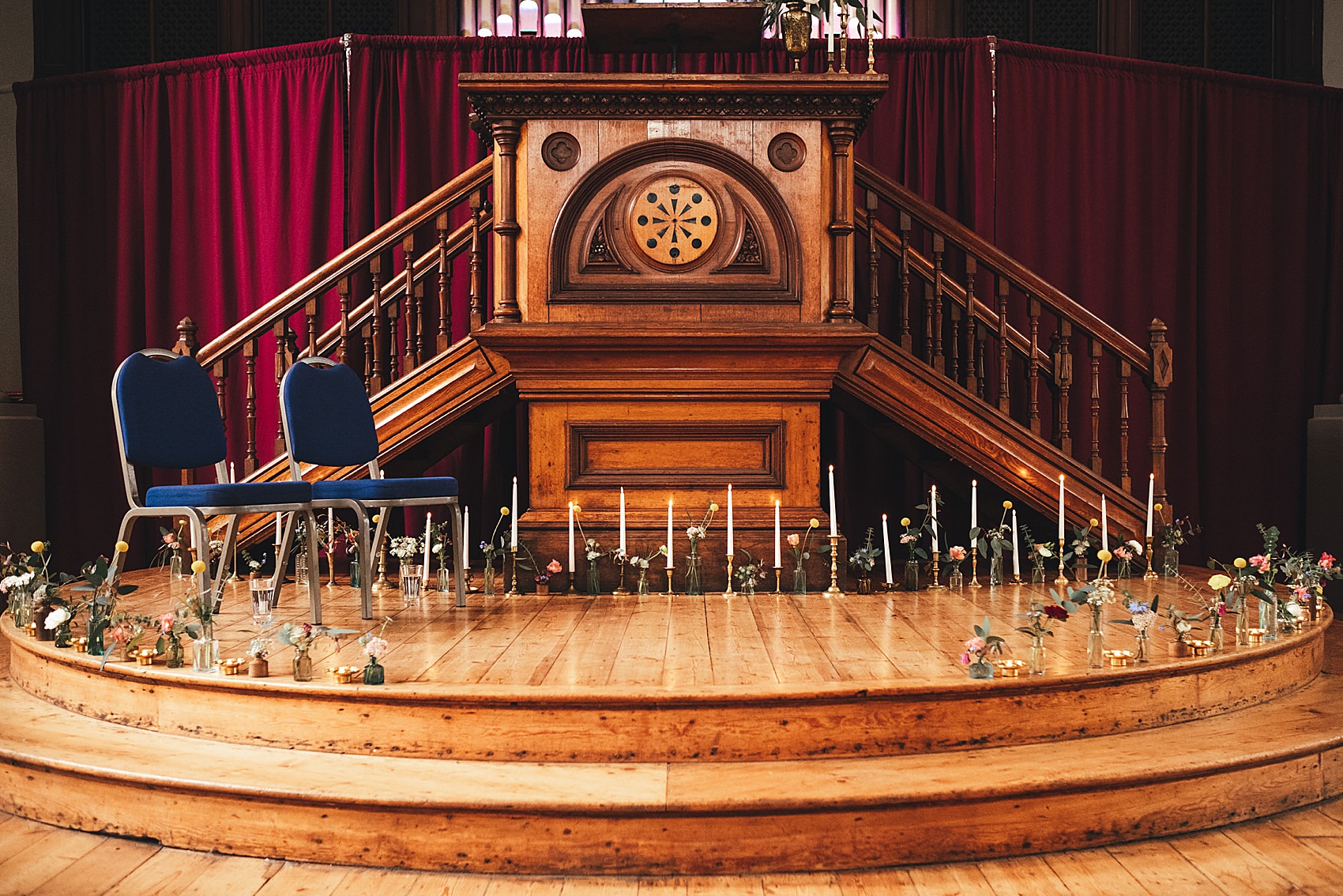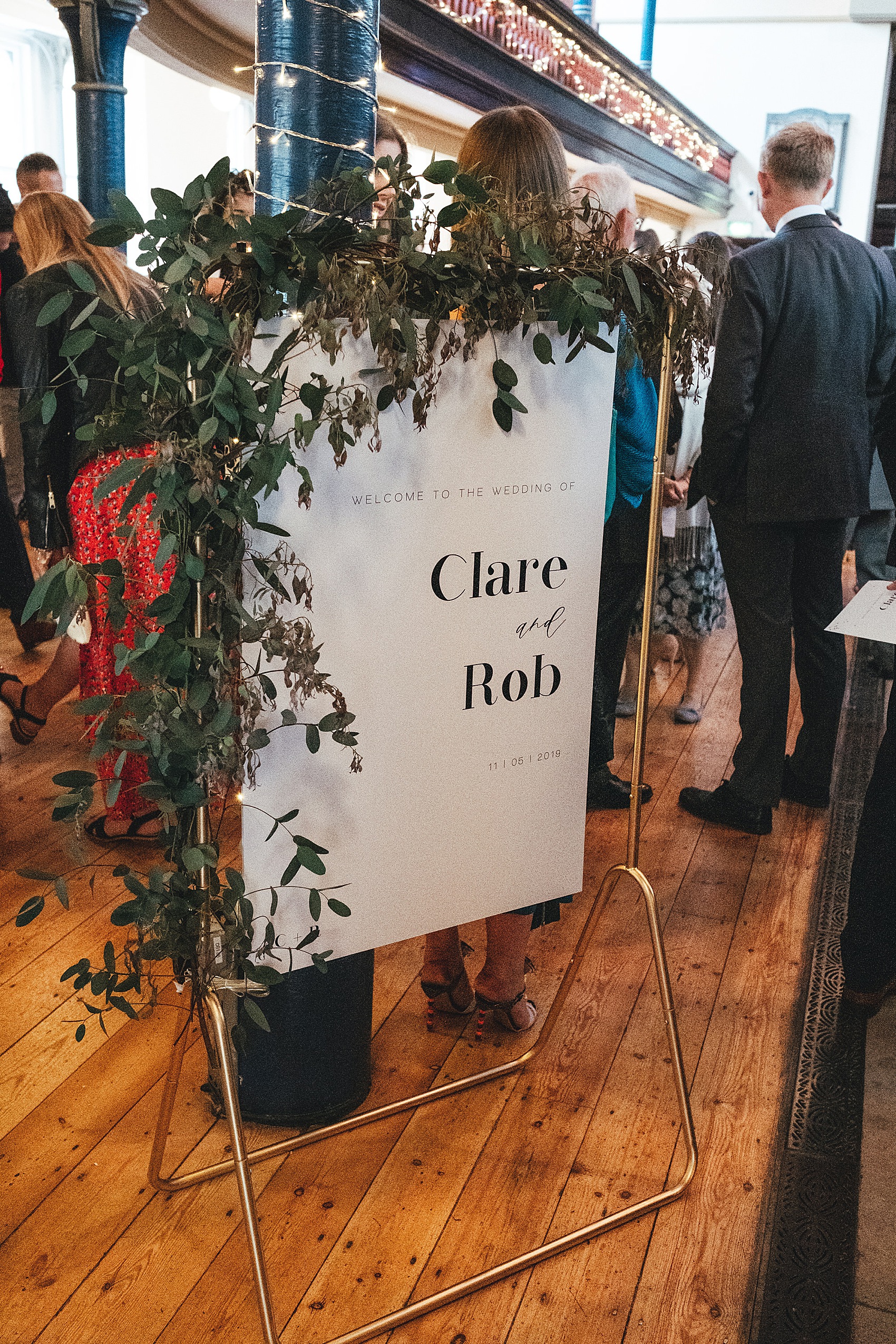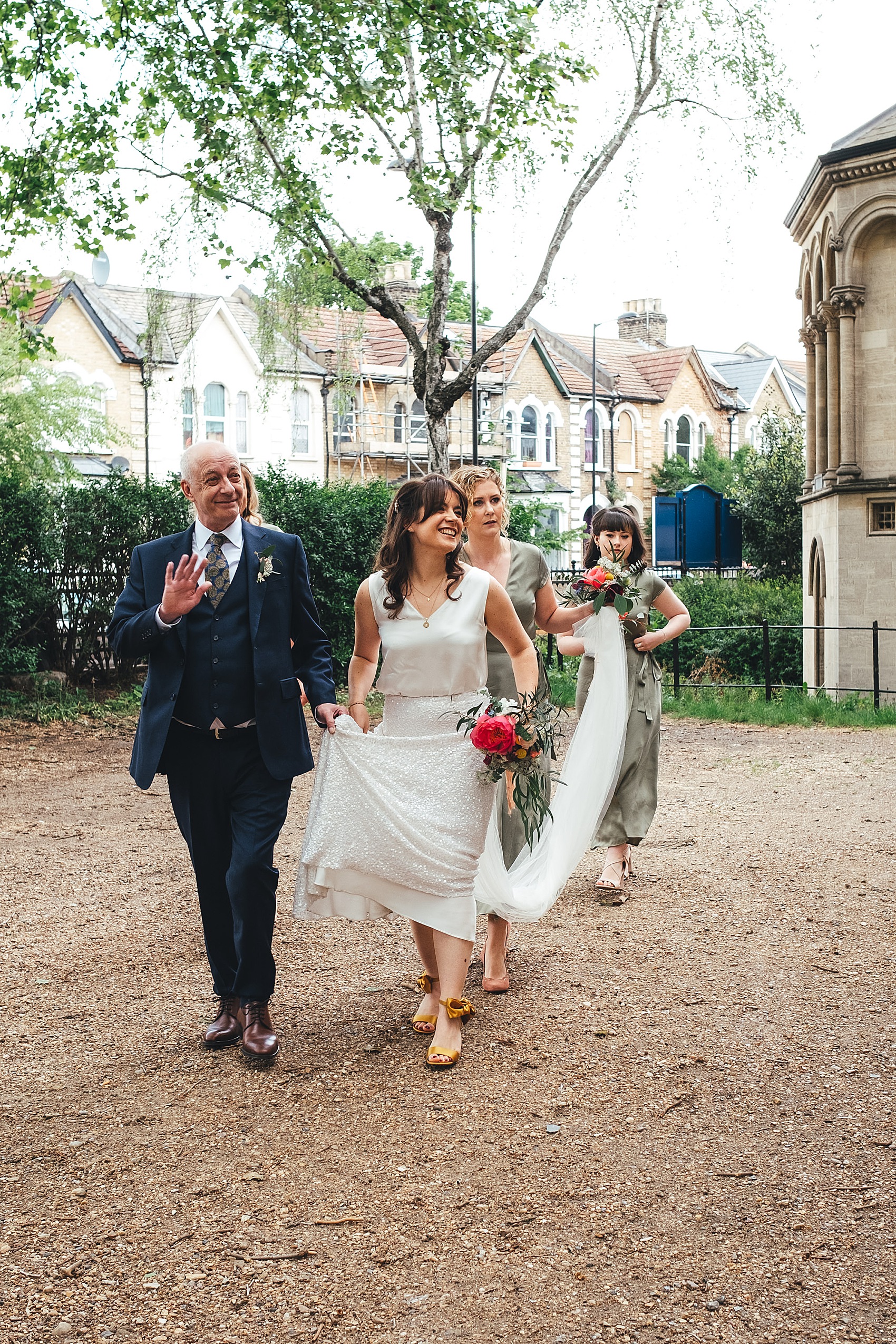 With helpful styling advice from Belle & Bunty's Hannah and Alice, Clare layered two necklaces of different lengths by Yvonne Henderson, discovered via Wolf & Badger.
"I wore a sun bracelet from Rachel Jackson, also via Wolf & Badger. My lovely friend Ethné also lent me an Astley Clarke bracelet as my something borrowed, and my earrings were gorgeous topaz and diamond earrings from Carrie Elizabeth. I love her jewellery. Just so cool."
Clare added a long, tulle veil by Belle & Bunty, and loved the way the embellishment of her skirt caught the light through its translucent fabric.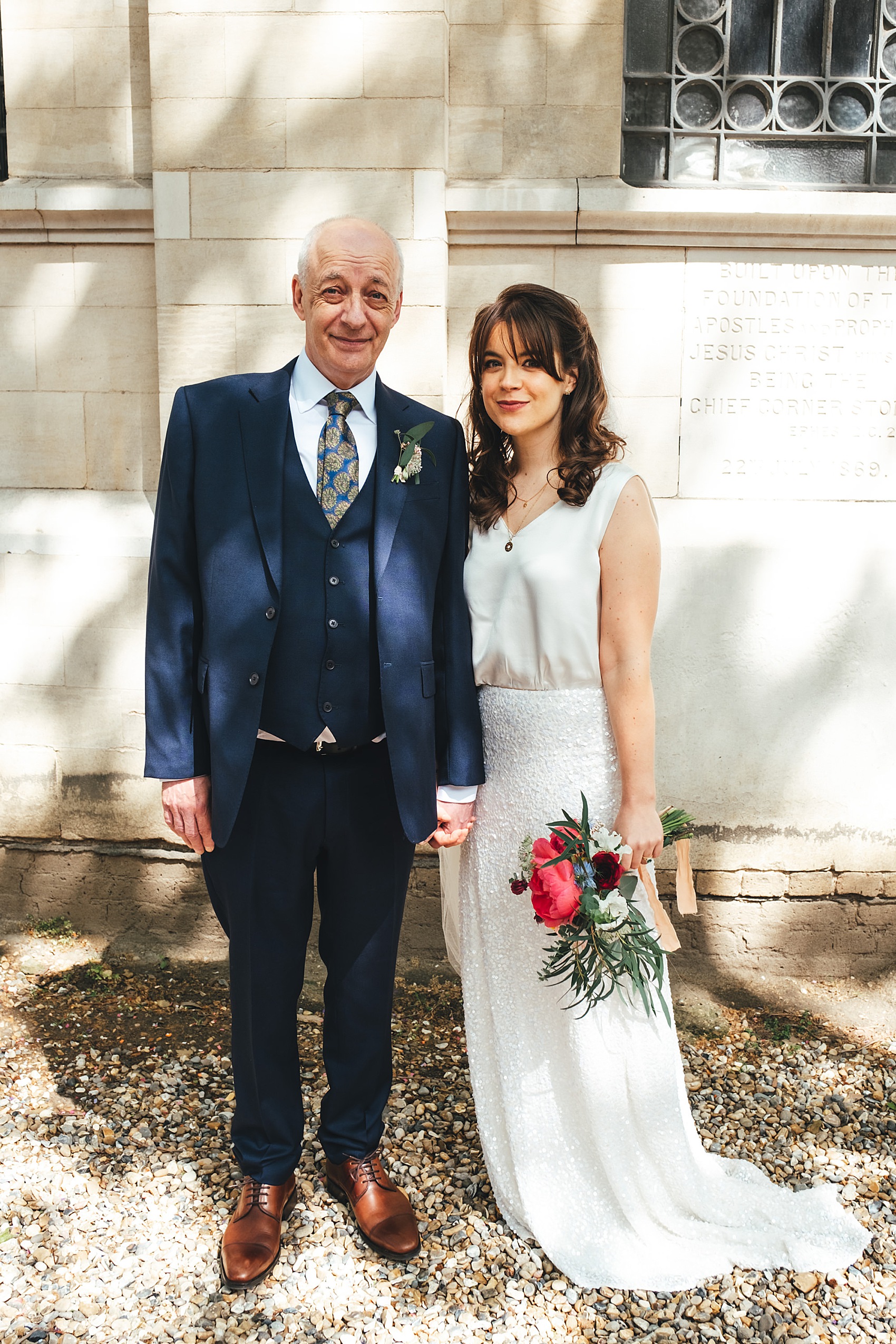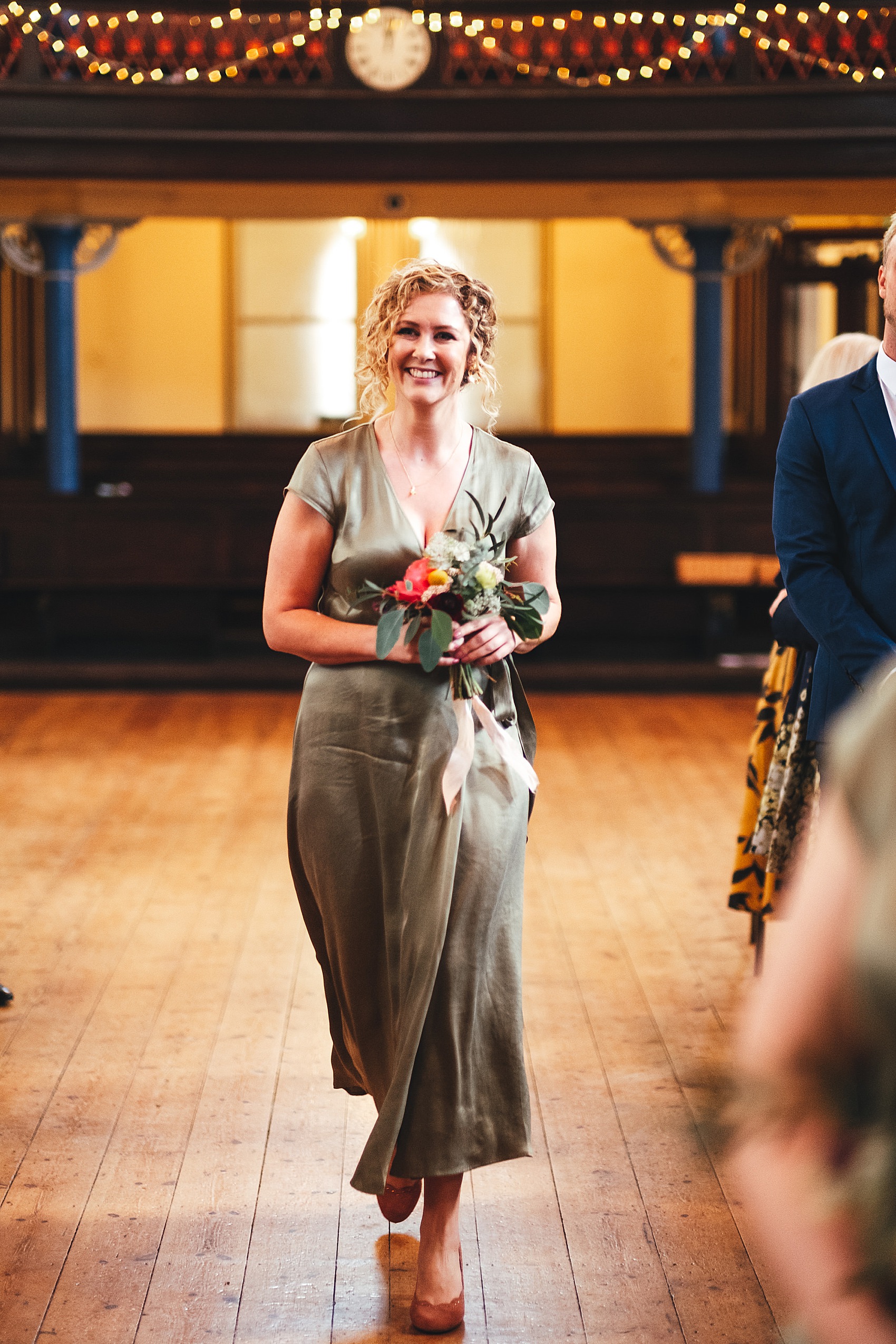 Inside the Round Chapel, the semi-circular stage was lined with little posies of bright blooms, tea lights, and candles placed into vintage candlesticks. There was simple and stylish on-the-day stationery, too, which the couple chose on Etsy (no seller details provided, sadly), downloaded and then had printed at Printed.com.
"My dad walked me down the aisle to In My Life by The Beatles. My dad is a Scouser and loves The Beatles. It meant a lot to walk down the aisle with him to that song."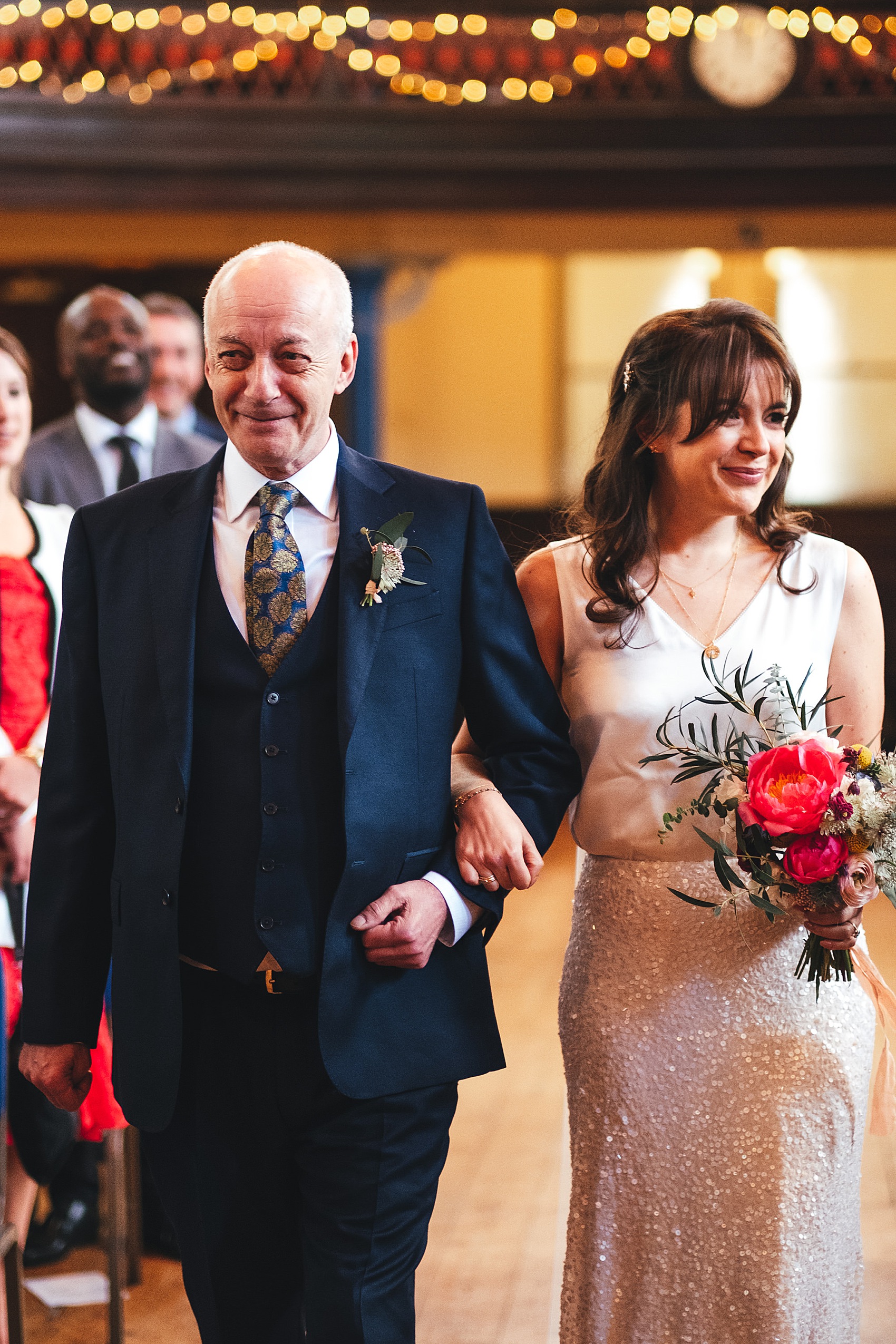 Rob proposed to Clare on a beach in Essex, four years to the day after they first met.
"He caught me completely unawares, and I was so hysterical that I forgot to say yes. I couldn't stop crying (in a good way!) for a few days afterwards! We already had six other weddings in the diary for the following year, plus, as Rob's a teacher, we were restricted by his holiday dates, so in the end we settled on May, which only gave us 6 months to plan everything."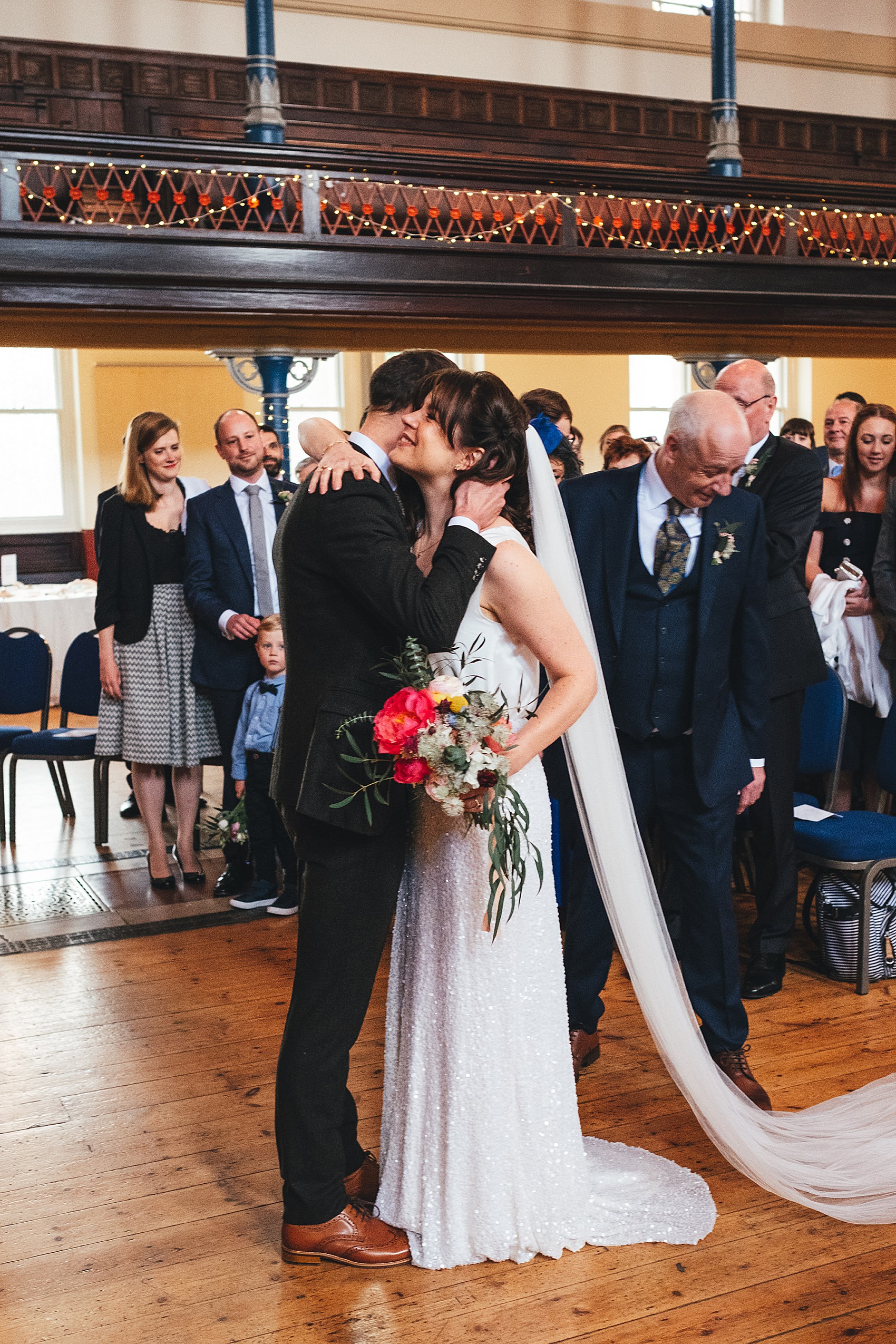 "It was a daunting task, but I think it helped us to be quite focussed on what was important to us, and meant we had to be quite ruthless with our decision making. We are generally cripplingly indecisive, so it was probably for the best that we couldn't dawdle too much!"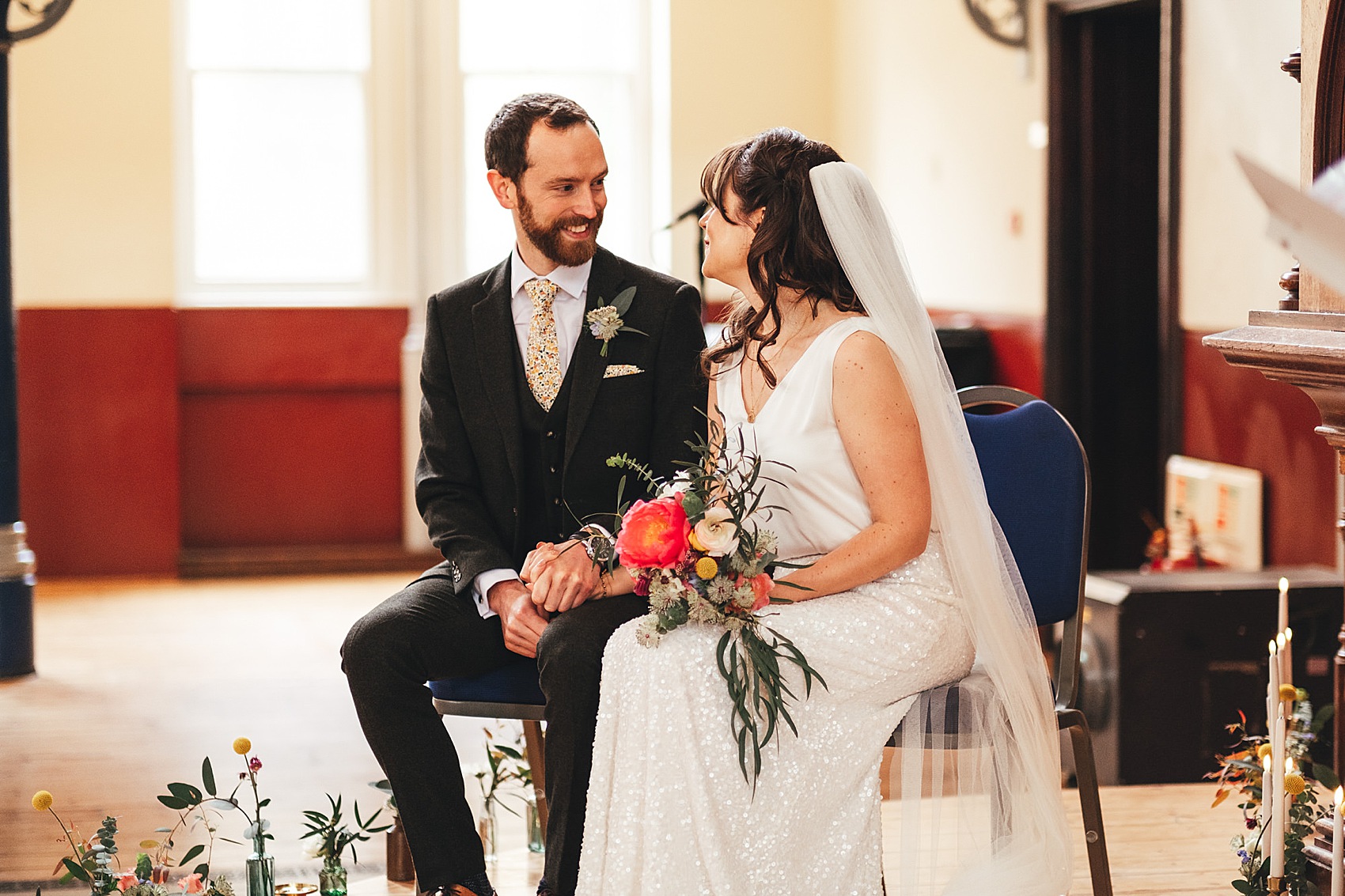 The couple's celebrant was from Hackney Council, and as they made their vows to each other, they also gave each other rings, which they chose together at Solitaire in Hatton Garden, where Rob had also chosen Clare's emerald engagement ring.
There were two readings during the ceremony, the first being the lyrics to the song, Wedding Song, read by Rob's sister Sarah as a nod to his family's love of Bob Dylan.
"There's a line in it that says 'I love you more than ever and I haven't yet begun', which makes me well up every time! We also chose an extract from Dolly Alderton's book, Everything I Know About Love."
"It's a piece about how love is about the small, everyday things, not just the big, grand moments in life, and it really felt like it was about us – in fact, a couple of people thought we'd written it about ourselves! We also didn't want anything too cringey, and so it hit the tone perfectly."
I just love the sweetly intimate way in which photographer Nikki van der Molen captured Clare and Rob's day. Her natural and informal style and approach lent itself perfectly to their relaxed celebration.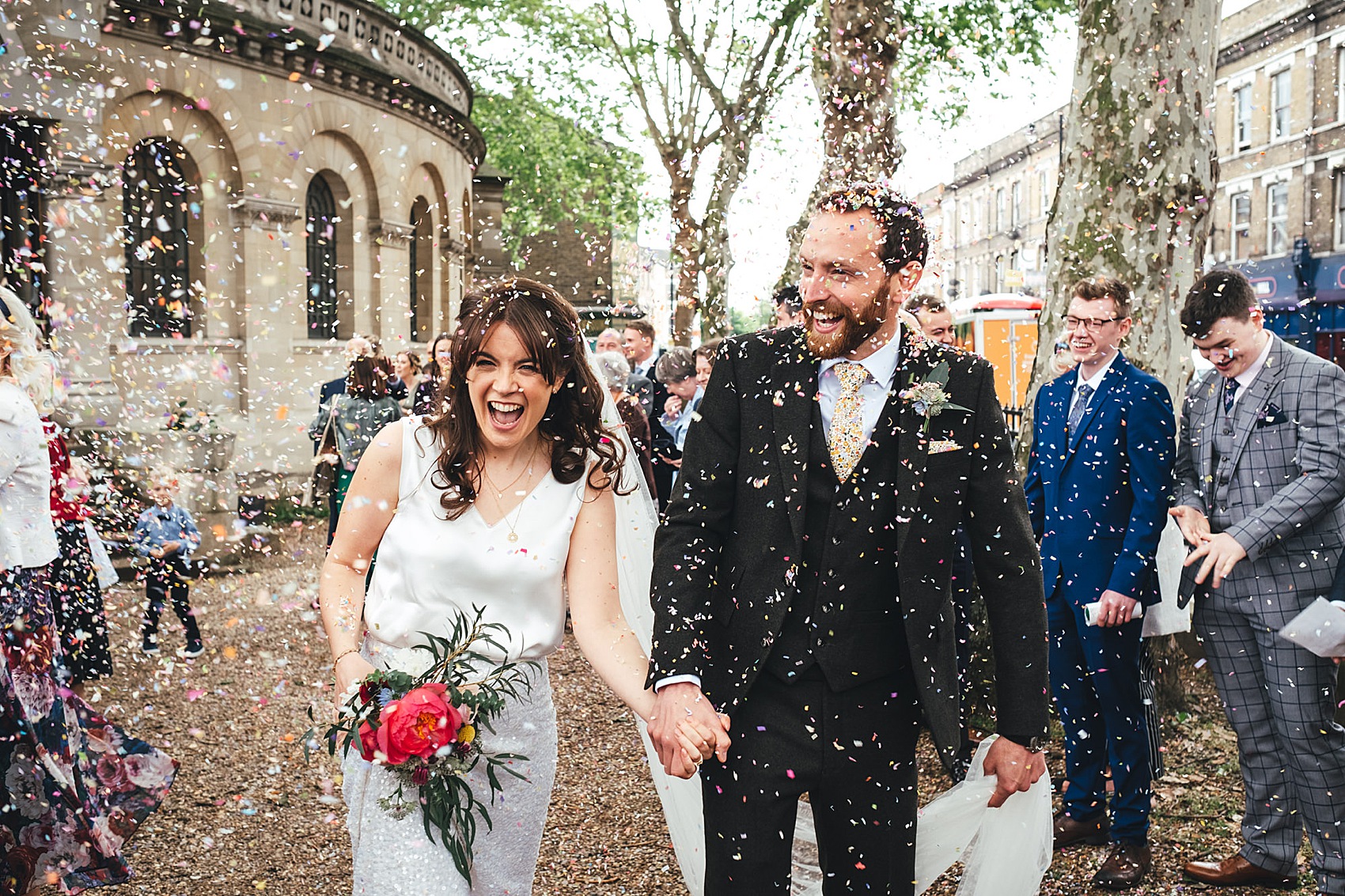 "We were immediately drawn to Nikki, as we loved the warmth and vibrancy in her photos, and I'm so glad we chose her. We met for lunch and got on like a house on fire. She totally got what we wanted, and we trusted her completely."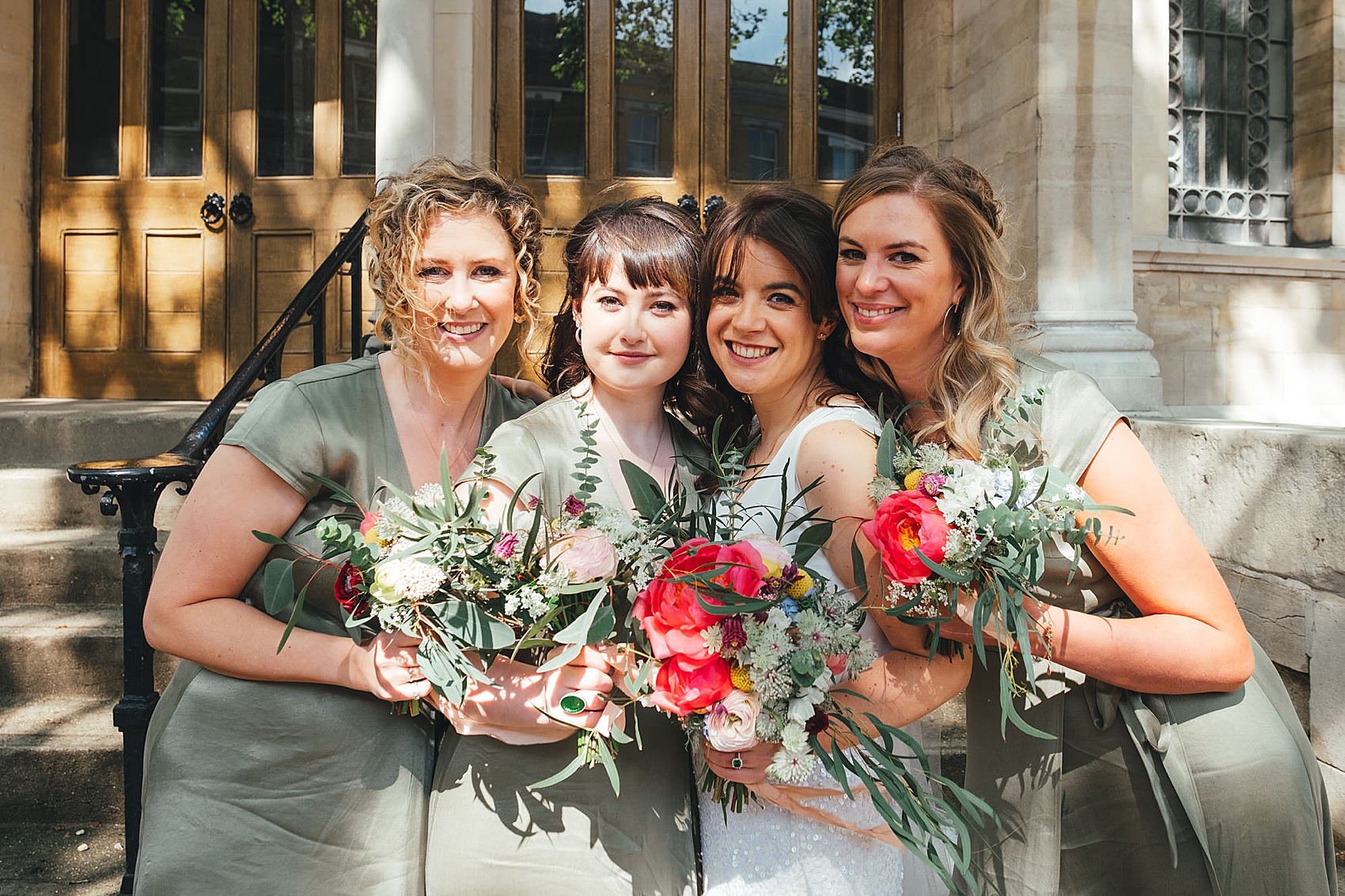 "She stayed in regular contact in the run up to the wedding day, and was such a star on the day itself. She was especially great on the morning – such a calming presence when I was freaking out a little bit! We were totally thrilled when we got the photos through, they really capture the fun, happy day we had. Some absolute corkers – there's one in particular that I think my aunt stops people in the street to show them!"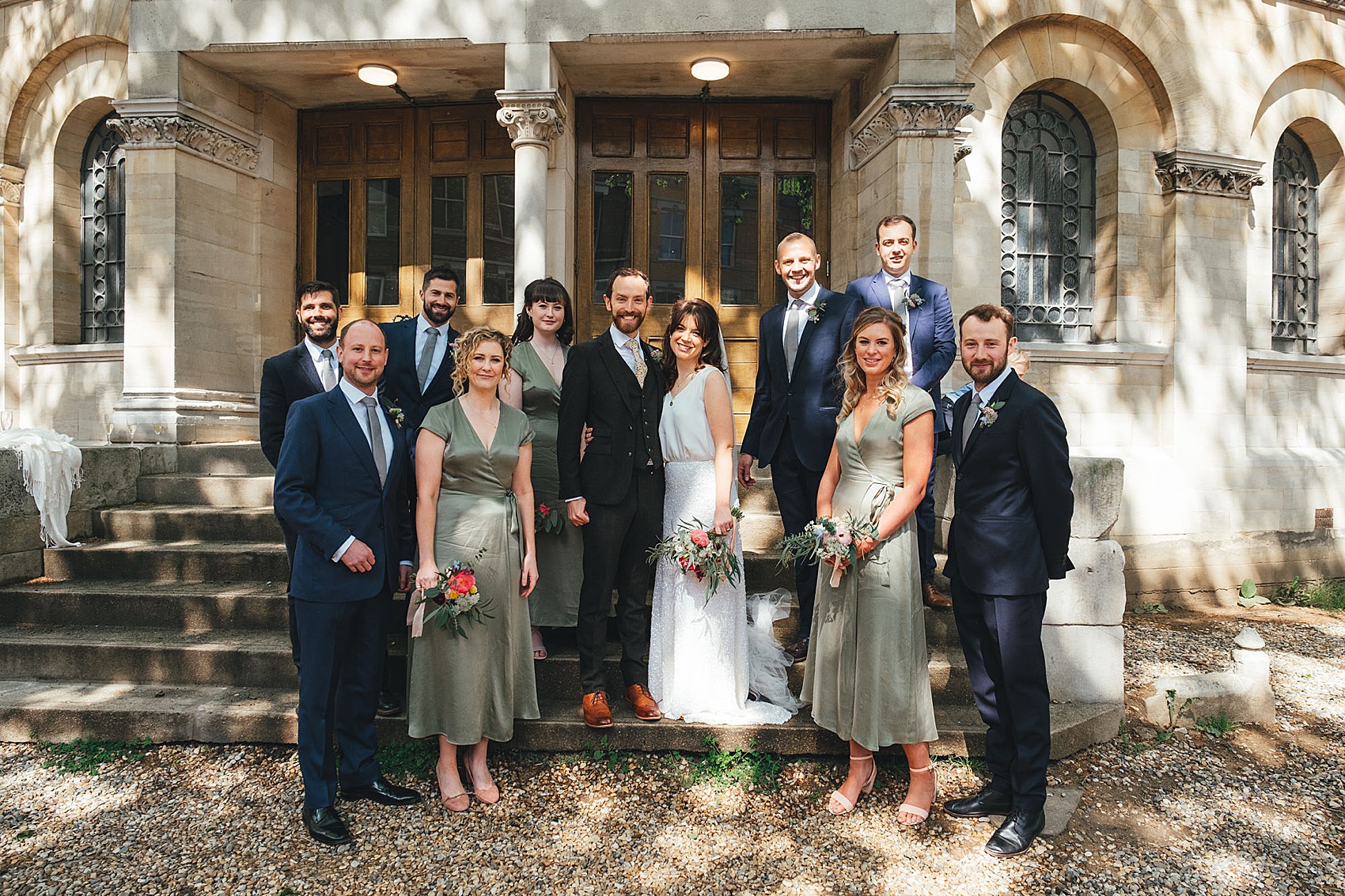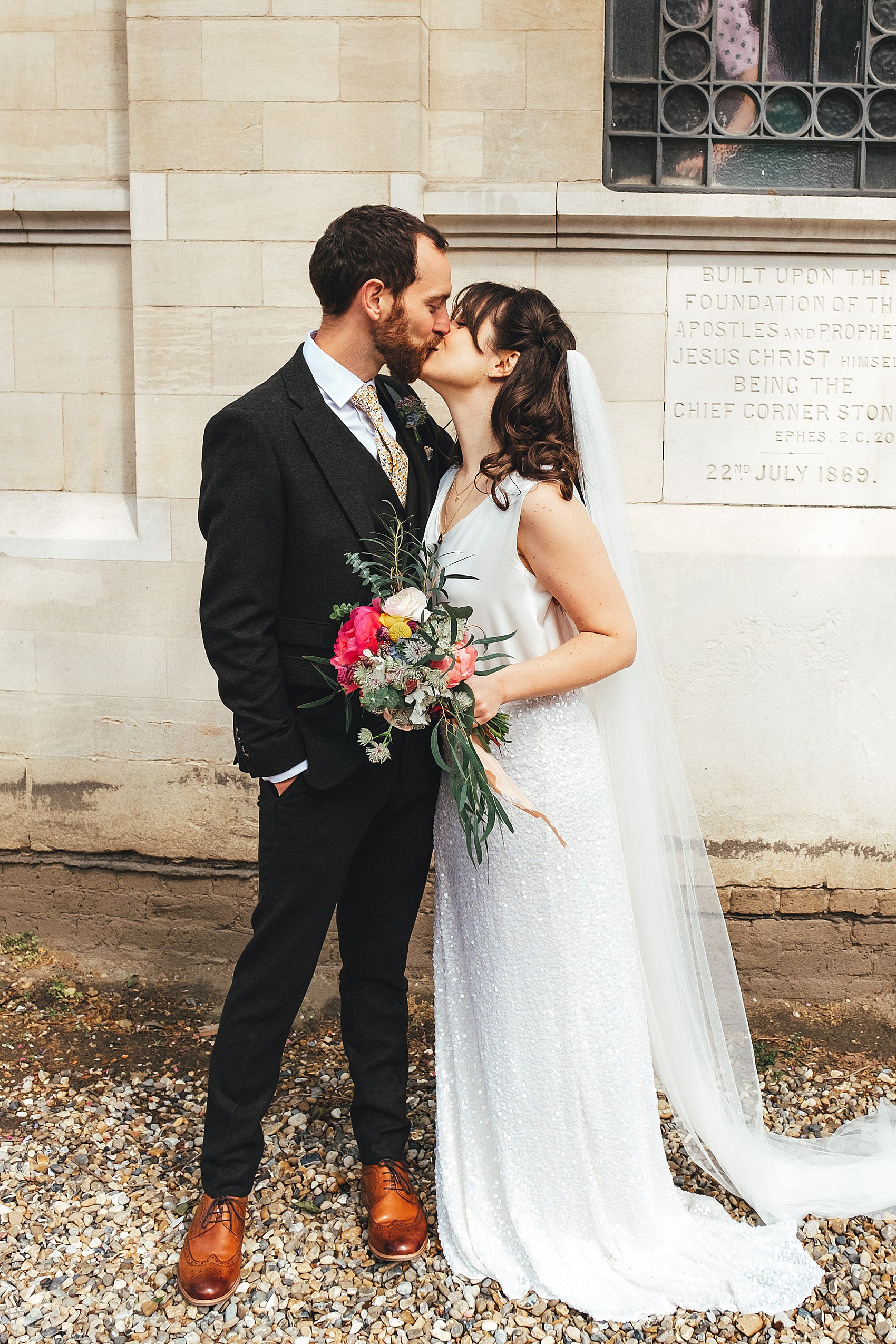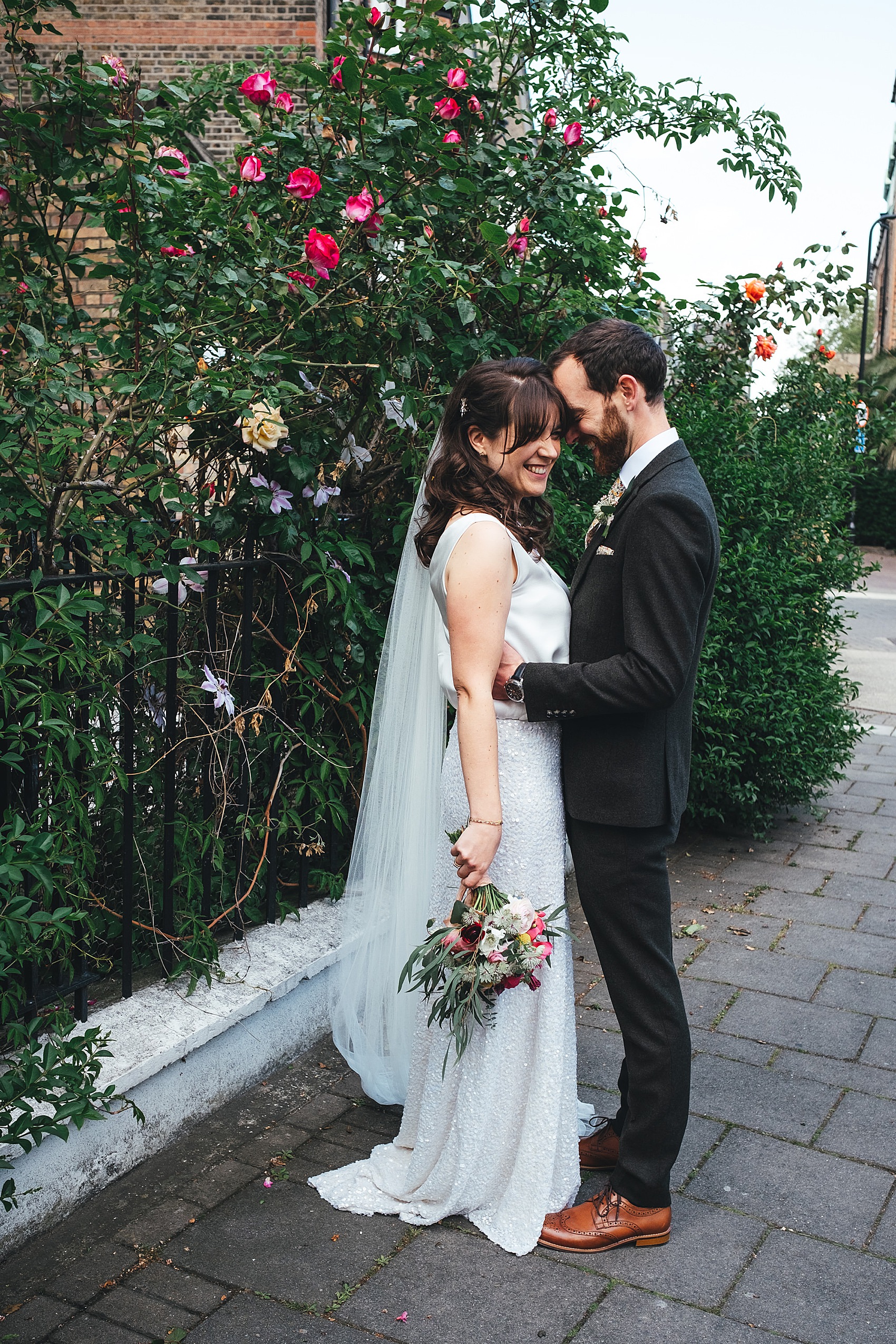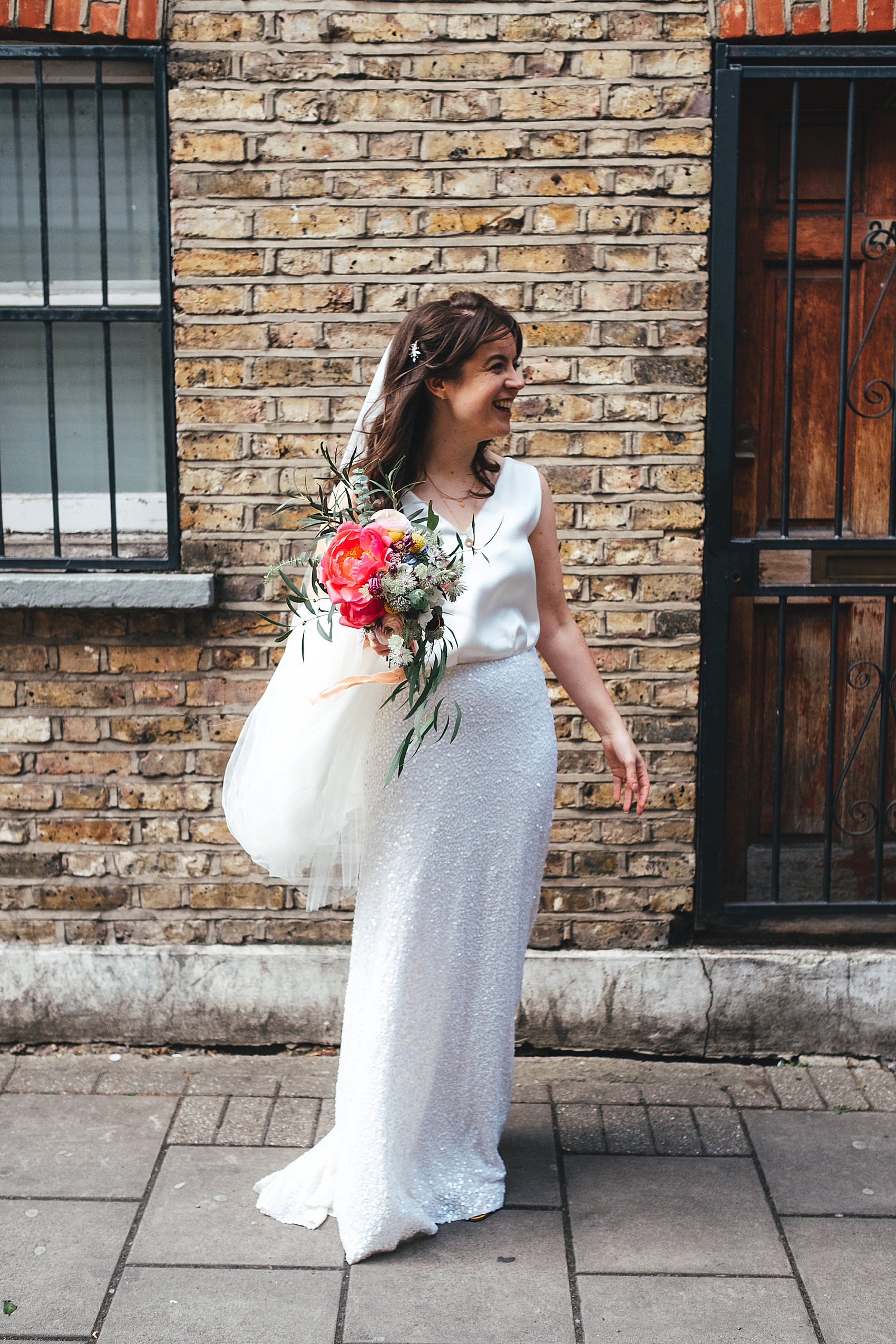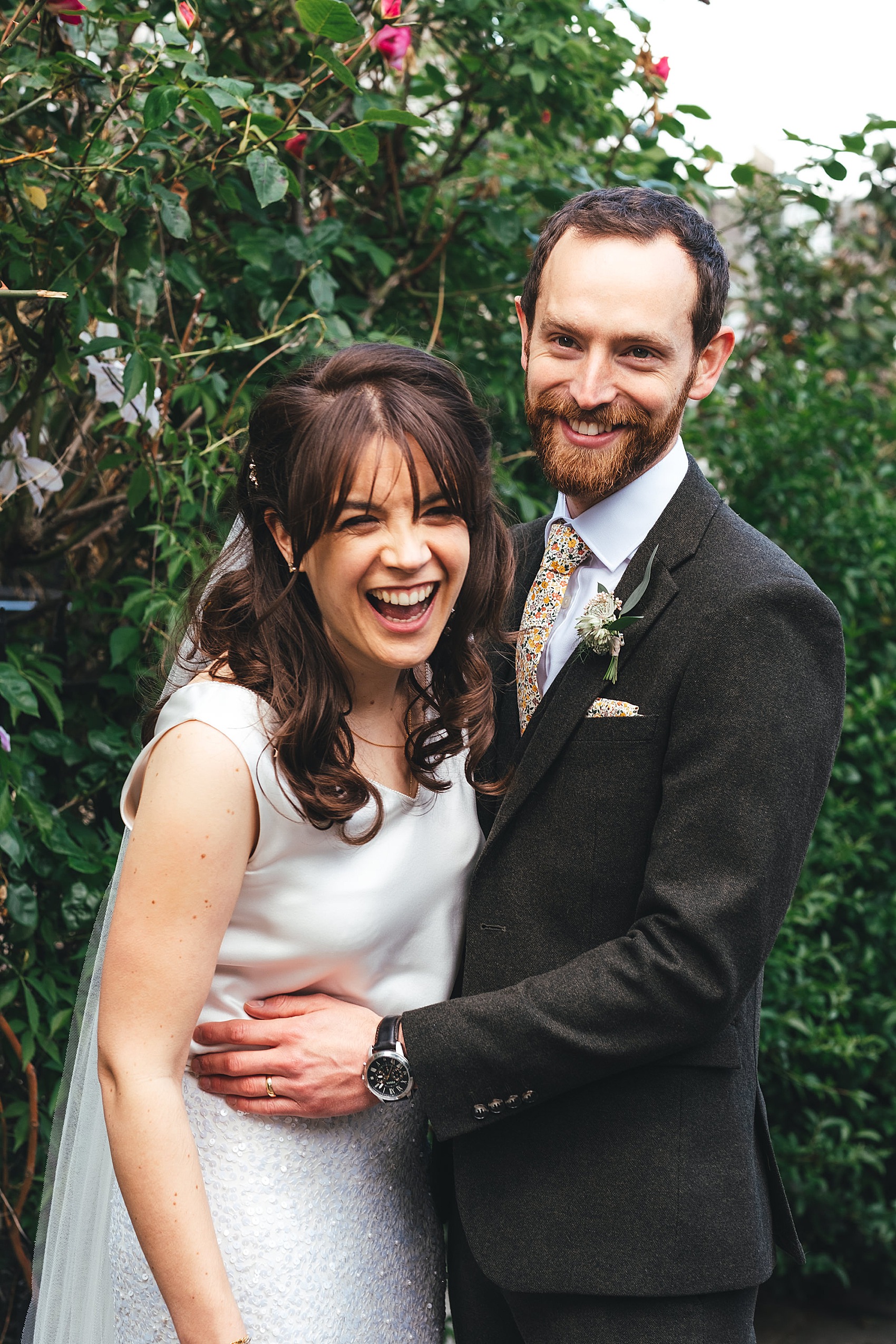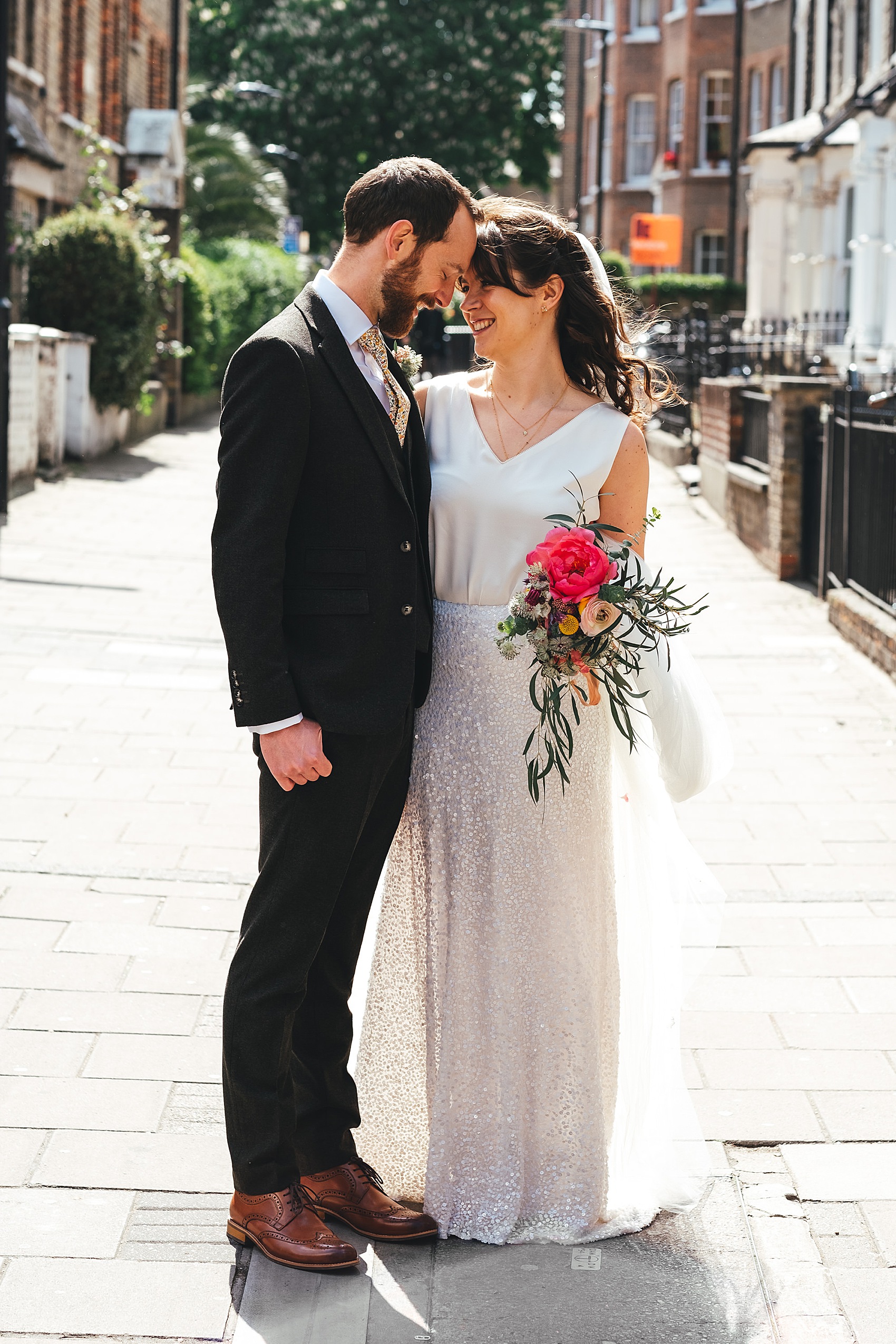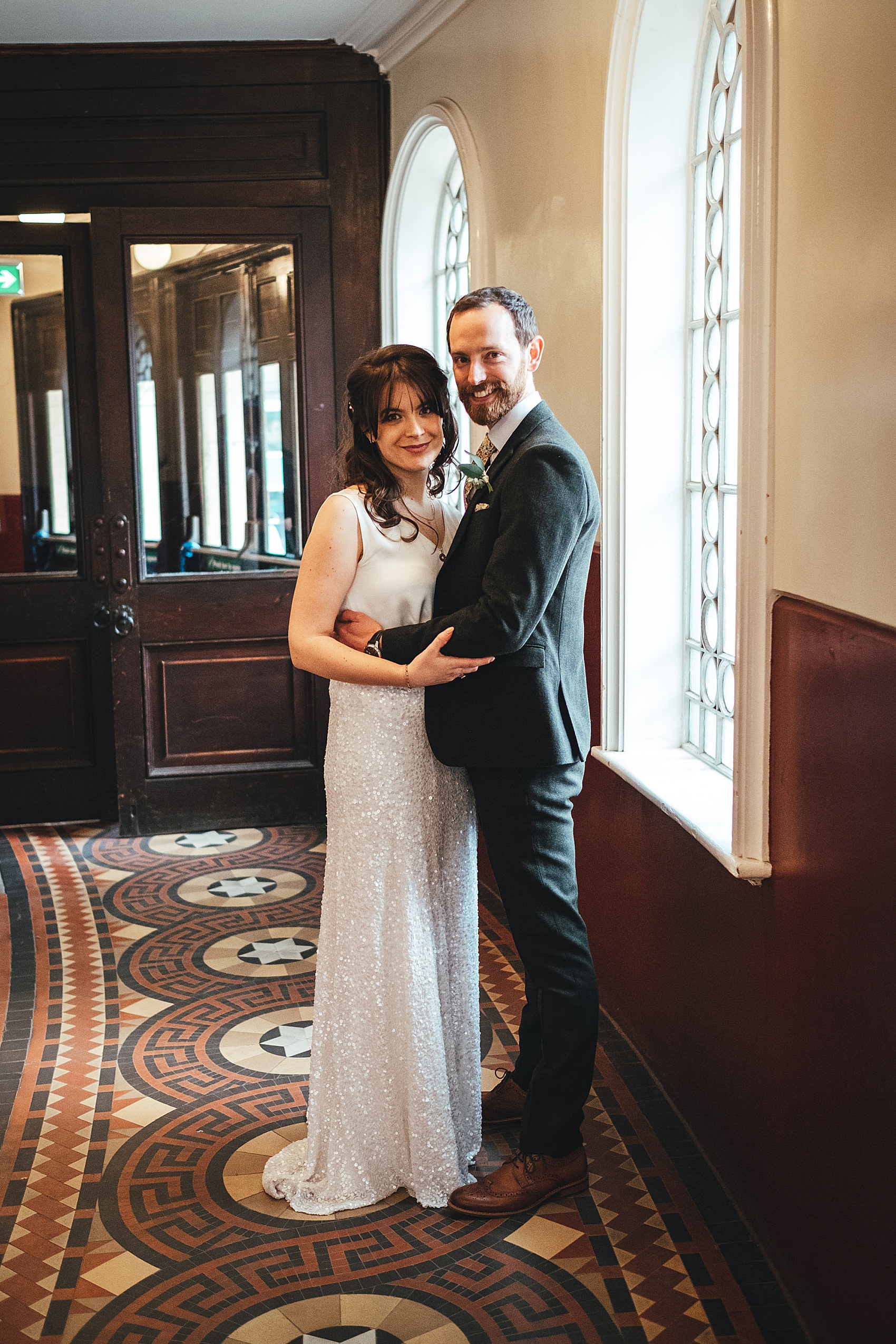 The Round Chapel was transformed for the couple's wedding feast, with circular tables laid in the centre of the chapel's soaring space.
"We didn't really have a theme or even a palette. We didn't want everything to be too matchy-matchy. We just picked things we liked, and it all came together luckily! We just wanted things to be clean and simple with minimal fuss, which is what I hope we achieved."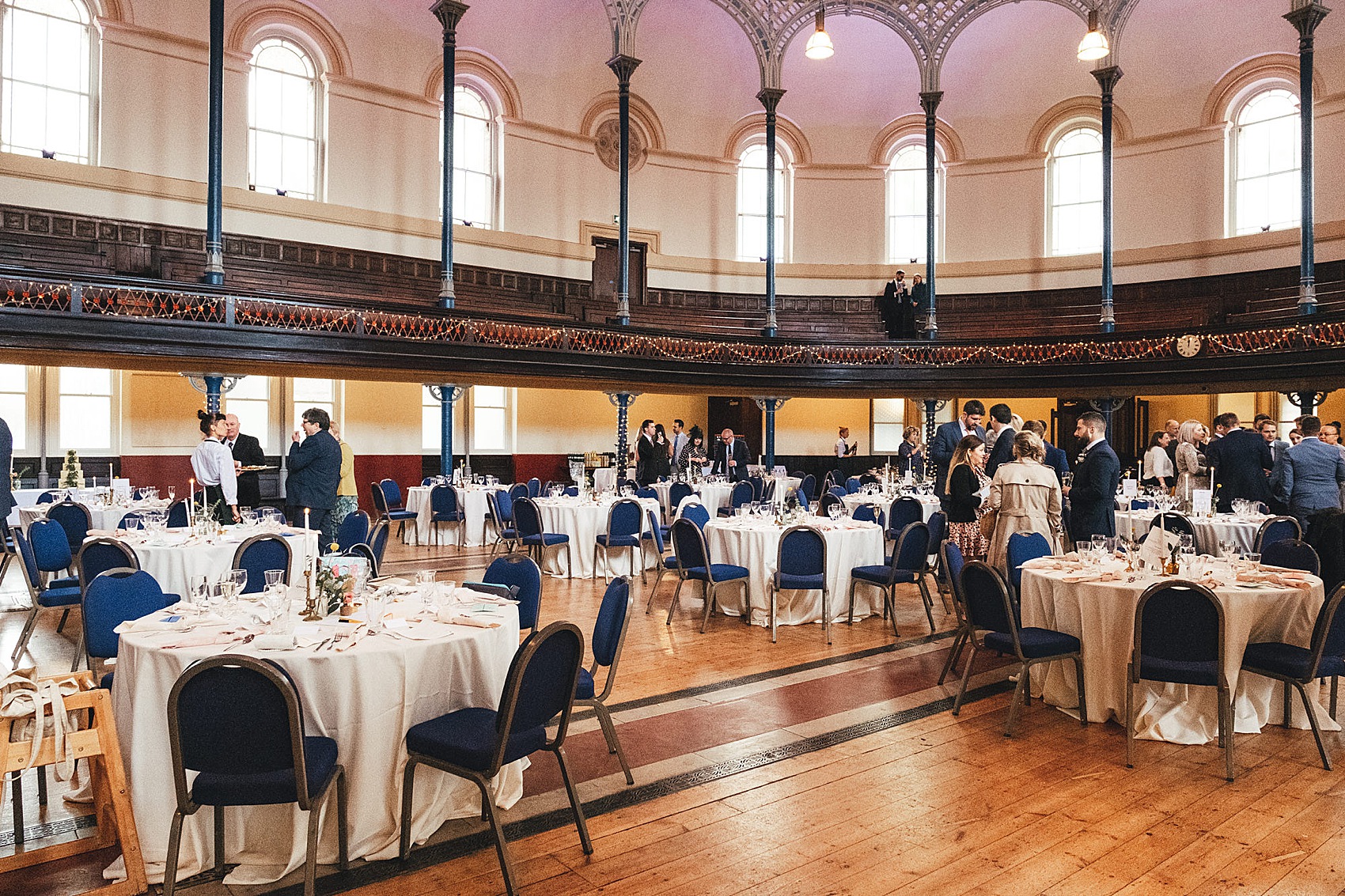 The cheerful posies of flowers and vintage candlesticks decorating the stage during the ceremony were re-purposed and placed on tables as centrepieces, alongside LED tealights, and handmade origami fortune tellers as guest favours.
"We both used to make these at school. We wrote 8 personal messages in each one, unique to that guest. It took so long, and ended up being quite stressful to finish in the run up to the big day, but everyone really loved them, so it was all worth it in the end. A few people have had them framed, which is really touching."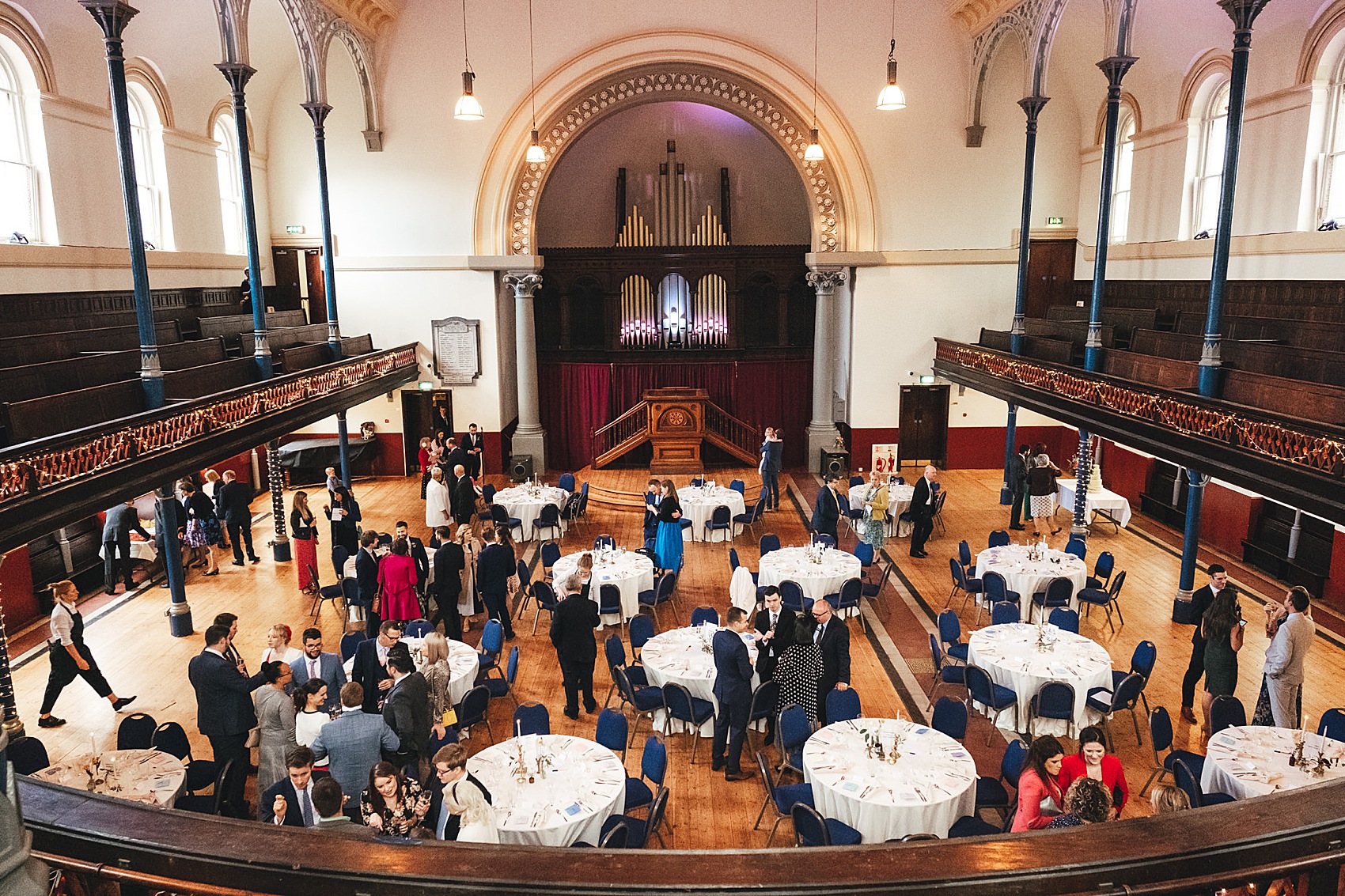 "Also, as we're keen pub quizzers, and we named our tables after pub quiz teams. We wrote a quiz about us and the wedding for each table to answer; questions like 'What is the average age of all our guests?' and 'How many countries have Clare and Rob visitied?'. It was just a bit of fun, and was an ice breaker for everyone when they sat down. Although we forgot to announce the answers. Oops!"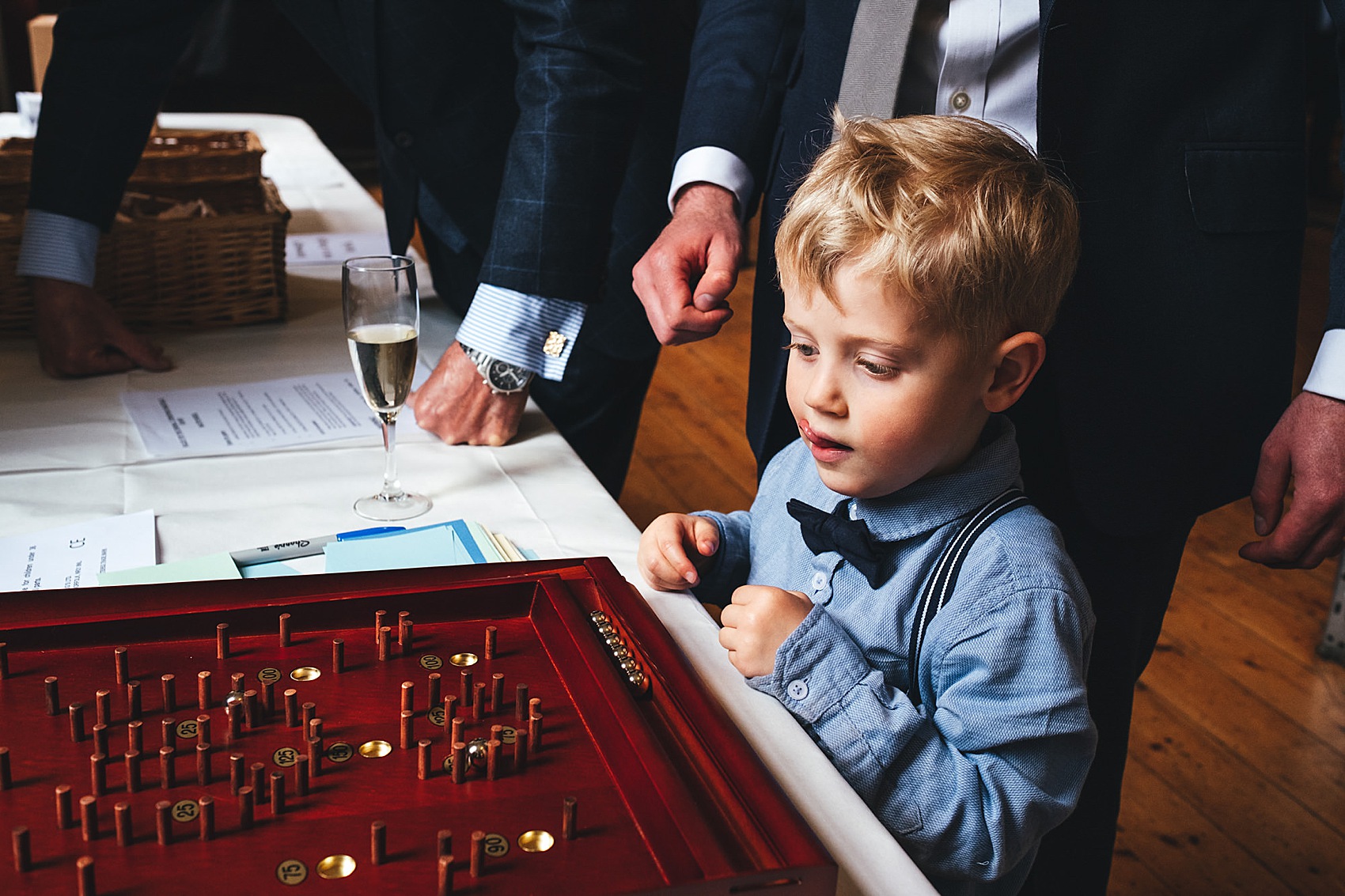 As well as wine for the tables, ahead of the wedding day, Rob and his Best Man went along to a local brewery (sadly, no details supplied) to brew a batch of very special wedding beer.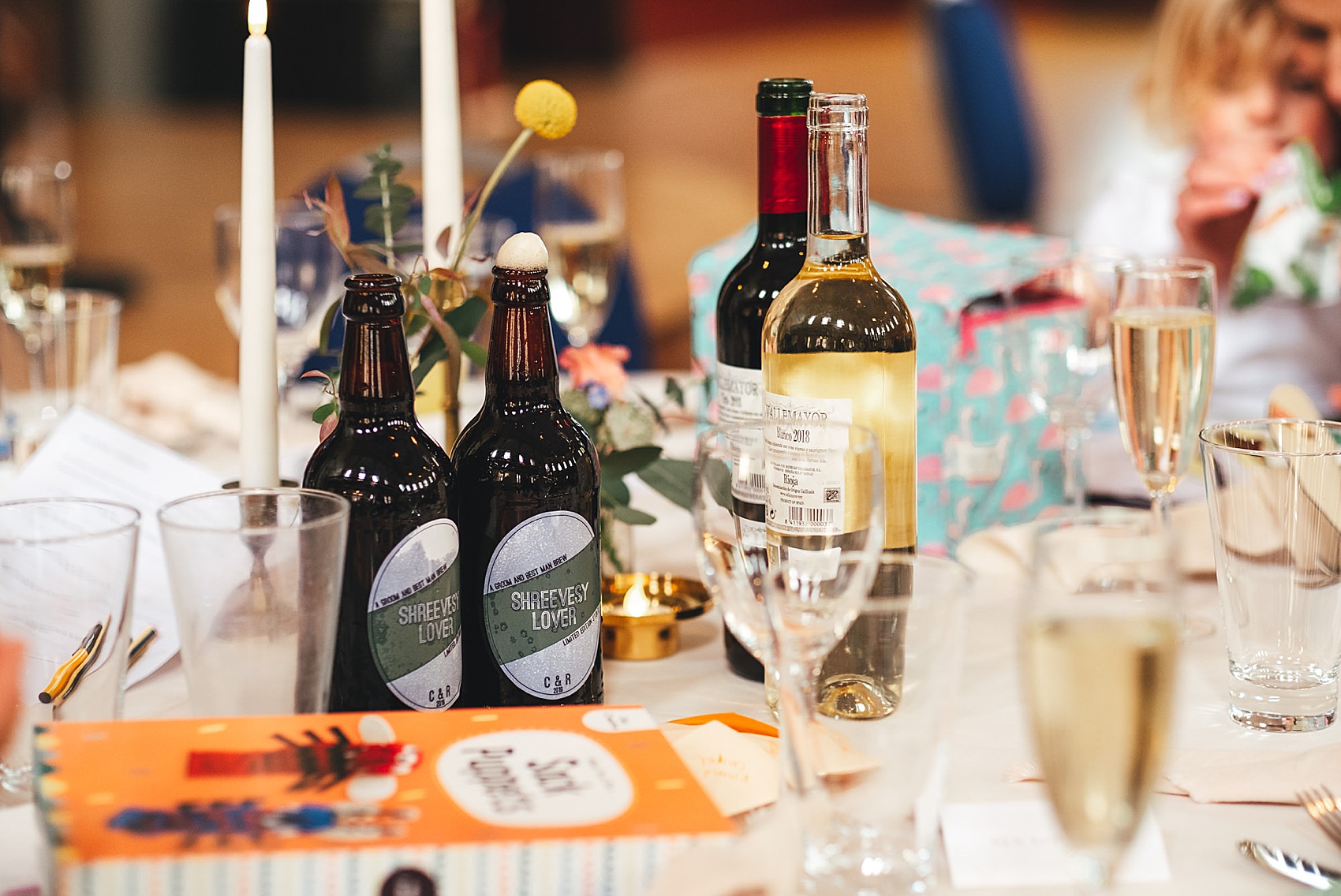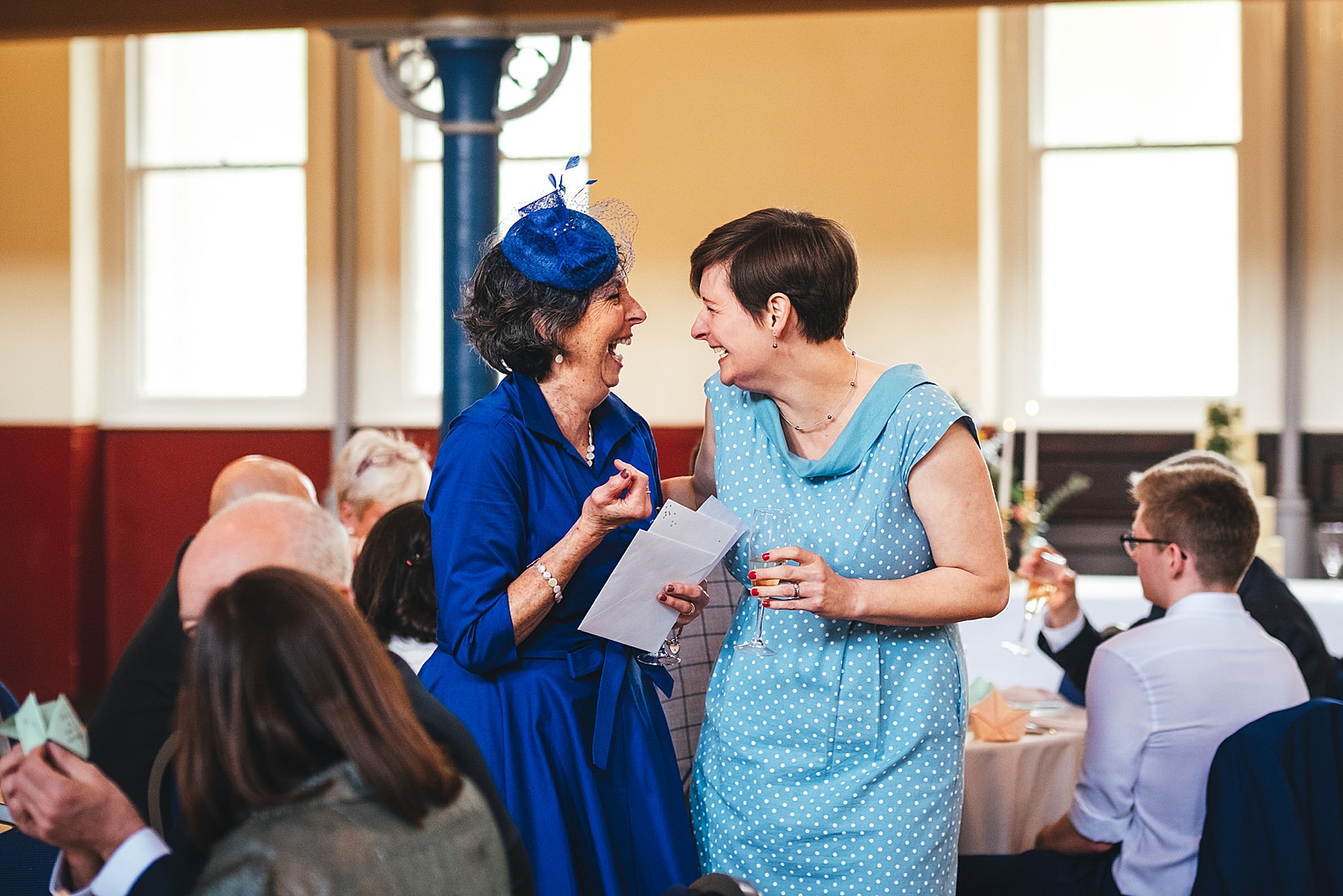 Warburtons Catering served a wonderful feast of roast lamp rump, served with smoked burrata, red peppers, new potatoes, and asparagus with Aleppo chilli, truffle aioli and Parmesan.
"The food was high on our list of priorities. We love cooking and eating out, so we felt really strongly that we needed to have a great caterer. As we had quite an unusual venue, we looked for caterers who had worked there before. We got in contact with Paul straight away, and gave him a few ideas of the food we like to eat, and he came up with a list of twenty original main courses straight away! We were drooling."
"We're going to make a trip to their café in Highbury an annual trip for our anniversary! Paul and his team were total superstars, they made the day work like a dream."
There was the most incredible, five-tier cake decorated with flowers and greenery, made by the brilliant Luminary Bakery. The dessert course was in fact the wedding cake, which was lemon and blueberry flavour, served with lemon curd made by Rob's mum, fresh blueberries and dollops of crème fraîche.
"We chose Luminary Bakery because their cakes are insane, but they're also a fantastic local social enterprise, training vulnerable and disadvantaged women in bakery skills. They have since been featured in the Duchess of Sussex's edition of British Vogue, no less!"
"Aren't we lucky?! The cake was a massive hit on the day, I think some people had thirds!"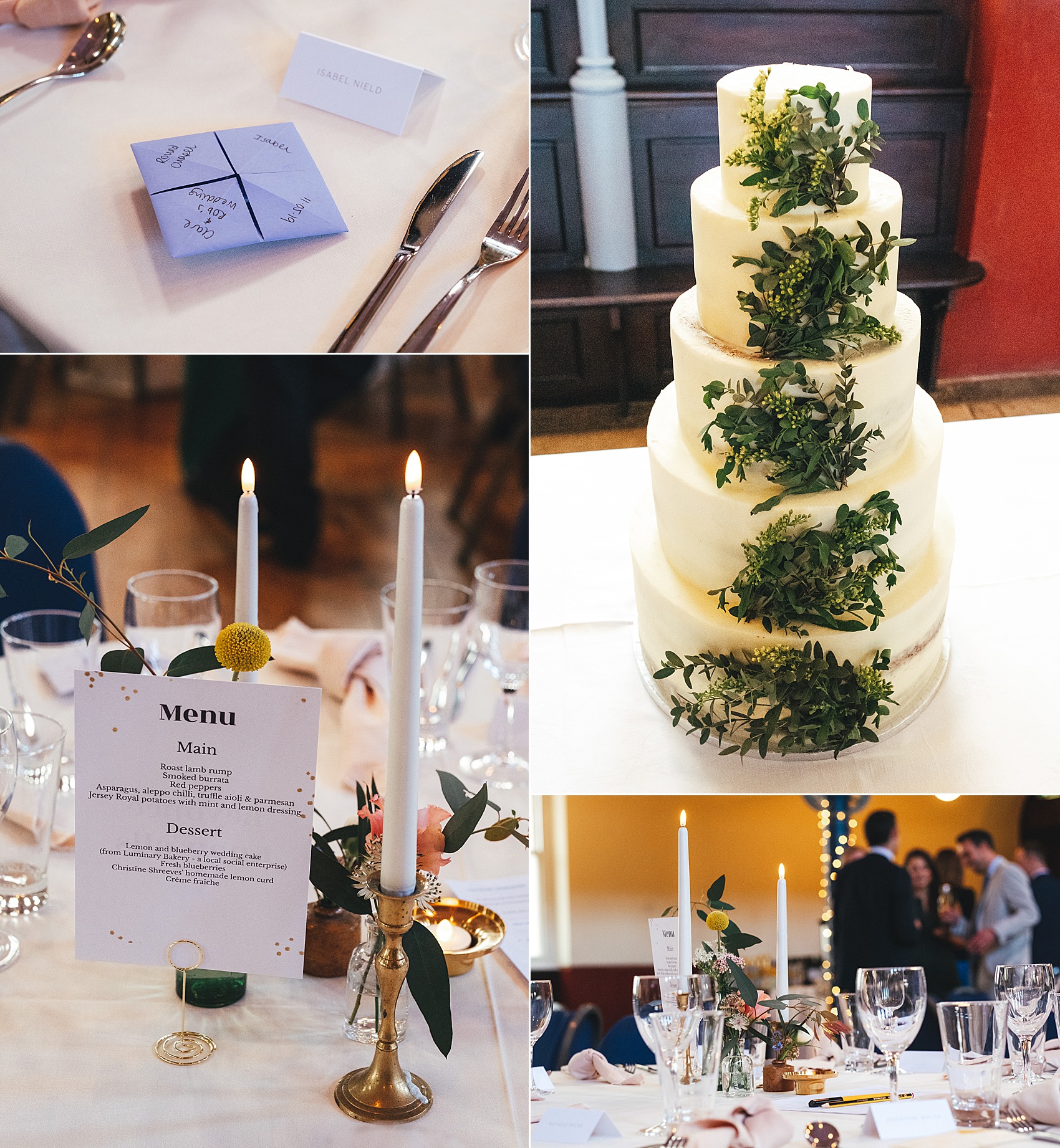 "I loved the speeches. They were all so touching, and struck the right balance of emotion and humour. I was so nervous about doing mine. as there's not a set template for what a bride should say. but I was so glad I did it."
After the speeches, Clare and Rob went hand in hand to the dancefloor for their first dance as married couple, for which they chose Fleetwood Mac's Everywhere (excellent choice!).
"We thought people across the generations would recognise it and be able to join in, and we were right! Rob dipped me on the first chorus, and everyone cheered so loud – we loved it!"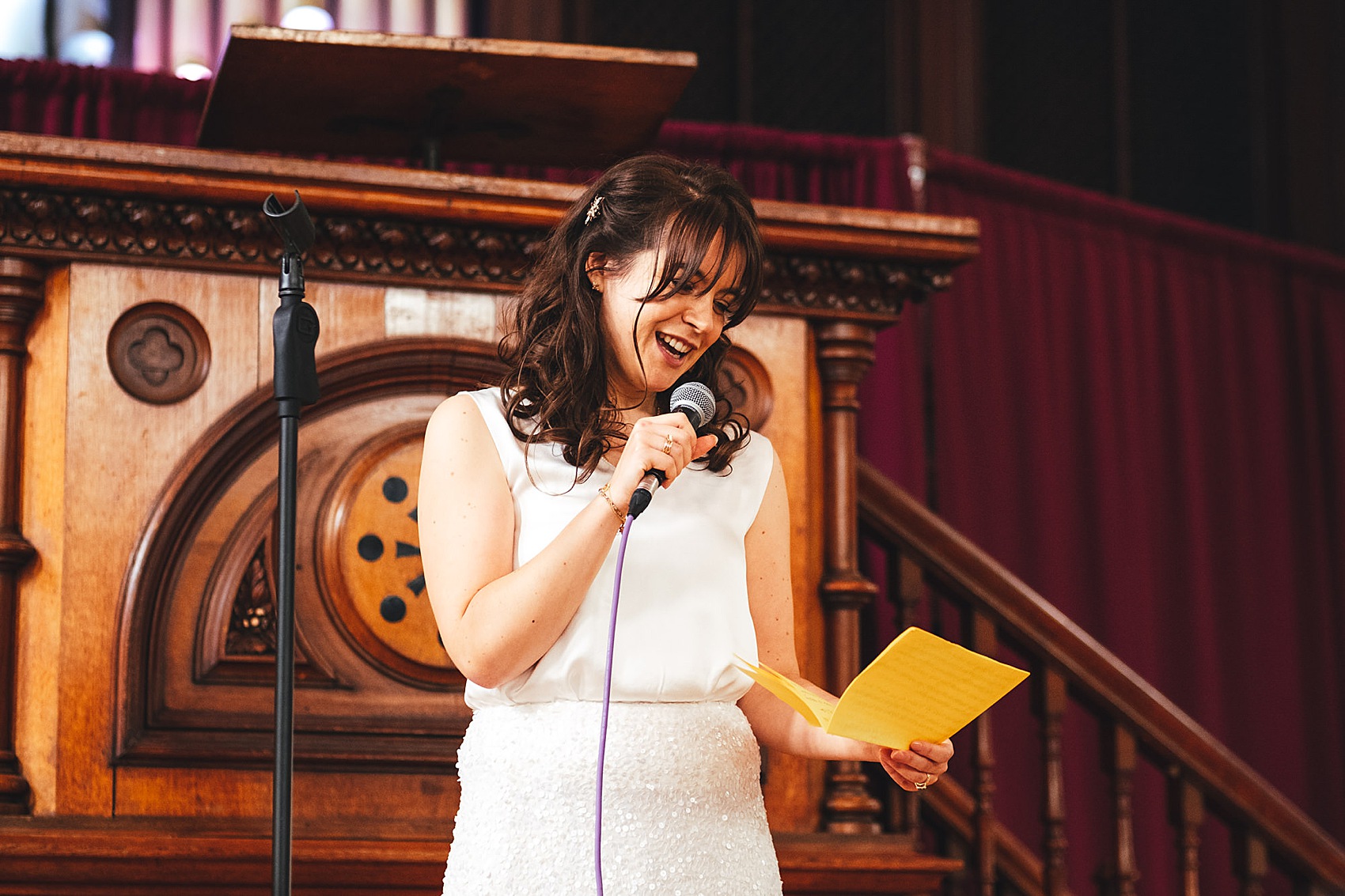 Joe Carter DJ'd from the chapel pulpit, whom Clare and Rob found through the friend of a friend.
"He was a total hero. The dancefloor was full from the first dance to the end of the night. He got us to send some must-have songs (and importantly things to avoid). We tried not to be too prescriptive, and he totally smashed it. He covered all the bases. One of our friends went on to book him for their wedding, and he was just as good then. We'd highly recommend Joe."
"We also hired a photobooth from Photobot. You're given a pose to do, and then the camera takes a photo and a GIF. When we got the online gallery through, we were in absolute stitches. It was a great way of documenting the night, and the poses were absolutely hilarious. Everyone got involved with it, so glad we decided to go for it."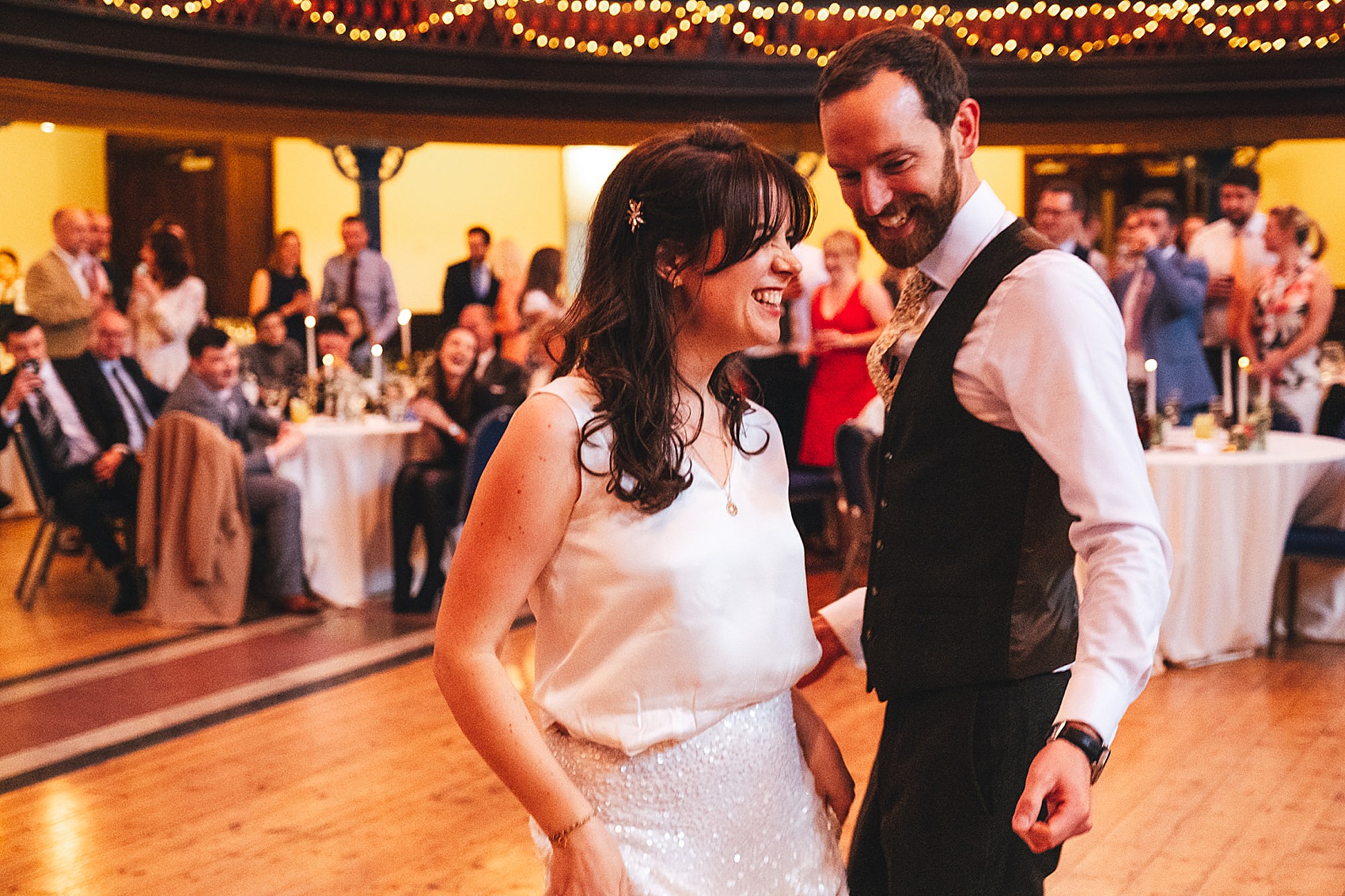 "During the party, Rob and I decided to take a few minutes out on the balcony to watch everyone dancing and enjoying themselves. It was so interesting to see different groups of friends and family interacting and chatting with each other. We were spotted pretty quickly though, which led to Rob and I having a dance off with everyone to This is How We Do It. So much fun!"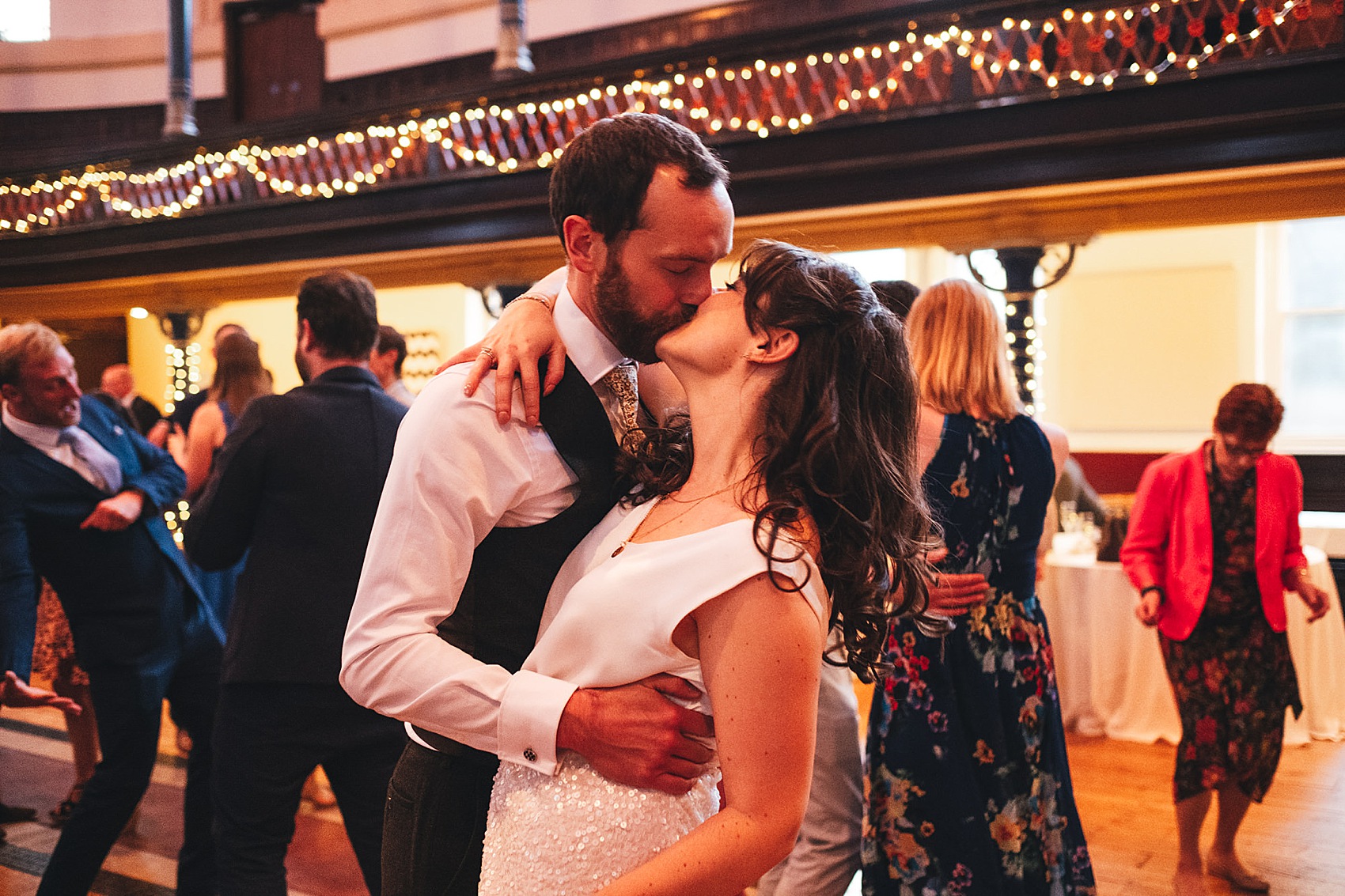 Well, that all looked like so much fun from start to finish! Congratulations Clare and Rob, and thank you so much. Many thanks to Nikki van der Molen for her vibrant, beautiful photography, too.
If Clare's cool Belle & Bunty separates left you wanting to see more, then do make sure you look through our other lovely real weddings and articles featuring more of their designs.
With love,
Laura