Time to revel in a touch of elegance and glamour with today's beautiful, outdoor June wedding.
It's a real pleasure to introduce you to make-up artist Lucy and fire safety consultant Stephen, whose marriage on 26 June 2019 was held at the divine countryside venue Dewsall Court near Hereford in the West Midlands.
Claudia Rose Carter Photography

+ Follow
Who better to ask to capture this beautiful day and its special details than Claudia Rose Carter, whose beautiful eye for detail and use of natural light is so elegant and emotive. I'd like to invite you to visit her listing on our Little Book Wedding Directory for more details and a special offer for you.
"An absolutely amazingly talented woman, we were both so happy we chose her. She was chilled, professional and went with the flow of our day and the photos were just stunning and so unique. Definitely recommended."
I couldn't believe it when I read that Lucy designed her unusual, elegant, feathered gown herself. My favourite details are the delicate lace appliqué on the bodice as well as the light, feathered skirt which has such wonderful movement. The overall effect is laid-back glamour; beautiful.
"I designed my own dress and had it made. It was just me. I wouldn't say I am very traditional and I couldn't find anything that suited me or that I felt comfortable in, so that's why I designed my own."
The gown was allowed to shine with minimal accessories. Lucy wore a statement pair of Charlotte Olympia heels and carries a simple bouquet of pure white roses. Helena Sinclair styled her long hair into a sleek, era-inspired, low ponytail whilst Rebecca Frances Make-Up Artist created the flawless make-up look and dramatic smokey eye.
"I wore Lady Million by Paco Rabanne. This is the perfume I wore when we met in the Middle East and it reminds me of this time."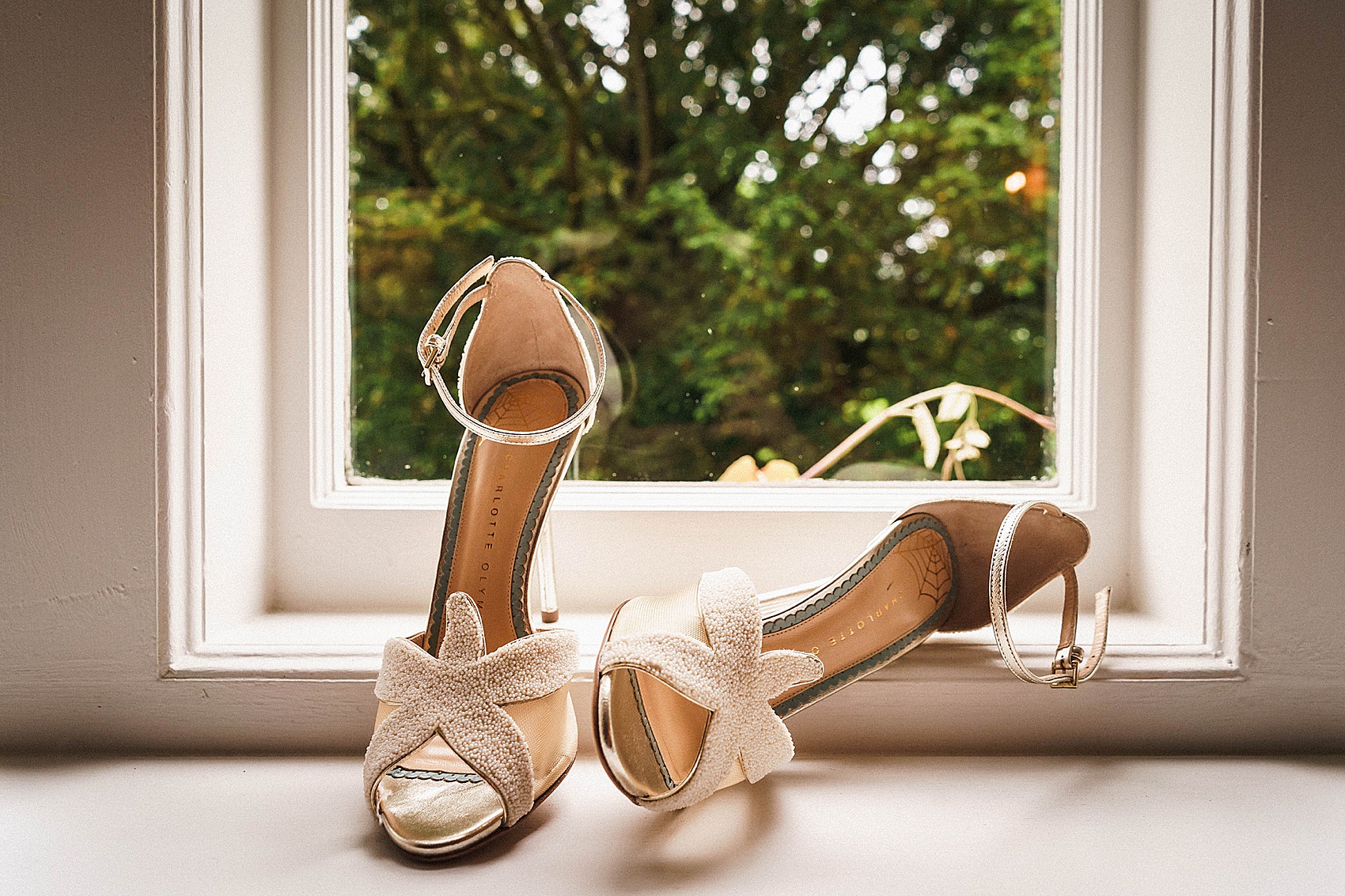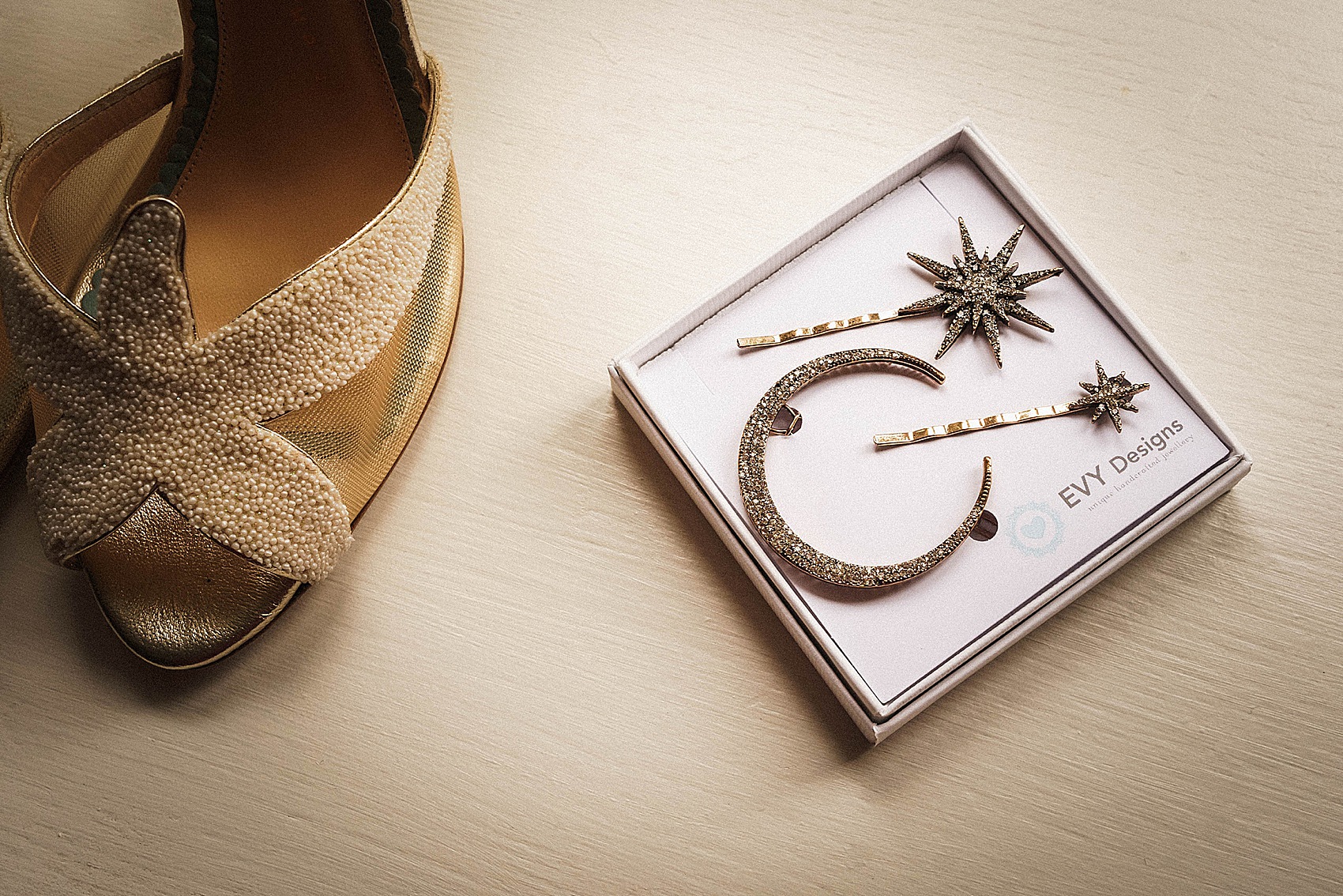 Lucy and Stephen met in the RAF where they were serving overseas in the Middle East.
"We got engaged in Kent on my birthday, a month after having our son. Steve took me to a castle ruin to watch the sunset after having a meal. He threw petals over my head and then produced a tacky Fabergé egg with a ring inside (when we were in the RAF I used to call him my special egg). I laughed, cried and said yes. We had been engaged just over three years before we got married."
The couple's outdoor wedding and barn reception took inspiration from Lucy's love for all things natural, boho and vintage. Cue an elegant day filled with 1920s classic glamour, natural elements and copper touches.
Nestled within the breathtaking Herefordshire countryside, we are so proud to count Dewsall Court as one of our Little Book Wedding Directory members, and I think you can see from these photos just how special this venue is. Its natural setting and boho vibe attracted this couple right away.
The two bridesmaids wore blush pink gowns from Karen Millen and ASOS, along with star and moon hair slides from NotOnTheHighStreet and vintage ostrich feather fans from Ebay.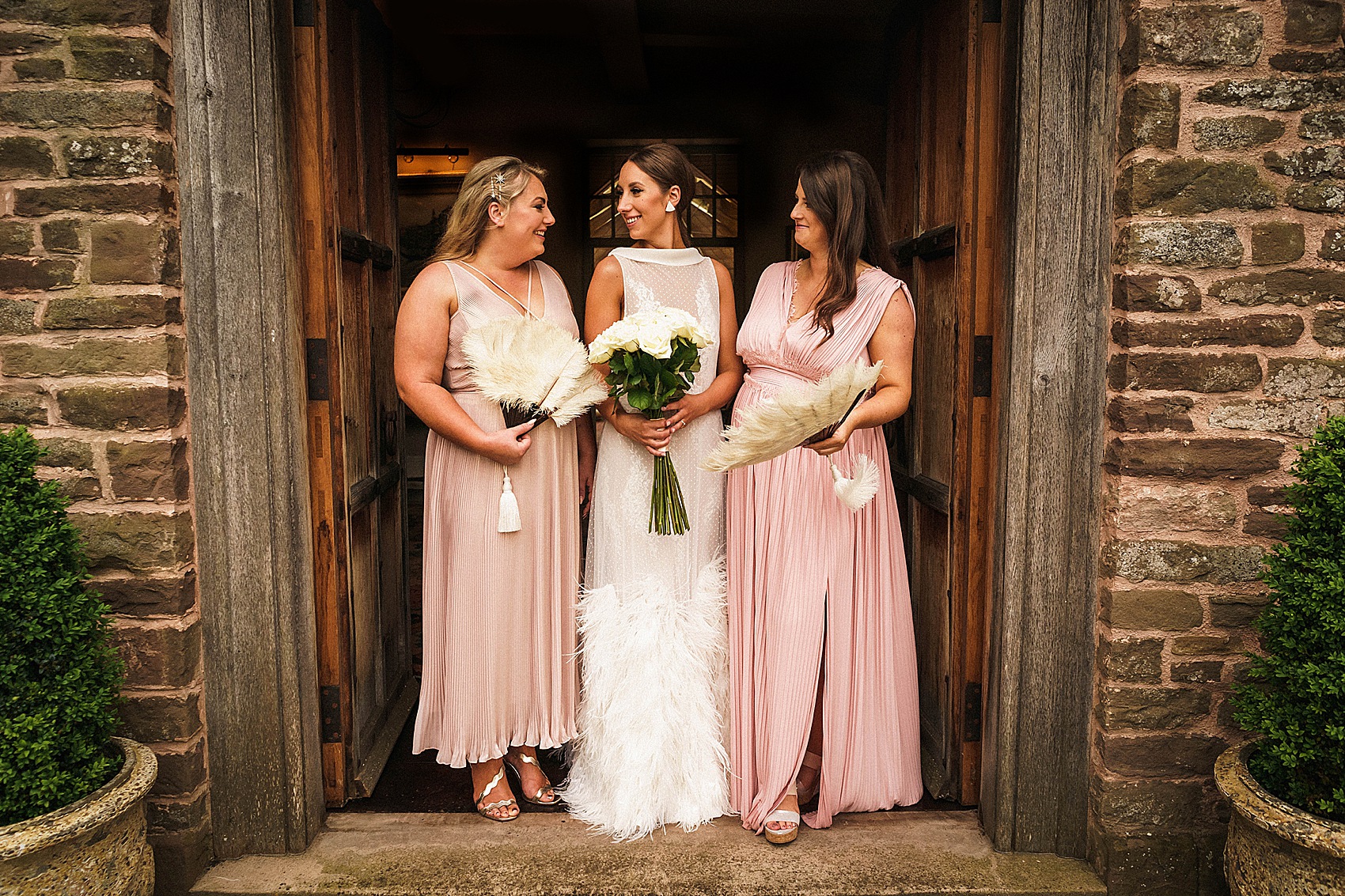 "We wanted to get married outside, originally in a forest and under a willow tree as this is my favourite tree, but we couldn't find anywhere suitable. Then we looked at Dewsall and decided it was right for us. We both have a love for all things old and unique."
"I am very creative anyway and we wanted our day to be an expression of us. I always think it's the small details that make something that little bit more special."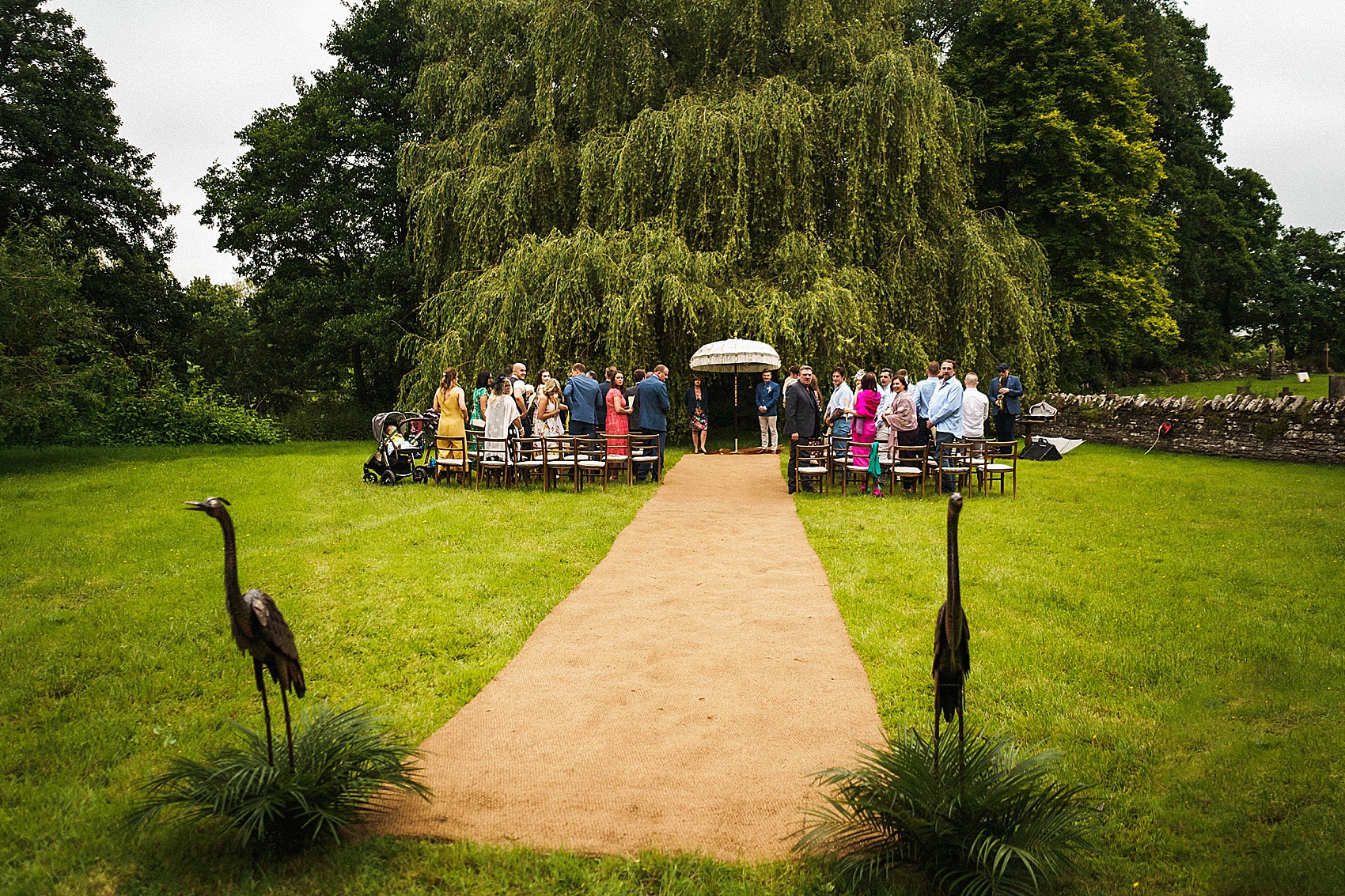 Just like the bride, the groom also designed elements of his wedding outfit. His blue jacket was made bespoke to his design by Armstrongs of Worcester, worn with a Lyle & Scott grandad shirt and shoes from Ted Baker.
Matching him was the little page boy, adorable in his yellow and white grandad shirt with cream linen shorts and mustard yellow sandals, all from Zara Boys.
"At the ceremony we had a large Indian style parasol which we got married underneath and we stood on a cow hide which we also sourced. The confetti cones were made by myself from vintage song sheets which I found in a charity shop."
"Flowers were done by my mum and I and picked to go with the theme. We collected and dried Pampas grass."
The June day was perfect, so the couple were wed outside under a tasselled Indian parasol by Penny Thompson at Hibiscus Ceremonies. After getting ready in the Manor, Lucy walked down the outdoor aisle together with her dad David to 'Lily Was Here' by David A. Stewart and Candy Dulfer.
"We had the standard vows but also had a traditional hand fasting."
Fittingly, the reading was 'Blessing of the Hands'.
"We chose this reading because we felt it related to us."
"These are the hands that will tenderly hold your children, these are the hands that help you hold your family as one, these are the hands that will give you strength when you need it, and lastly these are the hands that, even when wrinkled and aged, will still be reaching for yours, still giving you the same unspoken tenderness with just a touch."
Steve's wedding ring was a vintage 1975 band bought from an antiques warehouse, whilst Lucy's was her grandmother's.
"My engagement ring and my wedding band were both my grandma's. For the engagement ring, Steve had the stones removed from the original ring and designed a new ring with the original engravings."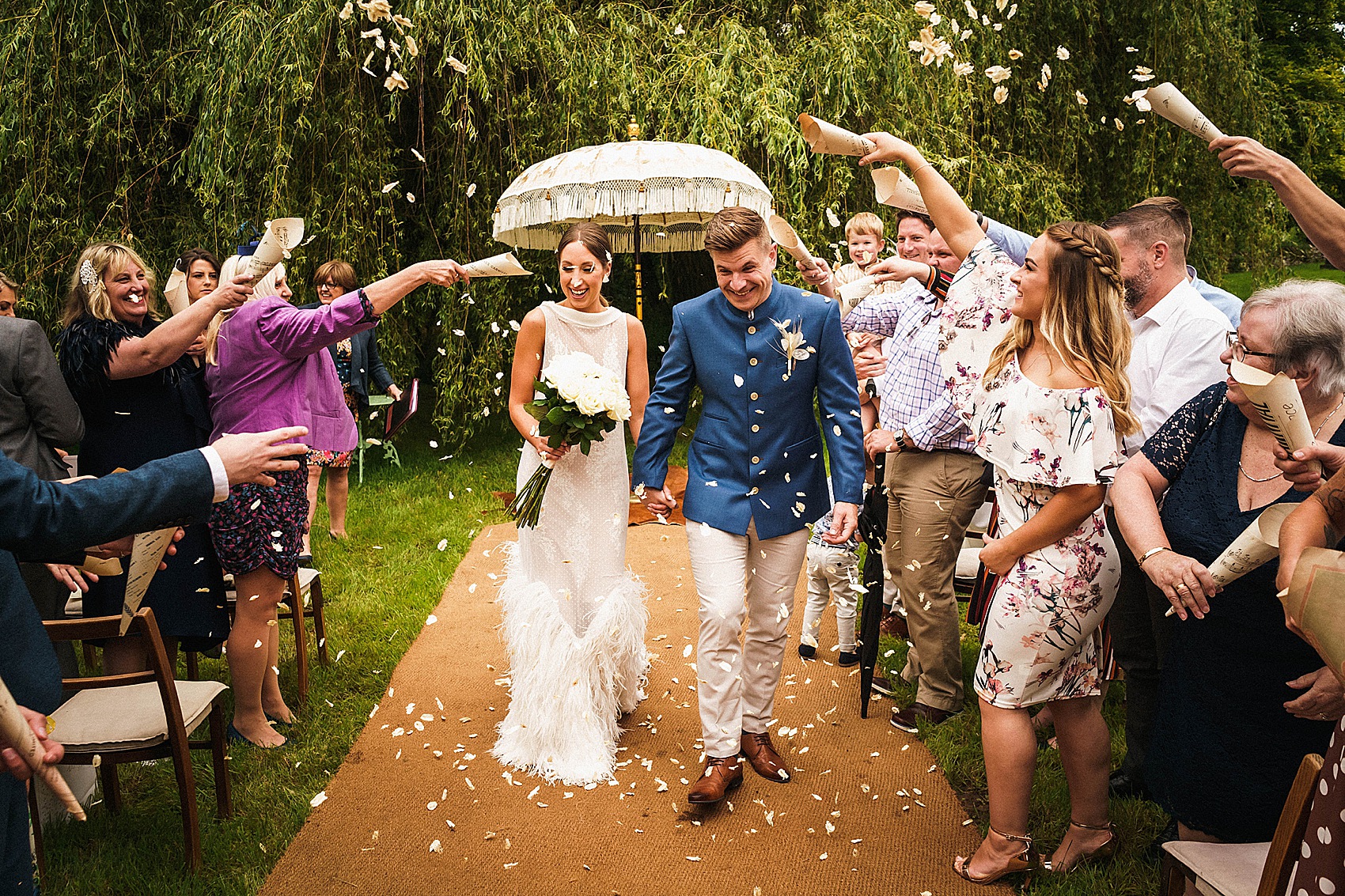 After the ceremony, the Dewsall grounds provided plenty of space for the guests to relax and enjoy the Herefordshire views. Andy Sax provided live music whilst the guests sipped Applefresco from the champagne tower.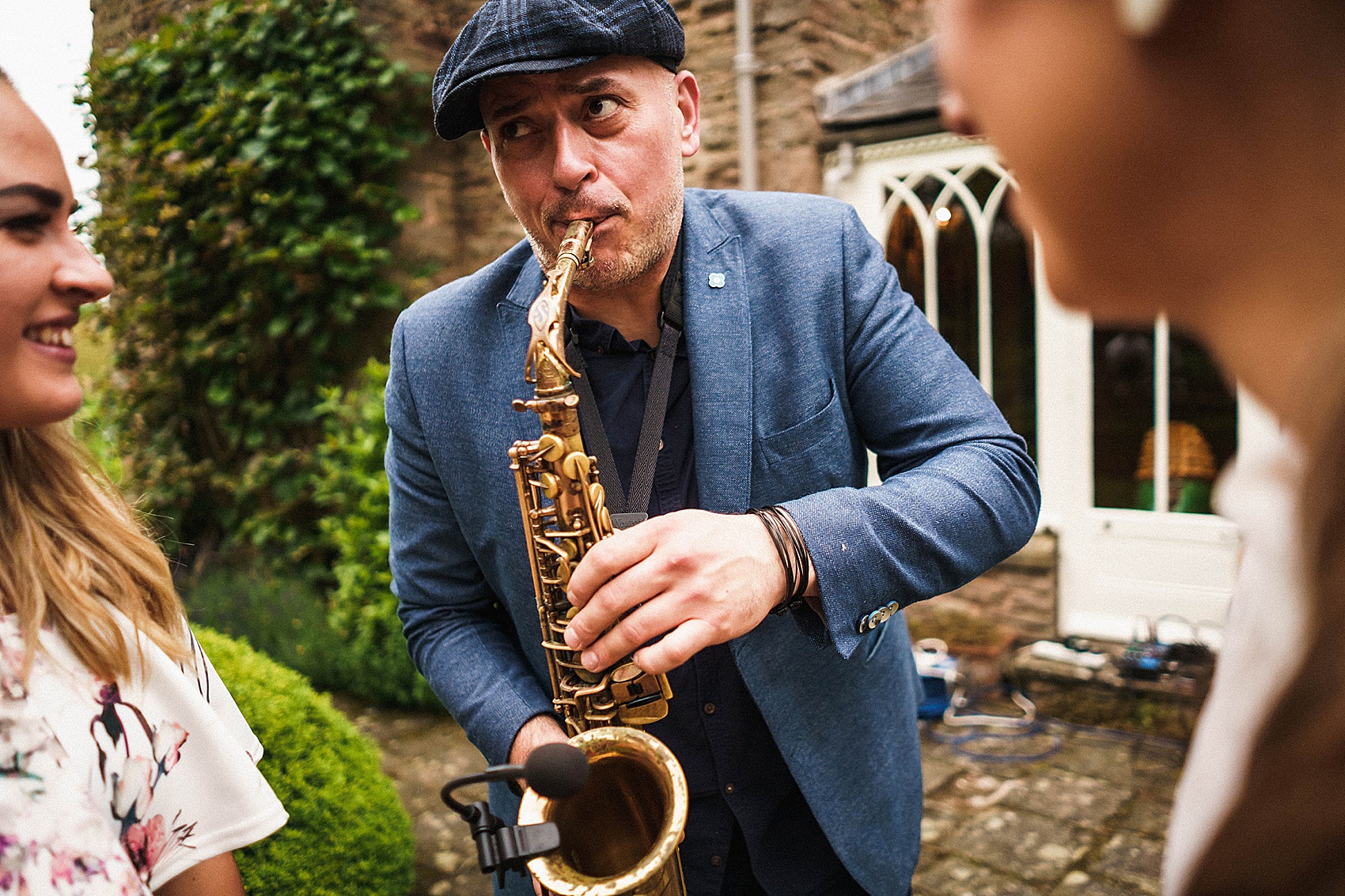 In the open-sided barn, the tables were set with those beautiful hand-made runners with heron stationery and gin favours.
"We had rhubarb and ginger gins in small glass bottles with a little gold tassel on. We bought the bottles from Ebay."
As a creative person, and clearly one with an eye for style, Lucy crafted many of the gorgeous styling elements herself, including the pampas grass, tasselled napkins and table runners and stationery. I adore the vintage glasshouse feel created by the lush green palms, wooden furniture and wicker chairs.
"All menus and name placements were designed by myself with help from Louise Russell Design. I made the table runners and the tassel napkins, also the menus and favours on the table and the white drapes we used to hang along the beams in the Wainhouse. We had peacock chairs to sit on at the head of the table and I made two cushions to compliment them."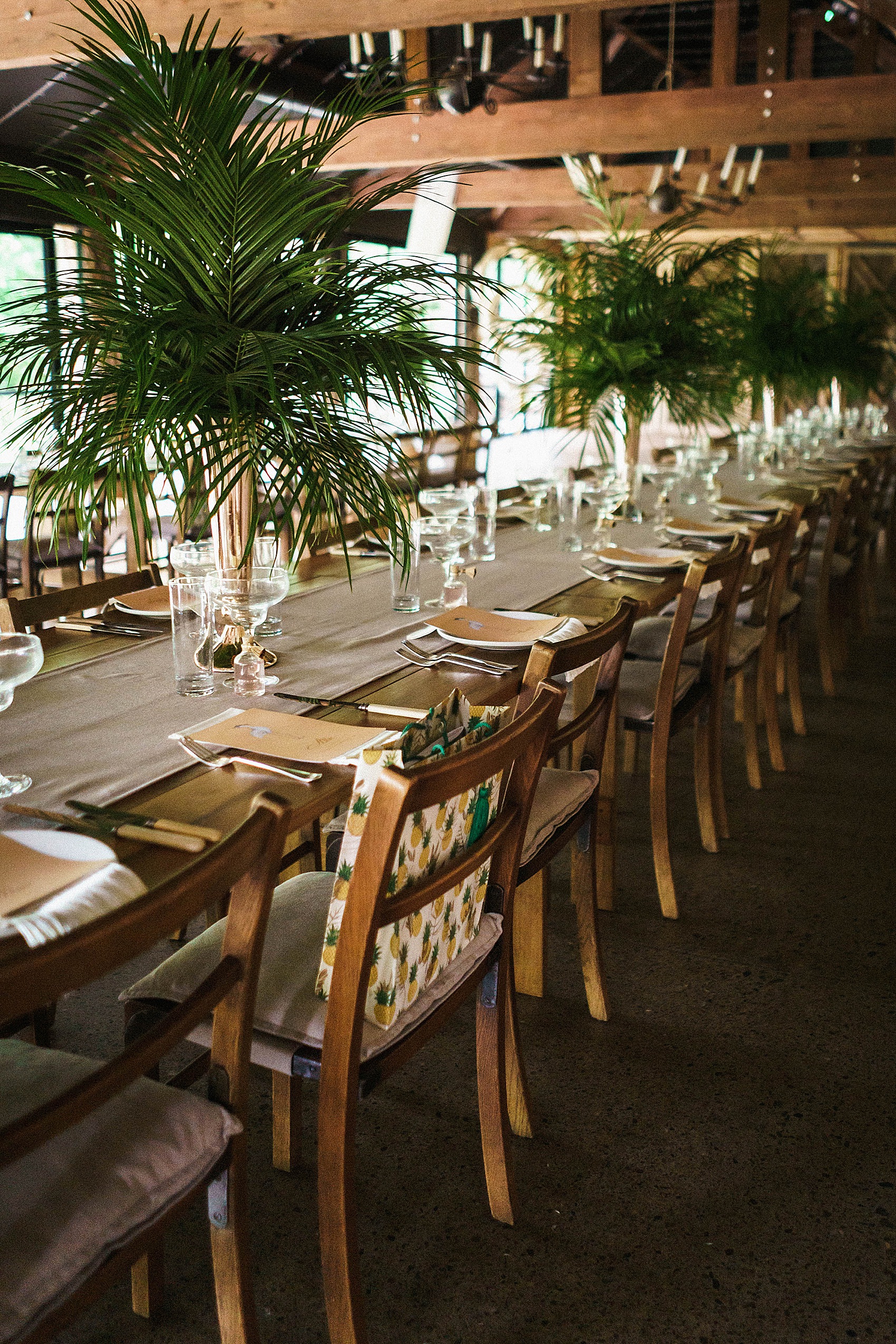 "I styled the main table in the corner with various different bits from charity shops and antiques shops including a coal shoot which I painted for people to put their cards in, candles, cigars and vases. We bought our trolley bar which we used as our guest book table. We bought large palm pots to put near the main entrance to the Wainhouse. Also, I painted a large wall hanging with herons on which was hung on a trumpet near the main entrance."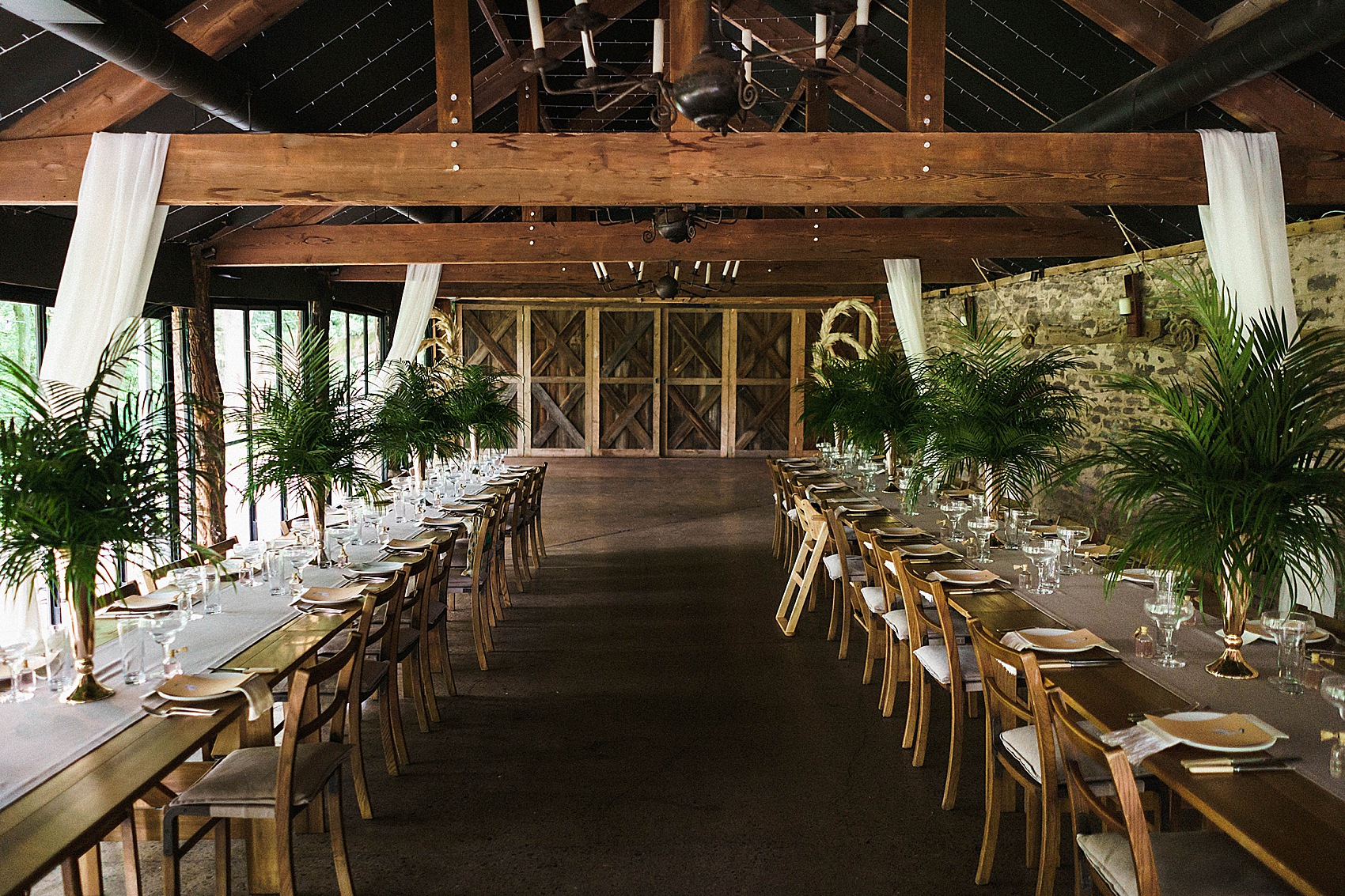 The wedding breakfast was provided by Dewsall Court and for dessert, Krispy Kreme donuts!
"We had Lotus Biscoff Krispy Kreme donuts for our dessert which we ordered in from their shop. We also had Applefresco from Oldfields Cider for our toast drinks and champagne tower."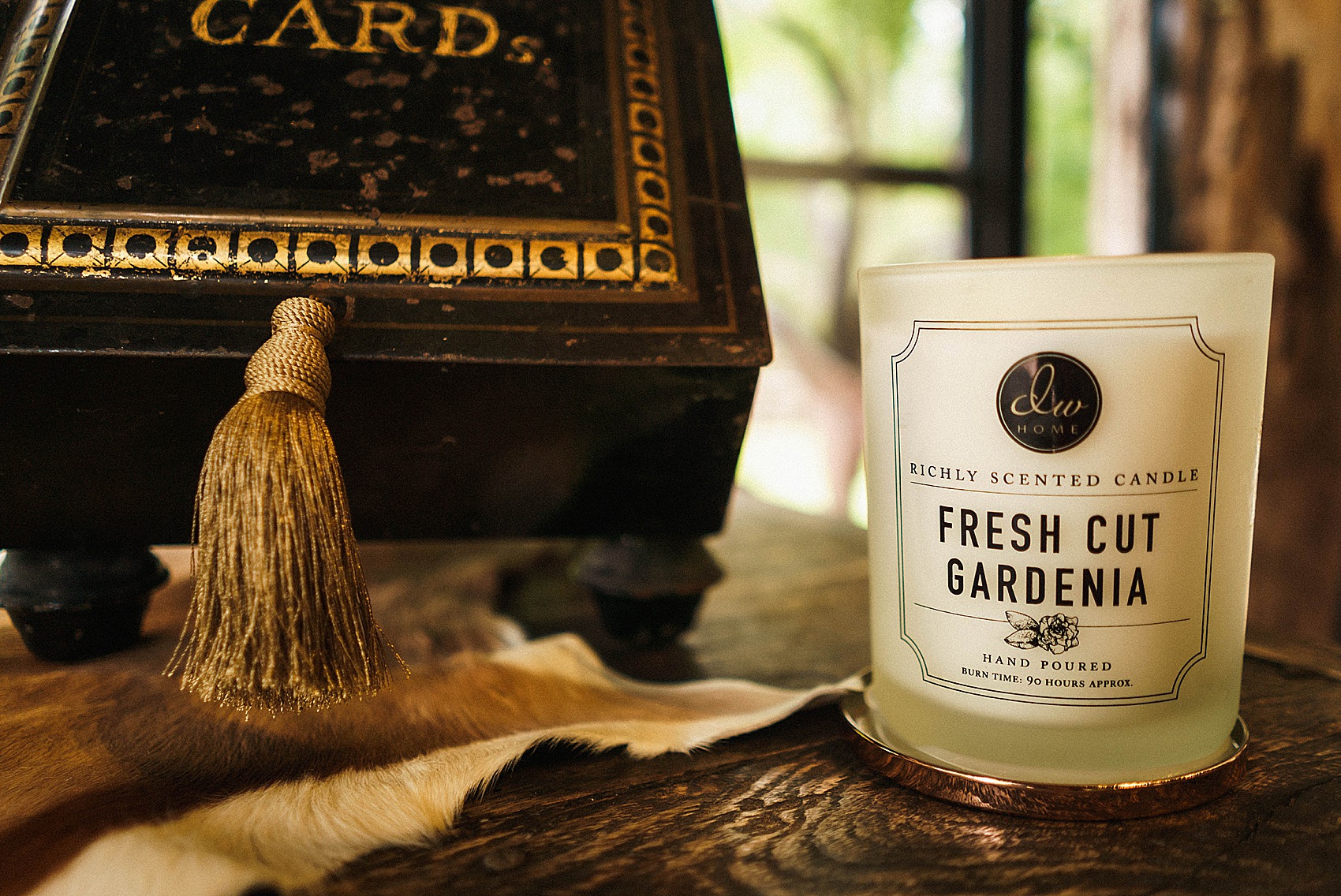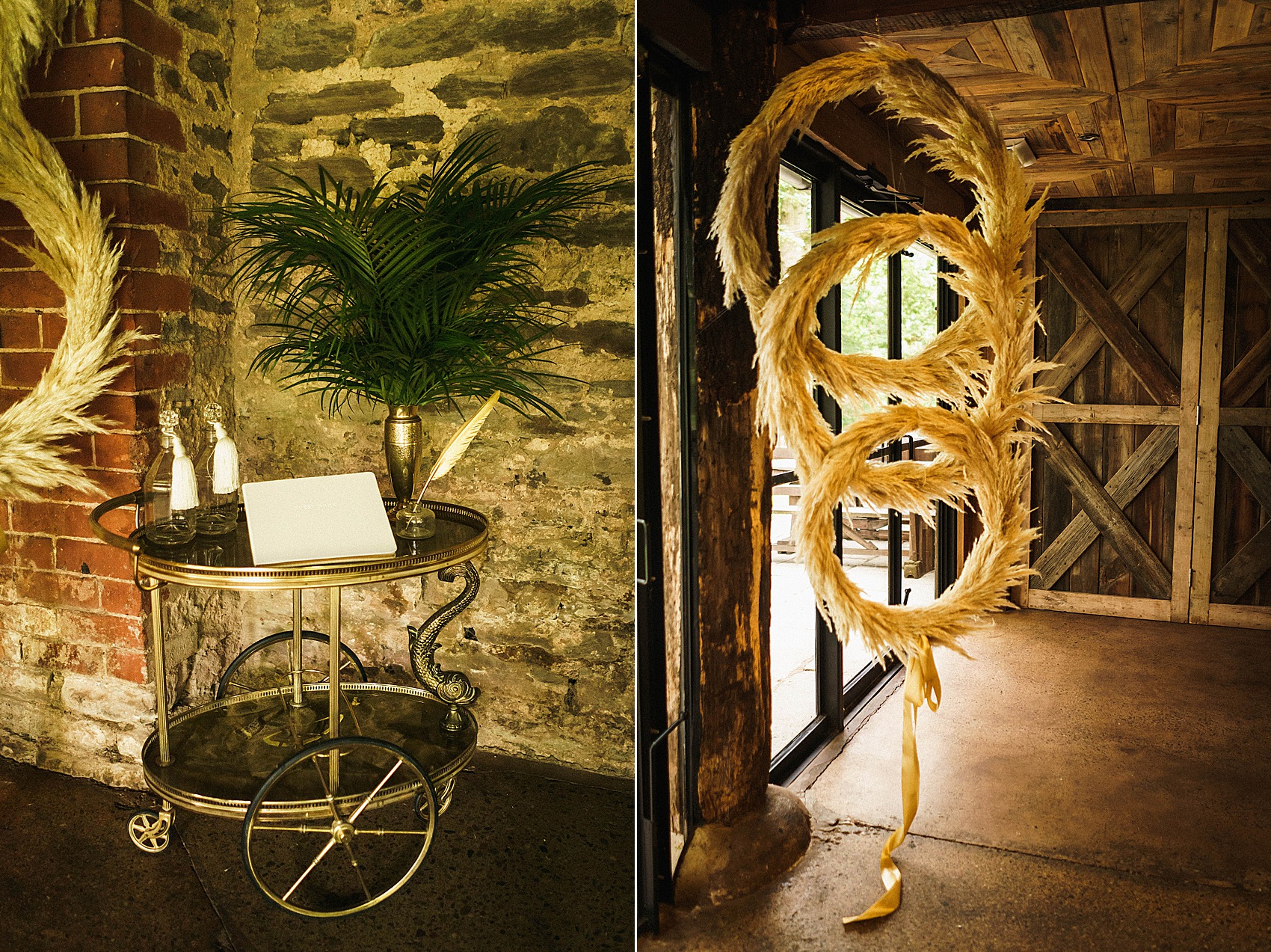 A first dance to Cilla Black's classic 'Anyone Who Had A Heart' got the evening party started, which The Smooth Criminals provided the soundtrack for.
"We loved every minute of the day. It was so personal to us and exactly what we wanted."
Words of Wedded Wisdom
"The day is about you most of all! Try not to get lost in money and worrying about table plans etc. because at the end of the day the outcome is the same. It's about two people who love each other who want to spend the rest of their lives together."
What a beautiful, beautiful day. Isn't it incredible how some well-thought out details can transform a place and really create a sense of place? I really love the lush green ferns paired with the natural, wooden elements, and that gown… words can not do it justice.
Claudia Rose Carter, many thanks to you on behalf of all our Love My Dress readers, and thank you so much too Lucy and Steve for sharing your day.
Ele xx