Not only is today's spectacular wedding full of brightly coloured flowers inspired by classic, 1950s cinema and Italian romance, it's also packed with deeply personal touches.
These include nods to the multicultural heritage of our couple, and lots of the things that inspire their daily lives: folklore and mythology from around the world; classic, Catholic iconography; Italian fashion and style, and a laid back, tropical way of life. Take some time today to enjoy this celebration. It's almost indescribably beautiful; whimsical and yet dramatic at the same time.
Images by Divine Day Photography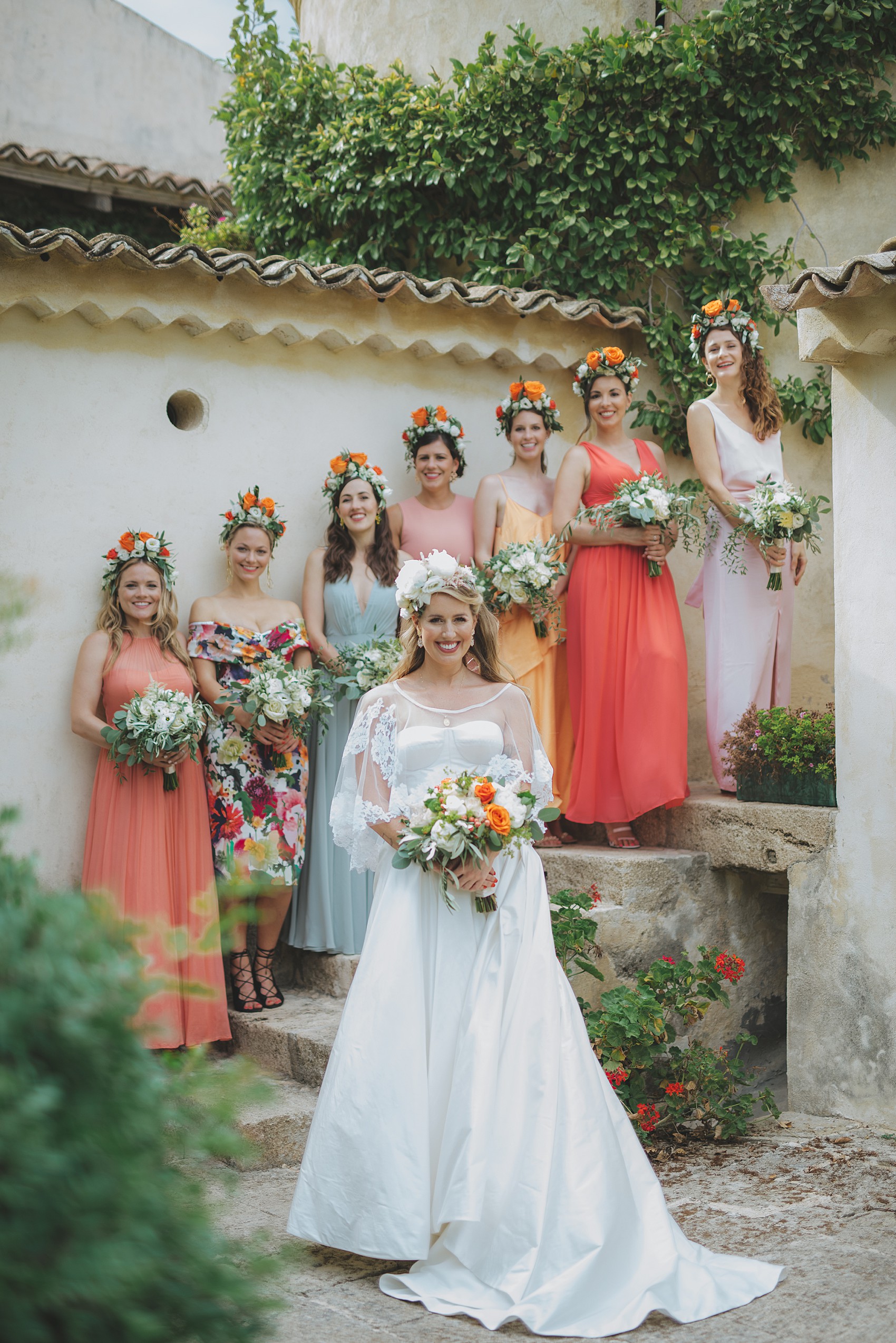 Let's meet our couple, Alice Zimmermann, who works in artificial intelligence for Google, and Alexander Evans; a lawyer for an African telecoms company. They enjoyed a two day wedding celebration on the 13-14 September at Commenda di San Calogero, a magnificent and welcoming private villa and guest house on the tiny island of Ortigia, Sicily.
"The style of our wedding was deeply rooted in what brings us joy, makes us feel exuberant, liberated, and connected with the mythological roots of Sicilian folklore and our Caribbean / Mediterranean. heritage. Alex's mother is Venezuelan / Sicilian and his father is Welsh. I'm from the American south, and I lived for years in Mexico after California. Symbolic mythology and folklore was present in our Frida Kahlo/Dolce & Gabbana / Catholic village saint pilgrimage, meets Day of the Dead, meets Californian flower crowns and 'papel picado' – and the musicians, whom we referred to as Sicilian Mariachi."Over the top of her dress, Alice wore a softly fluttering tulle and lace cape, which she borrowed from a friend, and her shoes were vibrant heeled sandals by Dolce & Gabbana.
"My jewellery included a 'Strength' necklace by Foundrae, and engagement ring from my great-grandmother (my mom's mom's mom!) with a 1930s cut diamond in a bespoke yellow gold solitaire design by William & Son."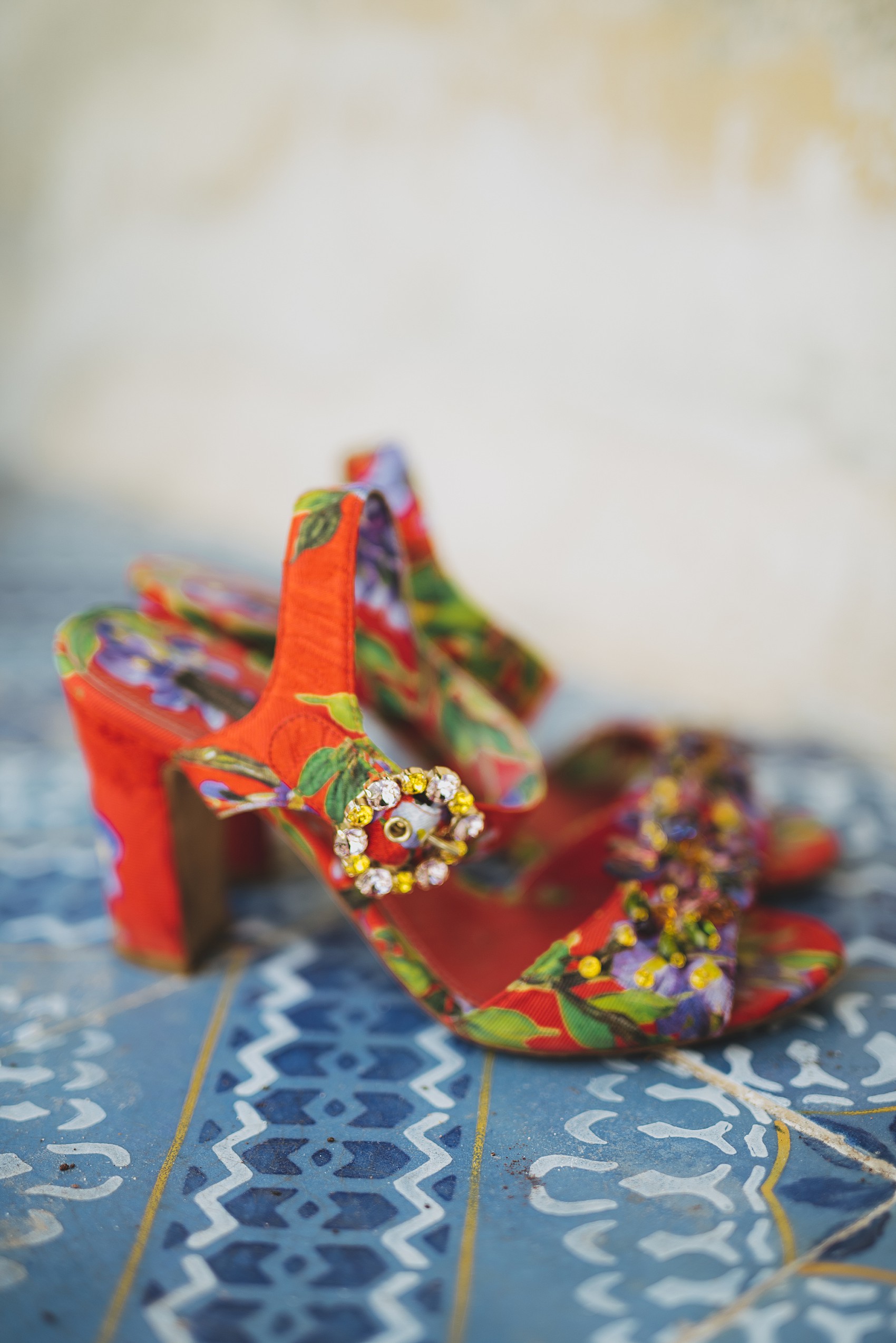 The bridesmaids wore their own floral crowns, with citrus-hued roses contrasting with ivory blooms and sprigs of olive. Alice carried a bright bouquet, and this and all of the arrangements for the day were made by Fiorelli Wedding.
"The flowers were meant to be an expression of 1950s movies, reminiscent of Sicilian romance mixed with Caribbean joy. Very Dolce & Gabbana alta moda [haute couture]."
The bridesmaids looked wonderful in an assortment of tropical hued dresses of their own choosing, and I just love Alice's inspiration for their looks.
"I asked my bridesmaids to dress as bright tropical fruits to resemble the colours of houses in a Caribbean beach town: mango, papaya, melon, palm. To 'tropicalise' oneself is a way of life and a philosophy they talk about in Mexico; it's an attitude and ability to rejoice no matter what."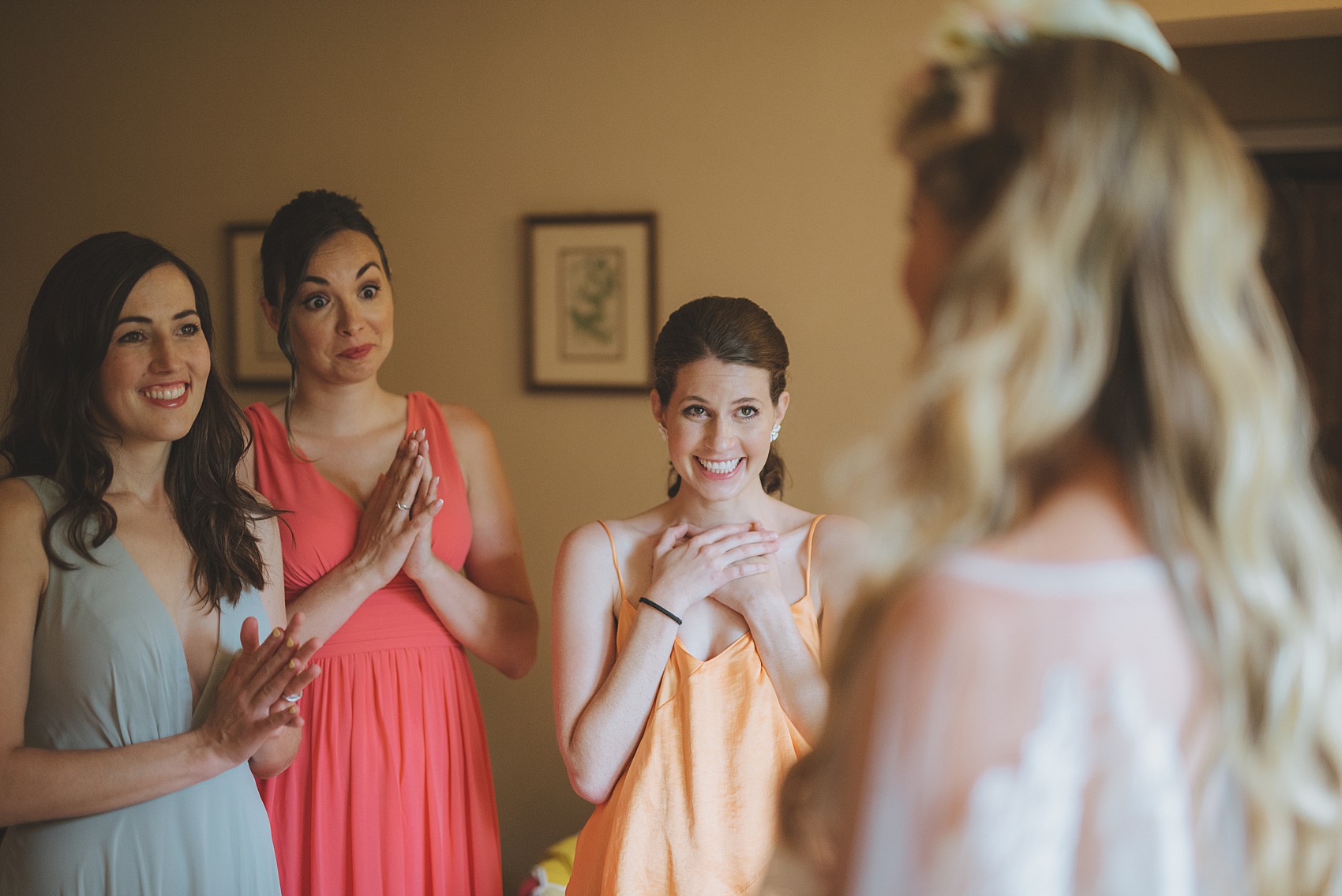 Alice's timelessly elegant gown, with its structured bodice, sweetheart neckline, and full, raw silk skirt was custom-made by Elbeth Gillis, whom Alice discovered at London boutique, Love Bridal.
"I chose the Elbeth Gillis dress as it had the perfect, 1950s old world elegance and old fashioned class about it, and I absolutely fell in love with the gorgeous raw silk skirt. Stunning."
Alice took care of her own make-up, and styled her hair the night before the wedding, which she wore long and loose on the day, adorned with a beautiful flower crown of ivory peonies, roses, lisianthus and delicate pink astilbe.
Alexander wore a smartly tailored, bespoke suit by Cad & The Dandy, which he wore with a pale, ice blue bow tie from Mrs Bow Tie, as well as blue socks from London Sock Co., and shoes by Bobbies.
"Alexander wore his engagement bracelet, which is sterling silver, from Skultuna, royal jeweller of Sweden."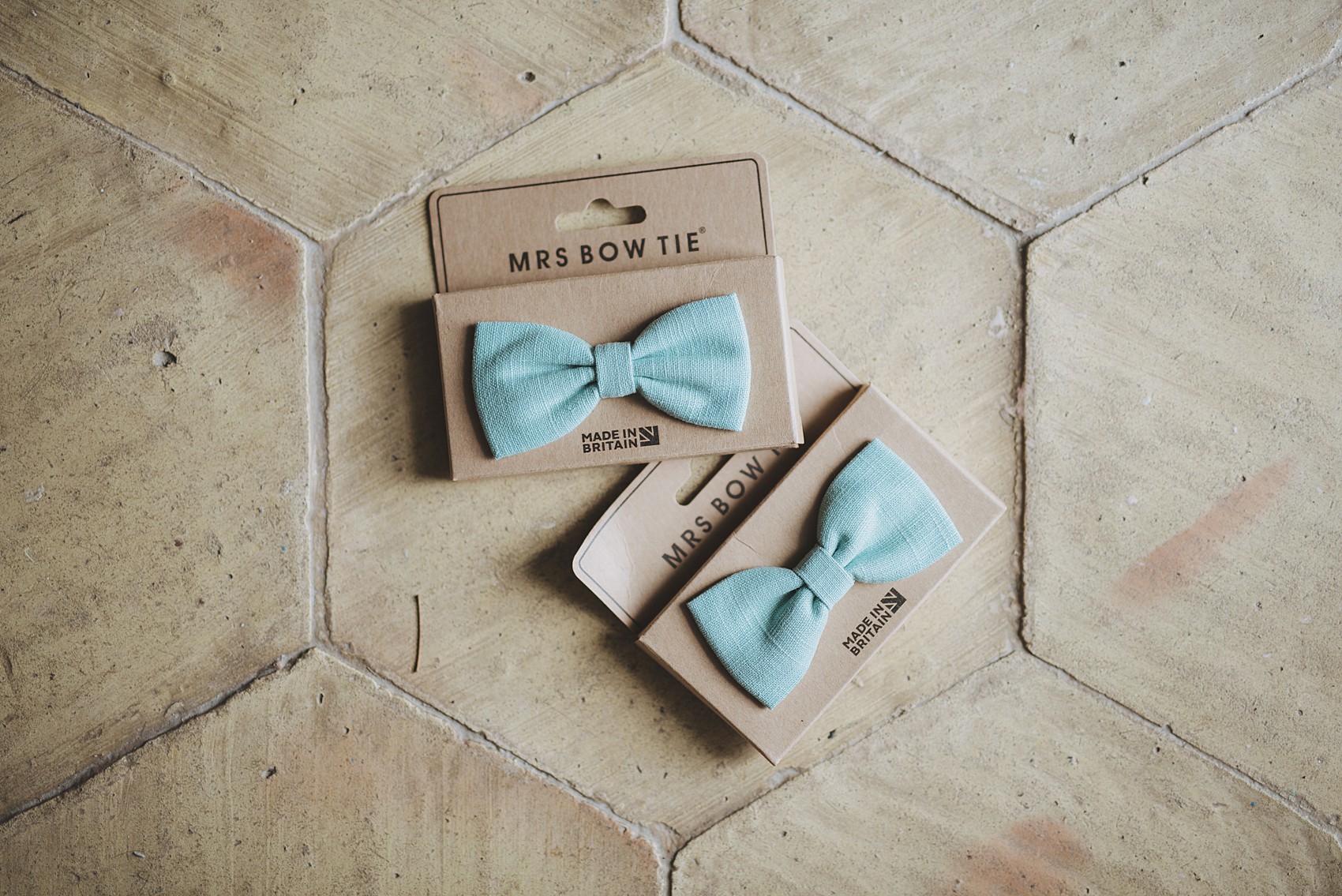 "Ortigia, Sicily has deep mythological symbolism, magic, and the sensation of being a part of ancient heritage, like floating on a dream. It's a historical island also known as Syracuse, and the city closest to where Alex's ancestors and grandparents are from, and where he had many childhood memories eating granita! The Mediterranean and an authentically local Mediterranean experience was central to my vision, feeling connected to the Med in a timeless way."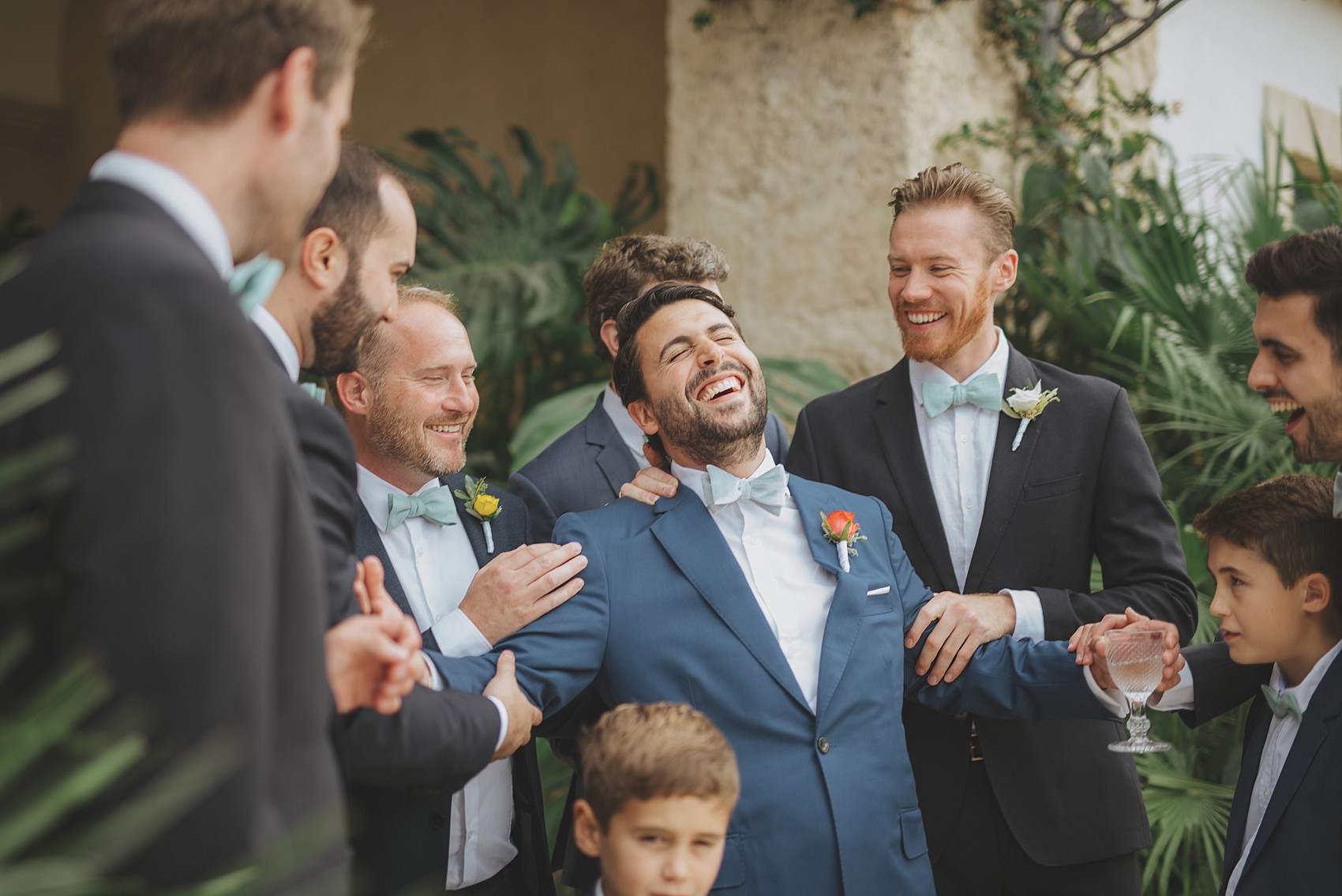 "Our wedding estate venue for the day of the celebration was perfectly tropical and lush; a secret garden as well as an old house, giving a sense of an old fashioned, regal home for the guests, full of magic and gorgeous heritage from Byzantine times."
Ahead of the ceremony, Alice and Alexander enjoyed a tender first look moment together, and these are some of my favourite images of the whole day, captured with sweetness and sincerity by Divine Day Photography. I've had the pleasure of writing about other weddings photographed by Sandra, and she brings such delicacy and fine art style to her work.
"We got engaged on a rooftop overlooking the Caribbean Sea at sunset in Cartagena, Colombia. There was drumming in the streets that shook the walls beside us, and the air smelled like fried fish, tropical fruits and summer. Alex and I had been out on a boat all day, and were intoxicated by the whole setting. The proposal was not planned; it was an epiphany for Alex."
"It was so magnetic. We met a bird on the rooftop the next morning, and I realised I had had a dream about it long before. That bird, called a bem-te-vi [Great Kiskadee] is now tattooed on my left arm. We were engaged for about 18 months, to give friends and family ample time to plan a long trip to Italy from Mexico, California, and beyond."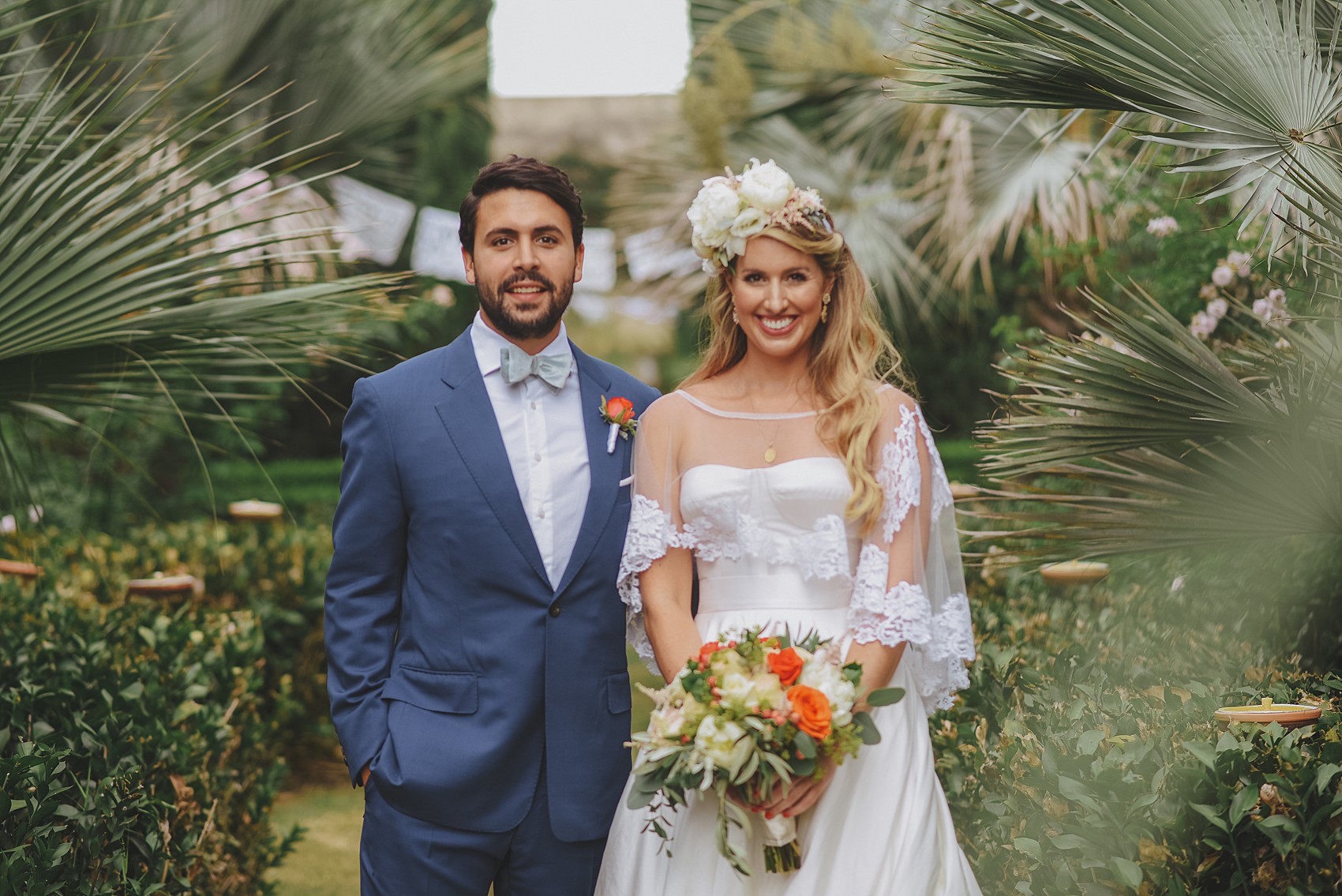 The ceremony was originally due to take place outside, but a sudden downpour meant that a venue change and a quick dash indoors was necessary!
"My amazing mom, who raised me and my sisters, walked me down the aisle. My entrance music was You And Me, by Penny & the Quarters. Nothing is more joyful than vintage soul sung by strong women."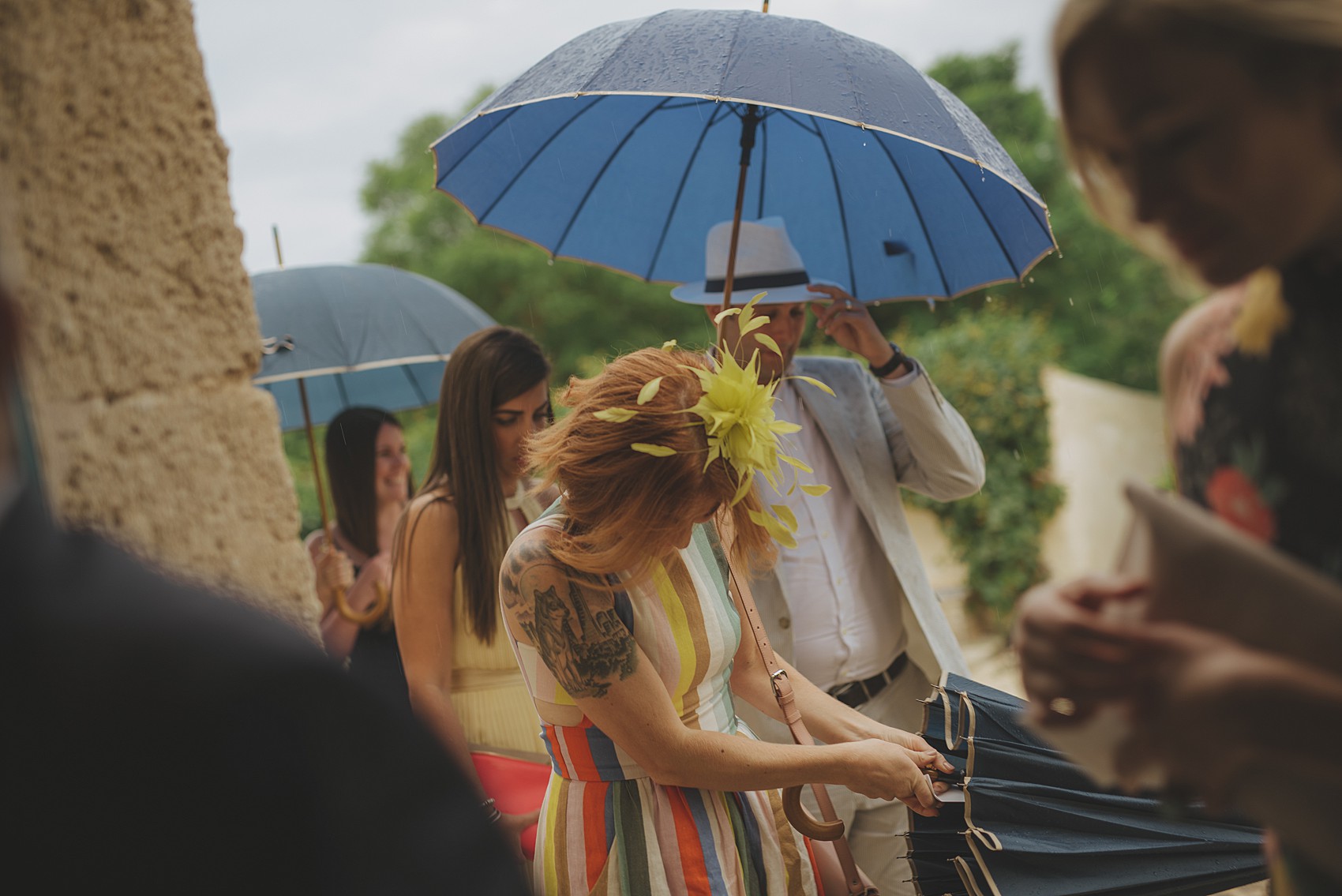 The couple had been legally married in London ahead of their Sicilian sojourn, and their celebrant was Reverend LeeAnne Watkins, who joined them through a family connection in the USA. This meant that Alice and Alexander were able to write their own vows to each other, as well as exchange rings.
Alexander's ring was from William & Son (a friend is a jeweller there) and Alice's diamond band came from Hatton Garden based Chloe's Jewellers.
"I chose readings that included Ralph Waldo Emerson, Maya Angelou, Antonio Machado and Anaïs Nin, because they are happy and make me feel free, in love and welcome to go around the world with passion, love and true courage."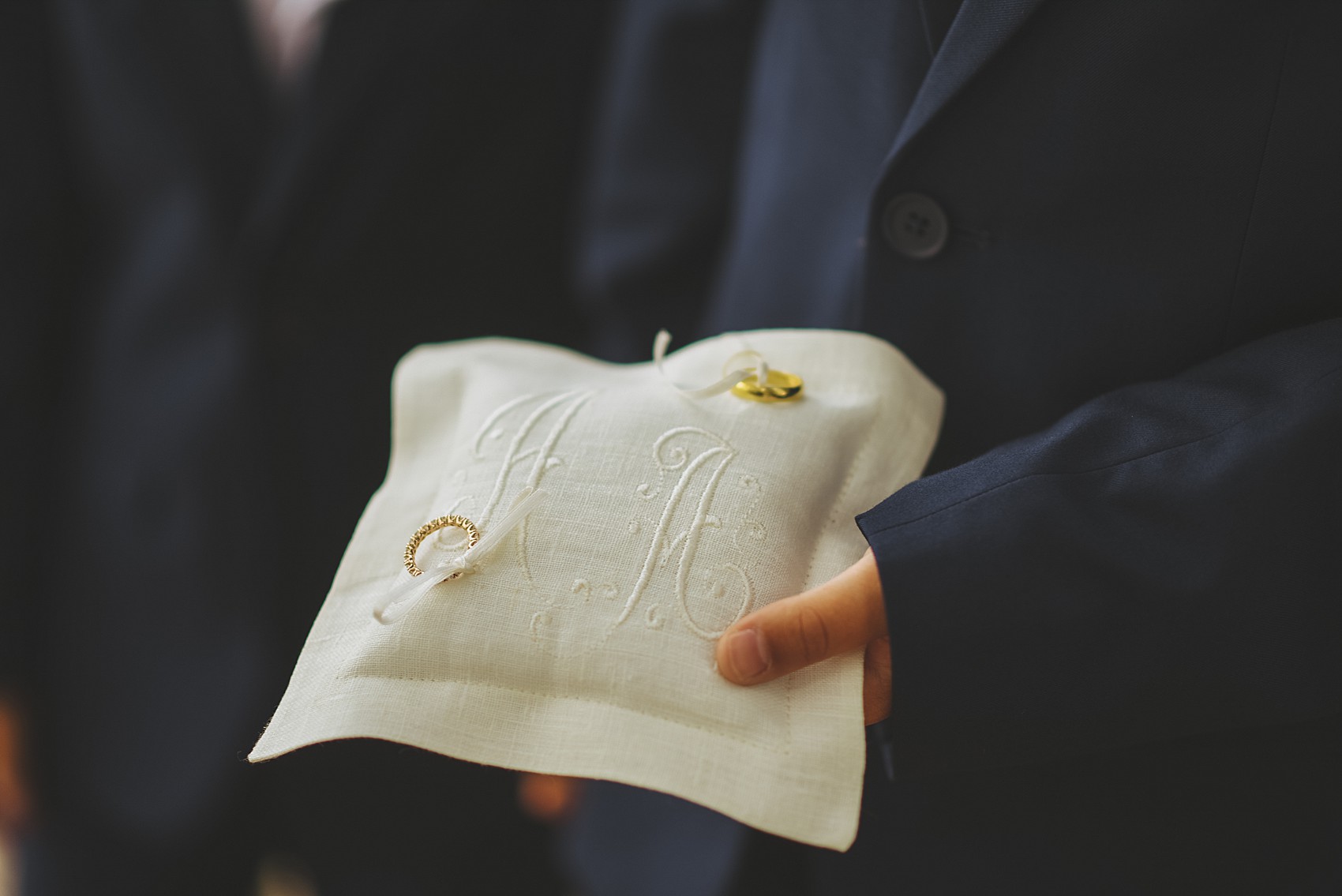 The readings also included a beautiful passage by Daniel Howden which captures the magical setting of Alice and Alexander's engagement in Colombia.
"A portrait of Cartagena, where Alicia and Alex first decided to get married: Stepping into the shadow, there's initially more to smell than there is to see. Burnt almonds, pineapples and mangoes give a cloying edge to the humid air. Along the arcade, shafts of light stream among the stalls. Great glass jars catch the glare and reveal their homemade sweets. Pyramids of shaved coconut climb towards the heavy lids. And as the afternoon promenade begins, ageing voices call out their rhyming pitches: 'Dulce de coco para los locos! Dulce de piña para las niñas!' (Coconut sweets for the crazy, pineapple sweets for the girls)."
There was still a spot or two of rain as Alice, Alexander and their guests processed outdoors, with loved ones waving flags and showering the couple in handfuls of confetti. Ensuring every aspect of the celebrations ran smoothly were planners Georgia and Alexandra from Wedding Sicily.
Tropically bright flowers spilled from every surface, and the villa was lit by magical candlelight. Floral table runners were also decorated with fragrant Sicilian lemons, and place settings included handwritten name cards and photographs.
"Papel picado with our names, Alex and Alicia (my Spanish name) was handmade in Mexico and sent to Sicily for our wedding, to bring my time living in Mexico, and the joy of a fiesta into the wedding."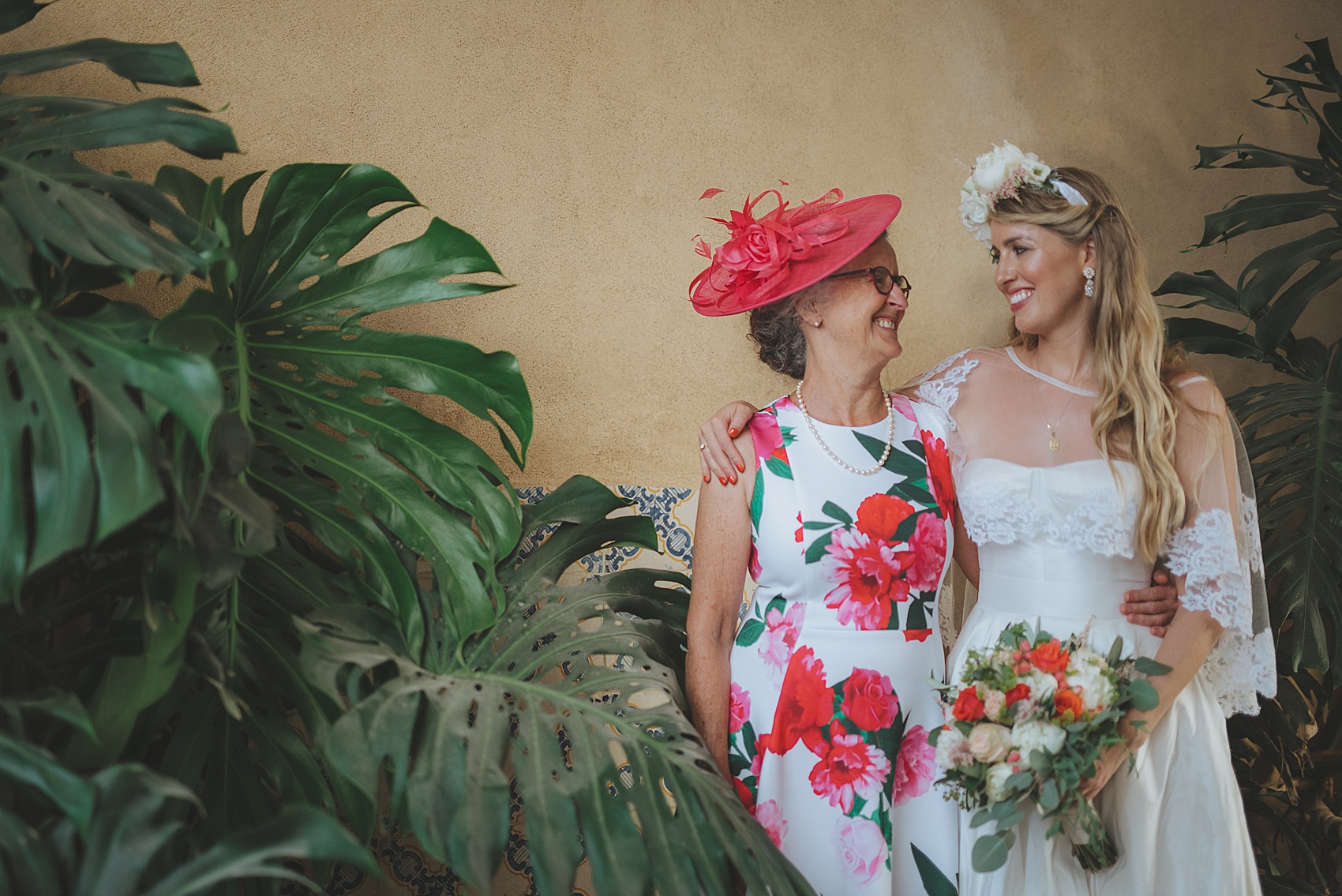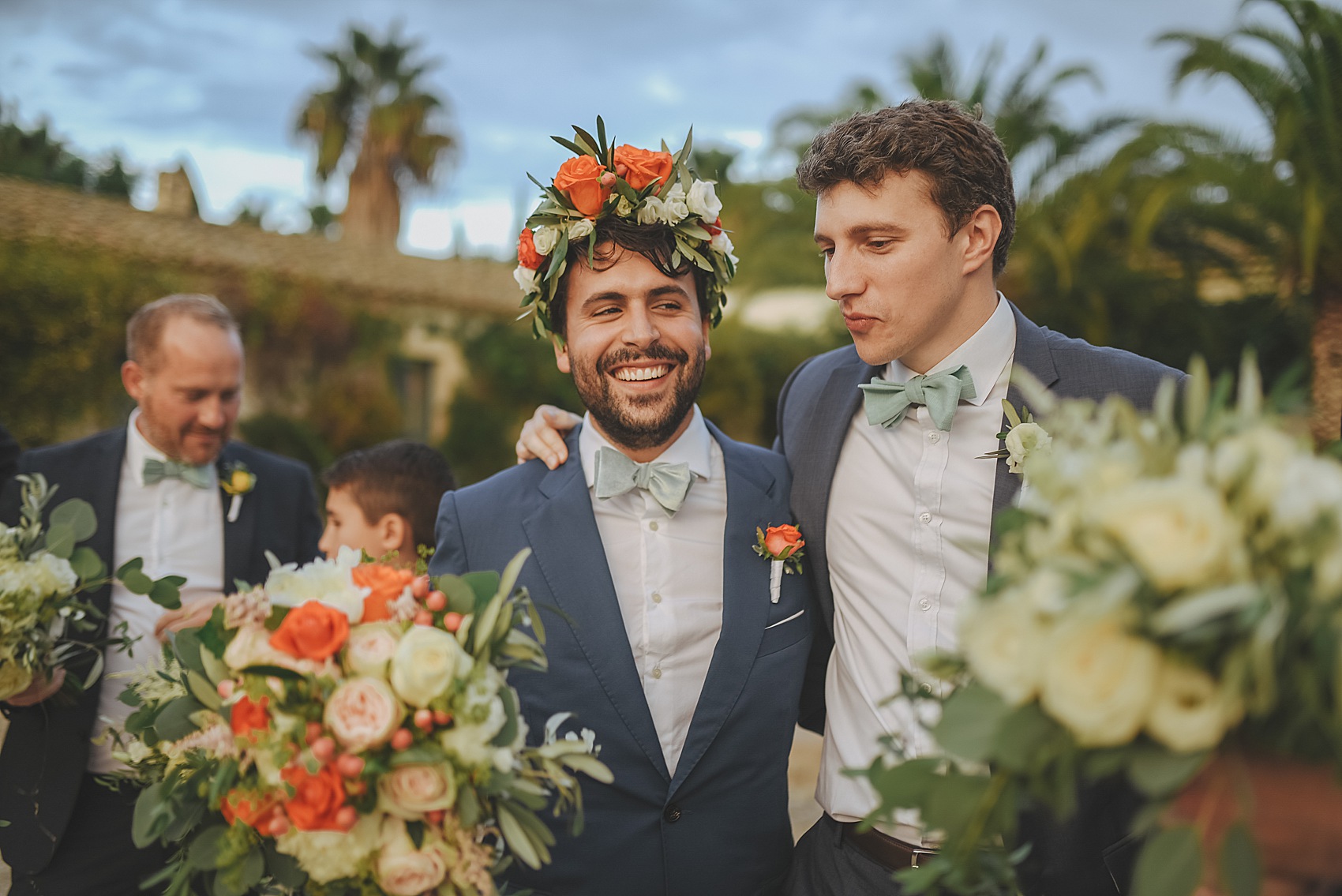 Alice has an art degree, and put her talents to excellent use by designing all of the stationery. Guest favours were bags containing Sicilian pistachios, champagne flavoured gummy sweets and mints, as well as specially written Sicilian myths and legends, and fun trivia about local food.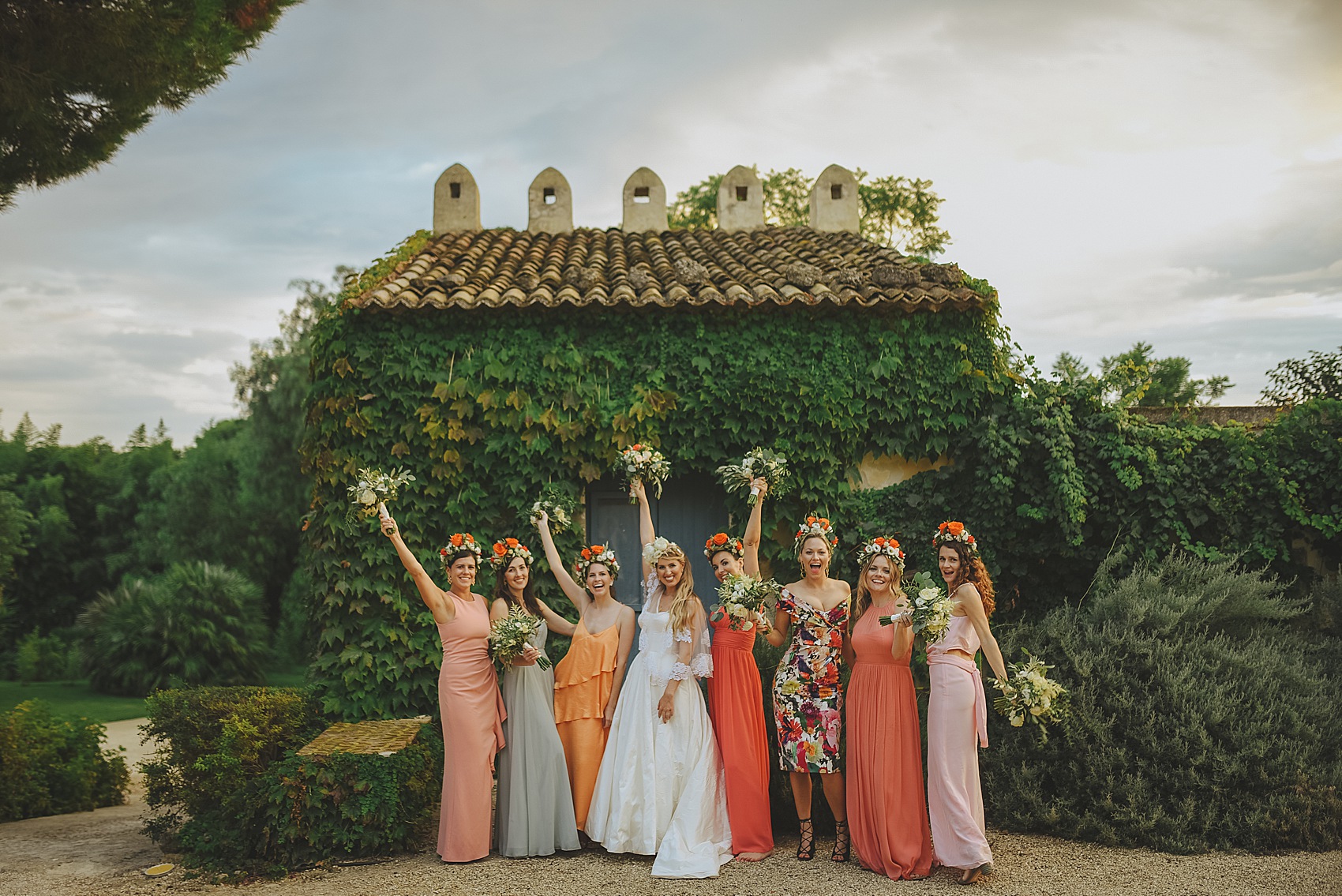 There was also live music and dancing during cocktail hour, courtesy of singer Dino and his band Soto's (sadly unable to find any further details about the band) which looked like brilliant fun!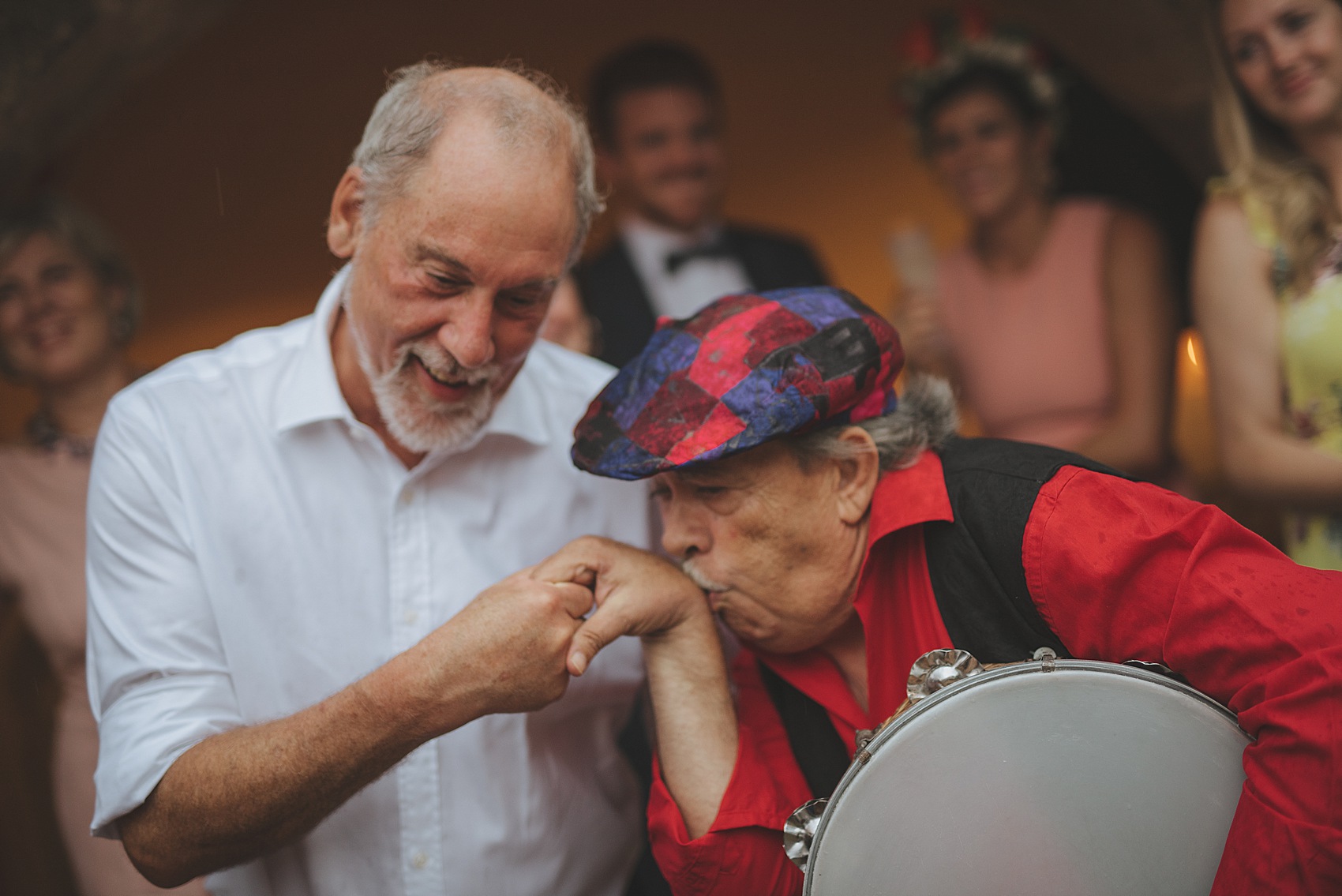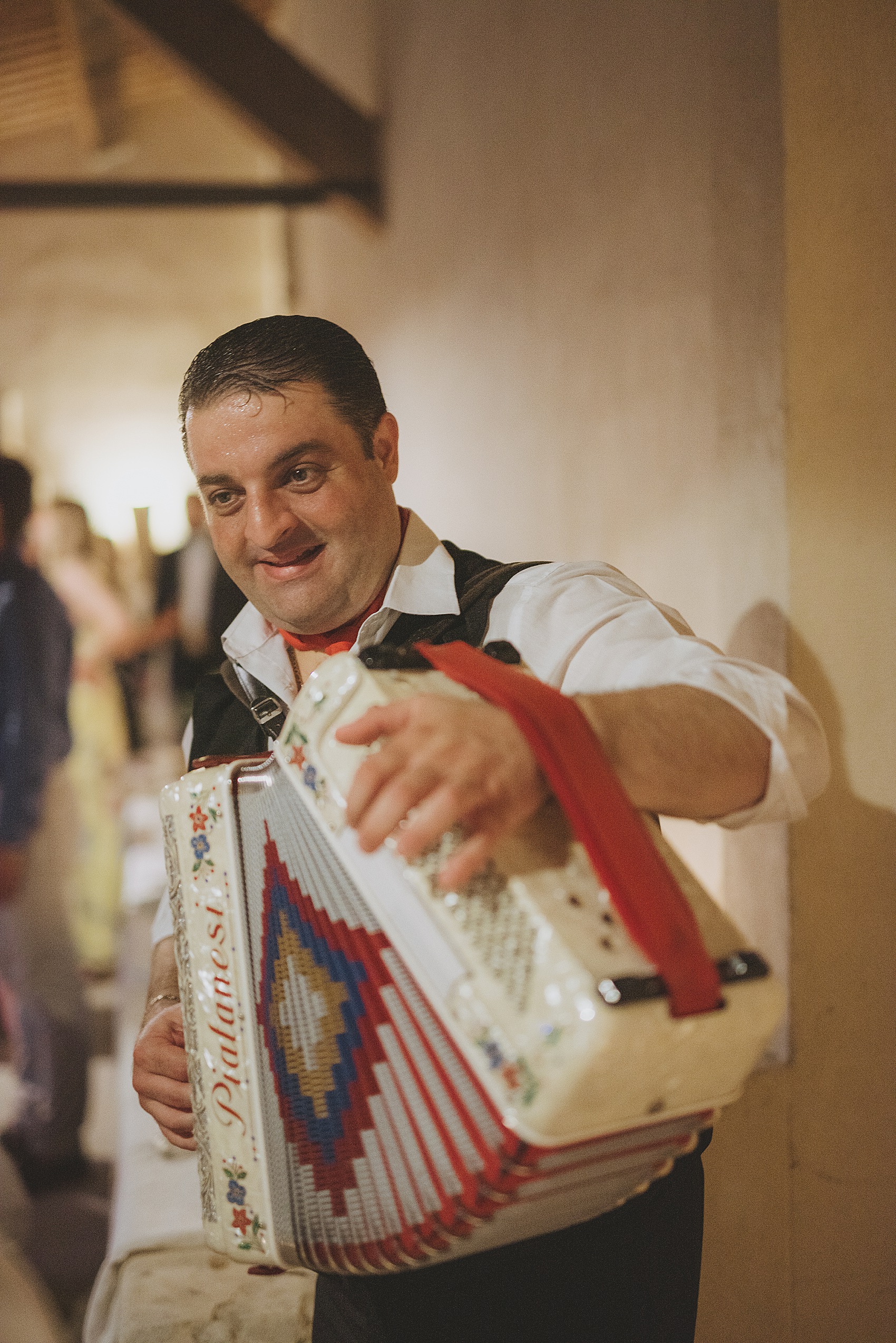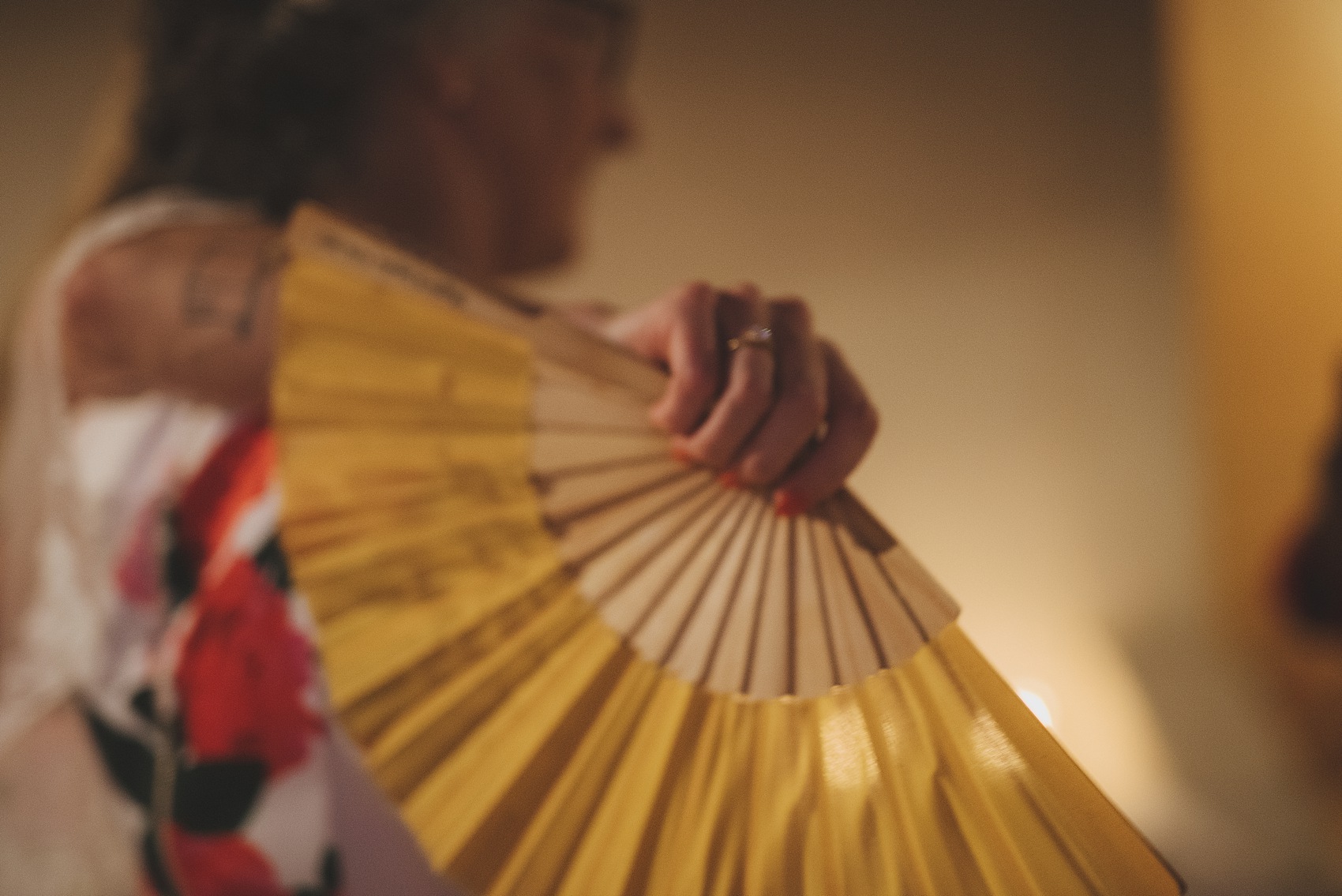 The evening feast was prepared and served by the team at Commenda di San Calogero, beginning with antipasti, followed by risotto, a pasta course, and then fish served with vegetables and salad.
"We served Aperol and Campari spritzes as our aperitivo, and these complimented the bright, tropical dresses and spirit of the day, and stood out like colourful fruits in the magical garden."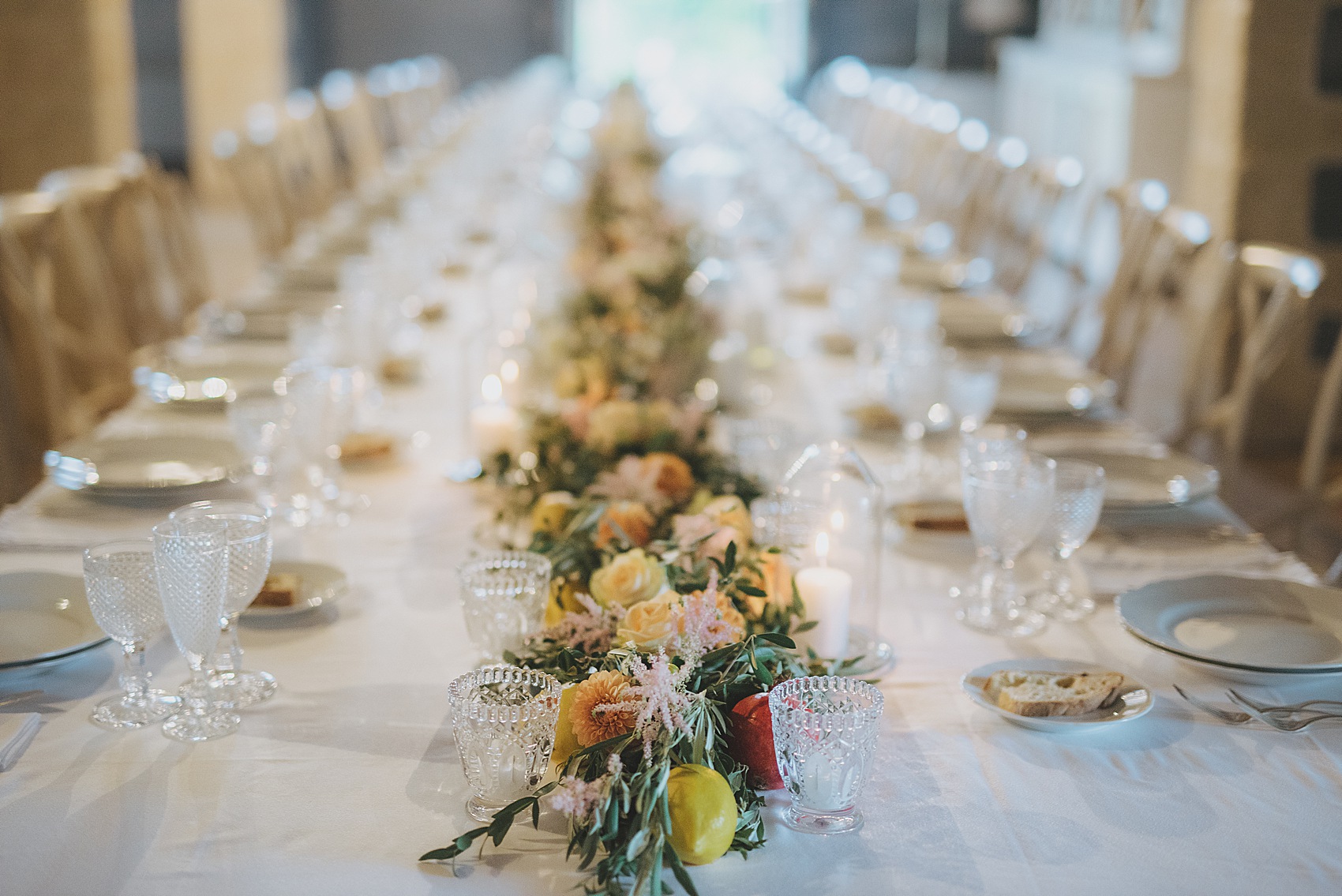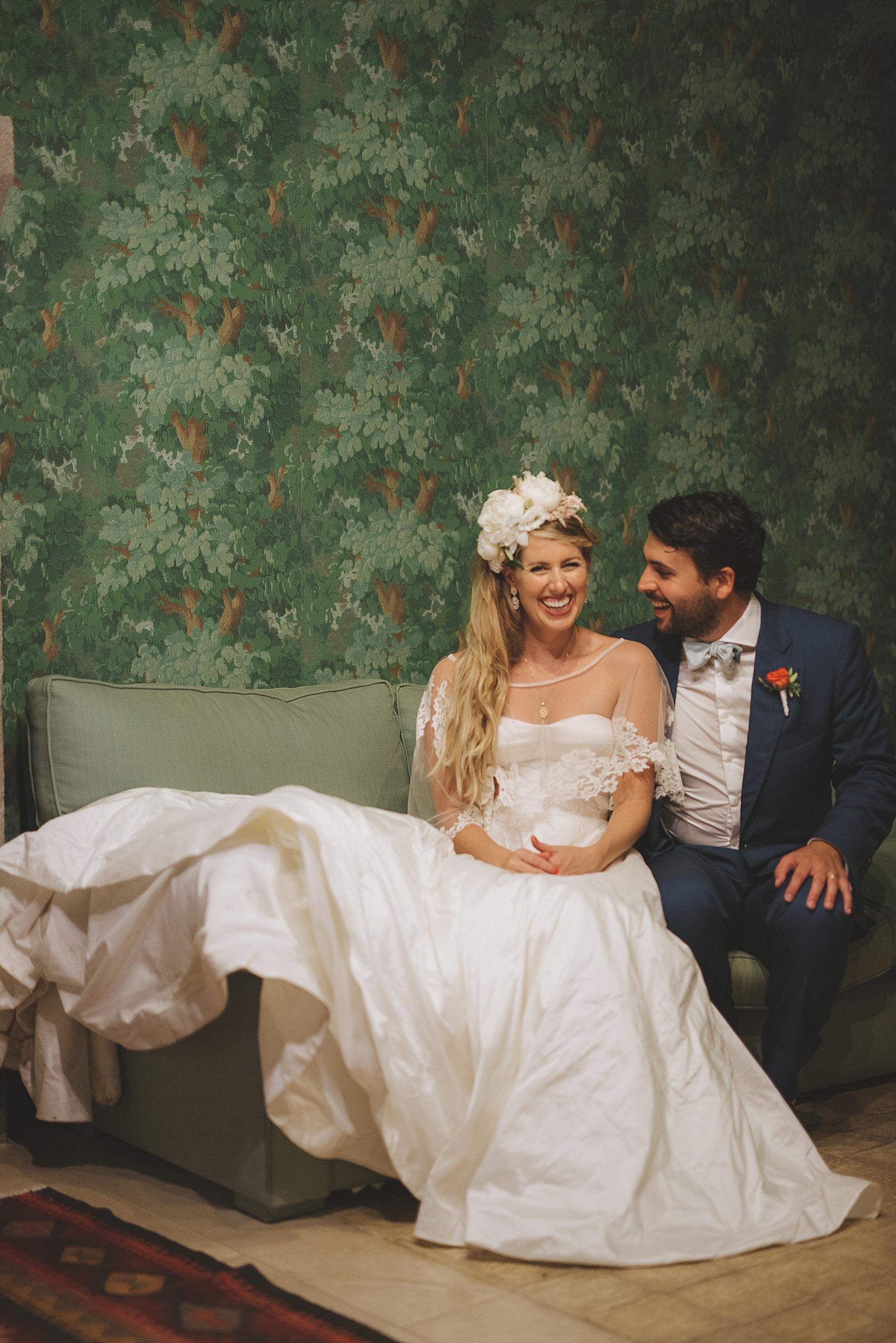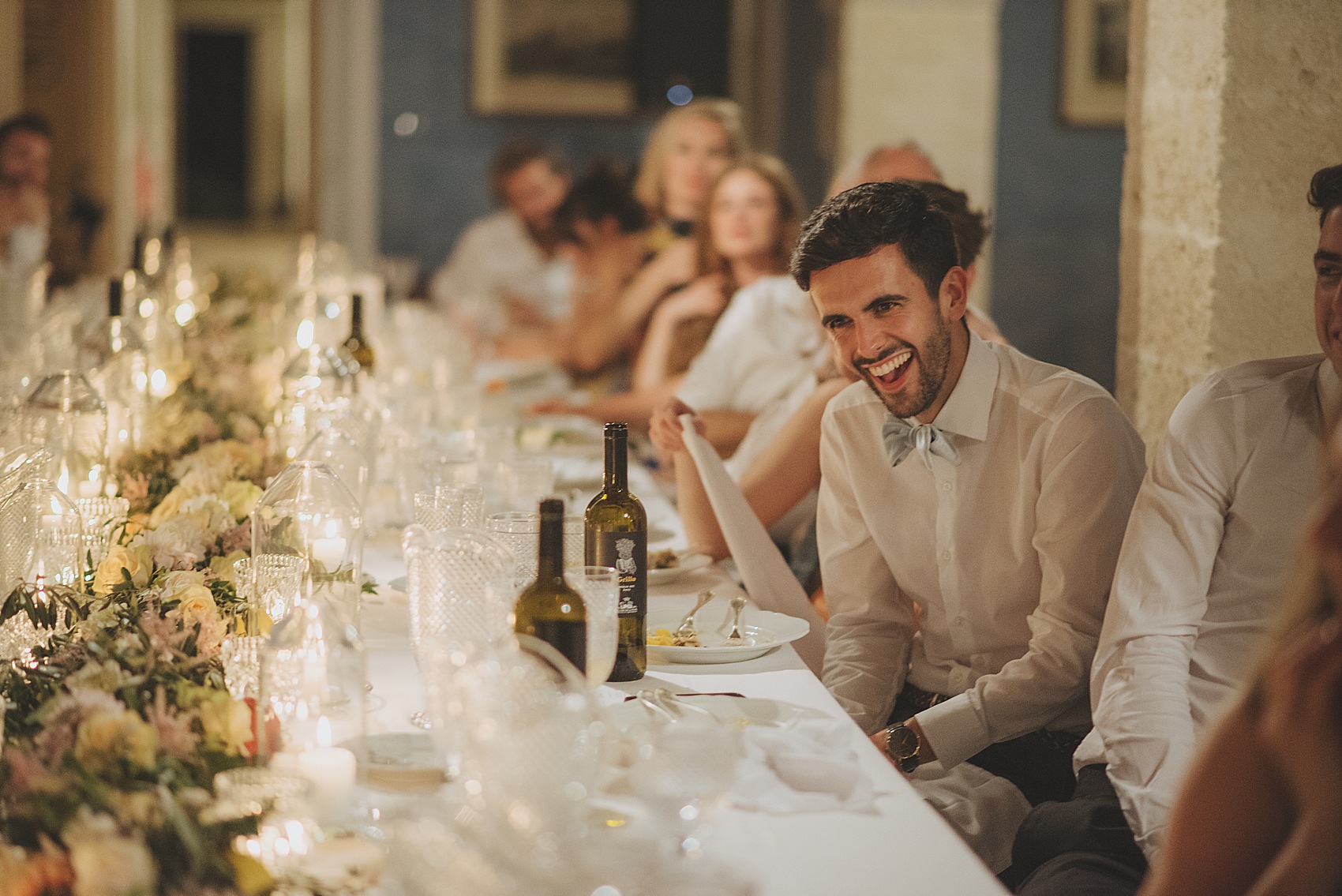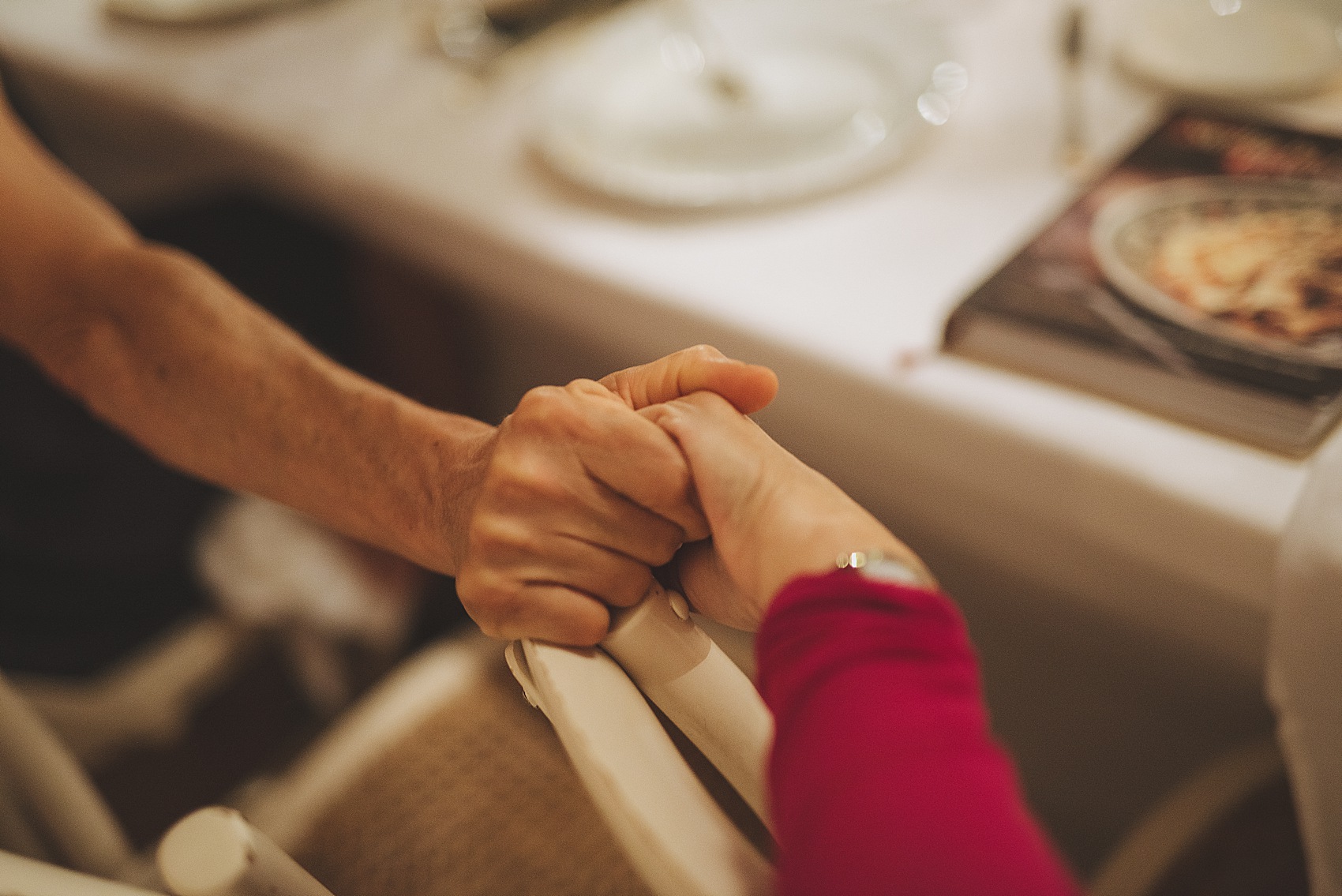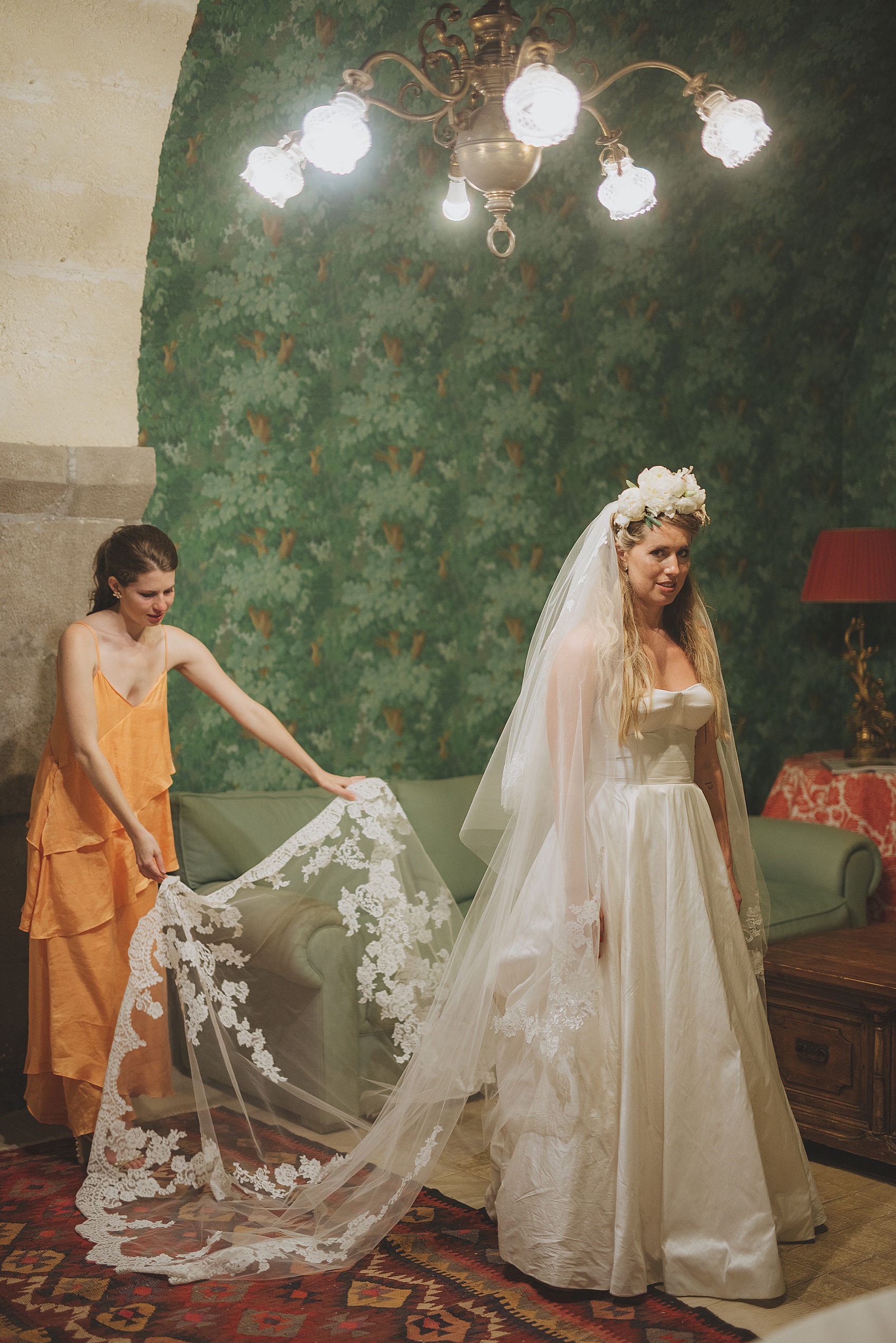 After speeches and toasts filled with tears and laughter, Alice donned a gorgeously extravagant lace mantua veil and the couple went outside to cut their wedding cake and enjoy their first married dance together.
"We didn't want a traditional cake, so we had chocolate almond cake, decorated with fresh fruit by the chef. It was absolutely delicious."

"Nothing is more joyful, moving and liberating than Brazilian samba, so samba was our first dance. I made my own playlists for everything, tailored and precisely ordered from the aperitivo to the dance party to dinner and the ceremony, with help from my favourite friends!"
"Our favorite part of the day was dancing with Dino and his band. We were bopping around after the rain out in the courtyard, and we were filled with adrenaline and silly with passion. It was such a party, and nothing like I've been to before either, full of soul and mixed genres. It was perfect."
Words of Wedded Wisdom
"By keeping the wedding very small we had the freedom to focus on expressing ourselves in an intimate setting, with people both of us knew well; something very important to us."
"Search inside yourself and find happiness, and bring those symbols into your wedding. Think of it like a play with props. What represents you? Bring that. These are the objects that welcome you onward. For us, it was olives; a lemon; a rose; a palm! The rest doesn't matter."
"Invite who you love and who you trust. There are no rules. Put your own magic into it. Fantasize a little! Allow yourself to be inspired. There's no one look and theme, and you do not have to take yourself seriously."
"I do wish it hadn't rained! I was so sad the outdoor plans were ruined. The ceremony in the olive groves never happened, but the guests did get to gather there and imagine it. I was so attached to getting married among the olives! The Italians said 'Sposa bagnata, sposa fortunata' ['Wet bride, lucky bride'], to make us feel better, and we had so much fun and got cosy in the indoor room anyway."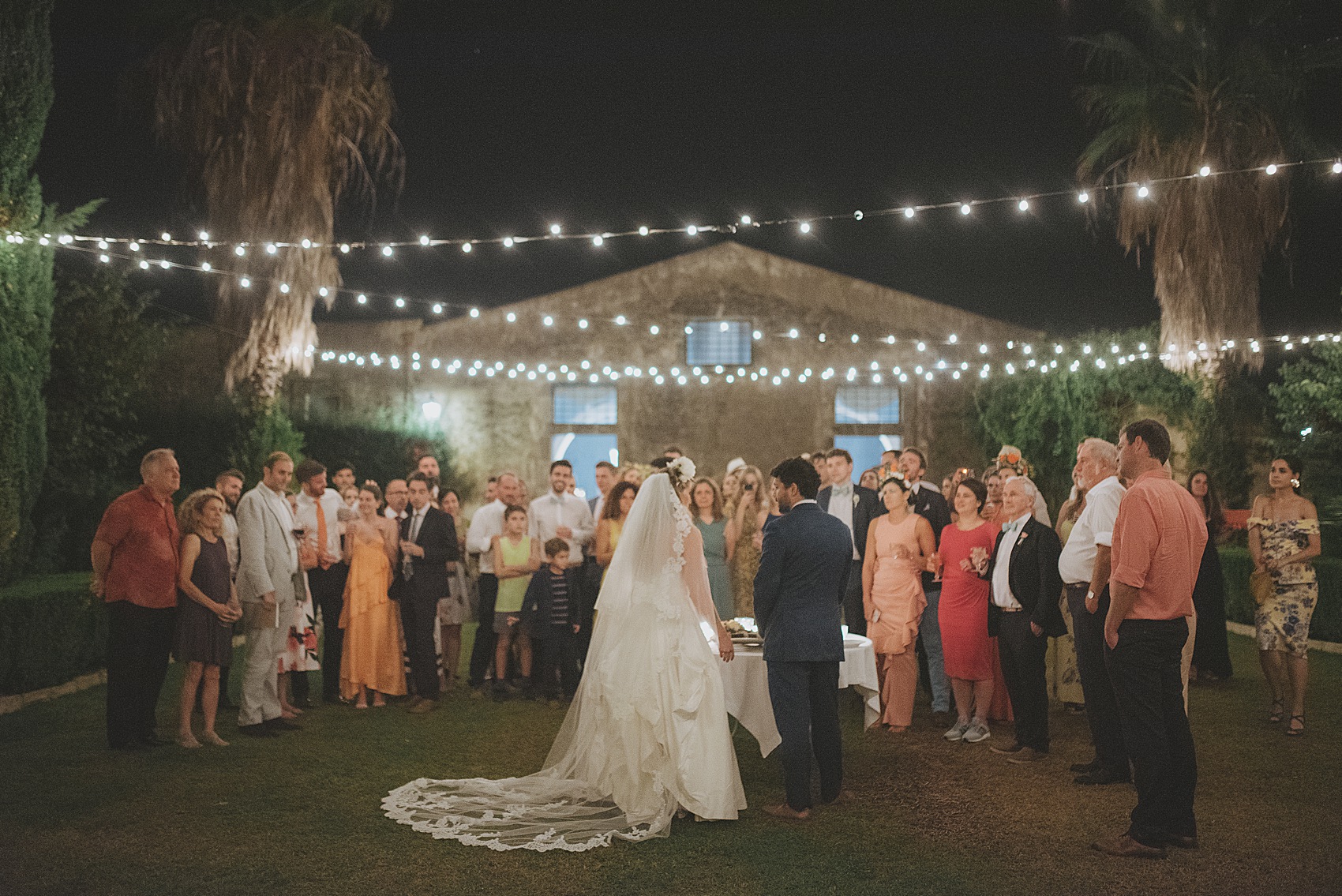 Alice, I love your philosophy, and the idea of putting your own magic into your wedding is something that really resonates with me, and I'm sure, lots of our readers, too. Congratulations to you both, Alice and Alexander, and thank you for sharing your day with us. Thanks also to Sandra from Divine Day Photography for her lovely photography, too.
Until next time!
With love,
Laura