Ahead of a lovely long weekend trip I'll be taking to Edinburgh in March, I'm so pleased to be desk-chair travelling to the very place for today's elegant celebration.
It's filled with chic and contemporary floral arrangements, and styled in a modern industrial meets Art Deco way, with geometric shapes, copper accents and atmospheric lighting. On the 28 September, Gillian, who works in client services for advertising, and Mikey, a graphic designer, were married at the wonderfully quirky Summerhall in Edinburgh. The site of a former veterinary college, the building is now a vibrant arts and cultural hub for the city.
Photography by The Hendrys

+ Follow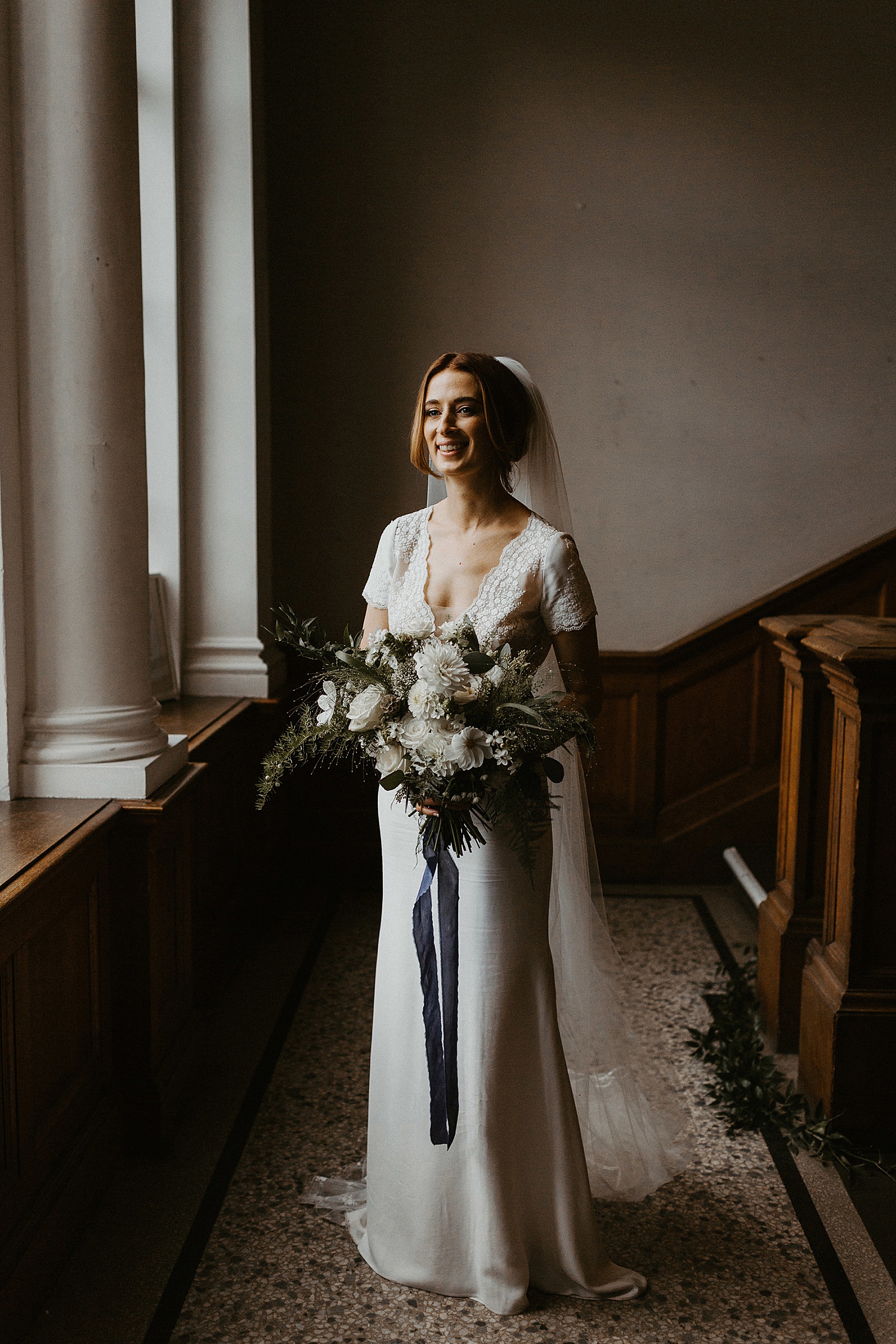 To choose her dress, Gillian took a trip to Northern Ireland (where she is originally from) and visited The White Gallery in Burren, Co. Down. It was here that she tried and fell in love with the delicate elegance of Rime Arodaky's 'Tasha' dress, with its empire line bodice of fine tulle and floral lace with short sleeves, falling to a beautiful silk crepe skirt.
"I am proud to say I was pretty decisive when it came to all aspects of wedding planning. All, that is, except the dress. I found it really hard to choose, and drove my poor mates round the bend with what felt like constant fittings and WhatsApp group photo spammings. In the end I only went to 3 shops, but man, I tried on a lot of frocks!"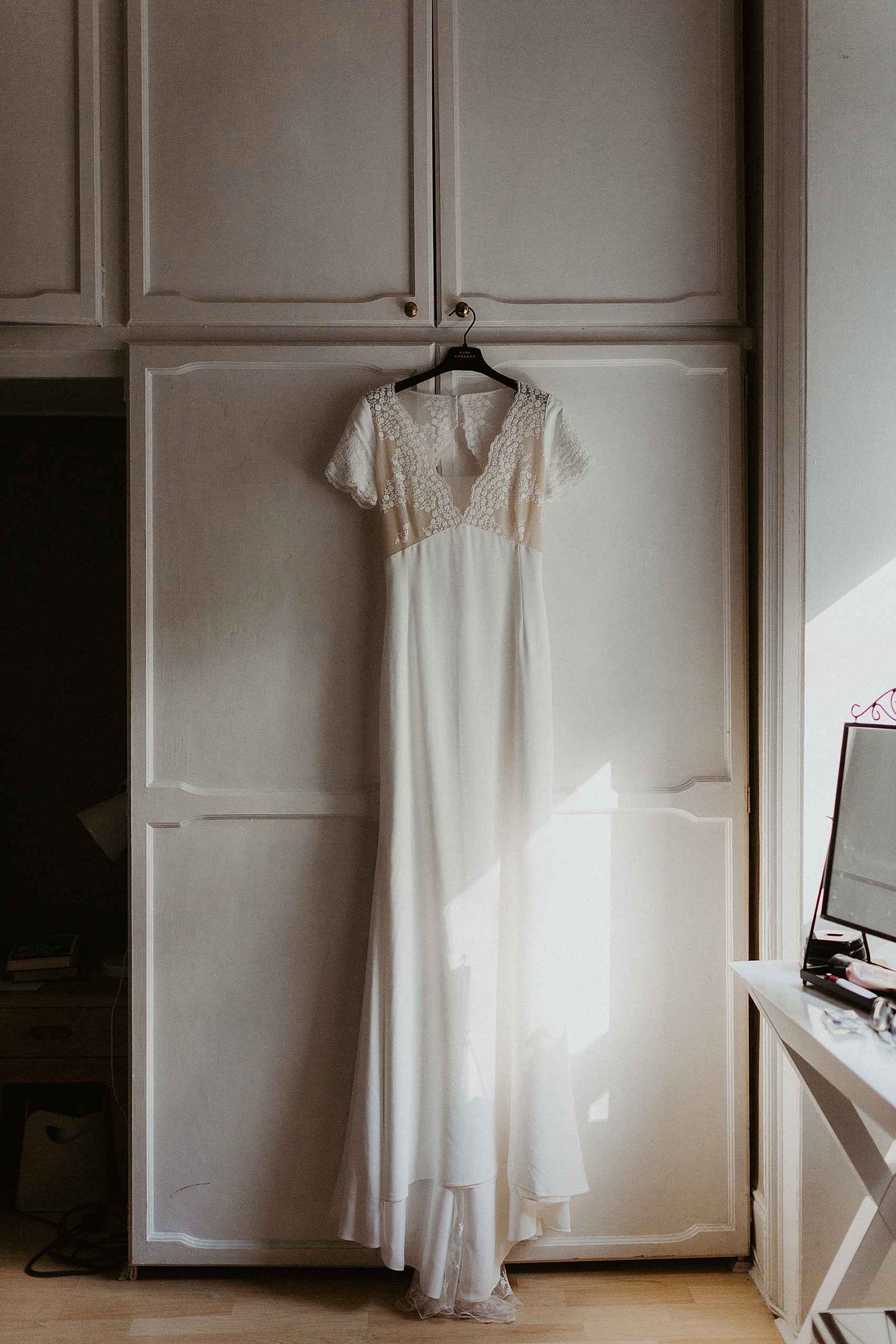 "On a whim, I panic booked a flight to Northern Ireland to visit The White Gallery. I knew they stocked incredible French designers like Rime Arodaky and Laure De Sagazan; designers whose style I knew I really liked and who weren't stocked in Edinburgh, so I decided I needed to go and at least check them out, if only so I could mentally scratch them off my list."
"I'm so glad I went, as I saw 'Tasha' and fell in love. Weirdly, it had been a dress I'd liked on Pinterest right after getting engaged. The style felt classic 'me' – I love a sleeve, and understated, elegant yet glamorous styles. It made me feel instantly amazing yet true to myself in a way none of the others quite had. It was also really special to have my sisters and mum there to see me in it since I got it at home."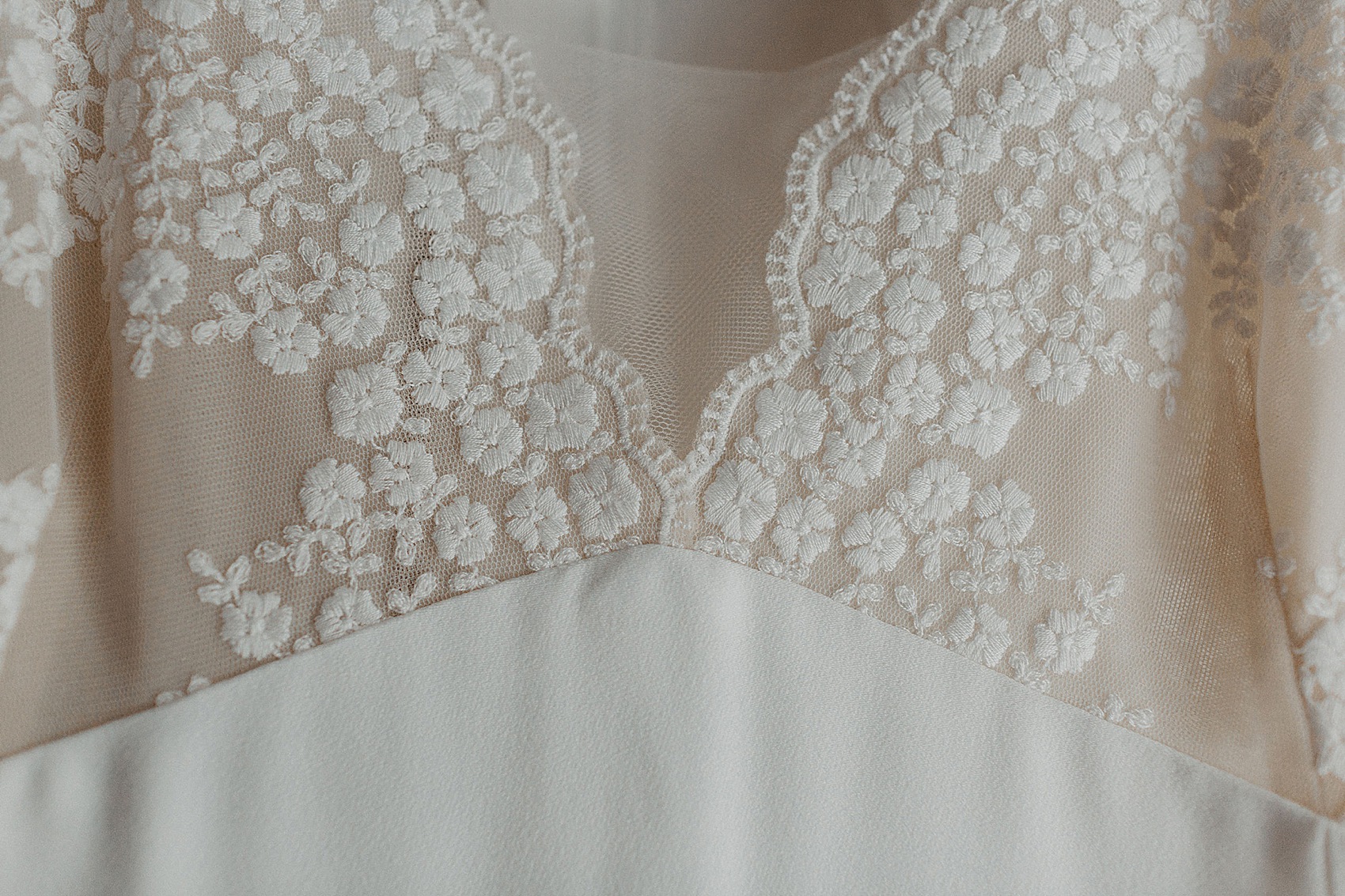 Rachel Simpson's 'Mimosa' shoes in mint green added a pretty, vintage inspired touch to Gillian's look, and she also wore drop earrings from Oliver Bonas, as well as her perfume; Her, by Narciso Rodriguez.
"I wasn't going to go for a veil, but when I had my final fitting at The White Gallery, a voice in my head went 'What other time in your life will wearing a veil be an option?!', so I impulse bought a massive one!"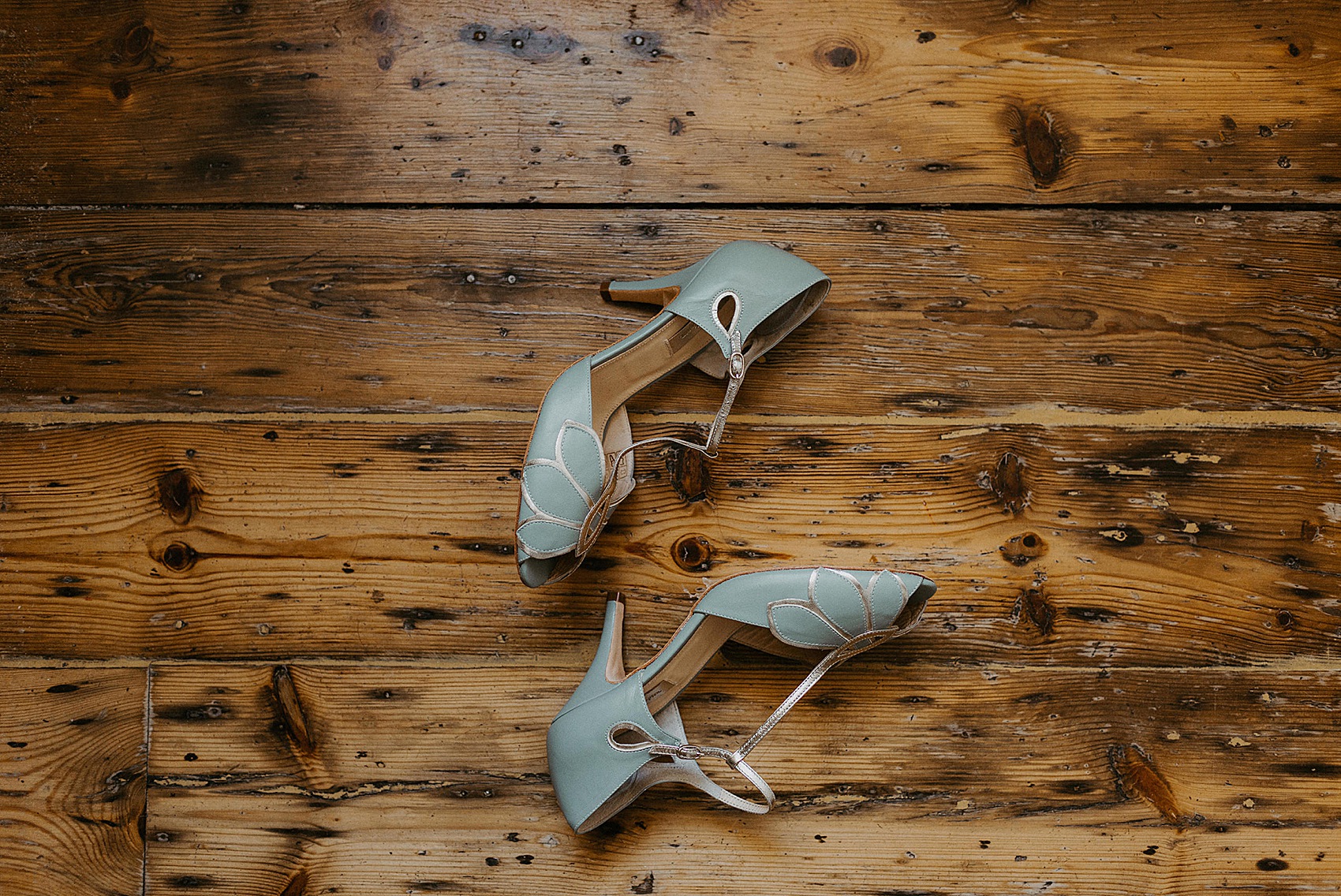 The bridal bouquet was a spectacular, natural arrangement of beautiful white blooms like cosmos, dahlias and roses, combined with striking, architectural greenery. It was made by the talented Aoife at Feather Grass Florals.
"I showed a handful of references from Pinterest, and Aoife worked her magic.  I wanted to keep the bouquets all white with hints of green, and was utterly delighted with the results."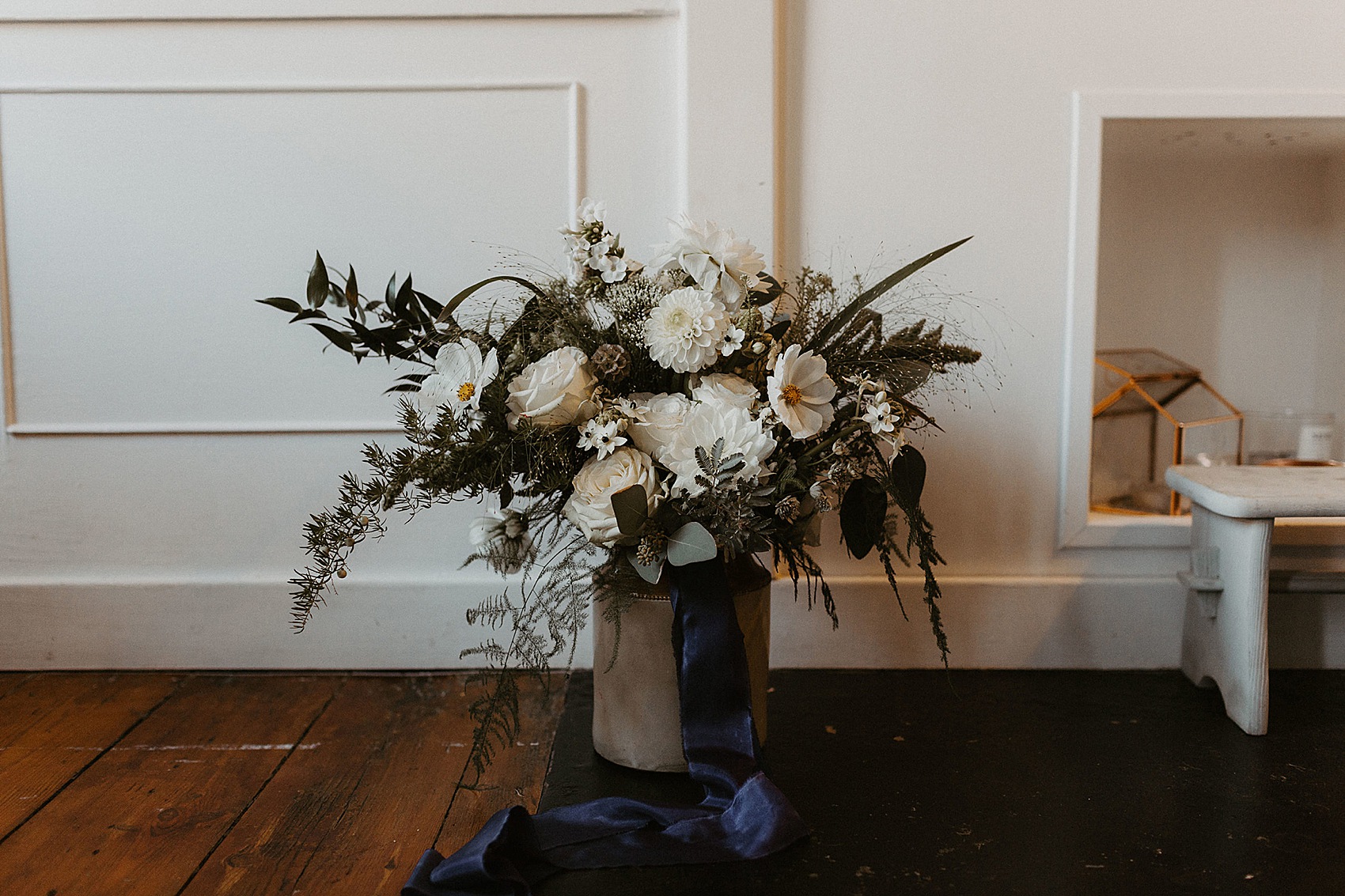 Gillian's hair was styled by Sesh Hairdressing in Leith, to which was added a beaded, floral inspired hair comb by Laure de Sagazan.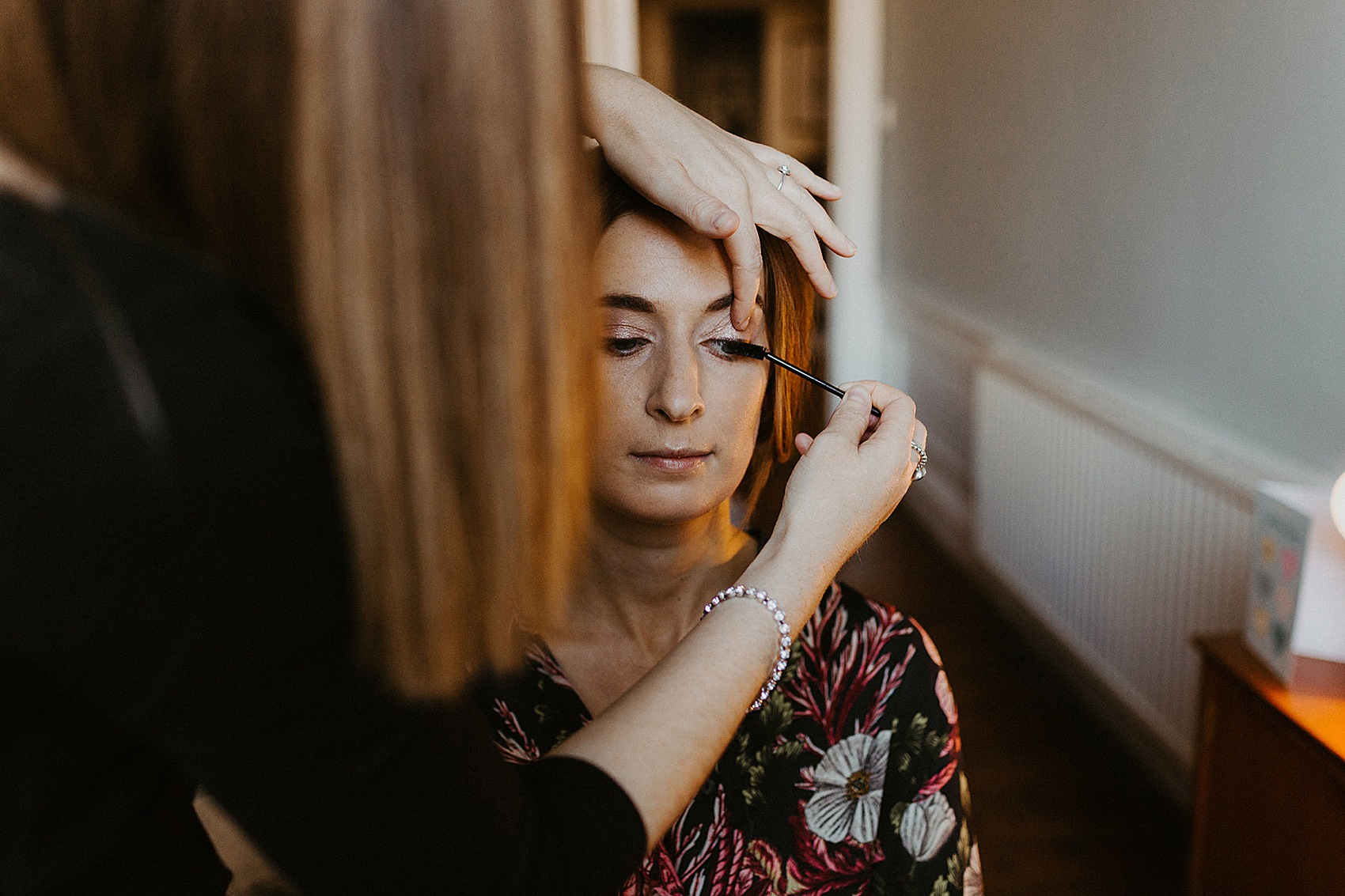 The bridesmaids looked wonderful in long lace wrap dresses by Ganni (from Net a Porter), which they wore with gold sandals from Dune. They also wore hair accessories by Rene Walrus and Rachel Simpson, and rose gold geometric necklaces from Etsy shop, Custom Made.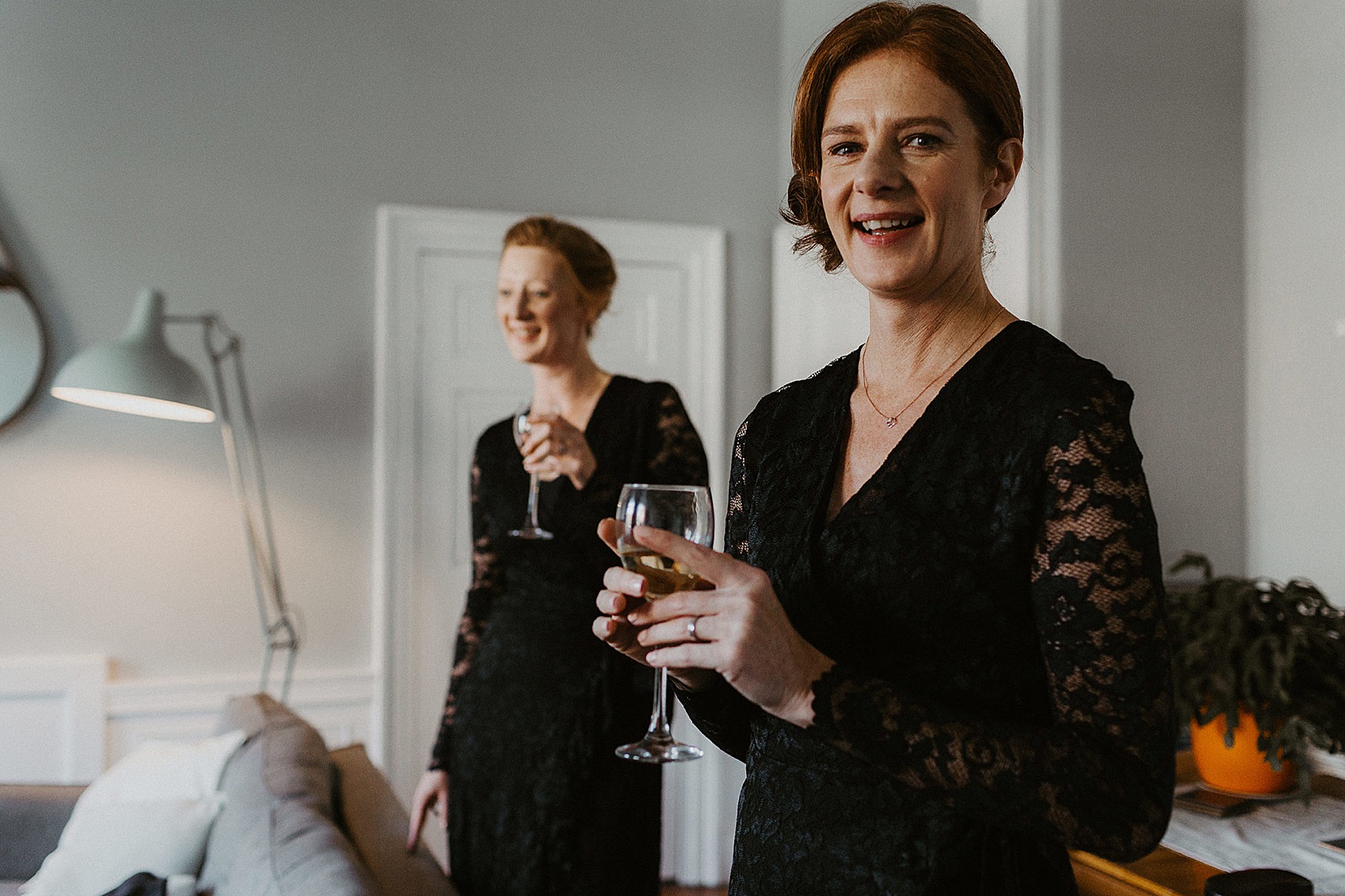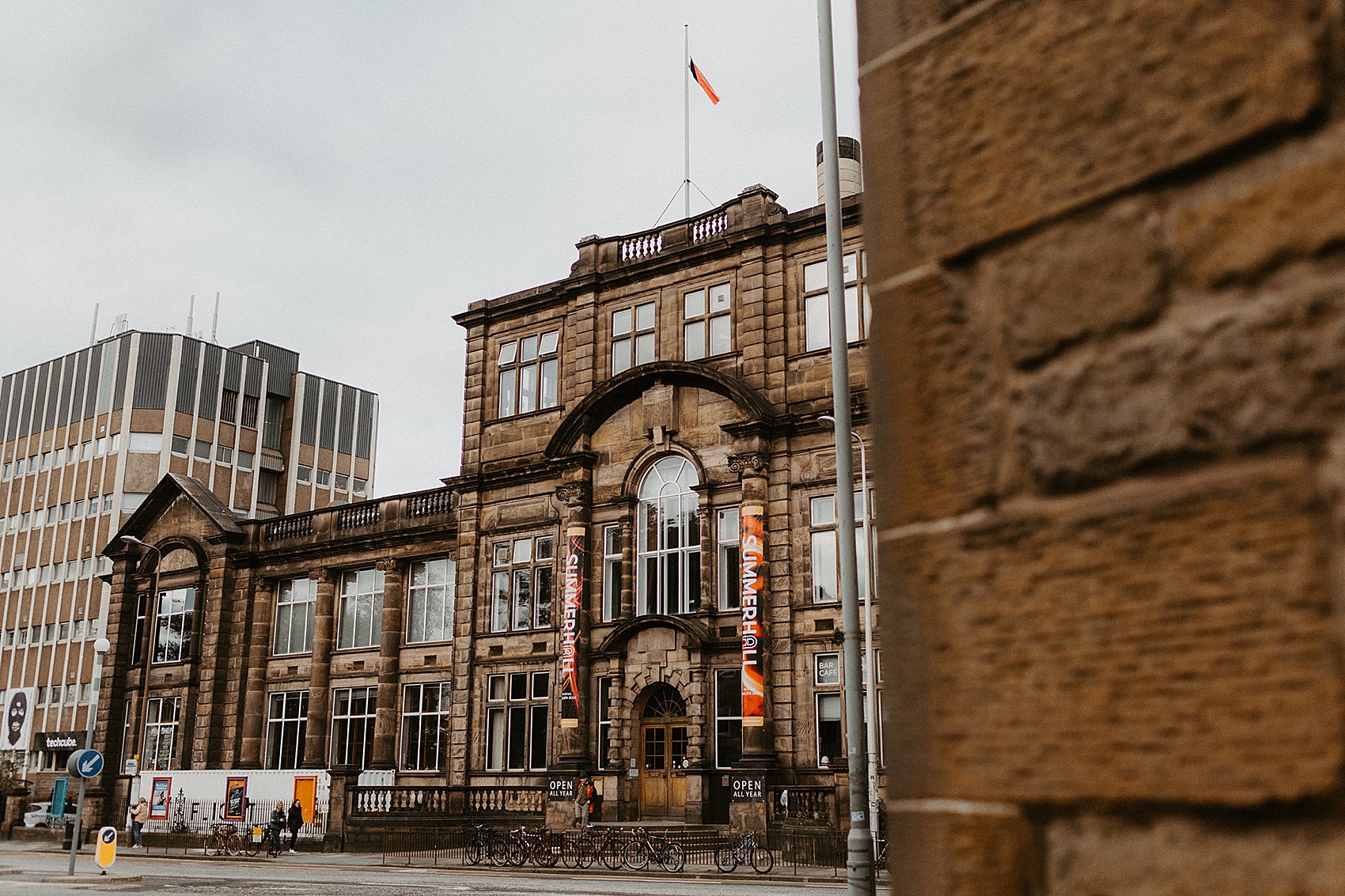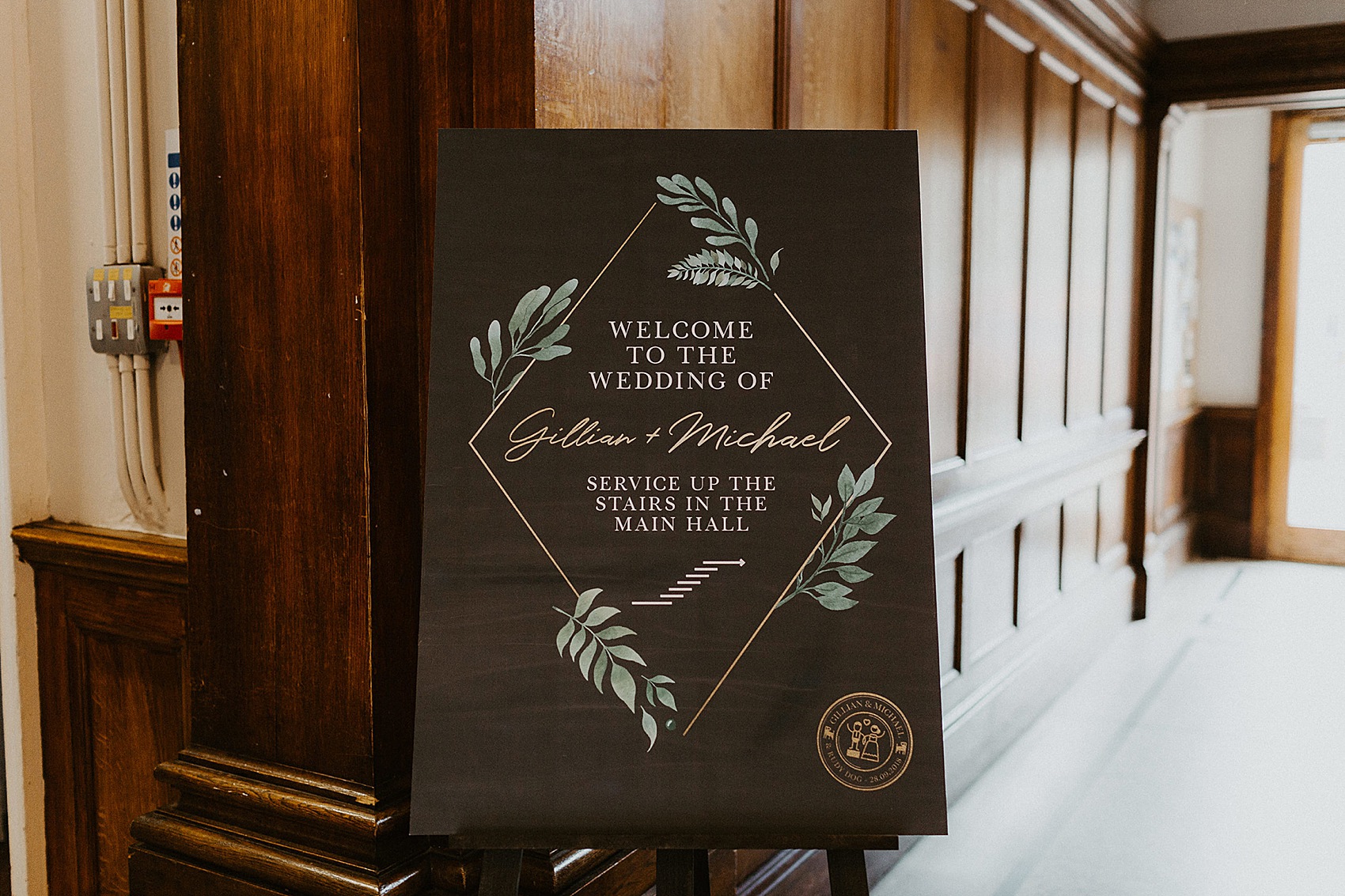 Trailing foliage led guests up the stairs and into Summerhall's Main Hall, which had been beautifully decorated for the ceremony with a copper frame arbour covered in flowers, flanked by hurricane lanterns with softly flickering candles inside. Geometric and botanical inspired on-the-day stationery was designed by Mikey, as well as the invitations, too.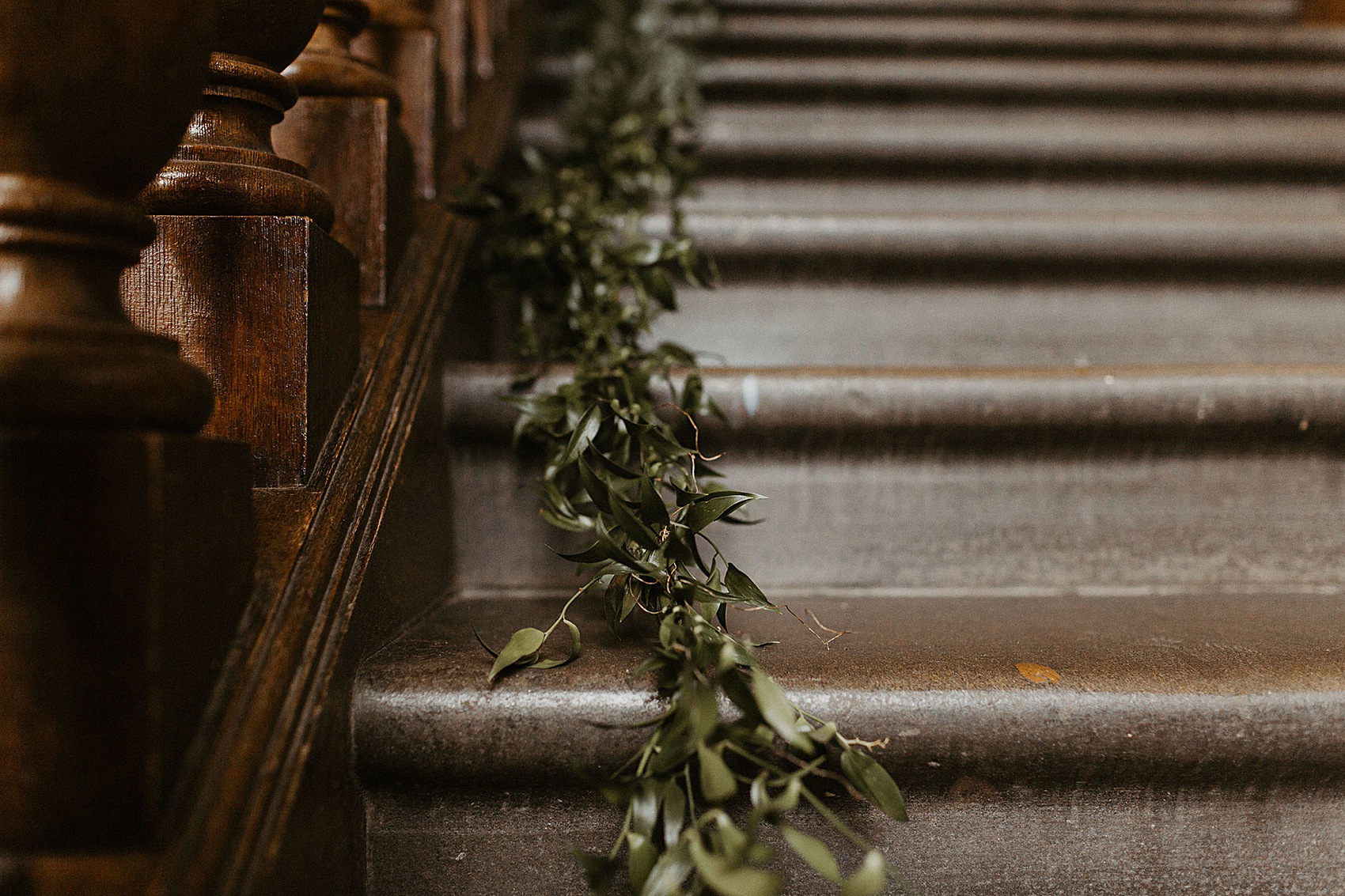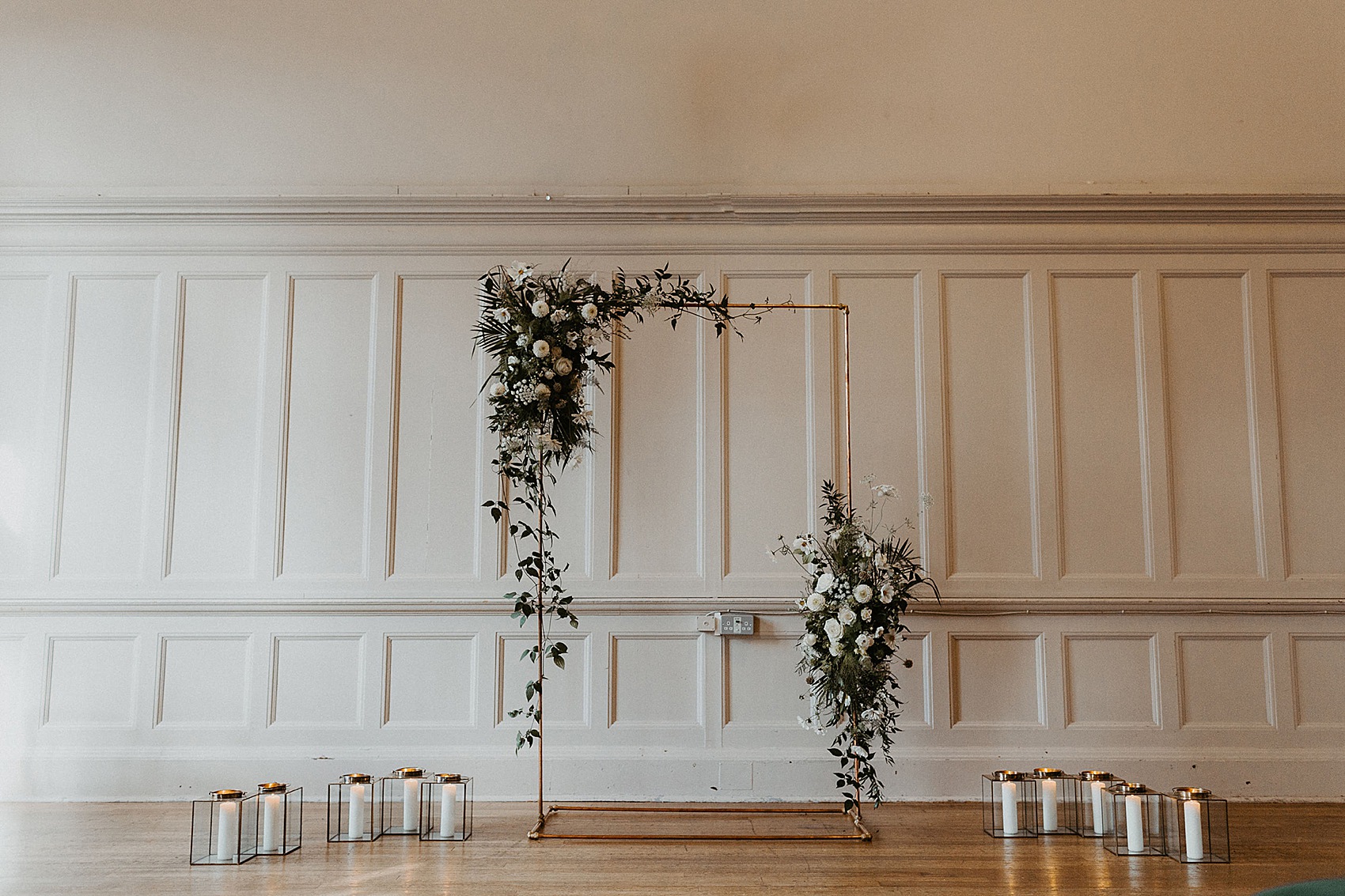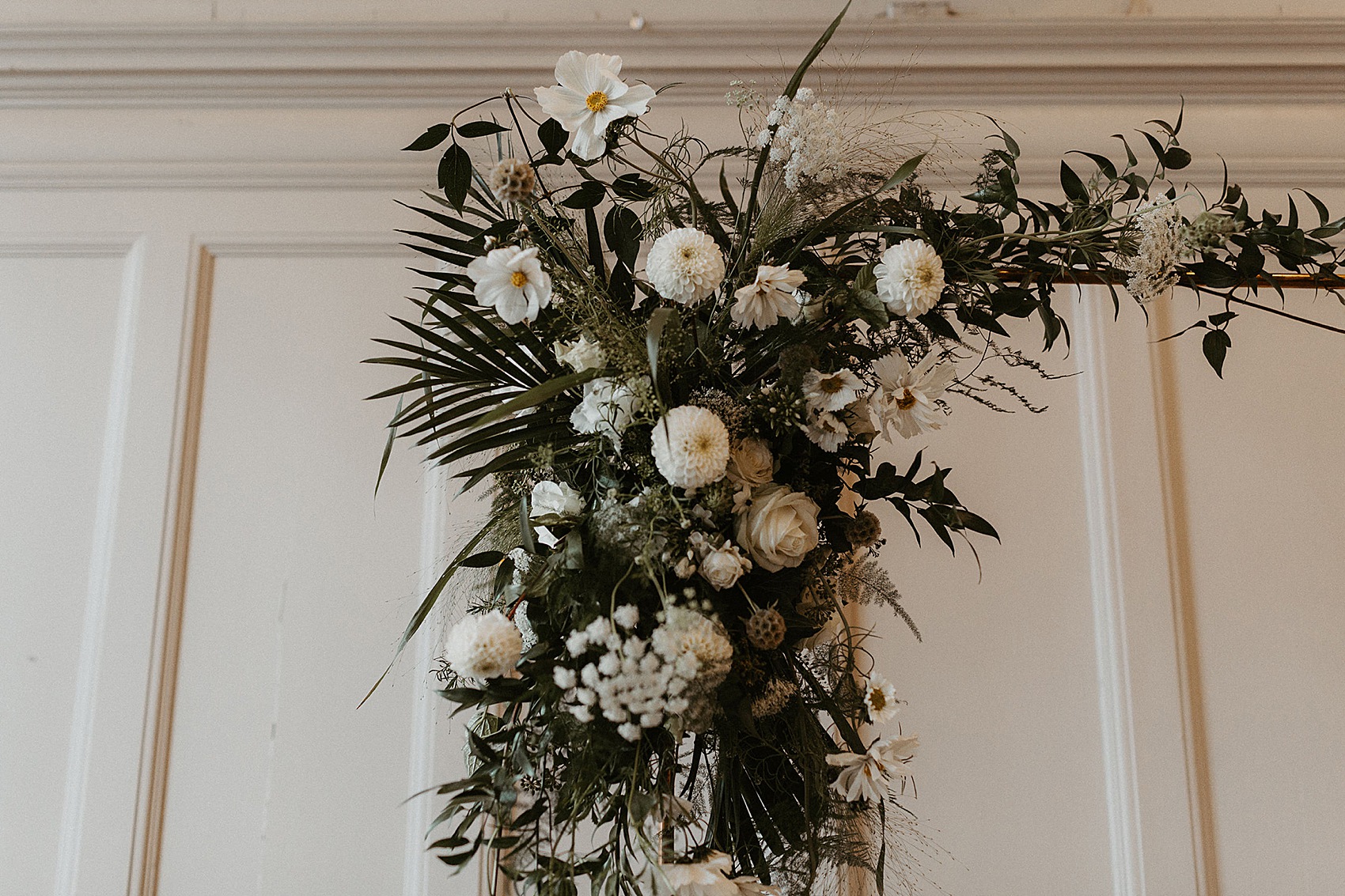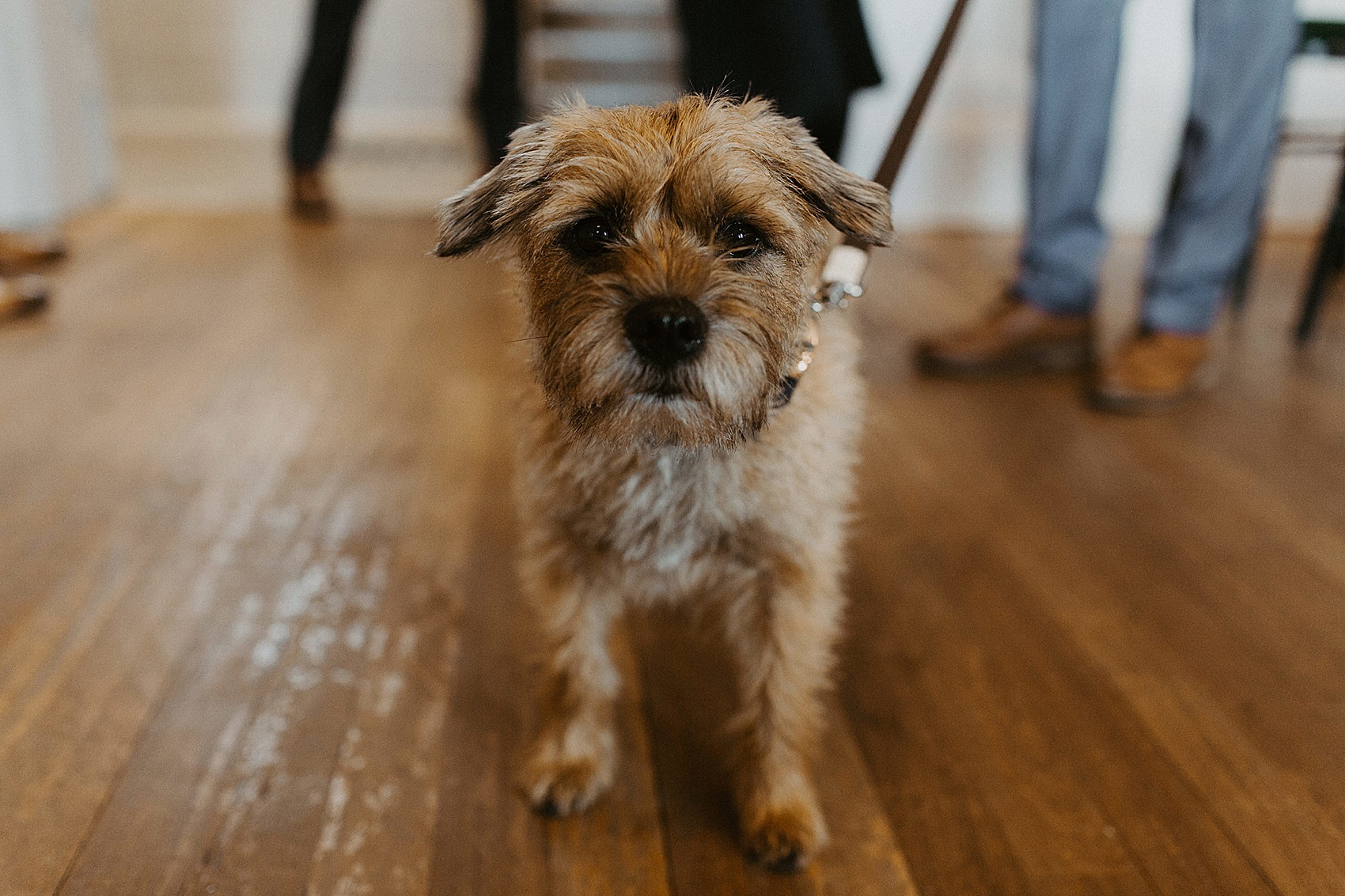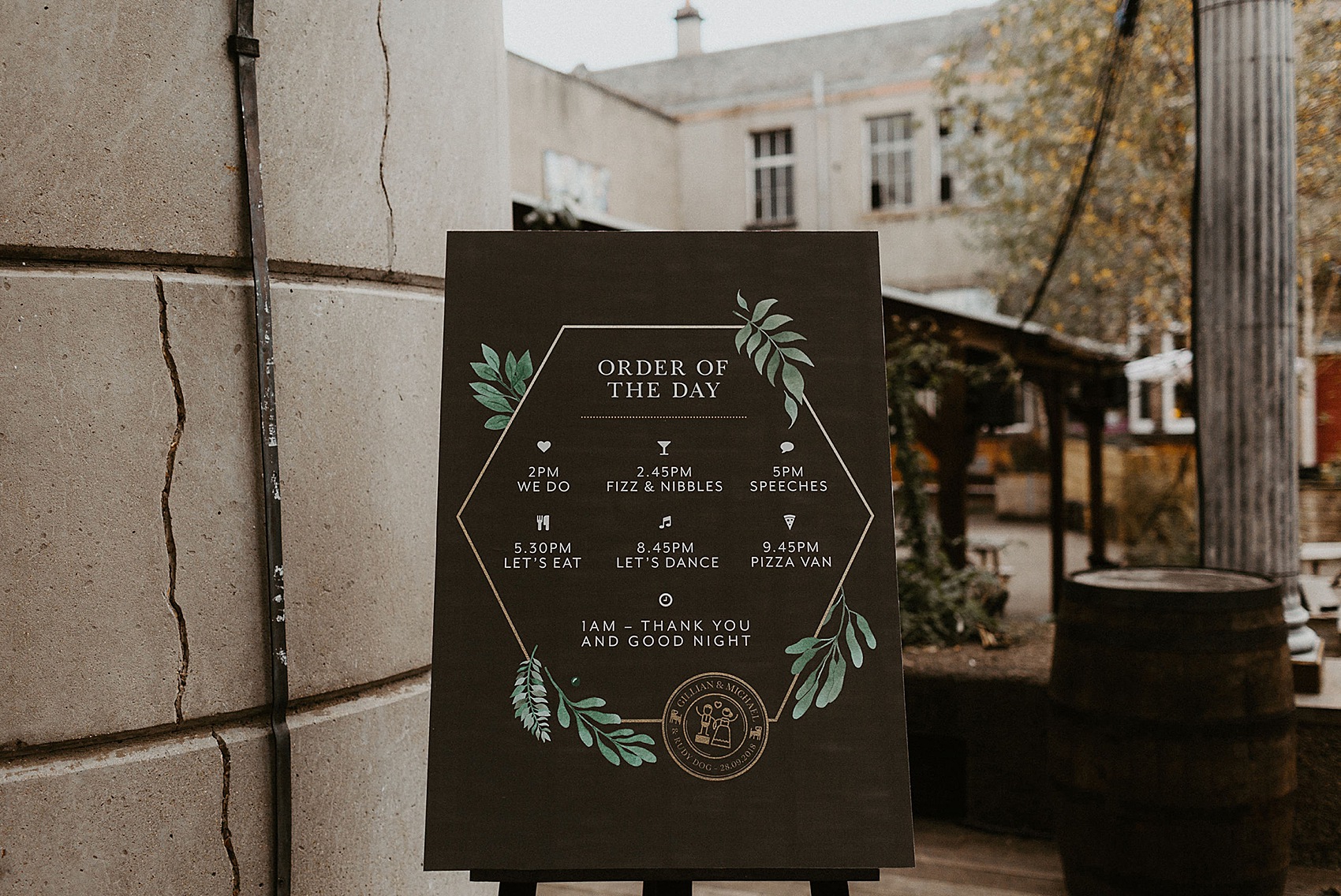 "Jamie wore a suit from Marks & Spencer, and Sonny (whose mum Katie is a stylist) rocked a Wynken top, a pair of Ralph Lauren tartan trousers and silver boots from Clarks."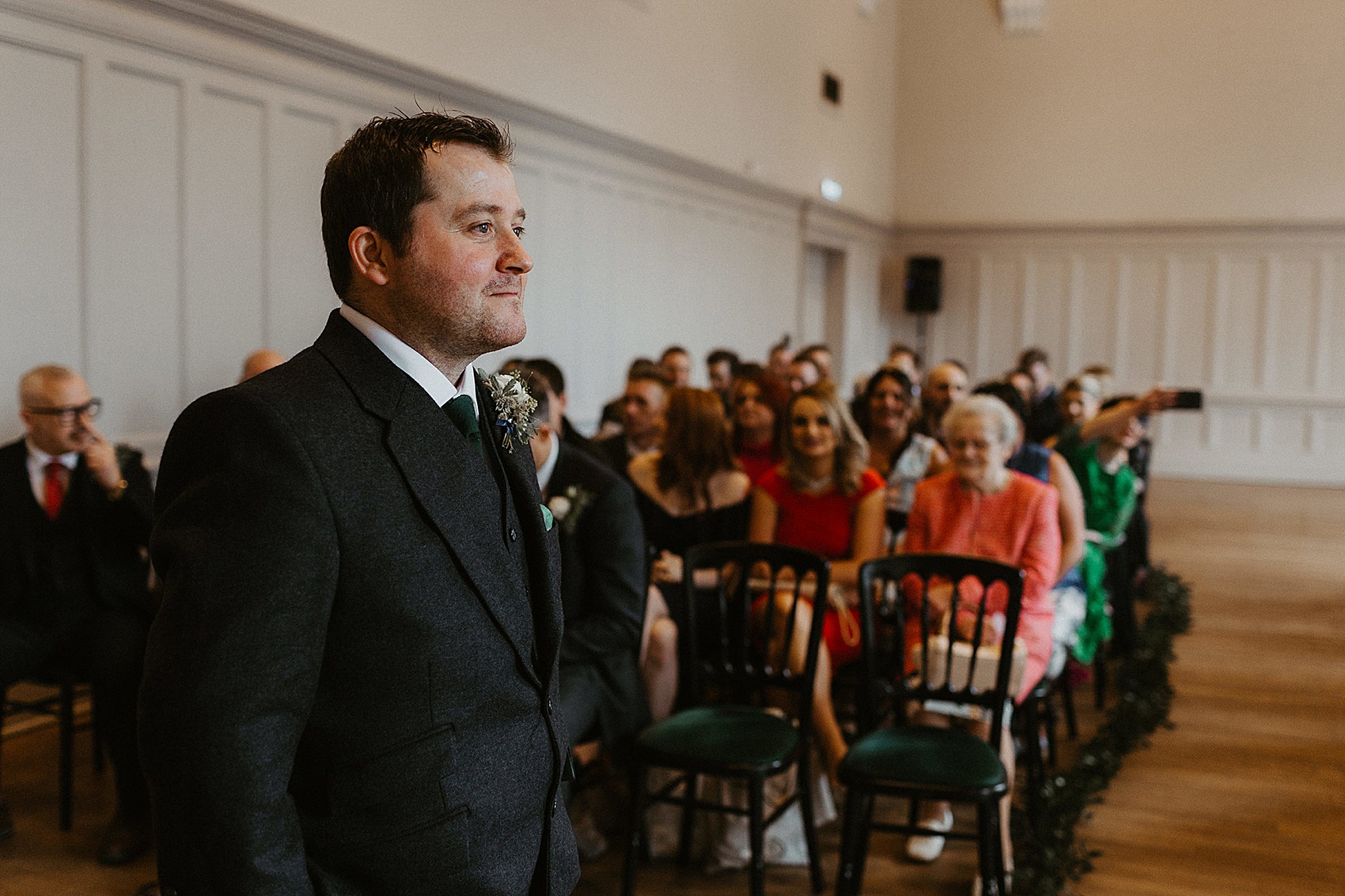 Gillian's mum and her bridesmaids were driven to Summerhall in a white Hackney cab, whilst she and her dad were chauffeured in a classic Jaguar Mark 2, both courtesy of Ecosse Classic Wedding Cars.
"Mikey and I aren't from Edinburgh originally, but we met while working together here, and it's the city we both call home. We knew we wanted a central Edinburgh venue where we could throw a big, relaxed, party with all our friends and family, and Summerhall ticked all the boxes."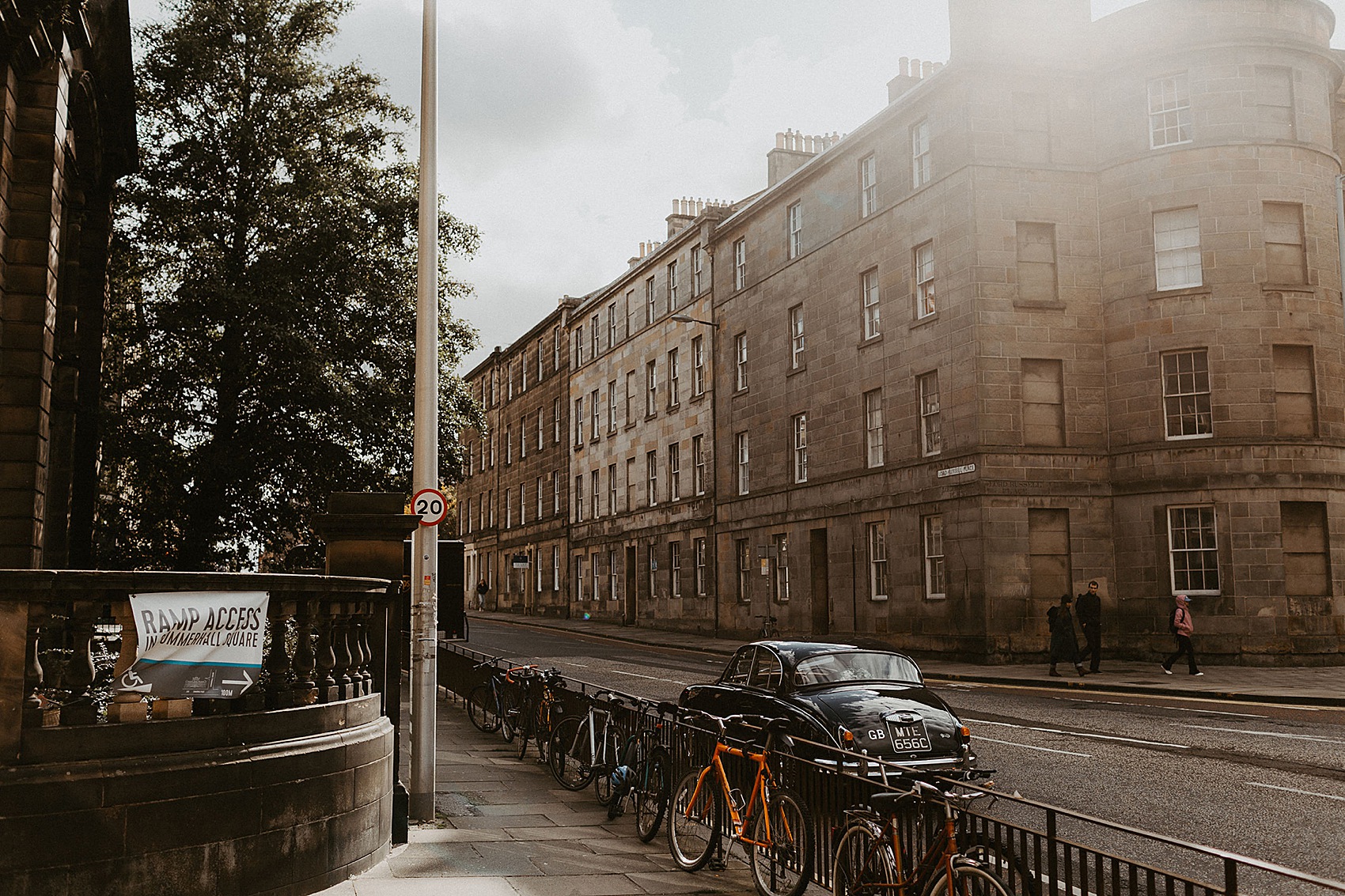 "My nephew Jamie and Mikey's godson Sonny escorted our dog Rudy down the aisle. With one teenager, one toddler and a dog in the mix, I was expecting total carnage but it could not have gone more smoothly."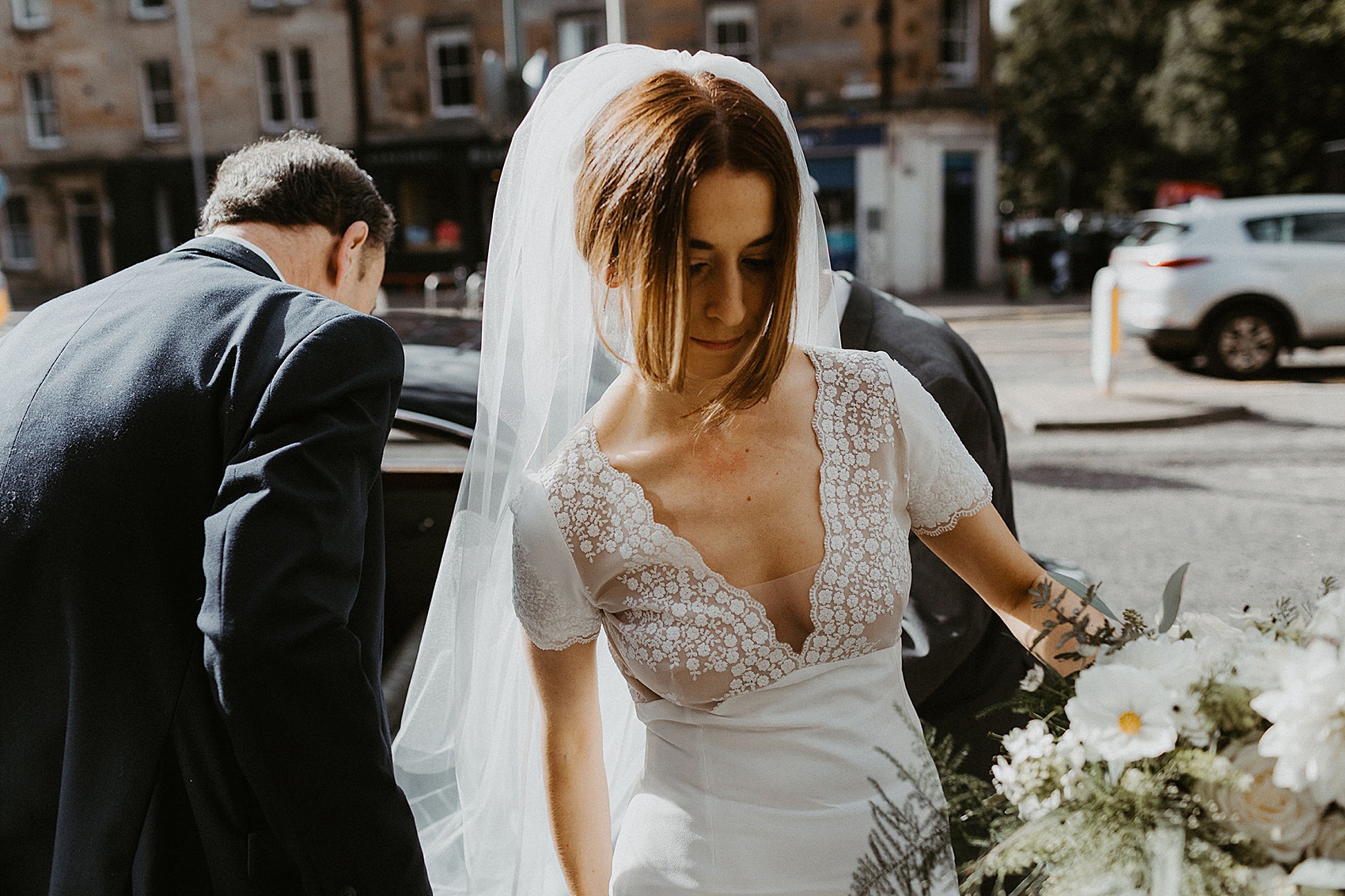 Together with her dad, Gillian walked down the aisle to a song by Blur (one of her favourite bands) – Tender. There by the flower arbour was Mikey, looking smart in a navy blue tweed suit, tailor made by Stewart Christie & Co.
"We met while working together at an ad agency. We were pals for quite a while before something changed and we became a couple. We'd been together 8 years by the time we got engaged."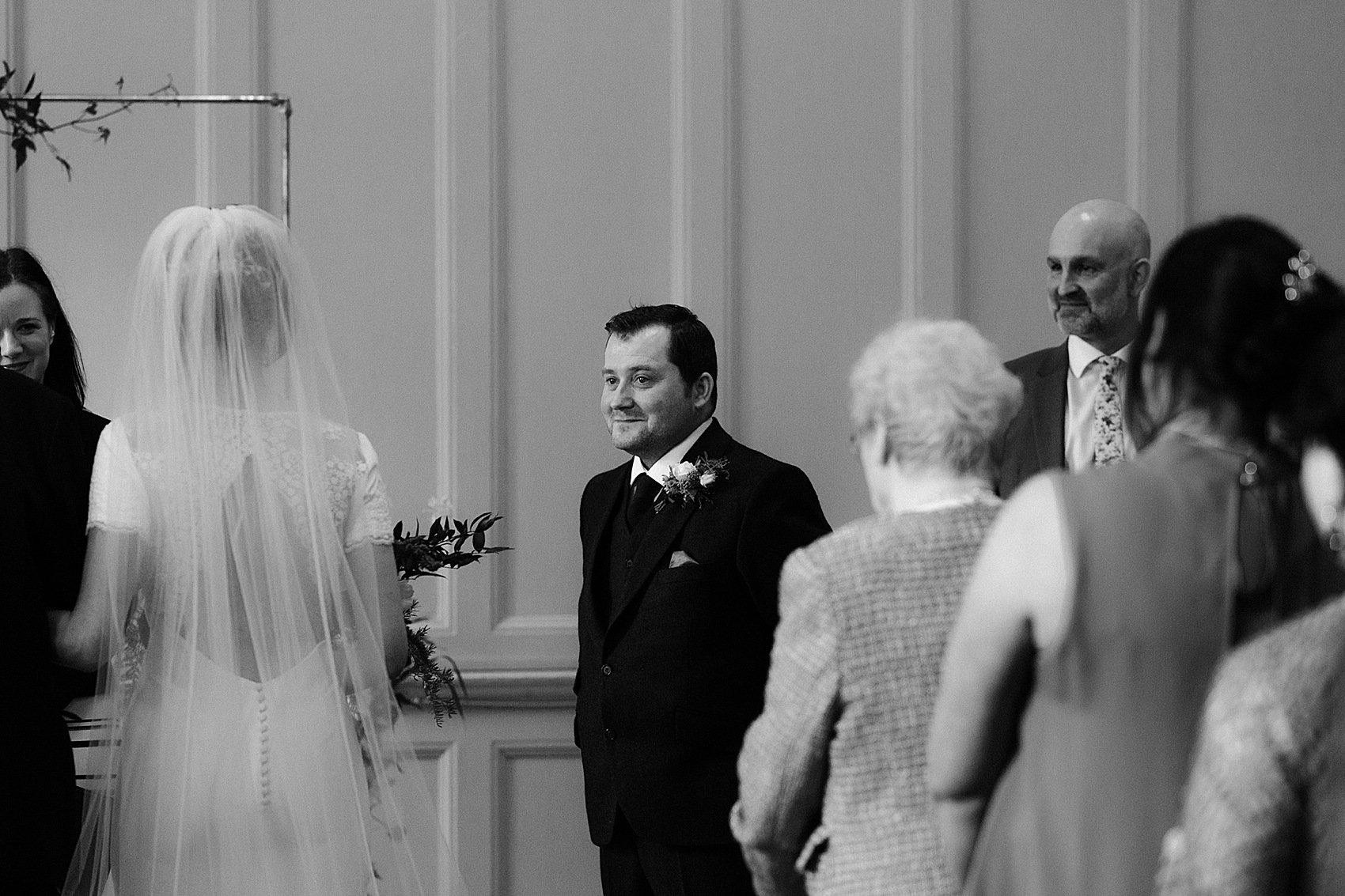 "Mikey dressed up as an elf on Christmas Day, and surprised me with a diamond ring as a final gift – a memorable scene! We had talked about marriage for a while, and agreed we didn't want a long engagement since we'd been together so long, so 9 months after the proposal we were saying 'I do'."
The couple's celebrant was Karen Dickson from the Humanist Society Scotland, and before they met, Karen set Gillian and Mikey some homework in the form of a few questions.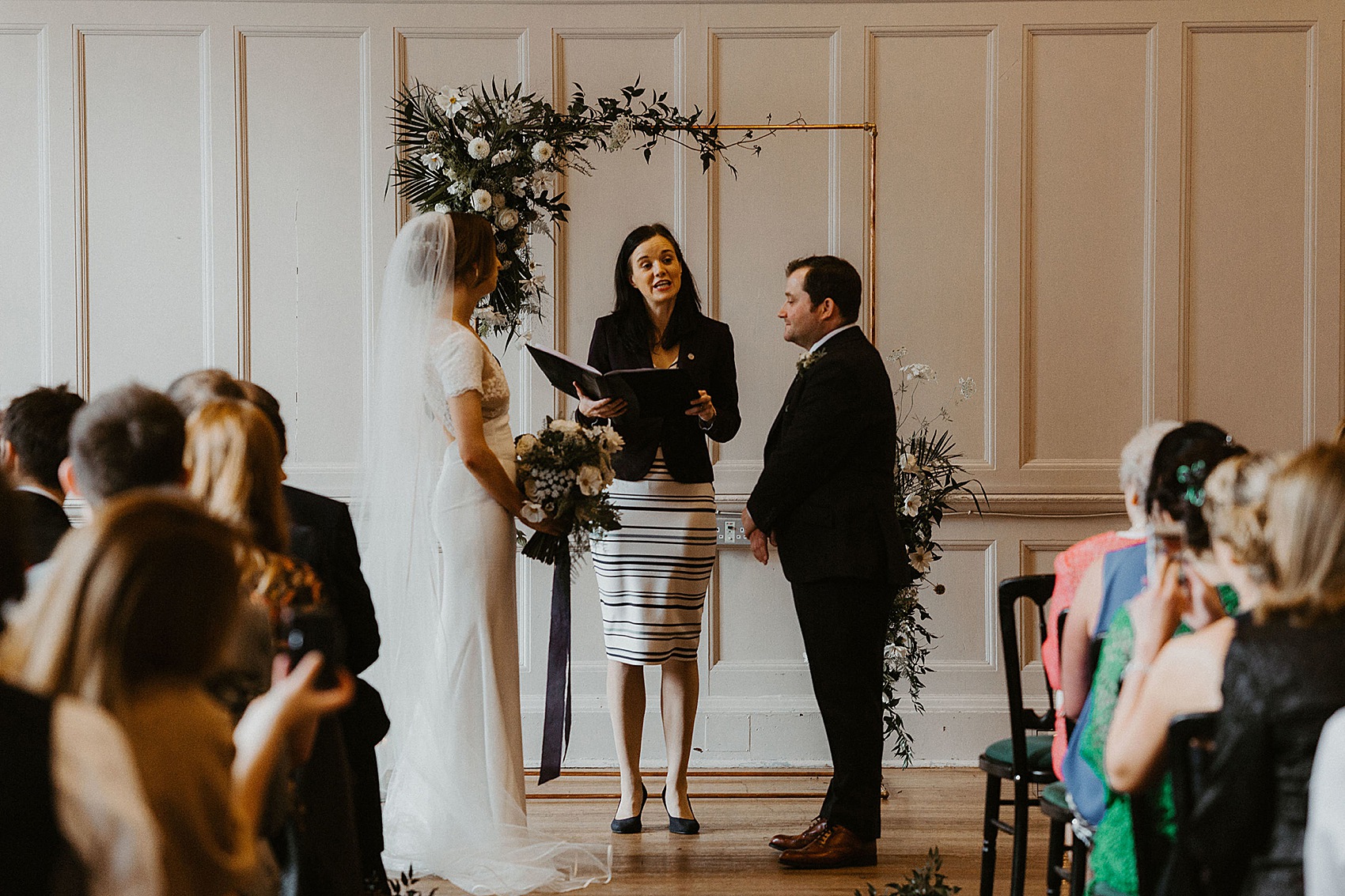 "We had to answer a few simple questions about how we met, why we were getting married, and why we loved each other (and equally what drove us crazy about each other). It felt a bit cringe at first, but it ended up being incredibly worthwhile. We met Karen for a cup of tea and chatted through our answers, and she then went away and wrote up our script, and created our tailored vows."
"We hadn't anticipated that our exact words would end up appearing in the service when we wrote them, but Karen ended up incorporating a lot, which made for an incredibly honest, personal, touching and at times hilarious ceremony (laughing ended up being a great way to stem those jitters!)"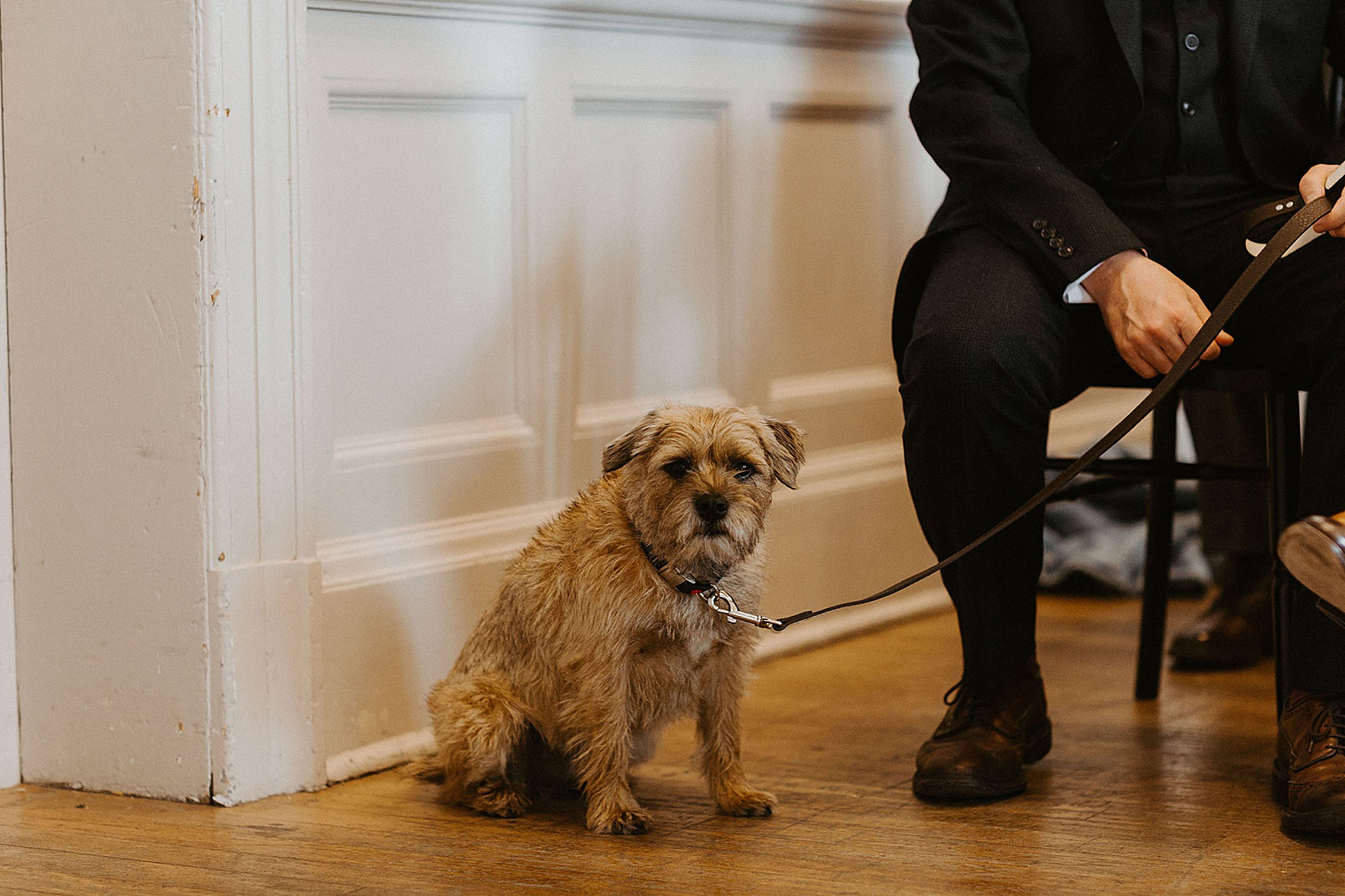 Wedding rings were designed and made by Gillian and Mikey's friend Cat, of Ellen Catherine Jewellery.
Mikey's best friend Katie read Sandol Stoddard Warburg's lovely, I Like You, and Gillian's oldest and closest friend Melanie read How Falling in Love is like Owning a Dog, by Taylor Mali.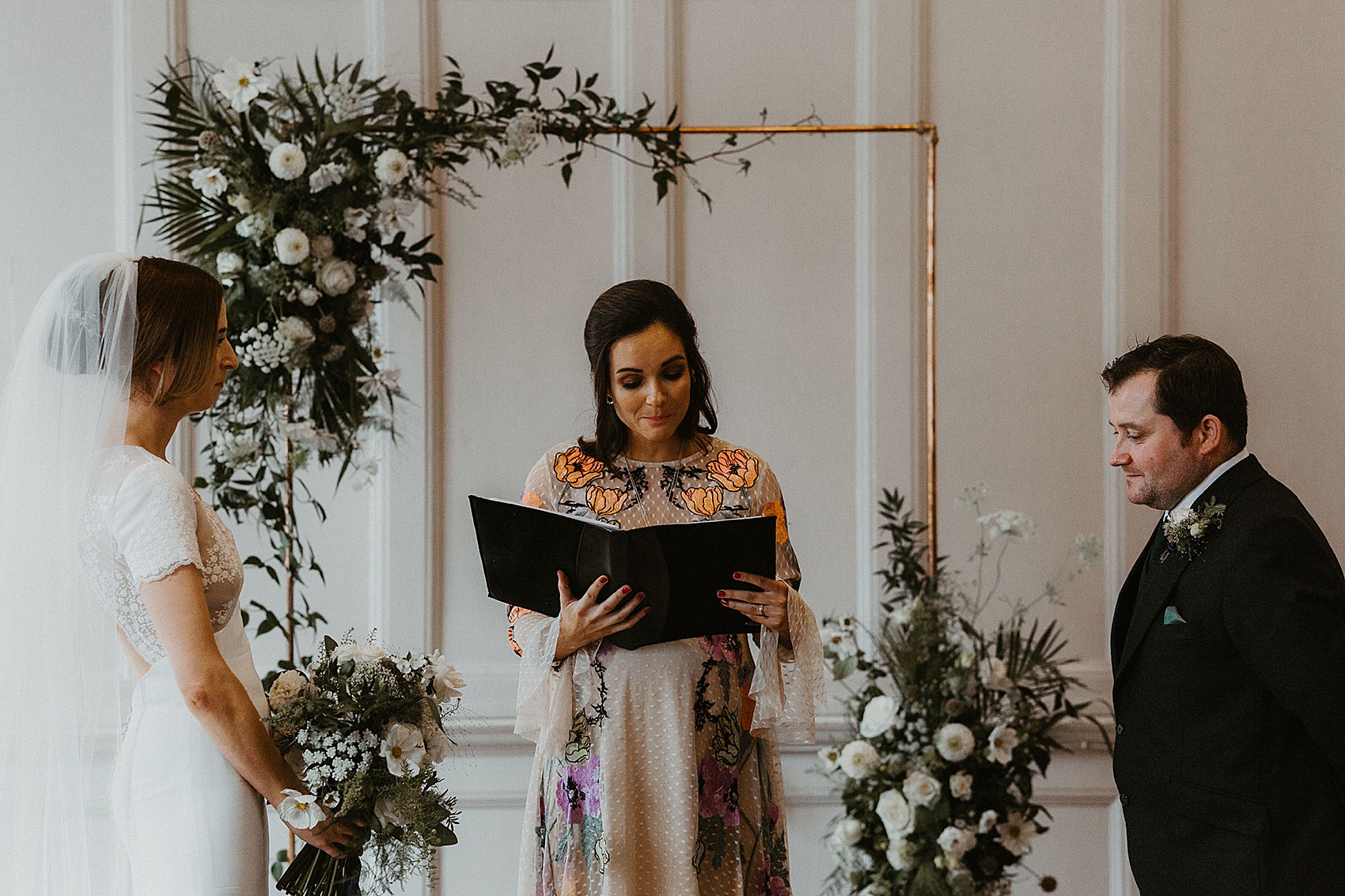 "Even though neither of us are born and bred Scots, we wanted to make a nod to the traditions of the country we have grown to love, so in our ceremony we both drank whisky from a Quaich. A Quaich is a two handled drinking cup, and traditionally has been used to seal the bond between two people as a symbol of commitment. I'm not a whisky fan, but it was a lovely gesture."
"It's funny because when you're wedding planning most of the effort is focussed on the party, as there's so much to organise and coordinate, but on the day it was the simpler, emotional, and I guess more traditional wedding bits that Mikey and I both loved the most."
"Feeling all the love from all our favourite people during the ceremony was incredibly powerful. I will never forget walking in to see everyone's beaming faces, or hearing everyone cheer for what felt like forever when we were pronounced man and wife, and kissed."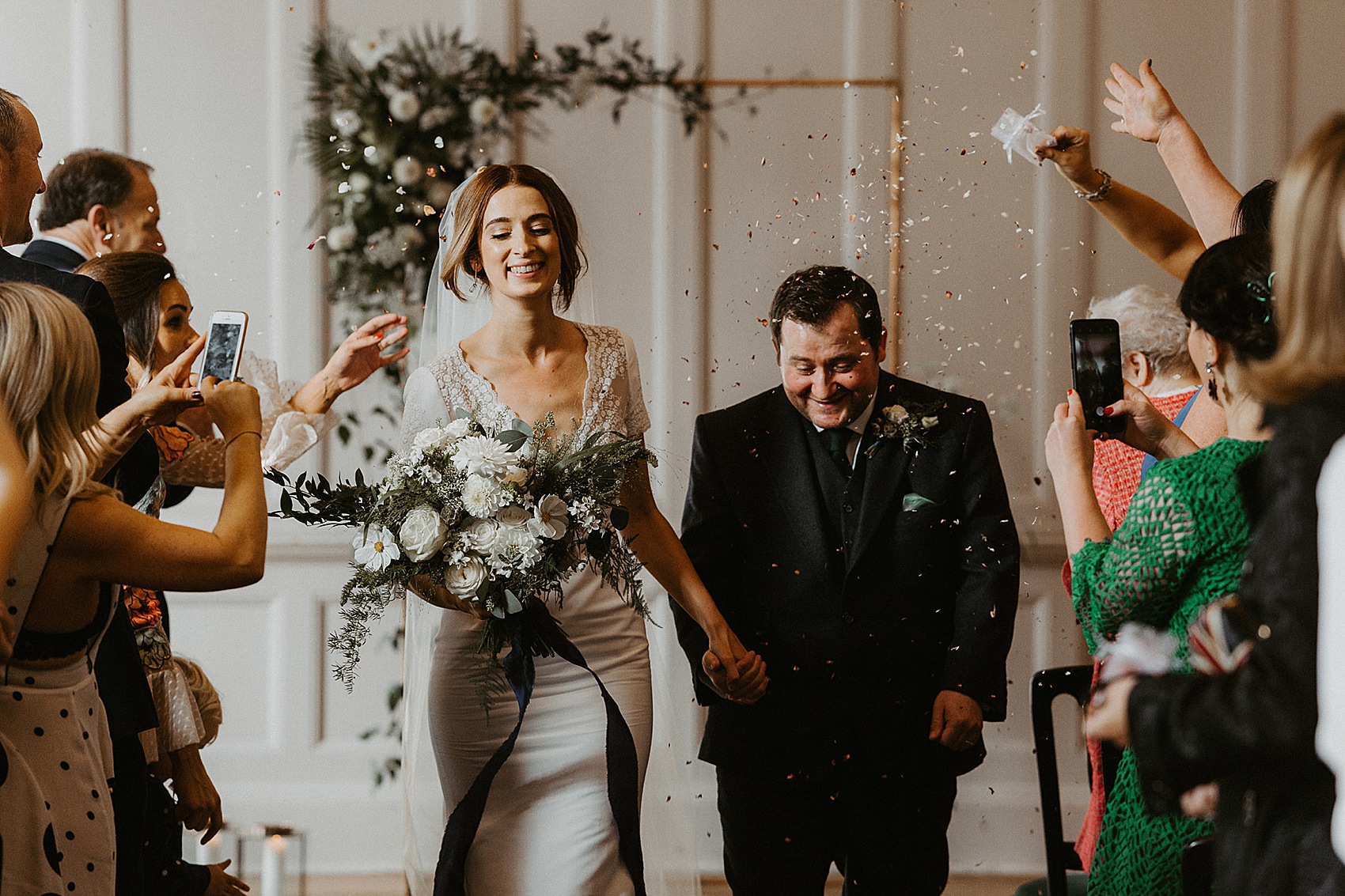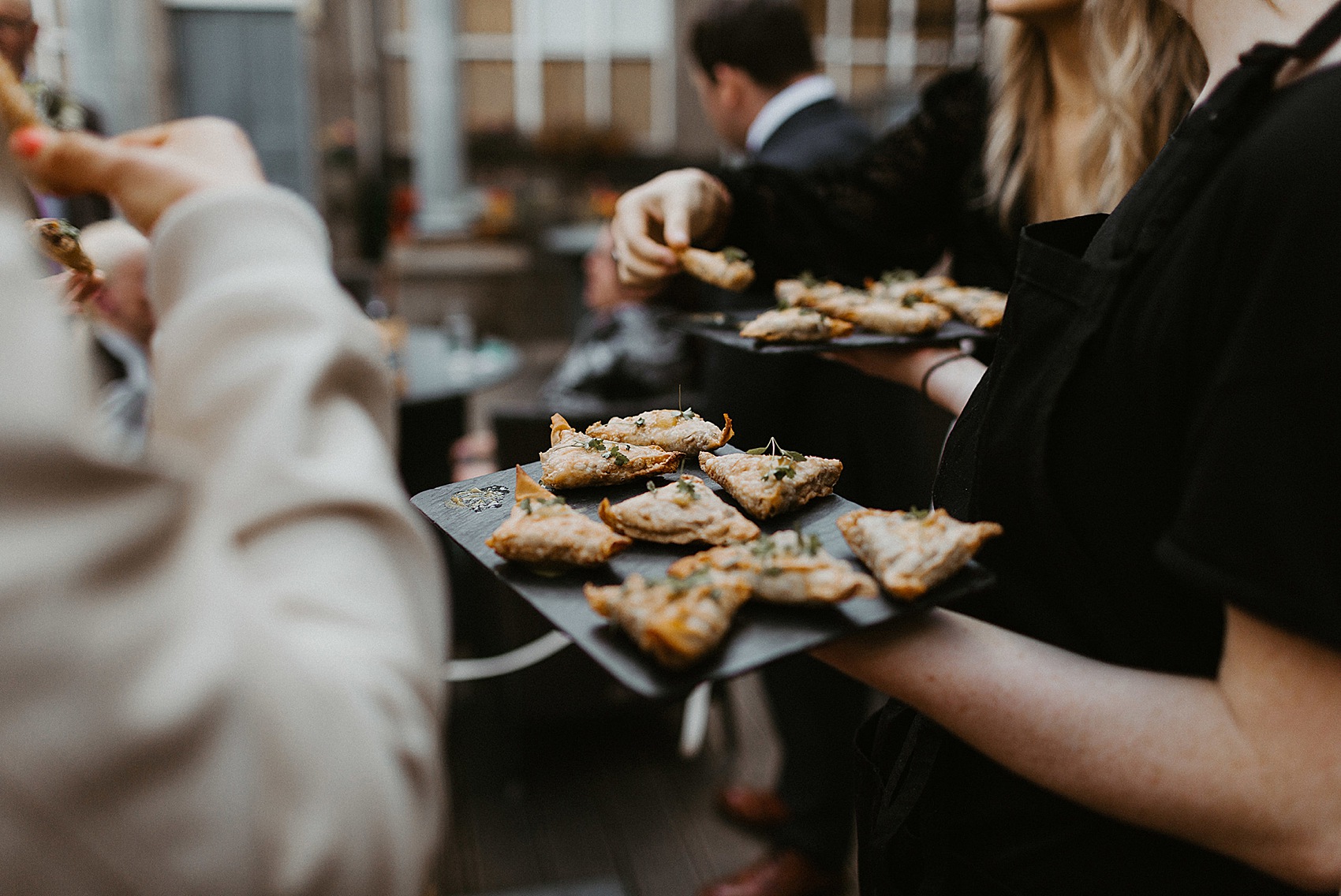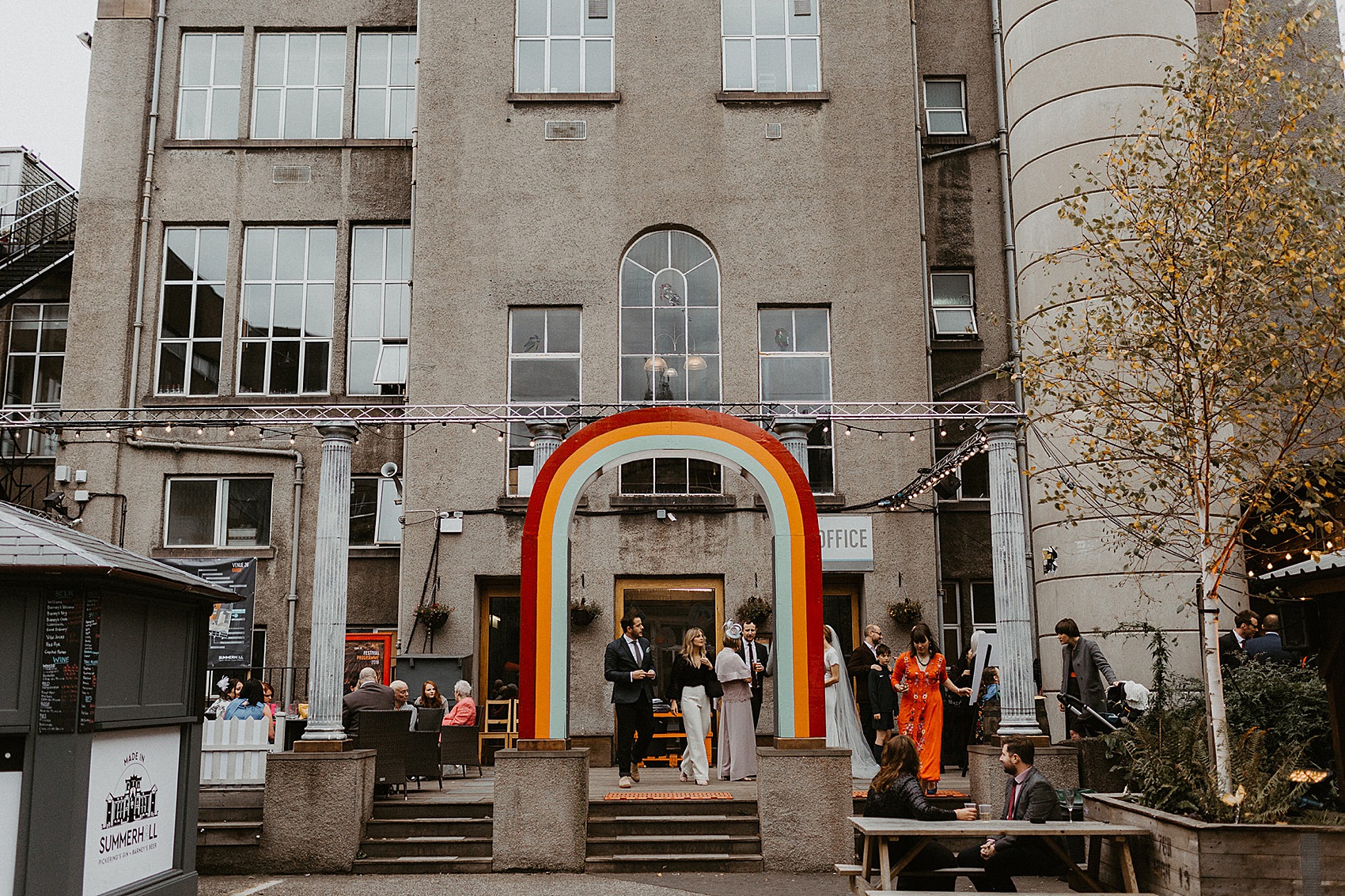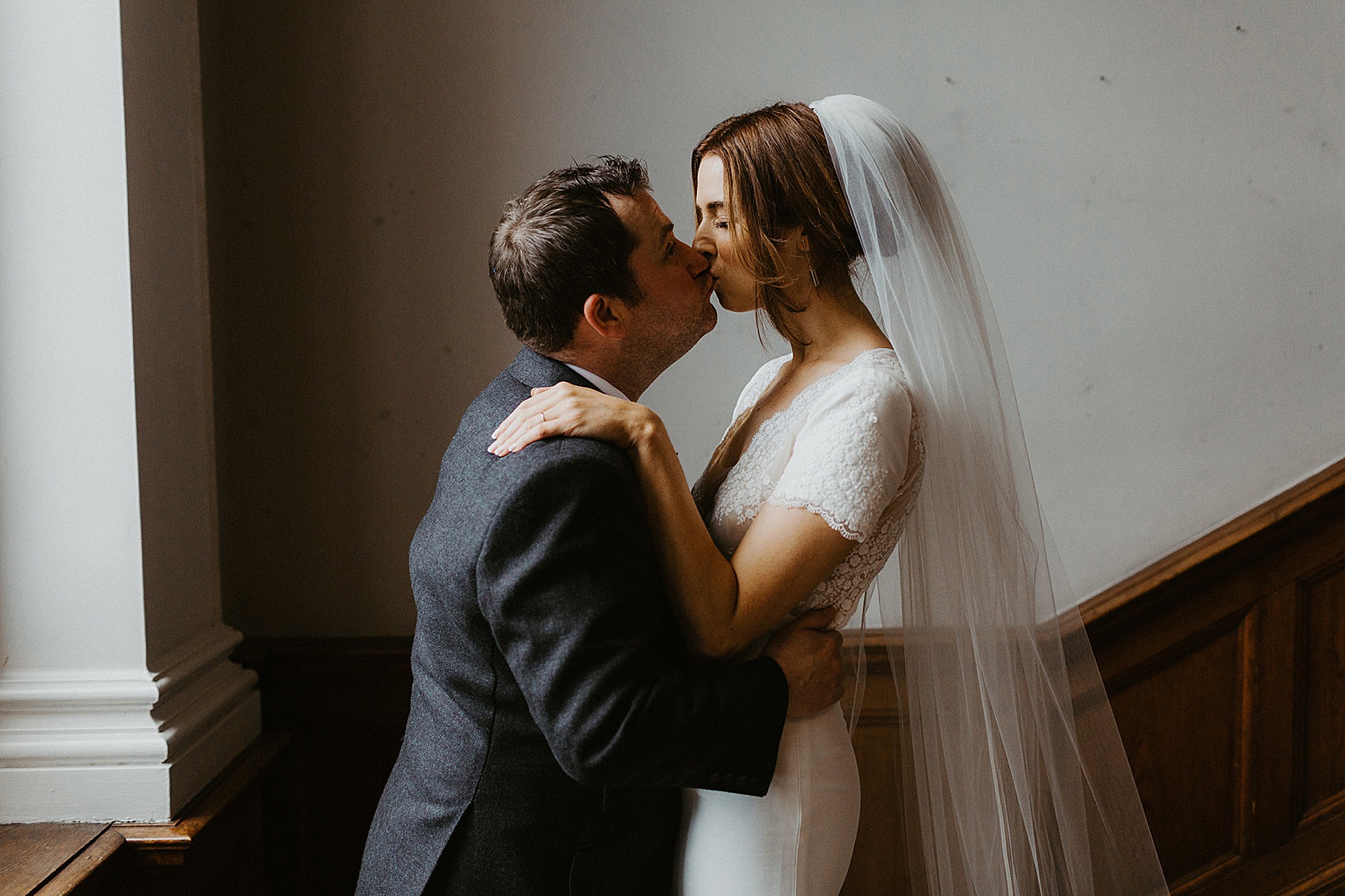 The ceremony arbour was also moved into the reception space for added floral loveliness, and there were flowers inside geometric terrariums across the dining tables, as well as adorning the seating plan.
"The venue had a gobo light that was projected above the bar, and at their suggestion we ended up using this to showcase our stamp. We also created a very tongue in cheek 'exhibition' of ourselves using the Dissection Room's amazing vintage display cabinets."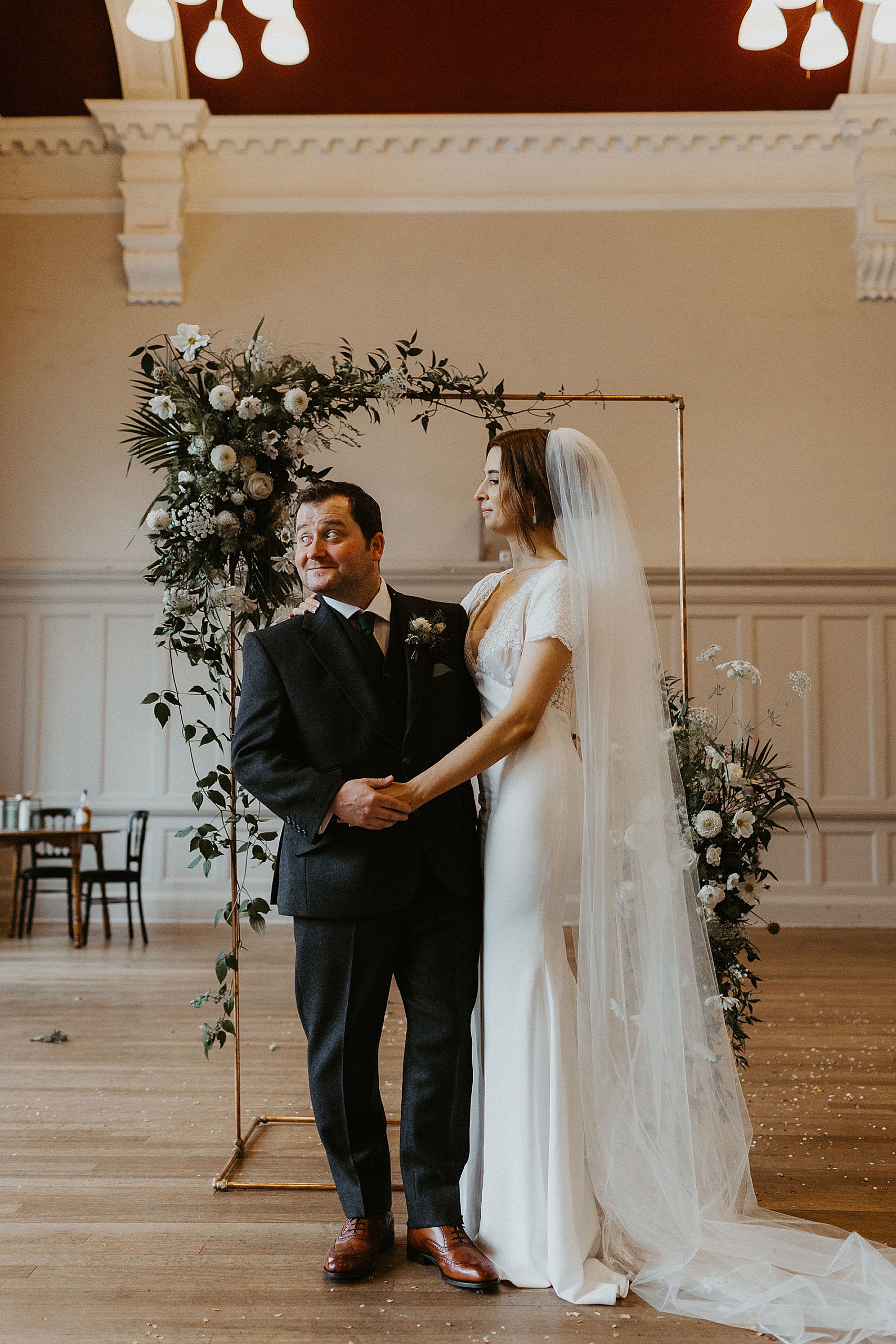 "I went to our stylist Toria with a few pinned images from Pinterest, and she somehow managed to spin straw into gold!  We settled on an industrial meets Art Deco design concept – lots of green, trailing foliage, white flowers, candles and festoon lighting, geometric shapes and moody, dark tones with hints of copper. We were so happy with the end look, it felt really modern and elegant."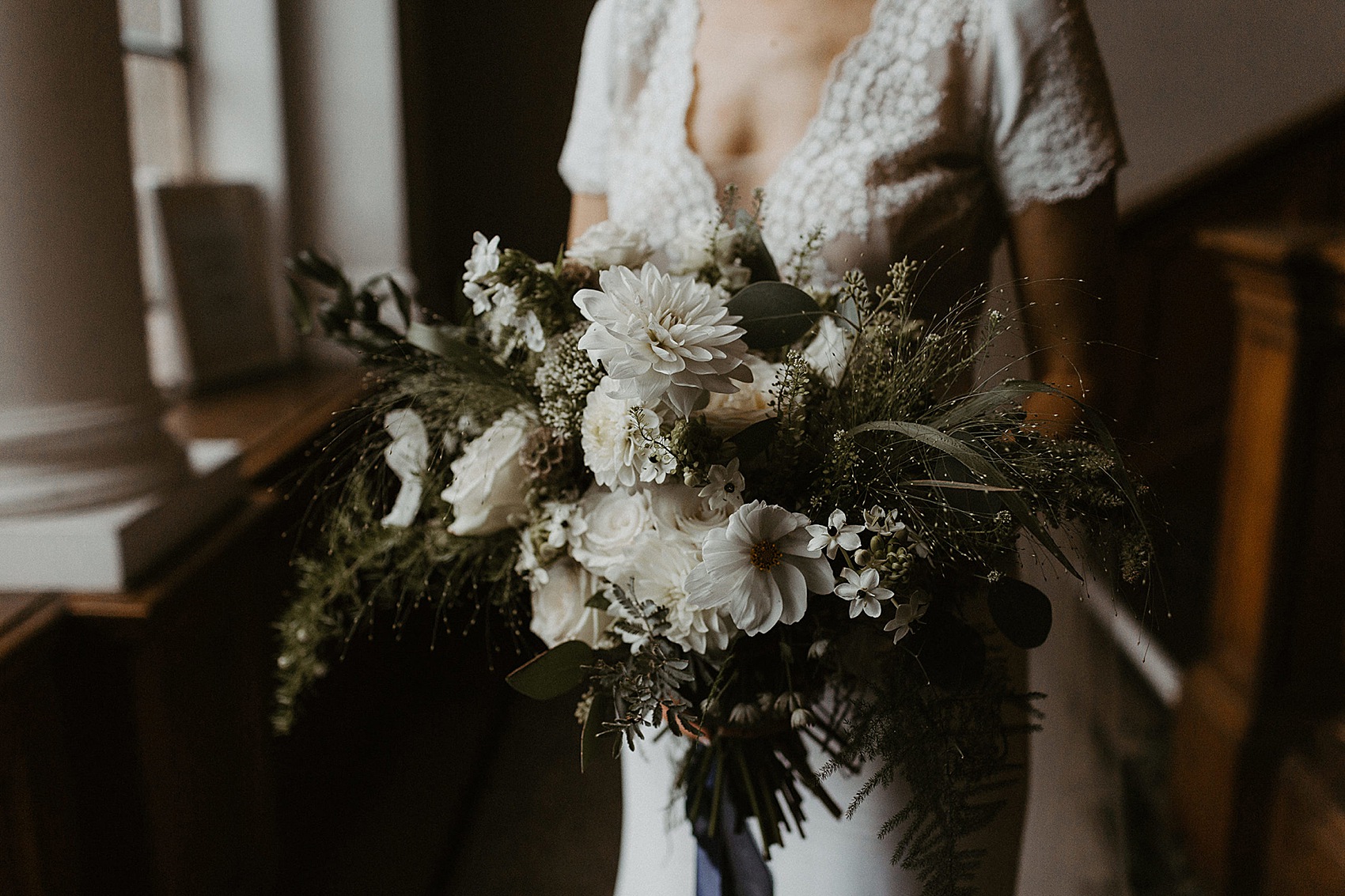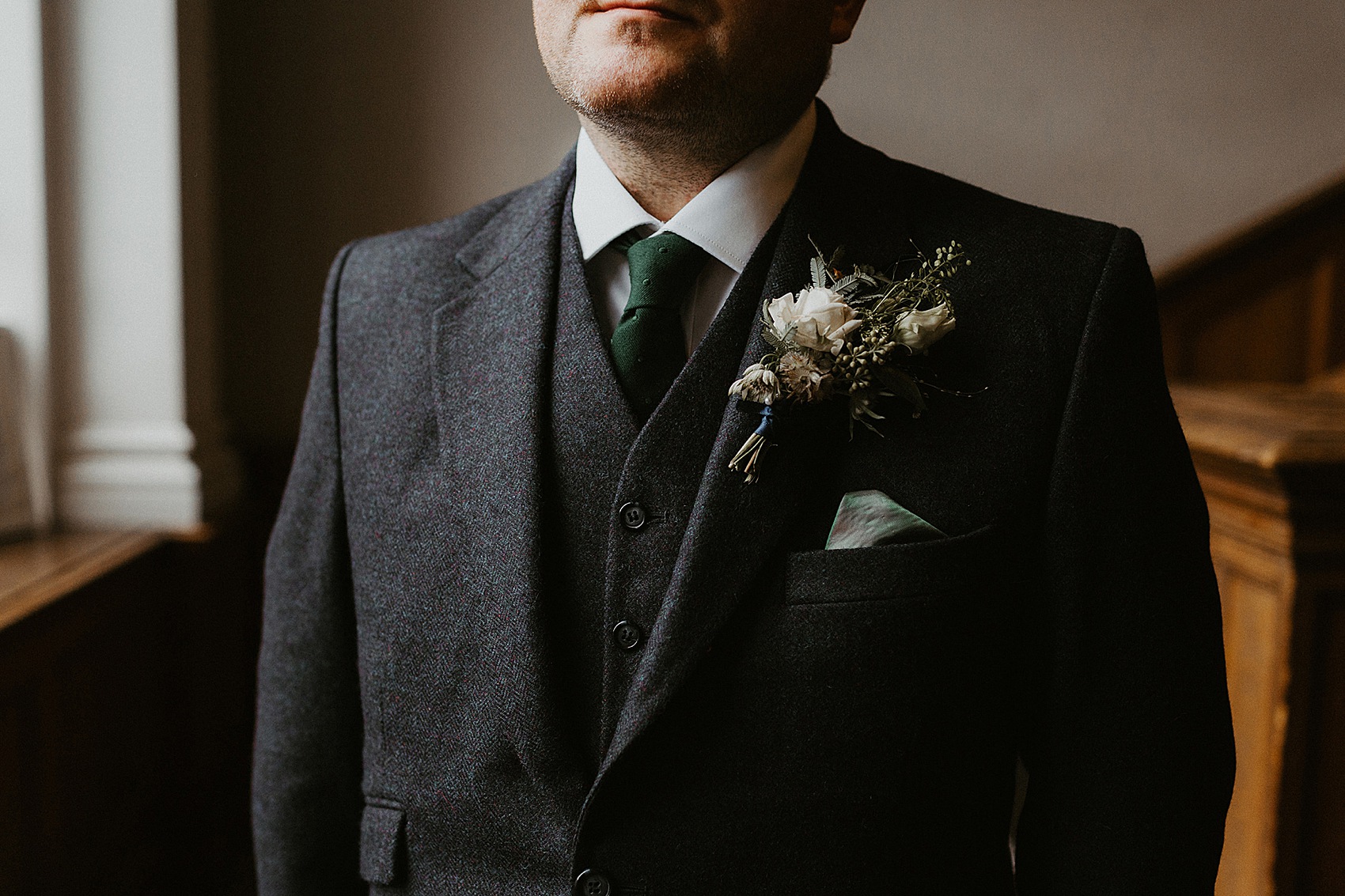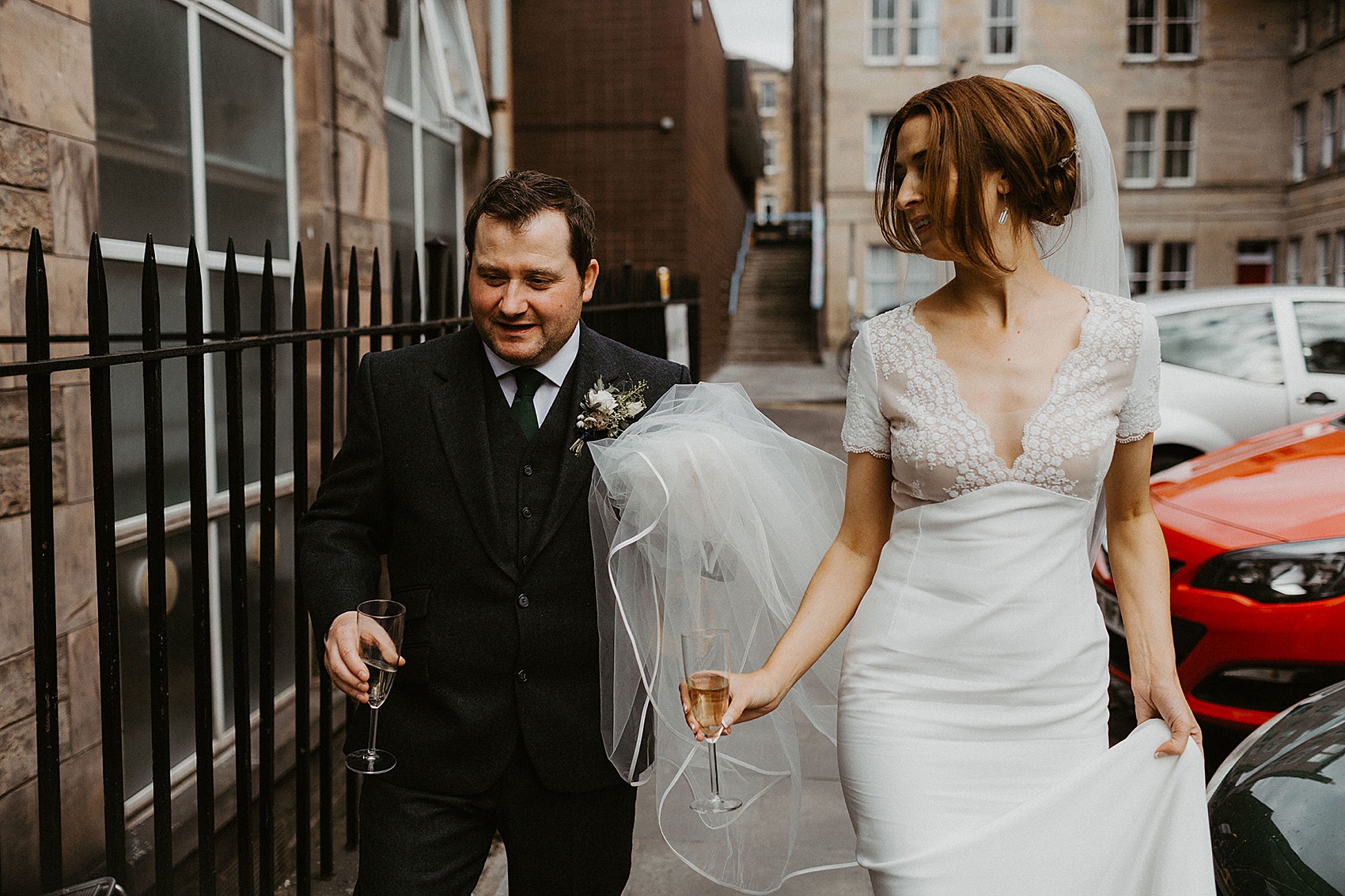 "Summerhall has a pretty unique look and history. We had our reception in the Dissection Room, where, you guessed it, students used to perform dissections! It's now used for a whole host of weird and wonderful arts and cultural events."
"Mikey and I knew it best as a venue for the Edinburgh Festival, so had always associated it with fun. When we met the event team there, they were so flexible and easy to work with, too. All in all, picking our venue was probably the easiest decision we made during the whole planning process."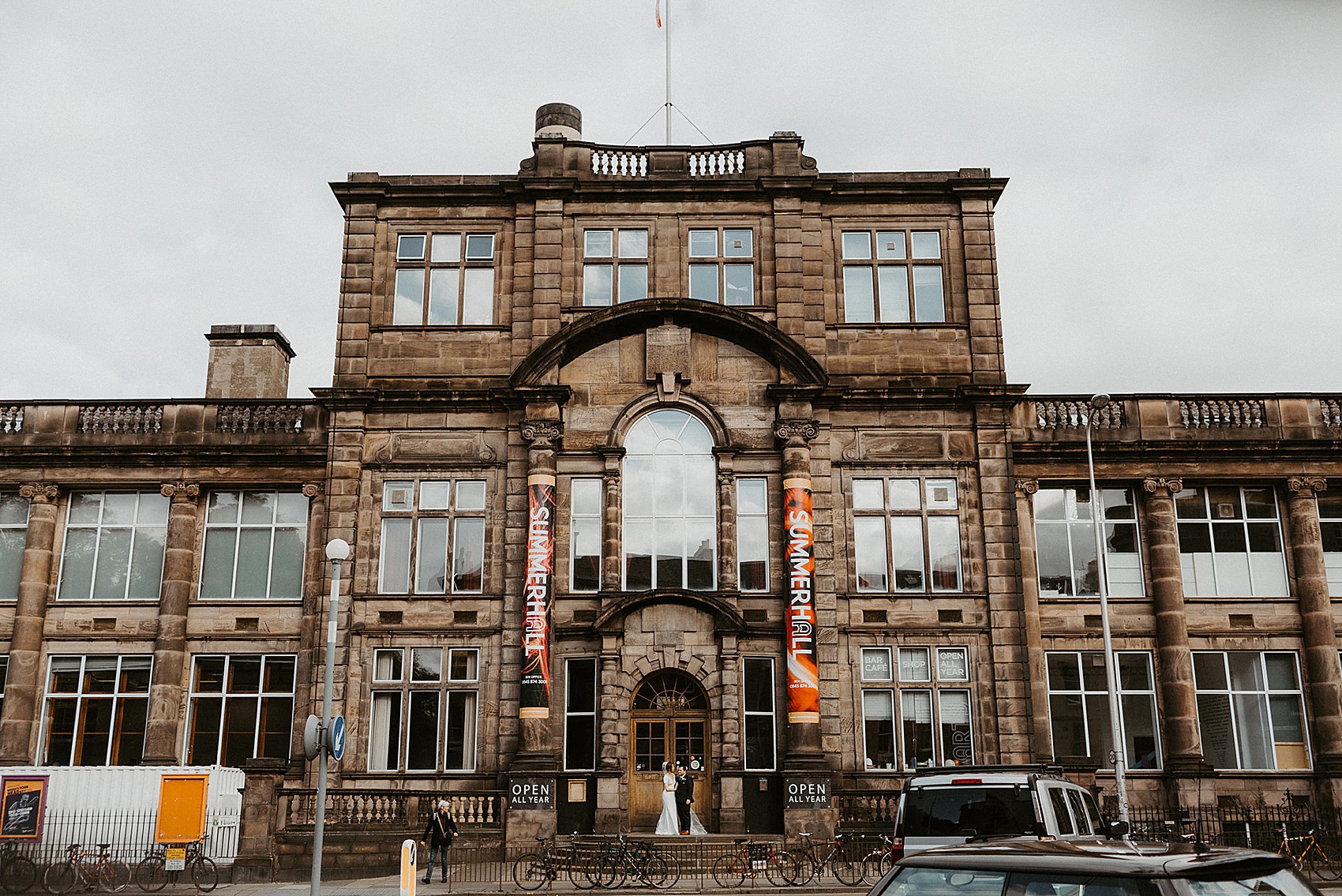 Once Gillian and Mikey had booked Summerhall as their venue, they found they had budget to go towards hiring a stylist, and were thrilled with Toria from Arrow + Twine, who had brilliant creative vision and a wealth of experience.
"When we met Toria at a wedding fair, we knew we needed her expertise, and she turned out to be one of our most valued suppliers. From taking our incredibly thin brief, making it a hundred times better, then keeping a handle on a huge inventory of literally hundreds of beautiful things we bought/hired to dress the rooms (not to mention putting everything up and taking it all down again the next day) she was honestly worth her weight in gold."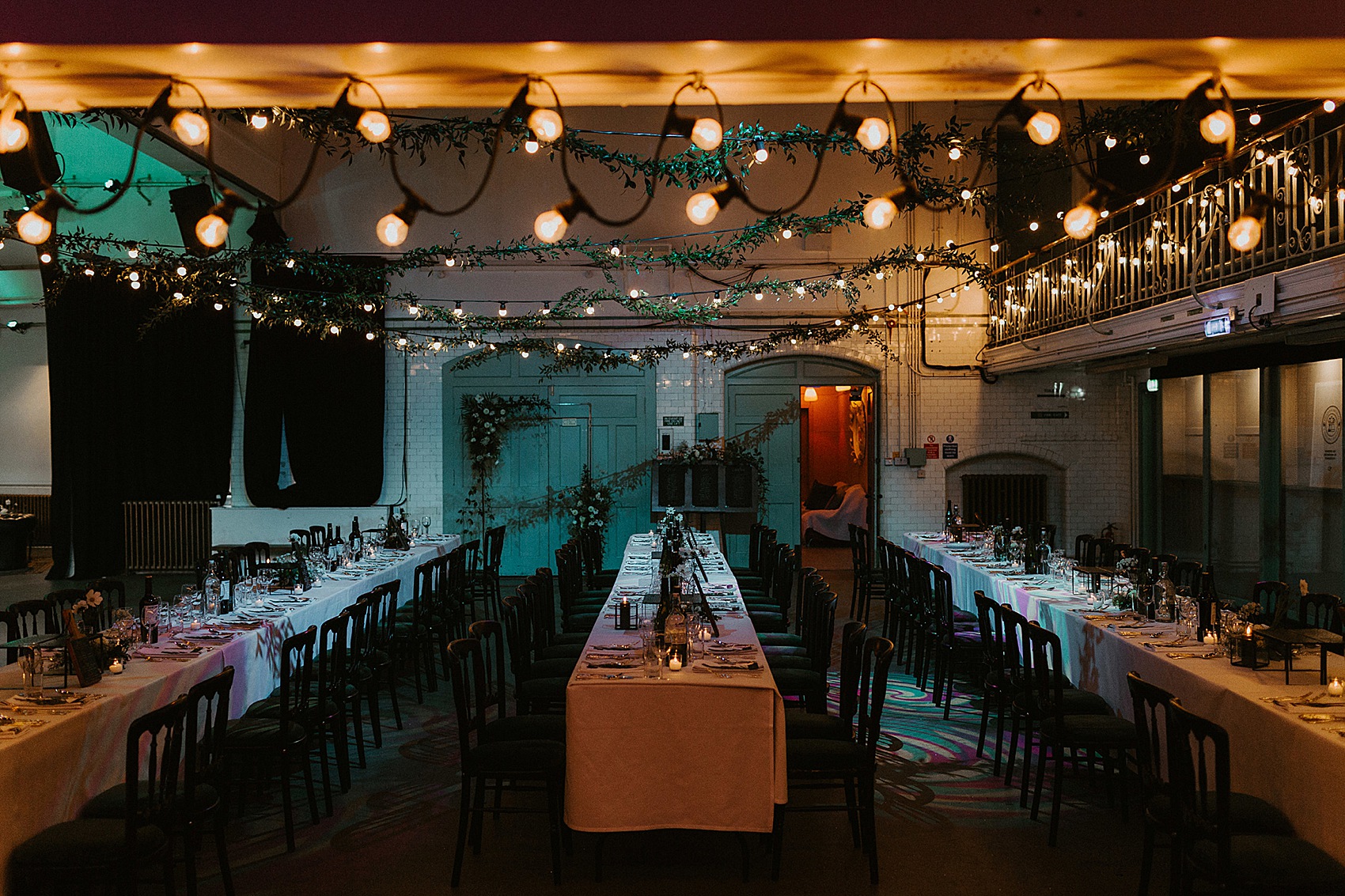 "She also recommended our wonderful florist, who she knew would be just right for the style we were going for, and worked really closely with the venue and our caterers to make sure everything joined up."
"We never thought we'd be the kind of couple to hire a stylist ('Who are we, J-Lo?!') but it was so worth it to have the peace of mind that all the details and decor were taken care of so we could get on with the rest of the planning. Plus, the end result trumped anything we could have done ourselves."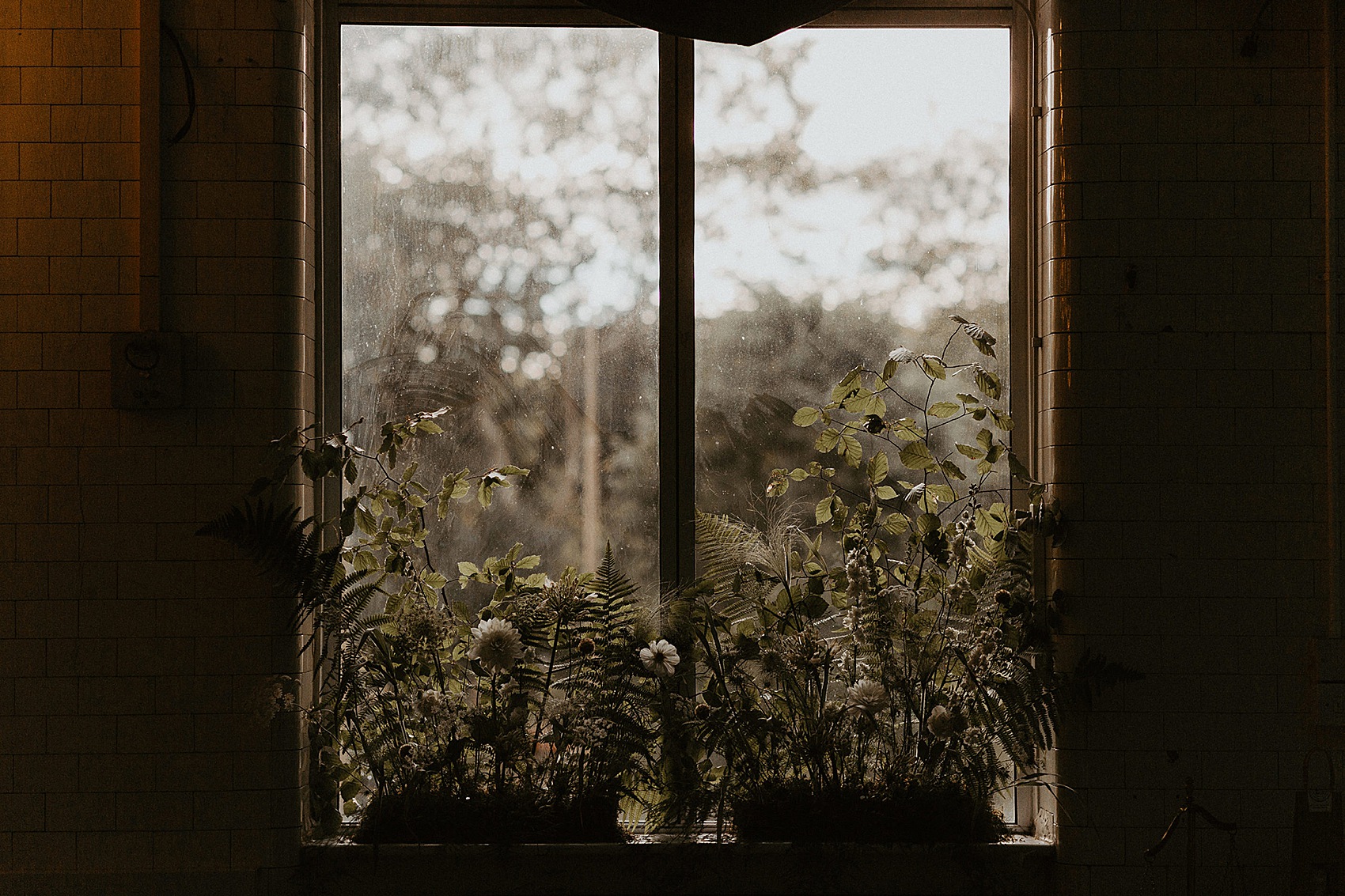 One of Mikey's best friends has set up his own gin distillery, Harbour & Hills, and so for the wedding day, the couple served this gin with Cushiedoos tonic and rosemary garnishes.
"Our caterers were Dram & Smoke. These boys are fab. We had been to a couple of pop up events they ran as part of the Edinburgh Festival and loved their approach of making tasty, modern Scottish food for sharing, with a bit of theatre thrown in."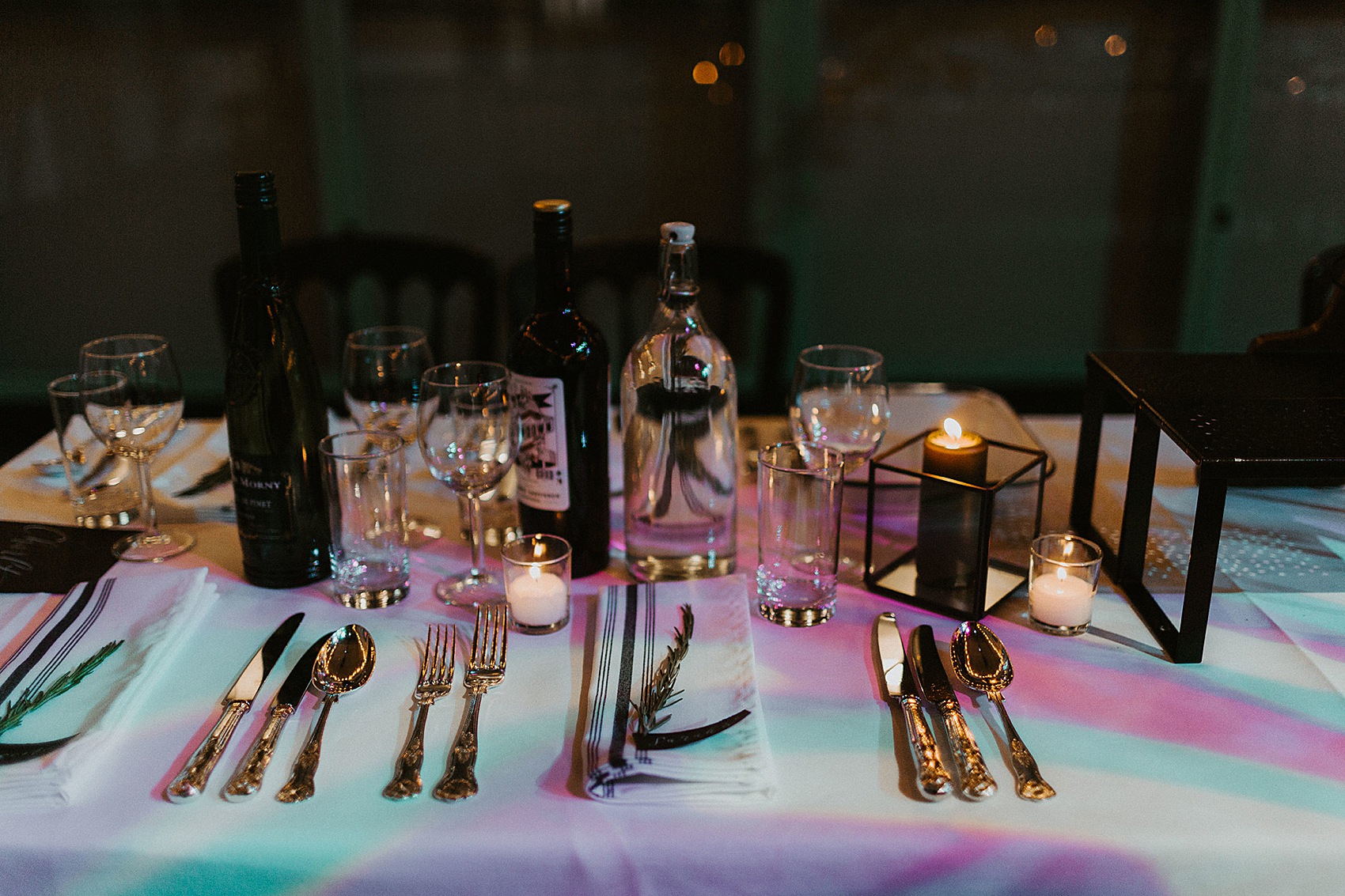 "Mikey and I love Italian food and on the day we had individual ravioli starters and porchetta (roast rolled pork loin stuffed with herbs) for our main course, which were served on huge platters and carved and shared at the table. We wanted it to feel like one big family roast dinner but a bit posher!"
Dessert was delicious churros, served with Scottish raspberries and salted chocolate and rum sauce, and later in the evening there were wood fired pizzas from Pizza Geeks.
The Dissection Room at Summerhall was the venue for Gillian and Mikey's reception and party, with its original white subway tiles and cast iron radiators. The atmosphere was warm and welcoming, with garlands of greenery and strings of festoon lights from the ceiling and balcony area.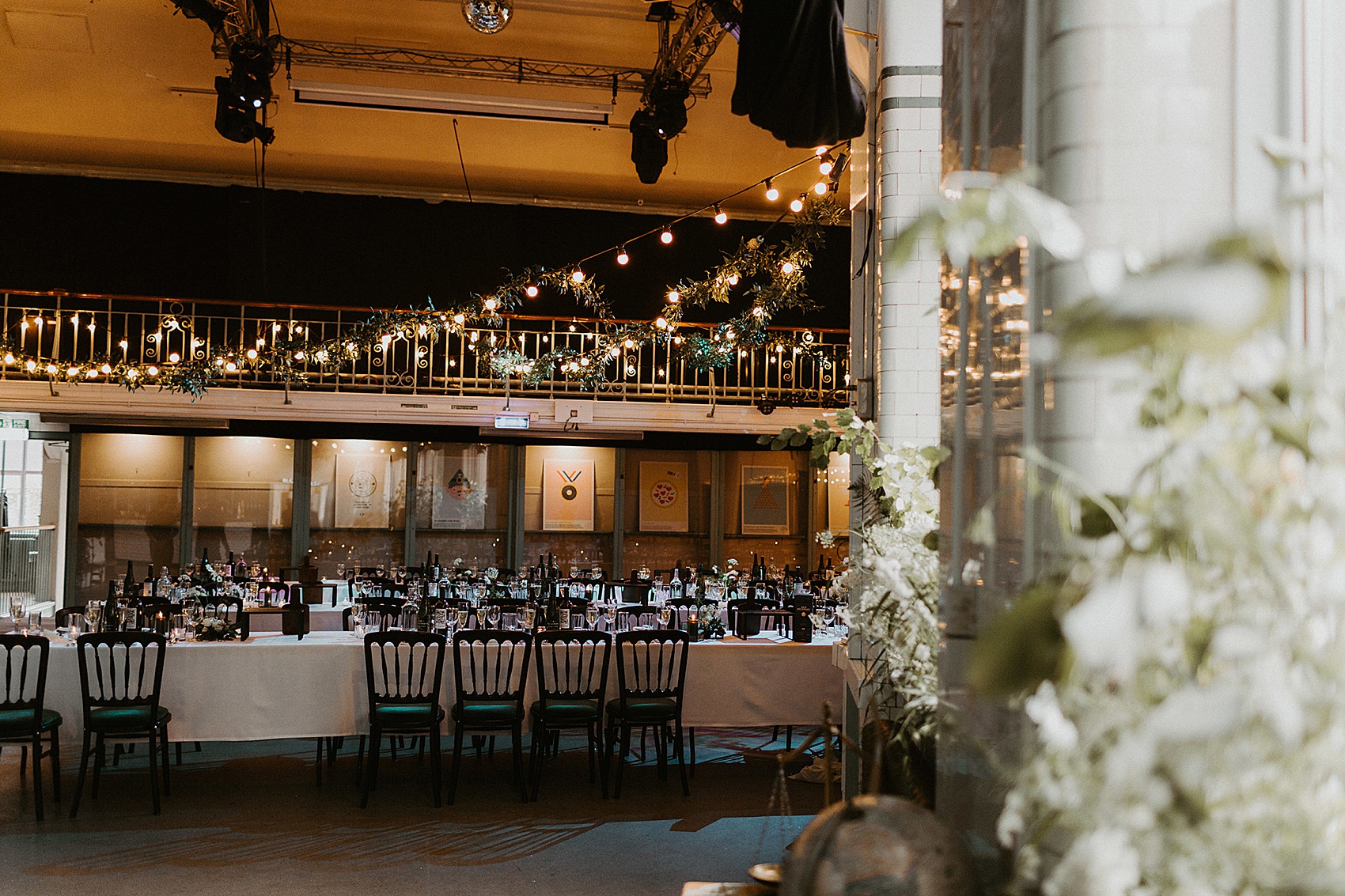 "Arrow + Twine took care of virtually all the décor, but there were plenty of personal touches. Mikey and I are into cooking, and Toria from Arrow + Twine had the idea of using varnished wooden chopping boards to hold the directional signs and menus on the day. The signage, menus, seating plan and place names were all done by the very talented calligrapher Jinny at Vine in the Wild."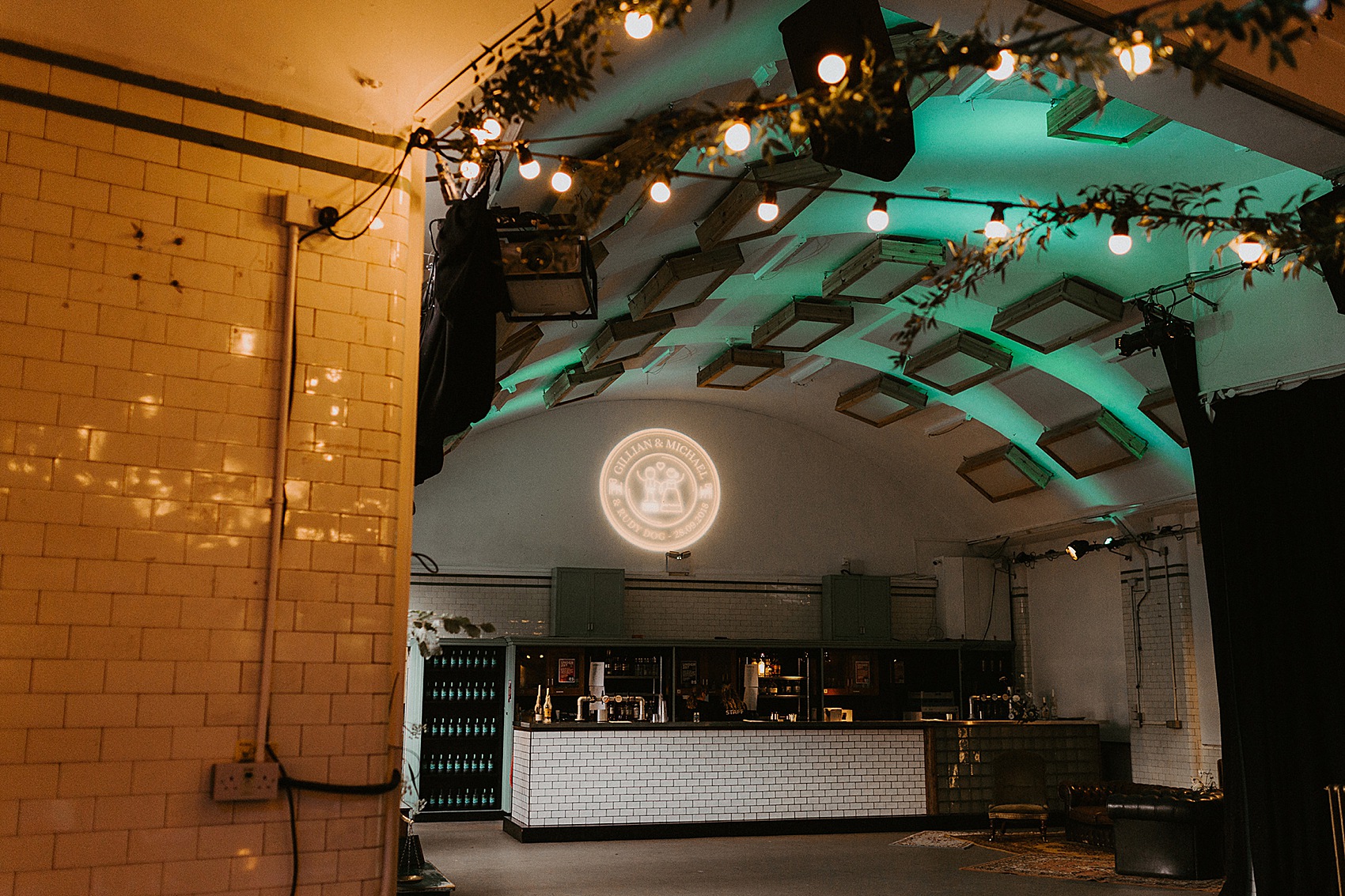 "Mikey designed our own stamp style illustration of the two of us plus our dog Rudy, which featured on our wedding invites and signage."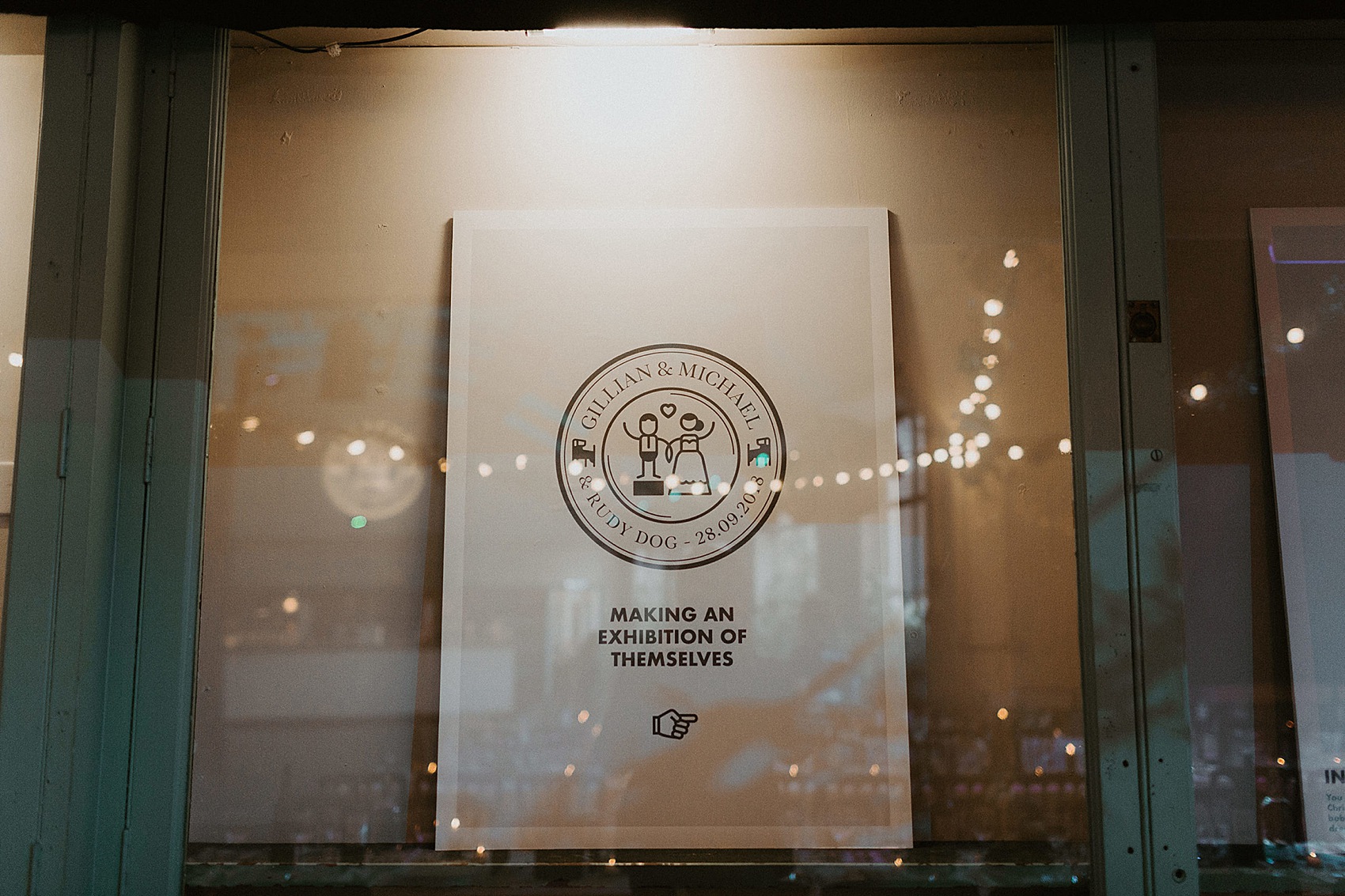 "Mikey came up with half a dozen poster illustrations that encapsulated a memorable moment for us as a couple, from him proposing dressed as elf on Christmas Day, to us getting our beloved Border Terrier Rudy, to the time Mikey nearly had to use a traffic cone as an emergency toilet when we were travelling in Laos and he was struck by food poisoning!"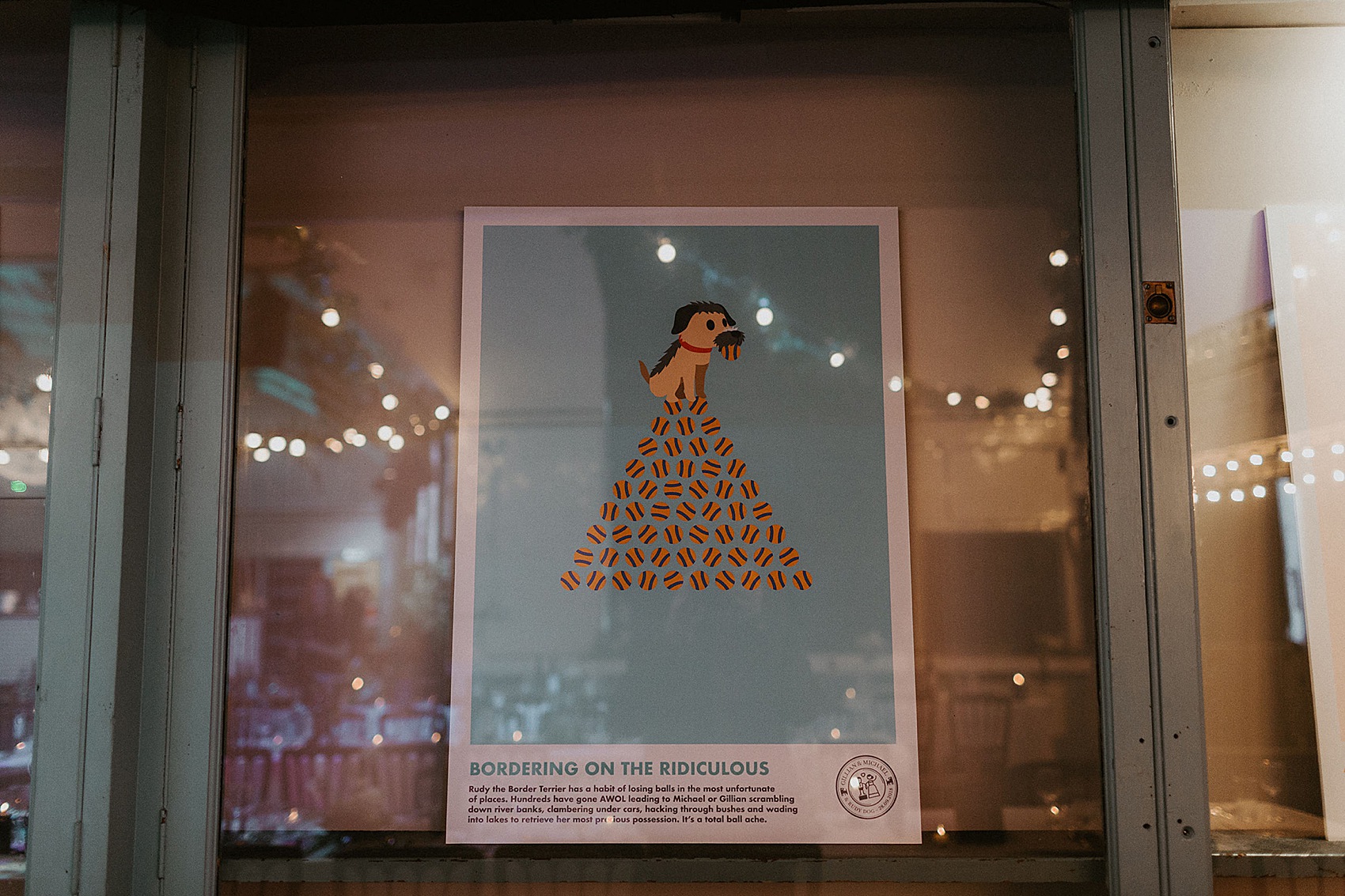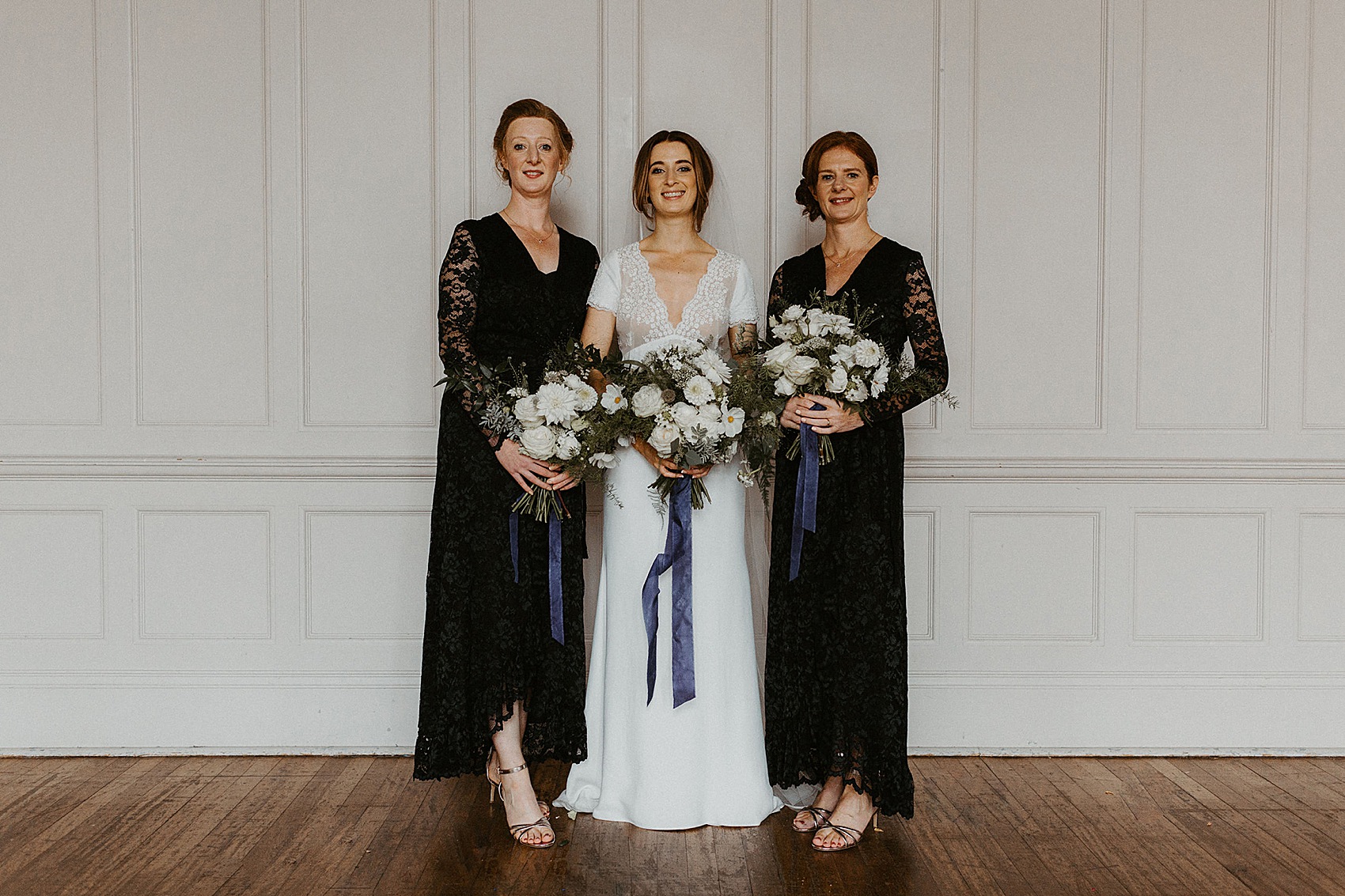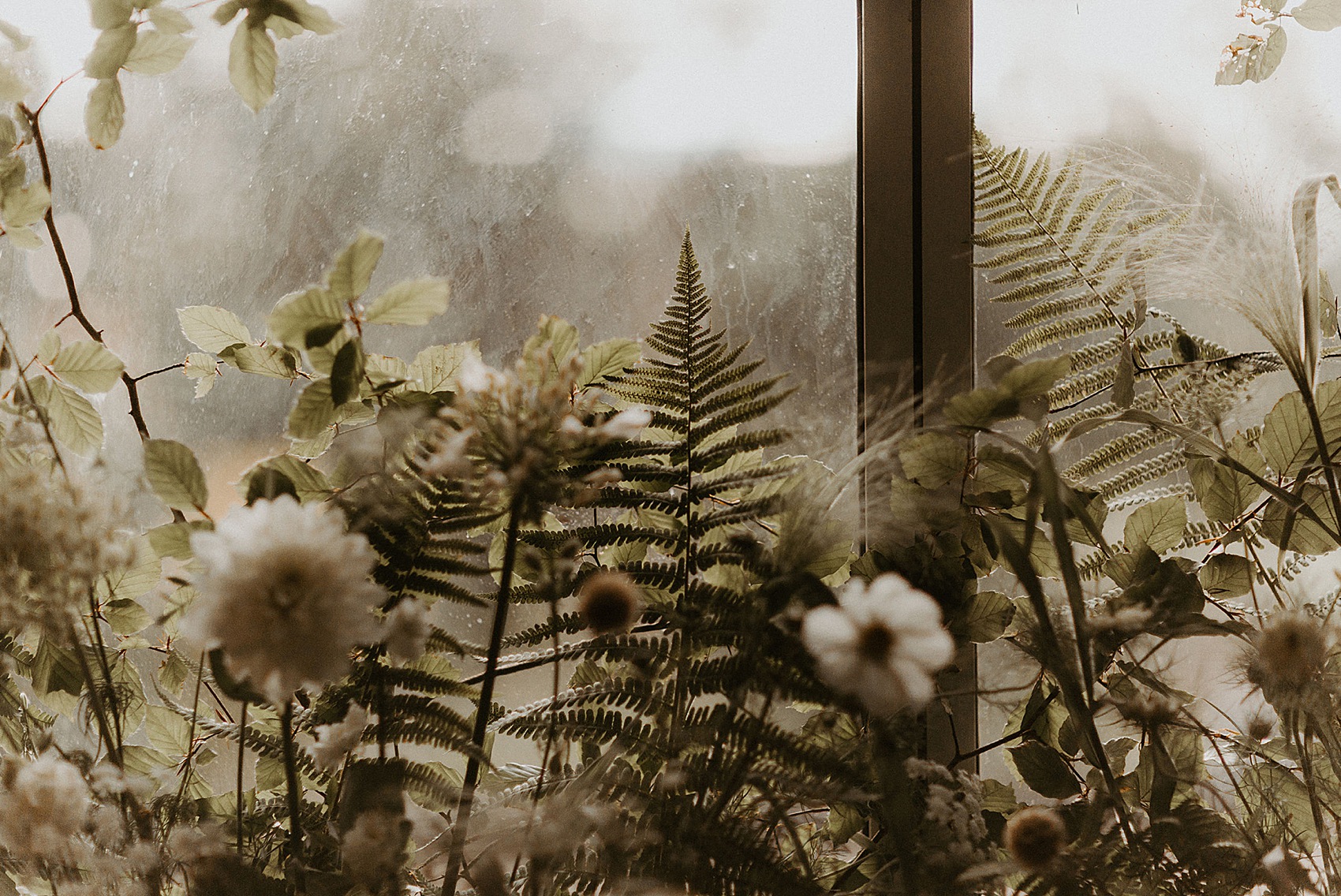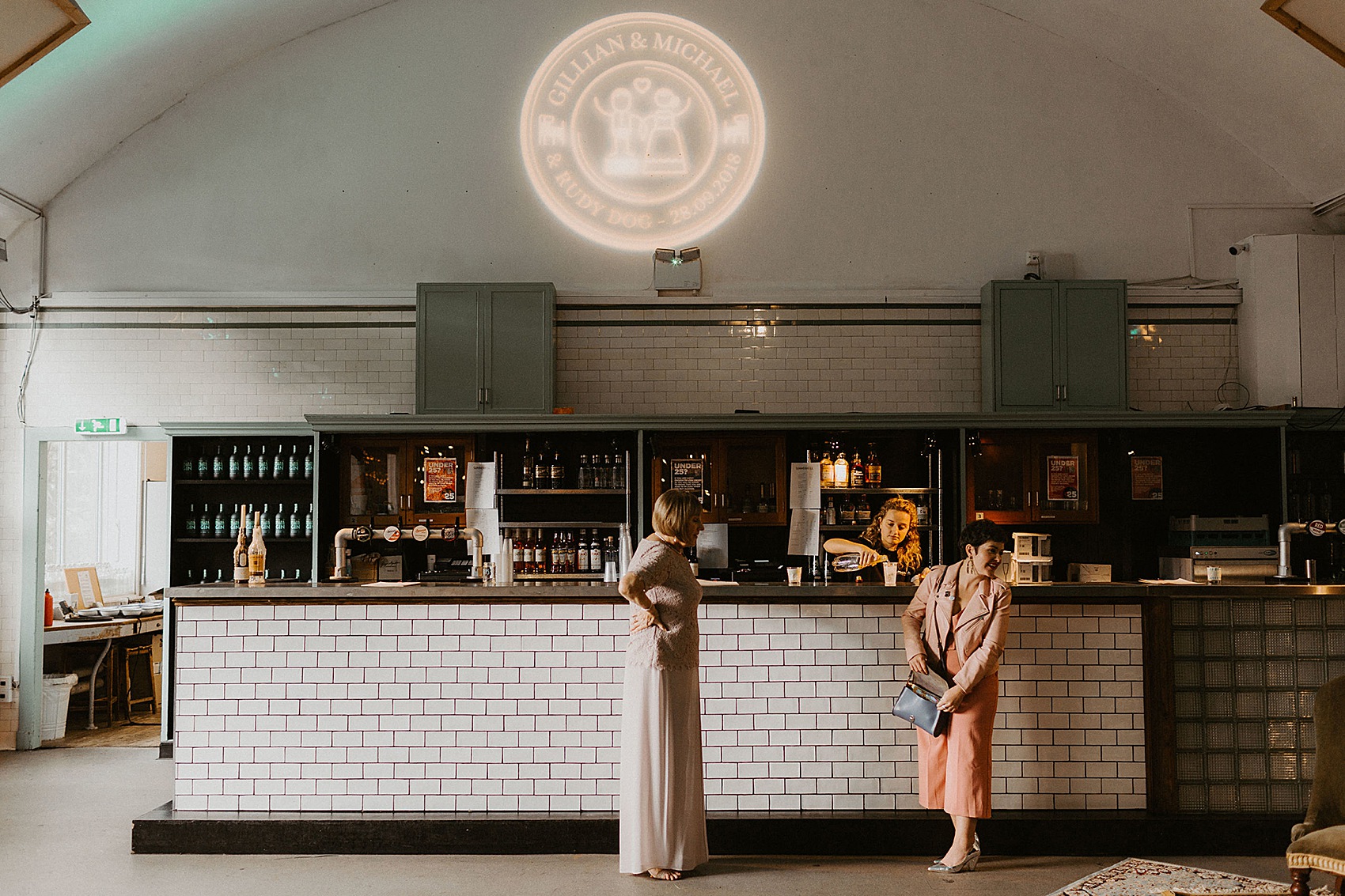 We've featured work by photographers The Hendrys before on our pages, and I'm excited to be adding to that today with these crisp and colourful images perfectly capturing the fun and loving spirit of the day.
"The Hendrys were awesome. They manage to combine being very laid back with being 100% on it. They were so easy to deal with, and completely got that we wanted reportage style shots capturing the day as it happened."
"They made the two of us, who are notorious for hating having our photo taken, feel completely at ease."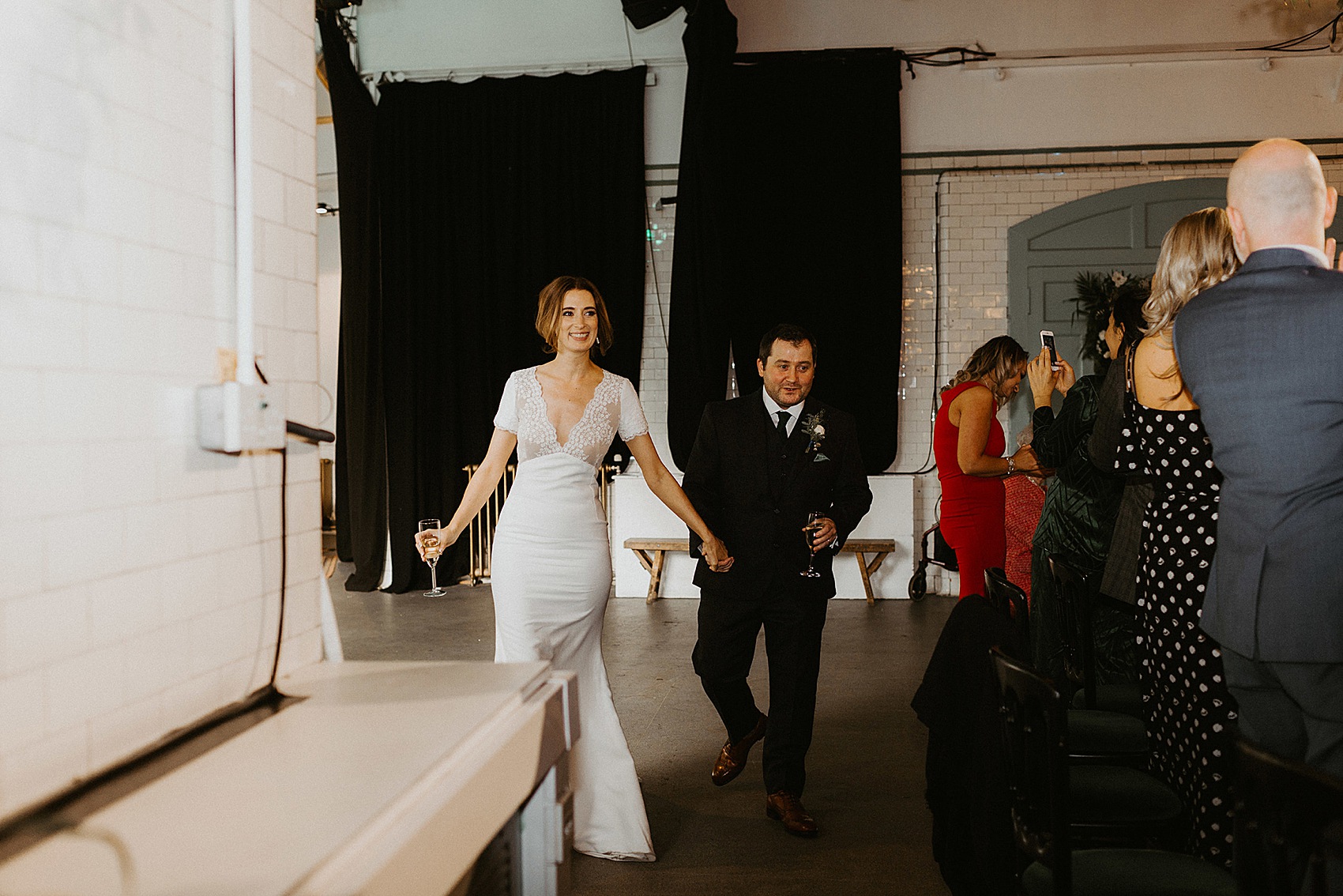 Along with the ceremony, another highlight of the day for Gillian was the speeches, along with her chance to speak, too.
"The speeches were all so funny and touching. I ended up giving a speech myself, as I've always found it a bit weird for the bride to stay mute while everyone else says their bit."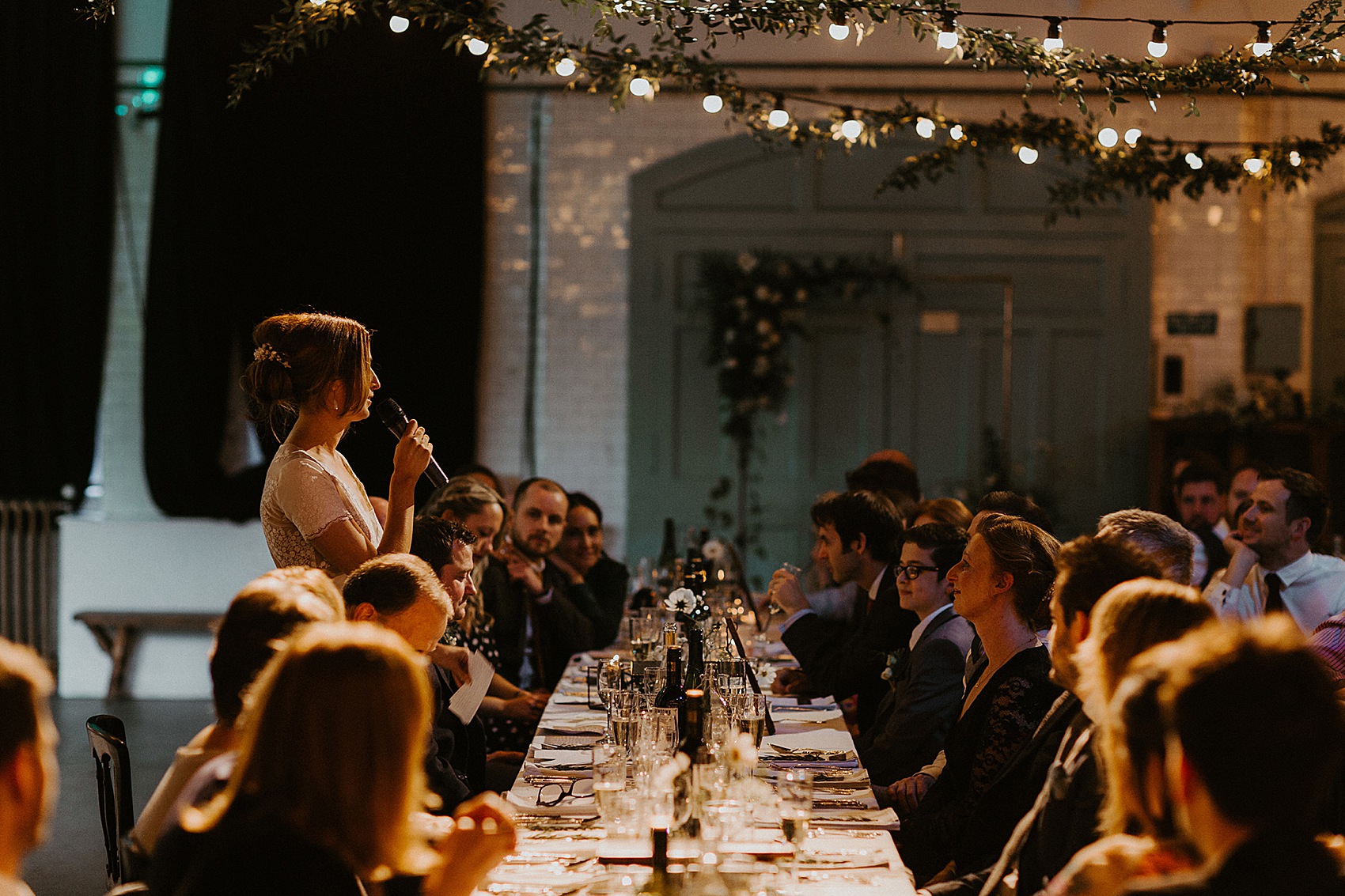 "I very nearly changed my mind and backed out last minute, as public speaking is not my idea of fun, but in the end I absolutely loved having the chance to thank (and lovingly take the piss out of) my family and friends. I'd totally encourage any bride thinking about it to do the same, it feels amazing."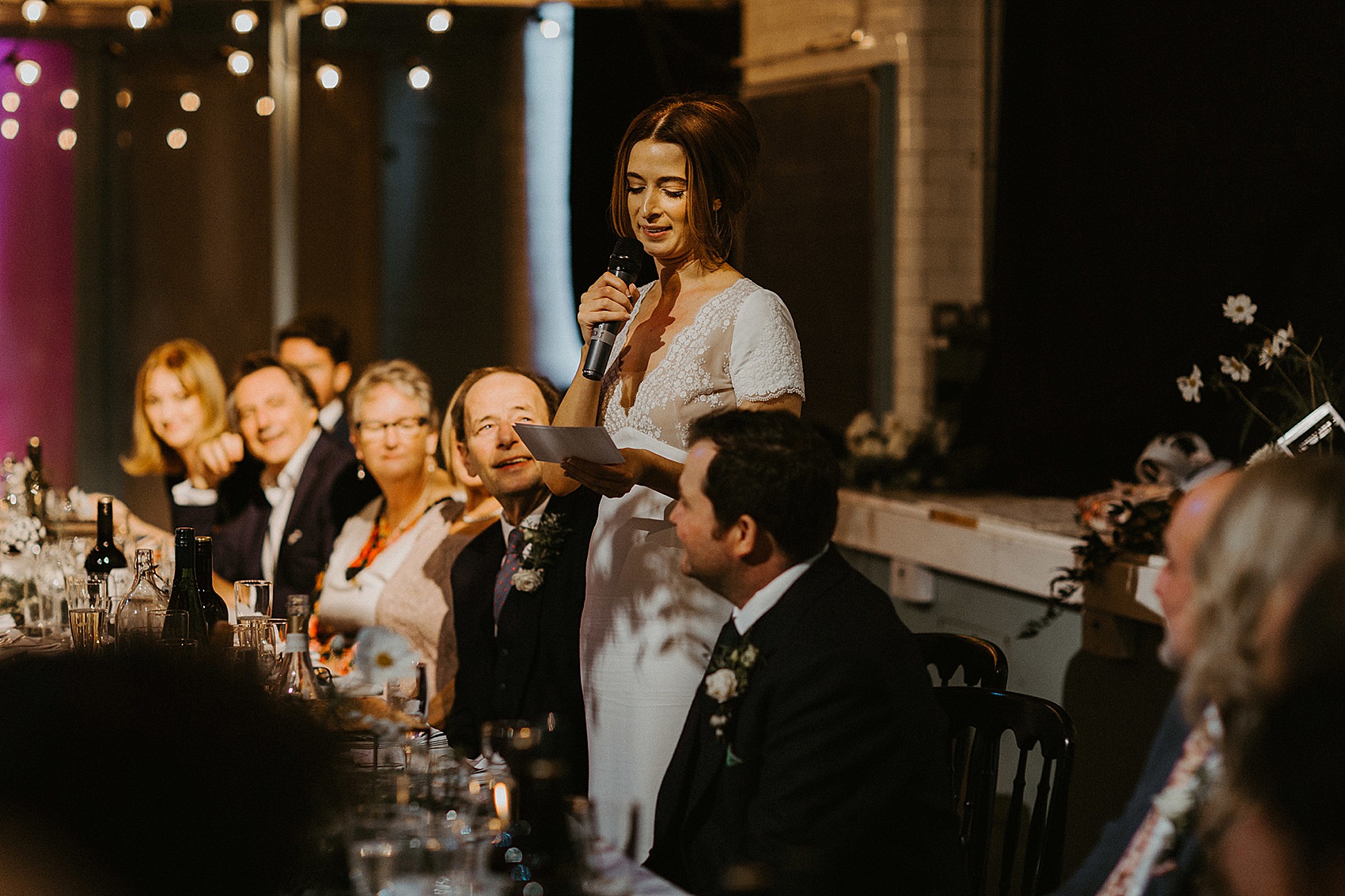 With dinner and speeches concluded, it was time for Gillian and Mikey to take their first spin around the dancefloor as a married couple, and the song they chose was a surprising one for their guests!
"Much to most people's complete bewilderment, our first dance was to I Could Be So Good For You by Dennis Waterman – the theme tune from Minder. I can't honestly tell you exactly why!"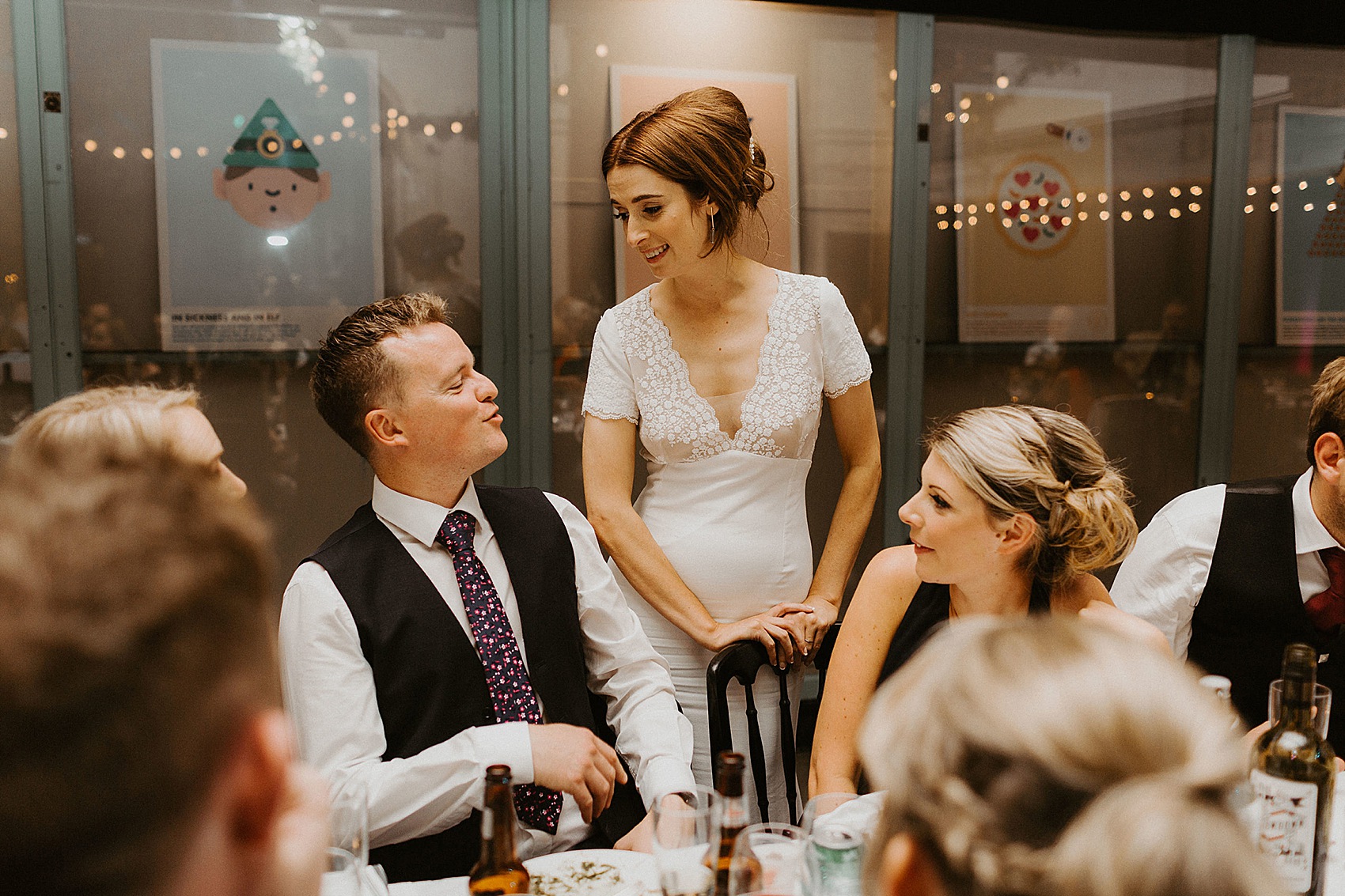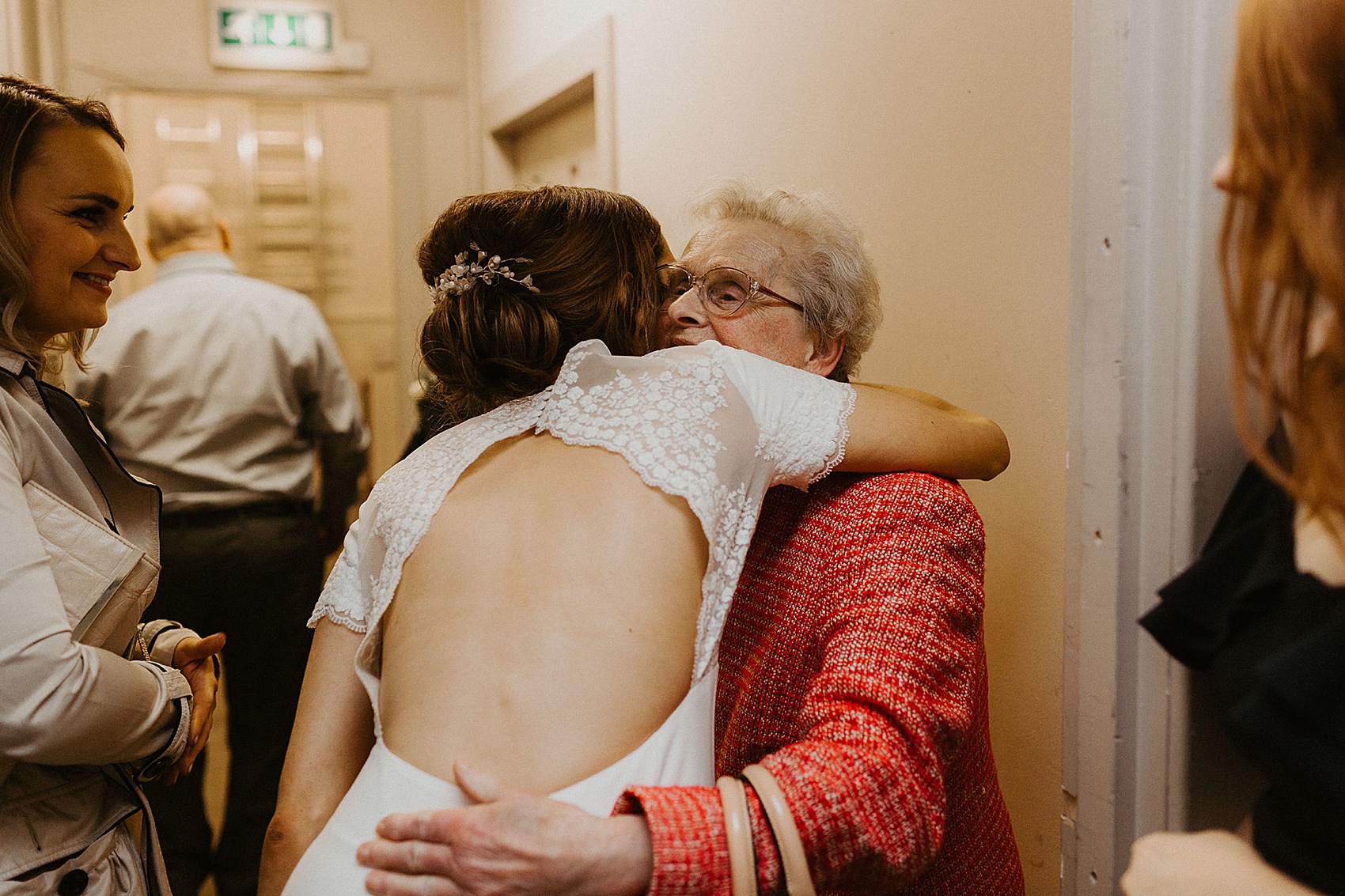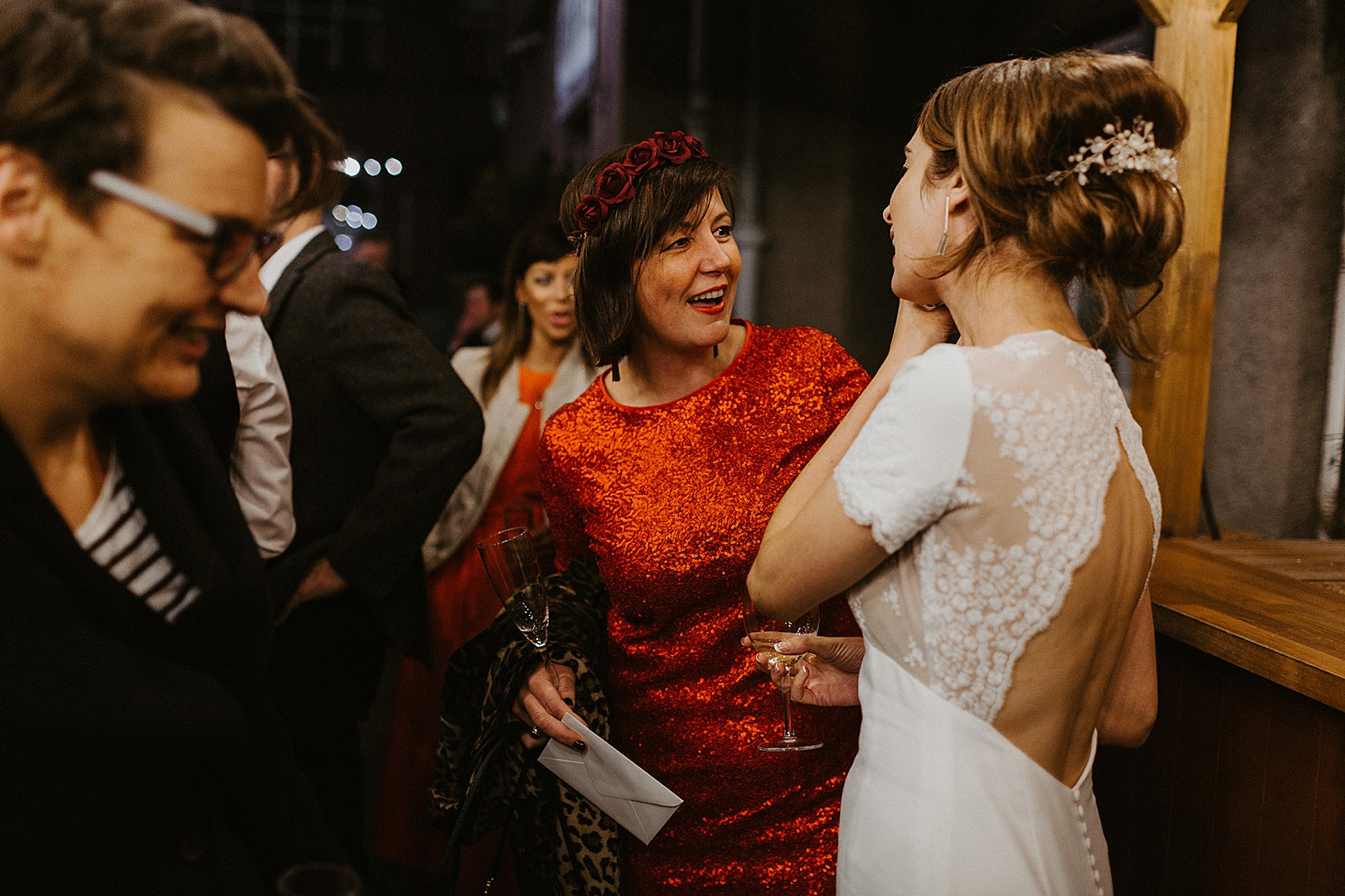 "When Mikey and I were getting to know each other years ago, he would have friends round to his flat at weekends for drinks and we'd all end up shuffling round the living room to increasingly obscure music in the wee small hours. This track was one that always ended up coming on. I suppose in a very silly way, it sums up a time when we both realised we were falling for each other. Plus it's actually a cracking song!"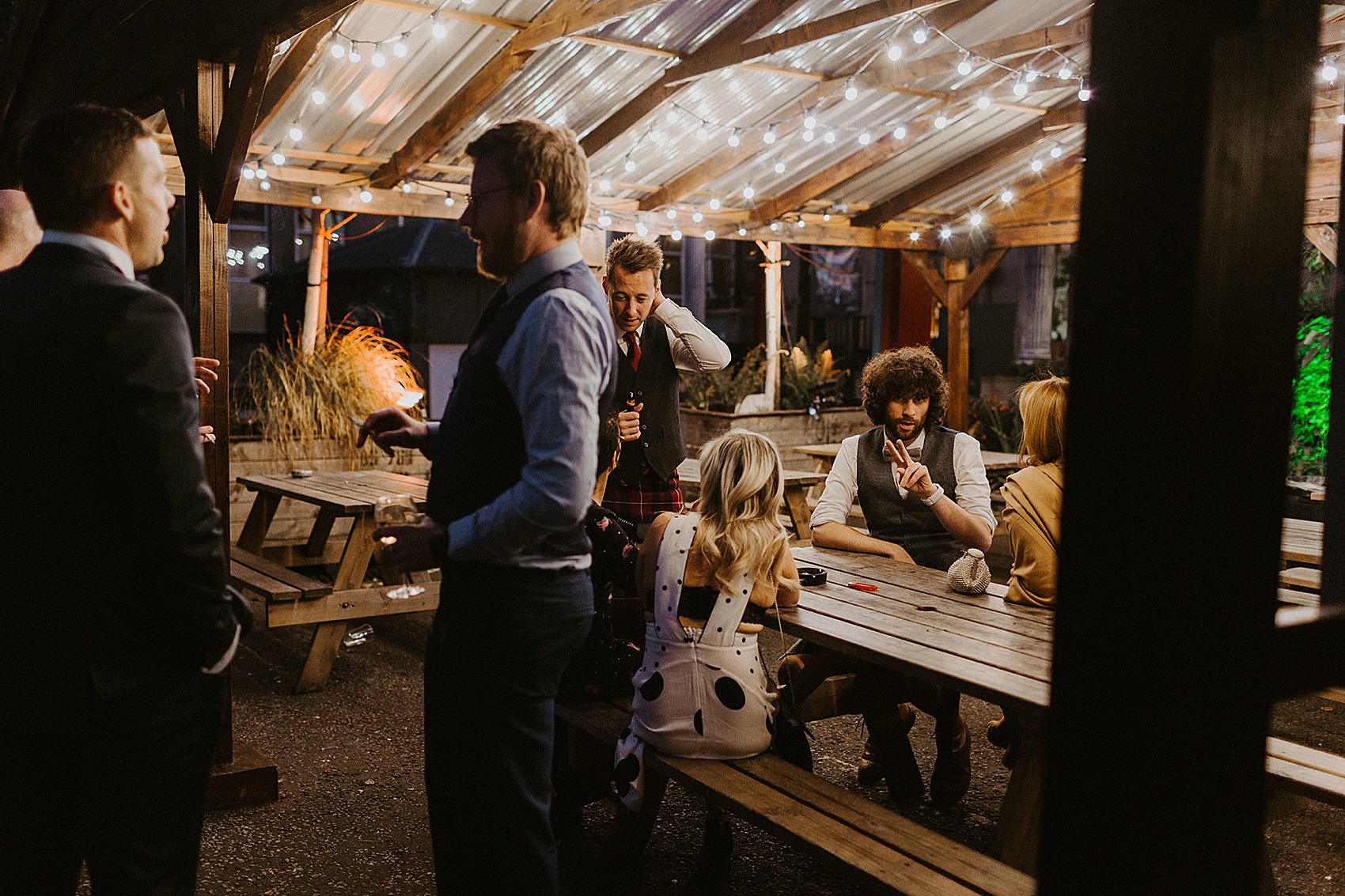 "We had the band The Honey Moons kick the dancing off with some rock 'n' roll followed by a meticulously curated Spotify playlist. Mikey and I are huge music fans, so took the whole job of putting together playlists for the day and night very seriously. I think we ended up with 10 individual playlists covering more than 20 hours of music."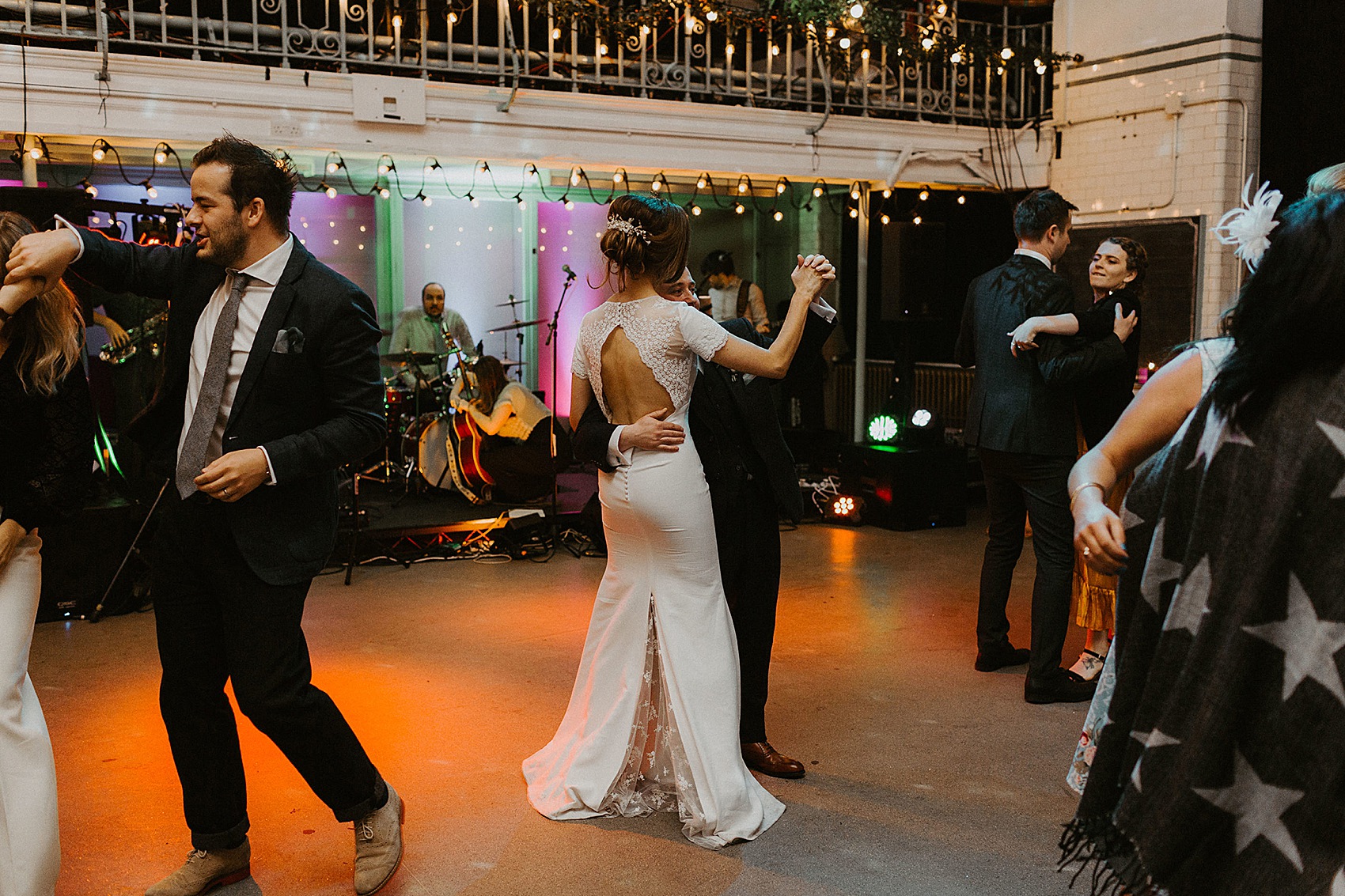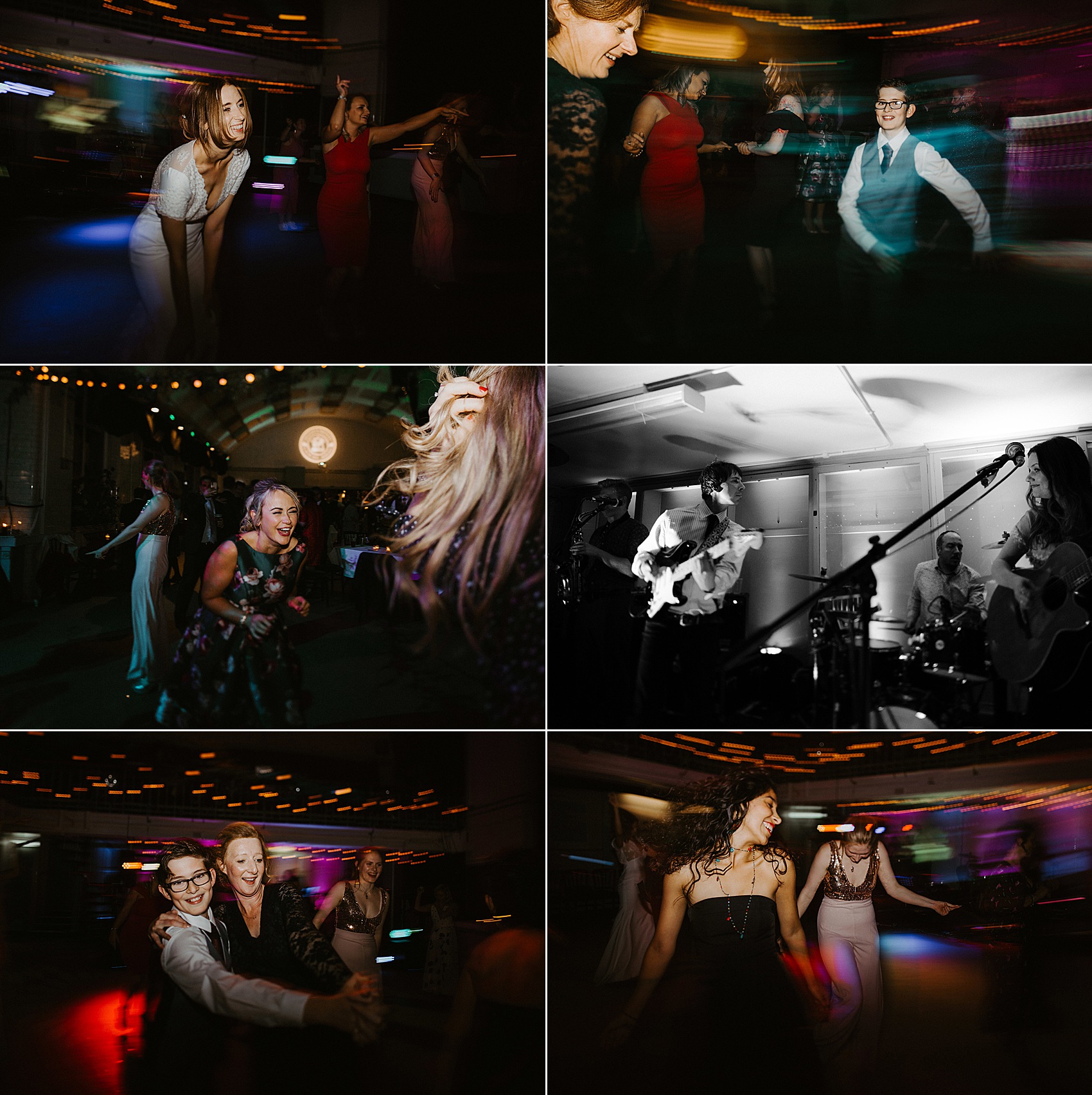 Words of Wedded Wisdom
"It's easy to get swept up in everyone else's well intentioned opinions or expectations – friends, family, suppliers – but my advice would be to try and stay true to what you and your partner talked about right when you started talking about the kind of wedding you wanted."
"When it comes to dresses, be open to trying on styles you might not have thought you'd like – it's really fun, if nothing else! And again, listen to your gut. Dresses are so subjective, and everyone has a different idea of what to go for, but unless you feel absolutely fabulous in your outfit it doesn't matter what anyone else thinks."
"It's easy for wedding planning to start to feel all consuming, so Mikey and I tried to stick to a plan of only doing wedding admin a couple of dedicated nights a week so we could still be normal, functioning people!"
"Everyone says find time for yourselves on the day away from all the guests and I would completely agree, you definitely need a quiet moment to take it all in."
"Social media and Pinterest are a gift for planning a modern wedding, but as with all social media, it's easy to fall into the trap of comparing yourself to others, or seeking unattainable levels of perfection. Take Pinterest for what it is – a really useful resource that can act as an inspirational jumping off point to find what's right for you."
Finally, enjoy every second of your wedding experience. It's a truly joyous thing. Oh, and remember to get an official picture of the back of your dress!"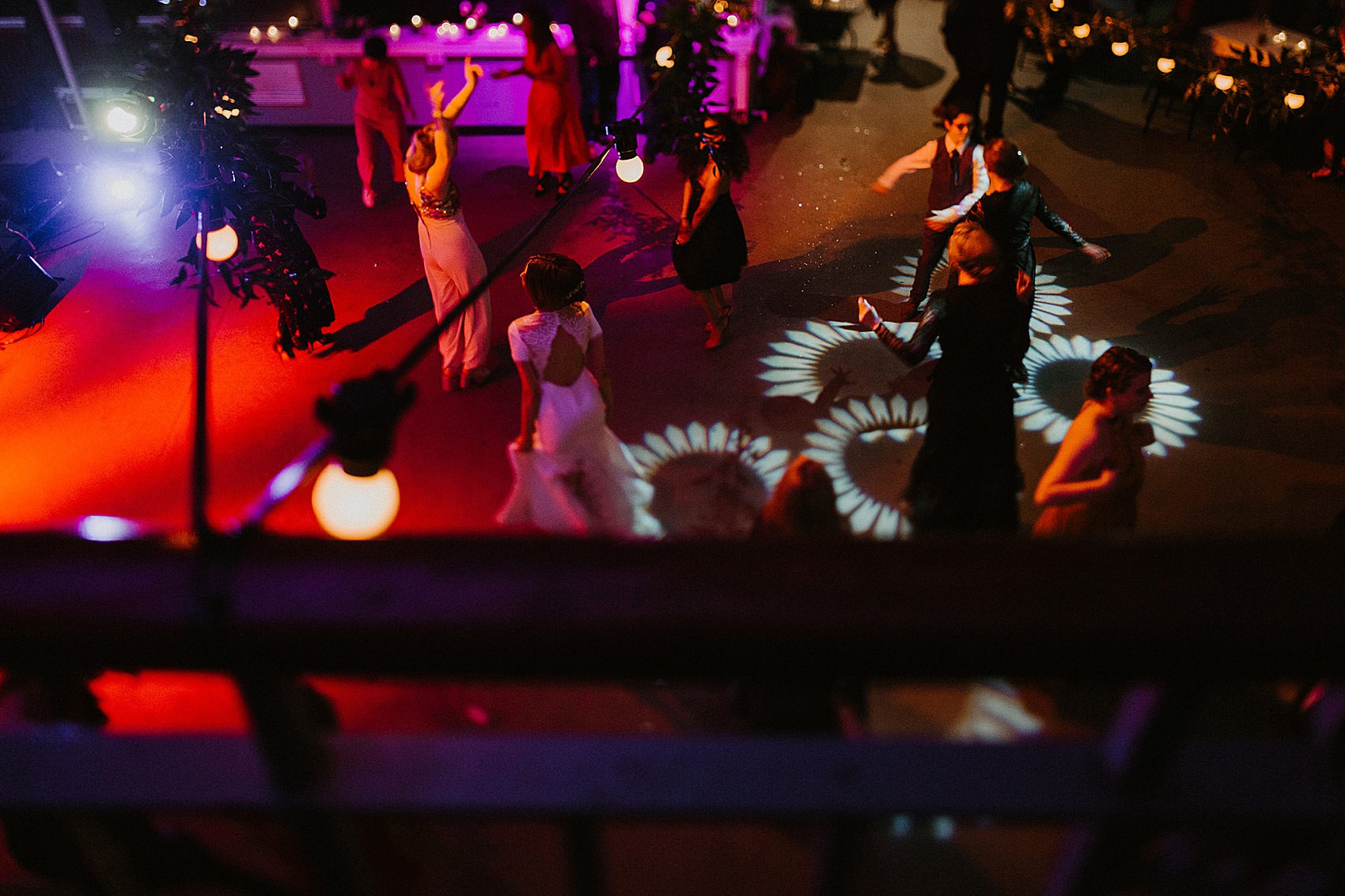 What wonderful words of wisdom, thank you! Congratulations Gillian and Mikey, and huge thanks for inviting us in to see your beautiful, elegant day, all captured so brilliantly by The Hendrys – thank you!
Until next time.
Love, Laura