I'm so sorry for the slight disruption to our schedule over the past few days. You may or may not know my lovely dad passed away very recently without warning and it's taking me a little time to adjust.
I am finding that I'm drawing great comfort from my job at this current time – seeing images of couples on such happy days reinforces the one thing in life I know to be the most important thing; love. These photographs are bursting with love and it feels such a privilege to me to be able to share them with you today.
This is Anna and Lucy – the latter of whom is the incredibly talented florist behind 'Lucy Coco Floristry', and who you'll also find at @lucycocofloiristry on Instagram.
Ollie Hinds Photography

+ Follow
Lucy and Anna, who met via Match.com and tied the knot on the beautiful Spring day that was 13th April 2019. Lovely Lucy's words are spoken throughout this article and I am so touched by what she has to say about Love My Dress.
"We love everything about Love My Dress, the wonderful diversity on all levels, inspiration , originality and accessibility of it. And of course, the lovely and talented creator Annabel who's passion and warmth shine though immensely."The couple's home town of Bristol and all its city charm played backdrop to their day.
The wedding took place at three different venues all in Bristol as this is where they first met; Bristol Registry Office, The Glass Boat  – for a French meal with the family and photographs in the heart of Bristol, and Racks Bar & Kitchen Bristol where friends lined the entrance to welcome them. Here, they had speeches, cake cutting a barbecue and party.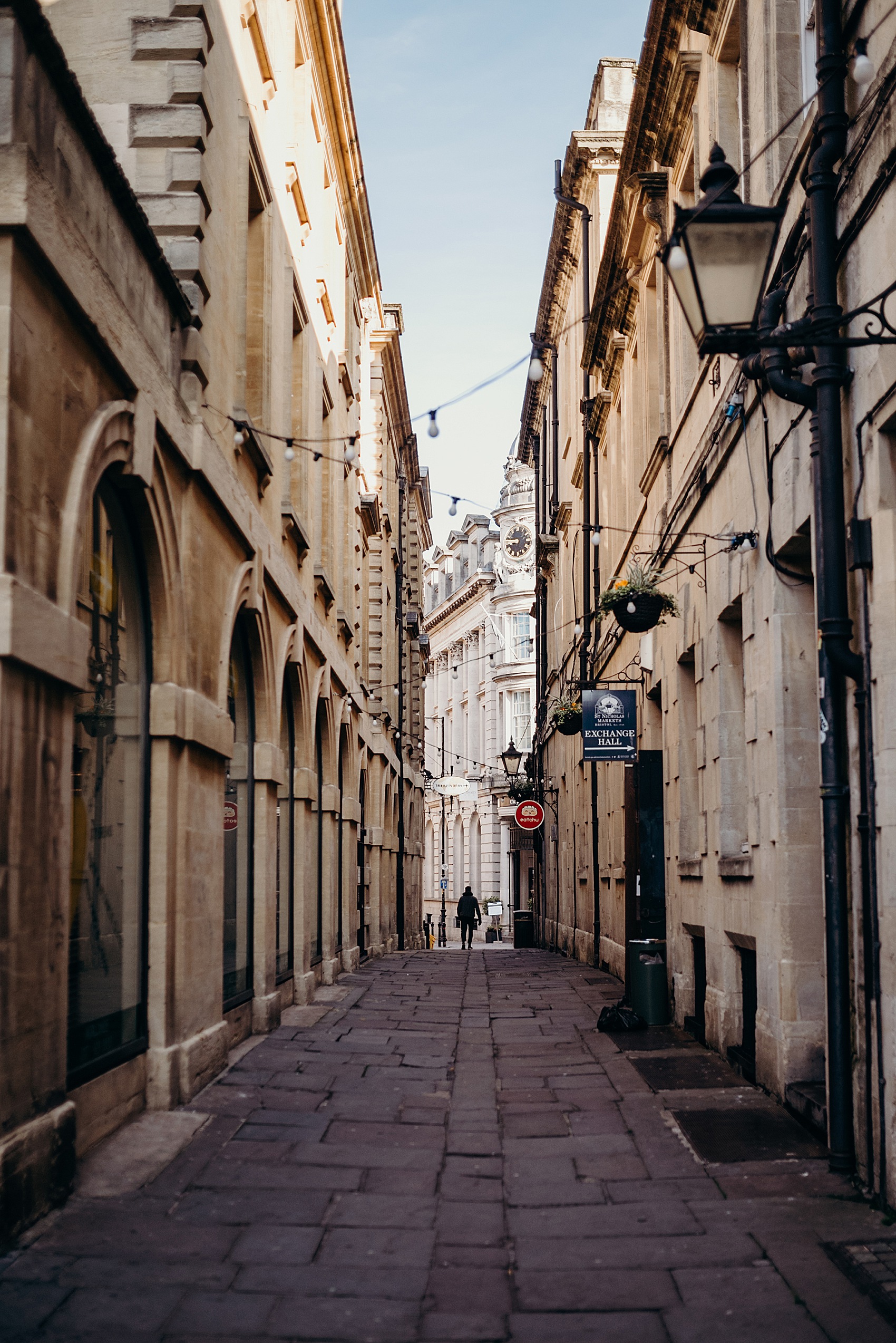 "Anna and I met on Match.com. Our first date was on valentines night, where we met, ate pizza at The stables in Bristol, chatted the night away at Mr Wolfs in Bristol and from that night have been in love ever since."
"We wanted our wedding to reflect us both – to be relaxed, non-traditional and really enjoyable for everyone. As we bought a house the same year, we had to change our original plans as our budget had reduced. This meant having just our family at the Registry office and meal and then friends to join later for the party. Although not the original plan it worked really well, our friends actually came down to greet us and welcome us out of the registry office and then went off while we had out lunch and greeted us back at Racks."
"This turned out to be really special as we got to see them just after officially getting married but then also have an intimate three course lunch with our family. We got to chat with everyone and it was all very relaxed. Then when we headed up to Racks we had another part to the day, it was exciting arriving at Racks to our friends and feel all their amazing energy and love and see the amazing decorating our friend Carrie Ann had done."
"When it came to our ceremony, we both 'walked down the aisle' together. Breaking with tradition, we had our two flower girls, followed by our two mums and then us. This was to the sound of 'Quelqu'un m'a dit' by Carla Bruni, a classic romantic French song that we both love."
"Throughout the ceremony, we were both quite nervous, but the officiant at Bristol Registry Office was so super lovely to us."
How delighted am I to discover other brides who chose to do what I did and have a 'dress ring' rather than a traditional plain band as a wedding ring. This is wonderful!
"We decided to use our engagement rings on the day – we loved them and they were really special and felt it empty to buy a plain insignificant band just for the day. So it was these we exchanged on the day, and that we continue to wear as our wedding rings to this day. Mine is a 1970's vintage gold ring with a little black sapphire."
"I am a huge lover of vintage and wanted something unique and that had a story behind it. I discovered my ring at Bees & Graves vintage jewellery shop in Clifton Arcade, Clifton Bristol. Anna wore a silver and gold contemporary etched band with gold flower cluster. This was from King Street Gallery, which supports children with disabilities, from my home town. Anna loves contemporary jewellery and the fact that it was from a wonderful charity gallery and in my home town made it the perfect choice."
"We used really simple vows – I was quite nervous about forgetting what to say and feeling really overwhelmed on the day so we decided to keep it simple so there was no added stress. I love the idea of having something super personal but my advice to other couples would be – it's your wedding, and if you will enjoy the preparations and day itself more by using the short simple vows, then that is cool too as it's your day – have it your way."
"Our beautiful friend Charlotte who is an amazing writer wrote a piece for us. It was beautiful beyond words, so special and wonderful having her involved in our day."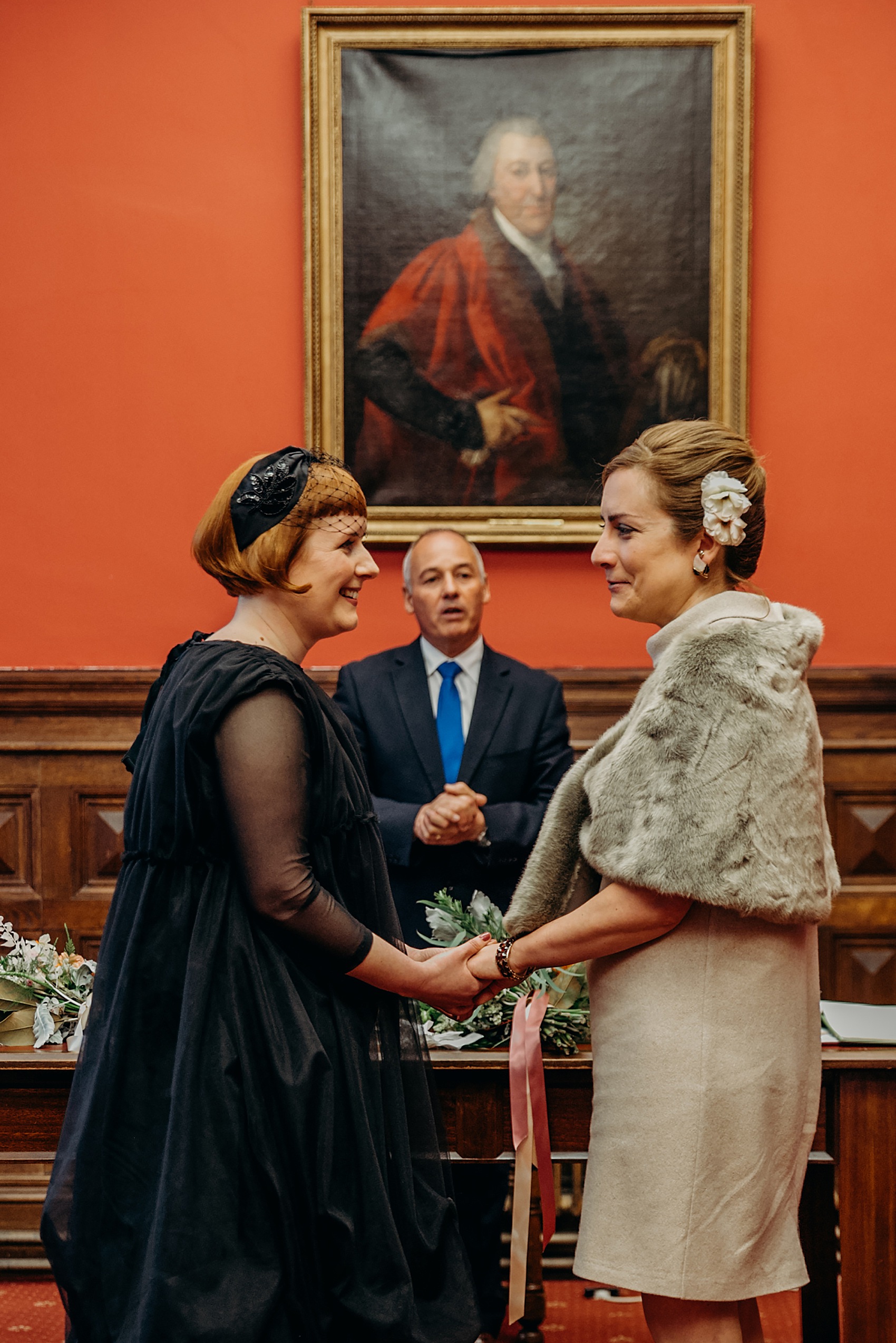 "For our engagement, Anna arranged for us to stay at a hotel in Bath on our valentines night anniversary, where she was planning to propose. She created a story book that told the story of us and on the night itself, she organised for us to have a table in a private art deco lounge area. We bought cocktails and she gave me the book as a present."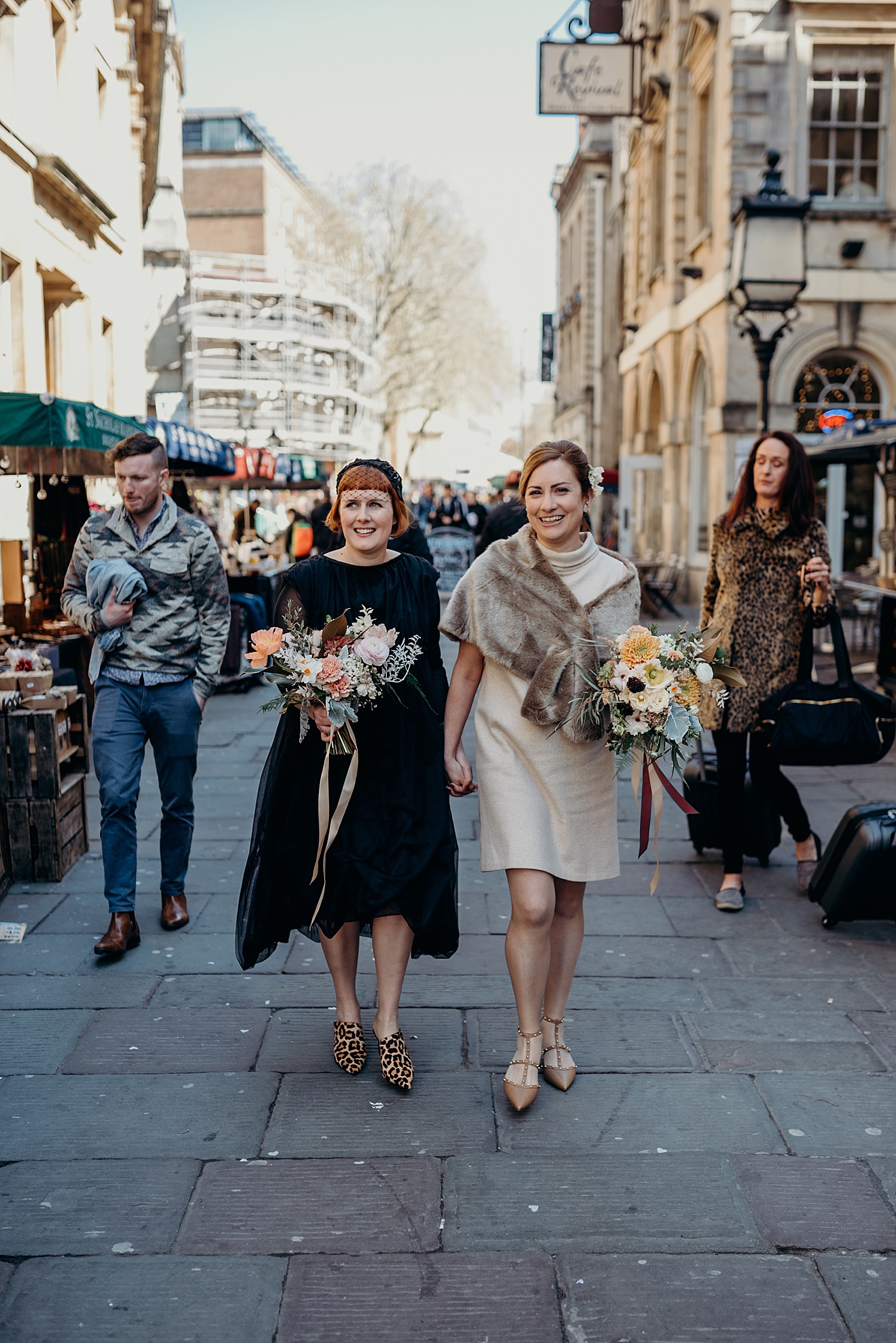 "As I read through the book I didn't know what was coming until the last page, which asked me to marry her. We then rang our families to give them the good news and headed out to Bath to The Stables for pizza, like on our first date a year before."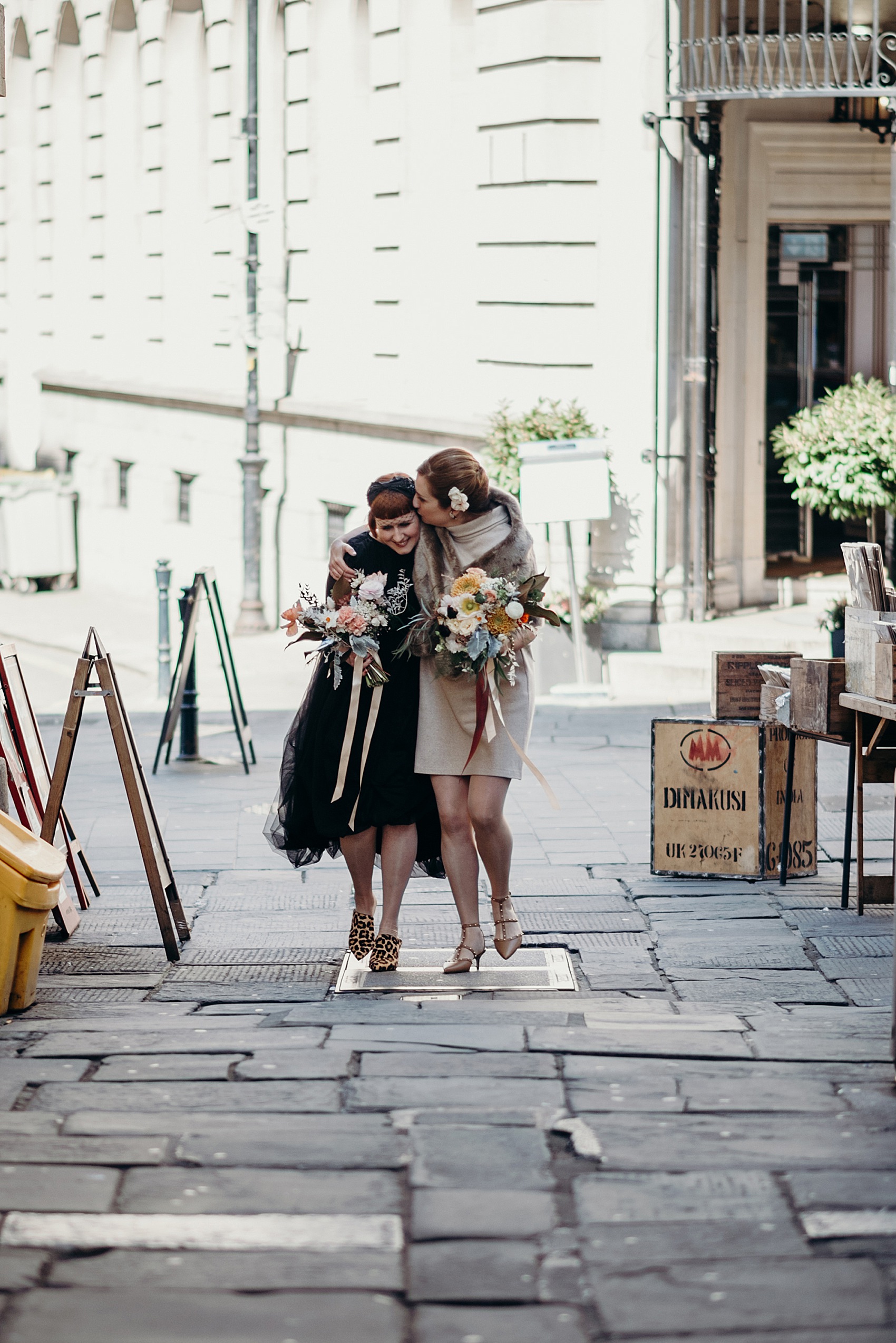 It was a given who was going to see to the flowers on this couple's lovely day. With Lucy being a florist herself, it was all down to Lucy Coco Floristry.
"It was a dream creating my own wedding flowers – I was literally like a kid in a sweet shop. We upped the budget – twice! It was so exciting being able to use all of my favourite spring flowers. I used five different varieties of ranunculus, Icelandic poppies, magnolia, pink gypsophila…so many more and a plethora of dried beauties too!"
"It was also super exciting creating my wife's bouquet (never having created two bouquets before, that was also a wonderful experience). Anna loves my work and gave me complete free reign. I did a little consultation with her before – hand to get ideas about what she really liked. It was lovely doing this with her, a wonderful memory I really cherish as the planning is all so much part of it."
Lucy wore a black dress by Italian designer Tadashi, which she found at Morgan Shops in Wales.
"It was quite funny as my mum loves this shop – her wedding outfit for my wedding and my sisters was from this shop and she suggested I try here. I however was a little reluctant, feeling a bit disheartened with what I had already tried on in other stores – and thinking this shop was more my mums taste, not mine – I just wanted to go and get a coffee."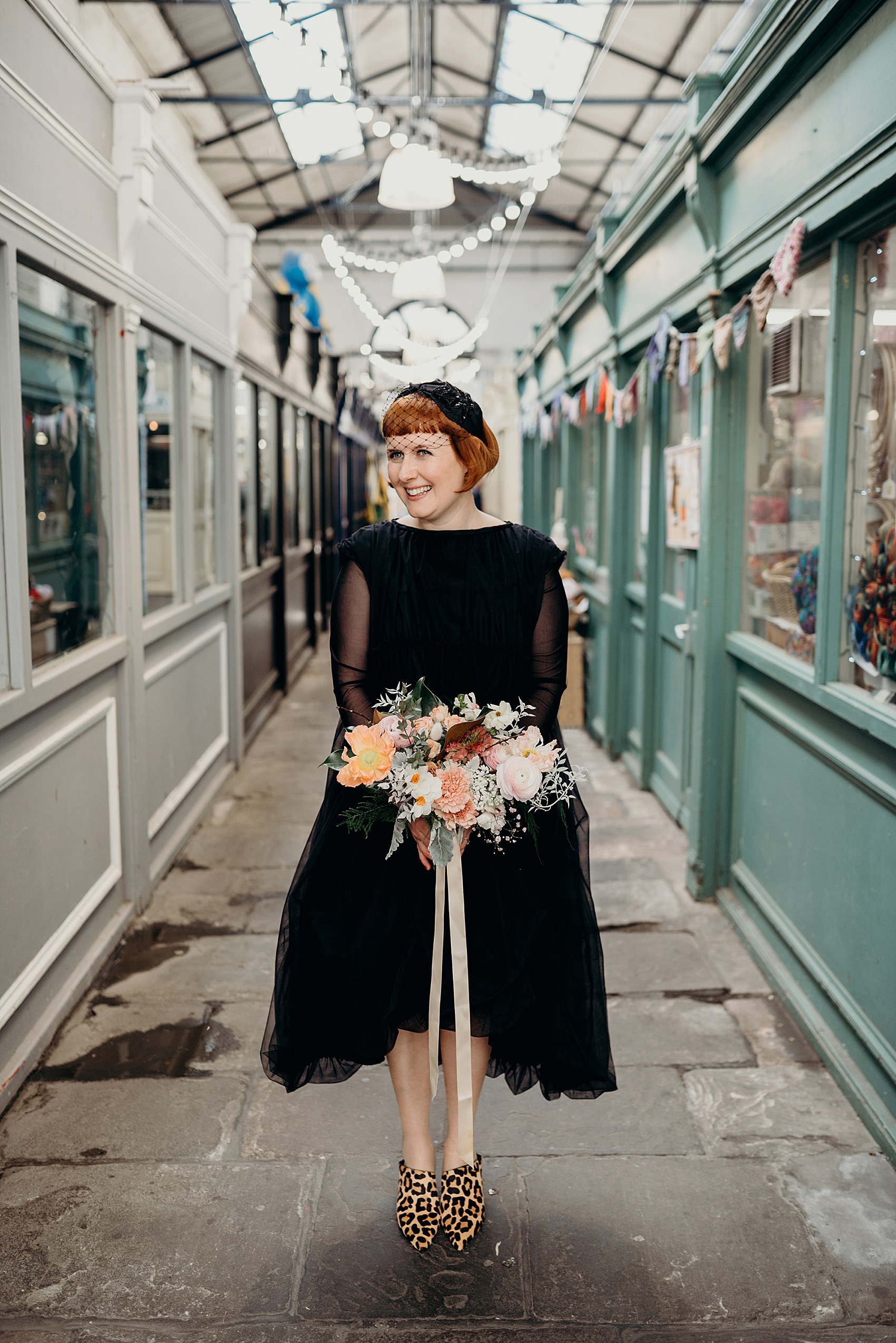 "However when I tried on my dress I knew it was the one, I had no plans to get black and so it took me by surprise when I tried on this contemporary black number. The dress was really original and had a Molly Goodard vibe, whose designs I adore. It made me feel effortlessly special."
"I also wore black headpiece with hand embroidered beads and a netted veil which was designed and created by the amazing Emily at Able Mabel, and a pair of leopard print mules from Dune."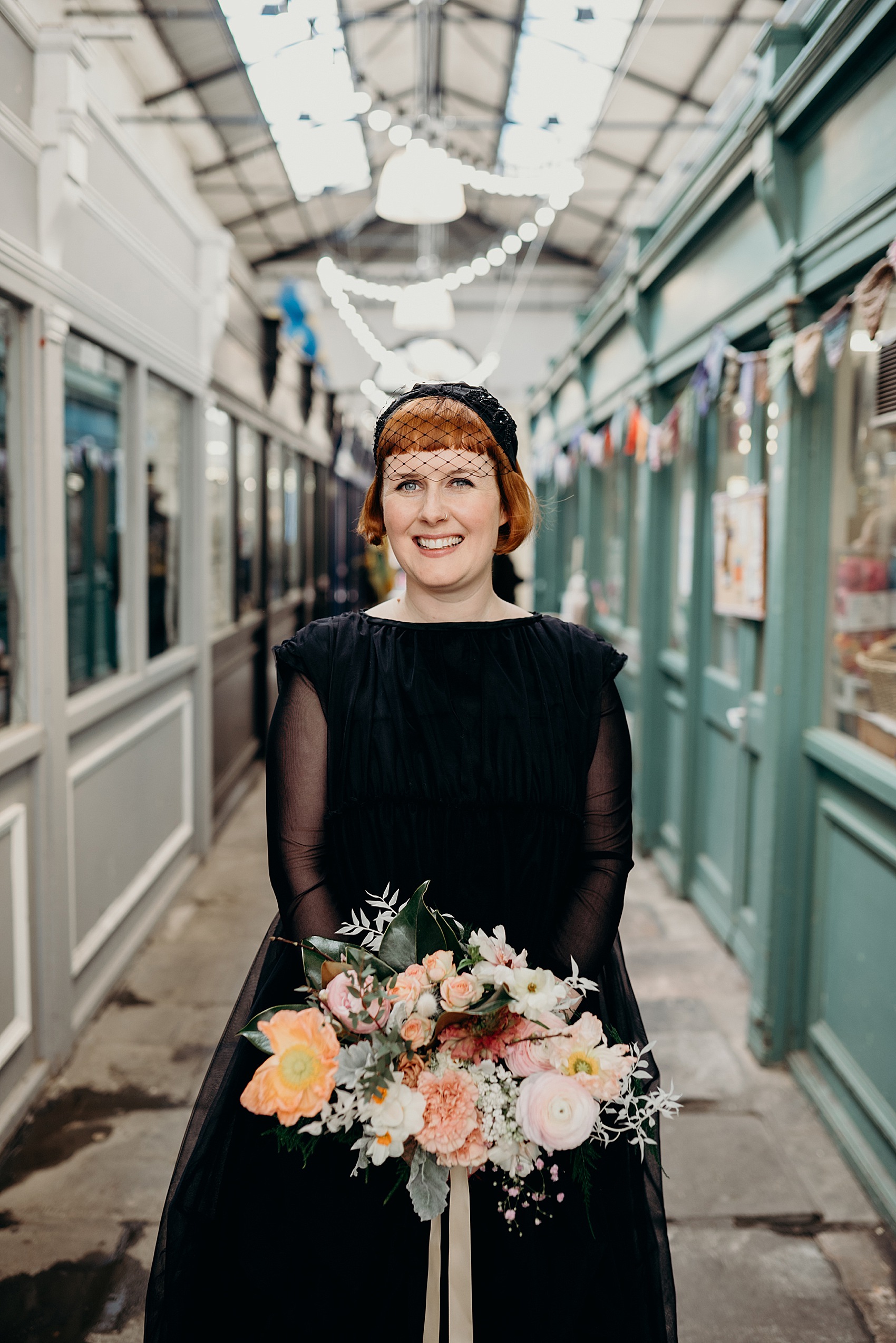 As a scent, Lucy opted for Stella McCartney's 'Stella' – which she describes as super feminine and luxurious, with dark smoky tones.
Anna wore a gold dress from Parisian brand, Agnes B Clothing which has a boutique located on Marylebone High street in London. She teamed this with a faux fur stole which she purchased online and  a pair of nude, t-bar shoes with gold studs from Office. She also had butterfly ranunculus individually wired into her hair.
"We walked from the registry office through beautiful St Nicks Market to the Glass Boat and then took taxis to Racks."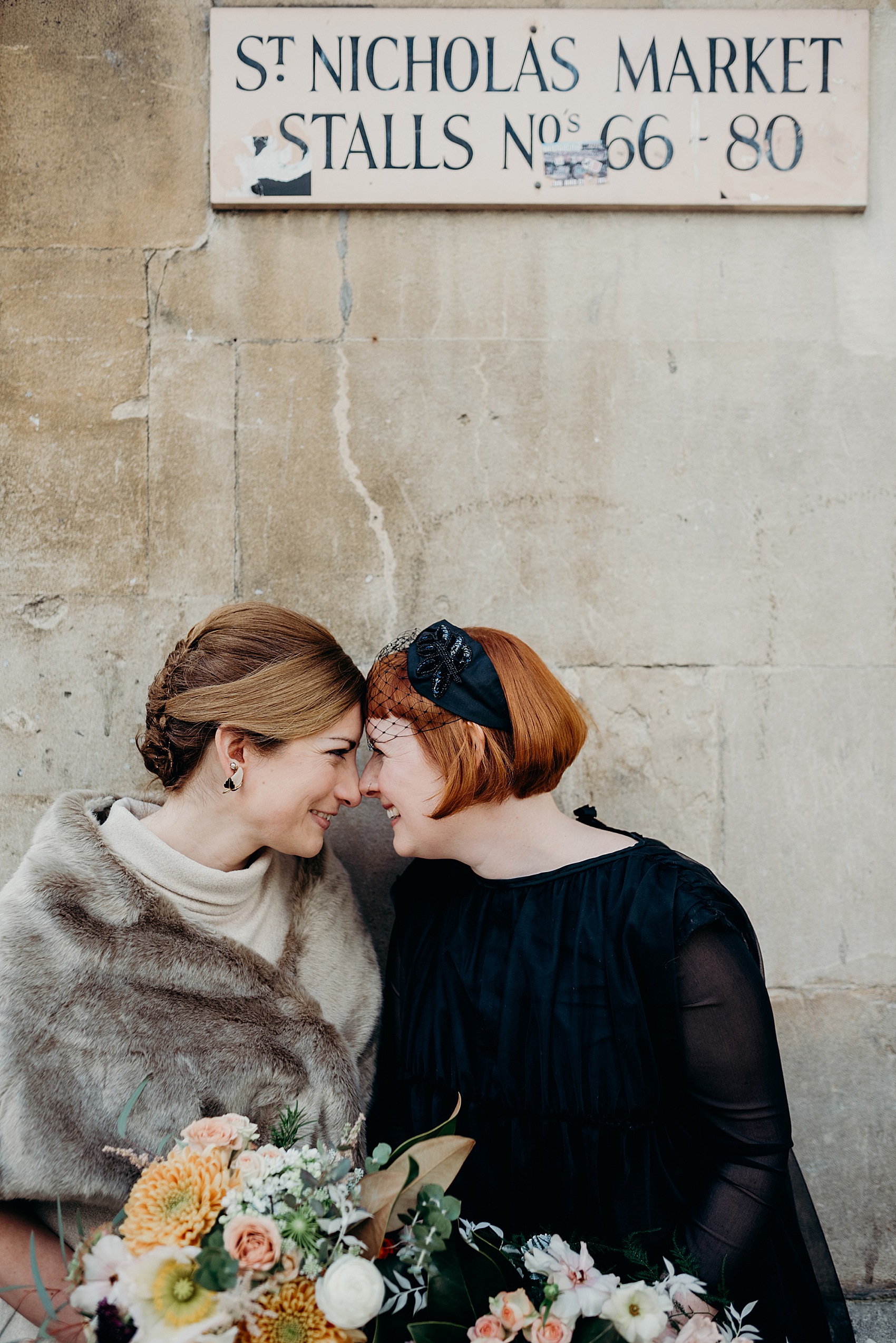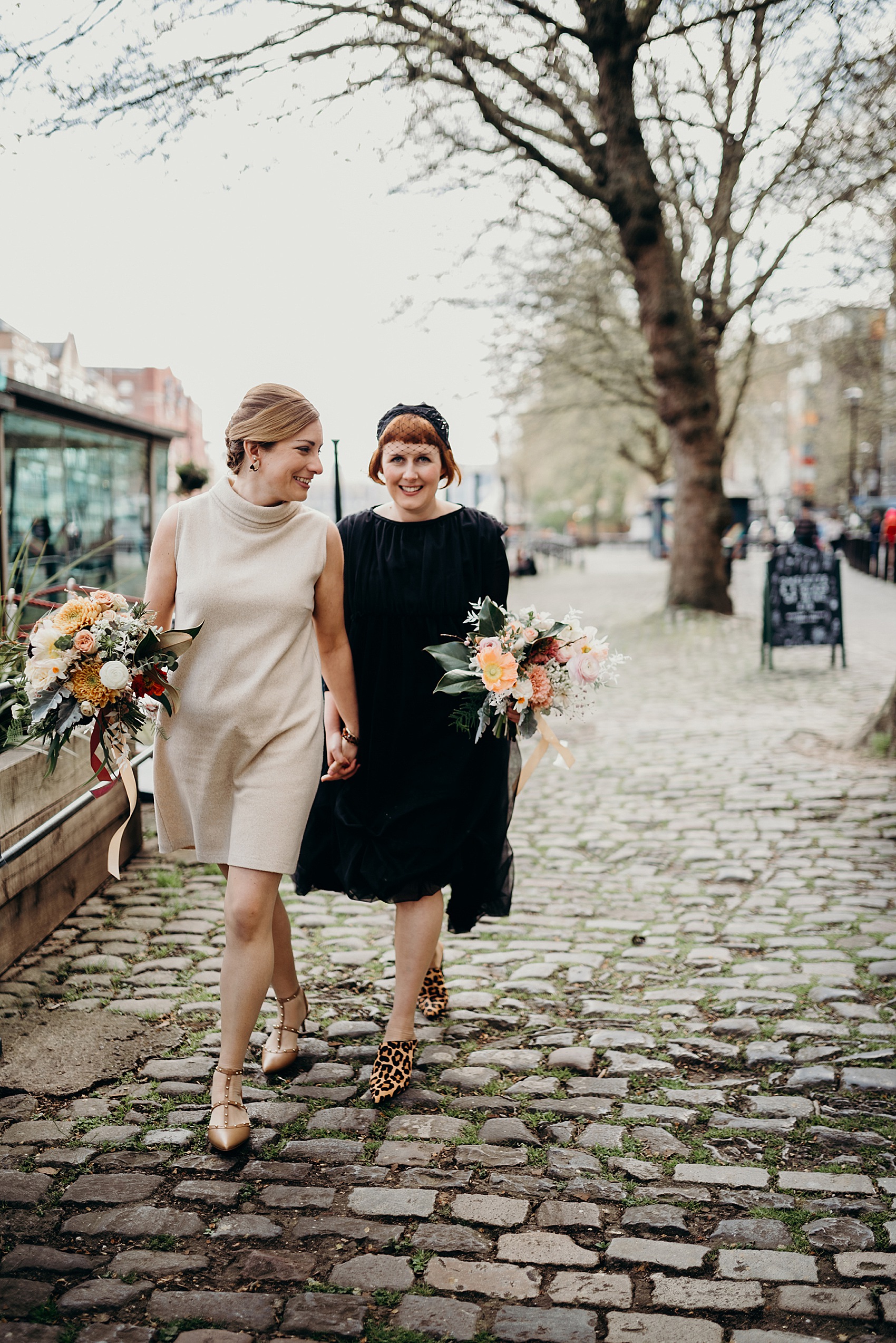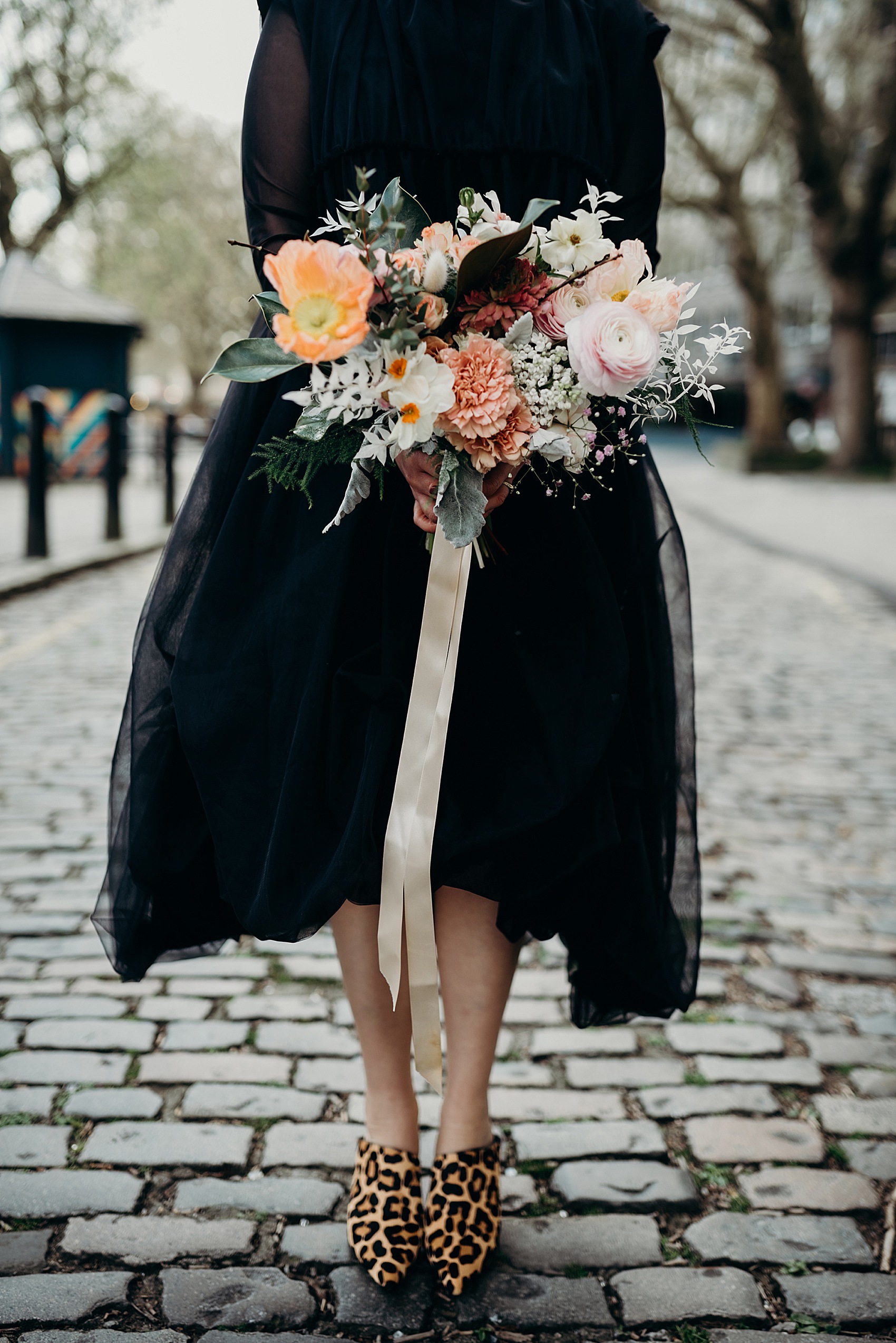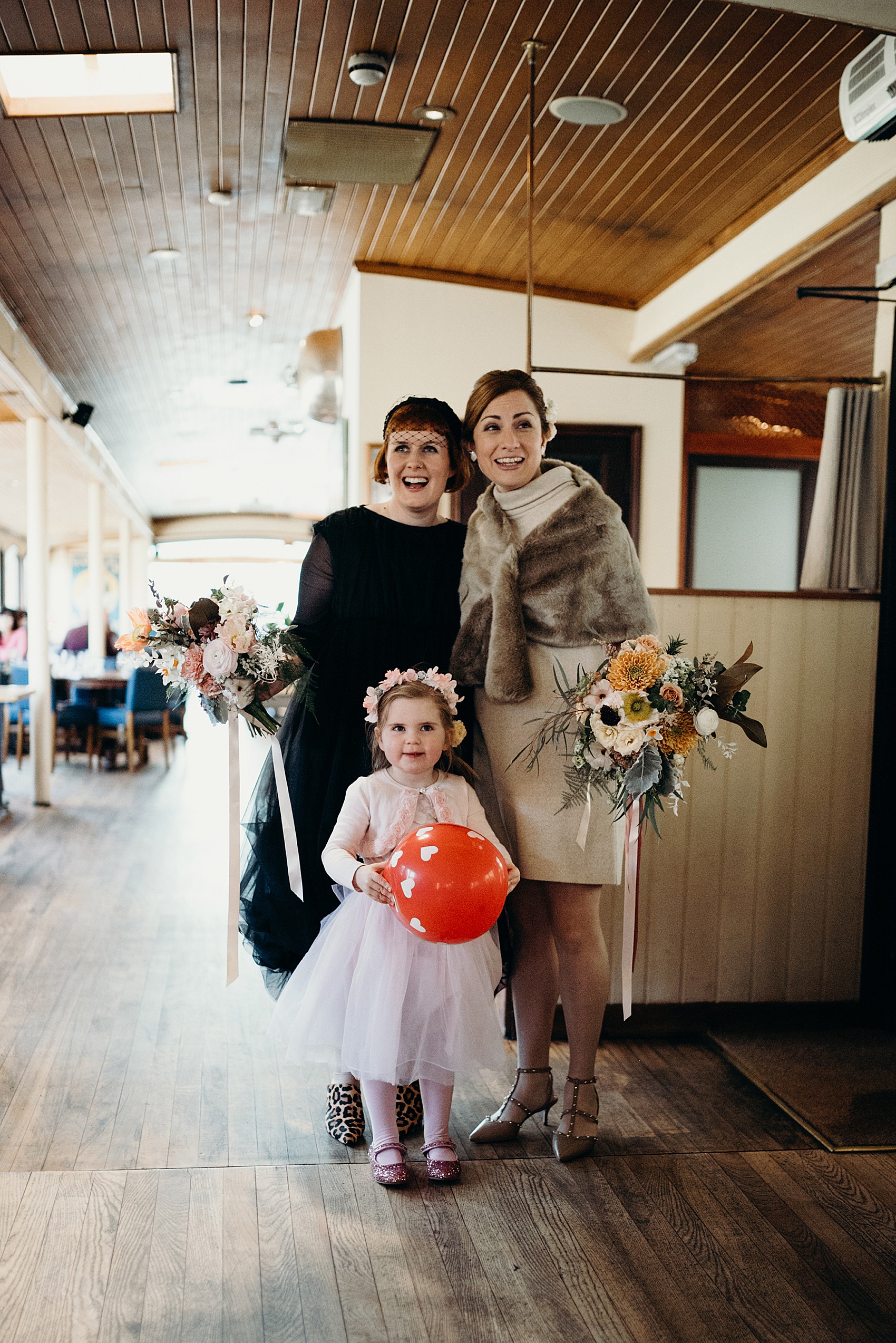 "Place cards for our French lunch were made by my mum – they were individual peg doll keepsakes hand painted and dressed in vintage fabric and lace. We were also surrounded by lots of flowers, candles and colour."
"Carrie Ann Lewis, our friend, handmade most of the decorations in the venue, including colourful paper flowers and a bunting style banner of our new names to go above the fireplace where we gave our speeches."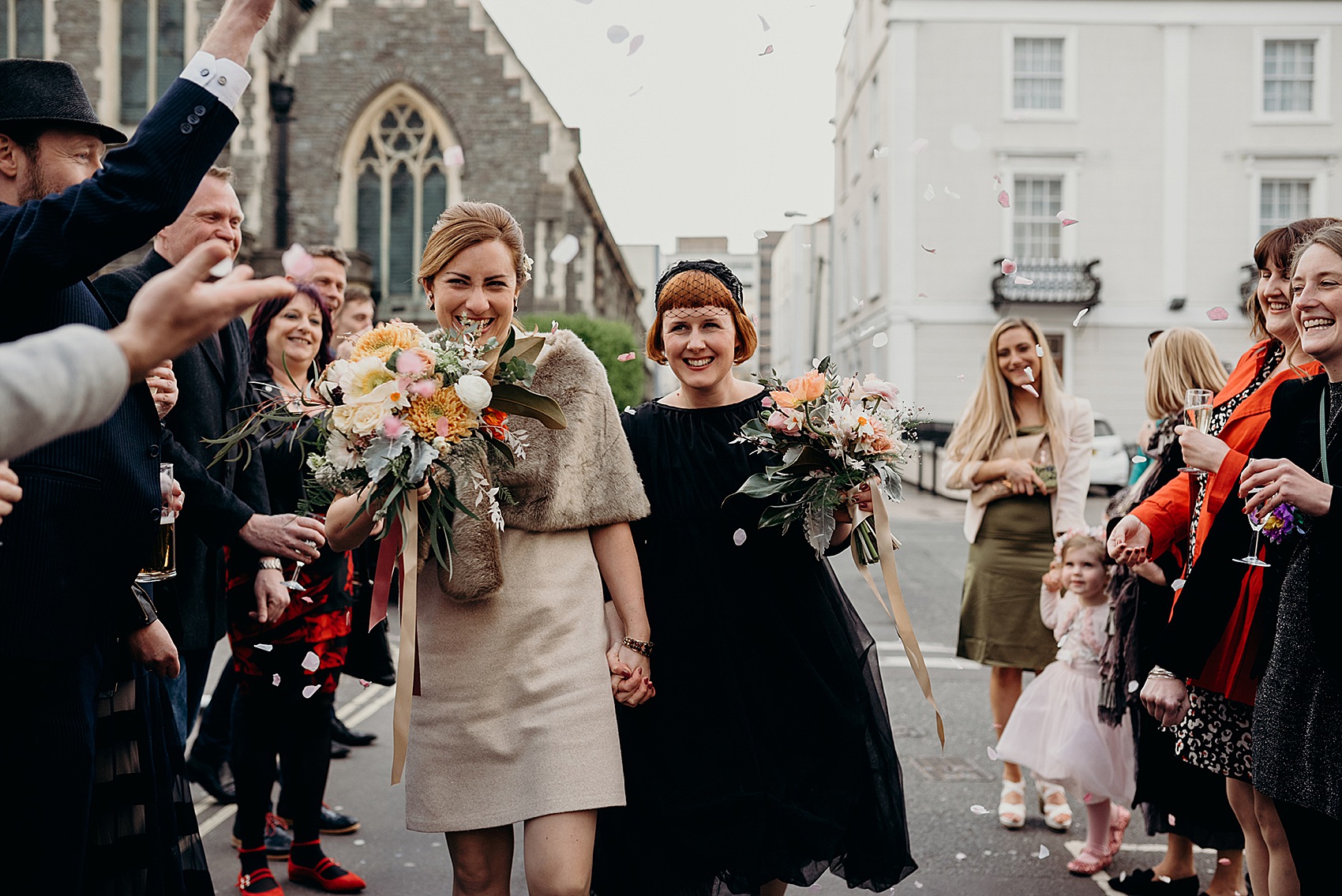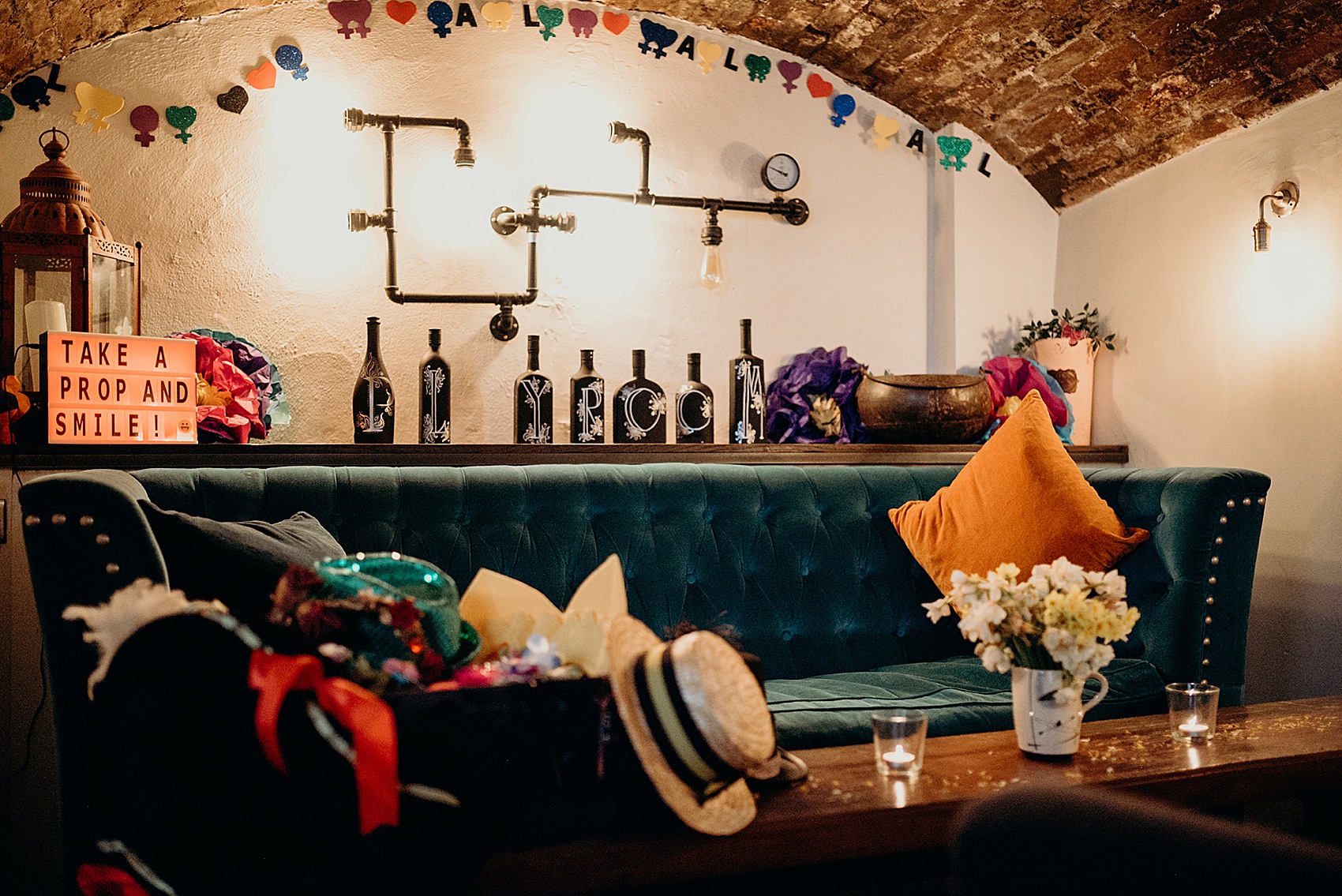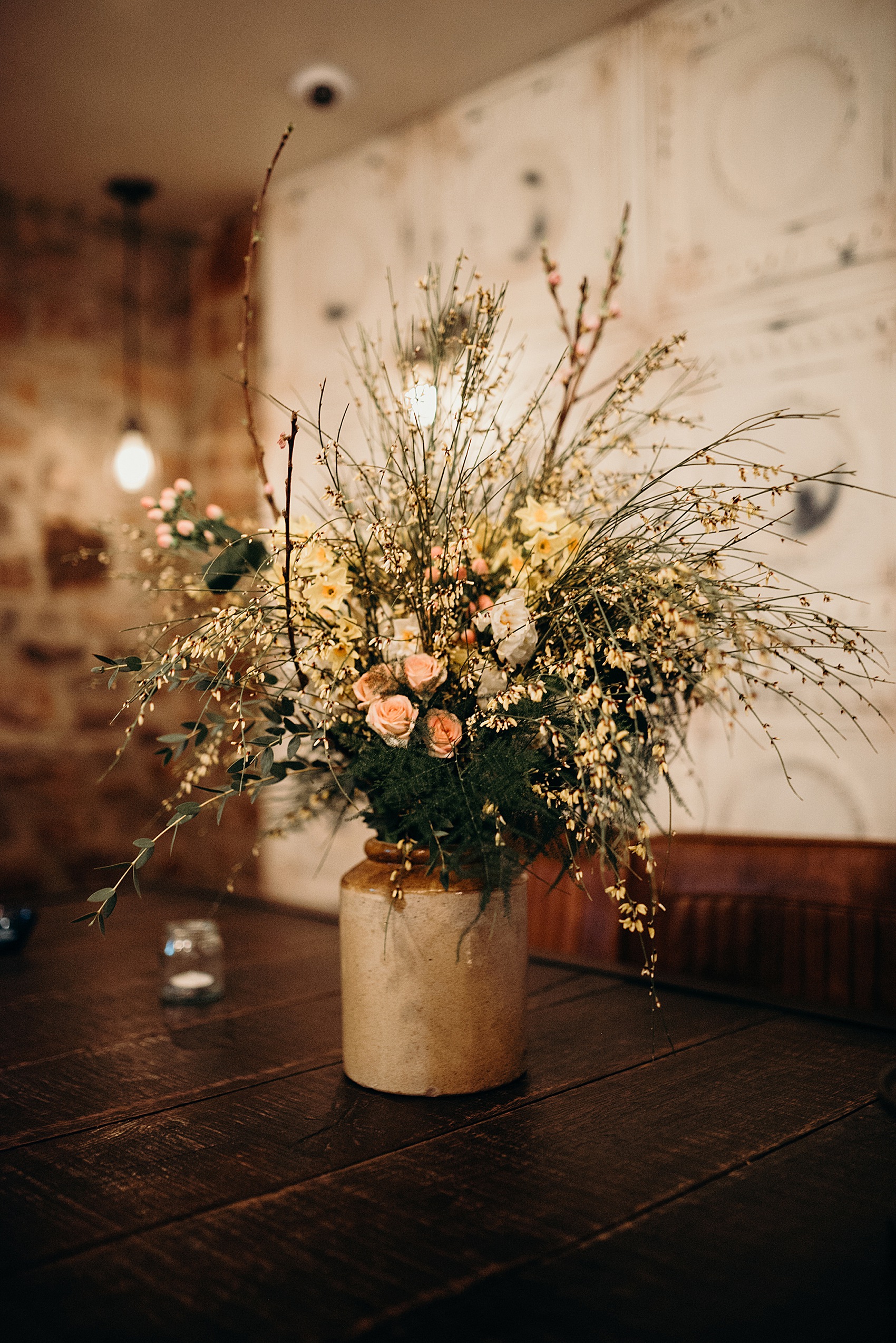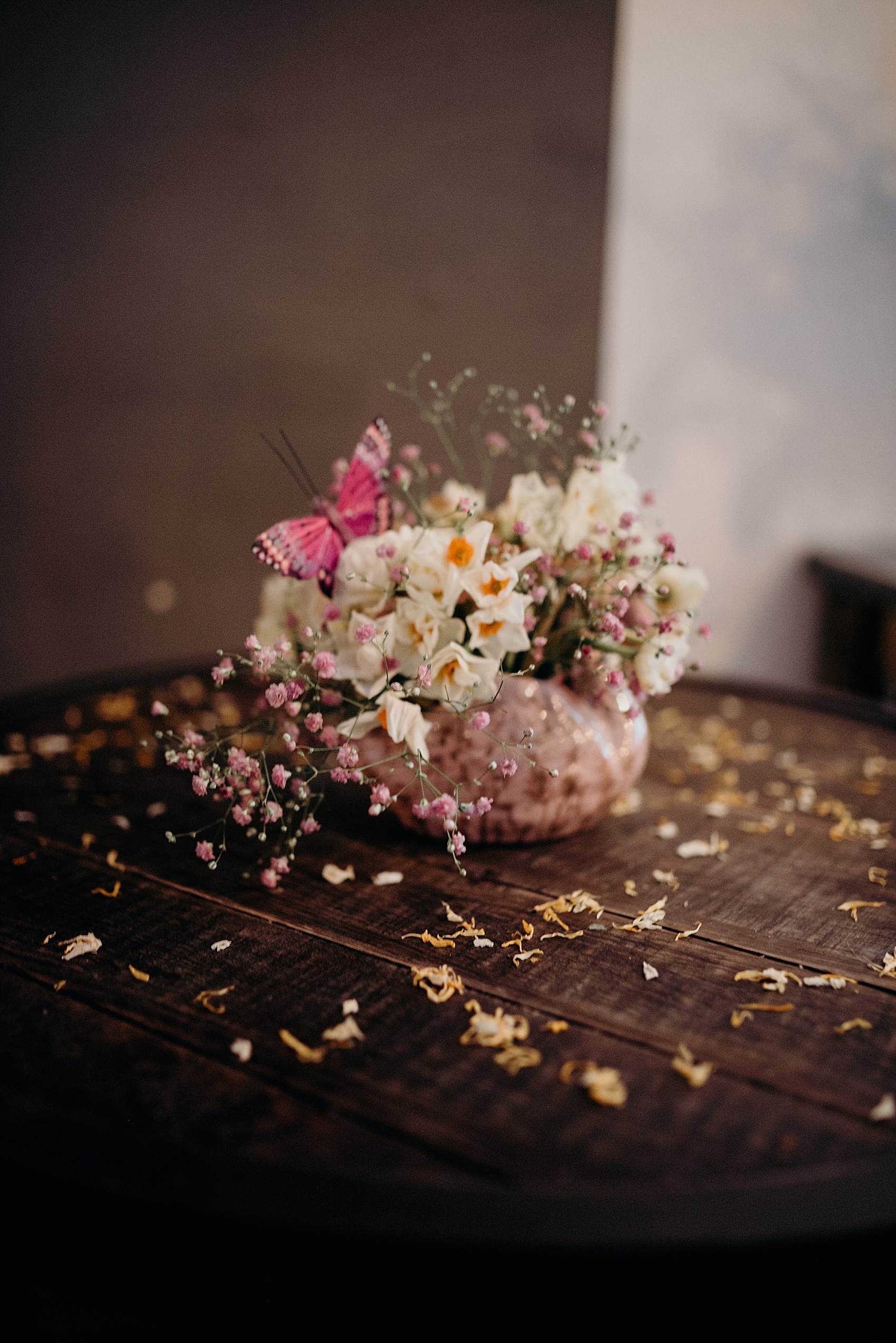 "Our wedding was quite small and intimate so our cake by Right Good Kitchen was not huge. A lemon drizzle with Swiss lemon frosting and colourful smudge effect. We also had two sets of delicious brownies."
"We had beautiful peg doll cake toppers my Mum made with vintage linen – she coloured the hair to represent both of us and drew on the faces and gave them little flowers to hold. Super perfect. She also made a box display with peg doll figures and embroidered our wedding date."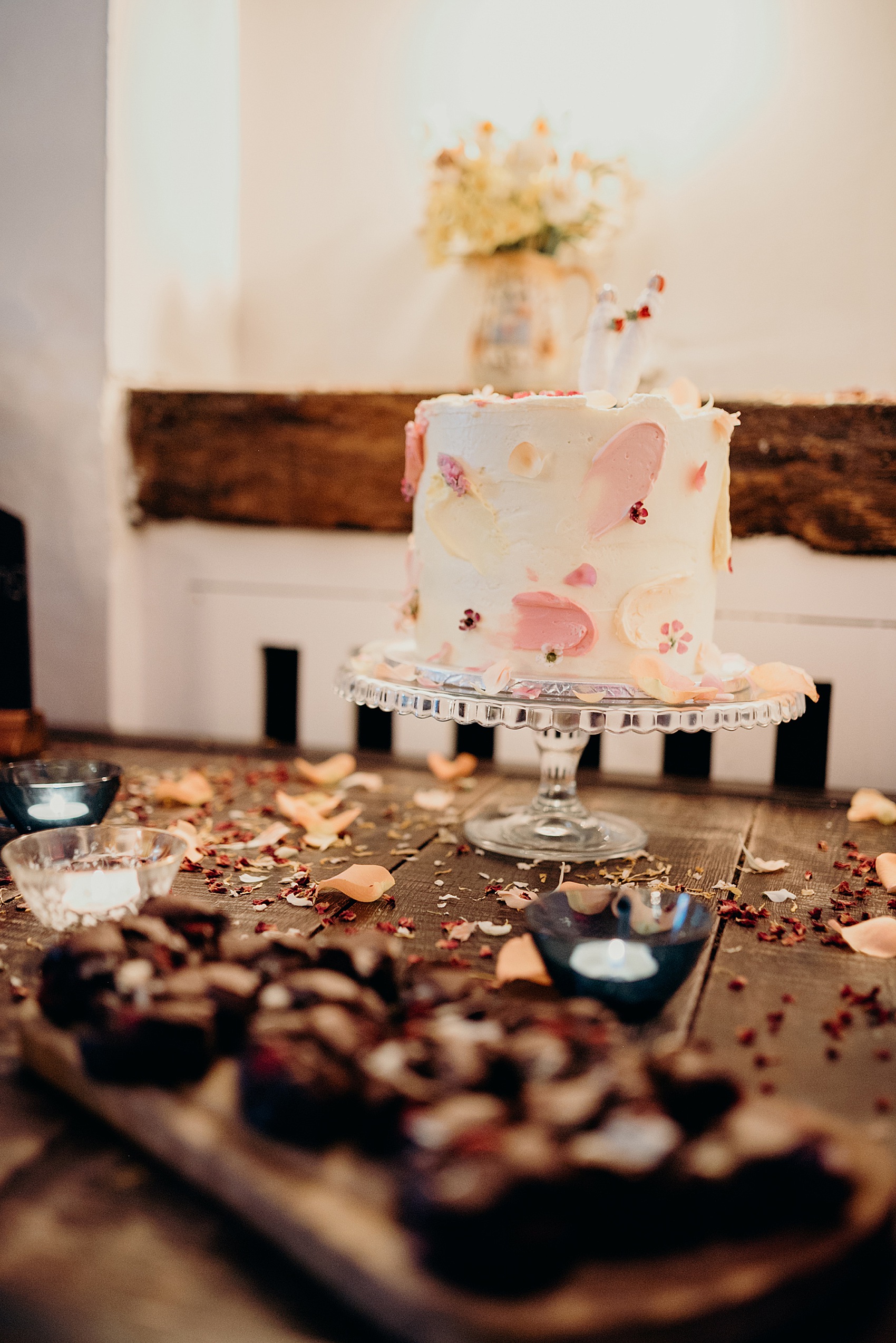 "Anna is a musician, singer/songwriter and guitarist so the music was all down to her.  Two playlists where created; 'The Boat' – a selection of jazz and French songs, including Billie Holiday, Etta James and Django Reinhardt and then 'The party' – this had to run from 5pm to the end of the evening, so it built from music to welcome people to a selection of dance floor classics and not so well known gems. The dance floor was packed all night long and it really united all the family and friend. We also had a room with fancy dress items which everyone embraced and bought to the dance floor."
"We didn't plan to do a first dance, however, Sia's 'Cheap Thrills' is a favourite of ours and as the party was in full swing we were dancing to it and a friend shouted 'FIRST DANCE!'. The dance floor cleared to circle around us leaving us centre circle dancing to it – so yes we did but it wasn't planned!"
Words of Wedded Wisdom
"Don't feel pressure to do the 'norm'; We had just family at our registry office – friends came to meet us when we came out of the registry office, they then left us while we had our family lunch at the glass boat and then welcomed us at Racks for speeches, cake cutting ,eating and heaps of dancing.
We also didn't have an official first dance, wedding ring bands, own vows, wore black and gold, did our own music, had a small wedding cake, and walked in together.
In keeping with having quite a non-traditional wedding, we also created a new surname. Breaking with tradition we combined our Mums maiden names of Silverberg and Barkwell to create Silverwell!"
"We bought our first house the same year we got married and so our wedding budget had to be reduced. Our new budget was £5k and we spent just under this.
For both of us, our favourite part of the day would be when we saw each other for the first time on the day itself. Anna and her Mum walked over to the hotel that I was staying in – everyone else had headed to the registry office while my mum and I finished getting ready. Anna waited at the bottom of the stairs and I came down to meet her. It was such a special moment when we saw each other in our outfits for the first time."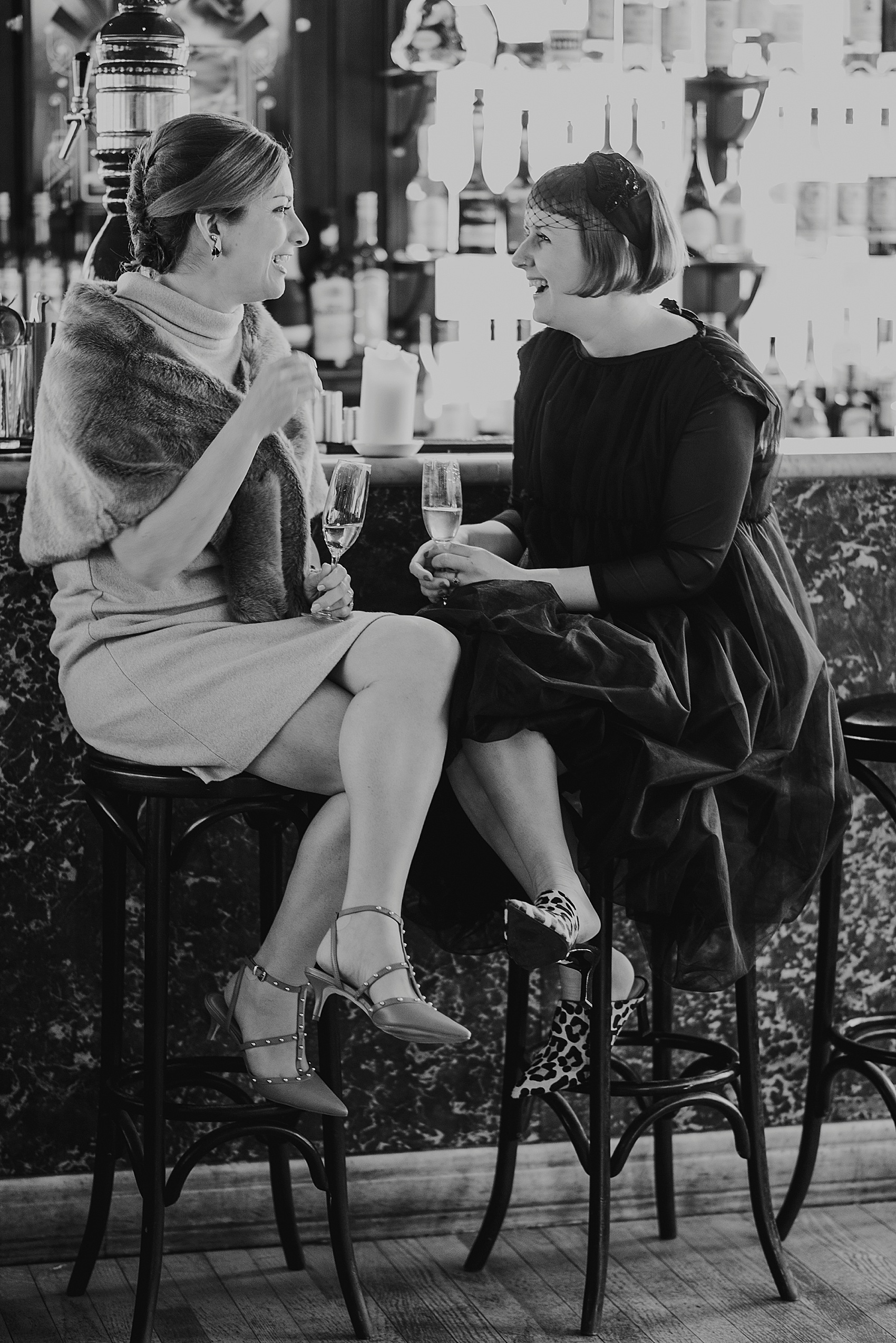 What a beautiful and touching example of how a wedding should simply and always be the celebration and occasion you want it to be, regardless of tradition. Thank you so very much Lucy and Anna for sharing your most wonderful day with Love My Dress – wishing you both a lifetime of love and happiness together.
Annabel xx