What a treat we have for you this Sunday – a special and incredibly generous giveaway from one of our favourite wedding shoes designers, the wonderful Charlotte Mills.
Charlotte creates really beautiful, fun, elegant and playful wedding shoes for modern brides. We've been fans ever since she started out in business several years ago.
We've teamed up with lovely Charlotte to bring one of you the chance to win any pair of shoes from Charlotte's collection, up to the value of £280. You'll find details of how to enter this competition at the end of this article. In the meantime, let's get to know the lady herself a little more?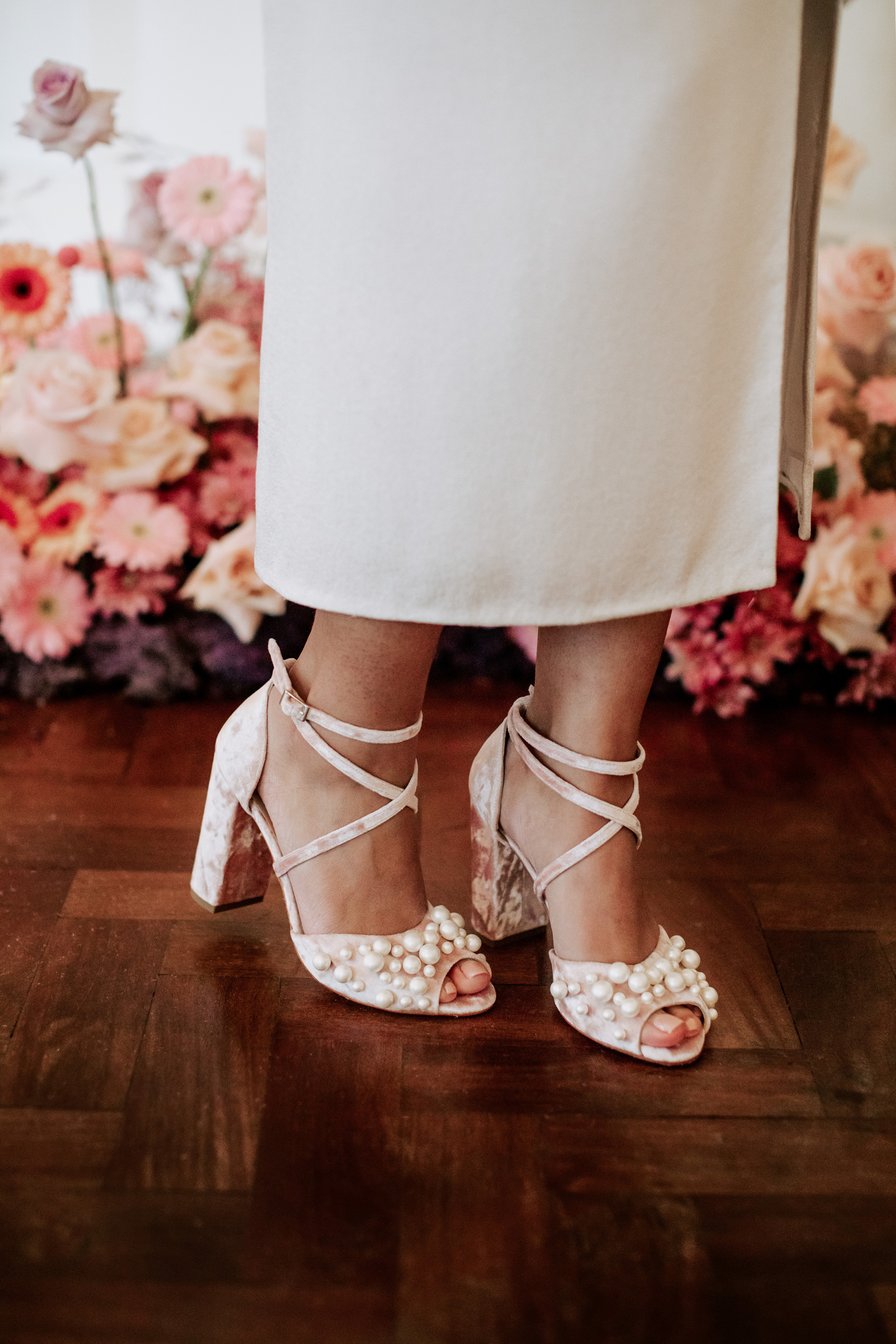 Who are you, and what do you do?
Hi, Im Charlotte, Creator and designer behind the Charlotte Mills Brand. I live in Saddleworth in the countryside just outside Manchester with my Husband Ross, my little Girl Margaux and our two staffies.
Tell us how you started out in shoe design and what drew you to bridal in particular?
The idea for Charlotte Mills was born when I designed a bridal footwear collection for my final degree show whilst studying at London College of fashion.  At this point, I made it my long-term goal to create a luxury bridal footwear brand.
After gaining several year's experience designing footwear for some of the UK's best known high street brands, I made the dream a reality.
What do you love most about working in the bridal fashion world?
I love the community, the other independent brands I work with are all incredible girl bosses who inspire me so much. I also love meeting all our Brides and   their friends and families, its SUCH a happy time for them. Its so nice to be able to work in this environment whilst doing something I am so passionate about.
Can you describe your signature style?
Our signature is fun, girly shoes designed to be fallen in LOVE with. Timeless elegant designs which are stylish, comfortable and luxurious.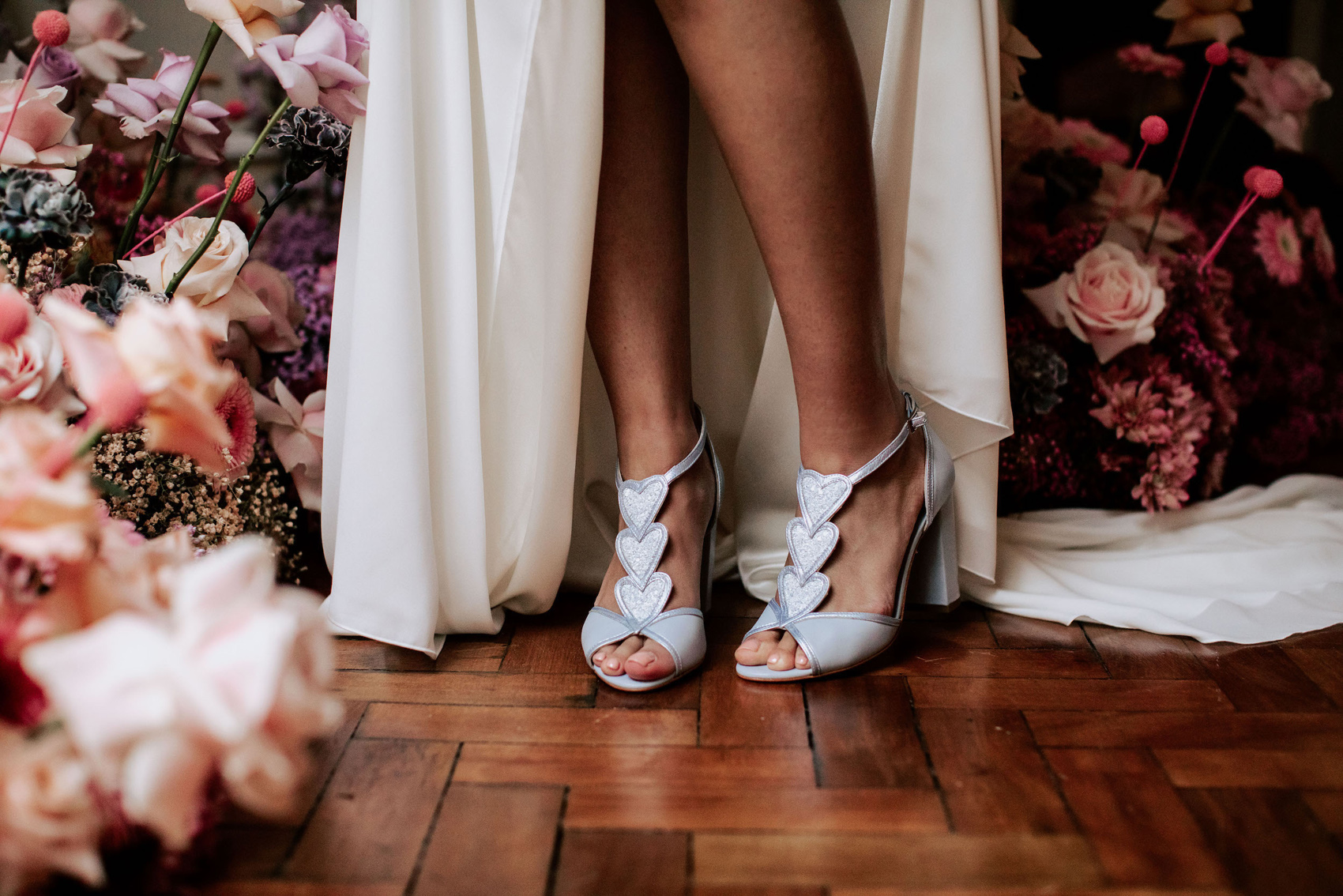 What do you think makes your brand so appealing to brides?
I think its different things for each bride but I would say the biggest is the fact that our shoes are designed with the Bride in mind. We think about all the things, which are important for you on your wedding day and try and add these in to every pairs
Comfort – you are on your feet for 12 hours plus, so our shoes are made from the softest leather, are lightweight and have a flexible leather sole. In our new collection we have also added a latex memory foam to the insole to provide even more padding to the shoes.
Width fittings – we now offer a range of wide fit shoes. We were asked about this so often we decided to add this to our collection and its been a huge success.
Block heels – these work so well for brides, they are perfect on uneven surfaces and cobbles whist providing security and comfort.
Heel height –  although high heels look amazing they are not always practical. This is why we have created lots of mid heights and flats which are still stylish so you can look great whist being super comfortable.
Our attention to detail – Each pair of our wedding shoes has an original silver sixpence. This is your something old.
Your beautiful shoes are your 'something new'.
Each box has an envelope. This is 'something borrowed'. Return this after your big day with a picture of your shoes.
 Our in sock logo and boxes are your 'something blue', and the leather sole is inscribe with the 'Something old' rhyme.
Where do you start with each new collection – can you talk me through your process?
After the first collection, we have added and discontinued styles quite organically, creating something to fill a missing void or to fall in line with a new trend. Then stopping a line when the sales started to drop off.
But this year we turned this process on its head. We started with researching our best sellers and returns rates etc and then worked out a range plan of how many lines we needed in which heel heights/toe shapes etc.
We then looked at each last  and checked the fit. we made lots of amends to the fitting our the shoes to make them perfect for our brides. We then got to the fun bit, the designing. After creating mood boards and sketches we went to Spain and sourced lots of new materials and trims. From here we order our samples from the factory. When the samples arrive we fit them and make any alterations.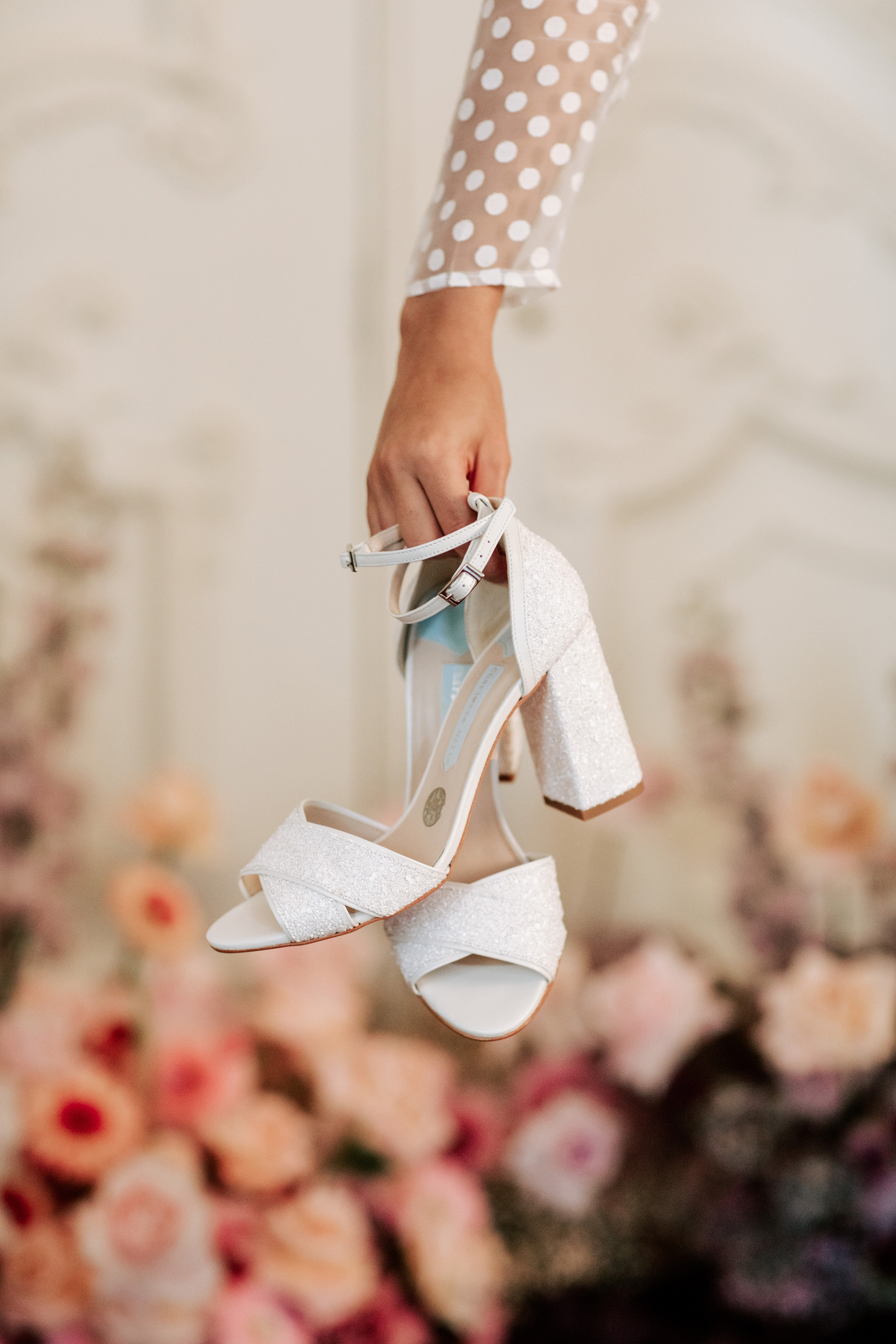 Tell us about your latest collection and what inspired you to create it?
For my latest collection, we visited vintage shops in notting hill, looking at jewellery, clothing and shoes and getting ideas which we could translate into our own style and designs.
We looked at our previous collections to see which were our most popular designs and used these a starting point. This coupled with our trips to the trim, heel and fabric suppliers in Spain left us bursting with ideas.
This is the best part, gathering all the ideas and materials and creating something beautiful, for brides to fall in love with.
Are you currently making any efforts to be more sustainable and ethical and if so, how?
Yes, we have recently changed our packing – we used to use single use plastic mailing bags and bubble wrap, these have been replaced by recycled cardboard boxes and recyclable tissue paper. Last year we launched a vegan line, although its something we felt strongly about and took a long time researching we didn't get the demand to make it viable.
We still really want to offer this service so we are in the process of setting up a made to order vegan line. This means we can offer a vegan option but don't have to create lots of stock.
Do you have a favourite design and if so why?
I love George unicorn from our new collection – the glitter is amazing, it has so many subtle pastel shades it will go with all my summer wardrobe. I will be sneaking a pair of these home to add to my shoe closet.
What shoes/designs are currently proving most popular with your brides?
In our 2020 collection we created the most gorgeous soft fluffy tulle bow sandal, its a real statement shoe. Our first delivery sold out on pre-order its been so popular. When we find a style which our brides love, we tend to offer in a variety of heels and widths.  We now offer this design is 3 different heel heights and also in wide fit.
How do you balance your role as mum and business owner/designer?
Its not easy as any working mum will tell you, the constant guilt as to wether your giving too much or not enough to work of family. I get so much joy spending time with my gorgeous little girl and at the same time love what I do.
The business is also our livelihood so I feel lots of pressure at times. I wouldn't change it for the world and its gives me flexibility to working around Margaux which is a luxury not many mums have.
Can you share a bit about your work/creative space with us?
If you follow us on insta or have been on our website, you will see I have a bit of a thing with pink. Our current studio is bright and colourful with lots of pink and pops of teal. It's a light bright space with lots of lovely textures to add details.
As we move into our new space we are going for a more subtle and sophisticated look, although there will be still lots of pink it will have a more grown up luxurious muted feel. This is how I feel the brand has also evolved over the last 5 years since we launched our first collection.
What does an average day for a successful shoe designer look like?
In the morning I spend time with Margaux as we get up at the crack of dawn (life with a toddler!) and after nursery drop off I head to the office.
Firstly I check in with the factory via FaceTime and see whats going on, work through any queries and sampling etc – I work really closely with our Spanish team, who are amazing and work so hard for us. I like to be as hands on a possible and visit the factory as often as I can. Then on to my emails, answering brides and anything which has come through.
We try and plan each week what needs working on and create a to-do list. This changes weekly for example this week Im planning videos for the website, updates to our site, working on some designs for flat styles. This changes each week and is really varied. Thats whats so great about being a small team in an independent brand. We get to work on so many exciting things which change all the time.
I normally have an hour on Pinterest, researching and gathering ideas for shoots / interiors for the new studio / and just general wedding inspiration.
After nursery pick up, I head home for dinner.
Most evenings I pick up work after My little girl is in bed, answering emails and Instagram messages from our lovely brides.
I am currently glued to the Crown on Netflix so will finish the evening off watching this.
What would you be doing if you weren't running your own design business?
I am a real home bird, I love interior design and creating a lovely home environment. I think it would have to be something along these lines. We have just moved into our new house and about to start creating our perfect family home. I can't wait to get started, there is a lot of Pintresting going on at the moment.
What's next for your business and brand?
so many exciting things in the pipeline – we have just secured a gorgeous loft in Manchester city centre where we are creating our new studio and showroom. Its the natural next step from our current studio as so many brides travel from all over the UK to visit us, we wanted somewhere which is easily accessible.
Our current boutique is in them most gorgeous village but it's not the easiest place to get to. I started out 5 years ago in my spare room and I can't quite believe how far we have come, its a real pinch me moment to think we are moving to the most gorgeous city centre space.
Enter to win a £280 pair of Charlotte Mills shoes of your choice
Charlotte Mills is giving you the chance to win a pair of bridal shoes of your choice, worth up to £280. 
To be in with a chance of winning, please follow @charlottemillsshoes on Instagram, and then tag yourself in the comments section of the image below on our own Instagram feed.  You can also tag friends or anyone else who you think might like to win this prize.
View this post on Instagram
Terms & Conditions
This competition will open on the morning of Sunday 16th February and close at midnight on Monday 2nd March 2020. The winner will be announced later that week.
Prizes are not transferable or eligible for exchange or refund.