I have to confess, we hadn't scheduled this article for a little while yet, but, our schedule is on maximum flexibility right now to ensure that primarily, we can support our clients as much as possible.
This glamorous vow renewal takes place in breathtaking Italy, which has been devastatingly impacted in certain regions, by the current Pandemic. The ceremony celebrant is a member of our Little Book Wedding Directory, the wonderful and kind Diane Rossi of 'Blessings from Italy'. It is for she, and her family, and all the brides who had hoped to marry in Italy in these next few days and weeks, that we share these beautiful images this evening. This will pass, and this glorious country will be ours once more to embrace and celebrate within.
Please meet Tawnie and Mark who hail from California where they own a dental practice together. They travelled to Tuscany, Italy for their celebrations on 6 March 2019, with their vow renewal ceremony at Castello di Celsa and private dinner after at Castiglion del Bosco.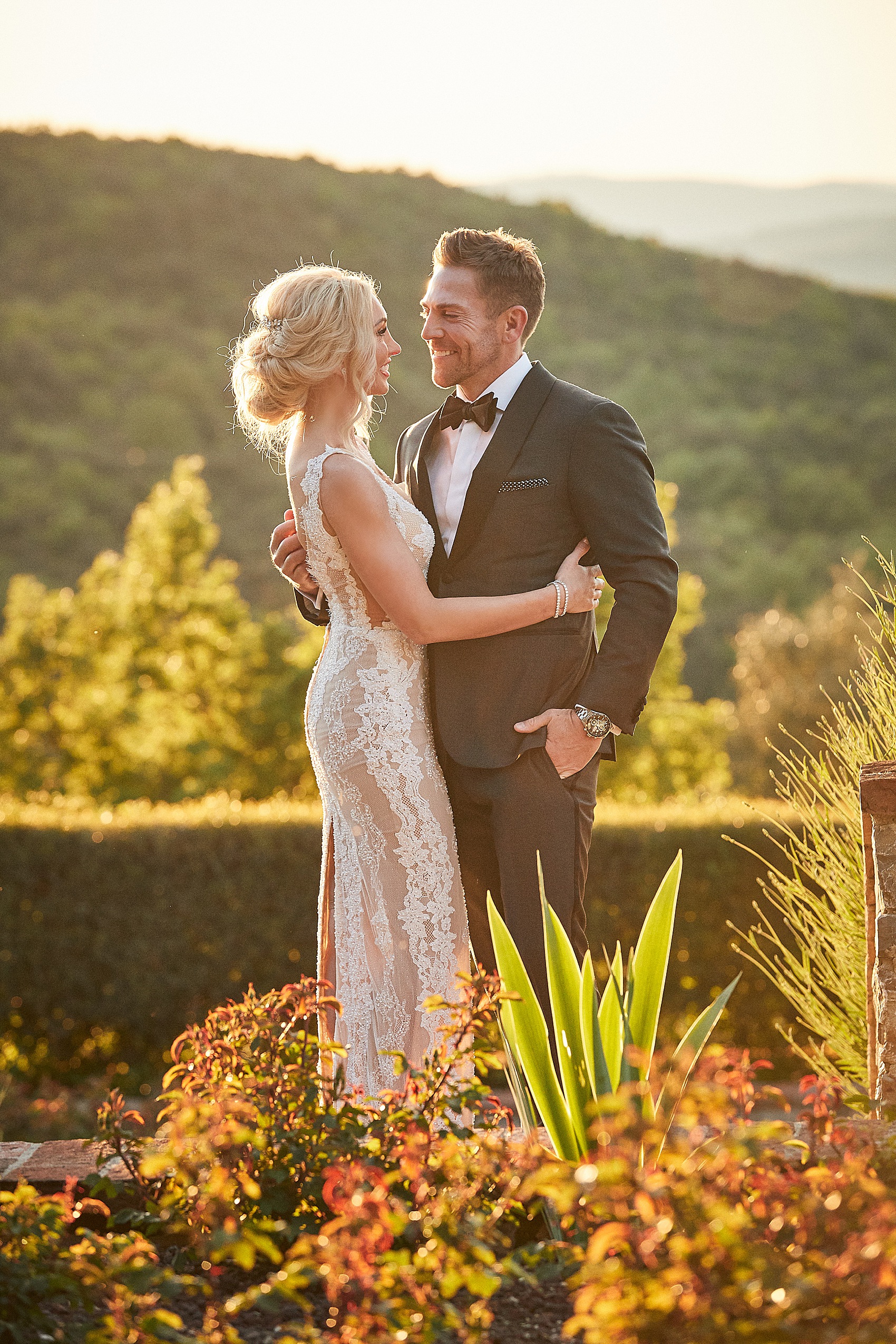 The couple first wed in a small civil ceremony ten years ago and were keen to renew their vows to each other in an intimate ceremony which they planned together with Sabrina Carbone at The Extraordinaire.
"We had a very simple civil wedding ten years ago with no frills or opportunity for glamour as we were in the early stages of building the business we run together. This is why it was so important to celebrate in the way we wished we had been able to a decade ago… in style! Italy was a natural choice as it ticked all our boxes."
"We wanted a uniquely stylish destination experience and wanted something just for us. We completely trusted our wedding planner and photographer, who listened to us and guided us to make excellent choices."Some of you may well remember MySpace and it's on this social networking platform that the couple met. They've shared more about their love story here.
"We had overlapping circles of friends on MySpace. Mark found he couldn't stop thinking about me. Mutual friends knew us well enough to realise that we would be perfect for each other and willed us to meet."
"Not long after, we met by chance in a bar one evening and Mark recognised me straightaway. He had no problems introducing himself because I already felt so familiar. He was confident and friendly and after that evening we exchanged a flurry of emails. At this time, Mark was about to celebrate the first anniversary of his dental practice."
"Some of his team had heard him talking non-stop about this girl he had just met and invited me to the party without his knowledge."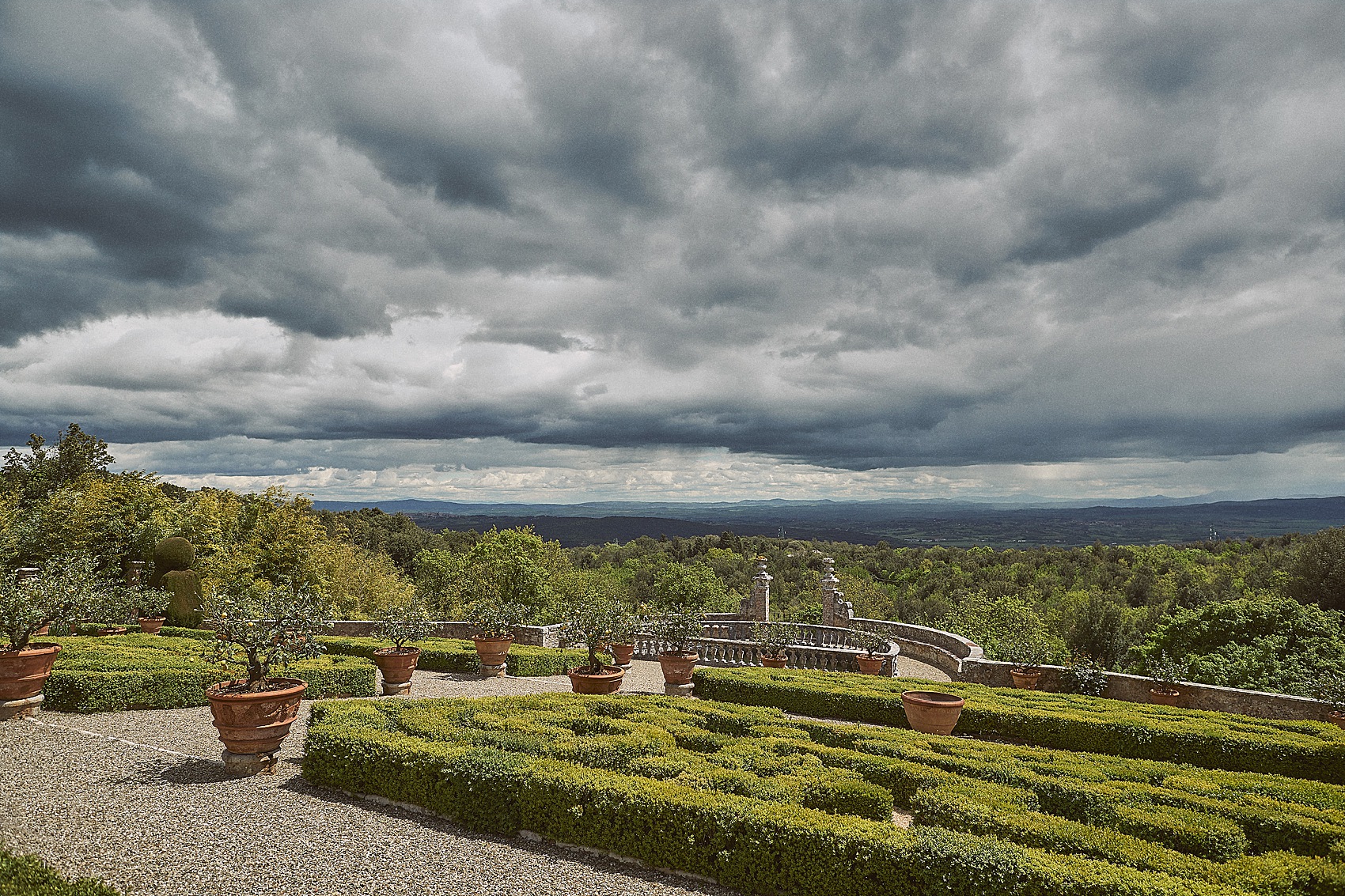 "When we met for our first date I eagerly leapt into Mark's waiting arms and we both knew at that unforgettable moment that we were made to be together."
"Non-stop conversation flowed effortlessly and no one else around existed. We have remained encased within an unbreakable romantic bubble ever since."
"Within the week we were sure we never wished to be apart. Moving into together so soon may have seemed reckless but to us it seemed like the most natural thing in the world. We have been inseparable from the beginning and in spite of living and working together in the practice for over a decade, still miss one another terribly if we find ourselves apart for even the shortest time."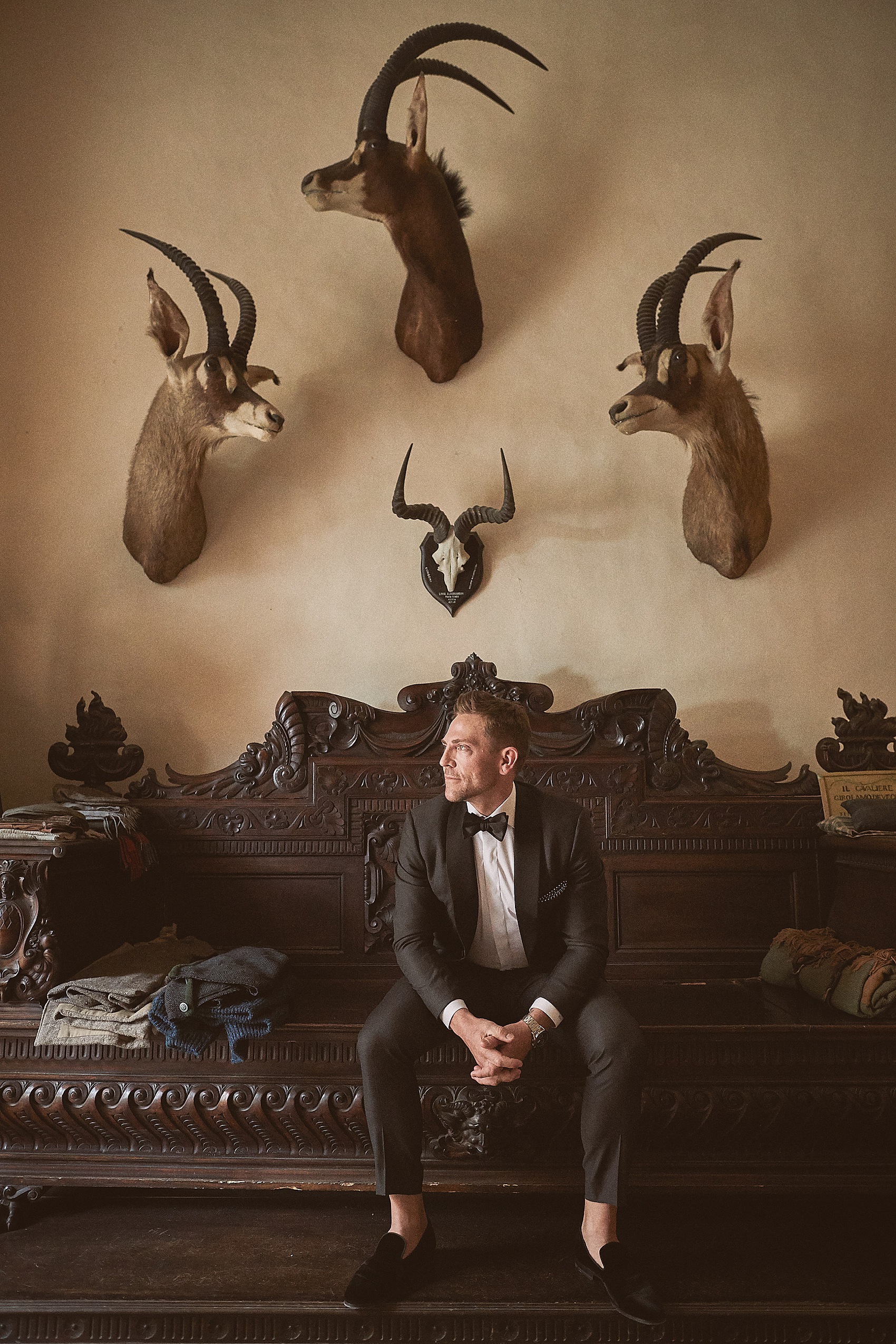 Their original wedding ceremony was pared-down and simple, so the couple really channelled all the glamorous, opulent vibes for their renewal ceremony.
Mark dressed in a dapper grey, bespoke tuxedo by Chad Mihr at David August. He wore a pure black bow tie and spotted pocket square, and accessories from Louboutin.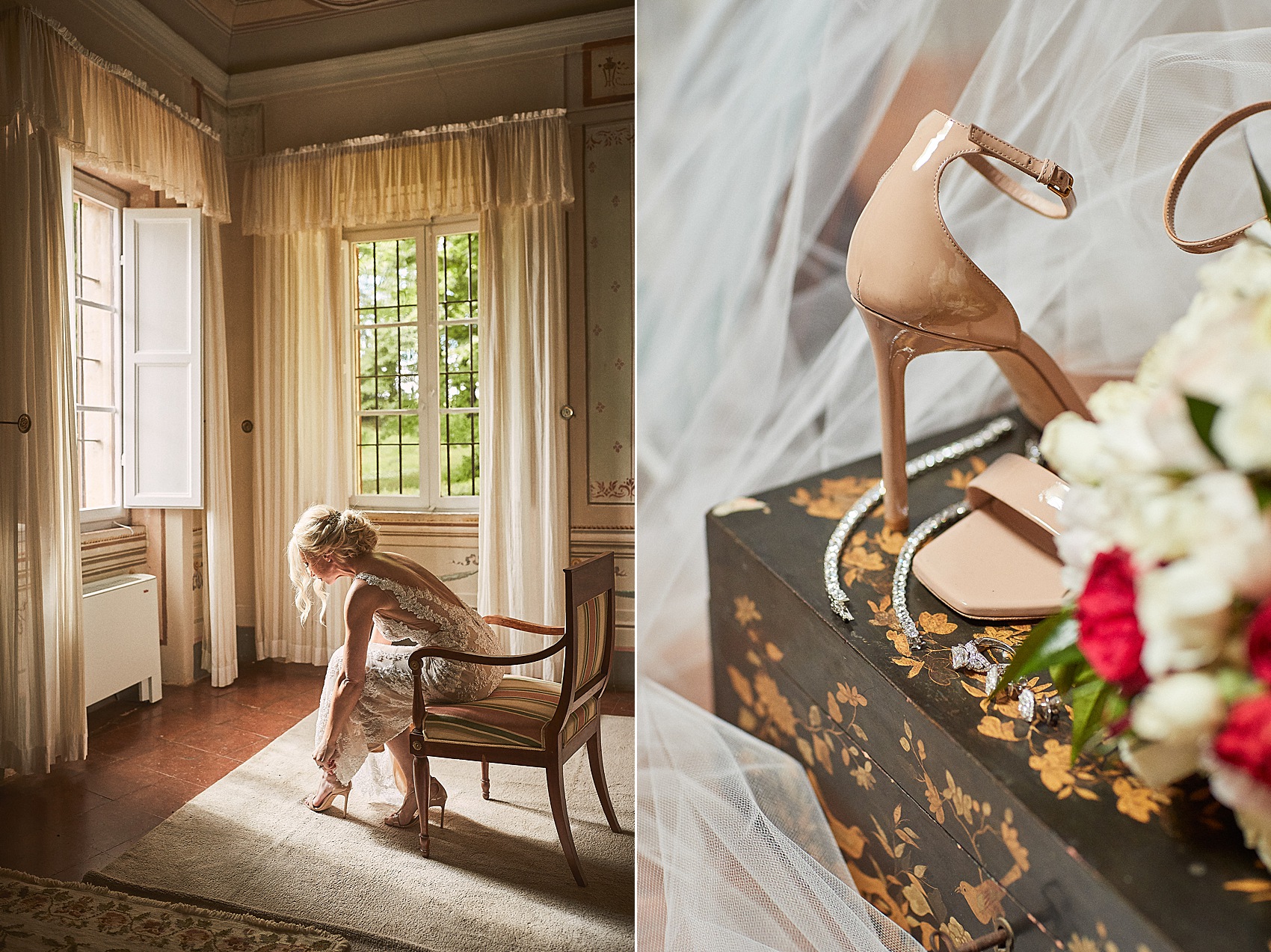 Tawnie headed to Saks Fifth Avenue in Beverley Hills to choose her gown, a sexy, appliquéd piece by Israeli designer Berta which features incredible intricate beading and a daring, plunging neckline.
"The style was so new that they had to fly in the sample directly from the designer in Israel. I chose this dress because it wasn't your typical wedding dress – unique and sexy! It was my first time wearing a wedding dress."
She wore the gown with skyscraper, patent nude heels from Yves Saint Laurent and an embellished hair piece from BHLDN. Her blonde hair was twisted up into a show-stopping up-do by Cherie Spisso, who also applied Tawnie's smokey make-up and full, red lip.
She also carried a bouquet of full-blown blooms in cream and red, the ultimate symbol of romance styled by Roberto Fiori.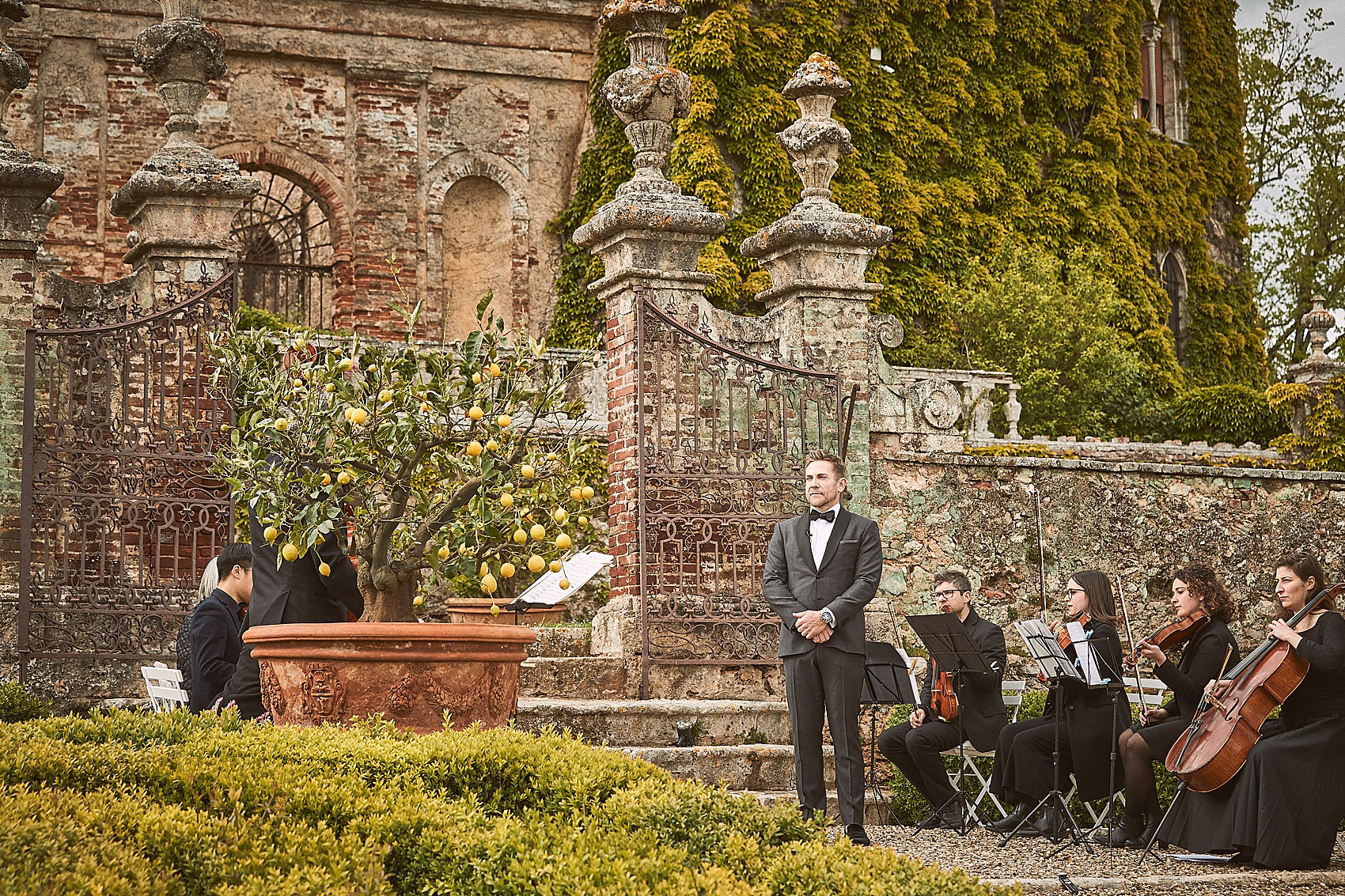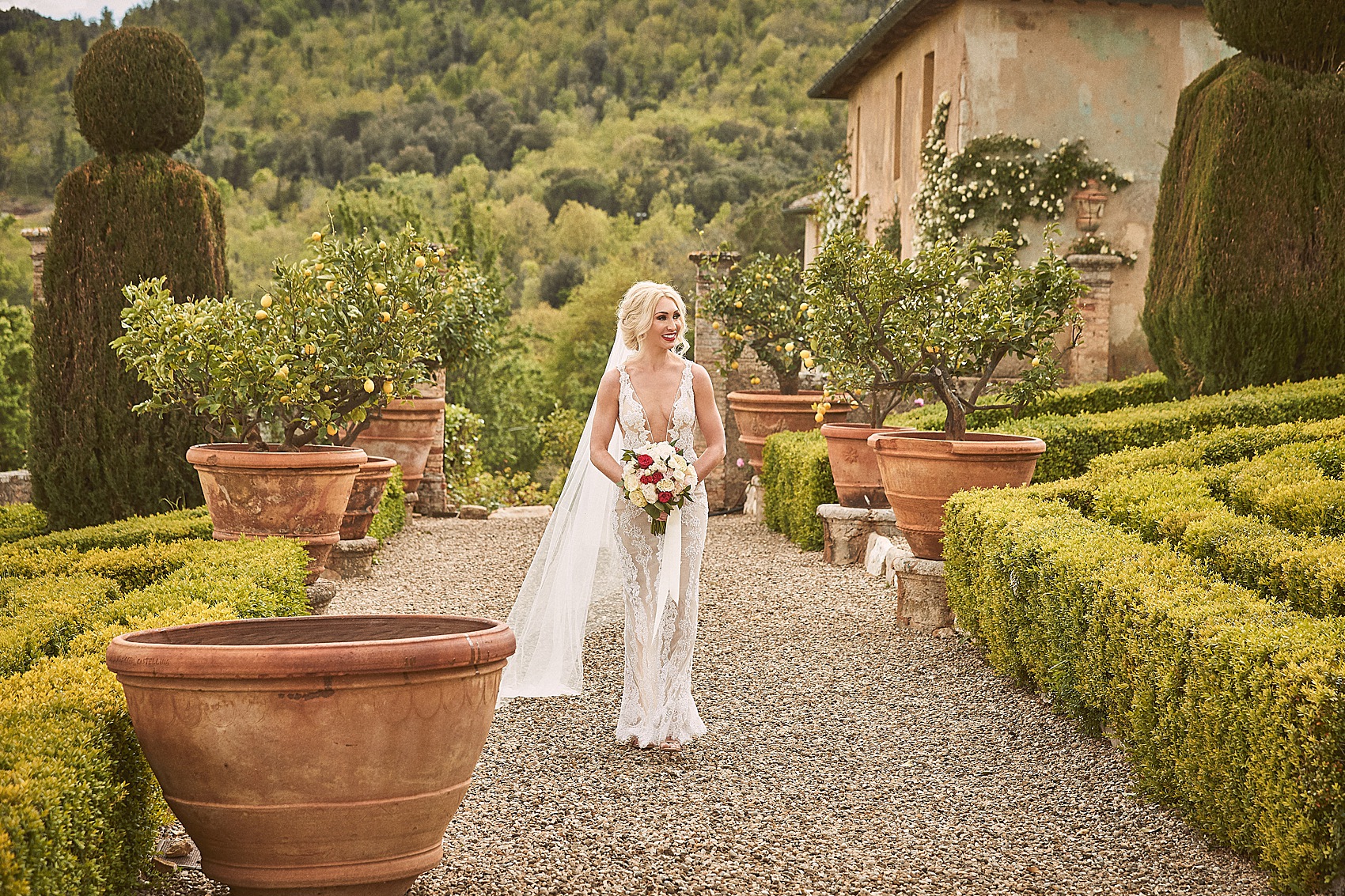 The couple selected Jules Bower, a wedding photographer based in Italy, to record their vow renewal, and his work is crisp, intimate and emotive.
"Jules' work is outstanding and we are absolutely delighted with the results. We would recommend him to everyone! He made us feel so relaxed and was a lot of fun to work with."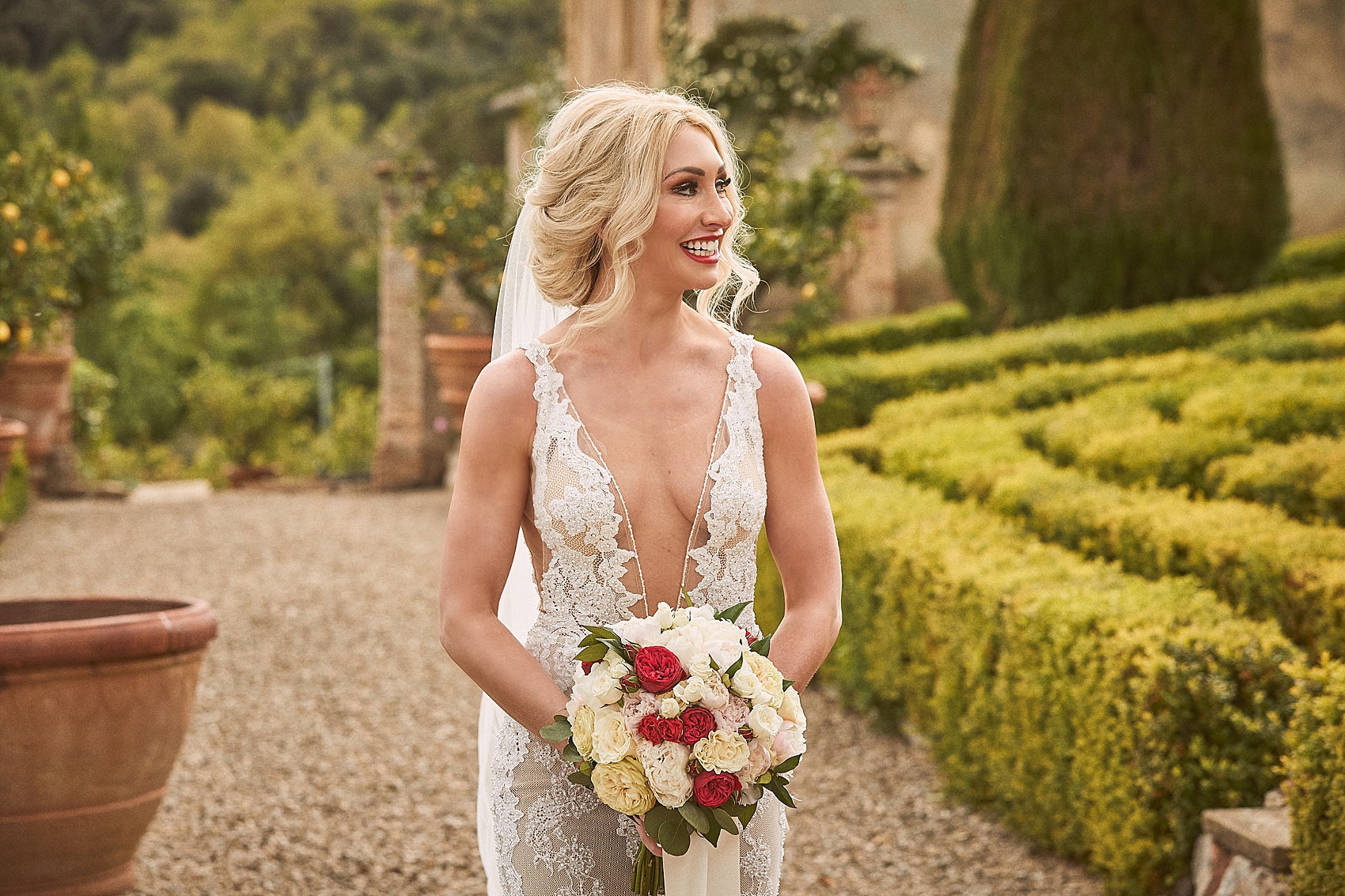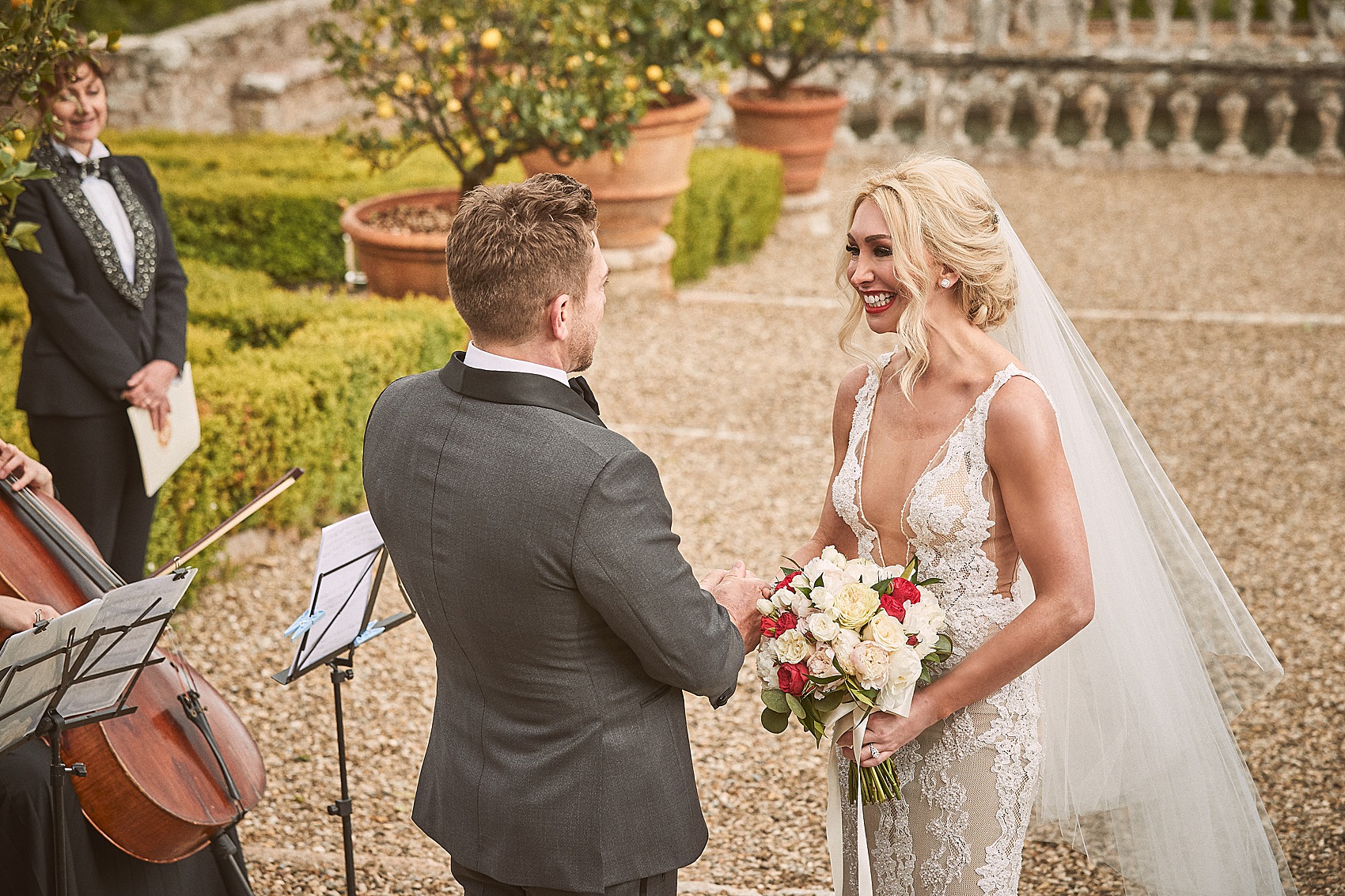 I'm truly delighted to share that the ceremony was conducted by the fabulous Diane Rossi of Blessings From Italy, a husband and wife team of celebrants who we are proud to list on our Little Book Wedding Directory. Giuseppe and Diane have over ten years of experience and you can find out more about them here.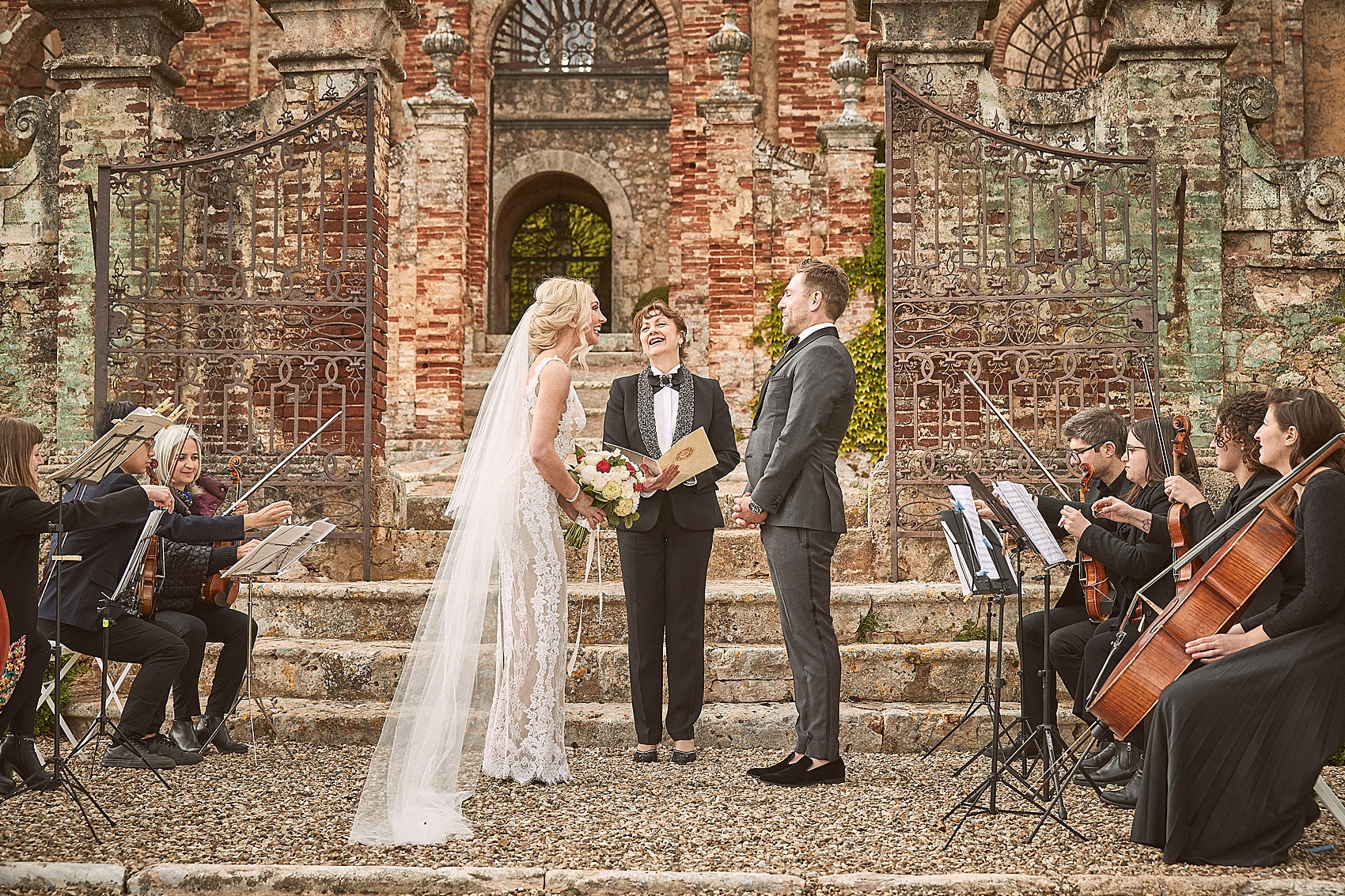 "Diane Rossi from Blessings From Italy was highly recommended to us by our planner. We held a Skype call being so far away in the US. We got on really well and trusted her to reflect our feelings for one another in a vow renewal ceremony, which was completely bespoke to us."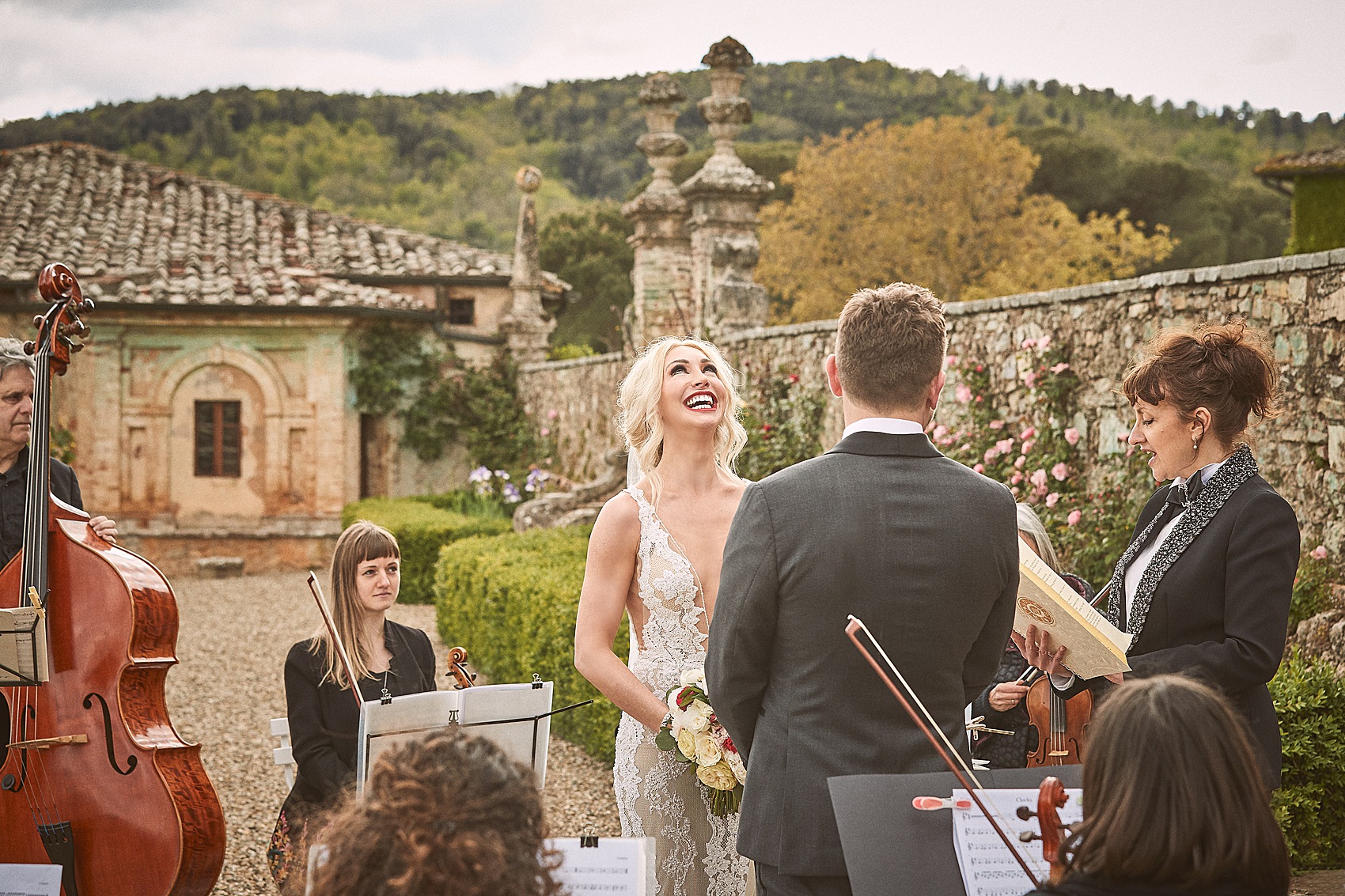 The ceremony was held on the terrace of the beautiful Castello di Celsa, with just the celebrant and a string quartet in attendance. As Mark arrived and waited for Tawnie, the musicians played 'Halo' by Beyoncé. Then, as Tawnie walked down the terrace steps towards him, they played Pachelbel's 'Canon in D'.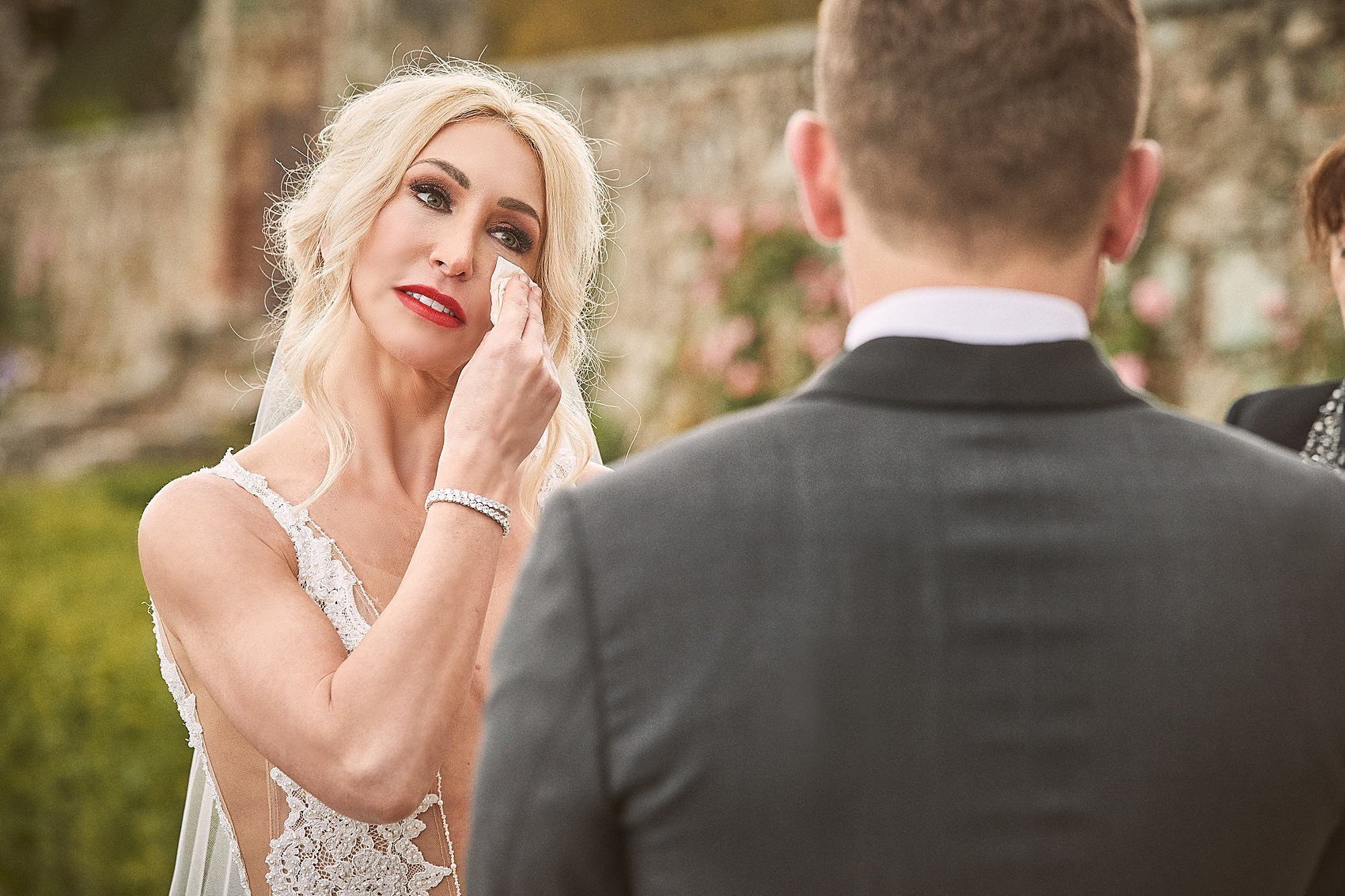 "We asked our celebrant Diane to read 'The Art of A Good Marriage' at the beginning and 'True Love' at the end."
The couple's rings came from Lugano Diamonds and, as Diane invited Mark to kiss Tawnie, there was more string music.
"The third song started as Diane said, 'Kiss the bride'. Mark and I exited to an area where we popped open a bottle of champagne, toasted one another and enjoyed the moment. This was while the musicians played the Vitamin String Quartet version of 'Clocks' by Coldplay."
With just the two of them to celebrate, the couple returned to Castiglion del Bosco for an intimate dinner together but they did manage to have a 'first dance moment' with their musicians playing 'Rise Up' by Andra Day.
"We composed our own renewal words and read them aloud to one another. We also pledged the following vows."
"Once again I promise to honour you
to comfort, protect and love you
to remain by your side as your devoted husband/wife
in sickness and in health,
in times of want and plenty,
for better or worse,
for the rest of our lives."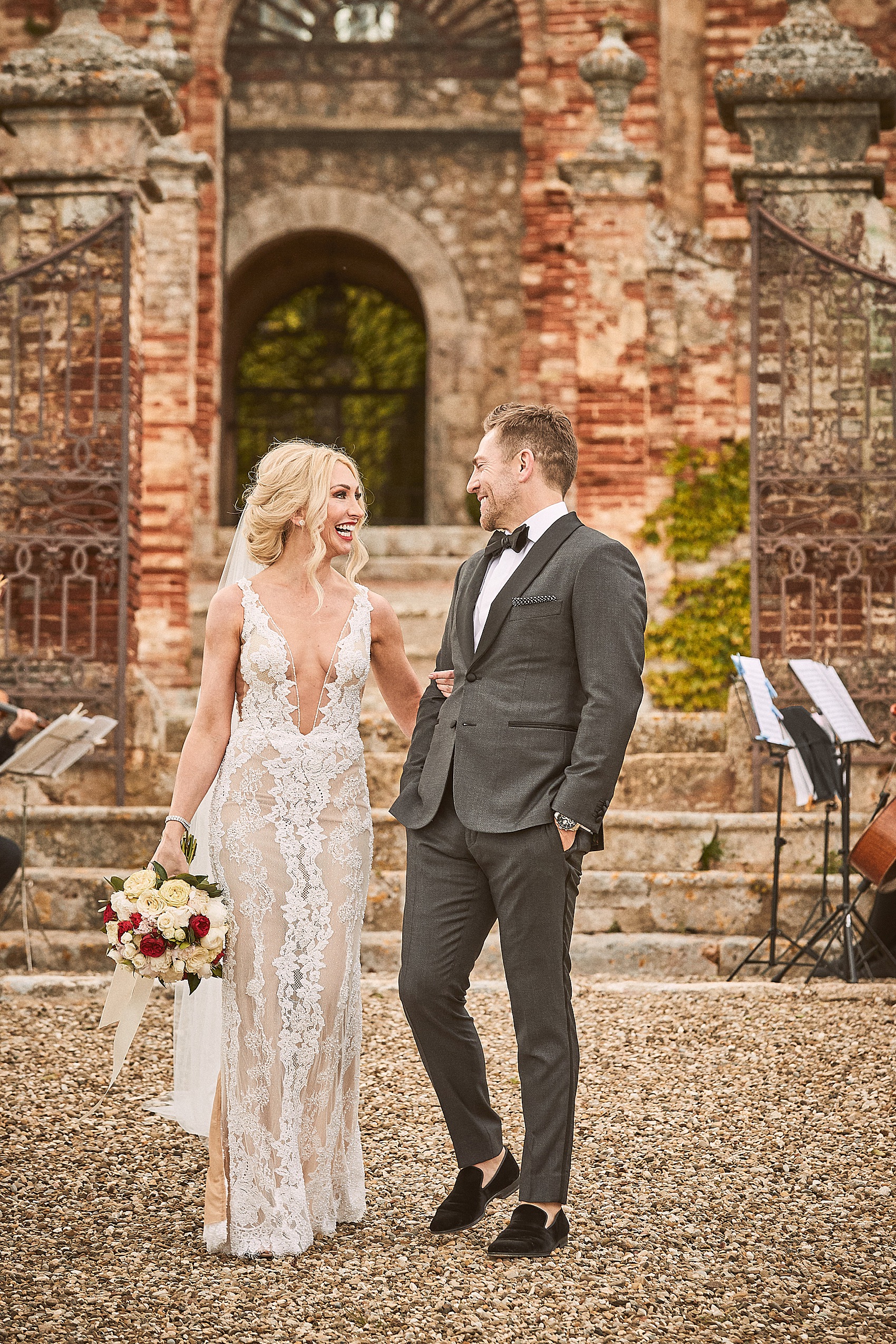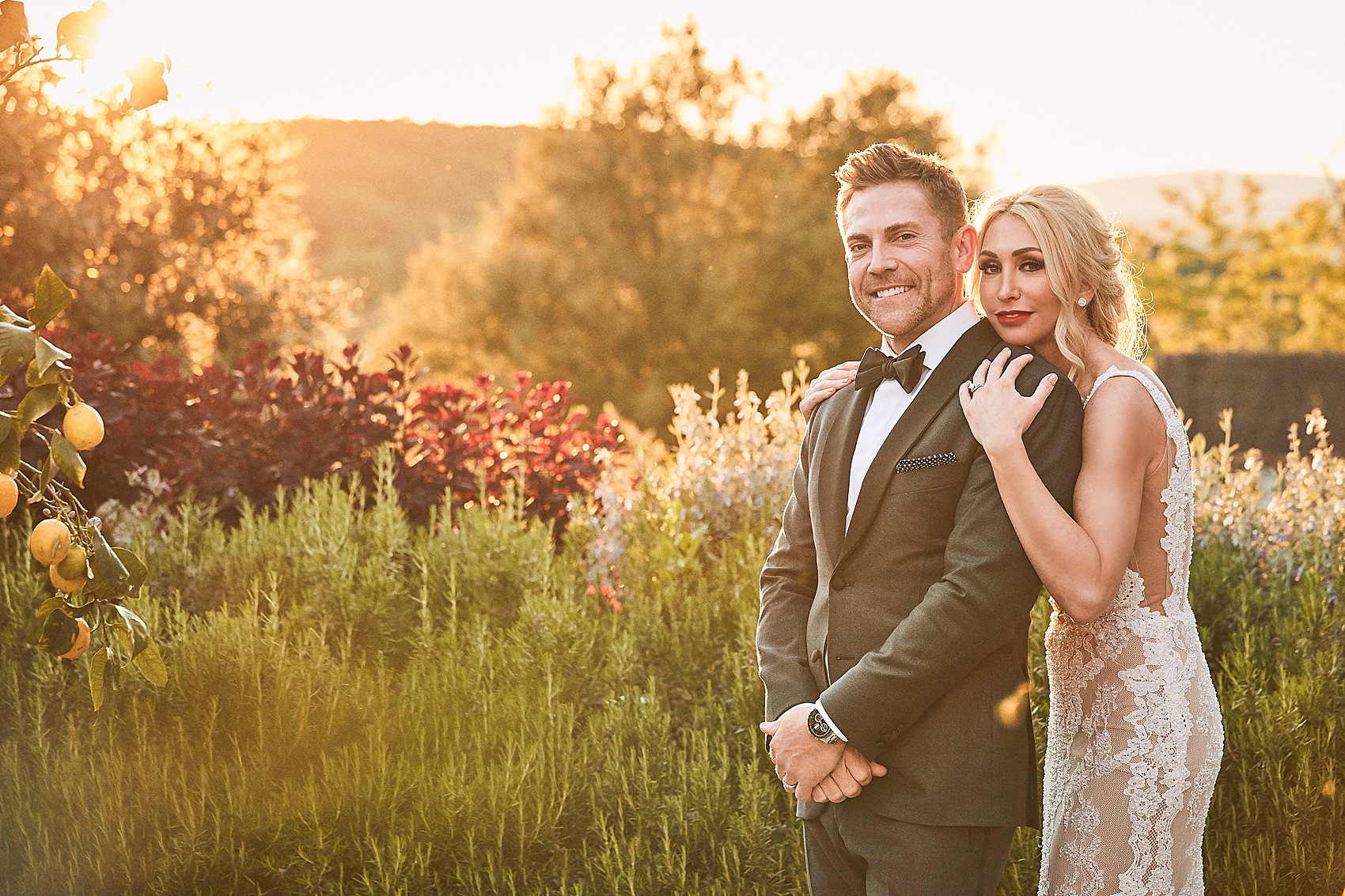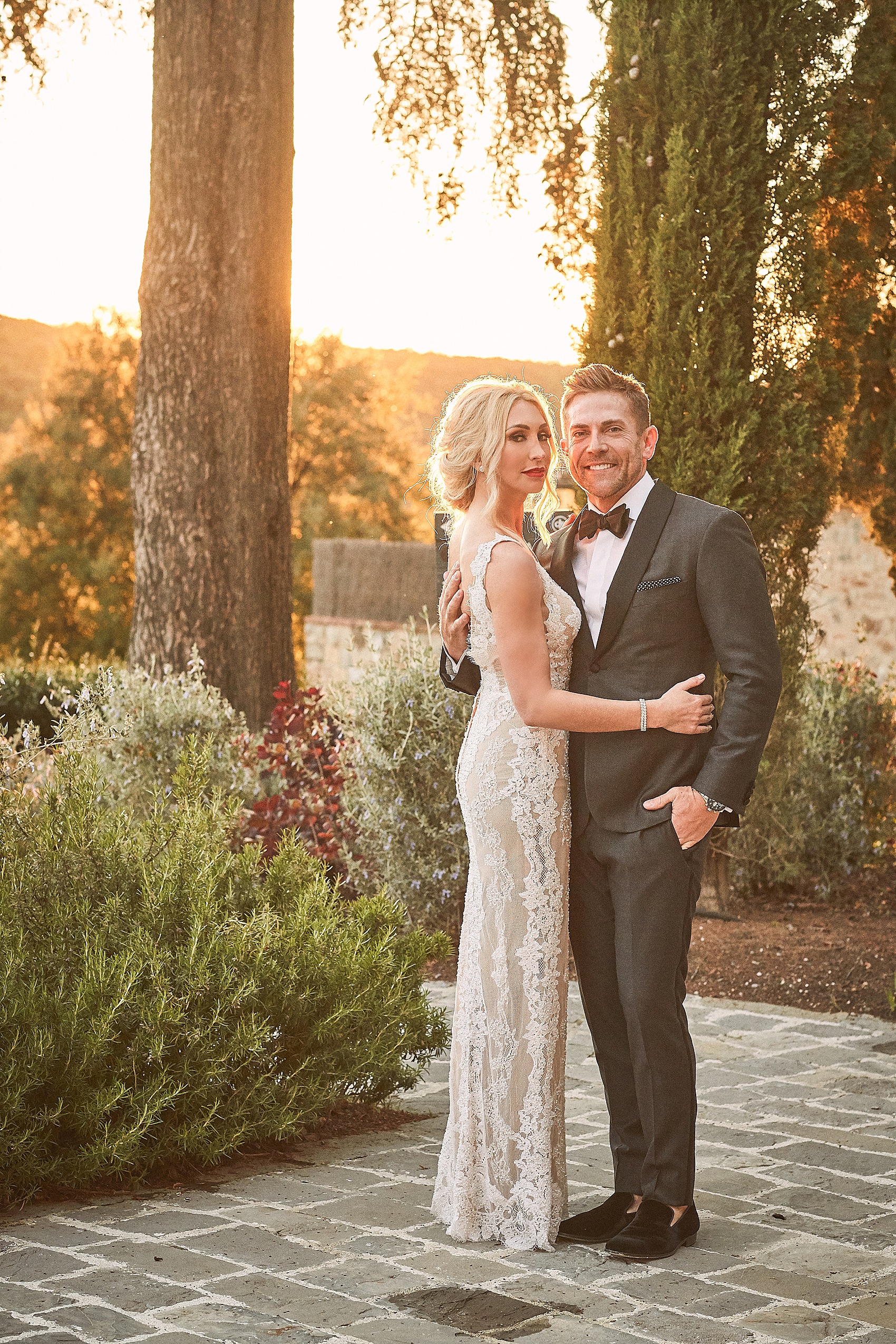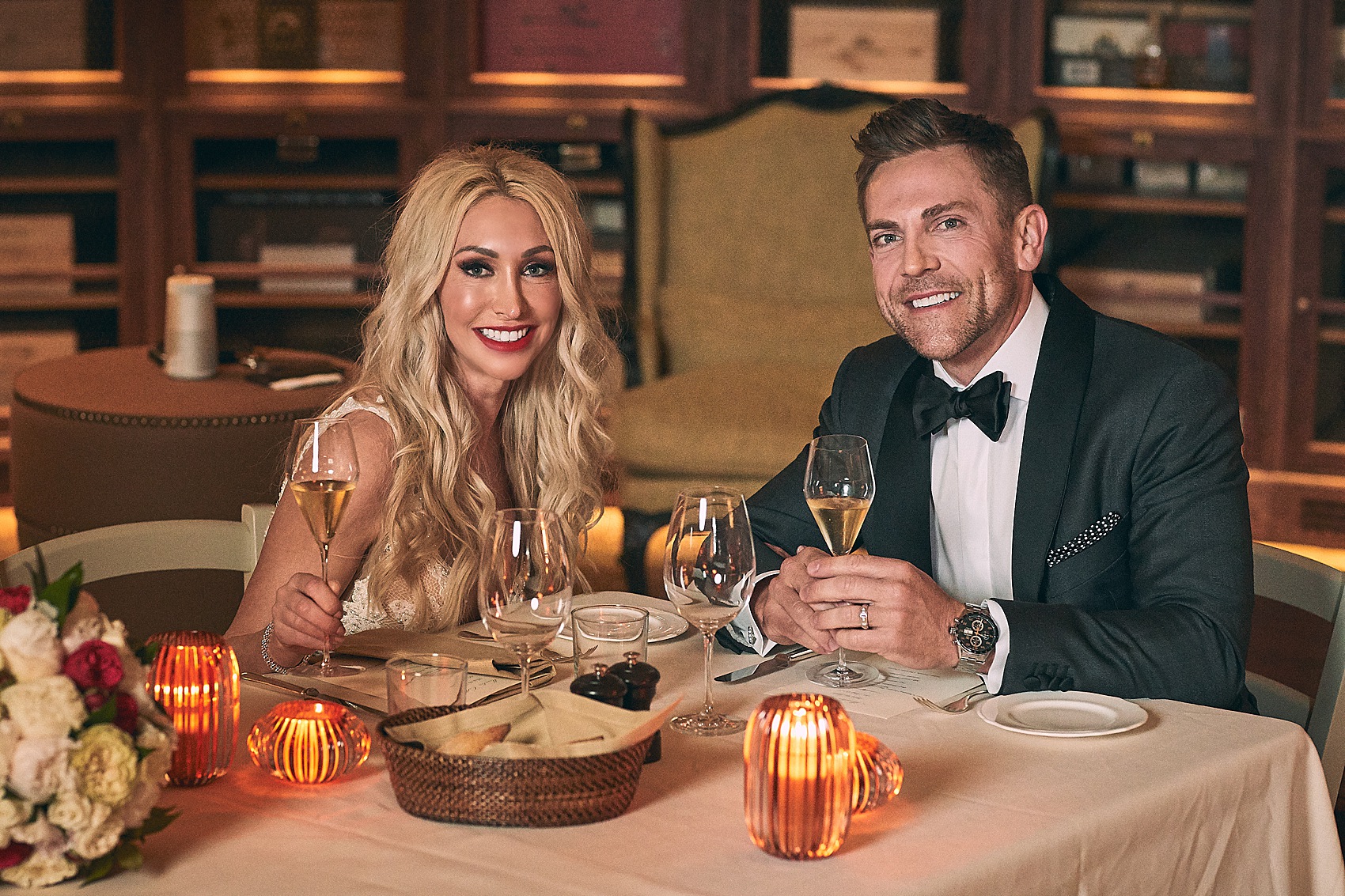 I really hope you've enjoyed this glimpse in to Tawnie and Mark's love story and vow renewal. Congratulations on your first decade together, you two – and thank you so much for allowing us to see your celebrations
Italy, we love you, and we look forward to sharing many, many more beautiful Italian destination weddings in the coming days, weeks and months.
Annabel xx