I know that, in light of COVID-19 and the coronavirus pandemic, that a large number of you have had to postpone your wedding plans and truly, my heart goes out to you if that's you.
As a team, we want to offer as much support to you as we can at this time – both an on emotional and practical level. It's with the latter in mind that we're sharing this article today. We want to help make sure that when your much-awaited wedding day eventually happens, that everything that you've bought and ordered is still in the best condition possible ready for what I'm pretty sure is going to be the celebration of an absolute lifetime.
To do this, we've consulted with some of our trusted, reliable and highly recommended Little Book Wedding Directory members. I hope that their practical and sensible solutions below prove useful for many of you. Please show these suppliers some love. Follow them, like their Instagram images, ask how they're doing. So many of them have been through the most excruciating time these past few days and weeks worrying about jobs and livelihoods. Thank you so much.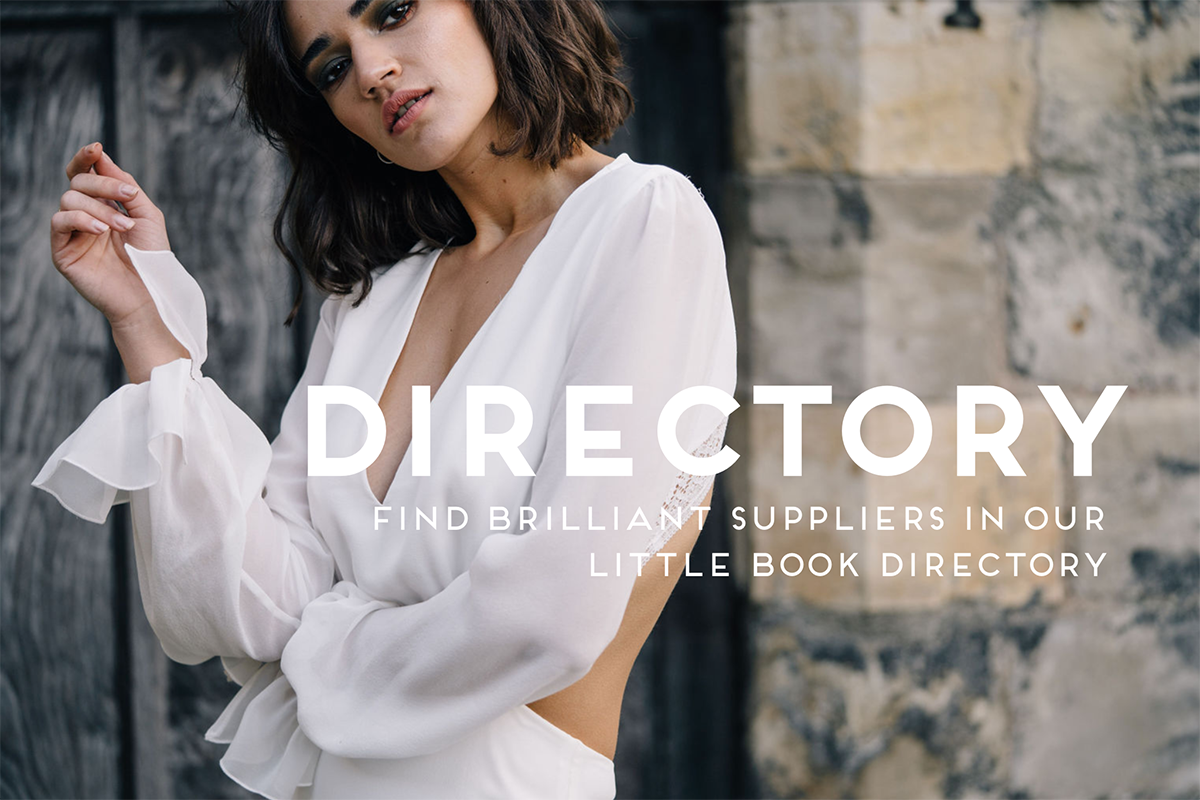 Wedding Dresses
Catharina from My Eden
"It's definitely worth remembering that over time, straps and shoulders can stretch if the dress is heavy and it's hung up. Most dresses will have hanging loops but it's worth making sure that they haven't slipped off and are positioned correctly so that the weight of the dress is on them fully. I'd also add some crunched-up acid-free tissue paper inside the bodice to protect it from becoming a bit flattened over time."
View this post on Instagram
Laura from Brides of Winchester
@bridesofwinchester

+ Follow
"Your dress can be stored in a breathable, long, dress bag and either hung up or laid flat in a safe place. On a bed in a spare bedroom is perfect for this. If you weren't supplied with a long breathable dress bag, Brides of Winchester can send you one for £25.00 plus P&P, please email us –
"If you are storing your dress for a quite a long time, bear in mind that fabrics tend to discolour naturally over time as they take-up chemicals and acids from the items that surround them. If you are tempted to try your dress on (and who wouldn't!) be aware that perspiration, deodorants and perfume may cause stains. To help slow down the natural process we advise storing your dress in a specialist preservation box which has in a Ph neutral environment."
"In most cases, a gown that has been boxed will need to be pressed before the big day. Hang your dress (and veil if you have one) up as some creasing will drop out naturally."
"Whether you choose to store your dress boxed or hung up, it should be stored well away from sources of damp, heat, sunlight and never in a plastic or non-breathable bag."
View this post on Instagram
Kerensa from Bijou Bridal Boutique
@bijoubridalboutique

+ Follow
"Some boutiques, including myself, have an insurance policy that covers storing brides dresses in the boutique and so this is a service that I have been able to offer my brides who were getting married in April, May and June 2020. This has given them complete peace of mind that their gowns which are also in breathable woven fabric gown covers, are stored safely and correctly for when they will need them."
"If they are having to take them home for various reasons, as long as the gown is in a breathable woven gown cover, it should be absolutely fine being hung up in a wardrobe until it is needed, safely stored away from prying eyes, sticky fingers and animal fur. A plastic type gown cover is not suitable as the air won't be able to circulate around the gown and it could begin to smell a little musty, depending on how long it is stored for, which definitely isn't ideal!"
View this post on Instagram
Fross Hockley from Fross Wedding Collections
@frossweddingcollections

+ Follow
"We always provide our brides with breathable gown covers to keep their gowns in. If you'd prefer to box your gown, it should have layers of acid-free paper within the folds of the gown and lined all around in an acid-free box."
View this post on Instagram
Bridesmaid dresses
Sinclair from Maids To Measure
"Luckily our dresses are very resilient so even if they have to be put away for a year, they'll be absolutely fine. I would just put then in plastic covers or suit bags, just to keep the dust and dirt off. The other issue might be if anyone changes shape but our dresses are beautifully made and can quite easily be altered by a good seamstress should they need to be. If any of our brides need covers for their dresses, we'd be happy to help."
View this post on Instagram
Wedding Accessories
Ashley from Ashley Wild Bridal
@ashleywildbridal

+ Follow
"The advice I'm giving my brides is to keep their pieces boxed up if they like as this won't hurt at all and then they'll be able to 'unbox' a little treat when things start returning to normality! Veils can also be stored hanging on a rail or clothes hanger. In either situation it's always best to lightly steam before wearing the piece on the big day.
Film by LMD Collective
Debbie from Debbie Carlisle
"If you need to store your wedding accessories, the best thing you can do is to keep them in the packaging they were sent to you in. If your accessory was wrapped in tissue paper, keep it in this. I use acid-free jewellery grade tissue paper which acts as an extra barrier to prevent your jewellery from tarnishing but even tarnish-free jewellery can discolour if its left out in the open air so it's important to protect your accessories if you need to store them for a long time.
If you do find that your jewellery has discoloured or tarnished, you can use a silver polishing cloth to buff it up. If you need to handle your accessories, try to do so with clean hands that haven't recently been moisturised – this will prevent any oils from getting on your jewellery and will keep it in tip top condition."
View this post on Instagram
Hermione from Hermione Harbutt
@hermioneharbutt

+ Follow
"When it comes to your wedding accessories, they should be designed to last a lifetime. Our pieces are created as heirlooms, so they won't come to any harm nestling within their boxes until your big day. We recommend you keep your lovely pieces within the packaging they arrived in, and store in a dry, safe, and warm place."
"If your wedding has been unfortunately postponed or you have no immediate need for your accessories to be physically with you, perhaps ask your designer to store it safely for you within their showroom or work studio. We have reached out and offered this to many of our brides as a more secure and convenient option during this unpredictable time."
"Your wedding accessories should be treasured and loved for years to come, and in order to treasure your exquisite pieces, proper care is key."
View this post on Instagram
Wedding stationery
Jake from EYI Love
"Each item will be slightly different but in the main, if the stationery was sent in a box and you still have it keep it in there.  keep away from direct sunlight and heat like radiators. Obviously, moisture will ruin paper so you don't want to keep anything somewhere it will be subject to damp or any moisture at all."
"Items like table plans if mounted onto a Foamex or backing board need to be stored somewhere that nothing heavy can fall on it. Also, if it was me, I would wrap pieces up in bubble wrap and put something over the corners to stop the corners getting dog-eared. Everything else I would keep flat and in a box.
View this post on Instagram
Rosie from Ink Flower Press
"Moisture is paper's worst enemy – changes in humidity can cause it to swell, warp, wrinkle and stick together. To protect against moist damage, store your stationery with silica gel sachets, which are available cheaply online, and check it regularly."
View this post on Instagram
Caring for acrylic and vellum
Jo from Crum & Co.
"If you have acrylic stationery, each piece of acrylic should be wrapped individually in tissue or bubble wrap, to protect the delicate finish from scratches. When moving or storing large acrylic signs, ensure the corners are protected and, where possible, store your signs in the protective packaging they were shipping in. Corners can chip easily when too much weight is applied so, when handling your acrylic, try not to place it down corner first."
"To remove any light scratches, you'll need an acrylic or plastic polish, 800 and 1200 grit sandpaper and water to soak the sandpaper with. Wet a piece of the 800-grit sandpaper and run it over the marked area in a circular motion, then repeat with a dry piece of the same grit sandpaper – you'll need to alternative between these wet and dry sheets for around three minutes. Don't panic if the acrylic begins to look frosty or have more scratches on it, as this is part of the process. Once you've done this, move on to the 1200 grit sandpaper and repeat the same process until all of the scratches have disappeared. Lastly, dry the area with a clean cotton cloth and apply the acrylic polish. The result should be a piece of acrylic that looks as good as new, with no visible marks."
"If you have stationery with vellum, remember that age, heat and moisture can make it curl – just place a piece in your hand or under a lamp for a while to see for yourself! Store vellum in a cool, dry place. If you can store it under something weight, like a book, even better. If the edges do curl a little, don't be afraid to curl them back the other way with some sort of barrel tool, like a pencil. Be really careful not to crease your vellum – once it creases, it's creased for life so handle it as little as possible."
View this post on Instagram
Wedding confetti
Sally from The Real Flower Petal Confetti Co.
@realflowerpetalconfetti

+ Follow
"Natural, biodegradable flower petal confetti is a lot hardier than you may think. We have delphinium petals in our storeroom from summer 2005 – yes, it looks a little paler than our current stocks, but there's absolutely nothing wrong with it!"
"We advise our customers that our Delphinium and Wildflower Petals will store for 12 months. Our Natural Rose and Hydrangea Petals will store for 4 months. However, they will last MUCH longer than this. You need to keep your petals dry and out of direct sunlight. They don't need to be kept cold; room temperature if absolutely fine. It's the moisture that will start the biodegrading process and sunlight that will make them fade."
"We have been recommending to our customers to store their petals properly – inside a cardboard box, on top of a cupboard or somewhere out of the way and they should be fine. Open them up a month before your wedding date and, if you're not happy with how they look, return them to us and we'll send you a new delivery. There's no need to make an unnecessary trip to the Post Office now – stay home!"
View this post on Instagram