There's something very special about the English countryside in spring, and it's shown off in its full glory in today's feature. We're off to Somerset for a simple, relaxed wedding held over a gloriously hot April weekend in 2019.
Come with me Rook Lane Chapel, Frome and the iconic, totally unique venue of Roth Bar & Grill at Hauser & Wirth, an art gallery in Bruton, Somerset, where architect Chris and senior marketing manager for a food and farming charity Giulia wed on 20 April 2019.  The hot and sunny day meant the couple and their intimate group of guests could celebrate in the beautiful gardens and estate of Hauser & Wirth, with an overriding theme of elegant simplicity, trailing foliage, relaxed vibes and great food and drink.
"We always wanted something super-relaxed and had some 'elements' that were essential to the day; amazing food, long tables and open fires."
The Shannons Photography

+ Follow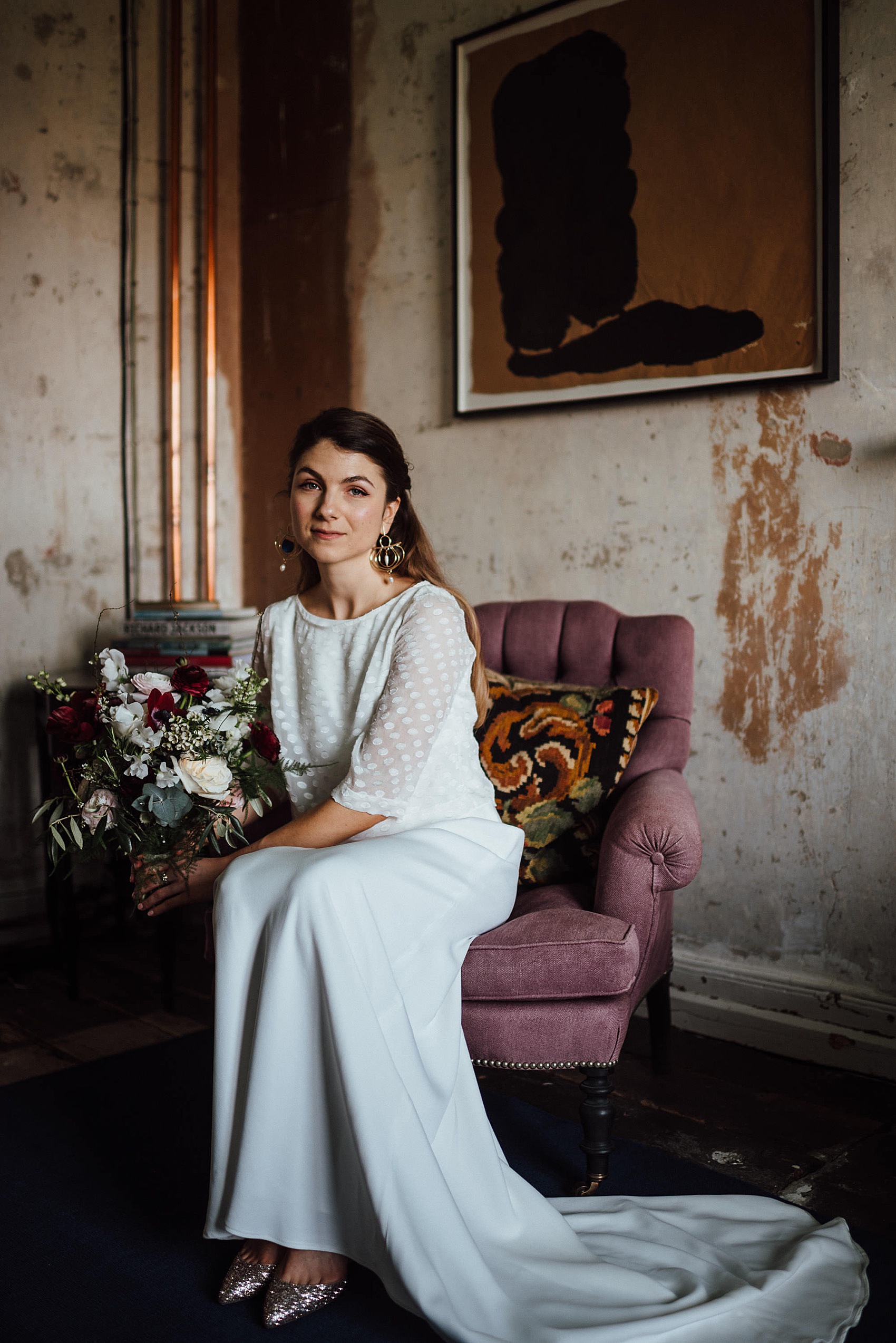 This beautiful, beautiful day was captured so clearly and romantically by The Shannons Photography, whose work we've always adored to share on these pages.
"Just the most wonderful couple and team. So, so accommodating and we're in love with all the photos. We wanted really natural photos of the day, showing people laughing, chatting and having fun and they achieved this almost documentary style of photography so perfectly. Being two of them, it meant that whilst Vicki was taking the group photos, we didn't miss out on the guests and the food being snapped."Giulia hooked on some statement, golden earrings, designed by the very talented Ruby Jack.
"One of my earrings had a little pocket behind it to add a note so I got my artist friend Sarah Boulton to write us a love poem and I wore it with me all day. My gold cameo ring and bracelet were borrowed from my mum."
Hair stylist Chloe Flanagan created soft, romantic waves and caught the front part of the bride's hair away from her face, but Giulia elected to apply her own pretty make-up herself.
A pair of block-heeled, pointy Jimmy Choo shoes, covered in metallic glitter, were found at Bicester Village and after a spray of Chloé perfume, the bride was ready.
With simplicity and elegance at its heart, the tone was set by the bride's choice of Charlie Brear gown, bought at Ellie Sanderson Bridal Studio. A super-simple, silk slip with a deep V-back, she slipped on a cropped, spot chiffon bolero for the ceremony.
"All lovely ladies and really accommodating. They managed to order the dress in time for me without me needing to pay a rush fee, despite having chosen the dress quite late."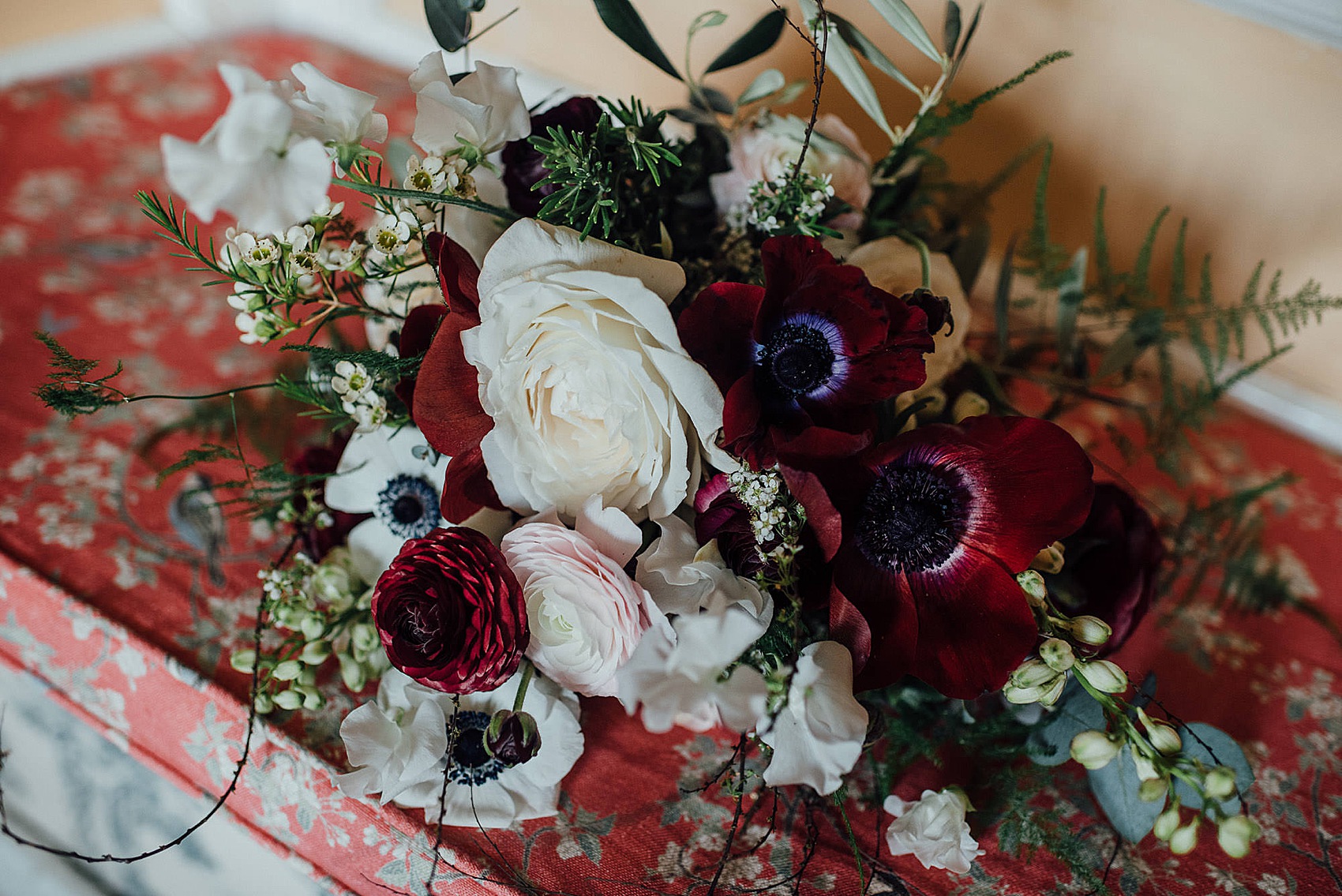 "I knew I wanted something simple and timeless and I just loved the effortless style of this dress. It was relatively loose fitting which meant I could be comfortable and move on the day."
"The silk bolero over the top was perfect for the ceremony to add a formal touch, although the day ended up being so hot that it came off straight after!"
Giulia and Chris met at university over ten years ago and Chris proposed on holiday in Ghent for Giulia's birthday in December 2017.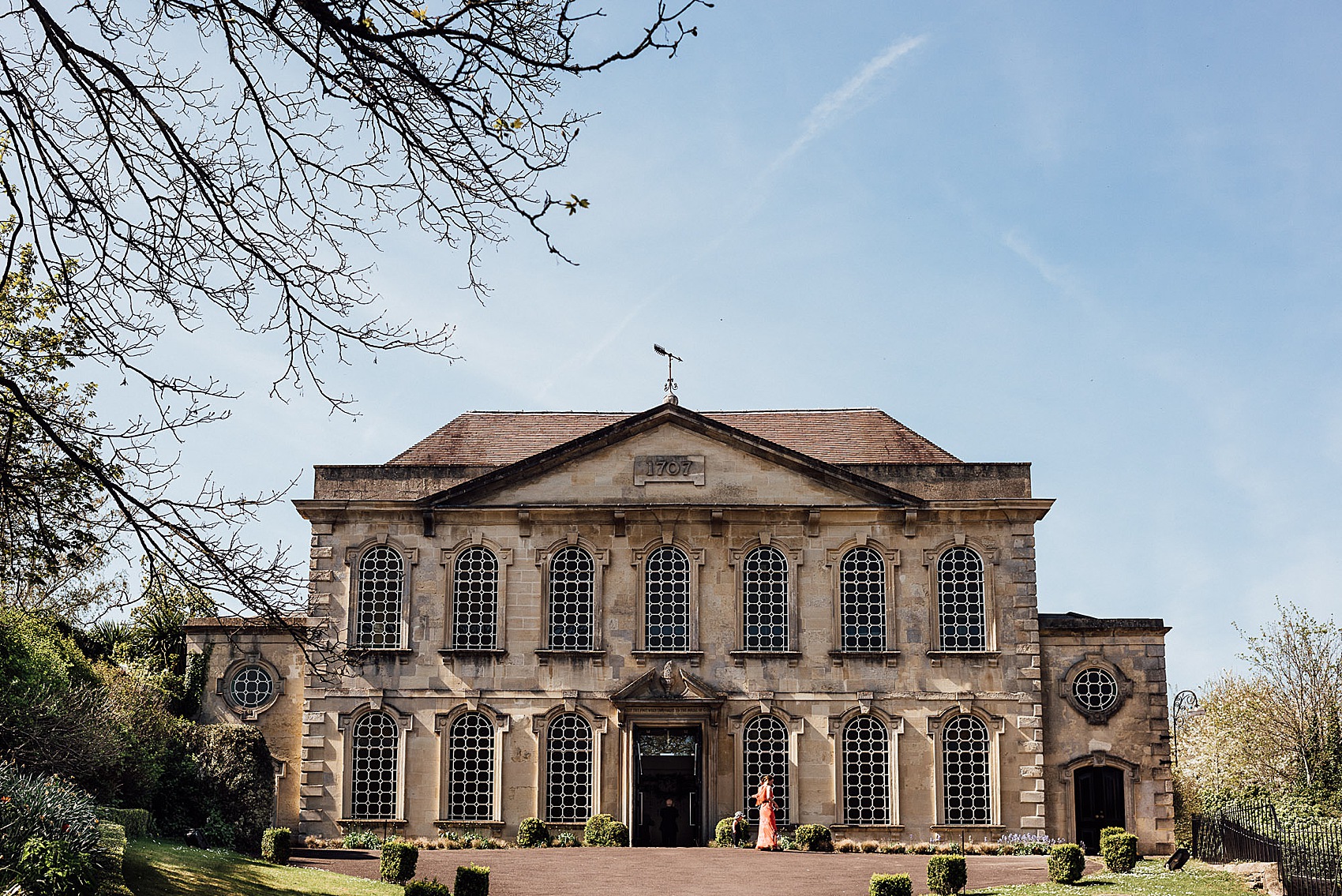 "We were on the same course and were in the same friendship group for a couple of years before we got together. We both fancied each other from day one but had other partners at the time."
"My birthday card was a series of fifteen cards with different memories, photos and memorabilia from our life together with the last one popping the question. We were engaged for about ten months before starting to plan the wedding and then planned it in five months."
The couple's ceremony was held at Rook Lane Chapel in Frome, and was a blend of English and Italian traditions. It had been so beautifully decorated using flowers from a local flower wholesaler and ivy picked from Chris's parents' garden. Oh, and as a talented designer, it was only natural that the groom design the stationery suite himself.
"We had a lot of fun doing it ourselves."
The bride walked down the aisle on the arm of her dad to 'To Build A Home' by Cinematic Orchestra.
"We went to their concert a couple of months after the wedding and they played an acoustic version which was very special."
During the service, Chris and Giulia exchanged vows and rings from Titcombe Bespoke Jewellery in Clifton.
"This is our local shop. We bought my engagement ring from an antique shop in Oxford. We had considered going down the route of buying an ethical diamond but this felt like another great option, meaning we got more for our money and bought a little piece of history."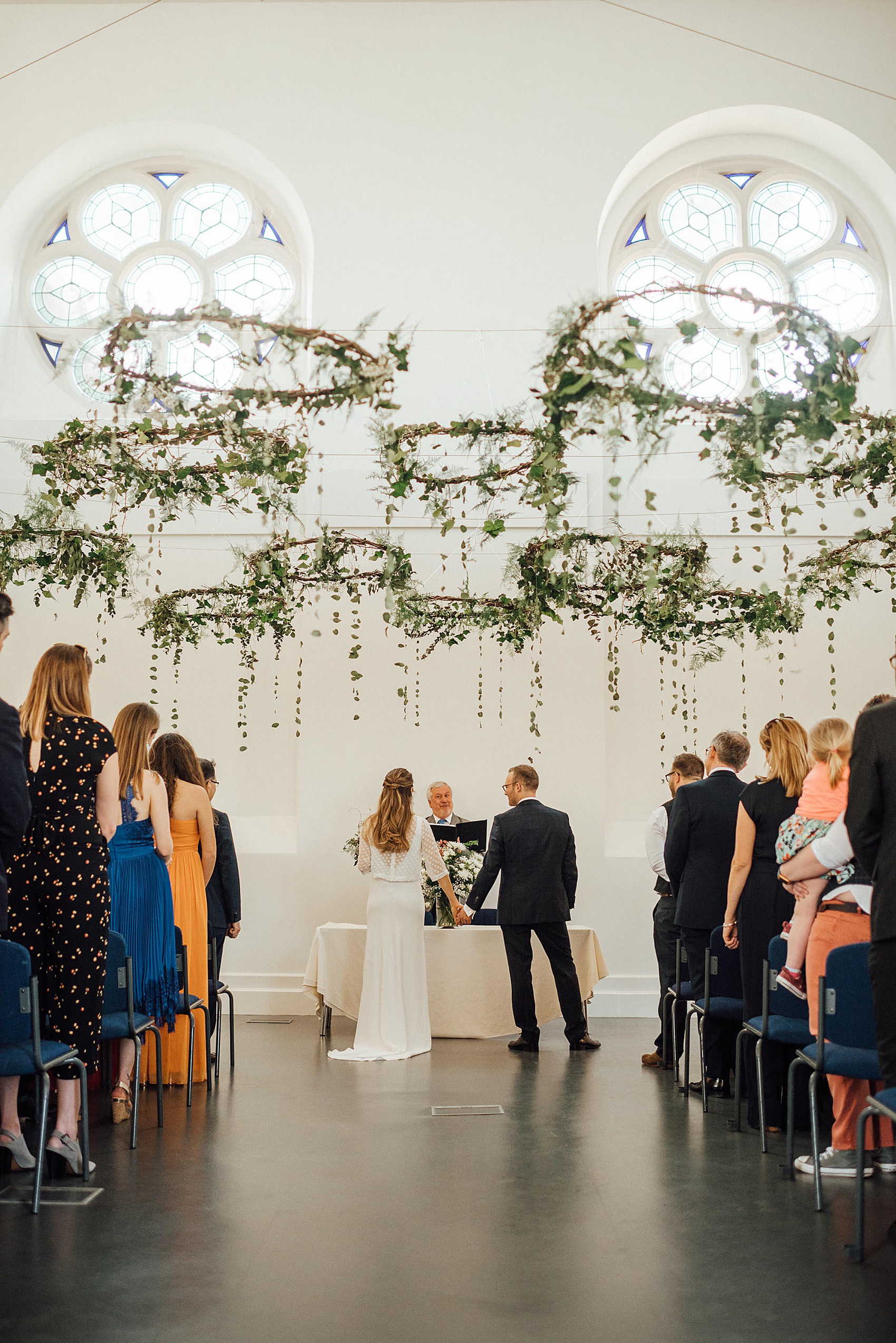 Chris donned a smartly-cut Hugo Boss suit along with his dad's vintage gold tie clip and cuff links and a pair of Oliver Spencer shoes.
His Hermès tie in deep burgundy perfectly matched the bride's wild bouquet of burgundy and white blooms with deep green foliage, created by Bramble & Wild in Frome.
"My auntie read 'Catullus 5'. Catullus is one of Italy's foremost love poets from 2,000 years ago. My auntie chose this love poem for us and read it in Italian. We had a mixed English and Italian audience so had translations projected onto the wall."
"My best friend read an extract from 'Gift From The Sea' by Ann Morrow Lindbergh. It balanced the gushingly romantic other poem with a more gentle and realistic look at marriage, and the fact that a couple should be like dancers who move together to the same rhythm without a possessive clutch or clinging arm."
"Having everyone you love together in one place, rooting for you is the most overwhelming feeling. I'm not one of those people that always dreamt of a white wedding so wasn't sure what to expect but when the doors opened to the aisle and I saw everyone looking back at me, I felt such a wave of emotion. I have close family in Italy and Australia so having everyone together was pretty special."
After the couple had been pronounced man and wife, they emerged into the hot April sunshine to a shower of confetti. Then, it was on to art gallery Hauser & Wirth for the dinner reception and relaxing in the sun-drenched gardens.
"We were lucky enough to have a heatwave the weekend of our wedding in April so our favourite moment was probably walking out into the garden at Hauser & Wirth and seeing everyone sprawled out on the grass chilling and chatting."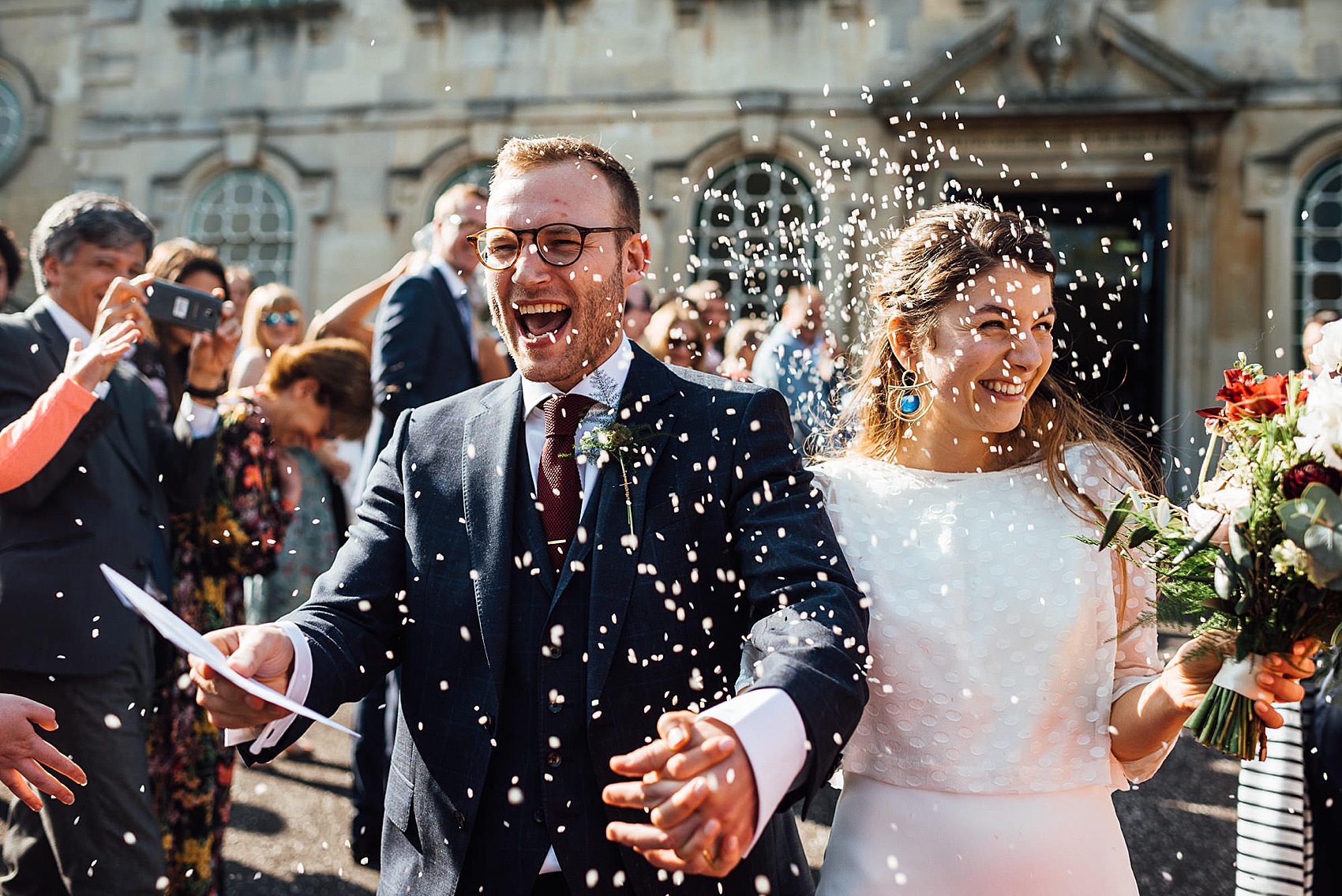 Toasts and speeches were held outside before the party moved inside for dinner on long tables scattered with cacti, which were favours for their guests.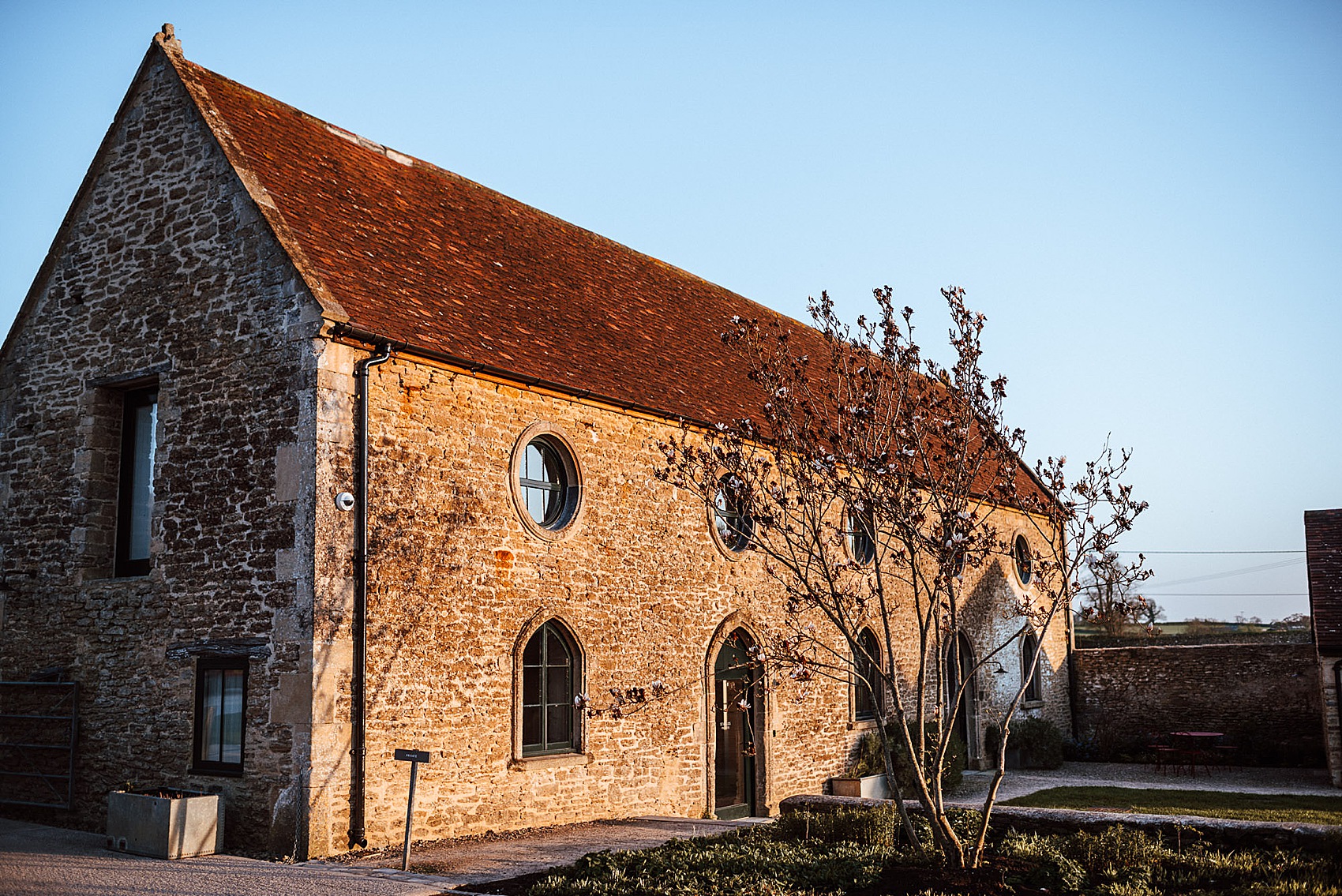 "Roth Bar & Grill is part of an art gallery so the dining room was covered in artwork. The bar is a piece of artwork in itself made from lots of machinery from the farm and odd little objects found."
"Little cacti were used to decorate the tables. We bought them from the flower wholesaler and put them in cute little glasses as pots."
For their wedding cake, the couple had chosen a celebration wedding cheese tower from Godminster Cheese and, after it was cut, Chris and Giulia took to the dance floor for their first dance. The music was provided by DJ Paul who also happens to be the farmer for Roth Bar & Grill.
"'1901' by Phoenix is a song we both love and thought it would be fun to dance to it."
"Roth Bar & Grill do THE most amazing fire feasts that get shared across long tables. The animals are reared on their farm onsite and the meat gets cooked on open fires outside for everyone to see and then carved on the kitchen pass as the guests walk past into the dining room. Properly theatrical food."
Words of Wedded Wisdom
"First and foremost, remember it's only one day and you'll be planning it for months, maybe years, so make sure to enjoy the process as well as the day itself. Whilst it was a little stressful at times, we had a lot of fun planning together and it worked well because we knew which roles worked best for each of us (me the organised spreadsheet keeper and Chris the creative one)."
"Secondly, you forget to eat and drink with everything going on so make sure someone is looking after you, both in terms of making sure you've always got a drink and don't miss out on the food."
"Chris's brother kindly made us up a plate from the fire feast canapés, otherwise I definitely would have missed out!"
"And finally, make sure to get a little bit of alone time together. It's hard to find the time and the day just flies by. We drove back from the chapel to the party venue together and it allowed us twenty minutes to pinch ourselves at the fact we'd just become a Mr and Mrs."
Well, Chris and Giulia, what a beautiful setting for a wonderful day, and thank you and congratulations to you both. For more spring wedding inspiration I'd love for you to enjoy these Love My Dress weddings, or to see more work by the incredible duo, The Shannons, have a look here.
Ele xx