Today's achingly elegant country house wedding is packed full of the most incredible details and multiple recommendations for suppliers listed in our Little Book Wedding Directory.
Everything is utterly classy, light, bright and luxurious, and it was all planned and styled to perfection by our dear  friend, contributing writer and Little Book member, Katrina Otter.
Let's head to the magnificent Grade II* listed Holywell Hall in Lincolnshire for the wedding of Megan, who is a publicist for Sky Sports, and Jamie, a tech entrepreneur, who were married on the 20 July 2019.
"Timeless elegance was what we went for. We wanted to look back on our wedding in 10, 20, 30 years time, and for it to still feel elegant and stylish. We stayed away from current wedding trends, and stuck with classic colours, wildflowers, and very much used the elegance of Holywell to drive our choices. Our colour palette was lots of whites, greens, champagnes, and splashes of deep plum and lilac throughout the flowers (O'Hara, Quicksand, Café au lait, Purity, and Majolica spray roses; chocolate cosmos, eucalyptus, and common oak.)"
Baxter & Ted Films

+ Follow
Film-makers Baxter and Ted worked wonderfully together with Hannah Duffy, and Megan and Jamie are looking forward to receiving their finished film from them.
"Several guests asked if we even had videographers on the day, which is a compliment to them. They effortlessly floated around capturing absolutely everything, without us even noticing they were there! They have such a modern feel about their editing style."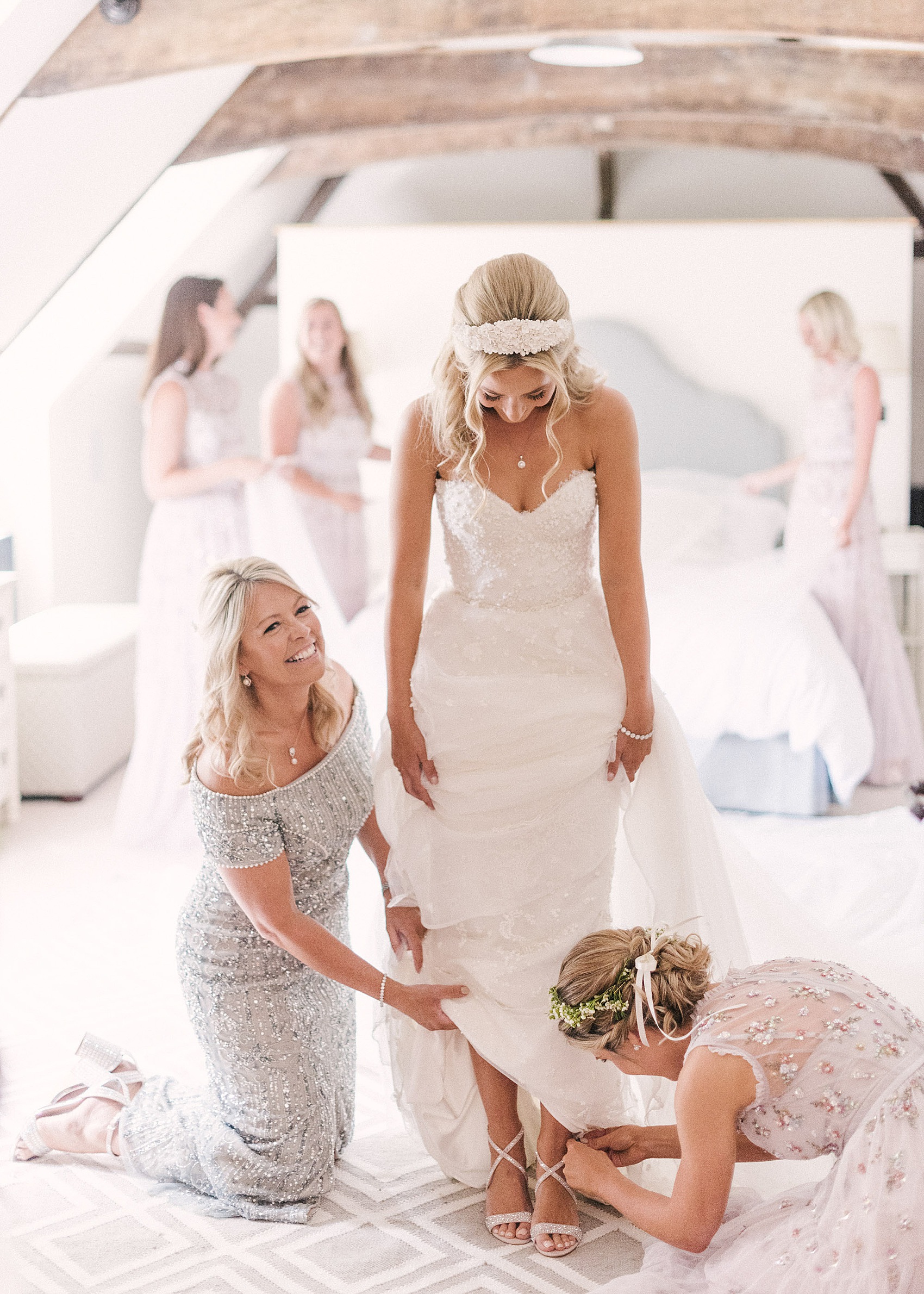 When they booked Holywell Hall, Megan and Jamie were thrilled to learn that award-winning planner Katrina Otter had partnered with the venue. She worked with the couple to bring their vision of a light, flower-filled and elegant celebration to life.
"Kat and her team were on hand every step of the way, helping to plan, coordinate and run the entire wedding weekend. Kat is honestly incredible at what she does. She's one of the most highly sought after wedding planners in the country, and for good reason. She takes Pinterest dreams, and turns them into a reality!"
"It sounds cliché, but we honestly fell in love with Holywell Hall the moment we drove through the gates. We had never seen a more stylish and immaculate estate. Our jaws were on the floor, mesmerised by the stunningly maintained gardens, lake and house. Despite its enormous size, every corner of Holywell felt homely, and we were totally swept off our feet by the owner Dawn, who we now lovingly call Aunty Dawn!"
"I believe we were Holywell's first official viewing, booking and all day wedding, so the entire weekend felt very special for everyone involved. Holywell is a 17th century country estate that's been well and truly brought into the 21st century. It provided us with the perfect setting, as we were looking for a venue that felt grand, but at the same time modern and intimate."
"Personalisation was a big thing for us. We chose Holywell because of its flexibility in styling and running the weekend as we wished. That's the beauty of it. You're basically given the most amazing English estate to create your dream wedding. There's flexibility in your decision making, and Dawn, Katrina and the team are there to help bring your vision to life."
The couple's florist was Lucinda Smith, who also works at luxury floral design studio, Veevers Carter in London. Lucinda knows Jamie from university, and created a vast array of magical arrangements and installations for the day, as well as beautiful, romantic bouquets in soft, summery, pastel shades.
"Lucinda designed and created all the flowers on the day, from the asymmetrical ceremony arch, to a wildflower aisle, fireplace feature, the bouquets, bud vases, table flowers – the lot. We saw flowers as one of the most important things on our list, so we asked Lucinda to create some big, beautiful arrangements."
"We weren't particular about the types of flowers used, we just wanted the style to tie in with the grounds. In Holywell's walled garden, the stunning flower beds surrounded our ceremony area. Lucinda then created tall arrangements that flowed from the flower beds, down the aisle, giving the entire ceremony a lovely, summer meadow-like feel."
With timelessly glamorous make-up by Jennifer Oliver and Keeley Wilson, and her hair styled beautifully by Carly's Creations, Megan accessorised her look with a bespoke tiara of pearls and white flowers by Helen Curtis Tiaras.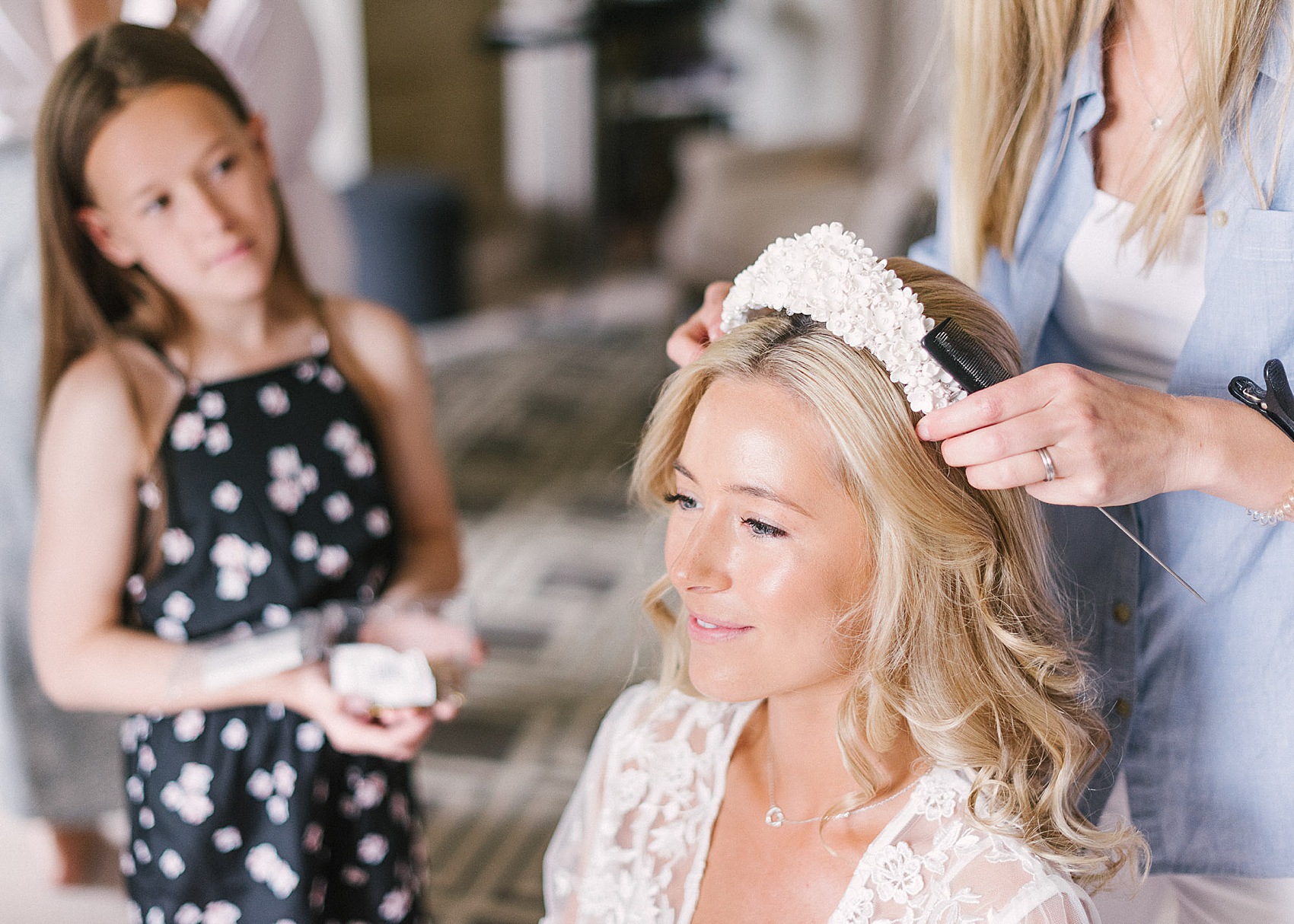 She also wore a bracelet and necklace from Midas Jewellers in Knutsford, as well as a pair of pearl stud earrings borrowed from her sister, which were originally from Ivory & Co.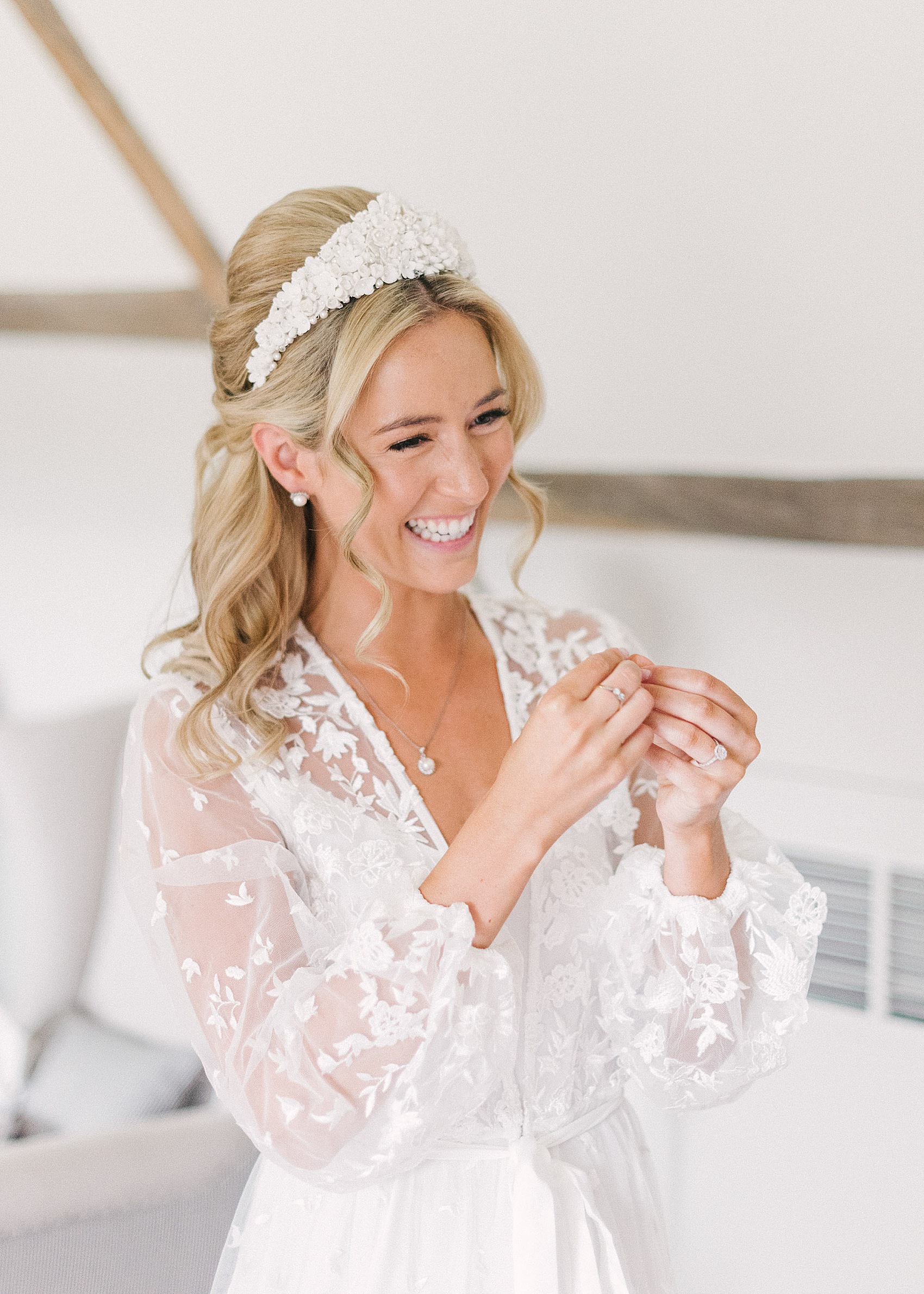 Megan's showstopper of a dress was a bespoke creation by Emma Beaumont, who used a beautiful fabric called 'Cloud 9', embellished with pearls and beads, with a form-fitting, sweetheart bodice falling to a layered, full tulle skirt, complete with a 17 foot train. What an absolute dream of a dress – both delicate and dramatic at the same time.
"Emma and her team are so lovely, and really made me feel comfortable with my choices. Emma has an exceptional eye for detail, and didn't hand over the dress until she was 100% happy. I'd recommend the experience of designing your own dress to anyone who wants to create the dress of their dreams. It's a nice feeling knowing your dress is totally unique. For me, it was the personal touches that meant so much. I had both my grandma's names sewn into the dress, as well as a personalised veil by Emma."
"Creating a bespoke dress does take more time and lots of fittings. You don't get the 'This is the one' feeling you might get in a shop, as you are seeing the dress take shape over time. I still wanted my sister and mum to have that 'Wow' moment, so I only asked them to join me towards the end, once the dress had taken more shape. It was a risk in case they didn't like it, but thankfully they did, and we all got to have that special moment."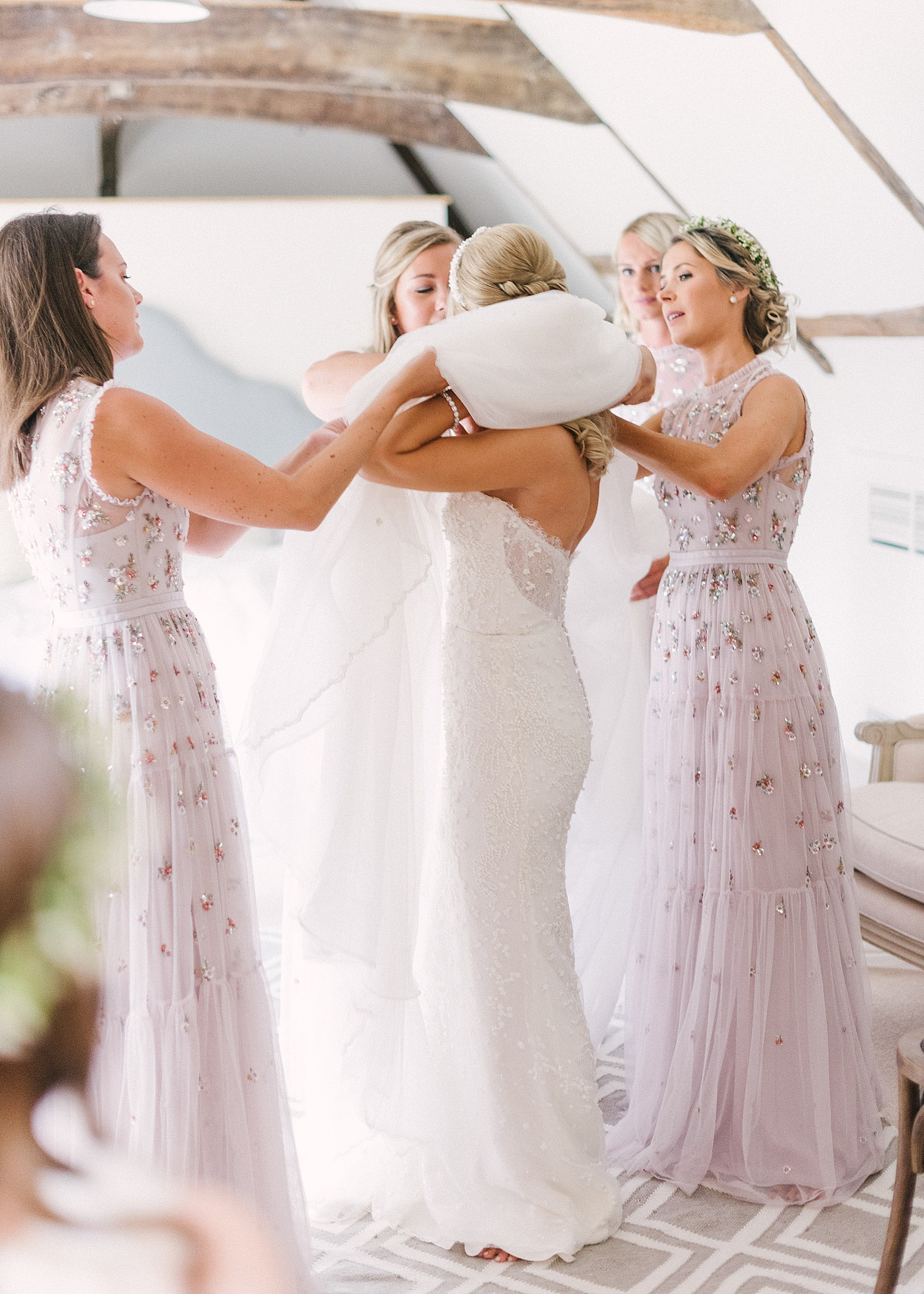 "I was torn between finding a gown befitting of Holywell's grandeur, and something I could easily move around in and dance the night away. By designing a dress with Emma, I could have the best of both worlds. I loved the tulle skirt the most, with hand-stitched flowers cascading from top to bottom."
Sparkly, embellished sandals were from Carvela, and to complete her gorgeous wedding day look, Megan added a mist of perfume: Alien, by Thierry Mugler, which she had first worn at university when she met Jamie.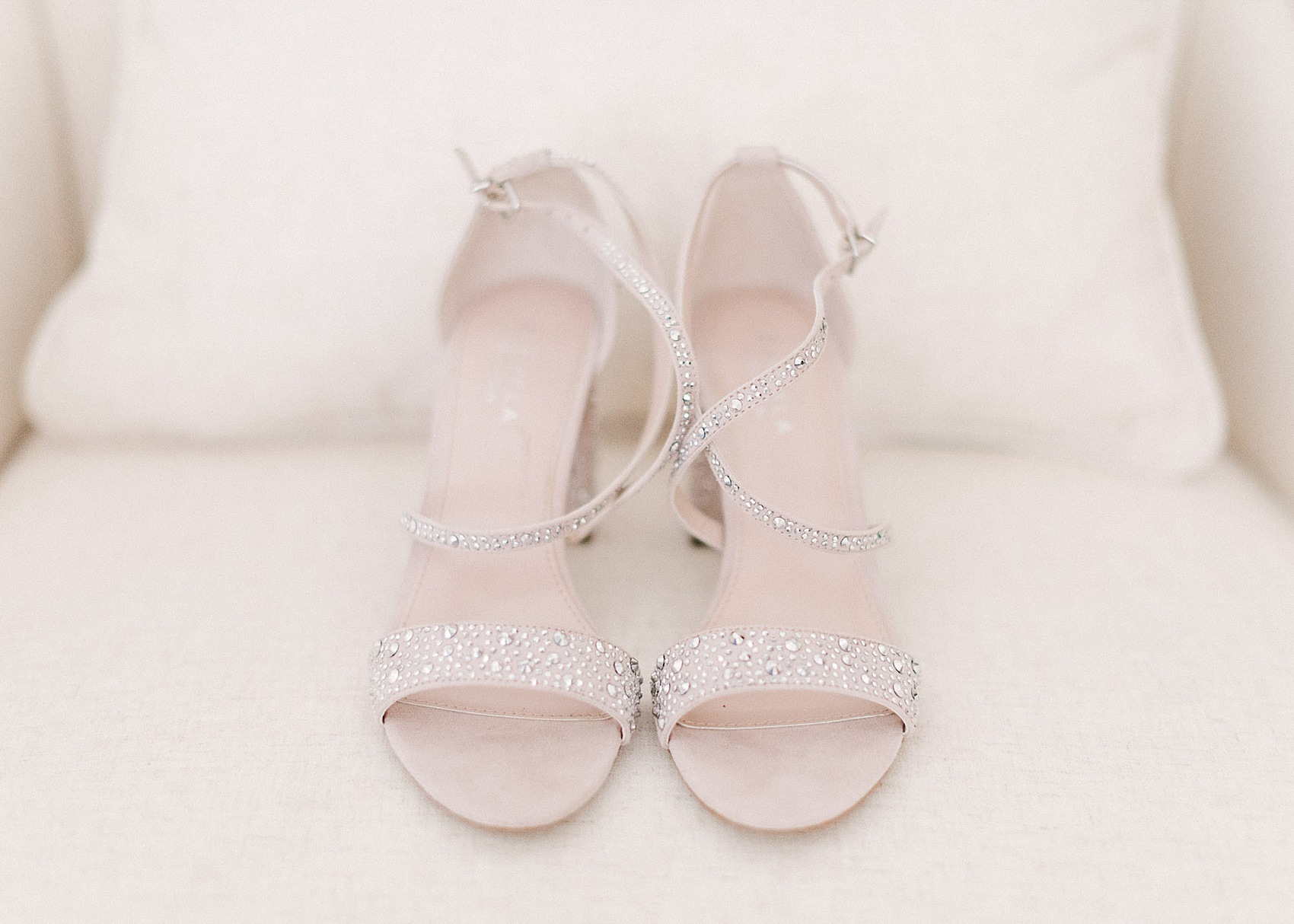 The Proposal
"Six and a half years after we met, I got a tap on the shoulder at work. One of my best friends was standing over me, telling me to go with her immediately – Jamie was waiting outside. Filled with panic and confusion, I packed up my things, ran it past my boss (who was in on the whole thing), and went outside to find Jamie waiting with a taxi."
"We took the short 15-minute journey home, then Jamie said, 'Okay, you've got half an hour to pack a bag, we are heading somewhere very cold.'Still confused by the whole thing, I packed a bag and off we went – to Heathrow Airport
Jamie had surprised Megan with a trip to New York, explaining it away as an early Christmas gift. Waking up in the city on the 9th December, they were greeted by a blanket of freshly fallen snow outside, and so they wrapped up warm and headed out for coffee."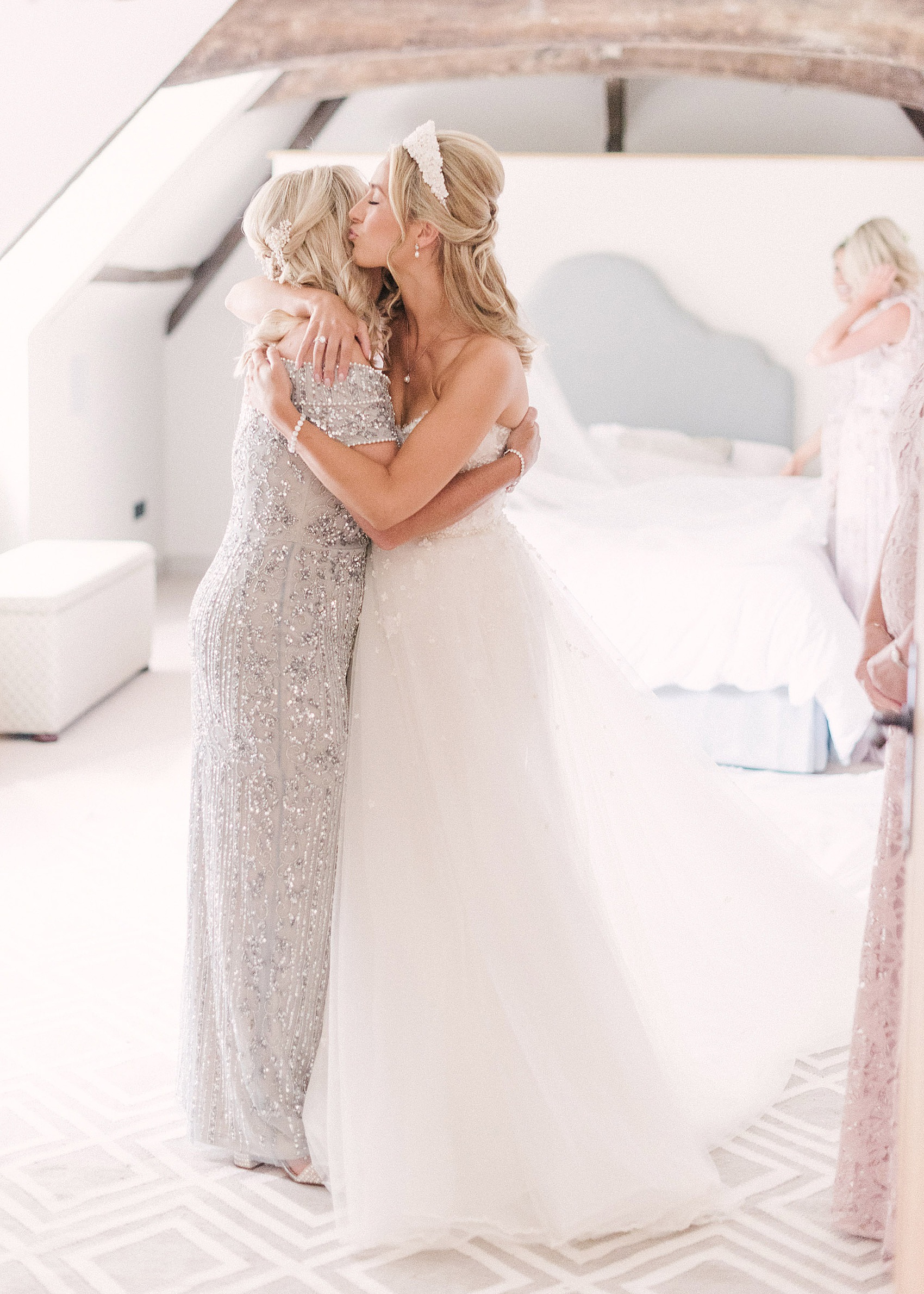 "Coffee in hand, we strolled through a quiet Central Park at 9am, heading towards the lake. Under the bridge, a violinist was playing Tears in Heaven; it was simply beautiful. We sat at the edge of the lake to take a photo. Jamie set up the camera, and cheekily pressed record."
"While I thought I was waiting to take a picture, Jamie sat next to me and pulled out a piece of paper. He'd written me a poem about the past six and a half years together – I was laughing and crying, until he finished with the line: 'Six and a half years ago, I asked you back for a cup of tea; Slightly different question this time [gets down on one knee] Will you marry me?'"
"I somehow managed to blubber out 'Yes', and we hugged and cried, and hugged some more. I looked down at my watch – 9.19am. The time was so significant because I was born on the 19.09.1991 at 9.19am. Nine has always been my lucky number! So not only had he proposed on the 9th December, but at 9.19am as well. Serious kudos for him."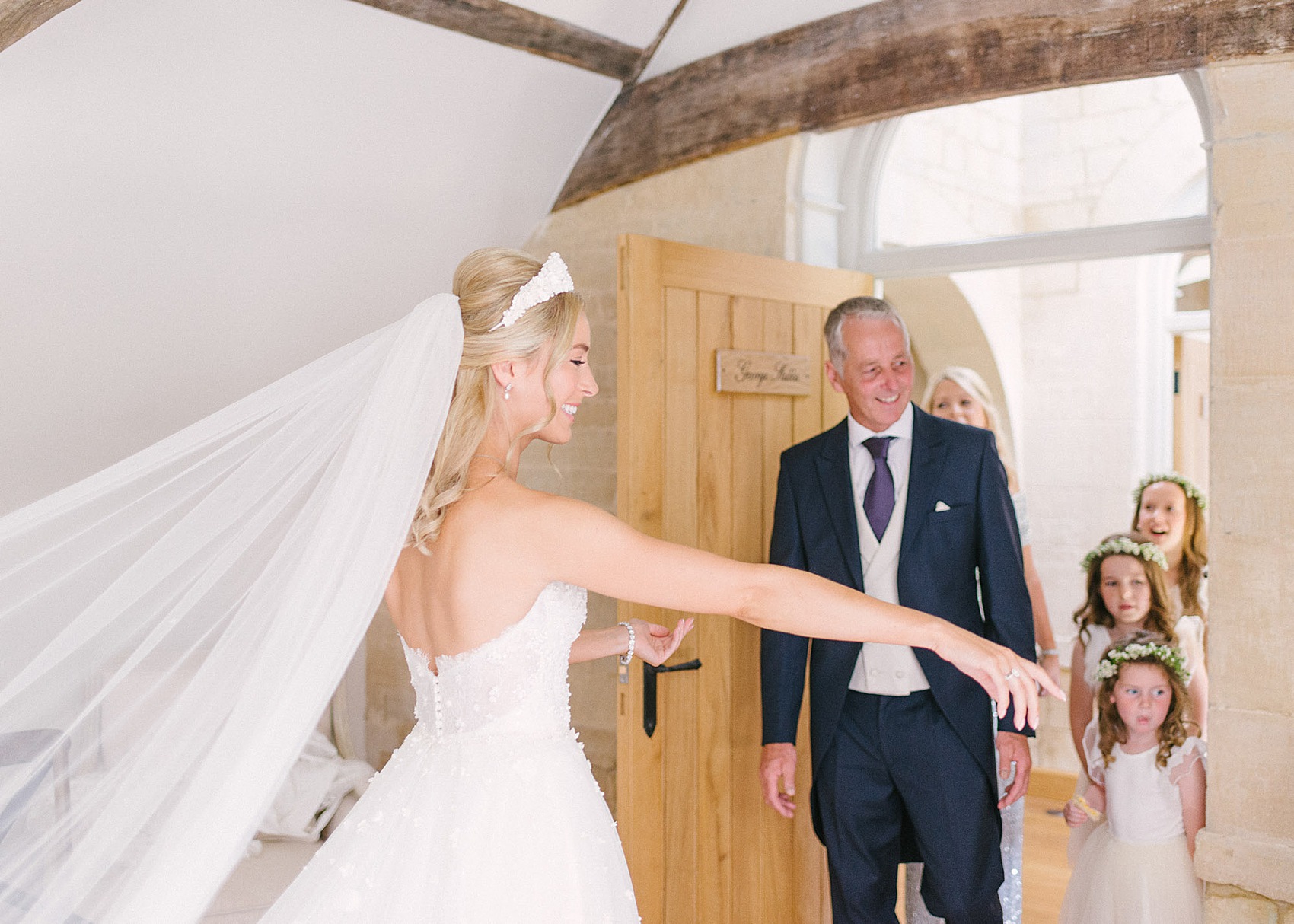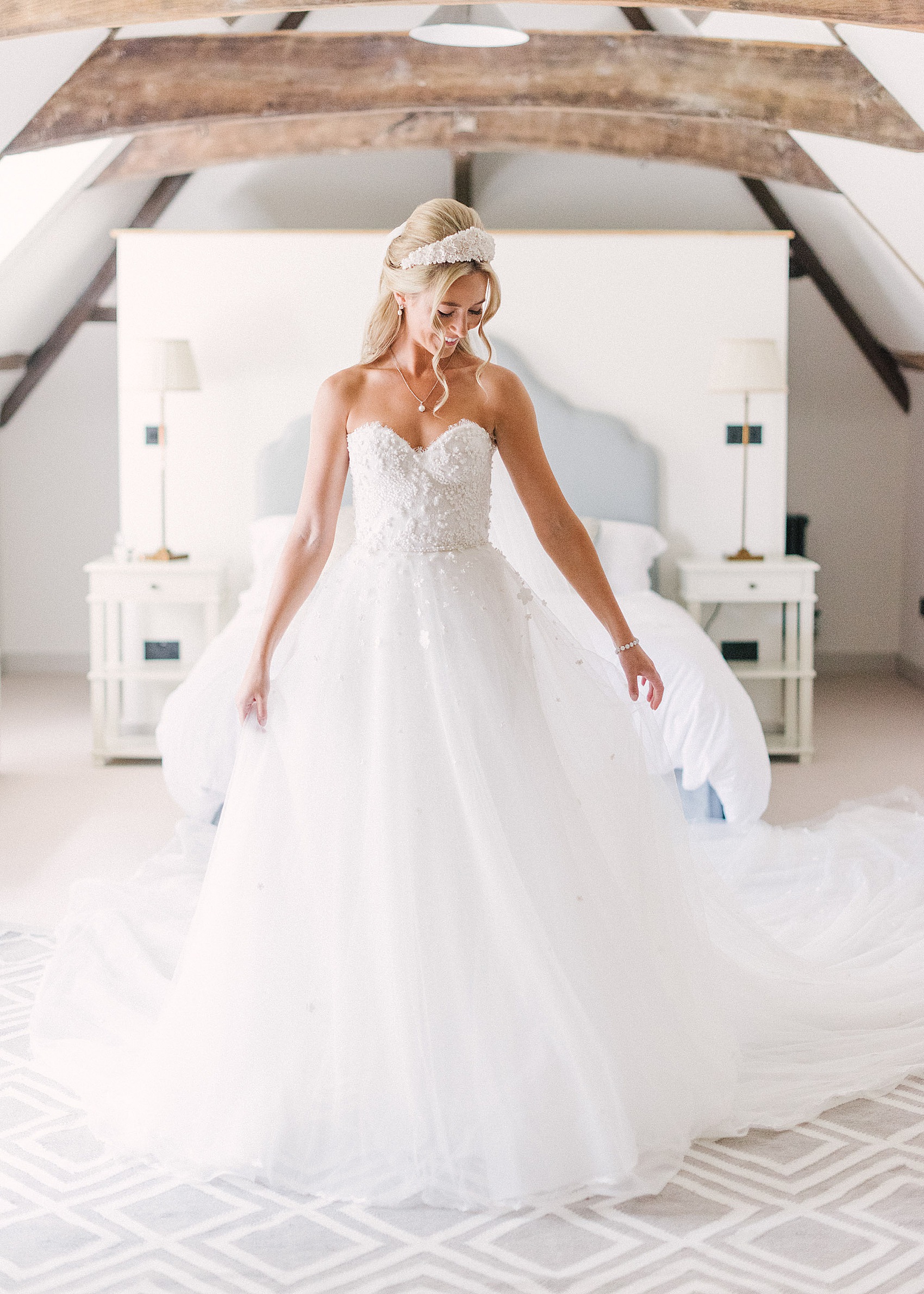 Megan and Jamie first met at Loughborough University eight years ago, at a sports fair where Jamie was overseeing the wakeboarding club stand.
"I suddenly spotted a tall, dark, handsome chap. I was so bowled over by his handsome looks, I turned to my friend and simply said, 'I want that one!' It was instant! I casually made my way over to introduce myself, we got chatting, exchanged details, and before we knew it, a few days later, we found ourselves at the same party after a day wakeboarding. Being a gentleman, Jamie invited me back to his house for a cup of tea, and the rest is history."
Jamie and his groomsmen looked smart and handsome in matching, classic morning suits from Dapper in Surbiton, along with accessories from the Savile Row Company.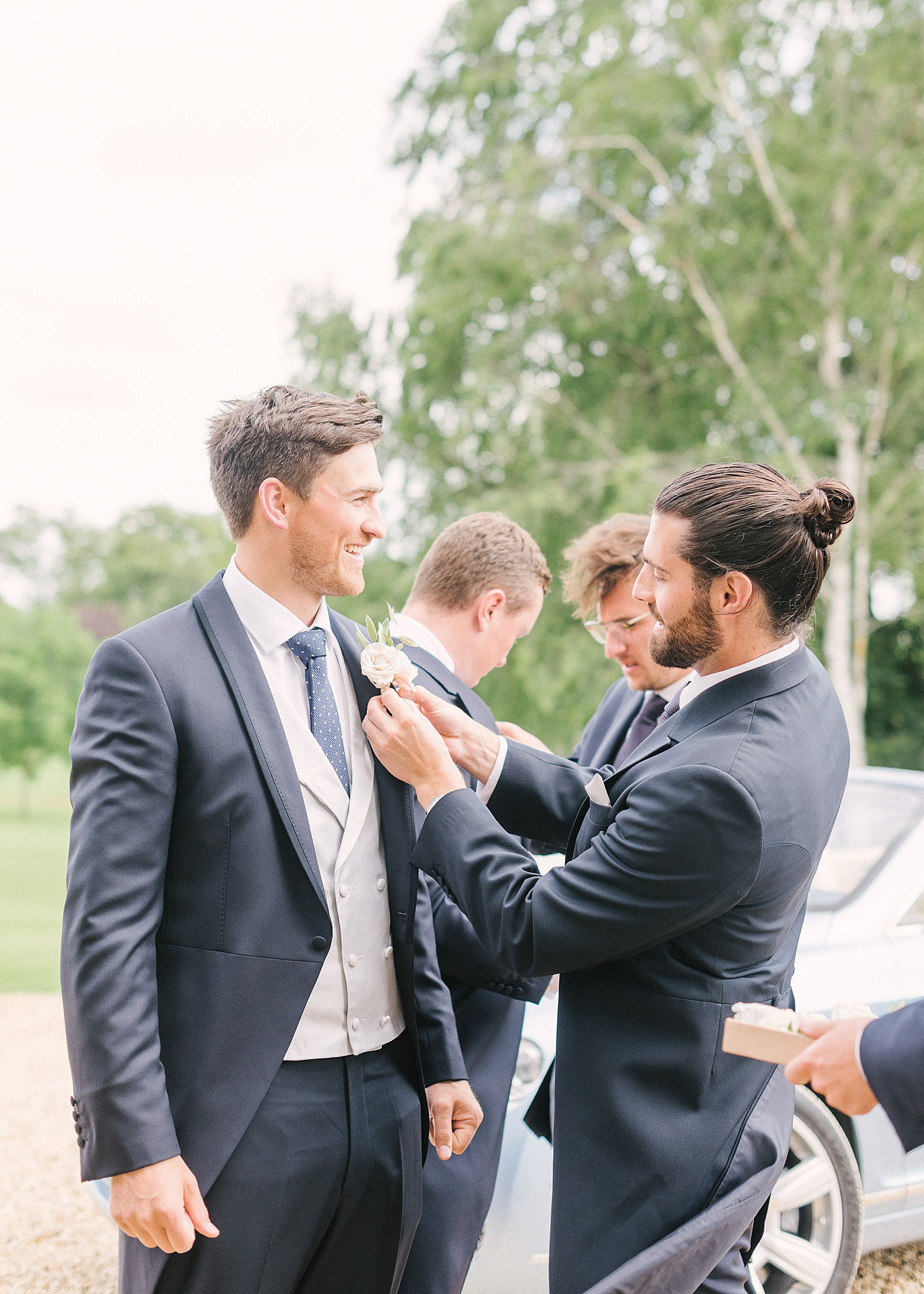 The bridesmaids paired their charming, flower-sprigged dresses with their own shoes and jewellery, and the flowergirls looked lovely in white tops with ruffled shoulders and bespoke tutus from Lilly & Bo.
"I struggled for ages trying to find bridesmaid dresses that were classy and comfy, but a little different. I stumbled across my final choice by Needle & Thread on Net-a-Porter, and as soon as they arrived, I fell in love. The girls said they were super comfy, and the tulle bottom matched my dress perfectly."
"The embellished flowers also gave them a summery feel, and the pale lilac colour complimented the groomsmen's dark navy suits, and the chocolate cosmos in the flowers."
As guests were led to their seats ahead of the ceremony, London Incidental Orchestra played a medley of Megan and Jamie's favourite songs. The bridal party walked through lush, green arbours, and Megan was accompanied down the aisle by her Dad, John, with the orchestra playing McFly's, The Heart Never Lies, which transitioned into Can You Feel the Love Tonight, from The Lion King.
"We had flowers aplenty decorating the venue and marquee, so I wanted florals to play a part in my dress also. Emma hand stitched 3d flowers along the dress, overskirt and veil, giving it a very summery vibe."
"We asked Jamie's Dad, Dr. Barrie Colvin, to lead the humanist ceremony. It made the whole ceremony so personal. I sat down with my father-in-law-to-be, and penned our ceremony script from start to finish. Guests said it was the most beautiful and intimate ceremony they'd ever been to. We had a section dedicated to our grandparents, who collectively have been married for over 150 years."
Jamie designed Megan's engagement ring together with his university friend James Veale, of Veale Fine Jewellery, and when the time came to have their wedding bands made, the couple went back to see him.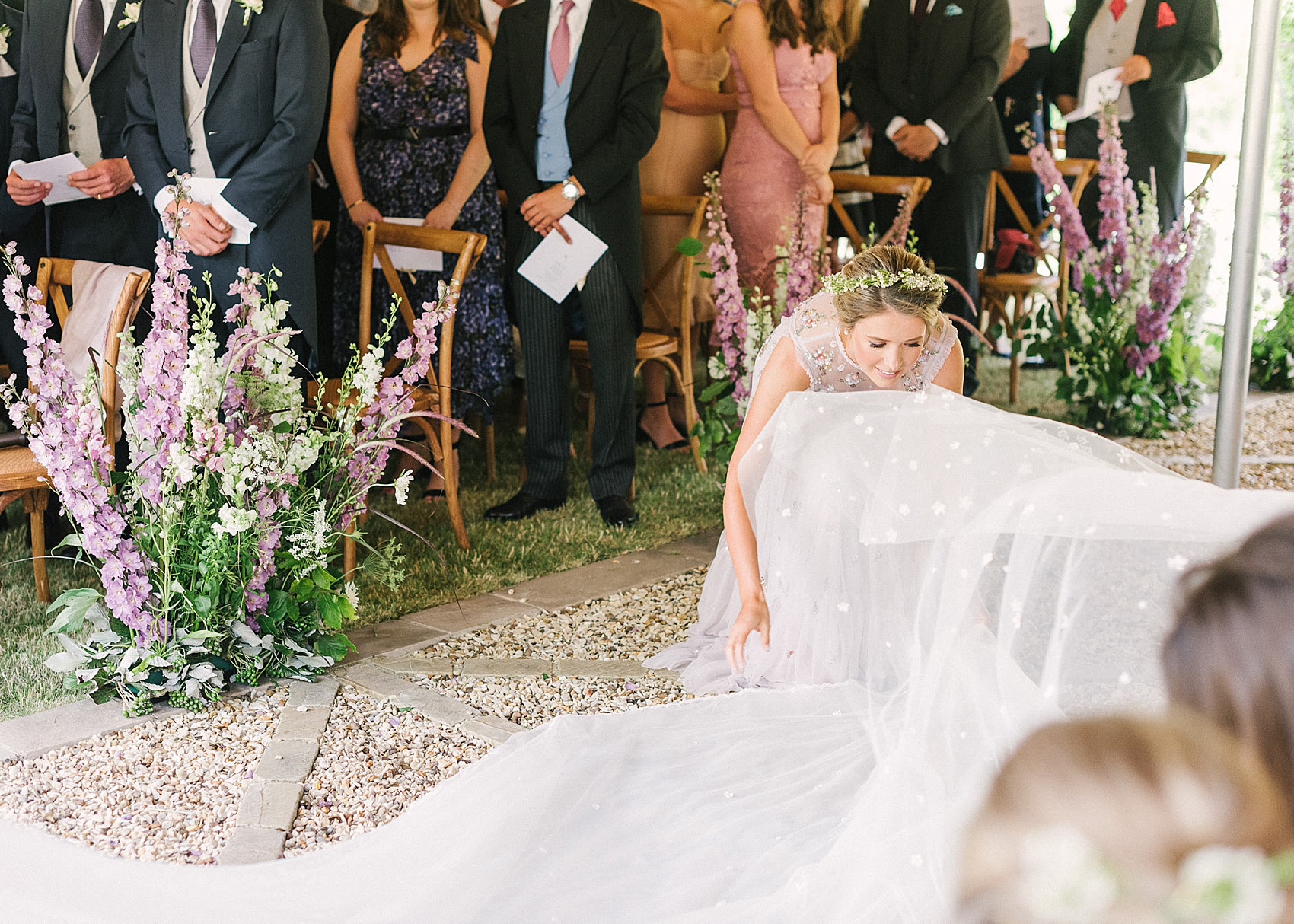 "We used James for my wedding band, too – a bespoke diamond eternity band, 3D modelled to fit perfectly with my engagement ring. Jamie's ring was special in its own right – titanium base with a centre band made from 400 million year old meteorite rock – so cool! His ring fully reflected his love of science and space."
Included in their sweetly personalised ceremony was a special reading from Megan's Gramps, who wrote a funny poem about marriage. As well as this, Jamie's Mum read her favourite poem in Dutch, and there was also a beautiful piece from The Amber Spyglass by Philip Pullman, to reflect Jamie's love of science.
"The ceremony in the walled garden was definitely my favourite part of the day. Walking down the aisle with my Dad, seeing Jamie, and listening to the most beautiful music was utterly perfect."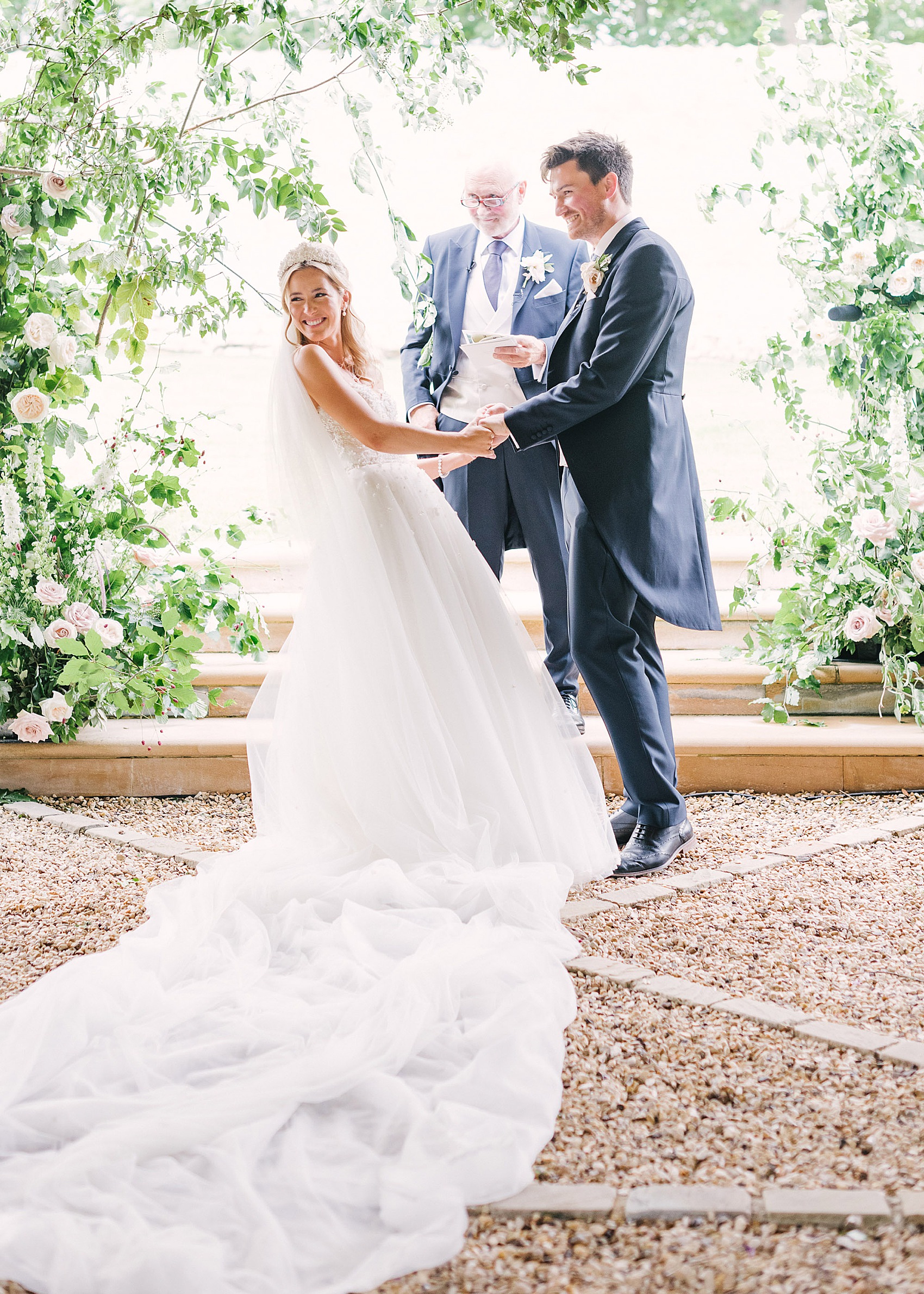 Once the ceremony had concluded, Megan and Jamie signed the register in Holywell's grand Great Hall before making their way back outside for confetti, and some time spent with their photographer, Hannah Duffy, another trusted and talented Little Book directory member.
"From the beginning through to the end, Hannah offered endless support, advice, and guidance. On the day itself, we felt in safe hands, and it was like having a friend there with you. Her attention to detail is what attracted us to Hannah's work initially, as well as her light and fresh style. Photography skills aside, she's just the loveliest person to be around, and it makes a huge difference on the day, knowing you are surrounded by smiling, positive people."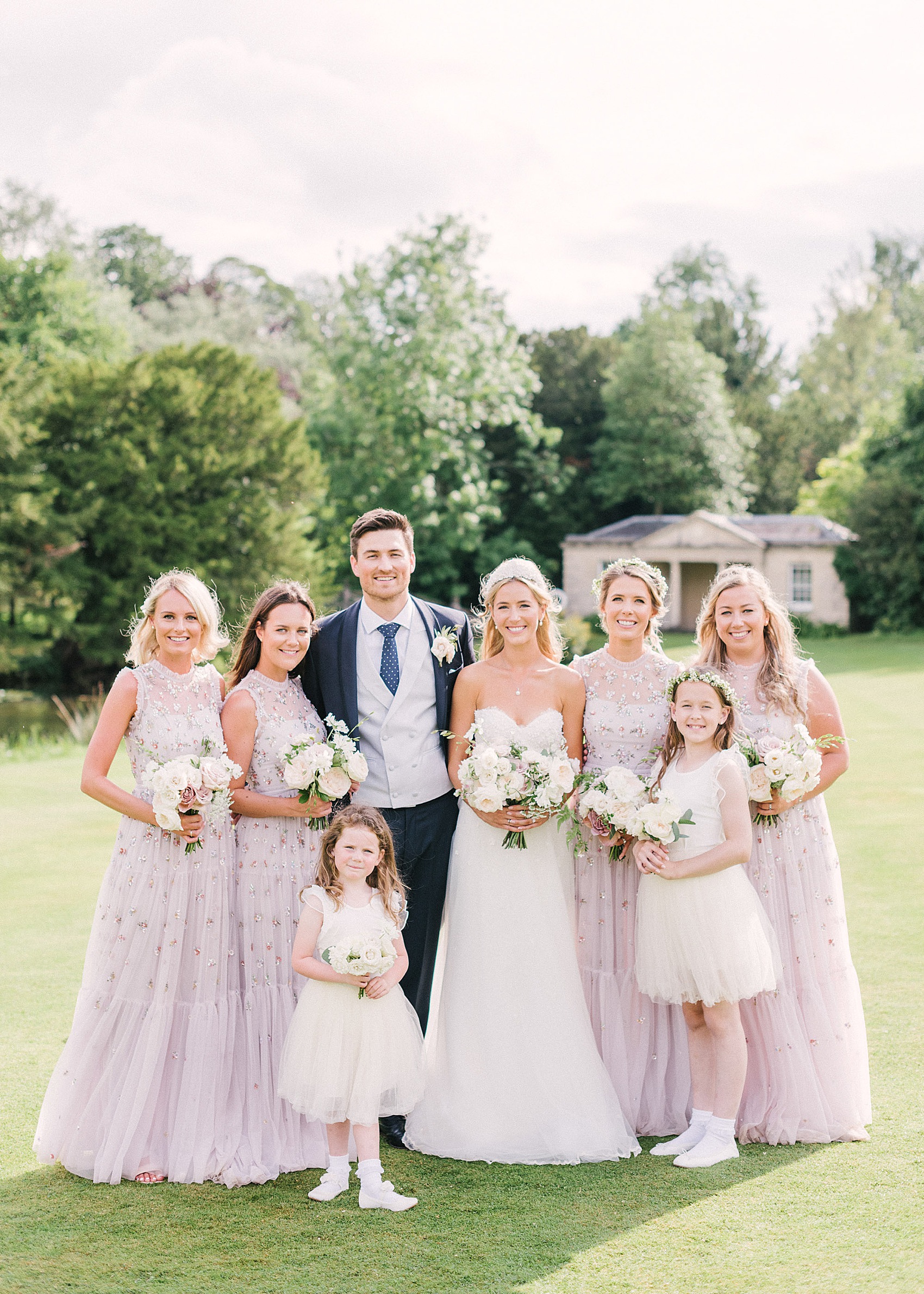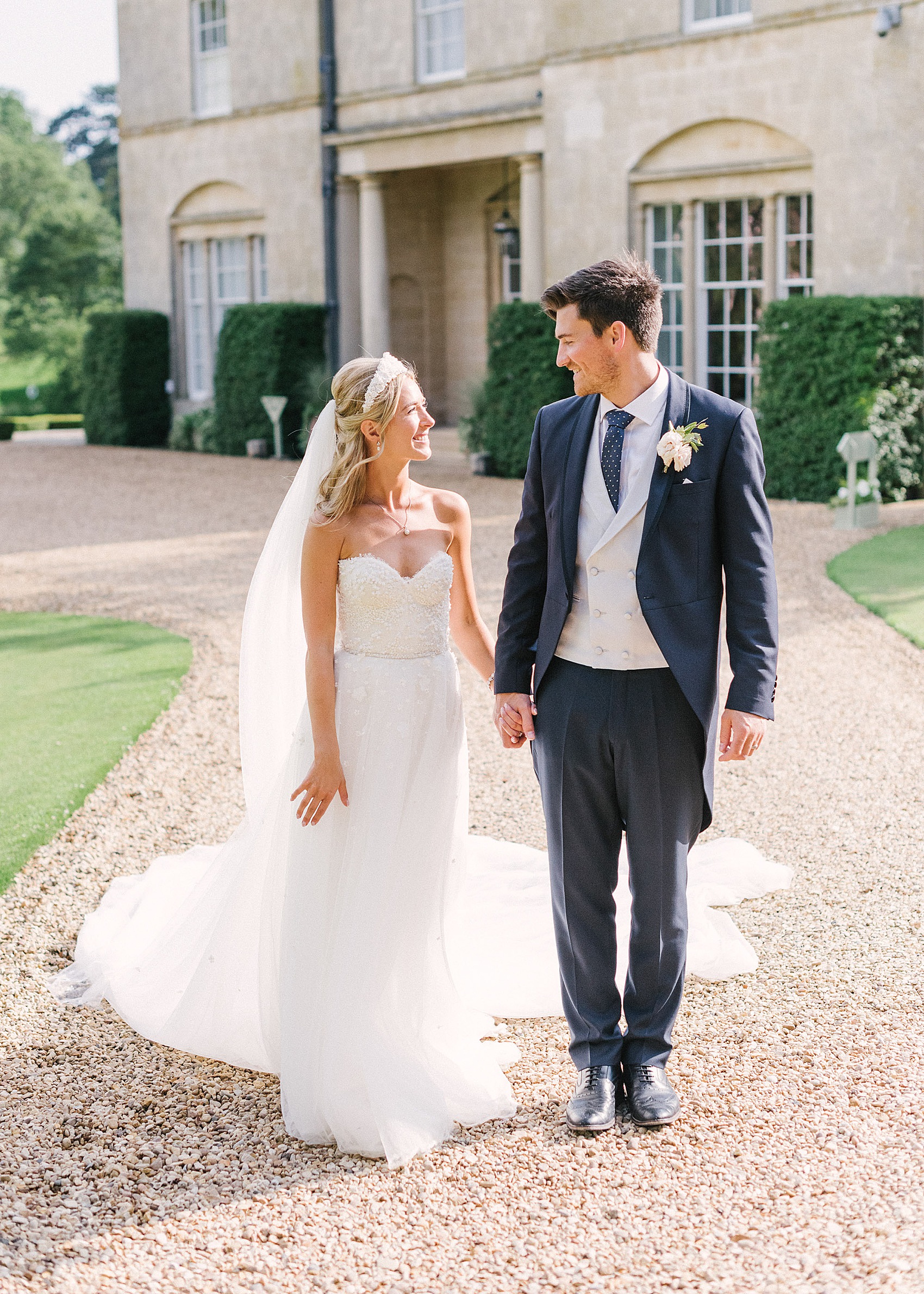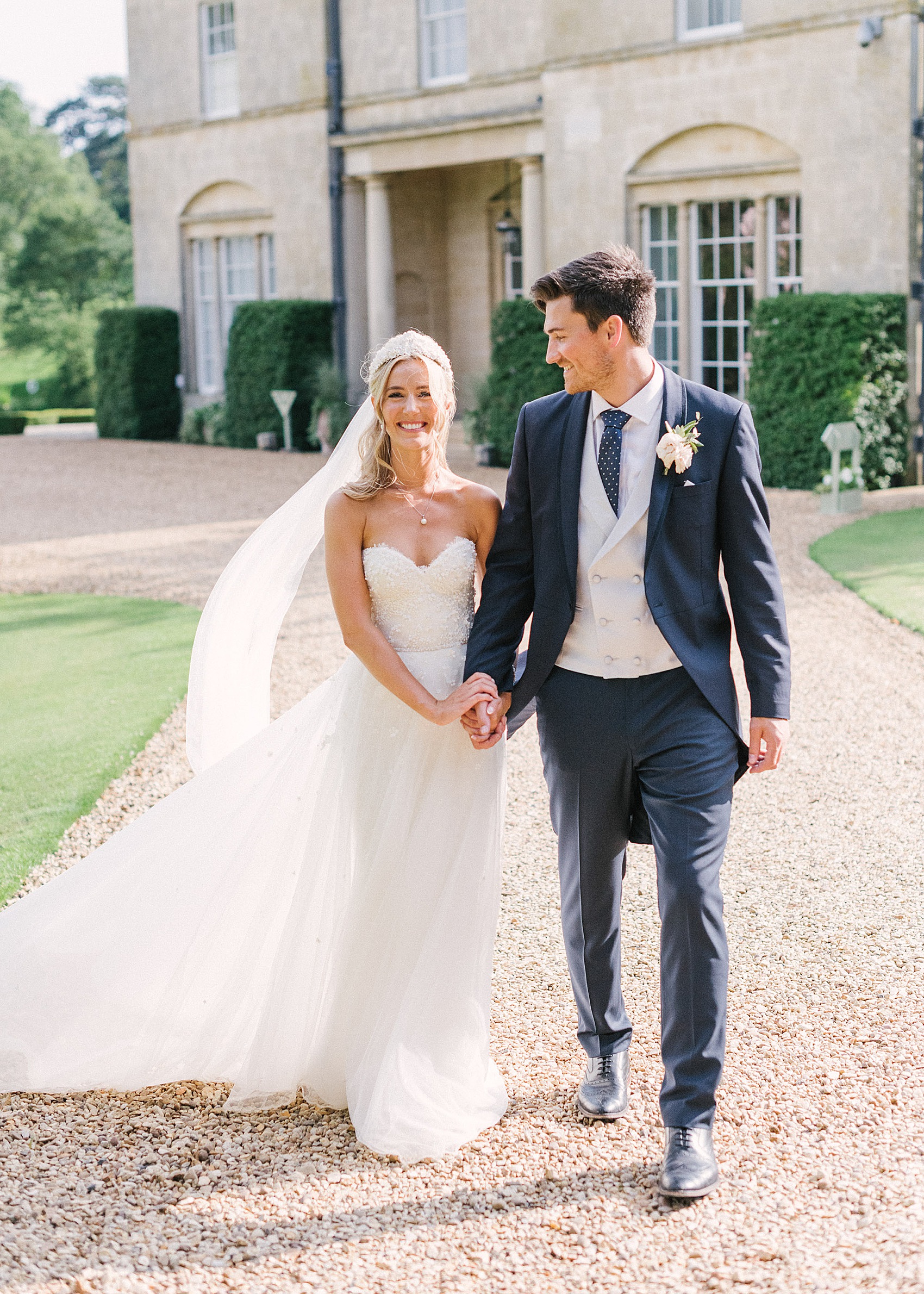 The reception was held inside a large, bright marquee, with transparent sides letting in even more lovely, natural light. This was rented through T&L Marquee Hire, and dining chairs came courtesy of Wedhead.
Long dining tables were beautifully decorated with mauve taper candles by Ester & Erik, inside glass holders, interspersed with wonderful flowers in gold pots and cut crystal vases from Veevers Carter. Long stemmed chocolate cosmos, foxgloves and scabiosa gave lovely height and texture, and beautiful table linens were from Just 4 Linen.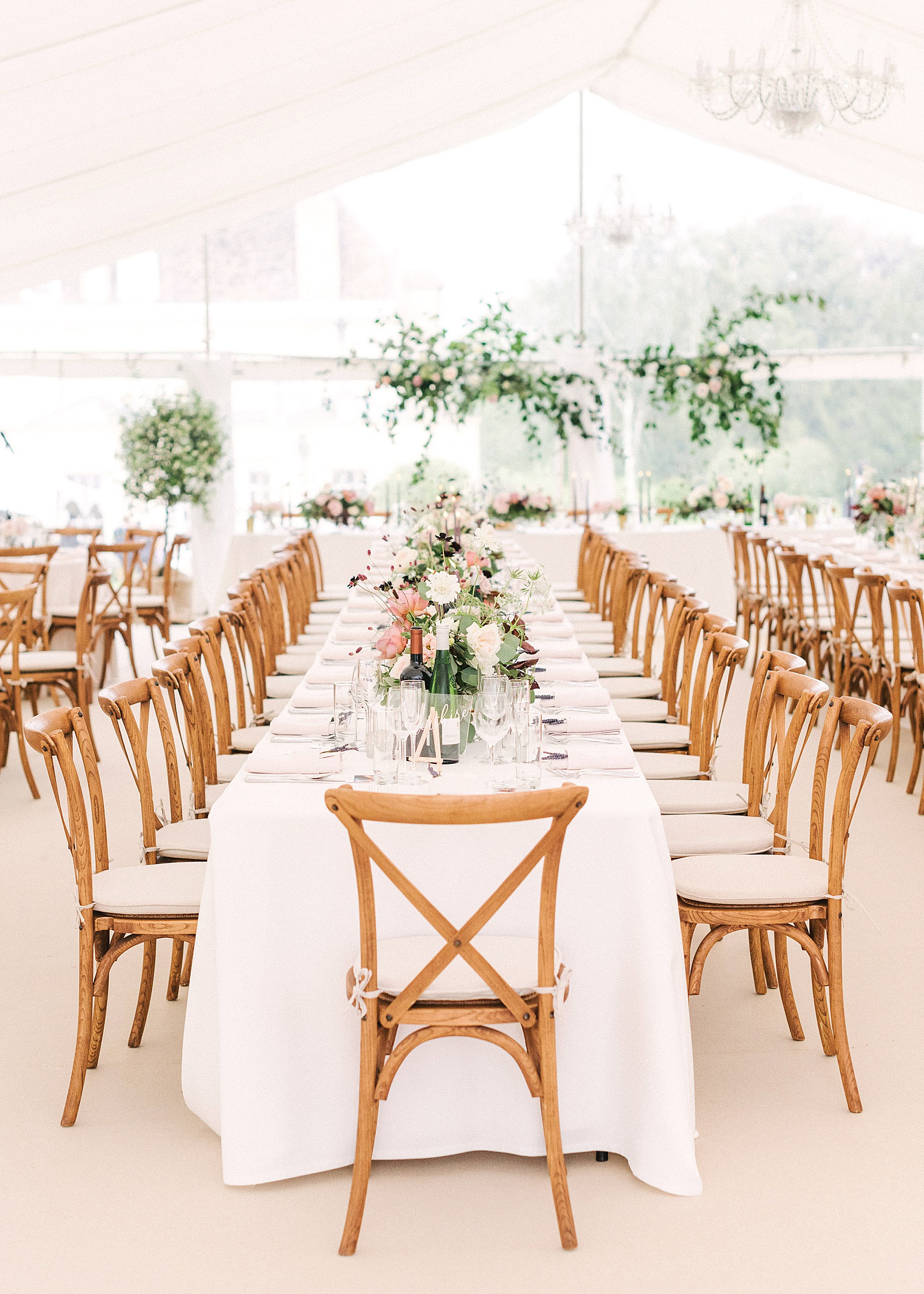 Megan and Jamie designed and printed their own on-the-day stationery, with their invitations courtesy of Print for Love. They kept track of RSVPs using a website through Appy Couple.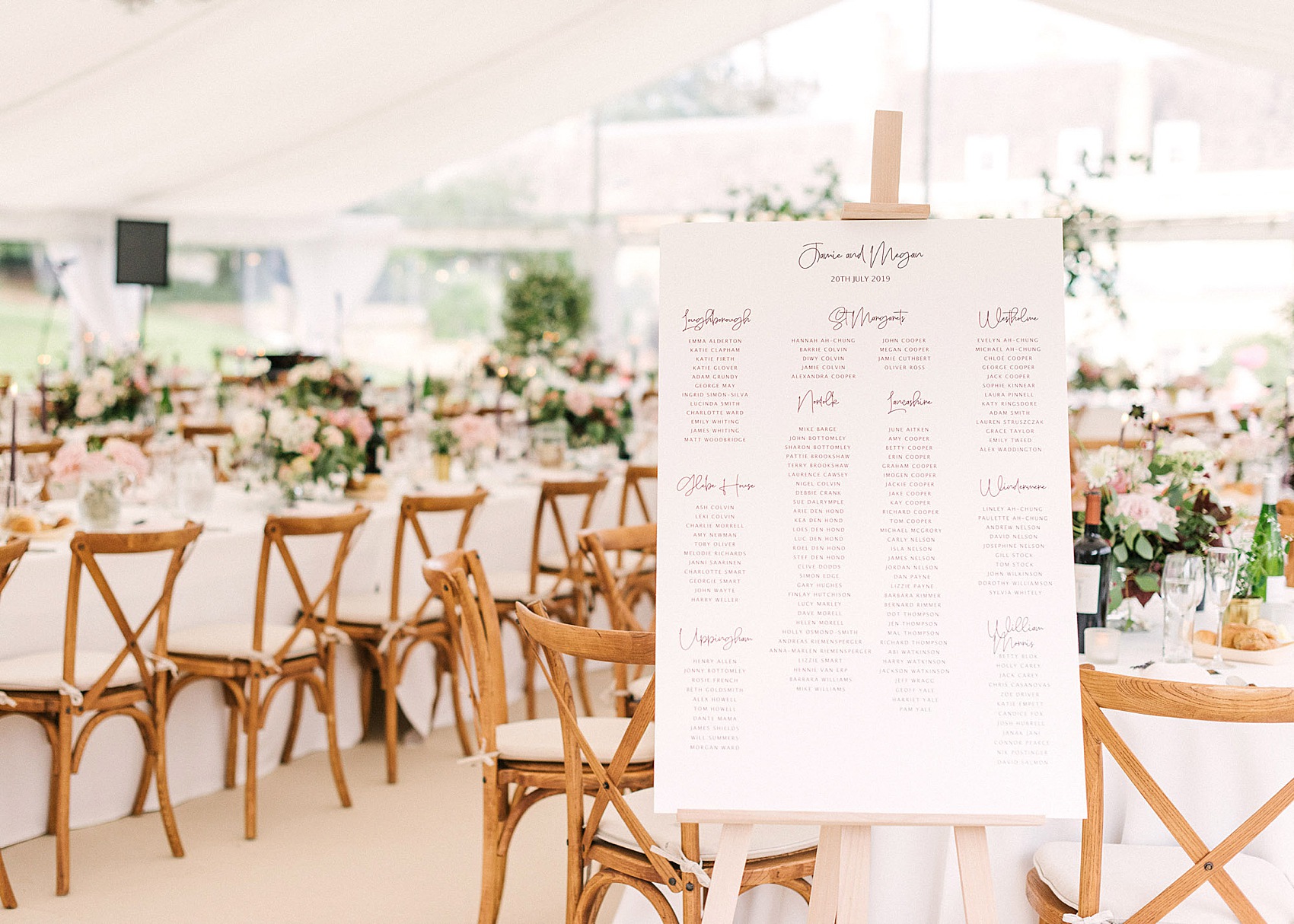 "For favours, we gave each guest a hand-made pot of honey from Jamie's mum's beehive in Norfolk, complete with personalised label. We printed 140 individual Polaroid pictures for each table setting. Guests loved seeing a photo of themselves with either the bride or groom, and most kept them as a memento."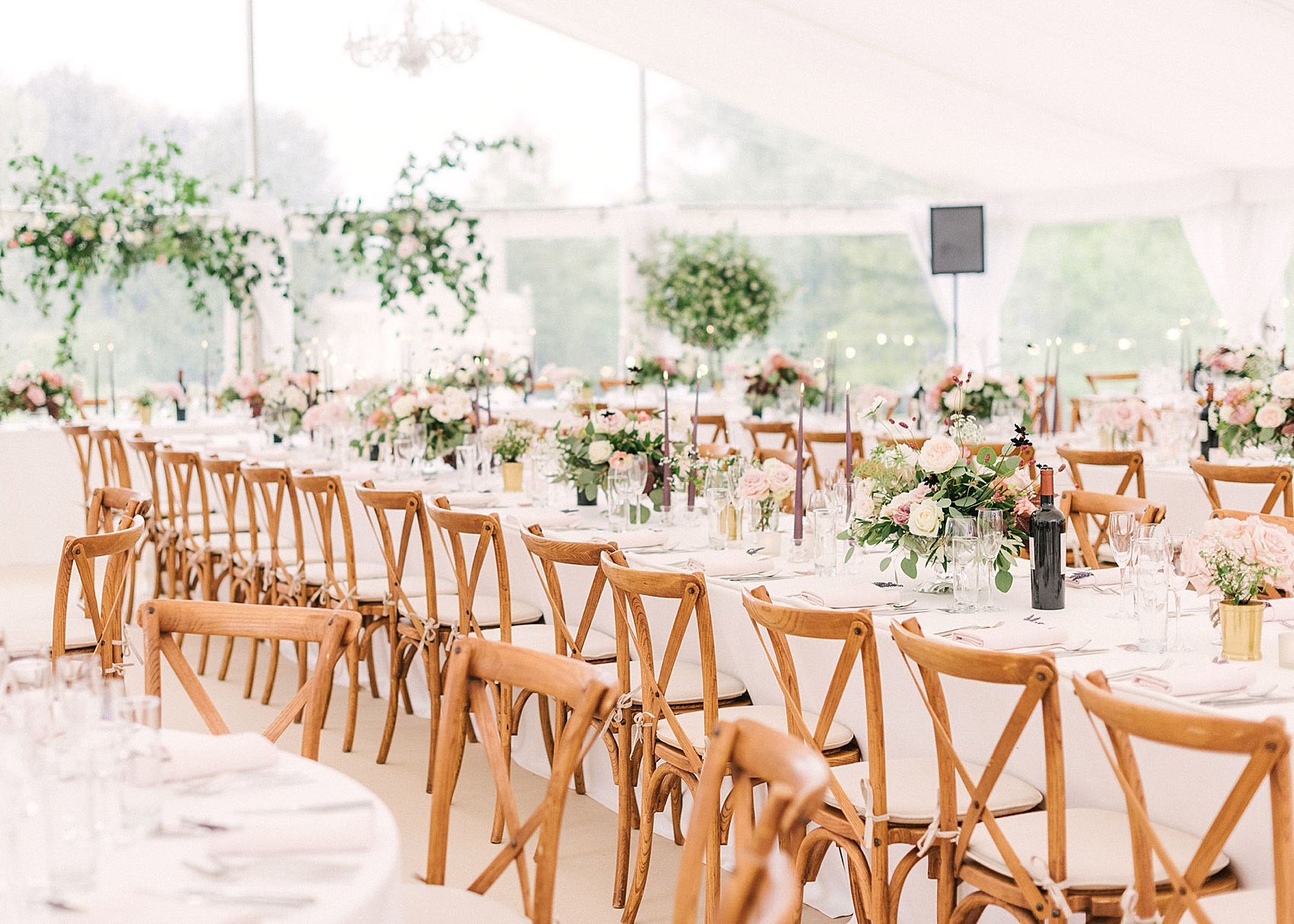 Beetroot Catering fed everyone exceptionally throughout the day, which began with glasses of Pimms and fruit kebabs when guests first arrived. During the drinks reception, guests were served delicious canapes of mini Scotch eggs, salmon and cream cheese cones, ox cheek Yorkshire puddings, tomato salsa croutons, and mushroom and goat's cheese bites.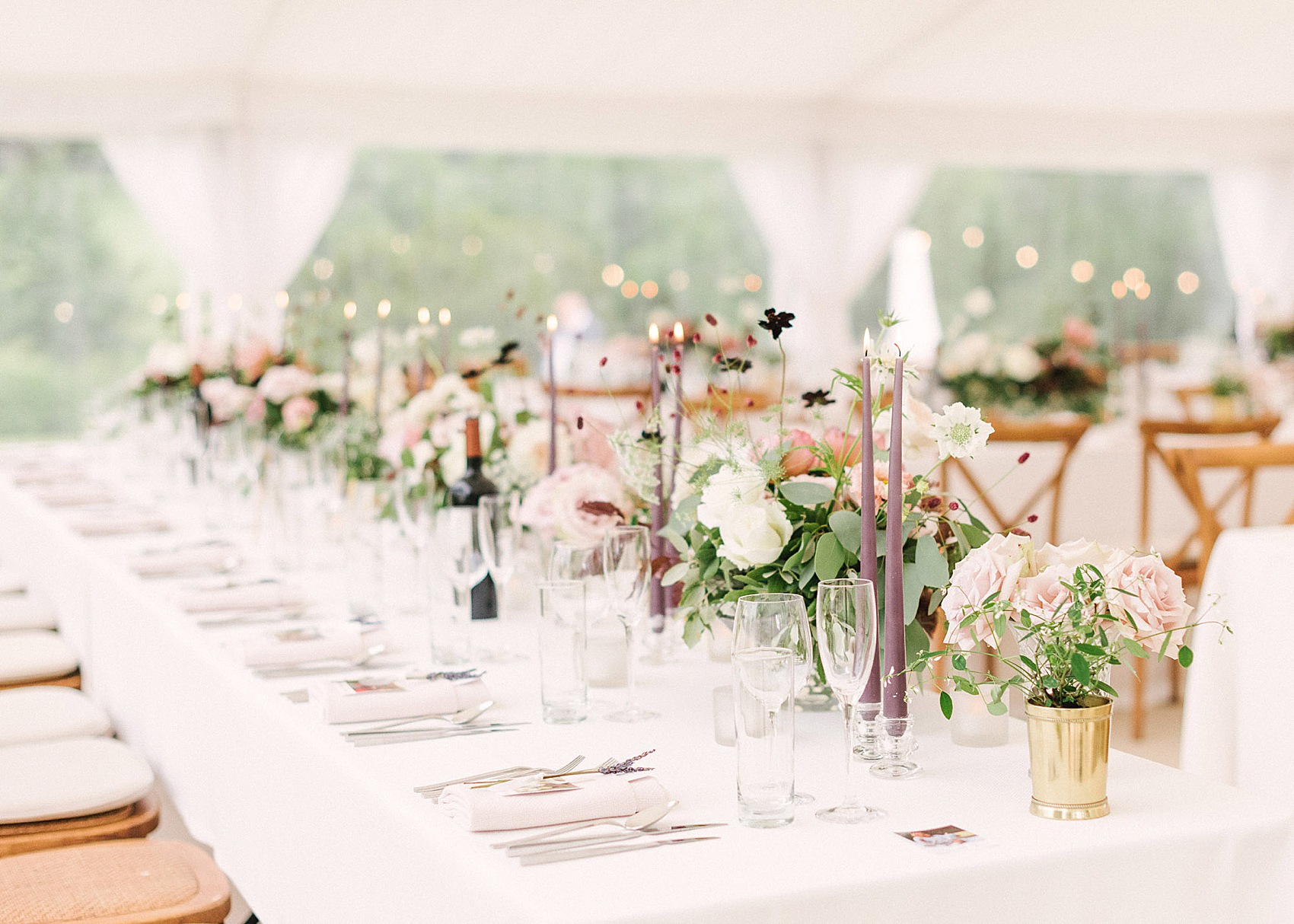 The wedding breakfast began with asparagus with Parma ham, Parmesan shavings and aged balsamic, or homegrown beetroot with whipped Rutland goat's cheese, followed by local, 28-day aged beef fillet, with dauphinoise potatoes, rocket, vine tomatoes and green beans, or cauliflower three ways: roasted, pureed and pickled. Dessert was Sicilian lemon tart with crushed meringue and raspberries.
"Our three cakes were made by my Grandma Barbara. She's an exceptional amateur baker. Each cake had a different theme and flavour. We had lemon drizzle, red velvet and Victoria sponge"
The top table was flanked by potted trees covered in fairylights, and overhead was a gorgeous, wild and natural garland with trailing greenery, all the work of florist Lucinda Smith.
"One thing we were conscious of for our guests was relaxation and comfort, so we hired gorgeous, white corner sofas from Rio Lounge, which we positioned in front of the dancefloor. We were blessed with gorgeous sunshine all evening, so the marquee sides remained up, and we put teak furniture and umbrellas around the outside, so guests could relax and enjoy the lake view."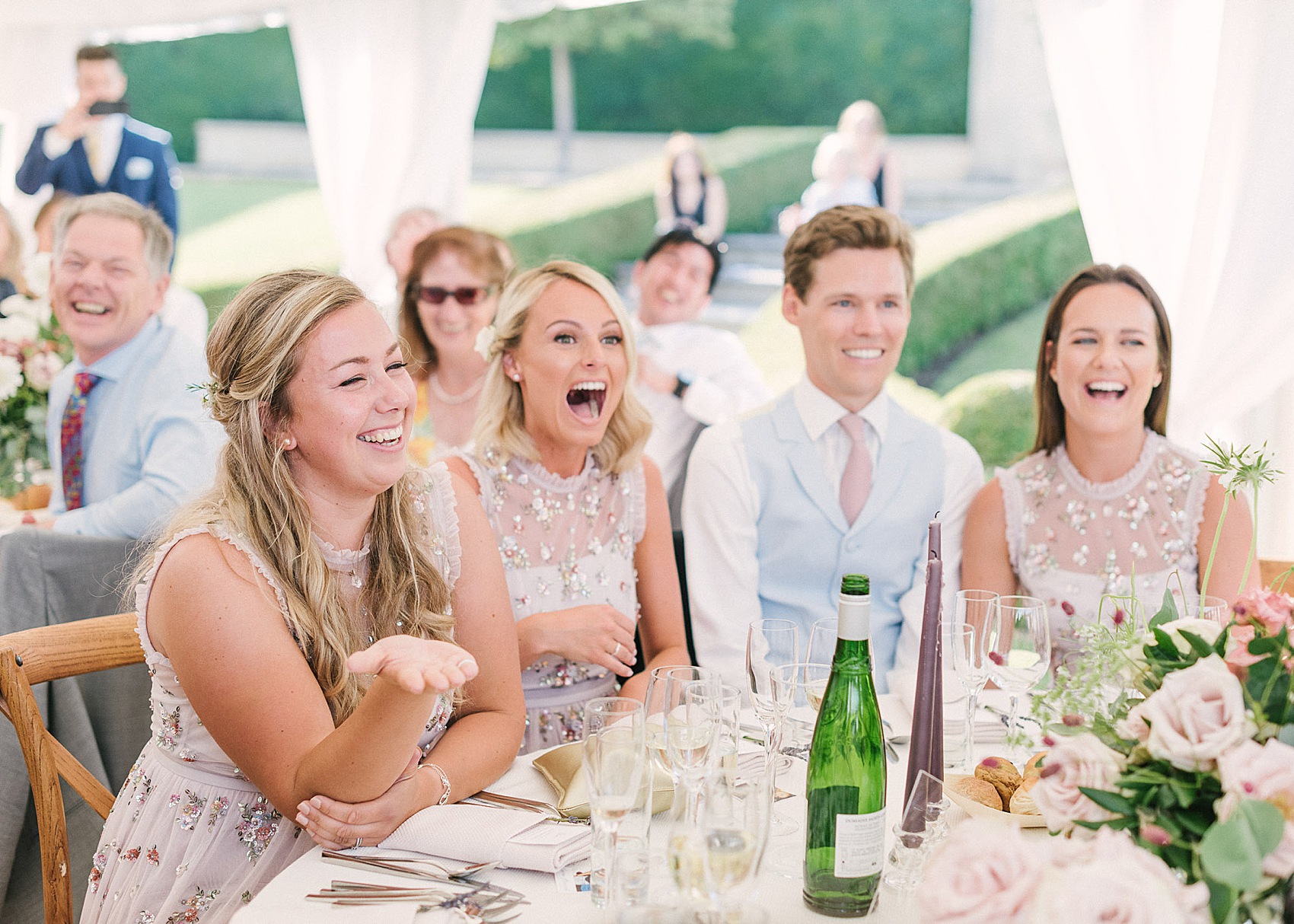 As a special surprise for their loved ones, Megan and Jamie performed their own thank you musical as soon as they walked into the marquee together!
"We entered the marquee to The Greatest Showman, and headed straight for the microphone and piano we'd set up. Jamie is a fantastic pianist, and I love a good sing-song."
"We changed the lyrics to well-known pop songs and Disney hits, thanking each of the bridal party, our parents and guests. It had everyone on their feet! It was nice to be able to do something different and memorable for all our friends and family, and to be able to thank them in a funny and lighthearted way."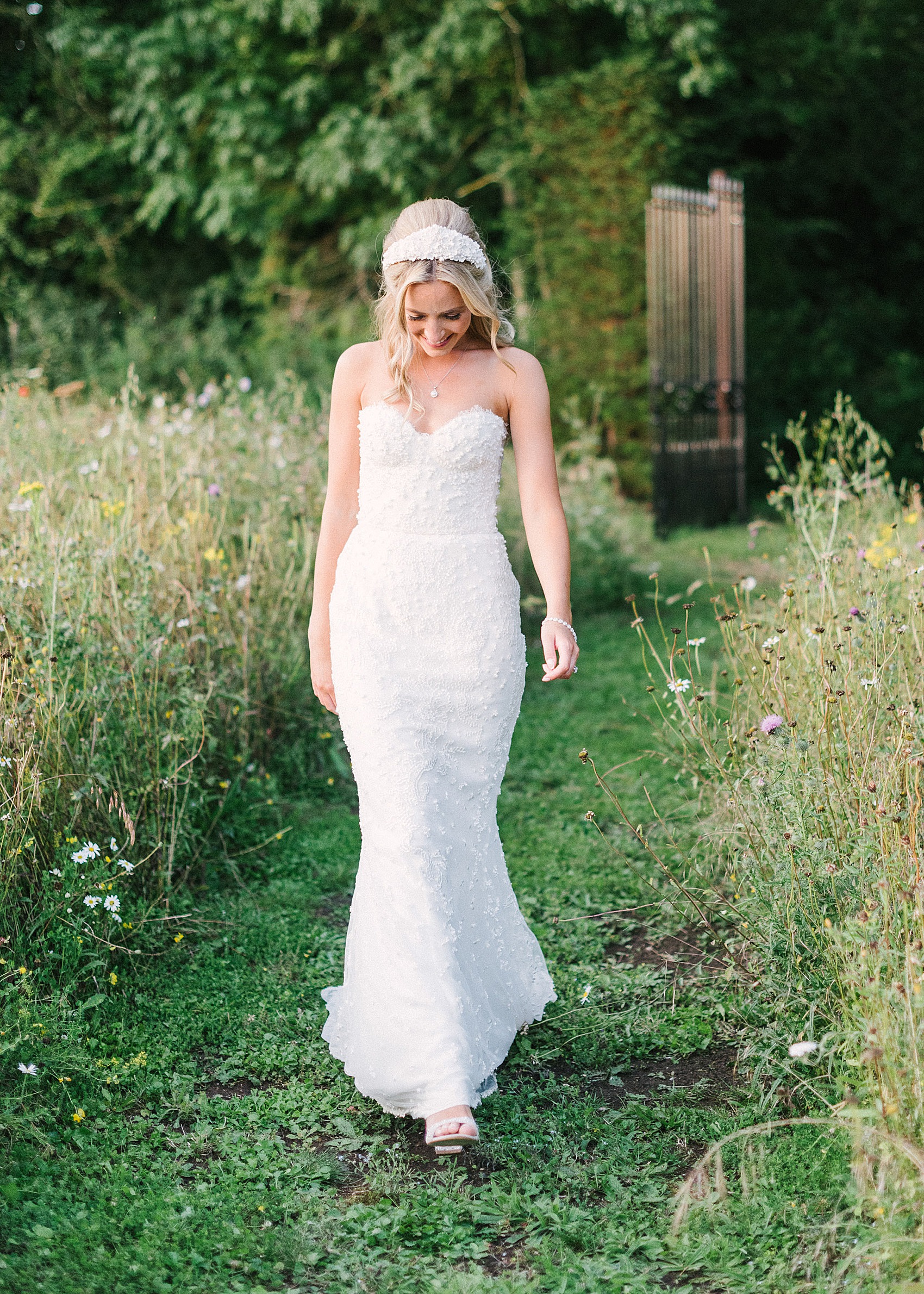 To transform Holywell for an amazing, atmospheric evening party, Megan and Jamie hired MT Sound & Light, who lit the venue beautifully, with coloured lights in various trees, around the lake, and in front of the house, too. They also provided all of the staging and sound equipment, and brought giant sparkulars (I confess, I had to look up what those are!) for the stage, too.
"For our entertainment, we booked Vince Freeman through Eight Ray Music. He was unbelievable! The dancefloor was packed from start to finish. Literally no one left because they kept playing hit after hit, from The Greatest Showman, to the Kings of Leon, everyone commented on how incredible the music was."
"During the planning stages, Vince gave up so much of his time chatting to us on the phone, FaceTime, whatever we needed to get the set-list perfect. He creates an electric atmosphere with his stunning vocals, and hand selects only the best musicians in the industry to play alongside him."
"Freeman performed a three-piece acoustic set during the drinks reception, complete with bongo drums, before two one hour sessions in the evening. I simply cannot recommend him enough!"
For their sweet first dance as husband and wife, Megan and Jamie chose The Heart Never Lies, by McFly.
"Jamie went to school with Harry Judd and Charlie Simpson (Busted), so he's been a fan from a young age."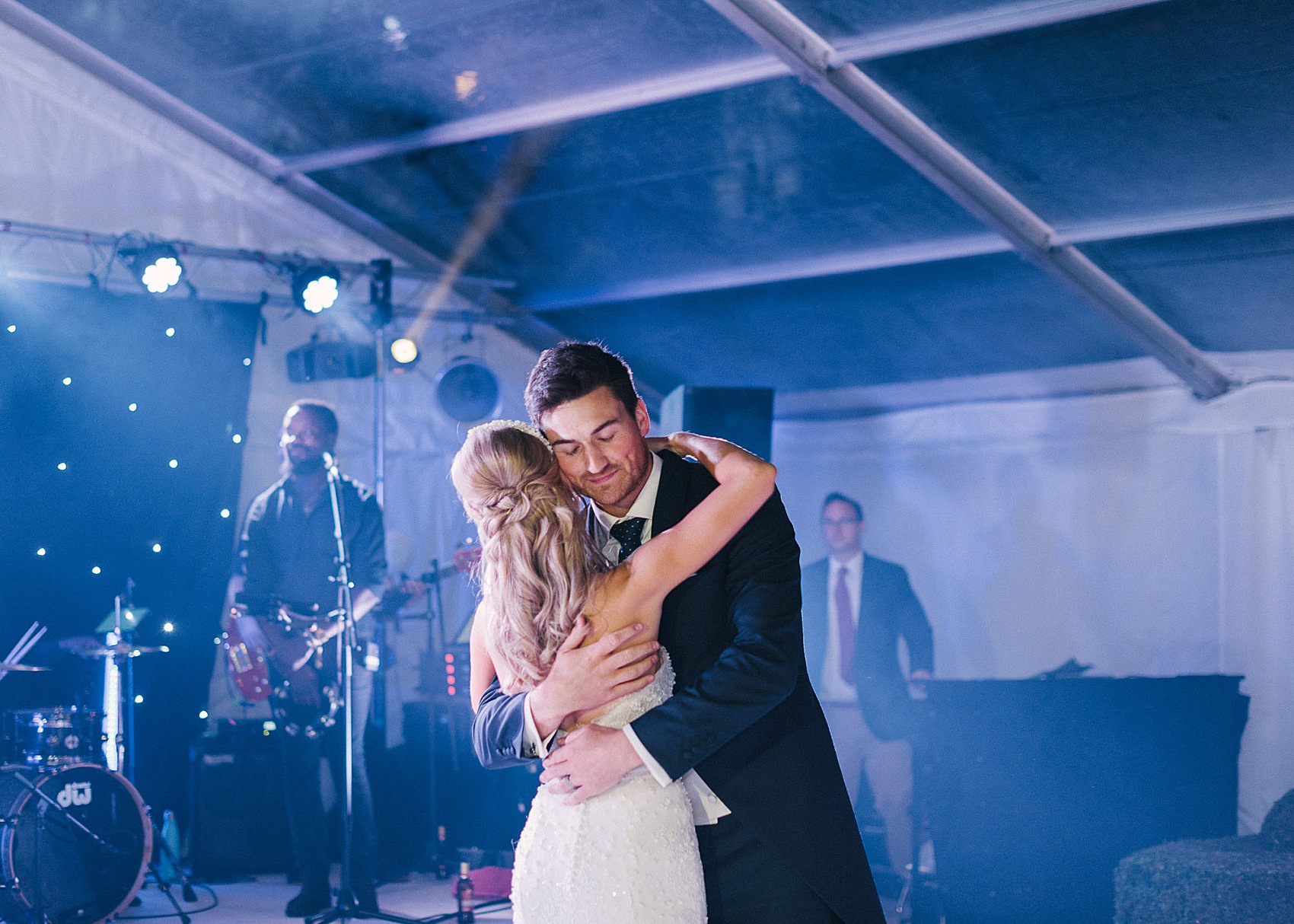 Words of Wedded Wisdom
"Oh my gosh, I LOVE Love My Dress. Everything on your website feels real and achievable. I love your attention to detail. All your features are stylish, varied, and modern, so there's something for everyone. I love hearing from the experts like Katrina (obviously!)"
"If you are having an outdoor wedding in the summer, you can never be too prepared for rain. We hired an extra stretch tent to cover all our guests during the garden ceremony. Holywell Hall kindly supplied over 70 personalised umbrellas, and erected a smaller marquee over the garden terrace for the drinks reception – the house was also available."
"It turned out we only needed cover for a random 15-minute downpour; the rest of the day we had glorious sunshine, but being over prepared meant there was no stress, and everyone loved huddling together for that short time, listening to the band and drinking champagne."
"I'd also say to plan your group shots weeks in advance, and give the list to your photographer, and an organised usher. I have a large family, so we wanted to make sure everyone was included. On the day, it ran like clockwork, and meant we weren't stood for hours waiting for aunts and uncles to come to us! With the group shots out the way, we had more time to spend with guests."
"You can never have too much food! Guests enjoyed fruit kebabs on arrival, canapes, a three-course dinner, and a giant cheese board in the evening – oh, and wedding cake! We thought we may have overdone it, but everything was eaten."
"Capture memories in every way you can. We set up a video diary room, where guests could record us a message. It was kind of like a 21st century guestbook. We also asked our friends with great cameras to take loads of pictures, as well as the photographer and videographers."
"If you can, hire an on-the-day coordinator. Katrina and her team were wonderful at making sure everything ran smoothly. We didn't need to worry about a thing and guests knew exactly what they were doing next."
Dear readers, I hope you enjoyed that as much as I did! Megan and Jamie, thanks a million to you both, what a treat that was. Many thanks to Hannah Duffy for her stylish images, filled with gorgeous natural light. You can see more of her wonderful work on our pages right here.
With love,
Laura