We're slowly but surely inching our way towards spring, and if you're in need of some bright and beautiful inspiration, then I've got just the wedding for you today.
This is a relaxed and rustic barn celebration, with an outdoor ceremony against the backdrop of the lovely Malvern Hills. It's also a day filled with vintage inspired touches, especially in our bride's customised tulle dress, and her Audrey Hepburn influenced hairstyle.
It's always a pleasure to share the work of our Little Book directory members, and this charming, natural collection of images comes to us courtesy of Poppy Carter Portraits. There's such a lovely lightness of touch to these pictures. Meet our couple, Frances and Grant. Frances is a Personal Assistant at soft drinks company Britvic, and Grant is a Managing Consultant at executive search firm, Korn Ferry.
Poppy Carter Portraits

+ Follow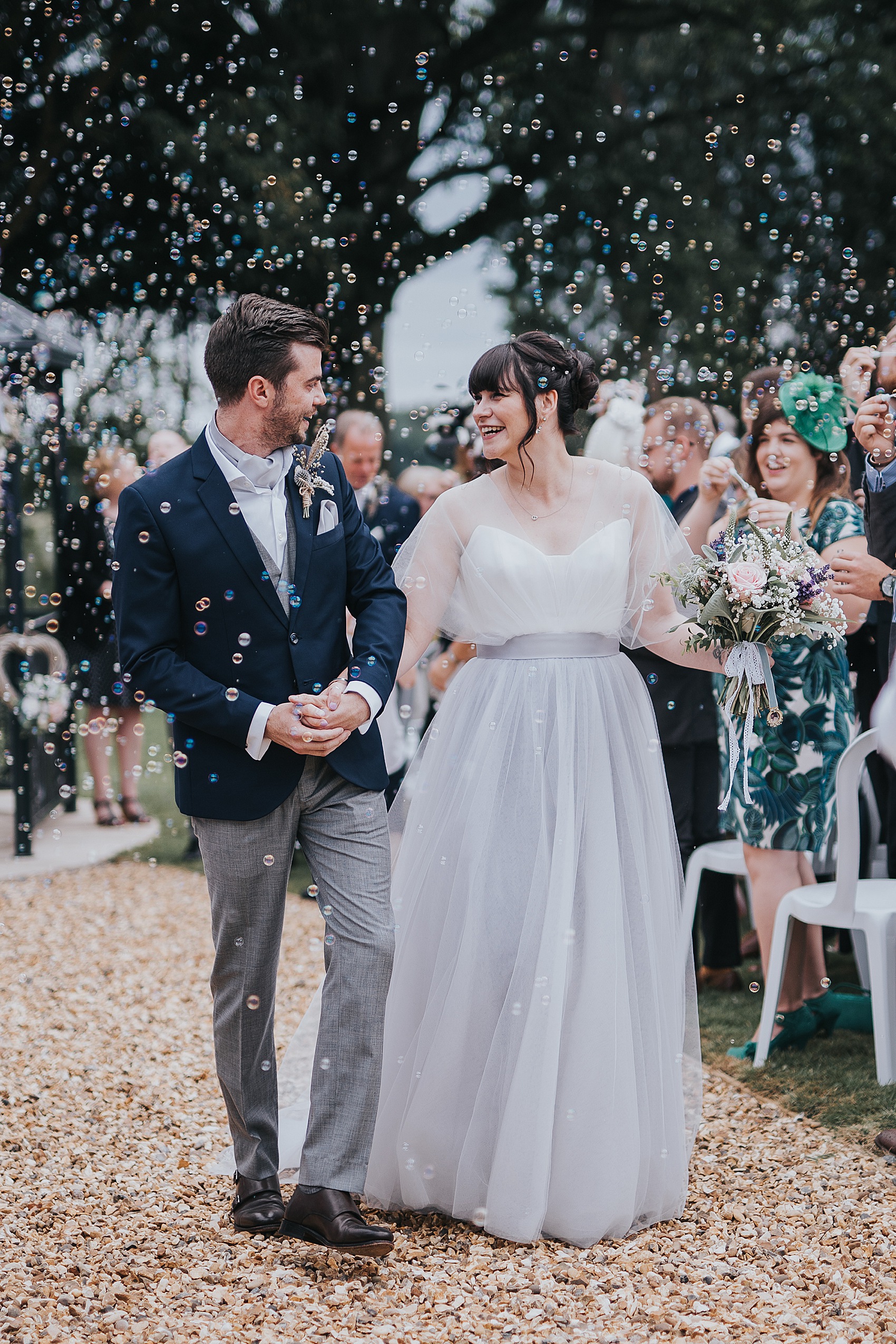 They were married on the 26 July 2019 at Bredenbury Court, Herefordshire. The venue first opened in June 2019, and Frances and Grant's marriage was their very first outdoor ceremony.
"Poppy was an absolute dream to work with, from our initial meeting to discuss the day, through to follow up emails and check-ins ahead of the day. On the day, she listened to me and watched us to know when we did or didn't want to do something, and she made sure we were happy throughout."
"She had some lovely extras like smoke bombs and sparklers, which have produced some lovely pictures for us to treasure. I would highly recommend using Poppy, and I know I will stay in touch with her long after the wedding. We also had our friend, James Thould from Drone Sky Aerial do some drone photography for us, and he got some lovely shots of the day from the sky."
Frances chose to apply her own make-up, and treated herself to some lovely items for the day; Charlotte Tilbury foundation, Chanel bronzer, eyeshadow and blush, and lipstick from MAC.
"I used Hilary Read for my hair. I needed someone in Hereford, and she was so lovely, from my first session where I went in with all these ideas, to honing them, and using her expertise to tame my thick hair. Hilary was lovely to work with, and made me feel like I was in safe hands. She did me and my four bridesmaids, and our hair stayed perfect all day long."
"I have always been inspired by screen icons such as Audrey Hepburn, and my hairstyle was very much influenced by her."
When she visited The Bespoke Wardrobe Bridal Boutique, Frances took a picture of a dress she had seen with her, and boutique owner Reggie disappeared and returned with the very one; a Suzanne Neville gown that was in the sample sale.
"We spoke about what we could do to change it to fit (as it was a sample, so too small) and to add the colour grey in. Debbie, the seamstress, had three fittings with me where we worked on the dress. The whole experience was amazing, and as the dress was a sample, the whole thing only cost £1,000. Having the chance to have a bespoke dress to fit me, and suit my style was a dream come true."
Frances looks like a dream in this beautifully romantic, 1950s inspired confection, with its corseted bodice falling to a full skirt with grey ribbon at the waist. I also love the frothy layers of tulle over Frances' shoulders and on the skirt.
"I loved the petal shape of the bodice with the crisscross ribbon we added at the back, and the soft, floaty tulle. We took a lot of weight out of the tulle to get the floaty, soft edge I wanted. I always thought I would have a tulle dress; I wear a lot of it anyway as the 50's is my favourite era. This dress also gave me great shape, as the top half was corseted, and just seemed to match me and my style."
"I have always loved vintage style. I have never been one to be traditional, and always like to put a twist on things, hence the grey in the dress. My mum owns a clothes shop, so I've spent my life knowing the latest trends and styles, and I followed a lot of blogs and Pinterest to get inspiration for the day."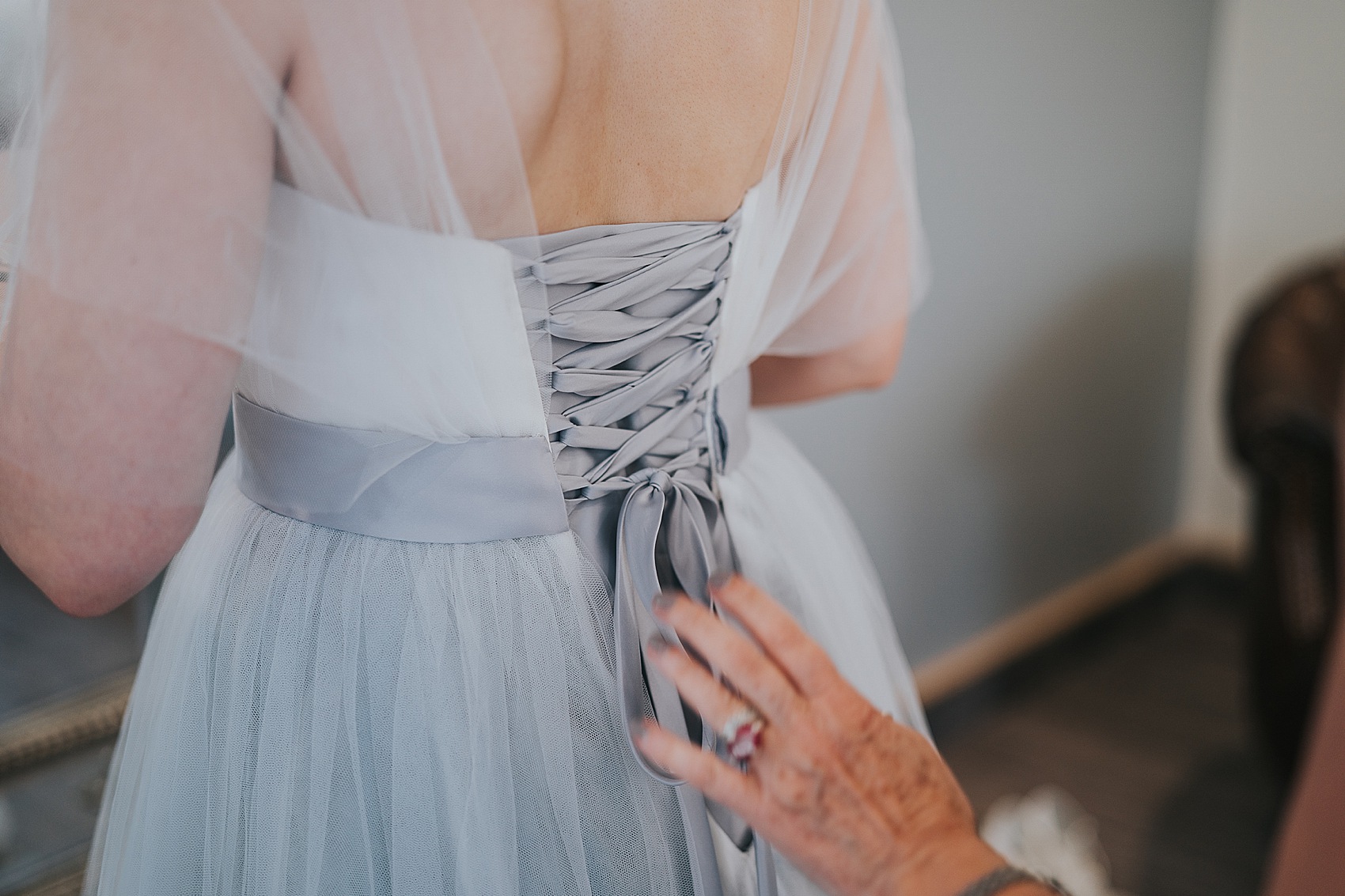 The addition of pretty crystal hair pins from Claire's added subtle sparkle to Frances' hair, and she also wore drop earrings borrowed from her mum, as well as a simple silver bangle from her bridesmaid Kat, engraved with the words, 'Forever and always by your side.'
"My necklace was a silver heart with a diamond in the middle. My parents divorced when I was young, and as an 18th birthday present my mum gave me their engagement ring. It was a beautiful ruby surrounded by diamonds that she had designed herself, and I always thought I would use it as my engagement ring."
"One day, I was burgled when I lived in London, and they stole the ring. The necklace is something I chose as a replacement – it's simple, and I wear it every day. It is a sad story but it also meant I got to write my own story as Grant chose such a beautiful ring for me."
Frances' shoes were ivory peep-toe sandals with a T-bar strap and tulle detailing, which she found at Debenhams.
"For the evening I changed into some sparkly Kate Spade Keds, which had the same grey ribbon laces that matched the dress perfectly."
The bridesmaids' dresses were all from JJ's House, with Frances' Maid of Honour in a beautiful wrap style dress, and the other bridesmaids in lace and chiffon halterneck dresses, all in a soft shade of celadon green. They wore their own choice of white shoes, and fresh gypsophila in their hair.
"They wore their own jewellery, and I got them a personalised bracelet from Not On The High Street. It was a silver bracelet with a knot in it (for helping us tie the knot) and an initialled disc, and an amethyst crystal to match the lavender theme of the wedding."
"When we went and looked at our venue, it was still being built, and we fell in love with the vision Simon (the owner) had for it. He already had another venue (Dodford Manor in Northampton) so we knew he could do it."
"It was far away from where we live, and where all our guests would be travelling from, but the space we got for our money, and the view of the Malvern Hills was just breathtaking. We didn't actually see the finished venue until the end of May 2019, so there was a lot of imagination needed for the planning."
Loved ones gathered outside beside the bandstand where Frances and Grant would make their vows, which was beautifully decorated with dried and fresh flowers, including sweet peas grown in Grant's mum's own garden.
"Grant and I met in July 2015. We met online and had our first date in Café Boheme in London. We were both living in London at the time."
"Grant asked me to marry him on the last day of an Eastern European road trip holiday when we were in Lake Bled in Slovenia. He got down on one knee in the snow at the side of the lake. This was in March 2018, and we were then married July 2019."
Together with her stepfather, Frances walked the gravel path through an arbour of flowers, and chose Willow Tree by Tom Speight as her entrance music.
"Tom is an up and coming artist, and when I first started dating Grant, I went through his music collection, as you do, and found Willow Tree on there by Tom. What was funny is that Tom is my friend, so I took him to one of his gigs and introduced him, so we thought it very fitting that I walk down the aisle to that song."
Grant awaited the arrival of his bride, wearing a three-piece suit with a navy blue jacket and contrasting grey waistcoat and trousers, which had been tailor made in Sri Lanka.
"As it was summer, we decided to go for day cravats and pocket squares, and we used a company called Swagger & Swoon. They colour match for you, so we matched the groomsmen to the bridesmaids' dresses, then had Grant in a grey cravat to match my dress. Swagger & Swoon were great to work with, always answering queries quickly."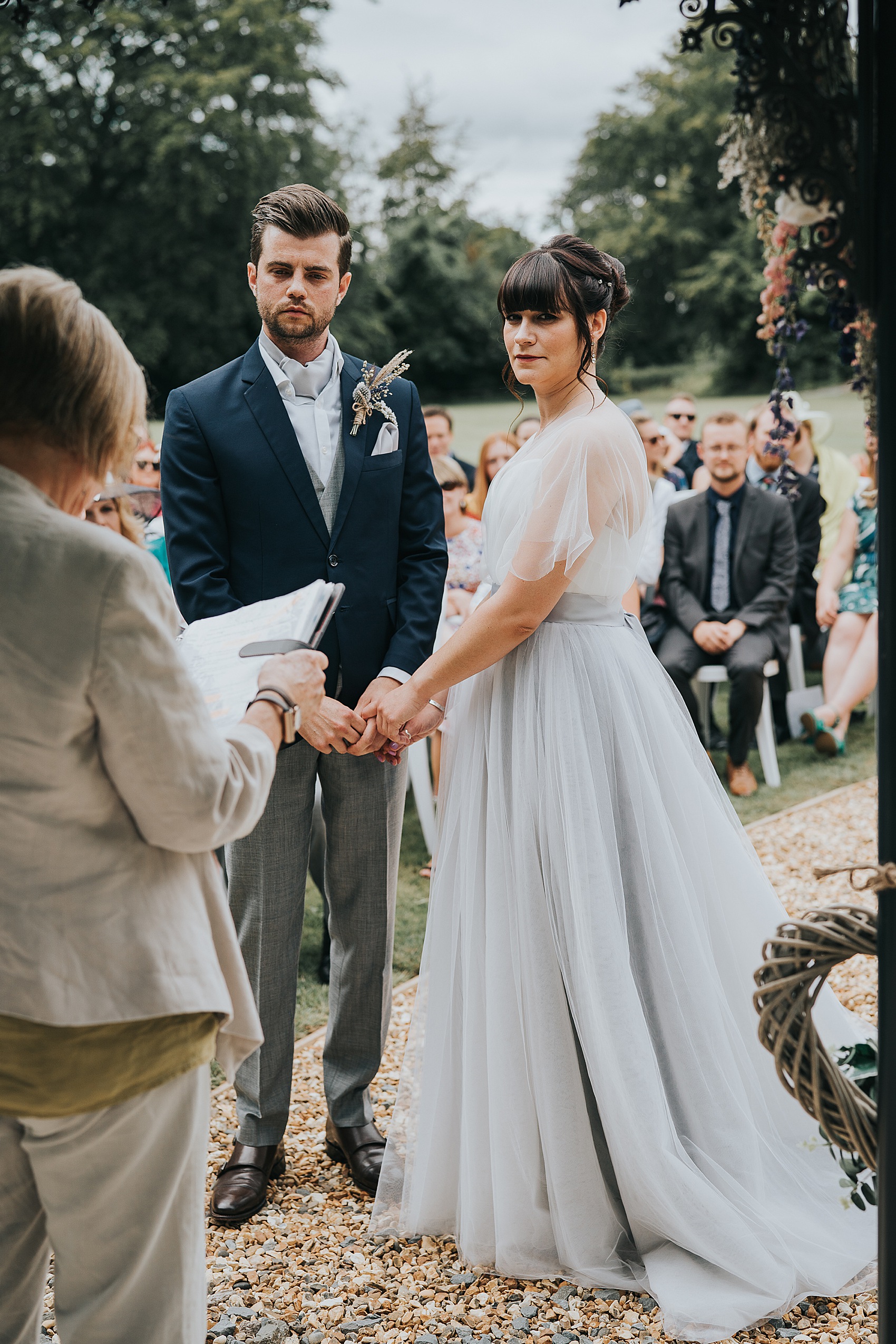 Grant had chosen Frances' engagement ring at 77 Diamonds, and the couple decided to get their wedding rings from there, too.
"I decided to keep the sparkle theme in my wedding ring to match the engagement ring, and Grant kept it simple with a plain white gold band. We chose 77 Diamonds because Grant did some work with them in his job, and found them really great to work with. He decided to give them a go when looking for my ring – he really liked the fact you could design it yourself."
During the ceremony, there were three heartfelt readings. Frances' friend Laura read a poem from an anthology called Love Her Wild by Atticus, whilst Grant's friend Scott read the enduringly popular extract from Captain Corelli's Mandolin, by Louis de Bernieres –Love is a Temporary Madness. Finally, Grant's brother-in-law Rob read a quote by Albert Einstein, which begins, 'Gravitation cannot be held responsible for people falling in love.'"
"We both really loved the actually getting married bit – the sharing the vows and exchanging the rings. I loved having all our friends and family in one place together, laughing and enjoying themselves."
As confetti wasn't allowed outside at Bredenbury Court, guests instead blew bubbles into the air (they also came from a bubble machine Frances bought, too!) as the newly married couple made their way back up the aisle.
Drinks were enjoyed outside, as well as lawn games, and ice cream served from a vintage bike by Jenkinsons Caterers. After relaxing for a while, everyone made their way to the Oak Barn for the wedding feast.
"Grant and I have very similar tastes, so when we talked about the day we always landed on similar themes. Our main idea was for everyone to feel relaxed and to have a good time. We wanted to bring a summer meadow to
our wedding with the flowers, the barn, and the season."
All of the elegant, summer meadow themed floral arrangements for the day were by Grant's mum, Lynn Gibson, who is a keen gardener and former lecturer in horticulture. For Frances, she put together a sweet bouquet of pastel pink and ivory roses, along with lavender, gypsophila, waxflowers and other seasonal beauties.
"Lynn really knows her stuff. She did the most fantastic job, and the bouquets and table decorations looked beautiful. Lynn also did the buttonholes and decorated  the bandstand where we were married. She did a mixture of fresh and dried throughout the venue, so she could prepare a lot of it before hand."
Tied to Frances' bouquet with a velvet ribbon was a treasured photograph of her dad, who sadly passed away 9 years ago.
"I'm so glad Lynn decided to do the flowers for us, as not only did it save us money, but it meant there was such a personal touch on the day. I have always loved lavender; I love the smell and the colour, so that was a big part of our flowers."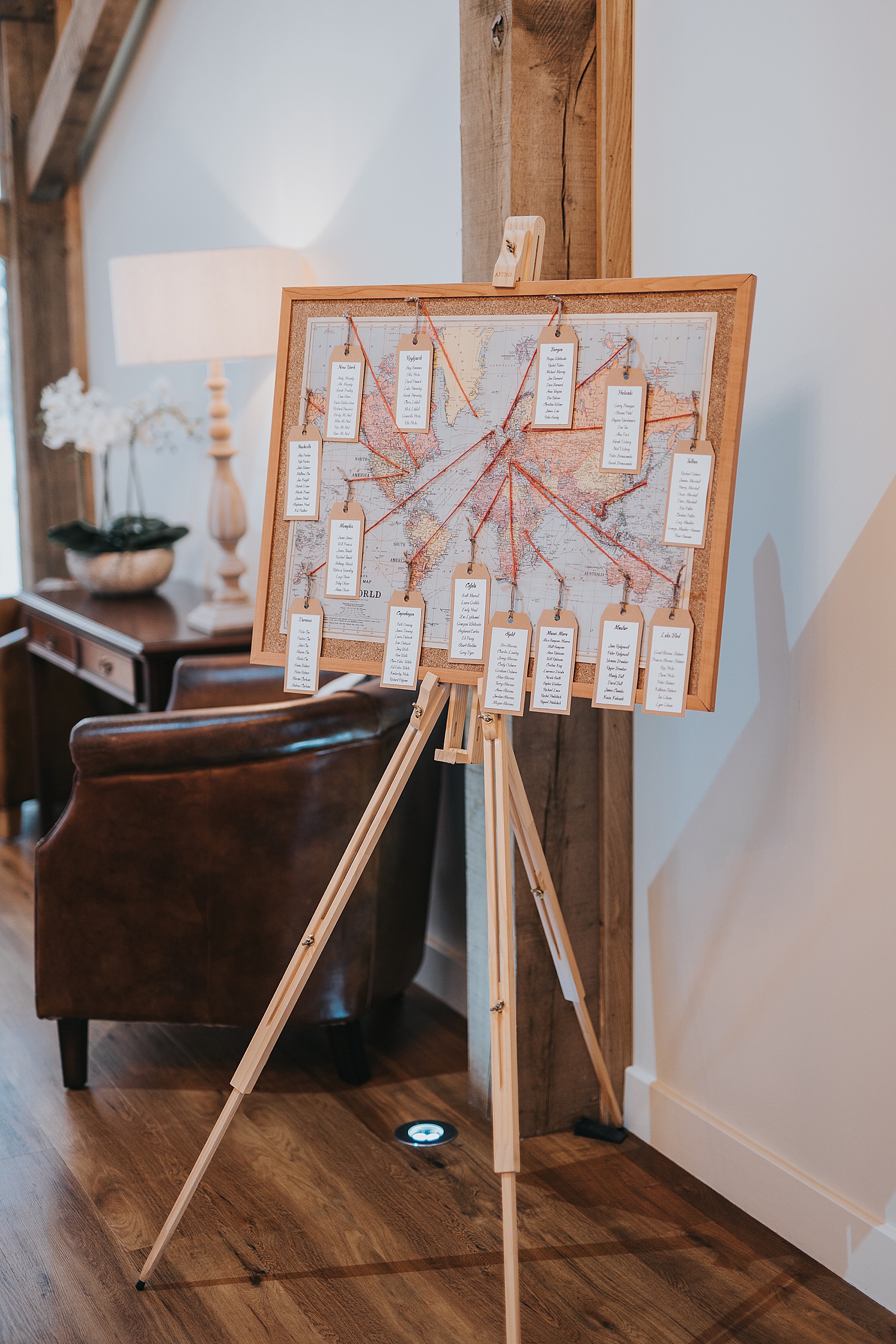 Frances and Grant worked together with Jenkinsons Caterers to come up with a delicious menu that was also relaxed and informal, too. The feast began with salmon bruschetta, followed by barbecued food served on sharing platters, and a chocolate brownie with Bakewell pudding ice cream for dessert.
"Grant's Aunt Cindy Osborn did our cake for us. I wanted a very simple buttercream icing cake, with lavender and olive leaves around the outside. Cindy made the bottom layer chocolate orange, and then the next two tiers were fake for the display, but she made a red velvet layer, and a lemon layer."
"She also made a lactose and gluten free chocolate cake, as we had guests with allergies at the wedding. Everyone commented on the cakes, and how wonderful they tasted. For the cake toppers, Grant and I decorated champagne corks to look like us. I saw this on Pinterest and thought they were great – they were a nice little touch!"
In the evening, there were sparklers and smoke bombs as well as live music from band The Hot Rods, who Frances and Grant found through Atlas Entertainment.
"We struggled with picking a first dance. When thinking about it we wanted a song that meant something to us, and two New Year's Eves ago we stayed in and watched Hootenanny on the telly, and Jessie Ware was on and sung a song called Alone. We danced together in our living room to it."
Words of Wedded Wisdom
"I used Love My Dress for inspiration. I read the stories of other couples, and looked through their pictures to see what worked and what I liked. I loved hearing everyone's unique story and what brought them to that day and that decision."
"Make sure you do what you want. Our wedding was just so Grant and I, and people commented on the day how much it reflected us both. We put so much thought into every little piece of the day, and we loved seeing everyone enjoy it."
"Don't sweat the small stuff – no one will notice if something doesn't happen on time or go to plan – only you know!"
"Most of all enjoy it – enjoy it all; the planning, the build up, and the day. I most loved the last 3 months, as it was getting closer, and once everything was done I just enjoyed the ride."
"Take some time for you and your partner, even if it is just 5 minutes here and there, make sure you do it. Step back and take it all in – see all your favourite people in one room for you! I literally floated all day! It was the best day of my life so far and I would do it all again in a heartbeat!"
Frances and Grant, congratulations and many, many thanks to you both. Frances, I just loved reading about the vintage inspiration behind your elegant look! Thank you Poppy Carter for capturing it all so magnificently.
With love,
Laura